15. A Cute Spacey Kids Room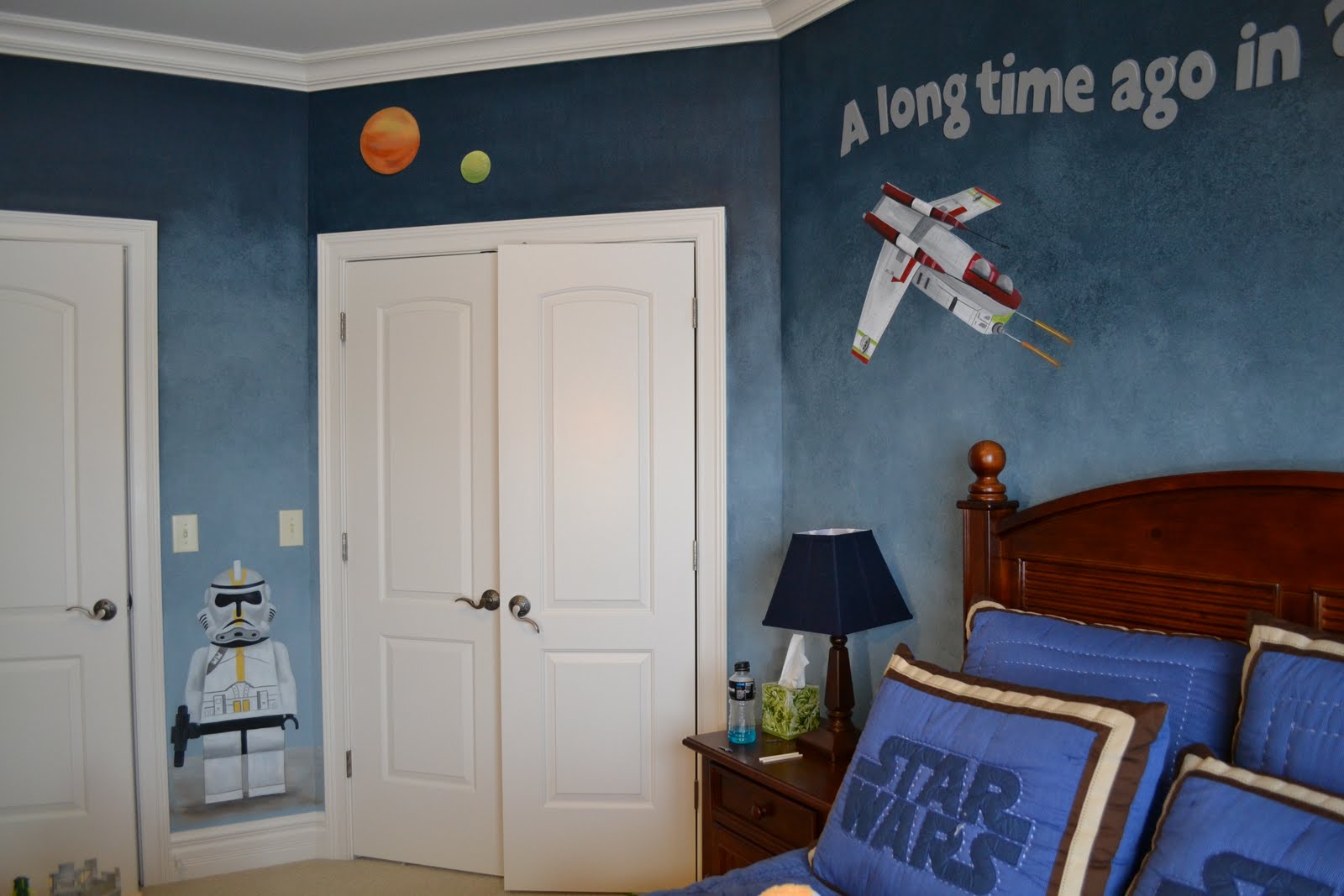 Some Star Wars room decoration ideas have a cuter, more fun design to appeal to kids. The mottled paint on the walls fades from a deep blue sky to a lighter blue snowy landscape. Decals use a fun font for the opening words as well as a cute little storm trooper and planets. Star Wars bedding creates more layers of blue in the room. Then, bright white accents and doors along with dark furniture add different layers for more depth throughout the room. This is an ideal space for a child's room or even as a transitional option for older boys.
16. Futuristic Colors for a Fun Theme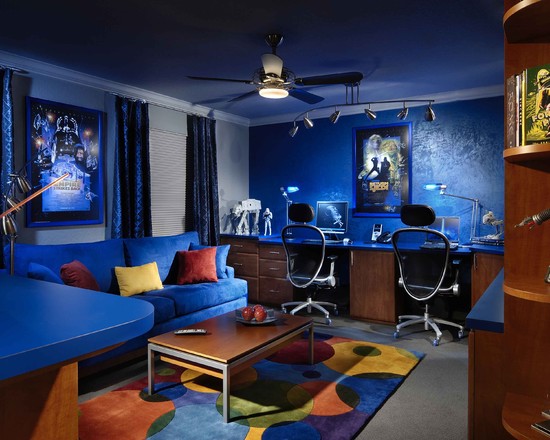 Anyone who wants a Star Wars lightsaber room will immediately fall in love with this design. That's because the bright colors used in the rug and throw pillows definitely remind anyone of the shades of a lightsaber, whether used for the good or the dark side. Blues are found throughout the room on furniture, counter tops, walls, and curtains. Star Wars artwork and memorabilia complete the style of the room and natural wood furnishings keep depth in the space. This is an ideal room for a teen or college age Star Wars fan thanks to study space as well as a lounging area. It could also be a good choice for a studio apartment or basement room.
17. A Loft with Star Wars Attitude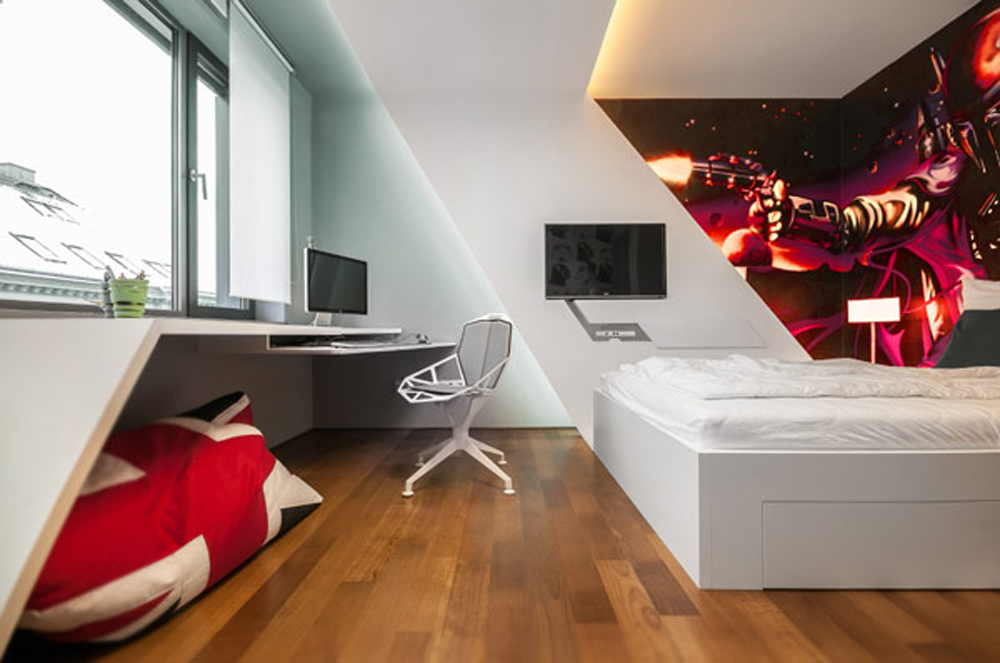 A light and airy loft is the perfect place to create a Star Wars theme room. Whether for a teenager, a college student, or an office space for an adult, this room includes a Star Wars mural on one wall. That's the focal point of the space too and nothing else even mentions Star Wars. As a result, the mural is the focal point of the whole space. Stark white with just a couple of pops of color keep the room clean and futuristic. And, a unique, mechanical style desk chair almost feels like the cockpit of the Millennium Falcon.
18. The Death Star of a Star Wars Theater Room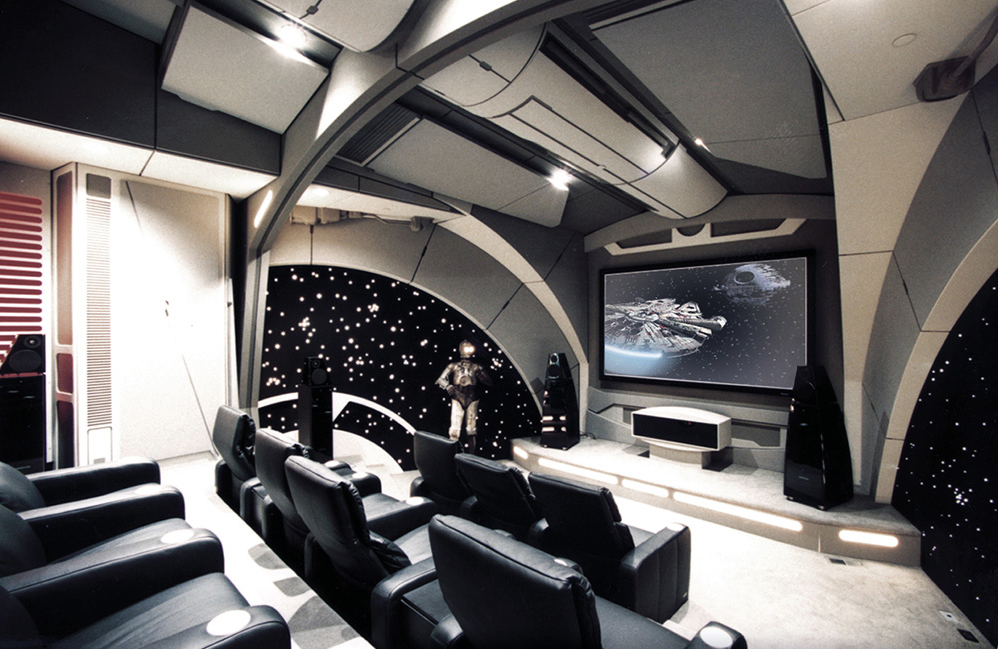 There are home theater rooms, and then there are home theater rooms. This Star Wars theater room will leave people feeling like they have literally stepped into the Death Star to watch movies. The room features multi-row leather theater seating, of course, and a sound system for the best in movie viewing. The Star Wars theme comes from the unique mechanical style bolstering, ceiling elements, and walls. A mock cockpit window offers a view of space and the stars. A life-sized C3PO finishes the theme with style. When you want to watch The Return of the Jedi or even the Force Awakens when it's available, this is the right room for your home theater.
19. A Battle in the Sky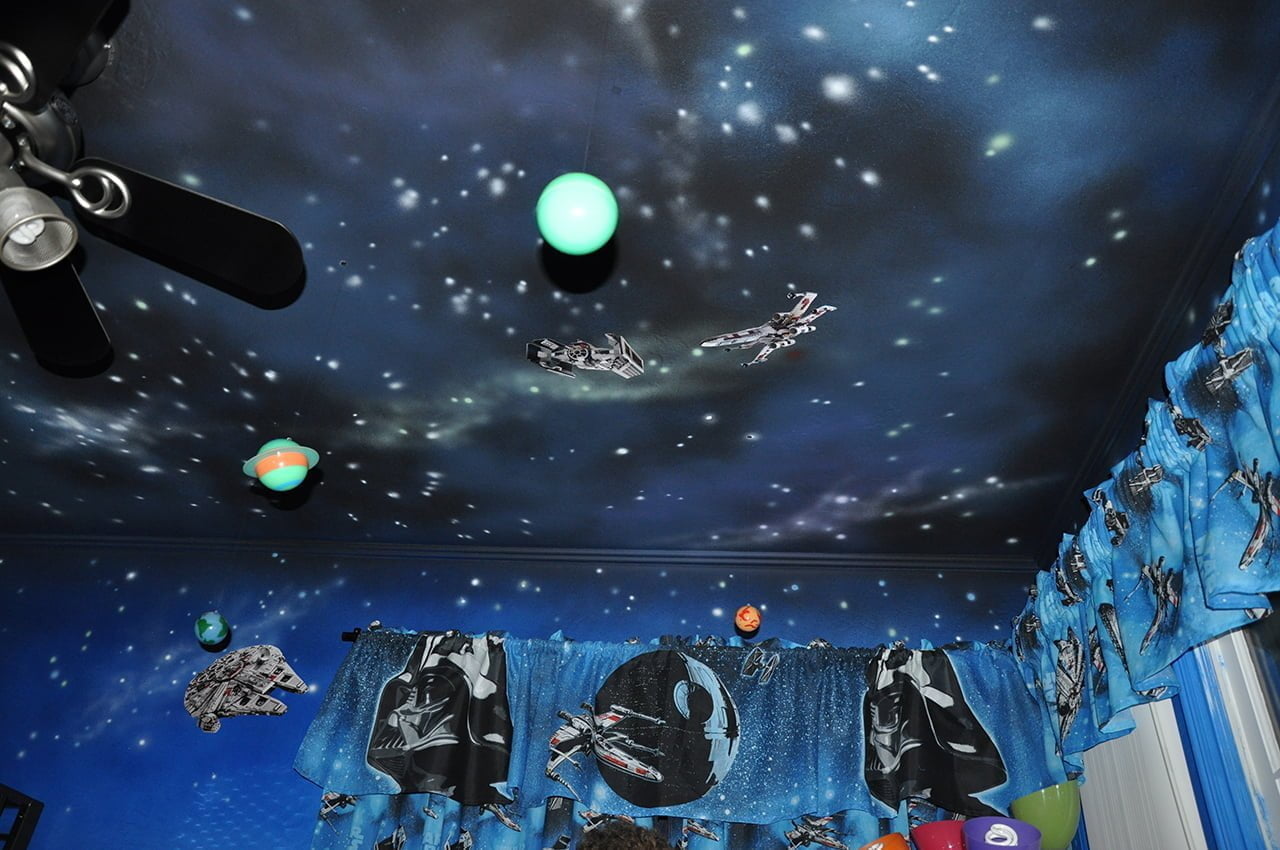 Star Wars is all about epic battles in space. And, these Star Wars room decorations capture those moments through a unique and detailed movie theme on the walls and ceiling. Deep blues mix with cloudy whites to create a galaxy feel. Then, stars and x-wing fighters are layered in. 3D planets suspended from the ceiling take the theme off the walls and into the whole room itself. Star Wars curtains complete the look so that a child will feel completely immersed in the movies without ever having to leave their bedroom. Add in other theme decor and bedding to complete the look.
20. Awaken the Force with a Star Wars Game Room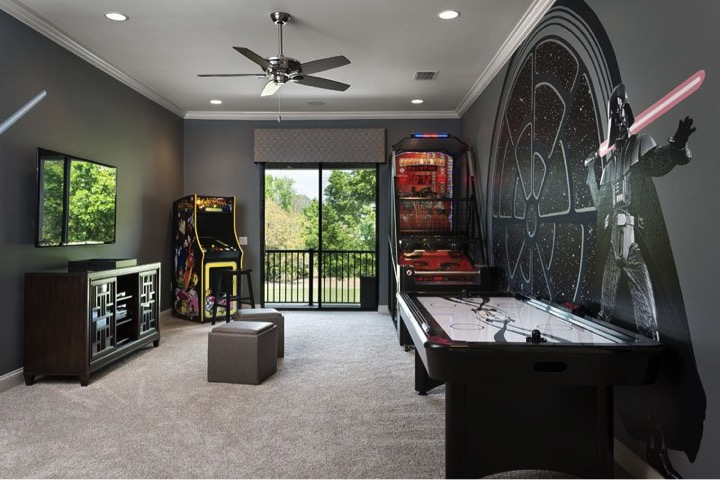 A game room is the perfect space to create a movie-themed escape. This Star Wars theme game room isn't about clutter or knick-knacks. Instead, various shades of gray create layers throughout the room. A full-wall mural includes Darth Vader and a look at the sky through a death star window. Lightsabers are criss-crossed on a wall like swords for a unique, fun style. The rest of the room is dedicated to gaming with a television and video game system, two arcade games and an air hockey table. This is the ideal room for a basement or even vacation home.
21. The Force Is Strong in This Star Wars Theater Room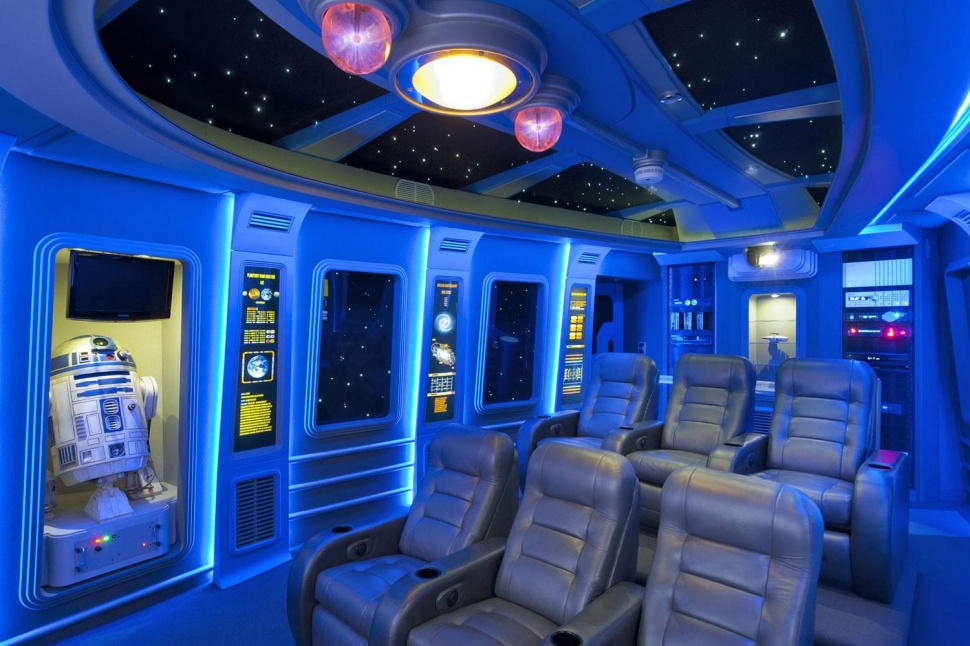 What if a theater room could literally look like the cockpit of a ship? It's a great idea for a Star Wars theater room complete with a starry sky outside of windows and a life sized R2D2 nestled in a wall alcove. Lighting in this room is complemented by plasma gloves mounted to the ceilings. Wall art creates the illusion of computer controls for the ship. The walls have been designed to look like a cockpit with LED lighting and 3D designs too. It's the ideal room for watching Star Wars or any other type of movie for that matter.
22. A Cozy Place to Watch the Force Awaken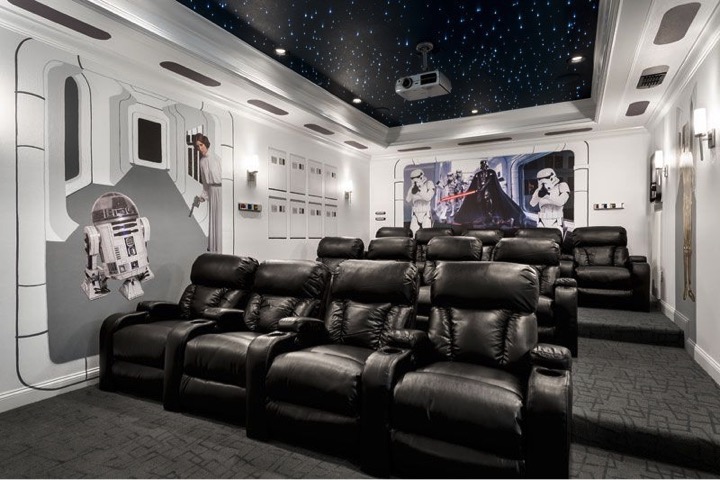 Star Wars room decals take center stage in this home theater room.Along the back wall, we see Darth Vader and the storm troopers as they look for Princess Leia and R2D2, who are hiding around the corner of another wall. It allows visitors to feel like they are in the middle of the movie. The room includes a starry sky above to immerse viewers in space. Theater seats are arranged in stadium style rows for the best in movie viewing too. Flooring and lighting is kept unassuming to ensure they don't detract from the decor of the rest of the space.
23. A Grown up Star Wars Room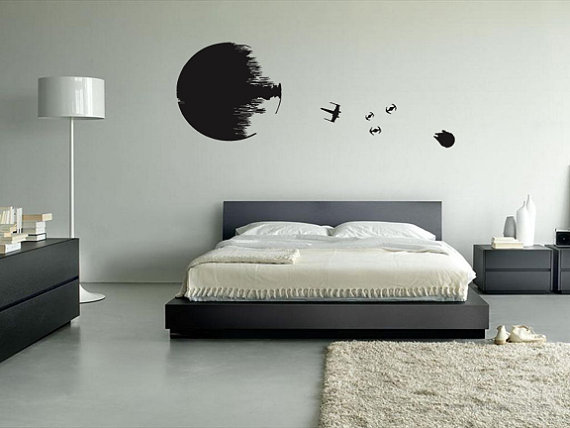 Even adults can enjoy a fun bedroom thanks to Star Wars room decals used in a minimal style. This room doesn't scream Star Wars with the modern, sleek furniture, stark white bedding, and basic lamp. However, the wall decals depicting the death star, the Millennium Falcon, Luke Skywalker in an x-wing fighter and tie fighters do their job to offer a subtle, mature Star Wars style. It's the type of room even closet Star Wars geeks will love. And, it won't turn away people who aren't fans of the genre either. It could be the perfect combination for a couple.
24. A Fun Cartoon Room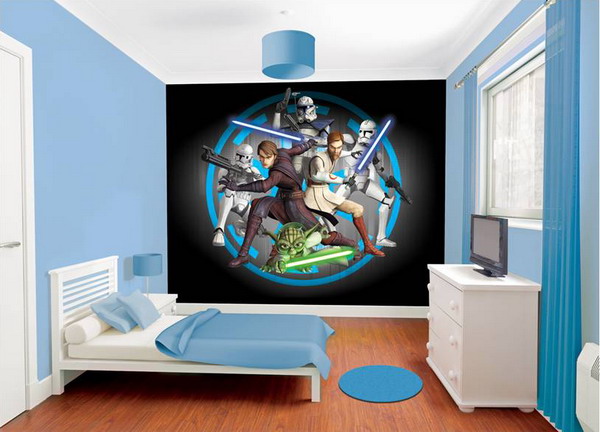 Star Wars room decorations don't always have to be serious, dark, or realistic even for that matter. In this room, one thing stands out over everything else: a cartoon Star Wars mural featuring Ben Kenobi, Anakin Skywalker, Yoda and storm troopers with bright blue details on a black background. There are no other Star Wars details in the room, allowing the one focal point to get the attention. Blue is used strategically in details like bedding, rugs, and lighting to complement the mural too. Stark white furniture stays in the background, but works well with the overall color theme too.
25. A Star Wars Room Idea Without Blue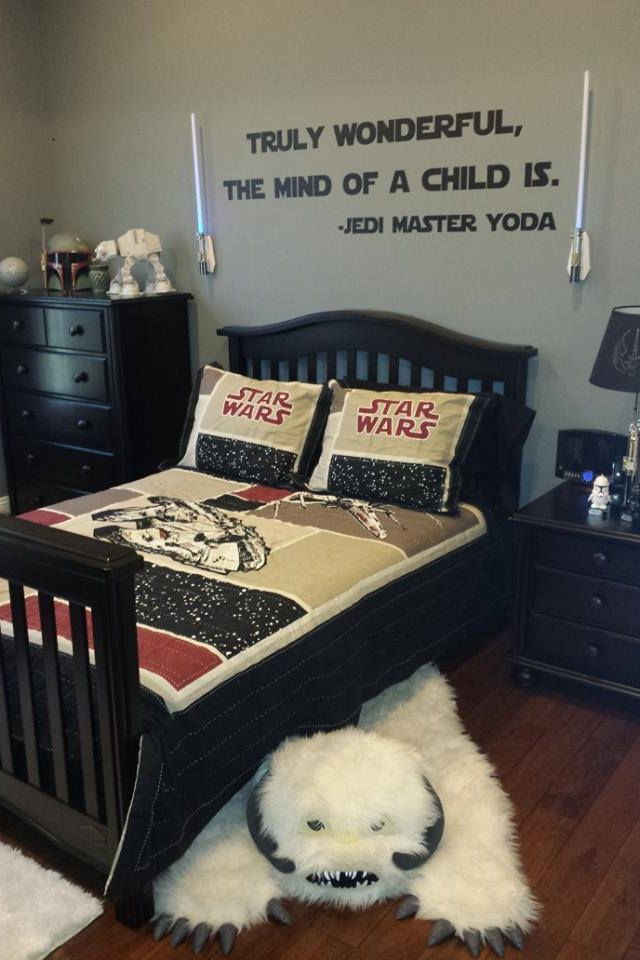 Many Star Wars room ideas include various shades of blue. However, not everyone would like that, and those who want something different will like this child's room option using warm tones instead. A deep taupe adorns the walls with vinyl lettering quoting Yoda as a focal point. Bedding features Star Wars themes and shades of taupe, brown, burgundy, and black. The floor is warmed up with a fun tauntaun rug. Furnishing is even kept warm in dark cherry wood shades. Finally, nondescript Star Wars decor adorns the dresser to complete the theme. And, the only blue you will see is wall-mounted lightsabers, which could actually be red or green too.
26. A Childhood Playground or Even a College Escape?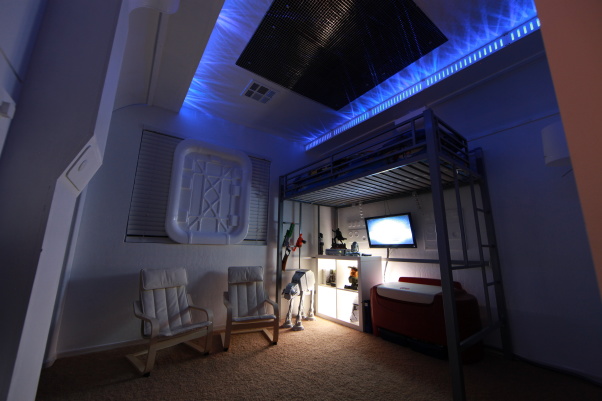 Metal bunk beds can be a fun base for coming up with Star Wars room decor ideas. In this case, we see a bed with storage and toys underneath. That could easily be changed to a desk for older kids. A window has been turned into a hatch to outer space and seating is kept minimal as well. Unique LED lighting creates the feel of blue sun flairs, and black accents on the ceiling mimic outer space. A few Star Wars toys and pieces of memorabilia complete the style without overwhelming the room. Walls are kept white to feel as if they are part of a ship's corridor.
27. Relive the '80s with a Geometric Room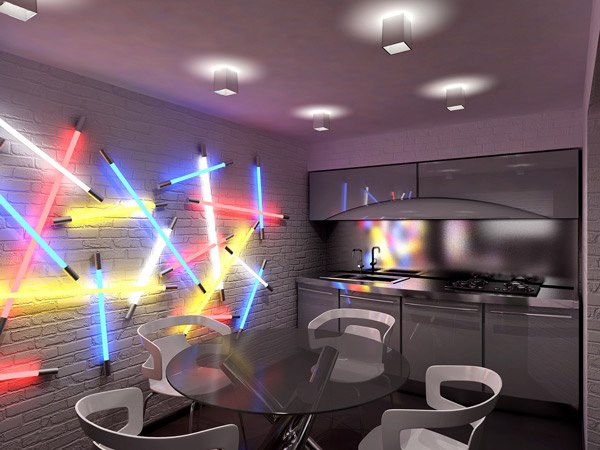 If you want something slightly retro and very Star Wars, then this is a unique and fun option for a dining room or dining room-kitchen combo. This Star Wars lightsaber room has one big focal point that draws the eyes immediately: various colored light-up lightsaber toys arranged in a geometric pattern on the wall. The rest of the room is nondescript with light gray walls, silver fixtures, and modern chairs. Everything about the room is sleek and modern, yet the focal wall seems to hearken back to the 1980's thanks to neon colors and geometric patterns. It's the ideal combination for bringing Star Wars into any room of the house.
More Star Wars room decoration ideas on the next page…