Over time, your once beloved home can become drab and boring, or worse, it can become cluttered with various items from the mundane act of everyday living. An organized, decluttered home provides many benefits from simply making items easier to find to creating an open, free-flowing space in which you can breathe easier.
38 Wonderful Organizing and Storage Item for a Clutter-free Home

And, organizing your home doesn't have to be an agonizing ordeal. In fact, there are many organizing and storage products on the market that help make decluttering and organizing your home both easy and fun for a more stress-free environment. Many of these items are also just as appealing as they are practical, so they can also be used to add an air of serenity or beauty to your space or to simply add a signature touch.
When it comes to decluttering and organizing your home, simply begin with one room or space at a time, and before you know it your entire home will be in order. While decluttering each room or space, you should also consider the mood or character you would like to invoke in that area, and then keep this in mind when researching and shopping for organizing items, which will help you select the appropriate organizing items for that particular space or room to help make it more enjoyable.
There are many organizing items on the market, which can make it overwhelming. However, if you are looking for the best items to both spruce up your space while also de-cluttering it, simply begin your search with the following list of the most popular organizing and storage items, which you are sure to find most intriguing.
1. Ardina Wood Storage Bench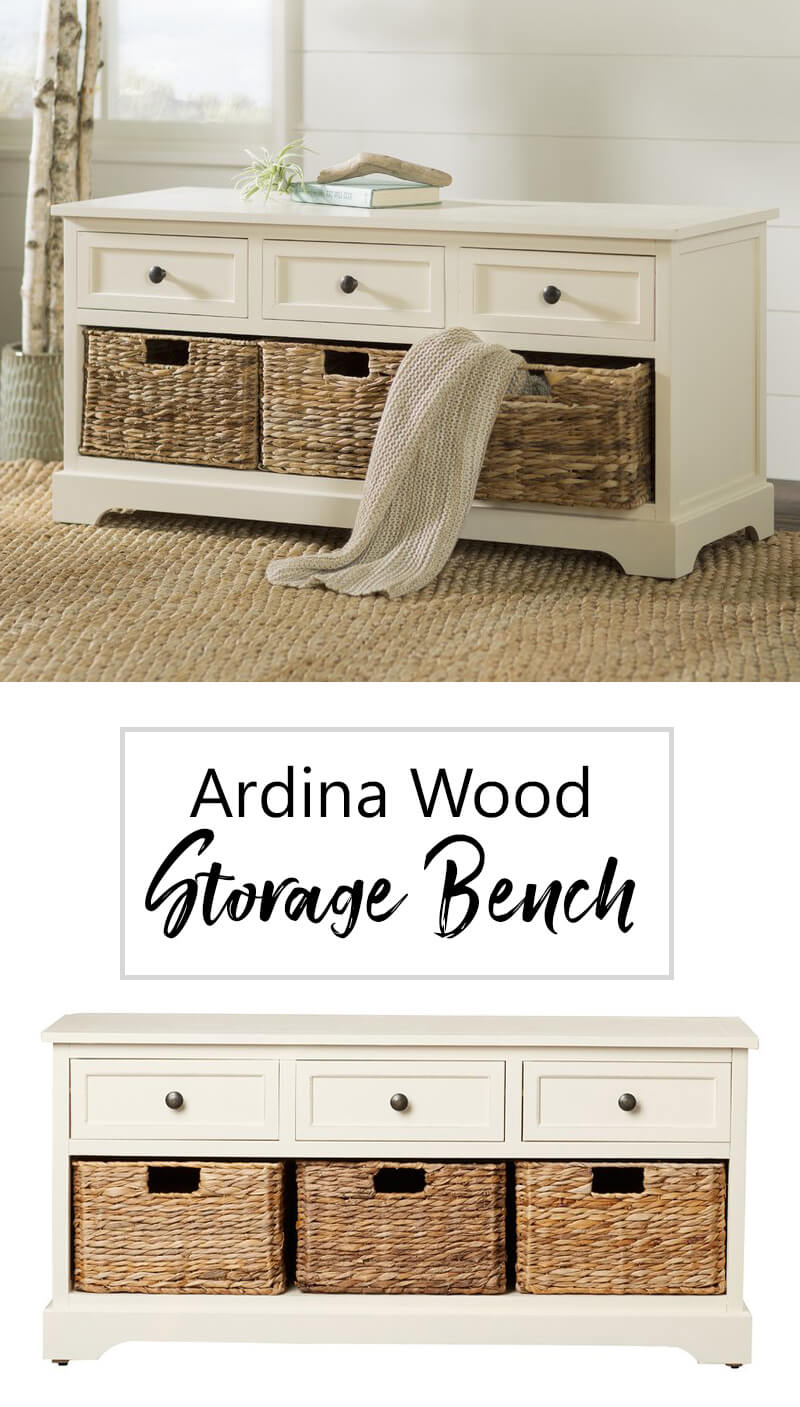 The storage bench by Beachcrest Home masterfully combines beauty with functionality in a sturdy wood blend design that includes three woven baskets in addition to three wood drawers with metal knobs for an appealing storage bench that looks great in your foyer, kitchen, or any other area in your home where you may be low on space.
2. Cubes of Fun Stackable Shoe Rack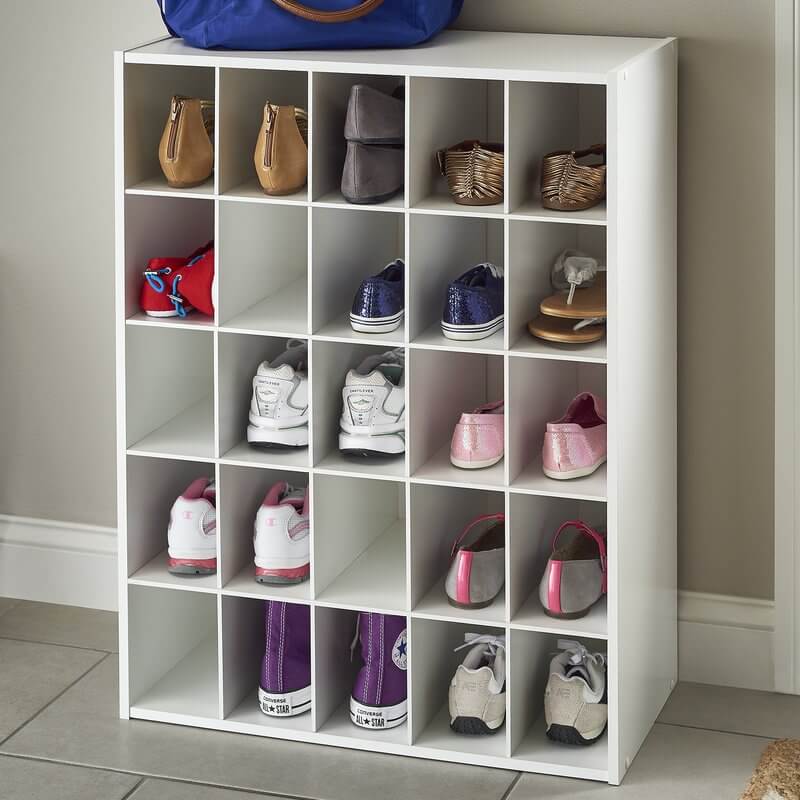 This stackable organizer by ClosetMaid offers cubes of fun with 25 cubed compartments for snugly storing various pairs of shoes, and it's just perfect for kid's shoes, women's shoes, or men's shoes. Not really into shoes? It's okay because this sturdy, manufactured wood shelf can also be used to store other items as well, such as knick-knacks and socks.
3. 4 Piece Round Kitchen Canister Set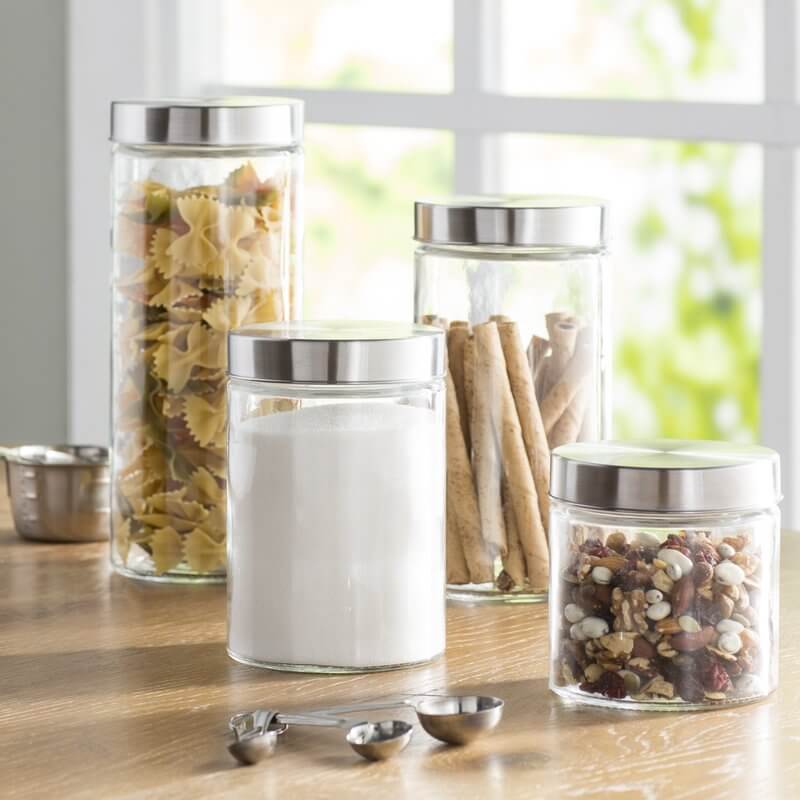 These glass canisters make the perfect way to both store and display your beautiful different kind of pastas, cereal, rice, and more, with clear round containers and stylish silver screw tops, which is sure to have you excited each time you enter your kitchen and notice the beautifully organized food display. Simply arrange the canisters throughout your kitchen for a foodie's paradise.
4. 16-Compartment Hanging Shoe Organizer for Small Spaces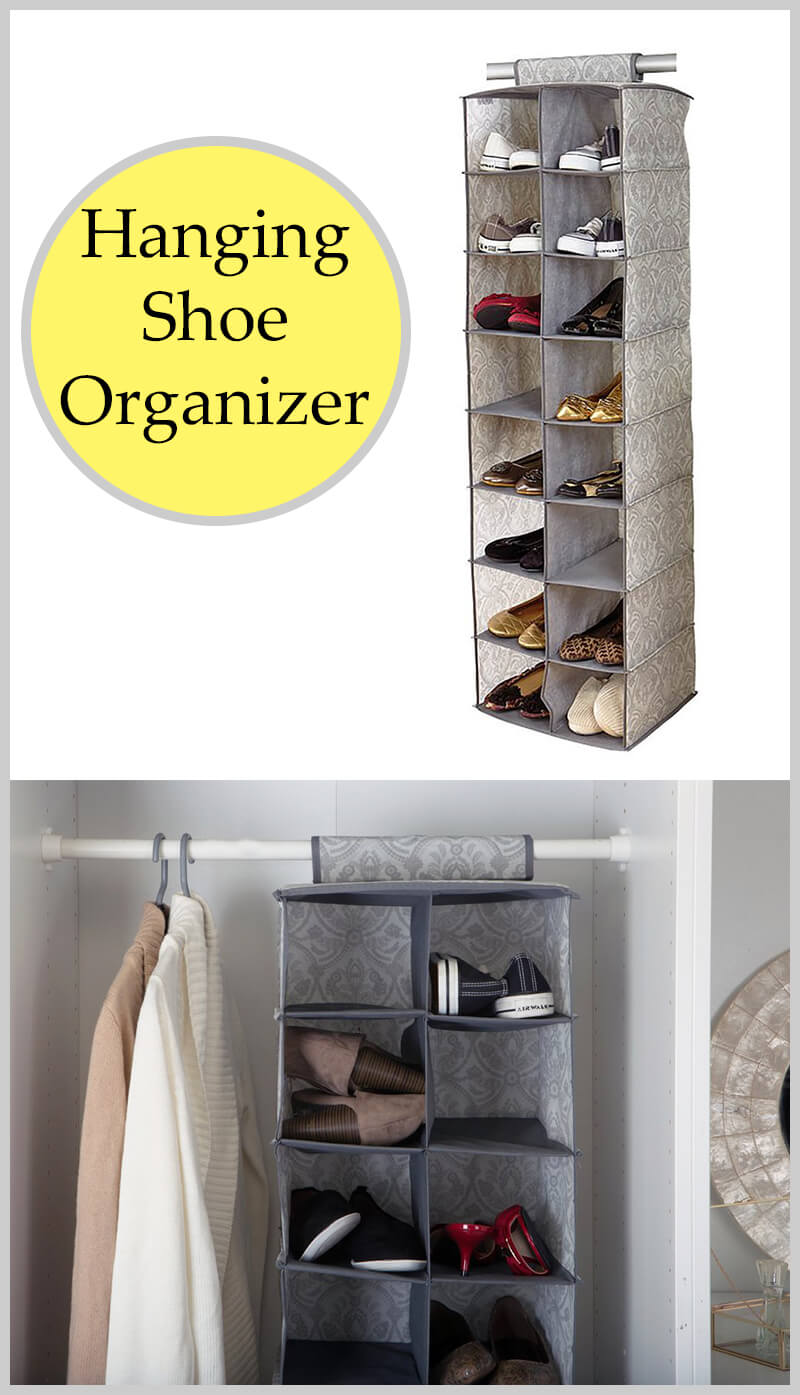 The Almeida hanging shoe organizer provides 16 large compartments for storing various pairs of shoes in a 47.24″ H x 11.02″ W x 13.78″D soft shell design, which also includes loop fasteners as well as a hook for hanging. Simply adorn it on the closet door for an instant shoe rack or a supplemental shoe rack.
5. Contemporary Style Bathroom Organizing Cabinet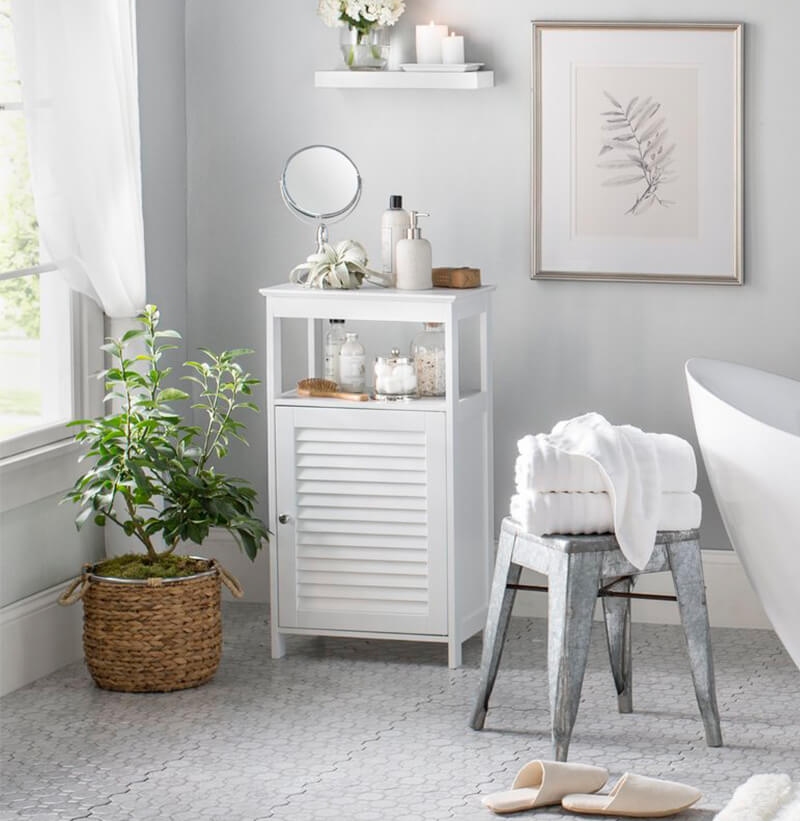 The Leblanc cabinet provides a great solution for stacking and storing various bathroom items that you may need in plenty, such as clean towels. The sturdy wood cabinet is 17.7″ W by 32.68″ H, which makes it suitable for storing in the corner or next to the bathtub, and it also comes in various finishes to blend with your bathroom.
6. Combo Laundry Center with Ironing Board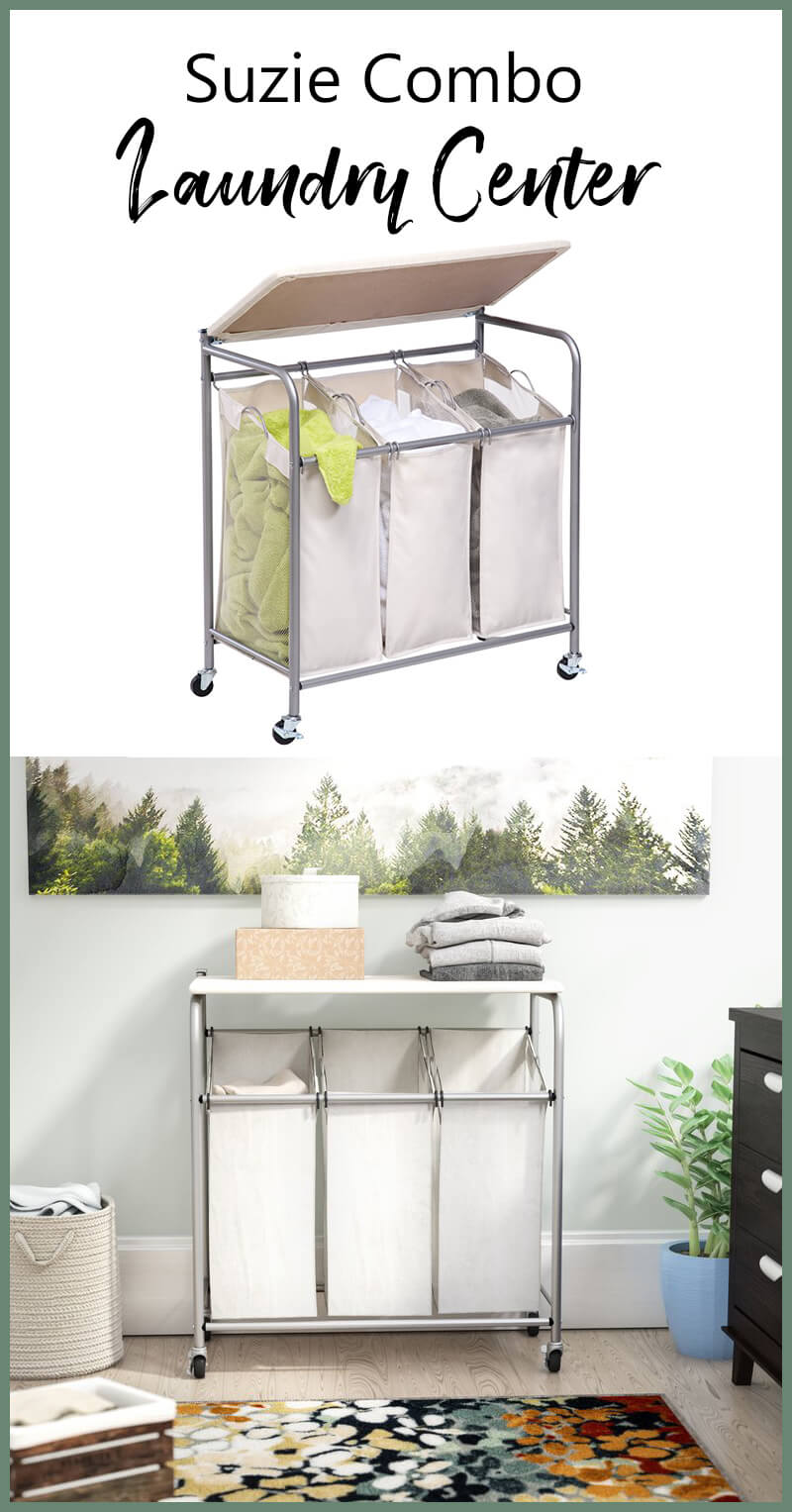 Wednesday laundry day just got simpler. The center includes an ironing board top for getting your linens crisp right on the spot, and it fits nicely in any space in your laundry room. It also holds 6 loads of laundry to accommodate the whole family, and it has wheels that lock for safety.
7. Cozy Woven Design Sea Grass Basket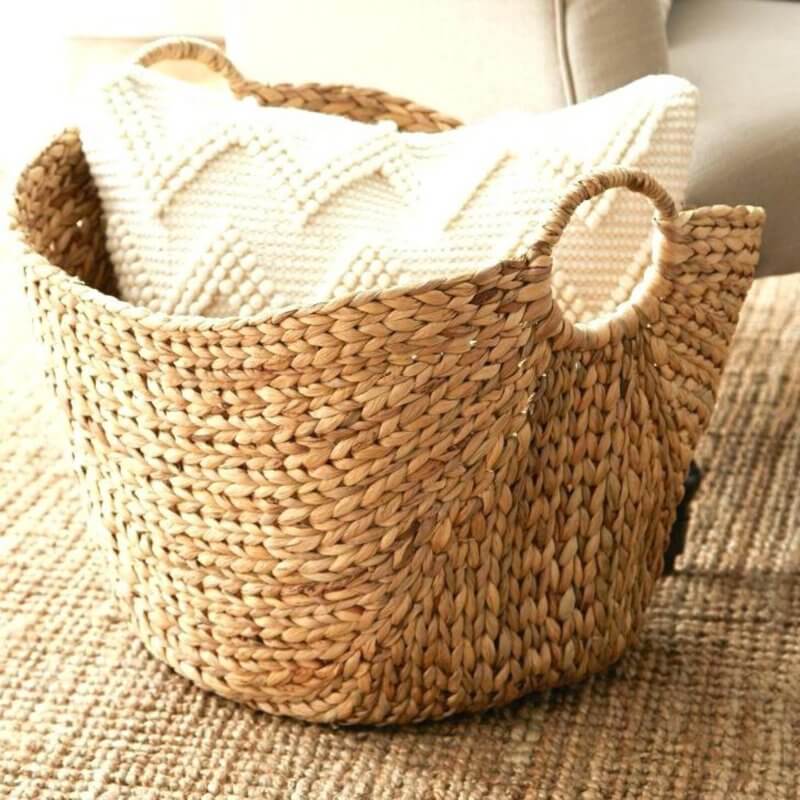 Your search for the perfect wicker storage basket to beautifully display in your home just got easier with this basket by Laurel Foundry Modern Farmhouse, which features a cozy woven design with open handles, for a seaside appeal, and it is large enough to store various items, such as extra linens for your guestroom.
8. The Rack that Rolls with Your Shoes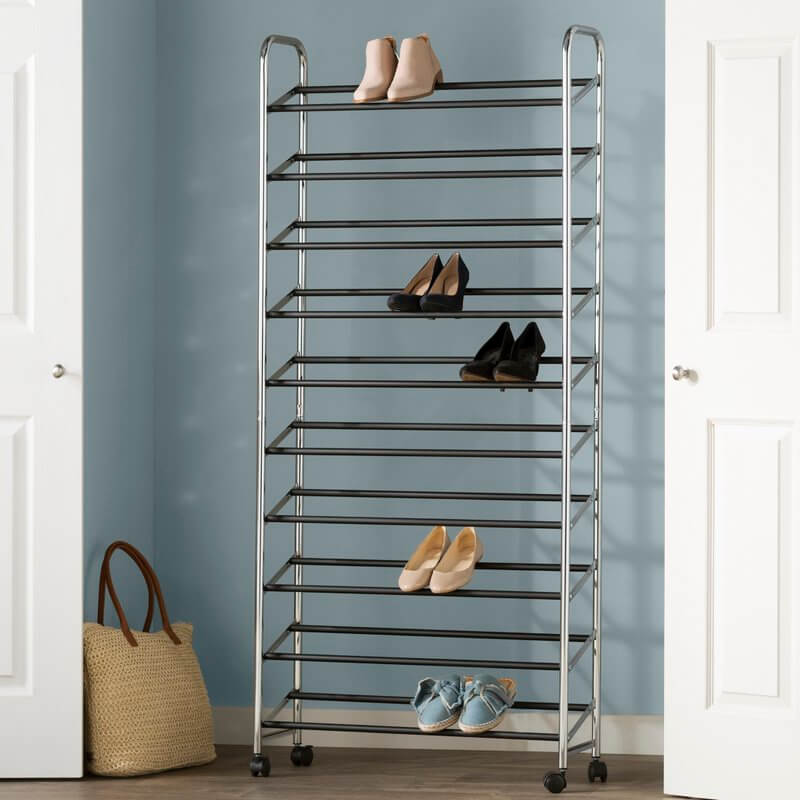 This durable, metal 10-shelf rolling shoe rack makes it easy to both store and transport various shoes from space to space. It neatly stores up to 50 pairs of shoes and includes two wheels that lock for the times you want to keep it as a stationary shoe rack in your closet or room to accommodate your growing shoe collection.
9. The Pantry Rack that Saves on Renovations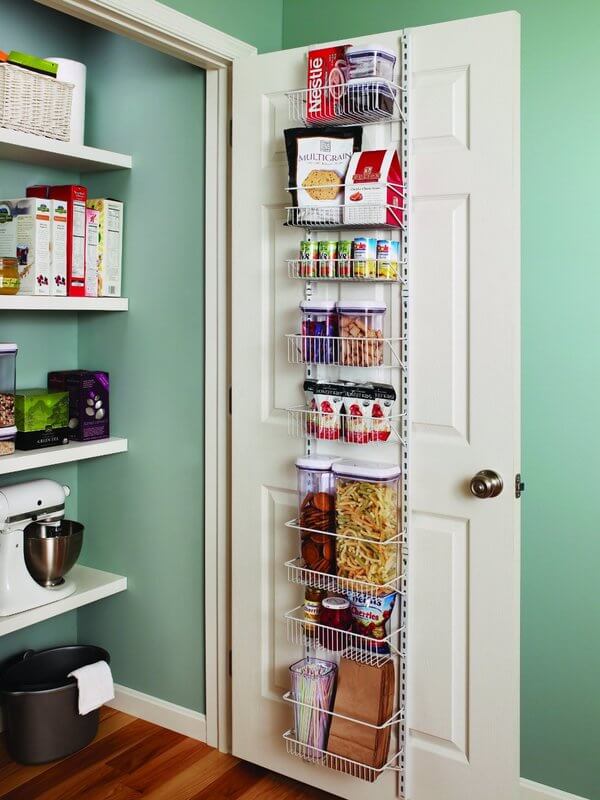 Forget the expensive kitchen renovation to expand your pantry, if you need more space, simply consider this 8-tier adjustable rack by ClosetMaid, which features a sturdy wire organizer rack with various baskets to accommodate both short and tall items. It also incorporates close wire spacing to keep items from tilting, and it can be wall mounted or over-the-door mounted.
10. Wayfair Basics Large Mug Tree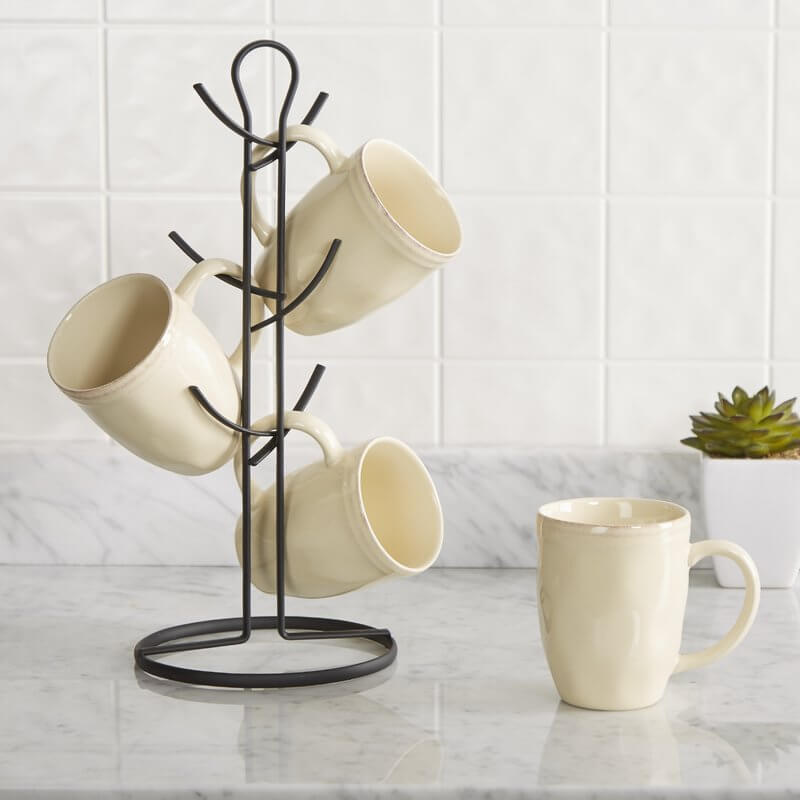 This mug tree allows you to store up to 6 of your favorite large mugs right on your countertop, which is especially useful for proudly displaying your seasonal collector's mugs. It also makes tea time or coffee time more enjoyable by storing the mugs right within your reach, and the black finish contrasts well with various surroundings.
11. The Breadbox that Preserves Your Baker's Pride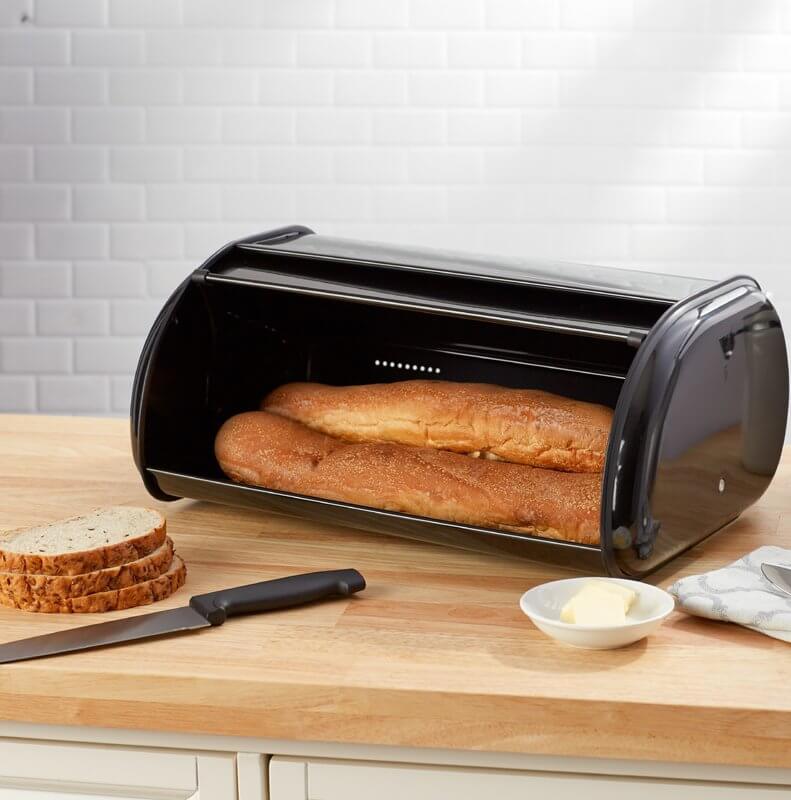 What other way is there to store your fresh pieces of bread than a breadbox that enables you to keep them fresher for longer, which even your local baker would be proud of. The Wayfair Basics Steel Bread Basket features a modern design, which includes a roll-up lid and a sleek black finish, that is sure to impart style in any kitchen.
12. Let Soft Storage Bins Upgrade You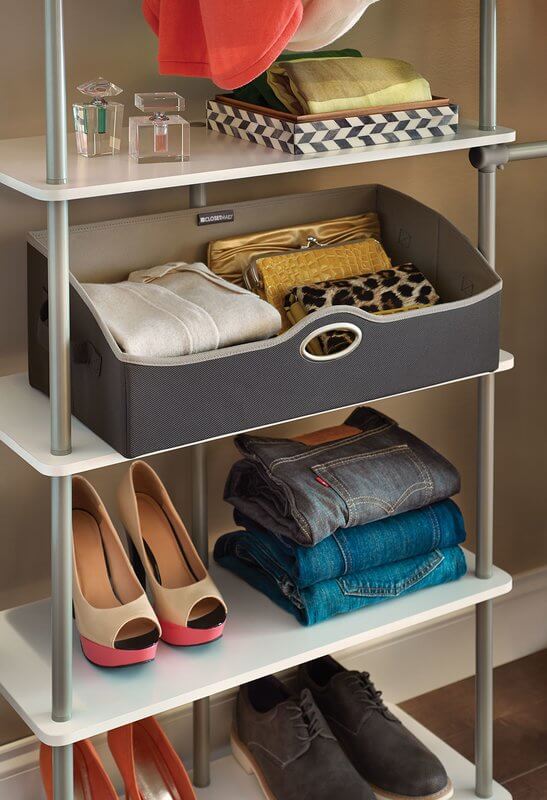 Soft storage accessories, such as ClosetMaid's collection of soft storage bins, are quickly becoming all the rage for their unique, upgraded features that enable quick and easy organization throughout your home. For a more upscale look to your clothes closet, simply add a soft storage bin or more for storing folded garments as well as large fabric bins, and purses.
13. Classic Style Upholstered Storage Bench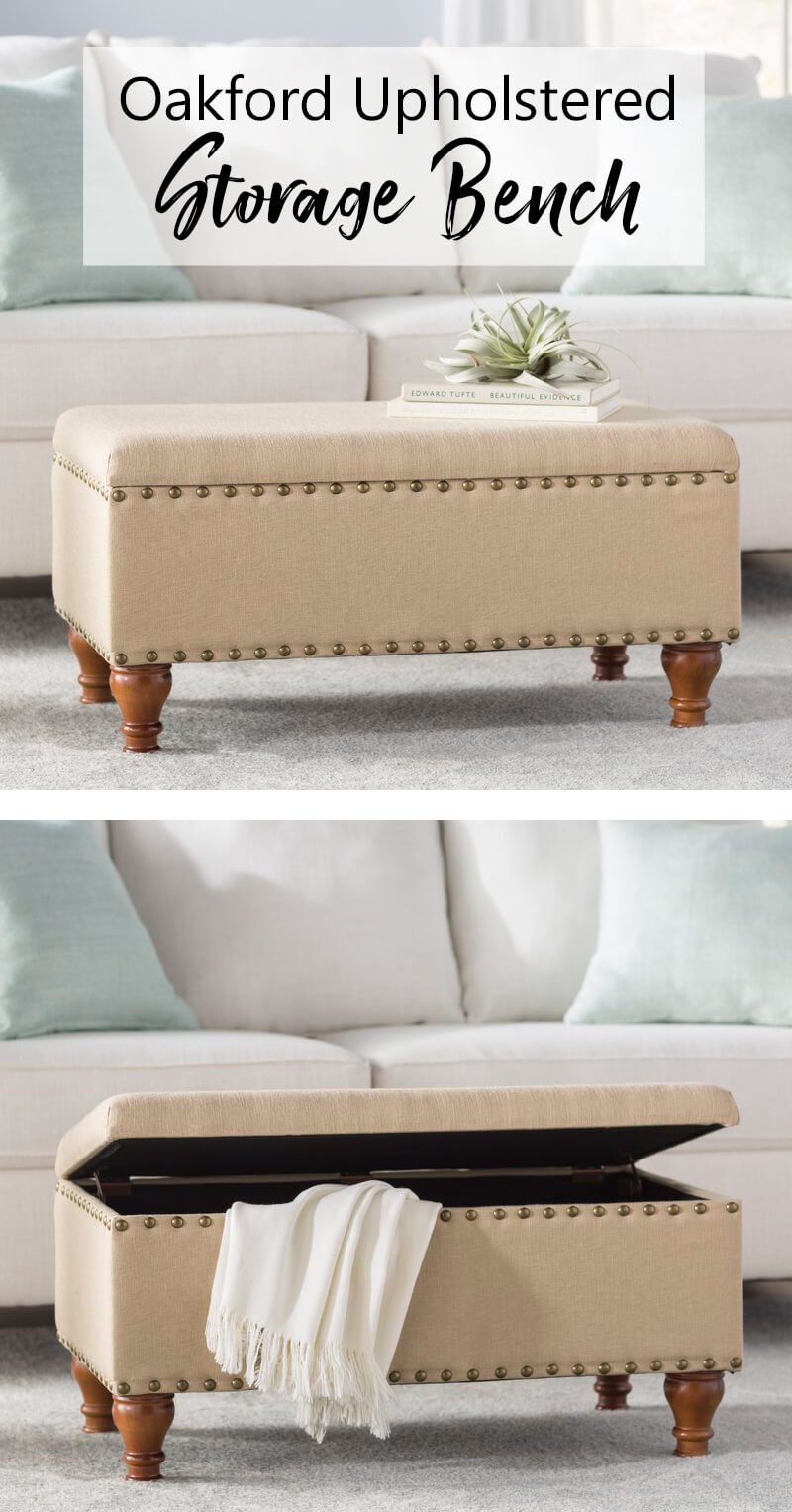 This bench fits nicely at the end of the bed where it can be used to store various items, or simply place it under a window for the perfect seat for enjoying a good read or a hot beverage. The tan upholstery and nail-head trim also make it the perfect classic touch for any decor.
14. Metal Coat Rack with Umbrella Stand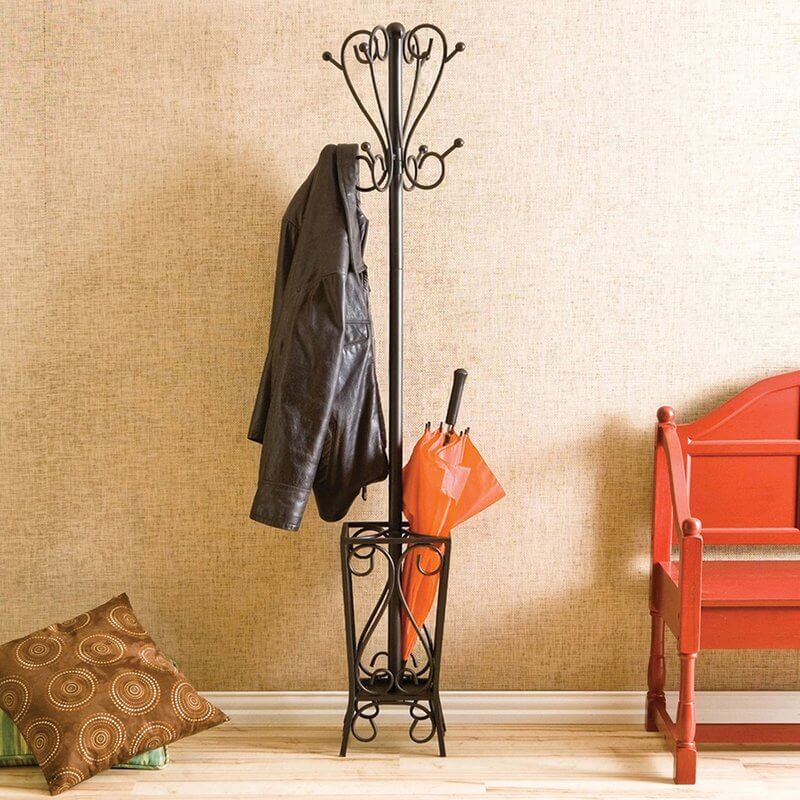 This coat rack includes 8 hooks, eliminates the need for storing your outdoor wear in over-packed closets where they can become lost in the abyss. And, if that wasn't already enough, these organizing and storage item also includes an umbrella stand for neatly storing umbrellas near the door, so they won't be forgotten.
15. Storage Chest for Your Inner Beauty Guru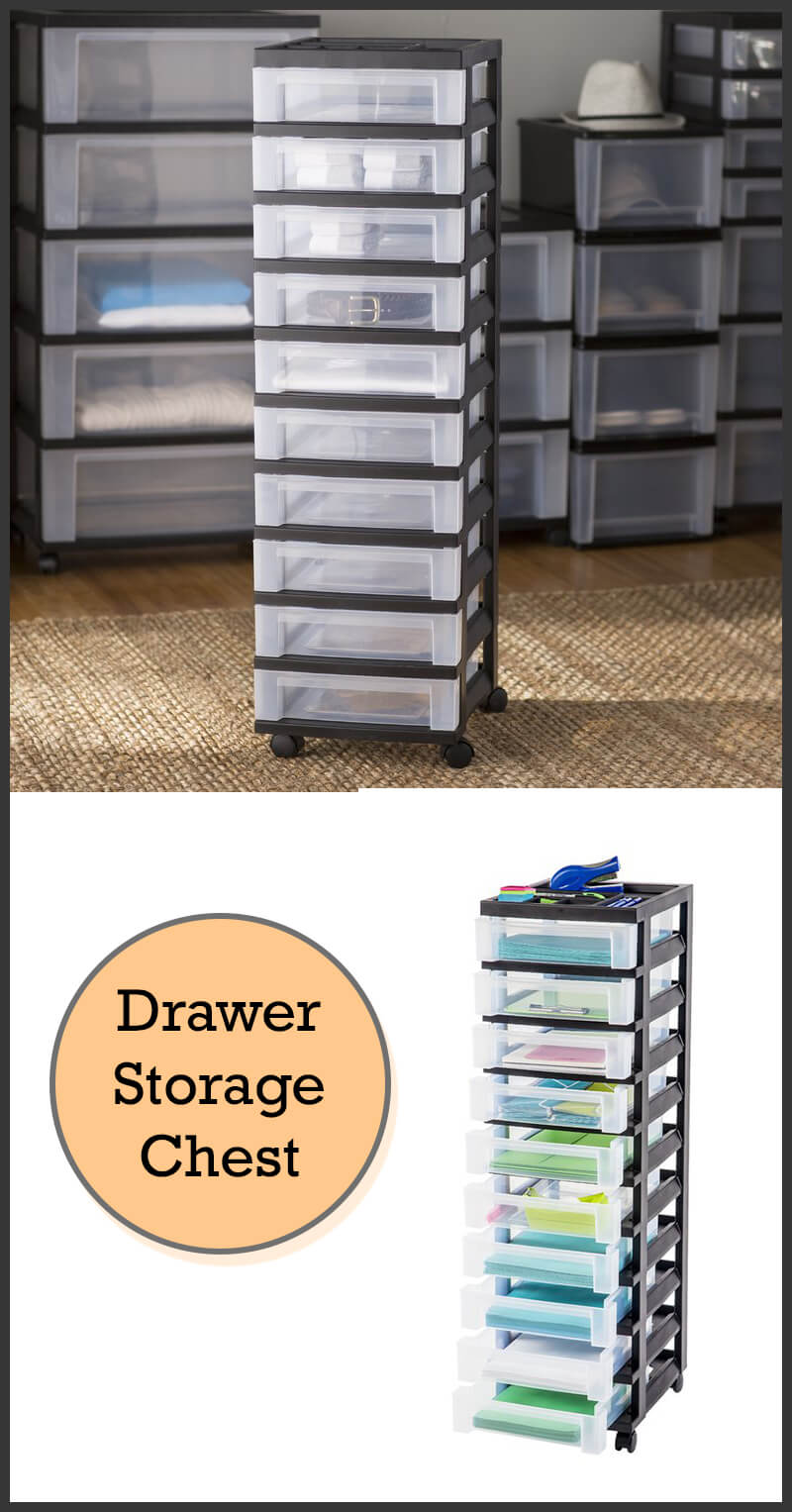 The Wayfair Basics 10 Drawer Storage Chest is a beauty guru's dream. It includes ten spacious drawers that can be used to store loads of makeup and more, with ease, or use them in your dorm or home office to store various items. It also contains caster wheels for ease of transporting, and the polypropylene material helps ensure long-lasting use.
16. 3 Shelf Laundry Cart for Storage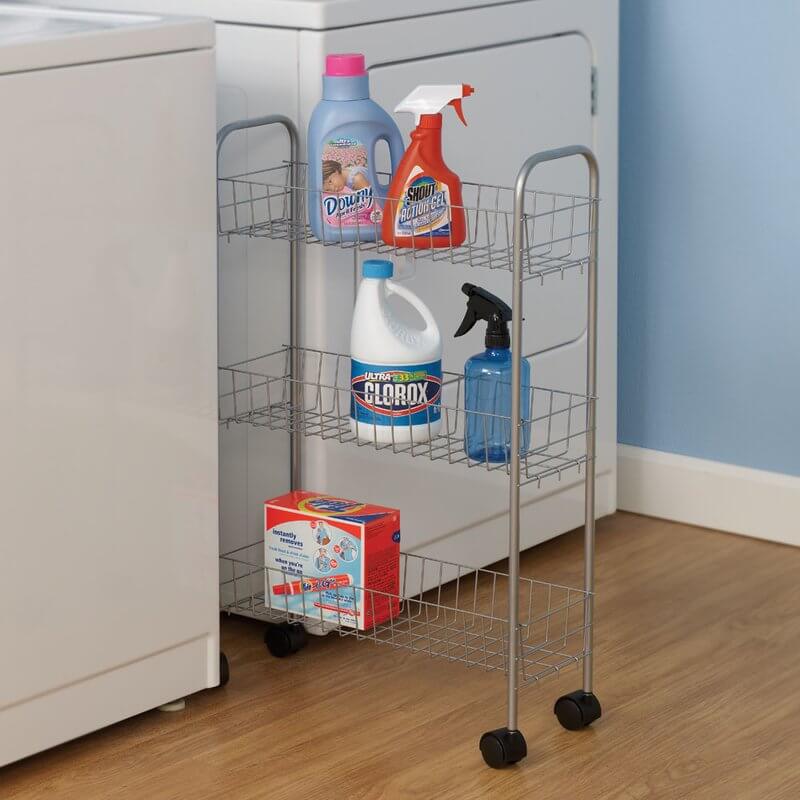 The Slimline cart provides a great way to store various laundry products all within easy reach of your laundry equipment, but the kicker is it's also slim enough, and contains wheels, to slide neatly between the washer and dryer when you're done. It also comes in various finishes to suit your decor.
17. Blanket Ladder with Rustic Appeal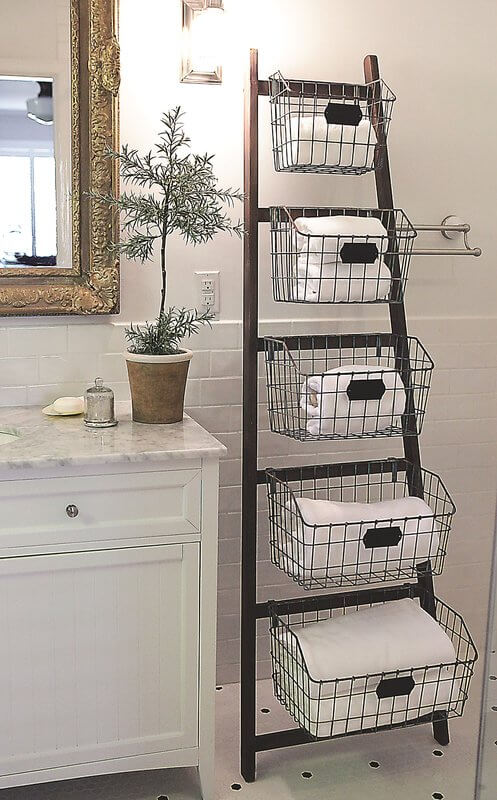 The 6-foot Blanket Ladder by Laurel Foundry Modern Farmhouse resembles a stepping ladder with five wire baskets in descending sizes, which enable you to layer various bathroom items in steps, so to speak. The ladder itself is designed from wood and metal materials for a neutral, dual-toned ladder with rustic appeal that looks great alone or while storing various items.
18. Canister Set For Old World Kitchen Charm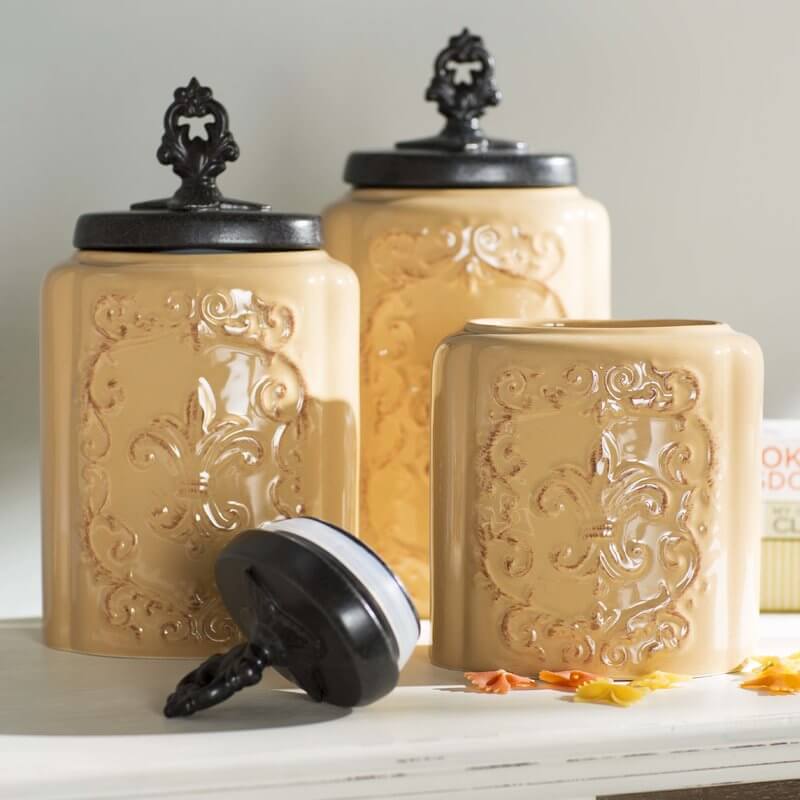 This canister set, which includes a small, medium, and large canister for storing various dry foods, adds a bit of Old World charm to any kitchen with an artisan design, earthenware body, and black lids. In fact, these organizing and storage items are brought to you by Design Guild who supports products made in the age-old tradition.
19. Old Dutch Bookshelf Wall Mounted Rack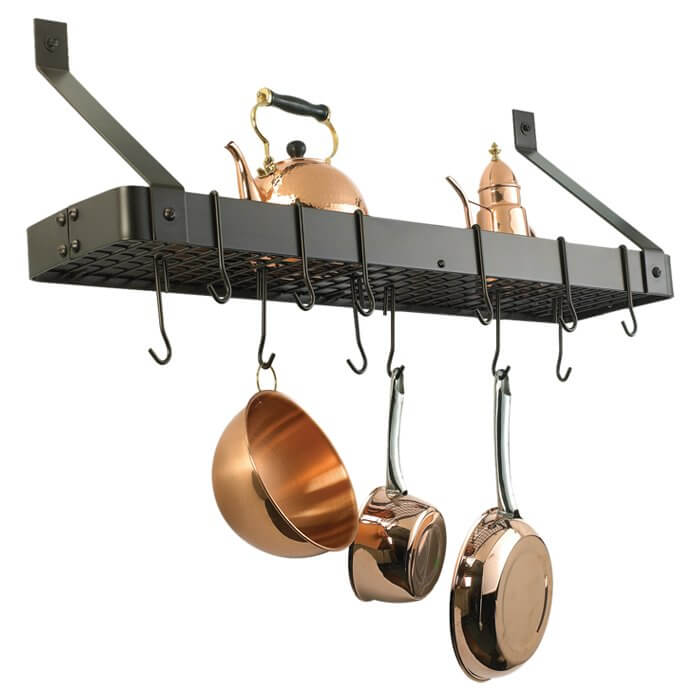 This rectangularly shaped rack with grid allows you to conveniently store your pots and pans suspended from hooks so that each time you reach for them, you'll feel like you're reaching for the stars as you prepare your star meal. Furthermore, its steel finish contrasts beautifully with various colored pots, including copper pots.
20. Spice Rack for the Holidays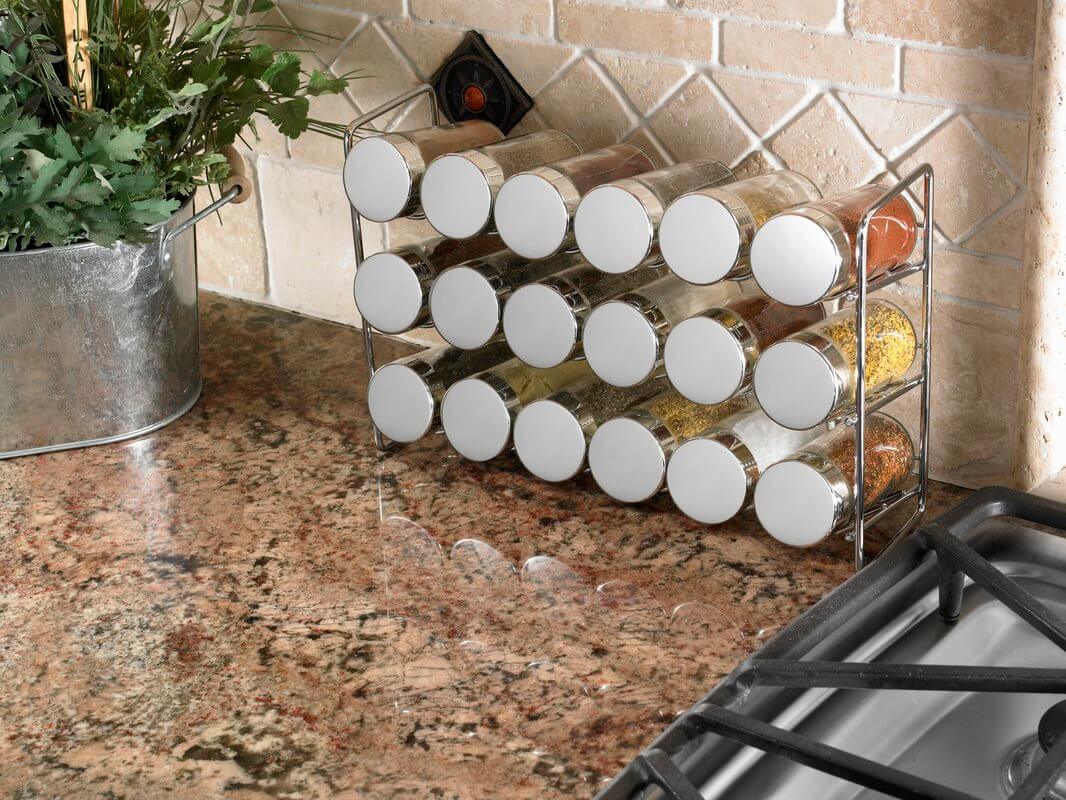 This 18-jar spice rack and jar set by Polder Products LLC enables you to both store and display your exotic array of spices in one convenient area on the counter, which helps make your spices easier to find as well as easy to see when they are low, so you can replace them, which is especially useful during the holidays.
21. 2-piece Floating Wall Shelf Set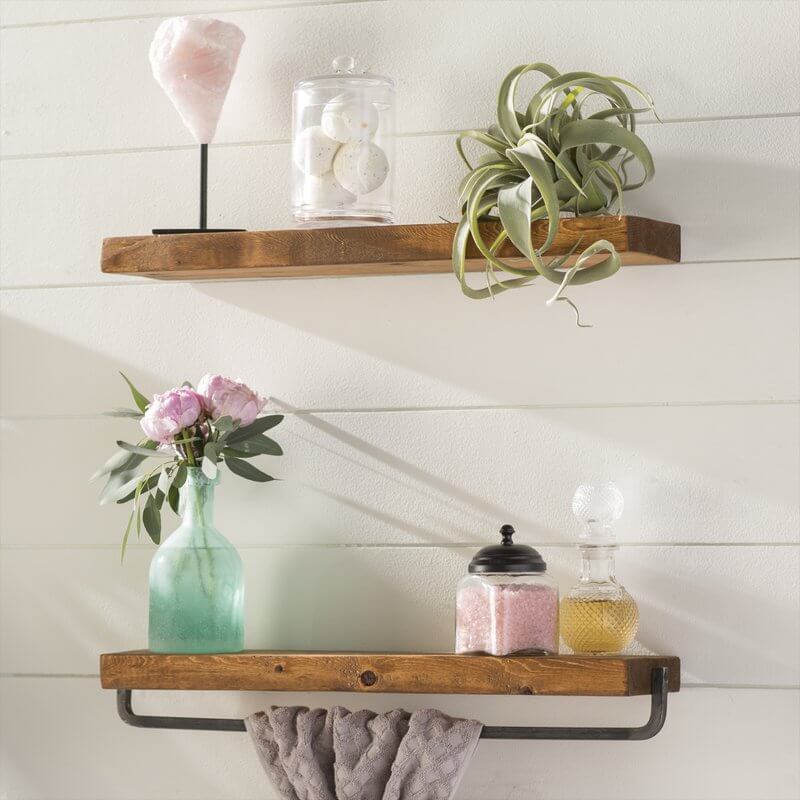 The Drew 2-piece Wall Shelf Set contains two 3.2″ H x 25.5″ W x 5.5″ D floating shelves that can be used to transform any nude wall. These organizing and storage items also include a distressed finish over the natural wood grain surface, which can be used to add a rustic charm anywhere in your home.
22. Caddies are not Just for Golfers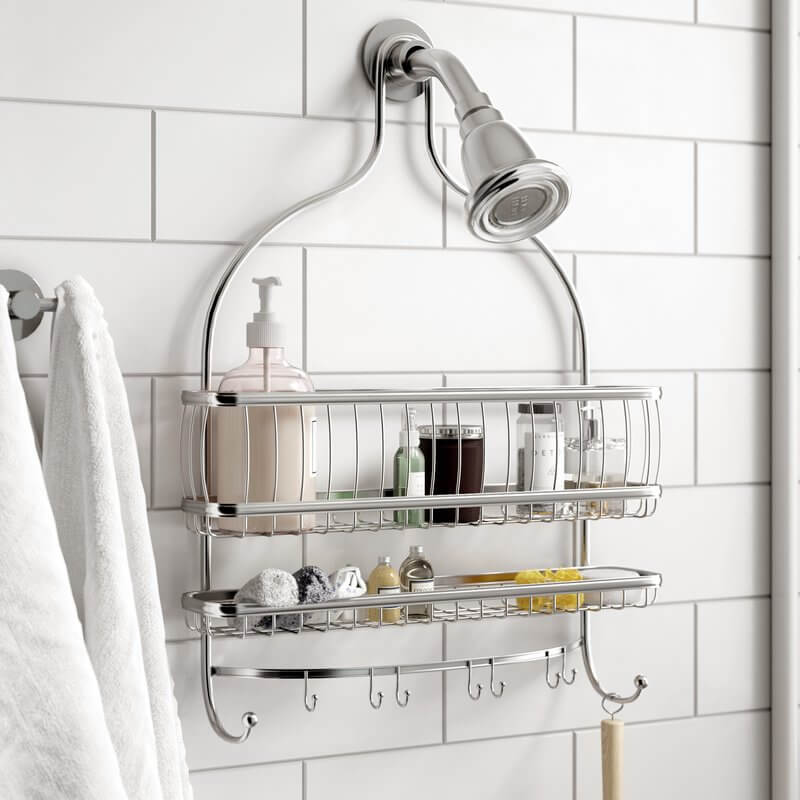 With the Eisman Shower Caddy, golfers won't be the only ones with a caddy to conveniently hold their game essentials. In fact, the caddy hangs over your shower head and features two large baskets that enable you to conveniently store all of your shower and bath essentials, including brushes and loofahs, within reach, so you are never without your essentials.
23. Good Grips Simply Tear Paper Towel Holder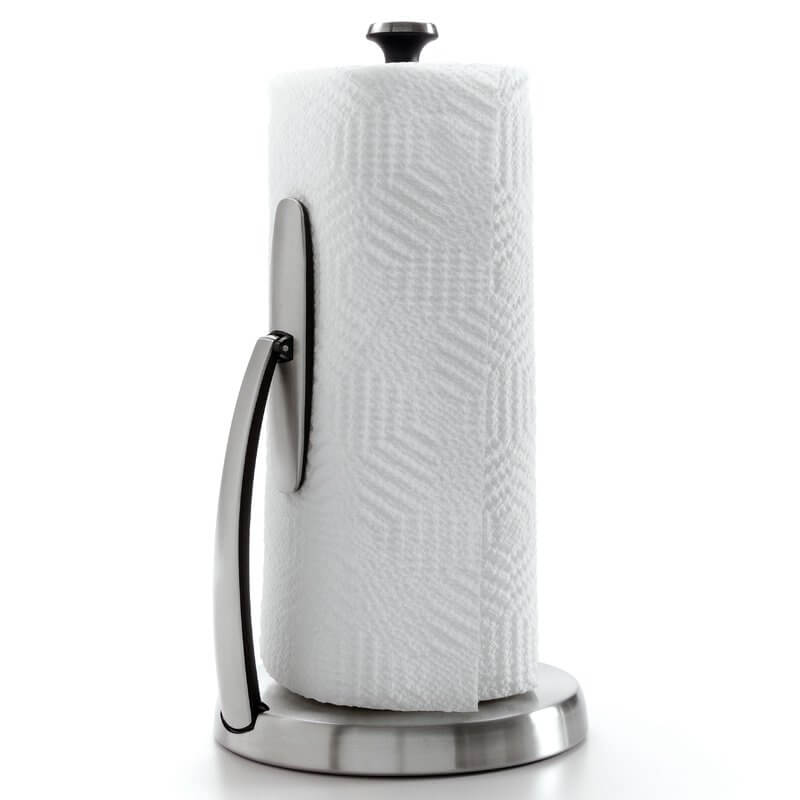 This towel holder will not only stand out on your kitchen counter due to its brushed stainless steel design and black plastic accents, but it also includes a spring-activated arm that allows you to tear just one paper towel at a time, and it also prevents the roll from unraveling for a neater paper towel display.
24. 4-Piece Caddy with Glass Mason Jars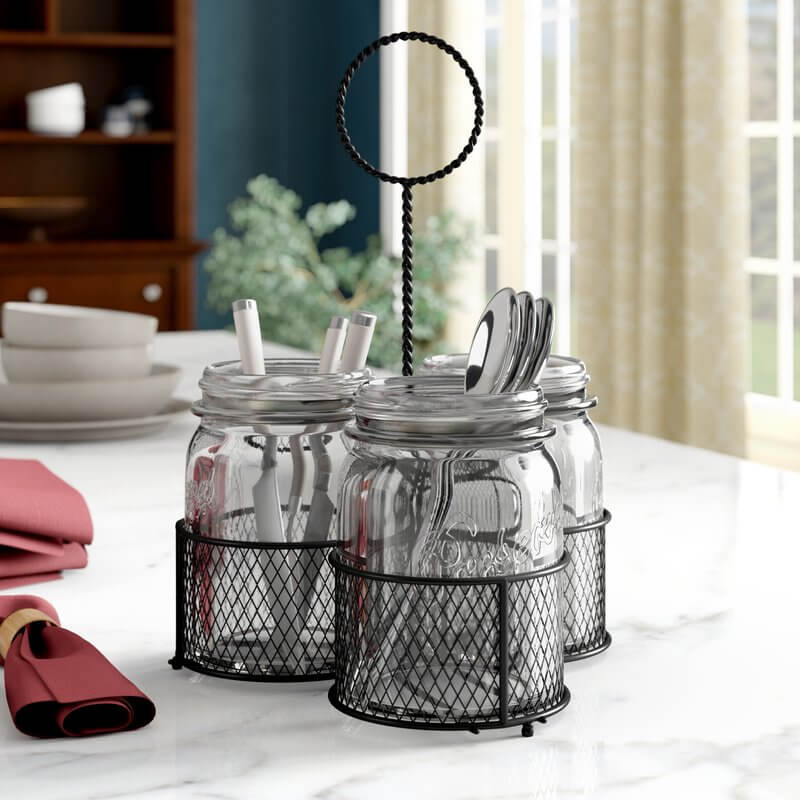 The Reynoso 4-Piece Caddy contains 4 clear glass mason jars secured in a metal stand that can be brought out and displayed anytime you wish to create a vintage style dinner table, and these organizing and storage items also hold up to seven dinner utensils for added flair and convenience.
25. Wayfair Basics Drawer Organizer for Your Utensils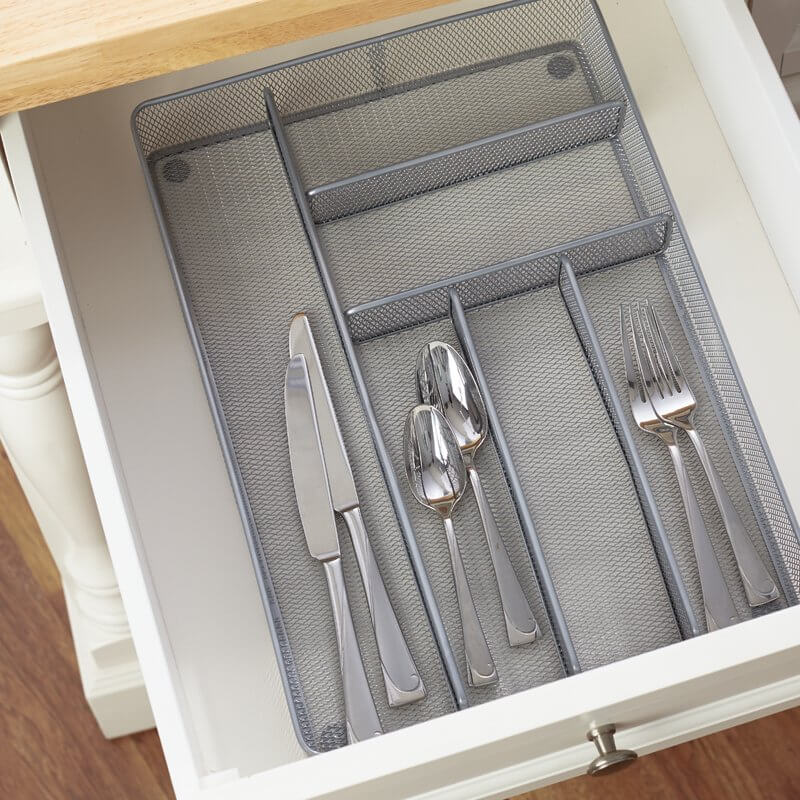 If you are tired of rummaging through a dark drawer full of loose utensils searching for the right utensil only to stub your finger on various other utensils along the way, then consider this organizer, which keeps your utensils in organized compartments, so you can find the utensil you are looking for without rummaging through the drawer.
26. Deck the Hall with Boughs of Space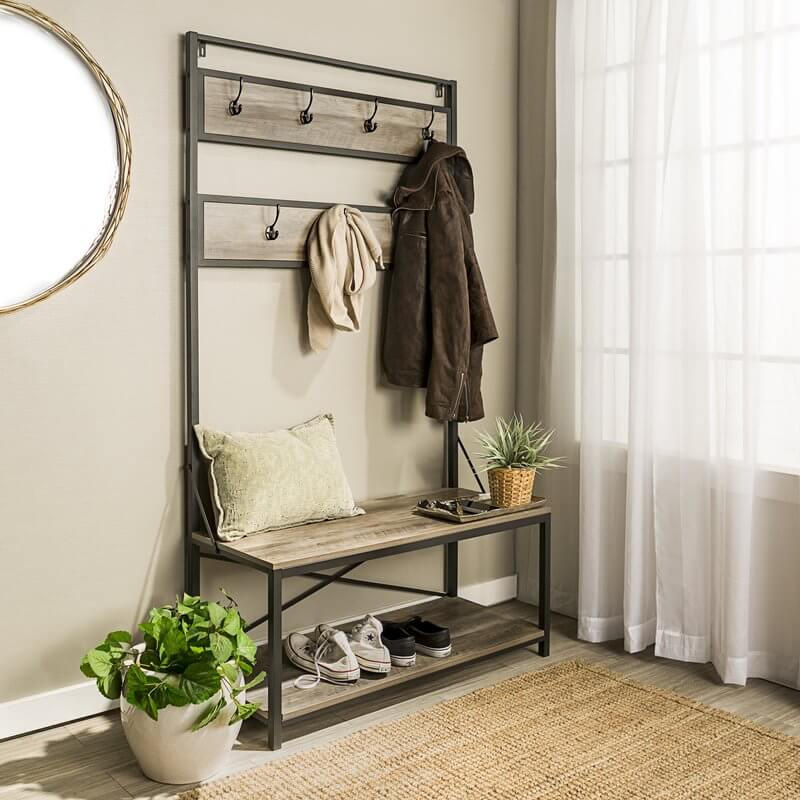 Your foyer or entryway is where you enter and exit your home each day; therefore, it provides the perfect area for storing various outdoor clothing for easy grabbing on the way. The Meadow Hall Tree by Laurel Foundry Modern Farmhouse, not only adds a rustic look to your foyer, but it also includes 7 hooks for storing various items.
27. Elegant Wayfair Basics Wire Shelving Unit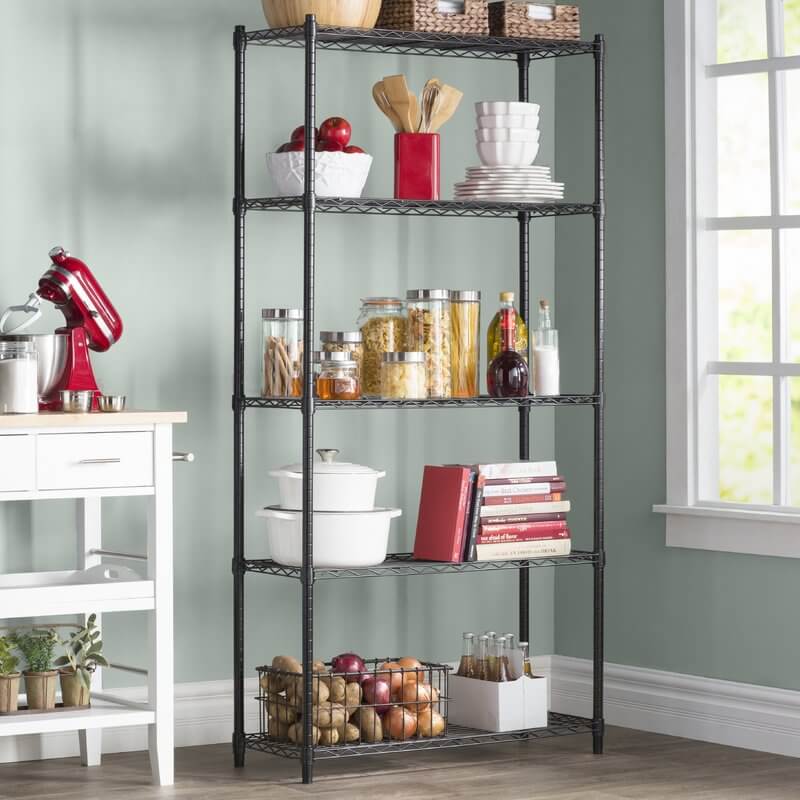 This unit provides elegant beauty in a sturdy, chrome 5-tier shelving unit that is just perfect for storing various kitchen items within easy reach. Simply store the shelf in the kitchen alongside other kitchen accessories, or, because it can hold up to 800 pounds, it can also be used in the garage to store heavier items.
28. Exterminate Clutter with a Tool Tower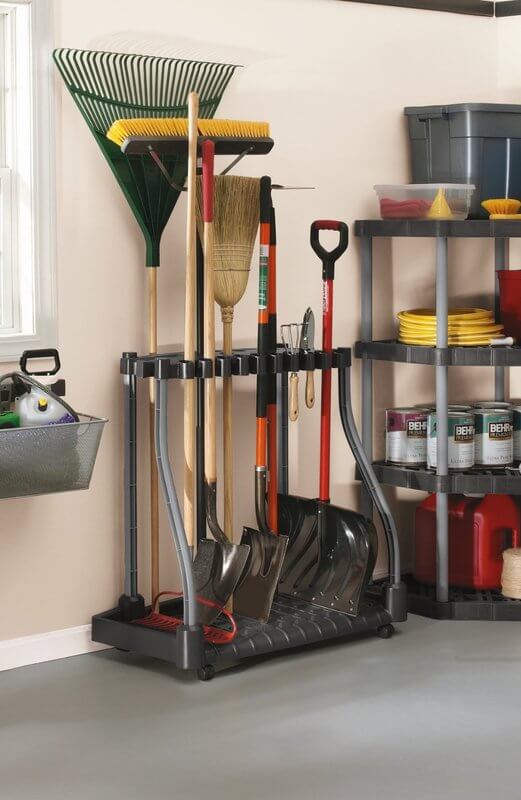 If you are tired of walking into your garage searching through various fallen tools for the right tool, the Rubbermaid Deluxe Tool Tower helps keep your tools in order, and it can be stored anywhere in the garage, including anchored to the wall. It also allows for heads down storage, and at just 13 pounds, it also easy to transport.
29. Leblanc Wall Mounted Cabinet for Your Bathroom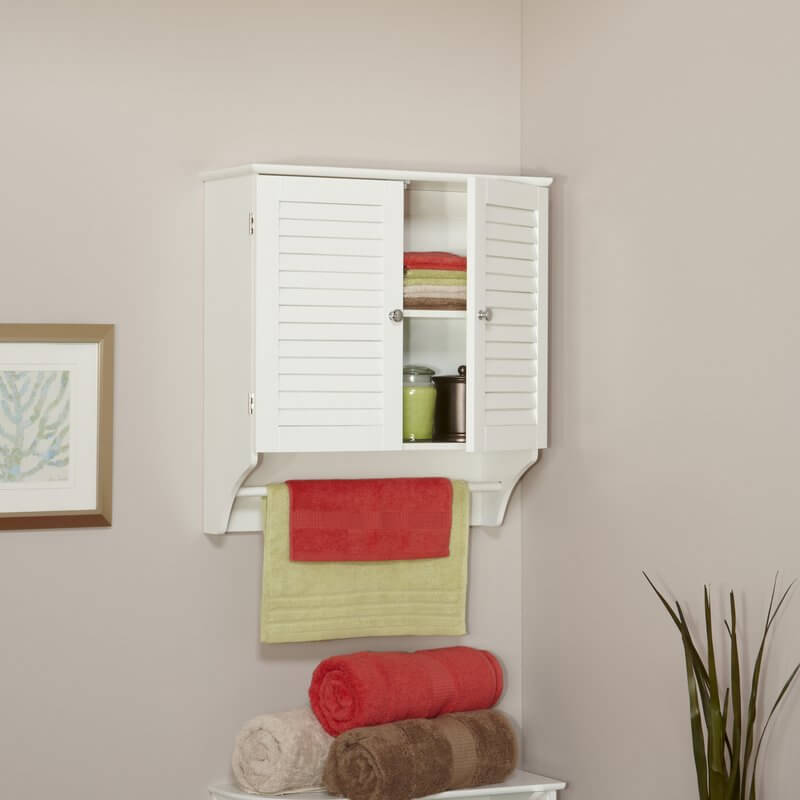 The cabinet features a manufactured wood shelf with a pair of shutter doors that is sure to inspire Southern charm. The cabinet also includes an inner shelf and a towel rack underneath. Simply hang the cabinet in your bathroom or any other room where you need additional storage, or you want to channel your Southern charm.
30. 3-Tier Metal Basket for storing Fruits and Vegetables
If you love the beauty of fresh fruits and vegetables as displayed by your favorite market, then the 3-Tier Metal Basket by Gourmet Basics, which features a rustic black design and 3 metal baskets for storing various fruits and vegetables, can be used in your home to create a market-like display for storing your fruits and vegetables.
31. A Walk-in Closet for Your Closet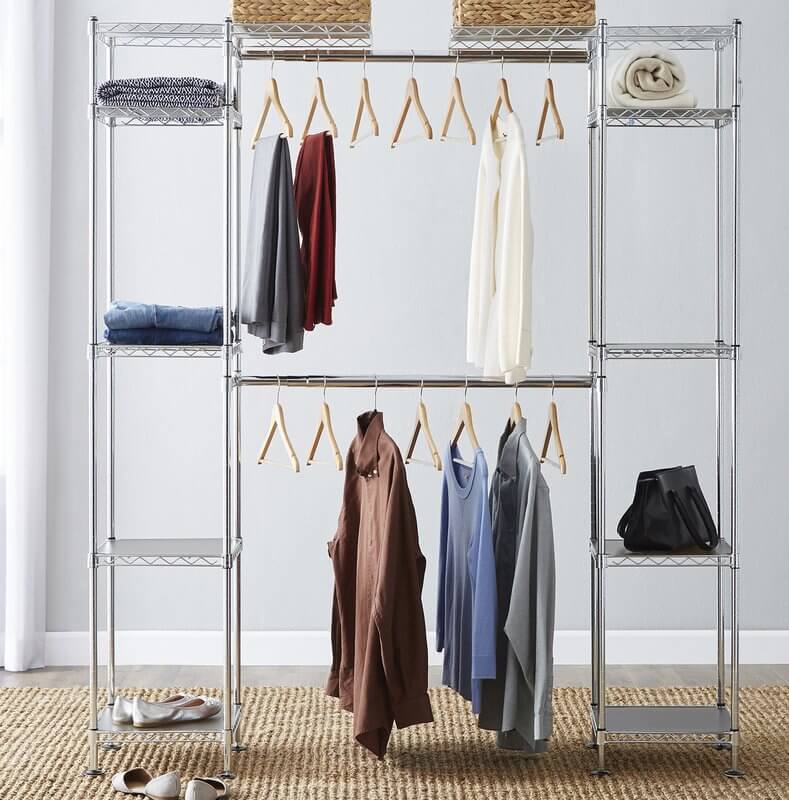 The Wayfair Closet System provides everything you need to beautifully and neatly store various closet items similar to your favorite walk-in closet, including upper and lower center rods for hanging clothes and eight shelves on the side for storing shoes and accessories. Simply add the system to your existing closet for additional storage, or use it in the guest room.
32. Stylish Bower Cube Unit Bookcase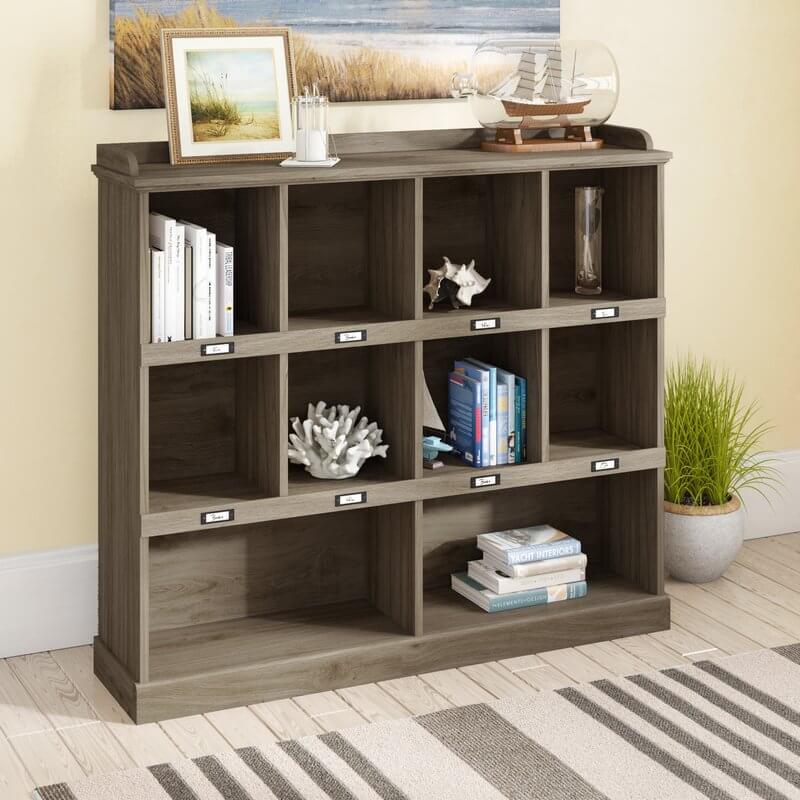 If you enjoy displaying your books, movies, or other collector's items, whoever said they had to look boring. In fact, this bookcase features 10 open compartments with a stunning square outline for an exceptional look that is sure to transform any hobby collection from square to fab, and it comes in a neutral tone to suit various decors.
33. The Dryer that Doesn't Take Up Space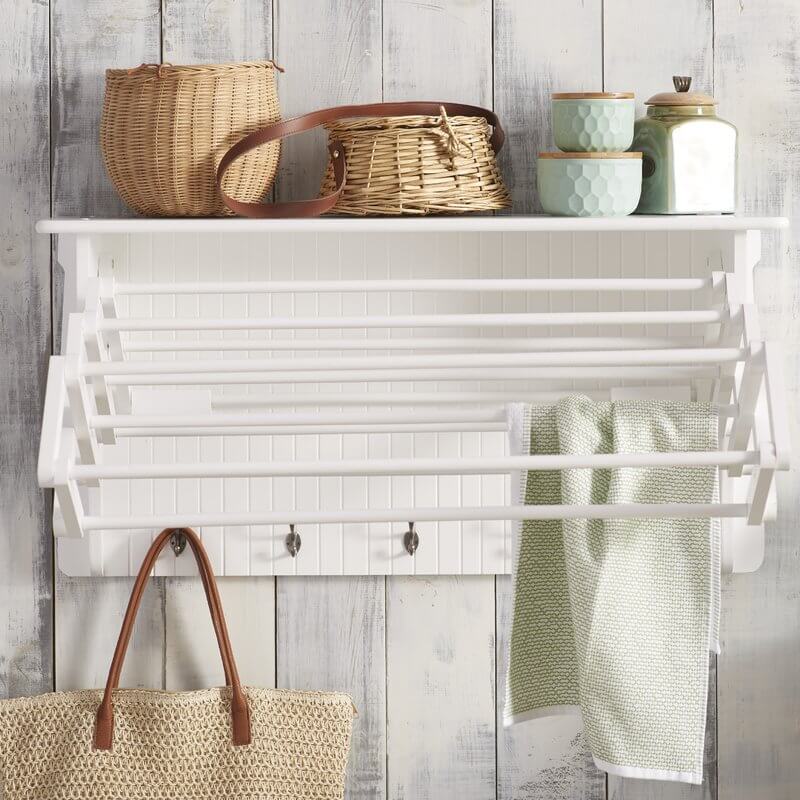 The Dryer Rack by Rebrilliant offers the perfect solution for tenderly drying delicate items that can't go in the dryer, or it can be used if you don't have a dryer. It features a wall mounted design with five racks for hanging clothes, and the racks can be discreetly stored away when not in use.
34. Make Your Library Its own Library Ladder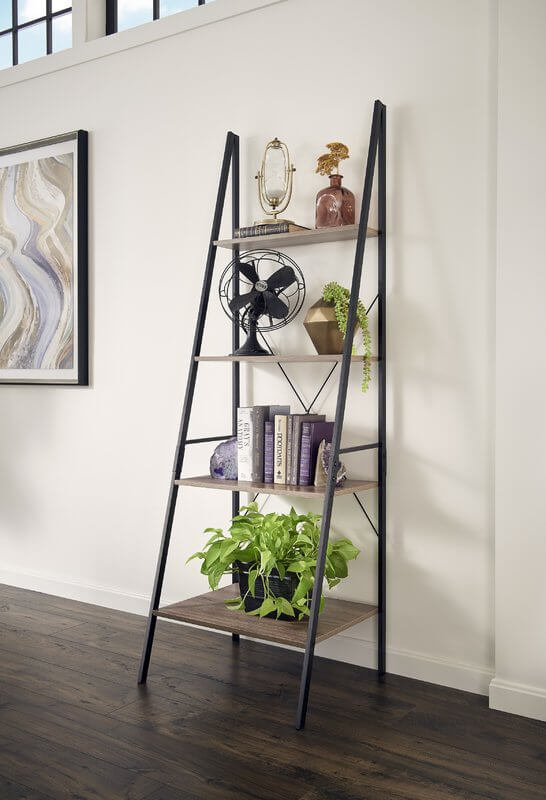 The Almanazar Ladder Shelf provides an industrial-inspired look that is reminiscent to the rolling library ladder used in many major libraries. It can be used to proudly display your book collection alone in honor to the library, or simply throw in a few decor items for a more modern look.
35. The Contemporary Country Lodge Guestroom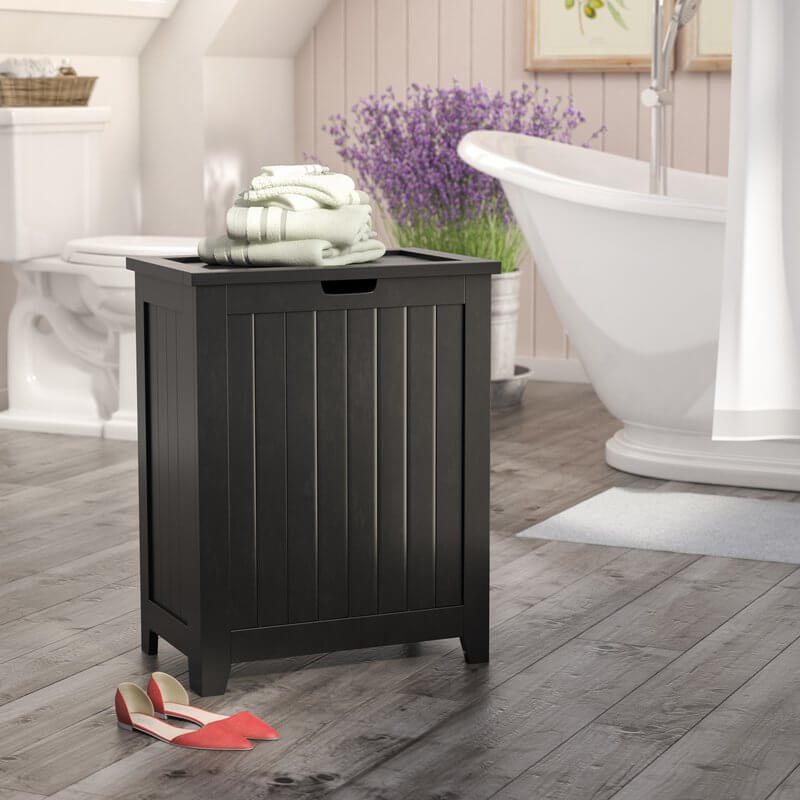 The Contemporary Country Cabinet Laundry Hamper combines country charm with modern design and functionality in a semi-gloss enamel finished wood paneled 3-laundry load capacity hamper that can be placed in just about any room in your home to invoke a cozy, lodge experience, including your guest bedroom, master bath, or kitchen.
36. 12-drawer storage chest for Storage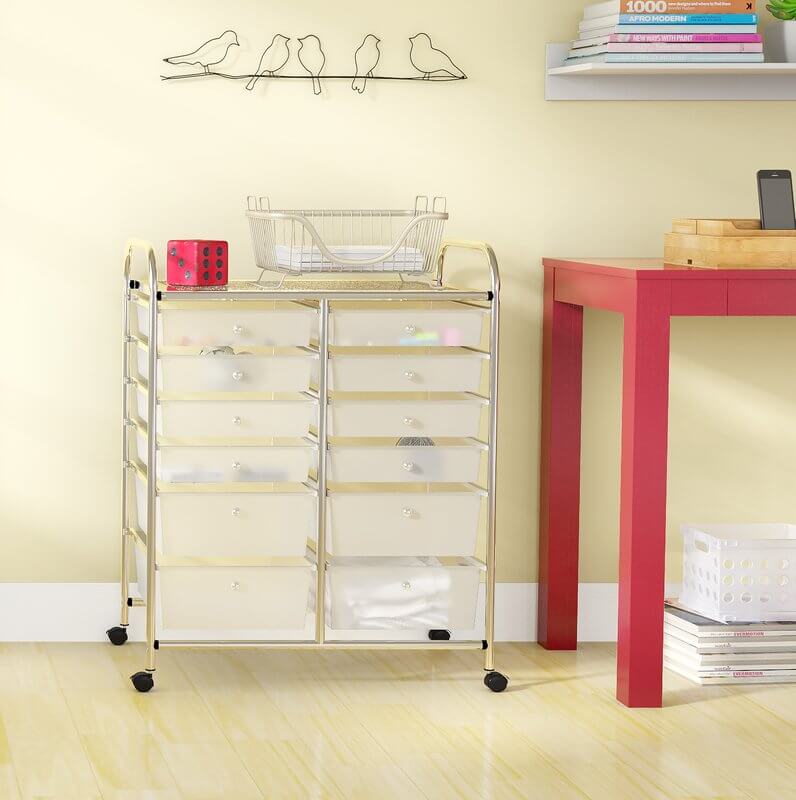 If you love the idea of storage chests but can't seem to find one big enough to fit all of your needs, then you may find heaven in the 12-drawer storage chest by Rebrilliant, which features 12 plastic drawers that are just perfect for storing everything from kitchen essentials to craft supplies. The wheels also lock to provide a stationary workplace.
37. Vintage Wall Mount Basket Storage Bin
Spectrum's Vintage Wall Mount Basket can be used for storing various items beautifully, including bath items, gardening supplies, and everything in between. Its deep storage bin and rustic steel body impart an antique feel, and it also includes a label holder to label the basket. Simply mount the basket on any wall for a bit of vintage charm.
38. Solid Wood Hall Tree with Bench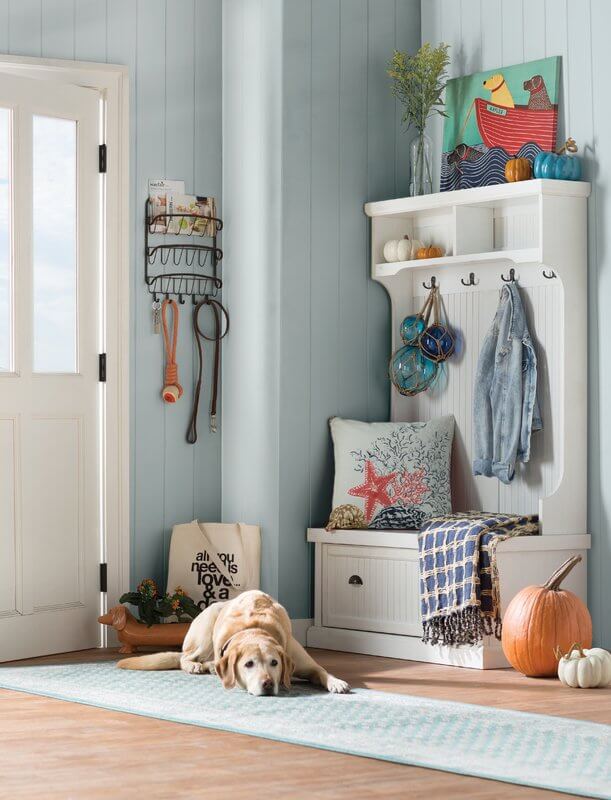 The Halstead Hall Tree from Beachcrest Home inspires the feeling of a serene coastal getaway with a weathered solid wood and veneer construction that includes a spacious bench, which is just perfect for basking in the coastal feel while getting ready for the day. It also includes drop-down drawers, which include two cubbies, for storing shoes and other items.
In the end, these 38 organizing and storage items not only provide a practical way to help eliminate clutter around your home, which helps keep your home free-flowing and stress-free, but they also provide a charm that adds to your home's aesthetics. They are also each reasonably priced, so you can mix and match the items or try them all!
To avoid becoming overwhelmed by the vast array of organizing items offered, remember to begin by assessing each room or space in your home for their exact storage needs as well as the specific mood or character you want to invoke in that space, which will help you select the appropriate organizing and storage products for each room. Furthermore, by knowing your needs ahead of time, it will also help narrow down your search, which will help prevent you from becoming overwhelmed by the various offerings.
You also want to be sure to select items that are also compatible with the use of each space. For instance, selecting glass storage jars for a child's play area may not be practical. Likewise, when selecting storage items for the kitchen, you need to ensure they are safe for storing food. You might also check that they are also safe for the dishwasher if you plan to clean them using your dishwasher. Lastly, when considering adding larger items, such as a hall tree in your foyer, be sure to take the exact measurements of your foyer beforehand to ensure the hall tree will fit.
When in doubt about how to declutter your home or the best organizing solutions for your specific needs, you might consider hiring a professional organizer who can work with you to help organize your home.