Want to give your home a pop of color, personality, and unique charm? Try these 26 inspiring string art projects and ideas! Each project on this list is easy to make and will brighten up any room in your house. These DIYs are fun to make as a hobby, as a project with the kids, or at girls' craft night over a bottle of wine.
26 Innovative Ways to Decorate Your Space with These Inspiring String Art Projects and Ideas

If you want a personal, unique gift idea, try creating one of these projects for the holidays or a loved one's birthday. Want a seasonal or holiday decoration no one else will have? This list has cute projects for fall, winter and Christmas. These inspiring string art projects and ideas are also great for decorating your home all year long.
Whether you want a touching quote for your living room, a fun piece for a child's room, or something to make a drab kitchen more fab, there is a project on this list for you. These ideas can also be personalized to your taste using different string and background colors, so they can fit any decorating scheme from bright and whimsical to rustic to modern.
Keep reading for full instructions for all 26 inspiring string art projects and ideas!
1. Mason Jar Bouquet String Art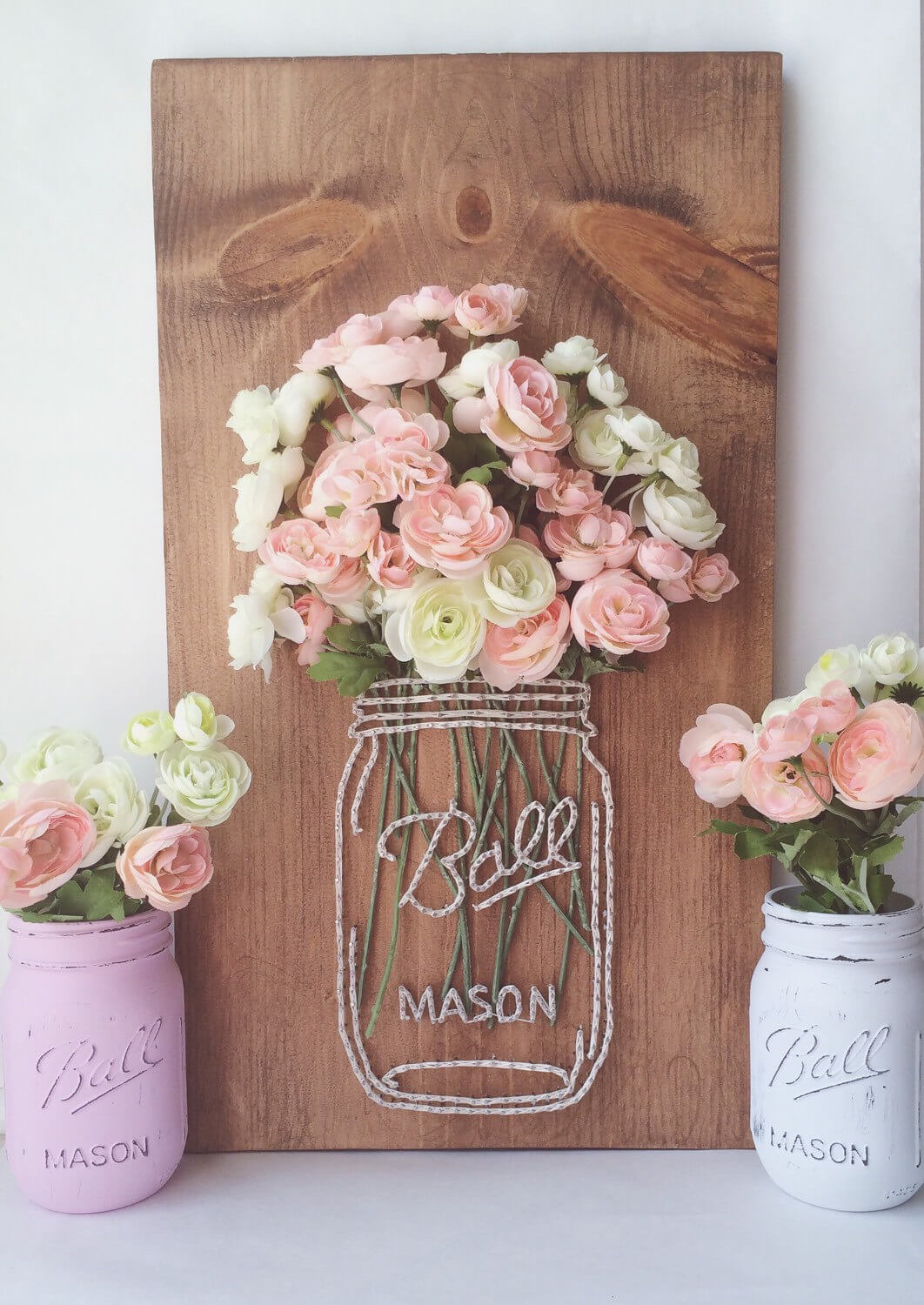 String art and flowers are a charming combination in this piece of three-dimensional mixed media art. On a wooden board, a precise arrangement of nails and string creates the iconic mason jar look. A bunch of fabric flowers in delicate pastel shades complete the rustic, yet elegant bouquet. The perfect centerpiece for any kitchen wall.
2. Cute Sunflower String Art Tutorial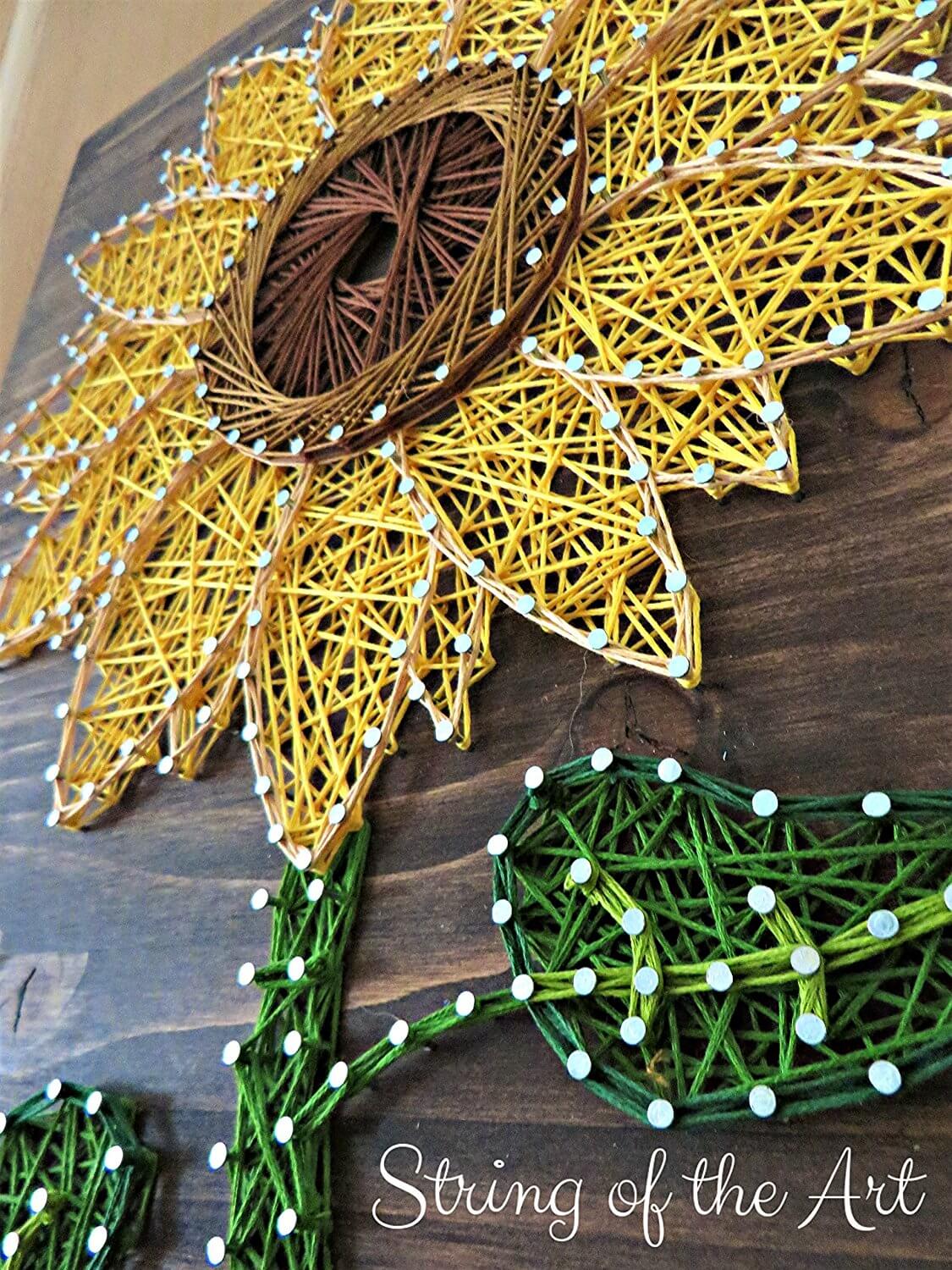 What could be more cheerful than a big yellow sunflower? Try creating your own wall art with bold summer flair with this DIY string art kit. It contains everything you need – embroidery floss in sunflower colors, nails, a beautifully finished wooden board and a pattern template. All you as a budding string artist is a hammer.
3. Merry and Bright Christmas Tree String Art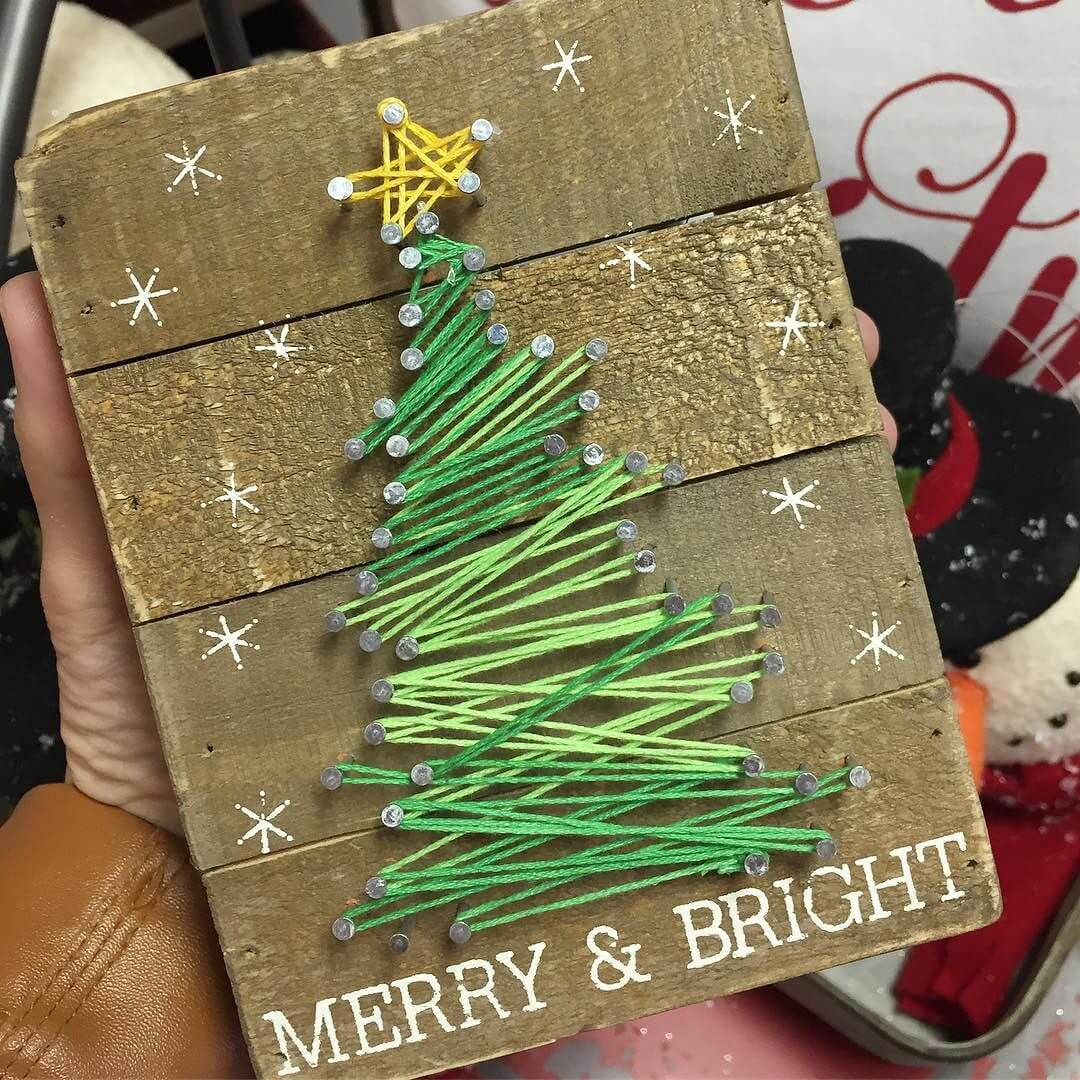 A modern take on traditional Christmas decorations. Rustic reclaimed wood is the backdrop for the Christmas tree and star paired with a cheerful message. String art at its best, creating a sense of lively, dynamic movement. The nail heads double as subtly twinkling Christmas lights. Perfect for a country-style Christmas display.
4. Love Rustic Yard Sign DIY String Art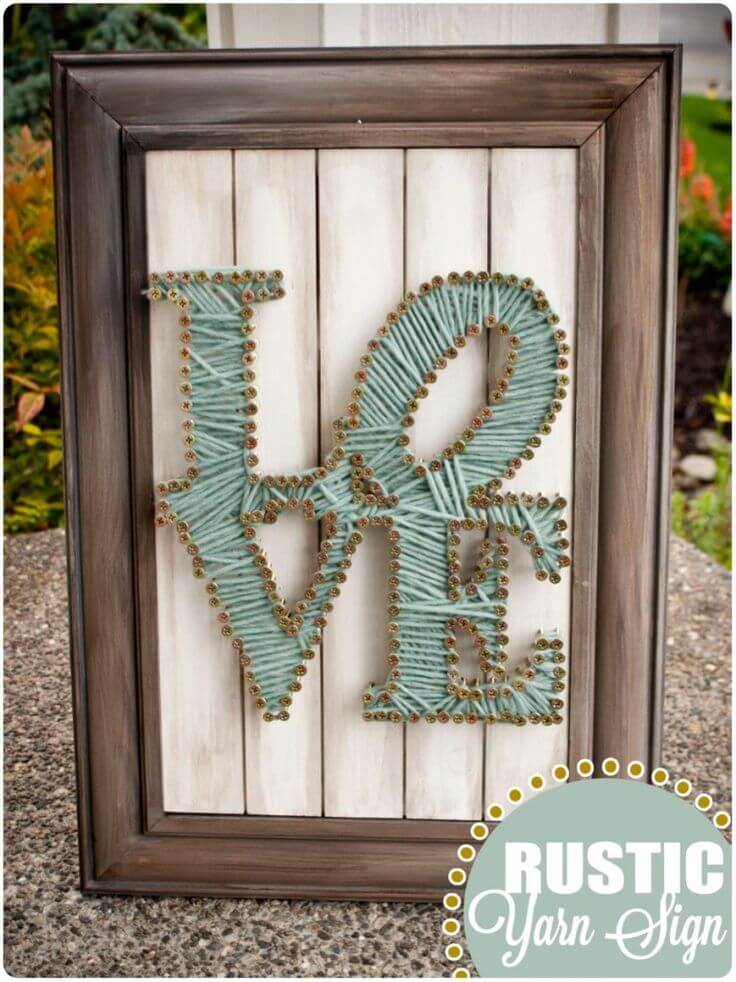 All you need is love framed as a three-dimensional work of art. The letters are traced with Phillips screws instead of nails, giving the peace an edgy look. We adore the understated design of muted blue-green and natural shades of wood and metal that makes the simple message stand out.
5. Home Quote String Wall Art Project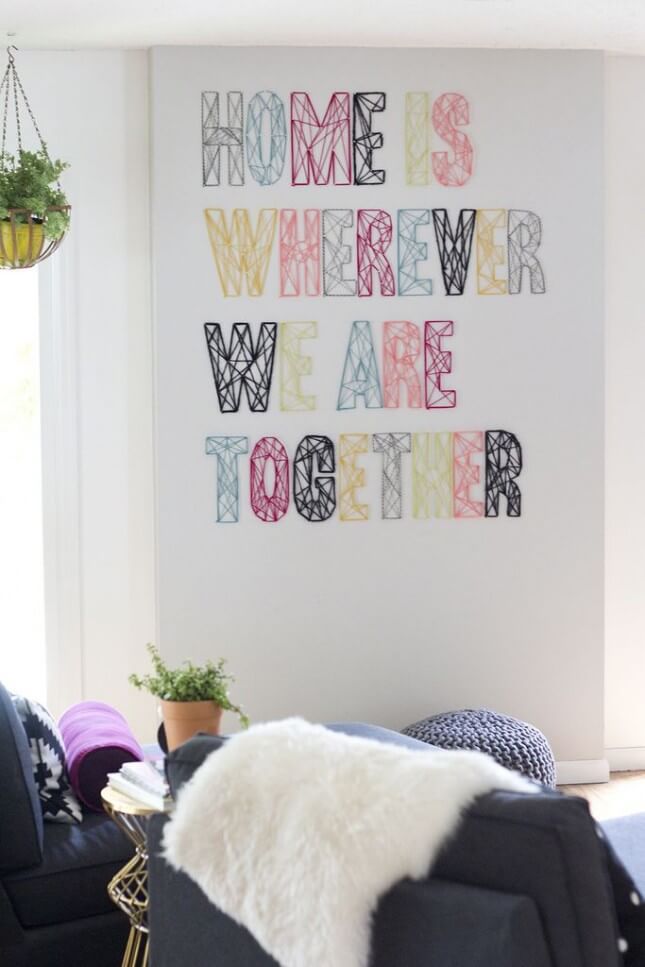 This spectacular wall art is really an easy DIY project using just a few common tools you probably already have in your house. The clean lines of the geometric stringing pattern make the big and bold lettering pop without being overwhelming, so that you can make use of the entire wall space.
6. Pretty Palm Leaf String Art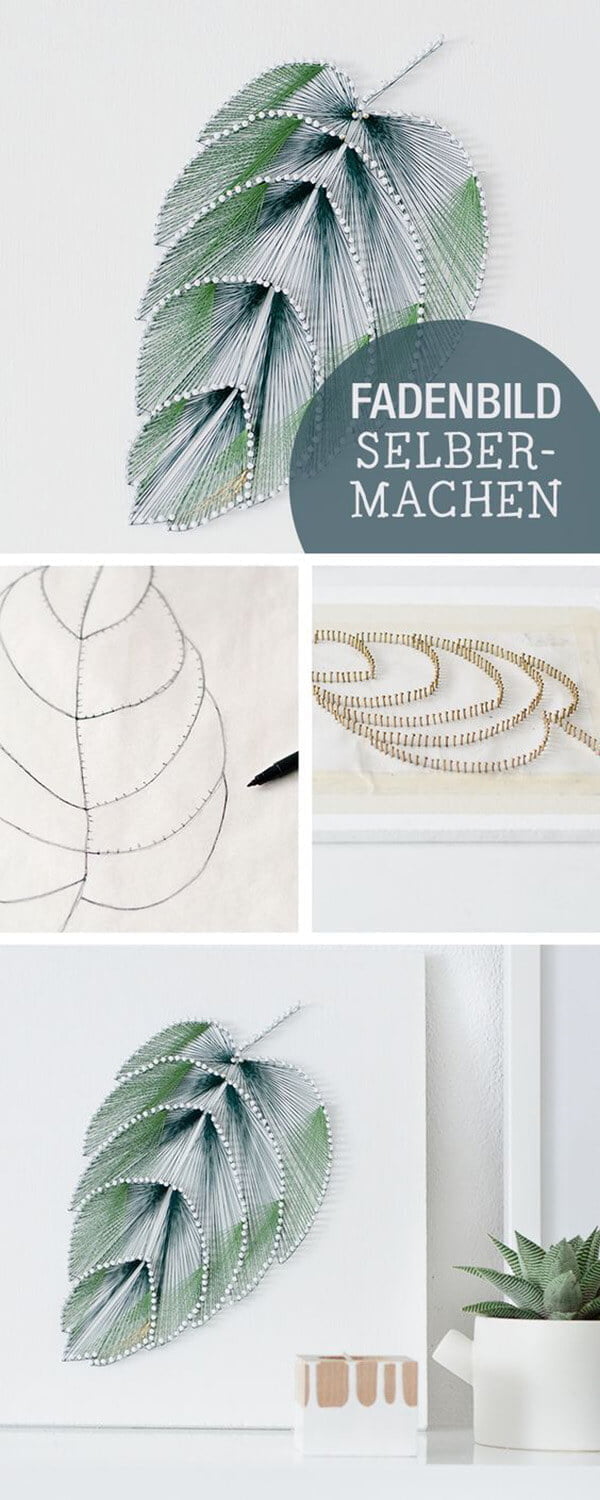 This palm leaf creates a breezy tropical accent in your home. The leaf shaped is traced in brass nails. To create a lush, airy look, the nails are then spray-painted with acrylic to blend in with the white background and let the strings in shades of green be the center of attention.
7. Lovely Oak Tree String Art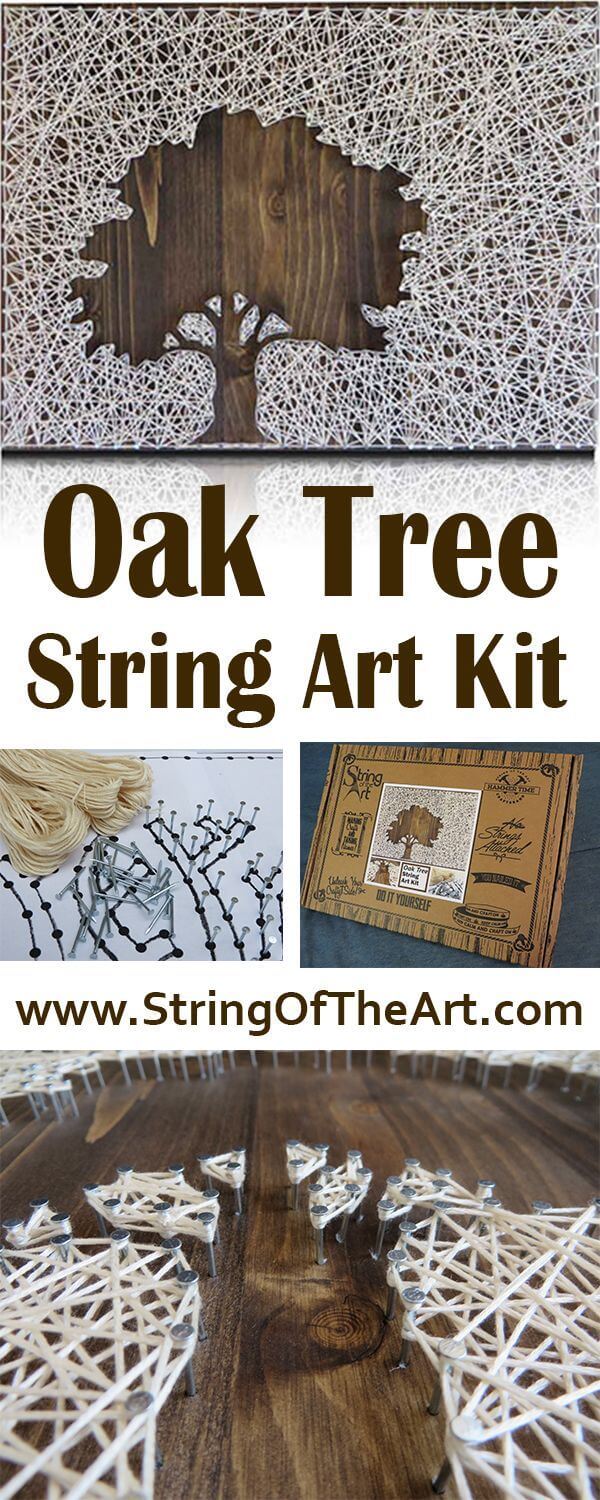 This string art kit makes clever use of the artistic concept of negative space, tracing the shape with nails and then filling in all the spaces that are not the tree. The white string backdrop highlights the organic shape and brings out the striking pattern of the board's dark wood.
8. Feather String Art Jewelry Holder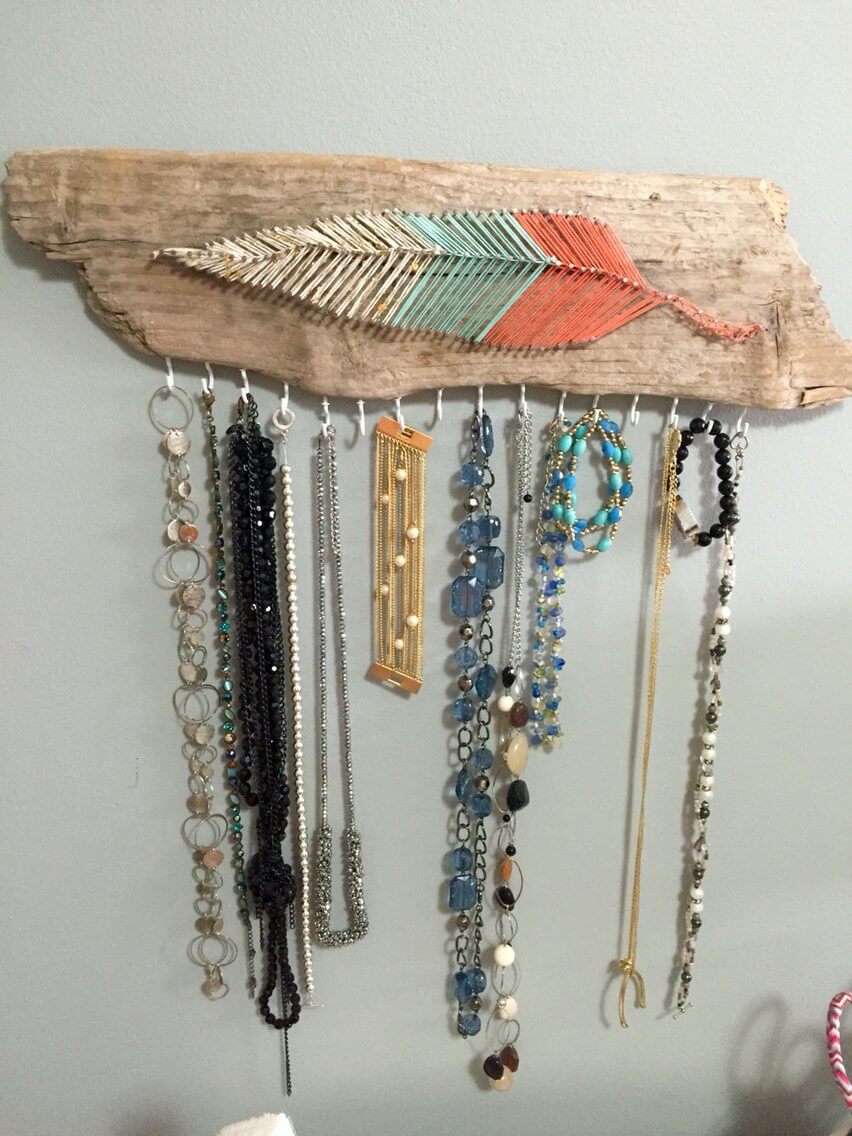 We love art with a practical purpose! This beautiful string art feather features hooks in the bottom edge of the driftwood-style backdrop. This versatile jewelry holder accommodates necklaces, bracelets and bangles and even hair accessories. The three-tone feather has a light and airy look highlighted by the rugged wood.
9. Floating Dandelion String Art Project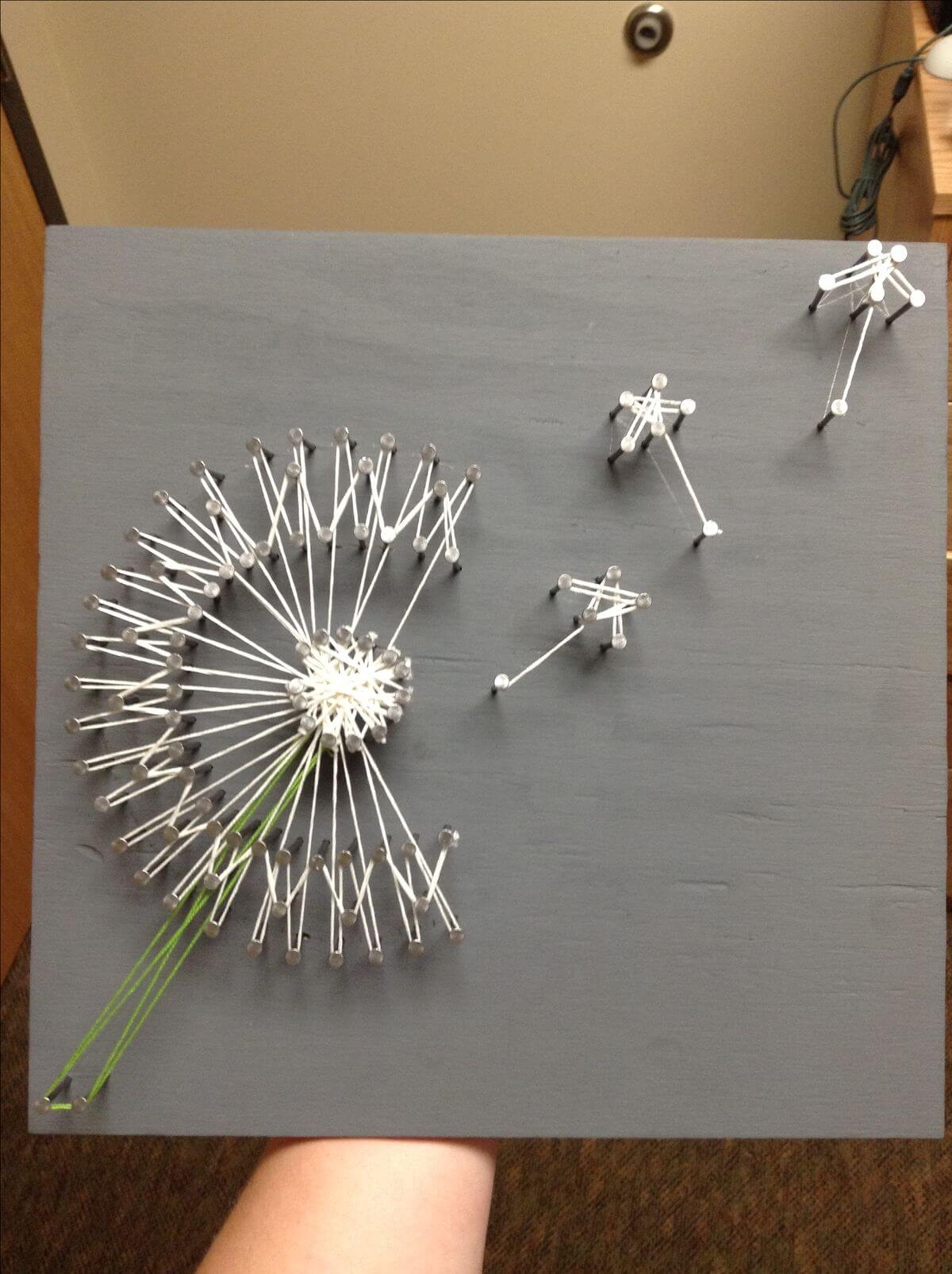 Who knew that string art could float on a breeze? This unique take on the trendy dandelion makes us happy just looking at it. The design uses strings in several different patterns to create the textures of a dandelion. The finishing touch is the pop of juicy green for the stem.
10. DIY Boho Arrow String Art

The arrow is a sleek symbol of dynamic movement. As home décor, this arrow is easy to fit on an oblong board and customize with different string colors. It brings a bit of boho chic and optimistic spirit into your home. Naturally, you can point the tip of the arrow up, if you like.
11. Colorful and Fun Heart String Art

This beautiful heart is a fine example of low-tech, high-impact art. The bright colors radiating out to the edges of the board combined with the essential heart shape make design a piece of statement art – even in a smaller format. The clean, simple string pattern is key to defining the shape at the center.
12. Charming Snowflake String Art Project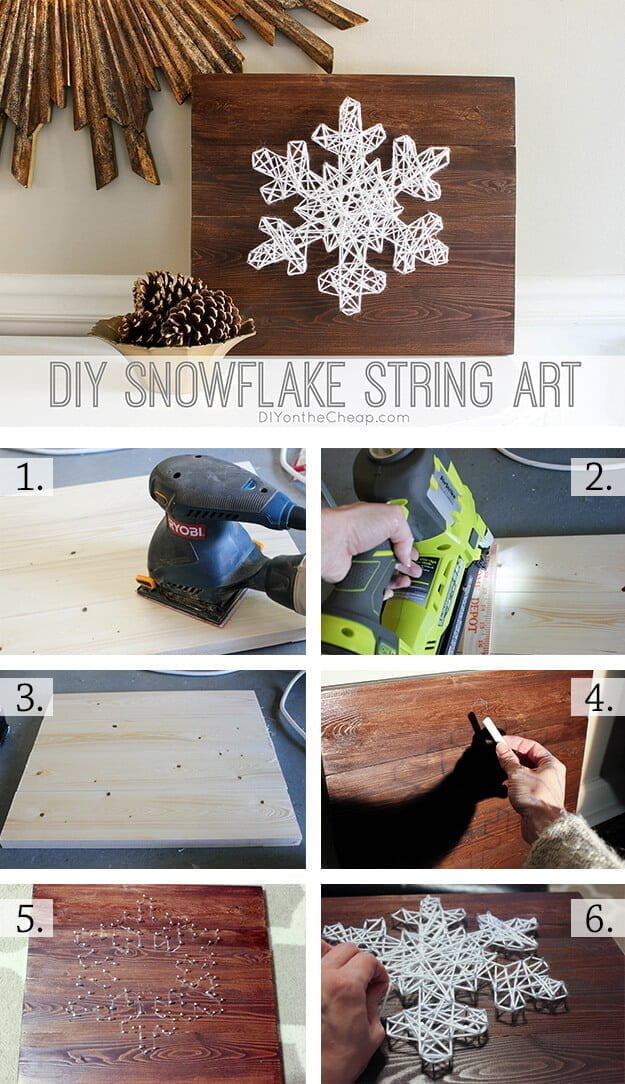 While this delightful snowflake certainly has a winter feel, its lines are bold enough to be displayed as a piece of graphic art all year long. The dark wood is the perfect backdrop for the pristine white yarn. The intricate stringing pattern is reminiscent of the fine crystalline structure of a snowflake.
13. Rustic Vintage Deer String Art

Oh deer! We would totally rearrange our entire wall décor to make room for this perfect mix of country and cool. No taxidermy is involved in creating this beautiful string art stag head. Black chalkboard paint framed by the bark-covered edge of the wooden plaque highlight the rustic chic of this piece.
14. Rainbow "Dream" String Art Sign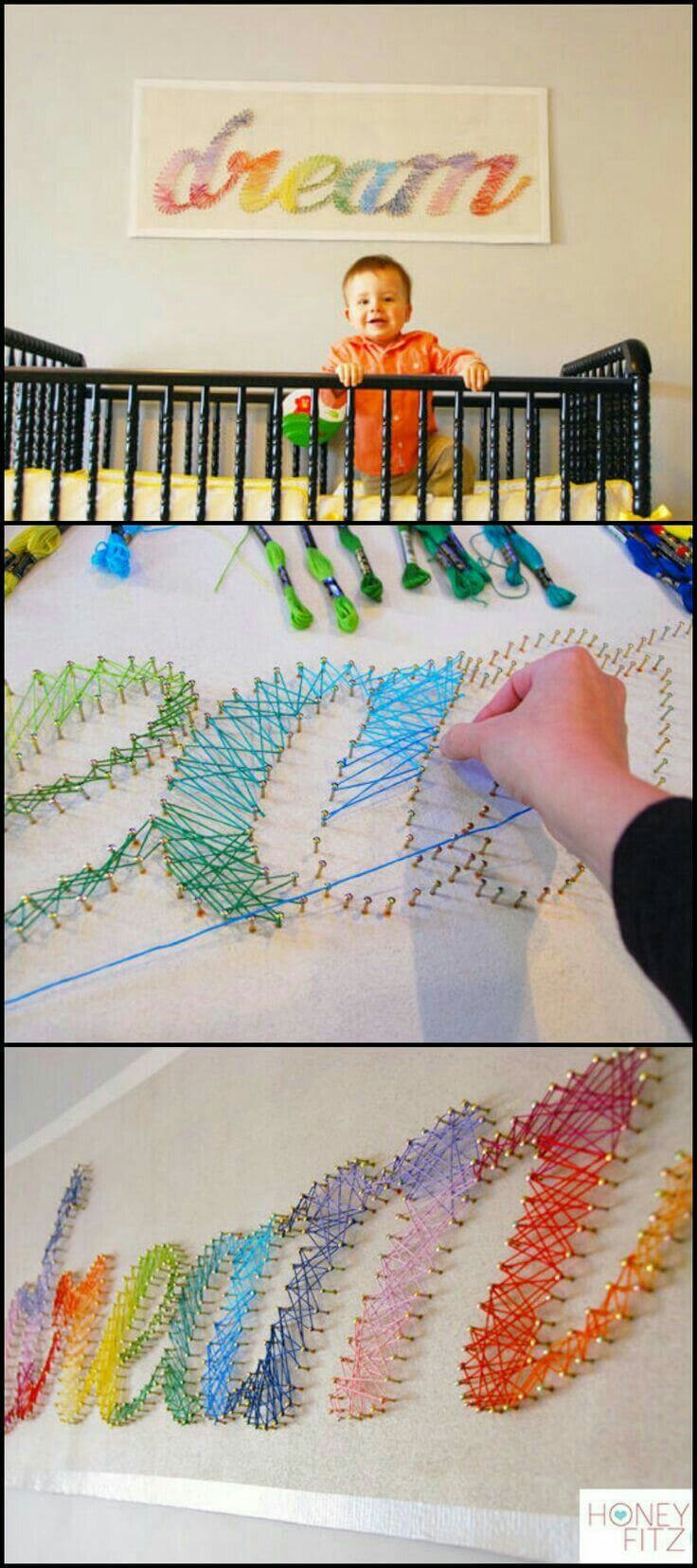 This large-scale piece of string art stands out with its progression of bright rainbow colors. The background is not wood but a thick sheet of cork, which makes the nails very easy to push into the material. No hammer required. Dream up a great color combination and string away.
15. Pumpkin and Flowers String Art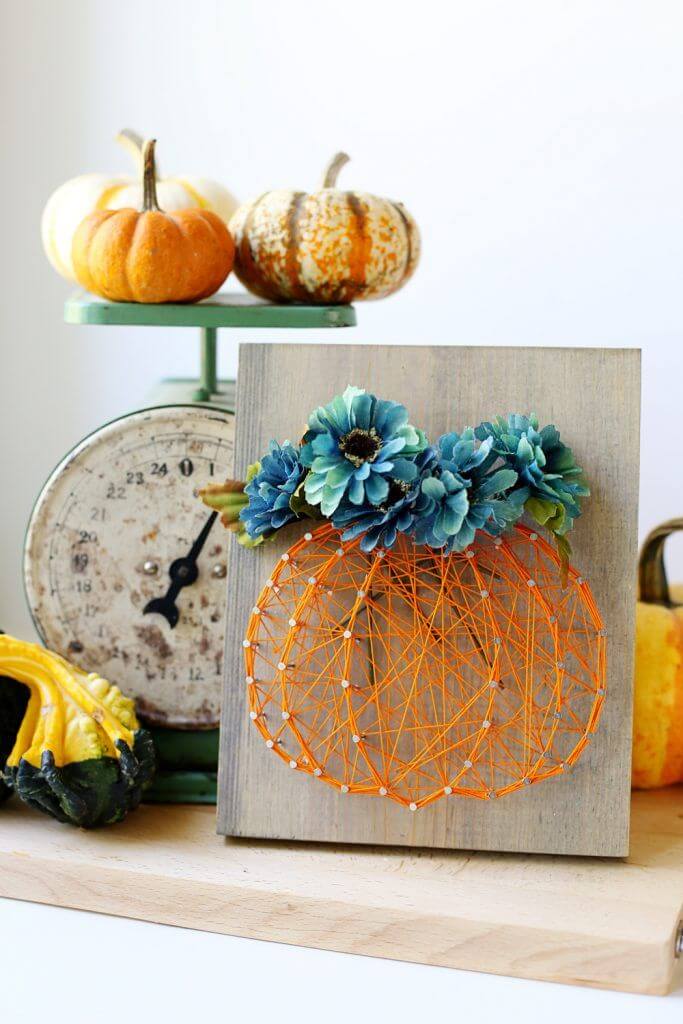 Happy fall! This cheerful pumpkin makes the best use of the three-dimensional quality of string art. After the orange thread is strung on a board, the strings hold the stems of pretty fabric flowers adorning the top of the pumpkin. The blue accent makes this piece stand out among decorations in classic fall colors.
16. Brilliant "Joy" String Art Sign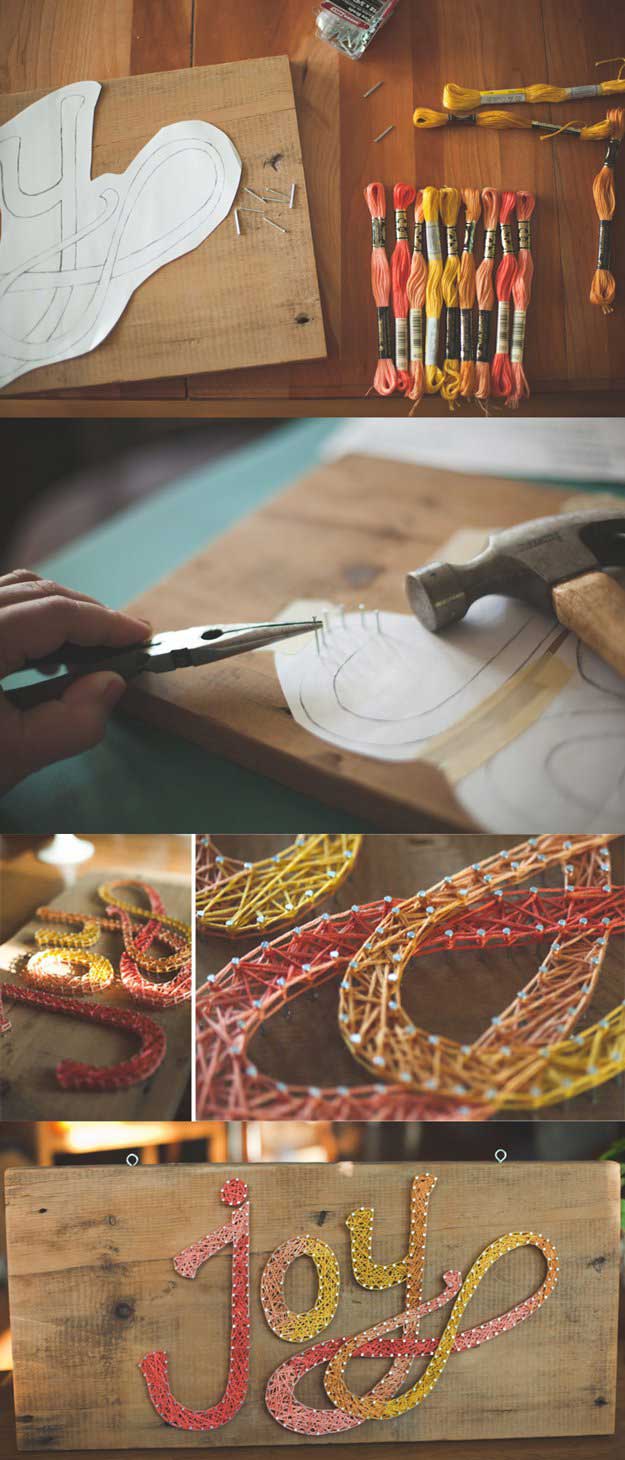 From the bright warm colors to the curved swirls of the script, everything about this design in joyful. The color progression offers a dynamic contrast effect. The shiny nail heads create a marquee-like effect without the lightbulbs. A natural, lightly grained piece of wood is the perfect backdrop for the vivacious lettering.
18. "Home" String Art Sign Tutorial

Sometimes, a simple design with a heartwarming message just can't be beat. The subtle charm of this piece of wall art lies in the beautiful wooden board and natural colored string wrapped tightly for a sturdy, almost opaque look. The modern script takes this piece out of the realm of country décor.
19. DIY Monogram String Canvas Sign

Letter art has been deservedly popular for several years now. This string art version of the creative initials trend works with negative space, outlining the letter with colorful string around the contours. The project is easily accessible even for young crafters, because it doesn't need hammer and nails, just a square art canvas, a needle and pretty yarn.
20. Deer Head String Art On Wood

Small and refined, but still majestic, this deer head looks simply enchanting with its contrast of rich dark wood and juicy green string. Keep the nails small and the wrapping tight for a bold look. Perfect on the wall or as an accent piece amid potted plants or herb pots.
21. Rustic String Art Pumpkin Decoration

No wooden boards and canvas squares – this string design goes right on a pumpkin prepared with a coat of white spray paint. The letter outline is traced in nails you can just push into the gourd without needing tools, which makes this project kid-friendly. Rustic, natural twine creates a beautifully subtle effect.
22. Three Part Giraffe String Art

Isn't this the most charming string art ever? The giraffe in three parts is a whimsical design highlighted by the muted neutral colors. Each spot on the giraffe is painstakingly traced in nails and dark thread, letting the natural wood shine through the spots. What a lovely decoration for a nursery or cozy living room.
23. Fluffy Bunny String Art Sign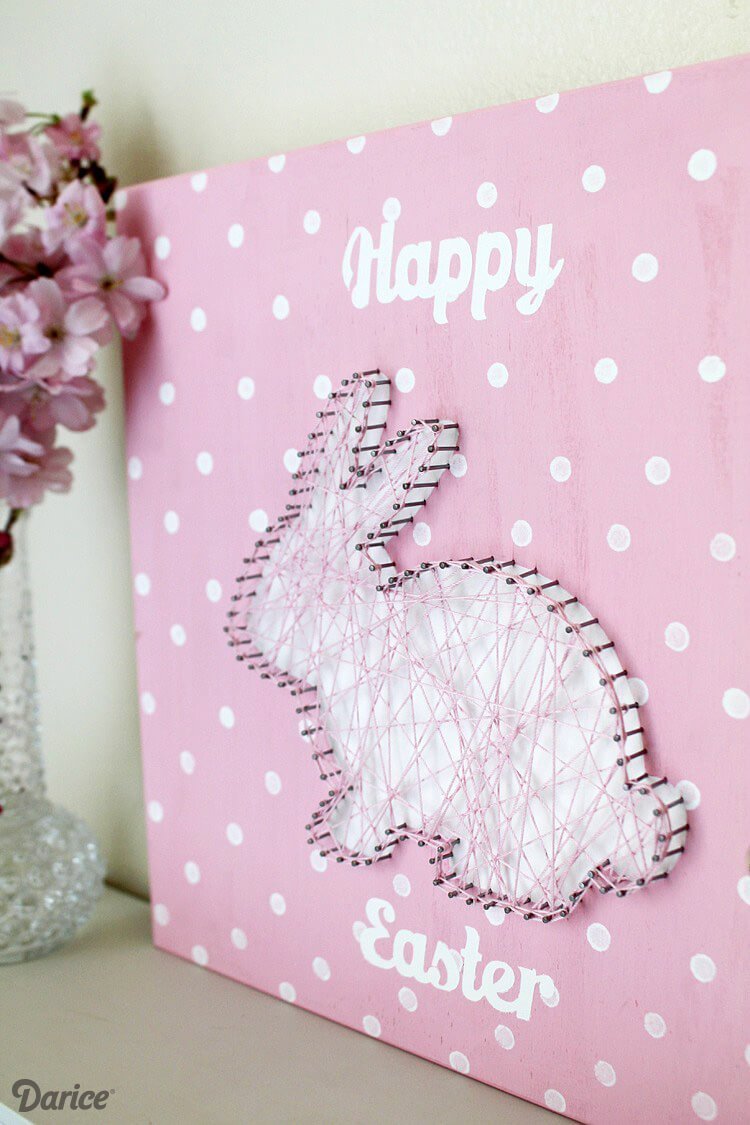 This design in Easter pastels has to be one of our favorite décor pieces. The clever use of color and pattern for the background complements the bunny shape traced in dark nails and filled in with matching thread over a white background. The effect is sweet, modern and irresistibly pink.
24. DIY State Shape String Art

Show where your heart is at home with this string art design. Though the project seems very intricate, the technique of using a map cut out to trace the state makes it easy to get the shape just right. Place the heart either in the center or in the pace of your home town.
25. Light Up Christmas Tree String Art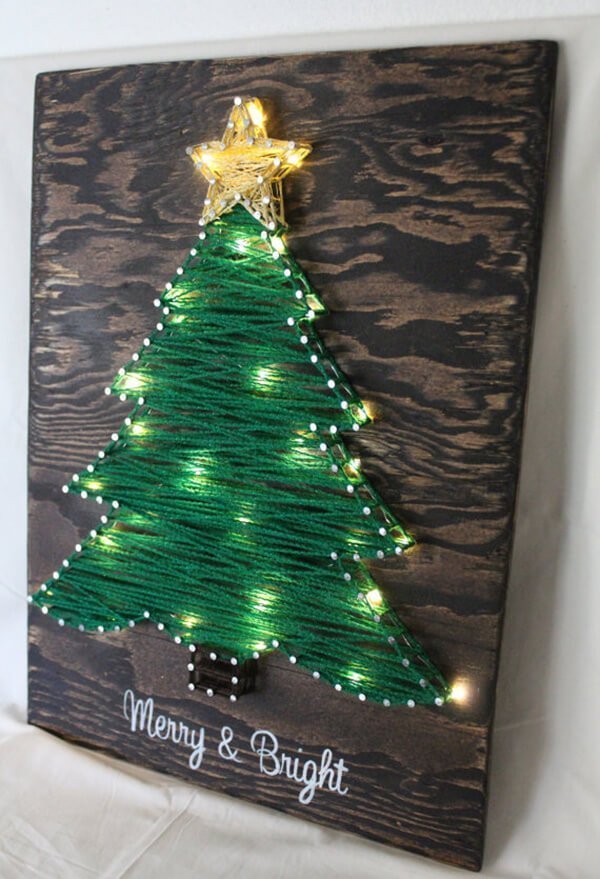 Next level Christmas decoration. This tree on dark wood with a striking grain isn't just outlined by shiny nails but also illuminated by a string of small white LED lights. Don't worry, the lights stay cool enough to be close to the string. The classic tree shape and orderly string pattern highlight the simple festive design.
26. Stunning Antler String Art Project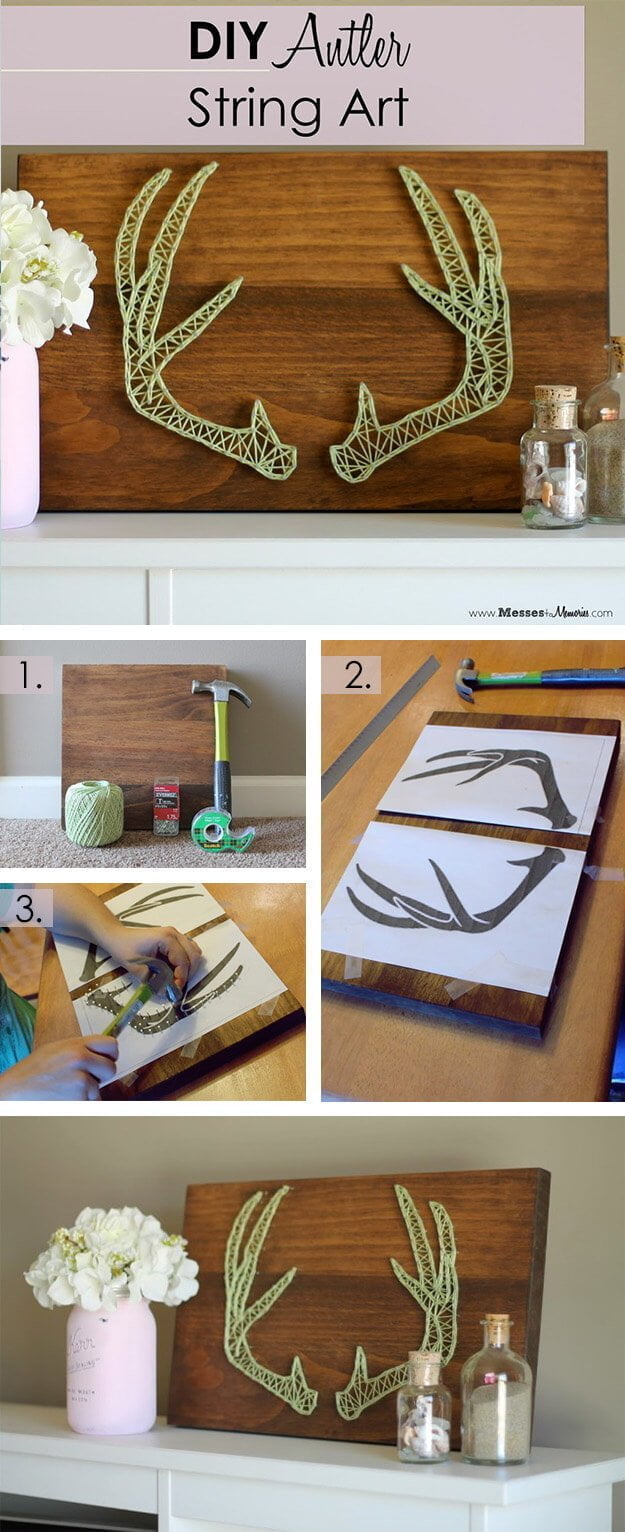 The gorgeous stag antlers have an expressive, graphic look created in silvery nails on dark wood. Light green yarn is strung in a precise, restrained pattern enhancing the bold effect of the piece. These antlers can be decorated as the centerpiece of a rustic display or as an element of fun in a modern wall art assemblage.