33. Going Natural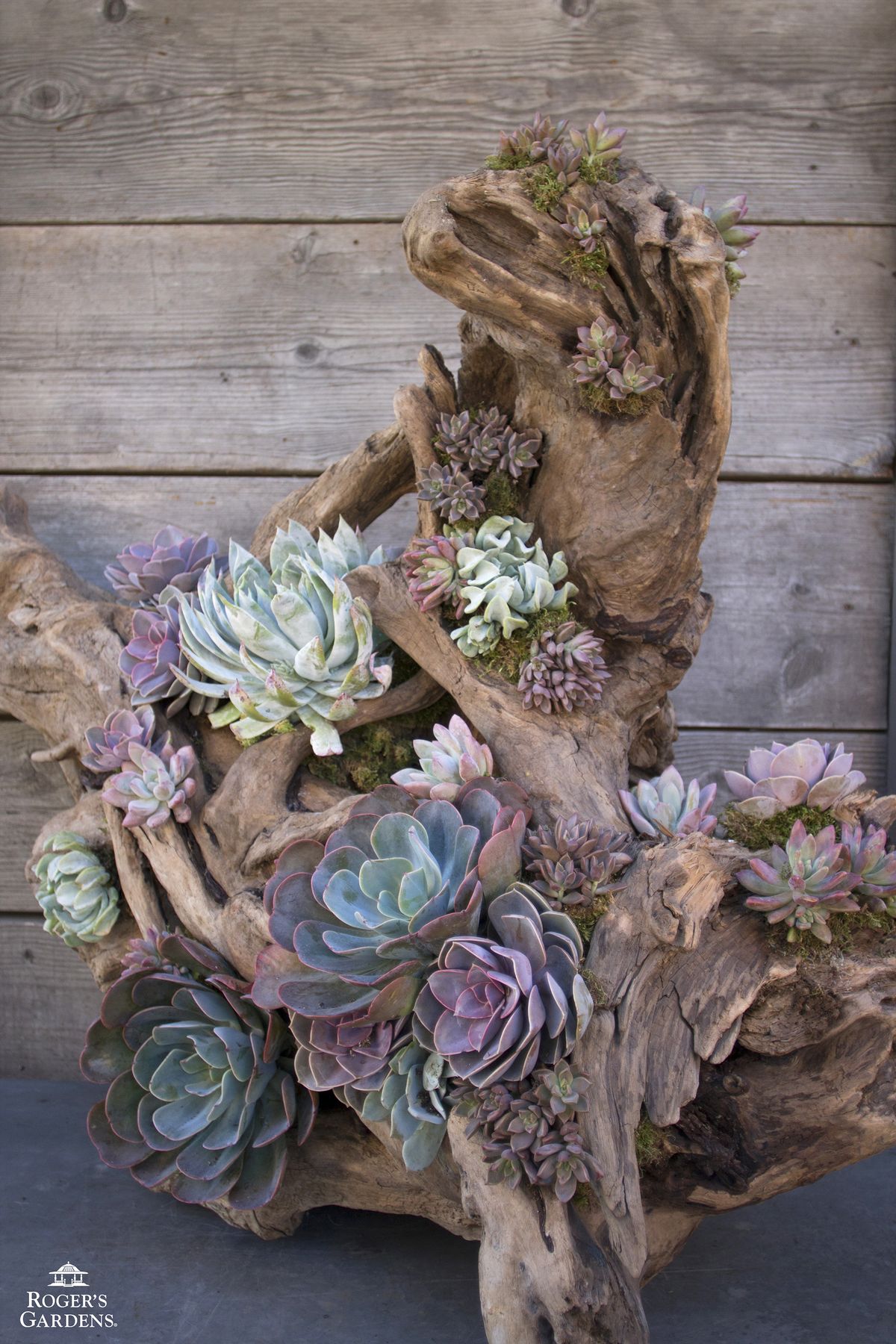 An old piece from a dried up tree trunk adds the distinctive touch to this rustic-like design. Perfect for display on top of a wooden bench area or pallet, simply fill up the open spaces with specially-formulated cactus soil and insert a succulent plant in each of the openings. Being that the display presentation is rustic in orientation, both a multi-colored approach is used or a simple one-colored theme pattern is appropriate. Crowding your wooden structure with non-thirsty Sedums may be the path to take for many ladies who have little time or water to waste.
34. Blue Strawberry Fields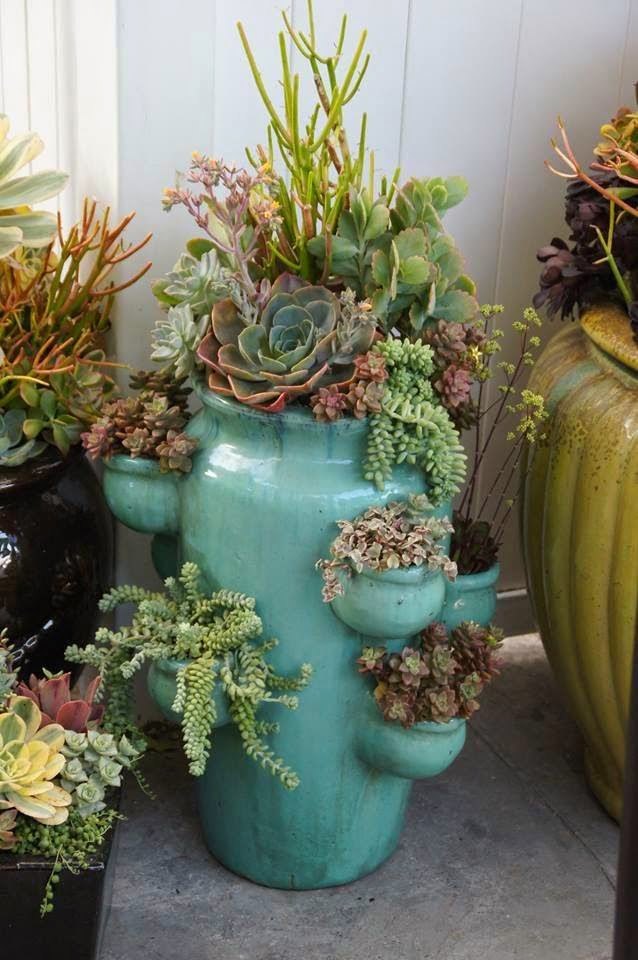 If you have a large-sized ceramic or terracotta strawberry jar container, and have it glazed or painted blue, then you're set to display this enchanting design in your succulent garden. Simply fill each opening in your jar with cactus-formulated soil, and insert one or two succulent plants. One large one or two tiny ones would be ideal. Using a cascading foliage of Senecio flowing from some openings and a small aloe rising from the top-tier opening, adds that beautiful touch to your blue, strawberry field–without strawberries.
35. Garden of Life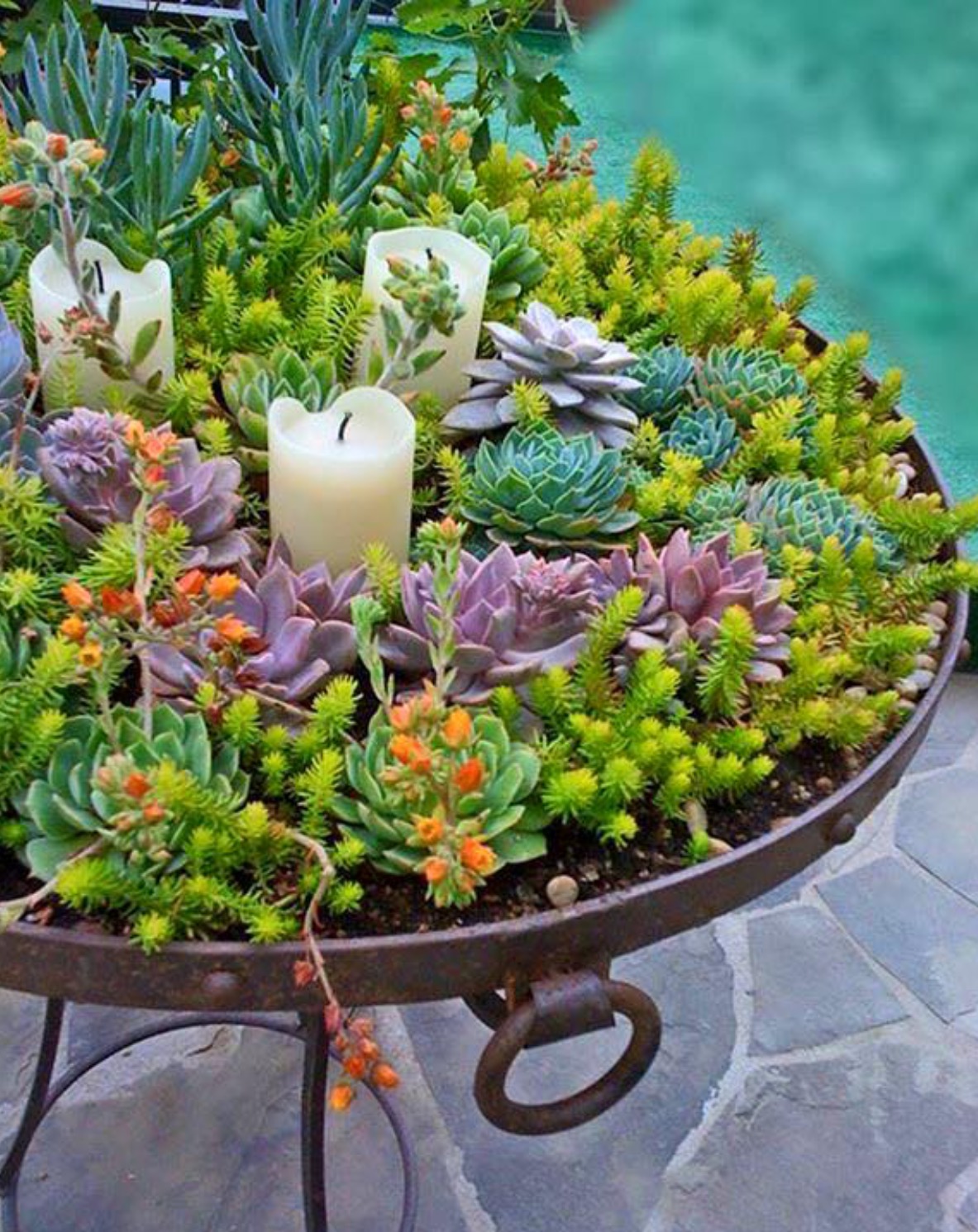 Wait, don't throw away that old rusty barbecue grill! Keeping in line with our concept of utilizing almost any piece of old discarded furniture in the yard, put that grill to good use by adding a plethora of ornamental succulent flowers in your grill. Just fill up the grill with a bed of tiny stones for good drainage and a two to three-inch layer of cactus-formulated soil. Then, insert the plants in at your whim. If you also add a giant-size seashell or two or three candles, the effect is now complete for your charming Garden of Life.
36. A Little Bit Of Heaven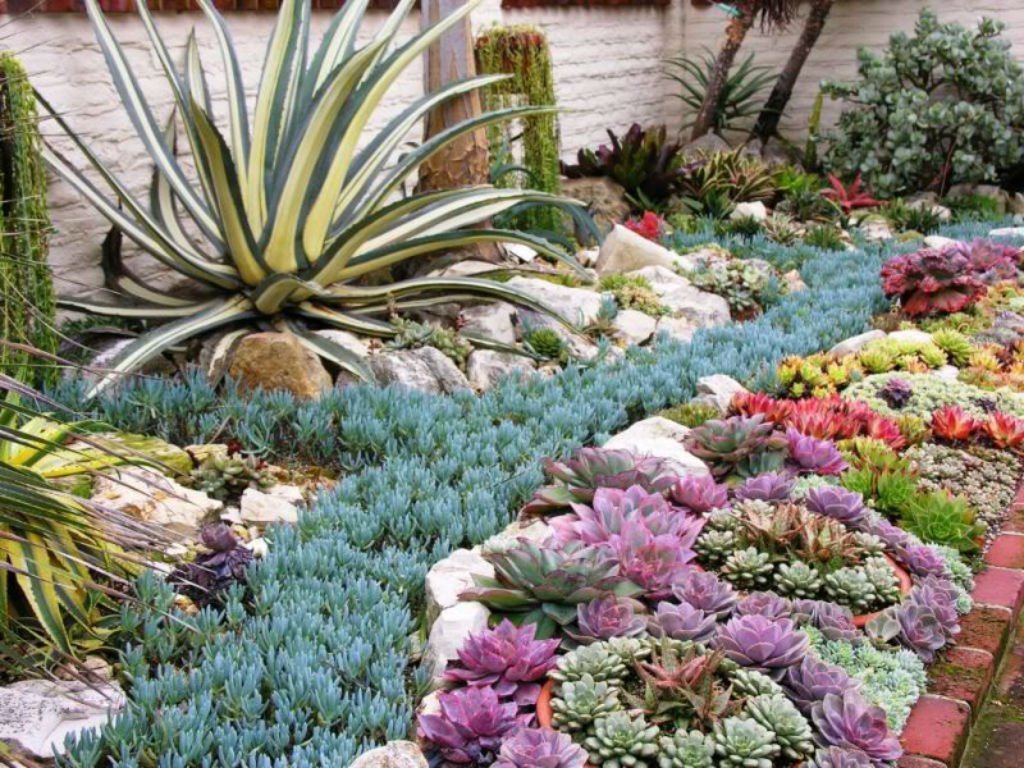 For those with a good size of border space to fill up, an expansive arrangement such as this one is recommended. Simply fill up open, available spaces with various kinds of colorful and less colorful cactus-like plants, and design as if you had a paint brush in your hand. A towering green and white-striped century plant, Agave americana var. medio-picta 'Alba, is your chosen focal point in this rainbow colored garden setting. Surrounding it with large-size rocks, or small boulders, will give this succulent garden a distinctive border to keep the focal point effect centered.
37. Fin-De-Sie-Cle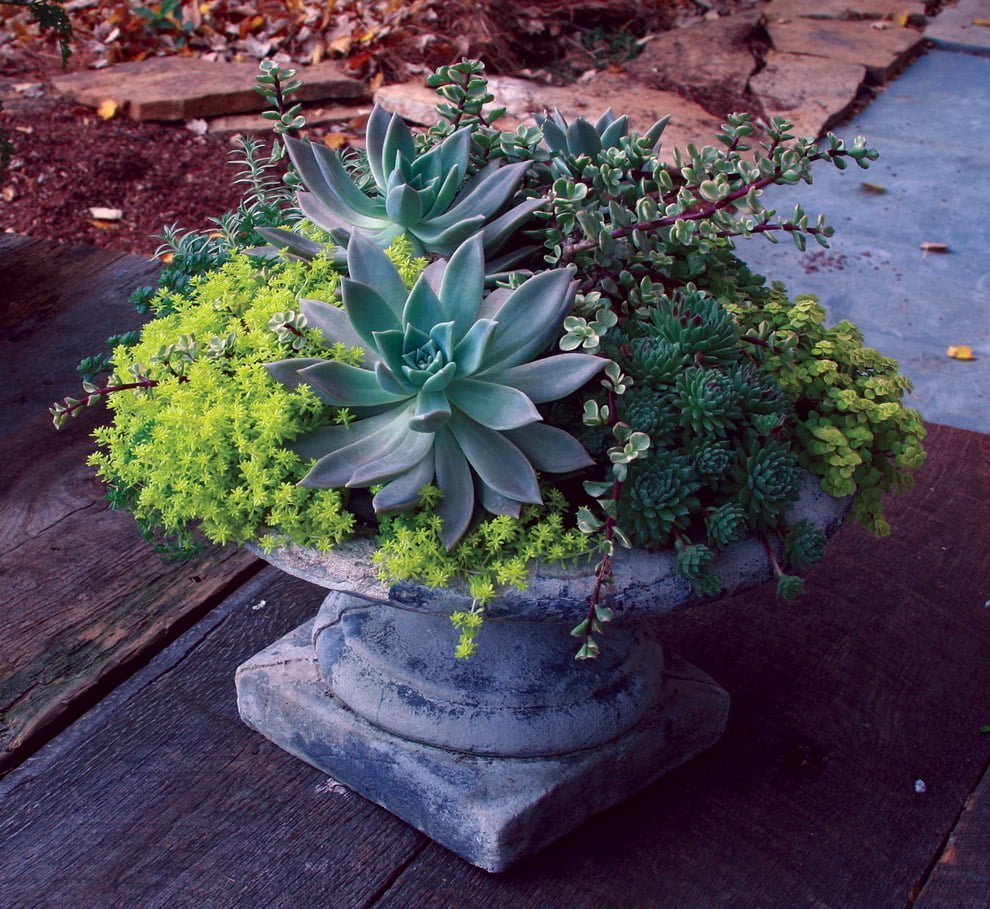 Want a more elegant touch to your garden? No problem. Go all the way with a Grecian birdbath design. Two fully grown rosebud succulents are all that you'll need to start off your eloquent arrangement. Surround the area with more fat, juicy succulents of every kind and color, and insert other cuttings according to your taste. Uniquely beautiful, this is a perfect point of interest to have by a coffee table with one or two chairs by the side. Be it a birdbath or fountain dish, decorate to your heart's content, and forget about watering more than two or three times a month.
38. Meditation Walk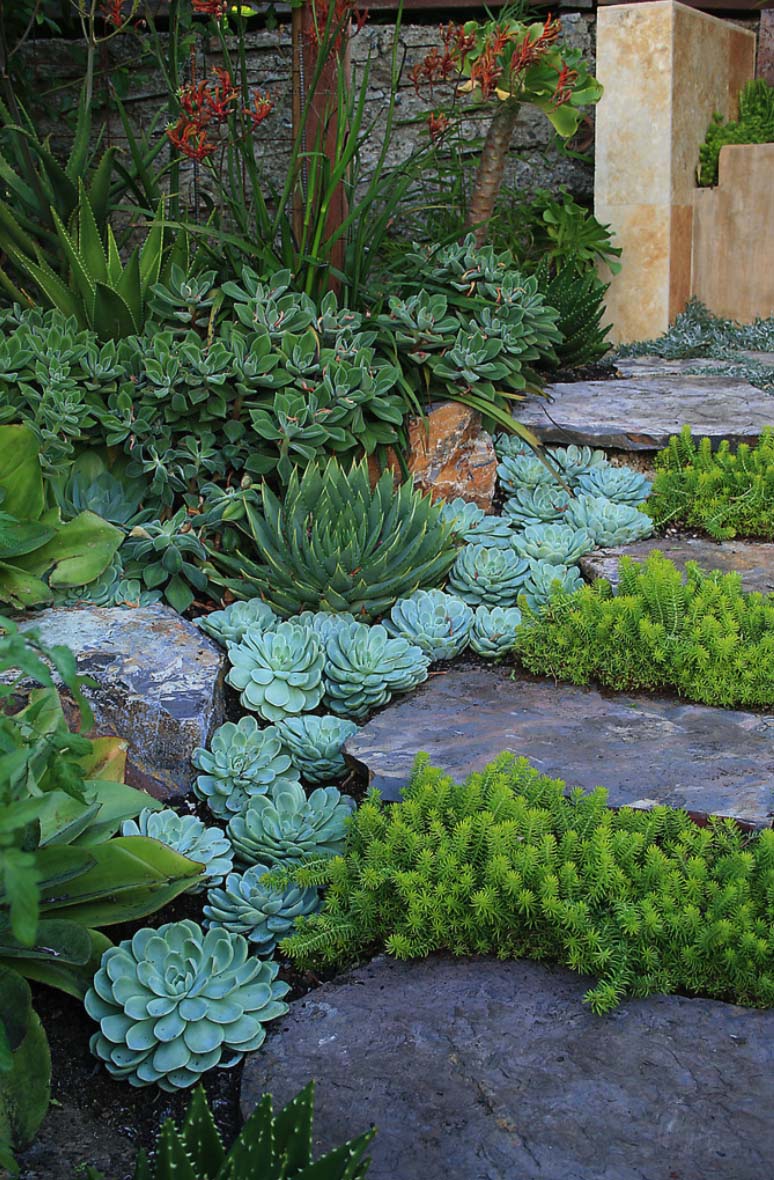 A lovely path to take to nowhere especially, this walkway will bring out the inspirational side of all who see it. Large, flat stepping stones add to the effect of this path leading to a secret somewhere. Bordered with large, fully grown large petaled succulents, and larger rock formations, remember to space the stepping stones equally and carefully apart from one another. Feel free to insert other greenery between each stepping stone space to give an overall charmed floating effect.
39. Succulence In A Birdcage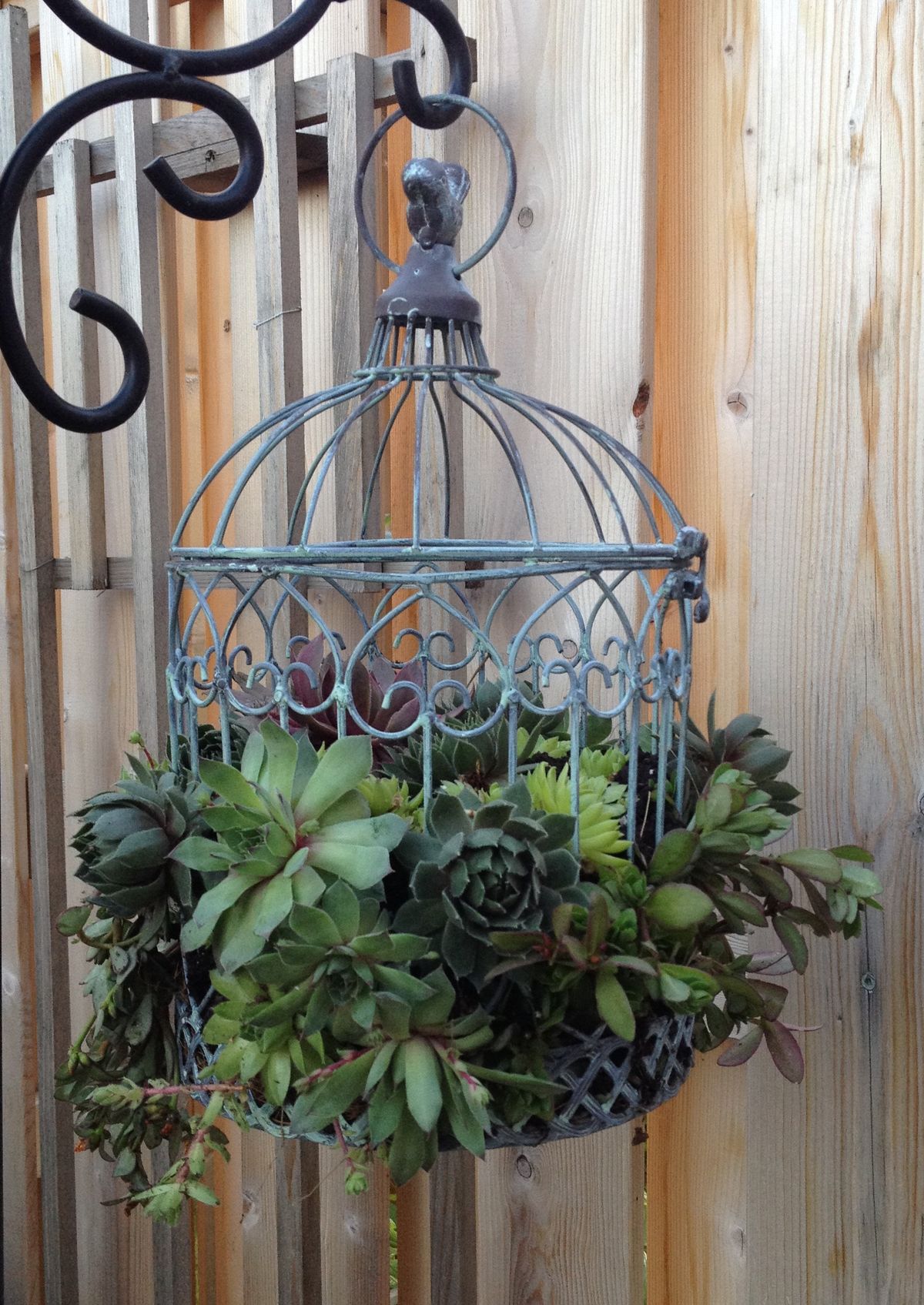 One birdcage, one stand to hang it from and a good assortment of plants will give this display a pleasing appearance in almost anywhere you put it–inside or outside of your home. When planting succulents in this cage arrangement, you may use a dish filled with cactus-formulated soil or simple planting moss. Either way you'll enjoy this swinging presentation. For even better results, try painting the cage over first or leaving it as is.
40. Framed Heirlooms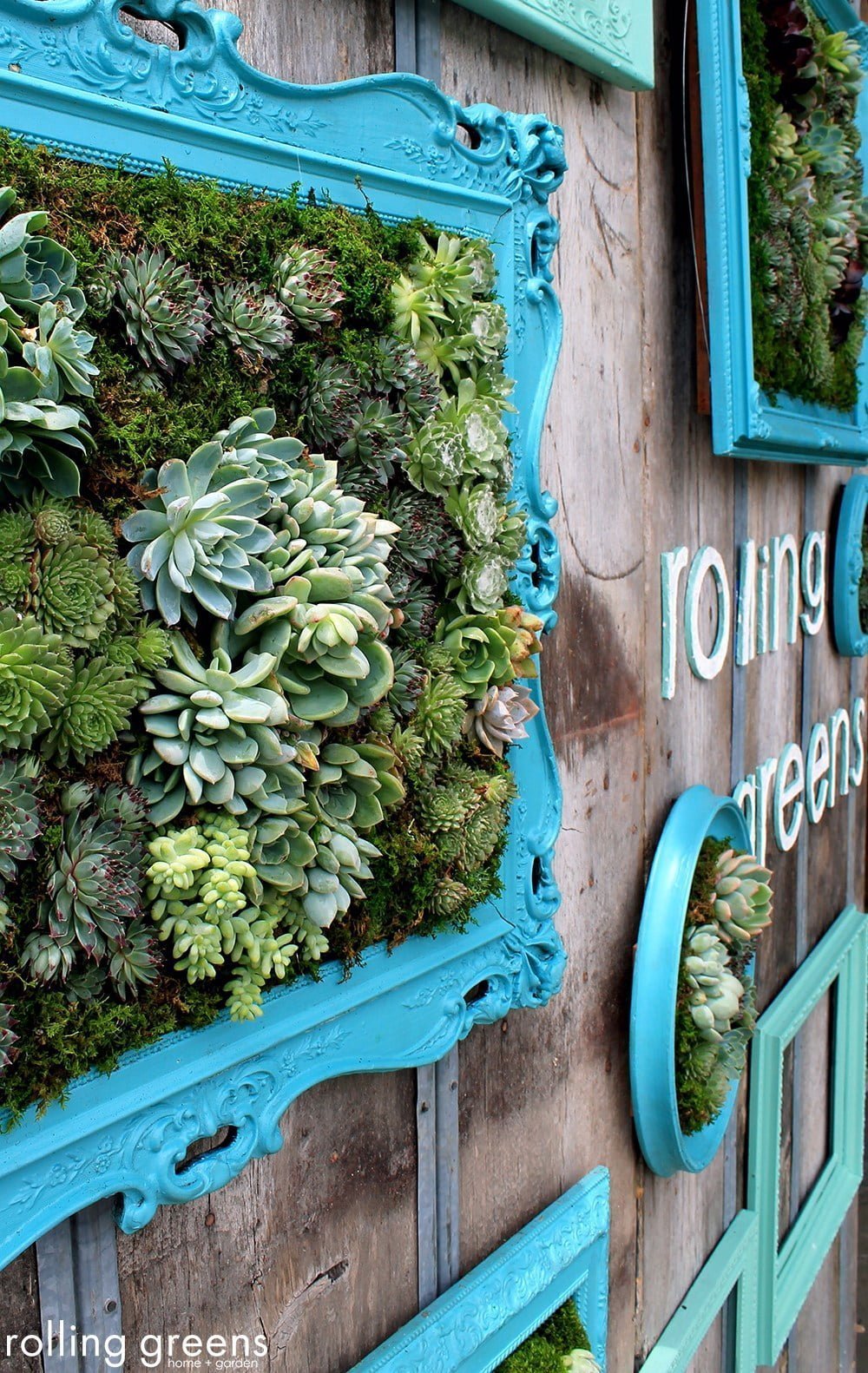 If you have an empty wall or wood fence, then we've got the perfect decor for showing off your flat-surfaced vertical space. A quick trip to a yard sale or junk dealer may turn up several good old picture frames that you can use in this design. Clean up the frames and paint them over; now line with peat moss. Continue by simply gluing in your succulent cuttings or starting plants with your hobby glue gun–now you're good to go! If you paint the frames with a smart, contrasting color against the color or texture of the wall or wood fence, your design will look all the smarter yet!
41. Neptune's Vineyard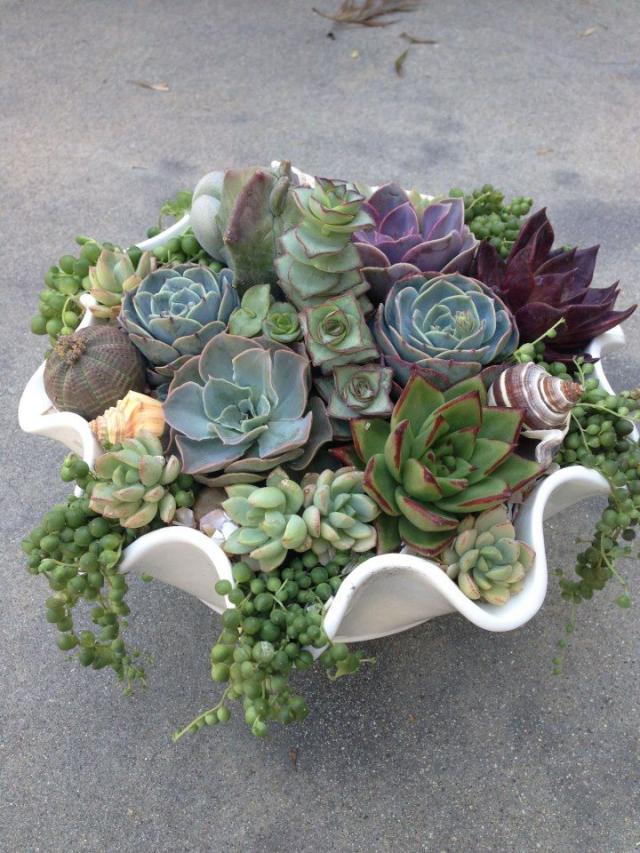 Now here's a unique and smart-looking centerpiece for that garden-by-the-sea look. A large conch-like or seashell-like planter dish is all you'll need for this one. Bunch together as many succulent flowers as you can inside the planter dish, and augment the arrangement with a few hanging vines. Remember to first line with a generous amount of cactus-formulated soil as this is one display that'll last you for some time to come. Charming, it's the perfect piece for a side lamp table or center coffee table. If accompanied by a glass of sherry, you've made your day.
More succulent garden décor ideas on the next page…