With the sun shining and the rise of warmer temperatures, there's no better time than now to start planning your beautiful summer flower arrangements. Nothing feels fresher and more welcoming than a home full of beautiful flowers. There are so many variations you can use to spruce up your space. Adding flowers throughout your home will instantly brighten the occasion no matter where you choose to place your beautiful arrangement.
25 of the Most Beautiful Summer Flower Arrangement Ideas You Need to Try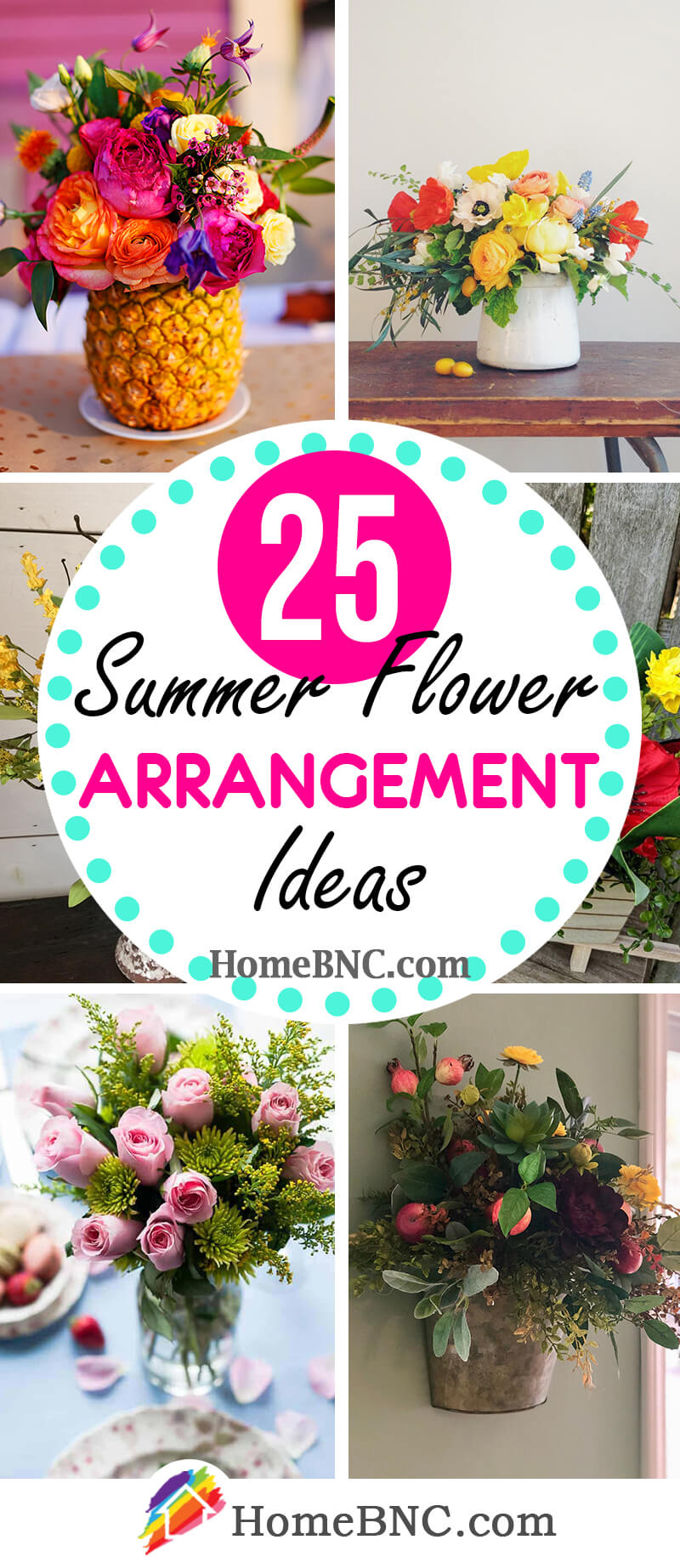 Whether using fresh or faux flowers, it's the perfect way to instantly add ambiance to both your indoor and outdoor settings. Displaying flowers throughout your home is also a great way to elevate a bare space into a beautiful room full of colors, textures and natural elements. It's an easy way to enhance a room's overall style and appearance.
The best part, you don't need to hire an interior decorator for these easy summer DIYs. Floral arrangements do not need to cost a fortune either. You can easily make your own arrangements on a budget and without any floral experience. Challenge yourself when creating your own floral display. Change up the look of your arrangements by thinking outside the flower box with various vases, planter boxes, jars and more. Don't be afraid to play with different heights as well and the sizes of your flowers as well. Consider a range of stem sizes, placing flowers in cups or have your flowers overflowing its base. There are so many wonderful ways to arrange your flowers, the possibilities are truly endless. Let's not forget, these arrangements also make great gifts and are perfect when planning special occasions.
You can bring any of these stunning arrangements to life to beautify your home or event and leave your guests impressed with your decorating skills. Whether you purchase store-bought flowers or grow your own flowers in your backyard garden, you can create beautiful one-of-a-kind arrangements you'll be proud to put on display.
From a shabby chic farmhouse theme to a rustic industrial look, no matter what your design style is, you are sure to get inspired by these gorgeous arrangements. No matter where you decide to place your flowers, these ideas and inspirations below will have you ready to start crafting your new summer project!
1. A Ray of Sunshine with a Pineapple Vase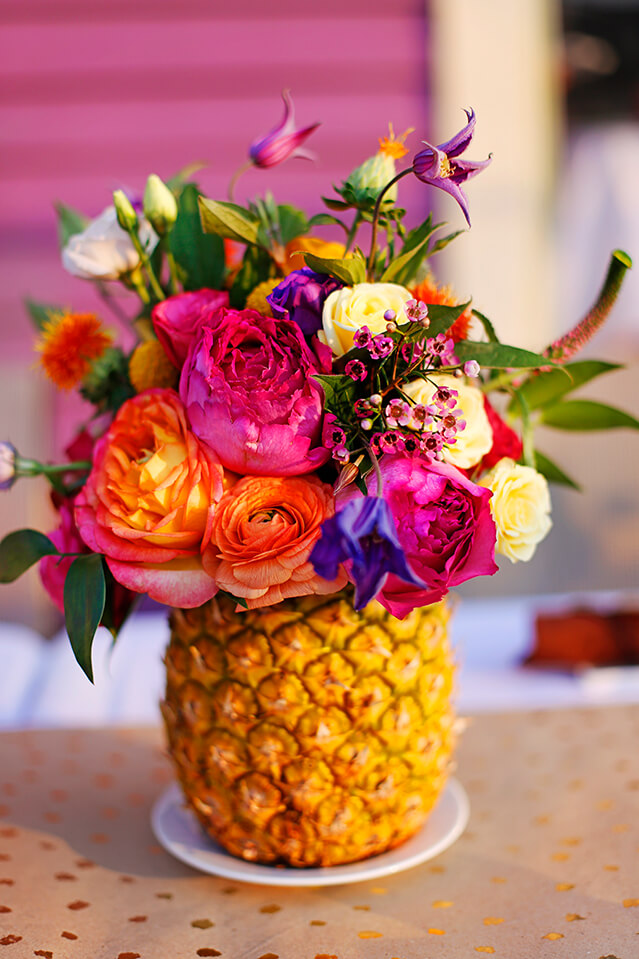 Bring a tropical scenery to your table with this stylish, bright and exotic pineapple vase. You'll never have a gloomy day with this summer arrangement in view. This is the perfect centerpiece for an outdoor event such as a wedding, cookout, birthday or other occasions. When choosing flowers for your vase, you'll want to consider using bright, exuberant flowers like roses, gerberas, and lilies. This pretty pineapple vase is bold and is sure to make a statement no matter where you place it. It's such an easy summer project you can create in no time with very few materials.
2. Blooming Garden Party Tabletop Décor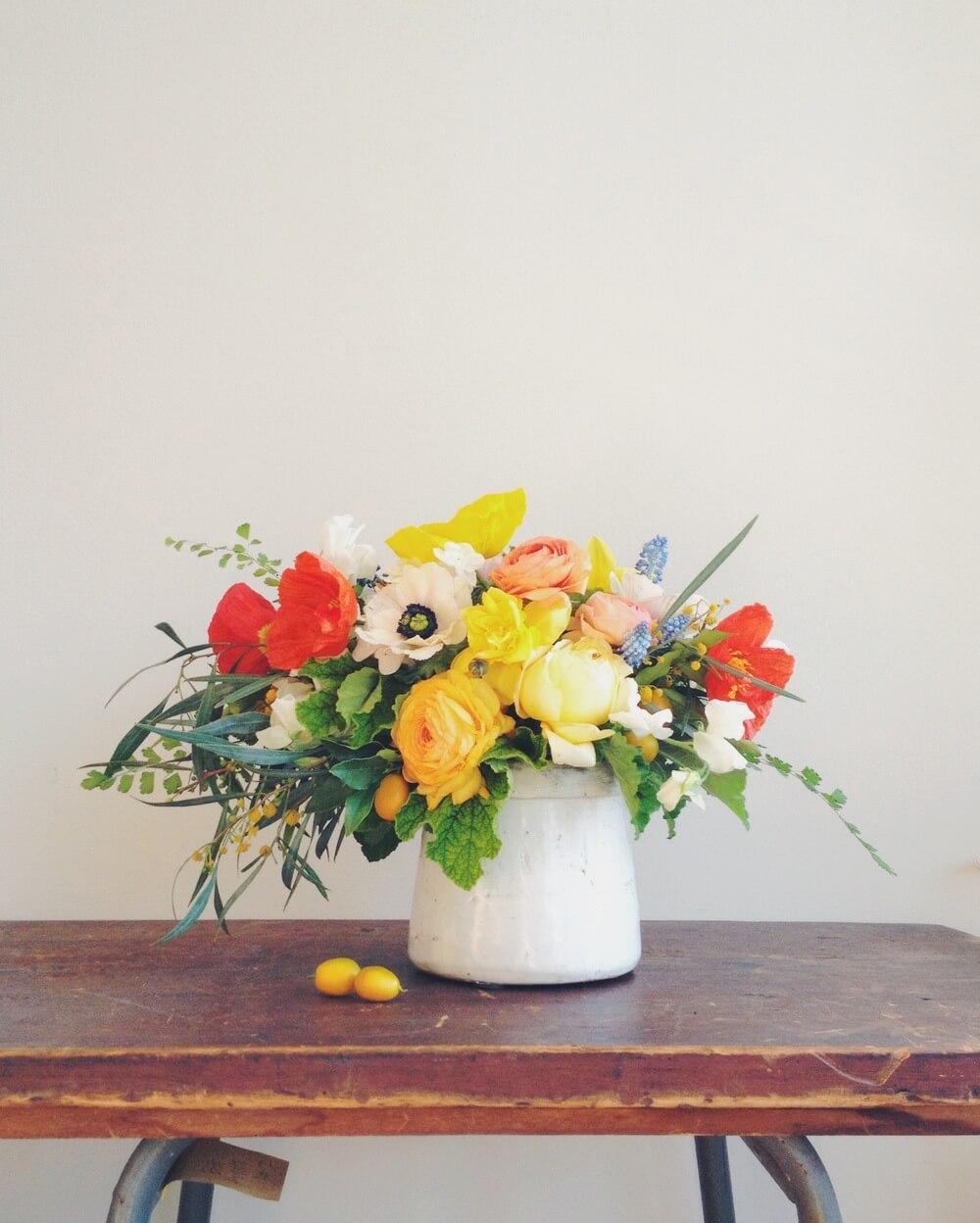 Make a bold statement with this beautiful variety of blooms. This arrangement is loaded with texture inside this white farmhouse canister. You can put these flowers on display anywhere in your home to instantly brighten your space. Express your unique style and personality by adding one single stem of all your favorite flowers and put them on display in a focal area of your home. Accent it with faux fruit pieces to really liven up your display. This arrangement would look great on an entrance table of your home, as a centerpiece on your dining room table or outdoors on the patio.
3. Add Joy to Your Table with Floral and Fruit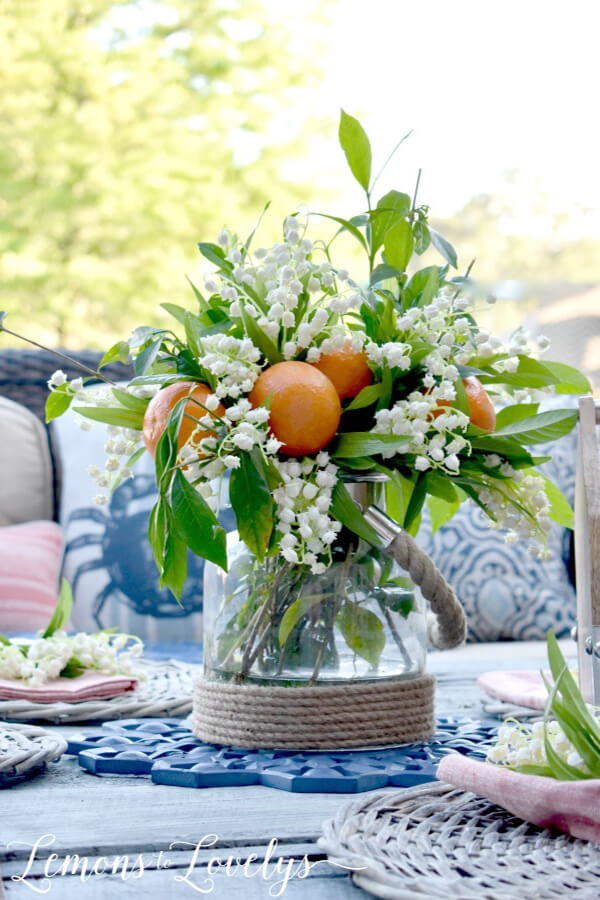 Floral paired with citrus accents add a whimsical and dramatic touch to your tabletop. Warm up your arrangement of white blooms with a mix of clementines along with a variety of leafy greens. This is a great arrangement for both indoor and outdoor spaces. The glass planter adds a rustic element to your table. You can see right through the stems while hiding the water inside with natural twine. The handle of the glass planter really ties this chic, rustic look altogether for a piece that looks like you could bring anywhere with you. This is such a happy vibe, perfect for summer gatherings!
4. Elegant, Tropical Orchids Submerged in Water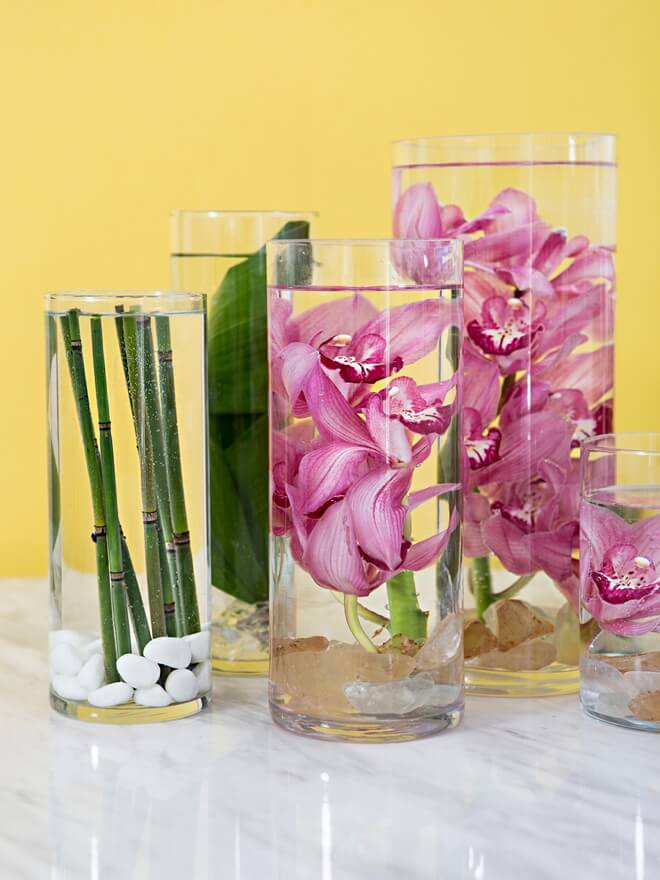 Orchids are colorful, fragrant and are one of the most highly coveted ornamental plants. These orchids make the perfect summer wedding arrangement with their exotic, delicate and graceful look. They are known to represent love, strength, and beauty which is perfect for a special occasion such as this. Using lighter colored blooms in tall clear vases with water adds an elegant touch to the room. Primarily white orchids will turn clear after being submerged in water for several hours, which makes this centerpiece idea an instant conversation starter. Sit around and admire their beauty in this stunning summer orchid arrangement.
5. A Splashy Accent of Color Flower Arrangement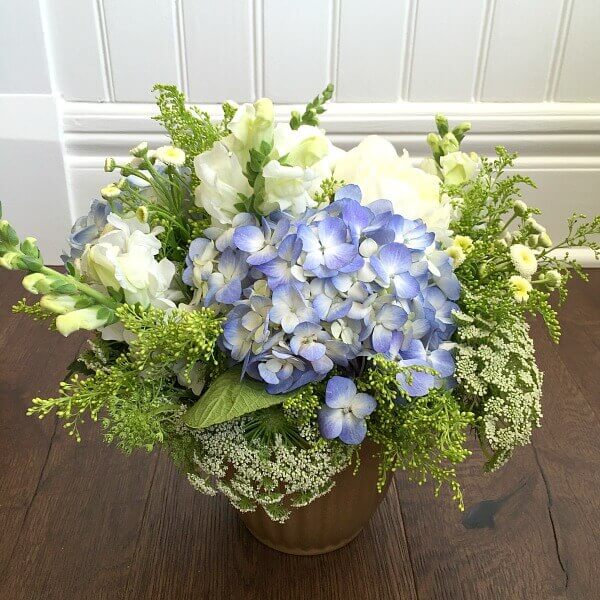 If you're decorating for a wedding or special occasion, or if you simply just want a little splash of color on your dining room table, this arrangement is absolutely beautiful. This loose arrangement has been carefully placed to perfection. The white peonies are used as the main wow factor in this arrangement, with various other textures of leaves, petals and supporting flowers. When creating a stunning arrangement such as this one, adding height and texture is key. This little splash of color floral arrangement is so elegant. I love that it can be displayed in both a casual and formal setting.
6. Make a Statement with a Tall White Vase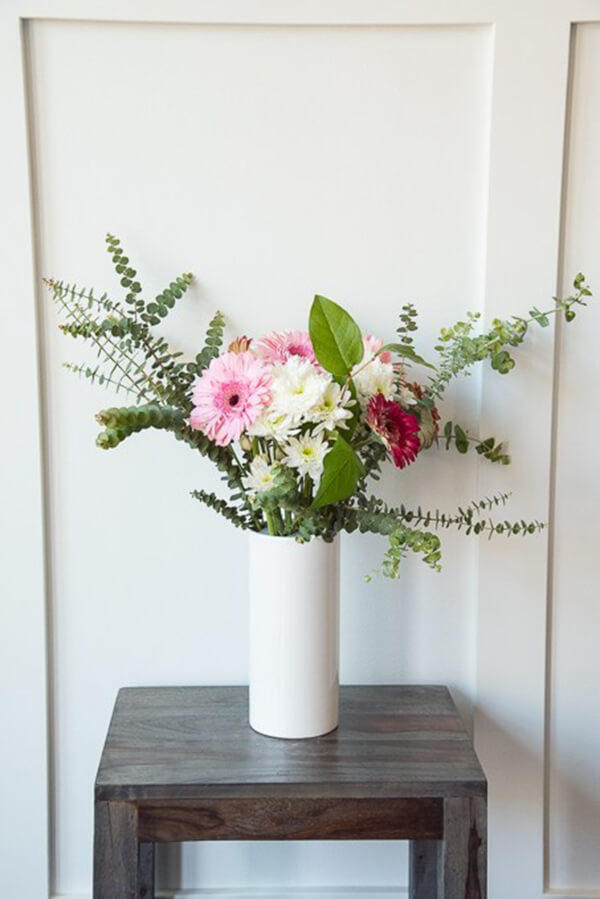 Welcome your guests by displaying a floral motif that adds color and height to your entryway. Whether you have a formal entryway or a more modern space, this is the perfect arrangement that feels very inviting. The soft colors lighten up the space and the solid tall white vase allows your stunning flowers to really make a statement in this room. Tall flower arrangements like this helps to create a cohesive look that breaks the barrier between tall ceilings and low tables. The wonderful thing about this arrangement is that it stands on its own. There's no need to come up with additional tabletop décor or accessories, as this one makes a solid statement just as it is.
7. A Thrifty Bucket of Tulips to Brighten Any Room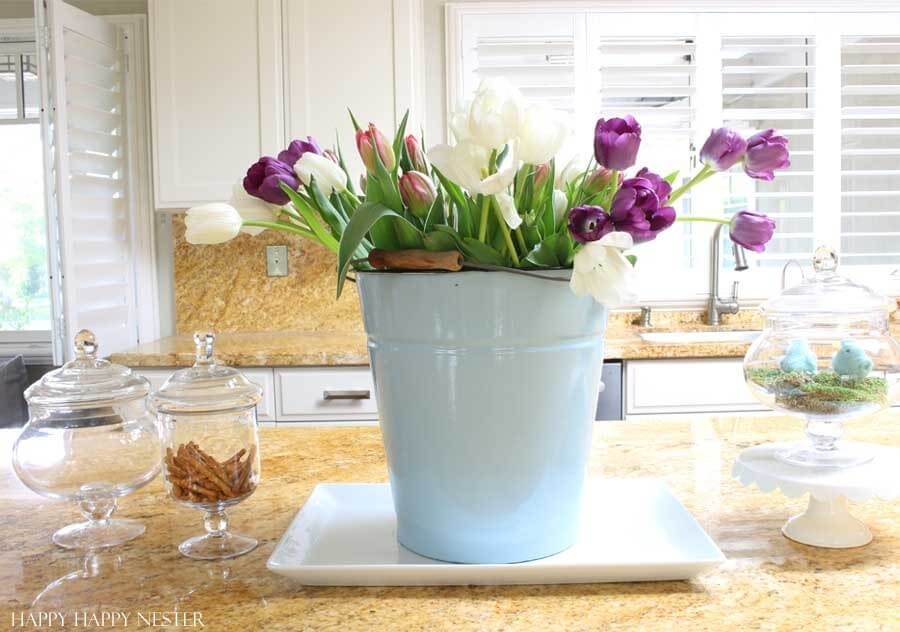 Brighten any room of your home with this thrifty pail of tulips. This beautiful arrangement shows that you don't need a fancy vase to display your favorite flowers in. This baby blue pastel bucket looks as though you just went out into your garden, picked these beauties and set them down inside. Simply paint your bucket any color to easily fit the season and your existing home décor color scheme. The mix of white, pink and purple tulips is sure to brighten any area of your home. Since this bucket has a handle, you can move your beautiful arrangement from room to room with ease.
8. A Beautiful Bloom of Roses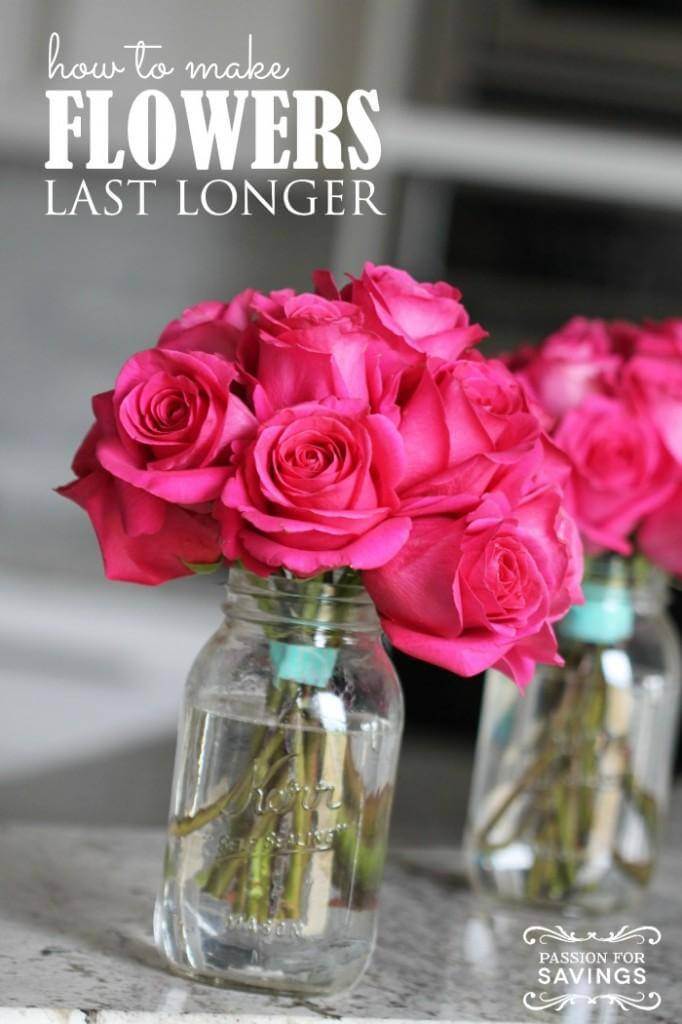 Most everyone would agree that they love how a fresh bouquet of flowers instantly livens up the environment around them. This bouquet of roses may be small, but they pack a bold punch of color. Bright pink roses represent grace and convey happiness. They bring a sense of warmth and comfort to any room. This is a simple arrangement that anyone can easily recreate. Fresh flowers can get pretty pricey, so it is good to know a few little hacks that will make your flowers last as long as possible. Adding Sprite, 7-Up or a few drops of Thieves Essential Oil into your water is a quick tip that will help your fresh flowers last much longer.
9. Rustic Galvanized Bucket Flower Arrangement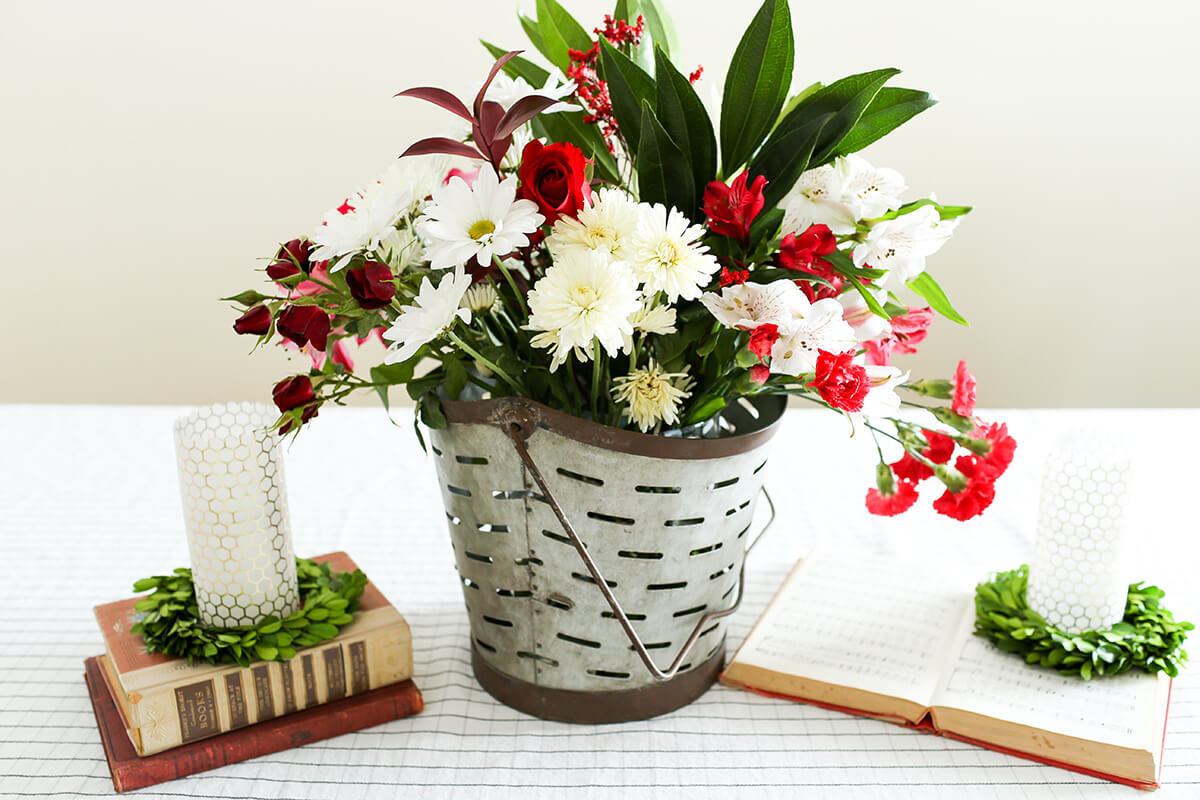 Galvanized buckets are currently on trend. They look great for virtually any style of décor from modern farmhouse to rustic industrial. They are super easy to style and accessorize, which is why they make the perfect base for a beautiful flower arrangement. Choose a few long-stemmed flowers, mix in a variety of wildflowers and finish it off with a pop of colorful delicate flowers. I love how this arrangement is dark but will still brighten up any room. Place this rustic arrangement on the patio, entryway, bedside or on the table for a beautiful centerpiece that will spark joy and bring happiness to your space.
10. A Simple, Yet Stunning Bouquet of Roses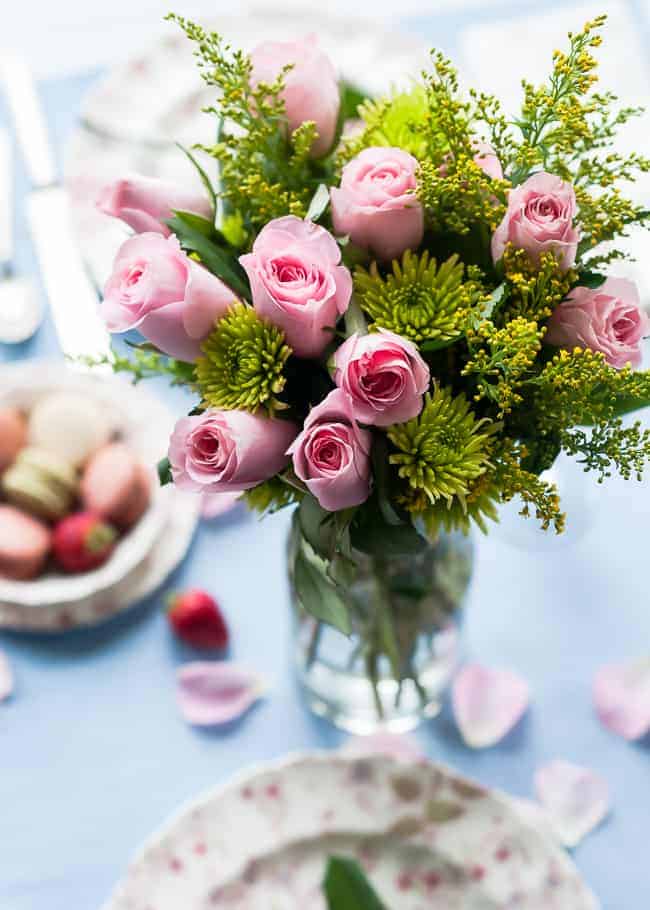 Flowers are such a beautiful way to express your style and personality. Many flowers symbolize various meanings from beauty, wellness, gratitude and more. Pink roses symbolize love, gratitude, admiration, and appreciation. This simple, yet stunning arrangement would make a great gift for a teacher, relative or co-worker to show how much you admire and appreciate them. Paired with these roses are chrysanthemums, which are a symbol of joy, perfection, and optimism. Even though this arrangement is simple, it really speaks volumes with its positive message. Place them in a clear glass vase to ensure the beauty of the flowers really shine through.
11. Make Your Own Fun and Easy Flower Arrangement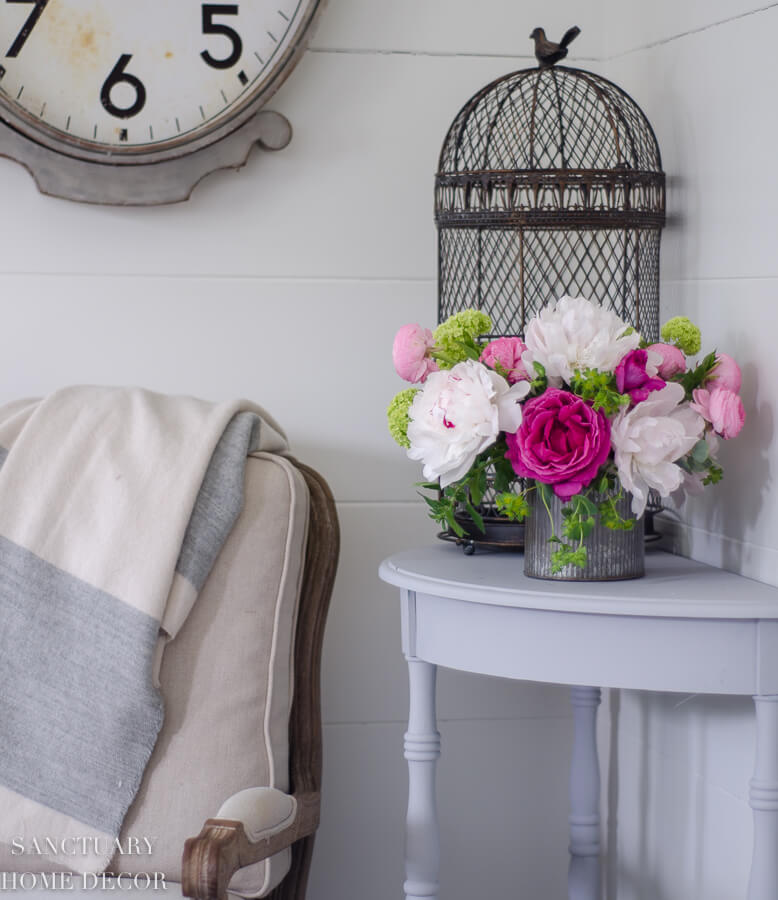 Whether you want to arrange flowers for your home or as a gift, it's nice to learn a few tips on how to easily style your flowers in minutes. This metal container is great for flowers since it easily blends in with existing décor and you can place it anywhere in your home and it will still flow perfectly. When finding the right flowers for your arrangement, choose one set that stands out to really make a statement, coupled with a complimentary flower and some greenery. This is such a fun and easy flower arrangement that will pop in any room of your home.
12. Tropical Orchids for a Statement Centerpiece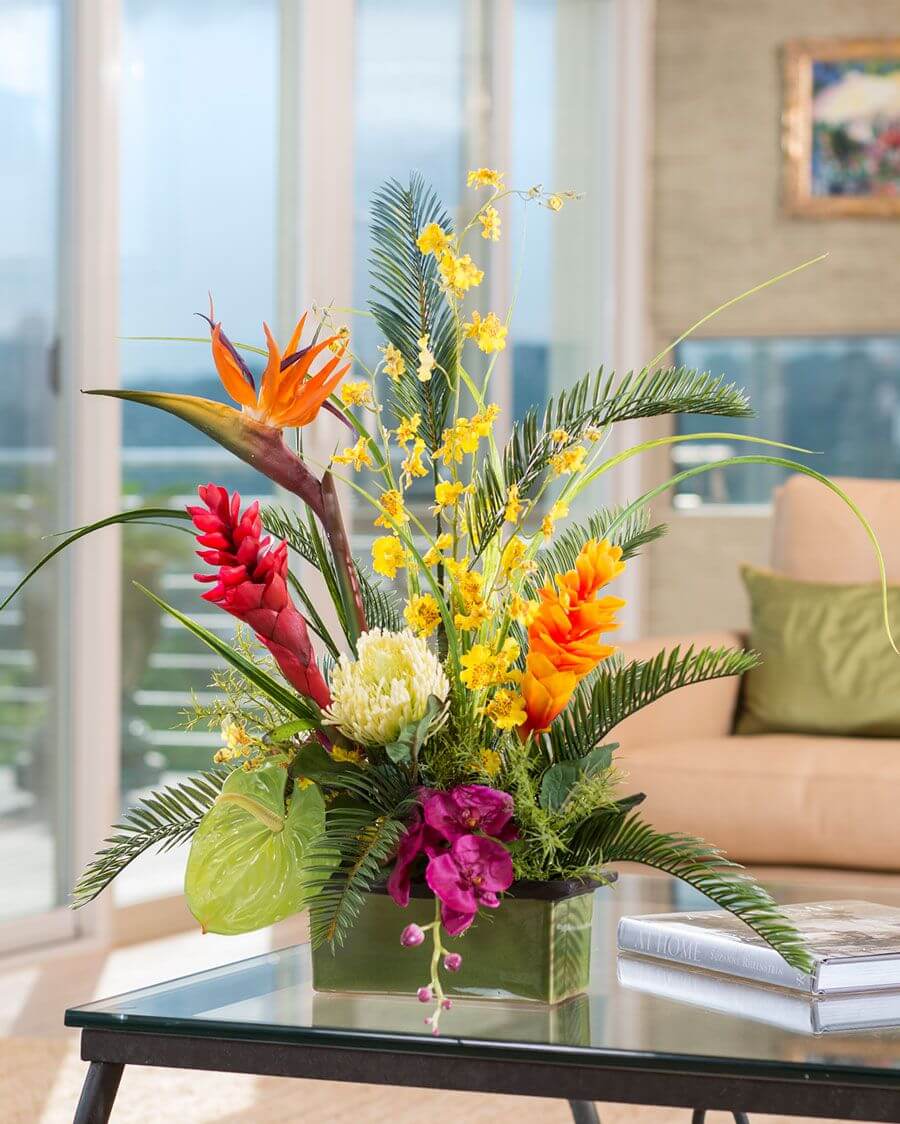 Feel like you're on an island in paradise with this exotic arrangement. The natural beauty of these tropical flowers adds vibrant colors and textures to your indoor space. Utilizing colorful flowers such as these will give your home a refresher and make you feel like you're at an island resort. Tropical flowers are great for interior spaces that lack color. They are also great for tropical themed events or outdoor parties. Tropical flowers like orchids, represent luxury and are truly striking in any setting. This centerpiece idea is sure to make a statement and enhance the overall environment. If looking for a gift idea, give this arrangement to someone to not only brighten their day but also send good Feng Shui.
13. A Lush Strawberry Shortcake Arrangement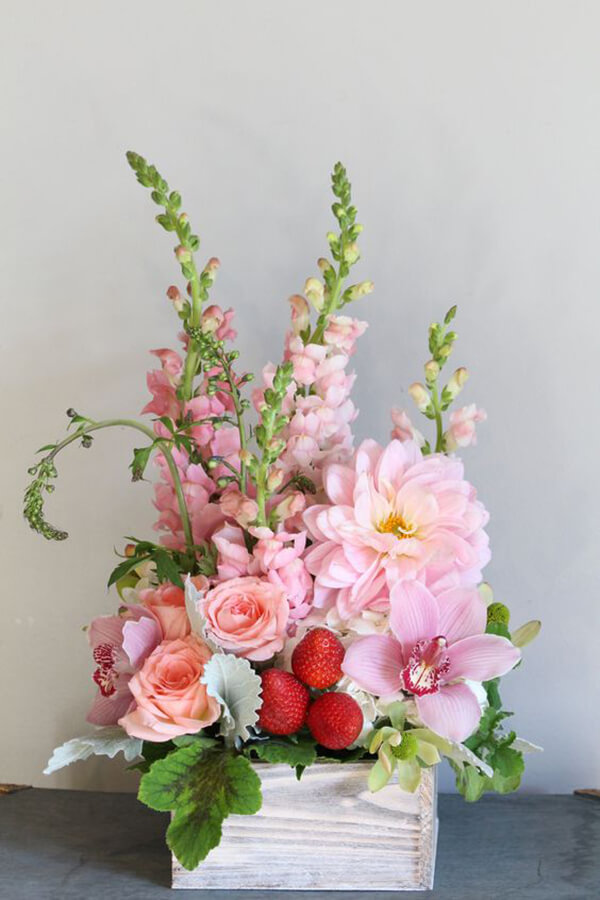 This stunning flower arrangement boasts femininity and delicacy. The variety of light pink flowers inside the white-wash wooden box is a beautiful inspiration to consider for your next floral arrangement. You could include roses, snapdragon, dahlias or orchids for a soft, lush and feminine display. Adding perfectly placed strawberry to the arrangement is both eye-catching and trendy. This would be a stunning centerpiece for a morning brunch with friends, for a baby shower, birthday or wedding. The wooden box really sets the tone of this arrangement making it feel both elegant and rustic. You could even monogram the box for personalization or to customize for a gift.
14. Wooden Wagon Planter Box Summer Arrangement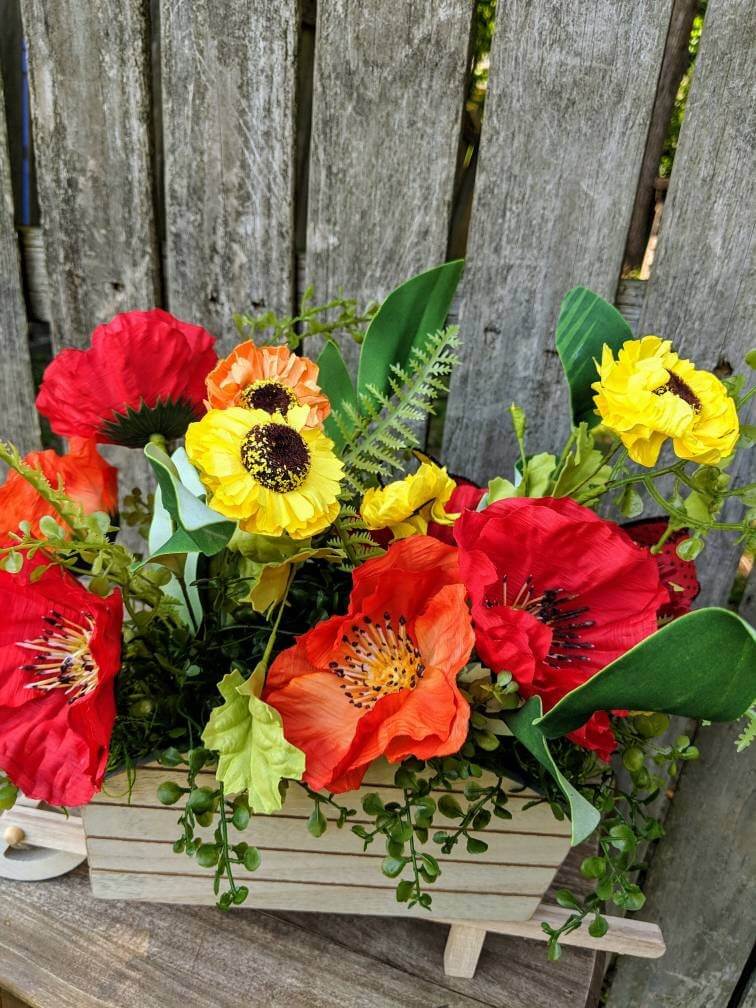 Wagons are a timeless decorating piece that provides the perfect place for flowers to flourish. This small wooden wagon was handcrafted specifically for this beautiful summer arrangement. It creates an instant oasis for your flowers and gives us a little country charm at the same time. Since this planter box is small in size, sticking to a theme by incorporating only a few colors of flowers at a time is key. These red and yellow flowers feel full of summer sunshine. The large matching bow really completes this beautiful summer centerpiece. This would be such a charming addition to your front porch and could be used indoors or out, all year long.
15. A Farmhouse Fresh Summer Floral Arrangement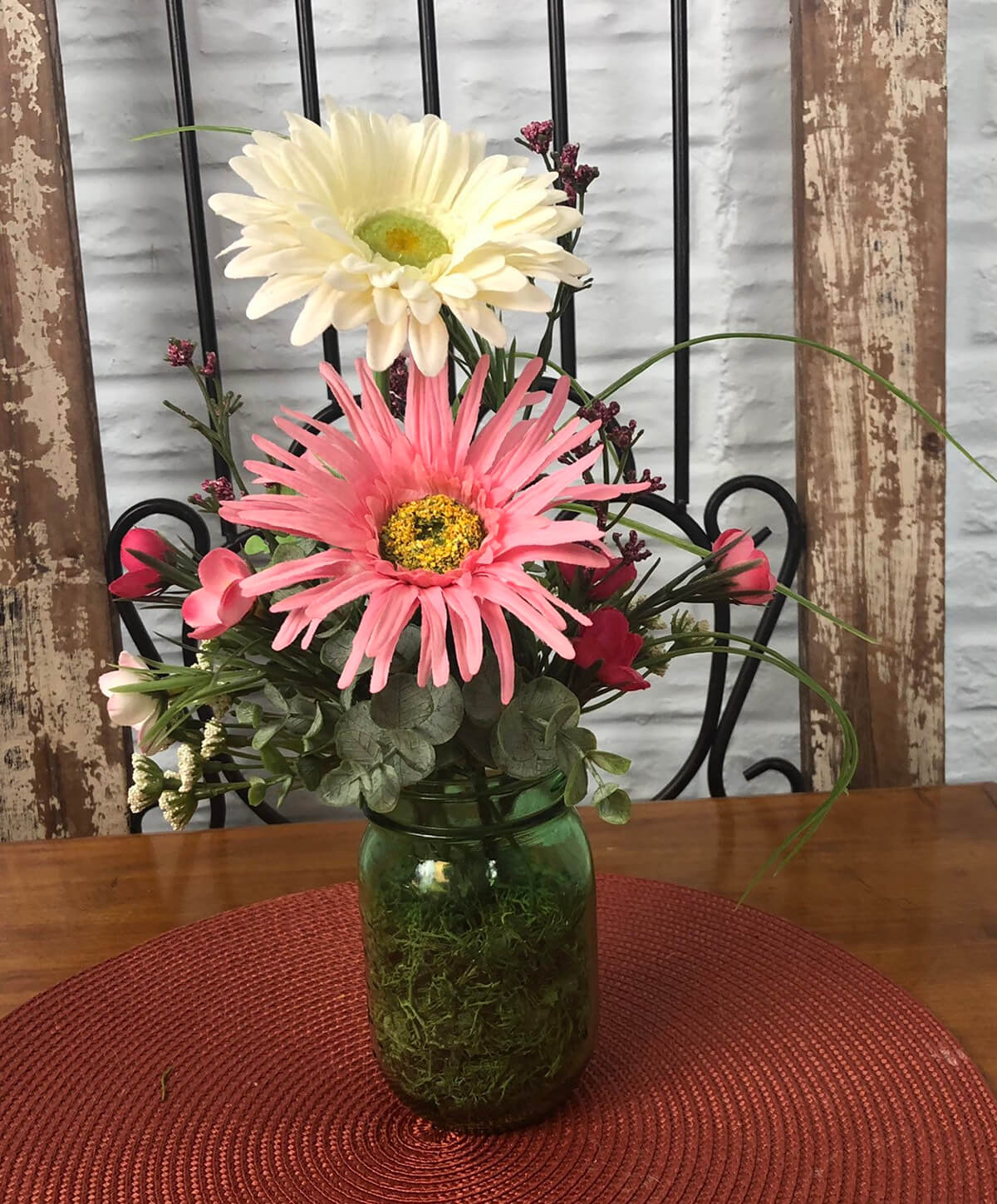 This gorgeous handmade floral arrangement is great for small spaces. It includes the greenery, canning jar, and silk florals. It's the perfect way to add color to a room with pink and white silk flowers. It's so simple yet looks so elegant and charming. The green canning jar measures about 2 inches high and 4 inches wide and is so versatile. It's an incredible arrangement that is well made and really makes the warmer months of spring and summer come to life. This would make a great gift as well for a teacher, co-worker, family member or friend.
16. Galvanized Garden Wall Summer Display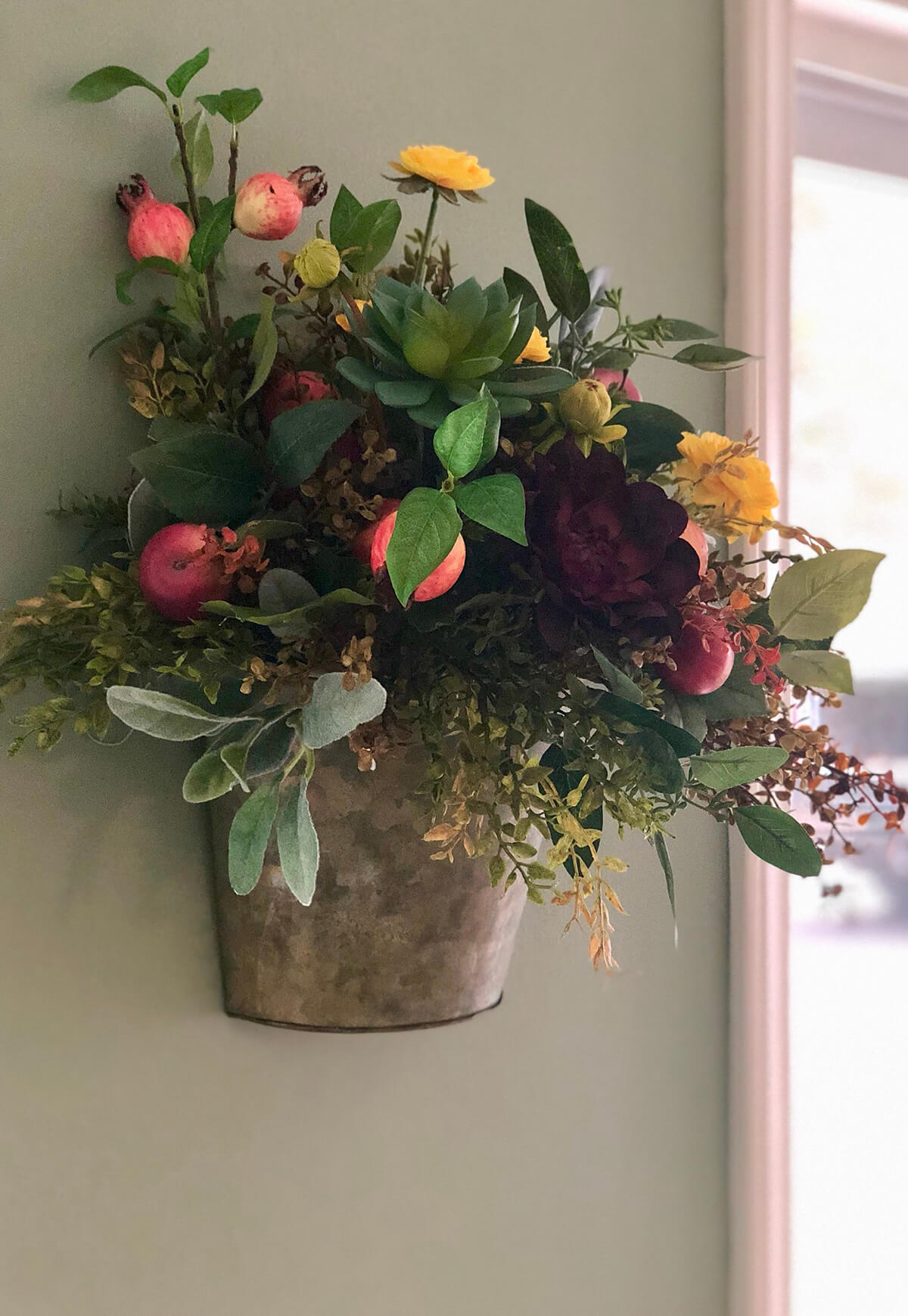 Ever want to showcase your beautiful flowers somewhere other than a tabletop or counter? This galvanized garden wall hanger is perfect for anywhere in your home. You can hang it on your front door, in the entryway or even on the exterior of your front porch. It's a beautiful arrangement that would make great accent décor in the kitchen, bathroom or bedroom. This summer display features a mix of high-quality faux flowers; yellow ranunculus, dahlia, apples, lemon thyme, pomegranates, and succulents just to name a few. It looks so fresh and full as if they came right from your own backyard garden.
17. Silk Sunflower Centerpiece for Summer Décor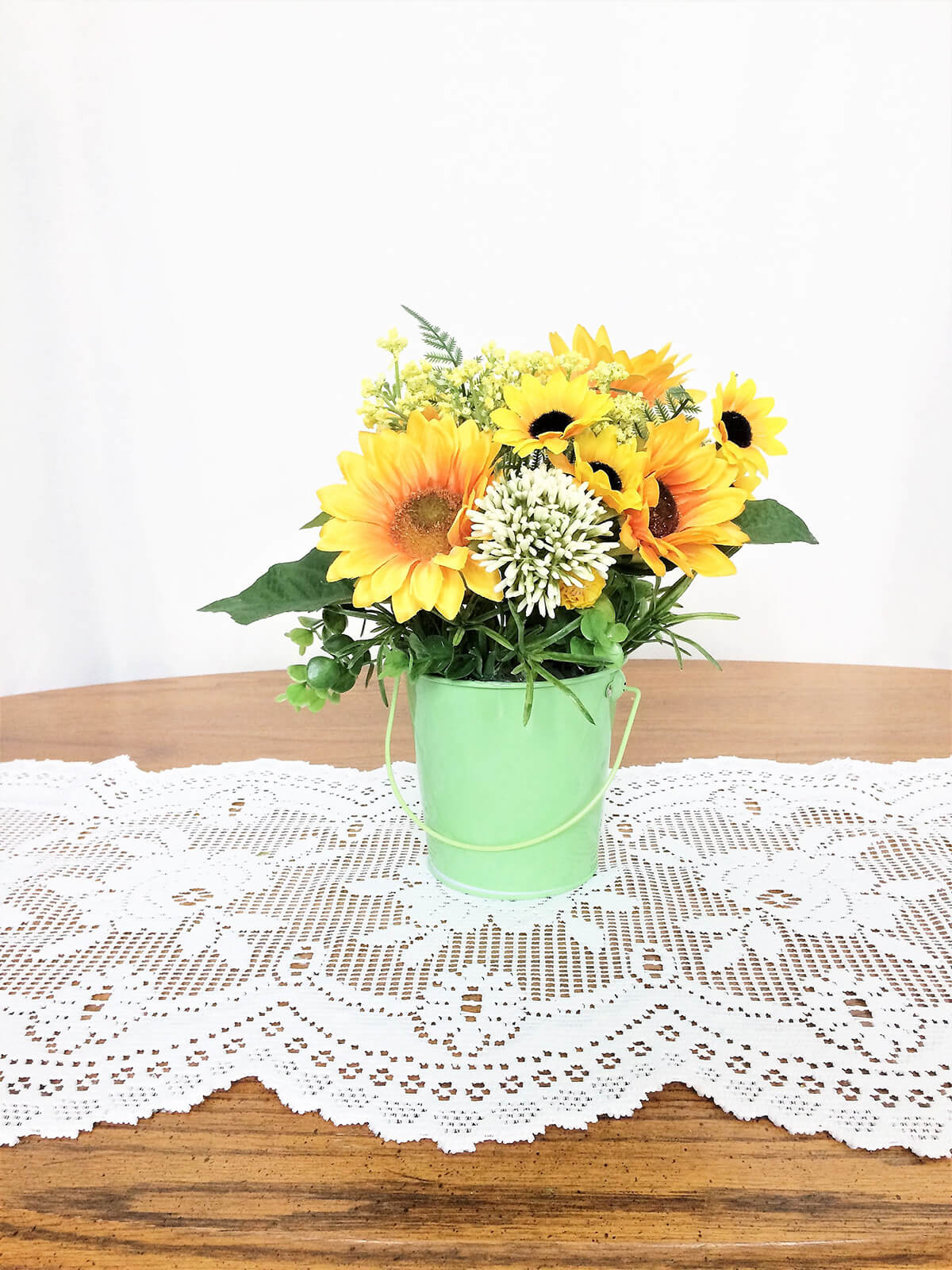 Sunflowers symbolize loyalty, longevity, and adoration. They are known as the "happy" flower and are great for bringing joy to someone's day. This orange sunflower centerpiece adds a touch of beauty to your home décor. This arrangement is handmade from faux silk orange flowers, yellow sunflowers, mini yellow flowers, yellow berry stems, white burst flowers and an assortment of greenery. The light green porcelain pail serves as a great base for the flowers. The height of the flowers is about 10 inches while the base measures about 9 inches wide. The pop of color is perfect for summer. Whether you place it indoors in the bathroom or dining room table, or outside on the patio, it is sure to brighten up any area of your home.
18. Caged in Wildflowers for a Trendy, Rustic Display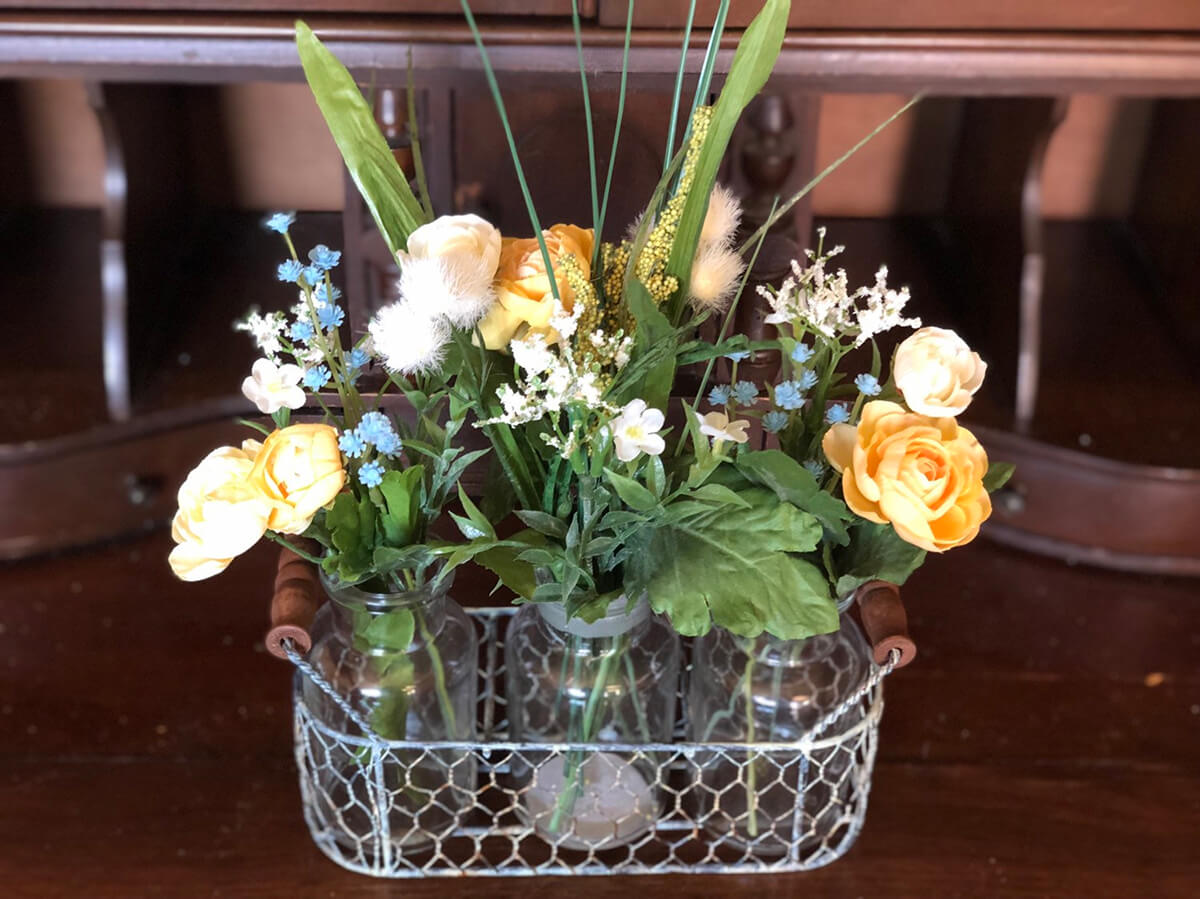 There's something about an arrangement of wildflowers that really speaks volumes. This is such a trendy, rustic display perfect for your kitchen counter or tabletop. This handmade arrangement features various faux wildflowers set in country chic glass apothecary jars with a rustic weathered container enclosure. This is such a lovely display that could fit nearly any season. The colors are perfect for welcoming the spring and summer months as well as the perfect display to transition into fall with. Silk flowers are the best alternative when looking for long-lasting flowers and these are simply beautiful. You'll never need to water them, and they'll last forever!
19. Eye-Catching Peach and Yellow Handmade Centerpiece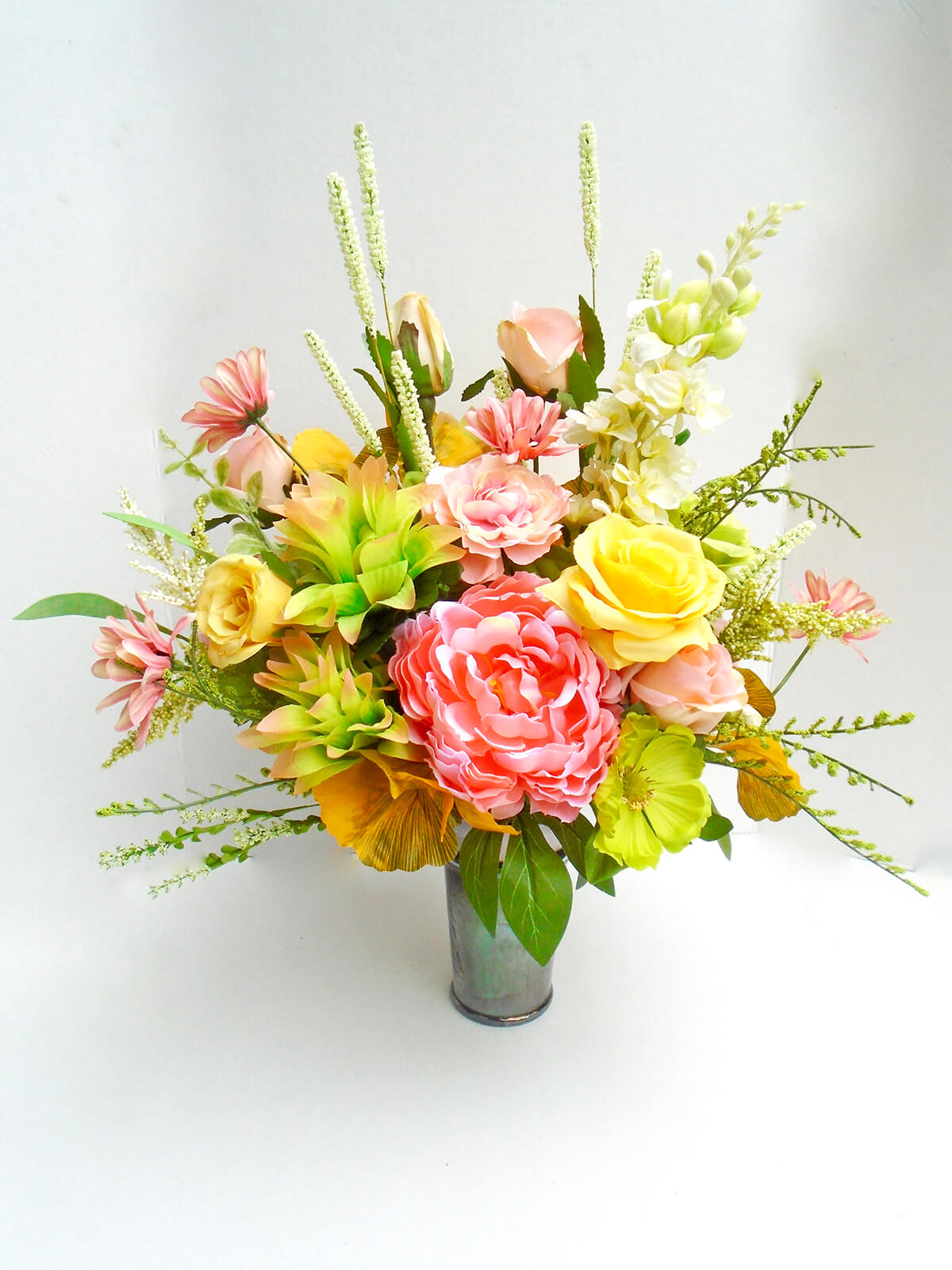 The variety of greens with peach and yellow accented flowers are the perfect way to welcome summer into your home. This handmade arrangement features faux silk peonies, roses, rosebuds, snapdragon, and other accents. It's an eye-catching display that bursts spring and summer blooms. It has a variety of foliage to add to the beauty of the overall design. Display it anywhere in your home or purchase it for special occasions such as a wedding or bridal shower. Included with this arrangement is a tall glass vase that adds height. The entire arrangement stands about 23 inches tall and 17 inches in diameter. It's a beautiful full display that will catch everyone's attention.
20. Cottage Chic Planter Box Display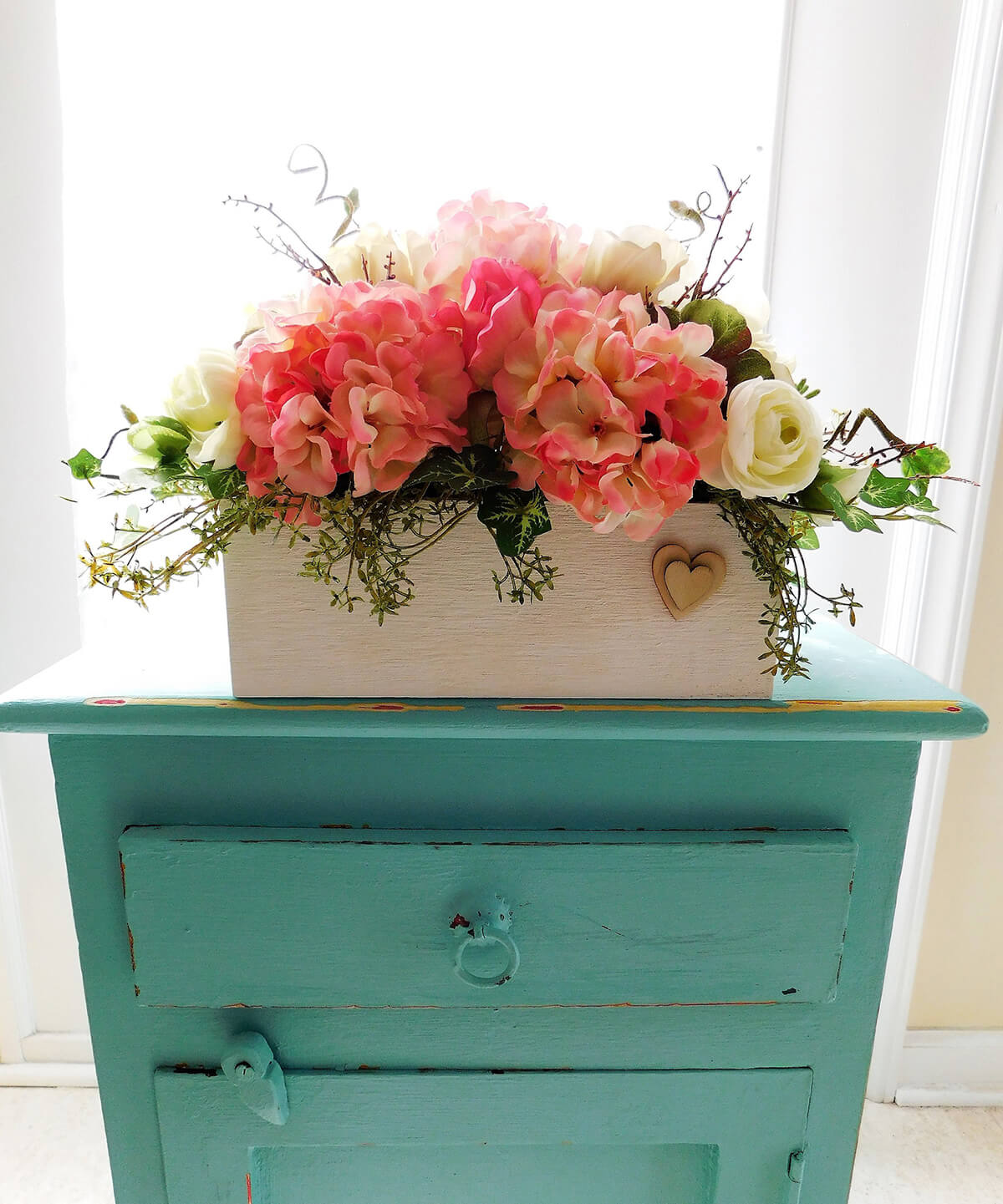 Add a little cottage chic to your home with this beautiful handmade planter box arrangement. Perfect for your table, nightstand, shelf, mantle or porch, this display features flowers and fillers such as pink geraniums, hydrangea, pink rosebuds, bendable twigs, ivy, and leafy greenery. Its beautifully arranged inside a wooden box and finished off with a darling little wooden heart accessory. This charming planter box display is perfect for your home or as a gift. The silk flowers never need watering, so it's something that can be used and enjoyed for years and years to come.
21. A Cluster of Flowers and Greenery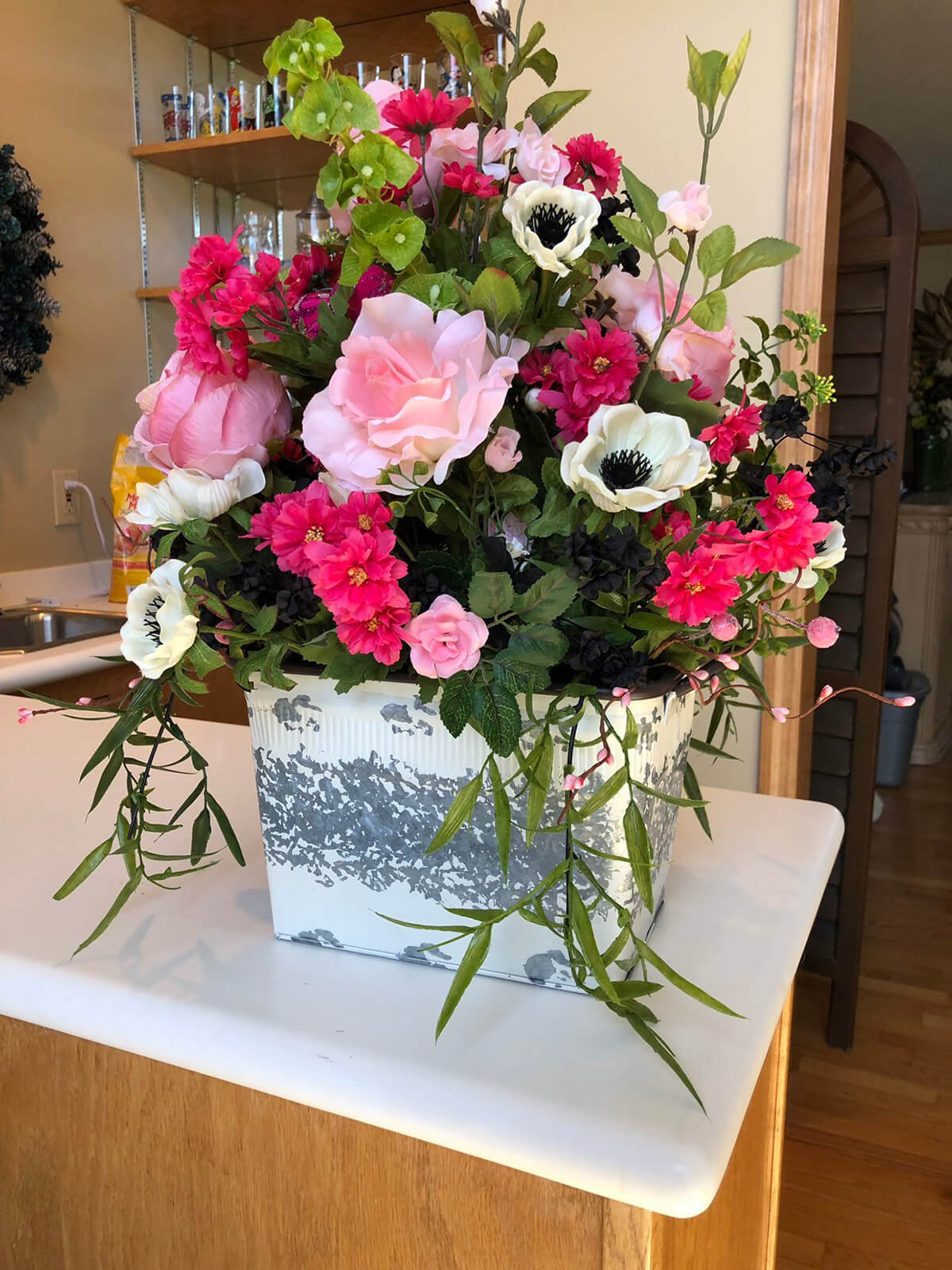 You absolutely can't go wrong with a tall, beautiful display of flowers. This cluster of flowers and greenery gives off such a statement with a variety of flowers in all shapes and sizes. The light and dark pink flowers really pop in this arrangement paired next to soft white flowers and greenery. The rustic metal planter is chic and stylish for any style of décor. The white distressed paint on the metal tin really gives off an aged and rustic look. Set this beautiful cluster of flowers on the center of the dining room table, display it on the kitchen island or gift it to a friend. Those who have purchased this summer flower arrangement say that its beauty truly stands out in any room.
22. A Brilliant Bouquet of Farmer's Market Flowers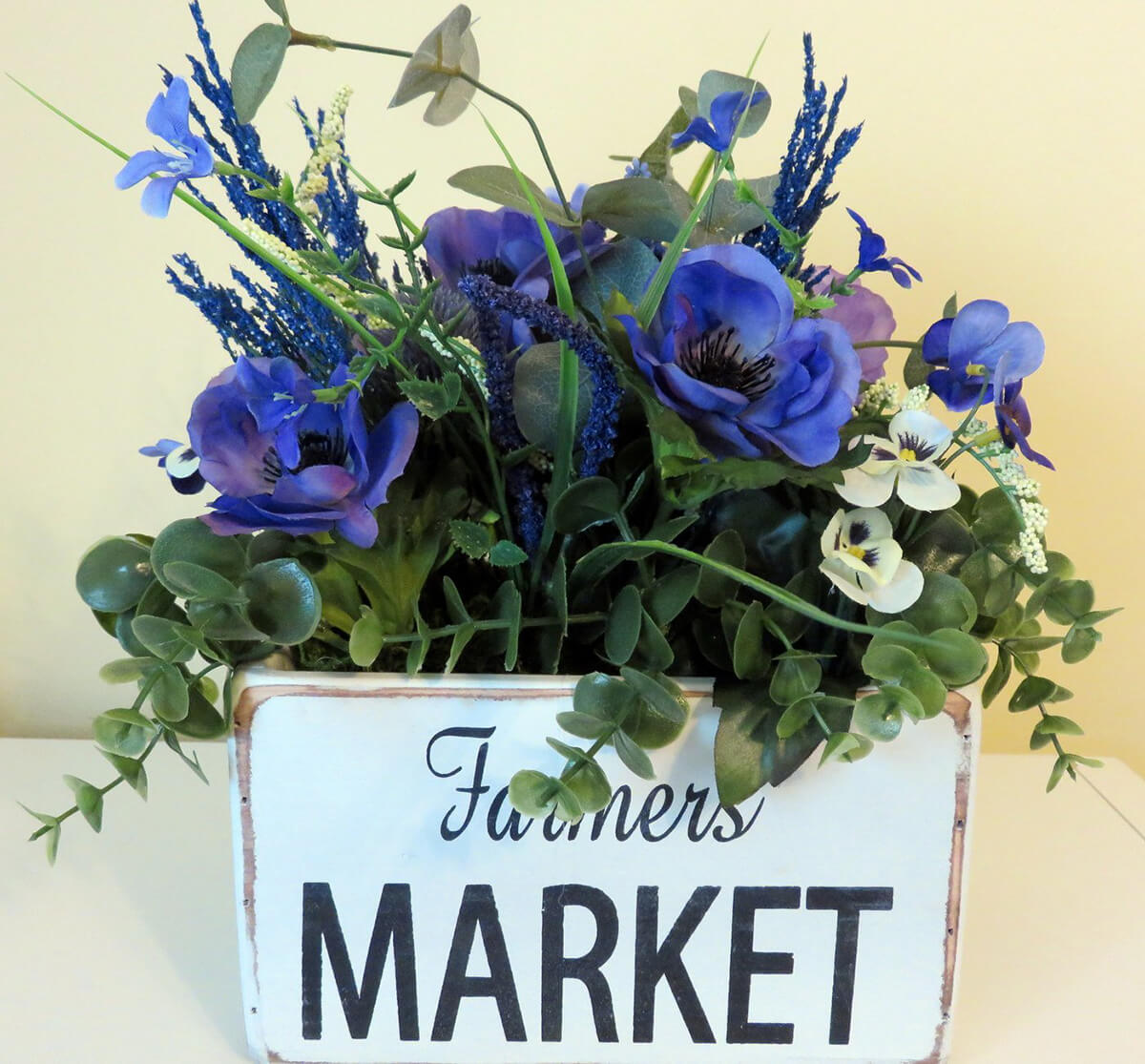 There's something about a bold cluster of flowers that really livens up a room. These faux silk lavender hydrangeas are blended with a variety of greens in this beautiful, brilliant handmade arrangement. This is an everyday centerpiece that can be displayed all summer long. The farmer's market wooden planter box is painted white to make the bold blueish, purple flowers pop. This display looks as if you just left the farmer's market with your fresh (really faux) flowers. They have a realistic, wildflower look that truly sparks joy. It's the perfect touch to your farmhouse chic and rustic home décor.
23. Sunflower Farmhouse Watering Can Arrangement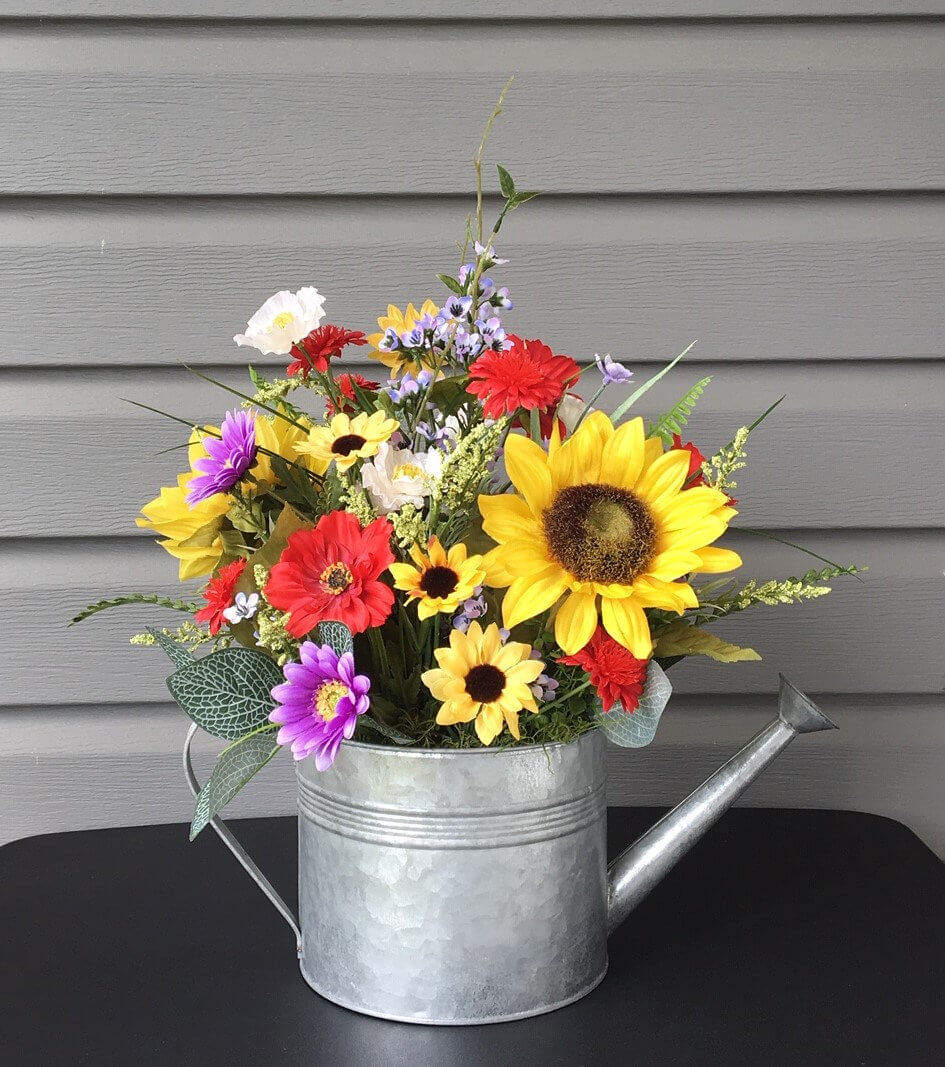 Ready to spruce up your farmhouse décor? This beautiful spring and summer flower arrangement features large yellow sunflowers with several other assorted bright flowers. It's conveniently placed inside a round metal watering can for a true farmhouse vibe. This display will look great with your farmhouse décor or would make the perfect gift for a housewarming party. The entire handmade piece is approximately 18 inches wide and 22 inches tall. It's a beautiful bouquet with various colors that will brighten and liven up any space you place it. The natural burlap bow really finishes it off this piece nicely.
24. A Rustic Lavender Tabletop Arrangement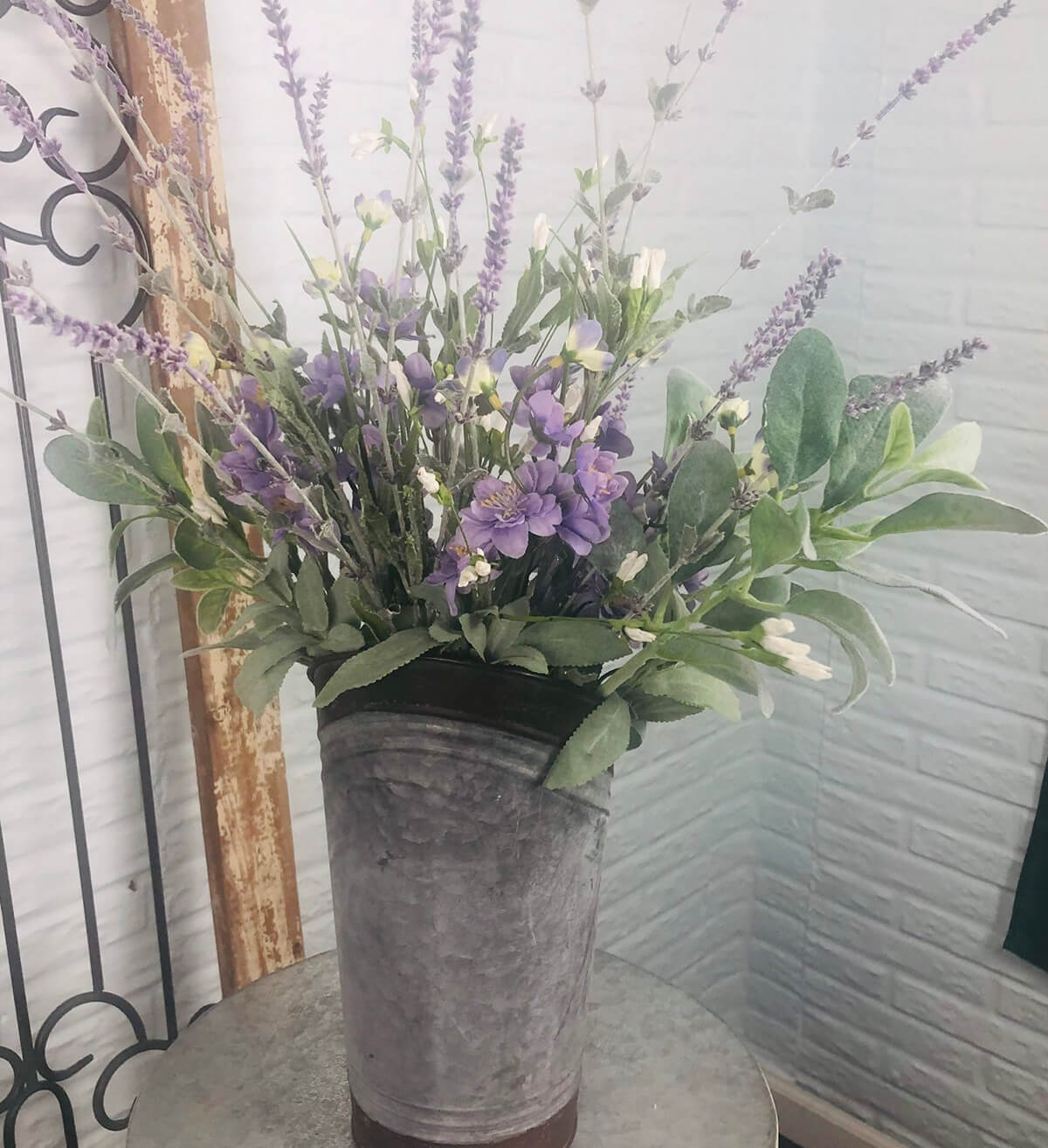 This rustic tabletop arrangement features beautiful lavender florals with touches of white flowers. It's arranged beautifully in this farmhouse metal container that's slightly slanted. This would make a gorgeous display in any room or hallway. This centerpiece also features a soft touch of rabbits ear greenery which brings in a whimsical look that you can enjoy all year long. Those who have purchased this item state that it's simply magnificent and that it's the perfect arrangement for spring and summer. The finished arrangement measures about 28 inches in height and the container is about 6 inches wide. It's perfect for the fireplace mantle or on the steps of your front porch.
25. A Bright Yellow Summer Flower Arrangement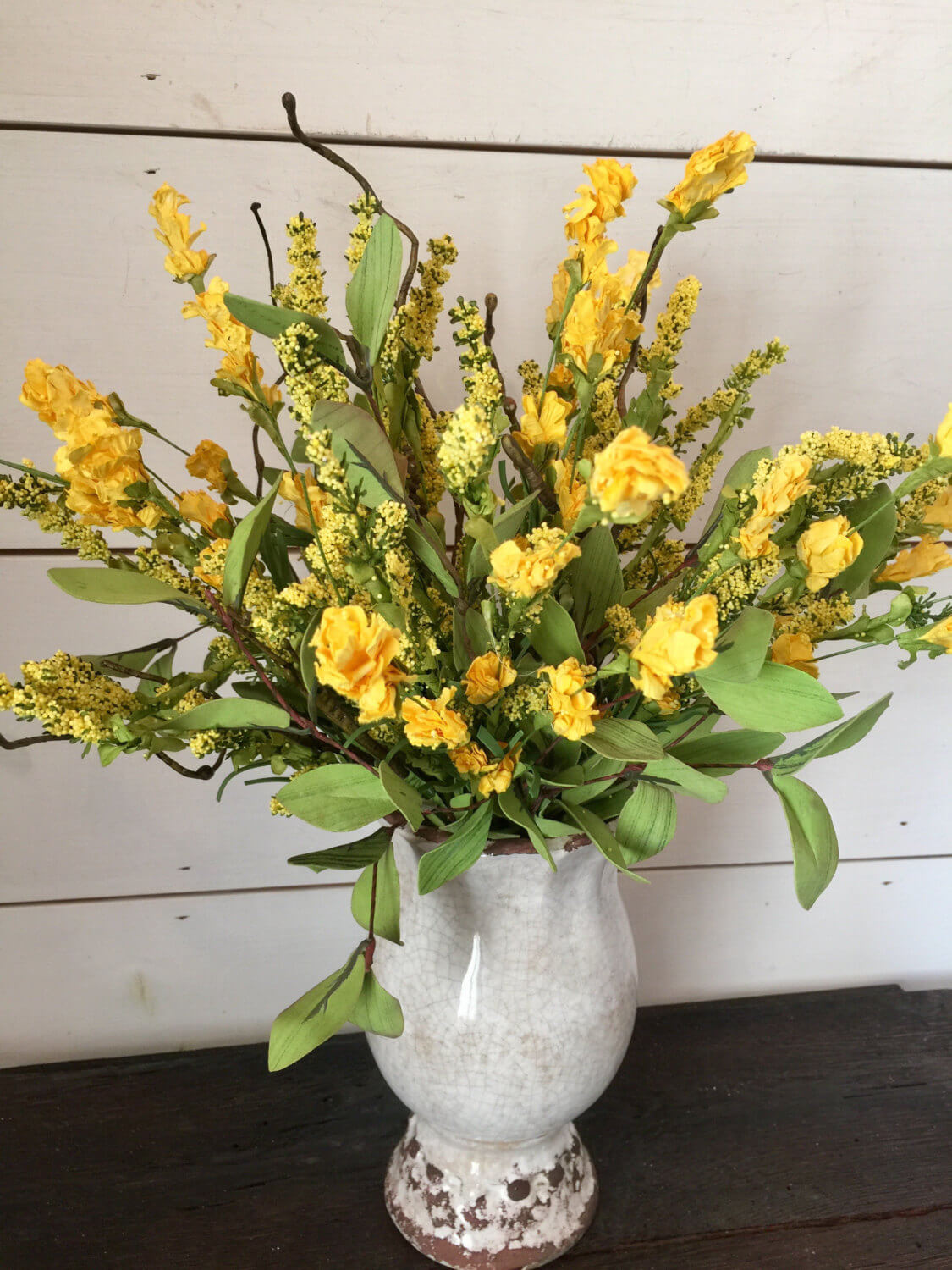 Yellow flowers boast happiness and are the perfect flower color choice for celebrating summer. This handmade arrangement features yellow florals with soft greens in a crackled, brown and cream vase. Yellow is such a versatile color that can be displayed all year around and is very versatile with any décor. You can dress it up for a more formal look or keep it casual. You can also customize this listing in pink or in lavender. One customer who purchased this item says the arrangement is simple farmhouse elegance! She was very happy with her purchase and loves the beautiful high-quality arrangement.
Whether you are in need of a gorgeous centerpiece idea for the table or simply taking advantage of styling your home with beautiful flowers, there are truly so many ways to create stunning summer flower arrangements. If you are unsure of where to start when replicating any of these ideas and inspirations, start with the main base flower. This will be your "wow" flower. Then, pair it with greenery and finish it off with a complimentary flower that's more subtle. As far as choosing the right vase or container, if you want a rustic look, try a wooden base or watering can. For an industrial look, opt for a metal container and for a more elegant or contemporary look, you can never go wrong with a glass vase.
When arranging your flowers, it's important to set the tone of your arrangement before you begin. If you're looking for a chic, feminine arrangement, consider varying tones of one color. This always looks elegant. Mix garden roses, sweetpea, peonies, and ranunculus together for a beautiful cluster of flowers ideal for a dinner party, bridal shower or other special occasions. If you're looking for a more natural tone, consider using succulents in square and rectangular containers. Fill them with white sand or rocks and display them on the table for a natural, minimal look. Wildflowers are such a versatile flower and are perfect for any occasion.
Our Favorite Front Door Flower Pots to buy on Amazon