To make your home just as beautiful as the blooming nature outside your front door, you should try your hand at recreating the best sunflower home decor ideas. A magnificent variety of beautiful flowers always flourish during the warm, summer months. When you walk outside to your garden at home, you are sure to find the most beautiful selection of incredible flowers. If you're lucky, you would've been smart enough to plant one of the most amazing flowers of all, the sunflower!
30 Sunflower Home Decor Ideas that will Add Charming Summer Vibes

Why not turn your house into a place where people can feel the comfort of the warm outdoors inside your home? The unique way you choose to decorate your home says a lot about the person you are. There is no better way to present your fun and outgoing personality than with the right amount of sunflowers decor. When you're creating flawless sunflower room decor for particular rooms in your house, you can truly place these touches of decoration anywhere. From accent pieces on your walls to a cool decoration on a plush pillow, sunflowers decor will add an amazing pop of color!
The best part about the great color tone of sunflowers is you can keep this decor up when the autumn months roll around. All you have to do is add in sunflowers decor with splashes of deeper shades that contain some burnt orange and deep red. This is sure to set the perfect tone for when you're sitting beside the fireplace with a warm cup of hot chocolate in your hands. Before we move on too quickly, let's not skip the summer season. Check out the list below of the 30 best sunflower home decor ideas to provide a certain little something to your wonderful home!
1. The Best Summer Welcome Sign Housewarming Gift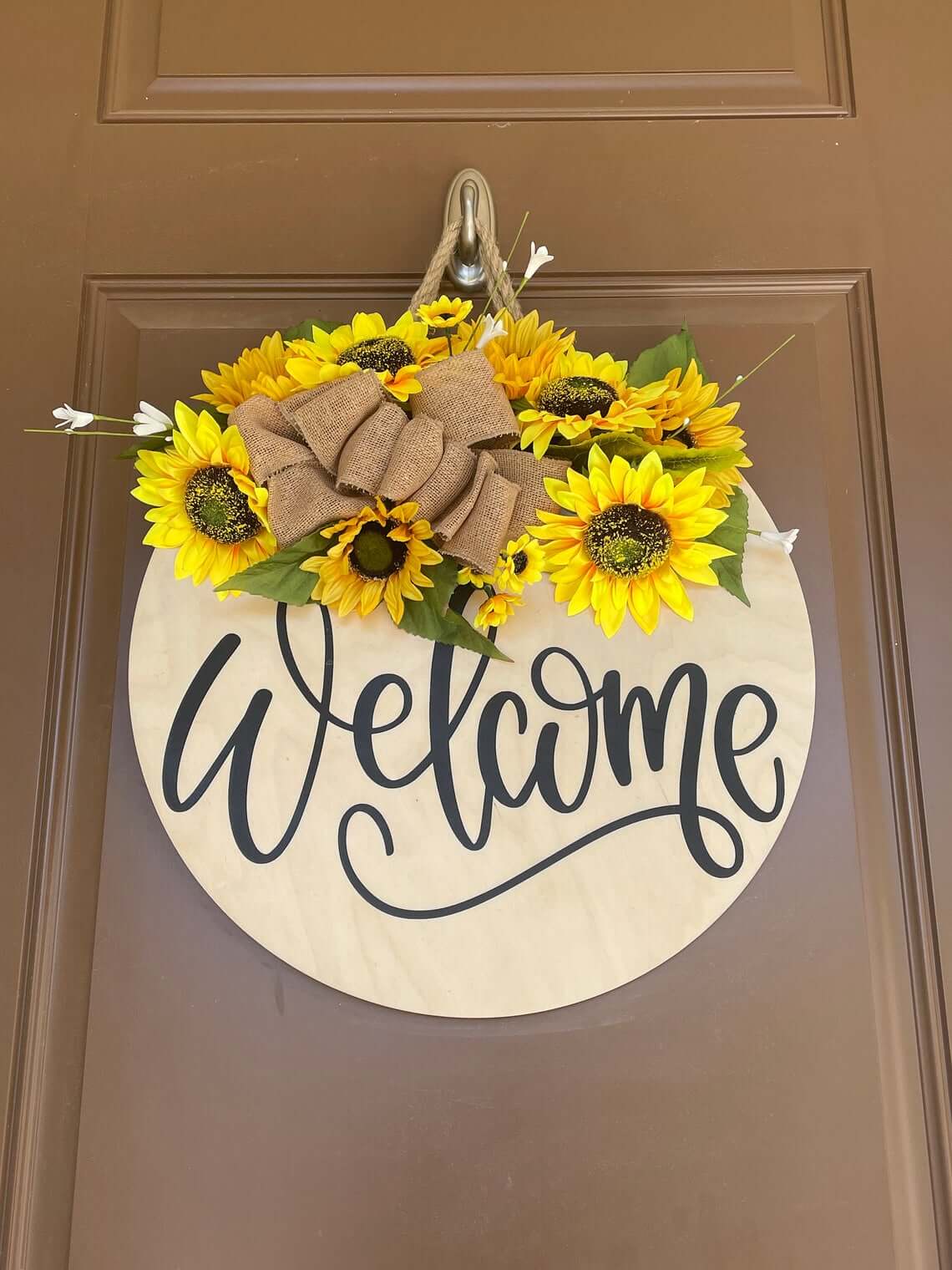 Say "welcome" to all your guests old and new with this beautiful sunflower welcome sign. This 18-inch wooden decoration provides a fantastic complement to any door color. You have the option to choose the 18 inch round wood, or you can go for a smaller door decor asset with the 12 inch round wood. The birch wood itself is ¼ inches thick so you are always getting a nice, quality slab of wood. To make sure your sign stays in place, the rustic rope hangar provides the right amount of strength to hold up your welcome sign for the whole neighborhood to see!
2. Farmhouse Country Home Sunflower Décor Sign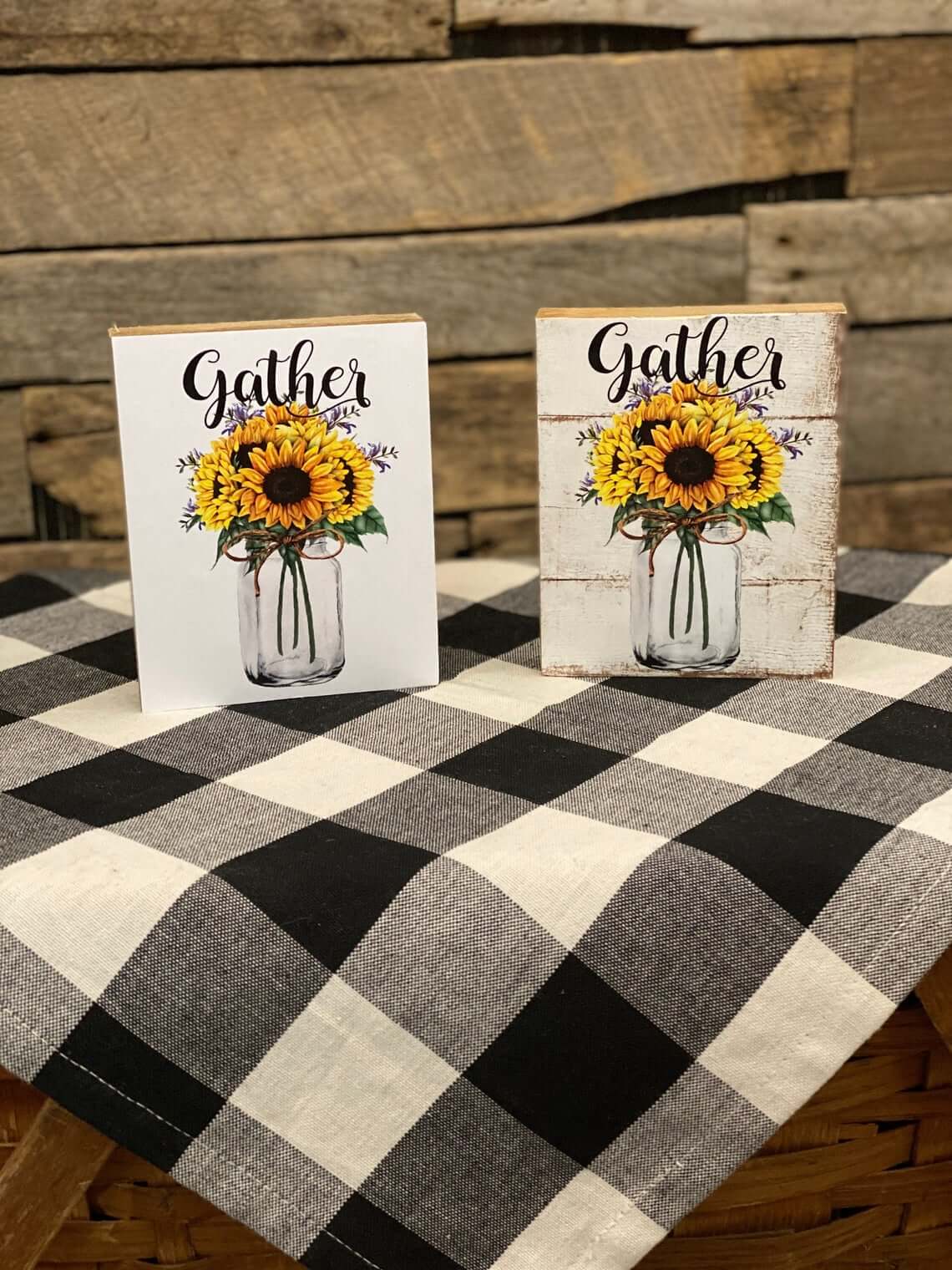 You can have this rustic farmhouse decor block in a set or just by itself. These unique blocks are of the highest quality and you can place them anywhere in your house. The tiered tray will allow you to place them on a living room shelf or on your bedside table. It wouldn't be such a bad thing if you could wake up every morning to a beautiful sunflower sitting right beside you! You will be able to feel the positivity and fun radiating off of these adorable, wooden decor pieces. The detailed painting of the bouquet of sunflowers sitting in the mason jar provides a certain level of class to this country classic that you just can't beat!
3. Multi-Colored Crochet Sunflower Bouquet Arrangement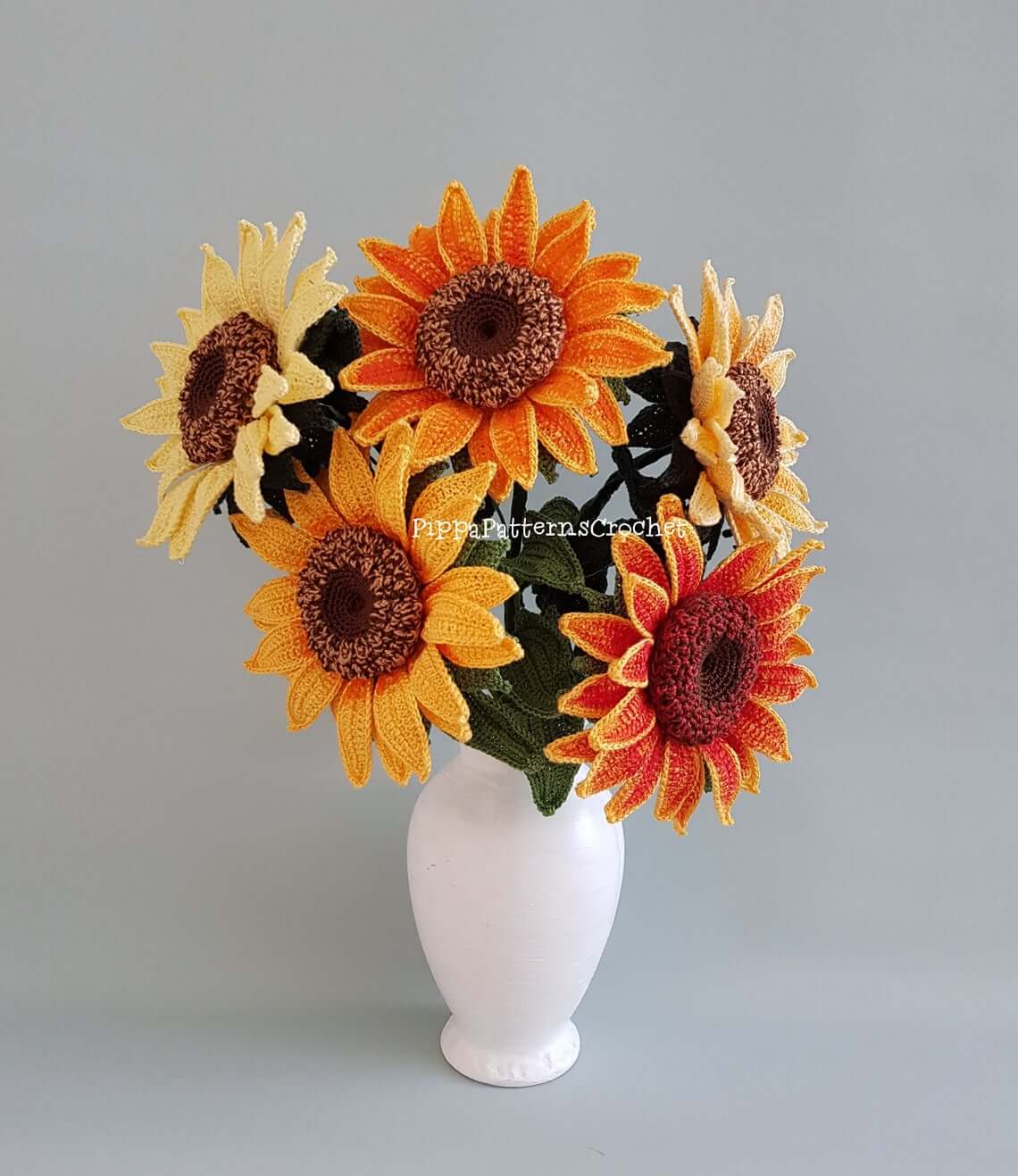 If you are someone who is into crochet, this is the best sunflower home decor idea for you. The crochet pattern that is nestled into this flower bouquet arrangement will make anyone stop and stare. The pattern itself is very easy to follow and you can choose whether or not you want to make the arrangement with or without leaves. Also, you decide what color yarn will compliment your house the most and you can incorporate this into your bouquet however you want! Even the most novice beginner will be able to catch on to this easy step-by-step process to create their very own sunflower room decor.
4. Sweet Silk Sunflower Arrangement Centerpiece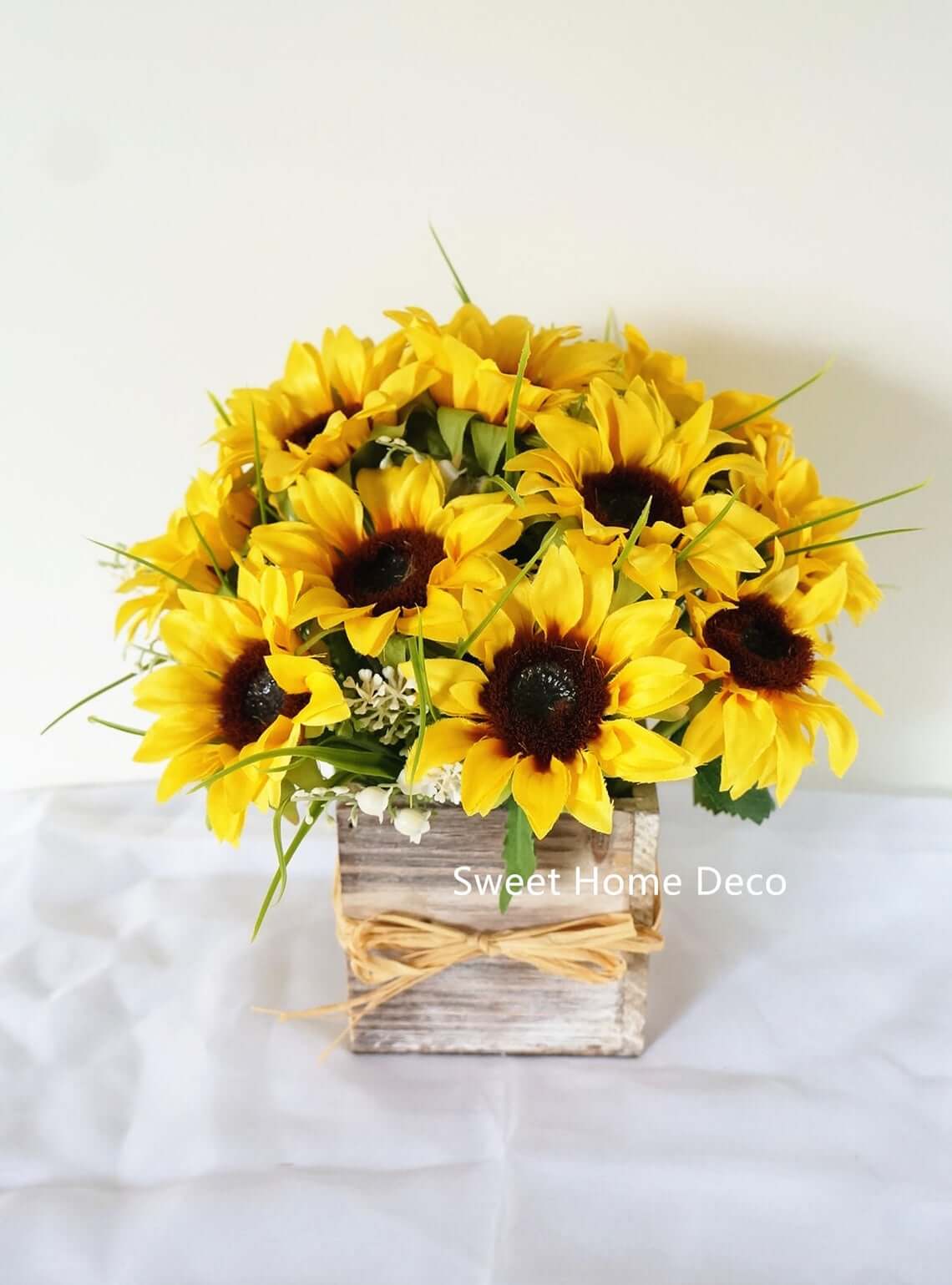 This silk sunflower piece will add a dash of elegance to any decorative setting. Every single arrangement is made with the best silk sunflowers, grass, and lily of the valley. You will never be disappointed in the premium quality flowers you receive. The fashionable design combined with the petite size of this centerpiece makes it perfect for the dining room table. The size of the arrangement is 9" T x 10" W in addition to the wooden vase which is 4" T x 4" W. This beautiful centerpiece will never go out of style.
5. Unique Summer Wedding Yellow Sunflower Napkin Holder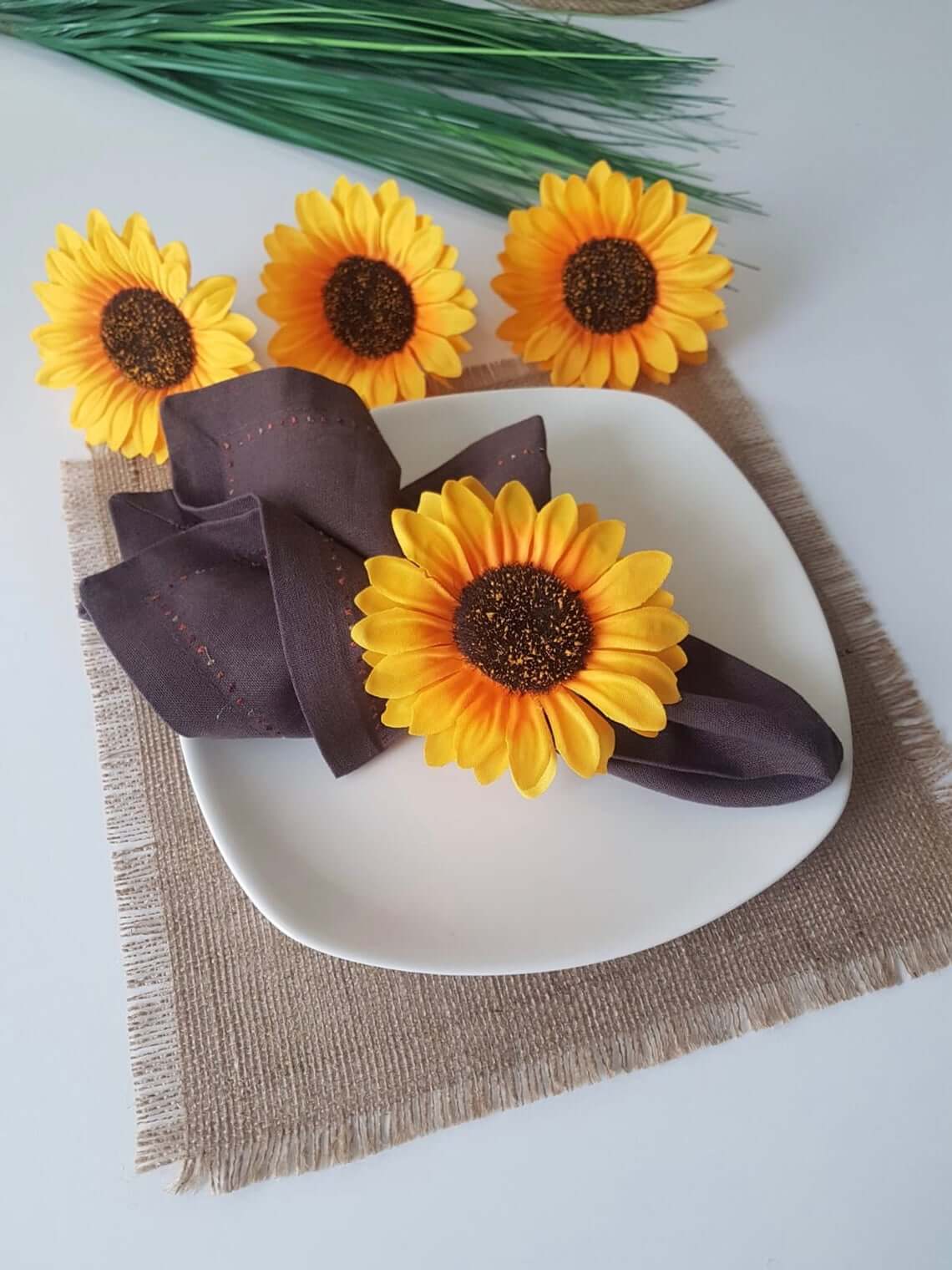 If your wedding day is coming up or you just need some new napkin holder ideas, this yellow sunflower napkin holder is a fantastic option for you! These can be used to hold every napkin on the table or combined into one large centerpiece. All of your guests will be quite impressed with your decorating abilities if they walk into your dining room and see this amazing showpiece in the center of the table. In addition, this napkin ring goes great with other types of table decor. If you are going for a specific style, you can choose from three alternative types of holders to match your vision!
6. Natural Sunflower Standing Letter Décor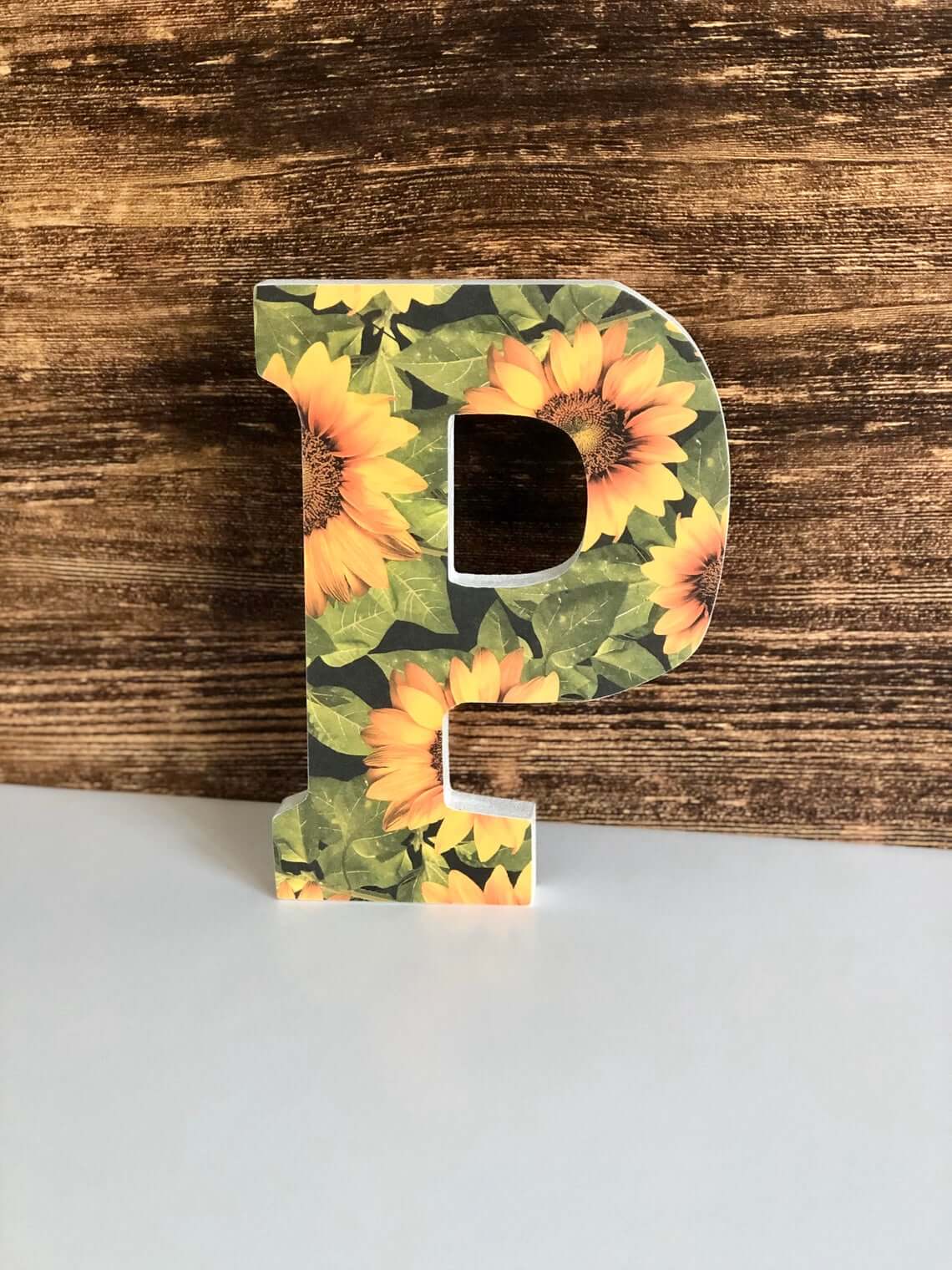 You can add your own personalization to this standing letter sunflower home decor. Once you add your own cool spin, you can place this item on your office desk or as an accent piece in your living room. The sunflower letter is 7- ¾ inches tall and the width varies depending on the letters you choose. You can get any letter of the alphabet you want while also adding in some numbers as well. The sunflower paper used to wrap your wooden letters and numbers is a high-quality decorative paper that will last you a very long time. This is a fantastic way to brighten up any room in your home.
7. The Perfect Pair of Mini Wooden Sunflowers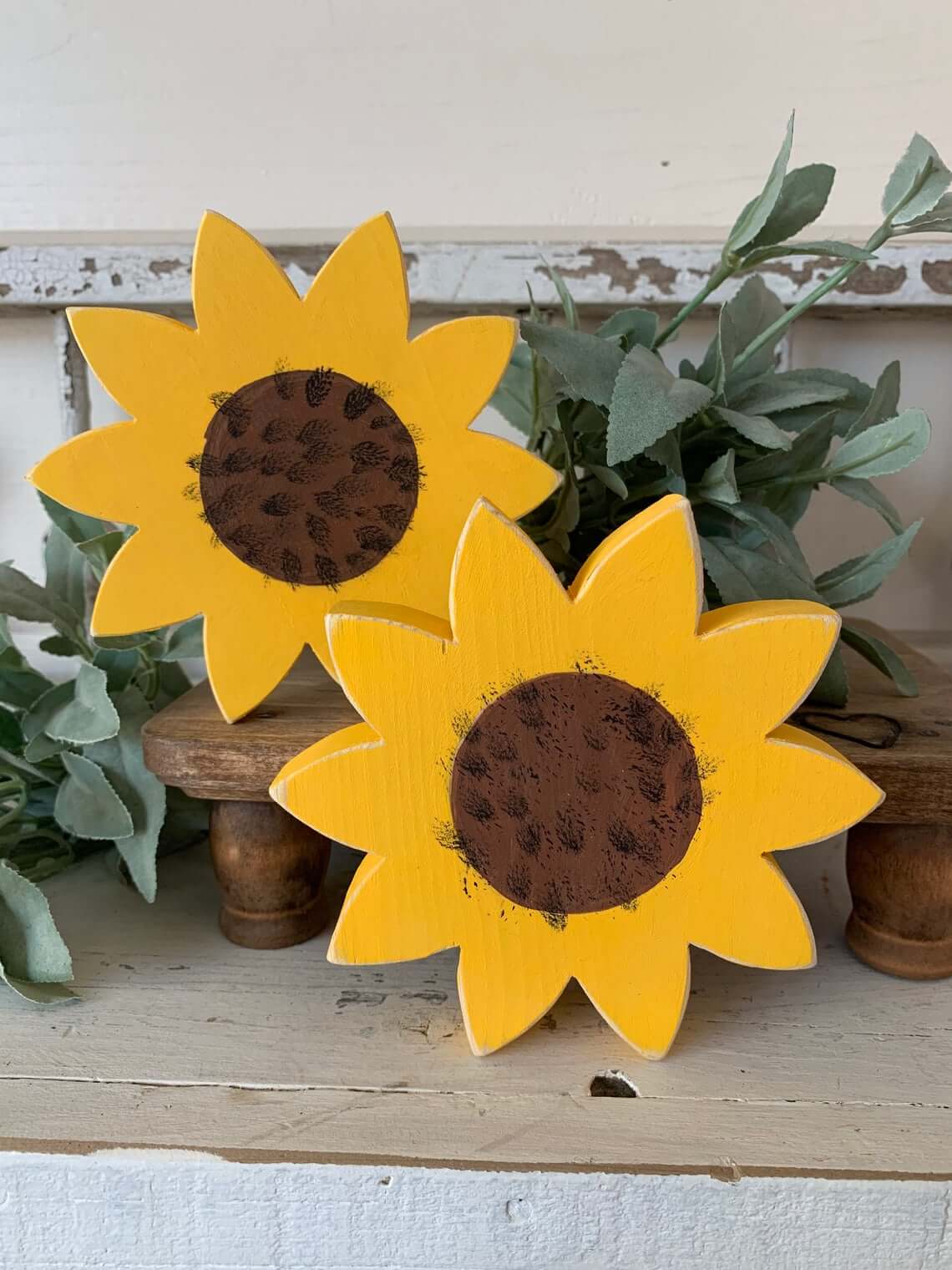 This pair of mini handmade sunflowers are truly wooden perfection! These flowers can complement any space throughout your home. Also, you can choose to place them in particular areas of your yard or garden to even have sunflowers blooming during the winter months. Can you imagine a vibrant yellow sunflower peeking through a blanket of white snow? How fun! Now is your time to decorate your home with these well-crafted decorations. They are not only pleasing to the eye, but they also provide a positive feeling within the heart.
8. Blooming Yellow Sunflower Kitchen Centerpiece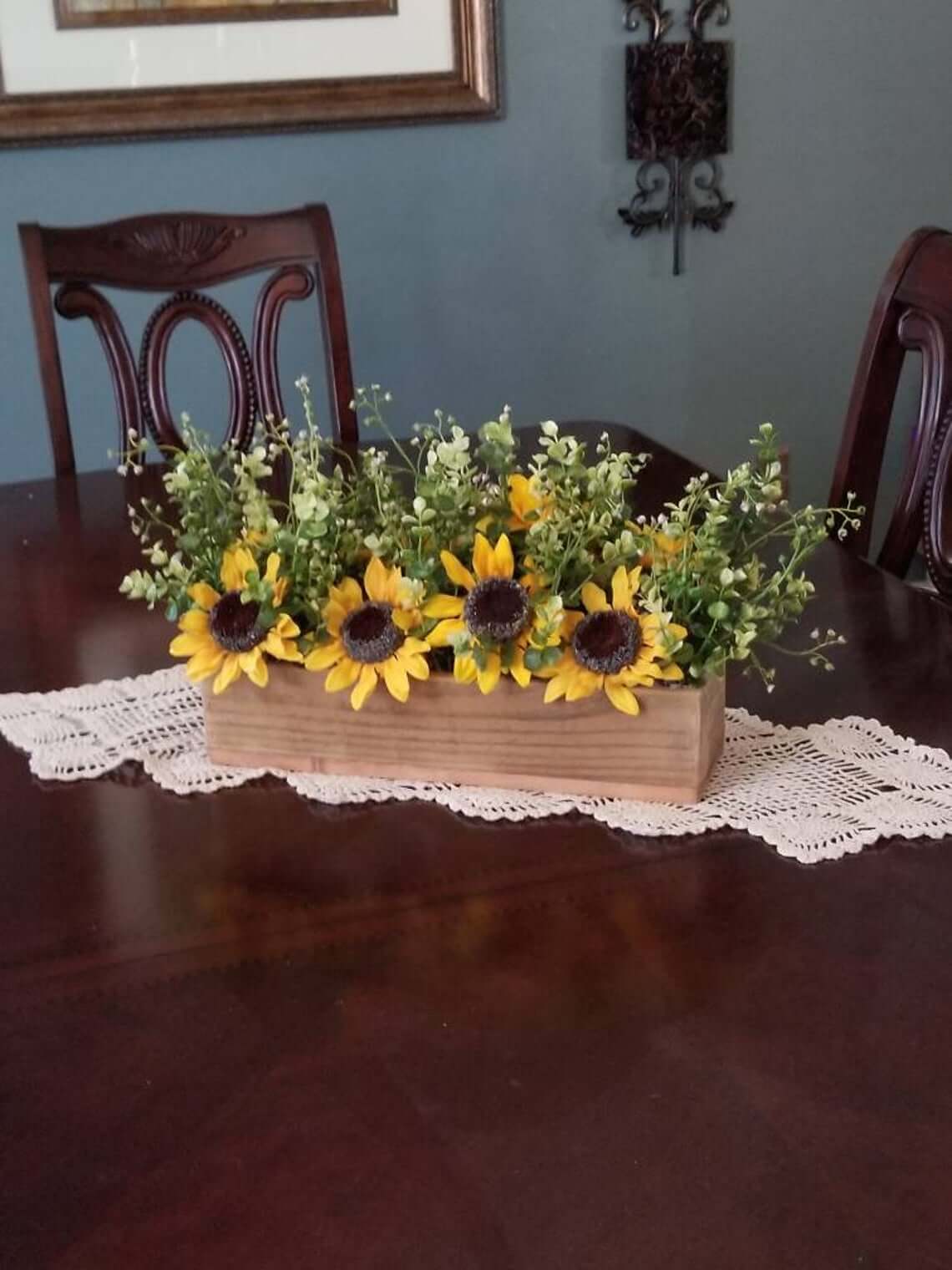 This wonderful sunflower centerpiece is just what you needed to complete your kitchen decor. This rustic sunflower decor will help your bright personality shine through. They symbolize the happiness and joy everyone is searching for in life. This burst of color will bring a smile to your face every time you walk in the door. Whether you are actually using this for your kitchen or you want to add it as your final piece of wedding or baby shower decor, you need a little extra source of happiness in your life! If not you, then purchase this amazing centerpiece for a loved one you would like to share your joy with.
9. Delicate Stained Glass Sunflower Suncatcher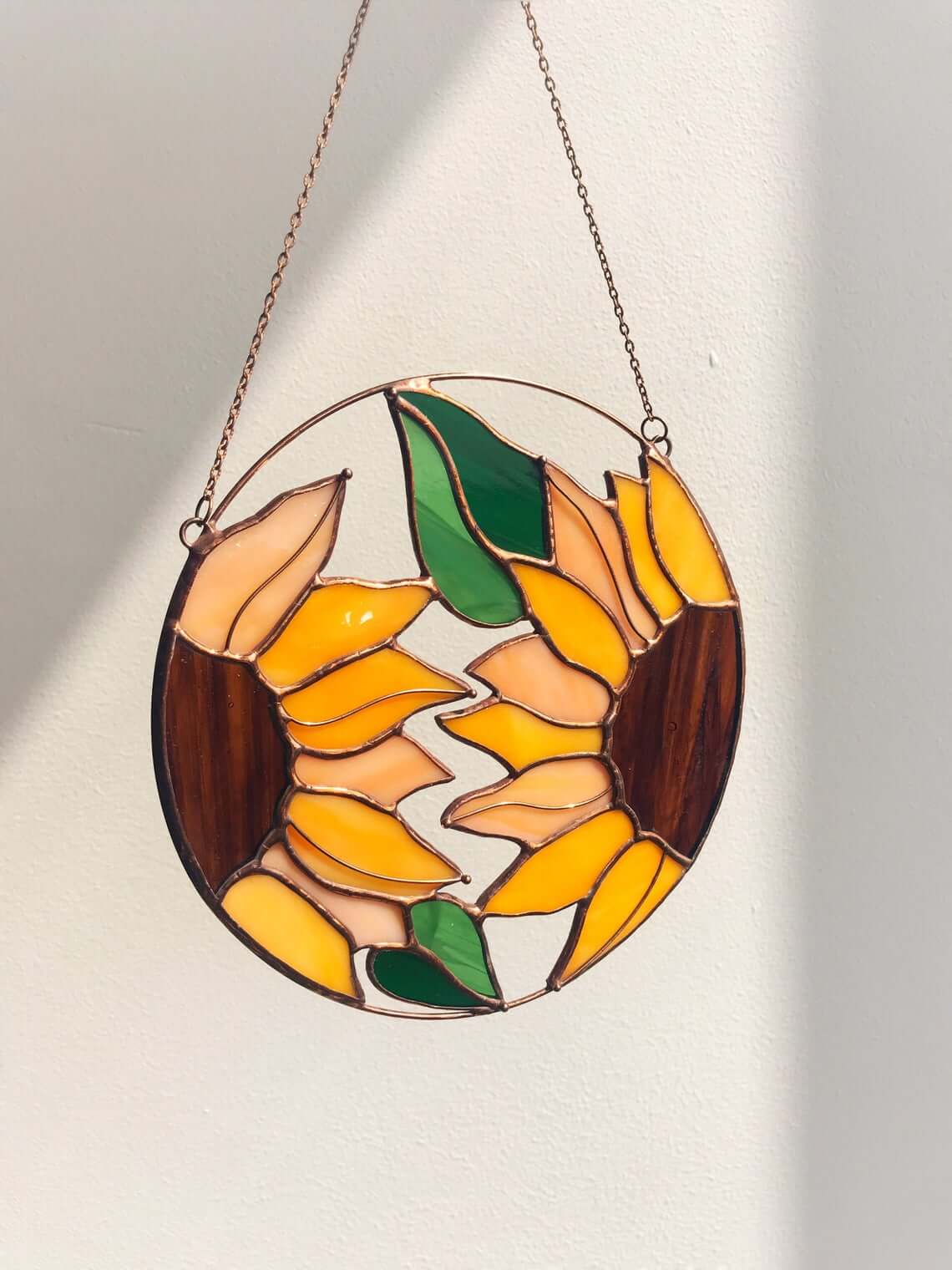 This flower suncatcher is a great addition to your garden window or any wall inside your house. Gifting a beautiful suncatcher like this to your loved ones can truly show them how much they mean to you. Let this be the first piece of stained glass art you ever purchase. Once you fall in love with it, you can always come back for more. You can never have too many pieces of glorious, stained art because their bright nature adds an amazing feeling of happiness and positivity to any room. Every single piece is handmade to perfection in a variety of different sizes and color shades as well.
10. Stylish Mini Wooden Sunflower Farmhouse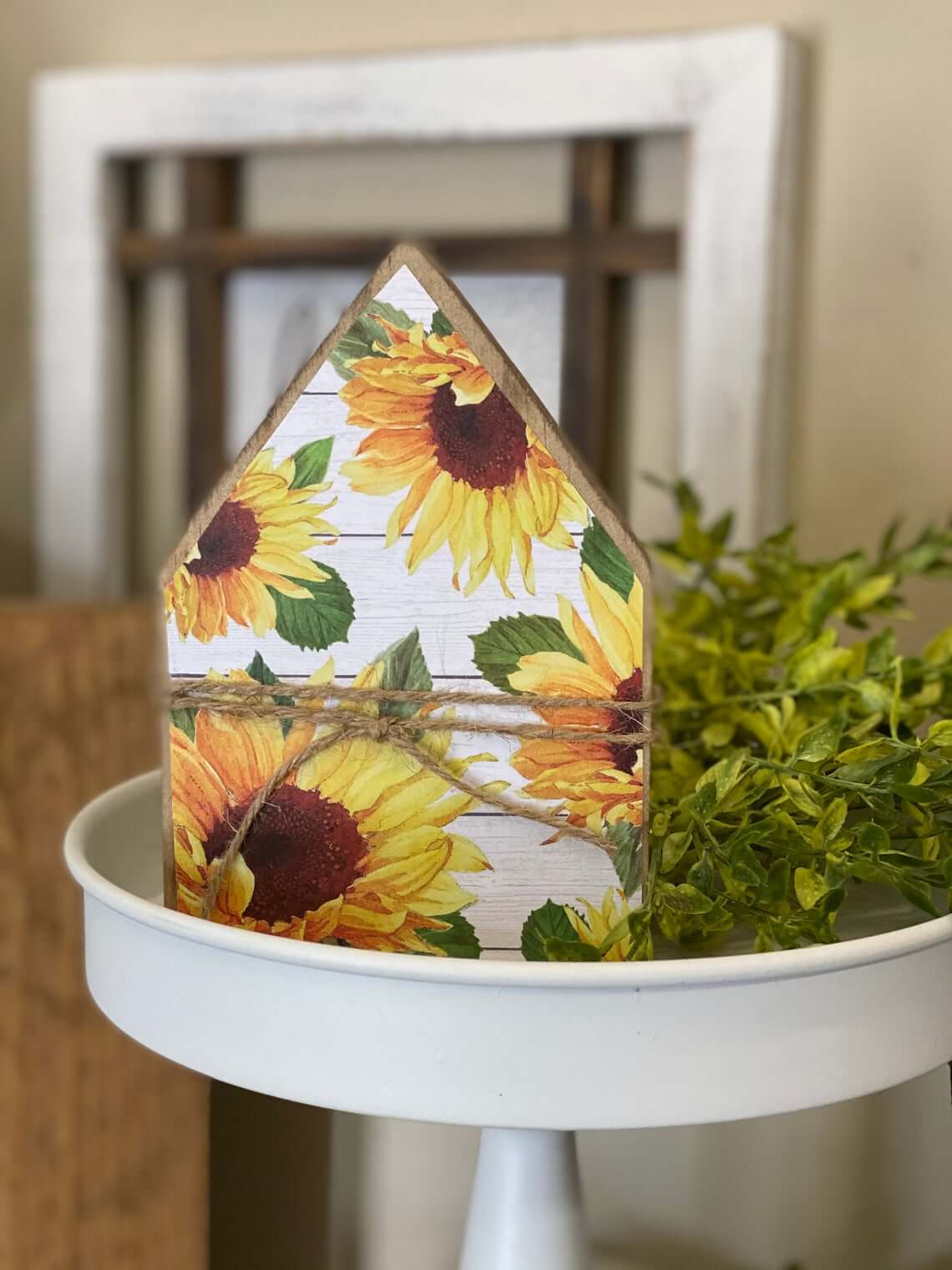 These sunflower-decorated mini houses will provide you a simple sunflower room decor piece that won't overshadow all of the rest. You can place this piece to the side of your living room on your favorite accent table. These can also be used as a nice pop of color that you place on the back of your home office desk, you decide! Do you love coffee? If you're finally finished creating your own personal coffee bar, these mini houses may be just the extra piece of decoration you need for it to be complete. If you need a great addition to your tiered tray decor, this is the best sunflower home decor idea for you!
11. Antique Flower Wall Art Print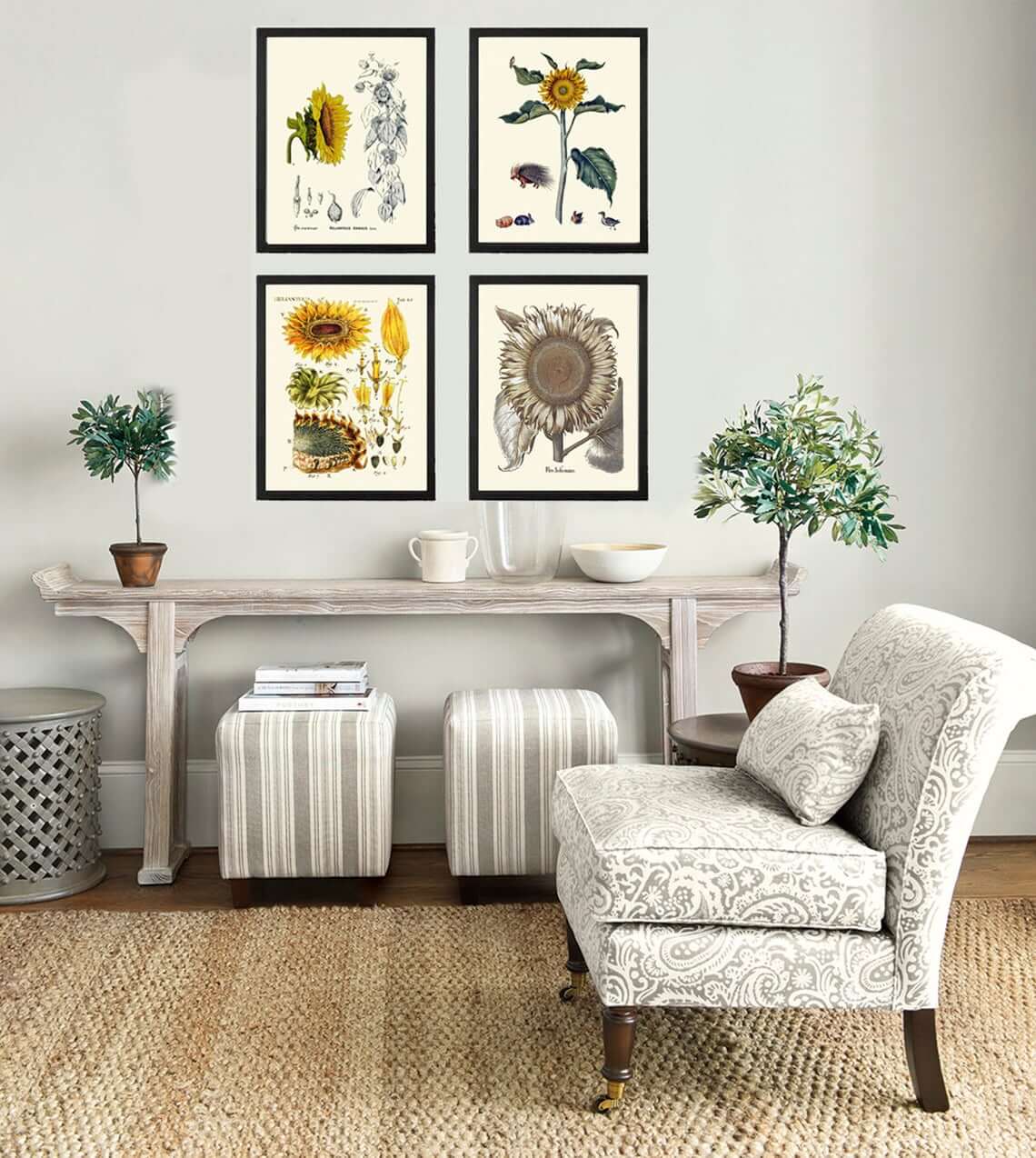 These antique flower prints are inspired by botanical illustrations. If you are a history buff, you are going to love the historical feel these sunflowers bring to your home. With each purchase, you will receive a set of 4 different pieces. You always have the opportunity to choose which custom prints you want for your decorations. The rich and vivid colors will add a high-quality look to any room. Also, the crisp details will make you want to get some more! Combine sunny with class when you choose to add this antique look to your home.
12. Edgy Black Sunflower Wall Art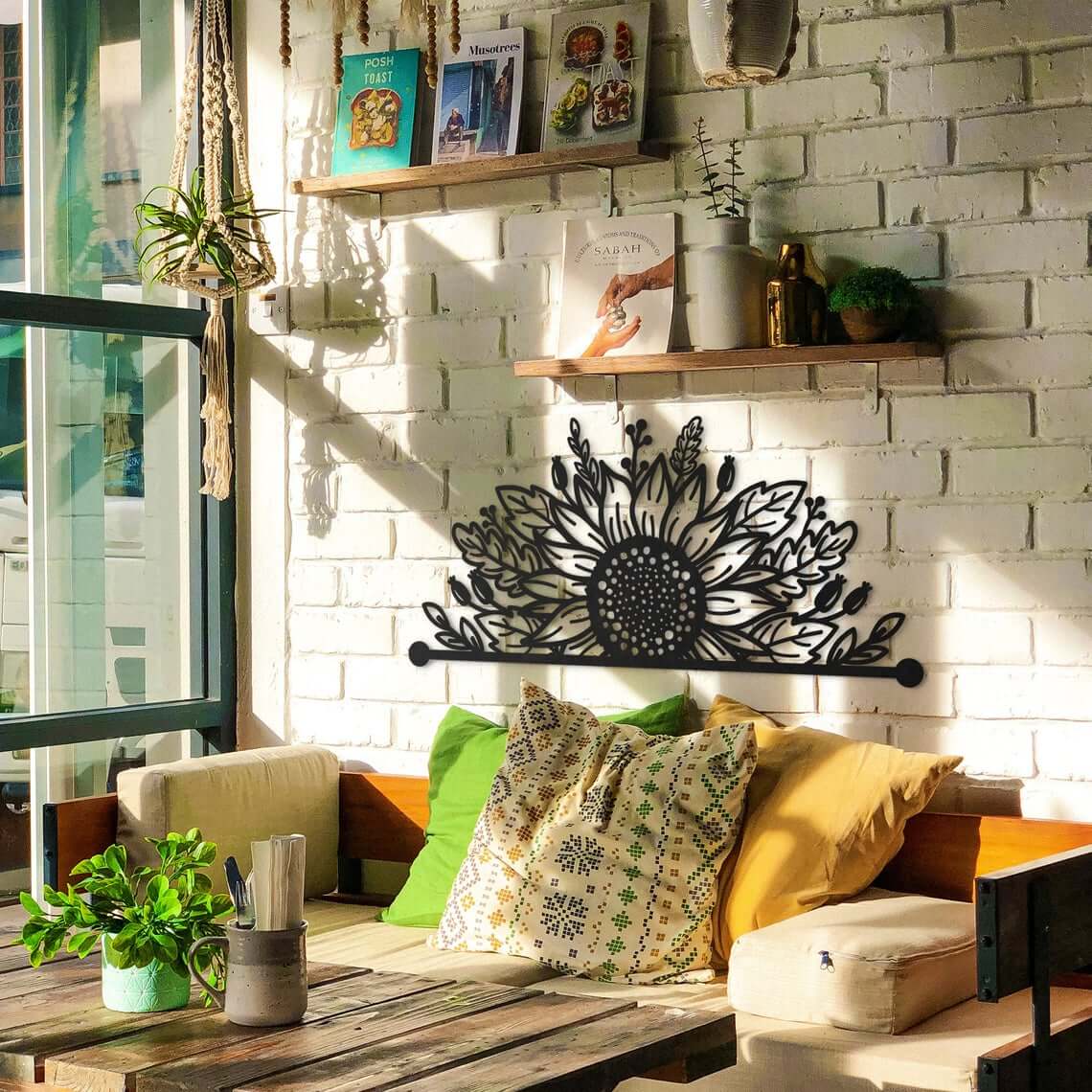 If you are not necessarily one for bright colors but you still love sunflowers, this wall art decoration might just be the right one for you. This handmade piece is created with textured, black paint and will add a classy asset to your bedroom. This metal wall art would be fantastic to place right above the headboard on your bed. You can also use it to add a sense of style to your kitchen or in the living room right above your fireplace. Given this steel wall, art is so versatile, the choice is all yours!
13. Rustic Sunflower Farmhouse Utensil Holder Mason Jars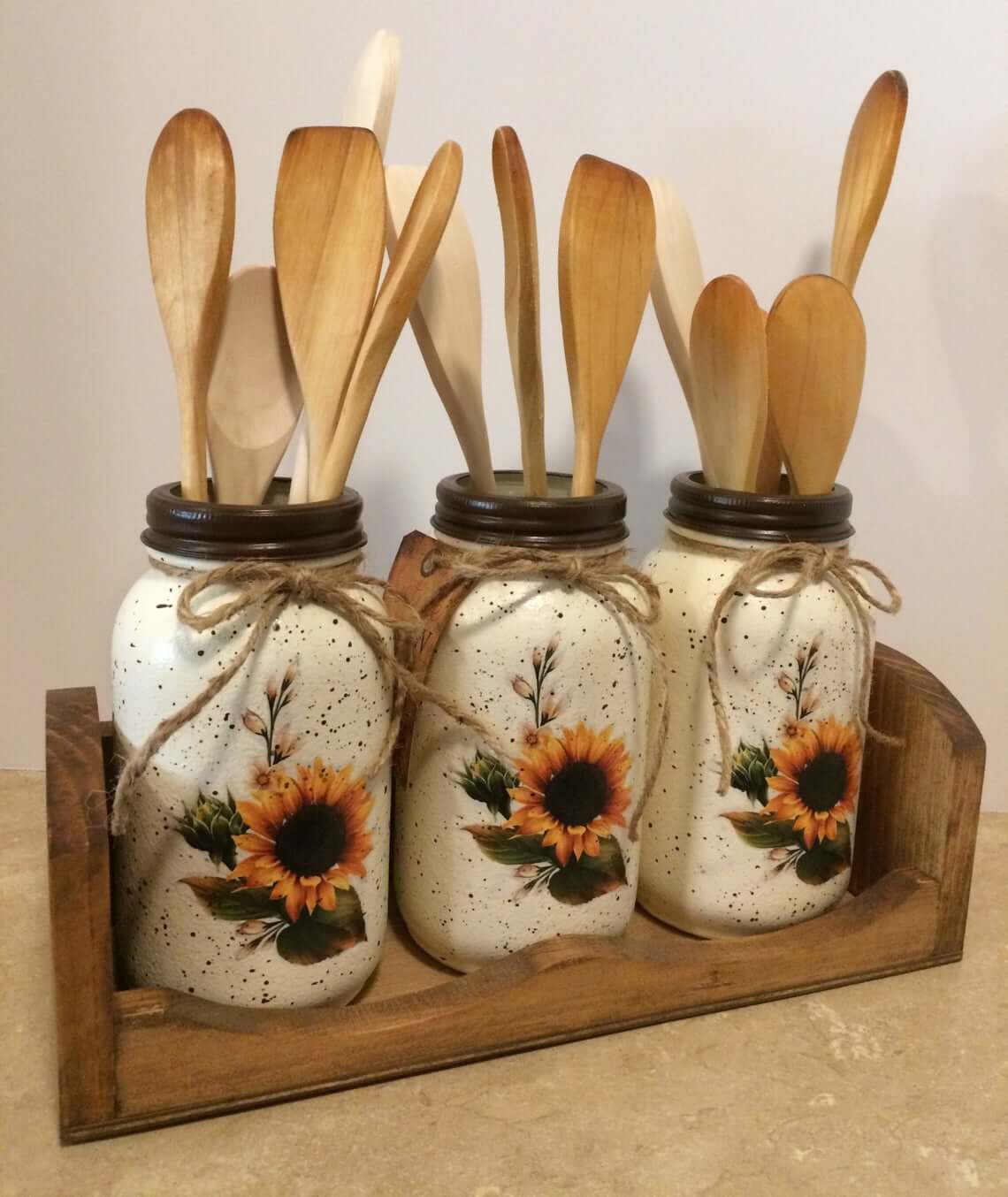 The white, hand-painted lambskin chalk adds a much-needed vintage look to these quart-size mason jars. You can place them on your table, your home office, or your coffee table. This is the best sunflower home decor idea for your kitchen because you are able to store all of your utensils in them! For the most rustic look, you should use the mason jars to house your wooden utensils. Fortunately, the sunflowers are not just stickers! They are printed onto tissue paper and applied to the mason jars using a decoupage technique. The final layers of varnish make sure this sunflowers decor lasts for a very long time!
14. Vintage Sunflower Farm Market Sign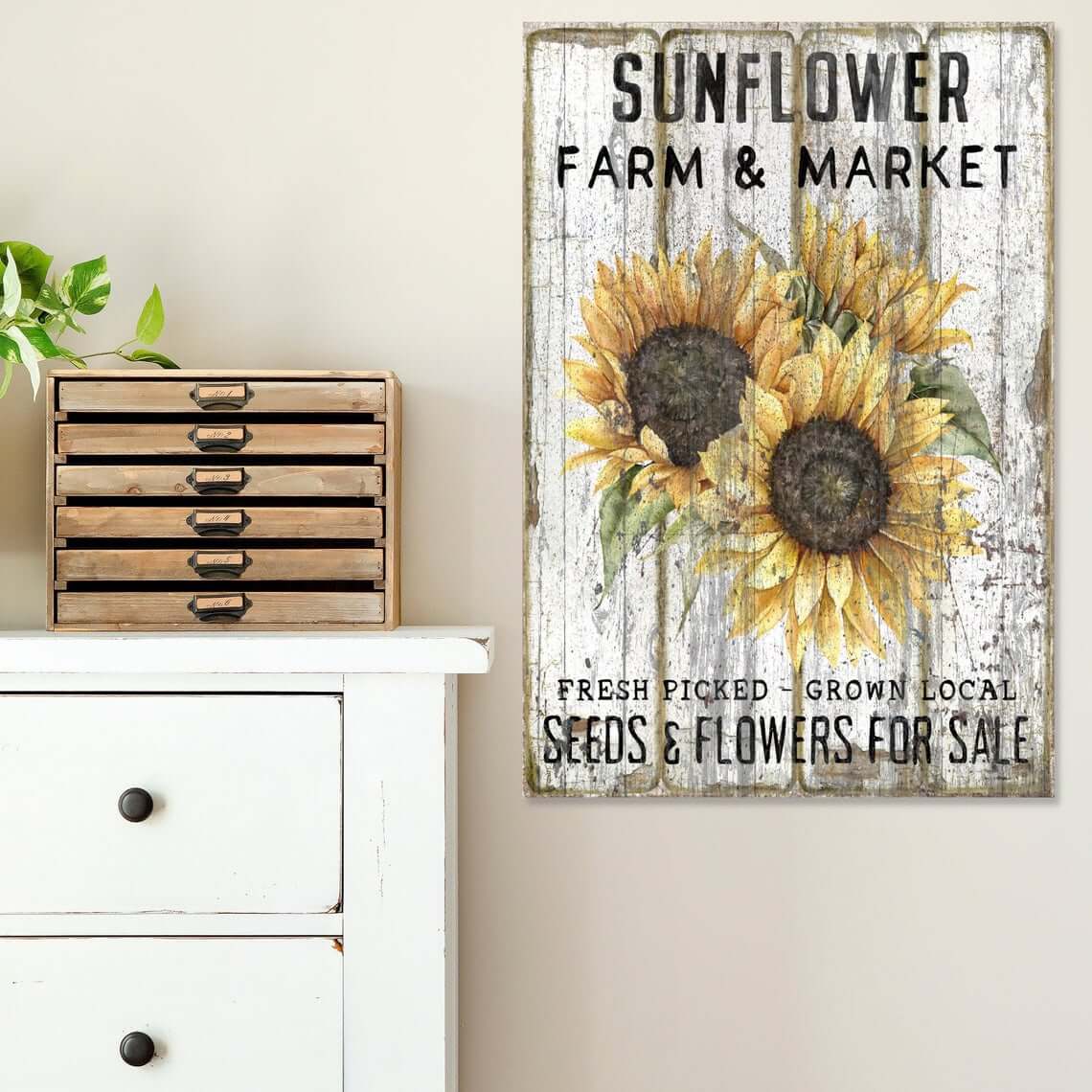 A vintage sunflower farm market sign can add an amazingly rustic look to your country farmhouse. These are large canvas signs that are pleasing to the eye and truly hard to miss! The purpose of this handmade sign is to add a flare of nostalgia to whatever area of your home you place it in. The sign looks as though it's old, cracking, and peeling. That's just the look! This lightweight sign is a great piece of sunflower room decor for you, but it can also make an amazing gift for your friends and family.
15. Cool Fall Sunflower Throw Pillow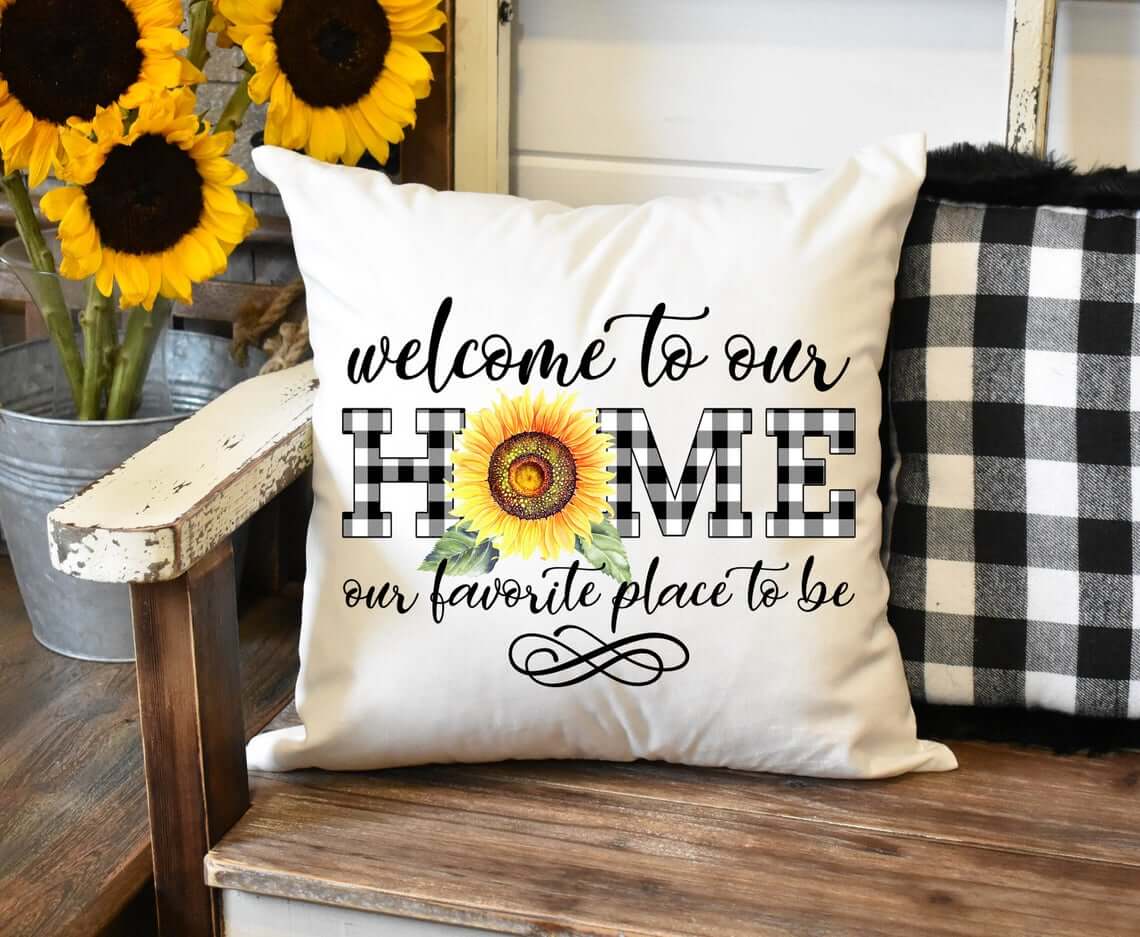 There is no such thing as too many pillows! Especially since the autumn season is right around the corner, this may be the best time to stock up on some of your favorite, decorative pillow covers. The fall season is also a great time to tap into your inner country girl! These beautiful 16 x 16 pillow covers have an optional insert. Proper care is always taken when designing these pillow covers to last. This is done with the combination of sublimation and transferring ink so your unique pillow cover will never fade! Welcome all newcomers into your home with this lovely sunflower decor.
16. Charming Mini Ceramic Sunflower Pot with Lid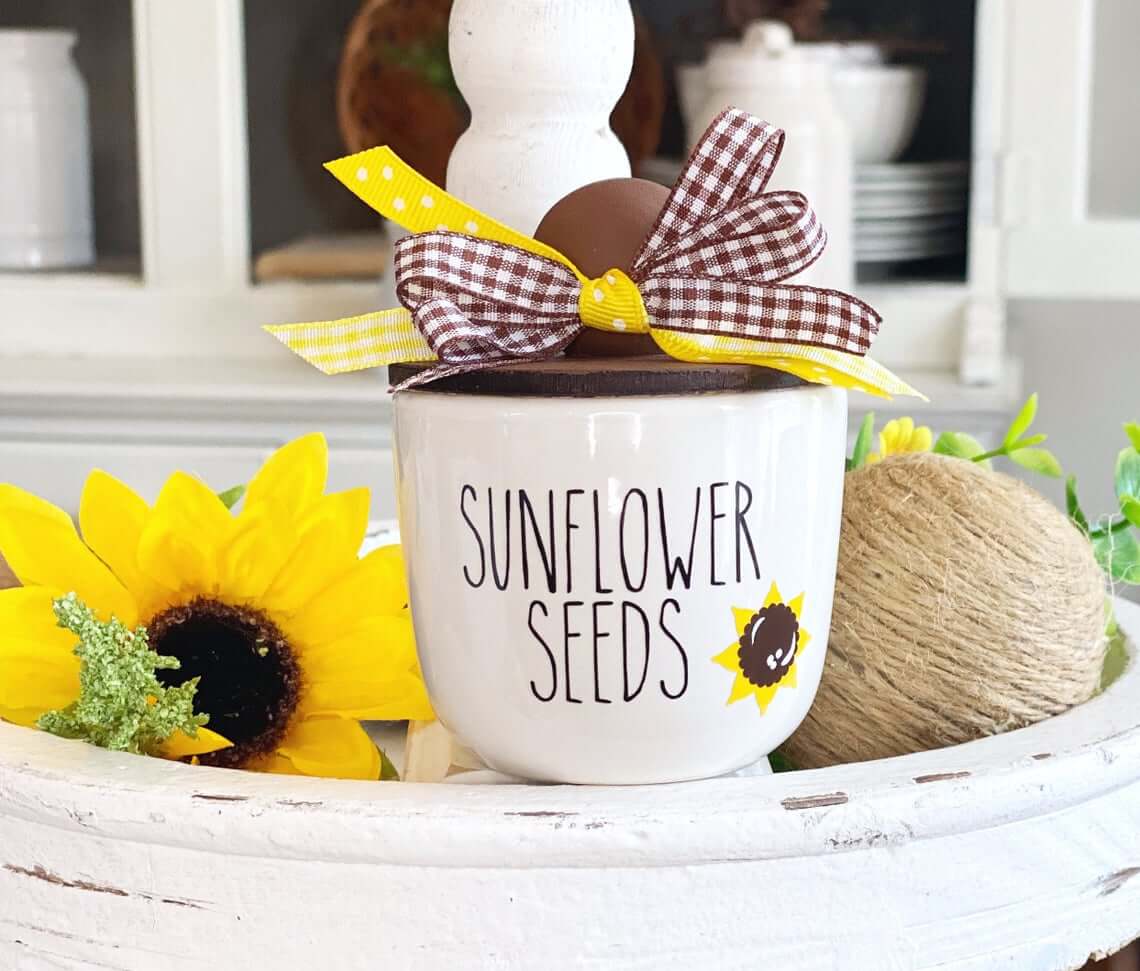 The newest style of the sunflower seeds tiered tray is in! This mini farmhouse decor is a ceramic seed pot with a wooden lid. The pot sports an "off-white" color that is perfect for any sunny-themed room in your home. If you don't necessarily want to stick this on your tiered tray, that's no problem! The fun, ceramic pot can also be an amazing addition to your morning coffee station. Having the opportunity to look at this sunflower display every morning in combination with your favorite cup of joe will give you the positive jolt you need to start your day off right!
17. Floral Sunflower Wall Hanging Accessory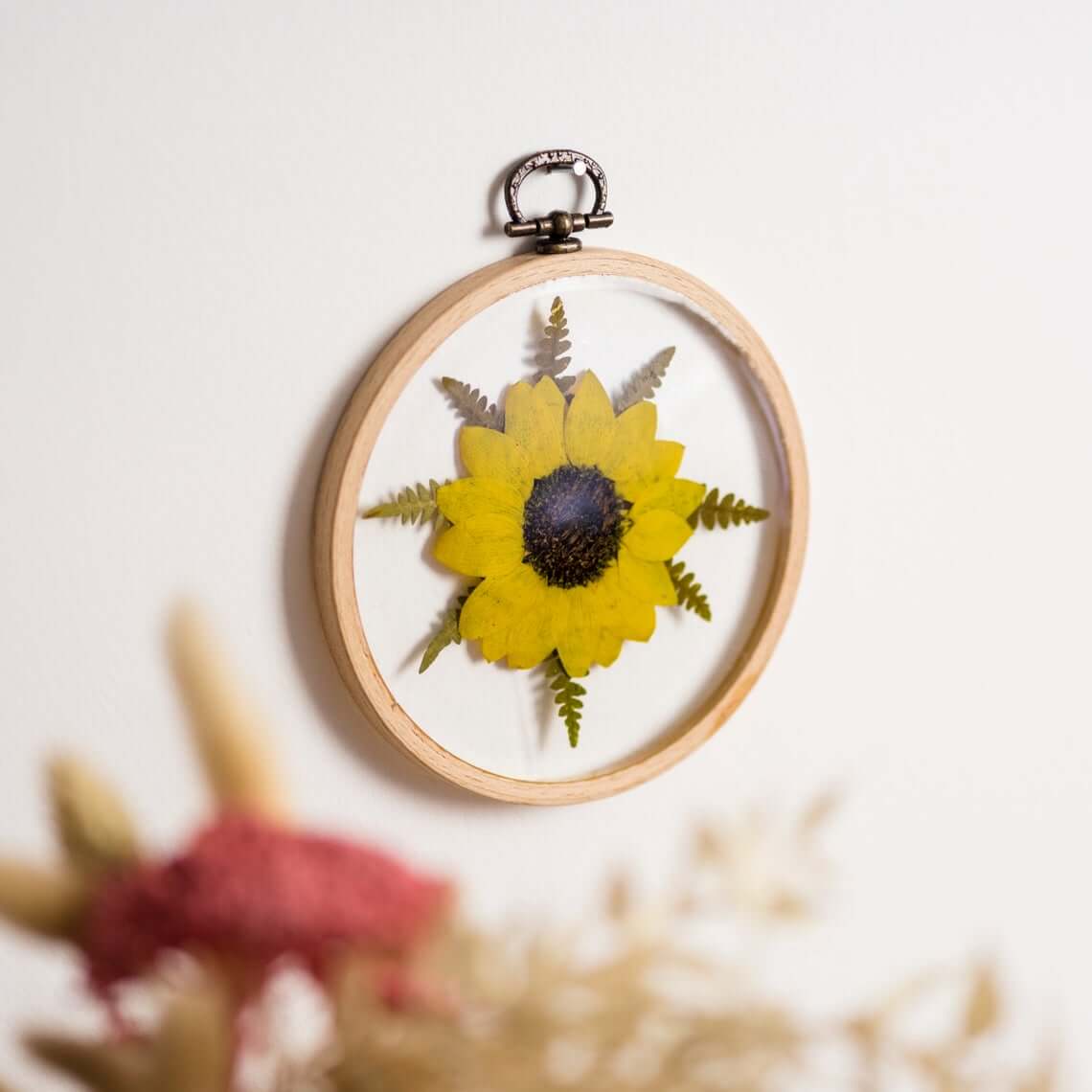 This tiny 4-inch circle packs an amazing, pressed flower decoration for any room of your house. The internal flower combined with the circular wooden exterior is a cool asset to your wall hangar collection! If you are feeling extremely artsy, you can even choose to add a mini butterfly to your wall art. Every single flower used for this decoration is grown in a personally owned garden, so you can be sure that you are always receiving high-quality decor. Given no one flower is exactly the same as another, you will always receive a unique piece of wall art.
18. Perfect Rustic Sunflower Bath Hand Towels
How cute are customized bathroom hand towels? You need your own set of decorative hand towels to let your personality shine through even in your bathroom! These decorative sunflower hand towels would also be wonderful for the guest bath. People will want to continue to visit your home just to get another look at your amazing towel set. Also, if you have a friend who is moving into a new home, this set of bathroom hand towels would be a charming housewarming gift for them. Show your loved ones how special they are by giving them this amazing sunflowers decor surprise!
19. Yellow Timed Flameless LED Sunflower Pillar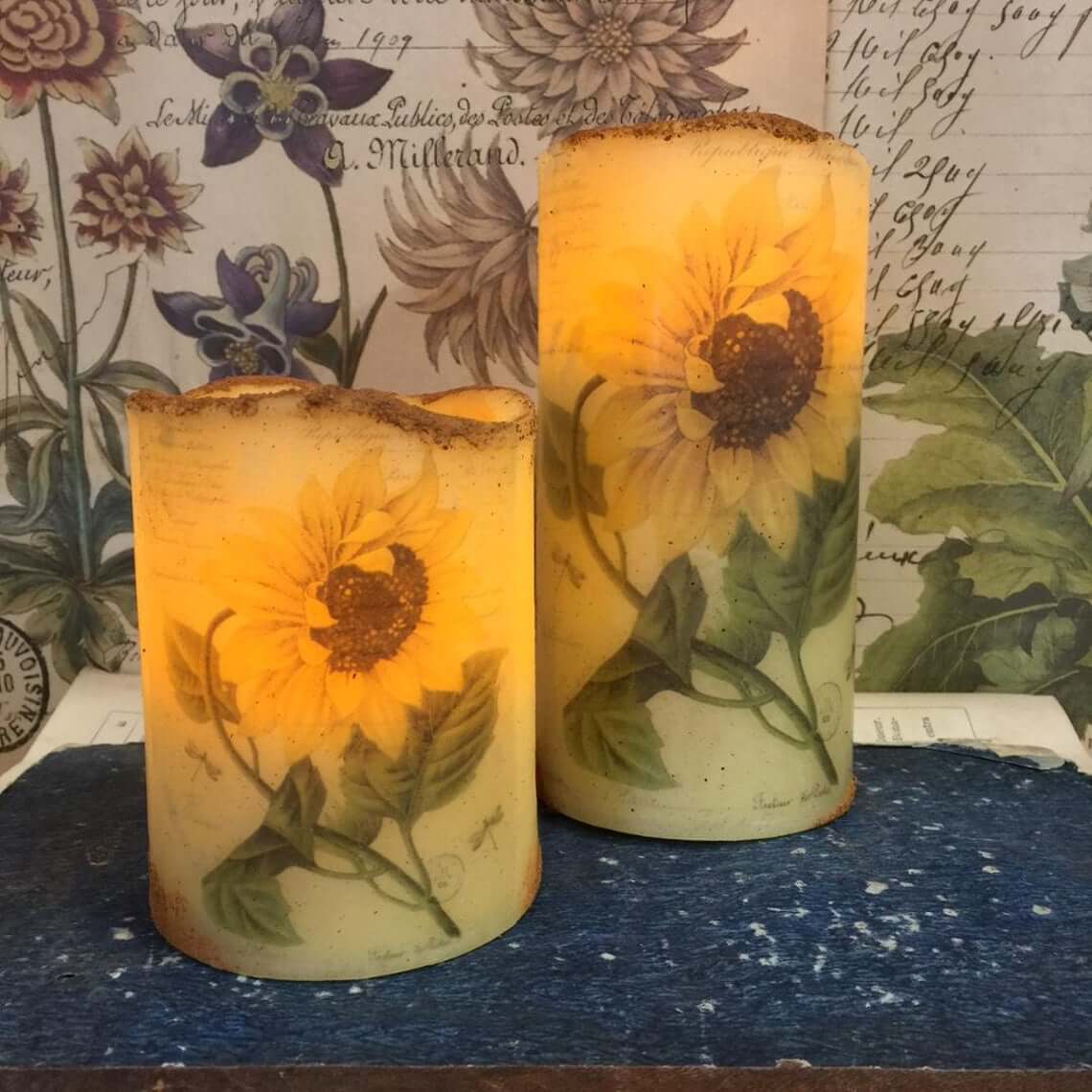 Tone down the mood with this wonderful, flameless LED sunflower room decor. You don't have to live in an actual farmhouse to make your home feel like one. You can choose from a variety of different heights so that this decor matches your vision. The vintage imagery created by these candles provides a magnificent accent shade to any room of your home. Their cute and sunny nature can also give you the nice "sunflower" look you've always wanted for your bedroom. You don't want to miss out on this sunny, country decor!
20. Sunflower Letter for Teen Bedroom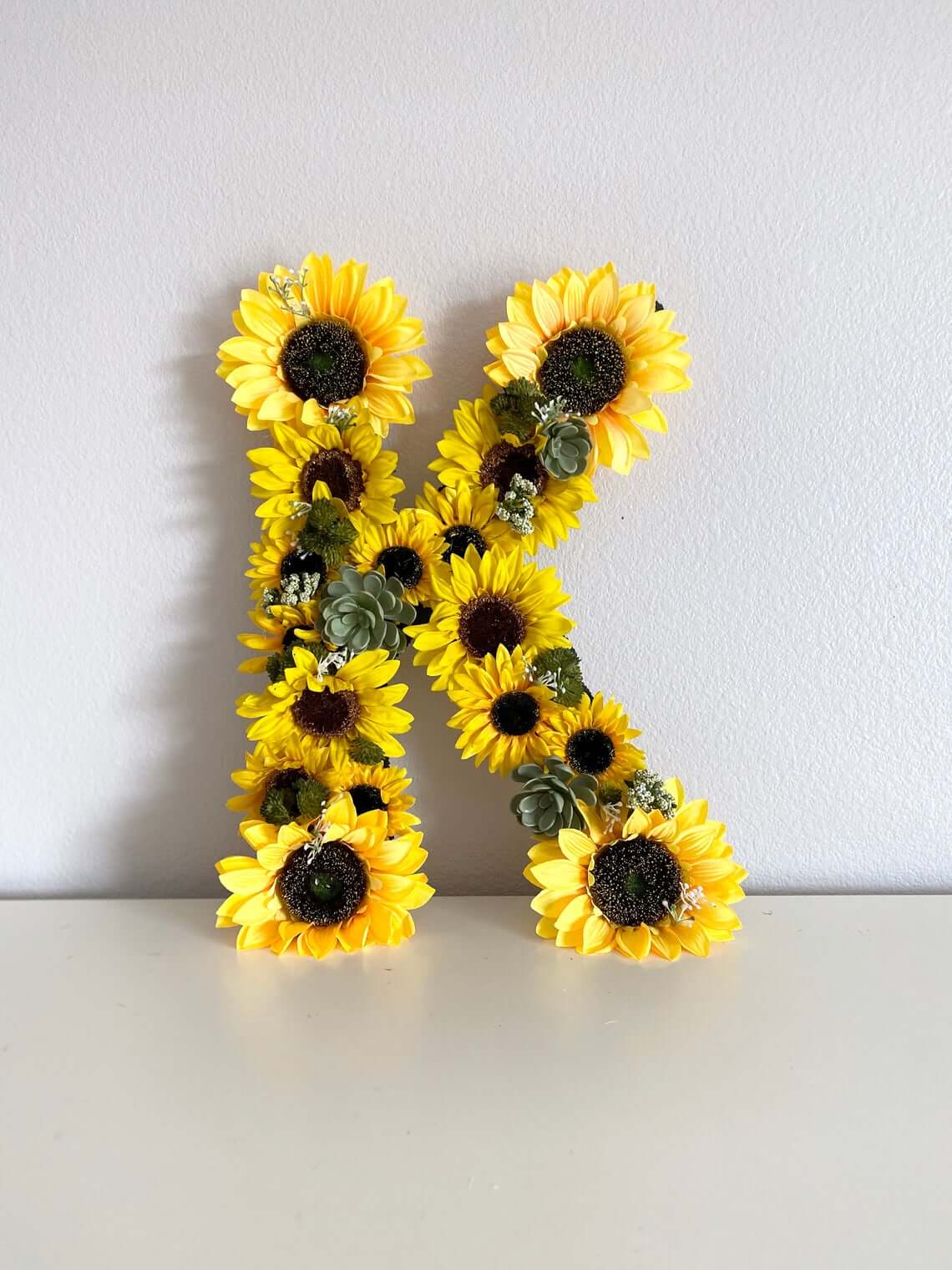 Teens love them and so do babies! You would bring a smile to anyone's face if you got them a sunflower letter that had their initials on it. Even better, you could get the three different letters so they could have all of their initials sitting on their desk spelled out to them in the most vibrant, yellow sunflowers. If you're not a fan of yellow, no problem! You have the opportunity to choose which colors you want to have for this extremely personalized gift. All of the letters come in normal Arial font unless you would prefer to request a style that better fits your vision.
21. Ambient Sunflower Wind Chime for the Yard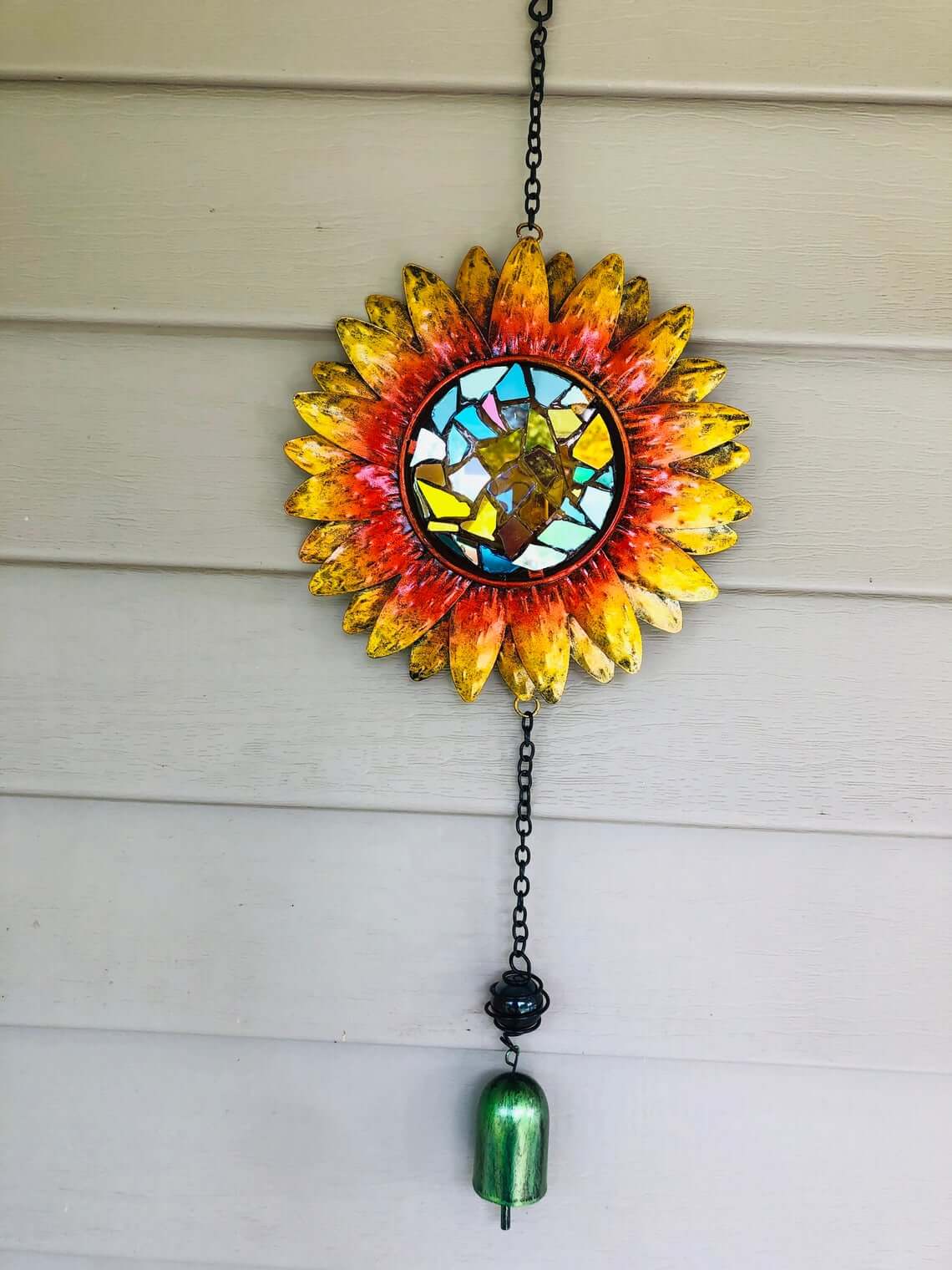 This beautiful wind chime has tasteful character and amazing style. Each sunflower windchime has a glossy stained glass center. When moving out from the center, your eyes will fall on the most vibrant red color that fades into a magnificent yellow. This is an amazing yard decoration that can add a great variety of color to your sea of green. If you are an avid collector of other types of outdoor decor, this piece will go perfectly with the dragonfly and hummingbird that already live in your yard. If you have a friend with a beautiful flower garden, giving them one more sunflower in the form of a wind chime couldn't hurt!
22. Adorable Yellow Sunflower Door Bow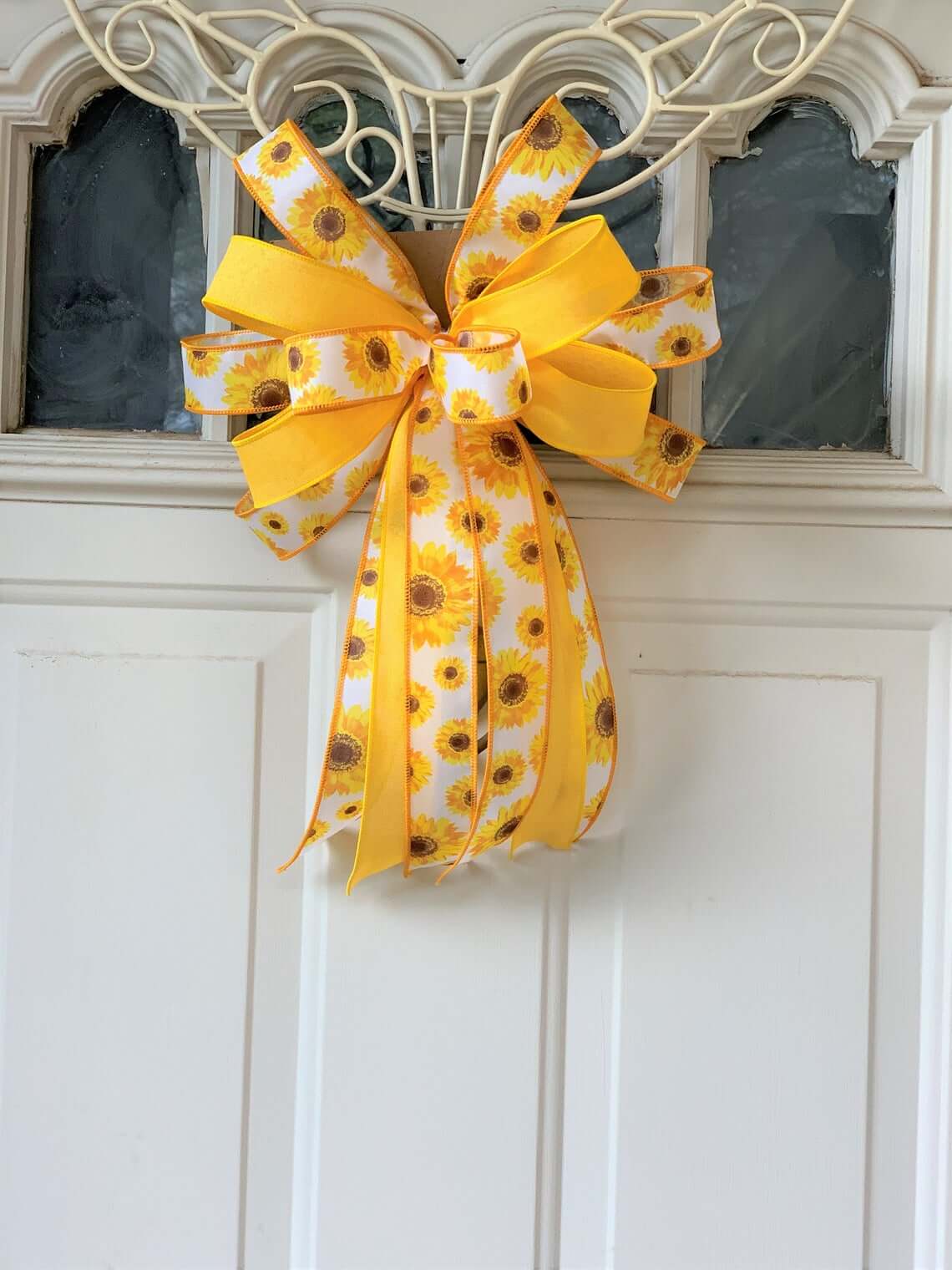 Maybe you are a firm believer that traditional wreaths are only for the holiday season. Well, this yellow sunflower bow is definitely for you! You can hang this bright, sunflower ribbon right on your door to welcome in the warm, summer air. This can also brighten up the cooler, autumn days with a much-needed pop of color. The versatility of the wired ribbons gives you the flexibility to place this piece of sunflower decor on the inside or outside of your home. You don't want this beautiful piece to get destroyed by the elements, so make sure you place it under some type of awning if you want to leave it outside.
23. Multi-colored Burlap Sunflower Door Hangar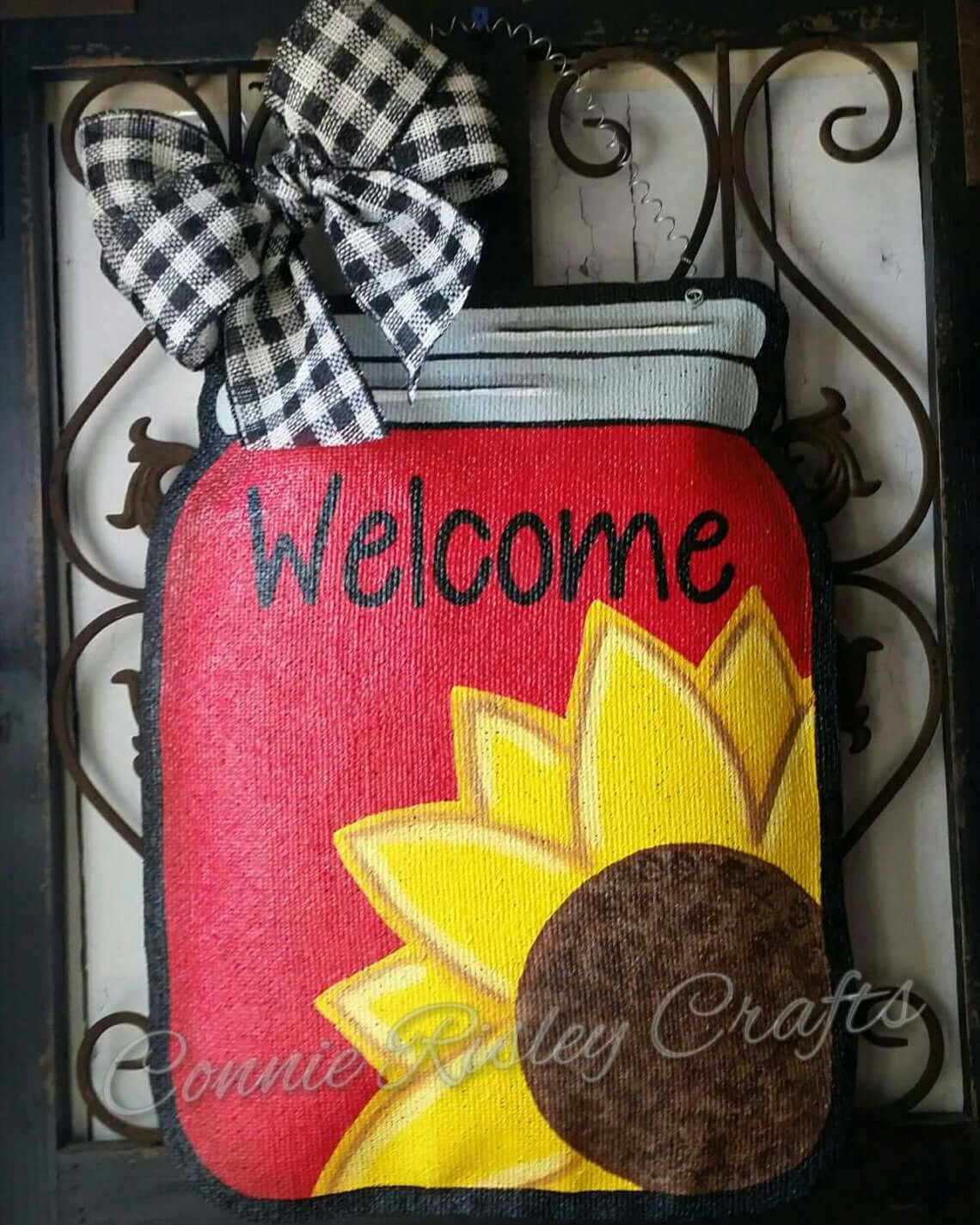 If you are a classy person who loves sunflowers, mason jars, and all things burlap, this is the door hangar for you! As soon as you receive your burlap door hangar, you can instantly hang it up for the world to see. This can be a nice pop of color for your indoor decor or you can hang it right outside your door so everyone can enjoy its magnificent flare. The bow on the front might even be the best part! If you are purchasing this as a gift, feel free to personalize your mason jar with any name or initial you choose.
24. Precious Sunflower Glass Candle Holder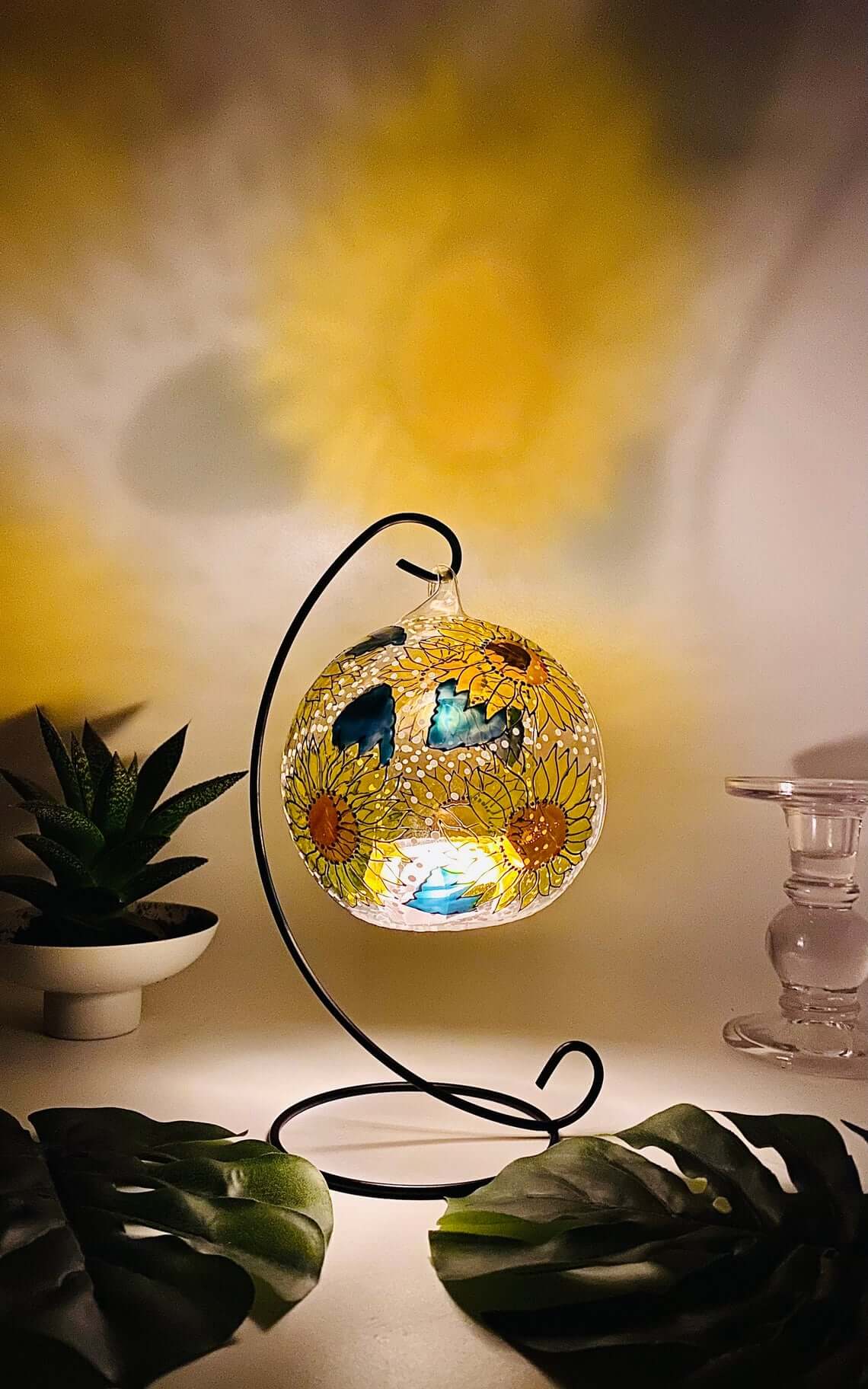 This magnificent hand-painted decor item is one that you truly don't want to pass up. The yellow stained glass paint provides a breathtaking aura to your home. The light that shines through the stained glass projects a wonderful dispersion of color to your bedroom. Additionally, you will get marvelous shadows projected onto the nearby walls if you turn off the lights and enjoy the show! This can be a great piece all by itself, or you could give it to your beloved mom on Mother's Day. Its resistance to high temperatures makes this a wildly successful piece of art when you use artificial led lights or tealights.
25. Faux House Gnome and Tiered Tray Décor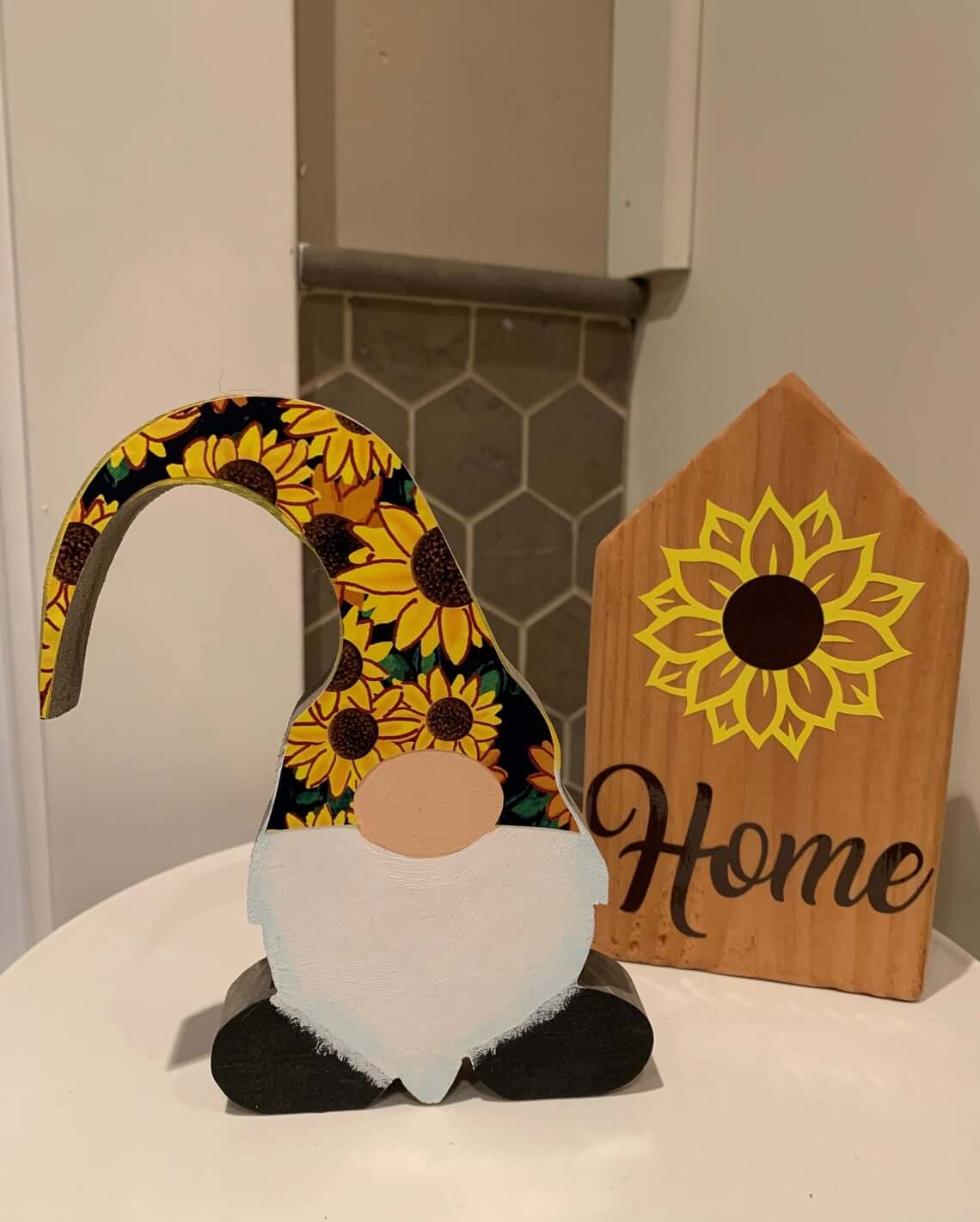 These cute sunflower signs are a cool addition to a cozy home. As soon as you walk in the door, you could be greeted by a charming gnome or a sign that welcomes you "home". You can either choose to have both the sign that says "home" and the gnome or just pick your favorite one! But honestly, how can you just pick one favorite? Both of these items are handmade, sanded, and hand-painted so that they are made specifically for you. The wood will vary in coloration which guarantees you always get a unique sign that is only contained within your collection of home sunflowers decor!
26. Cute and Unique Sunflower Gnome Couple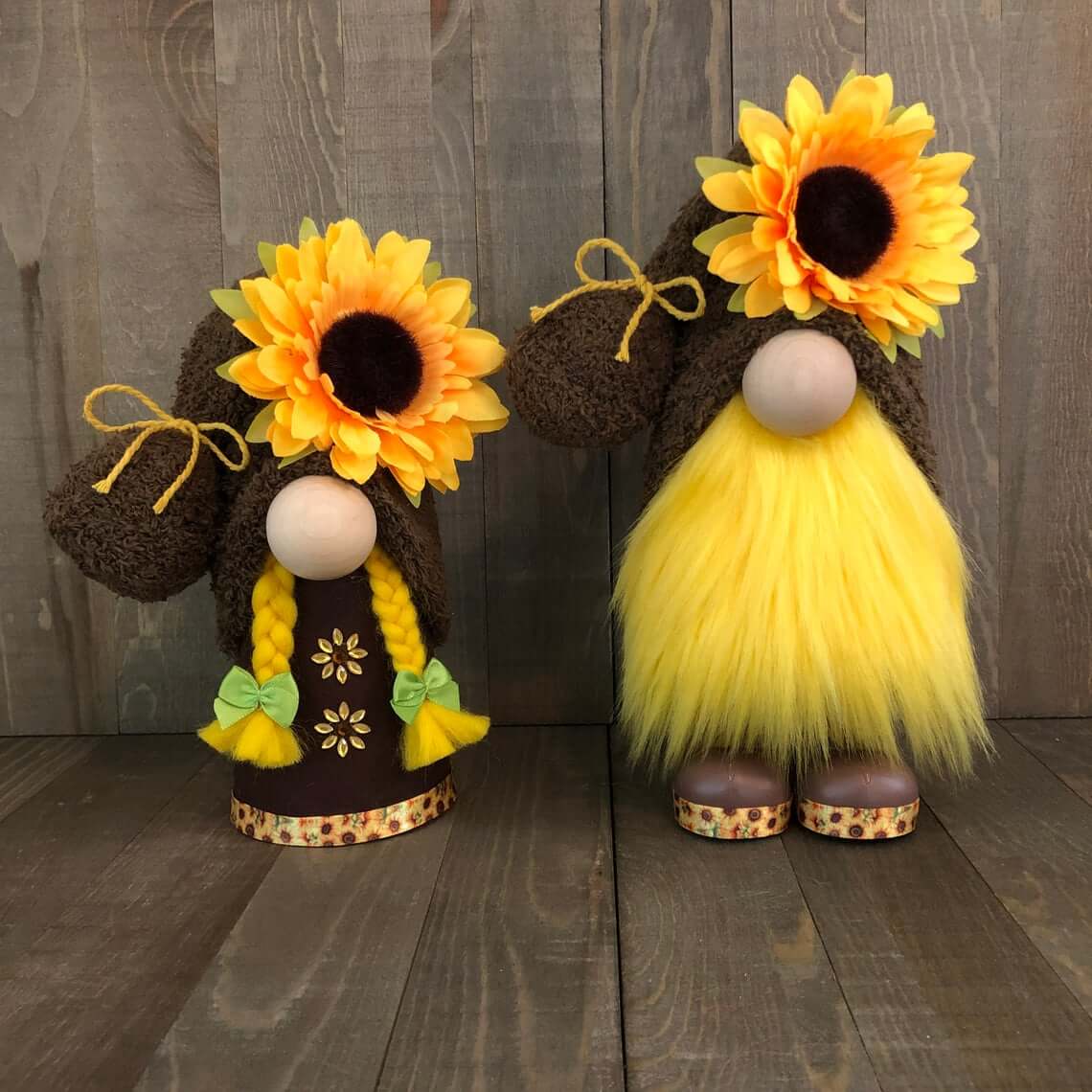 This amazing gnome couple will give you the company you need on a warm, sunny day! These miniature gnomes vary in size depending on the "person" you choose. The male gnome stands about 8 inches tall while the female falls just short at 6 inches so they make the perfect pair. They have amazing exterior qualities and they're known for bringing you good luck and prosperity. Although these aren't for playing with, you can make this custom-made decoration into your very own collection. Each gnome is made with fantastic attention to detail so your collection will be one-of-a-kind!
27. Sunflower Maple Leaf Block Set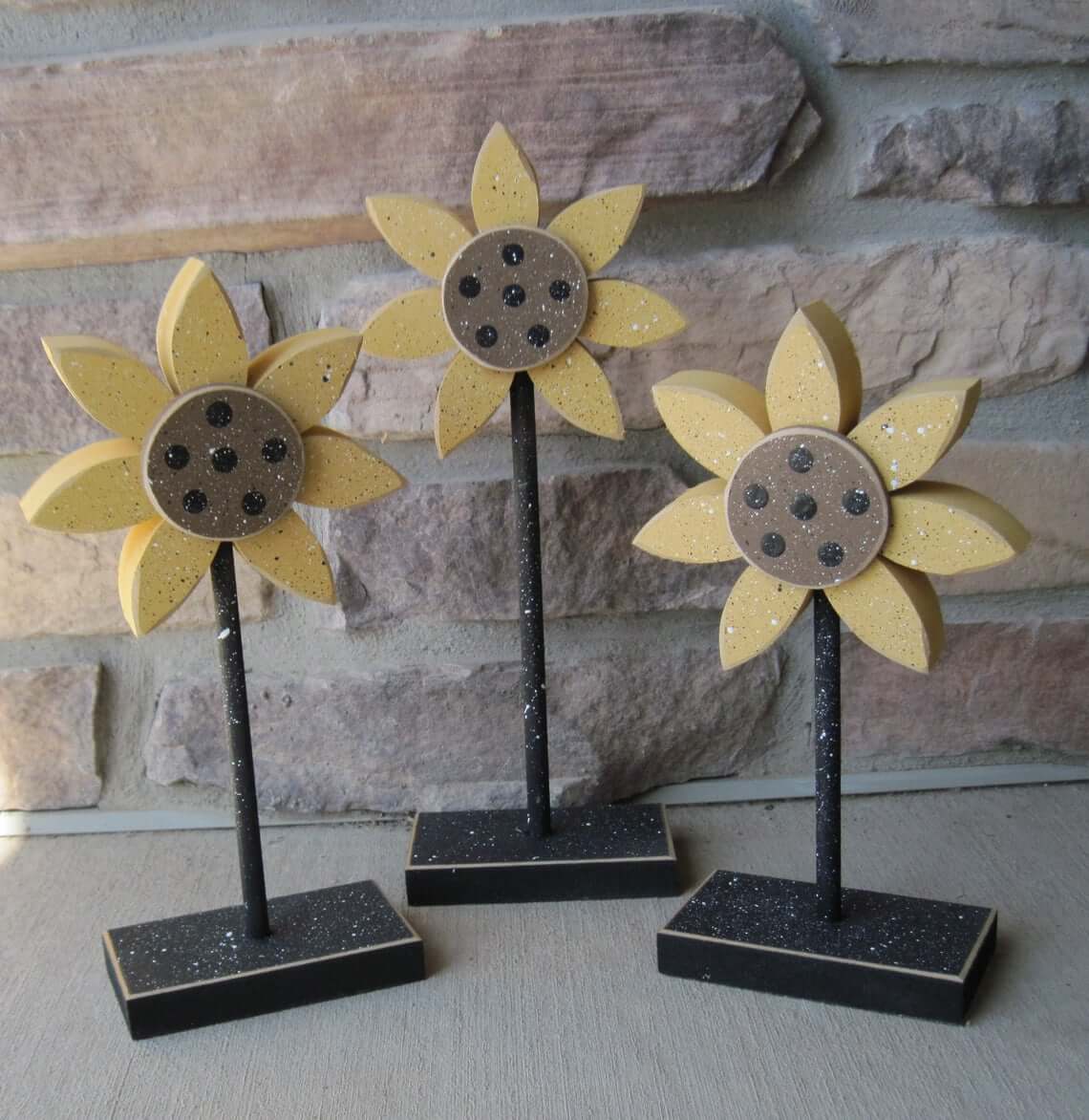 This handmade maple leaf block trio are an adorable addition to your fall decor. The bases are 2-1/2" wide x 4-1/2" long x ¾" thick. The tallest sunflower doesn't reach higher than 12-1/2" tall from the base to the top so these are truly fantastic for any space in your home. Given these are now the later summer months, this trio is a perfect way to ease you into autumn. The rustic look of each individual sunflower adds a calming feel to your front porch or your home office. Place each one of them in different parts of your home for a unique little surprise around every corner.
28. Natural Engraved Wooden Sunflower Wall Art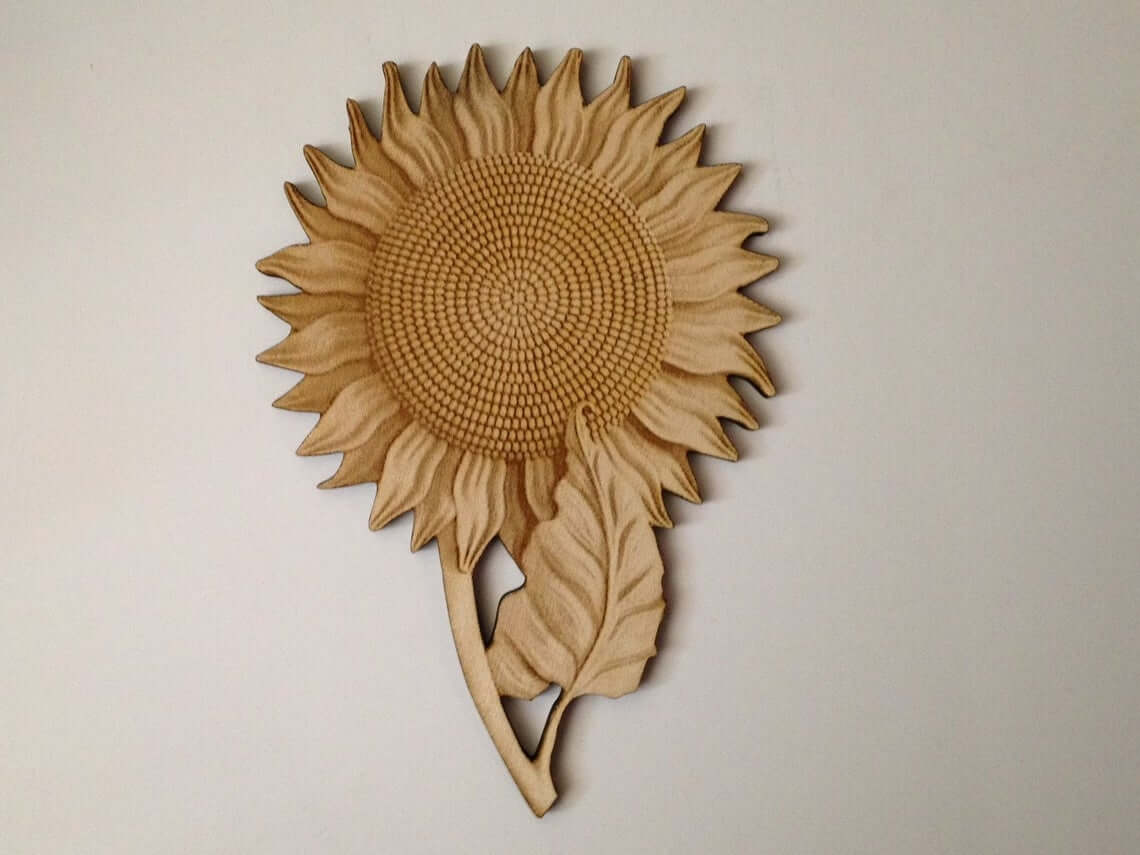 The engraved wooden sunflower wall art provides an old-fashioned look that you can't get anywhere else. Each one is laser cut and engraved so the piece you receive has every bit of detail you asked for. These are fabulous decorating wreaths when you want your door to have a personality. Also, if you're just in the mood for a DIY project, this could be the best sunflower home decor idea yet! Although this is a small 7" x 10" asset, you can rest assured that all of the wood is custom cut to perfection.
29. The Perfect Metal Gold Sunflower Wall Art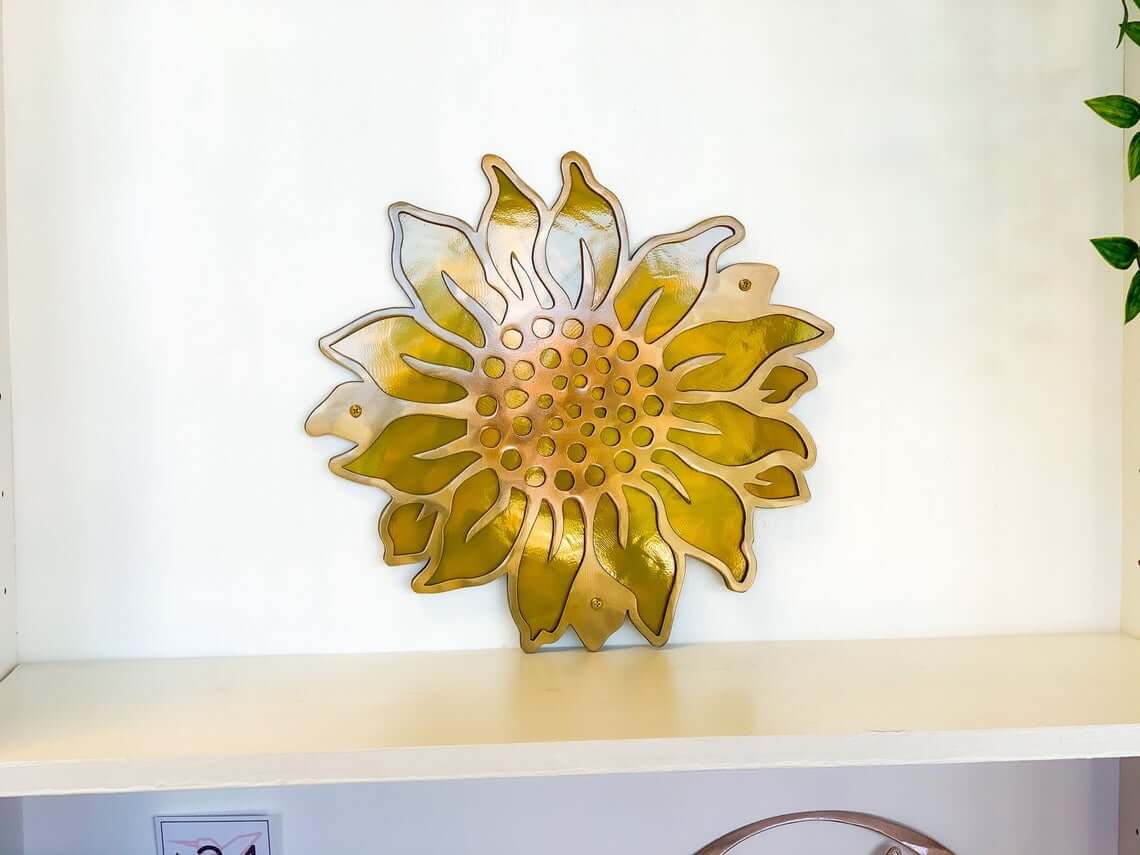 This multi-layer marble wall art can add a much-needed layer of "sun" to any room of your house. The precise 14ga Steel and power coat layering will prevent any unwanted rust or discoloration. The beautiful bright yellow color will last for as long as you'd like. Whether you are looking for a nice handmade piece to complement your living room or fun decor for the exterior of your house, this handmade art will be a great addition to your home. Anyone will be able to tell your house apart with this eye-catching piece of wall art. There are also various colors available if you're ready to switch out the summer yellow for a deep, autumn red.
30. Summer Wedding Sunflower Garland Backdrop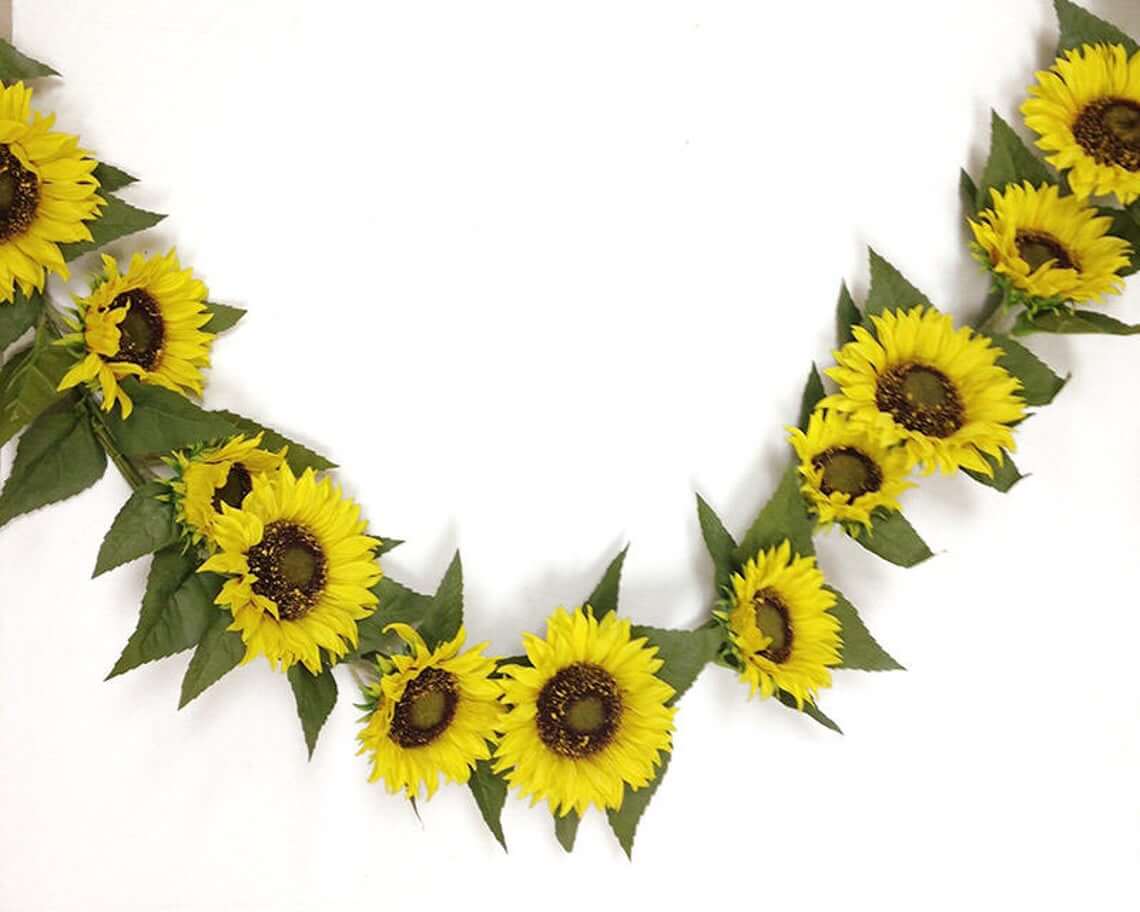 Nothing says summer wedding like a beautiful sunflower garland decoration. The best part about this piece of decor is that it is extremely versatile. You can use this decoration as a pop of color for your doorways, stairwells, fireplaces, or even for the perfect wedding backdrop. The various options this decoration provides are endless. You can even use the sunflower garland to decorate the basket on your bike as you're cruising down the city block. The cool combination of each faux sunflower will provide you with the specific type of summer decoration you're looking for!
30 Unique Sunflower Home Décor Ideas That Will Add an Inviting Aura to Every Home
Which item on this list provided you with the best sunflower home decor idea? During any season of your life, you can always find great ways to decorate your home the way you want to. Sunflower decor ideas are wonderful for these late summer months and they will even carry you into the autumn season. Feel free to continue to mix and match your color scheme to best fit your creative vision! Many of these options are extremely affordable for anyone wanting to add a marvelous pop of color to any room in their home.
Every single idea listed is customizable so you can let your creative juices flow! If you see an item on the list that you think you could make, don't hesitate to add your own creative twist! The fall and holiday seasons are also a terrific time for you to connect with the ones you love. Pick a few items on this list and recreate them with your family and friends to see how creative you can be. These sunflower decorations will help you maintain a positive mindset and outlook on your life. Start decorating your home filled with happiness today!