For those of you planning to decorate your home, take a look at some of the best tabletop letters and signs available that can help your décor make a bold statement. This is a trend that has been taking off for years now thanks to the incredible versatility they offer. You can spell out a name, a saying, initials, or simply use a single letter to make your point.
30 Top Best Tabletop Letters and Signs That Will Transform Your Home Décor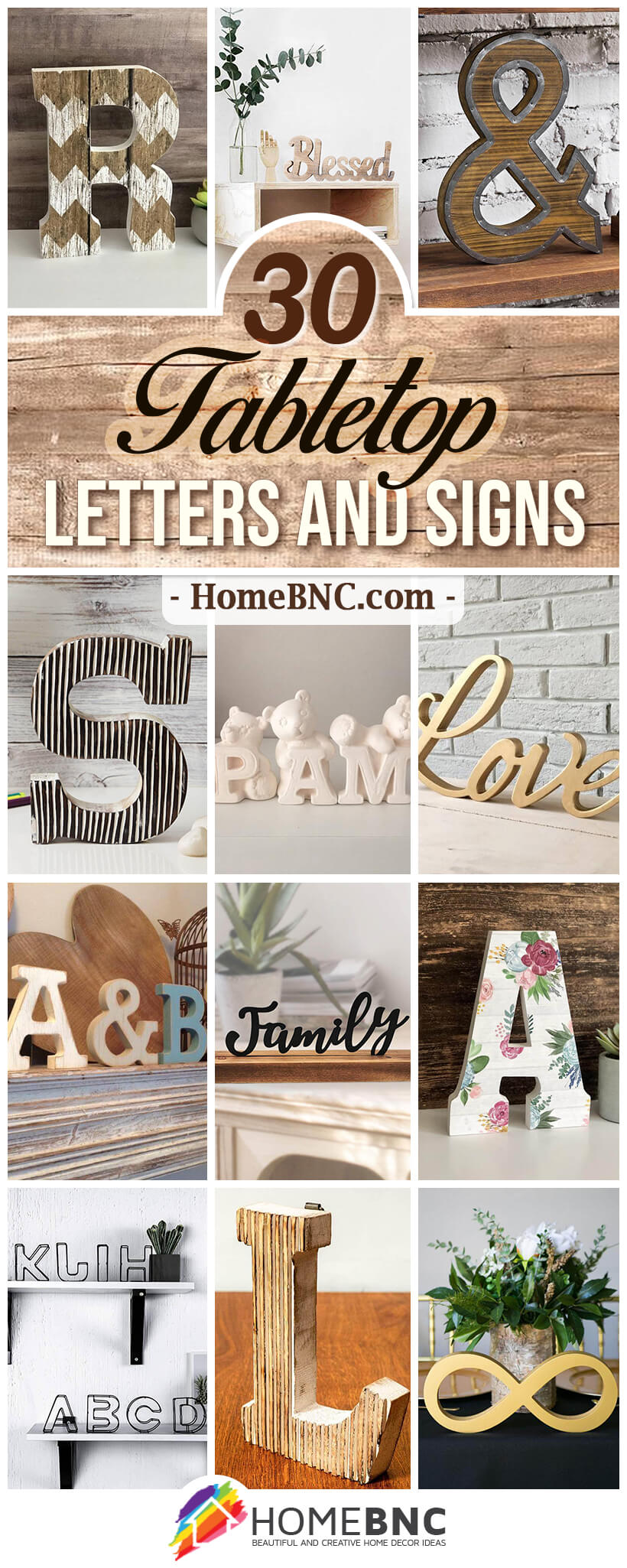 It is this diversity that makes it so appealing to people with a wide range of tastes and styles. A person who boasts a farmhouse decorated home can just as easily find a great letter sign as someone who leans more toward an elegant, contemporary style. These are all designed with flat bottoms and supportive structures so that you can stand them up with ease all by themselves without worry about them tipping over.
Because there are so many options to choose from, we did our research to find 30 top-rated products. This gives you a wide range to choose from. Some are individual letters that you can place as needed, while others are fixed into a particular saying. Additionally, some are painted while others feature a LED light show.
Regardless, they are all well-designed so that they should last you and your home a long time. So, let us not waste any more time and dive into our comprehensive countdown of some of our favorite letters and signs that will ensure your tabletop stands out.
1. Decorative Cut-Out "WELCOME" Letter Sign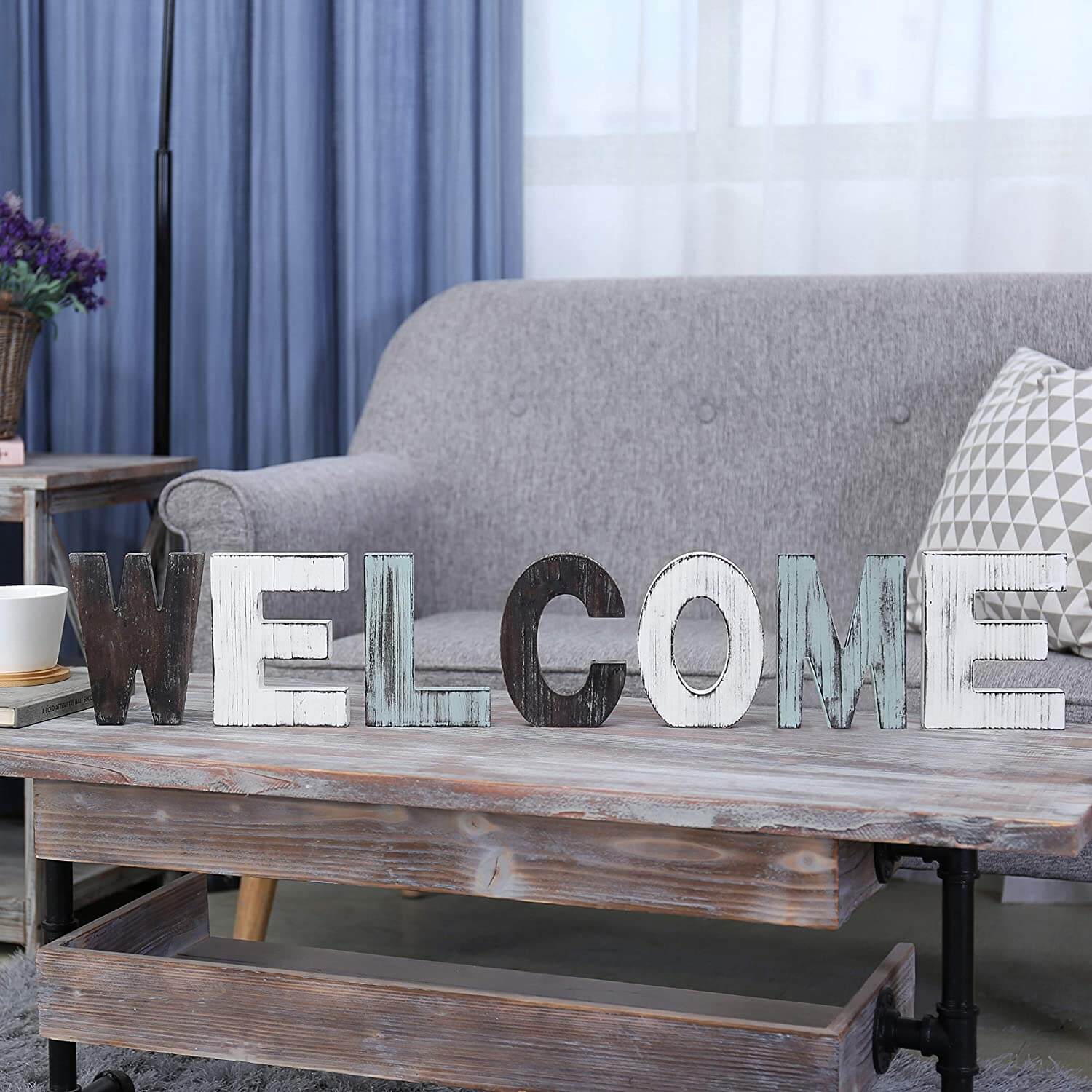 A great way to welcome friends and family into your home is by having a décor that spells it out. This "WELCOME" sign features individual letter cut-outs. By doing so, you have complete freedom on how you want to arrange all seven letters. Since no assembly is required, you can place them on fireplace mantles, tabletops, and any other flat surface in your home. They can work well in a farmhouse-style room too thanks to the charcoal, blue, and white coloring. With those colors combined with a whitewashed finish, the letters end up having a more weathered appearance that is befitting a rustic home.
2. Rustic Theme Wooden Decorative Standing Letter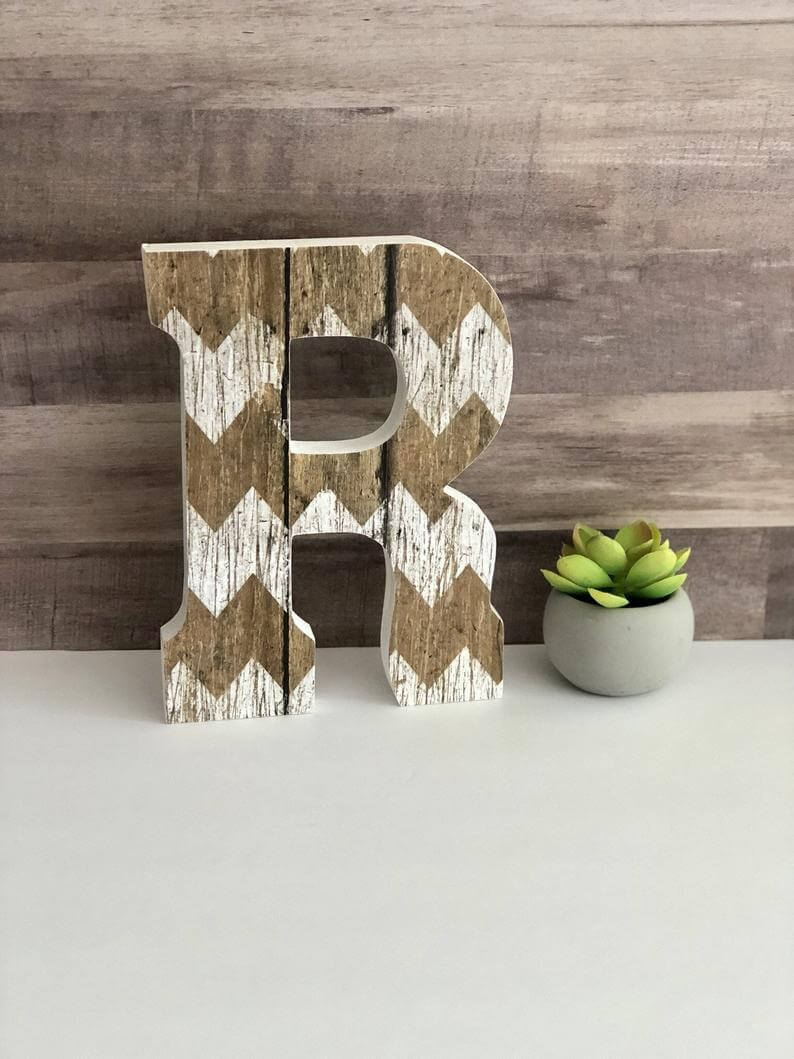 Some of the best tabletop letters and signs you can use to decorate your home are grounded in simplicity. Take this wooden standing letter, for instance. Handmade from decorative paper and wooden material, this stylish piece can fit in just about any room. You may even hang it up to proudly display it on the wall thanks to the pre-made hooks that are on the back. A trait that gives it a rural vibe is the painting pattern. The artist behind the letter used a chevron pattern colored white and brown which does a good job at emphasizing the wooden material.
3. Natural Wood Freestanding "Blessed" Cut-Out Sign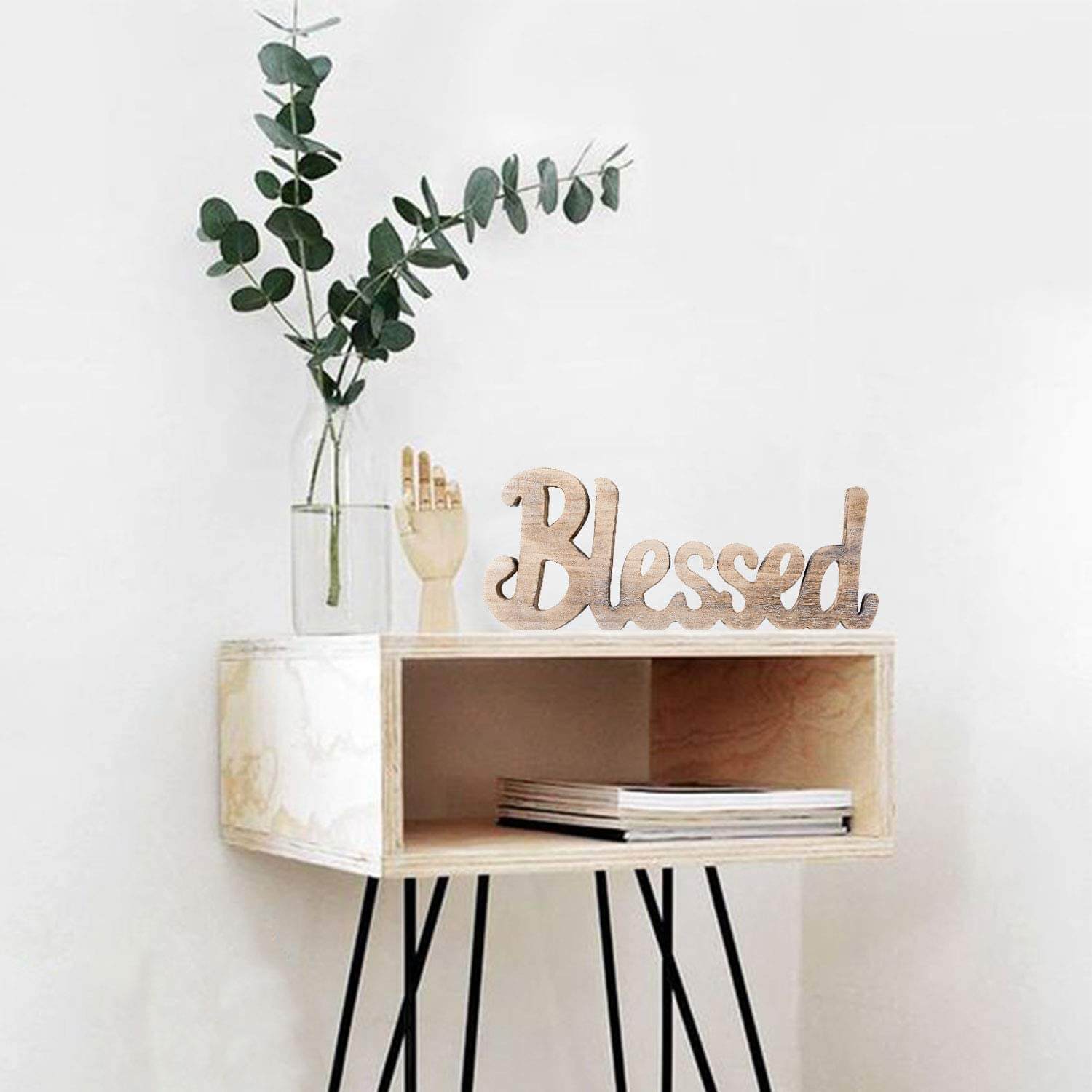 Made from natural wood, this freestanding "Blessed" sign can look perfect anywhere in your home. It is created using script-style lettering to create an elegant appearance that has an incredibly attractive flow. With the natural wood look, the letters also come off with a stunning farmhouse vibe that is filled with warm charm. The wood is reliable too so that the sign is sturdy enough to stand on its own without leaning on something. At the same time, it isn't overly heavy so that you can utilize the two keyhole hangers on the back to place the sign on the wall.
4. Cool Oversized Tin Single Letter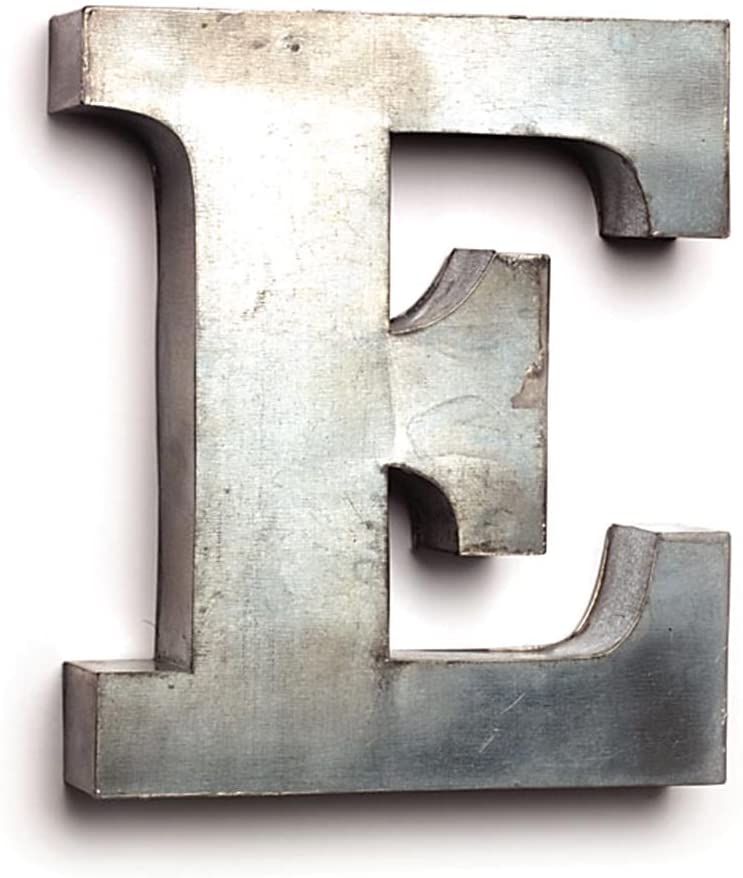 Perhaps one of the best things about using letter decor is that it can work with any sort of design scheme. Of course, the material and appearance of the lettering play a large part, especially with this lovely oversized tin letter. Thanks to the tin material, the letter is gifted with a bold, metallic look. This allows the letter to blend effortlessly inside of a room that features heavy industrial-like décor throughout. You are even able to choose from the entire alphabet, settling on a single letter or even opting to order more than one so that you can spell out specific words.
5. Tall Metal Lighted Marquee Letter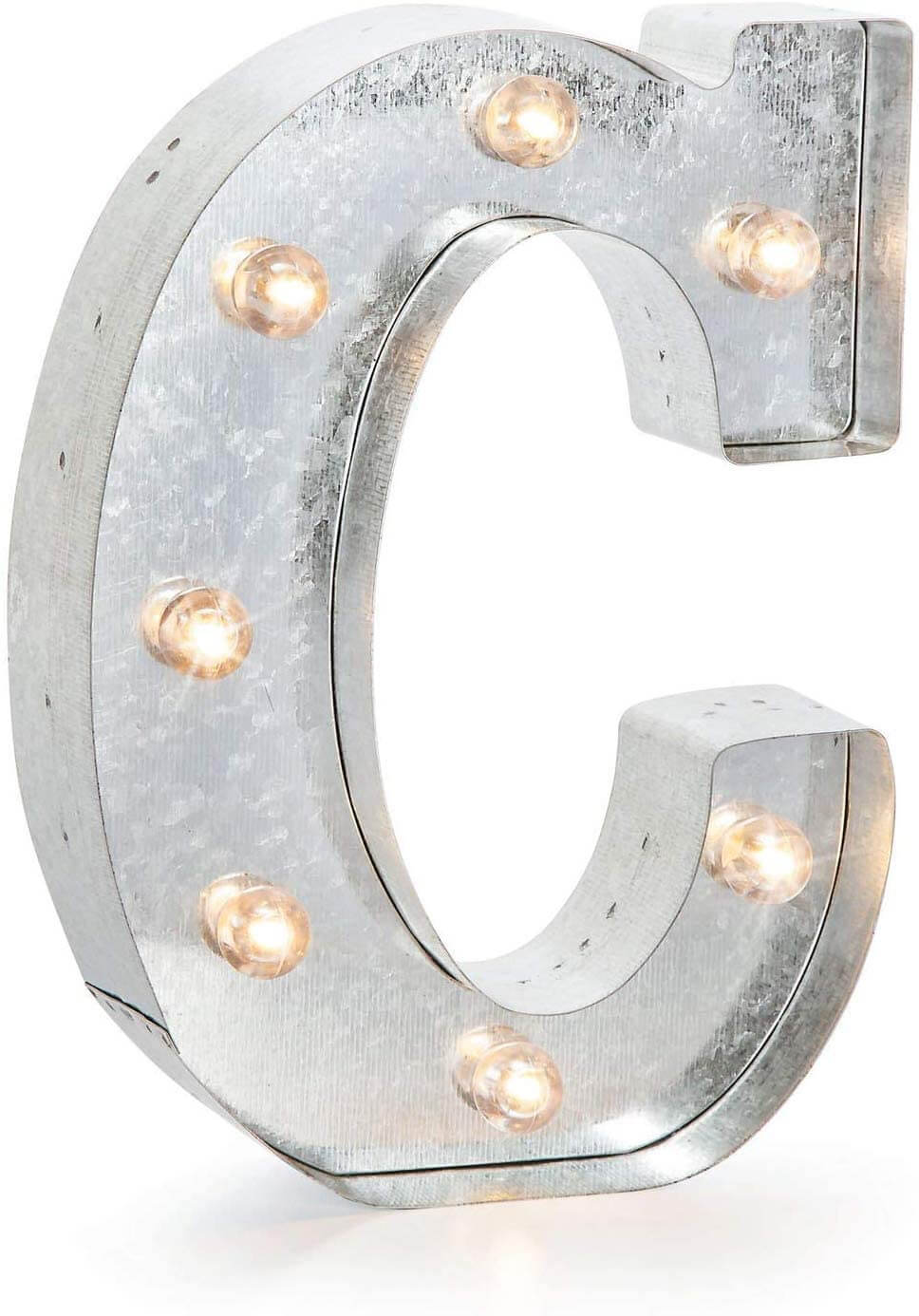 Available in silver or white, this stunning marquee letter is a wonderful choice if you are in the mood for something flashy and attractive. It boasts a design that is a balanced blend of vintage and industrial. With its on/off switch, you can easily manage the battery-operated light function by lighting up the bulbs without having to worry about dealing with any cords. This illuminating effect makes it ideal for any room in your home, especially a child's room. To ensure you find the right style for your home, you can choose to have the marquee made in any letter of the alphabet.
6. Freestanding Farmhouse Style "LOVE" Wooden Lettering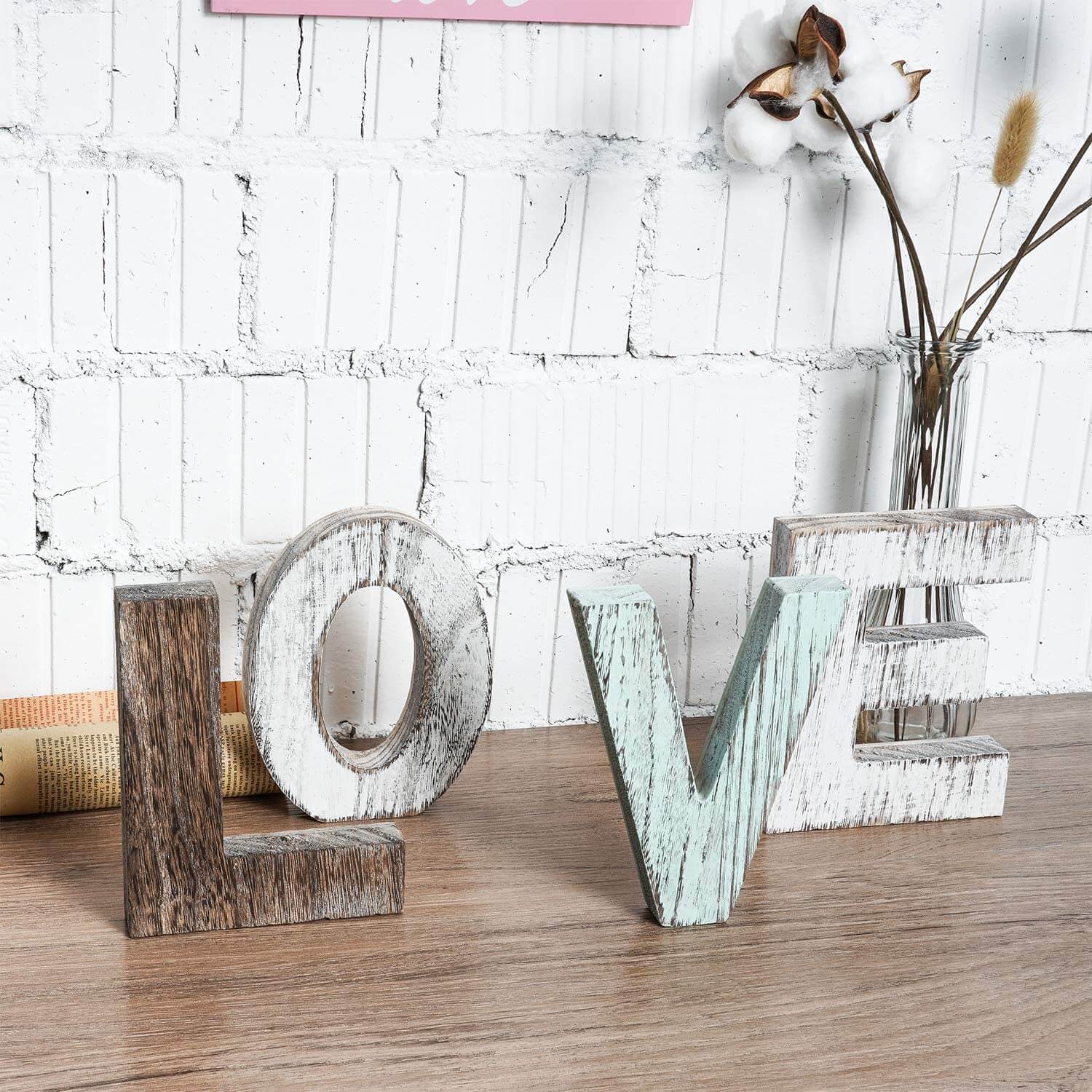 Add some more warmth to your farmhouse decorations with this beautiful "LOVE" lettering sign. It can work as an incredible centerpiece on a tabletop, and since the letters are loose and freestanding, you can arrange them in however design you'd like. These letters readily have that rustic look thanks to the multicolored pine wood material. Each of them was properly torched and distressed to age them in a sense so that they have just the right amount of a weathered look while still being welcoming. They are versatile also since you can opt to hang them on the wall near your table too.
7. Fun Bold LED Marquee Letter Lights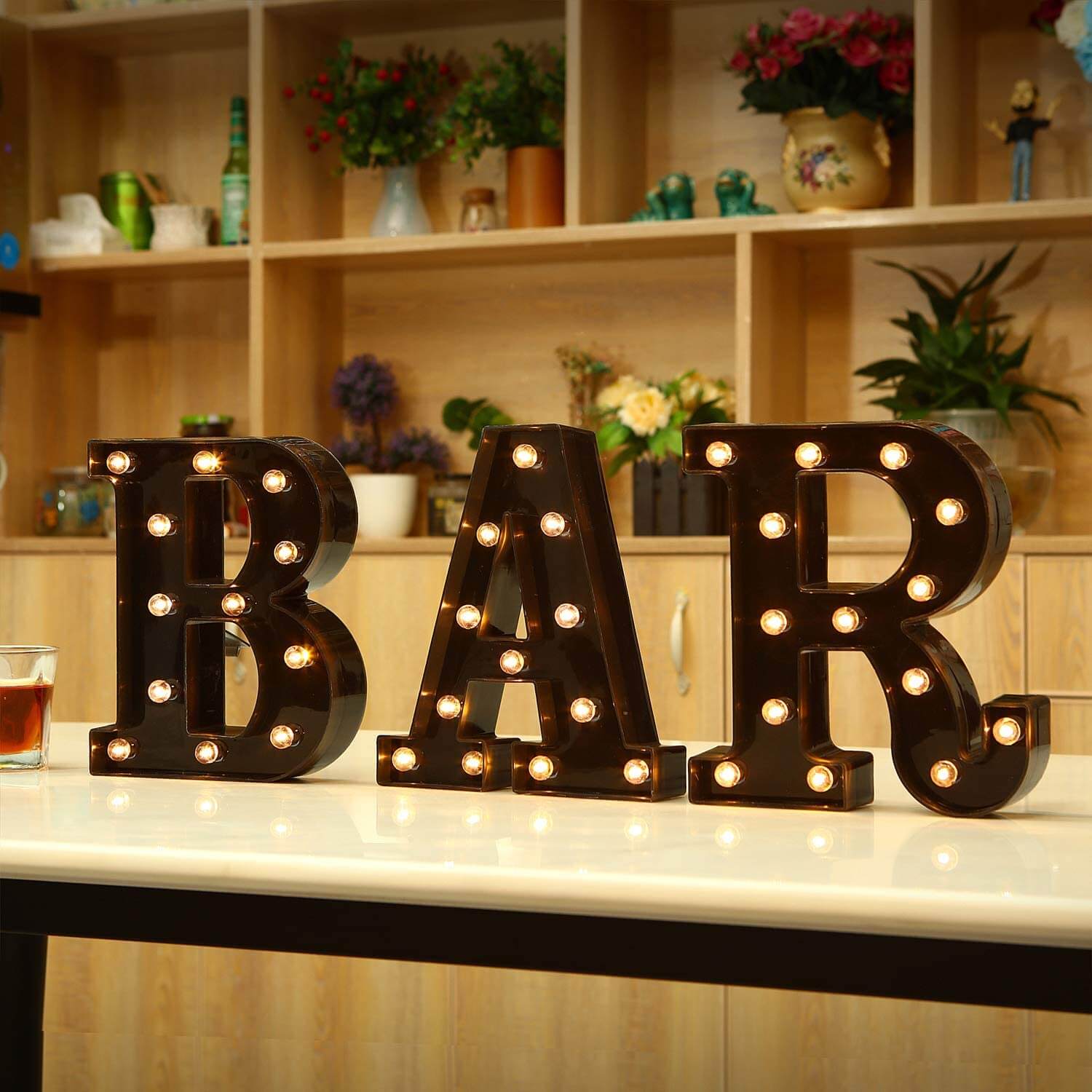 If you are aiming for a high-tech, modern feel with your lettering decoration, consider this bold marquee light. Since it requires batteries, it does not need to be plugged in, giving you more space to set the letter up however you need to. There are several bulbs on the black-colored letter, providing a steady ambiance of soft LED lighting to create a warm and rich atmosphere. You can settle for a single letter or purchase more to spell out specific words fitting your home or the room that it is in. This is what helps make the product adaptable since it can look just as good in a living room as it can in a child's bedroom.
8. Simple "Blessed" Freestanding Tabletop Letter Décor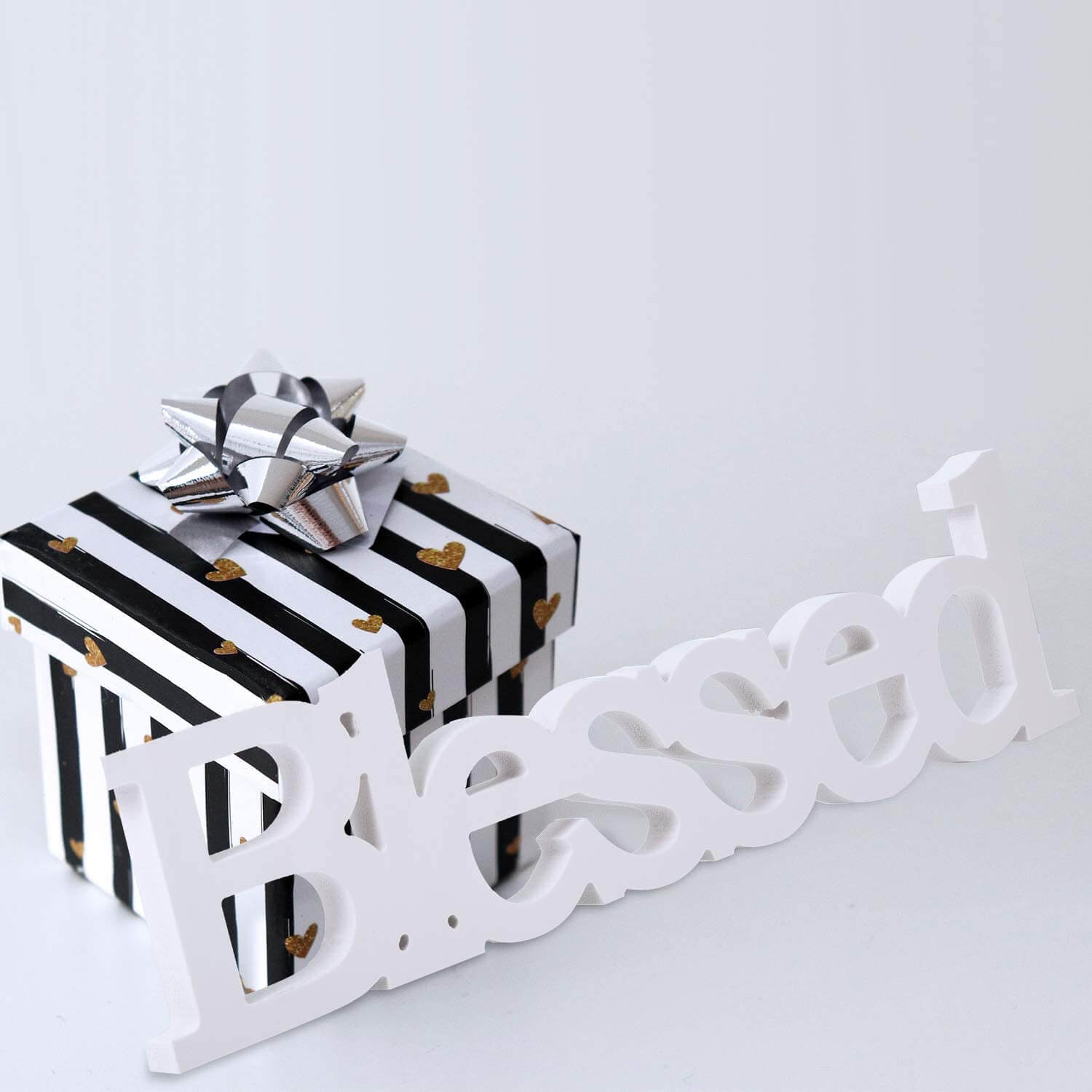 You can proudly show off the welcoming and loving vibe felt in your home with this "Blessed" lettering decoration. It stands on its own with no difficulties, making it just the thing to use as a centerpiece for any spot in your home from coffee tables to dining room tables. The design is rather straightforward, yet the bold white coloring provides it with a hint of elegance as well. Since it is made from wood-plastic composite, the product should hold up well over time given its waterproof and moisture-proof construction. This way, the sign may positively impact your overall décor for years to come.
9. Sweet and Powerful Infinity Sign Centerpiece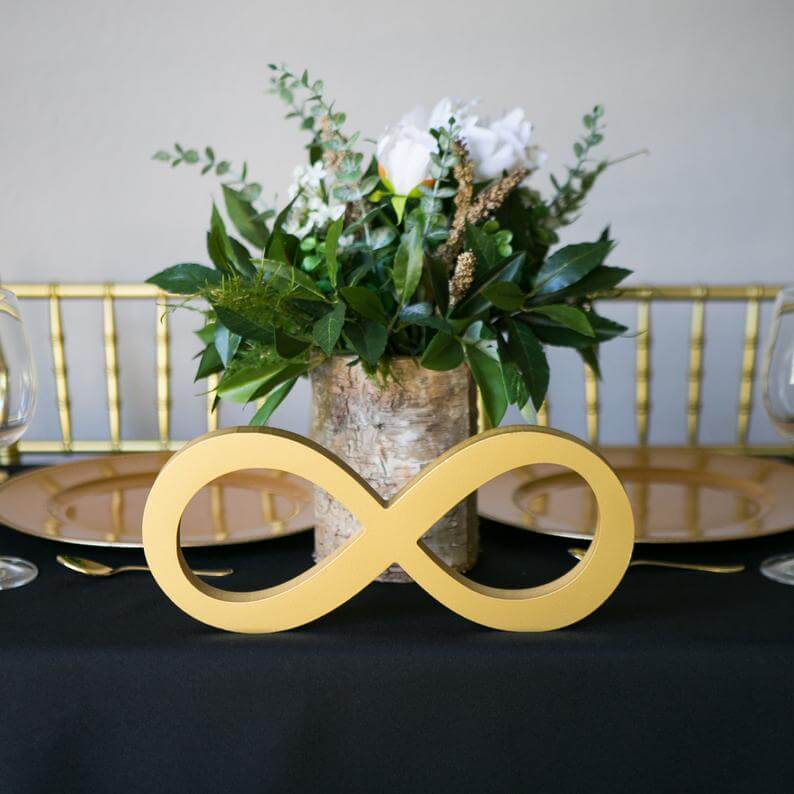 A unique sign that can take your décor to the next level, this infinity symbol may be what you're missing to make your home or event truly special. It is handmade using wooden material, and you have the option to elevate it a few steps further. You can request to customize it so that it fits in well with your specific decorating style from rustic to contemporary. This can be designed in numerous flat colors, metallic colors, and chunky glittery colors. There is even the option of getting it with a glitter topcoat spray. Also, you can simply leave it in its unpainted wooden state.
10. "Mr. & Mrs." Decorative Tabletop Design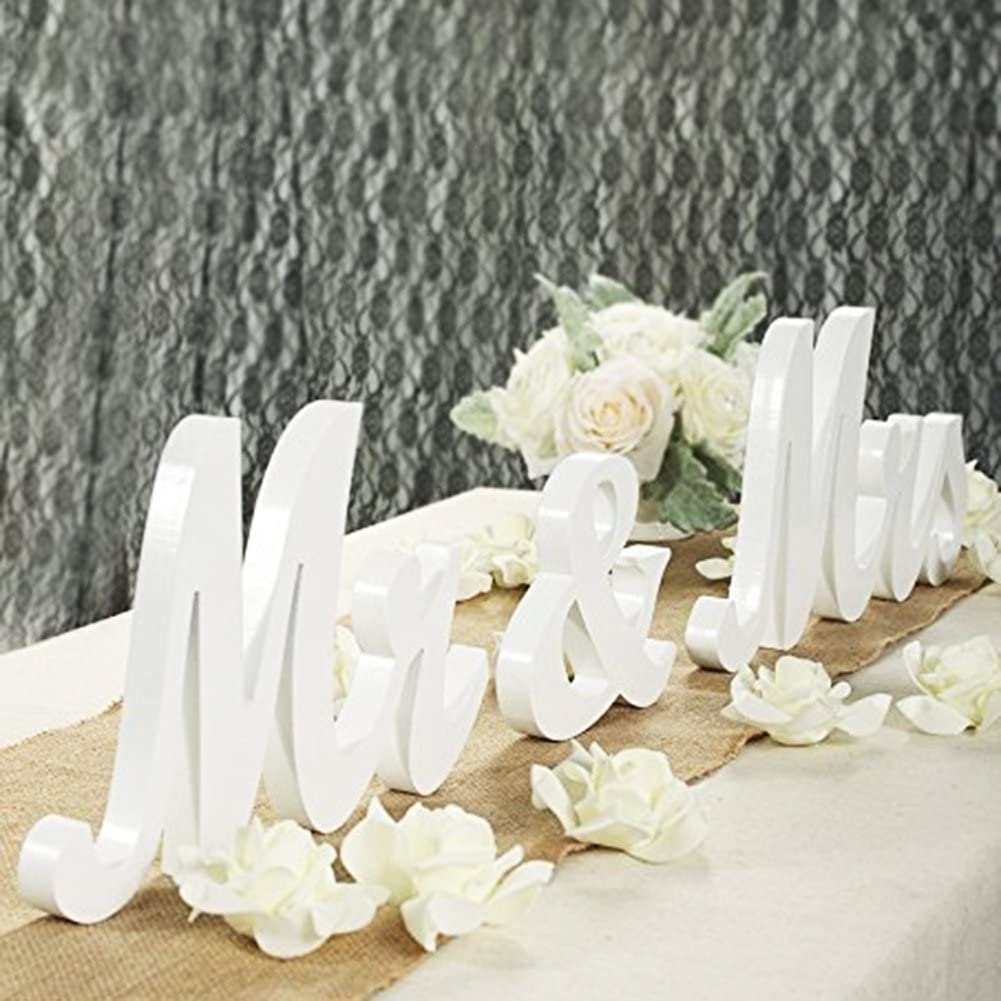 This adorable "Mr & Mrs" sign is an awesome idea for tabletop decorations at a wedding reception or simply in the home as a present for newlyweds. It is made in either a large size or a small size so that you can set it up (or multiple ones) in various locations. The individual words are also separated, which gives you additional freedom to create an intricate, personal setup. This successfully utilizes calligraphy style lettering to allow it to have a wonderful sense of sophistication. You can also choose from several colors, making it that much more personal for your needs.
11. Decorative Freestanding Single Letter Sign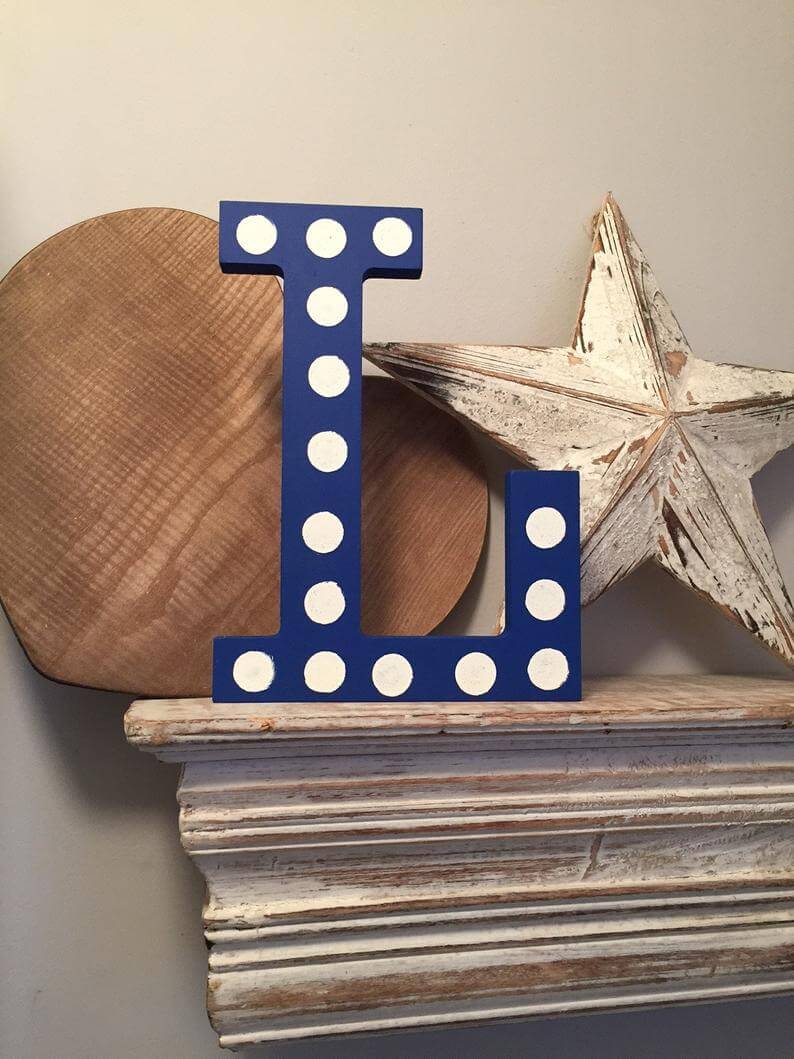 This solo letter is among the best tabletop letters and signs when you need something simple yet outwardly enough to capture attention and upscale your room's décor. The simplicity comes into play thanks to the use of the Rockwell font style. It is made with a flat bottom so that it stands without assistance, and it is just the right size for you to place it by itself or along with other decorative items on the table. The letter is designed using nine different styles of finishes. You may opt for specific coloring to fit your room or go for the weathered or natural wood appearance.
12. Great Distressed Standing Monogram Letter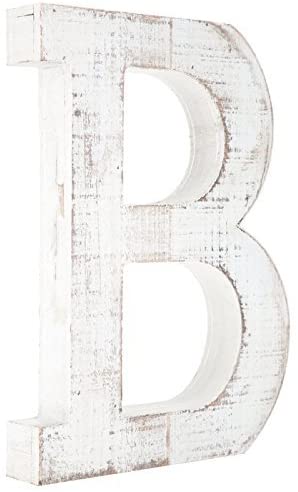 A good choice to emphasize rustic décor in any room, this monogram letter is constructed with a classic distressed wood appearance. It features the entire alphabet, so there is no worry about getting a particular letter or spelling out certain words. The font style is straightforward enough that the letter easily blends into the rest of your decorations while still leaving a lasting impact. Furthermore, there is a good height to the letter with an appropriate amount of thickness to help it stand by itself. It is composed of MDF wood, and it is painted with a white color along with a weathered appearance.
13. Metal Cut-Out "Family" Wooden Sign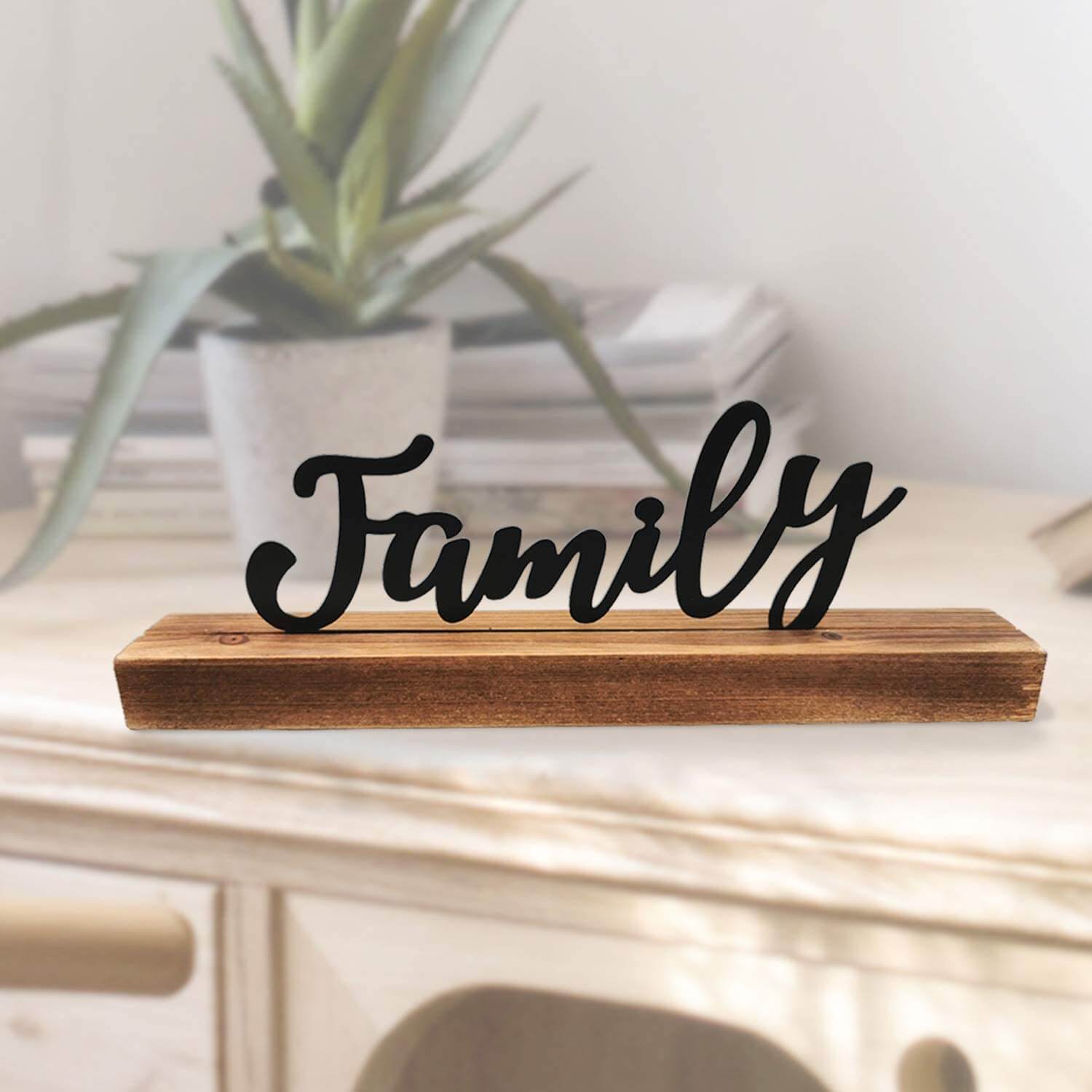 This beautiful "Family" sign can be the perfect addition to your home to highlight what is most important to you. As a freestanding tabletop sign, it features a robust wooden base that provides it with ample support. The wooden block is rich and dark in color to give it a warm feeling. Meanwhile, on the top features the cut-out "Family" sign made from iron. It contrasts well with the wooden base not just because of the varied materials, but also because of the more elegant font choice that adds a contemporary feel to the sign. This is made in a more compact size so you can slip it on just about any tabletop.
14. Monogram Wooden Metal Ampersand Décor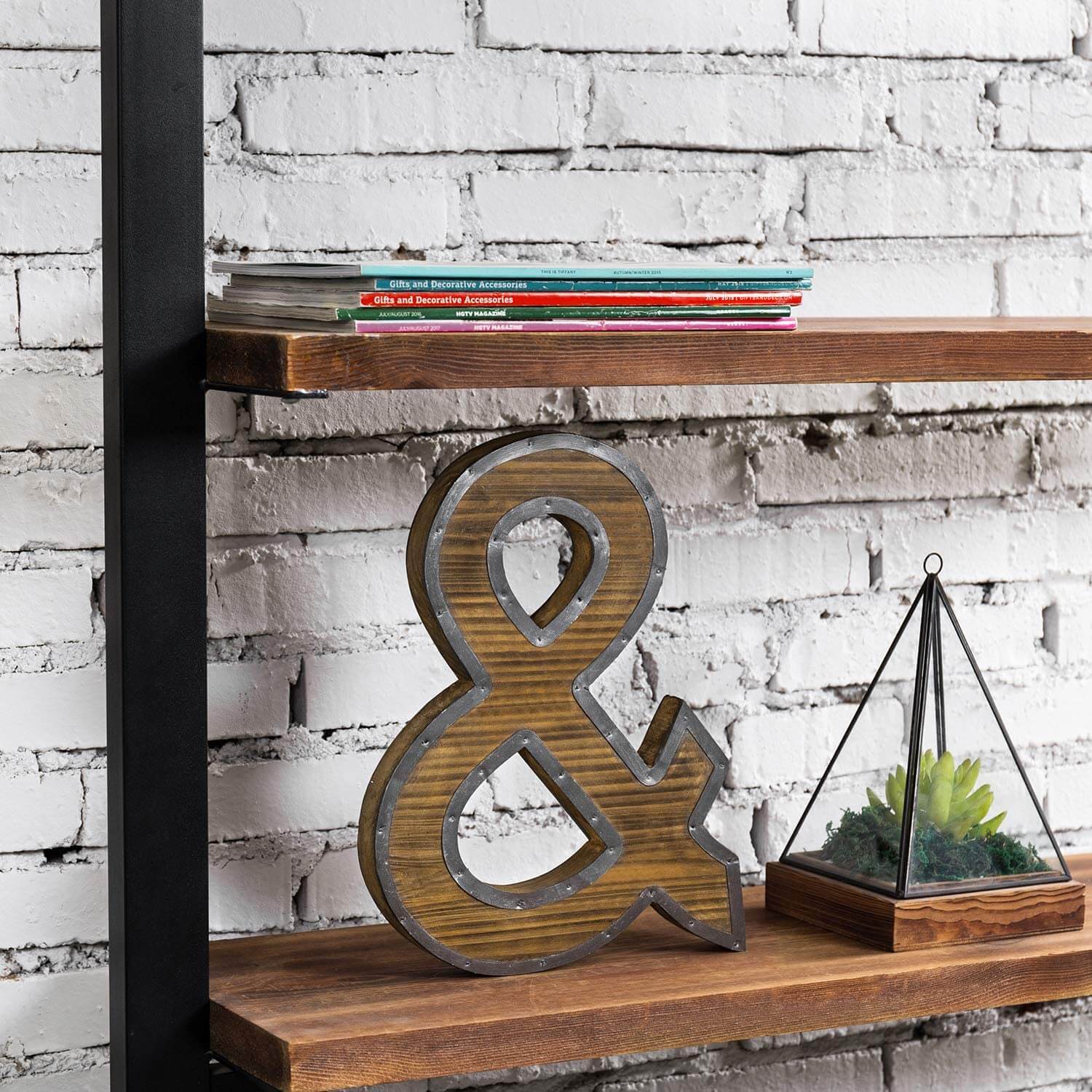 Give your home decorating a pleasant refresher beyond the usual letter decor with this stunning ampersand monogram sign. This freestanding piece is easy to display on various tabletops, making it fitting for numerous rooms in your home. It does have a more vintage style to it, however, so it can be a wonderful accent piece in a room that features other period-like decorations. This is thanks to its mixture of materials as it uses both galvanized metal and wood. The metal helps create a bold feel while the wood features a burnt brown finish to give it a good helping of contrast.
15. Individual Block Monogram Letter Sign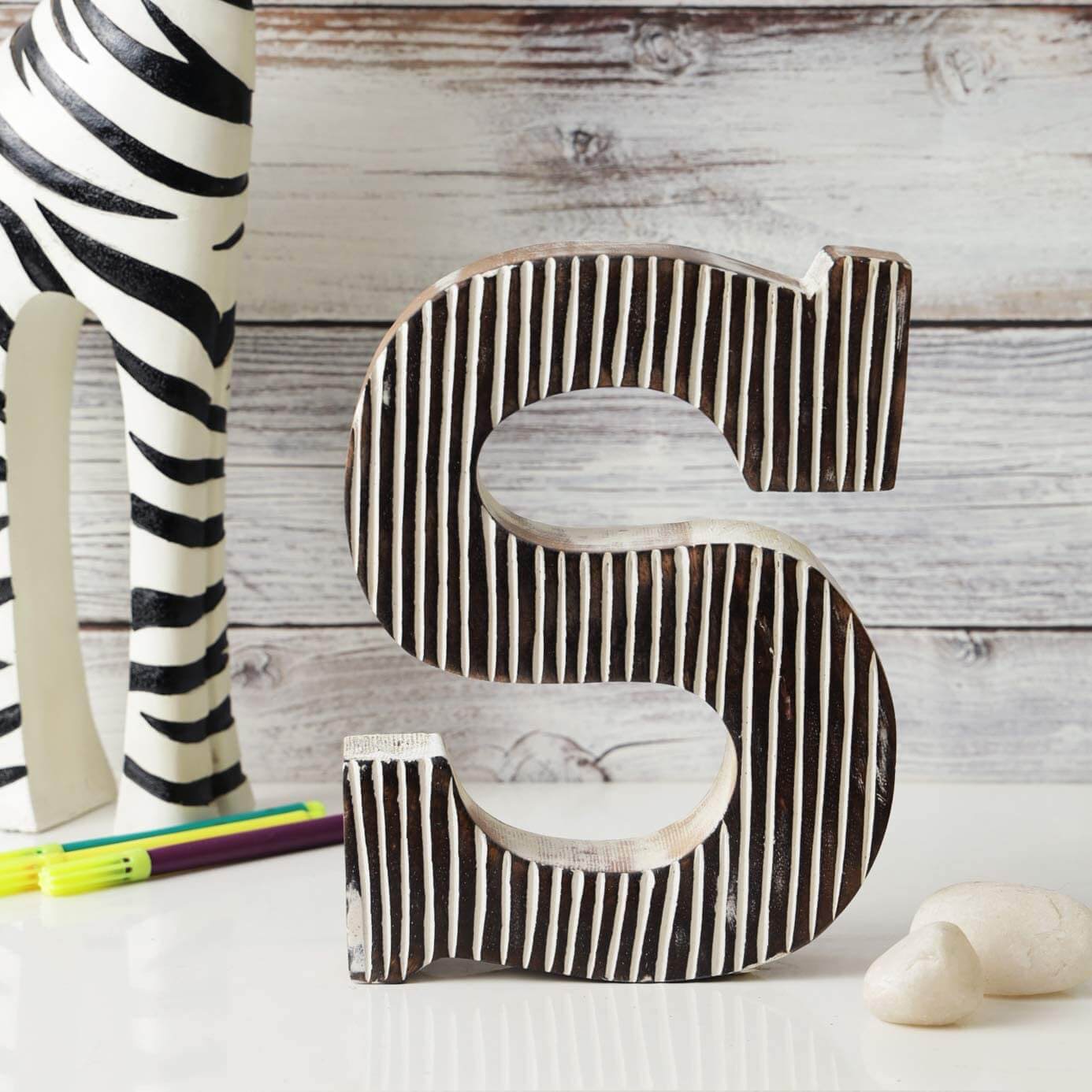 A diverse letter sign, this block-style monogram can be a great decorative choice for solo use or if you wish to highlight initials for the likes of a nursery or a child's bedroom. There are just enough options available to make it more personal for you. Standing at 8in. tall, the letter features a block style that is uncomplicated so that it blends effortlessly into any type of décor. Although it can hang on the wall, the base is wide enough to stand on a tabletop without having to use anything else to support it. As for the rest of its appearance, it features a striped appearance with slight distressing to make it more classic.
16. "HOME" Large Scale Farmhouse Lettering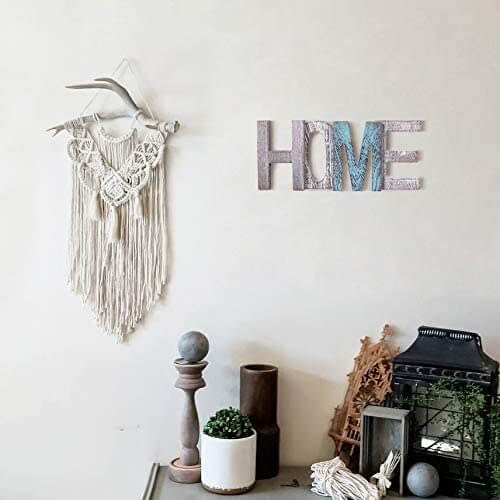 The use of signs or lettering tends to go hand-in-hand with a farmhouse style, and this "HOME" sign is a good example of that. It uses torched wood with distressed, whitewash coloring with blue, white, and gray so that it truly feels rural and down-home. There is no worry about it falling as it is hefty and wide enough to stand on its own. The letters are also separated so you don't have to set them up so close together. In fact, feel free to play around with the setup to create an appearance that is unique to you and your home.
17. Adorable 3-Set Bear-Themed Alphabet Letters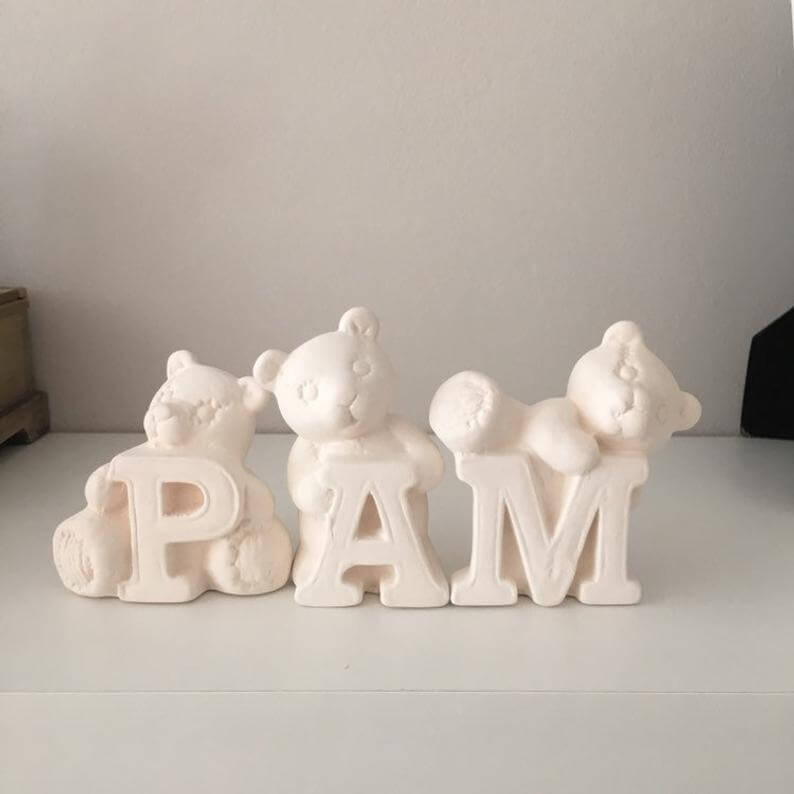 Nothing is quite as cute as this alphabet letter sign. You can get a total of three letters to spell out a specific word, name, or perhaps just a nickname. What allows this to be among the best tabletop letters and signs is the use of the baby bears. These adorable bears hang off the letters, allowing them to stand out and instantly capture attention. The material used in these handmade signs is white ceramic, and this bright coloring choice further emphasizes them. As they are made in such an appealing manner, they can look good in a living room, office setting, and especially in a child's room.
18. Stained Mosaic Glass Letter "A"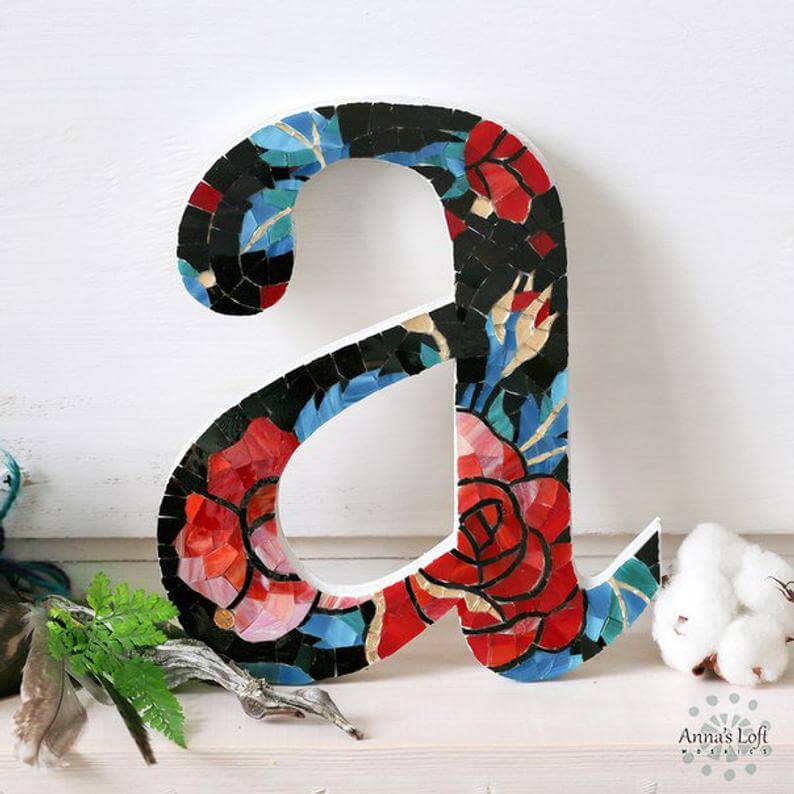 If you require something that is a touch more delicate and modern, consider this beautiful mosaic letter "a" sign. Created by a Russian mosaic artist, this letter features a gorgeous multicolor design. Besides the stained glass, it also features plywood material so that it is a touch more durable and can stand well by itself. The staining style is floral in appearance, and it is this artwork that elevates the letter to a modern, contemporary look. No matter what room you decide to place this "a" in, it is perfectly capable of adding an eye-catching pop of color so that anyone who comes into the room may instantly notice it.
19. Vintage Handcrafted Wooden Freestanding Letter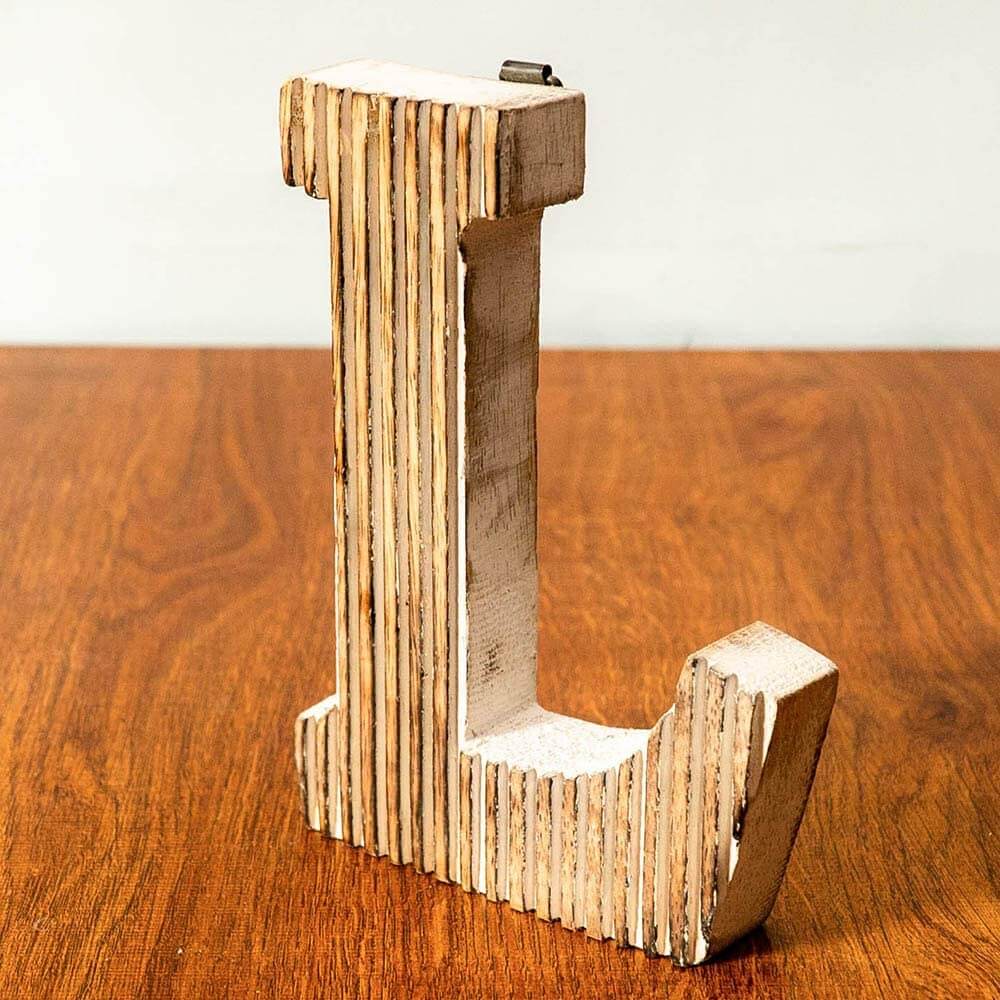 Created using mango wood material, this freestanding letter may be ideal when you want to decorate more conservatively. No matter its simple layout, the design wonderfully captures a vintage, rustic vibe. Its antiqued look is benefited by the striped styling of the wood. Additionally, the piece features some distressing to make it come across as more natural. There are numerous letters to choose from as well as the ampersand symbol and the hashtag (or pound) symbol. This amount of options should give you enough freedom to spell out certain initials or simply use a solitary letter to make a statement instead.
20. Unique Decorative Metal Alphabet Letters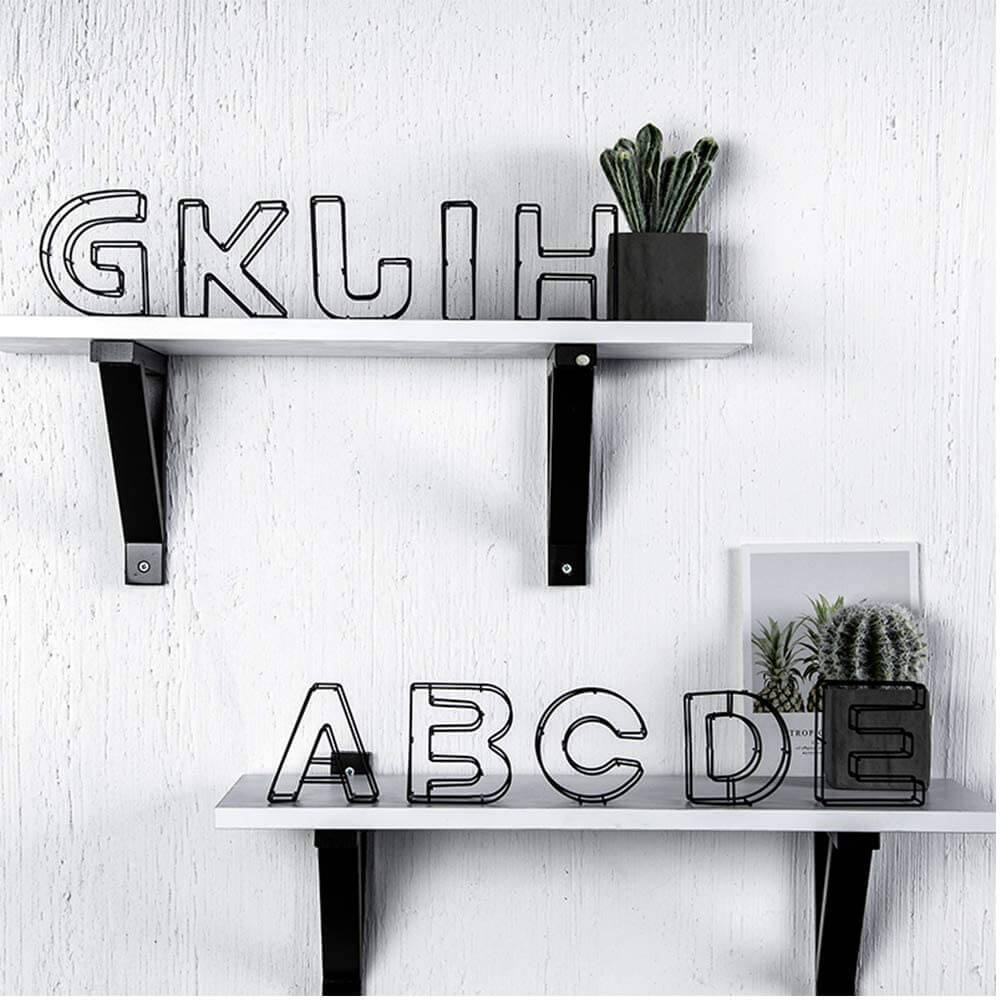 Talk about adding some more distinctive decorations to your home, this metal alphabet letter is an awesome idea to highlight a bold, industrial-like room. At the same time, it is designed in a way that it can blend into other decors just as well such as modern styles. It is made from a reliable metal material that features a strong black finish. The metal cut-out style is done in a way so that it comes across as slightly see-through. This lets you place the letter in front of another décor as well without completely blocking it out.
21. Colorful Battery Powered LED Marquee Letter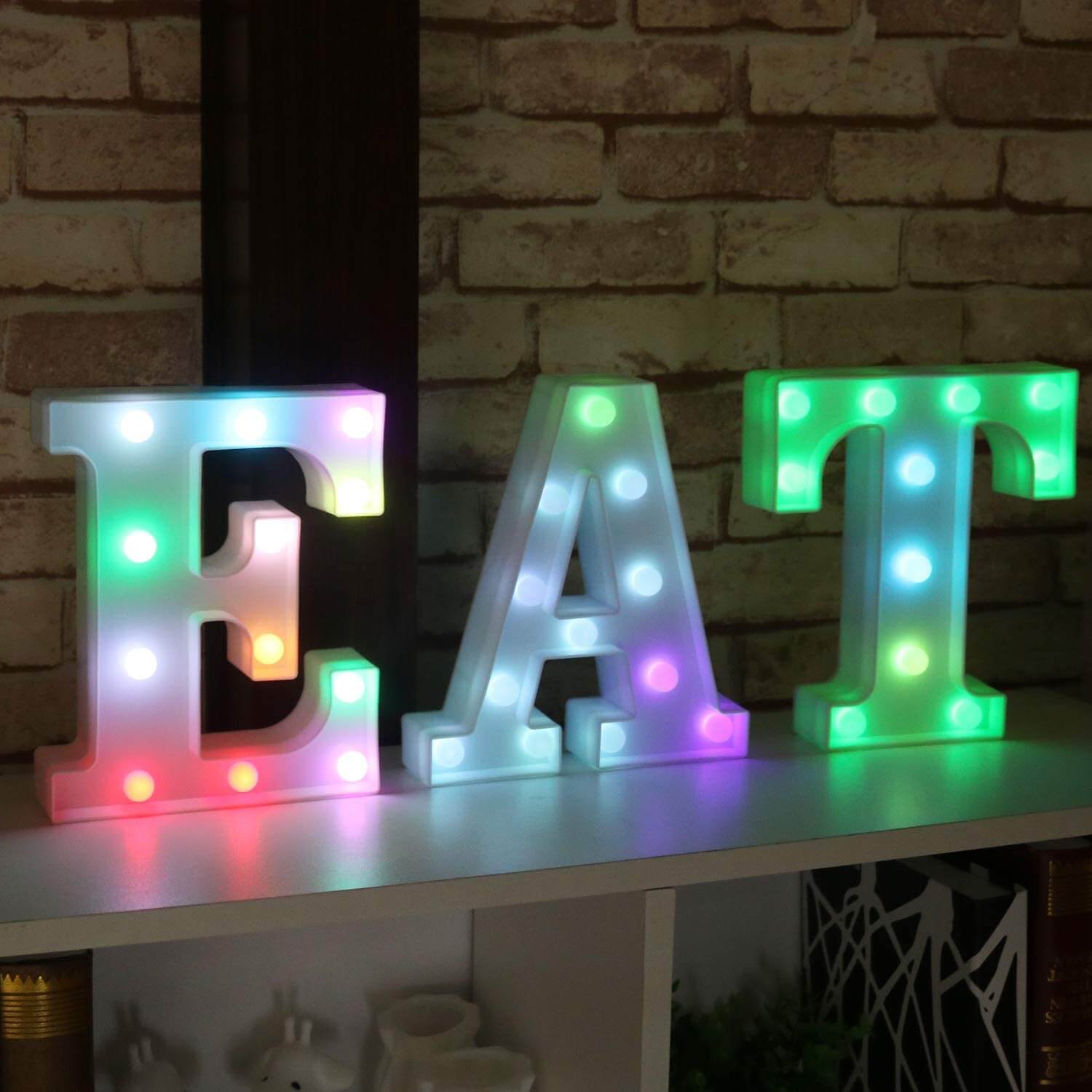 Bring some life and color into your home with this gorgeous LED marquee letter sign. The LED lighting effect can change throughout 16 different colors. As such, it is easy to achieve a coloring style fitting to your specific room decorations. With the accompanying remote, you can even set up how the light shows and the speed at which it shows. It features four different modes: jump, fade, ASYN jump, and ASYN fade. This is an awesome idea when you want something more distinctive that fits with your personality.
22. Wooden "LOVE" Freestanding Tabletop Sign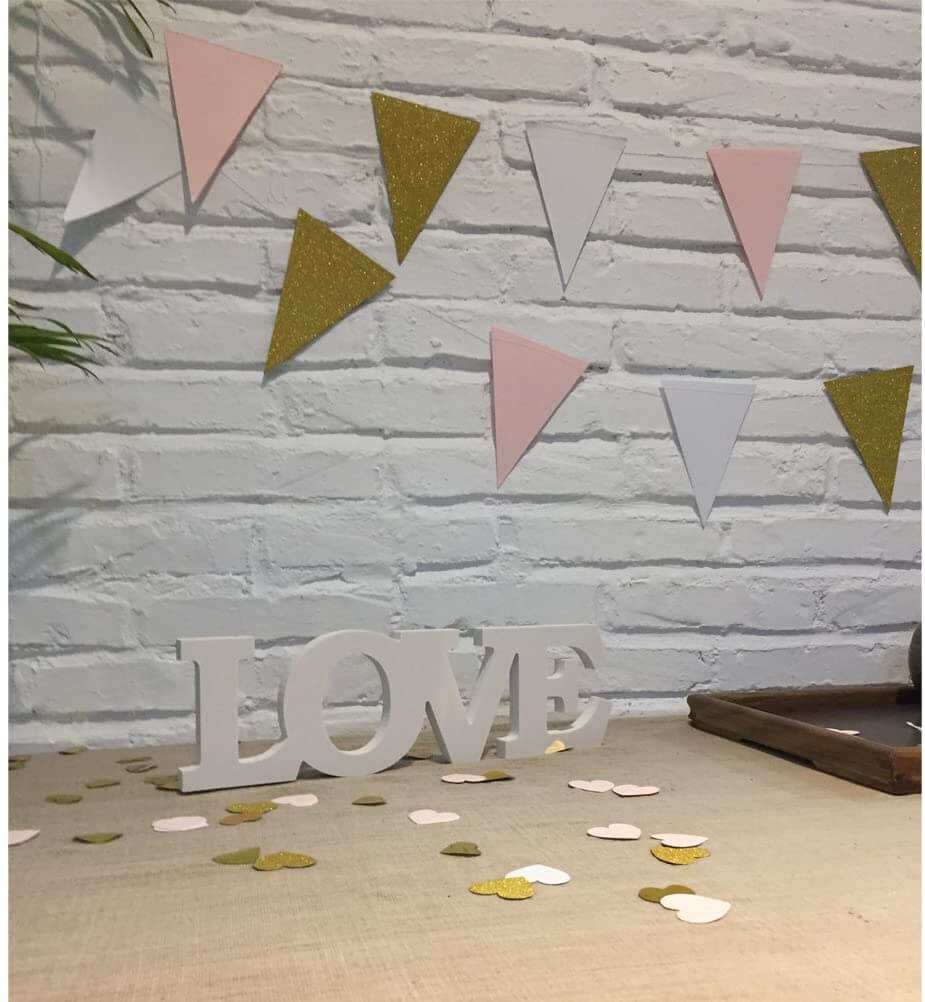 Let everyone who comes into your home know what you stand for with this cute "LOVE" tabletop sign. It is made from solid wood and features a sturdy base so you can set it up on your table and not worry about it tipping over without support. The letters are all connected so that it always spells out the word. Also, it features a bright white finish, which may help it make more of an impact and catch anyone's eye with ease. Between that and the sample size, this letter sign can work in various rooms on an assortment of different tabletop structures.
23. Multicolored Wooden Alphabet Tabletop Designs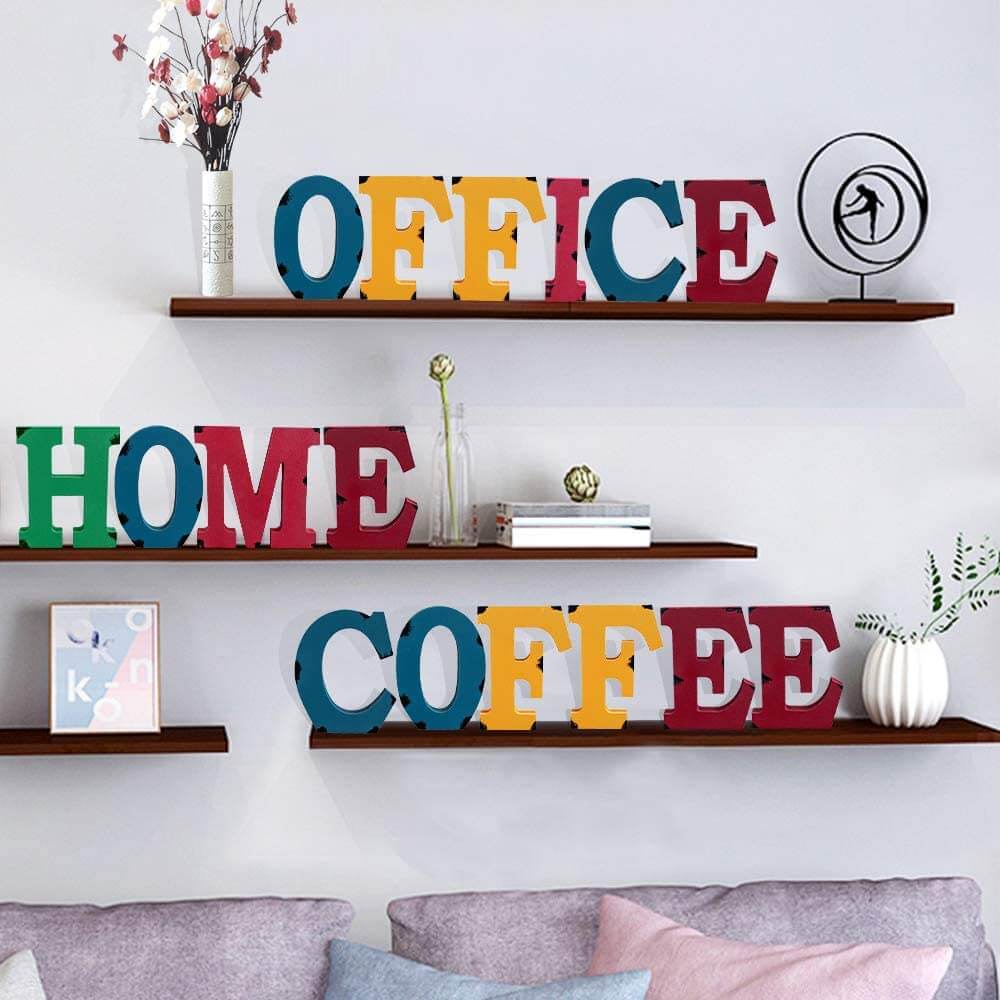 Sometimes what your home needs most is a good dose of color. In that case, take a look at these cool alphabet wooden letters. It features the entire alphabet along with having the ampersand sign so you can spell out different phrases or names without issue. They are distinctively and brightly colored too, giving you more space to personalize your room. Their size allows them to fit well on a simple tabletop or even on a dresser, which makes them fit for use in playrooms and nurseries. At the same time, the letters can still blend into a kitchen or living room setting.
24. Modern Personalized 3D Printed Letters and Numbers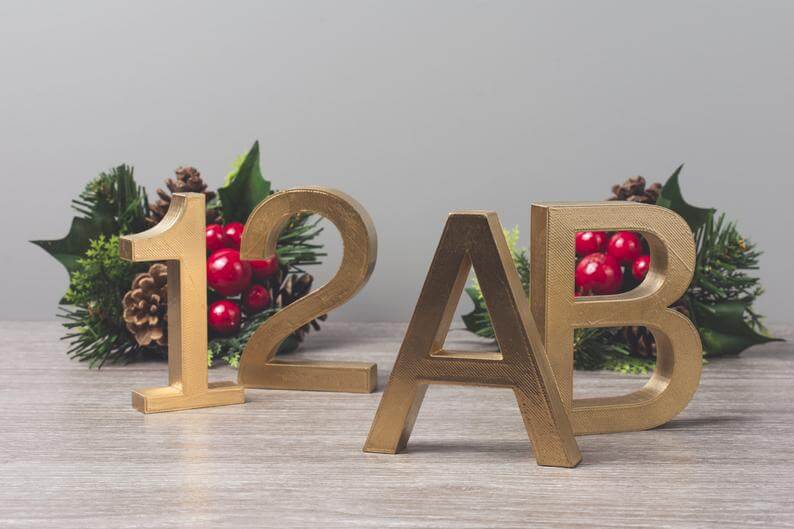 Create a truly personalized set of decorations in your home with these custom letters and numbers. They offer a bold 3D design, and their thickness helps them support themselves as they sit on a tabletop surface. You can decide how the "ABC" and "1, 2, 3" appear in terms of size as well as color. They come in three different metallic colors as well as a single light gray unpainted design. By doing so, you can get these letters and numbers made precisely how they should be in order to fit in with your current room's decorative style.
25. Custom Wooden Patterned Style Letter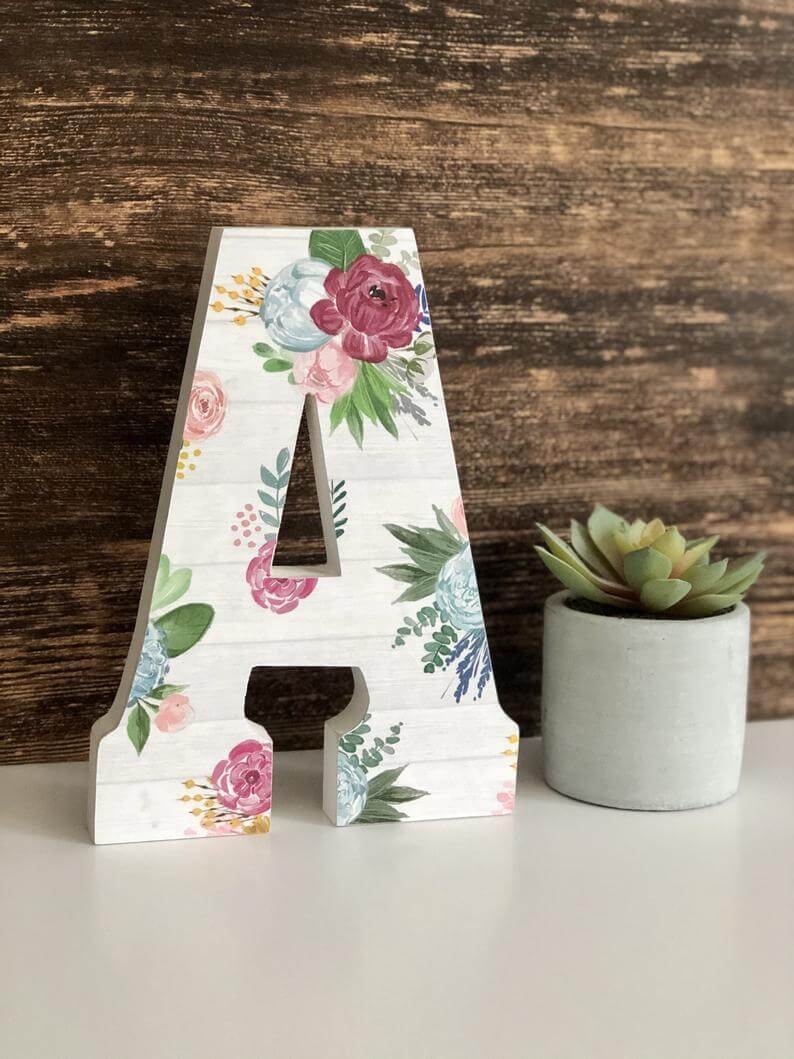 Perhaps you are looking for something that is balanced between elegant and modern, and if that is the case, then consider this beautiful patterned-styled letter sign. It is handcrafted from wood, and you have plenty of options to choose from concerning the paint. There are a wide variety of patterns from floral styles to clouds and fruits. Because of this diversity, anyone can appreciate these letters since they can be made in a way to suit individual styles. You can even opt to order more than one letter if you want to spell something out.
26. Personalized 3D Freestanding Letter Sign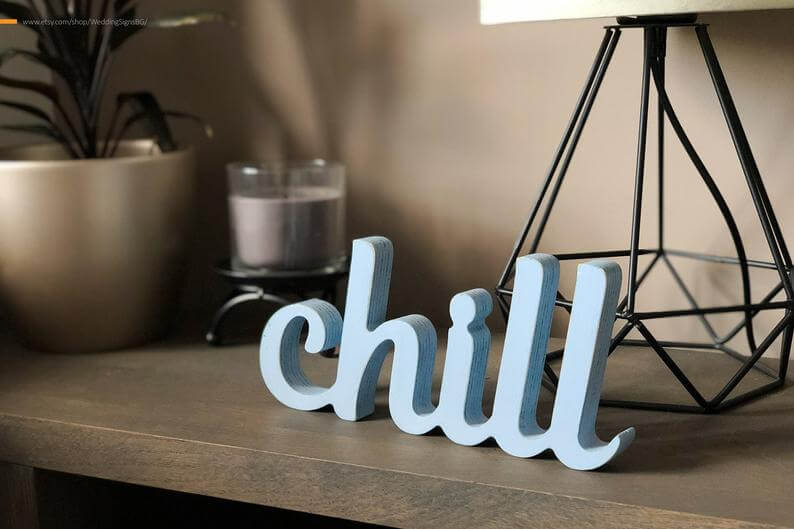 One of the best tabletop letters and signs, this personalized piece gives you more control than ever in how your room comes across concerning décor. You can select how many letters you need, whether you need numbers as well, and exactly what you want it to say. There are more than a dozen different sizes and finishes to connect with any style such as a distressed finish for rustic looks and a clean finish for modern ones. Also, you can select from an incredible list of colors. This further helps to create a personalized piece to blend into your room.
27. Freestanding Custom Initials Tabletop Sign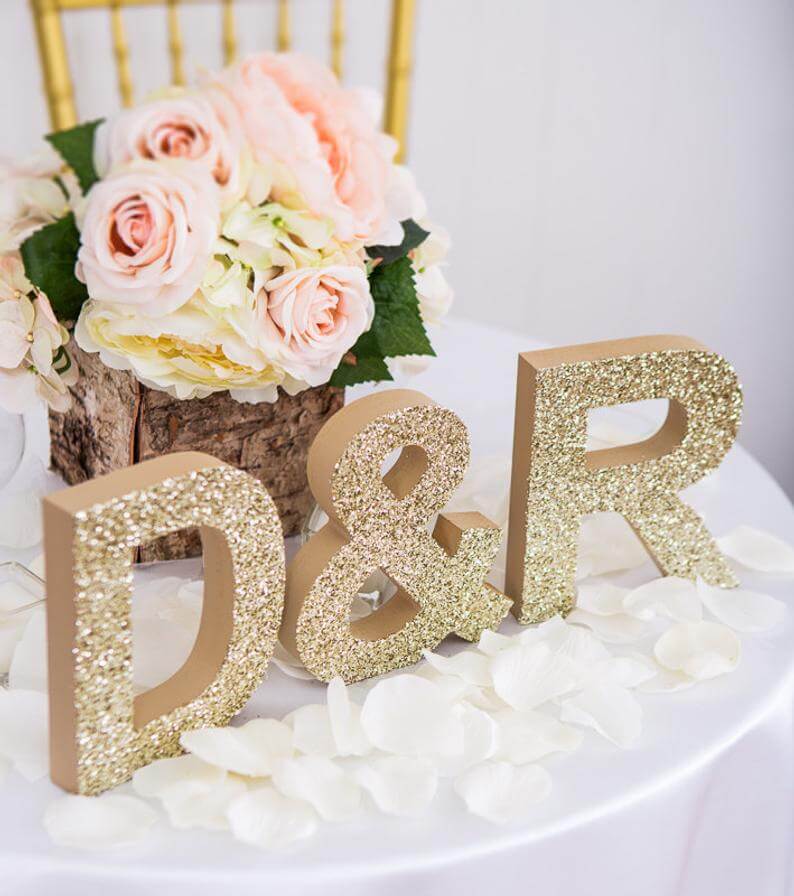 Maybe you need a tabletop centerpiece for a party, a wedding, or just a bedroom. If so, then try out this customized initial sign. It includes two letters as well as an ampersand symbol to make it obvious what the initials will be. The large monogram set is thick enough so that each piece stands without any issue. For more personalization options, you can select from a long list of various colors. Not only that, but you can further decide whether you want it in the straightforward block-style text or if you want something more sophisticated with the script-style font.
28. Gorgeous "Love" Tabletop Wooden Lettering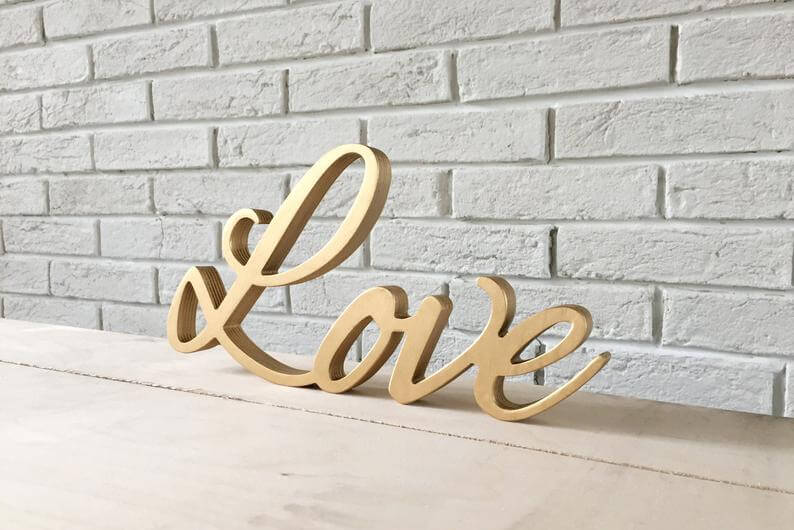 Emphasize your welcoming and warm heart with this stunning handcrafted "Love" sign. It is created using an attractive script font, and the overall piece is balanced between being lightweight enough for you to easily handle yet robust enough that it stands by itself. There is a way for you to personalize this sign as well. It has several painted and unpainted finish options as well as two different sizes. Furthermore, there are more than a dozen different colors that range greatly from one another that you can pick from as well so that it matches your particular room style.
29. Custom Word Freestanding Elegant Sign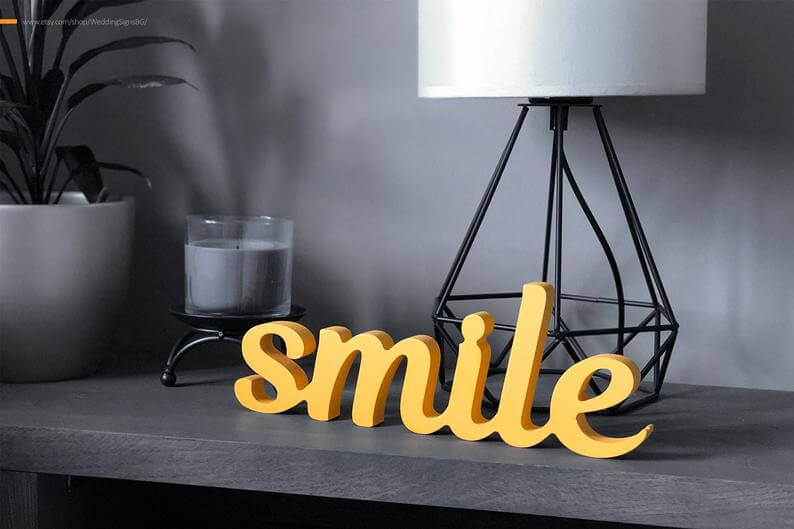 Having more control over the letter decor you decide to implement in your home is a wonderful thing as you can show off your personality more. This custom freestanding sign will help you do exactly that. Choose from words and numbers so that you spell out something that best describes you or your home. You can select from a multitude of sizes and finishes so you can find something that leans better to one style over another. At the same time, you can choose from various colors so that the word flows with ease inside any room.
30. 3-Set Personalized Finish Wooden Letters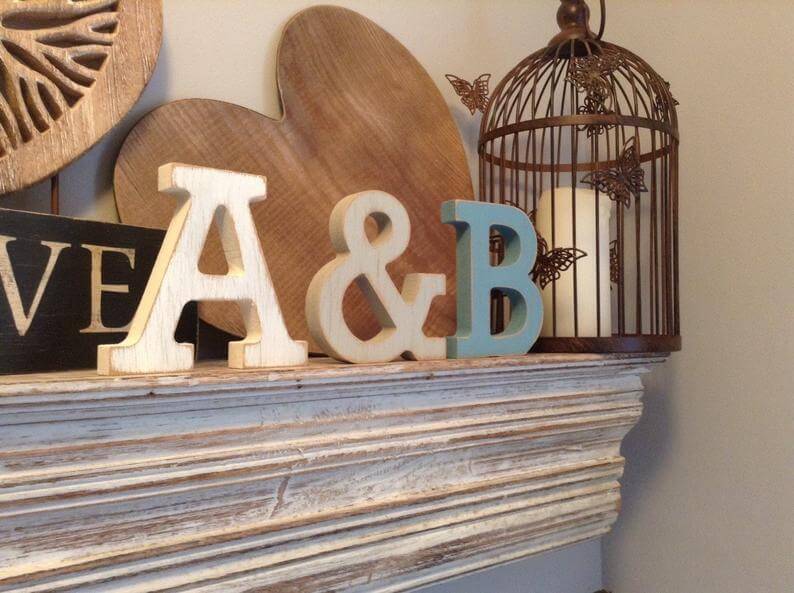 If you want a straightforward display, then perhaps this set of three is the perfect option for you. They are custom made and hand-painted so that each piece sent out is completely unique. The letters and ampersand symbols are large enough to capture attention without overwhelming any other decorations you may have on the tabletop. They stand well by themselves too. You can decide from three different finishes too so that the letters can connect better with your room's theme.
30 Perfect Tabletop Letters and Signs to Give Your Décor a Fun Makeover
The use of letters to decorate a home is steadily growing in popularity, and it is a trend that does not appear to be ending anytime soon. So, if you want to jump on it, feel free to check out any of these top-quality products on our list. We focus on discovering lettering and signs that can fit a multitude of different styles. This way, no matter how you choose to decorate a room from vintage to contemporary, you can find a quality letter sign that will match it.