33. Geometric Photo Collages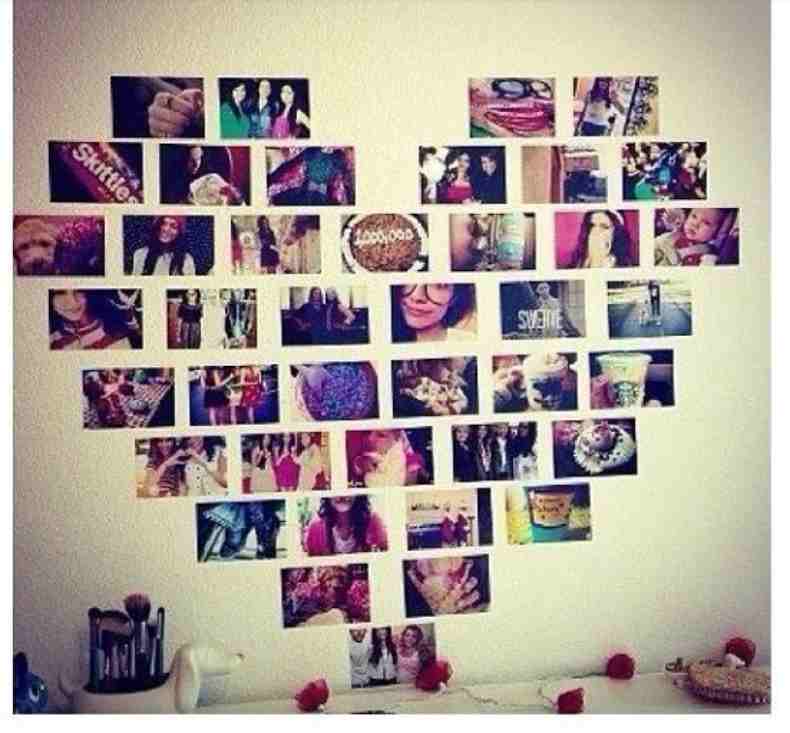 A quick and quirky way to display photos, collages are fun to put together and make for more interest than typical frames. Amp up the amusement by opting for an off-the-wall design for your pictures, like this cute pixelated heart shape. The world is your oyster and your creativity is your only limit in this endeavor; going with a stylistic element that's repeated through your space is never a bad choice. Other options you might want to consider: cats, shooting stars, UFOs, whales, etc.
34. Shabby and Floral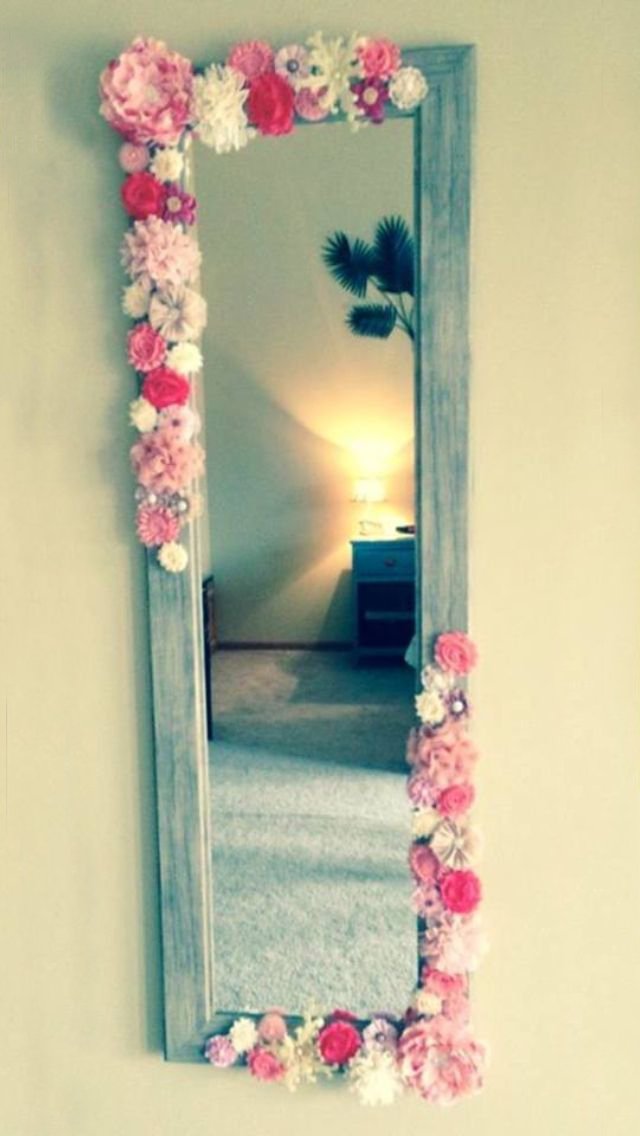 For anyone loving the shabby chic trend, this mirror is a must. The aged, washed out paint strikes just the right balance between antique and well-loved, giving the wood a well-worn appearance that makes it feel like an heirloom that's fashionable enough for the modern day. Springy floral accents elevate this simple, rustic design to feminine and bright, an addition that can be made to nearly any mirror with hot glue and fake flowers. Overall, the piece is simplistic and understated, making it a great fit in any aesthetic and providing a wonderful way to bring a bright, springtime feel to a room.
35. Bold Furniture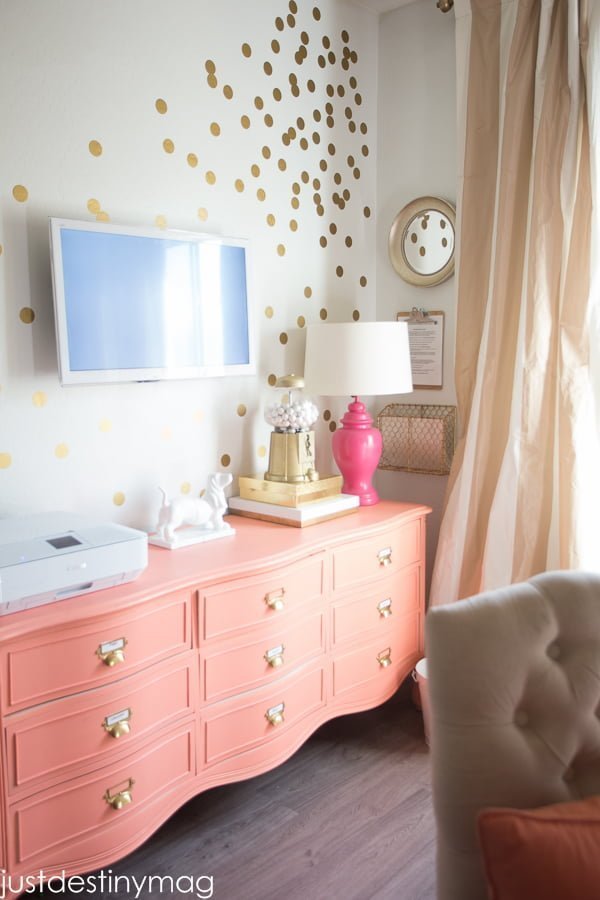 Neutral furniture might make a great base on which to build the rest of a room, but no one said furniture had to blend into the background. If you have a piece you love, call attention to it. This beautiful coral dresser is made into a focal point with gold polka dots beaming toward it like a spotlight. Further gold accents create a cohesive design, while a hot pink lamp helps to draw the eye in. Attention is turned from the TV screen by opting for a white model that blends well with the wall.
36. Clean Walls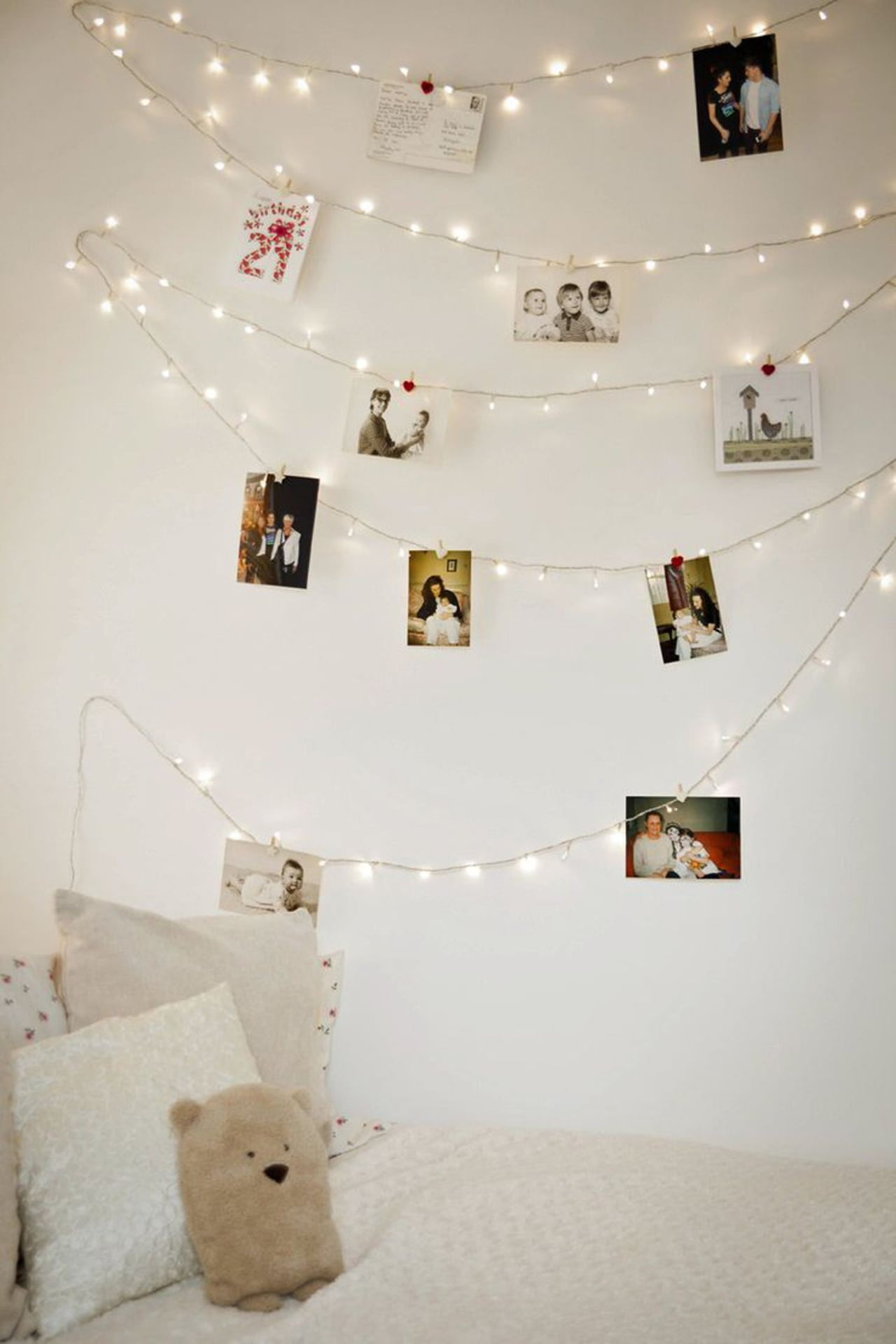 The subtle color palette employed in this space add to the perfect execution of these icicle photo strings. Keeping the colors plain and the walls undecorated means that the photos are the sole focus, making each individual picture pop in a way they couldn't if they were competing against other decor.
37. Box Shelves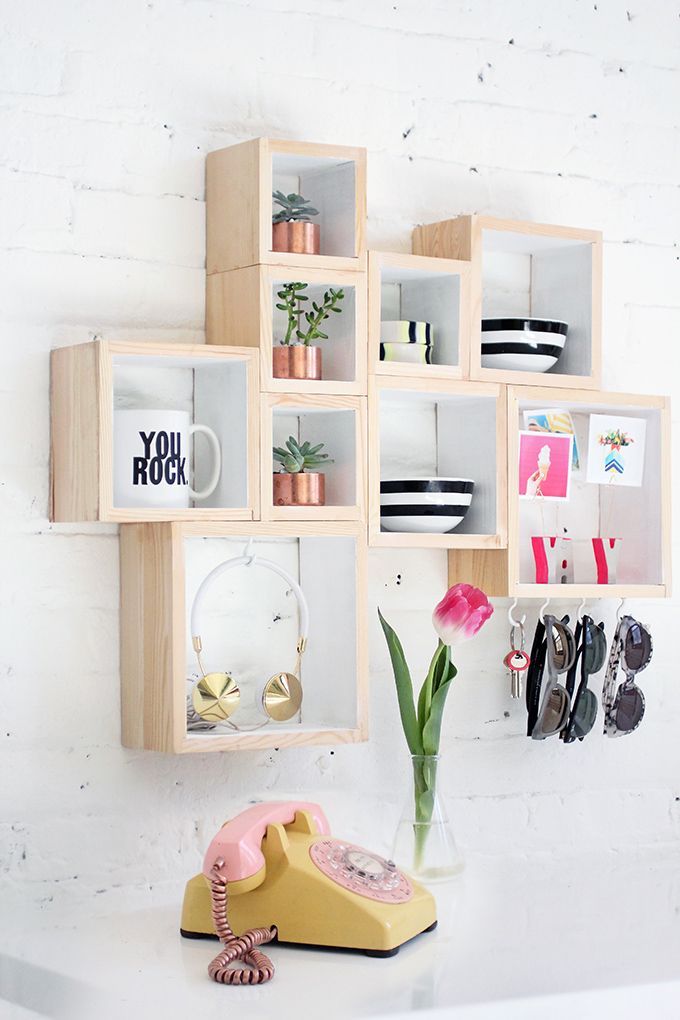 Dressing up plain storage keeps a room from feeling cluttered and makes your necessities read as if they're part of the design. These fun box shelves can be combined to make any zany geometric shape you dream up, and once they fill up, adding more into the mix is painless. They can be made even more useful with the addition of cup hooks to accommodate any dangly bits and pieces. This beech and white design is modern and plain enough to fit in any space, but can easily be refinished or painted to suit any style.
38. Write On The Walls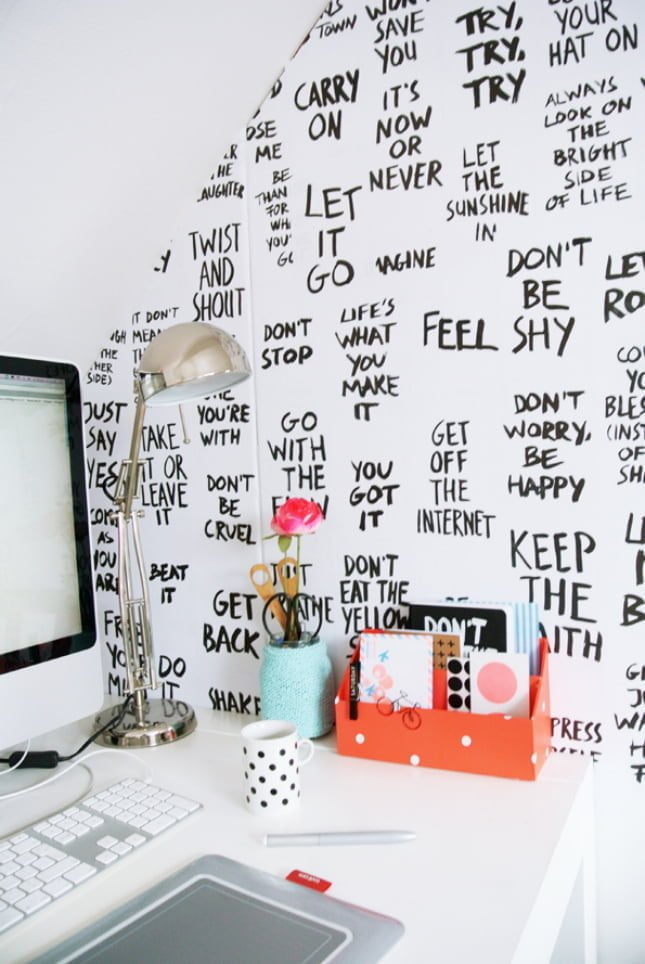 We've all had it drilled into our heads that crayons go on paper, not the walls, but that sentiment is long past. A fun new trend that incorporates that sense of childish mischievousness comes in the form of penning your favorite quotes on that sacred space. Go for one large, meaningful quote, or paper the walls in small tidbits of advice; whatever your fancy, you can do no wrong. If mixing fonts appeals to you, no need to rely on your own ability to recreate them free-hand— making up a stencil is as easy as printing out the words of your choice. This quote-saturated wall makes for an inspirational office space that helps keep your head in the game.
39. Make Up Frames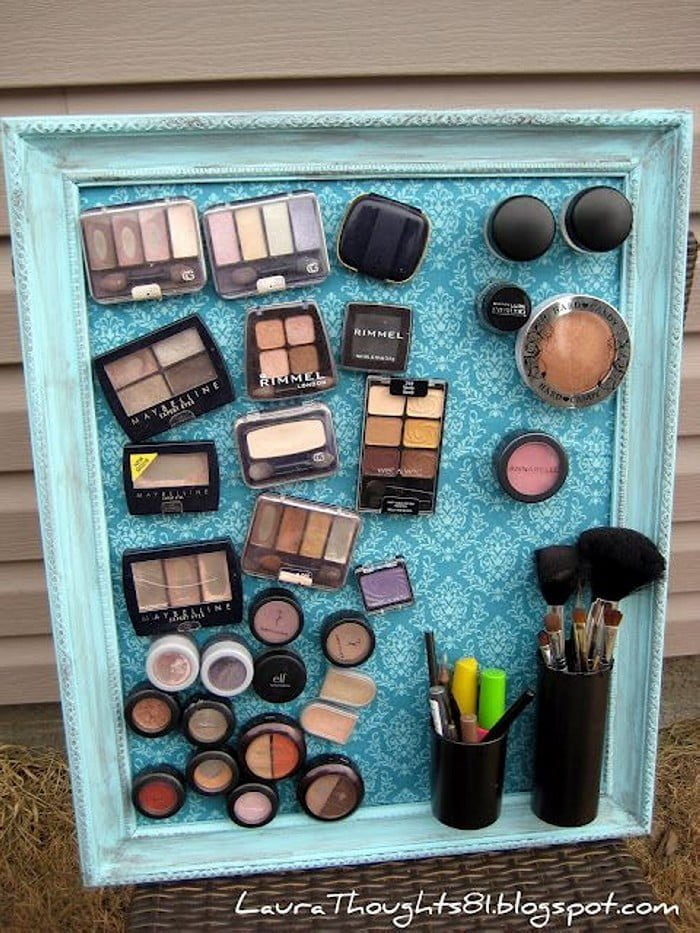 Another addition to the wall display trend, makeup isn't left out of being turned into a work of art. This easy to recreate design requires the mildly time-consuming process of hot gluing magnets to the backs of your makeup palettes, pans, and brush holders, but the payoff is a brilliant display that makes it easy to find whatever you're looking for. It's quick to make, needing only a frame and magnetic sheet that can be dressed up with spare fabric or scrapbook paper to match or accent colors and patterns found in your space.
40. Bedside Table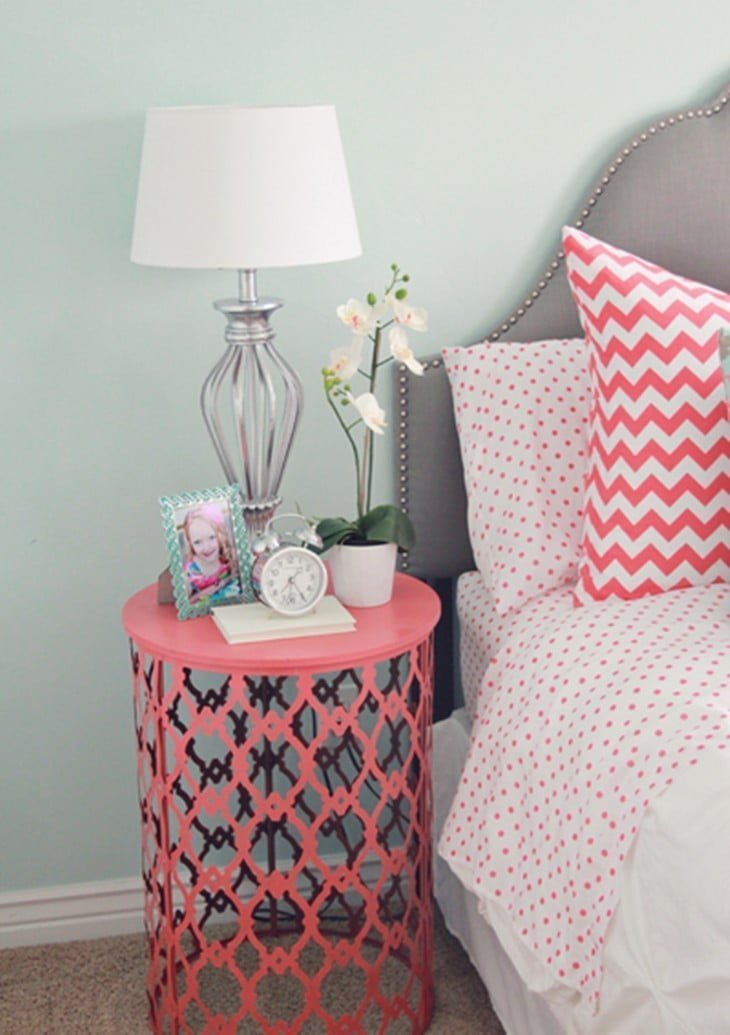 Often overlooked in teenage girl's bedrooms is the bedside table, a convenient spot to store anything you may want close at hand. In many teen rooms, the bed is pushed up against the wall, so only one table may be feasible— this choice makes the most of that by being vivacious and intricate. The best part: it's a repurposed waste basket. Given a coat of paint and flipped upside down, a waste bin can be utilized as bedside table that looks young and fresh, though it is lacking in drawer space. Still, this fashionable piece offers an easily accessible spot to stash a phone, alarm clock, or bedtime reading material.
41. Artsy Storage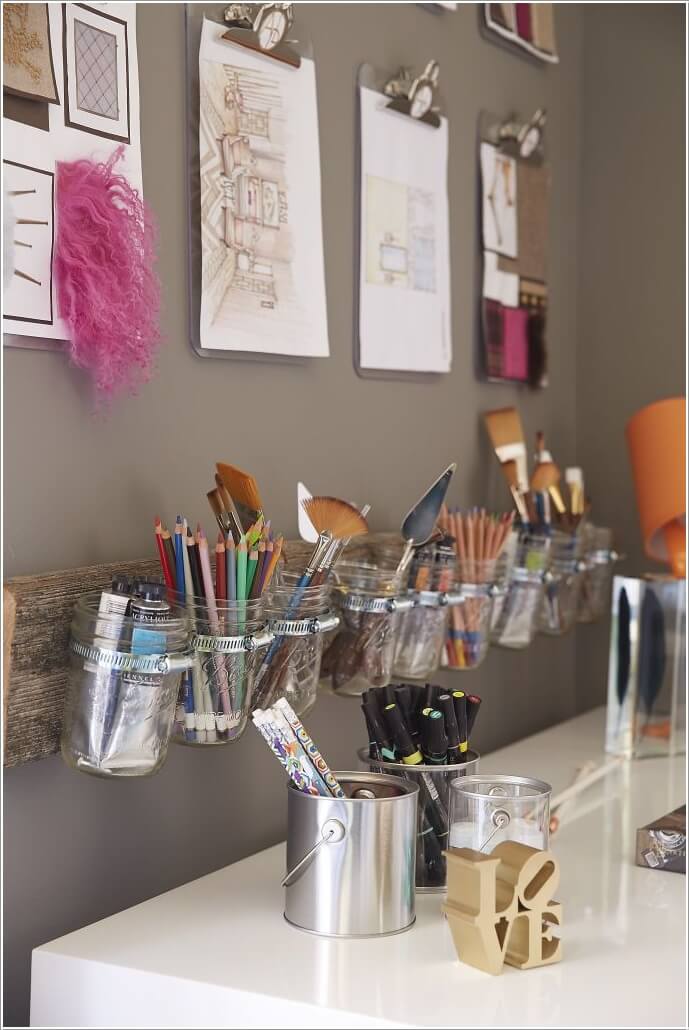 If you're wanting for storage space for craft supplies, once again, you can take to the walls. This inspired choice trades traditional frames for clipboards, which look amazing and makes it easy to constantly switch out and display new works of art. All the creative supplies are easily discernible and quick to grab in their trendy, country chic mason jar containers mounted to a piece of natural, unfinished wood that gives the otherwise clean and modern workspace a certain outdoorsy charm. The tame brown palette is complemented by a bold orange lamp that makes the space feel more fun and young.
More teen girl bedroom décor ideas on the next page…