42. Be Bright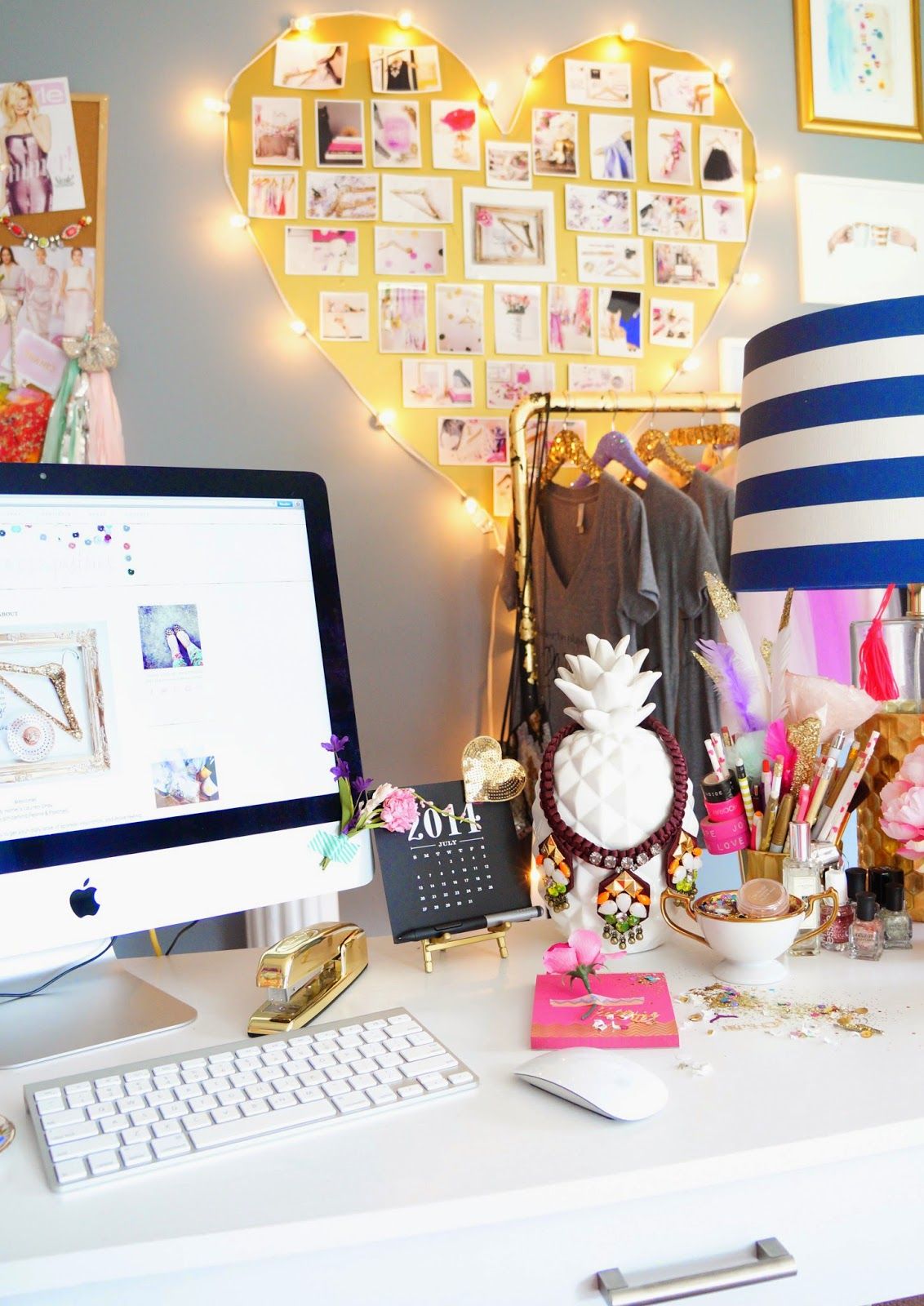 Bold and unabashed, this workspace setup is strikes a delicate balance between eclectic and obscene. Individually, the elements used only have one or two things in common, but they come together to form a vivacious and cohesive whole that's extremely fitting for a teenage girl. This space is not afraid to multitask, an attribute that's abundantly useful in smaller bedrooms where a vanity and desk might not be an option. Clever use of complementary colors blue and yellow makes for a fun and striking display of bright, vibrant choices that clash in the most enjoyable way.
43. Go Retro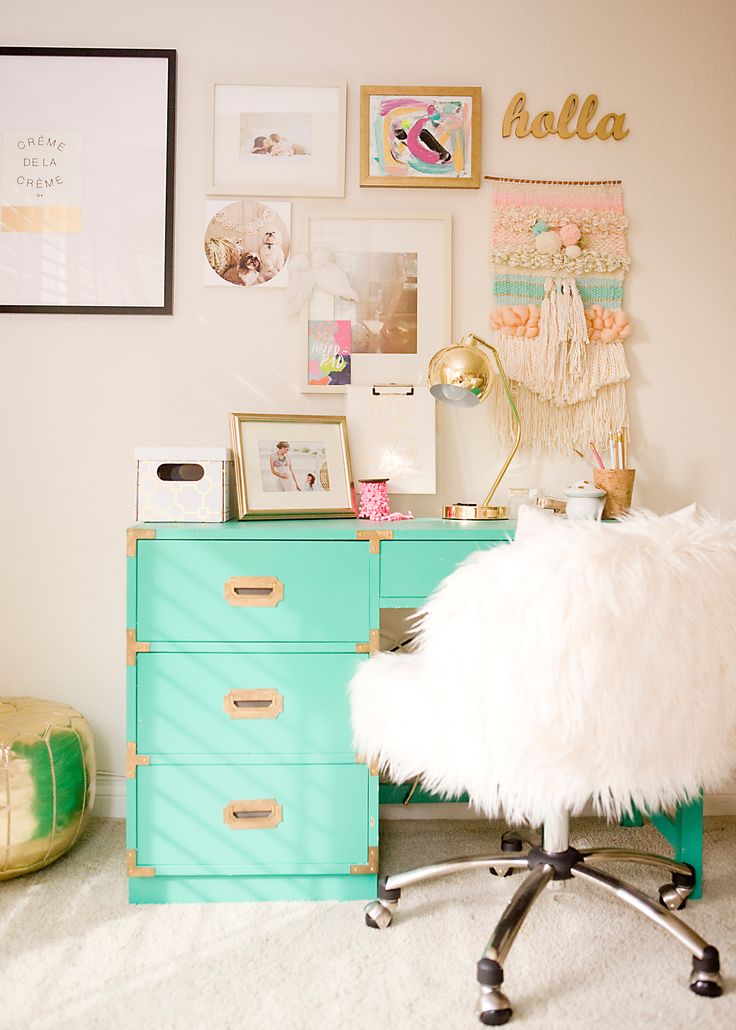 This vintage inspired work area combines retro and modern to make a uniquely fun space. The upcycled mid-century filing cabinet desk is a great statement piece that's bright and beautiful. A bulbous gold desk lamp feels very 1960's, pairing fabulously with the similar era desk. The silhouette of the chair goes hand in hand with these two pieces while also adding some 70's shag to the mix. Modern wall art keeps this design from looking too dated, though the abstract art and crochet hanging would be right at home in the 70's. A gold metallic pouf brings everything into the modern day, perfectly complementing the other gold accents.
44. Go Vertical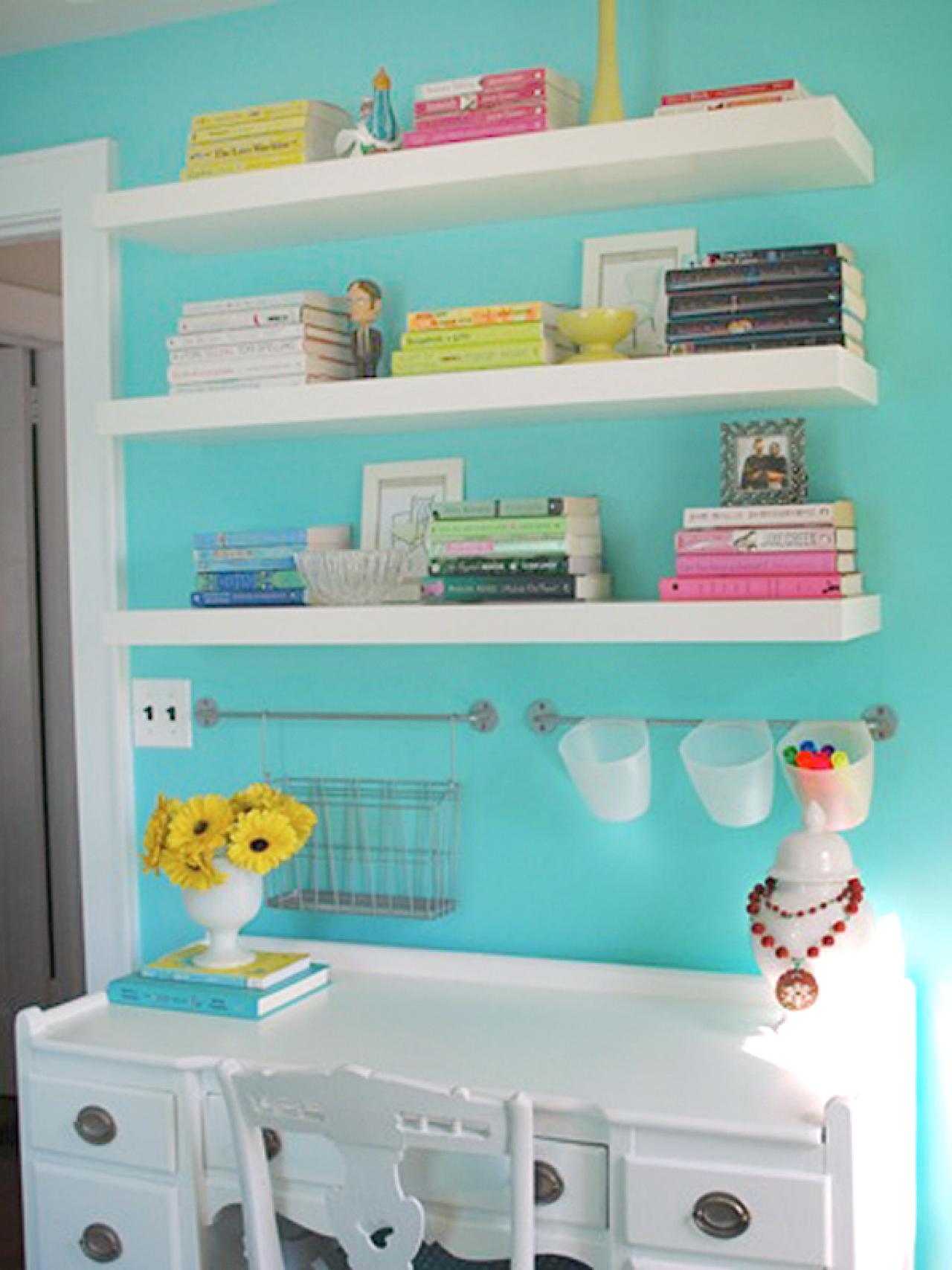 If you're wanting for space, making the most of wall real estate is a must. A towering behemoth of a combined desk and shelves can feel stuffy, counterproductive to giving the illusion of space in an otherwise small room. Going up makes the ceilings feel higher while also adding tons of storage space that would typically go to waste. Floating shelves provide more openness without sacrificing storage, adding an abundance of space for books and knickknacks. Curtain rods with hanging baskets give ample storage for smaller pieces that you might want near at hand. All of this adds up to a clean and uncluttered desk that further fosters the feel of openness.
45. Colorful Organization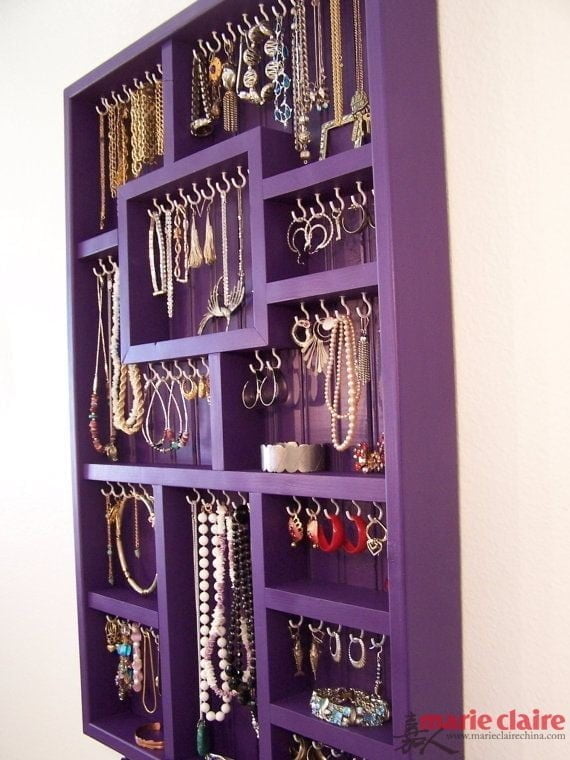 A slight remix on an earlier idea, this geometric shelf turned jewelry organizer swaps the natural wood stain for an energizing deep purple shade. This is a fun and young twist that makes it easy to incorporate bold hues in a slightly more unconventional way.
46. Shoot for Gold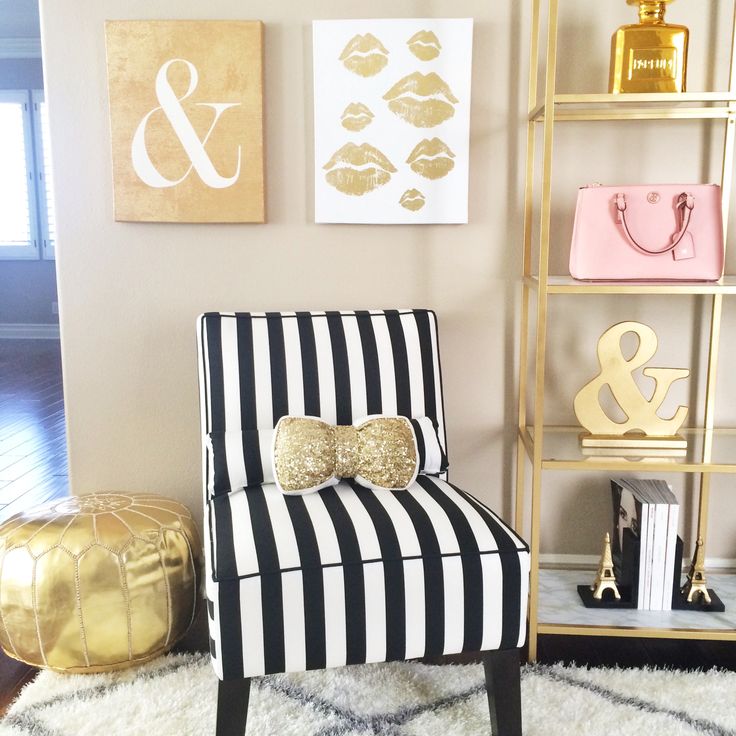 Gold is a rich and warm shade that is simultaneously inviting and extravagant. This space walks the line between glitzy and garish by paring down the gold with thick black and white stripes and a black and white geometric rug. The marble and glass combination shelf is a great addition to the swanky style, a perfect pairing to the gold accents it puts on display.
47. Musical Genius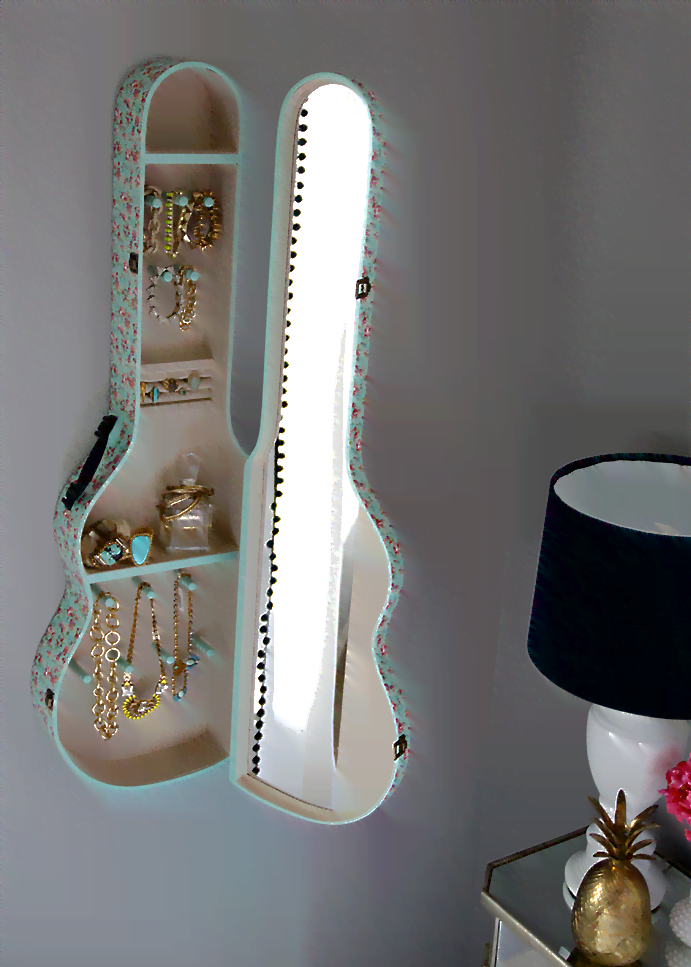 A brilliant method to add storage space and repurpose old cases, this ingenious jewelry display is an excellent way to show off your musical soul. A guitar case wouldn't typically come to mind as a good spot for stashing jewelry, but fitted with a specially cut mirror and shelves, an old, beat-up case can find new life hung up on a wall. Leave the appearance as-is for the sentimental value, or mix and match fabrics to give it a fresh facelift.
48. Geometric Pastels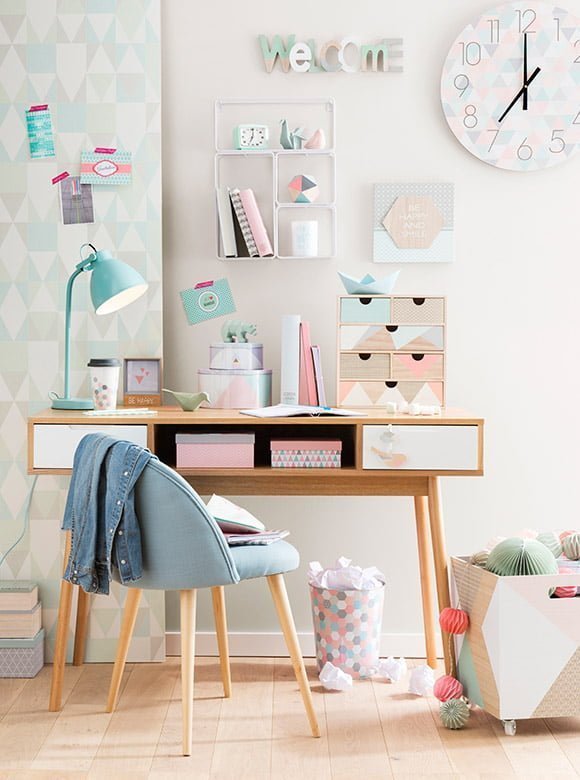 Modern lines inspired 60's style give this work space a vintage feel that pairs well with the geometric patterns running rampant through the design. The choice of pastel palette lends well to choosing a variety of colors without feeling too busy, an excellent choice for a teenage girl's bedroom. Pastel hues, though more tame, are plenty cheery and make the area feel airy and light. The utilization of wall and floor space turns the small area into more of a workhorse than relying solely on the desk, whose space is well-utilized to provide storage without sacrificing ample workspace.
49. String Art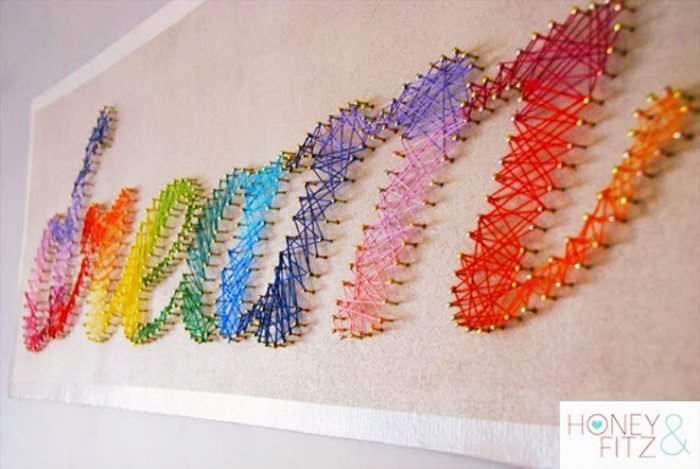 A very fun and zen project, string art is all the rage at the moment thanks to its endless customization options. This particular piece is very colorful and full, bringing a rainbow of vibrancy to a room, but you could choose a monochrome palette or a single color as befits your aesthetic. String art can also be done wrapping just the outline of a word rather than filling it in, or can be completed more sparsely than the densely packed design pictured.
50. Put a Bow On It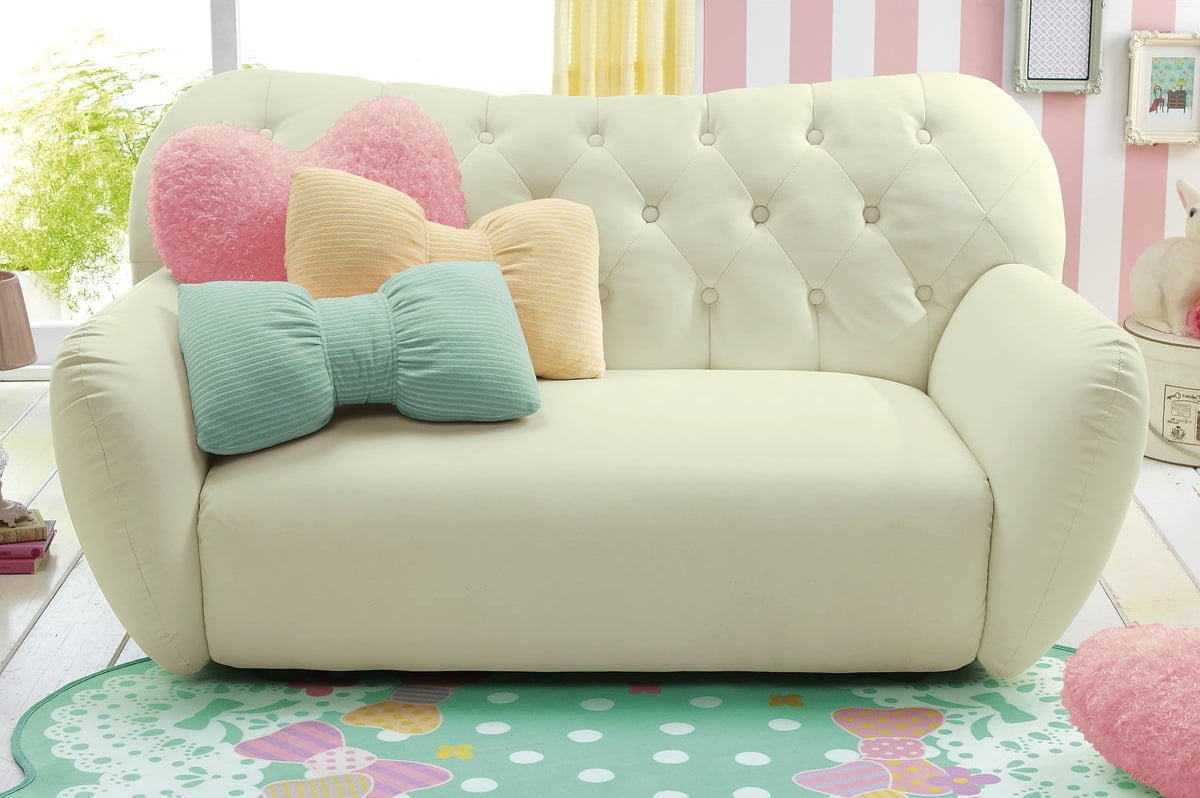 Ruffles and frills might feel too little girl-y included in teen girl room ideas, but bows can be made chic and fashion-forward when done right. Bow shaped pillows give this plush overstuffed sofa a candied sweetness and draw parallels to the bow-shaped silhouette of the back. Pastel pink striped walls give the room a feeling of walking into a sweets shop, complemented by patterned yellow curtains that add a sunny radiance. The polka dot and lace bow rug complete the ensemble in a way that's young without being childish.
50 Stunning Ideas for a Teen Girl's Bedroom
The quest for teen girl room ideas can be long and exhausting; hopefully, this list has provided you with the inspiration necessary to go out and create. Many of the ideas presented can be mixed and matched to form a unique style, granting your teenager her own personal oasis to retreat to and relax in whenever she likes. Any of these designs should help catapult you on your journey to a room your teenager can be proud to call her own.