Every young girl dreams of a uniquely personal space to call her own, but nailing down a cohesive look for a teenage girl's bedroom can be an especially difficult endeavor. Maybe you've got a nearly-complete vision that's missing that one particular touch that will take your space from "great" to "wow", or maybe you've picked out an exceptional piece to design a room around and have totally blanked on what to pair with it. Whether you're looking for inspiration for a total room makeover or seeking that last detail to tie the room together, the list below has something for everyone. This carefully curated collection of teen girl room ideas is sure to tickle any teenage fancy; hopefully you'll find just what you're looking for to create a space the special girl in your life will love.
Bedroom Facelift: 50 Marvelous Designs Sure to Wow Any Teenage Girl

1. Fairy Drapes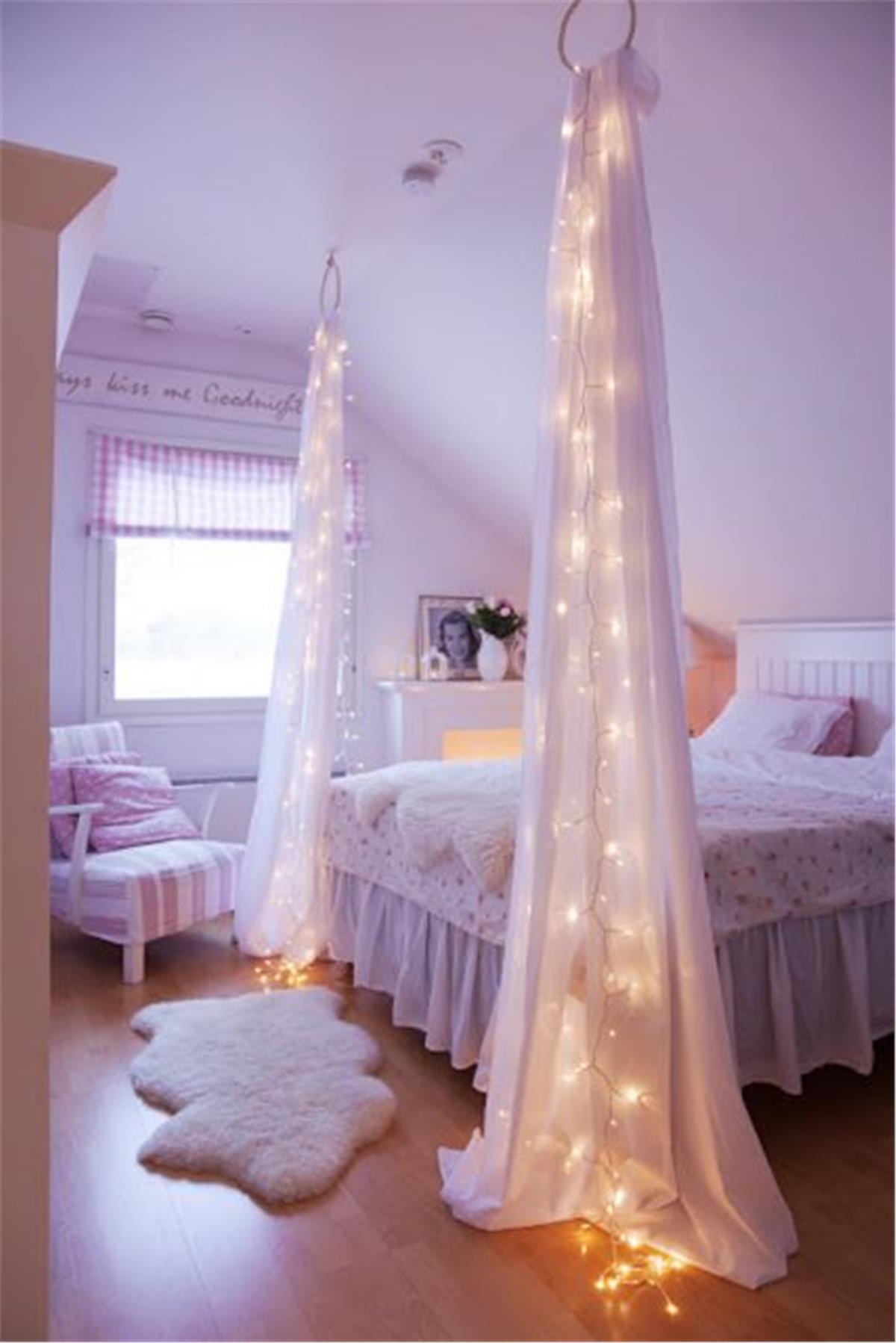 For a touch of magic in everyday life, look no further than fairy lights. Twined through sheer drapes, the tiny twinkling bulbs give a room an ethereal feel that's sure to delight. The delicate glow can help to brighten a space without feeling too intrusive, and the enchanted aesthetic pairs well with just about any design style that a typical floor or table lamp might overpower or feel incongruous in. In warm white, they'll provide a pleasant radiance that can transform a more austere room into a cheerful wonderland.
2. Floating Shelves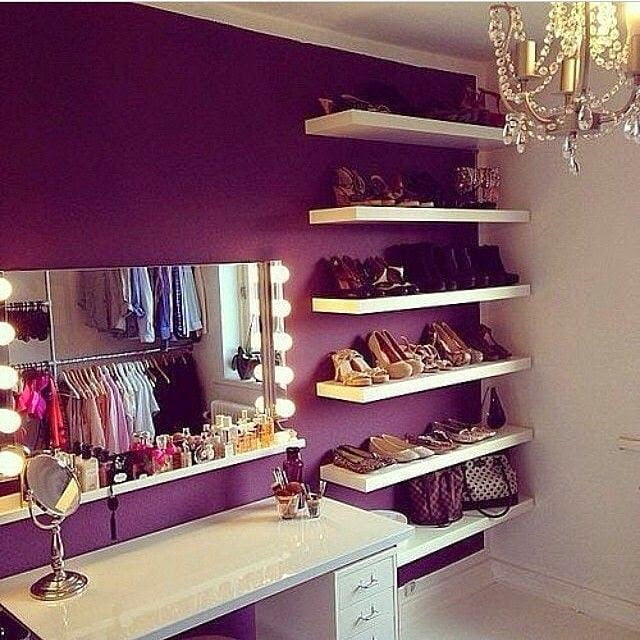 If you've ever stepped foot into the typical teenage girl's bedroom, you know that the floor generally becomes a wardrobe wasteland of apocalyptic proportions. Functional organization methods like closet organizers can help, but to truly encourage keeping tidy, try making storage a focal point. Shelves like these turn picking up shoes into a design element, making cleaning up that much more rewarding. This is exceptionally beneficial in a smaller room where every inch of storage space counts, as a bare wall doesn't provide much utility, and open shelving makes the area feel a bit larger than a looming wardrobe would.
3. Upcycle Old Doors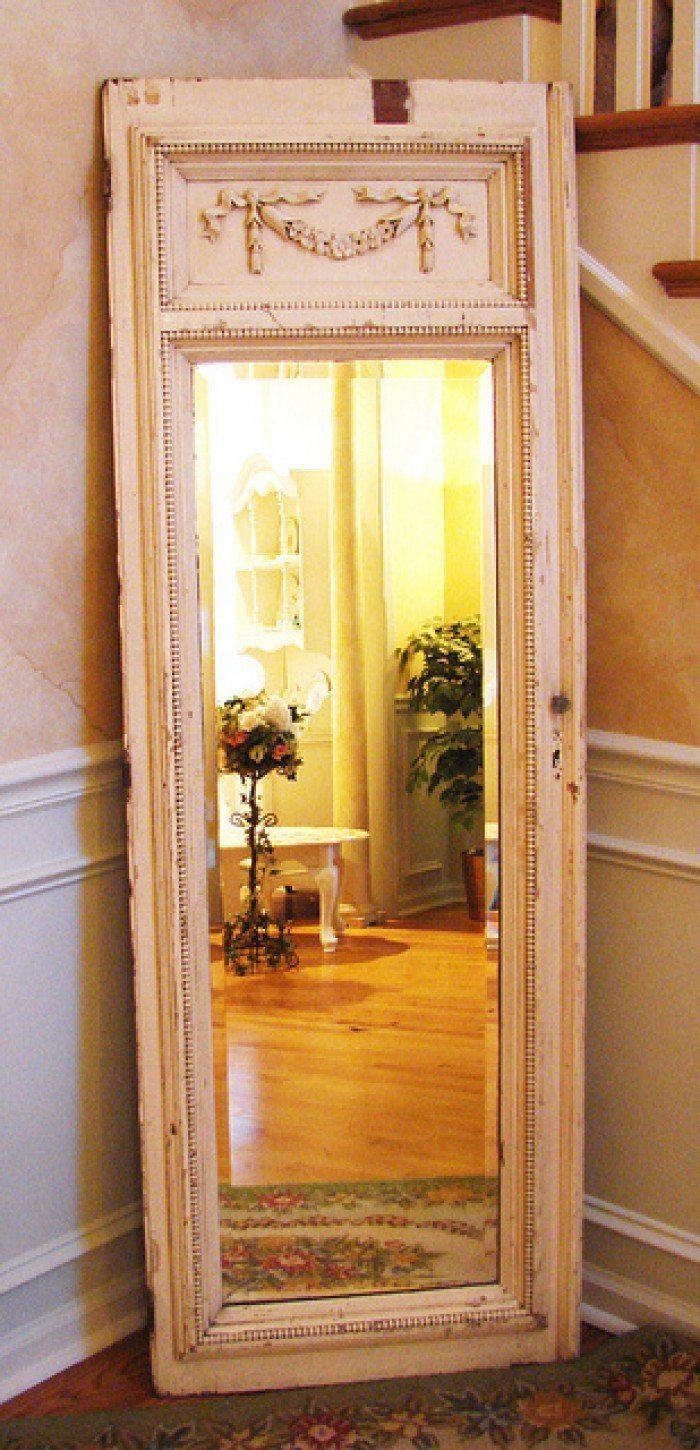 If you're after a particular style, finding a piece that fits perfectly with your ideal can be an epic struggle. In the case of this shabby chic mirror, one would have been hard-pressed to find something akin to this particular Renaissance design in the modern day. Rather than settle on a less desirable piece, this gorgeous mirror was hand-crafted from an old door, transformed into a mirror frame. Finding an old door to refurbish also grants the opportunity to create a one-of-a-kind piece, and will more than likely carry a much less hefty price tag than a similar antique or antique-inspired article.
4. Chunky Letters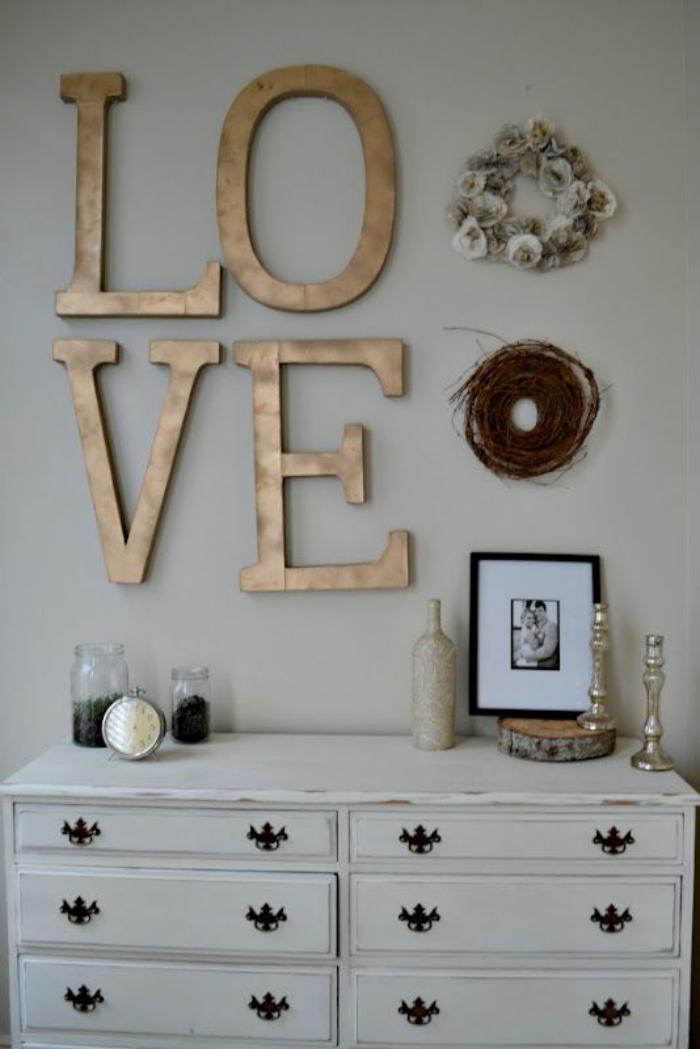 To create a (literal) statement piece, larger than life letters like these brilliant burnished brass creations immediately draw the eye. Paired with natural elements like a faux bird's nest and flower wreath, the juxtaposition of man-made metallics and earthy organics produces an interesting dynamic that's extremely pleasing to look at. Hung over a dresser, the curious clash of opposing aspects makes for a charming and attractive focal point. Top the dresser with more metallics and natural pieces, like this tree trunk stand and simple silver alarm clock, to further perpetuate the aesthetic.
5. Get a Little Vain(ity)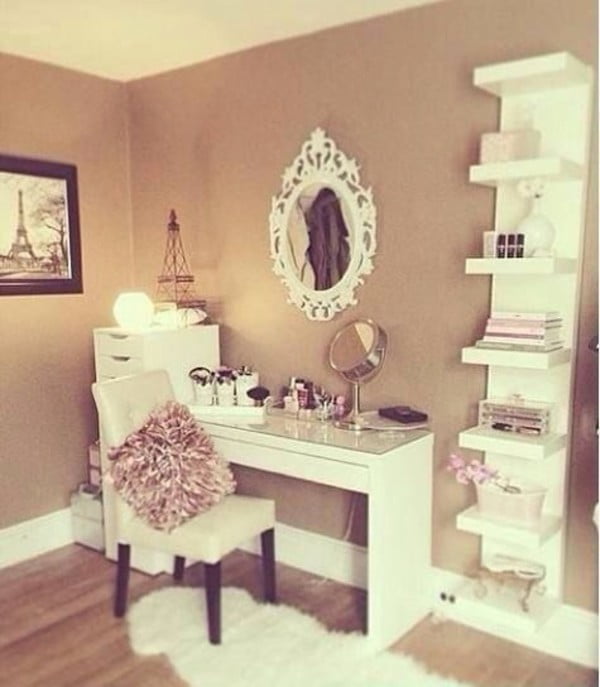 No teenage girl's bedroom is complete without a vanity. This design is elegant and gorgeous while still maintaining a modern and sophisticated air. The intricately wrought Victorian-style mirror sets the basis for the Parisian flair further expounded upon with the Eiffel Tower sculpture and artwork, but still pairs well with the sleek lines of the minimalist vanity and drawers. A stylish floating bookshelf adds further storage area without overpowering the space and provides an ideal spot to place delicate decor items to further the feminine appeal, like flower accents.
6. Organize Artistically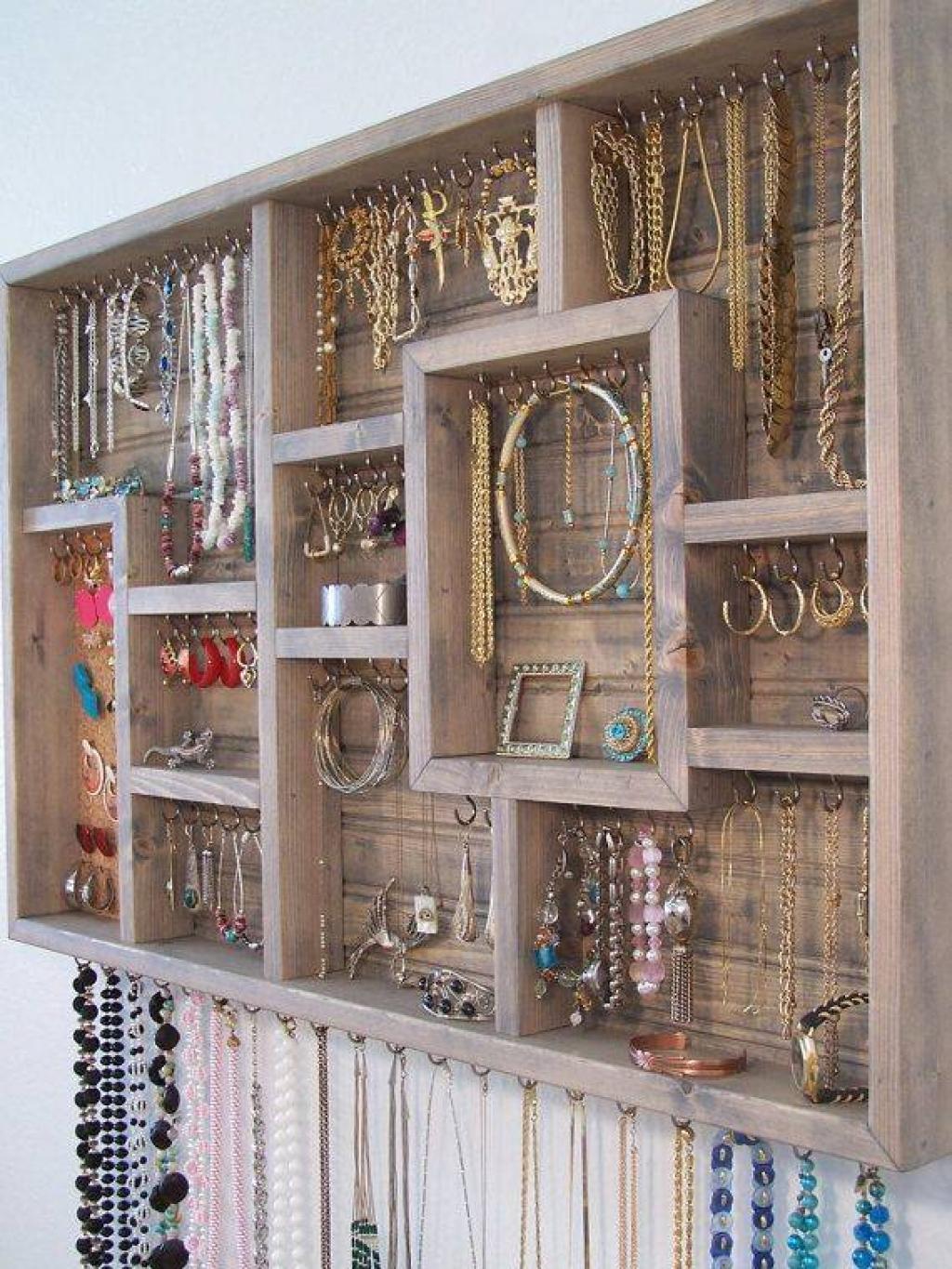 For the teenager who's built up a collection of accessories that can't be contained by a typical jewelry box, storage options can seem limited. Rather than stashing all your baubles away to turn into a tangled mess at the bottom of a drawer somewhere, take some inspiration from this piece and put them out on display. This organizer sells for a pretty penny on Etsy, but could easily be DIY-ed with scrap wood or pre-fabricated shelves and cup hooks. Cork backing in one section creates an easy solution for earrings, and longer necklaces that won't fit in the frame can be hung on hooks screwed into the bottom. The simplistic design can be personalized in a number of ways, though this rustic, natural wood choice would complement a number of different room designs.
7. Pops of Color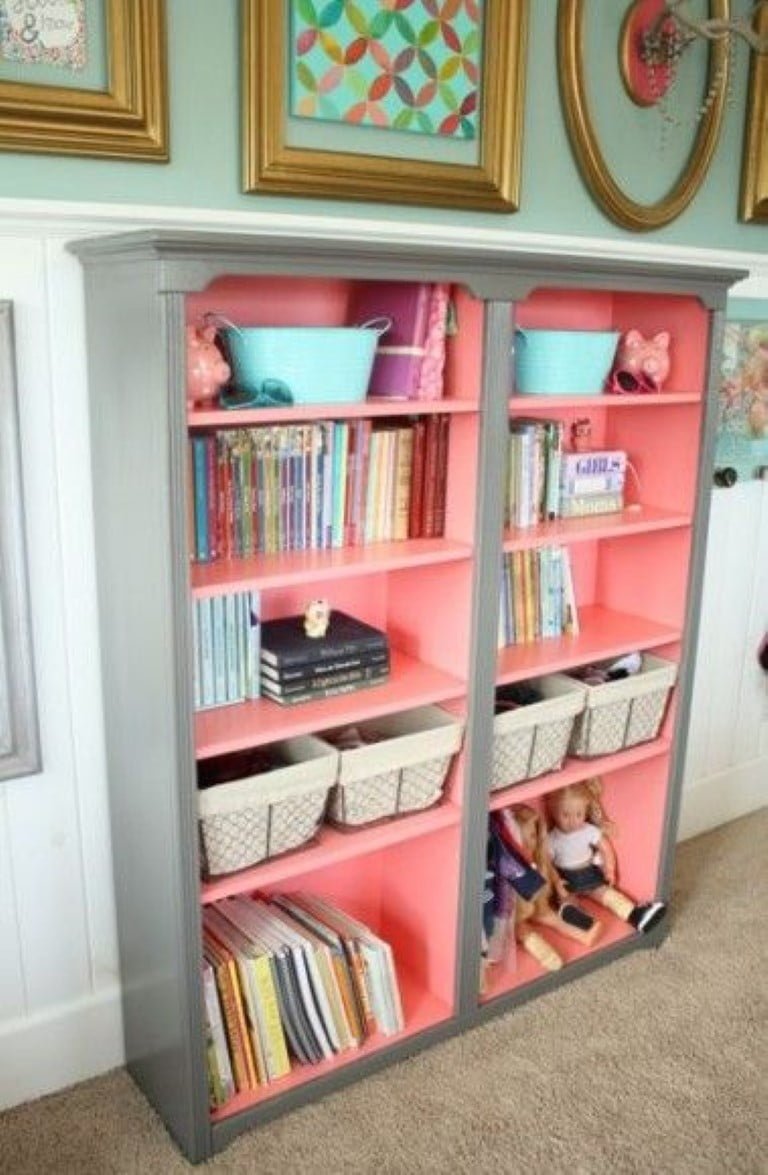 Accent colors are all the rage, but they don't just have to be on your walls. Bring the brightness to your furniture by painting the backs, shelves, or sides (or all of the above!) of bookcases a festive hue, like this fun and funky gray and pastel pink bookshelf. The same concept can be applied to a number of different pieces of furniture, like the drawers of dressers or the legs of desks. Feel free to go wild; there's no place better suited to be coated with color than a teenage girl's bedroom. Be bright and bold with your choices, or opt for more subtle and muted shades— either way, contrasting colors are a trendy and fashionable choice when it comes to teen girl room ideas.
9. Coordinate Colors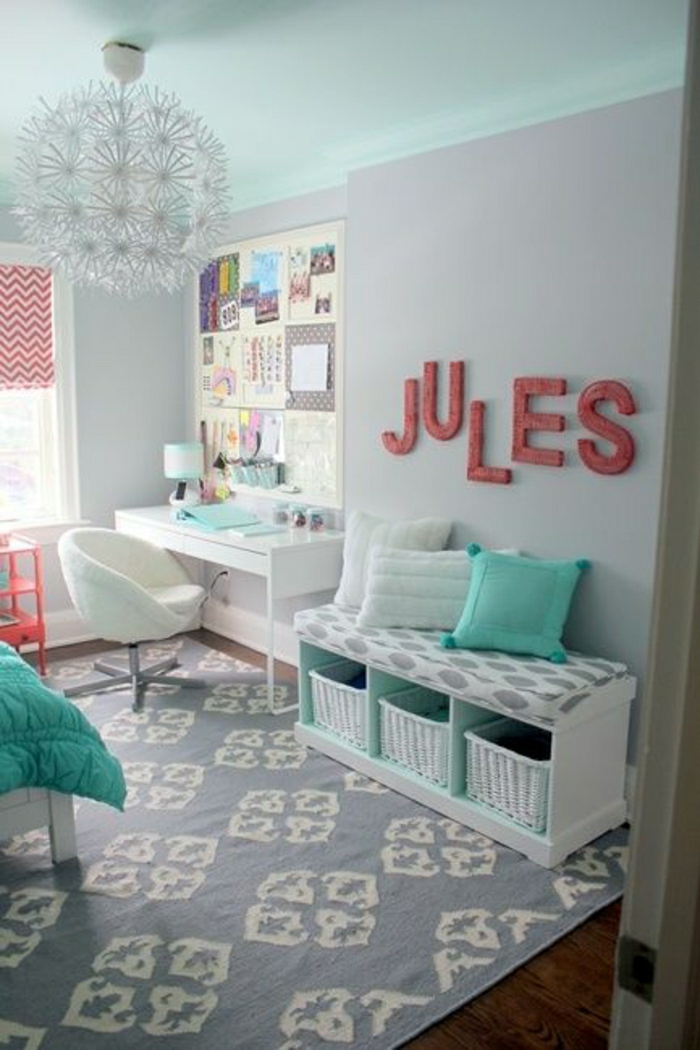 Different styles of furniture and fabrics find themselves part of a cohesive whole in this room thanks to the choice of colors. A gray rug over hardwood floors gives a homey, comfortable feel and, paired with the matching gray of the walls, creates a neutral base on which to build the rest of the space. The small nook is utilized to its fullest as study space with a framed corkboard that reaches almost the ceiling, providing organization opportunities and the ability to add personal touches in a way that doesn't feel cluttered. Complementary colors complete the ensemble, with teal and salmon accents abounding, even extending to the pale teal ceiling. A paper flower chandelier tops off the retro chic space, beautifully curated and sure to please any girl.
10. Dual Purpose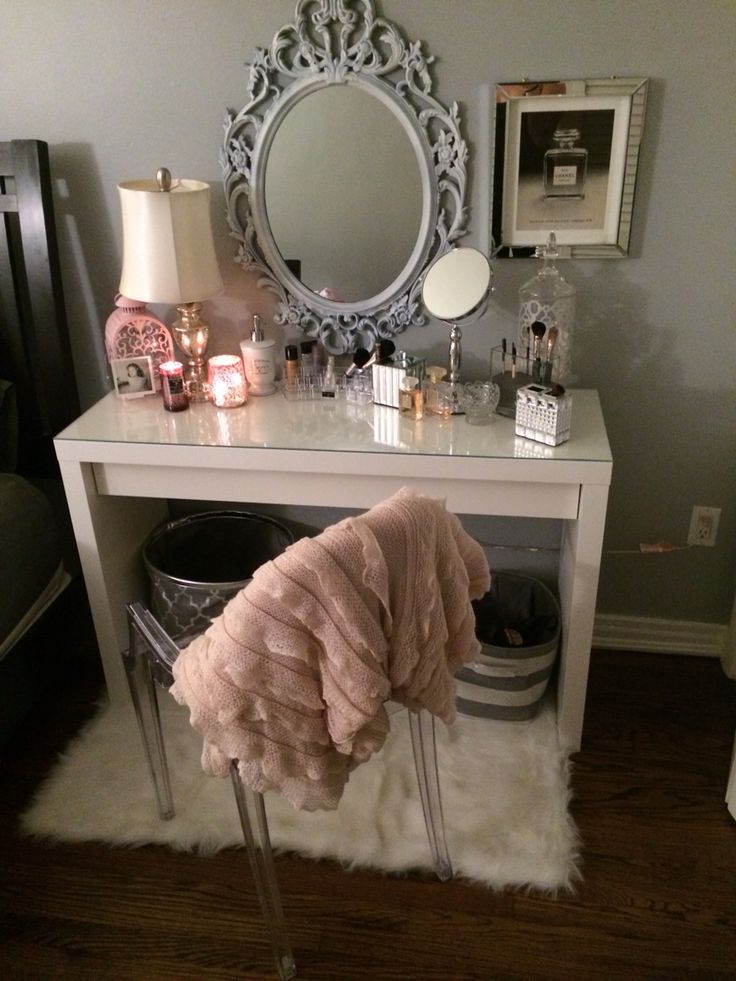 A mounted wall mirror and stowable fabric storage give this vanity a second use as a desk for homework or studying. This is a great choice for a teenage girl's bedroom, as having a separate desk and vanity cuts into valuable room real estate in all but the largest bedrooms. The fluffy fur rug makes the area more hospitable and creates clear definition of where the space begins and ends, turning it into one element of the whole room. A glass top makes for a modern look and pairs well with the clear chair, but also serves a second purpose as an easily cleanable surface for makeup messes or study snack spills.
11. Wear Your Heart On Your Walls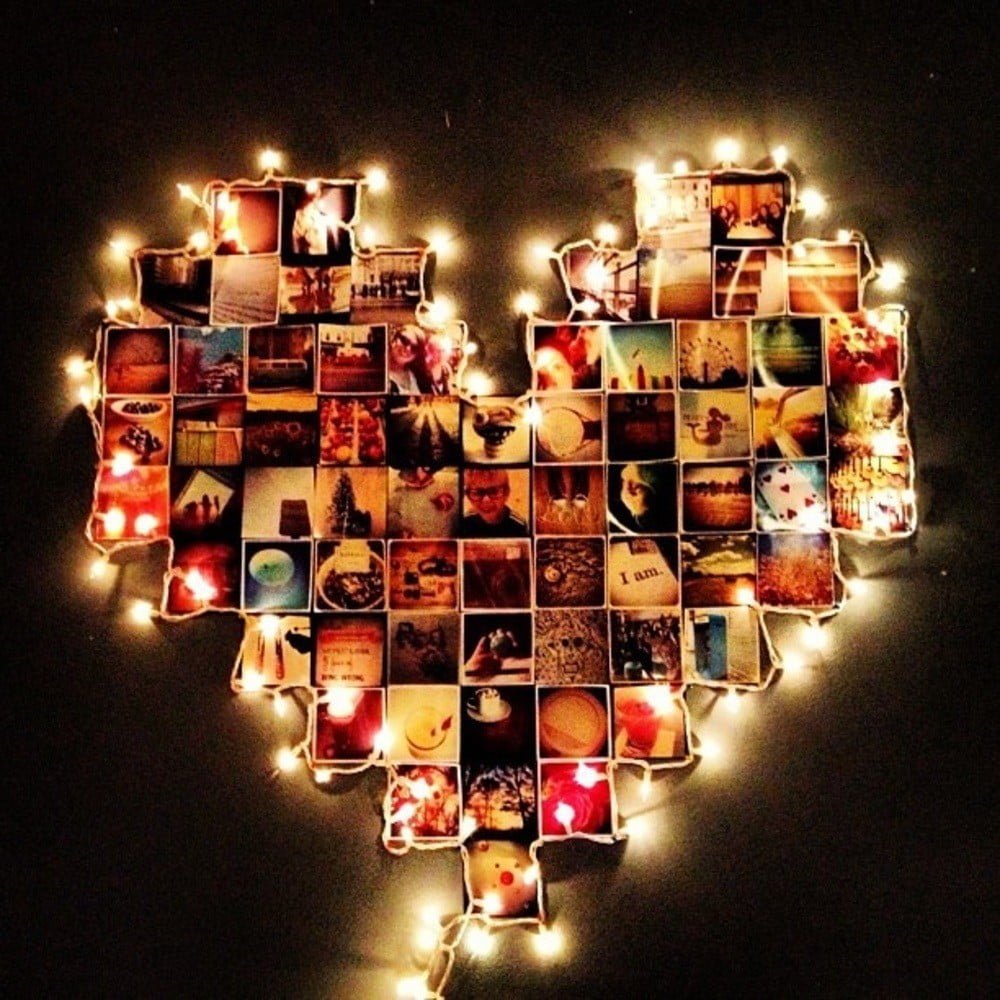 For the teenage photog, displaying favorite snaps is a source of pride that gives a space a singular uniqueness that can't be imitated. This sweet design can be incorporated into many teen girl room ideas and serve as a centerpiece of a space. Starting with a small heart and slowly building it up is a fun and meaningful project to share with friends and family, giving the artwork that much more sentimentality. When completed, make it even more of a focal point by "framing" it with icicle lights, realizing a tangible personification of the warm glow the photos' subjects evoke.
12. Honeycomb Accent Wall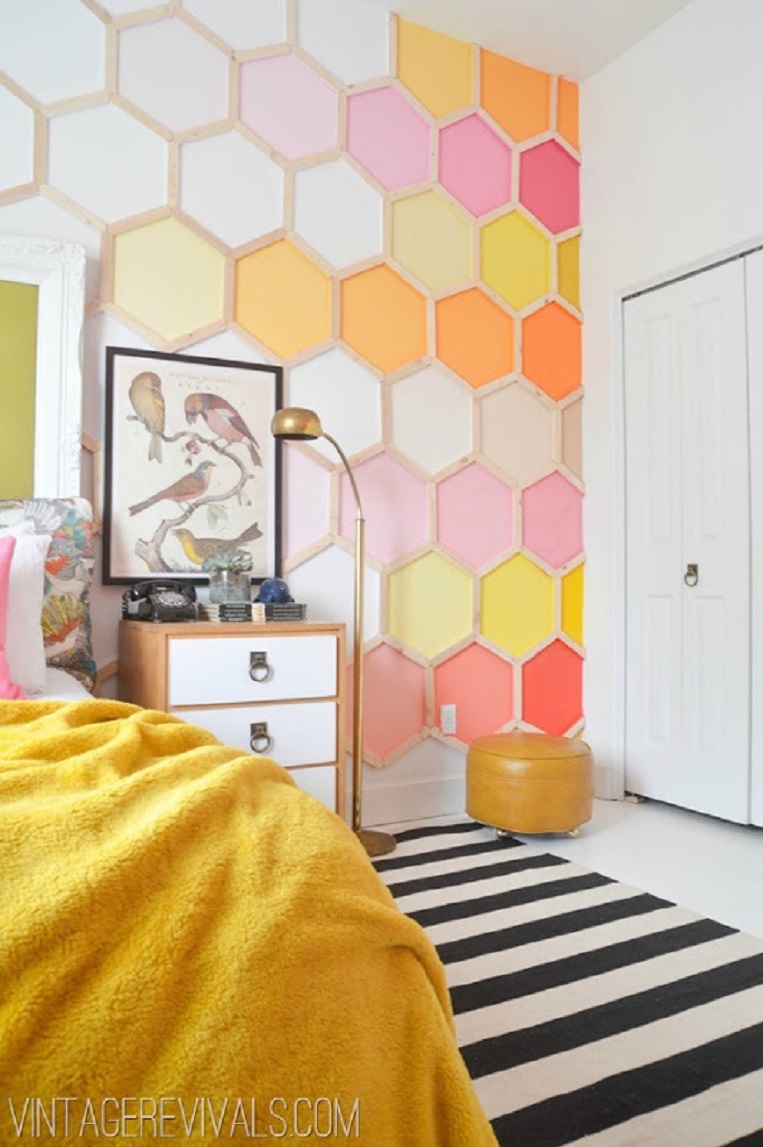 Bee a little eccentric with a wacky honeycomb themed wall. This unconventional design is perfect for a teen girl who wants room ideas that feature lots of colors. A ranging color palette might otherwise overwhelm a room, but done in a funky way like this, a bevy of colors is more quirky than overpowering. The progression along the color gradient from fully saturated to white contributes to this virtue, a technique easily replicated by mixing in increasing amounts of white paint as you move down the wall.
13. Office Space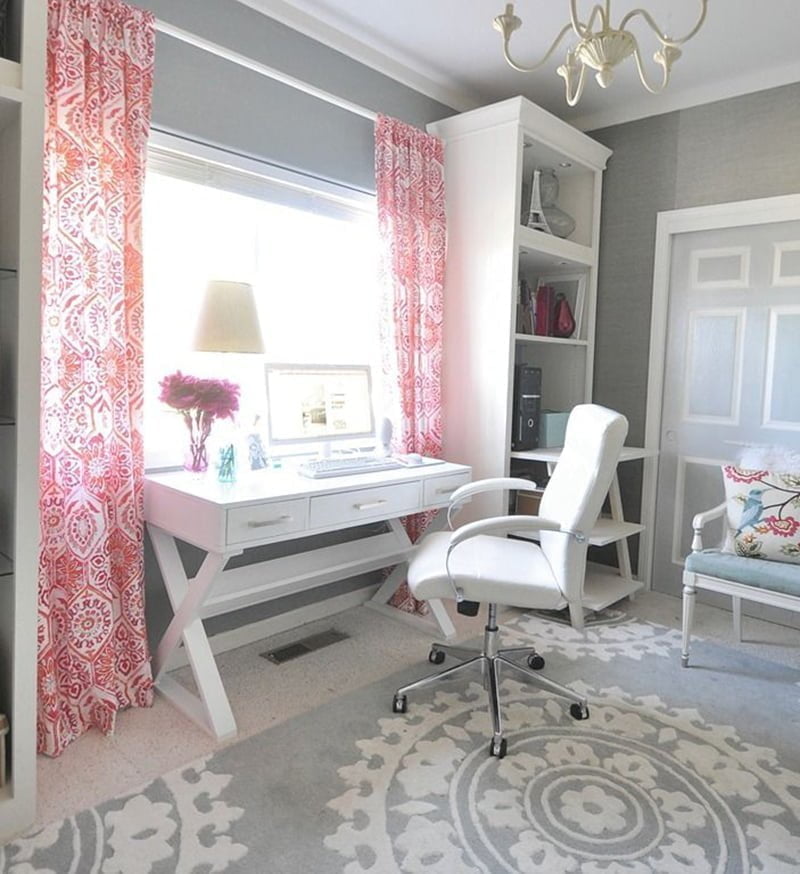 If you've got the square footage for it, aiding productivity can be as easy as including a dedicated workspace in the bedroom. This stylish set of bright whites with pops of pink and blue produces an air of driven focus, while still keeping a cheery, light-hearted vibe. Homework, studying, and research projects beware the powerhouse of teenage initiative that will settle in to pound out assignments at record speed in this gorgeous space. Bookshelves allow for storage of all the learning essentials, and a second, smaller pull-out desk makes it easy to swap between tasks. A comfy chair with fluffy pillows allows for brief respites in between hardcore study sessions.
14. Floral Art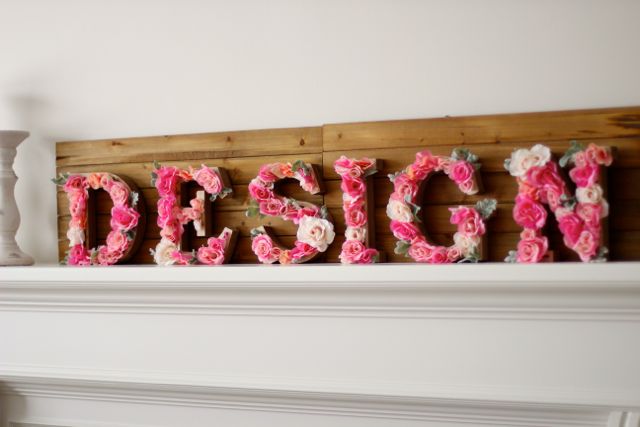 An effortless way to bring color into a stark room is through the addition of flower-based art pieces. These can be made very painlessly at home with scrap wood, plastic flowers, wood letters, and a hot glue gun, letting you take control of the types and colors of flowers employed in your unique piece. Easy to customize brings another positive aspect: making multiple words in different shades and hues makes it simple and straightforward to swap out depending on your mood, the season, or the closest holiday. In a space that's primarily made up of a neutral palette, these delicate and feminine designs bursting with life and color can drastically alter the feel of a room, bringing in a wealth of brightness and joy.
More teen girl bedroom design ideas on the next page…