Thanksgiving decor ideas don't have to be difficult to come by. Generally, some useful supplies to keep on hand include wooden materials such as wood pallets, wood cut out shapes, and wooden blocks. No Thanksgiving decorations are complete without a generous supply of silk or paper fall leaves on hand. These can be pre-strung or loose for the decorator's needs. Numerous printed papers are also part of a prepared DIY enthusiast's stash.
Gorgeous Thanksgiving Decorations that are Perfect for the Holiday

A variety of prints and patterns, especially in fall colors such as brown, red, crimson, yellow, gold, and orange are appropriate for the holiday. Accent colors like blue and white should be kept on hand. Finally, an assortment of candles, candle holders, frames, paints and ribbons round out the basic supply cupboard for those looking to create some gorgeous decors. Here are 45+ easy, fun, and beautiful Thanksgiving decoration ideas that provide numerous options for anyone.
1. Rustic Wooden Lanterns and Plenty of Pumpkins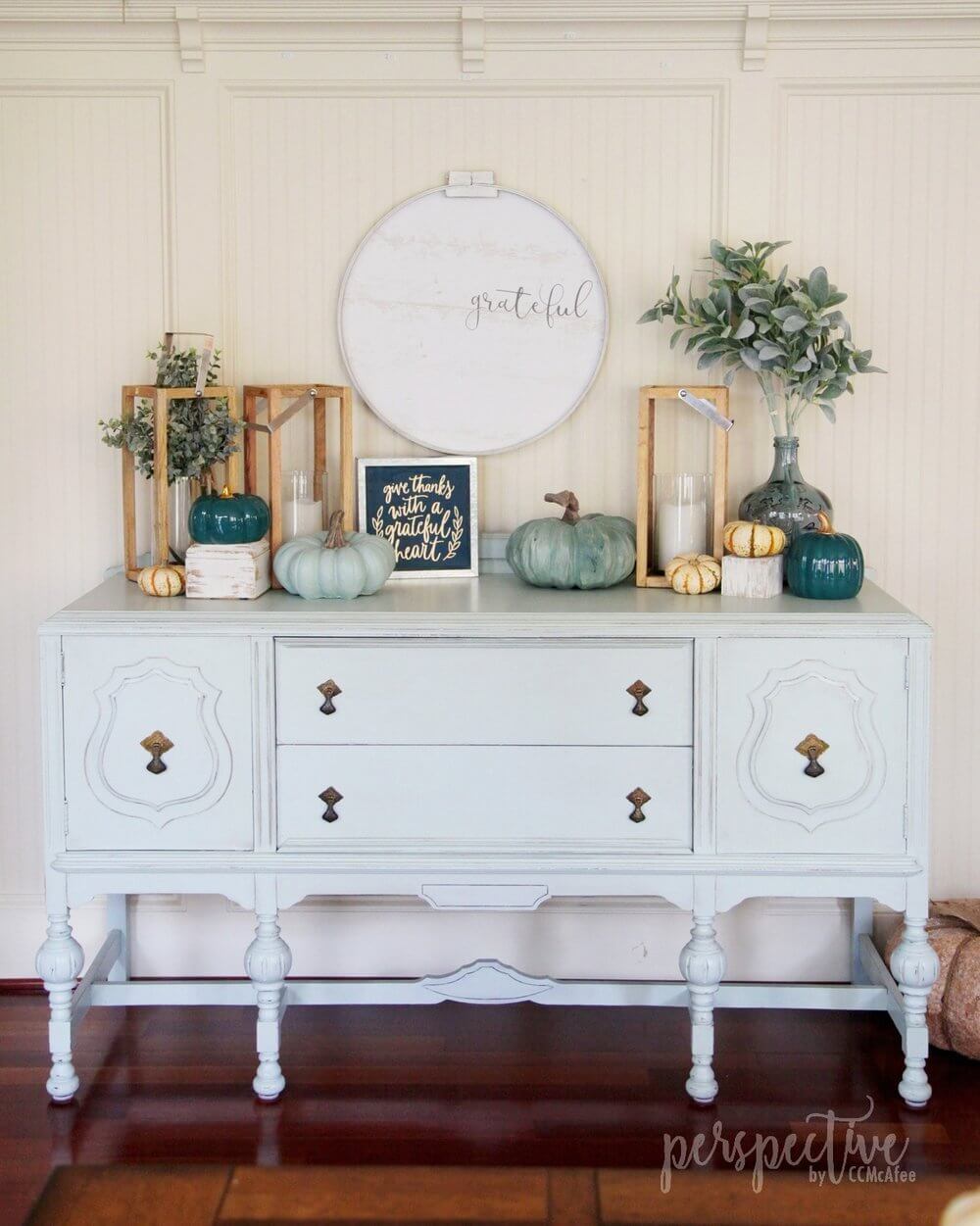 Welcoming your family to the feast is fun with some simple and versatile fall decorations. Line up a gorgeous display on your old wooden buffet to let one wall be the showstopper of your home decorations this Thanksgiving. The arrangement of simplistic and rustic wooden lanterns can be filled with sprigs of eucalyptus or traditional candles. They look amazing set amid a variety of pumpkins in different colors and sizes.
2. Copper, Antlers, and Leaves Fall Themed Mantel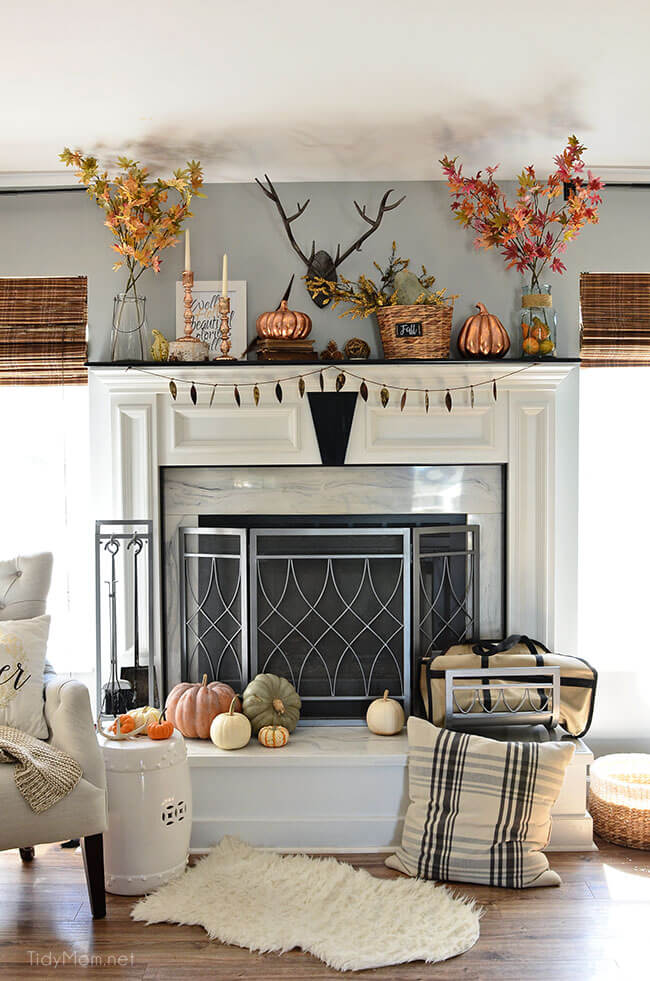 Bring some of the season's most loved colors and activities into your living room by displaying them along your mantel. At the heart of your home, you'll enjoy looking at the bright, metallic copper pumpkins alongside the large glass vases filled with sprigs of red and yellow leaves. Securing the backdrop is a small set of antlers that gives a nod to the thrill of a fall hunt. To round off this autumn awesomeness, place a simple leaf garland to hang across the bottom and finish off your look.
3. Cream and Pumpkin Bounty Bouquet Centerpiece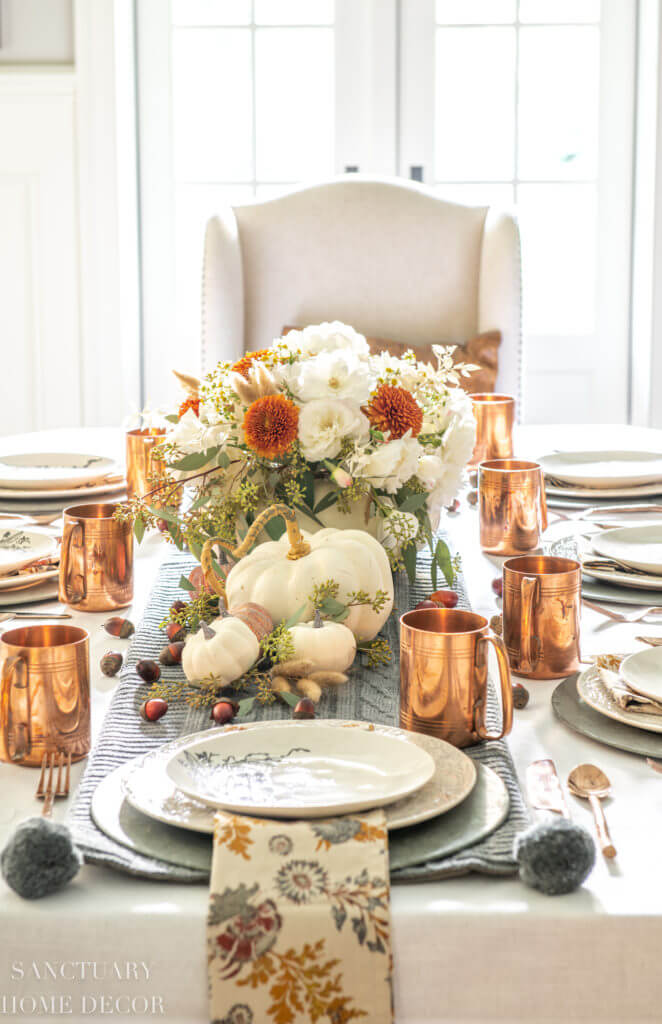 Make some new memories with your cherished family and do it in style with this gorgeous fall centerpiece. Your Thanksgiving feast will be surrounded by beauty and love when you incorporate this stunning table runner down the middle to act as the foundation for your beautiful display. An overflowing bouquet of creamy and pumpkin-colored flowers further adds to the beauty of this season. Copper mugs take the style level up a notch and are just as practical as they are pretty!
4. Elegant Evergreen Thanksgiving Holiday Tree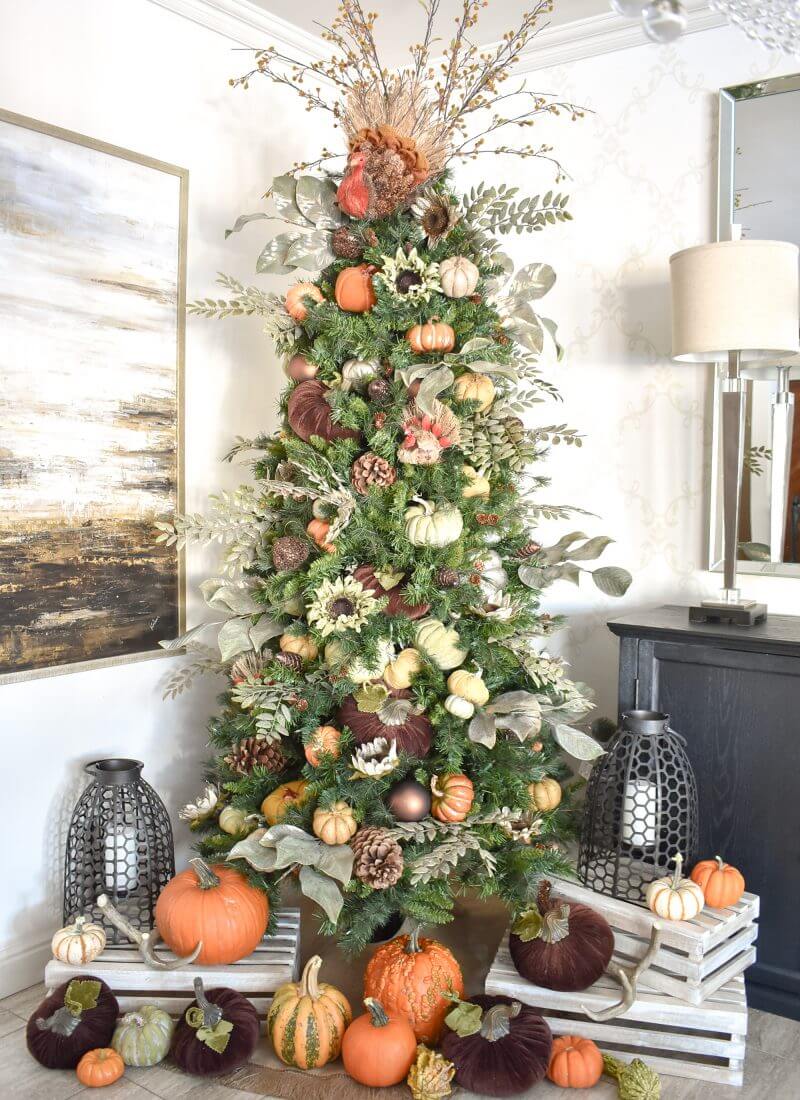 Who says trees are only for decorating at Christmas time? Why not nestle this stunning evergreen in a corner of your home and fill it with pumpkins, pinecones, and dried flowers to achieve a realistic autumn masterpiece that easily takes you from September through Thanksgiving. This is a great way to prepare for the big Christmas season that looms right around the corner.
5. Amber Waves of Grain Fall Display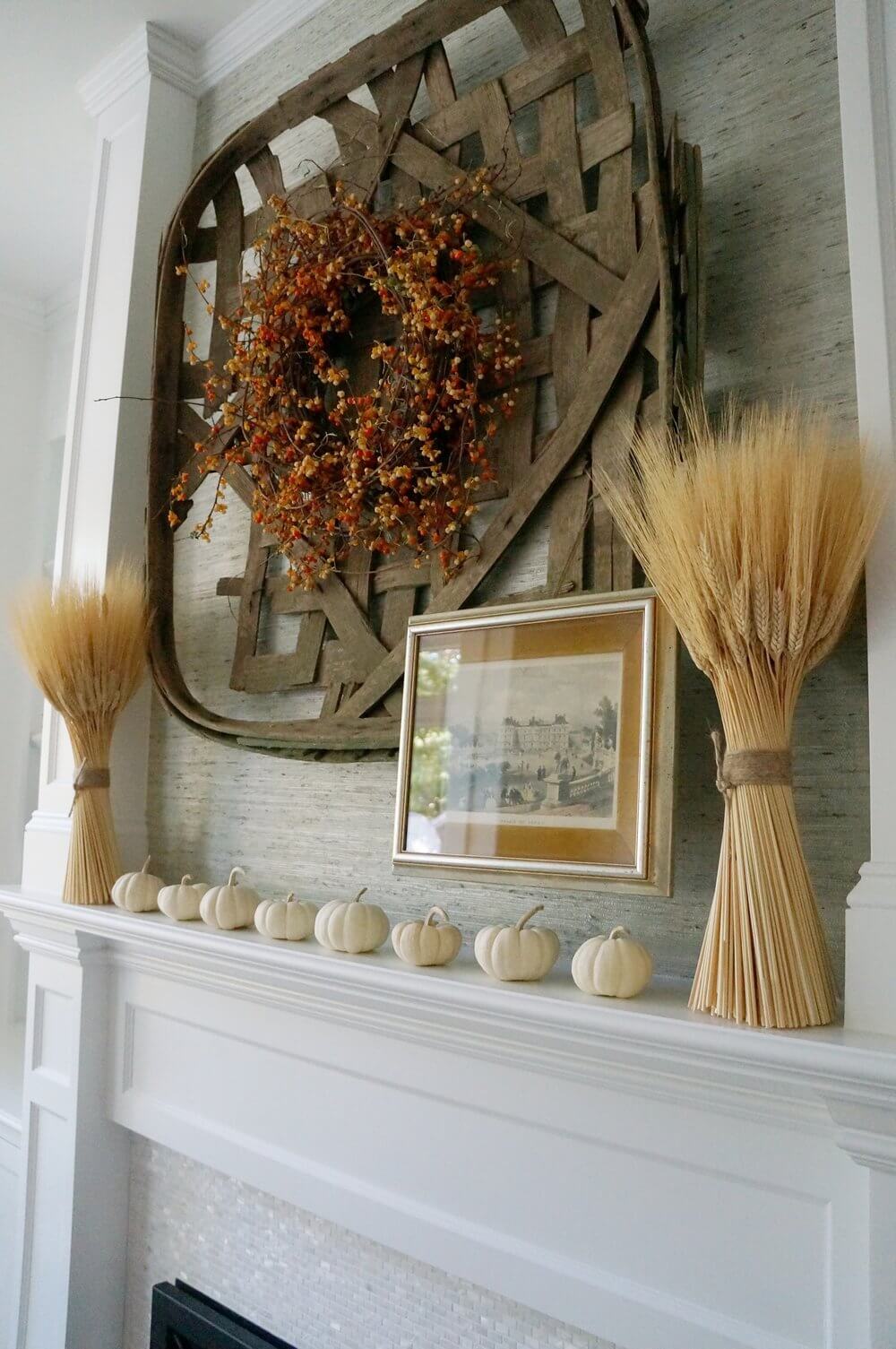 Pay homage to some of the beauty in America by adding a pair of these bundled grain decorations to your fall home decorating mix. A line of creamy white miniature pumpkins makes a cute accent to your mantel nestled between these amber waves of grain. Complete the look with a rich and vibrant bittersweet wreath to add some more texture and a pop of color to your design.
6. Fill Your Life with Thanks and Giving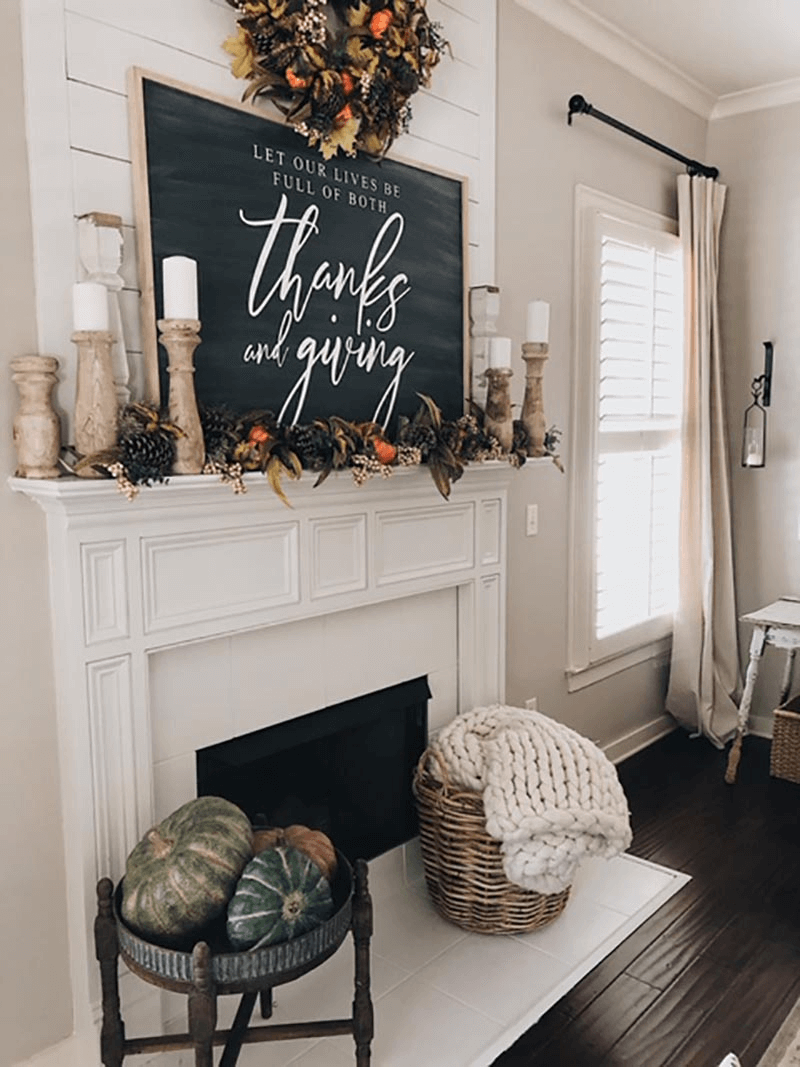 You can make your home feel both elegant and comfortable with the right combination of cozy fall decorations. From the oversized cream-colored crocheted throw to the concise arrangement of seasonal goodies resting on the mantel that coordinate with the wreath, you can achieve autumn elegance while you cuddle up with a good book. Displaying a large black and white sign written in beautiful script, you can remind everyone to appreciate this time of thanksgiving.
7. Elevate the Elegance Outdoors with Plaid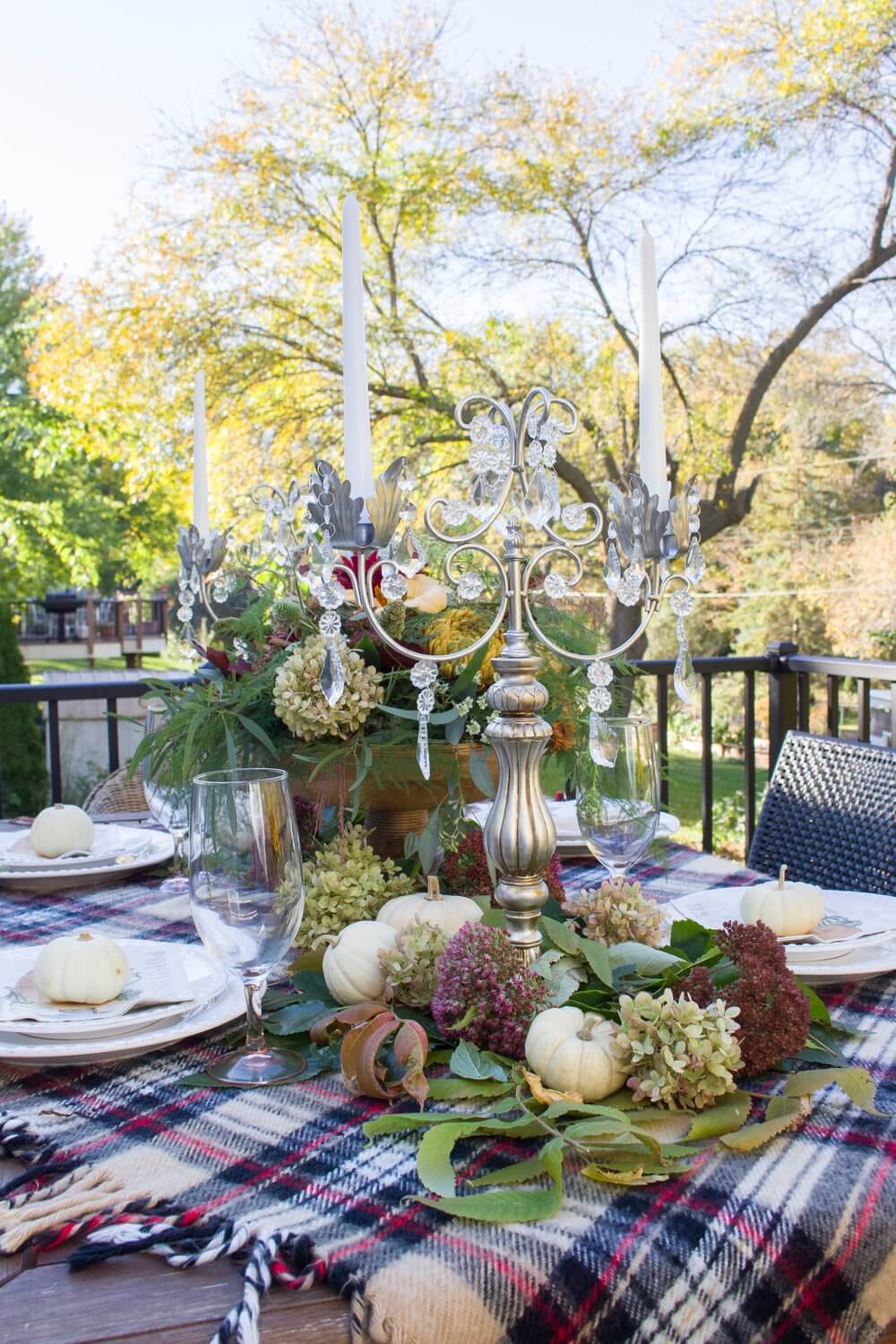 No need to keep all the family gatherings under a roof. Create a lovely outdoor dining experience that mixes the best of both worlds. Ground the look with a fall-loving plaid tablecloth and let the fun begin. Beautiful candelabras boasting crystals will effortlessly channel the sun's warm glow to gussy up your mealtime experience. Intersperse some pumpkins and loads of fall flowers and foliage to create the unique tablescape that invites your guests to relax and enjoy!
8. Traditionally Elegant Fall Home Decor Inspiration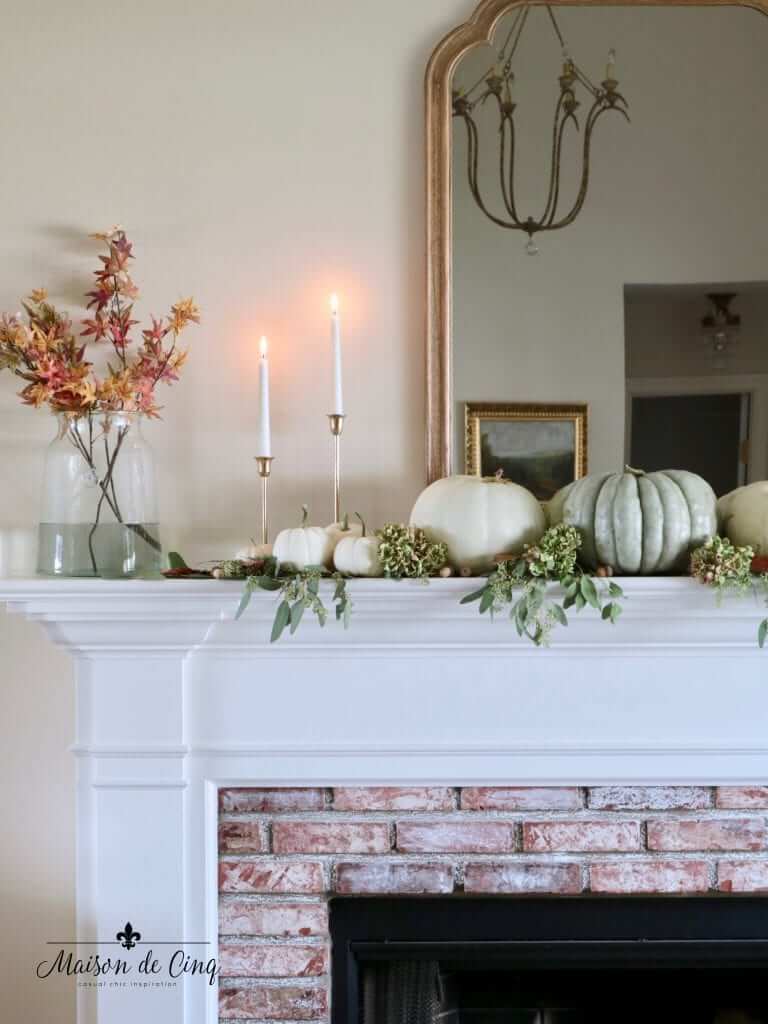 Dressing up your fireplace for the season is one of the best ways to work some magic into your home decor. On top of the mantel is an easy place to change in and out of the colors and elements that are synonymous with fall. A collection of plump pumpkins in white and green looks festive without too much bold color. Placing a set of thin candles aglow in the mix really adds to the interest in this display.
9. Cozy and Thankful to Be Home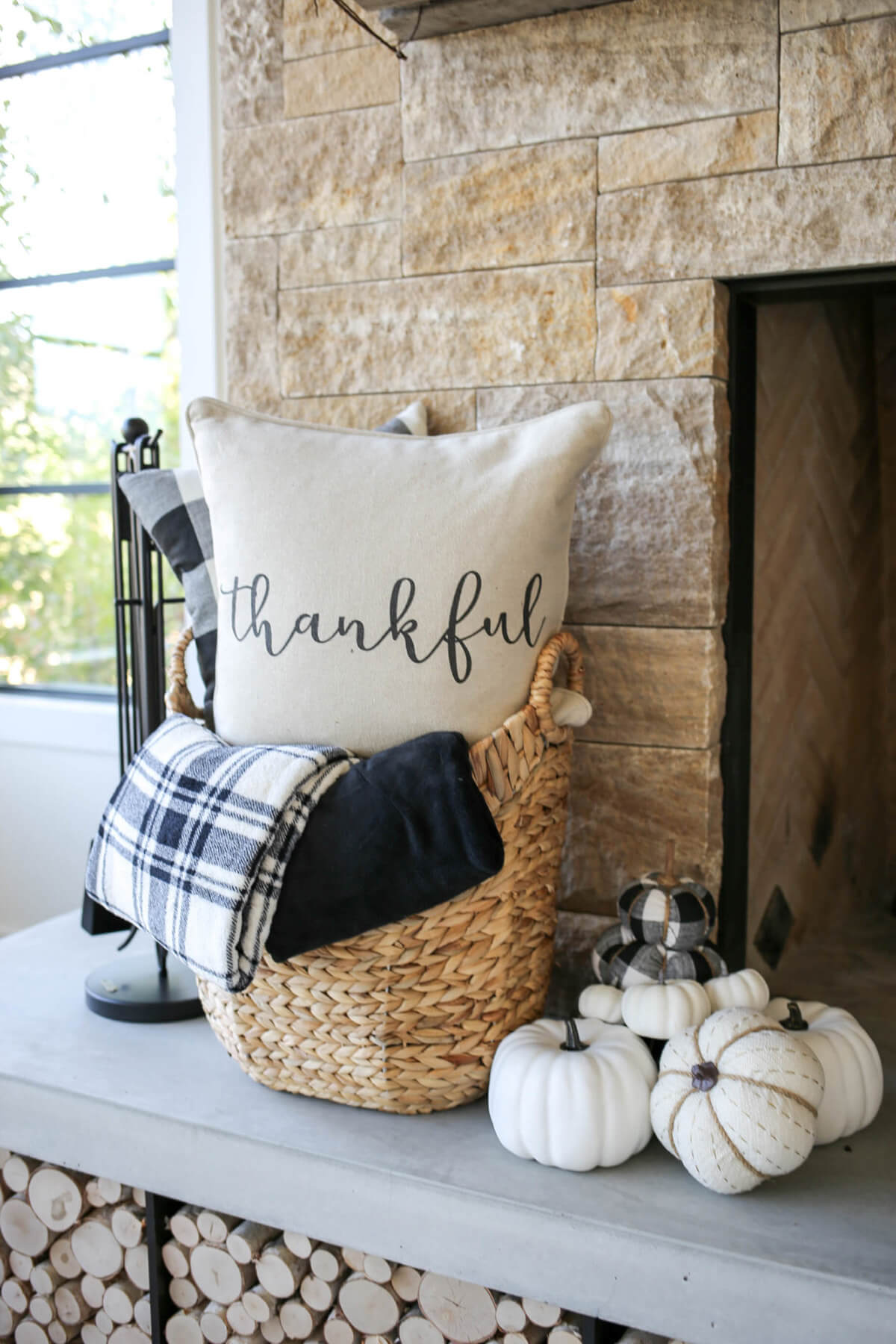 Enjoy the comfort your home has to offer by choosing a few cozy throws and a fun pillow to enhance the atmosphere of your home this fall. With the falling of the leaves comes cooler temperatures and makes warming up to the fire even more alluring. Create a basket of these go-to items to keep within reach and add a little cozy comfort to your space.
10. Wood and Letter Board for the Win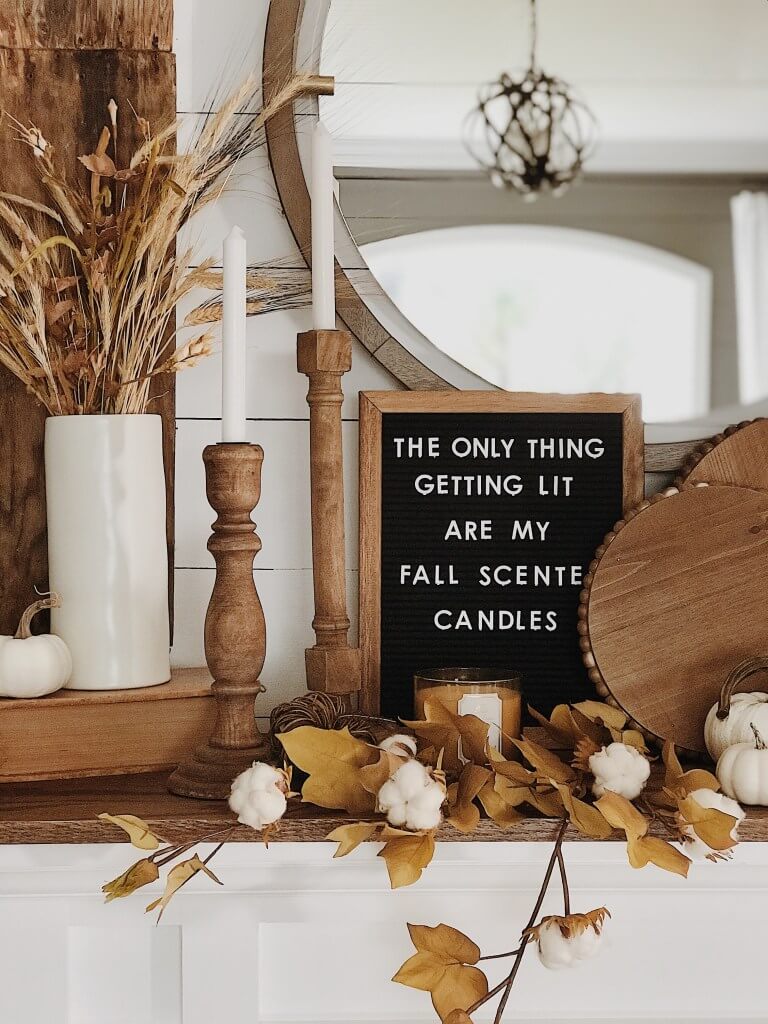 Make your home a favorite fall hangout by adding some earthy, brown wooden pieces into your design. From a framing on a mirror to the decorative candlesticks and circle cut-outs, you can't go wrong with this natural element. A white shiplap wall provides a perfect backdrop for these caramel-colored items and the letter board is an easy way to add some humor to the mix.
11. Yarn Pumpkin Filled Wooden Bowl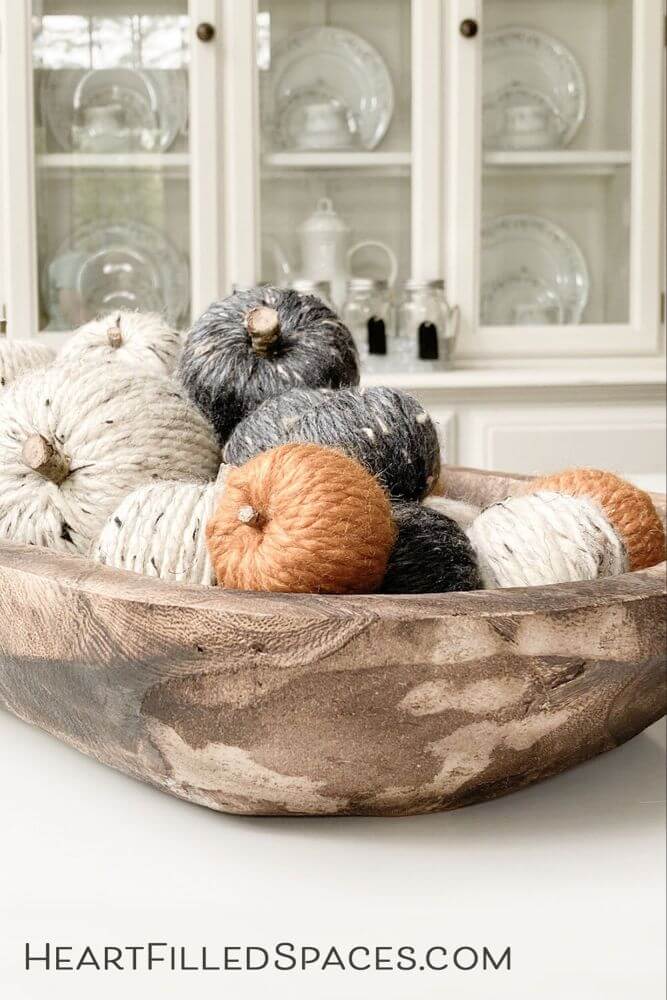 This large and in-charge wooden bowl is tremendously functional and practical. From a harvest of freshly picked apples to these cute yarn pumpkins, your heart's desire can make itself at home in this bountiful bowl. Rest it on your kitchen island or use it as a quick centerpiece idea to meet your needs.
12. Give Thanks for the Love of Family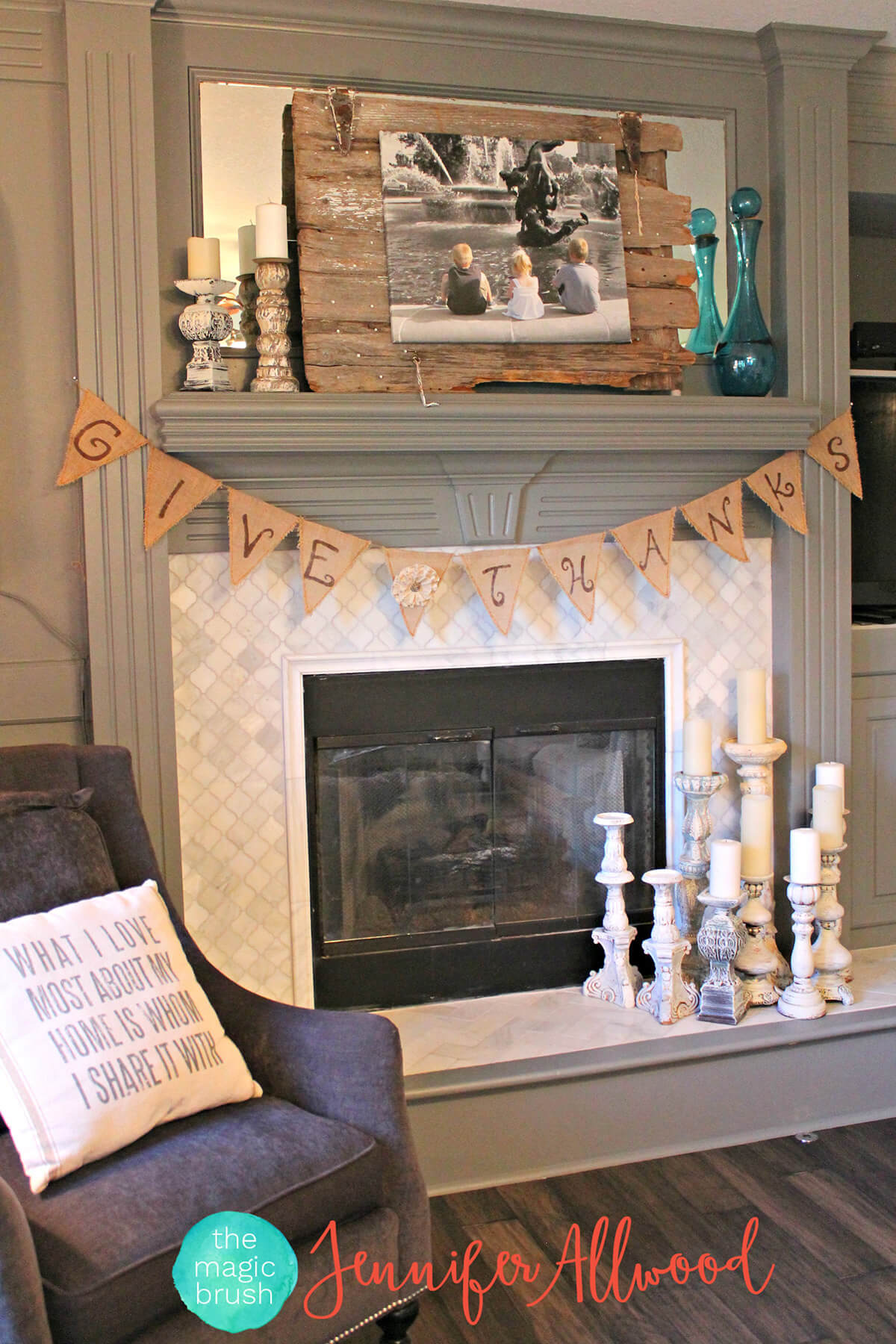 Enjoy the comfort and love of the ones nearest and dearest to you in this rustic fall home decoration display. Cuddled up around the fire, you'll delight in the family photo set on an old wooden half door. Across the mantel, a "Give Thanks" pennant garland adds a fun and happy touch. And the collection of candlesticks makes an interesting display and can provide alternative light when you don't need to start a fire.
13. Pottery with Wooden Lid Fall Table Accents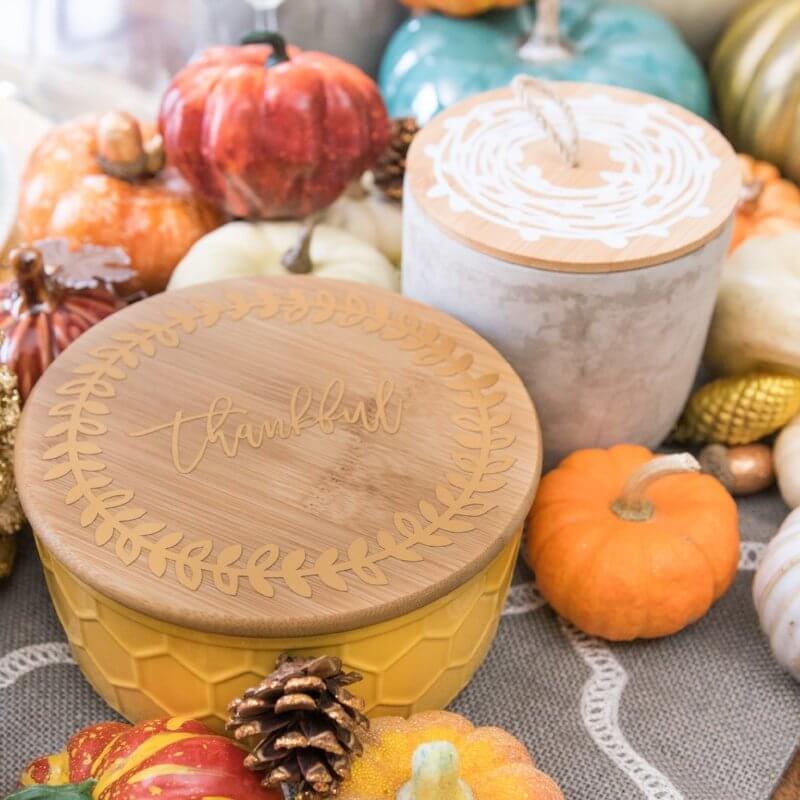 Gorgeous honeycomb and buttery yellow pottery bowls are cute and help warm up the tablescape in your home this fall. With a wooden lid featuring a leafy ring around the word "thankful," this dish is perfect for holding your favorite candy corn sweet treats. Add another pottery piece with a marbled design and wrap the duo in a maze of many pumpkins of all colors and sizes.
14. Tons of Texture in Fall Pumpkin Design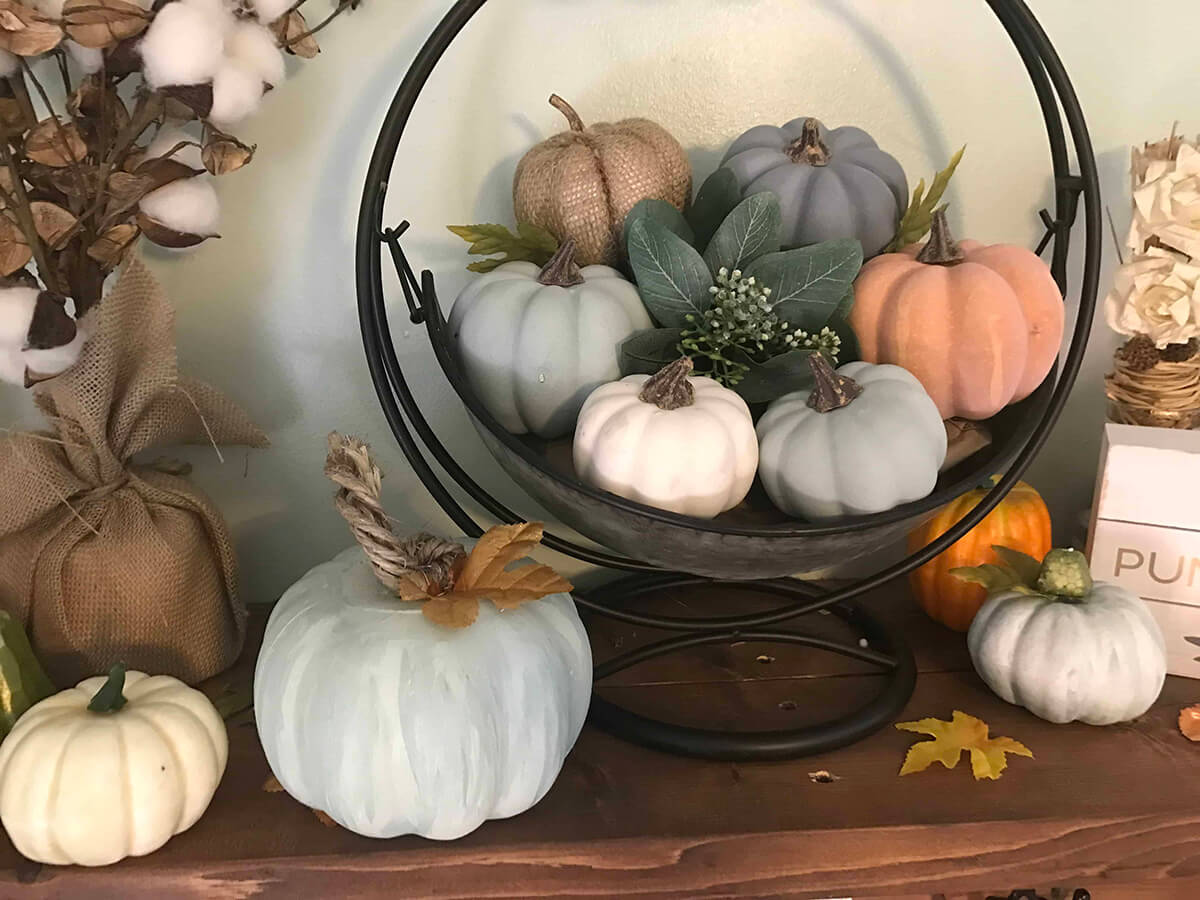 Pumpkin is the word and icon of this season so let your decorating heart go wild! You'll find creating a collection of textured treasures makes for a dynamic display. With real stems and ones created from twisted twine, the smallest details make the biggest difference in your decor. Group them all together or spread their love around the room to achieve the look you crave.
15. Turkey Silhouette Hand Painted Sign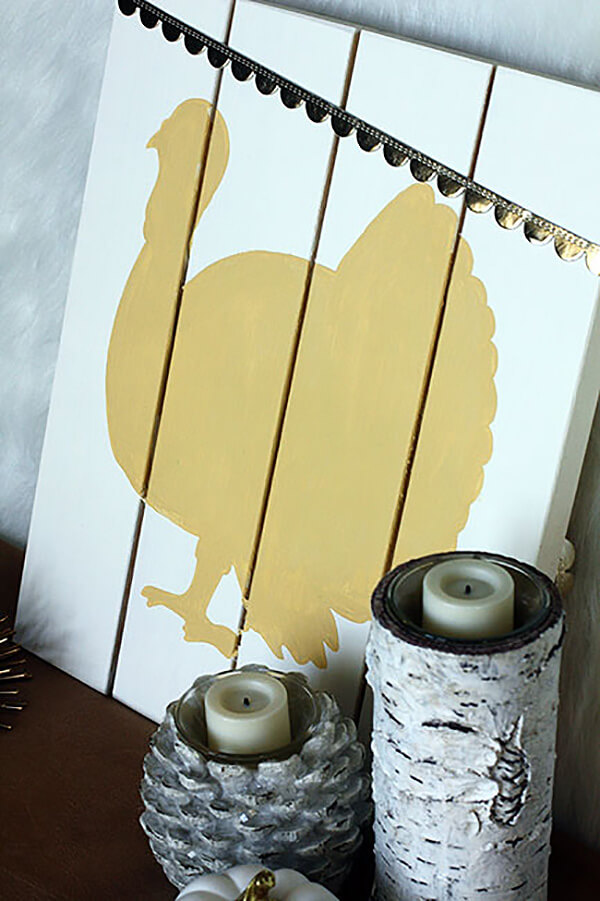 The featured guest of honor during your Thanksgiving feast certainly deserves a little credit, so why not honor it with this hand-painted silhouette sign. Set on a white picket fence inspired canvas, this toffee colored turkey silhouette is perfect for your family meal. Hang it on the wall or prop it up on a side table to enhance your mealtime festivities. A couple of candleholders designed like a birch branch and a pinecone round out a natural and woodland themed arrangement.
16. Dress Up Your Staircase Corner this Fall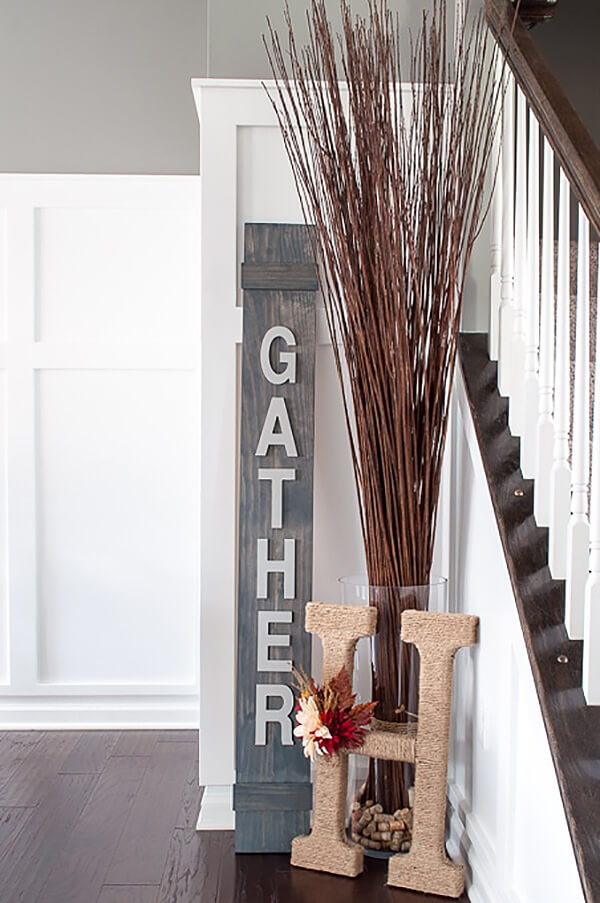 Add a tall and slim "Gather" sign to your home this fall as you dress up the little corner near your staircase. Don't let any space go unloved this season as you can add a little love with just a few personal touches. The large twine-wrapped initial of your family's surname is a great way to take ownership of this space and add a little texture all at the same time.
17. Butcher Block Paper Tablecloth Fall Table Design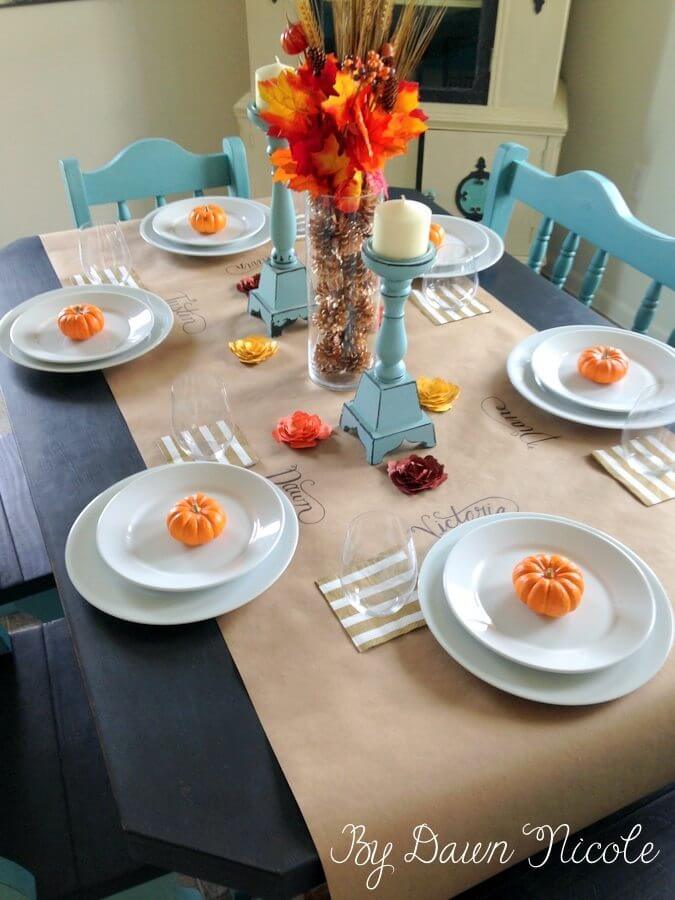 You can't go wrong with the basics. Create a fun tablescape for fall by starting with a rolled out piece of butcher block paper that allows you to casually seat each guest. To hold the paper in place and add some pretty vibes to the scene, a set of wooden candlesticks with taper candles next to a tall glass vase of leaf branches adds both height and style to this design. A mini pumpkin at each place setting is cute and affords a fun favor for everyone.
18. Red Fox Happy Thanksgiving Sign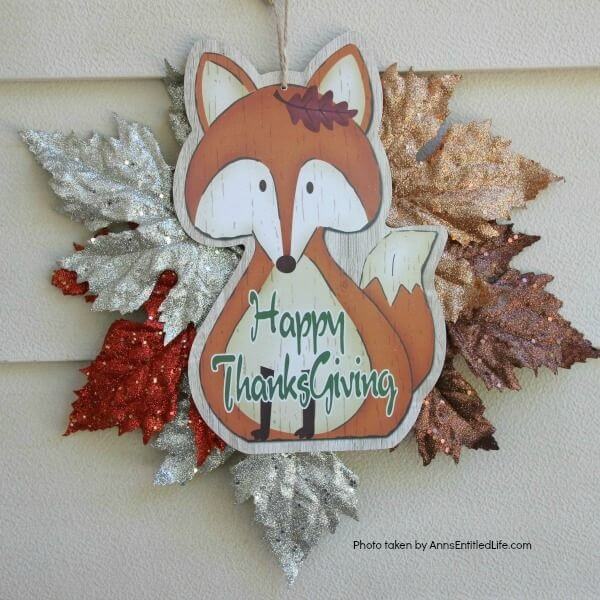 Add some friendly fox fun with this cute little Thanksgiving sign. Adorned with a spray of glittery and gorgeous fall leaves, this little sign would look great hanging on your front door or on an interior wall. Place it in a kid's room to add a little touch of the season in their personal space especially if they have a woodland themed room.
19. Golden Gather Thanksgiving Time Sign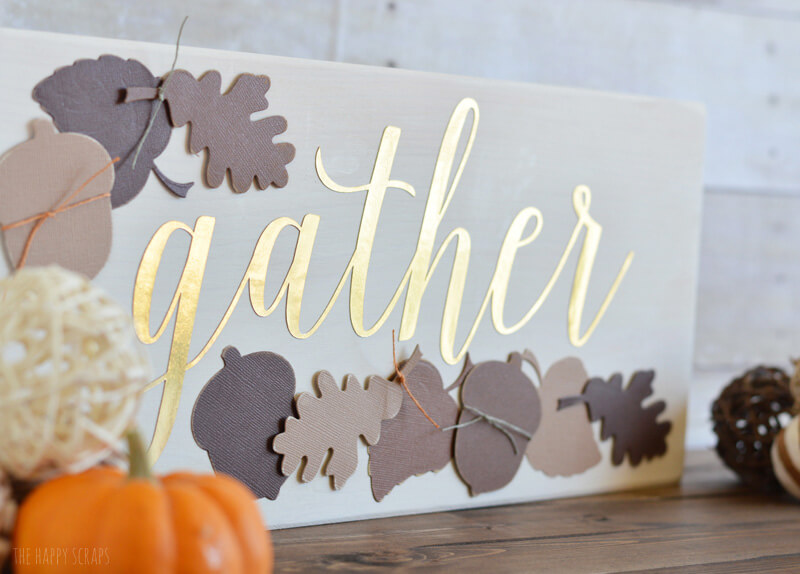 Bring some bright and shiny accent into your Thanksgiving scene. Leaves and acorns trim out this "Gather" sign to showcase some of the season's friendly mascots. This small sign can easily be used on a windowsill, side table, or as part of a larger display on your dining room table to the family hearth.
20. Red Orange Berry Wreath on a Mirror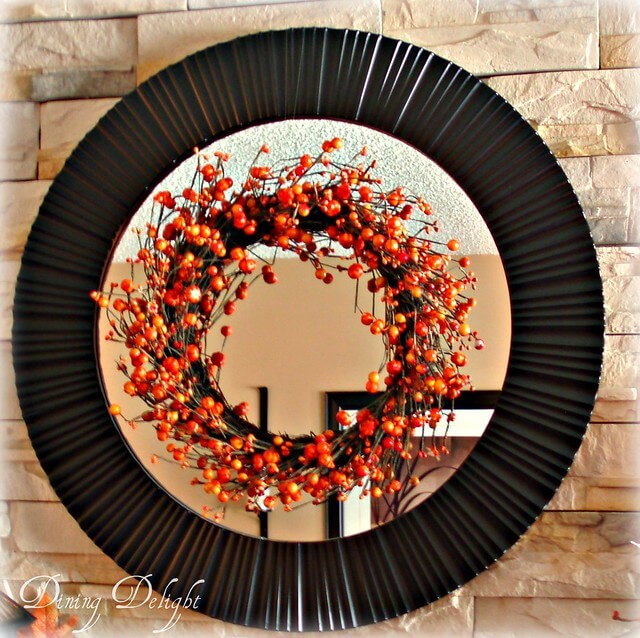 Layers always add dimension and visual interest to a design, so jazz up your round mirror with a seasonal wreath. For a gorgeous autumn idea, use a berry wreath featuring the warm and rich reds and orange tones of the season. Any hints of brown or yellow tones around the room will be drawn out by the warmth of this wreath's color palette. Above your fireplace or in your hallway, this wreath mirror idea is a top contender in first place fall decor.
21. I Am Thankful For Clothespin Wreath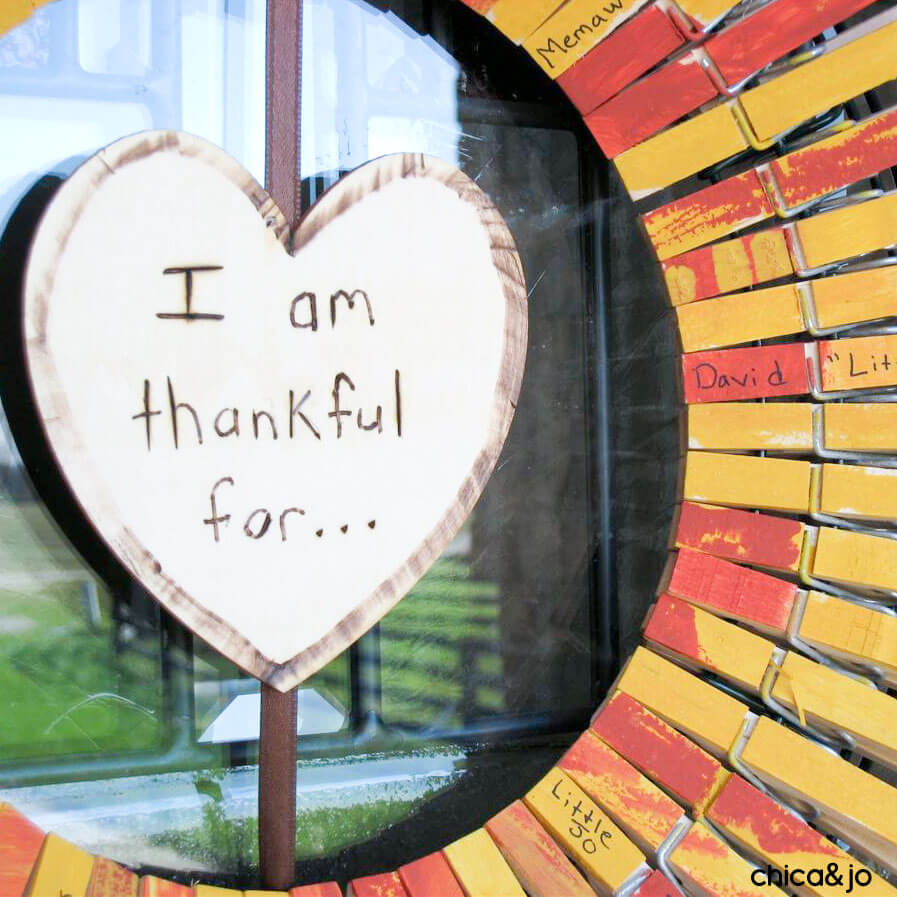 Count your blessings this season in a fun family activity. Grab some paint and clothespins and dedicate a wreath overflowing with thankfulness for your front door this fall. Give each family member five pins and let them construct their own top 5 thankful people and/or things in their lives. Arrange them in a circle to create this unique wreath loaded with lots of love. The creators of this clothespin wreath are the original creators of the clothespin wreath concept. They came up with the idea and this one was actually the very first clothespin wreath to ever hit the internet.
22. Stenciled Burlap Clear Plate of Thanks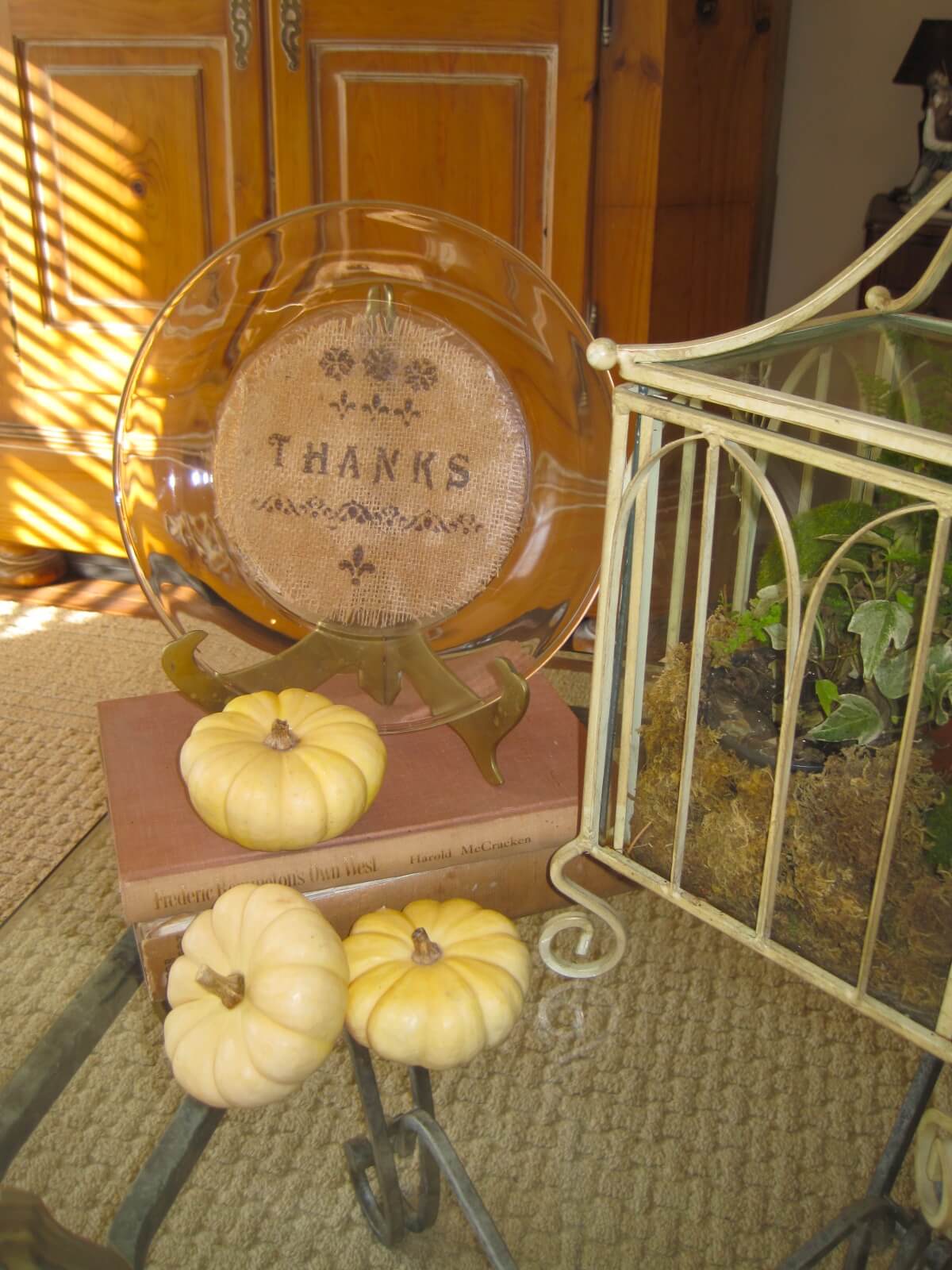 Create a unique and budget-friendly new piece of decor for your home this harvest season with this stenciled burlap plate. Grab a clear plastic plate to use as the foundation to hold this circle slice of burlap. Add your own touch with some fun stencils like leaves, decorative swirls, or flowers and center them around a favorite word like "thanks" pictured here.
23. Snuggle Weather Vintage Truck Tiered Tray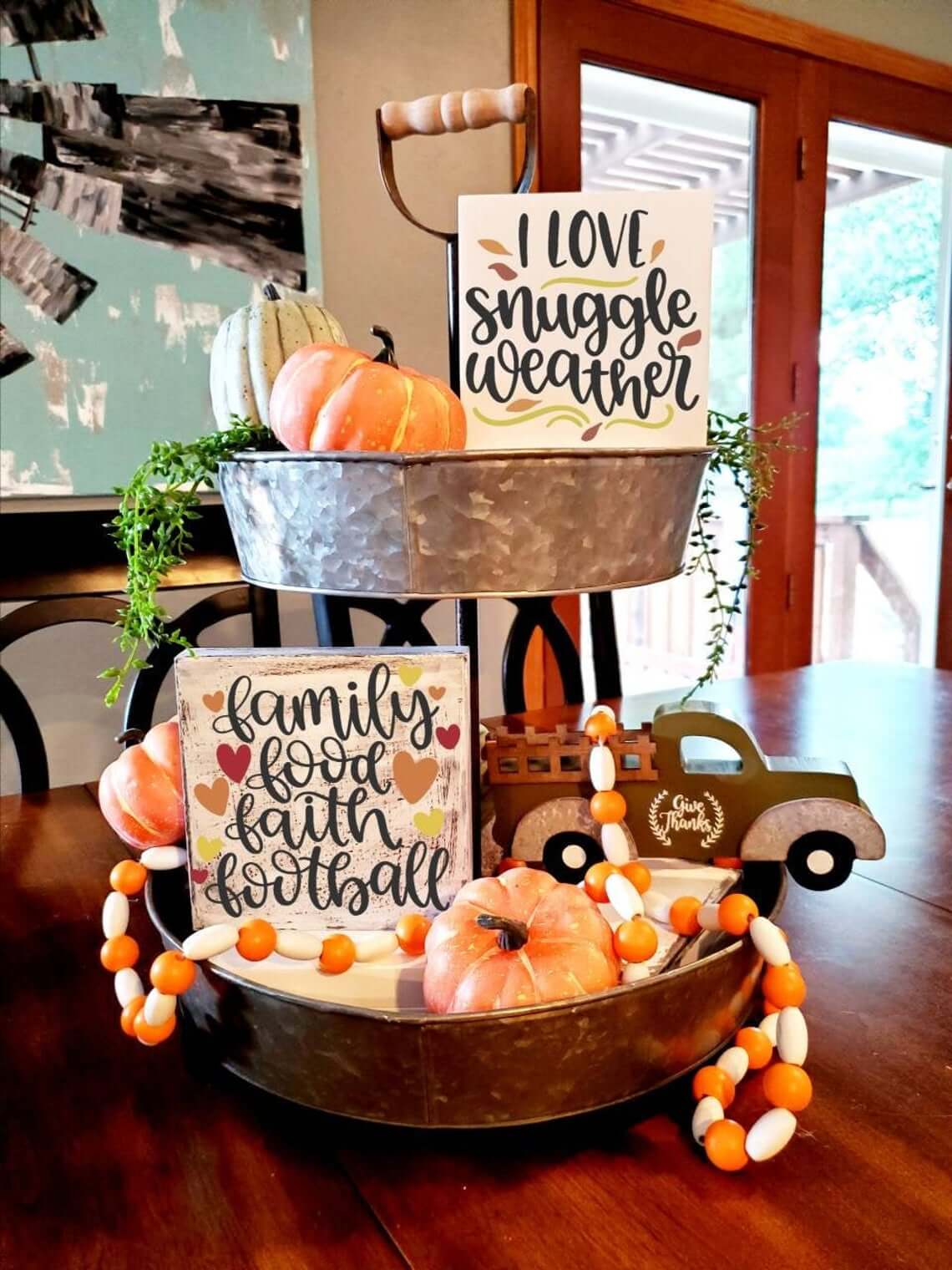 Check out this super cute and on-trend tiered tray arrangement. A fun vintage truck looks great parked right in the middle of your own miniature pumpkin patch. Don't forget to include a quirky small sign or two to give some personality to your tray. One that highlights snuggle weather or the four favorite "f" words featured in fall, these little accessories are just the right touch to add to your tiered tray right now.
24. Amber Glass Vase of Fresh Picked Bittersweet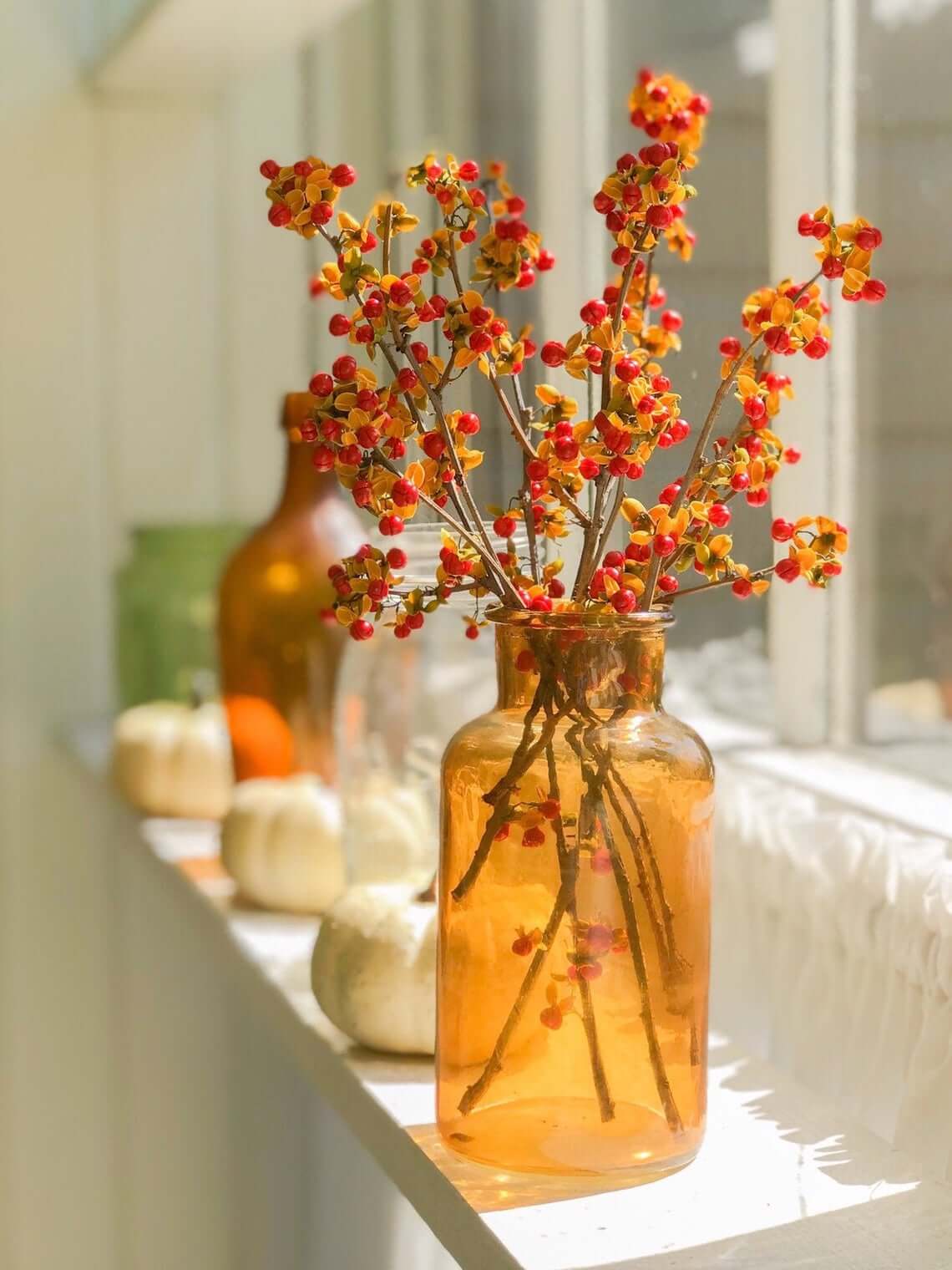 If you head into the woods during the season we all know and love, you'll find some signs of fall. From grapevines that make great wreaths to these stunning and vividly colored bittersweet bushes, you can fashion some amazing fall decor pieces from these natural beauties. Set several sprigs of this rich red-orange bittersweet into a glass vase to add some of the fall's most loved colors into your home.
25. Thankful, Grateful, Blessed Mini Pumpkin Trio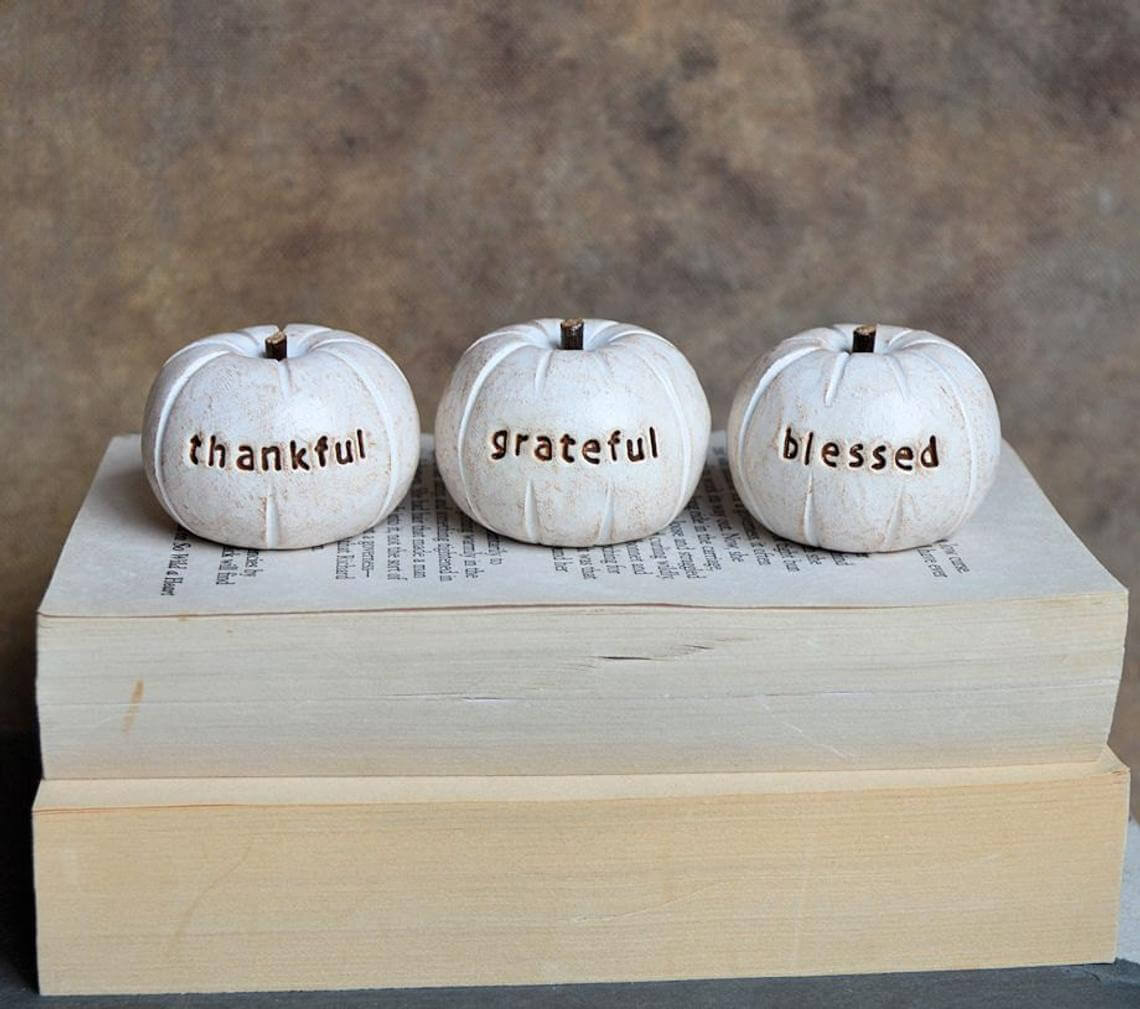 Even if you're short on space, you can add this charming set of pumpkin triplets into your home's fall decor. Emblazed with a passionate and sentimental word, each tiny white pumpkin packs quite a punch in a small package. Arrange them side-by-side as a complete set or spread them out around the room to put a little humble honor into every corner of your home.
26. Gather, Thankful, & Blessed White Pumpkin Tablescape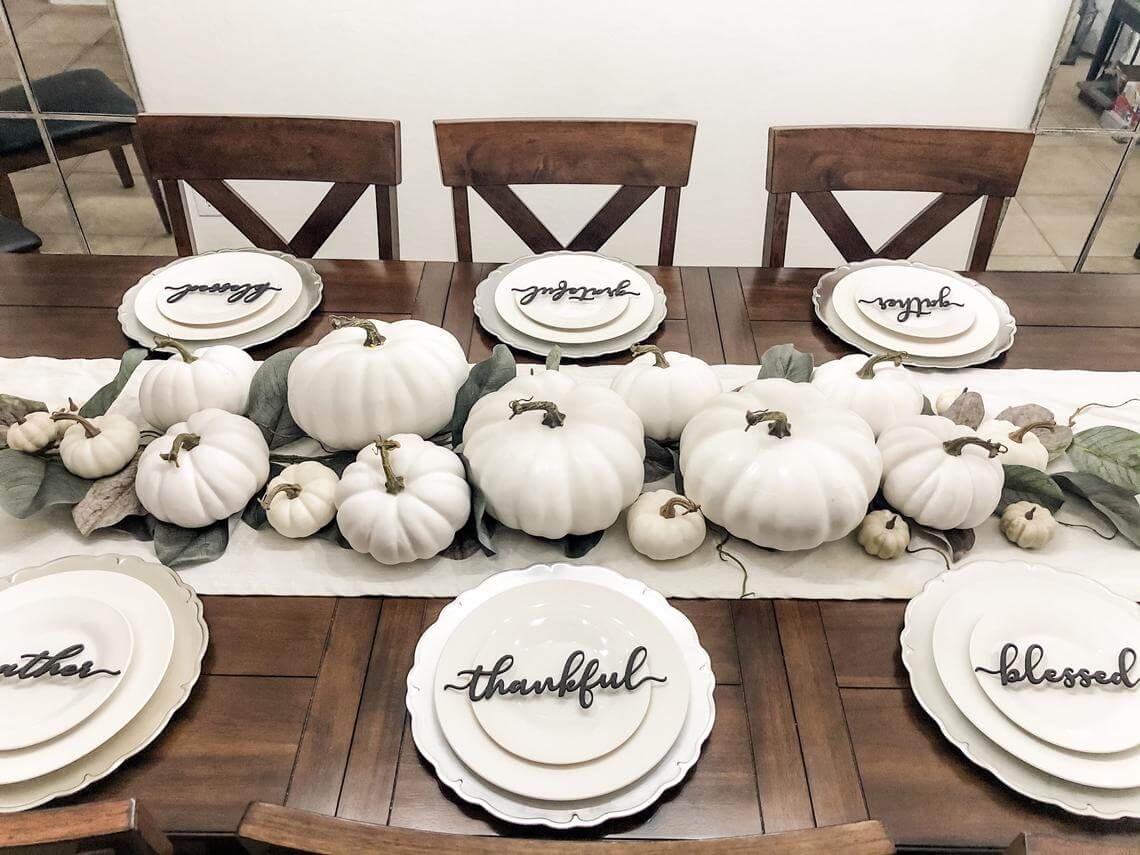 Line up a gorgeous collection of white pumpkins down the center of your dining room table to instill some neutral fall beauty into your Thanksgiving holiday scene. Each polished and pretty place setting features one of three words of appreciation to connect our hearts and minds during this time of thankfulness. Everyone will enjoy this well thought out and gorgeous table arrangement as they indulge in some home-cooked goodness.
27. Give Thanks Bold and Beautiful Fall Garland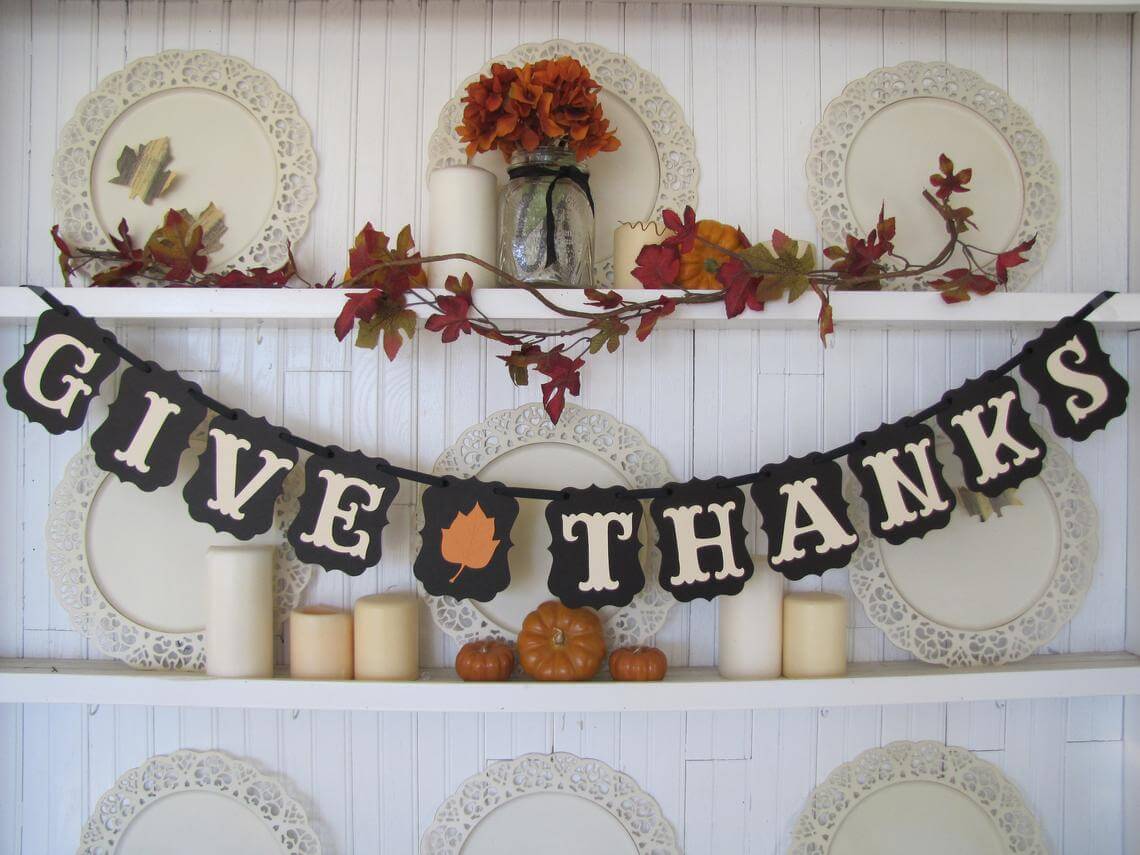 Add a little swag to your Thanksgiving scene with this dark black and white letter garland boasting a reminder to "give thanks." Tie it from one end of your dining room hutch to the other and allow it to drape proudly across this china cabinet display. You could also use it in any room of your home and hang it at the top of a curtain.
28. Give Thanks Colorful Block Art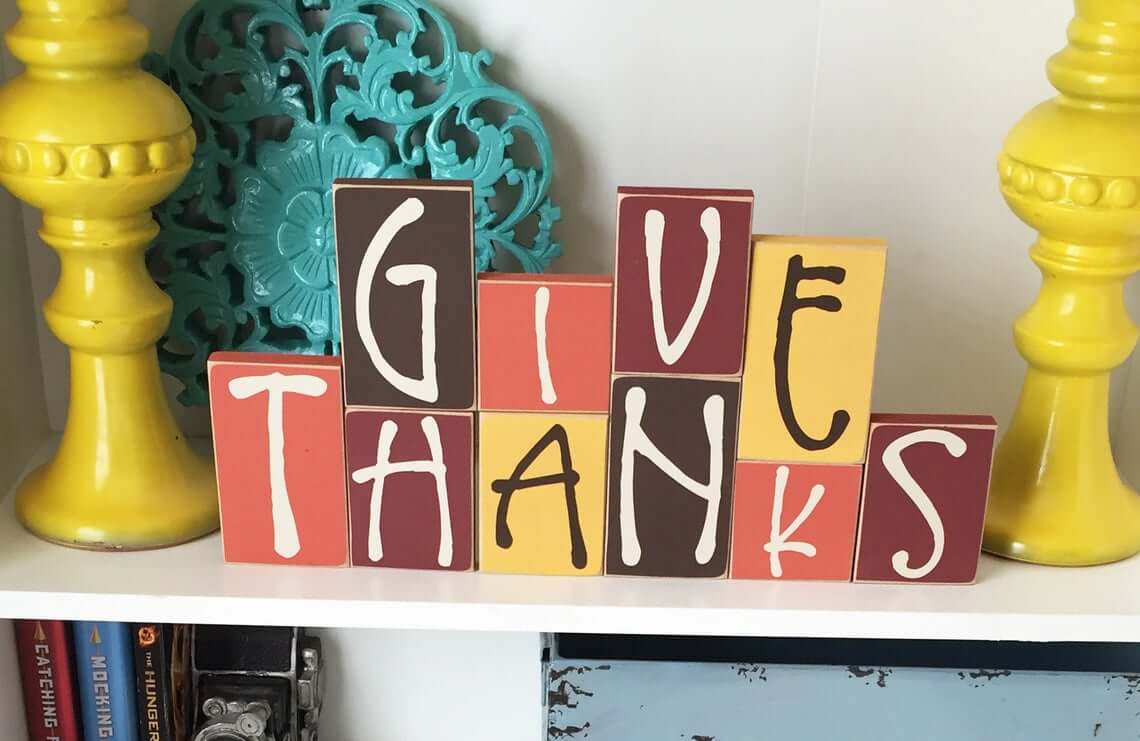 Place this cute and colorful piece of block art in any space of your home. The pretty pinks combined with warm yellow and brown make this piece stand out among your other decorations. Place it on a bookshelf, within a large display, or nestle it next to your bed on your nightstand. It would even be a nice addition to your desk space at the office to brighten it up for this time of gratitude.
29. Personalized Thanksgiving Give Thanks Table Runner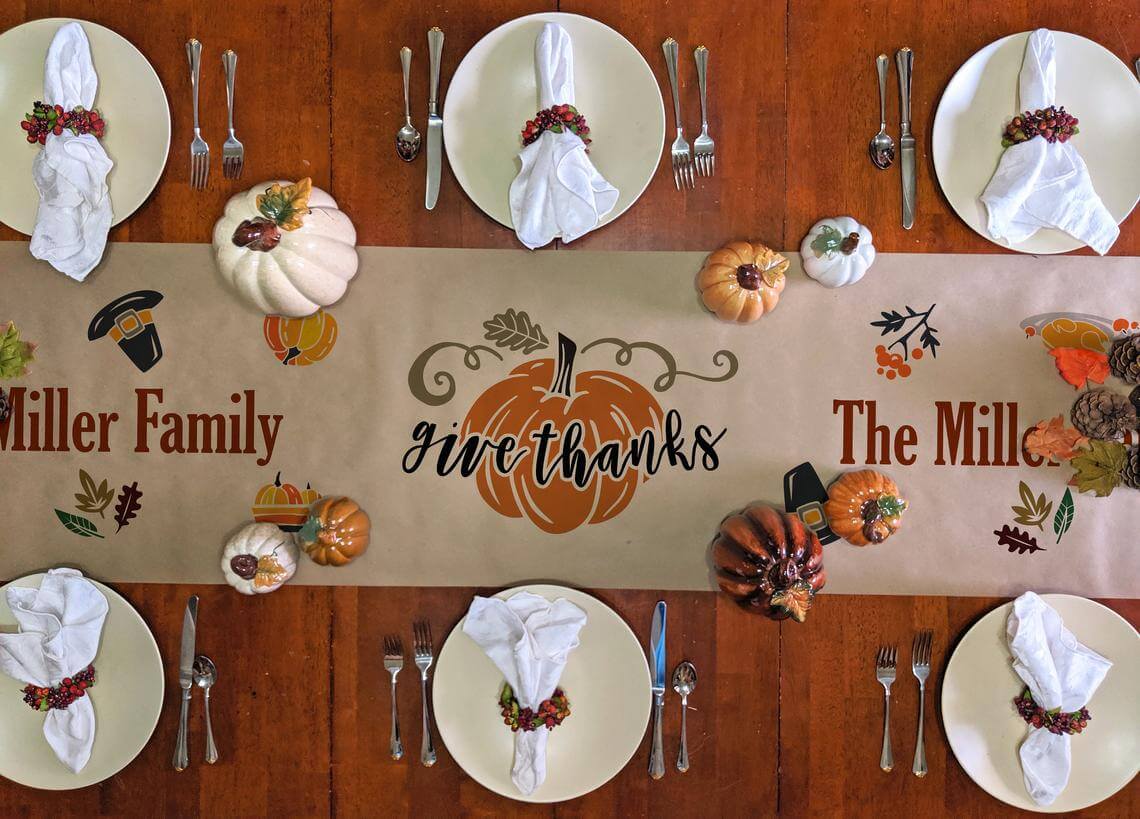 Pumpkins, pilgrim hats, and leaves come to life on this Thanksgiving table runner that you'll be proud to pull out every year. It lines the center of your table to provide a pretty welcoming display for all of your Thanksgiving guests. Gather around the table and let the good times roll with this personalized piece as your focal point.
30. Square Framed "Give Thanks" Door Sign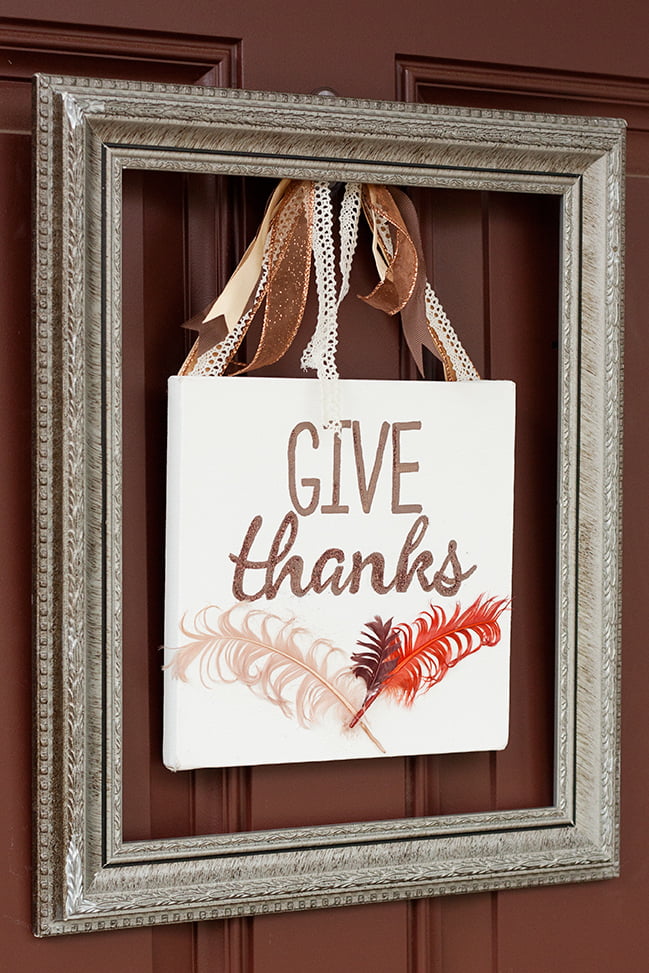 31. Mantel Banner with Crimson Fall Foliage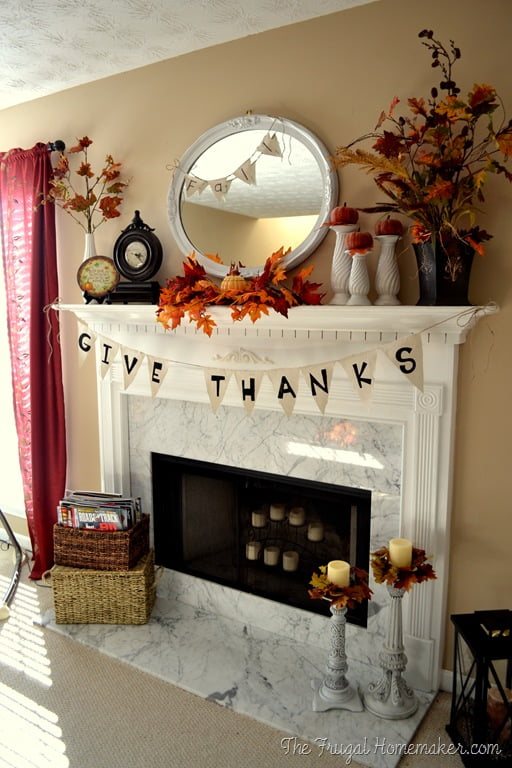 32. Whimsical Orange and White Painted Pumpkins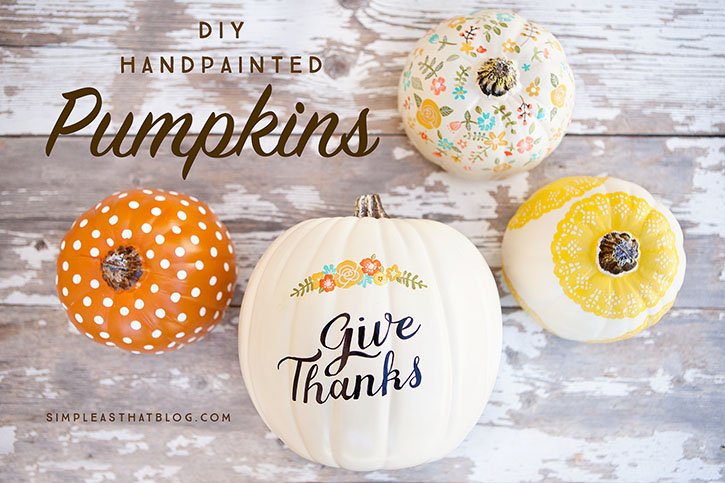 33. White Bud Vase with Branches and Fall Leaves Arrangement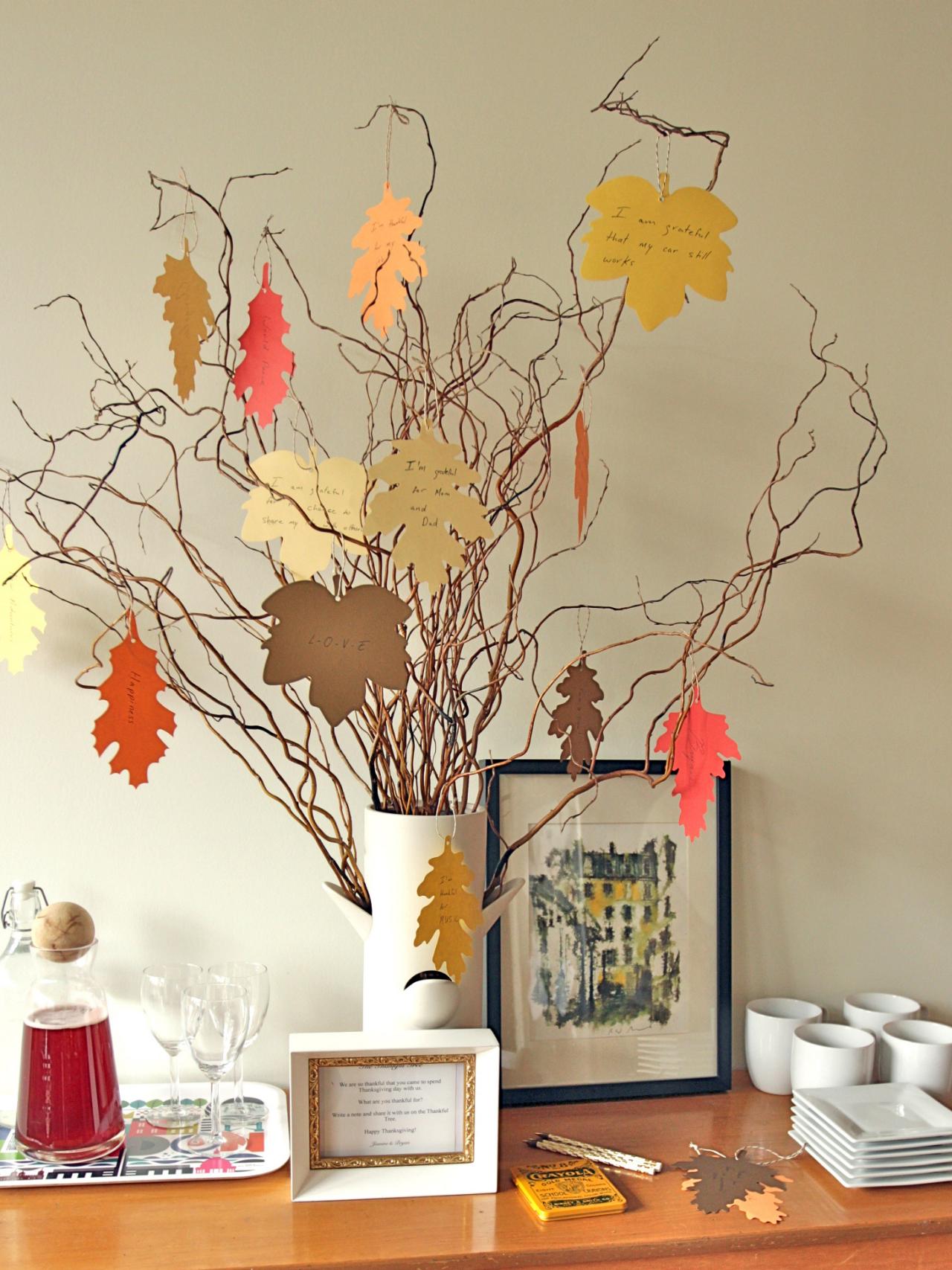 34. Gorgeous Wreath with Ribbon, Flowers, Leaves and Gourds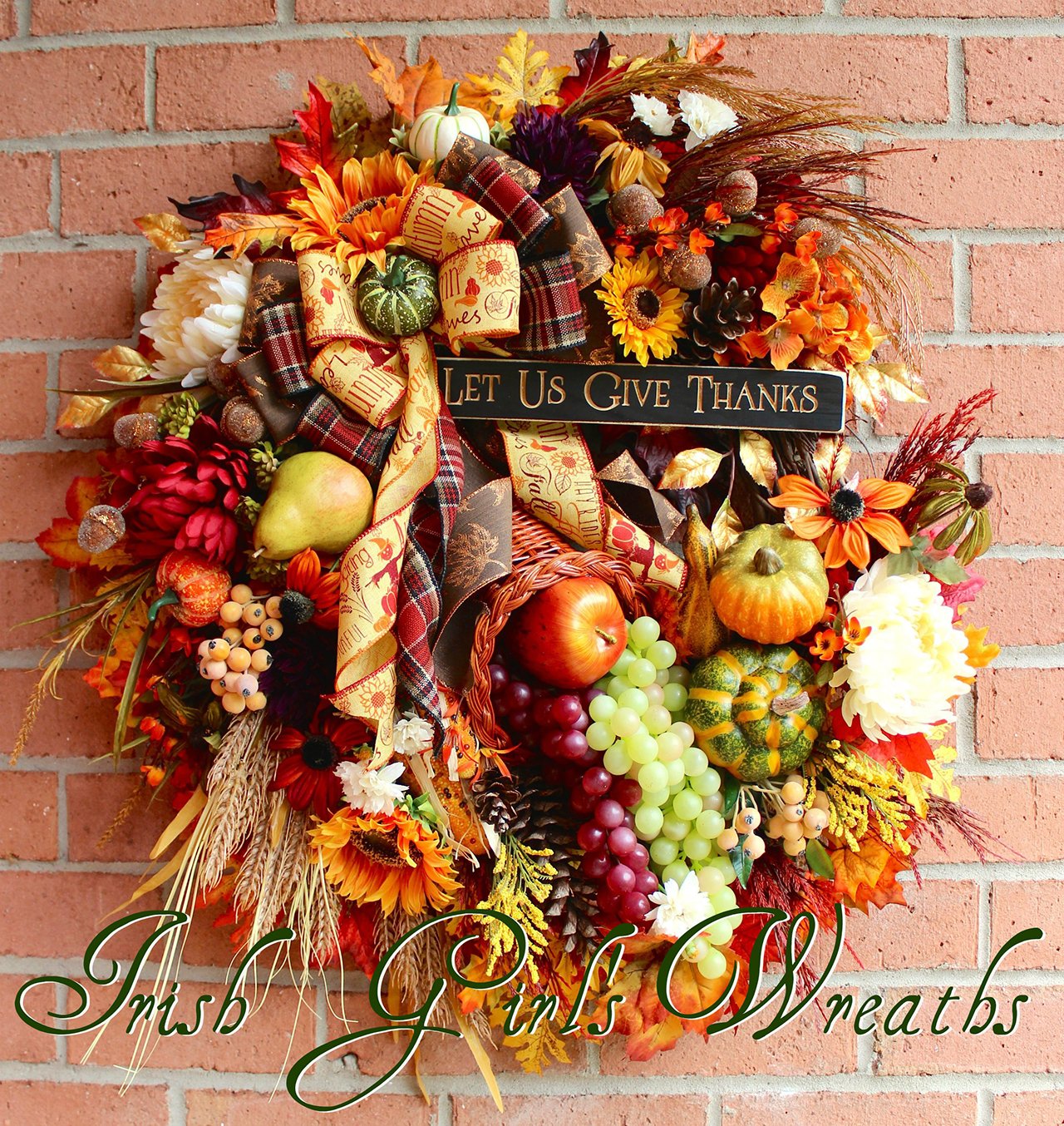 35. Mantel Decor with Burlap Bunting and White Pumpkins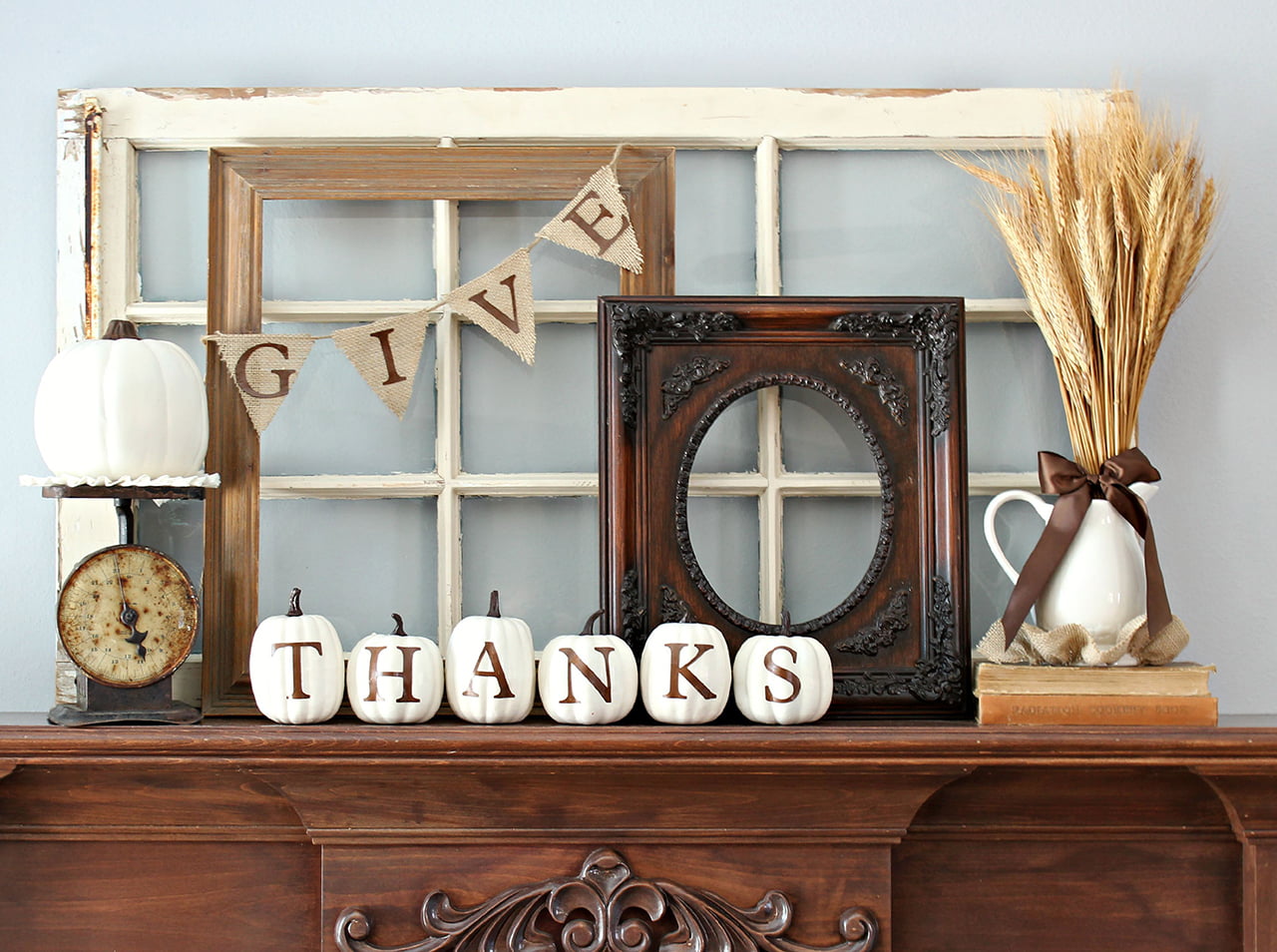 36. Thanksgiving Decoration with a Personal Touch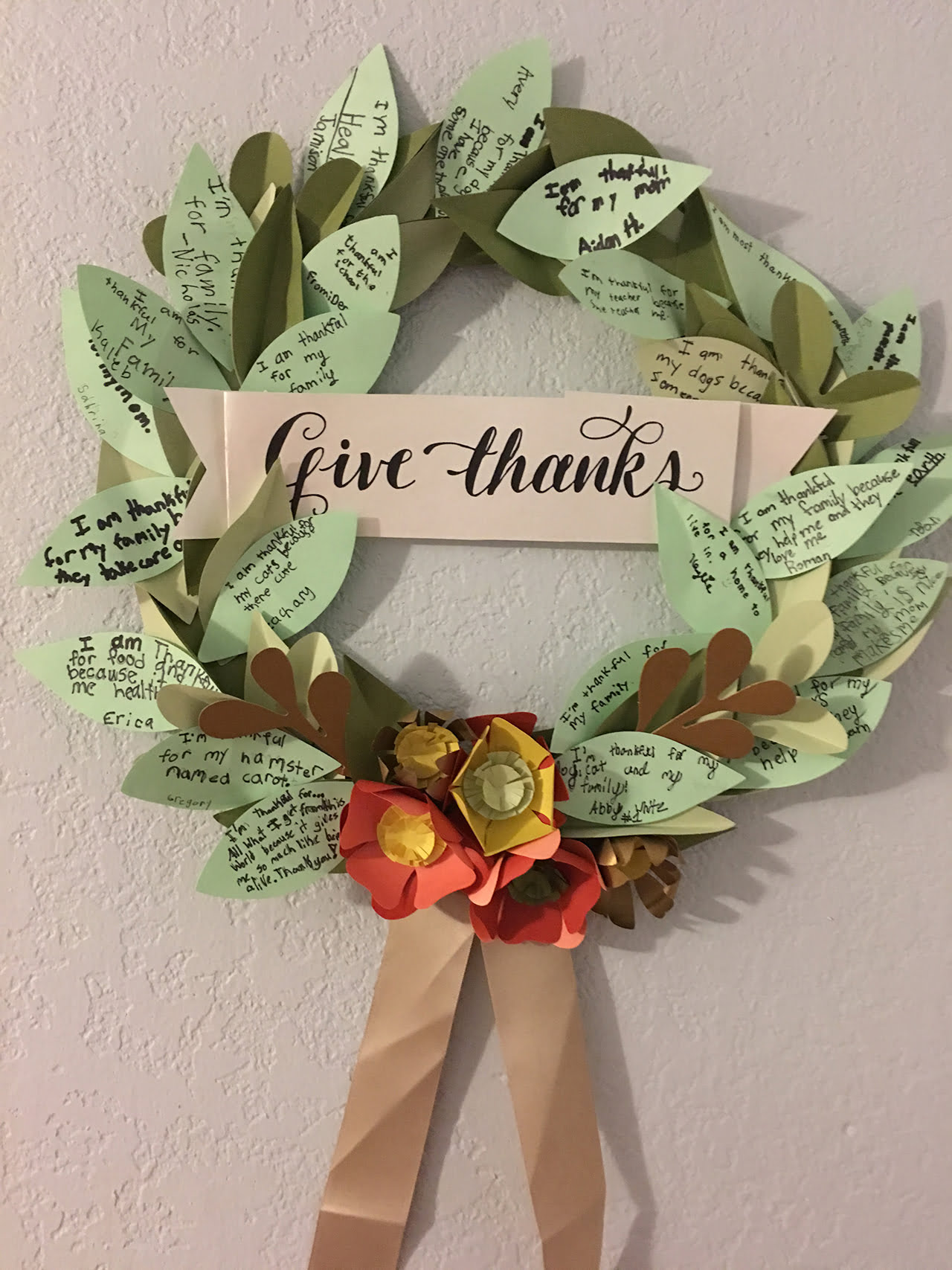 37. Worded Mason Jar Flower Arrangement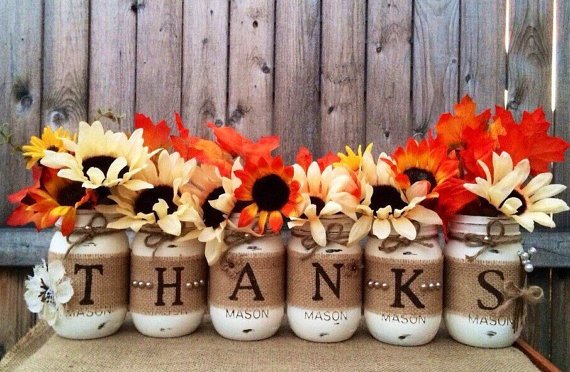 38. Black and White Mantel Decor with Studding Red Foliage Accent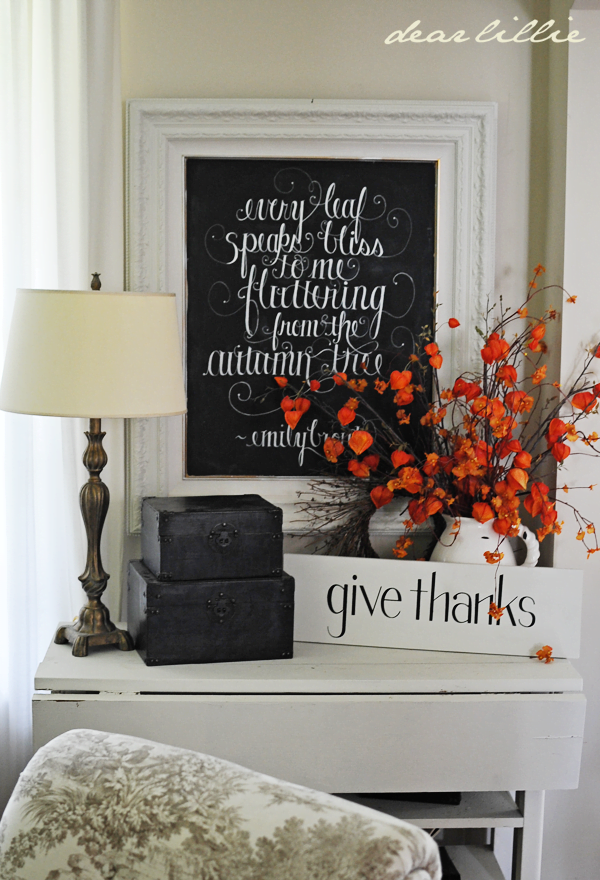 39. Wooden Pallet Printed Turkey Cut Out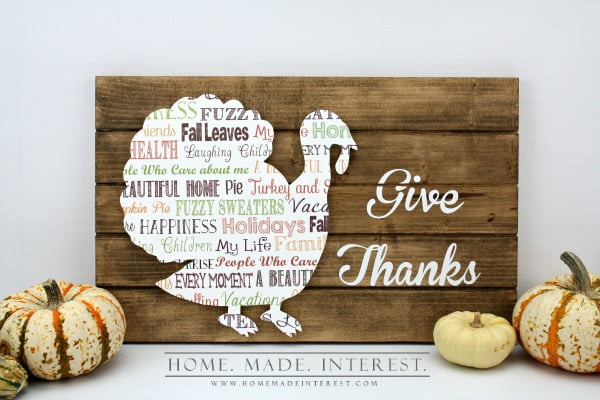 40. White Pumpkins with Moss Accents, White Accessories, and Candle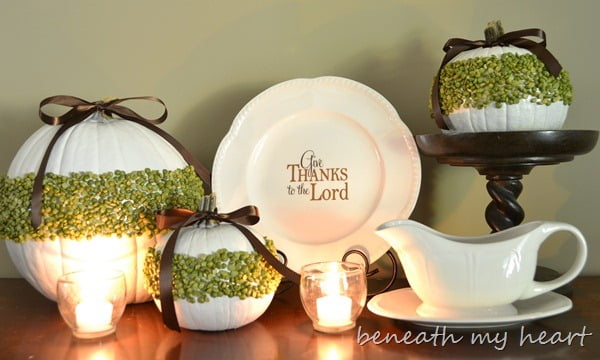 41. Wooden Sign with Handwritten "Thankful" in White Paint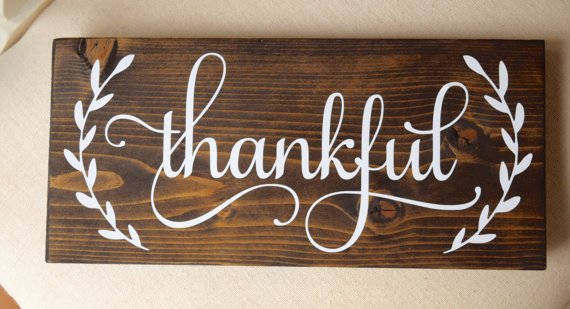 42. Bunting on Painted USA Wood Cutout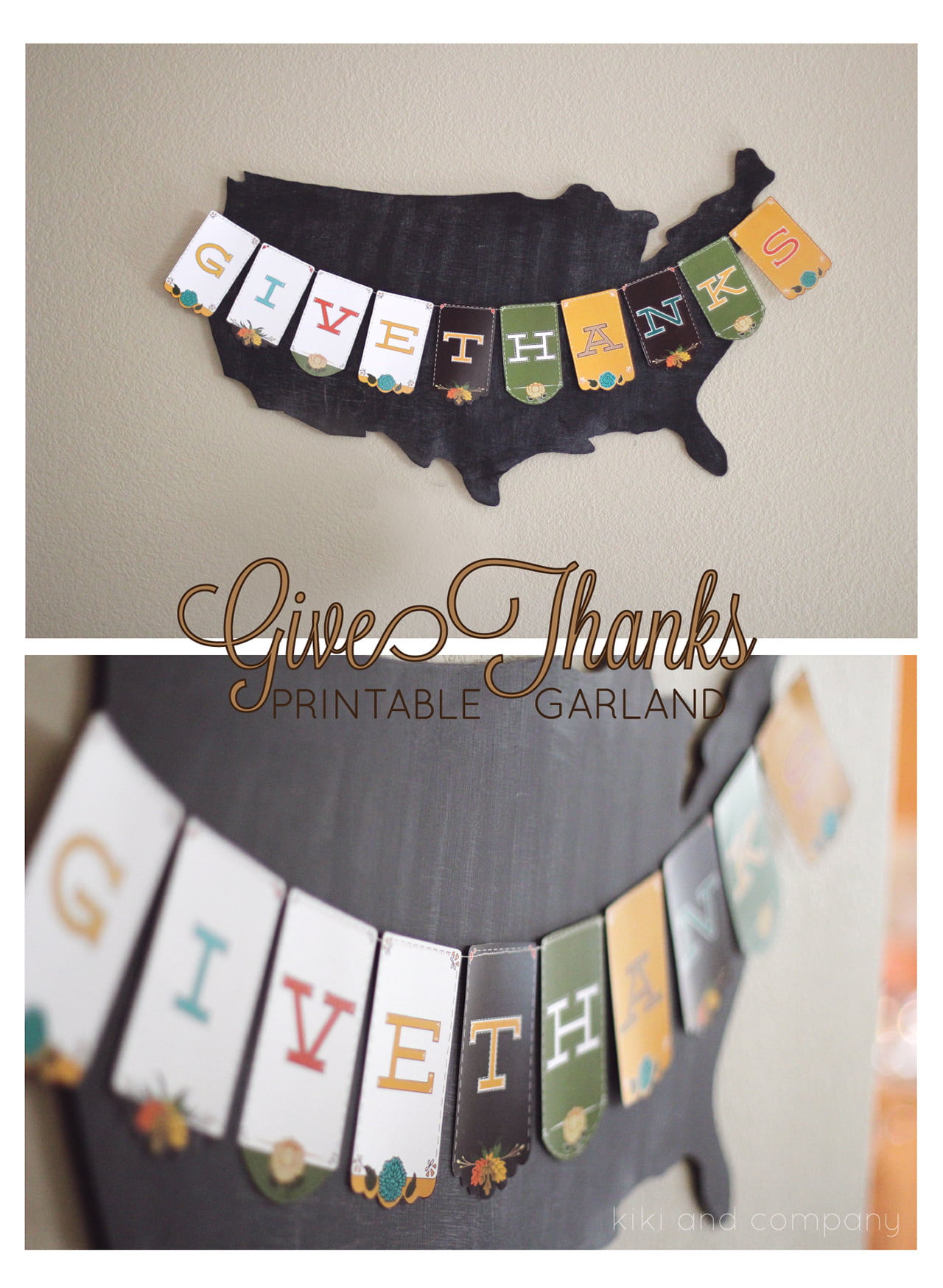 43. Wooden Tag Door Thanksgiving Décor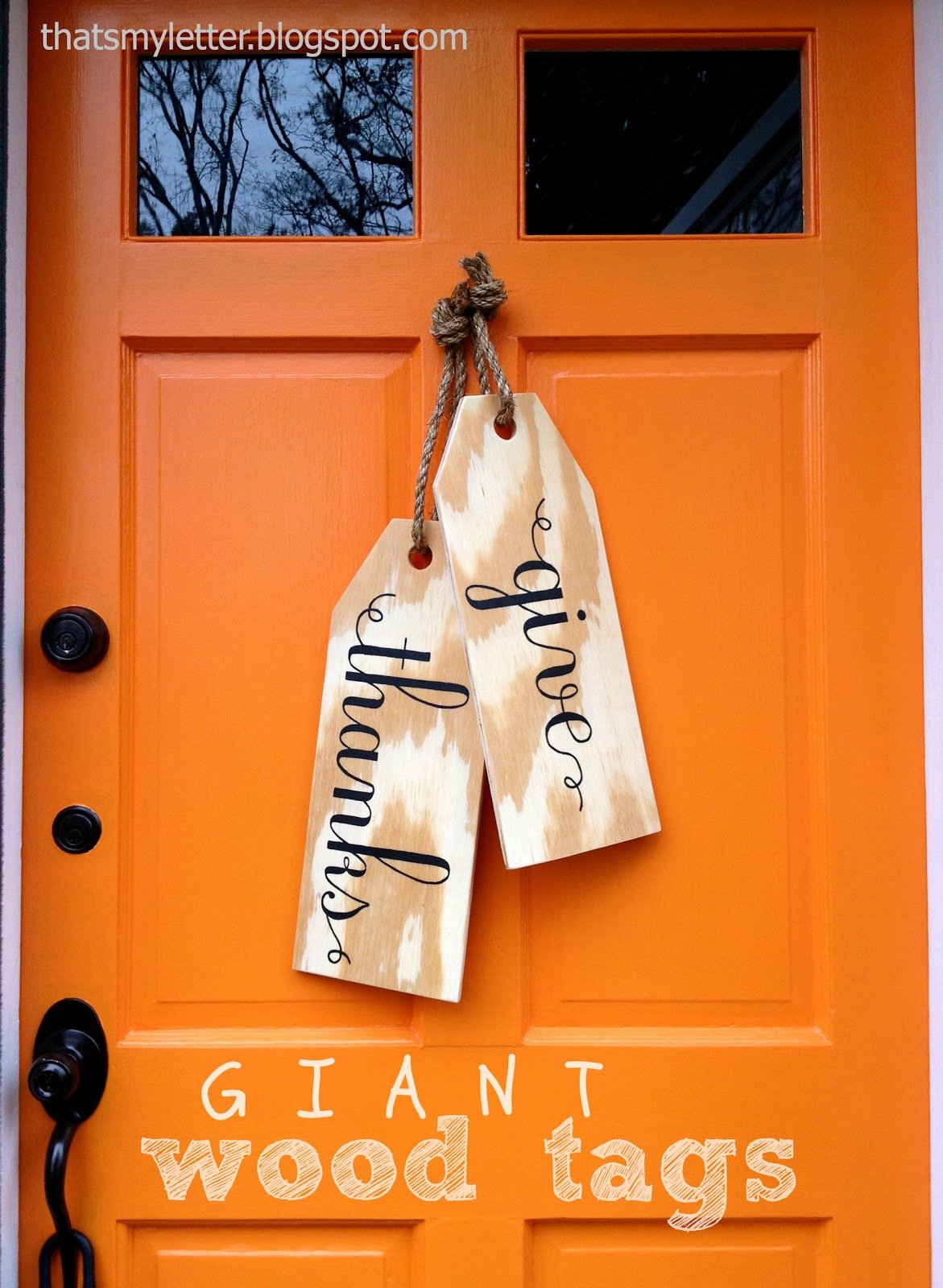 44. Neutral Mantel Decor with Golden Fall Leaves and Pumpkins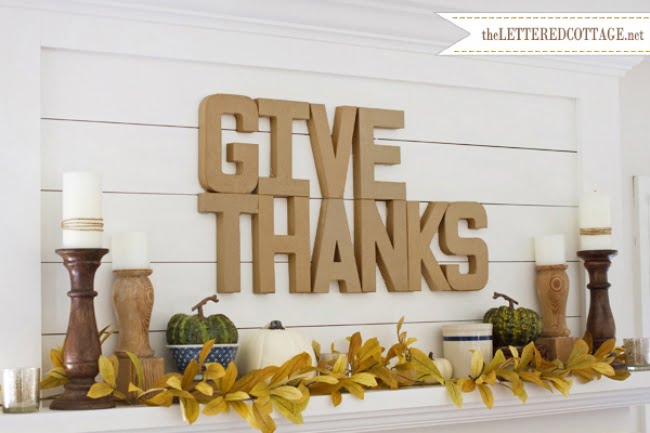 45. Whimsical Painted Wooden Pumpkin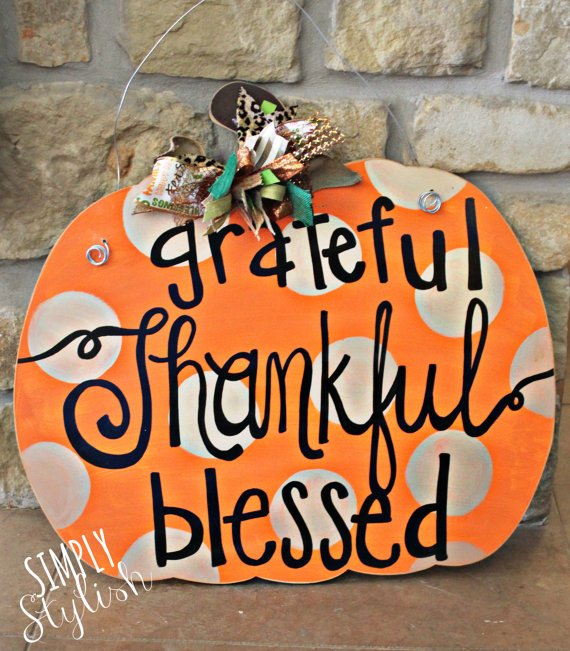 46. Wooden Blocks with Printed Papers and Paper Leave Garlands for Mantel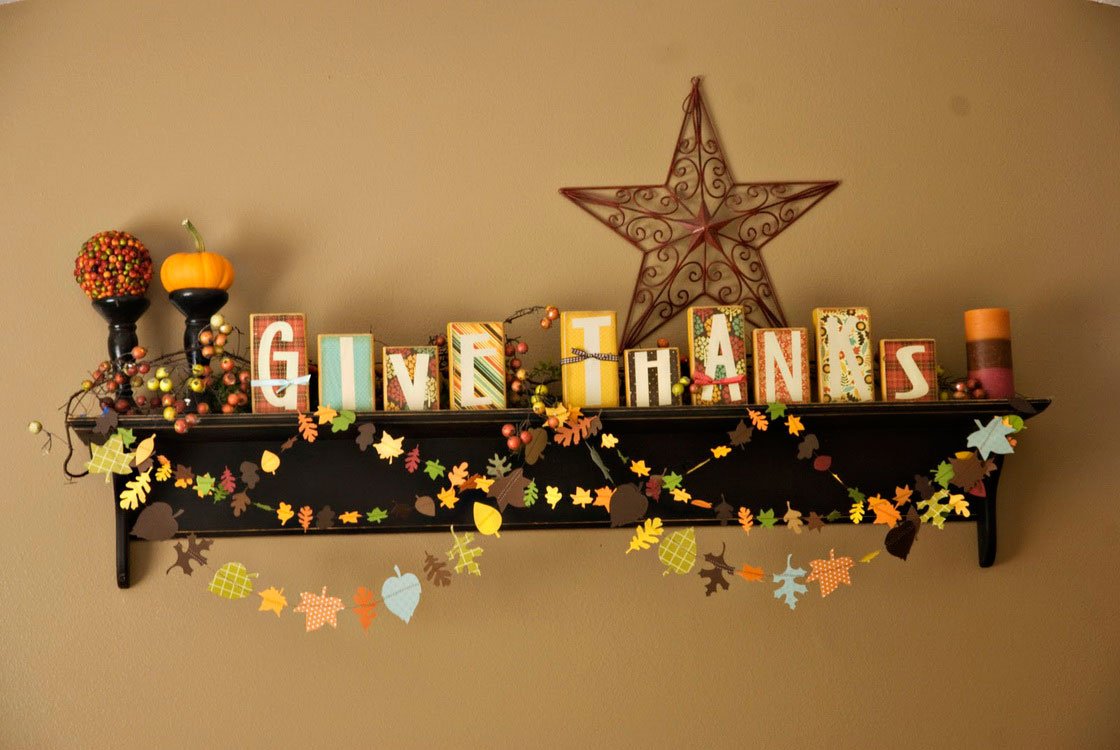 47. Thanksgiving Figures on Chalkboard with Pumpkins and Fall Foliage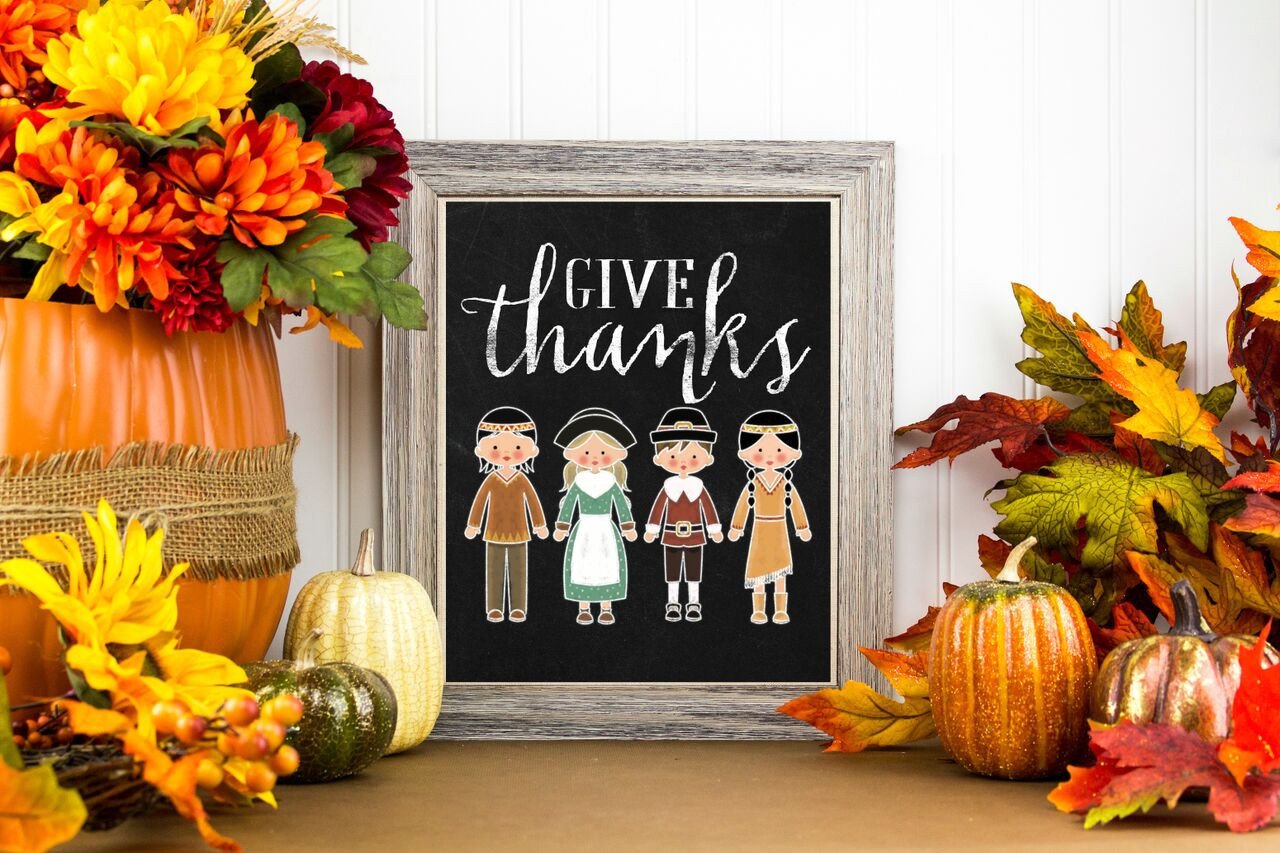 48. Bunting with Red-lettered "Thankful" on Blue and Neutral Paper