With the best upcycling ideas for lamps and lamp shades, you can combine your love of crafting with the joy of recycling. It's easy enough to head to the hobby store and gather all the supplies you need to make personalized décor for your home. Taking older, used items you already own or found in a thrift shop requires a different sort of creativity that can be just as fun.
20 Amazing DIY Upcycling Ideas for Lamps and Lamp Shades Any Crafter Will Love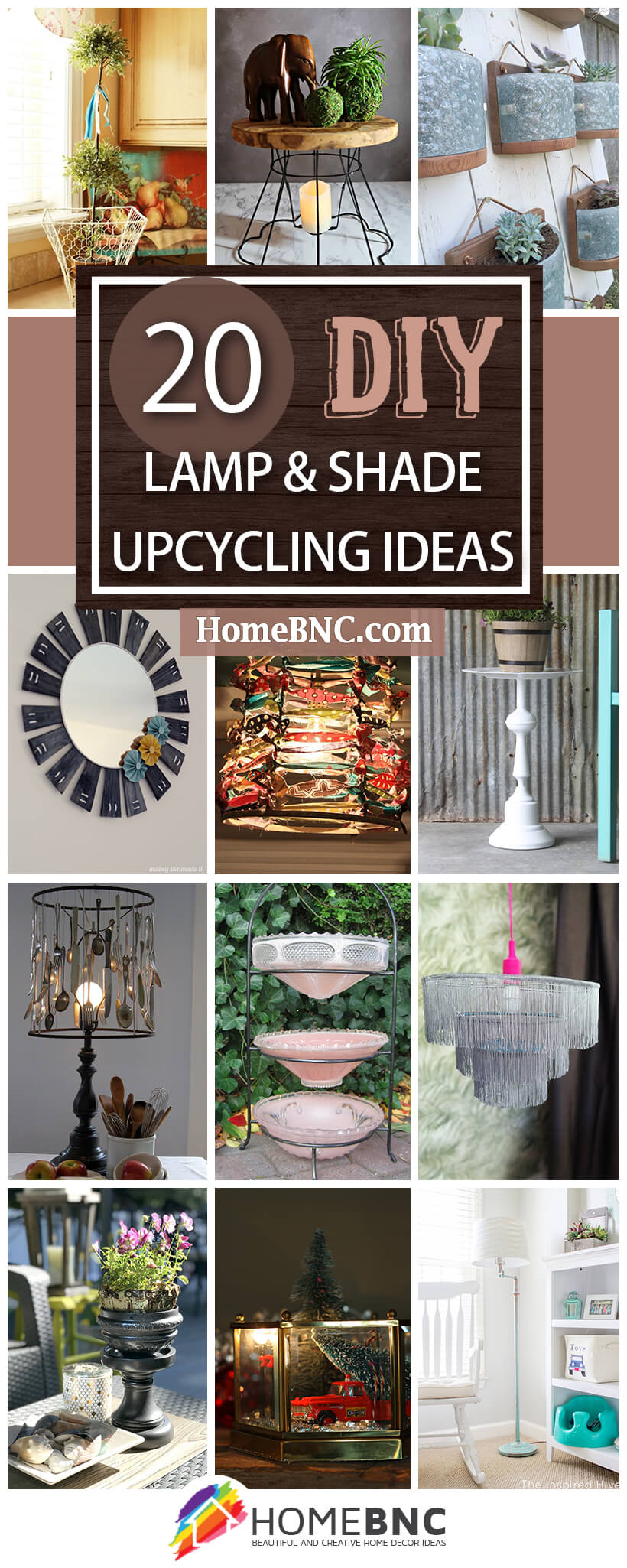 When it comes to upcycling itself, it has a number of benefits. For one thing, it can help you clear out any lingering clutter around your home. This can be especially useful if Spring Cleaning is in effect. Secondly, if you're conscious about the environment, upcycling allows you to better utilize so-called "junk" items rather than just throw them away.
What is also so great about upcycling is that it isn't just about reusing items. Instead, you're repurposing them, upgrading them so that they have a newer, improved use in your home. Lamps and lamp shades are a wonderful place to start out seeing as there are several ways you can transform them into something more thought-provoking and exciting to look at. Also, it can even teach you a thing or two about wiring and construction if you're interested in learning something new.
There is no shortage of repurposing projects you can undertake, so we searched around, finding 20 of the best lamp upcycling ideas you can have fun with. Our ideas are varied enough so that any of you can find may find the right craft project for whatever you have lying around.
See an old lamp fixture that's no longer working? You can take out the lighting feature and replace it with something else useful like a plant holder. Or perhaps you have a taller lamp that has a vintage vibe that you wish to transform into a stand for your other creative décor? What's exciting about upcycling is that there's no limit to what you can do, but our 20 best lamp upcycling ideas should give you a place to start.
1. Unique Chicken Wire Lamp Shade Basket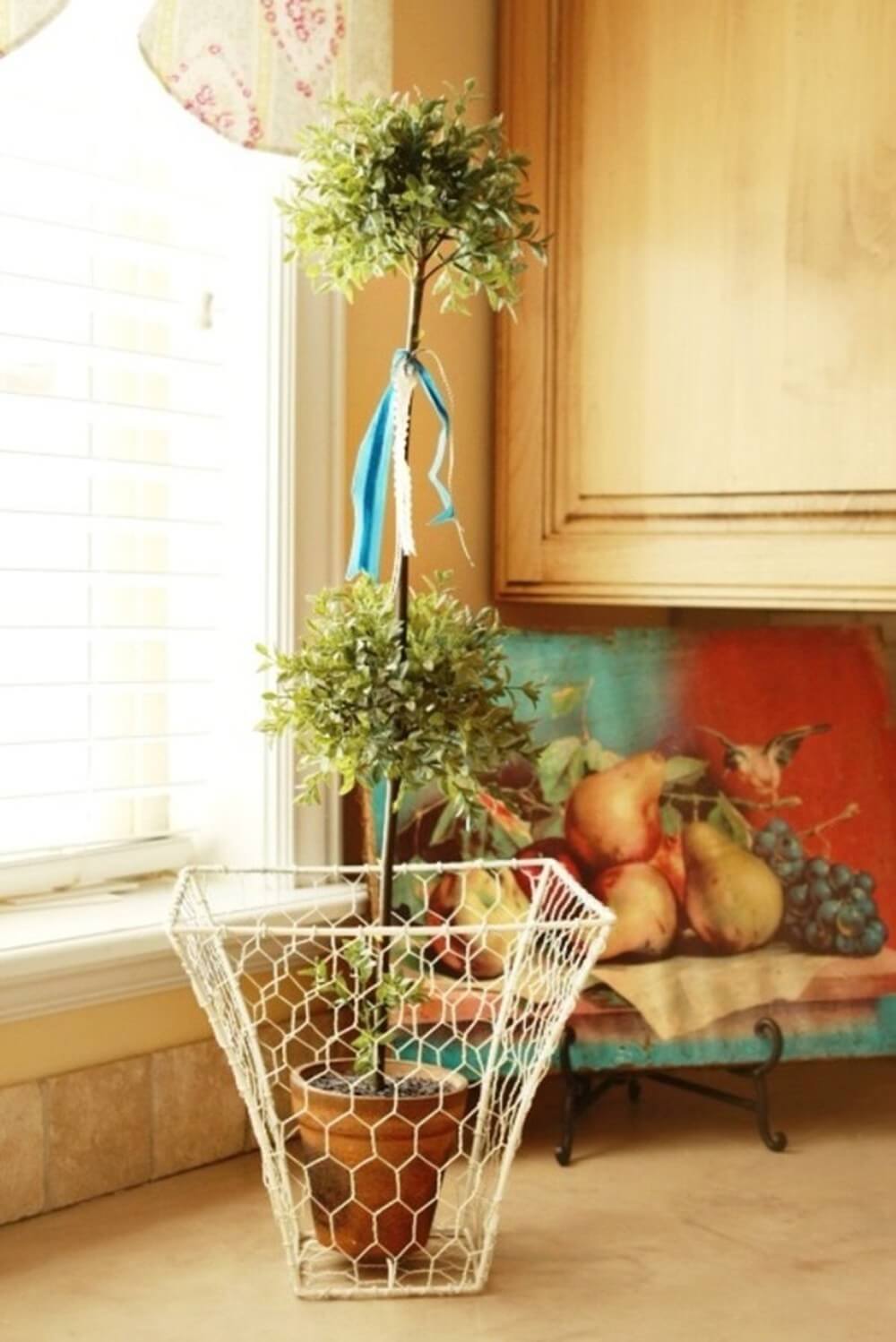 Appealing, yet rustic, is the plan here with this lamp shade chicken wire basket. Grab a lamp shade with a pleasant flared out style, and it can turn into an amazing basket. And, as a crafter, you probably already know how useful chicken wire itself is. Once you put the two together, you can use your creation for just about any occasion. You can make a beautiful basket to host items from Easter eggs or instead use it for some scary cool Halloween décor. Or go simple with a plant holder so you can have it out year-round. Whatever you decide, you can readily spruce it up with some spray painting.
2. Perfect DIY Lamp Shade Sunburst Mirror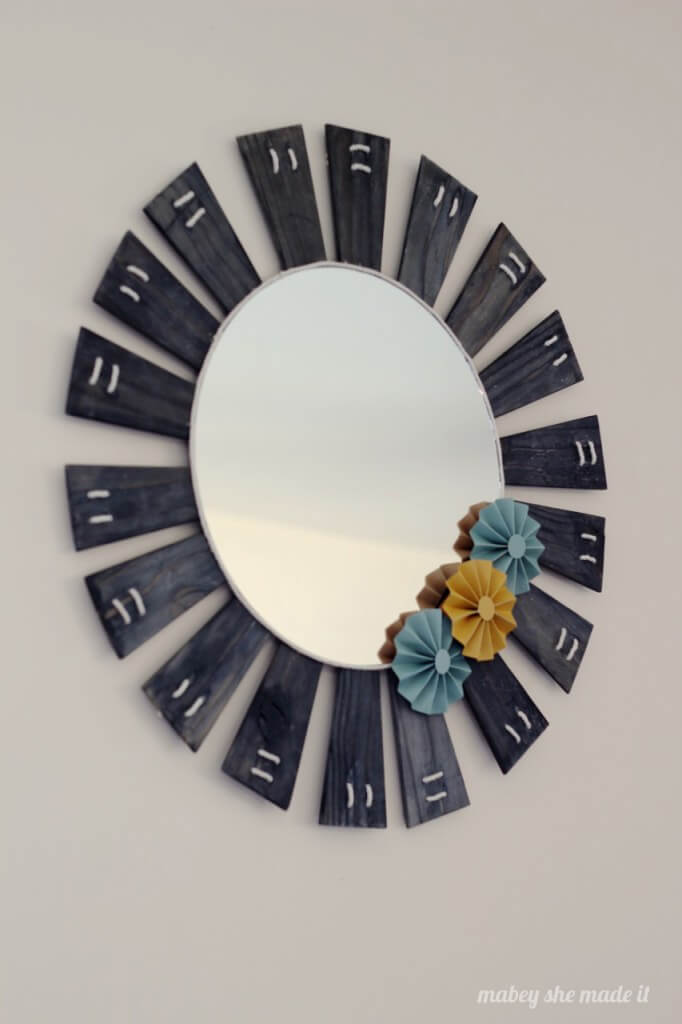 Looking for an awesome idea to show others just how creative upcycling can be? Then consider tackling this DIY sunburst mirror project. All you need is an aged out lamp shade and some extra crafting material like twine and anything else extra you want to add onto the mirror. From there, you can hang a stunning sunburst mirror out for everyone to see, pointing out to your guests just how incredible upcycling is, and how you can build remarkable pieces from what others view as simple trash. The end results look appealing enough that everyone will think you bought it.
3. Upcycled Light Fixture Succulent Plant Holders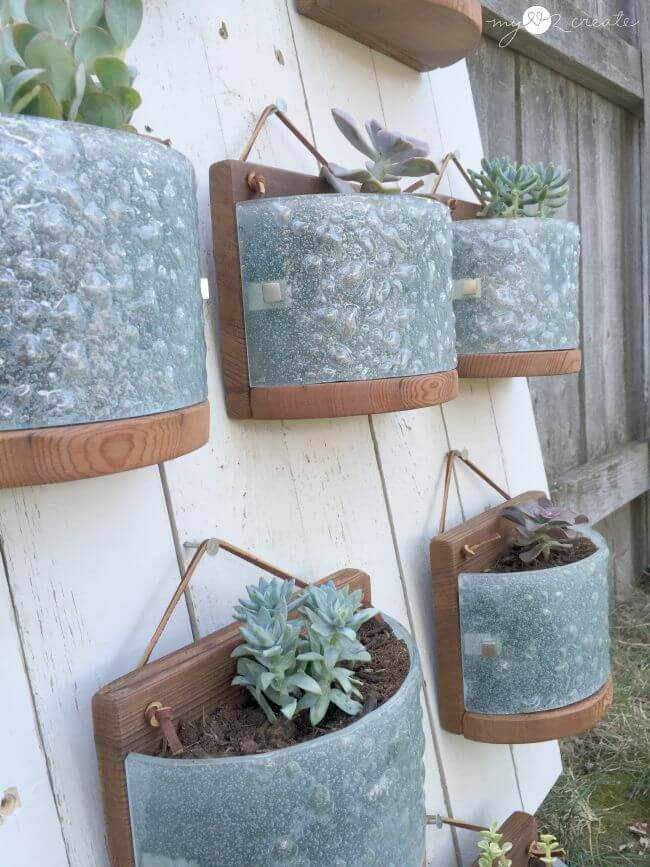 Some of the best lamp upcycling ideas lead to the creation of items you can use time and time again. That's never been truer than with this project that turns an old light fixture into a lifelong holder for your beloved succulents. This may work out best with small light fixtures, like those you would find in a bathroom. It can give your succulents more than enough room to each have their own little space. At the same time, it also gives you a unique plant holder you won't find in the store. It does require some extra work such as cutting wood, so prepare to set aside some time, but it'll all be worth it in the end.
4. Great DIY Brass Lamp Makeover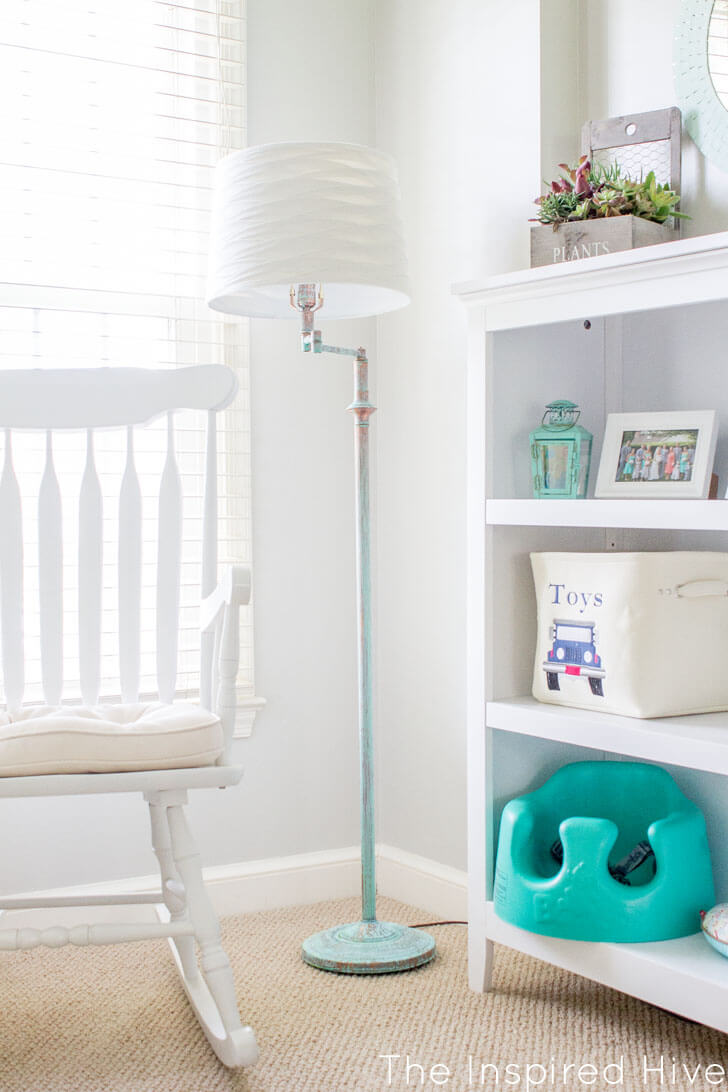 Even if it's painfully clear that a lamp was made in an entirely different decade, there's no need to throw it away. Take those vintage brass lamps, for instance. You may find one in storage, down in the basement, or in a consignment shop somewhere. They can still look appealing all on their own, but why not spin them on their head with a lovely aged appearance? Ever noticed those historic statues with a green tint? It's the results of oxidized copper, and you can bring that interesting look right into your home with the right equipment. This may really stands out in a child's room or even a nursery.
5. Upcycled Lamp Base Pedestal Planter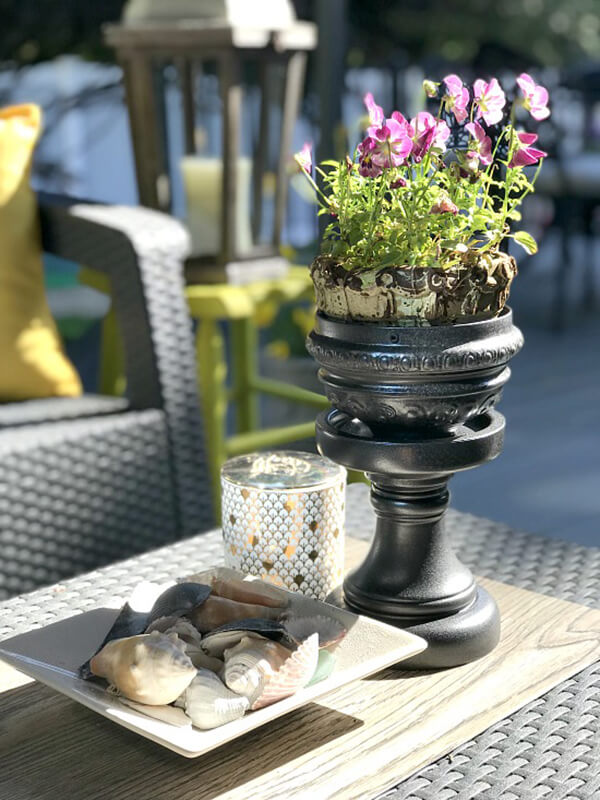 These repurposed lamp parts will add some exciting vintage style to your plant collection. Metal lamps have an amazing number of parts you can use, not to mention their natural classic artistic designs throughout. You can utilize one of the larger pieces along with a candle holder for this pedestal planter project. Whatever candle holder you choose, consider using that as a jumping off point in order to paint the lamp part to match it. As long as the lamp has an intricate design, any color may look wonderful. You're left with a beautiful, small planter that you can fit almost anywhere to liven up the space inside and outside your home.
6. DIY Broken Upcycling Lamps Cake Plate Idea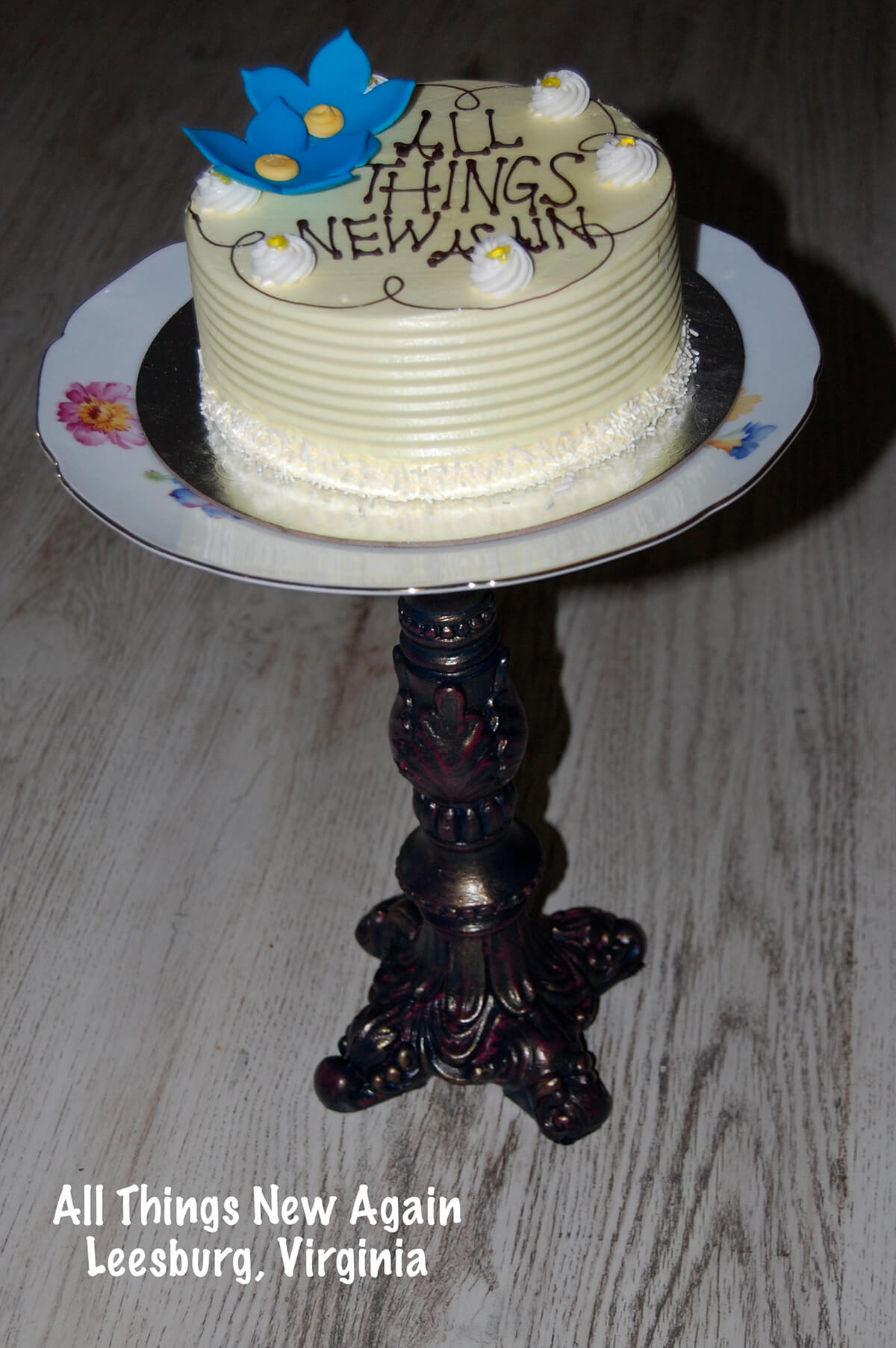 Unfortunately, lamps are fragile and can break. Try to ignore your first instinct to throw out that now defunct lamp, and instead upgrade it into something useful again like a cake plate. You don't even need that many supplies for this project either. Heavy-duty glue can go a long way here. Feel free to personalize this more with your choice of decorative plate and some kind of paint added to the lamp base. You'll get a cake plate at the end of it that's as sturdy as it is charming.
7. Cute Retro Upcycled Glass Globe Lamps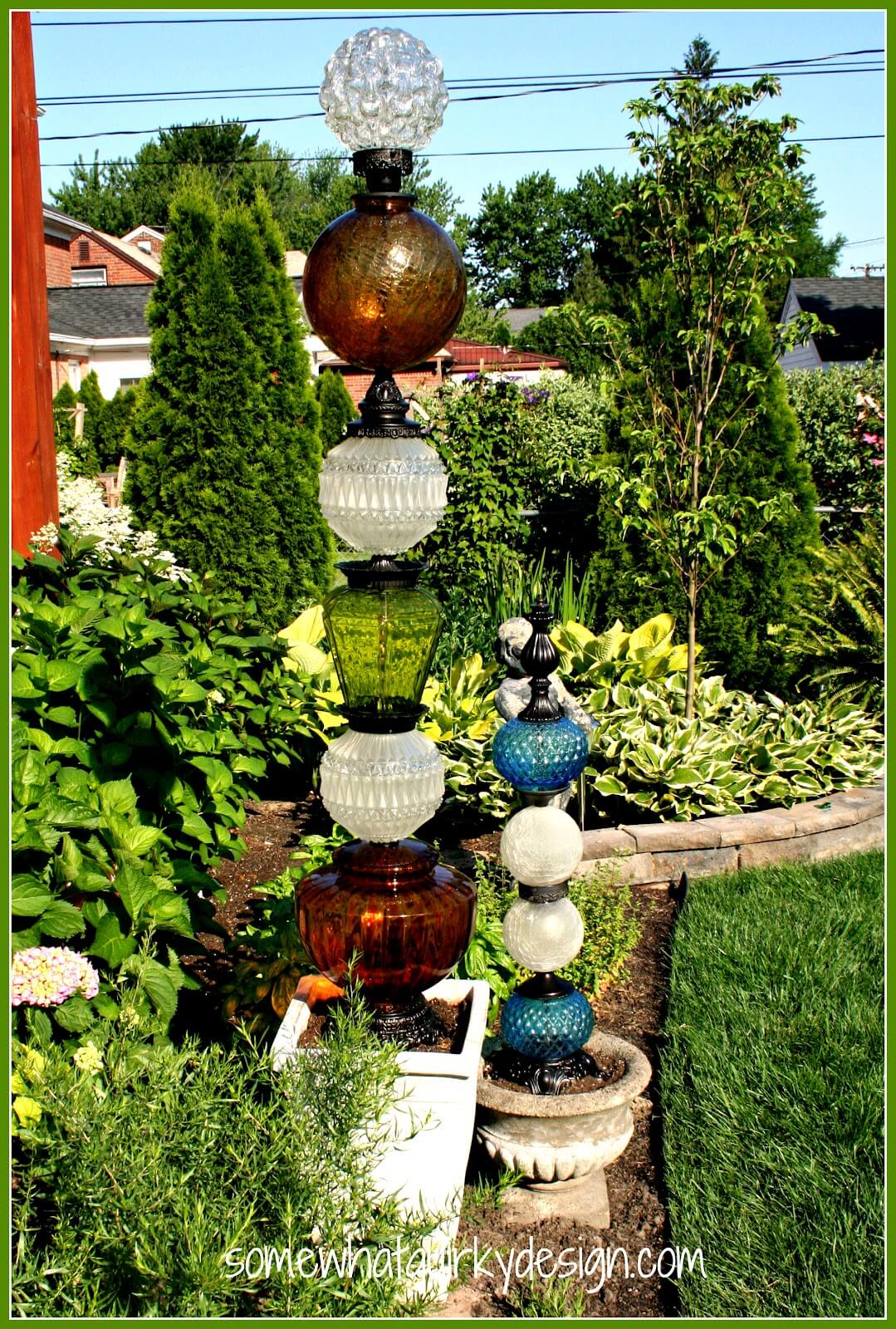 Ever take a look at those funky-looking glass lamps from the '60s? The best lamp upcycling ideas can come from reaching back decades, and though those lamps may seem out-of-date, you can create an incredible globe tower out of them. Start out with gathering as many of these lamps as you need to construct your tower. Once you understand how tall you wish to make this, you can begin building. What's so thrilling about this project is that those classic lamps can come in several different colors. You can mix and match however you want and place your final tower outside in a sturdy planter, enhancing your lawn with some thrifty, colorful globes.
8. Cool Upcycled Utensil Table Lamp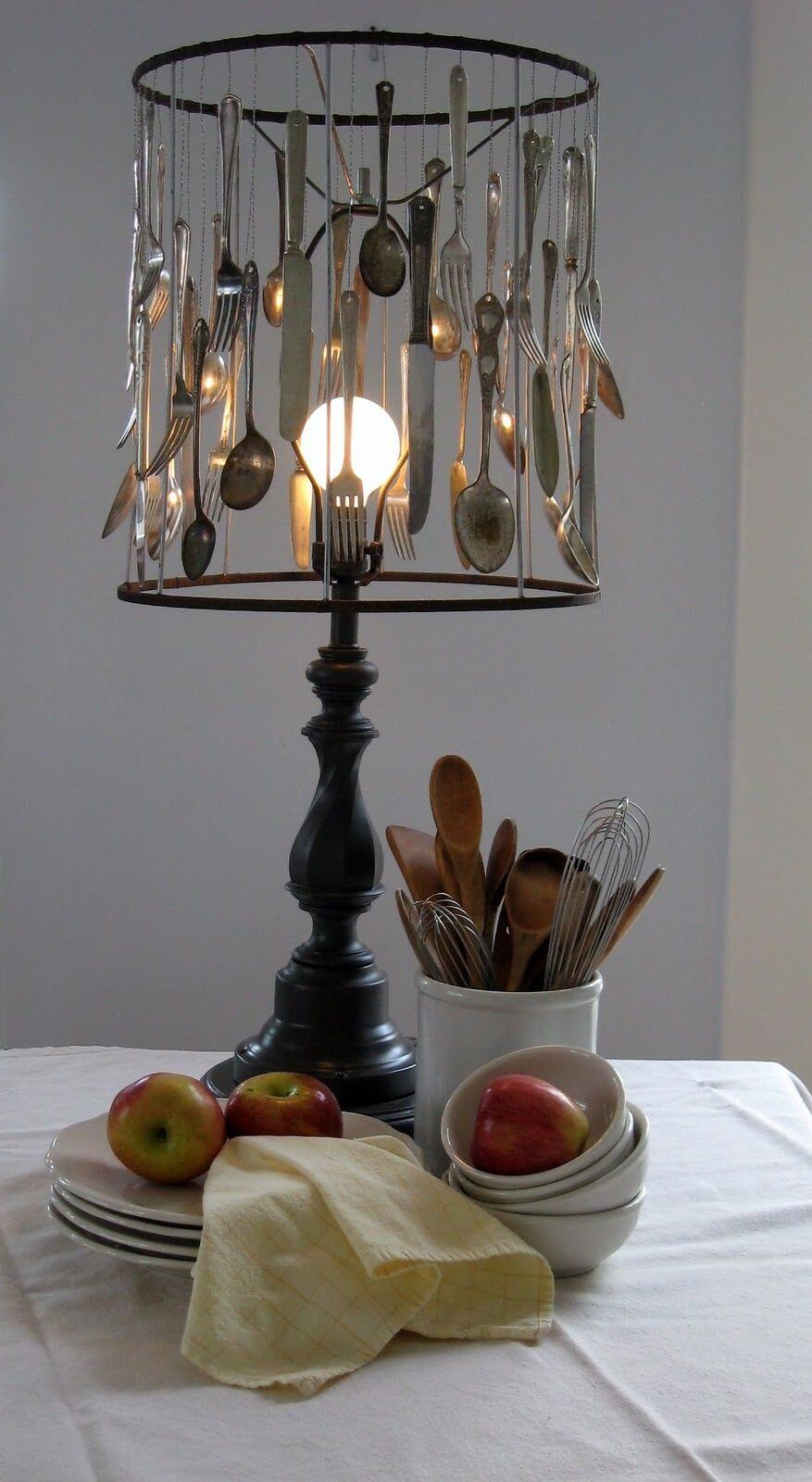 This is a fun project to take on because not only will you repurpose an old lamp, but you can also make use of any worn out utensils lying around. Utensils aren't known to last long as they bend, experienced discoloration, or simply wear down. Keep hold of numerous of utensils to add them to your next lamp upcycling project. Better yet, go to a thrift store and find an older brass lamp if you don't own one. You'll use every piece of it, starting with the bare lamp shade body, replacing the cover with the dangling utensils. Feel free to change the color of the lamp itself too so you can create a truly artistic table lamp.
9. Upcycling Lamps Turned Plant Holders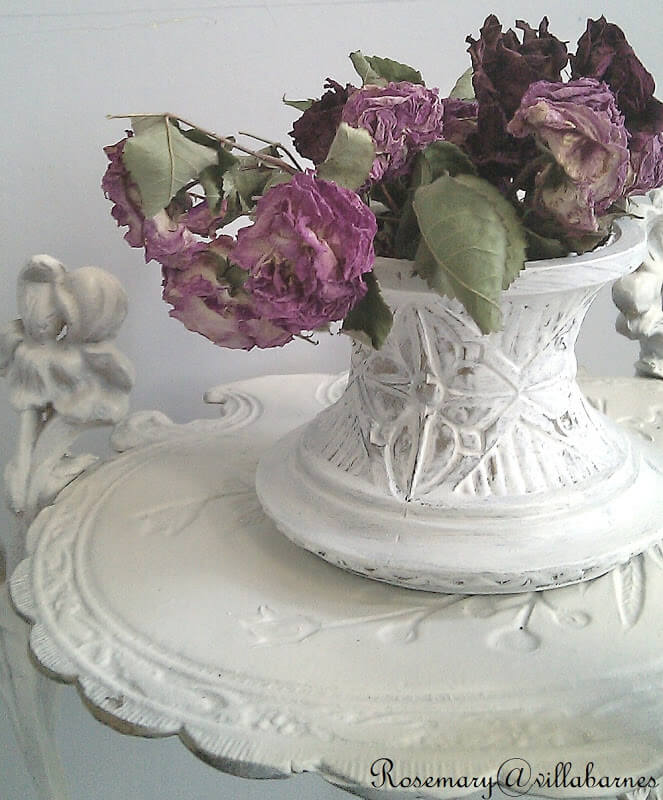 This is an easy project that upcycles any decent-sized lamp part you have lying around into a not-so-common plant holder. We say "simple" because all you need to do is clean it and paint it. Once everything is dry, you're ready to slip in some plants, fake or real. It doesn't take much effort or time, but you come away with a gorgeous plant holder that you can use as a center piece in a dining room, out on your patio, or anywhere else for your home decoration needs. This may also serve as a good starter project for those of you who are new to the whole upcycling phenomenon.
10. Affordable Upcycled Lamp Embellishment Stand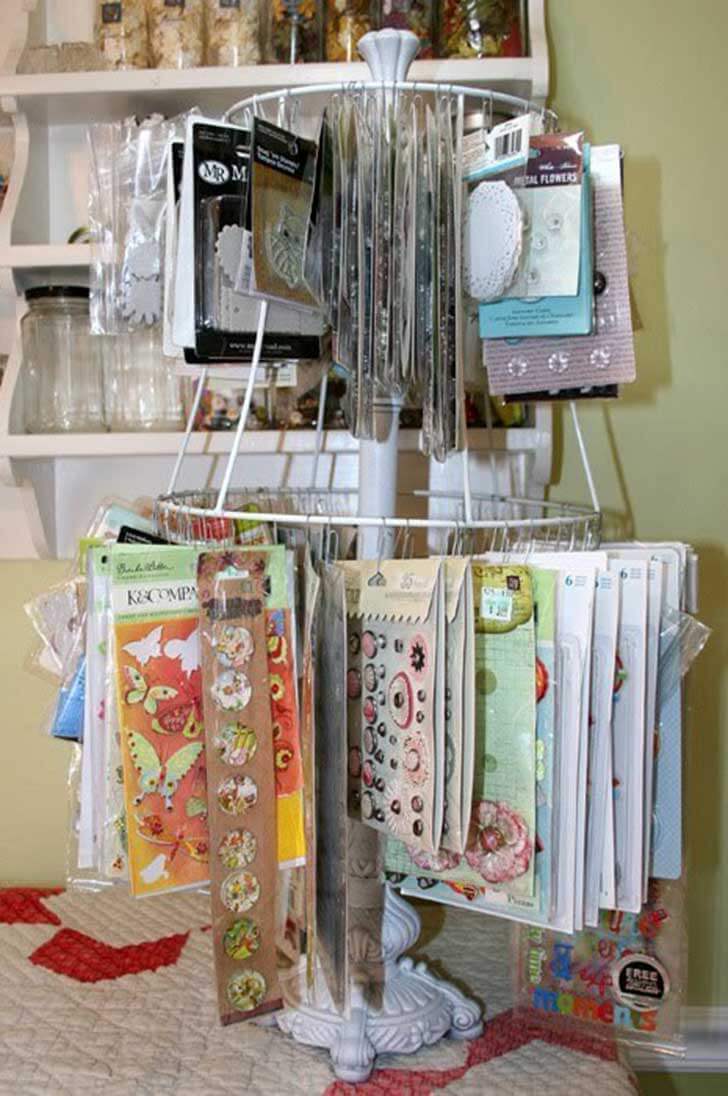 Upcycling isn't just about repurposing old items. It's about keeping decorating more affordable. With a tall and thin lamp that has a flared out lamp shade, you can do just that. A nice coat of paint can completely transform a lamp into something greater than its original purpose. Take off the lamp shade cover to use the metal base for hanging up anything you need. You can even go full-thrifty and utilize some paper clips to hang everything up. This is an awesome idea if there are knick-knacks and other items you wish to sell or simply show off inside your own home instead.
11. Side Table Upcycled Lamp Base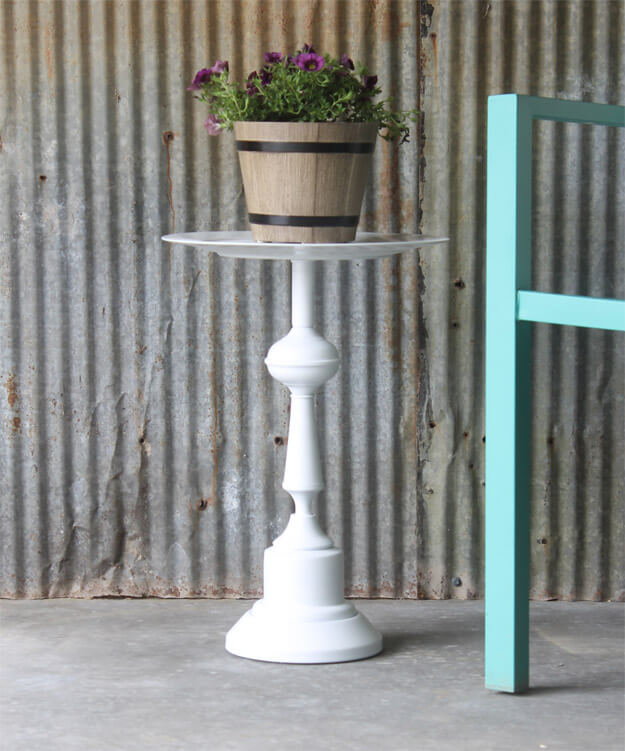 Why buy an actual side table for your family room when you can just make one instead using an old lamp? Head out to a thrift store or just dig around your home for a lamp you don't use and get to crafting. It's another simple upcycle project that shouldn't take longer than an hour to complete, perhaps even shorter if you've done this before. A metal lamp, platter, glue, and paint are all that's needed to make your own personalized side table. You can easily match the rest of your home décor with this project while also repurposing something you would have gotten rid of otherwise.
12. Birdcage Lamp Potted Plant Holder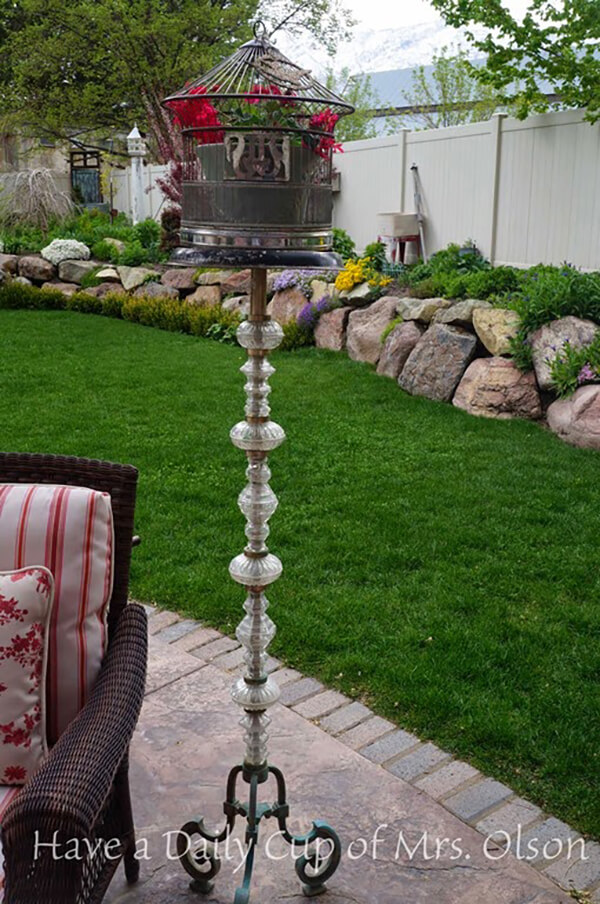 This plant holder is remarkable as it reuses a number of different items. You can find a tall lamp that you have no use for, taking out the light fixture to just use the base for the stand. It can be especially useful if you find a decorative lamp like those classic crystal-looking ones. This can give your planter a more appealing stand than some of the usual ones you find in the store. Add in a birdcage and you can enhance this planter even further, creating something completely unique to your garden to house your potted plants.
13. DIY Lamp Shade Toy Basket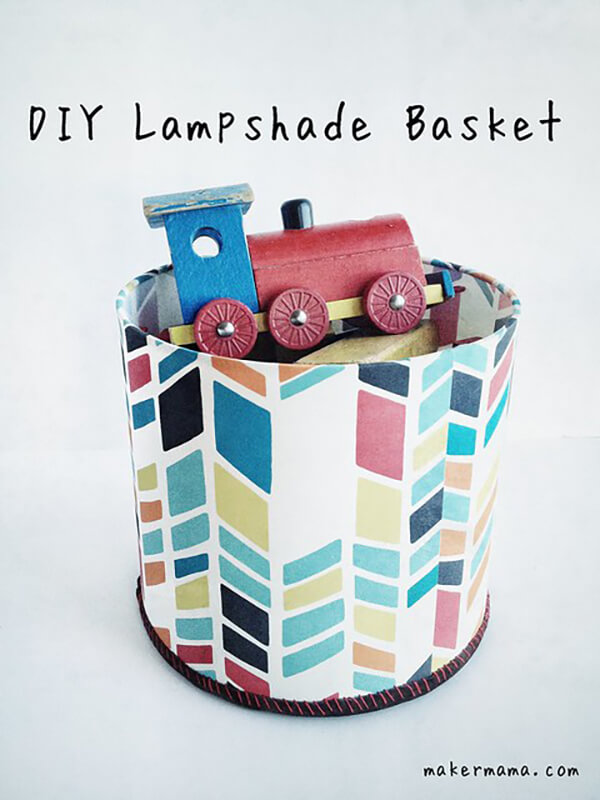 Decorating a playroom or your child's bedroom can become rather expensive. All those toys need to go somewhere, so why not save some money and create toy storage on your own? When you go to throw out a broken lamp, consider saving the lamp shade. It can serve as the perfect base for your little one's toys. Or, if you don't have kids, you can just use it in the office or the kitchen to stash some larger utensils. Regardless of your uses, this lamp shade basket can be a colorful addition to your home that's also an incredibly useful and customized décor.
14. Sweet Decorative Hanging Lamp Shade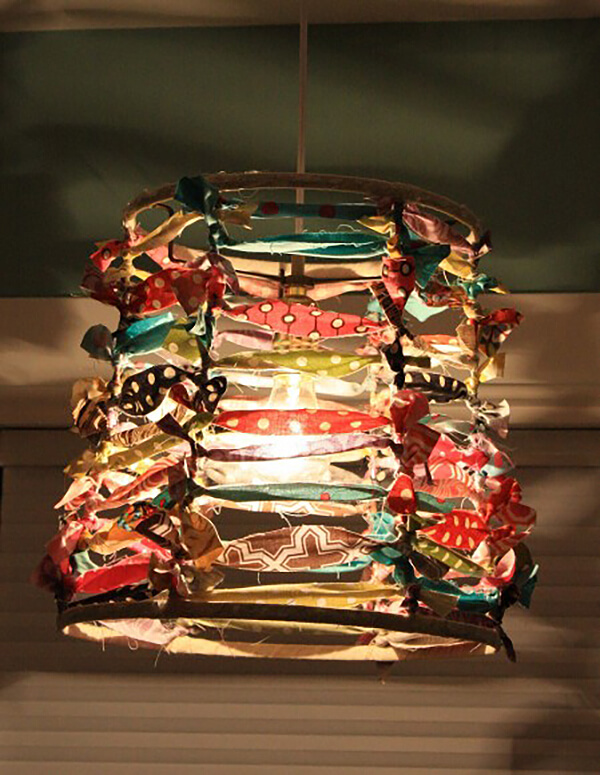 Enhance any room in your home with a more fun, interesting lighting fixture than your everyday lamp. Upcycling lamps don't always have to come with getting rid of its initial function. You can still use the lamp shade to cover a hanging light, but decorate it with various scraps of fabric. The appearance alone is enough to excite anyone looking at it. Once you flip on the light, you'll then notice the incredible shadows that come from the fabric design. These will fill up the ceiling and the room with various shapes. It's why this project may work out best inside a child's room so they can lay back and have fun pointing out the fun shadows.
15. DIY Wire Lamp Shade Plant Stands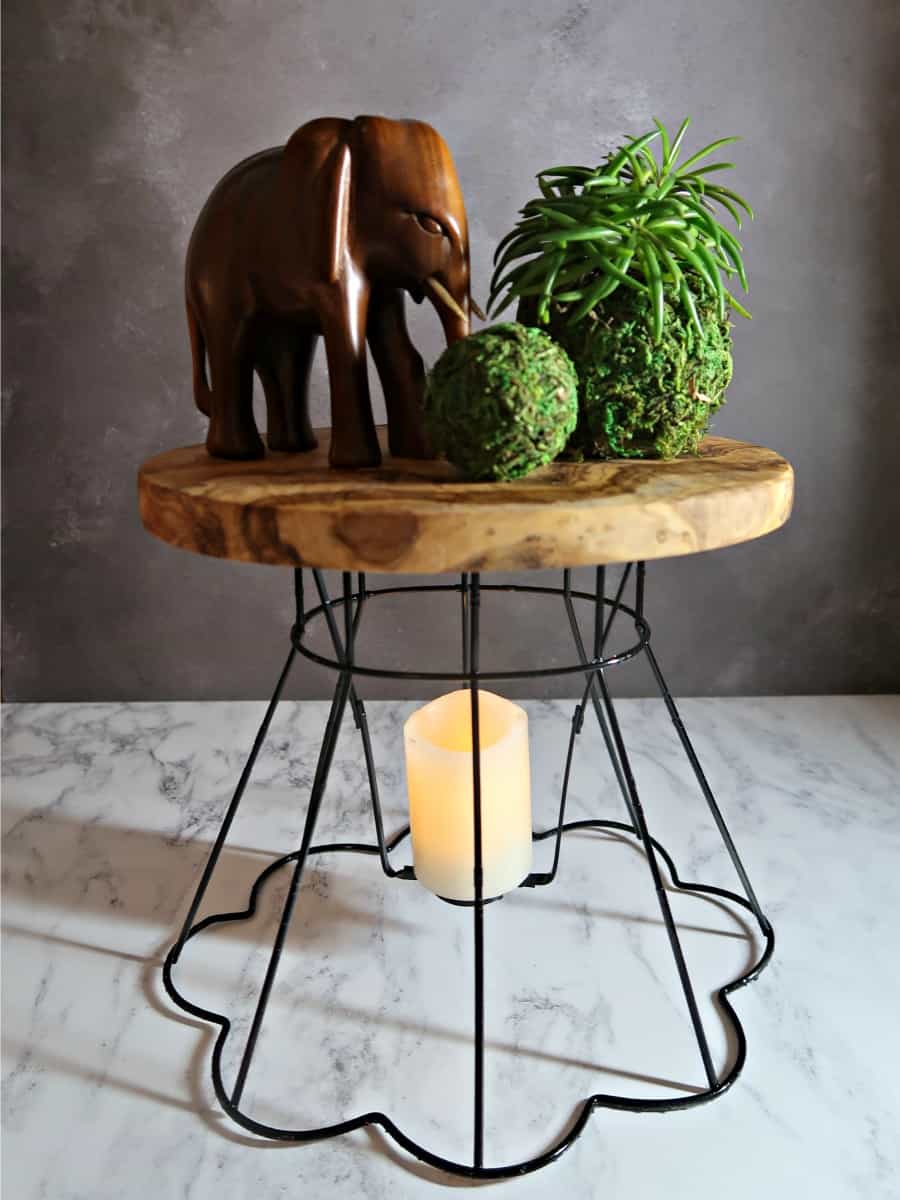 There are so many places you can take a wire lamp shade, but a plant holder just seems like such a practical method that gives your plants a more attractive place to rest. This does require some time as there are different ways you can go about this. Simply use the bare boned lamp shade to hold a plant vase that can fit inside it. This helps if the lamp shade is taller and wide. Or you can even add on more to the wire lamp shade, gluing on a wooden piece to create a complete table stand for the plants. Either way elevates your plants off the floor and onto your own beautifully customized, upcycled stand.
16. Repurposed DIY Lamp Vignette Stand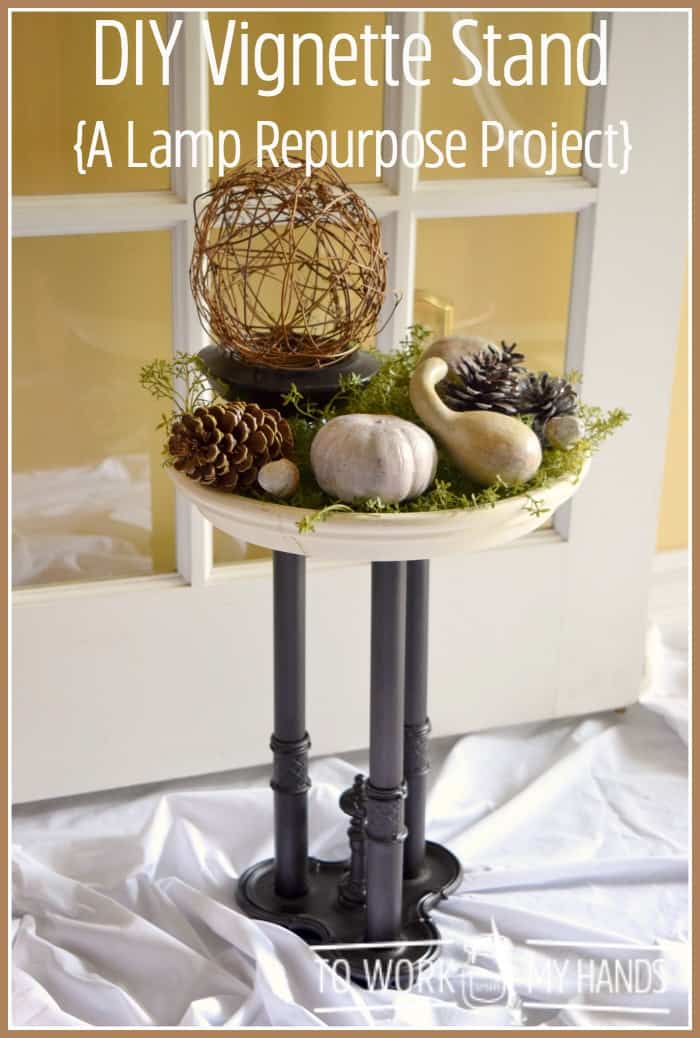 Your home decoration skills can be tested with this DIY lamp stand project. After some cutting, gluing, and painting, you will make a remarkable piece of home décor to display anything you wish. This does require a rather standout lamp, preferably one with three sections on the base so that it will both support itself better as well as offer a more attractive appearance once you paint it up. The project even allows you to reuse a different piece of the lamp, moving it to another section so that it looks like it was meant to be there as decoration. It's the ultimate way to upgrade an unused lamp base.
17. Fringe Chandelier Amazing Upcylced Lamp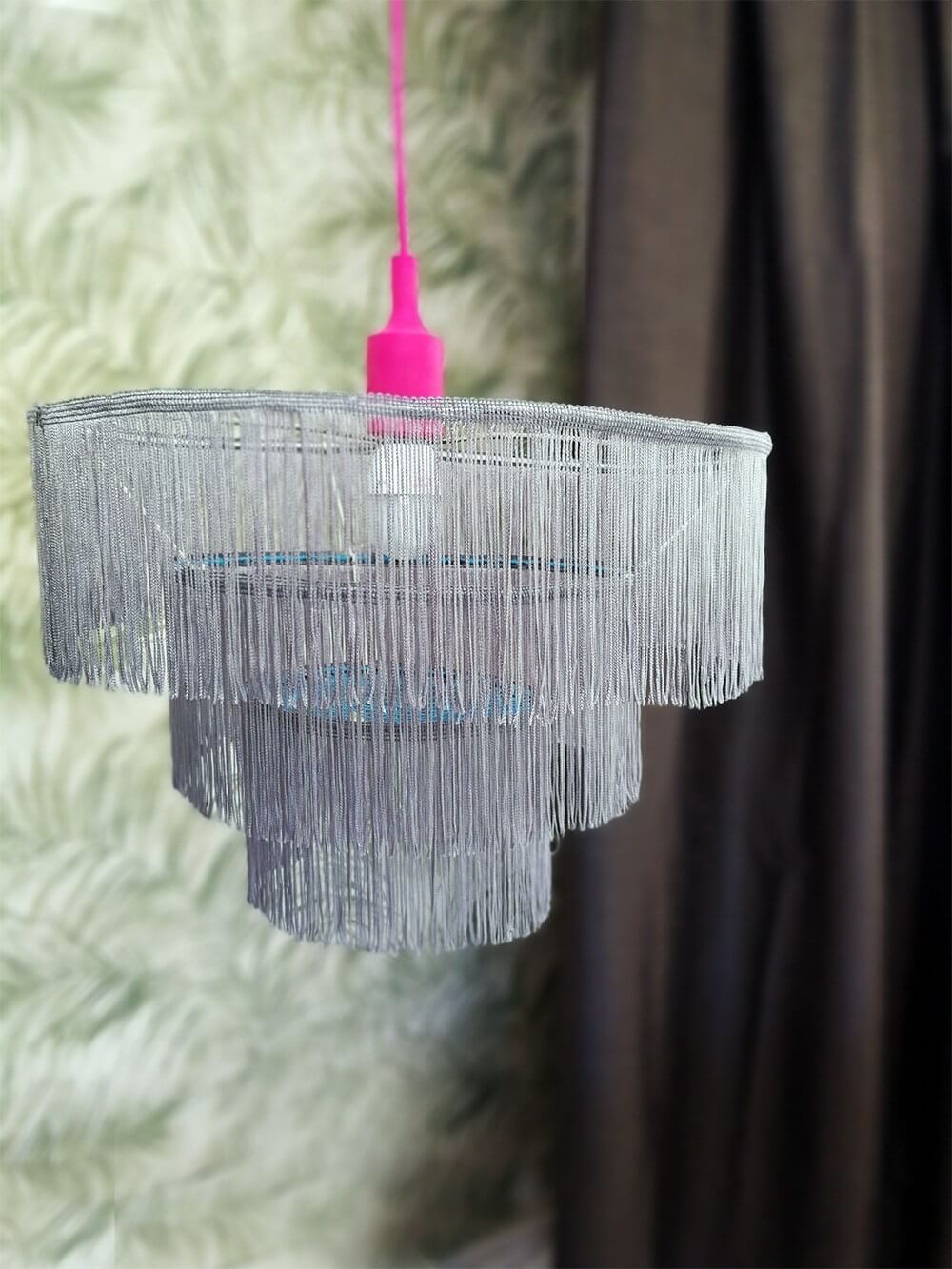 Chandeliers can help give any room new life, but you don't have to go out and buy one. Rather, take a larger wire lamp shade frame and a wire basket to create your own personalized chandelier that speaks to your personality. There is quite a bit of cutting and gluing needed, but it's a wonderful way to test your creativity and crafting skills. You'll have a lively, fringe chandelier that you can give a slight bump to in order to watch it swish around. This upcycled lamp is as exciting to play around with as it is to look at.
18. Holiday DIY Upcycled Lamp Project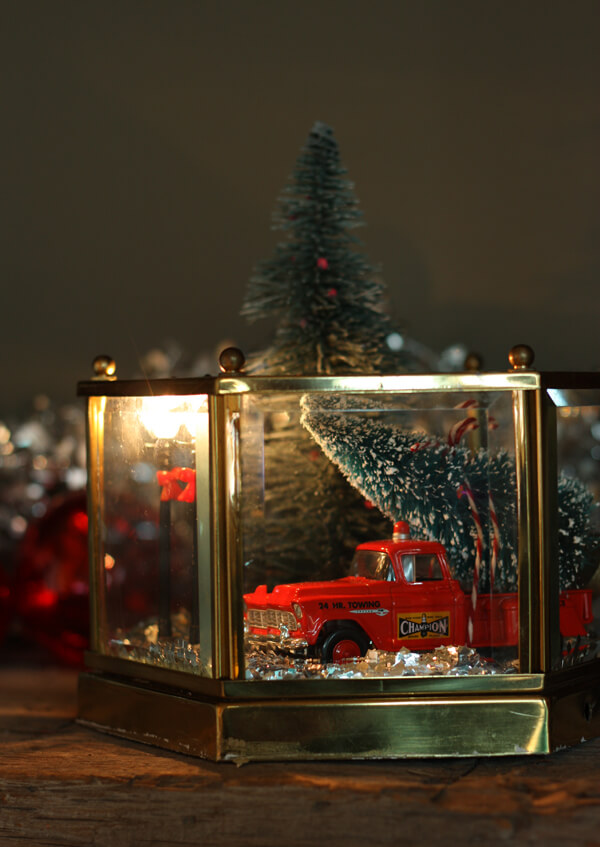 Spread the holiday cheer with a unique craft project that upcycles a lamp fixture in a way you may have never thought of before. You know how cute those small, winter-theme decorative items are? Whether you use people, a town, vehicles, you can fill your home with a winter wonderland theme with such simple items. Rather than set them anywhere, you can place them in an unused light fixture, adding in a different lighting aspect to bring it to life even more. This is a great way to decorate your home for the holidays with something warm, inviting, and recycled.
19. Upcycled Fabric Lamp Shade Décor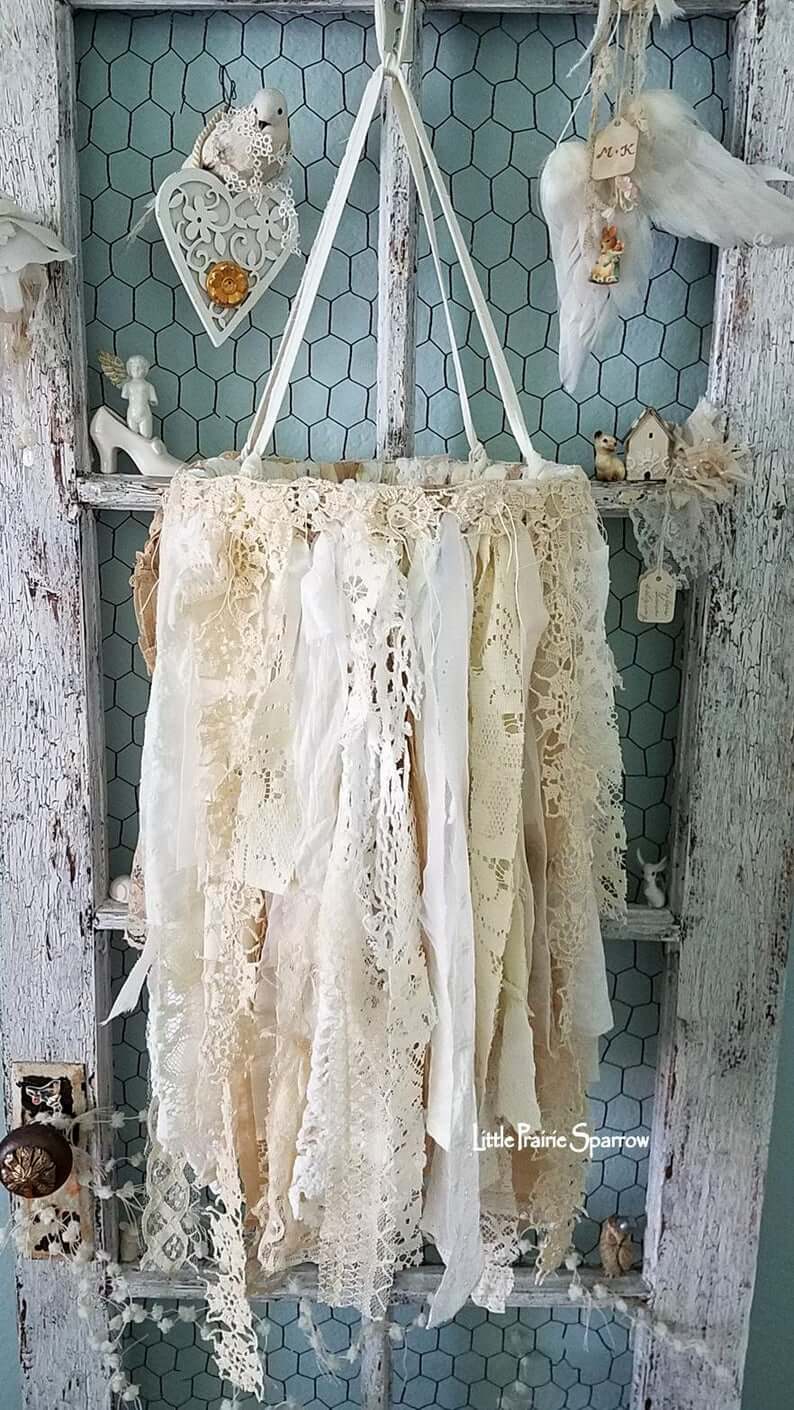 What better way to create something versatile to use in any room than this fabric lamp shade? It's an upcycled lamp shade that gives more attention to the vintage, rustic-like fabric than anything else. The ruffles and lace are appealing enough to work in multiple ways. Simply use it as home decoration anywhere that it can help highlight other items like a photo or trinket collection. You can even hang it up in a more boho-chic nursery to serve as a mobile. The prospects are near-endless.
20. Vintage Upcycled Tired Lamp Serving Storage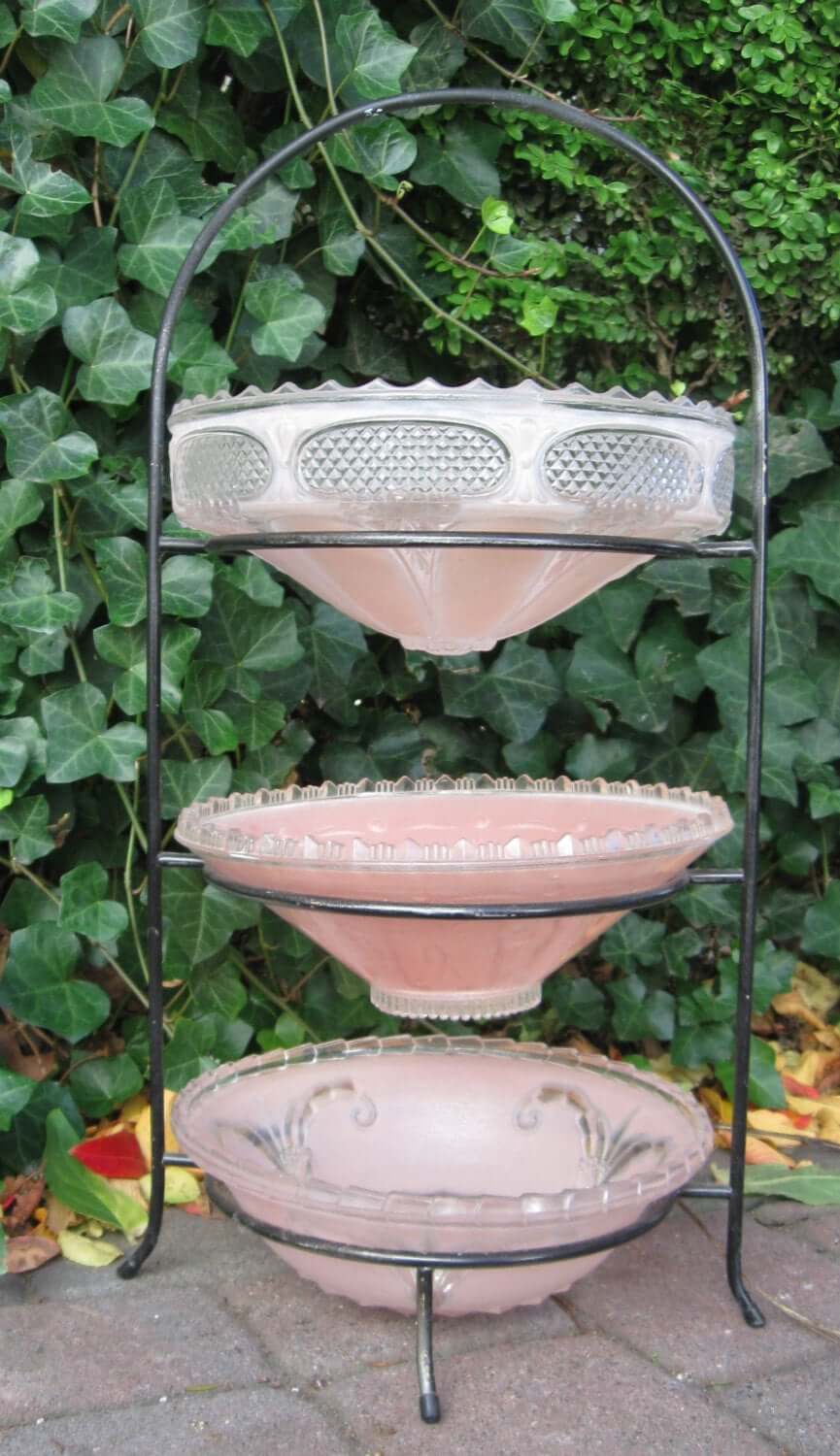 From the kitchen to the bathroom, storage is needed for various items like fruits, veggies, towels, and more. A brilliant way to get the necessary storage while decorating your home with upcycled material is with this tiered lamp. The glass bowls/shades are absolutely stunning, and they add an amazing vintage touch to your home without sacrificing their usefulness. Each has a different unique pattern as well to standout even more.
20 Cool Upcycling Ideas for Lamps and Lamp Shades to Tackle for Your Next Project
Upcycling lamps and lamp shades are a fun way to pass the time, dig deep into your creativity, and turn junk into masterpieces. There are so many ways you can take this process too from creating plant holders, to using the lamps as their intended functions, just elevated into chandeliers or something else just as extravagant.
By discussing with you some of the best lamp upcycling ideas, we hope to spark that imagination so that you can add some incredible pieces to your home. Lamps and lamp shades don't have to sit gathering dust in an attic or basement anymore, nor do you have to throw them out. Cut them apart, paint them, or add other items to them to give them a brand new, modern lease on life.
Our Favorite Outdoor Decor Lighting to buy on Amazon