The best used furniture stores are often in our own neighborhood or even closer: online! Browse the following stores we've dug up for you and see how easy it is to replace or add something to your décor. You may find something as unique as you are in perfect condition at a great price. It's fun to redecorate an old home or decorate your first home just the way you want it. Set your budget, be patient, and who knows, you may find resale furniture or decorative pieces at the first store you peruse. Even if it takes a while, the real fun is in the journey.
Upgrade Your Furniture on a Budget by Browsing these 14 Online Stores

1. AptDeco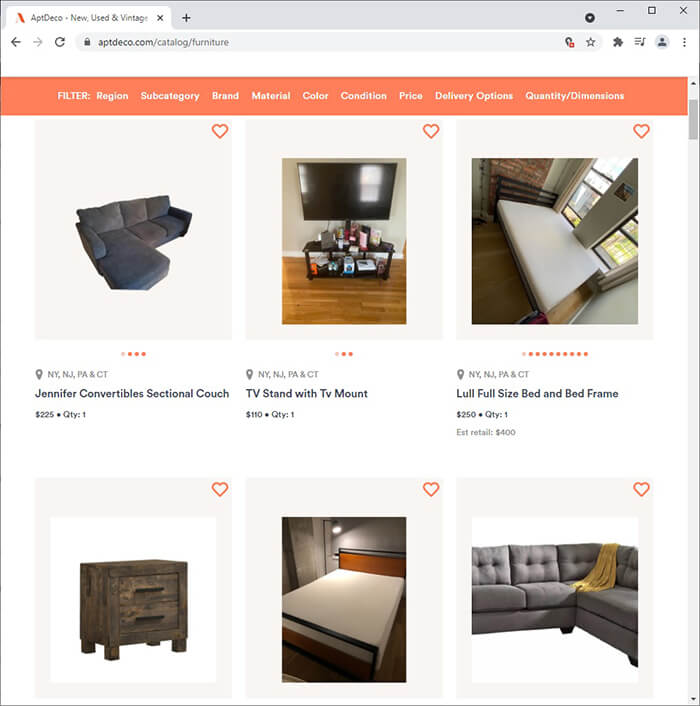 See shop: aptdeco.com
AptDeco is a second-hand furniture shop online that allows you to buy and sell used furniture. They also have a huge selection of accessories, including pillows in various colors, sizes, and styles. Anyone looking for throw pillows will find the perfect one or a group of pillows to enhance the décor of your home.
If you're selling an item or items, be sure and provide measurements and photos of the things you want to sell. If you're in the market to buy, still take measurements of the available space you have to fill with resale furniture and accessories. Get ready to be rocked, as this used furniture store online will deliver or pick up items you want to buy or sell. Finally, have fun! This isn't a chore, it's AptDeco.
2. Etsy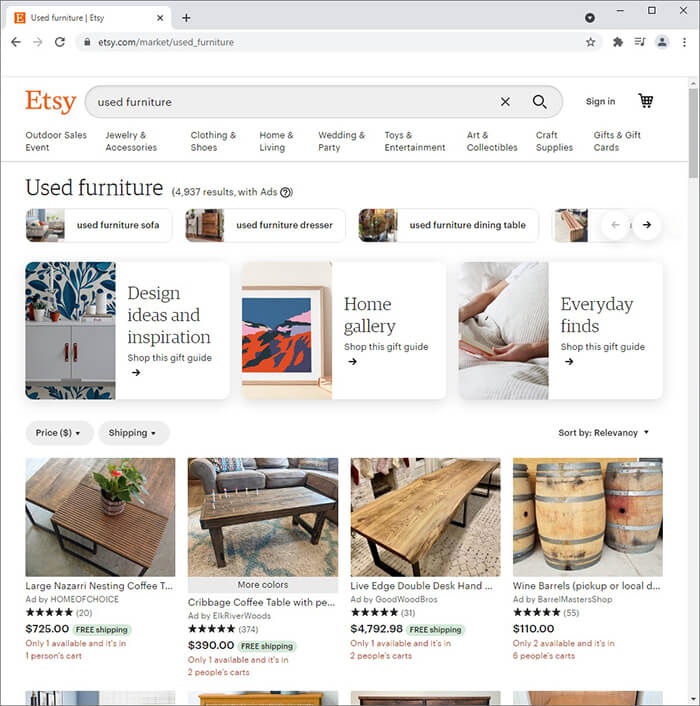 See shop: etsy.com
Etsy is a popular online store that features a plethora of handmade goods, such as jewelry, wall art, accent table pieces, and furniture. Wow! Check out their wood tables, shelves, and cabinets. Some pieces are truly hand and tool made by a wood craftsman while other pieces are refurbished yet still look fabulous. Many people don't realize that Etsy is one of the used furniture stores that people buy from all the time. However, it is one of the most unique, best used furniture shops online.
You could spend all day shopping Etsy, and you still wouldn't see everything they have to offer. Start first by searching the category of items you're interested in and then you can broaden your horizons to see many more parts of the store. Need a gift? Shop Etsy for unique items that are perfect for the people you have in mind. Don't worry, we won't tell. Etsy can be your secret.
3. Apartment Therapy Bazaar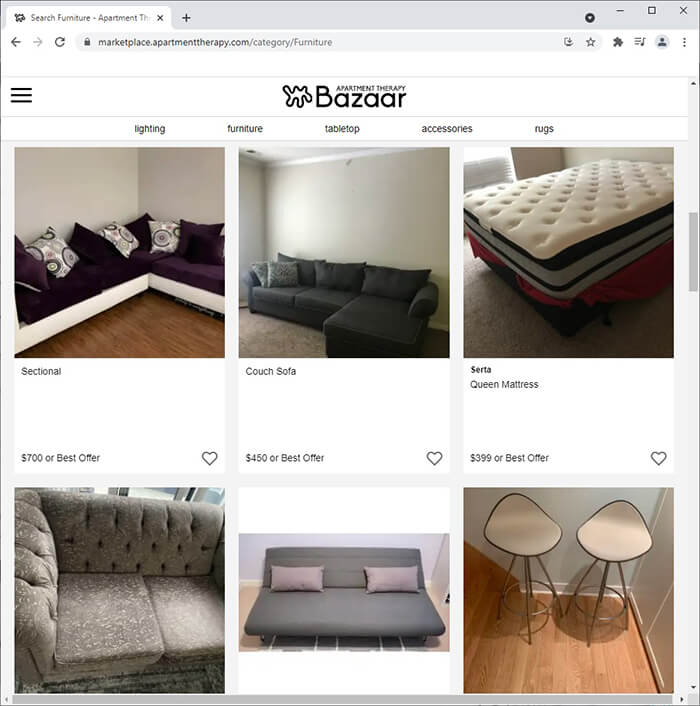 See shop: apartmenttherapy.com
Apartment Therapy Bazaar is about to become your new best friend. Whether you are adding furniture or trying to get rid of some stuff, they have what it takes to meet your needs. They specialize in vintage furniture and other stunning items, but they also have modern furniture and accessories as well. Give your home a makeover with handcrafted tables, beds, benches, and more. This second-hand furniture shop online can turn a drab room into one that exudes elegance.
If you're looking for a great marketplace in which to sell your furniture or other items, check out their website to learn the process. They do deliver what you buy and pick up what you're selling, so either way, you'll come away with a positive experience when you do business with Apartment Therapy Bazaar.
4. Retrouvius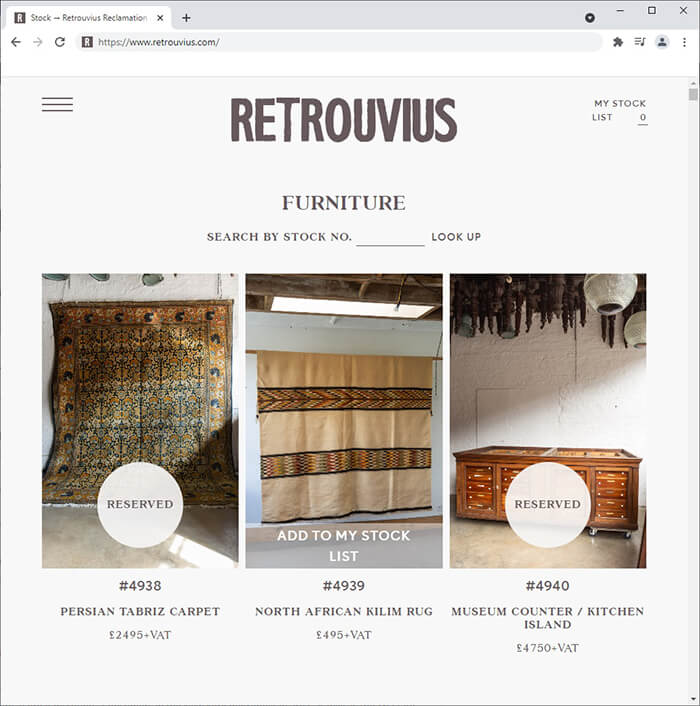 See shop: retrouvius.com
This is the only used furniture store online on our list that is out of the United States. It is based in the UK and will ship anything you buy right to your door. They specialize in the reuse of materials that are salvageable and would end up in the trash otherwise. They work with a variety of materials, including marble, stone, and wood.
Check out their fabulous selection of cheeseboards, which are used for much more than cutting cheese. For example, the cheeseboards that were once used to store cheese are longer than the cheeseboards we use. They make shelves or almost anything you want to do with them to add a rustic look to your décor. Whatever you decide to do with them, they make a great conversation piece.
5. Kaiyo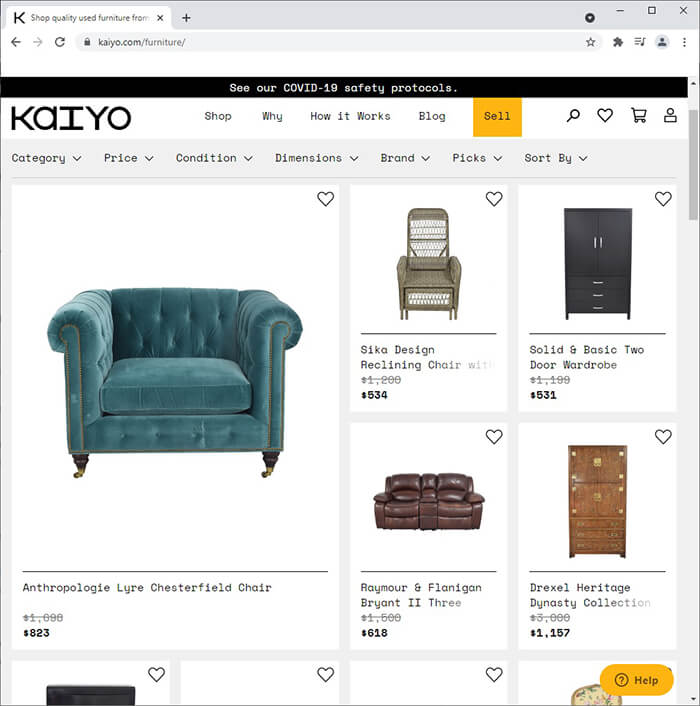 See shop: kaiyo.com
When you're in the market for a second-hand furniture shop online, Kaiyo is a great option for you. Browse unique furniture at great discounts. Consumers in the New York metropolitan area, as well as the Tri-State area, can buy or sell furniture and other items to accent or free up space for your décor.
One of the great things about Kaiyo is that they carry unique furniture and accessories you won't find anywhere else. Of course, browsing from the comfort of your home is also a bonus. Whether you're shopping for name-brand pieces or unique one-of-a-kind resale furniture, Kaiyo is bound to have what you seek.
For those who are trying to downsize, Kaiyo is there for you, too. They will come to your home to inspect the piece or pieces, and if approved, they will take it away, clean it, and present it for sale on their website.
6. Everything but the House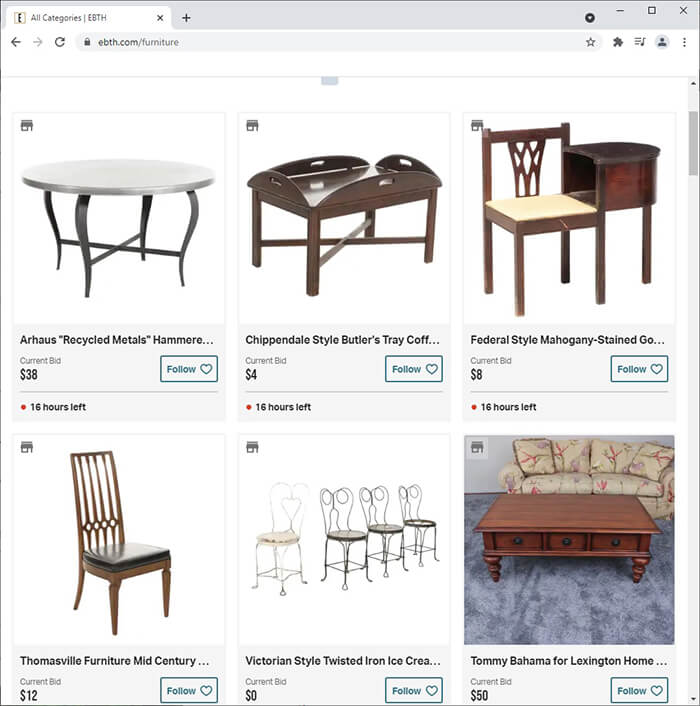 See shop: ebth.com
This site works a little differently than most of the used furniture stores on our list of best used furniture stores. At Everything but the House, you bid on the items you desire. With everything starting at just $1, who knows, you might end up with the perfect piece for your home without draining your bank account. While you are browsing, you will be able to see the current bid and how much time is left before bidding closes.
What if you want to sell furniture and/or other items? At EBTH, you can do this too. In fact, it couldn't be easier. Simply fill out the short form on their website. An associate will contact you, and when your item sells, you will be paid within 30 days. What could be easier?
7. Chairish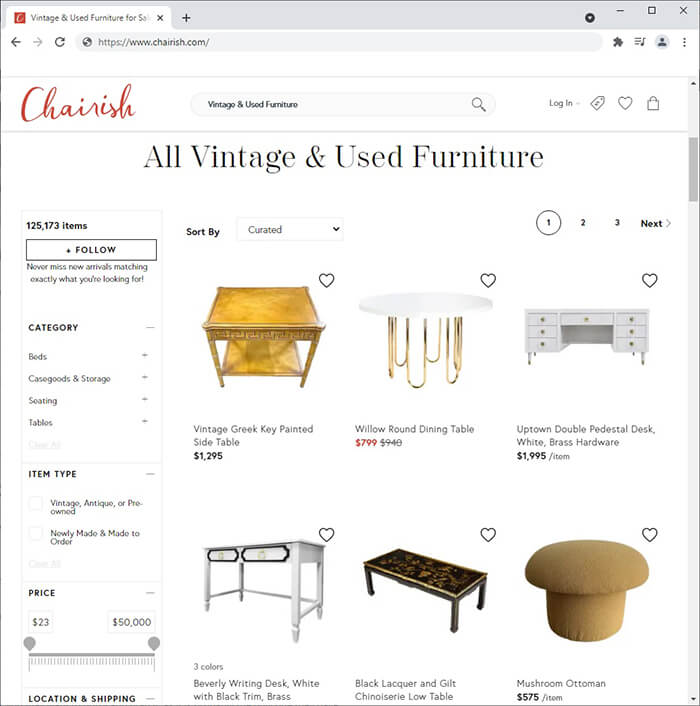 See shop: chairish.com
While Chairish is the perfect place to find chairs of every type and size, like the other sites on our list, you can find a plethora of other items and furniture to redecorate your home or even to get it ready to sell. Either way, it's bound to be a fun and exciting experience shopping Chairish. One of the best unique used furniture online stores, it offers something for everyone. It is also a great place to shop for gifts.
Chairish also offers outdoor furniture and vintage items. For those who enjoy backyard barbecues or just visiting on the patio with family and friends, this is a great site to use to refresh your outdoor environment. Shop from the comfort of your home for various items to spruce up your place.
8. 1st Dibs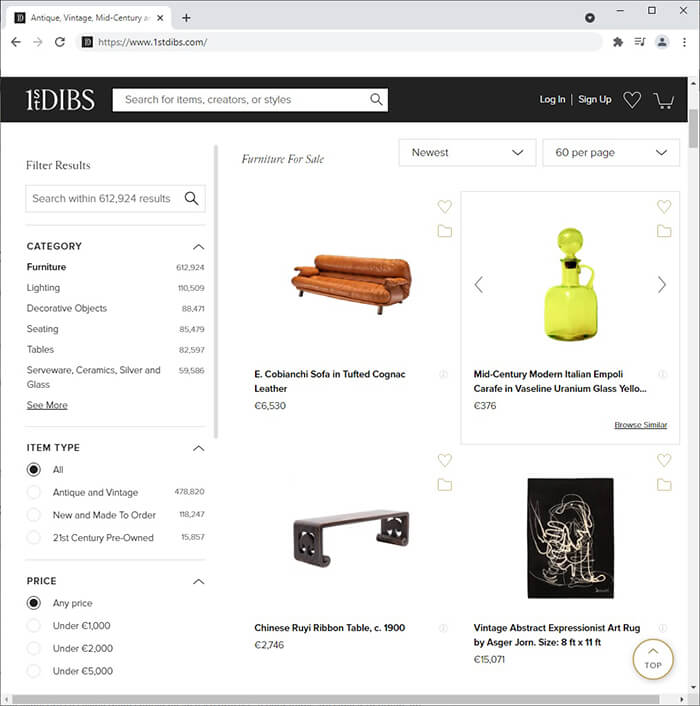 See shop: 1stdibs.com
1st Dibs is a used furniture online store for the elegant shopper. When shopping for unique or elegant furnishings for your home, you couldn't choose a better place. In addition to furniture, they offer lighting, decorative objects, rugs, carpets, and more. You won't find these items just anywhere, as many of them are unique. They also have a collection of vintage furniture and objects for those looking for antiques.
This second-hand furniture store online has thousands and thousands of furniture pieces for your perusal. Accent pieces, as well as tables and chairs, make up only a fraction of all the items 1st Dibs has for sale. Take your time and browse their site for just the perfect items you are desiring. If you fall in love with something, you may want to hurry and grab it, as it is probably the only one they have.
9. Upscale Consignment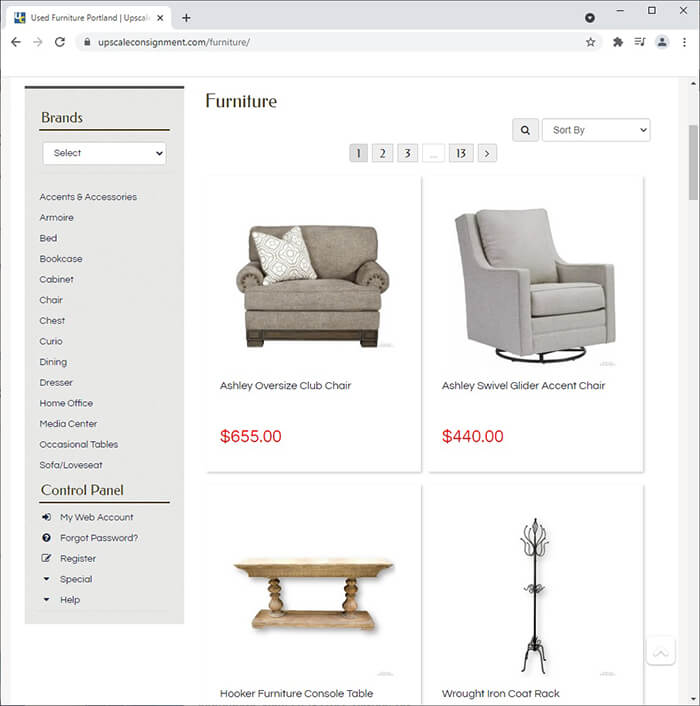 See shop: upscaleconsignment.com
Located in Gladstone, Oregon, Upscale Consignment offers both buyers and sellers a great experience. For those looking to redecorate their home or decorate their first home, you will find a myriad of furniture and decorative items much less expensive than new ones. Whether you're shopping for solid wood furniture, retro furniture, or just shopping until something catches your eye, you will find it here.
For those who seek to sell some of their furniture or decorative items, this unique resale furniture store will meet your needs. One of the best features of consigning your products with this store is that your objects will have huge exposure so selling them should be an easy process. If your items are similar to others on their site, browse through them to see what prices they are offering so you will have an idea of how to price your stuff.
10. Cort Furniture Outlet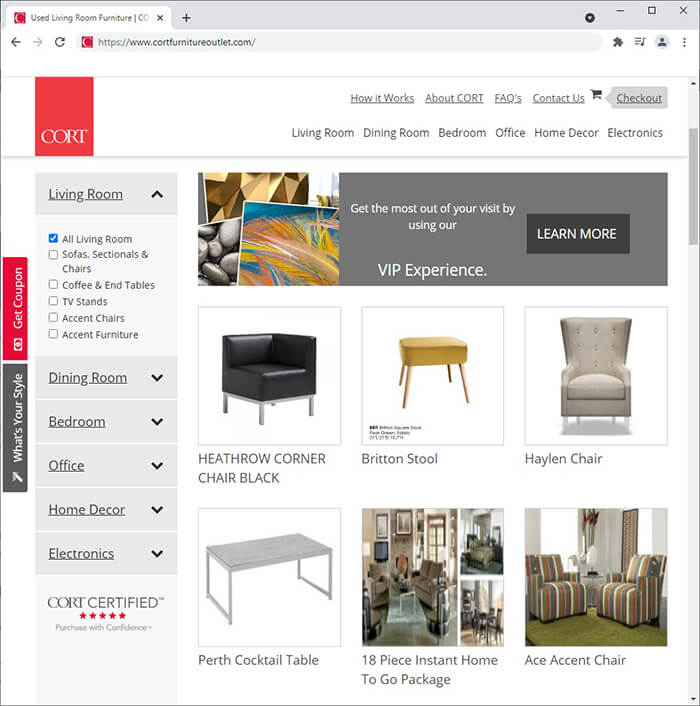 See shop: cortfurnitureoutlet.com
With locations in California and Arizona, Cort Furniture Outlet serves a wide variety of clientele. One thing that is different from most of the best used furniture stores on our list is that this outlet lets you rent furniture and return it or have it picked up when you are finished using it. This might be the perfect solution for some people, such as military personnel and others who might find themselves being transferred from city to city.
Even if you are staying put, this is a great used furniture online store from which to shop. The outlet offers furniture and accessories for every room in your house. They also offer electronics, such as TVs, Home theaters, and basic electronics.
11. Apt 2B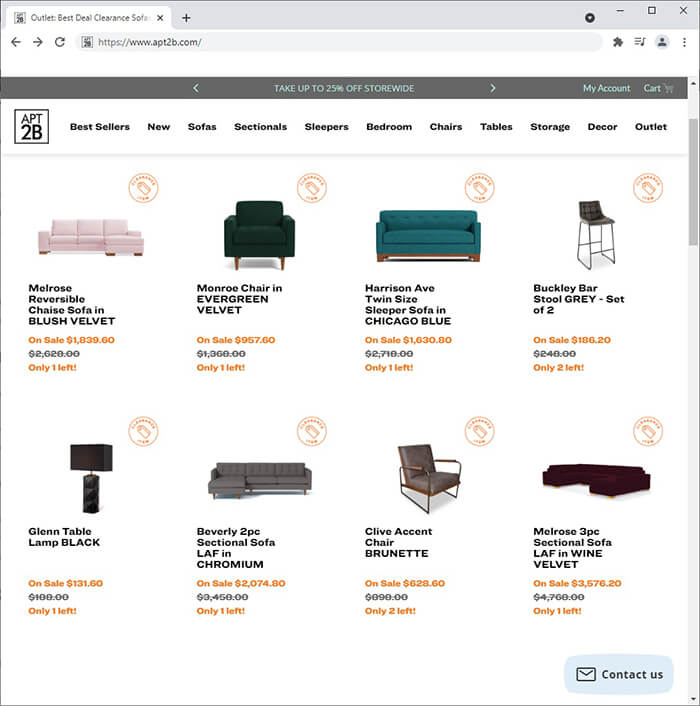 See shop: apt2b.com
One of the best used furniture stores, Apt 2B offers stately and luxurious style without the high prices of some second-hand furniture stores online. Whether you're planning to redecorate your bedroom or living room, you can't go wrong with Apt 2B. The best part is that no matter your style or budget, you will find the furniture and décor to make your home comfortable, cozy, and attractive.
There is free delivery on every order and you may even qualify for financing. The Outlet is where you'll find the best prices on opened but never used items and furniture too. Whether you live in an apartment, condo or house, you can make your home sing with gorgeous pieces from Apt 2B.
12. High-End Used Furniture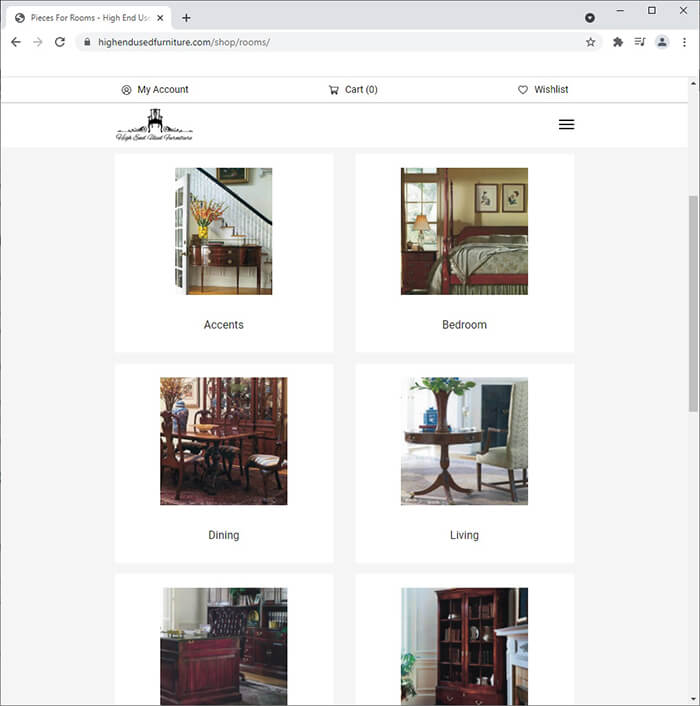 See shop: highendusedfurniture.com
Give your home a facelift with luxurious furniture from High-End Used Furniture. While the name implies expensive furniture, you will notice on their website the reasonable prices they offer. While they don't do consignments or buy your furniture, they do scout on a regular basis good sturdy furniture they can clean up and resale to you. You can expect many of their items to be one-of-a-kind items that you won't see anywhere else.
Sign up for their E-Club, and you'll be among the first to know about new pieces and promotions. You will also be privy to huge discounts. Whether you are redecorating one room or the entire home, you will find what you need here. They have everything your house needs, including furniture for your new home office.
13. Route 66 Furniture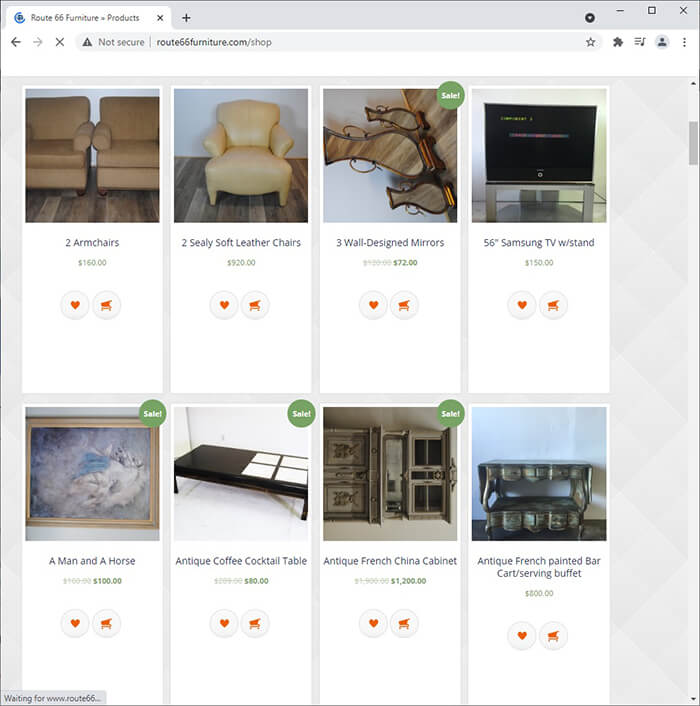 See shop: route66furniture.com
Most of us have heard of the famous Route 66, but this is one of the best used furniture stores we have come across. This second-hand furniture shop online has a myriad of stunning selections you may not have seen before. Take a look at their collection of furniture and accessories for every room of your house, and look forward to the delivery of your purchases.
Maybe instead of shopping for more furniture, you would like to sell some of the furniture and accessories you already own. No Problem! Route 66 has a well-laid out program for selling your wares and sending you your portion of the money. Check out their website to learn how the selling process works.
14. Craigslist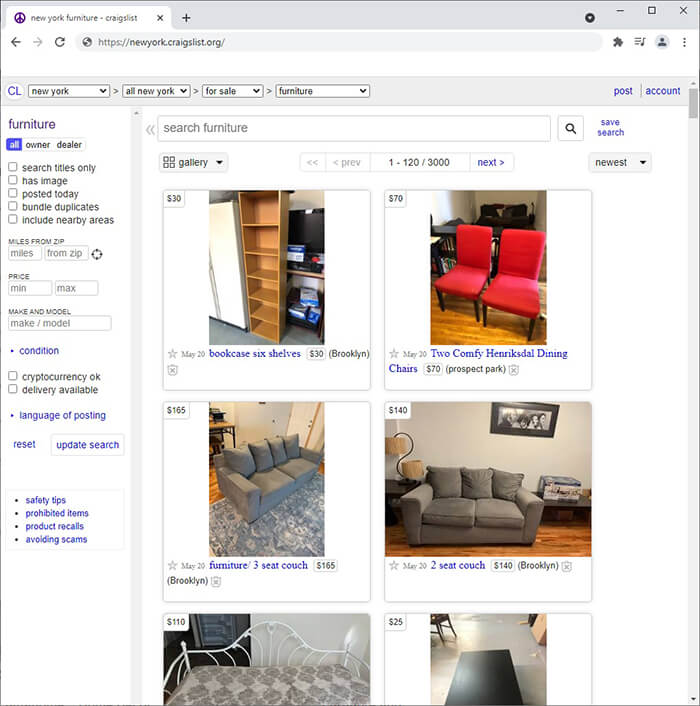 See shop: craigslist.org
You've probably heard of Craigslist, but have you ever checked out their used furniture in the New York area? You might be surprised at what you will find, especially if you check every now and then. As with most used furniture stores, inventory will change rather rapidly.
Craigslist works differently than the other used furniture stores on our list. With this website, you photograph your furniture or other things you are selling, write an ad and upload the picture(s) to their site. When buyers contact you through the Craigslist website, you can arrange to meet at a public place so the buyer can look at what you are selling and decide if they want to purchase it. For furniture and other large items, have a friend or a spouse home with you at the agreed-upon time.
14 Best Places to Find Your Favorite Used Furniture Online
Wow! Are you as overwhelmed as we are? We hope so, in a good way of course, because we were overwhelmed comprising this list for you. We had a ball doing it simply because there is everything out there that you could possibly desire. These used furniture stores have something for everyone and every need or want. Home stagers will find a plethora of pieces to make the homes they are entrusted with look like elegant homes or cutesy homes, whatever their clients need. Even if you're looking for buyers for your items, this list is a goldmine for that as well.