15. Dress a Bleak Wall in Unforgettable Style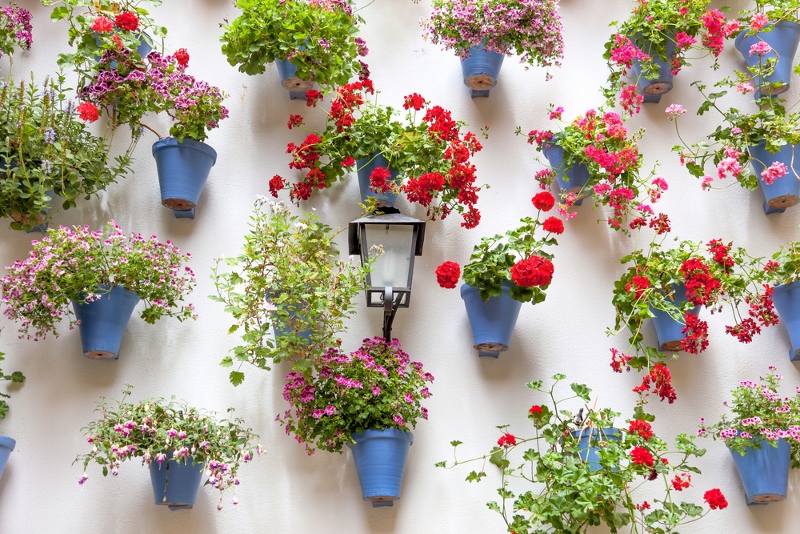 The uniformity of terracotta pots painted in a soothing French blue line a blank wall and provide the perfect base for a riotous array of bleeding hearts, geraniums and other pretty blooms. The pleasing contrast between the muted color of the pots, the high energy of the pink and red blooms and the neutral wall behind make this design an especially appealing example of vertical gardening. This design is particularly suited to those living in apartments or those with limited garden space.
16. A Vertical Garden Idea for a Seaside Cottage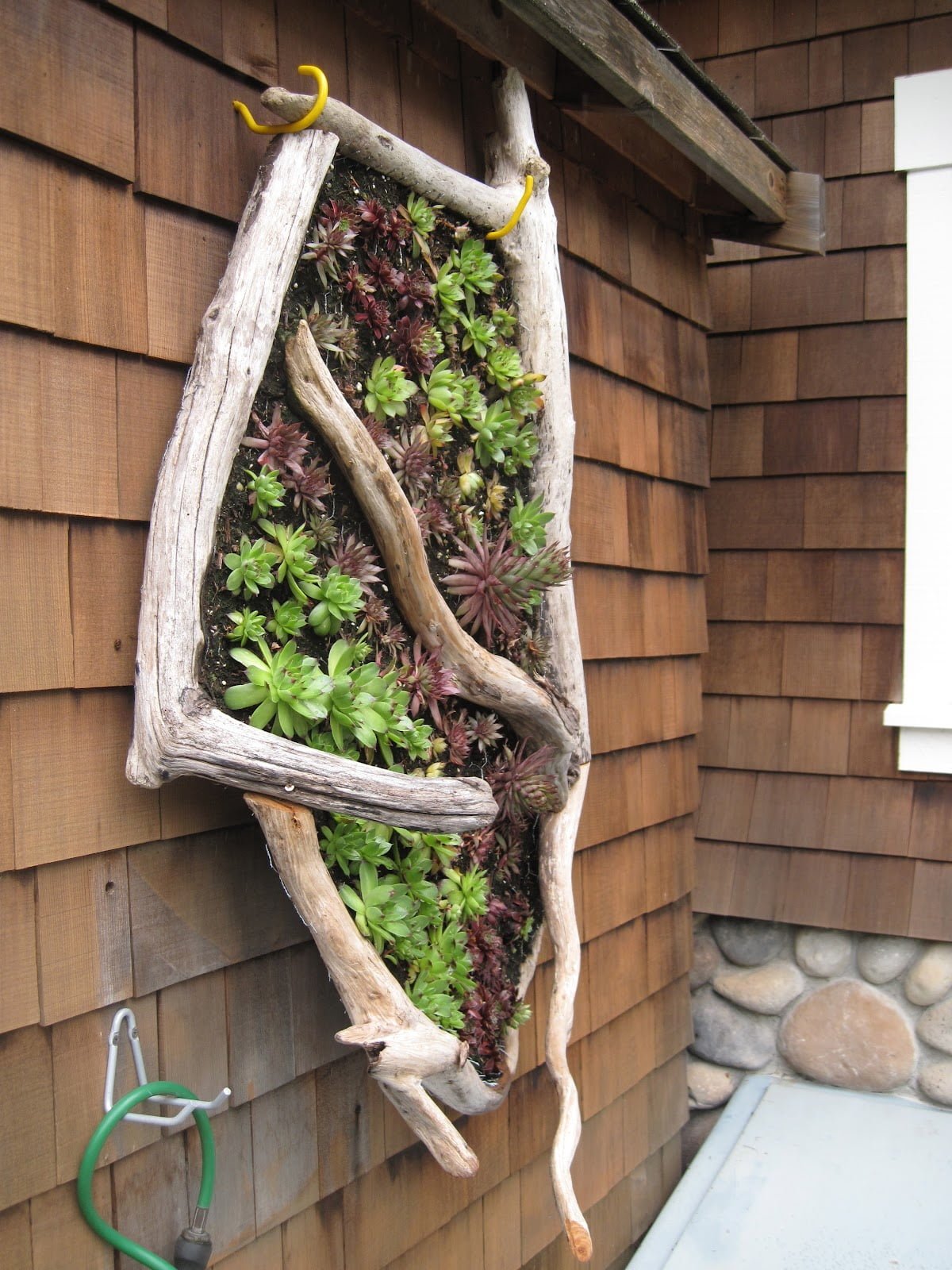 Artfully shaped pieces of driftwood form a living sculpture with the addition of small succulents in colors ranging from green to dusty red. Found objects, such as driftwood, can provide a wellspring of inspiration for crafting a vertical garden that becomes a piece of living artwork accenting a bare wall. Succulents are especially suited to vertical gardening, as they are low maintenance, slow growing and require little water. Their shapes provide interesting texture in any planting area and are particularly successful contrasted with the smooth lines of these driftwood limbs.
17. Stack Dresser Drawers to Create a Striking Vertical Garden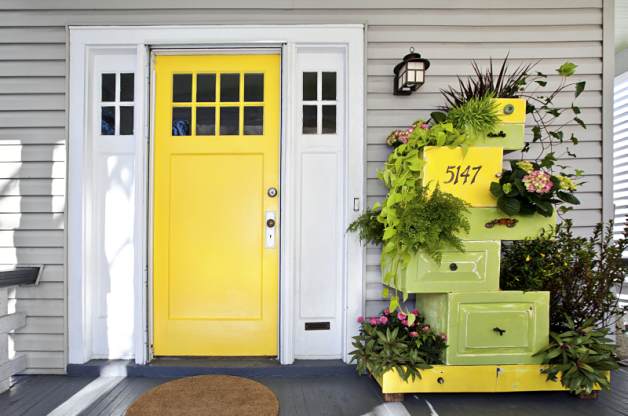 An example of a great way to create eye-catching drama by the front door is exemplified by the clever use of repurposed dresser drawers painted in harmonizing colors and planted with a wealth of lush ferns and flowers. Coordinating the color with that of the front door makes an especially impactful overall statement. In the fall, colorful gourds stacked in pleasing shapes can be substituted for the summer blooms, while in winter, evergreen boughs, springs of holly and other greenery fit the seasonal theme and keep the display looking fresh year-round.
18. Take Vertical Gardening to New Heights with Whimsical Art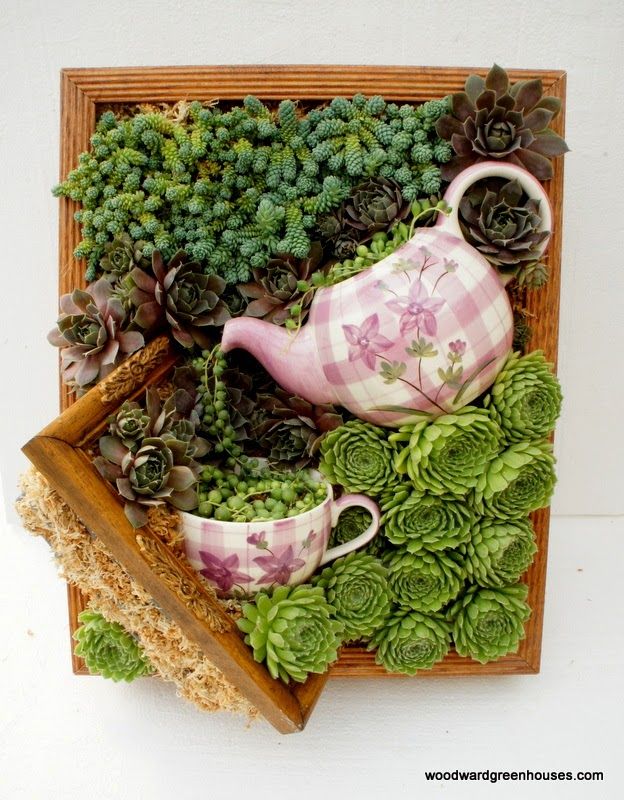 A charming wall garden that brings a touch of memorable whimsy to any home decor scheme, this tableau takes advantage of plant shapes to create its scenery. The appealing green bobbles of the pearl plant stand in for tea, spilling out of the teapot into the cup below, while rows of the hens and chicks succulents provide visual interest while supporting the china pieces. A matching frame set at right angles to the main frame takes the sculpture into three dimensions. This garden is perfect for livening up a breakfast nook or outdoor patio dining area.
19. A Two-Story Hanging Garden of Flowers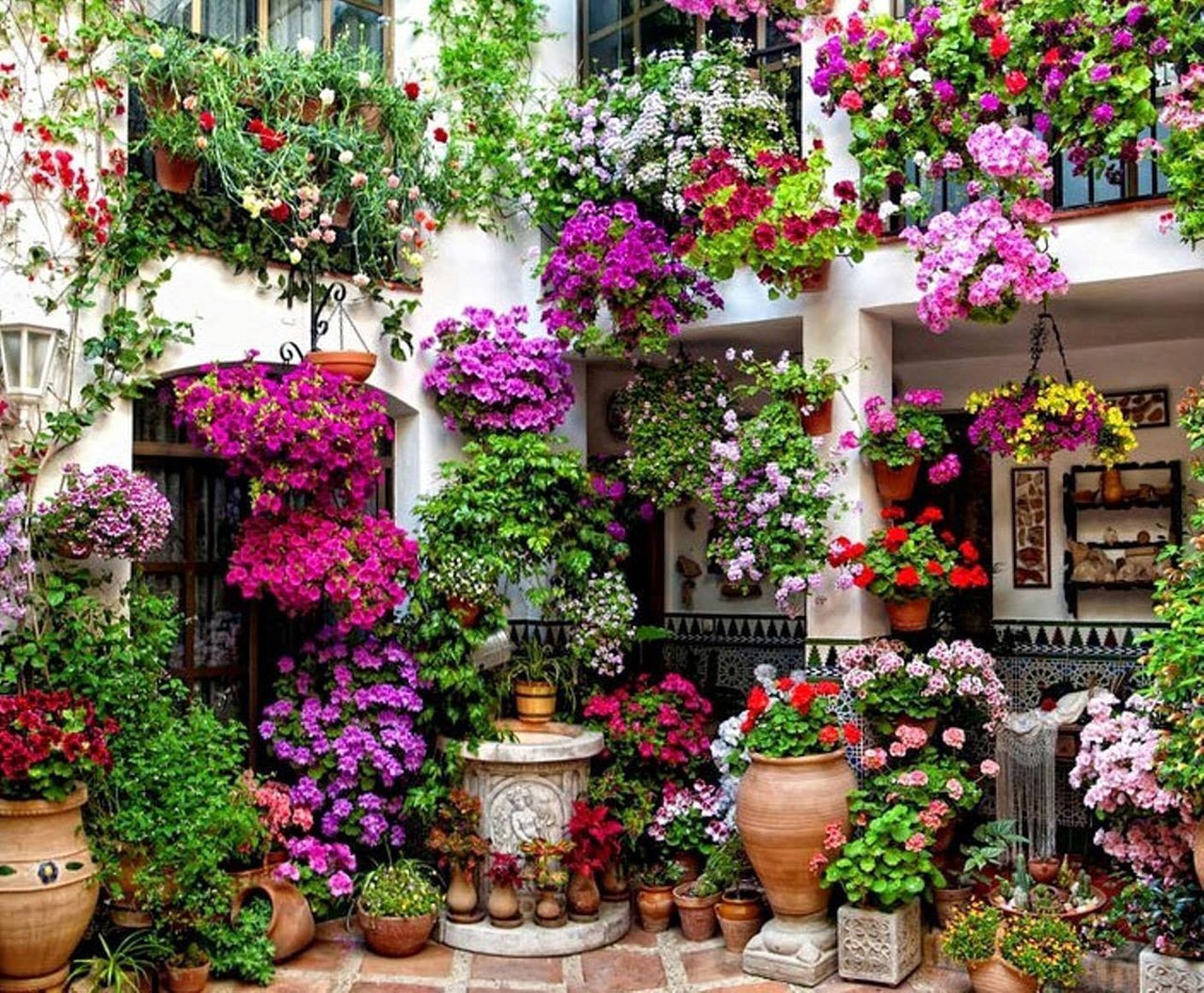 Lush blooms in varying shades of purple, red and pink grace every available space in this quiet courtyard. The lavish use of flowers creates a garden out of thin air; there's no soil to be found in this paved courtyard, but that didn't stop the designers from using planters to stunning effect. Attaching terracotta pots to the wall, using plant hangers and a variety of standalone pots are the key to achieving a garden when space is tight or no soil is available. Using perennial plants like petunias ensures large blooms all season long.
20. A Juxtaposition of Old and New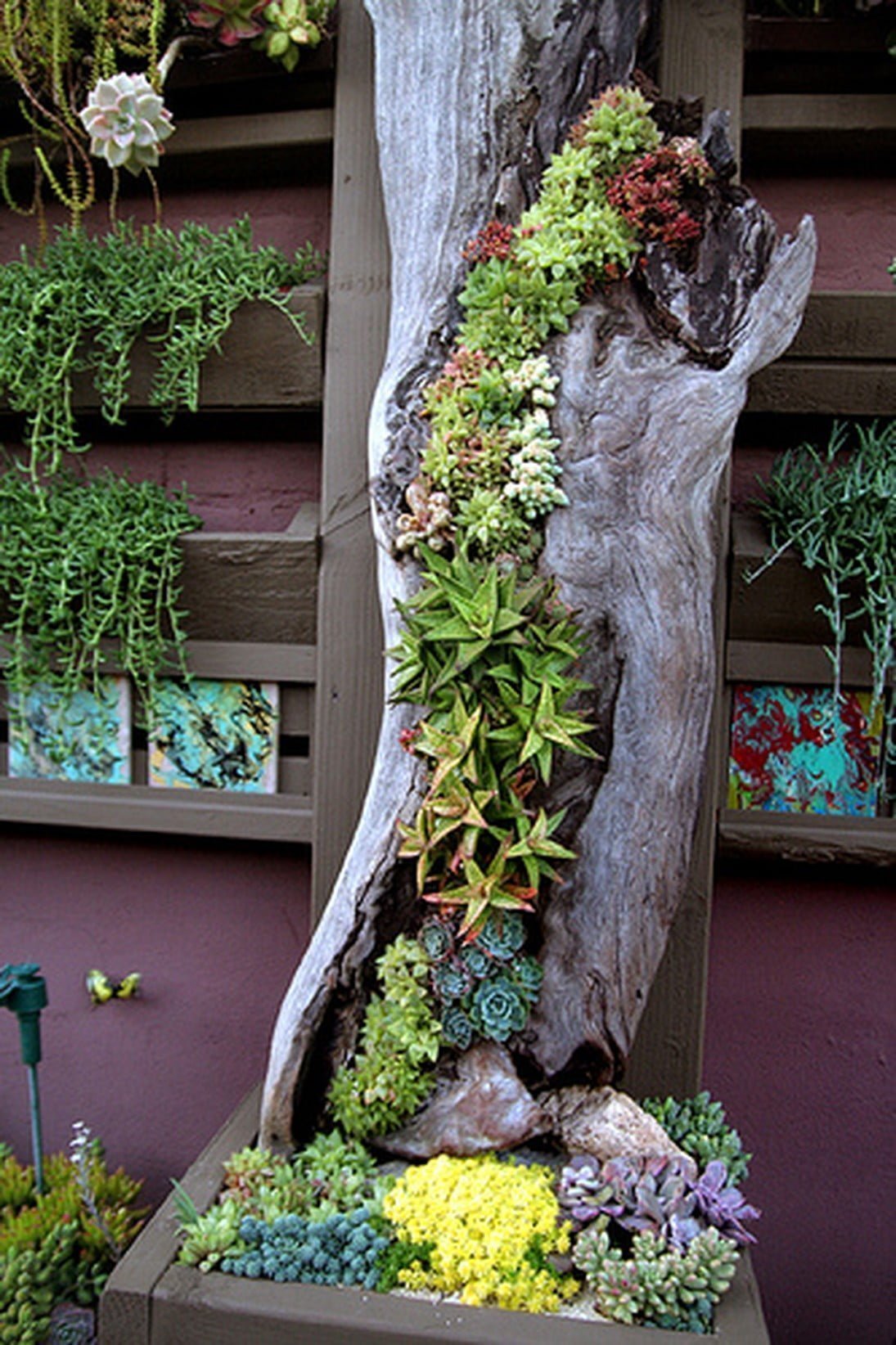 Part of a desiccated tree trunk receives new life as a stunning vertical planter. Artful use of texture and color when choosing the succulents to plant creates points of interest. The tree trunk is attached to a neutrally painted board for stability, with a matching planter box below that holds more succulents. While this can function as a standalone piece, incorporating matching planters in the background will extend the effect with a harmonizing use of color. This planter idea will work equally well indoors or out as a living focal point.
21. Create a Tiny Wall Garden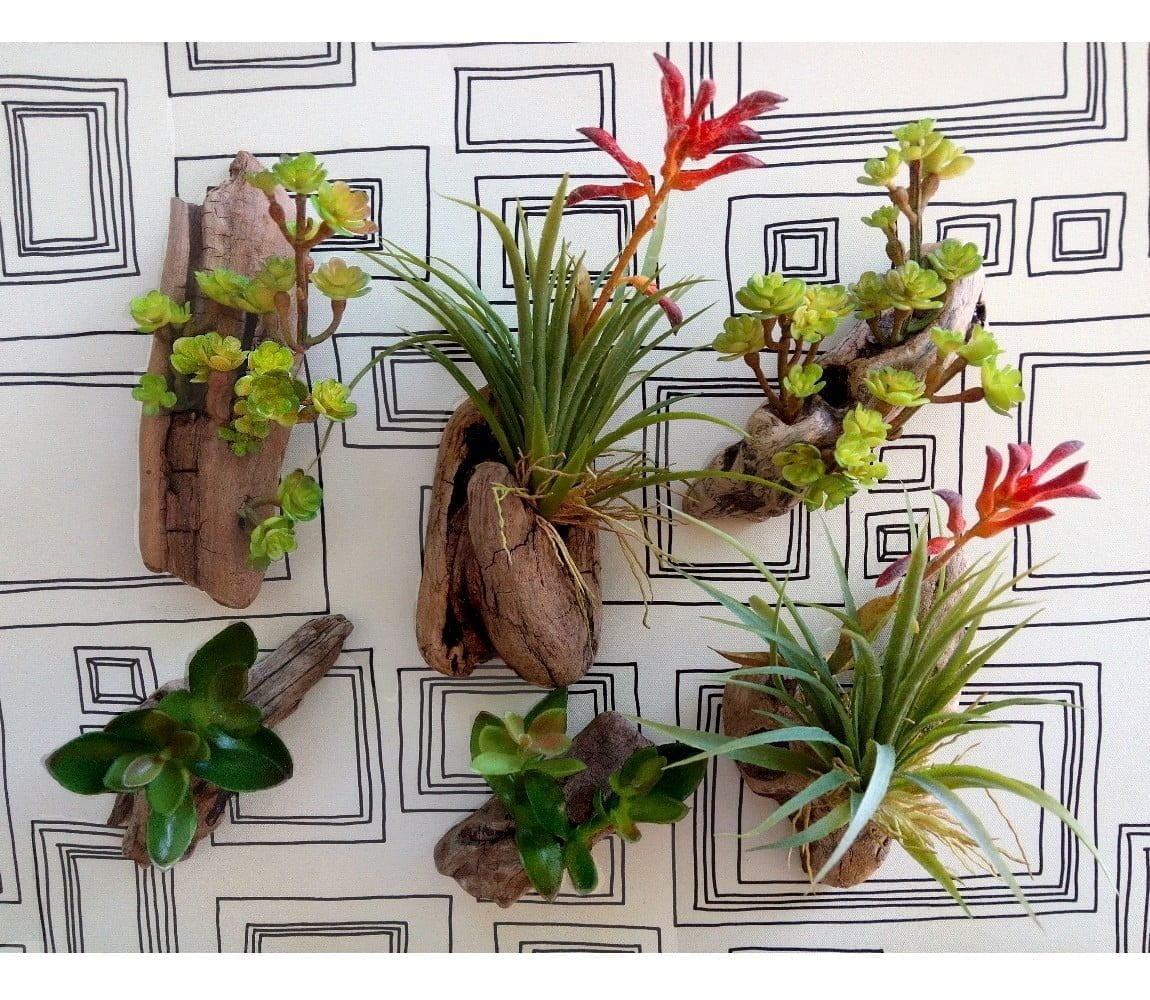 Strolling the beach can yield inspiration for a vertical garden design. Succulents and air plants fill small crevices of driftwood chunks to create tiny wooden planters. Consolidating them into a small grouping on the wall creates an arrangement perfect for tight spaces. Attaching magnets to the back extends their use to places like the refrigerator or metal containers for an unsuspected pop of color. These small pieces of driftwood can also be hung from the ceiling with transparent fishing line for a suspended, three dimensional garden.
22. A Minimalist Wall Garden Can Still be Striking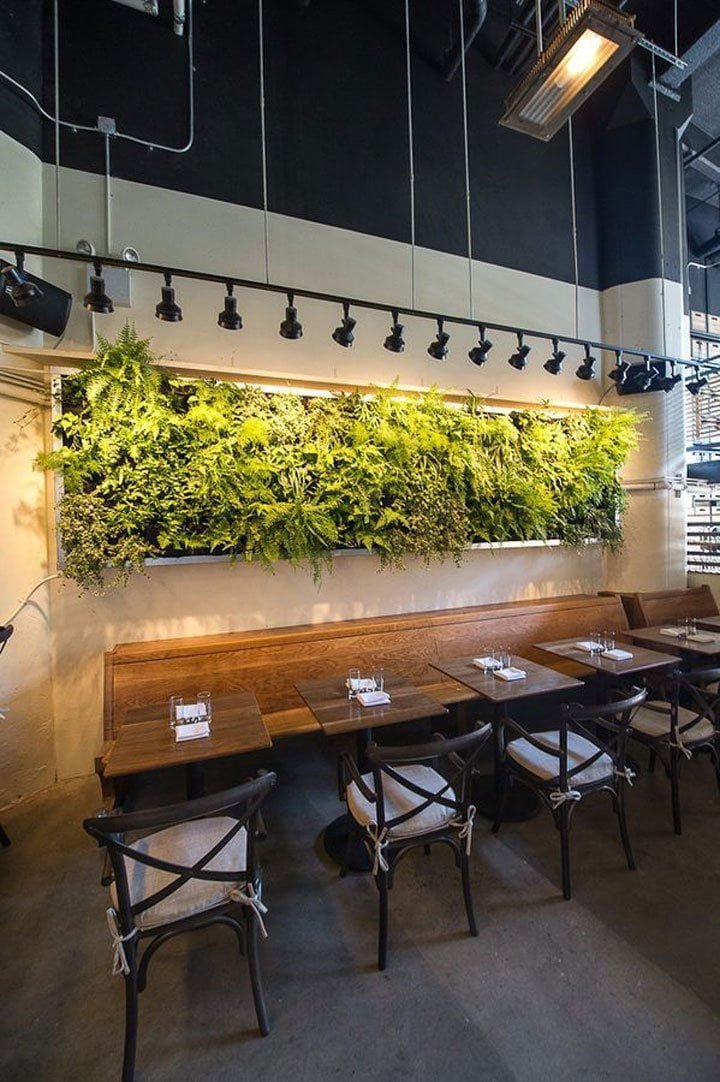 A profusion of ferns creates a uniform landscape of color and shape in this sleek wall display. The straight edges of the metal tray contrast with the greenery and create clean, sharply delineated lines. This idea is especially suited for modern interiors, where the clean lines and burst of color add focal interest. It's an excellent way to bring the outdoors inside while still adhering to an overall modern aesthetic. The ferns work especially well in this setting, as their leafy fronds extend several inches from the piece, creating a subtle, three dimensional effect. Adequate wall support is also essential for a vertical garden of this size.
23. Stack Crates for a Tiered Edible Garden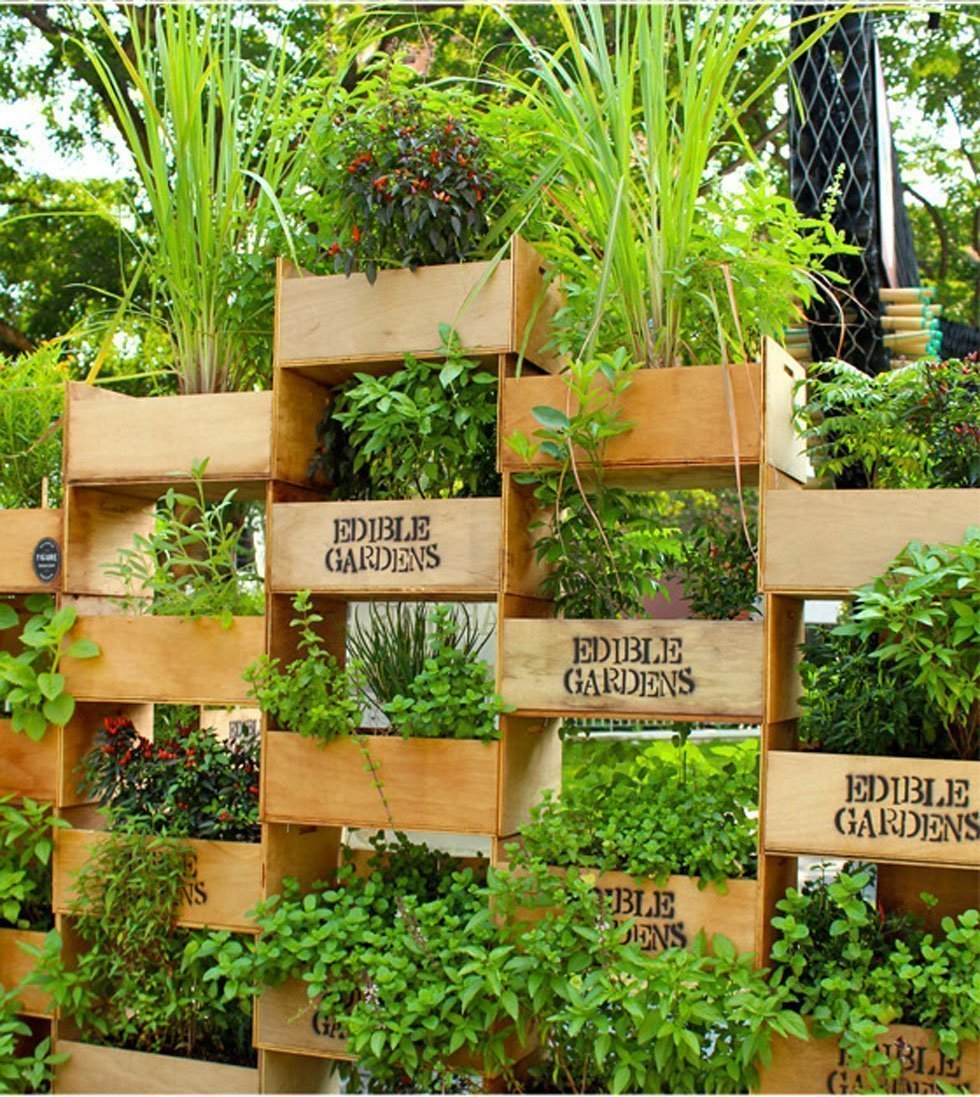 Reusable wooden crates reinforced with stabilizing planks create an appealing stacked garden. This installation would work nicely against a bare section of fencing or as a divider between a patio and the rest of the garden. Planting the boxes with edible herbs and salad greenery turns a pretty structure into a practical addition that saves money. Line the crates with metal trays to catch excess water, and place plants in individual pots for multiple groupings. Taller plants in the upper boxes add height and visual interest. These containers can be stacked quite high, matching the height of a background fence or wall, as long as there is adequate support for the unit.
More vertical garden decoration ideas on the next page…