24. Precision Meets Unrestrained Nature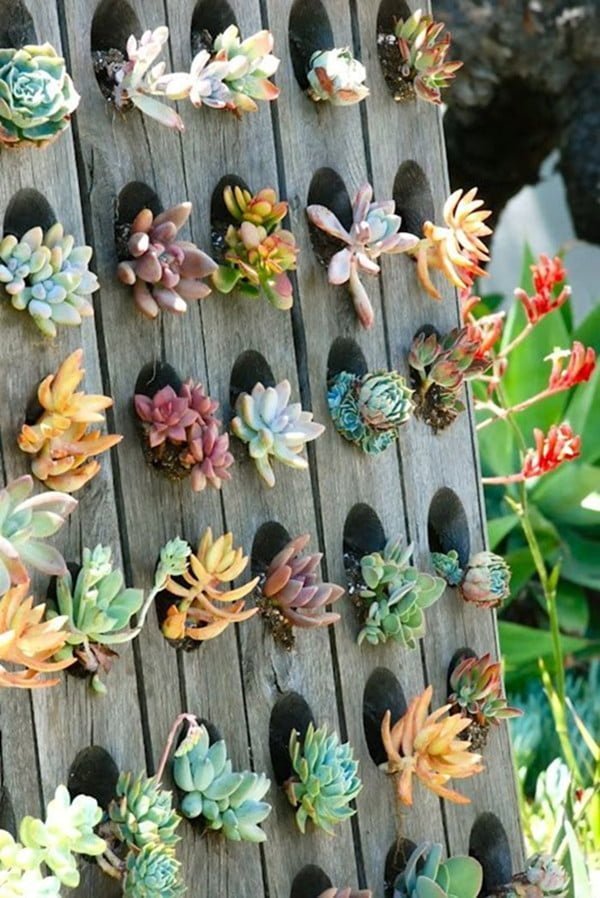 Weathered sugar molds provide the perfect planter for tiny succulents, which peek out from their respective holes and provide a touch of contrasting color and texture. What's especially appealing about this example of vertical gardening is its overall effect; the utterly organic use of wood and plants contrasted with the regular placement of the holes creates a pleasing pattern. This display would work nicely as part of a larger garden design or could work equally well leaning against a wall in a home's entryway.
25. Muted Round Zinc Planters Allow Plants to Shine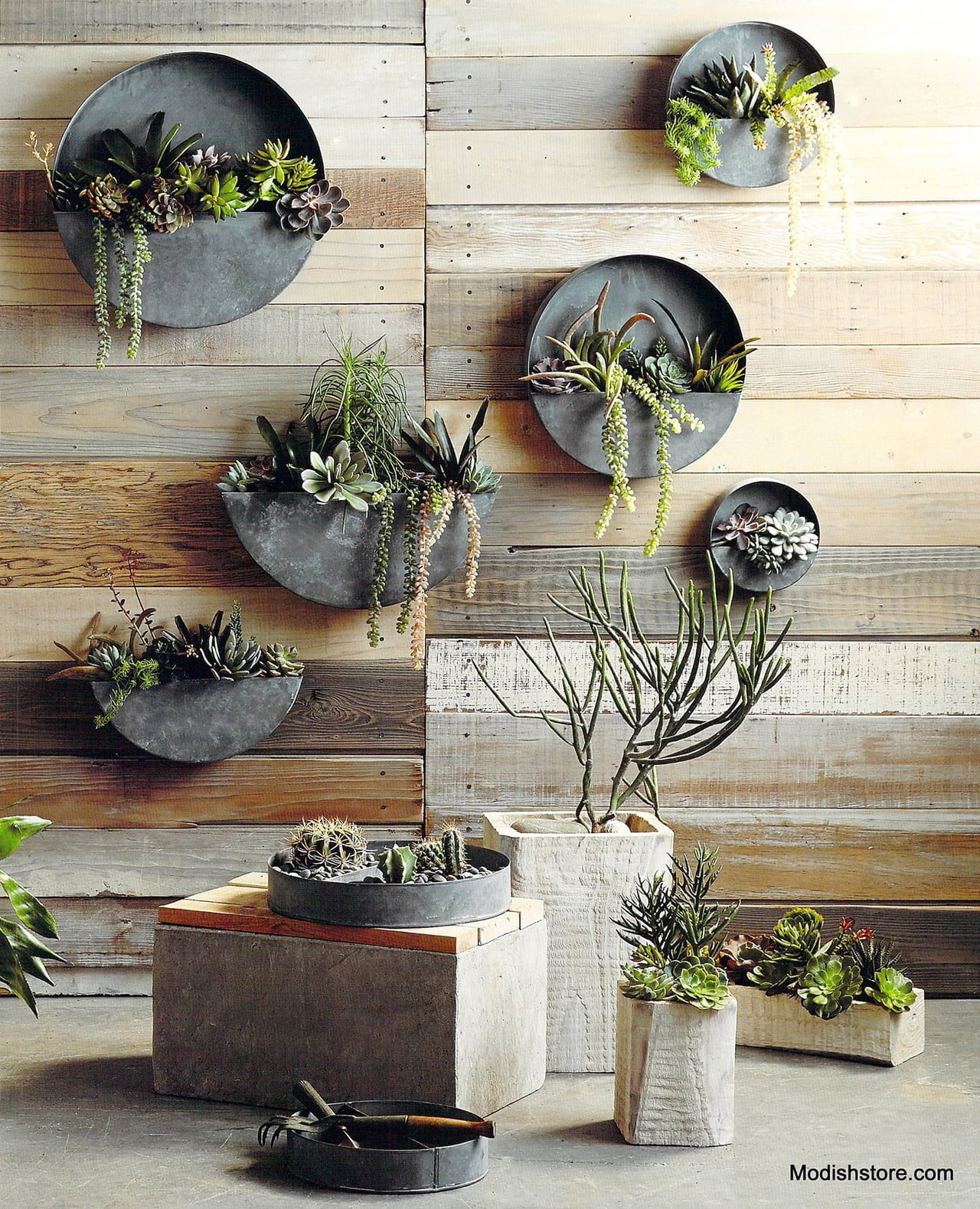 Zinc planters create an eye-catching collage for a wall space that would work either inside or out. For tight spaces or when taking a minimalist approach, these planters work to bring the essence of nature to an area without overpowering the space with an excess of greenery. The galvanized makes an excellent neutral background whose starkness allows the plants' shapes and colors to speak for themselves. Low upkeep succulents are the perfect choice for planting, although air plants or slow growing seedlings would also do well. Extend the effect by placing similar groupings of plants on the surface below the collage.
26. A Garden for the Birds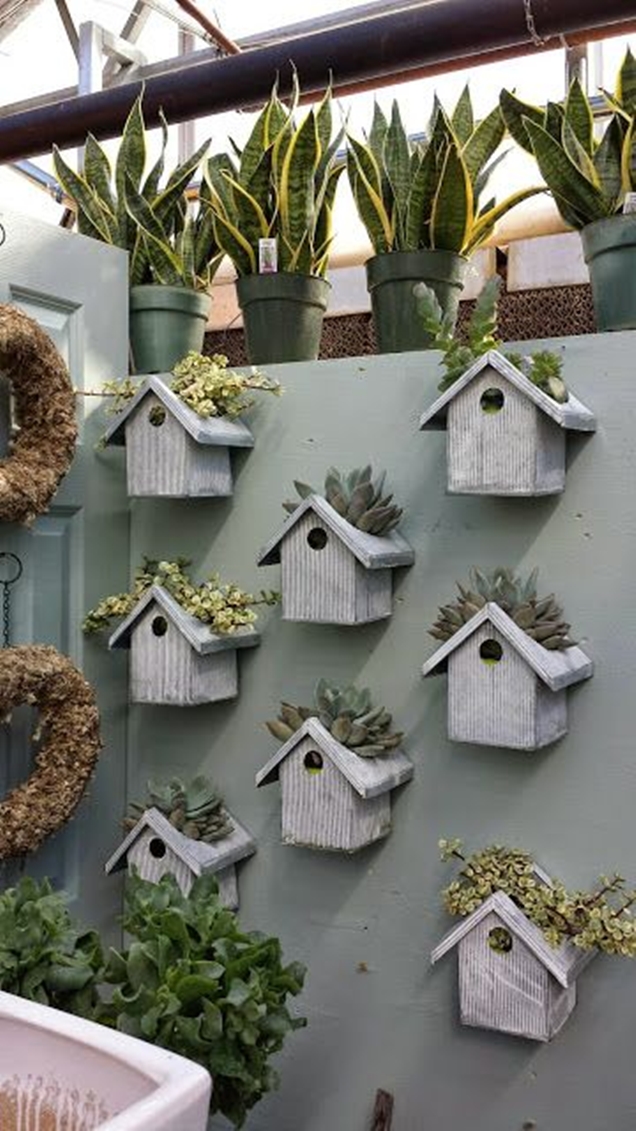 Inspiration can come from unexpected places; here the tops of birdhouses are transformed into tiny rooftop gardens. Working nicely as a grouping of planters, they can also be used singly to dress up a small space. Paint wooden or metal birdhouses in neutral colors or choose a colorful palette that coordinates with a home's color scheme. These would also look charming when hung by a front door or as an accent in a bird-themed garden space. While succulents work well in small planters, planting tiny blooming species would help attract butterflies and bees.
27. A Creative Use for Ordinary Wooden Crates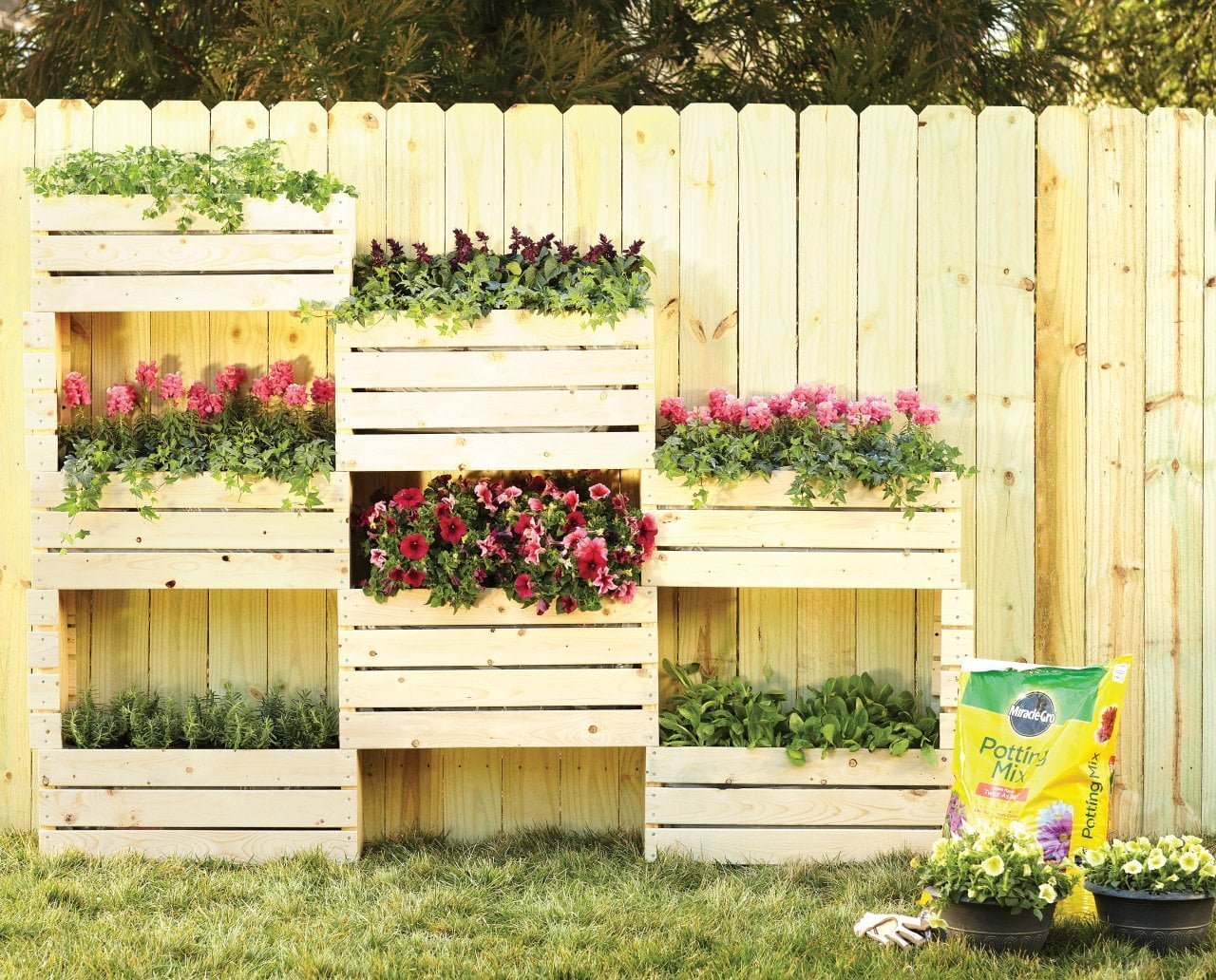 Honey-colored wooden crates match the fencing in this garden, part of their visual appeal. Exuberant and colorful blooms like petunias and trailing plants like ivies spill over the sides, breaking up the straight lines with an engaging use of texture. Mix blooming plants with kitchen herbs for a vertical garden design that is both edible and beautiful. While each crate can be lined with an equally sized planter, using individual pots allows for mixing and matching different plant species within the arrangement. Use this structure to accent a bare wall, to delineate different parts of a back yard or as the focal point for a small garden.
28. An Ultra-Modern Vertical Garden Idea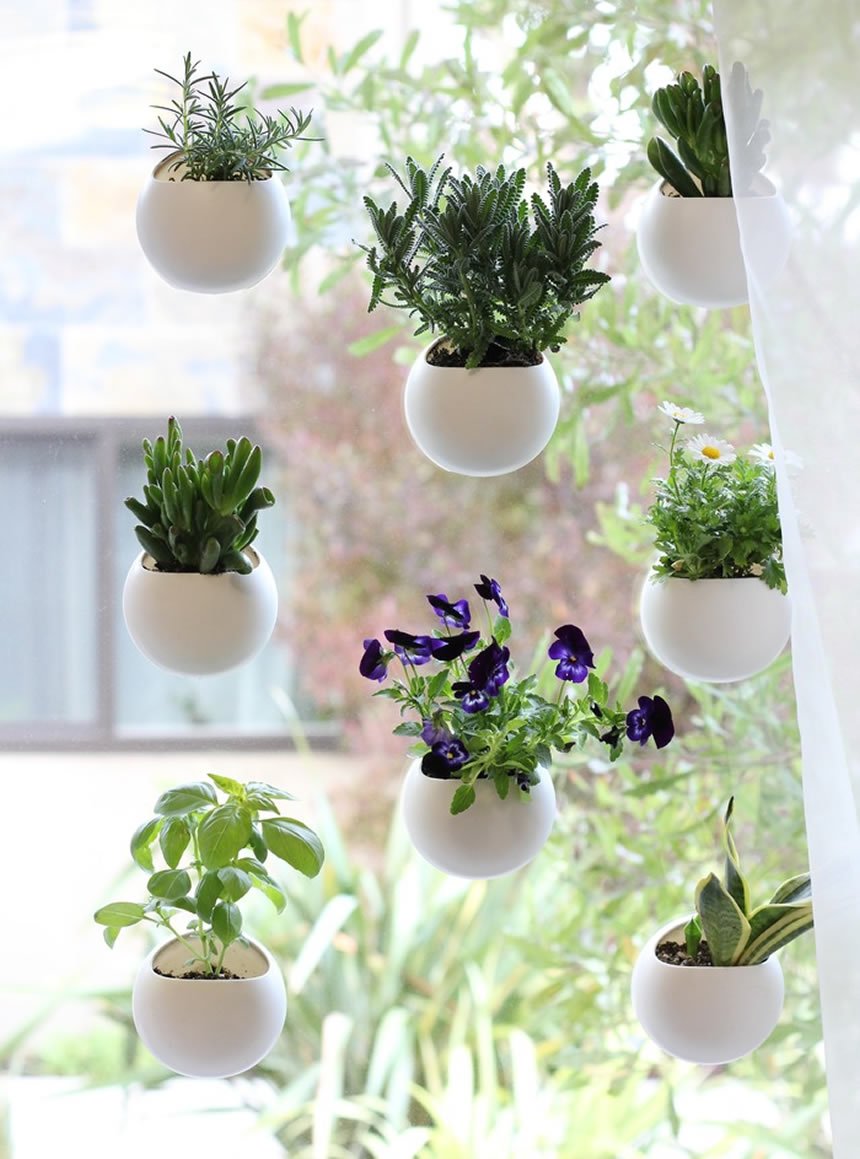 Seeming to float in the air, these tiny ceramic planters in a crisp shade of white combine with the outside greenery, creating a three dimensional effect and drawing the outdoors inside. Attaching to glass with a simple suction cup, they can be moved with ease to any smooth surface in another room or even used on a mirror for a reflective effect. Tiny pansies, daisies and a variety of greenery bring a needed pop of color to any part of the home and contrast nicely with the plain color of the planter base.
29. Tropical Plants Create a Wall of Color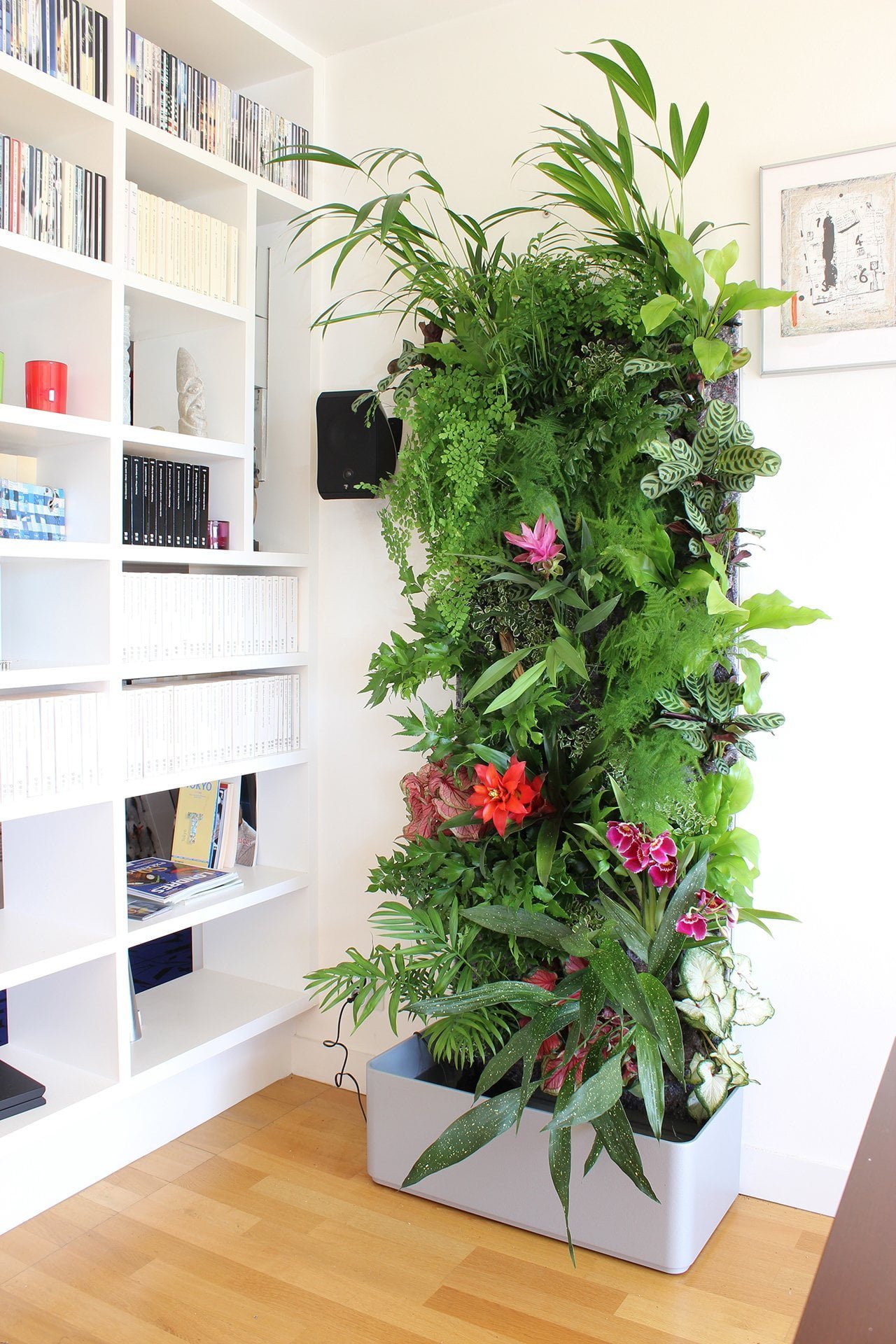 This striking vertical garden decor brings a fresh burst of color with its tall yet compact design. Brilliantly colored bromeliads and orchids mix with leafy ferns and plants with variegated leaves, giving a definitive tropical theme that works well in starkly decorated spaces, where its blend of textures can take center stage. There's a pleasing height to this vertical garden design as well; its commanding presence is the compelling factor of its appeal. While tropical plants feature heavily, a mix or Mediterranean or desert plants would also work well.
30. A Creative Alternative for Tiny Crates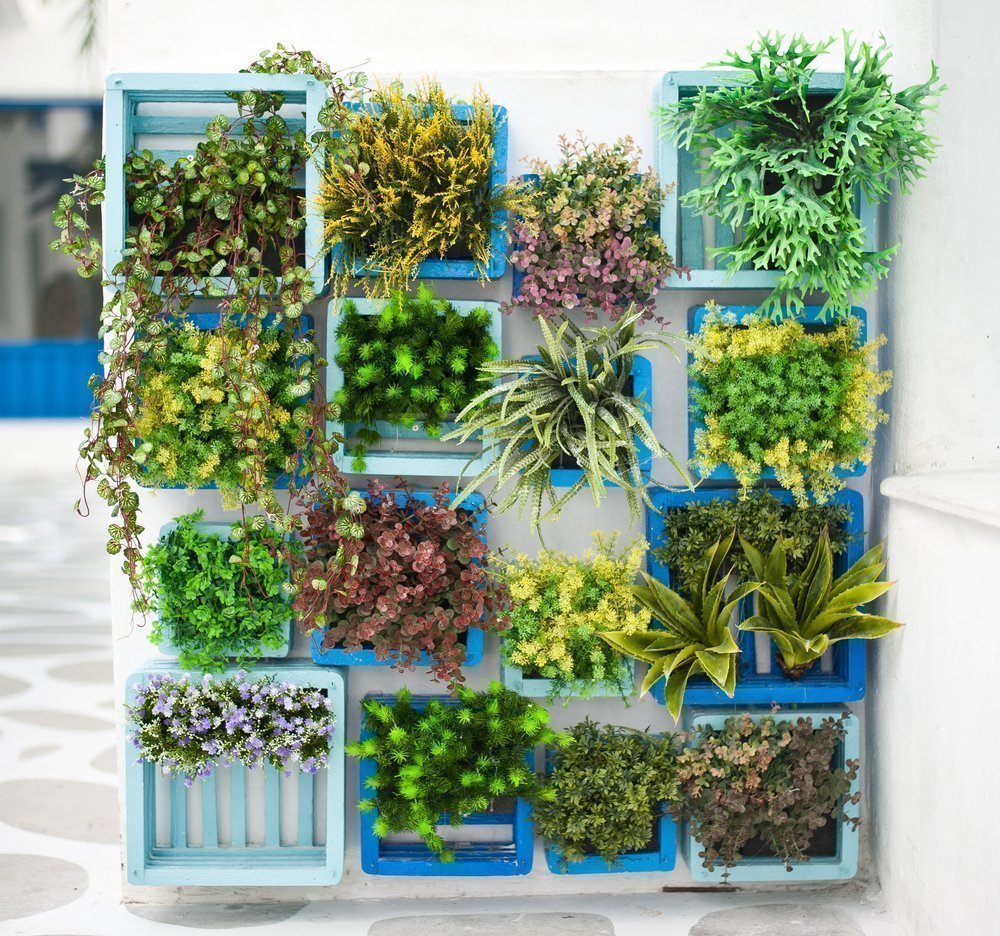 Wooden pint containers for fruit get a second chance doubling as planters for tiny, leafy plant varieties. Painted in shades of blue, this tiny garden offers a powerful burst of color despite its diminutive size. Placed on a blank wall, this charming display will excel at providing visual interest. Expert use of the plants' colors and textures contributes to its artful presentation, and its small size will work well in spaces where finding decorating inspiration is difficult. Mount these tiny crates on a board painted in a neutral color to display their colors to best effect.
31. A Vertical Garden Idea for the Kitchen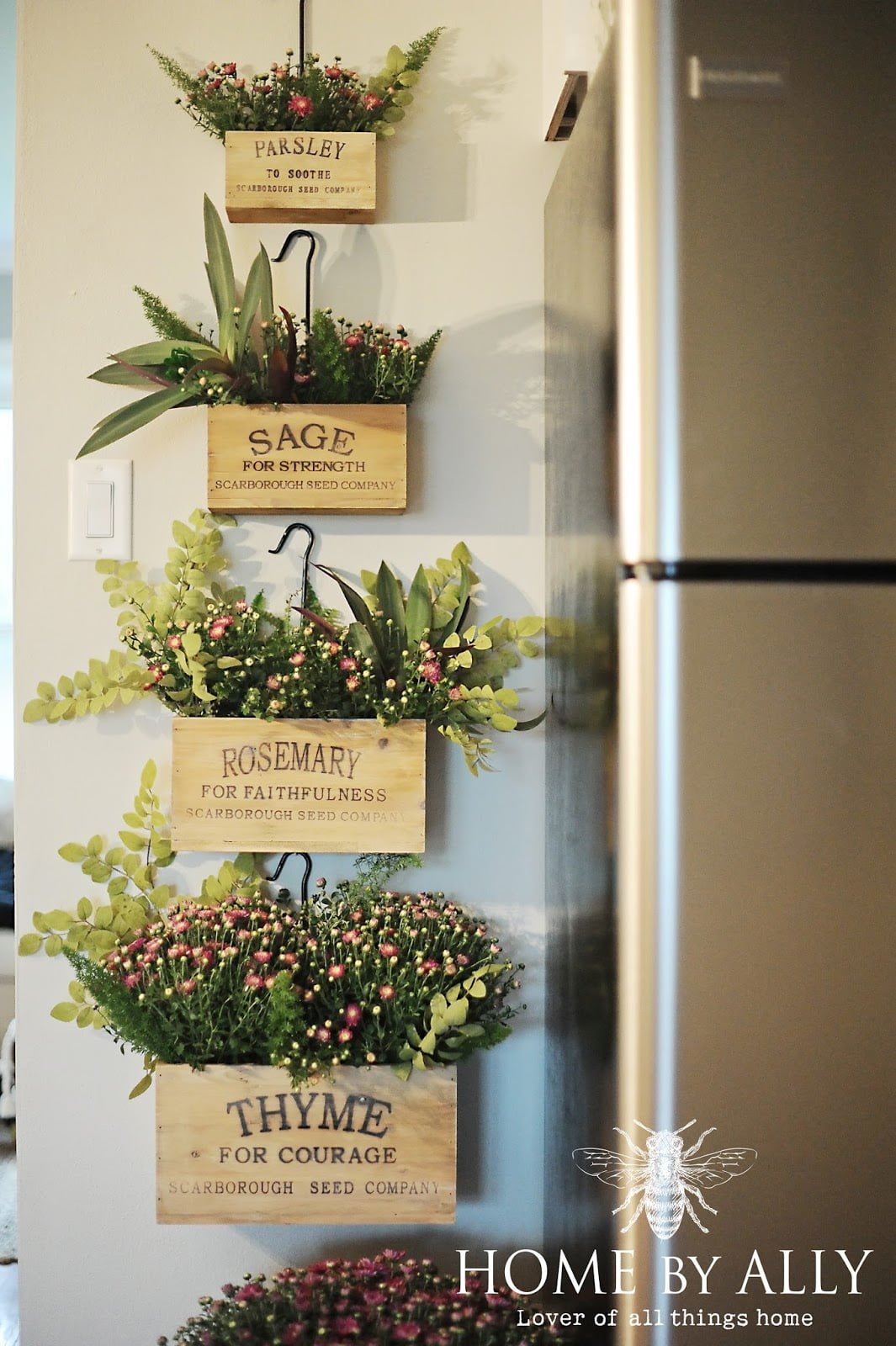 Seed containers in descending sizes stack neatly on a narrow strip of wall space. Their flowering contents spill exuberantly over the sides, adding to the strong visual appeal. Each box can be left plain or printed with the names of herbs or flowers to echo the appeal of antique flower market boxes. Plant herbs for a display that will supplement the contents of a spice cabinet, an idea perfect for the avid chef who treasures fresh ingredients. Strong metal hooks hold the boxes firmly in place and add a contrasting effect when painted in deep black.
32. Tiered Terracotta Garden Design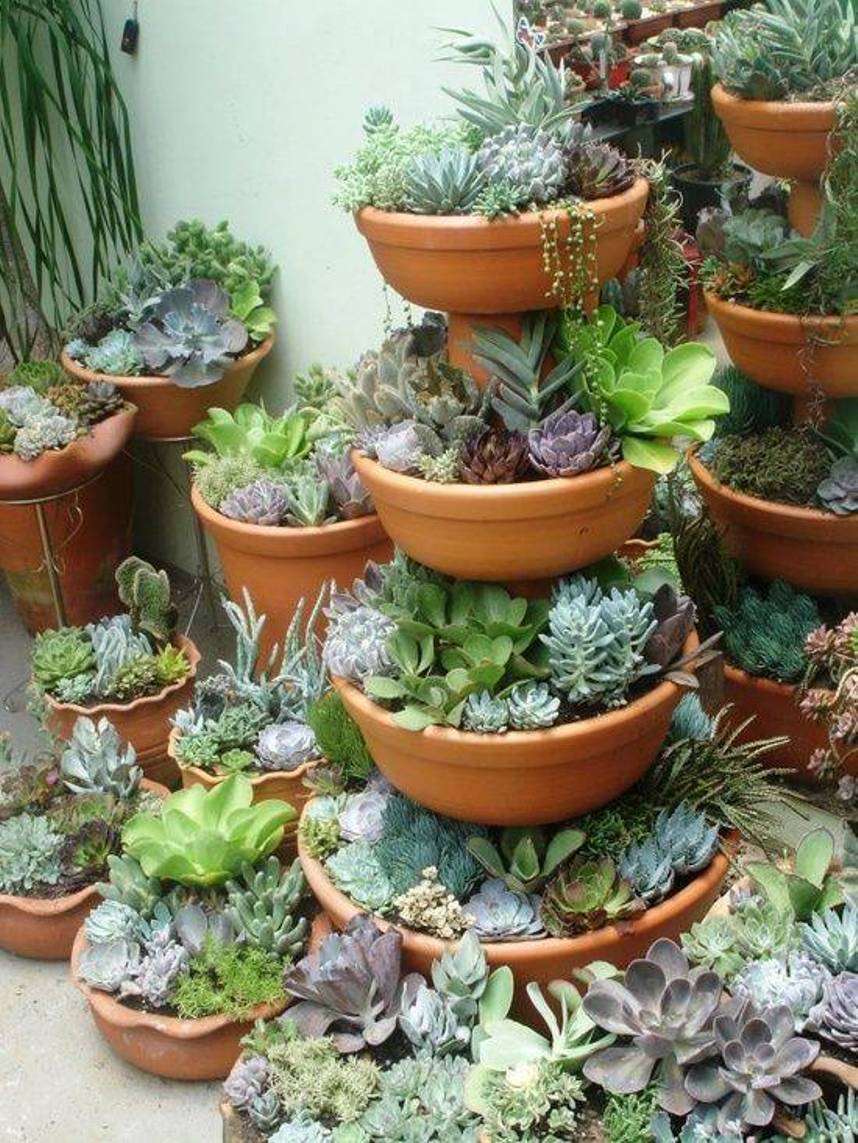 Vertical garden decor doesn't get much easier than this attractive example. Using shallow, round terracotta bowls, height is achieved by placing ordinary terracotta pots upside down and then placing a smaller round bowl on top. Pack potting soil in the remaining space of the bowls and plant a profusion of succulent species for an appealing vertical garden that would work especially well near a home's front entrance. Particularly suited to a desert climate, this design brings needed greenery and would also work well as the centerpiece to a small garden. While it can function quite well as a stand-alone piece, adding other clay containers of varying heights planted with succulents will heighten the effect.
More vertical garden decorations on the next page…