33. Dressing Up Old Dresser Drawers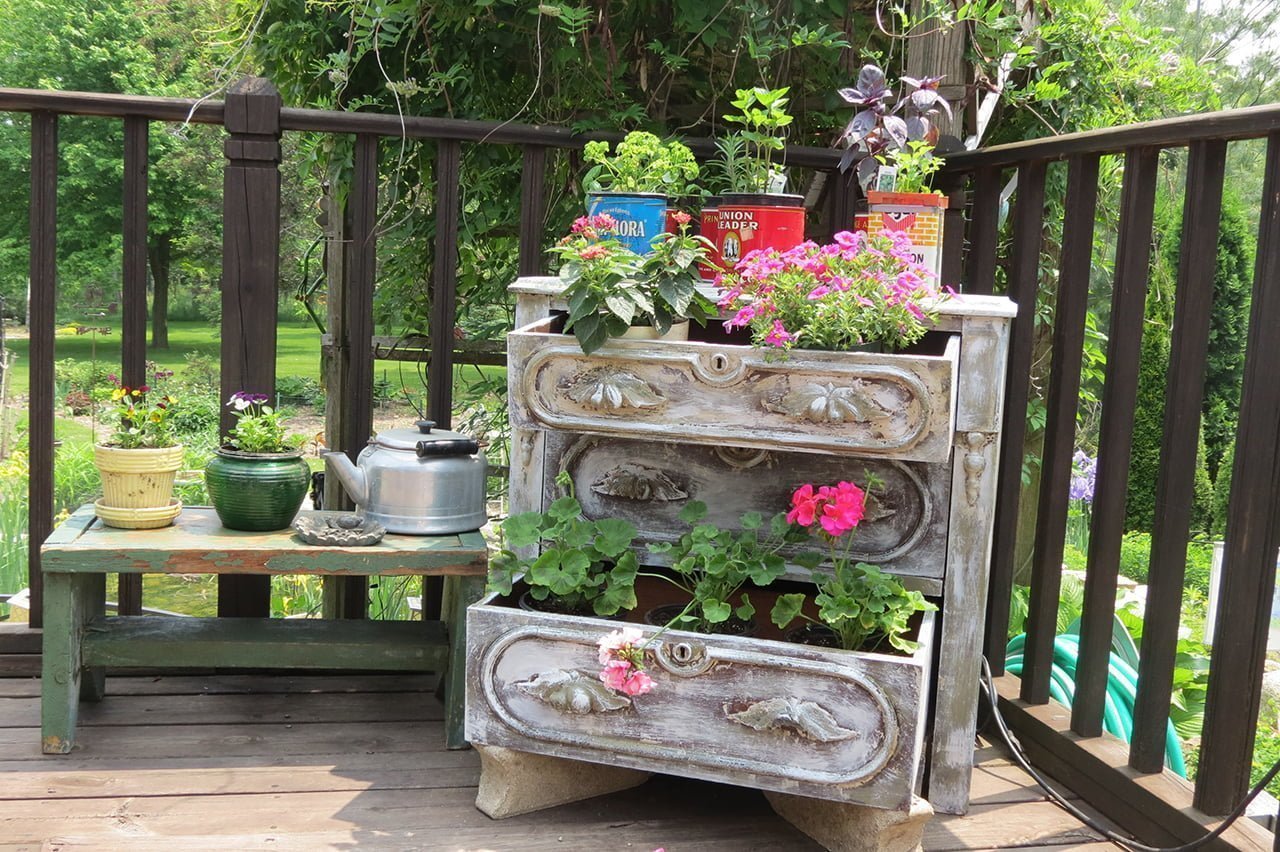 Unexpected planters are a trend whose time has come, as they help the Earth by recycling unwanted items and offer the ideal template for vertical garden decor. Here an unused dresser is dressed up by converting its drawers into impromptu planters. Stagger the amount of space when drawing the draws out and place flowering plants in individual pots and coordinating colors. Add to the appeal by including brightly painted food tins planted with flowers. This piece makes a creative addition to any eclectic garden design in addition to repurposing a cast-off item.
34. A Modern Vertical Garden Design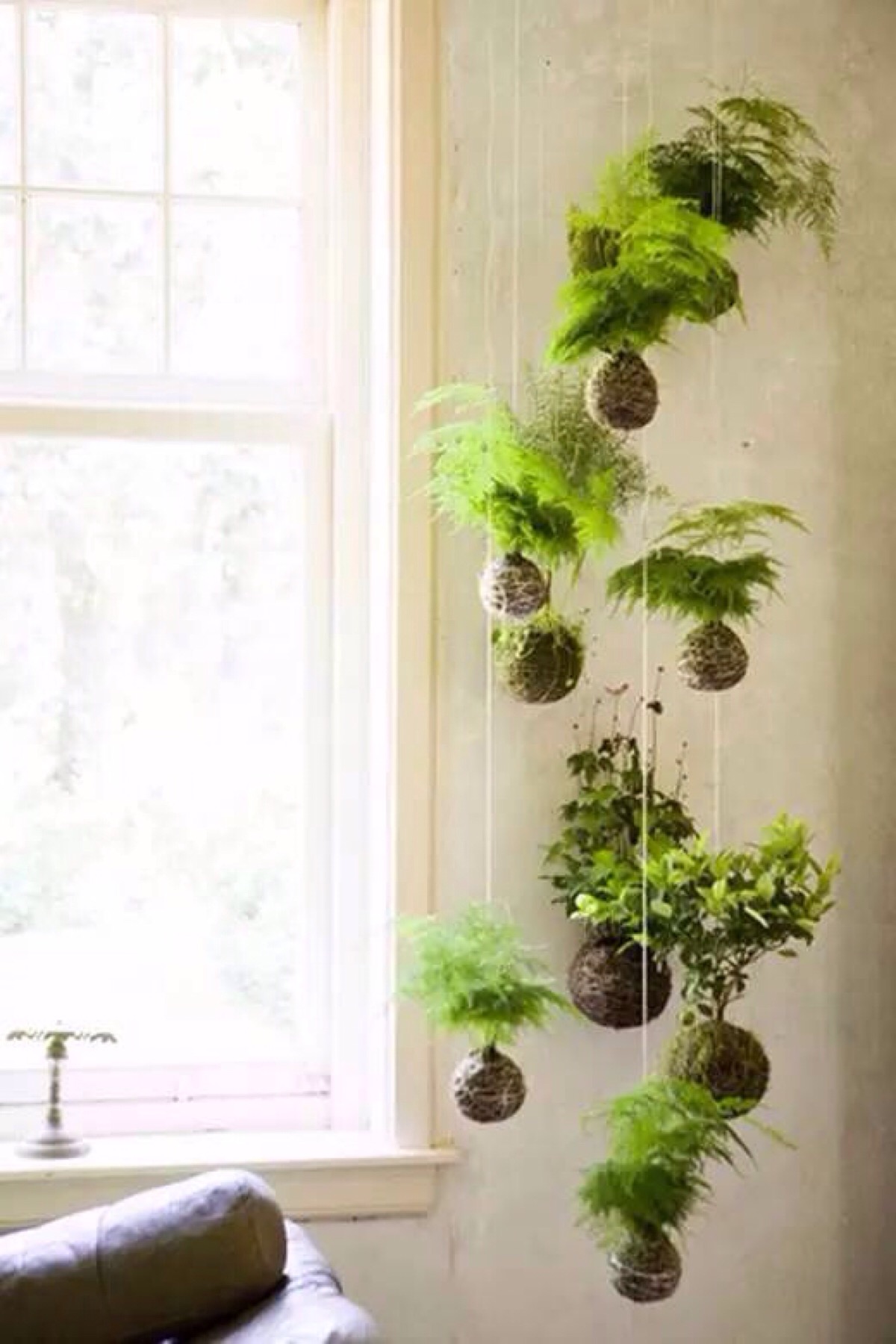 Light as air, these wispy plants with an exposed root ball hang suspended from the ceiling by delicate wires. An appealing way to dress up a bare corner, the plants also contribute a needed focal point with their arresting appearance. Add moss to the roots to aid in maintaining optimal moisture and select plants that grow slowly. Leafy varieties such as these will aid in cleaning the air and producing fresh oxygen, an added benefit to their lovely appearance. Their varying heights create a stair step effect and add to their visual complexity.
35. Make Gardens, Not War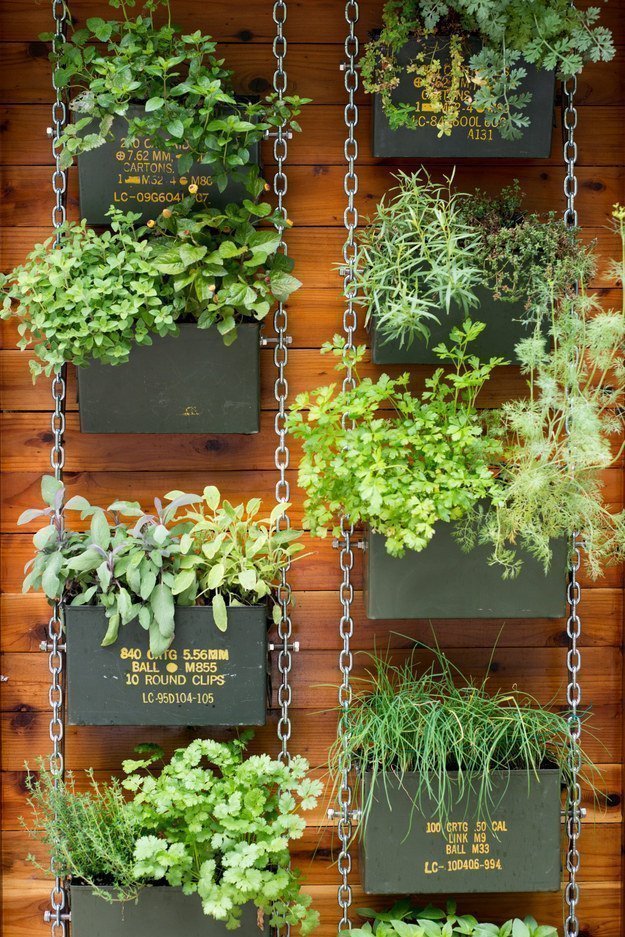 Old ammunition boxes make a surprisingly effective planter, especially when grouped together in a ladder-like presentation. Metal chain serves to hold the boxes in place while tying the whole look together. Effusive plant varieties burst from the top, offering startling contrast to the hard metal lines. Hanging two or more of these together would make a strong visual statement, dressing up a length of fencing or by decorating a patio space. Add edible plants for their strong shades of green and their use in the kitchen.
36. The Artful Use of Sculpted Metal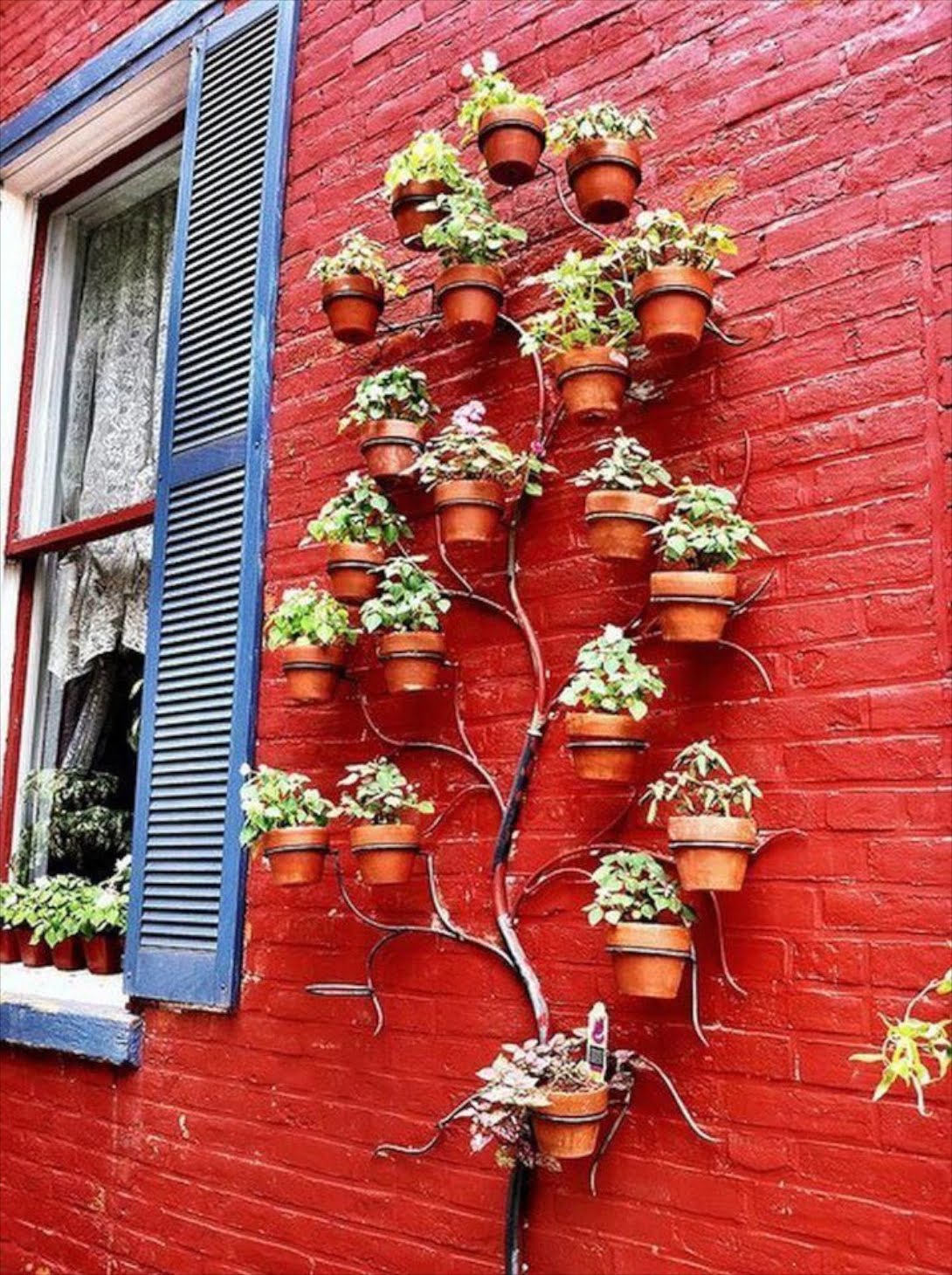 This creative wall garden benefits from the fascinating tree-like shape of the metal holder. Nearly two dozen rings hold small clay pots with a variety of leafy species and create a striking overall statement. While this example graces the outside of a home, it would also work well inside as a stunning artistic display piece. Use a sculpture like this on the bare wall of a small patio or balcony, where its graphic appeal will highlight the small space. The bold use of color behind the metal sculpture is also especially effective and something to consider when designing a space from scratch.
37. A Modern Vertical Wall Garden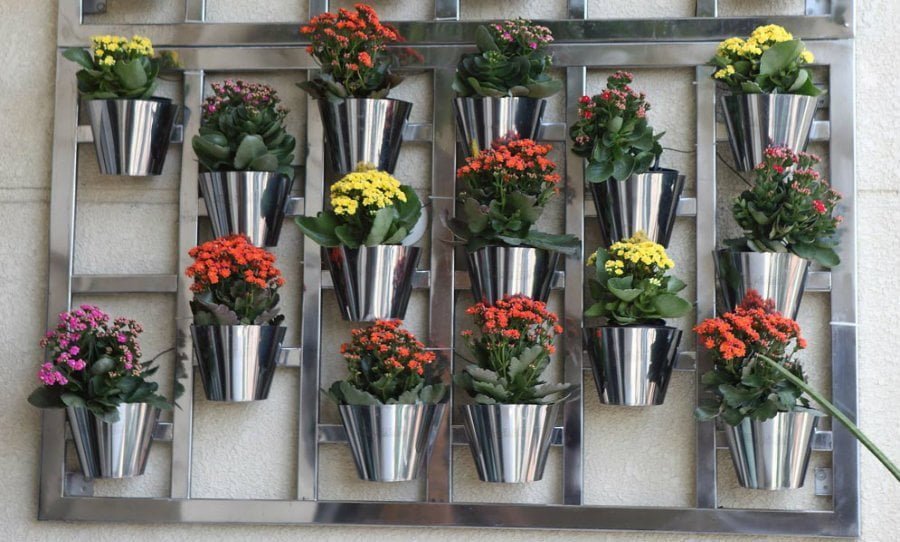 A sleek, modern metal framework supports matching plant holders, creating a minimalist container to hold small flowering plants. The shiny chrome finish contrasts starkly with the bright yellow, red and purple hues. A display like this could make a bold accent for an office, where its clean lines would compliment the foliage. It would also function well in any space with minimalist home decor. It could also hold herbs and tie in visually in a kitchen that uses a chrome finish on its appliances.
38. Imaginative Innovation is the Wellspring of This Vertical Garden Idea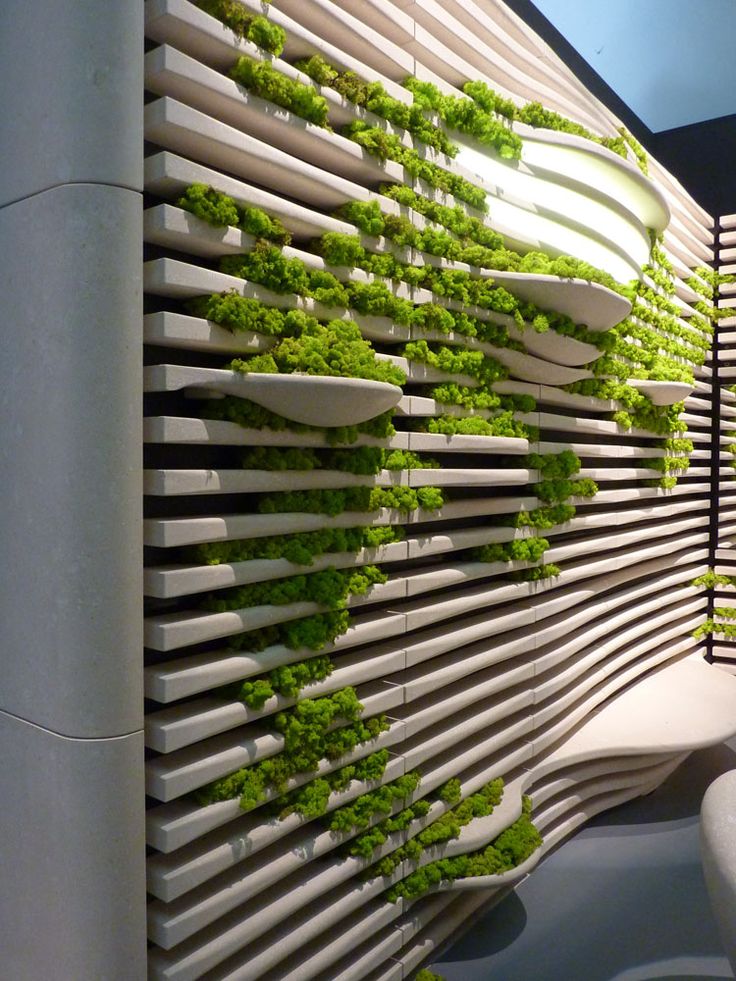 Looking like something from a science fiction movie set, this stunning installation uses regularly placed vertical pieces as a backdrop for the occasional protruding shelf with rounded edges. Bright green moss peeks out from the crevices, scattered in a haphazard fashion throughout the display. The effect is a futuristic display of clean lines interspersed with soft greenery. Ideal for a modern interior space, such as a sun room, other species, such as air plants could also be used to add a bit of variety, although the use of a single color ties the look together and provides definition.
39. Natural Wood Frames House a Miniature Garden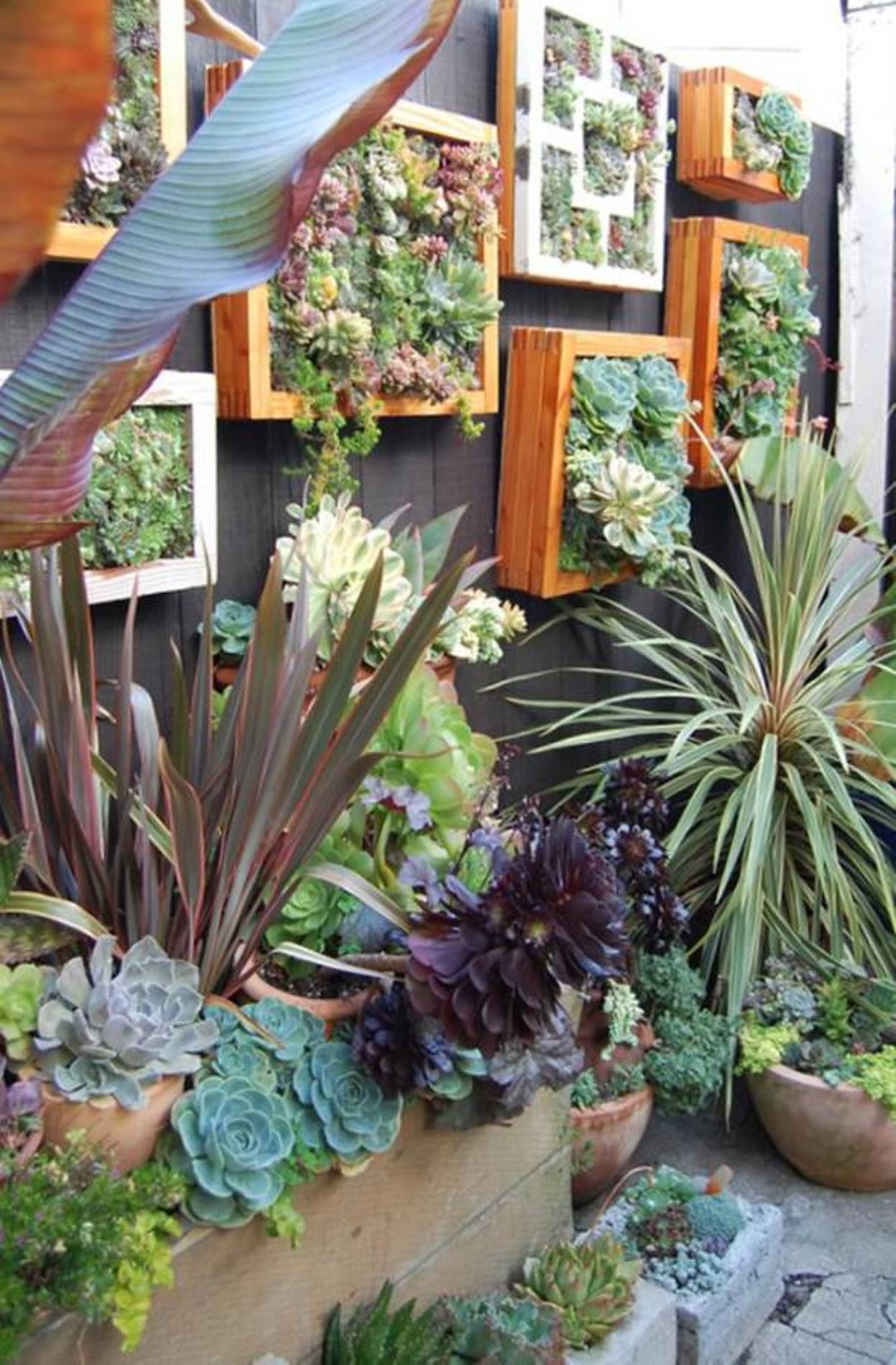 As more people move into large cities, keeping touch with nature becomes an increasing challenge. Here the need to incorporate greenery into a living space is satisfied by chunky wooden frames holding a range of succulent species. Grouped together, they form a cohesive whole and create a vertical wall garden ideal for a small space. Use indoors or out, and vary the look by adding interior partitions of matching wood inside the frame that separate the various planted species. Setting these frames against a neutral background color also aids in showing their textures to best advantage.
40. Creating a Vertical Garden With Recyclables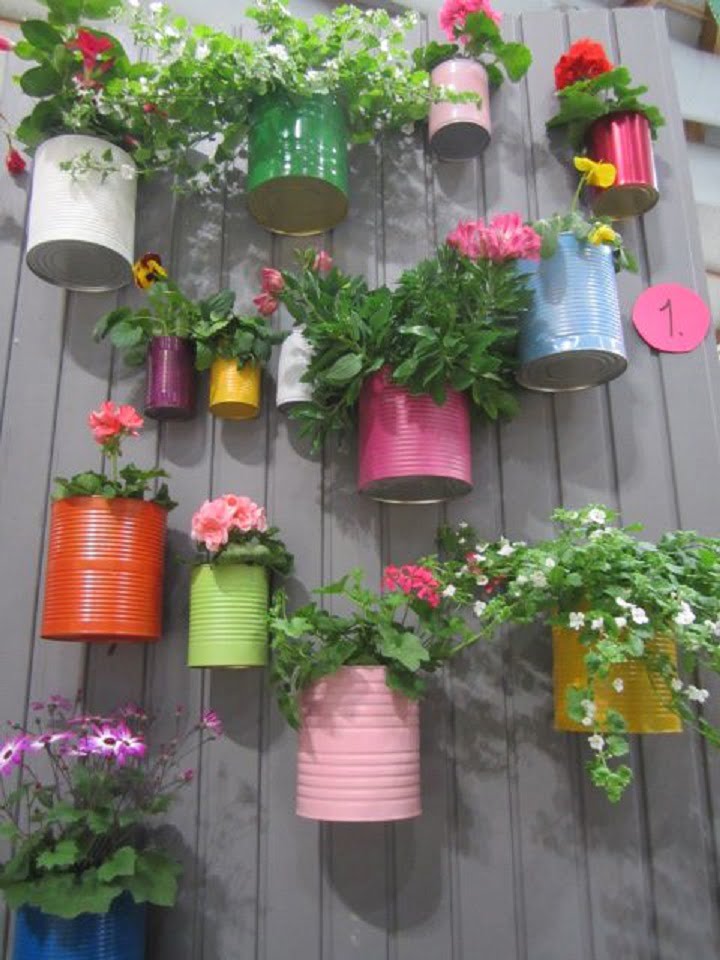 Don't toss out old coffee tins and soup cans. Using a mix of bright, appealing colors that wouldn't look out of place in a child's crayon box, these charming metal planters create a cheerful vignette using pretty blooms. Part of sustainable living is find a new use for items formerly considered trash. Attach these tiny treasures to a board or wall painted in neutral colors to really allow their personality to shine. While the flowers complete the look and pair nicely with the choice of paint colors, herbs could also find a welcome place in this vertical wall garden.
41. A Vertical Garden Idea for Small Spaces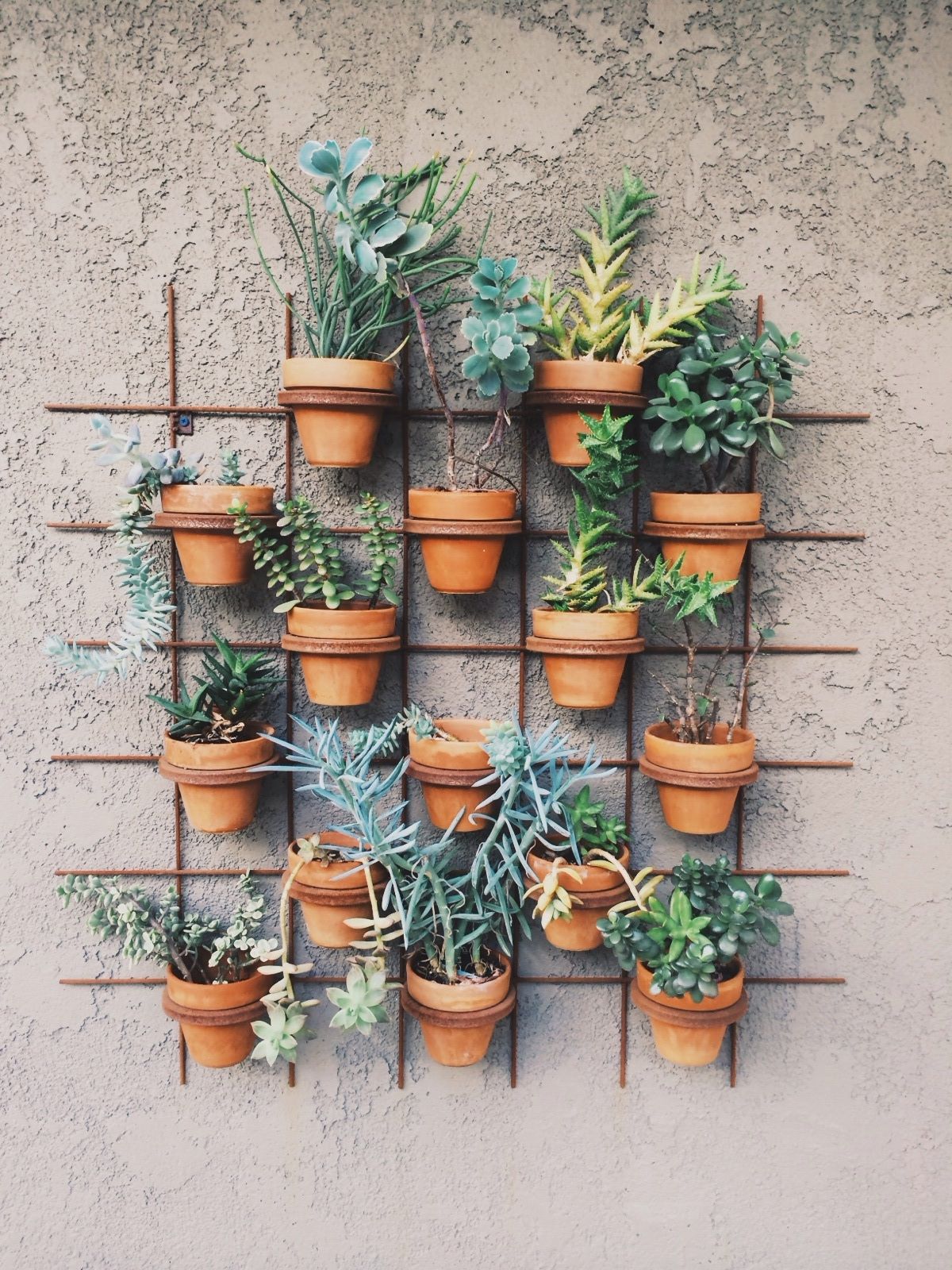 The regular grid lines of rusted metal form the backdrop for clay pots that slip easily into round holders, creating a trellis-like effect. Planted with a profusion of succulent favorites like jade plants, hen and chicks and aloes gives this tableau a distinctly desert theme and would work well in a very dry climate. While it would work equally well in a moist climate, delicate button ferns or baby's tears plants could make a nice substitution. Metal structures like these are ideal for use on a balcony and their subtle design allows them to work well with a variety of home decor options.
More vertical garden décor ideas on the next page…