42. A Look That Wouldn't Be Out of Place in Alice's Wonderland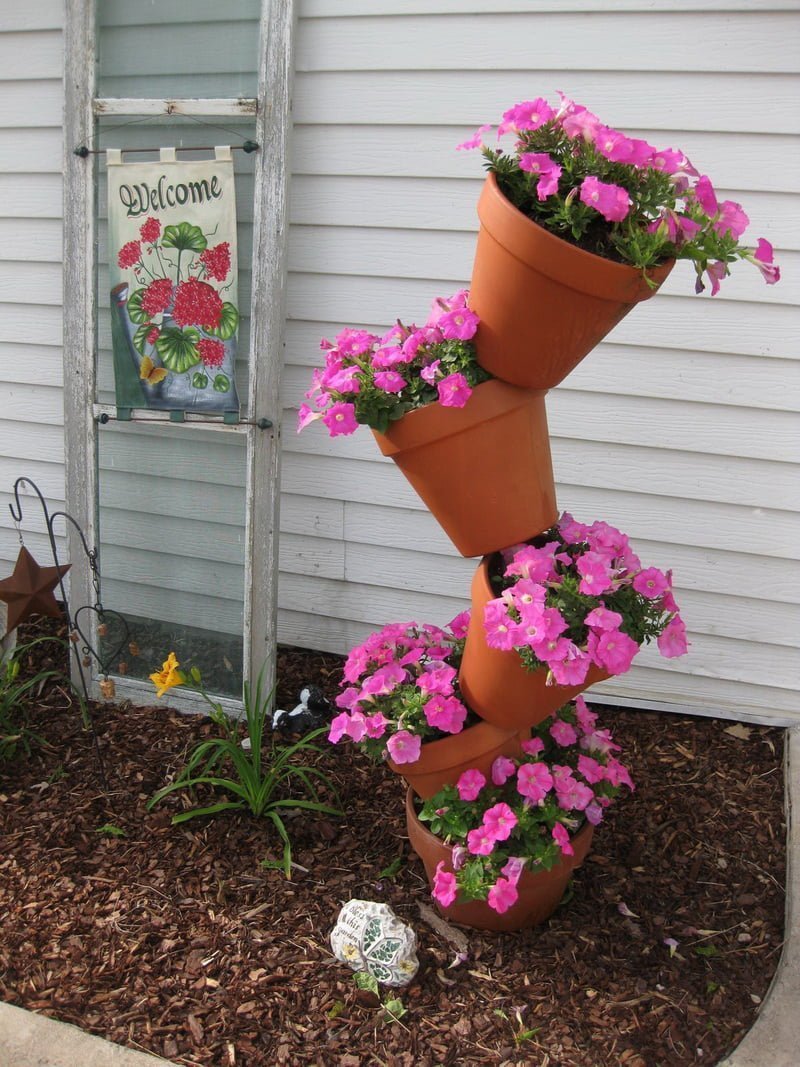 Incorporating a touch of whimsy into a garden or home design, these terracotta pots positioned in offset angles create an eye-catching focal point for a garden area. Planted with a profusion of petunias in a bright, bubble gum-colored shade of pink, they draw the eye irresistibly upward, creating height for level gardens. Stability is achieved by inserting a hidden metal pole through the center of the display, providing a firm foundation for the weight of soil and plants. Experiment with this playful planter design by using plants of complementary colors or trailing leaves.
43. Sophisticated Home Decor From Recycled Wood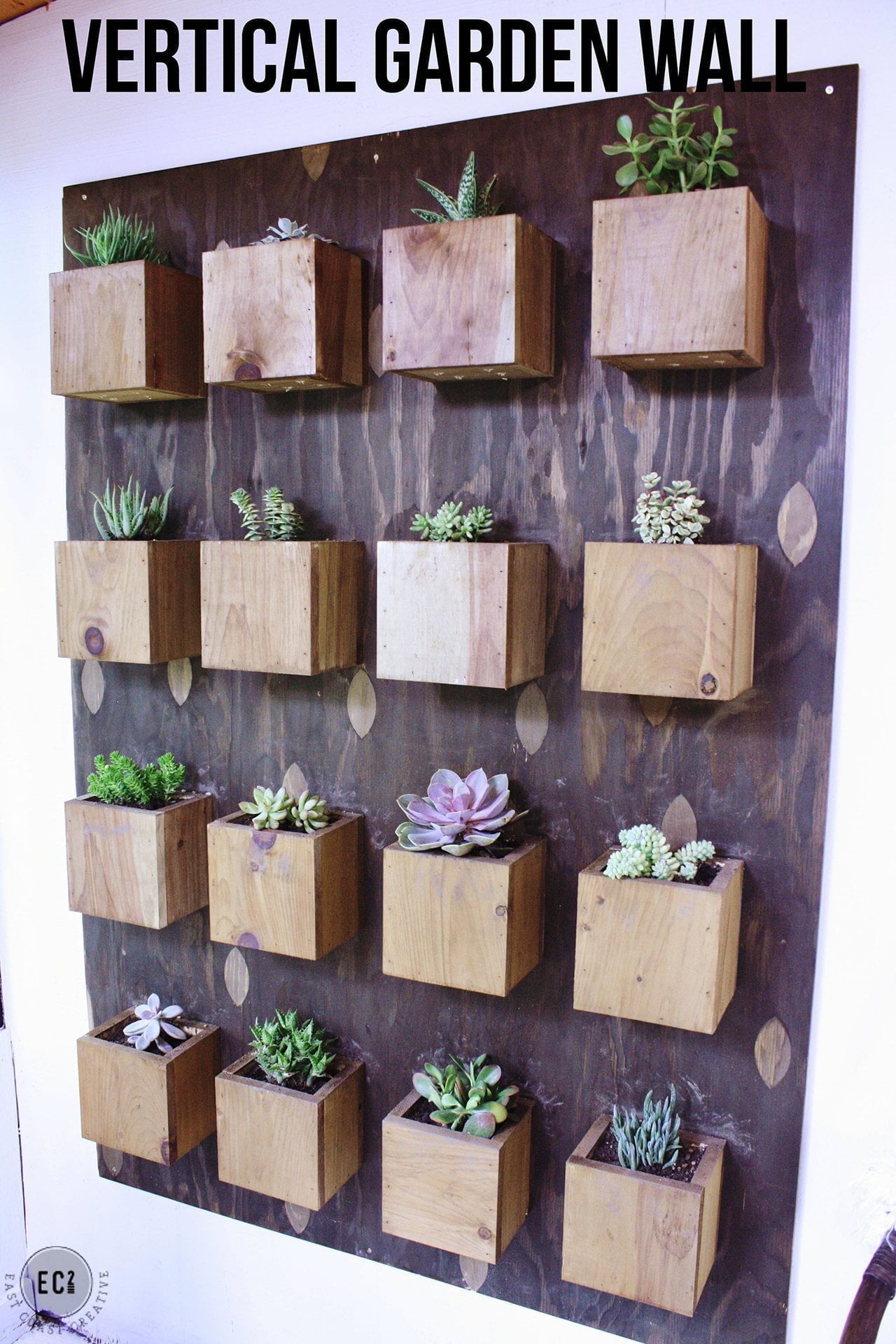 A board treated with a transparent wash of charcoal-colored pigment forms the background for regular rows of naturally colored wooden boxes. Filled with succulent plants, this vertical garden idea brings the outdoors inside and incorporates it into an artistic display. As an excellent way to use up excess scrap wood, it can also be Earth-friendly. Tiny succulent plants take up residence in 20 regularly spaced boxes, their colors and textures giving an air of freedom to the tightly controlled design.
44. Transform Airy Wooden Shelving Into an Herb Garden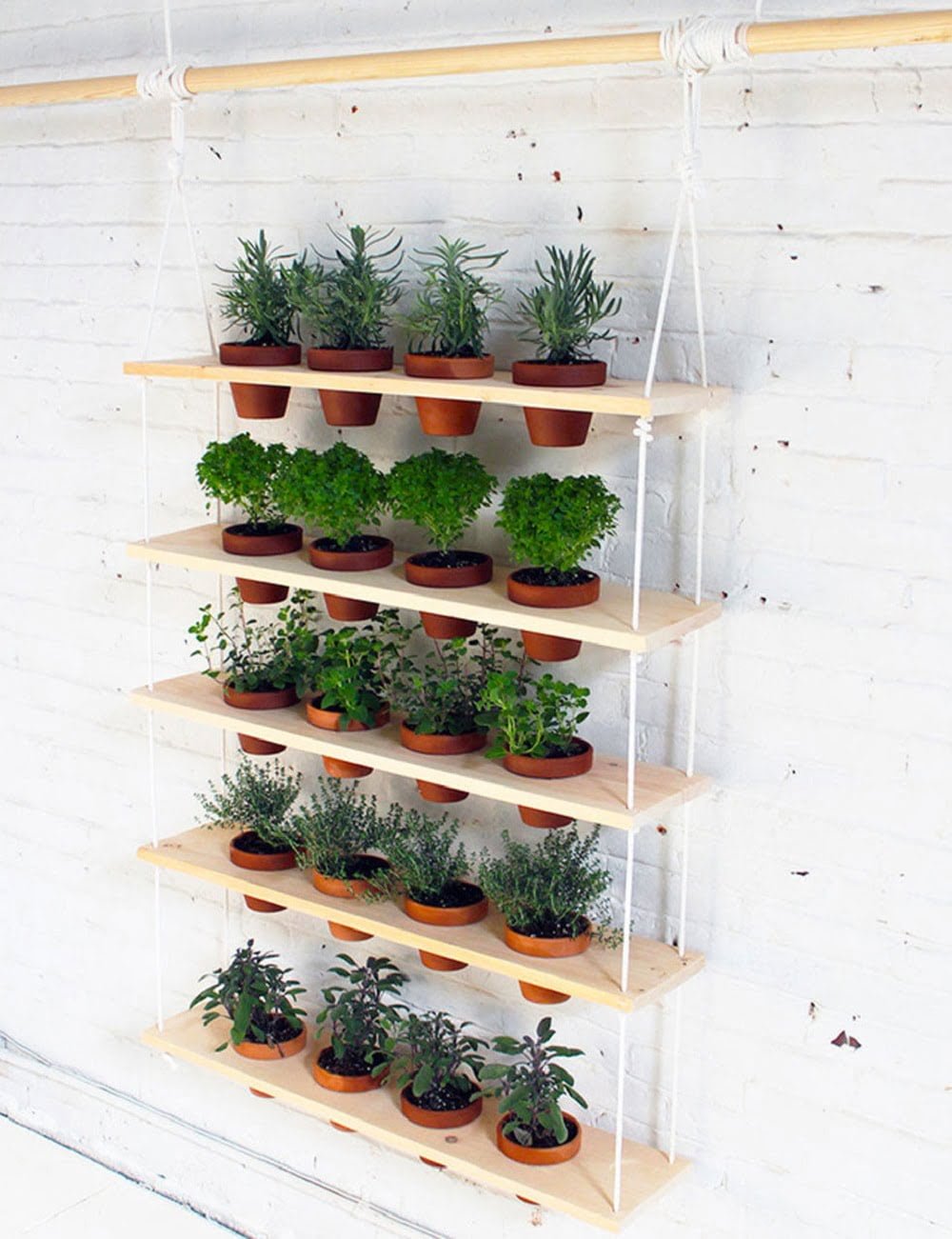 More than a passing similarity to a child's swing gives these stacked boards a playful air. Attached to each other with the clean, knotted lines of bright white cotton rope, the entire unit securely adheres to a wooden bar above using more rope. Holes drilled at regular intervals are just big enough to hold terracotta pots filled with cilantro, tarragon, thyme and sage. Choosing to fill each row with the same plant species gives the overall effect a pleasing uniformity. Use repurposed wood from discarded pallets to make this vertical garden decor Earth-friendly.
45. A Vertical Garden With Distinctive Sophistication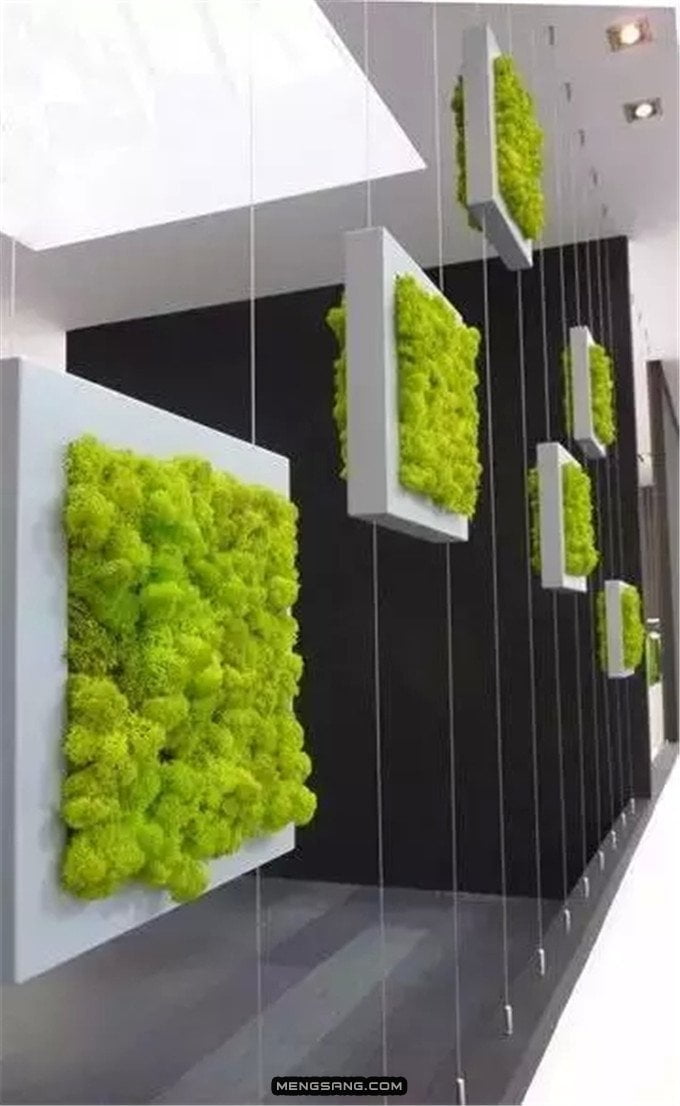 Looking like a modern art installation in a swanky New York gallery, this vertical garden idea takes a minimalist approach by using just two ingredients, bright green moss and sleek frames in a crisp white hue. Suspended on wires in a stark setting of angular lines makes the moss's color and texture the sole focal point. Each frame is planted back and front so the planters can be enjoyed from multiple angles. This design scheme could work when used as a transparent screen separating a living and dining area, on a patio or balcony, or as eye-catching decor for a modern office space.
46. Incorporating Found Objects Into Vertical Garden Decor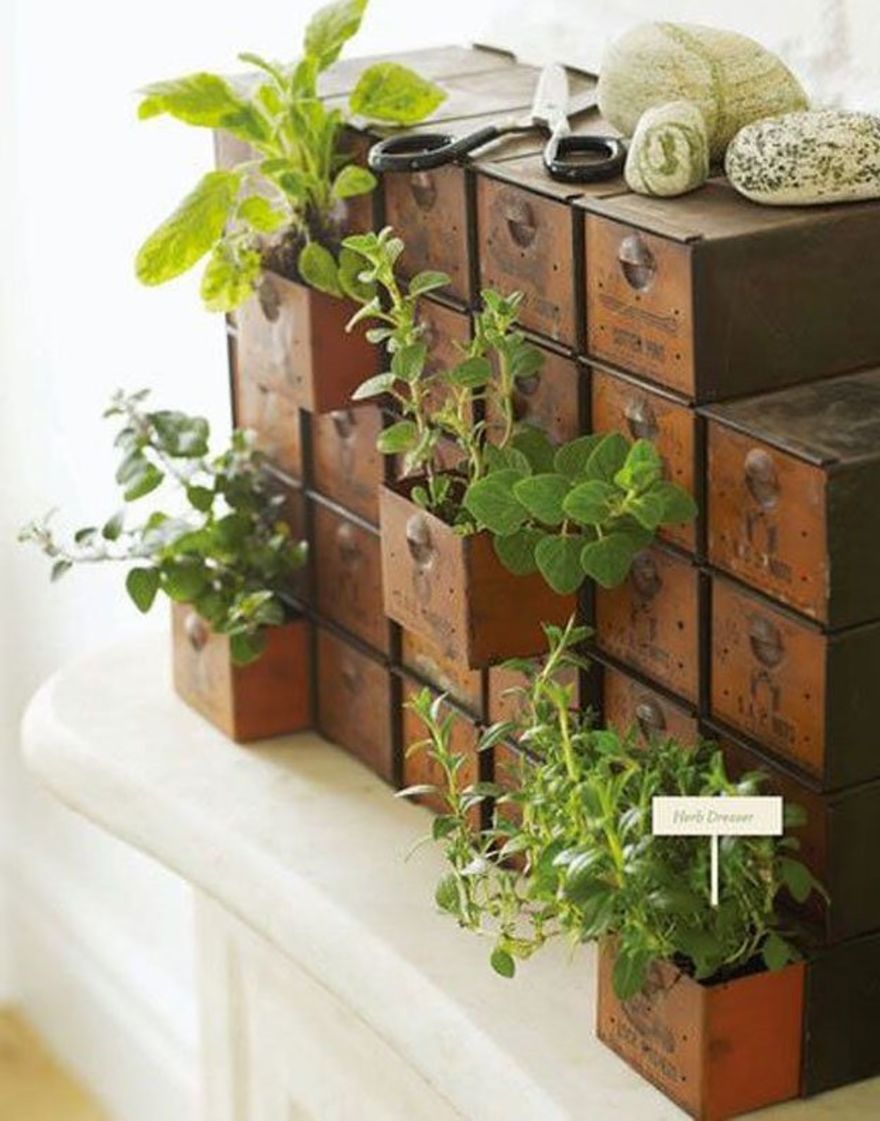 Tiny drawers from an old apothecary cabinet form the base of this diminutive vertical garden. Planted with herbs, it would make a charming addition to the kitchen, although using it in a sitting room or porch space would certainly ensure it becomes a conversation piece. The drawers are planted at random intervals, giving whimsical feel to the overall look. Antique store finds are especially suited to this sort of project and can provide needed inspiration when completing a room's decoration.
47. No Space is too Small for a Vertical Garden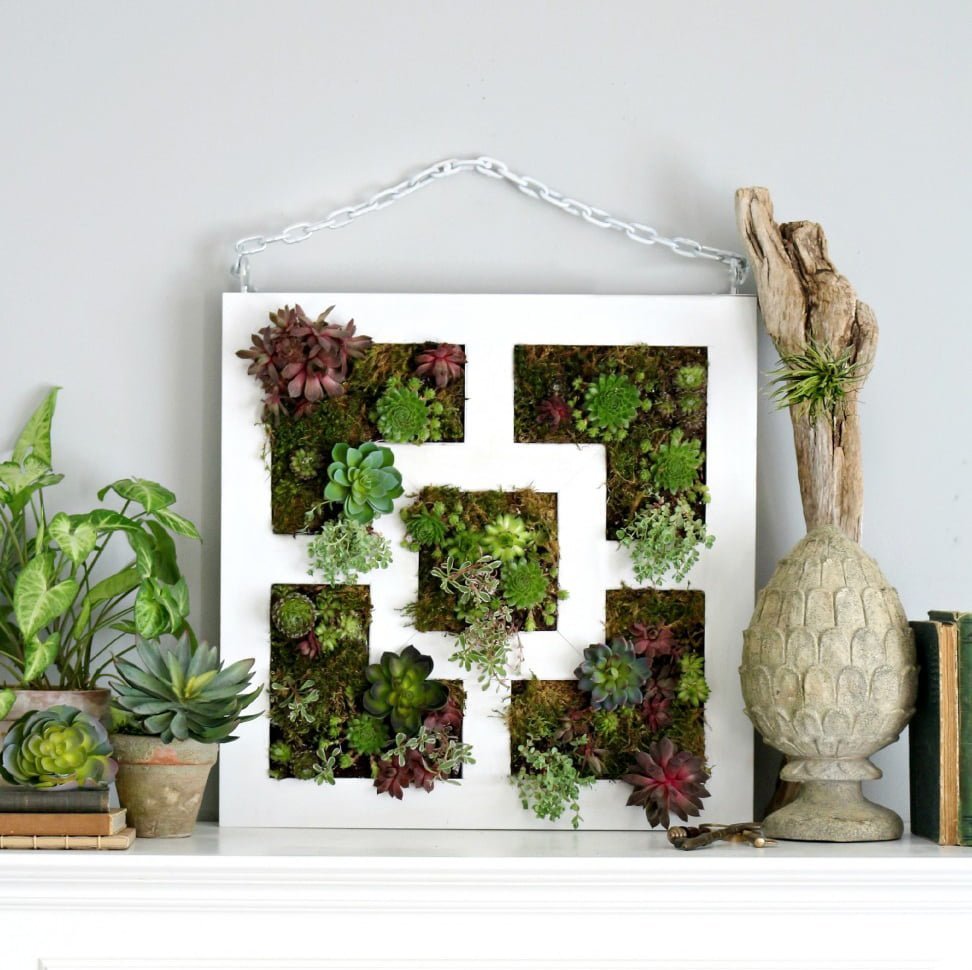 Vertical gardens don't need to be grand affairs, as this tiny planter shows. Strewn with a variety of succulent plants and propped between knickknacks on a shelf, it serves to set a natural theme for a home's design scheme. The clean white lines of the planter clarify the garden's shape with a subtle and pleasing pattern. While the attached chain shows it is clearly meant to be hung on the wall, leaning it on a bookshelf or mantle gives it visual appeal and extends the versatility of the piece.
48. Accent a Cozy Bohemian Reading Nook Using Vertical Garden Decor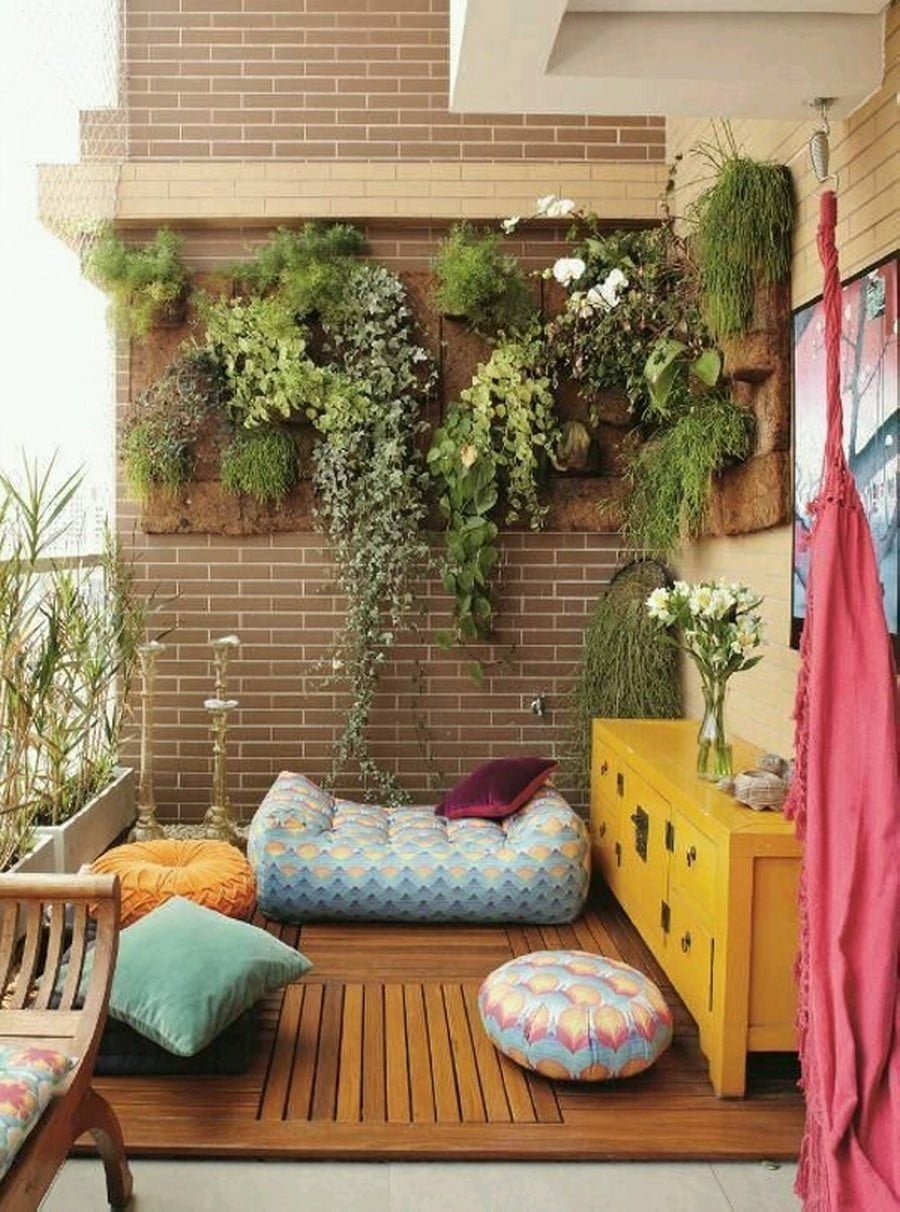 Orchids, ferns, ivy and other trailing plants burst forth from a muted background, creating an almost unbroken field of greenery above a small lounging area. Tricking the eye by mimicking outdoor scenery is one of the ways to incorporate nature into an interior setting. Pillows and furniture in bright colors serve to contrast with the uniform shades of green, creating an overall effect that is deeply appealing. While this example is used in a balcony space, it would look equally beautiful when brightening up a dull corner inside the house.
49. Hang a Garden on the Wall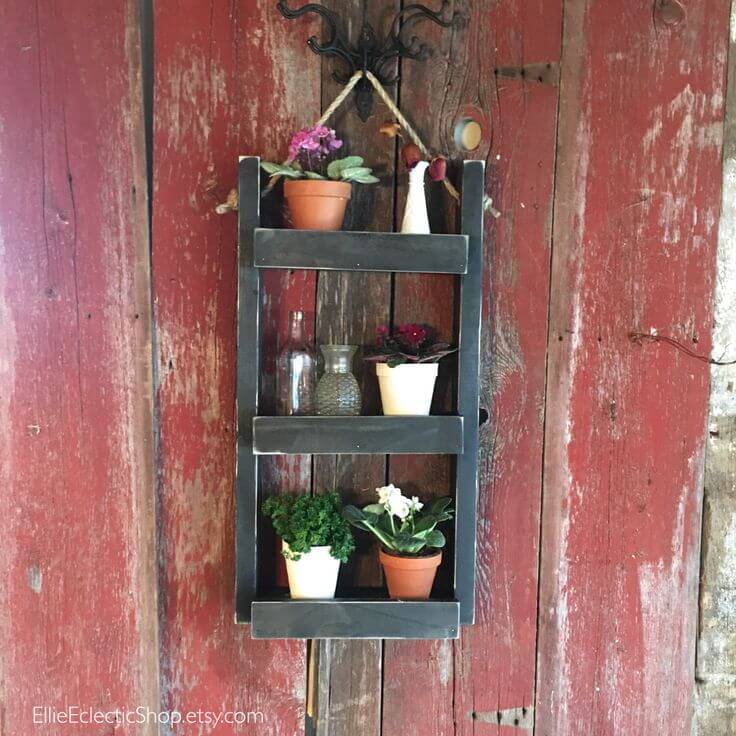 Take advantage of a bare stretch of wall, and hang a painted and antiqued wooden plant holder for an instant vertical garden. Holding an assortment of herbs in small terracotta pots and suspended from a giant iron hook with a length of rope, this charming planter is also a practical way to keep culinary herbs close at hand. Its compact size makes it suitable for a variety of locations, making it a welcome addition to small spaces that lack decorating inspiration. It will also work well in a kitchen area when planted with herbs necessary for seasoning dishes.
50. Paint a Wall with Plants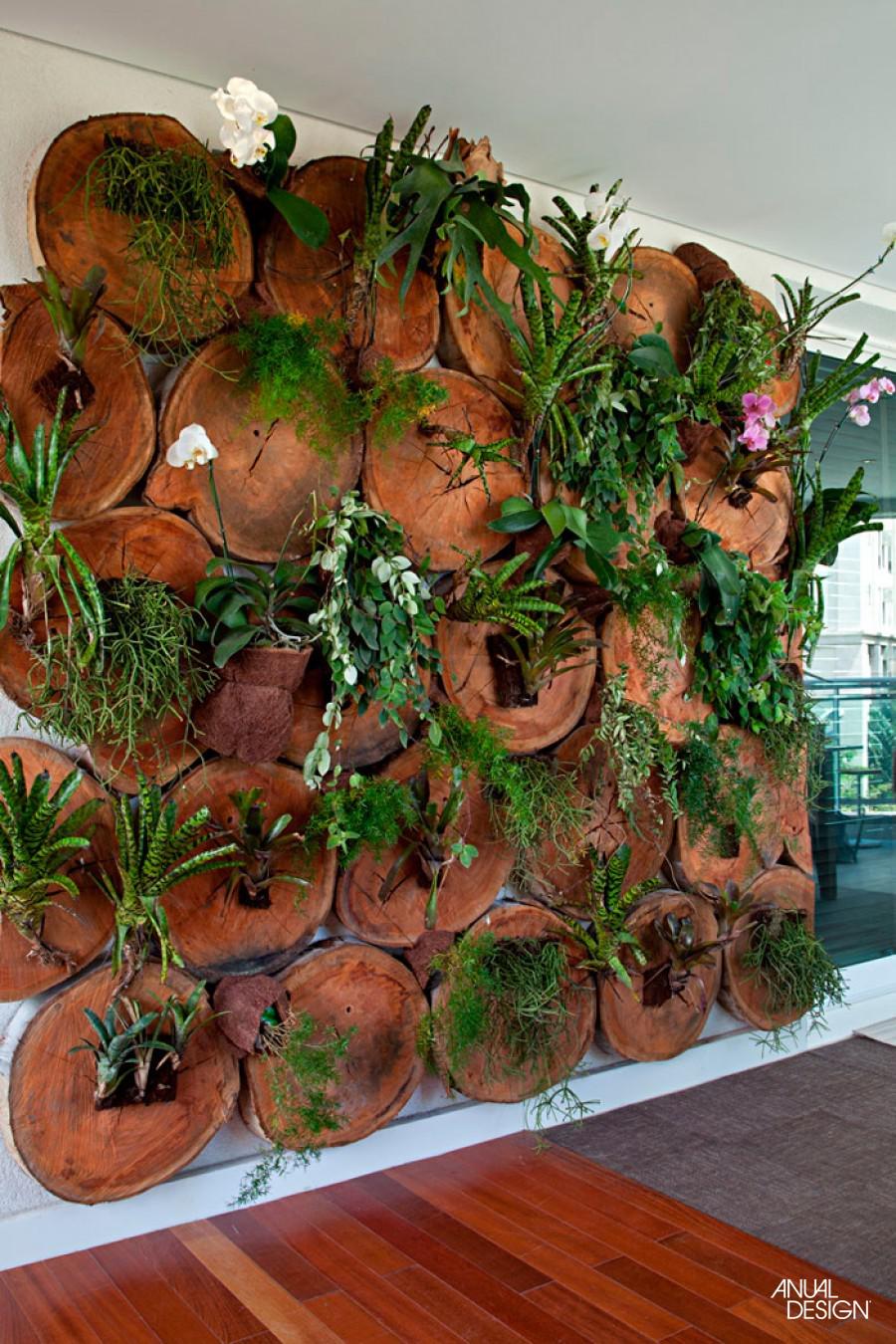 Slices of eucalyptus tree trunk serve as creative planters holding a variety of green foliage and orchids for a truly natural aesthetic. Some tree trunk slices are left blank to contrast with the exuberant greens and blooms of the neighboring trunks. This vertical garden becomes an economical and unique way to cover a large wall space while blending neatly with the rest of the home's decor, and it can work especially well in homes that already utilize a lot of wood in their design. Take account of plant shapes and colors when crafting this look, using spiky, airy and trailing plants together with orchids to achieve the same textured effect.
Be Ahead of the Vertical Gardening Trend With These Creative Designs
As these 50 ideas show, creating a vertical garden is a chance to unleash creativity and pay tribute to the glorious variety of beautiful flowers and plants from a range of different biomes. Utilizing found objects, natural lengths of driftwood or other unused containers make it an artistic endeavor that has the added benefit of being Earth-friendly. Whether it's a yard several acres in size or a tiny balcony in the heart of a big city, vertical gardening can bring added definition to a design scheme and incorporate lush plants and flowers that improve quality of life with their beauty and ability to cleanse the air.
There's no need to be a professional gardener, either; for those who lack experience in designing green spaces, simply start small. Moving on to bigger projects later will offer new challenges and a way to express creative inclinations. There's a vertical garden design to match any home's decor, and they can be as large or as small as required. They also make a good project for the whole family and can even be the inspiration for transforming the neighborhood or local community. Vertical gardeners can be a force for beautifying and transforming the world, one little garden at a time.