Vintage garden design is a growing trend for outdoor living spaces. Incorporating fun antique pieces from inside the house into your yard gives it a unique look no one else on the block will have. This list of 45+ pretty vintage garden decor ideas has everything you need to take your outdoor space from boring to gorgeous.
45+ Cute Vintage Touches for Your Garden
Flea market divas, rejoice! Many of these vintage gardens use repurposed or upcycled items to create fun displays for your plants. From ladders and kitchen implements to wheel barrows and sewing machines, almost anything you find at a thrift shop or market can be made into a planter! If you want a more rustic, country vibe, try the ideas that incorporate mason jars or galvanized metal buckets. Looking to bring a romantic Victorian feel to your yard? Try the vintage garden decorations that use teacups and dress forms. You can even personalize your vintage garden design with a DIY monogram planter project. When you liven up your backyard deck with these ideas, it will look so amazing you will want to spend all your time there. Read on for shopping lists, tutorials, and inspiration for all 45+ of these pretty decorations!
1. Vertical Herb Garden with Fun Textures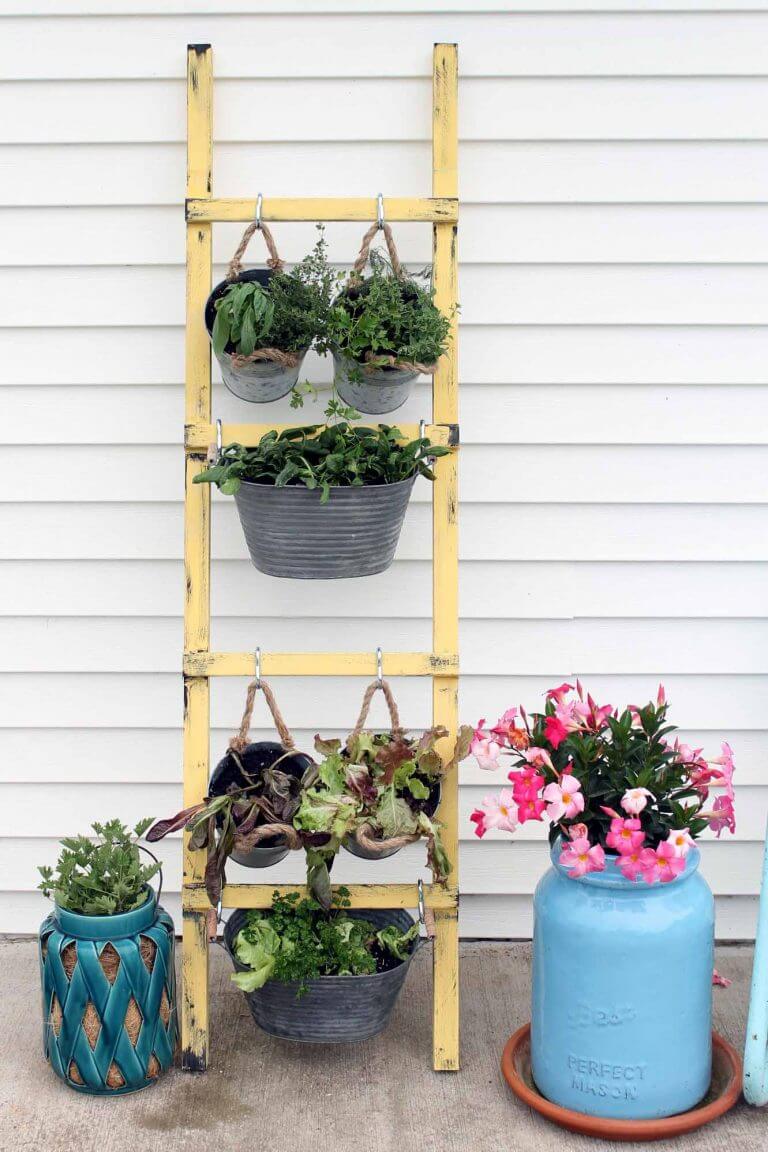 Glossy blue glass, unfinished wood, rope, metal, and greenery make this vertical garden a feast for the eyes. Growing herbs and edibles on a creative trellis is a great way to both start conversations and to eat locally sourced food. For added visual interest, try experimenting with new cultivars of your favorite herbs. Instead of planting traditional basil, go on an adventure with purple basil!
2. Outdoor Retreat for Small Spaces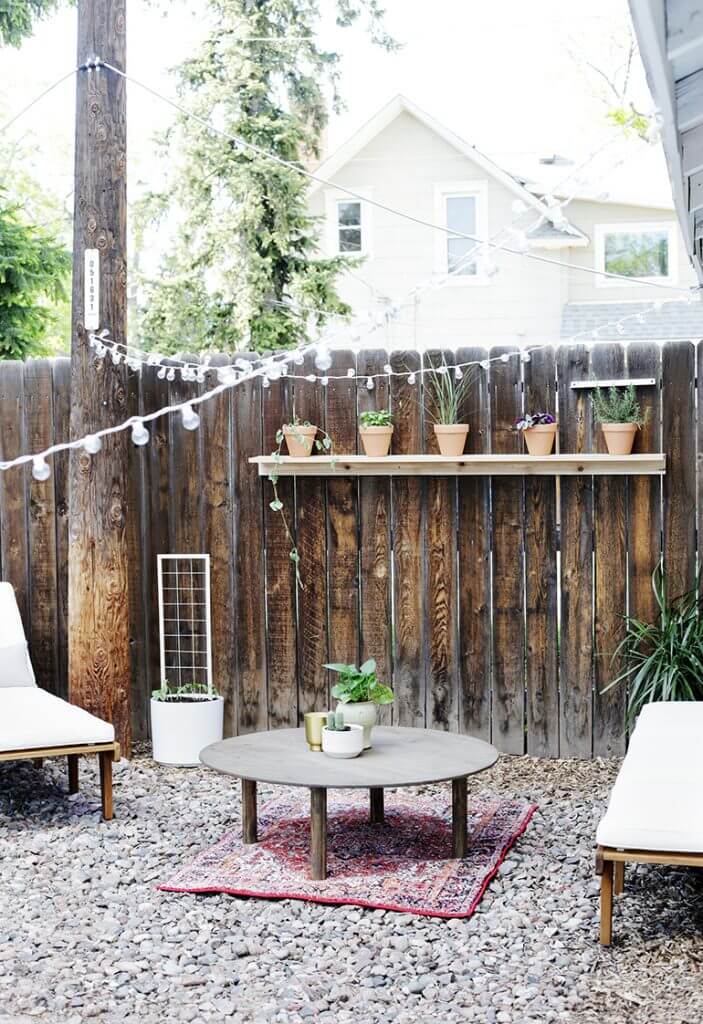 For those who can measure their gardens in feet instead of acres, this idea pairs modern-style decor with vintage lights and terracotta pots to make a cozy outdoor sanctuary. String lights give this outdoor refuge an inviting draw and magical warmth. For more dual-purpose greenery, consider planting tomatoes or dwarf varieties of fruit bushes in containers.
3. Vintage Bicycle & Flower-Filled Green Glass Bottles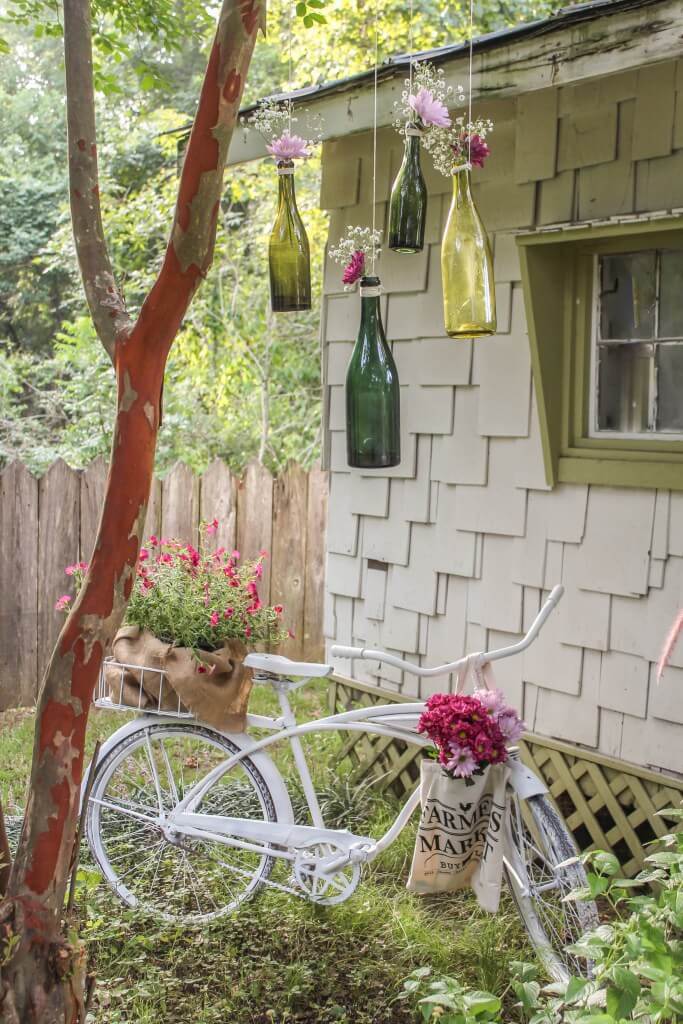 A sophisticated palette of whites, greens, and pinks make this landscape feature a delight to behold. Painting a vintage bicycle white — or whichever color would work best in your landscape — is a fast way to elevate it from looking accidental to intentional. While the green glass is beautiful on its own, painting the bottles white would put more emphasis on the flowers.
4. Cascading Flowers in a Galvanized Tub Planter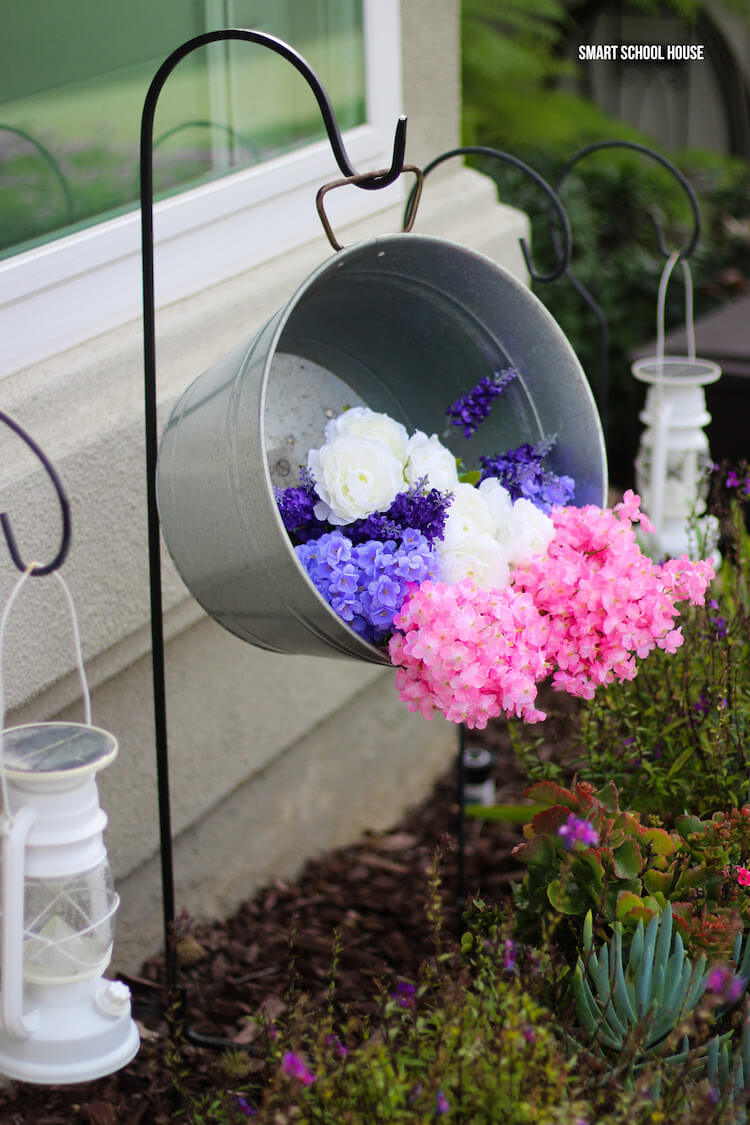 This simple idea is a great way to use vintage tubs, buckets, or containers as part of your garden landscape. To emphasize the cascading look, you could use a vining plant. If you want to give this a fairy-garden spin, try adding a small statue in the middle of the flowers. The possibilities here are only as endless as your imagination.
5. Classic Clock Mounted on a Reclaimed Door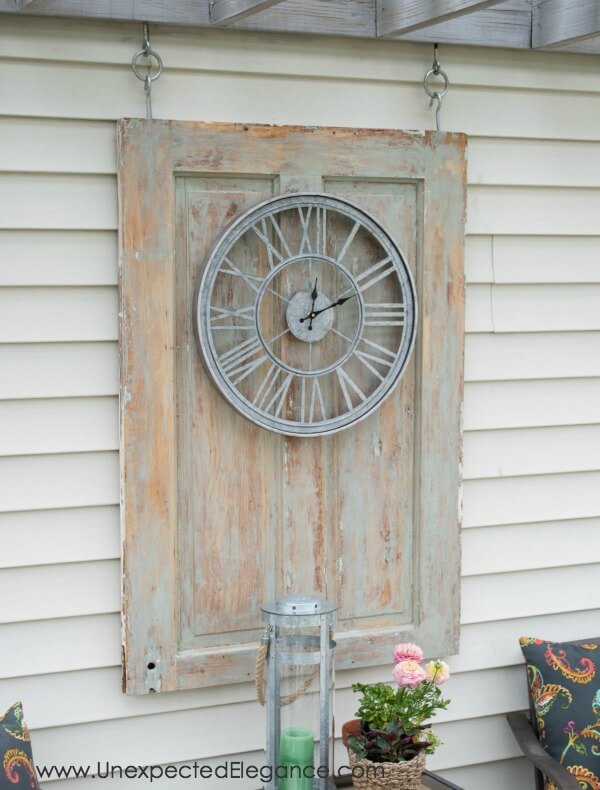 Sophisticated Roman numerals and a reclaimed door combine to create a laid-back, educated farmhouse feel. To personalize this project, consider adding a monogram or your favorite saying along the edges. For ultimate refinement, translate your favorite saying into French or Latin before painting it. If you want to make this piece more useful, consider adding some shelves in the negative space below the clock.
6. Chalk-Painted Rejuvenated Concrete Planter in Green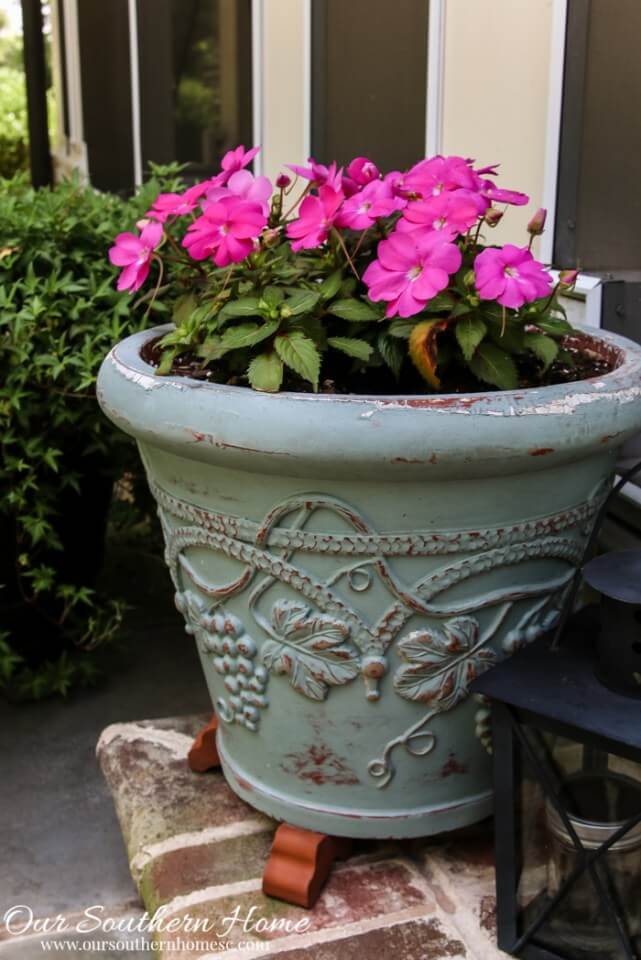 Adding some chalk paint to a vintage planter gives it so much more dimension and character. Of course, this method could be used on almost any vintage artifact, but, as illustrated in this example, works wonders when there is a great deal of detail. This planter is versatile and could be used in almost any area of your landscape.
7. White Reclaimed Nightstand with Green Frog Figurine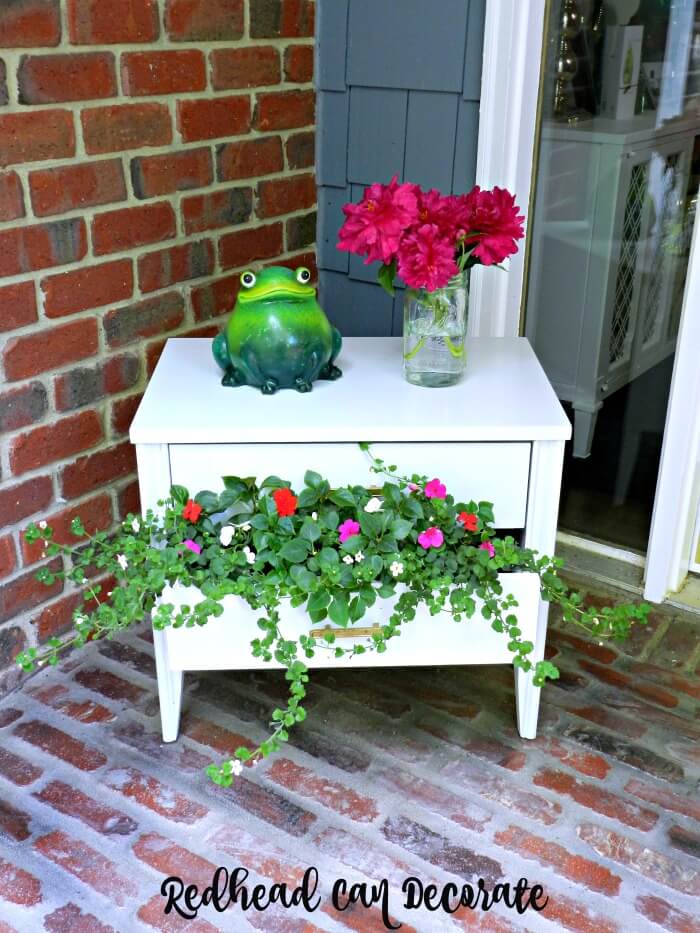 Crisp white and refreshing green come together in this repurposed nightstand. Coordinating the colors of the figurine and greenery is a great way to transform a mediocre nightstand into a conversation-starting showpiece. Paint your vintage find white, plant some gorgeous flowers inside, and style it with complementary figurines. Even though this one lives on the porch, this makeover can stretch to any weatherproof vintage furniture.
8. Washtub Planter Bursting with Plants & Faux Birdhouses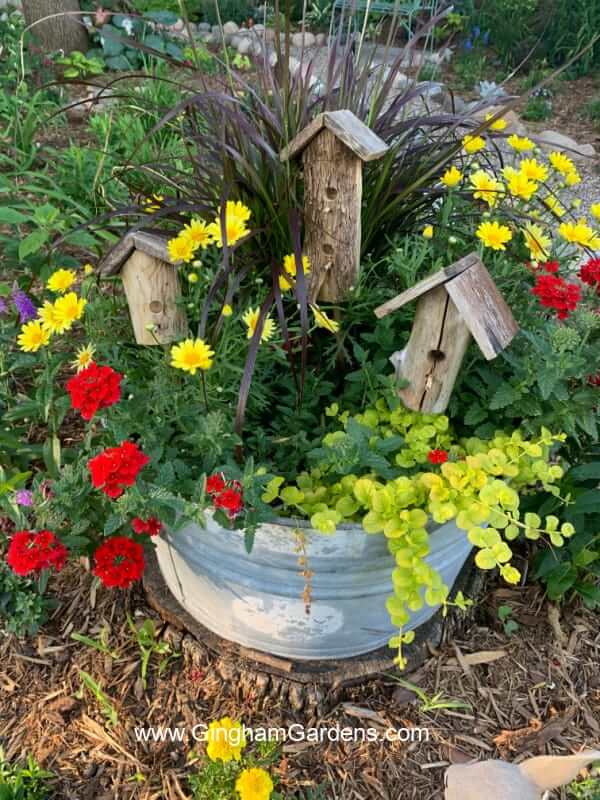 Rejuvenate a vintage washtub with big flowers, ornamental grass, and a few faux birdhouses. If the flowers and tall grass would overwhelm your landscape, consider using a variety of nonflowering, vining plants. Paint the birdhouse roofs to give this display some colorful appeal in the winter. Most importantly, have fun — this washtub planter is all about playing with textures.
9. Creative Repurposed Vintage Lamp Garden Pillar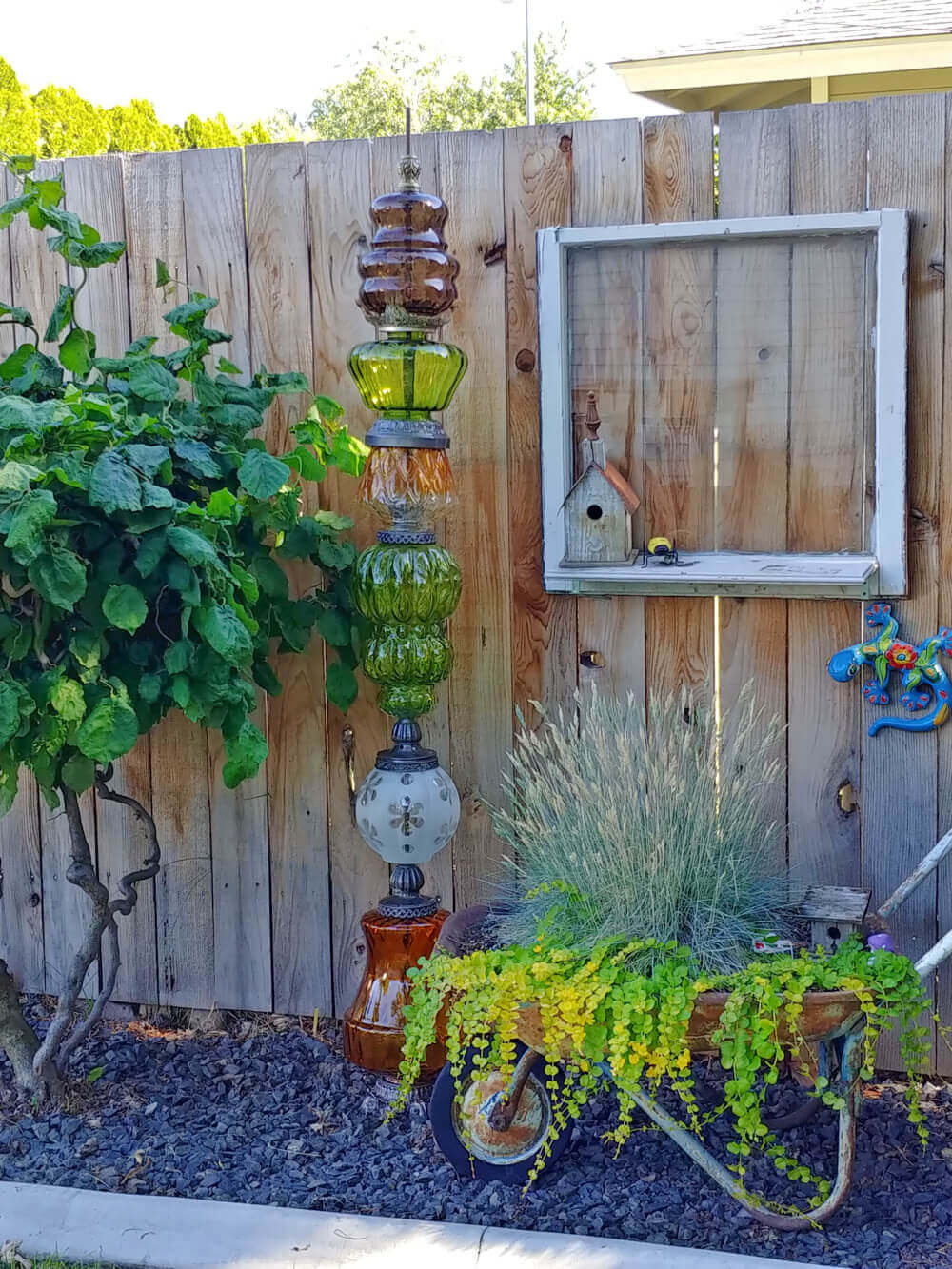 For an inexpensive way to add lots of vintage charm, this garden pillar is a fantastic option. Each pillar, or totem, will be unique to what is available around you. If you want to personalize your pillar further, consider painting some of the glass globes. String wire between two pillars, and you will have a one-of-a-kind trellis perfect for vining flowers, blackberries, or even grapes.
10. Squirrel Statue Inside a Vintage Red Lantern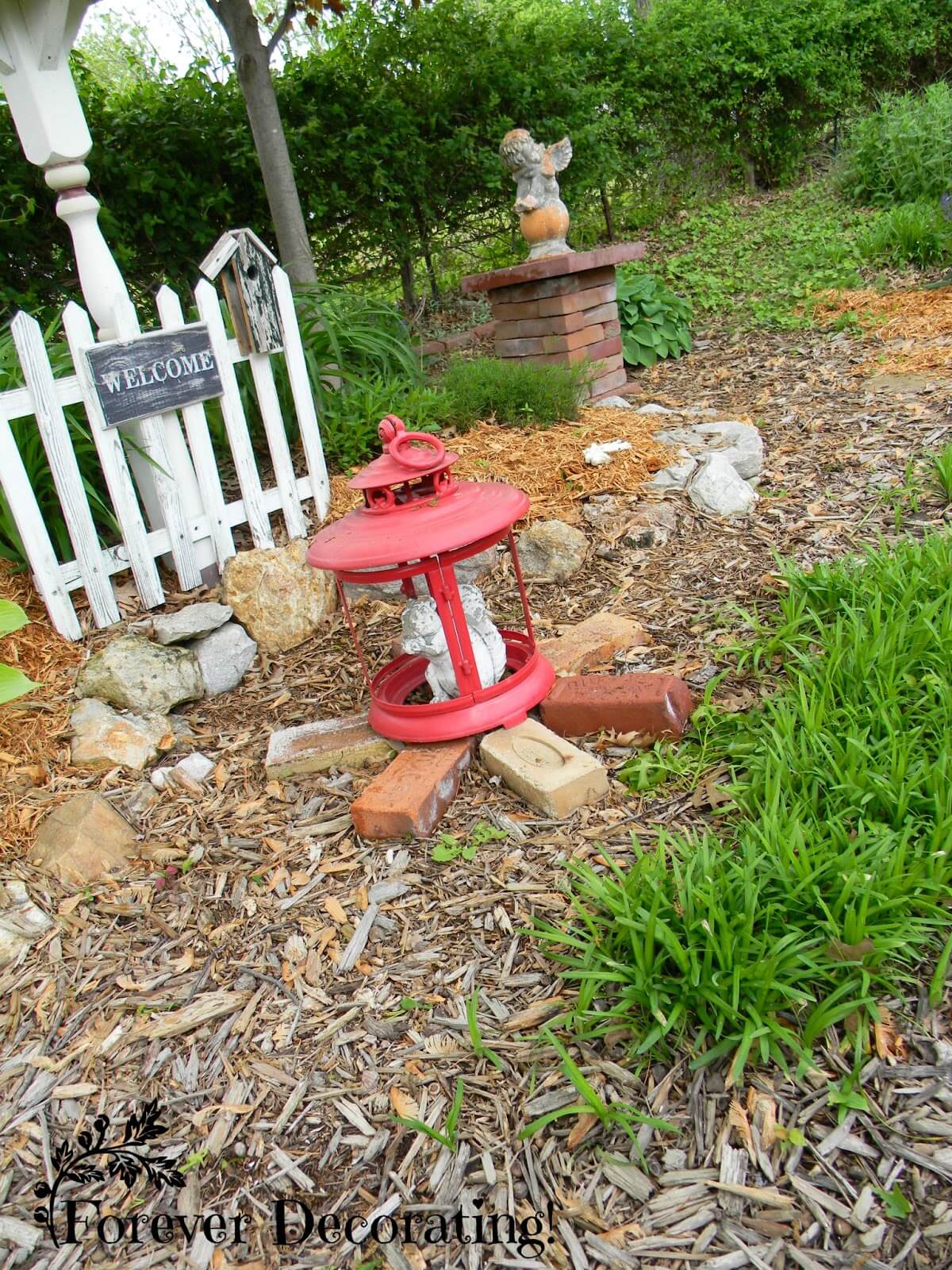 A creative way to display your finds is to use one as a frame for another. The key to success is to focus on the shapes and to be aware of color coordination. In this example, a fireplace motif is achieved with the red lantern and campfire-style formation of bricks. In what ways can you frame your vintage decor to make your garden unique?
11. Geometric Stone Fountain for Ultimate Relaxation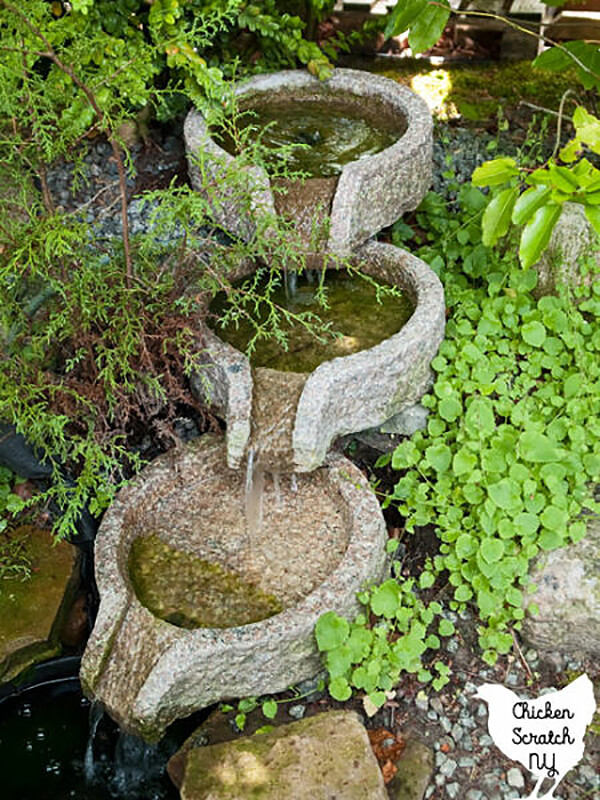 A gurgling fountain not only helps humans relax but also provides a water source for butterflies and honeybees. Consider placing a watering-can planter or galvanized steel planter nearby. Add some lighting and some vintage seating to transform your fountain into a tranquil retreat after sunset. Find a fountain that resonates with your energy and get ready to relax.
12. Lady Lounge with Mailbox in Teal & White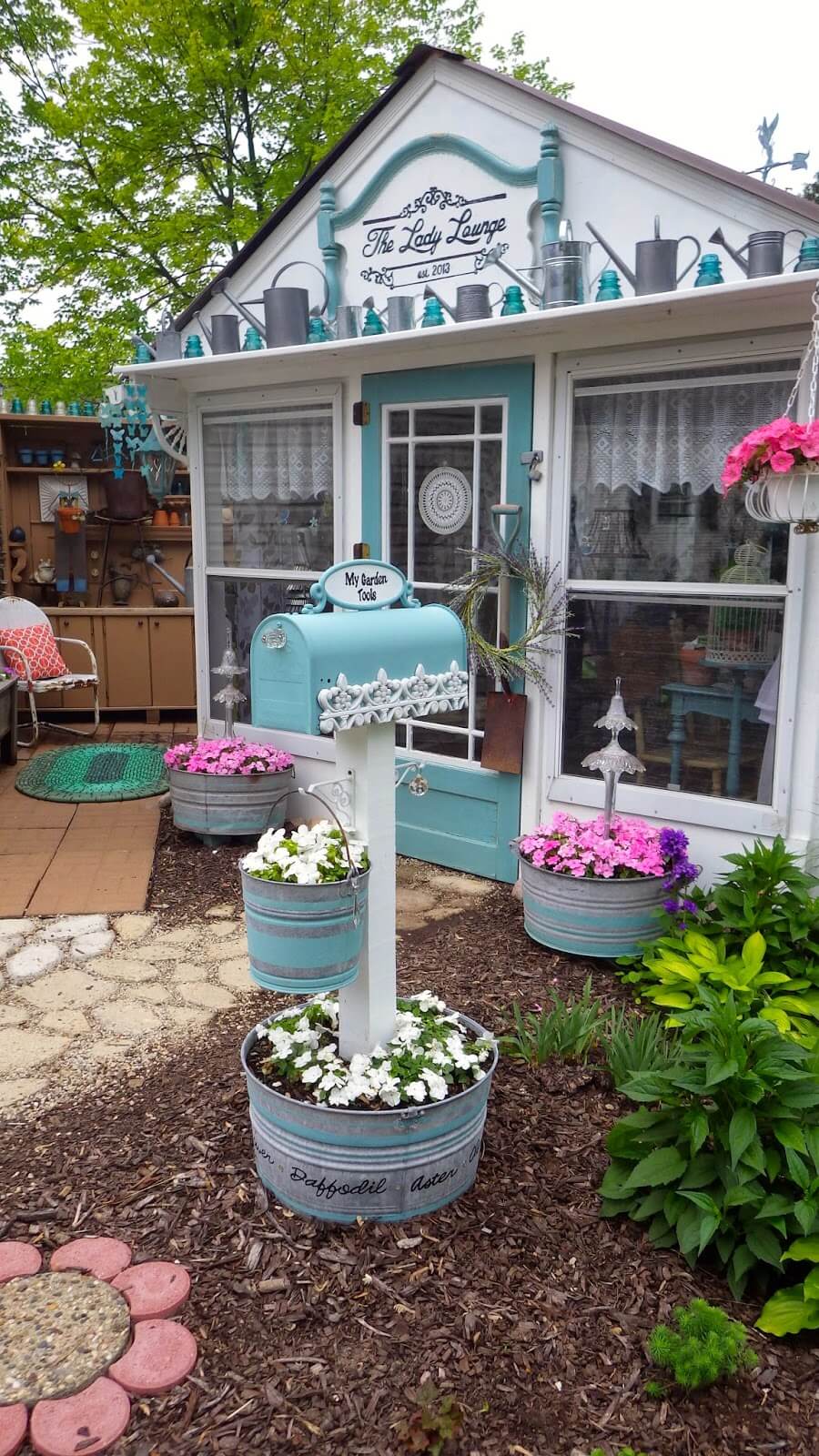 Imagine having a dedicated space for your crafting that is decorated in your favorite colors. Even if you do not have a shed that can be redesigned as a "Lady Lounge," you can always put up a sign in your favorite crafting corner. For a delightfully rustic touch, add a mailbox in a planter with some vibrant flowers.
13. Plant Upgrade with Vintage Floral Plates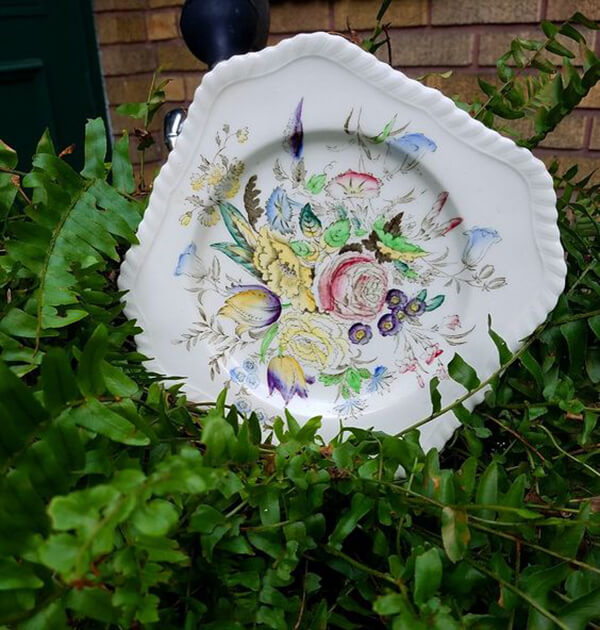 One way to personalize your outdoor space is to add vintage plates. Vintage plates are an affordable way to add sophistication and elegance. Because this display is unexpected, one way to tie the plates into the surroundings is to make sure colors or shapes are repeated. Look for plates with details like fun flowers or some decorative scrolling to add some dimension.
14. Filigree Votive Candle Holders on Shepherd's Hooks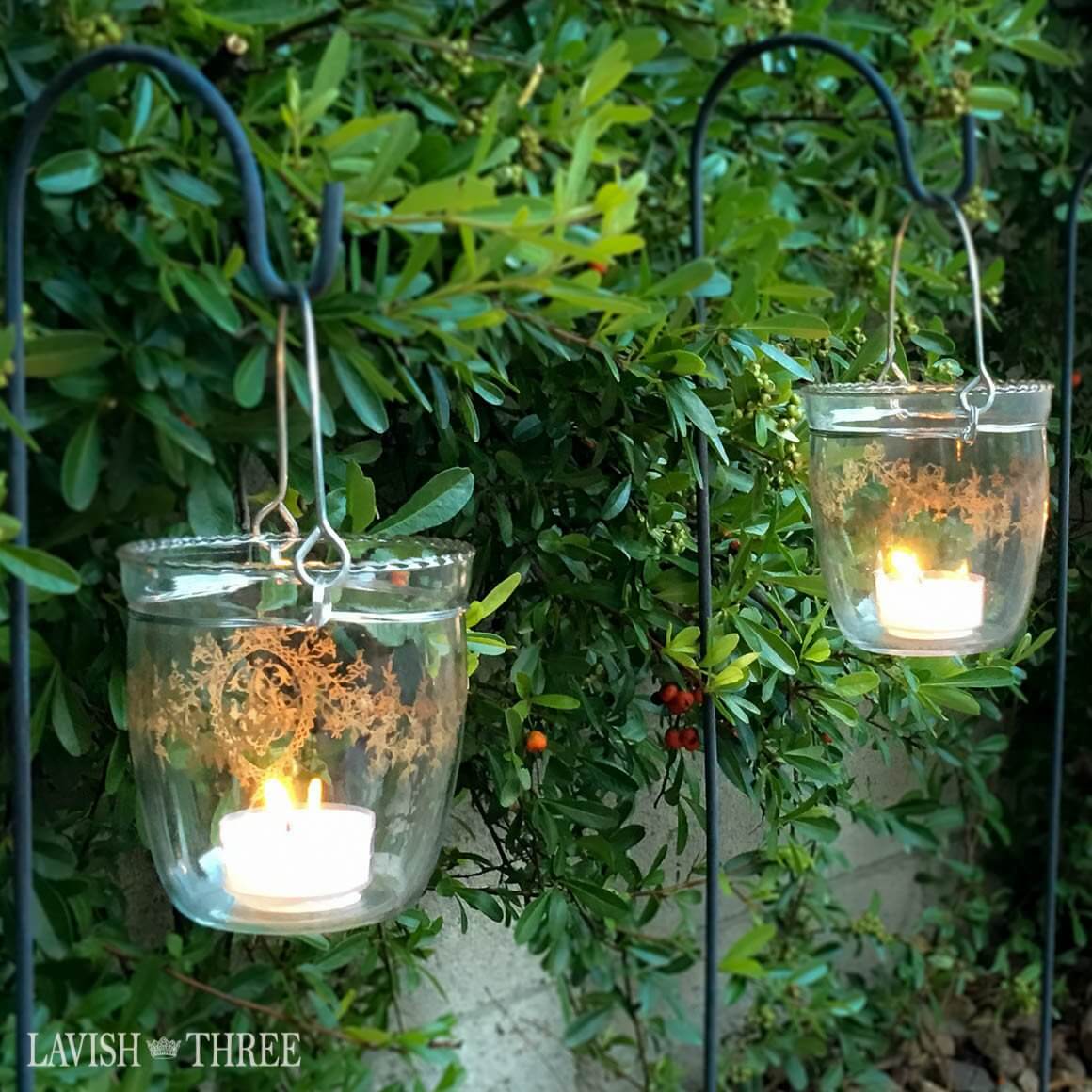 Use these filigree candleholders as inspiration to add elegance and sophistication to your garden. This example uses metallic filigree for a regal feel, but you could use teal, pink, or white to achieve a more whimsical vibe. Adding candles is a fast way to add romance to any space. Choosing scented candles will help create an outdoor retreat.
15.Vintage Garden Decor Ideas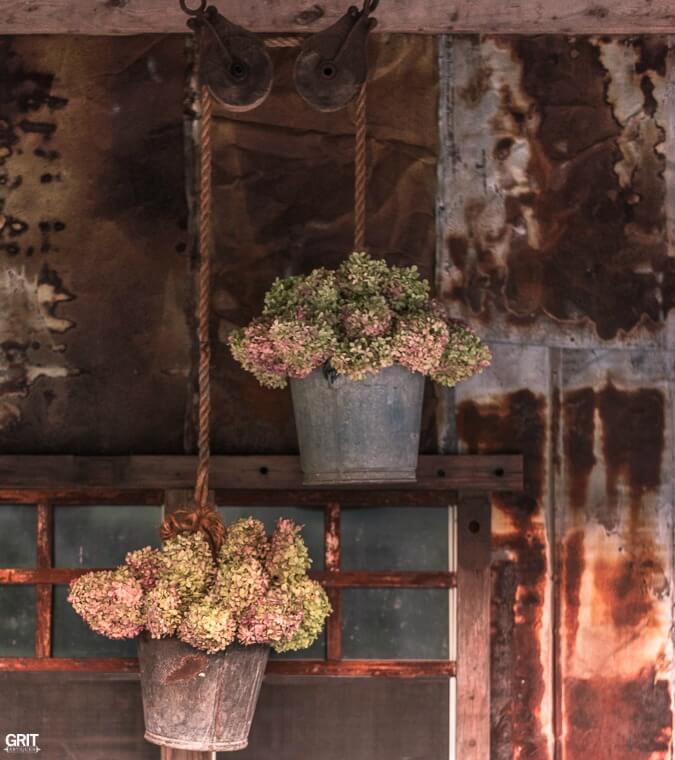 Rustic Industrial Pulley Planter System for Flowers
Here is a throwback to the good ole' days. Filled to the brim with character and charm, these tin buckets no longer feed the chickens but feed your flower obsession. Hanging from a vintage pulley system, your hydrangeas take center stage at eye-level where everyone can enjoy their beauty. Attach this system to the side of your backyard shed to create a gorgeous garden display.
16.Repurposed Rusty Metal Garden Owl Art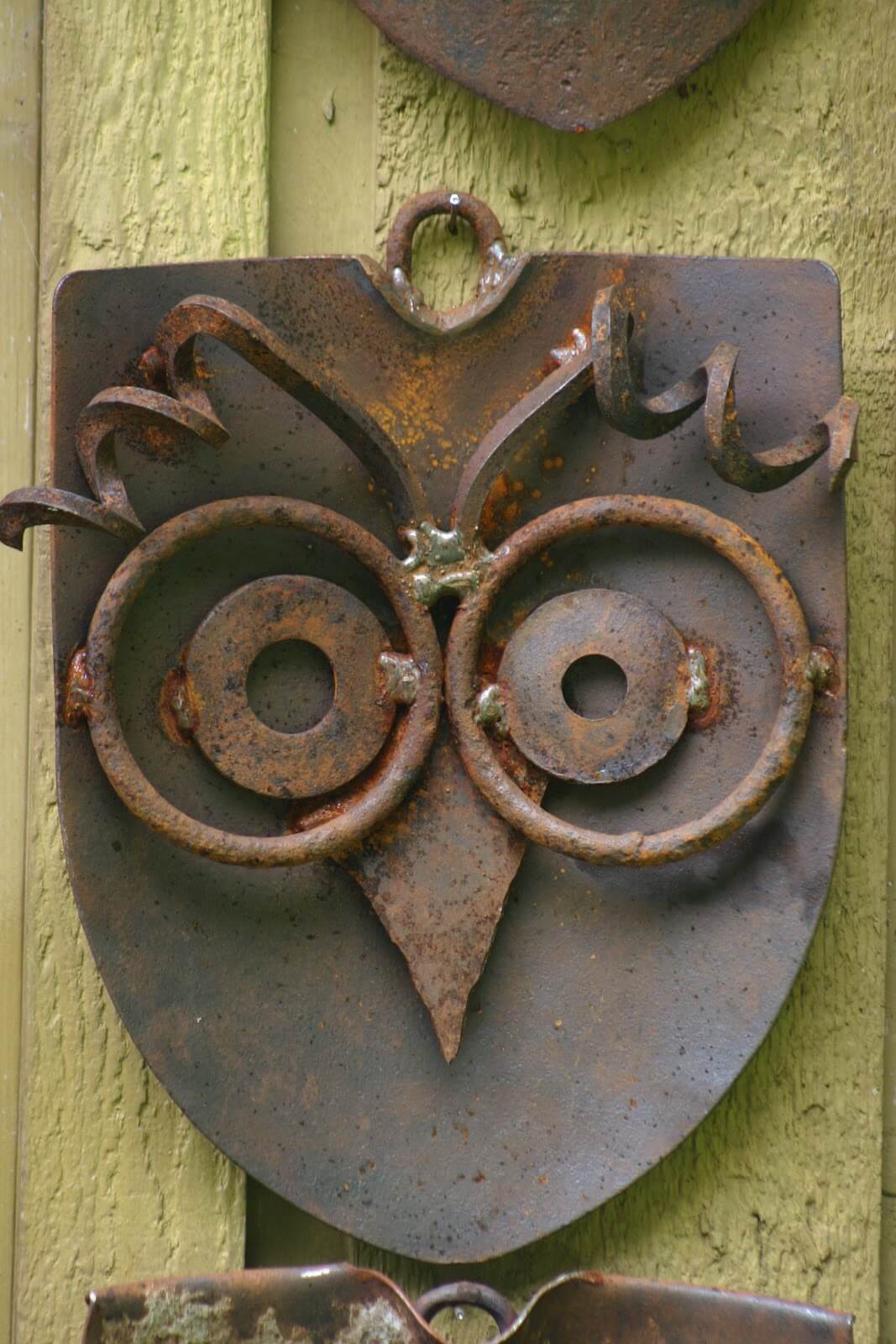 Who gives a "hoot" about your garden? This adorable repurposed metal owl, that's who! Crafted from an old shovel with some salvaged metal parts welded to create his cute face, this rusty decoration brings a healthy dose of originality and whimsy to your outdoor space. He would not only make a good gift to a gardening buddy, but also to your favorite bookworm.
17.Shabby Chic Reclaimed Vintage Door Yard Prop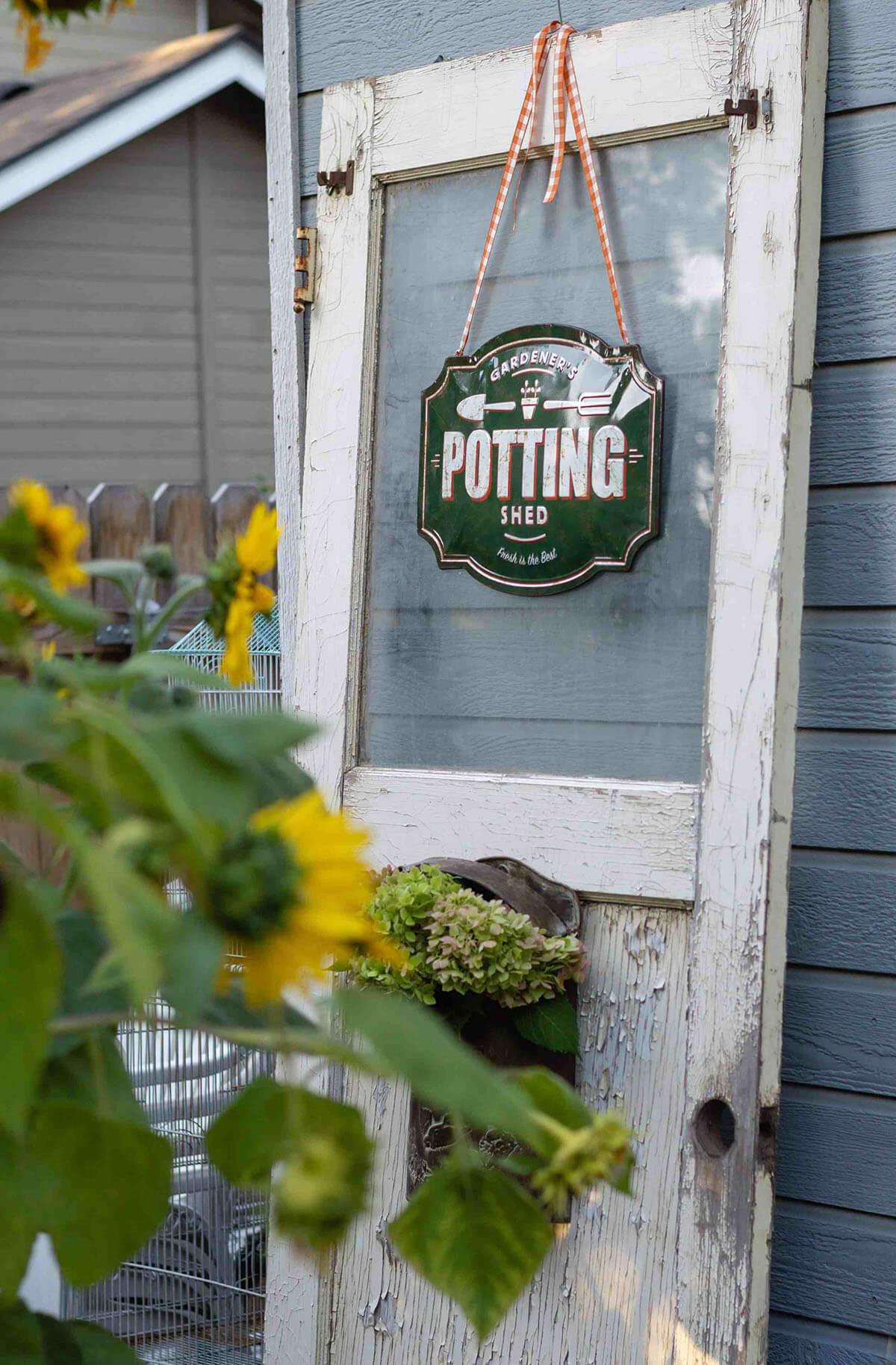 Infuse your backyard with some of your favorite interior decorative elements while using your frugal mind. Look how darling this reclaimed white door looks as a large piece of art in your backyard! Throw a sign over it and you've just created a new path to your garden shed. All of the characters from this door echoes into your yard for extra backyard appeal.
18.Loaded with Love Vintage Metal Wheelbarrow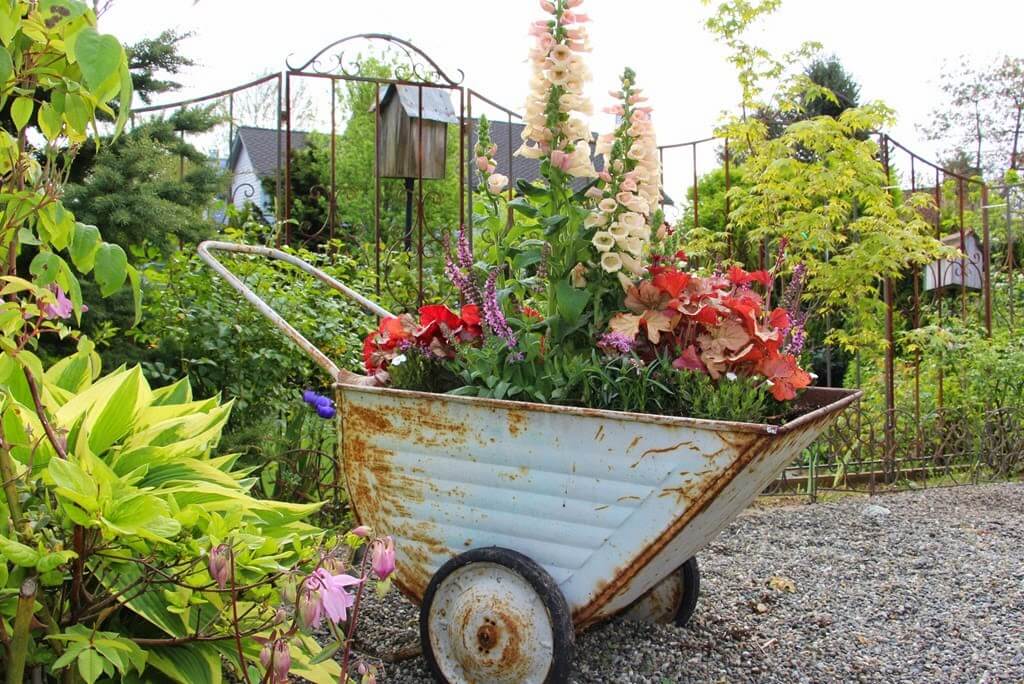 This off-duty wheelbarrow has been given a second life as a keeper of the garden's harvest. Filled to the brim and overflowing with beauty, this vintage metal garden helper has all the room to carry your freshly cut bounty from garden to porch or to simply serve as an unconventional and quirky planter. Since it's on wheels, you can maneuver this gorgeous display all around your yard to let its beauty go on an adventure.
19. Handmade Glossy Copper Mushroom Garden Sculpture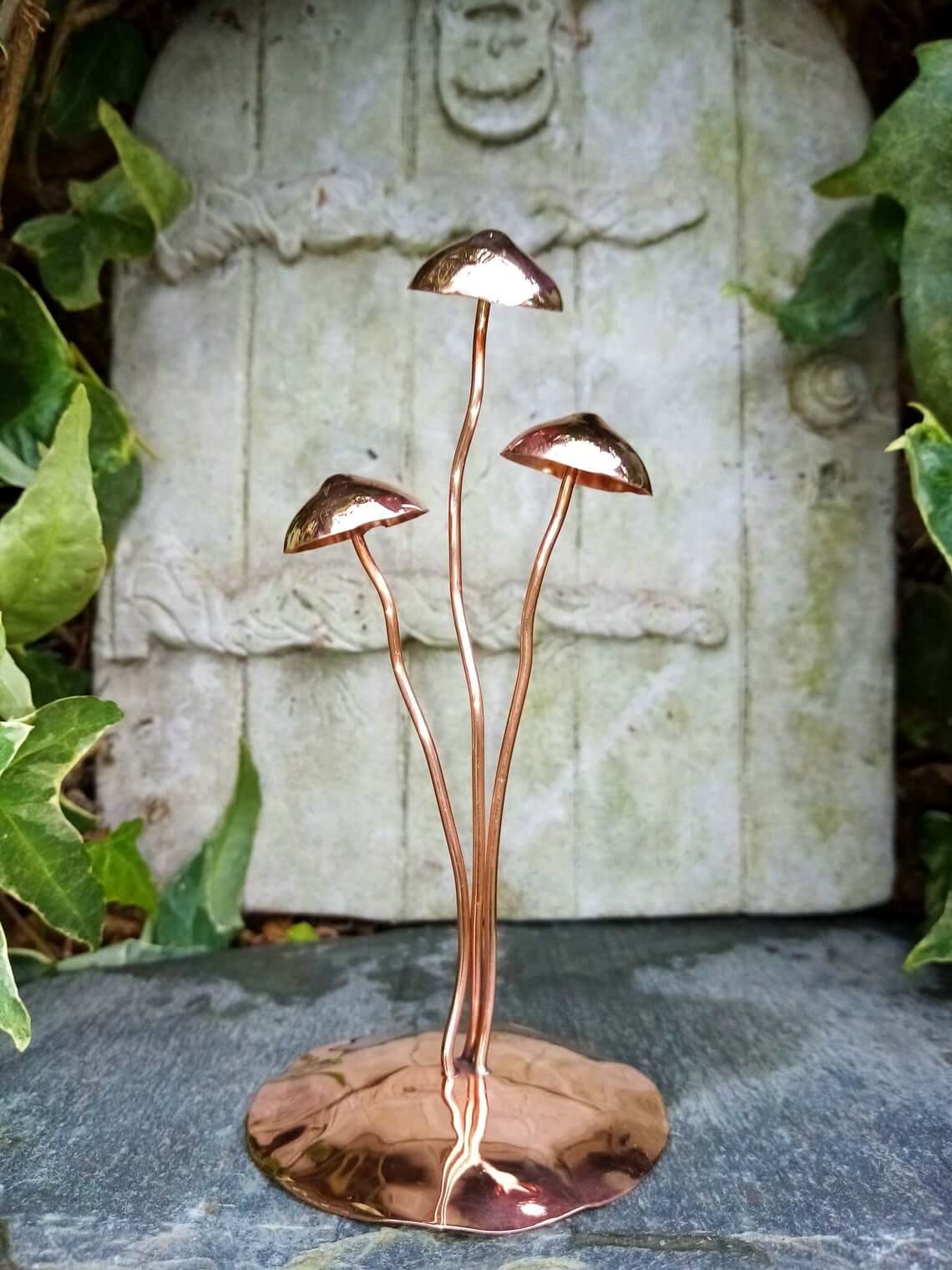 Whether you are constructing a fairy garden or simply love a touch of whimsy, these copper mushrooms are a unique addition to any garden. Because they are copper without any protective finish, they will patina over time. If you do not want them to slowly change to meld with the landscape, there are some lacquer options to reduce the patina formation.
20. Vintage Cement Floral Sculpture with Incredible Detail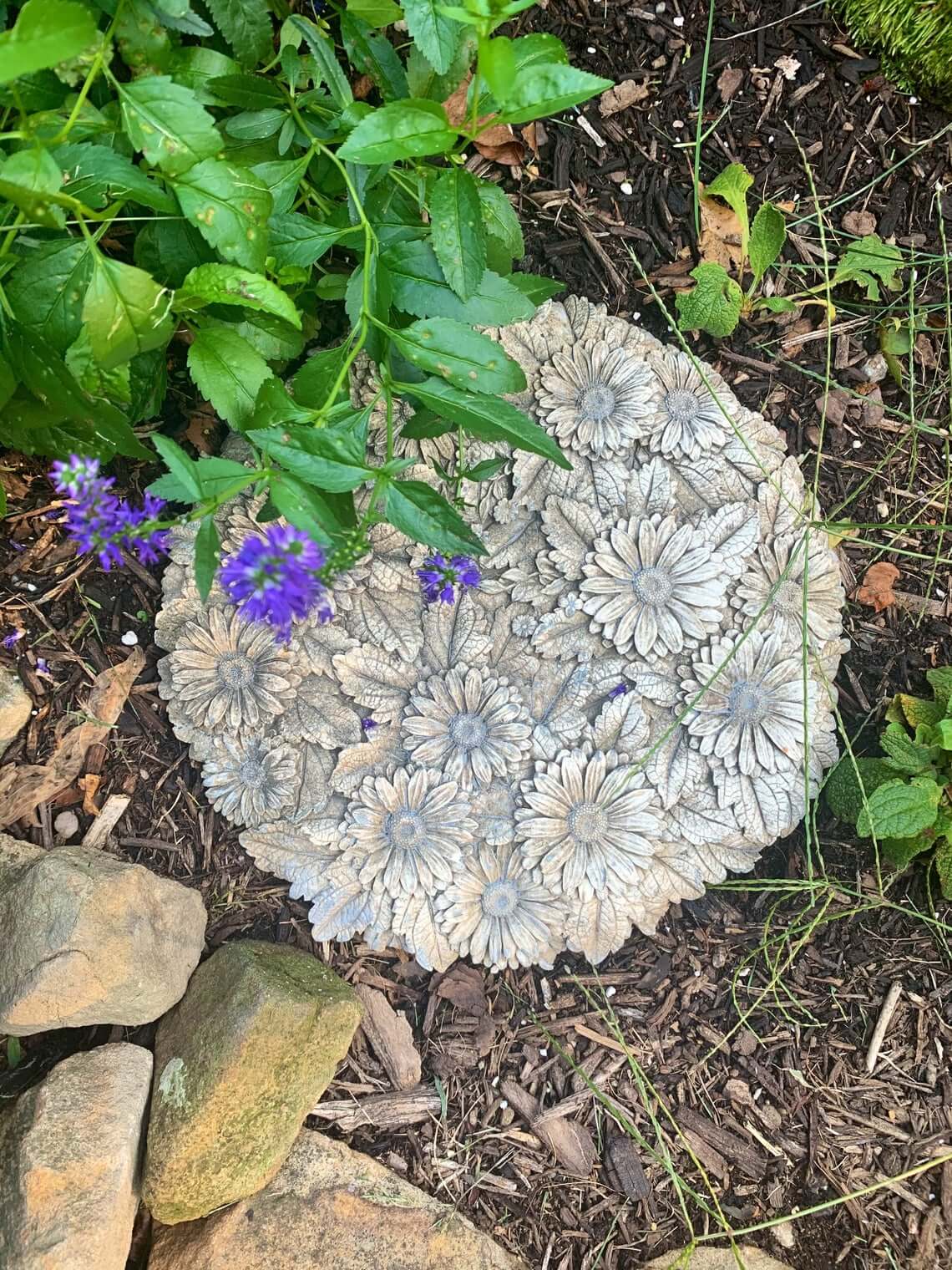 While living flowers fade, these cement flowers will remain through all seasons. Because this sculpture can be either used as a ground ornament or hung, it can be a versatile decoration for your space. If you choose to hang it, be aware that it does weigh three pounds and will require a sturdy anchor. To give this sculpture a magical twist, consider adding your favorite glitter paint.
21. "No Worries" Stamped Garden Spoon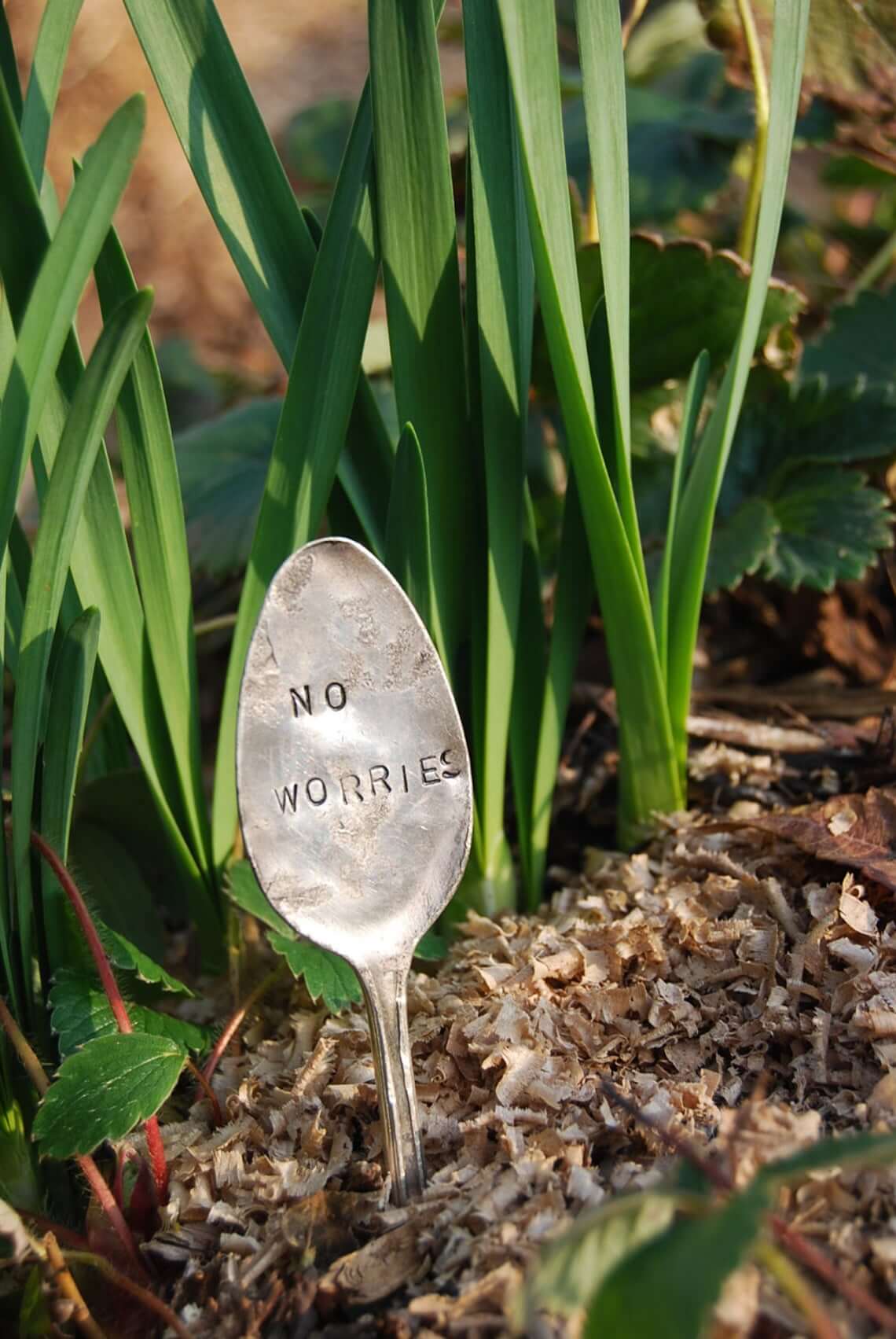 It can be stressful to label every plant in your garden. This spoon decoration is a reminder to slow down and enjoy the outdoors. It can be used in a potted plant or a large, sprawling garden. Shiny metal draws the eye and creates some textural interest in any garden while the letters add some humor.
22. French-Inspired Numeral Metal Garden Stakes
At 14 inches tall, these garden stakes will be visible over many types of garden plants. Whether you use the numbers to keep track of botanical varieties or they are solely ornamental, these stakes will lend a sense of numbered order to your garden. A large, highly-legible font makes these stakes easy to read. To increase contrast, consider painting the number and raised frame.
23. Bronze Young Fairy Resin Statue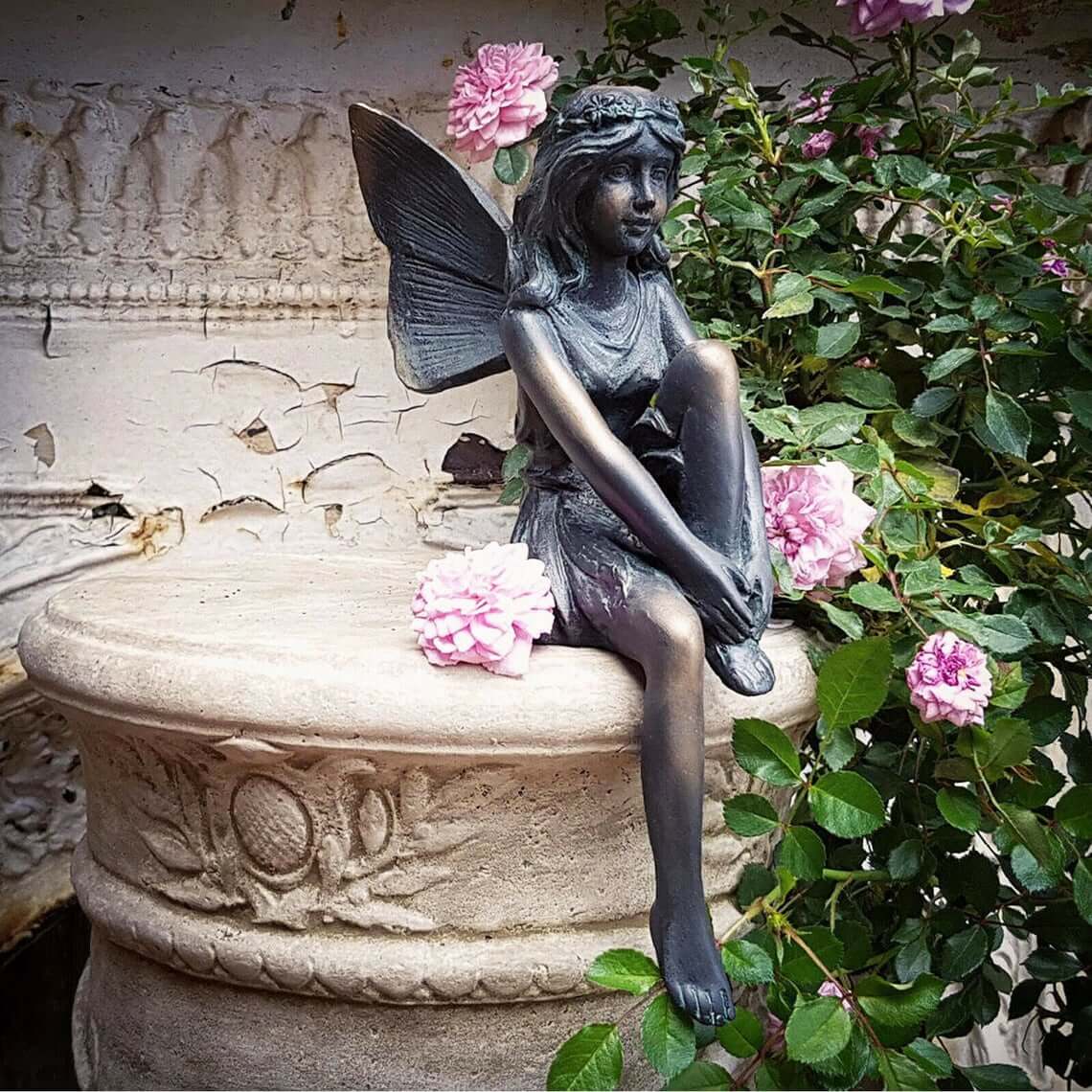 A fairy statue is a fun and youthful addition to your garden space. Her bronze finish gives a classic appearance that will blend with almost any garden decor style. She can perch either on one of your vintage finds, a planter, a fountain, or a pedestal. What will you name your playfully whimsical garden fairy?
24. Concrete Garden Gnome Walking a Pet Statue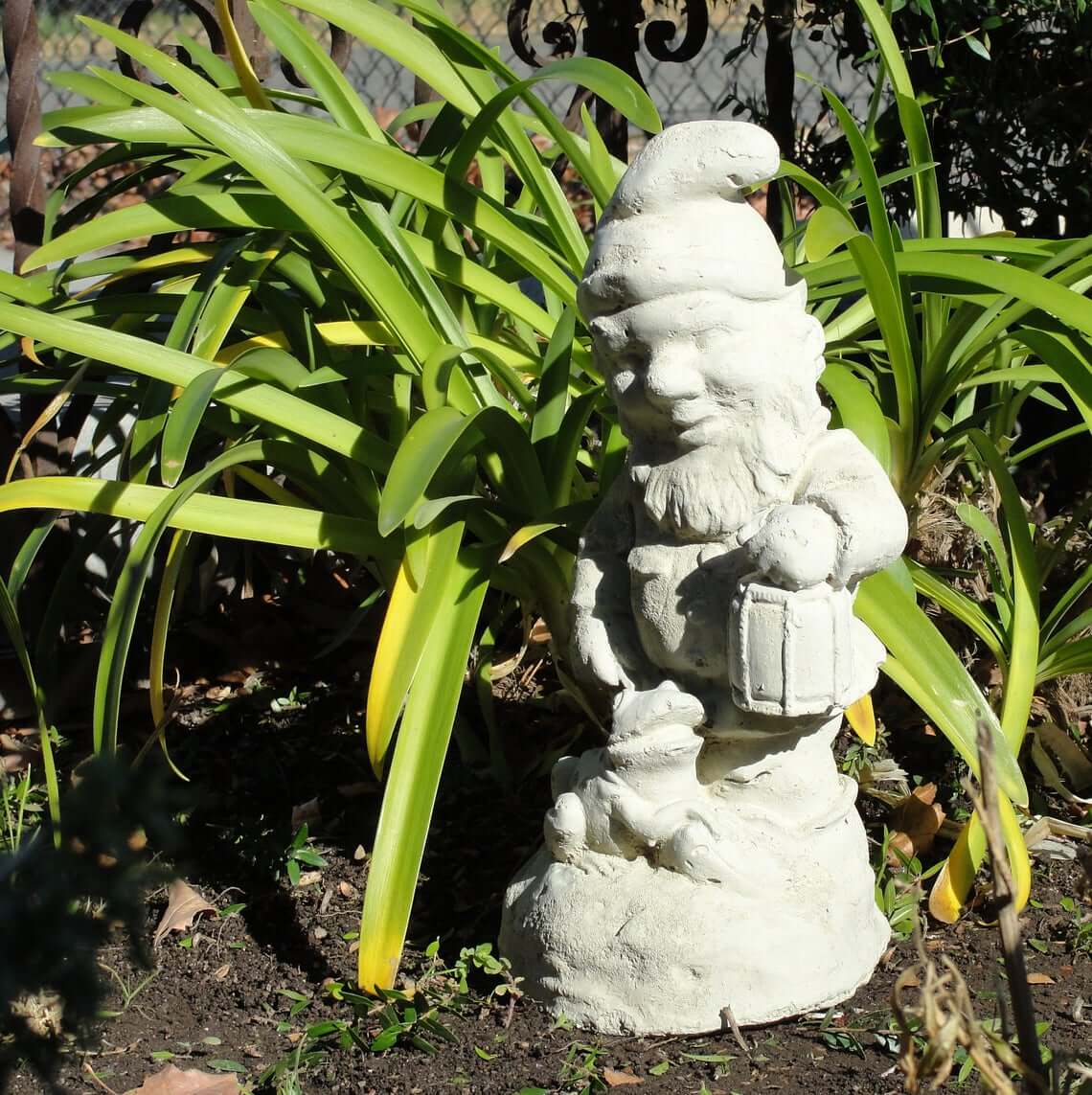 What could be a more cheerful addition to your garden than a garden gnome walking his pet frog while holding a lantern? Depending on your style, you could plant him next to the garden path to show the way or as a fun surprise among your plants. Because this gnome is constructed of natural-finish concrete, it will blend with many decor palettes.
25. Customizable Mystical Copper & Crackle-Glass Suncatcher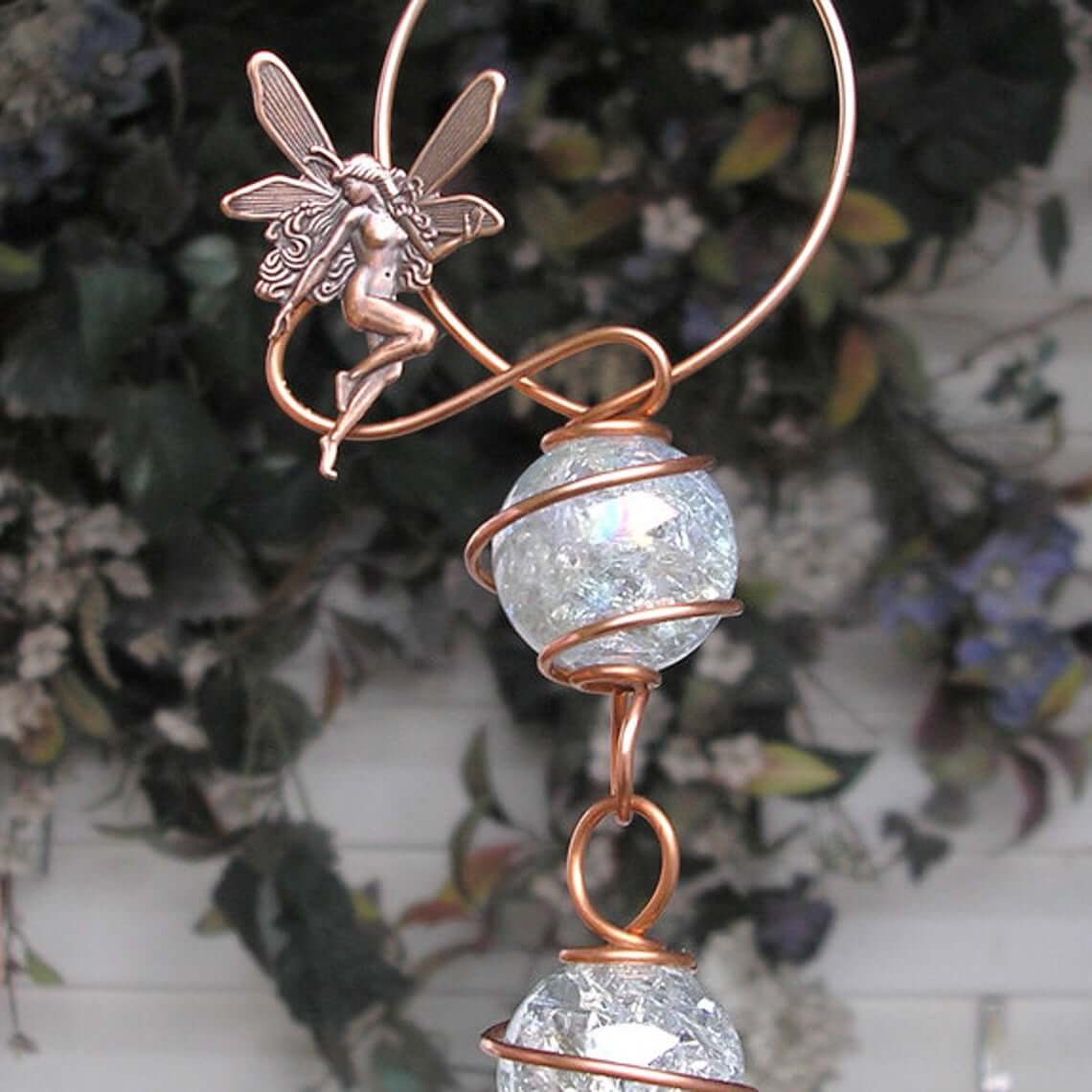 In addition to the visual interest, a sun catcher adds enchantment to a garden. This listing gives the option of a fairy, butterfly, or dragonfly to adorn your suncatcher. If left without intervention, the shiny copper will develop a natural green patina. Perfect for either a focal point or to support other design elements, this suncatcher is an elegant way to add textural variety to your landscape.
26. Robin Circle Decoration in Rusty Metal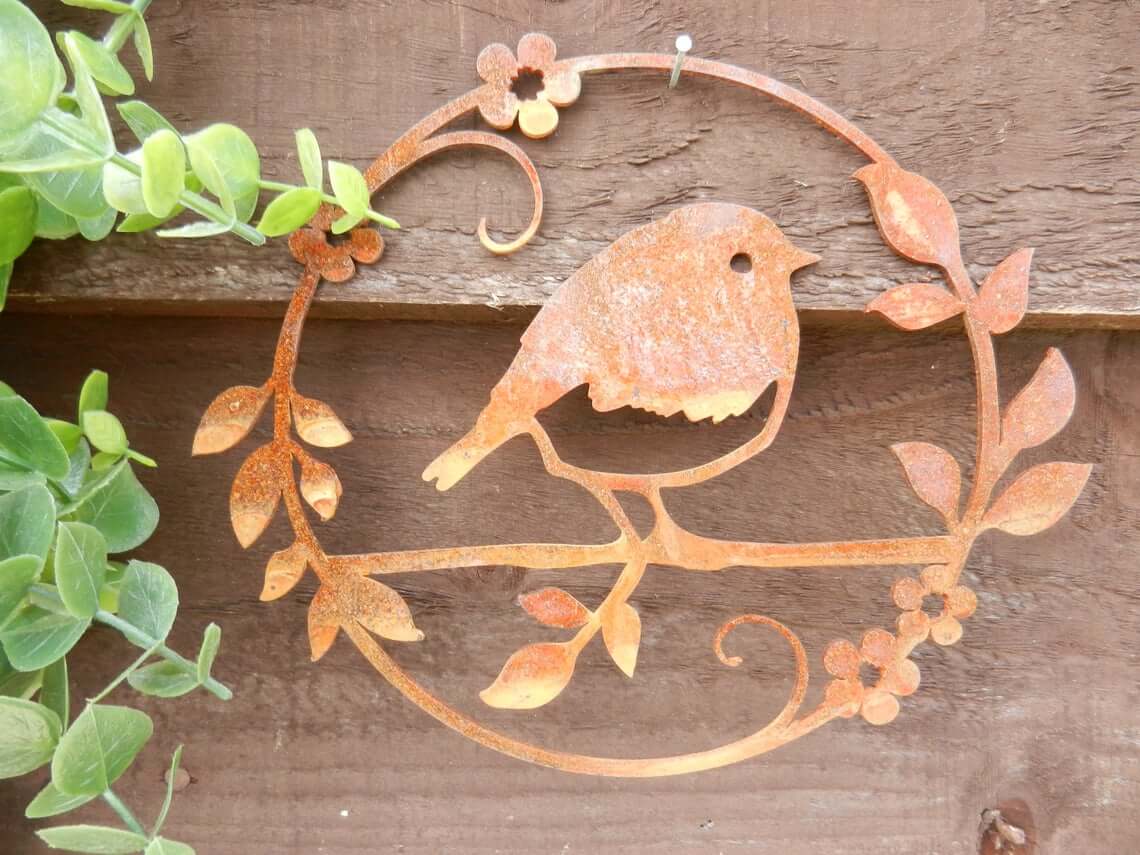 With a rusty finish, this robin has a great deal of character. Unlike shiny metals that require annual maintenance, this rusty metal sculpture requires no additional work. To display this sculpture at its fullest potential, be sure to hang it in a contrasting color. If hanging it is not your style, it could also look fascinating propped against a tree or even another vintage decoration.
27. Hand-Painted Personalized "Secret Garden" Sign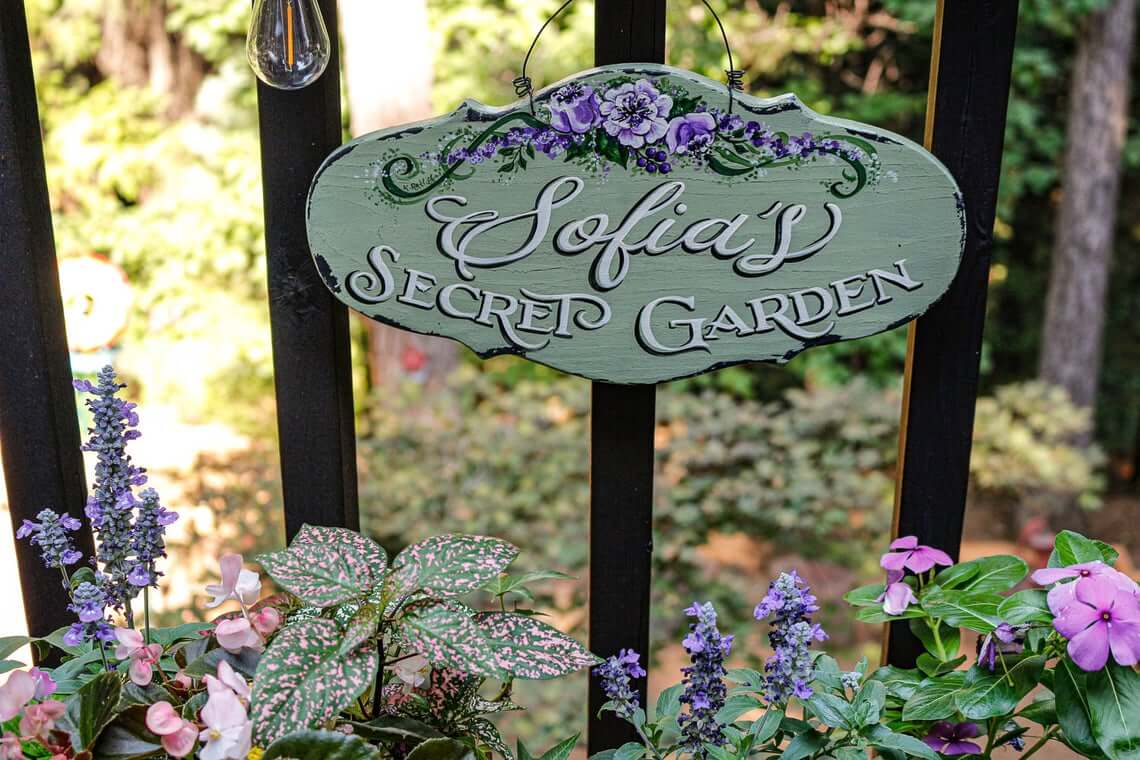 With plenty of color options to choose from, this vintage-style sign is the perfect way to welcome anyone into your secret garden. Instead of using modern technology like vinyl letters, this sign is made using only vintage technology — it is painted by hand. If "secret garden" is not the right epithet, you can customize that phrase as well.
28. Vintage Wrought-Iron Fence Trellis for Vining Plants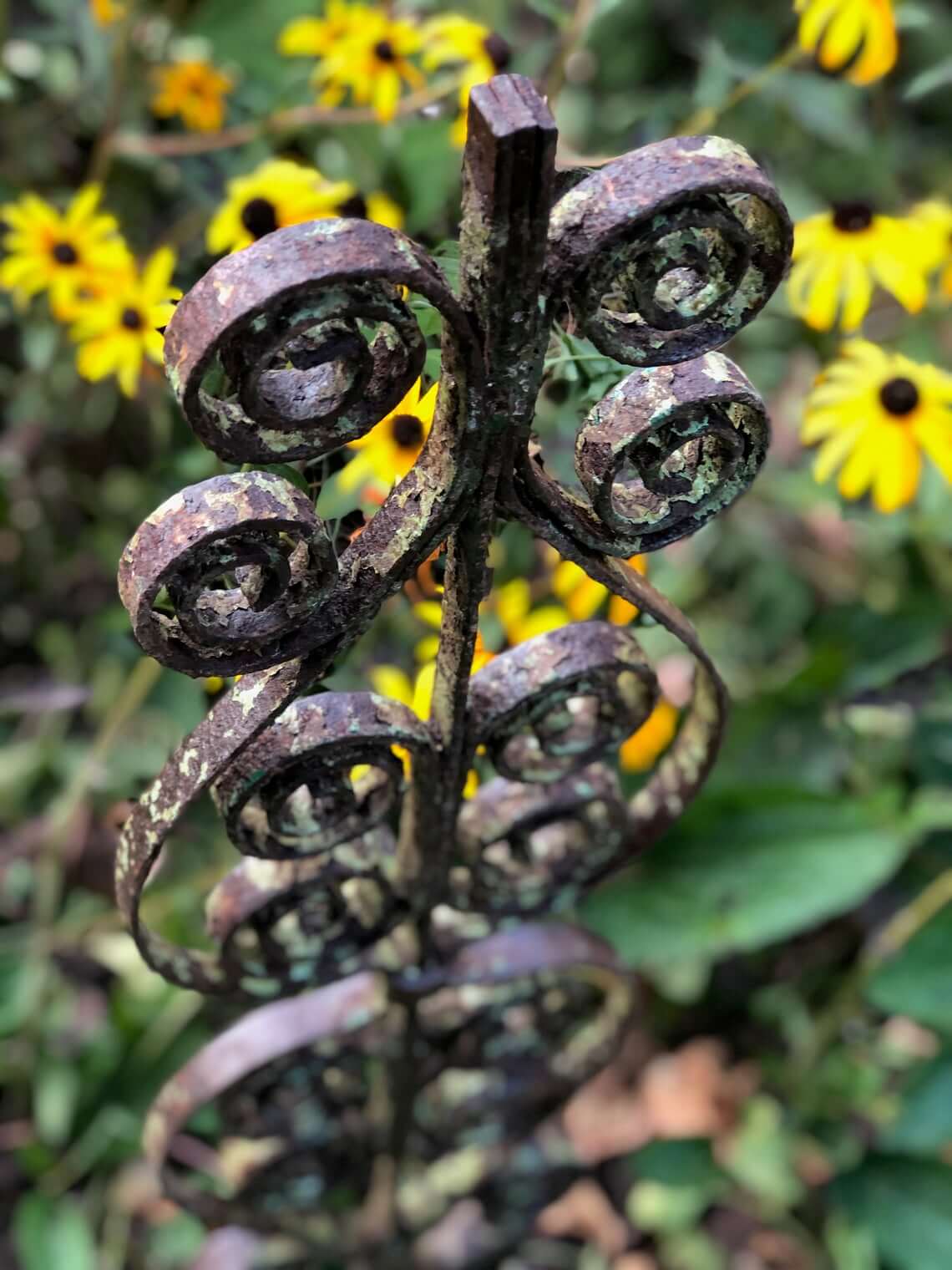 Chip paint on vintage wrought iron makes a patina that adds subtle character to any space. Because the hefty iron will contrast with slender plant vines, this trellis is a highly effective accent piece. Delicate scrollwork provides just enough detail to catch the eye without being overwhelming. Pair this fence section with a lighter-colored flower for maximum effect.
29. Antique Chair Planter Plus Vintage Plates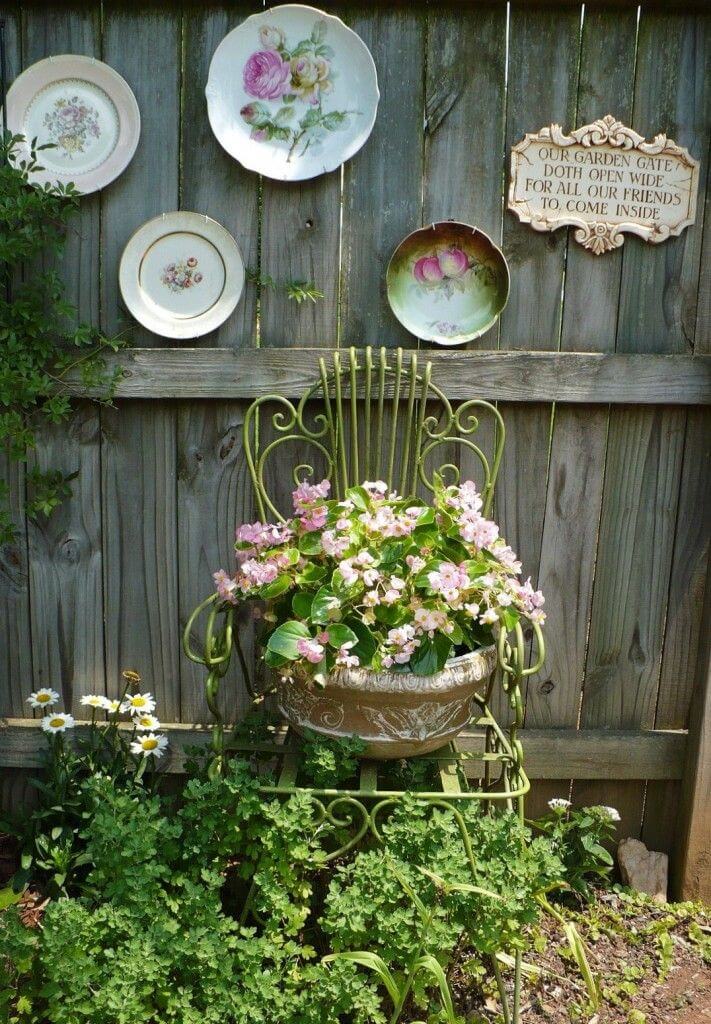 Painted metal lawn chairs (just like the ones in your grandma's home) make quaint additions to your garden. Instead of throwing them out, transform them into a planter seater along with some antique shop-worthy plates. Yes, chairs and plates have other uses, too. These sentimental favorites will add a charming appeal to your vintage-inspired garden.
30. Rusty Vintage Wheelbarrow Flower Planters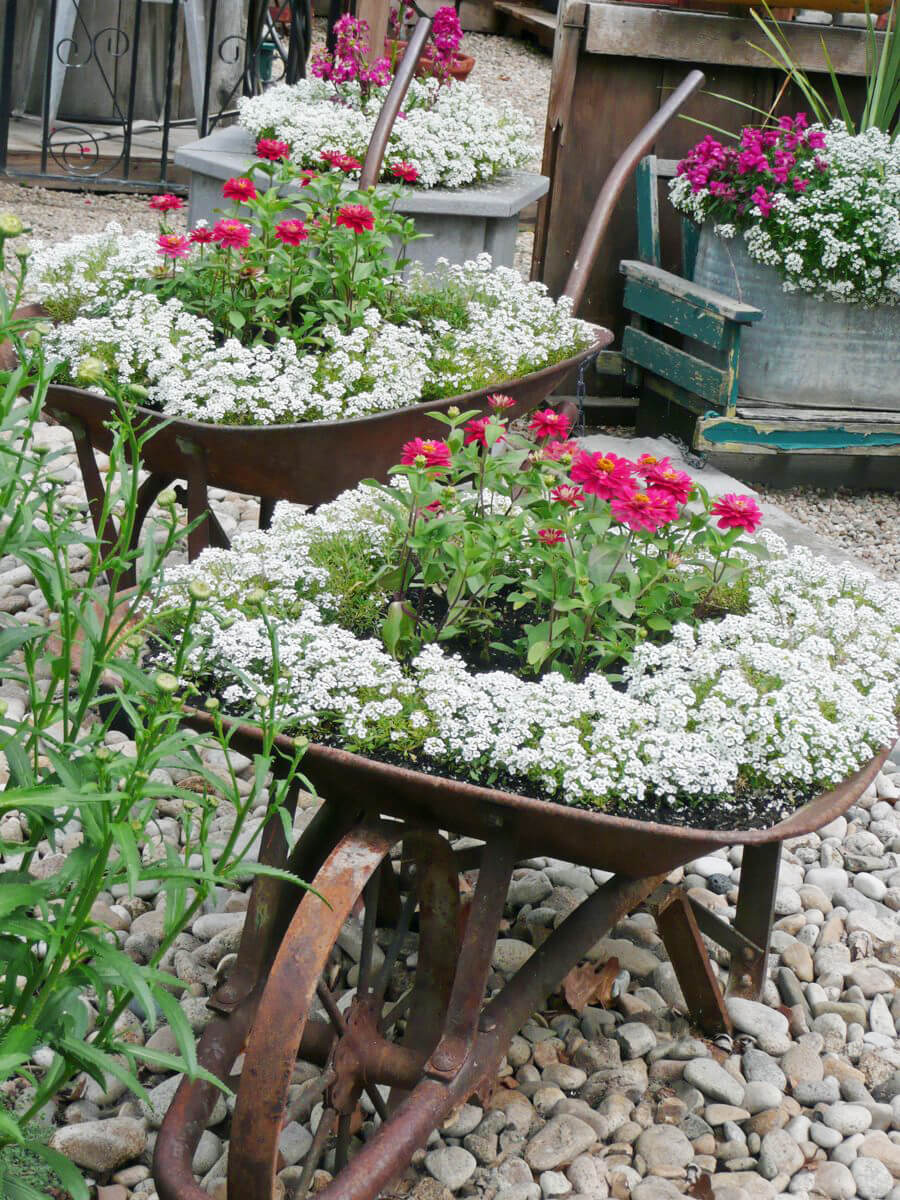 Wheelbarrows should not be always associated with dirt and cement. These wrought iron handy tools can be a worthy addition to your vintage garden. Sure, you will need dirt in it, but that is only so you can plant flowers and other pretty things. The rustic element contrasts perfectly with the charming flowers, so do not think for one moment they are not a great pair.
31. Vintage Ladder Flowerpot Garden Display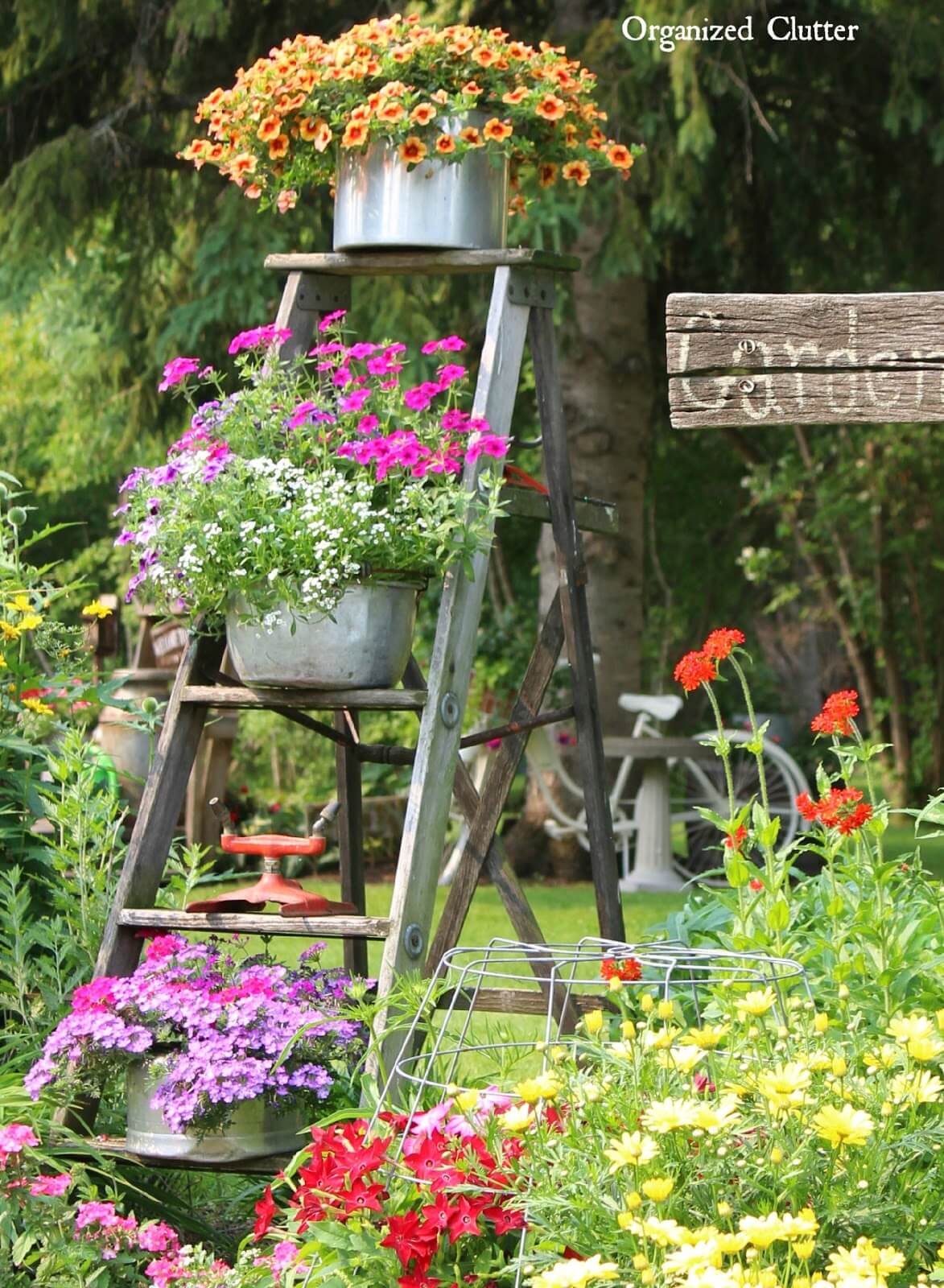 So you have decided put away the old ladder for good. It seats in that one particular area of the house often unseen by visitors, or even you. But hey, do not let it rot to waste and put it into good use in your vintage garden. Set up some flower pots long its steps and make it your garden centerpiece. It will sure catch attention.
32. Galvanized Metal Bucket Flower Planter Display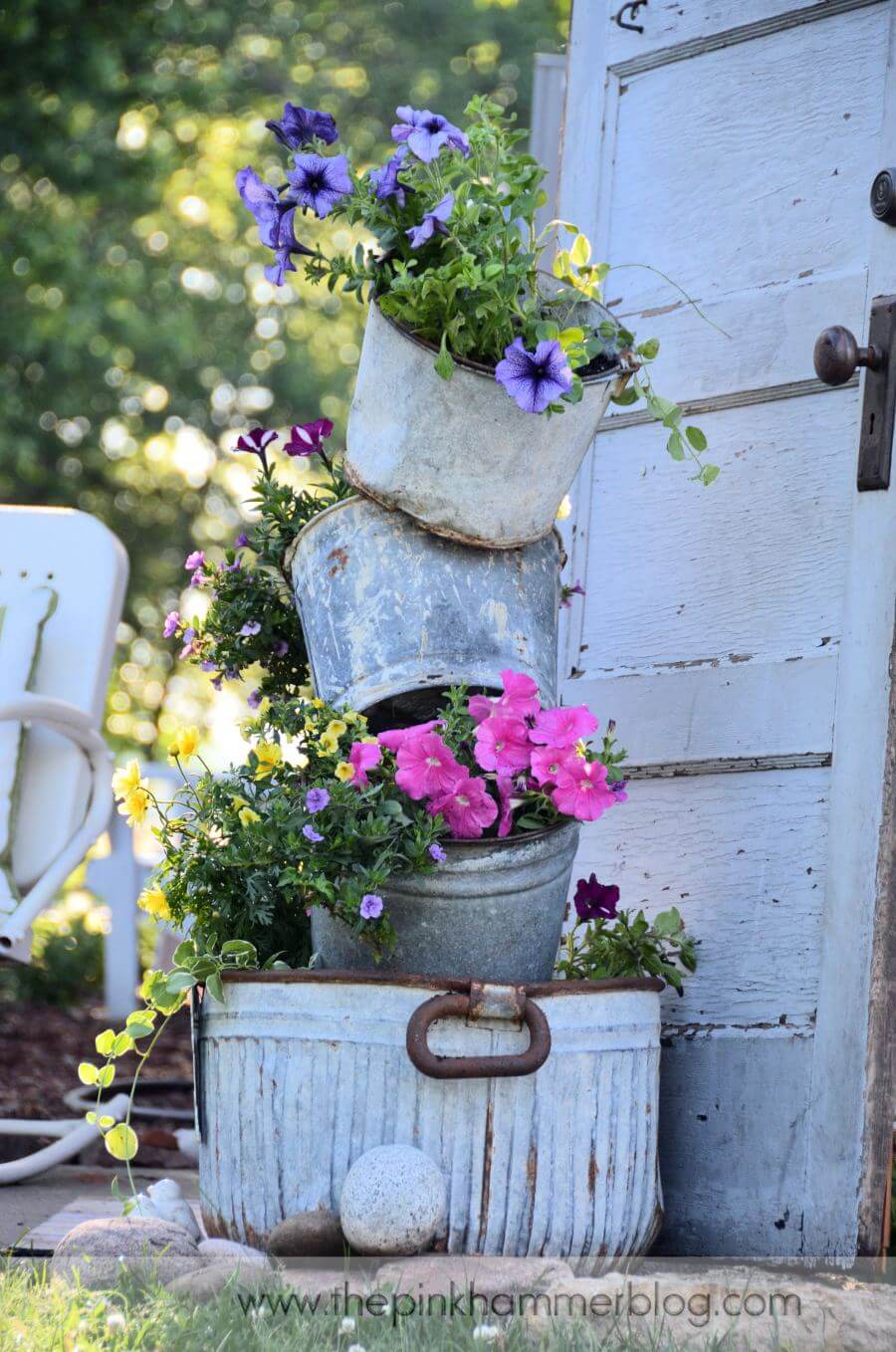 Don't galvanized metal buckets remind you of much simpler times? If you're aiming for a vintage garden, transform these buckets into flower planters. Old metal buckets don't have to be forever ugly and left unused. With a bit of imagination, time, and colorful things of beauty, your garden will be the stuff of dreams.
33. Pretty Antique Teacup Vintage Garden Decoration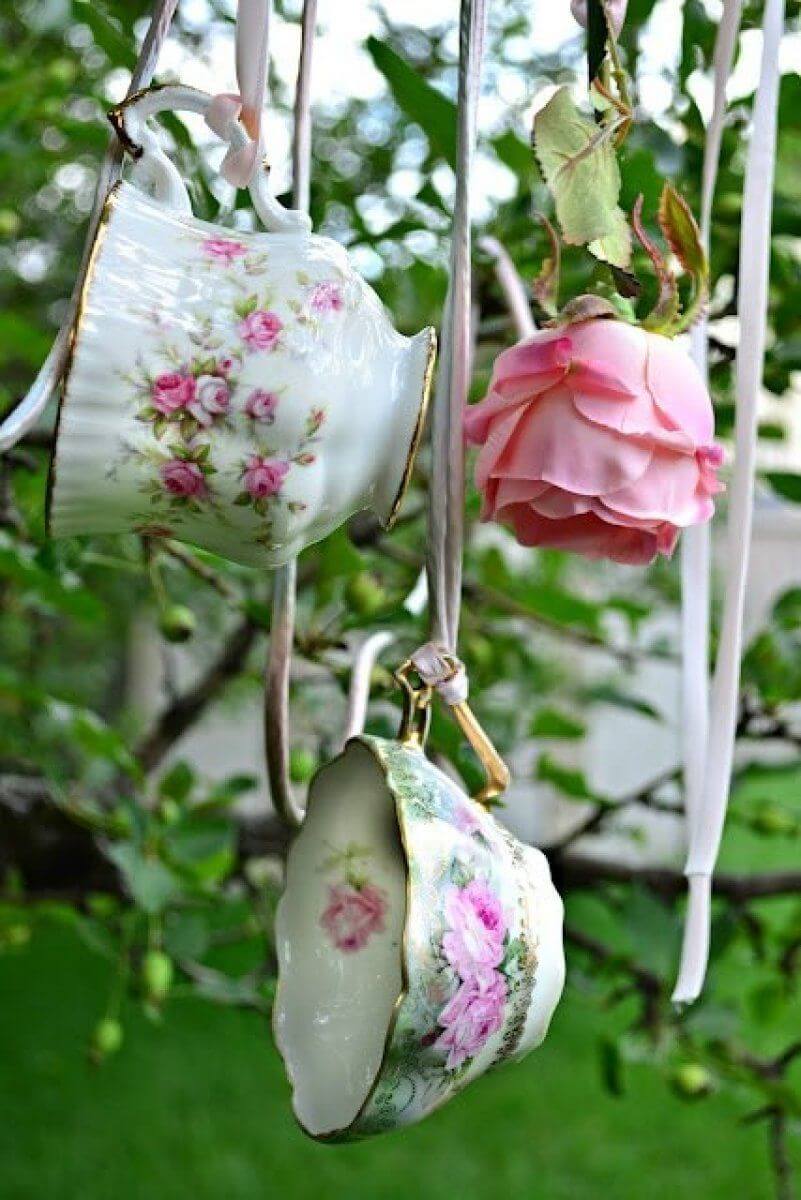 A flower garden is always a joy to behold, and while the level of prettiness depends on the type of flowers and how they're arranged, a few elements that seem like they "don't belong" in a garden will catch an eye. Got some old teacups? Hang them on a specific area of the garden to create a startling effect.
34. Galvanized Metal Wash Basin Hanging Basket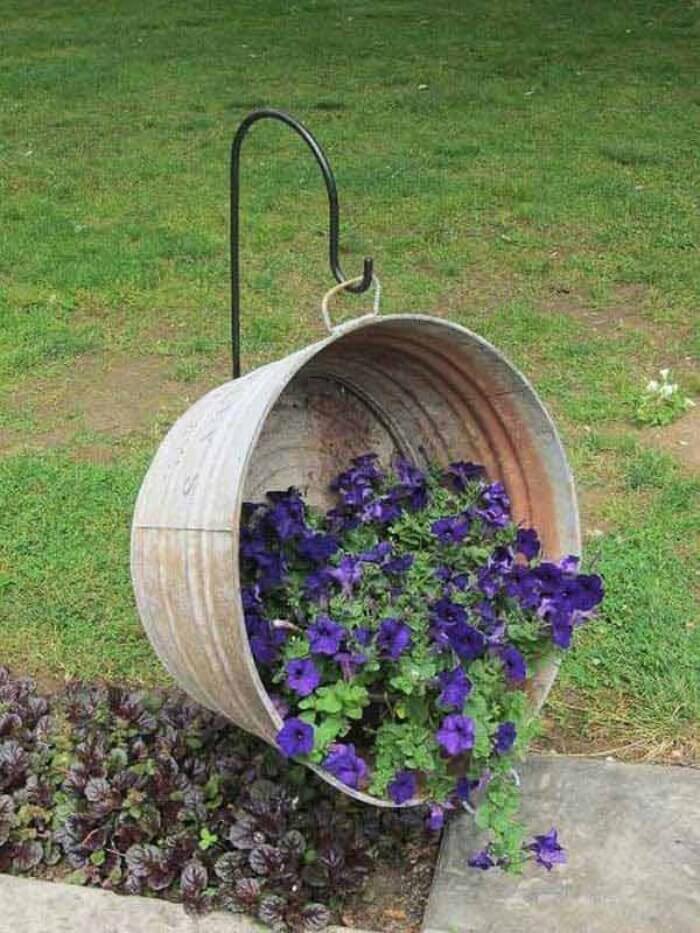 Believe it or not, galvanized metal washbasins are still sold on the market up to this day. But you don't have to buy new ones if you're looking into a new garden project. The rusty ones back at your mom's house will instantly create that vintage look you're going after.
35. Rustic Decorated Metal Pitcher Planters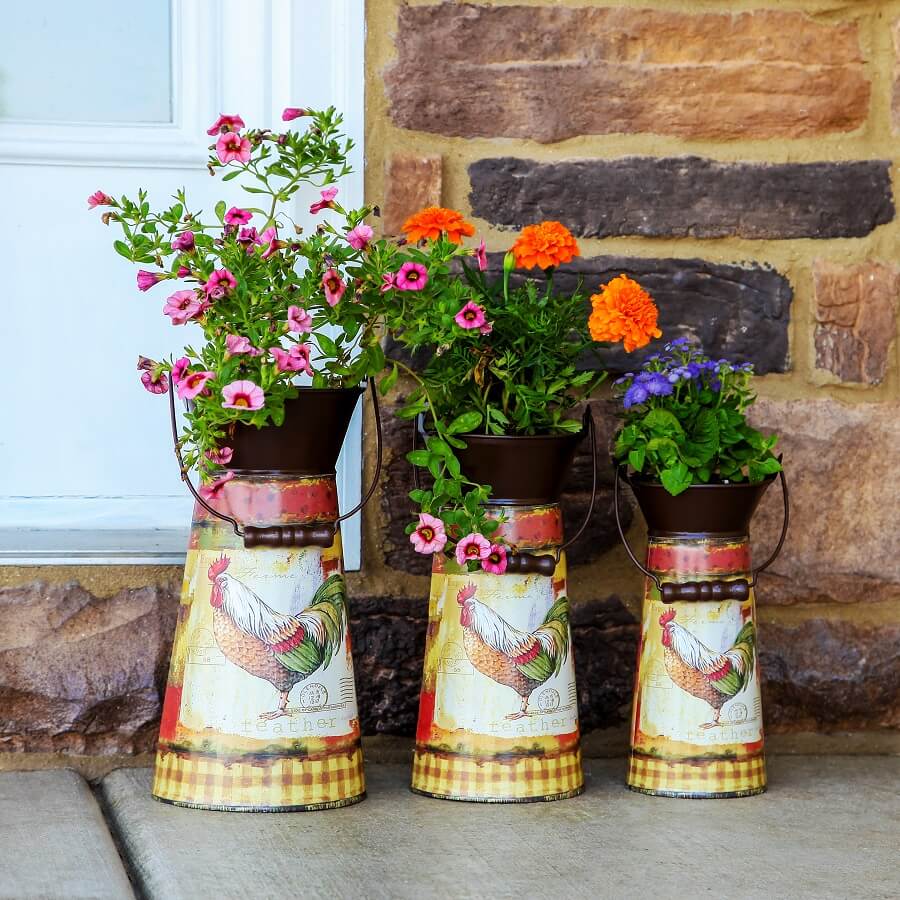 Planters don't have to be made of pots, plastic, or wood – metal pitchers work, too. These things don't cost too much, plus you can find old ones at flea markets or your childhood home. Get different kinds of sizes to get variety, and if you think you have, throw in your favorite kinds of flowers on each one.
36. DIY Mason Jar Outdoor Lanterns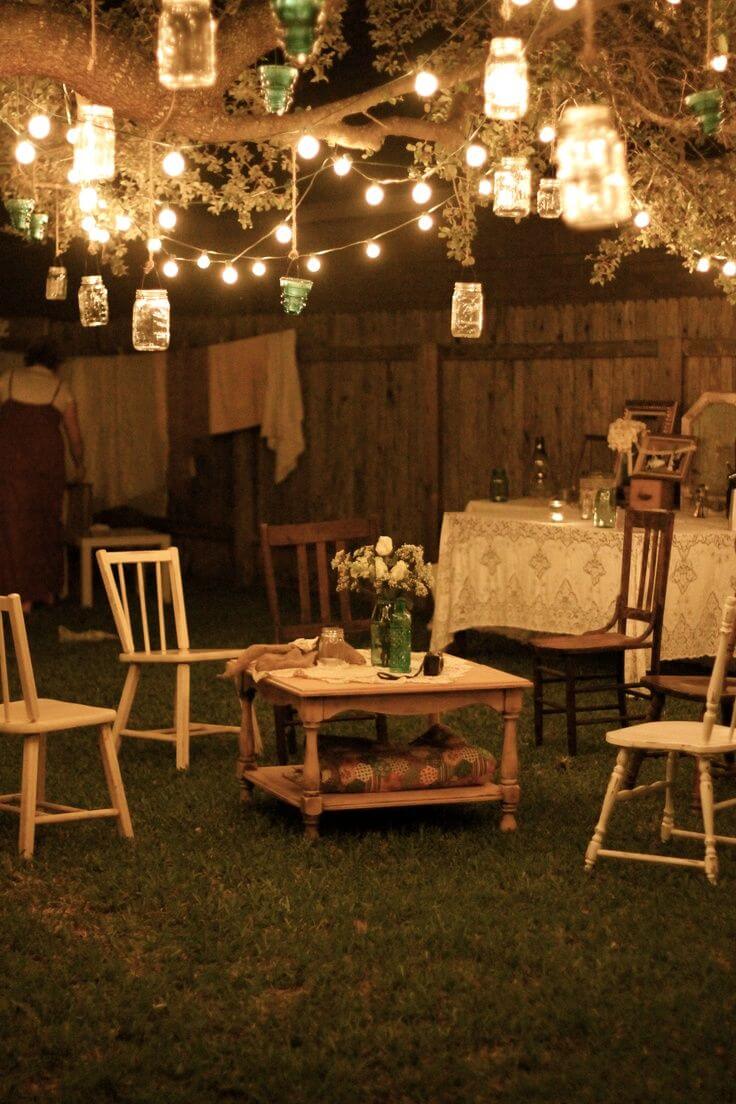 Mason jars are becoming more popular more than ever, thanks to the crafty minds of DIY artists and budding artisans. Mason jars don't have to be exclusive to massive chocolate drinks or your favorite potpourri mix. They can be transformed into lanterns in place of the fairly lights you've always wanted.
37. Vintage Coffee Pot Planters with Ladder Display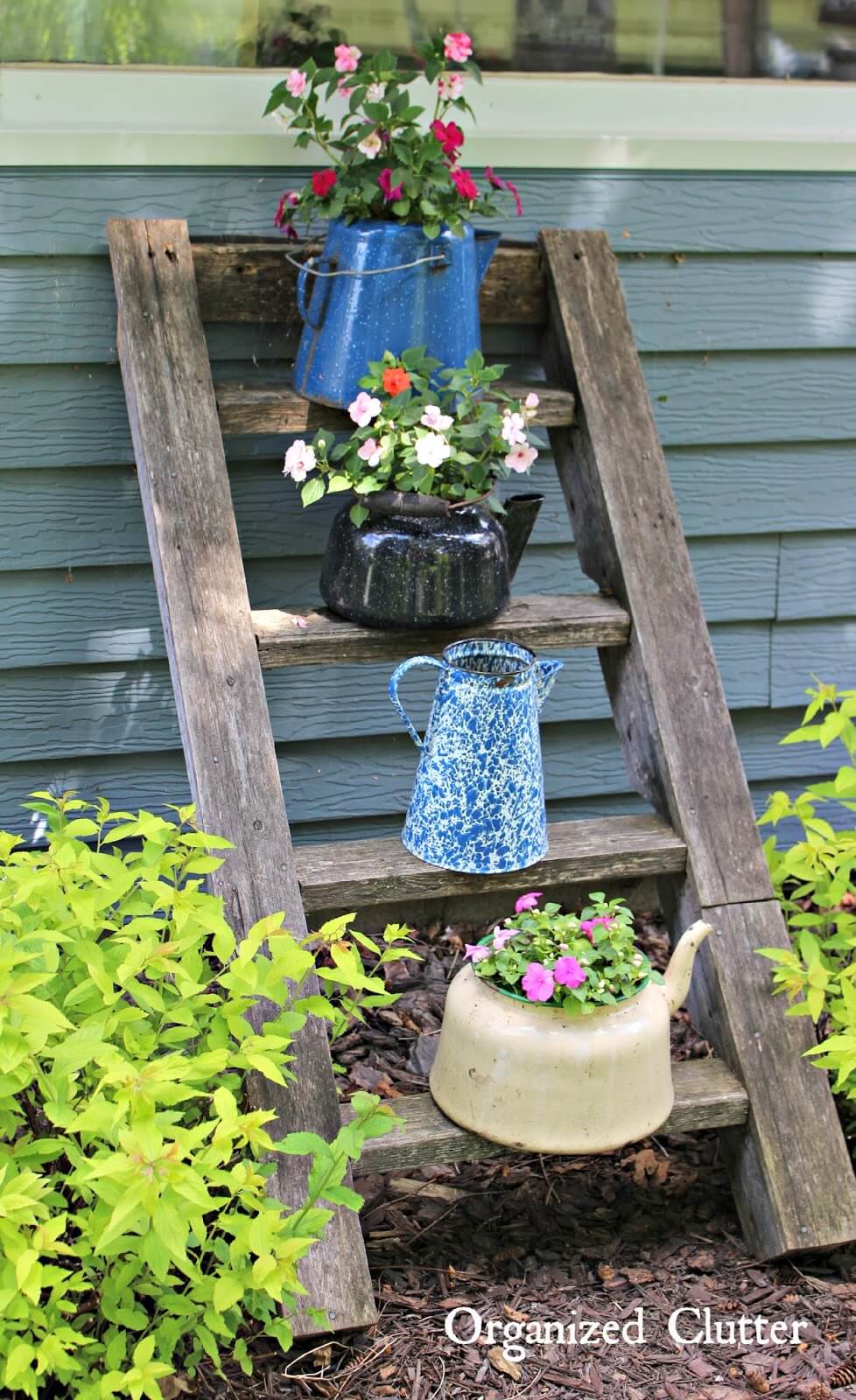 Vintage coffee pots have become so rare these days you can only see one in period movies. You're lucky if you have old ones, but if you really want it so bad for your garden, try looking at auction sites, antique shops, and yard sales. They come in handy when you want tiny flowerpots for a more vintage-looking garden.
38. Upcycled Antique Sink Garden Decoration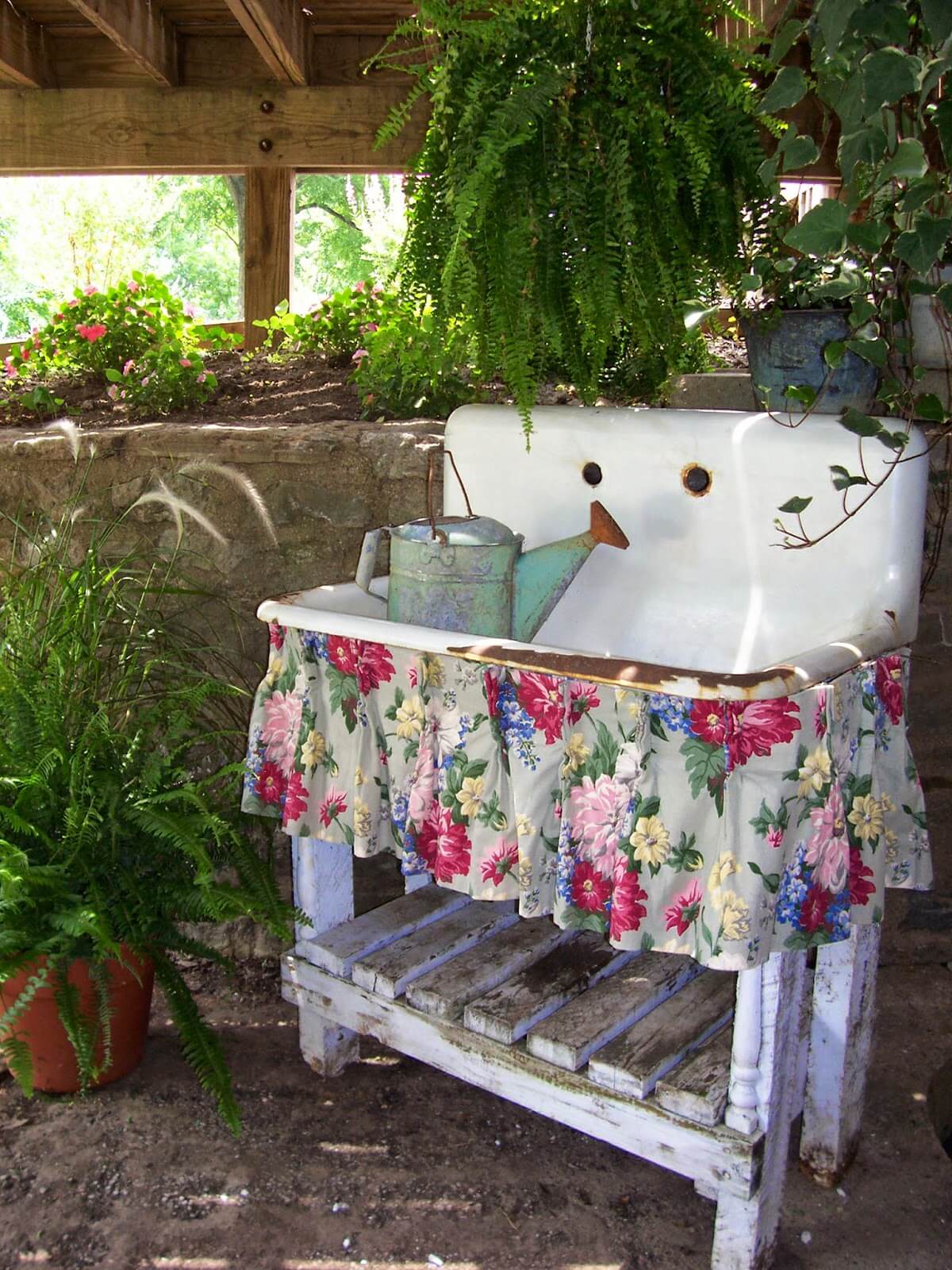 Garden decorations don't have to be conventional. Certain pieces will make your garden worthy of staring at, like an antique sink you thought won't be of use anymore. You can either make it an eccentric décor without anything on it, or put some flowerpots for a more captivating look.
39. String Lights Wrapped Around Backyard Trees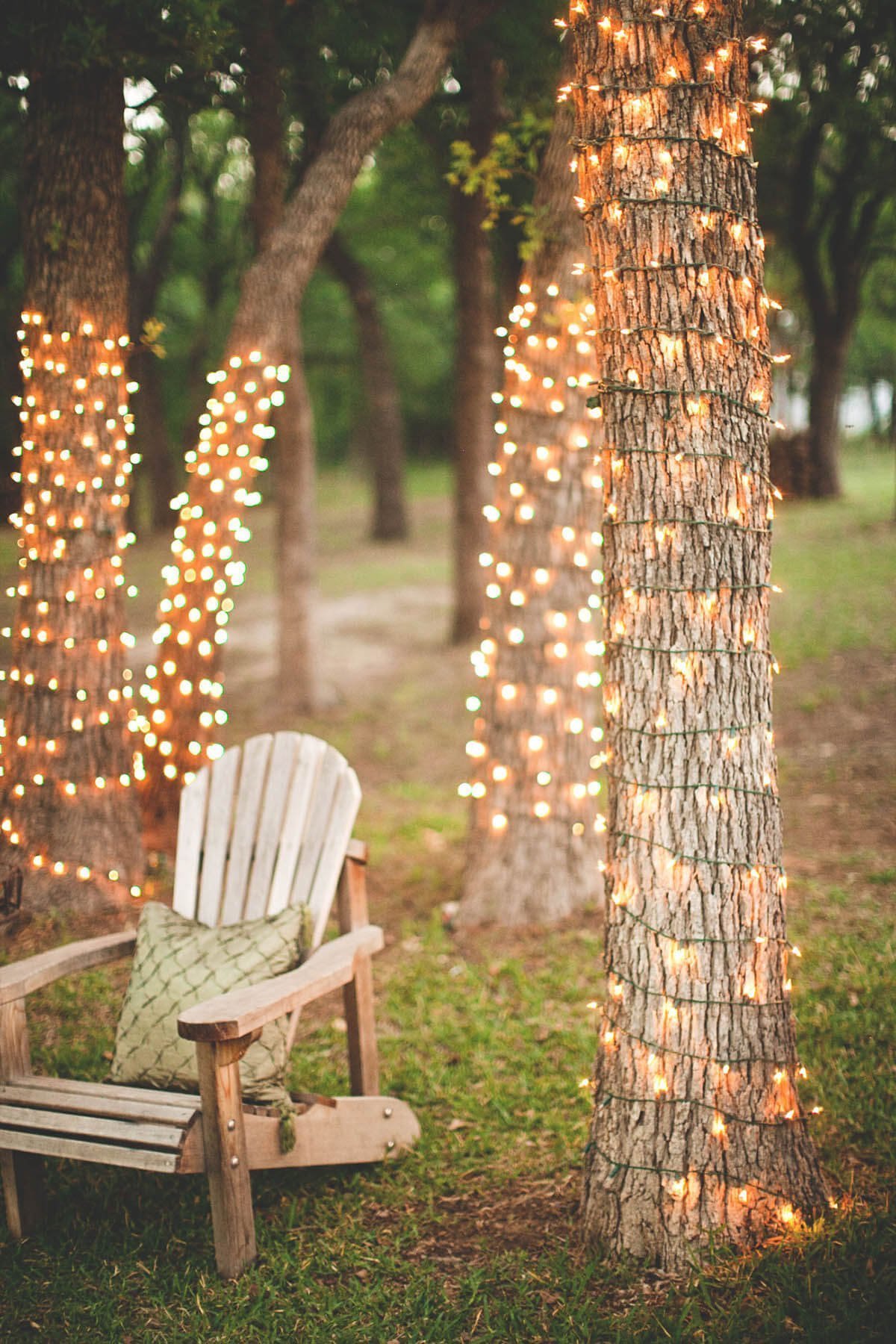 String lights always adds a magical effect to basically anything your wrap them around into. Try them on your yard or garden trees. A string doesn't cost too much, but if you have old Christmas lights, that's a bonus. You don't have to wait for December to use. Wrap them around plants and trees to make your yard an instant attraction.
40. Galvanized Metal Water Trough Planter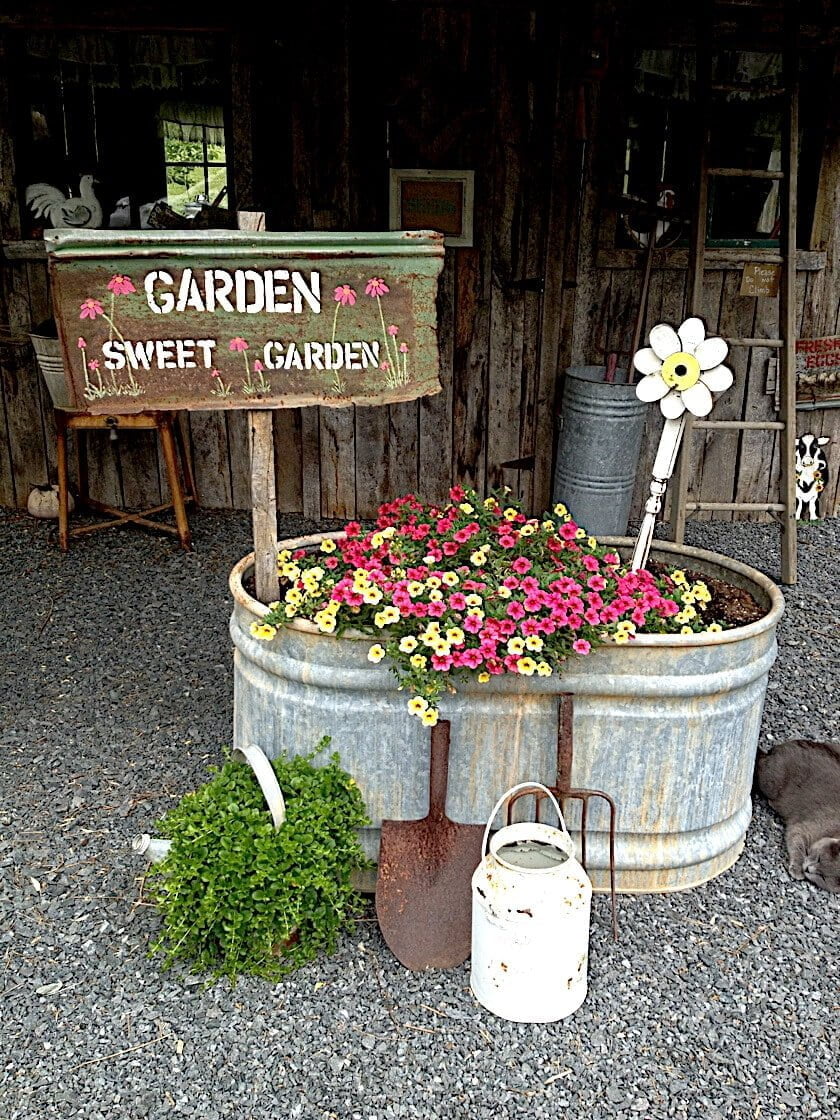 Galvanized metal troughs make fantastic planters too, if you want to achieve a vintage garden. In fact, your entire garden can be filled with galvanized makeshift pots. It'll take time to fill the trough with soil, but once it's done, you'll have a vintage garden the whole neighborhood wants to see.
41. Antique Metal Bucket Hanging Basket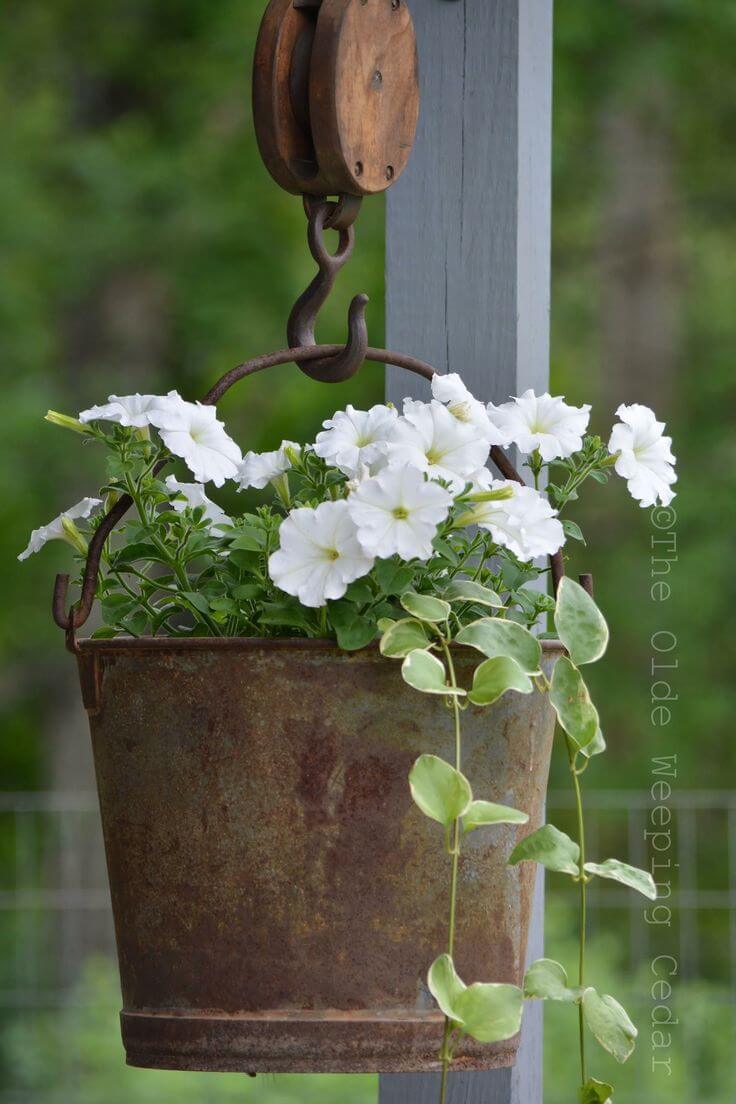 Old metal buckets can still be put to good use by transforming them into hanging planters. Rustic and vintage themes are all the rage these days, and if you want to be a part of the whole craze, go ahead and make one you own. You can hang these makeshift planters by your front porch as well.
42. Vintage Garden Décor with Flowers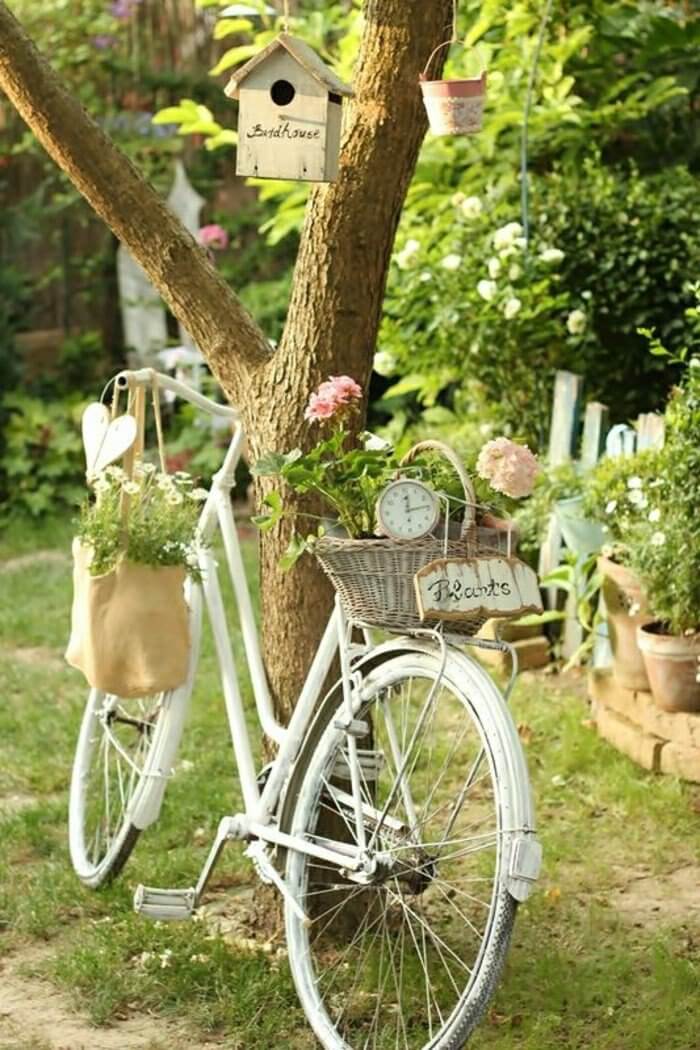 Vintage décor have a whole lot of sentimental value on them, which is why a lot of homeowners find themselves suddenly investing on such items. The thing about going vintage is that you don't necessarily need to buy the items. There can be a few gems found in your home and can be incorporated in your garden for a charming and quaint effect.
43. Cute and Easy DIY Colander Planter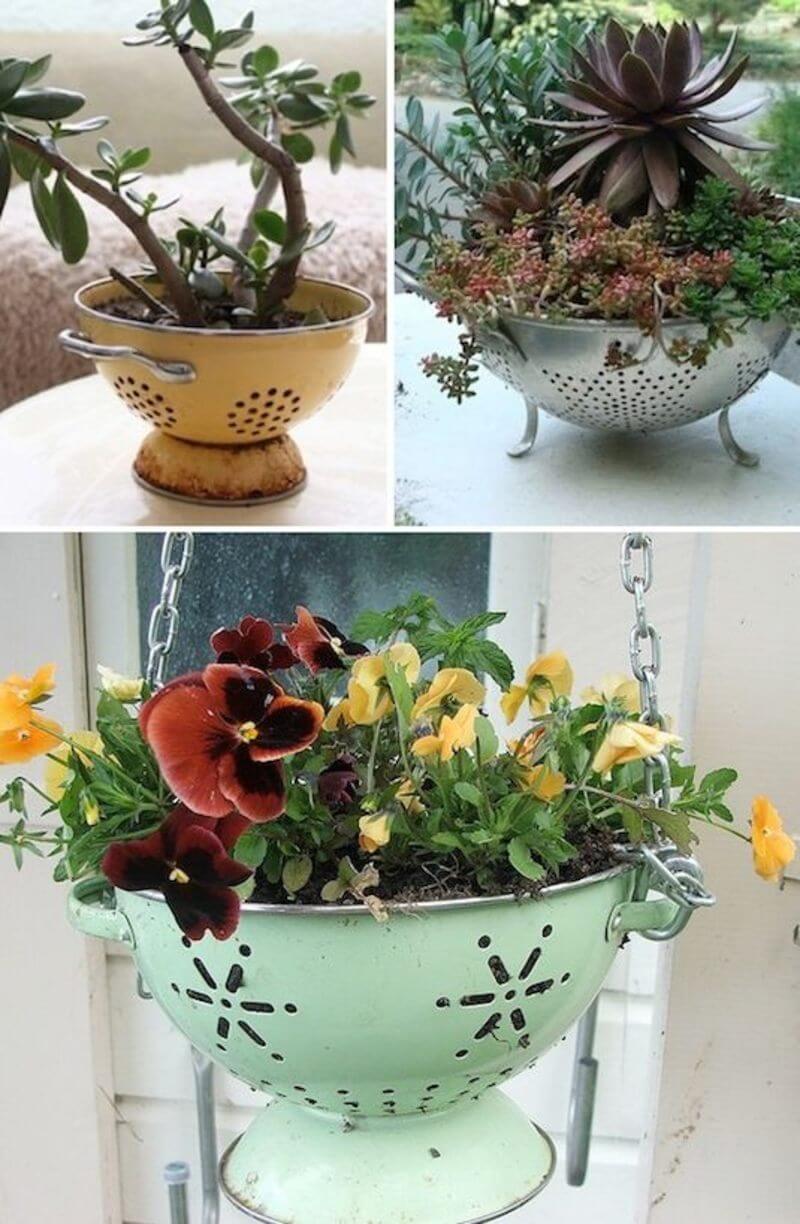 Colanders work well as planters. In fact, it works well as a planter because of the tiny holes in the bottom so water can seep through. Watering the flowers or any decorative plant becomes an easy chore, plus you get to have a new addition to your garden to make it look more vintage.
44. Teapot and Teacup Decorative Garden Stakes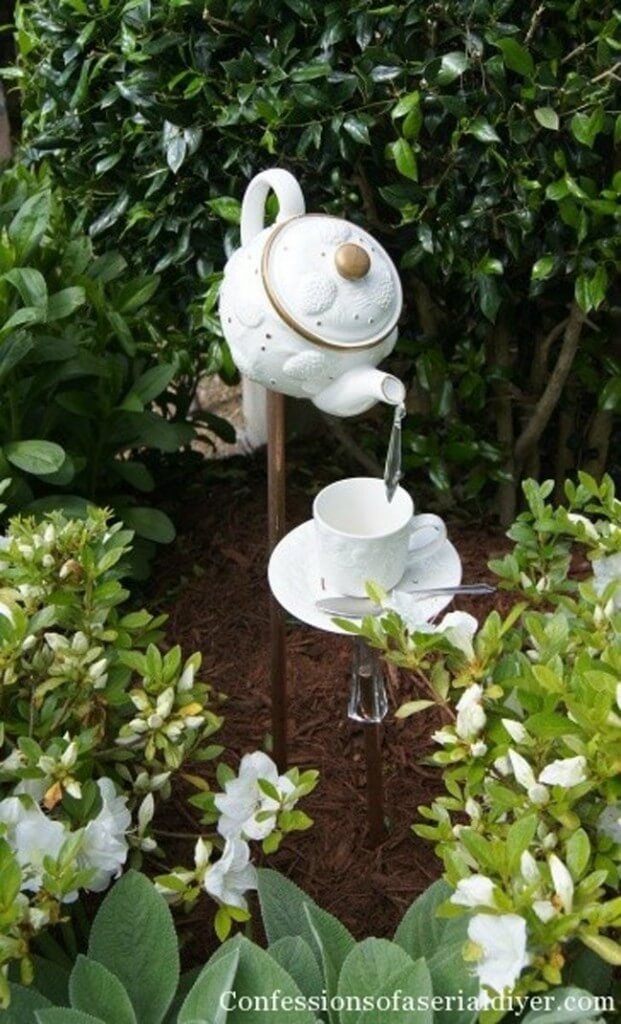 Garden stakes a whole lot of fun to set up. The thing about it is that you have to select the perfect ones if you're going for a specific theme. Since we're talking about vintage here, try one of those teapot and teacup garden stakes you can easily buy at a Home Depot. It may be what your garden needs.
45. Rustic Metal Watering Can Planter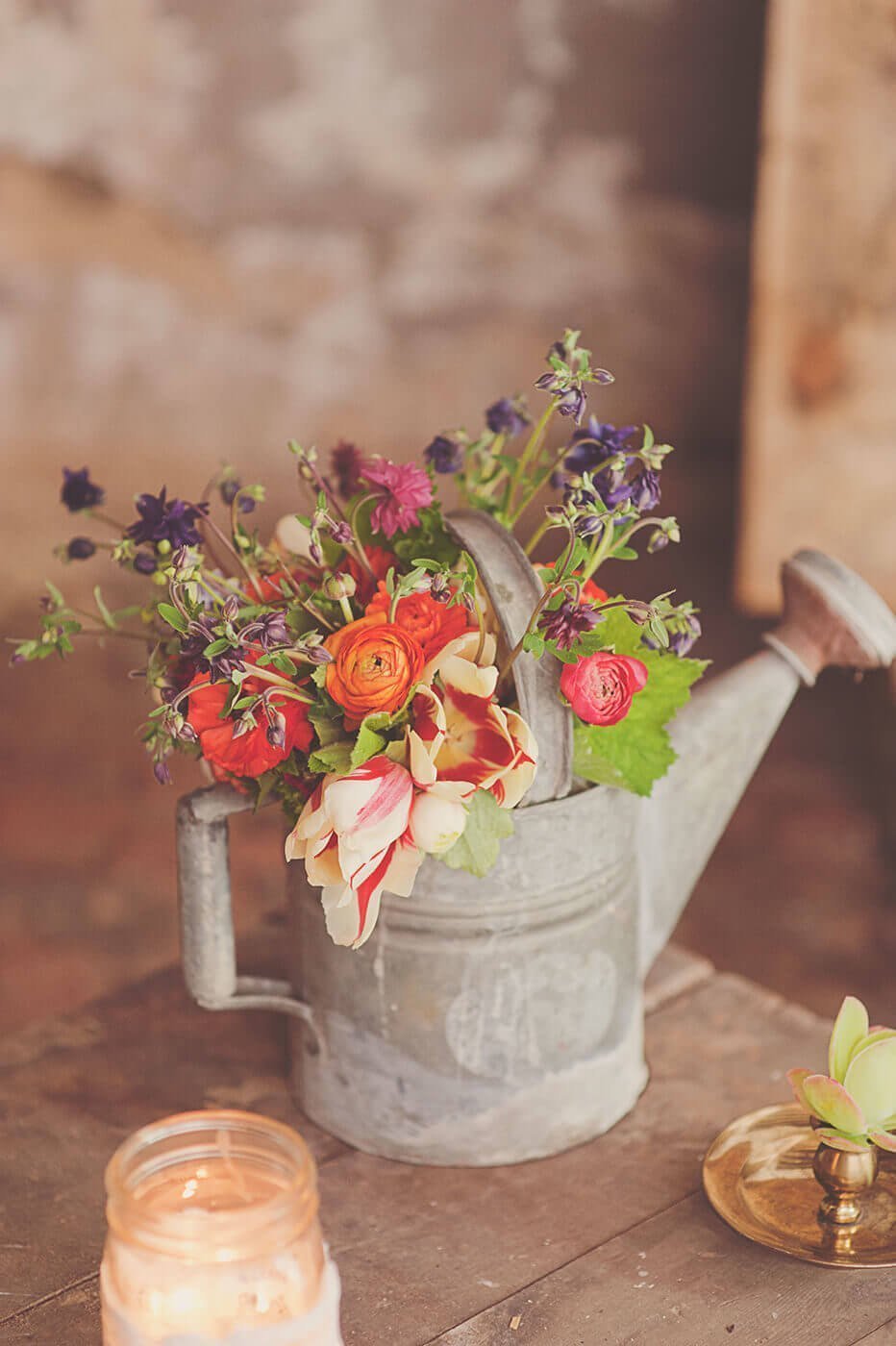 Watering cans serve an important purpose in a small garden. They're hardly used these days especially on bigger homes with elaborate gardens, but some people still do, especially those with tiny planting spaces. However, do one better and transform a metal watering can into a planter. They're fun to look at and they're pretty durable too.
46. Upcycled Vintage Desk Planter Decoration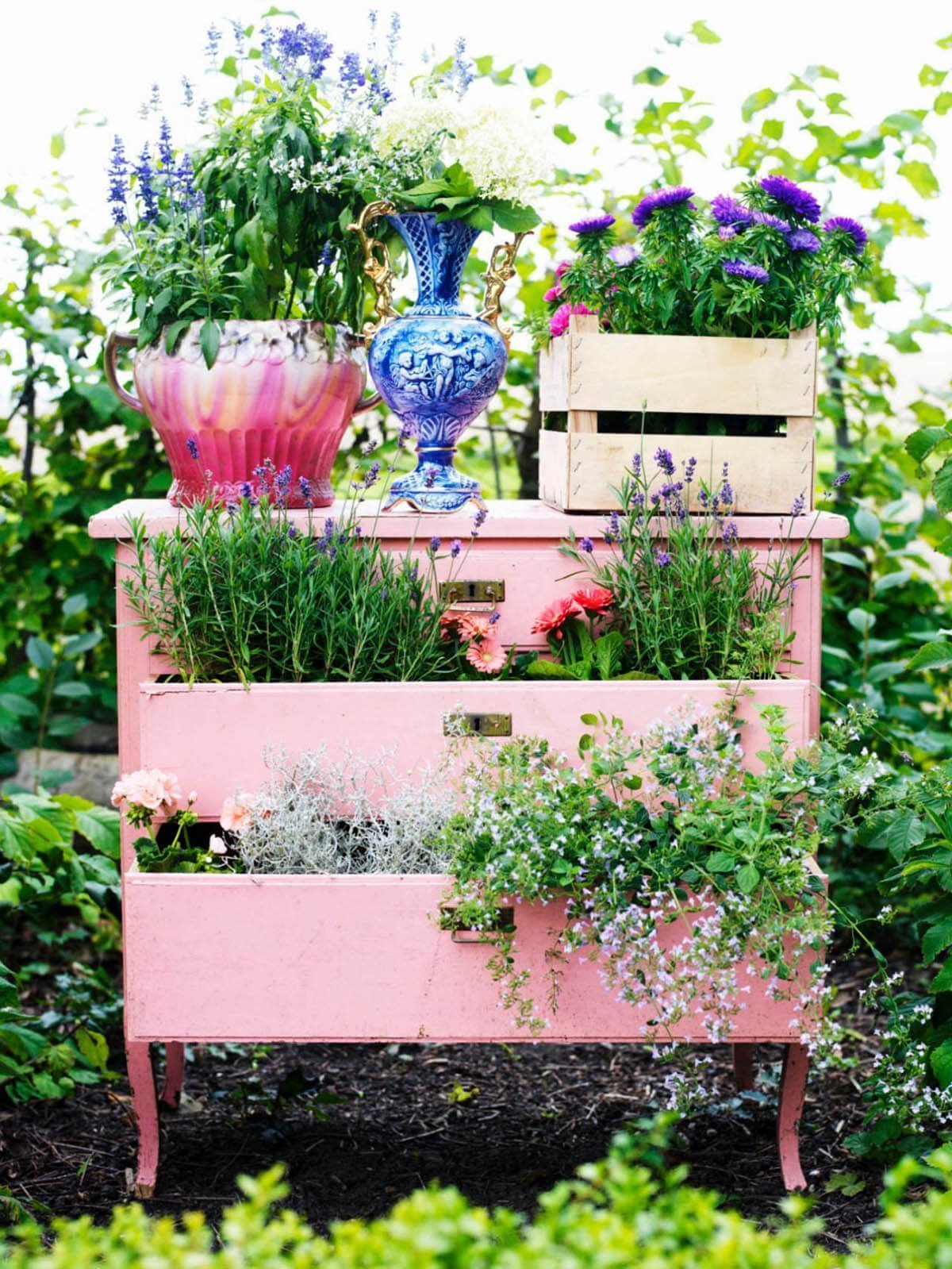 Old desks and drawers could transform your garden into a vintage style piece of heaven in an instant. You can put flowers on top of them, or insert tiny pots inside the drawers too. If you're tired of the old desk's color, paint it with anything you like. Make it a bright color too, to stay consistent with the vintage theme.
47. Antique Soup Ladle Succulent Planter Display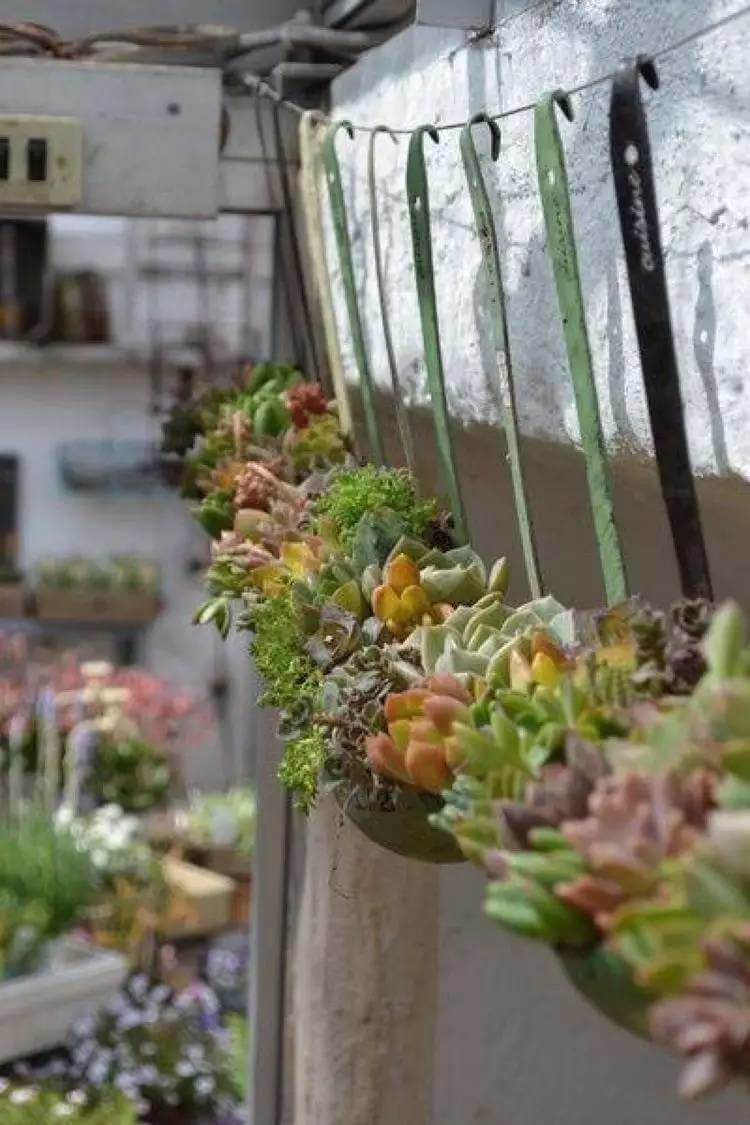 Succulents are quickly becoming a favorite. These cute little plants will work as decorative pieces and even souvenirs. If you want to display them in your garden, place them in antique soup ladle and hang them side by side. It'll drastically change how your garden looks and it's a space-saving idea too.
48. Wheelbarrow Vintage Garden Flower Display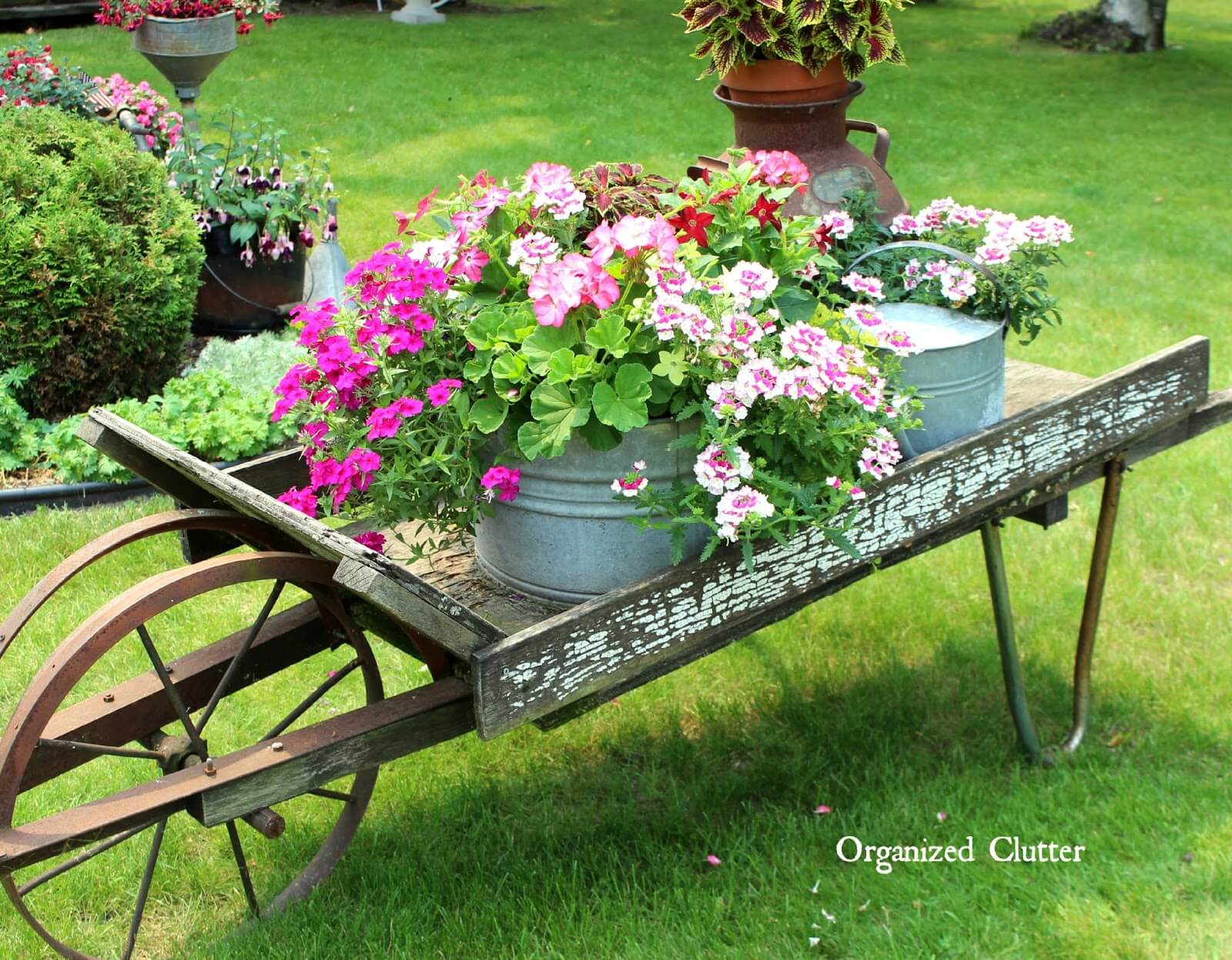 An antique wheelbarrow as a centerpiece in your garden will encompass the whole vintage garden vibe even if it's the only décor you have. Get some galvanized buckets or watering cans and place them on top. These makeshift planters will emphasize the antique feel of your garden and save space at the same time.
49. Antique Doorknob Flower and Herb Drying Display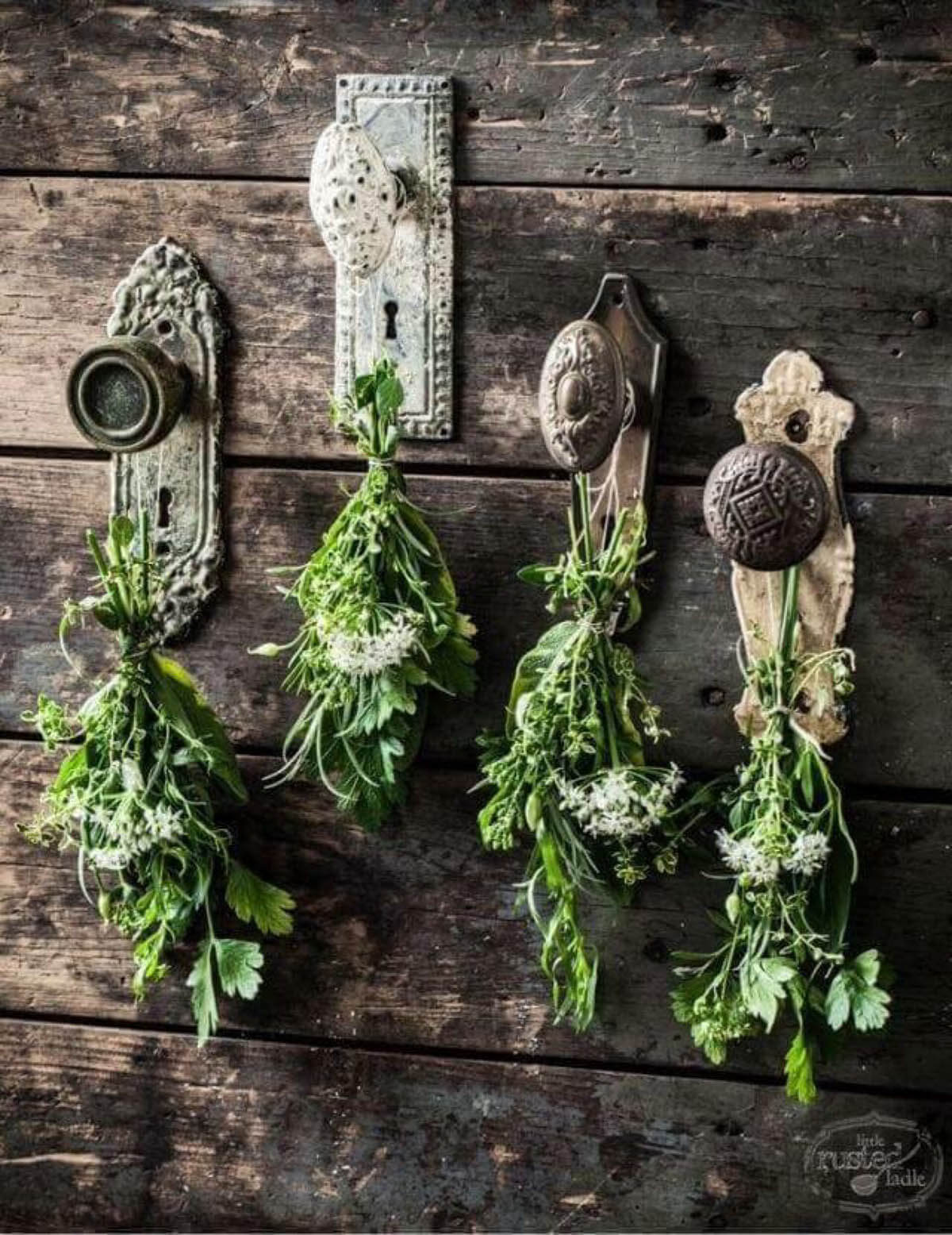 Antique doorknobs always add beauty to anything it's attached to, be it a door or not. These charming flower and herb dryers will not only serve their purpose, they double as lovely decorations too. This is a terrific idea for hobbyists who dabble on potpourri and other similar crafts.
50. Pretty Monogram Succulent Planter Decoration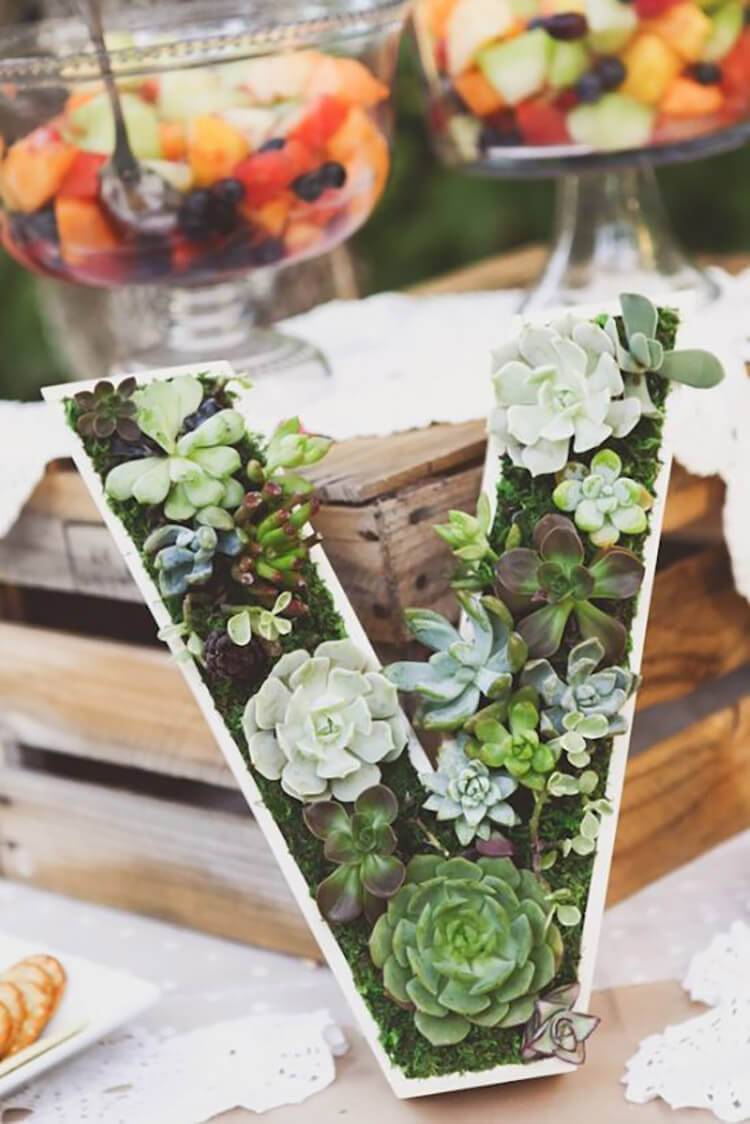 Monogram planters are perfect for people who love to personalize anything they own, or for those who want to make a statement. And while there are a lot of tiny plants you can put in them, succulents are just the perfect size, and create a startling element to your already lovely garden.
51. Vintage Spoon Hanging Basket Hooks

Hooks come in all forms of designs, but to go vintage, get yourself some vintage spoon hanging basket hooks. This idea is perfect for those who are little on space but still want to have a touch of green to her home, but you can also install these hooks onto the walls of your garden.
52. Easy DIY Mason Jar Lanterns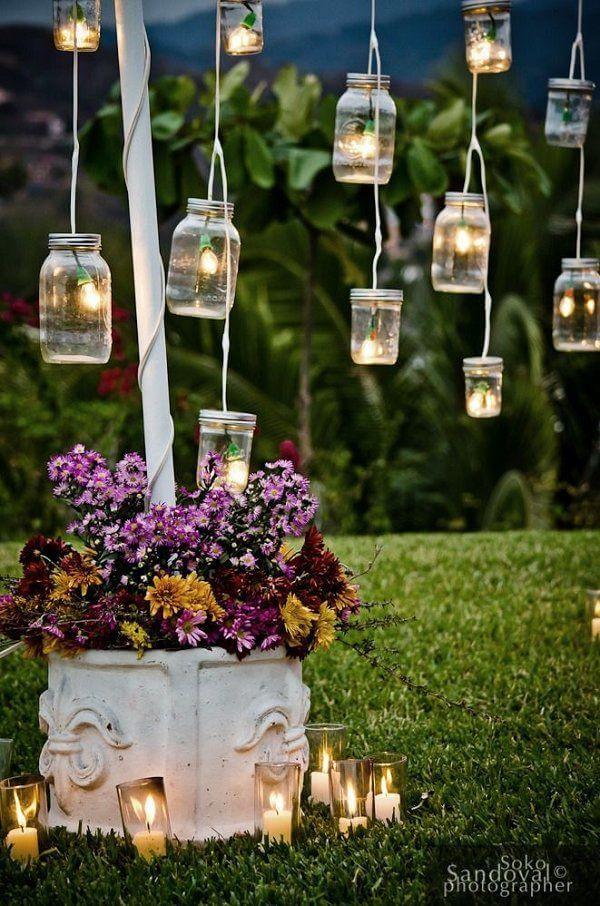 Mason jar lanterns create the perfect ambience to quaint, rustic theme weddings, parties, or for restaurant owners who want to ignite romance. Then again, who needs an occasion? These lanterns make lovely additions to your outdoor space so you can enjoy an evening relaxation with friends or a loved one.
53. Vintage Wooden Drawer Garden Planters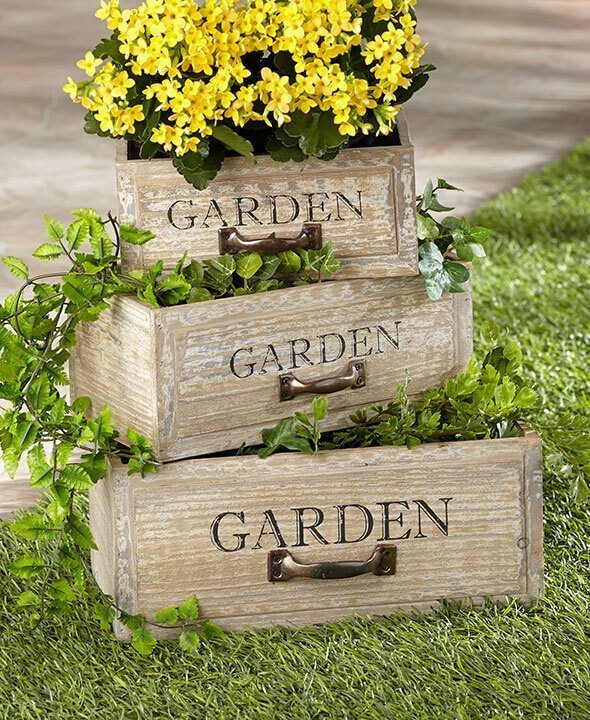 Wooden drawers as planters are an eye catcher, whether placed in the garden or the patio. You can upcycle old ones that you don't use, or buy readymade planters that appear in the form of a drawer. They come in many sizes so you can accommodate tiny or medium sized plants.
54. Antique Dress Form Garden Decoration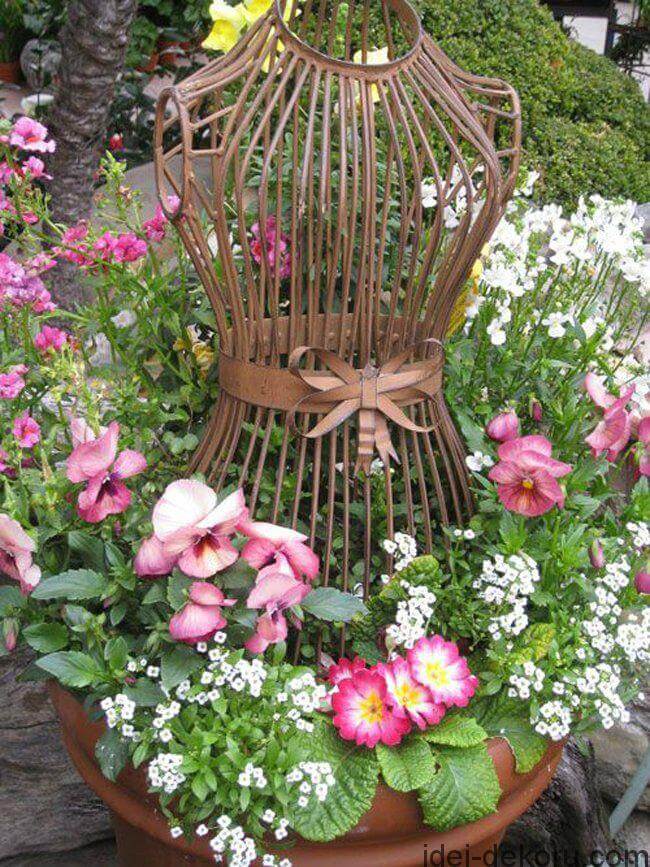 You may have seen a vintage-style dress form mannequin as a holder for accessories in a boutique, but did you know you can also put one on a garden? You can place one on a huge planter filled with cherry blossoms, anemones, freesias, or any flower you fancy. It's also look great in garden weddings, parties, or as decorations for an outdoor setting restaurant.
55. Garden Display Table with Vintage Metal Touches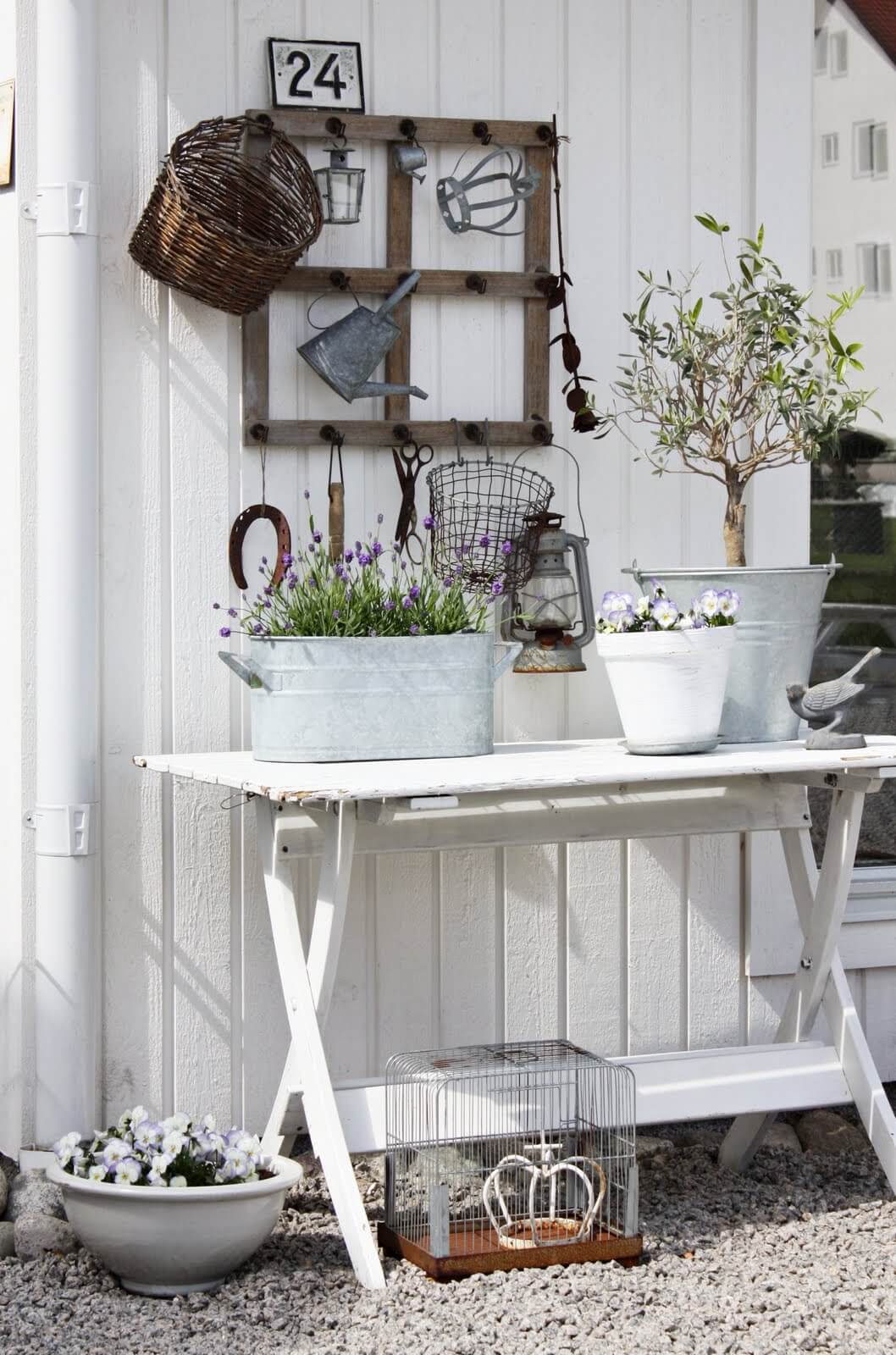 Take your gardening skills to a whole new level by adding a garden display table filled with all the metal elements – perfect for the vintage-themed garden. Get creative and go for galvanized metal or wrought iron thingies, whether be it a bucket, lamp, watering lamps, or troughs. It'll be the star of your lovely garden.
56. Repurposed Sewing Machine Flower Box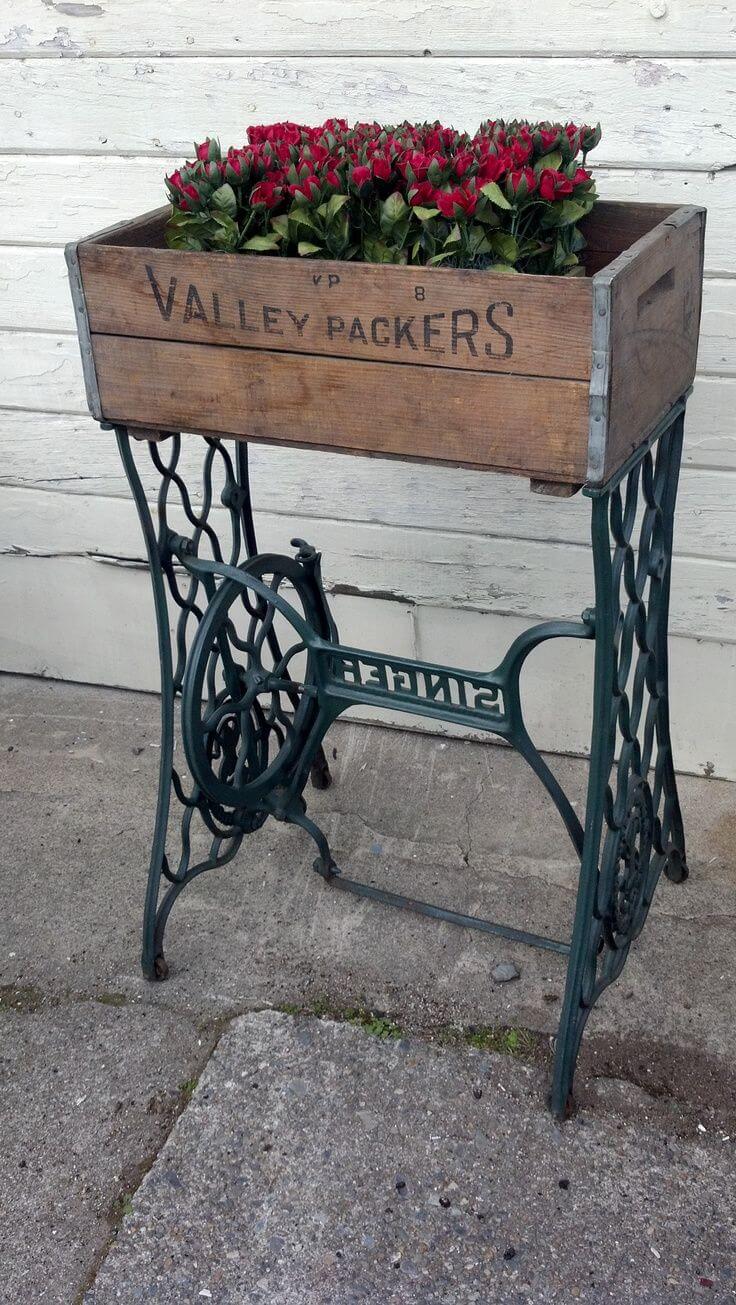 Vintage items need not be new. And yes, there's a lot of irony on that statement. But truth be told, vintage decorative items are a hit these days and are sold in many furniture and home improvement stores. There's always the choice of repurposing old stuff, and if you happen to have an old sewing machine, you're in luck. Transform it into a flower box!
57. Metal Bucket Mini Garden Scenes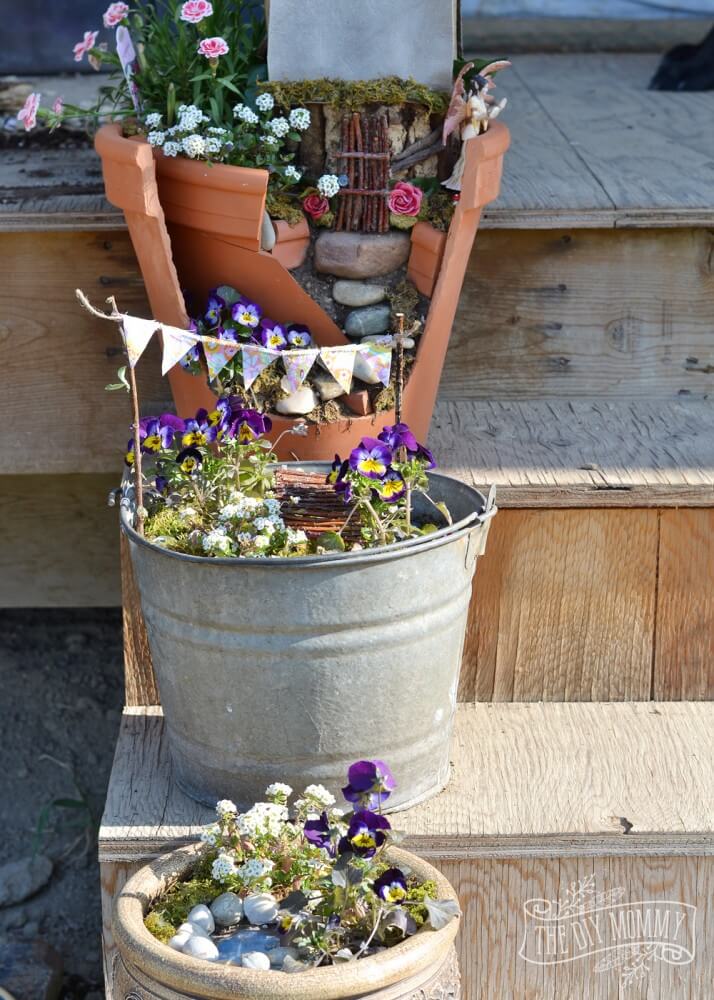 Mini garden scenes are also making a scene among gardening enthusiasts. Looking at it, it seems like a ton of work to do, but it's a whole lot of fun – that's a guarantee. You can create tiny scenes and install them on top of a metal bucket and put it anywhere in your garden or your patio stairs. You can also have them custom-made if you're doubtful of your abilities.
58. Love Ladder and Vase Garden Display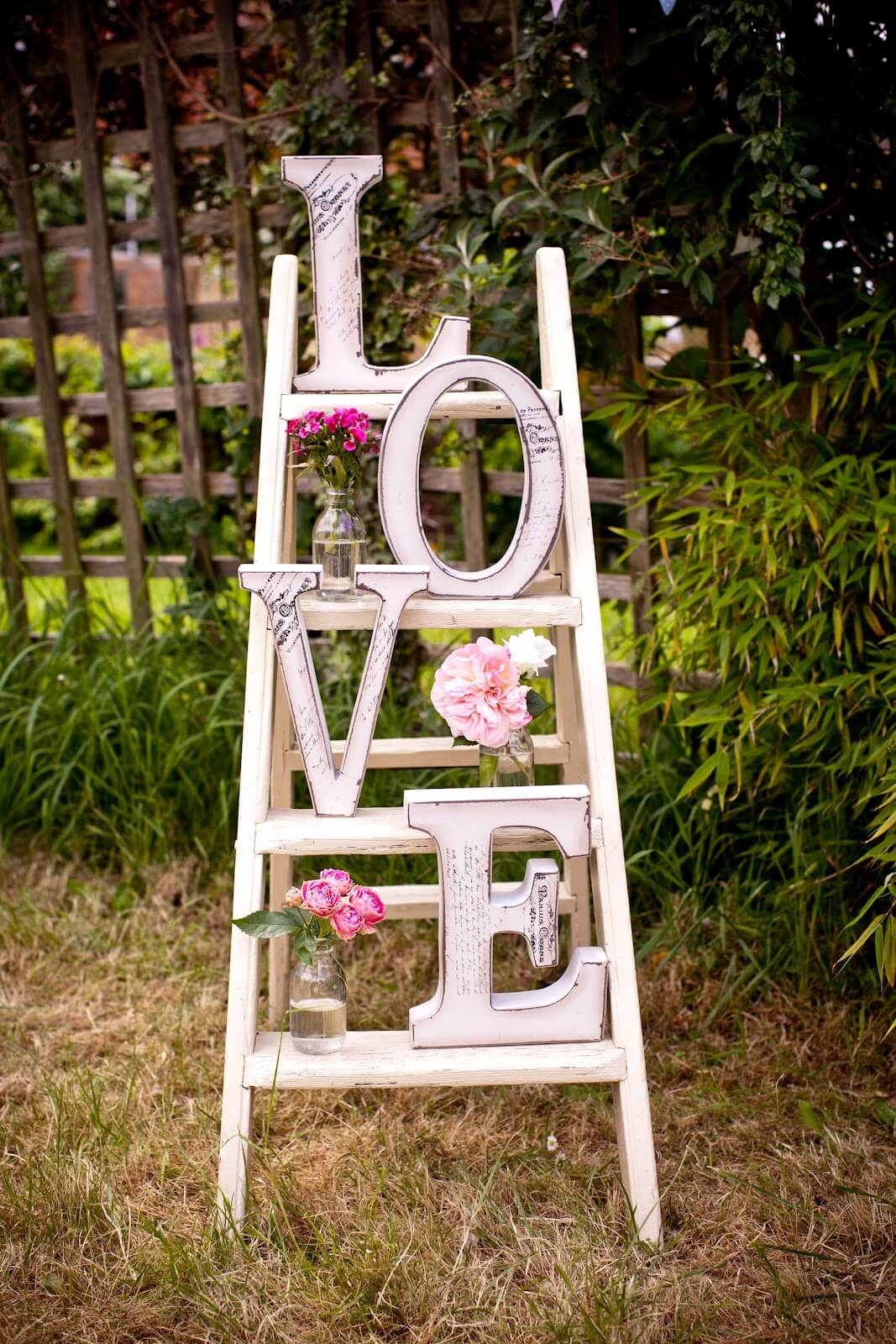 Old glass bottles, jars or anything that can accommodate water is automatically a flower vase, we all know that. But it'll work perfectly if you're going for a vintage themed garden, one that involves using old, repurposed, and upcycled items. You can place these vases on a ladder and make it a garden display, or make it a patio welcome sign for a more inviting home.
59. Vintage Birdhouse and Milk Can Decor Idea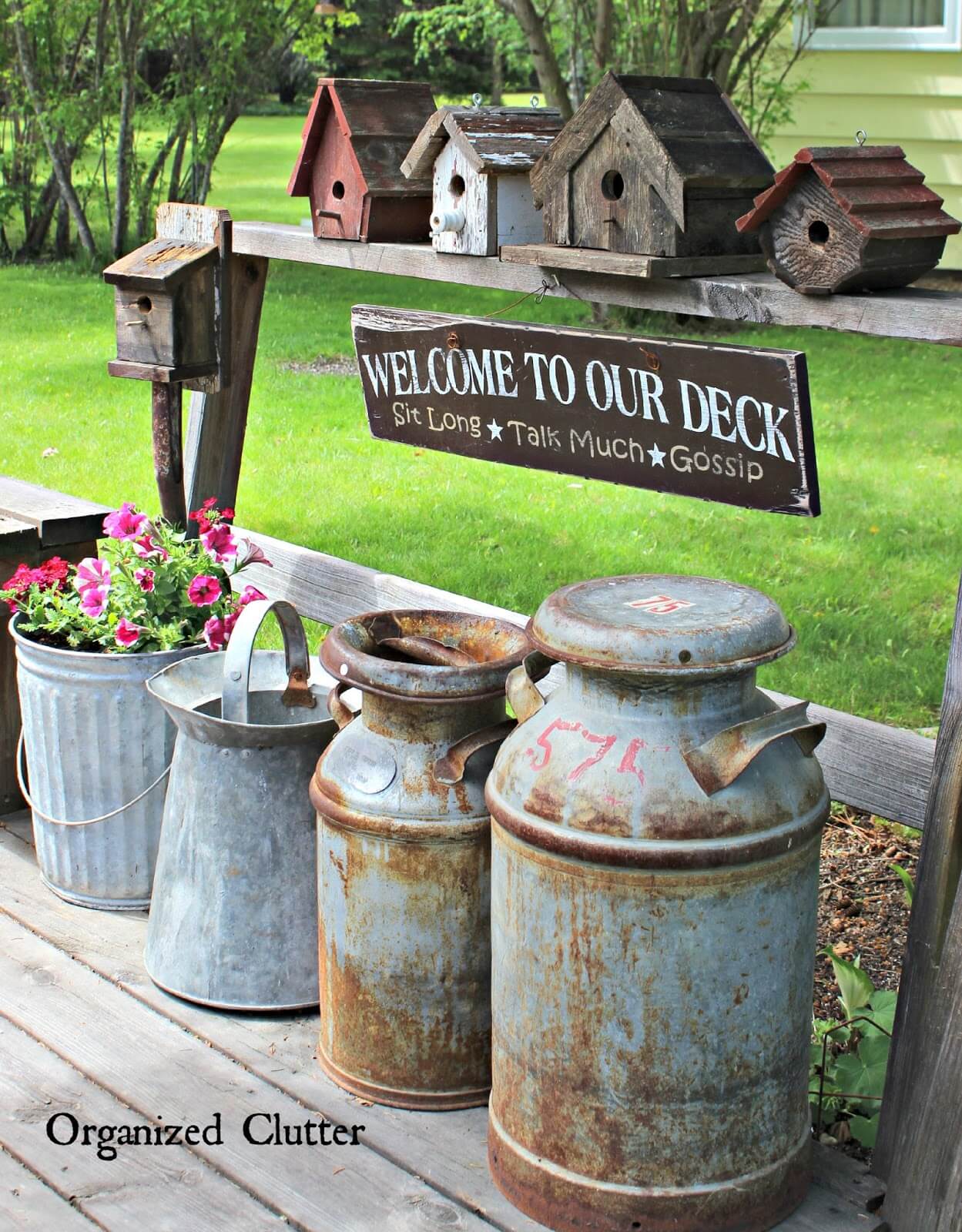 Old milk cans and vintage birdhouses are also great ideas if you're aiming for a vintage garden. You can collect each items, but it may take time before acquiring them all, given they're antique. However, gardening services are always a ready option and if you want to have this display installed immediately, shell out some cash and enjoy this unique décor in your garden.
60. Antique Wagon Wheel Flower Display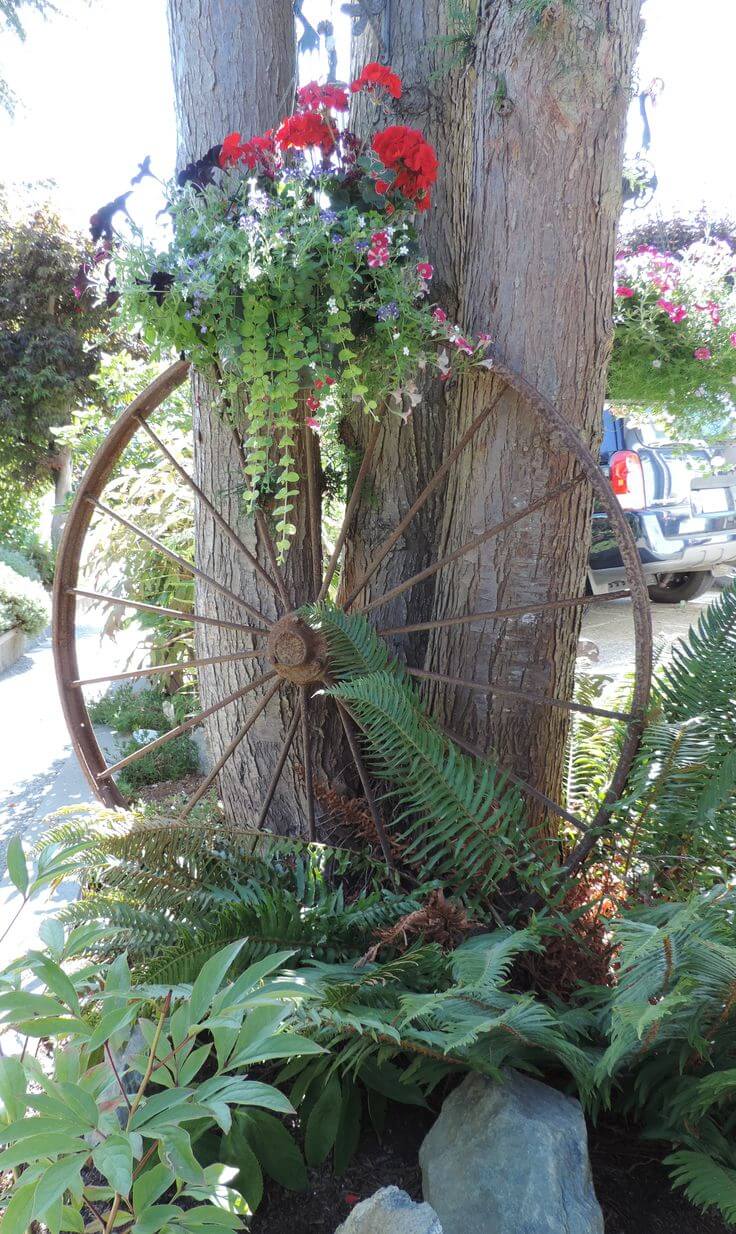 Anything antique installed outdoors immediately adds charm to the setting. If you want to make yours as inviting as the ones you saw online, get a huge antique wagon wheel to hold your favorite flowers on top of it. The best thing about this décor is the fact that you can just leave it outdoors. It will withstand the strongest of weather, rain or shine, with no maintenance needed.
61. Upcycled Vintage Door Garden Gate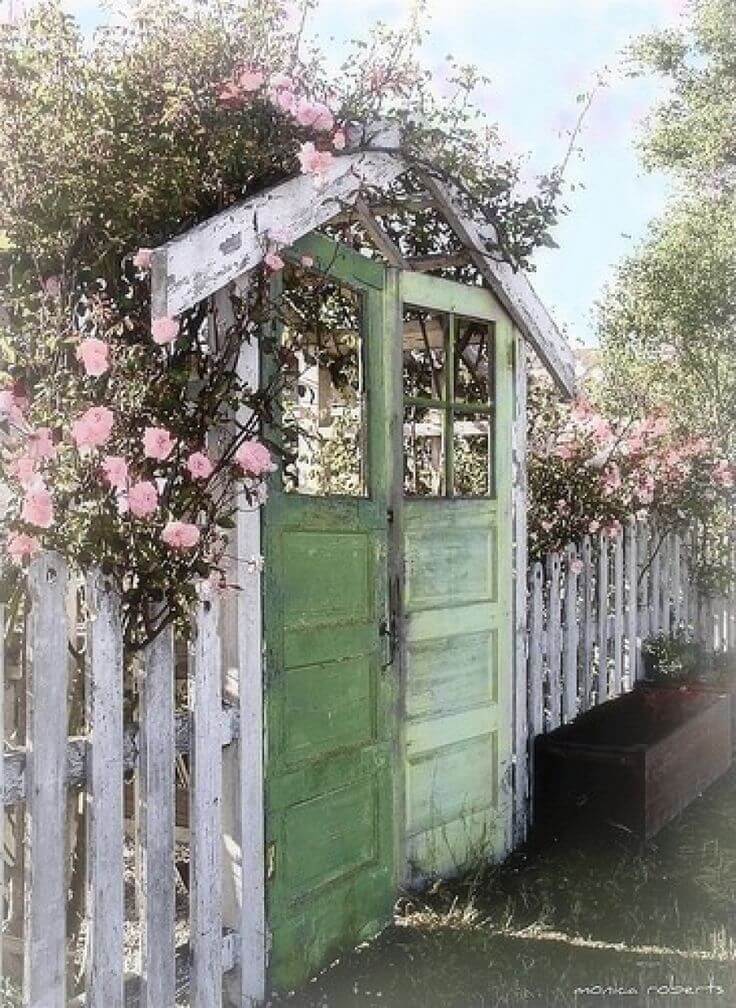 The entrance to your garden need not be grand like the ones you saw on TV, especially if your idea of a garden is quaint and charming. Your gates do not need to be made of wrought iron or anything fancy. To achieve this, upcycle a vintage door. Repaint it if you like, but if you want to retain the antique look, leave it worn-out.
Our Favorite Front Door Flower Pots to buy on Amazon