Are you looking for some of the best vintage living room decor ideas? Is your living room lacking something? Or is it simply no longer a place where your family wants to spend their time? There are many simple ways you can give your living room an update by changing a few of the elements. You can easily make some small changes or some big ones, depending on your time and budget.
21 Absolute Most Fabulous Vintage Living Room Decor Ideas for Your Home

The living room is the heart of your home. It is where your family should spend most of their time and where your friends should gather. Your living space should encourage you and your loved ones to spend time together, doing things you love. It should be beautiful, but it should also be comfortable and functional.
You can bring in some elements to make your living room more inviting. The vintage style is perfect for your living room because it recalls days past when families spent more time together inside their home. Start with light, warm colors to make the room feel open. Neutral shades of wood add warmth and rustic charm. Splashes of greenery here and there, particularly live plants, can lend some nature to the room.
Continue the vintage look with oversized couches, fluffy pillows and blankets, and soft rugs. Add in a few statement pieces, such as antiques and other oddities, to make the room unique and personal. With a few simple changes, your family will be clamoring for a spot on the couch, watching television from the rug, and laughing around the coffee table as you play a board game.
If you need inspiration for your ideal vintage living room remodeling, here are 22 of the best ideas online to get your ideas flowing. Pick and choose your favorites, make it your own, and get the living room you've always wanted.
1. Breezy Mid-Century Modern Space with Pops of Color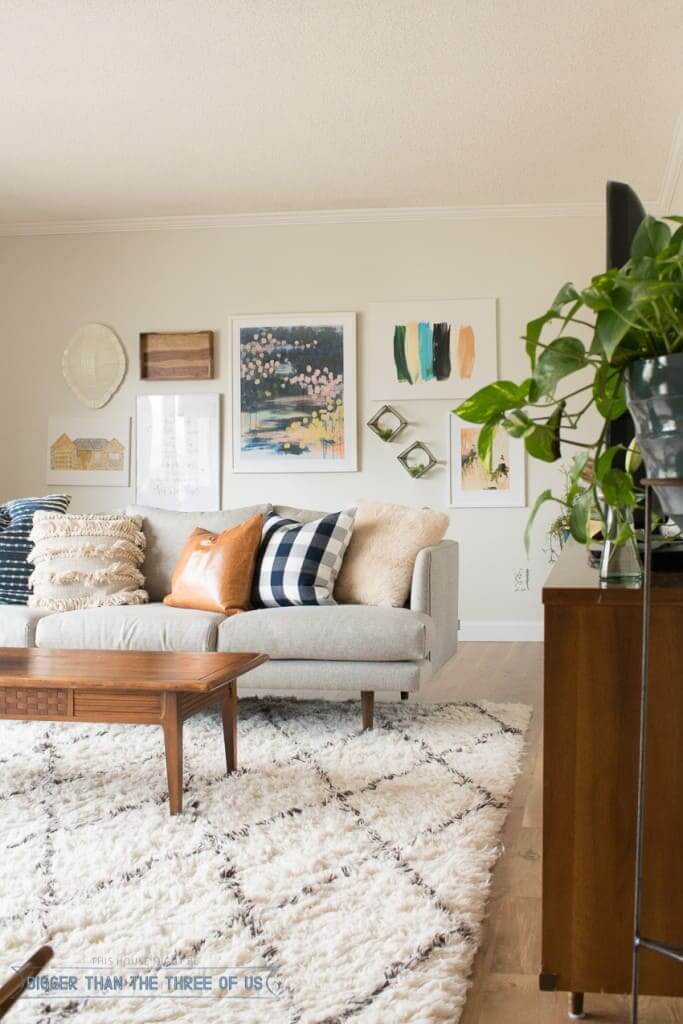 The best vintage living room designs manage to looks styles from different styles and areas to create a cohesive design that is both fashionable and functional. This living space begins with mid-century modern style furniture in shades of warm oak and cool gray. The diamond-print rug adds a cozy element without sacrificing style. The cushions keep the room from getting too stuffy with a playful farmhouse check. The living room is really rounded out with some greenery from live plants and the assorted wall hangings. The paintings add just the right amount of color, while the candleholders add whimsy.
2. Warm and Rustic Multipurpose Living Space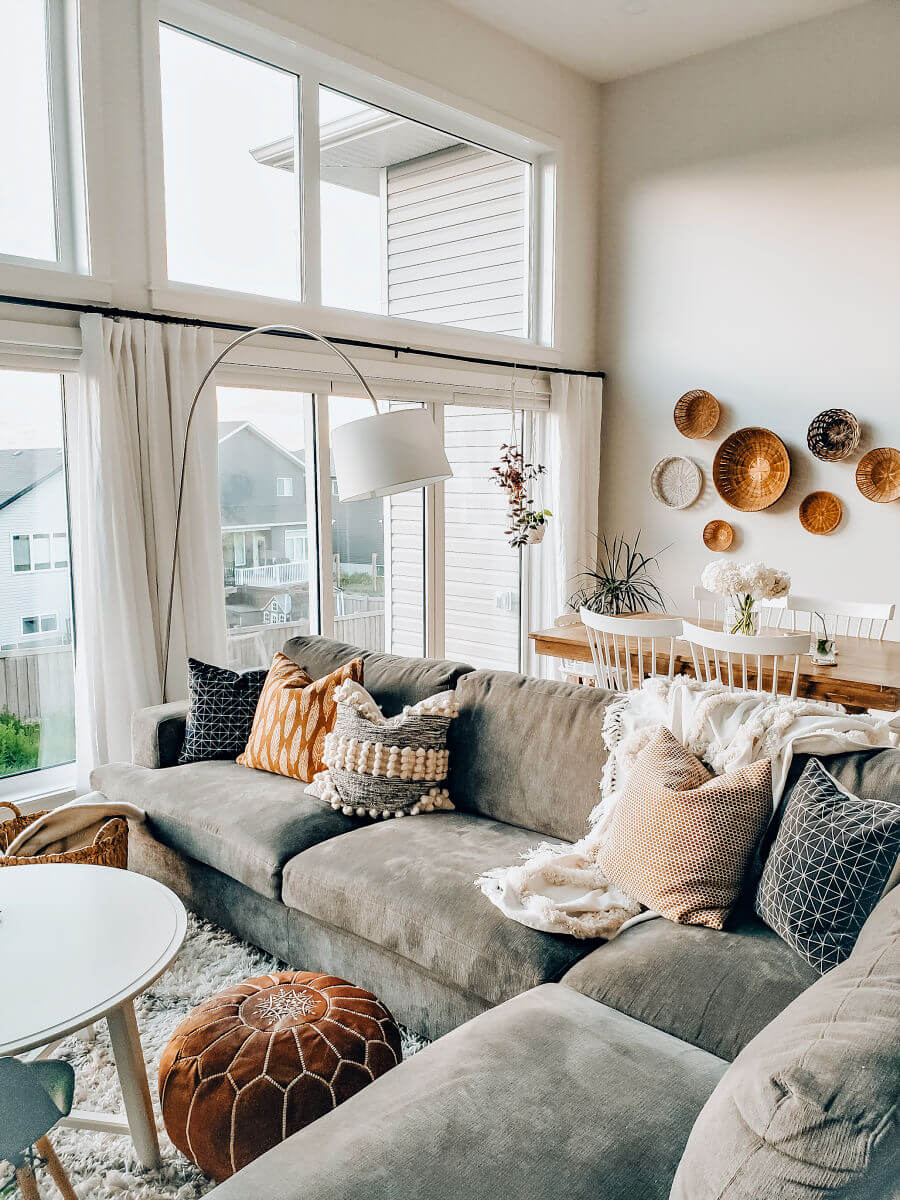 The vintage style is perfect for smaller spaces. This living area incorporates a spacious sectional, a farmhouse dining table, and even a small table with seating for children. While this living area packs a lot into a small space, the result is warm and cozy, not cramped. This space can comfortably accommodate a larger family or friends if you enjoy entertaining. Wicker bowls on the wall bring a rustic style to the room, while a plethora of cushions, a soft throw, and a bohemian pouf invite everyone to lounge in comfort. It's easy to picture a family playing a card game around this coffee table.
3. Nautical Elements Add Seaside Feel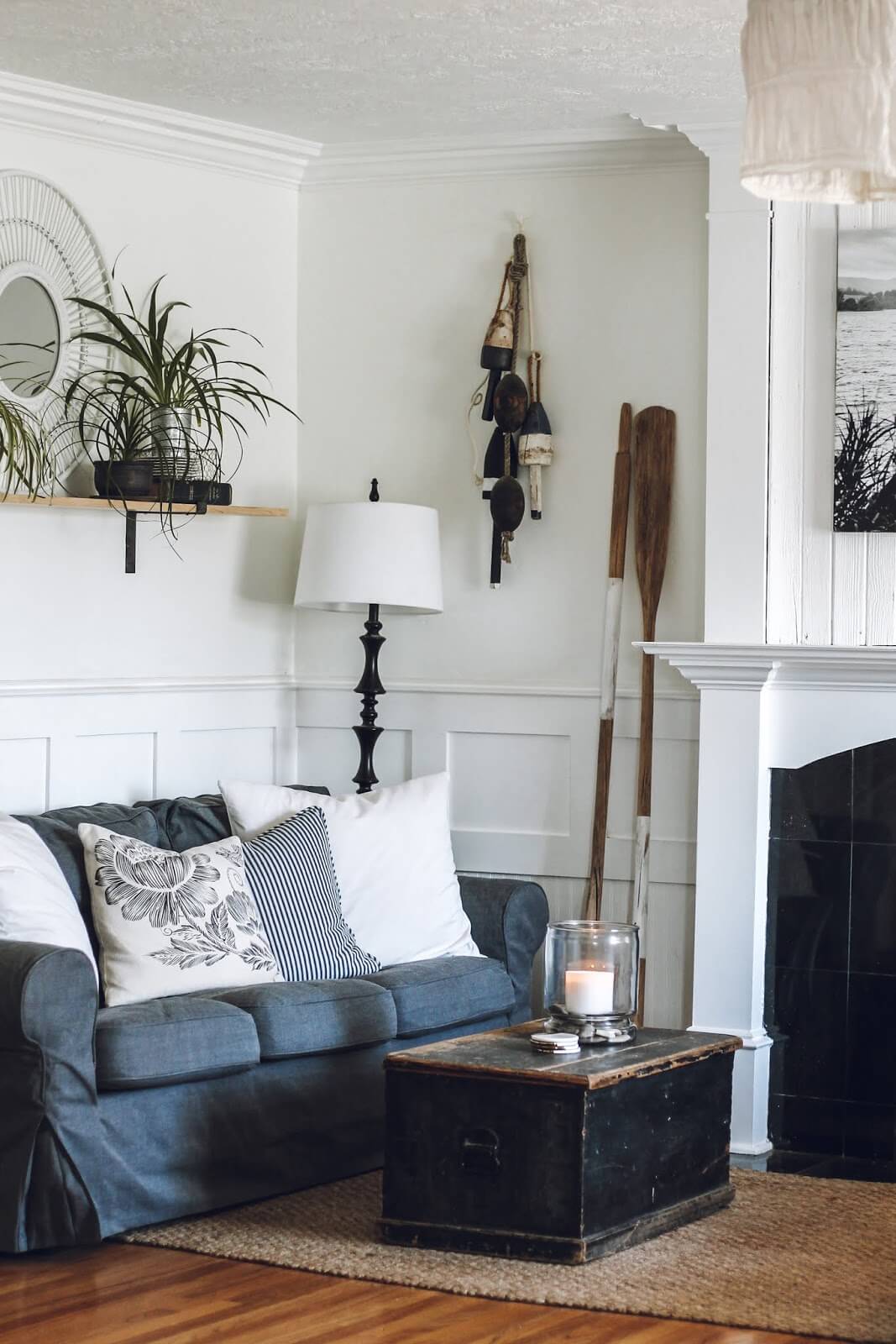 This room begins with a lot of white elements to give the room a fresh, breezy feel while the beadboard and wainscotting add interest. The colors blue, green, and brown continue the ocean theme, while still being subtle. The comfy blue sofa pairs well with the antique chest doubling as a coffee table. Overstuffed pillows make the sofa even more welcoming. A jute rug continues the seaside theme and works well with the reddish wood flooring. The cool design of this room does an excellent job of weaving in ocean elements like the hurricane glass candle holder, the vintage boat oars, antique buoys, and seagrass.
4. Light and Airy with a Southwestern Flair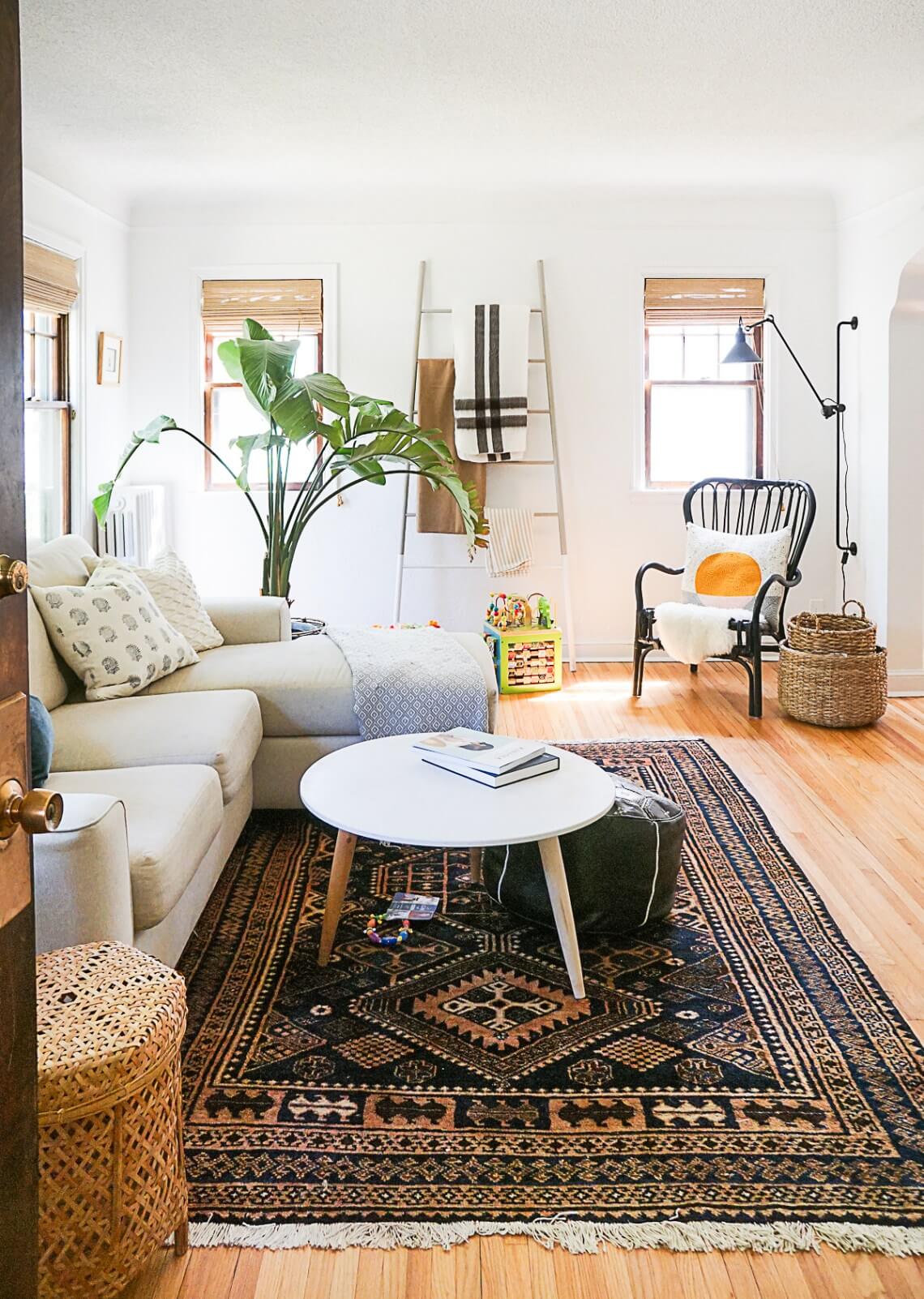 This southwestern inspired living room features some of the best vintage living room decor ideas. The light wood colors on the floor, furniture, and windows make the room feel open and inviting, while elements of black offer a striking contrast that adds a perfect interest factor to the room. The ladder shelf is an awesome idea for storing your blankets in a way that also adds to home decoration. The southwestern-style rug and neutral sectional invite your family to lounge in the living space. The cute baskets and side table also offer functional storage, and the large plant adds a vibrant pop of color.
5. Farmhouse Style Meets Boho Chic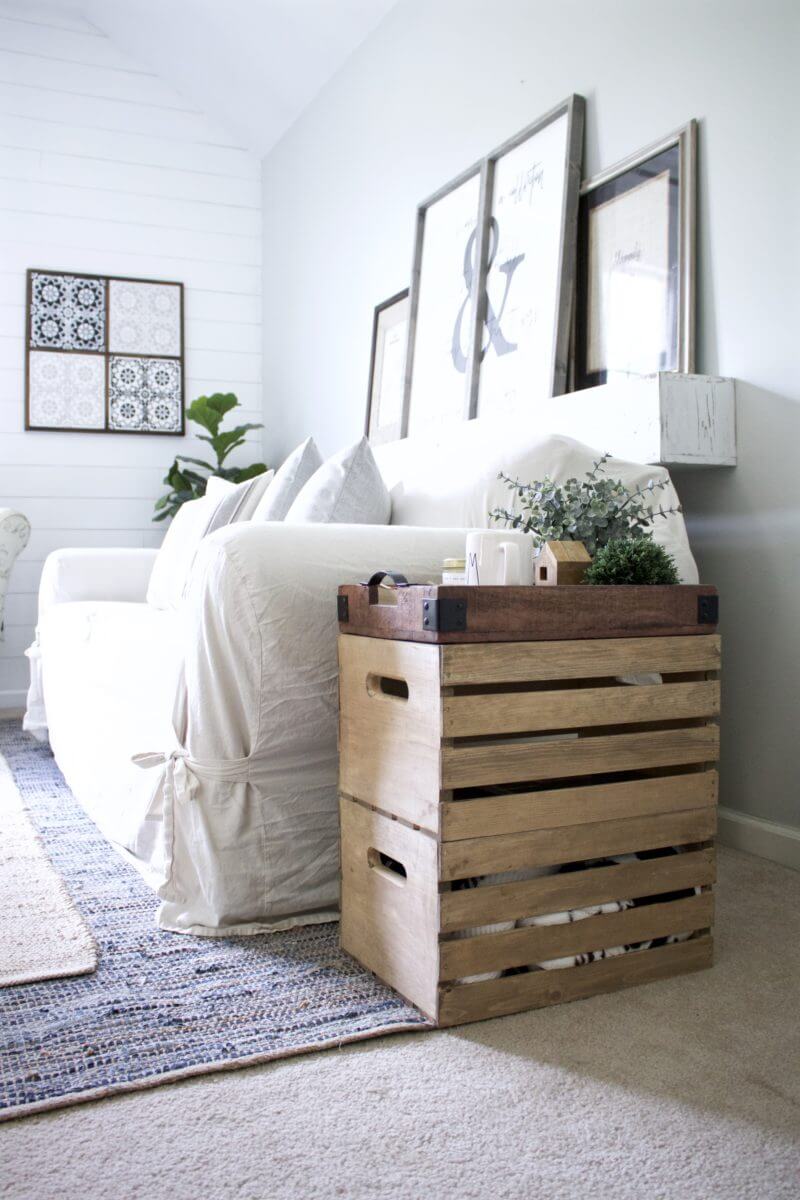 The first thing you notice about this living space is how light and airy it is. From the white shiplap walls to the white pillows to the white sofa, this room is undoubtedly open and inviting. The layered rugs add to the homey feel. The repurposed elements give the room a unique design, while also lending additional storage with the wooden crates. The artwork on the distressed shelf is nothing short of charming, and the subtle pops of greenery bring some natural elements into the room. The tiny wooden birdhouse is a perfect touch of character.
6. Distressed White Hutch Adds Style and Storage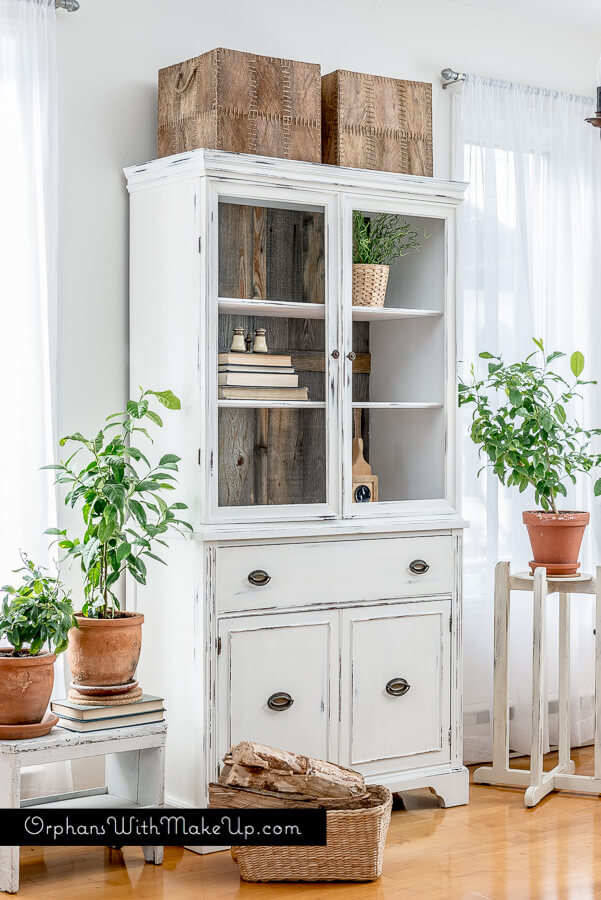 This living space features an antique hutch that has been whitewashed and distressed while leaving the interior in its natural state. This mix is a great way to blend the two popular styles: a modern farmhouse and rustic. The vintage living room remodeling is the perfect way to create a design piece, with the top half serving as a display for whimsical antique trinkets and the bottom half serving as covered storage. The terra cotta pots bring a southwestern flair, while the patchwork leather boxes are both beautiful and functional as additional storage.
7. A Little Science, a Little Whimsy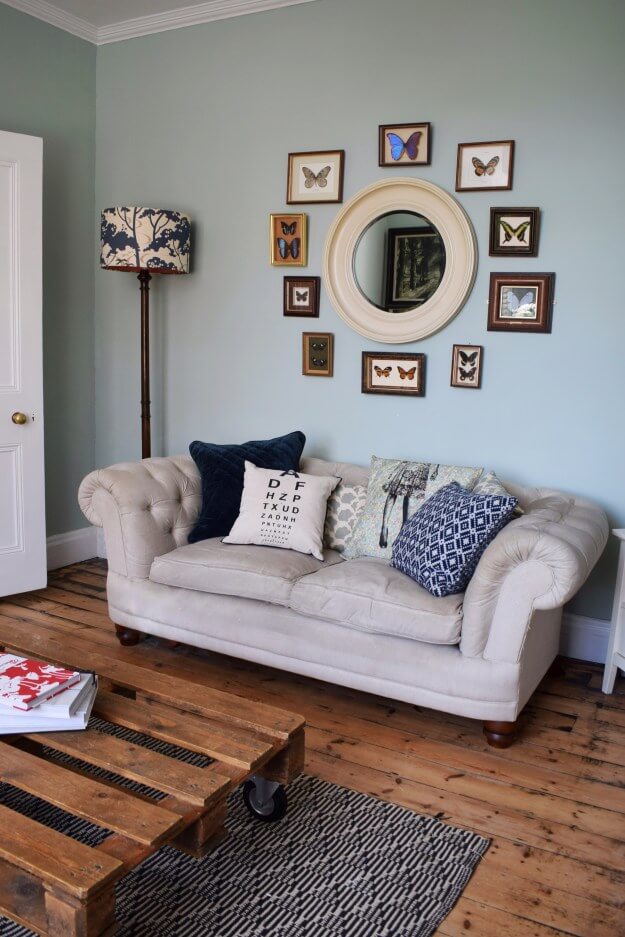 As one of the most charming living rooms, this small living space features simple designs that don't overcrowd the area. The pinewood floor and DIY pallet coffee table (with functional wheels) pair perfectly with the soft blue walls to give the room a rustic, farmhouse charm. Dark elements like the rug, pillows, and picture frames serve as a nice contrast and keep the room from becoming too cute. The real standout of this room, though, are the subtle scientific elements like the butterfly pictures on the walls and the eye exam pillow. This room is excellent for the chic scientist.
8. Personalized Wall Art with Vintage Flair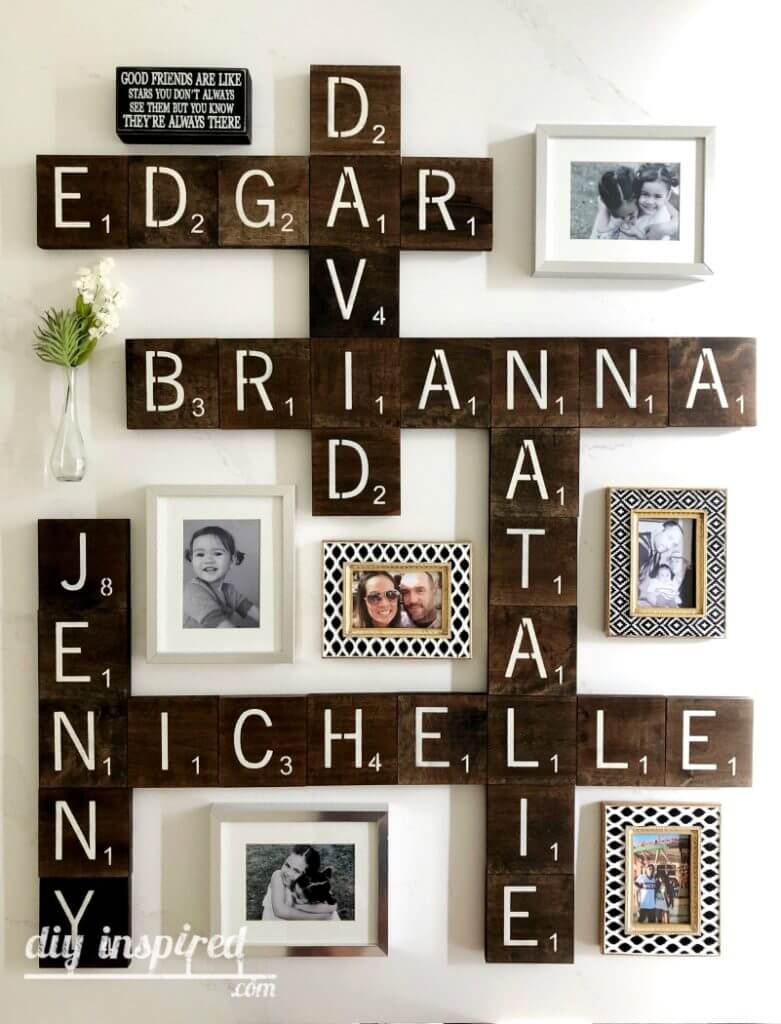 Your house doesn't really feel like a home until you add that personal touch, and this wall can genuinely represent a family. Candid black and white photos in art-deco style frames give your modern prints a retro mood. The hanging vase and white flowers add a touch of romance to your wall, and quotes show your love for your family and friends. The real feature here, though, are the DIY Scrabble tiles featuring your families' names. These tiles are made out of cut and sanded wood that is then stained and stenciled. You can easily make these tiles yourself, but if you are not crafty, it is easy to find them for sale.
9. Cute Media Center with Flea Market Vibe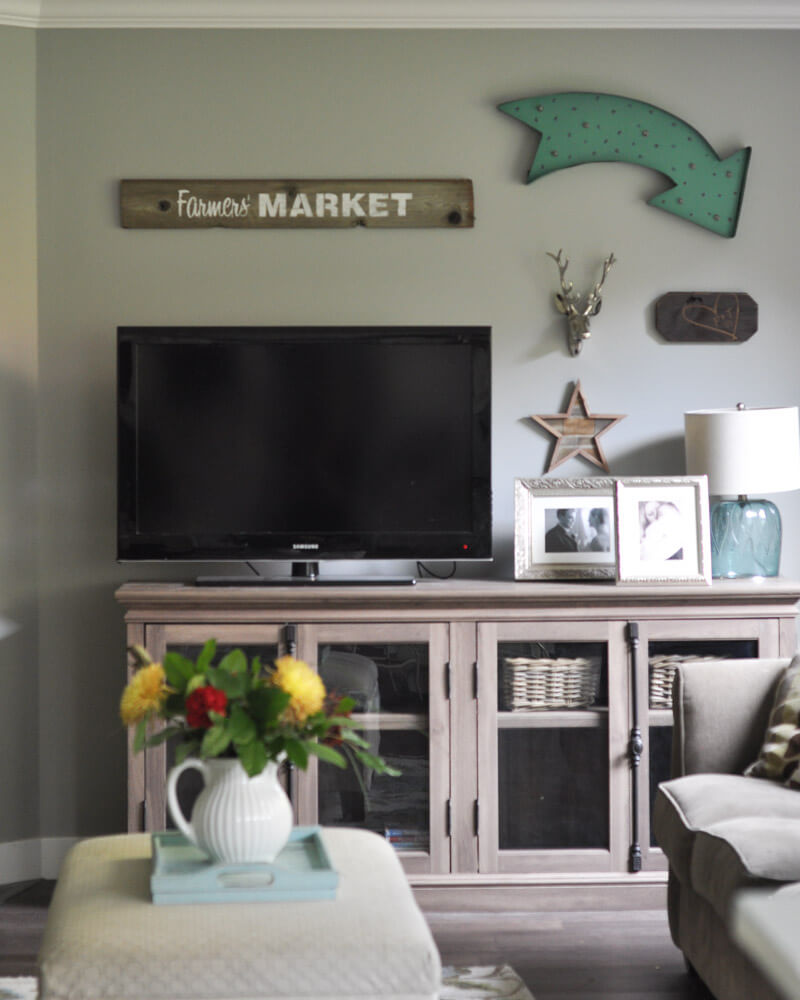 Your television does not have to be an eyesore in your vintage living area. This great design uses a variety of home decoration to draw your eye away from the television and toward the more beautiful elements of the room. The neutral wall color and furniture complement the country farmhouse decor. Wicker baskets behind the media center's glass doors cleverly conceal all the little items that go along with your television. The few bright pops of color, such as the lamp, flowers, and arrow sign, give the room character, and the photographs make it feel like a home.
10. Unique Personalized Bell Jar Terrarium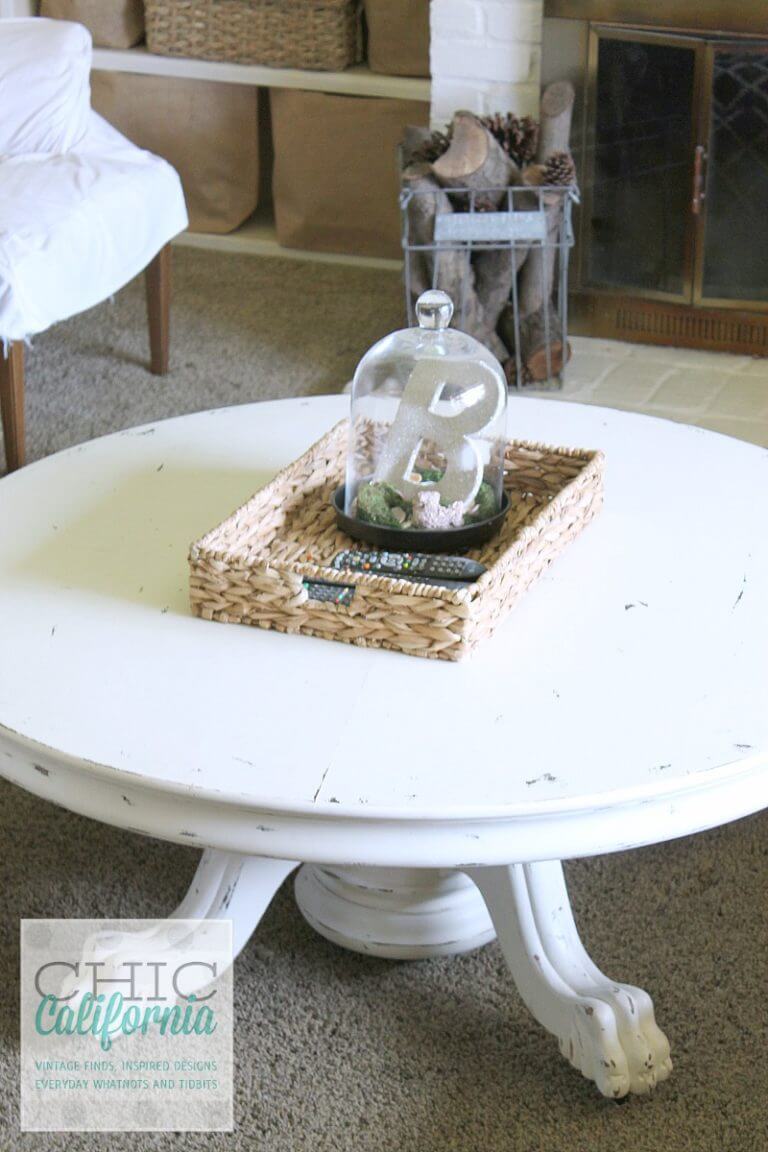 Many people try to personalize their space by adding photos of family and friends. Still, one of the best vintage living room decor ideas is personalizing your area in an innovative way. This living space does just that with the focal point of a terrarium inside of a bell jar. The designer has incorporated the family's initial to make it personal. The room is rounded out with wicker and burlap storage and a distressed white coffee table. The wire basket of wood creates a cozy feeling of days spent by the fireplace.
11. Vintage Southern Charm Makes Inviting Space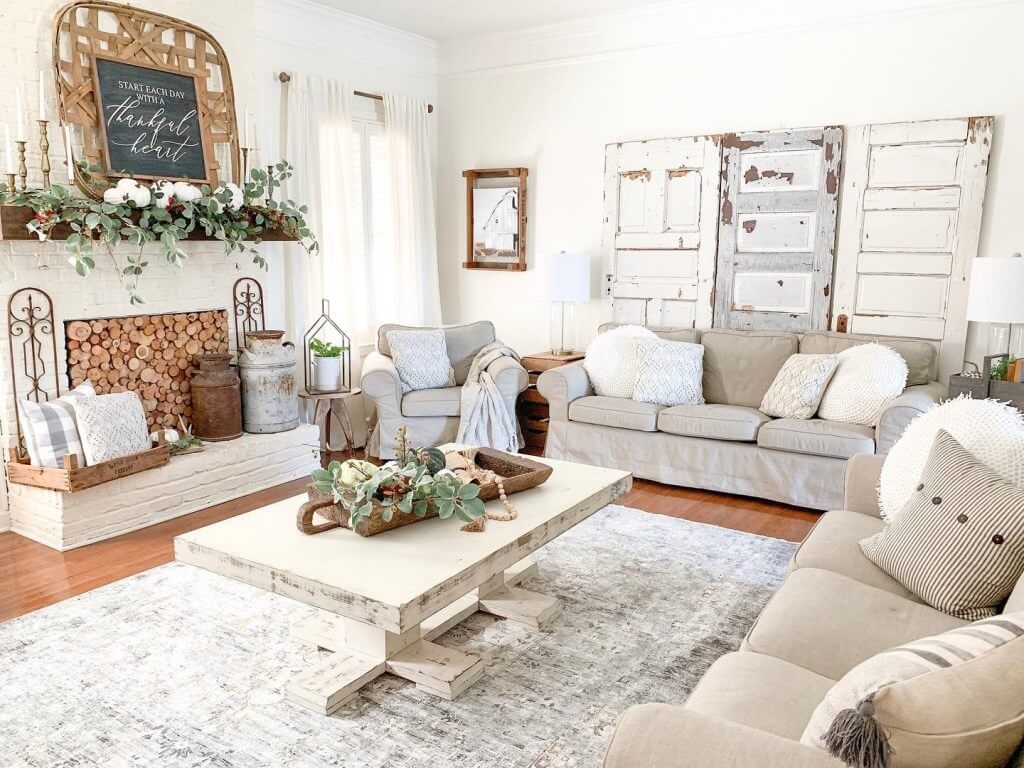 Everything about this living room creates a welcoming space for your family and friends. This vintage living room remodeling is composed of whitewashing the bricks around the fireplace and putting up three distressed antique doors to lend some southern charm. The neutral shades of brown, creamy white and gray are set off by the sage green of the plants. The plump couches and chair and the soft, cozy pillows and blankets invite your guests to have a seat and stay awhile. The only thing missing from the coffee table is a mason jar of iced tea.
12. Romantic French Country Accent Table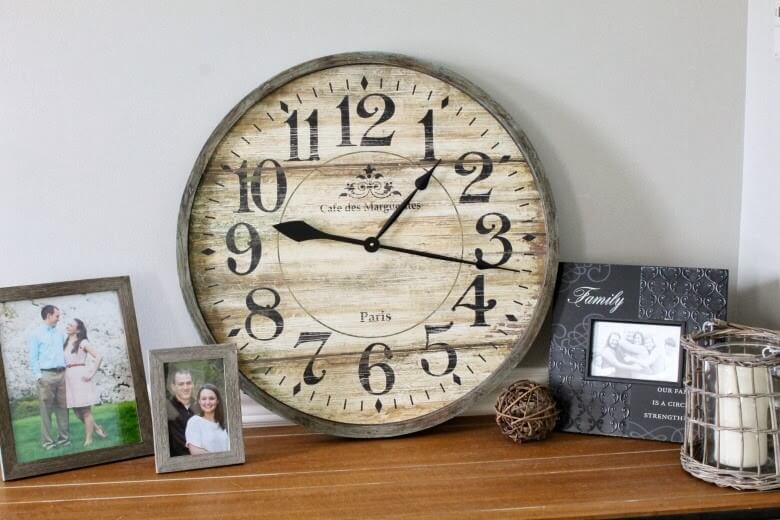 Many of these vintage living room designs include an accent table, and it's easy to see why. It's an easy way to add some decor and interest to your living room without taking up too much space. This French country table uses different types of wood to create a rustic mood. Rough wooden picture frames paired with a striking black frame are perfect for showing off loved ones. The woven ball and candleholder are sweet accents, while the distressed wooden clock, propped against the wall instead of hanging, completes the French country ambiance. As an added touch, the clock's words are even in French.
13. Ottoman Doubling as Coffee Table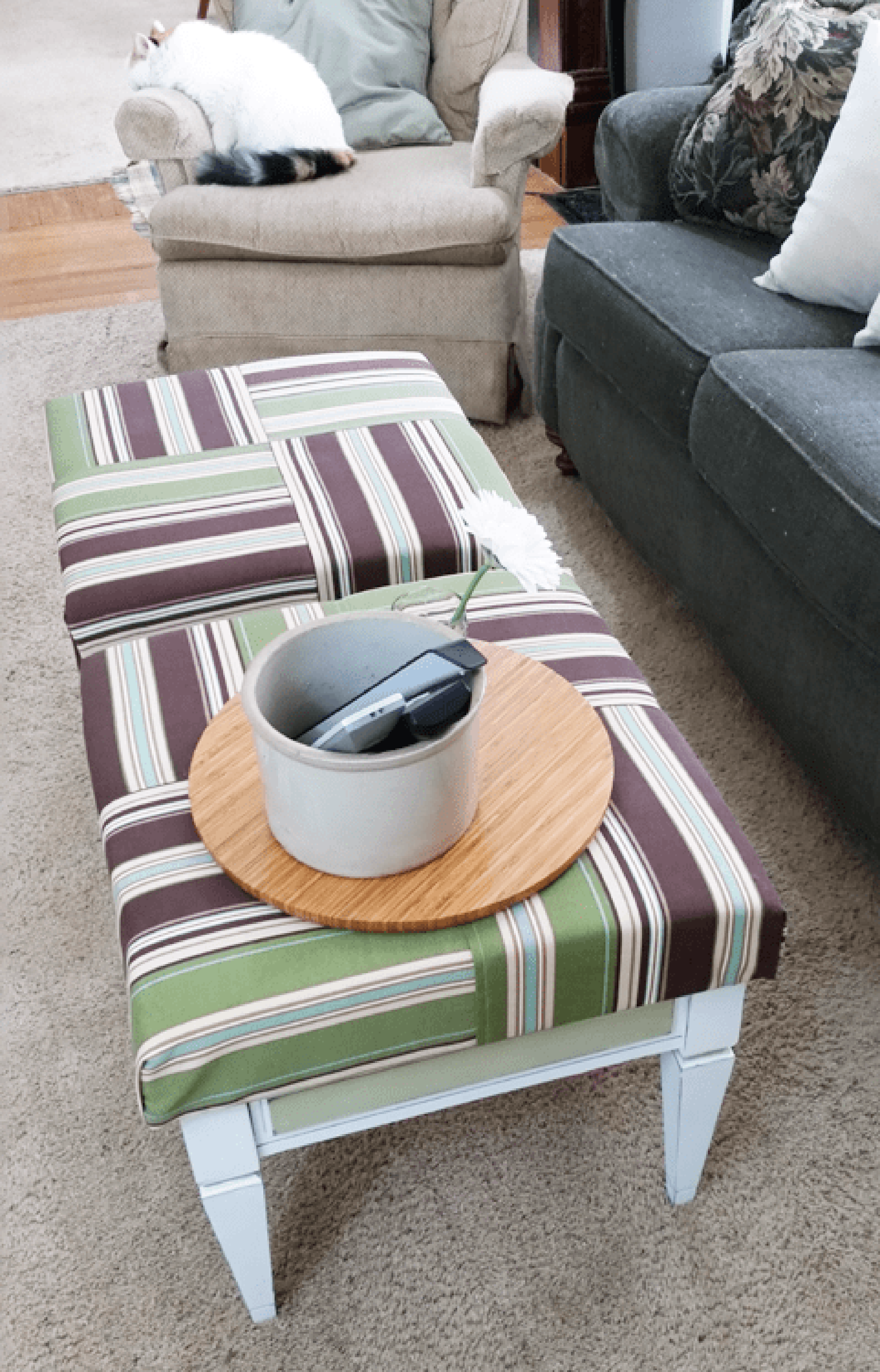 When it's time to redecorate a space, many people assume that they have to buy brand new items, especially if they want the room to feel new. However, this is not the case. You can often repurpose things from around your home and breathe new life into a room with items you already own. This homeowner took a couple of ottomans, recovered the cushions with a striking striped fabric, and put them together to form a coffee table. A circular piece of wood and pottery make the table even more functional. This room proves that even something small can create a big difference in the feel of your room.
14. Stunning Grandfather Clock Adds Vintage Appeal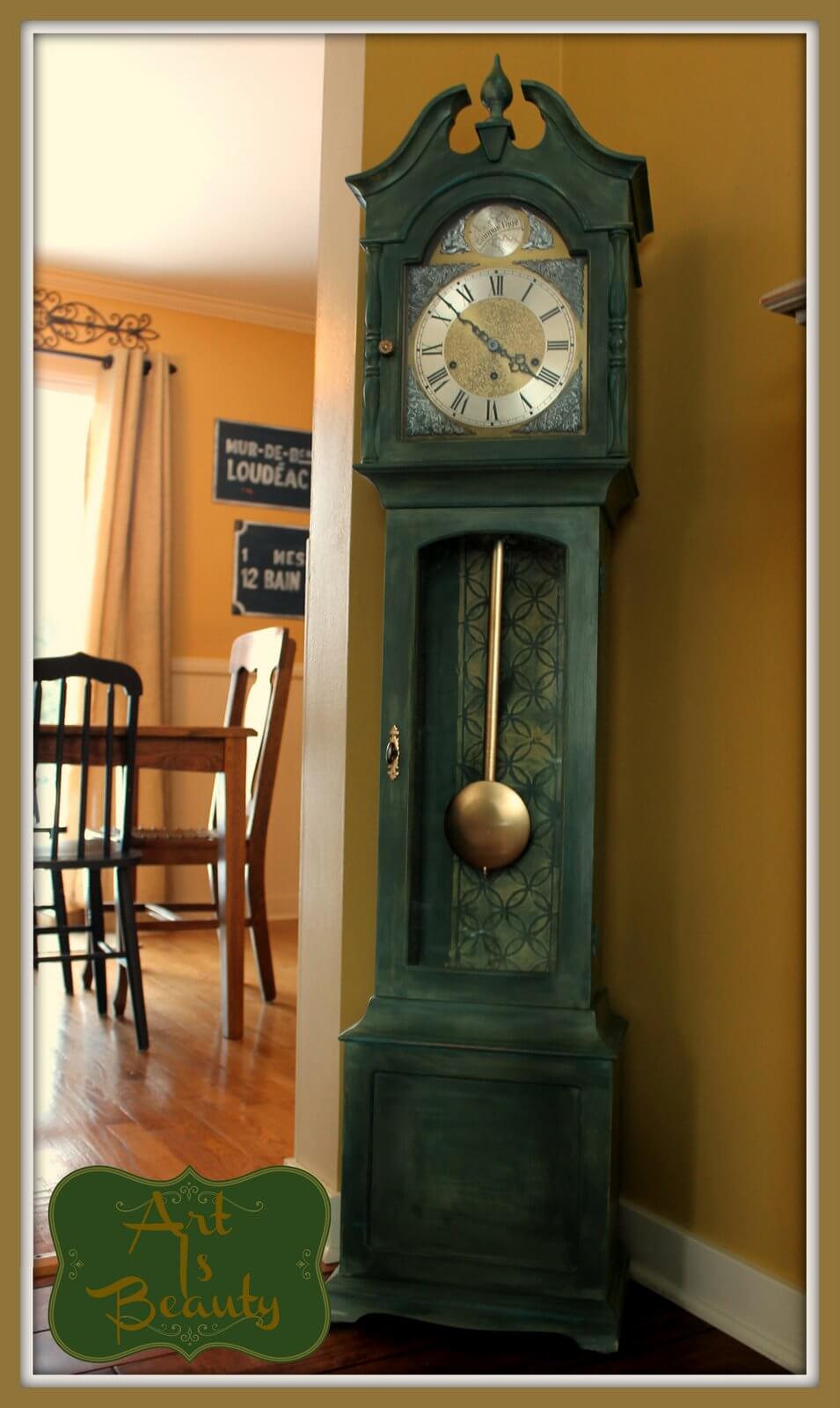 The ultimate antique collector's piece, a grandfather clock, instantly gives your living room a timeless feeling. This beautiful piece has been restored and painted in a vintage emerald green color with gold detailing. The colors both stand out from and complement the gold wall behind the clock. The clock also features beautiful designs around the face and in the back. This clock has been placed in the corner next to the entry to the kitchen, but a piece like this can be placed almost anywhere in your living space.
15. Window Sitting Area with Wicker Chair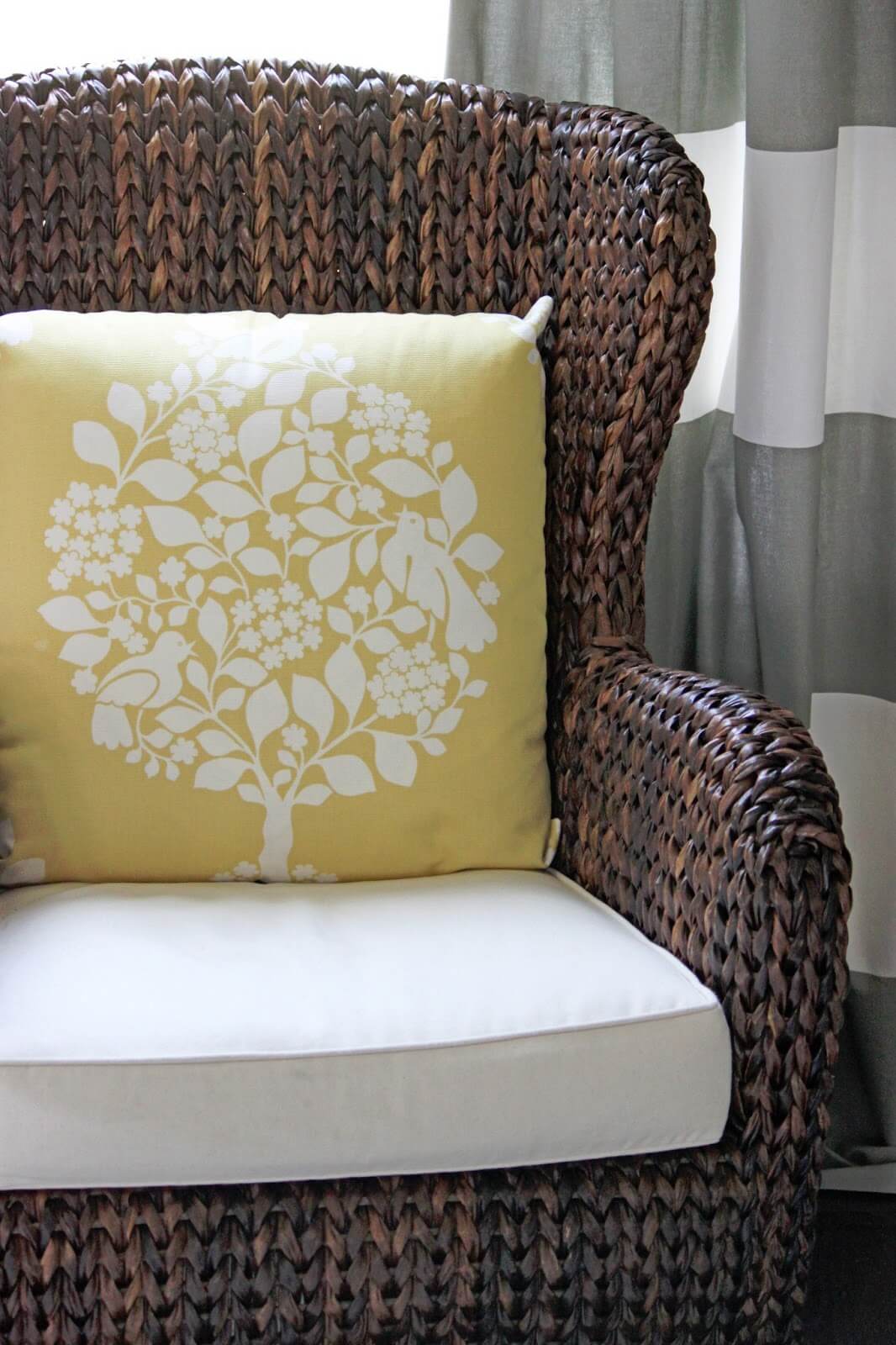 Every living room needs a sitting area by the window. It's the perfect place to curl up with a good book or relax with a glass of lemonade. This sitting area has a vintage appeal with a wicker chair. The white pillow and yellow pillow with a tree design make the chair comfier and add a need pop of color. The striped curtains are the perfect backdrop. The palette of gray, yellow, brown, and white lend a crisp, yet inviting feel to the spot. If you are trying to bring a vintage atmosphere to your living room, wicker is the way to go.
16. Versatile Sofa Fits Into Any Room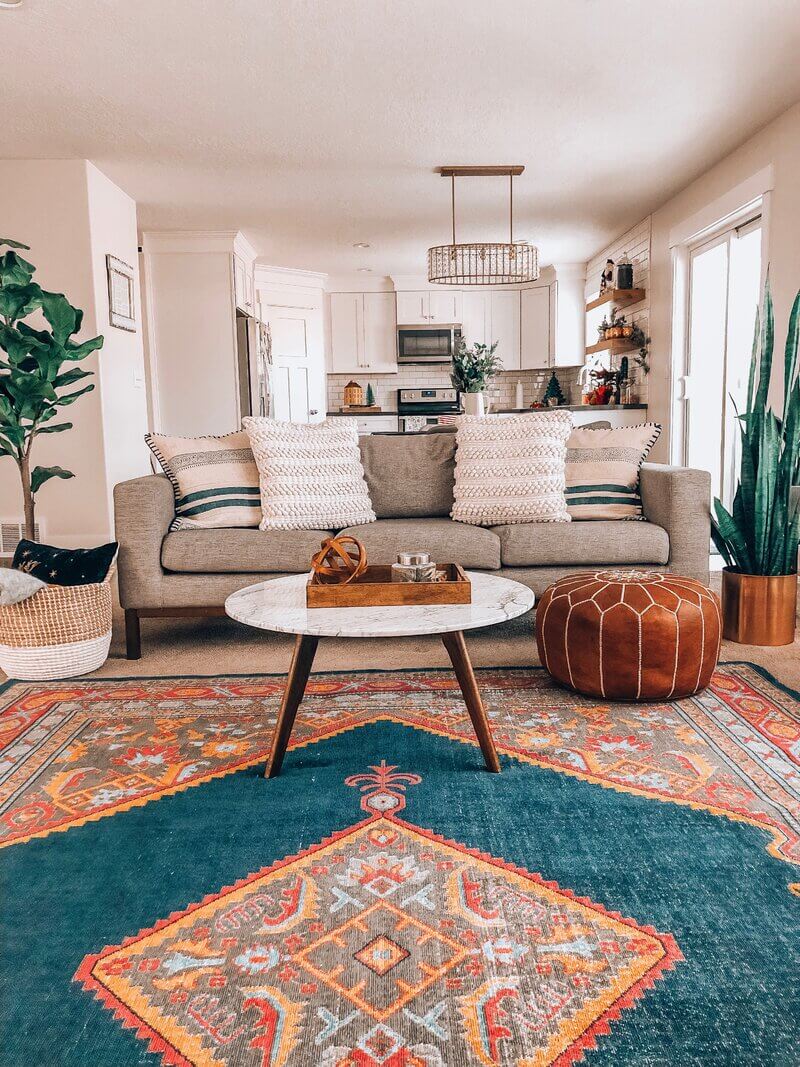 Sometimes you want a piece of furniture to be a statement piece, but if you already have several statement pieces in a room, you want something a little simpler that can blend into any room. This sofa comes in several neutral shades and is sure to complement any color scheme. It also serves as a great dividing piece between the kitchen and living room. This room achieves a southwestern vintage style with rich brown elements, such as the leather pouf, and elements of greenery. The room is brought together with the beautiful tribal rug – the true focal point of the room.
17. Turkish Rug Rounds Out Room with Style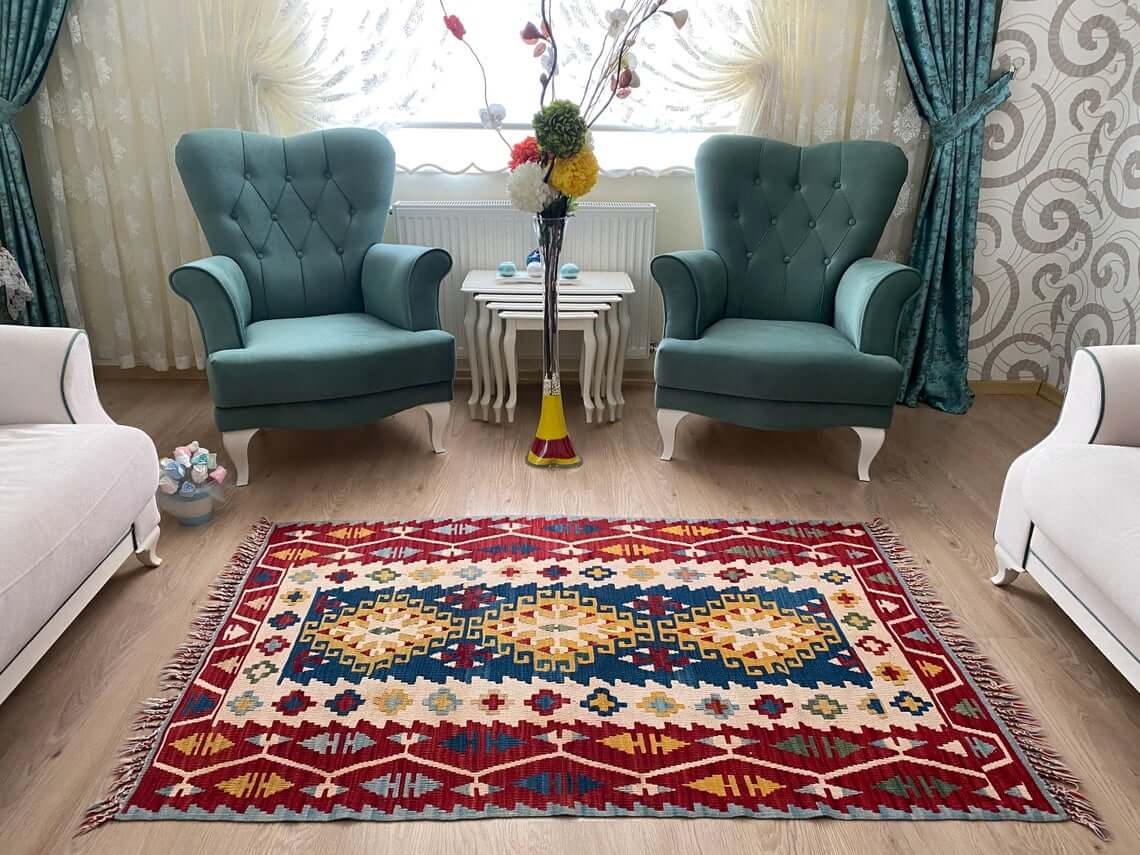 Sometimes you don't want a room that's subtle; sometimes, you want something with pizzazz. Some of the vintage living room designs incorporate bold colors and pieces that really make a statement. This room pairs antique turquoise wingback chairs with fun swirly wallpaper and a quirky flower arrangement. The gorgeous Turkish rug with a Sante Fe style and shades of blue, red, and yellow really tie the room together. This rug is the perfect size for a small space and draws together the furniture in your sitting area. The handmade rug is made of wool and is an authentic antique from the 1980s.
18. Vintage Turkish Rug in Subtle Orange Hues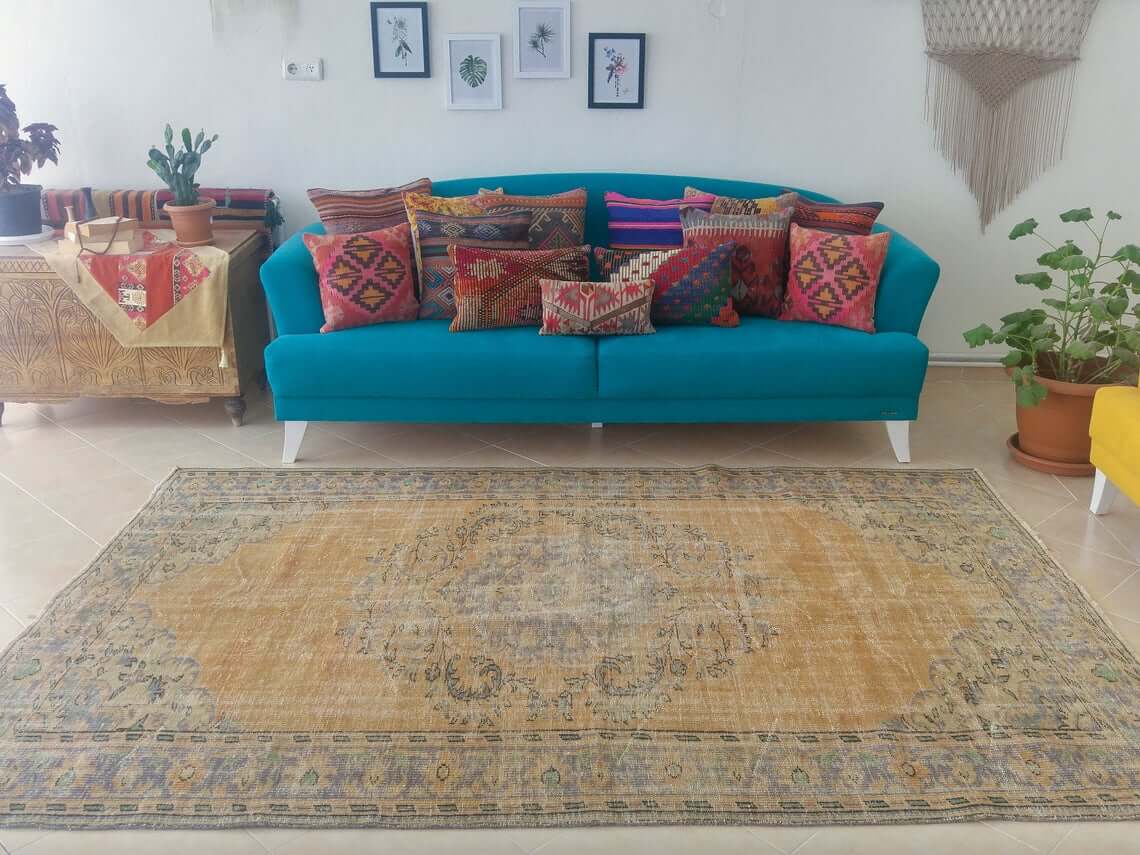 This living space fully embraces the vintage southwestern style with a beautiful Turkish rug in shades of burnt orange and navy blue. This vintage rug is made of wool and hand-woven; it adds warmth to the tile floor of the living space. The room continues the southwestern feel with tribal pillows and the Native American craftwork. The wooden antique side table is an awesome idea to bring even more character to the room. This living space really works because it blends understated colors with brilliant flashes of color to keep it both exciting and classy.
19. Mid-Century Modern Chairs Offer Extra Seating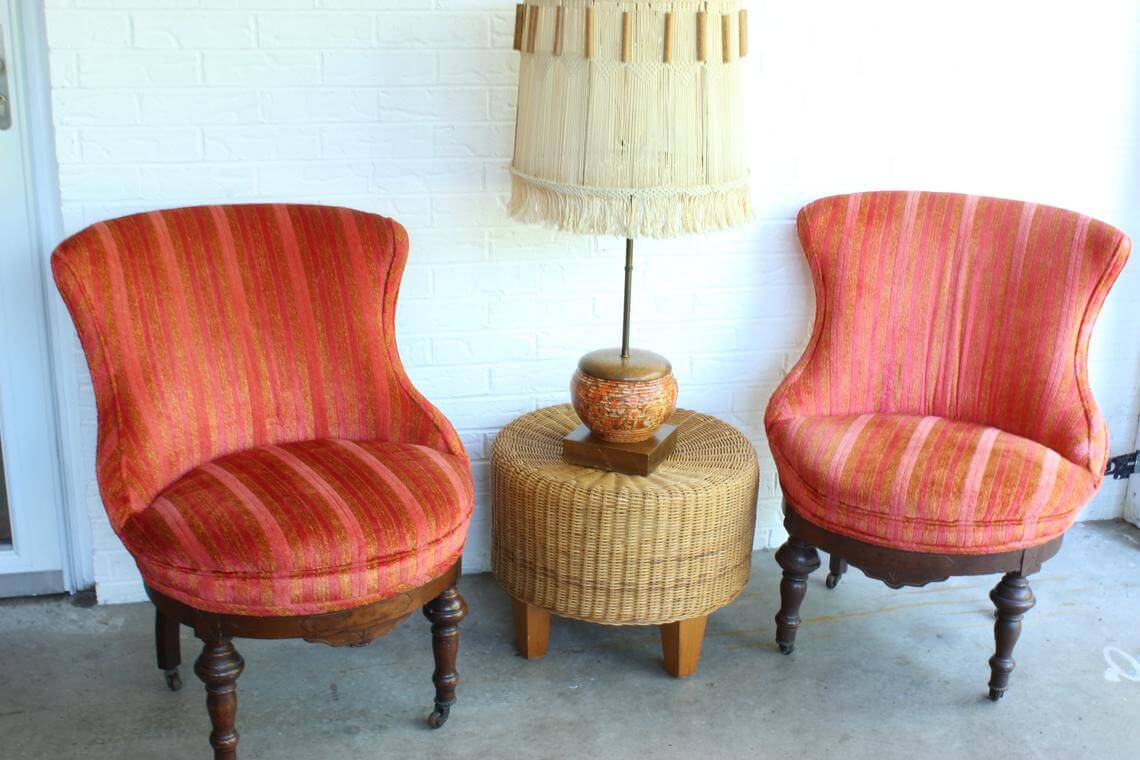 If you want a living room that is made for entertaining, one of the best additions you can make is extra seating. You always want to have plenty of room for your guests, and these mid-century modern barrel chairs are a beautiful accent to any living room. The red and gold upholstery gives the chairs a vintage, elegant feel that will transport your space right back to the 1950s. The chairs are on casters, making them easy to move. You can create a sitting area near a wall but bring them closer to the main sitting area when needed. The wicker accent table and an antique lamp with red elements complete the look.
20. Deconstructed Antique Couch Makes for Unique Piece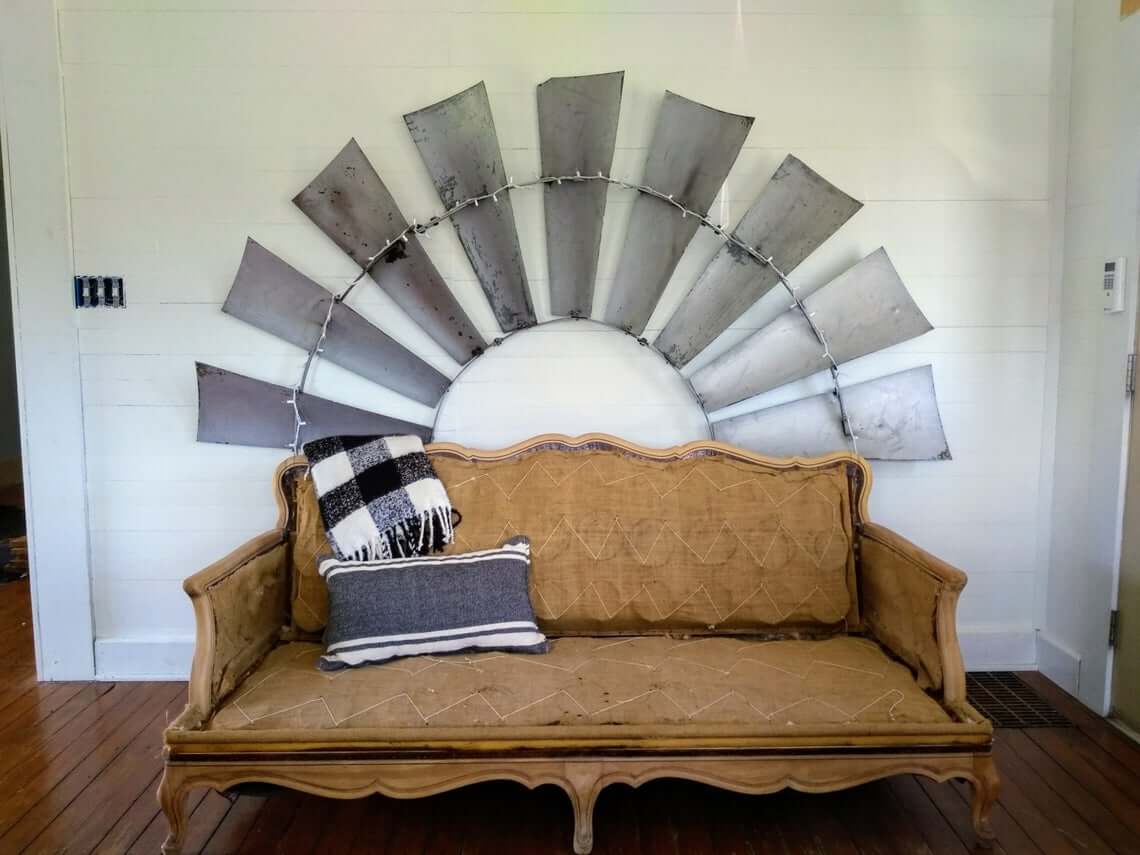 One of the best ways to make a living space feel like it truly belongs to you and your family is to take some part in the creation of it. This deconstructed antique couch can be used in several ways. It is beautiful as is, and if you have the space, it will look great against a wall. Or, if you need something more functional, you can always do a DIY upholstery job and recover it with a piece of beautiful vintage fabric to complement your retro style. If you aren't crafty, it is easy to find others to take on this project for you. Pair this piece with an attractive wall hanging to bring some extra flair to the space.
21. Gorgeous Mid-Century Modern Tweed Chair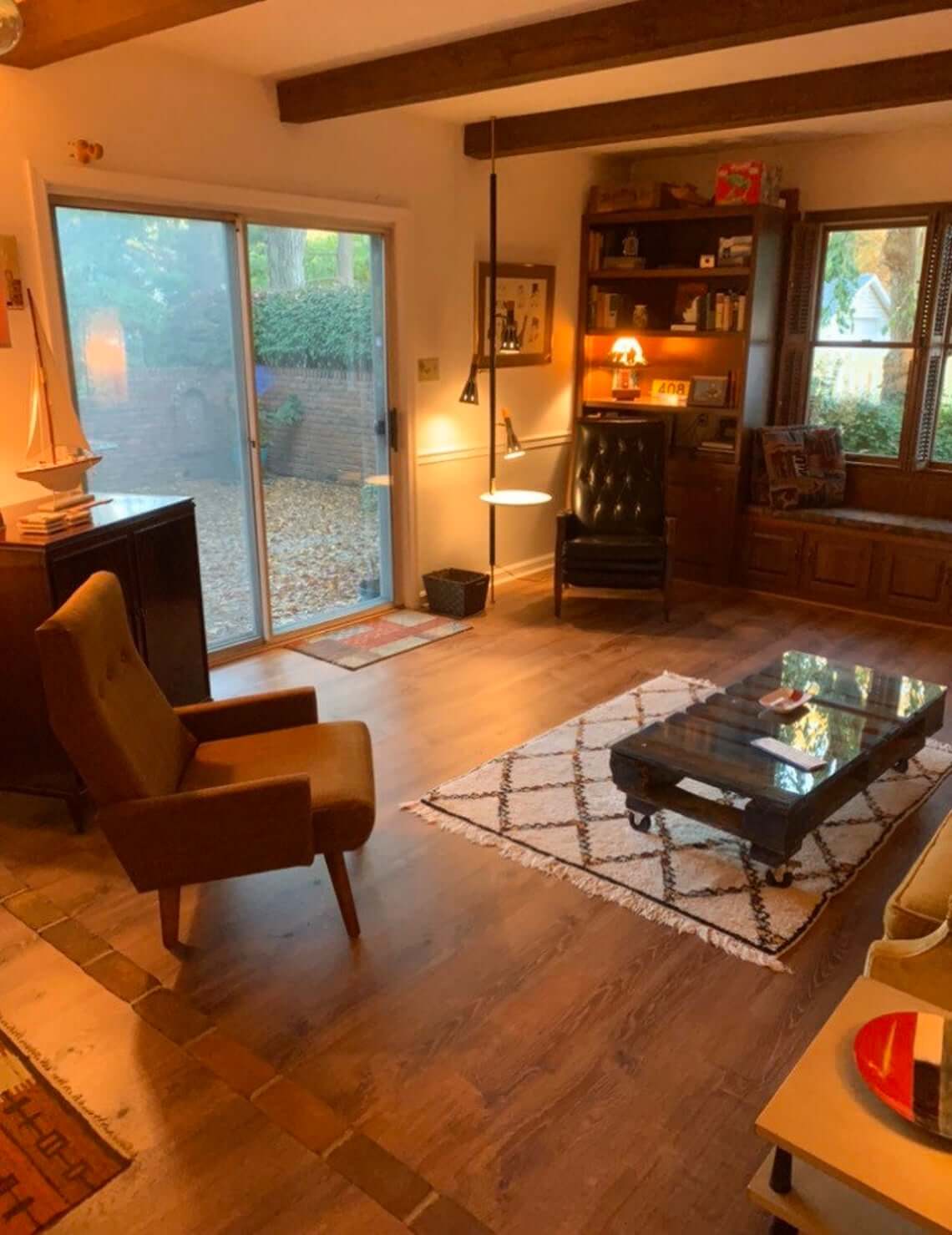 If you want to make your living room feel truly vintage, you need at least one antique piece. This vintage-inspired space gets the bulk of its charm from the brown tweed chair from the 1950s. You can just picture a 50s dad sitting on this chair, reading a newspaper, after a long day at the office. This entire living room is warm and inviting with many shades of brown and a few splashes of black. The space is pulled together by the diamond-print rug and the reclaimed wood pallet coffee table on wheels. Soft lighting creates a welcoming ambiance for your family and guests.
21 Vintage Living Room Decor Ideas to Brighten Your Home
With some of the best vintage living room decor ideas, you can easily recreate your living space into an inviting room where your friends and family want to spend their time. You can make a few changes, like bringing in some vintage pieces or antique furniture, changing up your pillows or rugs, or adding a few wall hangings. If you want a more dramatic change, there are plenty of suggestions for a vintage living room remodeling. Keep your personal sense of style in mind and incorporate some retro stylings to give your room a vintage feel. Your family will fill up the space in no time.
Our Favorite Rustic Chic Decorations to buy on Amazon