When looking for the best wall lights, you should always take into consideration your preferred design elements. If you like a contemporary look, try to envision bold colors and statement pieces in your lighting source. Other important features of light fixtures that work best for your home include scale, dimming capabilities, shade of light and placement of the source.
25 Unique Wall Light Design Ideas to Illuminate any Space

The scale of the light you need in a particular space comes into play when looking for the best wall lamps for your home. If you need a lamp that can light up a large space, consider an large and open sconce placed in the center of the space. If you need a light source that's a bit smaller, you can look for smaller pieces that can be placed in pairs. For a small scale project, placing matching products in pairs can help create a cohesive atmosphere.
If you want a versatile wall lamp, consider looking for devices that have dimming capabilities. These lamps are the best wall lights for those who have multipurpose rooms or need lighting in their bedrooms. Lights placed in bedrooms shared by a couple need to take into consideration the varying needs of the two individuals. A dimming lamp can be a great addition to a bedroom where one person enjoys reading late at night.
The shade of light and placement of your light source are important to consider when looking for the best wall lights for your home. A bright light is perfect for high activity areas like kitchens and hallways, but may hinder relaxation in other areas of the house. For bathrooms and bedrooms, a softer shade of light helps create a calm atmosphere. Placement of your lights matters too, because you can illuminate the areas you need to see. In the kitchen, placing bright lights strategically can benefit the flow of guests by allowing them a clear sight line to conversation.
Keep reading below for helpful descriptions of some of the best design ideas available for wall lighting in your home. From contemporary to rustic, this curated list of wall lights is sure to help you on your way to a beautifully decorated home.
1. Sleek and Black Goose Neck Wall Light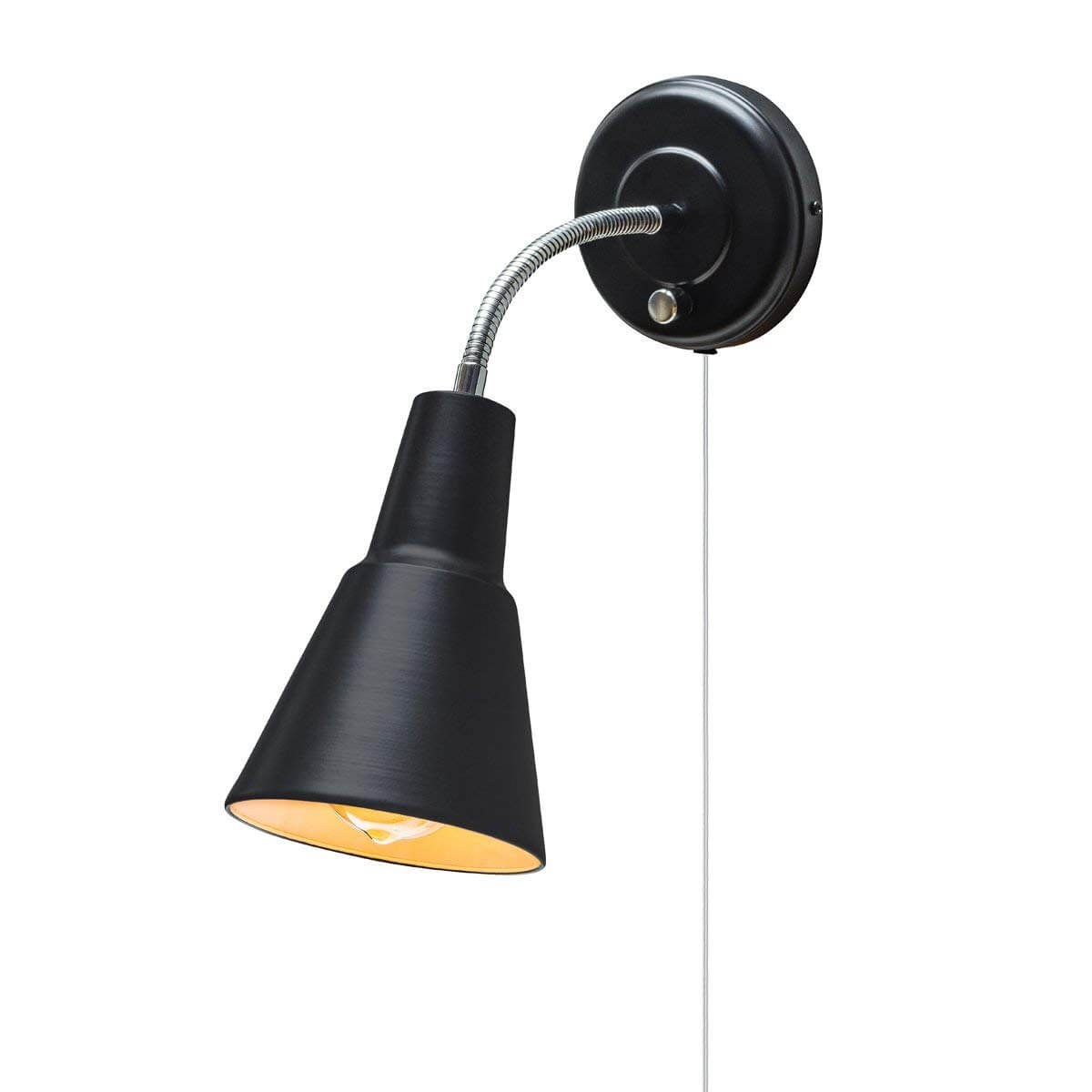 This is a light that has a simple black globe covering the bulb with a drop-down power source. If you need a contemporary design element added to a small area, this might be the best choice for you. This is one of the best wall lights for an office, because it emits a bright white light. It is also small enough to fit into restricted areas, but still provide a good amount of illumination. The bright light produced makes it an energetic addition to productive spots of the house. When hung as a pair, this goose neck wall light will provide sustained bright white light.
The sleek look and feel of this matte black lamp is highlighted by the gray steel connecting component. Contemporary design element incorporate a great deal of usability, and this shines through with the drop-down power source of this wall light. The ability to turn this wall light on and off from underneath makes it a usable component in high traffic areas.
2. Rustic Mason Jar Sconce Hydrangea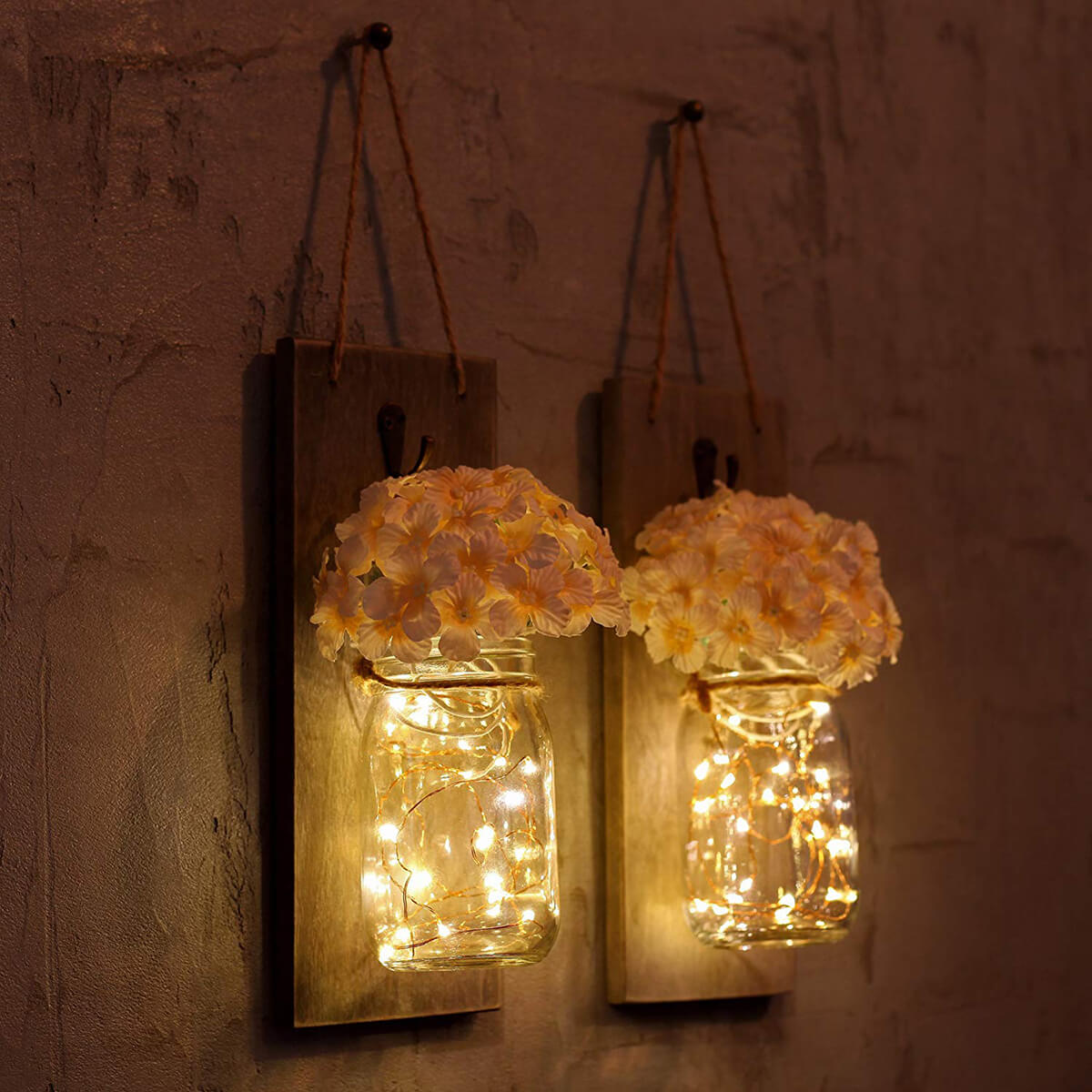 This mason-jar inspired light source includes two mason jars, a light source and hydrangea flowers. This is a great idea if you're looking for task specific lighting or an ambiance piece for your bathroom. The beautiful addition of flowers adds to the feminine aspect of this design piece. For a rustic decoration scheme, these might be the best wall lights for you.
A mason jar sconce is a great light source to put in high-traffic areas for maximum illumination. Hallways and kitchens often need a bit of light in corners and hard-to-reach areas. These matching mason jar scones are easy to move and add a bit of light to small areas.
3. Beautiful Brushed Bronze and Tan Lamp Shade Wall Light Idea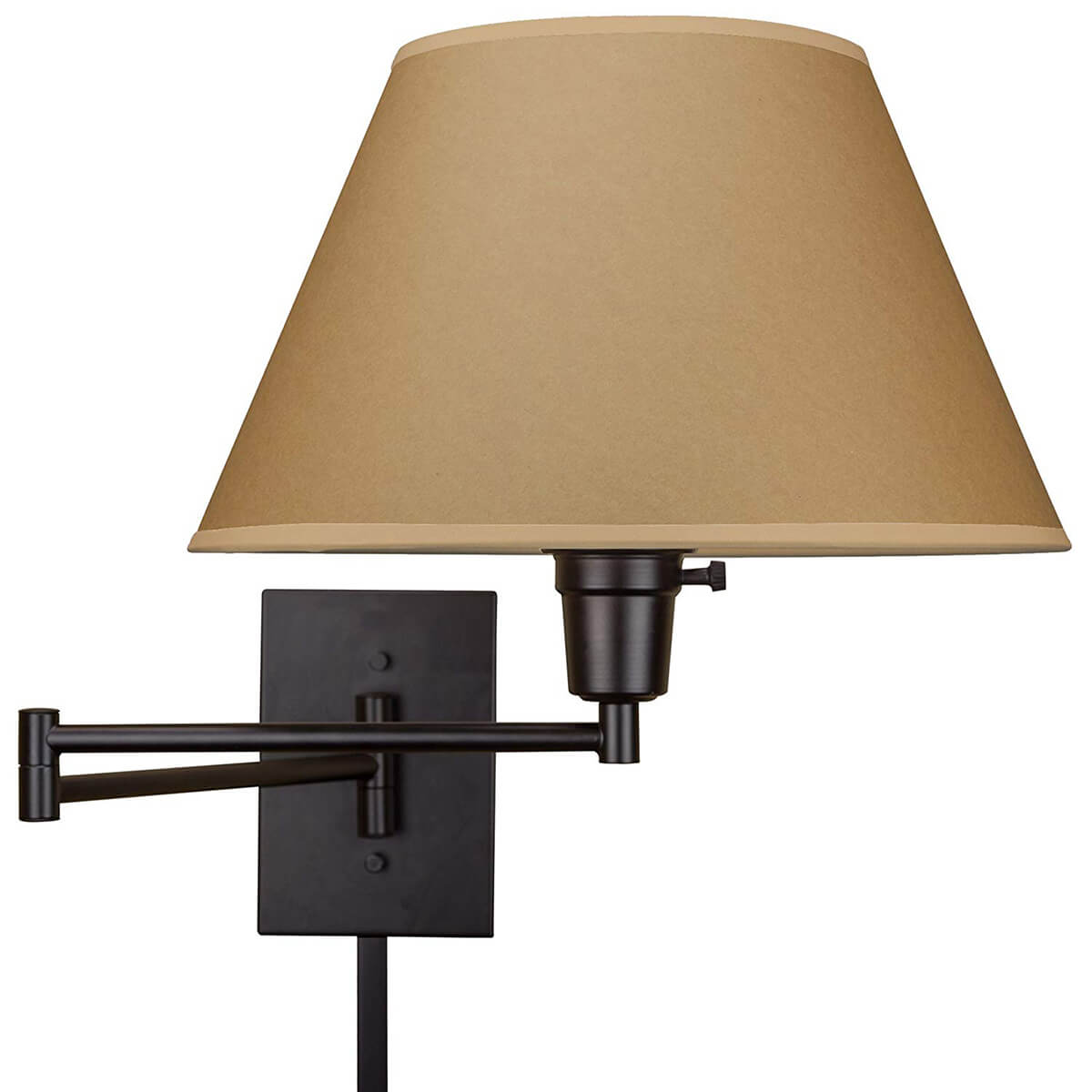 This is a large and illuminating light source that produces soft, creamy yellow light. It is a great wall light idea for providing a large amount of light over a great distance. The brushed bronze of the metal component makes this a contemporary design element that can easily be incorporated in a bedroom or living room.
The large reach of the soft yellow light makes this an ideal choice for large rooms. Dull living rooms would benefit from this light fixture, if it were installed as a back light behind couches. If you're looking for a large and rustic wall light to illuminate a large area, this brushed bronze fixture with a sleek tan lamp shade might be the best choice for you.
4. Sleek and Silver Minimalist Headboard Light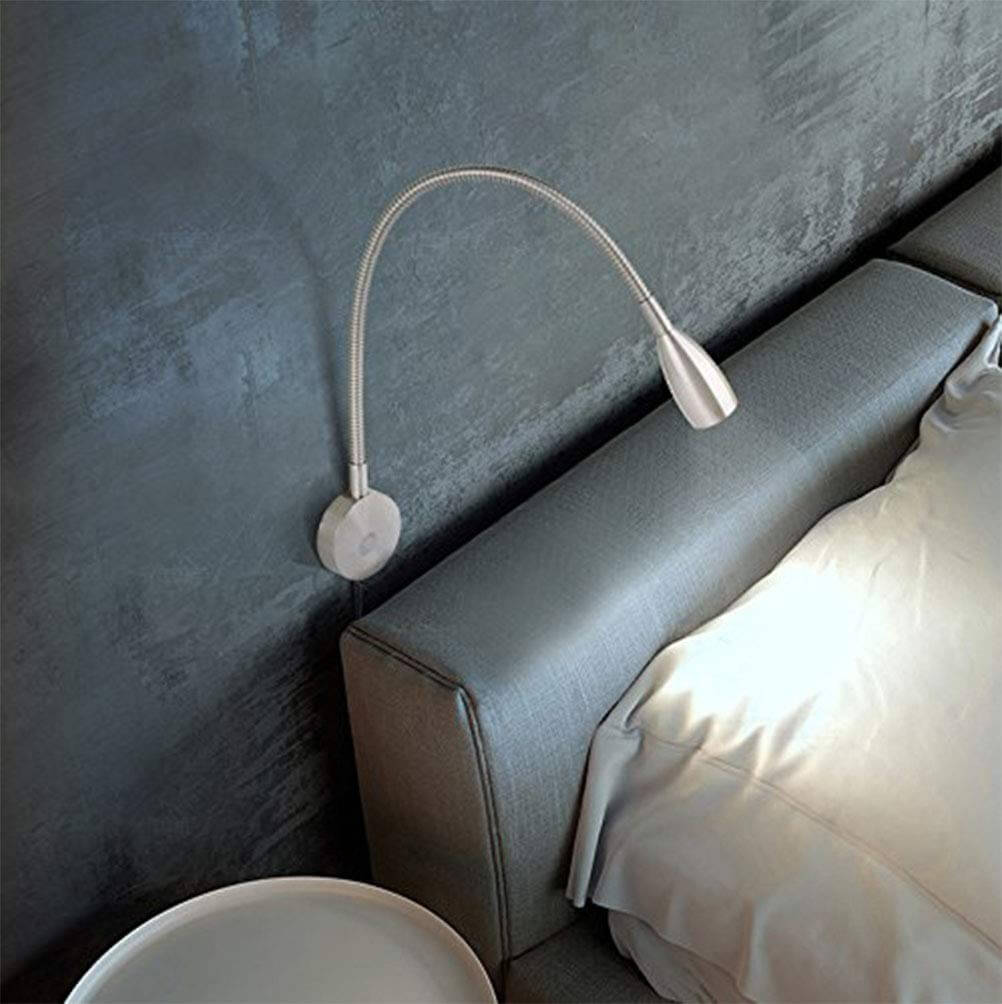 If you have a minimalist design to your home and enjoy small light fixtures, this is one of the best wall lights for you. This sleek and sliver headboard light features a long, adjustable cord and a small task light. The bright silver is polished and looks lovely against darker color schemes.
Having a task light while you perform reading or journal in bed can be a great addition to any bedroom. The ability to focus this light fixture to a small and discreet area of the room adds to it's functionality and usability. You won't have to worry about bothering your significant other, or straining your eyes in low light, if you choose to make this your choice for bedroom illumination.
5. Antique Inspired Bronze Swing Lamps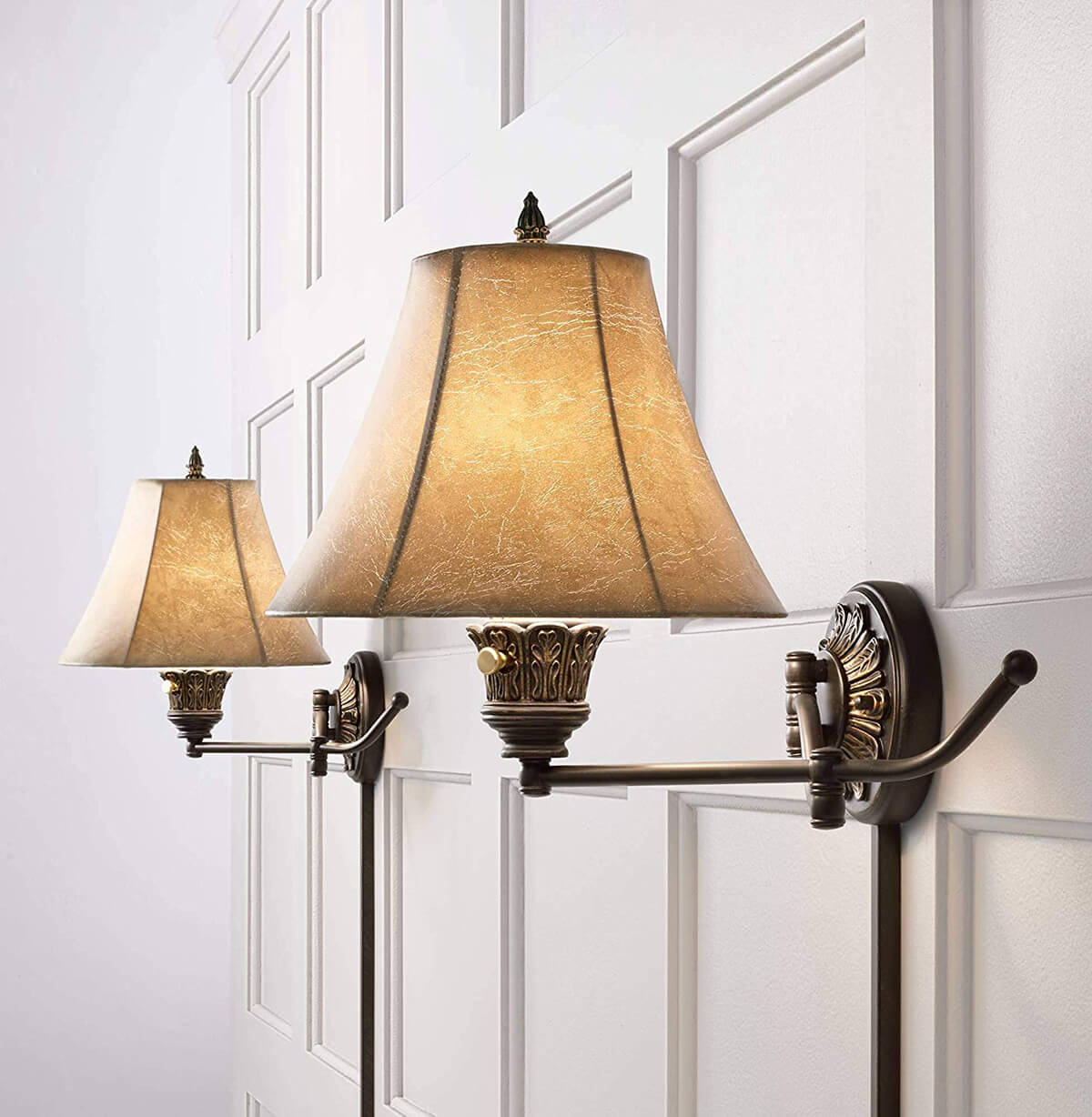 These beautiful lamps can add a bit of antique style to any room. If you're looking to add a bit of personality to a space, these might be the best wall lights for you. The intricate design of the lampshades includes a tea-stained color interrupted by dark brown paneling. These lamps hang straight off of the wall, making them ideal for multiple placements throughout a room.
The way in which these lamps hang off the wall in a vertical fashion make them ideal for fitting in large, cluttered spaces. The light can reach over a longer distance, as these light fixtures do not illuminate directly next to the wall. They add a lovely antique look to the room while delivering a great deal of light.
6. Bright White and Silver Contemporary Wall Lamp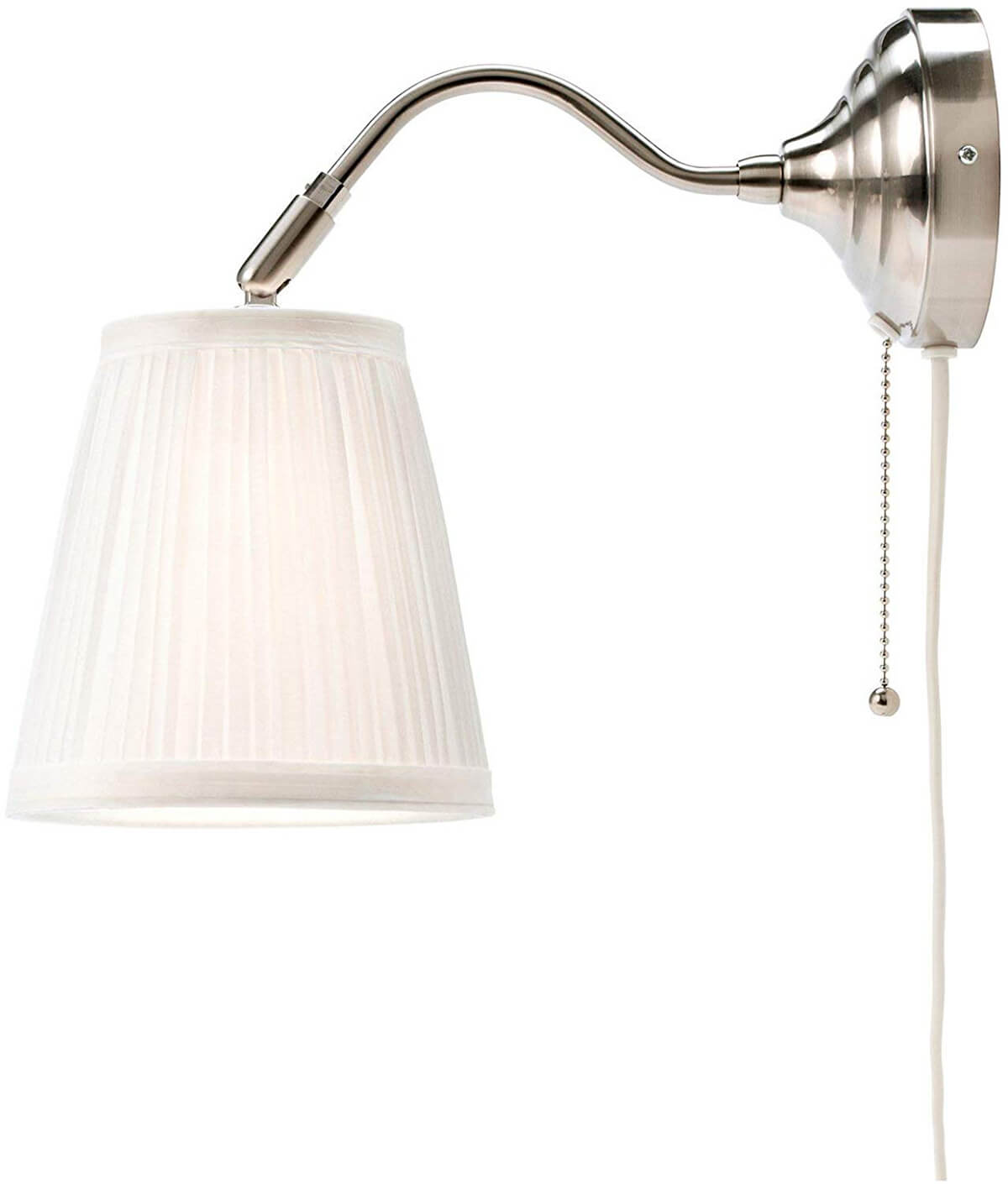 This wall lamp features a beautiful, simple drop-down white lamp shade and an smooth silver arm. This is a truly eye-catching wall light idea that brings in a great deal of white light. White light encourages an energetic atmosphere. This contemporary wall lamp would be a great addition to high-activity areas like kitchens and hallways.
Placing this in a kitchen would promote a high-energy atmosphere. The added hang-down switches with this light make it a great addition to any family household. The ability of your kids and shorter family members to control the lighting means that you can focus on more important aspects of running the house. Plus, the look and feel of this wall lamp is simple and beautiful.
7. Artistic and Circular Brass Drop Plug Wall Light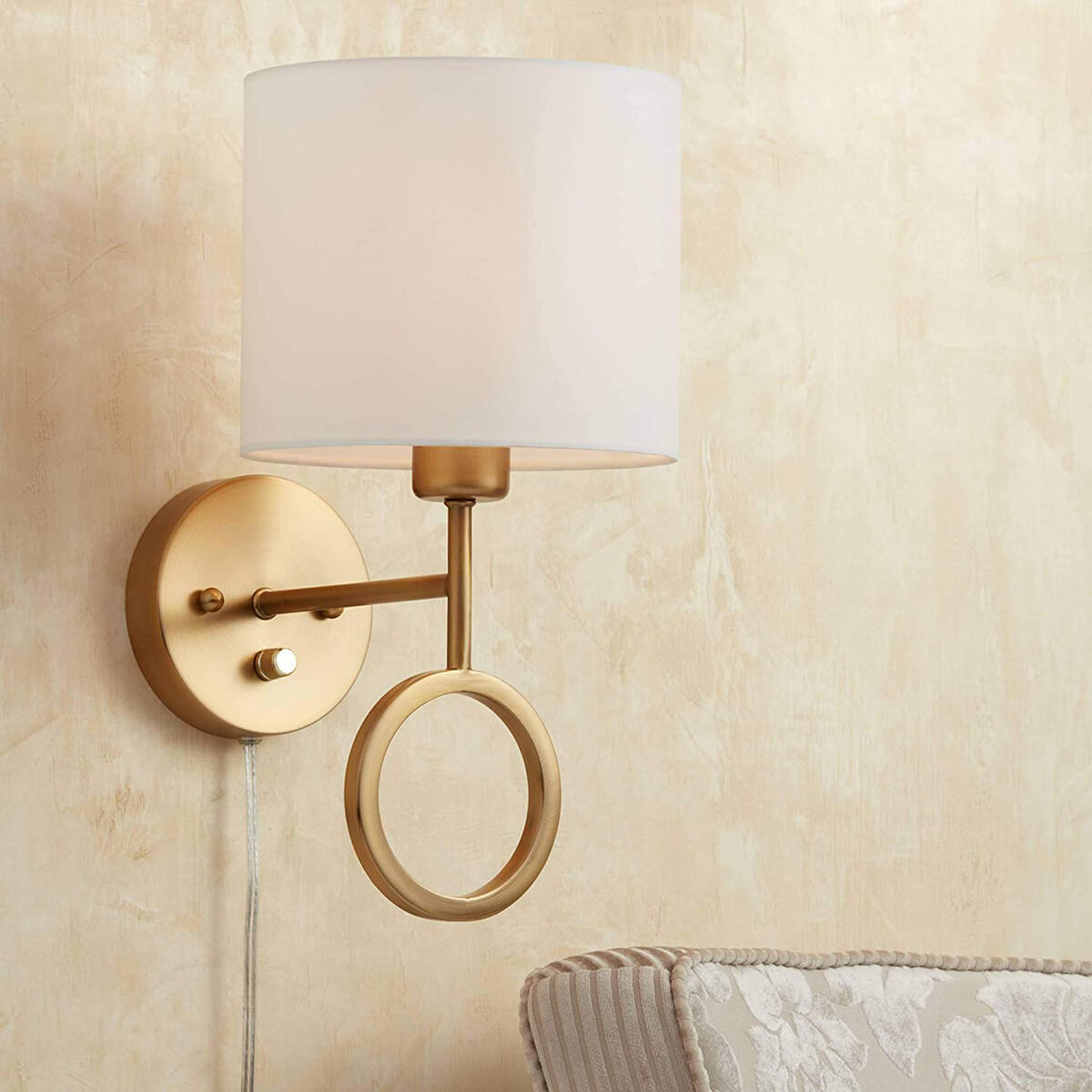 This wall light features a brushed brass-colored light fixture with a round cylindrical white lamp shade. The drop plug element makes the aesthetic of the design very modern and sleek. If you're looking for an artistic light fixture, this may be one of the best wall lamps for you.
The bright white light produced by the brass drop plug wall light is energetic and broad. It can span a great amount of space and is ideal for areas with a low amount of natural light. If you need something for the children's play room or a den, this might be a great choice. The artsy element of it will help encourage creativity and the illumination provided will help energize your room.
8. Elegant Rubbed Bronze Tapered Wall Light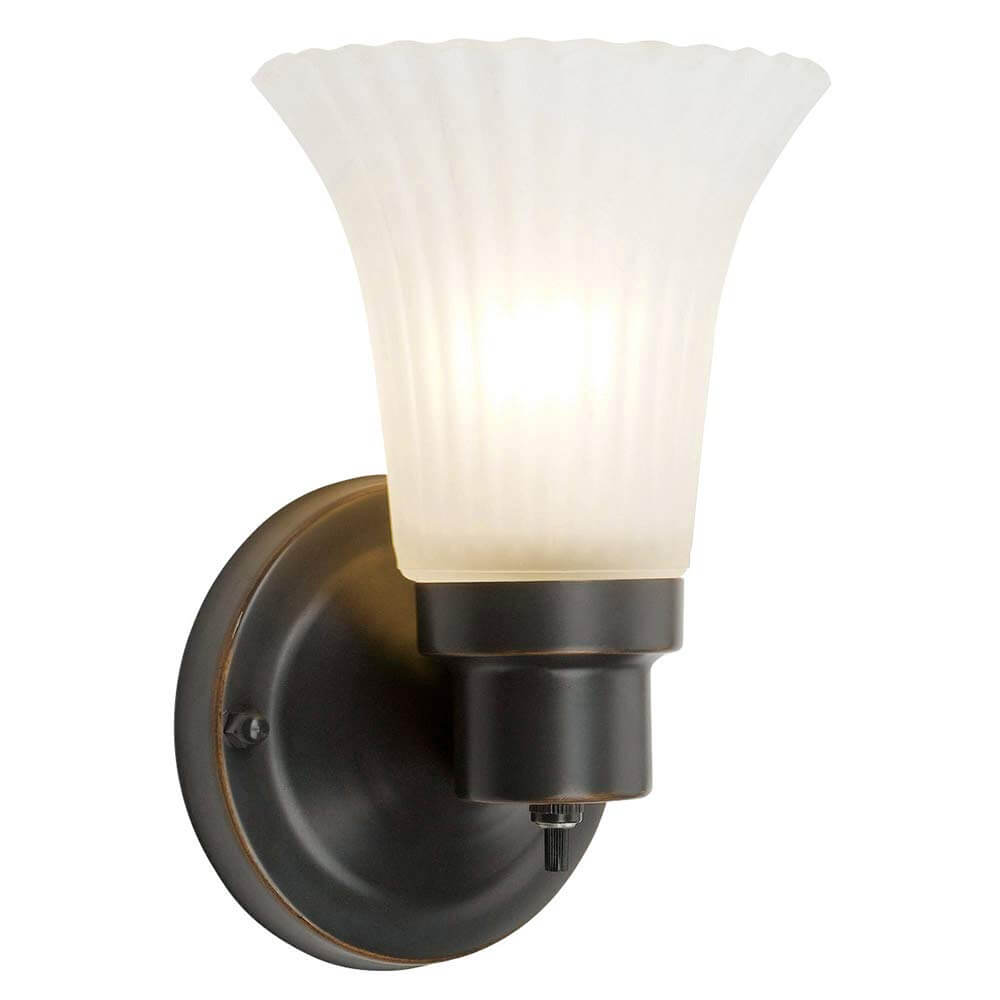 If you need a simple but modern light fixture, this rubbed bronze tapered wall light might be the best choice for you. It has a light source that is pointed upwards toward the ceiling, which helps to illuminate dark corners in a room. This is an ideal choice for those who need light in small spaces, because you can fit the reversed sconce in many differently-sized places. The rubbed bronze color of the base is a beautiful addition to any room that has a darker color scheme.
9. Long and Sleek Industrial Minimalist Bathroom Fixture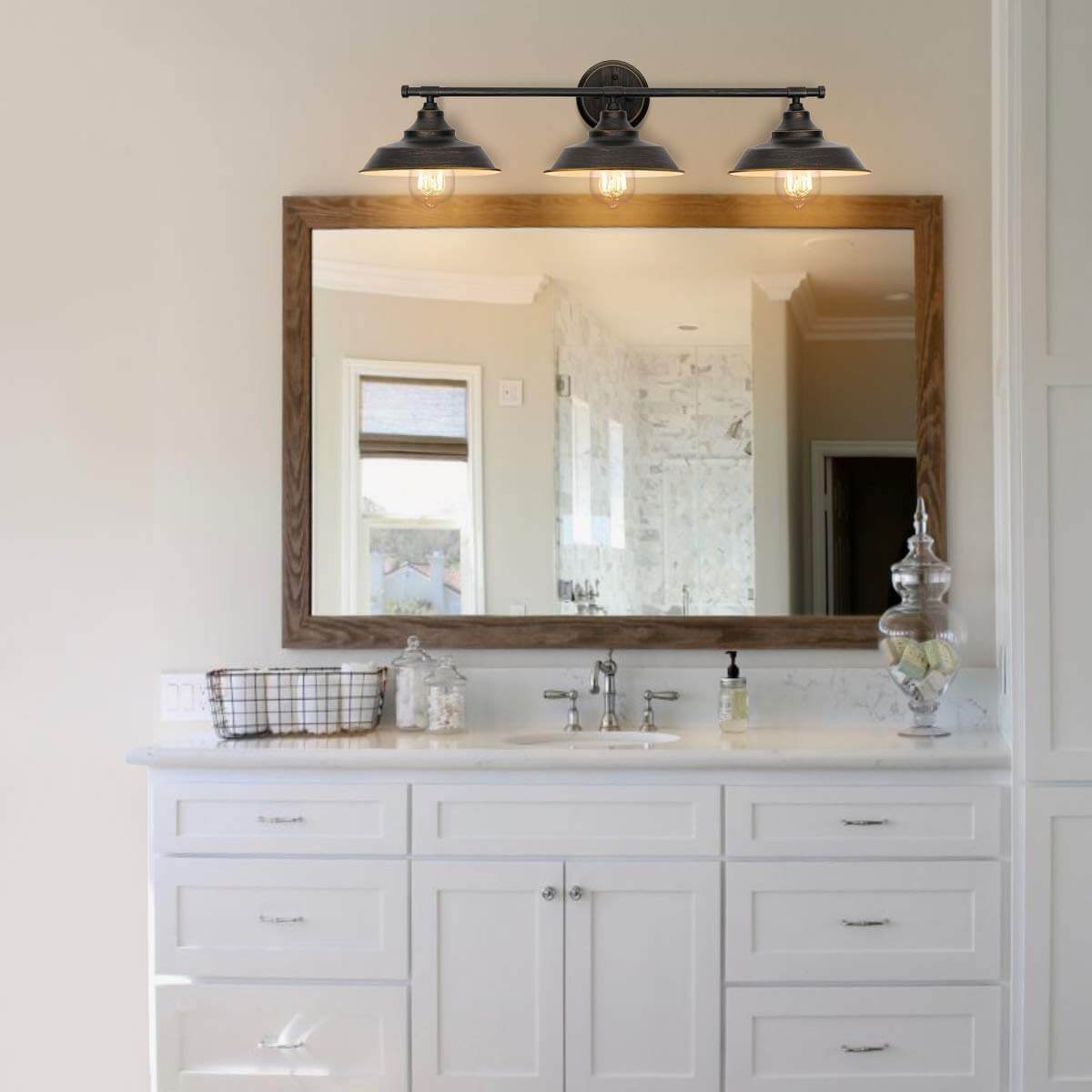 This three-bulb light fixture is ideal for illuminating bathroom mirrors. The three fan-like light shades provide direction and the dark color provides style. If you're looking for a contemporary wall light for your bathroom, this could be the best choice for you. Bathroom lighting can get tricky with additional sinks, varying counter sizes and different levels of natural light.
For bathrooms with a low amount of natural light, this minimalist bathroom fixture could be a great choice for you. The three bulbs are fixed in a dark colored lamp shade that reflects bright white rays into the room. This dark feature helps to facilitate adequate illumination in small spaces. Because this piece contains one solid color and a straight, simple design, it's considered to be modern and minimalist. This can be a great choice for those who like a simple design in their home.
10. Farmhouse-Inspired Industrial Headboard Wall Light Idea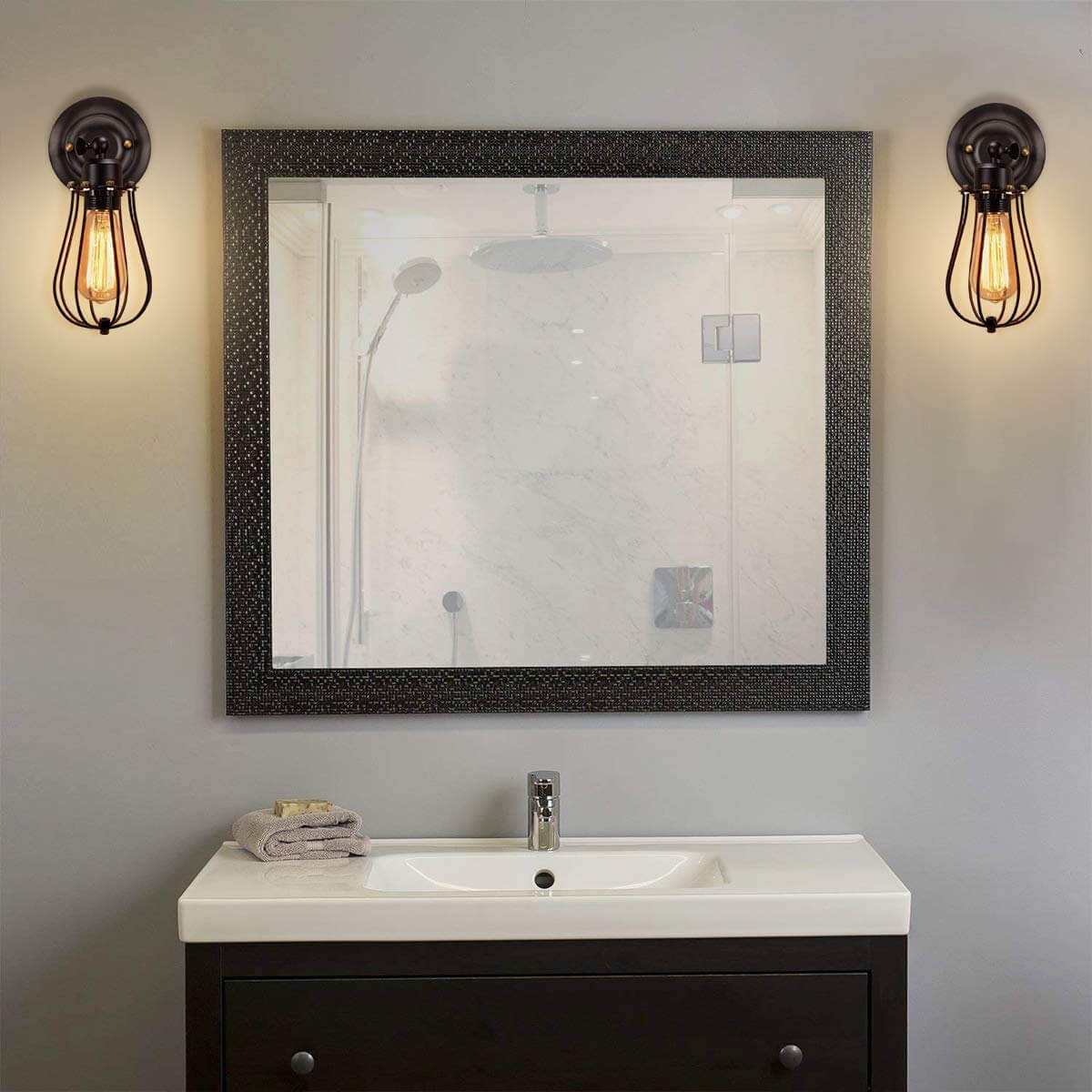 The best wall lights for your bedroom can be affixed above your bed headboard. The benefit of this placement is that you'll be sure to be able to see adequately when you're in bed. For those who like to read or study in bed, a pair of headboard lights can be beneficial.
These industrial headboard wall lights include Edison bulbs affixed to brushed bronze bases. If you have a contemporary or steampunk design to your bedroom or home library, these would make excellent accent pieces!
11. Contemporary Aluminum Box Lighting Idea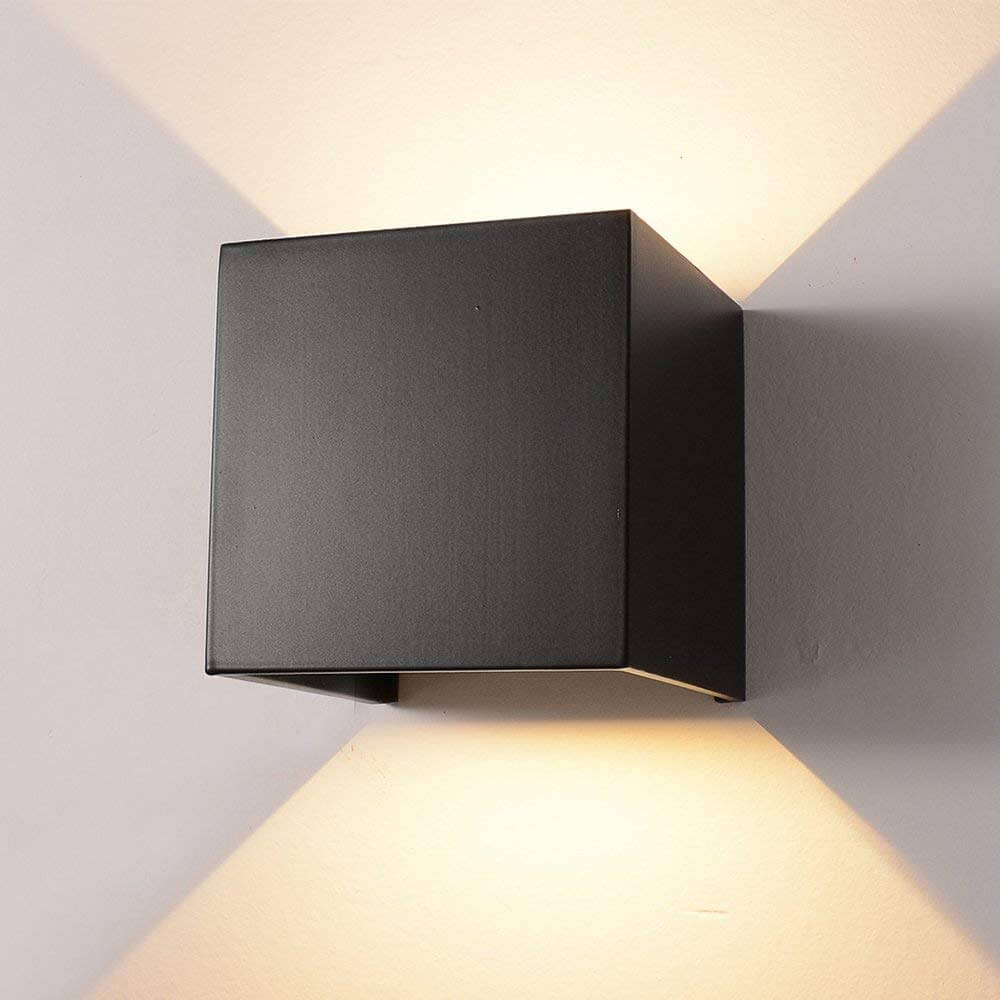 This product features an aluminum box as a lampshade, that is affixed plush with the wall. The look of this wall light is geometrical and contrasting. The light bulb illuminates primarily from the top of the box, but also shines through the bottom. This adds a bit of artsy flair to the look of this wall light.
The aluminum material used for this light fixture is waterproof and durable, making it a great choice for busy households. While the height of the light fixture is adjustable, it delivers a steady stream of white light that is not amenable to dimming. For this reason, this is not a great light source for bedroom. For contemporary designers, this aluminum box lighting is one of the best wall lights for decorating high-traffic areas.
12. Bright and Airy Brushed White Light Fixture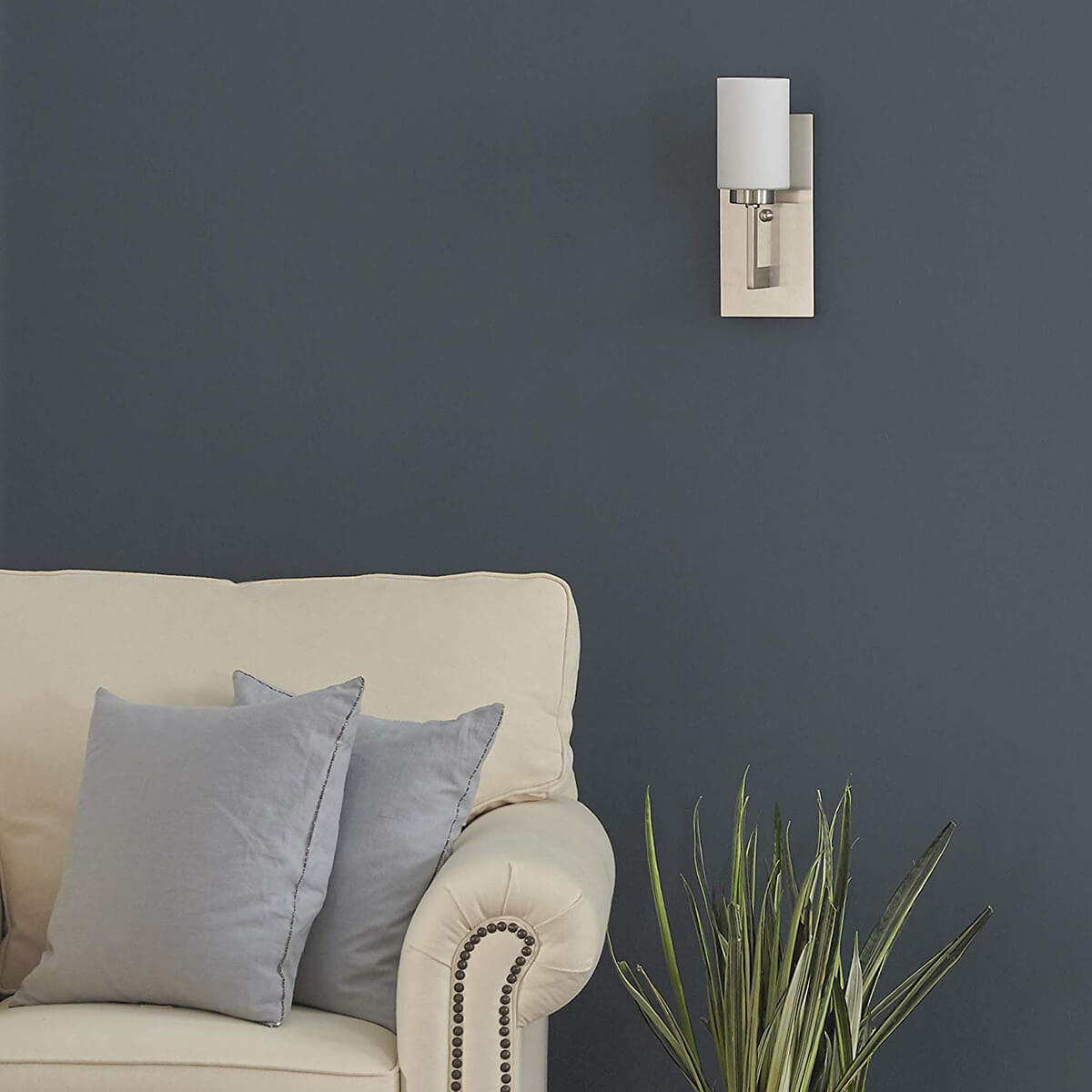 This design element takes into account the varying color schemes of interior designers. It has a classic white, rectangular base that affixes to the wall. The white, cylindrical lamp shade adds to the bright effect of this fixture. If you're looking for a light source to brighten up a bedroom or living room, this might be the best choice for you. The silver components add to the airy feel of this wall light, and allows the light bulb's rays to bounce off of a shiny surface for added illumination. For living rooms, this could provide a steady stream of white light on rainy days.
13. Contemporary and Sleek Black Drop-Down Light Fixtures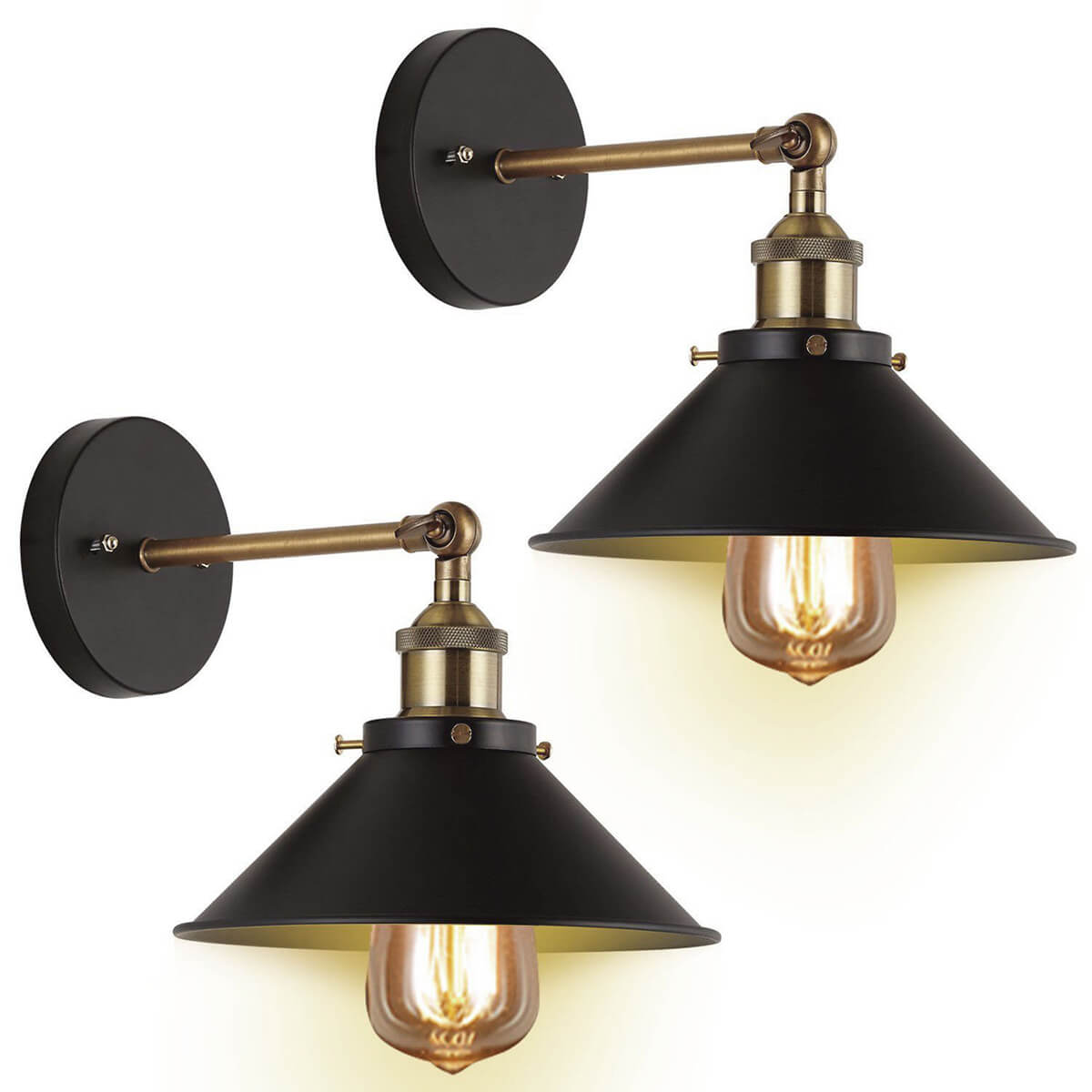 This product features a beautiful, traditional shape of lamp shade but in fun, contrasting colors. The small black circle that affixes this fixture to the wall looks striking against the silver arm of the lamp. The black lamp shade that helps point the light downward is a beautiful design element.
This sleek pair of black drop-down light fixtures are great for recreational rooms and living rooms. The Edison bulb can be seen poking out through the black lamp shades, adding additional illumination to high-traffic areas. They are sure to provide an ample lighting source with a stylish, modern flair.
14. Cute Cloud-Shaped Children's Night Light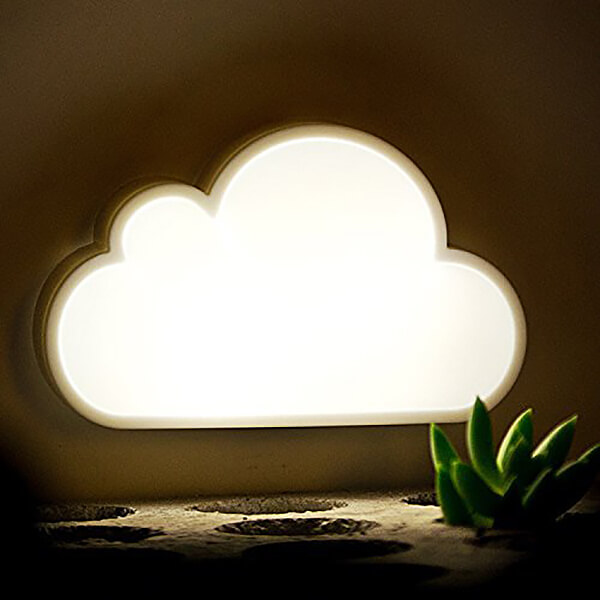 This is a fun idea for lighting up the kid's area of the house. It is a bright white light underneath a cute cloud lamp shade. If you're looking for the best wall lights to put in your toddler's room, this might be the perfect choice! This cloud-shaped children's night light provides a comforting amount of illumination to a small area of the room. An additional feature of this wall light is a motion sensor. This helps create an environment where you can conserve energy but also provide light when it's needed.
15. Cool White Rectangle Toggle Chandelier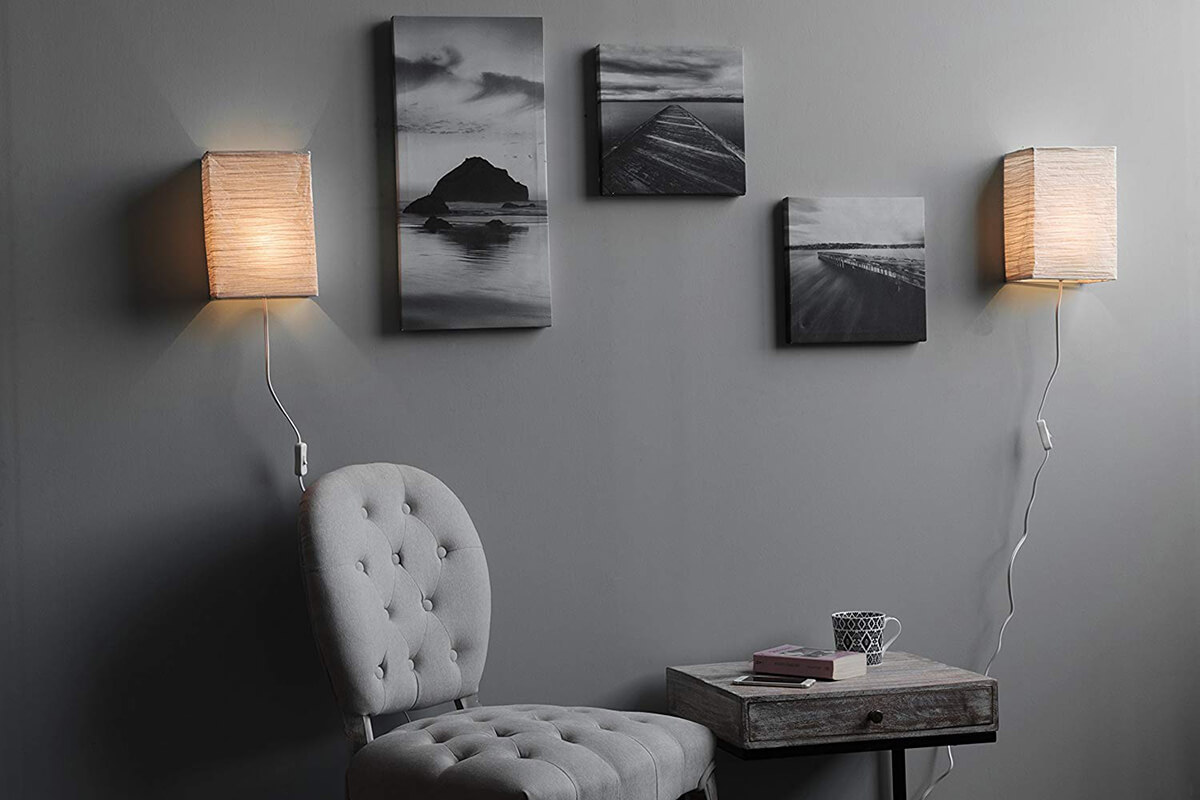 This wall light idea includes a pair of white, see-through lamp shades with drop-down control. These lights create a soft and inviting feel by distributing bright yellow light through transparent canvas. The soft yellow light produced allows for a relaxing and inviting atmosphere. These white rectangle pieces might make a good addition to craft rooms or living rooms. If you're looking to brighten up a large space in a subtle way, these may be the best wall lights for you.
16. Cute and Simple Round Bulb Headboard Wall Light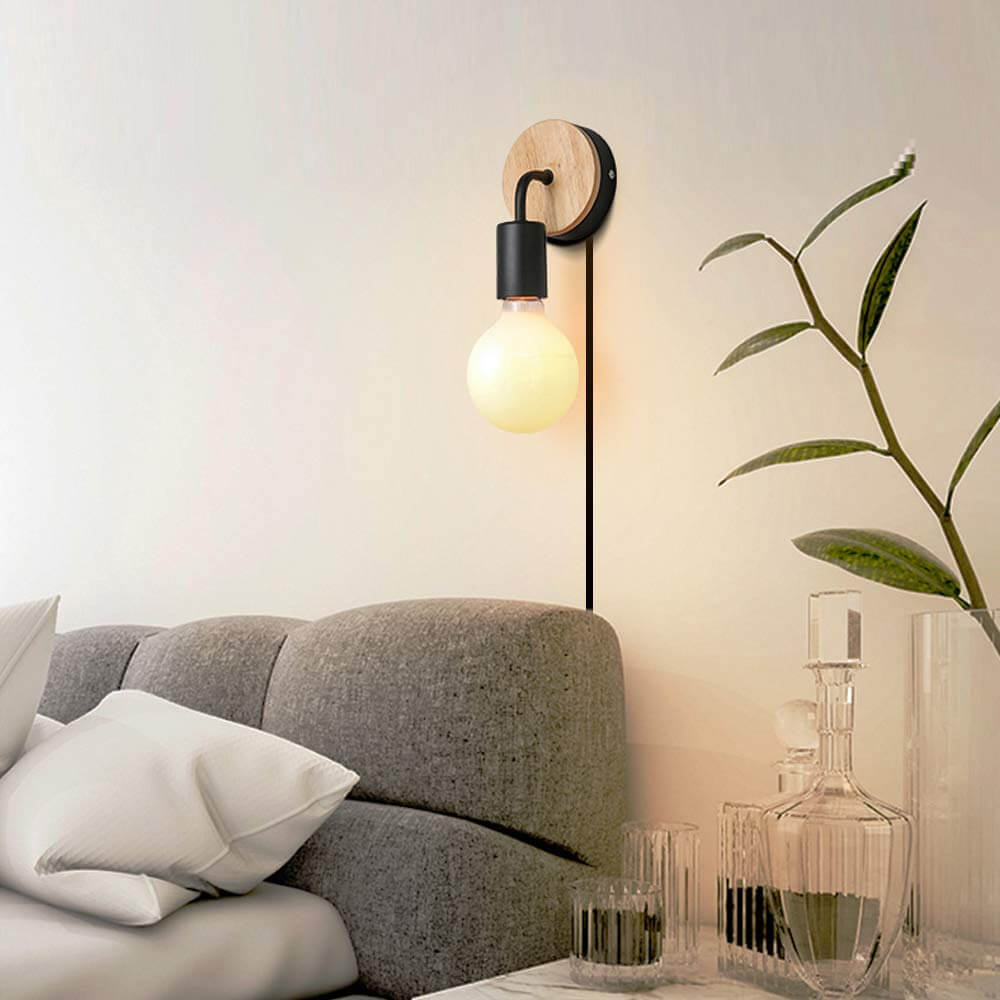 This round bulb and natural-wood fixture is a great addition to dimly-lit bedrooms and work spaces. The round bulb produces an incredible amount of bright light, which allows large spaces to be illuminated quickly. An added benefit of this light fixture is that it can be dimmed. If you're looking for a great headboard light that's considerate and illuminating, this may be the best wall light choice for you. The added rustic style would allow it to fit in with various interior design elements.
17. Textured Black and White Wall Sconce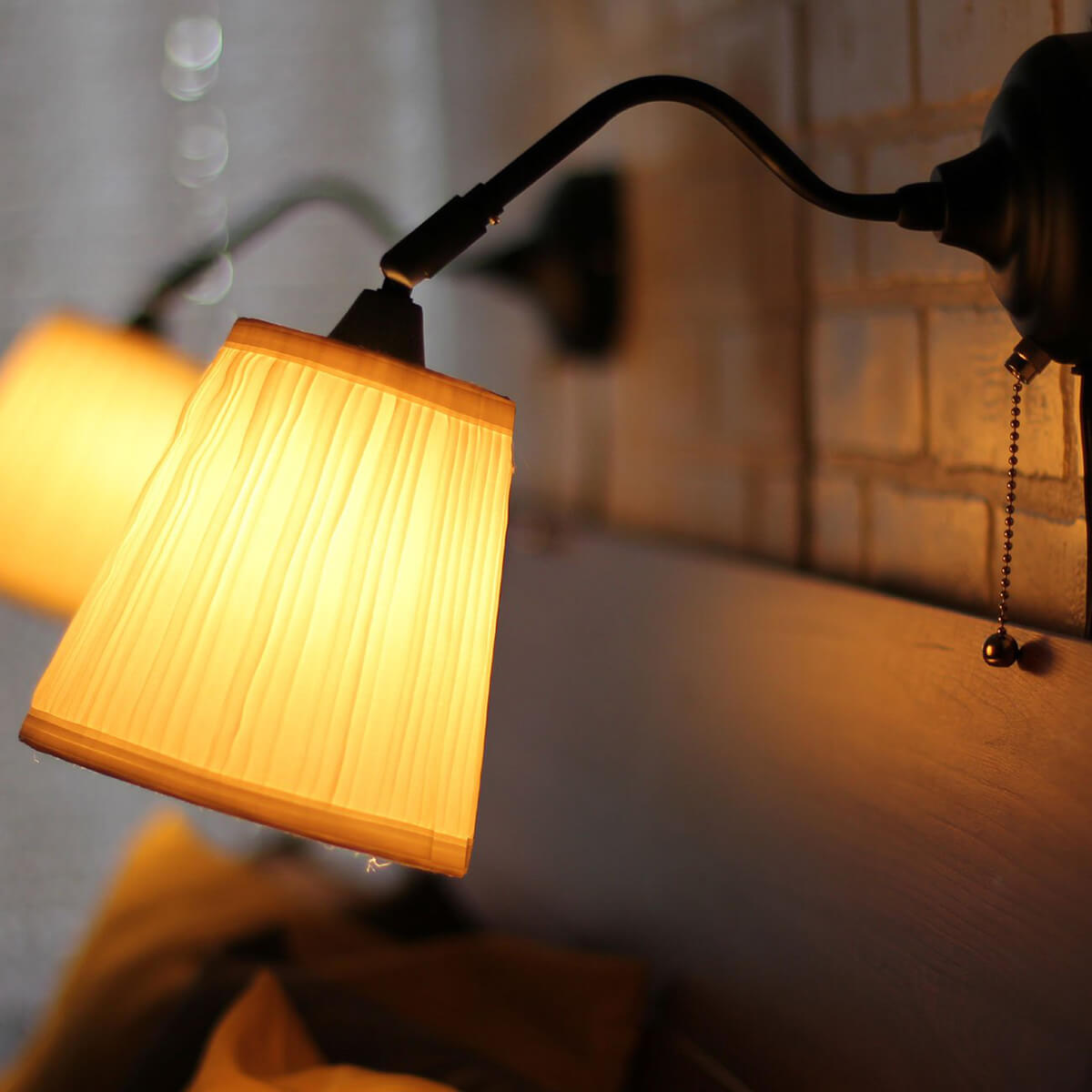 This is a great contemporary sconce choice for those looking to illuminate a small space. The textured feel of the lamp shades add a layer of complexity to the design. A creamy yellow light is illuminated past the lamp shades, and facilitates a calm atmosphere. If you're looking for a good light element that brings subtle sophistication to your space, consider this pair of textured wall sconces.
The small size of theses wall sconces means that they'd fit in a variety of spaces. For bedrooms, these would work well above reading chairs or next to bedsides. To add a bit of beauty and light to a sleeping space, consider these black and white wall sconce wall lights.
18. Beautiful Brushed Steel Rectangle Design Idea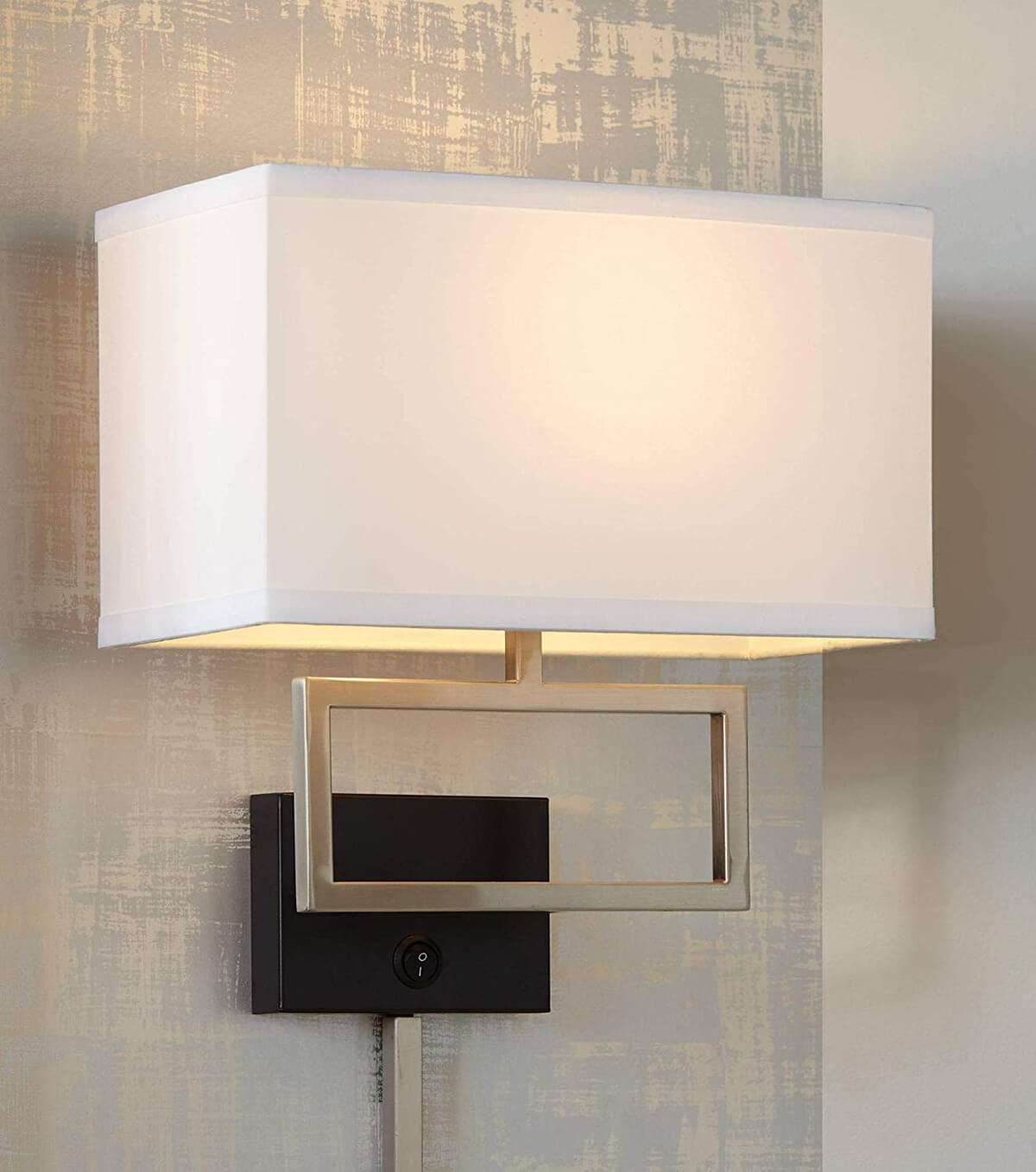 This wall light is made of a large rectangular white lamp shade and seems to hang effortlessly off the wall. The brushed steel is a design element commonly used in contemporary interior design. Brushed steel appears to be rustic and weathered, lending another layer of complexity to your home's interior design.
If you need a large light source that creates a dynamic space in your home, this could be the best wall light choice for you. The bright white and bold design of this fixture lends a great deal of comforting illumination to any large space.
19. Sleek and Simple Black Adjustable Wall Light Idea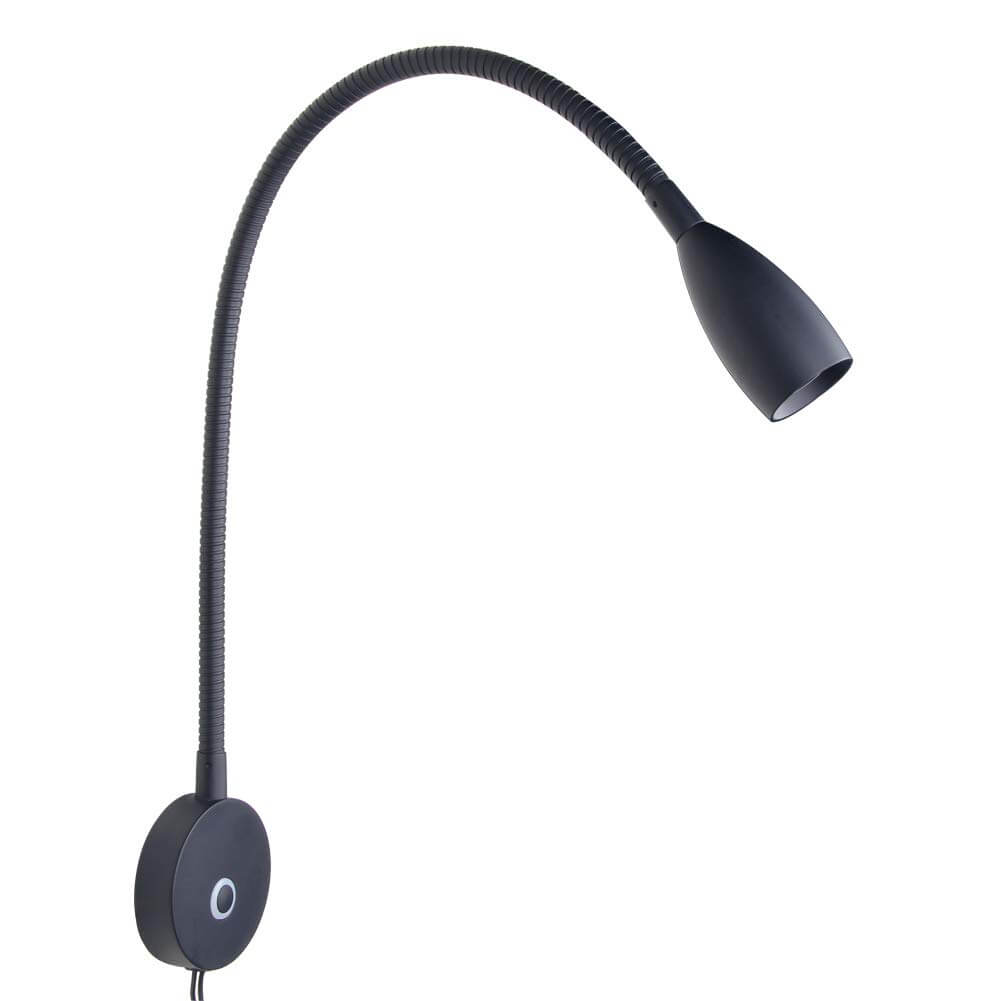 This wall light is a sleek and simple rubbed bronze color that creates a targeted array of white light. The small size of this wall light makes it ideal for fitting into the smallest of spaces. If you're looking for the best wall lights for a small apartment, this may be an ideal choice for you.
This light fixture is adjustable and can be moved to where you need the light to go. An adjustable feature makes this a great choice for task lighting in difficult-to-reach areas. For reading in dim corners, this wall light might be a good addition.
20. Long and Sleek Adjustable Lighting Fixtures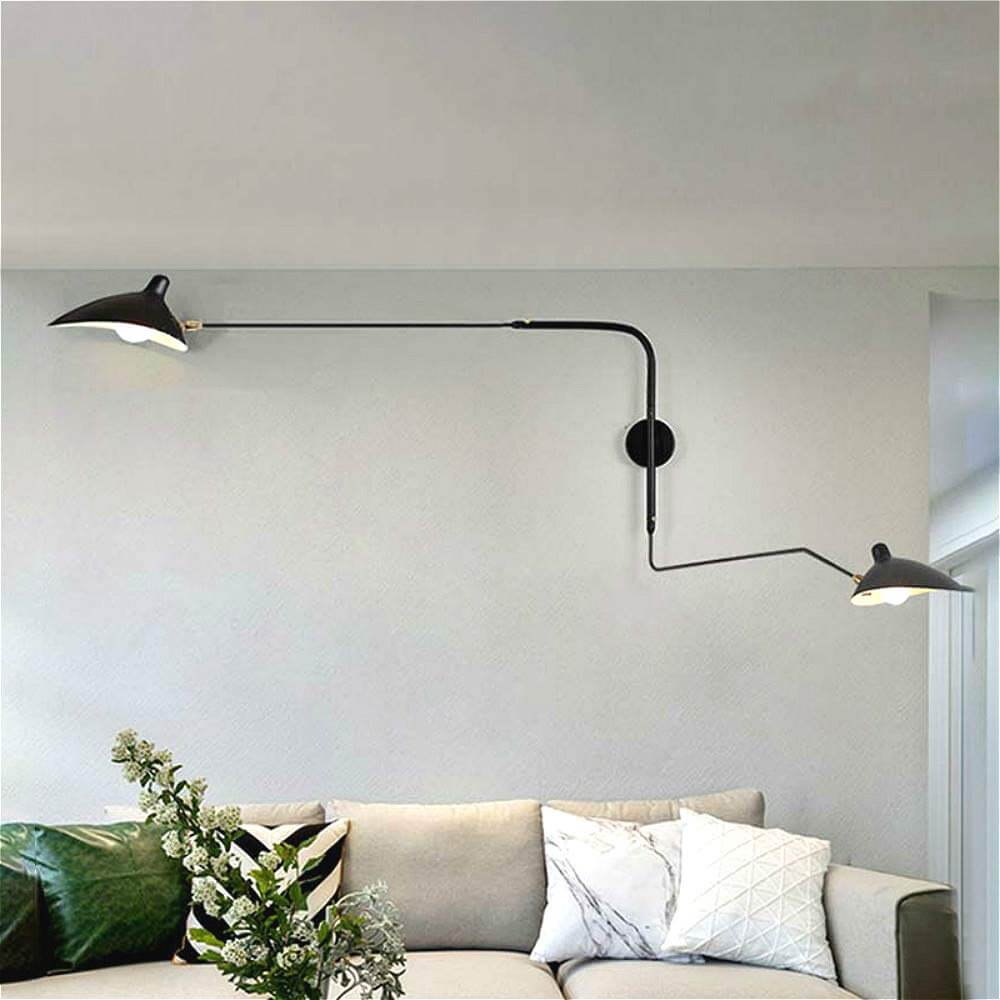 The long, black arms on this wall light make it an ideal component of any contemporary bathroom. The two solid matte black arms extend over two to three feet and have two bright white lights with small lamp shades on each arm. If you need a wall light for a dimly-lit bathroom, this might be the best choice for you.
The sleek look and feel of this pair of wall lights is highlighted by added functionality. The length of this light fixture is adjustable! Being able to place your light source where you need it is a huge advantage to this wall light.
21. Gold and Black Antique-Inspired Sconce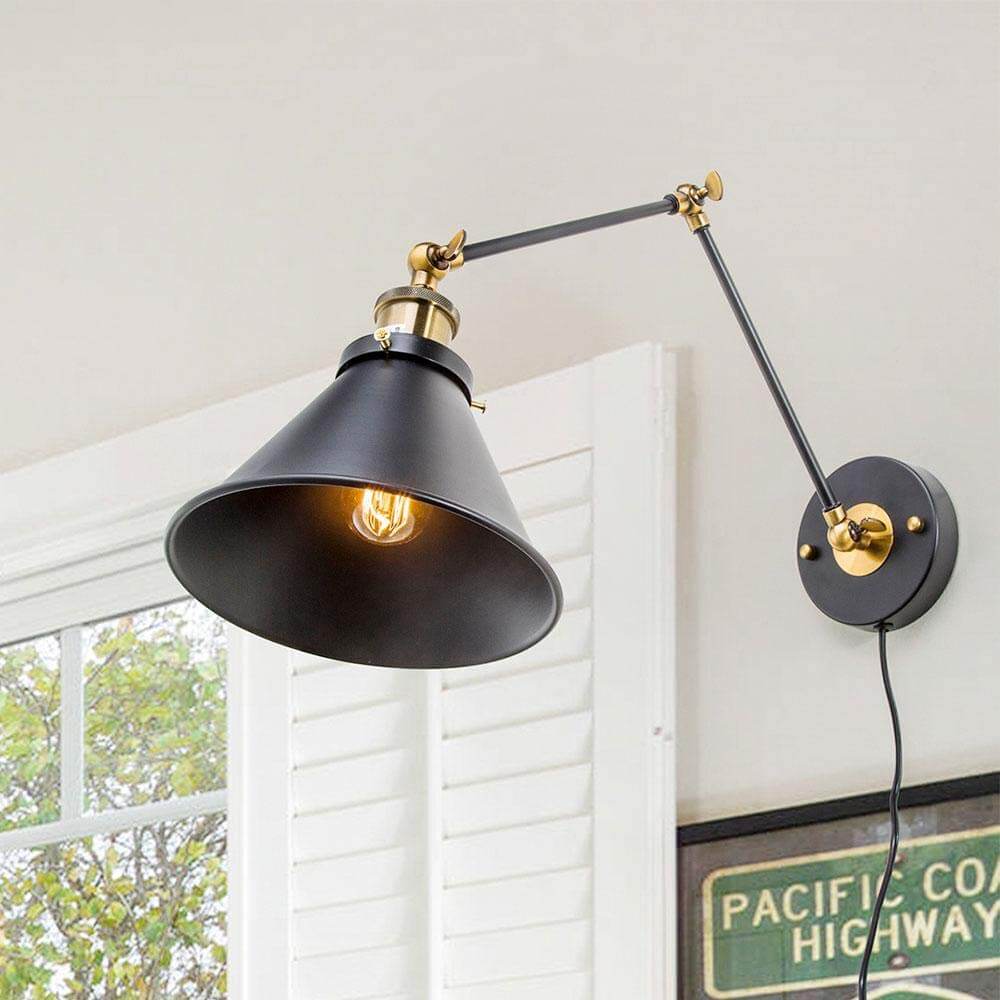 If you want a truly striking wall light, consider this gold and black antique-inspired sconce. Contemporary design includes a blend of comfortable, livable elements that create a sophisticated look. The striking color difference between the arm of this light fixture and the lamp shade create the fresh look and feel of contemporary design.
The brushed gold arm of the sconce is adjustable to aid in functionality. If you need a good wall light for reading in the living room, this might be the best choice for you. Being able to adjust the flow of light aids in functionality because you can move your light source where it's needed.
22. Monochrome Brass Antique Sconce Set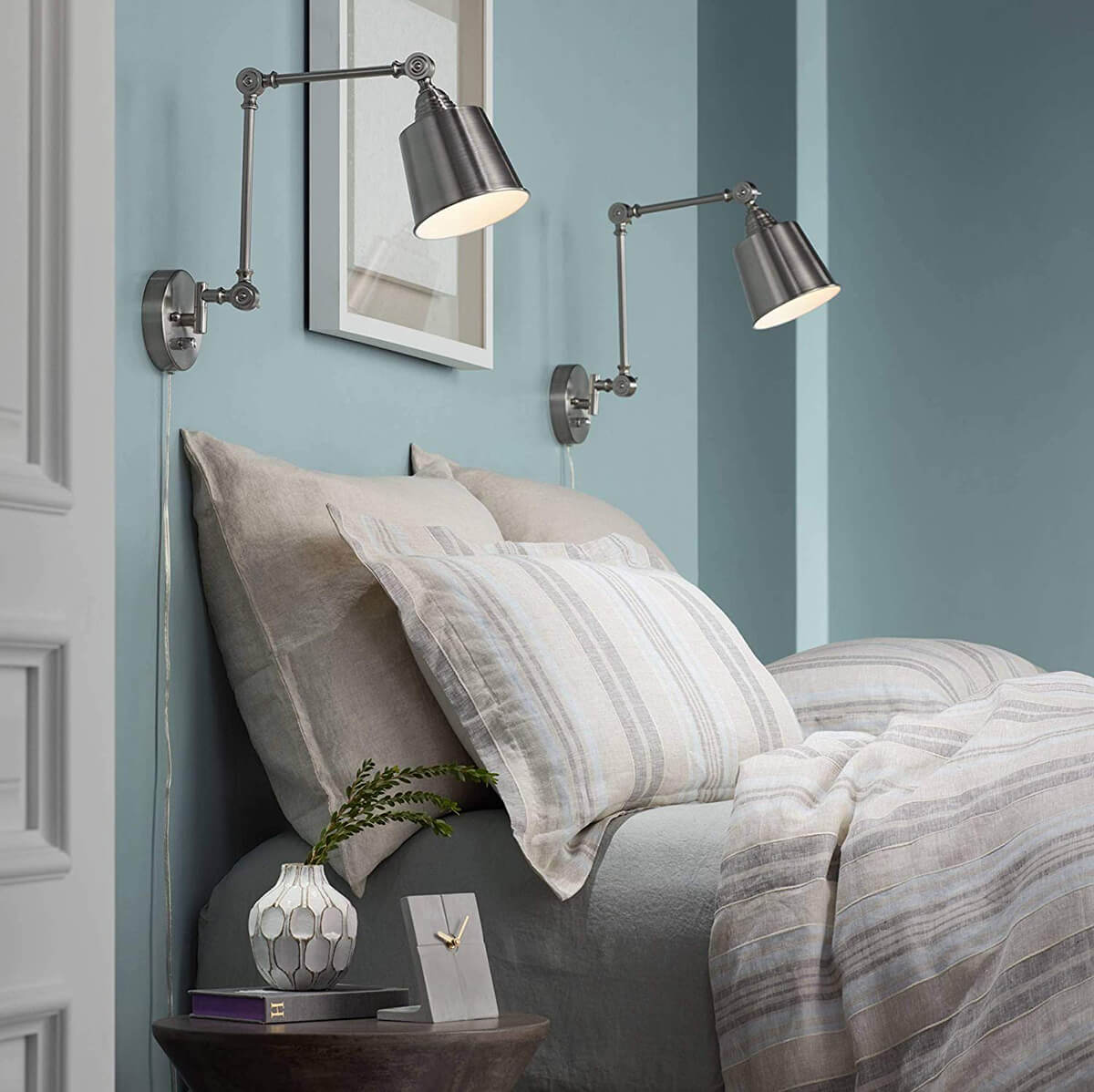 Metal is a popular design element because it looks clean and sleek. These monochrome brass antique sconces add a flair of sophistication to any room. The geometric shape of the lamp arms make the light source look structured and solid.
When considering color scheme in your design elements, this sconce set will fit beautifully with many variations. If you need something to highlight a subtle, pastel color scheme, these will illuminate those colors brilliantly. On the other hand, if you need a lighting element that blends in with bolder and brighter colors, these metal sconces will readily stand up in robust style.
23. Modern and Full Acrylic Mounted Light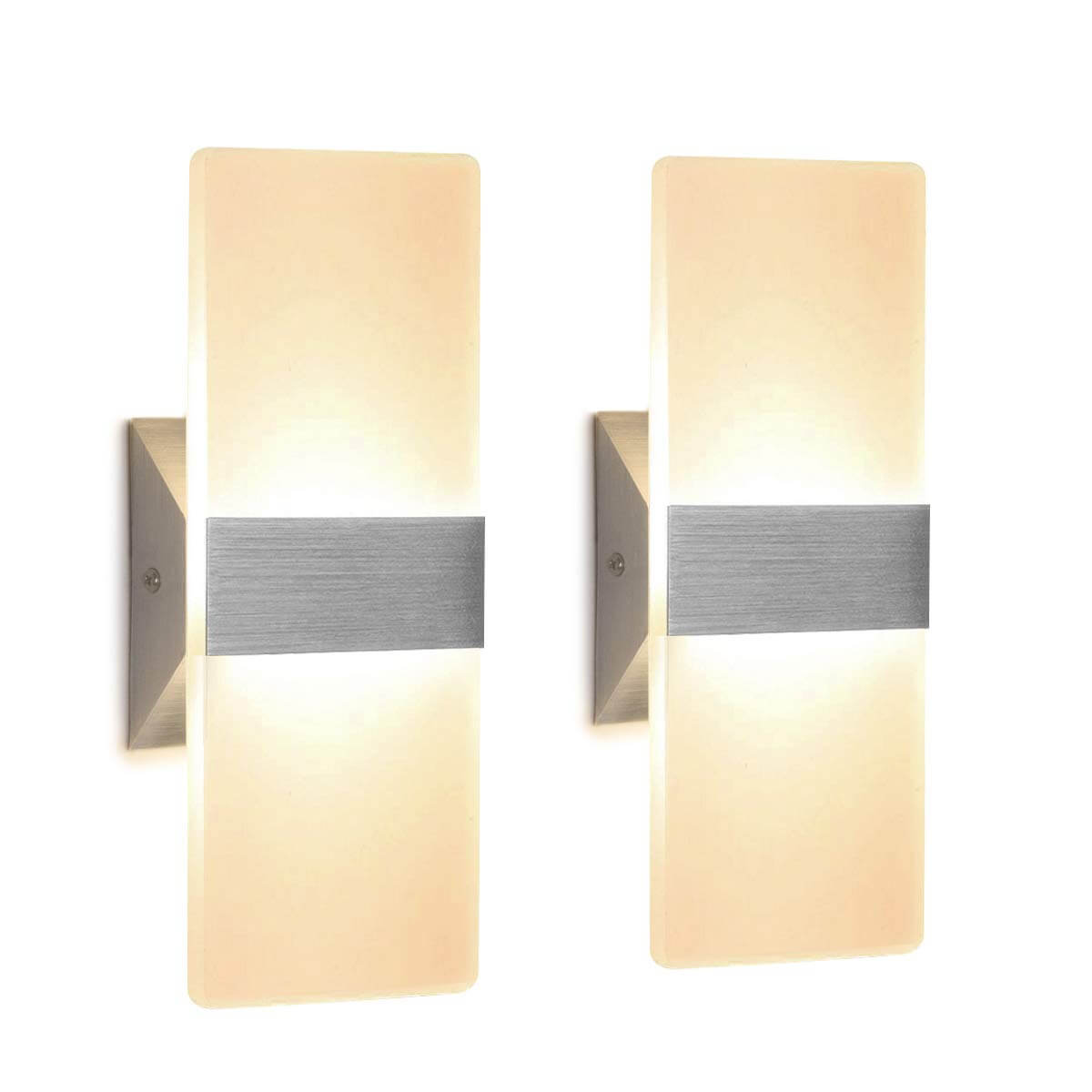 This wall light choice is made for someone who needs a large, modern element in their room. The main element of these lights includes an acrylic board of light yellow, which distributes soft light brilliantly across a space. The gray piece in the center of the light creates a good contrast to the striking design of the piece.
This is one of the best wall lights for those who need to decorate a large room. If you're looking for a good lighting source for your recreation room or children's play room, this may be the best fit for you. The large amount of light produced provides a bright illumination for large areas.
24. Rustic and Industrial Hardwired Bathroom Fixture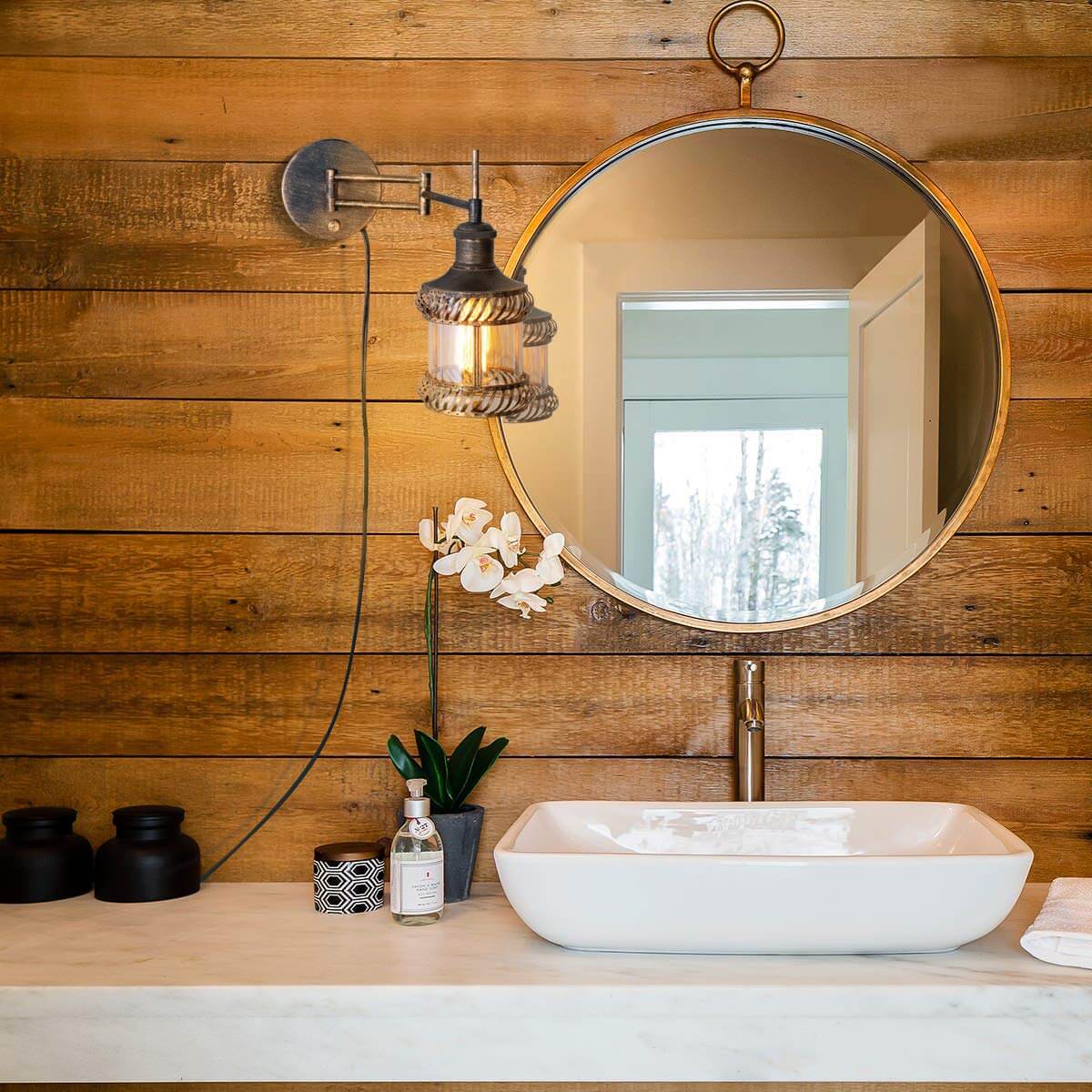 This industrial bathroom fixture features a caged light, stratified lighting top and a beautiful warm light. The caged bulb gives a very industrial and rustic feel to this wall light. If you're looking to advance the design elements in a small bathroom, this may be the best wall light for you.
The beautiful warm light produced by this bathroom fixture is highlighted by the stratified metal piece placed on top of the light bulb. It allows a great amount of light to filter through, and helps to illuminate a large space with ambient light. This is a great choice for larger bathrooms that need a bit of style!
25 of the Most Stylish Wall Light Ideas for Every Decor
If you're looking for the best wall lights to illuminate your home, we hope you know what to look for! Design elements, illumination intensity and placement in your home all come into play. The best wall lamps provide an adequate amount of light without overpowering the space in which they're placed. Considering whether you need ambient, soft light or a general lighting source can be an important aspect of your wall light choice.
Ambient light provides a soft, yellow glow that aids in relaxation. Consider a wall light product that illuminates soft white light over a large space if you need ambient light in your home. Wall light fixtures with a dimmer function are great at providing soft light to a space. With added functionality, dimmer lights can be either a soft or bold light source.
Bolder light sources can be found in some of the brighter light fixture choices. If you're in the market for overhead or task lighting, dark lamp shades and solid metal materials will be the best materials for your light fixtures. Consider more rustic choices if you like bold light sources. Whatever you choose, make sure you take into account these important considerations. If you do, choosing the best wall light for you will be an easy task!