Making a house a home begins with the home owner breathing her personality into her personal living space. From color palettes to design, her inner-self is certain to shine through into all the nooks and crannies of her home. Some of the most original designs feature the best wall mural ideas in order to put her signature style on the wall as a bold statement of who she is. No more frustrating and sticky wall paper to adhere. No more fear of dreaded wall paper removal from changing your mind. Today's wall mural designs are the convenient and easy way to get all the charm and appeal of wallpaper without the hassle and fuss!
29 Stunning Wall Mural Ideas to Modernize Your Space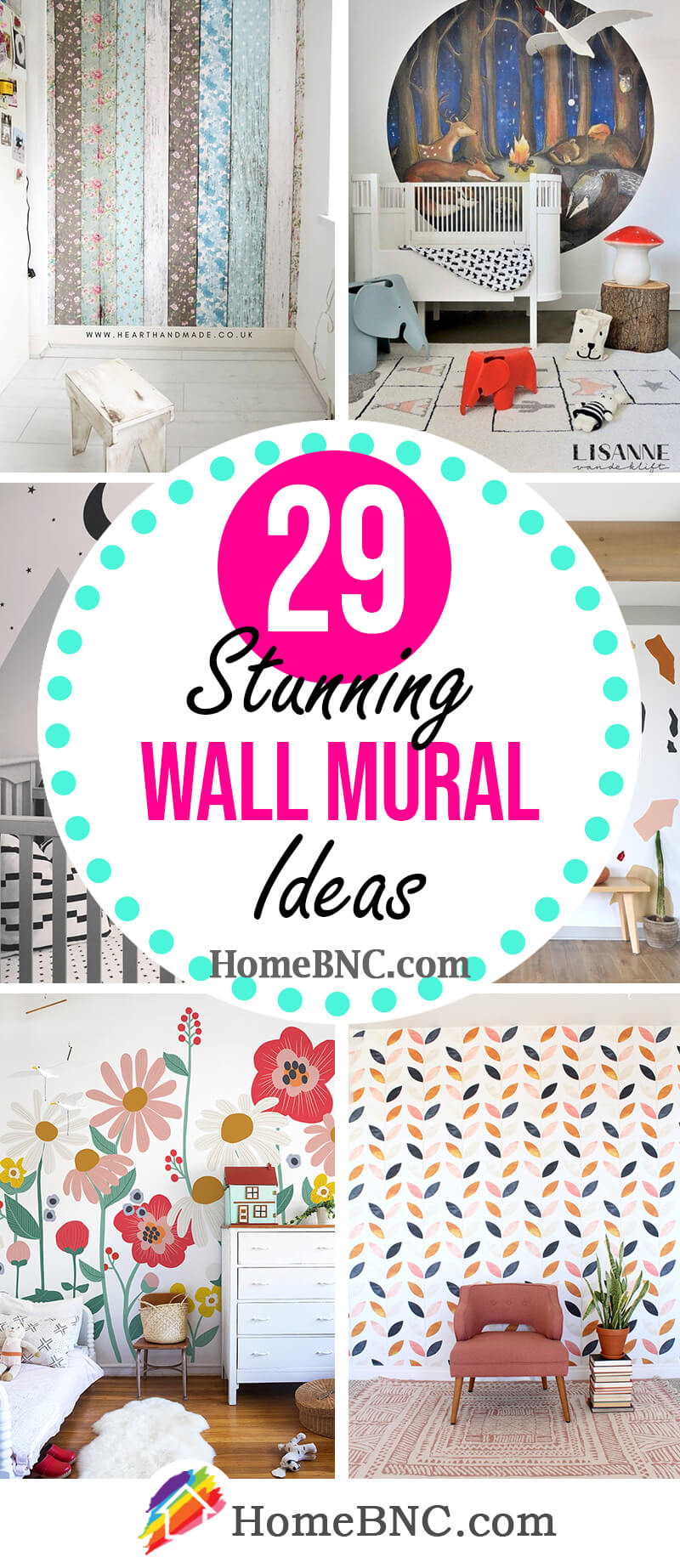 Today's unique wall mural designs are constructed of easy to use vinyl decals that are often removable to ensure the exact placement on your walls. Whether you wish to update an entryway or kid space, there is certain to be the perfect wall mural for anything you have in mind! Some of the most common designs feature muted colors or monochromatic designs which are very gender neutral and blend seamlessly into most any decor. Installation is easy; however, having an extra set of hands is very helpful so be sure to have a friend or spouse on standby.
Some of the best wall mural ideas range from outdoor scenes like mountain ranges to abstract art like geometric or ink patterned pieces. They range in color from vibrant and bold reds and yellows, classic black and white to monochromatic grays or blues. No matter what you choose, there is no easier way to transform a room into a personalized playground of your preference. Whether you dream of finally designing the home you've always wanted or wish to create the perfect space for your son or daughter to make them never want to leave home, using these best wall mural ideas is a great way to get started!
1. Critter Friends Circling the Campfire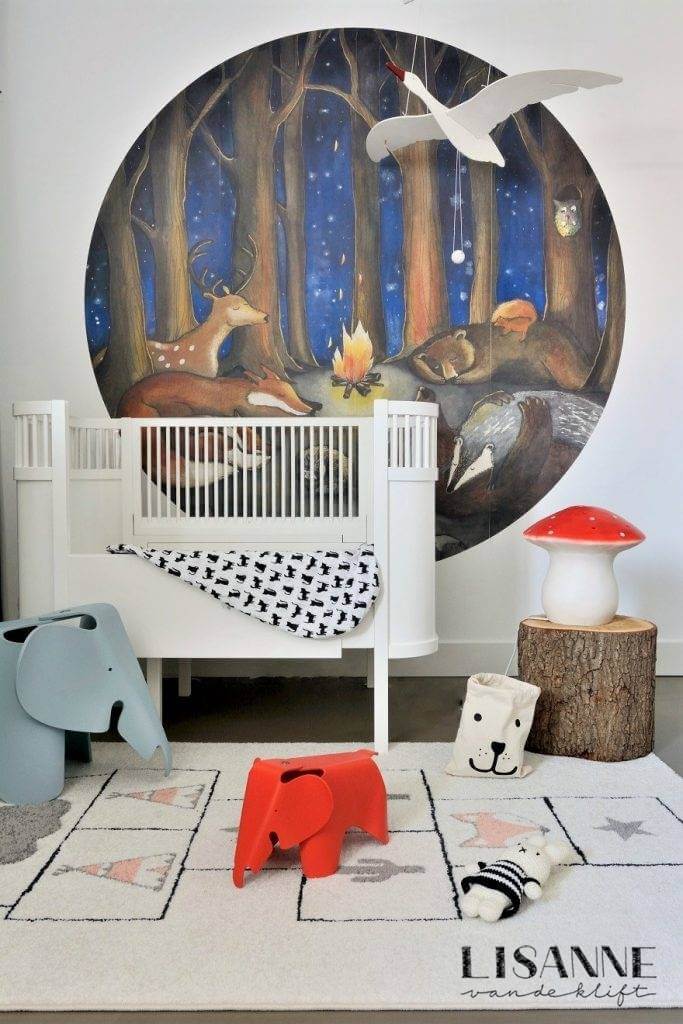 What a perfect way to create a warm and cozy nursery for your bundle of joy! This circular vinyl wall decal is one of the best wall mural ideas to add the impact of wall paper without the mess. Create the illusion of a sparking campfire where all of your favorite woodland creatures have gathered for the night. See the friendly embrace as the smaller ones cuddled up with the fuzzy bears. From the owl nestled in the nearby tree to the fox and deer settled in for a deep fall time slumber, this nighttime wilderness scene is sure to add the perfect touch and bring the outdoors into the nursery of your wildest dreams!
2. Tropical Flora and Fauna Accent Wall Art Mural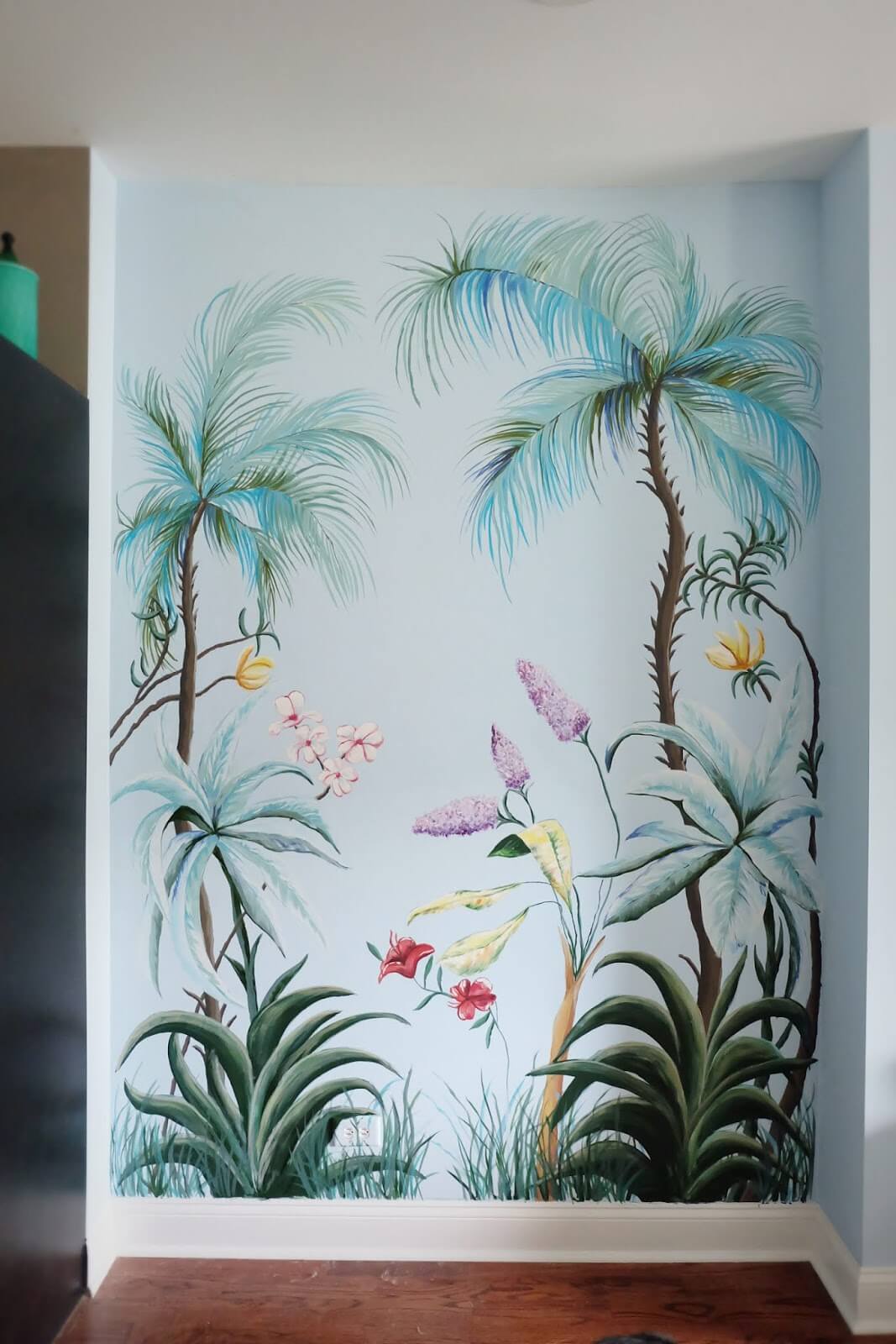 No matter if you're looking to add a little greenery to your home or wishing to embrace the hippie vibe, the flora and fauna of this tropical scene are just enough to get the job done! This wall mural provides a good backdrop for a small bathroom or at the wall at the end of your hall way. With just enough color to blend into your existing design, this is one of the best wall mural ideas to not steal the show in the established design of your humble abode. Either way, the lush and vibrant greens add a dimension of warmth from the tropics into your interior design. Enjoy the soft and subtle addition of the fuss-free plants in this pretty tropical wall mural.
3. Vintage Floral Faux Rustic Wood Paneling Mural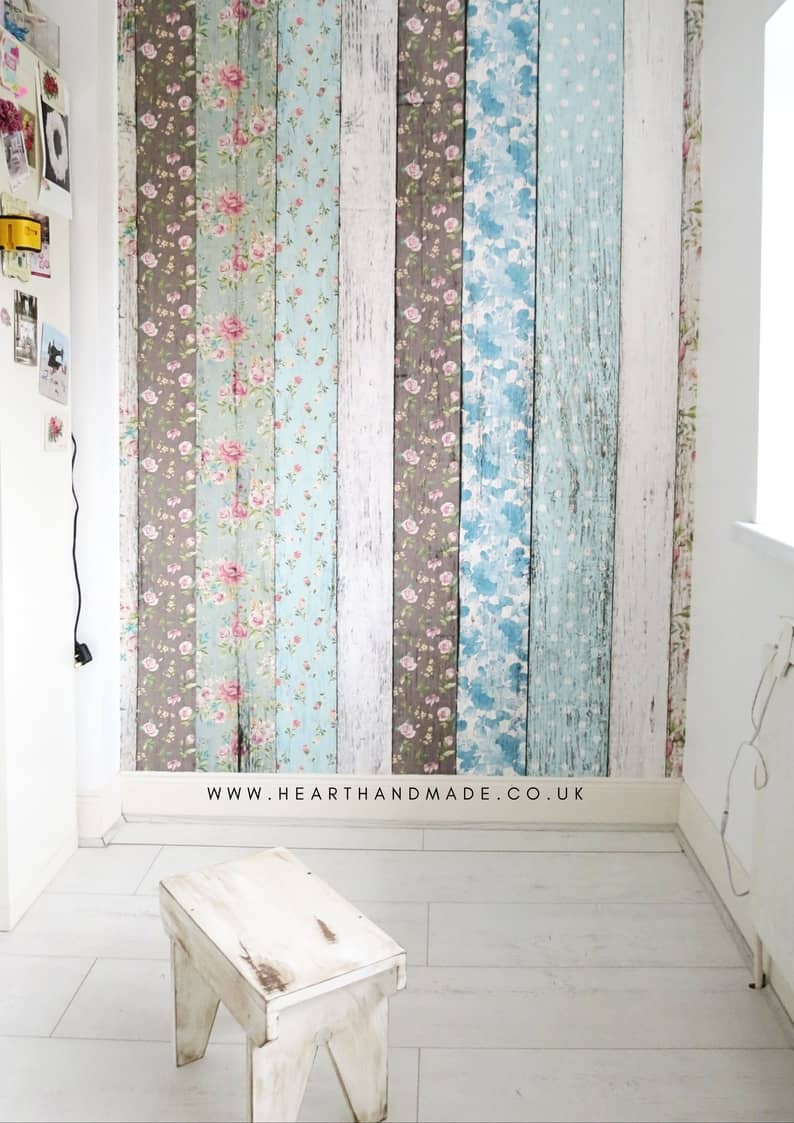 The soft pastel floral print embedded into the faux paneling of this wall mural brings the shabby chic motif into full circle. It's a great look inside of a bohemian bedroom or on the walls of an old-fashioned vintage living room full of charm. In fact, a rustic farmhouse might even see these floral panels come to life in a dining room space. The options are endless as the shabby chic floral pattern encompasses some of the modern farmhouse trend too. Finding purpose in the old is what today's design is all about and this wall decal does just that by incorporating a vintage feel in the pattern design. Try this rustic and feminine look to bring your shabby chic space into the modern era.
4. Simplistic Scene of Birds and Clouds Wall Art Mural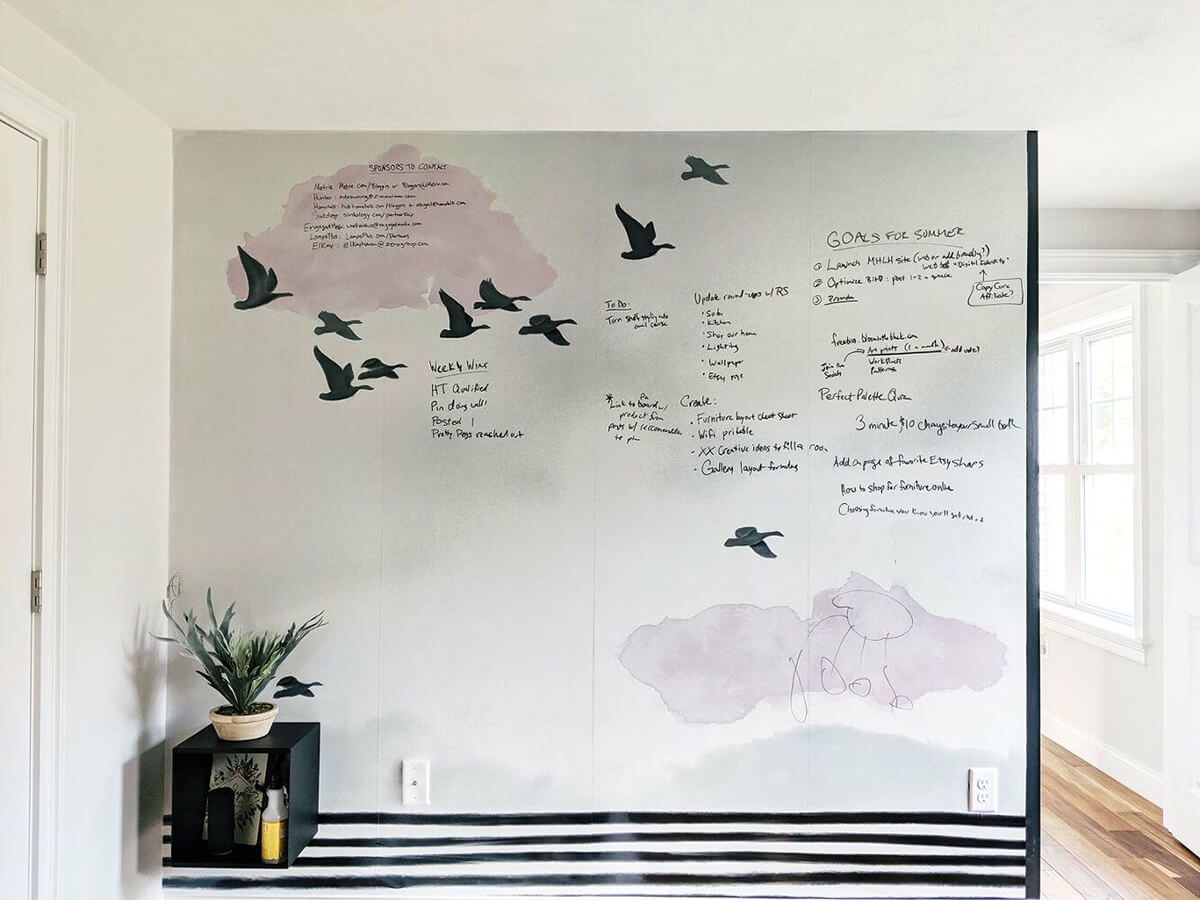 Watercolor clouds line the way for the flight of simple black birds in this classic and one of the best wall mural design ideas scene. The black stripes at the bottom add a nice design element that ties the entire wall together quite nicely. Peaceful watercolor clouds create a nice background for a den, spare bedroom or entryway space. The universal design appeals to both men and women alike and the neutral color scheme makes it a good fit in most spaces. What a great way to add some home decorations to your space without breaking the bank!
5. Destination Intersection with a Great Map Grid Mural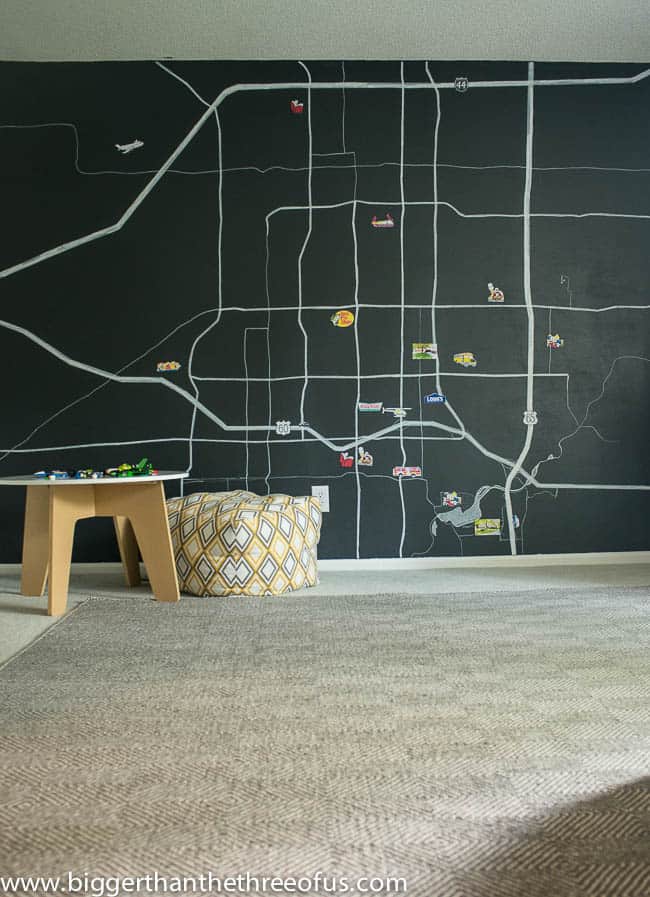 What an exciting play room design idea! Endless hours of fun will be enjoyed as the kids (young and old) take delight in the creation of their own towns and games in this interactive wall mural map grid. Featuring a town that is totally customizable, this map grid allows for landmarks at each and every corner your heart desires! Teach kids how to navigate from home to school, from the grocery to the library and even to the post office or grandma's house. It could even be an educational resource at home or in the classroom as kids learn how to write directions and follow them. Include a road map rug below for hours of play car fun as the room comes alive when the wall and floor collide in an explosion of imagination.
6. Sponge Painted-Look Ombre Mountain Mural DIY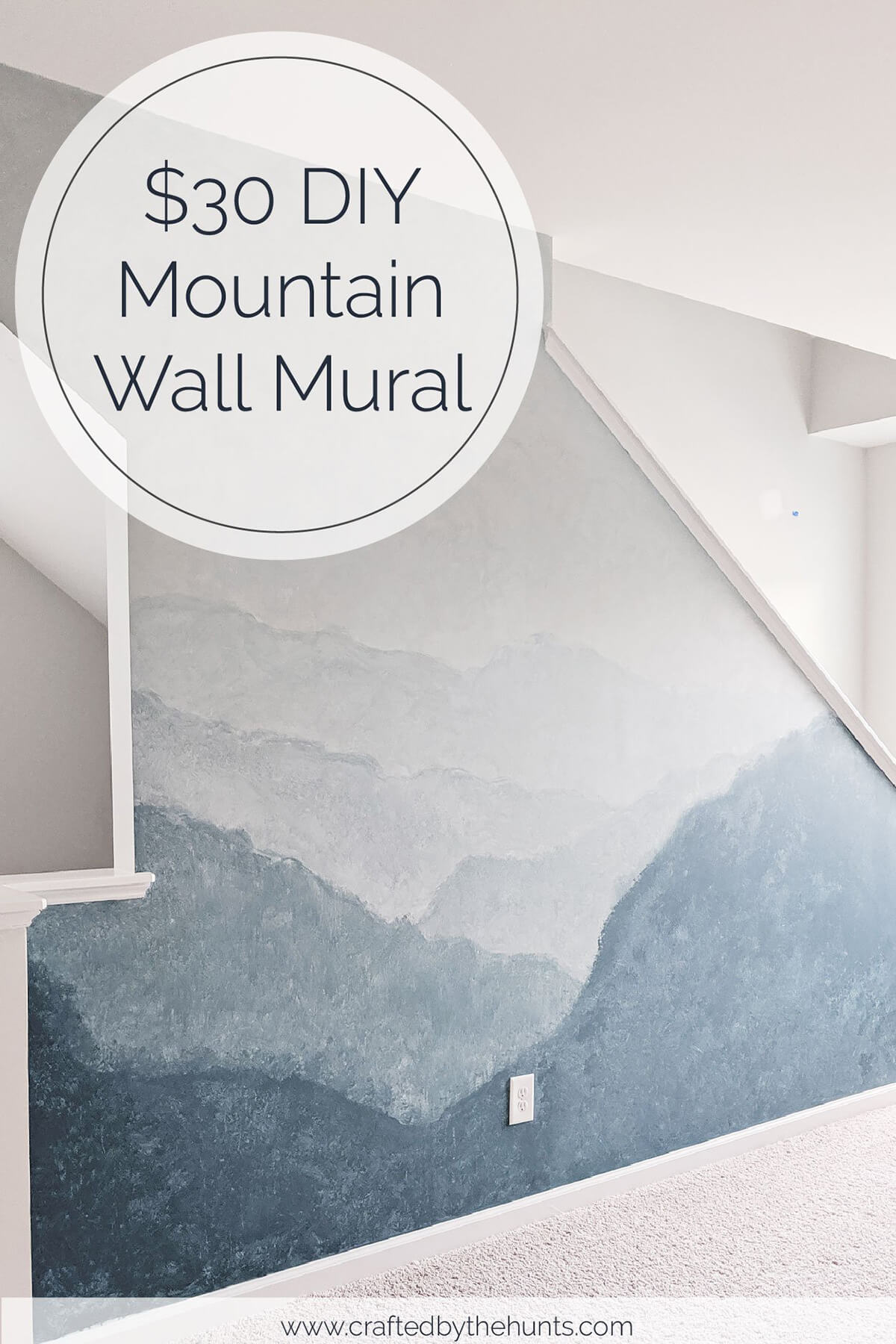 Ever shop for that perfect paint color and struggle in deciding between the three shades on your sample? Fret no more! This ombre mountain mural includes a range of hues from your favorite shade so the tough decision of finding the perfect color is no longer any trouble. Fading from dark to light into a white finale, this wall mountain range adds depth to any room. You might find it is one of the best wall mural ideas. It would work nicely in a young man's bedroom, as an accent wall in a modern living space or even in the cute crib corner of a baby's nursery.
7. Eclectic Starry Night Re-purposed Fence Wall Art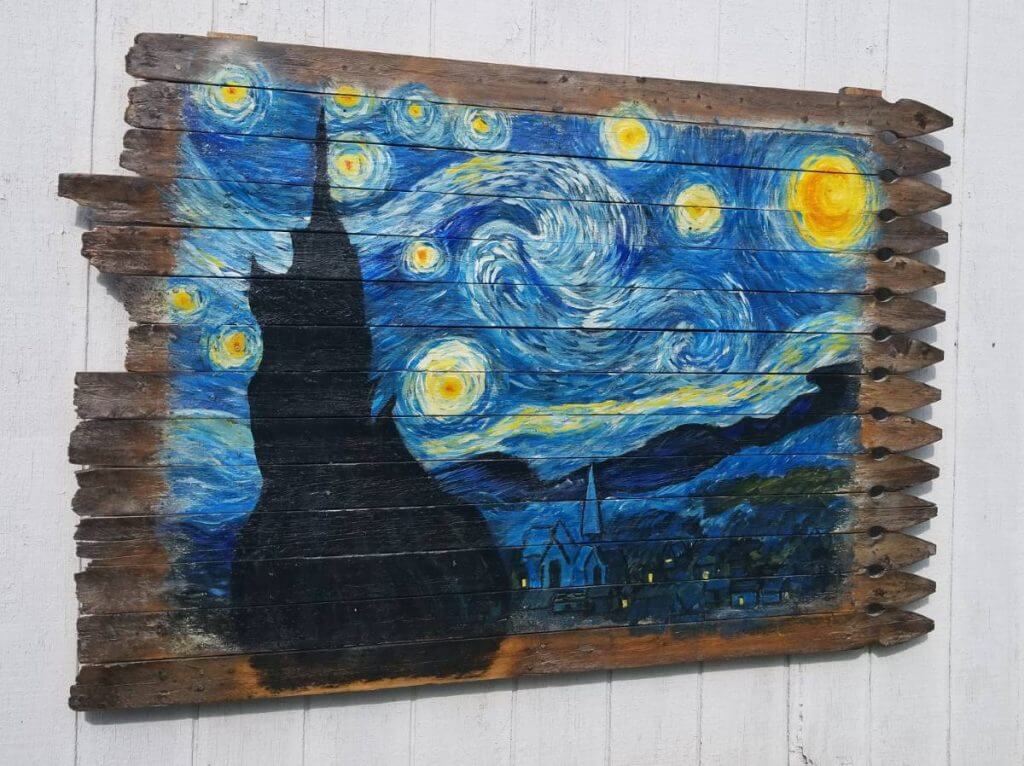 Reduce, reuse and recycle are the trio that has a long lost friend- repurpose! What better way to make something old new again than by using an old fencing piece as an artist's canvas! This awesome idea adds visual interest from the mixed materials together in a unique and inspiring finished product. Van Gogh's classic work of The Starry Night is featured on this old and worn fence. Possibly one of the best wall mural ideas in terms of texture and taste.
8. Contemporary Modern Black White and Gray Star Filled Night Nursery Mural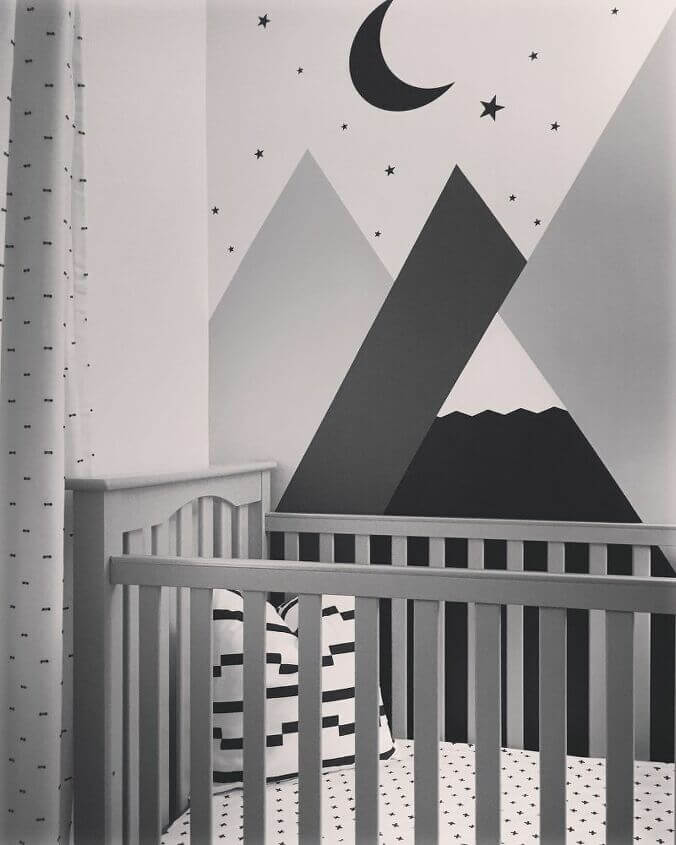 Nesting is a very real part of motherhood and creating that special space for the new baby doesn't mean sacrificing style with this modern star filled night mural. Baby boys and girls alike will enjoy the classic color motif as they are drawn to such distinct colors in their first months in life. Wall murals are a fun addition to baby spaces since they are easy to transition as the child grows. A minimalist would love the simplicity in this piece as it adds so much style with little fluff and space.
9. Universal Landscape Mountain and Sea Scape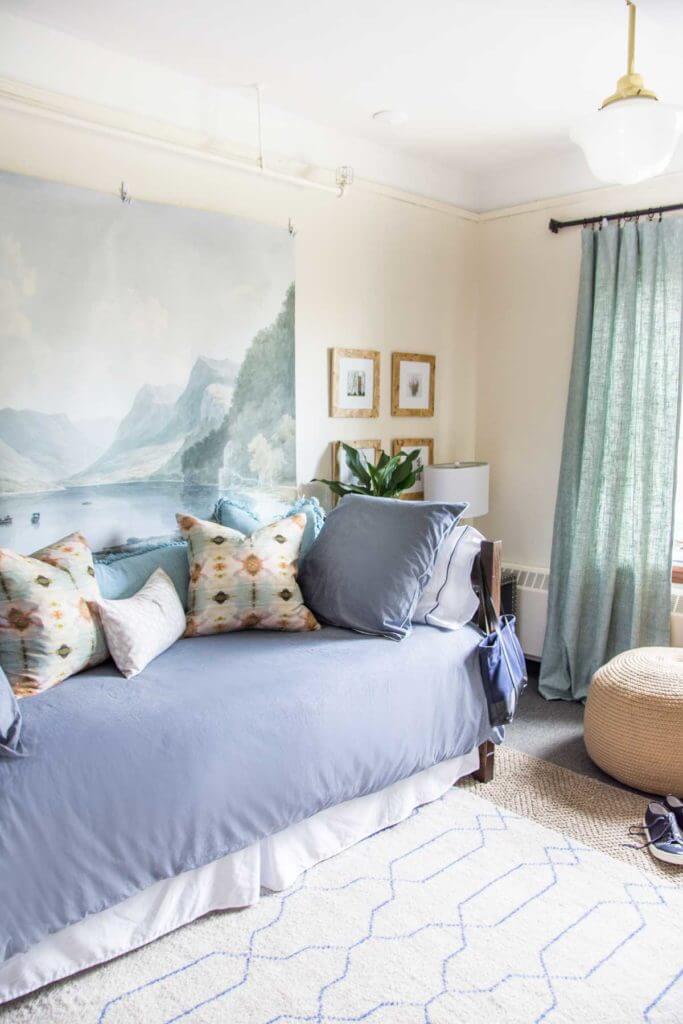 For a young twenty-something discovering who he/she is or a hipster wishing to bring some life into a drab office, this landscape mural is a good fit! With the dimension of depth presented by looking across the lake into the mountain range enclosing the sea, this mural draws in the eye into. Created with the same color throughout, the monochromatic design isn't overpowering and refuses to dominate your space. A rustic wooden headboard or distressed leather chair would be a great addition to compliment this sea scape mural. Using this design allows for simple decorations throughout the rest of the space and gives the owner some peace of mind in terms of comfort and cost.
10. Chalkboard Robot Town Wall Decals Mural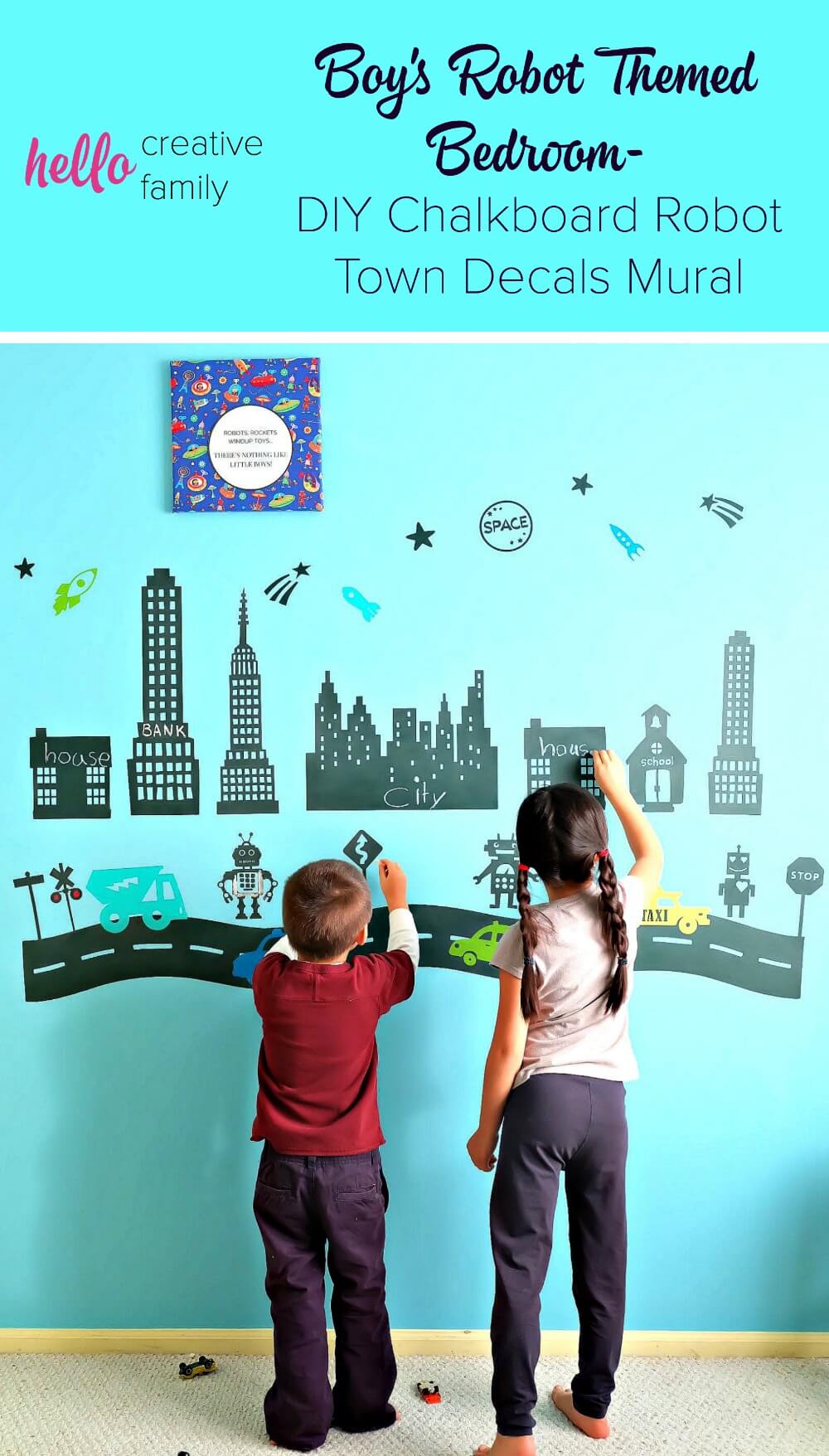 Encourage the kiddos to use their creativity and reach beyond their wildest imaginations as they envision and bring to life their own robot town. Complete with a do-it-yourself city skyline, robots and stars, this chalkboard wall will become everyone's favorite at all of your future play date events. Kids of all ages will delight in the uniqueness of this wall mural as space age and futuristic motifs collide into fun and play!
11. Modern Contemporary World Map Wall Mural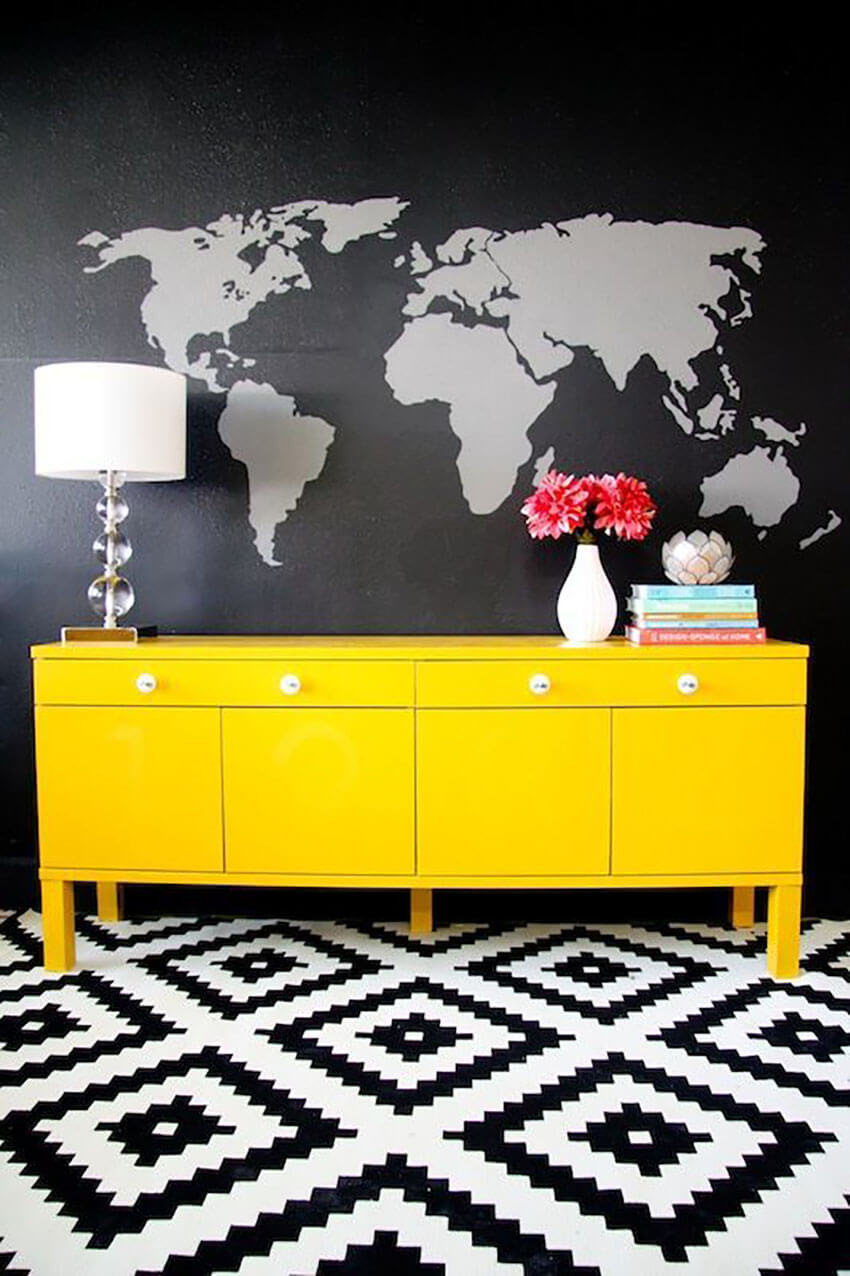 Keep track of all of your adventures in a larger than life work of art! This modern spin on the travel map is the perfect way to share all of your travels with everyone who enters your home. From road trips to weekend getaways, you can showcase them all and easily spot your favorite destinations. Such a modern vinyl wall decal would work well in a home office, city loft or common space within your home. No need for an ice breaker when hosting a dinner party as this modern map will take care of that itself. Conversations will abound in places you've been while you might discover a new trip to plan!
12. Masculine and Modern Mountain Mural Wall Decor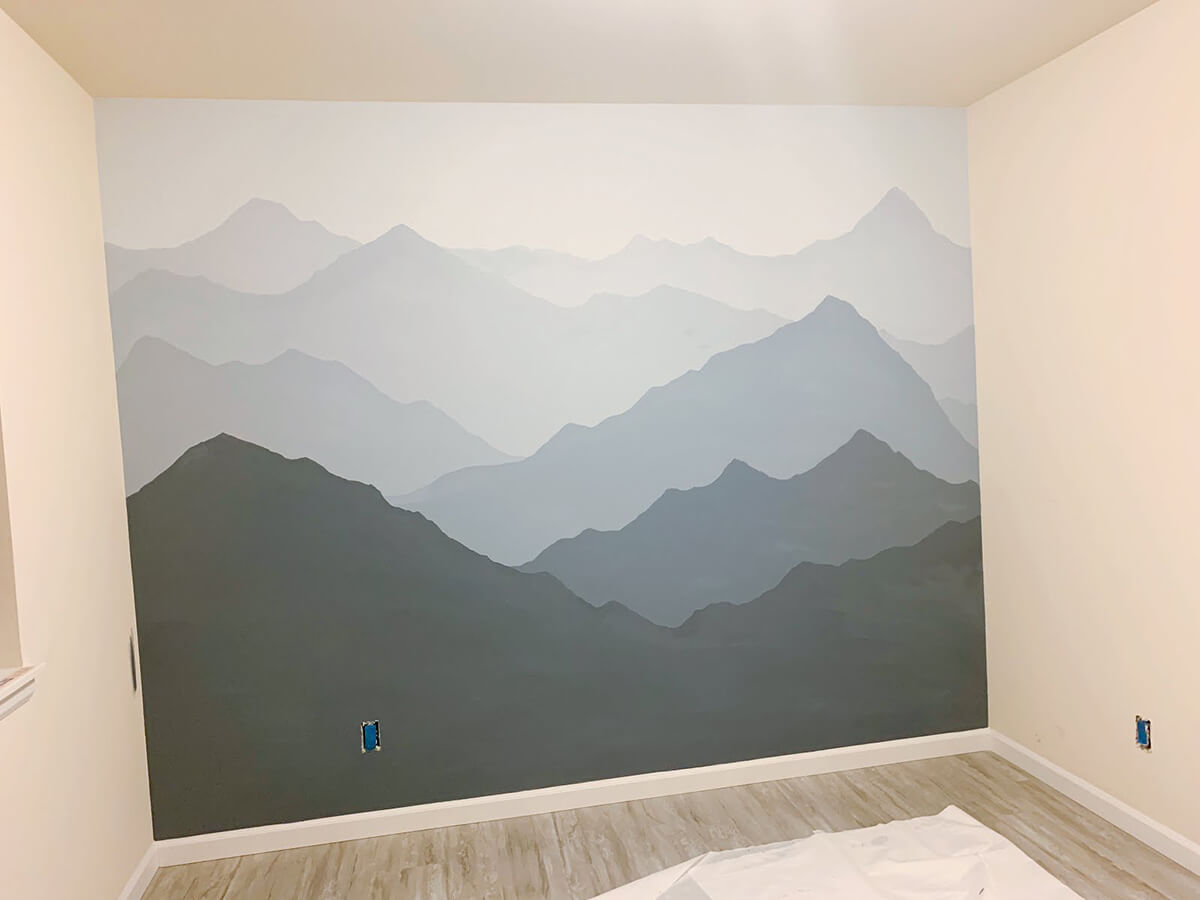 Help that special guy decorate his space in a welcoming way with this modern mountain wall mural. It's one of the best wall mural design ideas for the one needing to create his own space with little interior design knowledge and a shoestring budget. The featured classic color line of black, white and gray is ideal for today's modern style. Using an ombre gently fades the color into a becoming blend that is pleasing to the eye. Finish the room off with a few sleek and smooth edged furniture pieces to keep the clean lines flowing in his new and improved living space that makes the modern man feel right at home.
13. Abstract Terrazzo Muted Multi and Metallic Color Decals Mural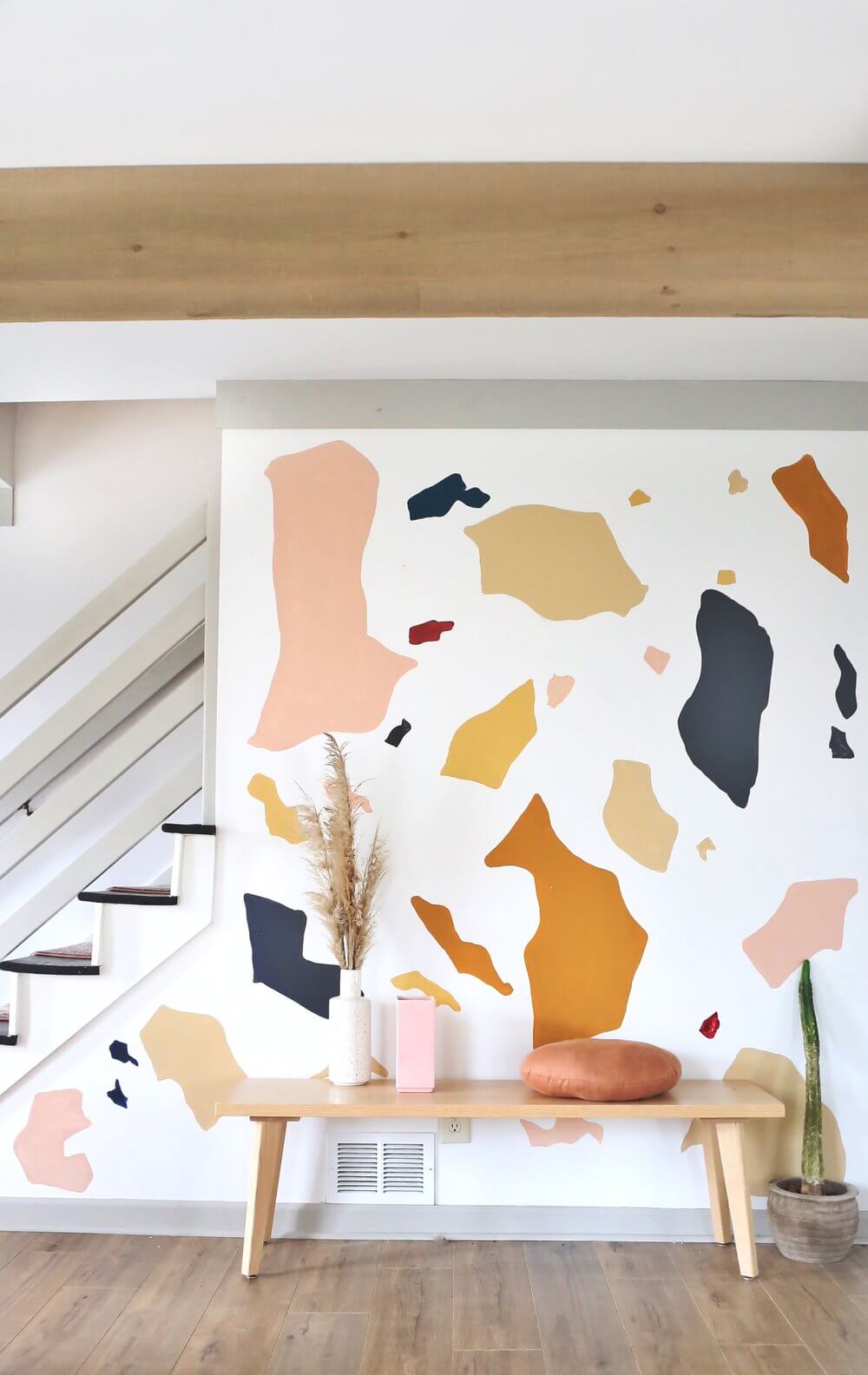 Featuring a wide range of shapes and sizes, this terrazzo set comes in a beautiful multi pastel and metallic palette. Incorporating timeless black, gold and red along with rose and tan creates a warm and inviting foyer space or modern dining room. The muted hues are just enough to take a neutral space up a notch with a splash of serene color. Incorporating enough visual interest with minimal effort is the product of applying these abstract terrazzo murals into your home.
14. Whimsical Soft Branched Tree with Friendly Fox Friend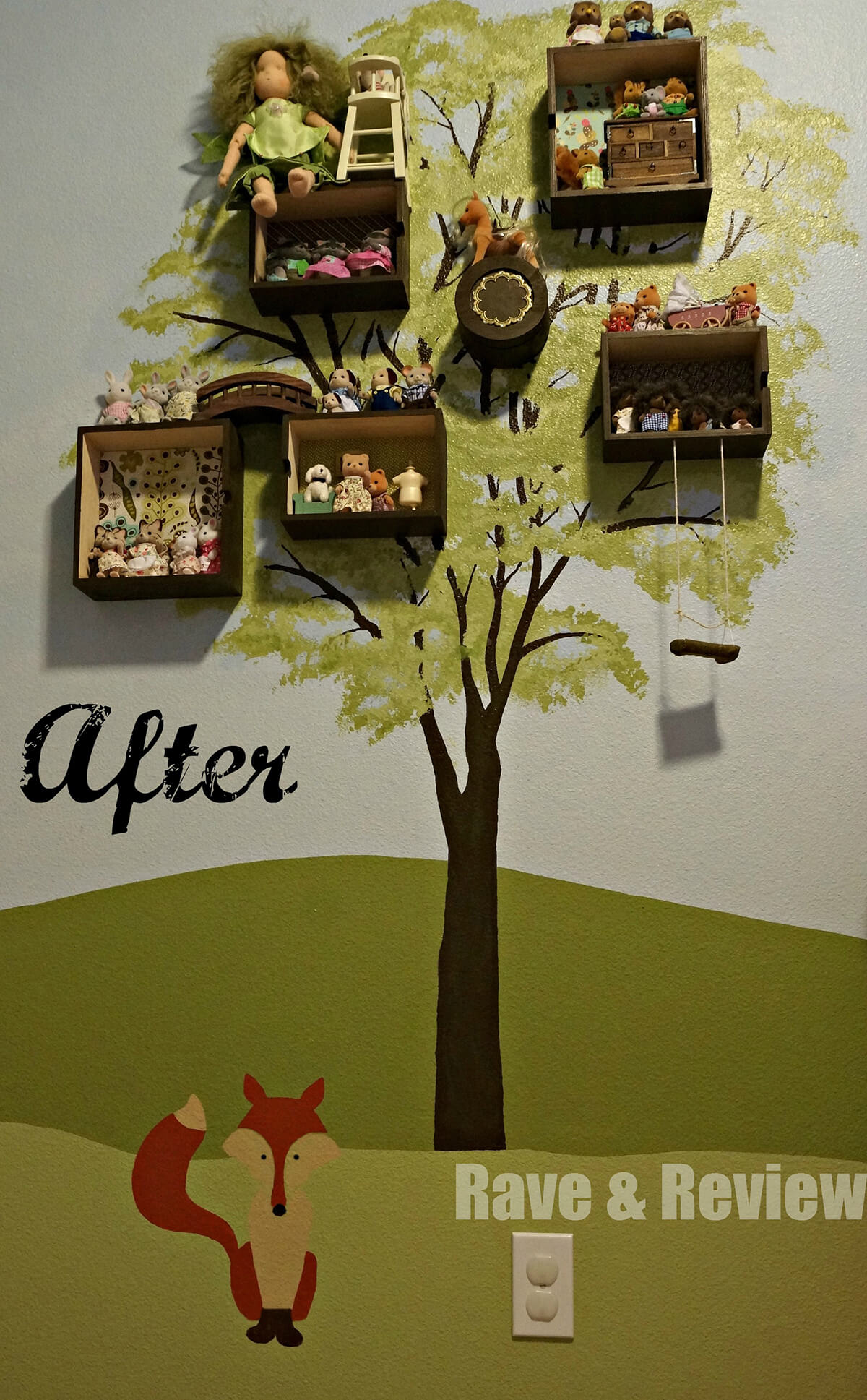 Create the perfect backdrop to your child's room or baby's nursery with an adorable fox and pretty tree. All of the friendly woodland critters would be honored to share in this humble abode. Nestled in the neat and fresh nursery, this frolicking fox might just become your baby's first friend as he is never far from your little love bug. Add a real plant and a cozy throw to complete the whimsical feel in this little fox hole.
15. Mid-century Modern 70's-inspired Flower Power Garden Wall Mural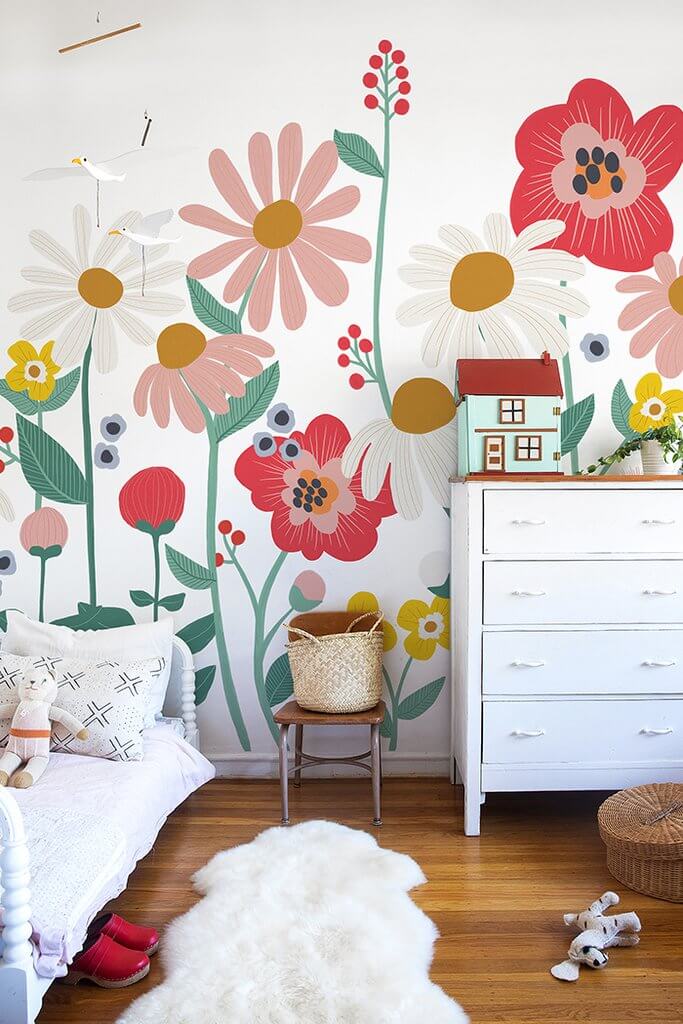 Bring the beauty of a wildflower outdoor garden inside with this complete wall mural that extends from the baseboard all the way to the ceiling. Not an inch of wall space is left unnoticed when the yellow, red and pink flowers seem to come to life in your newly found interior green space. The motif is perfect for both a girl's bedroom or a dining room as the natural colors are sure to brighten up the space. Don't be afraid of a splash of color as you infuse your walls with this pretty plate of garden beauties.
16. Classic Floral Bouquet Flowered Wall Mural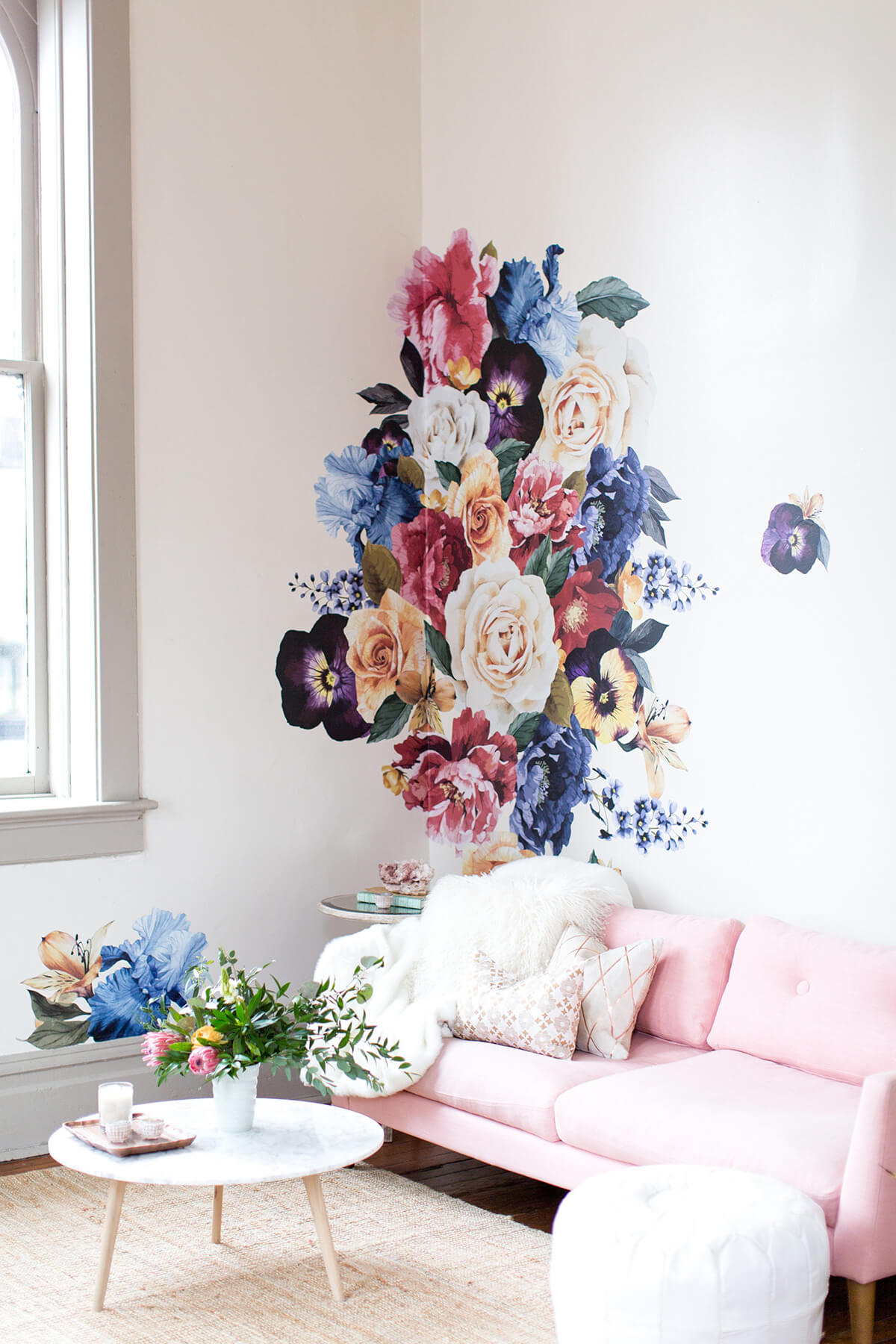 The traditional arrangement of classic flowers from peonies to roses refreshes the room nearly as much as fresh cut flowers from the backyard. Nestled within the nook of the living room corner, this bouquet brings a soft and warm climate regardless of the current season outdoors. A fabulous way to add a feminine touch to a home without overpowering the space.
17. Create Your Own Constellation Mural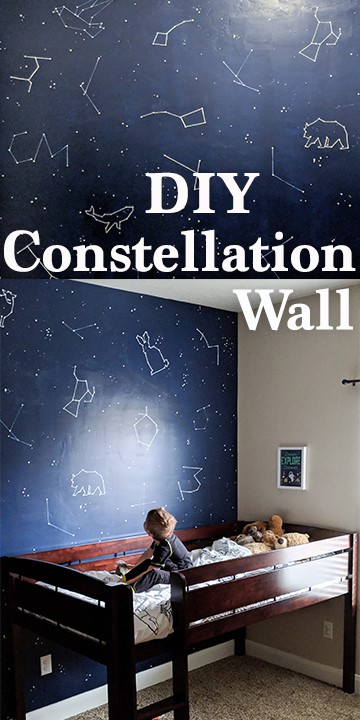 If you know a kid that loves space, give him or her the perfect gift with a do-it-yourself constellation wall mural kit. Let their imagination run wild as they locate common constellations and create their own stories within their own set of stars. This easy-to-apply kit integrates design and function as it blends a level of out-of-this-world appeal with astronomy identification at your fingertips. Falling asleep under the stars will be a tranquil result from the gift of this constellation kit.
18. Chalkboard Home Information Center Mural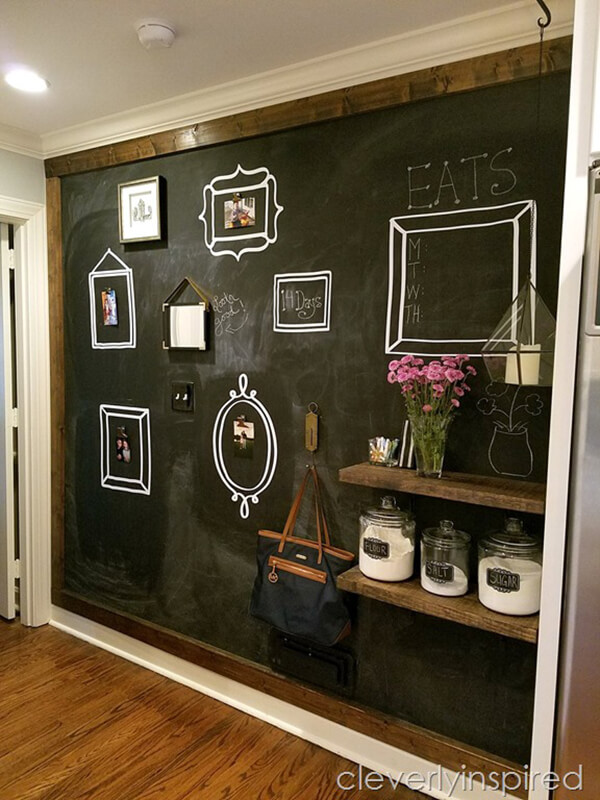 What an awesome idea in home organization! Take control in this easy-to-use kitchen command center serving as the hub for the entire family's weekly schedules. No more forgetting to pick up the kids from practice or missing an important appointment as this organized chalkboard system designates space for all the necessities of family life. From a space to write the menu for supper to a spot to jot down all the items needing restocked on a grocery list, this kitchen command center takes the boring wall and transforms it into the best use of space in home decorations!
19. Rigid Ranges of Mountain Peaks Mural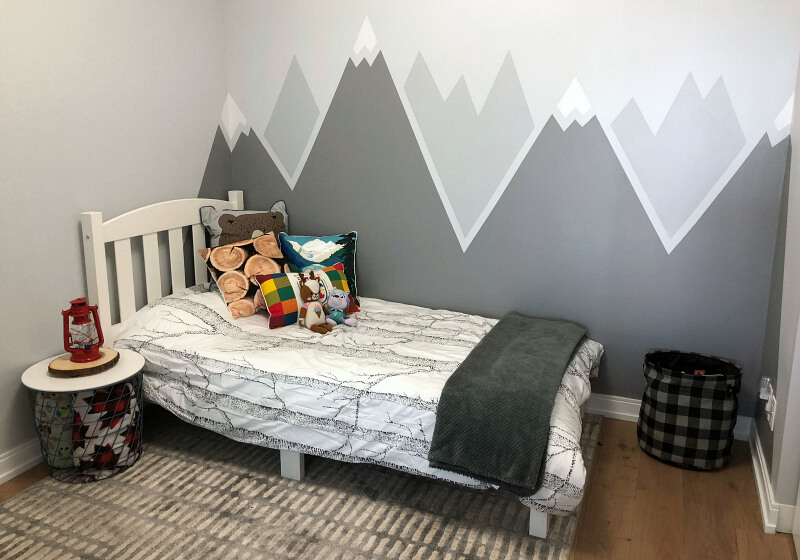 Any kid would be delighted to call this space his or her own. Make this the best update to the bedroom where adventure beckons from within the walls. The stiff visual image of the many peaks in a mountain range form one of the best wall mural designs for a kid, preteen or young adult room. Incorporate some industrial features for an urban loft feel or add some plants and forest animals to generate a forest friendly hangout.
20. Kaleidoscope Geometric Sunburst Sunset Wall Mural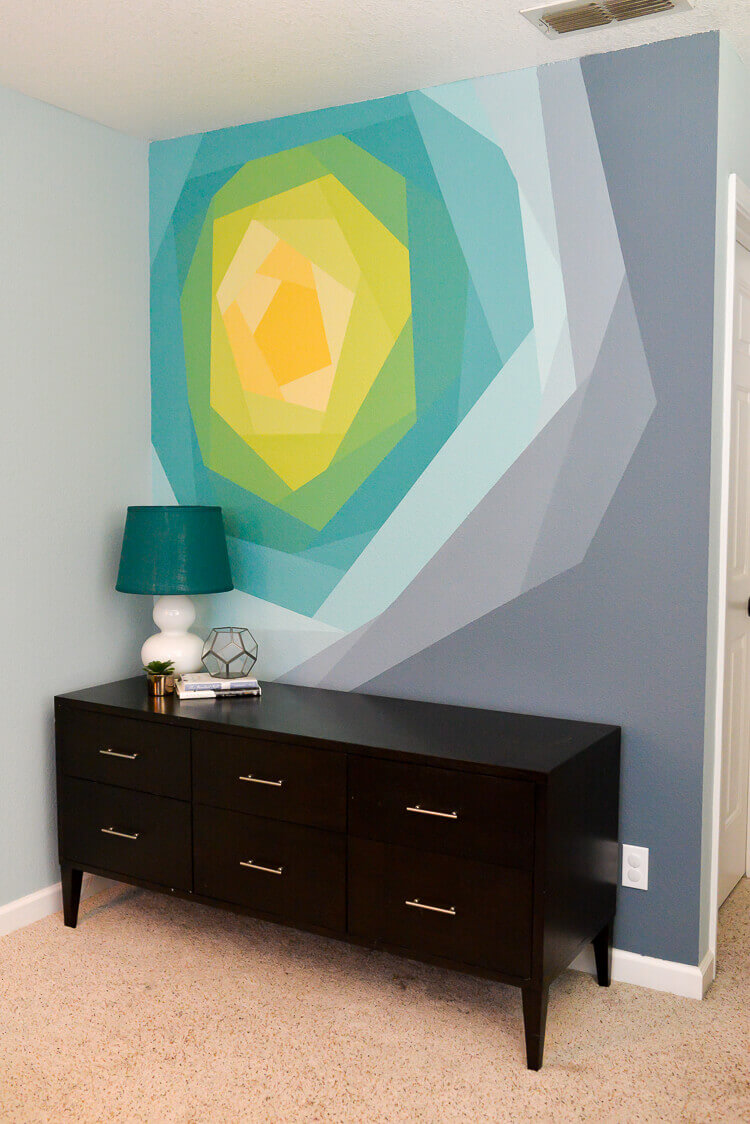 Here's a modern spin on a timeless scene. The gorgeous beauty of a sunset comes to life in a new and exciting geometric way. With hues of blue, yellow and gray, the explosion of color draws you in and warms up a formerly boring room. One of the easiest and best ways to brighten up a small space like an entryway or half bathroom. This design can be used in a contemporary modern apartment or a fun and upbeat beach house. The kaleidoscope inspired effect creates a genius optical illusion on the wall sparking style with minimal effort.
21. Vintage Blue Gray Sky with Cumulus Clouds Mural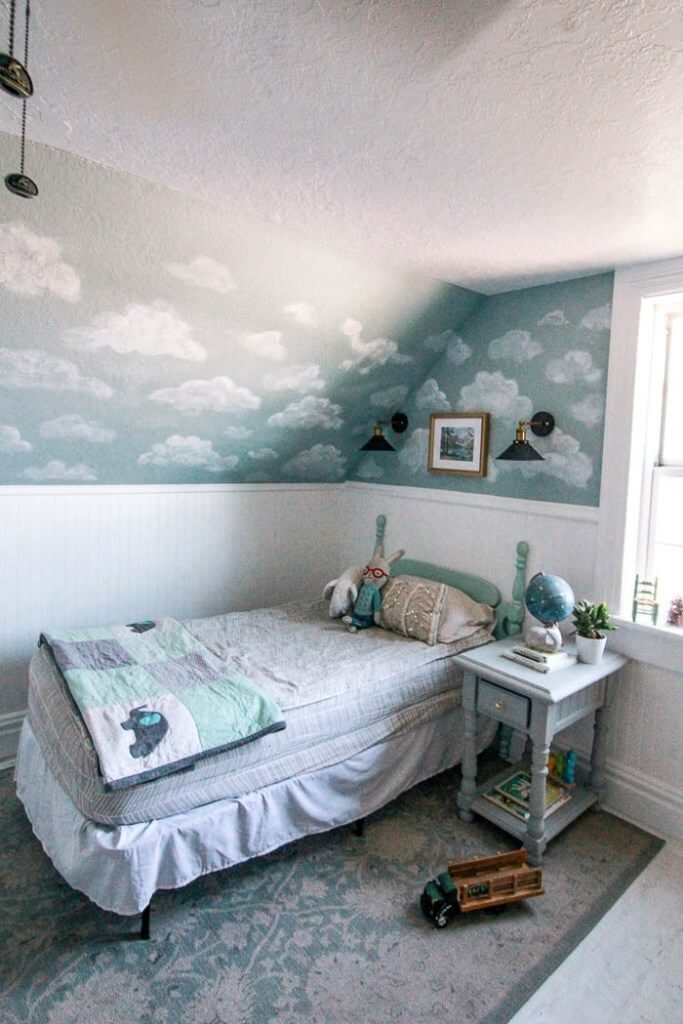 Relax and unwind in the tranquility afforded by this beautiful blue gray sky wall mural. Whether you are dreaming of a room for meditation or yoga as your private oasis or simply looking to add a little more depth to your bedroom or office, you can't go wrong with this peaceful wall covering. The muted and vintage color of the sky drifts a bit off the beaten path of the baby blue hued skies often depicted in children's films and rooms. One of the best parts of this wall mural is how it takes a kid-friendly design and makes it appealing to grown-ups by spinning the color wheel just slightly. Light a candle and meditate as you find your happy place with this awesome sky by your side.
22. Leaf on Vine Scandinavian Design Interesting Wall Mural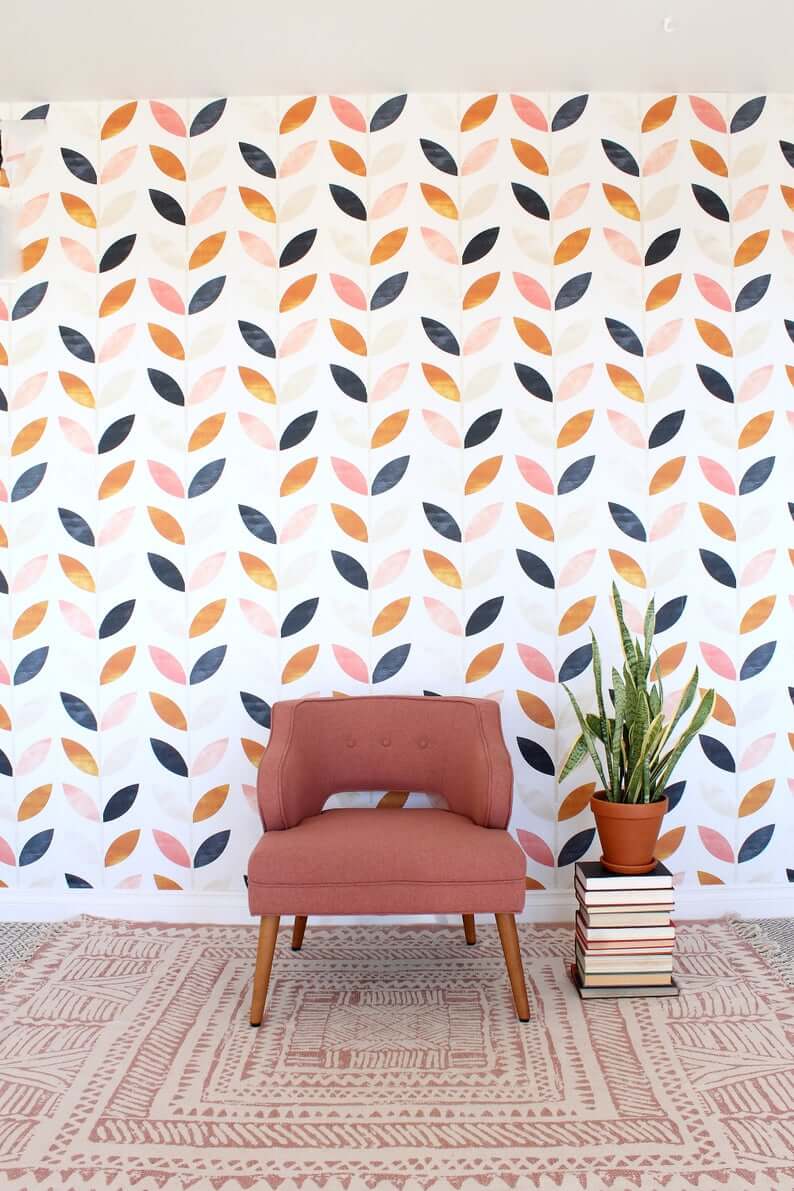 With new IKEA stores popping up all across the country, this Scandinavian vine print seems to follow the European flair of this popular and practically-priced store. Such an interesting print flows nicely in most every living space as it features a leaf and vine print in subtle hues as to avoid overpowering the eye. The use of muted rusty orange, black and red lend a vintage vibe to this dramatic and visually stimulating pattern. It can adorn all the walls or be used as an accent wall for dramatic effect. Jazz up a bathroom or make your living room come alive with this Scandinavian pattern that is certain to spark conversation at your next dinner party!
23. Bashful Eye Peeking Black and White Skunk Wall Art Mural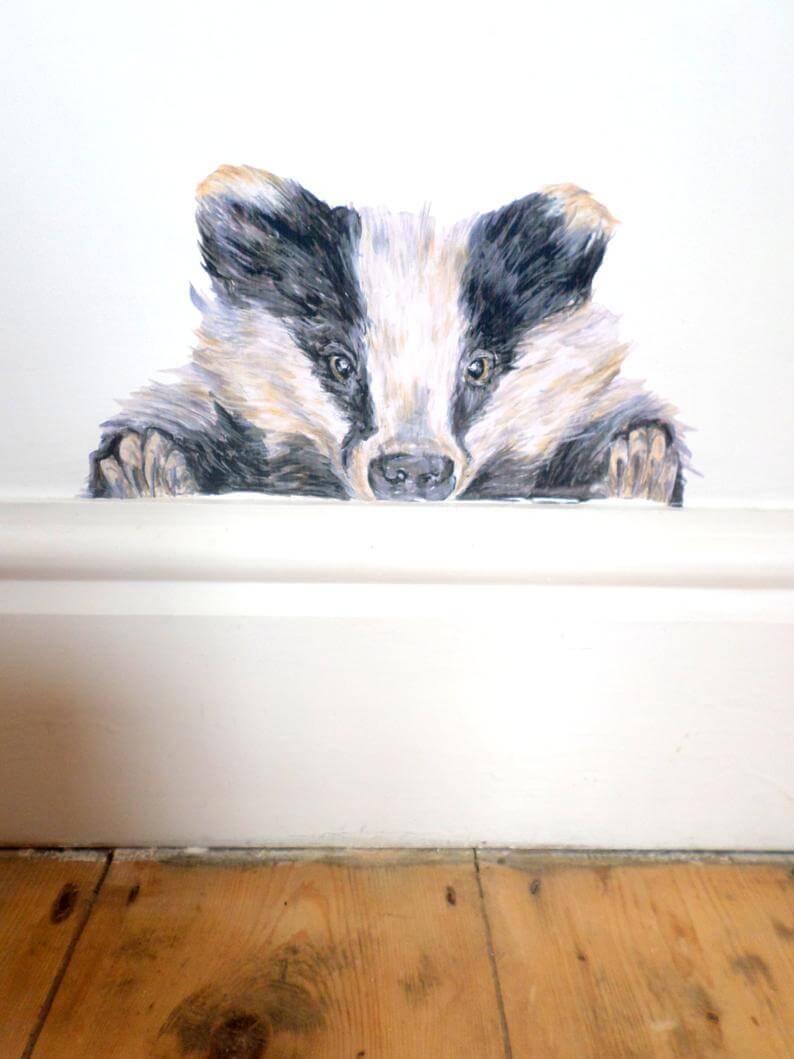 The cuteness without the stink is a good way to describe this warm and fuzzy critter featured on this wall mural design. Friendly and shy Mister Skunk invades your space in the most pleasant way possible. Without the fear of surprising him, he is secretly hiding on the playroom wall just waiting for the kids to notice him. Add a few special stuffed animal friends and your kid's playroom goes from cute space to warm and inviting play zone.
24. Vibrant Yellow Lemon Tree Wall Mural Decor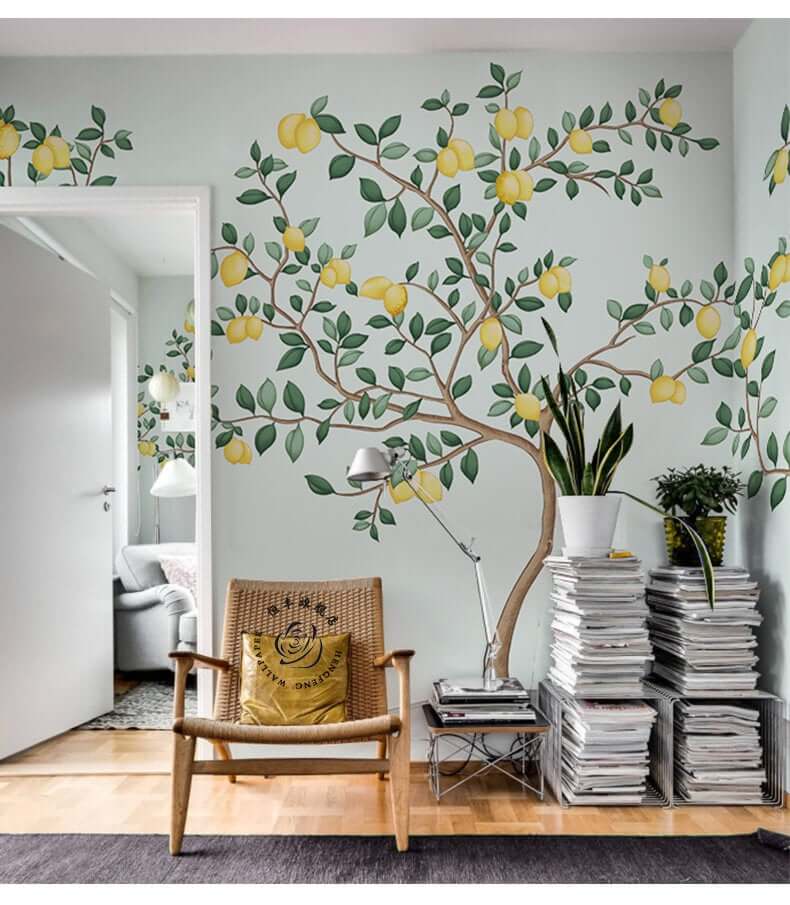 Nothing says fresh and zest like a juicy lemon. And what easier way than to have a personal lemon tree at your home! Of course this isn't practical in all climate zones, but that doesn't have to stop you. Now you can fill your kitchen with the bright yellow of this tree with one of the best wall mural design ideas in the lemon tree featured here. What is most special about this tree is how the branches can be arranged to extend from one wall to the next making this vinyl wall mural extra intriguing.
25. Swinging Fox with Birds on Birches Wall Mural Artwork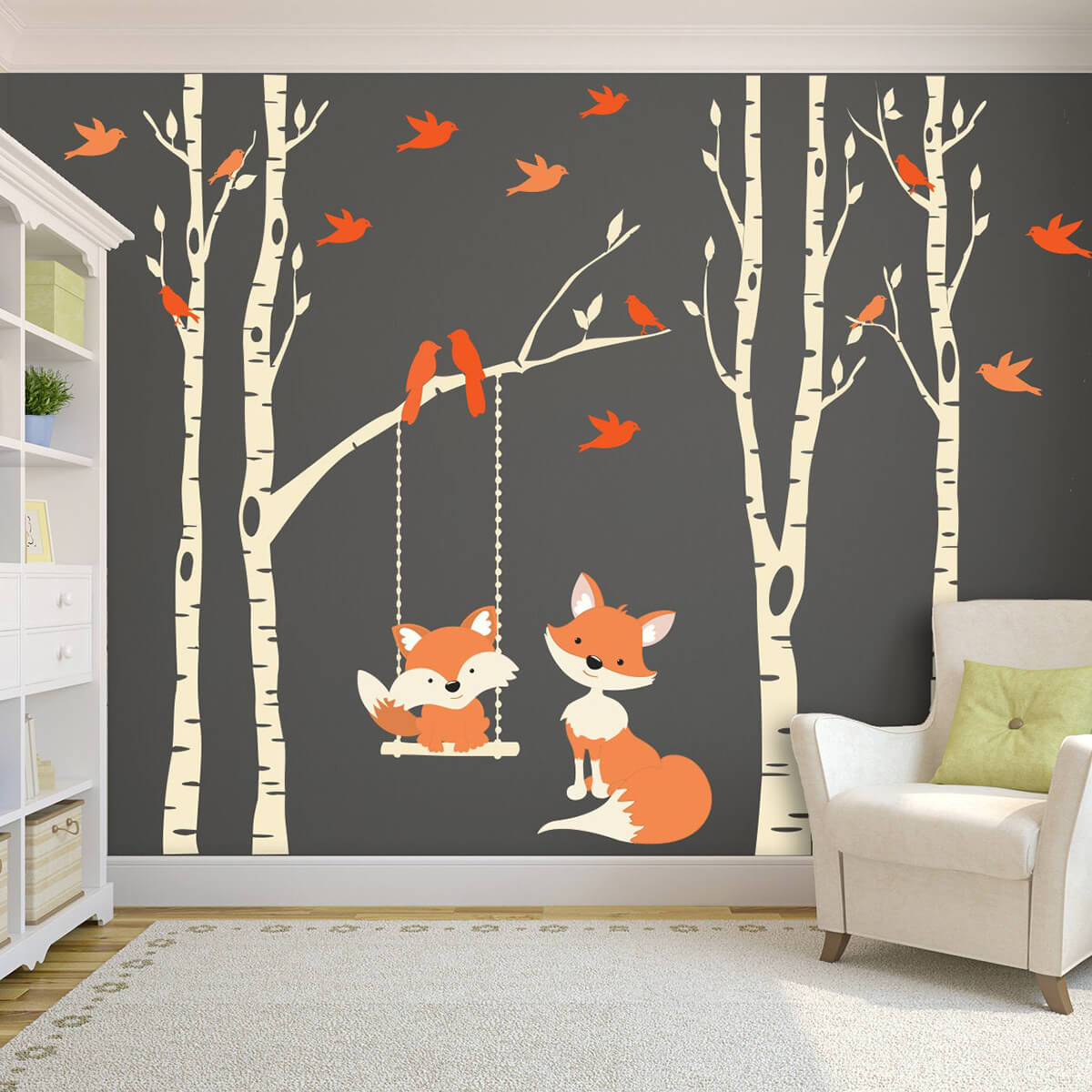 Fun, friendly and a little bit of whimsy are all bundled into one pretty print in this birch tree beauty wall mural design. You can take a plain space and make it cool and comfortable with these adorable foxes and timeless birch trees. The white birch bark that is so easily recognizable incorporates a textural element into your room's design without the mess.
26. Fuzzy Fronds in a Wildflower Explosion Best Wall Mural Ideas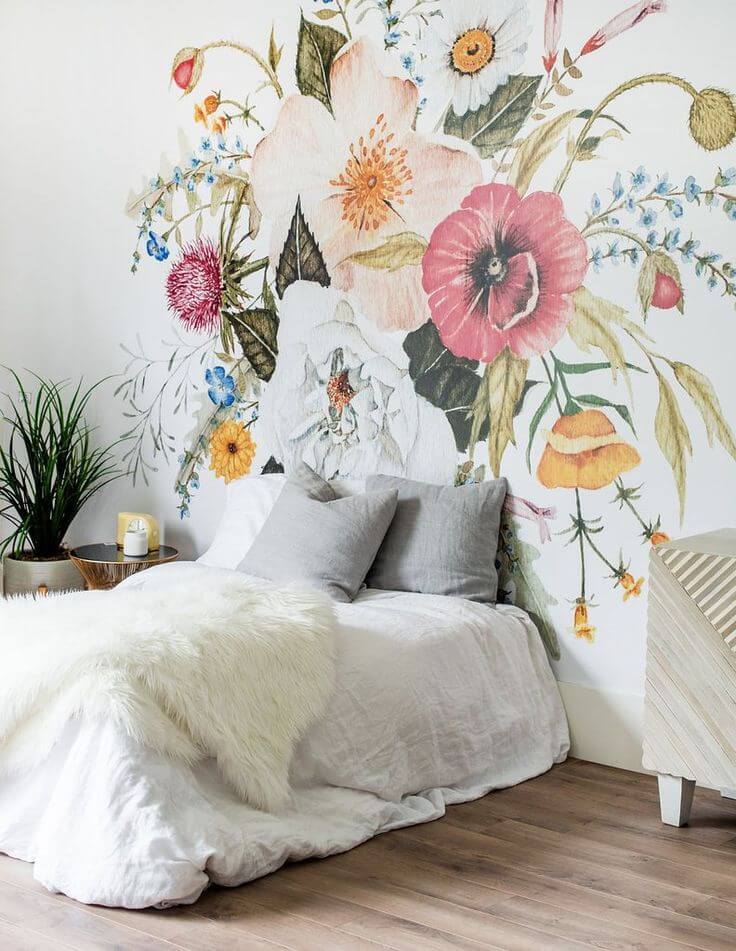 With all of the throwback to the 70's color scheme, this vibrant and vintage wall mural jumps out and grabs you with its fuschia, yellow, blue and orange petals. From dahlias to daisies, the gorgeous beauties on top of the stems in this flower-powered mural are sure to wake up any room! Feminine meets fun with these fuzzy fronds and their delightful design. Place this pretty wall mural along the long hallway or into your guest bathroom, either way the color give a mundane and ho-hum space a bold statement.
27. Black and Gold Blowing Leaves and Windy Tree Mural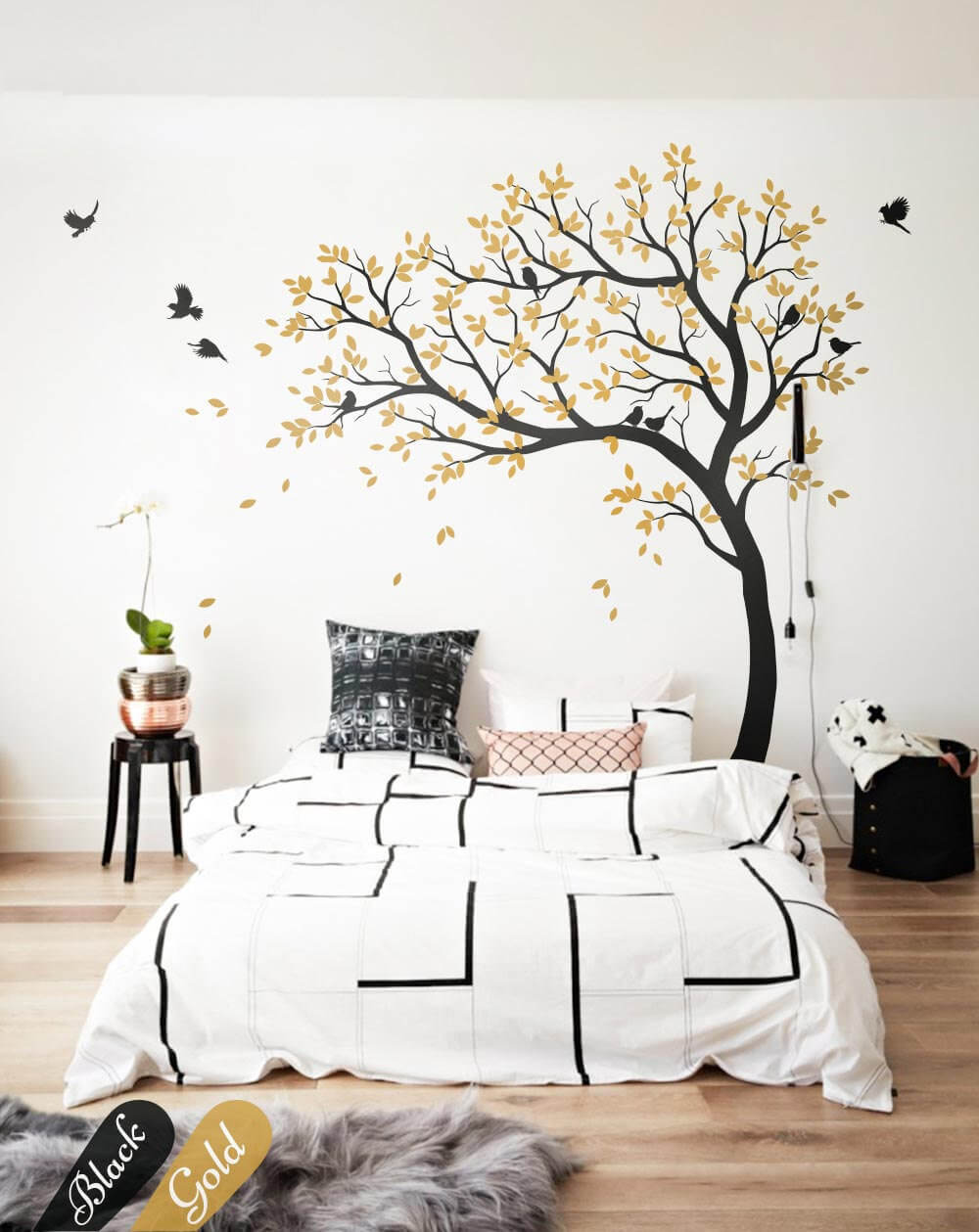 Let the gentle breeze whisk into your home with one of the best wall mural ideas with the use of a timeless tree scene. Tweeting birds and falling leaves fill the room with beauty and bring a little piece of nature into your reading nook. Cuddled up with your favorite book in a comfy chair would be the ideal place to secure this scene. Created with black and a goldenrod gold color scheme, the leaves seem to glide to the floor from the branches of this dainty tree. Fall is such a popular season, why not enjoy it all year with this windy tree mural tucked into the corner of your home?
28. Ink Texture Abstract Green Ombre Splash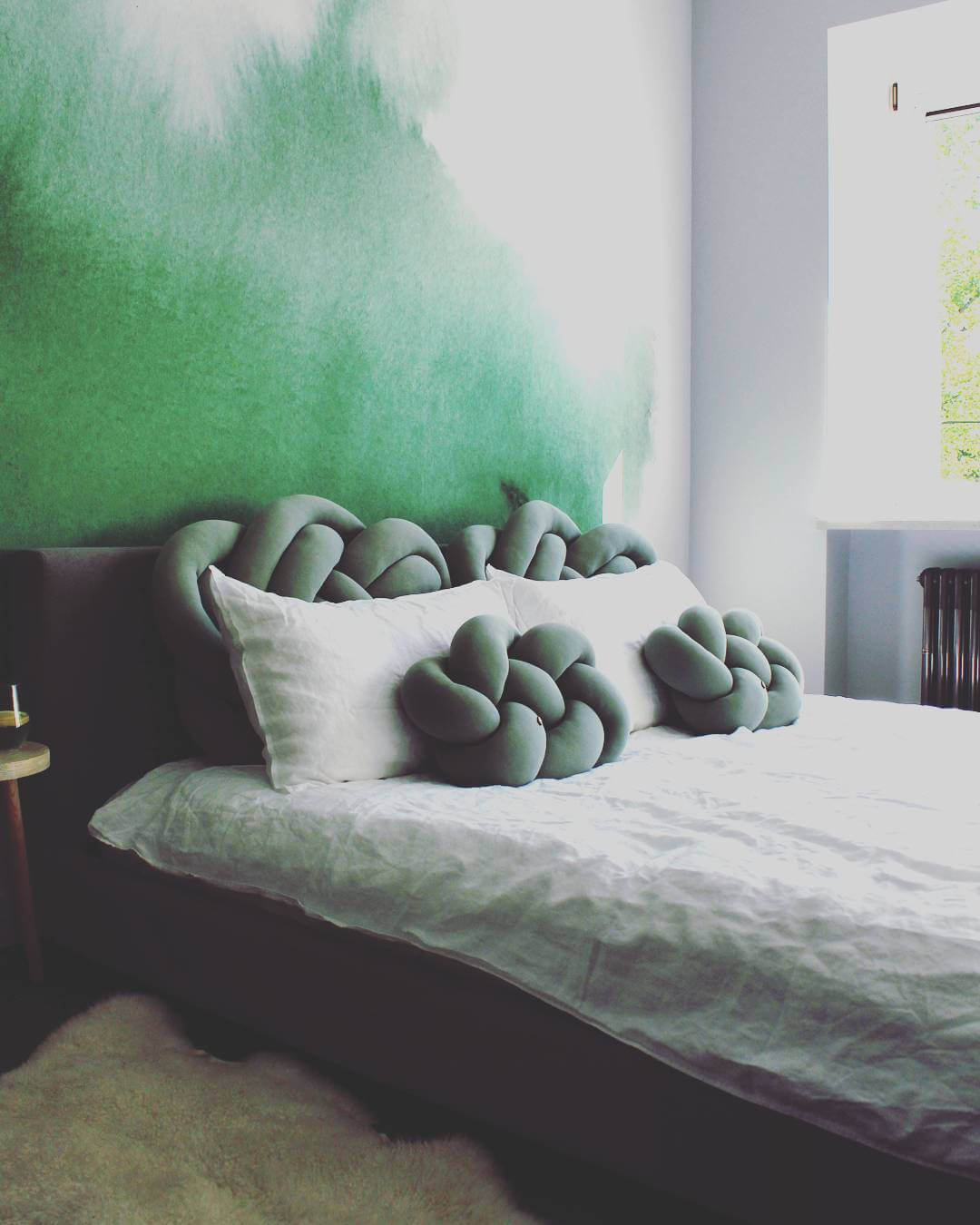 Envision the ultimate urban loft and you will see a cool pad in the city with an accent wall like no other. Welcome the abstract design of the ink pattern in this green wall art mural. Embedded with an artistic and contemporary vibe, this modern design encompasses the creative watercolor into a practical and everyday living space. Whether placed behind the bed as an accent wall in the master bedroom or across the room from an interior brick wall in the living room, this ink texture works perfectly in the modern designer's eye.
29. Herringbone Hand Drawn Zebra Printed Black and White Mural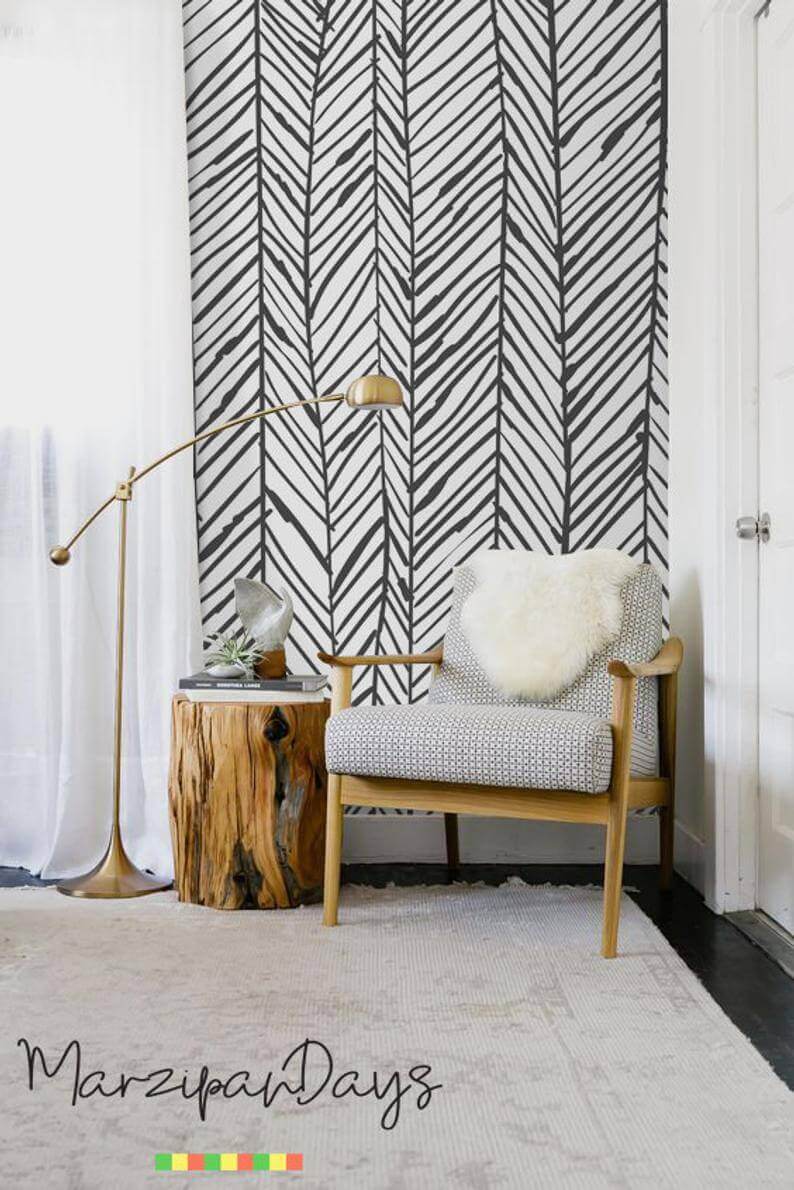 How do you take a simple design in the most classic color palette and give it an updated look? A hand drawn zebra print in a herringbone pattern should do the trick! The dramatic display of this timeless color scheme lends itself perfectly to making a bold statement to make your space feel anything but cookie-cutter. The novelty of this pattern has stood the test of time and incorporates a modern element in the hand drawn custom feature in its design. Showcase your unique personality by trimming out your modern and elegant dining room with this black and white wall mural.
29 Trendy Wall Murals that will Infuse your Rooms with Personality
As wall paper positions itself back on the walls of the design world, many are sure to exhale a deep and exhausted sigh as they are reminded of the frustration and hard work this pretty paper has provided over the years. This doesn't have to be the case with the improvements of today and the ability to get the look you crave without the fuss thanks to vinyl wall murals. Now more than ever, making a space your own and infusing it with your unique personality has never been easier and more fun! You can add depth and design to your decorating with a simple peel and stick and a little smoothing out. From the modern farmhouse or the contemporary city loft, there is no look that a wall mural can't handle. Give your home that lived-in look and a feeling of southern hospitality with the aesthetic allure and instant spark you get from the beautiful wall art murals here on ETSY. One of the best wall mural ideas is whichever one speaks to you and really shows the world who you are and what's important to you!
Choose Rustic Wall Decor Ideas to Make Your Home Warm and Inviting