Installing wall organizers for laundry rooms can open up your space, erase clutter, prevent soiled laundry buildup, and even give you a reason to enjoy doing your laundry. Unfortunately, most home designs cram the washer and dryer in the smallest space possible. This can make an effective laundry routine difficult to maintain. Introducing vertical storage can alleviate the headaches that come with fighting a small laundry room. Of course, if you are lucky enough to enjoy a spacious laundry room, many of these ideas can help keep your laundry accouterments orderly.
Creative Ways to Use The 20 Best Wall Organizers for Your Laundry Room

Beyond the practical reasons, integrating laundry room wall organizers offers a much improved visual experience. Beyond cutting clutter, there are many ways to incorporate these laundry room organizer ideas into your aesthetic. From canvas laundry bags in colors that harmonize impeccably with your décor to clever storage tricks, these 20 ideas are ready to revolutionize your laundry routine.
Because every household's laundry process is unique, some wall organizer ideas will be more useful than others. However, the ones that fit in your regimen will be able to take your laundry room to the next level. One of the first steps is finding a way to effectively sort dirty laundry before it even enters the laundry room. After that, the best wall organizers for your laundry room depend on your preferences and aesthetic style.
1. Laundry Room Organizer Ideas that Exude Tranquility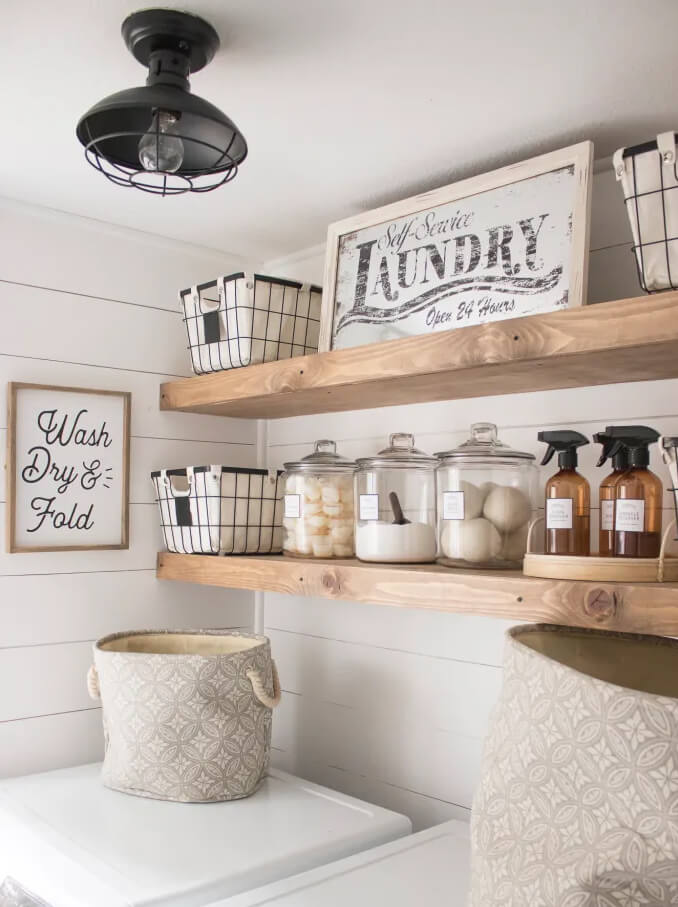 To develop a space that feels like a stress-free haven, fill your laundry room with soft neutrals. Inviting cream hues and natural wood give this space character while rich black accents provide an anchor. To cultivate a healing ambiance, switch out warm cream tones for cool gray shades. Beyond the color scheme, draw inspiration from the unique containers used in this image to create your own perfect laundry room.
2. Upgrading Wall Storage for a Laundry Hallway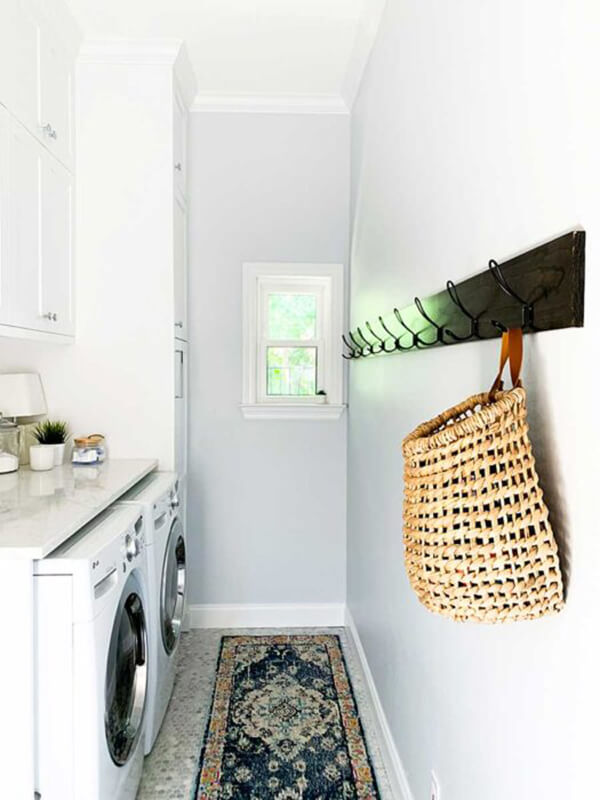 Long, narrow spaces can pose a challenge for anyone desiring an organized space to get laundry done. On one side, this hallway features cabinets overhanging the washer and dryer while the other features a rustic-style board with hooks. Hooks offer versatility: they can hold air-dry articles, laundry bags, or organizer baskets like the one shown here. The dark stain color contrasts with the cool whites featured in the rest of the space.
3. Maximize Space by Going Vertical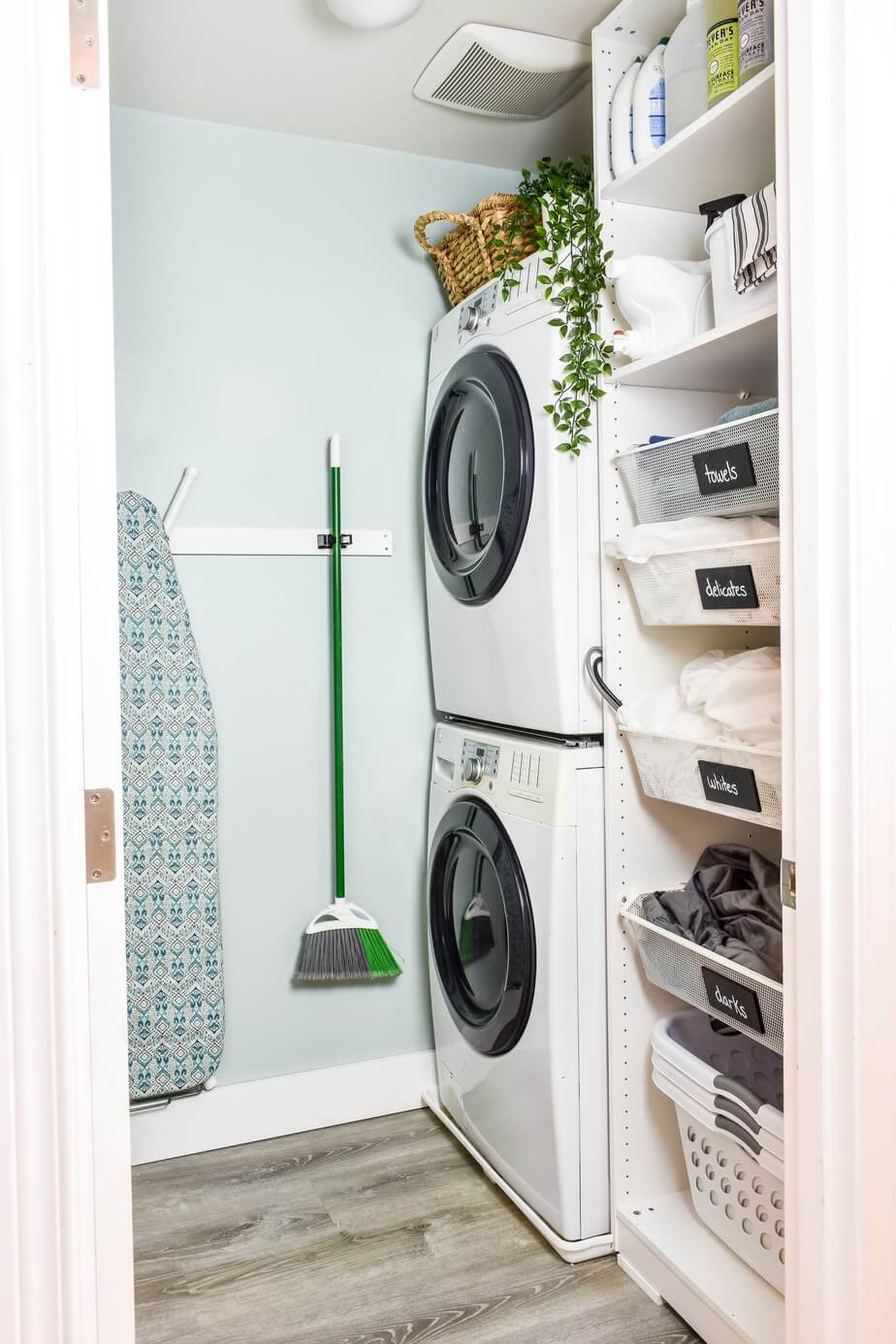 Yes, even small laundry rooms can provide ample space for dirty laundry sorting systems that do not involve the floor. This example uses a wardrobe and mesh drawers to contain the soiled garments. When a drawer gets full, it is ready to be loaded into the washer. Because this strategy switches out plastic laundry baskets for wire mesh, it is one way to add a touch of elegance to your laundry room.
4. Canvas Bag Laundry Sorting System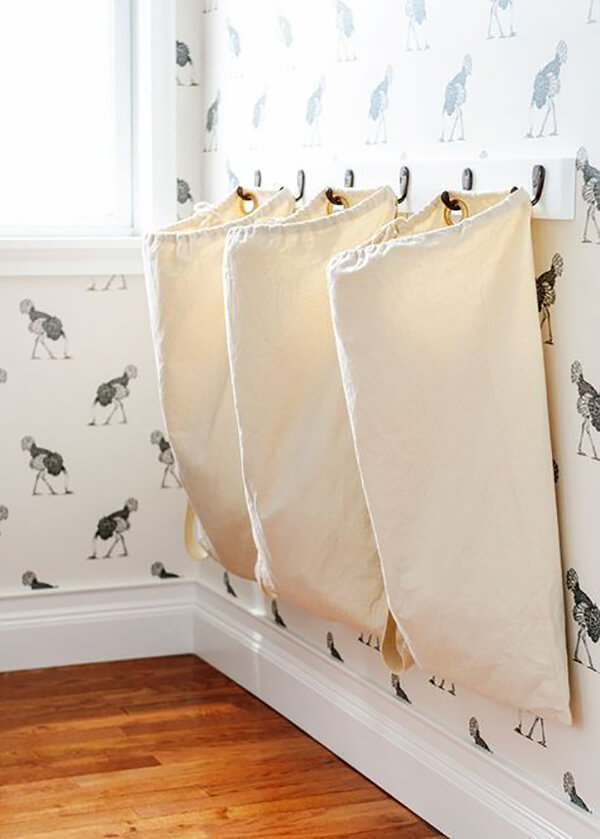 Although simple, this laundry organization system is a great way to institute order within your household. Use each bag for a category like lights, darks, delicates, or even separate laundry loads by person. If you need more than three categories, all you need to do is add more bags. While the plain canvas bags shown here are the most budget-friendly option, you can also find patterned canvas bags to coordinate with your décor.
5. Galvanized Tubs and Wicker Baskets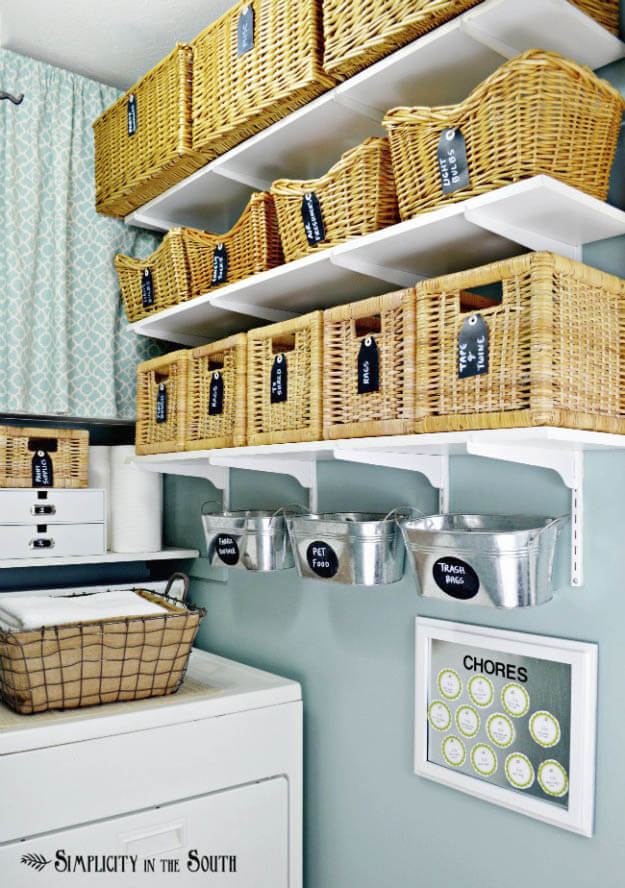 Laundry rooms often seem to become home to some of the more miscellaneous household necessities that are not directly related to laundry such as trash bags, pet food, and light bulbs. Galvanized steel tubs and wicker baskets are a great way to make your miscellaneous storage look absolutely stunning. Of course, you could use this strategy for all the laundry supplies you need like fabric softeners, dryer sheets, or mysteriously mateless socks.
6. Labeling Wall-Mounted Laundry Room Organizers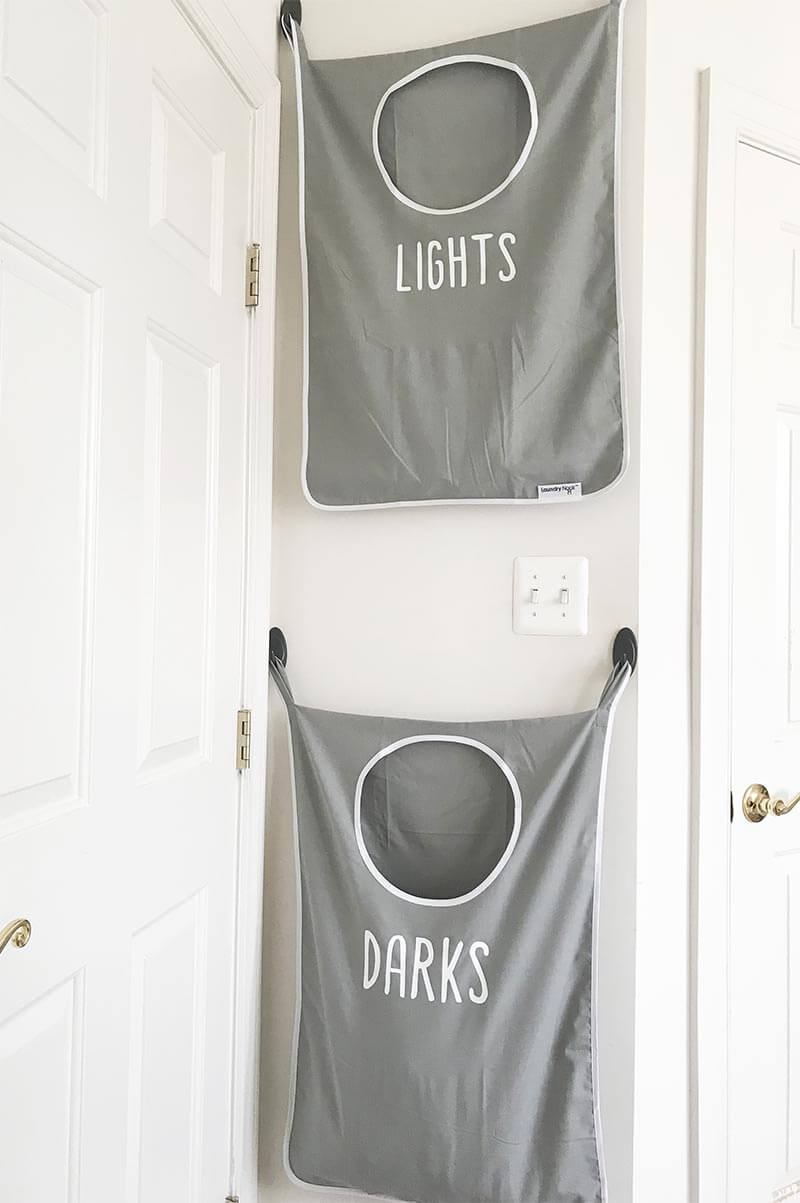 When multiple people are responsible for sorting clothes, unlabeled laundry bags make for a time-consuming laundry experience. Beyond fixing this issue, labels mean that everyone in your household can self-sort their laundry. Follow this tutorial to label your own "lights" and "darks" bags, or get creative and use your favorite iron-on labeling method. Because these laundry bags are installed via command hooks, they are even an option for anyone renting.
7. Fully Customizable Laundry Bag Sewing Project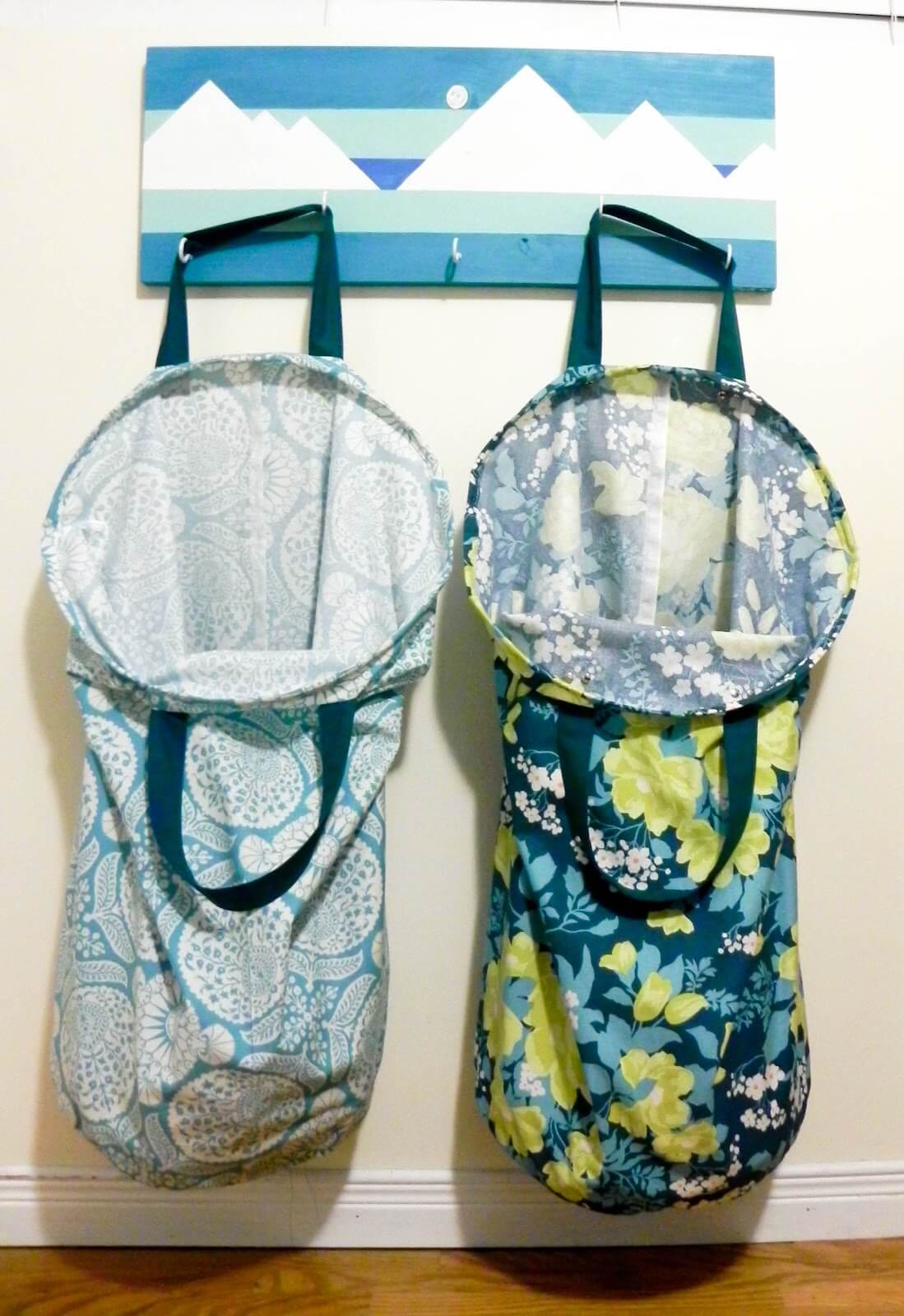 If you have a specific vision of how your perfect laundry room will look, this tutorial can help you precisely capture your vision. Any type of form-holding fabric will work for this project. With patterns this beautiful, you might not want to hide your dirty laundry in closets. Alternatively, for a wordless minimalist approach, imagine one bag made from light-colored material while the other is made from dark-colored material.
8. Concealing Dirty Laundry Bags in a Closet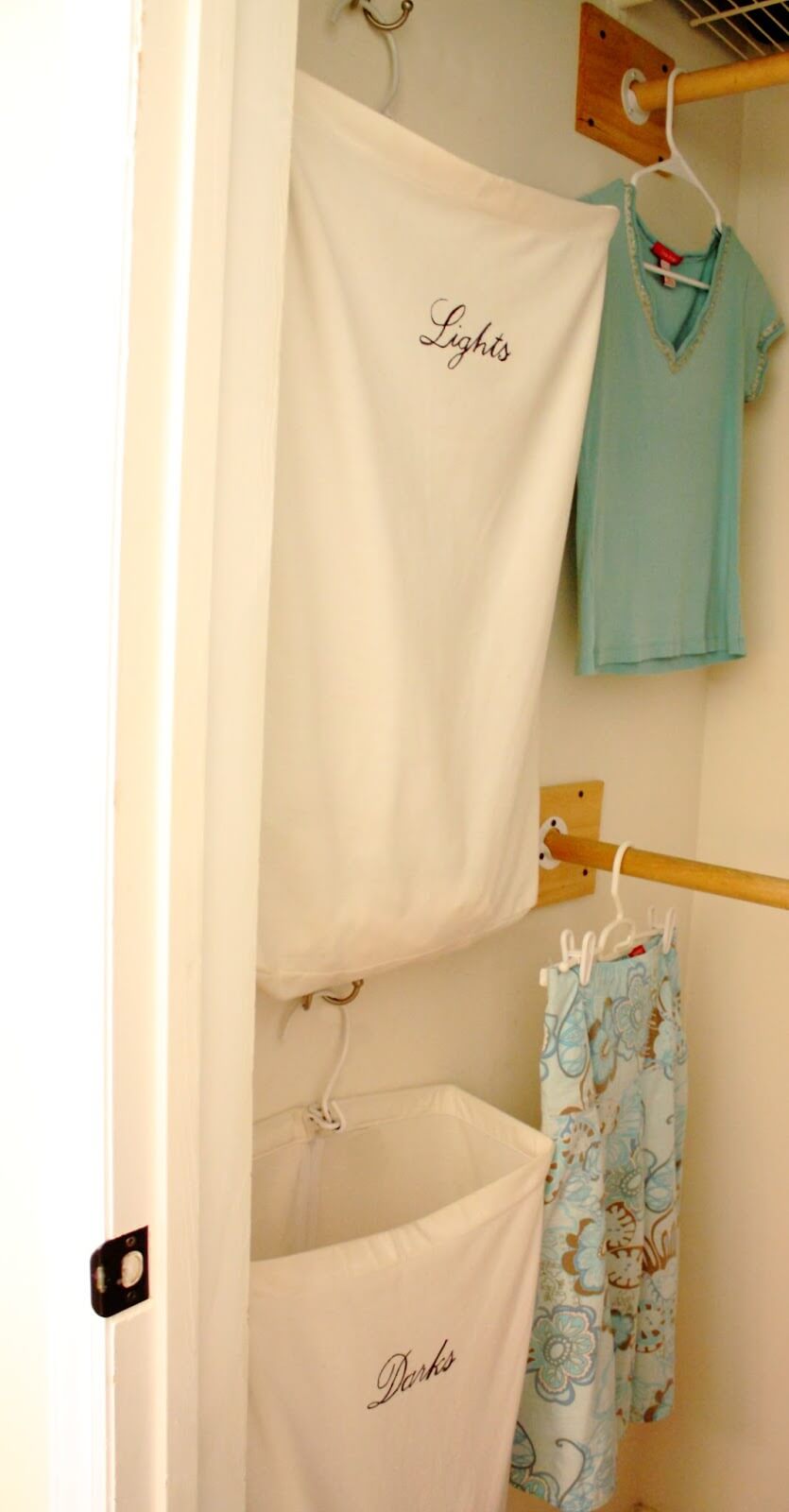 Every laundry setup is different. If your home includes a laundry closet, this is one of the best wall organizers for laundry rooms. Canvas laundry bags stacked vertically offer a gracefully out-of-sight option for any unsightly dirty laundry. Swirling script lettering inspires quick laundry sorting and keeps dirty clothes off the floor. If no closet space is available, these laundry bags can also be installed on the backside of a door.
9. Using Wooden Pegs to Mount Canvas Bags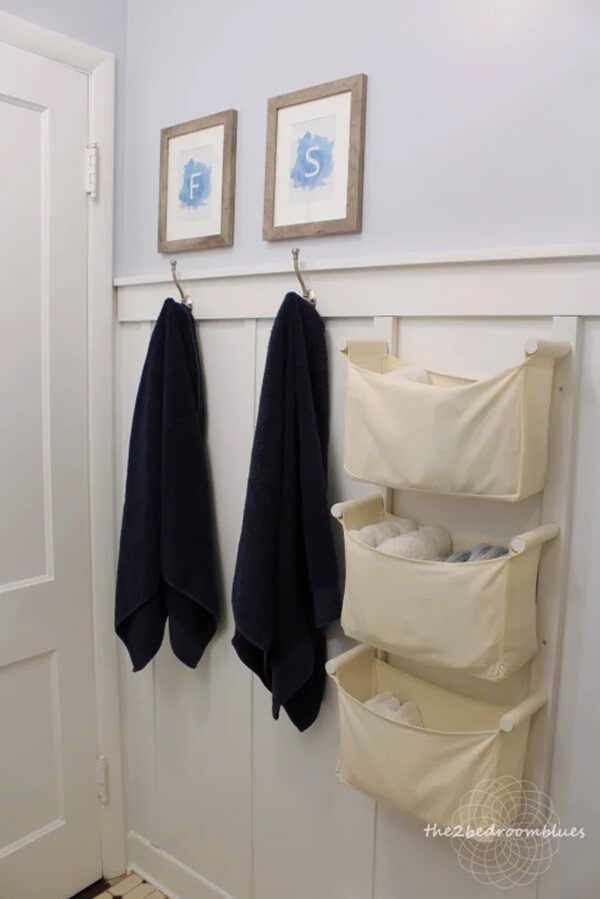 If you do not love the look of plastic or metal hooks, why not adapt your canvas laundry sorting bags to this wooden peg system? Because the pegs are painted to match the board and batten, these laundry room organizers seem to fade into the décor. Locate them in a bathroom to provide a receptacle for soiled washcloths, bath towels, hand towels, or any other bathroom linens.
10. Apartment Laundry Room Organizer Ideas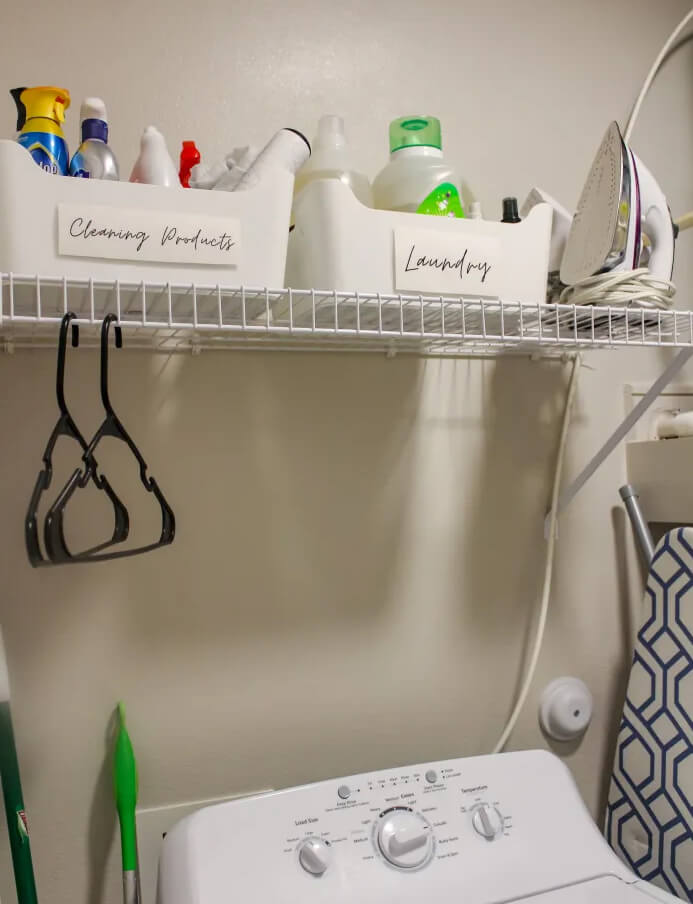 Notorious for being small, apartments often do not offer much storage space for all the necessary laundry accessories. One inexpensive way to upgrade your current setup is to use plastic bins with removable labels. Because they are easy to clean, plastic containers make great homes for laundry and cleaning products. Add matching labels, and you will be able to enjoy an orderly space even in a small apartment laundry closet.
11. Creating Your Own Ironing Board Holder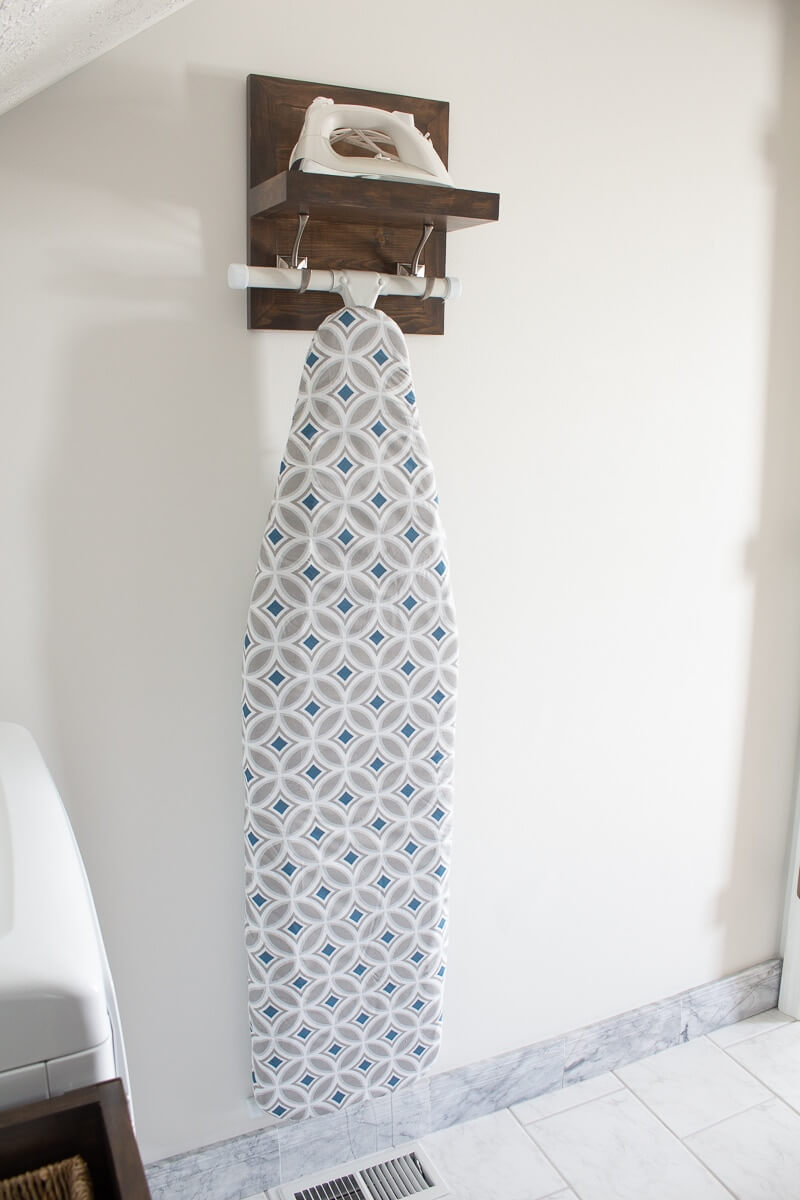 With a small amount of wood and a little determination, your iron and ironing board can enjoy a stylish new home. Because of its simple design, this beautiful organizer is a study of practical efficiency. Although this tutorial is for ironing boards with T-shaped legs, it can be modified to suit those with Y-shaped legs. As you are the one building it, you can personalize the appearance to suit your décor.
12. Wall-Mounted Dryer Lint Disposal Container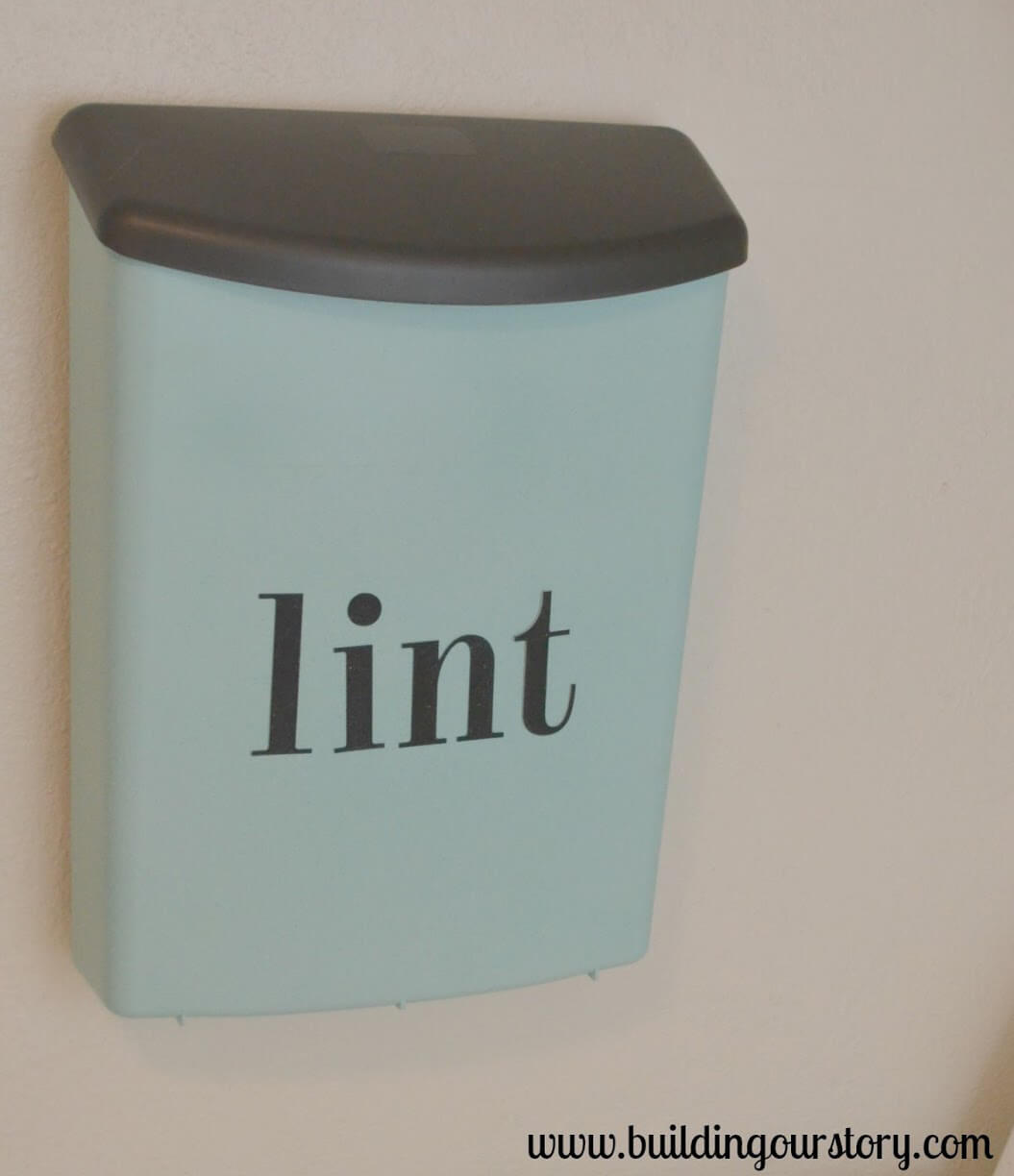 Installing an appealing dryer lint disposal system goes beyond looking nice – it encourages safer habits. Remembering to empty the lint filter after every dryer cycle reduces fire risk, and this attractive container actually makes it a pleasure. Use a grocery bag as a liner, and you can enjoy easy lint removal. If anyone in your household enjoys camping or gardening, the dryer lint can be used as fire starters or as compost.
13. Mateless Sock Washboard and Wire Mesh Organizer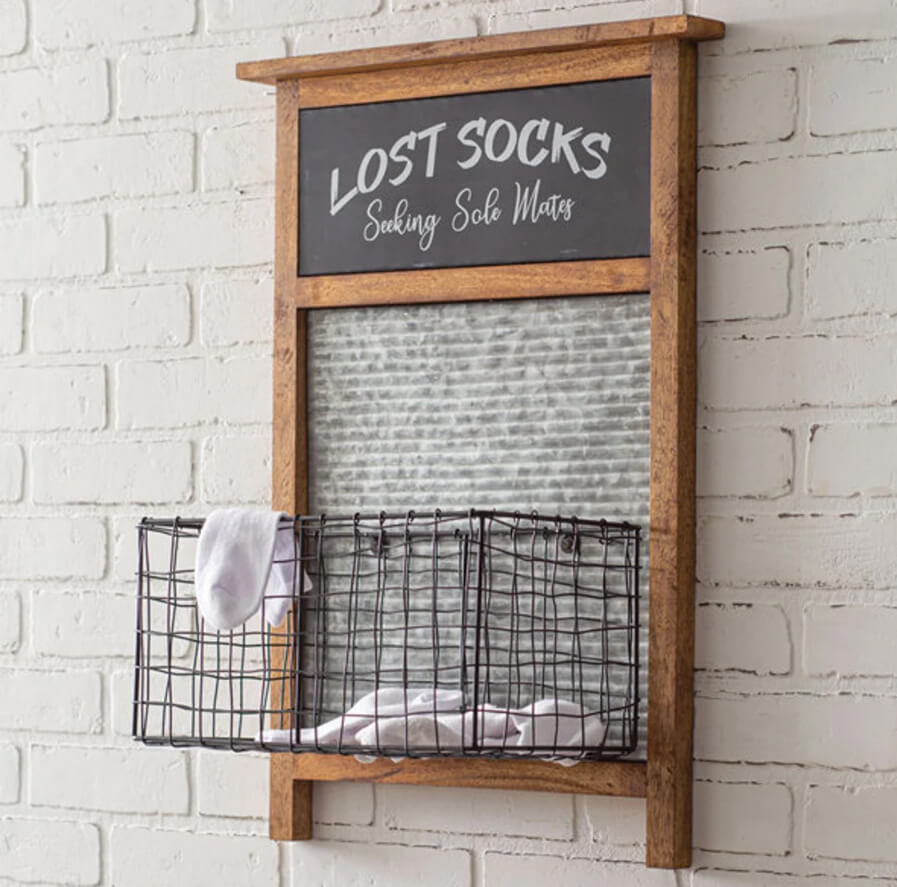 Nearly every laundry operation faces the mismatched sock challenge – there are always a few socks that seem to have lost their mates. To solve this problem in a fun way, why not hang this washboard organizer in your laundry room? The top portion is a chalkboard that will allow you to write your own message if the "Lost Socks: Seeking Sole Mates" text does not fit your style.
14. Distressed Farmhouse Laundry Sign and Hanger Holder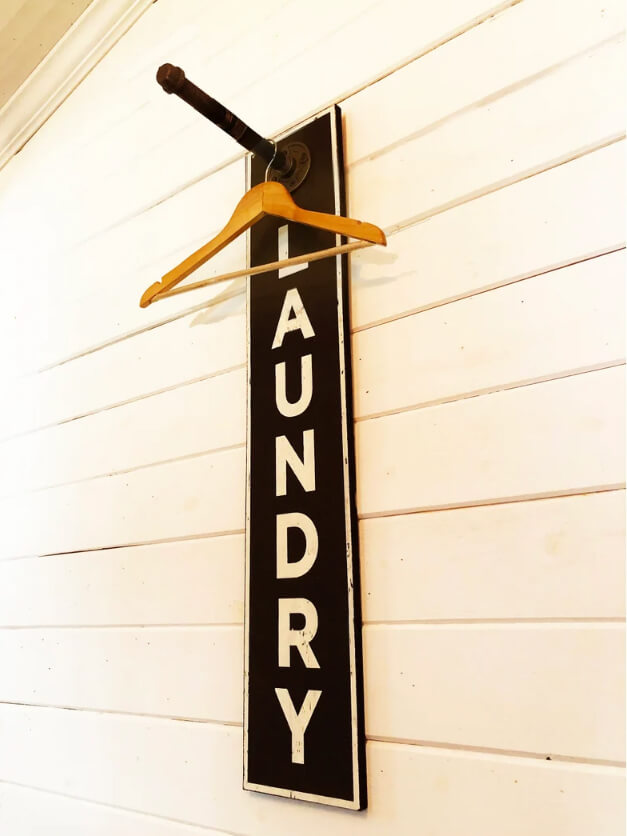 Not all laundry room upgrades need to be complete overhauls. With these laundry room organizers, you can augment your current laundry routine by giving yourself somewhere convenient to hang your air-dry-only garments. To prevent wrinkles, it also makes a fantastic first stop between the dryer and closet. A chic black and white "Laundry" sign means this functional hanger holder will coordinate harmoniously in any farmhouse or rustic laundry area.
15. Colorful Interlocking Cotton Laundry Bags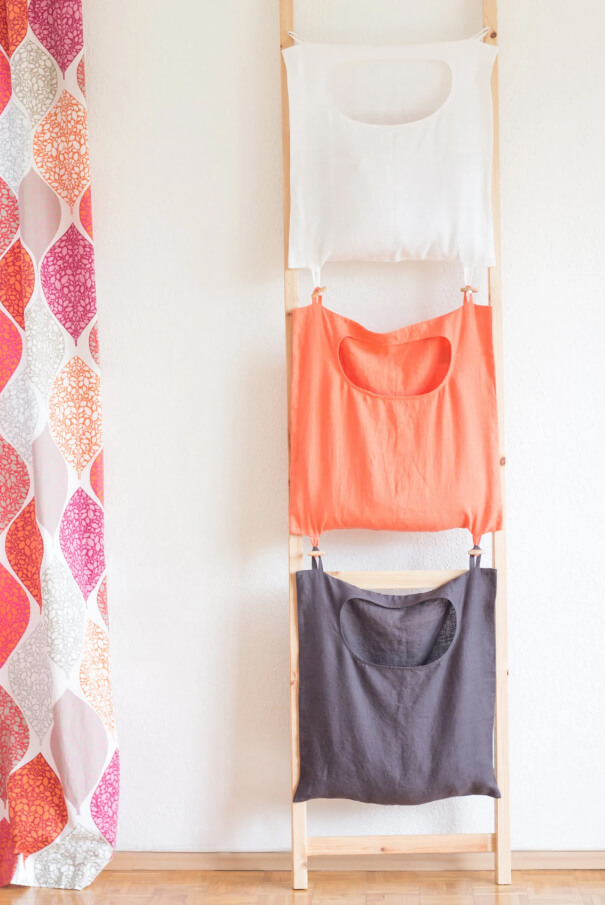 With 14 color options, these modular laundry bags make sorting clothes for multiple people a breeze. All you have to do is hang a set in each bedroom and let the individuals self-sort. Each bag uses wooden beads to hold the bag below it for an aesthetically pleasing effect. Because of all those color options, you can rest easy knowing that you will be able to coordinate perfectly with your décor.
16. Galvanized Wash Tub Shelving Unit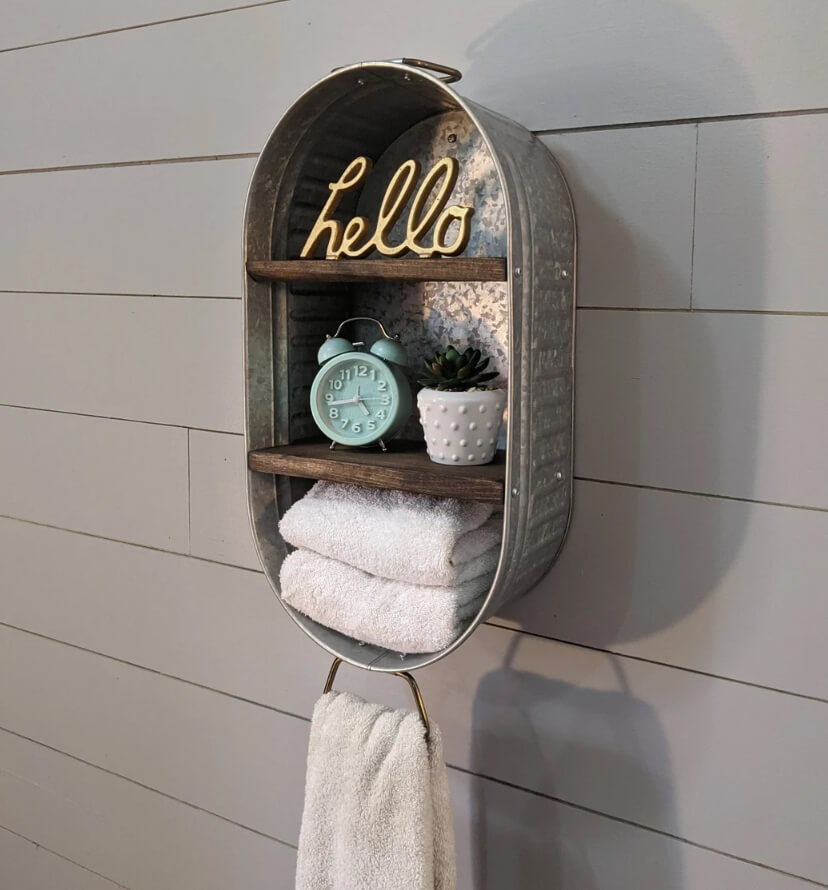 The best wall organizers for laundry rooms offer a balance between the visual and the functional. As a wash tub, this shelf offers a unique laundry-themed visual cue that encourages celebrating all things rustic. On the practical end, imagine using these shelves to store cleaning-related products like stain remover, wrinkle release, small containers of laundry soap, or wool dryer balls. Of course, you can also use it to display small rustic laundry decorations.
17. Hiding Away Your Iron and Ironing Board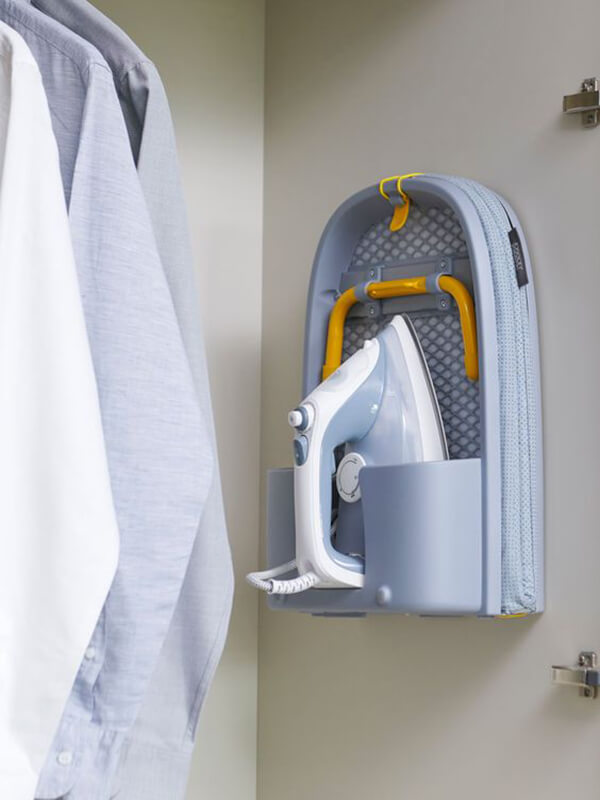 Perfect for anyone with limited space, this is actually a table-top ironing board that is also designed to hold an iron. While a full-size ironing board is useful if you iron a large percentage of your clean laundry, it can be a hassle to store. This tabletop ironing board complete with an iron holder is the ideal option if you only regularly iron a few articles of clothing per laundry cycle.
18. All-In-One Wooden Laundry Room Organizer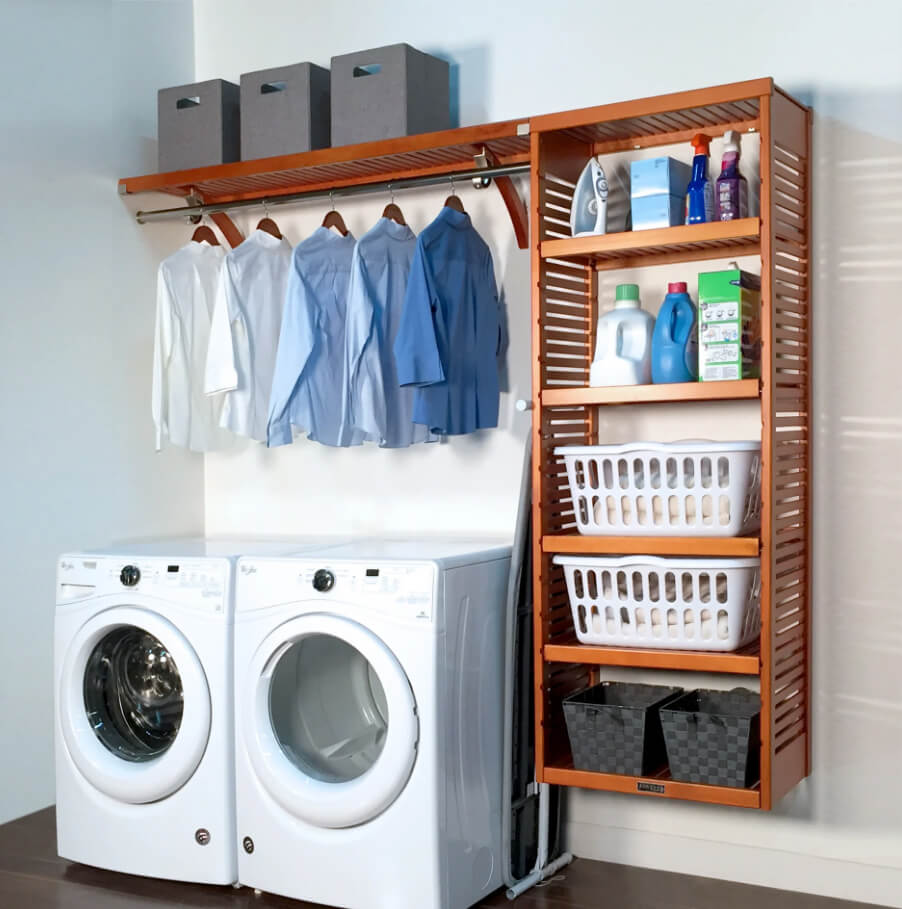 This organizer has it all: vertical shelving, overhead storage, and a clothing rack. There is even room for a full-size ironing board. If your laundry room can accommodate its dimensions, this beautifully-finished wooden unit effortlessly meets most laundry needs. Because the shelving is adjustable, you have the power to configure the shelves to best fit your laundry routine. The gorgeous caramel finish and slatted design completes the look for an elegant storage solution.
19. Handcrafted Wooden Floating Shelves for Sturdy Storage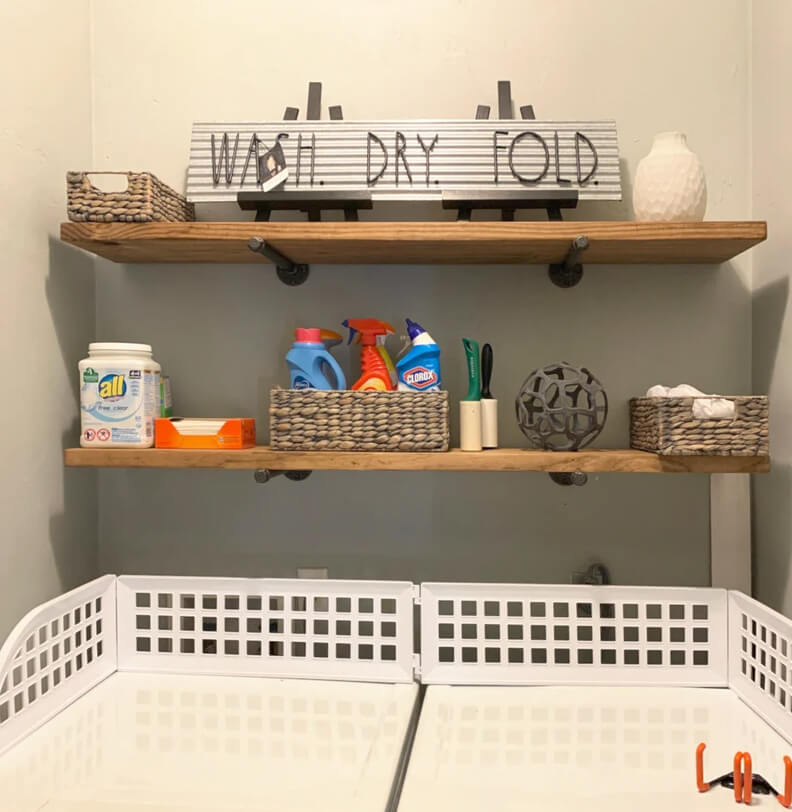 Made from solid pine, each of these shelves offers a warm touch of nature in your laundry room. Iron pipe brackets promise ample support for all your laundry storage. Depending on how you style the shelves, wood and iron are versatile enough to pair with a variety of décor themes. Because you can choose from 12 different stain options, your new floating laundry shelves will look perfect in your space.
20. Handmade Extra-Large Clothespin Laundry Room Organizer Ideas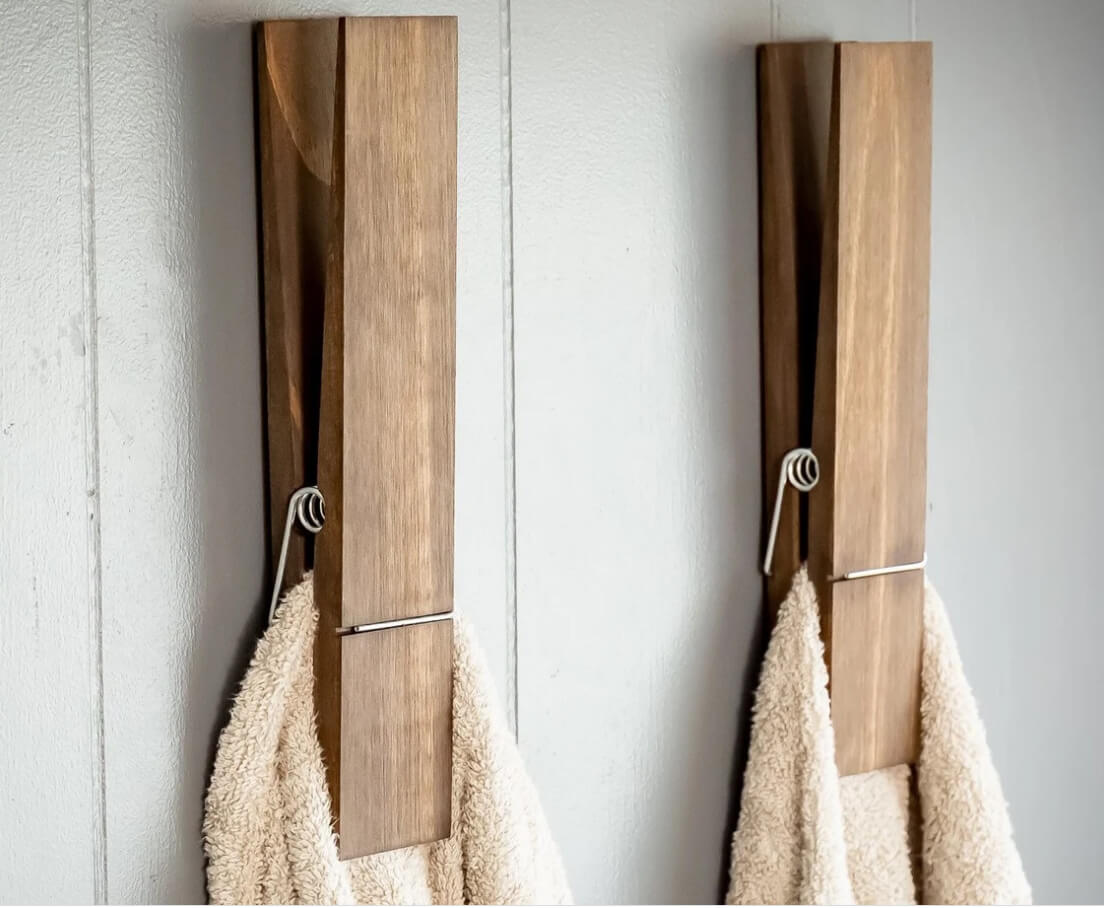 Instead of installing hooks in your laundry room, why not jazz up your vibe with these 12-inch clothespins? These are fantastic for articles like towels, but, when mounted via the included command strips, might not be suitable for a full canvas bag full of laundry. However, they are able to hold bags full of lightweight laundry essentials. Because these hook alternatives are handcrafted, each clothespin showcases its own personality.
20 Best Wall Organizers for a Laundry Room You Can Be Proud Of
As you begin your laundry room improvements, remember that these ideas can be modified to better fit your needs. As an example, instituting a color-coded soiled laundry bag system without worded labels might be more effective in a home with small children. Figuring out your favorite way to store the laundry essentials like detergent, stain remover, and dryer sheets might take some experimentation and time. Remember to enjoy this part of the self-discovery journey. Even if you find several ways you do not enjoy organizing your laundry room, one (or more) of the strategies might inspire better organization in other parts of your home.