If you are thinking about ways to spruce up your interior, then you should look into wet rooms. What is a wet room, you ask? Simple: it's a new approach to bathroom design in which there is no tub, shower screen, or tray. The entire room is tiled from floor to ceiling and the natural gradient of the floor directs water to the drain. If you use an open floor plan approach to, for example, your kitchen and dining area, then the wet room is in the same line of reasoning. It opens up the bathroom, can help make a small wet room look bigger, and shows that you are on the cutting edge of modern home decor. As for how to make a wet room, it requires the help of an experienced plumber or fitter. The whole room needs to be waterproof, the floor needs a gradient, and the tiling needs to cover the walls and floor. The waterproofing is necessary because there are no bath walls or curtains keeping the water in one area. If you are not careful, you could accidentally cause water damage in your home.
Done right, however, wet rooms look amazing. They give the room an almost spa-like feel, and the tiling lets you experiment with a lot of colors and designs that would have been impossible otherwise. Wet rooms are also pretty easy to clean and maintain if you build them correctly. The waterproofing and sealing keeps the floorboards under the tile quite safe. If you have it in the budget, you can install underfloor heating as well. That will help evaporate the water on the floor and give you more comfort, especially in the cooler months of the year. Make sure you have good ventilation so that you can prevent the formation of mildew.
Check Out 50 great wet room design ideas for 2018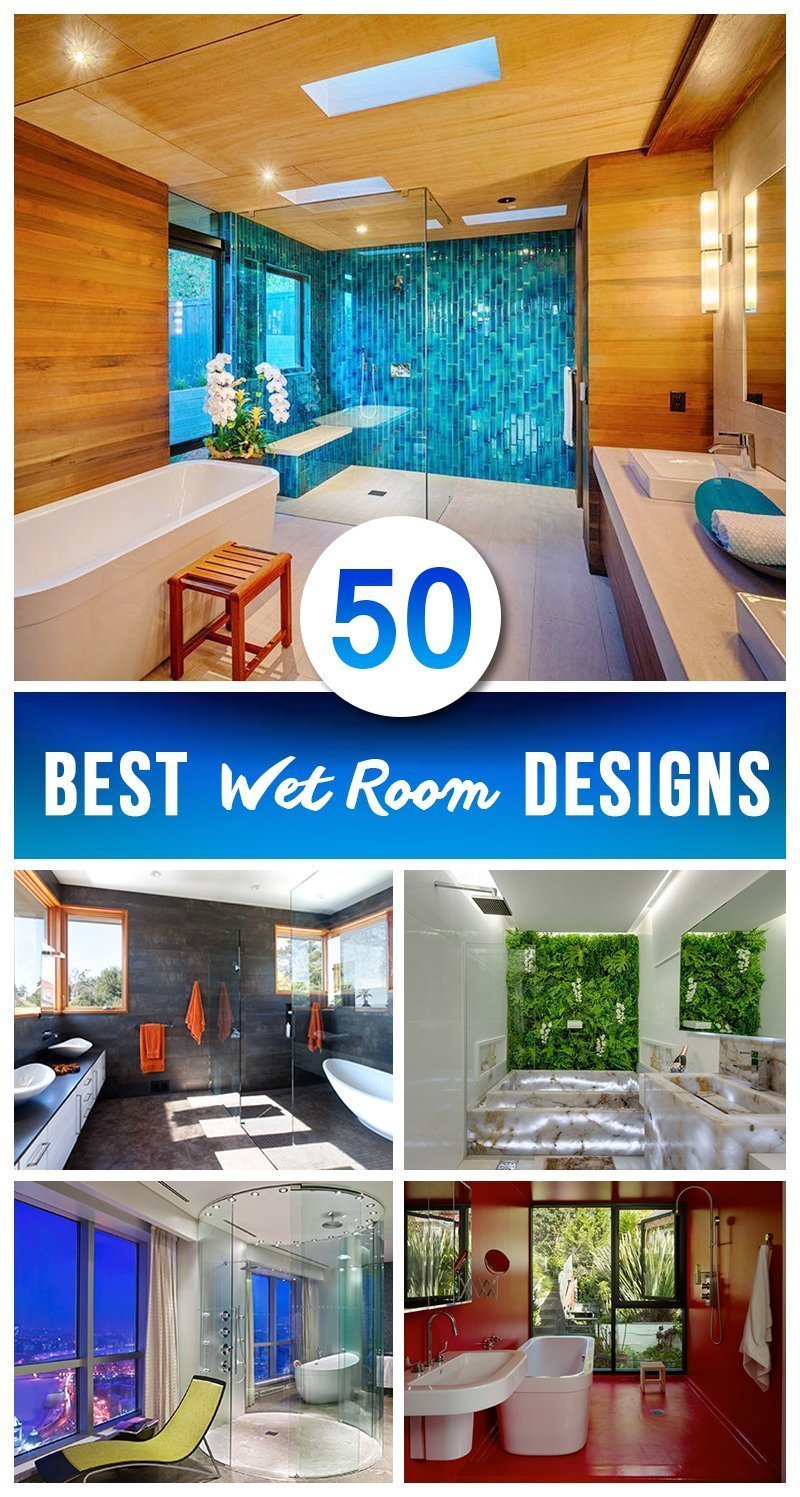 The benefits of this type of design are many. First of all, it is extremely fashionable and stylish, which increases the value of your home. In terms of use, the open design is freeing and makes the bathroom feel luxurious. Curtains and walls make already small rooms smaller, and this is the opposite approach. You get more space, easier cleaning, and a great opportunity to update the room's look. That's what we are going to talk about today: I will run down fifty pictures and show you how to use them for inspiration in the design of your own wet room at home. Some of them are simple and others are more complex. They also vary in their use of windows, how much space they take up, whether they have a tub, the materials they use, and so on. By looking through the list you will be able to find at least a few that should fit well into the design of your home. I will point out the most interesting parts of each design so you can pull them out and incorporate them into a totally new idea if you want. It all depends on what you want and what you have to work with.
1. Two-Tone Theme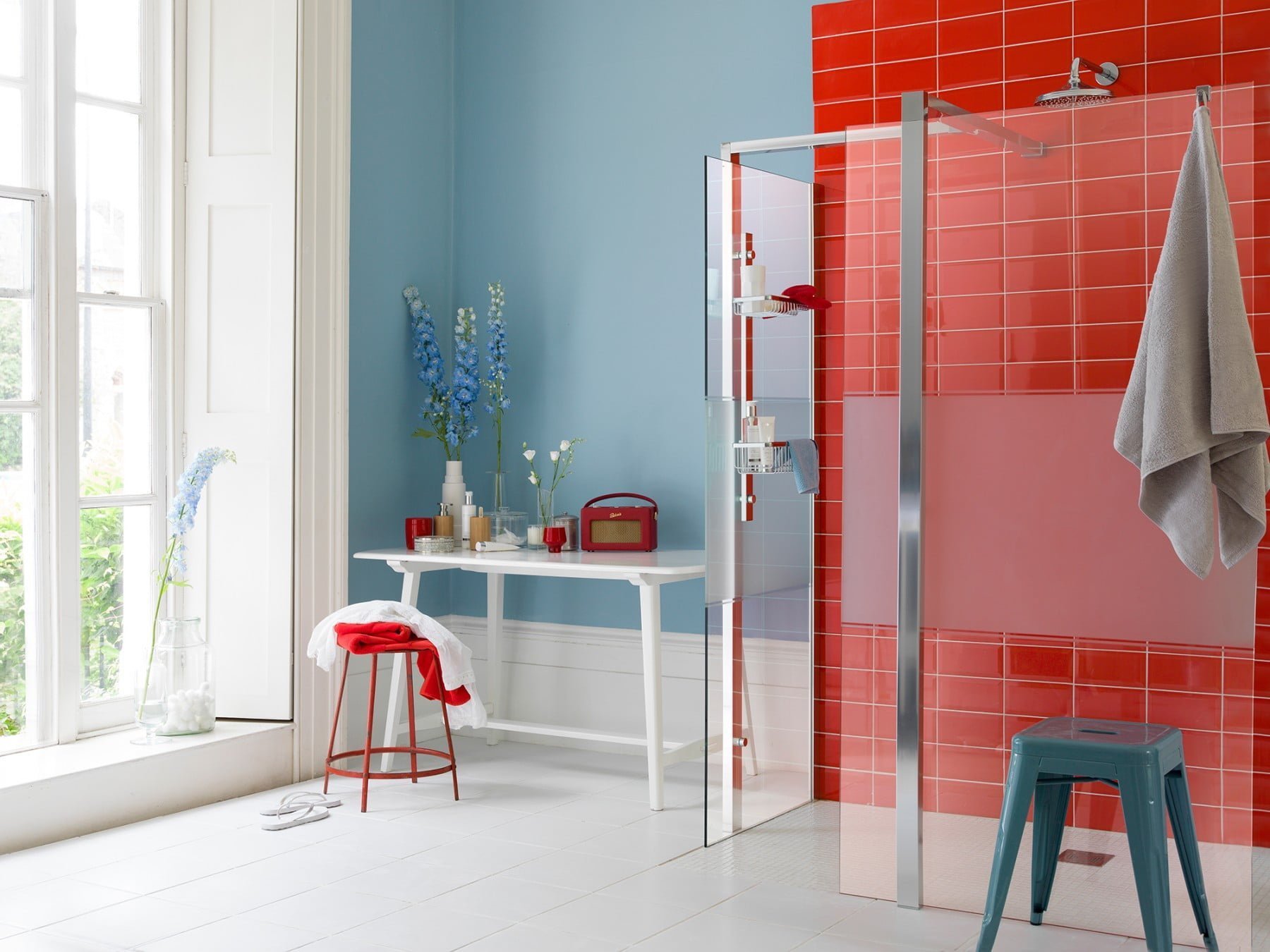 Look how beautiful this is. With just two colors and some glass, this room is transformed. You don't need to go all the way of adding flowers, but see how simple, bold colors and the open design work together to make the room large and modern. It doesn't have to be red and blue, but they work great together. Note the range of shades in the towels, stool, and other elements. The white brings it all together. You might want to skip on the floor to ceiling window in the interests of privacy.
2. Central and Circular Wet Room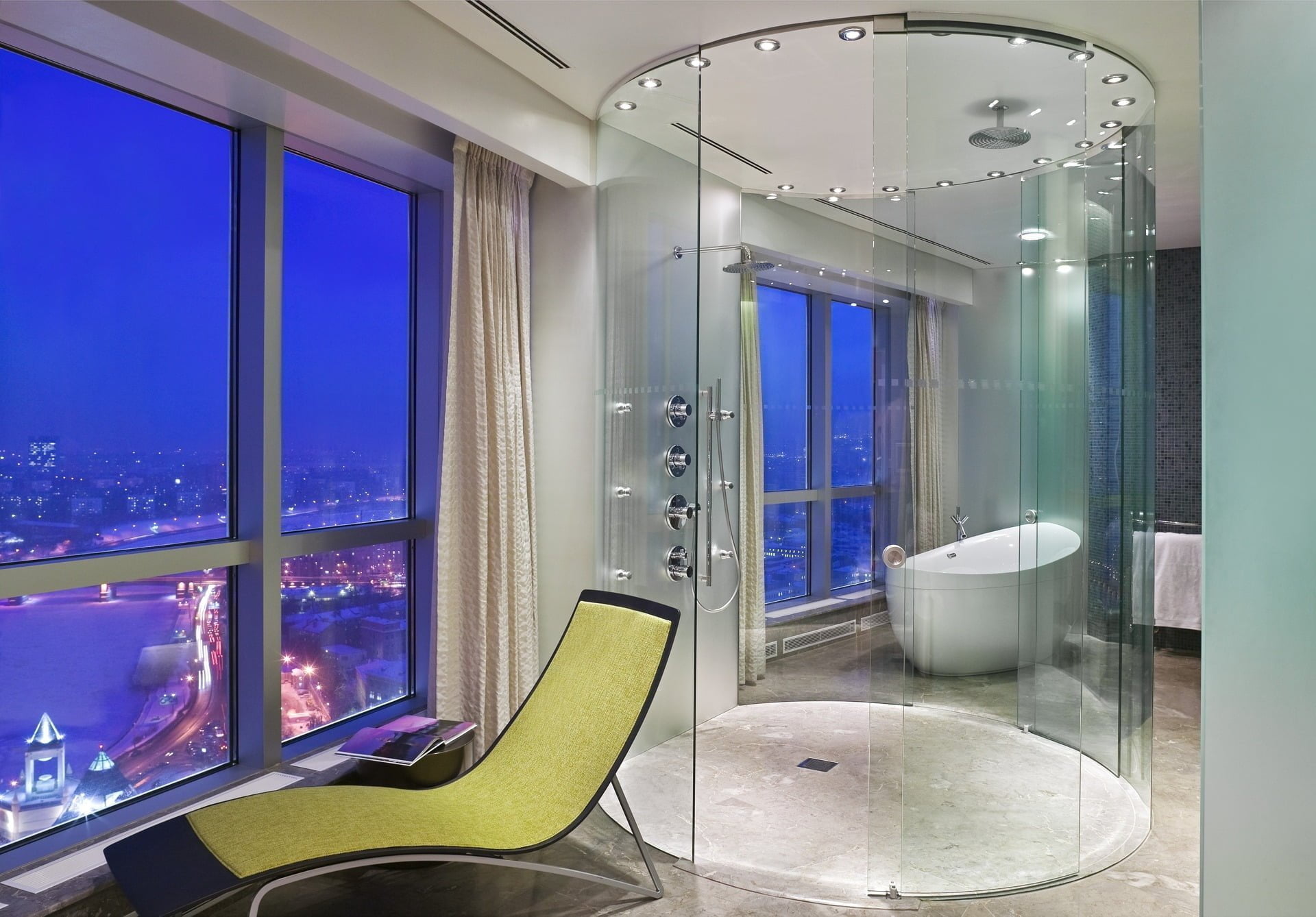 While the most common shape for showers is rectangular to accommodate a tub, it's pretty striking to see a round design. The shower feels so much larger when it is central and glassed in instead of tucked into a corner behind a curtain. See how the reclined chair defines the room to be about comfort and relaxation. That's a great attitude to have for this kind of design. I would like to see a little more color, but that's up to you. Even a small wet room feels larger with this kind of open design.
3. Tiger Eye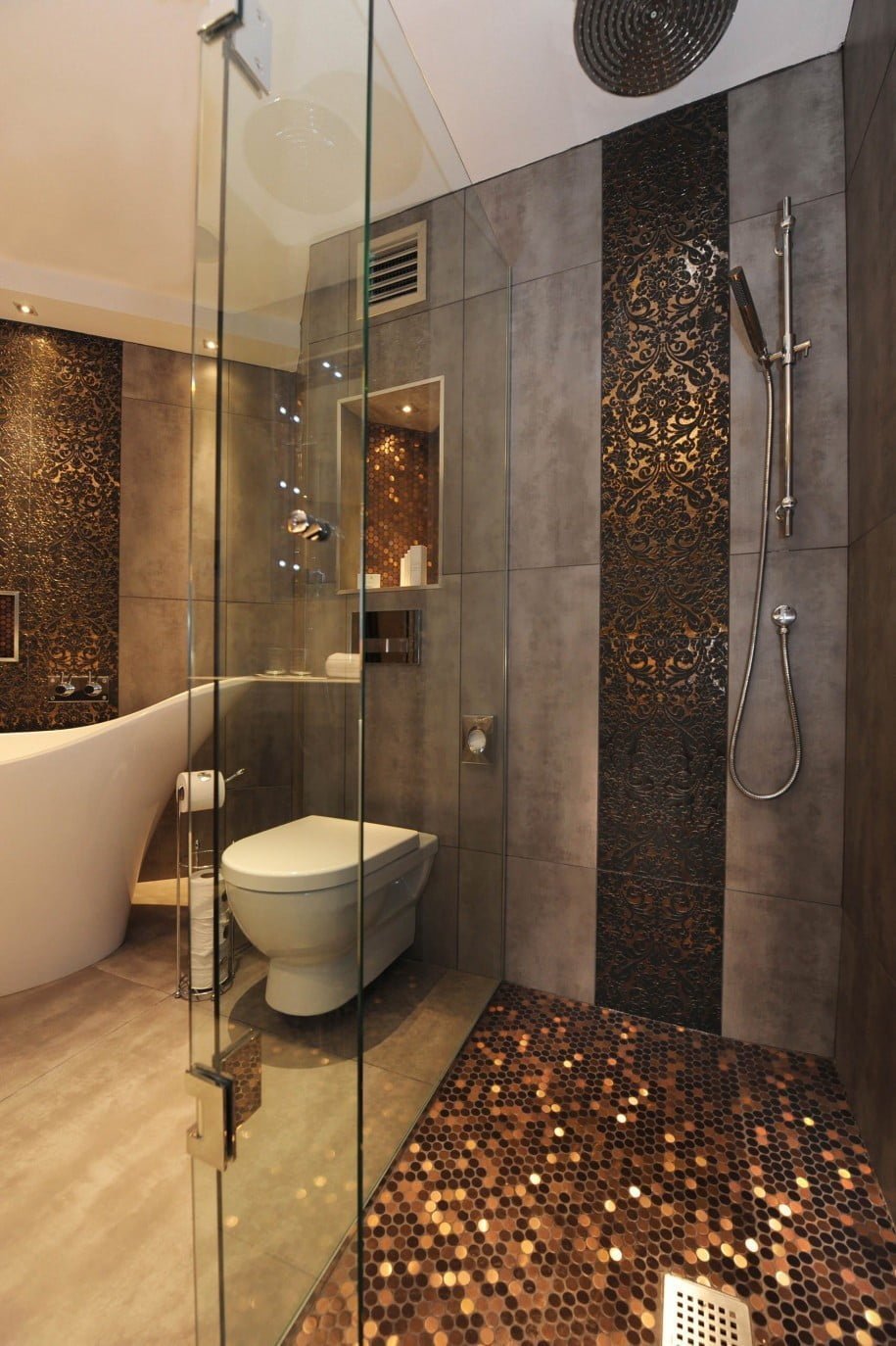 This is quite an interesting approach, because it draws on a low-light, high contrast design to make that shiny tile really pop. The room is not even that dark: we are just used to seeing light pouring in from big windows and fixtures. The woodgrain on the floor is another nice touch: it adds an organic touch. I also like the slate on the walls. Note that the toilet is mounted to the wall: that's a common move that makes cleaning easier. The curved bath is good, but you could easily drop it and just have more space.
4. Teal Dream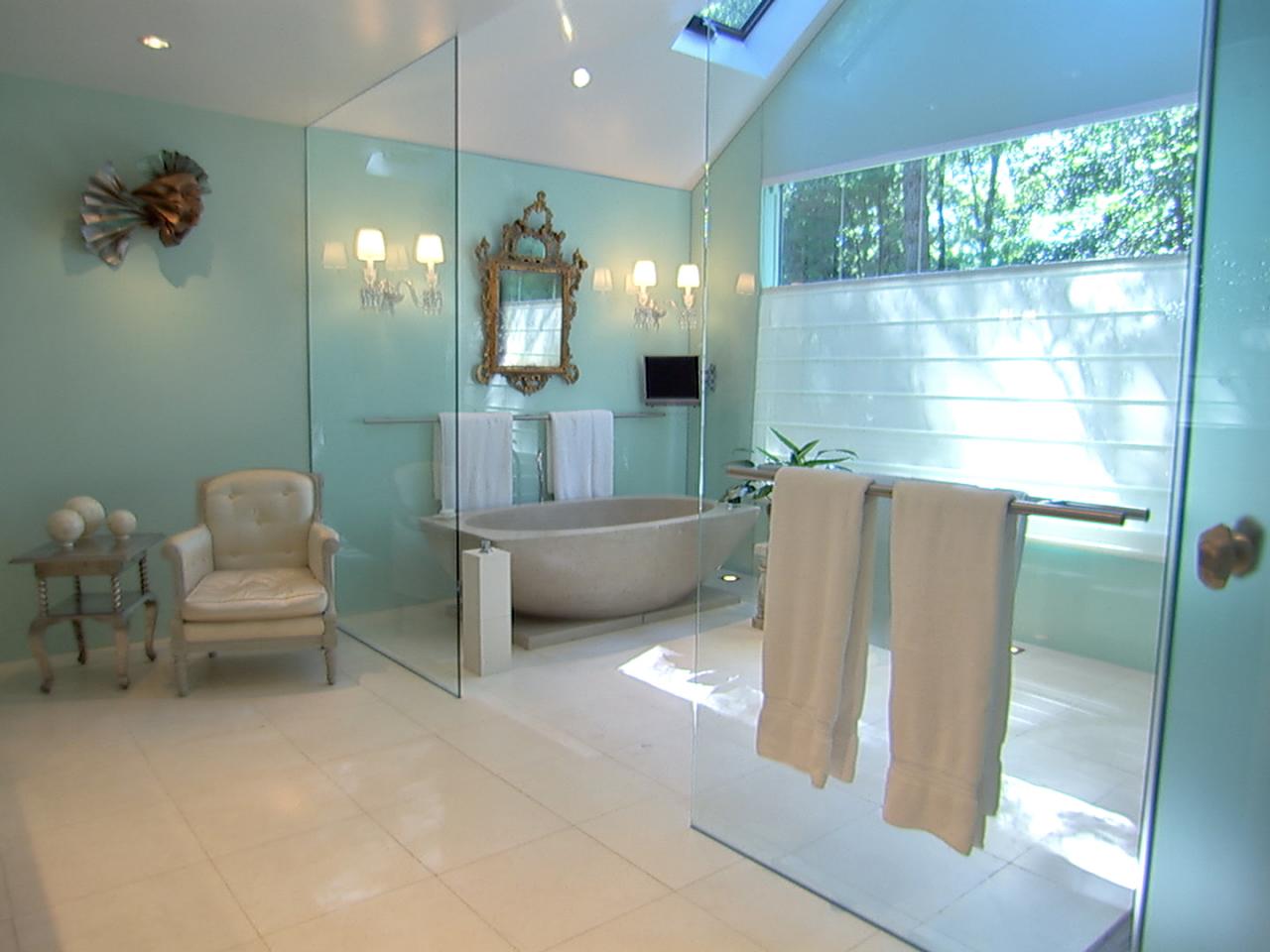 A huge proportion of the space here is inside the glass. That's a bit of a bold move because we rarely think of showers as being worth that much room, but I think it works here. Note the continuity of color across the wall and contrast that with number 1 on this list: two different approaches to that transition past the glass. The choice to put the mirror there might be a little suspect because I expect it to fog up pretty fast, but that skylight is perfect. The window also opens the room to outside and introduces a natural touch to that teal.
5. Slate Prism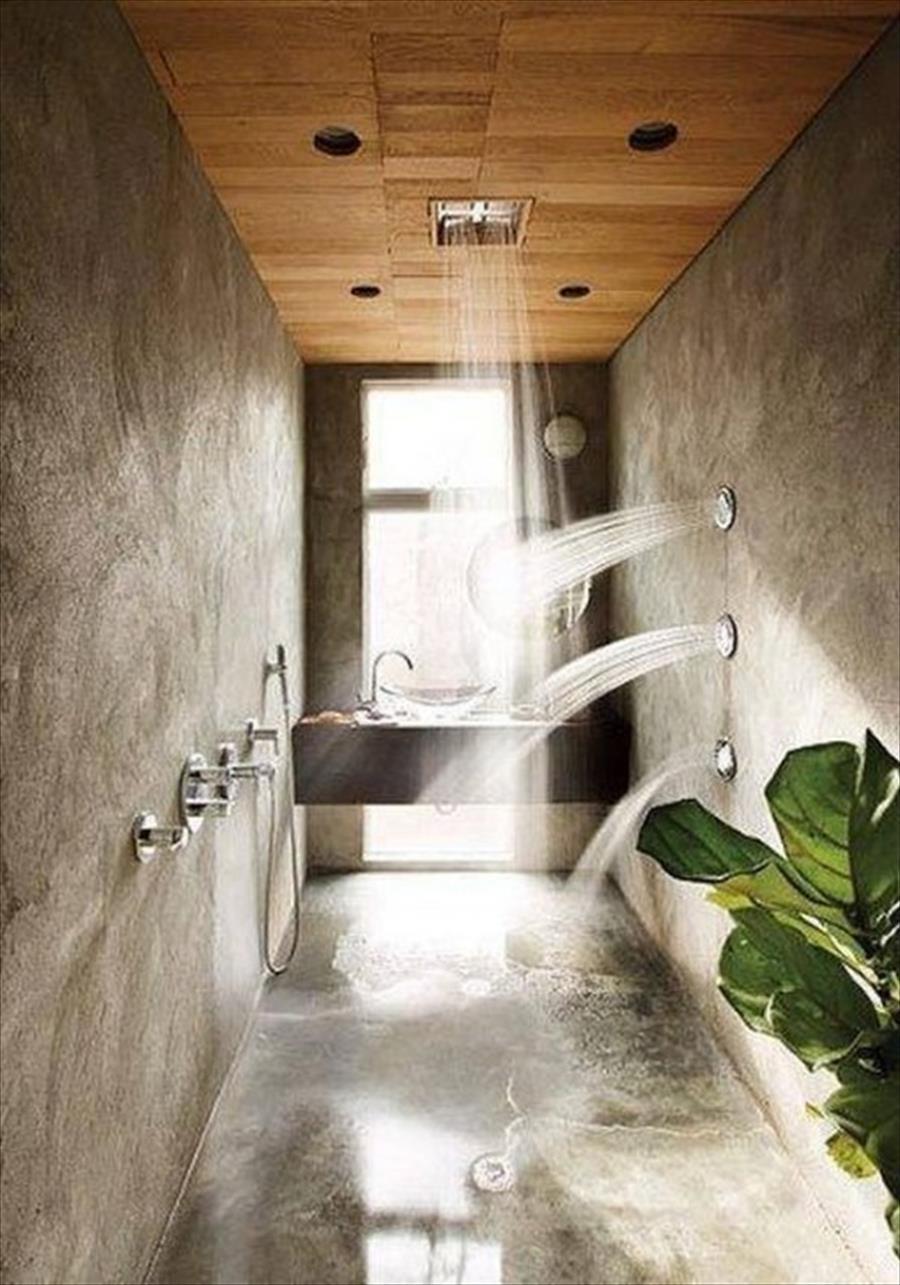 I love how this design makes such good use of space. The previous image showed what was really more space than most people have for a wet room, but this is a lot more realistic. In addition to its ability to fit a lot into the space, it also looks like something you might see in a resort or high-end hotel. Letting the light come all the way down from that one window is another good choice: you do not need a skylight to make use of natural light.
6. Modern Cerulean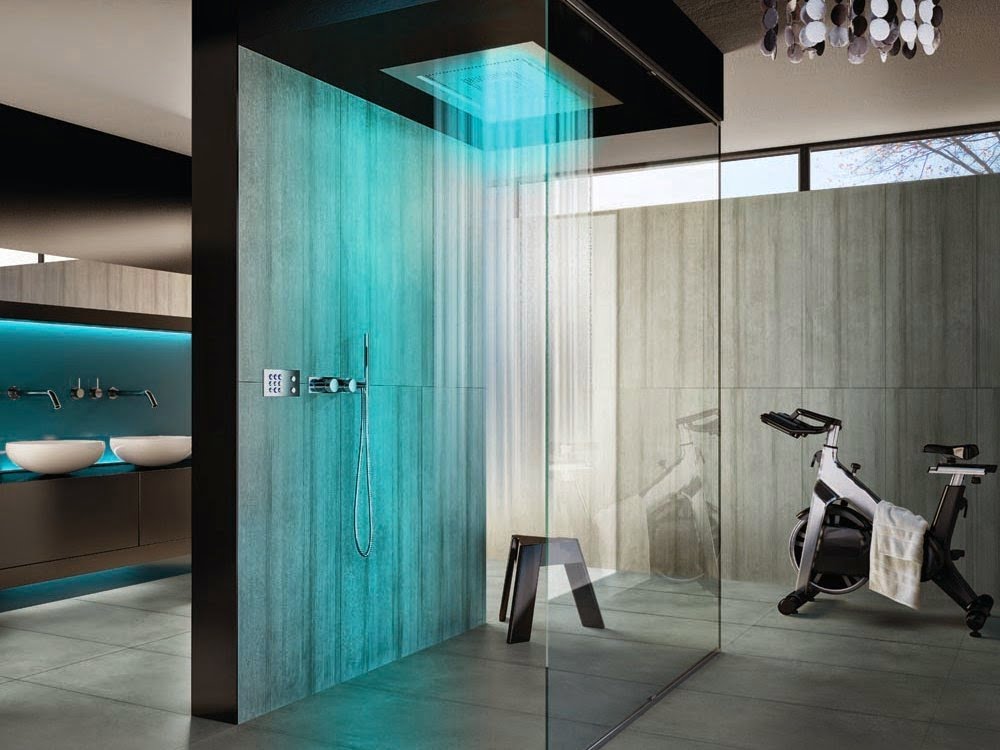 Look closely, and you'll see that all the color here comes from lights, not the tile itself. This is risky, because if you don't get it right it can look a little like the home decoration version of light-up sneakers. The way to do it is to be thematic and understated: here the designer is emphasizing water sources with blue light. There's also a lot of natural light coming in, so the blue doesn't look too artificial. It's also not a very aggressive blue. This room is also going to have very cool acoustics.
7. Get Yellow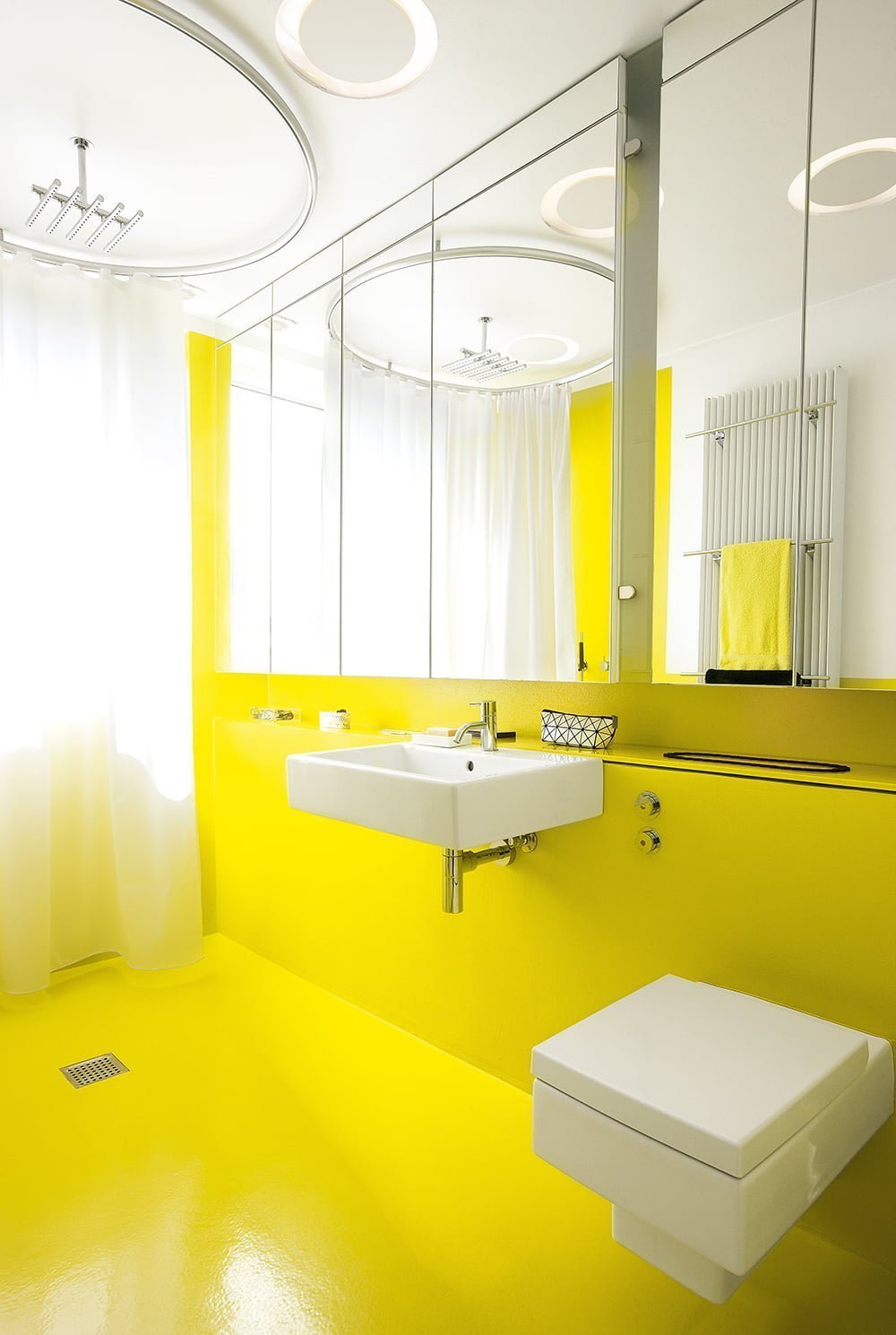 Go big or go home. Or, in this case, go big at home. A really bright color works well when you minimize breaks and interruptions. See how the color moves seamlessly across the floor and walls. Things get too overbearing when you have many surfaces with the same bright color, but broken up by tub walls or similar obstructions. This is another space-efficient design that also looks to be low-cost as far as wet room ideas go. Other primary colors would work here as well, depending on your tastes and how the rest of your house looks.
8. The Getaway Room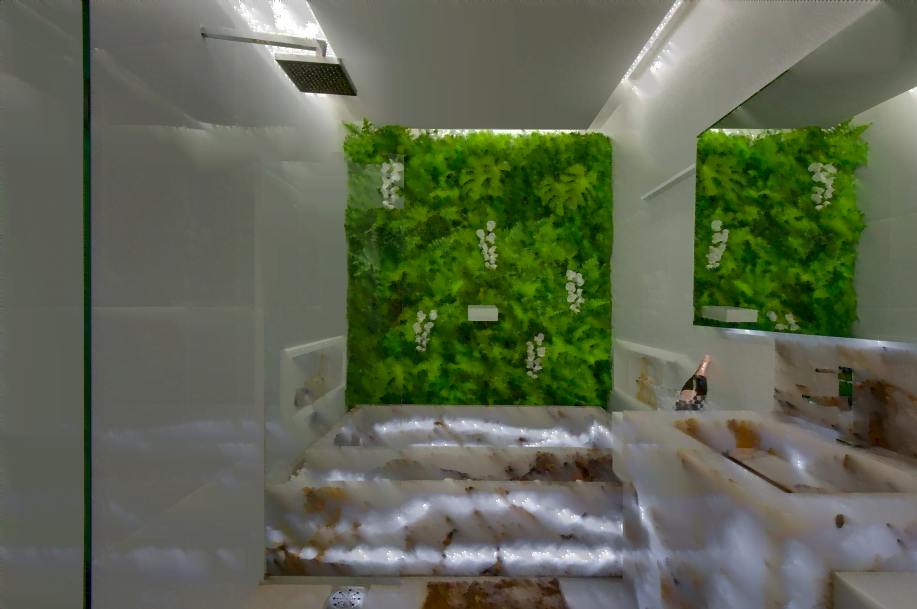 Now, this is luxurious. Stone and greenery work really well together, as this design shows. That marbled stone looks so good in the bath area and the sink, although it was a good idea to pick a different surface for the floor and walls. Otherwise it would be overwhelming. Even though there is no window or skylight, the biowall makes it feel as natural as any other design. The stone and the recessed lighting make this a great place for champagne, as the picture suggests. You can also scale down the tub to fit a smaller space.
9. Black Honeycomb Wet Room Design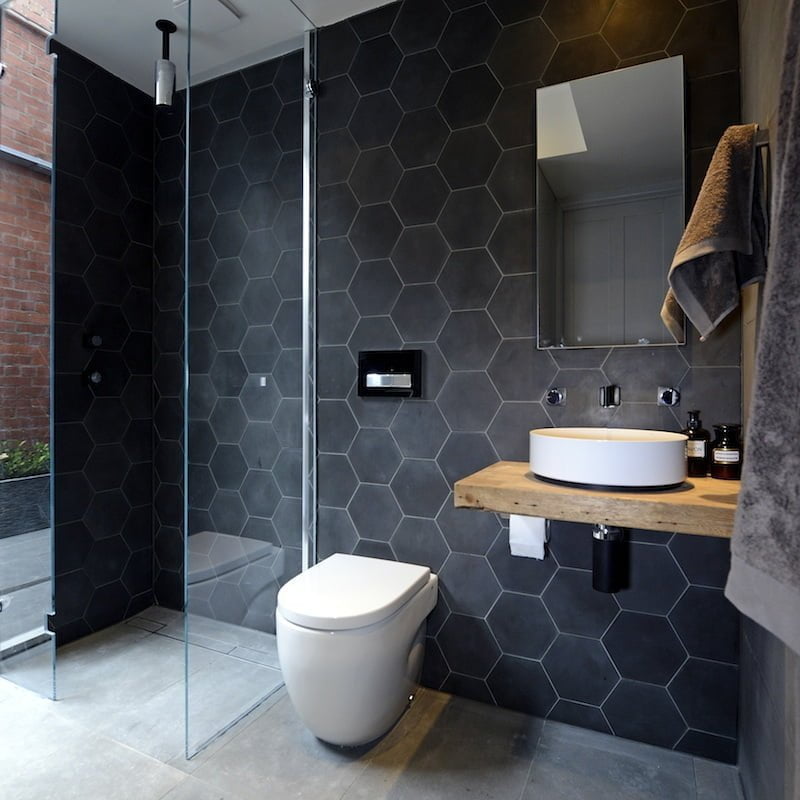 Minimalism in plumbing fixtures is a major theme for all of these designs. Simple toilets, sinks, showers, and baths keep that clean modern look. The wall pattern gives this room a distinctive theme and some continuity, but look at the floor tiling. There's a smart transition to separate out the uses of the room without using walls. I especially love the sink with that wood. It would be so easy to go to the black tile or marble sink, but this gives the room some contrast and it's a little whimsical.
10. The Cauldron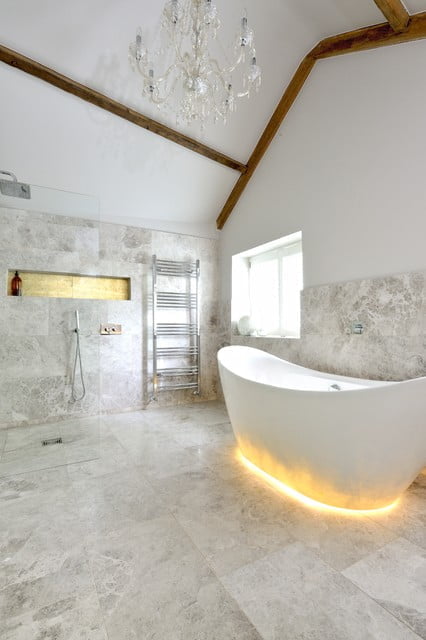 I find that glow under the tub to be a little too much, but I love a lot of things about this room. The marbled tile looks excellent. It's not as intense and dark as the marble from the earlier wet room design, but that's in keeping with the lighting. Notice how in this big room there's just one major window and it is right by the wet room shower. That is deliberate: you will be spending most of your time in that area, so put the best light source there. The high ceilings are also great if you have the space for it.
11. Brick Townhouse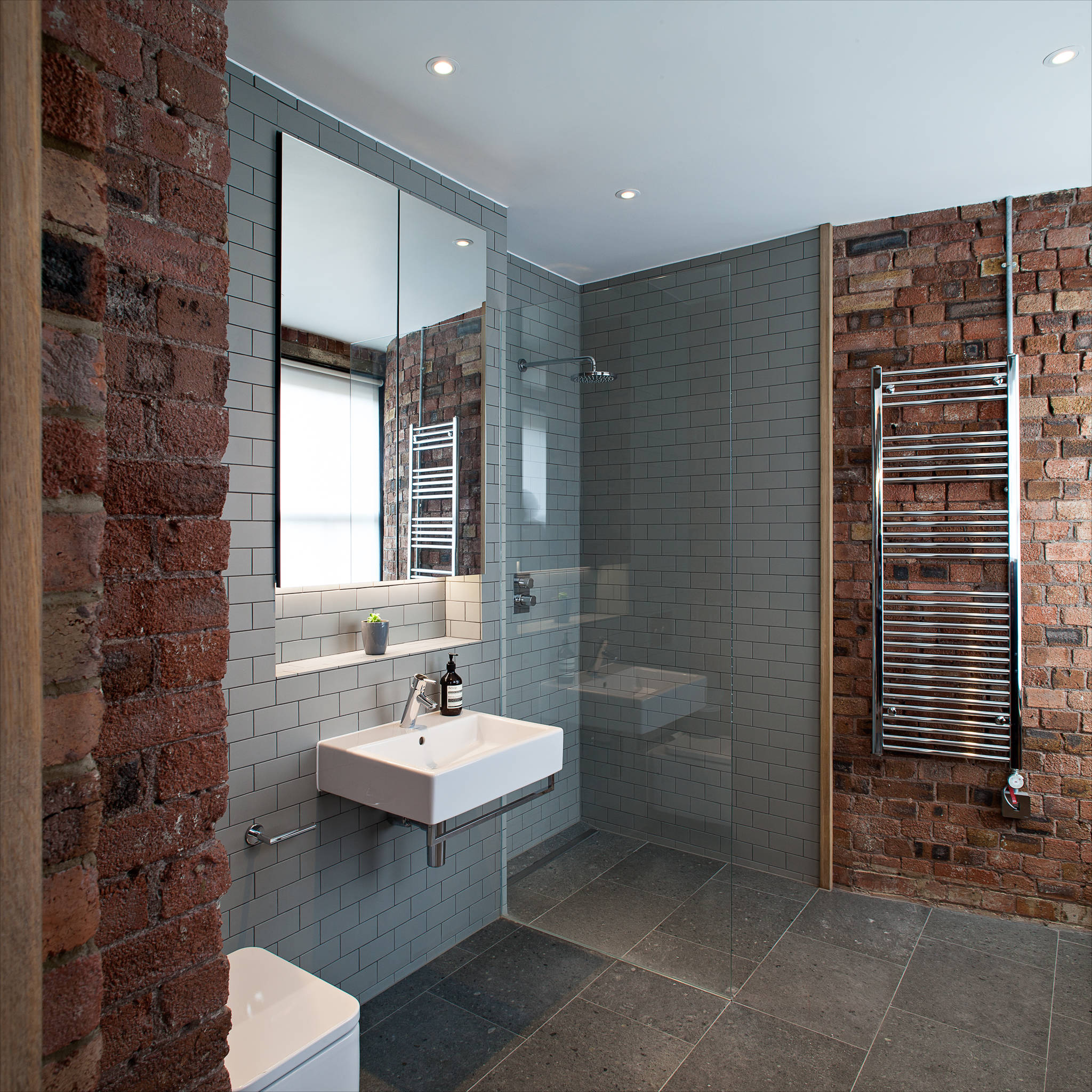 Yes, brick. Usually exposed brick is the purview of restaurants that are trying to look contemporary, but this is a very innovative and thoughtful way to use them. The red bricks give the wall a lot of texture, and the natural variation in the color of the bricks looks great. The gray brick tile is a little more practical for a bathroom, but it keeps to the overall theme. Note how the square and the rectangle show up in the sink, toilet, mirror, glass, and ledge to drive the point home. Also note the wooden transition piece in the wall.
12. Red Confection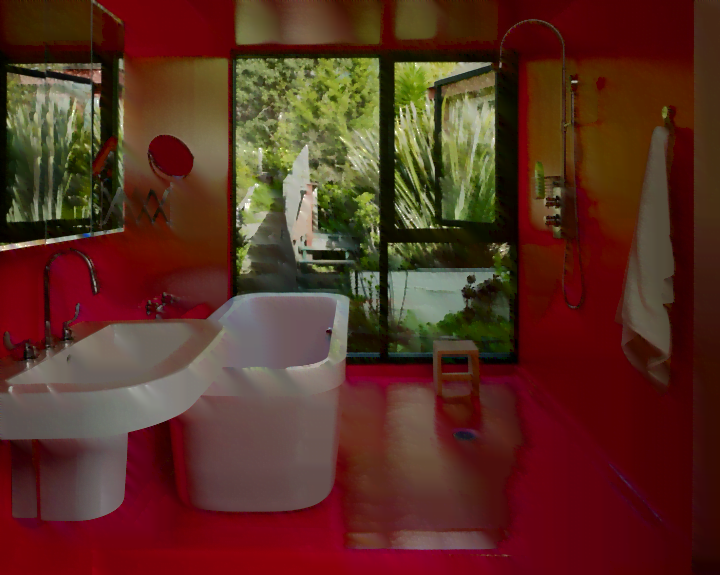 This thick, solid red looks like fondant to me, or the wax in a crayon. The color has so much presence it has its own texture. Committing to just one solid color like this is a great idea– so simple and yet so effective when you add those white accents. Of course, I love that the huge window draws in so much light, although there might be some privacy concerns. I really like the contrast between the red inside and the green outside. It's hard to make red and green not look like Christmas but the fact that it's natural greenery paired with that thick color makes it work.
13. Open Space Wet Room Idea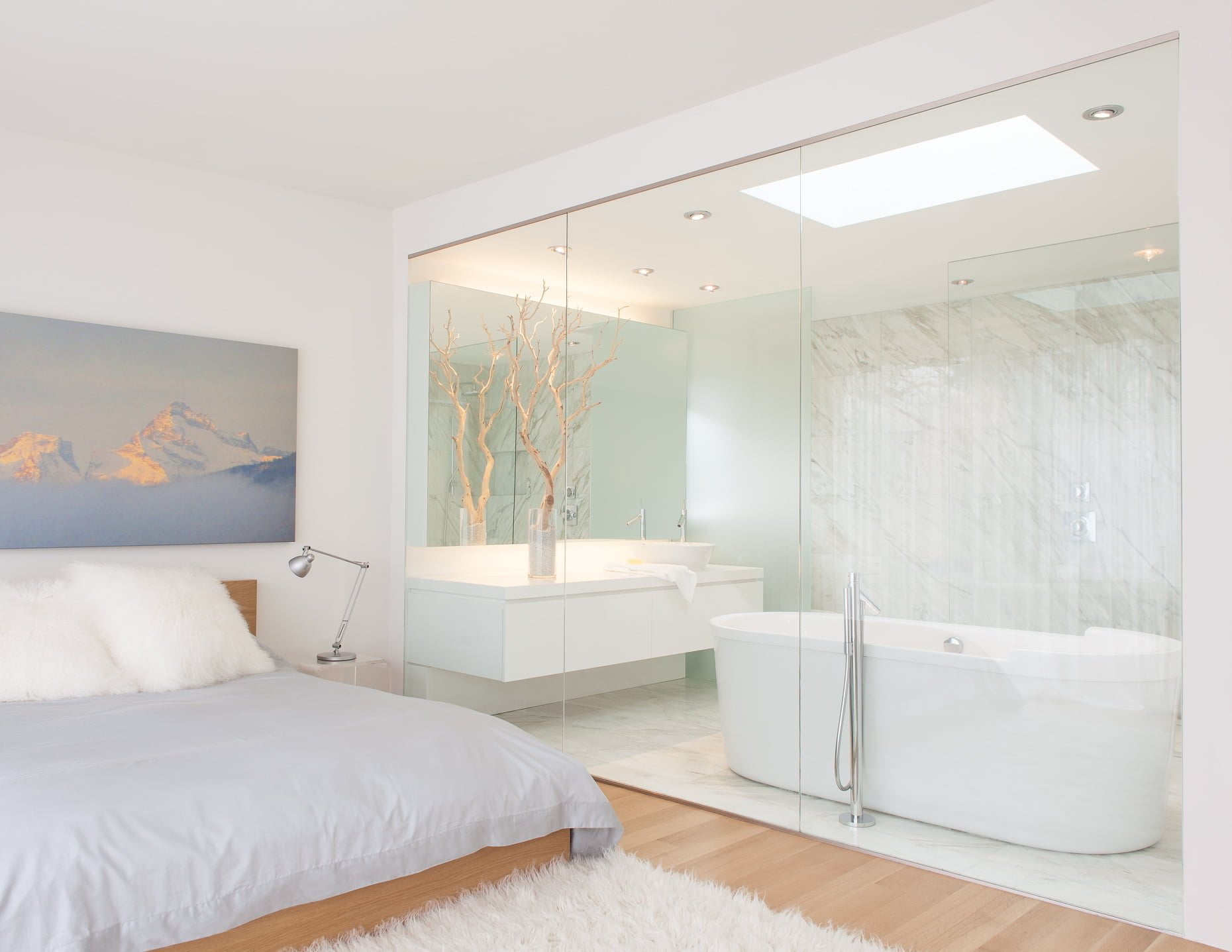 I think this master bath design sums up a lot about how wet room designs are intended to work. That glass wall would normally be a regular wall with a door, but this gives the whole area so much more space to breathe. It has minimal use of color, texture, and marbling, but that huge glass wall makes it very striking. I also like the plant as a natural element and the combination of large and small light fixtures.
14. The Steam Room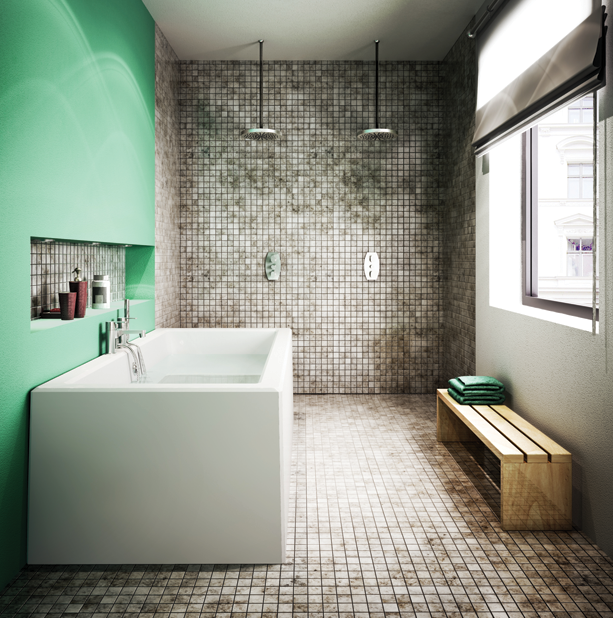 When I look at the bench in this room I imagine a sauna or steam room, complete with towels. I love the tiling here. The variation in coloration and pattern from tile to tile is great because it adds so much character to the surfaces. The two opposing walls have different colors: white and green. The green is actually not that bright but the light from the window is making it shine. It all fits into a basic rectangular shape that isn't much bigger than a traditional bath design. The little touches elevate the space.
More wet room design ideas on the next page…