15. Go Beyond Tile
This is a totally different approach. Up to now, we have seen design after design that featured tile as the floor covering of choice. This room uses natural stones instead, with planks for the logical places where you might want to stand. All of that wood and stone together, along with the tile pattern, gives it the look of a rock garden. The creamy tile and rock are the perfect neutral backdrop for the darker wood. If you go this route make sure the stones are smooth enough to step on with your bare feet.
16. Emerald Mosaic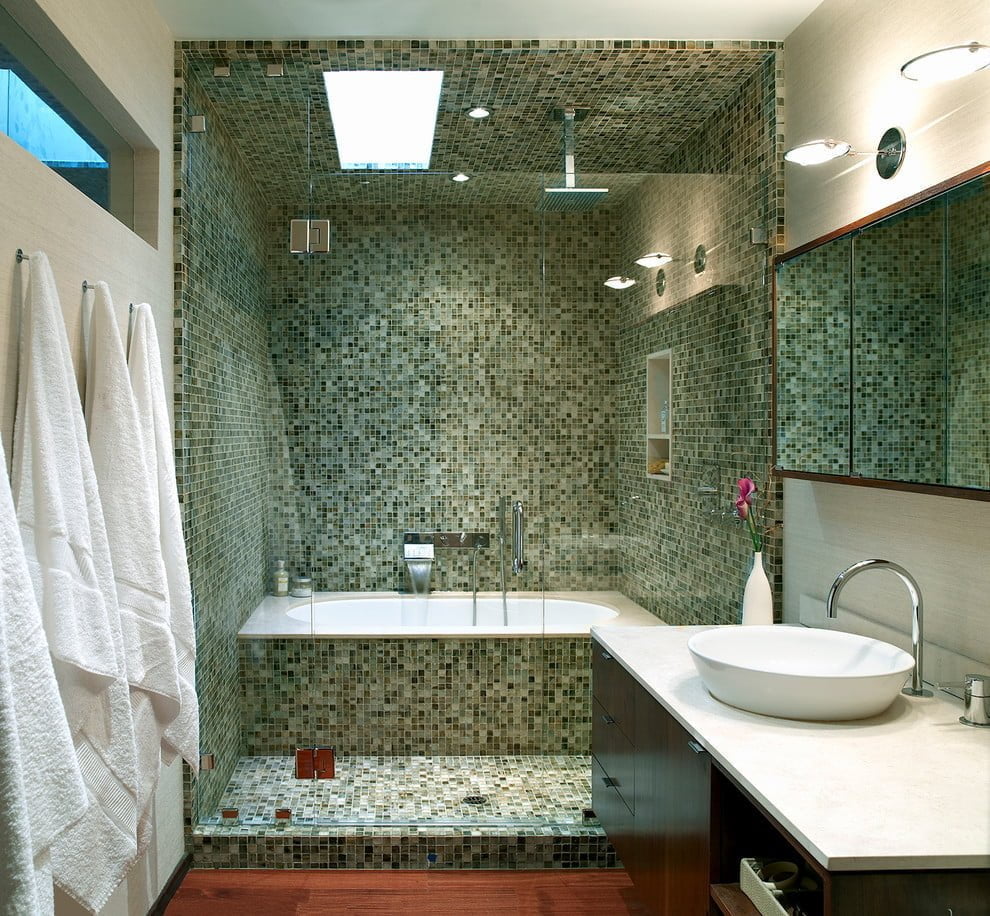 Those green tiles are a little dizzying when you look at them for the first time, especially with the mirror there. But they are so effective at setting off the bathing area from the rest of the room. The hardwood floor right outside is great: this is an excellent surface to complement tile because it has a similar feel but you can get a lot of contrast in color. If you can, try to get a little skylight into the space so that you do not need to rely on so much artificial light. That will give it a softer glow.
17. Cruise the Blue Lagoon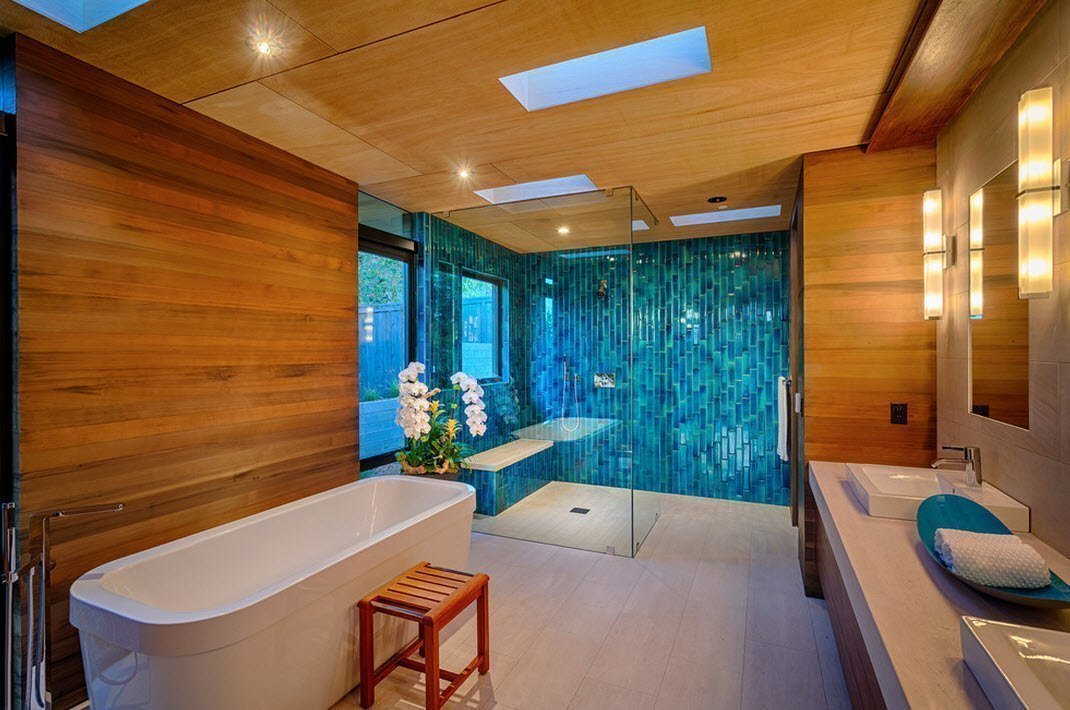 When I see this wood and tile, I think of a cruise ship stateroom, or the onboard spa. The wave-like offset blue tiles and the variation in color really make the point. The big windows let in a lot of light, but the recessed ceiling lights also brighten it up even more. There is a nice bench in the shower where you can sit or lie down and relax. A big wet room like this has a bathub, but you can also save a lot of space by doing it without the tub as long as you have one somewhere else in the house.
18. Curtains in a Wet Room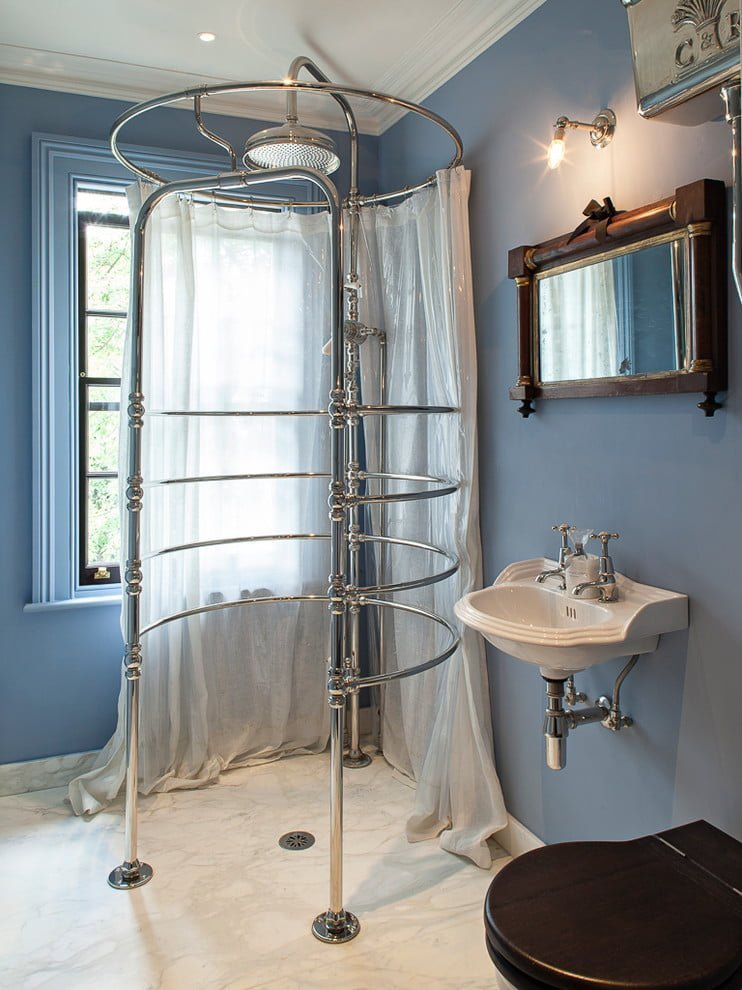 It is possible to make a curtain work in a small wet room if you do not want to use glass or leave the room open. Here, we see a neat round enclosure that supports the curtain. It actually provides a lot of privacy considering that window. That dark wood in the mirror and toilet is a very good way to set off the pale blue and cream. From that curtain to the exposed bulb, this is a quirky room with a lot of charm.
19. The Savannah View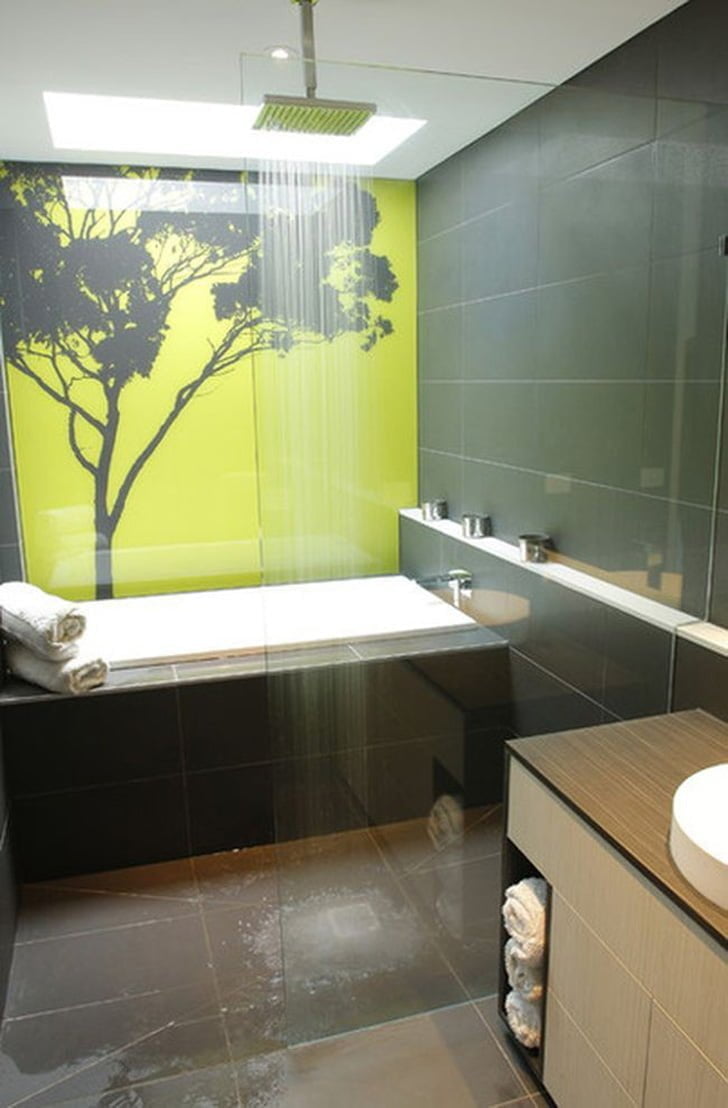 This is a small wet room with a straightforward look: big beige floor tiles, smaller green ones on the wall, and a dark tub wall. When you want to make use of a space like this, try getting creative with a decoration that takes up a whole wall like this tree. Just because you don't have much room doesn't mean you can't make an interesting design. Here, all it took was a little bit of thinking about that green to come up with a wall accent. Add a plant or a potpourri to give it a nice scent as well.
20. Colonial Charm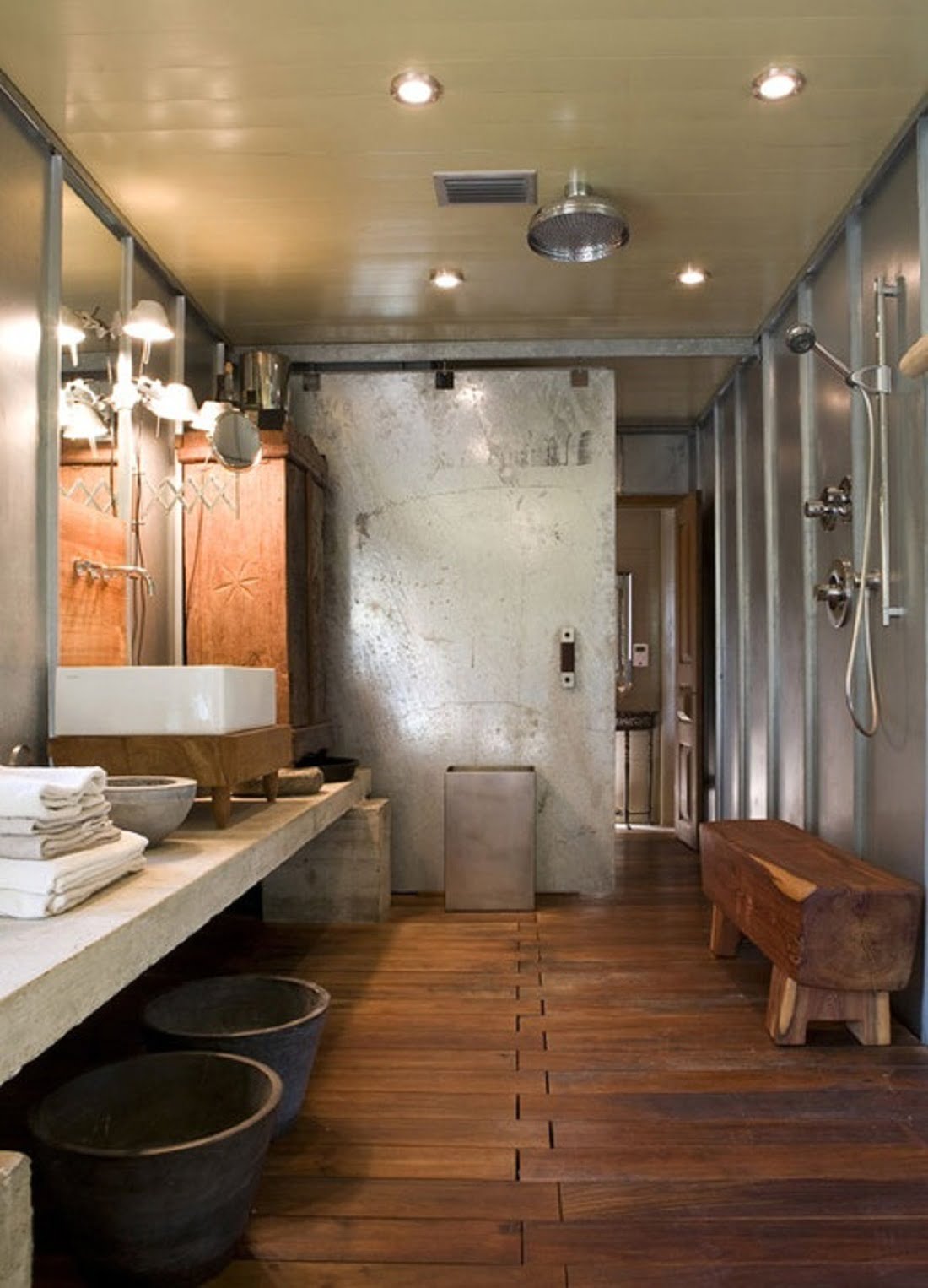 That thick wooden bench, the interlocking wooden blocks in the floor, the sink support, the cabinet– these all give this room a colonial-era feel. A wet room bathroom does not have to look modern and cutting edge, as shown here. You can make it rustic if you think creatively. The marble in many of the structural elements gives this room a solid weight, and it's quite a contrast to the glass walls and windows and cream of the modern designs. This would fit perfectly in a colonial or Victorian home.
21. Sunfall with Ivy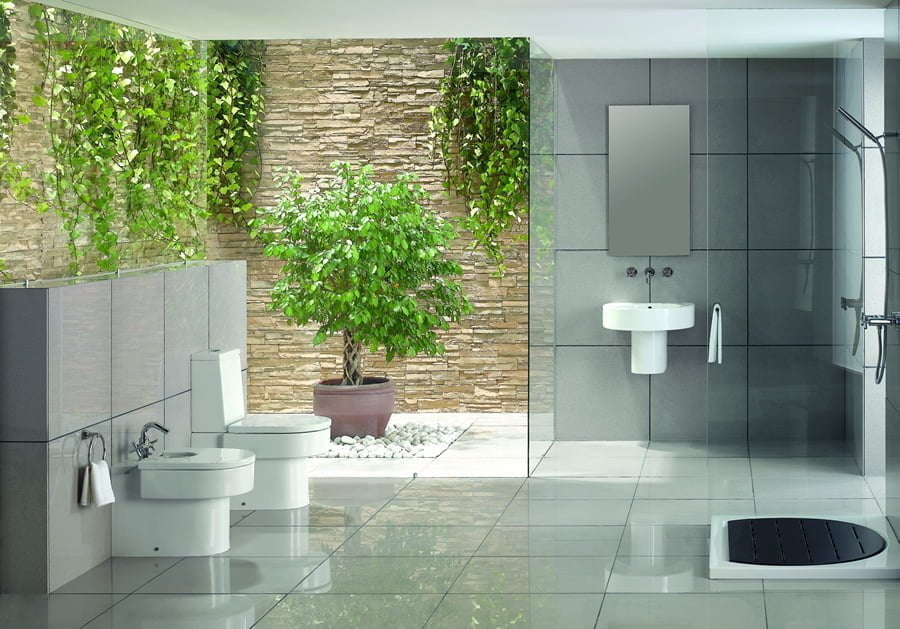 As if to contrast with the previous design, this one is extremely modern. That stonework with the ivy and the plant outside is a fantastic example of how to incorporate exterior and interior design elements in one room. The glass lets in so much light, and the green of the plants is all the color this room needs. If you are lucky enough to have an exterior space like that, bring it into the home just like this, with glass and a minimalist interior surrounding it. Note that those big floor tiles suggest the square holding the potted plant.
22. Silly Stripes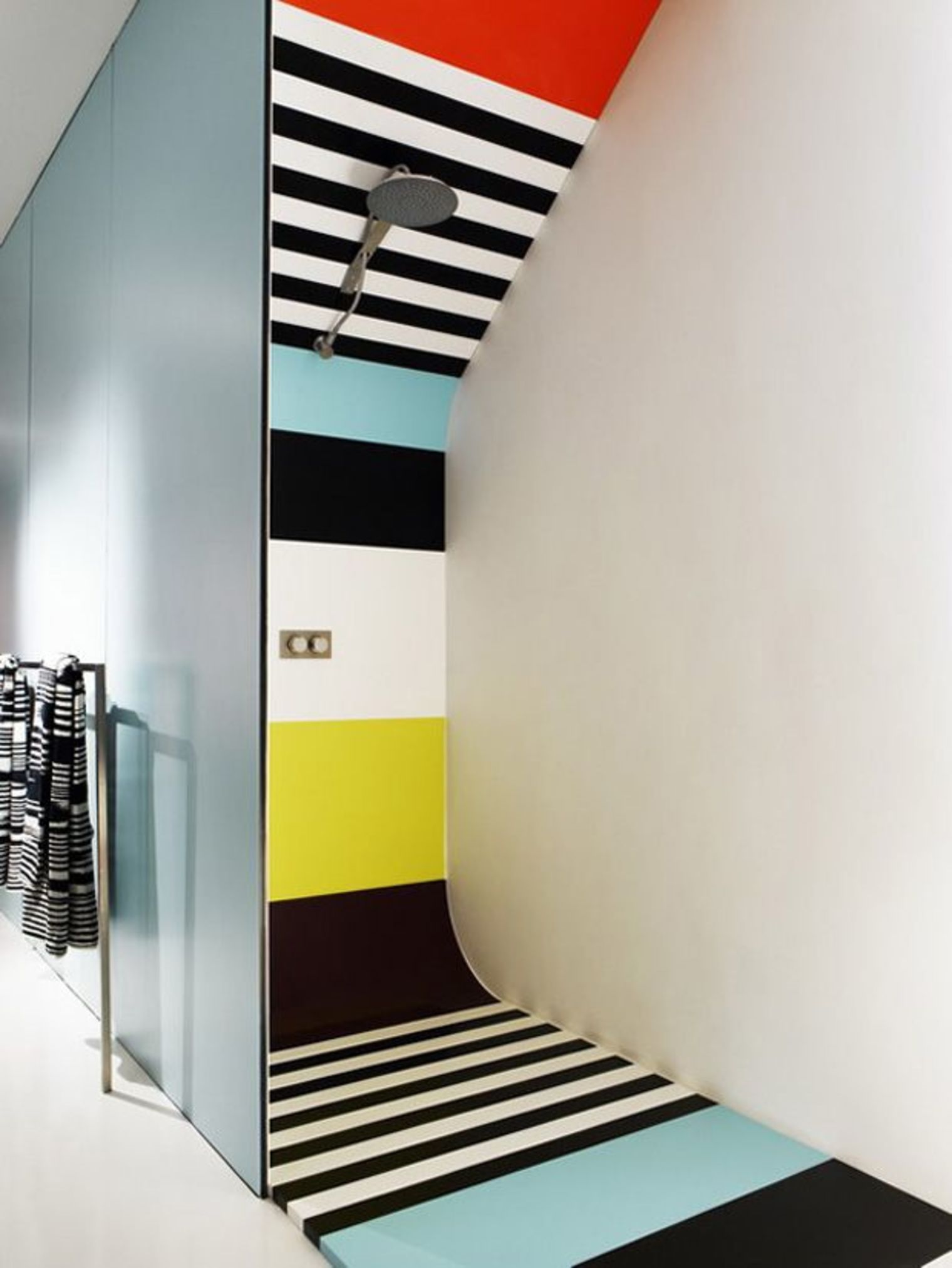 If you want to bring the 70s back to life, just use stripes. This walk in shower is so playful, and that's not limited to the stripes either. The slope of the ceiling and the way that the wall curves down into the floor is an unorthodox shape, but it still has clean lines and a tight visual appeal. Wet room bathrooms use swirly marble or solid color so often that it is refreshing to see something like these stripes. The colors are still reasonable: a little on the pale side so it doesn't get out of control.
23. The Canyon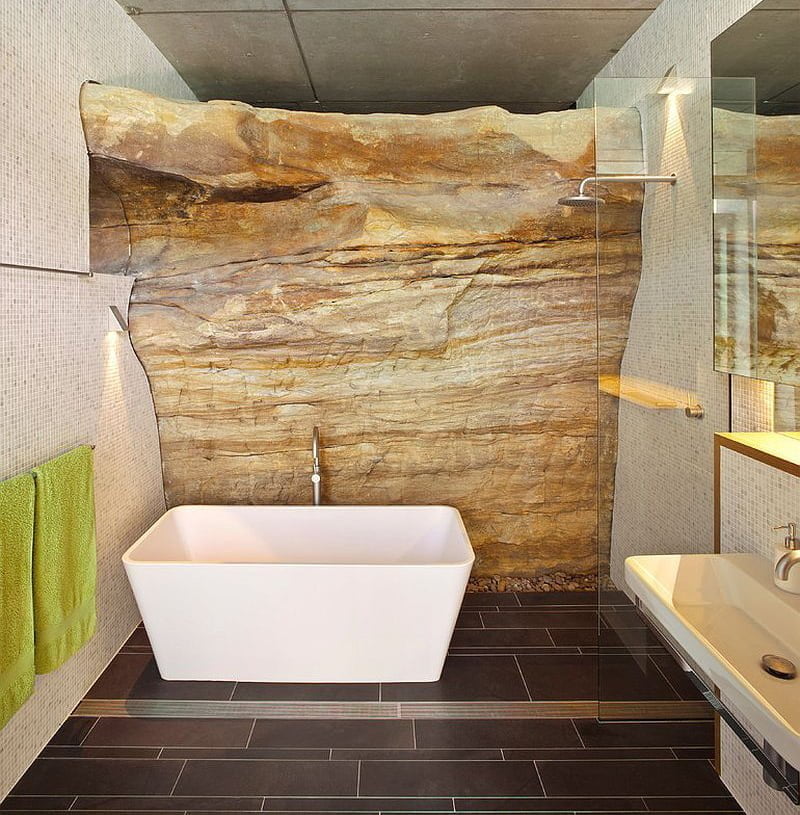 Just as plants can add a lot to the style of a wet room design, so can stone. In this case, we're using this huge natural stone to invoke the desert canyons of the American Southwest. It has a great color pattern with a lot of natural variation. The floor tiling is a simple black, but the placement and size are reminiscent of the Native American blankets and art of that region. Having a little green is important to keep it from feeling harsh, so perhaps add a cactus or another succulent plant on a ledge.
More wet room decoration ideas on the next page…