42. Industrial Wet Room Idea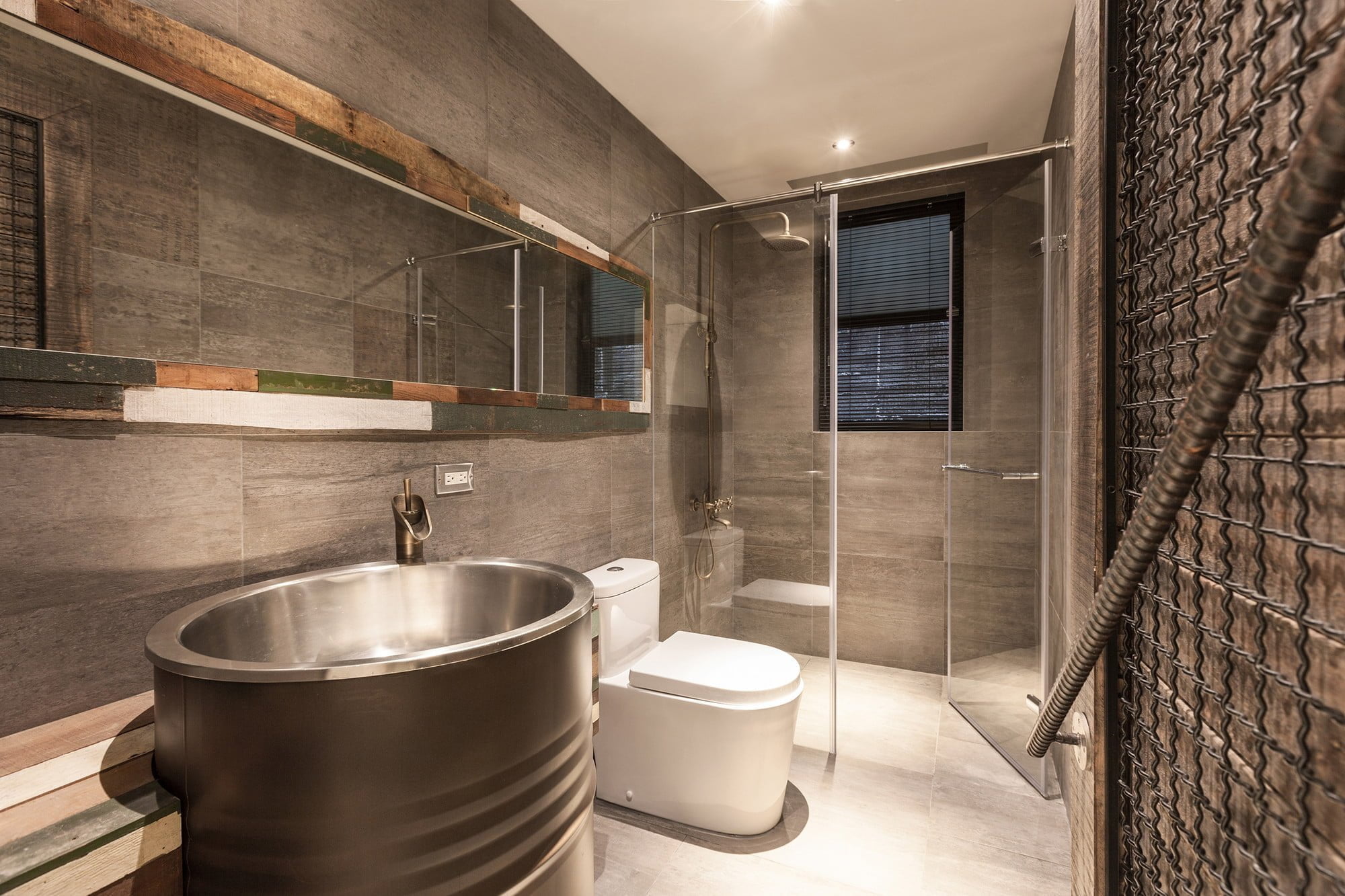 Home decoration doesn't often get industrial, but if you are one of the types who likes the style, then this will be a good model for you. That sink almost looks like a barrel of oil or another industrial substance. The slate tile has a shade similar to sheet metal, but warmer. And that handrail with a chain-link fence design behind it is incredibly creative. The basic plan is fairly simple: one floor tile, one wall tile, a glass wall with a door, a basic toilet and a long mirror. Putting your own spin on those basic elements takes you a long way.
43. White With Patterned Overlay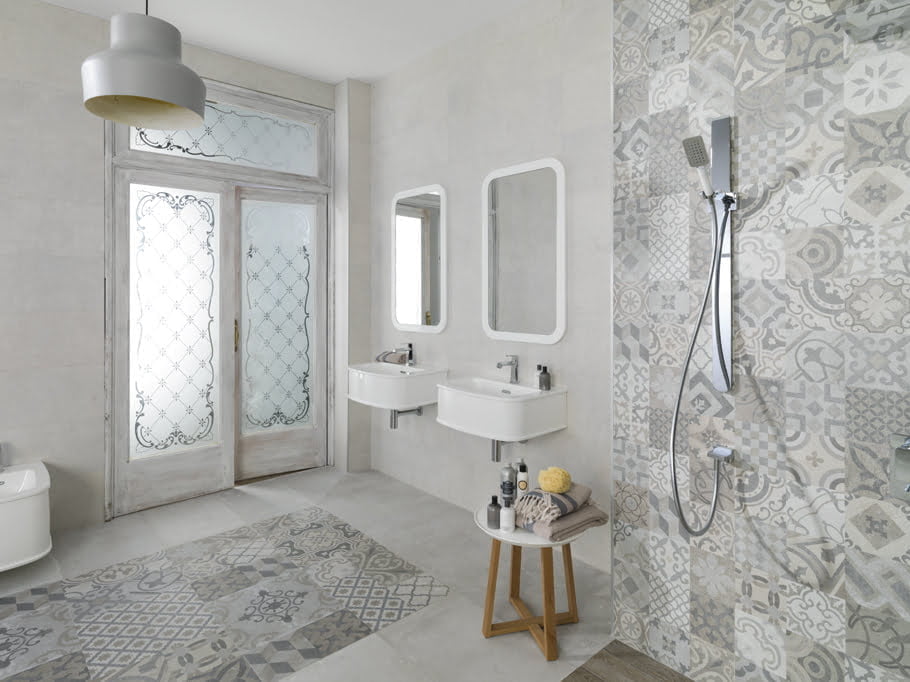 So many of these wet room designs have lots of color in them that it's easy to overlook the fact that you can do a lot with almost no color. Aside from the wood near the bottom of the shot, you can see here that there's just white and white with a pattern on the walls and floor. The pattern is complex but not bright or aggressive. The French doors are a very interesting idea: the fogged glass adds some privacy and the choice of style elevates the room to feel elegant.
44. Wood, Stone, and Brown Tile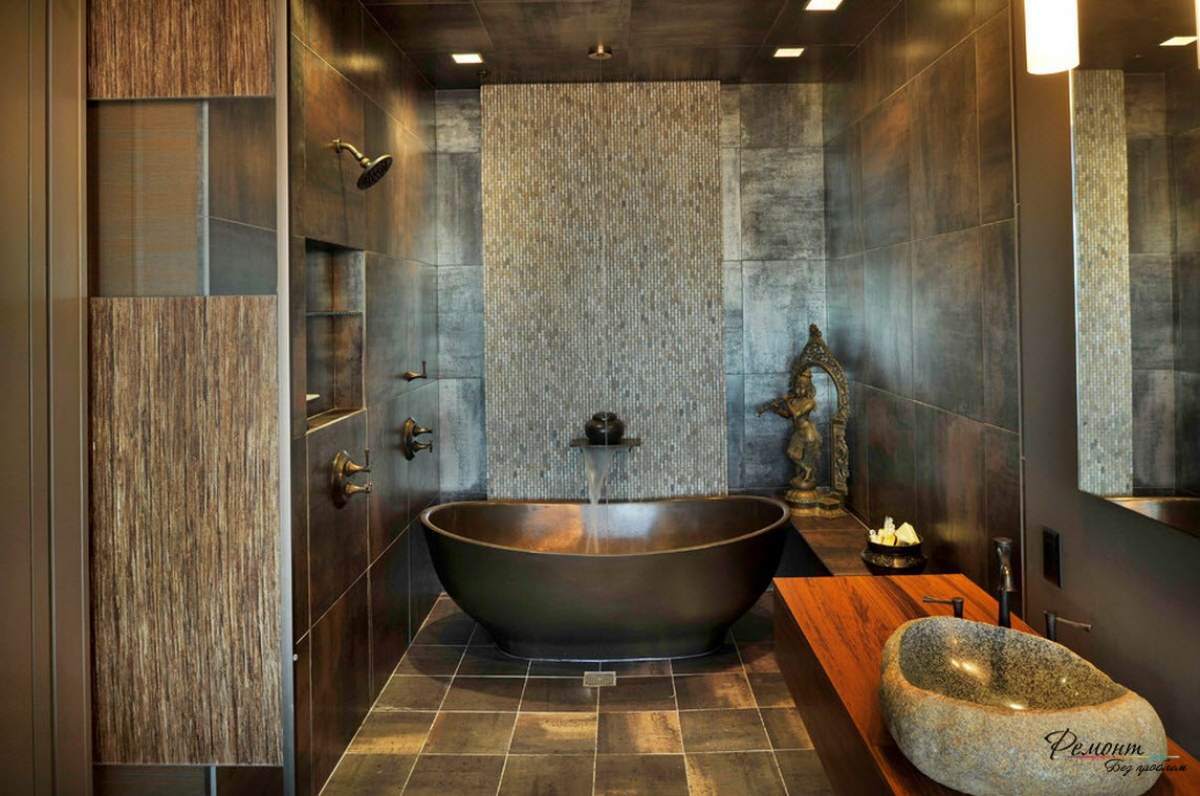 You've seen time and time again how well wood and stone work together, but here is another great example that uses rich, dark browns and a few different tiles to set the stage. The most obvious stone element is that sink, which looks so much more natural than the standard metal or white porcelain versions in most wet room ideas. Having a metal figure or statue is a good way to bring in some art without risking damage to the piece, as long as it's not a metal that can rust.
45. The Tropics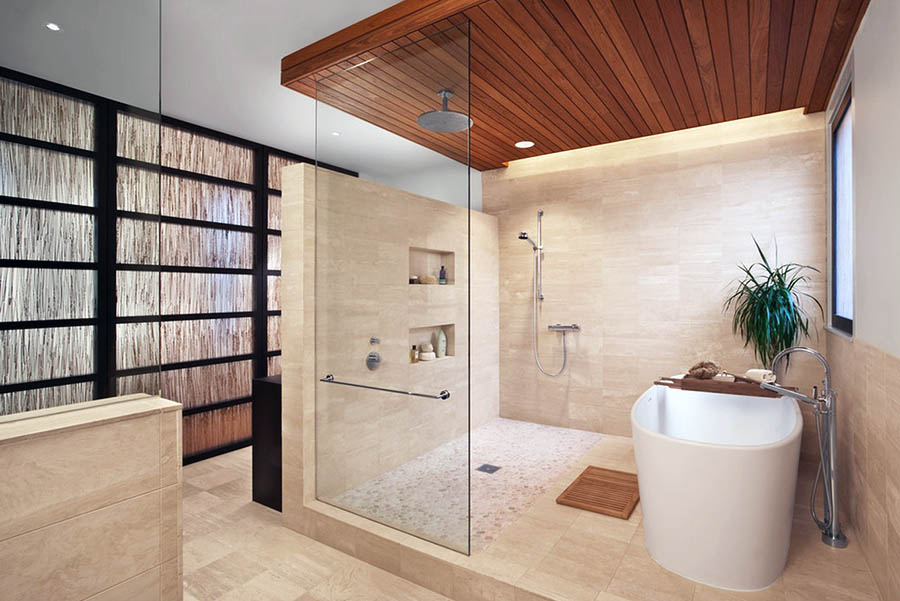 If you've been to a beach recently, then a lot of this design will look familiar. It's a walk in shower much like the ones on beaches. The tile is reminiscent of sand, there's a wooden ceiling piece that reminds you of a boardwalk, and even a little palm tree in the corner. It is easy to imagine adding some seashells around the floor or in the alcoves. That well-placed window brings light in for the plant, and it will make the room very cool during storms. Note the emphasis on recessed, indirect lighting: don't use direct light because it can overpower natural light.
46. Candles by the Fish Pond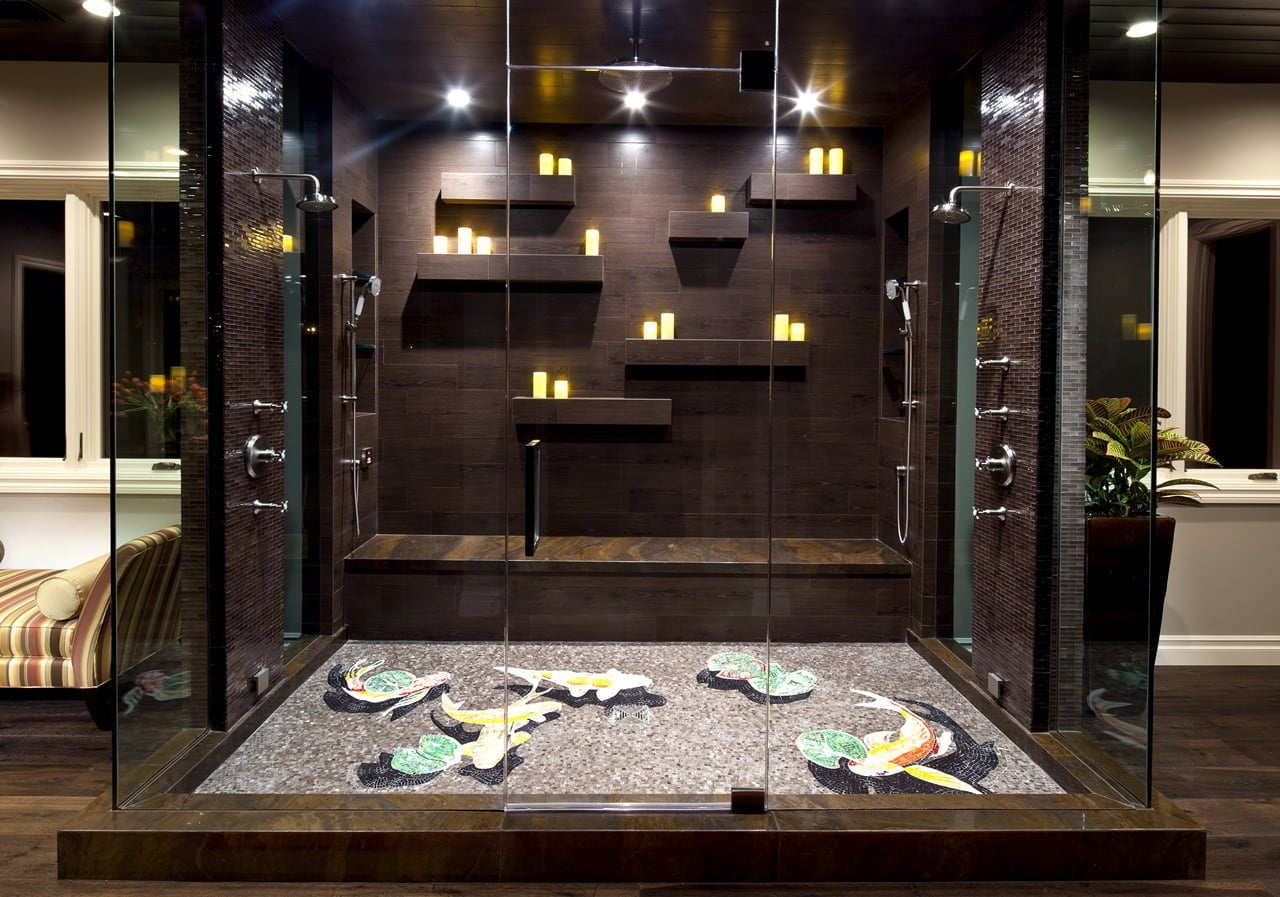 Here's another example of a wet room shower integrated into what looks like a master bedroom, but it has a great floor pattern. Instead of an abstract pattern, the designer opted for a fish pond, complete with lily pads. The small tiles look like the bed of a river, stream, or pond, and with water flowing over it and making it shimmer it will look incredible. Note also the candle-style lighting, which is a neat idea you can put into many other designs.
47. Enclosed, Yet Open Wet Room Design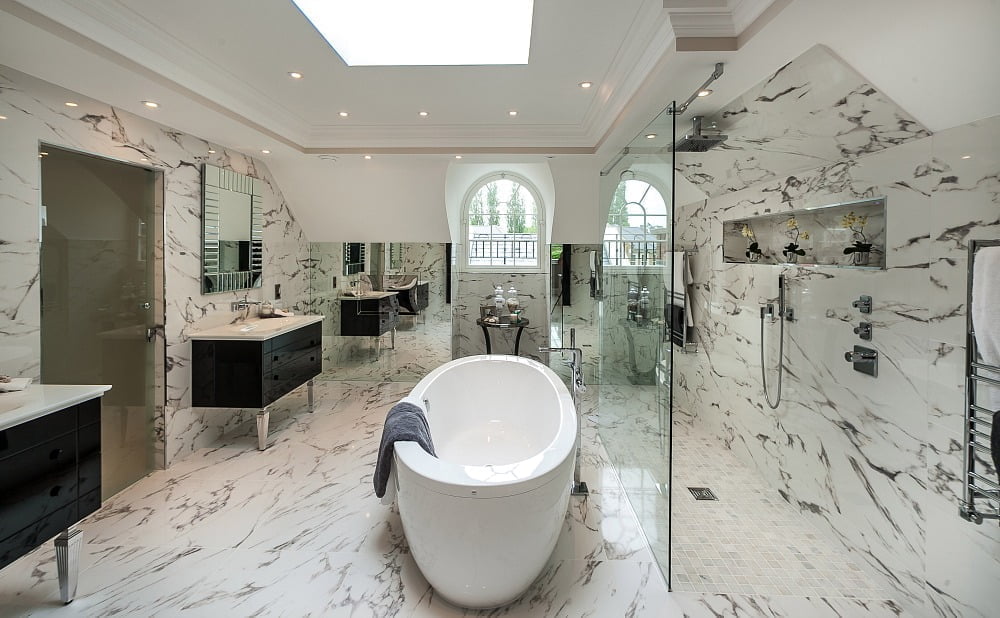 Some wet room ideas try to integrate the room into the rest of the house, while this is one of those that separates it off with a fogged glass door. The room is rather large, and the several mirrors make it feel huge. It's always refreshing to see a tub in the middle because it is pushed off to the side so often. This room is drenched in light, and that brightness means it could do with some more plants over near the sinks. You could also add some stone elements instead. There is a subtle change in the tile around the drain.
48. Restful Blue Space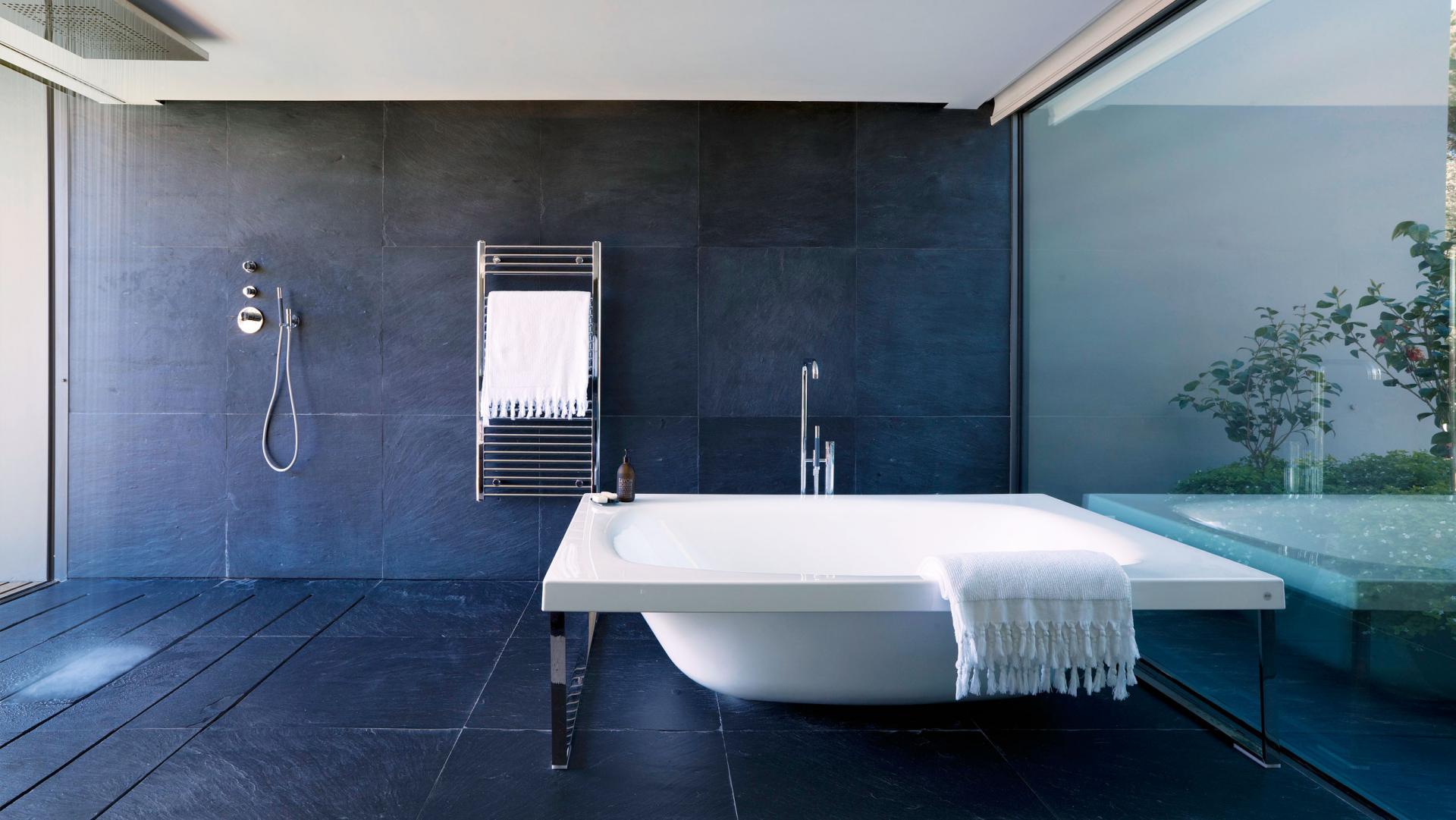 Wet room bathrooms are often minimalist, but this takes it to another level. A very attractive, but simple blue tile, large squares on the wall and floors, and a little texture to prevent you from slipping are the bulk of the complexity, such as it is. There's a huge window opening up one entire wall of the room, presenting a beautiful exterior view. Home decoration entails taking advantage of natural beauty whenever possible, and that view doesn't need to be dressed up. There is something very calming about this room, between the space, the color, and the simplicity.
49. Large, White, and Open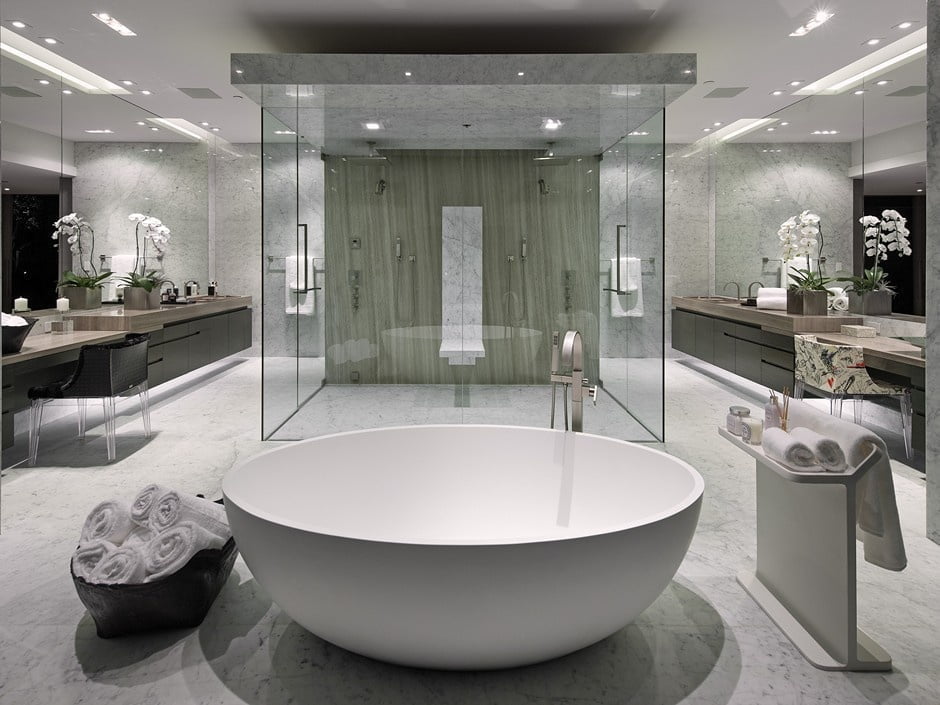 There is a huge amount of space in this room, so there are many elements with their own zones. The central enclosure evokes the place where a bed would go if this was a master bedroom. There's a lot of white in this room, but much of it is speckled or tinged with green, which has a softening effect. Allowing for some asymmetry and customization of the different sides of the room is a good idea for couples and families, and it breaks up the monotony in a pleasing way.
50. Clean Green Walk In Shower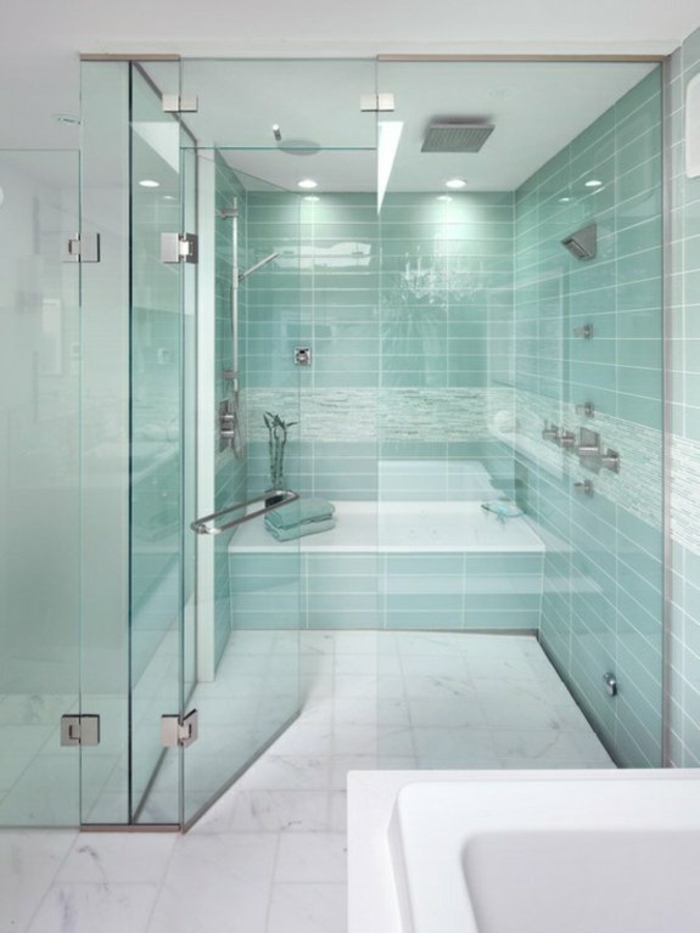 This design is one of the most basic ones on the list. It takes up so little space and has such a simple tile pattern that almost anyone can fit this, or something very like this, into their home decor. You can get a similar effect with other colors, as long as you keep them on the pale side. Tinting the glass just a little emphasizes the color and separates the bathing area in a subtle way. Look at that clever drain system: the floor just has a gradient that leads to an opening.