Rustic wood signs are a hot new decorating trend, and it's easy to see why they've become so popular. They're versatile, homey works of art that aren't out of place anywhere in the house, whether you're looking for kitchen décor or something to spruce up the front porch. At the local home goods store, wood sign ideas can run for hundreds of dollars, but you can make DIY versions very inexpensively, with only a few hand tools (or, in some cases, none at all). One of the most popular materials for these wood decorations is old shipping pallets, which are often available for free from local businesses trying to get rid of them.
40+ Ways to Decorate with Wood Signs

Disassembling pallets is tricky, though, so for a simpler option, hit up a local lumberyard or home improvement store. Many of these will even cut your lumber to size for you, which is great if you don't have power tools handy. To give your shiny new lumber an aged, weathered look, use wood stains, diluted paint, or the old steel wool trick: soak steel wool in plain white vinegar until it begins to rust (about 24 hours), then paint the wood you want to age with strong black tea, following up with the rust-infused vinegar. The wood will darken to an aged patina and you're ready to use it to create your masterpiece. Not sure what your sign should say? Here are some wonderful wood sign decorations to get you started.
1. Farm Fresh Christmas Trees Wood Sign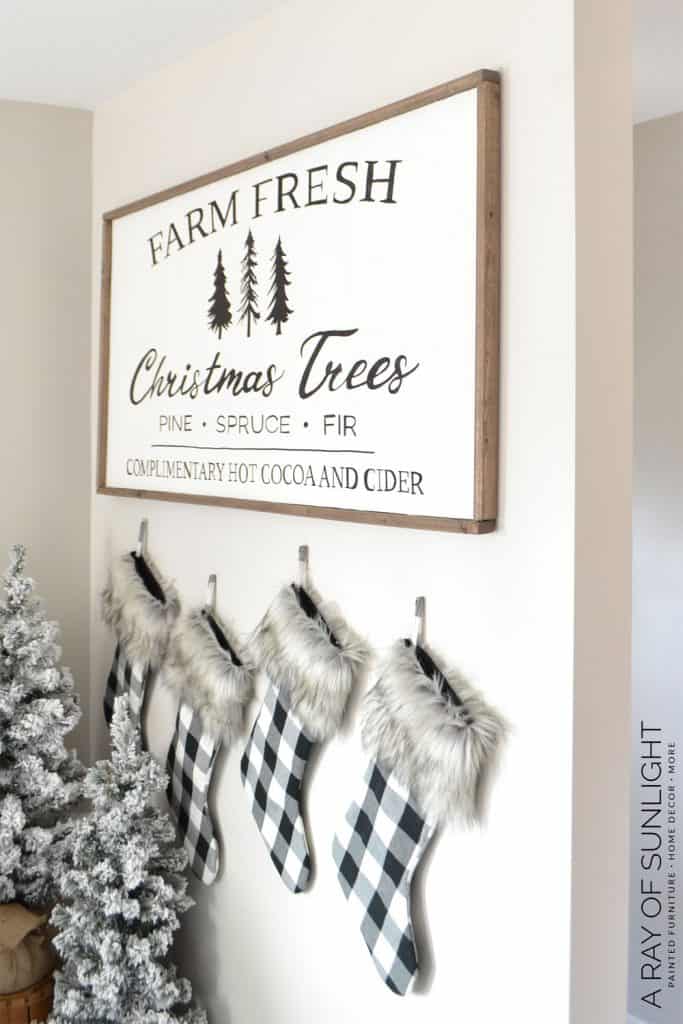 Mix a little vintage flair with a modern touch as you hang this wooden sign in your home for Christmas. The classic black and white color combination works great for your modern home while the sentiment of the sign triggers memories of chopping down the tree as a child.
2. Fresh Picked Apples Red and Wood Sign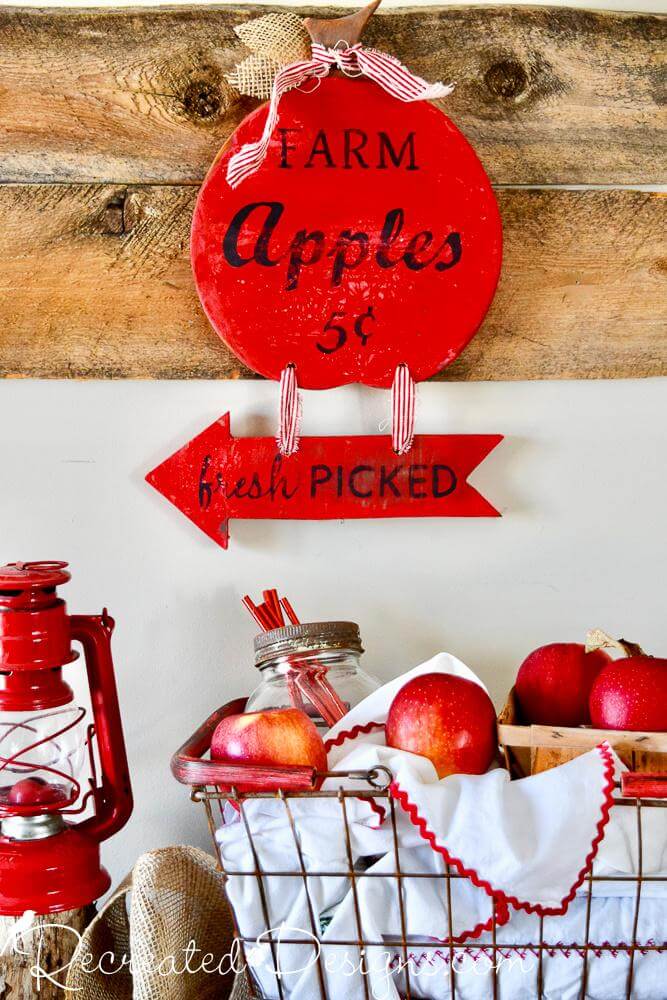 Here's a cute and charming apple sign that is fresh for the picking! It looks great for a mid-summer to late fall decoration to coordinate with your bounty of this delectable go-to healthy snack!
3. Extra Large Wooden Antiques Sign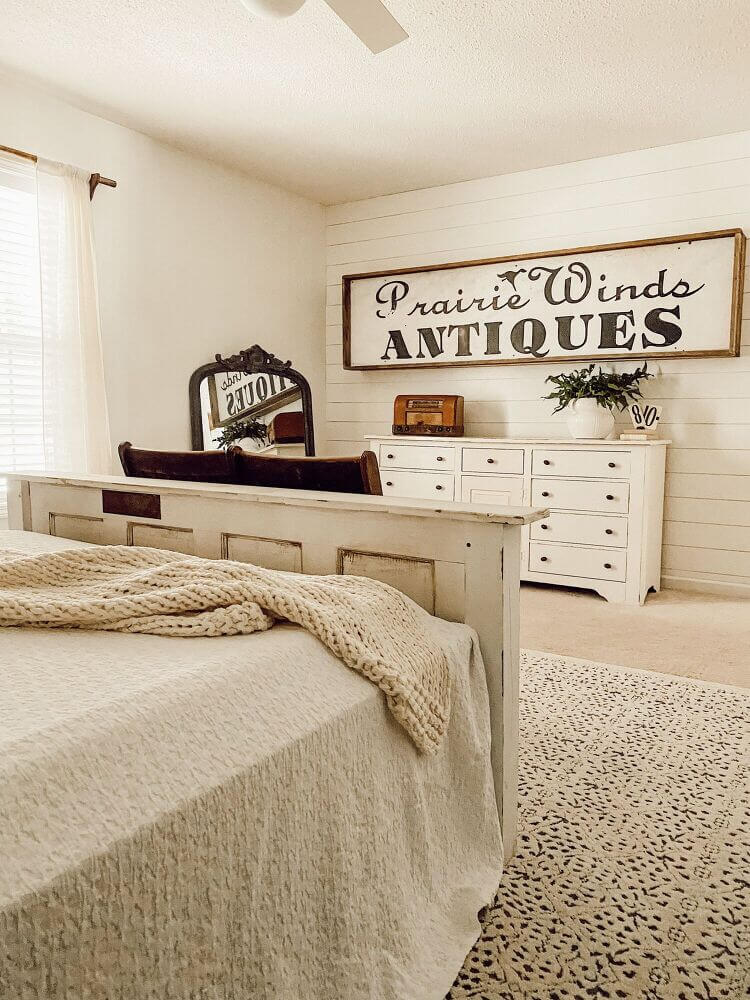 Infuse some modern farmhouse appeal into your home with this super-sized wooden antiques sign. Its massive size makes quite the statement on your wall while it adds character and charm to the room.
4. Trio of Hand-Painted Wooden Farmhouse Signs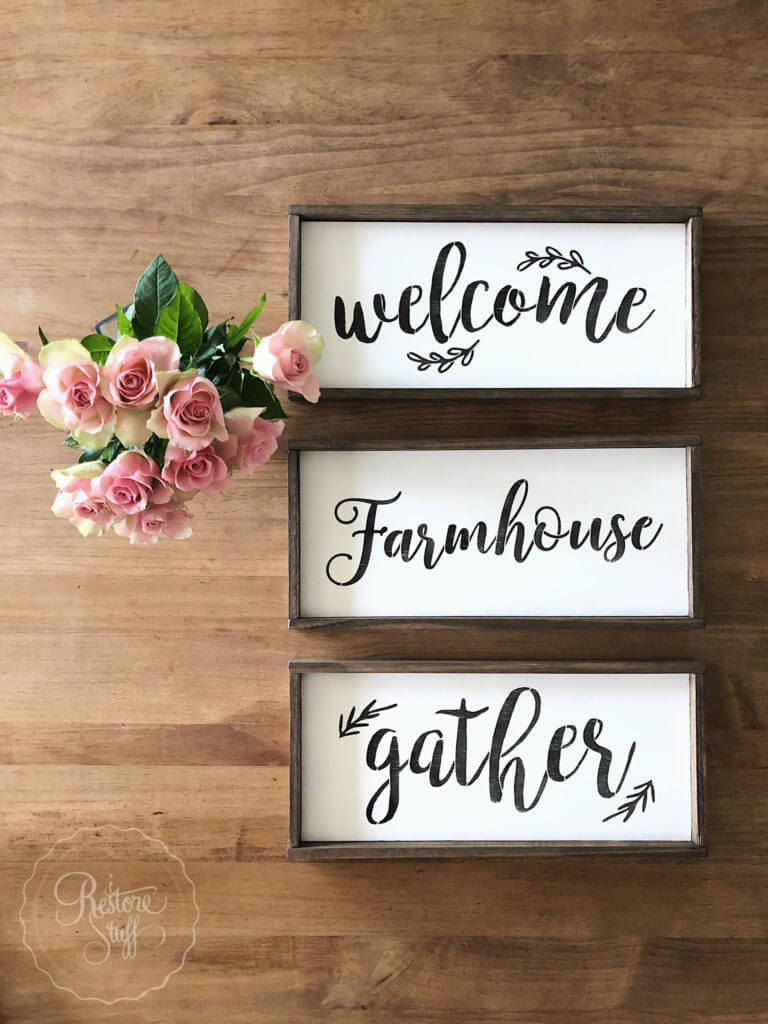 Check out this set of three wooden farmhouse signs that look great arranged together or on their own. From the friendly "welcome" and "gather" greetings to the scripted "farmhouse," these simple hand-painted signs are a perfect addition to your home.
5. O Come Let Us Adore Him Sign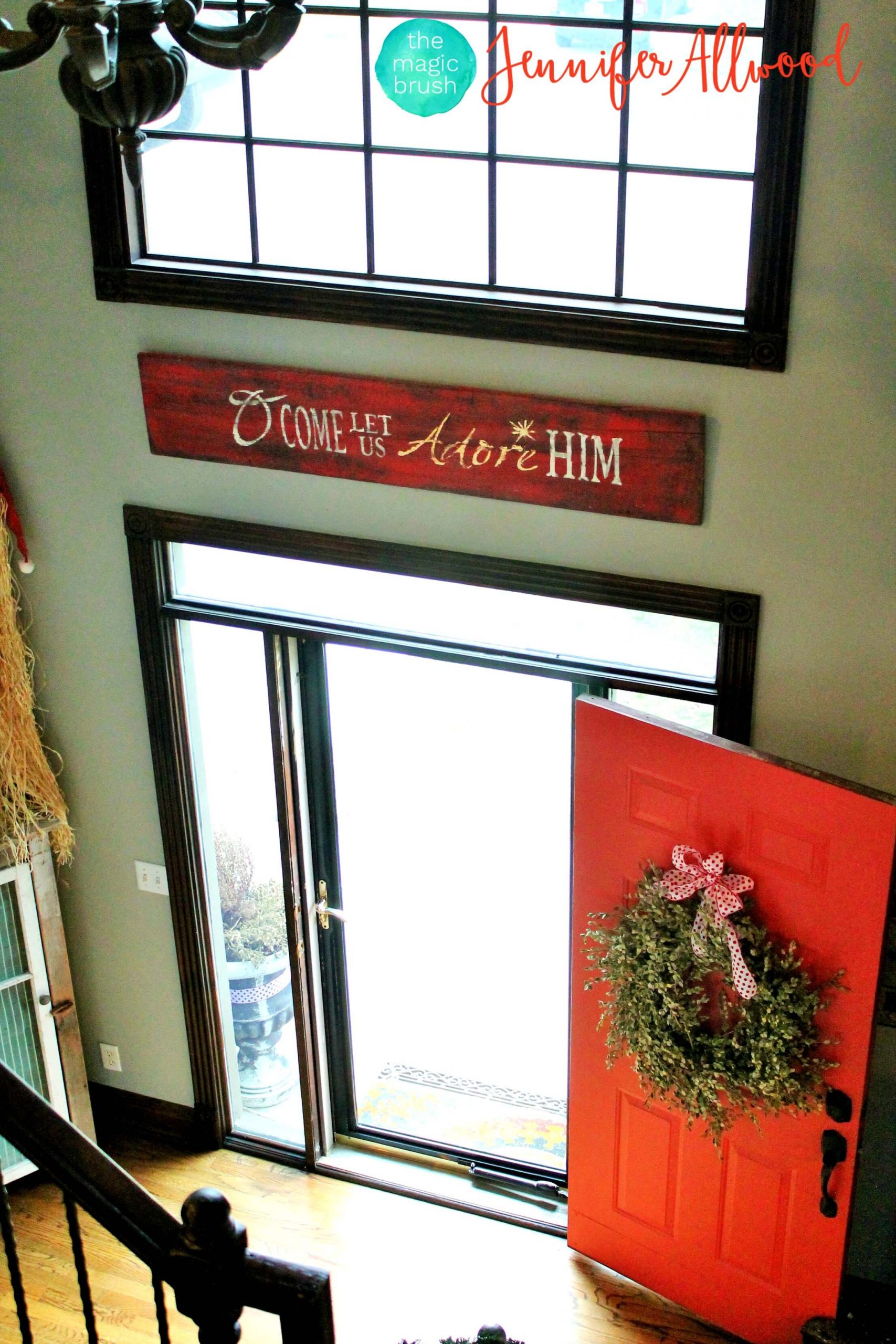 Warm up the space over your front door with this rich red reminder wooden sign to "Come Let Us Adore Him." Its presentation in a large overhead sign is on-point and ravishing in all its red glory.
6. Rough Wood Trim Positive Mindset Signs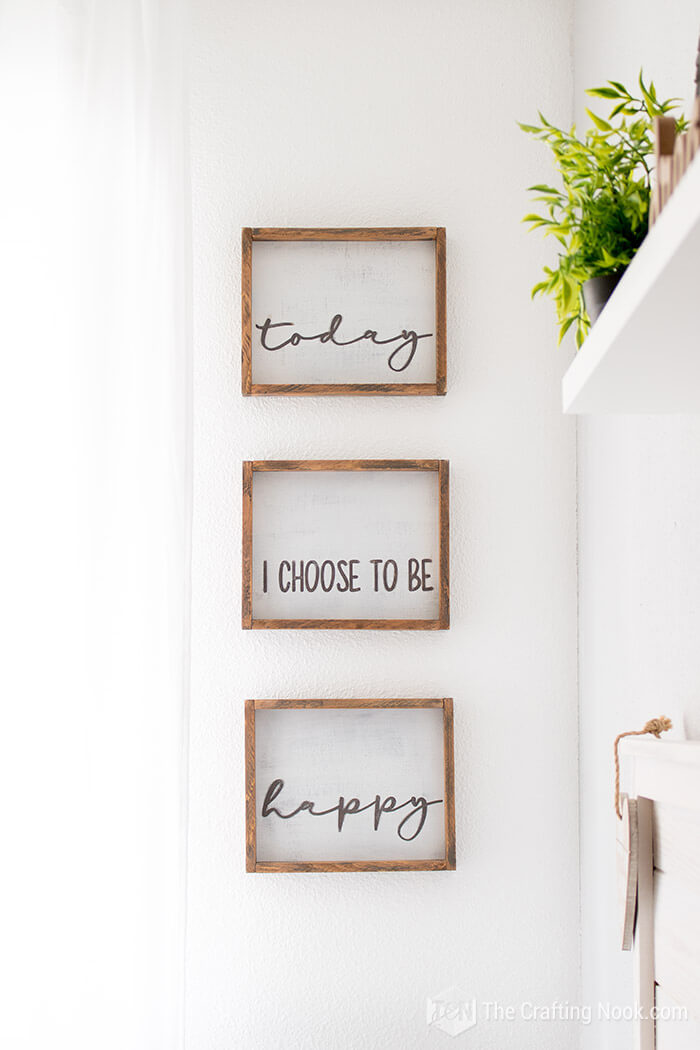 Get right to the point with this trio of positive mindset signs. Set in a rustic wooden frame, these hand-painted signs are a subtle hint at the importance of our mindsets. Simply make the right choice and just choose to be happy today!
7. Pretty and Colorful Happy Heart Sign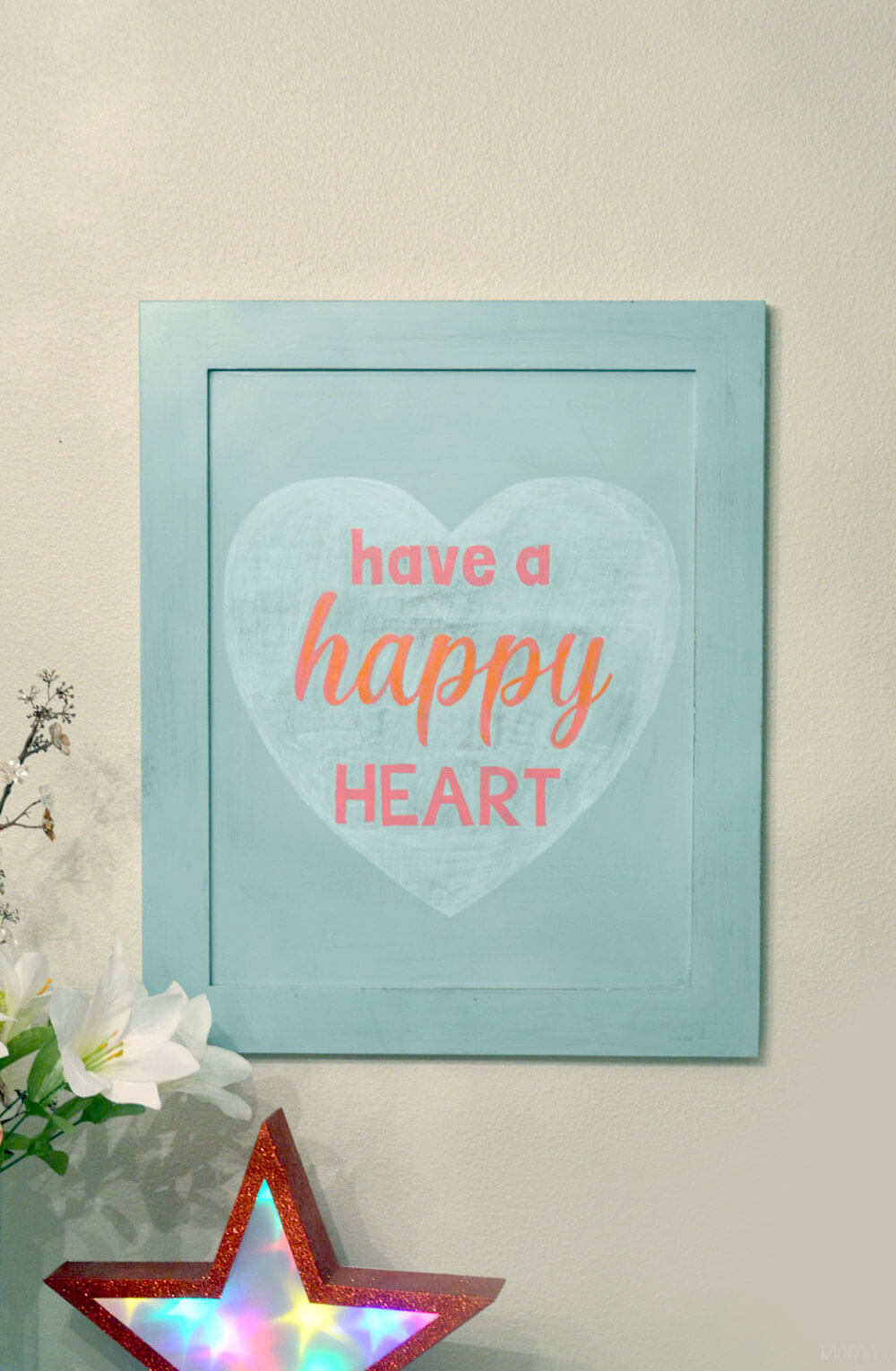 Be bold with the bright beauty of this colorful and happy sign. This cute creation takes inspiration from the conversation hearts of Cupid's holiday, but could be displayed all year long!
8. Vintage Red Truck Wood Christmas Sign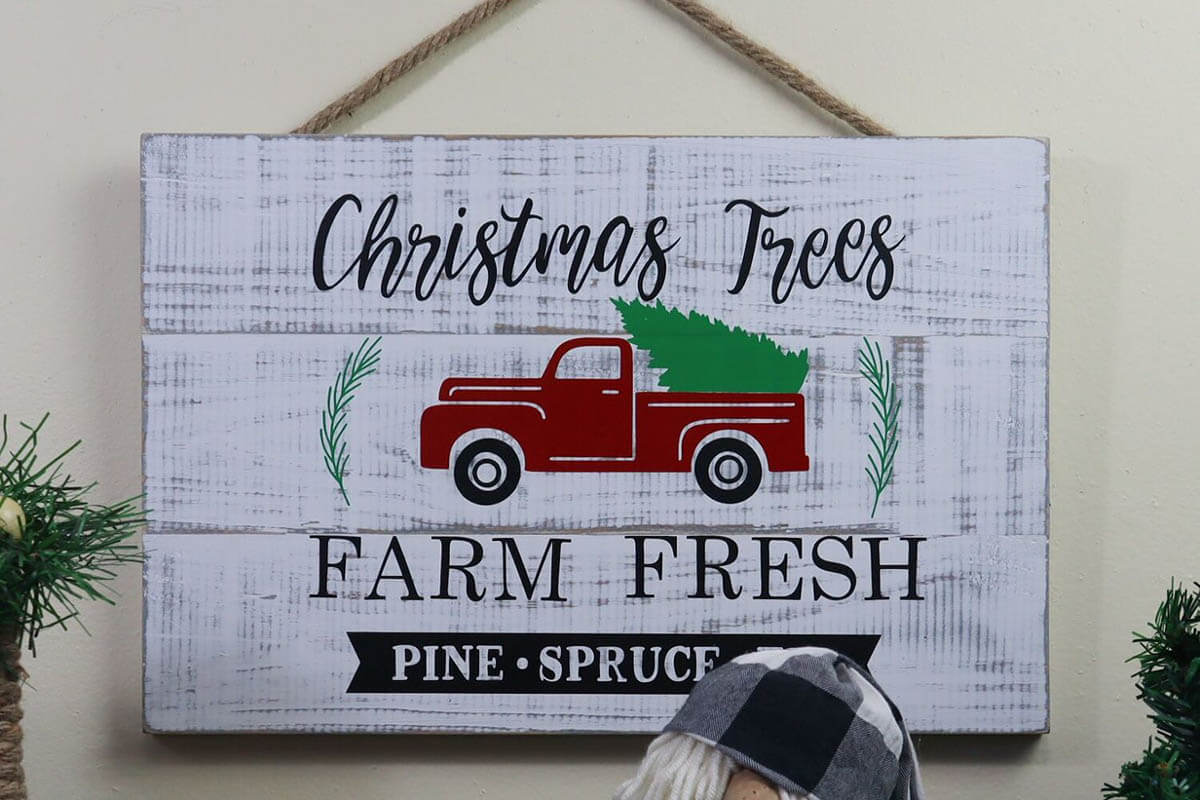 Everyone loves this classic vintage red truck and when it's dressed up for the holidays with a tree in the back, it's simply hard to resist! Decorate your home for Christmas with this fun and charming vintage hand-painted wood sign.
9. Paint the Holidays Red Lighted Wooden Sign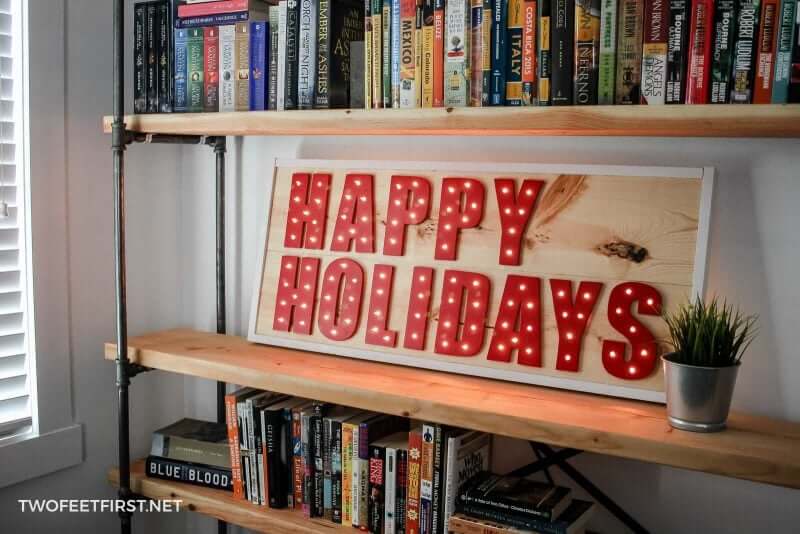 Let's get right to the point and just wish everyone a simple "happy holidays" with this minimalistic sign. The wood background shows off the rich knots and grains to make this a unique piece that's full of character. The red letters are perfect for Christmas time and the inclusion of twinkle lights makes it look great day or night!
10. Welcome Home Wooden Sign with Greenery Wreath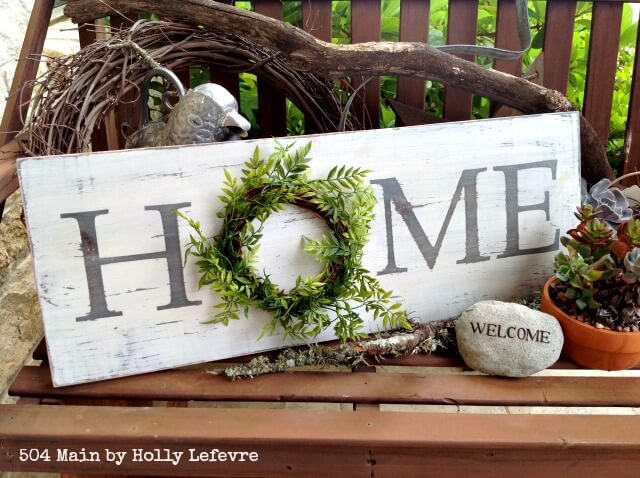 After the holidays come to an end, keep your house looking fabulous with some decorations that work all year round! This distressed white wooden sign is a great choice as it has "home" written across it and uses an endearing green wreath to form the "o."
11. Mason Jar Vase and Welcome Wood Sign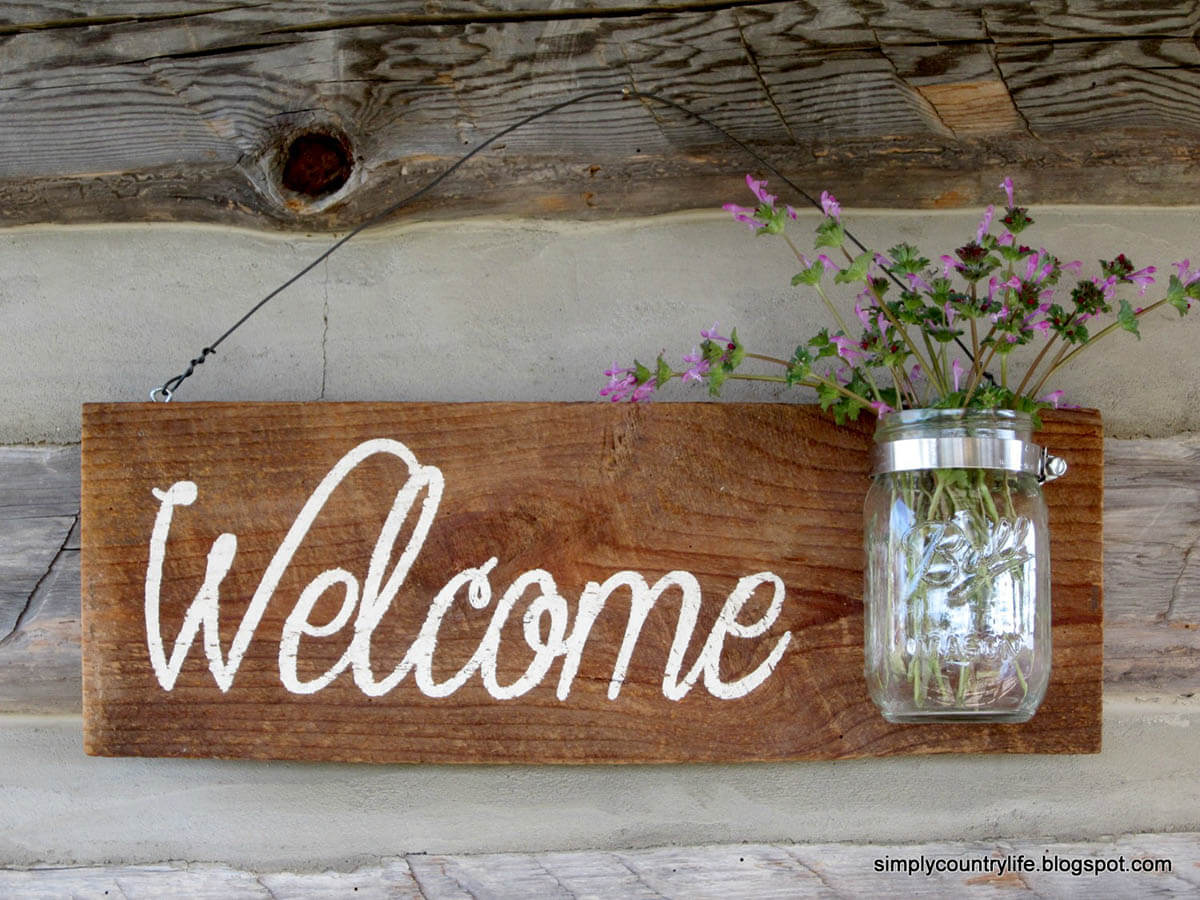 This welcome sign is the perfect choice for a piece that works all year and can be updated for each season or holiday. The mason jar vase holds your choice of seasonal sprigs to keep this sign fresh each season.
12. Gather for a Feast to Give Thanks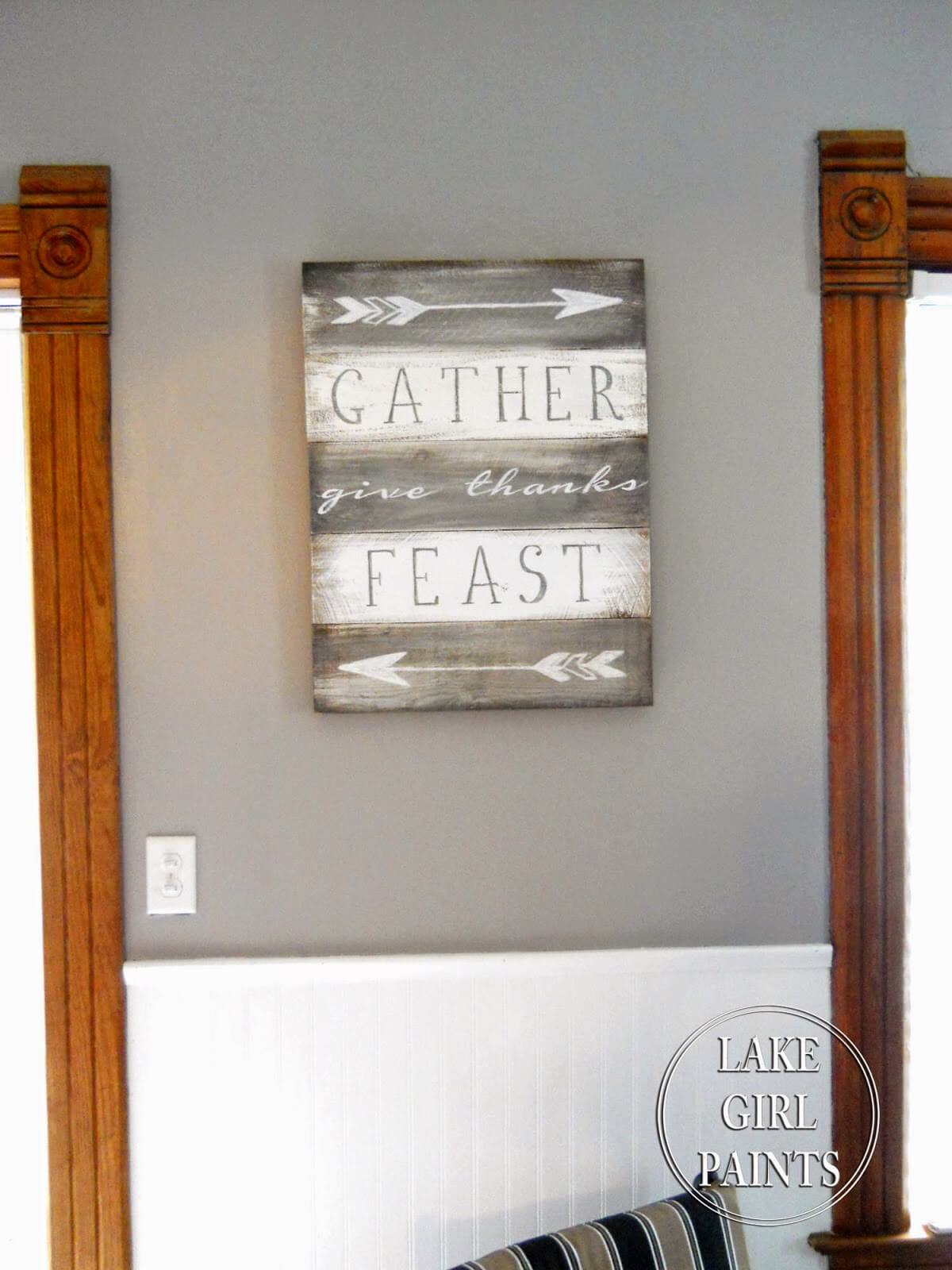 Arrows guide the way in this distressed white and gray sign that adds character and charm to your family's Thanksgiving feast. Don't forget to appreciate all the little things and the ones you love that have gathered with you around the table.
13. Catch Me If You Can Gingerbread Decoration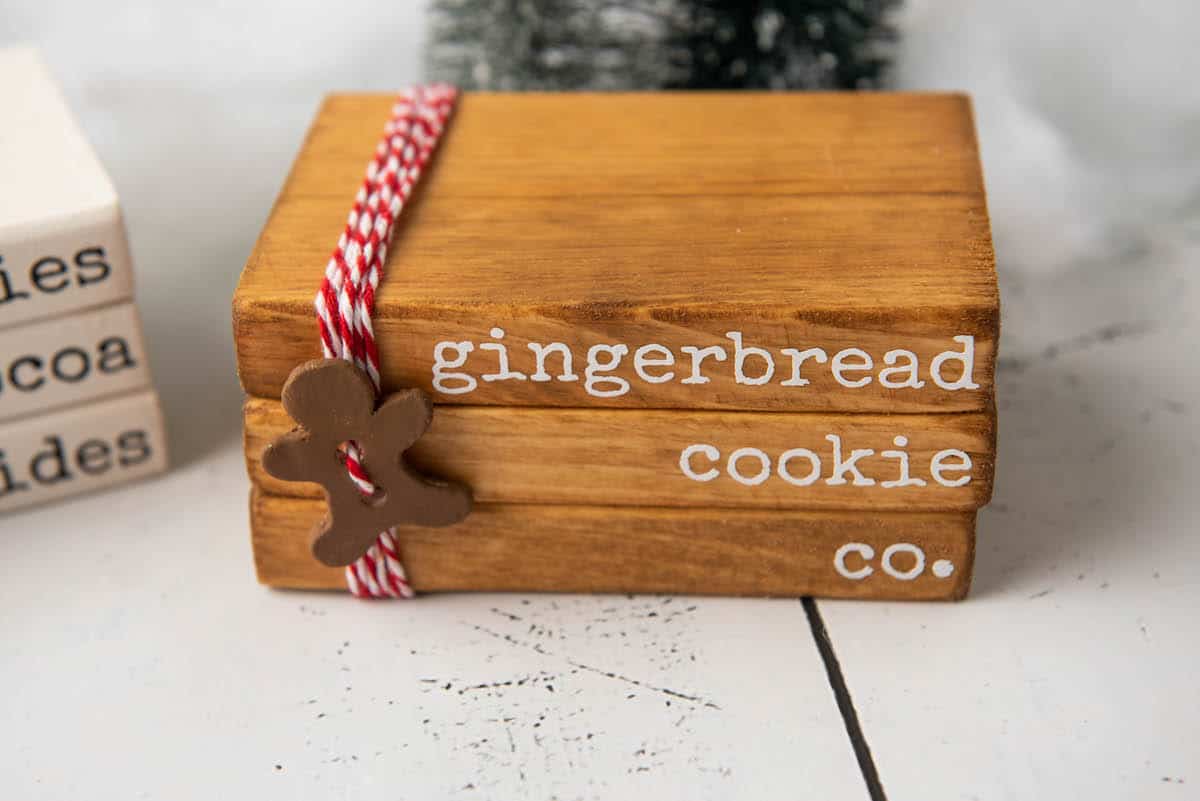 This little gingerbread man is easy to catch as he's tied with red and white string around this cute Christmas decoration. Typewriter font adds a classic charm to this wooden holiday decoration that will fit into any nook or cranny of your existing Christmas decor.
14. Gray and White Farmhouse Home Sign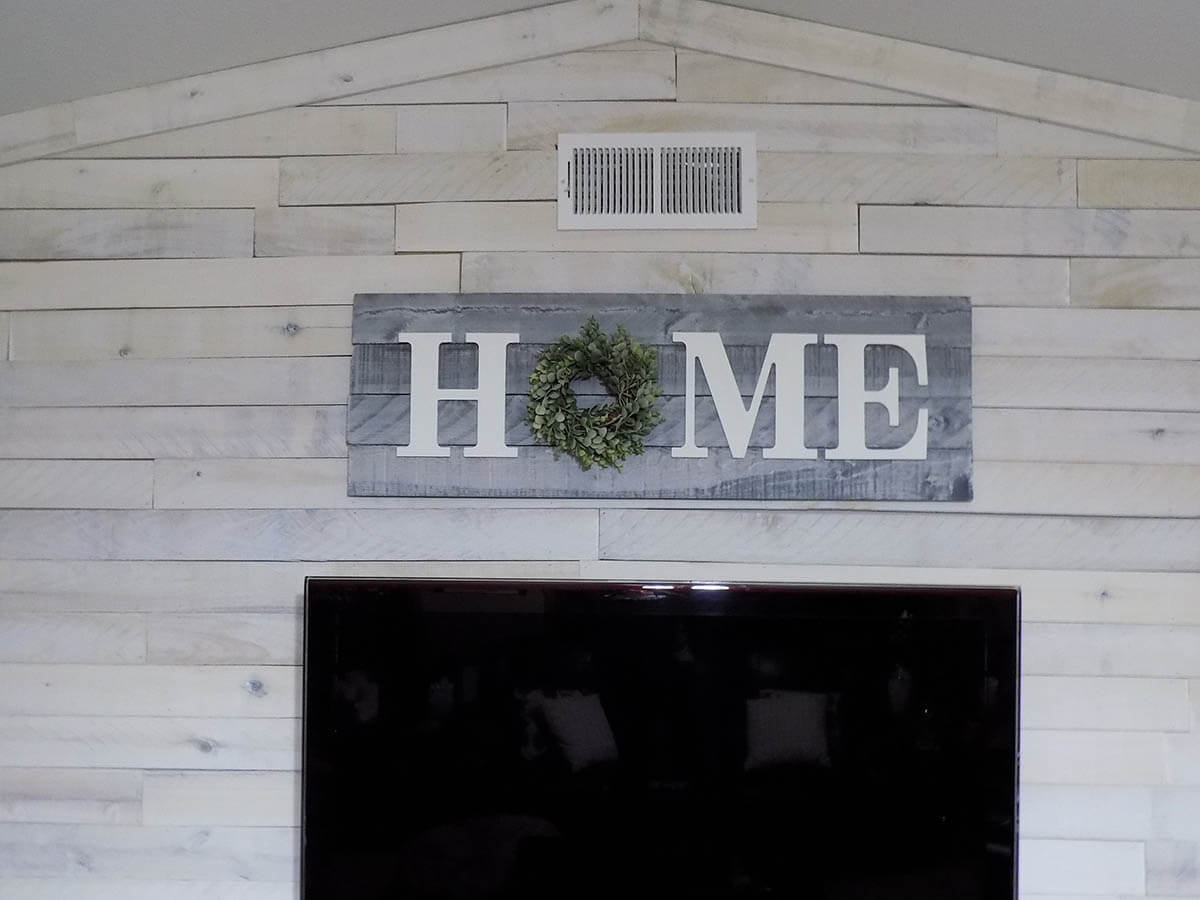 Source: The original source is not available anymore.
Every farmhouse decor lover will enjoy this cool gray barn wood inspired sign that coordinates perfectly with your modern farmhouse style. The white lettering blends into your home's white trim accents and the small wreath of greenery adds a homemade touch.
15. Decoupage and Painted Love Letters Wall Art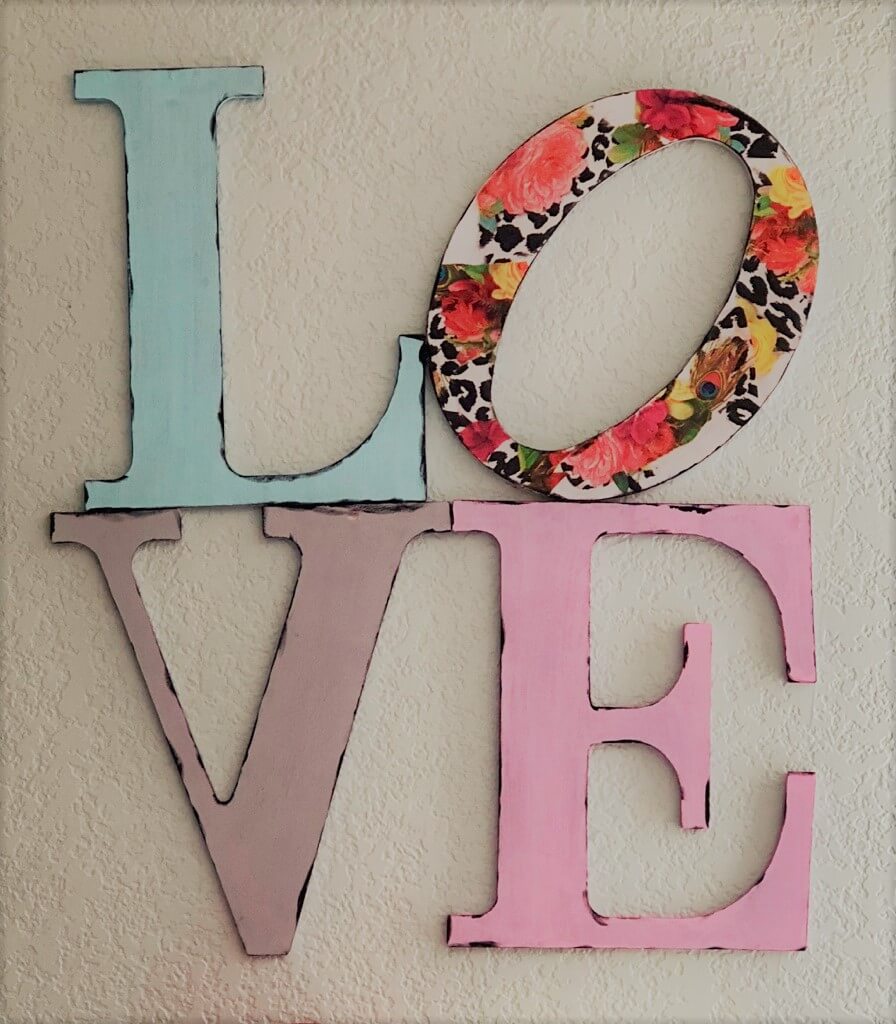 Hit your local hobby store to find these large letters that you can customize to add some charm to your home. Create a unique wall art piece by covering each letter to spell love in your favorite hue or fabric. Let the love flow throughout your home with this set of letters.
16. Reclaimed Rustic Barn Wood Gather Sign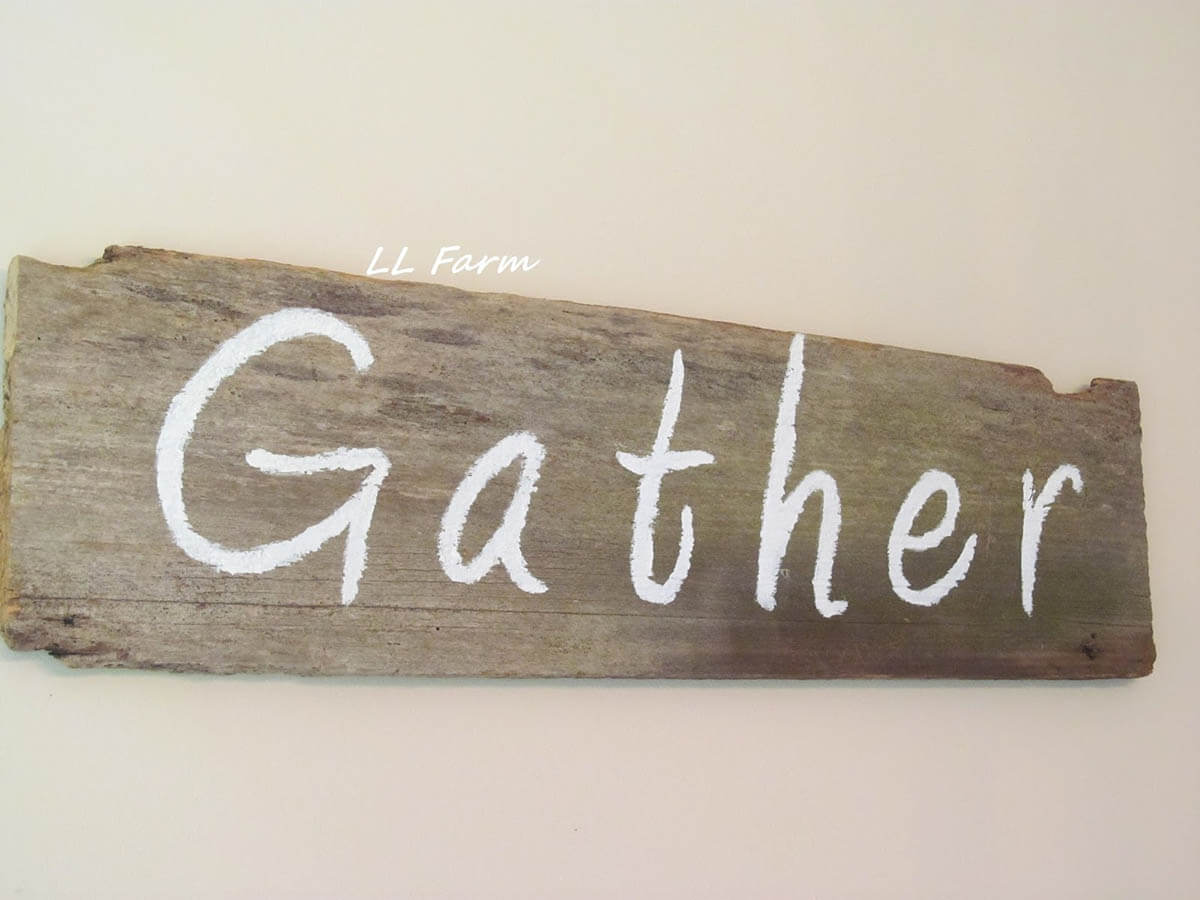 All you need is a single piece of weathered barn wood and you've got the base for this shabby chic farmhouse sign. A simple stroke of white paint to display "gather" across it will create a new life for this distressed piece of wood.
17. Personalized License Plate Handmade Wood Sign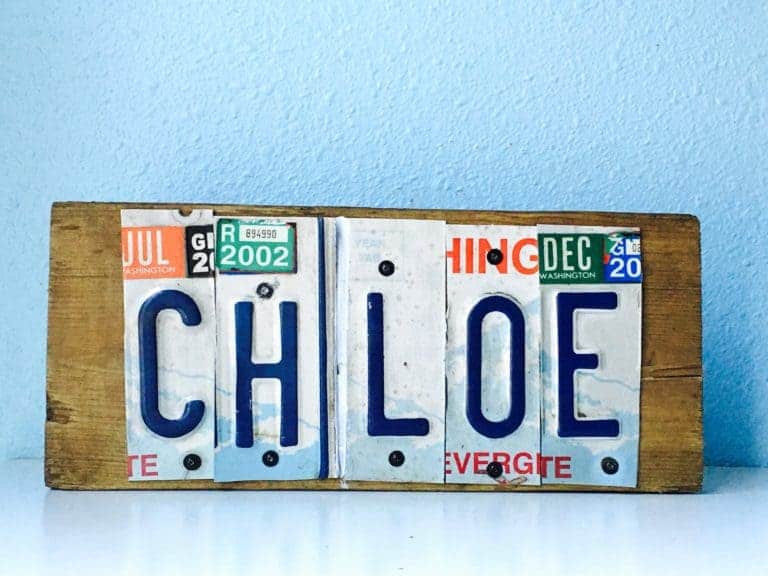 Have a scavenger hunt and collect all the letters to your name so you can design this custom and creative license plate sign. It's more fun and filled with much more character than the traditional personalized plate. Gift it to a teenager who's just starting to drive to make a sweet sixteen gift.
18. Stenciled and Sweet Farm Fresh Pumpkin Sign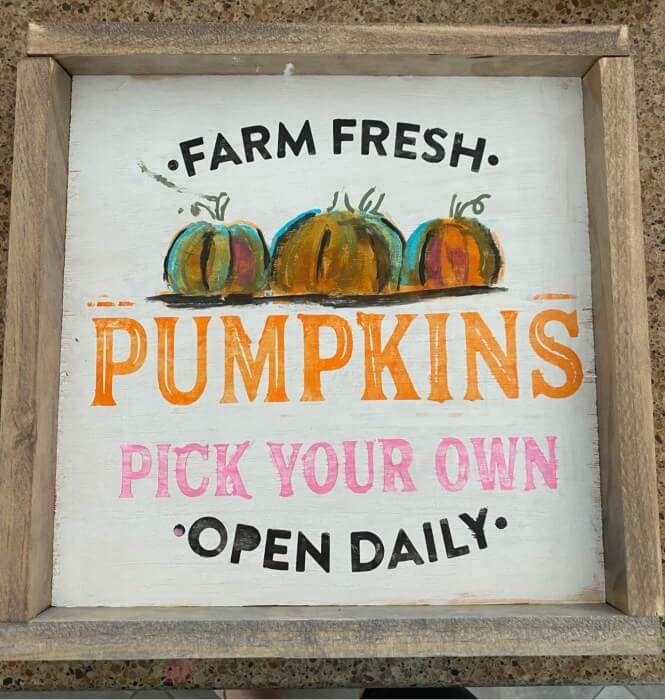 Your favorite set of stencils is just what you'll need to make this fun and happy fall sign. With a trio of plump pumpkins with unique painting details, you'll be sure to enjoy hanging this cute pick-your-own pumpkins sign each fall.
19. Grateful Heart Painted Wood Sign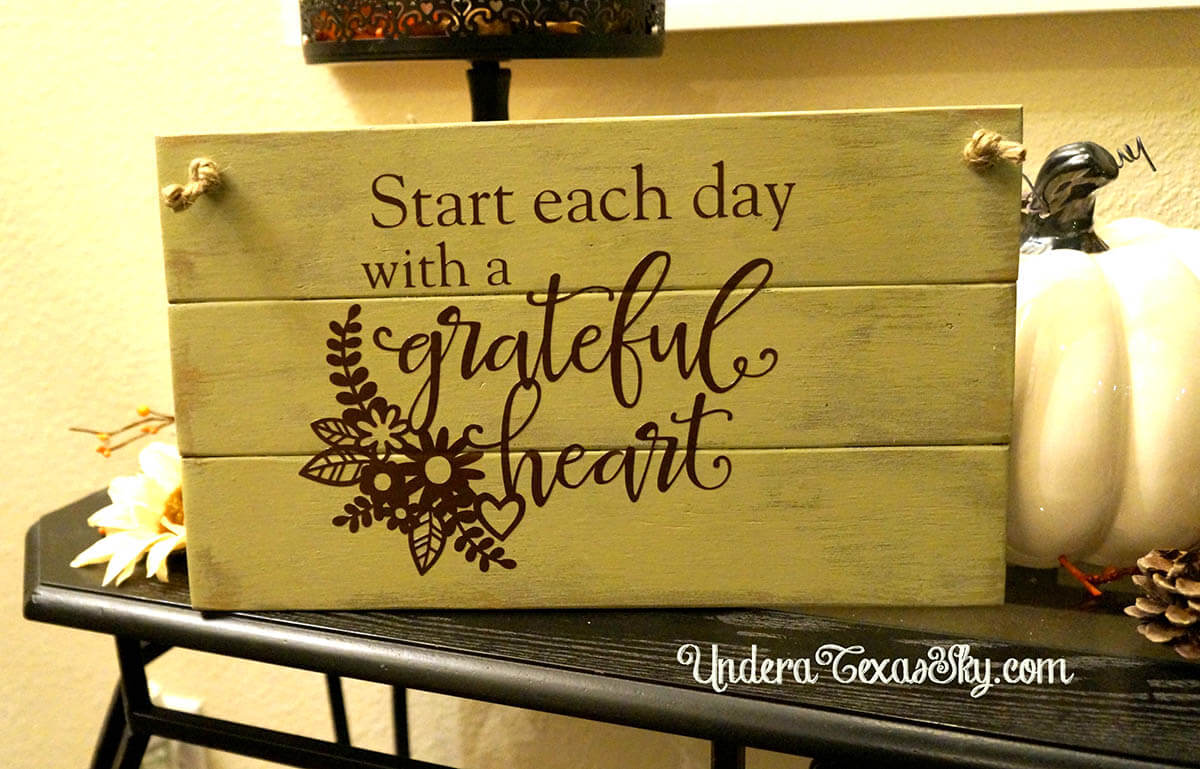 Use some rich brown vinyl lettering on this buttery mustard yellow painted wooden sign to achieve the reminder we all need. This "start each day with a grateful heart" sign makes a perfect gift for anyone on your list for a birthday, thinking of you, or a "just because" present.
20. White Washed and Brown Just Breathe Sign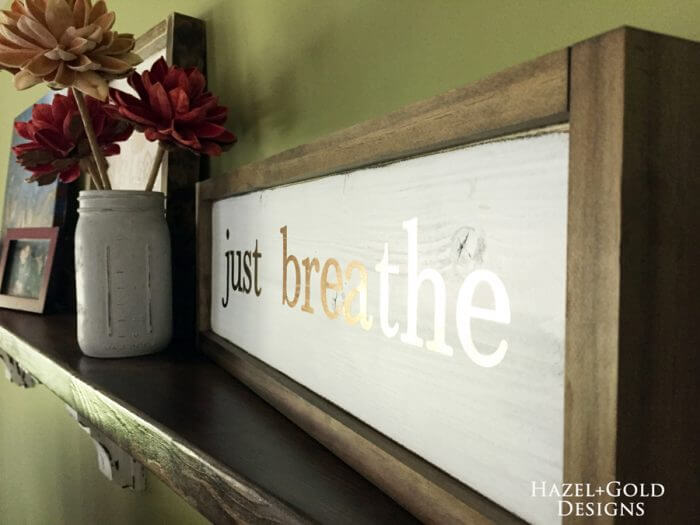 Place this soothing reminder to "just breathe" on top of your mantel to help set the mood for tranquility in your home. Everyone needs a safe haven to relax and re-charge and this wooden sign is the perfect addition to your personal retreat.
21. Signs of Summer Yellow Lemonade Sign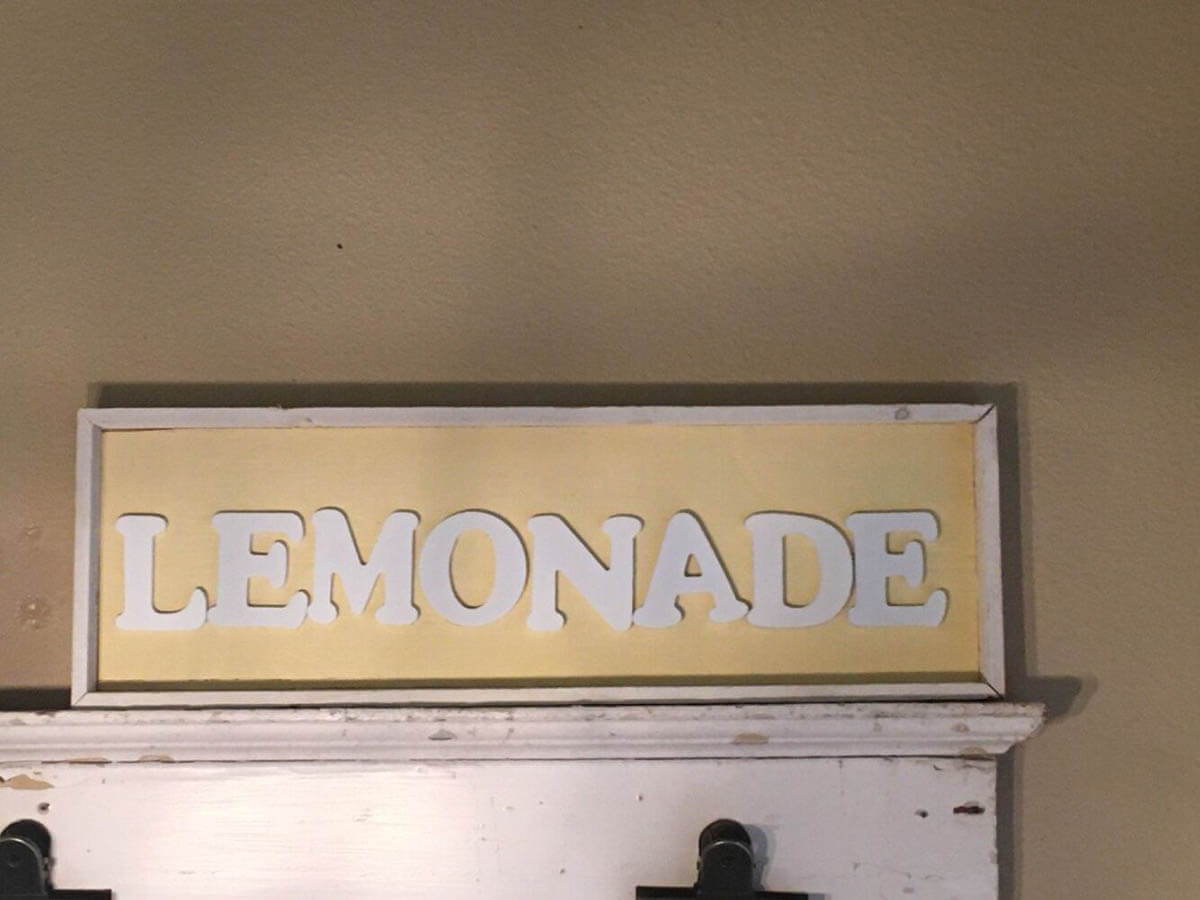 Fresh squeezed lemonade and blue skies will fill your mind as you include this lemonade sign in your home for summer. It's a fresh decoration for adding a piece of summer's simplicity to this staple refreshment. Place it near your kitchen sink and keep a full pitcher of it inside your fridge.
22. Quirky and Charming Burpee's Seed Sign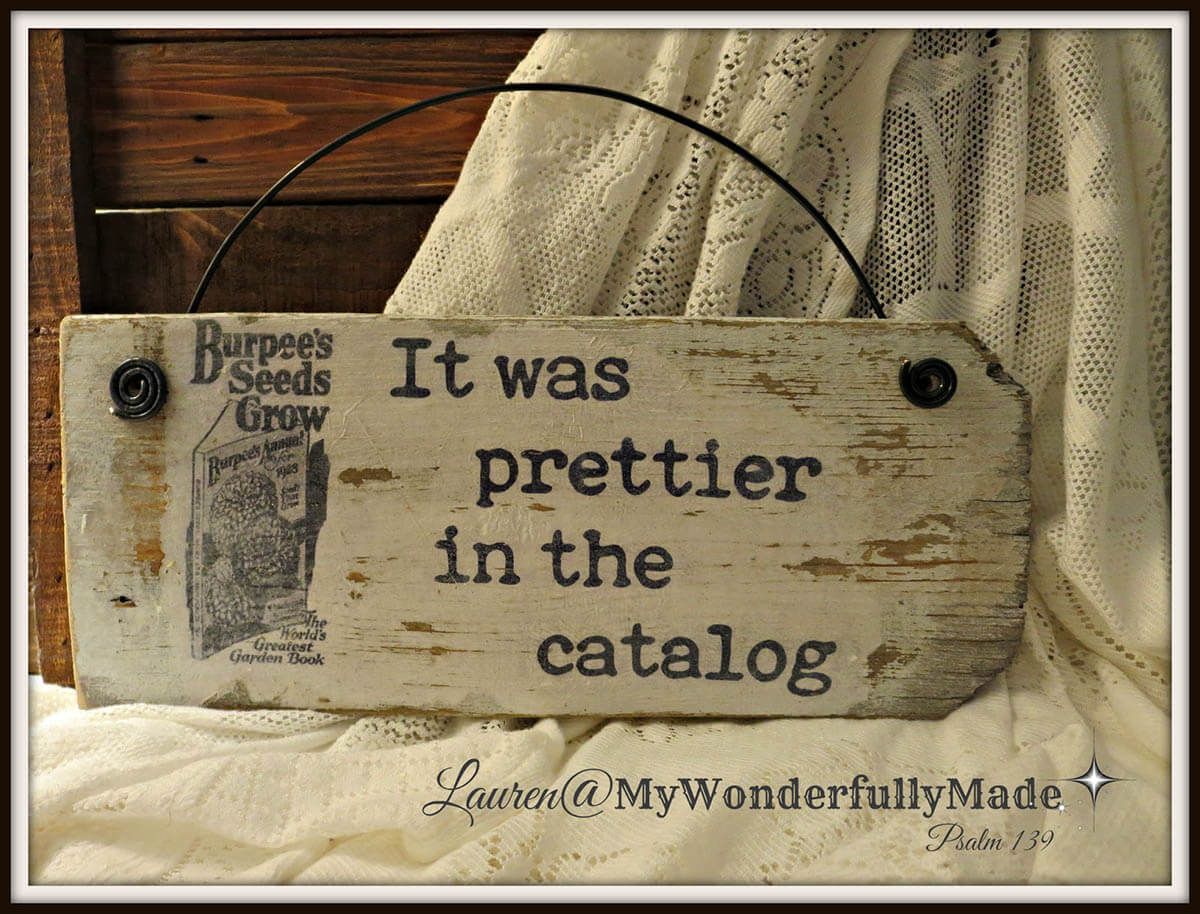 This scrap piece of wood features a distressed whitewashed finish that adds to its character. Pay a little homage to this classic garden catalog along with a playful phrase. It's a fun gift for your favorite plant lady.
23. Black and White Pumpkin Patch Sign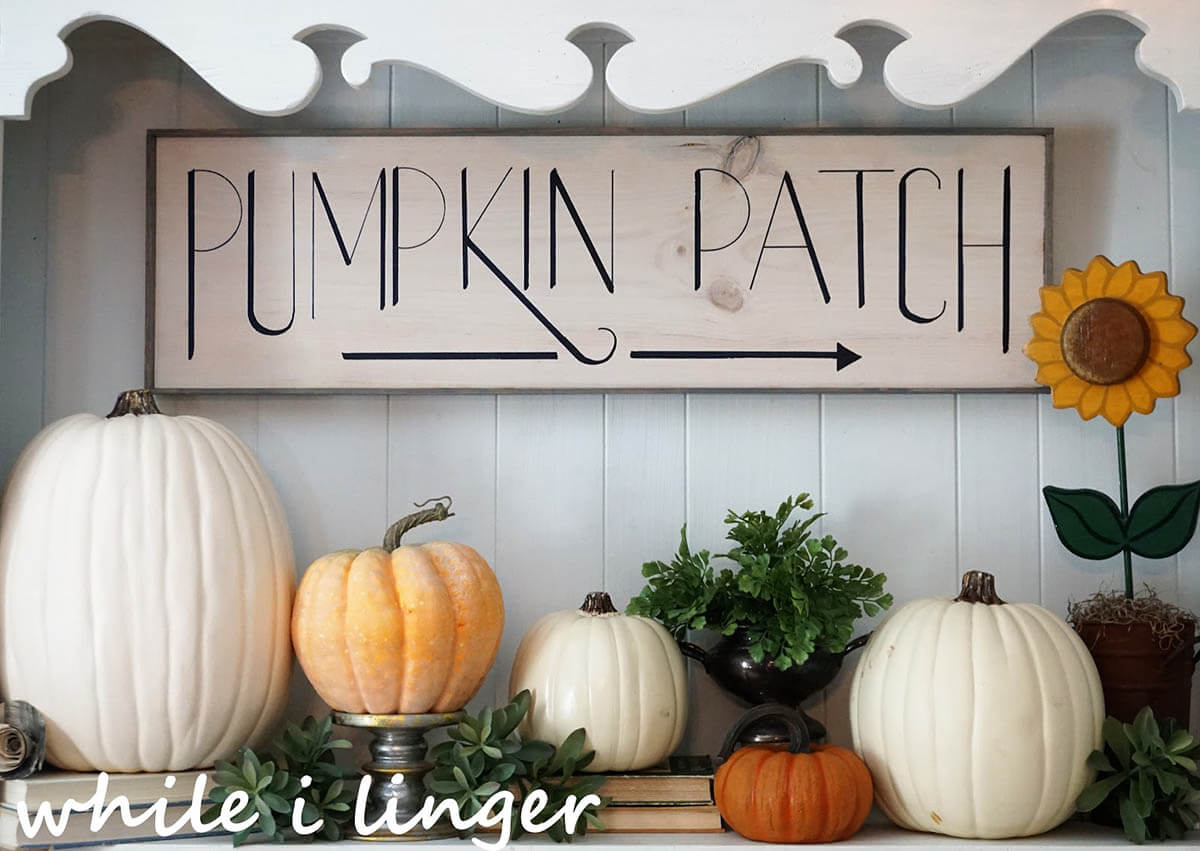 The pristine black lettering on this sign looks amazing set on the white background. With a slender arrow leading the way, your home needs this pretty piece to add to its fall decor. The classic color combination makes it a good option for your modern farmhouse design.
24. My Happy Place is the Beach Sign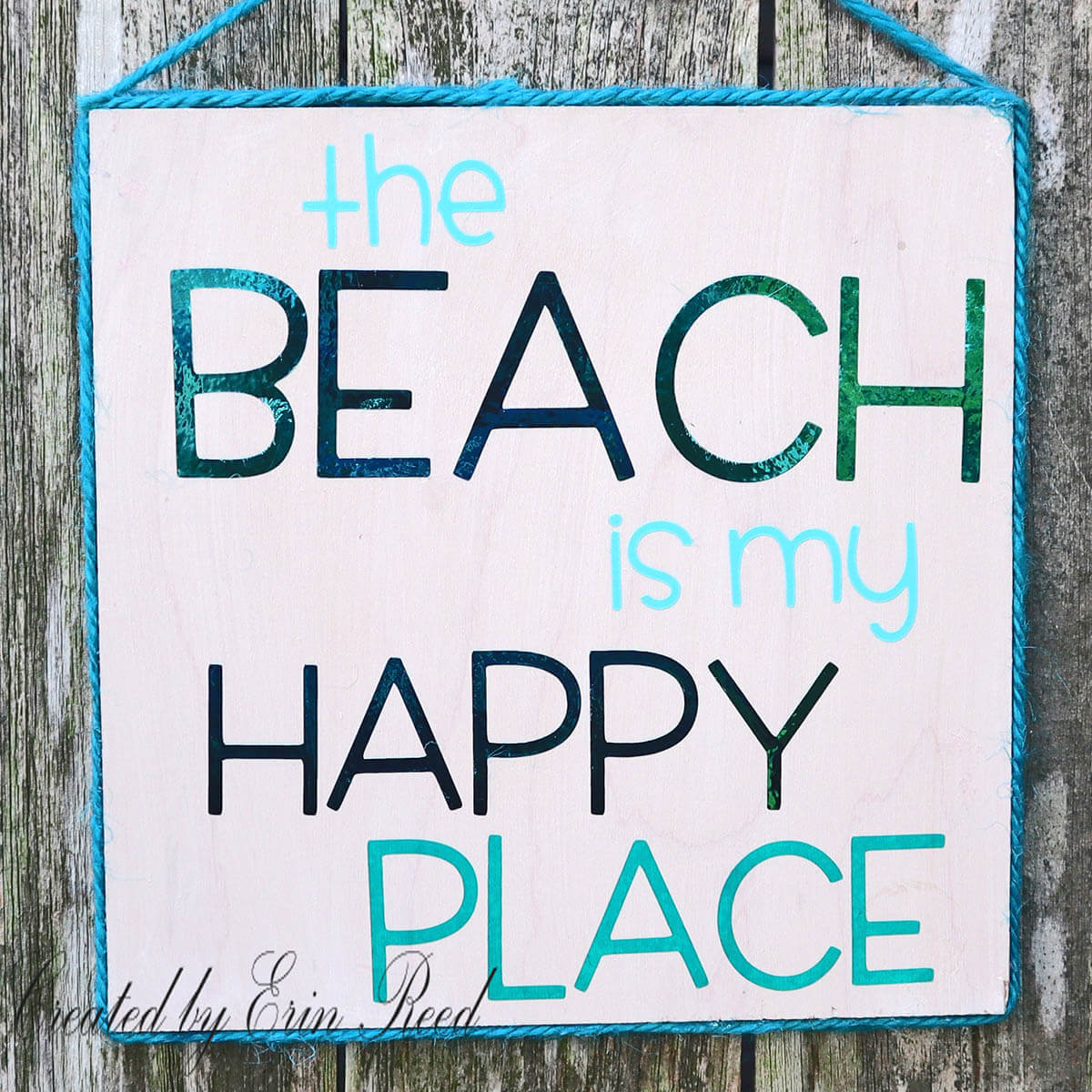 Here's a happy sign for the beach bunnies and summer lovers of all ages. Hang this in your home to welcome the season of warmer weather or place it outdoors near your pool to channel the ocean waves in your backyard haven.
25. Shabby Chic Farmhouse Sign with Cow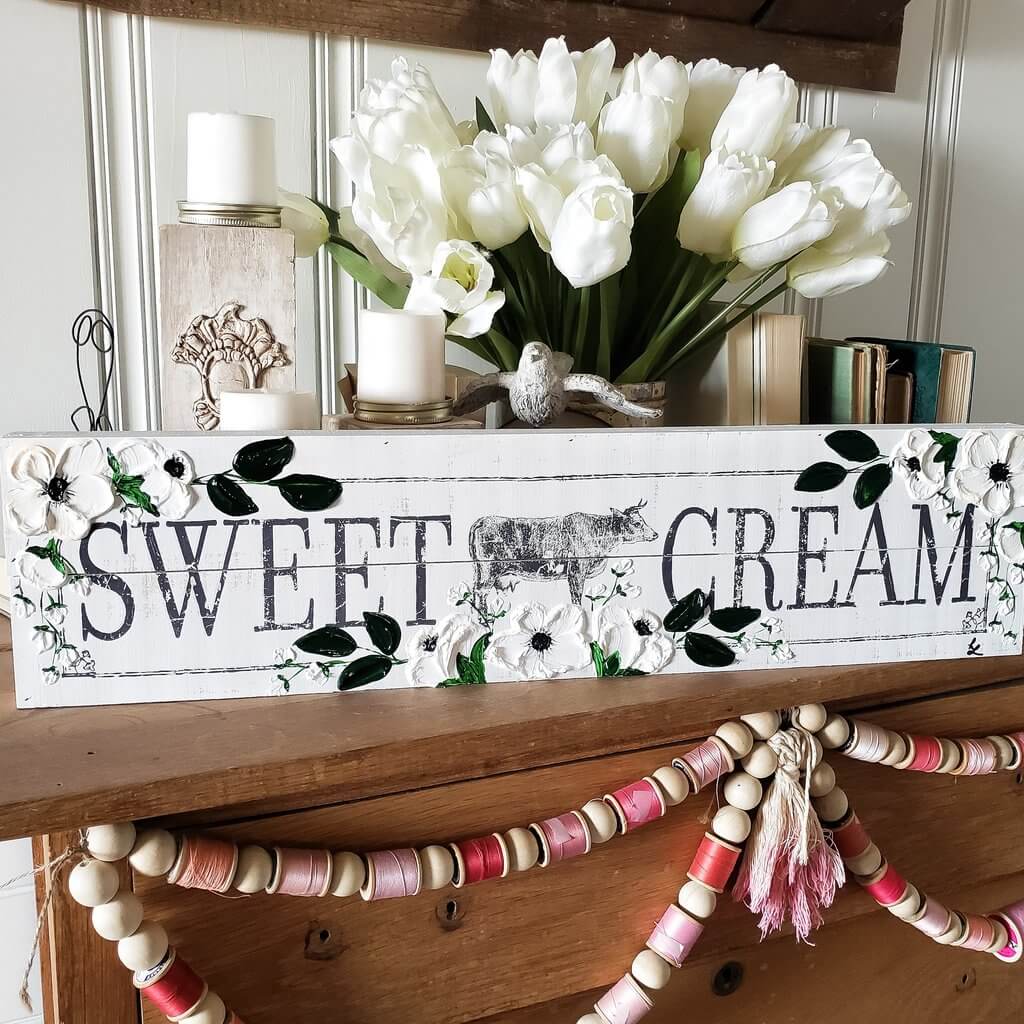 The soft petals and distressed cow profile work together to add some charm to this shabby chic sign. Remember the sweet taste of fresh cream from the dairy farm as you place this farmhouse sign in your home.
26. Three Dimensional Lake Life Sign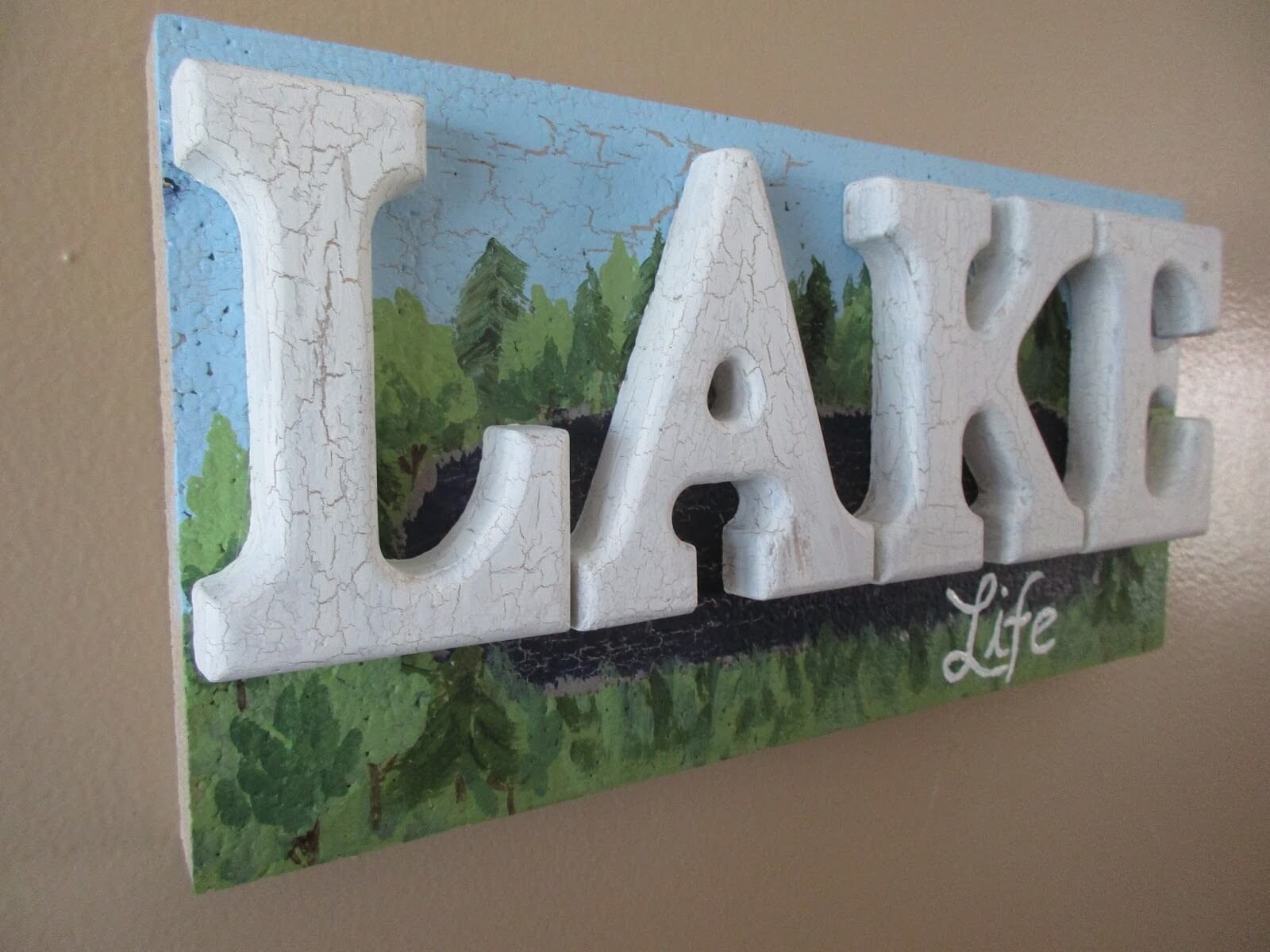 Make your decor really pop as you place this 3-D lake sign on your wall. The puffy lettering is raised to give it texture and depth. With a picturesque landscape in its background, this sign hints at what lake life is all about.
27. Recycled Pallet Family Rules Wood Sign Décor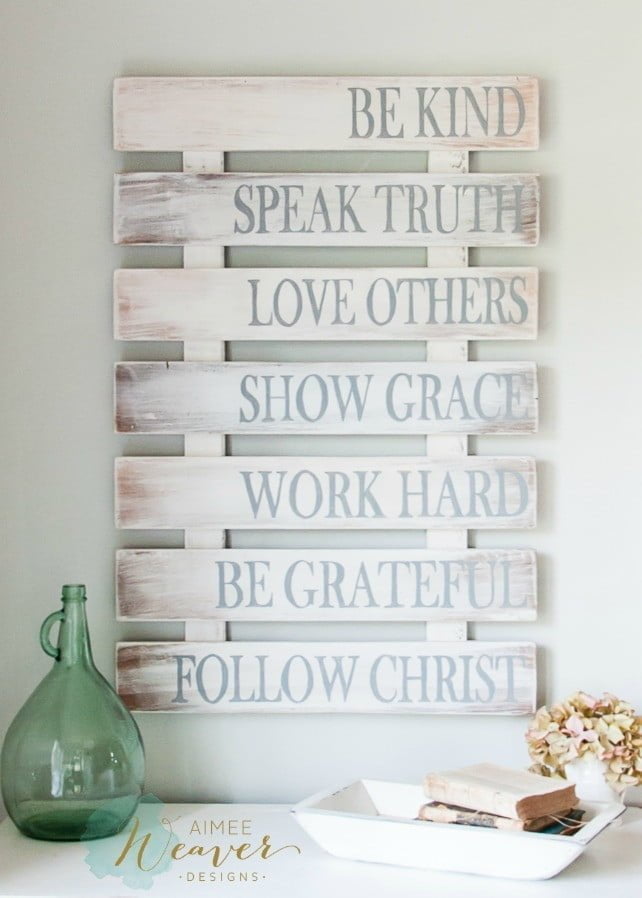 This faux distressed, repurposed pallet sign combines the warmth of a true primitive with wise words for the whole family. If Christian values come first in your home, then this beautiful piece of rustic décor is a must-have.
28. Whitewashed Romantic Wall Hanging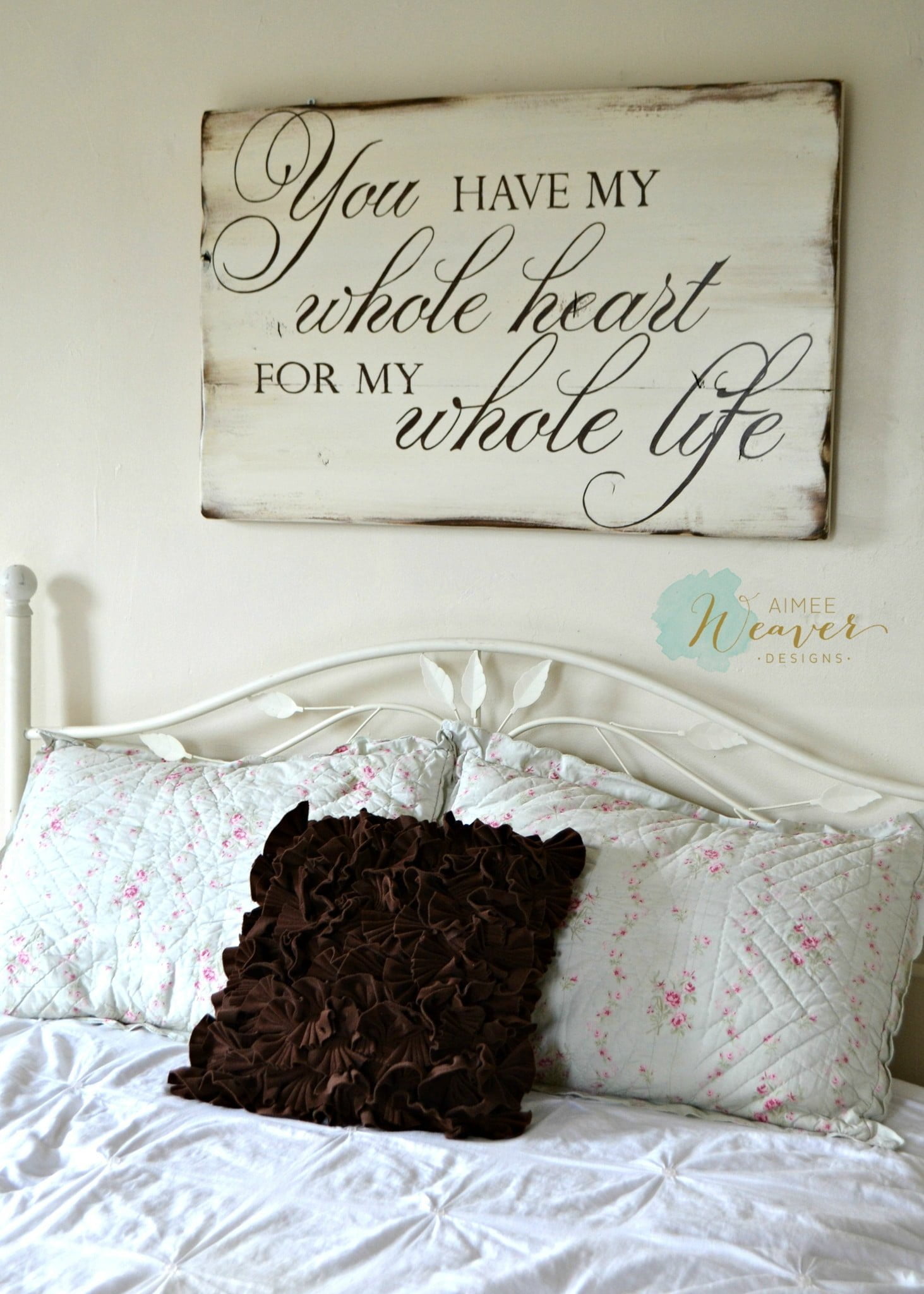 What better way to bless a new home than with this ode to lifelong love? It makes a sweet reminder of your commitment when hung above your bed, but it's equally suitable for use as nursery art.
29. Snarky Humor Wide-plank Sign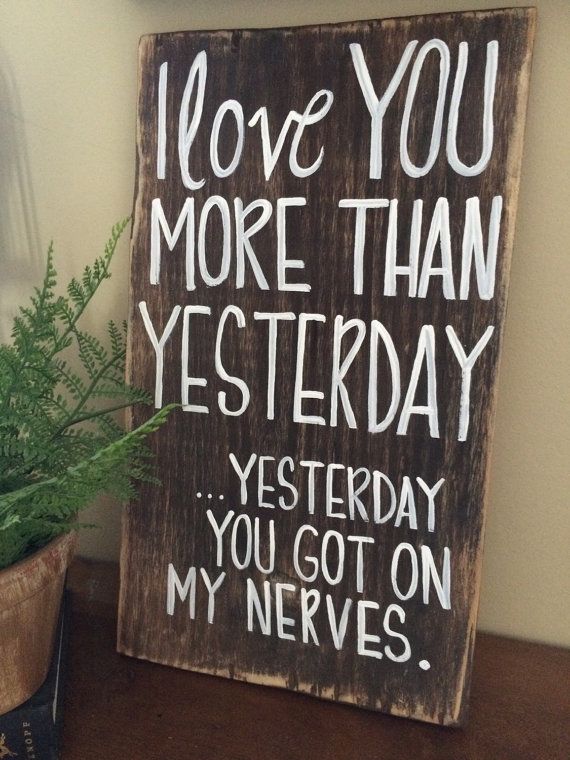 This humorous wide-plank sign offers a funny twist on a classic quote. It's the ideal décor for devoted moms. Just put a plant in front of the bottom half when you want to look like the perfect family in front of company.
30. Rough Edged Wall Sign with Script and Dark Stain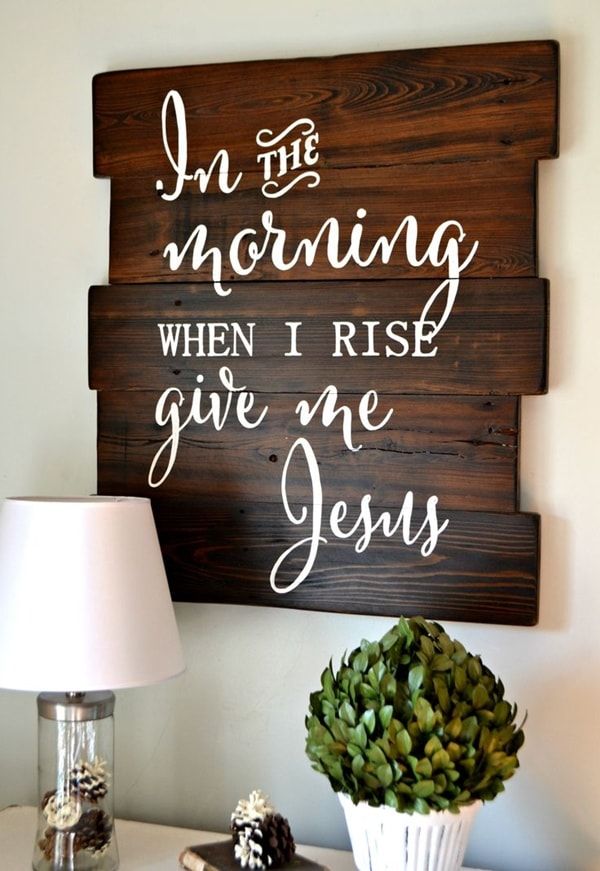 Sometimes coffee just isn't enough. When you need a shot of true strength, this elegant dark stained sign reminds you of where you can turn. Pretty white script and a staggered silhouette elevate the simple design.
31. Reclaimed Wood "Life is Beautiful" Living Room Decor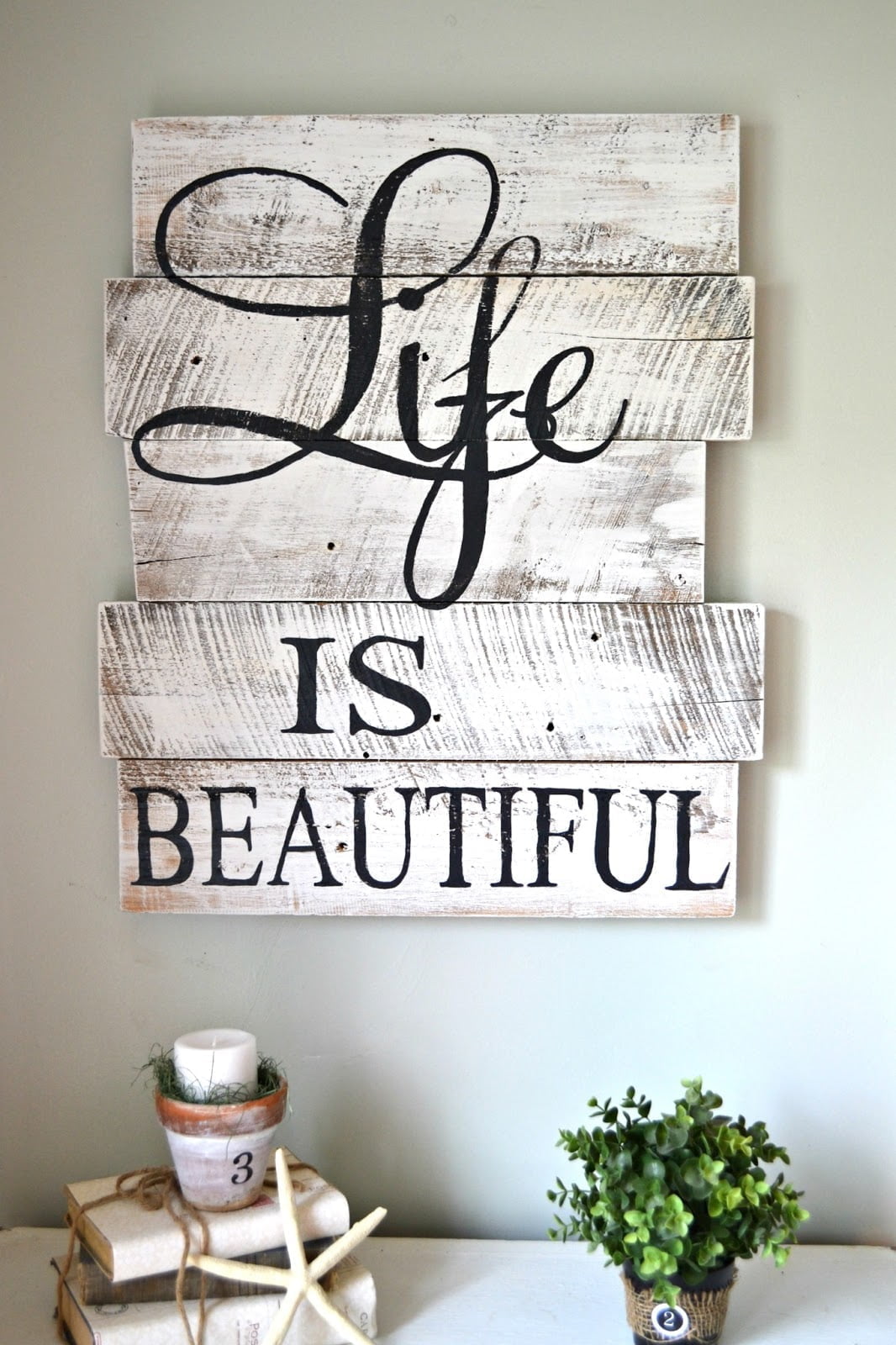 Any time you're unwinding in your beautiful living room, this reclaimed barn wood sign reminds you of all your blessings. Life really is beautiful, and so is this simple but meaningful sign.
32. Bathroom Sign Trio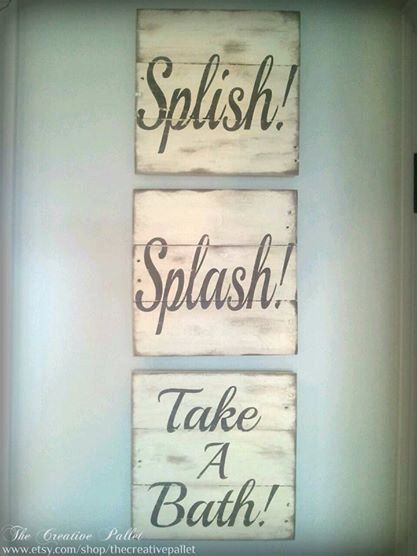 This trio of distressed signs looks like remnants of a 1950s advertising billboard. It's a classy way to add some whimsy to your bathroom design without disrupting an otherwise soothing farmhouse aesthetic.
33. Wedding Date Inspired Romantic Wall Sign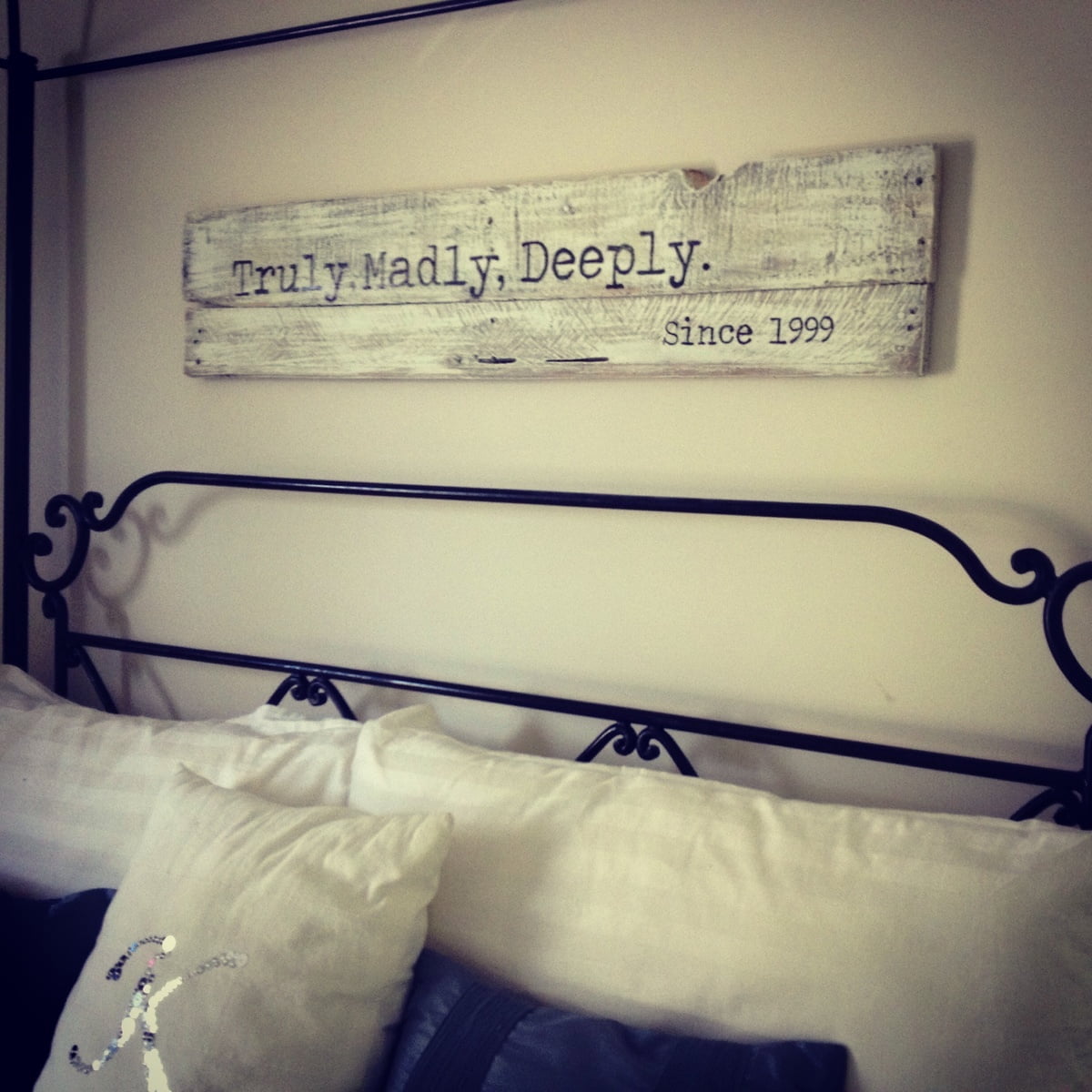 Source: The original source is not available anymore.
They say pictures are worth a thousand words, but sometimes three words are all you need. This sweet plank sign pays homage to the day you said, "I Do." It also pairs wonderfully with cherished photos from that day.
34. Simple Stenciled Holiday Panel

If you're tired of holiday kitsch, then this homey woodland sign offers some welcome respite. It combines the warm patina of real barn wood with rustic twine and the freshness of winter white script.
35. Song Lyric Sign with Vinyl Decal Text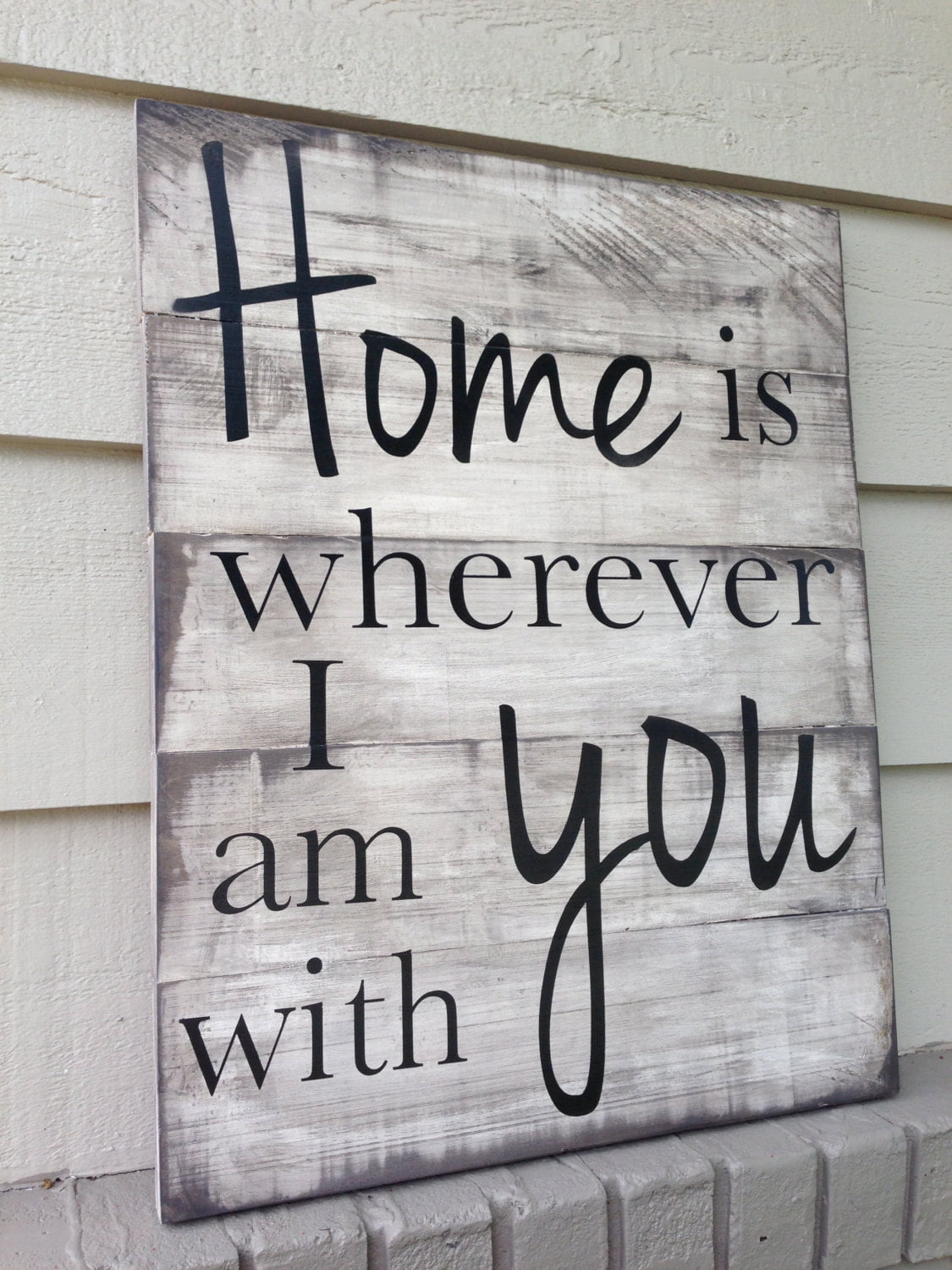 Why not create a relatable but one-of-a-kind sign by using a favorite song lyric? This one uses vinyl decals in two sizes and scripts to give a chalk-painted board a hand-stenciled look. Displaying it outside exposes it to gradual weathering which only adds to its charm.
36. Hand-lettered Headboard Sign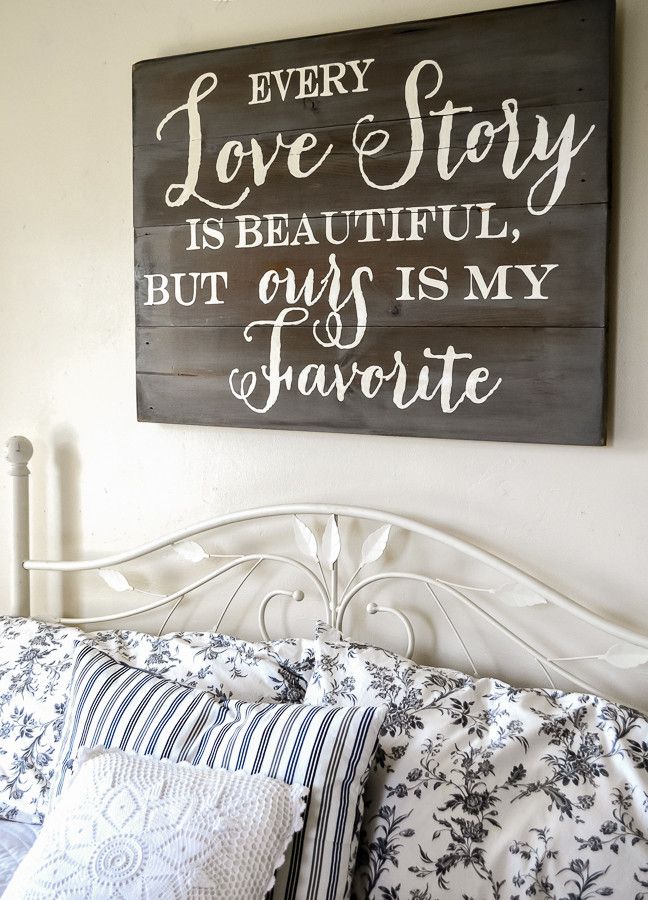 Make your bedroom picture perfect with a romantic sign that mixes stencils for a bespoke look that's especially fitting for this fairytale quote. A darker stain sets off classic white script and also keeps the sign from being too matchy with white walls and bedroom furniture.
37. Whitewashed Door Panel Marriage Quote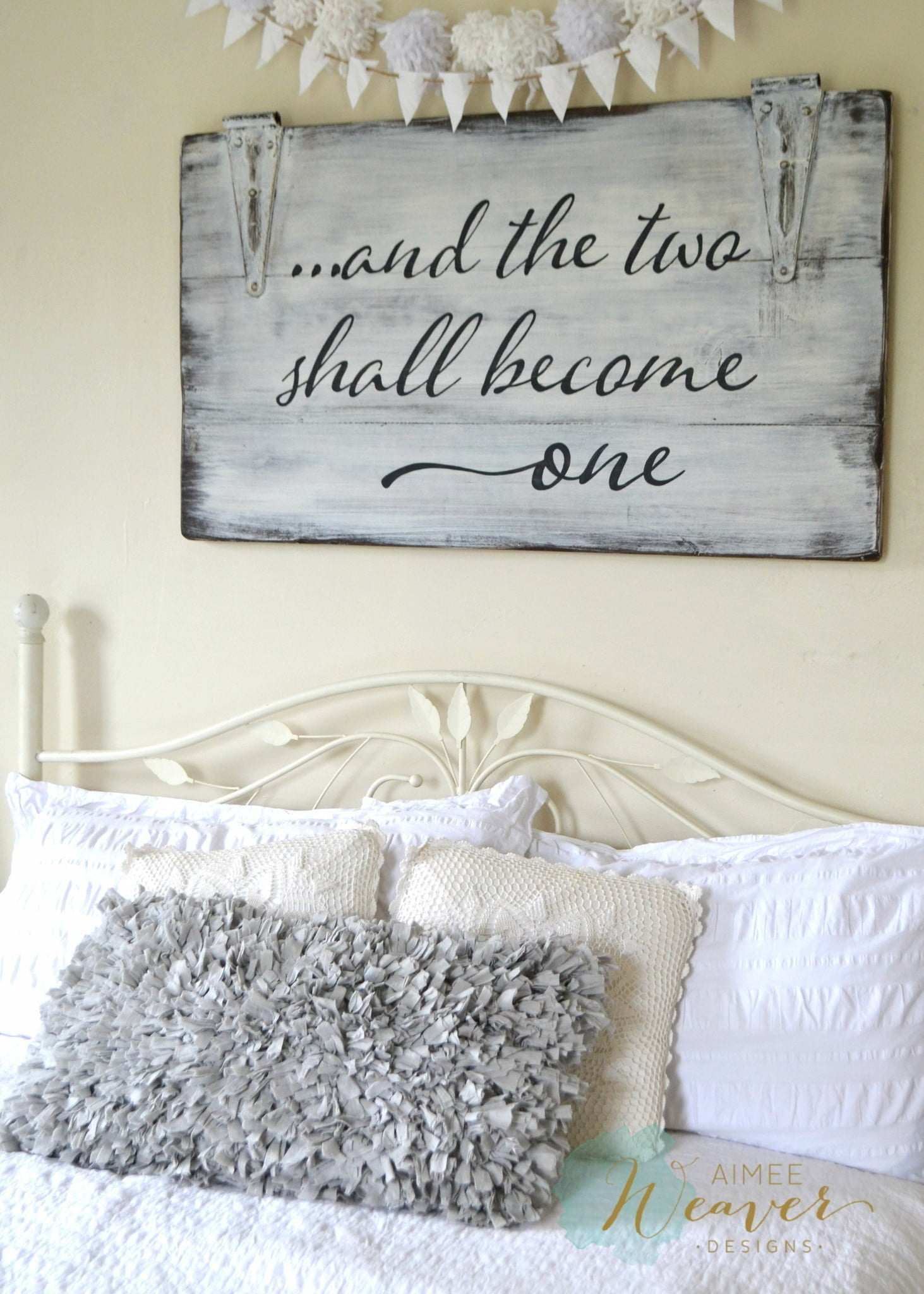 Cupboard doors are an appealing medium for wood signs. They're just the right size for hanging horizontally, and keeping the hardware on gives them an industrial look. This repurposed door panel adds cozy character to the master bedroom with a poignant Bible verse.
38. Stenciled Front Door "Welcome" Sign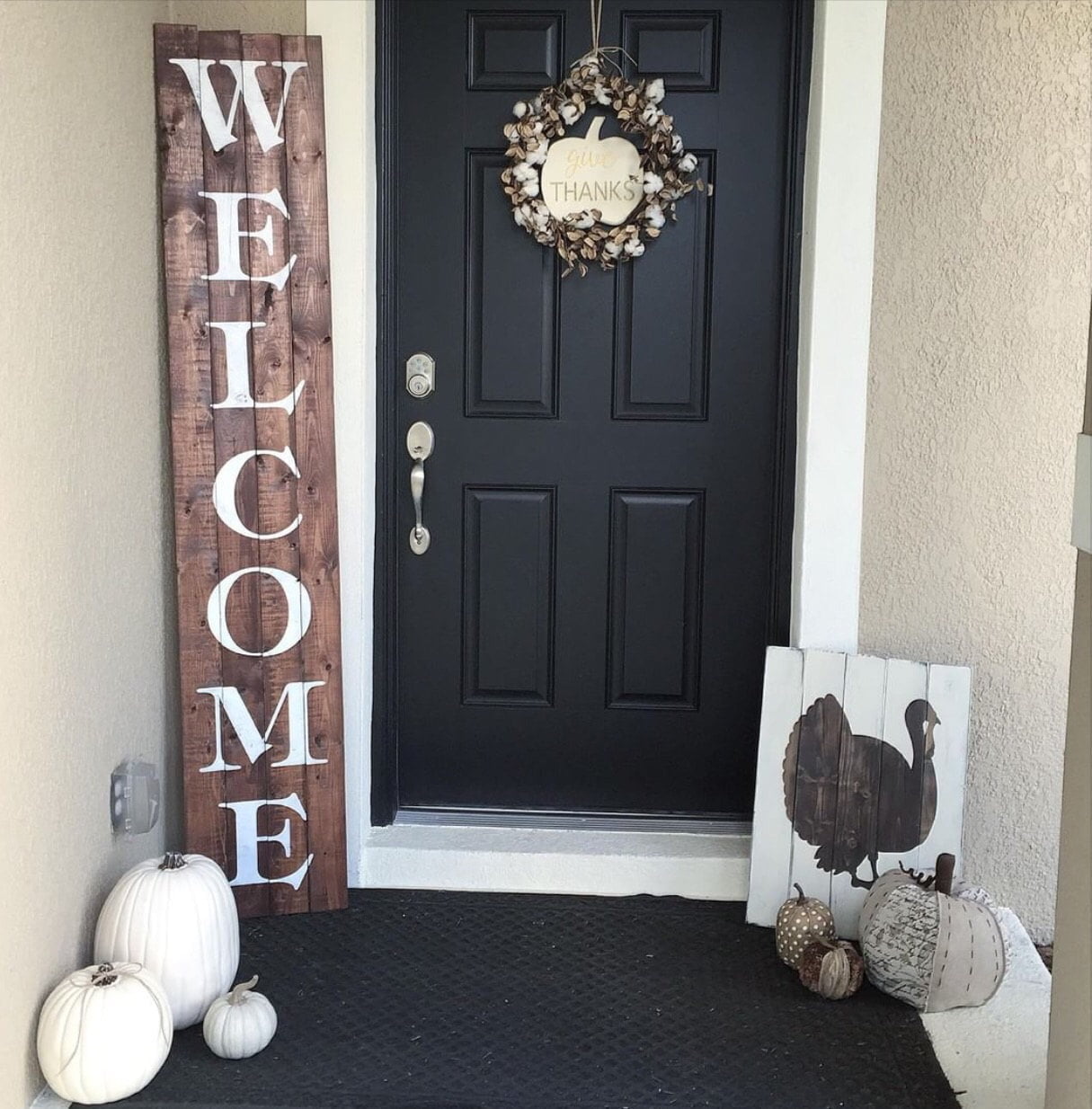 If you're tired of the traditional welcome mat, why not try a welcome sign? This slim, vertically displayed barnwood accent fits perfectly into the corner of a doorway. White stenciling coordinates well with existing white trim and makes seasonal displays more cohesive.
39. Rustic Twine "Love" Sign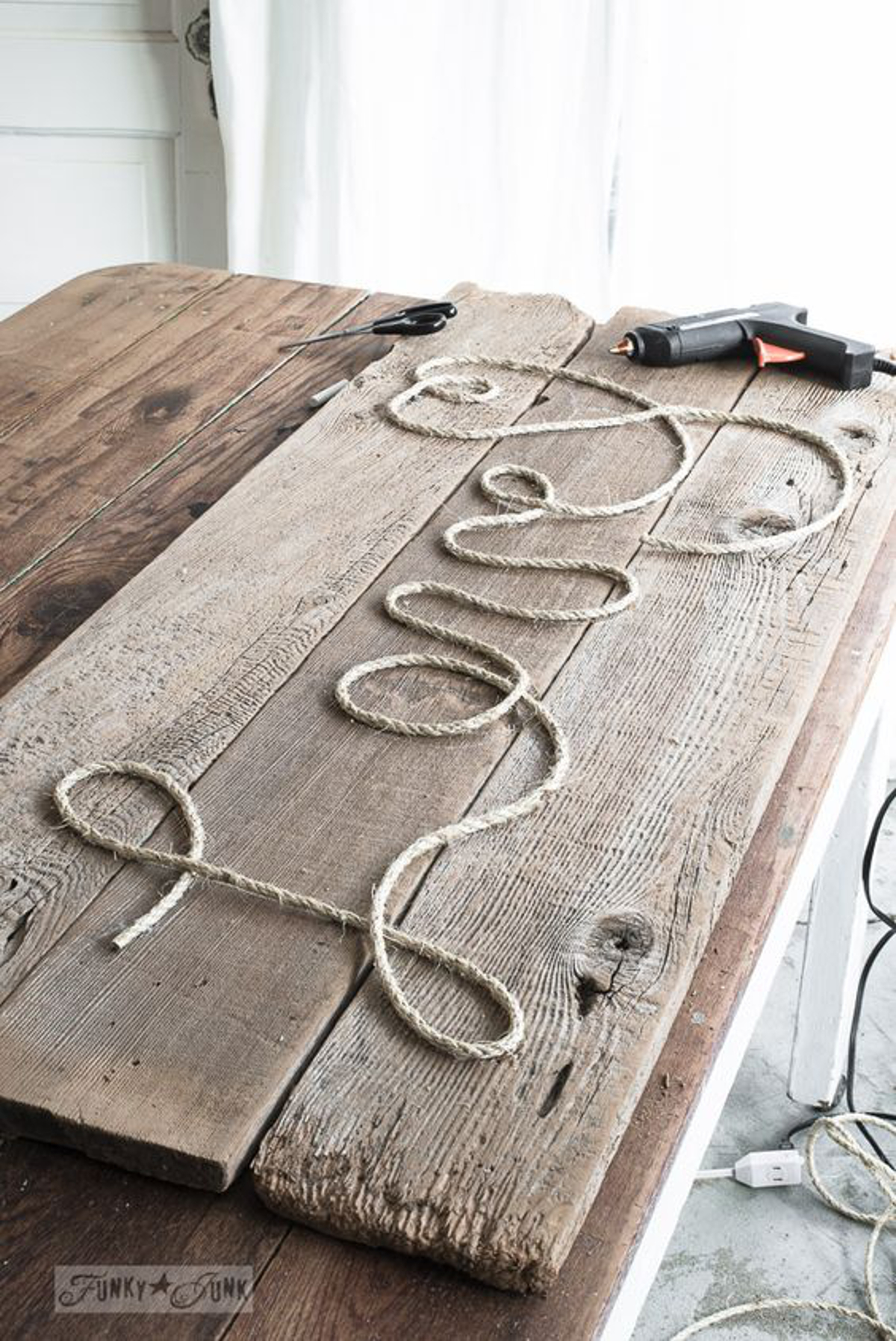 This standout rustic wood sign is deceptively simple to make yourself. Just find your ideal piece of wood, decide how you want to lay out your script, and then secure the twine with a glue gun.
40. Easy Hand-lettered Bathroom Reminders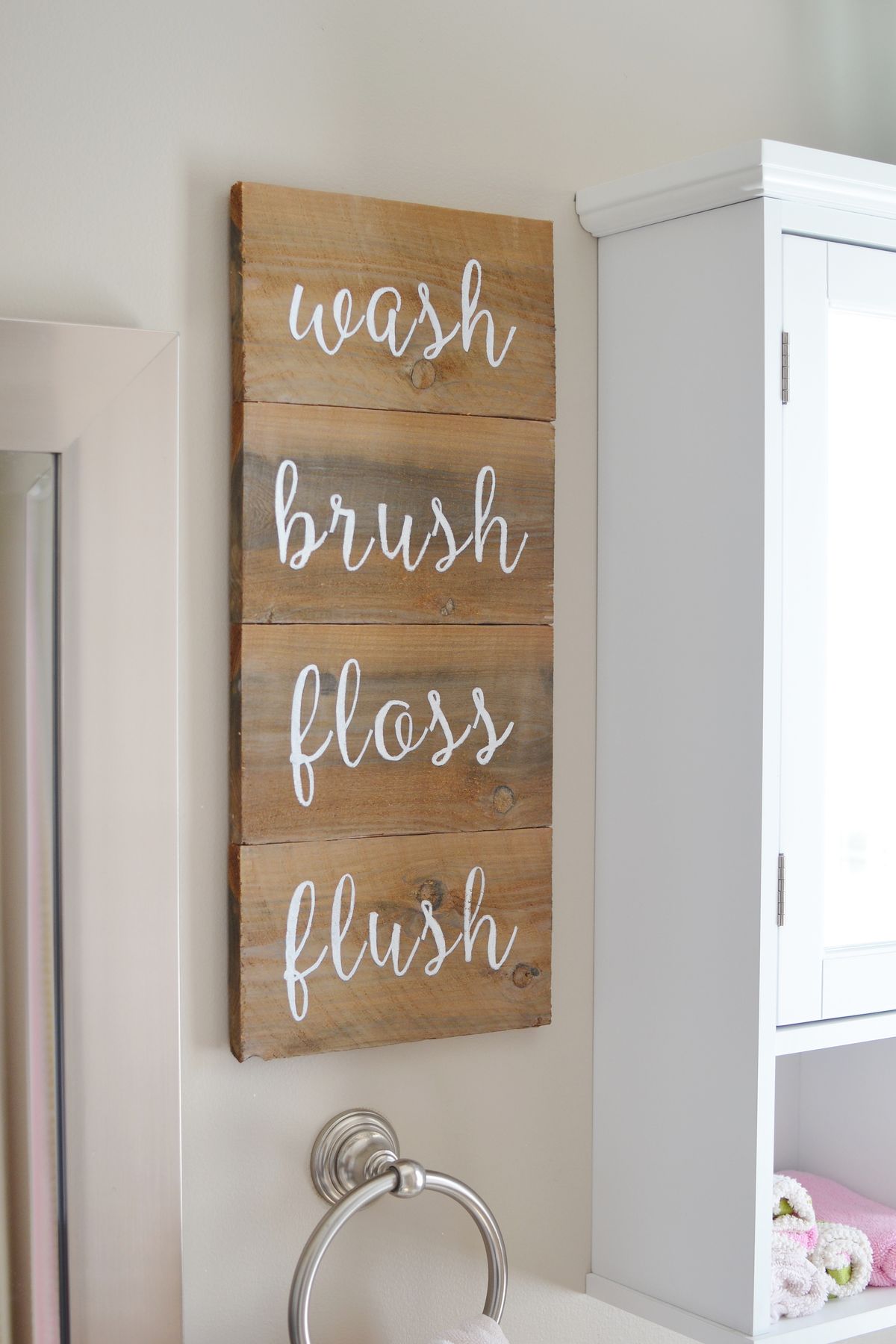 Source: The original source is not available anymore.
This stacking bathroom to-do list is more than a cute wall accent. It's also a convenient tool for little guests. You might even find yourself flossing more often with this friendly reminder.
Choose Rustic Wall Decor Ideas to Make Your Home Warm and Inviting

41. Framed Lumber "Home Sweet Home" Wall Hanging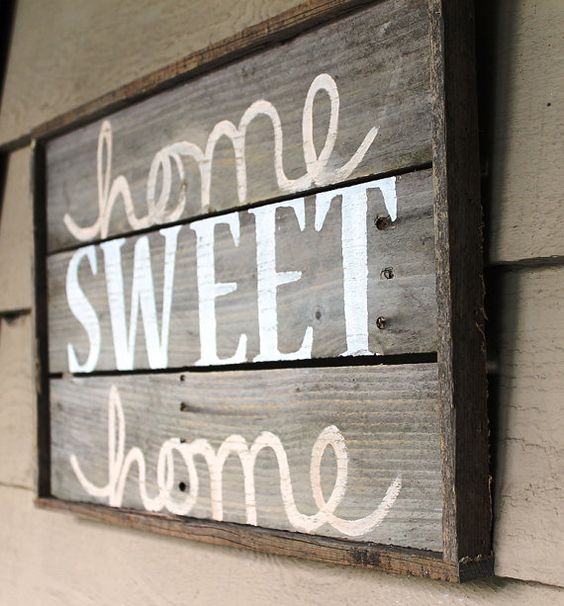 Want to take your wood signage to the next level? Put a frame on it. This basic plank design is elevated by mixed script, alternating colors, and a rough wood frame with a farm fresh look.
42. Color Washed "Happy Home" Panel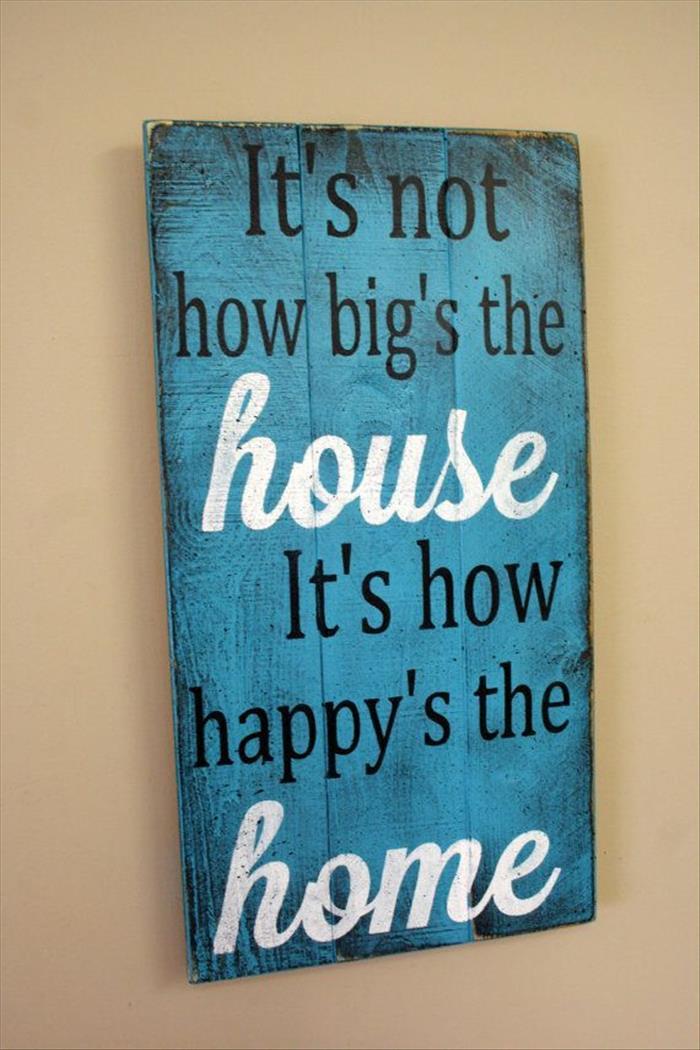 Set your wood "happy home" sign apart by choosing or making one with a color wash. This one uses the traditional blue of milk paint primitives. A bright background also lets you mix white and black text.
43. Sanded Paint Song Lyric Sign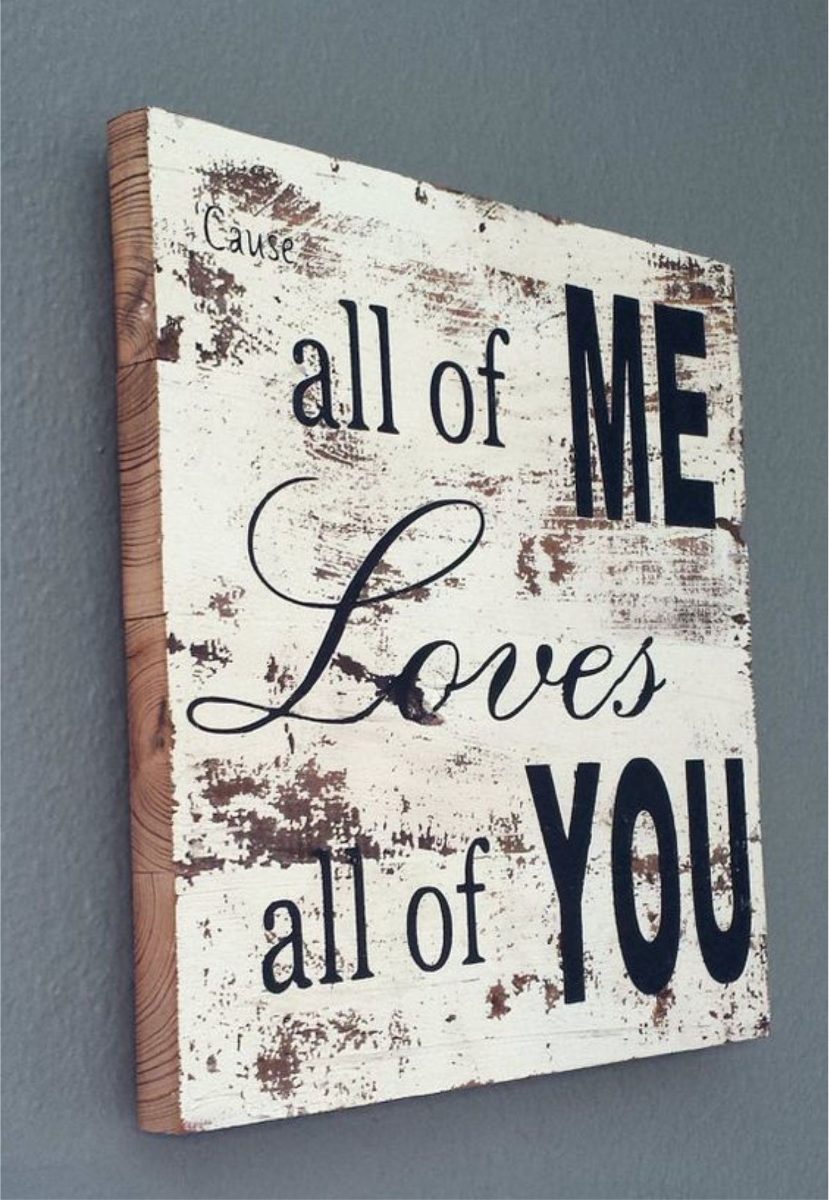 This distinctive, distressed wood sign gives a heart-warming song lyric the shabby chic treatment. Sanding is the secret, but you can apply text after sanding if you want to keep your lettering crisp.
44. Reclaimed Door with Bible Verse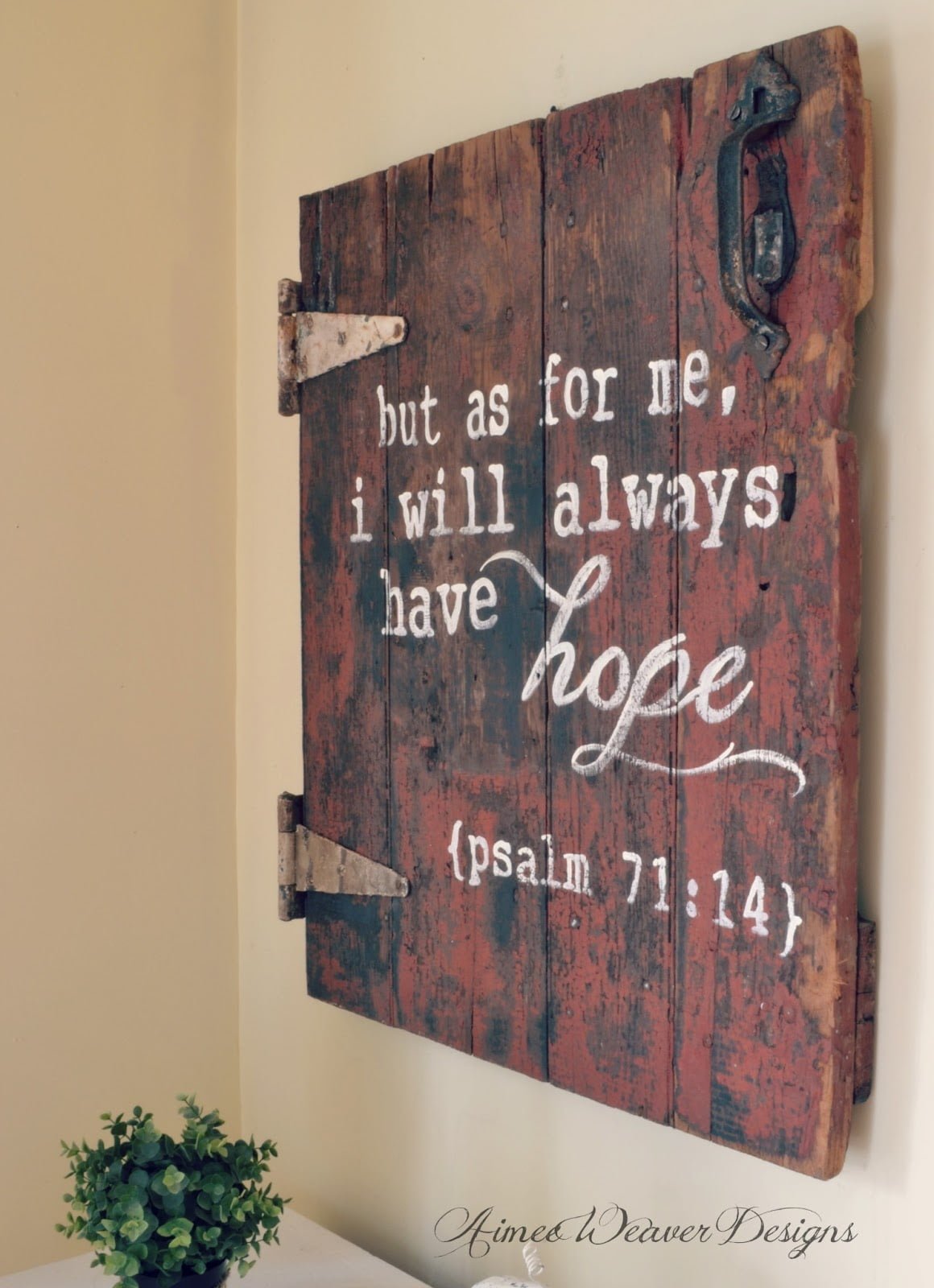 A time worn barn or utility cabinet door makes the perfect canvas for a favorite Bible quote. Rusted hardware and paint remnants bring real character to a verse about hope and perseverance.
45. Festive Winter Panel

An applied snowflake cutout adds fun and dimension to this winter decoration. Blue script really pops against a whitewashed background, and a silver bow adds just a touch of sparkle.
46. Multi-Colored Scrap Wood Signs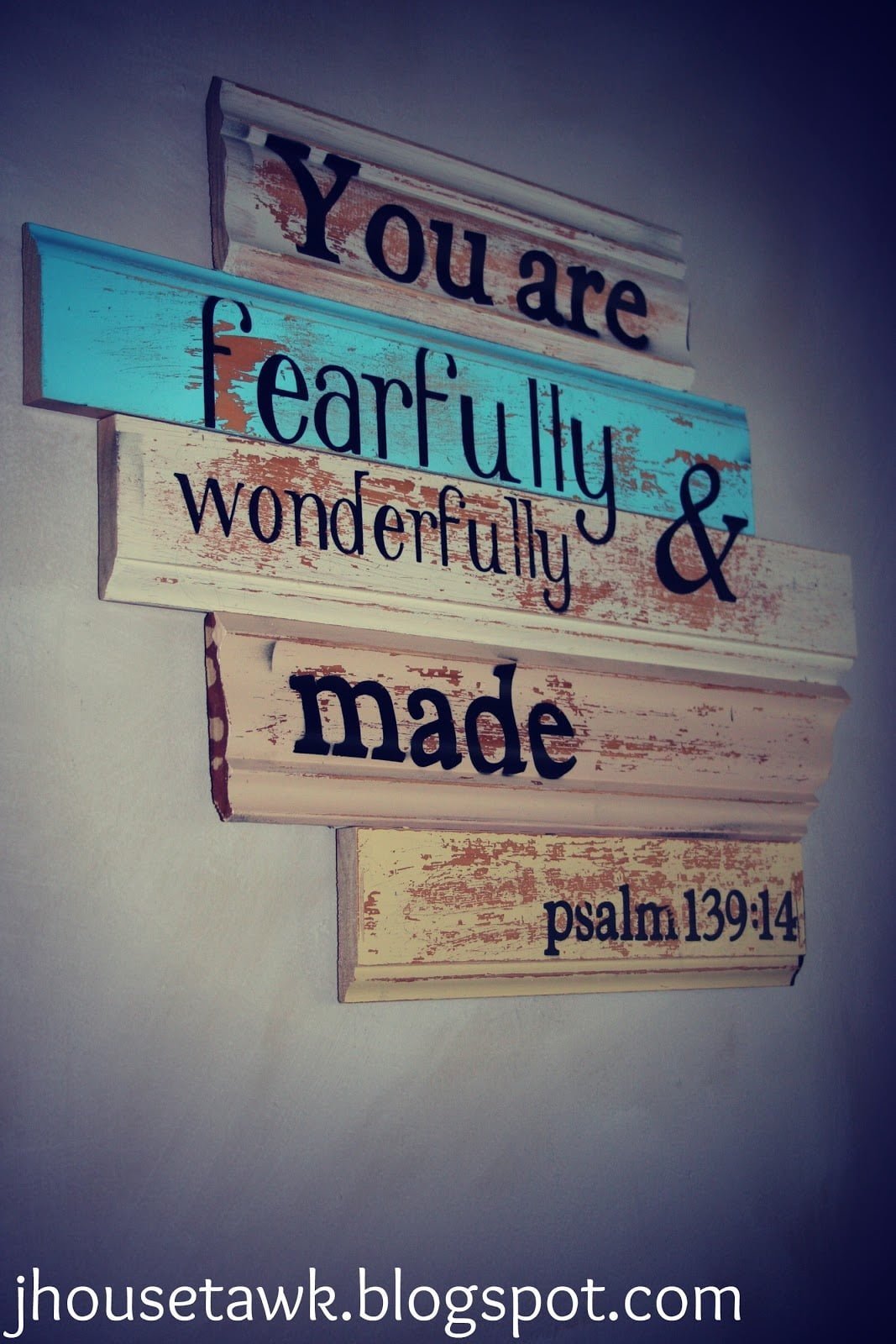 Mix and match found pieces of old trim to make unique, staggered wall art. Painting them different colors and using different fonts adds to the eclectic charm of this homey Bible verse.
47. Entry Hall Wood Sign Decoration with Elegant Script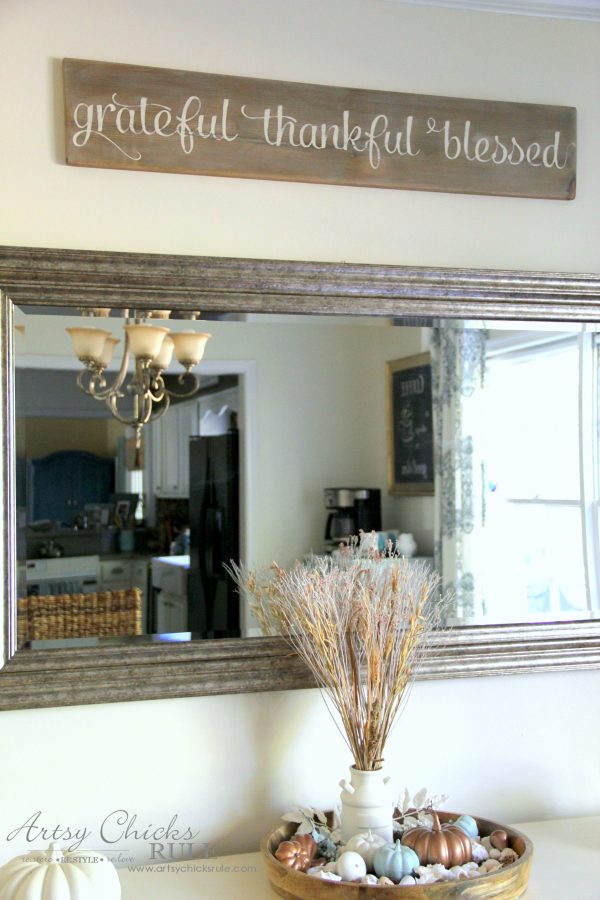 Give thanks all year round with this elegant one-plank entryway sign. When sized and centered carefully, it gives a designer finish to the classic mirror and hall table assemblage.