Integrating the best wood wall art ideas in your space is an easy way to bring nature inside. Wood wall art decor also helps turn your home into a relaxing sanctuary. Depending on how the piece is designed, wooden wall art can even be used to diffuse sound to help soundproof your home. While natural wood looks fantastic, strategic use of paint or stains can create a wonderland ripe for experimentation. There are also a few practical things to consider when finding the best wood wall art decor for your space.
28 Enchanting Wood Wall Art Ideas to Rejuvenate Your Space

If you are excited about acoustic absorbers, look for wooden wall art with as much surface area as possible. If it has been a few years since you were in school, the surface area is all the fun nooks and crannies that wood offers. More surface area means that more sound will be absorbed. More sound absorbed means more calm people in your living space.
Identifying your color palette is the first step to finding the wood artwork that will add a unique aura to your room. Does your space have cool colors or warm colors? While wood is usually associated with warm palettes, there are stains and paint colors that can make wood meld with cool color palettes.
As with every aspect of home décor, it is important to think about the practical as well. If you live in a rental property, apartment, or dorm, you may want to pick wood wall art decor that is lightweight and does not require screws to hang. To be hung properly, some heavier wood sculptures may require finding a stud.
Finding the right piece of wood art for your space is personal and should be a fun journey. As you look through these ideas, try opening your imagination to all the possibilities.
1. Handmade Reclaimed Wood Mountain Range with Blue Sky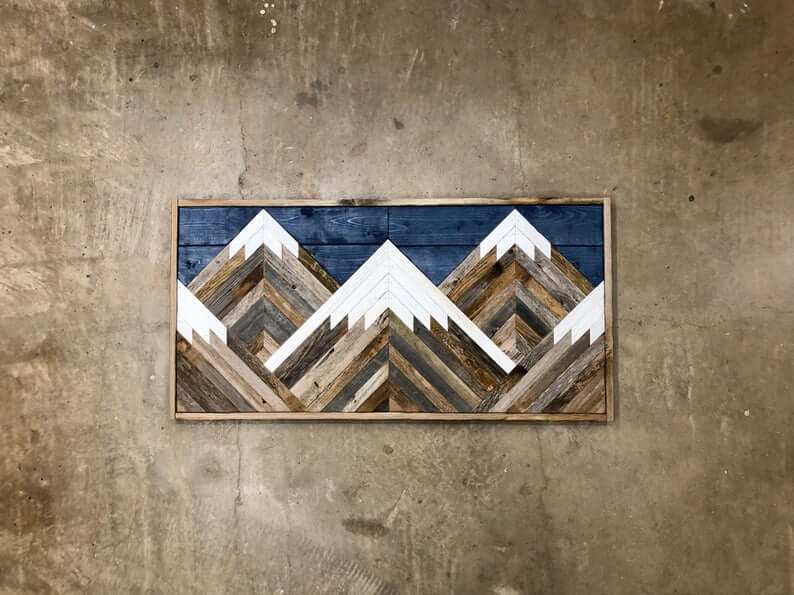 Each plank in this reclaimed wood mountain range tells a story. All the planks together tell a story of wild mountain ranges and faraway adventure. An indigo sky and crisp white almost make it possible to smell the fresh mountain air. This wooden wall art is a unique focal point for those who feel that framed landscape photographs are overused. Because it is symmetrical, it will help give a sense of balance wherever it is hung. Hanging hardware is included on the back to make it very easy for you to move mountains. This would be a great addition to a nursery or living room.
2. Hand-Painted Healing Lotus Mandala Wooden Wall Art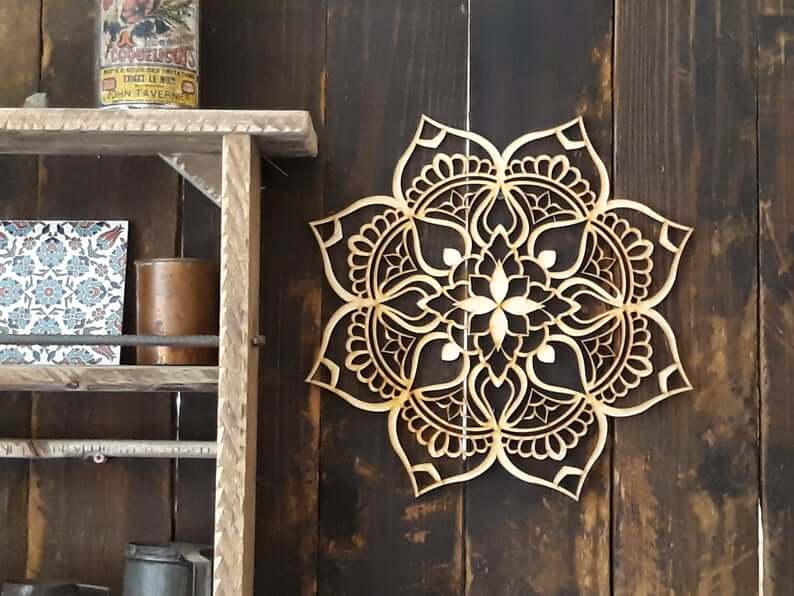 Fill your space with comforting energy with this hanging mandala. Let the swirls and loops ease your stress away. Perfect for a living room, nursery, bedroom, or home office, this wooden mandala will help you relax. Laser-cut poplar wood is the perfect balance between the crisp design and natural wood grain. Available in 15 colors including solids and sunset-inspired shades, there is a mandala here to match your space's energy. Because this mandala is handmade in Israel, it can take a little more time to arrive. However, it is definitely worth the wait. For maximum effect, remember to hang it on a contrasting wall.
3. Three-Dimensional Wood Sculpture in an Ocean Palette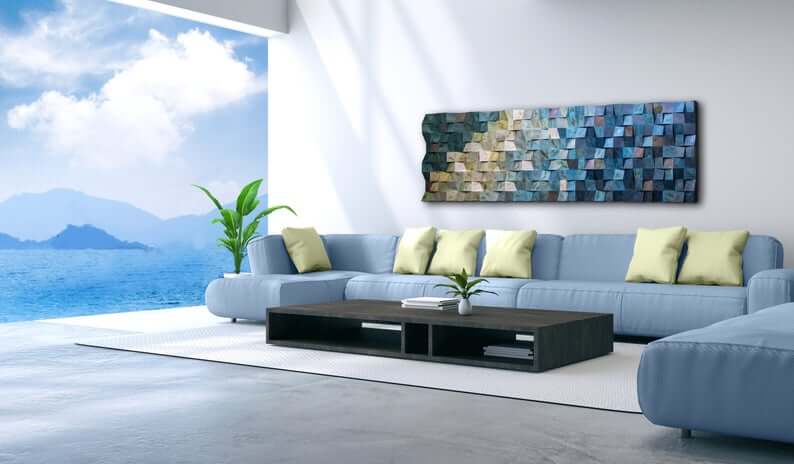 This sculpture has it all — textures, colors, and depth. All the surface area means it will make a great acoustic absorber. Each block is cut from Turkish pine, burned, painted by hand, and then varnished. A sturdy frame and steel-rope systems make this ocean sculpture easy to hang. If the calming ocean-themed palette is not right for your space, the seller is able to create a sculpture in colors that will work for you. Whether you decide to hang this in a music room, a nursery, or a living room, this sculpture offers a calming visual feast.
4. Handmade Hexagon Hanging Wall Sculpture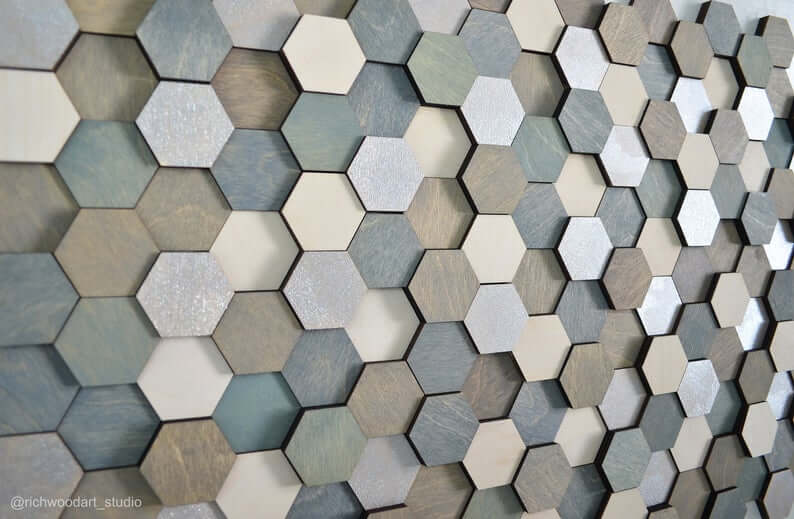 A subtle geometric pattern makes this hanging wall sculpture the perfect companion piece to your focal point. Muted tones and understated artistry even make this piece ideal for a Scandinavian décor theme. Even a minimalist décor theme will find a home for this sculpture because it doubles as an acoustics absorber. There are multiple options for color schemes and sizes to help it fit into your space. One awesome idea would be to pair these hexagon sculptures with honeybee artwork. This seller welcomes custom requests, so you could order this sculpture in blacks, whites, and grays for a more modern appearance.
5. Easy-Hang Filigreed Tree Silhouette Panels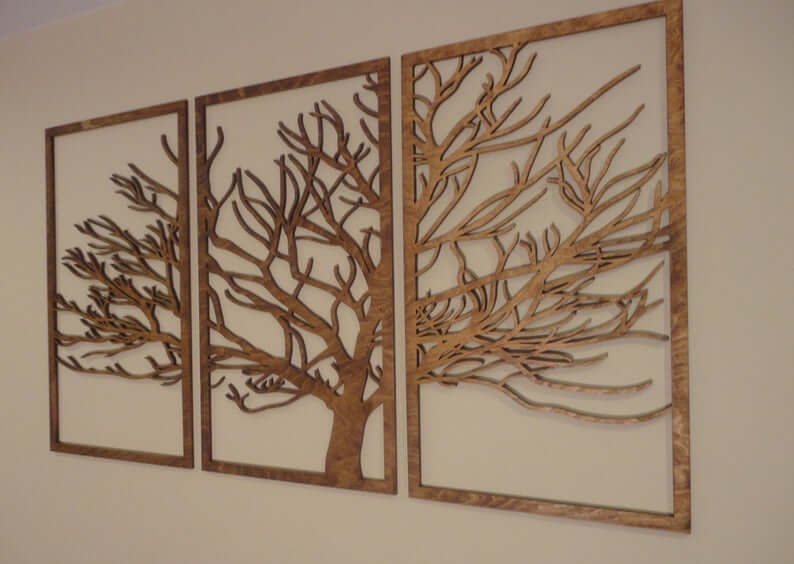 Natural wood looks good with most home décor color palettes. This tree silhouette is a great way to add some visual interest. Because it is made from birch plywood, it is lighter than most wood wall art and is actually hung with double-sided tape. This means you can get it on your walls faster than more complicated hanging methods which makes it an awesome idea for apartments or rental homes. Because it comes in three panels, you can actually make this art stretch to fit your space. All you have to do is mount each panel a little further apart for a longer panorama or closer together for a more compact tree.
6. Customizable Wooden World Map with Pins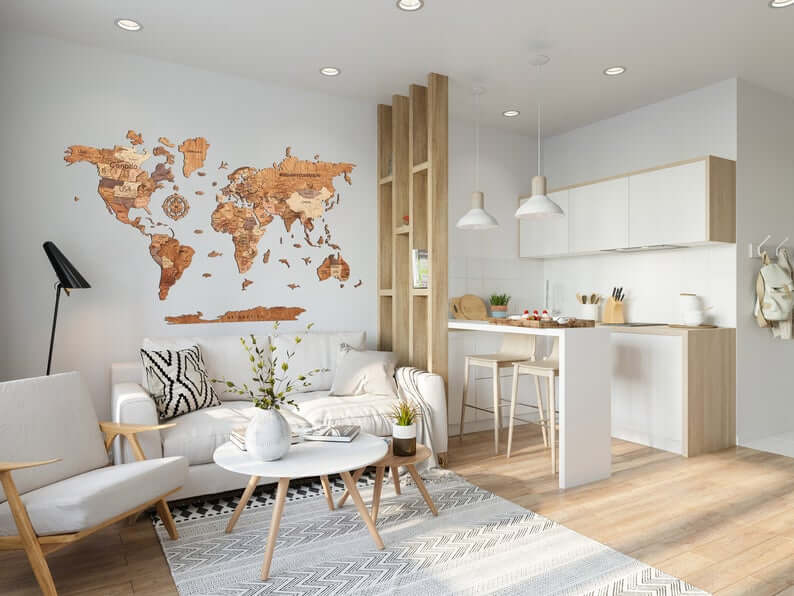 Keep a record of which countries you have visited (or would like to visit) with this sophisticated wooden map. This set is customizable — you can choose which colors are used and how much detail the map can have. You can also choose which kind of pins are included as well as fun extras like a compass rose, whales, and Antarctica. Because it is constructed from lightweight birch plywood, it is easy to hang. To move it from one wall to another, all you have to do is use a hairdryer. This world map is perfect for a home office, study, or living room.
7. Layered Mandala Intricate Wooden Wall Art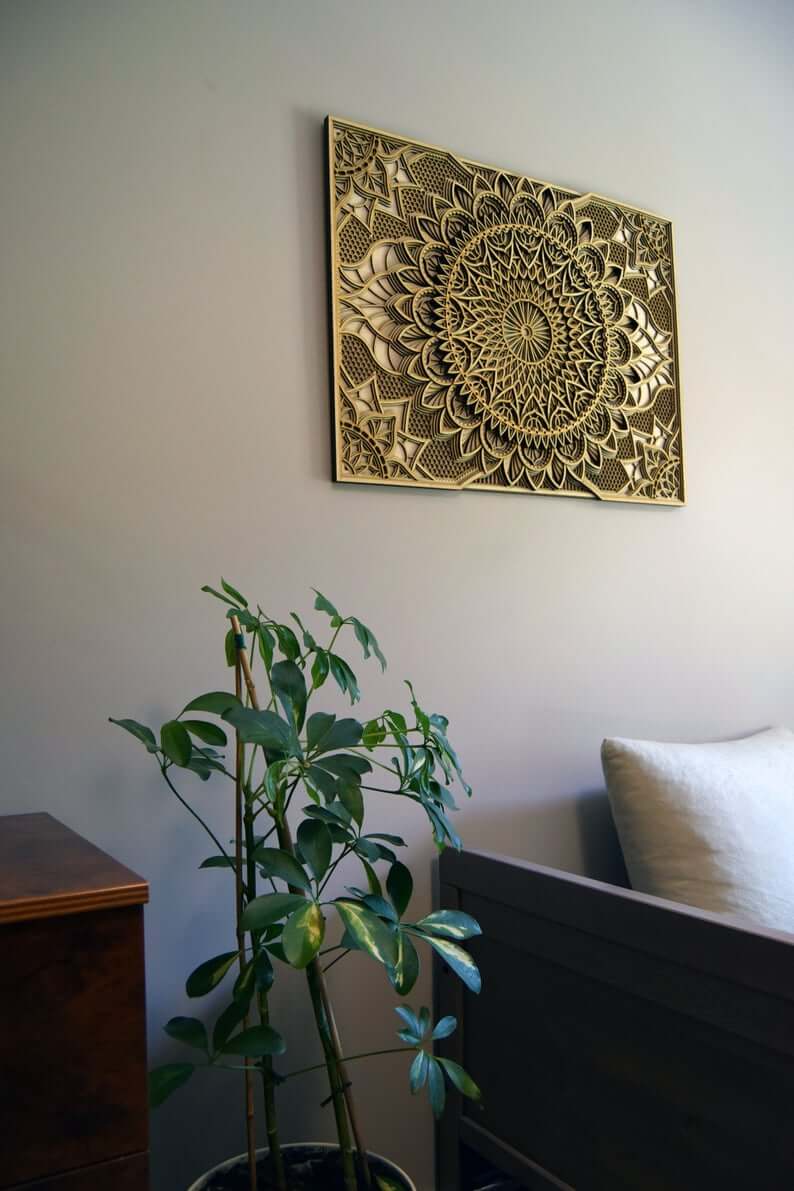 No fewer than eight layers of laser-cut wood go into this enchanting mandala wall art. Mandalas usually only give a Bohemian vibe, but this sculpture is elegant enough to add sophistication to any space. Five color options include different levels of paint and add another dimension. Place this elaborate wooden wall hanging anywhere to help viewers relax and ponder the secrets of the universe. A hook on the back allows for easy hanging wherever you think it would look best. Even though this wall hanging ships from Lithuania, it does not take very long to arrive.
8. Geometric Chevron Wood Wall Art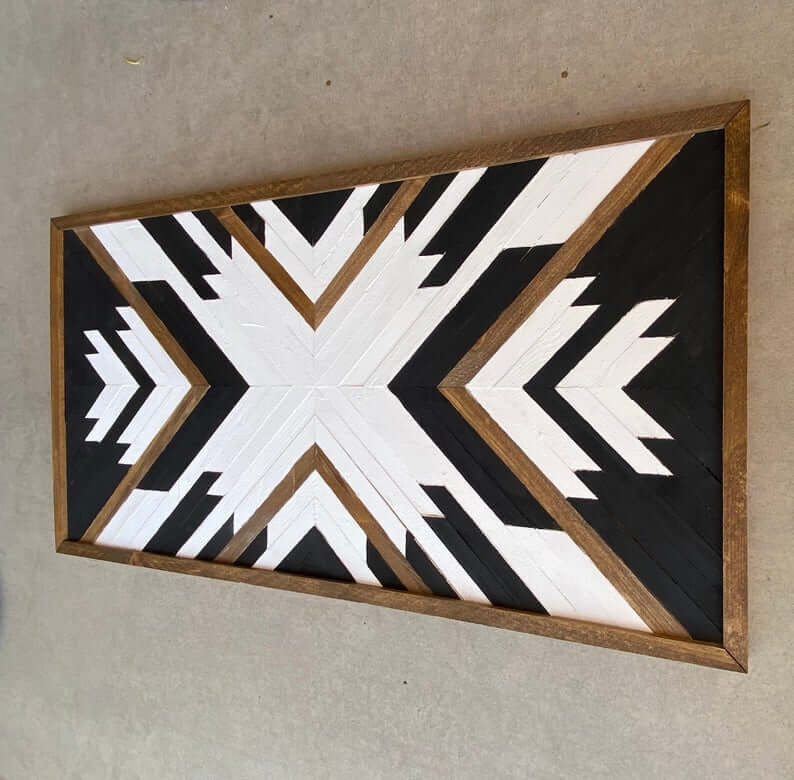 Depicted in black, white, and natural brown, this chevron-inspired wall art will blend with most palettes. Because of the simple colors and aggressive angles, this artwork would look fantastic in Scandinavian, farmhouse, industrial, or Bohemian home décor schemes. Alternating bars of color adds a level of interest and visually stimulating contrast. If the colors or pattern will not work with your space, this seller does create artwork based on your specifications. Imagine pairing this wall art with black and white photographs in natural wood frames. Another awesome idea would be to put this artwork in a nursery because newborn babies find black and white contrast stimulating.
9. Sacred Geometry Mandala Elephant Silhouette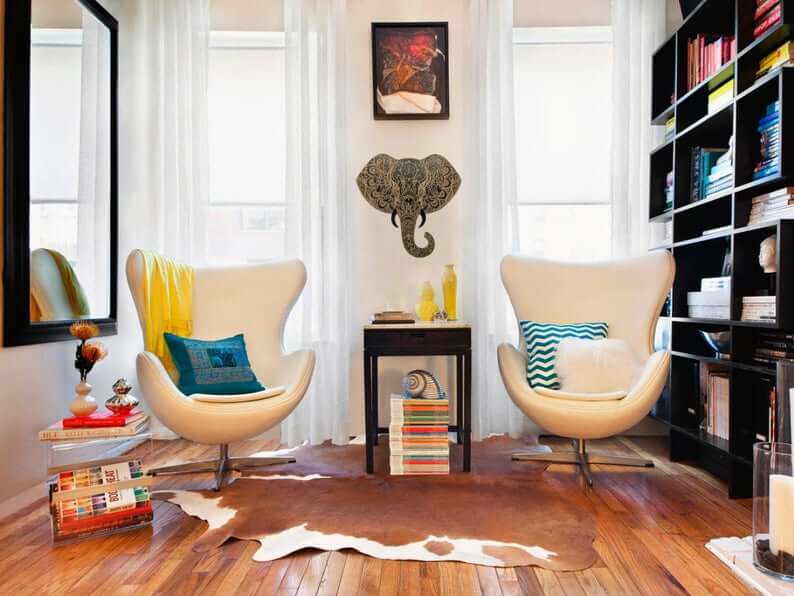 The weathered finish and wise eyes give this mandala-filled elephant a great deal of character. You can choose how much you want the mandala pattern to stand out as you have a choice among four finishes. Do not feel like this elephant silhouette is limited to Bohemian or eclectic themes — it can be an urbane addition to any home décor theme. Because a personalized message can be added to the back, this elephant is a perfect gift or anniversary present. Each order is hand-sanded which means that each elephant is utterly unique. This elephant looks fantastic on its own but can be easily paired with your other home décor.
10. Naturally Aged Geometric Wood Wall Art Design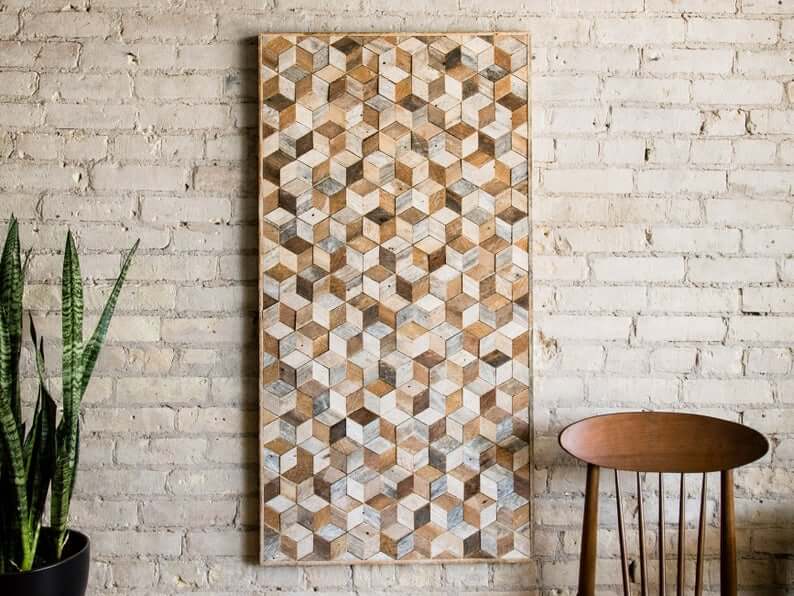 A great way to incorporate some nature into your living space, raw wood exudes personality. No dyes were used in this geometric masterpiece — all this is a natural beauty. The lighter pieces of wood absorbed some color from plaster while the darker pieces are the result of exposure to the environment. Hang this in an industrial room to add some nature or in a Farmhouse-themed room to add some modern flair. While it is stunning alone, it could be paired with almost any other wall hangings to an impressive effect. The real question is whether you will hang this horizontally or vertically because it definitely looks good either way.
11. Relaxing Blue Solid Wood Herringbone Art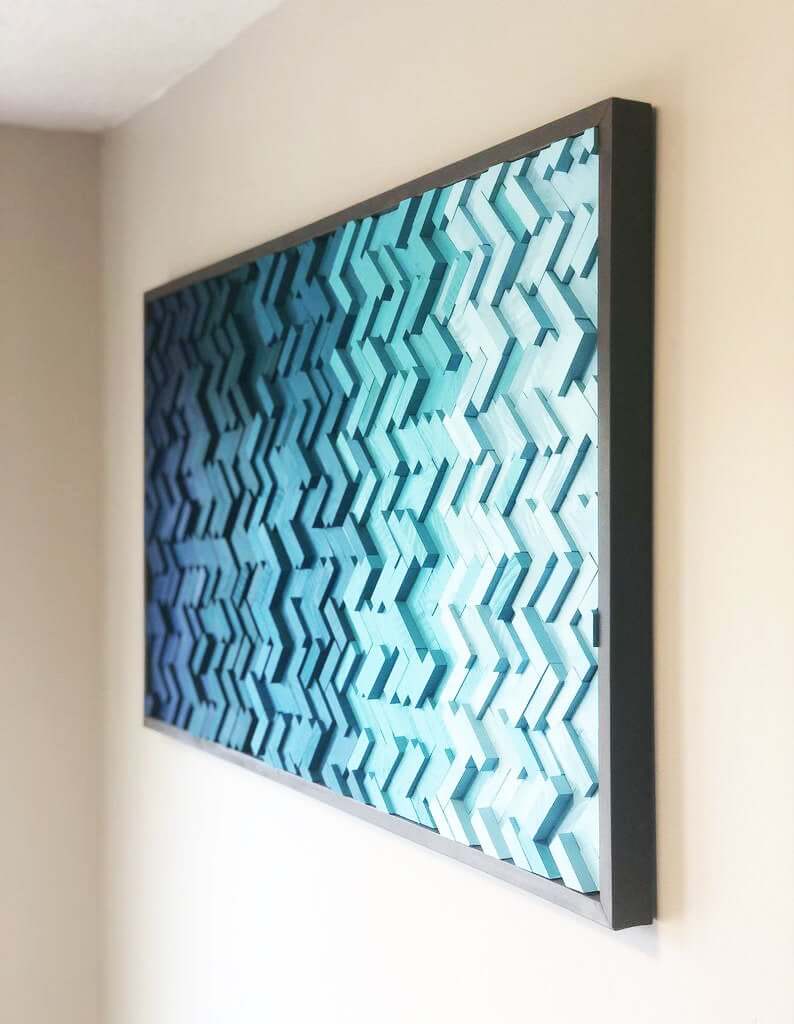 Because it weighs 30 pounds, you know this art is made from solid wood. Handmade from Australian pine, red oak, and alder, this wood wall art decor contains a significant amount of trapped carbon. A palette of cool blues builds a relaxing ambiance perfect for bedrooms, nurseries, and home offices. This is one of the best wood wall art ideas for fusing modern and beach themes. To have the right contrast to your walls, there are four trim options. Even if blue is not right for your space, you are able to commission a custom piece to get the perfect gradient.
12. Luxury Coordinating Geometric Panel Set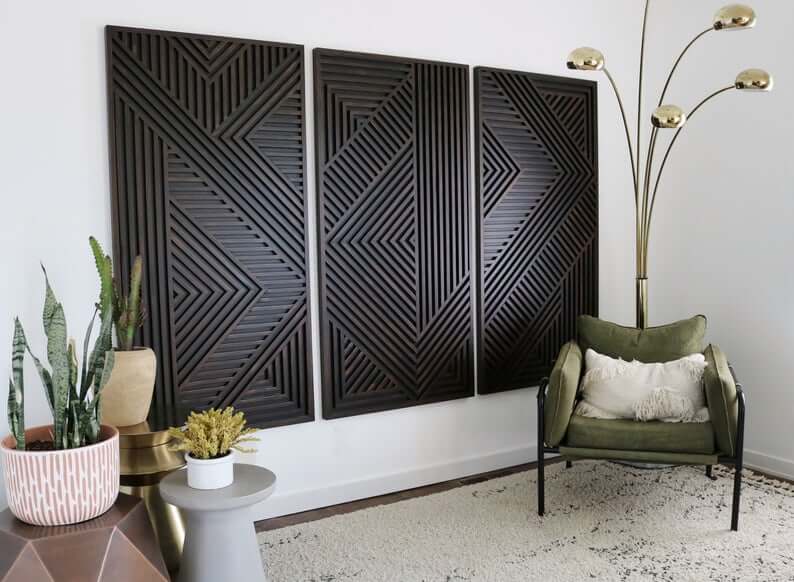 Each piece of wood in this luxury three-panel set is sanded and stained by hand. The geometric shapes coordinate but do not match. You get to decide exactly how you want to display them. There are eight stain options to achieve the right look for your space. Hang them together to create a focal point or throughout your home to give some continuity. The pattern is subtle enough not to overpower your space while being bold enough to help create a strong focal point. The best wood wall art ideas are the ones that do not go out of style, and these coordinating wood panels are no fad.
13. Wooden Mountain Range with LED Backlights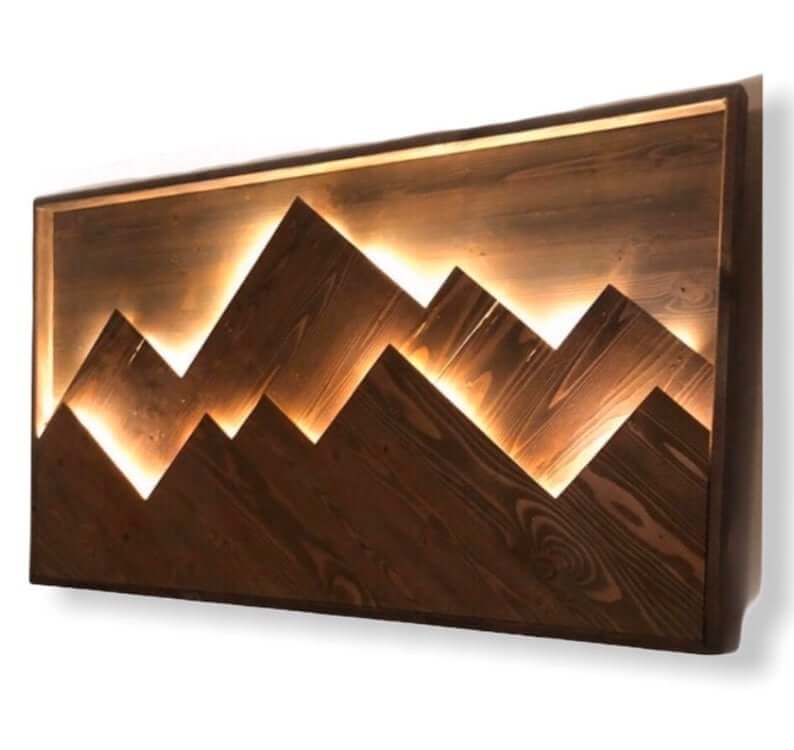 This mountain range is not only beautiful wood wall art decor but also doubles as a lamp! The LED lights can be dimmed via remote to make this into a one-of-a-kind nightlight. You are able to decide whether you prefer a battery power source or an outlet power source. When powered by batteries, this wood wall art has 15-hour battery life. The natural wood finish makes this wood wall art the perfect addition to rustic décor themes. Because it serves a function and consists only of simple shapes, this wood wall art would look fantastic in a minimalist home as well.
14. Torus Flower Wooden Wall Art for Meditation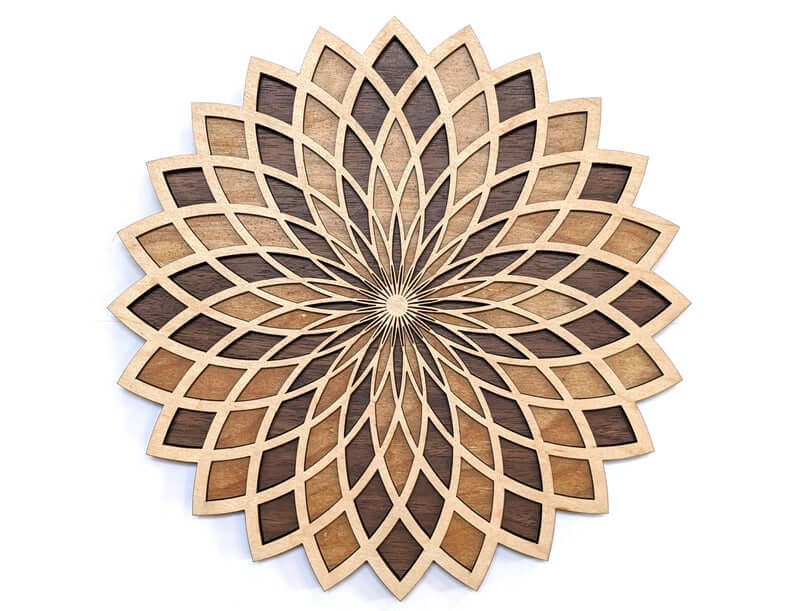 Every aspect of this wood wall art design is chosen to help you achieve a stress-free state of nirvana. From the sacred-geometry shape to the types of wood, this wall art is an awesome idea to hang anywhere you enjoy relaxing. The maple wood represents strength to help you endure. To help give you discipline and embrace new beginnings, birch wood is featured in this flower. The darkest wood, walnut, will help give you clarity and focus. A laser-cut hook in the back makes this medallion easy to hang. You can rest easy because the natural wood appearance will meld with almost any home décor look.
15. Easy-Hang Modern Palm Frond Panel Set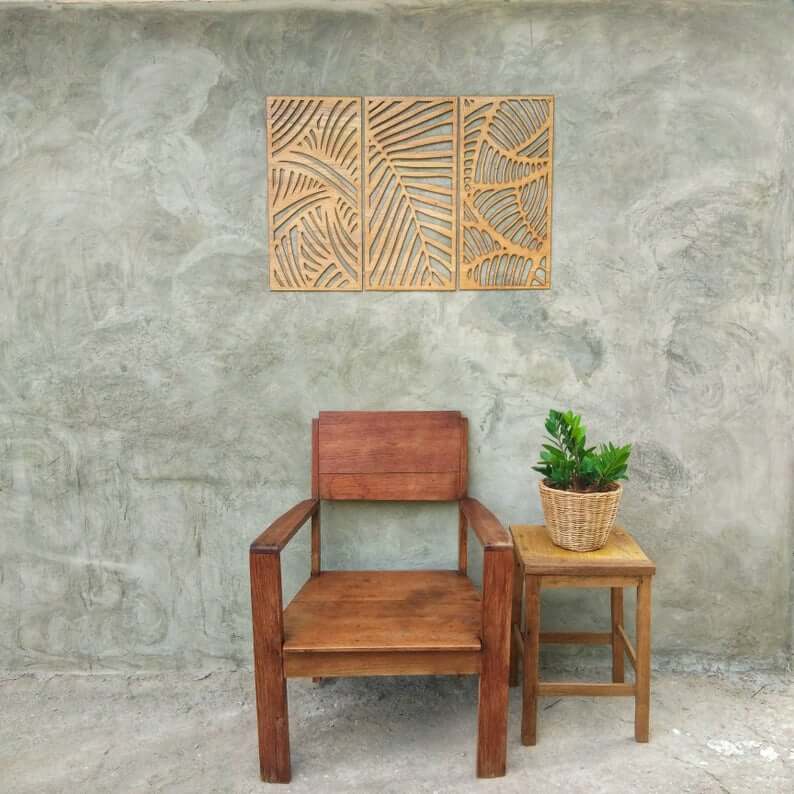 Add some delicious texture to your walls with these three nature-inspired wooden panels. For maximum effect, hang them against a wall that contrasts. However, hanging these panels on a similarly-colored wall will result in a more subtle effect. These panels are constructed from laser-cut plywood and lightweight enough to be hung with only foam tape. The noninvasive hanging method makes these panels some of the best wood wall art ideas for apartments or rentals. Plant-inspired silhouettes can be paired with houseplants (real or fake) to emphasize nature in space. Because they depict palm fronds, these wood panels are even an awesome idea for beach décor.
16. Breathtaking Dimensional Sunset Wood Wall Art Decor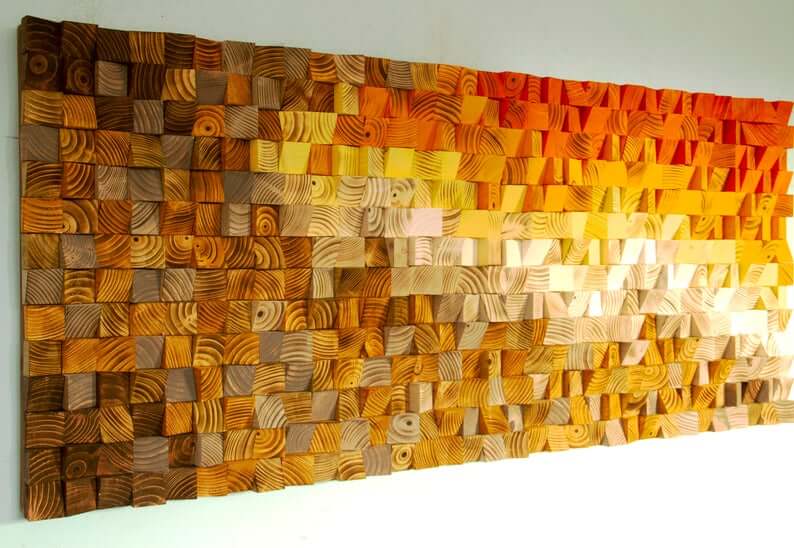 Hanging a sunset in your space is one of the best wood wall art ideas. Each piece of wood is wood burned, sanded by hand, and painted by hand. You know it is a real piece of art because the artist signs and dates the back. Because each piece of art is handmade for you, you are able to customize the colors used to complement your space. The abstract style makes this wood wall art suitable for modern themes while the visible wood grain makes it a great addition to industrial and farmhouse rooms. As an added bonus, it even acts as an acoustic absorber.
17. Circles and Squares: Fun Geometric Wall Art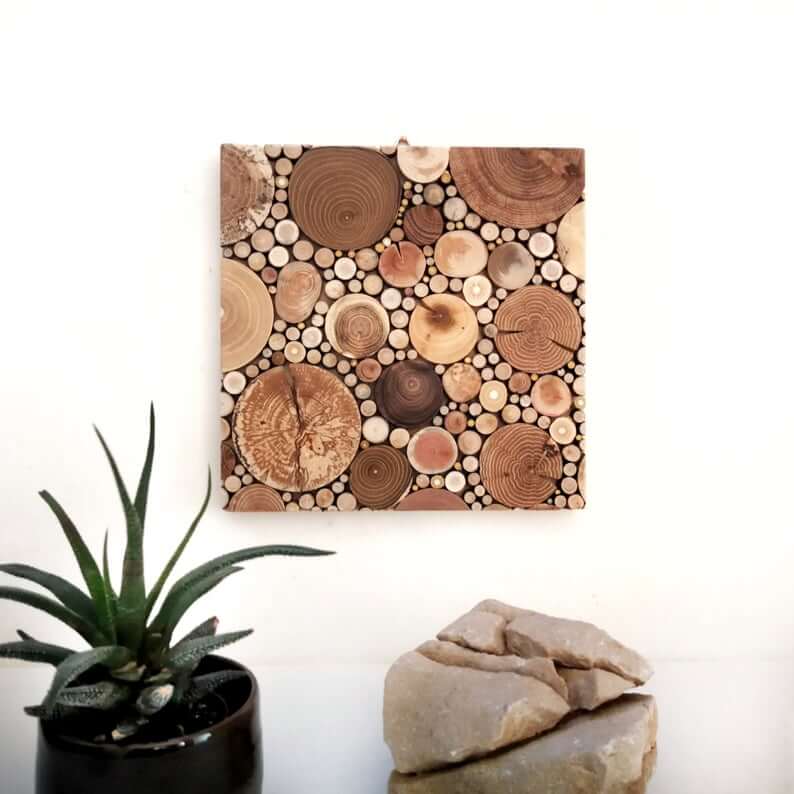 For maximum variety, a whopping 23 different tree species went into creating this square wall art. With each side shorter than a ruler, this piece is relatively small. However, that makes it the ideal size to act as an accent in a small room or give some rustic flair in a small space. The small size does make this piece a little more versatile because it can double as a coaster. The playful geometric effect is achieved through circular tree cross-sections in a square shape. Coming from the fairy-tale forests of Slovenia, this wooden wall art is a great way to show off your romantic side.
18. Powerful Painted Sunburst Wooden Wall Art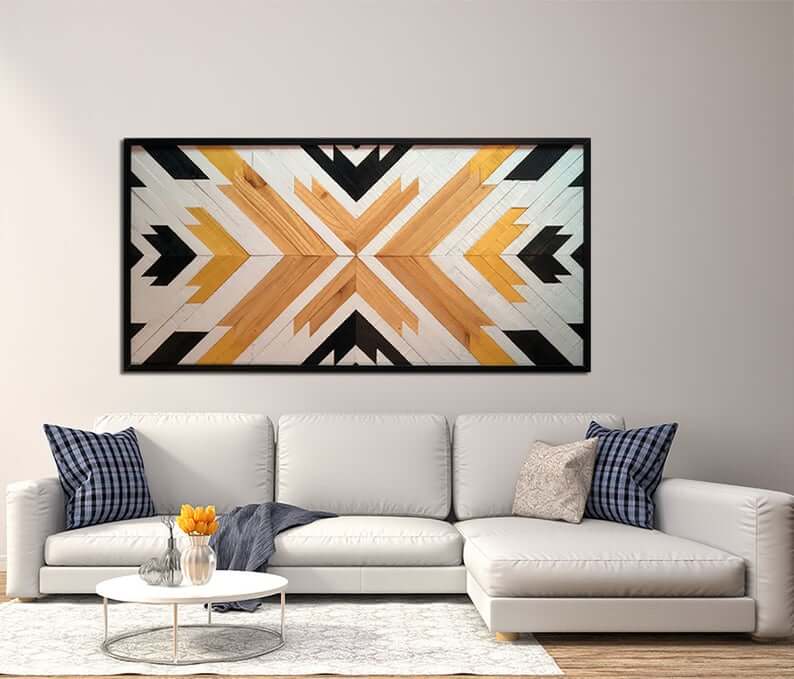 Symmetry and exciting pops of color make this wall art an explosive focal point for your space. Each of these pieces of artwork is made from reclaimed barn wood. Designed to let the wood's natural character shine forth, the combination of painted wood and natural wood emphasizes geometric perfection. If black and gold together are not right for your space, you can choose to have only black or only gold. Custom colors are also possible for a piece truly designed for your space. All color combinations achieve the same stirring sunburst effect. This sculpture is one of the best wood wall art ideas for a conversation-starting focal point.
19. Black & Gold Cosmic Mountain Landscape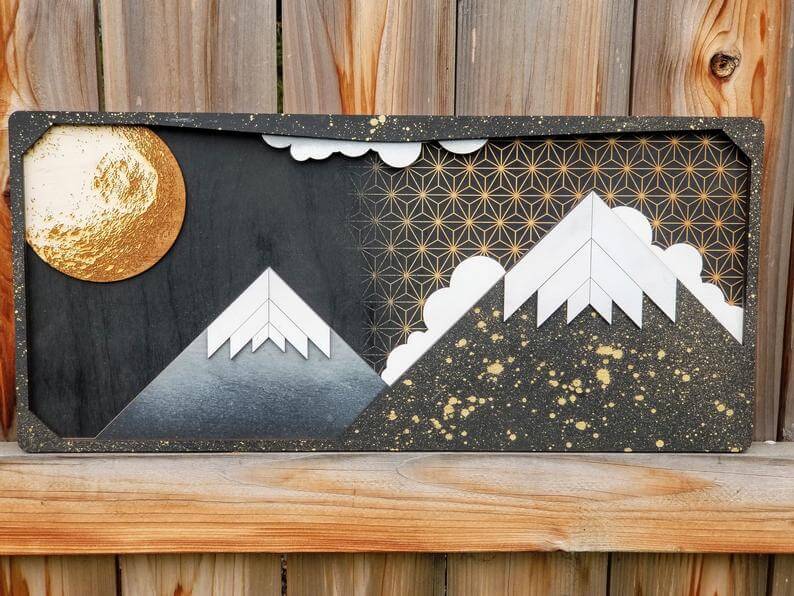 Laser-cut for ultimate precision, this other-worldly artwork is a unique amalgam of simple geometry and intricate detail. A structured geometric pattern juxtaposed against random splatters shows how life is full of opposites. For anyone who loves science fiction, this wall art is a way to share that love with everyone. This hanging wall art is too detailed for some home décor schemes but offers a focal point for simpler rooms. If black and gold do not work with your color palette, you can request custom colors. Imagine pairing this wooden wall art with mandalas for better directed conscious meditation.
20. Zen Layered Wooden Hanging Sculpture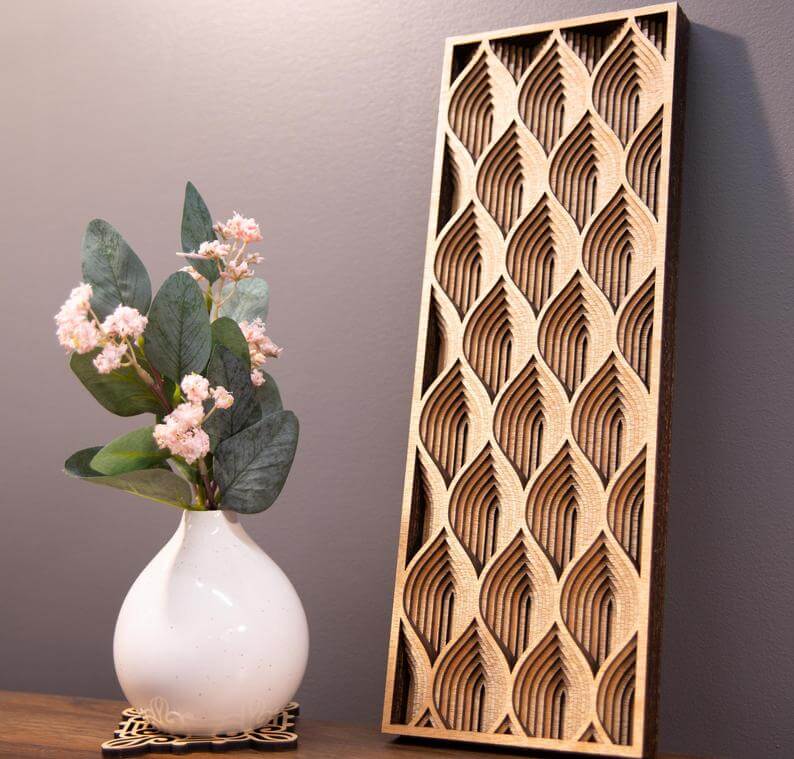 This sculpture achieves the delicate balance of being interesting to look at while not being overwhelming. Eight layers of plywood give it a great deal of dimension without being too intense. Woods like mahogany, red oak, and white birch are stained to emphasize the sculpture's dimension. The symmetrical design imparts peace to troubled minds. If you hang this sculpture near a window, its appearance will change as the light changes. For those who enjoy periodically rearranging furniture to get a new look, this sculpture can be hung in four ways to change up its appearance. Harmonious and graceful, this sculpture will add refinement to your space.
21. Unique Spring-Inspired Wooden Wall Art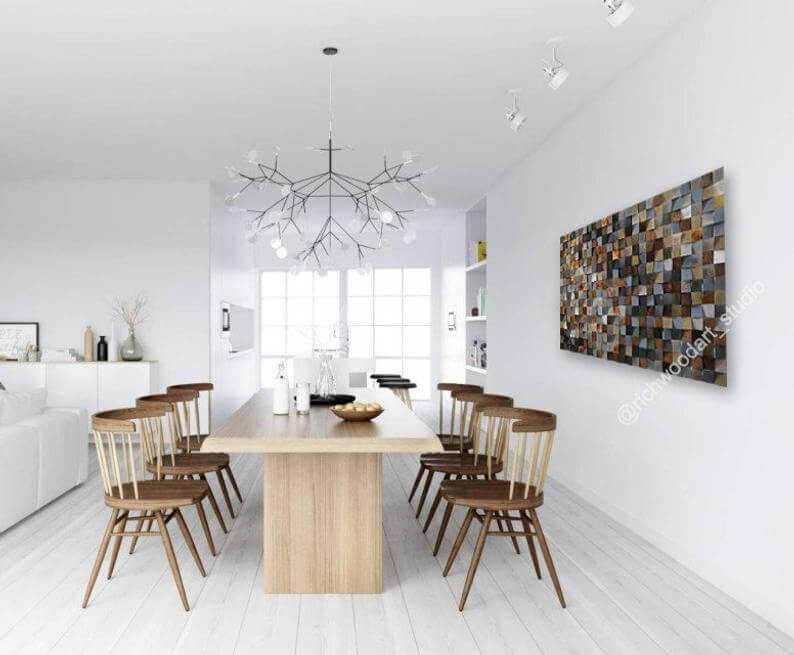 If nature is chaotic, this sculpture is close to nature. Starring hues of cool grays, woody browns, and vibrant greens, this wooden wall art will blend into the coolest color schemes. Every block starts as natural pine and is infused with tinted oils. The impressive amount of surface area absorbs acoustics to help soundproof a room. Each sculpture is handmade so you know that yours is the only one in existence. This sculpture's je ne sais quoi is a match for Scandinavian or minimalist aesthetics. Because of this artwork's dimensionality, experimenting with lighting can be a fun way to change its appearance.
22. Snow-Capped Mountain Sunset Made from Reclaimed Wood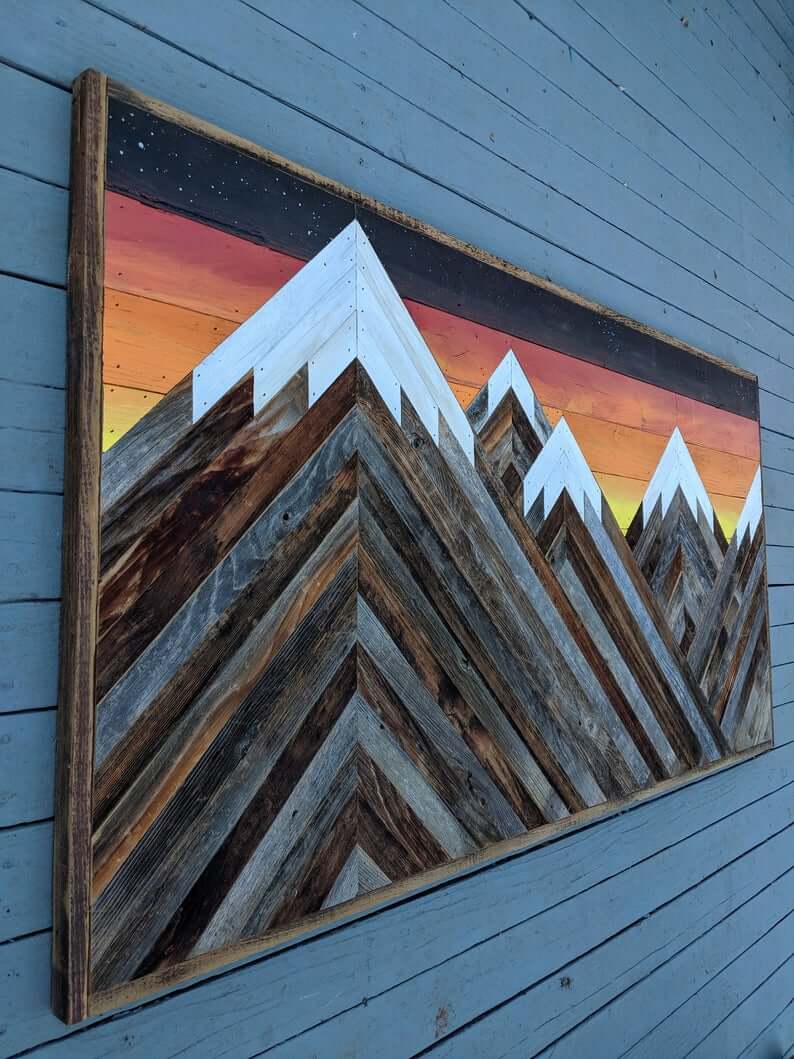 With a design reminiscent of a handmade quilt, this mountain sunset is a beautiful way to either begin or end a day. The heart of this hanging wall décor is the natural wood used to depict the mountainsides. If the yellow-orange-themed sunset does not work with your décor palette, the artist will work with you to create your own custom palette. All the wood makes this a clear choice for a rustic-themed room, but it could also easily fit into a Bohemian décor style. Three different size options mean that you will be able to find the perfect mountain sunset to decorate your space.
23. Organic Layered Panels Mirrored Set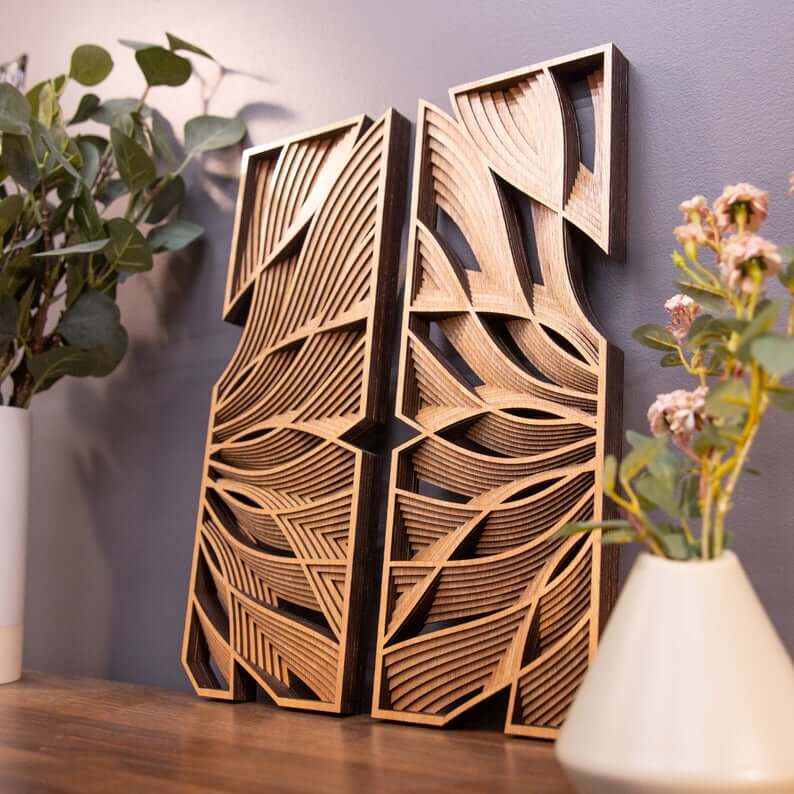 Does this pattern look like feathers or do you think it looks more like a close-up flower? The beauty of an abstract pattern is that you can decide what to emphasize. To plant the idea of a flower, hang flower-themed artwork near this sculpture. While the image only shows two panels, the set comes with four mirrored panels that look fantastic altogether or just as great separated. Eight layers of wood give some dimension and mean that the sculptures look different as the light changes. The simple use of natural wood makes these panels a great choice for modern, Scandinavian, Bohemian, and even some Farmhouse rooms.
24. Reclaimed Amish Barn Wood Wall Art Design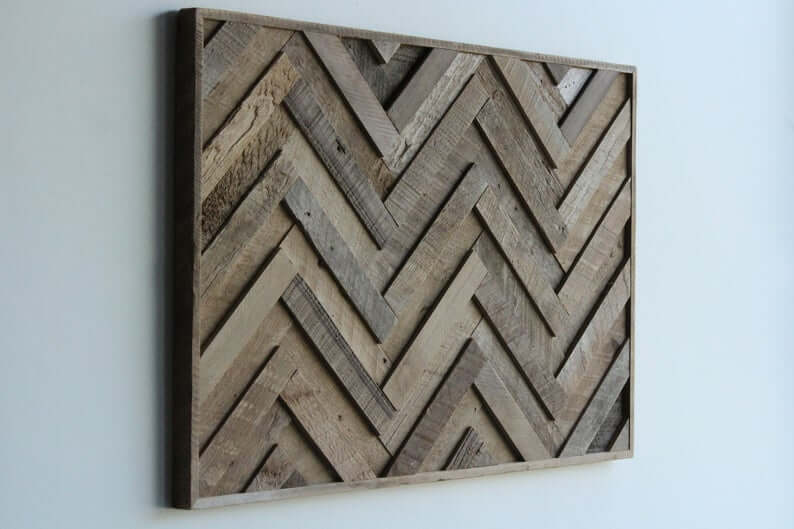 Sometimes, simple patterns are the best. Rough wood reclaimed from Pennsylvania Amish barn rafters gives each herringbone sculpture a unique feel. Because it is reclaimed wood, there may be nails, nail holes, and other markings in your artwork. Unlike a piece of mass-produced wall art that has been faux-weathered, any markings on this wood wall art are authentically from what that piece of wood has experienced in the past 100 years. Straight lines and sharp angles in this artwork will help give your space energy. Pair this piece with vining plants for a Scandinavian feel or with metallic accents for industrial space. Rough wood and rustic décor go together as well.
25. Artistic Round Wood Panel Wall Art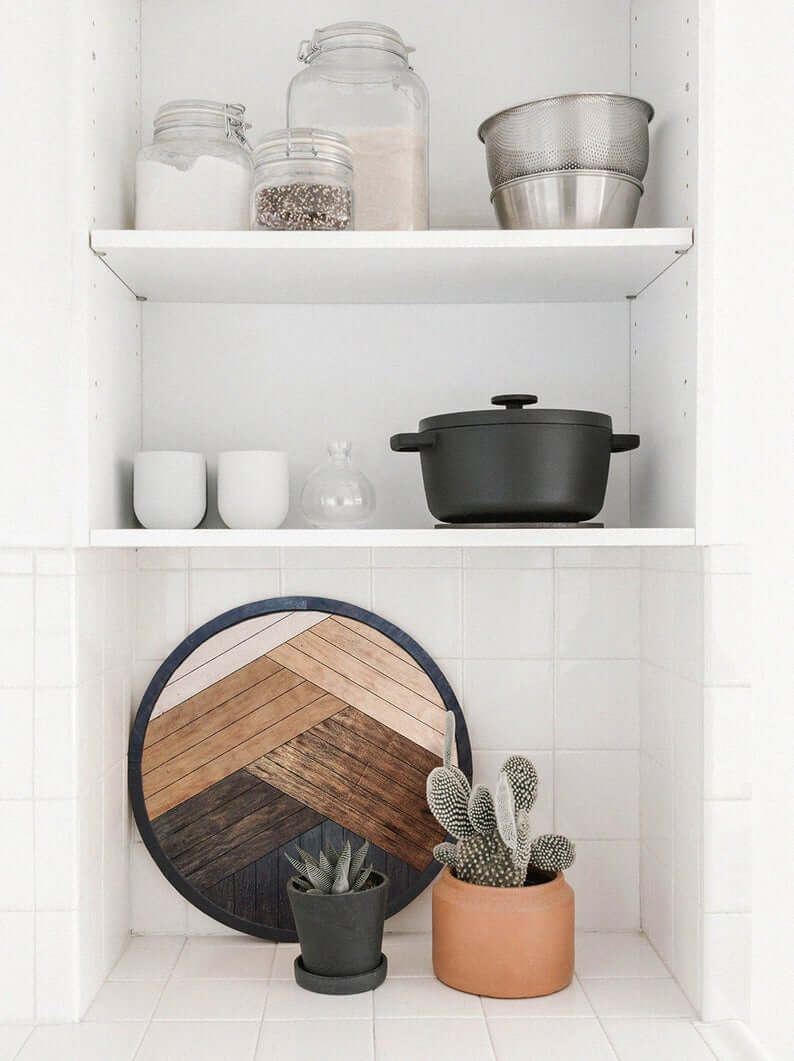 From the hardwood veneer to the reclaimed wood, every part of this round wood panel is sustainably sourced. The gradient from dark to white will blend with most home décor schemes. Wood's natural texture makes this wooden wall art a wonderful fit for rustic rooms while the thick black frame makes this sculpture suitable for industrial spaces. A simple palette and round shape would look fantastic in a Scandinavian or modern home. Eye-catching enough to be a focal point yet simple enough to add ambiance, this wooden artwork is extraordinarily versatile. The hardest decision is which room it will go in because it would fit in any room.
26. Unfinished Hexagon Tiles for Customized Application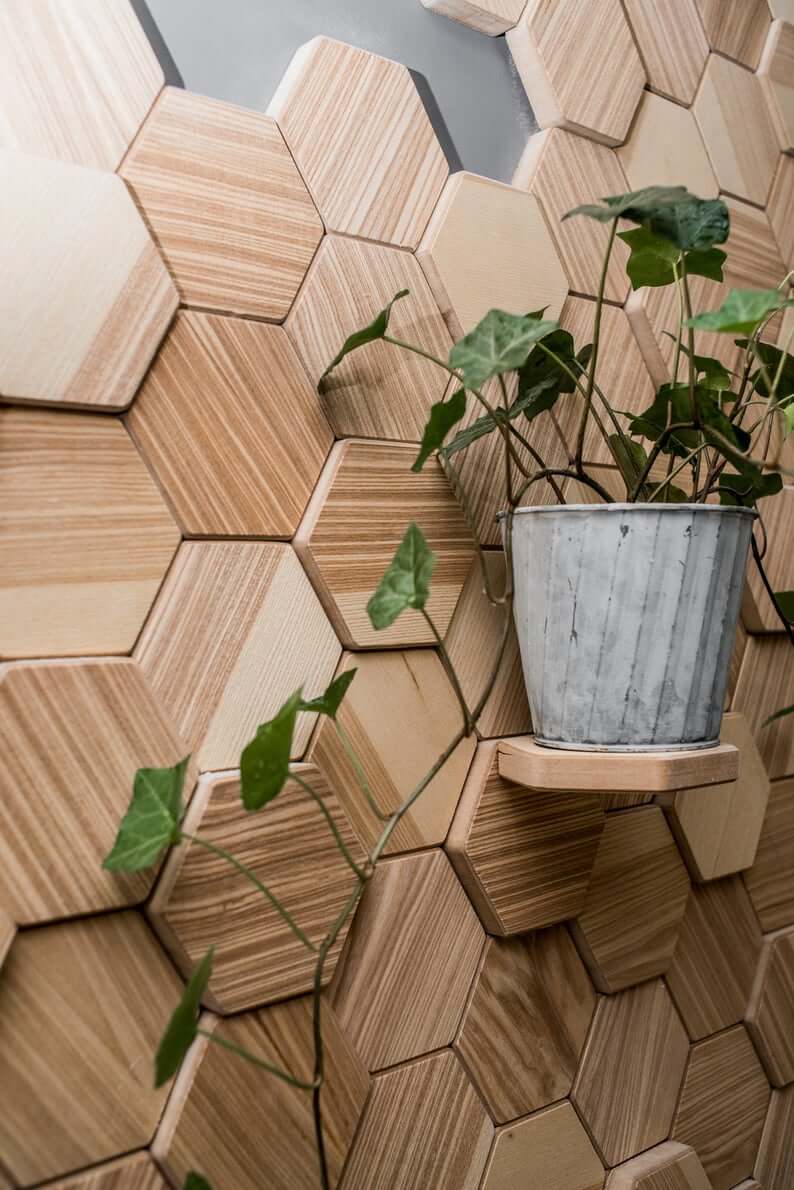 If you are a do-it-yourself kind of person, these hexagon tiles might be just right. Because they are unfinished, you can decide whether to paint them, stain them, or even add some glitter for a little extra sparkle. This also means that you are able to customize the pattern to your space. If you decide to leave these tiles unfinished, they offer an incredible amount of detail in a fun shape. Hexagons look good in industrial, modern, and Scandinavian themes as they are. Pair these tiles with some honey bee artwork to help blend them into a Farmhouse or rustic theme.
27. Blue Kaleidoscope Wooden Wall Sound Diffuser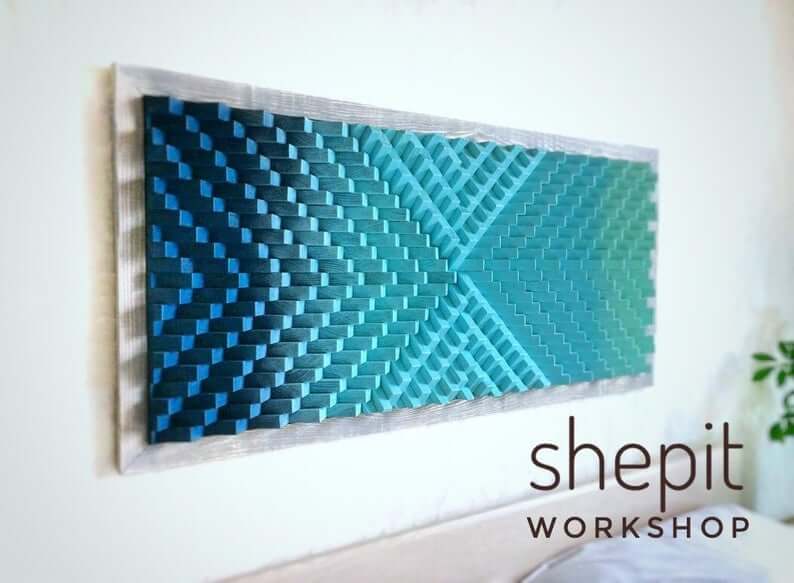 An artistic solution to soundproofing, these blocks in cool blues are a feast for the eyes. To display this sculpture to its fullest potential, hang it next to a window and enjoy the light changing the appearance. For the rooms where relaxing blue just does not give the right vibe, this shop does allow customization. You are able to select which color the frame is. Made from solid pine, the hardware is included on the back to make it easy to hang. This piece is so visually stimulating that it might best be hung alone with nothing around to distract.
28. Geometric Arrows Reclaimed Wood Wall Art Design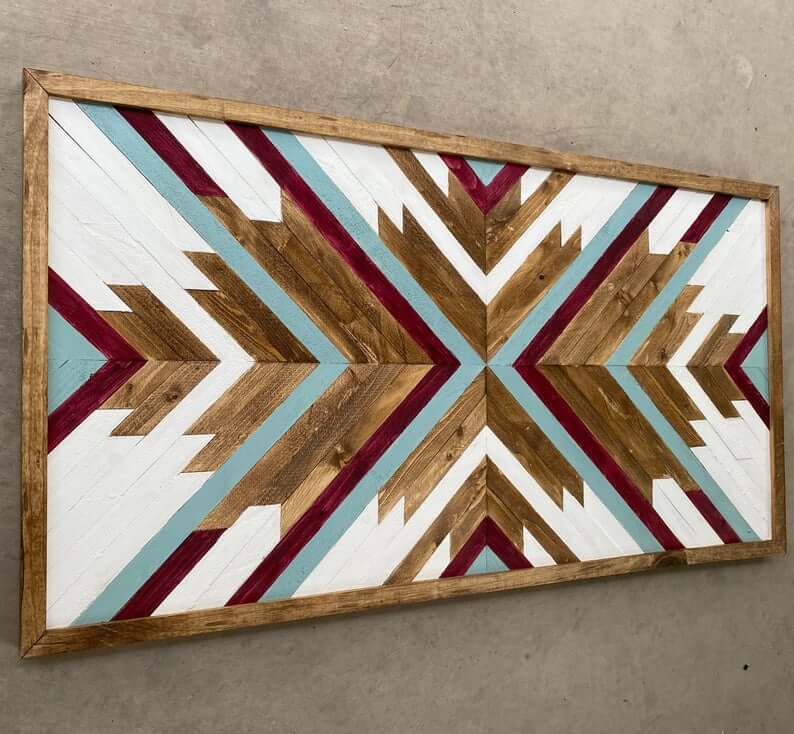 Are you a morning person or an evening person? Because this sculpture is bursting with energy, you will want to put it where you need energy the most. A palette of turquoise, burgundy, white, and natural wood makes it a clear choice for Bohemian décor. However, pair this sculpture with some paintings of turquoise or burgundy fish, and it will look fantastic in a coastal-themed room. As this design is based on simple geometry, it could also work in certain modern or industrial rooms as well. This particular style is available in four sizes to match your space.
28 Exquisite Wood Wall Art Designs with Styles from Avant-Garde to Rustic
Give your space a unique edge with some hanging wood artwork. Durable and versatile, wood can give a space rustic appeal or refined flair. Even if a full-scale remodel is not possible, adding a focal point sound diffuser can not only help rejuvenate a room but also help make it more functional.
Another way wood wall décor can be functional as well as beautiful is by helping you relax. Wood wall art designed in sacred geometry or painted in relaxing hues is a way to add a healing ambiance to your space.
Most sellers are open to creating custom artwork, which is an option if there were color conflicts. One benefit to custom artwork is that it resonates better with your space. Luckily, because custom-made décor is not always an option, wood offers an incredibly versatile medium. If you are do-it-yourself inclined, you may even be able to modify some of these sculptures to best fit your home.
As you figure out the best style for your wood wall art, remember to have fun. Wood can be used to add nostalgia or as an avant-garde design element. Because your space is unique to you, your wood art should reflect your personality.