24. Tall, Dark, and Modern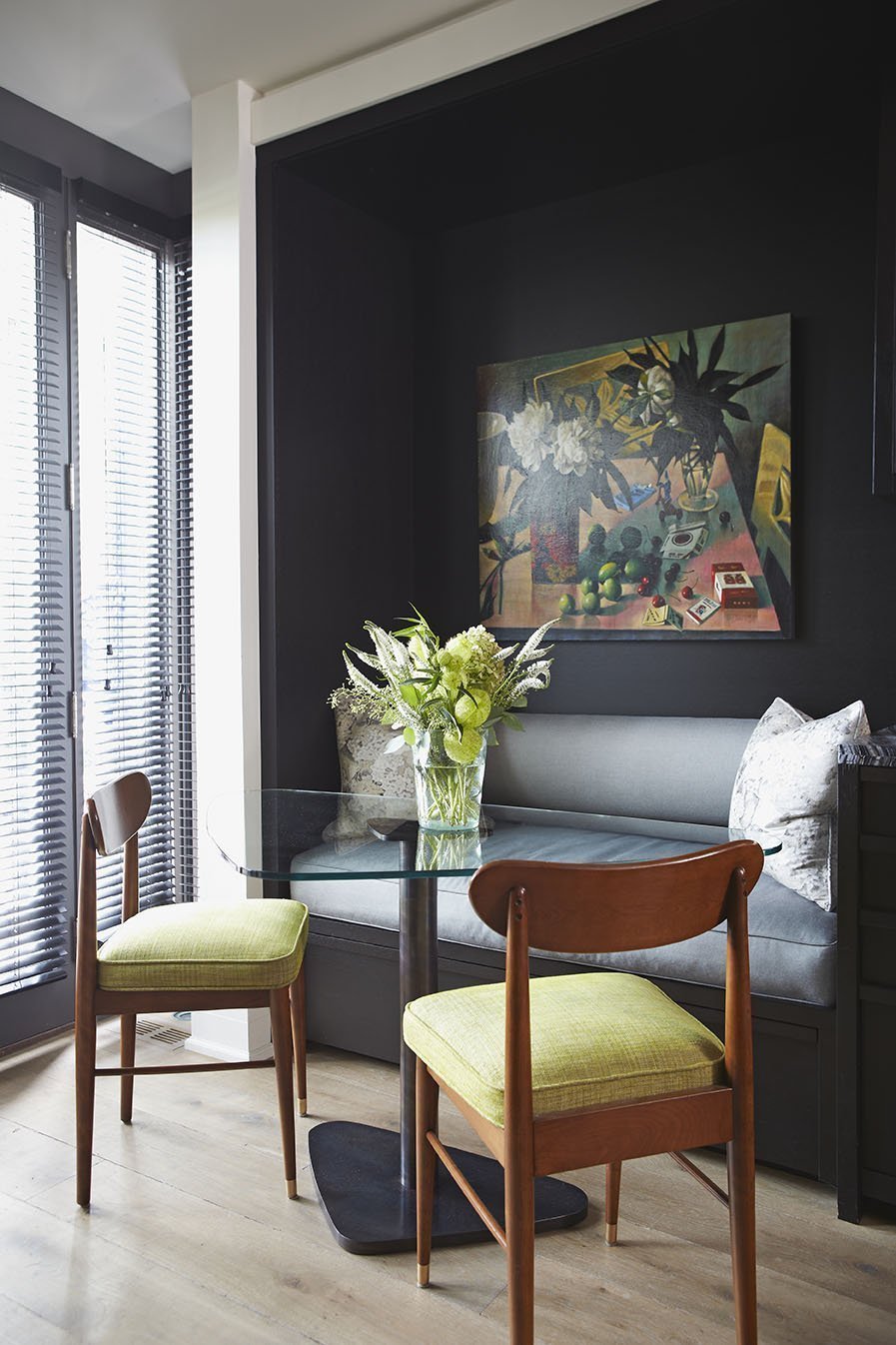 Most people use light colors in a small breakfast nook to make it look fresh and open, so the dark colors in this delightful nook are surprising. Even the artwork is a bit darker than you might expect. With plenty of light coming from the tall windows nearby, though, it works. Perhaps the best thing about this, though, is the triangular breakfast nook table. Many people use circular tables in their nooks, which can look nice and save space, but aren't always practical when there are benches for seats. With the triangular shape, those on the bench will have just as much table space as the people sitting in chairs.
25. A Colorful Mishmash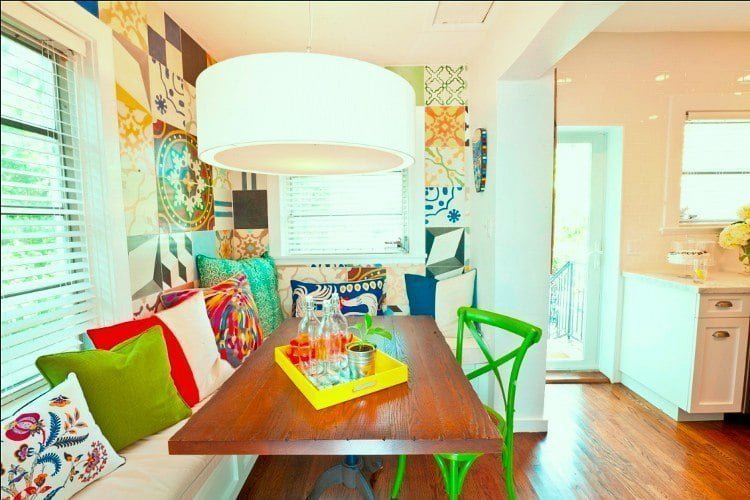 If dark colors aren't your thing, you're sure to love these colorful kitchen nook ideas. While you can see that the kitchen itself is primarily white, once you get to the eating nook, there are many colors to appreciate. From the lime green chair to the mismatched pillows to the brightly colored tiles on the wall, there are plenty of things to keep the eye interested. When you're making such bold choices with the walls and accessories, it's smart to keep the breakfast nook furniture simple, as you'll see with this basic wood table.
26. Dreams of Baby Blue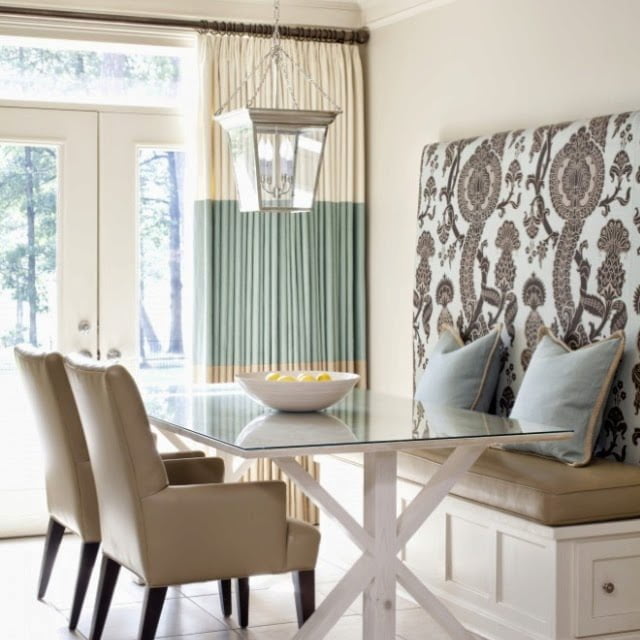 Baby blue is a popular color for those who wish to create a relaxing environment, and this tranquility shows when you take a look at this kitchen nook. The seating is comfortable and easy to clean, so you won't have to worry about cleaning up after your sister's kids. Mounting a cushioned back on the wall adds interest to the space while creating comfort, and the color-coordinated curtains can be pulled back in the daytime to allow for natural light and pulled closed at night for privacy.
27. Funky Fit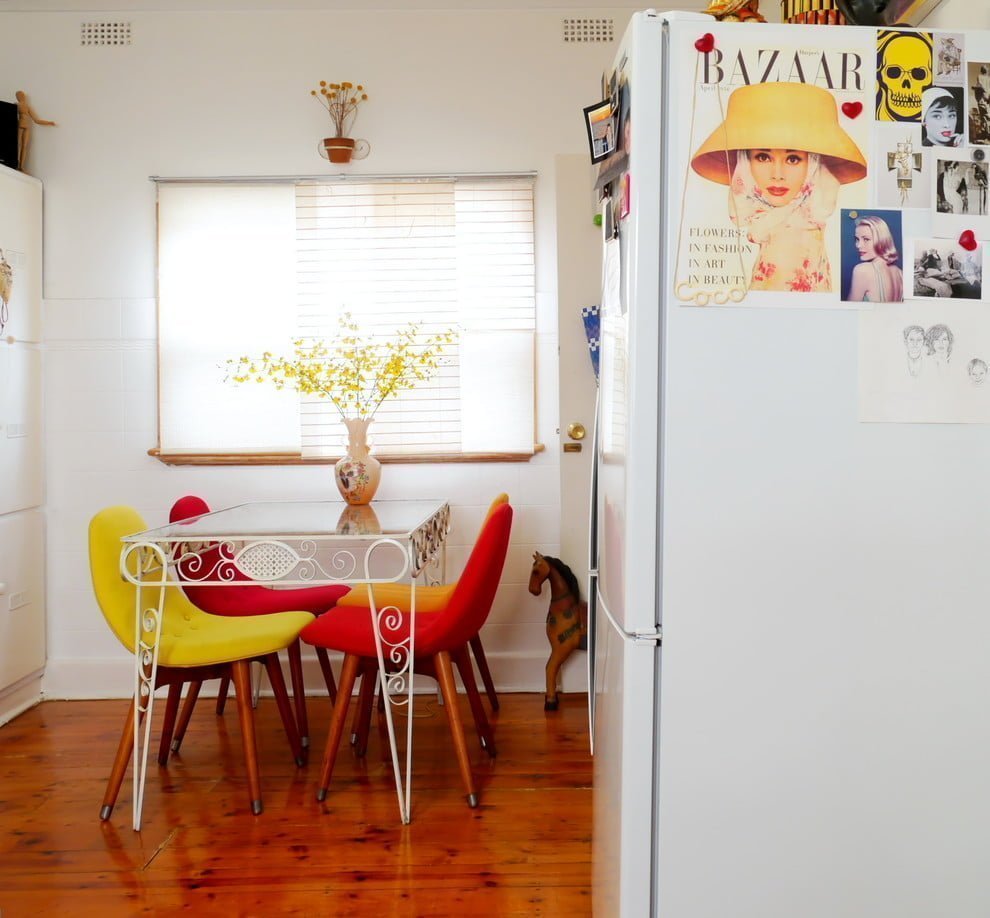 When you have an extremely small kitchen, it's sometimes hard to imagine how you'll fit a table inside, much less one that could easily seat four people. Yet that's what happens in this kitchen breakfast nook. The glass-top table with the white bent iron legs is airy enough that it doesn't seem to dominate the space. The bright red and yellow chairs provide a great burst of color in an otherwise white room, and the design of the chairs makes it easy to tuck them under the table when not in use. With the vase pushed to the back of the table, you're able to appreciate its beauty while still being able to use the table while cooking or eating.
28. Unfinished Business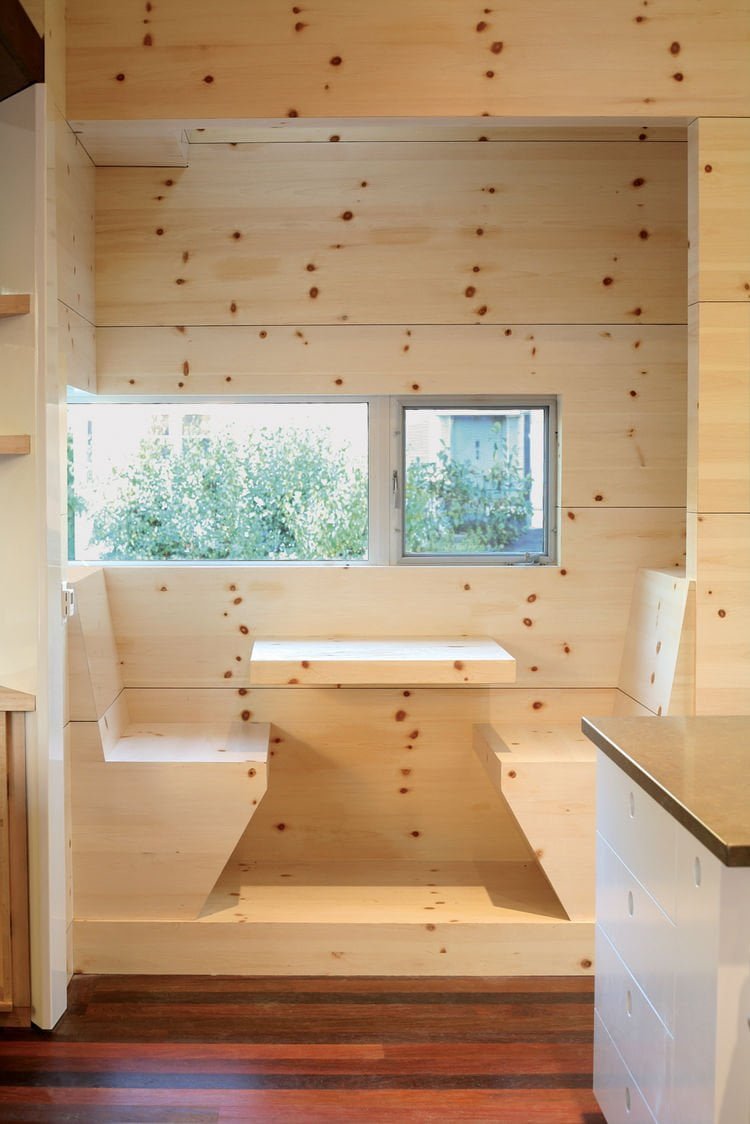 The design of this compact kitchen nook is reminiscent of breakfast nooks from the 1920s, yet has definite modern influence. The knotty pine wood with an unfinished look feels natural and would fit right in with any home that strives to incorporate "green" elements. If this is too plain for your tastes, you could liven it up by painting it a different color or by adding some colorful cushions and artwork. It's always smart to take breakfast nook ideas from photos, but make them your own.
29. Space Finder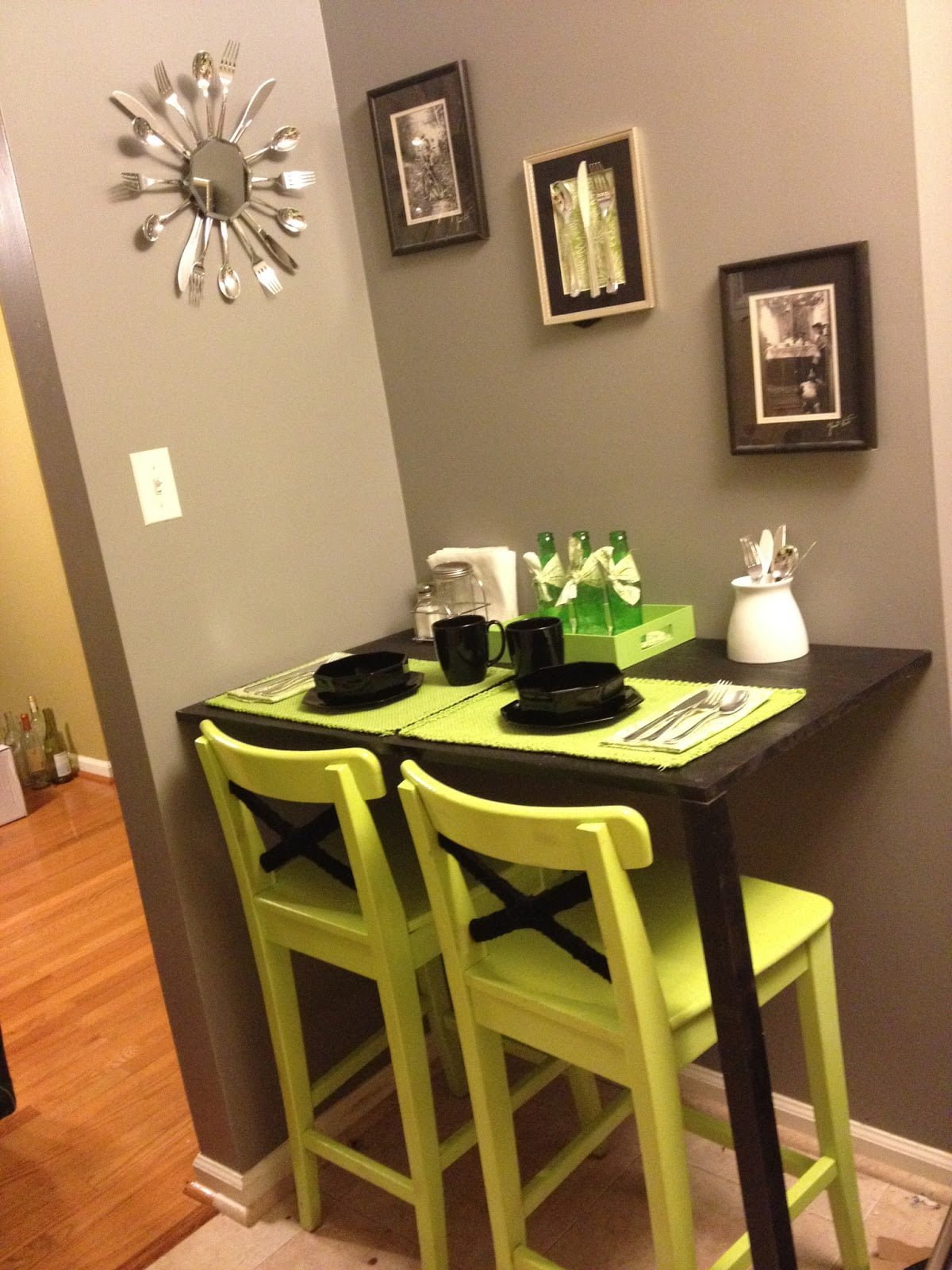 If you thought you didn't have space for a breakfast nook, think again. This picture shows that you could fit a small breakfast nook in just about any space. In many homes, an awkward space like this might go unused, but a custom-made table and chairs could fit well. This table attaches to the wall, so there's only one actual leg supporting it, a big way to save on space while providing support. Using two contrasting colors such as the black and lime green is always a smart home design choice, especially in the kitchen.
30. Not-So-Nautical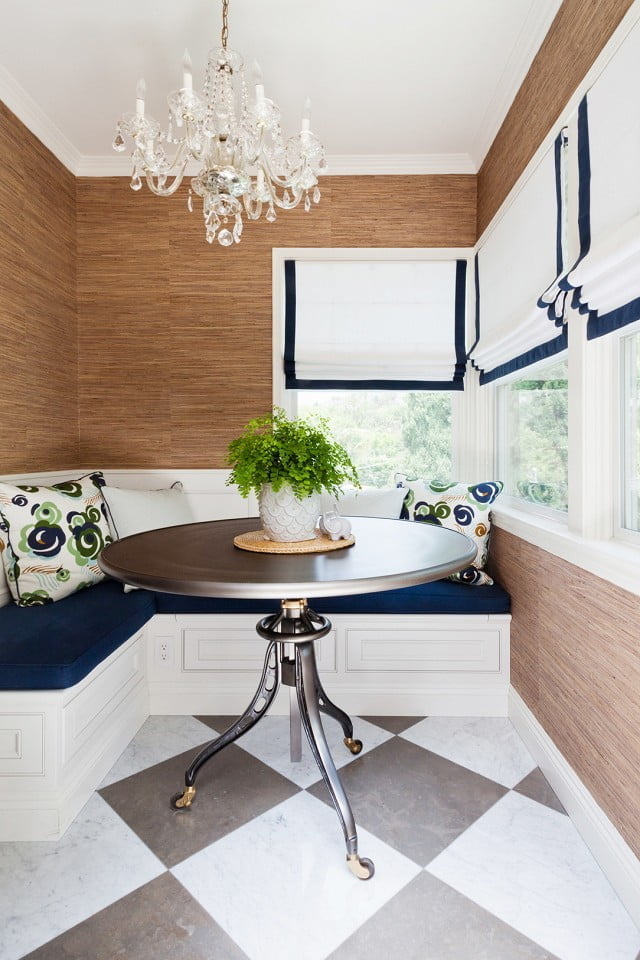 Using navy blue and white together often means a nautical theme, and this relaxing nook does have a bit of a beach feel with the white-and-navy Roman shades. However, the "wooden" wallpaper, opulent chandelier and funky pillows definitely set a different tone. The almost-hidden outlet in the bench makes this nook the perfect place to sit with the computer as well as enjoy a meal with your loved ones. A green plant on the table brings much-needed life into the room.
31. Family Fun Zone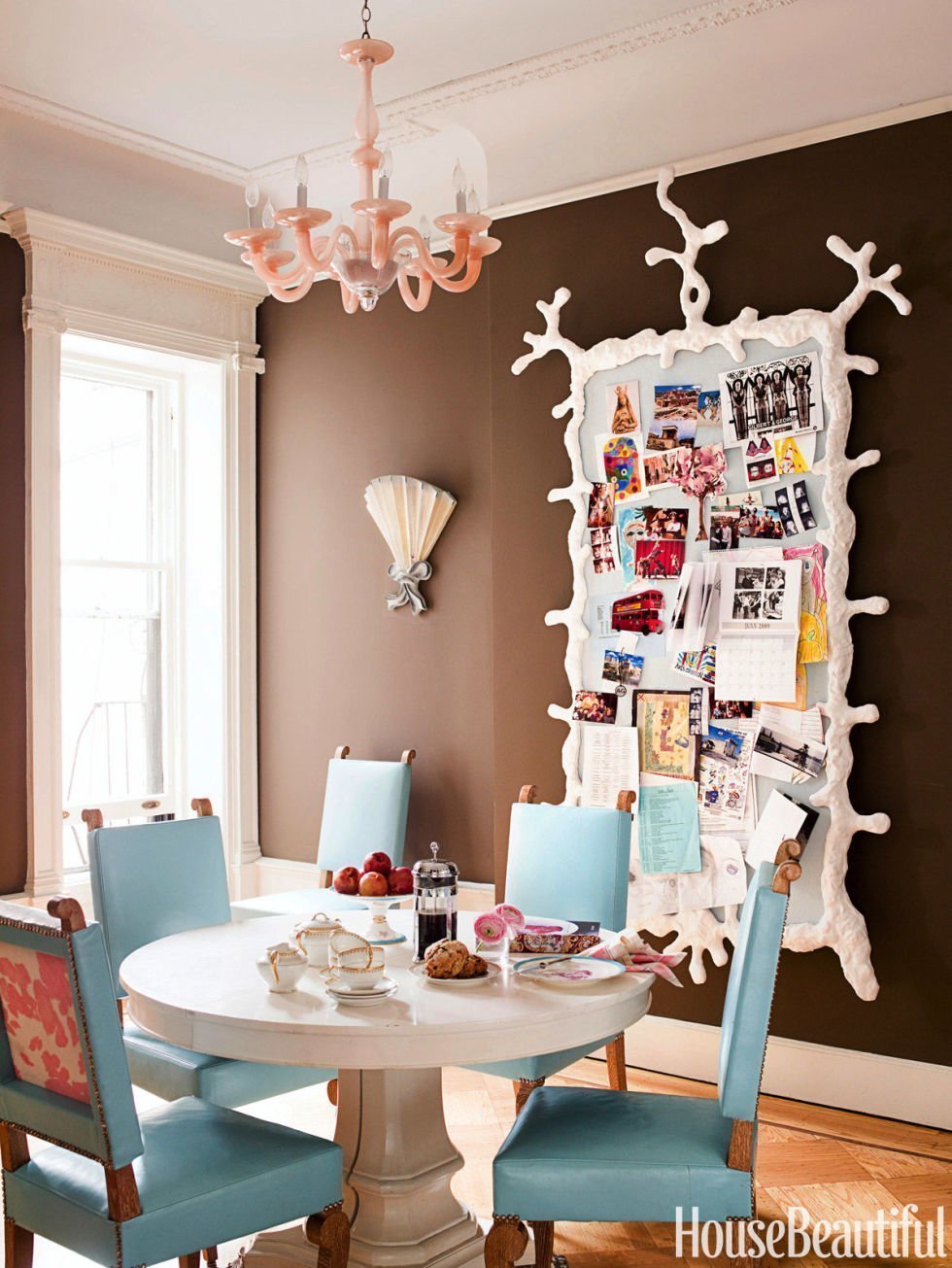 If you always thought that proper home design has to wait until the kids move out, think again. This whimsical eating nook incorporates elements that everyone will come to love. The table is sturdy and the chairs are an unusual, yet fun light blue that goes well with the brown walls. A pink chandelier adds a lot of style, without being over-the-top. Of course, the focal point of the room is the large bulletin board. It's here that you can really personalize the space. Use it to hang up the weekly calendar, chore charts, kids' artwork or favorite family photos. A space like this is sure to become the heart of any home.
32. Boho Breakfast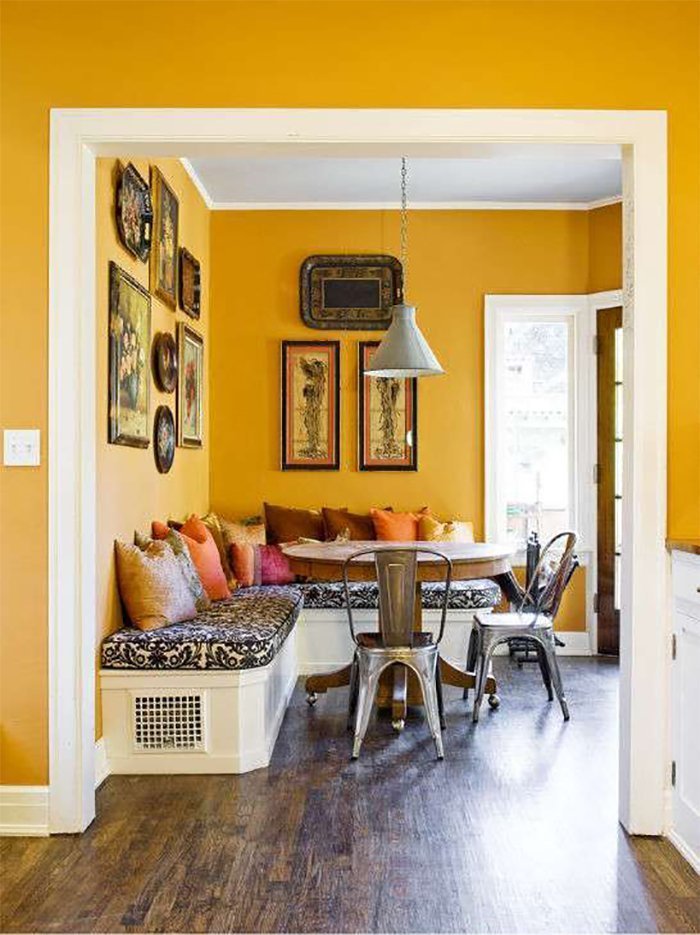 Few things represent the Bohemian look like a large number of colorful and comfortable pillows for reclining. The orange-yellow color of the walls sets the tone for this little nook, and the built-in benches offer plenty of comfortable seating. The many pieces of artwork carefully arranged on the walls gives the room an elegant touch that's sure to brighten your morning. It's easy to take breakfast nook ideas like this one and change the colors or designs to make it your own.
More breakfast nook decorations on the next page…