Cow bathroom decor ideas are a great way to transform an unremarkable space into one of the highlights of your home. Whether you prefer elegant cow silhouettes or adorable cartoon-style cows, filling your bathroom with bovine magnificence is a fun way to express your creative style. Although bathrooms are usually small spaces to decorate, there are so many small details to remember. Shower curtains, bath mats, wall decorations, toilet tanks, countertops, and shelves are only a few opportunities to layer your cow decorations. You can also have fun with puns. For the full immersive effect, combine cow bathroom ideas with decorations that coordinate with them.
27 of the Most Unique Cow Bathroom Decor Ideas to Express Your Love for All Things Bovine

What kind of cows you enjoy most plays a pivotal role in determining what bathroom ideas are right for your space. Because your bathroom is a cohesive part of your home, it should blend with the rest of your interior. Black and white Holsteins are a great fit for farmhouse and rustic homes. Shaggy Highland cows are better suited for Bohemian and modern spaces. Perhaps a Black Angus or white-faced Hereford is a better match for a cattle ranch theme. Of course, the most important thing to remember is to follow your cow-loving heart.
1. Humorous Hand-Painted Sign for Cowboys or Cowgirls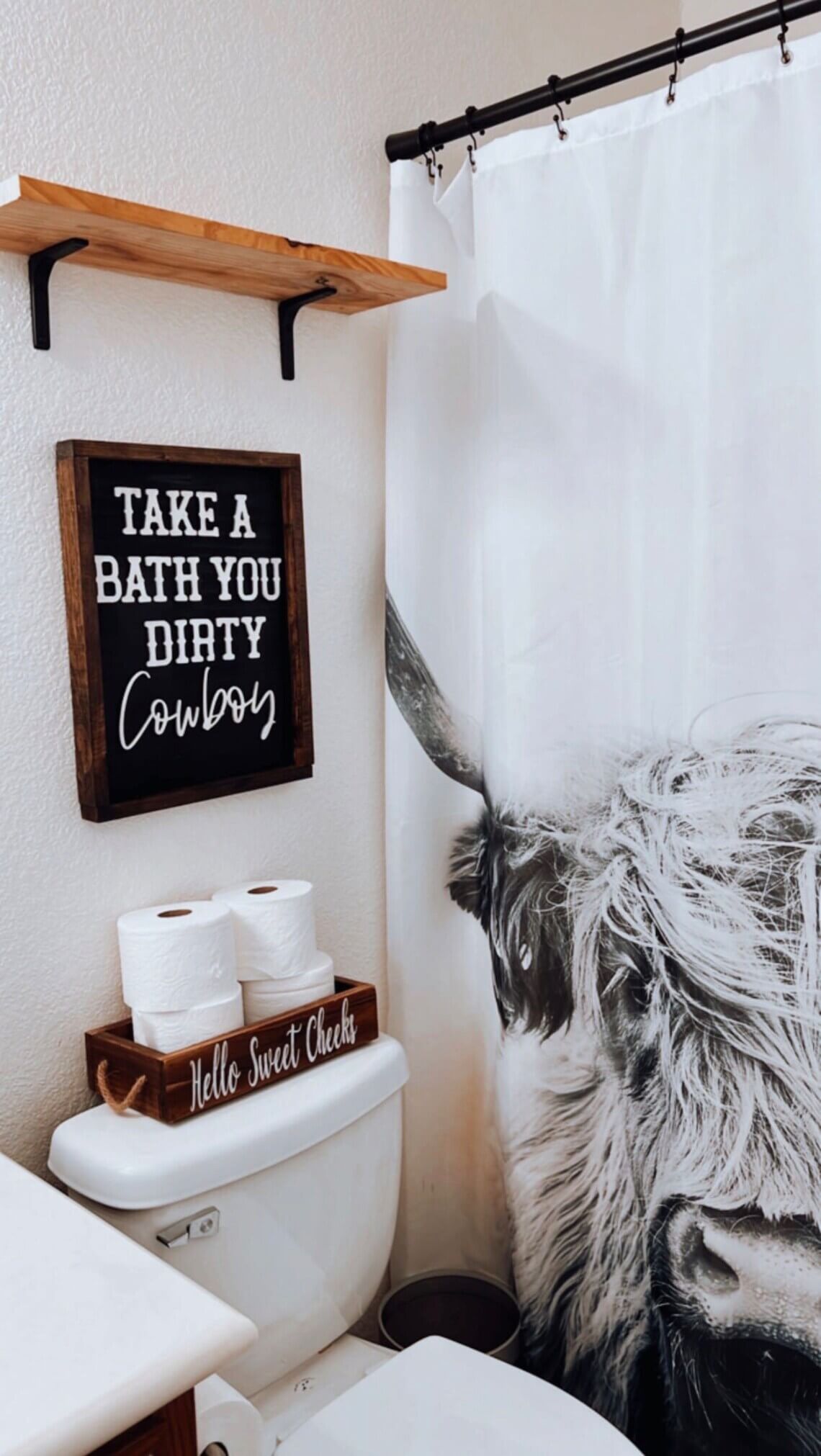 Before being painted, the lettering on this sign is laser cut. This gives it both a dimensional quality and an amusing message. The black, white, and wood palette provokes a little drama and will harmonize in nearly any cow-themed bathroom.
2. Weathered Barnyard Animal Farmhouse Signs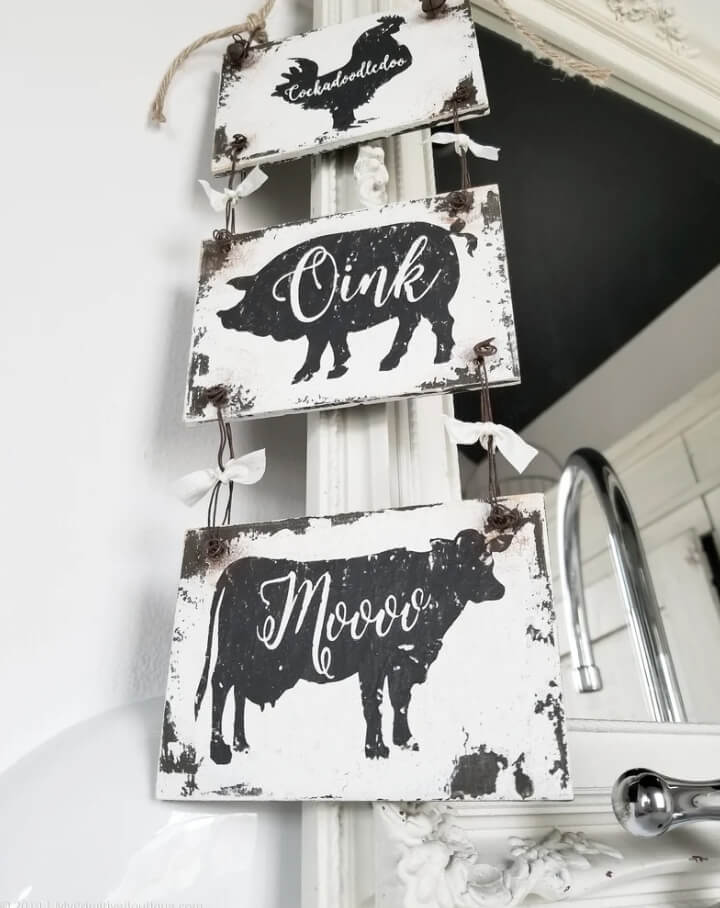 From the rusty bells to the cursive font, everything about these charming signs is custom-built for a farmhouse-style space. Barnyard critters are adjacent to cow bathroom ideas, and these distressed signs are the perfect way to develop farmhouse ambiance.
3. "Nice Butt" Laminated Cow Illustration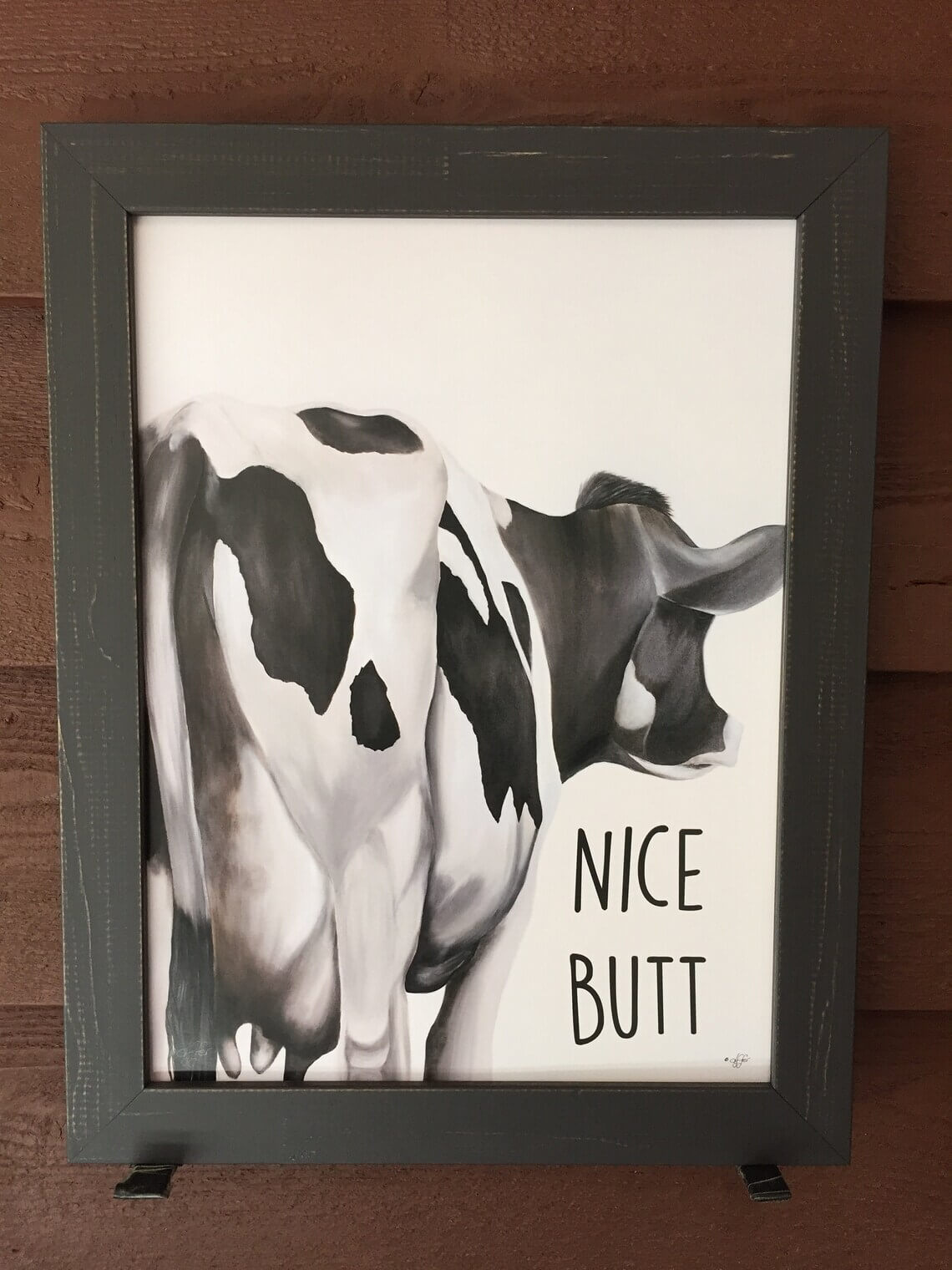 With a charming view of a Holstein's hindquarters, you can enjoy a little humor every time you enter your bathroom. Balancing the joke with a little class, this print features an elegantly rendered illustration mounted professionally in a charcoal frame.
4. Lifesize Cow Vinyl Wall Adhesive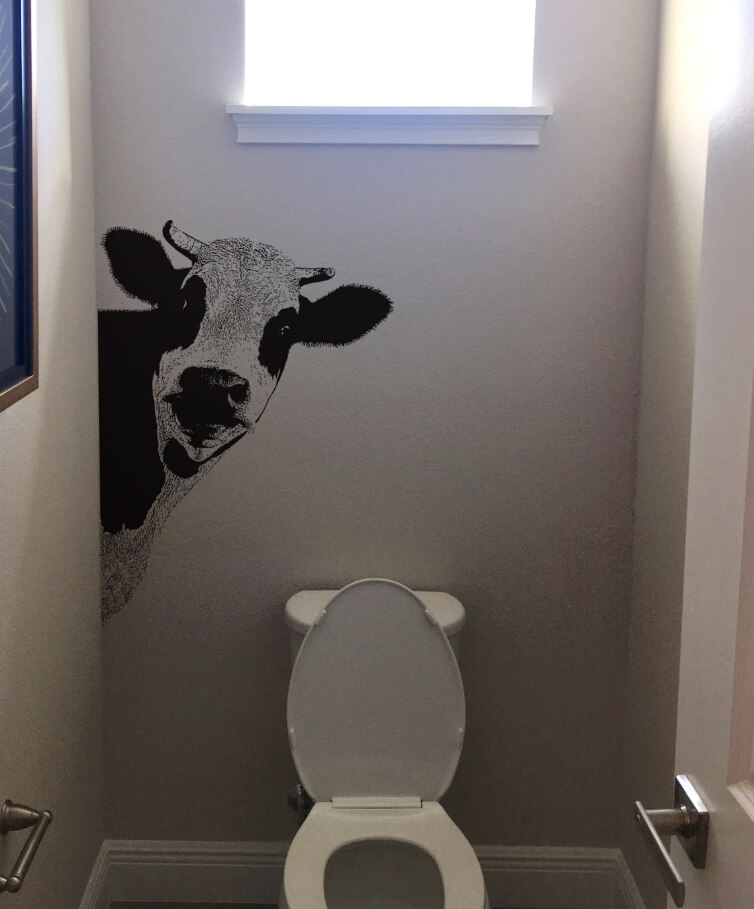 What better way to celebrate bovine beauty than with a peeking cow? This vinyl sticker is sure to start conversations. To best fit your space, it is available in a variety of sizes and can be facing either left or right.
5. Vertical Farmhouse Floor Sign for the Bathroom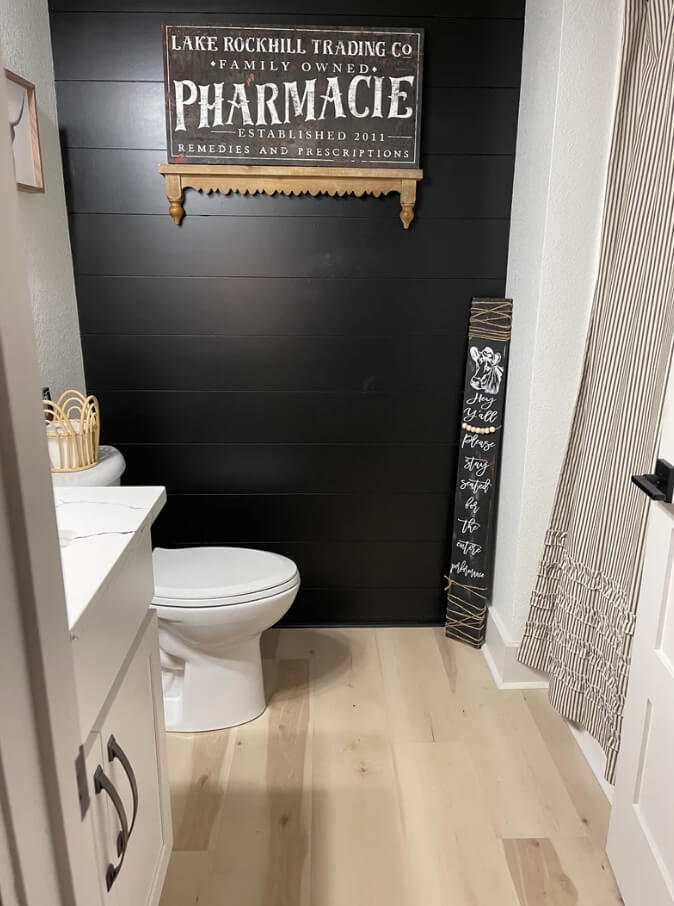 When decorating a bathroom, it is easy to forget that the view when standing differs from the scenery when seated. Including accents like this farmhouse-style sign can help develop an enchanting atmosphere no matter where one spends time in the bathroom.
6. Wild West Cowboy Removable Wallpaper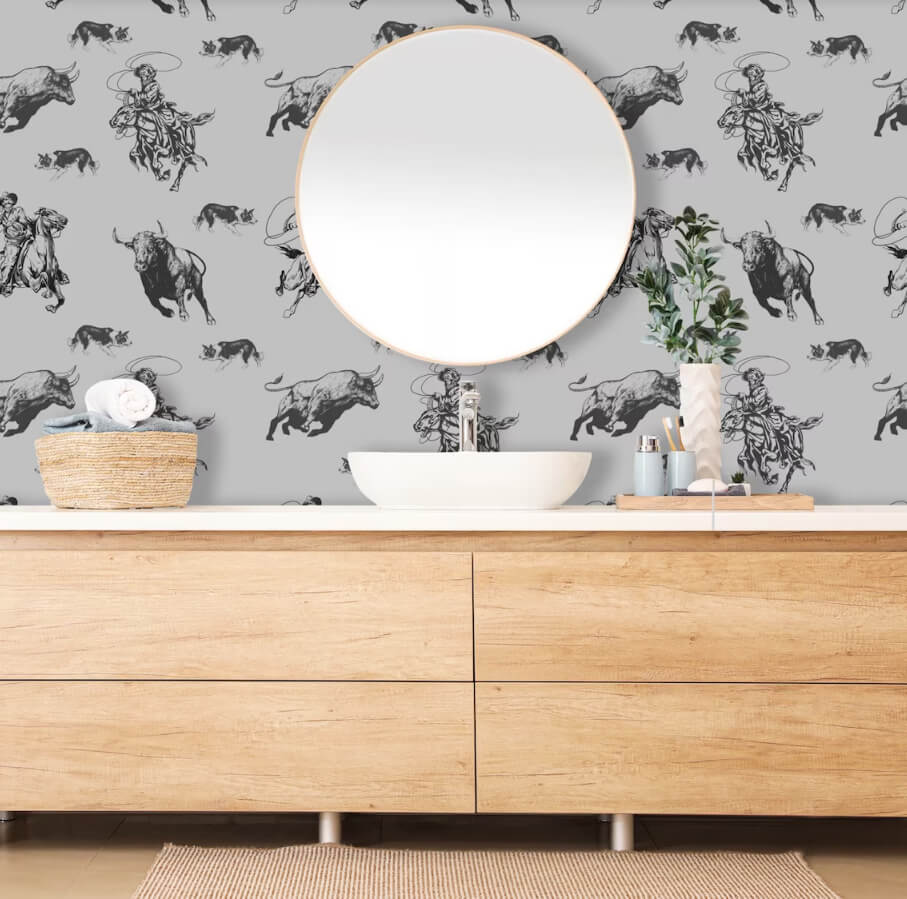 Featuring ink pen drawings inspired by vintage illustrations, this wallpaper is a great way to integrate swashbuckling flair into your space. Charging bulls and lasso-throwing cowboys harness the romance of the Old West. A cool gray background provides some chromatic interest.
7. Set of Three Cow-Patterned Canning Jars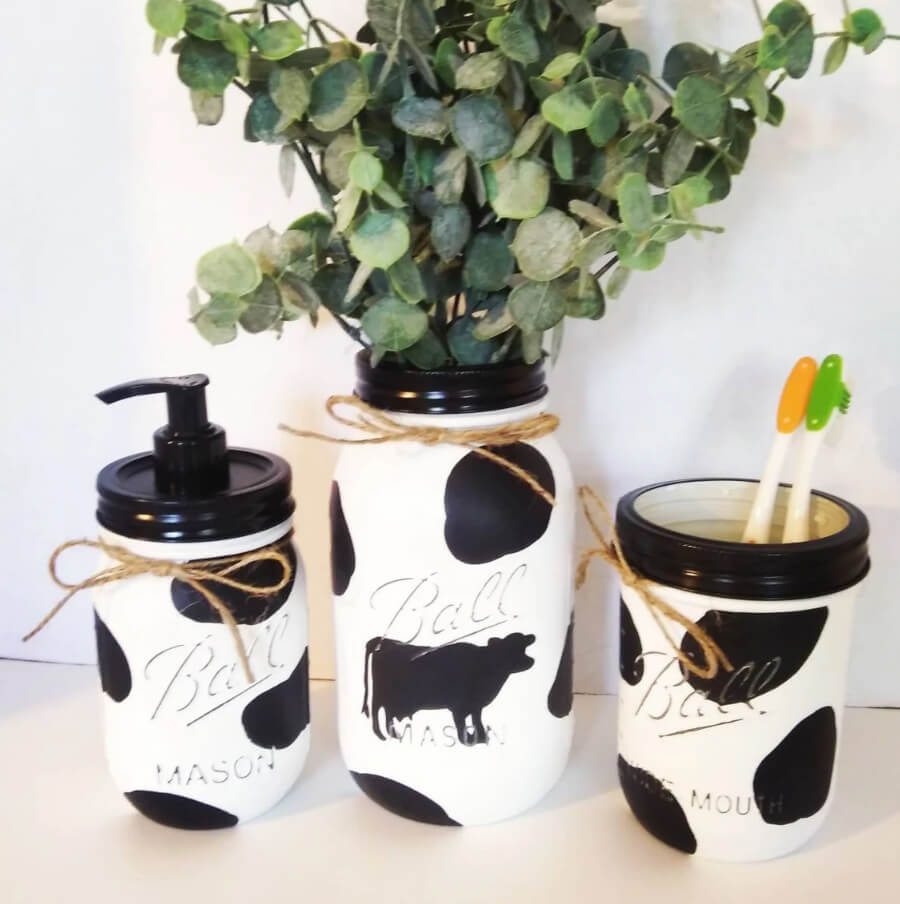 Complete your bathroom countertop display with this cow-themed soap dispenser, vase, and toothbrush holder. Of course, you could also store bathroom essentials inside. Slender twine bows and a cow silhouette will add the perfect amount of farmhouse chic to your space.
8. "Get Naked" Highland Cow Shower Curtain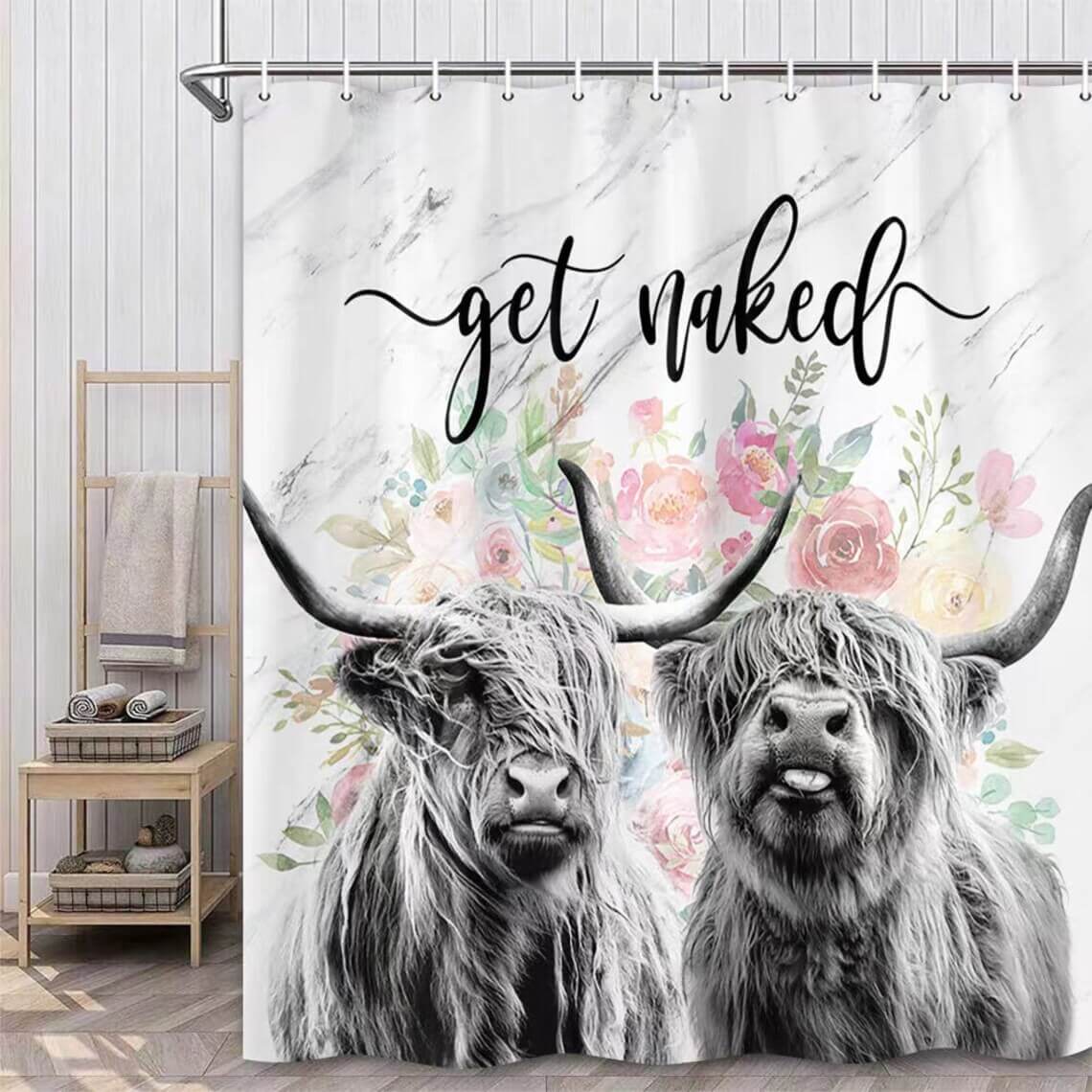 Accented by florals and marble, a pair of playful Highland cows set the mood for this shower curtain. Because shower curtains are so easy to change out, this is a great strategy to give your bathroom a quick cow-themed facelift.
9. Black Angus Cow and Calf Soy Candle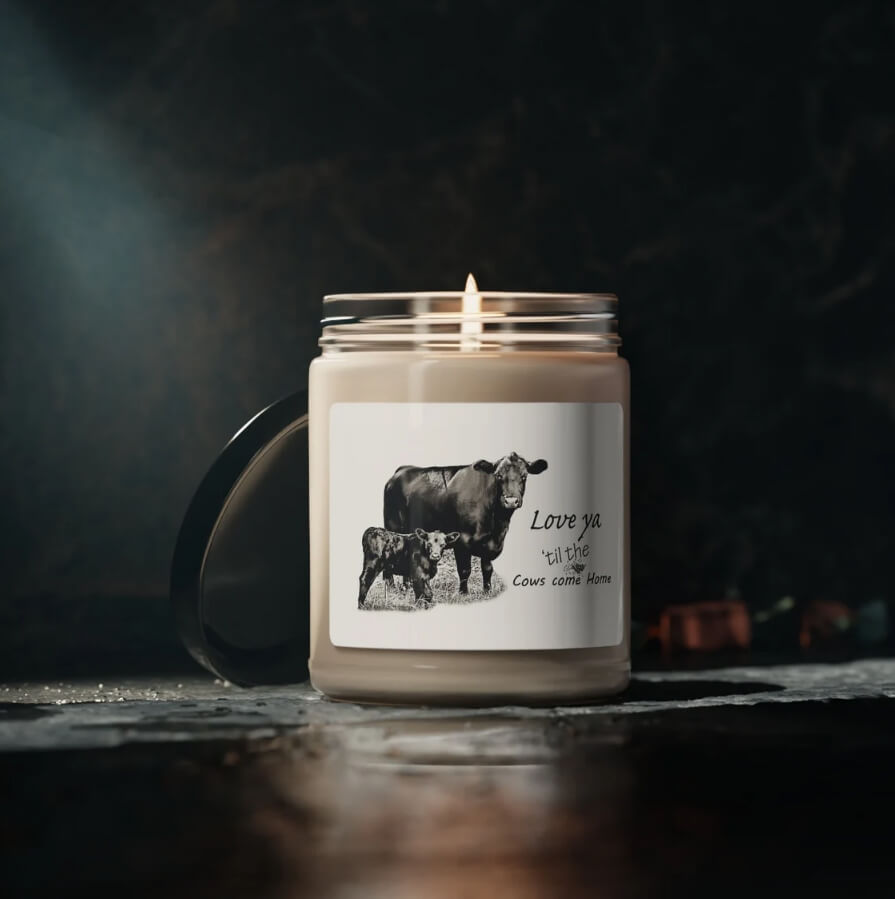 Why should Holsteins get all the love? In addition to the sweet scene, this candle features a touching quote. Your hardest decision is selecting from the three artisanal scents: clean cotton, sea salt and orchid, and white sage and lavender.
10. Set of 3 Highland Cow Digital Downloads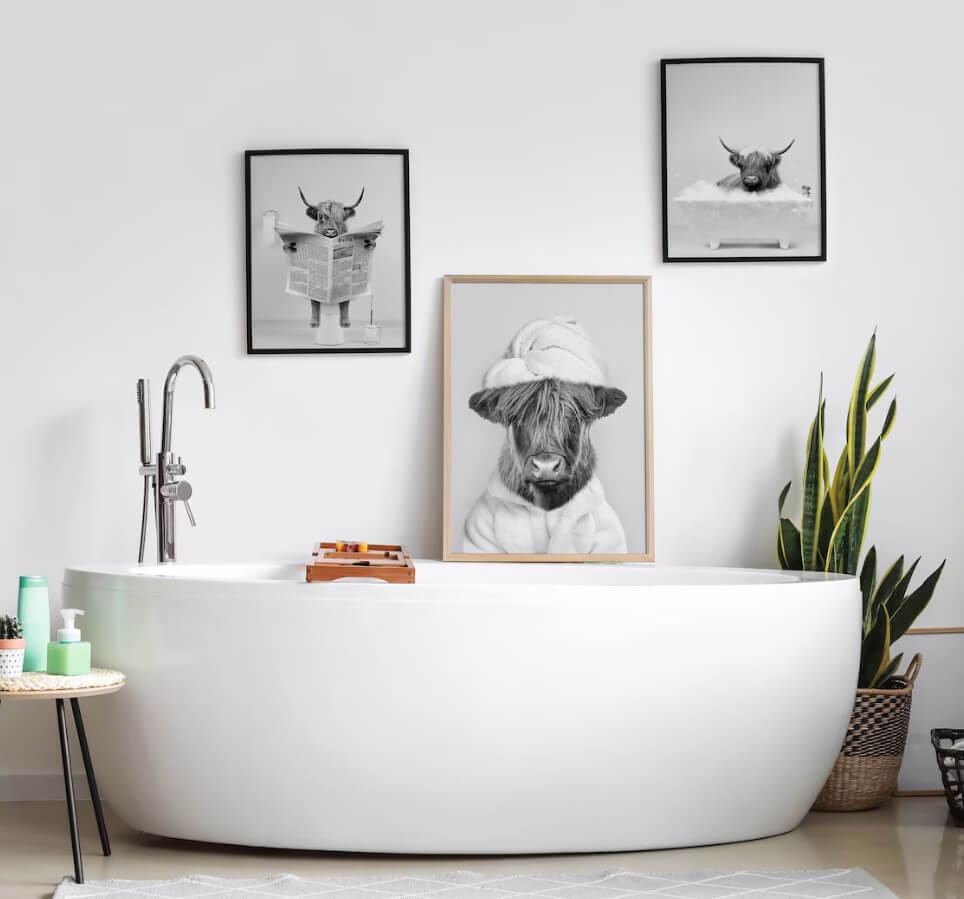 If you cannot get enough of these wee beasties, this set of downloadable Highland cow prints might be perfect for your bathroom. While you could print each the same size, choosing one to be larger creates a natural focal point.
11. Whimsical Scottish Highland Cow Digital Download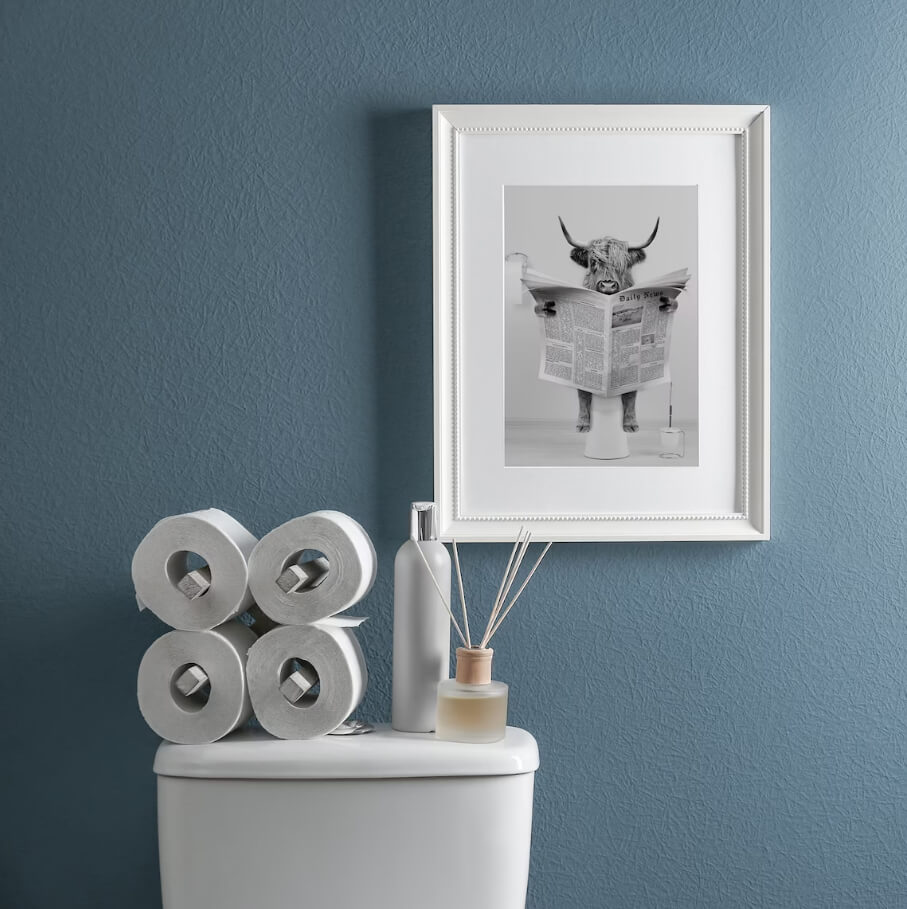 With its iconic shaggy fur and graceful horns, this Highland cow reading a newspaper is the perfect way to bring a little humor into your bathroom. After printing the picture, all you need to do is pop it into a frame.
12. Adorable Cow-Shaped Toilet Paper Holder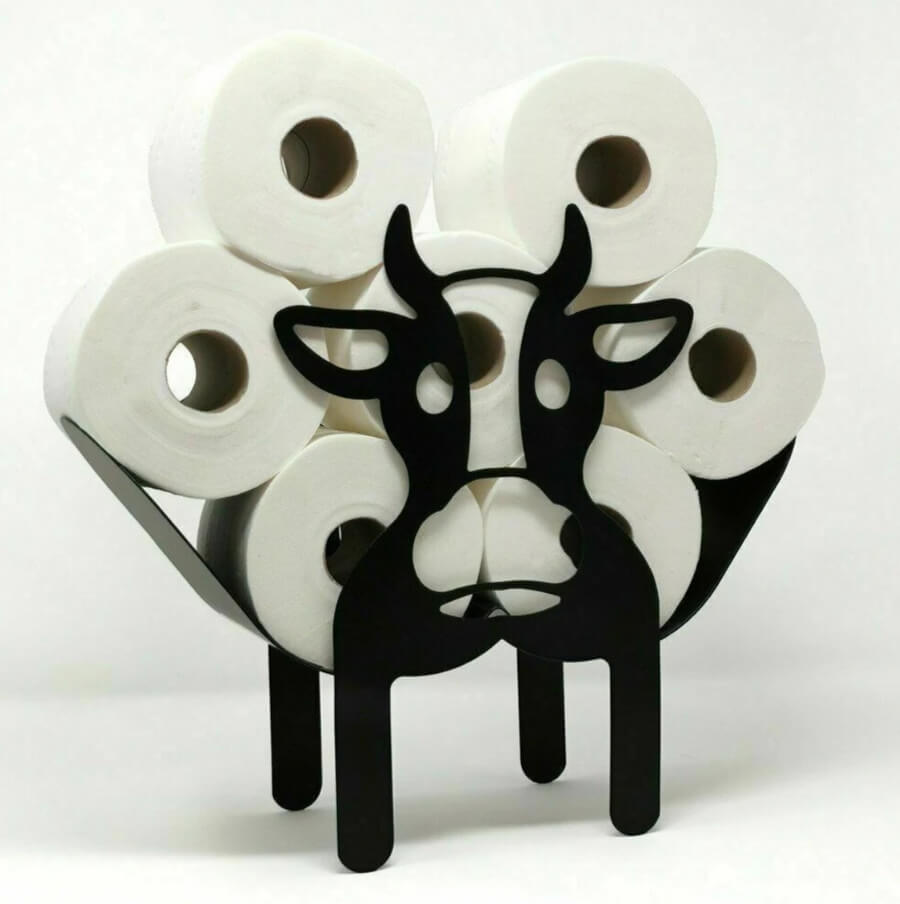 Made from black powder-coated metal, this cow will live happily in nearly any bathroom color scheme. Because it can hold seven rolls of toilet paper, it is a practical addition to your bathroom decor. All it needs now is a name.
13. Humorous Highland Cow Wrapped Canvas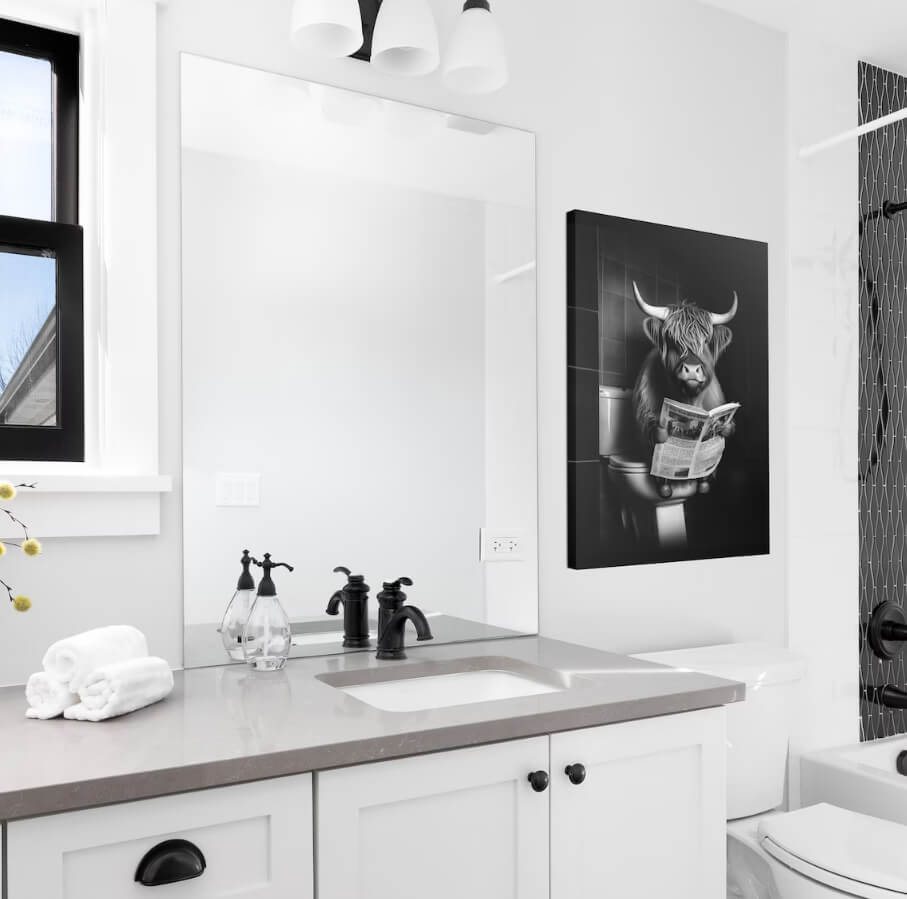 Incorporating a black and white wrapped canvas into your bathroom results in instant sophistication. This Highland cow will create interest in a monochromatic space or gravitas in a colorful bathroom. To add to the intrigue, even the newspaper is cow-themed.
14. Wrapped Canvas with Funny Cow-Themed Instructions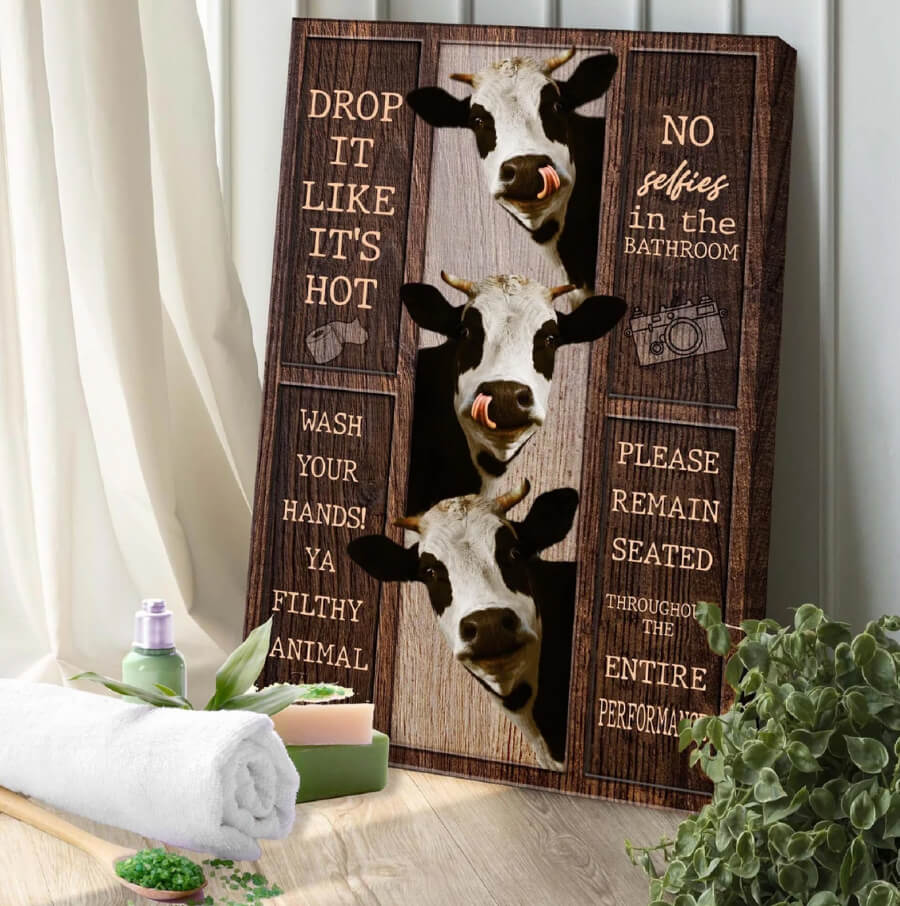 Featuring a trio of comic cows, this wrapped canvas combines humor and gallery-level quality. Because this shop is happy to accommodate custom orders, you can personalize this wall art with your own bathroom pun or favorite kind of cattle.
15. Personalized Cotton Towel Featuring an Embroidered Cow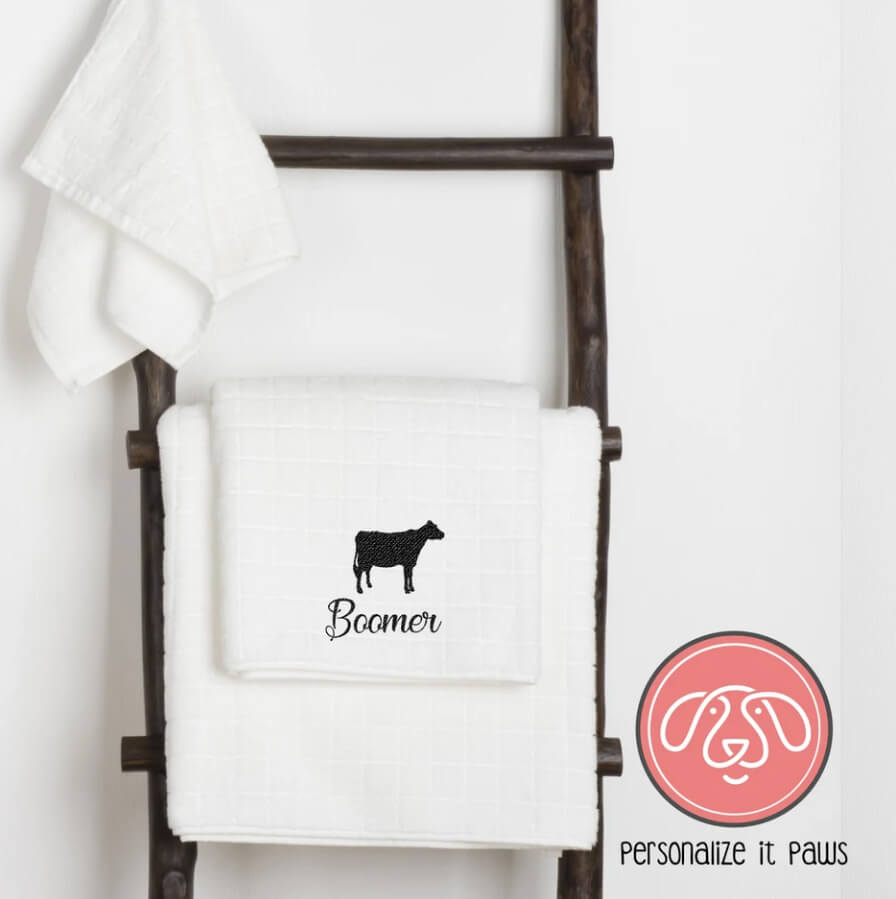 Towels are an excellent way to dip your toes into designing a cow-themed bathroom. For an elegant approach, these towels offer a cow silhouette paired with a simple personalization. Besides looking gorgeous, these ring-spun cotton towels are luxuriously soft.
16. Fuzzy Cow Flocked Bath Mat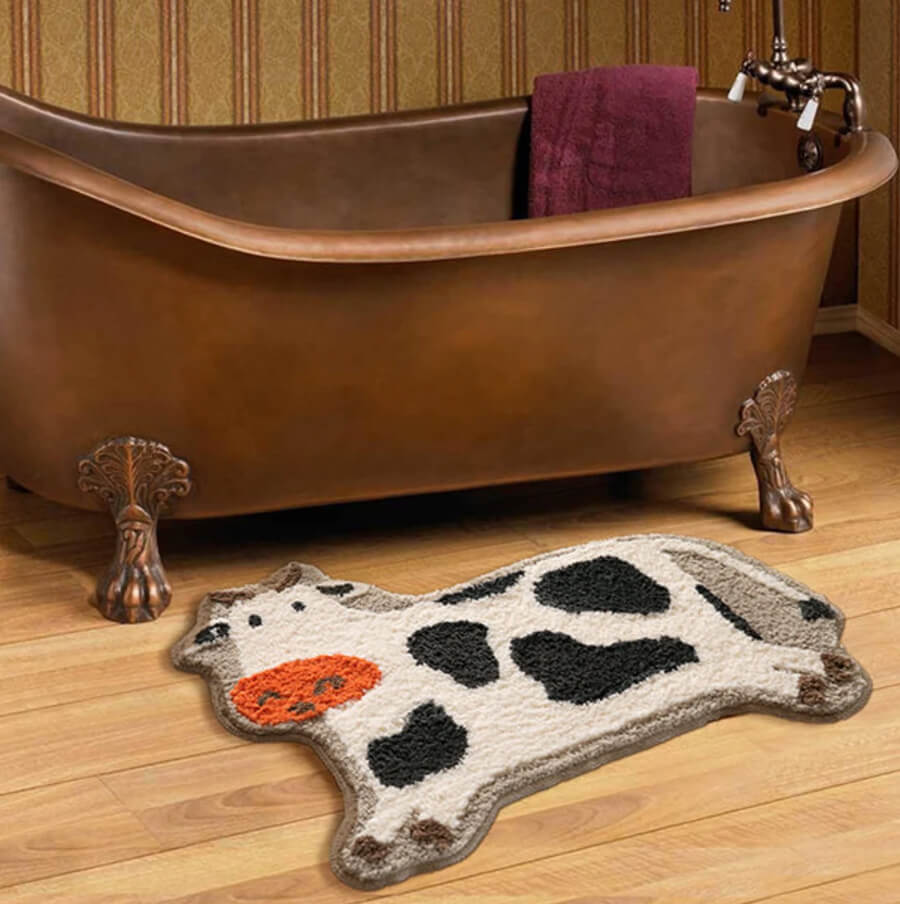 Because cow bathroom ideas often focus on walls and countertops, the floor might get left behind. Bath mats are one way to solve that problem. This leaping cow is a soft place to land after taking a bath or a shower.
17. 6 Piece Customizable Cow Bathroom Collection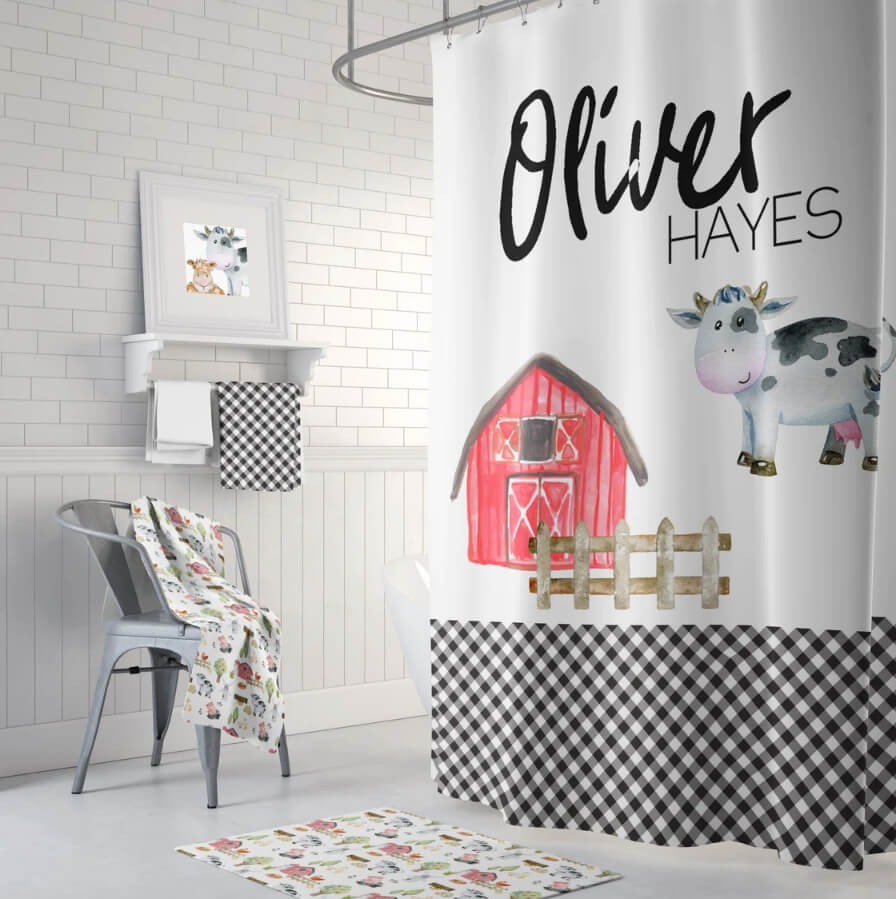 This set makes it so easy to deck your bathroom out in full farmyard splendor. Coordinating elements like black and white gingham, cartoon-style cows, and a personalized shower curtain create a cow-centered ambiance. Mix and match decorations to fit your needs.
18. Unique Microfiber Holstein-Patterned Bath Mat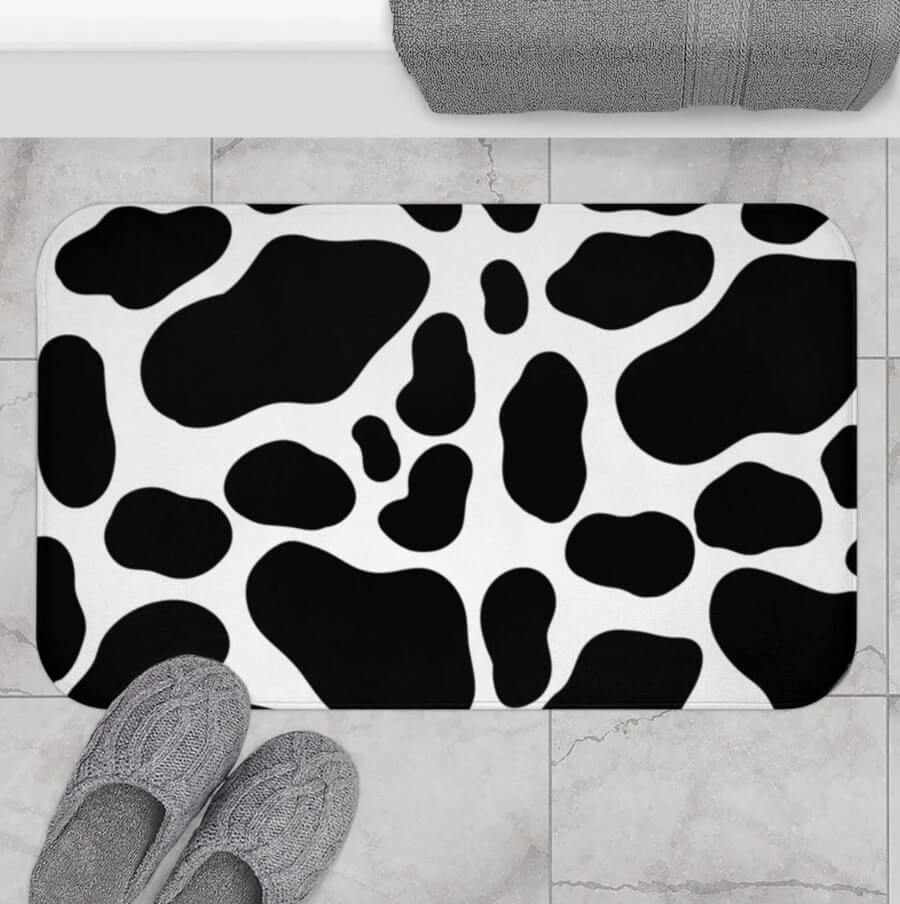 Channel Holstein magic with splotches of black on a white background. To enjoy a slip-free bathroom that vibes all your cow decorations, sink your feet into this velvety bath mat. For the full experience, pair it with more cow print.
19. Distressed Wood Tissue Box Cover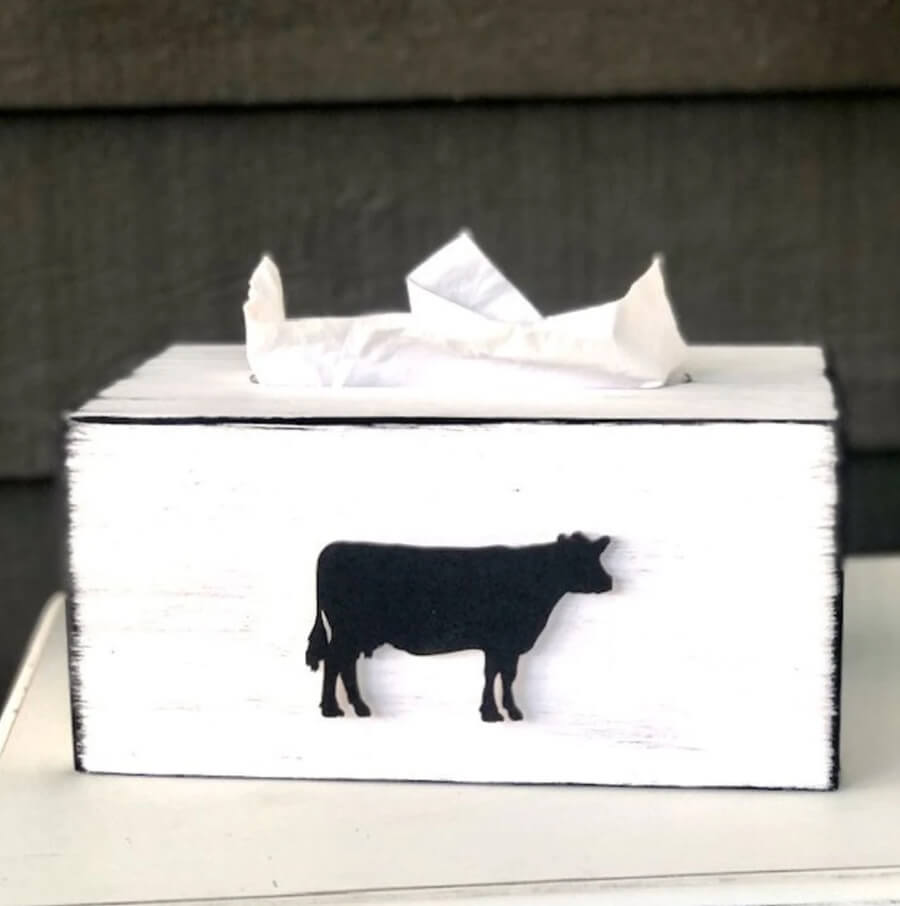 No bathroom toiletry collection would be complete without tissues. This box cover makes it possible to stock tissues without compromising your decor. If the standing cow silhouette does not fit your vision, a cow head and barn are also options.
20. Faux Cowhide Washcloth Made from Cotton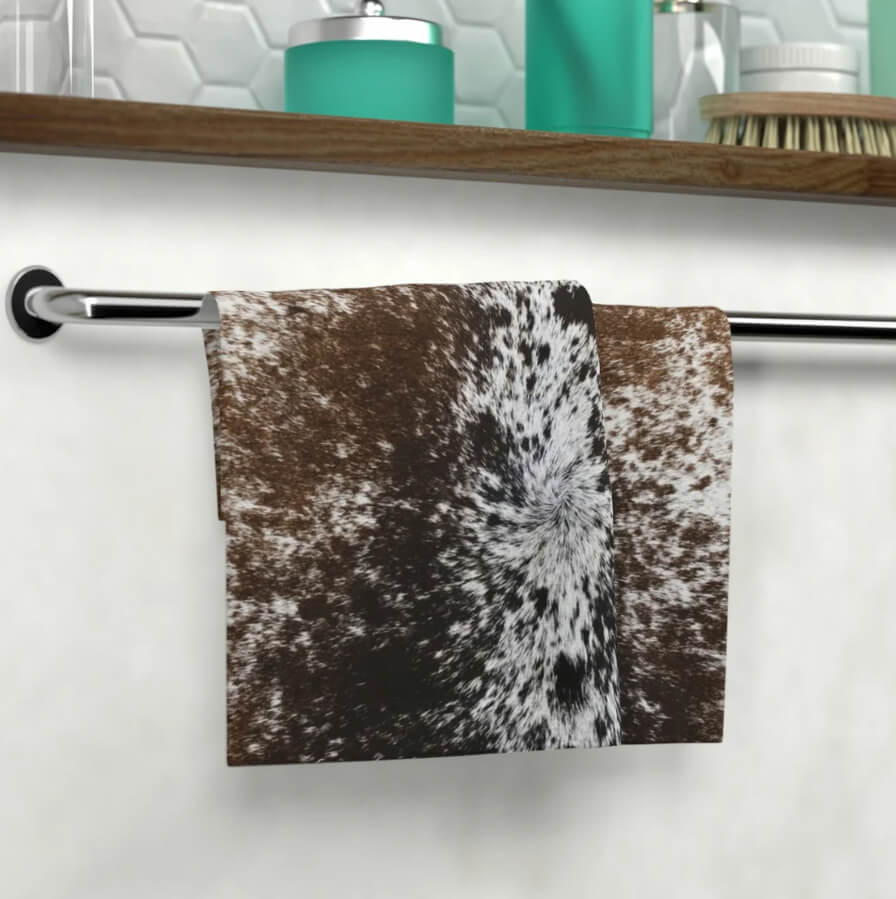 Printed realistically to look like cowhide, this washcloth is an excellent addition to any room with Western or farm life vibes. If you want to heat up a cool space, the warm browns on the printed side offer an inviting ambiance.
21. Ceramic Cow that Includes a Living Plant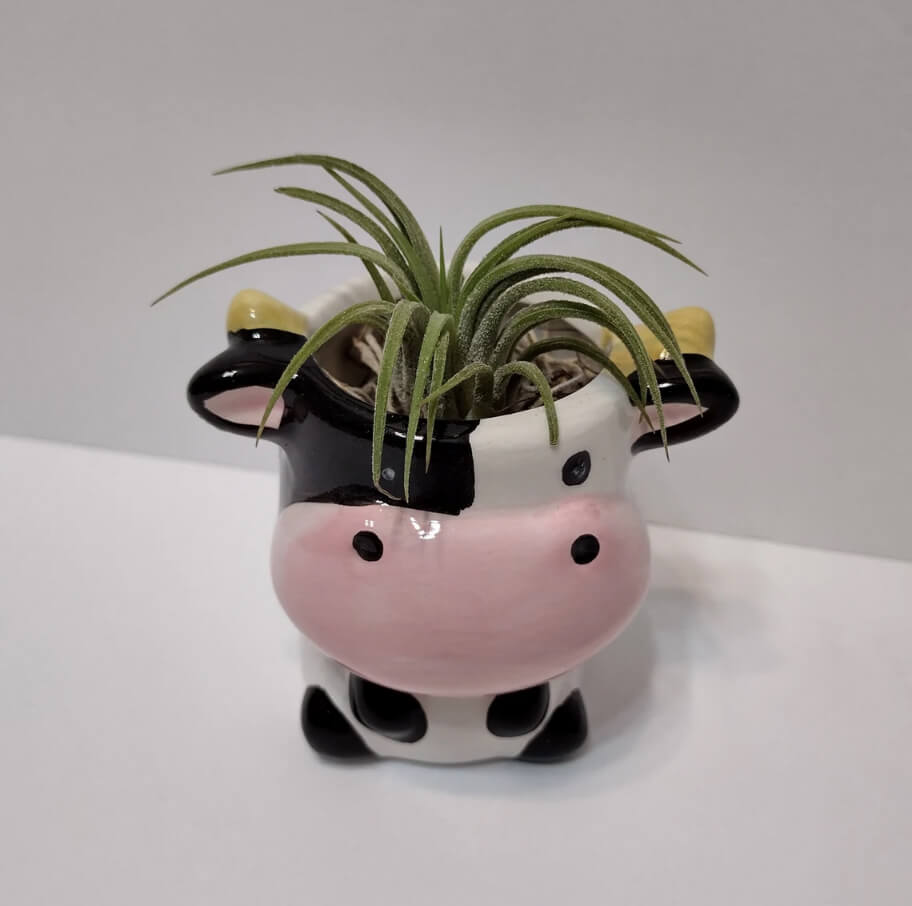 Depicting a cartoon-style cow, this ceramic planter is the dainty accessory every bovine-themed bathroom needs. It will add the perfect pop of greenery. You can choose among an empty planter, an air plant, or a succulent called a Molded Wax Agave.
22. Paint Your Own Earthenware Soap Dish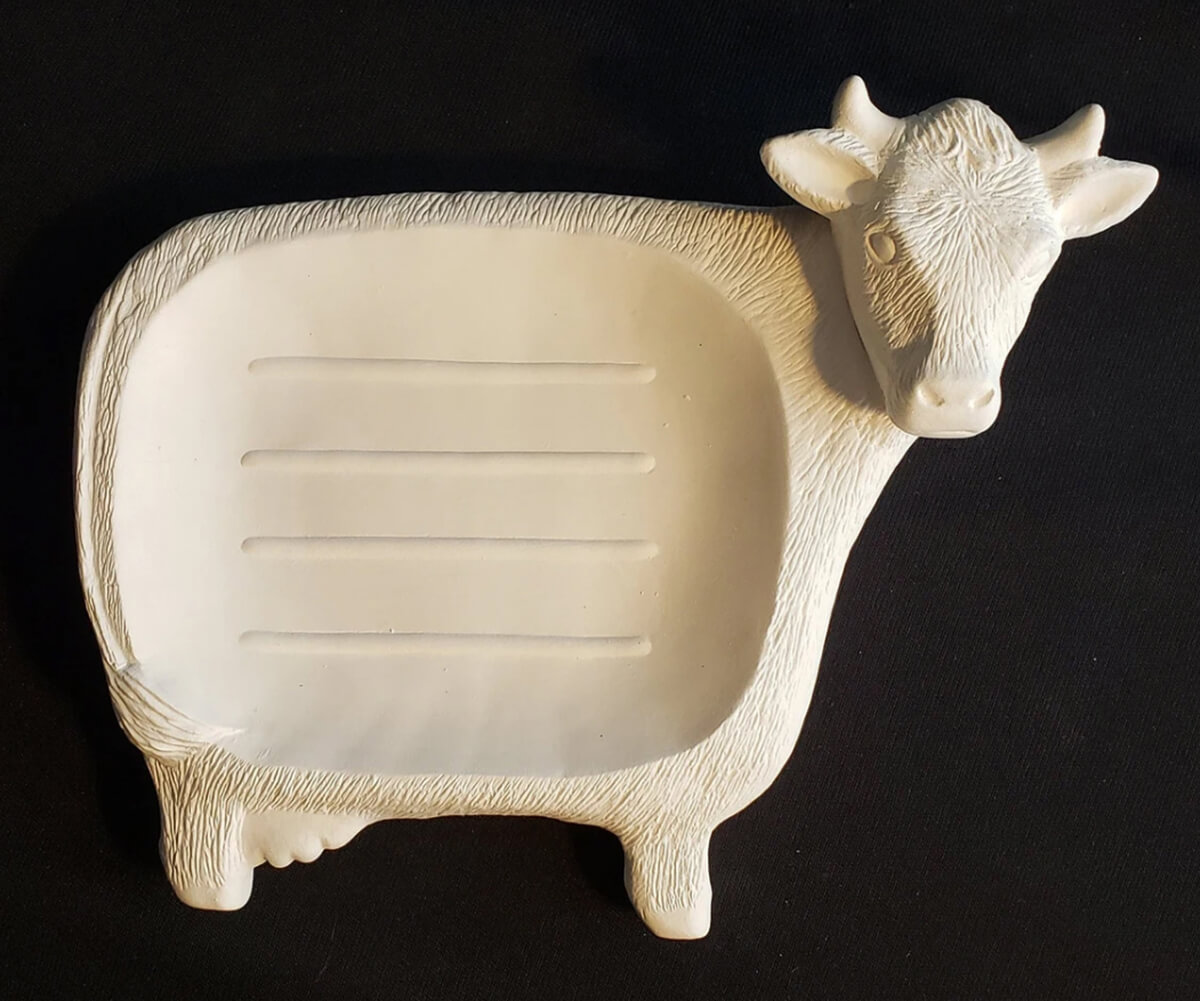 Ideal for those who have fallen in love with rare cow breeds, this is bathroom decor you can paint the pattern on yourself. Because you paint it with acrylic paints, you can coordinate the colors exactly to your bathroom.
23. Rustic Toilet Topper Complete with a Pun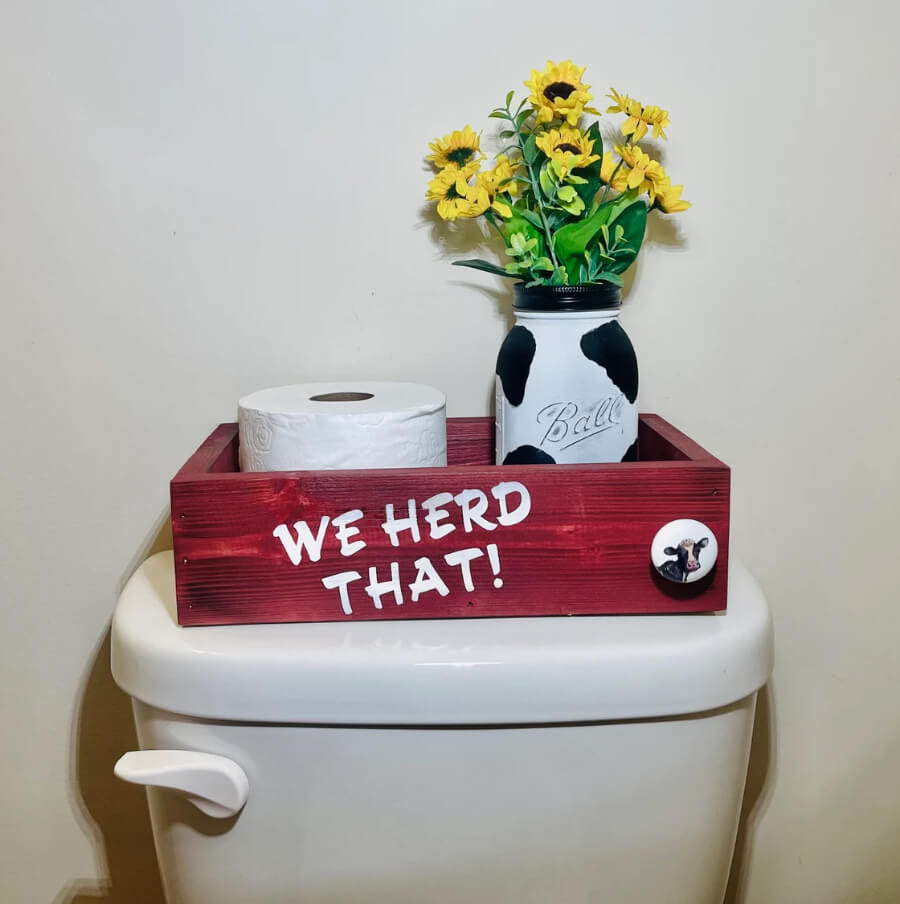 The longer you look at this bathroom storage box, the more there is to love. From the Holstein-themed canning jar to the cow knob, everything about this decoration is unforgettable. You can even customize which flowers arrive in the canning jar.
24. Pair of Wooden Cow Silhouette Figurines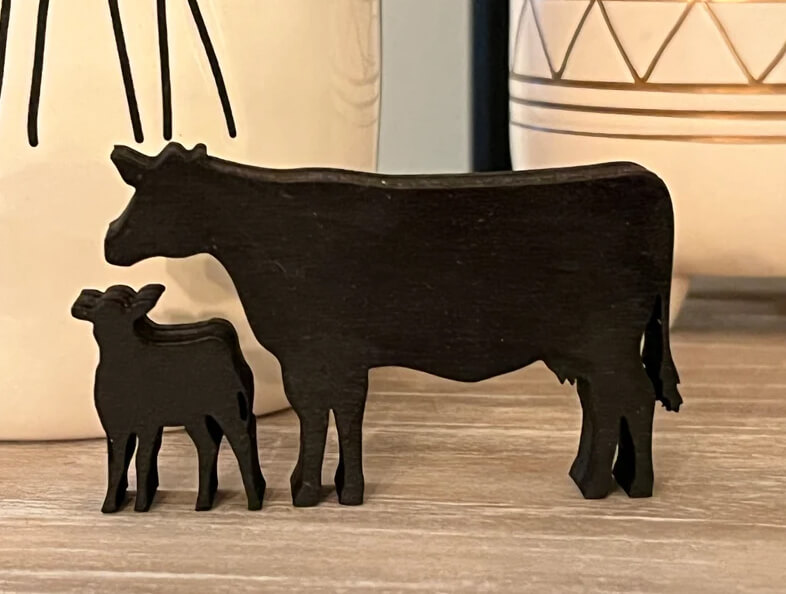 Laser-cut wood provides the perfect finish for these statuettes. To cultivate a multilayered cow ambiance, place them anywhere that could benefit from small accents. If your heart belongs to a specific breed, do not be afraid to repaint them accordingly.
25. Black and White Wooden Cow Letters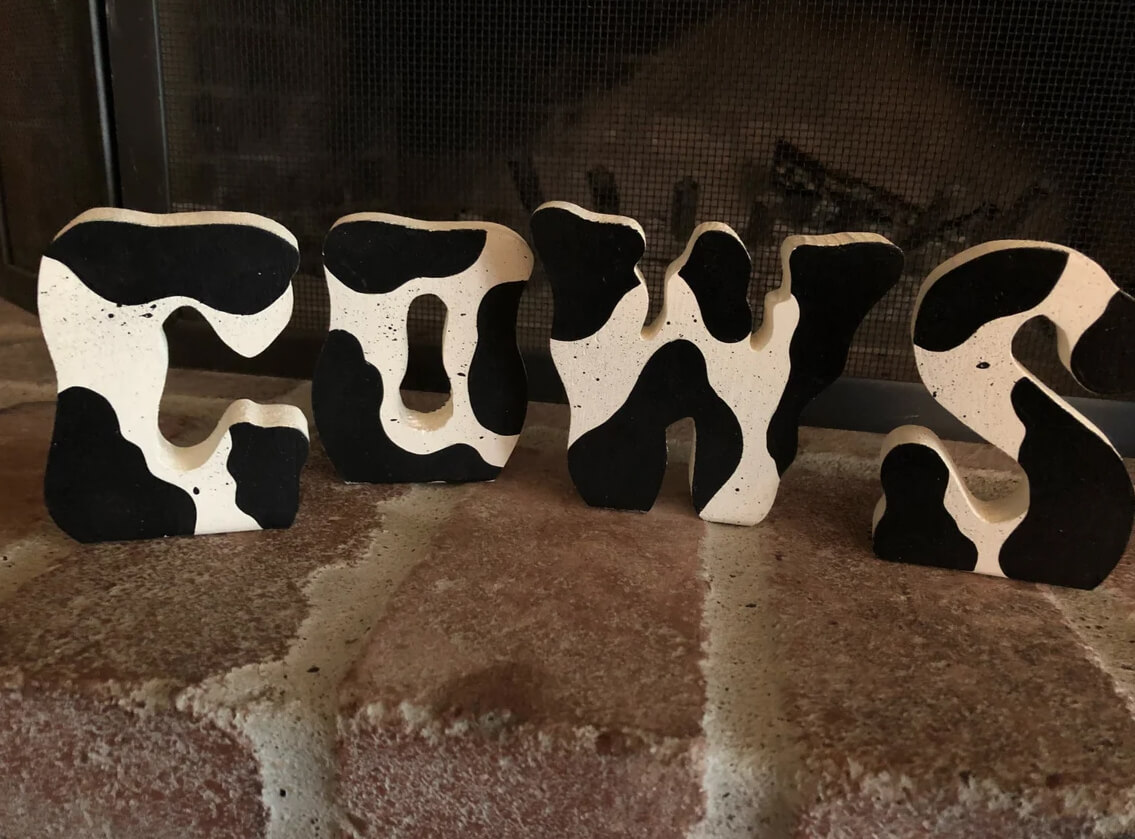 Spell out your bathroom's theme with these wooden "C-O-W-S" letters. A wavy font provides a sprinkling of fun. Black splatters express a fun energy ideal for rustic interiors. They can go on a shelf, countertop, or even a toilet tank.
26. Countertop Cow Print Canning Jar Collection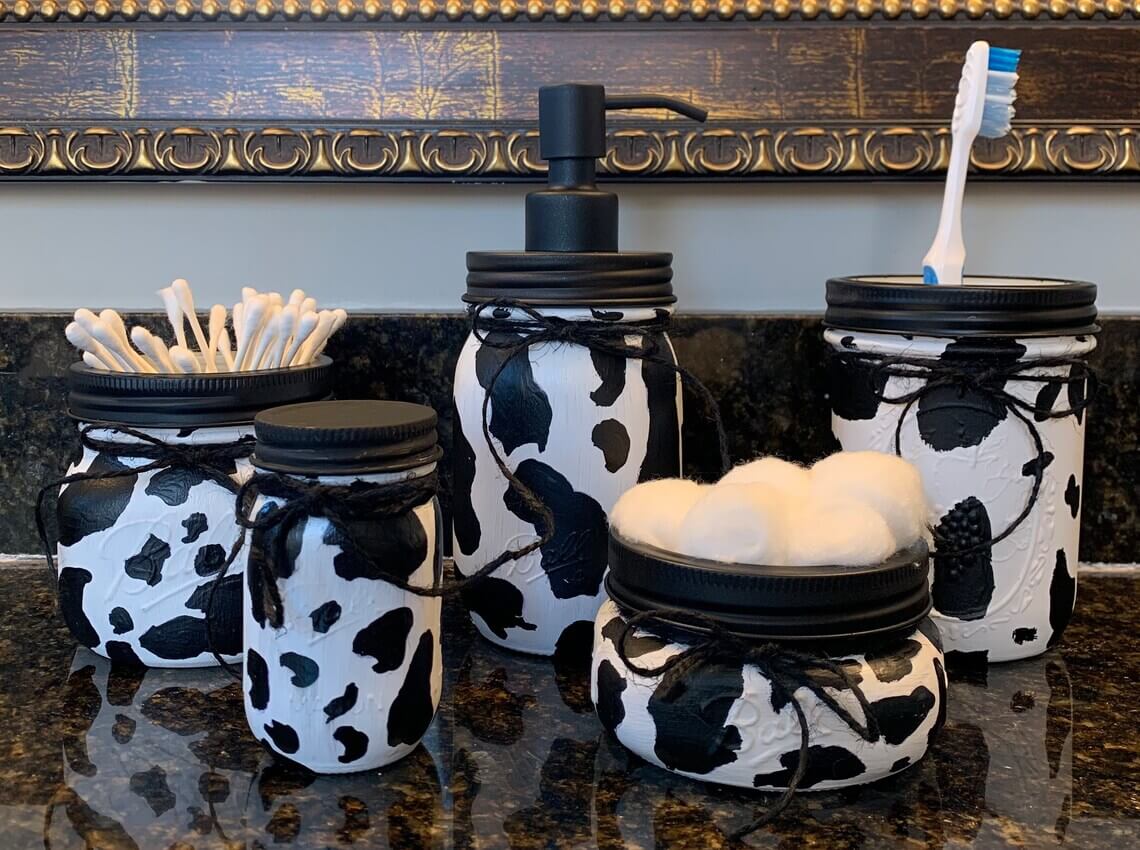 Canning jars decorated in cow print are the perfect way to store all the bathroom necessities. Chalk paint and twine bows give these beauties a rustic feel ideal for cultivating a farmhouse bathroom. The variety of sizes and shapes guarantees dimension.
27. Environmentally-Friendly Refillable Cow Print Shower Dispensers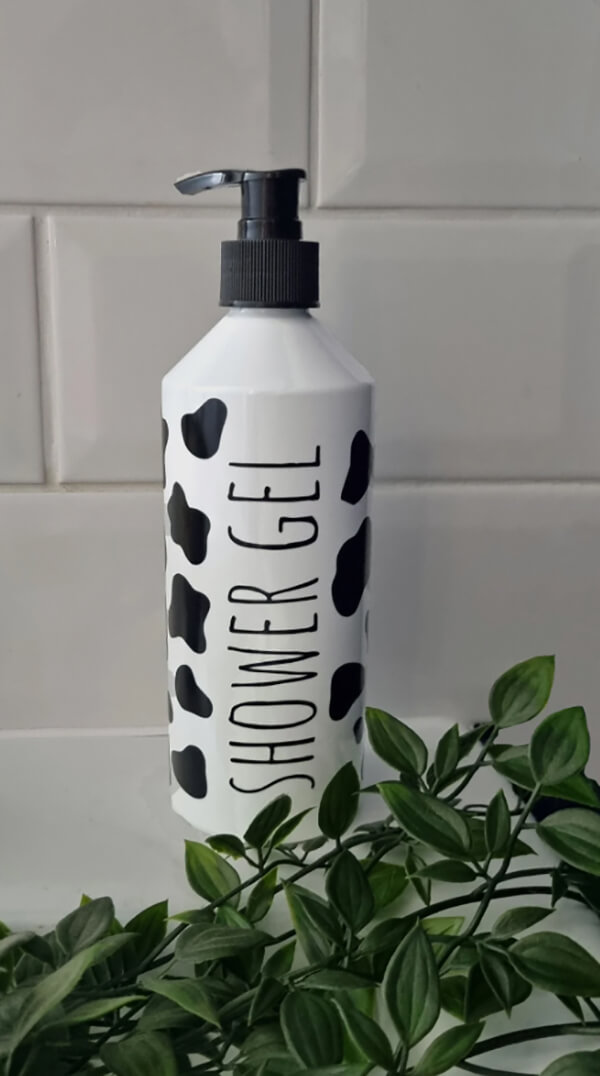 With these bottles, even your shower routine can join in the cow-themed fun. Including a shampoo, conditioner, and shower gel bottle in your cow bathroom decor ideas is an unexpected way to express your love of cattle throughout your entire space.
The 27 Most Creative Cow Bathroom Decor Ideas to Build an Unforgettable Bathroom Experience
Layering is the key to designing the cow-themed bathroom of your dreams. To achieve an attractively bovine bathroom, combine your favorite cow decor with coordinating elements. For the full farm life effect, opt for rusty metal, wood, and anything that feels rustic to you. A monochromatic bathroom can include black and white cow decor while maintaining a modern ambiance. Although the larger cow elements make the biggest statements, the subtle details do a lot to develop the theme. If you are not sure of your bovine saturation point, start with a few cow decorations and slowly add more.