Besides offering exquisite textures, integrating crochet wall hangings into your space is an avenue to express your creativity. With crocheted decorations, you can achieve anything from a vogue Bohemian aura to mimicking centuries-old aesthetics. Whether your space is edgy and modern or filled with antique furniture from the 1800s, crocheted wall decorations can contribute elegance and warmth. More contemporary approaches often feature a combination of macrame and crochet and frequently feature trailing tassels. To give your space a mid-century traditional feel, choose soft yarns and stick to classic patterns like granny squares. Of course, wall decorations offer a fantastic opportunity to experiment with your style and try something new. Getting creative with colors and textures is what crocheting decorations is all about.
The Top 22 Most Illustrious Crochet Wall Hangings to Express Your Style

With so many different types of yarn available, choosing a single one might be difficult. Luckily, many of these patterns are compatible with multiple yarn types. You can also get creative with colors. Mix and match yarn types, weights, and colors to maximize your piece's visual interest factor. Of course, sticking to a single color can also make an impact. This strategy works well in nearly any space. Hang your completed project on a wall that contrasts with the yarn you have chosen, and bask in the unique splendor that comes from crafting your own home decor.
Even if you do not crochet, displaying crocheted wall decorations is an excellent way to boost dimension in your interiors. Crocheted wall art is an incredibly versatile tool that belongs in every interior designer's arsenal. Most yarn softens a space, but some types of macrame cord can imbue a room with irresistible energy. Because most crochet stitches feature patterns of negative space, you can also achieve interesting shadows and a level of dimension that is difficult to attain with other mediums. Like any decorative element, crochet wall art is a way to personalize your space to perfection.
1. Chic Hexagon Crochet Wall Hanging Idea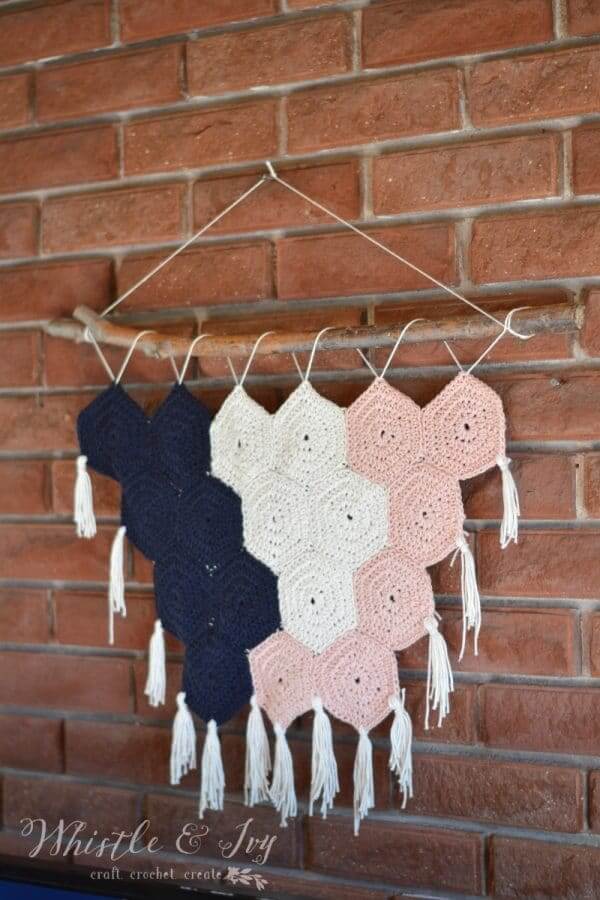 This wall art's modular construction makes it a fun project to personalize. You can either follow the pattern exactly as shown in this tutorial or modify the design so that it better fits your dimensions. Warm cream, cool navy, and soft blush harmonize for a Bohemian aesthetic, but you could experiment with your favorites.
2. Granny Stitch Crocheted Pennant Garland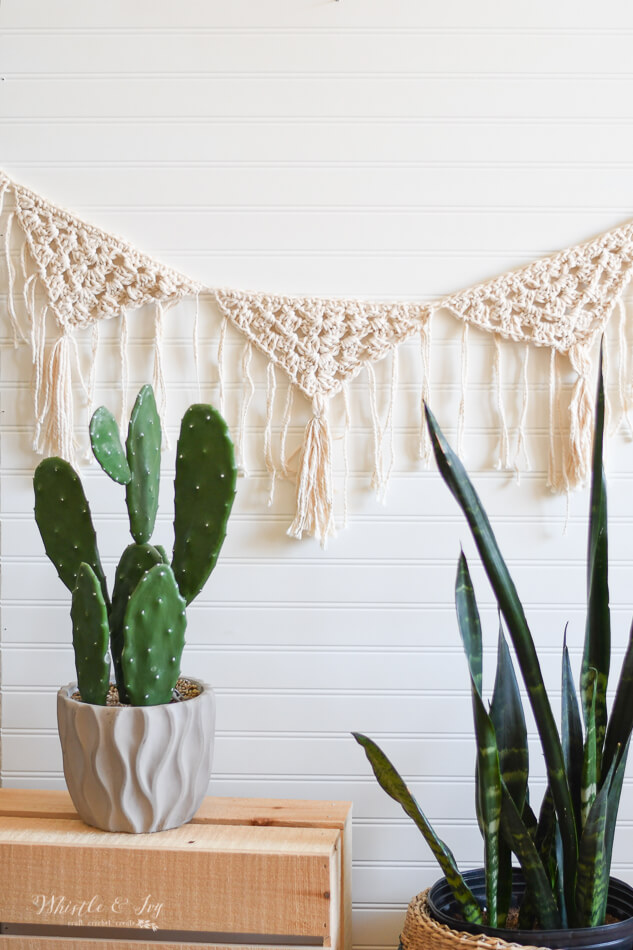 Thick granny stitches speak as much with their negative space as they do with their gravitas. Gaps between stitches create pockets of shadow great for cultivating contrast, especially with lighter-colored yarn. Meanwhile, isosceles triangles offer a pleasing shape ideal for energizing a space. Dangling tassels and groups of fringe give the ensemble an electrifying Bohemian finish.
3. Mounting Photographs in Crochet Picture Frames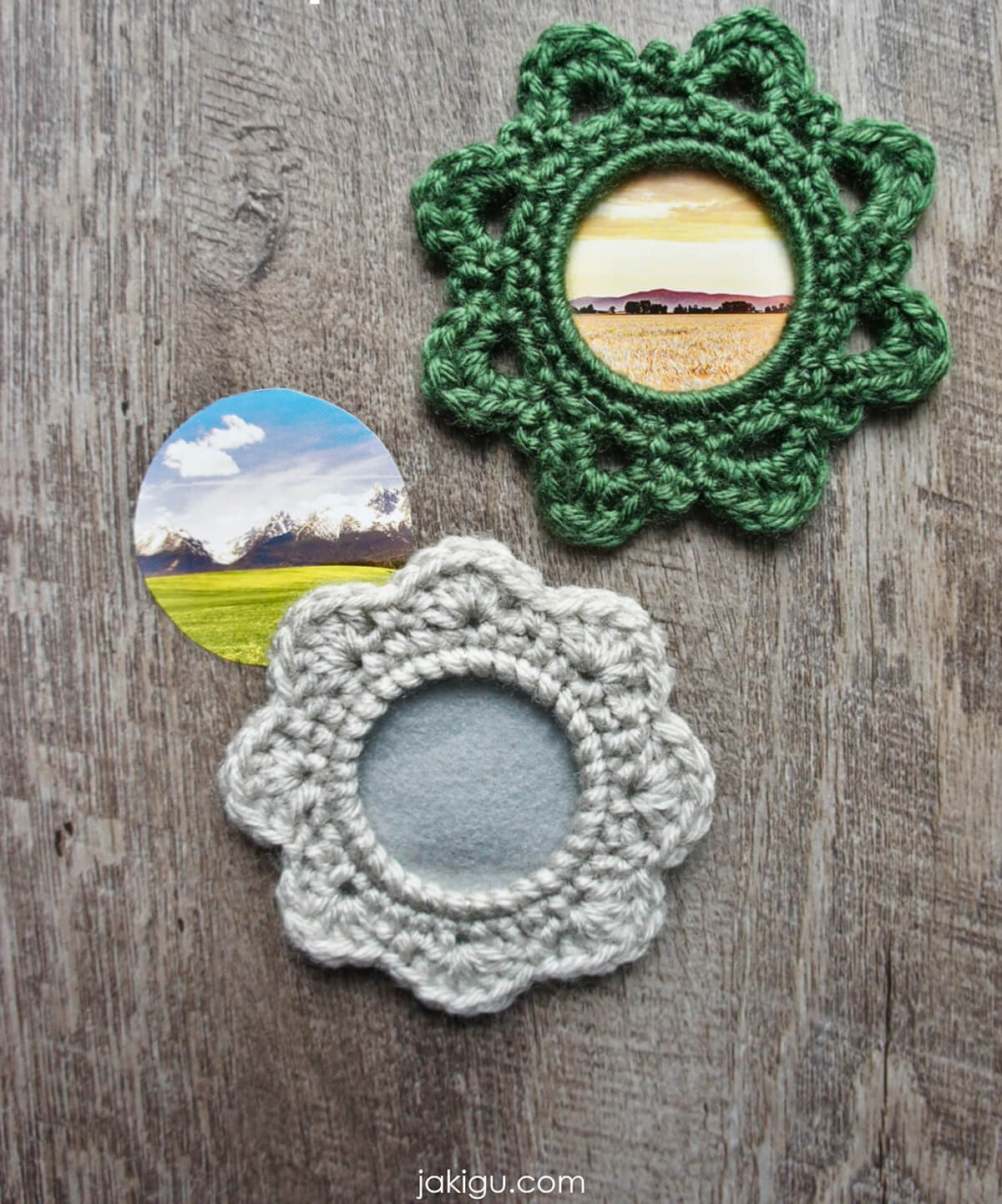 Giving your gallery wall the crochet treatment adds an exciting layer of dimension. Whether you fill your frames with landscapes, people, or pets, they will add a unique atmosphere to your home. For best results, choose yarn that will complement the photos you have in mind. Imagine the impact of using colorful frames for monochromatic images.
4. Minimalist Crocheted Cuckoo Clock with Copper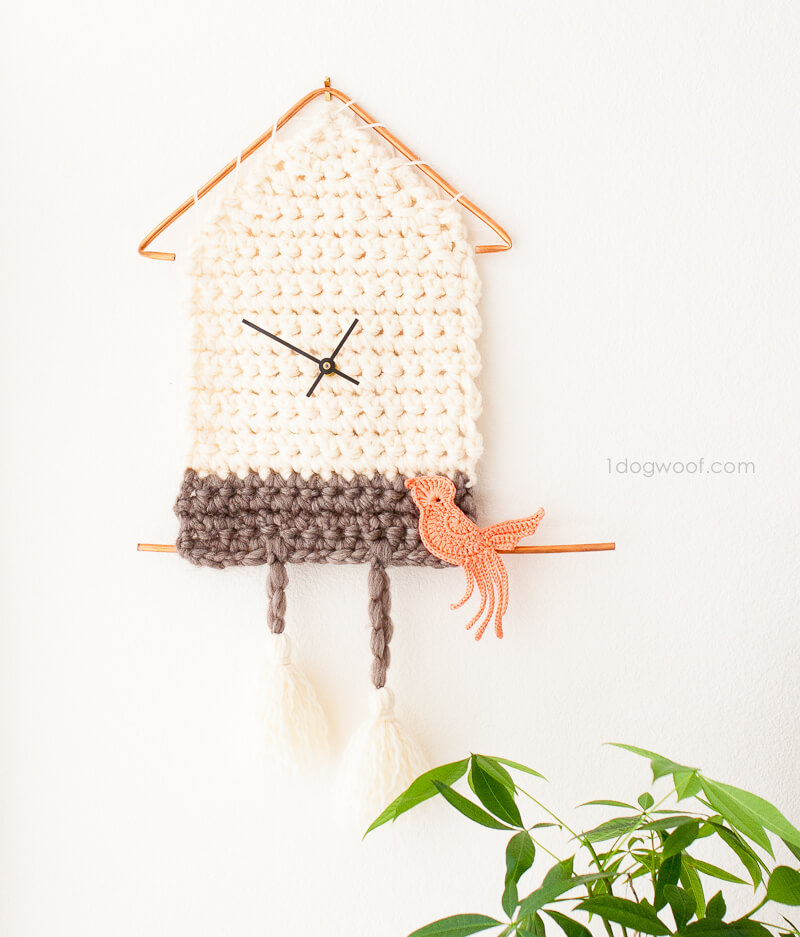 Complete with fluffy knobs, a shiny bird, and a copper roof, every element of a cuckoo clock is represented. Although this example is pared down to delightful minimalism, experienced crafters could add the elaborate details cuckoo clocks are famous for. Simply choose a more ornate clock kit and embellish it with your favorite crocheted or crafted extras.
5. Floral Bouquet Crocheted Wall Art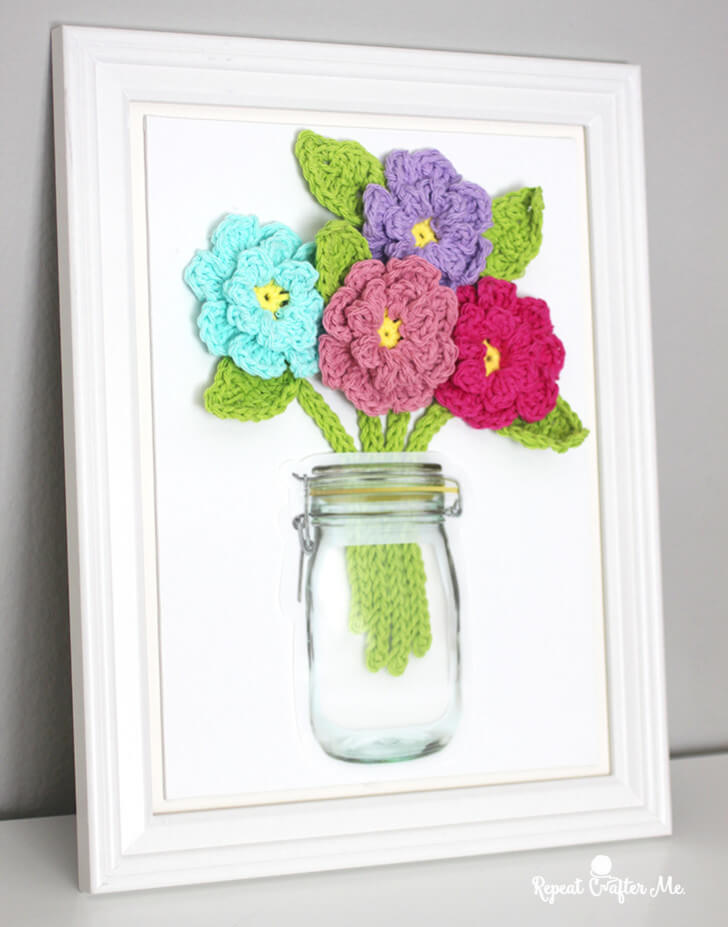 From the multi-dimensional petals to the canning jar bag, every element of this crocheted piece adds to its charm. Incorporating intriguing buttons into the flowers' centers would infuse it with farmhouse éclat. If you want to scale back on the rustic feel, skip the canning jar and experiment with avant-garde colors for the flower petals.
6. Bohemian Granny Circle in Cream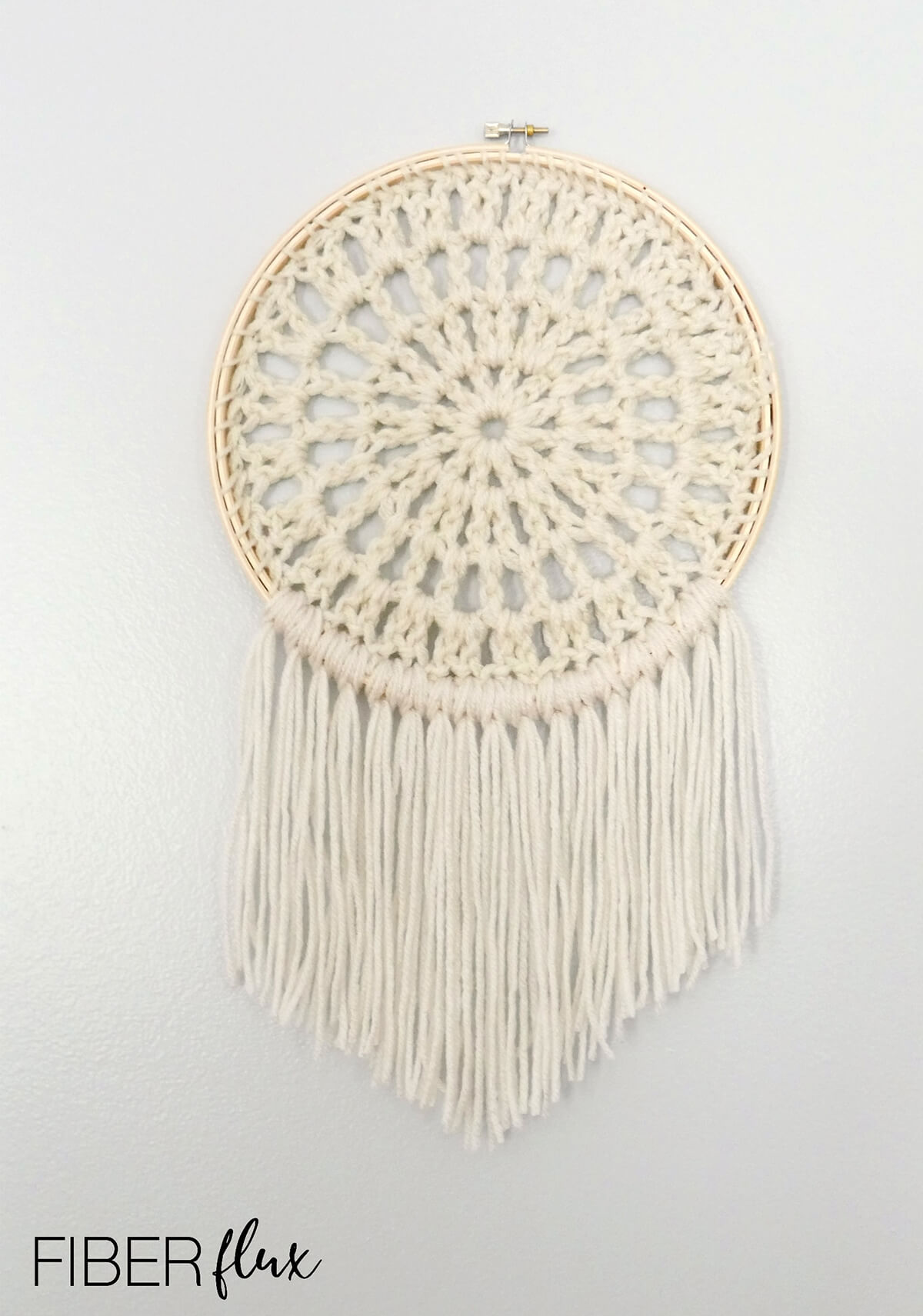 Combining a traditional stitch with a contemporary approach results in a crochet wall hanging that is as versatile as it is beautiful. Although you could use any color you desire, this creamy hue is a great idea for Scandinavian, coastal, farmhouse, or mid-century interiors. The round shape and dangling tassels will soften your space.
7. Bohemian Hanging Organizer with Tassels and Pom-Poms
Embellished with playful pom-poms, this wall organizer strikes the perfect balance between Bohemian chic and practical functionality. Three pockets offer storage for lightweight items while the tassels provide effortless style. Covered by burlap, the top pockets provide another textural element. To further customize your hanging organizer, cover each pocket with a fabric of your choice.
8. Adorable Easter Bunny Crochet Wall Decor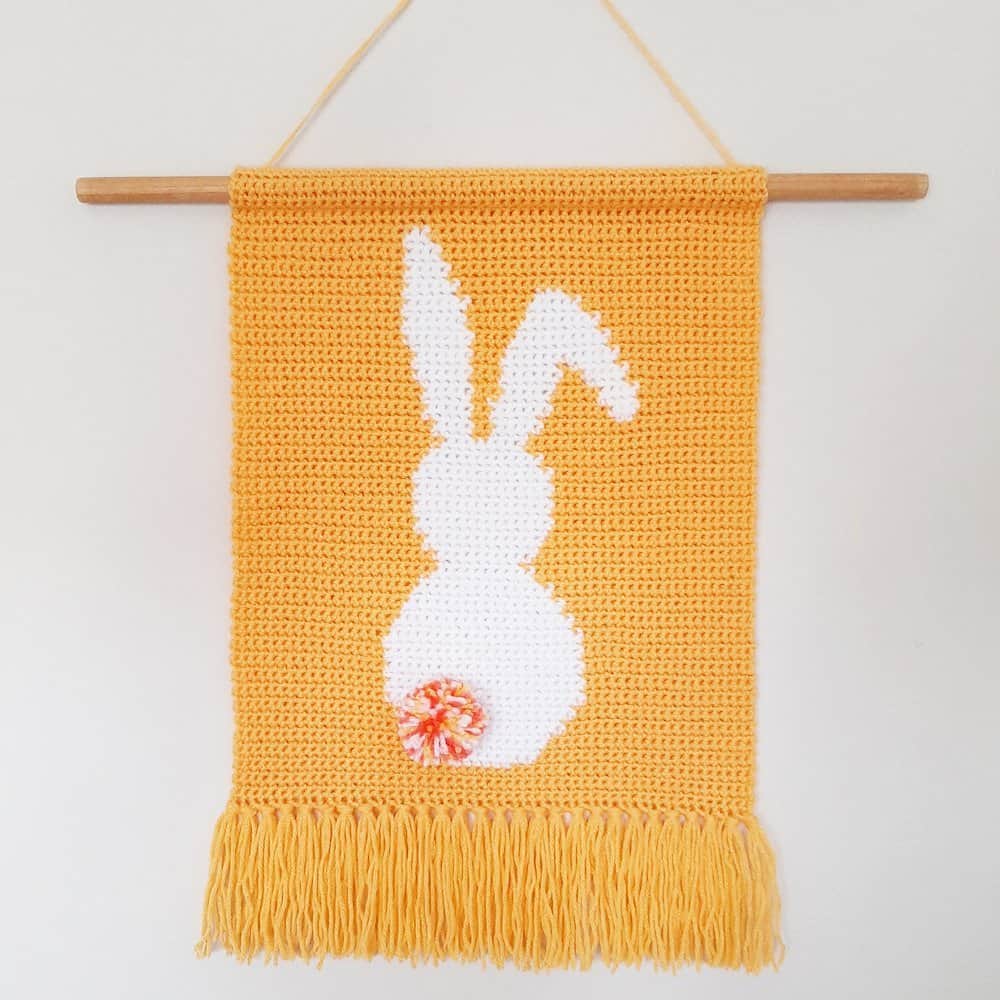 This tapestry's colorful background ensures it will pop when hung. Tassels may complete the piece, but this wall hanging's focal point is undoubtedly the tail. If the multicolored pom-pom look is not for you, experiment with different types of yarn. Faux fur would cultivate a wild appearance while chenille yarn would result in a cuddly bunny.
9. Crocheting a Sunrise Scene Wall Hanging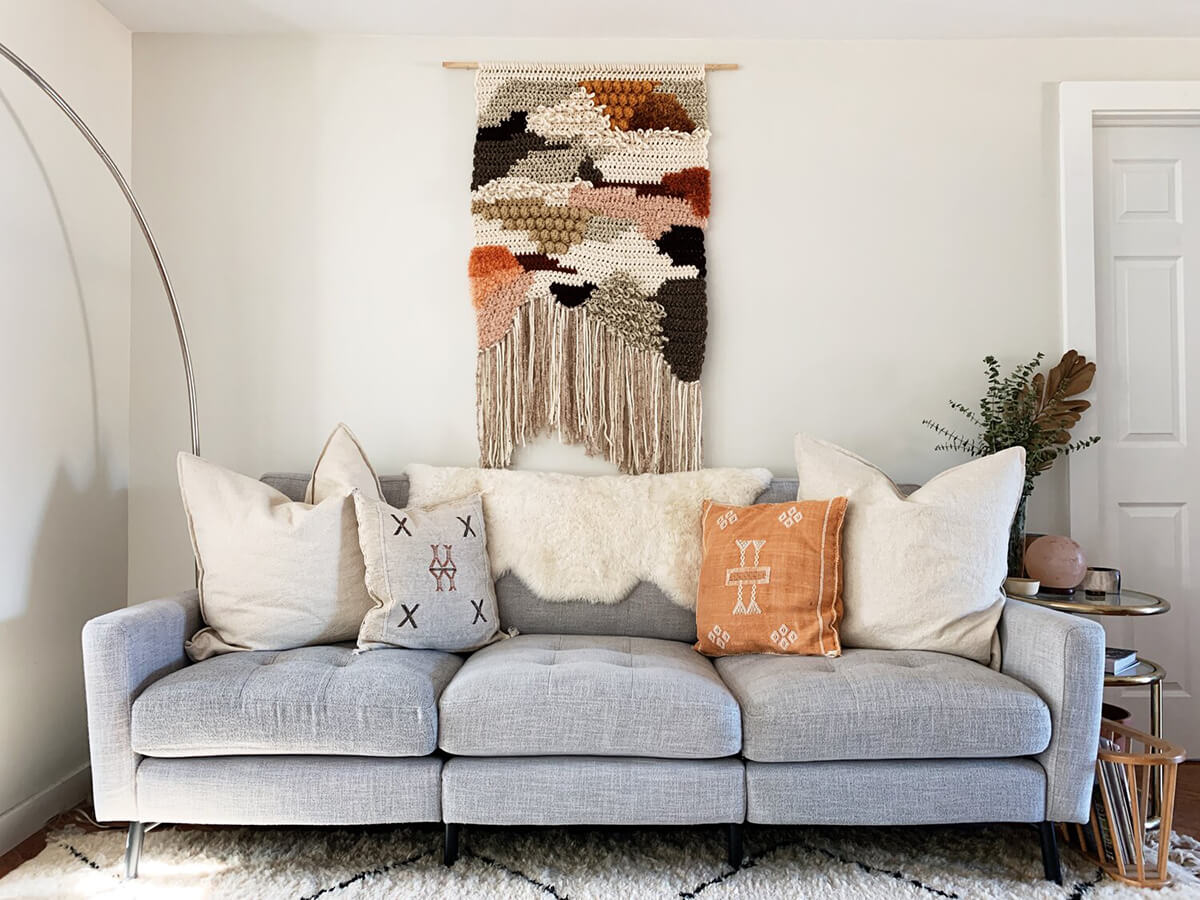 Showcasing a variety of stitches and techniques, this intermediate pattern is the perfect way to jazz up a boring blank wall. You can follow the pattern exactly to create this image or switch out colors or stitches to create your own scene. This palette uses subdued colors and asymmetry to achieve a sophisticated effect.
10. Easy 2-Skein Crochet Hanging Art Project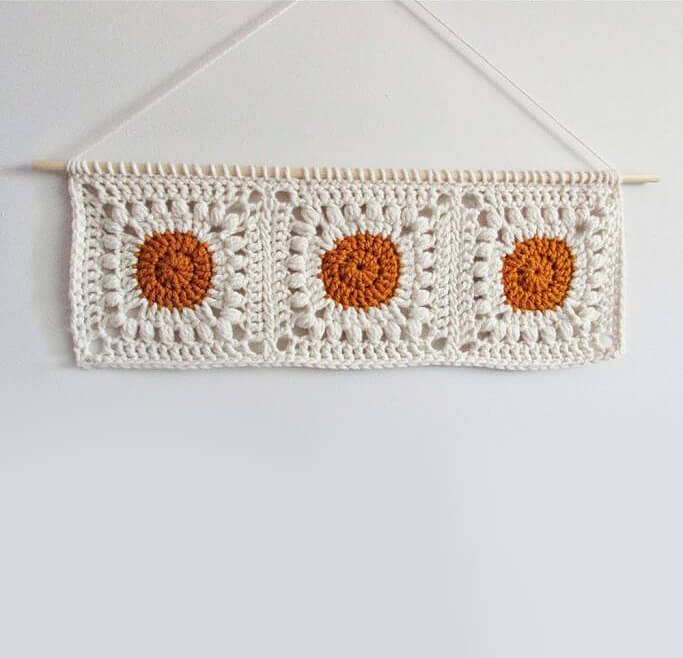 Using two skeins of bulky-weight yarn, you can create a wall hanging in just a few hours. While providing dimensional texture, the dual colors emphasize the simple geometric shapes in this pattern. To highlight one part of the pattern over another, experiment with color. Generally, the darkest part of the piece draws the eye first.
11. Bobble Stitch Rainbow Crochet Wall Decor Pattern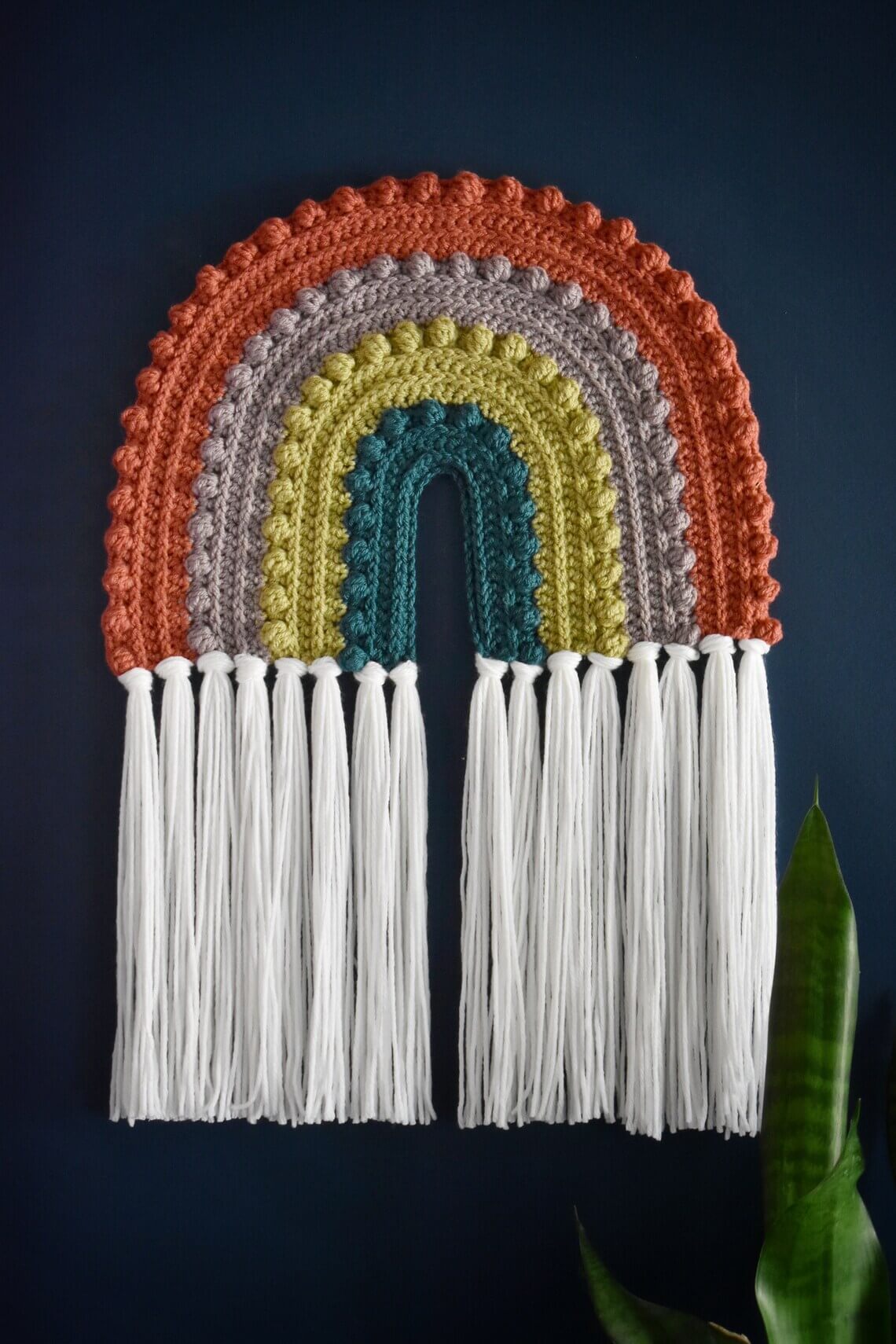 While white tassels give this colorful rainbow rejuvenating vertical energy, bubbly bobble stitches infuse it with a sense of playfulness. Muted colors furnish this piece with a mature sophistication that would allow it to shine anywhere. If you prefer a traditional seven-color rainbow, it is possible to expand the pattern to accommodate your needs.
12. Colorful Granny Square Wall Hanging Pattern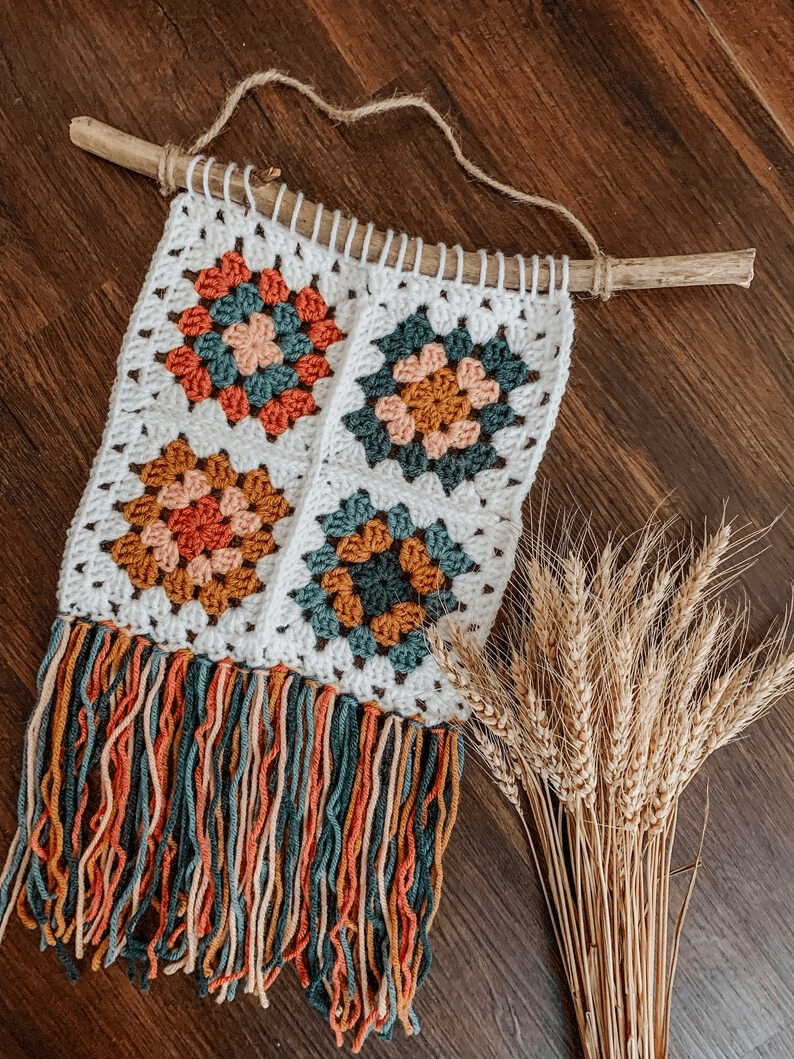 Although this piece of textile wall art features a timeless pattern in classic colors, the ostentatious tassels and driftwood hangers are loaded with more contemporary energy. To create your own with this pattern, pick six colors that look magnificent in your space. In next to no time, you will have a gorgeous new wall hanging.
13. Mountain Sunset Instant Download Crochet Pattern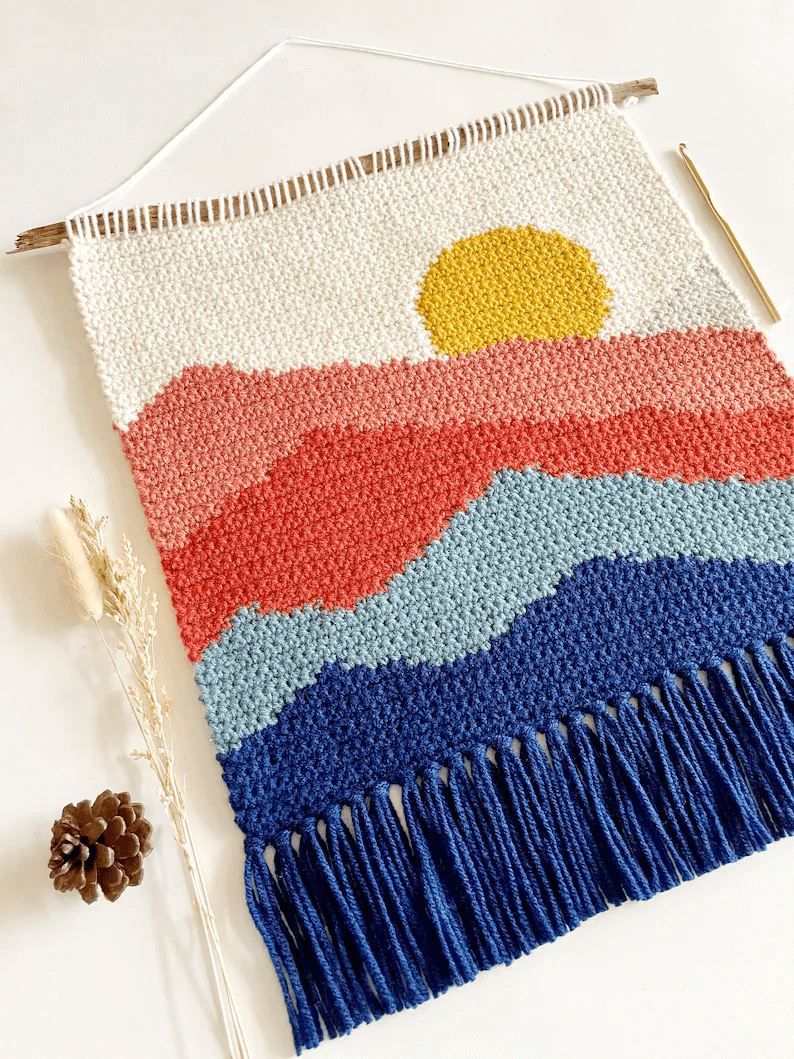 Because they allow you to pair colors infrequently seen together, sunset scenes are so much fun to create. Of course, if your style is more monochromatic, this tapestry would look great in grayscale too. Depending on your color choices, this pattern's straightforward style will work well in Scandinavian, farmhouse, Bohemian, and modern spaces.
14. Crocheted Semicircle with Lots of Fringe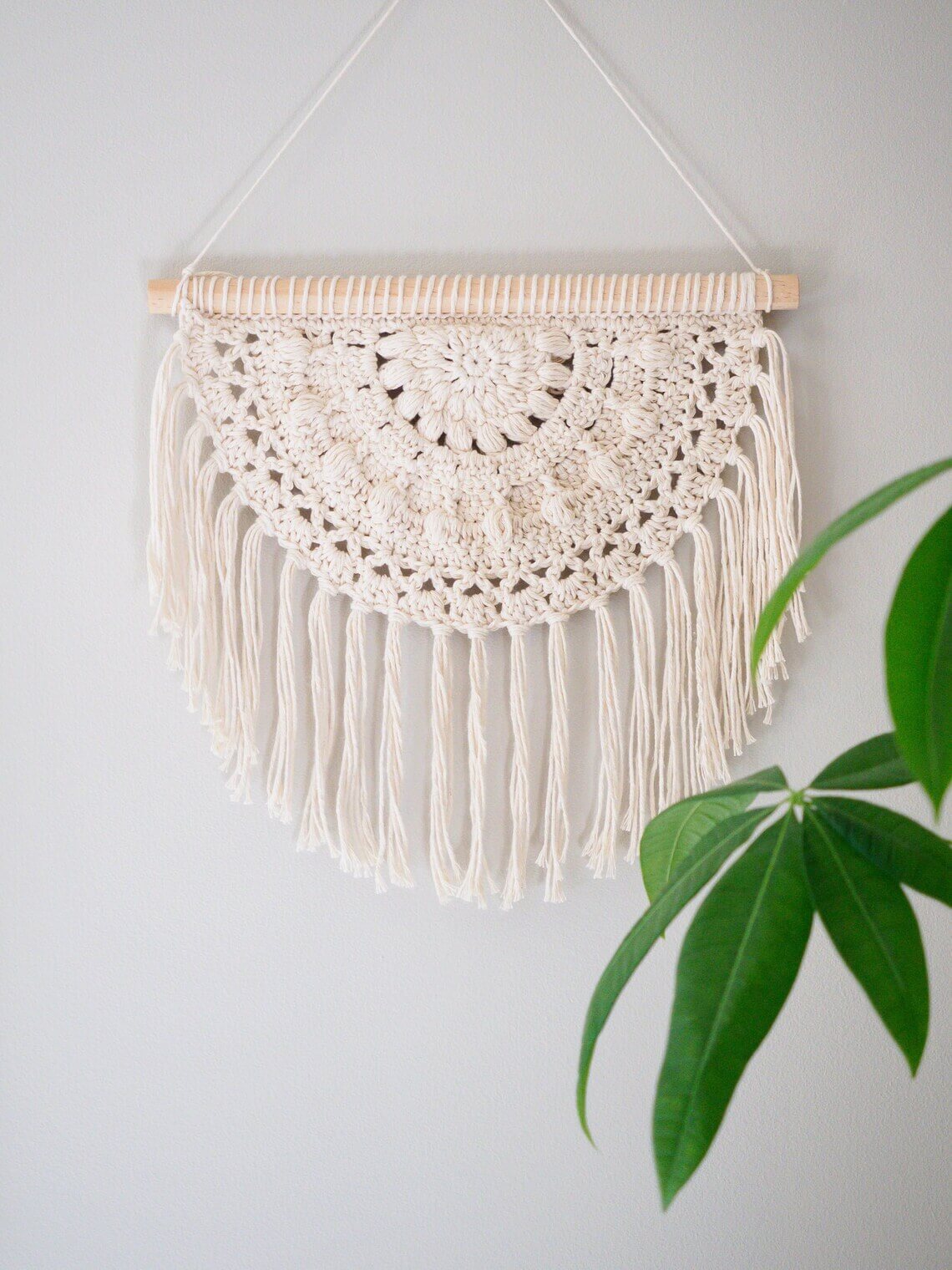 /a>
When crocheted with a natural-hued macrame cord, this pattern results in a Bohemian interior's dream. Experimenting with different types of yarn will yield a softer look. If the bowl-inspired configuration does not bring you joy, this pattern can be flipped to make a rainbow dripping with fringe. Intermediate crocheters might have fun mixing and matching different colors.
15. Patterns for Coordinating Sun and Moon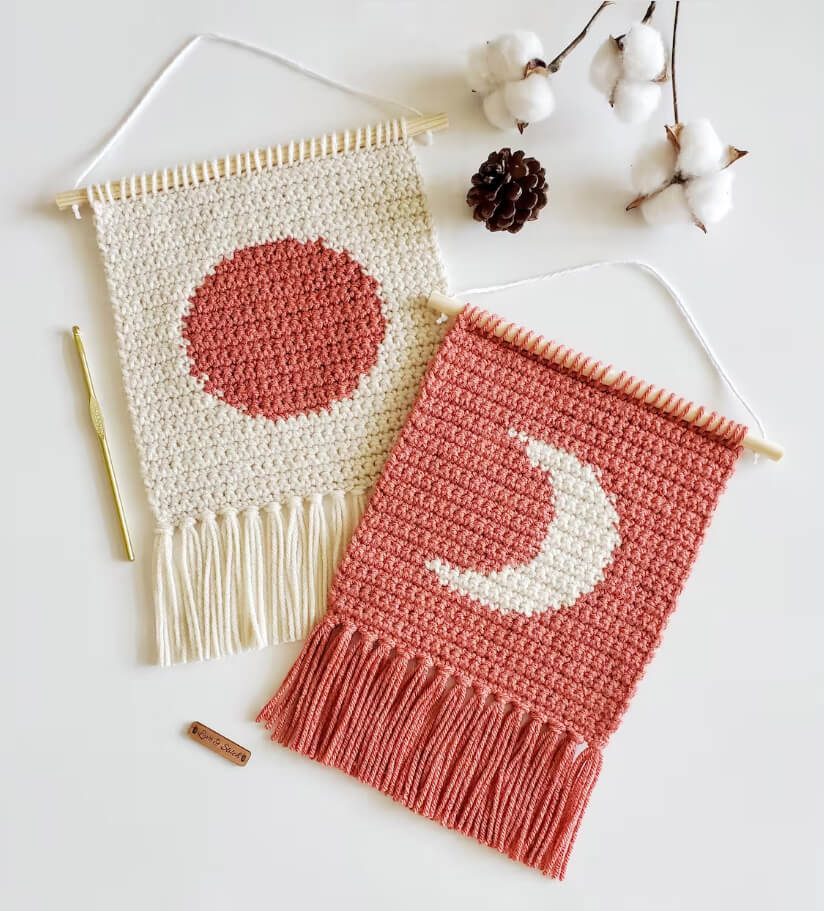 Using two colors, this easy-to-follow pattern gives you the opportunity to crochet celestial wall hangings. With instructions available as both a graph and a video, this project is perfect for beginners. While this image uses an exhilarating combination of salmon and off-white, you could choose a cool color like blue to build a soothing atmosphere.
16. Crocheted Banner Pattern with Video Instructions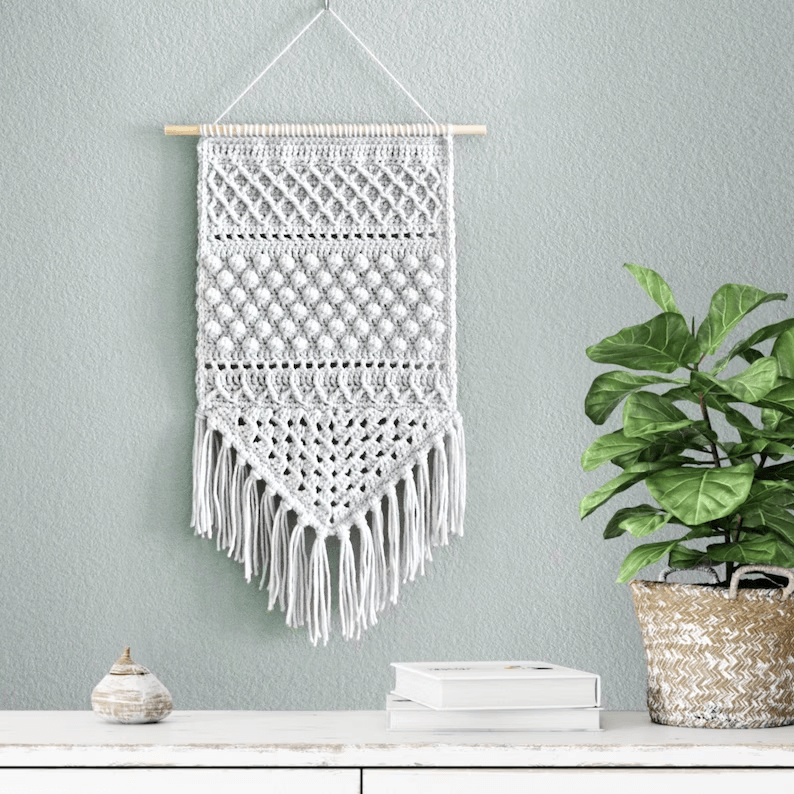 Contrasting stitches give this project a captivating quality that pairs with nearly any aesthetic. For each stitch type, this written pattern includes videos that explain how to achieve success. Although shown in solid white, you can use any medium-weight yarn that harmonizes with your space. An instant pattern download means you can get started right away.
17. Seaside Sunset Diptych Crochet Pattern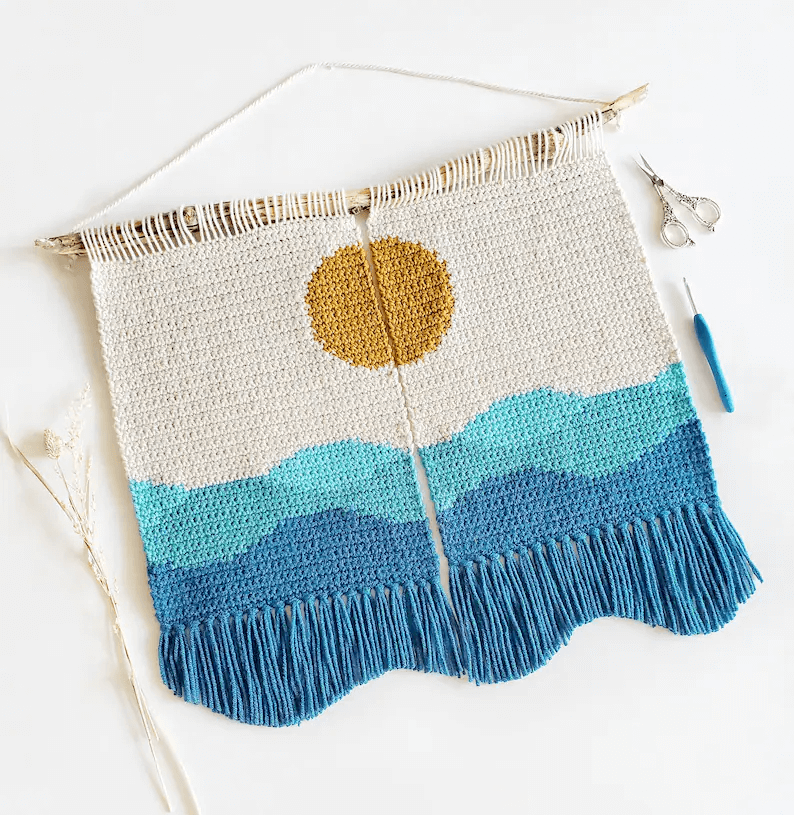 In this two-part tapestry, multiple shades of blue create the illusion of cool waves. Tassels cut into a wavy pattern emphasize that seaside aura. Driftwood is the perfect addition to this coastal-themed craft. If you prefer mountains to beaches, skip blue and fill your palette with grays, browns, and greens to create a mountain range.
18. Handmade Crocheted Sunflower Wall Art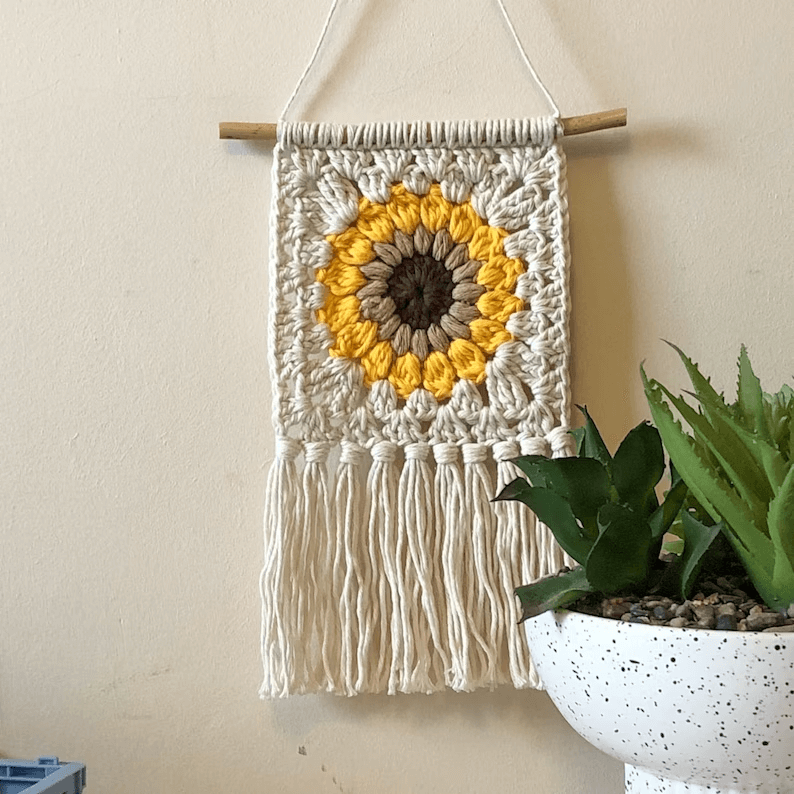 Concentric circles of color within a white square keep this decoration simple. However, with all its tassels and textures, this textile art has a lot to offer. Yellow petals might be the sparkling centerpiece, but the length of the bamboo bestows a sense of organic asymmetry. Dual shades of brown ensure this piece will vibe in most spaces.
19. Seamless Mail Organizer Crochet Pattern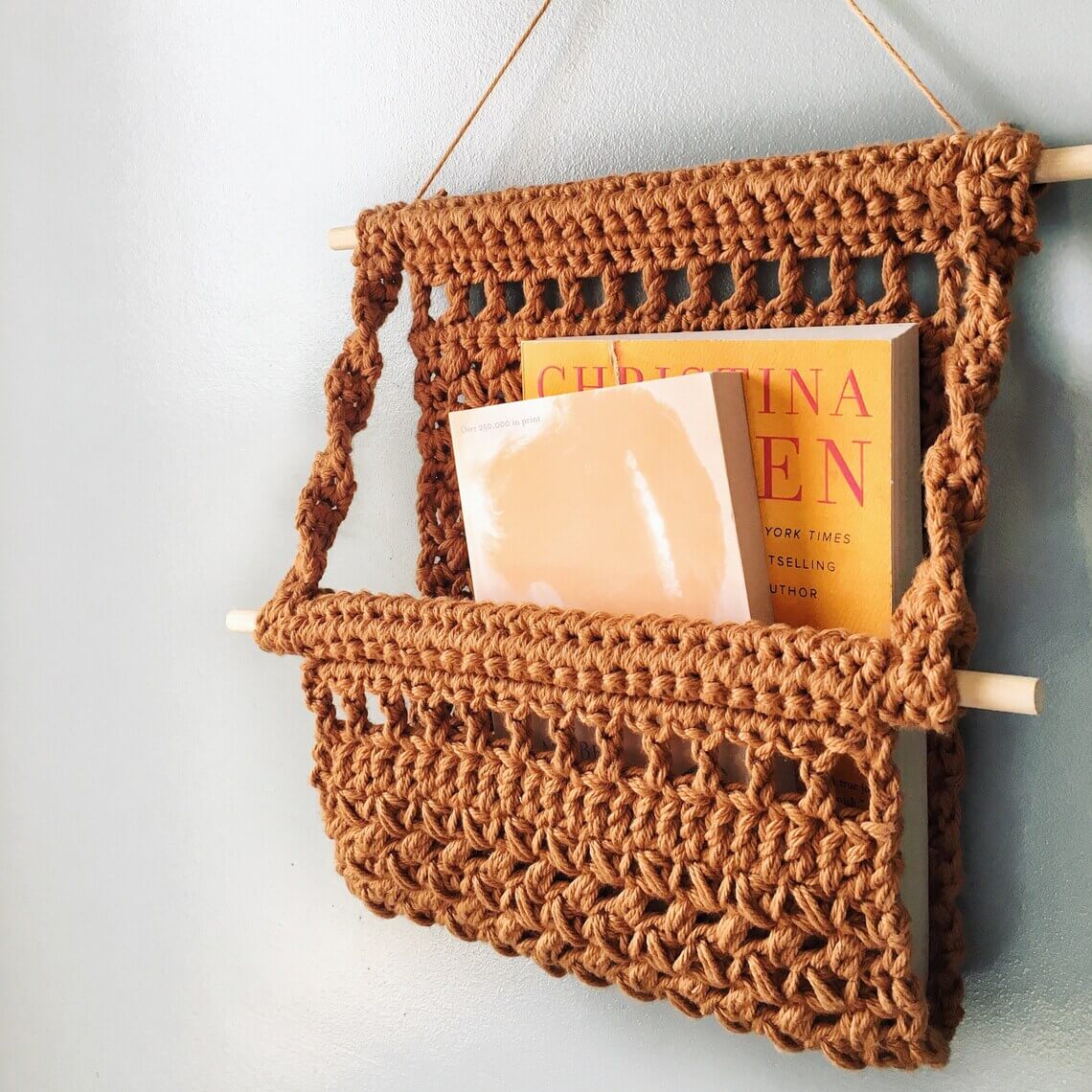 Hang this crochet organizer in your entryway for mail, in a living space to keep magazines, or even in a nursery to hold lightweight books. If needed, it is even sturdy enough to hold a few stuffed animals. When crafted in a single color, the various stitches and twisted straps provide an abundance of visual interest.
20. Combining Macrame and Crochet in Wall Art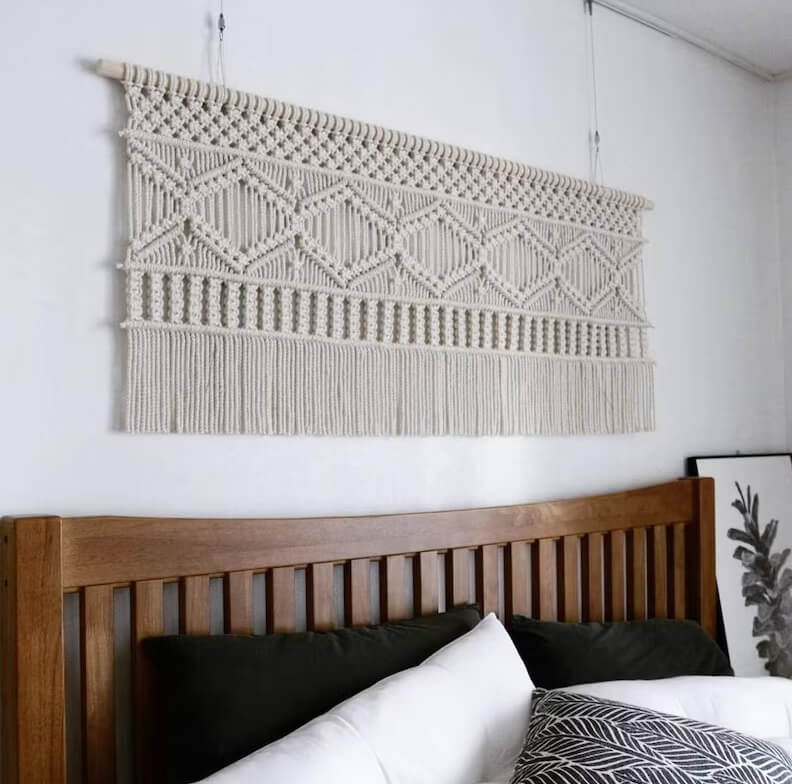 By using two cord-twisting techniques, this wall hanging will bring lots of life into your space. Zig-zag macrame lines energize the piece while the crocheted elements provide a complex texture. If you would like your crochet and macrame decorations to look coordinated and intentional, this piece is the perfect way to integrate the two crafting styles.
21. Rainbow with Rain Cloud Crochet Pattern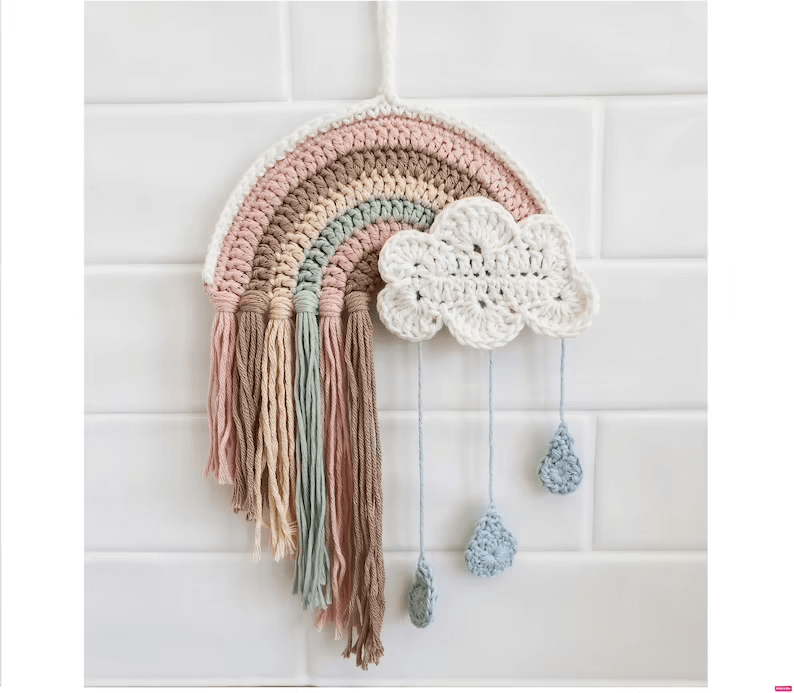 At first glance, it appears that asymmetry reigns supreme in this unique rainbow nursery decoration. However, the suspended raindrops reflect the rainbow-hued tassels for a nuanced symmetry. Unlike other crocheted rainbows, the tassels on this project reinforce the colorful stripes. To shake your project up, switch between different yarn types for the various elements.
22. Unique Pair of Owls Focal Point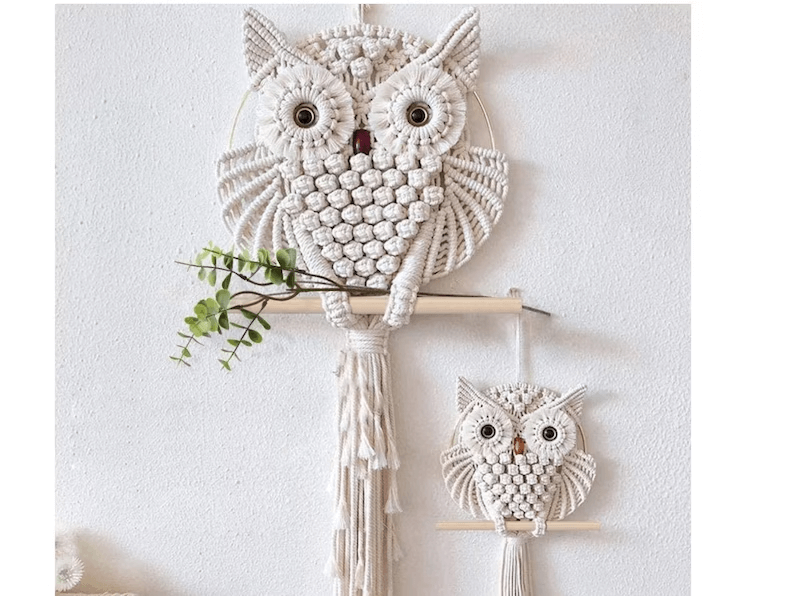 In these pieces of crochet wall art, textures, shapes, and creatures collide. The soft color highlights all the intricate textures you can see in these charismatic owls. Featuring techniques from crochet and macrame, these birds are an ideal focal point for anyone who loves owl-themed decor. Neutral colors ensure compatibility in a wide range of interiors.
22 Multidimensional Crochet Wall Hangings to Customize Your Space
Unlike wood or metal decorations, crochet decorations can be crafted with very few tools. This gives you the power to create wall decor that is tailor-made for your space. Whether you choose to channel decades past with granny squares or opt for an updated feel via macrame-crochet fusion, there are endless ways to spruce up your space with a meaningful piece of textile artwork. Filling your home with handcrafted crocheted elements goes beyond the visual benefits because items made by hand celebrate authenticity and human creativity. If treated well, crocheted decorations will hold up for years to come.
Regardless of how experienced you are, this list includes stunning projects that are within your abilities. Because crocheted decorations live on a wall and do not need to fit around people, pets, or objects, these might actually be easier to make than wearable projects. This flexibility means you have more freedom when experimenting with techniques, colors, and new kinds of yarn while still being able to enjoy your handiwork in your living space. As you embark on your crochet home decor journey, remember to have fun. So many exhilarating new ideas will make it easy to fill your living space. Fortunately, like any handmade item, crocheted wall decorations also make great gifts for any occasion.