With the best DIY backyard wedding ideas, you can craft a memorable ceremony in the comfort and love that comes with being at home.
Searching for that special venue is a major aspect of wedding planning. However, what if you just cannot find that perfect place to celebrate? Or perhaps you fell in love with a place that is unavailable? Alternatively, maybe you just don't want to spend too much on the venue. Regardless of your reasoning, you can throw an incredible backyard wedding instead. The backyard is such a worthwhile place to host a wedding whether it's at your own home or a loved one's place. It can be far more comfortable, allowing you and your guests to feel at ease in a place filled with such joy.
23 Incredible & Budget-Friendly DIY Backyard Wedding Ideas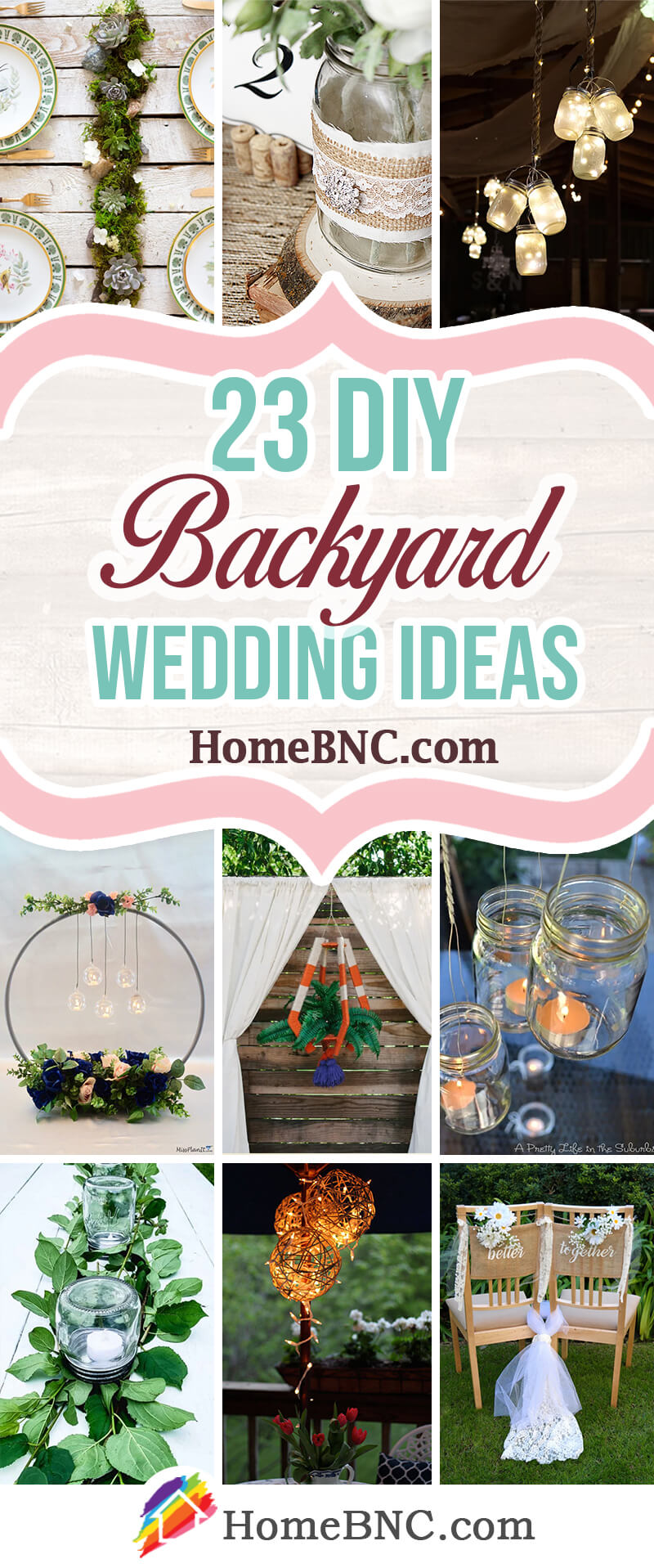 But just how do you create a unique ceremony in a backyard? One way to do that is with homemade decorations. Sure there is plenty you can find in a store, but if you want the wedding to symbolize the couple's personality and leave a distinct impression on everyone there, a handmade backyard wedding decoration is key.
From seating to lighting and banners, there are numerous ways you can approach this too. If you need some extra guidance, you can check out the list of our favorite homemade wedding ideas.
1. Hula Hoop Chandelier Centerpiece Wedding Hack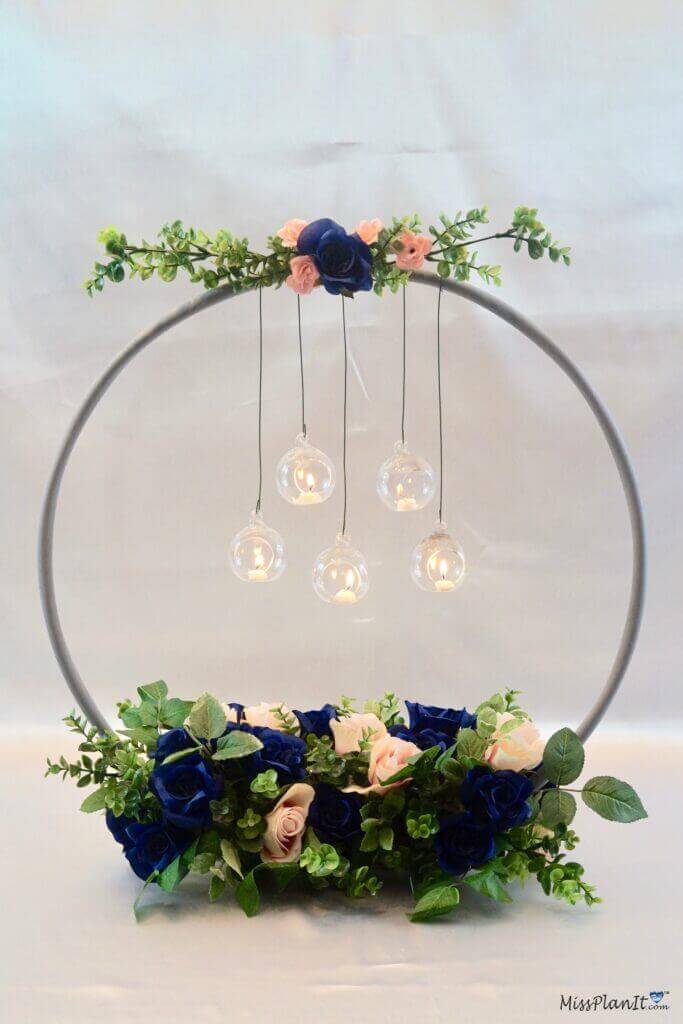 Did you know that you can build a stunning centerpiece with something as simple and budget friendly as a hula hoop? Some paint and decorative faux greenery go a long way toward allowing you to forget this ever started out as a child's plaything. These also provide the centerpiece with a chic style. Add on some lovely lighting to help this centerpiece work as a chandelier too.
2. Beautiful Vintage Wedding Tablescape Design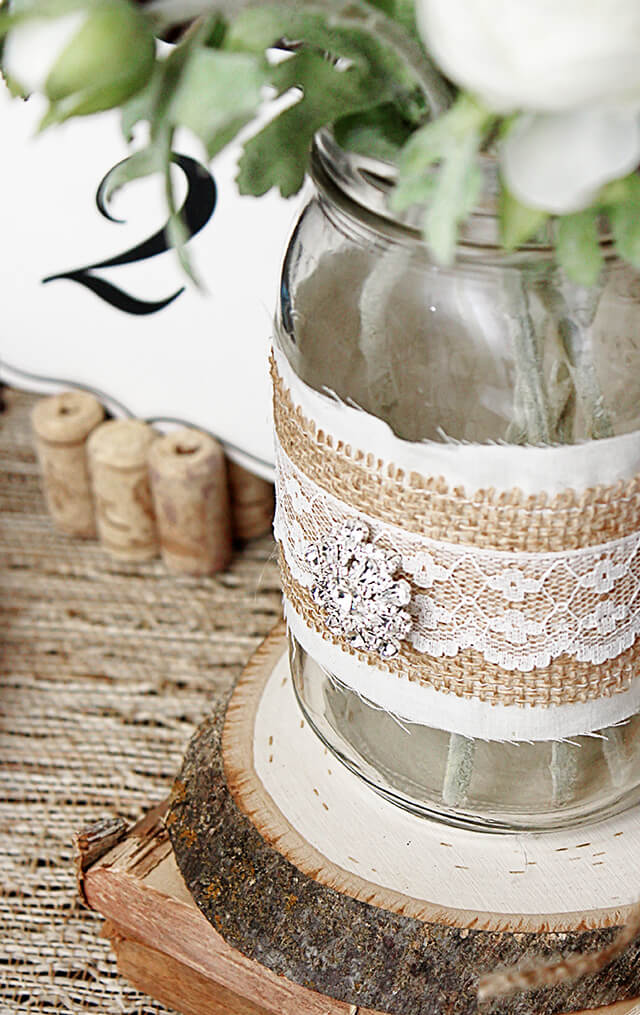 A handmade tablescape seems only fitting for a backyard wedding, doesn't it? This design offers such an eye-catching and pleasing vintage feel that is great for an old-fashioned and classic wedding. The lace and burlap blend together with ease along the mason jar to create a magnificent tablescape that will leave all your guests gushing.
3. Shabby Chic Succulent Centerpiece Design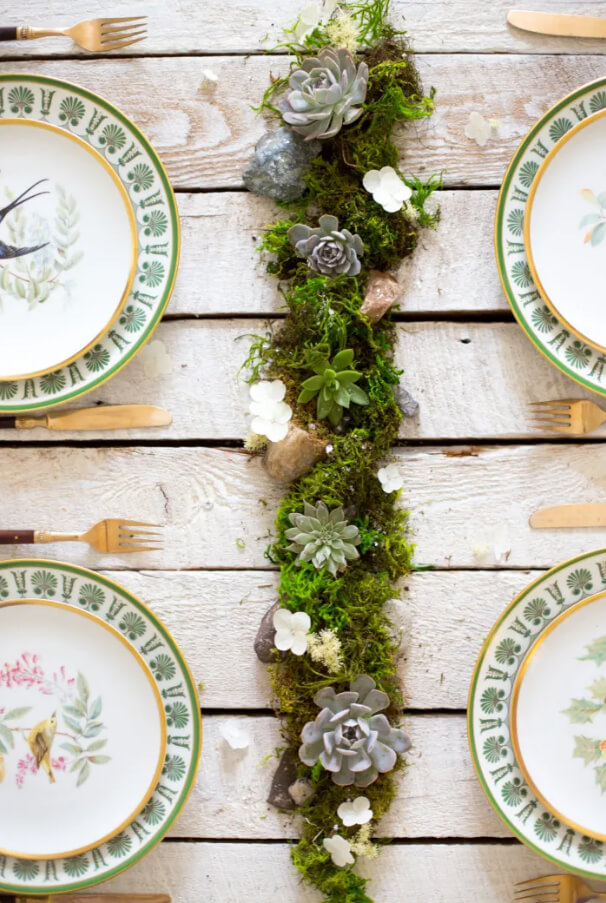 Succulents can help you craft gorgeous wedding décor that looks anything but homemade. There is a sense of elegance to this centerpiece that makes it look far more costly than it actually is. You can make numerous of these to set up on each table too, leaving behind an outdoorsy appearance that has a sense of sophistication to it as well.
4. Easy DIY Mason Jar Table Lanterns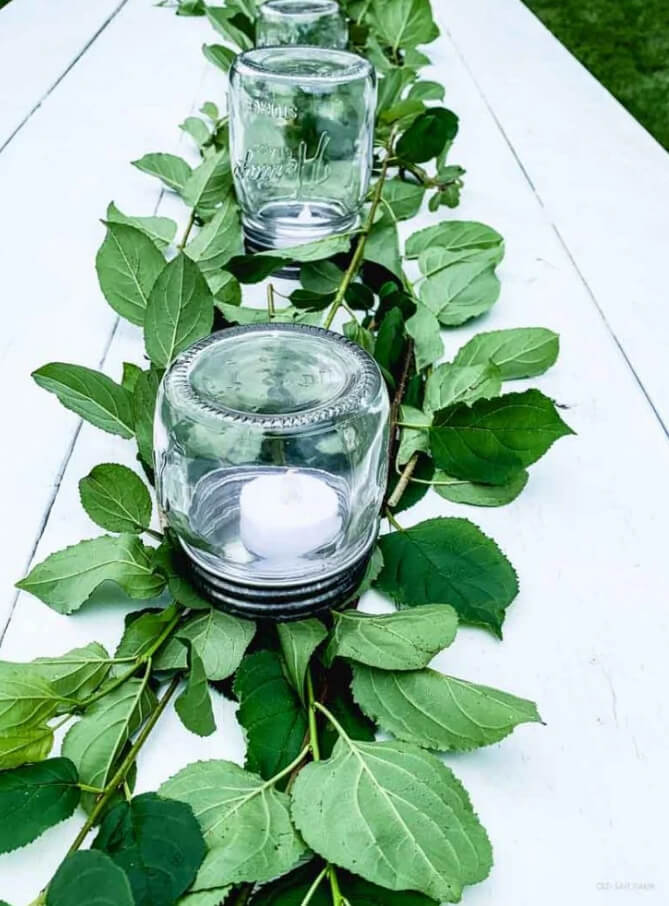 Decorate your tables for a backyard wedding with these beautiful table lanterns. They are easy enough to create so that you can make as many as you need to adorn each table in the yard. You can place faux or real tea lights inside. These make for such incredible table décor if your wedding and reception run a bit later, allowing your guests to appreciate this type of mood lighting.
5. DIY Vibrant Ombre Candle Votives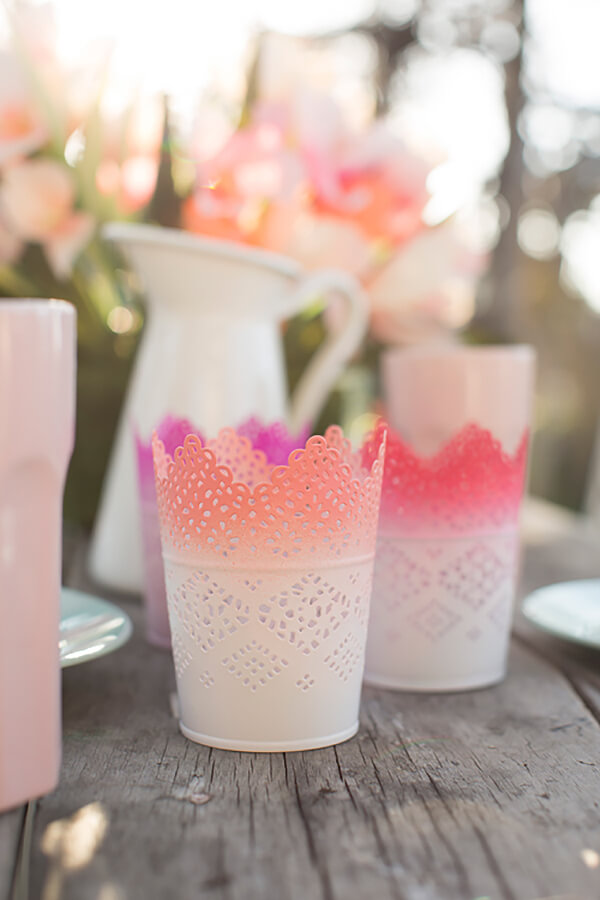 Ikea products are always such fun to transform into DIY projects. You can use some candle holders to create lovely ombre candle votives fitting for your wedding style. This is the perfect way for you to add those eye-catching pops of color all around the backyard, decorating the wedding itself as well as the reception tables.
6. Glowing LED Mason Jar Lighting Effect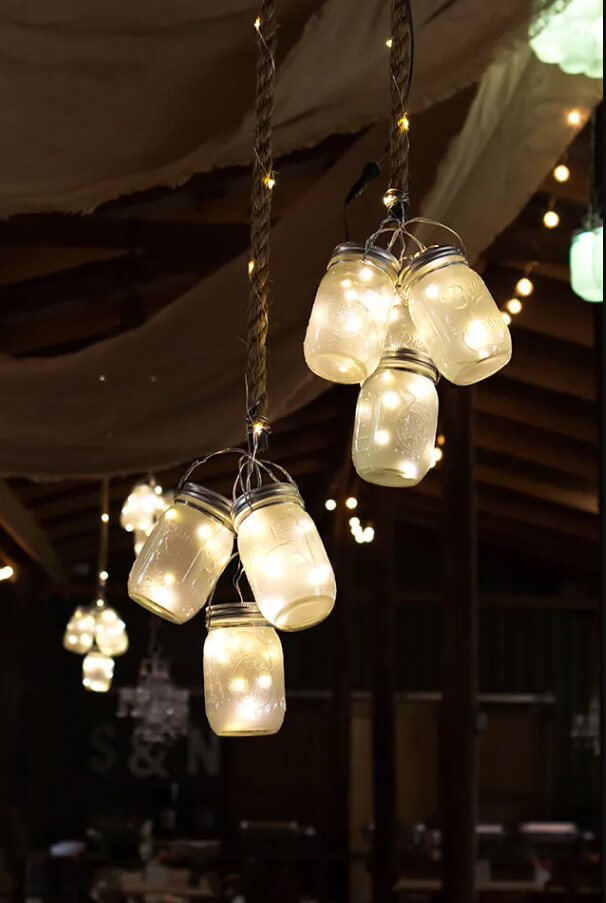 Mason jars offer you complete versatility and adaptability when it comes to designing things for your backyard wedding. Consider LED lighting when you need something that glows and stands out in the dark. This can allow you to throw an amazingly fun and creative nighttime wedding. You can string these up all around or just use them as a centerpiece to highlight the happy couple.
7. Crafty Twine Lantern Table Lighting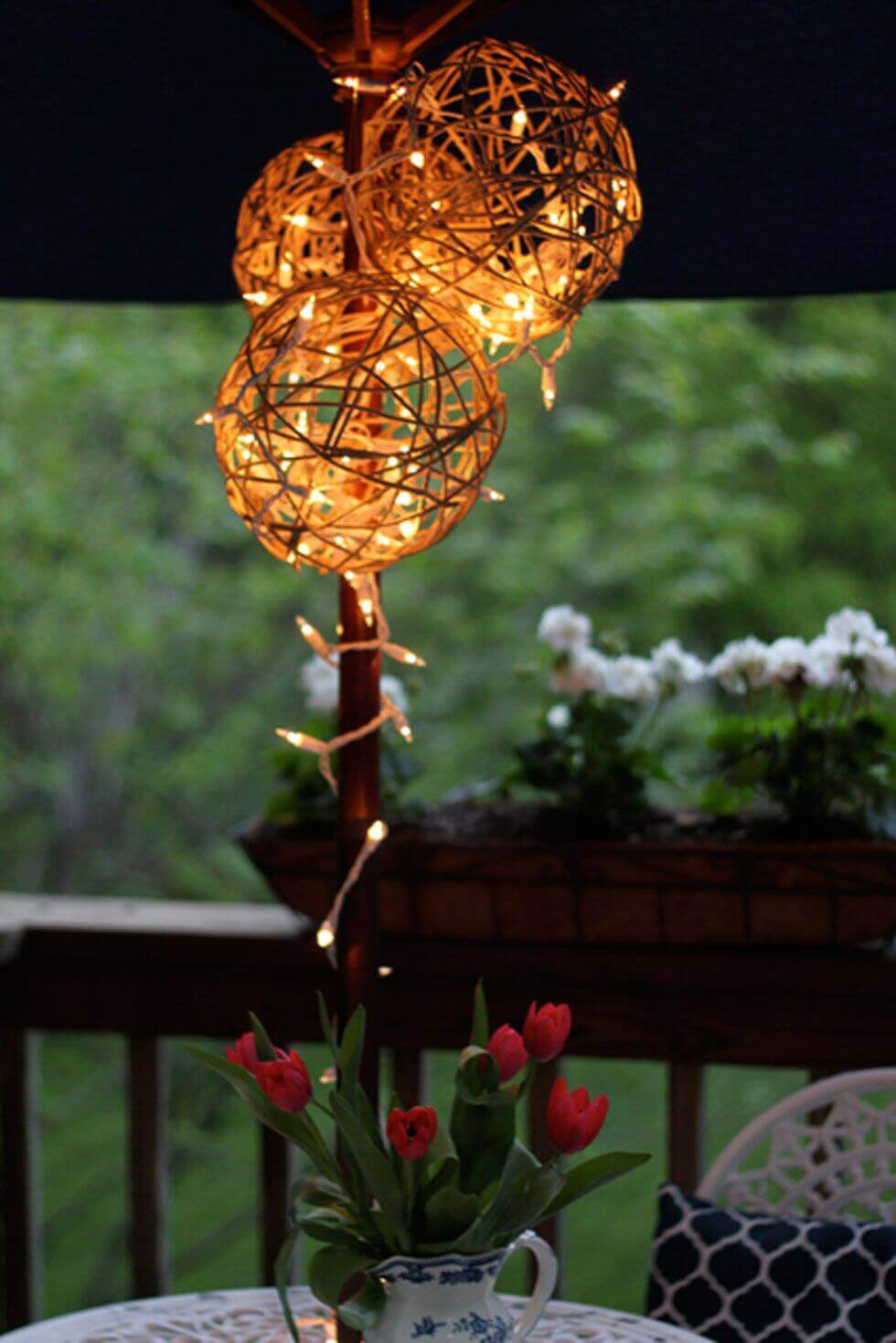 Fairy lights are always pleasing to have, especially when it comes to homemade wedding ideas. You can elevate them with this cool twine design. It makes excellent use of balloons to leave you with a creative and distinctive decoration you can add to every table or pole. The twine helps this blend in with a vintage-themed wedding as well.
8. Simple Hanging Mason Jar Wedding Lanterns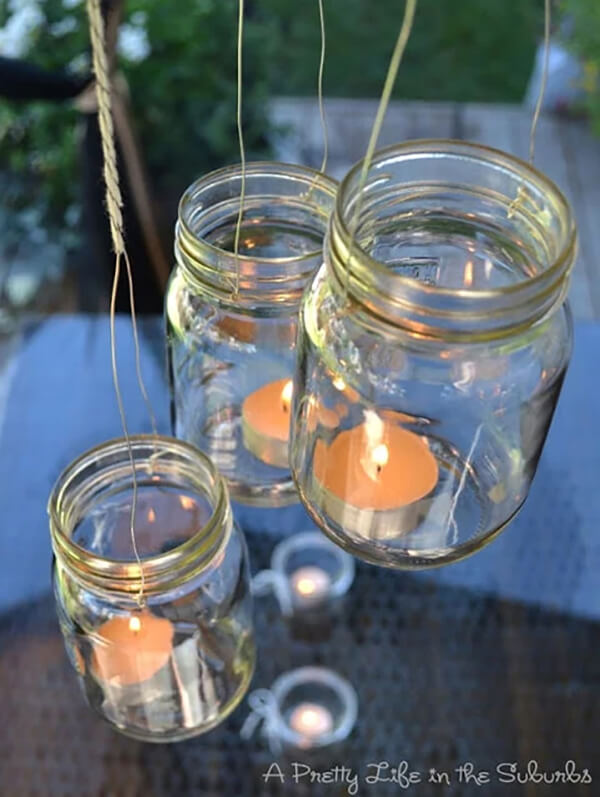 Sometimes, the best decorations for your backyard wedding are simpler in design. So, if you want a minimalistic approach, you can't go wrong with these awesome hanging lanterns. Mason jars are wonderful to use here. They are affordable, easy, and give you enough freedom to play around with what lighting you want to use. Tea light candles fit so well in here as it keeps things simple.
9. Rural Hanging Aisle Decorative Piece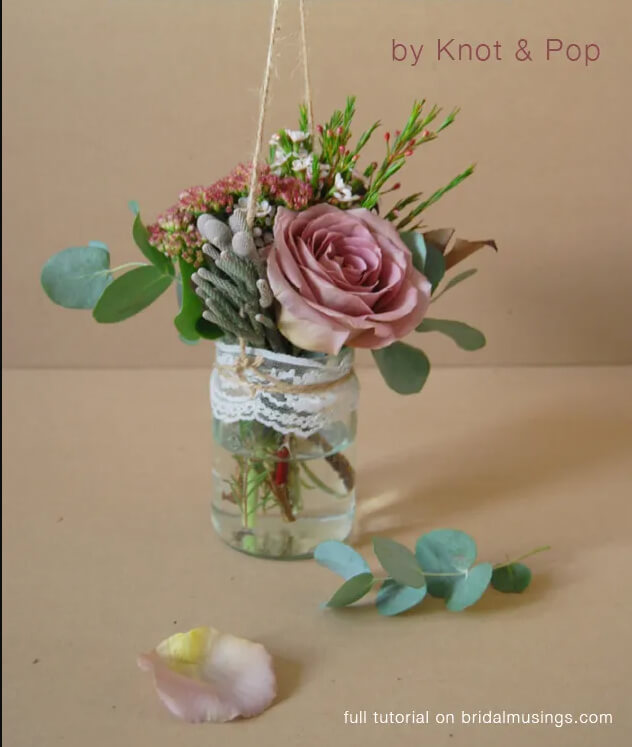 Whip out those mason jars and create a gorgeous hanging aisle décor that the guests can appreciate throughout the ceremony. The aisle is often forgotten when it comes to decorating for a wedding, but in a backyard ceremony, every little thing counts. This is a nice way to add more decorations for those who perhaps might not have an abundance of room elsewhere. The aisle is a great place to add some color.
10. Stunning DIY Lantern Table Centerpiece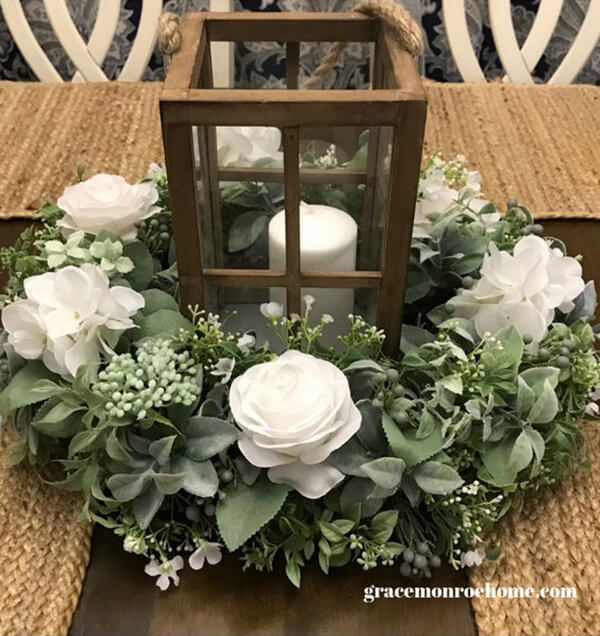 When you want to create a handmade wedding decoration for your backyard wedding that everyone can appreciate, you can't go wrong with a centerpiece. But not just any centerpiece will work. Instead, consider the bold and high-class look of this lantern. It looks like something you bought out of the store with its clean design and vibrant greenery and flowers.
11. DIY Wedding Guest Reserved Chair Sign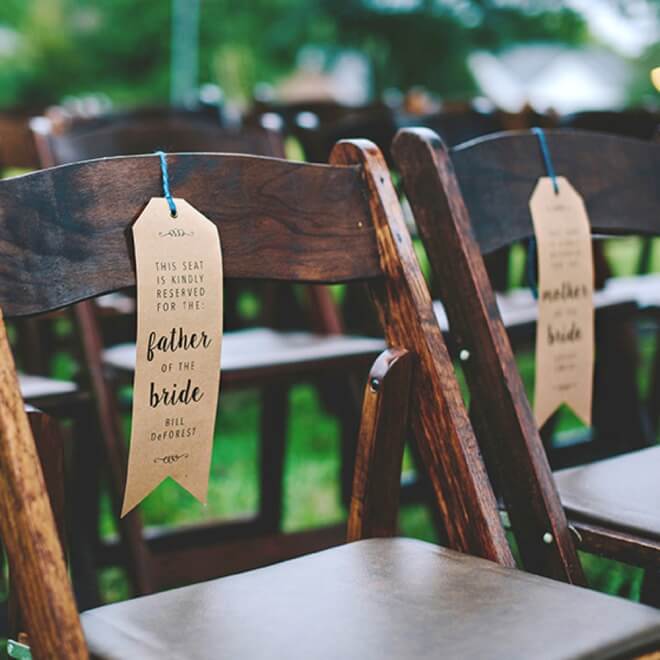 Need to reserve specific seats for guests like mom, dad, and grandparents at the wedding? Well, you can make it easier to ensure no one takes these special chairs with these incredible DIY reserved signs. With this project, you can design it to perfectly match your wedding theme. Looks aside, the tags are simply a nice way to show just how special those closest to you are.
12. Colorful Bohemian Inspired Wedding Chandelier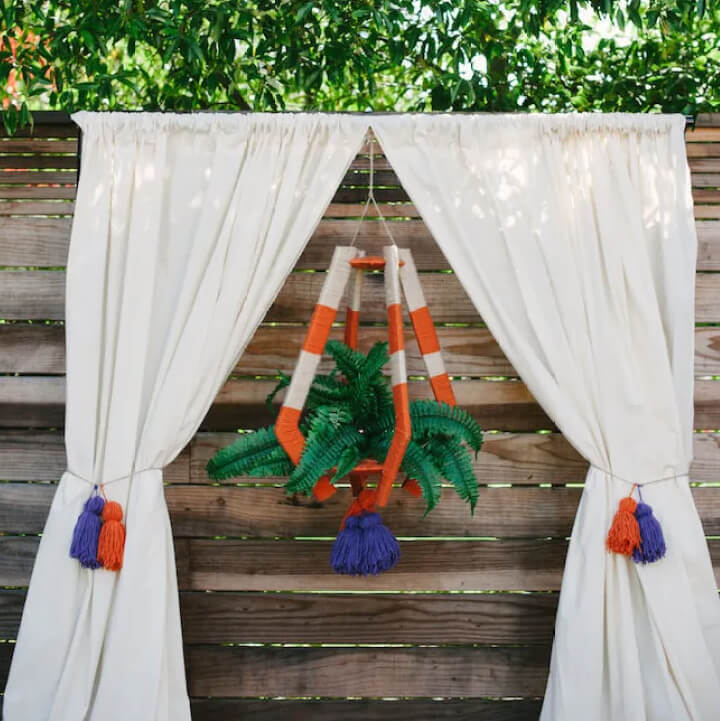 Need a chandelier that is ideal for a bohemian or rustic-styled wedding? Then try your hand at this stunning handmade chandelier. It has just the right amount of colors to not overwhelm the other decorations yet it still stands out. Consider adding some greenery in the middle. This gives it that extra color contrast and some life suited for a celebration filled with love.
13. Festive Miniature Bottle Party Lights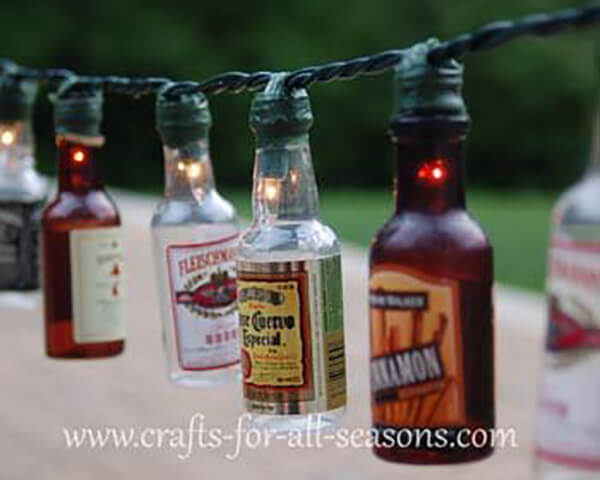 With a backyard wedding, the lighting is just as vital as any other decoration. This is especially true if the wedding happens near sunset, so why not create some lighting that stands out? Miniature bottles are a wonderful solution. They have a unique and attention-grabbing look while also being just fun and exciting. You can string up plenty of these all around the backyard to create just the right mood lighting effect.
14. Affordable DIY Paper Leaves Decoration Idea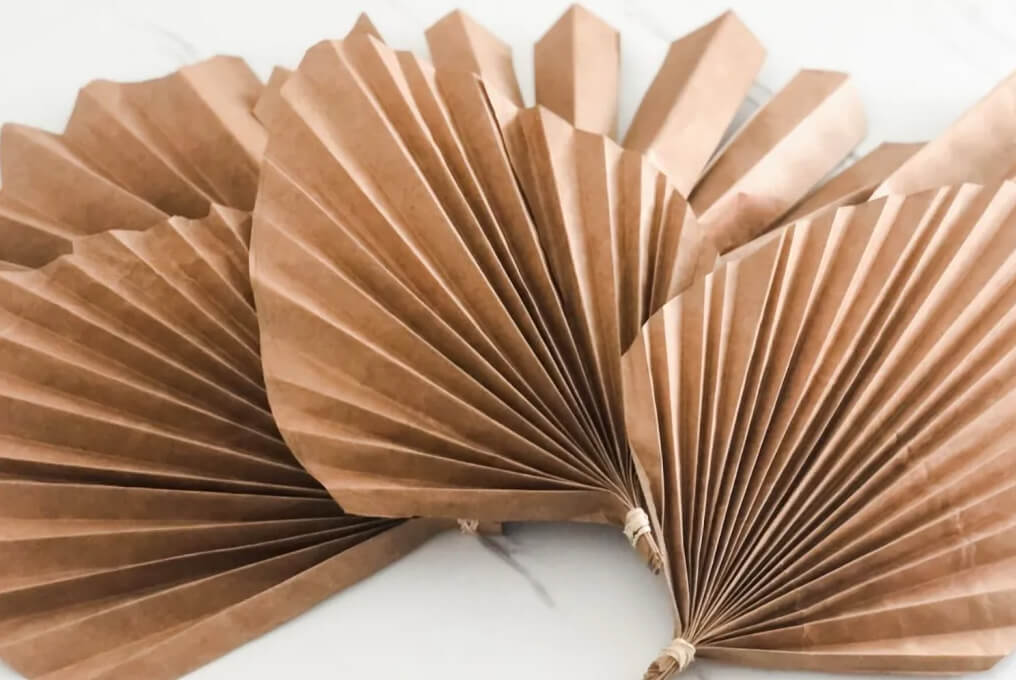 When you need some of the best DIY backyard wedding ideas, it always helps to aim for things that are low in cost. With these paper leaves, you can upcycle too while you save your budget. Once you are finished with this project, you won't even remember that these elegant decorative leaves started out as brown paper bags.
15. Vintage Door Screen Wedding Backdrop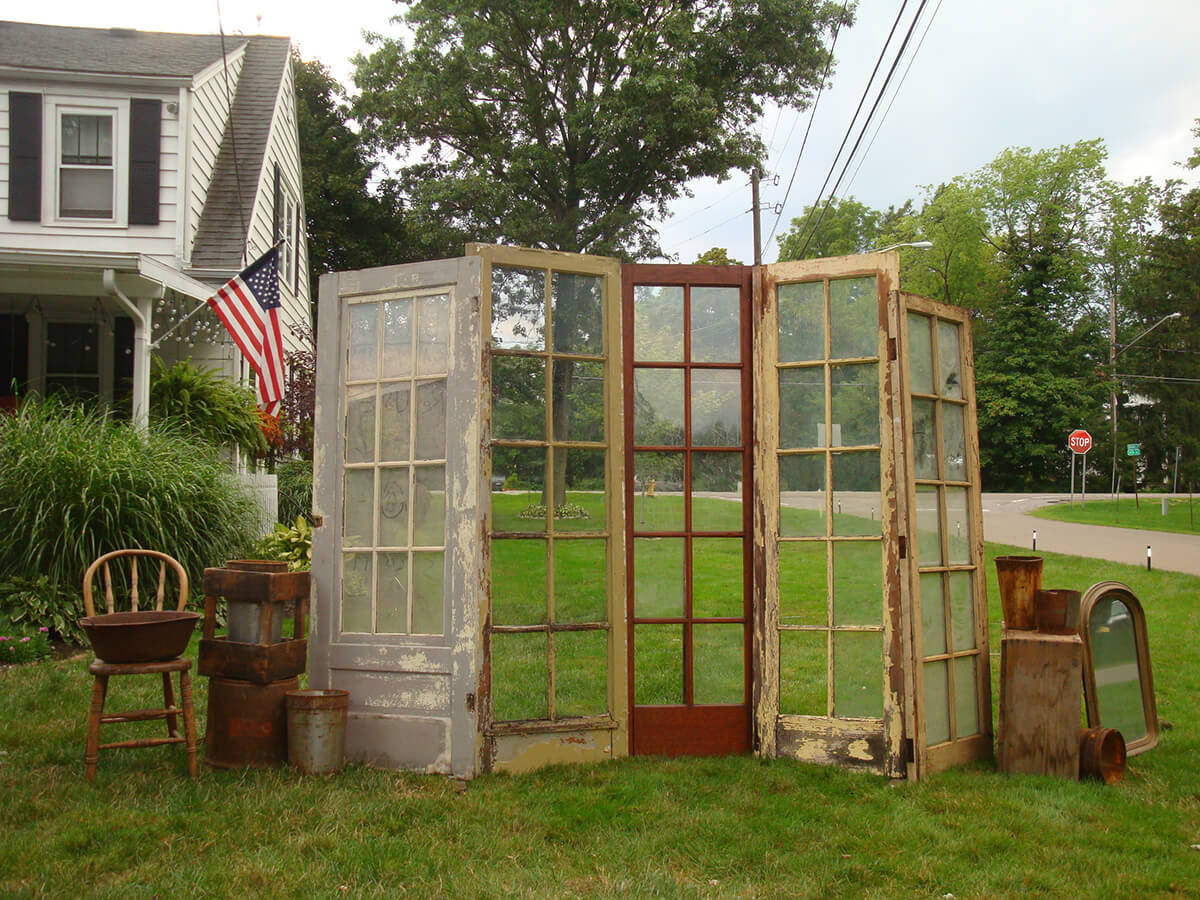 Besides the couple themselves, the backdrop is something that guests will remember because they are always looking at it. With such attention, it's important that the backdrop is just as memorable as the couple themselves. These old-fashioned doors are fitting if you have a rustic and vintage style for the wedding. This also works when you have a stunning view behind you from gorgeous trees to a beautiful waterfront that will show through the doors.
16. Rustic Wedding Name Banner Idea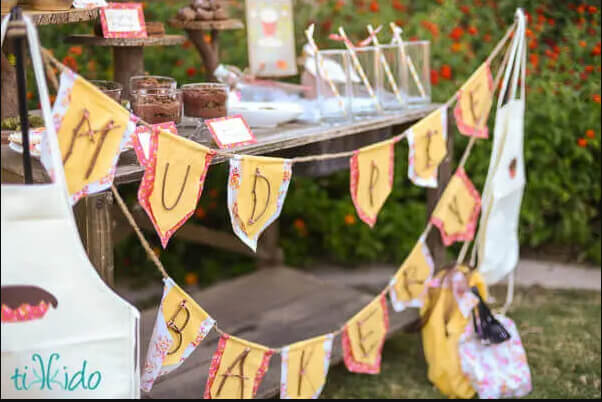 Banners are cool to set up when it comes to your backyard wedding. It is an easy way to decorate with the happy couple in mind while keeping it a touch low-key. You don't have to just paint letters on the banner though. Instead, you can go a more rustic way and use sticks. This is such an artistic move that will have every guest doing a double take when they walk into the backyard.
17. Charming Stacked Book Wedding Table Décor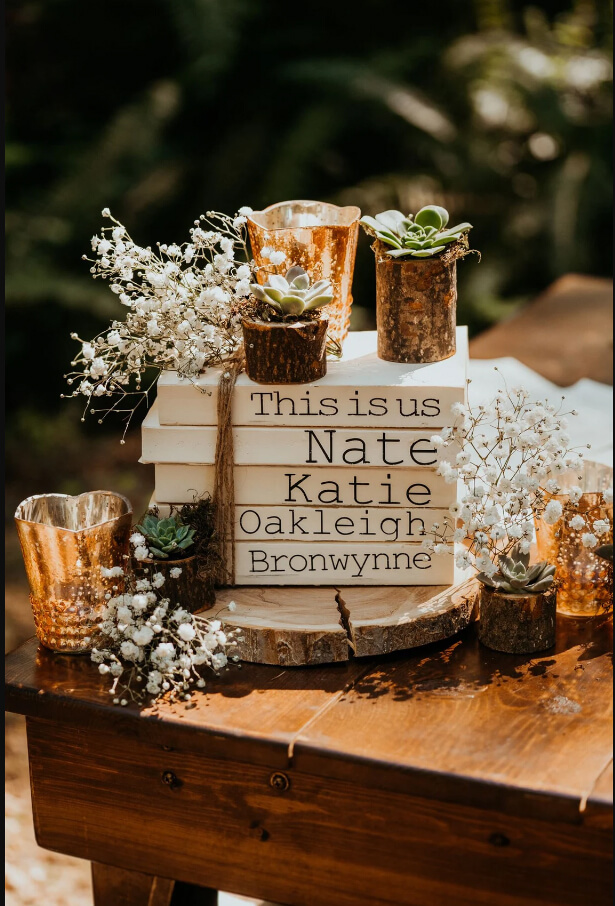 This handmade design allows you to order up to six stackable books that you can use as wedding table décor. You can personalize it with specific text that best suits you and your partner, creating something that is more unique and personable that you will remember and cherish for years to come.
18. Elegant Printable Wedding Seating Sign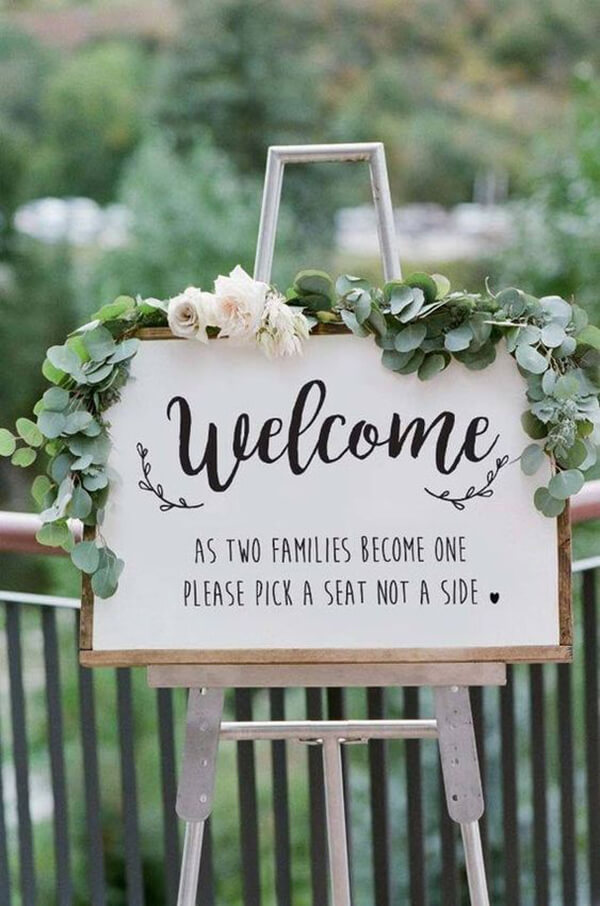 Print out this beautiful wedding seating sign to greet guests as they come in. You can select from a primary color as well as a particular size. This helps you ensure you get a printable sign that will best fit with whatever physical sign you have prepared for the ceremony.
19. Fun Wedding Order of the Day Sign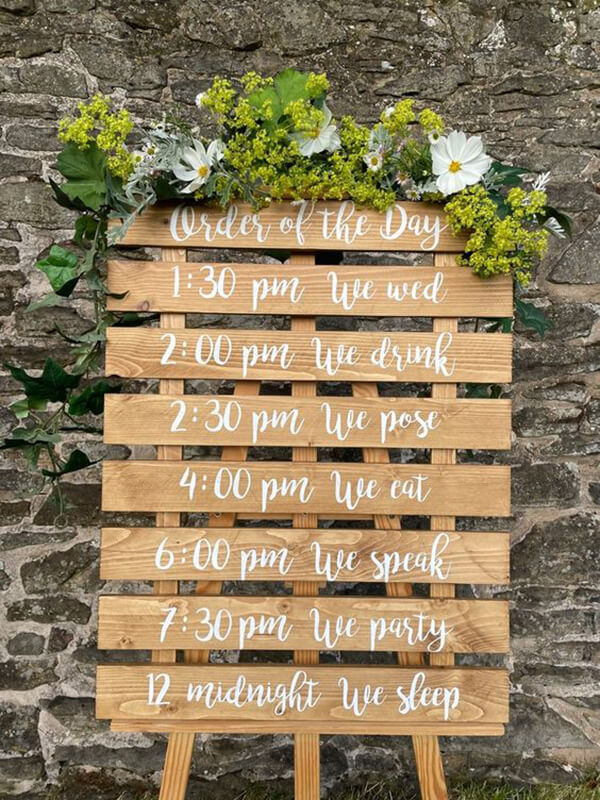 Keep the celebration light with this cool wedding order of the day sign. You can set it up where all guests will instantly see when they come in. Not only does it look exciting and fun, but it also works as a functional and helpful decorative piece considering it highlights exactly when everything will occur during the wedding.
20. "Better Together" Burlap Wedding Chair Sign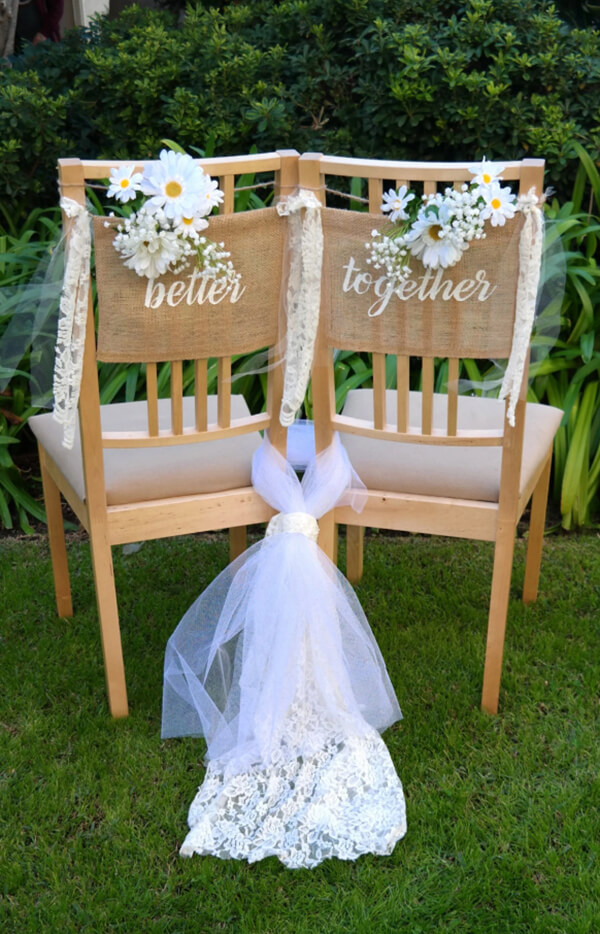 Show off the love of the happy couple with this heartfelt "better together" wedding chair sign. It is a sweet and charming way to represent togetherness and love that can be admired throughout the wedding and reception. You can choose different lace and letter coloring too to better personalize the sign.
21. Handmade Hexagon Wedding Arbor Plans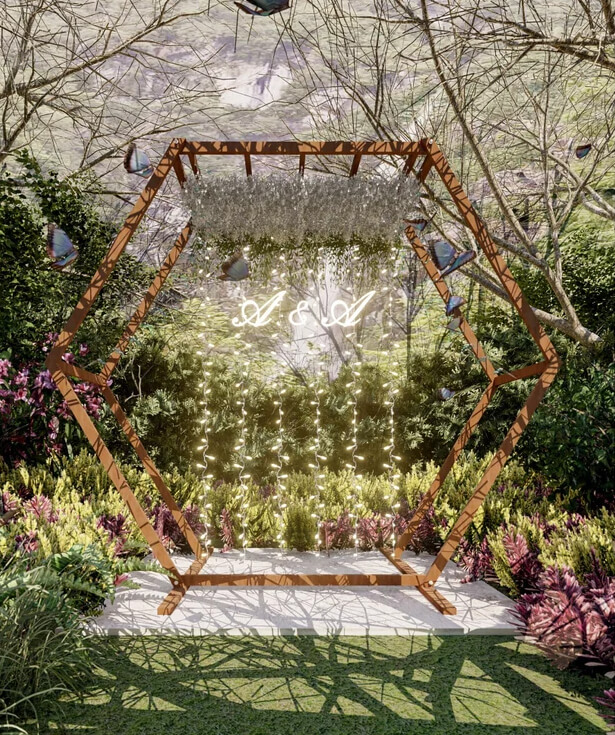 If you are ready to get handy, you can craft a DIY project with these fun plans. Create a compelling and heart-stopping archway that will leave you and your guests in absolute awe. The geometric design pairs well with the lighting and greenery that you can add to make it an alluring piece.
22. Burlap Rustic Wedding Table Runner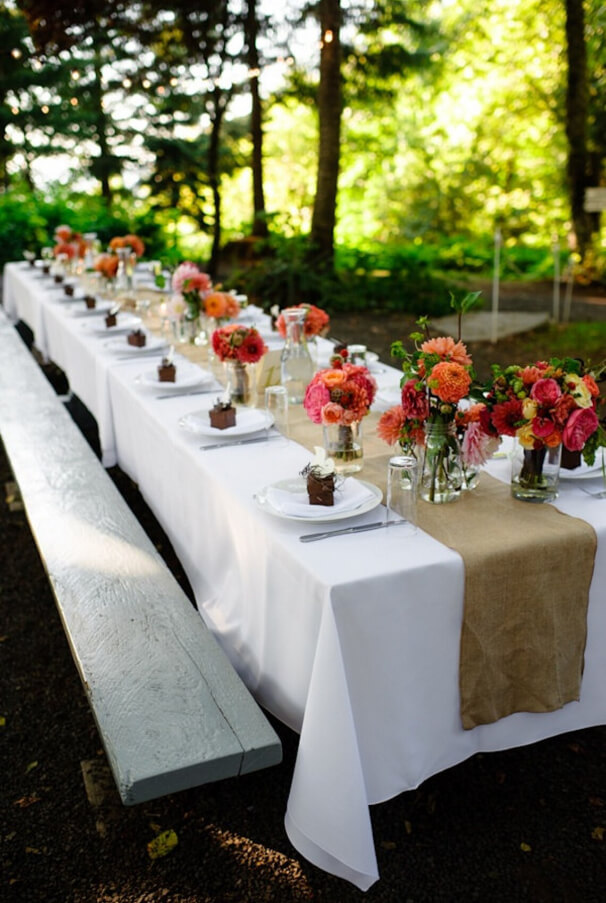 Add the extra flair in your backyard wedding décor with this hand-crafted burlap table runner. This is available in a handful of sizes too so that you can easily set this up on various tables. It has such a lovely rustic appearance that it also can blend in with a variety of wedding themes. Consider using it with a beach wedding, a vintage wedding, or a boho ceremony.
23. DIY Wedding Reception Seating Vinyl Sign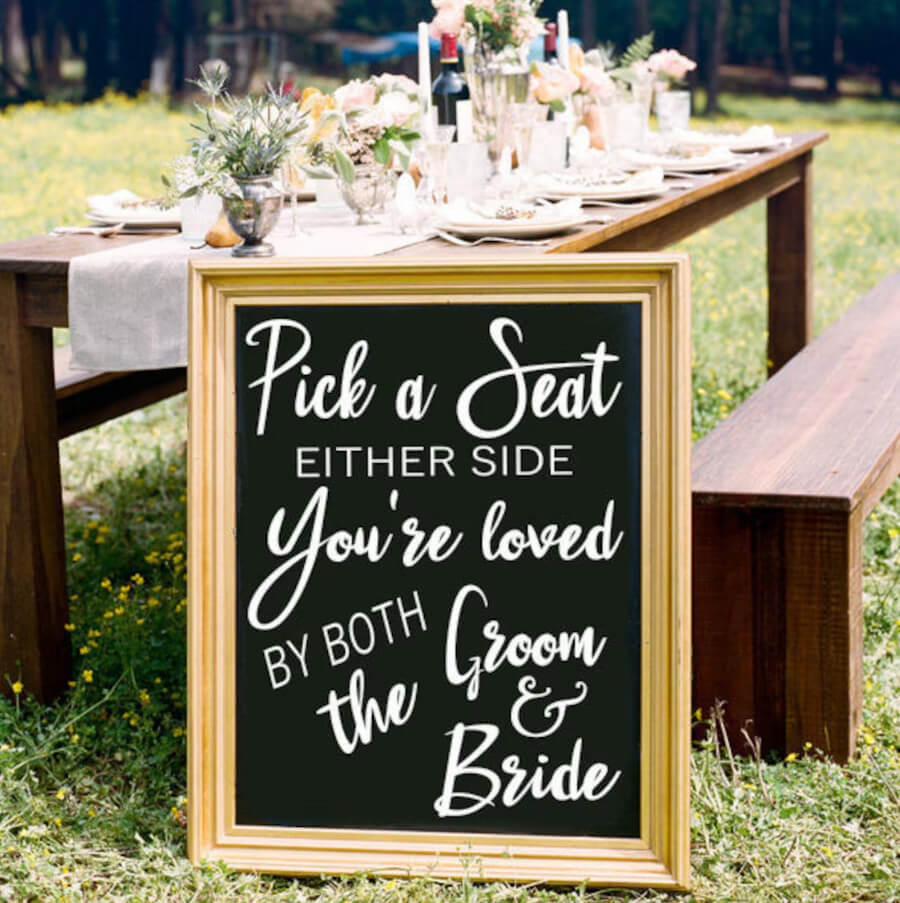 Direct guests in your backyard wedding with an awesome reception seating sign. This kit grants you the elegant vinyl lettering that will stand out no matter what you decide to place it on. There are numerous sizes and colors to choose from so that you can get the right match for your wedding theme. It is a cute way for you to direct your guests and give them a little smile before they enter the reception.
Beautiful Homemade Wedding Ideas to Create a Memorable Backyard Ceremony
Backyard weddings are a great way to celebrate with a small selection of friends and family while also staying affordable so you can spend more on different aspects of the celebration. You also have far more freedom to decorate as you see fit with no real limit except the size of the yard. When it comes to decorations, keeping things handmade certainly fits in with the home theme. There are plenty of incredible DIY ideas that anyone can do, but you can just as likely discover a handmade backyard wedding decoration made by someone else.
No matter which routes you take, we hope that our list of cool backyard wedding decorations helps you design that special wedding.