The best DIY bridesmaid proposal box has several tasks. It asks your inner circle to stand with you as you prepare for your wedding day and shows how much they mean to you. To achieve this, bridesmaid proposal boxes usually overflow with blissful wedding themes, look absolutely enchanting, and are filled with thoughtful gifts.
The Top 25 Best DIY Bridesmaid Proposal Box Ideas to Blow Your Bridesmaids' Socks Off

Filling your DIY bridesmaid boxes with personalized items your special ladies will love can look different for every bride and every wedding party. Popular gifts are candles, miniature wine bottles, chocolates, self-care necessities, perfume, and jewelry. However, it is most important to select treats suited to each person's preferences.
1. "Will You Be My Bridesmaid" Wooden Box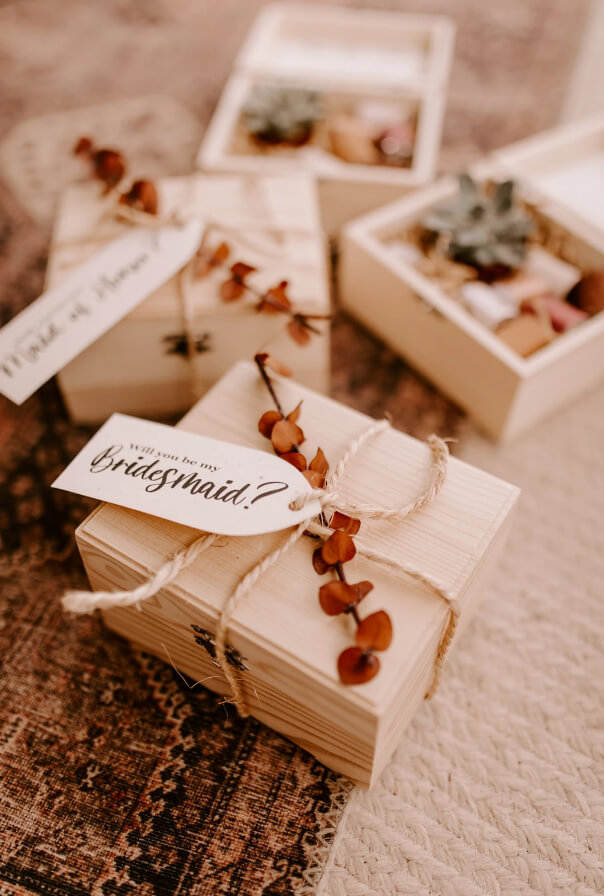 If your wedding will exude natural, eco-friendly vibes, check out these handmade bridesmaid box ideas. An unfinished wooden box with a silver metal clasp provides an excellent foundation but might be too simple on its own. Twine, a cardstock tag, and a sprig of orange-tinted eucalyptus add the extra magic that helps these boxes shine. Fill the inside with neutral-colored treasures.
2. Personalized Bridesmaid Proposal Gift Box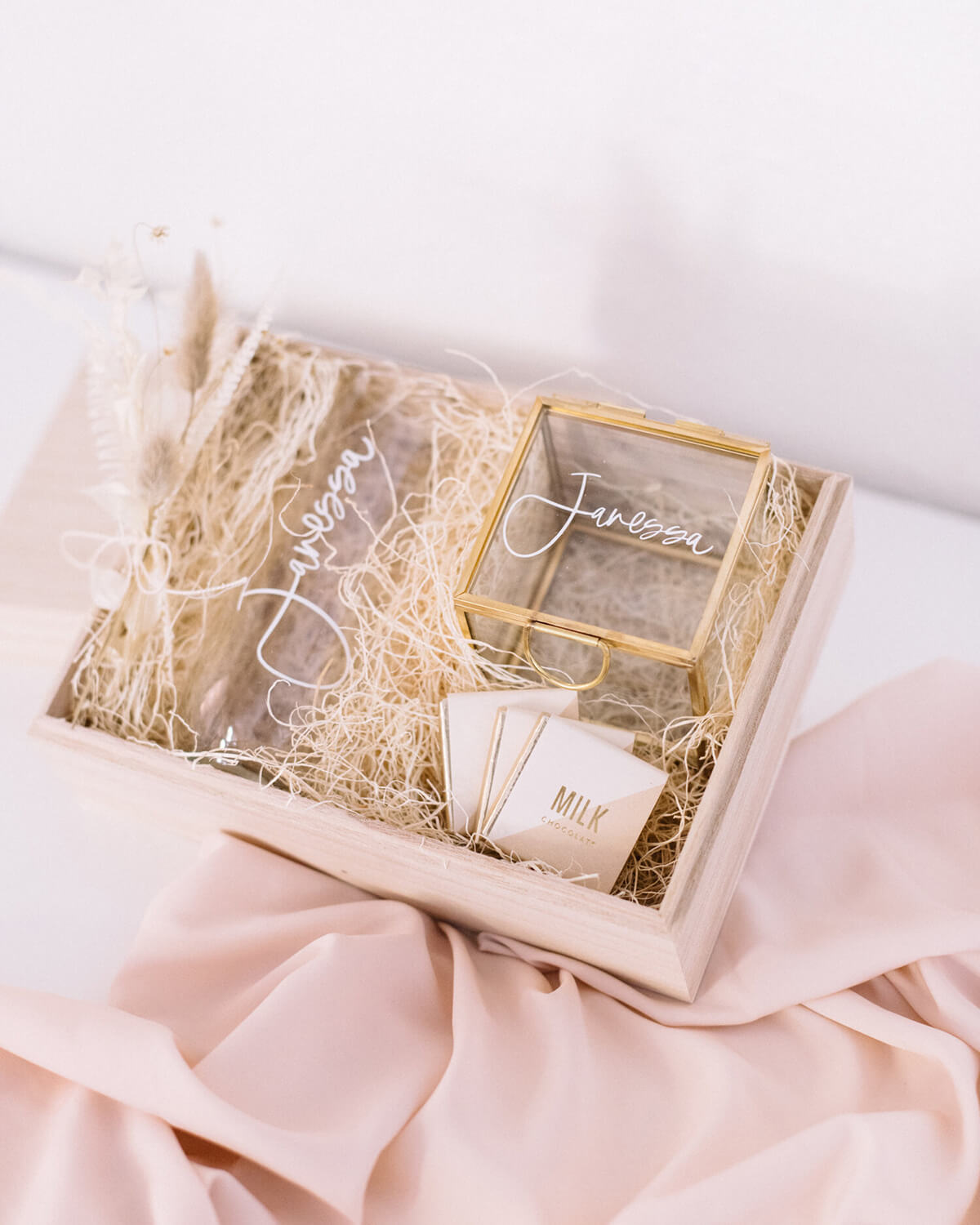 Brimming with treasure, this wooden gift box is a beautiful way to ask your closest friends to stand with you. Each box features a glass champagne flute and gold-accented jewelry box personalized with your bridesmaid's names. A dried floral arrangement is also included. Because nothing is monogrammed to your wedding, these tokens can be treasured for years to come.
3. Spa-Themed Bridesmaid Proposal Box in Pink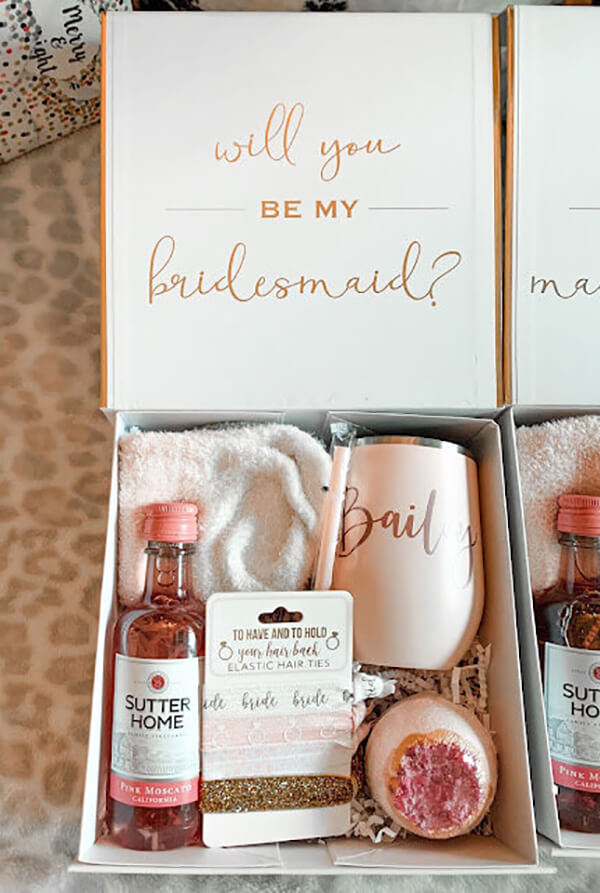 Spa nights are a popular bridesmaid box theme for a reason – everyone enjoys a little pampering. An opulent pink, white, and gold color palette feels as luxurious as any spa, and the treasures inside reflect this theme. A personalized tumbler, rose quartz bath bomb, and wine sampler are the stars. Wedding-themed hair ties and a plush washcloth offer the perfect finish.
4. Next-Level Luxury DIY Bridesmaid Boxes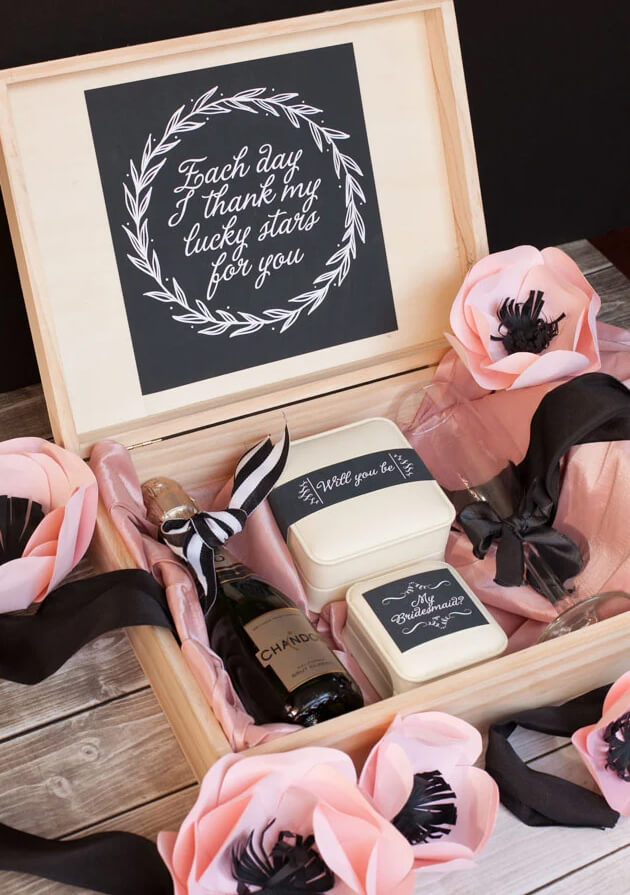 Pairing pink silk with a black and white color scheme cultivates a sophisticated aura sure to impress. Paper flowers and a classy striped ribbon contribute to this effect. Although you could include any gifts that your bridesmaid will enjoy, this example features both jewelry and champagne. Because it can be worn after your wedding, jewelry emphasizes your lifelong bond.
5. Bold Pink Handmade Bridesmaid Box Ideas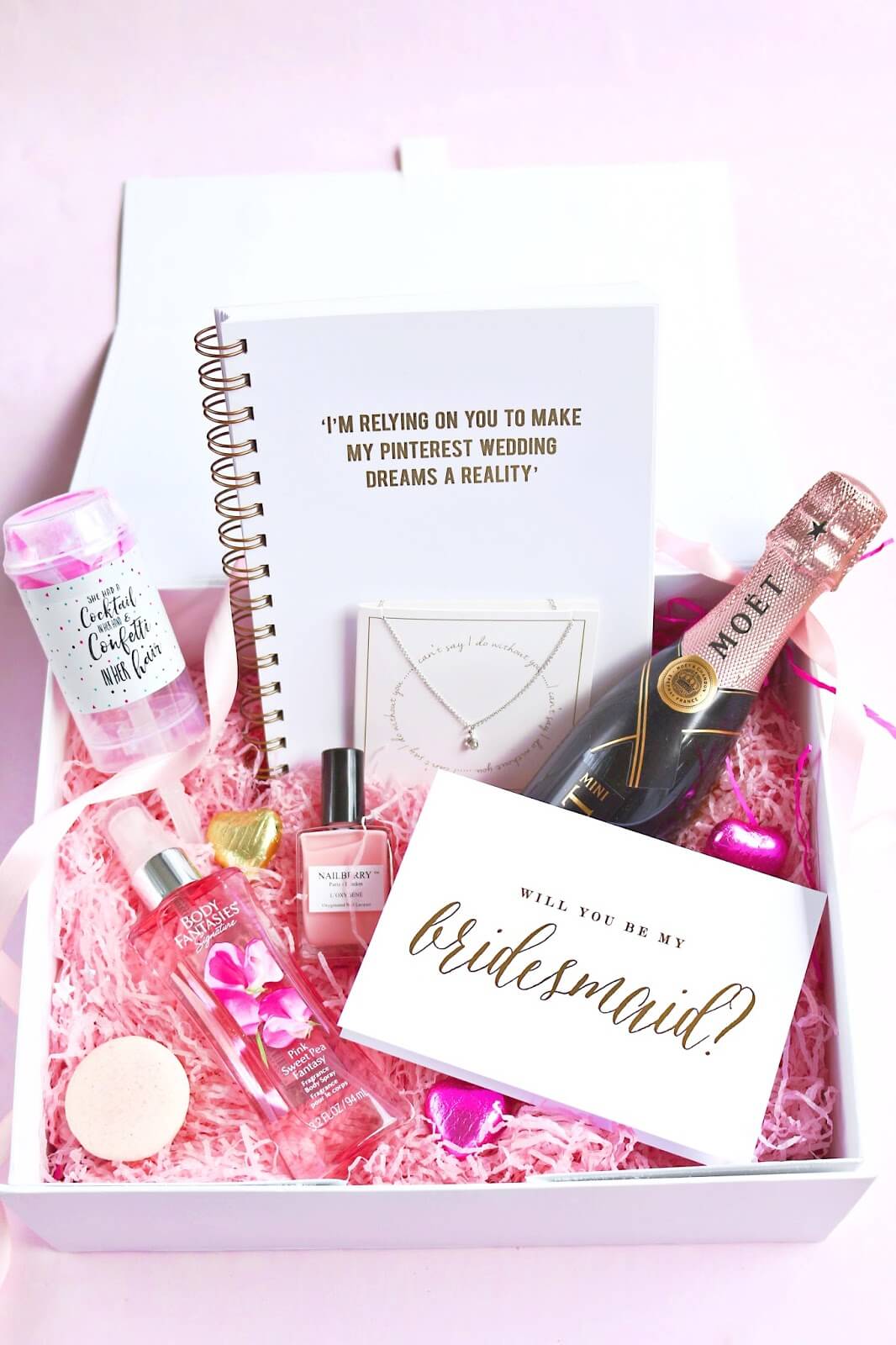 Flip the script on subdued proposal boxes by filling yours with an abundance of exhilarating pink. To achieve a similar effect, choose pink paper filler instead of neutral tones. Because of all the pink, the white card stands out and pops the question for you. If your bridesmaids will be helping you plan, a snarky wedding-themed notebook is an excellent addition.
6. Metal Bridesmaid Box with a Hangover Kit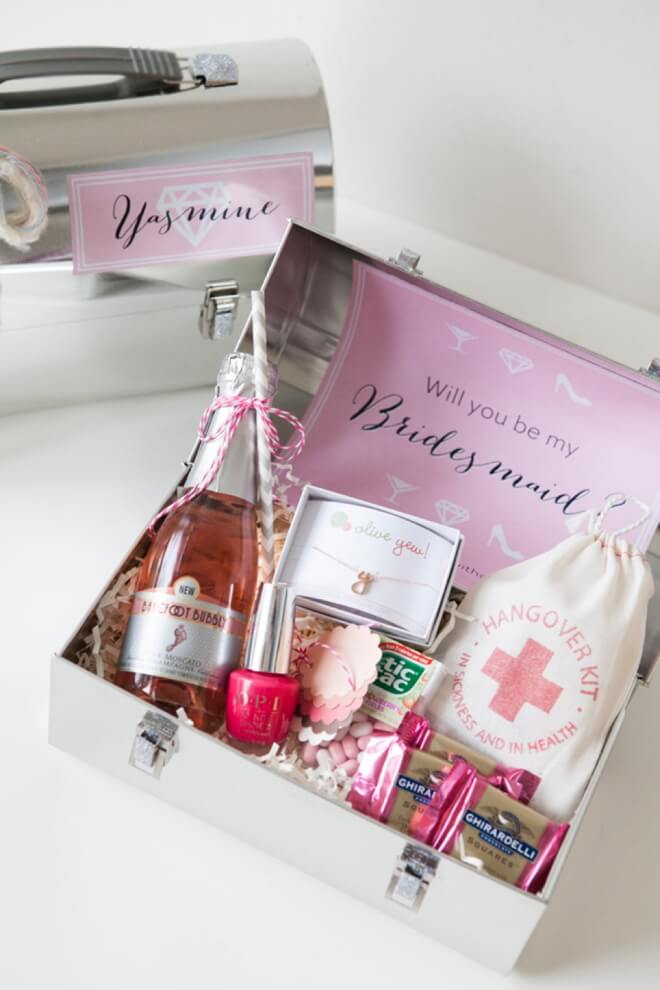 Because it is reusable, a sturdy metal lunchbox is the perfect container for your proposal box. Magnet paper keeps this project low-stress and completely customizable. For an exquisite overall effect, choose goodies that coordinate with your wedding colors. Building and including a wedding color swatch book is an easy and affordable way to ensure that all your treats fit the theme.
7. Personalizing Your Homemade Proposal Box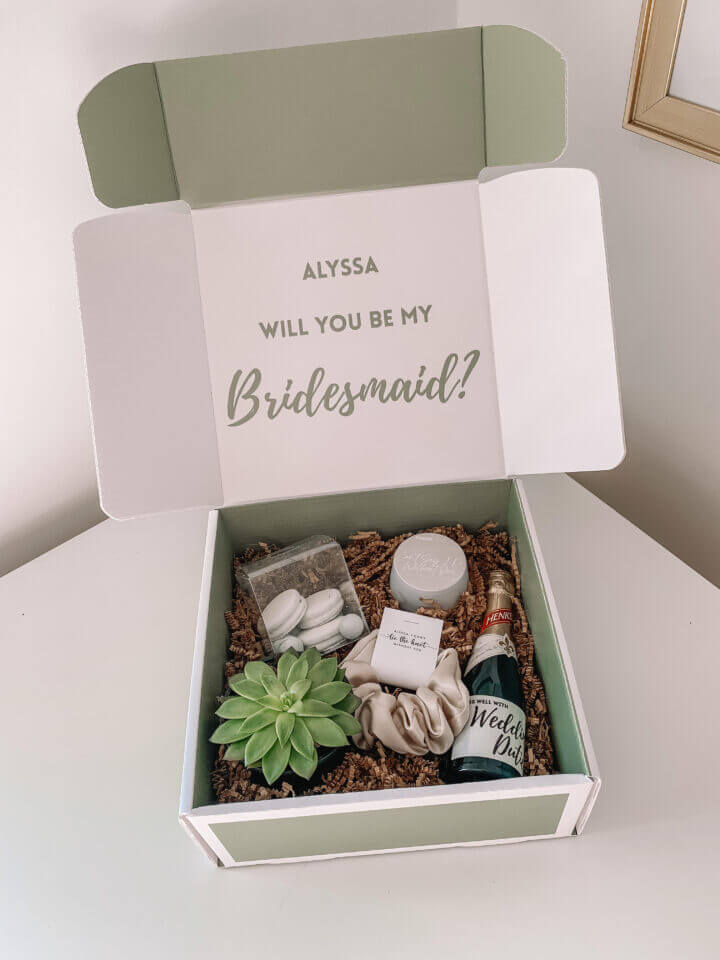 Customizing every element both inside and outside your proposal box is not impossible. Including a wedding-themed label is a great way to show your future bridesmaids how important they are. This image features a nature theme including a sage box, succulent, and even brown paper filler that resembles soil. Rich, earthy tones are balanced by airy hues of champagne and white.
8. Unique Homemade Proposal Box Filled with Macarons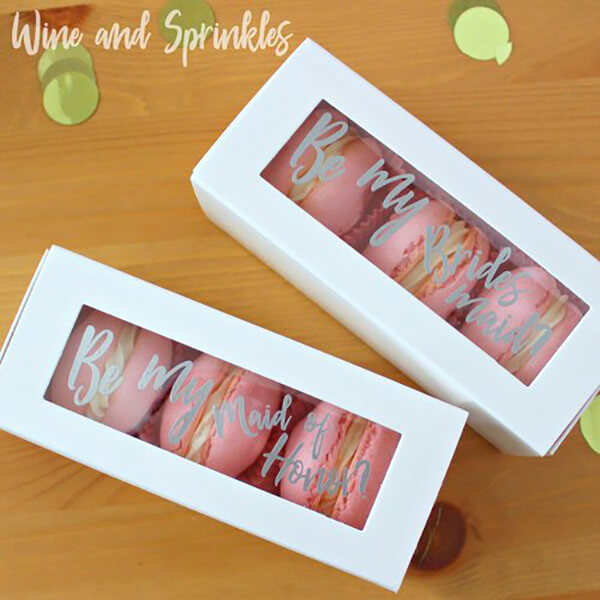 Colorful, delicious, and sophisticated, macarons are a great way to pop the question. Choose a box with a window to give a glimpse of the blissful treats inside. Alternatively, try building anticipation by selecting a box without a window. If you do not have access to a cutting machine, you could use a printable label to propose to your bridesmaids.
9. Assembling the Best DIY Bridesmaid Proposal Box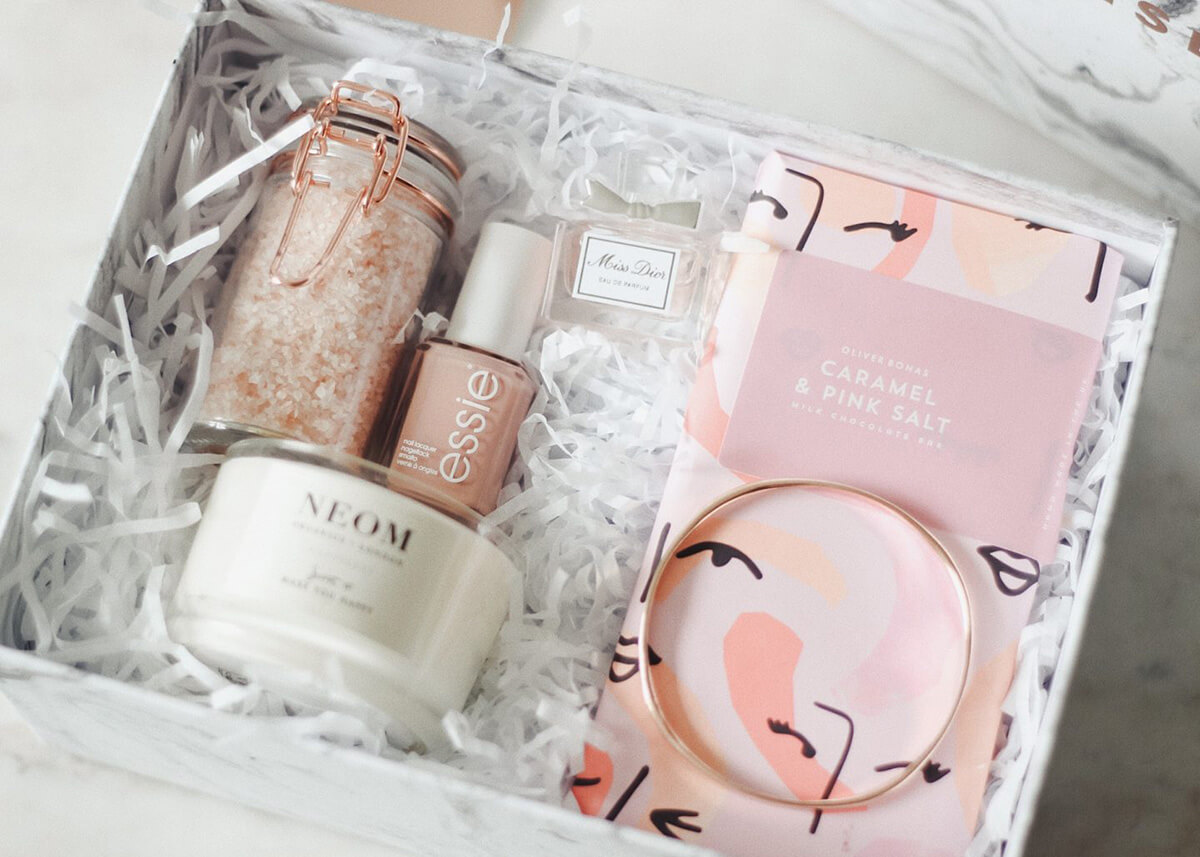 Building a budget-friendly bridesmaid proposal box might be easier than you think. The first step is to choose items that your bridesmaids will enjoy. This box sports a self-care theme, but you could choose anything from adorable plants to scrumptious chocolates. The chic coppers and romantic pinks in this basket's goodies contrast gracefully with the crisp white tissue paper filler.
10. Thinking Outside the Box Bridal Proposal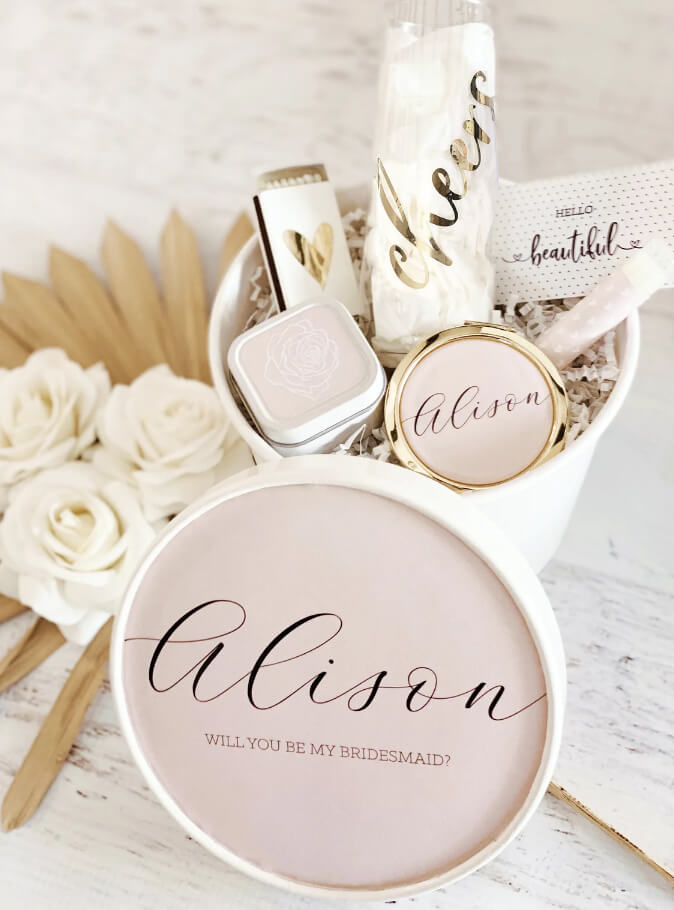 This example proves that bridesmaid boxes do not have to be square. Outside, this round gift box has 13 color options and is personalized with your friend's name. Inside is an assortment of high-quality gifts like a personalized compact mirror, shatterproof champagne flute, and scented candle tin. An extra coordinating sticker is included so that you can add something personal.
11. Wooden Proposal Boxes Ready to Be Filled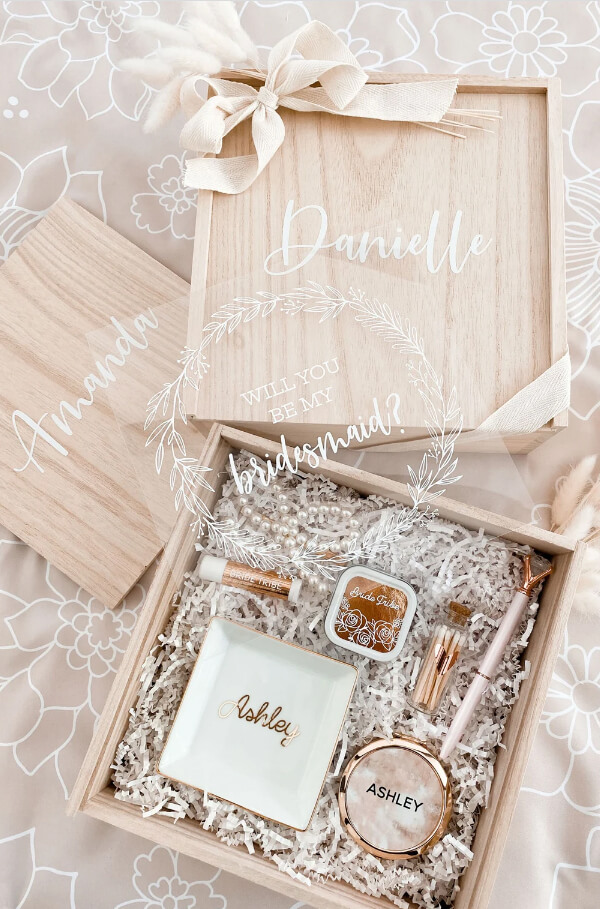 Made from exotic paulownia, these handmade bridesmaid boxes showcase the beauty found in unfinished wood. The unique clear card resting on top of the goodies offers a creative proposal opportunity. Because this box does not include gifts, you have the freedom to choose them yourself. A few ideas include makeup, a strand of pearls, or a personalized ceramic trinket dish.
12. Proposing with a (Cubic Zirconia) Diamond Necklace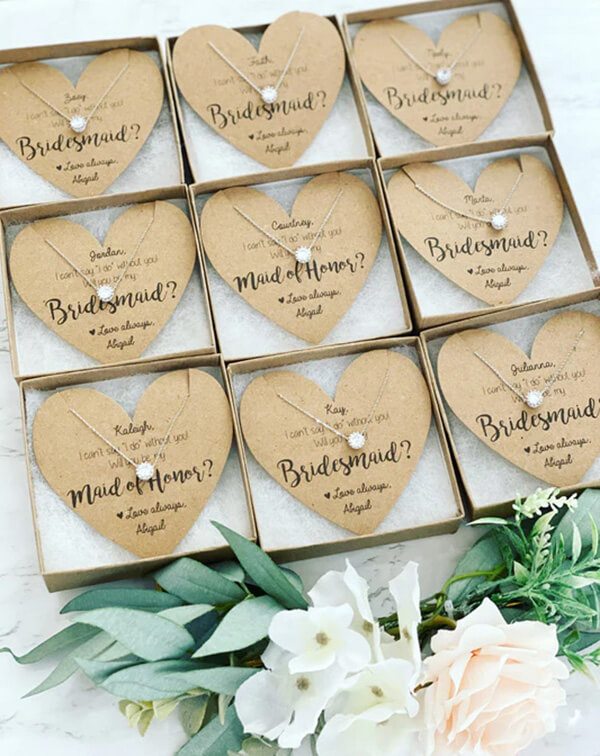 If the love of your life used a diamond to propose to you, why not use a diamond to propose to your bridesmaids? Each necklace is presented on a heart silhouette printed with your personalized proposal message. This box is available in six colors and can be a standalone proposal or added to other items as part of a bigger box.
13. Rose Gold Foil Bridal Proposal Box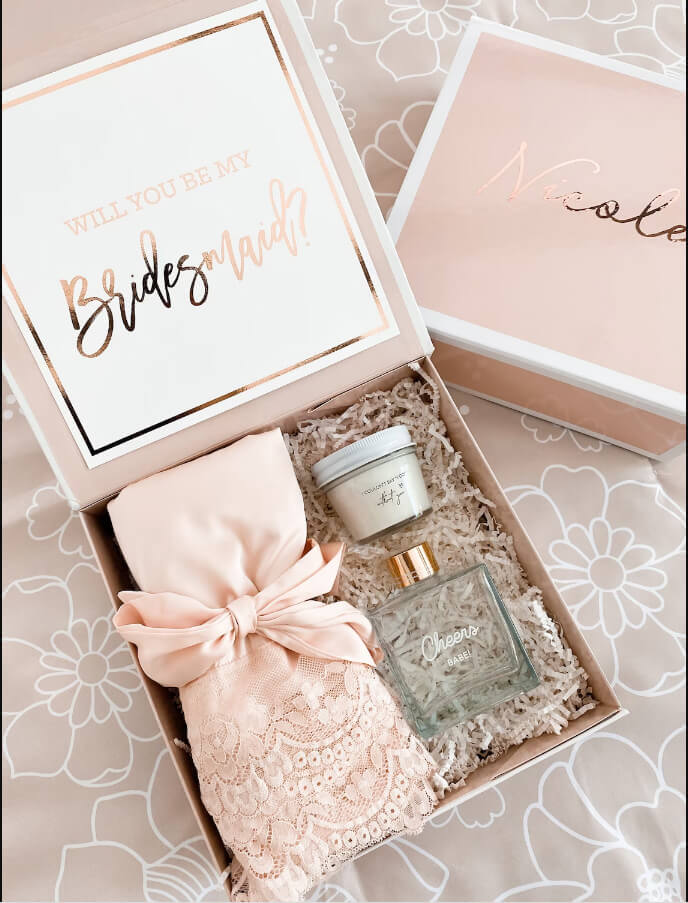 A great way to begin your proposal is to include your bridesmaids' names in shiny rose gold on the outside of a luxe gift box. Letting the box do the asking means the surprise will remain unspoiled while the small gifts show how important your bridesmaids are. The lace-edged handkerchief is a unique touch that can be customized via a monogram.
14. Fun "Bride Tribe" Proposal Box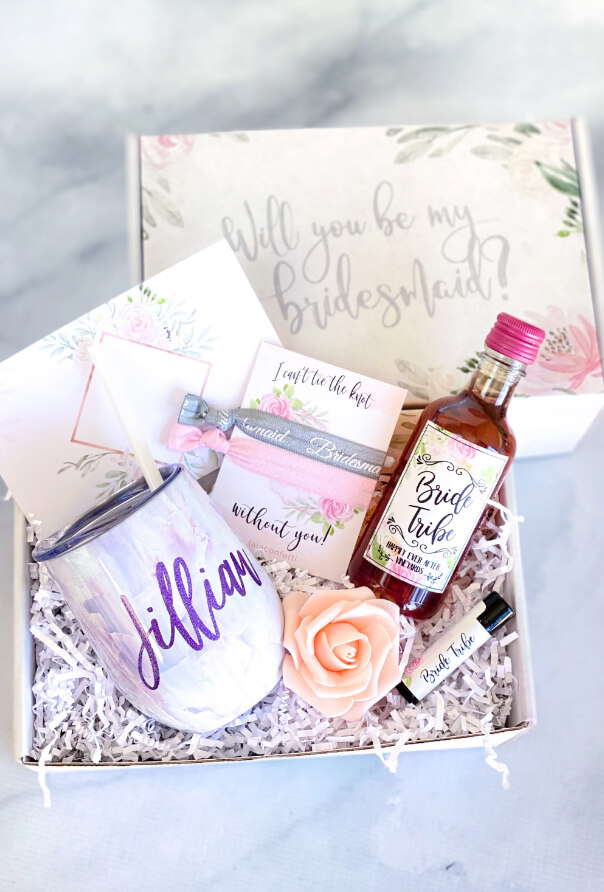 While pink might be the most popular proposal box color, this image shows that you can use any color. The paper filler and geode-patterned tumbler set the pale purple theme. Although it does not include the wine, this homemade proposal box kit includes a gorgeous "bride tribe" label that can be applied to your friend's favorite wine or spirit.
15. Petite Proposal Box with Magnetic Closure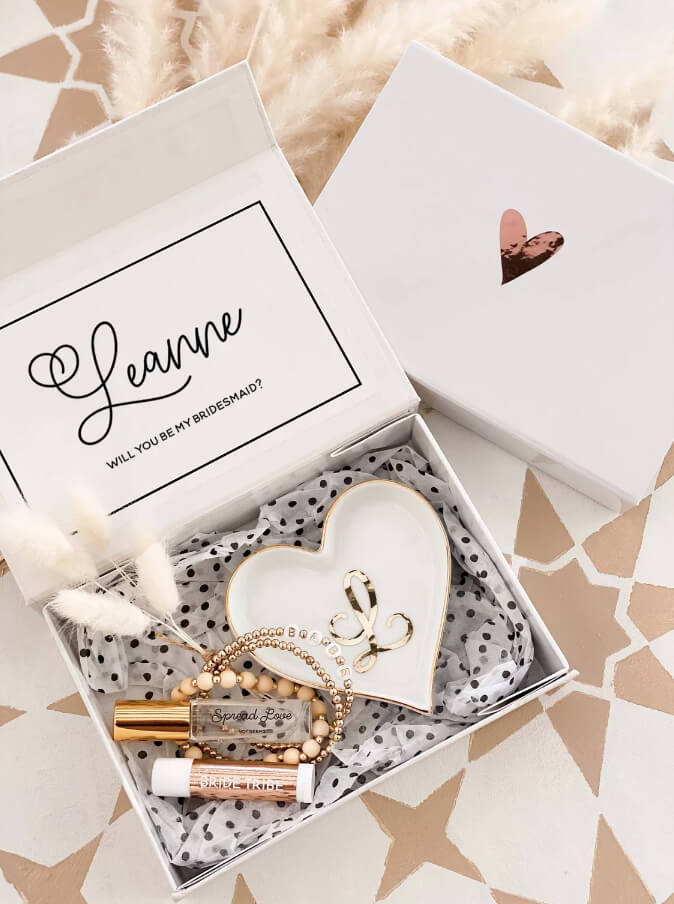 The best DIY bridesmaid proposal box includes opportunities for you to customize the contents to fit your bridesmaids, and this gift box is a stunning way to make that happen. The outside is embellished with a lustrous pink heart while the inside displays a customized sticker with your proposal. Black polka-dot tissue paper exudes an aura of playful elegance.
16. Digital Downloads for Your Homemade Proposal Box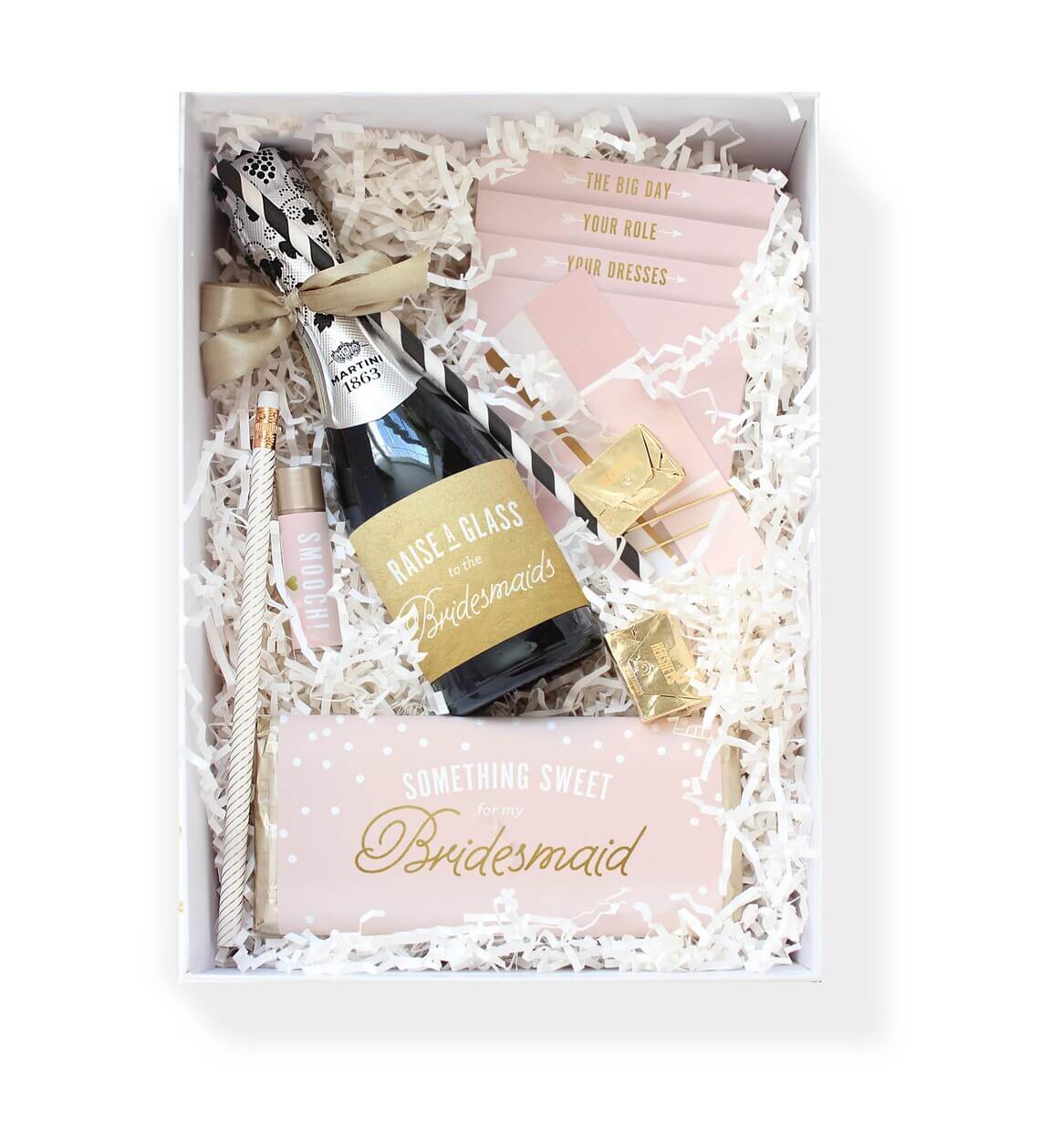 Assembling your bridesmaid's favorites might mean that combining items that make a cohesive aesthetic is difficult to achieve. If this is the case, printable downloads are an easy way to transform miscellaneous gifts into a bridesmaid proposal box you will be proud to present. All you need to do is print the labels out and adhere them to your carefully chosen treats.
17. Elegant Gold and White Color Scheme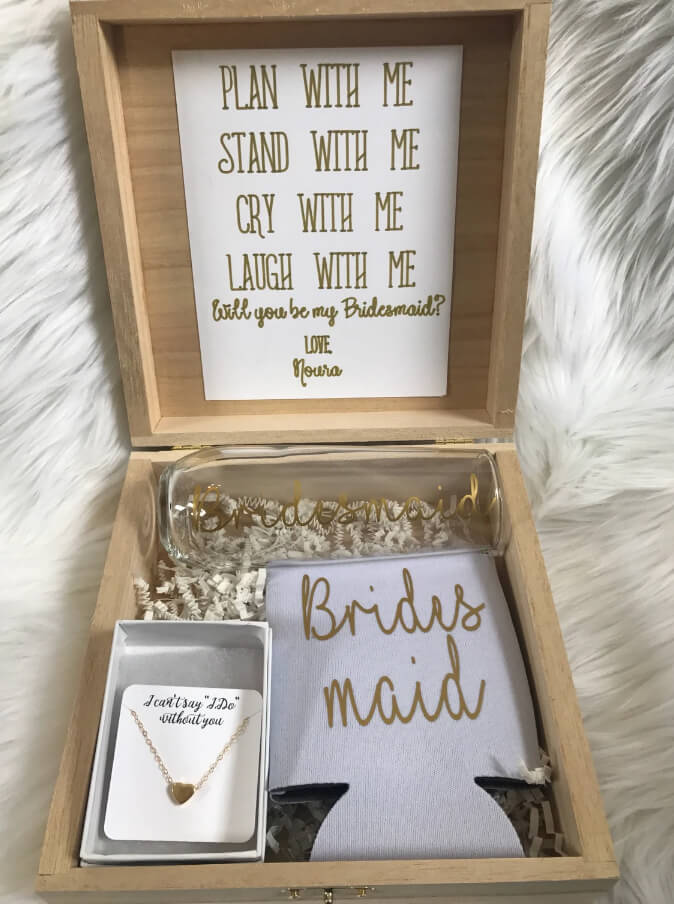 Sometimes, the best handmade bridesmaid box ideas are simple. This box might only include three gifts, but offers a meaningful message and an enchanting appearance. The regal gravitas achieved via the gold and white is perfectly balanced by the wood's rustic charm. If you would prefer to coordinate the proposal box with your wedding colors, there are over 60 color options.
18. Unique Wine Surprise Bridesmaid Box Proposal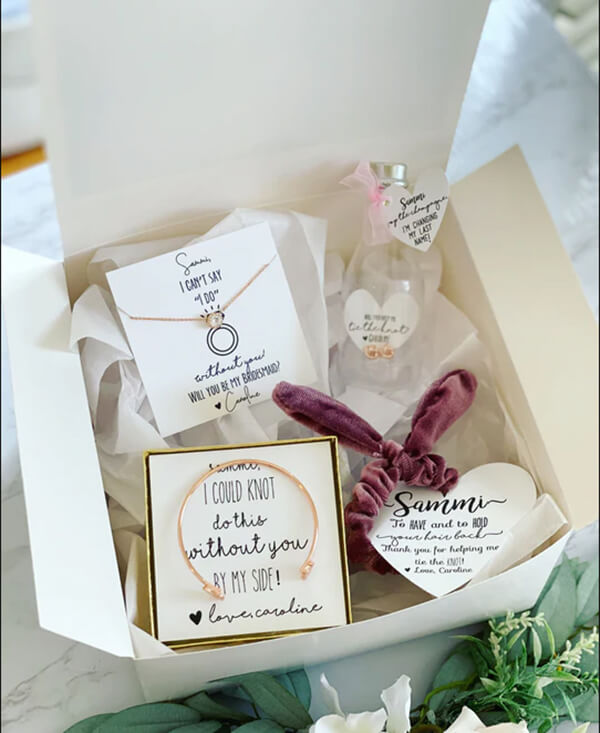 Everything in this proposal box is gorgeous, but the true treasure is the small bottle. As the wine is drunk, the label's inside is revealed to ask your bridesmaid to be a part of your big day. To avoid spoiling the surprise, make sure to choose a red wine or dark-colored spirit. A velvet scrunchie and knot-themed jewelry complete the box.
19. Proposing with a Pearl Bracelet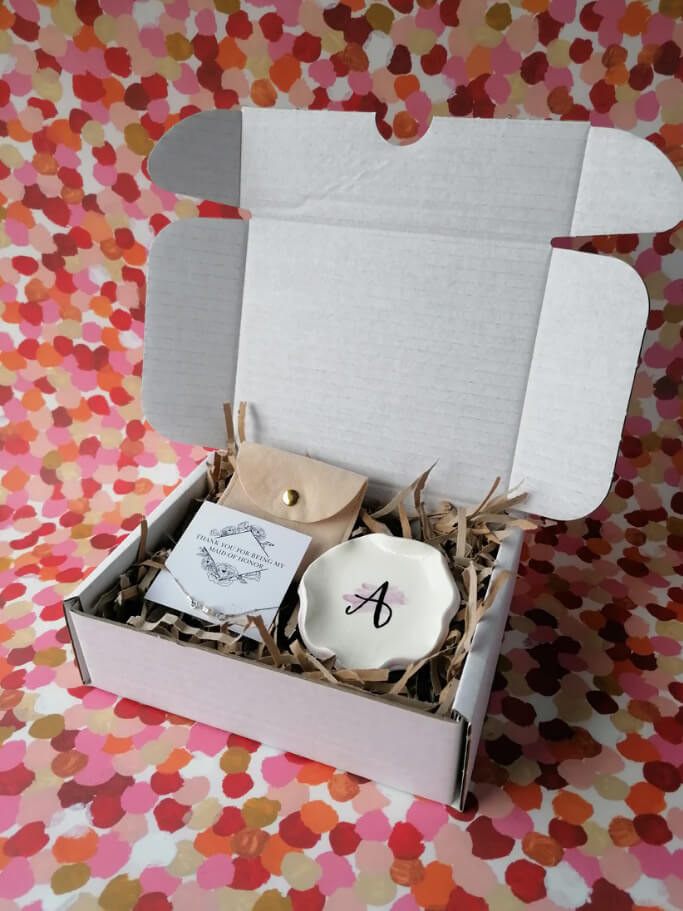 When you cannot find the right words, a pearl bracelet and a handmade ceramic trinket dish can say it all. Both gifts are handmade in the Scottish Highlands and can be personalized to fit your friend's style. If the monogram letter in the trinket dish is not right, you can also select the word "forever" to scroll across the trinket dish.
20. Proposing with an Irreverent Candle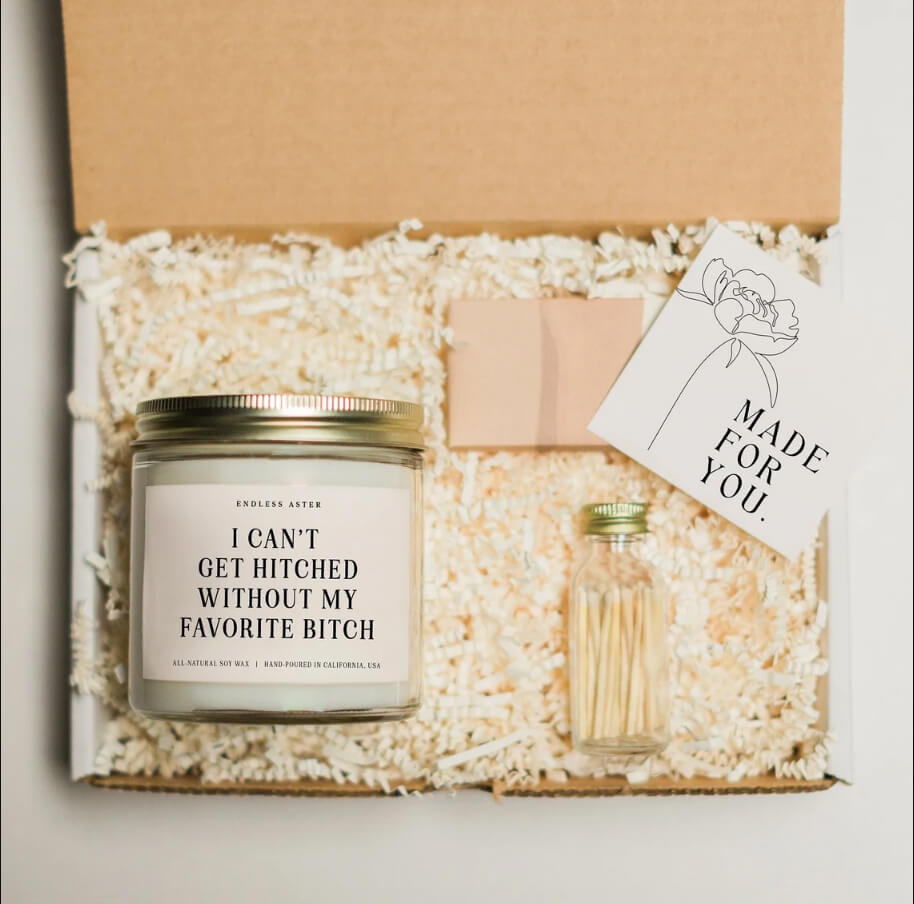 Every friendship dynamic is unique, and this amusing candle is the perfect way to propose to a friend who has stood with you through thick and thin. These small-batch candles are available in 13 sublime scents. You also have the option to include a chocolate bar and beautifully-packaged matches within your gift. To make your proposal more personal, include a card.
21. Customizable Ribbon Box with Ribbon Attached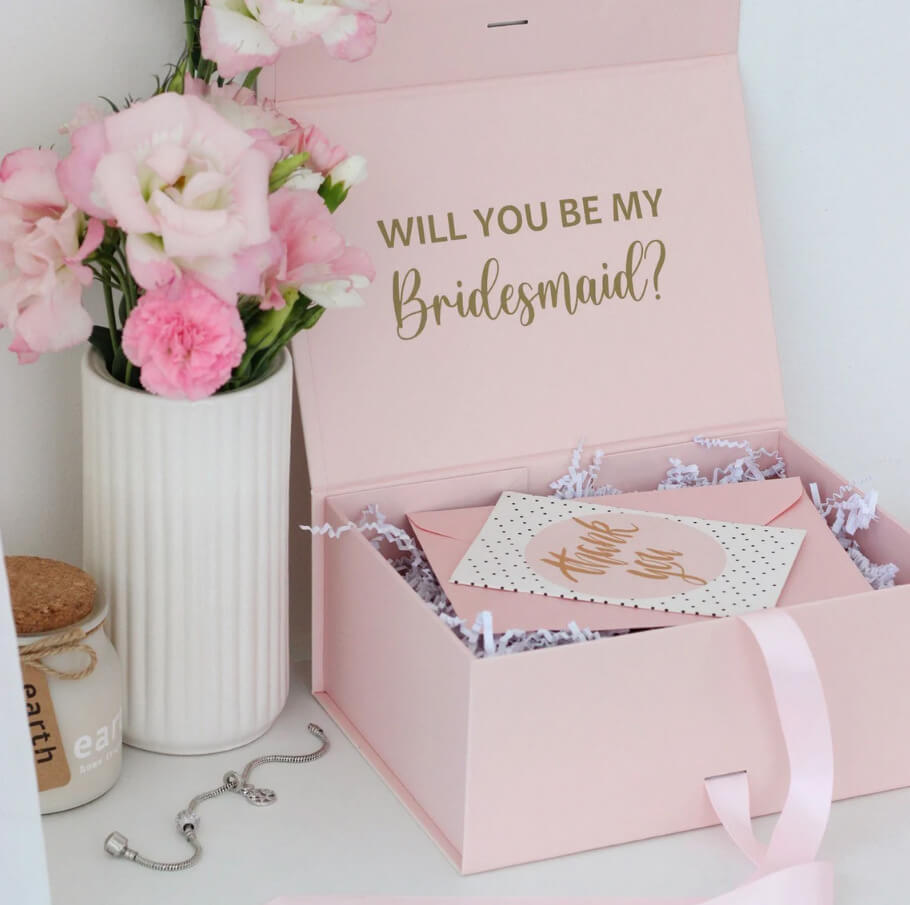 Besides being beautifully personalized to propose to your bridesmaids, each of these boxes comes with paper filler and a silky closure ribbon. If pink is not right, this box is available in classic black, bridal white, and a cool shade of navy blue. Then, all you need to do is fill it with an assortment of gifts your bridesmaids will cherish.
22. Rose-Themed Bridesmaid Proposal Box with Rosé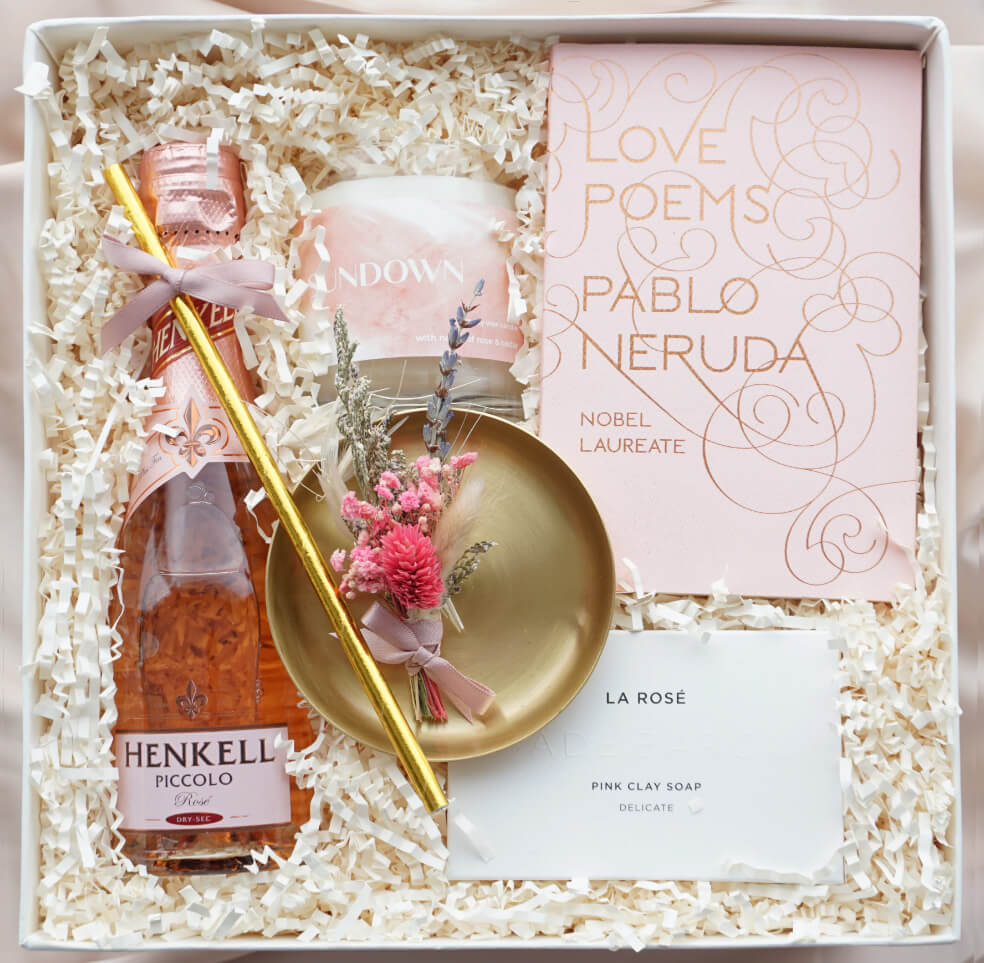 Embracing romance is easy with this pale pink proposal box complete with a box of Chilean love poems. Gold accents give this box a touch of glamor. With a ceramic vase for the floral arrangement and matches for the candle, this box illustrates how important it is to include the little details. All you need to do is pop the question!
23. Unique Black and Gold Bridesmaid Proposal Box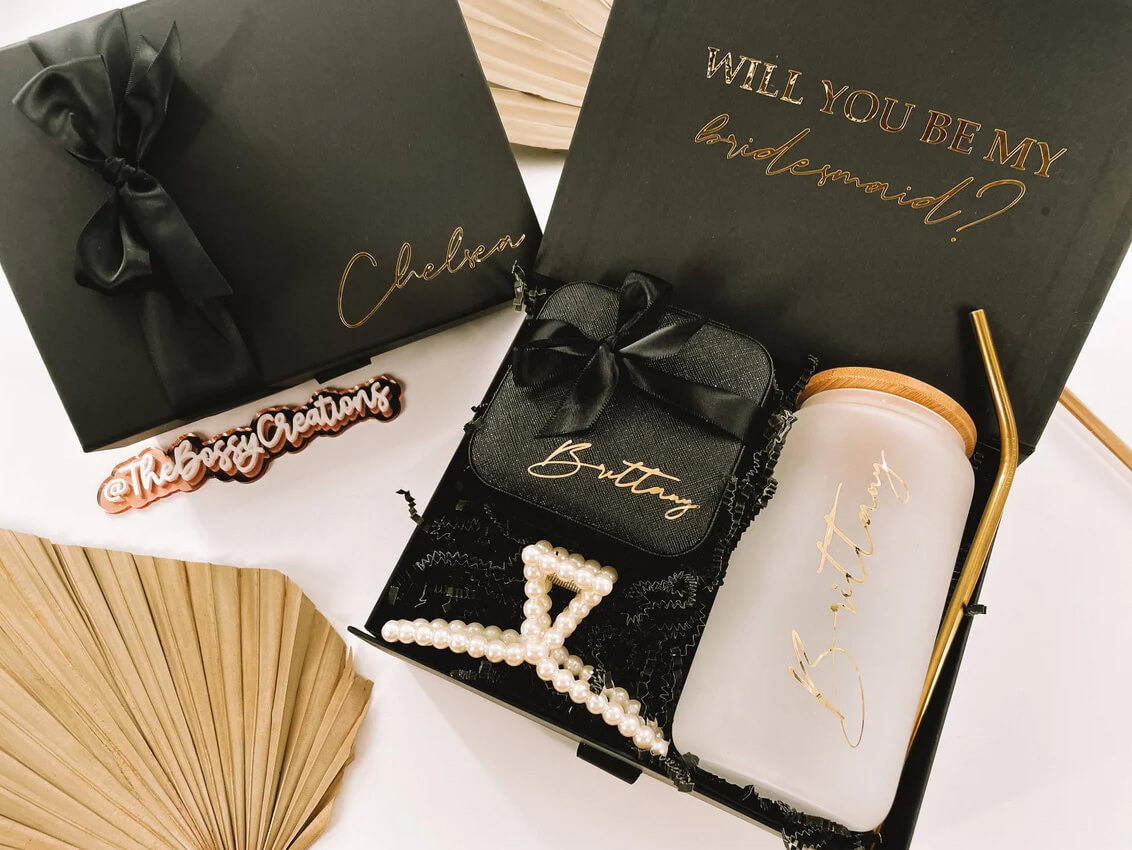 One way to ensure a memorable bridesmaid proposal is to avoid pink in favor of the sophisticated color palette displayed here. This personalized proposal box includes a frosted glass tumbler, a pearl-encrusted hair clip, and a chic jewelry box. The tumbler and jewelry box are embellished with your bridesmaid's name. For a brighter effect, switch out the black filler for a different color.
24. Sweet-Smelling Little Luxuries Bridesmaid Proposal Box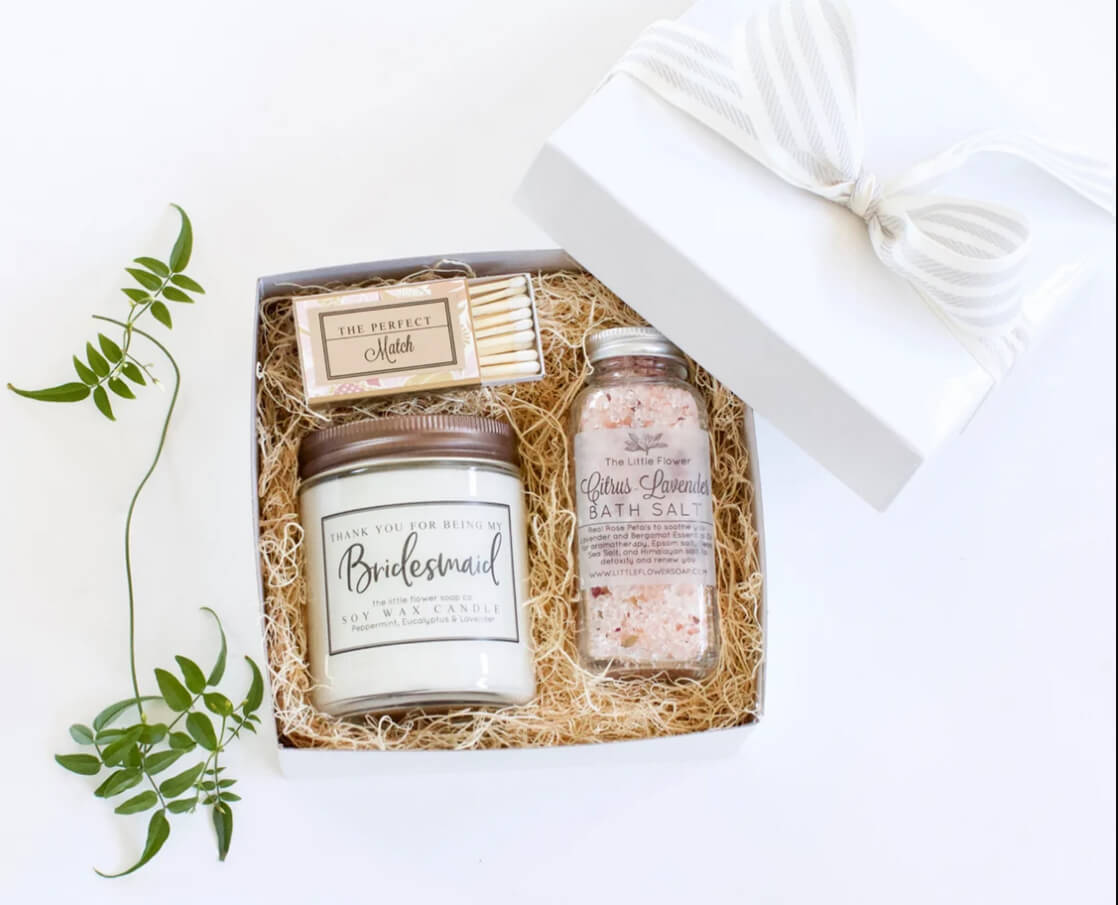 As you ask your friends to help you prepare for the big day, this exquisite ivory box makes a thoughtful gift. Wedding-themed packaging on the candle and matchbox set the tone, but fragrance is where this proposal shines. The candle is a rejuvenating bouquet of eucalyptus, lavender, and peppermint. Bath salts are available in lavender, citrus lavender, and pink grapefruit.
25. Chic White Proposal Box with Champagne Script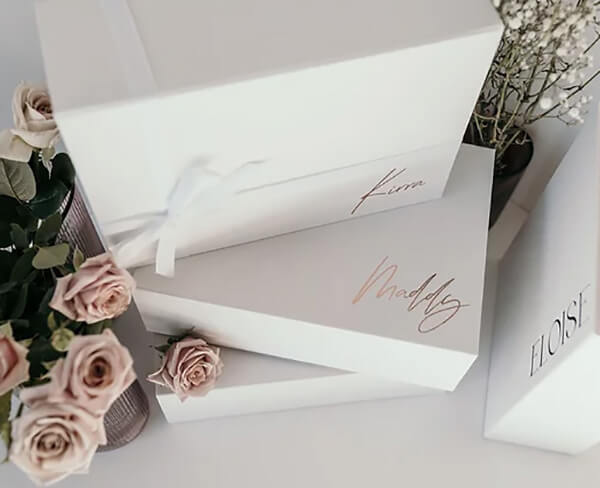 Nothing feels more like a wedding than the cool white-on-white color scheme showcased with this box. A satiny ribbon graces this pearly white box to cultivate a bridal ambiance. In a lustrous champagne finish, swirling script spells your bridesmaids' names. Because this listing is only for the box, you can choose personalized treats for the ultimate DIY bridesmaid boxes.
25 Captivating Ways to Make the Best DIY Proposal Boxes for Your Closest Friends
Do not be overwhelmed as you work on designing the perfect bridesmaid proposal box. It can be broken down into two easy-to-accomplish components: the inside and the outside. Inside, you will need to gather a few gifts suited to your bridesmaids' personalities. Outside, the box should be charming and an utter delight to gaze upon.