The best DIY wedding card box will easily leave a lasting impression on your ceremony that guests will appreciate.
Card boxes are a great way to leave smaller gifts and words of love and well-wishes to the happy couple. But why just put them in a plain box when you can have something far more attention-grabbing? This can come in the form of a homemade wedding money box. Crafting a card box from hand allows you to have a decorative piece that perfectly matches your wedding and personality. This way, every inch of the ceremony follows a theme.
Put Your Personal Touch on Your Big Day with the 17 Best DIY Wedding Card Boxes

There are numerous ways you can approach handmade wedding card boxes. You can create one in the standard box shape with some extra embellishments on them. Another great approach is to go with a special design to fit your theme like a faux pumpkin for autumn. You can even add a bit of the happy couple into the design, using meaningful pictures to create a beautiful keepsake for all your cards.
With handmade boxes, you can stretch your DIY creative skills. Of course, you can always purchase some homemade card boxes instead and still get the same thoughtful impact. So, if you are at an impasse on where to begin, our list of our favorite handmade wedding card holder ideas should inspire you.
1. Charming DIY Faux Pumpkin Card Box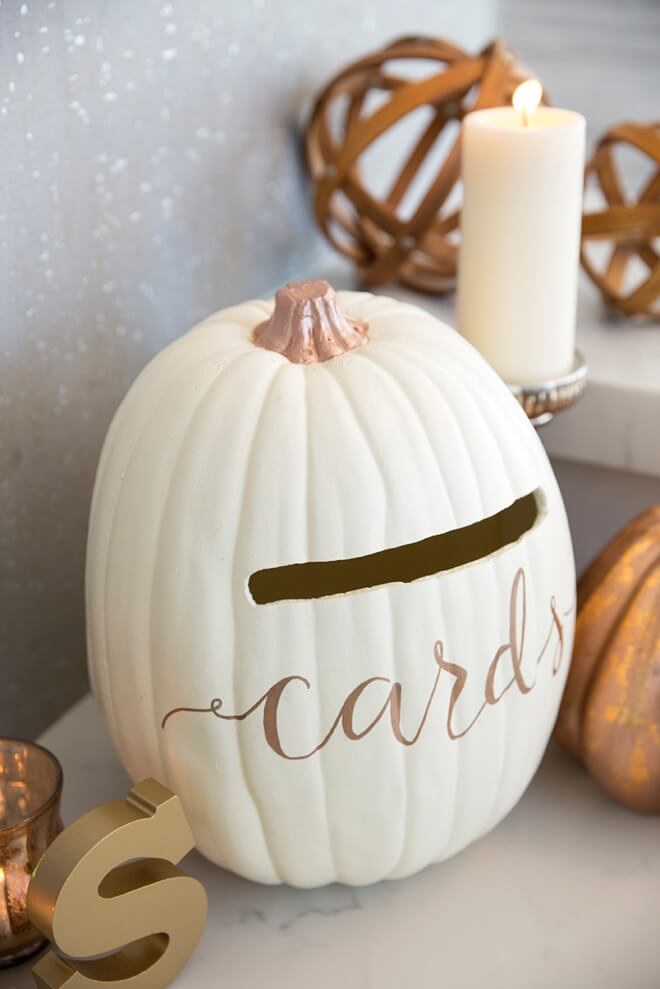 Just in time for a fall-themed wedding, this faux pumpkin is such a cool choice for a card box holder. It is also a fun and easy option for those of you who may be new to DIY projects. The pumpkin is cute and simple, fulfilling a minimalistic vibe while the coloring gives it a hint of sophistication. This is such a wonderful way to blend in with autumn-themed décor without going overboard.
2. Rustic Couple Photo Card Box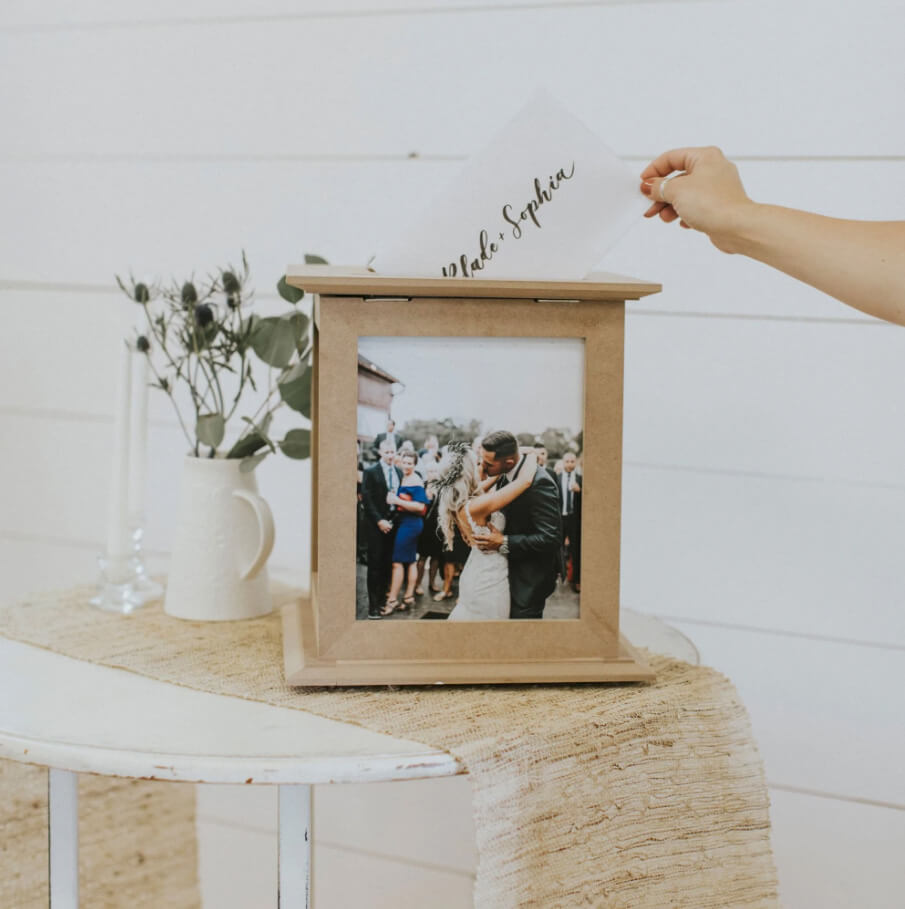 This beautiful choice for a wedding card box is one you can keep in your home as décor for years to come. It rotates, offering a 360-degree view of various pictures of the couple at hand. You can choose favorite photos that hold special memories, or you can even save a space or two for the wedding pictures. The box alone has a pleasing look to it too. There is a rustic feel that allows this to not just blend in with any decorative style, but farmhouse in particular.
3. Three Tier Wedding Card Box Design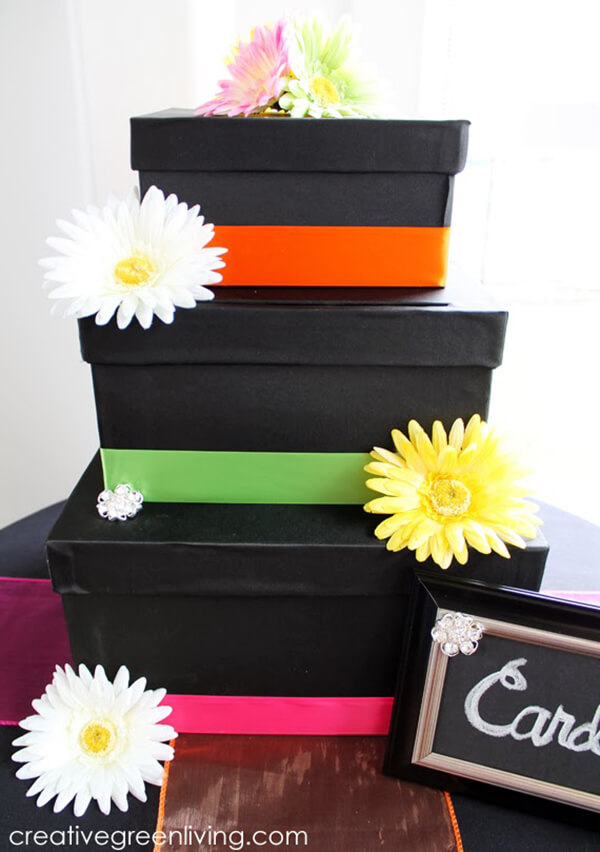 Why not craft a handmade wedding card box in the shape of a tiered wedding cake? This is such an interesting and distinct way to celebrate a wedding in a way that perfectly ties into the ceremony and reception. It certainly captures attention right away with its tiered layout. Plus, you can set this up in any color style you like that best fits in with your wedding theme. As a bonus, you can still use these boxes after, making this a nice upcycle project.
4. Chic DIY Wedding Card Box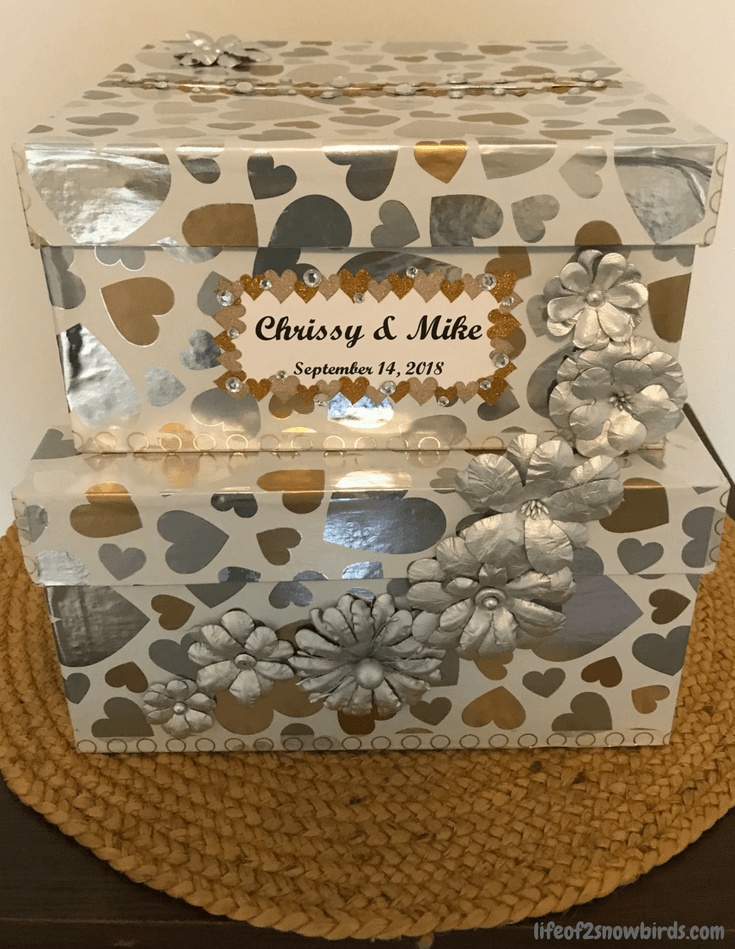 If you're on a budget, you don't need to blow it all on the card box. Instead, tackle this affordable homemade wedding card box project and leave with something that is chic and stylish. Wrapping paper goes a long way into allowing these boxes to resemble décor that is more high-end that works well for a more sophisticated wedding. Feel free to add on any embellishments you like such as flowers. No one would be the wiser that these started out as basic cardboard boxes.
5. Fancy Upcycled DIY Card Holder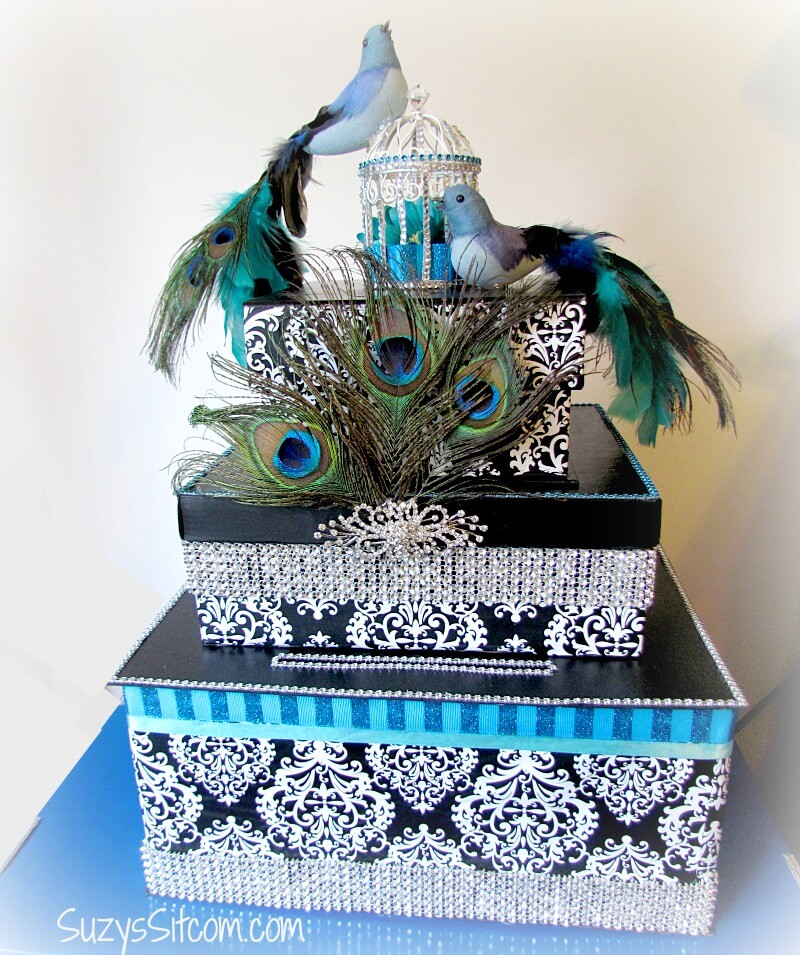 Be as loud as you wish with your décor with this awesome DIY wedding card box design. This is a multiple-tiered card box that can get mistaken for a flashy wedding cake. There is plenty of color and vibrancy in this that makes it fit well with an equally exciting ceremony. This is a perfect opportunity to show off the couple's style and personality throughout the wedding.
6. Personalized Wooden Wedding Card Box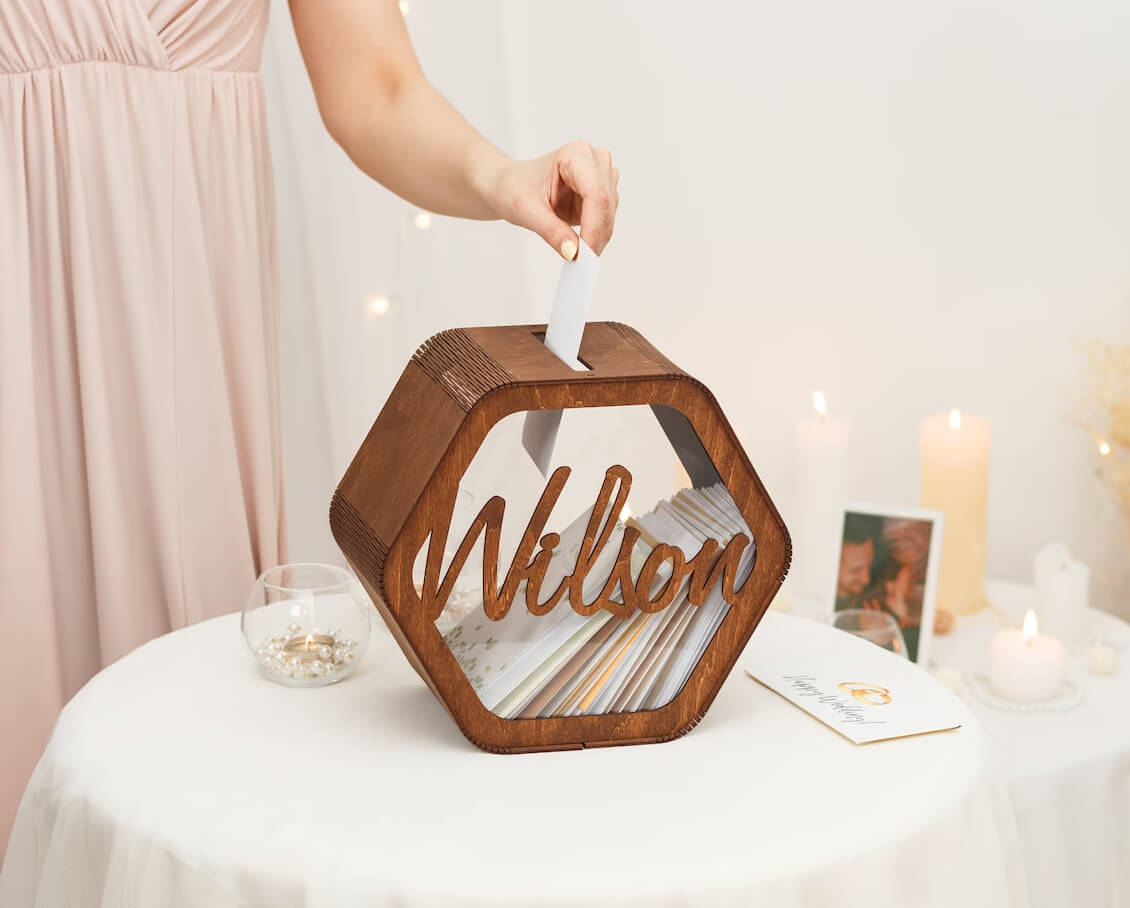 This personalized card box offers a stunning decorative item that won't just enhance your ceremony, but your home too. The box can feature your family name on it, and with its see-through design, you can witness all the cards dropped in. It comes in multiple colors as well so that you can easily get a design that is perfect for your wedding style. Plus, you can set it up inside your home afterward for a lovely memento of the ceremony.
7. Wedding Card Box Globe Design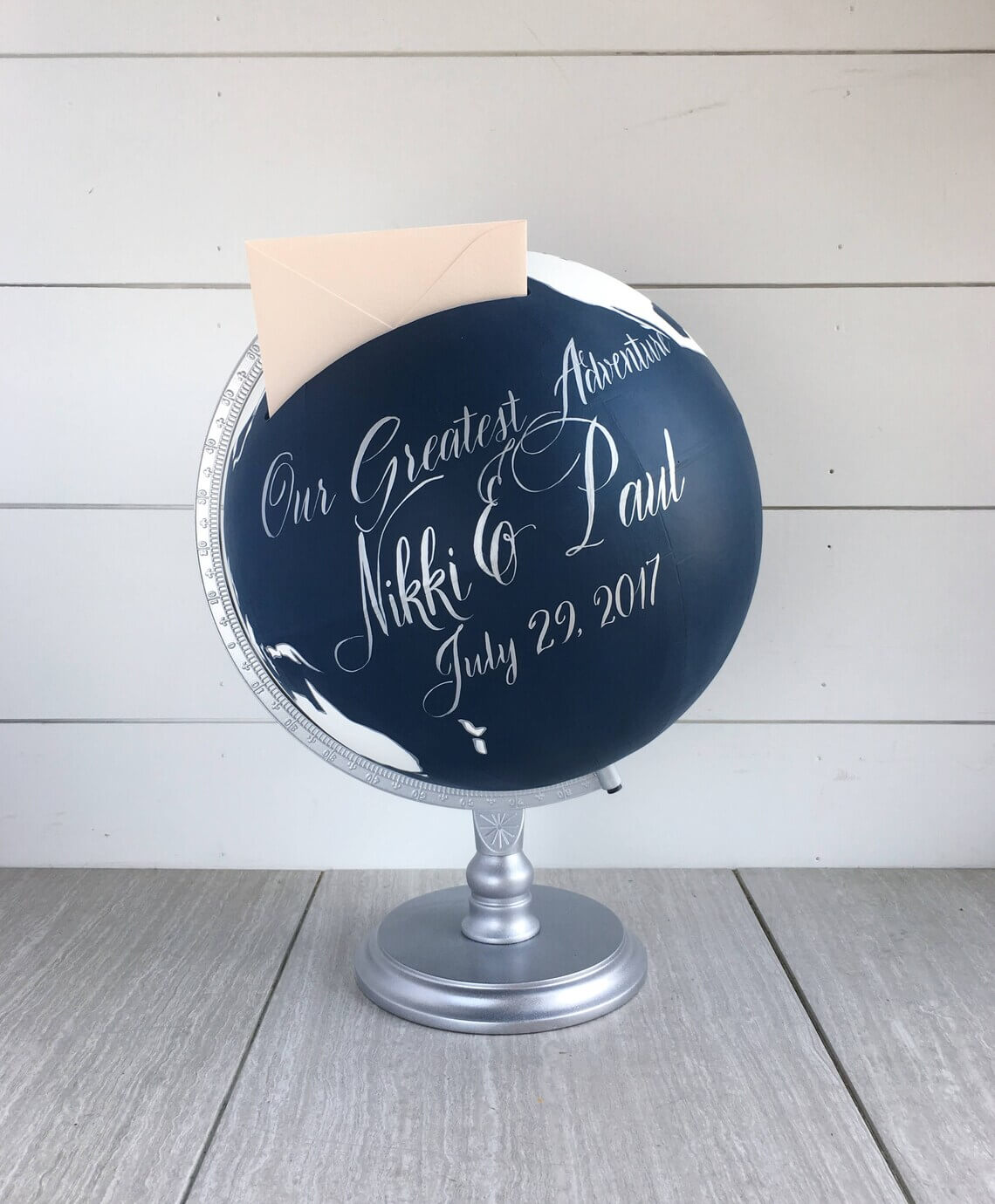 If you want the best DIY wedding card box, you can't go wrong with this bold globe design. It is a lovely card box, especially for couples who have a travel bug. There are several different finishes for the base so that you can allow the globe to better adhere with the theme. Also, the writing on it is calligraphy, giving it even more of an elegant and chic design. There is plenty of room to hold numerous cards from guests.
8. Whiskey Barrel Wedding Card Box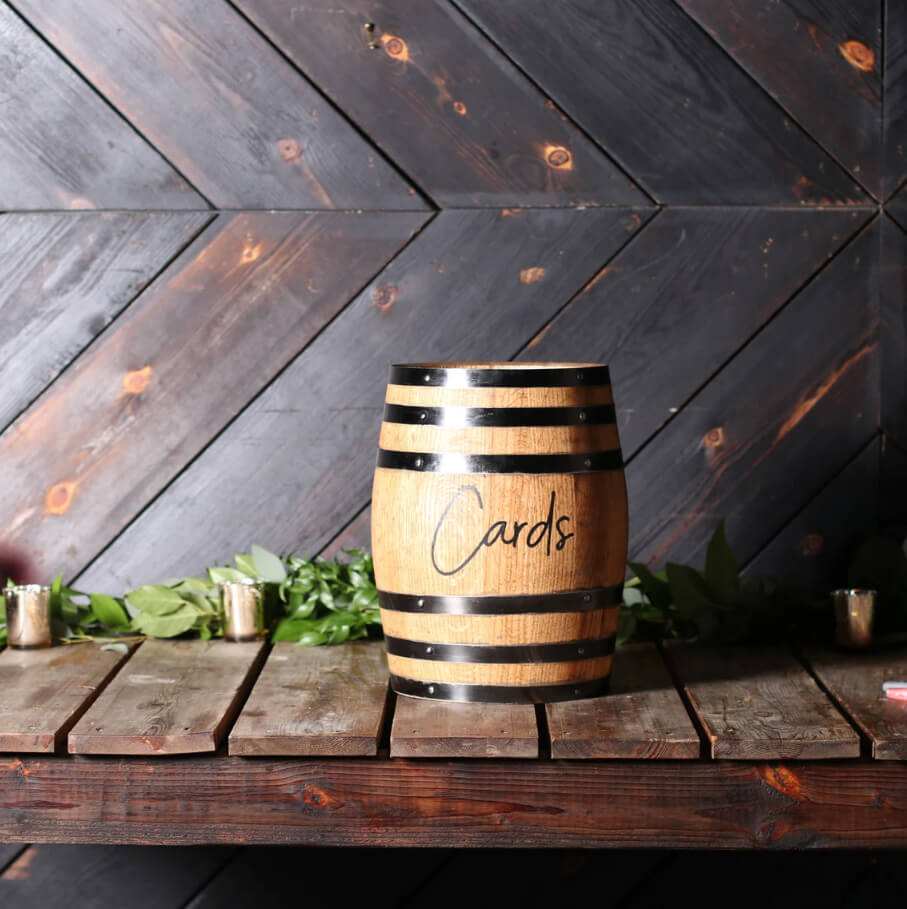 Does the happy couple appreciate spirits? Then this whiskey card box is a wonderfully unique choice for them when it comes to card boxes. It has such a rustic and pleasing appearance that makes it attention-grabbing. Meanwhile, you can customize the barrel too. Both the side and the top of the barrel can feature anything you'd like such as the happy couple's name and the wedding date. A card box like this is also a wonderful keepsake to cherish at home.
9. Vintage Style Wedding Card Box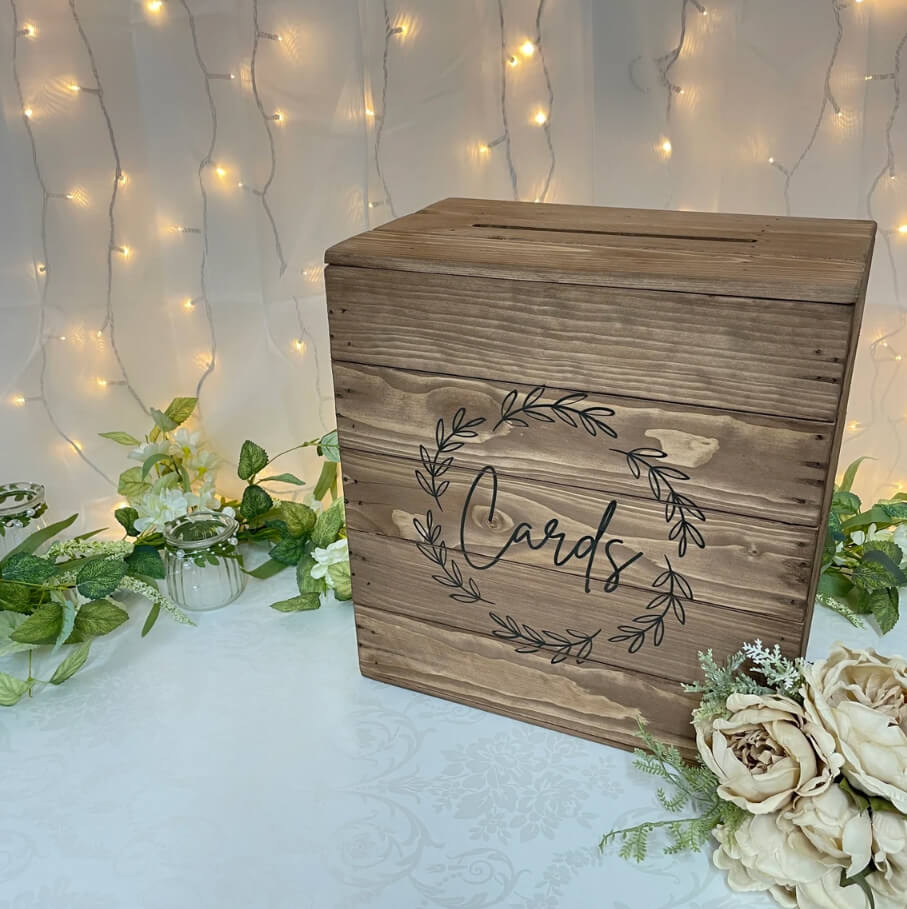 If your wedding has a more rustic and vintage feel, then this wooden card box will fit in effortlessly. This handmade box is a comfortable size, and it is easy enough for guests and the couple to use. Meanwhile, it has a simple appearance that is still stylish with little effort. The stained wood looks lovely, while the writing on the box enhances its overall design. So, give your wedding card box a farmhouse feel that everyone will appreciate.
10. Acrylic Wedding Card Box Design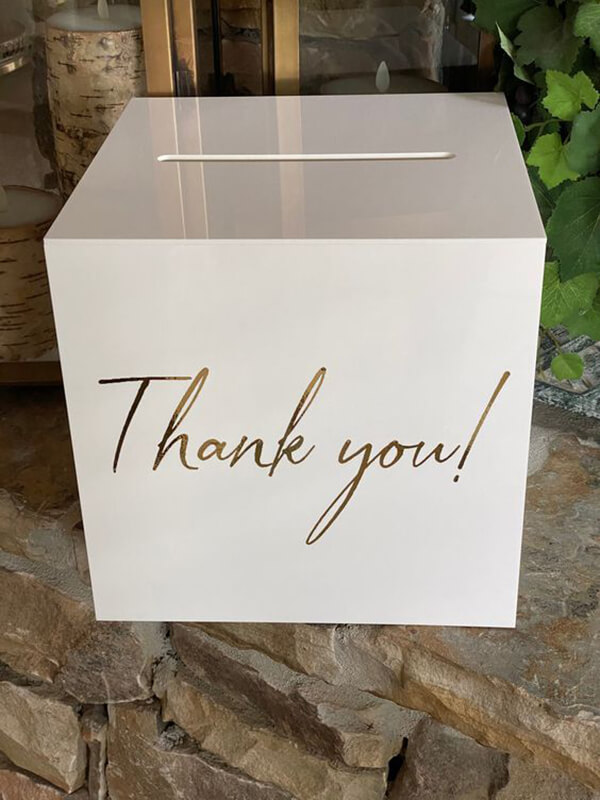 Take simplicity to new levels with this homemade card box. As a minimalistic design, the box is simply clean and elegant all at once. You can choose from black, white, or even clear coloring for the box. On the other end, there are several choices for the vinyl lettering, freeing you up to creating a great box to suit your wedding theme. You can personalize this box too with any writing you'd like on it.
11. Lockable Wedding Keepsake Card Box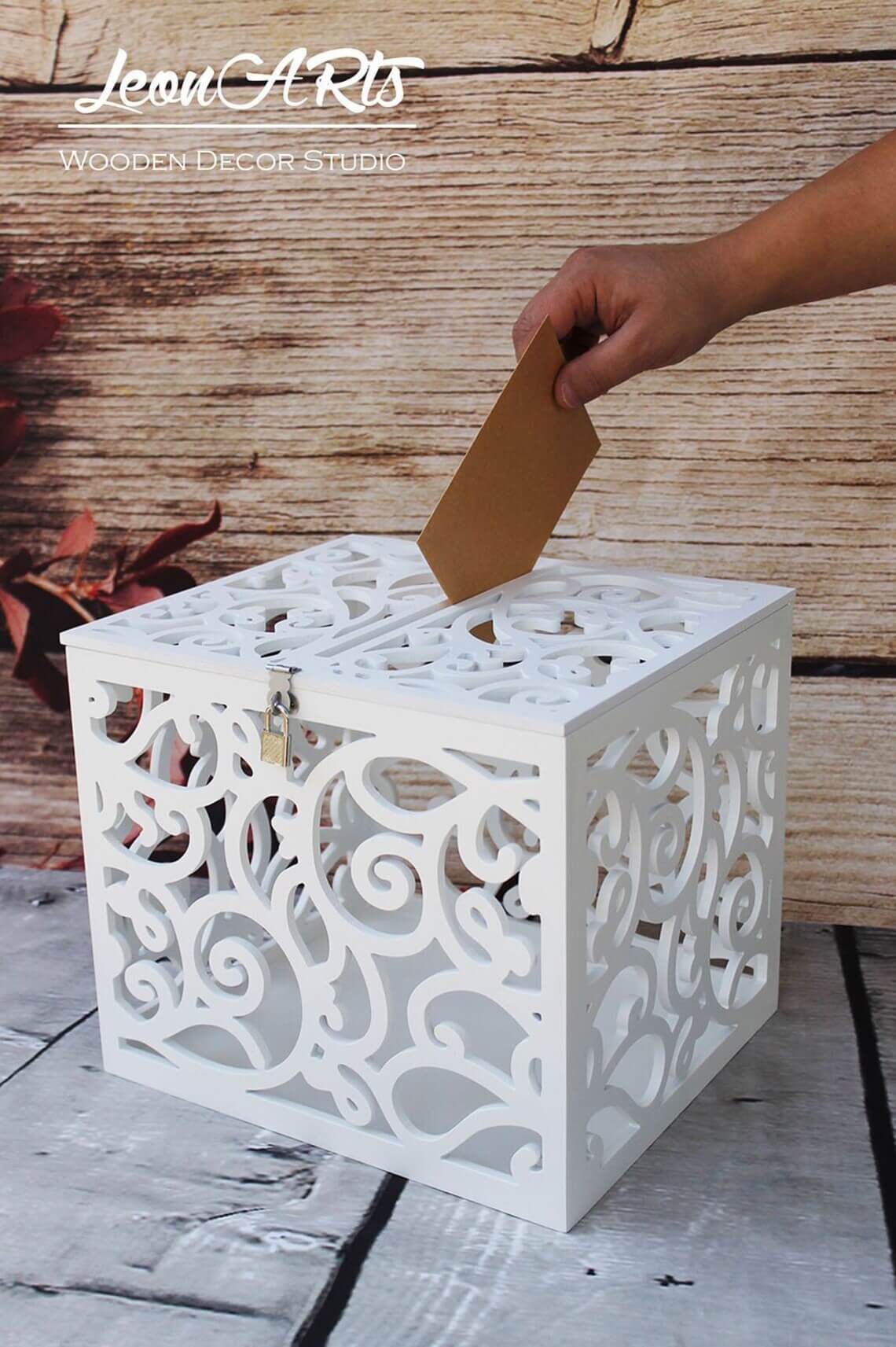 When it comes to handmade wedding card holder ideas, this keepsake box is absolutely stunning. It has an intricate design throughout, and while it is completely see-through, it is impossible to actually take anything from it. This is because it has a lock design. It is a fun idea as it shows how the couple is "locking in" all the well-wishes and love from guests. This also makes it exciting for the couple to unlock and open together after the ceremony.
12. Burlap Wedding Card Banner Design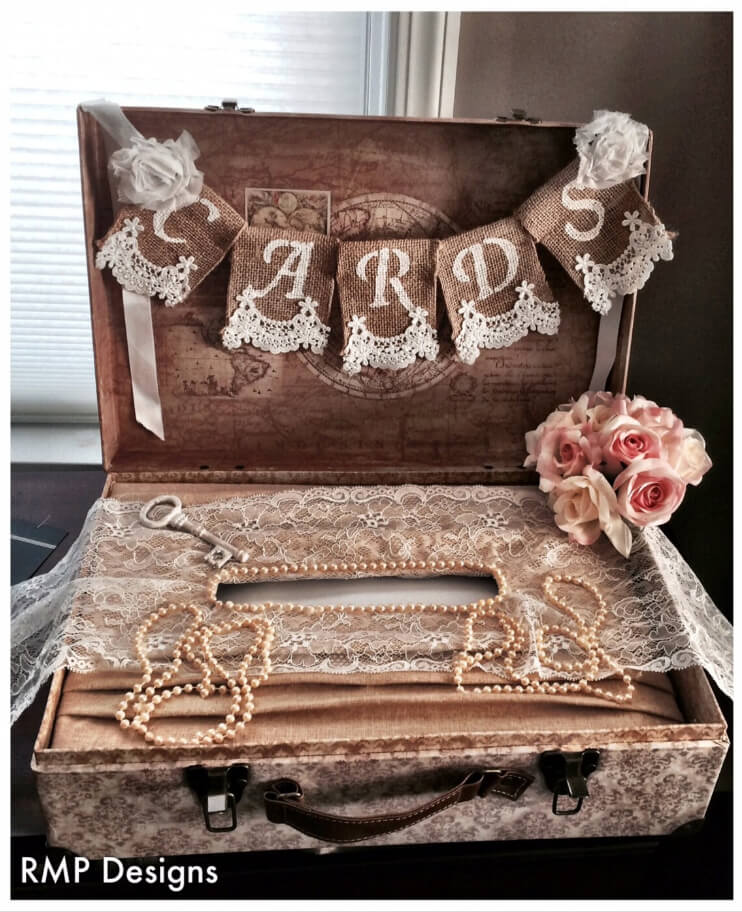 If you are looking for a shabby chic card décor to represent your wedding theme, you cannot go wrong with this homemade banner. It features burlap material in a handful of different colors. As it is just a banner, you are free to utilize this in your own DIY wedding card box or any other box you have in mind for the ceremony. It has a carefree design that makes it pleasing to look at long after the wedding is over.
13. Custom Wooden Card Box Holder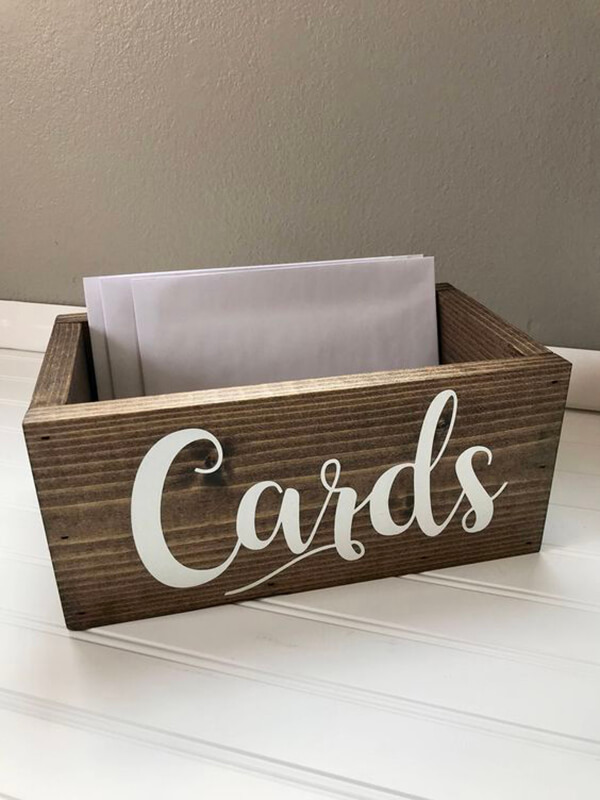 Looking to keep things simple, yet still want something that will leave guests talking? Then try out this cool homemade wedding card box made from wooden material. The wood features a more rustic look that allows this to blend in well with several different wedding themes. This way, you won't have to add anything extra to it so that it fits in with the style at hand. There is also some lovely vinyl lettering so that you can customize this to suit your theme even more.
14. Rotating Wedding Card Box Photo Display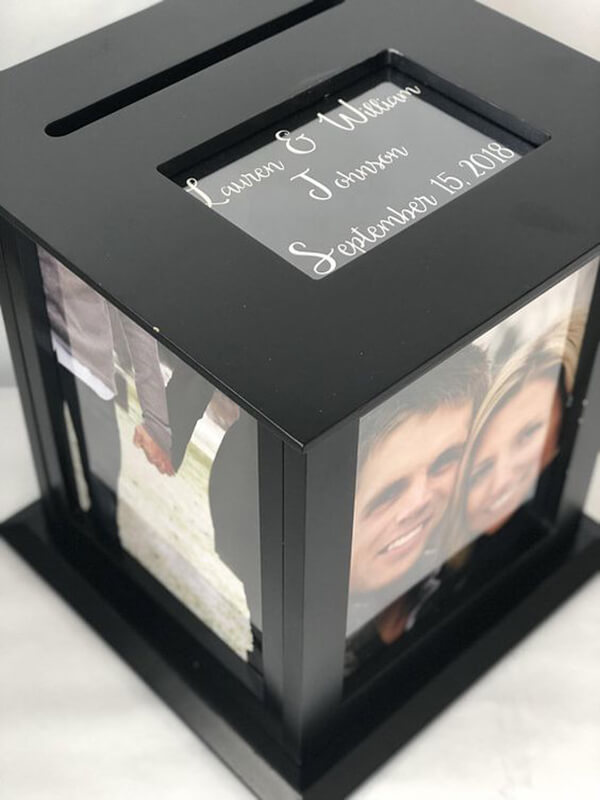 Show off the love of the happy couple directly on the wedding card box with this unique display. It takes picture frames to new levels. There are places for photos all around the box so that guests can admire it from any angle. You can get it with or without any print, and you can customize the background color of the lettering box if you'd like. This is also a nice keepsake for the couple as they can leave it up long after they have removed the cards.
15. Wedding Card Box Banner Design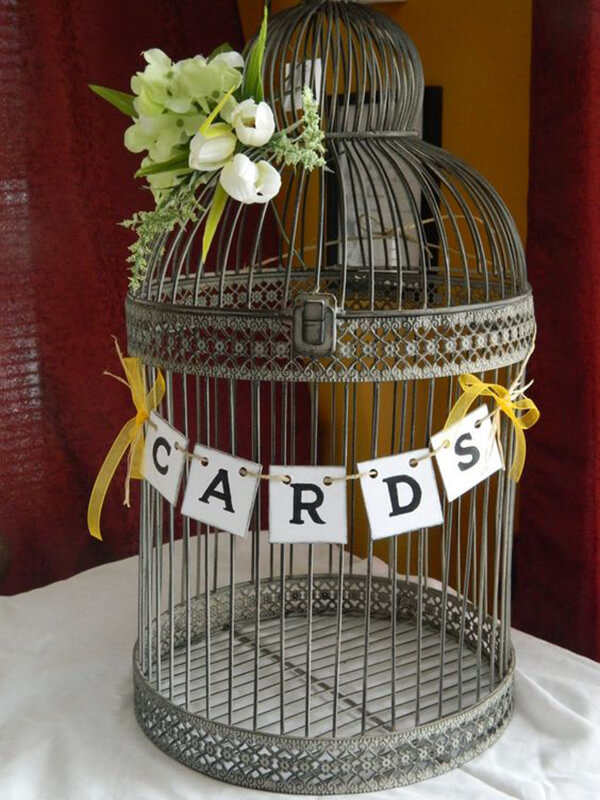 If your wedding card box is missing that certain something, this banner may be just what you need. It is a simple banner that features a ribbon bow to which you can select from numerous different colors. This is a nice way for you to blend this banner into your wedding style with ease. You can also choose from different lettering colors for more customization.
16. Personalized Elegant Wedding Card Box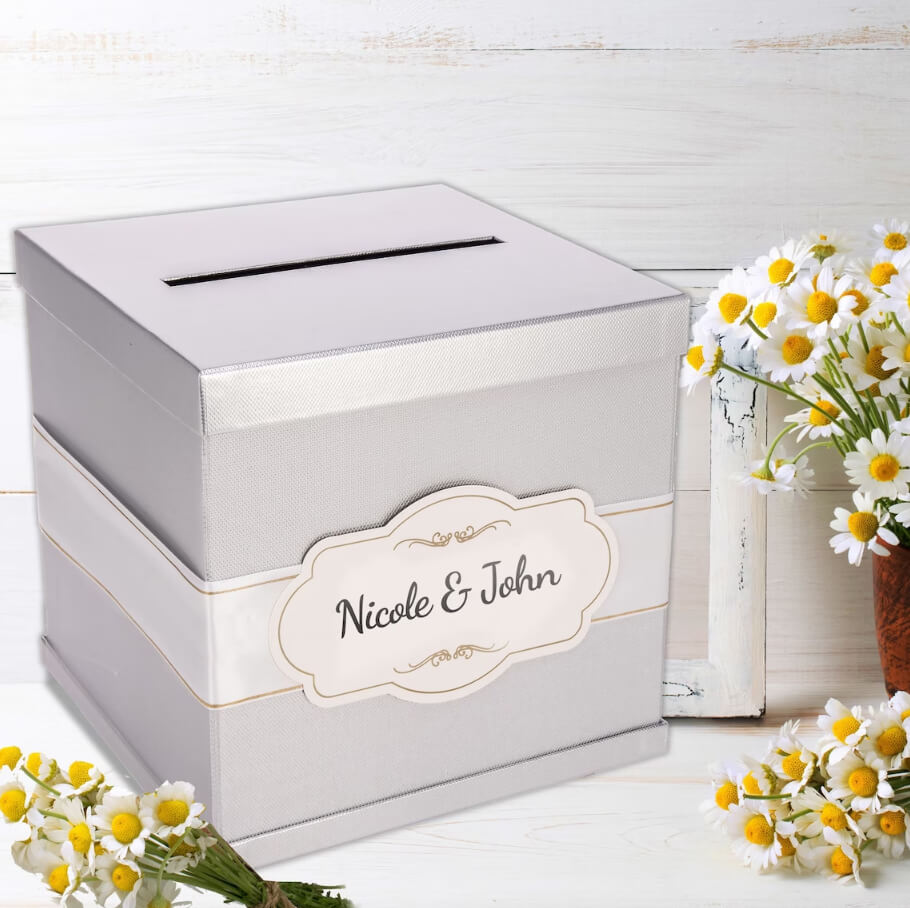 Leave your guests with something elegant and stylish for them to slip their cards to you in. This takes what would be a normal looking box and elevates it to new heights. There are a handful of different box colors that you can select from. This way, it is simple enough for you to find a box that best suits your wedding décor. As a bonus, you can even personalize this box to with the name of the couple or you can leave it indicating that it is meant for cards.
17. Vintage Personalized Wedding Keepsake Card Box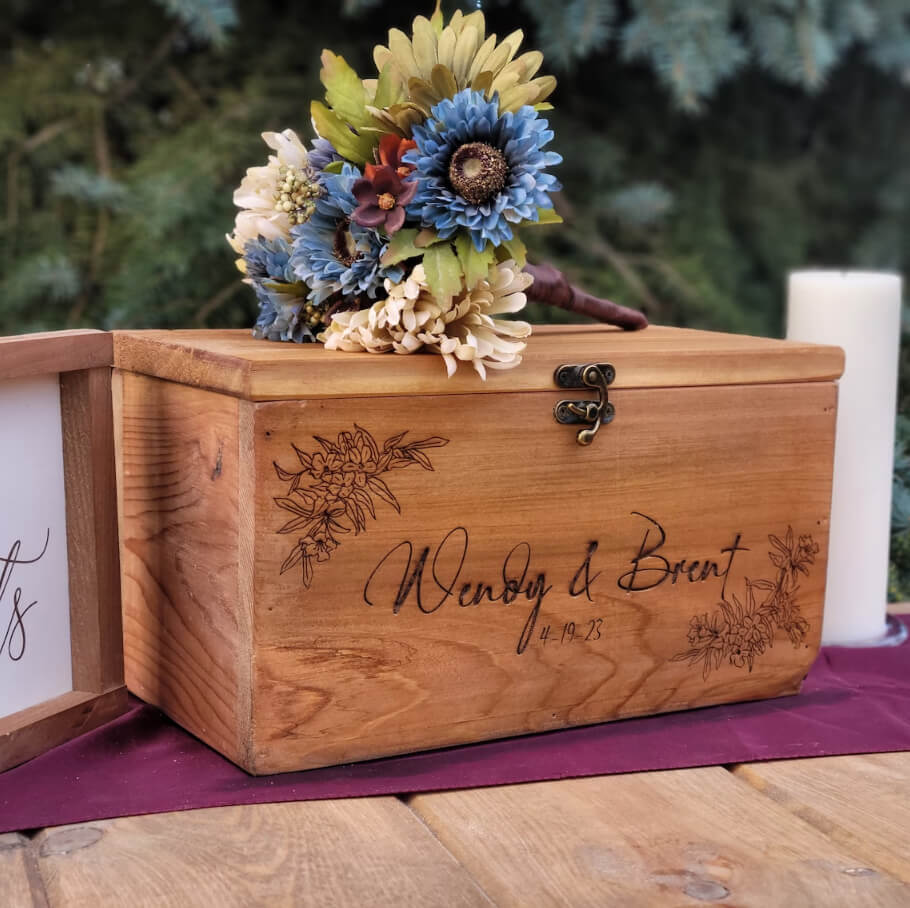 This homemade card box is perfect for those who wish to have a keepsake they can appreciate long after the wedding is over. The wooden box has a classic look and feel to it. You can choose from several different finishes for greater personalization. There are also different sizes to suit those of you who want something small or need something rather large to handle more guests.
17 Adorable Wedding Card Boxes You Can Make Yourself
Card boxes are among the underrated and often forgotten aspects of a wedding. However, they hold such precious and thoughtful words from all your loved ones. It is only right then that they have something just as treasured to rest in. That's where homemade wedding money box ideas come in. They offer an elegant and appealing look that will stop anyone in their tracks, urging them to admire it as they leave their well-wishes. You can DIY this yourself or seek out a handmade box made by someone else. No matter which way you go, you will gain another lifelong memory to cherish about your wedding day.