Because seating plans have so many responsibilities, choosing the best DIY wedding seating chart for your big day might seem overwhelming. It should not. All you need to do is to find the perfect balance among your options. Do you prefer many cards or a single poster that pops? Maybe you crave the classics in comparison to big, bold, colors. Whatever your wedding style is, there is a way to make these 21 ideas work with your dream. This collection is designed to be mixed and matched to engineer a seating plan chart perfect for your needs.
21 of the Best DIY Wedding Seating Chart Ideas that Illustrate your Love Story

One of the first decisions you need to make is whether you would like a collection of cards or a single poster. Often, cards are more flexible. If you think your guests might need a seating plan overhaul at the last minute, cards might be the way to go. A poster takes up more space, and by doing so, draws guests' attention. These have fewer moving parts and are sometimes easier to load and carry into a venue. However, they are not as easy to update for last-minute changes. Either way, you will enjoy the seating plan success.
General aesthetics play a part in your ultimate design as well. Are you more into earthy rustics, bold Bohemians, sleek modern, colorful maximalism, classic romance, or straightforward minimalism? There are so many defined styles, but you should follow your heart and build your wedding seating plan from a mix of these. In addition to the wedding seating plan's overall feel, there are other features to consider as well. Because wedding plans are highly customized, they should be easy to personalize to your guests to fit your wedding. The best part happens when all the elements come together smoothly, and you get compliment after compliment from your guests.
1. Illuminated Wedding Seating Plan Made from Plywood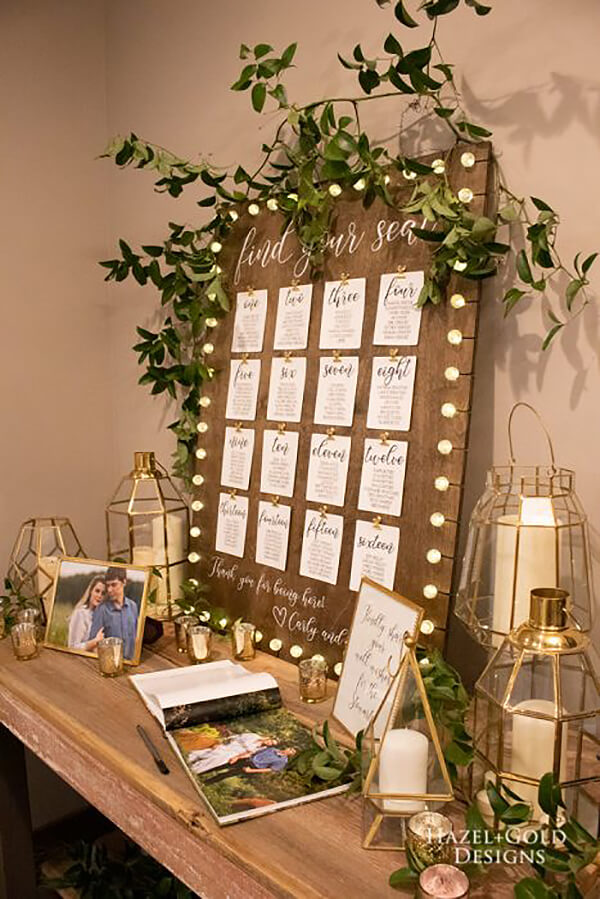 Adding lights to your seating chart is a great way to draw your guests' attention. The globe-shaped string lights contribute a soft radiance ideal for cultivating a romantic atmosphere. However, which style of lights you use is entirely up to you. Surprisingly, everything is attached to a slab of stained birch plywood. With this technique, you can choose any wood stain color that vibes with your wedding style. Then, all you need to do is affix your seating chart cards directly to the plywood. This can be done with gold thumbtacks as shown here or your favorite mounting method. Vinyl letters generated via a cutting machine provide a header and footer worthy of your big day.
2. Creating a Seating Chart with Picture Frames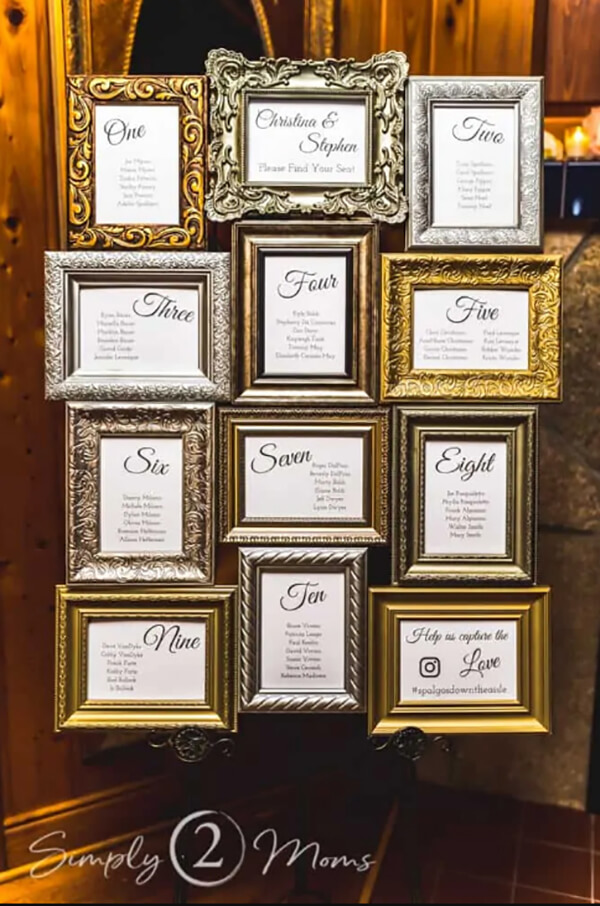 A mélange of sumptuous picture frames make up this dazzling wedding seating chart. Although they feature different metallic shades, they look like they were made to be displayed together. To achieve this effect, find budget-friendly picture frames and paint them the desired colors. In this image, you see three different metallic shades and a few frames that were gold to begin with. While you can take whichever approach you desire, removing the glass is highly recommended. This will cut down on glare as well as make this wedding seating plan easier to transport. If you use hook-and-loop fabric fasteners to mount the picture frames on the wood frame backing, you can even use the ornate frames after the wedding.
3. Large Retro-Inspired Wedding Seating Plan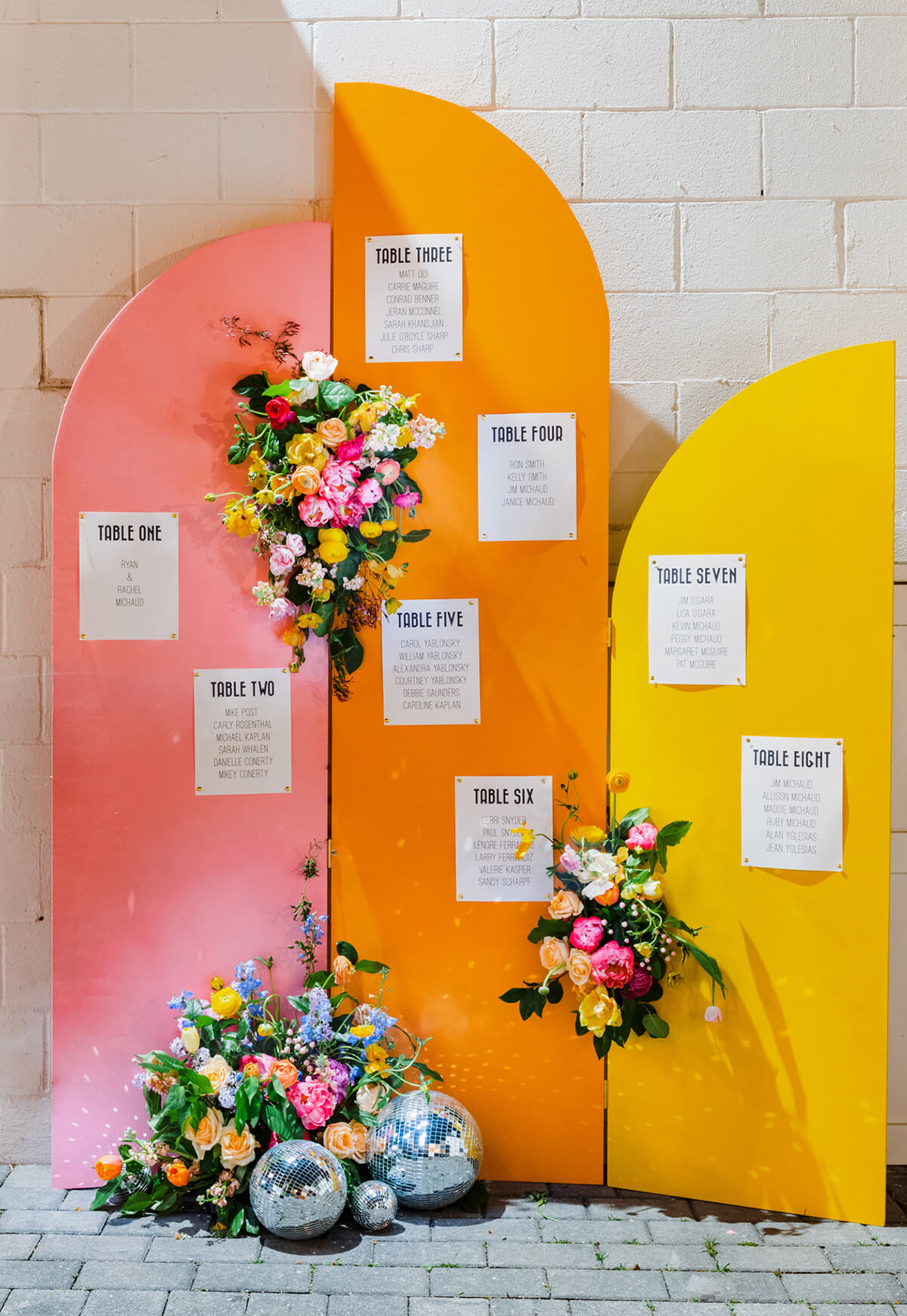 Transform plywood sheets into a colorful photo backdrop and wedding seating plan. Bright pink, exuberant orange, and joyful yellow illustrate how exciting your wedding day is. The fresh floral arrangements offer a connection with nature and the disco balls add a touch of glamor. With this strategy, showcasing your seat chart is easy. Standard-sized paper allows for large lettering which is kinder to senior guests. Using a heavier paperweight or card stock is recommended as it conveys a more professional appearance. If you have access to a printer that can handle card stock, you could update them the day before your wedding. This also means you could print several mock-ups to see exactly how they will look before making a final decision.
4. Unique Circular Wedding Seating Plan Cards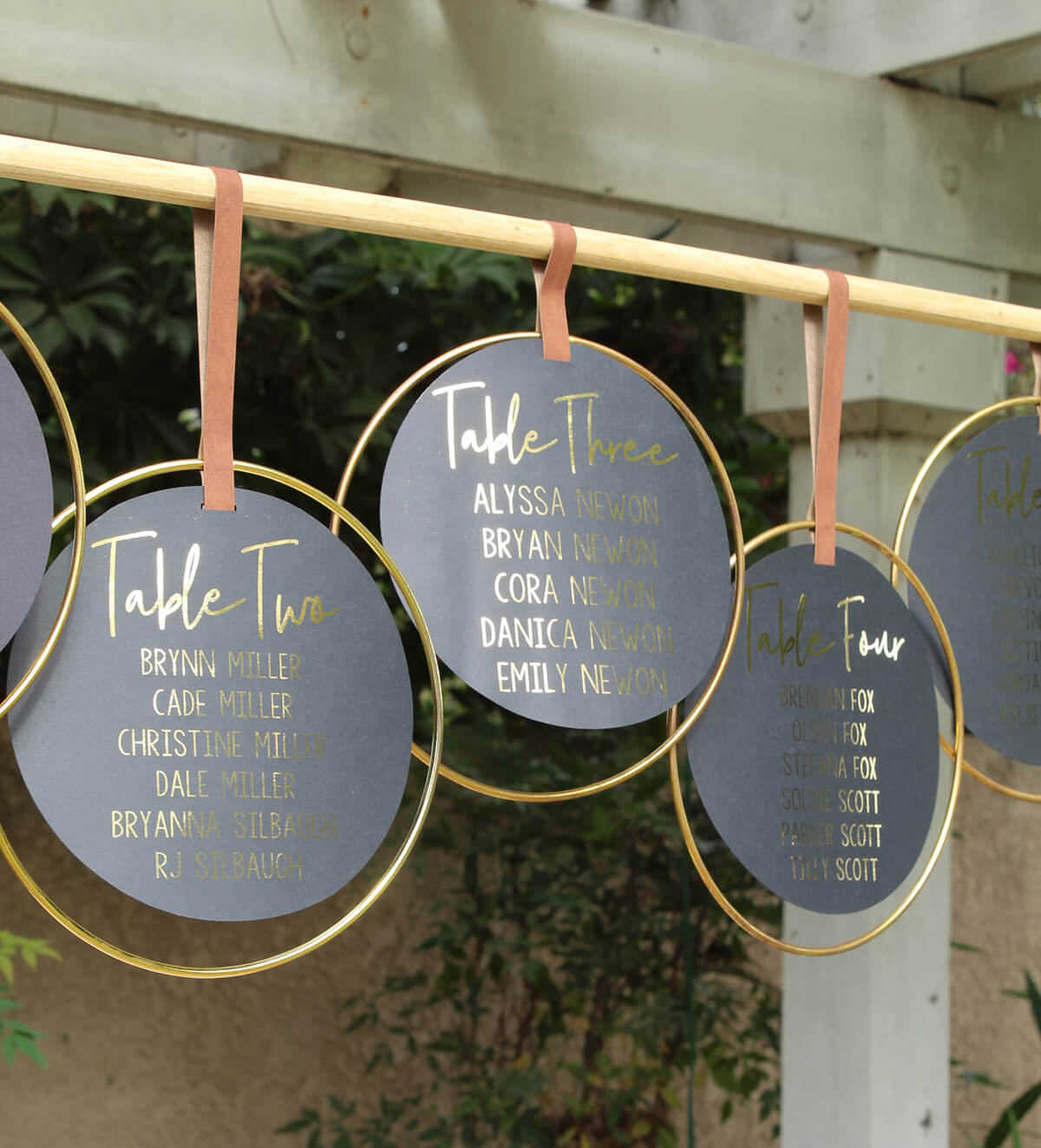 A luxurious black and gold color scheme gives this approach so much to love. Because of how easy, affordable, and flexible these are, these are some of the best DIY wedding seating chart ideas. To make these exquisite rings, all you will need is a cutting machine, macramé hoops, black cardstock, and faux suede strips. To achieve the organic euphoria shown here, make sure to stagger the hoops. This is done by using different lengths of faux suede. Because you are making these, you have complete control over colors, fonts, and styling. If you want to project a Bohemian aura, make a few macramé knots to dangle down from the hoops' lowest points. Now, all you need is a way to suspend them.
5. Using Two-Toned Origami Hearts as Seating Charts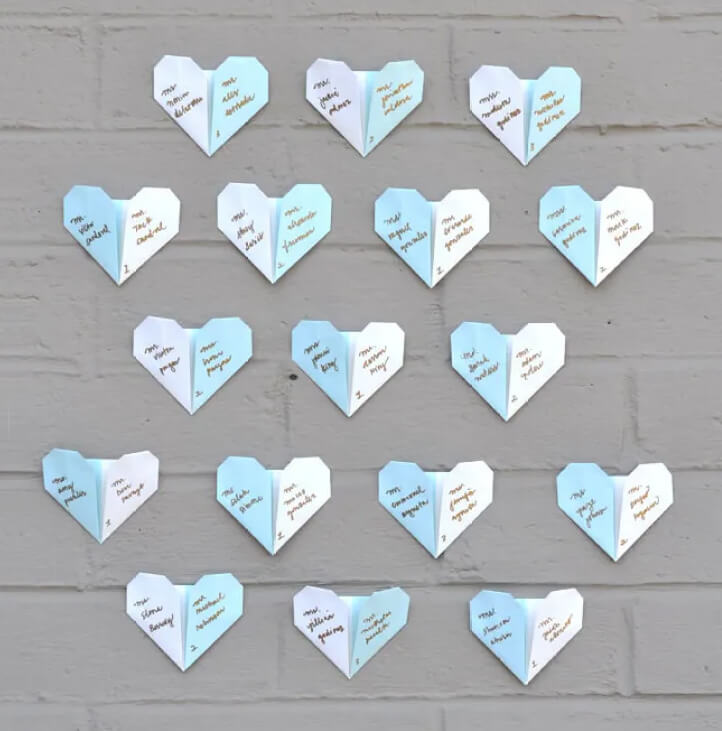 Because these origami hearts are easy to make, crafting them could be a quick weekend project. Because you prepare the paper, you control which colors ultimately appear. However, because you will be writing on them, it might be practical to choose complementary solid colors. While this example showcases pastels, do not be afraid to use intense tones like burgundy, black, or navy. Flashy colors like gold, silver, and copper are also options. Whichever colors you choose, you will want to find a permanent marker that will contrast well for readability. To make your heart-shaped cards larger, find a way to use larger sheets of paper to make your seating chart. Now, all you have to do is find a way to hang them.
6. Pink and Gold Pallet Wedding Seating Chart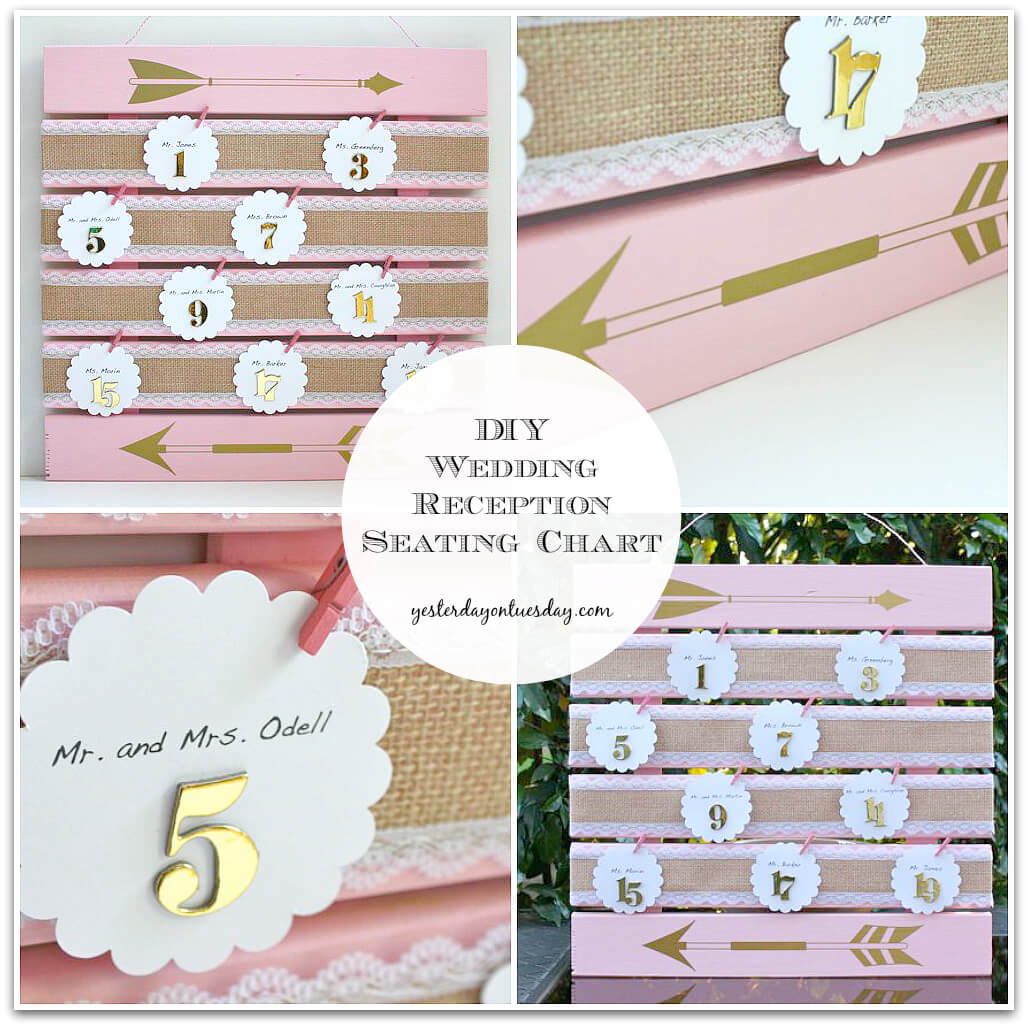 Everything about this homemade seating plan for weddings shouts playful rustic chic. Painting the pallet gives it a more polished look, but you could leave it natural for an earthy feel. However, the pink creates excellent contrast with the lace-edged burlap ribbons used to hang the table arrangements. This is a great combination for rustic weddings, but nearly any type of ribbon will work. Scale up the glamor with ornate brocade ribbons. Similarly, a solid-colored silk ribbon will balance luxe and minimalism. Finding a wide ribbon is the most important task here. Gold stick-on numbers coordinate beautifully with the golden vinyl arrows. If arrows are not for you, try experimenting with other motifs. This is an opportunity to share your personality with your guests!
7. Upgrading an Antique Window Frame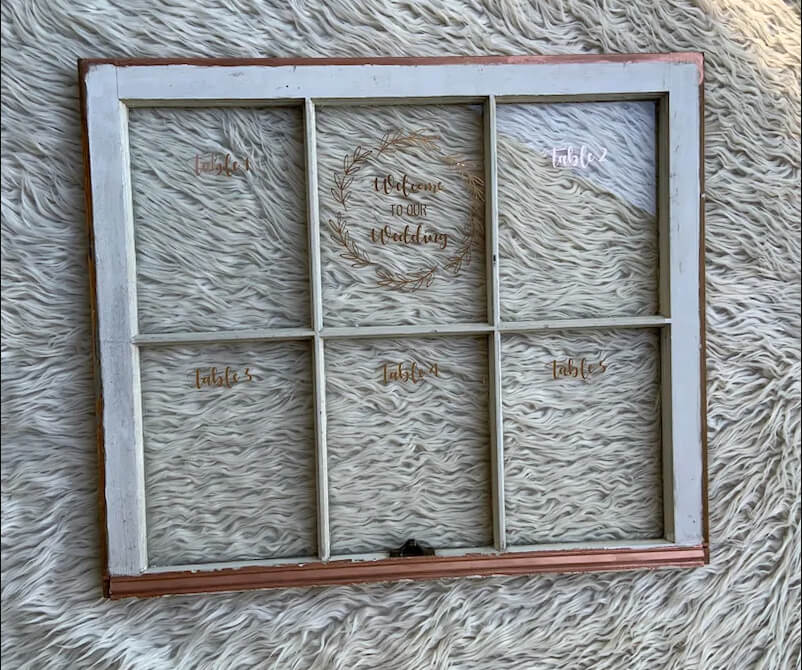 Pairing rose gold foil with a distressed window frame is the perfect way to establish a rustic ambiance at your wedding. To help the two look more cohesive, this window frame includes long streaks of copper paint that will glimmer in the light. Although access to a cutting machine is necessary for the vinyl lettering and wreath, you could also adhere printed paper cards to the window panes. Another way to add guests' names to this seating chart might be to freehand them with a permanent marker. If you need to change guests around after writing their names with a permanent marker, you can use rubbing alcohol to update them. Once this window seating chart is assembled, it is easy to update.
8. Unique Mirror-Backed Handmade Wedding Seating Charts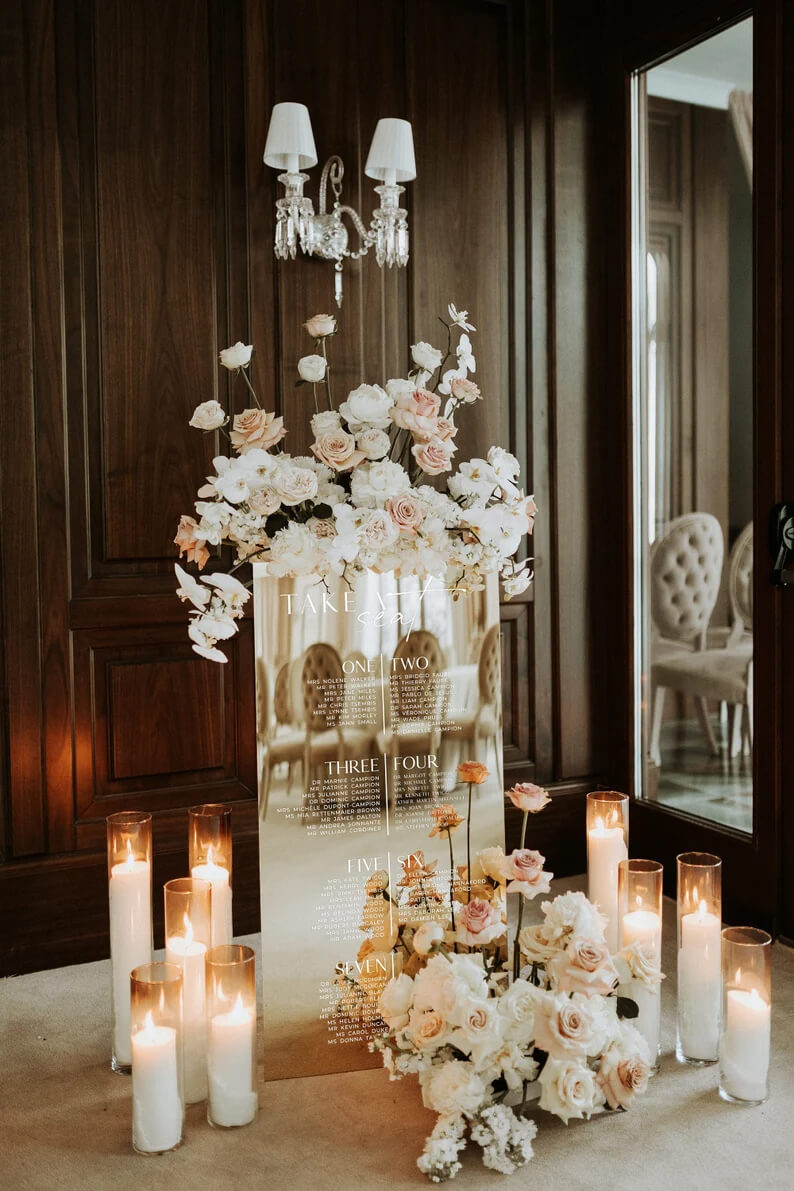 A gold-tinted plexiglass mirror is a perfect way to add romance to your wedding décor. While white text exudes bridal bliss, you can also choose black vinyl text for increased readability. If you have a wedding monogram, this shop can apply it to the seating chart. What makes this mirrored seating chart so magnificent is its versatility. Pair it with bounteous roses and candles for an aura of glamorous romance. Skip the embellishments for a modern or minimalist wedding. Another benefit is that you do not need to stress about matching colors – a mirror will reflect your other decorations. To increase practicality, you may want to leave the entire mirror easily visible so that guests can easily find their names.
9. Wedding Seating Chart Cards that You Design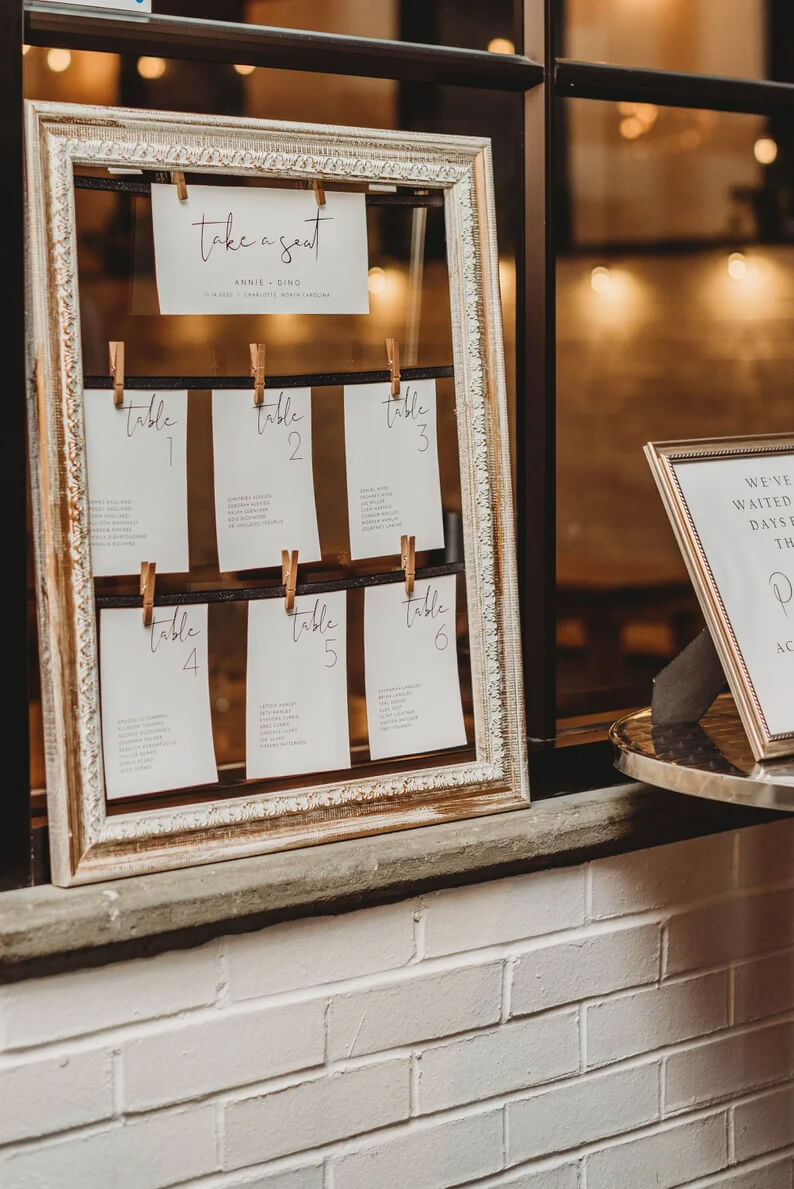 These templates take almost all the work out of designing your dream wedding seating chart. A flowing script imparts a little romance while a clean sans serif font contributes a clean minimalist feel to the seating chart. The result is a seating chart that will add sophistication to any wedding. Because these are templates, you can add or change the information yourself. This gives you the flexibility to update your seating plan for last-minute guests. You are also able to customize the colors to seamlessly harmonize with your wedding colors. After your seating chart cards are printed, you just need to find a charming way to display them. This example establishes laid-back elegance by pairing an ornate picture frame with clothespins.
10. Simply Elegant Homemade Seating Plan for Weddings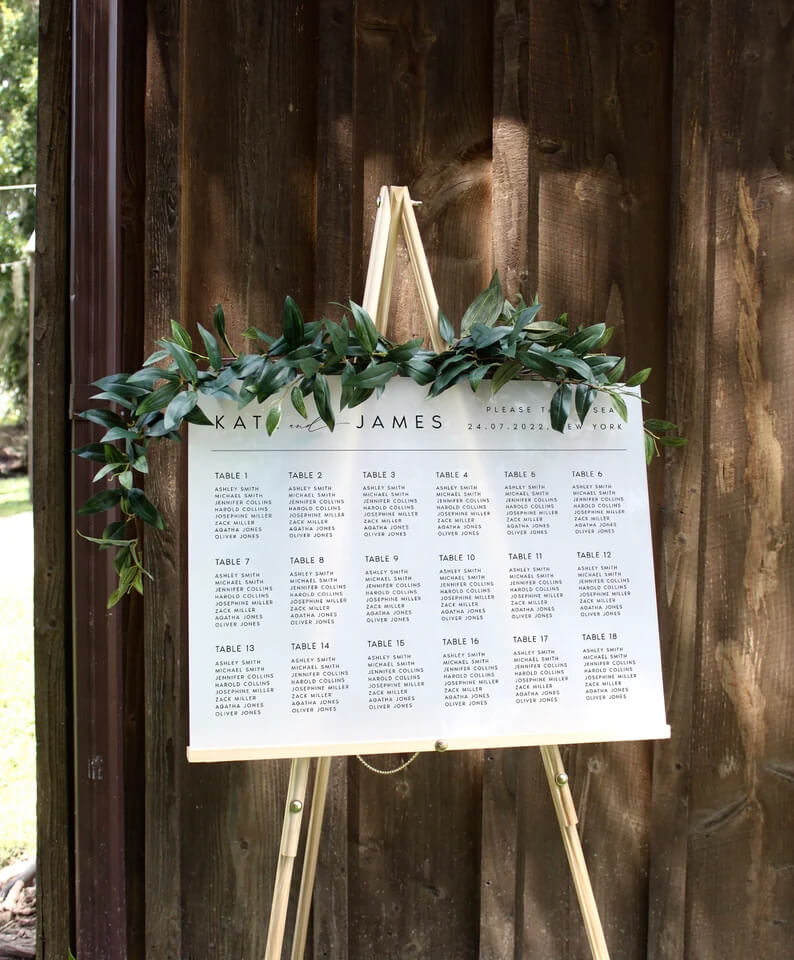 By stripping away the extra details, this seating chart is an appealing minimalist approach. Easy-to-read black text on a white background gives guests everything they need to know about where they will be sitting. A fully customizable online template makes updating the names and tables a breeze. The beauty of choosing a clean wedding seating poster is that you can dress it up any way you please. This example shows greenery twined across the top, but this is where you can let your imagination run wild. If you do not want decorations draped on the poster to obscure text, experiment with easel decorations. Imagine embellishing your easel with gorgeous peonies, classic roses, or playful sunflowers depending on what fits your wedding aesthetic.
11. Glamorous Gold and Frosted Acrylic Seating Plan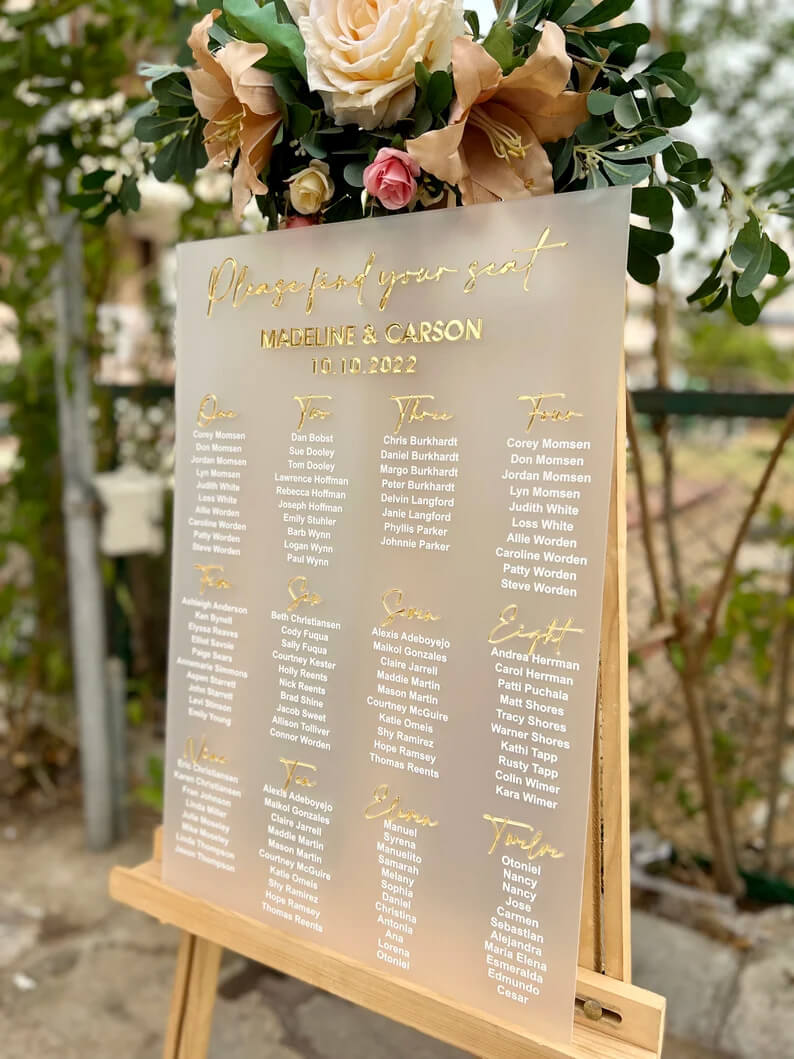 Featuring foil gold lettering, this wedding seating plan is all about luxury. With a background that mimics frosted glass, this poster is nothing short of chic. If gold is not right for your wedding palette, this poster is also available in cool silver, warm rose gold, and inviting copper. To emphasize the elegance, find a way to style tea candles with your wedding table plan poster. Alternatively, you could pair it with an abundant flower bouquet as shown in this image. However you display this opulent wedding seating poster, it will make a statement and draw lots of compliments. The only drawback is that it will not work for last-minute wedding planning – you need to order this chart about one month in advance.
12. Horizontal and Vertical Picture Frame Seating Chart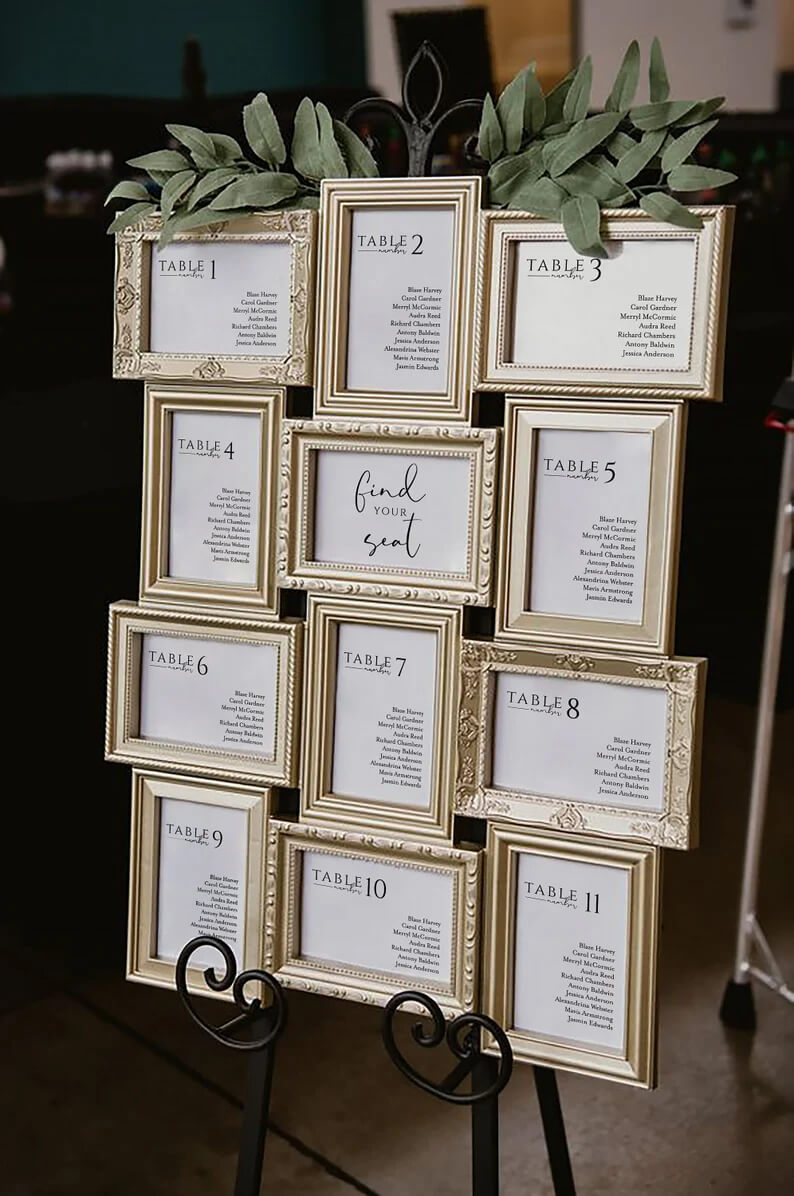 Establish elegance with this chic wedding seating chart made from picture frames. Alternating the horizontal and vertical picture frames gives this chart a pattern reminiscent of basketweave. Because each golden picture frame is different, this chart cultivates a captivating texture. For a Bohemian feel, choose picture frames that are different colors as well as different textures. If you crave a modern wedding seating chart, choose picture frames that are sleek and straightforward. Adding some botanicals and displaying them on a metal easel only adds class. With this template, you will receive 10 horizontal table cards, 10 vertical table cards, and a horizontal card that reads "find your seat." You can customize it to any color and even use photographs as backgrounds.
13. Unique Seating Chart Made from Linen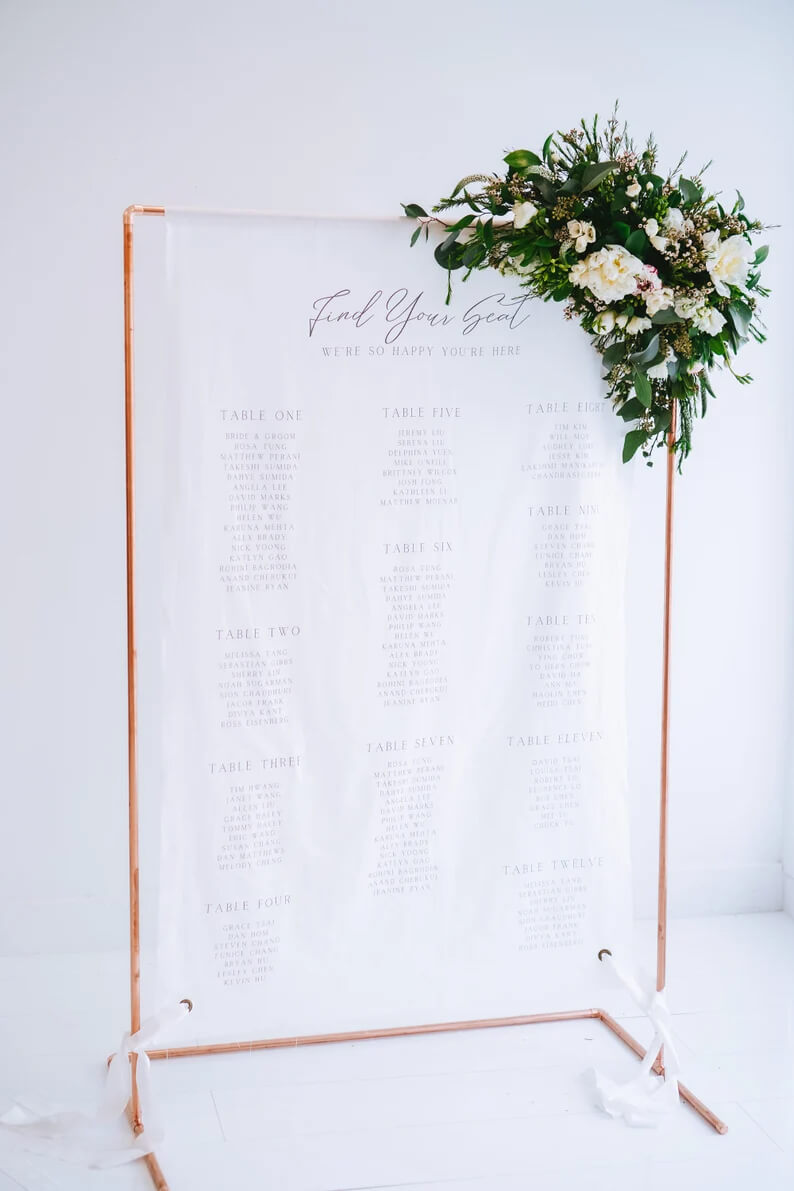 If you want to make a statement with your wedding décor, this linen seating chart is the way to go. A tasseled edge adds just a hint of Bohemian appeal. For an added earthy look, you have the option to include the copper stand shown here. However, you can also opt for your own stand. Grommets at the bottom are also an option and are recommended for outdoor use to keep the banner from flapping in the breeze. While the ribbons in the image are not included, they offer a great opportunity to personalize this seating chart to your wedding. Imagine silk ribbons in your wedding colors, tulle to make it feel like a fairy tale or burlap for a rustic wedding.
14. Alphabetized Wedding Seating Chart with Botanical Artwork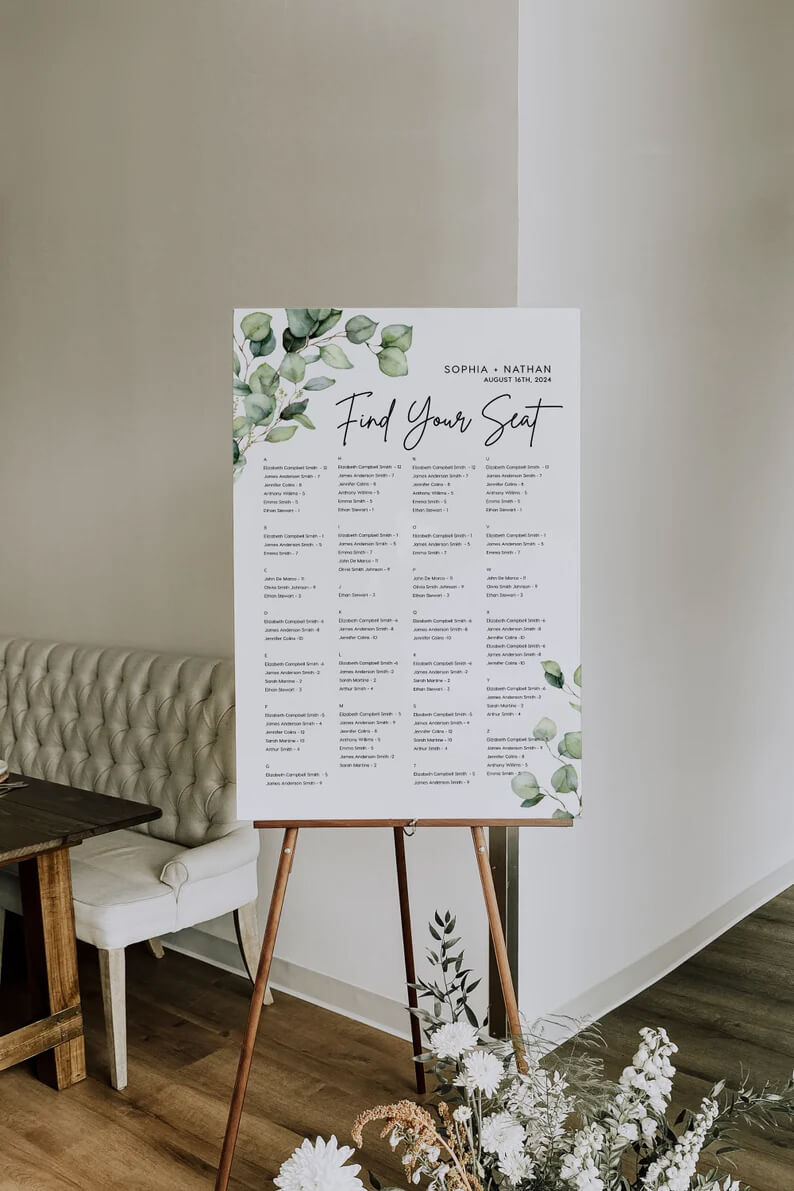 Instead of arranging your seating chart around tables, this alphabetized poster makes it easy for guests to find their tables. Because this approach is faster to find a name, you might avoid bottlenecks on the way into your venue. The artistic leaves feature multiple shades of green which mean that this poster will harmonize with a variety of wedding décor. If the black text on a white background is not your style, try mixing it up. For a dramatic chalkboard feel, use a black background with white text. Another way to spice this poster up would be to use a background color that coordinates with your wedding colors. The eucalyptus sprigs will look especially captivating on backgrounds in green, Byzantium purple, or dark turquoise.
15. Minimalist White-on-Black "Our Favorite People" Seating Chart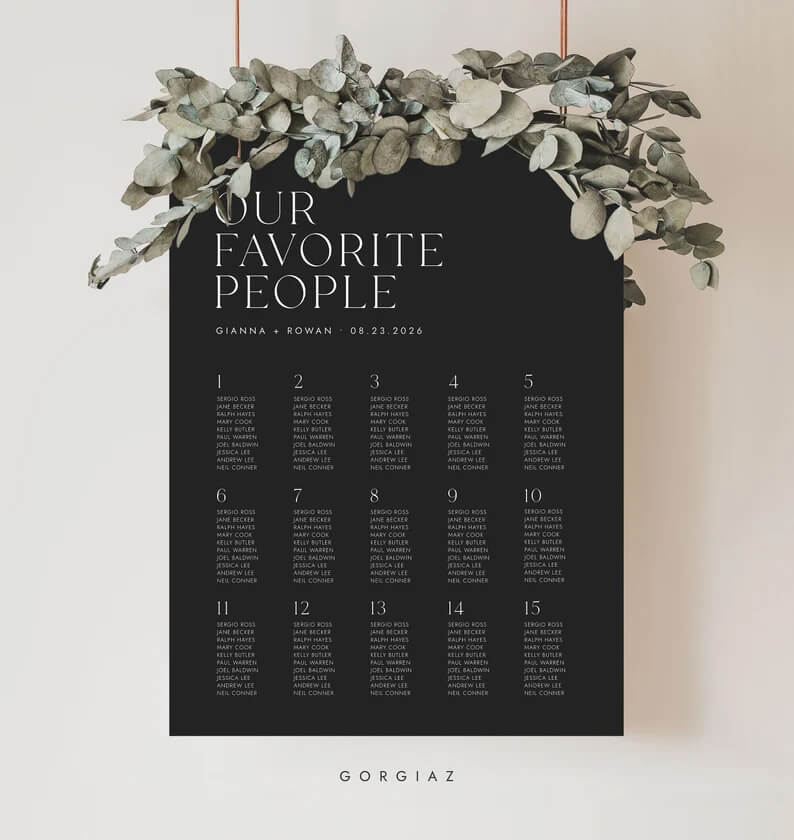 An asymmetrical title and neat columns of white text mean that this wedding seating chart will make a splash. Because the white text on a black background is unusual, it will draw both attention and compliments. All you need to do is modify it to include your guests' names, print it, and mount it. After it is mounted, you can begin embellishing it. This image showcases a refined look with the botanical vine twining around the top. To make it pop more, experiment with boldly-colored floral bouquets. For a truly minimalist homemade seating plan for weddings, skip the decorations and let this magnificent poster shine.
16. Styling Your Homemade Seating Plan for Weddings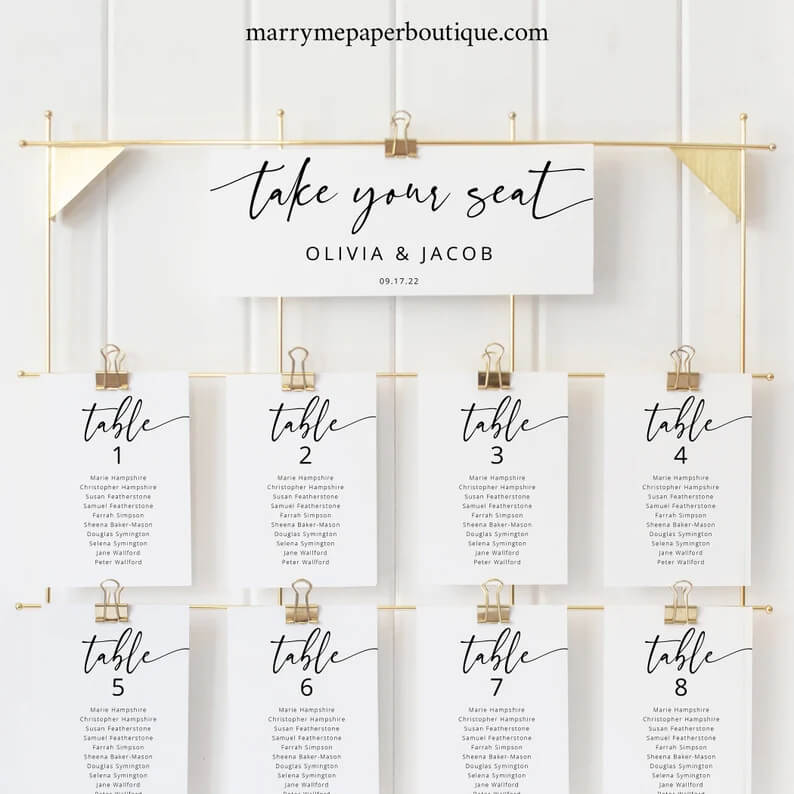 Because this template is simple enough to be printed at home, you can be more extravagant with its supporting framework. This image showcases a minimalist stand with golden binder clips to hold the cards. For a little rustic charm, use clothespins on twine instead of binder clips on gold. Another way to mount these cards might be to adhere them to a mirror or onto an old window frame. Whatever you use to suspend this seating chart, printing on high-quality card stock is recommended. This template is set up to print either on a standard sheet of printer paper or on a standard photograph size. With the standard 8.5-by-11-inch paper, you will need to cut your seating cards to size.
17. Printable Wedding Seating Plan Poster Template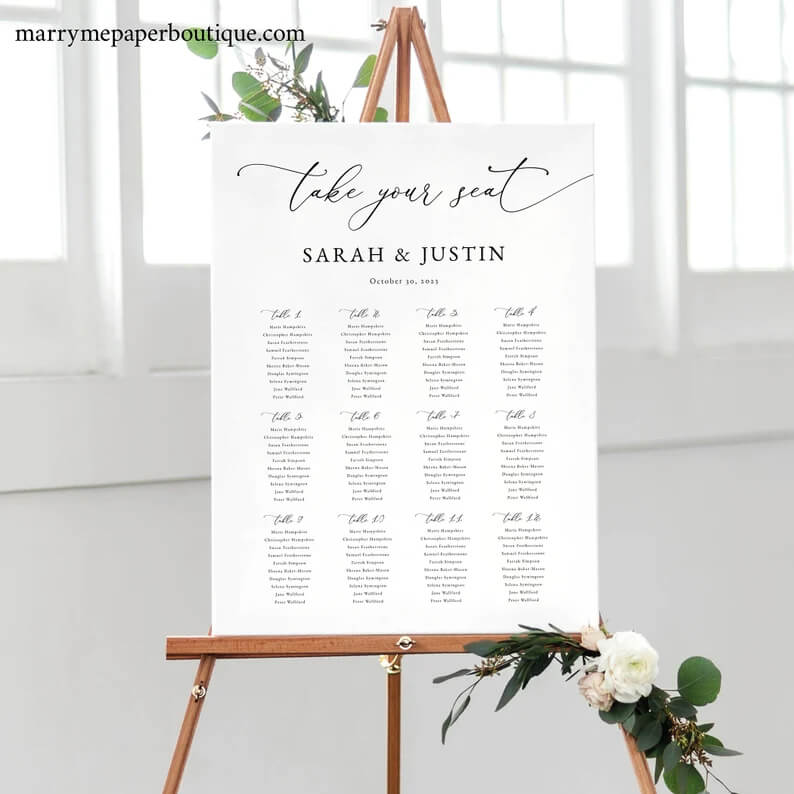 Because of its flexibility, this is one of the best DIY wedding seating chart ideas. While this poster is optimized for 12 tables, the template software makes it possible to customize your seating to the number of tables you need. The time frame is also flexible. You can even begin working on your seating chart up to a year in advance. Depending on the printing services in your area, you can send it to print the night before and have a wedding seating plan ready to go. By balancing balletic cursive text with a classy serif typeface, this poster achieves highly-legible ecstasy. As a single piece, there is no assembly to worry about. It will also be easy to carry into your venue.
18. Handmade Wedding Seating Charts with Eucalyptus Accents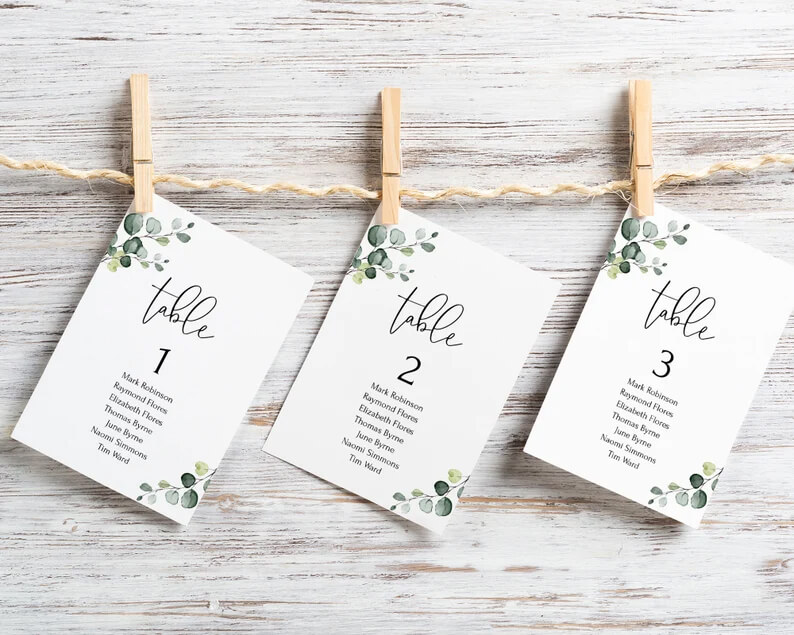 Available in a range of sizes, these seating charts can go anywhere you need them. Hang larger cards together as shown in this image or pop smaller ones into picture frames on your tables. Watercolor botanical embellishments add a touch of romance and will pair well with most weddings. While the header typeface continues the romantic theme, a modern san serif font ensures guests' names are easy to read. All you need to do is input your wedding information and print your completed wedding seating chart. From two tables to 200 tables, these artistic cards are easy to scale and a true pleasure to work with. If last-minute changes are necessary, these templates are easy to update and reprint.
19. Gold-Accented Seating Plan for 14 Tables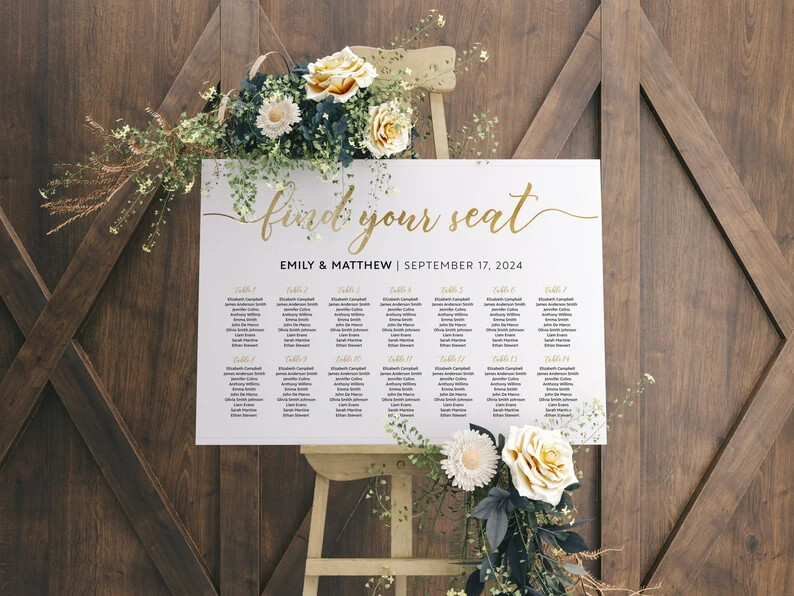 Although there is no actual glitter on this wedding table plan, it prints with the appearance of golden glitter. This gives you all the benefits of glitter lettering with none of the mess. As a component in your color scheme, gold works well with light hues like cream, blush, and sage. To go a more intense route, pair gold decorations with rich tones like emerald, burgundy, plum, or navy. Because it comes in a palette of black, white, and gold, this seating chart template can go in whichever color direction is right for your wedding. While this template looks great with 14 tables, you can request a customized poster if you plan on having a different number of tables.
20. Rustic Wood Seat Chart Card Hanging Board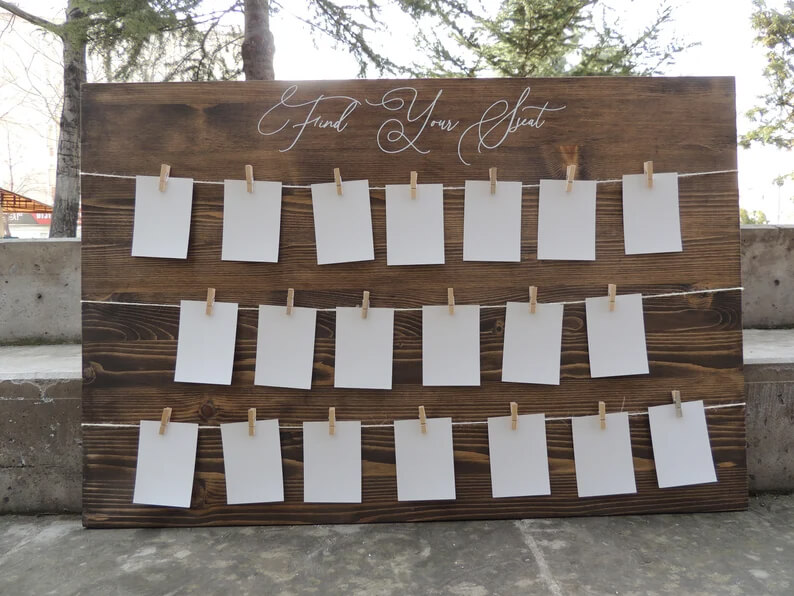 It can be easy to let your seating chart cards get all the glory. However, it is important to remember a way to mount them. Overflowing with natural beauty, this seating chart backboard is the perfect touch for a rustic wedding. The board is available in various sizes and configurations. Custom orders are also possible. You have eight font choices including various calligraphic scripts as well as a font inspired by the Old West. Although you will need to install the string yourself, this board comes with twine and clothespins. Because it is not pre-installed, you have a little flexibility to personalize your wedding seating chart. A hanging bracket means you can hang it in your home after your big day.
21. Acrylic Seating Chart with Plenty of Options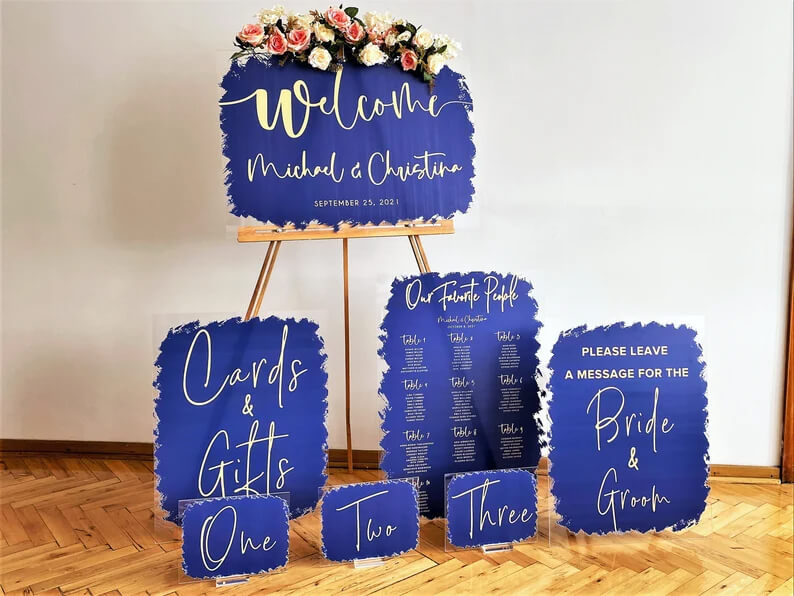 With a cool, brushed-on color, these handmade wedding seating charts are a great way to make a statement. If navy does not suit your wedding, check out the other eight available colors or request a customized color. Clear, solid, and frosted backgrounds are also options and each brings its own magic. For a cohesive look across your décor, imagine using a matching suite like the one shown here. Beyond color, other possibilities for customization include font choice and seating chart configuration. This acrylic board makes it possible to organize your seating plan by table or to alphabetize it. Try personalizing your acrylic seating plan by embellishing it with decorations like flowers, greenery, candles, ribbons, or anything else that fits your style.
The Top 21 Best DIY Wedding Seating to Build the Wedding of Your Dreams
So many of these ideas were gorgeous in the weddings they were designed for, but you should consider whether they are the right choice as they are for your wedding. Do they capture your je ne sais quoi? Remember, too, that embellishments are a simple way to make a design work for you. If you are all about casual rustic vibes, incorporate some of the things you love within your wedding seating plan. An easy way to add romance to a seating plan is to style it with candles and red or white roses. Show your love for nature by displaying a bouquet of colorful fresh-cut flowers.
Wedding planning demands a great deal of time and energy. Figuring out where to spend more time and energy doing yourself and which items to pay someone else to do can be hard. While some of these projects require more effort than others, doing any part of this yourself will make your wedding seating chart a better buddy for your budget. Size and scale are other aspects that tie into this. Generally, the larger and more extravagant the plan, the more time, effort, and money it will require. However, this is your big day and everything should be as perfect as it can be.