With the right garage tool storage ideas, you can transform a messy space into an oasis of organization. Beyond the aesthetic joy that comes from a tidy space, well-organized tool storage can help save you time on your projects. You will also be able to see when you are running low on accessories like screws, nails, paint, or sandpaper. Like any storage overhaul, the strategies that work best for you depend on your space, your tools, and your habits.
The Top 31 Most Helpful Garage Tool Storage Ideas to Get You Organized

Are you making the best use of your garage's space? Walls and doors are opportunities for vertical storage. Perhaps some of your tools could even be stored on the ceiling. Unused space is like the jackpot for tool storage. Every garage is unique and offers both benefits and challenges. Analyzing yours means identifying wasted storage opportunities and finding ways to improve already-existing storage solutions.
As you begin optimizing tool organization in your garage, consider the tools you use in pursuing your hobbies. Storage for woodworking tools will look different than gardening implements. In addition, small general-purpose tools like pencils, tape measures, scissors, and glue are essential in many crafting disciplines. Figuring out which of your tools are causing the most problems is an excellent first step in determining where your organization upgrade should start.
Accessibility is one of the most important elements in determining your garage's ideal organization system. How often you use each tool determines how easy it needs to be to use. If you find yourself always reaching for an item, try to reduce the amount of work you need to do to get it. That might mean hooking it onto a pegboard, placing it on a countertop, or simply dedicating a shelf to it. Imagine how much time fitting these ideas into your workflow will save.
1. Storing Writing Utensils in a Hanging Bucket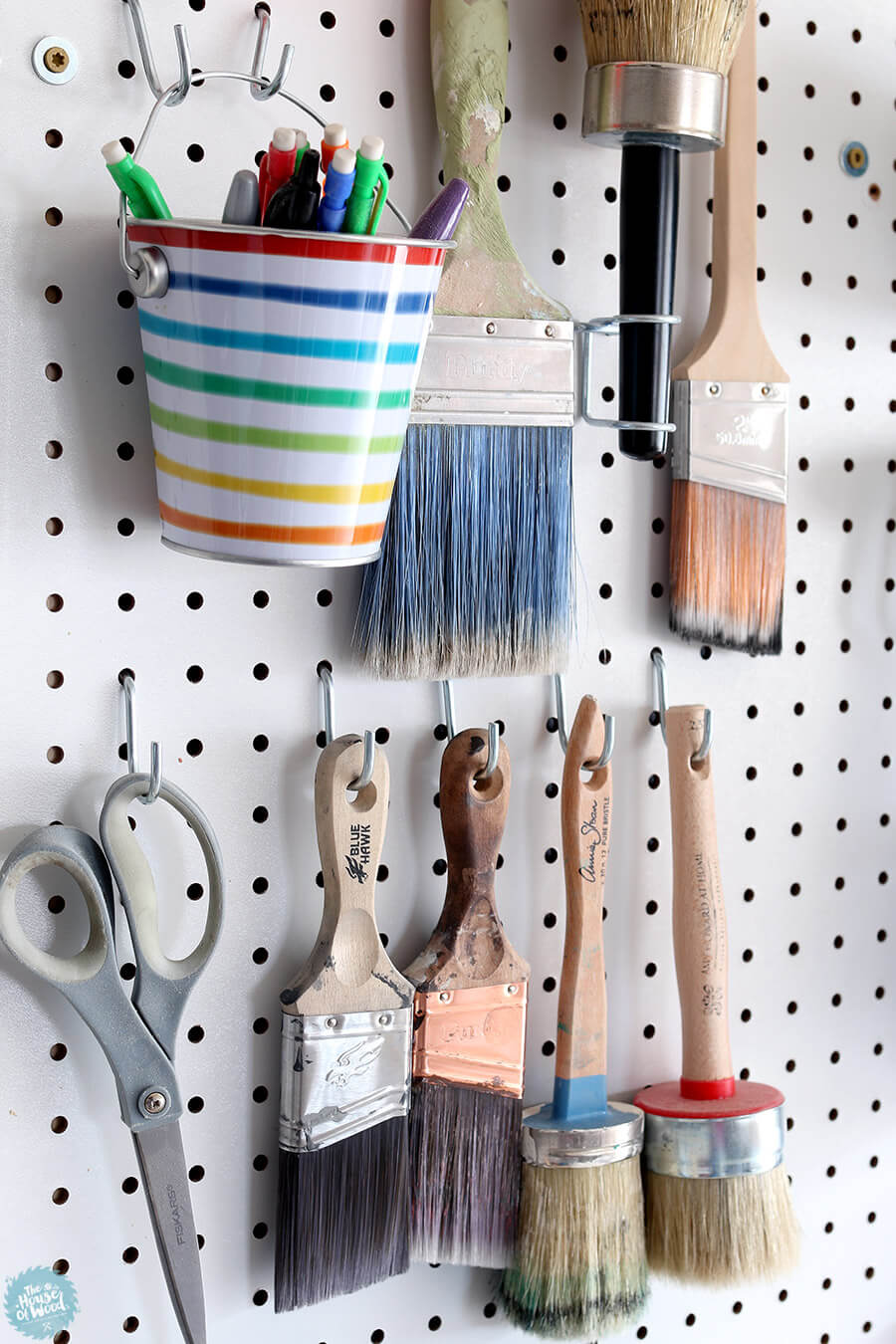 Pegboards are a great way to store most tools but are simply not optimized for items like writing utensils. With only a bucket and two pegboard hooks, you can efficiently store nearly anything on your pegboard. Because a bucket is portable, your writing utensils can go wherever your projects are. Pegboard hooks make it easy to put away at the end of your day. Best of all, a bucket and white pegboard unlock limitless aesthetic possibilities.
2. Tie Rack Garage Tool Storage Ideas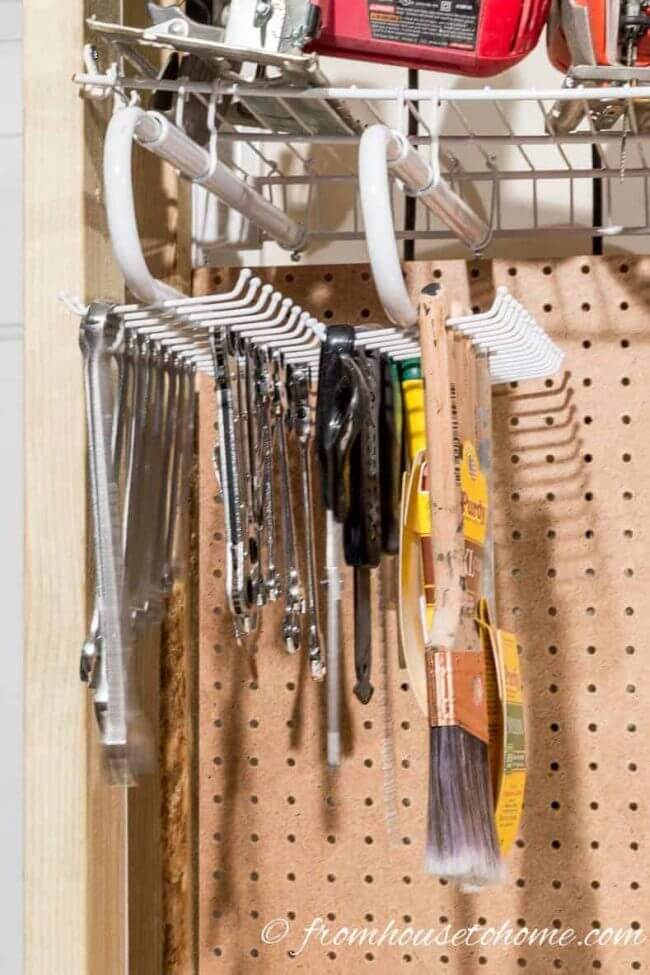 The key to successfully elevating your tool storage is to find innovative ways to use your space. A wire shelf and pegboard were already making use of vertical space, but a tie rack makes it possible to harness even more unused space. Ideal for any narrow-profiled tools that come equipped for hanging, this strategy exponentially increases your garage's storage capacity. These tie racks are a cool white, but you could paint them any color that suits your space.
3. Upgrading a Pegboard with Floral Vinyl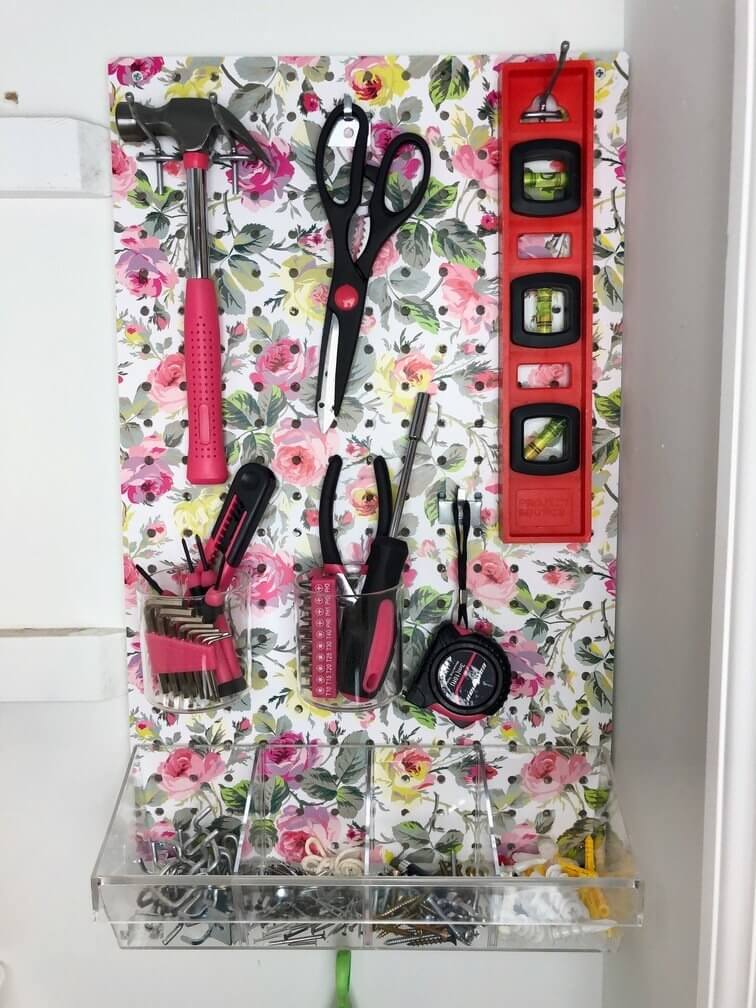 When left as they are, pegboards exhibit functional beauty rooted in simplicity. With this technique, you can transform drab pegboards into works of art without sacrificing their practicality. Because it works with any kind of vinyl or contact paper, the aesthetic possibilities are endless. For ultimate cohesion, find a pattern with colors that are echoed in your tools like the pink tones shown here. This approach also makes it easy to jazz up your garage décor as your aesthetic changes.
4. Colorful Ideas to Organize Tools in Your Garage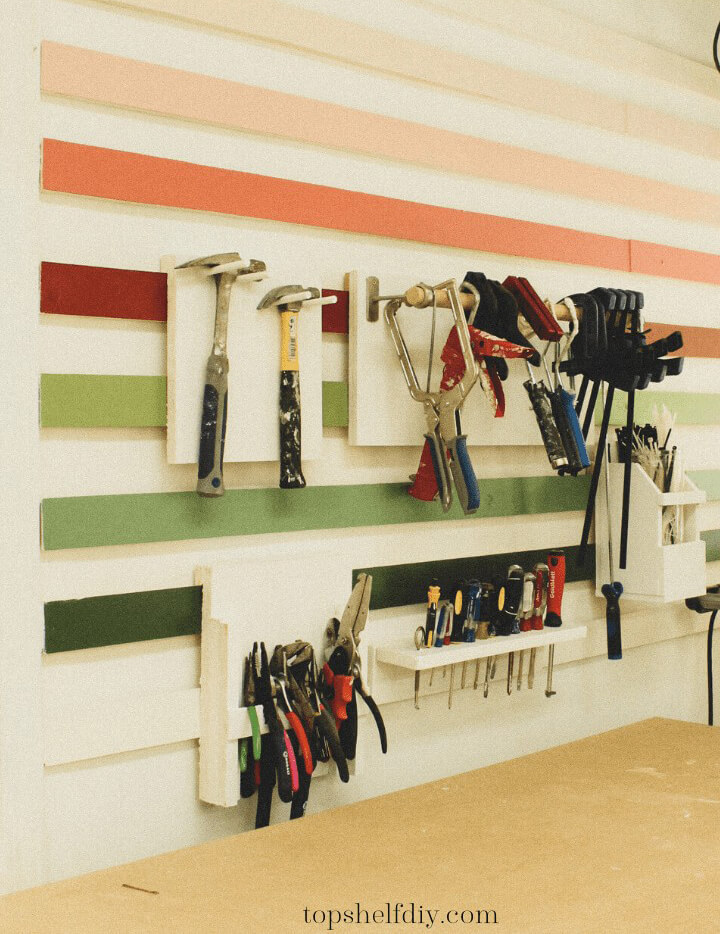 When installed properly, a French cleat system can be just as effective as a pegboard for wall-mounted tool storage. Adding colorful paint is an easy way to infuse your garage with personality. While this image shows a sophisticated rainbow ombré palette, a monochromatic approach might make a bigger impact. Using white as the backing and tool holder color keeps the space feeling light and airy. As you build additional tool holders, white is also an easy color to match.
5. Building Your Own Framed Pegboard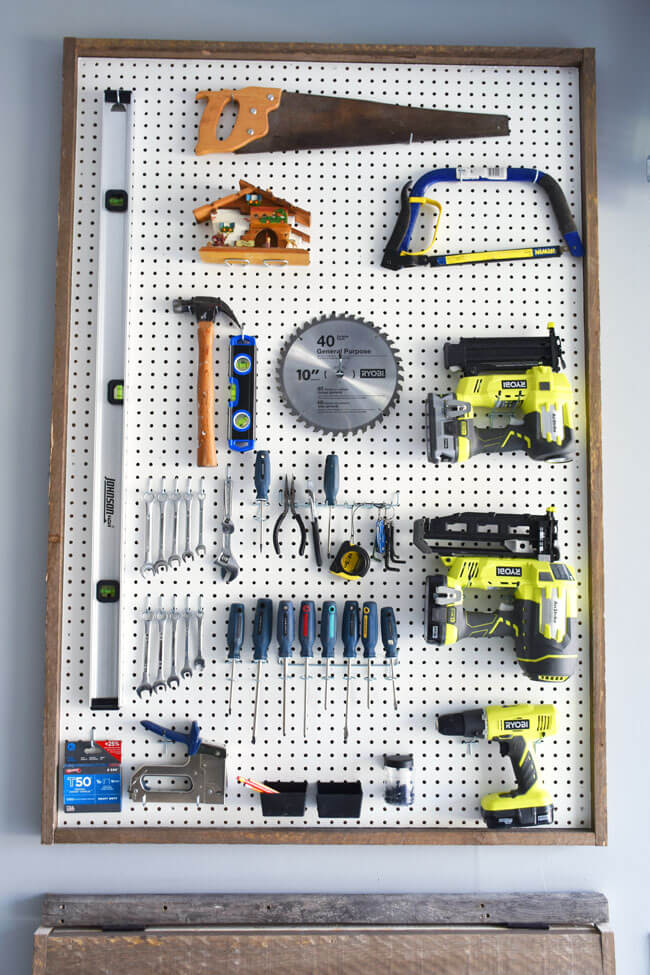 Besides defining the space, adding a wooden frame to a pegboard provides a wonderful sense of completion. Made from barn wood, this frame exudes rustic elegance, but you could achieve a more modern vibe by painting the wooden frame. While this would work for an unpainted brown pegboard, the white pegboard creates contrast and builds a sense of drama. As well as keeping your tools ready for action, a framed white pegboard will keep your garage from feeling claustrophobic.
6. Stackable Containers for Small Items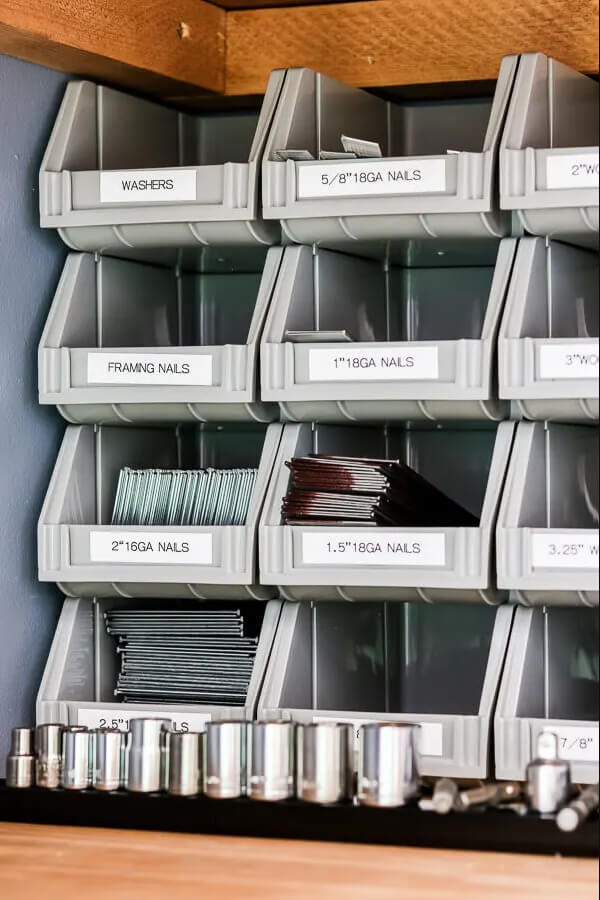 Storage solutions that allow for easy access and effortless visibility are the best ideas to organize tools in your garage. With a wide opening, these gray plastic stackable containers make their contents accessible. Labels clearly show where each item lives so you do not need to remember what goes where. If gray plastic is not your style, explore other materials like warm wood, cool ceramic, or perhaps even clear acrylic. The keys to success are the generous opening and stackable structure.
7. Experimenting with Black Metal Pegboard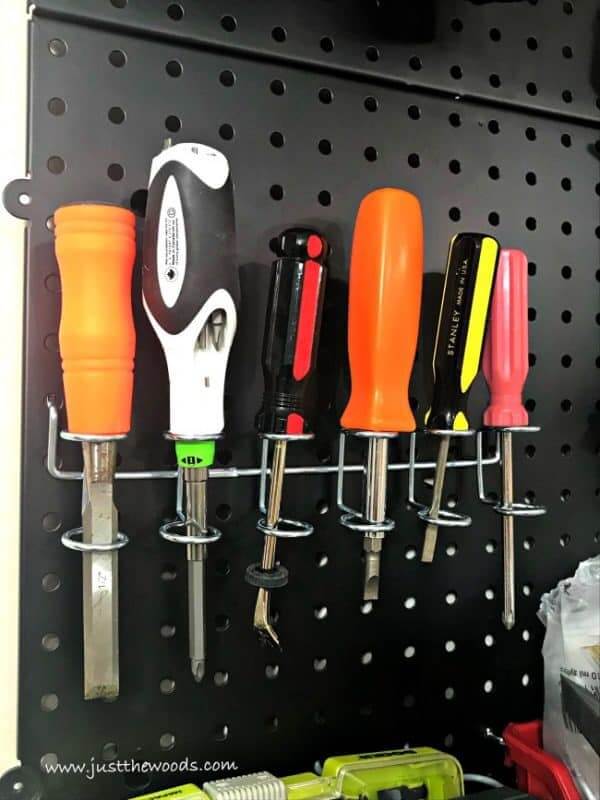 If you prefer a more risqué look than traditional pegboard, try working with metal pegboard. It offers all the same benefits along with increased moisture resistance. In addition, these panels are fast and easy to install. This project is doable in a single afternoon. Then, all you need to do is figure out your preferred tool configuration and make it happen. The screwdriver holder shown here is built to make your frequently-used handheld tools as easy to access as possible.
8. Storing Spray Paint in a Shoe Organizer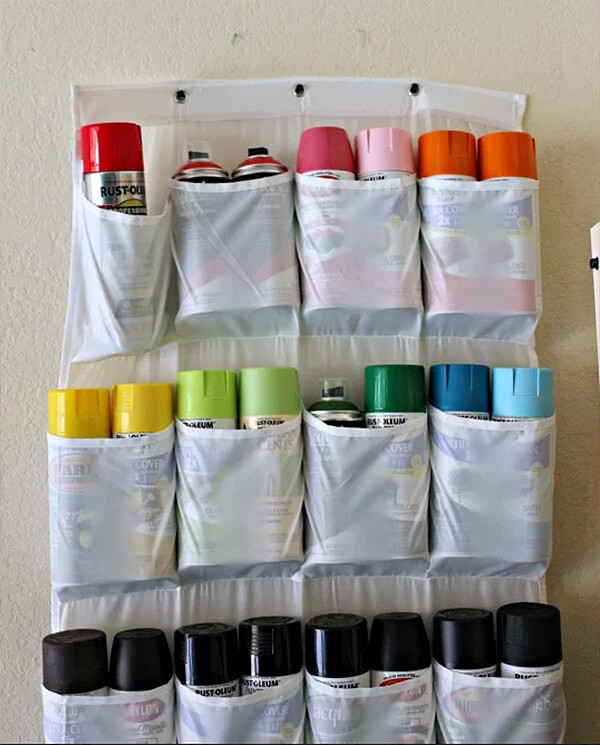 If left unchecked, spray paint can monopolize your garage. Shelves take time, planning, and materials to build. A shoe organizer is a quick and inexpensive way to tidy your entire spray paint collection. Because each pouch fits two cans, it is simple to figure out how many shoe organizers you need. Then, all you need to do is screw them into the wall. Because of its flexibility, this strategy is ideal as you use up or acquire new spray paint.
9. Portable Caddy for Easy Tool Organization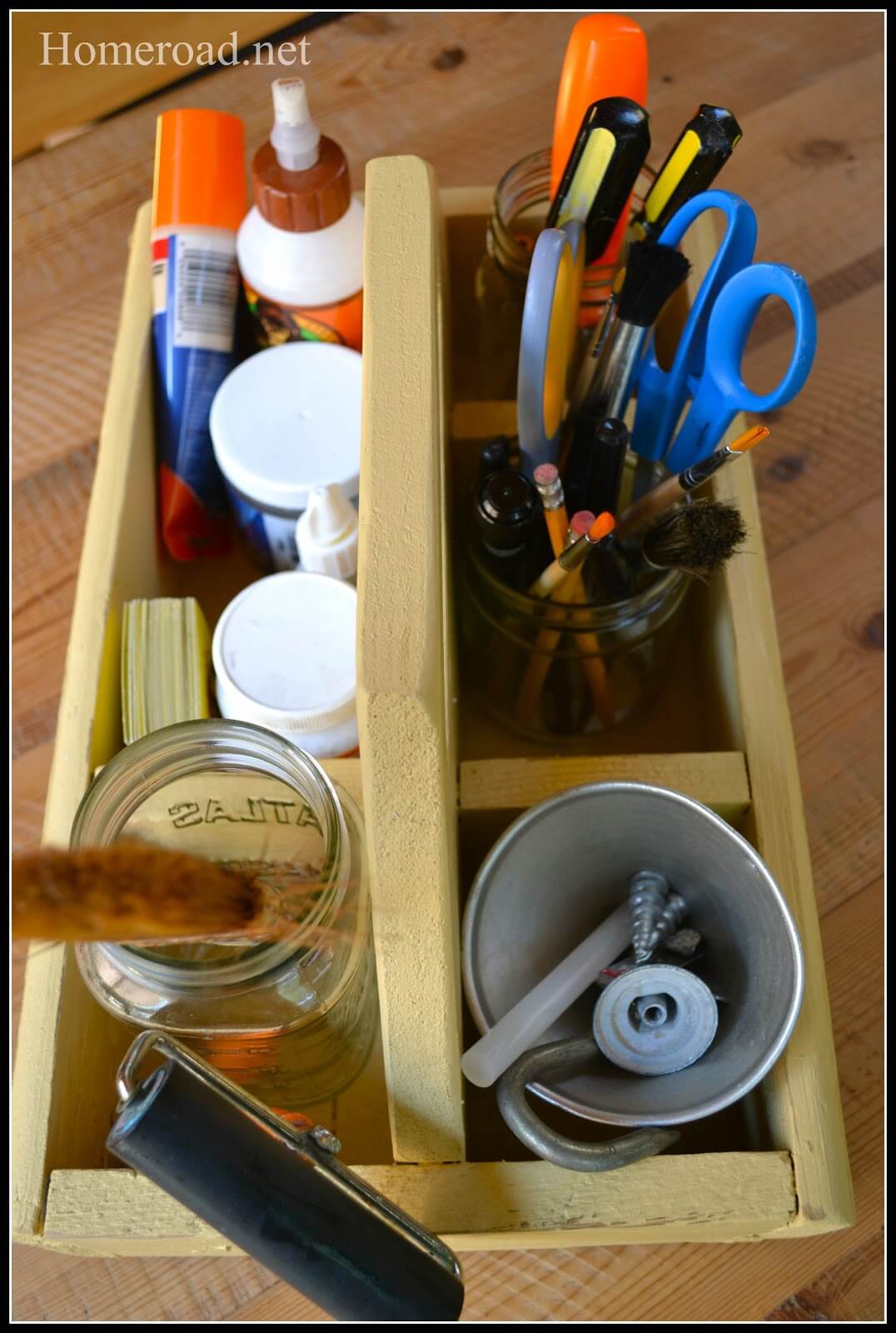 Because projects often happen in more than one place, constructing a caddy like the one shown here is a great way to keep your tools nearby. One side features partitions while the other side offers a more flexible cubby for miscellaneous items. Canning jars provide upright storage for tools like pencils, scissors, screwdrivers, and paintbrushes that are useful to have nearby for any project. To personalize your portable caddy, simply fill it with the tools you use all the time.
10. Wall-to-Wall White Pegboard Storage with Black Baskets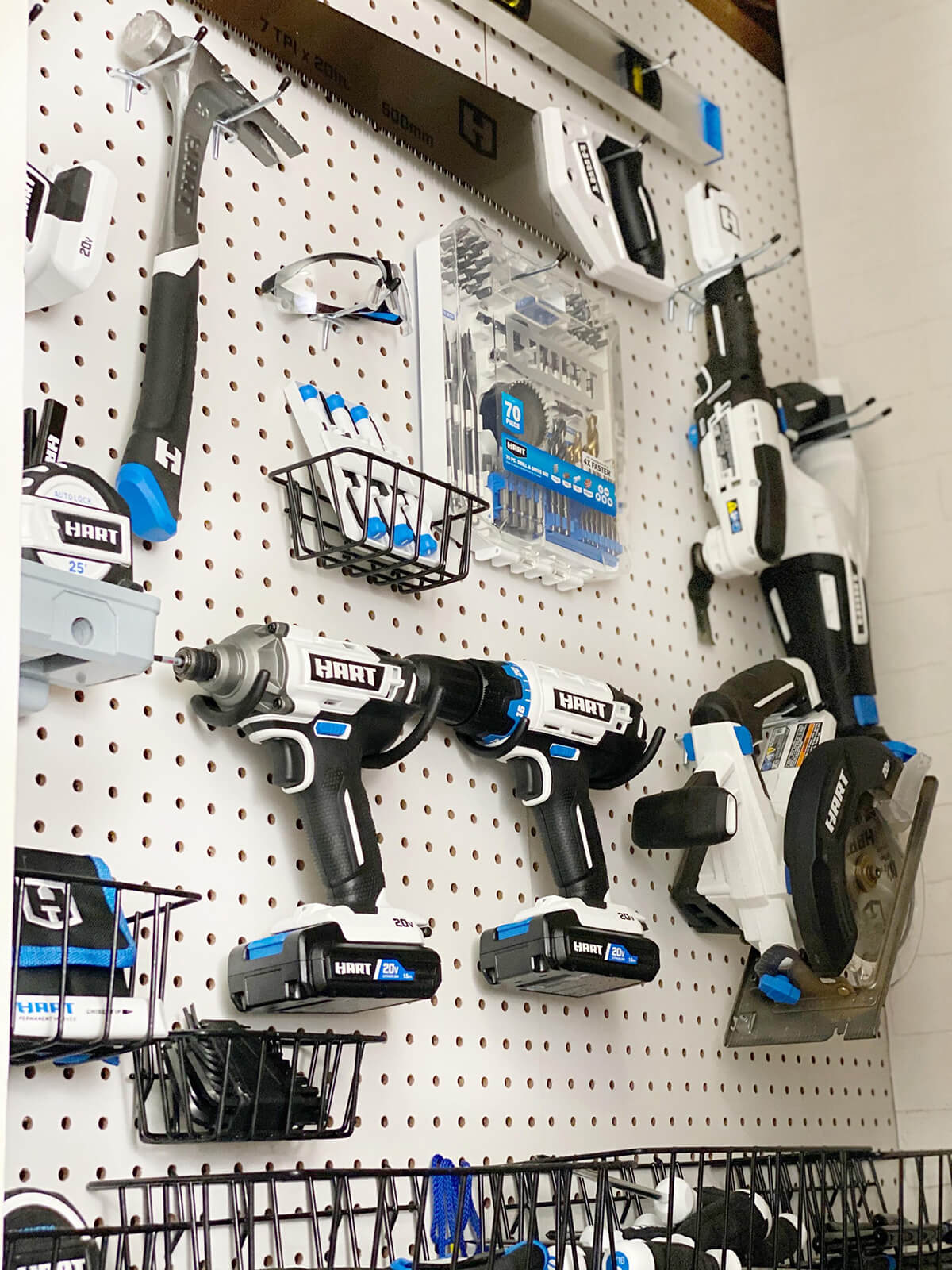 Small spaces require creativity. A pegboard so large it covers the walls is one way to make the most of the space you have. Choosing to paint it white keeps the space feeling open and helps it feel larger than it is. Black wire baskets provide storage for oddly-shaped items while keeping the white pegboard visible. To build a storage closet as striking as the one shown in this image, choose pegboard and basket colors that coordinate with your tools.
11. Embracing Privacy with Sturdy Black Cabinets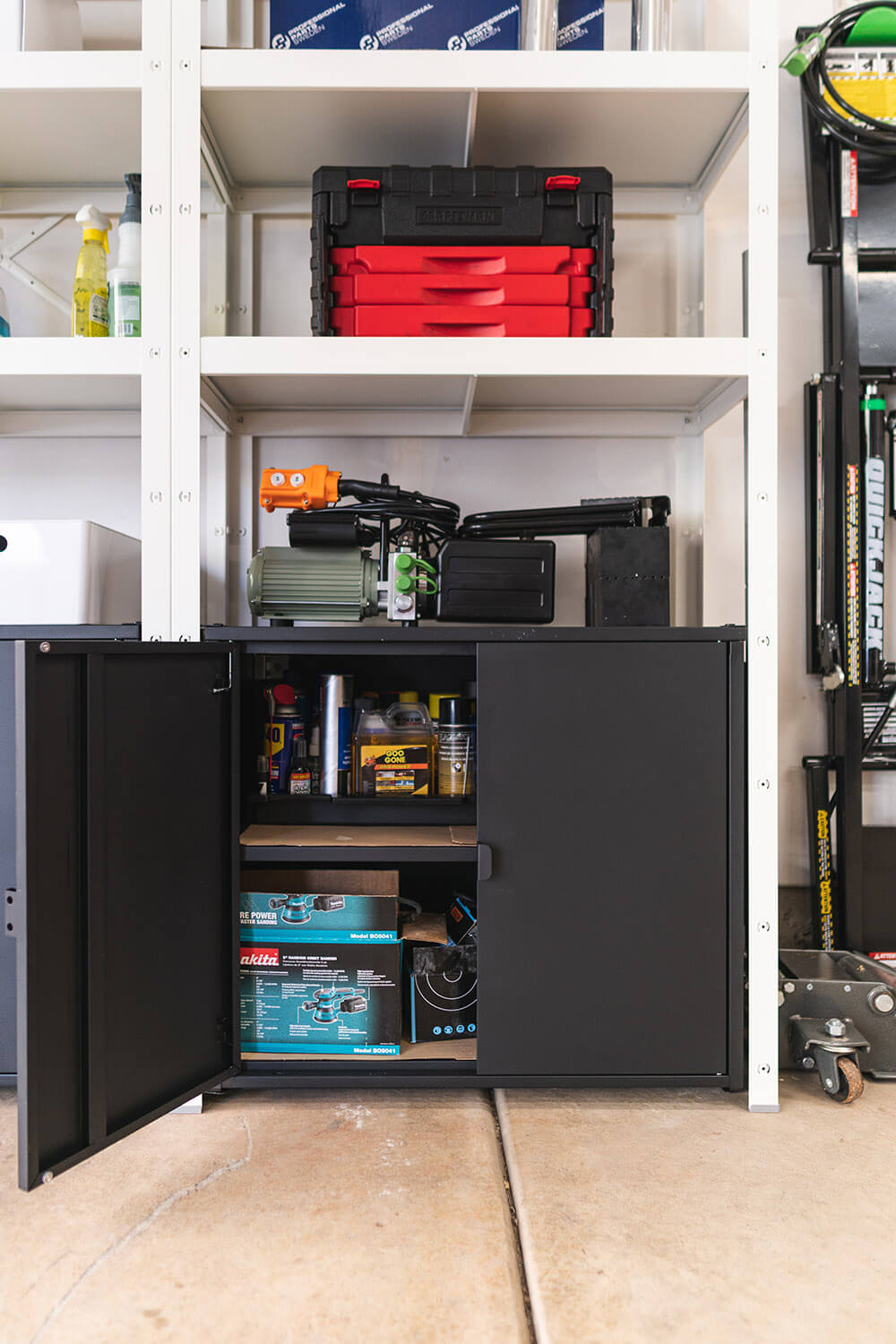 While well-organized tools can be a beautiful sight, you should not feel pressure to keep them on display. Choosing cabinets with solid doors means that your tools can live in a dedicated space and you can enjoy uncluttered countertops. These sophisticated black cabinets are paired with sleek white shelving units for a modern effect, but this idea translates to any aesthetic style. The open shelving above the cabinets does offer storage for tools that are either oddly shaped or used frequently.
12. Plastic Compartments for Dust-Free Storage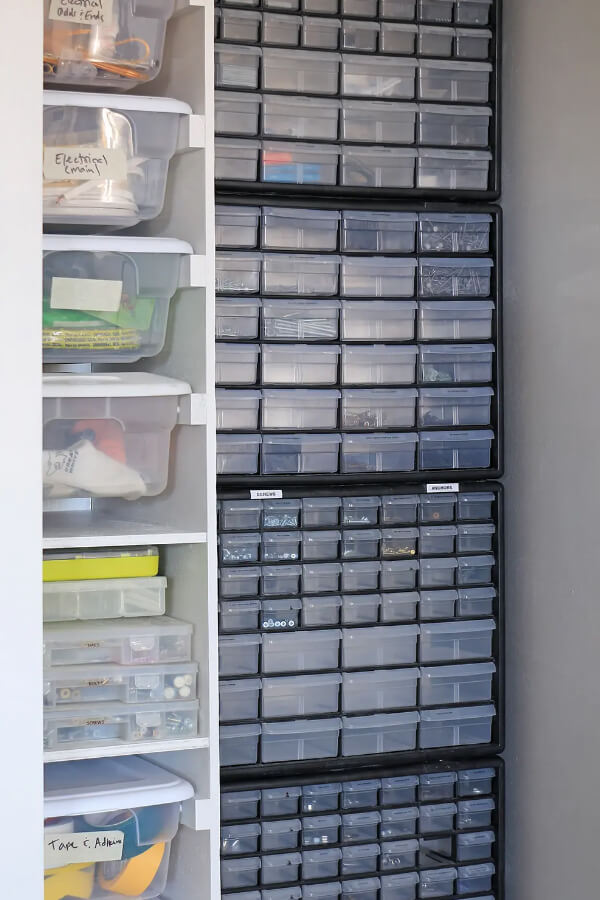 Enclosing your miscellaneous items in plastic might make them more difficult to access, but those containers do offer additional protection against moisture, dust, and grime. Because these compartments are clear, you can see what is stored in each without needing a label. The label-free organization means that this system can flex with your needs. Whether your small tools can fill floor-to-ceiling compartments or you only need a few, this is a great strategy to protect your equipment from the elements.
13. Building a Toolbox on Wheels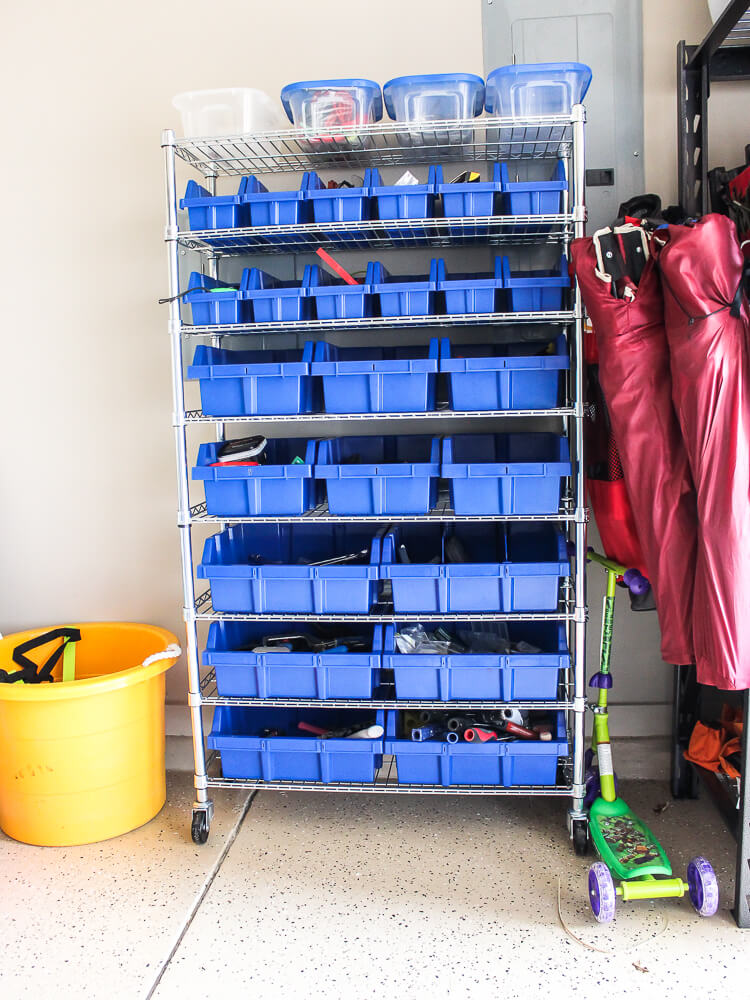 Choosing shelving with wheels is a great way to make sure your tools are always where you need them. Of course, how effective the wheels are is dependent on your garage flooring and the level of clutter. This image shows a rolling toolbox with each bright blue plastic bin being dedicated to a different type of tool. However, you can use any sort of container that works for your tool collection. Try experimenting with wood, metal, acrylics, or a combination thereof.
14. Repurposed Pallet Garage Tool Storage Ideas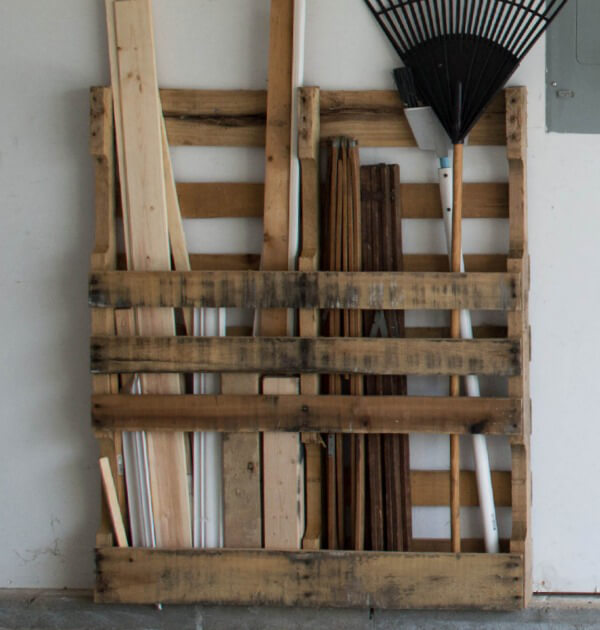 Although pallets are notoriously difficult to work with, this project is an easy way to keep long-handled tools off your garage floor. All you need to do is pry a few boards off and screw the pallet into the wall to have an ideal storage rack for brooms, rakes, shovels, and spare lumber. It even includes a partition. If you are not into the rustic look, refinish the pallet with your favorite stains and paints to make it match your style.
15. Saving Space with Over-the-Door Tool Storage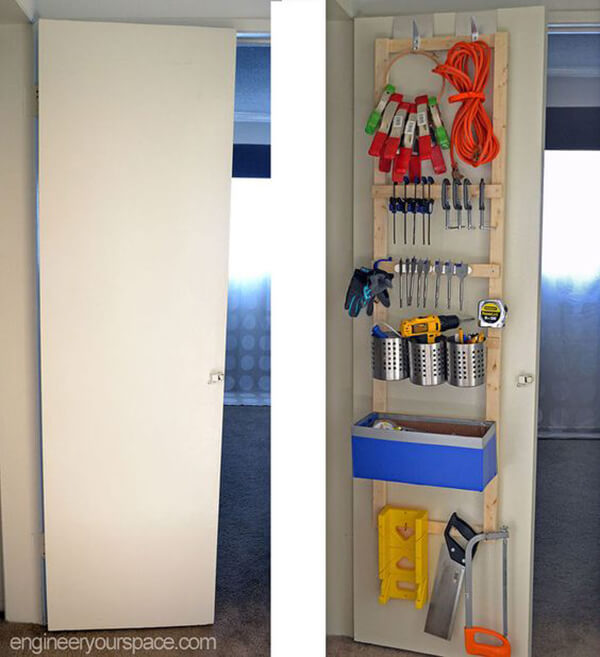 If you are short on space, implementing an over-the-door storage system might be the perfect way to store your tools. Sheet metal hooks ensure the door is still functional while a sturdy wooden frame keeps all the tools in place. For a more polished storage system, consider painting or staining the wood and using storage containers that coordinate with your style. Natural wood, metal canisters, and blue bins combine to cultivate a practical ambiance, but you could go any aesthetic direction.
16. Suspended Canning Jar Storage Rack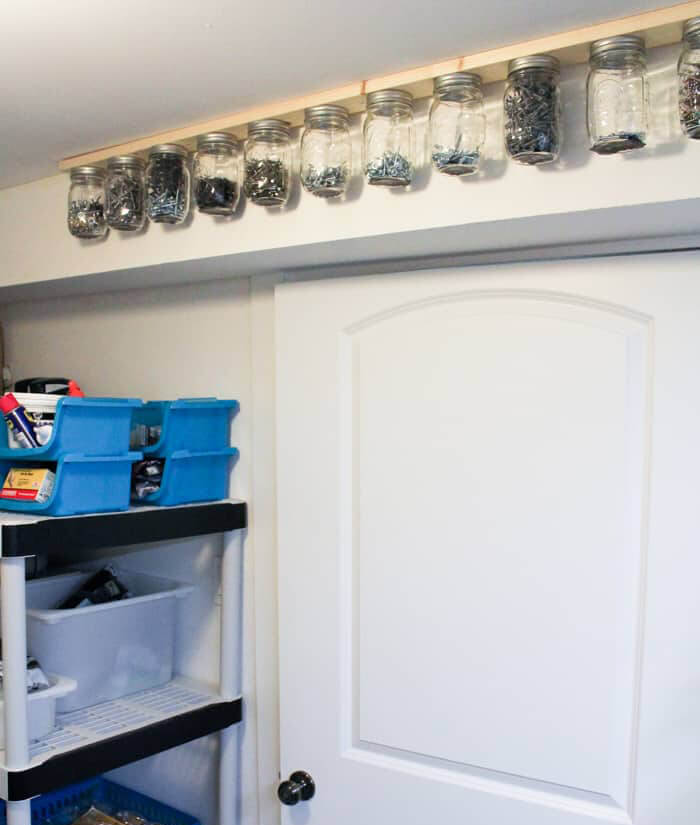 Hanging your screws, nails, and other fasteners above a doorway is a unique storage idea that can help free up your shelves. Of course, you do not have to stop at fasteners. Place a label on the bottom of each jar, and you will be able to easily see each jar's contents even when standing directly beneath the rack. For safety reasons, it is best to locate this rack in a ceiling stud and to use plastic jars instead of glass.
17. Unique Wall-Mounted Sandpaper and Sander Storage Rack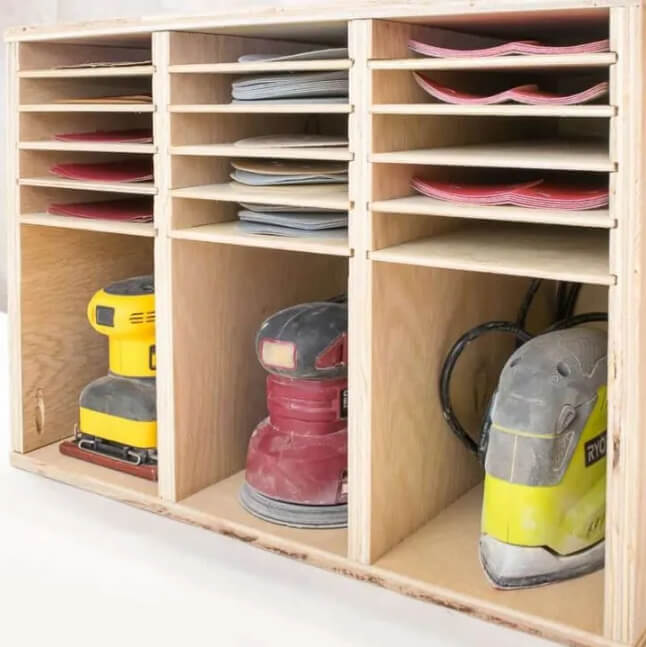 Sandpaper storage can be a headache. However, with this storage system, you can easily grab what you need as well as see how much of each type you have left. Each sandpaper shelf includes a small hand-written label, but you could craft your rack with more pronounced labels as needed. Be sure to measure your sanders to make sure they will fit in the larger compartments below. Do not be afraid to modify this storage rack's configuration to meet your needs.
18. Plans to Organize Your Sander and Accessories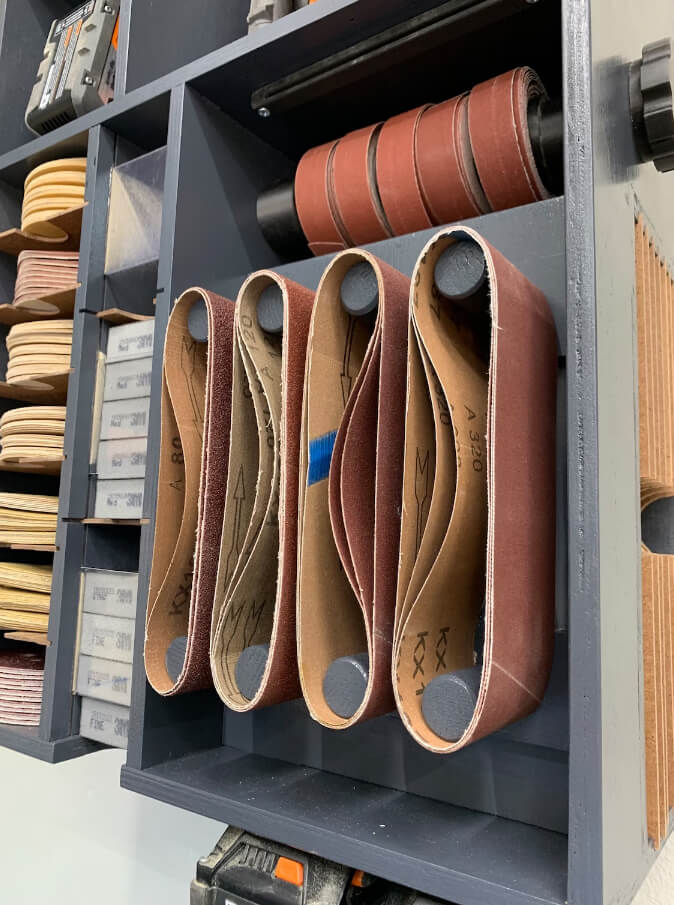 If your projects involve carpentry, you probably spend a good amount of time sanding. Locating your sander and all its peripherals in a single place can save you time. In addition, a centralized location means that your other workspaces are dedicated to other tools. This organizer can be mounted onto a wall for easy access or installed in a cabinet for a decluttered appearance. Because you are the one building it, you can modify your cabinet to suit your needs.
19. Wooden Storage Block for Pliers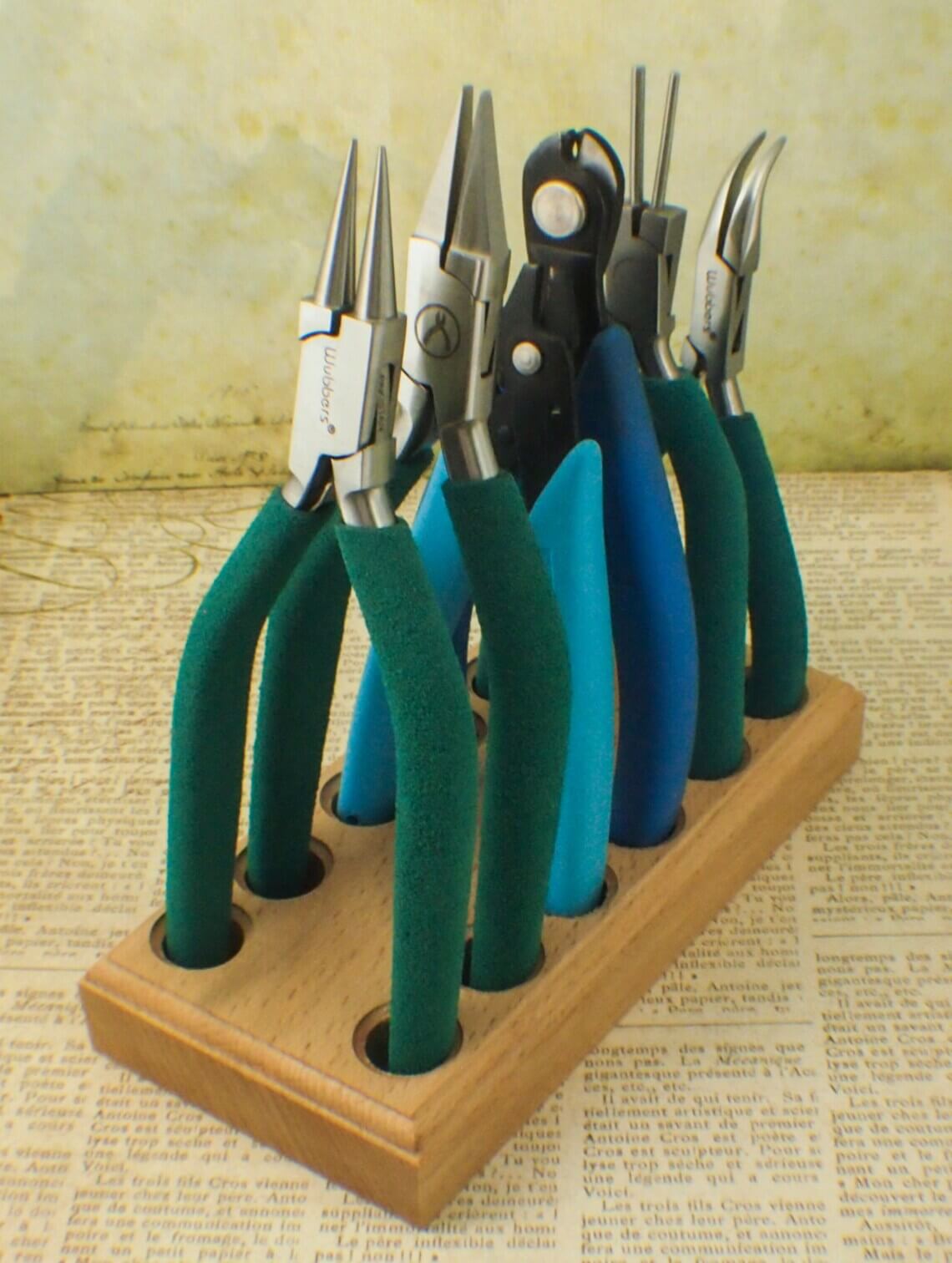 Using block storage allows for easy access while keeping everything organized. If you craft at a work table, this is an excellent strategy for keeping all your pliers and cutters tidy and within easy reach. Because of its low profile, tools are easy to remove. Small hand tools with standard grips will fit best, but this shop does accept custom orders if your tool lineup needs unique treatment. Visually, this strategy highlights the tools instead of their storage container.
20. Laser-Cut Wrench Rack with Labels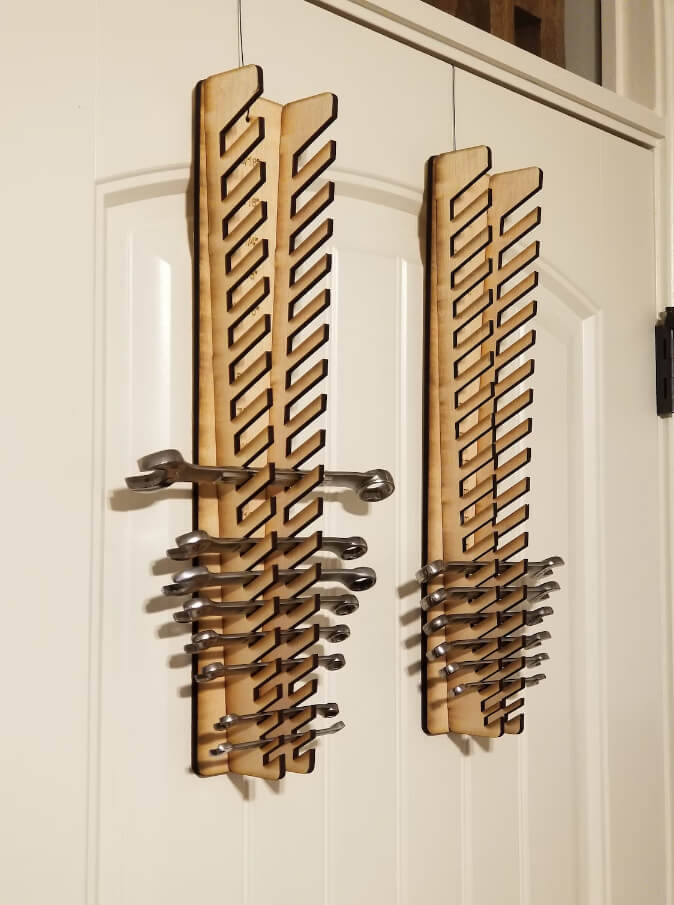 Featuring graceful tapered lines, these wrench racks are an elegant way to store and display all of your wrenches. To make cleanup easy, each slot is neatly labeled with the wrench size. To enjoy racks that are identical to the ones shown here, you will need access to a laser-cutting machine. However, it is possible to draw inspiration from this design to craft a wrench rack that fits your needs from the tools you already own.
21. Creative Way to Store Miscellaneous Hardware Fasteners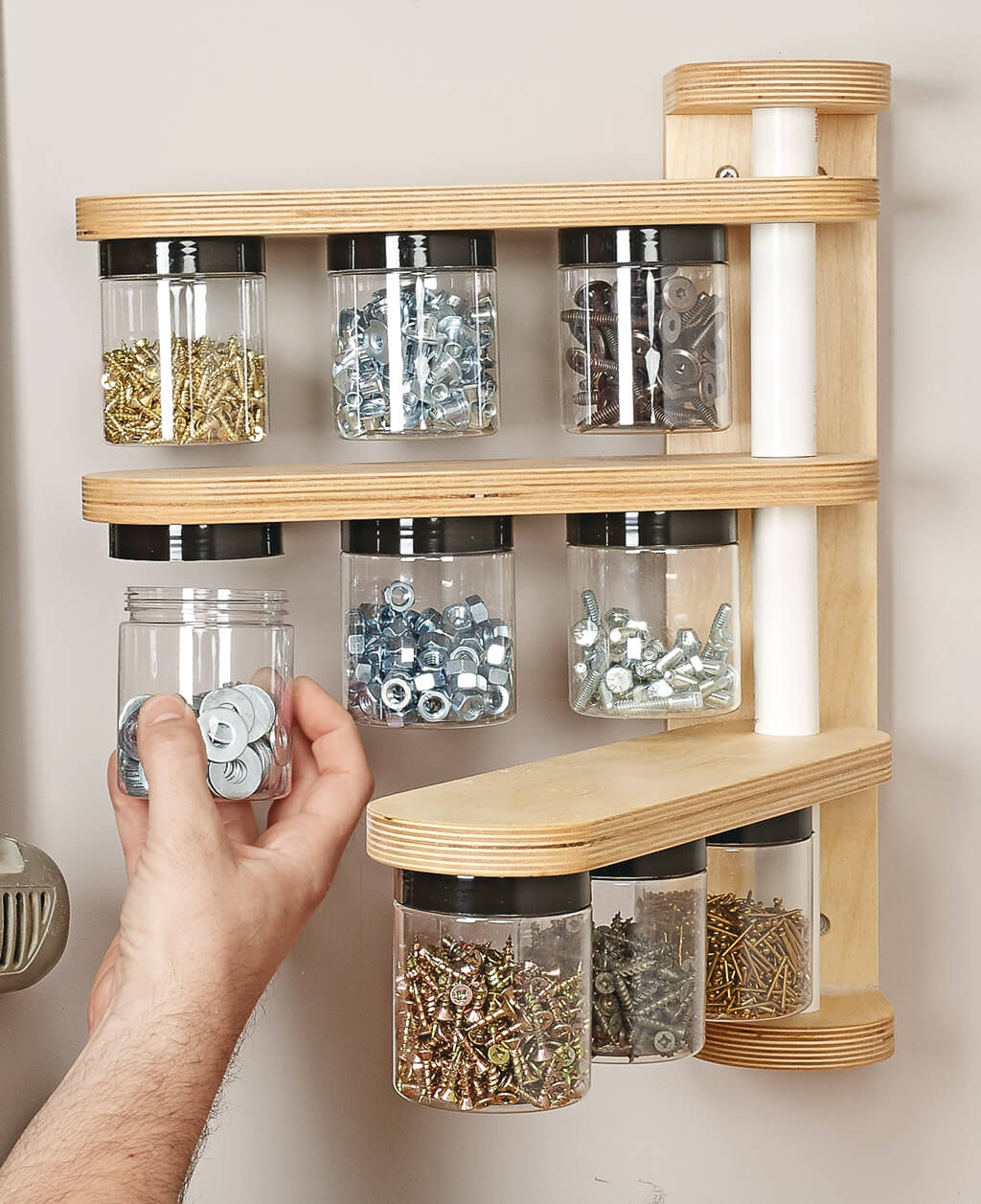 With three tiers of flexible storage, there is so much to love about this wall rack. Because each arm swings out, you can easily get what you need. When not in use, it features a slim profile. Plastic jars with screw-on lids make it possible to store nearly anything small. Because these jars are clear, you can easily see the contents to know when you need to restock. Beyond practicality, this tool organizer for your garage even looks gorgeous.
22. Handmade Long-Handled Tool Organizer for Your Garage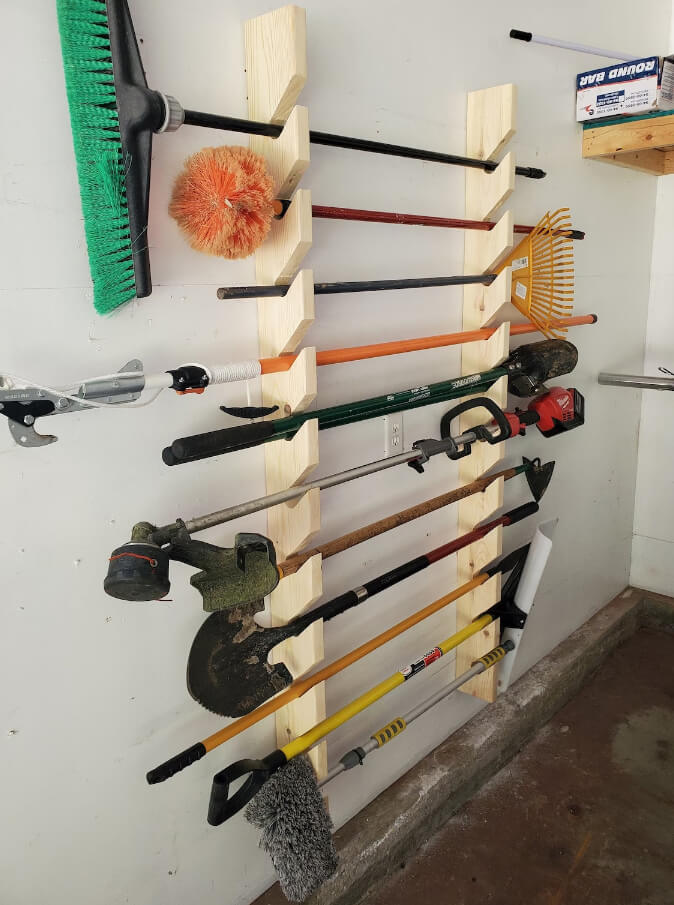 Storing tools like rakes, brooms, shovels, and weed eaters can be a safety challenge. Installing a wall-mounted storage system like the one shown here keeps these cumbersome tools off the floor and ready for use. To amplify longevity, these racks are available in a clear sealant. However, should you wish to match them to your garage's aesthetic, opt for the unsealed option. With sizes ranging from three slots to 11 slots, there is a rack to fit every tool collection.
23. Plans to Build the Ultimate Paint Storage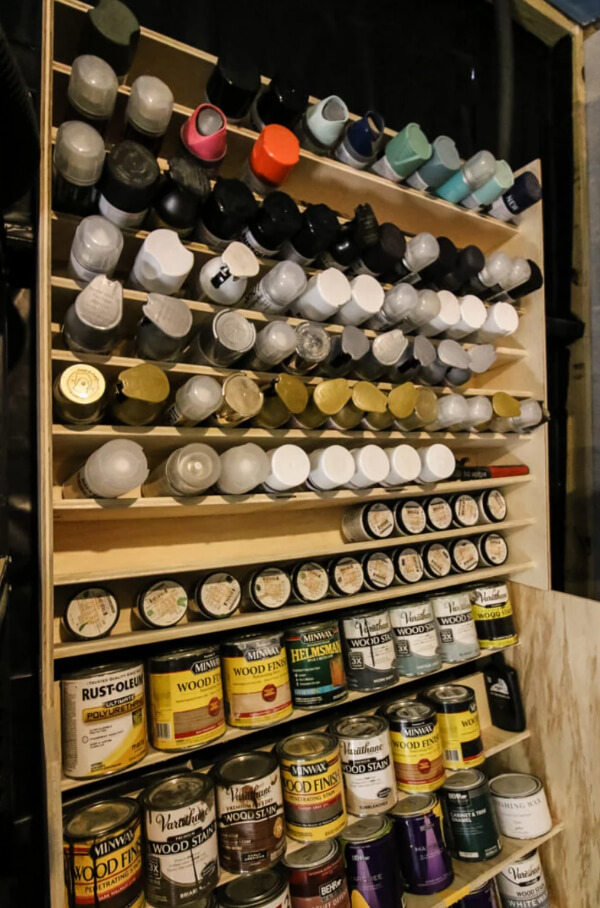 Designed to house different types of paint as efficiently as possible, this shelf makes the most of your limited garage space. Spray paint slots expose the colorful caps while containing the canisters at a space-saving diagonal angle. The shelves below allow for different paint-related products. Best of all, the plans to build these are ready for woodworkers at all levels. To make your own paint storage solution, all you need are a circular saw, sander, and nail gun.
24. Swinging Pegboard Panels for Maximum Tool Storage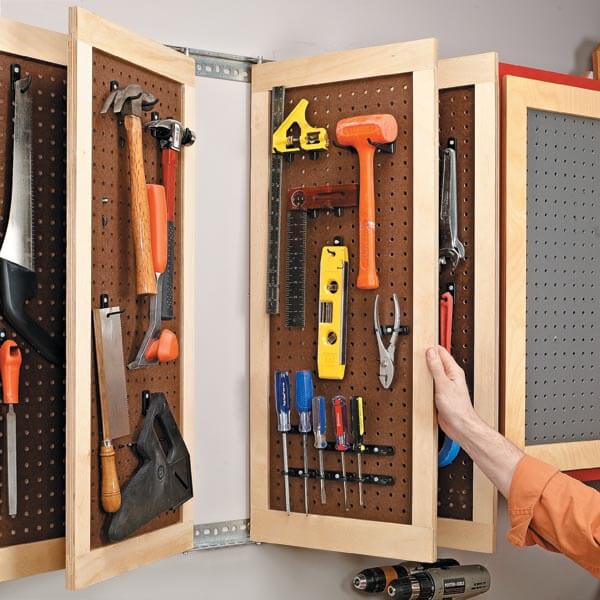 Maximizing a pegboard's surface ensures storage for as many tools as possible. Instead of a single pegboard panel mounted to the wall, this system encourages both sides to be used. This technique is one of the most efficient ideas to organize tools in your garage. A modular design means that you can make as many or as few panels as you need. For a storage system as attractive as it is practical, feel free to paint the pegboard and wood components.
25. Stud-Mounted Wooden Shelf Brackets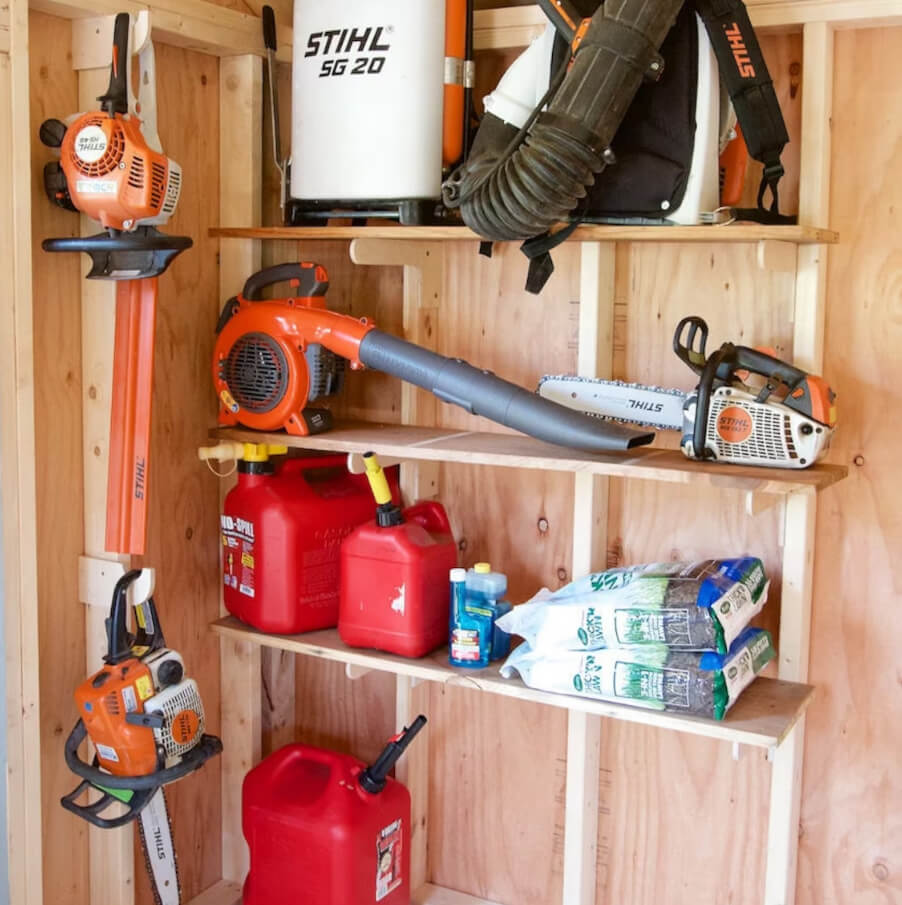 Mount these wooden brackets directly onto exposed studs, place shelving on top, and you will be able to enjoy reliable tool storage. In addition to making excellent use of vertical space, shelving provides a home for items that might not be compatible with more specialized storage systems. With a rounded profile and a buff wood finish, these brackets seem to blend with other wood décor. Of course, they could also be painted or stained to harmonize with your garage's ambiance.
26. Taking Advantage of Unused Ceiling Space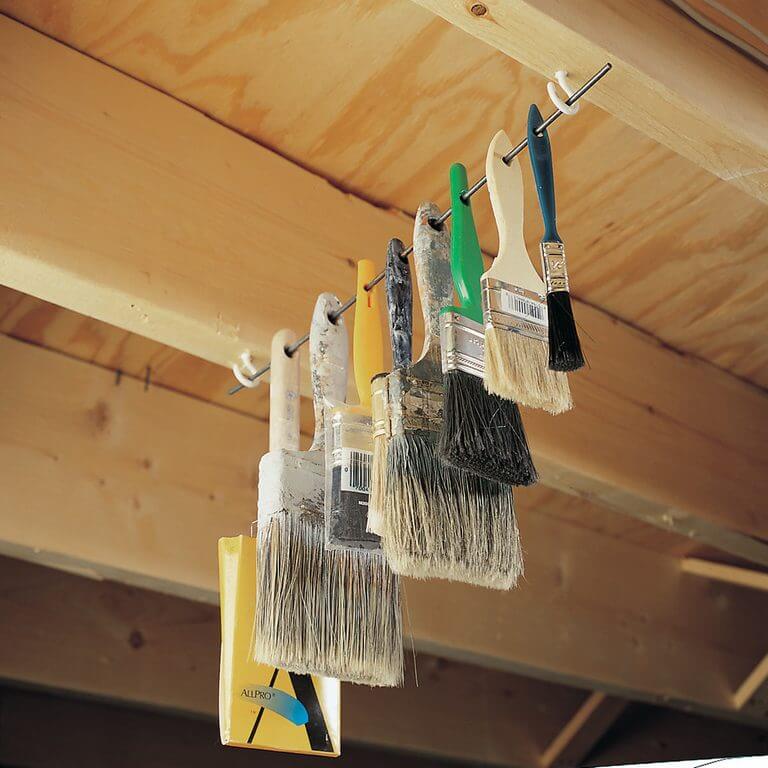 When it comes to using every inch of space, exposed rafters are a gift. Rafters provide the opportunity for storage systems that free up precious wall and floor space. While this image shows paint brushes, this idea will work for any lightweight tools that feature a hanging hole. This solution is perfect for items you use frequently, but not on every project. It is also great for tools like paintbrushes that need to dry before they can be put away.
27. Spray Paint Shelf Bracket Kit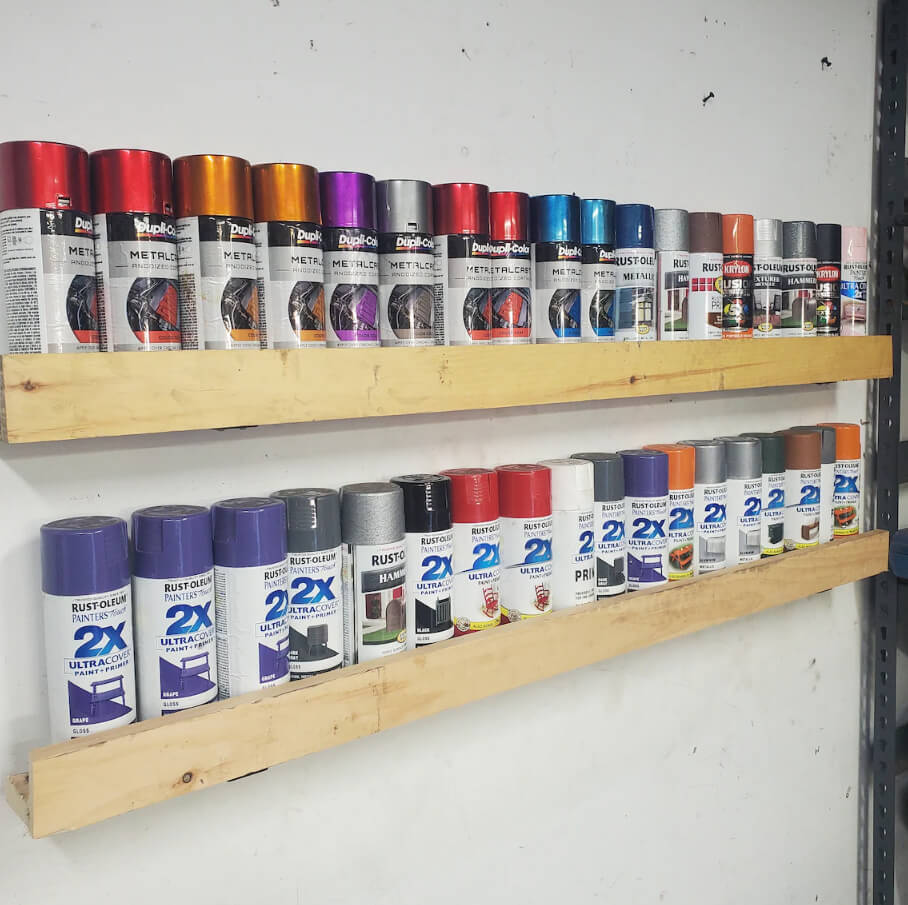 Spray paint takes up a significant amount of space. There are endless colors, finishes, and types, and each project seems to call for a different can. To keep every can visible, storing spray paint is best done at a one-unit depth as shown here. This way, you can see exactly what you have, easily grab it, and put it away when you are finished. Because this is a black bracket kit, you can customize the wood to fit your style.
28. Storing Hand Tool Accessories on Pegboard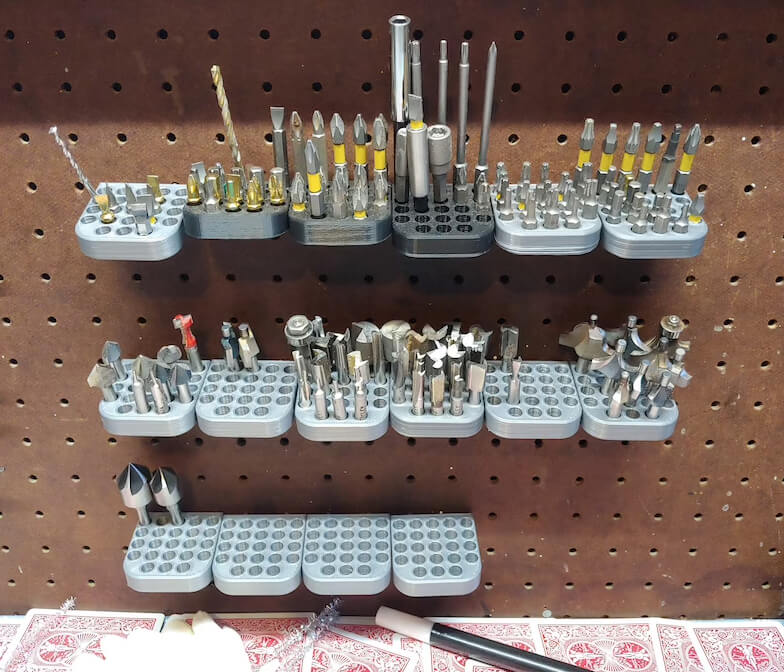 By mounting your drill and driver bits directly to a pegboard, you can enjoy easy access and faster project time. Depending on your accessory dimensions, each storage unit can hold about 23 bits. The modular approach means that you can use as many or as few as your collection requires. Because they are hooked into the pegboard, you can experiment with different configurations. Do you want to store all your bit-type accessories together or separate them by tool?
29. Hammer Organizer with Pivoting Supports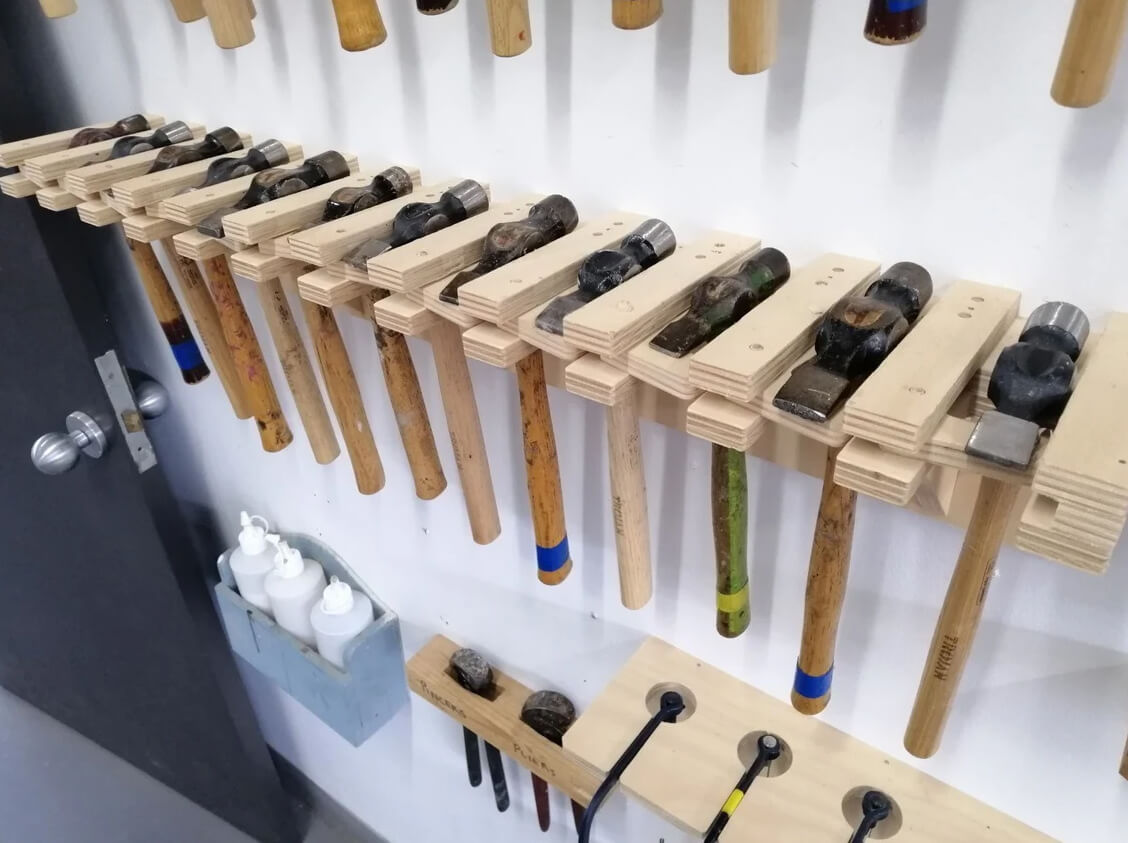 With this wooden shelf, there is a fine line between showing off and storing your hammer collection. An L-shaped pivoting support keeps each hammer in place while allowing for various hammer sizes and shapes. Untreated plywood was used to make the organizer shown in this image. Imagine how much visual potential it has if painted, stained, or made from higher-quality wood. These plans include slots for 12 hammers, but you can modify them to store your entire collection.
30. Spinning Tool Organizer Perfect for Your Workshop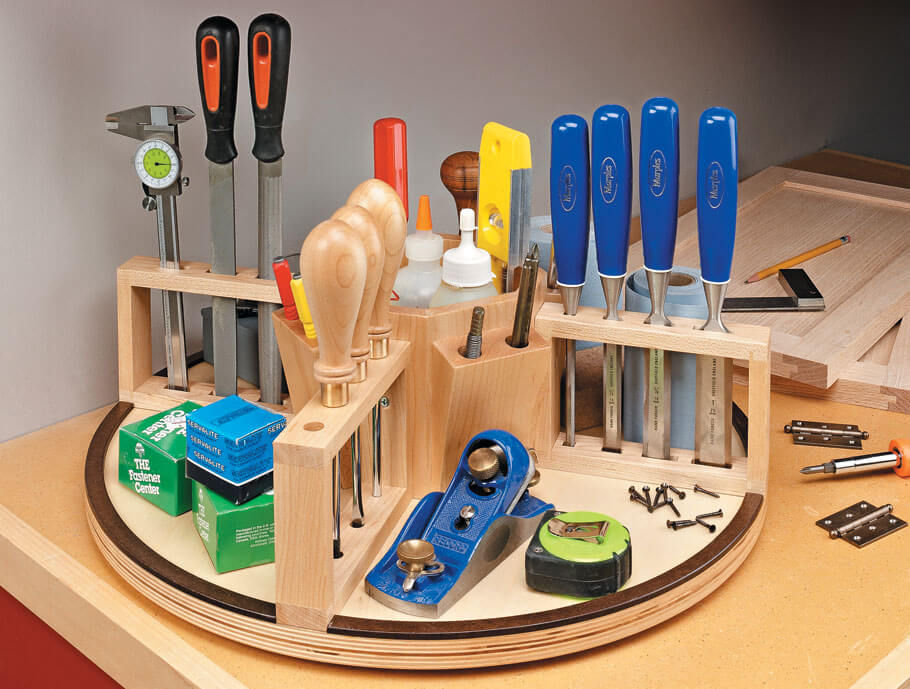 With traditional tool storage strategies, keeping your tools tidy as you work can be a challenge. Incorporating a spinning tool caddy into your routine might improve matters. By allowing easy access as you are seated, this ergonomic tool storage solution can speed up your projects. Four racks radiate from the center to hold all your long slender tools. That center cubby is ideal for tools too large for the rack while the additional space on this rack can contain oddly-shaped items.
31. Wall-Mounted Tape Measure Storage Clips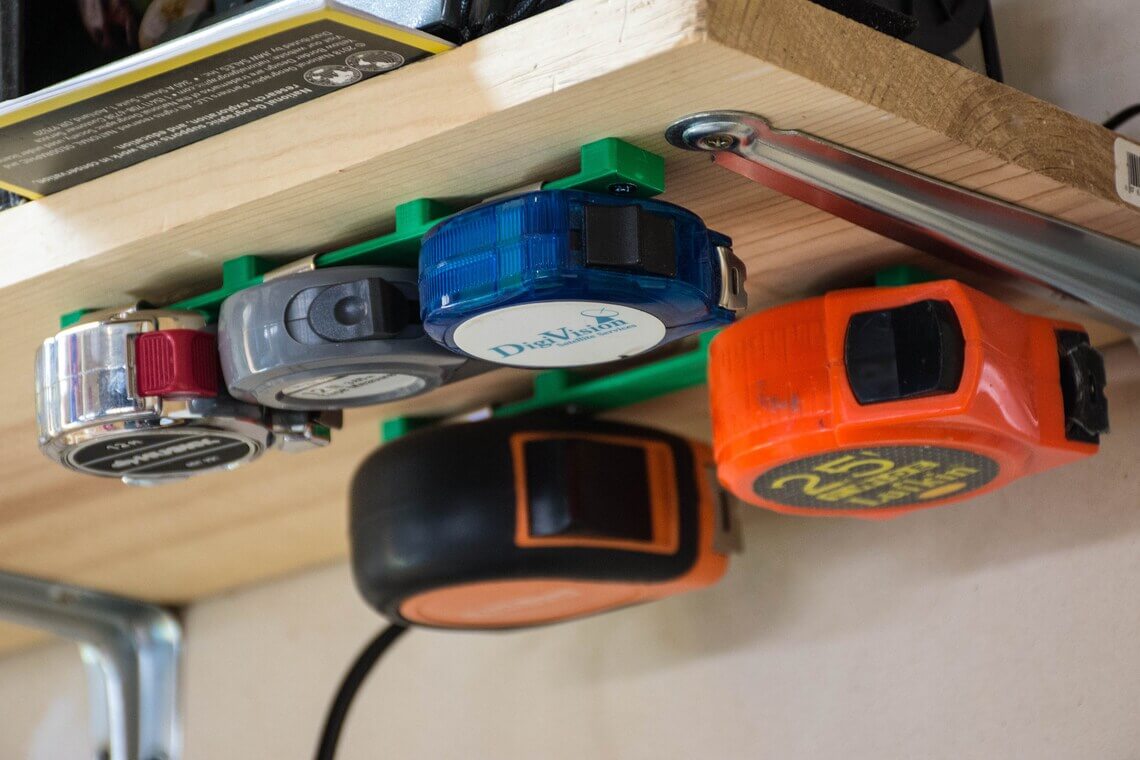 How much faster would your crafting go if you could find a tape measure every time you needed one? Screw one of these clips into a wall or cabinet, and your tape measures will have a dedicated space. Three partitions are perfectly sized for two standard-sized tape measures. These holders are compatible with any type of tool that comes with a clip. To help you remember to put your tape measures away, they come in four cheerful colors.
31 Versatile Garage Tool Storage Ideas to Improve Your Creative Workflow
Unfortunately, the garage is often the catch-all for everything that does not fit in your home. If left unorganized, this makes it nearly impossible to access your tools. Luckily, establishing tool organizers for your garage might be easier than you think. Because every space is different, recognizing different ways to store the same items might be the first step on your journey to organizational success. After your tool storage is complete, you will not have any more needless delays as you hunt for a specific tool in a chaotic garage. You will also be able to enjoy an uncluttered workspace.
Beyond all the practical reasons for efficient tool storage, keeping everything tidy looks great and has a calming effect on the psyche. When you have completed your storage projects and your tools all have homes, your garage will become a haven from life's stresses. You will be able to have fun building your projects in a space that is a pleasure to spend time in. Just because garages often showcase practicality over a more attractive visual aesthetic does not mean yours needs to. It is surprisingly easy to modify ideas to organize tools in your garage to fit your style.