24. Easy Pumpkins for Lighthearted Events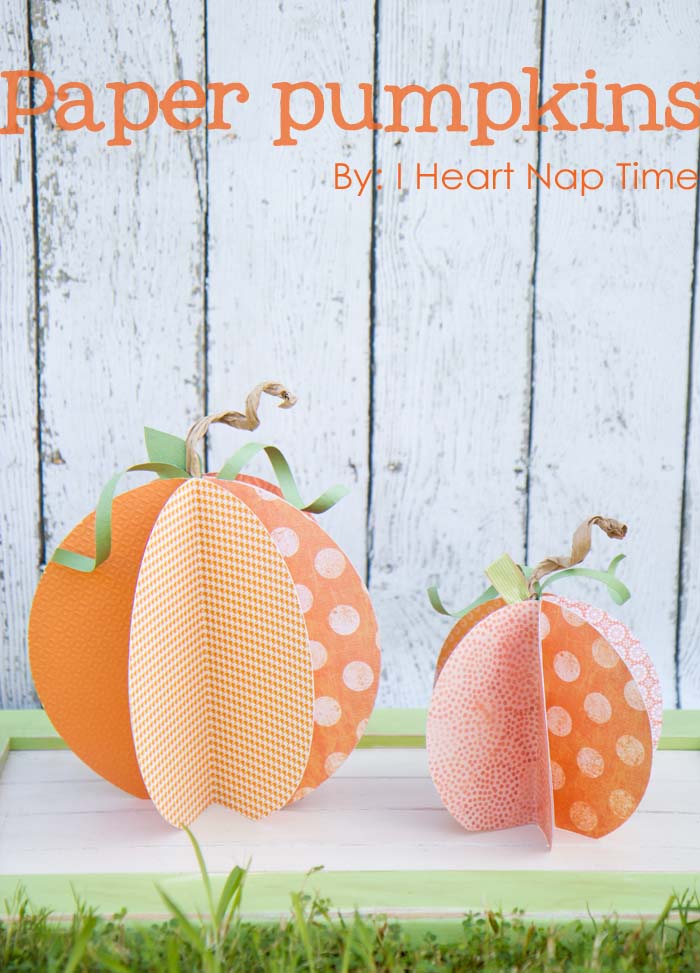 These paper pumpkins are fun, whimsical, and worthy of any casual gathering. Make them in different sizes so that you can display them on your coffee table or in a window. They stand upright nicely, so you can even put a few on your sofa table or in the hallway. They would also look great paired with some crystal candleholders, orange candles, and leafy dark greens as part of a holiday centerpiece on your table.
25. The Better Candy Holder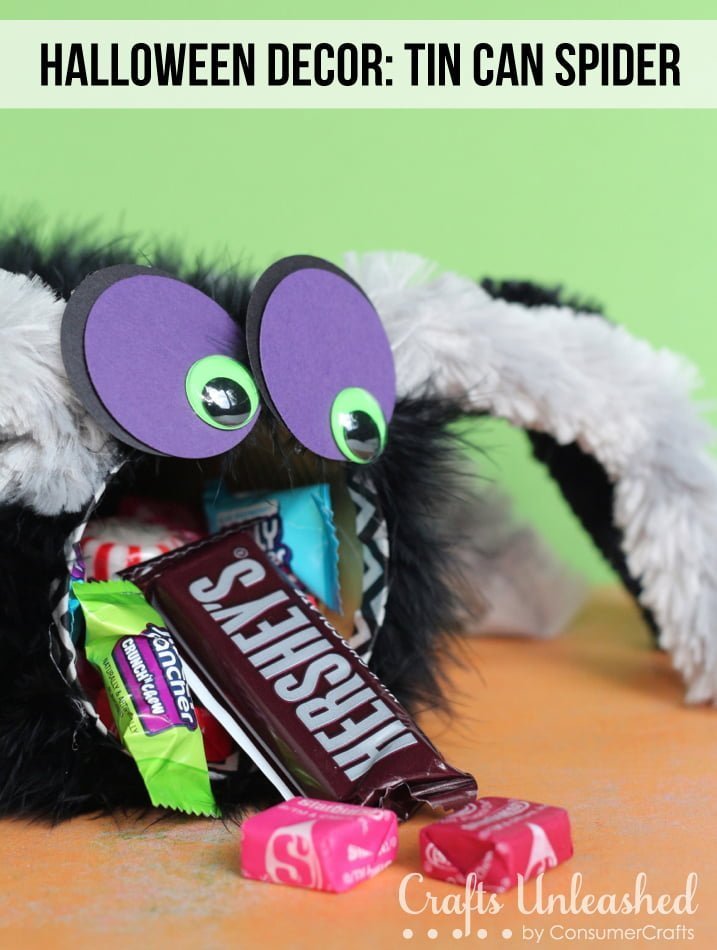 Leave the simple candy dish behind and go with something more entertaining for your next party. This tin can is quickly transformed into a spider that can hold almost anything of importance. Leave it on the kitchen island for easy access to candy, or make it part of your buffet table. The spider can neatly dispense your plastic forks, cocktail napkins, or even straws. Put it in the powder room to hold the little hand towel. Place a table next to your front door on the porch and let the spider greet guests with a quick candy treat.
26. Welcome Halloween Revelers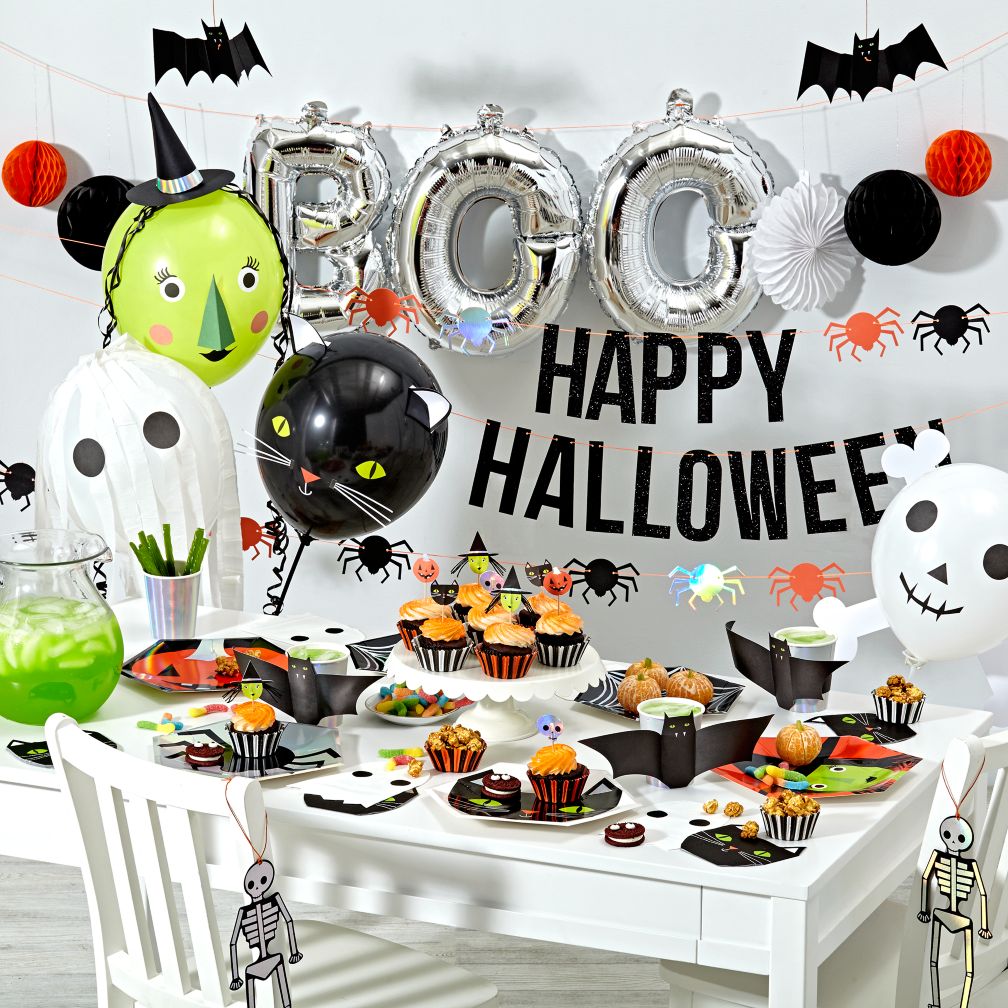 Set up a friendly spread by focusing on bright colors, balloons, and friendly faces. When you want the kids to have fun without being scared, a few monsters and ghosts are all that you need. The silver BOO keeps it lighthearted, and the black bats flying around add just a little bit of a creepy touch. Make the table accessible to little ones so that they can peruse the selections and choose what they want. Be prepared with plenty of extra food, because the kids will be drawn to this spread and are sure to enjoy it.
27. Fun and Frightening in One Clever Table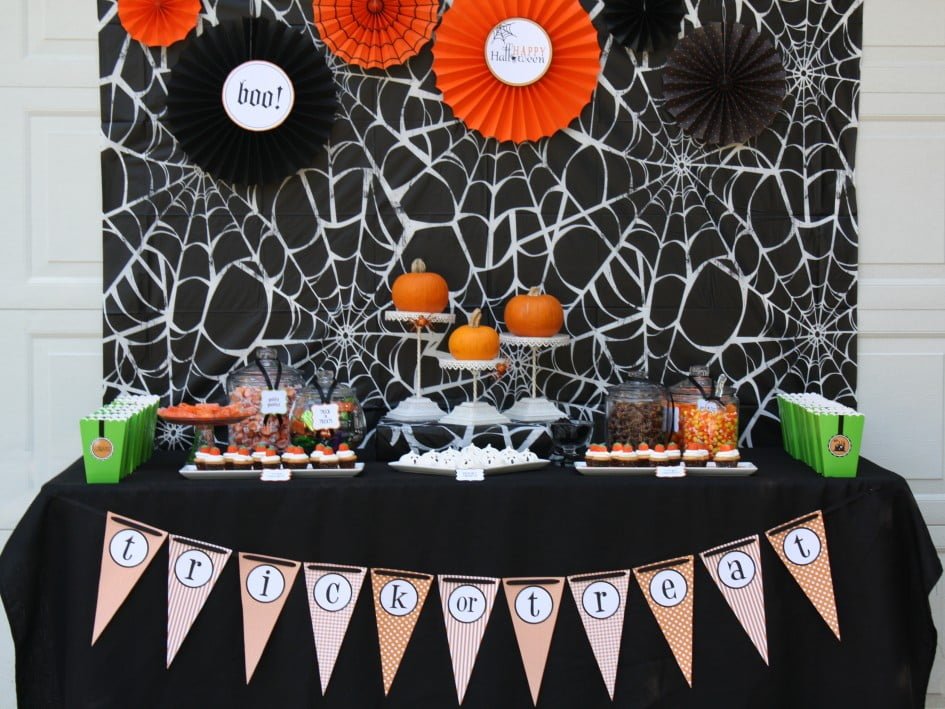 Satisfy your need for tricks along with your appreciation for all things elegant. This table setup is easy to achieve with a tablecloth as the backdrop and a contrasting banner in front of your black table cloth. White risers give it the elegant touch, and brilliant pops of orange complete the Halloween theme. You can confidently use this with your outdoor gatherings because everything is secured to the wall, but it's also a great choice for any interior dining room. Include a few antique spoons in the glass dishes of candy so that people can easily serve themselves.
28. The Ultimate Recycling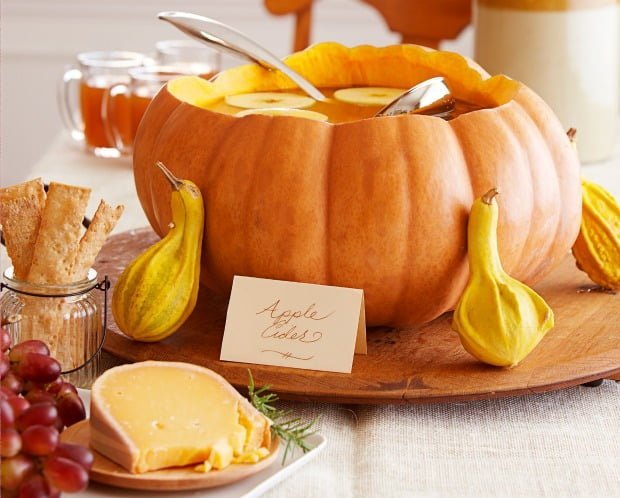 Avoid some dishes later by putting your apple cider right inside a hollowed out pumpkin. The pumpkin meat inside will add some flavor to your cider, and your guests will love the look. A simple wood plate provides a handy resting spot and neatly catches any dribbles from the cider. Finish off the exterior with a collection of small gourds in a range of shapes and colors. This fall party choice is sure to be a favorite, and people are sure to be impressed with the end result. If you want to make this for a Halloween party, then add some rattling bones to the plate, and attach a creepy spider to the end of your ladle.
29. The Surprise Mummy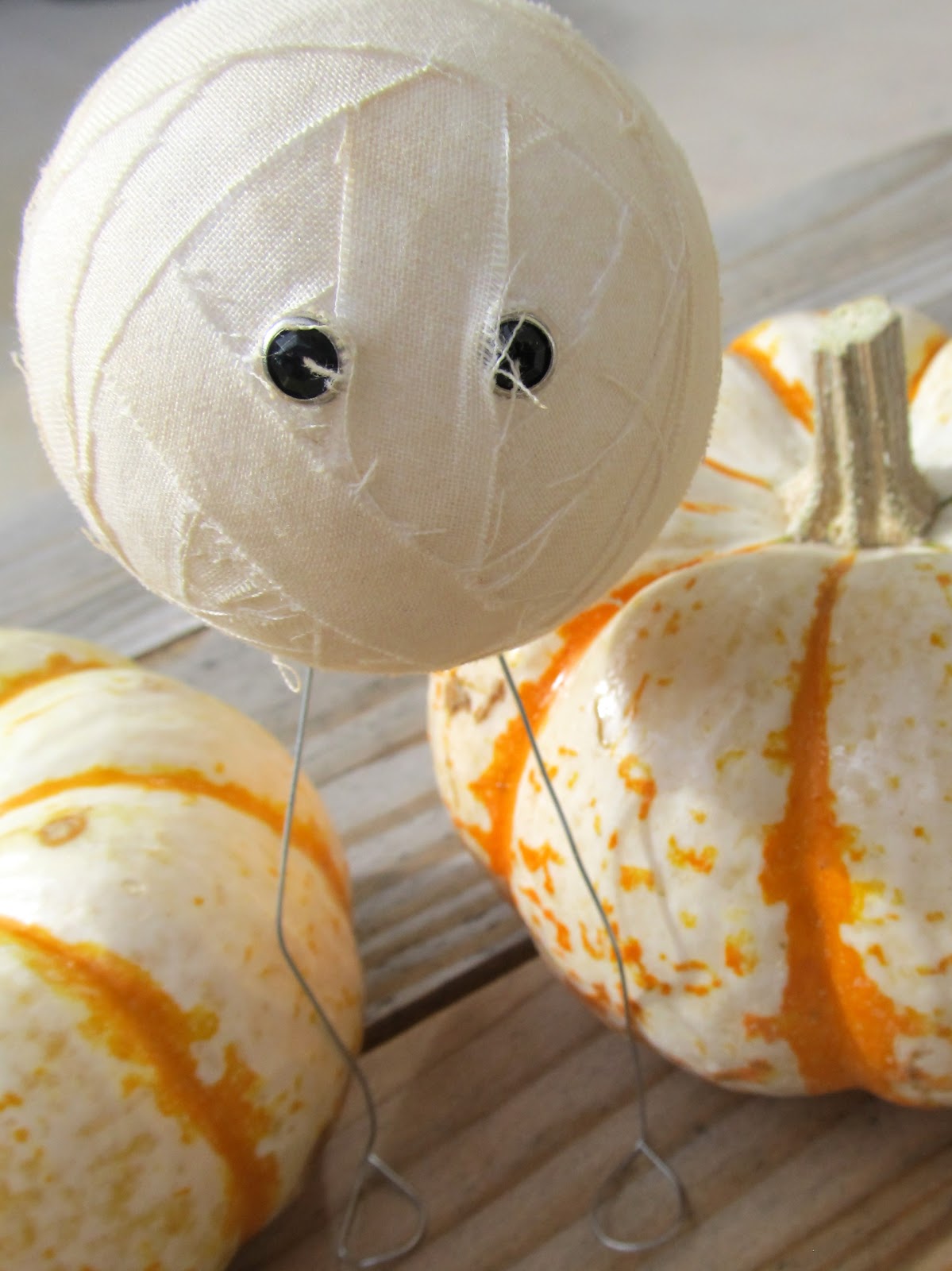 No one expects to find a mummy in a field of pumpkins, particularly when the mummy is perfectly round with button eyes. This cute little creation will add interest to your collection of pumpkins and gourds. You can have him sit outside the front door to greet guests, or put him on your kitchen counter to help keep an eye on things. He's likely to wander around during the party, so you're never sure where he'll show up. Make a few in different sizes and set up your own mummy family. Put a few taller ones at the back of the buffet table to monitor the food, and be sure to leave one on the corner of your bathroom vanity.
30. The Best Fruit, Courtesy of a Witch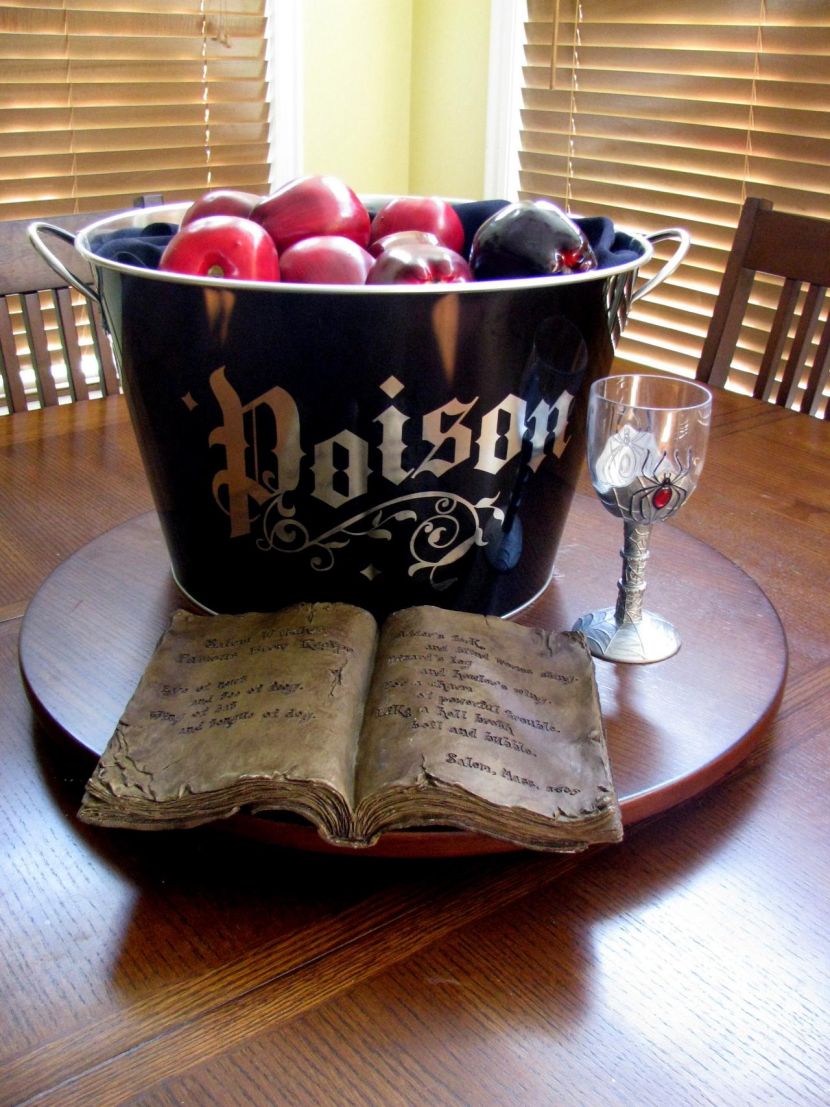 If you're going to put out poison apples, then make sure that they're the most attractive apples you can find at the store. Polish them up with some water and a paper towel before proudly placing them on your dining room table. This decoration is so easy and elegant that you can leave it up through the season. However, it's almost a must-have for your big party. Set it out on your kitchen island and invite your guests to dine on an apple so that they can take the edge off before dinner.
31. Red's the Color of This Season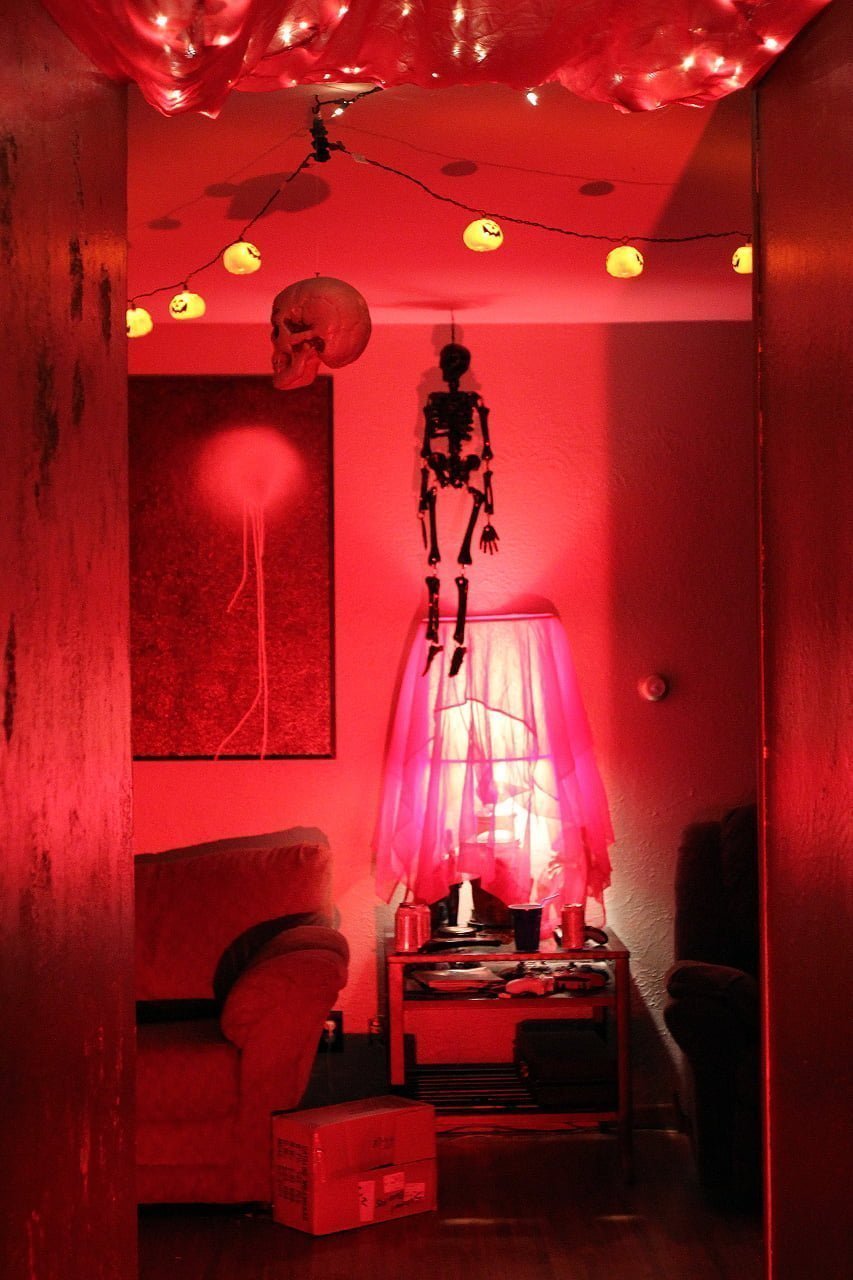 Rather than focusing on the orange and black shades of the season, bring out your inner ghoul with red. A simple red fabric mounted over a lamp will cast the entire room in this eerie glow. The eye will naturally look for the odd colored light source, so be sure to include some creepy black skeletons near the light. It's a simple yet powerful decorating option for people who are short on time and looking for something casually creepy. Another lighting option is to use red and orange colored bulbs in different lamps around the space to add a little ambiance.
32. The Powerful Drink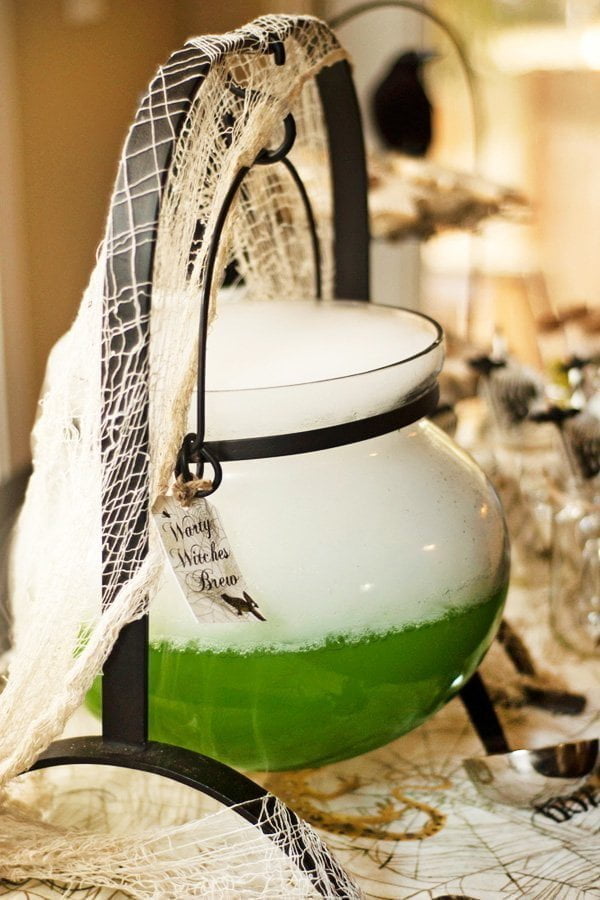 Some dry ice and tattered lace go a long way towards making your favorite drink more interesting. You can safely add dry ice to all types of punches and beverages, and your guests will love how the fog rolls out and surrounds the nearby area. The tattered lace gives it an antique feel, and you can always add a little tag telling people what's inside. If you don't want anyone to drink the liquid, then drape the lace over the bowl and secure it with a black ribbon. Then you can use this Halloween party decoration idea as a fun centerpiece for your food spread.
More Halloween party decors on the next page…