24. Indoor Waterfall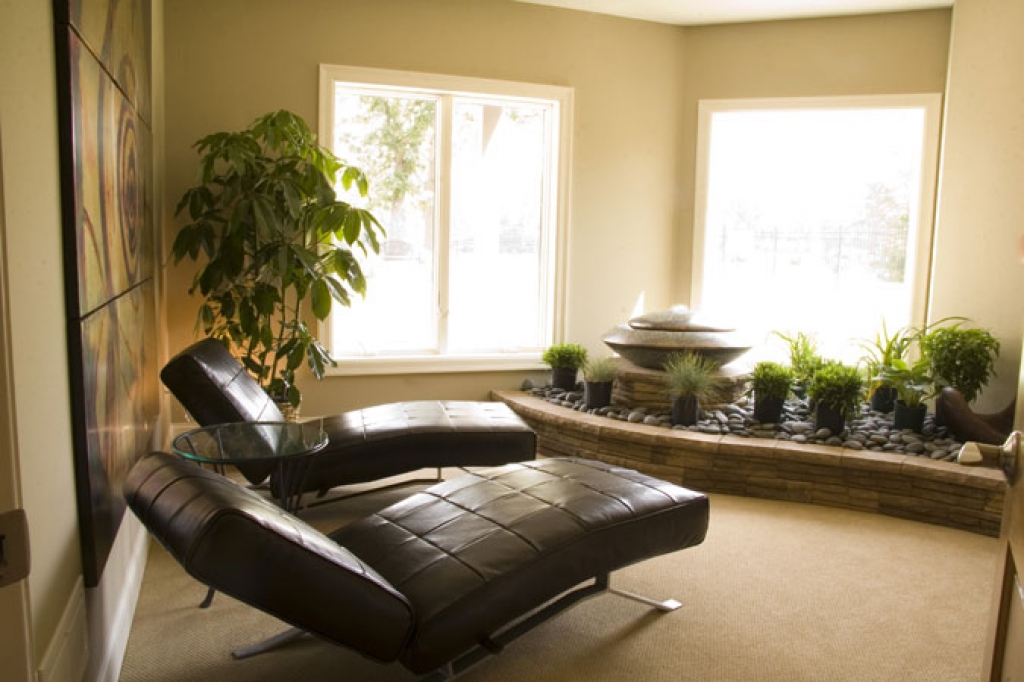 If your idea of the perfect meditating spot is a lounge chair by the pool, you'll love this simple meditation room idea. Chaise lounges allow you and your partner to stretch out as you relax. A collection of potted plants set into a rock garden gives the room a natural feel without being difficult to maintain. The centerpiece, of course, is the large fountain, while will provide a blissful ambient noise that is sure to aid your relaxation. The space might be small, but it certainly packs a big punch.
25. Serene Shades of Blue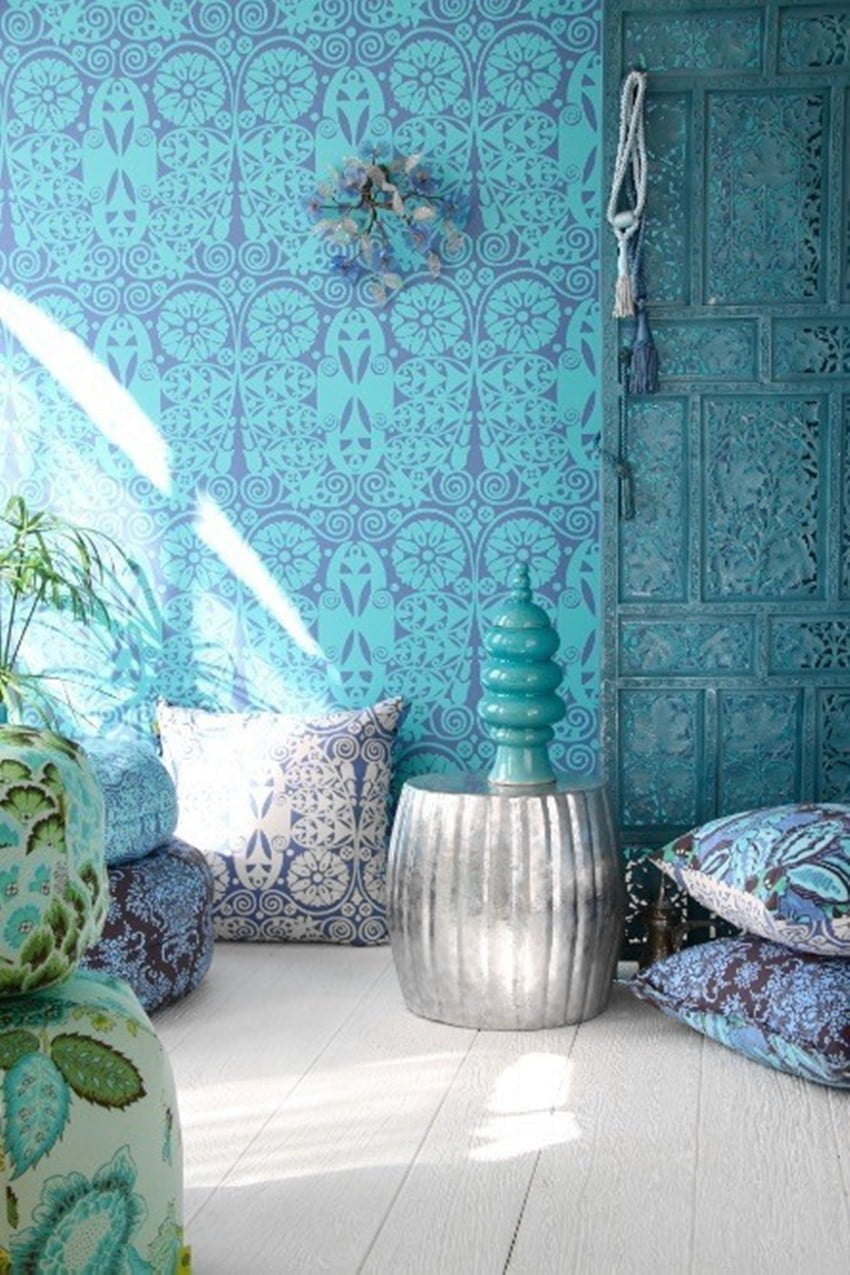 Blue is well-known for its calming effects, so it's wise to use it in your meditation room design. The patterns on the walls have a unique Moroccan feel that's common to find in a room for meditation. Large pillows with different shapes and designs stack against the wall when not in use, but are easy to move around to suit the needs of the room at the time. Put a few out for your meditation practice, or bring them all out for some time spent with friends.
26. Modern Space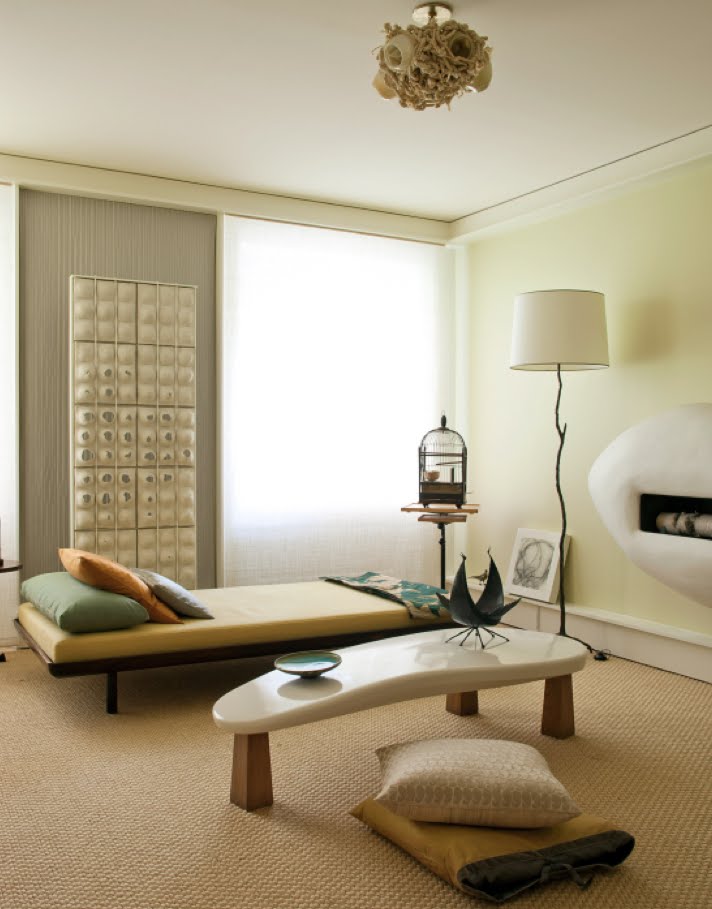 If you prefer the sleek lines of modern home design, then this tranquil space is going to be right up your alley. Neutral colors throughout the space create a calming effect. Depending on your mood, you could sit upon the pillows for meditation or lie back on the couch. What's especially interesting about this room is the built-in fireplace in the wall. Flickering flames can be an excellent way to get the mind to let go of the whirlwind of thoughts, but this fireplace almost seems like a work of art hanging on the wall. You'll delight in the effects every time you light a fire.
27. Meditation Treehouse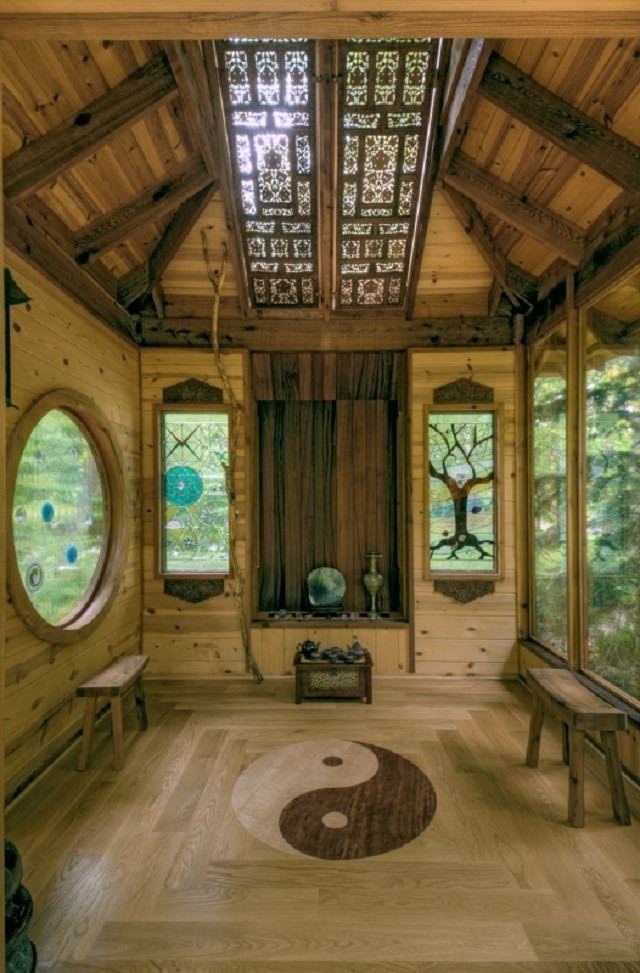 Who says that treehouses are just for kids? A separate little house like this one – whether you put it in a tree or not – is the perfect way to get away from it all. Intricate woodwork forms the yin-yang design on the floor, while the carvings on the wood that holds the skylight window will create interesting patterns as the light shines through. While those two elements might not be your thing, they could definitely serve as a starting point for your own ideas. Talk with a local artist about doing a design that resonates with your personality.
28. Attic Spaces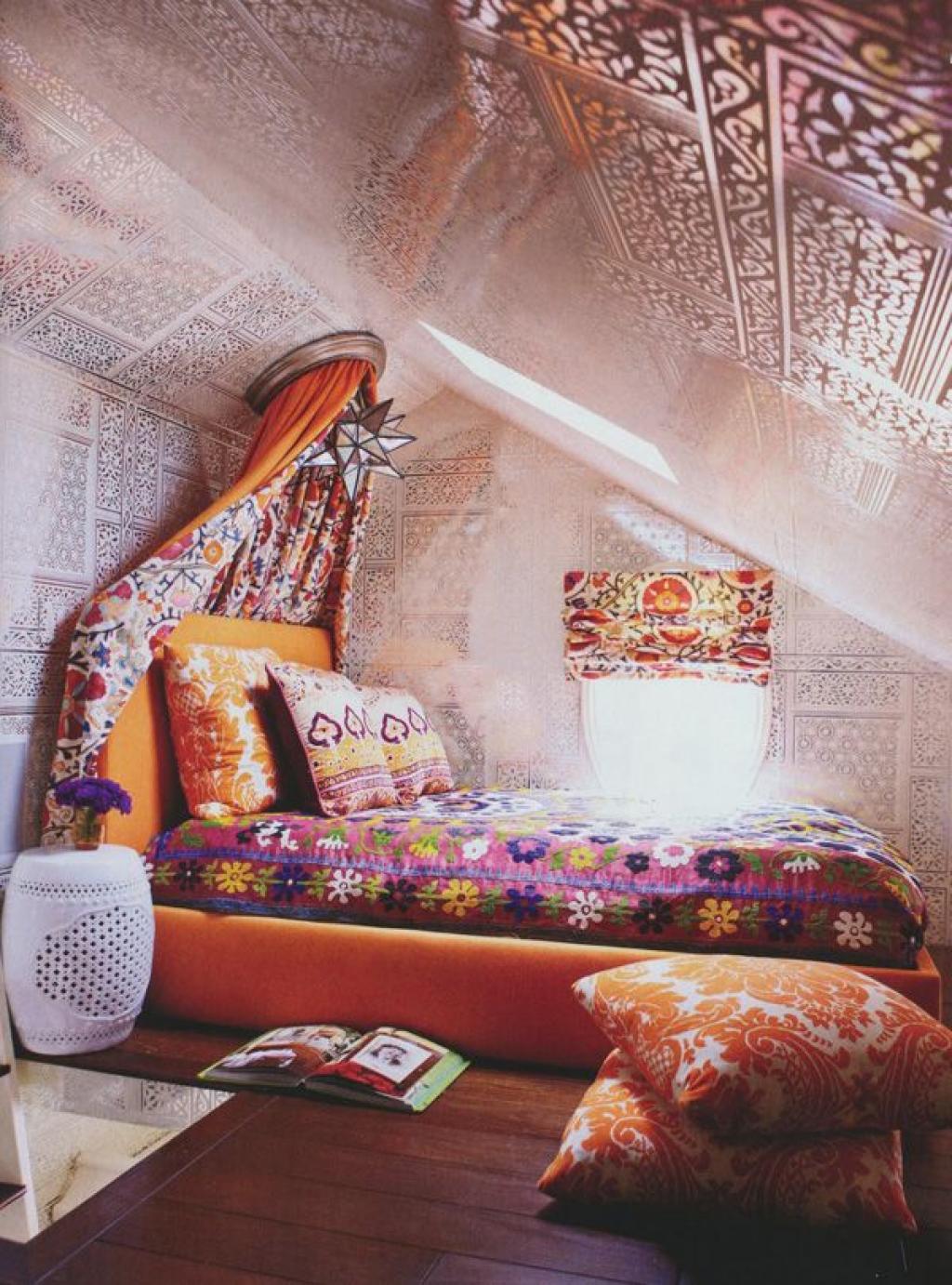 Look up when you want to find some extra space in your home. The attic could be just the right spot to develop a meditation room. This one even doubles as a bedroom. Many people shy away from this location because the slanting roof can make it difficult to furnish. However, by keeping the bed low to the ground, you can make the space work. Patterned wall paper gives this space a Bohemian feel, especially when coupled with the rich colors of the pillows, bedspread, curtain, and tapestries. This would be a great retreat for a teenage girl or comfortable guest accommodations as well.
29. Sprouting Relaxation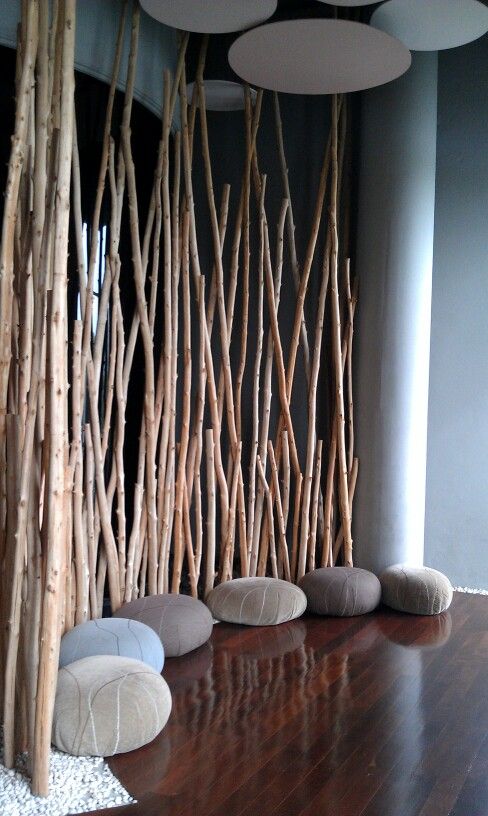 A collection of branches sticking into a rock garden forms a simple wall that's the backdrop for this meditation room. This is a great way to tie in natural elements without focusing on the green of houseplants. You can also use this idea either up against an existing wall or as a way to separate one side of the room from the other. The grey and beige pillows here almost look like large rocks for sitting upon, and they interestingly match the spherical overhanging lamps. It's a simple idea, but it works well.
30. Geodesic Meditation Room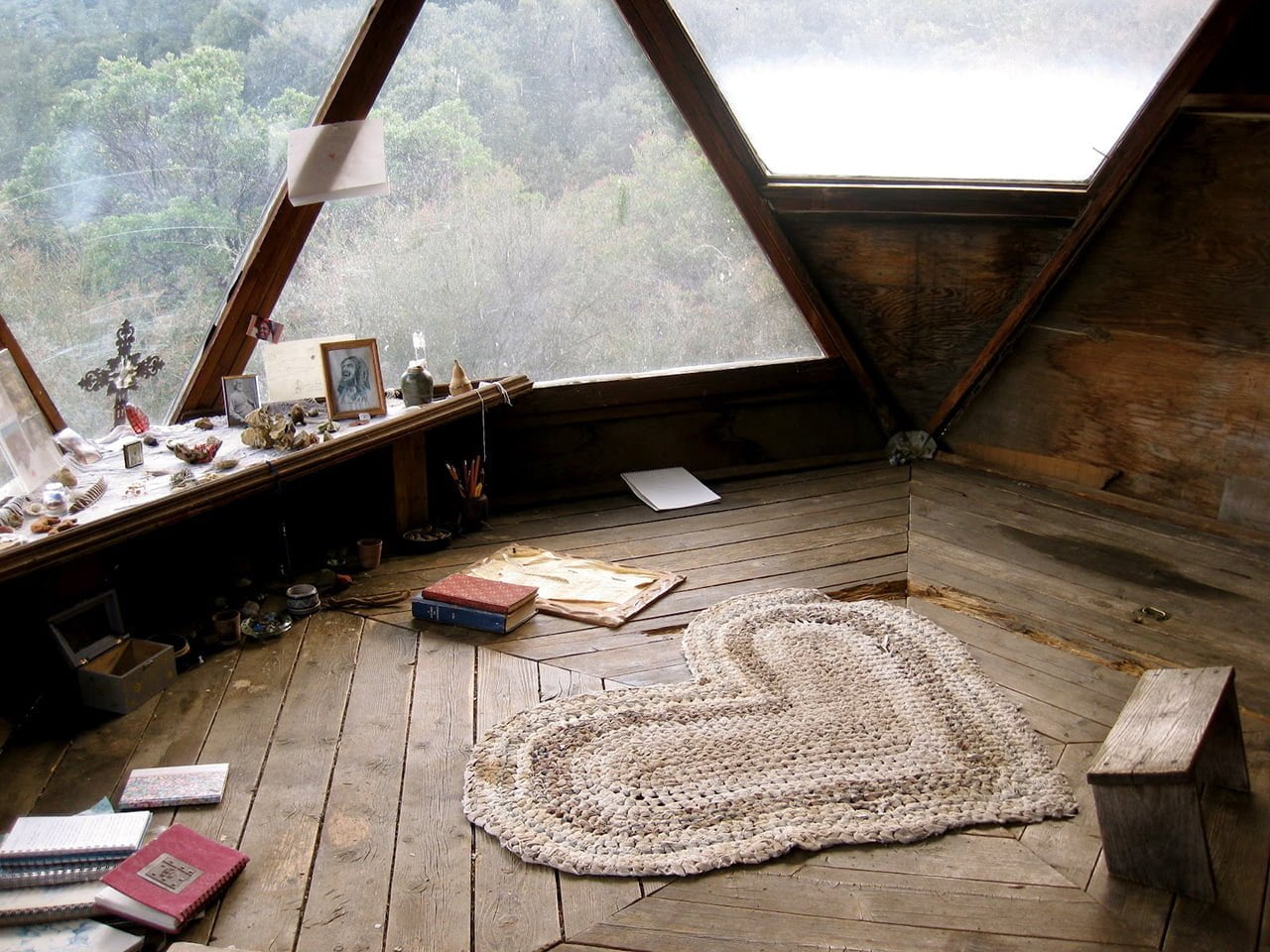 With its triangular windows and wall panels, this unique space is a geodesic dome, possibly sitting up high in a tree. It uses reclaimed wood and decorates with small knick-knacks that bring meaning to the space for the person it belongs to. Since it's such a small space, this meditation room design is ideal for someone who's looking for a bit of privacy. You could use the space for meditating, praying, or simply recharging your mind with journal writing or other creative pursuits.
31. Hillside Relaxation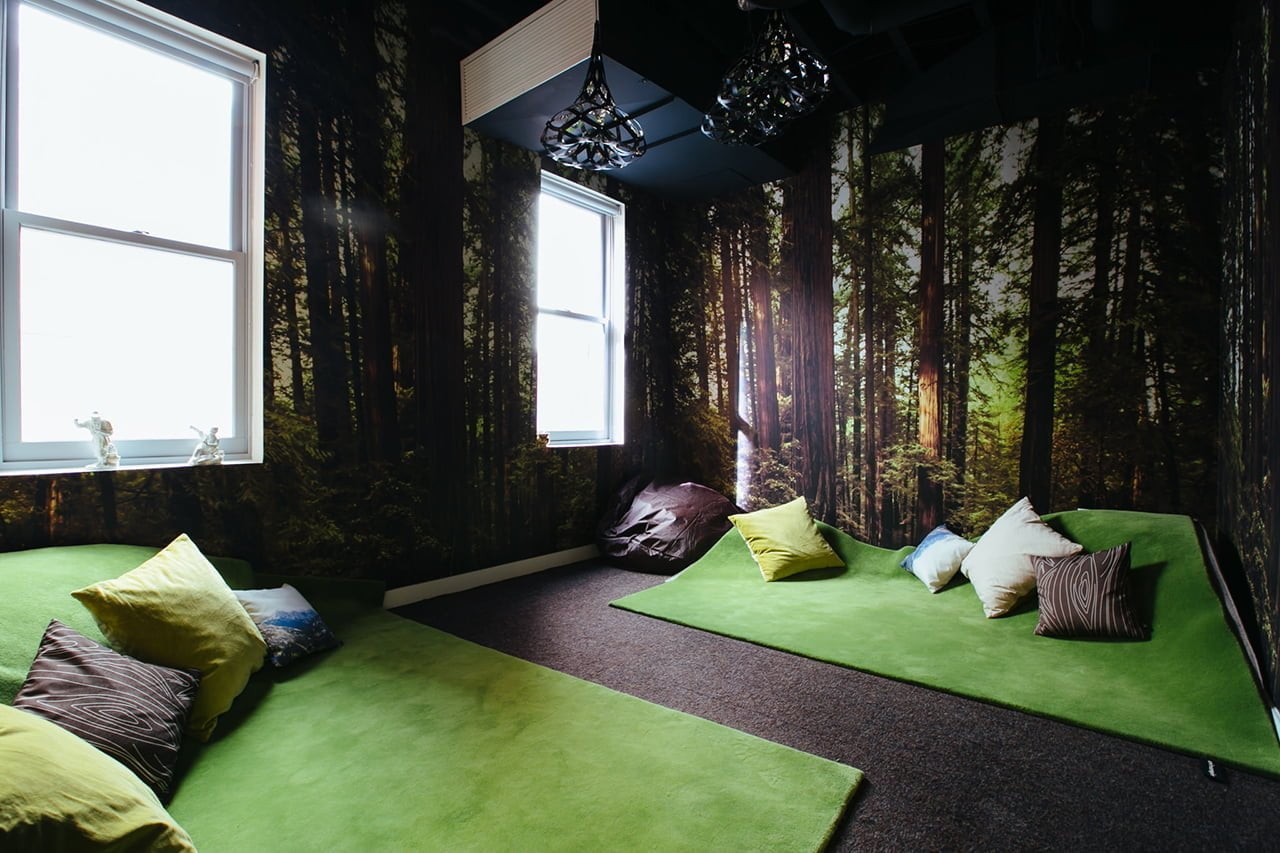 A photographic wallpaper makes you feel like you're inside the woods, even though you're safely in a room in your home. An interesting aspect of this meditation room decor is the two "hills" on either side of the room. In actuality, it's a stack of pillows covered by a flexible rug, but it gives you a great place to lean up against. At night, the unique chandeliers will create fun patterns on the walls and floors, making this a good spot to hang out.
32. White Whimsy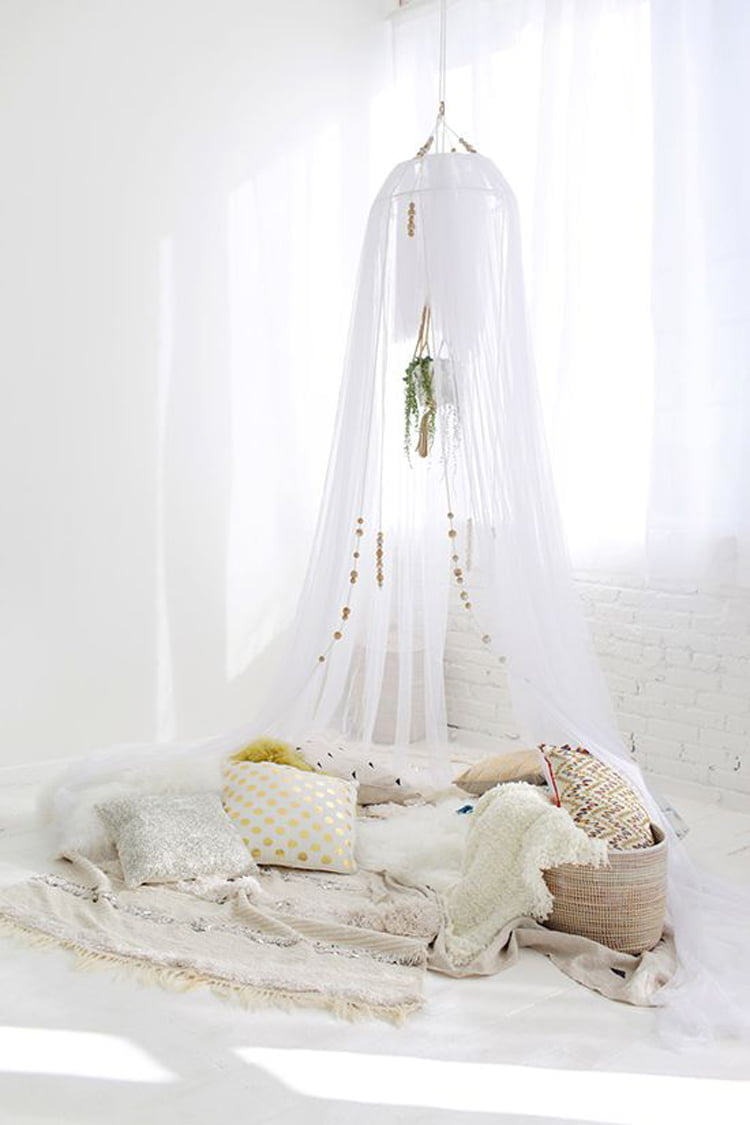 Set up a meditation area like this in any room of your home. We've seen similar ideas of putting comfortable pillows underneath a canopy, but this meditation room idea is a bit different because it uses white upon white upon white. This gives the space a clean, crisp feel that you'll really appreciate when you want to settle in with a good book. Little girls will also love using this space to host tea parties with all of their dolls. Having a simple basket on the side like this allows you to have a place to store a few extra pillows or blankets to use only when you need them without having them in your direct line of view.
More meditation room decorations on the next page…