33. Lounging About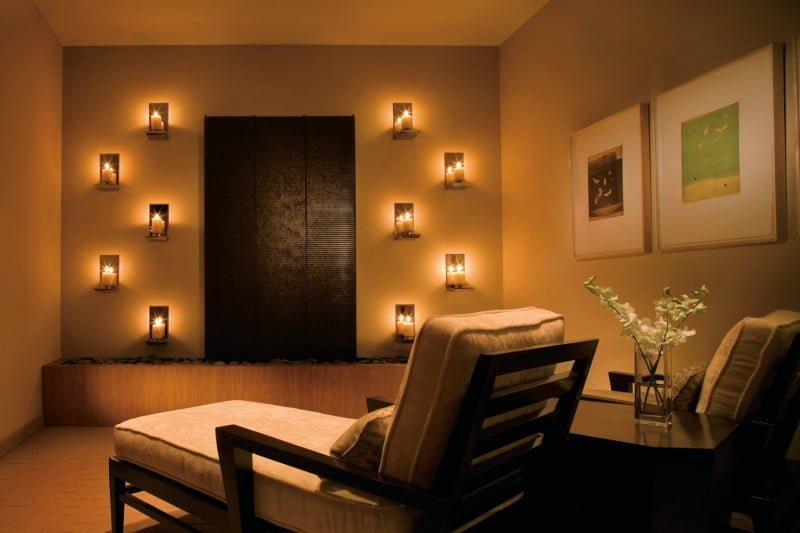 The tranquil glow present in this space comes from the variety of candles mounted on the wall. It's a good way to add lighting and artistic interest into the space. Lounge chairs like you see here are a good choice for those who don't necessarily want to sit on the floor while meditating. It could be a smart choice for an older couple who may not be able to get up and down as easily as they used to be able to. A hint of light green in the pictures and in the plant on the table adds just a touch of color to the otherwise neutral space.
34. Living Meditation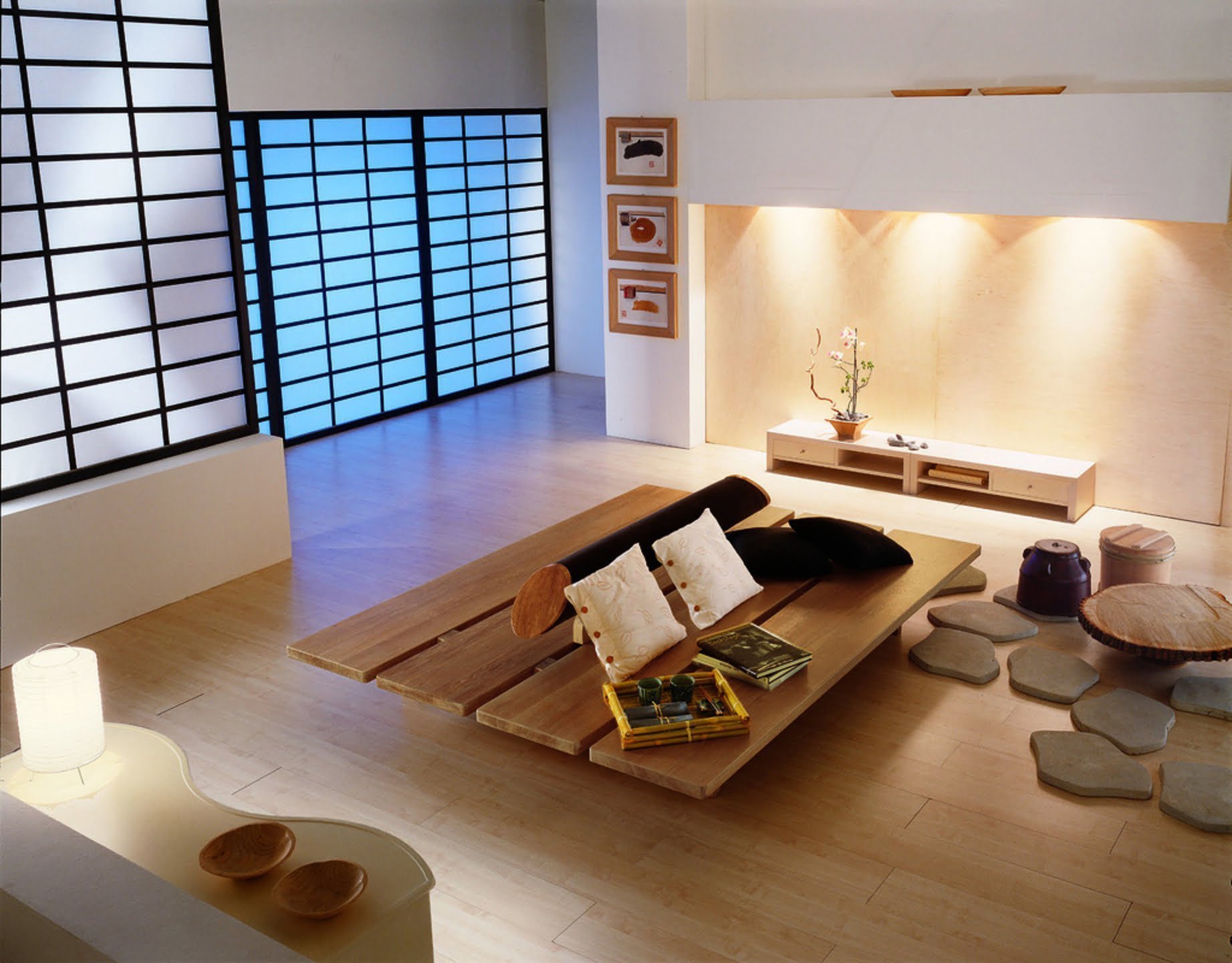 If you love the idea of a meditation room, but don't really want a space specifically designed for that, consider this idea. Shoji screens, a low seating area, and the bamboo plant on the shelf definitely make this room feel like a space for meditation, but it's clearly more of a living area. The rock path on the floor is an interesting element that you won't find in many other homes. Most living rooms are a lot more cluttered like this, and you can easily see how an uncluttered space can make you feel more relaxed.
35. Rich Tranquility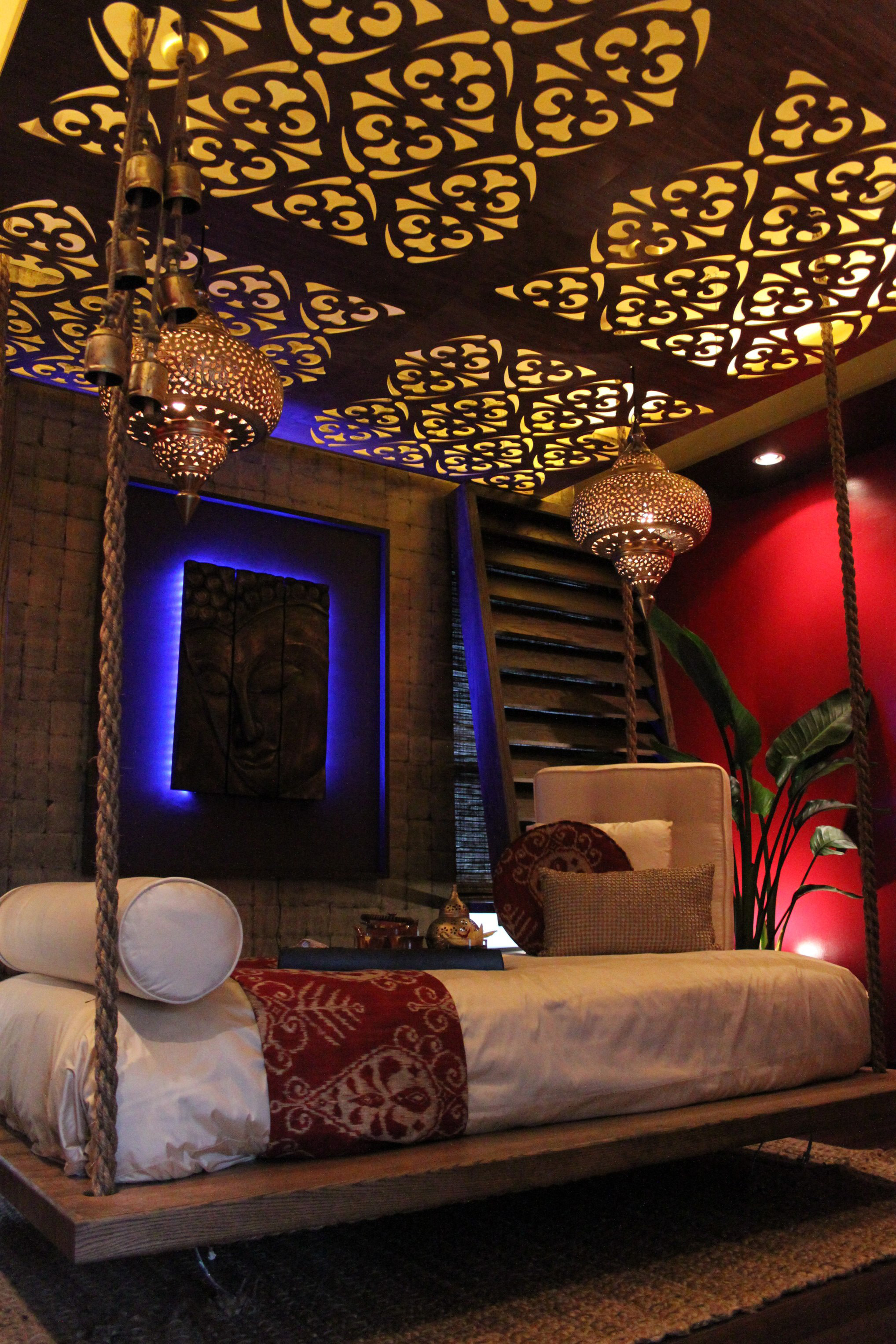 Deep red walls and blue lighting behind the artwork lend a rich quality to this relaxing room. When you prefer the this type of home design, it's easy to create meditative spaces into the types of spaces that everyone needs, like a bedroom. The patterned canopy over the bed and ornate hanging lamps will make you feel like you're sleeping in the royal chambers. Note that the bed is actually placed on an oversized swing, which means that you'll be able to rock the night away as you nod off to sleep.
36. Whitewashed Dreams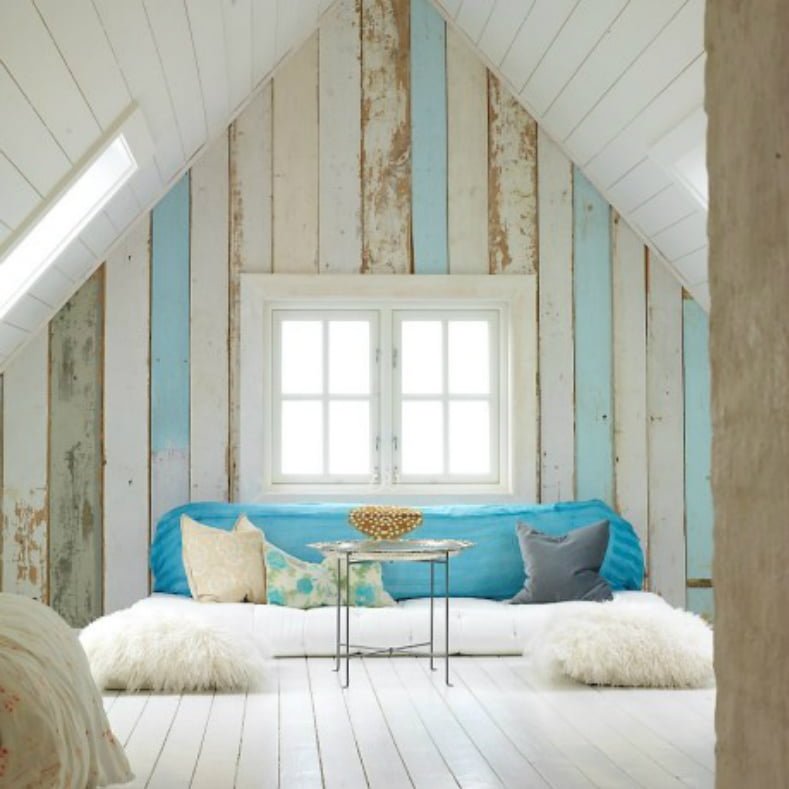 Instead of using solid colors on the walls in this creative space, you can see how they've used whitewash paint that doesn't always fully cover up the natural wood. Having a few planks painted with the light blue that matches the large pillow of the sofa adds a color that many people find relaxing. With the low-to-the-ground sofa, this is a great way to make use of the attic space you're not using right now. In almost no time at all, you'll have your own little retreat.
37. Japanese Elements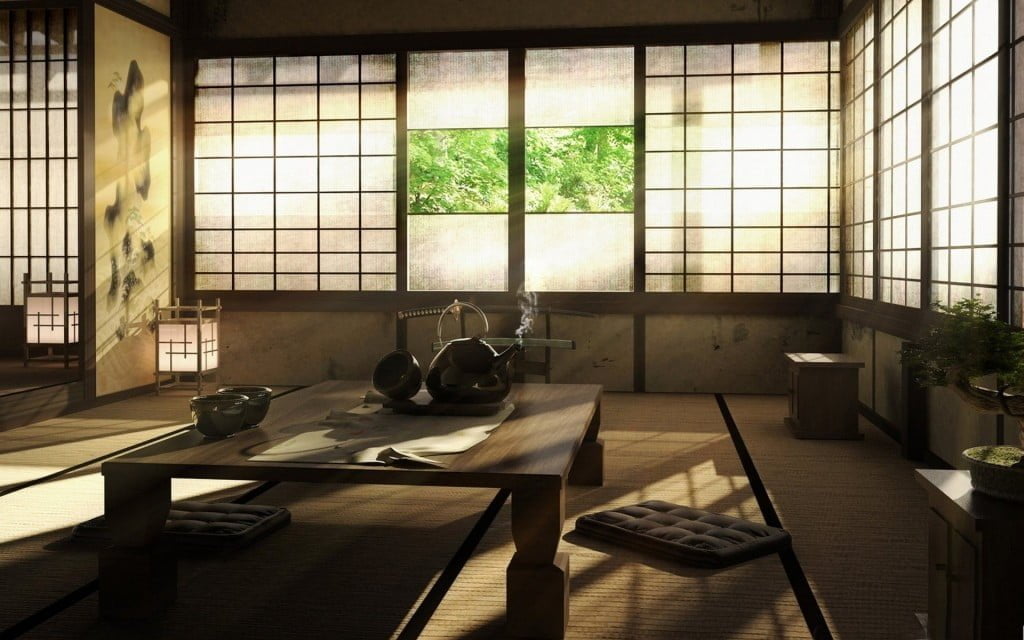 It's common to have a meditation room in Japan, so perhaps you'll feel inspired by looking to them for design ideas. The tatami mat floors make this space feel authentic. They have a unique, woody smell, though, so be sure to check it out if before you make a commitment. The shoji screen windows, sliding door to the space and bonsai tree all add to the Japanese flavor. You could use this room for your own private tea ceremonies or use the low table for writing or craft projects.
38. Reflecting Your State of Mind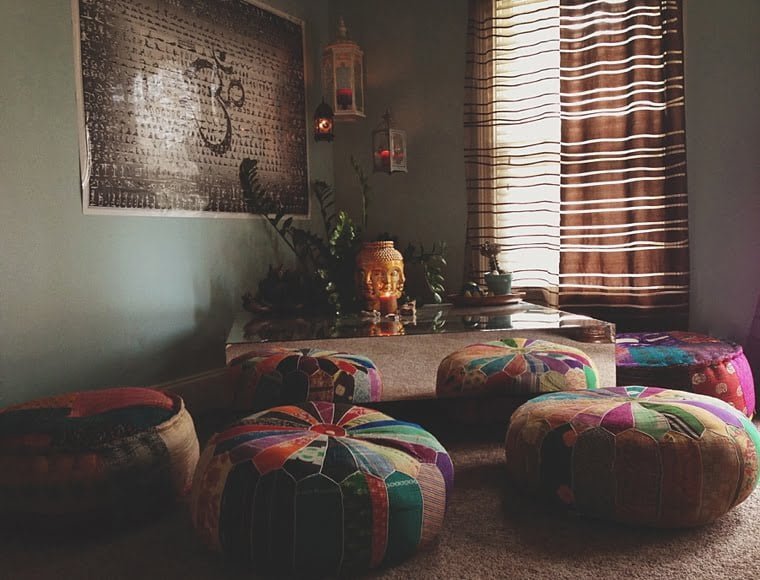 This space might be small, but it certainly doesn't feel like it because of the very large mirrored table. Carpet on the floor makes it a bit more comfortable for sitting, while the oversized, colorful pillows give the room an Indian feel. Some light can filter through the curtains, but hanging lanterns create fun ambient lighting for the space. It's always important to find artwork that suits your needs. A space like this can easily fit into a small corner of a bedroom or other type of living space or be its own room.
39. Put the Focus on You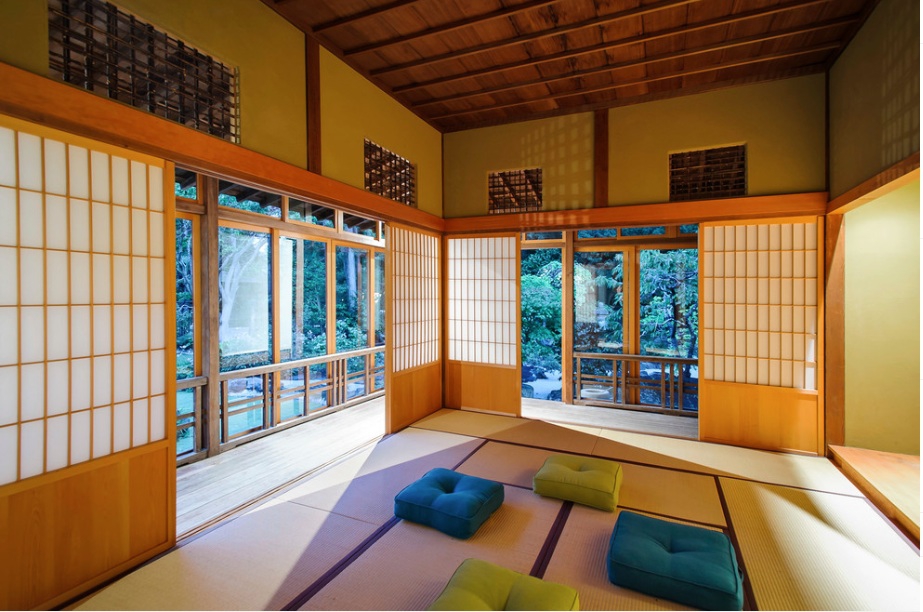 This room also has Japanese design elements, with the tatami floors and shoji screen doors. The doors close for privacy, but there is a small walking space around the outside of the room, so family members can go from place to place without disturbing you. One interesting thing to note is that there is nothing in this room other than the pillows for sitting. This allows you to more deeply focus on your own meditation or on the conversation of the people in the room. On the other hand, it's relatively easy to bring in small folding tables or other things you might need to use the space effectively.
40. Creative Yoga Space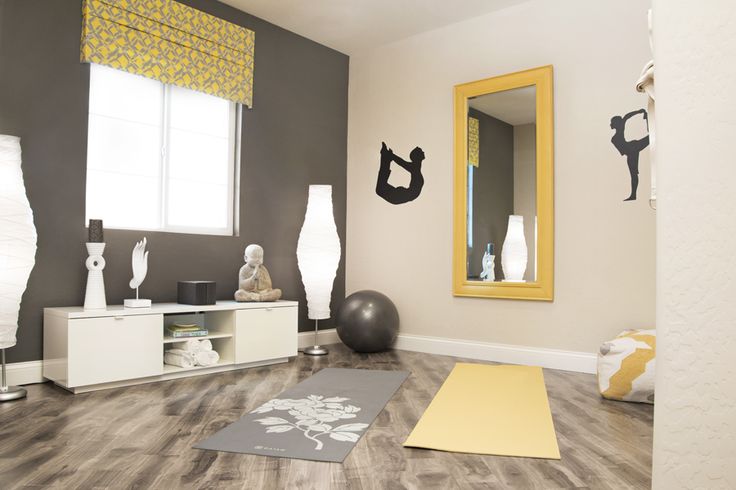 If you can't go a day without doing some yoga, consider creating a space just for that purpose. This space uses simple colors that won't distract from your practice. Vinyl decals on the wall show inspiring poses. If that's not your style, consider adding an inspirational phrase instead. Since the focus on this meditation room is on being able to do yoga, the mirror is a necessary focal point. You can use it to adjust your body to the correct positions as you go through the moves.
41. Darker Spaces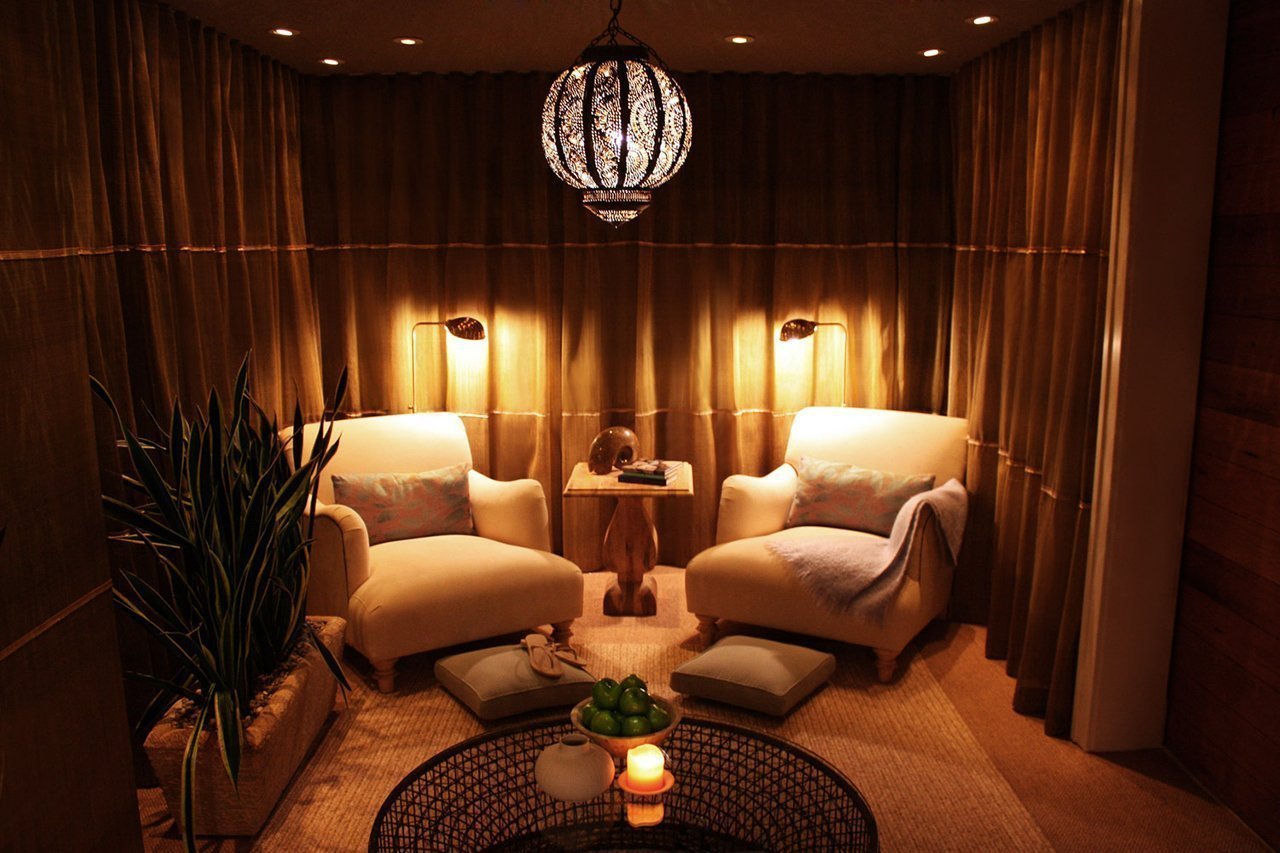 A lot of the meditation room ideas we've seen have focused on creating a bright, airy space. This room takes the opposite approach. Heavy fabric on the walls creates a warm, cavern like space, and the lighting choices don't force a lot of light into the room. However, the warm colors stop the room from being too dark and scary. This would be a good choice for someone who wants to meditate at night or curl up with a good book in a nice, tranquil space.
More meditation room décor ideas on the next page…