42. Under the Nomad's Tent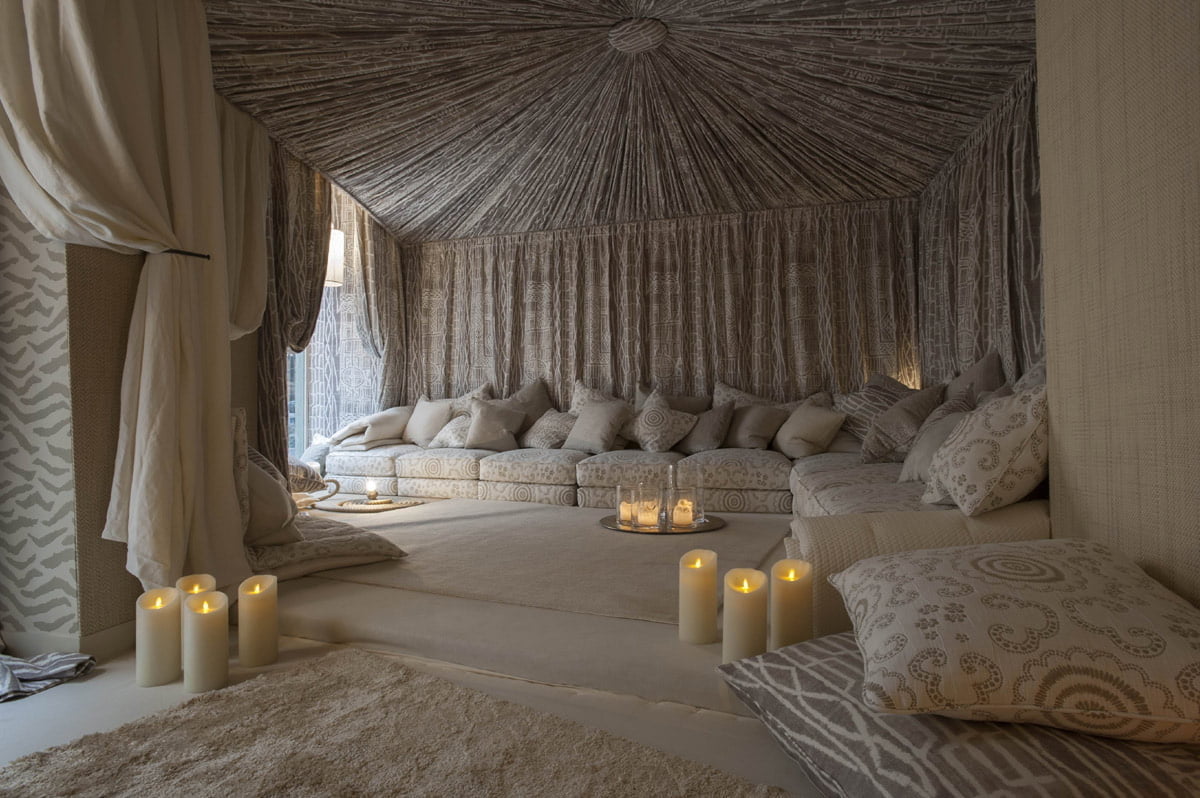 This extravagant meditation room is a really unique way to use drapery fabric. Bunched up around the ceiling and settling down to the floor, it appears that you are sitting inside a large nomad's tent. There's plenty of plush seating for a large number of guests, and choosing the monochromatic patterns gives the space texture without colors. If you were to do something like this in your home, you might be concerned about using real flames in the candles. Instead, consider the flameless LED candles, which still flicker like candlelight but don't have the danger of fire. If you don't have a large space like this in your home, you could also purchase a tent that could decorate this way, leaving it up as long as the weather allows.
43. Terrific Triangles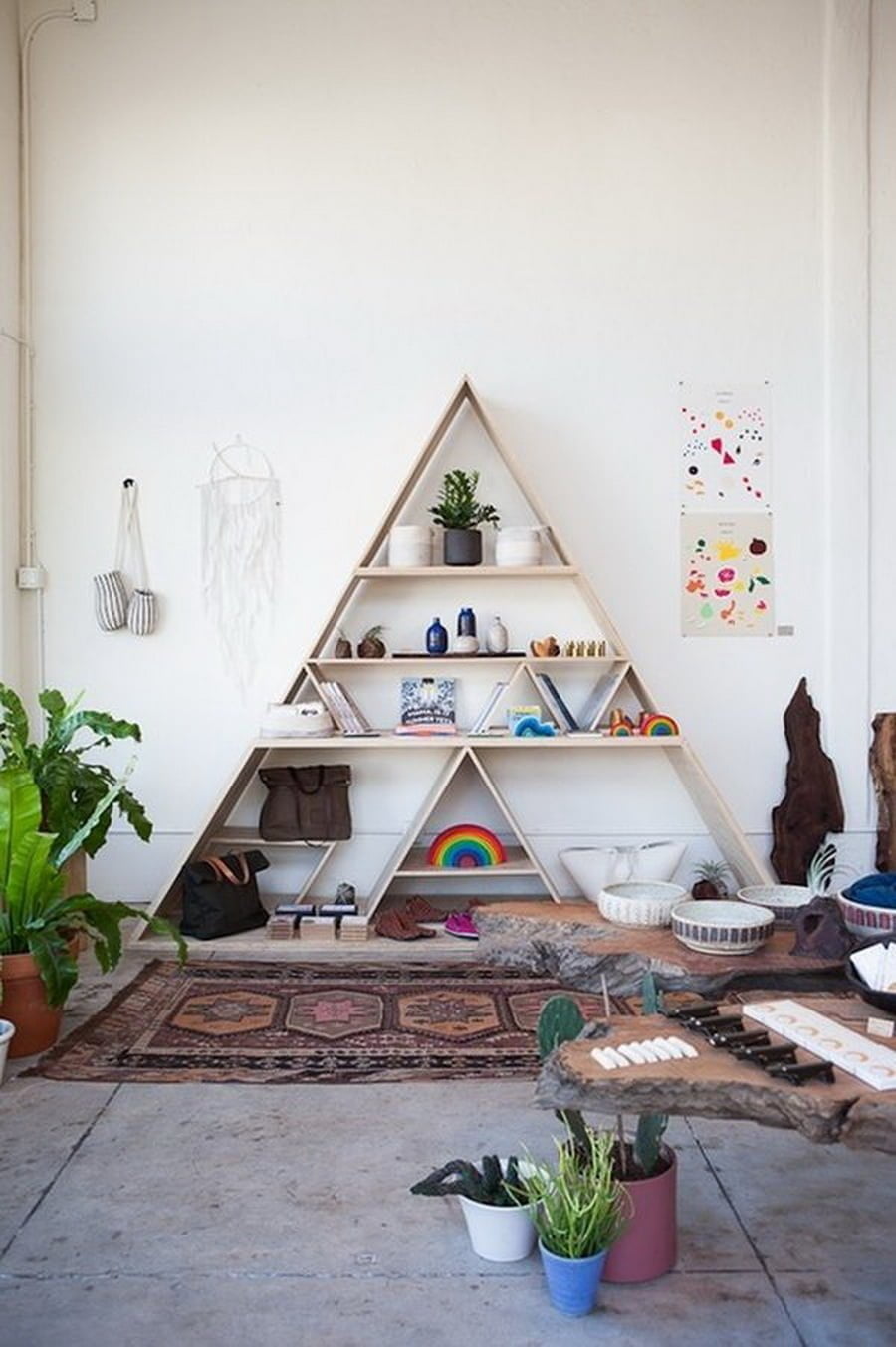 Many people feel that what really sets a meditation space apart from other types of spaces is the presence of small items that make you feel tranquil or remind you of your spiritual path. For some, this is religious imagery, like a statue of the Buddha or a Christian cross, but others simply prefer simple things, like the rainbows you see in this picture. The triangular shelving system is a creative way to showcase this person's items, while the simple carpet on the floor provides a place to sit while meditating.
44. Illuminated Spaces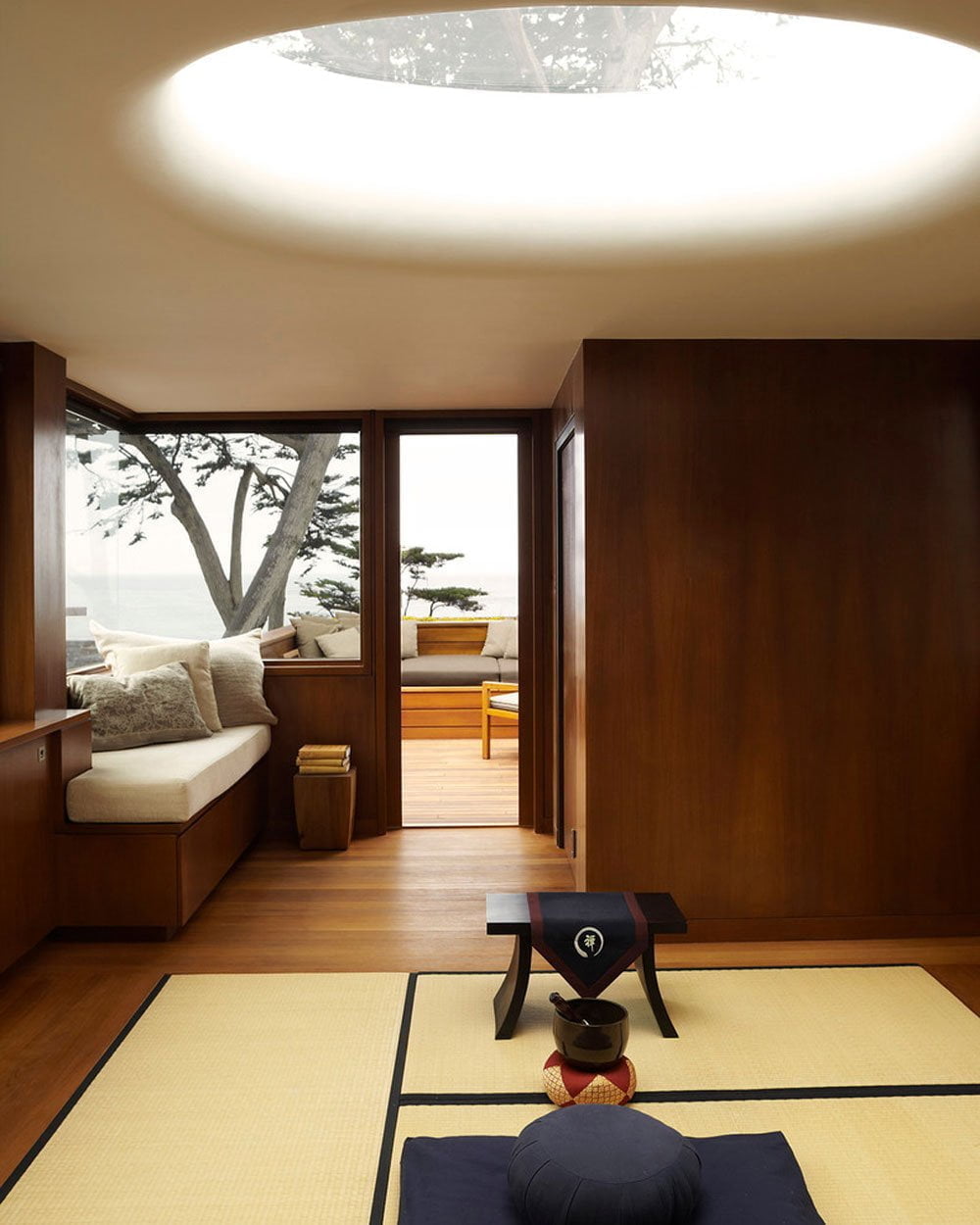 This room might look simple, but it actually has a lot going on. The tatami rugs separate a small space of the larger room to use for meditation, while the hardwood floors that are present in the rest of the room are more practical. In another part of the room, there's a window seat for lounging. A giant, circular skylight allows natural light to flow into the space. This meditation room idea is also great for those who like to meditate while looking at the stars – you'll be able to lay out under the stars without worrying about whether it's too hot or too cold outside.
45. Yoga Together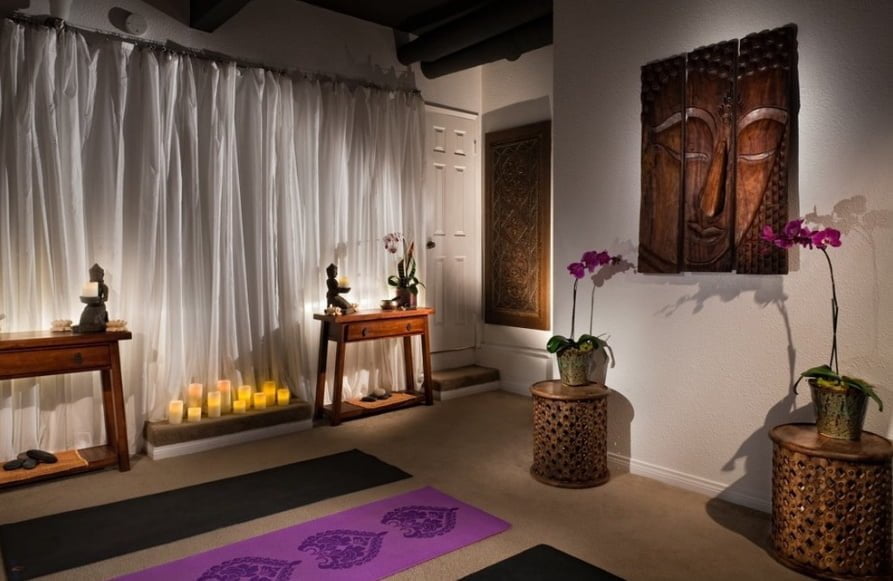 Though many people think of meditation as being a solitary practice, doing so along with a partner can make the two of you feel closer together. In this large space, there's enough room for more than one person to do yoga together. The home decor in the room has a calming feel, which can help you feel more centered as you strengthen your body and mind. Ceiling-to-floor curtains can work even on windows that are smaller. It will make your room look more grandiose.
46. Small but Symmetrical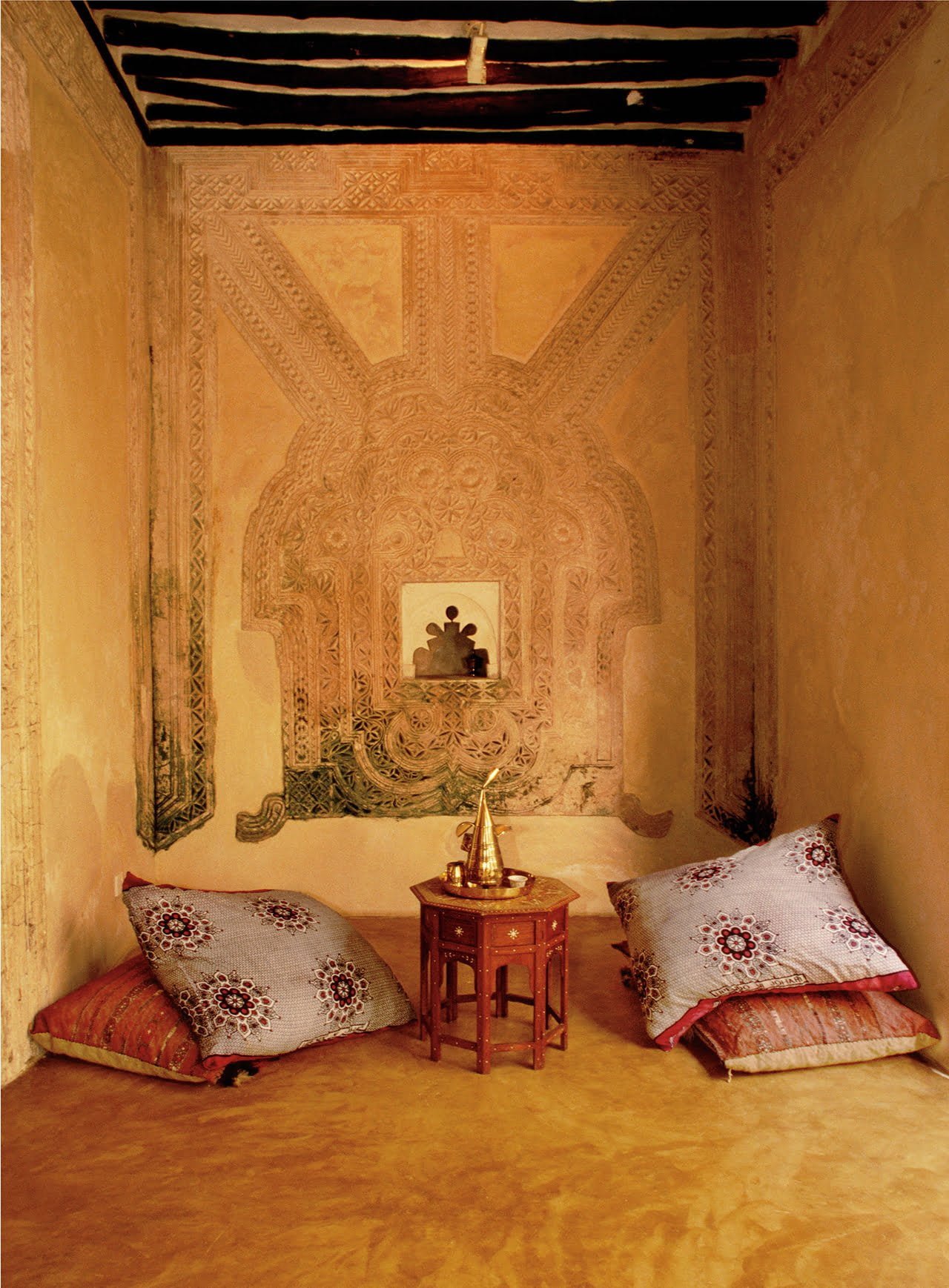 Even if you only have a room this size, you can still create a meaningful meditation room design. The wall design here looks like it would fit right in with a home or temple in the Middle East. A simple table and matching cushions make this a quiet little space for two people. The cushions and the design on the wall are symmetrical, which can really help a small space feel put-together. This same idea could also work well outside, on a small part of a porch or on a gazebo set far away from the home.
47. Meditative Meeting Place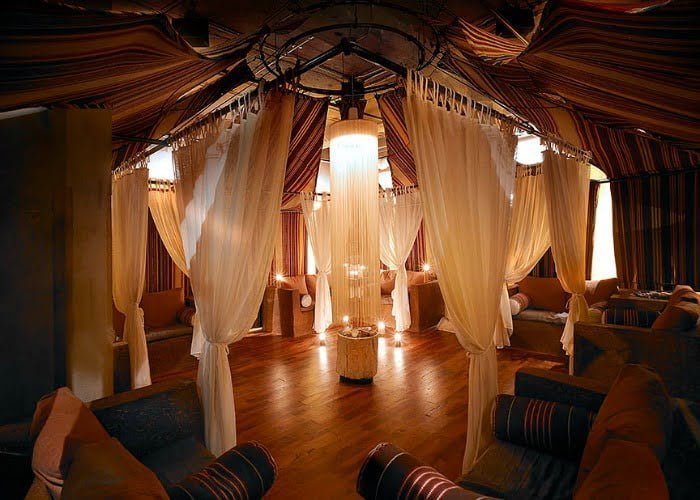 Whether you're planning to hold spiritual classes or just want a large place with a relaxing feel to gather with your friends, this meditation room design could work well for you. Large chairs and sofas along the outside of the room offer ample seating for those who might not want to sit on the floor. The sheer curtains hanging from the middle of the ceiling could be pulled around to create a smaller closed-off space in the middle that still has an open and airy feel. This might well if you are doing a small-group meditation class or simply have a few people over for a book group. Open the curtains up, and you have a very large space for your party. Flexibility is often key to creating a space that works well for your needs.
48. Colorful Yoga Master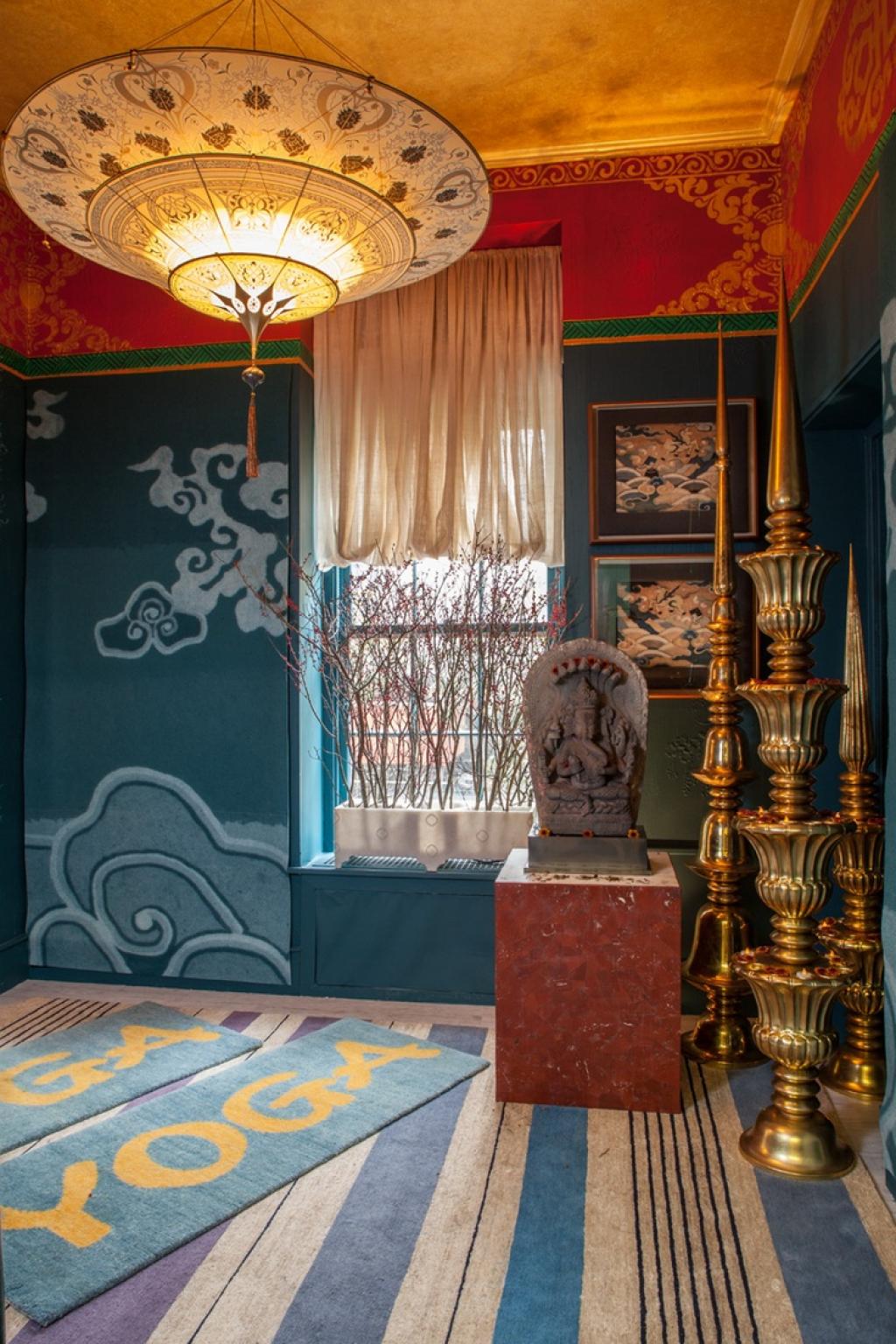 This yoga space is unique in that it makes use of a lot of deep, rich colors, while most other meditation rooms tend to stick with light, neutral colors for their calming effect. The blue walls coupled with the red and gold details at the ceiling add a lot of warmth to the room. The gorgeous chandelier and sculptures add even more character to the space. The carpeted yoga mats are a creative touch, giving a bit of whimsy to the room while still being practical.
49. Set Up for Success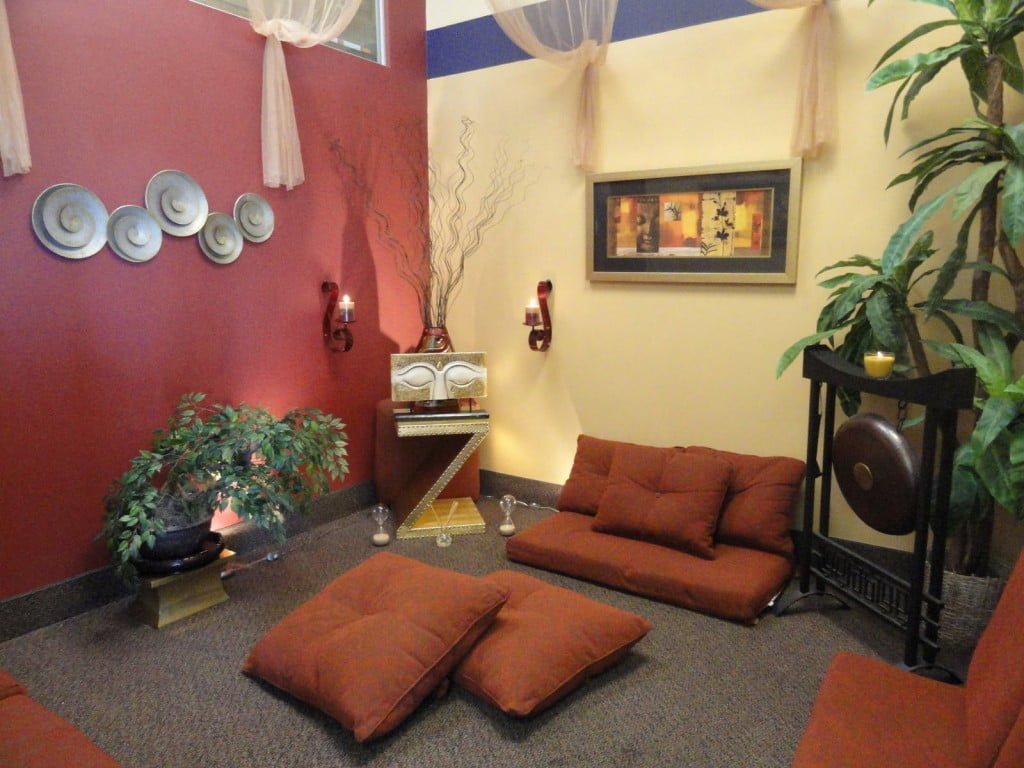 If you're new to a mediation practice, having the right set up can make a big difference in your success. For instance, in this meditation room, you have the option of sitting on a cushion or having a chair to support your back. The room also has a gong, which can help new practicioners grow by giving them a sound to focus on. Sand timers are an excellent way to keep track of the time as you meditate, and the ones here are beautiful as well.
50. Meditation/Guest Room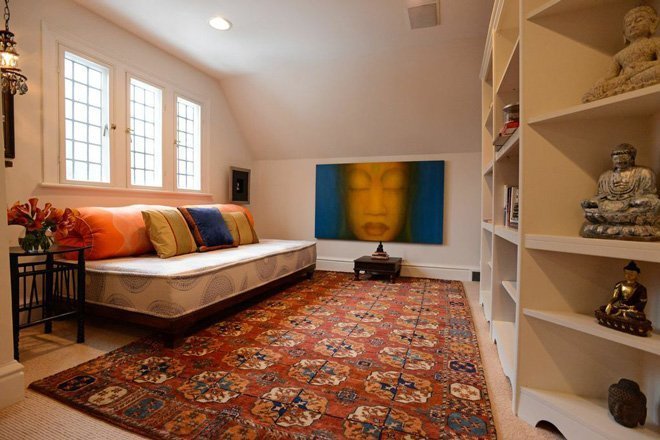 Not everyone has a large enough home to offer a separate guest room, but everyone wants to be able to give their guests a comfortable place to sleep. This meditation room idea uses a sofa that's big enough to act as a bed when needed, but a comfortable spot for meditation when guests aren't around. Built-in shelves provide ample space to house inspirational objects. The brightly colored carpet and artwork stand out against the stark white walls, adding interest and happiness to the space. It's perfect for meditating or just spending some time alone.
Feel Calm and Centered with these 50 Inspiring Meditation Room Ideas
As you can see through these pictures, there are almost as many meditation room ideas as there are people. When you're considering a room for your own home, think about the size of the room you have and the type of feeling you're hoping to create. How will you use the space? What colors bring you peace and joy? Are you looking for a place to relax on your own or with a small group of people?
Your goal should not be to create a space that looks like the inside of a temple or church, but to design a spot that fits with your home design and makes you feel centered. That looks different for different people. Hopefully, we've given you enough inspiration to get started on the right path to choosing meditation room decor that's right for you. In no time at all, you could be relaxing and focusing your mind.