When you have the best Scandinavian home decor ideas, you can promptly create the Nordic home of your dreams. Scandinavian design is the perfect style for anyone who seeks a minimalistic layout without losing the overall aesthetic. Originating in Nordic countries decades ago, Scandi decor focuses on neutral colors, natural lighting, and white spaces. All of this offers a cleaner look. The lines are sleek, and every inch of the decor serves a purpose without reducing the beauty behind it all. If this sounds appealing, your next step is to decide how to incorporate Scandinavian decor.
17 Incredible Scandinavian Home Decor Ideas to Elevate Your Interior Design

There are a couple of ways you can take this decorating style. It is perfect for blending with different design patterns. For instance, you can find incredible modern Scandinavian interior design. Both modern style and Scandi style focus on natural lighting, clean lines, and have a minimalistic take. The modern-styled design is not the only one you can use since Scandi decor has incredible versatility. It can work just as well with rustic, farmhouse, and boho designs. So, prepare to open your decorating skills and creativity to the possibilities Scandinavian decor offers.
Now, the question turns to what items you add and which rooms the style works best inside. Thankfully, the Scandi style works well in any room in your home. From there, it is about choosing the correct items and setting everything up to bring cohesiveness without clutter or fuss. It can be as simple as some art hanging on the wall or a few artistic candles on a table. Alternatively, it can be as big as some creative and distinctive vases for plants or entire pieces of furniture. If you are uncertain where to begin, read up on our favorite Scandinavian home decor ideas. They are sure to get you started down the right path.
1. Light and Dark Scandi Design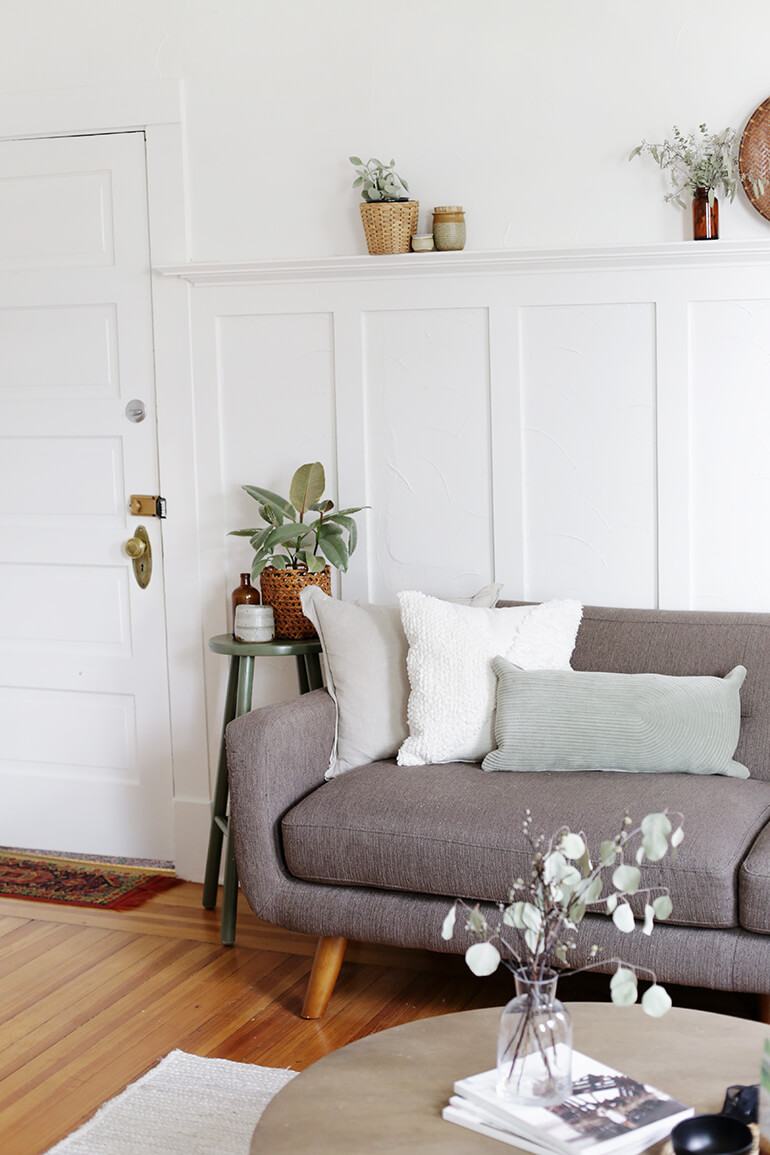 A fun way to decorate the Scandinavian way is to balance out lighter items and darker hues. Using a darker couch as a base is a wonderful method. It allows you to build from there, adding gorgeous throw pillows that can be different sizes, colors, and designs. Be sure that you aim for lighter tones in this case. They will contrast against the couch itself so that they have a better chance of standing out. Don't be shy about adding some greenery. It's not always used in Scandi design style, but it can work out well if you need a modern touch.
2. Nordic Throw Pillows Bedroom Design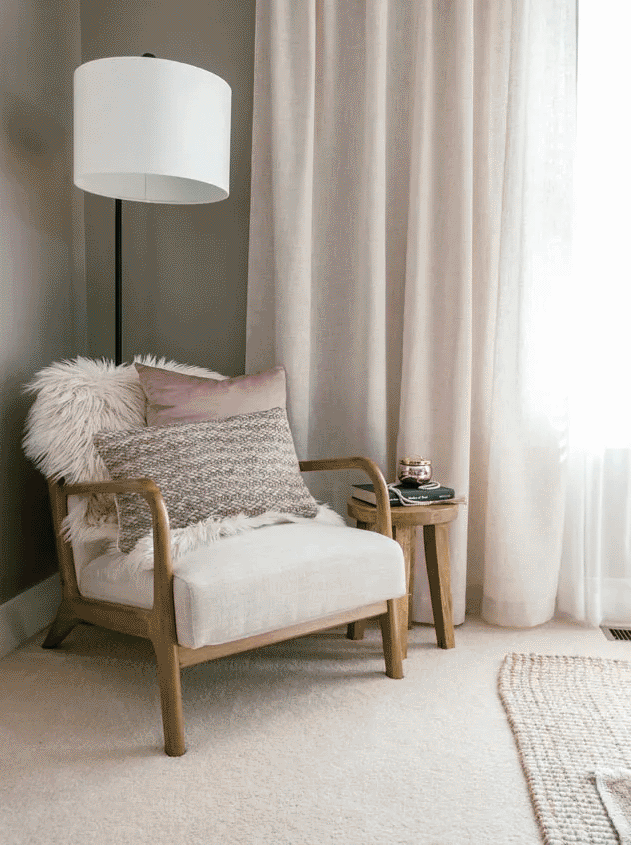 Do you feel your bedroom is lacking that extra touch? If you have the space for it, consider building a little nook. A chair and a lamp go a long way if you want to turn the area into a lovely reading space. The chair features beige and brown tones, but the pillows elevate it to new heights. You can use a few pillows, leaving the chair overflowing with them to have a decorative impact. Consider keeping the pillows with a similar color tone so that everything blends better. If anything, the pillows can have a variety of design styles such as frills and tassels.
3. Old Fashioned Scandi Decor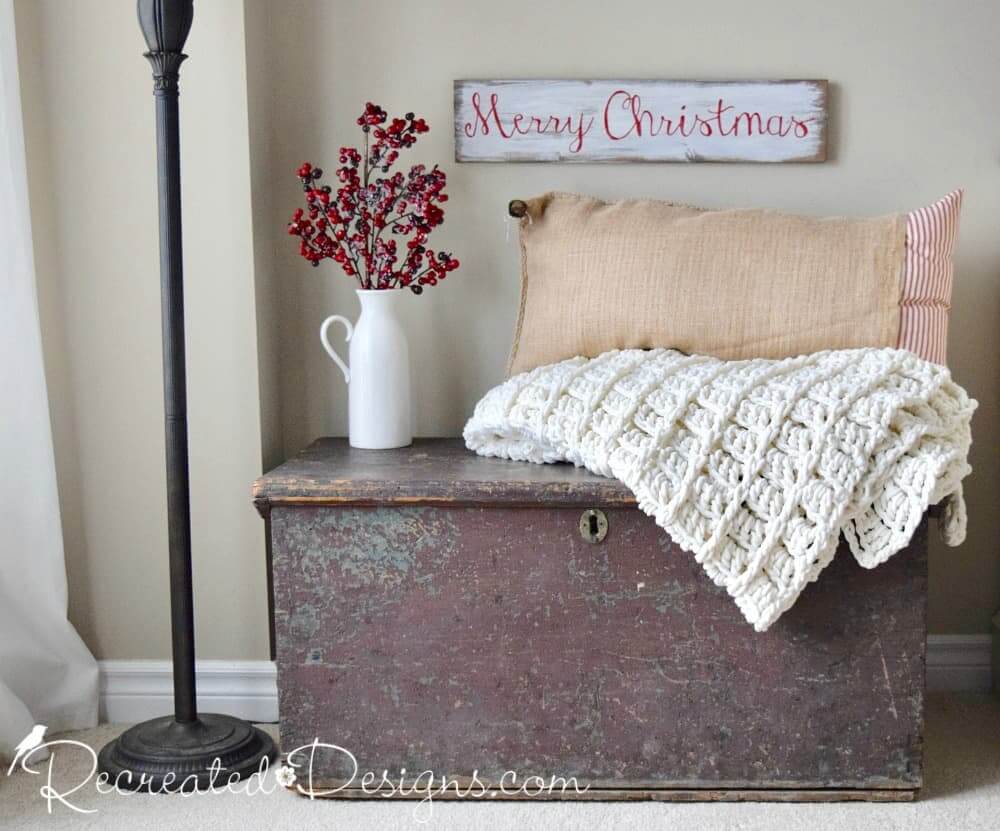 This setup proves just how effective the Scandi style is with just about every other decorative design. In this case, we take a vintage approach to sprucing up a room. With the right items, you can add some life to a little nook. The handmade sign rounds everything off. It indicates how ready you are for the season in question. Everything has muted colors, even the homemade sign. Keeping it to different shades of beige and white is ideal for the Scandinavian theme. The only hints of color come from the writing on the sign and the plant. These are just enough to give the setup some vibrancy.
4. Classic and Vintage Multi Rug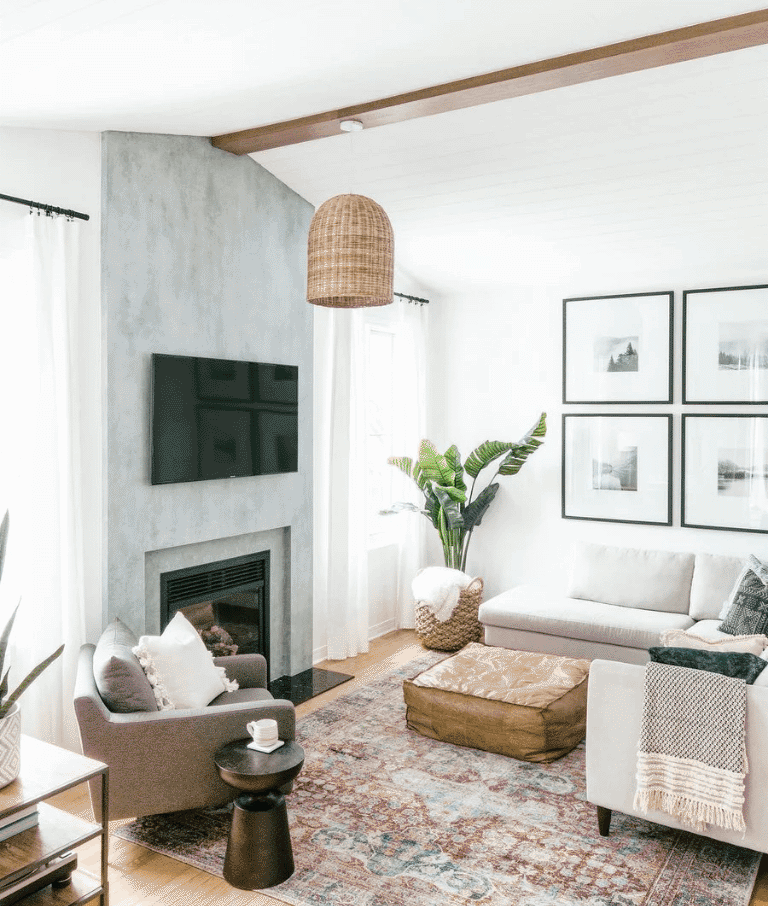 When you want to decorate a vintage-styled room, you should consider a gorgeous multi rug such as this. It is available in numerous sizes. This way, you can find the size that best suits the room you plan to use the rug. Alongside the vintage look, the rug features neutral color patterns throughout that help highlight the intricate and eye-catching pattern of art. There is even a textured effect to make the rug that much more appealing. What allows this to work in a Scandi-inspired room is the overall color tones and the simplicity behind it just being a rug.
5. Reusable Produce Decorative Bag Idea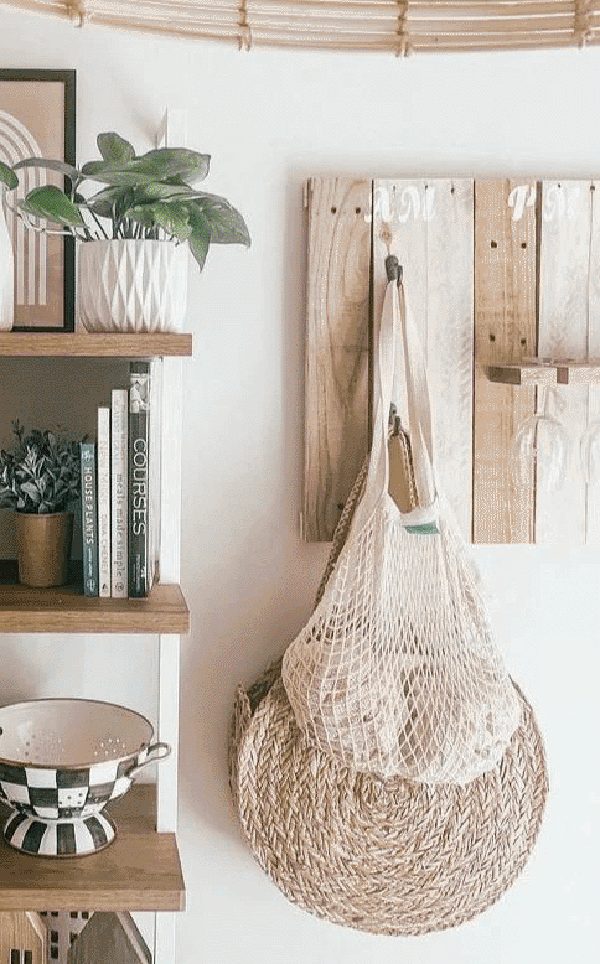 Why settle for a standard tote bag for your reusable bag when you can have a gem such as this one? It is made from organic cotton, and its look alone will cause anyone to do a double take. Best of all, you can hang this up on a wooden shelf that feeds more into the Scandinavian style. There is a similar color pattern spreading among everything, but there are still flickers of contrast so that not a single piece fades into the background. This also gives the room an airy, lighter appearance that will brighten up anyone who walks into the area.
6. Creative Circular Nordic Style Ceramic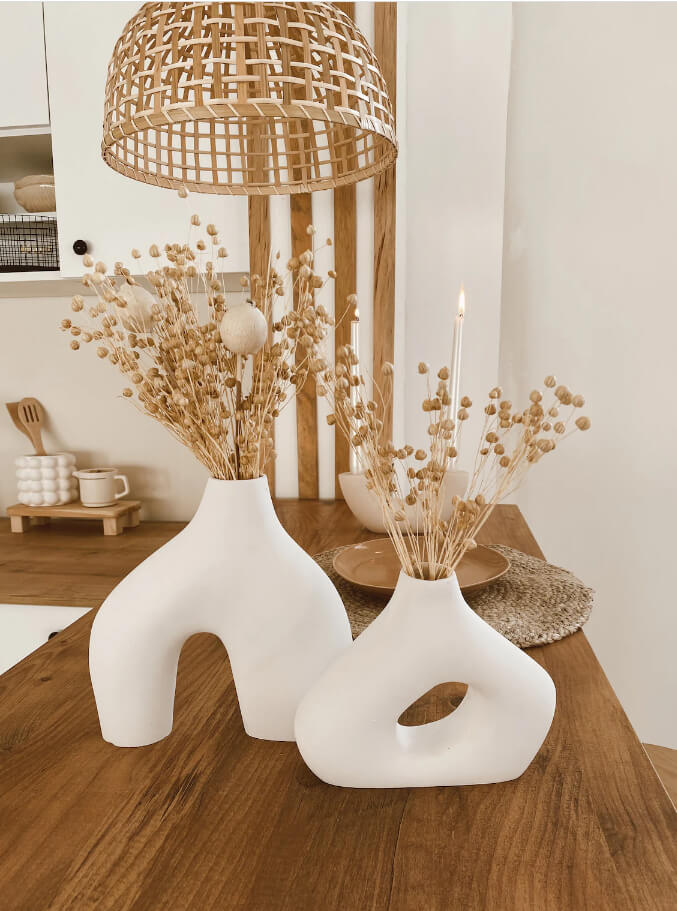 Are you looking for a creative, artistic way of decorating a Scandinavian home? Then consider trying these awesome ceramic vases. They have unique designs, instantly capturing the attention of anyone who walks inside. They are not that loud in terms of design, however. This is fitting for the Nordic style since it does the most without being too fussy or filled with other designs. Since it is a real vase, you can place other items on top that can further emphasize how your vase interacts with the rest of the decor inside the room. Available in beige or white, you can utilize natural coloring to decorate alongside the vases.
7. Modern Circular Hollow Ceramic Vase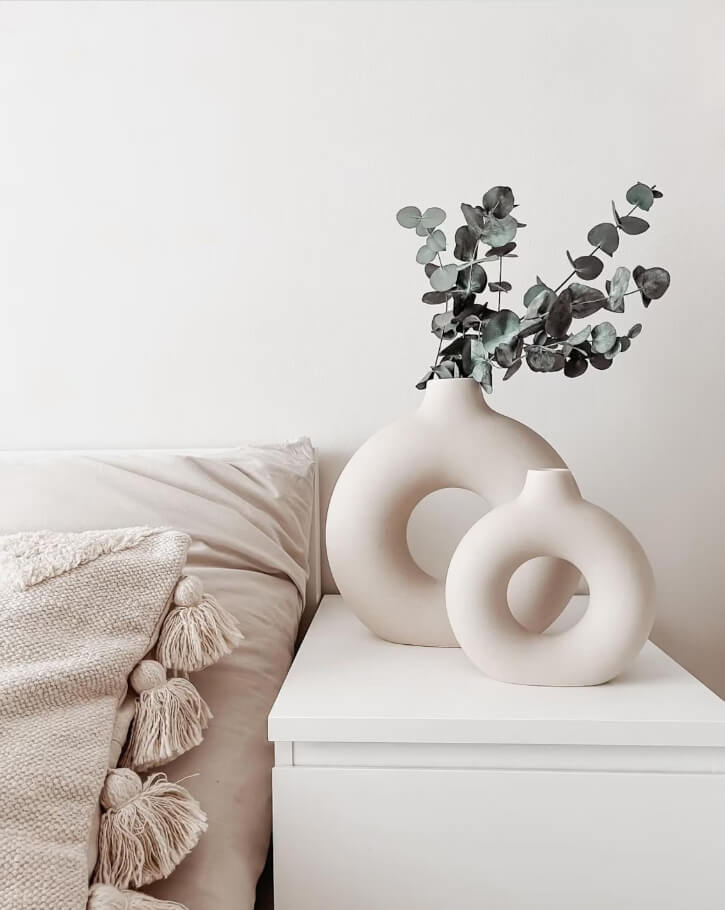 Elevate your choice of decor with these remarkable twin-spaced ceramic vases. They are not shaped like your traditional vase. Instead, they have an artistic look about them. You may want to use the vases on their own for decorative purposes. They are simple enough to make Nordic decorating proud. There is an incredible aesthetic to the vase too that can encourage you to stare without using the vase. Once you do use it as a vase, however, any greenery you place inside will only serve to add a lovely pop of color. You don't have to place anything inside though as the vase speaks for itself.
8. Decorative Boho Inspired Wooden Tray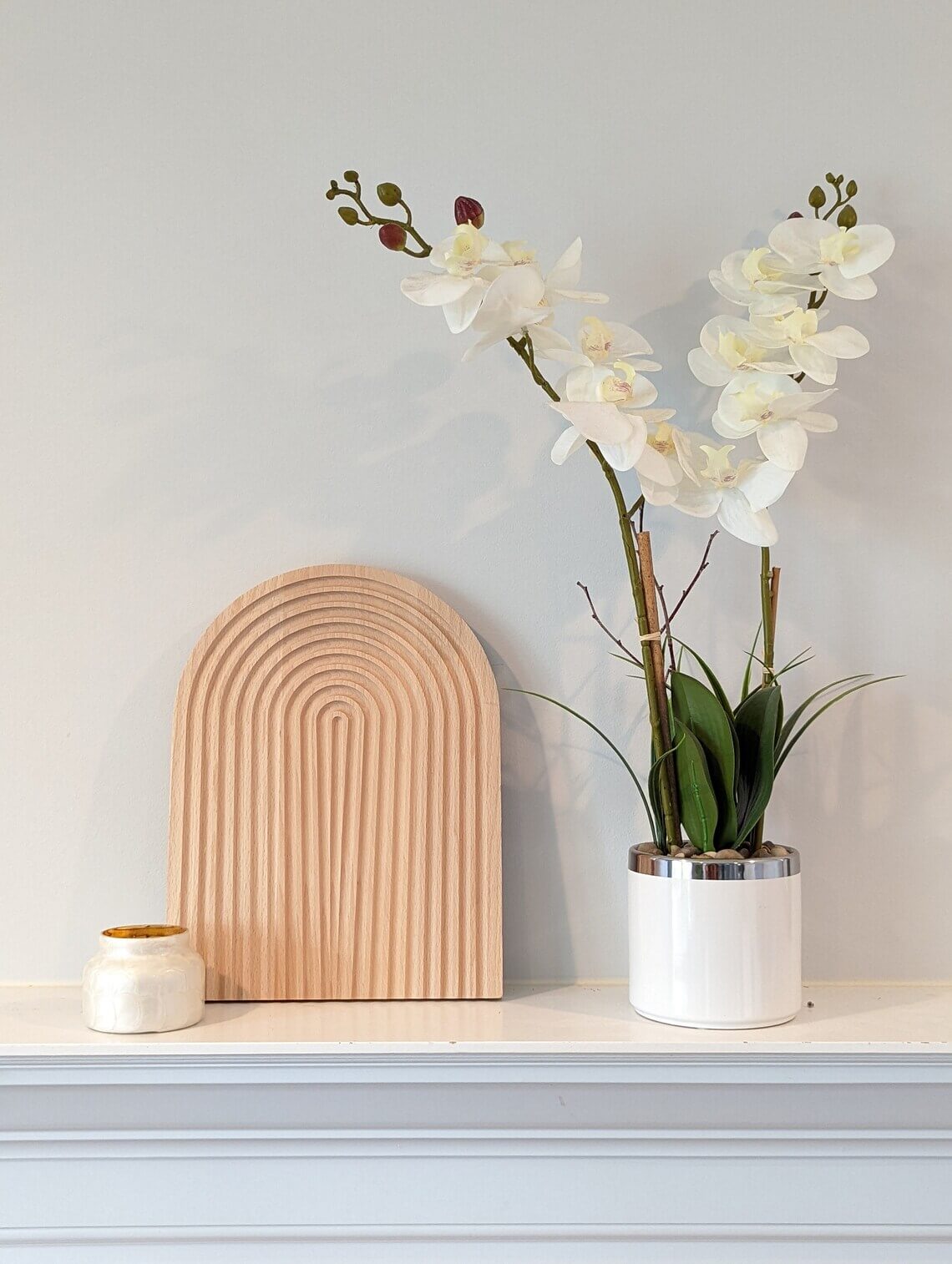 Boho and Scandi can work effortlessly with each other. Both offer a lighter type of decorating that is almost laid back. That is true when it comes to this gorgeous handmade wooden tray. There is not much you can do with the tray beyond using it to store minor items or jewelry. Even so, the tray has a charming, subdued personality. The smooth linework in the tray is plenty and pleasantly distracting, keeping any guest curious. A fun approach to this wooden tray is that you can either get the arch display or you can get the ripple tray version depending on your style and needs.
9. Charming Bubble Candle Decorative Design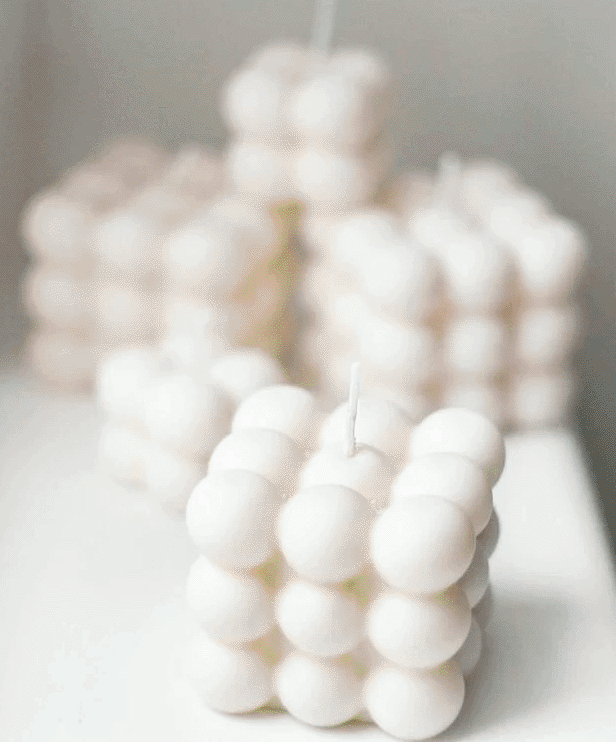 Sometimes, the simplest of items can make for the most unique decorative splash. This is the case with these cute bubble candles. They are hand-poured and feature sleek lines despite their circular appearance. The simple color makes it even more fitting as a modern Scandinavian interior design. Best of all is that you can stock up on several of these charming candles, fulfilling this minimalistic design choice throughout your home or all within a single space with a distinctive setup. All of these features allow the candles to serve as suitable candidates for Scandi style.
10. Contemporary Minimalistic Lounging Chair Decor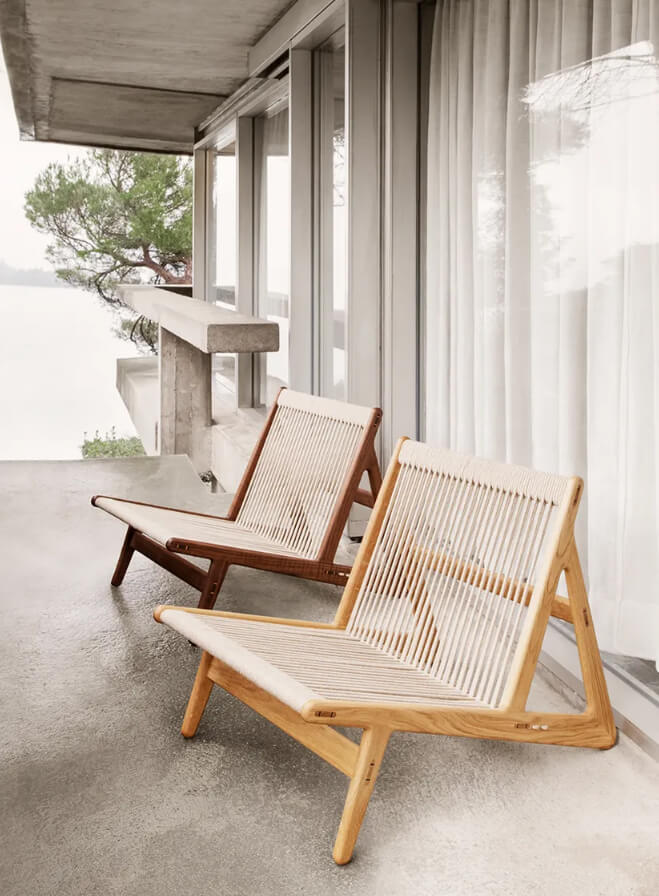 Who knew that a solitary chair could elevate the entire decorative style in your room? With this lounging chair, you may find yourself admiring it as much as you use it. The chair is available in muted colors, fitting into the Scandinavian style with little difficulty. There is also the low-fuss look of the chair that allows it to blend into the style. There is not much to it in terms of design, but what it does have speaks volumes. The chair has a unique and approachable appearance without being too loud in its look. There is a lightness to it that helps it even feel laidback.
11. Modern Metallic Scandinavian Towel Ladder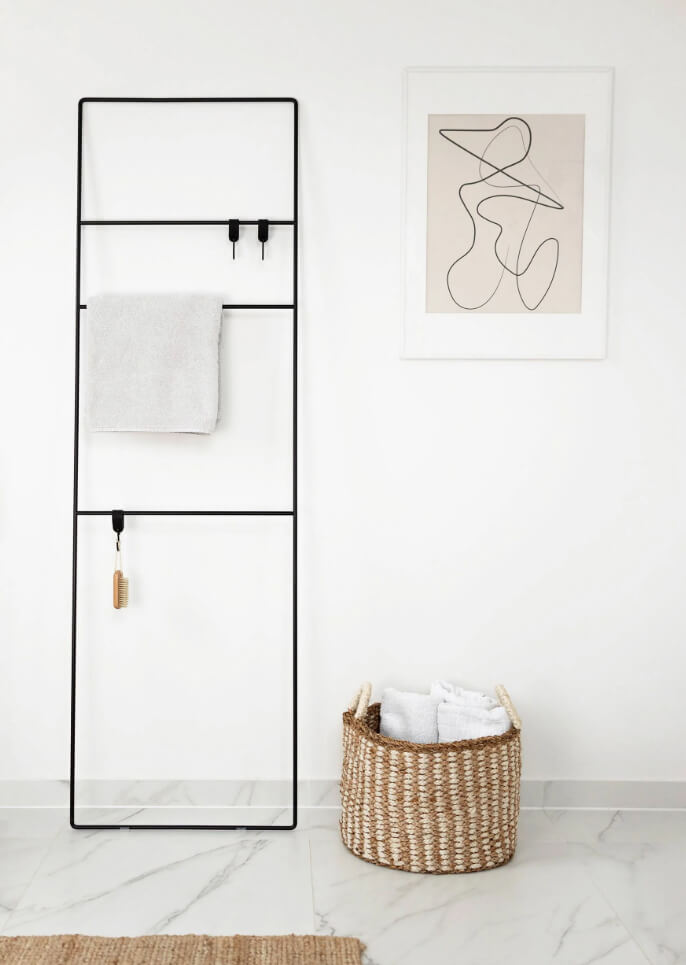 A ladder never ceases to leave an impact on any home. It is simple and effective. The design ladder gives you decor that looks good and is functional. So, you can set it up on its own or toss over towels, blankets, etc. No matter how you decide to use the ladder, it looks well enough. This one comes in a few different colors. No matter what you choose, the decorative ladder plays well against the more neutral backdrop. It provides necessary contrast so that your attention continues to travel, soaking in all the decorative touches.
12. Round Scandinavian Chair Pad Stool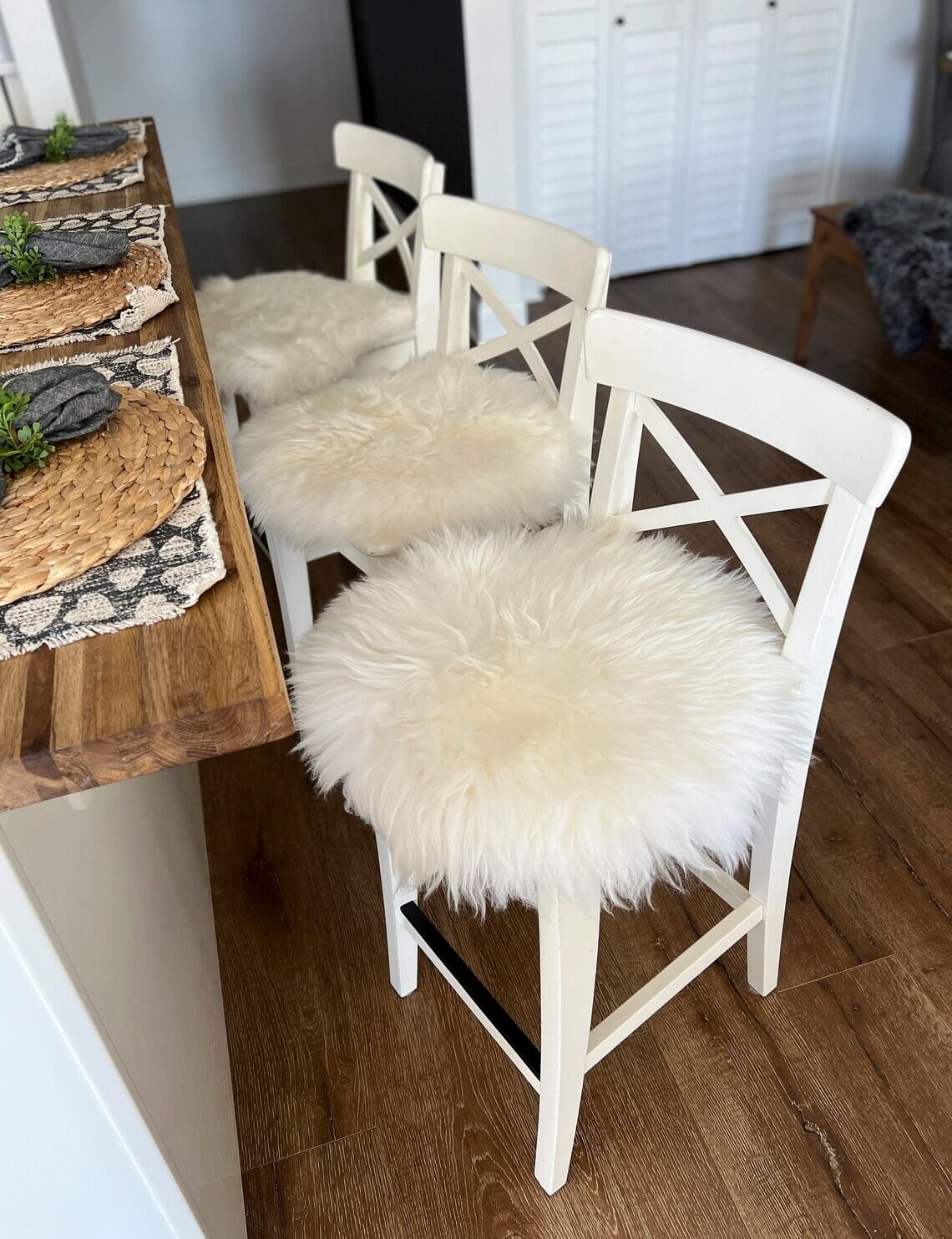 The right chair pad can turn an average chair into something great. Available in two different sizes, these seat covers are fluffy and alluring, encouraging anyone to come over and rest. There is a lighter color to these pad stools too that helps them blend into the Scandi decorating style. The pad stools also have the perfect amount of simplicity to them. There is not much when it comes to how the pads are designed, which works in their favor since it lets the simple layout shine even more. Feel free to use these on chairs at the dining table to spice up the atmosphere even more.
13. Hanging Preserved Eucalyptus Lavender Aromatherapy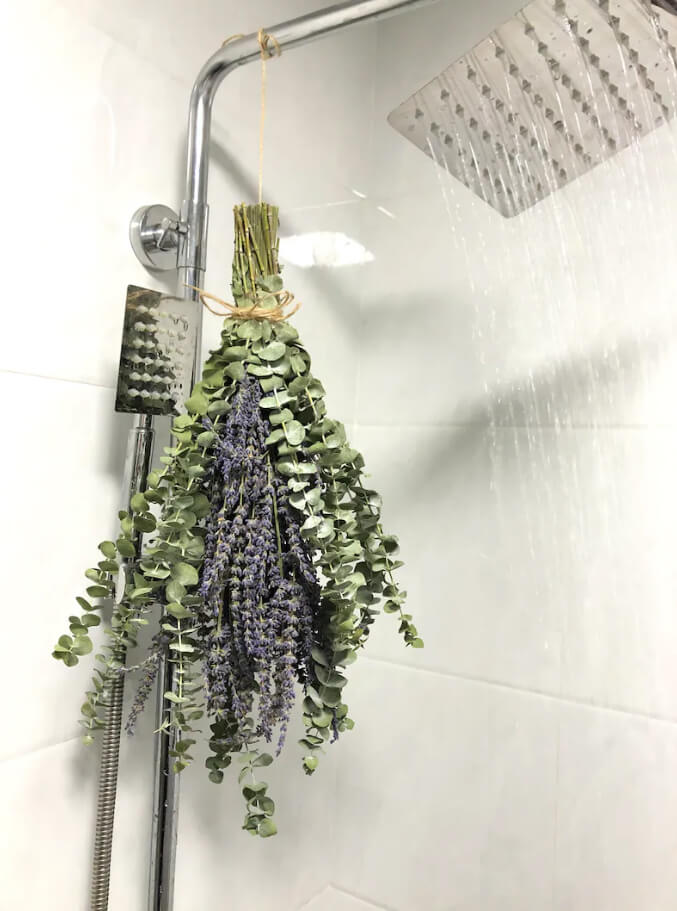 Aromatherapy is always useful to sit through. So why not benefit from it in style? That can be accomplished with this flower bundle. It features eucalyptus and lavender, two scents that are bound to help you unwind and feel better after a long shower or bath. These come in multiple sizes so that you can choose the bundle that best fits your bathroom. The bundle is fitting for Scandinavian decorating with a minimalistic look about it all. That and the decorative piece is all about nature since it utilizes something natural to build these incredible bundles.
14. Coastal Themed Scandinavian Decor Idea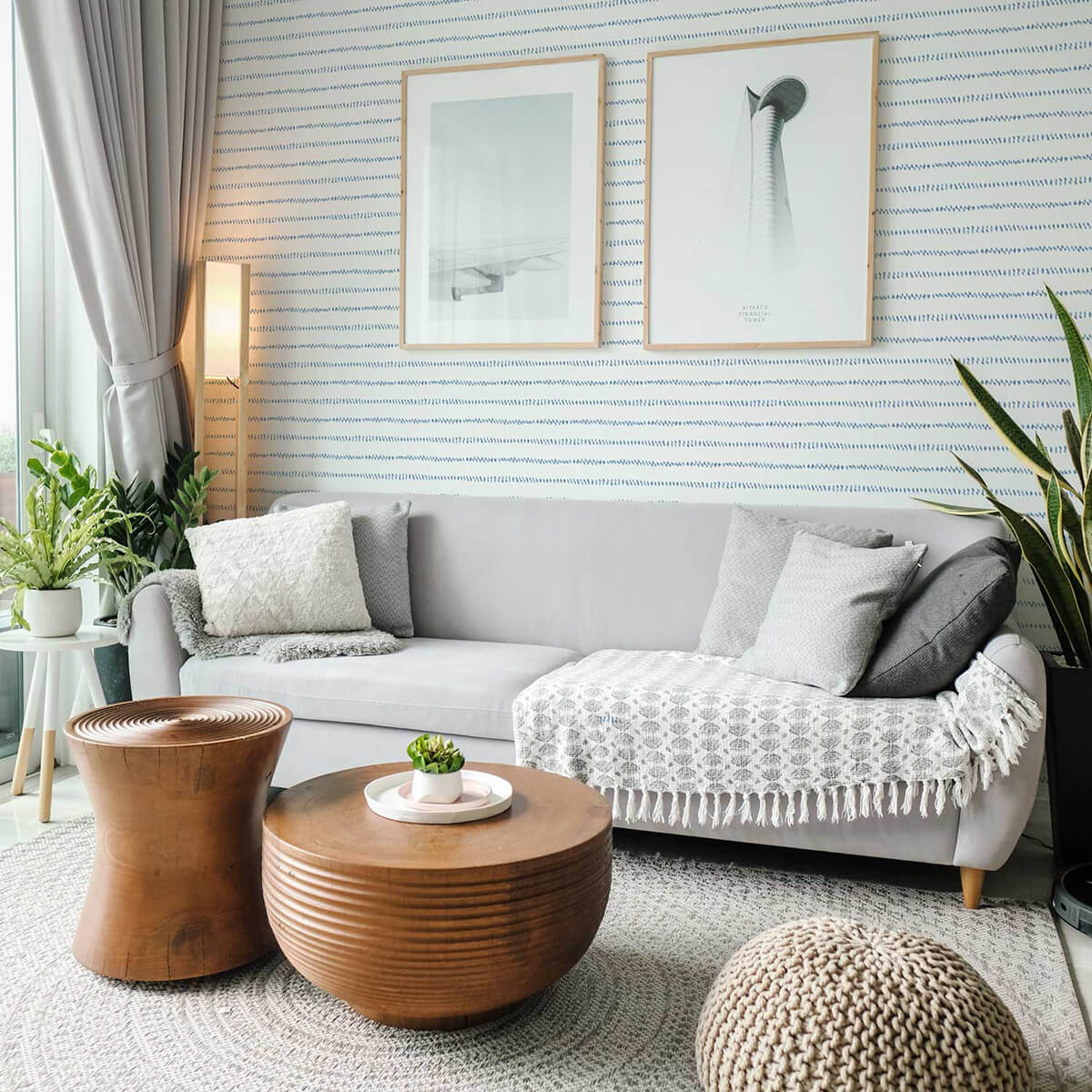 The Scandinavian design does not require the use of neutral colors like shades of beige. Instead, you can find some cool Scandi style that gravitates away from beige in exchange for different colors. The color for the decor is not loud or vivid though. Instead, it keeps with the minimalistic vibe that makes Scandinavian design so appealing. Shades of gray, white, and blue capture the spirit of the style in a fun way. This design idea is a wonderful chance for you to bring the Nordic style to your home and still not sacrifice any other theme. In this case, a coastal style.
15. Beige Abstract Cloud Rug Design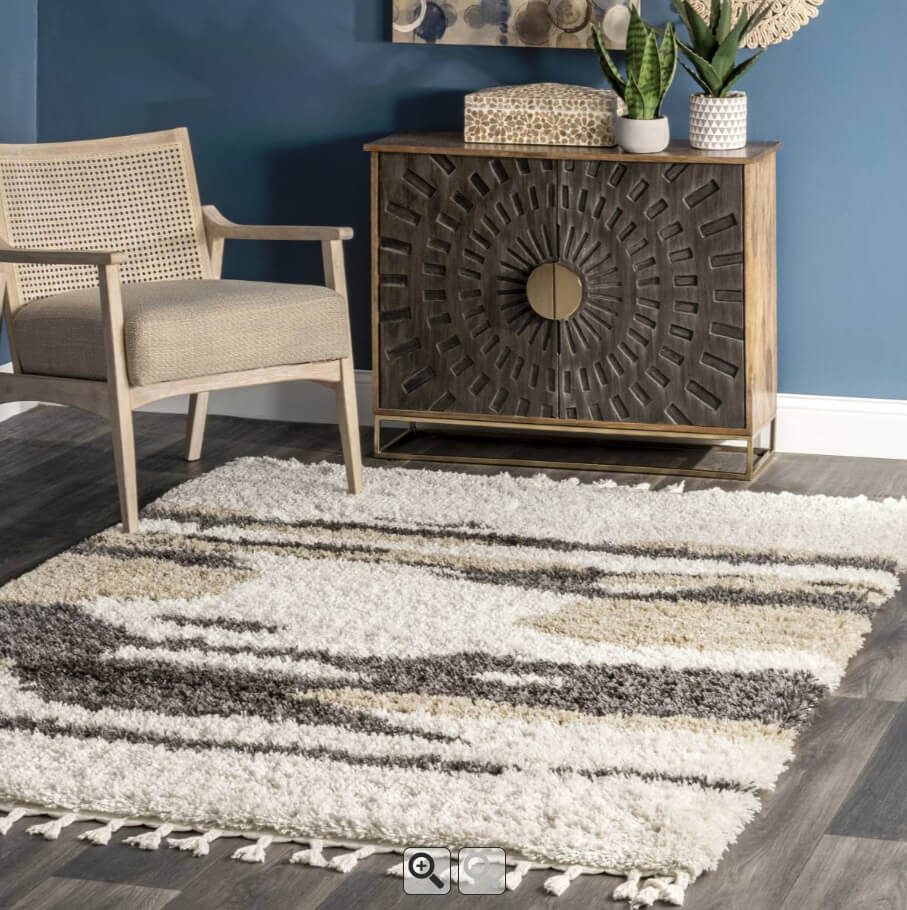 Sometimes, all a room needs for that Scandi approach is to throw a rug down. This rug features lovely neutral colors. The dark and light contrast effortlessly. It helps create a sense of flow that will demand attention. It can work well in a room alongside similar or darker color tones. The overall abstract design stands out too. Even the tassels grant it some sophistication, allowing the rug to benefit inside a contemporary room. Also, as it is just a rug, it is a great solution for those of you who either lack the space for any other decorative items or want to lean on that minimalistic look.
16. Minimalist Evergreen Pine Tree Decor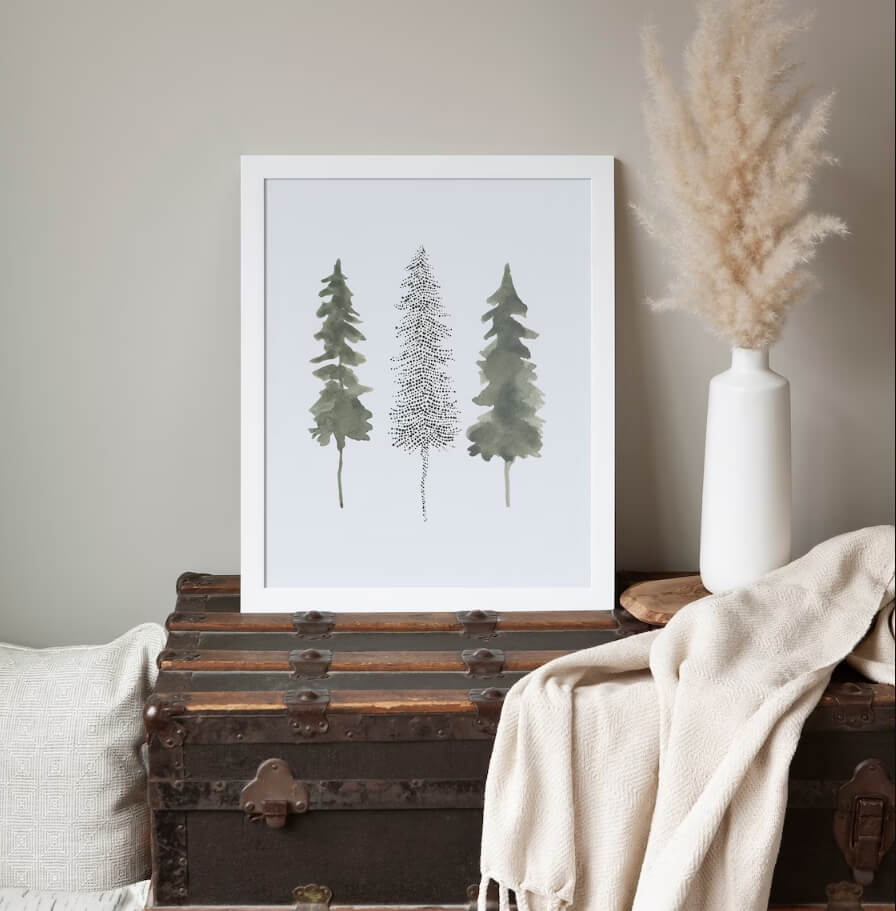 Wall art is a simple way to add a hint of Scandinavian decoration to a room. This wall art manages to be cool without doing too much. It is in the title as it truly is a minimalist design. The pine trees stand out against a straightforward, white background. There is nothing else, but the artwork does not require it. The trees speak enough. This is the type of art that can look perfectly well on a wall in almost any room. Thanks to the whimsical feel that can come along with this artwork, it can look especially appealing in a child's room or a nursery.
17. Wooden Village Decor Item Time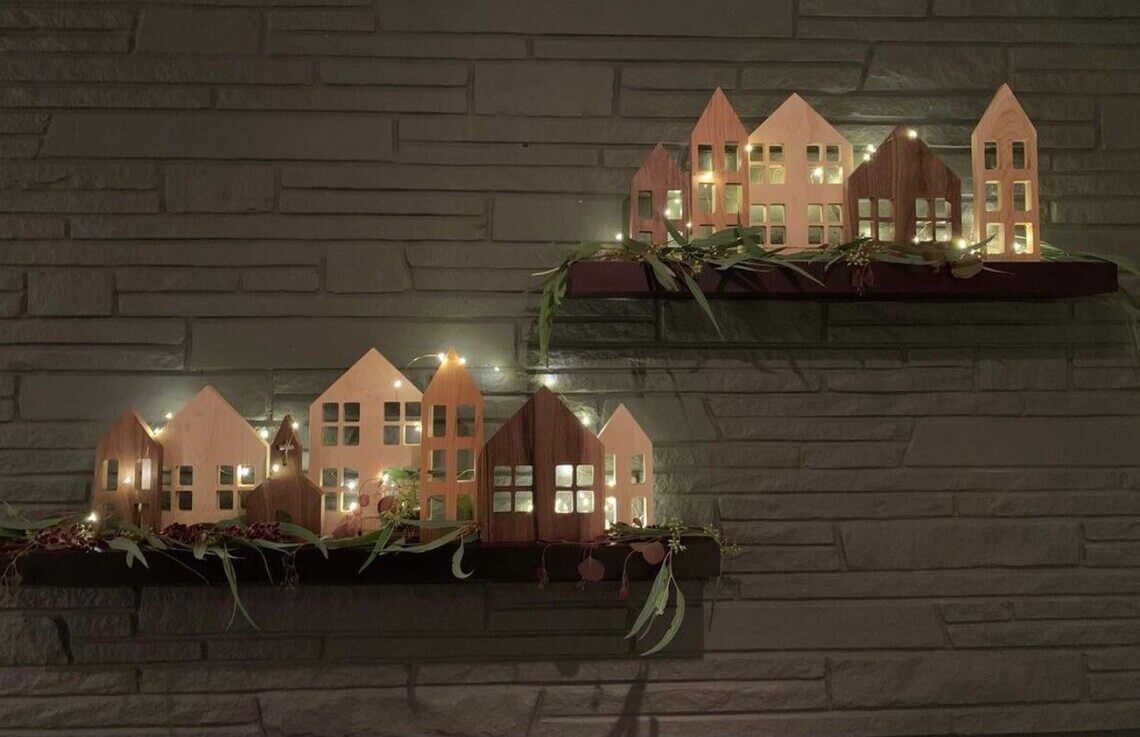 Take Christmas decorating to new levels with this remarkable little wooden village. The handcrafted work shows expert craftsmanship that will put anyone into the holiday spirit once you set them all up. You can mix and match what type of wood is used to create your village too. There is a simple look about the houses in spite of the craftsmanship. There is nothing but windows, but it is that charming simplicity that makes the houses suitable for a Nordic-styled household. Plus, you get either four or seven of these houses when you order them, allowing you to freely create a little village you can set up on a table or a floating shelf.
Beautiful Scandinavian Decor Ideas for a Chic and Minimalistic Design
Scandinavian decor is the perfect way to utilize natural lighting with neutral, simple color tones. The style is easy to blend into any design you may already have in the home too. You can create eye-catching farmhouse-styled rooms with a Scandi flair. Or perhaps you need modern Scandinavian interior design? The versatility of the style allows that to happen. Best of all, you can use Scandi design in any area of the house. Add some of that style to enhance and brighten up your living room without using vibrant colors. Or maybe you want to breathe more life into your kitchen? A Scandi design can help you out with ease.
You don't have to fill up the space. The Scandinavian style is fitting for the minimalistic approach. So, consider adding a few items to leave an impressive impact. It's a helpful way to decorate spaces big and small. A throw pillow, a rug, or even wall art can be all you need to elevate your home the Nordic way. You can even find an entire chair that will add plenty to your home's Nordic vibe. If you ever feel lost on where to begin, don't forget to refer to our favorite Scandinavian home decor ideas to figure out your design.