If you're dreaming of giving your home a much-needed modern update, then these unique black home decor ideas are must-have items for you! One of the easiest and cost-efficient ways to give your space the modern facelift of your dreams is by including some black accent pieces throughout your home. There's just something elegant, yet every day, about featuring black as your accent color. Obviously, it goes with any color since it's the number one neutral color in the design world. The only color that even comes close is white, which easily looks dirty and grungy.
25 Bold and Unique Black Home Decor Ideas to Make Your Home Modern

Think black as the new partner for all of your styling needs. There are so many ways to incorporate this bold and powerful companion into your design. Maybe you need a modern vase, set of bathroom accessories, hanging wall art, or rug. Regardless of what item you desire, there is definitely a black option that will make your room stand out and get noticed. In terms of wall art, the choice you make can either make or break the design of the room. You can go big and bold with a statement piece that instantly becomes the focal point of the room, or you may choose to simply add a supplemental component to an existing display.
For the living room, adding black as the accent color often exudes a more polished look for the overall space. In the bedroom, it ties the room together while adding a gentle masculine touch. Additionally in a nursery, black gives a fresh facade for a modern-styled baby space that remains low-key and minimalistic in nature. No matter the gender, babies identify with white and black colors so including black as an accent in this room just makes sense.
There's just something about a fresh coat of rich and dark black paint that makes a bold statement. From the main focal point in the room to the tiniest detail, bringing some unique black home decor ideas into your design is always a good idea!
1. Travel Lover's Dream Decor Black Cork Map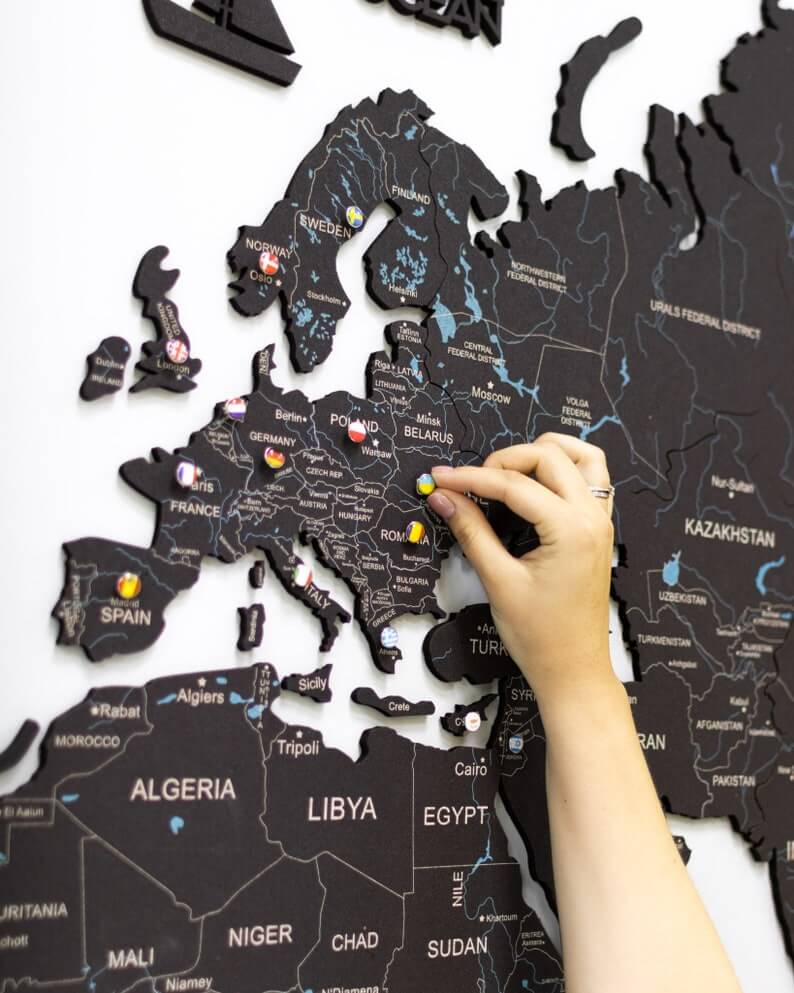 For the travel enthusiast in your life, this black cork map makes the perfect gift! Choose the size you prefer, depending upon your space size, and you'll have a great visualization of where you've been and where you still want to go! Adding this map to the home helps planning your next vacation destination or adventure a lot easier as you can quickly reference your preferred locations, as well as gain insight into some other places you might wish to discover. Every country in the world has a place on your wall with this cool black cork map.
2. Elegant Black Cat Candle Home Decor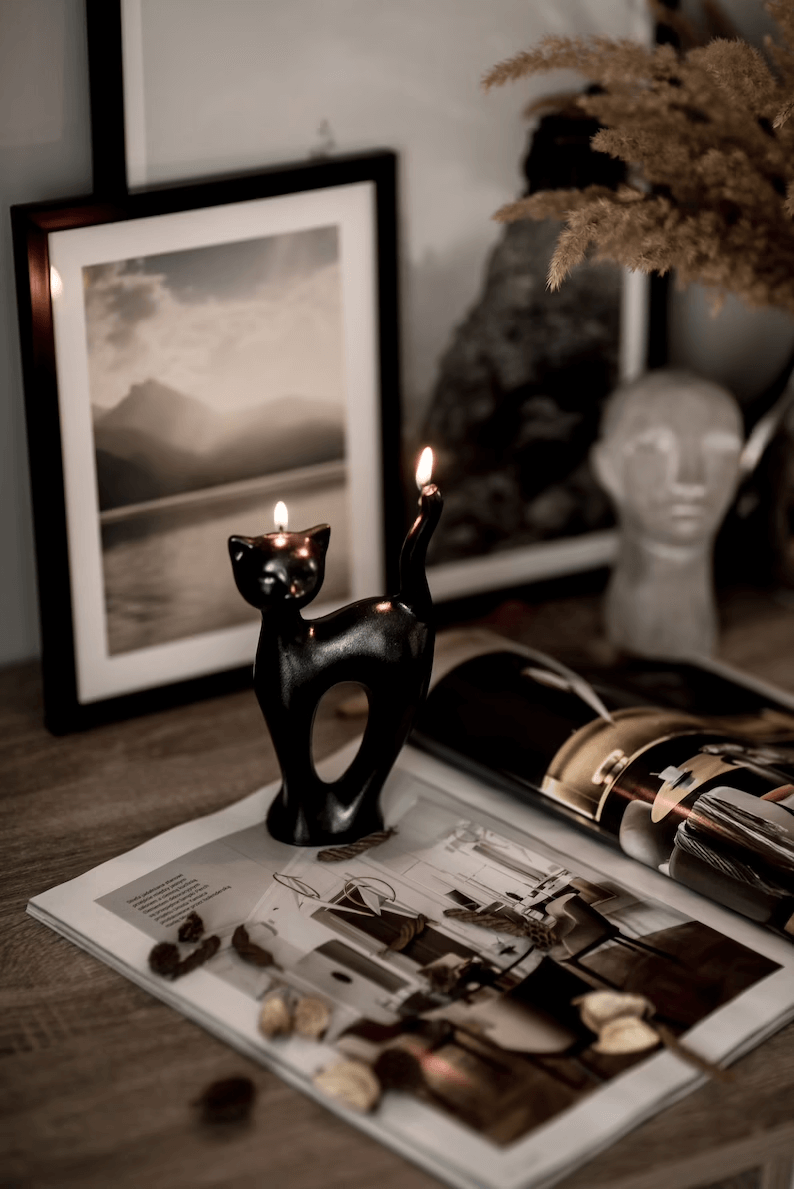 Forget the superstitions surrounding black cats and enjoy this candle version in the comfort of your own home. Its elegant and slender body is displayed in a sleek black finish. Two wicks, one at the head and one at the tail, provide a soft, gentle glow to add warmth to your home. This candle makes a great gift idea for a cat-loving friend as it's a unique accessory to add to any existing decor. It is also a wonderful idea for showing your appreciation to your favorite veterinarian's office as a thank you gift.
3. Modern Farmhouse Black Book Family Name Set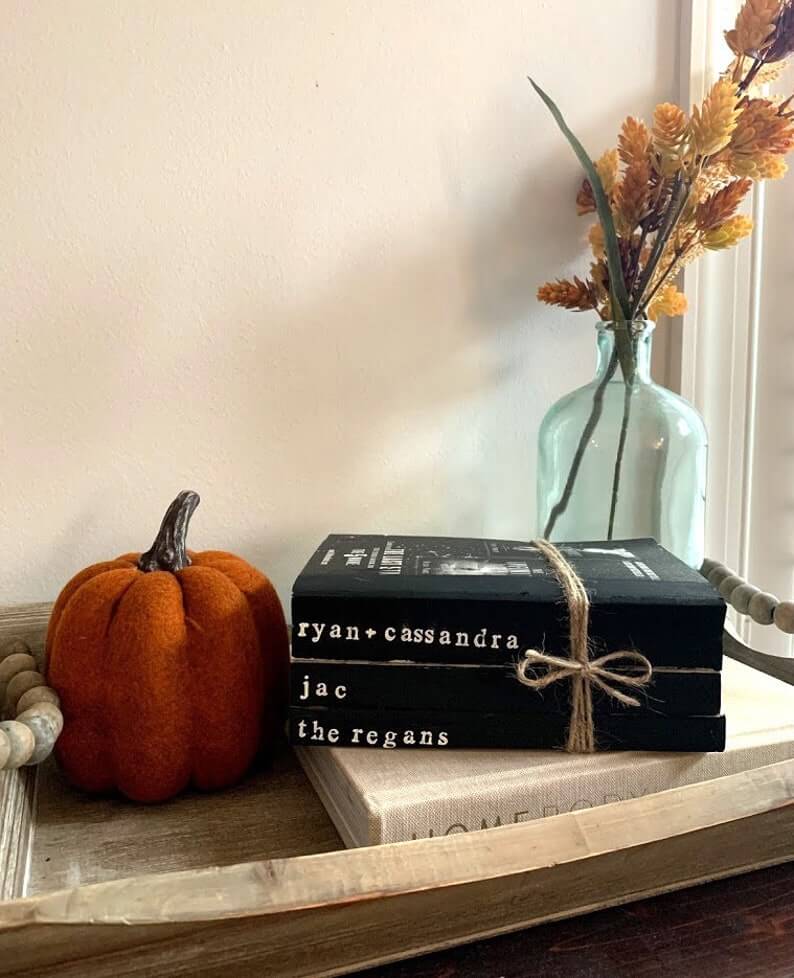 Tied with a rustic twine string, this custom family name book set is full of character and pulled together with some fun texture. This trio of stacked books is a collection any family would enjoy adding to their living room decor. Create this custom look by featuring the names of your children or add them to the bottom books resting below the top one showcasing the name of your spouse and yourself. This makes a personal gift choice for any of your family or friends and especially for a couple welcoming a new baby or newly married. Enjoy this modern farmhouse decoration that includes unique black home decor ideas for your decorating needs.
4. 3D Printed Black Swirl Modern Vase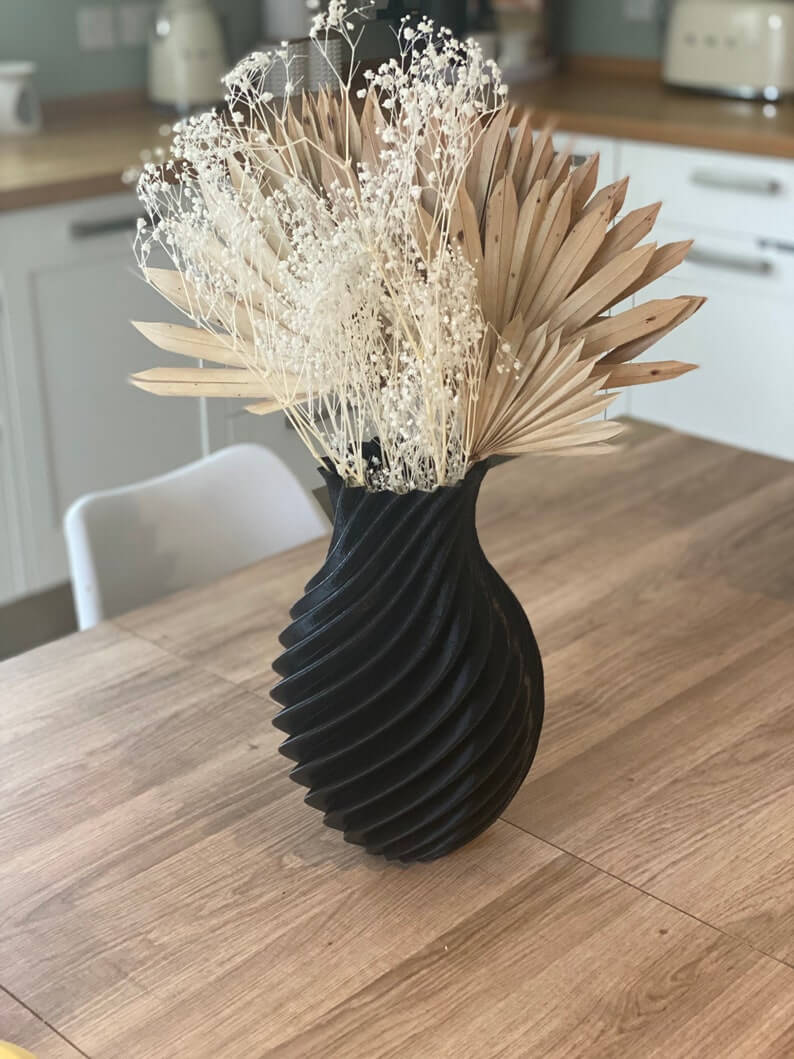 Lightweight and stylish is an accurate way to describe this interesting and modern vase. The swirl design adds so much visual interest while the black color exudes a truly modern appeal. This is a great way to show off some fresh flowers or add to a small display as a decorative element. Although its lightweight nature makes it easy to tumble, its construction makes it durable and hard to break. As an accent, black pieces make bold statements and tend to give an updated and more modern feel to the environment around them.
5. Beautiful Baroque Removable Wallpaper in Black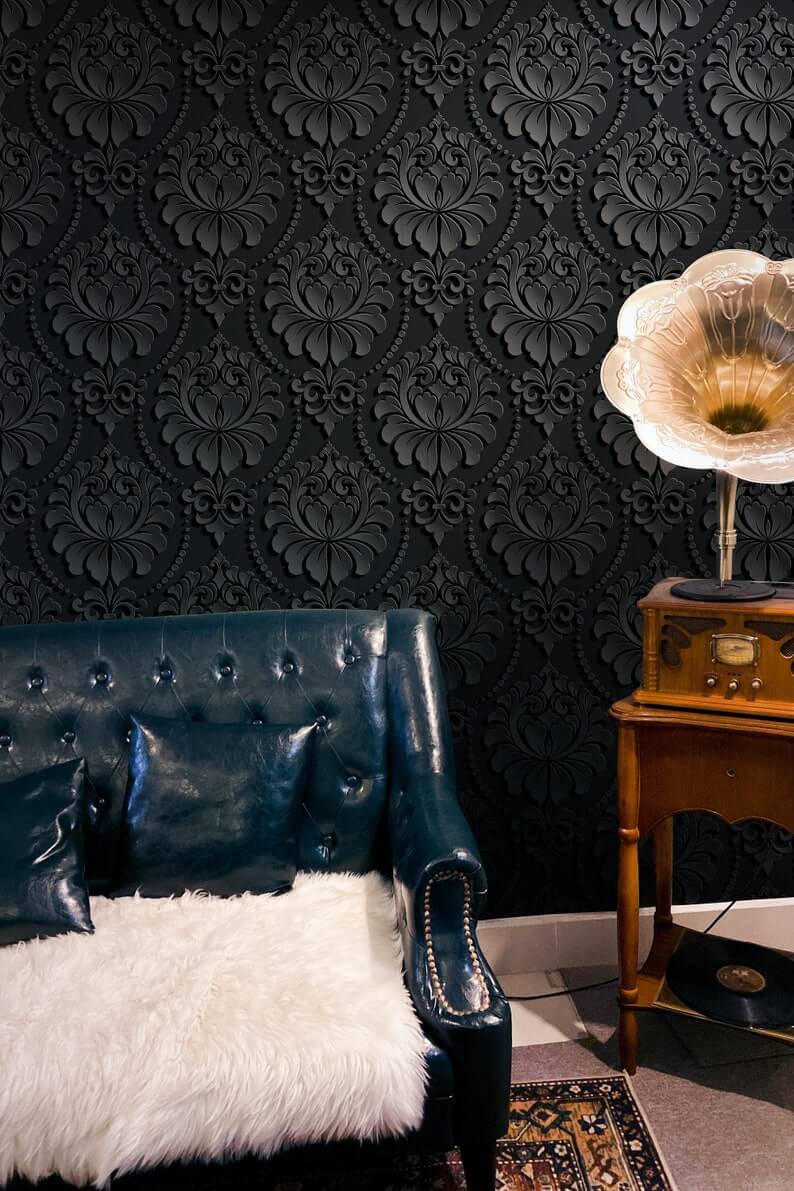 Feast your eyes upon this gorgeous Baroque wallpaper that nearly comes to life on your wall. Constructed in an easy peel-and-stick format, this beautiful black wallpaper will give your room an instant update that completely changes the look and feel. Even though the design is an echo from the past, this wallpaper is anything but dated. The classic black color keeps it modern, young, and fun. Imagine this surrounding the main eating table in your dining room. Created in fabric material, it is a unique version of the peel-and-stick variety of wallpaper.
6. Modern Industrial Geometric Black Deer Head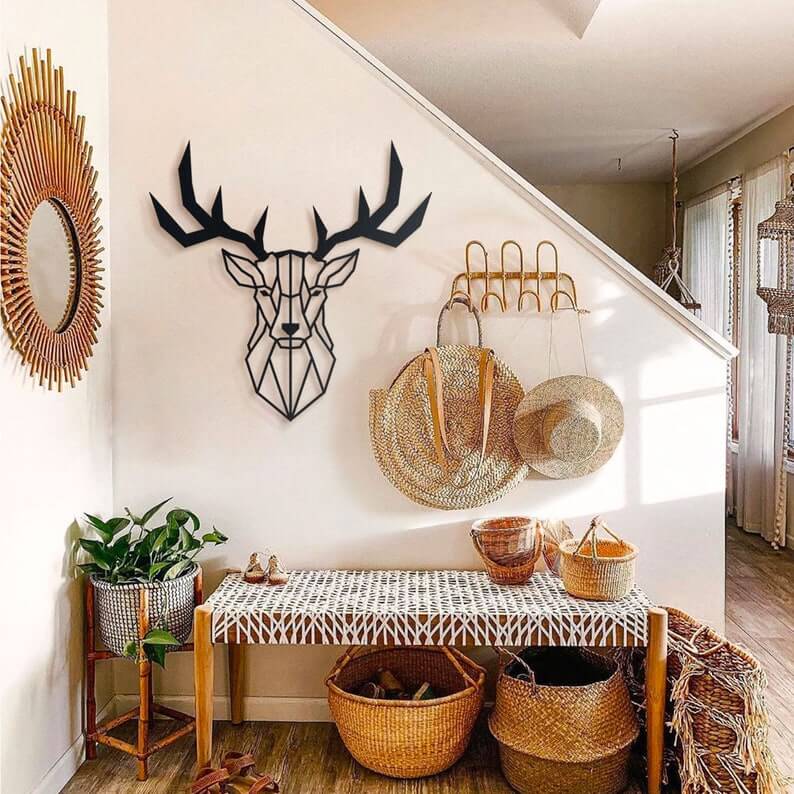 If a rustic cabin isn't your thing, you can still enjoy the use of a deer head on the wall with one of these black decor ideas created in a geometric industrial design. Featured on your wall, your modern home will feel connected to nature in an up-to-date and current way. Display this interesting black house decor in your entryway as part of your welcoming entrance arrangement. The beautiful black metal artwork creates a cool version of this animal head for your home. You can even string some lights through the antlers at Christmas for a festive glow!
7. Grand Black Bohemian Macrame Wall Hanging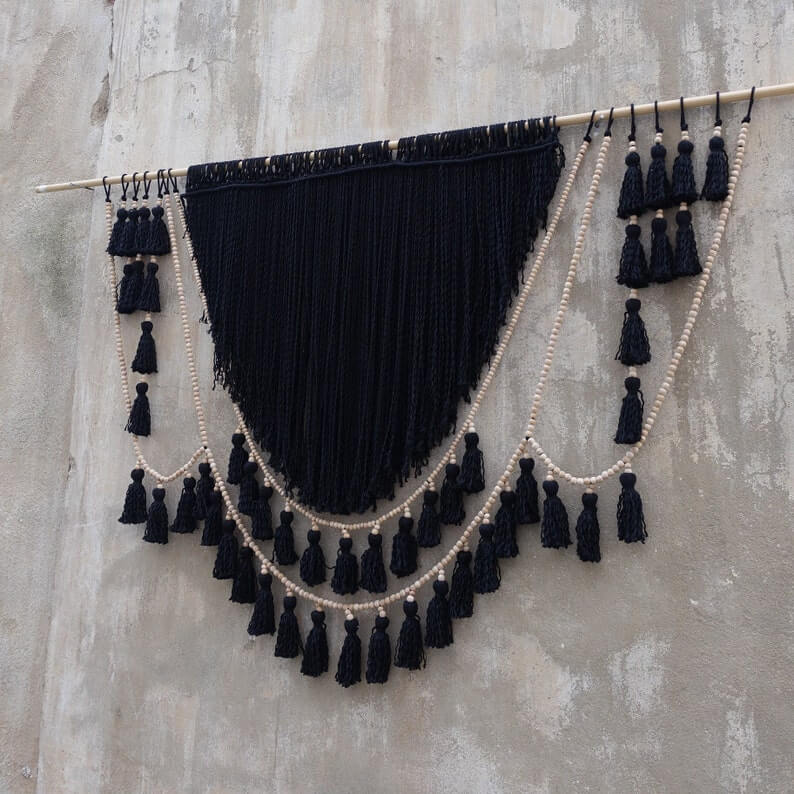 Give your home a boost of bold and modern with some stylish black house decor. A large wall hanging is a great way to get started! This macrame masterpiece features lots of black tassels paired with some natural wooden beading to achieve the bohemian look we all know and love! What a great way to update a bedroom as you hang this above your headboard. It would also look amazing over the sofa in the living room, above the fireplace, or as the focal point in your foyer.
8. Round Black Decorative Concrete Tray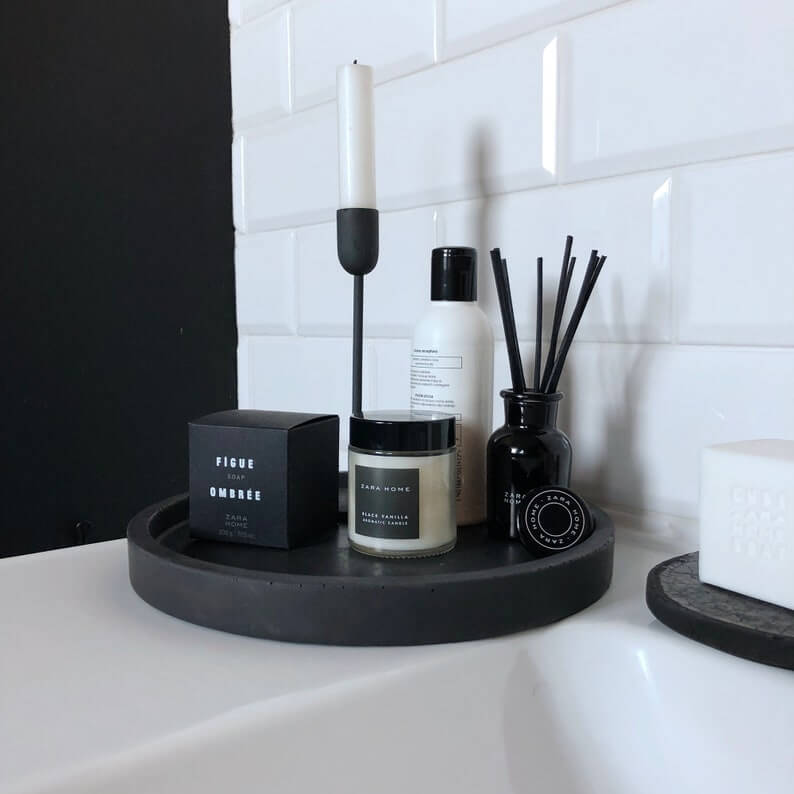 Think outside the box and add some circular style to your home! With some black decor ideas, you'll enjoy an updated space you'll love to call home. Decorative trays are interesting ways to add some simple and neatly arranged decor to any room and this black concrete version is a fantastic detour from traditional gray creations. The unique color palette added with the texture of the concrete creates a dynamic addition to your decor. Place it on a bedside table with a good book and candle or use it on the oversized ottoman in the living room to show off some of your favorite decorations. It can change with the seasons or even become a cozy nook for your collection of houseplants.
9. Kitchen is for Dancing Metal Wall Art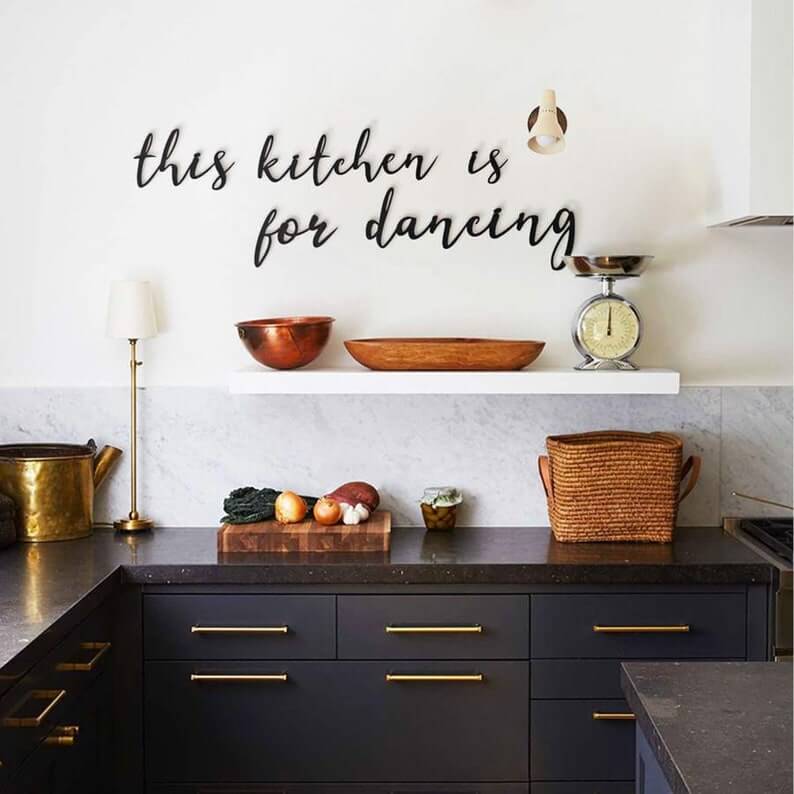 Kiss the cook and feast upon the love exhibited from this fun-filled kitchen metal sign. It's a fabulous choice for adding some excitement to the most-used space of the home. Everyone gathers around the table to share a meal and now they can gather in the kitchen to enjoy some pre-meal fun! Incorporating light-hearted fun into your home through your black house decor items adds style while putting a smile on everyone's face!
10. Marvelous Black Metal Spider Web Wall Art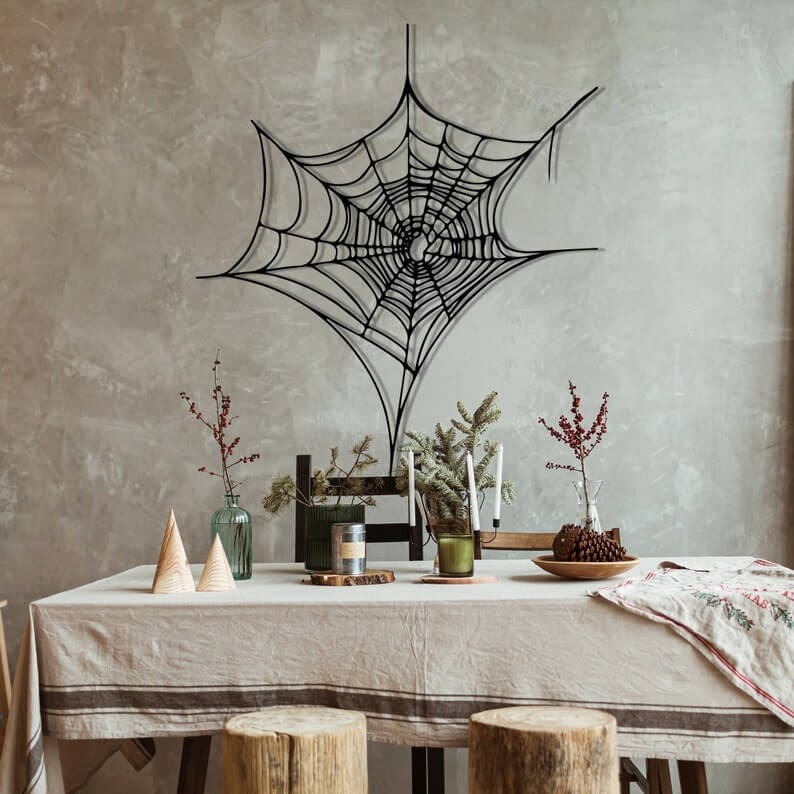 What a marvelous way to add some of the magic behind Marvel into your home decor. Whether you are a superhero fanatic or Halloween enthusiast, you'll be able to get behind this magnificent metal spider web wall art creation. It would be a great addition to a teen bedroom for highlighting your son's most-loved character or as a seasonal piece to incorporate into your main living space during the month of October. The sleek web lines give a nice modern design to your home as you incorporate black accent pieces to highlight your existing decor.
11. Luxurious Marble Stone Black Trinket Bowl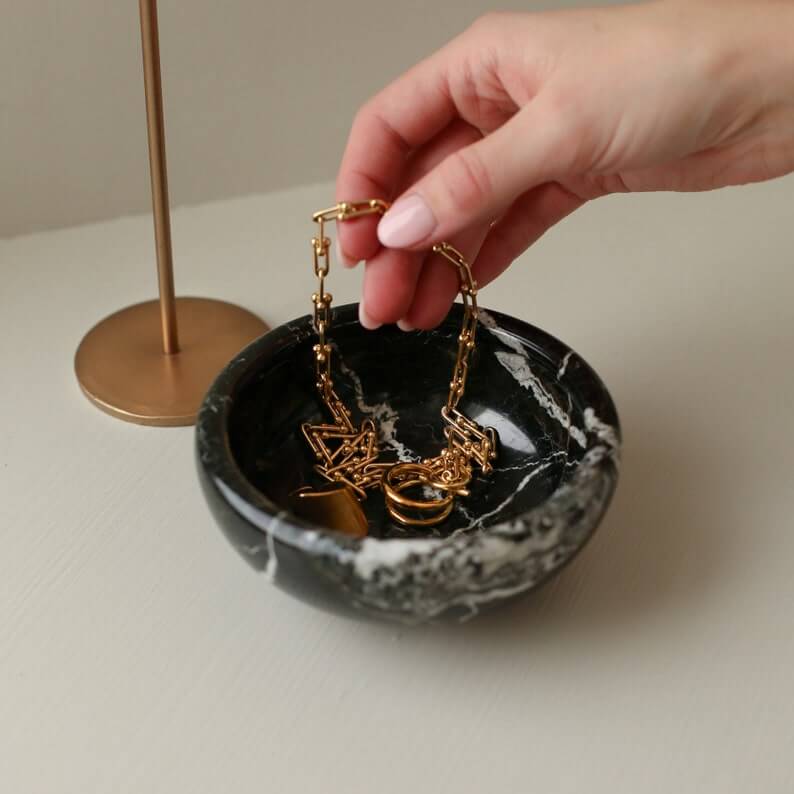 There's always a need for a small catchall bowl that corrals your everyday pieces that are small enough to easily get lost. Do it in a fashionable way with this marble bowl. The beautiful lines throughout the stone add to its unique look and give it an original finish. Place it beside your bed to safely store your favorite jewelry that you wear every day. It's also a good idea to keep one at the sink so you don't lose the fancy pieces that you remove for dishwashing purposes. In a modern nursery, it makes a great place to store pacifiers too.
12. Starry Night Embroidery Hoop Wall Decoration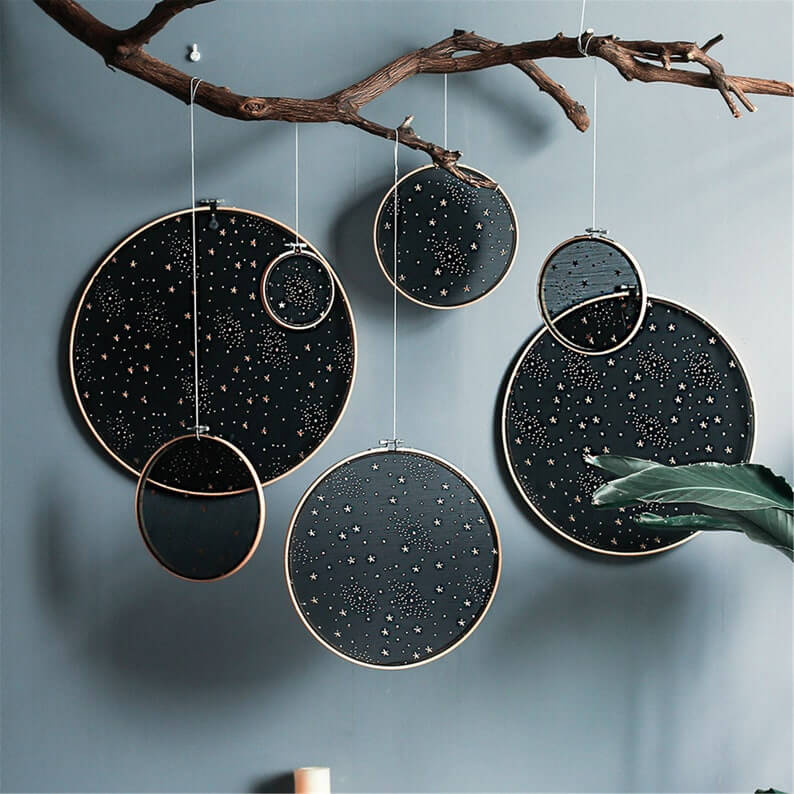 There are so many fun and exciting ways to feature this starry night wall decoration in your home. It can be hung on the wall as a piece of wall art or it can be propped up against the wall on top of your chest of drawers to create an interesting display. Another great idea for showing it off is by suspending it overhead to create a pendant-style room decoration. Additionally, you may choose to use it as a functional decoration by storing your earring collection on it. Either way, this black starry night decoration is out of this world!
13. Black and White Posh Poster Trio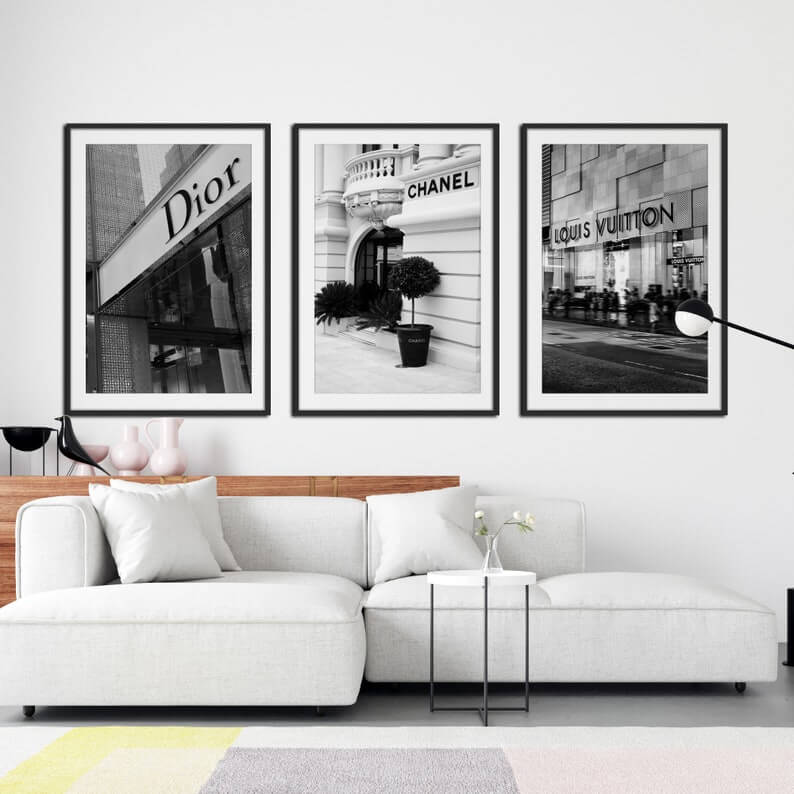 Bring your love of fashion into your interior design with this trio of iconic fashion lines in the form of posh poster wall art. The trio features three of the industry's leading brands in their flagship store glory. Arrange them together as you hang them on the wall in your living room or bedroom space. The black and white prints exude a modern style that's perfect for accompanying a home that's fueled by modern design elements. A teenage girl would adore including Dior in her posh bedroom as she goes from child to young adult.
14. Modern Geometric Lattice Black Vase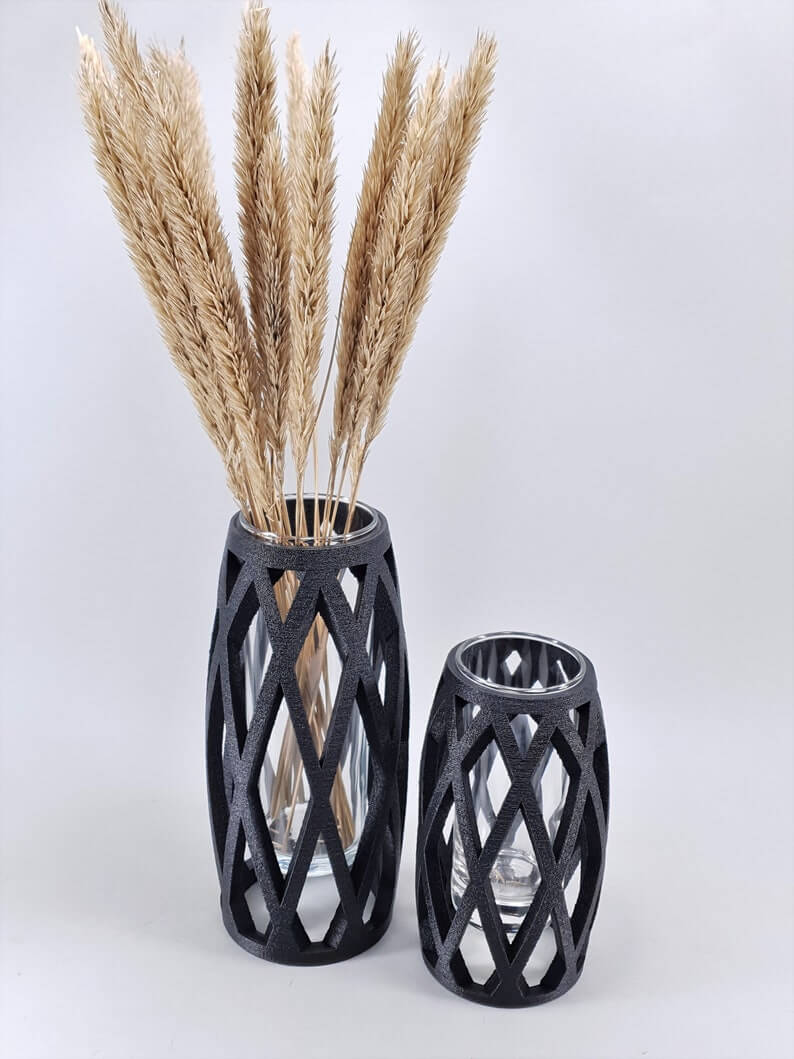 Vases need not be boring to serve their purpose. Check out this geometric beauty! Showing off repeating rhombus shapes in a black plastic construction, this unique vase is a great addition to the modern minimalist's home curation. Feature it as an accent to an existing arrangement or use it alone and filled with your favorite bouquet to steal the show. It can be a centerpiece for weekly dinner parties or given to the hostess at your next gathering. Use it alone or grab a set for a more interesting display. These vases even look incredible without flowers as they have plenty of character to stand alone.
15. Sleek and Shiny Black Acrylic Bathroom Set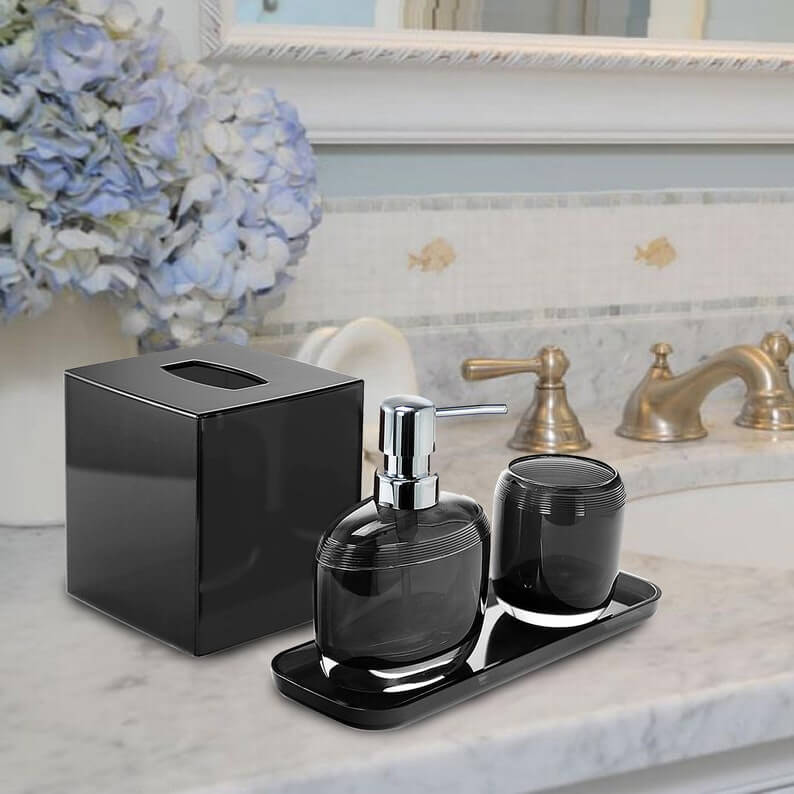 Go bold or go home in terms of your bathroom decorating scheme. Keep it elegant and classy with the addition of black decor ideas to house some of your go-to items in this room. Your modern bath will love featuring this trio of sleek-lined pieces complete with a tray to collectively organize them beside your sink. All of your marble and tile will pair nicely with this gorgeous and glamorous bathroom accessory set.
16. Black Velvet Star Accent Pillow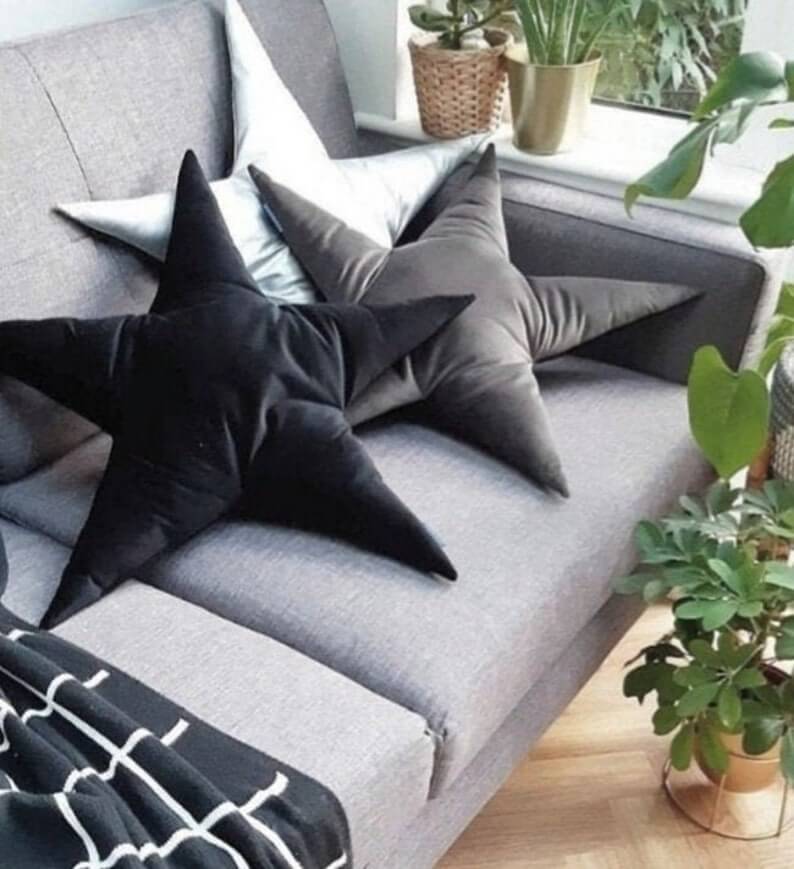 No matter if you love all things Star Wars or simply the joy of a star-filled sky, this velvet pillow makes a perfect addition to your home. It cozies up a soft sofa and makes the most of decorating your teen's tidy bed. These are also a perfect addition to a playroom where kids can crash with them on the floor to enjoy a favorite show or family movie night. Crafted in plush velour, these star-studded pillows will quickly become a family favorite.
17. Black Metal Vintage Nordic Wall Clock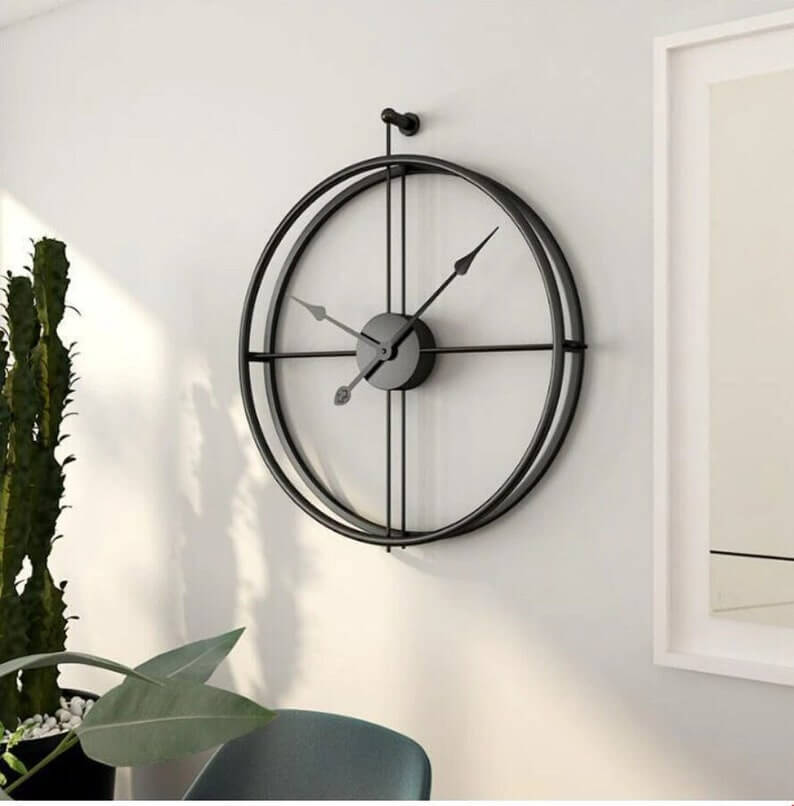 Keep track of time in style while you're at home with this industrial-feel metal nordic wall clock. Every home deserves a powerful timepiece and this vintage-style design is a must-have for modern industrial decor. The simple black lines of the metal create a minimalistic style that works well in the modern home. Add this to a prominent place in your home for everyone to see in order to make keeping track of time a little easier.
18. Terrific Triangle Black Vinyl Wall Stickers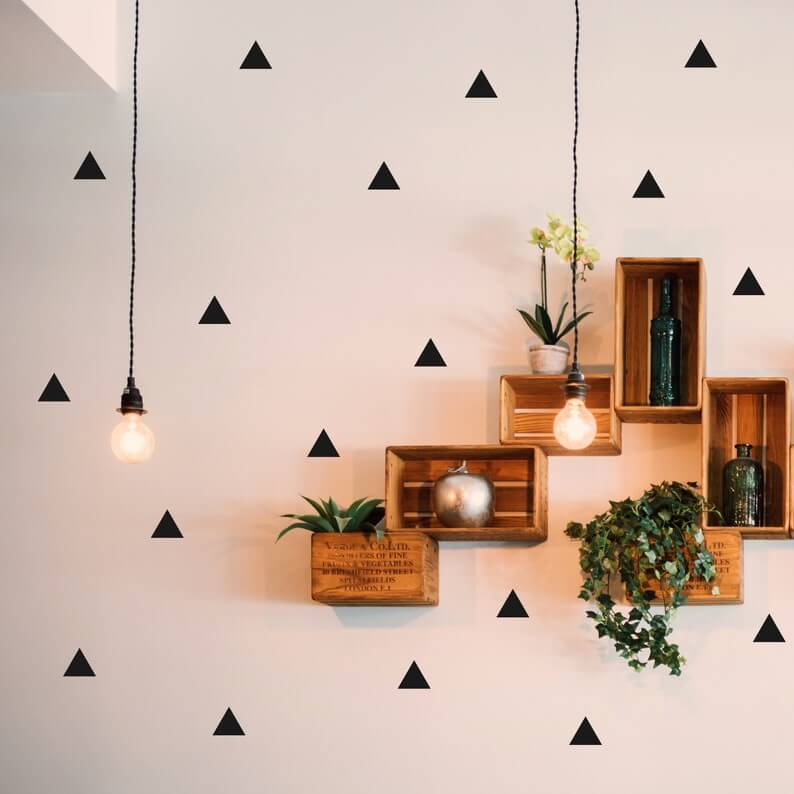 For an instant wall update, choose some vinyl wall stickers that are quick and easy to apply. This set of triangles adds a touch of geometric flair to a space that already welcomes modern living. A good choice for any room of the home, these tiny triangles are a really good option for a young child's space. Place them on the wall of the bedroom or playroom to add a modern design to the youthful spaces of your home.
19. Black Mirror Scrying Psychic Reading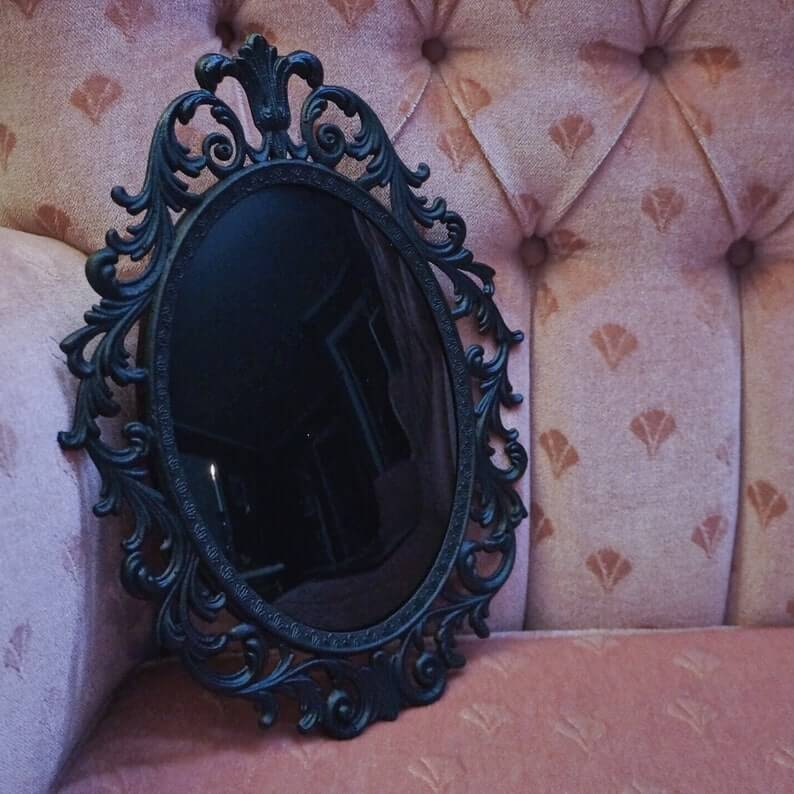 Find your fate with this black mirror reading of your personal psychic message. You choose the question and sit back and enjoy the revelation you are provided from the hidden message within this black mirror. Used for centuries as a means to dive into divine revelations, this black mirror exudes a black magic effect for those believers of fortune-telling magic. You might be pleasantly surprised by the result of the inquiry you choose, but can rest assured that your guiding inner light will continue to lead you home.
20. Charcoal Clay Black Star Ornament Tags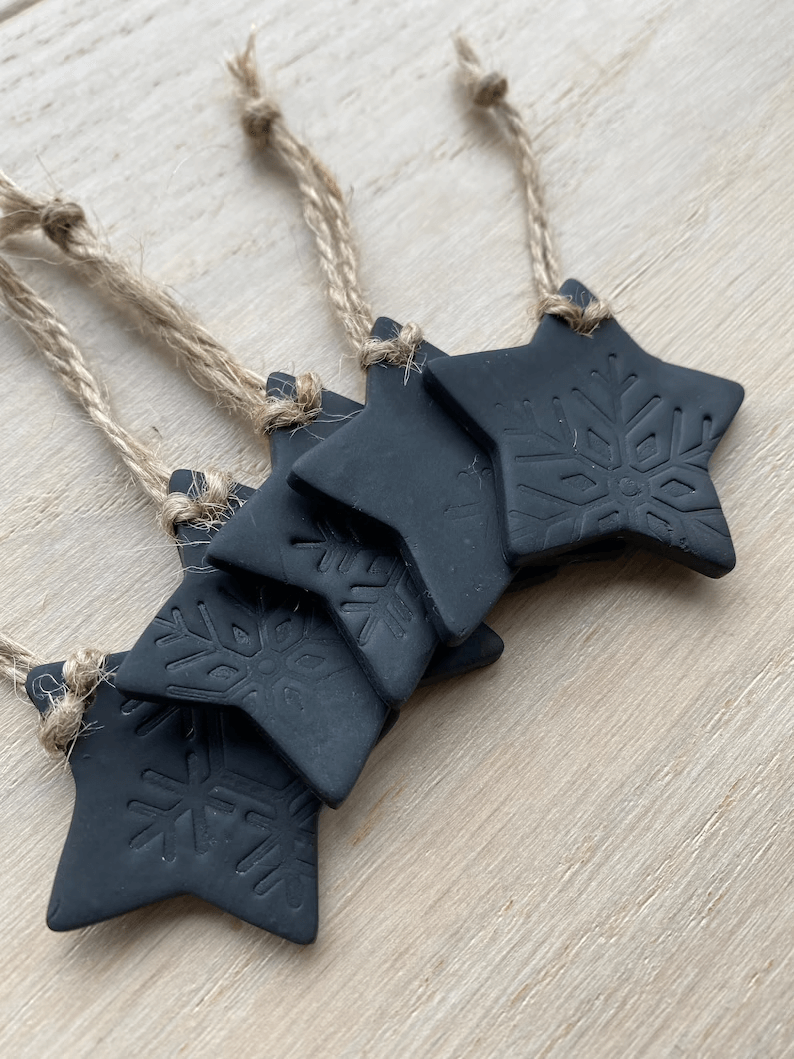 Decorate your holiday gifts with this set of charcoal clay star ornament tags. You may even wish to add them to your Christmas tree for some eclectic decorative design. Each star features the imprint of a snowflake to add its winter wonderland appeal. Use white chalk to write the gift recipient's name on the star as you spruce up the wrapped package with a handmade gift tag. Feature several sets together as a garland to line the mantel of your fireplace and incorporate a string of twinkle lights for a festive glow.
21. Shaggy Sheepskin Black Faux Fur Area Rug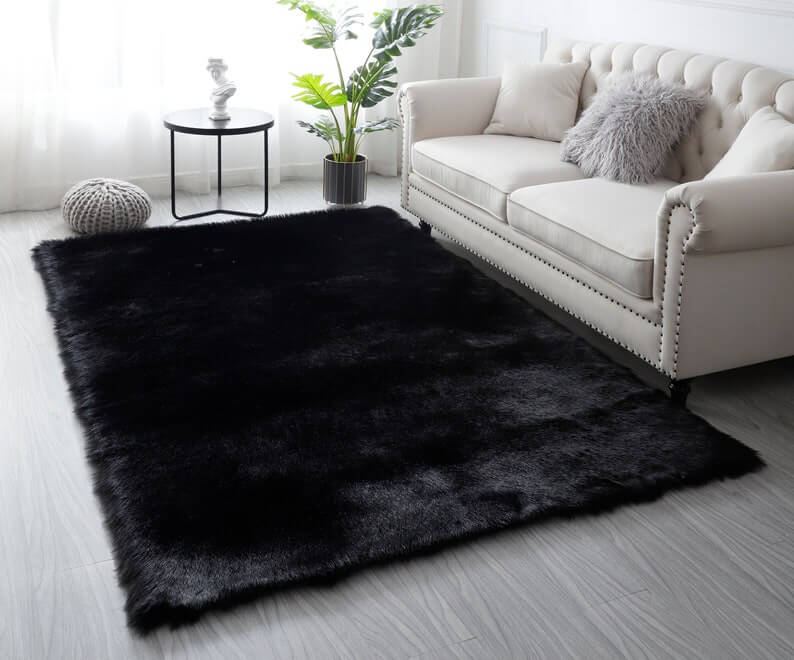 Ground your living room design with a bold area rug. This plush black rug gives a dramatic black focal point to the room and a soft and luxurious place to sink your toes into. Featuring such a dark and elegant area rug transforms the look and feel of your main living space. It would also work nicely in a master bedroom for use in an oversized walk-in closet or at the foot of the bed for a dressing area. The feel of the faux fur makes it a wonderful place to sit in front of a fire or rest on a pillow for a long winter's nap.
22. Dyed Black Pampas Grass Plumes for Decorating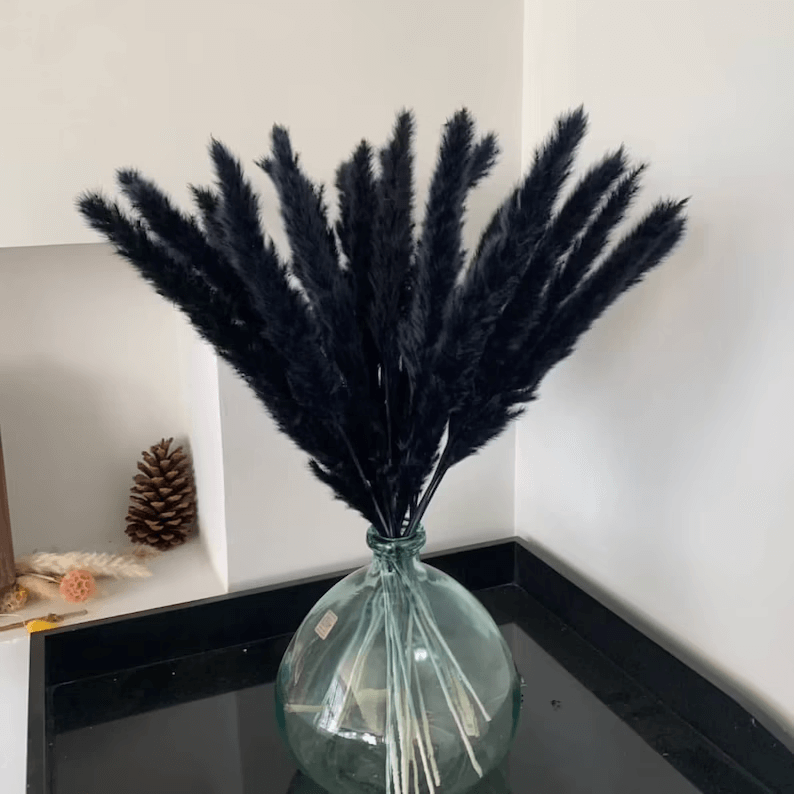 If you're tired of throwing out dead flowers every week, consider opting for the longevity of a dried flower arrangement. You don't even have to limit yourself to traditional flowers with petals either. These pretty pampas plumes are dyed black to add a modern touch making them a fabulous choice for your modern vase. Set them on the table at your entryway or place them upon the mantel of your home. They provide a rich and deep color to your space and add a nice unique texture to your decorating endeavor.
23. Hinch Inspired Black Plastic and Bamboo Bottles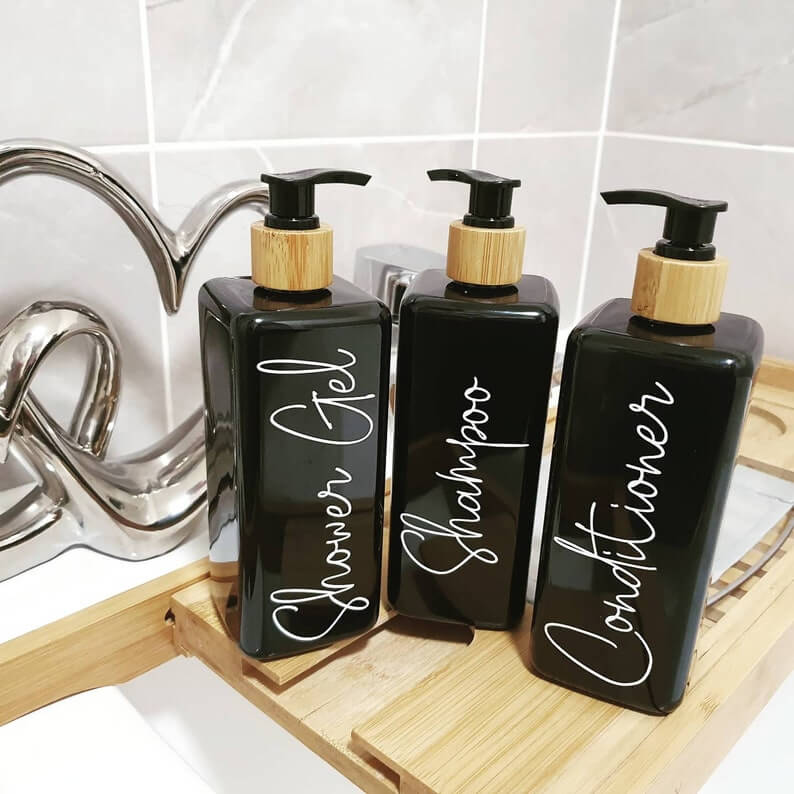 Give your bathroom some personality with these adorable bottles featuring vinyl lettering as inspired by Mrs. Hinch. The detail of the bamboo accent at the top of the pump adds a charming contrast to the sleek black bottle. Use them to hold your refillable shampoo, conditioner, shower gel, and hand soap to make your bathroom a little more stylish. Your bathroom will love this instant upgrade as you swap out your store-bought items and pour your supplies into these charming black plastic bottles. Give a set as a gift to your hairstylist or child's teacher as a small token of your appreciation.
24. Black Poly Skull Headphone Holder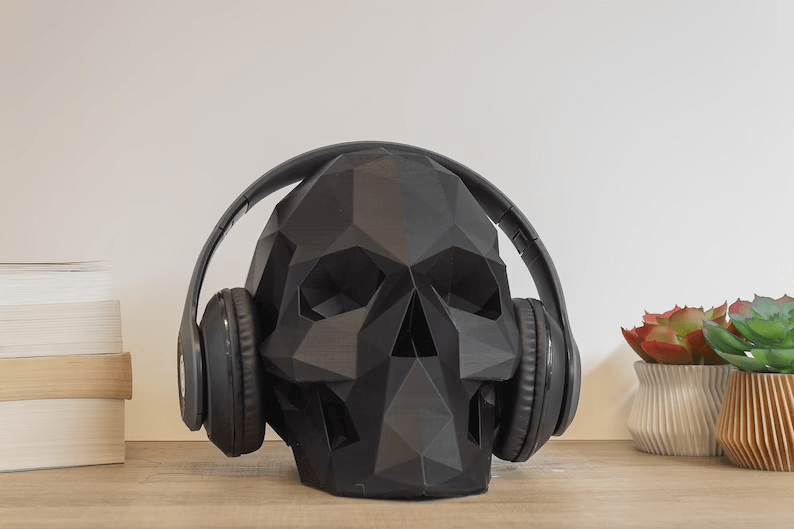 Keep your headphones safe and secure with a stylish skull headphone holder. When gaming begins, your headphones will be within reach and easy to grab. The black poly skull makes this holder look like part of your room's decor and not merely a holding station. Don't worry about sitting on your headphones or losing them since this skull holder makes keeping them handy a cinch! This is a wonderful gift for a gamer or anyone working from home that requires the use of headphones.
25. Decorative Wooden Letters Painted Black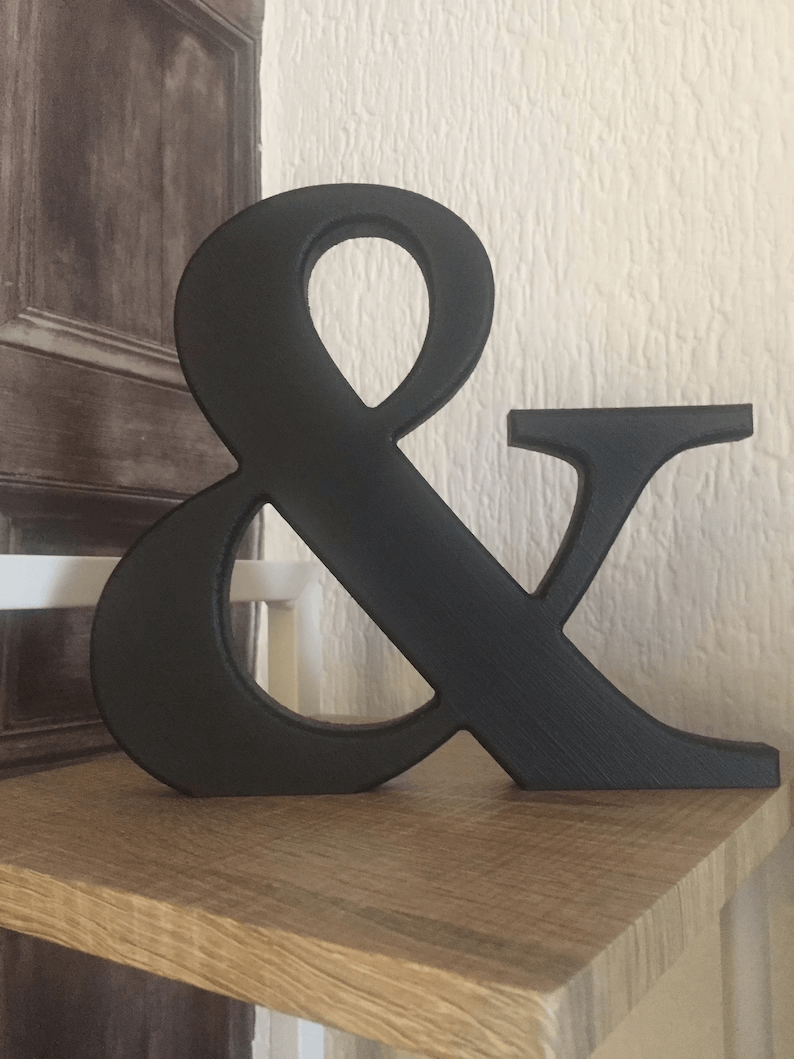 Add some personalization to your home by featuring your initials as part of your decor. You may wish to spell out the entire name of your child and feature it in his or her bedroom for some custom decor. If you have a one-word mantra, choose to spell it out with these wooden letters and display it in your home to keep your focus in check! The black paint finish gives a polished look to these wooden letters and continues the modern trend of black accenting throughout your home.
25 Ways to Decorate with Black Accent Decor
After deciding black is the best choice for giving your home a modern update, narrow down some of these incredible options. On the wall, you may wish to add a metal spider web to give your superhero fanatic a more mature and modern feel to the room. For the main living space in your home, featuring a metal industrial clock in matte black adds functional style. Another option on the wall is in the kitchen to add both style and humor with a "this kitchen is for dancing" large wall art above your stovetop. Of course, your favorite prints in black and white add nostalgia and a crisp look to any room as well. Feature your top fashion favorites by displaying oversized poster prints of their flagship stores.
Vinyl wall decals are a simple way to change up the look of a room and tiny triangles in black really pop on a clean white wall. Or you may choose a more dramatic option by covering the entire wall with some Baroque wallpaper that completely transforms the entire room. Decorative trays for trinkets or large decorative displays are another fabulous way to incorporate the modern black trend into your home. A small marble trinket dish is the best way to keep your everyday jewelry in one place- neat and next to the bed. Then, a concrete black tray adds a dramatic flair to a decorative tray display.
However you choose to use black as an accent in your home, you can't go wrong! Today there are more ways than ever before for creating a custom look that you'll love for years to come!