38. The Perfect Pair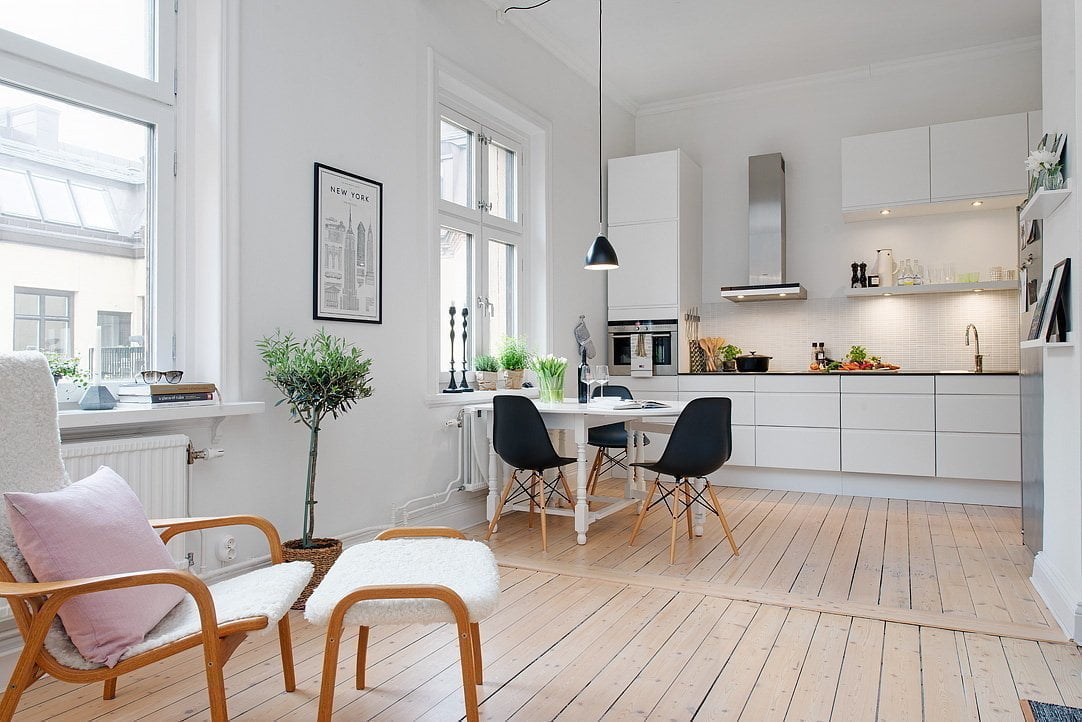 Big windows and white cabinetry are a match made in Heaven for any home's kitchen. The elegance, brightness, and fresh feel provided by this winning combination may have you wondering why you hadn't thought of kitchen improvements before. This kitchen provides home makers with plenty of moving-around space and is aesthetically pleasing.
This kitchen is evidence of genius design with white as the primary color. From the lights over the ideally placed shelves to the simplicity of the cabinets, and the sleek range hood, this kitchen yells classy and chic.
39. Beauty Is In the Eye of the Beholder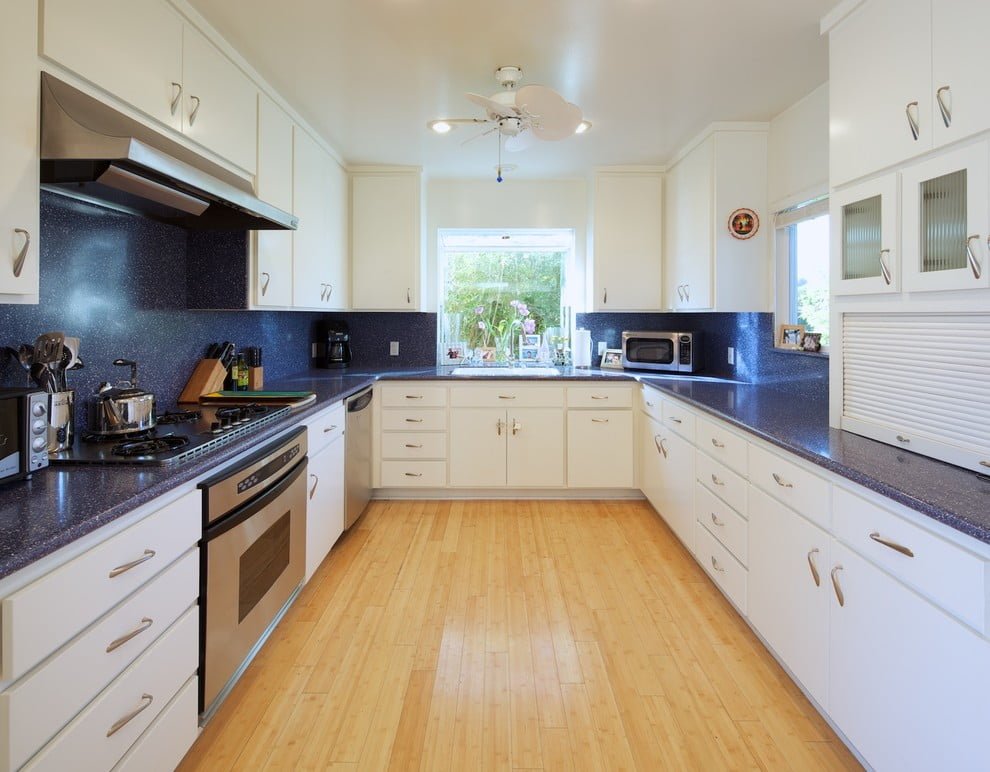 As this kitchen proves, white can open up a space and combine perfectly with any back splash. The black back splash is a beautiful contrast to the white cabinetry. It's kitchens like these that are designed with not only functionality but aesthetics in mind that make home owners want to do improvements.
Consider using dark against white the next time that you update the style of your kitchen. The result is breathtaking as this contemporary kitchen shows. Homes with natural light and large windows look spectacular with a look like this.
40. Playing Tricks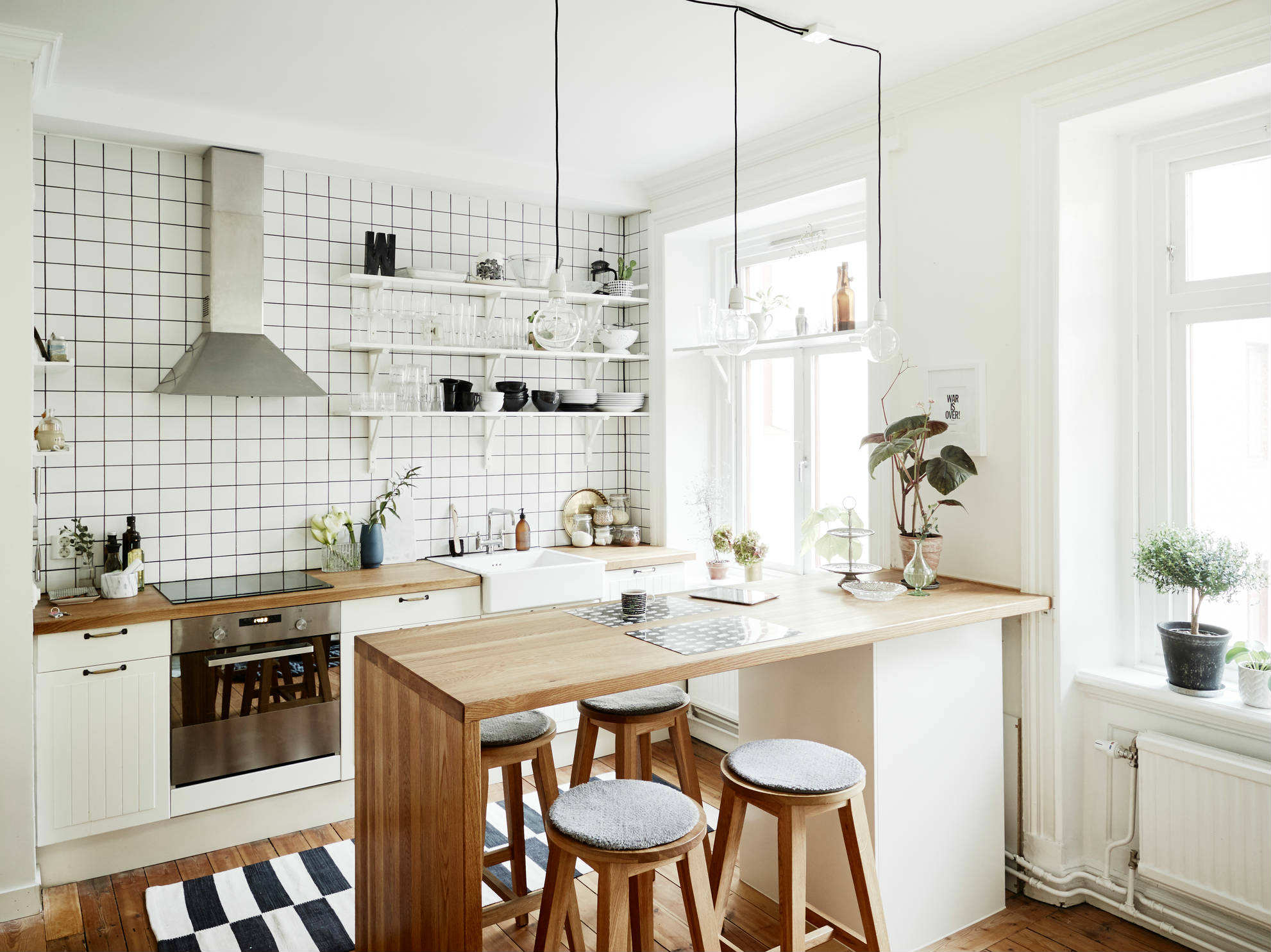 White belongs in nearly any kitchen, but when used in a small kitchen it works magic. This kitchen goes to show that your small kitchen can still look beautiful and spacious. The wooden counter tops pair beautifully with the white cabinetry and the tile back splash adds a touch of detail to the room to bring out its other components, such as the expertly placed shelves on above the sink or the stylish bar stools set near the gorgeous wooden island. Consider these details when renovating your apartment or small home kitchen.
41. Easy and Breezy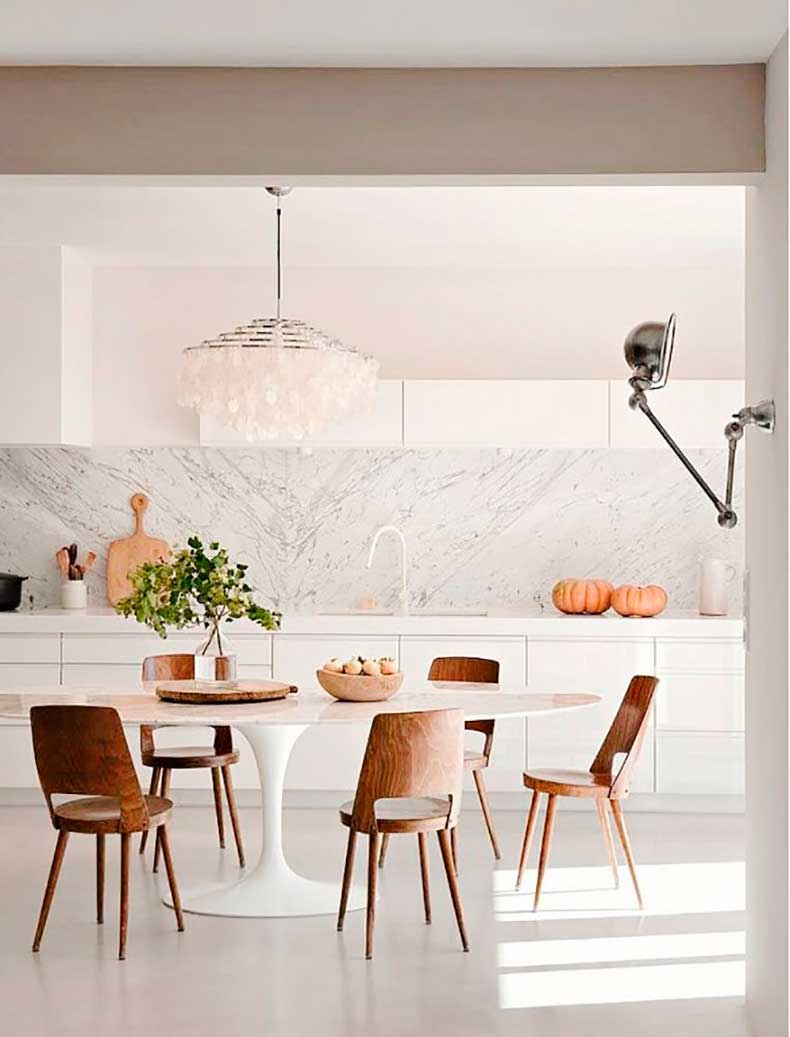 This Southern French home includes the simplicity of French style while offering a light Mediterranean feel to the ambiance. This is the type of kitchen where cooking wouldn't feel like a chore, but rather a pleasure.
From the pastel colors to the marble back splash, the color combination is eye-pleasing. The light colored cabinets with the effect from natural light coming in allow this kitchen to have a soothing and fresh feel. The hanging chandelier provides the room with depth and detail and would provide a room like this with a romantic effect at night.
42. Black Beauty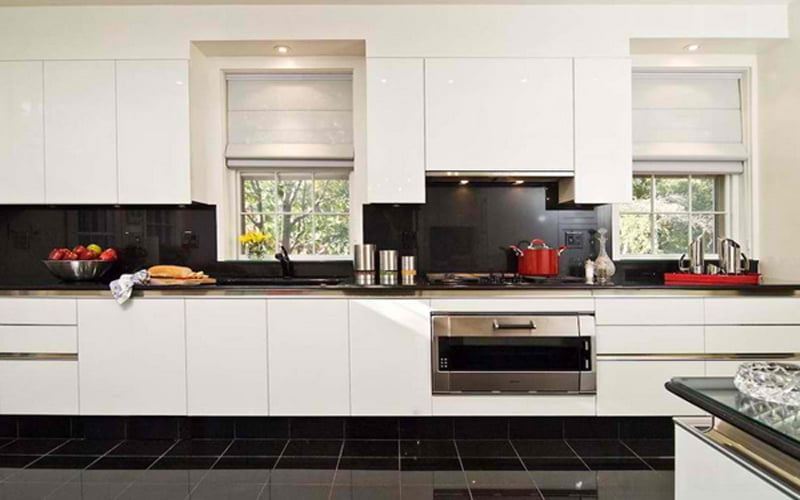 This kitchen shows that anything is possible with its black tiled floor and back splash. What could be a potentially dark setting is saved by the light cabinets that make this kitchen elegant and charming. A black back splash is an excellent idea for hiding food splashes while cooking and is easy to clean.
Whether you are a bachelor looking for a "manly" style or you like contrasts, this kitchen appeals to a variety of tastes.
43. Juxtapositions Work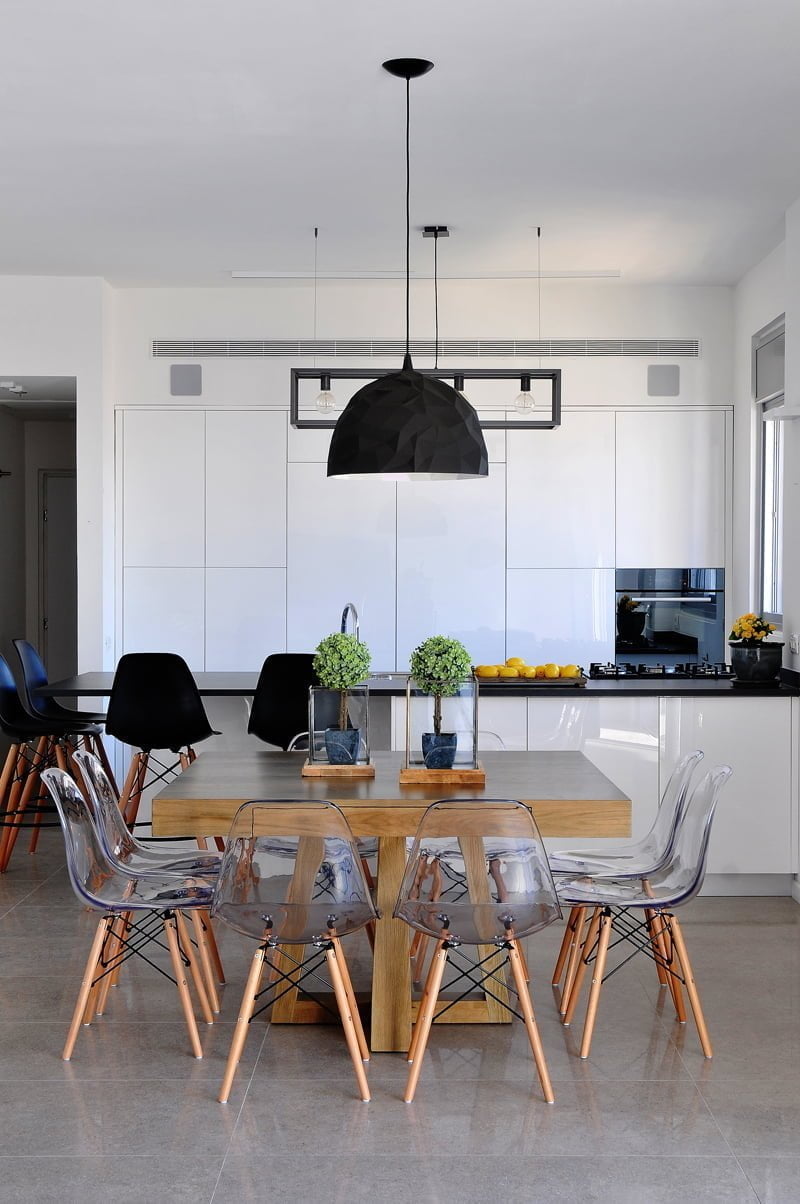 In another example on how black and white can not only work in a kitchen but enhance its appearance, this kitchen shows that black and white make a lovely pairing in home decorating. The long cabinets open up the kitchen making it appear spacious while the black counter and lamp shades work to add depth to this space. While the chairs work in black, the solid colors of the cabinets and kitchen make any color chair possible.
This kitchen is simple yet stylish and pairs nicely with the wooden table and transparent chairs. If you notice, while simply designed, the hanging black lamp shade is a main focal point in this image showing that details matter in your kitchen design.
44. Let The Light In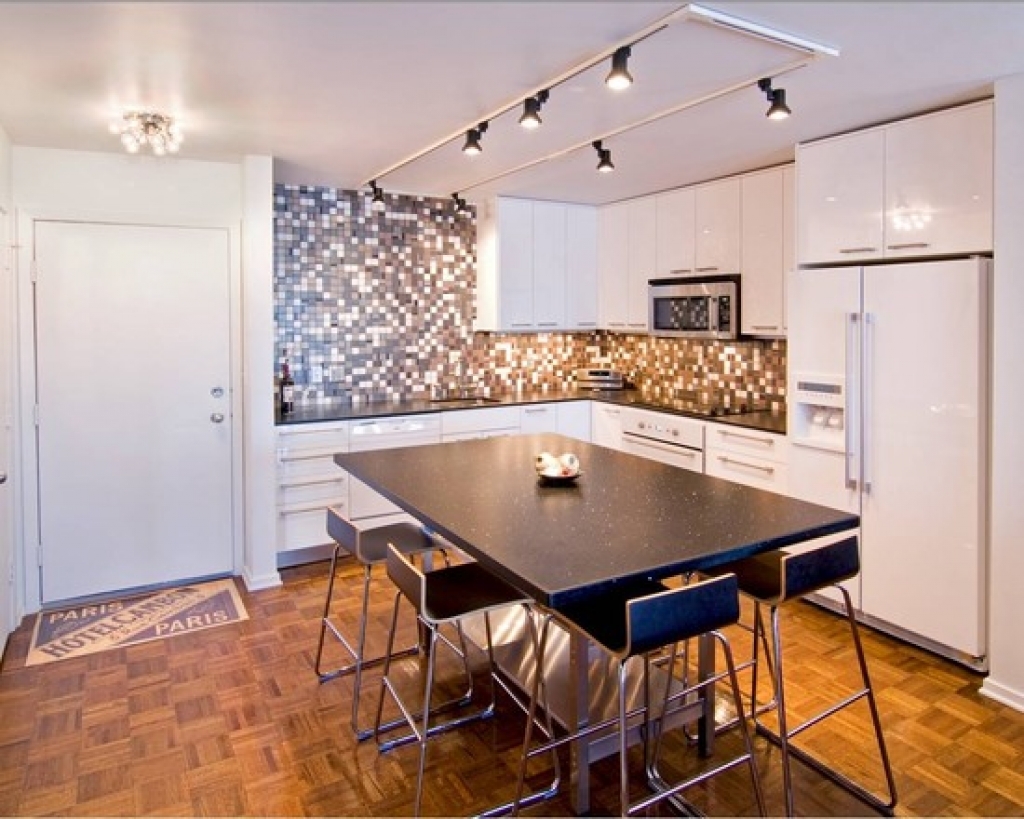 Led track lighting is a key component in the success of this kitchen's style. It enhances all the intricate details of the tile back splash and center table while brightening the room as the light bounces off the light cabinets.
Kitchen designers understand the need for both artistic flair while maintaining high functionality and this kitchen shows how this can be achieved in a variety of environments.
45. A La' Natural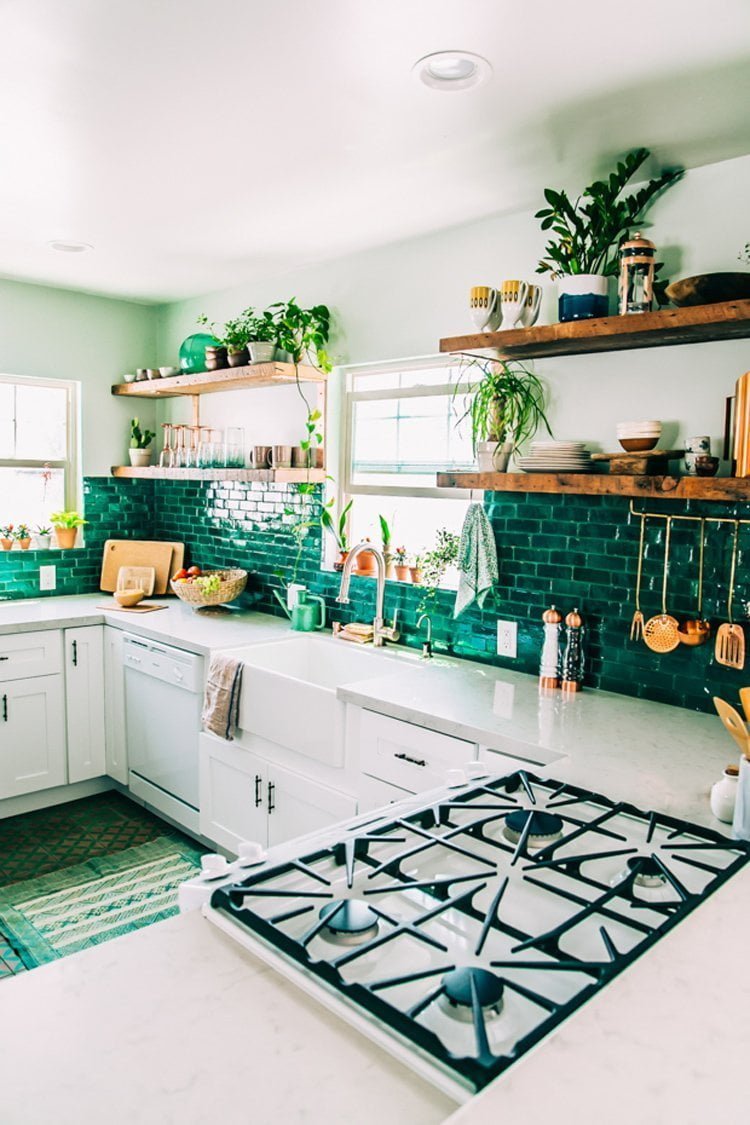 Pure white has its place, but in this bohemian style kitchen, green is the name of the game. With emerald colored tiles as a recurring theme in both tiles and back splash, this kitchen is both soothing and inspiring. The conveniently placed plants help the space come alive and only enhances the eclectic style.
Where an abundance of green could seem too much for the eyes, white comes into play to add a balance to a kitchen that is anything but boring.
46. Color Comes Alive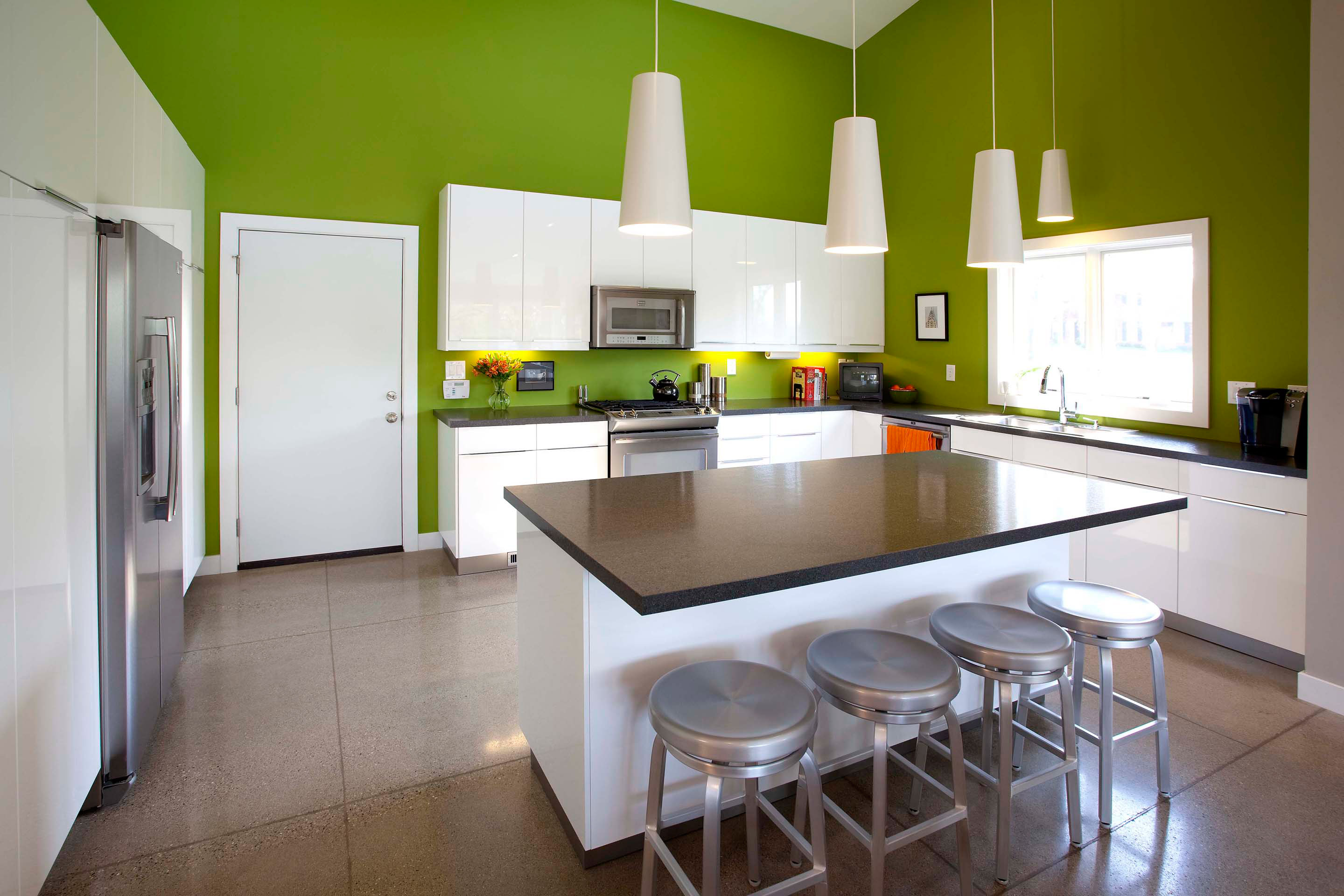 If you are a fan of color in your kitchen, this image will inspire you to do some remodeling. The large wall is painted in a bold color that brings the space alive while keeping it from being too jarring with the cabinets and white hanging lights. Its a perfect example of how white and color combinations can add style to any kitchen.
In Conclusion
If you have been searching the web for kitchen designs, these ideas may be just what you have been looking for. White is an ideal color for kitchen walls, cabinets, and islands, and will allow you the freedom to play around with color and decor in your home.
If the thought of pure white seems boring to you, home decor professionals suggest adding a pop of color with appliances or kitchen decor that can liven up your kitchen without distracting.
From the pictures that show contrast in a beautiful way to homes that allow natural light to work interior decorative wonders, these kitchens are sure to provide you with an idea for your own home. White is still in style.