From needing to find Halloween decor to having to make sure you have some scary awesome Halloween ideas, it can be difficult. However, having quality decorations – or scary Halloween decorations – can be a real scare of a treat to make. It's no wonder that DIY has become the cool thing to do for decorations for Halloween. From front door jazz and funky garage door ideas, there are so many different things that can be created on a $100 budget. Some can be created for even less, making DIY Halloween decorations a much more attainable goal for this year than it may have been in years past.
🎃 Check out the 63 Nifty Halloween Door Decorations 🎃

Whether you happen to have duct tape on hand, or have just had a birthday party and have six feet of leftover green crepe paper, you can put it to use via these fun projects. Even a simple crate becomes a piece of the decor!
1. Banner Fun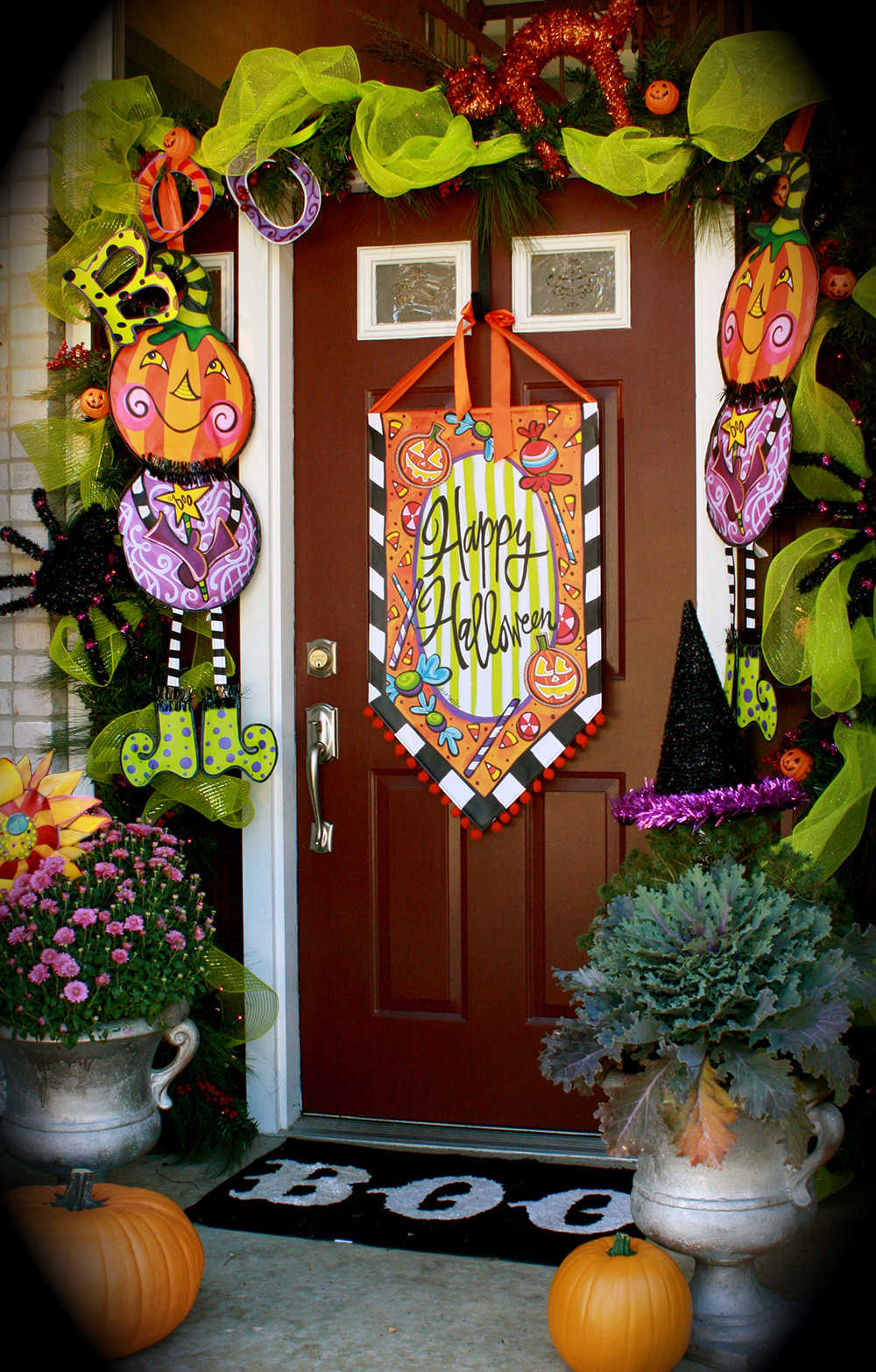 Source: The original source is not available anymore.
One such idea for outdoor Halloween decorations is to decorate a large banner. The banner can be the full length of the door, or only a partial piece of the length. Since door decorations can be particularly inviting or scary, if there are little kids in the neighborhood, try to decorate a banner with something cartoon-ish. The banner should also reflect the personalities of those living inside. Fringes can also be added to the banners – whether it's pom-poms or straw. For a fun twist, candy stickers and funky texts can be added if a drawing is not your speed.
2. Tree-tastic!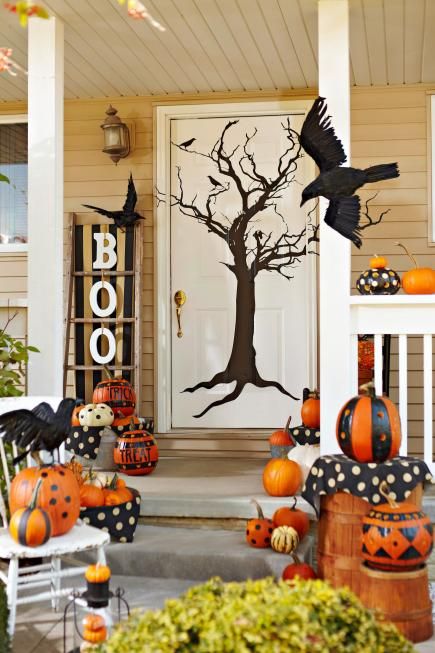 When it comes to Halloween ideas, nothing seems to reflect the holiday better than barren trees with crows flying around. A removable tree decal can really help set the mood for the holiday. While decorated pumpkins and porch signs can create the mood, a large tree can really add a helping branch. Crow decals can add life to the tree, and stuffed crows on the banister of the porch can add even more to the life of the tree. If crows aren't your style, fake leaves can be drawn on paper and added to the tree – which would then make a really cool party game.
3. Here's Your Mummy!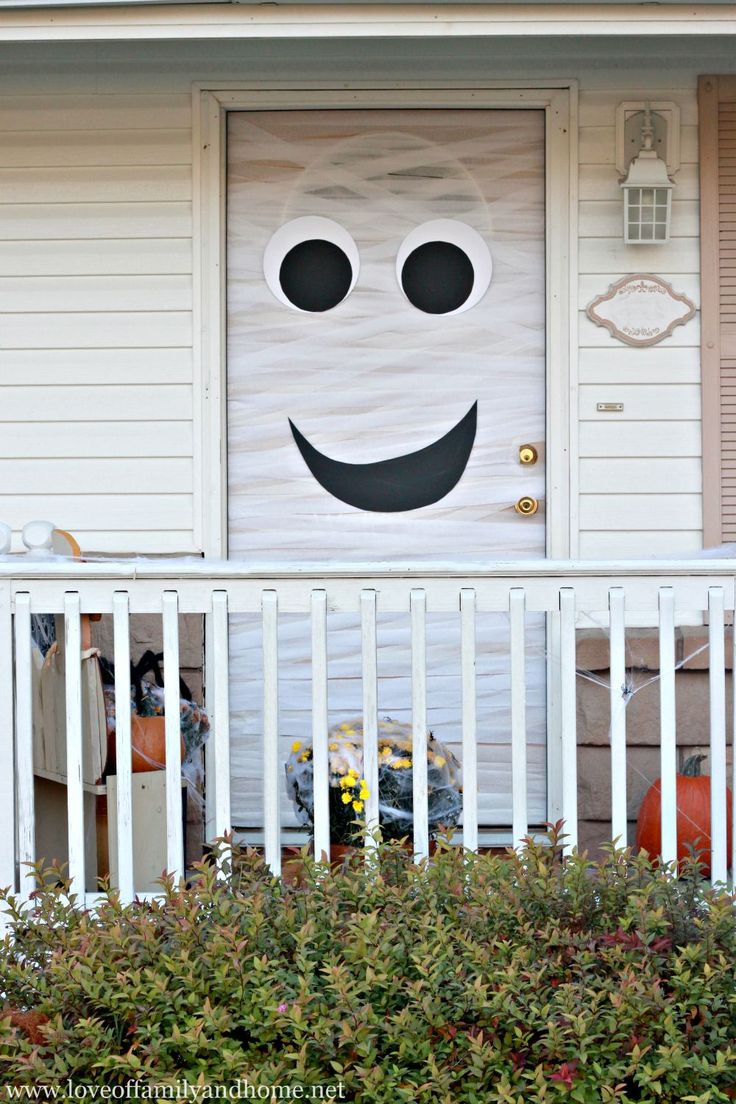 While hanging a full door covering can be difficult, making a mummy on your door is completely worth it. Bandages or paper tape can be used to create an opaque white sheet on your door. Black construction paper can be cut into a mouth and pupils for the eyes. White construction paper is used to create the corneas of the eyes. However, make sure you leave the knob and whatever locks are on the door uncovered – otherwise it'll be a scary situation. The best part about this fun Halloween front door decoration is that the bandages can be as thick or as thin as you want them to be.
4. The Witch's Welcome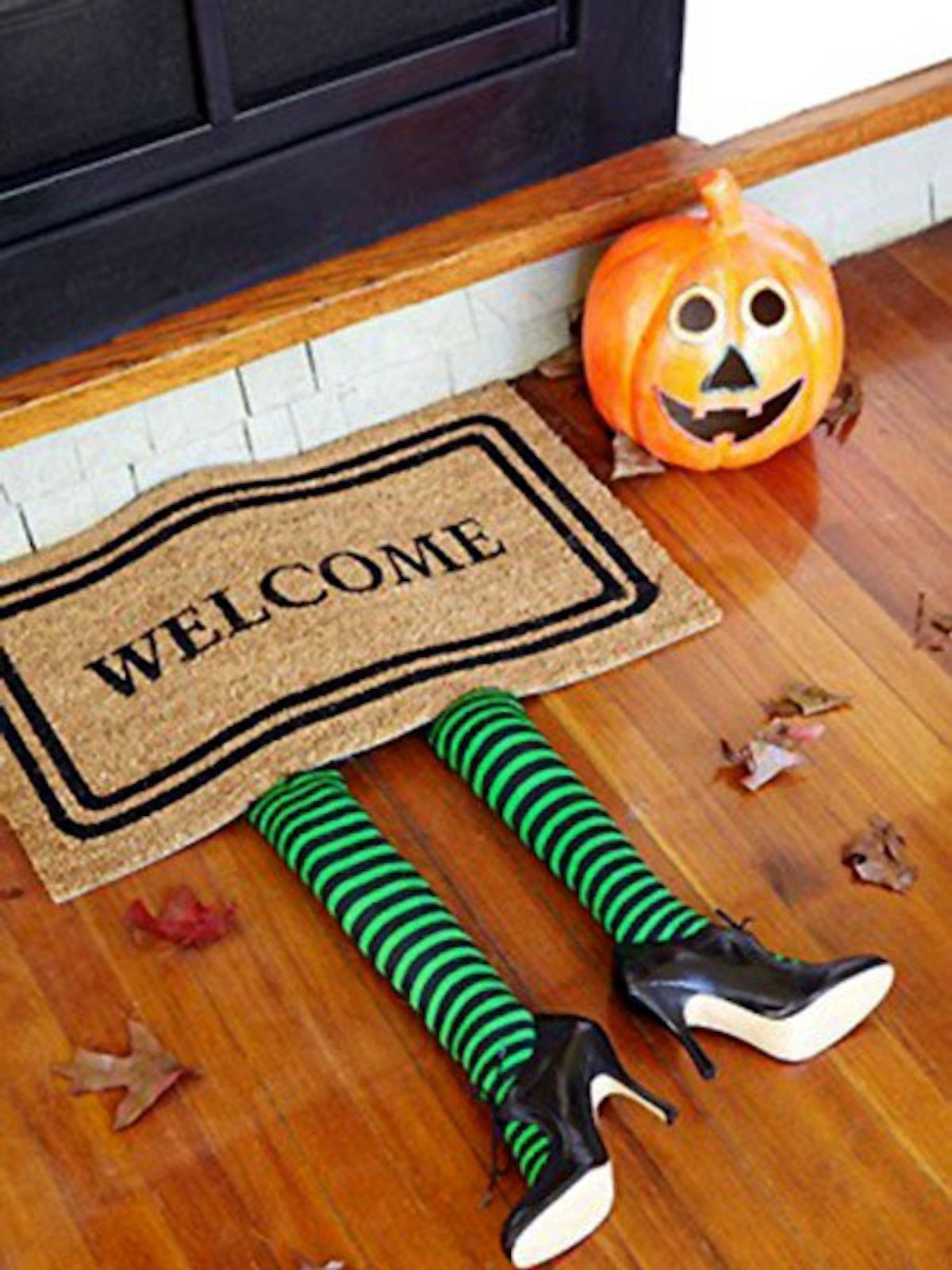 Source: The original source is not available anymore.
Welcome guests inside your home – if they dare – by creating this unique front door decoration for Halloween. Little trick-or-treaters will be amused and a little bit scared by your imagination and creativity, while most parents will find it downright funny. Stuff the striped socks with newspaper to create a little depth and added bulk. Use a worn-our pair of pointy-toe heels to finish. Any mat will do as long as it inscribed with a warm greeting (it's not as funny without the warm greeting). This fun front door decoration never gets old as most people have seen The Wizard of Oz at least once.
5. Eaten Alive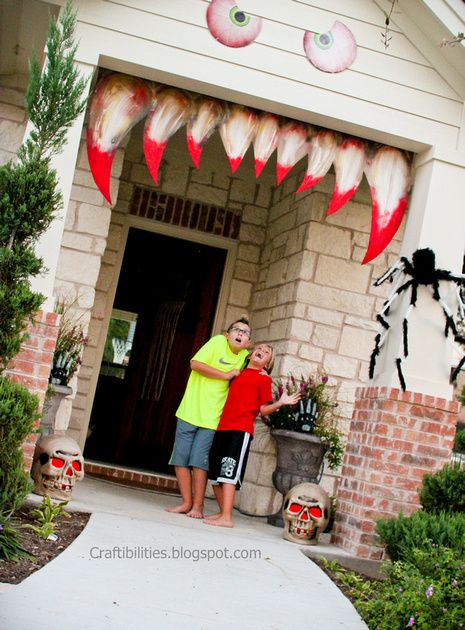 Using wood and spray paint, make teeth for your house. The teeth are free handed to create a menacing look. There are edges on the sides to hold the teeth up so that there is no need to use nails. Permanent markers are used to mark out the teeth on the wood before cutting them out. Spray paint in white, red, and black is used to create bloody gums and tips of the teeth and decaying teeth. The eyes are created with card board and permanent marker (in two shades of whatever color). Red is added and voila! Hang them up and your house is ready to eat anyone alive. Halloween front door decors have never been so creepy, or so versatile – this makes a great addition to any haunted house.
6. Spider Web It!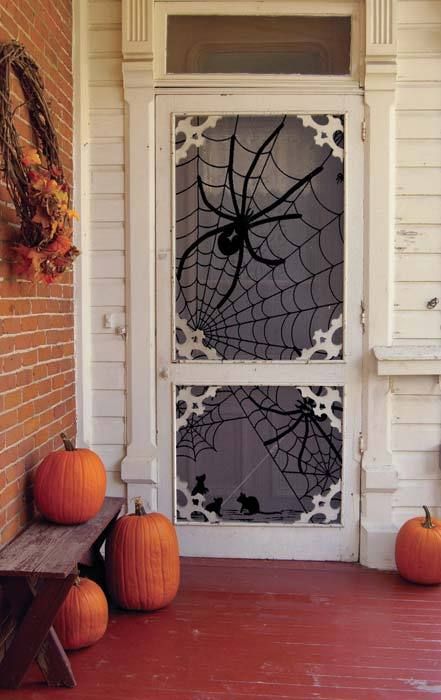 While decorating ideas can be difficult to come across, this spider webby idea can scare anyone. Window clings create a scary giant spider and web. Rat clings can be added to the bottom of the window or the screen door to show a better, scarier scene. The spider web can be created from a window cling or from the fake spider webs available around this time of year. DIY Halloween door decorations have a lot going on this one – the spider and its web can be created with window paint and a steady hand instead of store bought materials, or with tape.
7. Brains! Halloween Door Decoration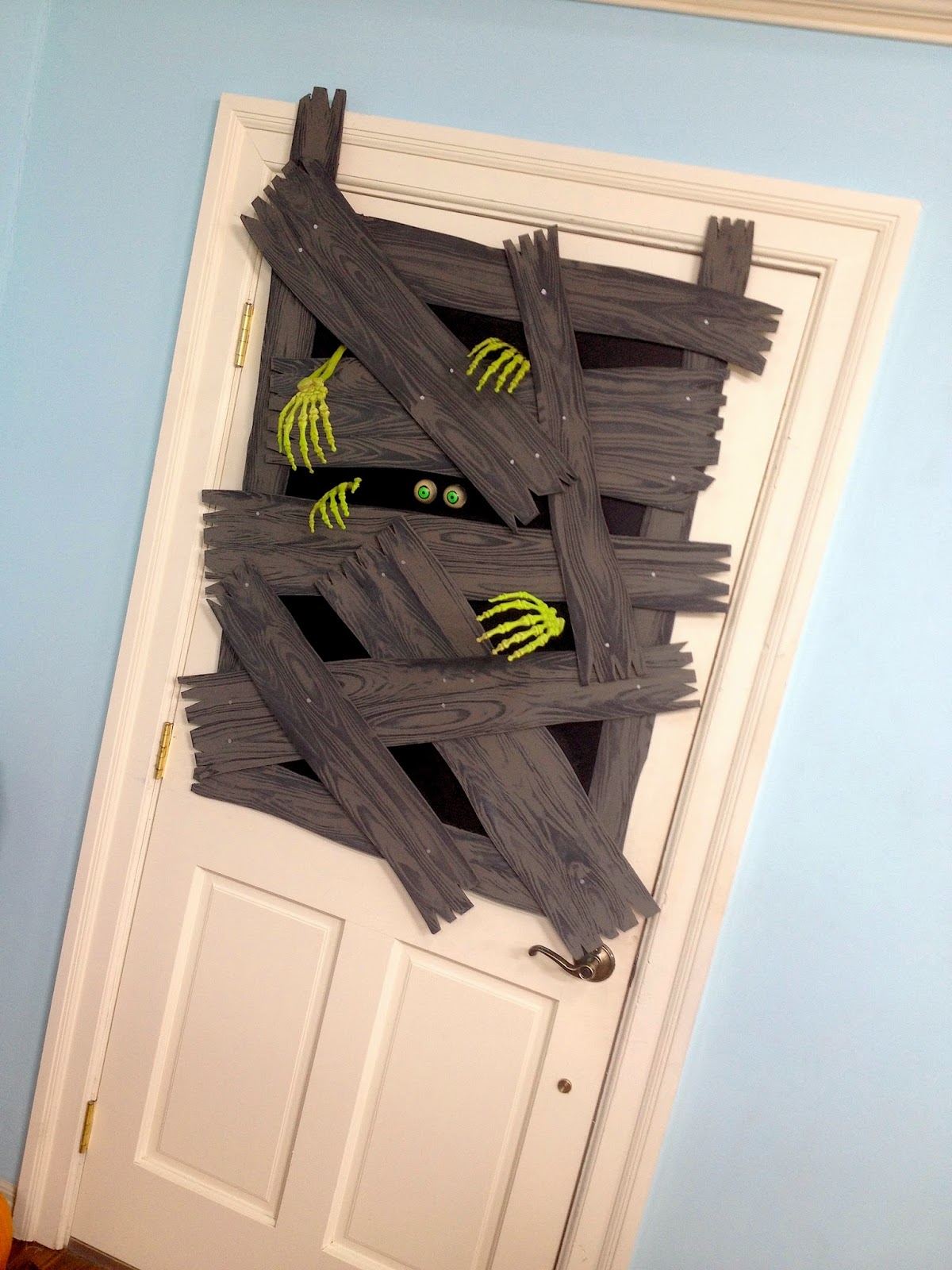 This is quite involved for outdoor Halloween decorations. Black foam creates the background. After the background has been cut, cut foam boards into irregular board shapes. Since they don't look like wood, a wood grain tool is used once the foam has been painted gray. It has to be done when the paint is wet. Then arrange them on the background as you like. For cartoony zombie arms, use store bought skeleton arms and paint them a bright, neon green. Painting the ends that will connect to the foam background black will help give the impression that they really are coming out of the shadows. Eyeballs are created using ping pong balls cut in half and neon green paint pens. To hang it up, add picture hanging wire on the top and a suction cup hook on the window.
8. Googly Eye Monster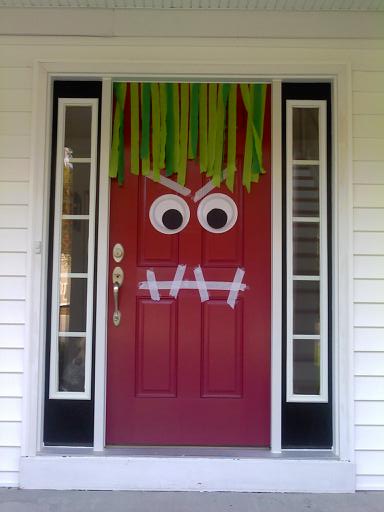 Source: The original source is not available anymore.
If crepe paper, duct tape, and paper plates have one thing in common, it's that they can create wonderful Halloween front door decors. Pick up some crepe paper in any color that contrasts your door and hang strips from the top of the door. The paper plates become the eyes when black circles are drawn on. Duct tape them on the door. Then use the duct tape to create eye brows and a mouth. Style it however you want. Kids across the neighborhood will enjoy looking at your creepy monster, and it'll be a hoot to create if your own kids help. Even if you don't have kids, this monster gives the creator one great time while putting it up.
9. Crashin' the Party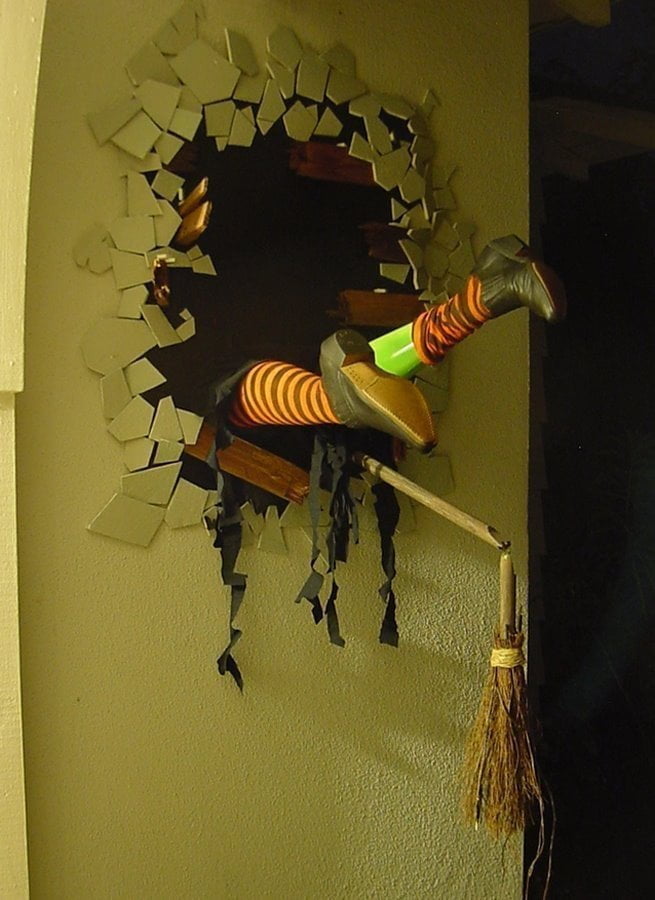 This Halloween door decoration is not for the faint of heart, but if you're imaginative, crafty and enjoy a challenge, then this decoration is just for you. Purchase a pair of mannequin legs and decorate with paint or cover with a pair of old stockings. You can get as detailed as you want with this project – from the shoe selection to the number of cracks in the wall – it's all up to you. The plywood base is painted a matte black. Use foam core to simulate broken plaster – align to create a circle – and now you have the dark hole.
10. Light Up the Night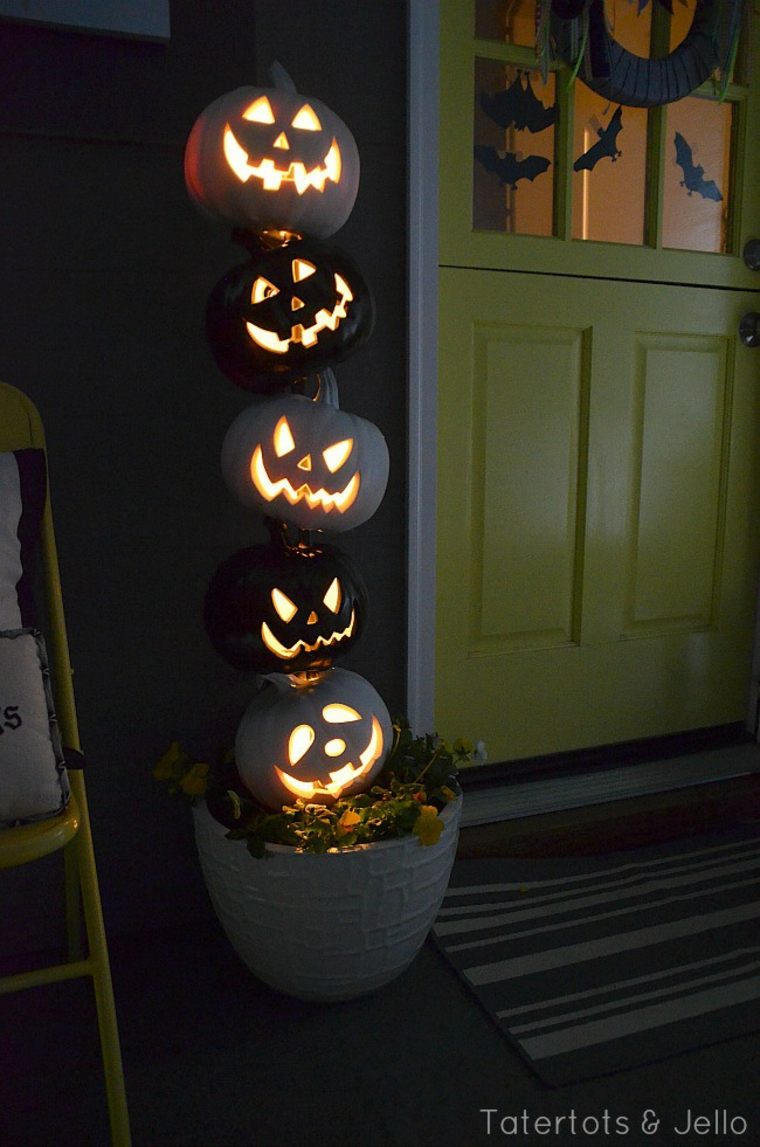 Pumpkins with scary lit up faces are sure to bring a smile to everyone's lips this Halloween. To make sure this front porch decoration is visible from the street, paint some of the lighted pumpkins white and the rest black or leave orange. Decorate an old planter or use a neutral colored one that doesn't distract from your handiwork. Use a sturdy dowel that can carry the weight of five small to medium-sized pumpkins. Alternate pumpkin colors when placing. Hide that electrical cord as best you can so people see your decorating savvy rather than a thick orange or black trip hazard.
11. Spooky Specter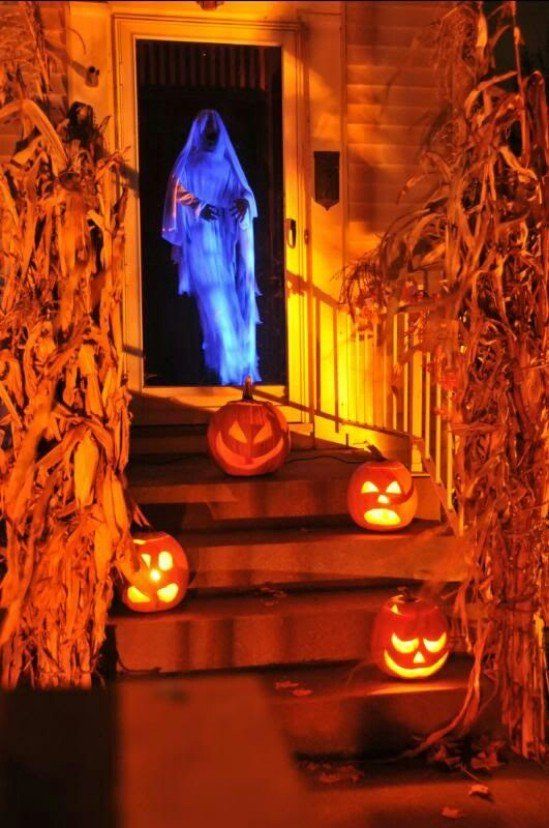 Source: The original source is not available anymore.
While blow up ghosts and plastic skeletons dressed up can cost a lot, taking a simple plastic skeleton can create such an interesting effect. Cool Halloween decorations follow plastic skeletons everywhere. An old white dress can be purchased from a thrift shop or found in your closet. White tulle or mesh can be purchased as well for a fuller look. If the dress is too long for the skeleton, use leftover fabric to create a veil. A spooky Specter bride is preceded by pumpkins as she walks down the aisle – which is your front porch and steps in this case. It doesn't even have to be a bride. It could simply be a ghost!
12. Caught in Your Web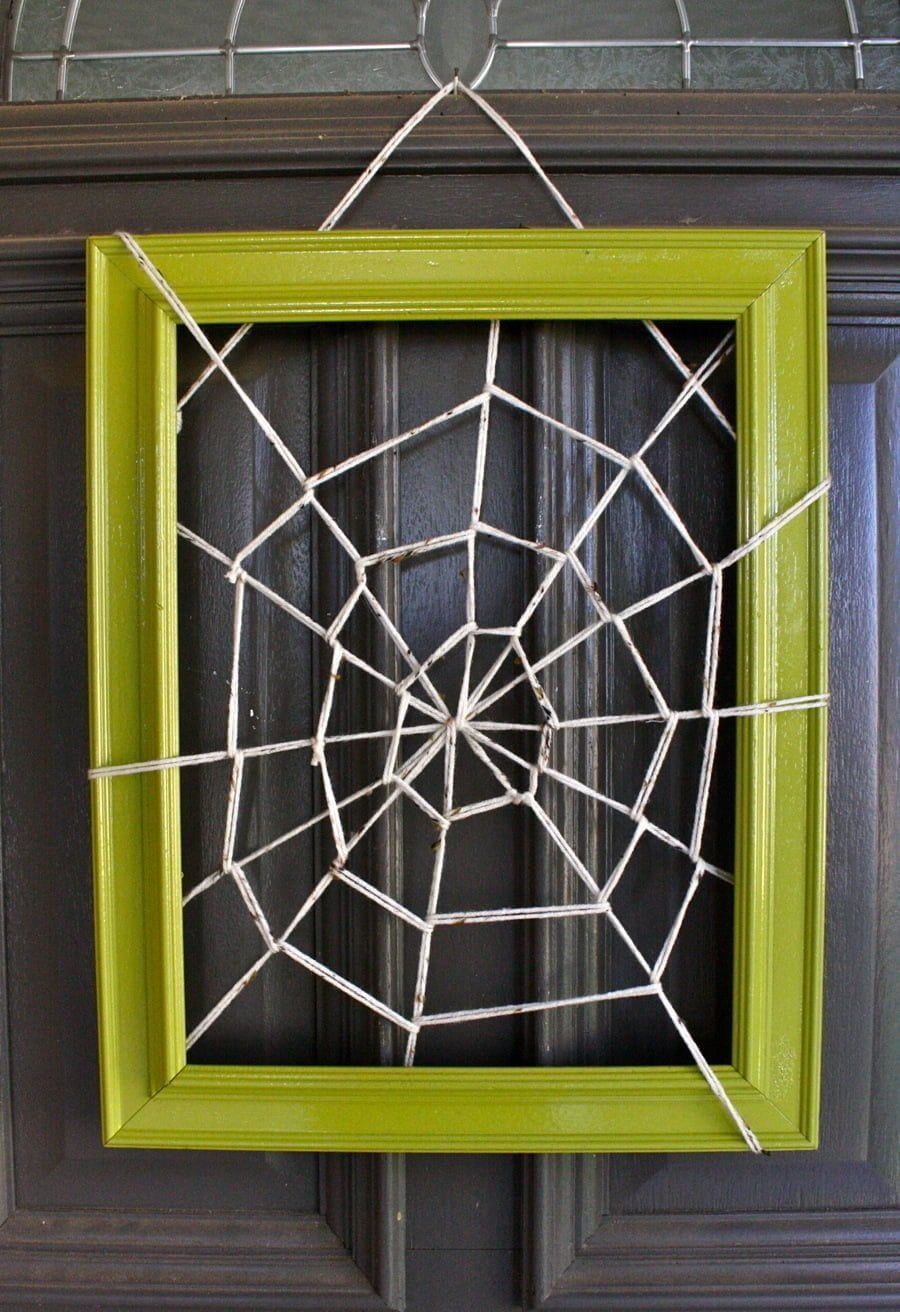 This is an easy Halloween door decoration idea if you're a little busy this year or if you're new to crafting. All you need is an old wood or plastic square or rectangular picture frame of any size, colored yarn and some tape to hold it all together. Choose from a wide variety of yarn colors – from white, black or yellow for a more traditional Halloween look to tie-dyed yarn for a more psychedelic vibe – whatever suits your mood. Weave your own spooky web and then hang it on your front door using some leftover yarn and a wreath hanger.
13. My Mummy!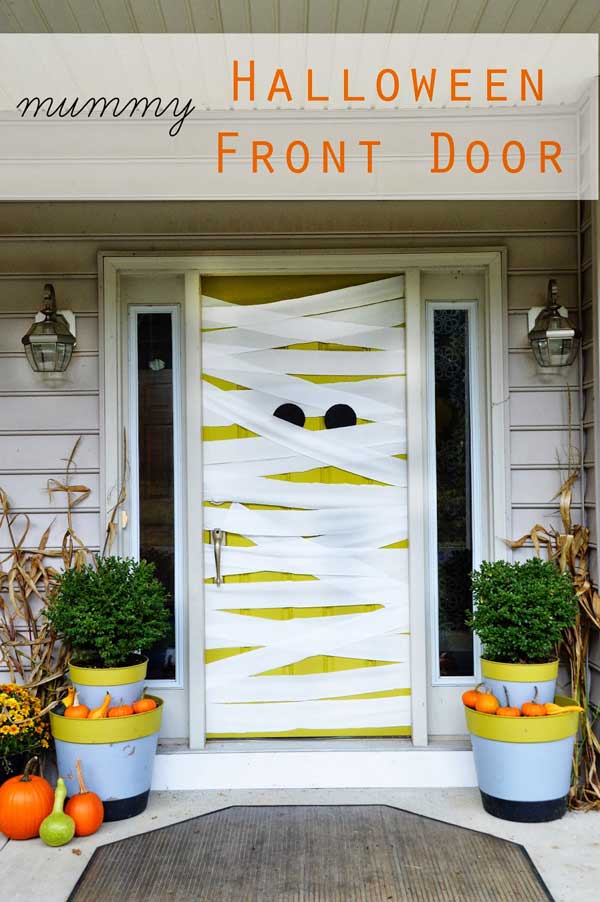 Halloween door decorations and ideas don't always have to involve more than three items. White fabric can be taped to the back of the door after it has been wrapped around the door. Black paper or fabric circles make eyes. A mummy is a one of a kind thing, and the best part is that the front will look good, no matter how ugly or disorganized the back may look. Whether it is cartoony or as lifelike as possible, this is one of the best front door decoration ideas out there for a busy family that wants to make their front door ready for this ghoulish holiday.
14. Ding Dong, the Witch is Dead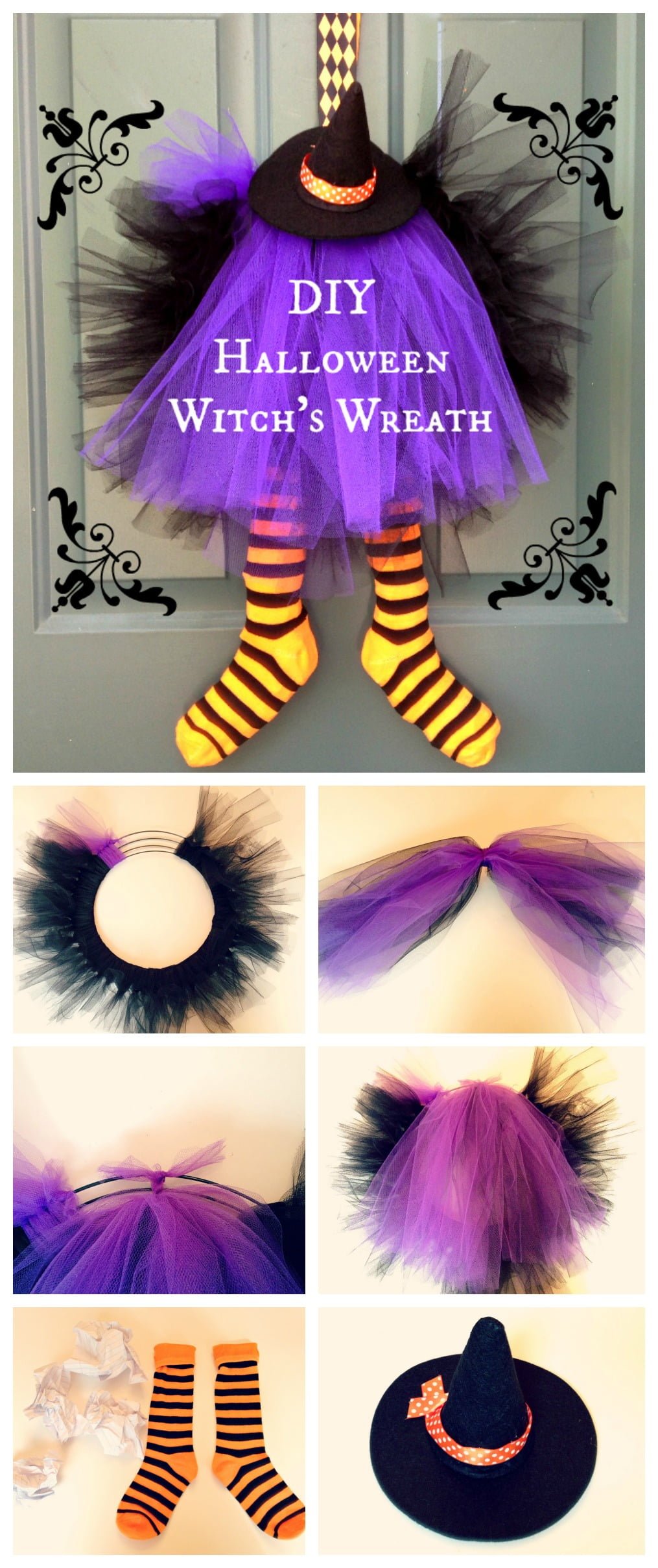 The iconic striped socks in this decoration evoke memories of watching The Wizard of Oz with a bowlful of popcorn. Keep the memory of Dorothy and her band of misfit heroes alive with this colorful Halloween door hanger. To create a realistic look, you can stuff each sock with old newspaper, other socks or old T-shirts. Choose two different colors of tulle to create contrast and visual interest. Black and yellow works well, as does black and orange, or white and orange – dark colors provide greater contrast against the striped socks. Use a hot glue gun to hold each piece together.
15. Oh My!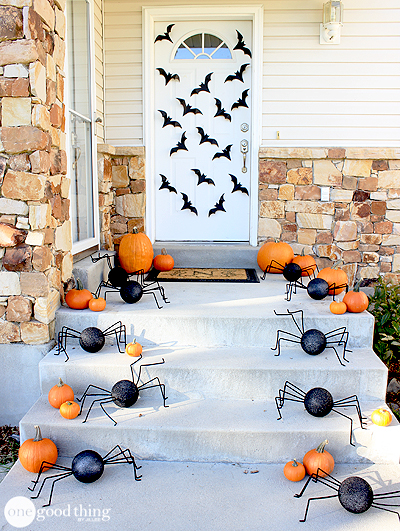 Using black paper or fabric, bats can be traced and cut out to decorate your front door. They can be put on the front door via tape or any other method that you like. A bat template can be found for free on a lot of different websites. Spiders can be created with Styrofoam balls. These are spray painted black. Black pipe cleaners are used as legs, and voila! These Halloween door decorations have a life of their own, and boy do they look the part. For something a little more cartoony, a different color can be used – which also creates an intense look depending on the colors used.
16. Creative Halloween Door Decor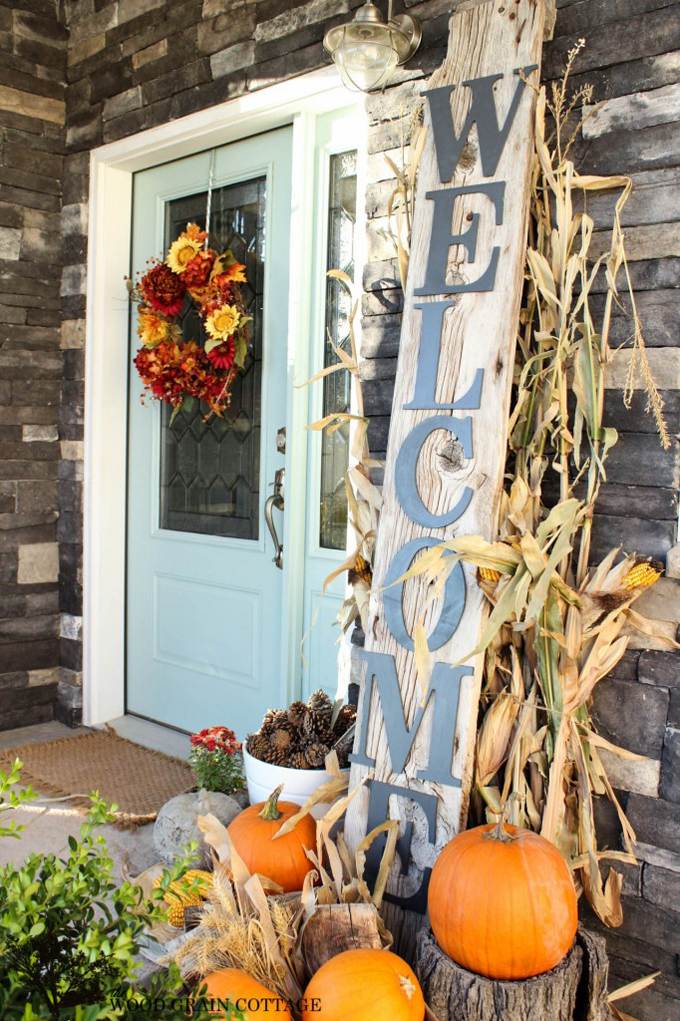 A large wooden plank is usually an obstacle. However, not this Halloween. A DIY Halloween door decoration this is not. This is a porch decoration. Spray paint and stencils is one way to create this spooky welcome sign. Or the letters can be purchased from a woodworking shop or other area and simply nailed on in the right order. These Halloween house decorations are quite a pop from the traditional ones found in stores, and can be painted in colors to reflect the personality of the family. Who wouldn't want that?
17. Creepy halloween front door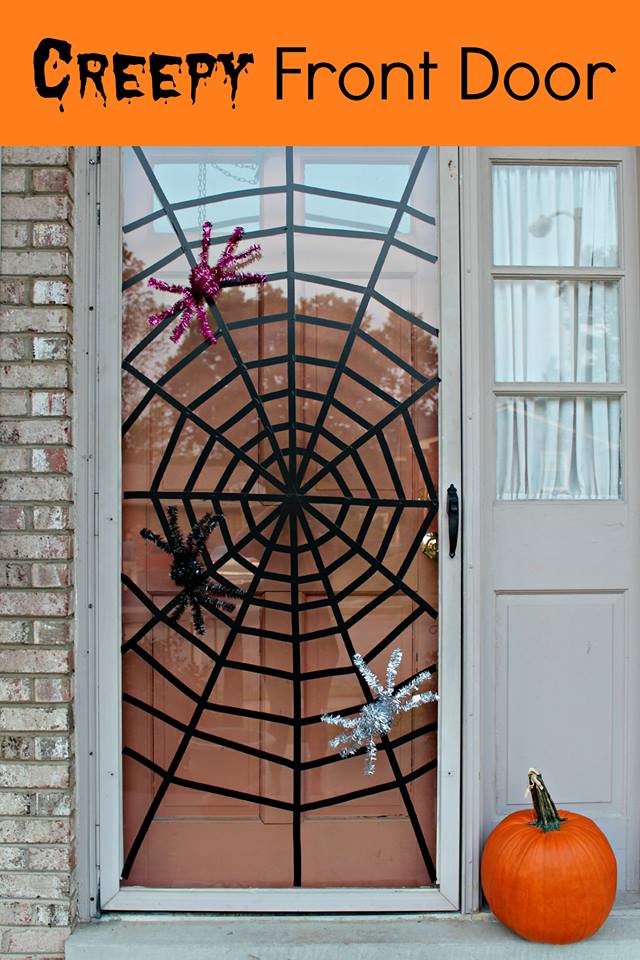 For DIY Halloween door decorations that really scare, find some washi tape. This paper thin tape can easily be used to create a spider web on any door. Storm doors work well with this because of the glass and how well the tape adheres to glass – though it works well on wood too. For spiders, use shiny pipe cleaners and shiny Styrofoam balls. They can be stuck to the web via packing tape on the bottom of the spider's body. For something a little more cartoon like, use a washi tape in a bright color or use bright colors on the spiders.
18. Flurry Front Door for Halloween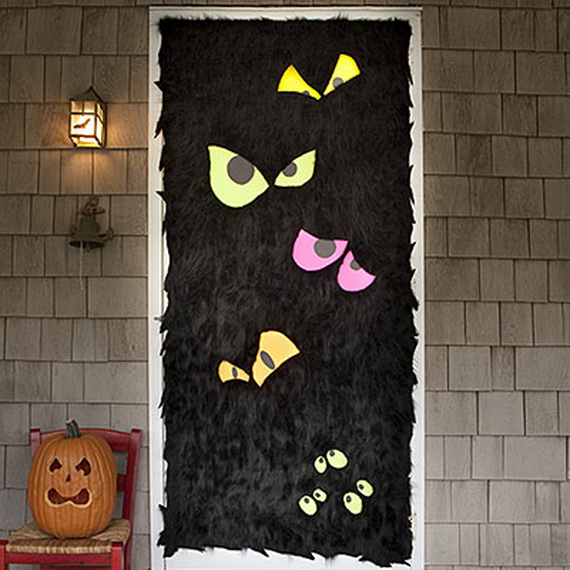 Source: The original source is not available anymore.
For a twist on traditional DIY Halloween front door decors, find some furry fabric. This can be found at thrift shops via faux fur coats or at a fabric store – they usually surface around Halloween for furry costumes. Make sure that there is enough fabric to cover your door, minus the knob or to allow for the knob to move. Construction paper can make cartoon like eyes. These can then be attached by tape or glue to the fabric. It offers the feeling of being watched to any visitors, and fans of old cartoons may feel some deja-vu. A furry Halloween wreath has nothing on this funky idea.
19. Witch's Wreath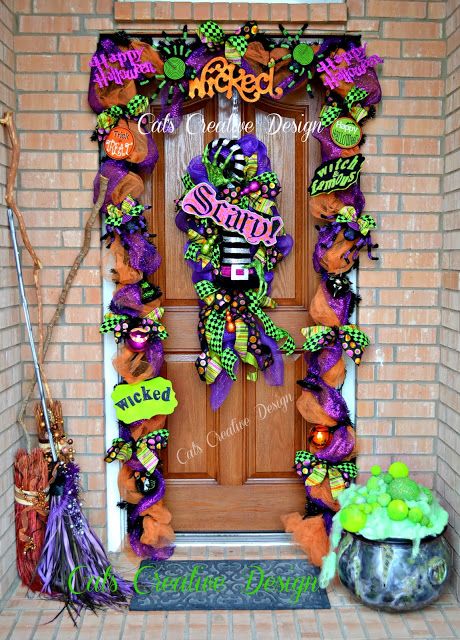 With DIY Halloween door decorations such a trend, incorporating witches can be difficult. However, taking a wreath and adding a witch's hat, funky ribbons, and fun baubles can create such a wonderful decoration. For a particularly interesting wreath, add stuffed witch's feet. Paper signs can be taped on or tied on with ribbon with phrases such as "scary" and "wicked". Try ribbons that have patterns (such as checkers and polka dots) for the ultimate fun or even add some tulle and glitter.
20. Not Scary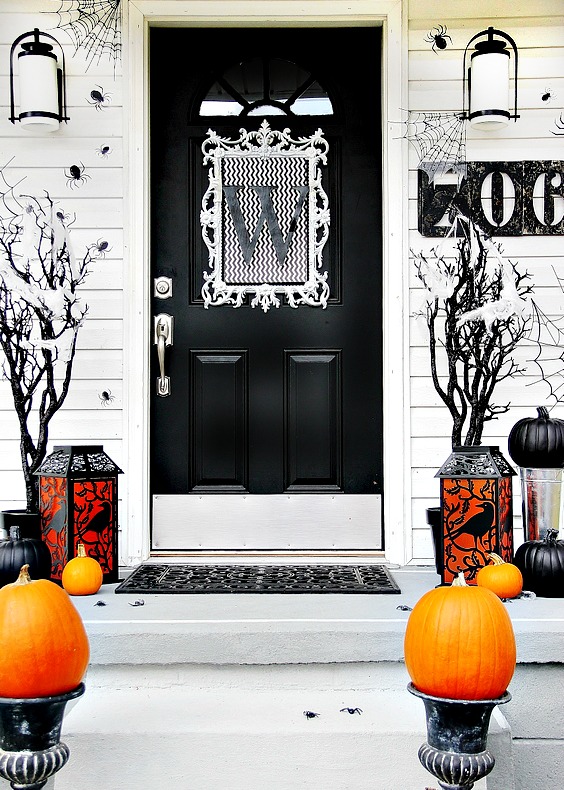 DIY Halloween decorations don't have to be scary, nor does a themed front door decoration. If you frequent yard sales and thrift shops, a frame can be found easily for quite cheap. Then a piece of scrapbook paper can be put inside the frame. A letter is then glued onto the frame. This is a better idea if there are a lot of little kids and many of the doors in your neighborhood are already going to be scary. The letter can be any letter in the alphabet and offers a decoration that can be hung year round if the paper is not Halloween themed.
21. Spider Attack!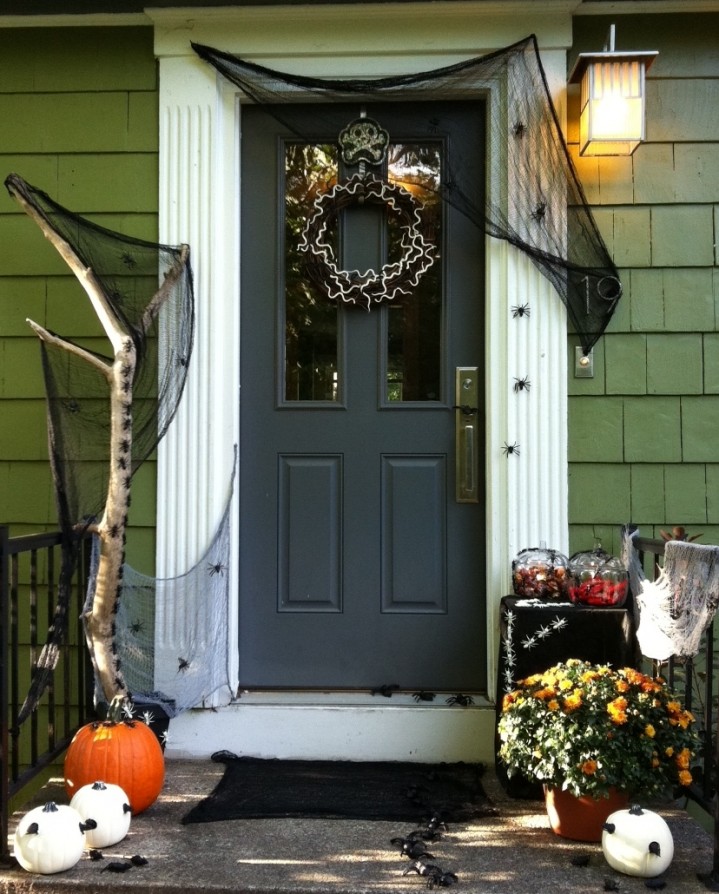 Source: The original source is not available anymore.
DIY Halloween front door decors vary from store to store and person to person. Plastic spiders can be found at any craft store, and fake spider webs can be created out of vinyl or tulle. With tape, a spider attack happens in minutes. The spiders can be placed to climb up a tree, up the door frame, or even up the fake spider webs. If you really want to scare someone, a spider could be lurking on the doorknob. A black wreath can be added to the door for an added effect, and the spiders can be placed literally anywhere.
22. Burlap Galore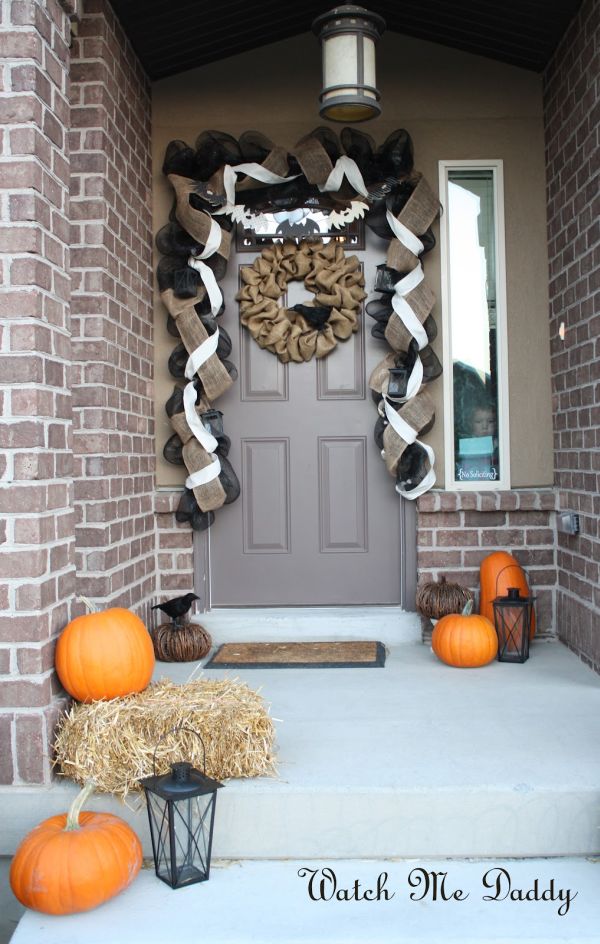 Source: The original source is not available anymore.
Halloween decoration ideas can simmer after the porch has been decorated. If there's a lot of burlap hanging around your house, consider creating a burlap wreath. The burlap is cut into strips and crunched onto wire – as if pinning fabric. The burlap can also be used to create a banner on the post and lintel of the door – a sort of arch in the doorway. A faux bird can be added to the wreath for a solitary, solemn look if so desired. If not, skip the bird.
23. Spooky Door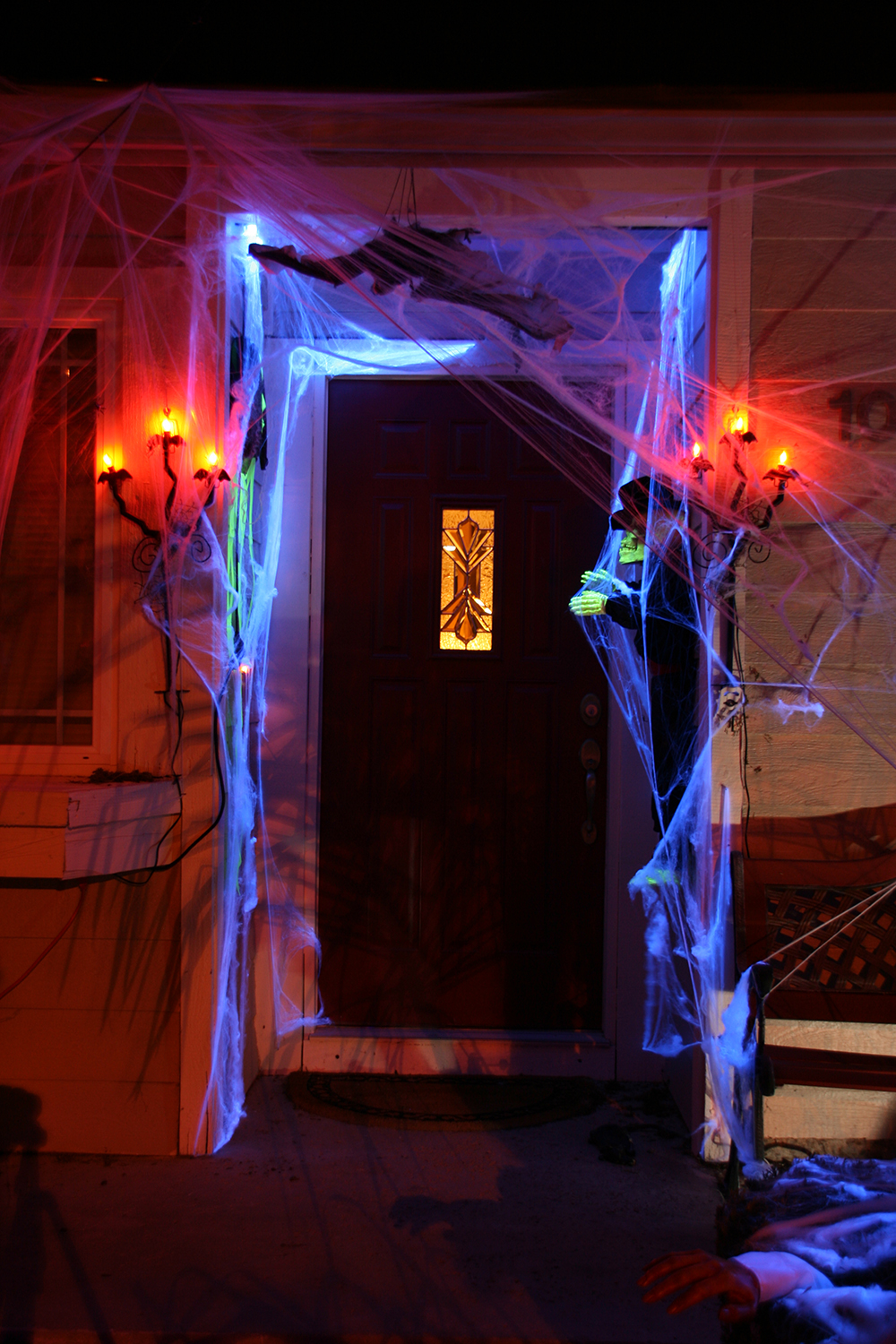 For those who like spooky Halloween ideas, taking fake spider webs is a good idea. The fake webs can be strung up around LED candles and plastic forms. The candles could – and probably should – emit different colored lighting for a better effect. Using plastic forms gives the effect that the house is under attack from gremlins and bats, maybe even a witch! With enough fake web, it could be even better than a spider web attack in a haunted house. No need for boring Halloween wreaths on this door.
25. Funky Halloween Porch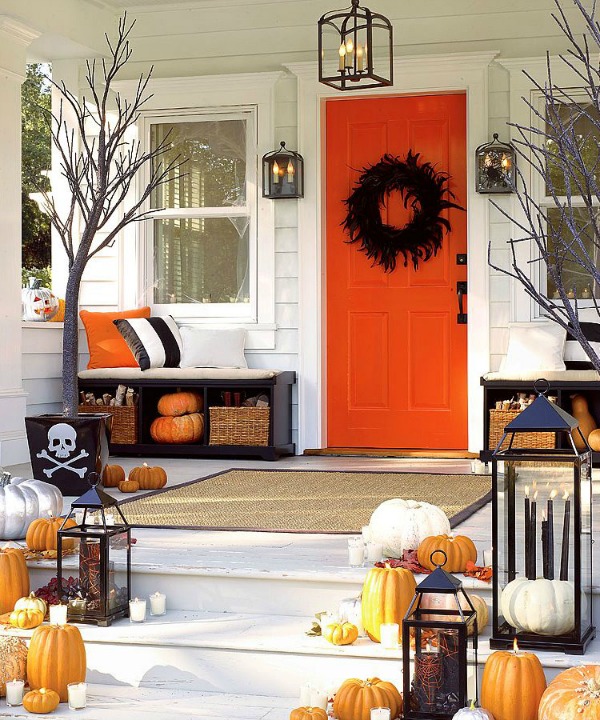 From the feathers to the bench, it can be difficult to decide what to use. If the Pottery Barn catalog from a few years ago caught your attention, you can get the look for much less. The wreath can be made from wire and a feather boa. The lanterns can be found at a thrift shop. Pumpkins can easily be preserved by cleaning with bleach then buffing with petroleum jelly. If you want to paint the door, go ahead. If not, you can use paper – it won't look as professional, but it preserves the original color. DIY Halloween front door decorations have never been so fun to do if this is the project you decide to do this year.
26. More Mummies!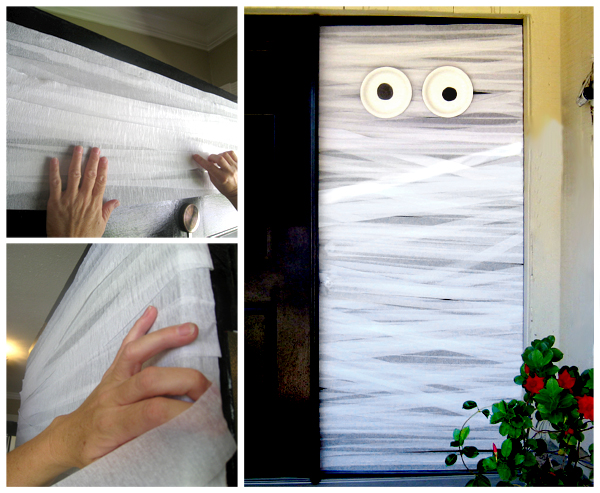 Source: The original source is not available anymore.
This has been such a popular decoration. This variation on the mummy door involves crepe paper, white paper plates, a black marker, and double-sided tape. Draw pupils on the white plates. Wrap the crepe paper around the door. Using different angles can give the mummy a different look than simply going straight up or down. The crepe paper is secured by the double sided tape. When the paper is gone and the door is covered, tape the eyes on and your door is good to go! Outside Halloween decorations have never been so incredibly easy to create.
27. Happy Halloween Front Porch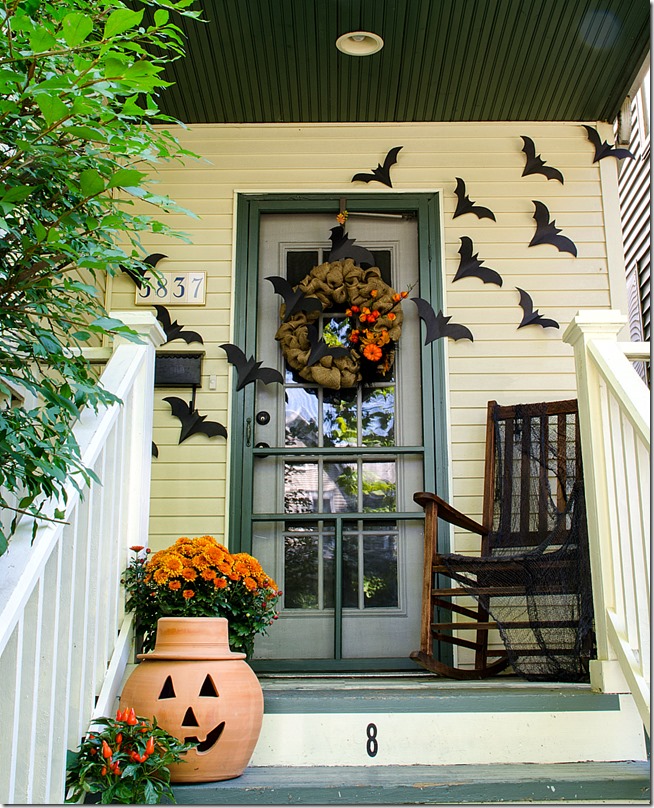 The bats have been another popular DIY decoration. Black construction paper is the easiest thing to trace the templates onto, and the templates can be found all over the internet. Another burlap wreath is involved in this decoration scheme. There are orange faux flowers on the wreath as well. However, the bats made it indoors this time. Foam is another way to make the bats fun and interesting. Black tulle can be spread out to create a fake spider web if you want.
28. Haunted Halloween Porch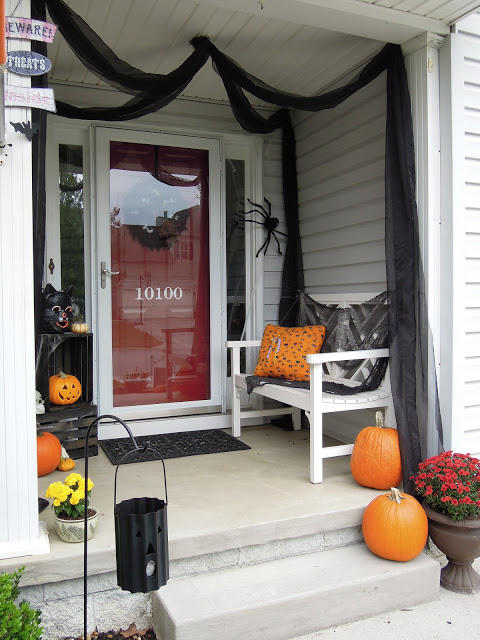 First thing's first: this has some series "enter if you dare" vibes. The cheesecloth and sheer fabric on the porch creates the feel of an old timey house. A spray painted diaper box and a crate create the stands for the pumpkins and cat head. A witch's broom is sitting to one side (which can easily be made in miniature with a black pencil and orange yarn). Fake spiders like those from the other crafts sit to either side of the door. A wreath of feathers and eyes stares back from the door. It's a real haunted house!
29. Waving Skeleton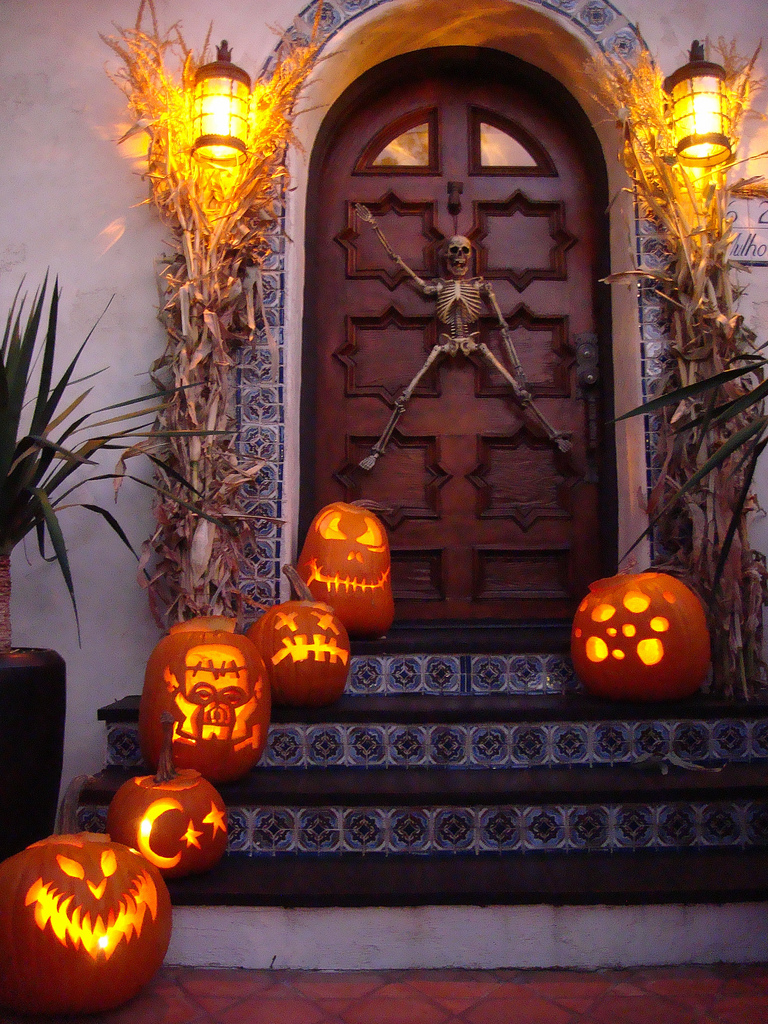 For a creepy look, hang a full skeleton on your front door! The fun thing about the plastic skeleton that is used for this craft is that it can usually be positioned in any way that you desire it. It can be positioned to be jumping, waving, or even doing the splits. With pumpkins on the steps or the porch and cornstalks to either side of the door, there is so much that can be done to accent the skeleton. However, the skeleton is the centerpiece of these DIY Halloween front door decors.
30. Movie Halloween Inspiration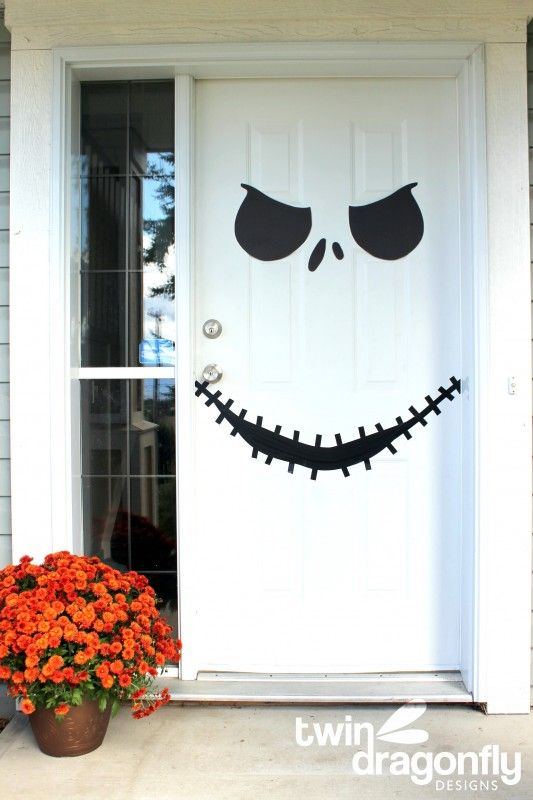 For any Tim Burton fan, this front door decoration is a must have. The eyes, nose, and mouth look reminiscent of a famous skeleton from a movie. Hint, hint. It's easy enough to create: vinyl or construction paper can be used to make the face. It works best if the door is white. However, if the door is not white, white construction paper can be used to create the background before adding the face. If this is the case, make sure the knob is uncovered.
31. Giant Spider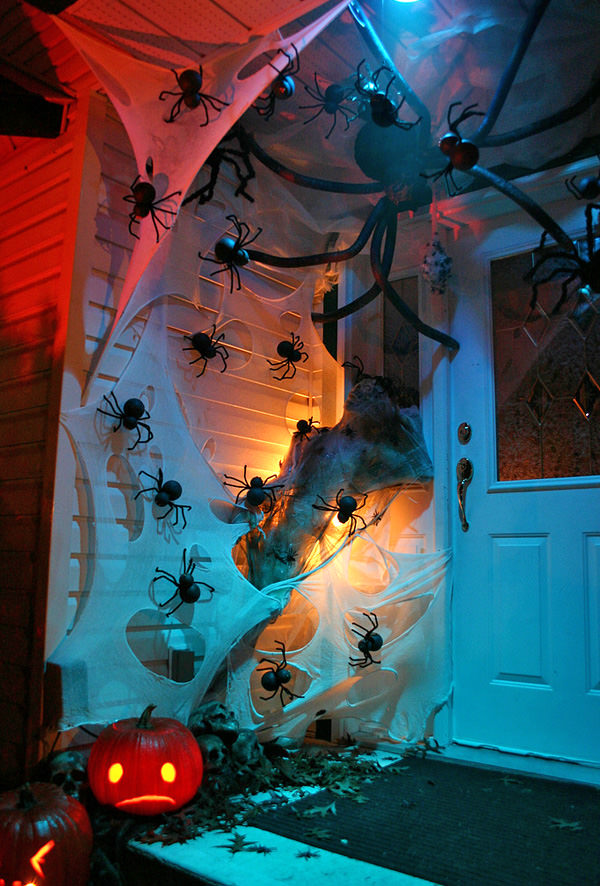 A giant inflatable spider can be difficult to incorporate into a Halloween porch. However, getting a bunch of smaller, plastic spiders can make the larger one feel at home. With fake spider webs made of sticky fabric or tulle with tape, the attack is on. If the large spider is almost too big for the porch, it can sit so that it is attacking the front door. The possibilities with this one are endless. A sad faced pumpkin can add just a touch of whimsy.
32. Halloween Candy Countdown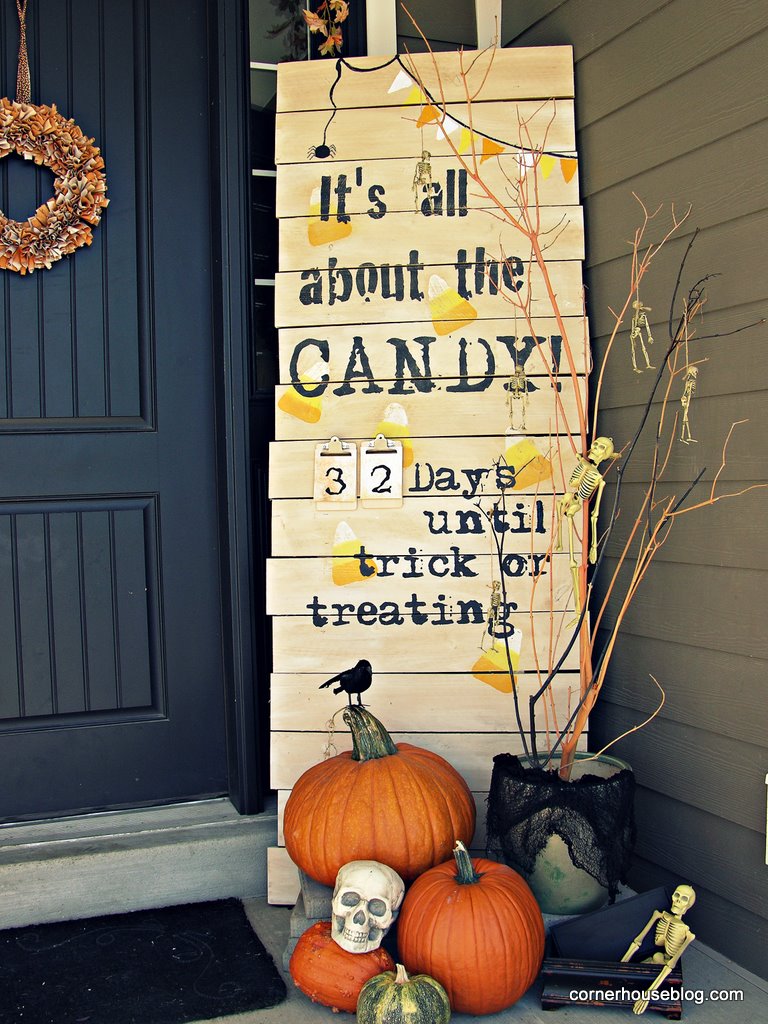 Source: The original source is not available anymore.
This is a good month-long Halloween front door decoration. Taking wooden planks and spray painting the phrase "It's all about the CANDY!" on them is a start. For a bigger sign, the phrase "…Days until trick or treating" is added and two mini clipboards with the number of days left are also glued on. Candy corn can be painted on for a true Halloween spirit in the sign. Crows would also create a Halloween theme on the sign.
33. Spider Rug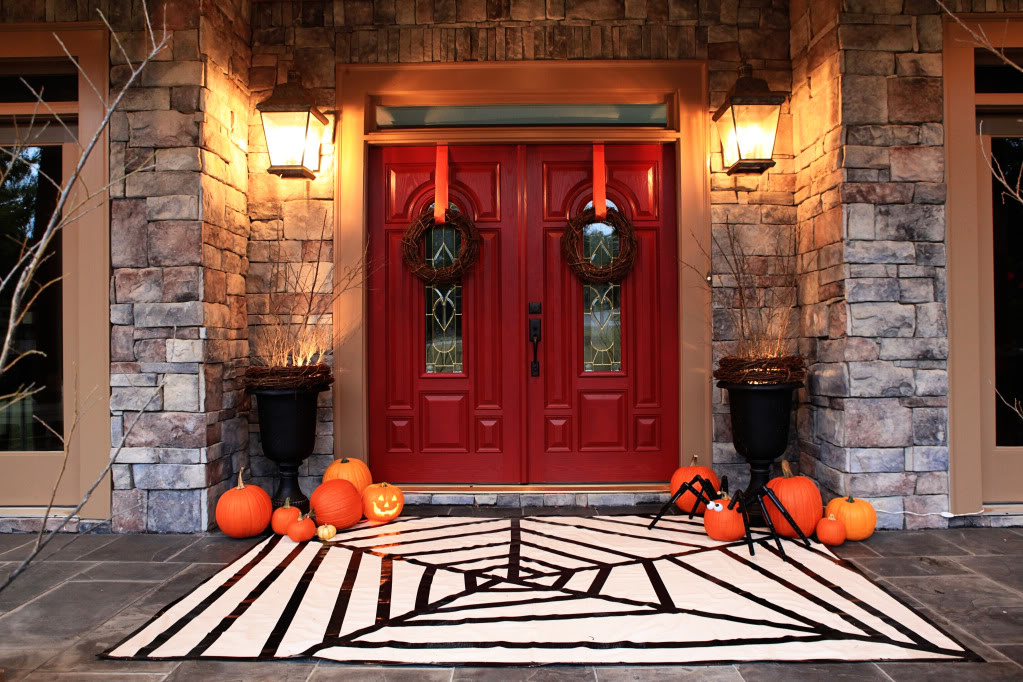 White fabric is difficult to use. However, using black washi tape, that white fabric can become a spider web. This also is inspired by a movie scene. The cartoon like proportions of the web are a little obvious, but it is a whimsical take on the classic idea of these cool Halloween decorations. A pumpkin with pipe cleaner legs is the spider, and that makes it even more whimsical. Two wreaths hang on the doors, but if your doors aren't wide enough, one wreath will suffice.
34. Witch's Wreath Halloween Door Idea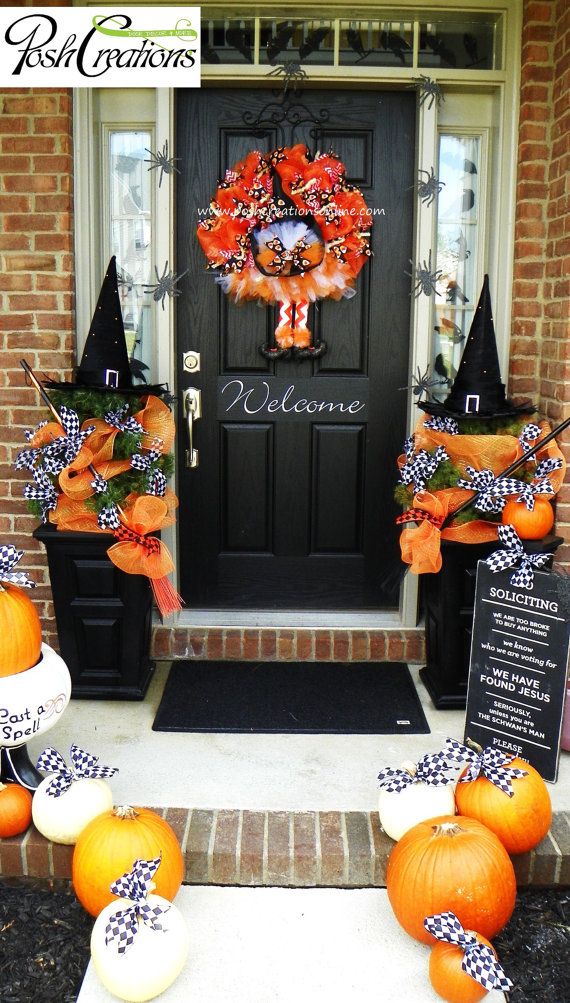 This is another take on a witch wreath. Orange tulle is the body of the wreath. Fabric has been stuffed to look like legs, and a mini hat – probably from a baby's costume that is no longer used – is added to the wreath. A mini broom can be added to the wreath for a touch of whimsy. A black or orange pencil serves as the stick. Yarn is the broom part. It can make quite an interesting addition.
35. Halloween Witch's Cave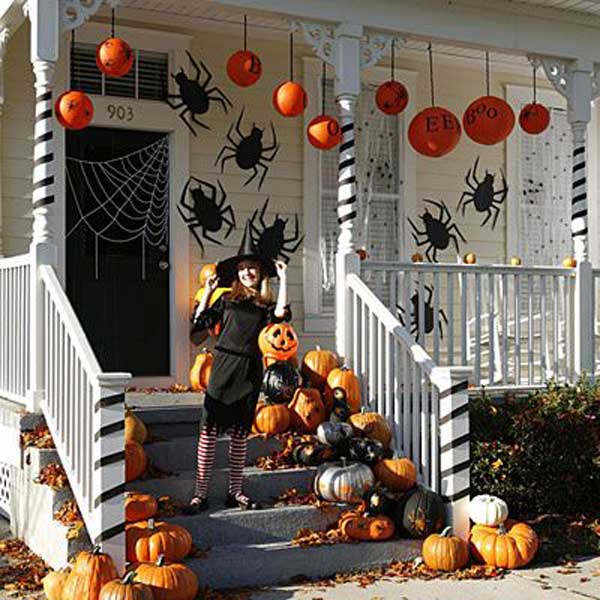 For the home of witches, this is a good idea. Pumpkins abound on the steps. Black, orange, and silver are good colors for this idea. Paper lanterns can be decorated with screams and ideas on the paper. Large spiders are traced onto black paper for a traditional look. For a whimsical or cartoon like look, the spiders can be traced onto different colored paper. Black crepe paper can be wrapped around the banisters, and string or yarn covers the upper half of the front door to create a spider web. With all the fancy touches, it is such a witch's cave that it can make other Halloween decorating ideas go down the drain.
36. Witch-Eating Spider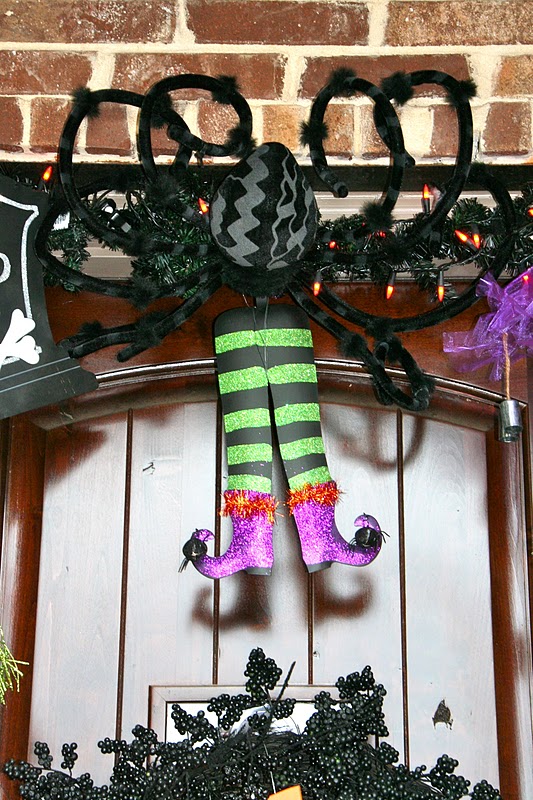 Source: The original source is not available anymore.
This is a twist on the classic end of the Wicked Witch of the West. Construction paper can be used to create the stockings and boots of the witch for these Halloween door decorations. A large spider is put at the top of the door, or on the post. Wire is used to create the illusion that the witch has been eaten. While this isn't a good idea if there are going to be kids dressing up as witches, it'll sure scare the eyeballs out of your neighbors.
37. Spooky Ghost Halloween Door Décor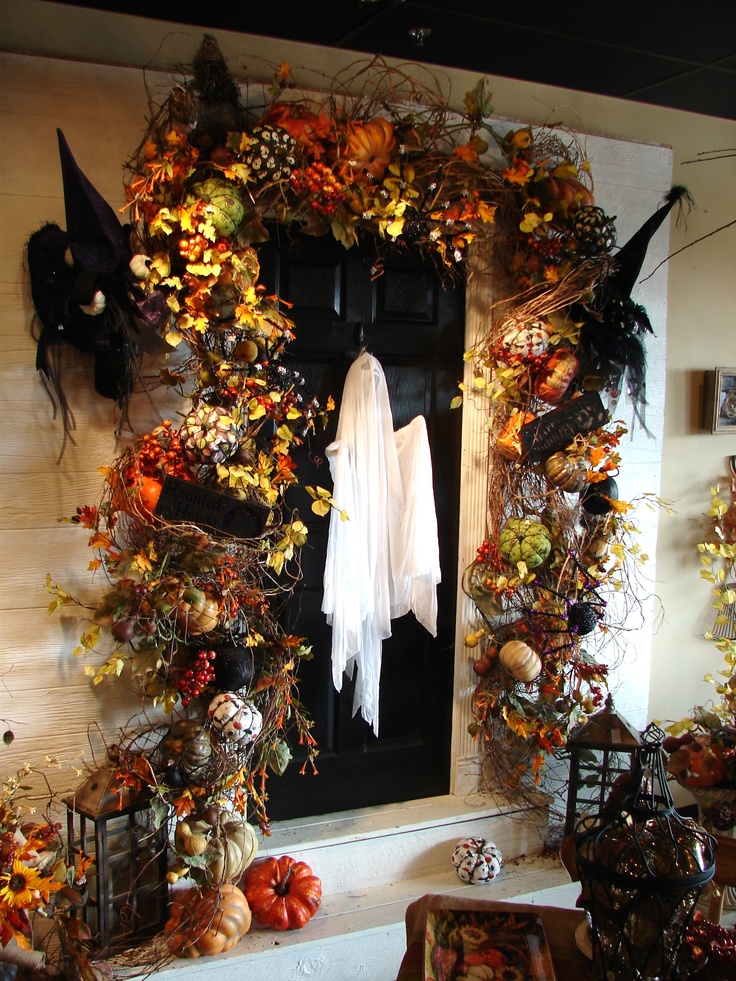 For anyone who has too many pumpkins and gourds to deal with, create an arch around the door. Fake witches can be put to either side of the arch. However, the piece de resistance is the ghost on the door. The ghost can be made of wire and white fabric, or it can be an old decoration from Halloweens past. Either way, it should look like a floating ghost who has just scared the life out of the inhabitants of the home.
38. Flying Bats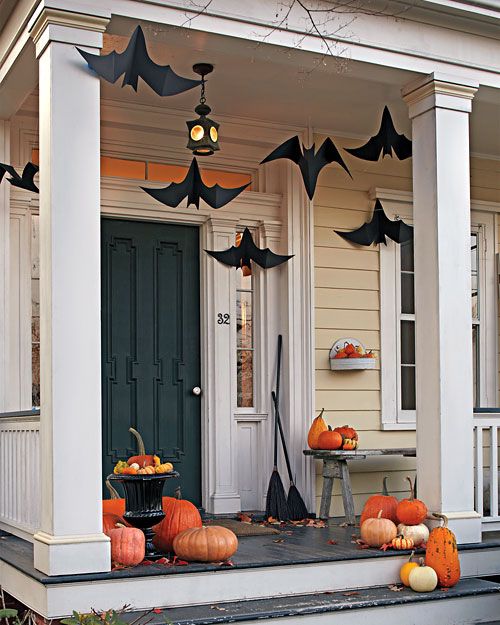 Source: The original source is not available anymore.
If putting bats on your front door isn't your speed, trying hanging them! Fishing line is translucent and can give the effect of seeing the bats suspending in the air of their own choice. Creasing the wings can make it really look as if the bats are flying, and are about to attack your home out of fear or anger. Don't mess with these paper bats.
39. Half a Pumpkin Halloween Door Idea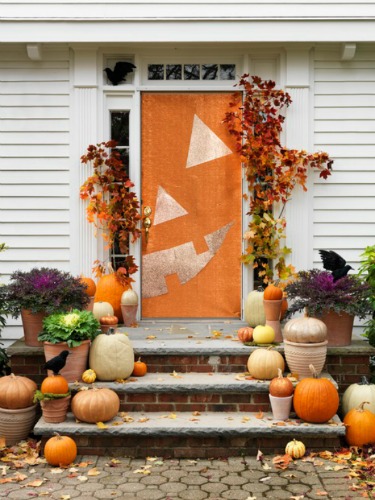 For a more whimsical idea, take a large piece of orange paper and cut holes for the knob and locks if you have them. One small triangle of a lighter orange acts as the nose. A larger triangle of that same orange is the eye. The mouth is cut out like the traditional mouth on jack 'o lanterns, and taped onto the paper. The large orange paper is hung on the door, and voila. The door has become half of a jack 'o lantern's face. For the extra mile in Halloween decoration ideas, create the other half on the wall.
40. Eyeball Halloween Wreath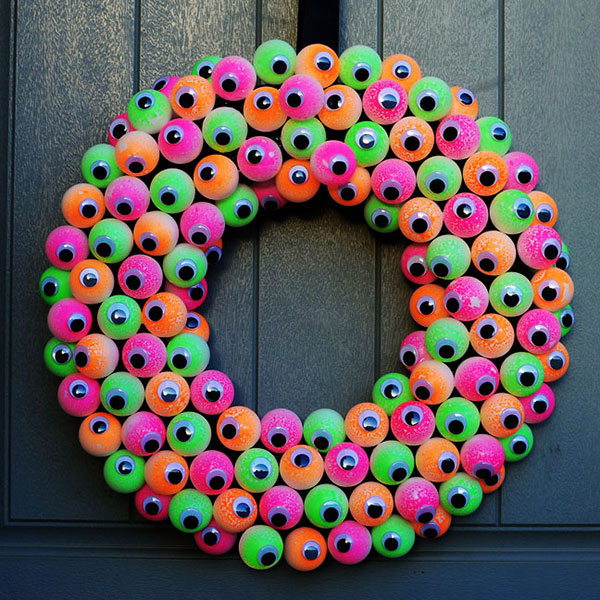 Create funky eyeballs by spray painting Styrofoam balls. Pink, green, orange, red, and even purple are all game for this craft. Once the paint has dried, small googly eyes are glued onto the ball, one each. Then the finished eyeballs are glued onto a plain wreath. The funky googly eyes will look in all directions, and boy will it freak some passers-by out. With the funky colors, it's a kid friendly craft.
41. Maleficent Halloween Wreath Door Decoration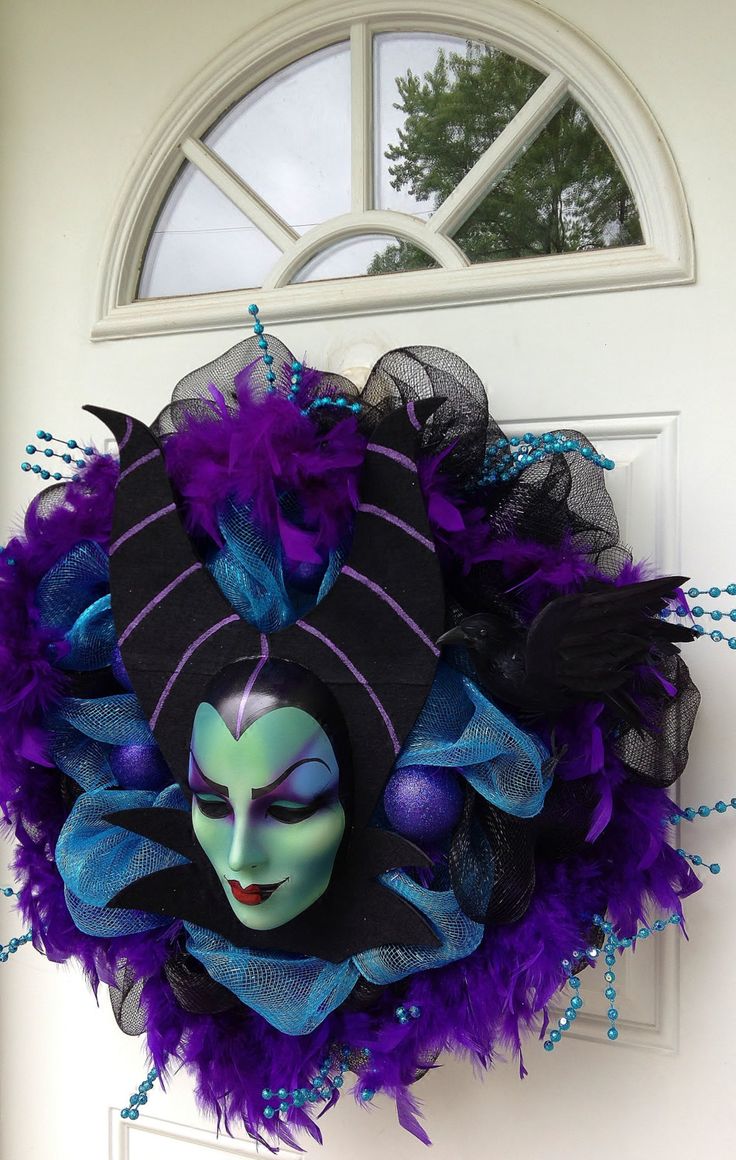 Source: The original source is not available anymore.
If you're a big fan of Maleficent, this wreath is for you. Purple feather boas and black tulle creates the base of the wreath. Mardi gras beads in blue make it a little funkier. Blue tulle is also used, as are a couple of purple glittery balls. A form is decorated to look like the famous evil fairy, and wooden horns are added to complete the look. For any Disney fan who's looking for some Halloween decor, it's a twist that gives the home a great and different look.
42. Wreath It Up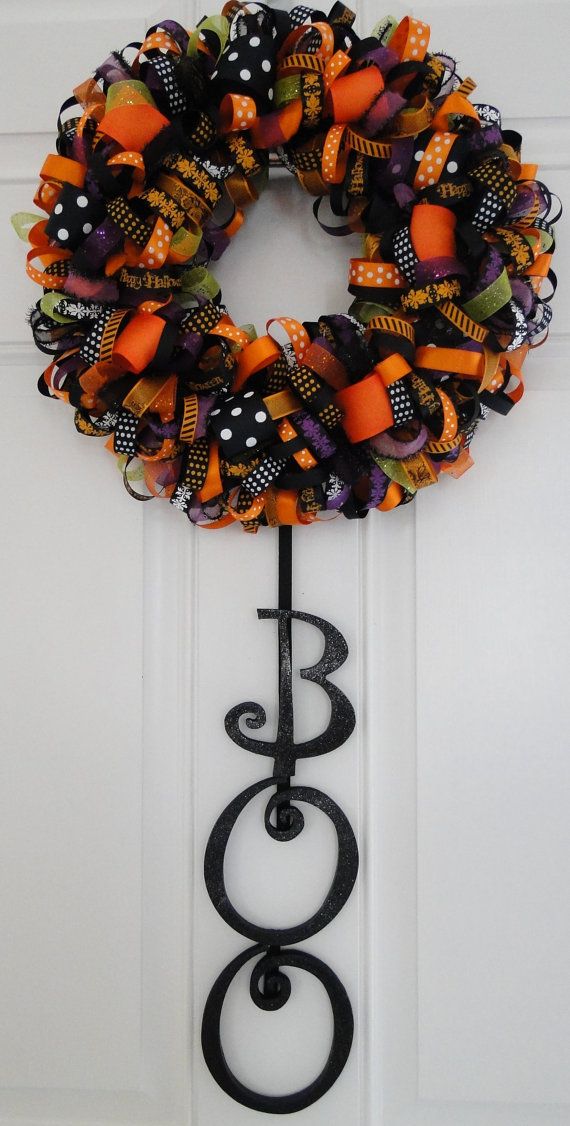 Quite a number of wreaths on this list. However, this is all ribbon. The ribbon is looped and glued on the wreath. Various patterns can be used – polka dots, glitter, solid colors, sheer, and even stripes are all fair game on this craft. Once the ribbon is full and fluffed to your liking, a sign can be added. It can say "boo", "Happy Halloween", or even "wicked". It's all up to you, and there are a lot of ways this could go. It could even steer away from the Halloween theme and be a character-themed wreath.
43. Halloween Skeleton Door Wreath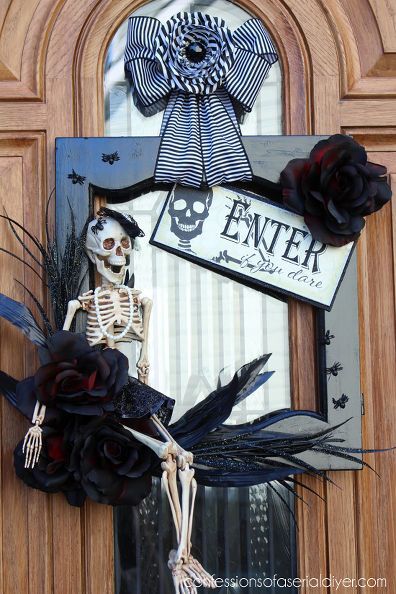 Mirrors can be a fun addition to Halloween themed decorations. A frame from the thrift shop can be used. A miniature skeleton is on one corner with a small bouquet of fake flowers. Wide ribbon is used to hang the mirror. A sign that says "enter if you dare" is optional, as is the other flower. However, the craft is so simple, and so easy to put up. For the extra mile, small plastic spiders can be added to the frame to give the impression of being invaded by the creatures.
44. Hand It to Mummy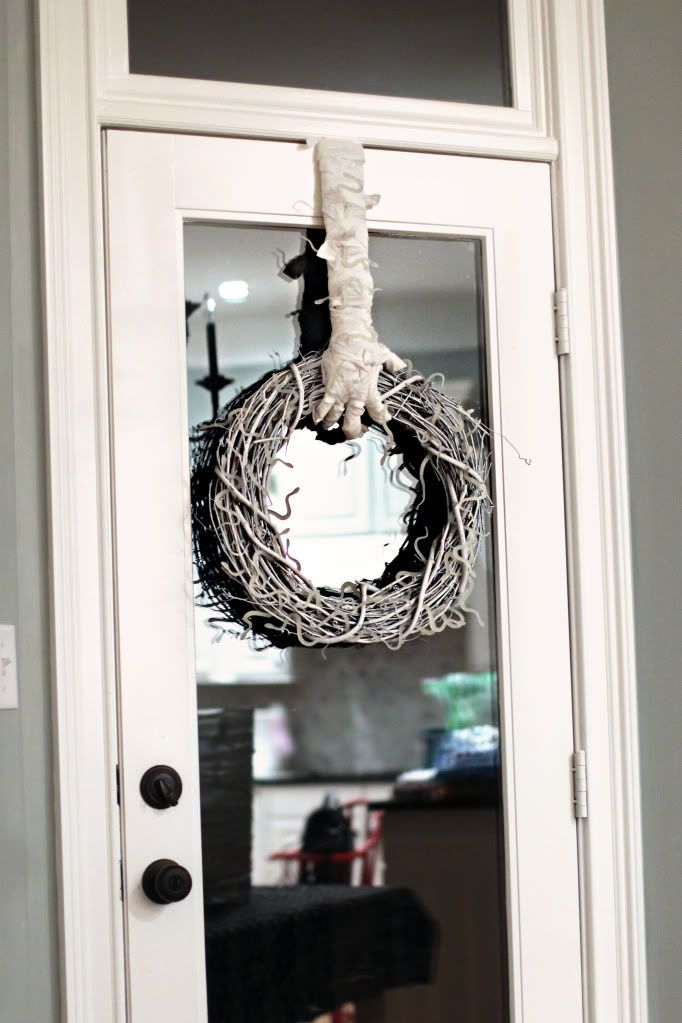 A skeleton hand is wrapped in toilet paper for this craft. That's the easy part. Securing the hand to a wreath, that's a little more difficult. Once that's done, however, add a hook to the hand and voila. The mummy hand is now holding a wreath. Your door looks as if it is under siege with this craft, and on a glass door, the effect is more terrifying. Be careful how you present this one if there are many kids in your neighborhood, though – it may give them nightmares.
45. Stuck Finger Halloween Doorbell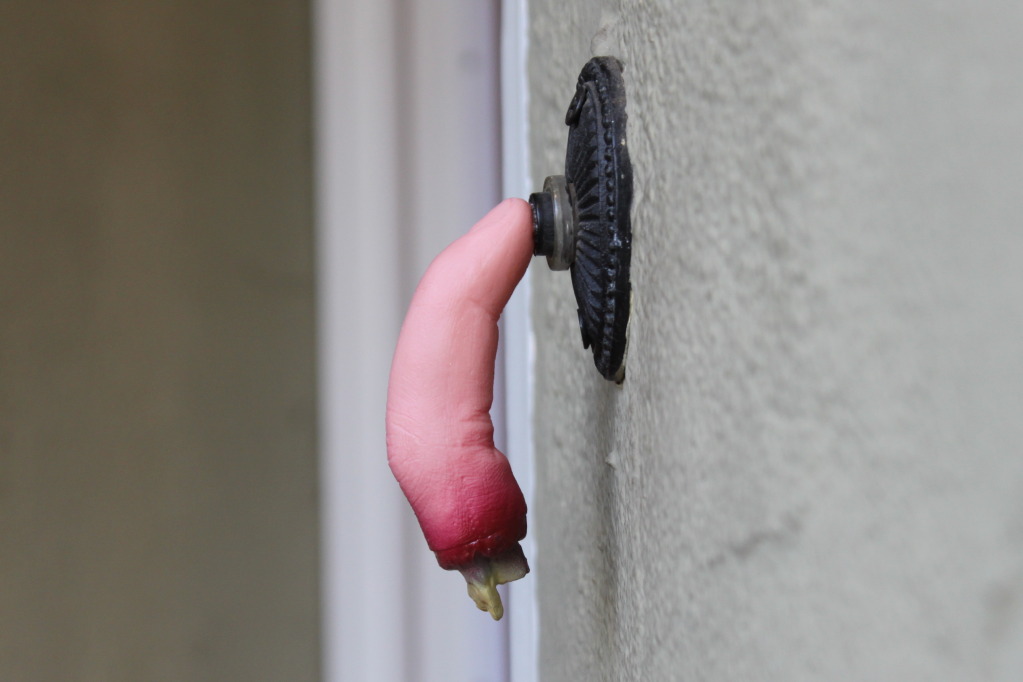 This one might be a little difficult to reverse. The finger can be bought at any Dollar Store, Dollar Tree, Dollar General, or Family Dollar for incredibly cheap. Check other local stores too. Use tape instead of glue to secure the finger to your doorbell. Kids will freak out at this, so no-go in neighborhoods with a lot of kids that will be trick or treating on Halloween night. Or you can take it down before the trick or treating starts. Your call.
46. Funky Witches Garage Door Décor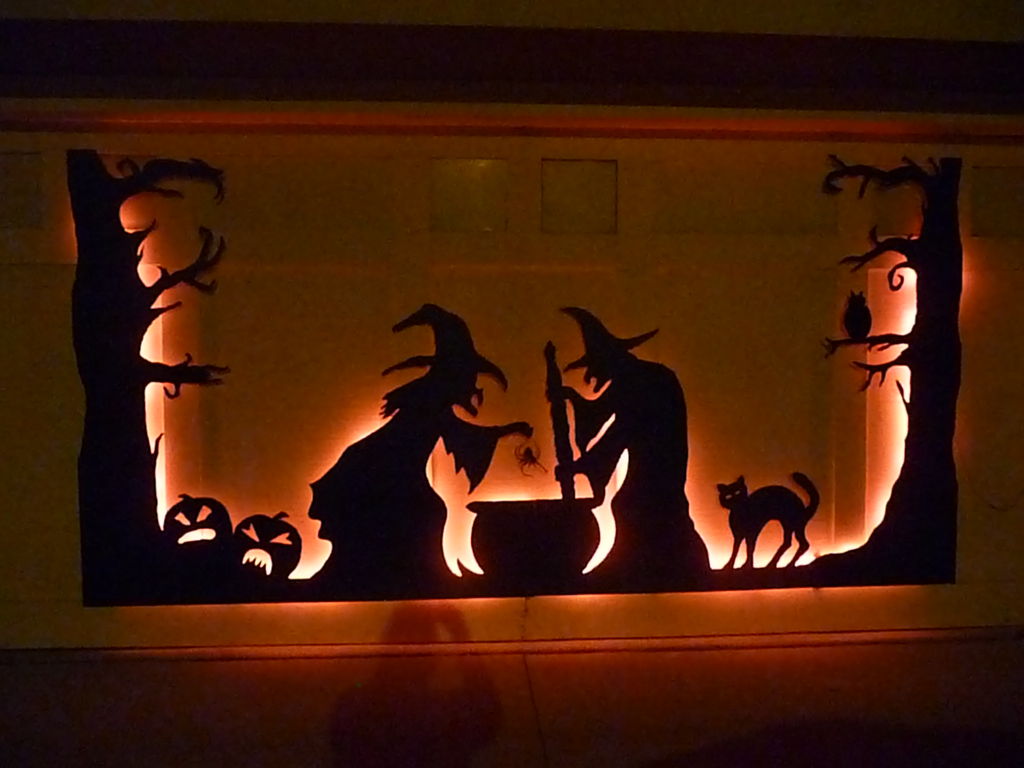 If you have a lot of wood or dark colored foam around, this is a good way to use it. Cut a funky scene out of the foam or wood. Two witches over a boiling pot is a good start. Add pumpkins to one side and a cat to the other for more detail. If you really want to go large, carve trees into each side. One of the witches could be holding a spider or stirring the contents of the cauldron. Owls could be hiding in the tree, or maybe bats are hiding in these various homemade Halloween decorations. Anything is possible at this point, and that should be clear.
47. Monster House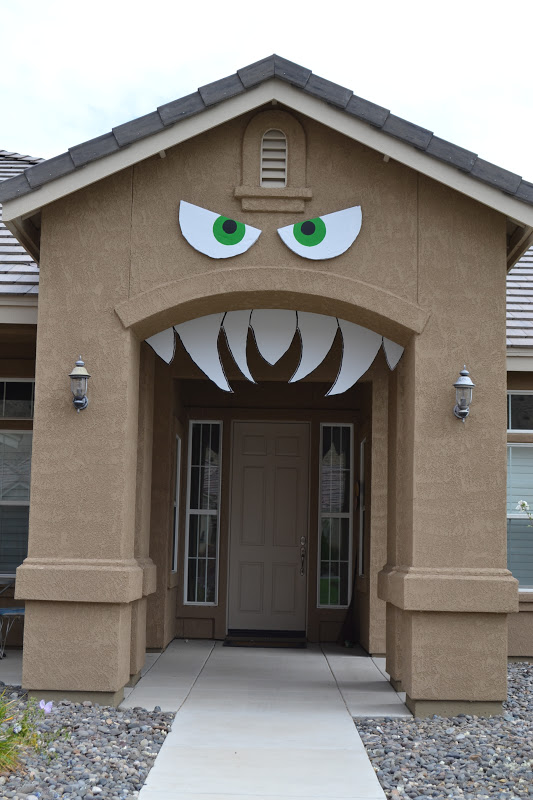 Another variation on the carnivorous house, this craft has sharper teeth. It can be made the same way as the carnivorous house. The eyes, however, are not blood shot on this craft, nor do the teeth have blood on the tips. They could if you really wanted them to, of course. For DIY Halloween decorations, this one sure takes the cake, if you catch the drift here. This craft doesn't even have to be done over the front door – it could be done over the open garage or in a hallway in the house. The possibilities are endless.
48. Skellington Halloween Garage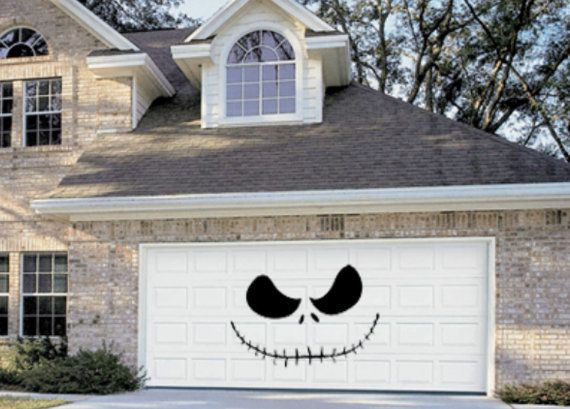 Source: The original source is not available anymore.
For a truly different take on Halloween decorations, try decorating the garage door. This is another movie inspired piece. The face is none other than that of Jack Skellington, Pumpkin King. Black vinyl or construction paper can easily transform your garage door into the face of this well-known Halloween character. If your garage door is not white, it can also be done on the walls or on a bedroom door that's white. Or you can cover your garage door in white paper and then create the face on top of that. For a particularly scary look, make the smirk and use stitches – just like the real deal.
49. Cat on the Fence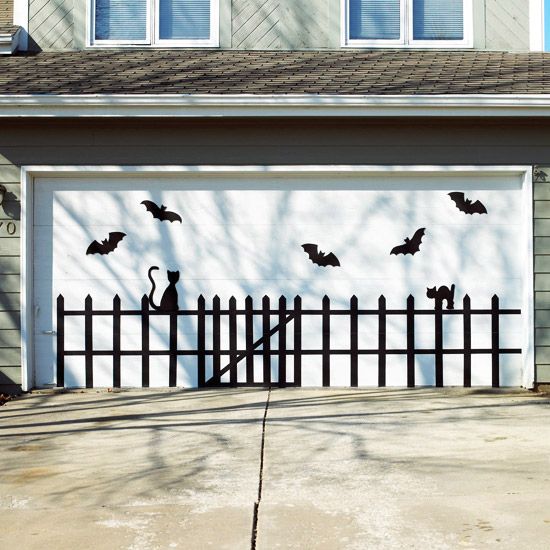 Source: The original source is not available anymore.
For a garage that doesn't get used a lot, create a black vinyl fence in front of it. Use a bat template to create vinyl or paper bats and stick them on the garage door. Cut out black cats and stick them on top of the fence posts. Voila! There is nothing more satisfying than giving superstitious people something to laugh about since there is no way to cross direct paths with these cute black cats in these Halloween house decorations. The bats can look as if they were flying in any direction, and boy are there plenty of places for them to go on Halloween night.
50. Another Monstrous Garage Door for Halloween!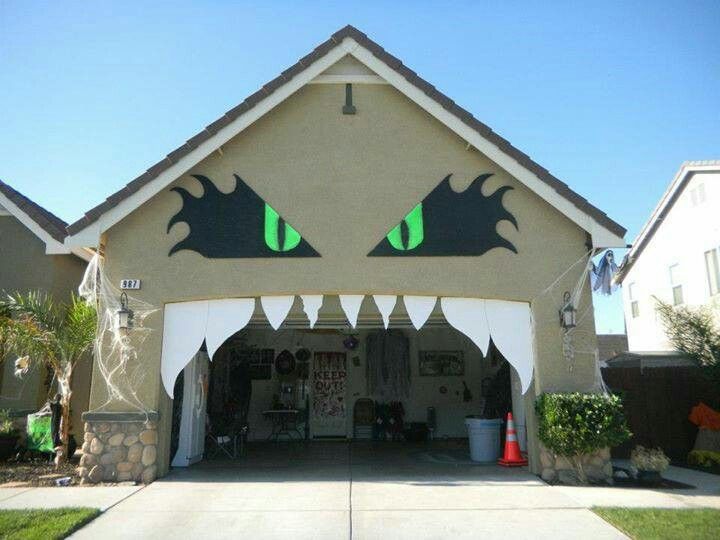 This monster house sure is popular. For another twist on the look, put it over the garage door. The eyes can be narrowed and have flaming points at the ends. Using neon colors for the corneas of the eyes is a way to create the mad eyes of a hungry monster. Creating teeth out of white construction paper or painting wood white, it can create the mouth of a hungry monster that is ready to devour anything that it comes across. Whether the teeth are long, pointy, short, or dull, this monster house is ready to get eating the Halloween candy!
51. Creative Ghostly Halloween Porch Decoration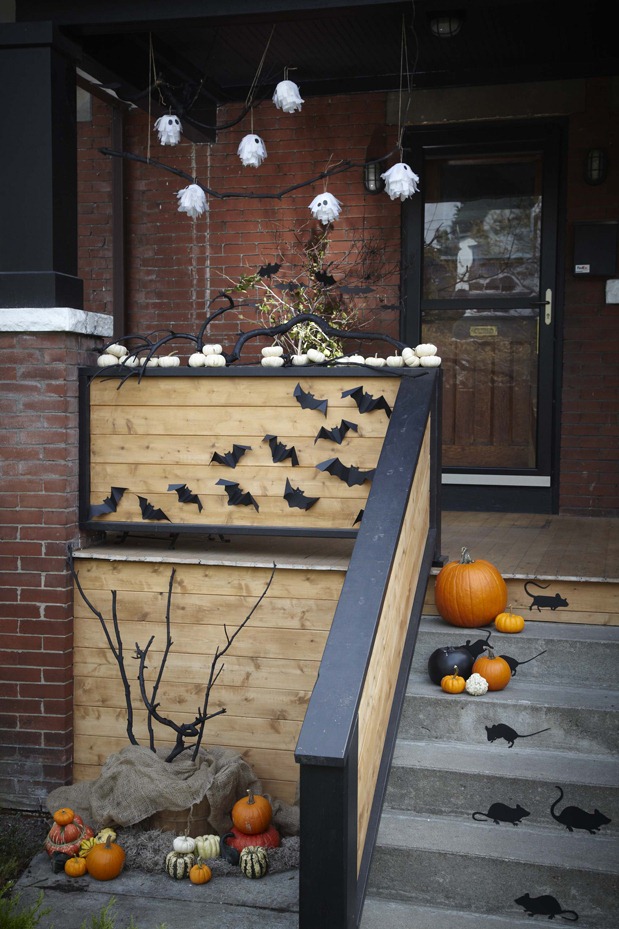 Ghosts are an easy thing to make by yourself. White fabric, yarn, and Styrofoam balls are all you need. Wrap the fabric around the ball to create a fluffy tail under it and tie it off with yarn. Front door decoration is important, but it doesn't have to stop at the door. Bats can easily cover both the porch and the door, and ghosts can be added for that extra mile. If there are oddly twisted branches in your yard, spray paint them a funky color or black and then put them in a container. Any kind of container will do.
52. The Great Candy Pumpkin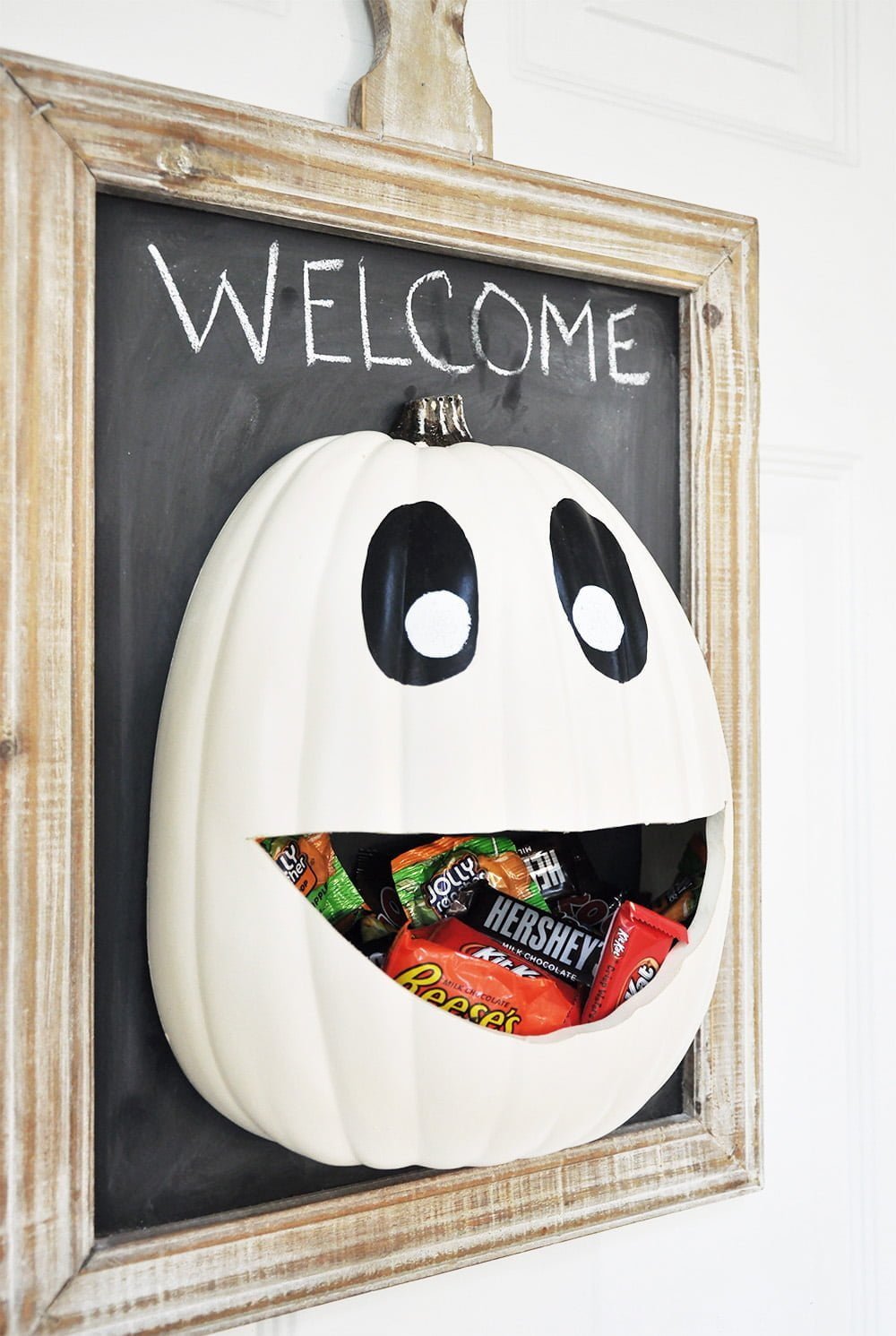 Not going to be home this year for Halloween? Don't worry about it! Fill this pumpkin's mouth full of candy for trick-or-treaters. And since this smiling pumpkin is attached to a chalkboard, you can leave a short note welcoming the neighborhood kids to enjoy a piece of delicious candy. Before decorating, use a wood burning tool with razor attachment to cut out a wide mouth for candy-stuffing. Use craft paint to design eyes, eye balls, eye brows and a nose, if you wish. Hang on your door, fill with a variety of candy and let the kids do the rest!
53. Have a Boo-tiful Day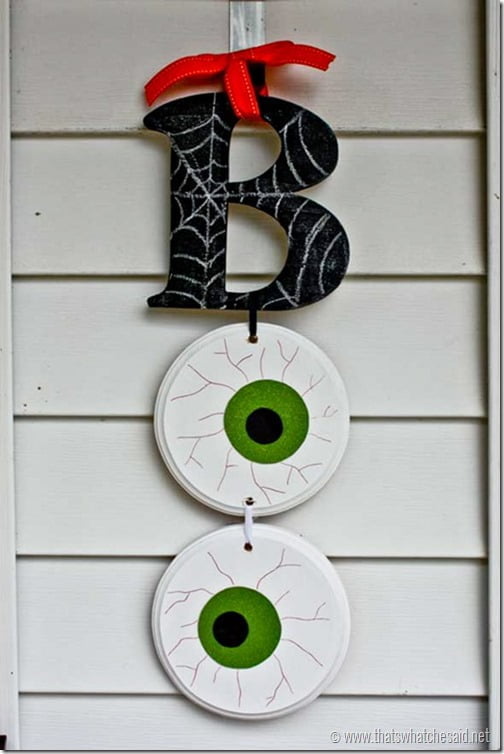 This delightful Halloween door decoration says it all – in a classy, fun way. Use your creativity to personalize this door hanger using chalkboard paint, colored scrapbooking paper, stencils, chalk or other supplies you have around the house. You can buy wood letters and circles at most crafting stores or online. Drill holes into the letter 'B' and into both circles. Connect each piece together using string or yarn so they stay securely in place, even when the wind blows. Tie a piece of ribbon or yarn to the top of the 'B' and attach to your door using a wreath hanger.
54. Here's Lookin' at You, Kid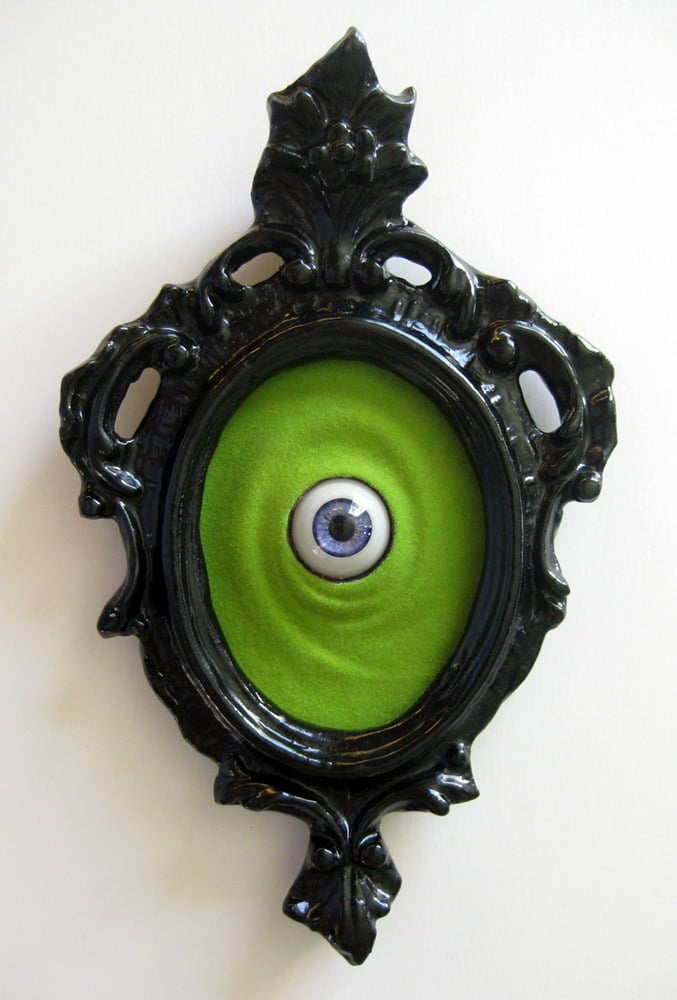 That piercing blue eye continues to stare at passersby even when they reach the end of your street. This unique door decoration is very creepy, to say the least. But if you're looking for something that will freak out your neighbors and friends, this eye is the decoration for you. Set in an antique frame, the eye floats in a bright green background you can make out of cloth. Create an eye that stares directly into the soul by cutting a tennis ball in half and painting it with craft paint. Place it right in the center of the frame for optimal creepiness.
55. A Bountiful Witch's Hat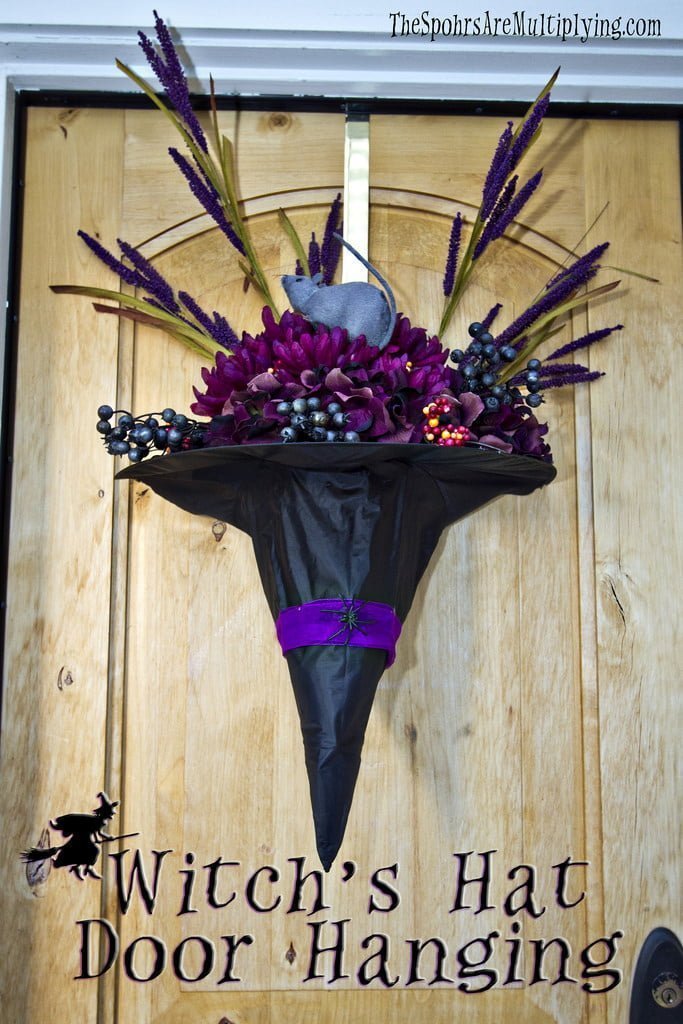 Fill this witch's hat with a variety of purple, red, orange, yellow and black artificial flowers to create a whimsical decoration with a hint of something sinister lurking just underneath the surface. The secret to creating a sturdy hat is to use a flat-back hanging basket as your base. Simply cut and mold a black witch's hat around the basket and you have the beginnings of a memorable Halloween decoration you'll want to hang year after year. Add a few plastic spiders or rats on top, or cover with wispy cotton spider webs to give this witch's hat a creepy touch.
56. Cute Halloween Spider Door Decoration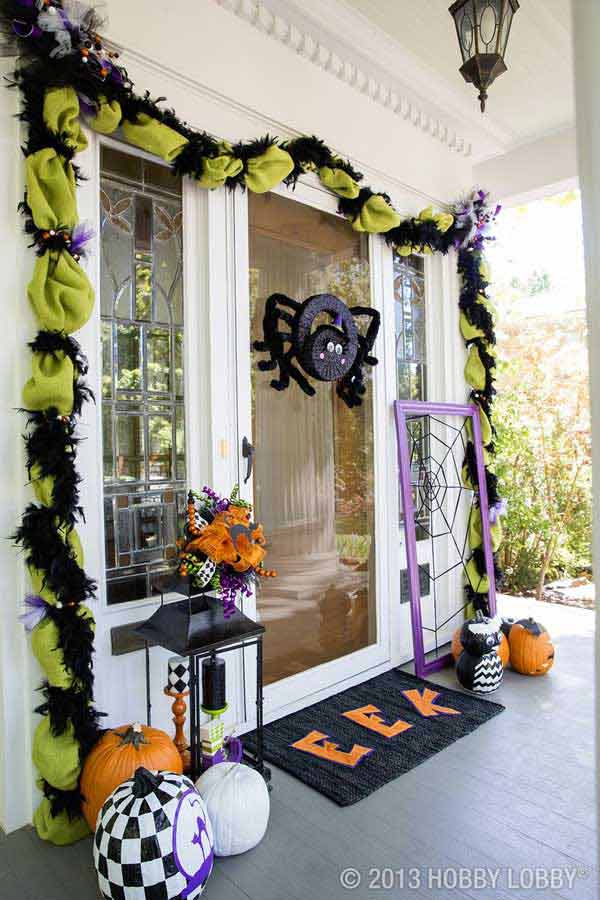 Halloween wreaths have never been so cute. A plain wreath decorated in black and sparkles create the body of the spider. Giant black pipe cleaners (chenille steams) are the legs. A smaller Styrofoam disk makes the head, which is then given eyes, dimples, and a witch's hat. Smaller chenille steams make the brim of the hat and the smile of the spider. Hang the spider on your storm door or front door, and coordinate the color of the hat with the rest of the decor around the front porch. If it's green, use purple, and vice versa, for a stunning contrast.
57. Elegant Pumpkin Trio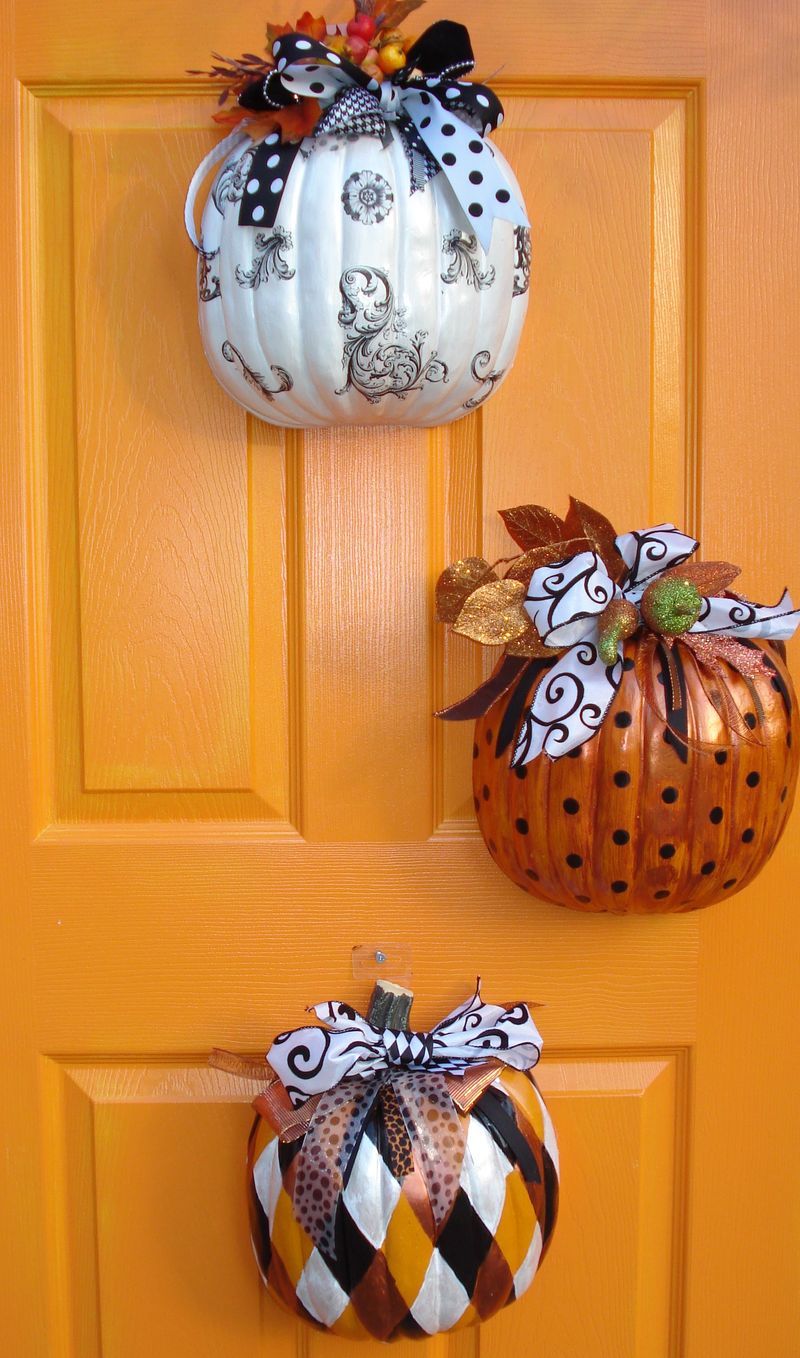 Source: The original source is not available anymore.
Surprise neighbors this year by decorating for Halloween in an elegant way, rather than in a scary way. Find three small pumpkins and paint a pretty design or pattern on each one. Use brightly colored ribbons, thumbtacks, or plastic spiders (if you want a touch of scary) to finish. To create an intricate design or pattern, use a stencil. If you don't want to hang these pumpkins on your door, simply place around the door, on your front walkway or on your front steps. Add a candle to one or more of the pumpkins to enhance the beauty of your designs.
58. Hungry Monster Halloween Door Decor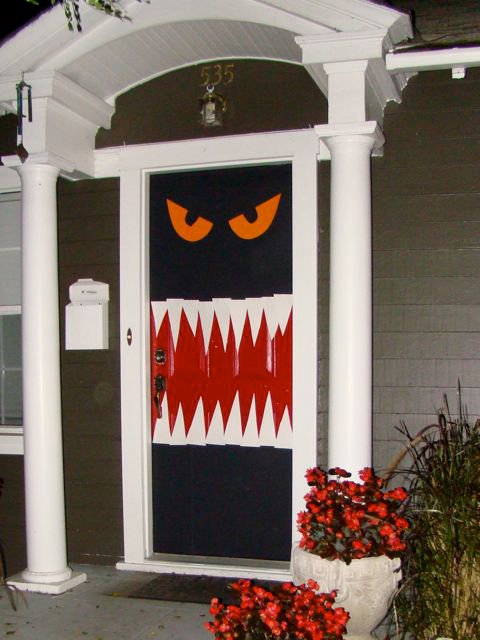 Black, orange, and white construction paper and a red door. This creates a recipe for a Halloween decor piece that will not be topped for a long time. A hungry monster resides on this door, and by covering the bottom half of the door with black construction paper – with white at the top for teeth – and the doing the same with the top, you can maximize the scare factor of these Halloween house decorations. Orange paper creates scary, spooky eyes. In a neighborhood with kids, this will be much better than any Halloween poster out there. The monster can attest to that.
59. Streamer Fun Halloween Door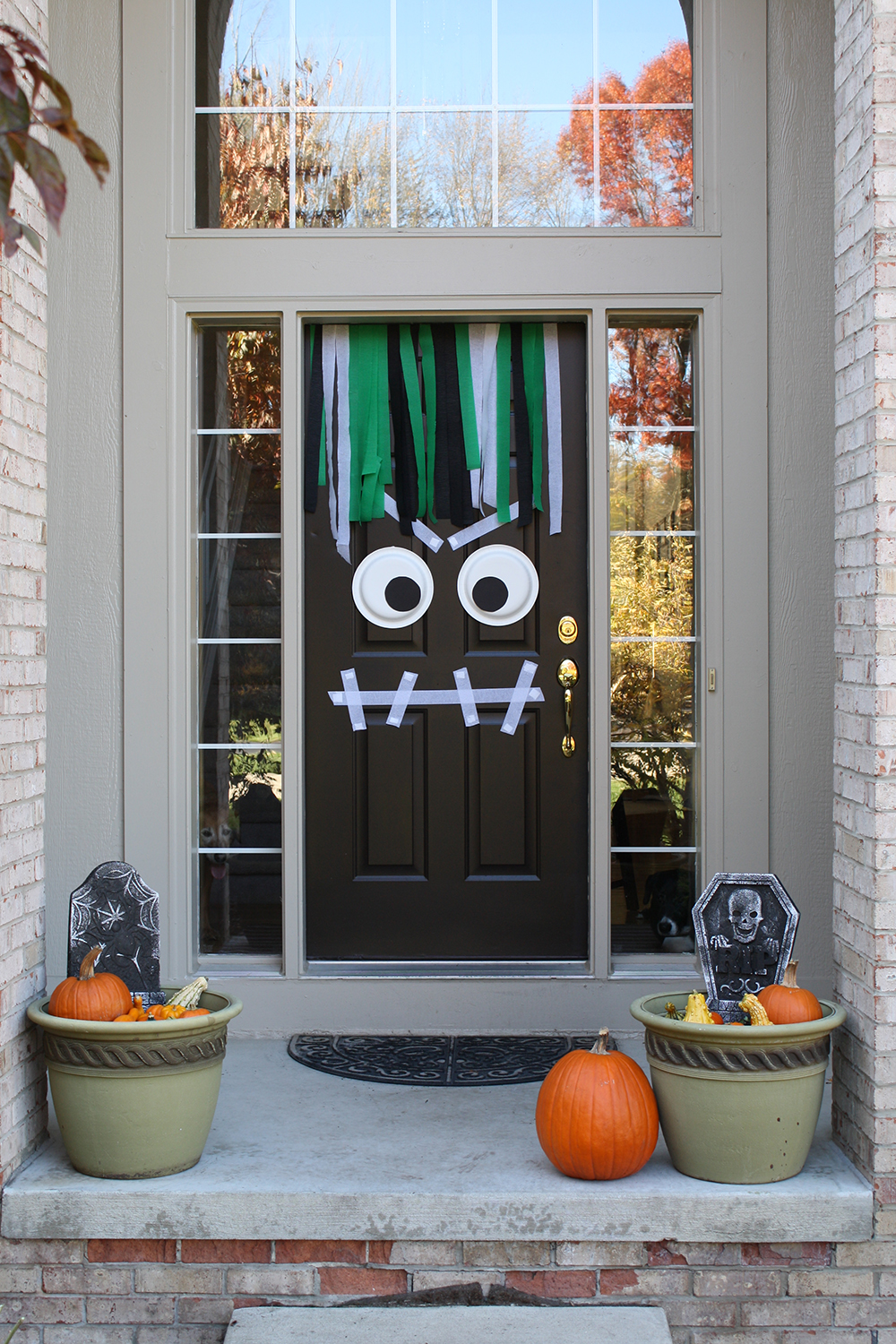 Streamers from parties are always difficult to use up afterwards. Homemade Halloween decorations can be made via these leftover streamers. With paper plates, black paper, and tape, the streamers become the hair for a monster. Plates become the eyes. The tape can be pretty much anything on the monster: a mouth, eyebrows, a nose, or even a mole! While streamers aren't usually considered outside Halloween decorations, this craft can make anyone think twice about that ideal. The monster can have any number of expressions and hair colors – depending upon the streamer color. If there are other decorations around, use them too!
60. The Up-Side-Down Witch
Give everyone (well, almost everyone) the giggles this Halloween with this charming front porch decoration. Make use of an old garden planter to provide a landing pad for this poor, misguided witch. Decorate a pair of mannequin legs using the colors of the season (black and orange, orange and white, black and purple) and then stick those legs up-side-down into the planter. Pack down with soil, old newspapers or cloths to secure the legs in place. Add decorative touches like moss, plastic critters, or cotton cobwebs. Place an old broom next to the planter for an extra laugh at this witch's expense.
61. The Day of the Dead Wreath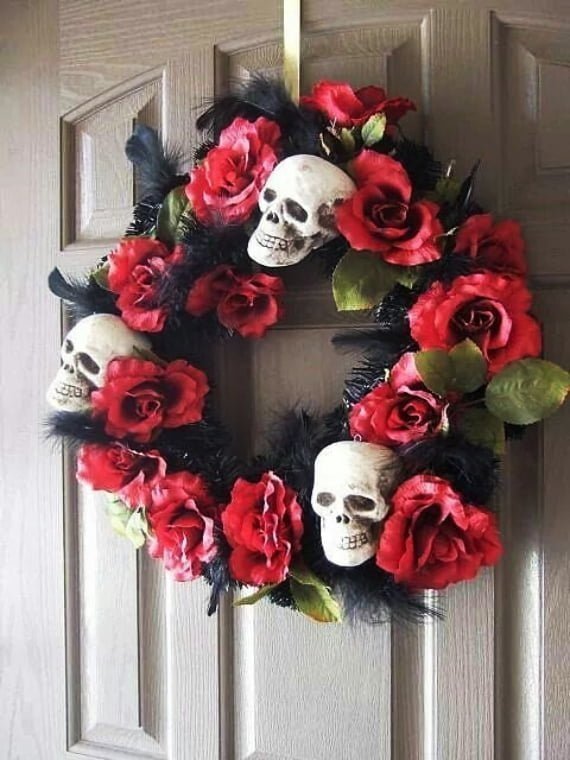 Celebrate the Day of the Dead with this skull-themed wreath. Dress up a plain black wreath with red and green artificial flowers and plastic skulls to show your respect for those who have passed on. This door decoration also makes for a charming Halloween decoration. Rather than portray a scary, creepy or spooky theme, you can use this wreath to quietly celebrate Halloween. This is especially useful if you have young children, or you don't have a lot of extra time to spend decorating your home. Hang this wreath using a wreath hanger to use year after year if you choose.
62. Woo's There?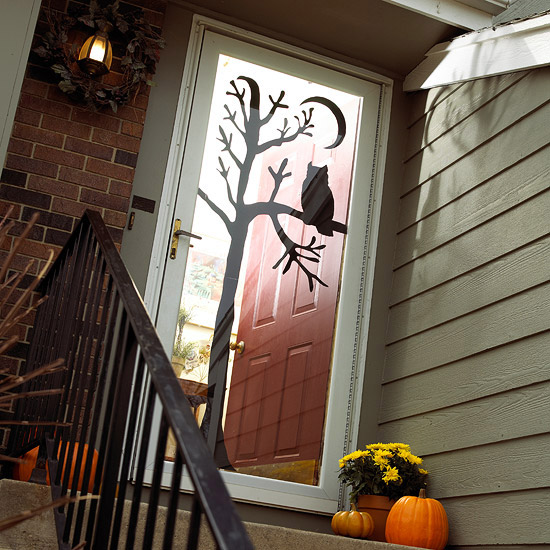 Creating something in silhouette can be difficult – which is why people may go for Halloween wreaths. However, the effect a silhouette can have on a storm door is incredible. A crescent moon and owl perched on a tree branch offers a chilling display. The tree can be barren or full of leaves, depending upon preference. The barren tree adds a unique touch to the silhouette that leaves take away – something that gives the picture a Halloween air. A window cling in black creates a great silhouette in a pinch. If there is more time on your hands, black construction paper works just as well.
63. A Low-Key Halloween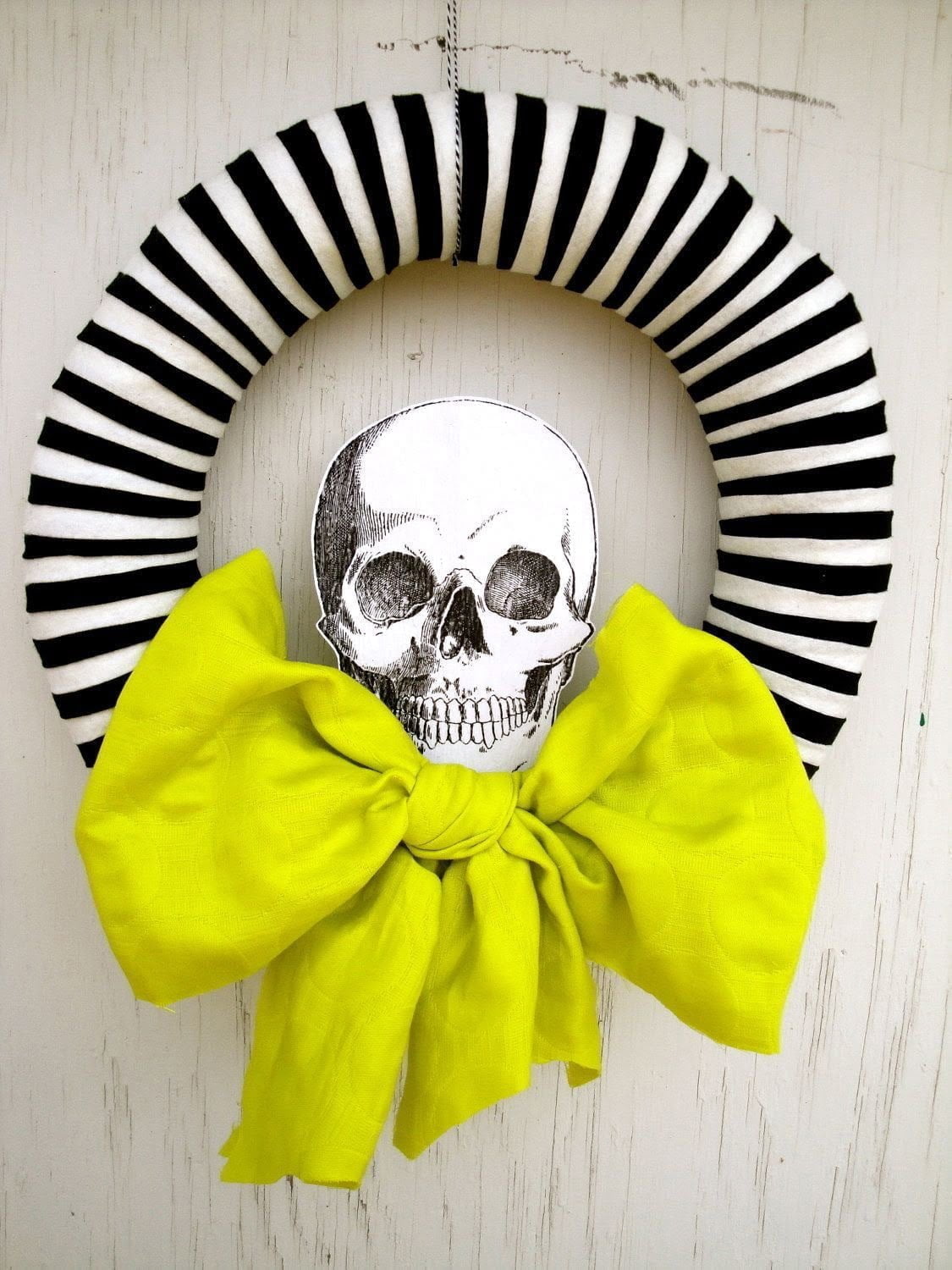 Source: The original source is not available anymore.
This tame Halloween decoration can also be used to celebrate the Day of the Dead – a day that honors loved ones who have passed away. The shiny skull surrounded by the black and white striped wreath and colorful bow is reminiscent of any Tim Burton movie. Whimsical, quirky and downright odd, with a quiet sophistication that is both confusing and haunting; this Halloween wreath is a tasteful choice if you live in a place with strict exterior decoration guidelines, or if you have young children who scare easily. Easily change up the striped pattern on the wreath to suit your tastes.
Show Off Your Creativity This Halloween
Over all, there are a lot of things that you can do to have DIY Halloween decorations for your house. Whether you create a wreath from burlap or a countdown poster, it's your house. The possibilities are endless. Candy wreaths, signs, and even stuffed pillows that look like candy are all ideas, as are the fifty crafts given here. There are not enough ways to create to suffice all the crafty people in the world, and there are so many ways to make it work. From a crafty person, this is a lot of ways to decorate. Bats, spiders, and witches galore offers everyone a way to show off what they like at Halloween. No matter who they are, how old they are, or even where they live. Eyeballs look. Fingers poke and touch. And Halloween is always a time for showing off how crafty someone can get – whether it is a homemade pillow, a spray painted Styrofoam ball, or a painted diaper box to rest something else on top of.