Dive into the world of DIY Halloween outdoor decorations to make your home the talk of the block!
Facing the challenge of decorating on a budget or seeking unique pieces? Our guide offers spooky Halloween yard decorating ideas and crafts, ensuring an unforgettable holiday for everyone. Why break the bank when you can DIY? Join the thrill and prepare to impress your neighbors!
What elements to include in your DIY Halloween outdoor decorations?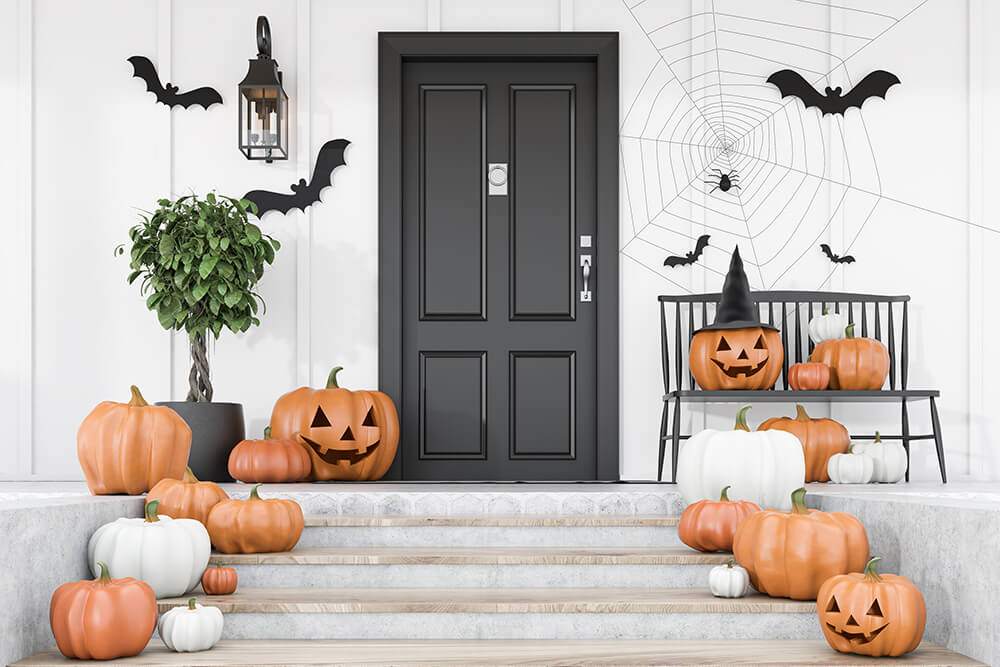 Image credit: © ImageFlow
Creating DIY Halloween outdoor decorations can be a fun way to get into the holiday spirit! Depending on your budget, there are many elements you can include in your front porch and yard decor.
| | |
| --- | --- |
| Pumpkins and Jack-o'-lanterns | Carve pumpkins with creative designs to make your yard stand out. |
| Ghosts | Use white sheets or tulle and hang spooky ghosts from trees or porch ceilings. |
| Spider Webs | Use stretchy cotton or commercial webbing to add spider webs. |
| Skeletons | Using skeletons creatively can take your Halloween yard decor to the next level. The versatility of a good skeleton prop allows for endless customization! |
| Witches | Create a "witchy" atmosphere with witch houses, fyling witches, signs and window silhouettes to enhance your Halloween décor. |
| Bats | Craft bats using black foam sheets, felt, or cardboard. Cut out bat shapes and use fishing line or thin string to hang them from trees, porch ceilings, or light fixtures. |
How to make your yard spooky for Halloween?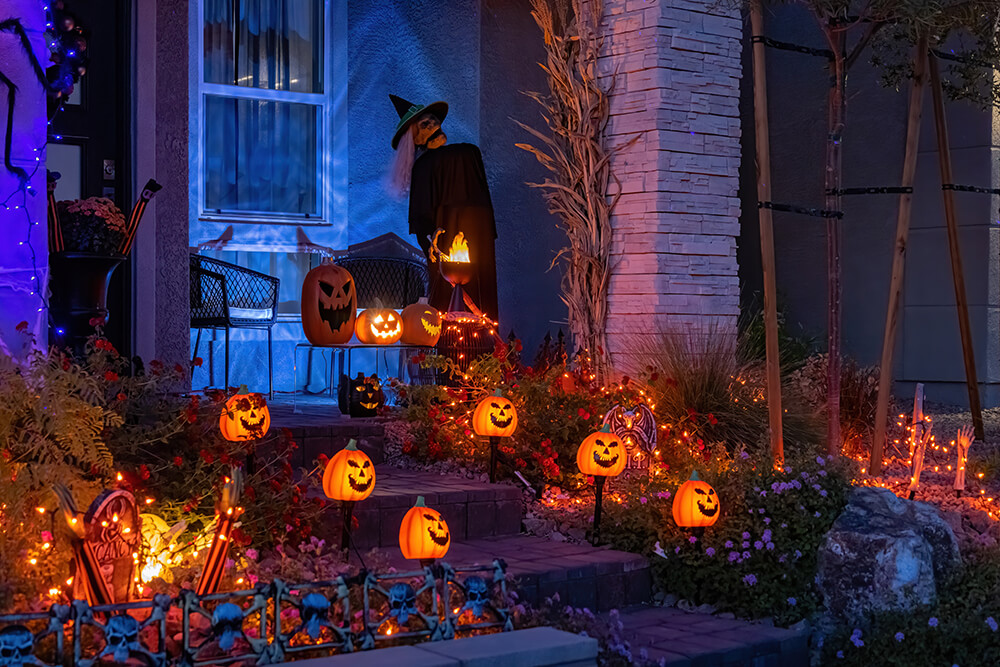 Image credit: © Kit Leong
Create a graveyard scene
Use cardboard or foam to create tombstones. Write funny or spooky epitaphs on them.
Add fake skeleton bones protruding from the ground.
Utilize spooky lighting
Replace regular bulbs with colored ones like purple or orange. This will create an eye-cathing and eerie glow.
Solar-powered path lights can provide a haunting dim light to pathways.
Add creepy window silhouettes
Use Halloween window decorations! Cut out black paper or cardboard in shapes of witches, cats, bats, or ghouls, and place them in your windows.
Backlight the windows to make the silhouettes stand out.
Easy and Cheap DIY Halloween Outdoor Decorations
1. Triple Boo-Bow Porch Pumpkin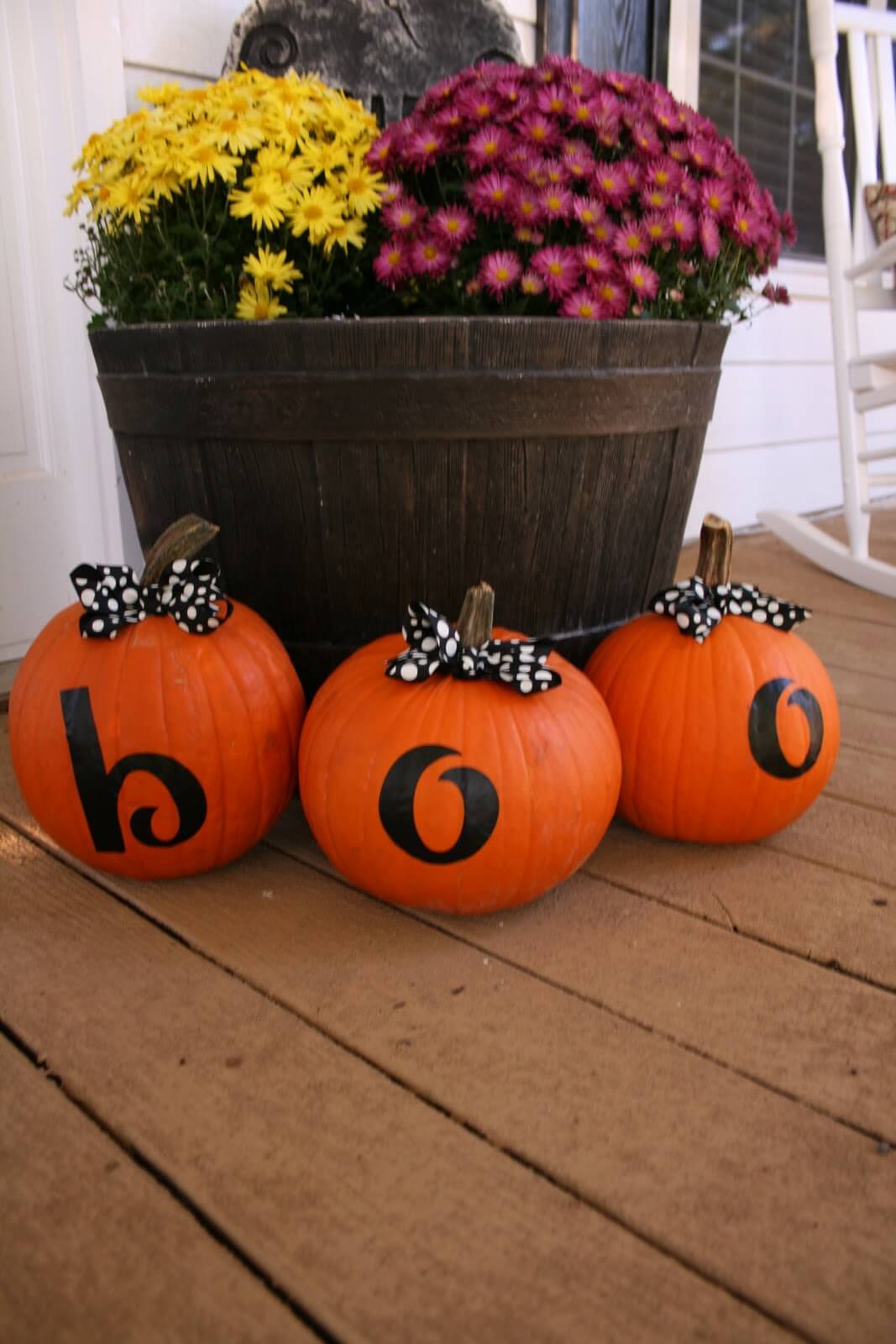 Three round orange pumpkins in a row, their smooth lines, and bumpy skin make them perfect examples of what to look for in a pumpkin. Tied on the scratchy green stems speckled with white are polka dot bows.
2. Painted Wooden Stake Pumpkin Patch Ghosts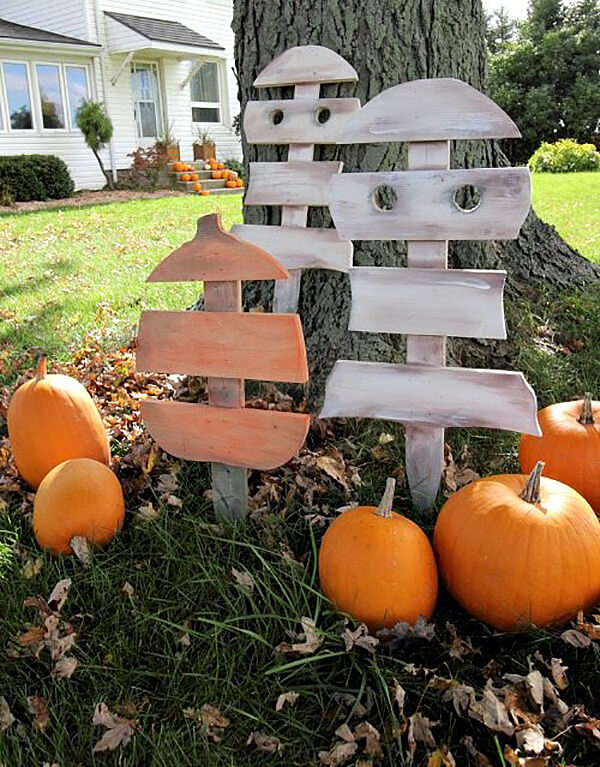 For the ghosts haunting this pumpkin patch and the pumpkins themselves, you have several options. Craft stores may carry wooden Halloween figures to put in your yard. You could cut and assemble the pieces yourself, or use a partially constructed item (like a pallet).
3. Stacked White Jack O'Lantern Display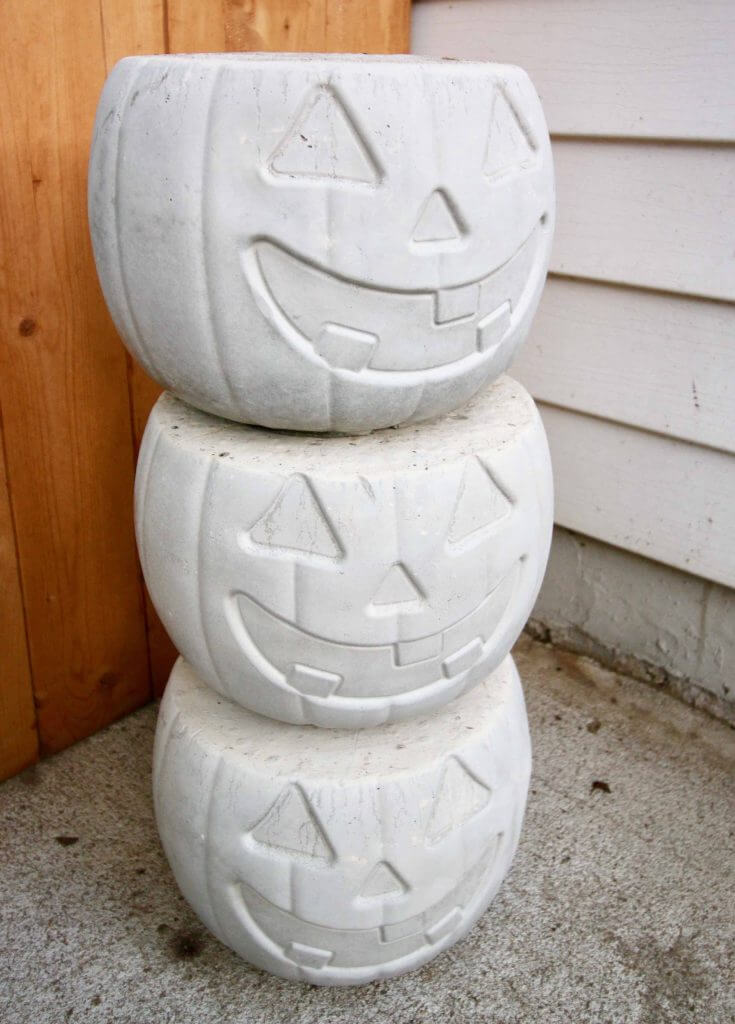 These Jack O'Lanterns fall into the "not an actual pumpkin" category. Made of round wooden blocks, the faces are etched into the solid surface rather than being carved into a hollowed-out pumpkin rind. They are completely white, which serves a simple minimalist look.
4. Jack Skellington Multicolor Garland and Wreath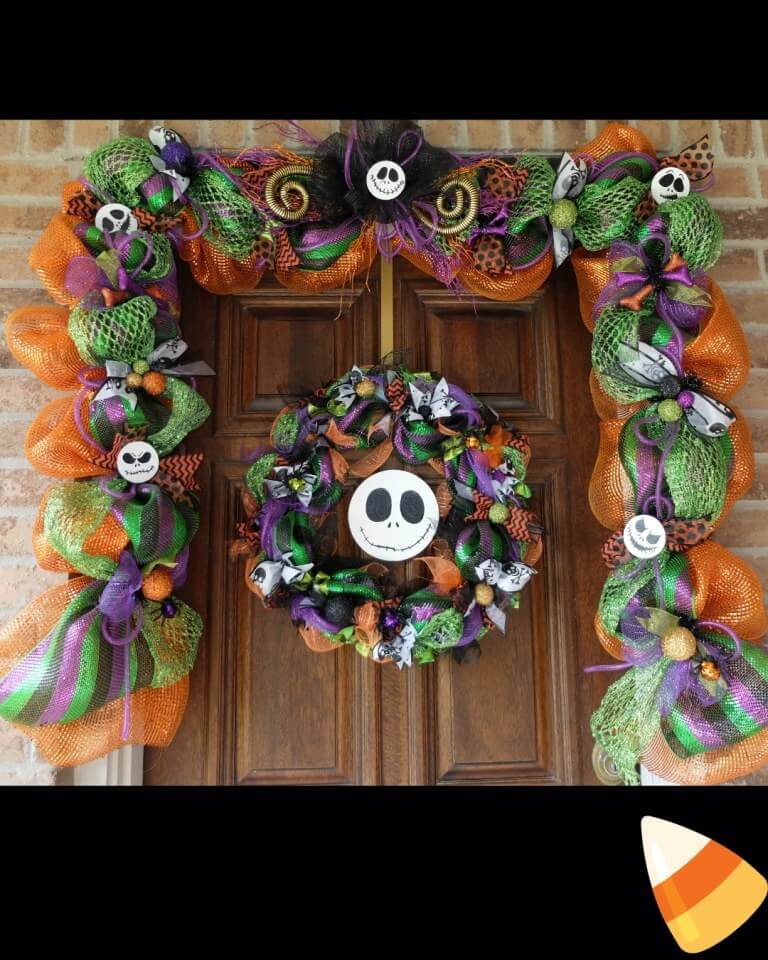 This set dispels the notion that certain decorations are only for certain holidays. Featuring Skellington, orange, green, purple, and black tulle are strung together for volume.
The wreath is woven together with the garland and encircles a larger portrait of the character. This set is perfect for a Tim Burton fan or a Halloween enthusiast.
5. Stretch Lace Spider Pumpkin with Bow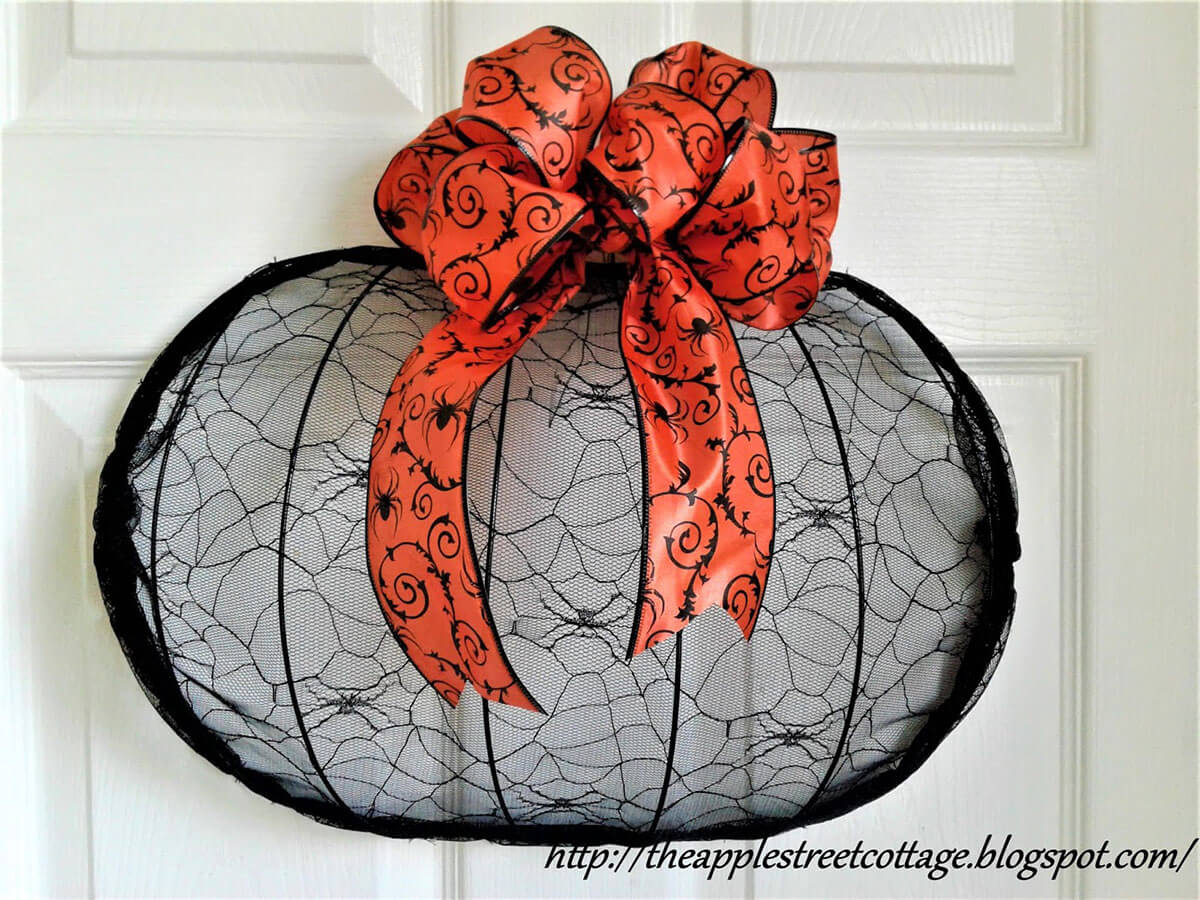 This door decor evokes a wreath with its roundness and the placed bow. With some wire, ribbon, and basic supplies you can DIY your own version.
6. Jack O'Lantern Candle Holder Decorative Jars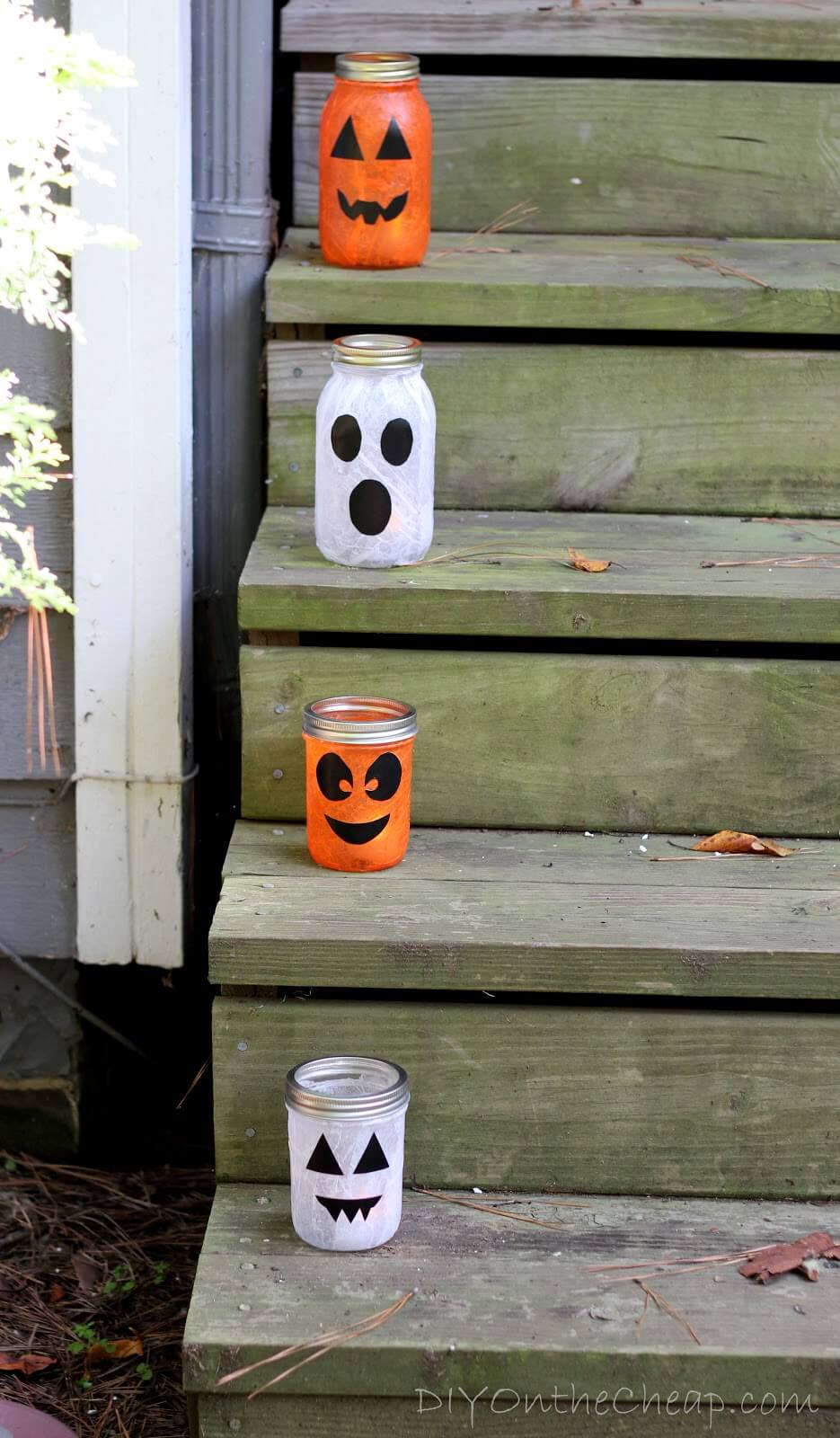 Whether your home has steps, these jars are a fun addition to Halloween decor with candles for the full "Jack O'Lantern" effect.
First, start with any sort of glass jar, such as those used for canning and preserving. Glass is preferable to plastic or other materials in case real candles are added.
7. Skeleton Hand Erasable Chalkboard Wreath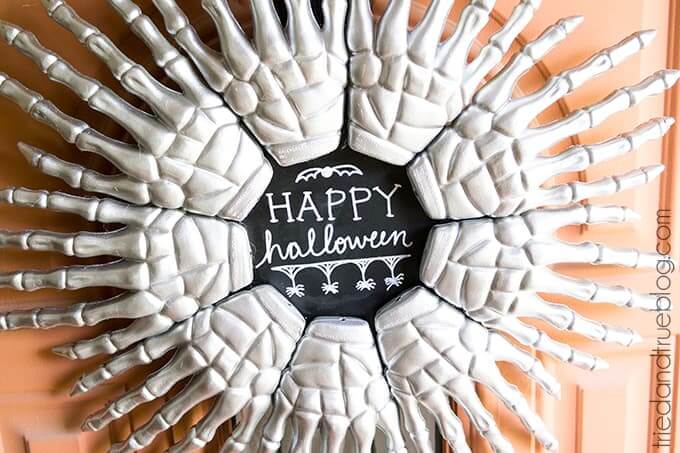 This wreath is made from several skeleton hands arranged in a circle around a small writable chalkboard. The hands are painted silver and the metallic paint pops against the simple wood grain of many doors.
When mounted, this wreath serves as both a piece of Halloween decor and a message board for homeowners, guests, and holiday visitors.
8. Waist Height Lettered Halloween Sign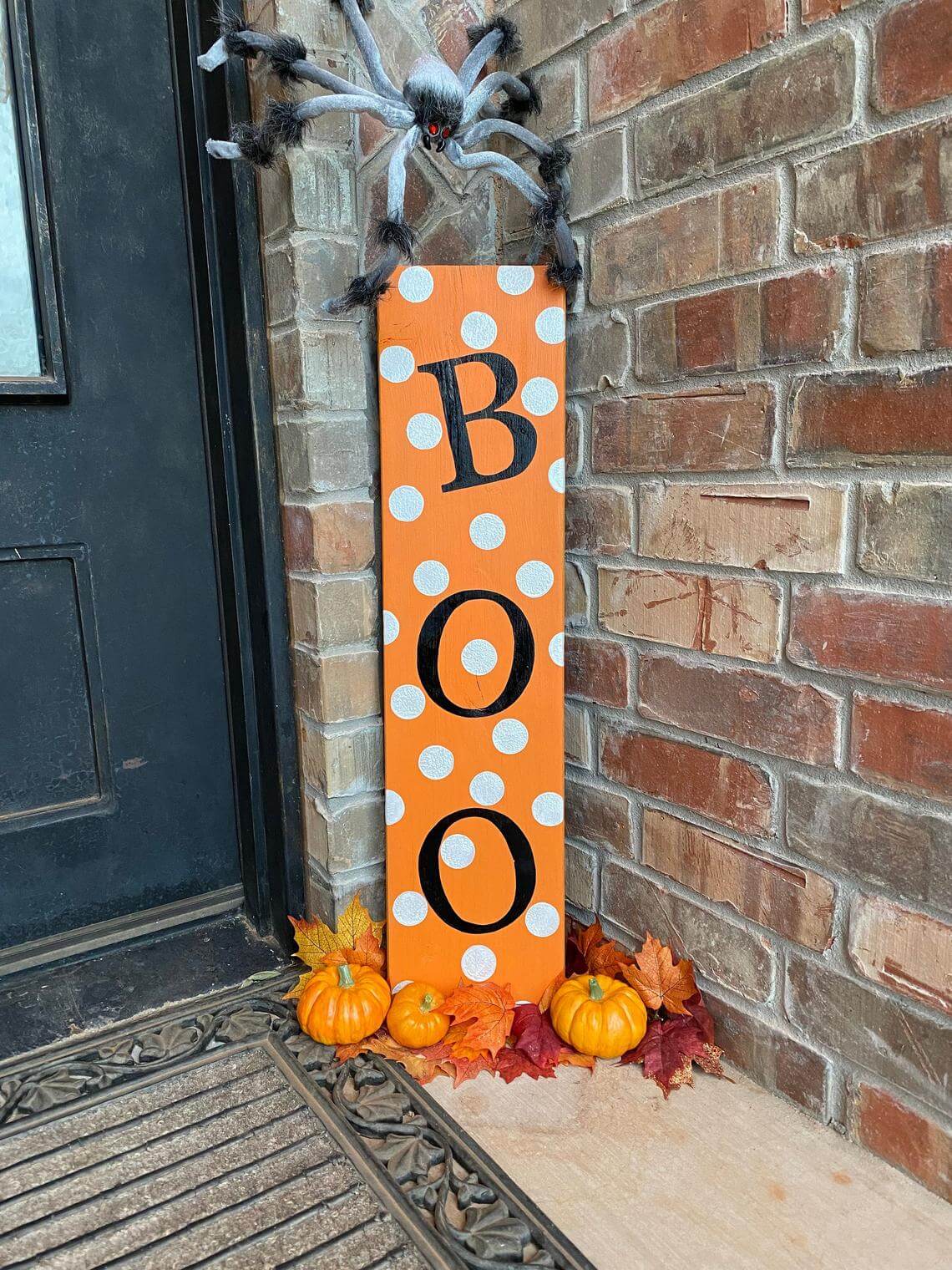 "Boo" greets this sign as the owner's door is approached. Sleek black stenciled letters sit atop an orange background adorned with white polka dots. It's also surrounded by a bed of fall-colored leaves and uncarved miniature pumpkins.
9. "Witches" Standup Spider Sign Set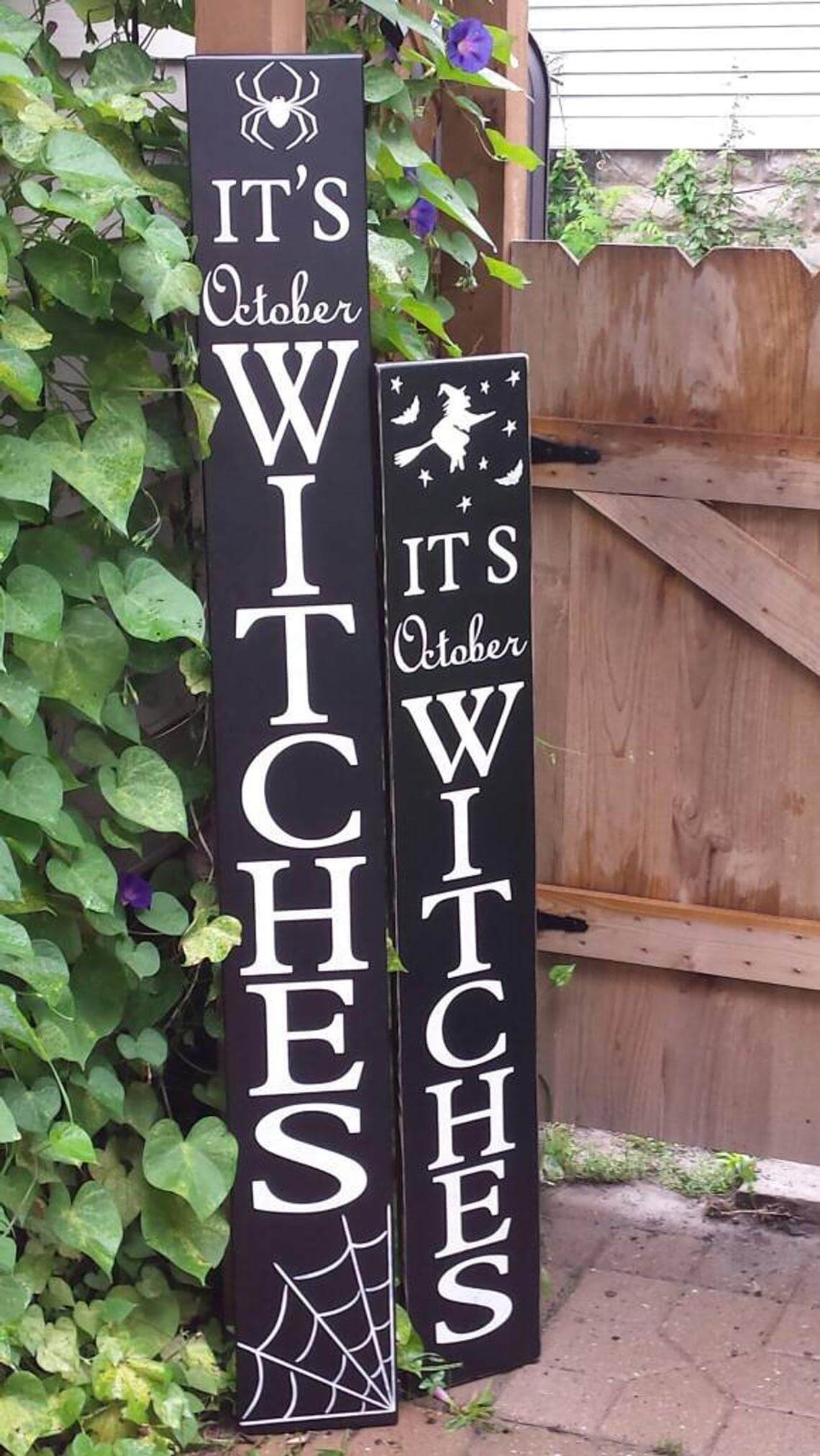 These matching signs are equal parts sassy and festive. Printed on boards painted black, the stark white lettering on each declares "It's October, Witches." This is of course a play on a phrase involving profanity, but the holiday twist adds wholesomeness.
10. Ghoulish Glowing Glass Luminaries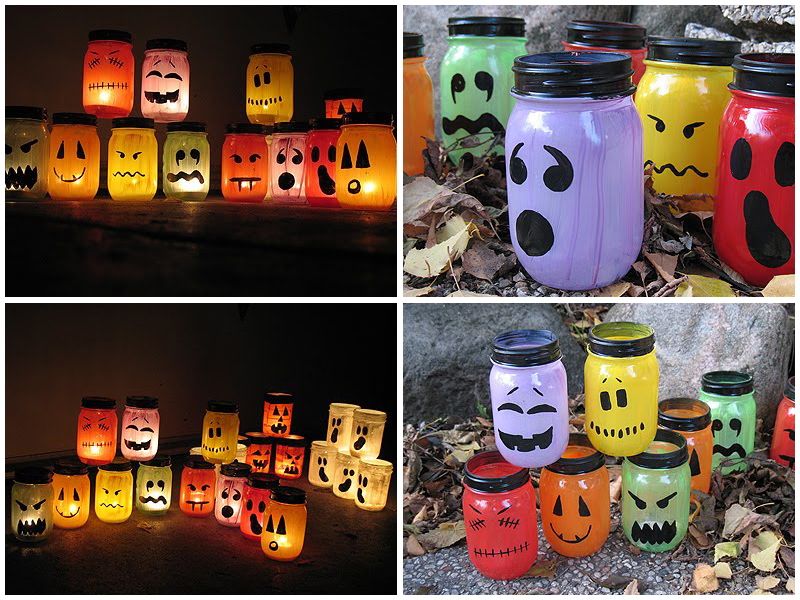 Light up any scary or spooky corner of your yard or home with an assortment of these glowing lanterns. You can construct these for only a few dollars or from materials you may already have on hand.
11. The Witch's Pantry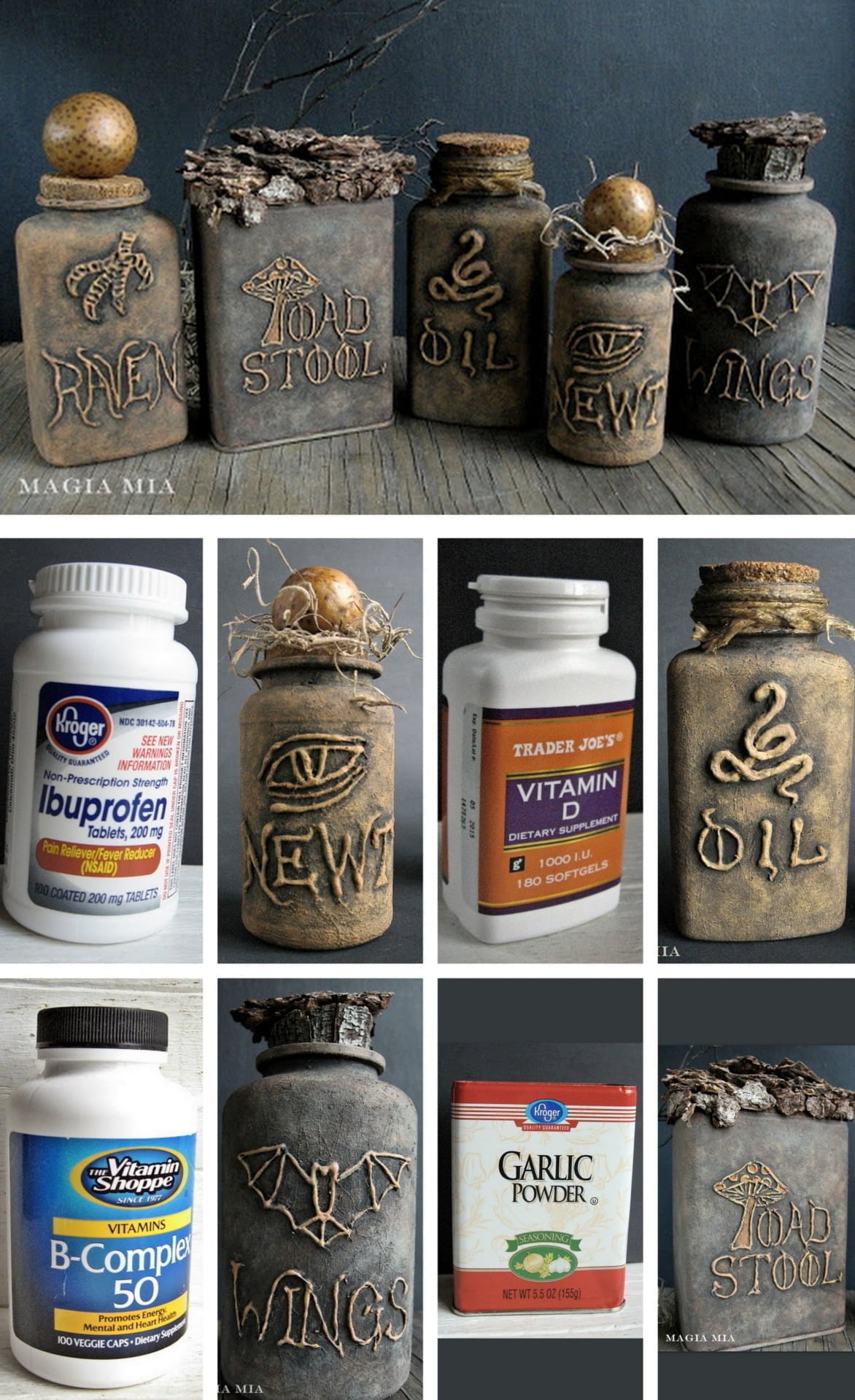 Create these awesome bottles to use as a decoration at your Halloween party. With a bit of creativity, empty bottles can be transformed into containers for the ingredients that any witch will need for her brews.
This "potion making" can keep your kids occupied for quite a while.
12. Sinister Black Pumpkins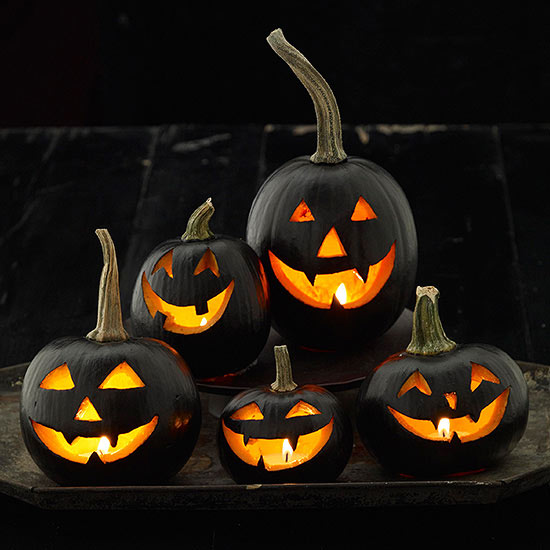 Create these ominous-looking pumpkins to add extra spookiness to your outdoor Halloween decorations. Painters tape will keep the stems of your pumpkins their original shrunken look.
The black paint will lend the perfect background against the lighted inner flesh of your carved pumpkins.
13. DIY Glow In The Dark Pumpkins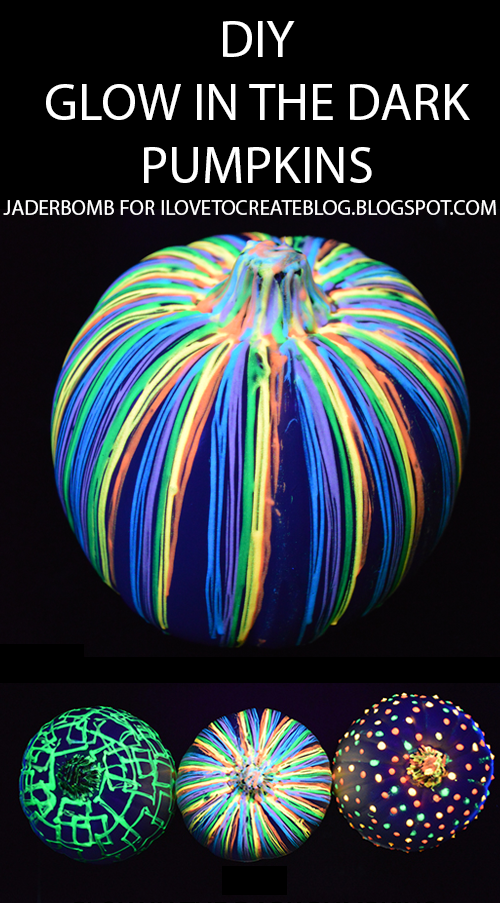 Add this idea to your cool Halloween party decorations where you are utilizing a black light. Show off your artistic abilities with a few pumpkins and a supply of glow paint under a black light.
The number of different color combinations and pattern designs are only limited to your imagination.
14. Day and Night Pumpkins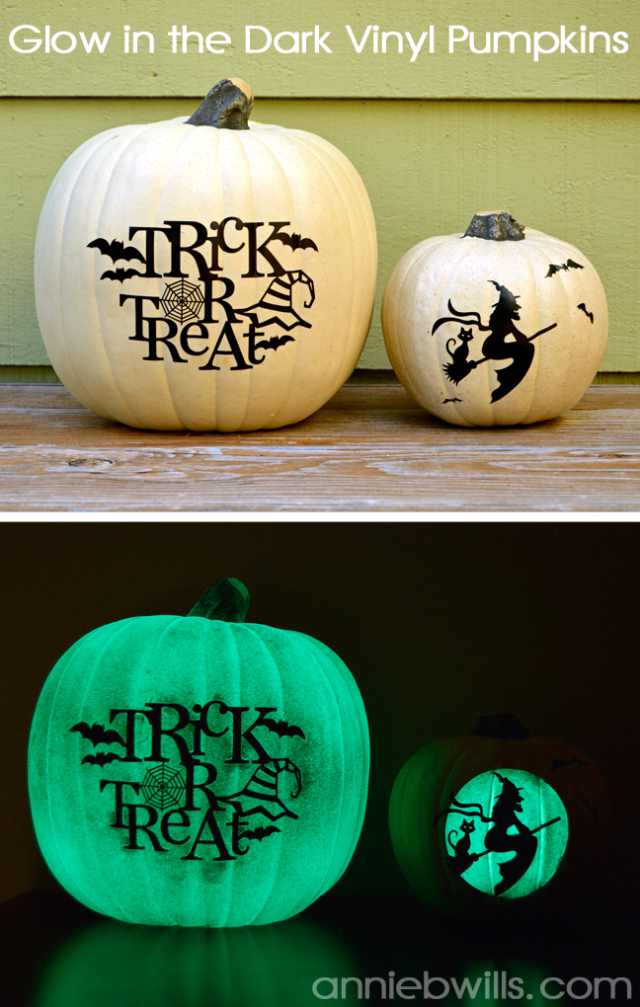 Too many of the Halloween displays that are used are only able to be viewed during daylight hours. These pumpkins are the perfect answer to this dilemma.
Creating this Halloween decoration consists of painting the pumpkin with glow-in-the-dark paint. Place these pumpkins throughout your landscape for visual interest in your landscape both day and night.
15. DIY Halloween Pumpkin Balloon Crafts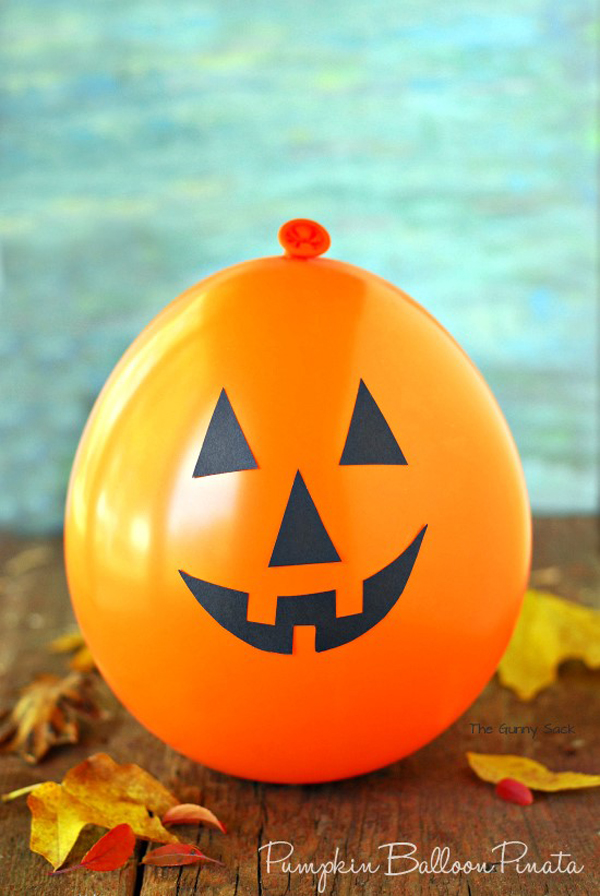 This Halloween outdoor decoration is great for kids' parties and limited budgets. This Halloween project is great for the kids to get involved in; especially the blowing up of the balloons!
17. Google-eyed Gauze Ghost Luminaries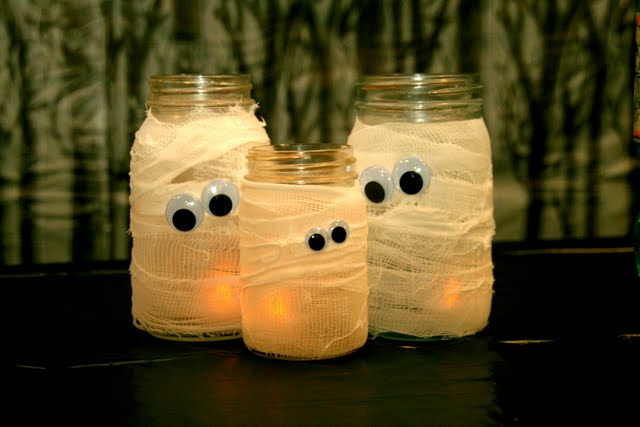 Some of the best DIY outdoor Halloween decorations are those that are the easiest to construct with the fewest materials. These glowing ghost luminaries are one of those projects.
18. "Fireflies" In A Jar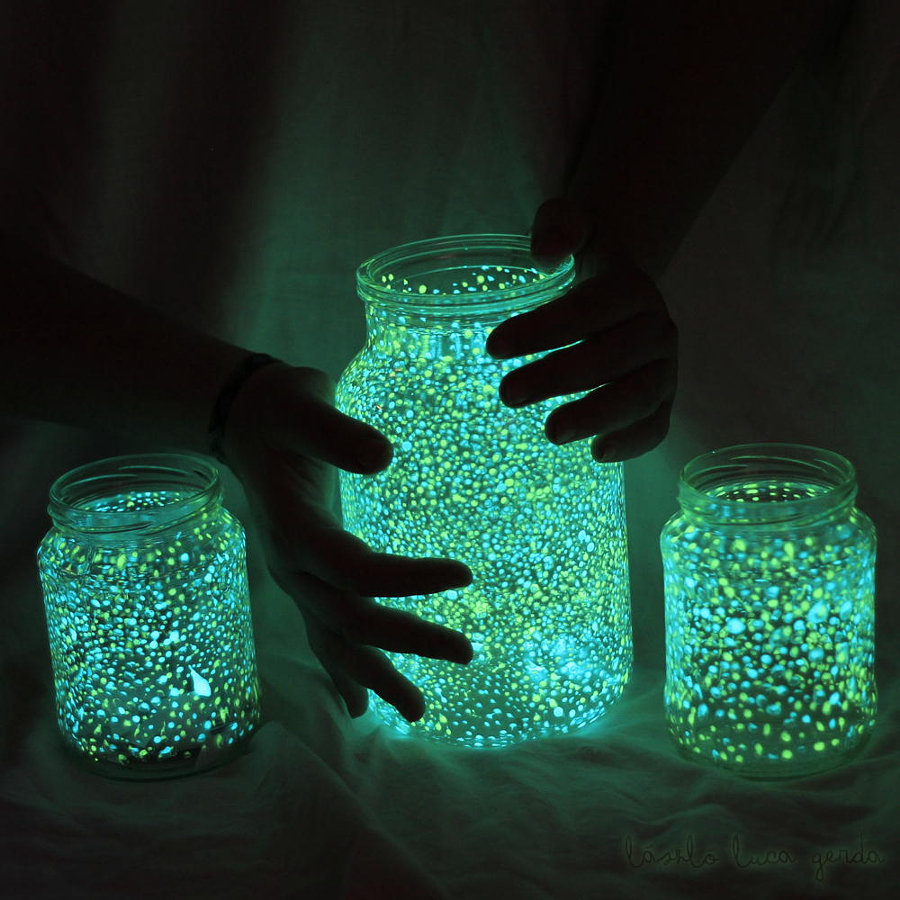 Children have spent countless hours chasing fireflies so they can marvel at their ability to light up in the night. You can recreate this childhood memory when you create these glow-in-the-dark jars.
19. Halloween Window Silhouettes Decoration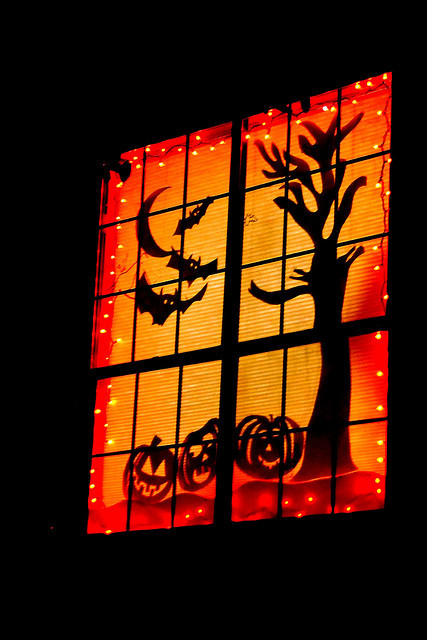 Source: The original source is not available anymore.
Add extra spookiness to your home decorations with this window scene of spooky elements. Create this chilling scene for only pennies from some black cardboard or card stock.
20. Halloween Tin Can Party Game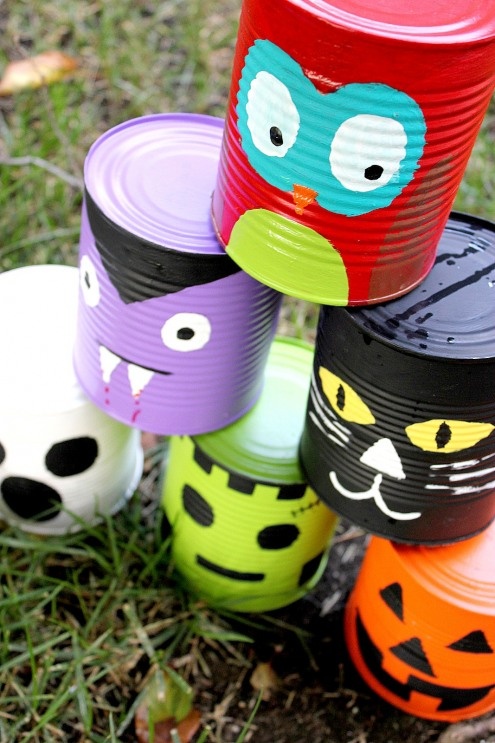 Halloween is the perfect time to get the neighborhood together or to throw private parties. When it comes to activities for the party, dust off your creative hat and paint up some tin cans for a ball toss game.
Ideas include a black cat face, a vampire face, a ghost, a pumpkin, a Frankenstein head, an owl, and any other character you can envision. Arrange these characters in a pyramid form and get your diy outdoor Halloween party game on.
21. Murder On The Runway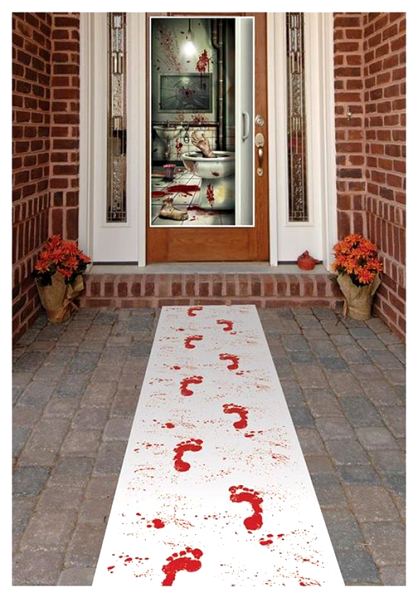 To create a truly horrifying entryway, add this to your holiday decorations list. Guests coming to your door will think twice about entering the scene of the crime thanks to this disturbing floor runner that you created.
Additional drops of paint will lend to the illusion of a murderous scene inside the front door. Trick-or-treaters beware when entering the bloody scene of your DIY outdoor decorations.
22. Spooky Spirit Halloween Jugs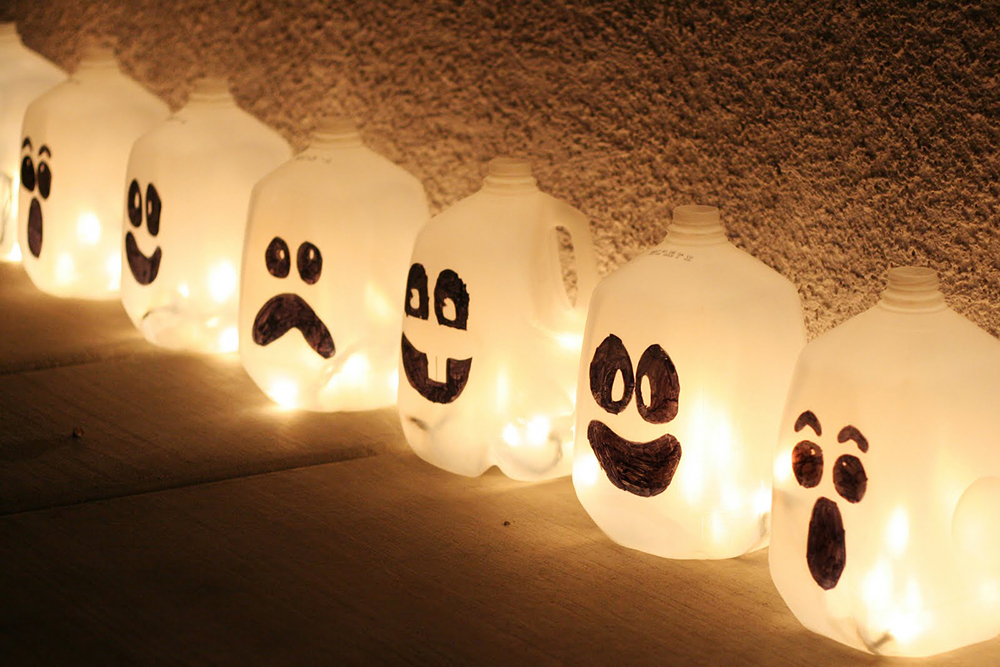 Save the empty milk jugs to create these outside Halloween decorations. This kid-friendly project involves the use of empty jugs, a magic marker, a knife or scissors, and a string of white Christmas lights.
23. Eerie Arachnids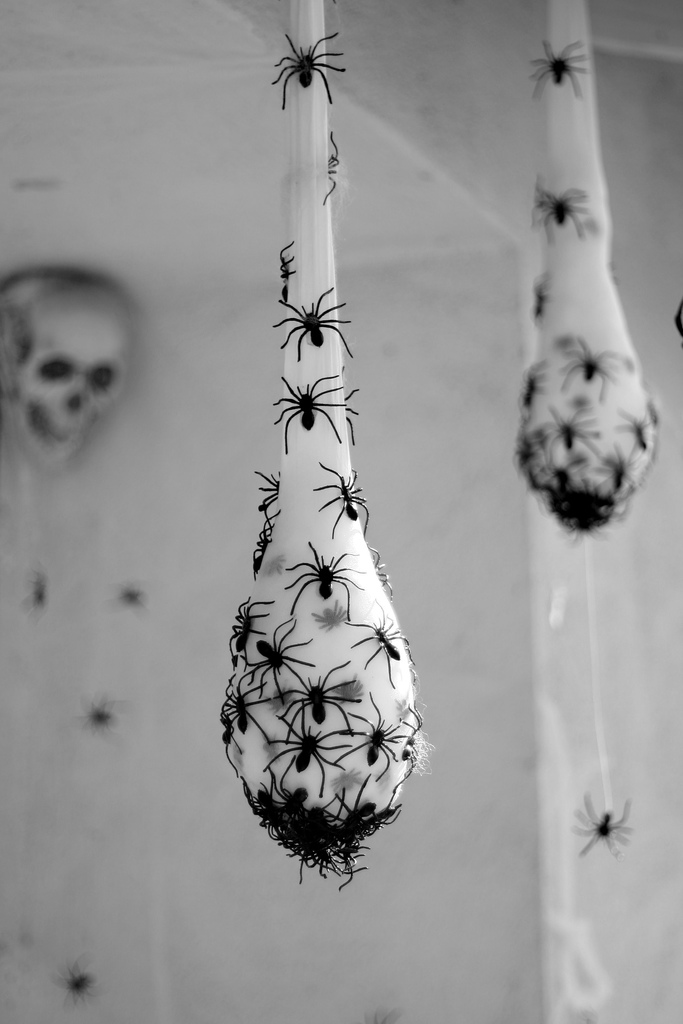 Make all your visitors itch when they have to walk through your maze of spider sacks. This decorating idea is easy to create with the use of some plastic spiders, some white tight legs, and some stuffing.
24. Phantom Ghost Posts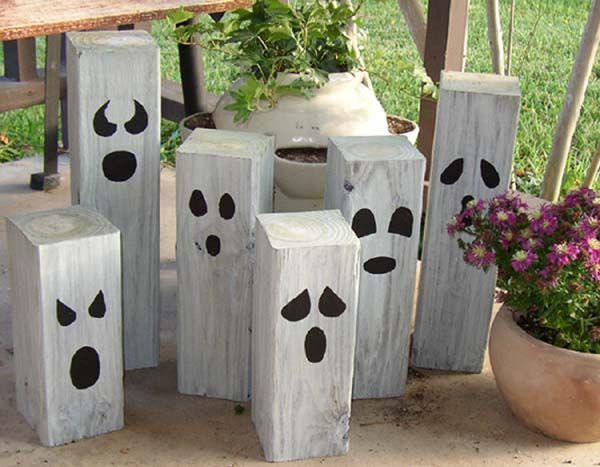 Source: The original source is not available anymore.
Make a bold statement with this ghoulish decorating project. A simple assortment of wooden blocks of different sizes can be painted or whitewashed to create a "block-headed" ghost body.
25. Going Batty Halloween Decoration
Give your trees some scary decorations with these menacing-looking hanging bats. Perfect when hung from a tree, a group of these easy-to-make scary decorations will have your visitors ducking for cover. Arrange in a group, or hang them throughout your landscape for a spooky feel.
26. We All Fall Down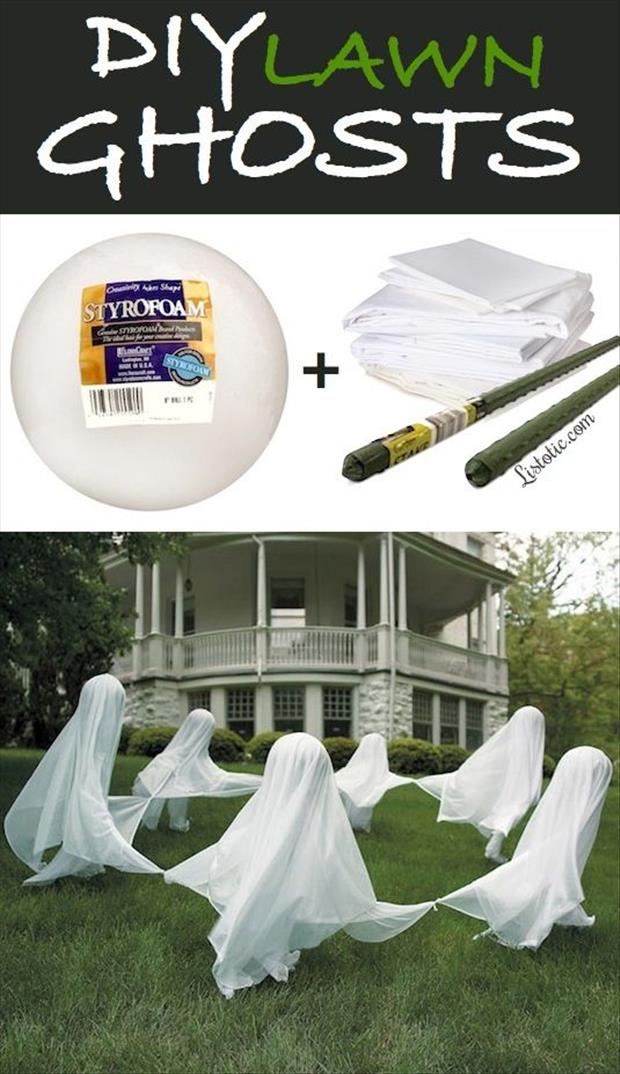 Many people believe that the classic children's game "Ring Around the Rosie" has a dark interpretation. They believe that the final part of the song – where "we all fall down" – refers to dying.
People will think of that song if you set up this easy-to-make display in your front yard. With just a few inexpensive materials, you can create this ghostly scene.
27. Witches Live Here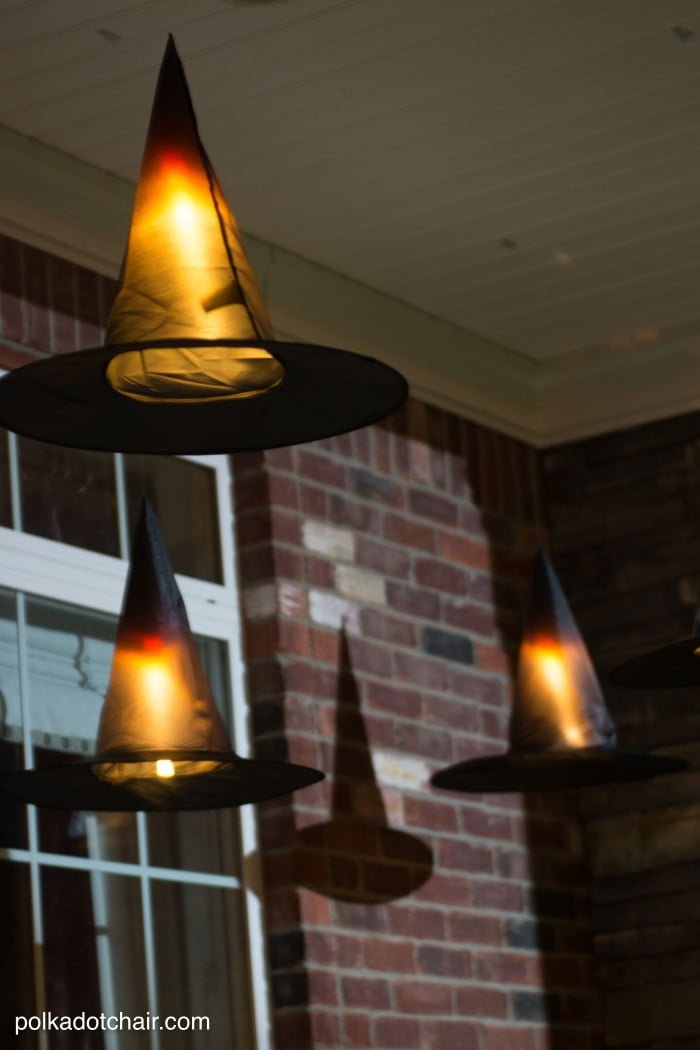 If you're looking for an inexpensive but dramatic Halloween decoration idea, look no further than this one.
You can often pick up witch's hats at the dollar store or at a thrift store. Put a battery-powered light inside and hang them up, and you have an instant spooky look.
28. Spooky Wreath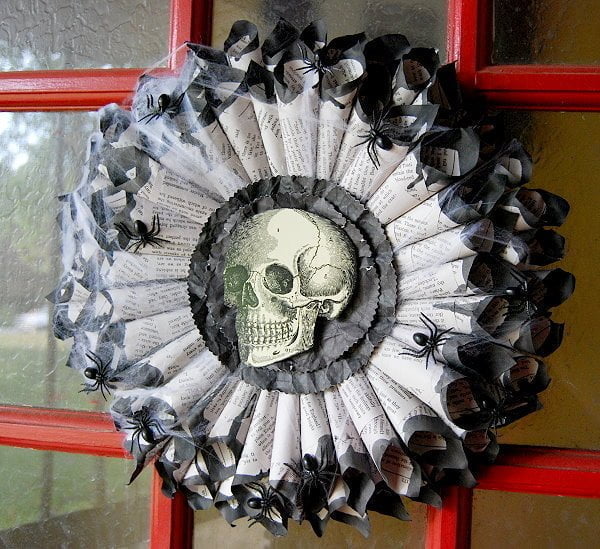 Source: The original source is not available anymore.
Get creative with this simple idea for a Halloween-themed wreath. Your kids could even help roll up the pages and drape it with fake spiders and webs.
29. Eyes Are Everywhere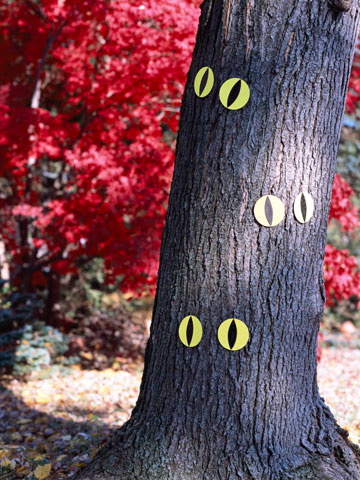 Create these eerie oversized eyes and place them throughout your yard and landscaping design.
Add these DIY Halloween crafts to trees, shrubs, or even the side of your home for added creepiness to your outdoor holiday decorations.
Related articles for more inspiration:
DIY Halloween Yard Decorations
30. Coffee Can and Fabric Hanging Ghosts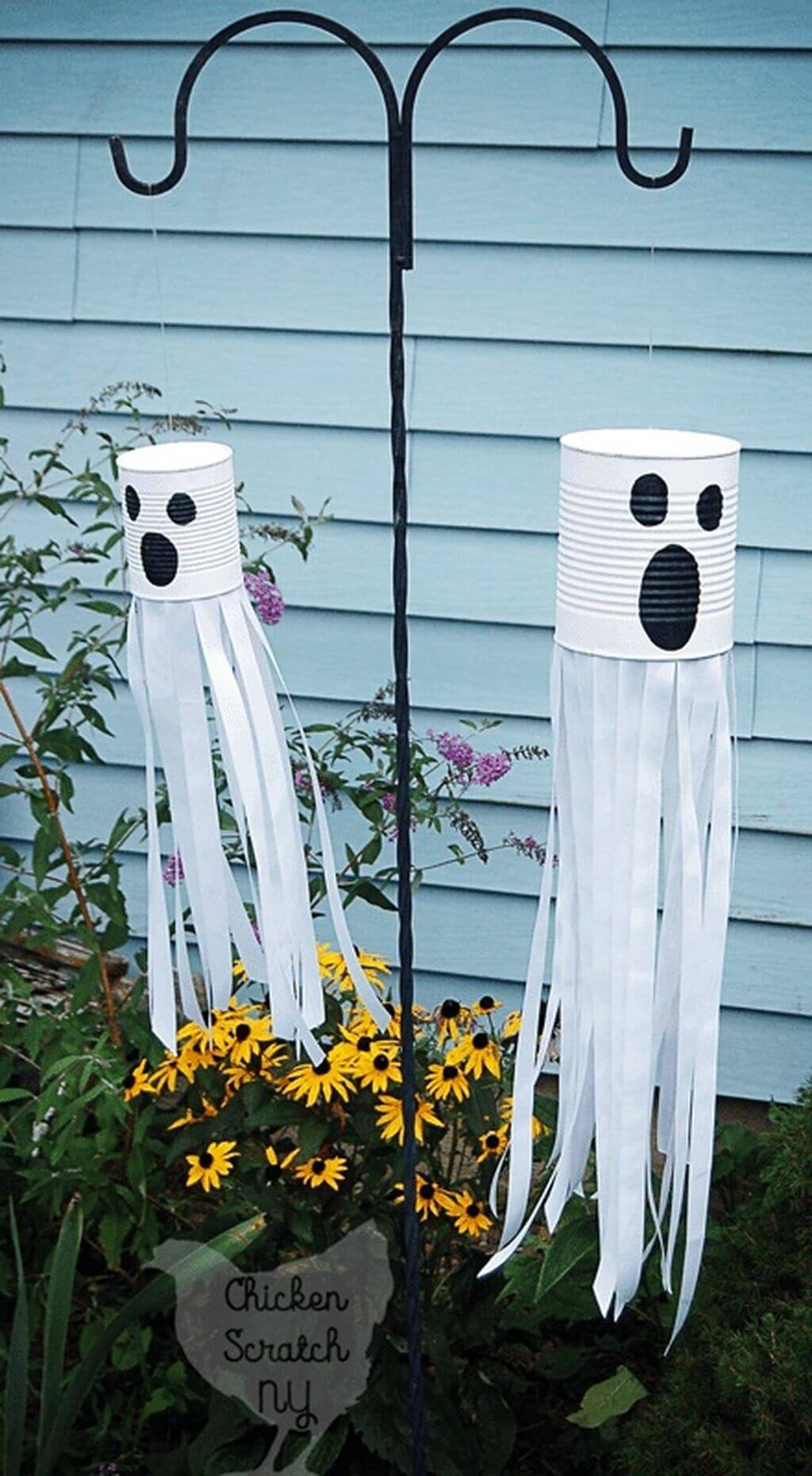 Sometimes Halloween decorations can be crafted from everyday household items. These adorable hanging garden ghosts are simple and quick to construct.
31. Bone-Littered Graveyard with Crows and Skulls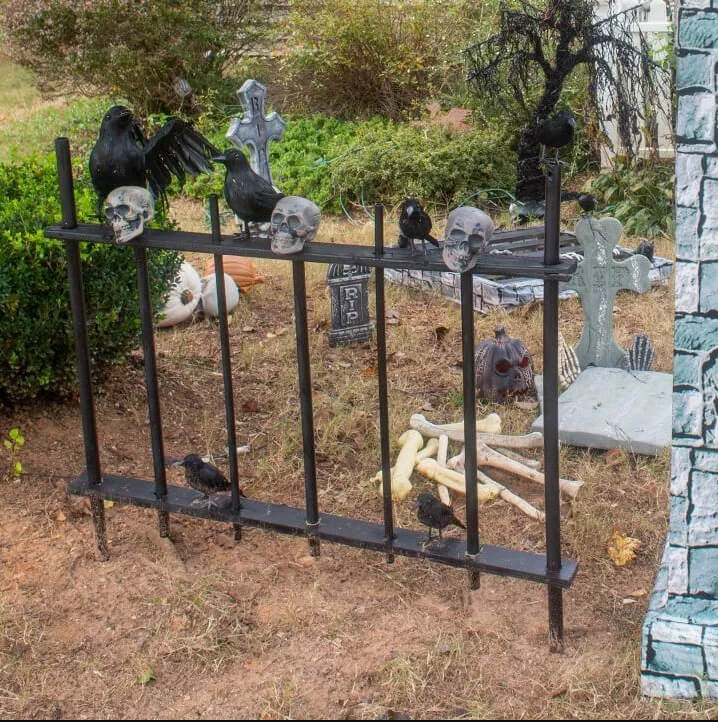 The display begins with a fence, either made of iron or styled to look like it is. Atop the fence are crumbling impaled skulls and studious crow figurines whose eyes follow the viewer.
Behind the fence are gravestones and scattered bone piles. Hands reach up from under the ground and pumpkins dot the desolate area.
32. Giant Veiny Eyes for Bushes and Trees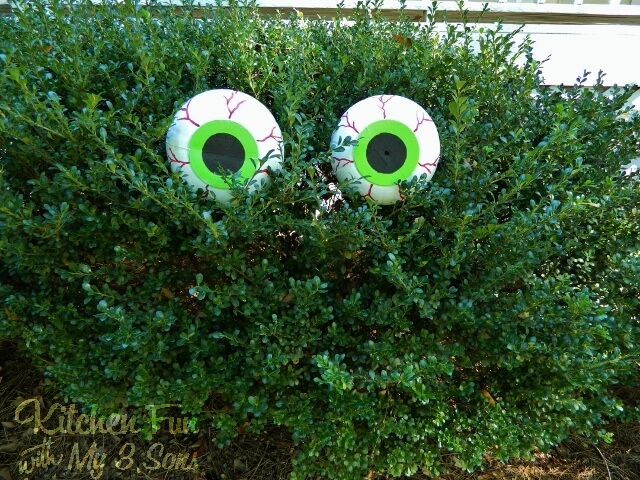 Paper plates or balloons covered in papier-mache are the best base layers for this project. The green irises are brilliantly framed by the bush in which they are set. Any eye color is possible, and you can even experiment with different shapes and types!
33. Haunted Raven Directional Striped Sign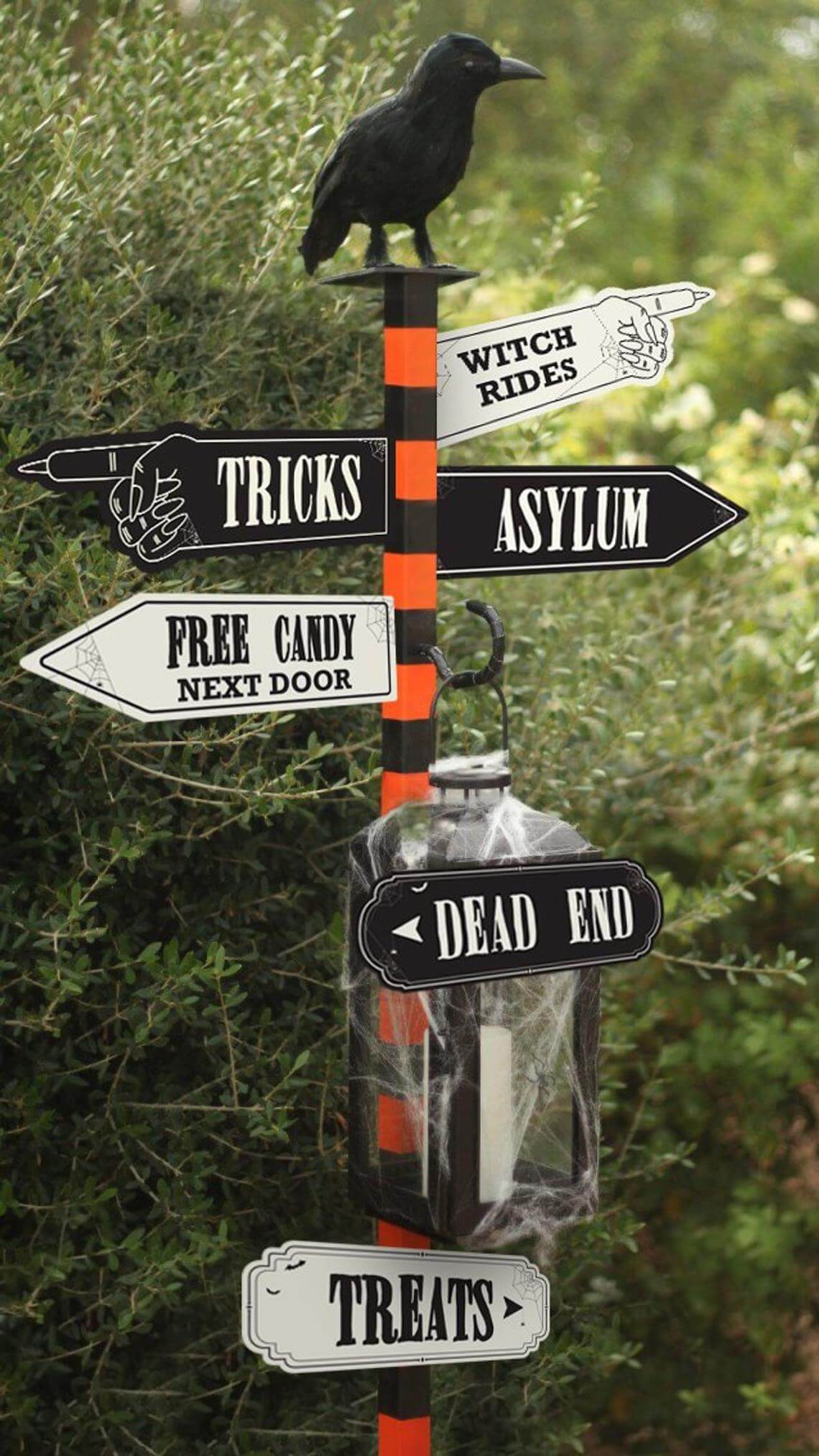 In this decor set, an orange and black striped pole is adorned with a raven that overlooks the directional signs, all of which have a Halloween theme.
"Witch Rides," "Tricks," "Asylum," "Free Candy Next Door," "Dead End," and "Treats" are indicated in different directions.
34. Glowing Corpse Hands Reaching for Freedom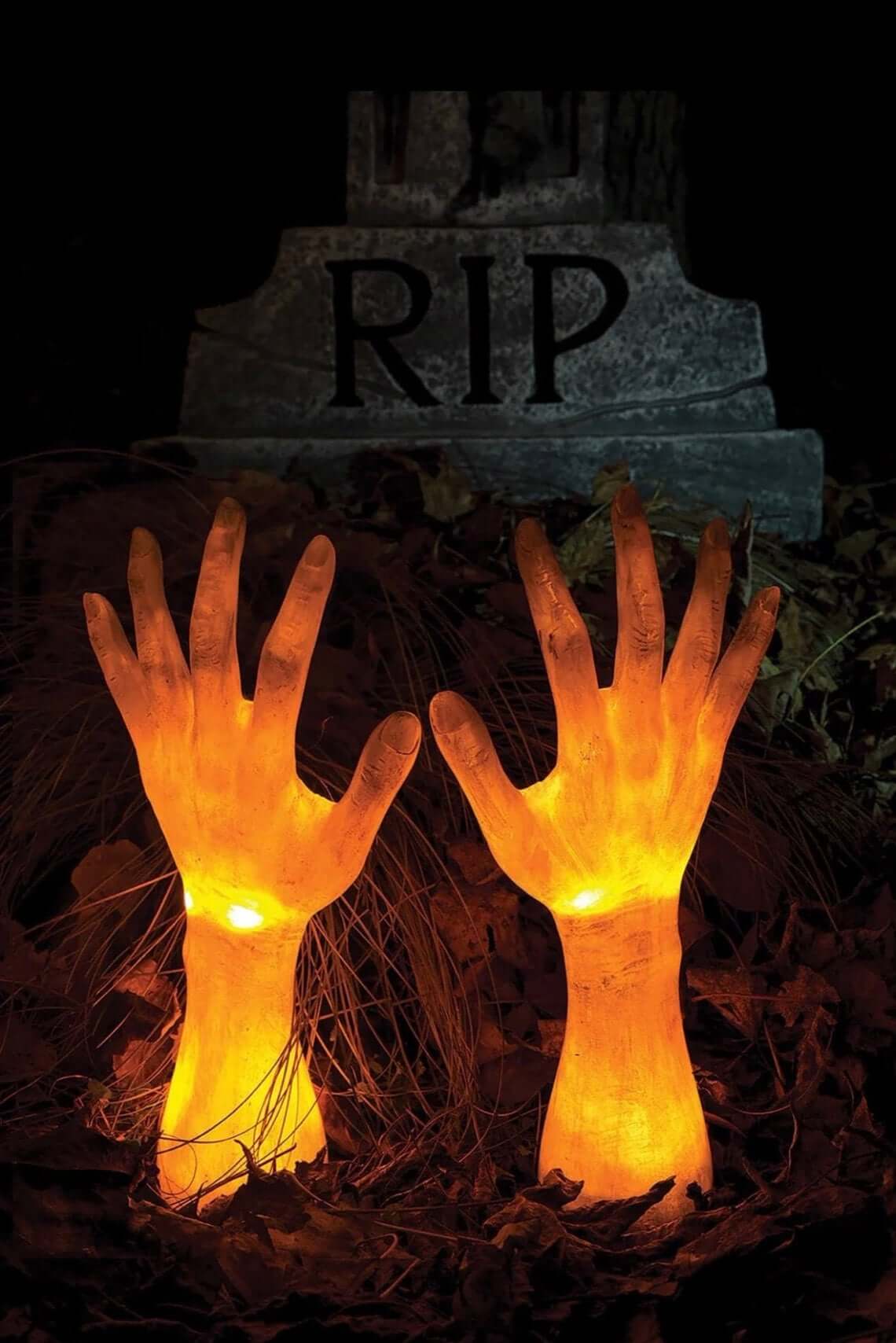 Many plastic or vinyl Halloween body parts are hollow, and these appear to fit the description. Once the bottom part is removed, string lights or corded bulbs can be inserted into the hands to give them that glow from beyond the grave!
35. It's in the Bag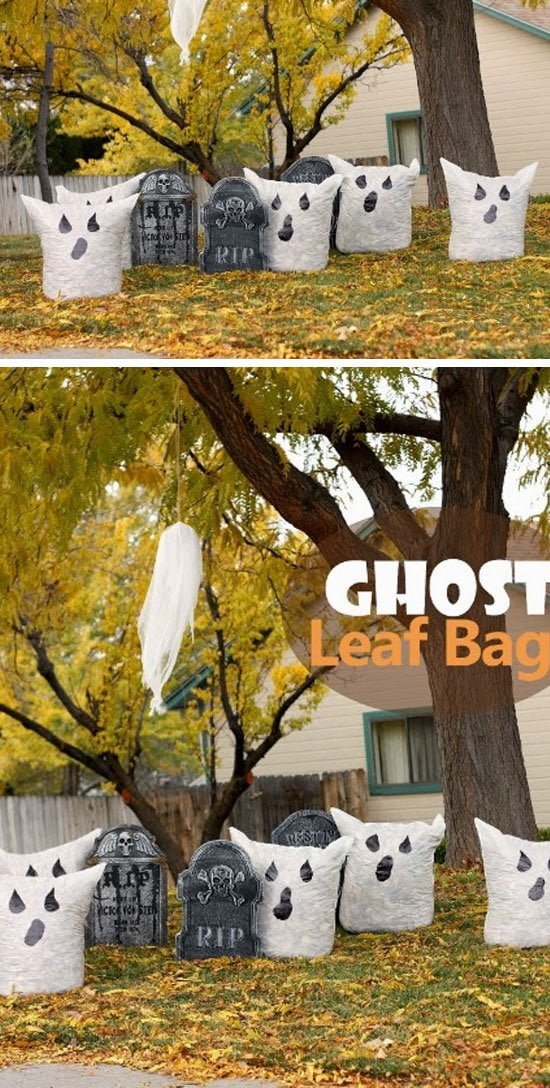 If you've got large trees on your property, you've spent a lot of time raking up the leaves. Rather than putting those leaves in the garbage or straight to the compost bin, have some fun with them.
Fully stuffed bags can make some fun-looking ghosts scattered throughout the yard.
36. White Sheets Are So Last Year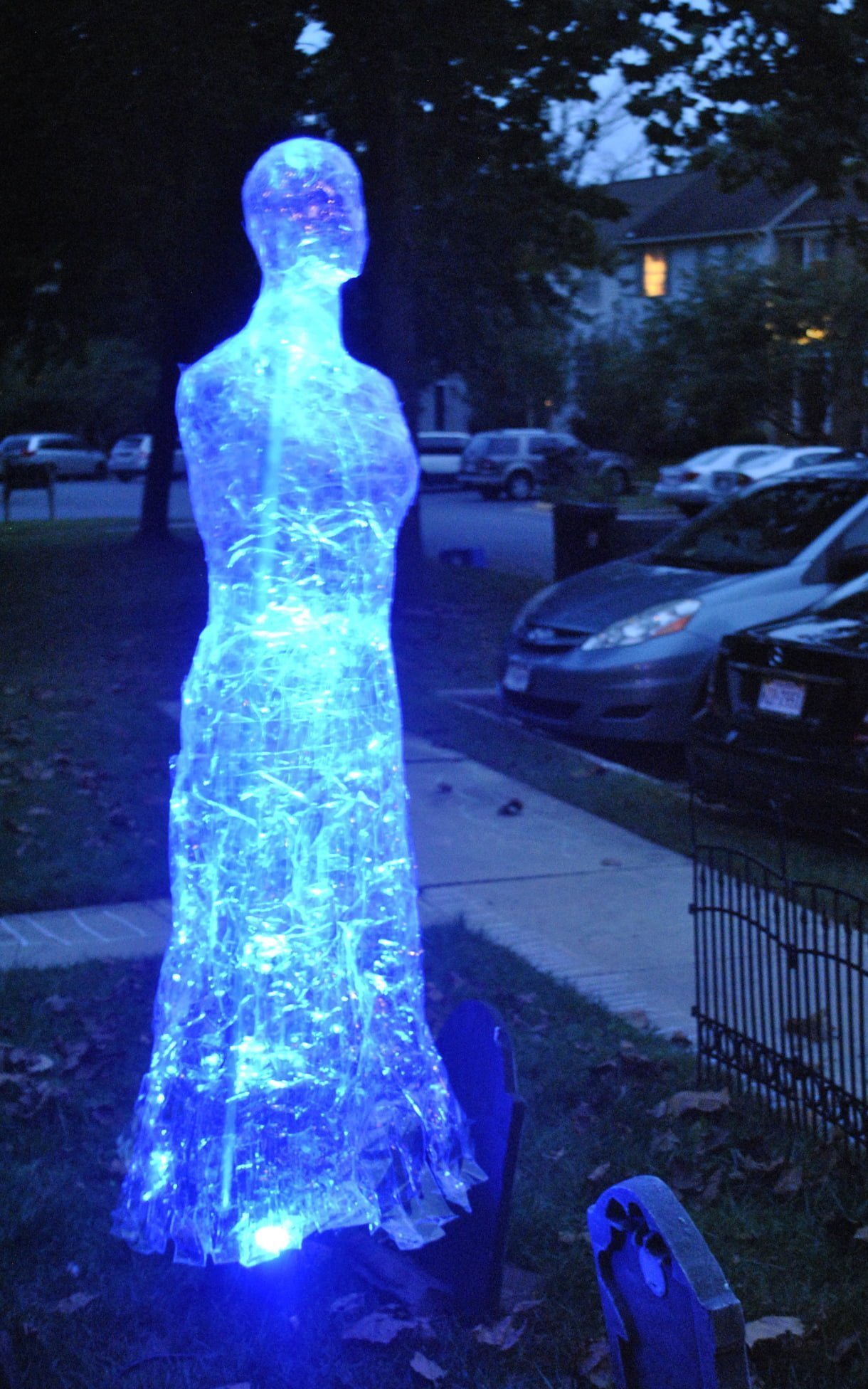 Source: The original source is not available anymore.
If you'd like something spooky but a little different from the traditional ghost made from a white sheet, check out how realistic this ghost looks.
Made from clear packing tape, it's cheap and easy to make, though it does take a bit of time.
37. Haunting Hooded Ghouls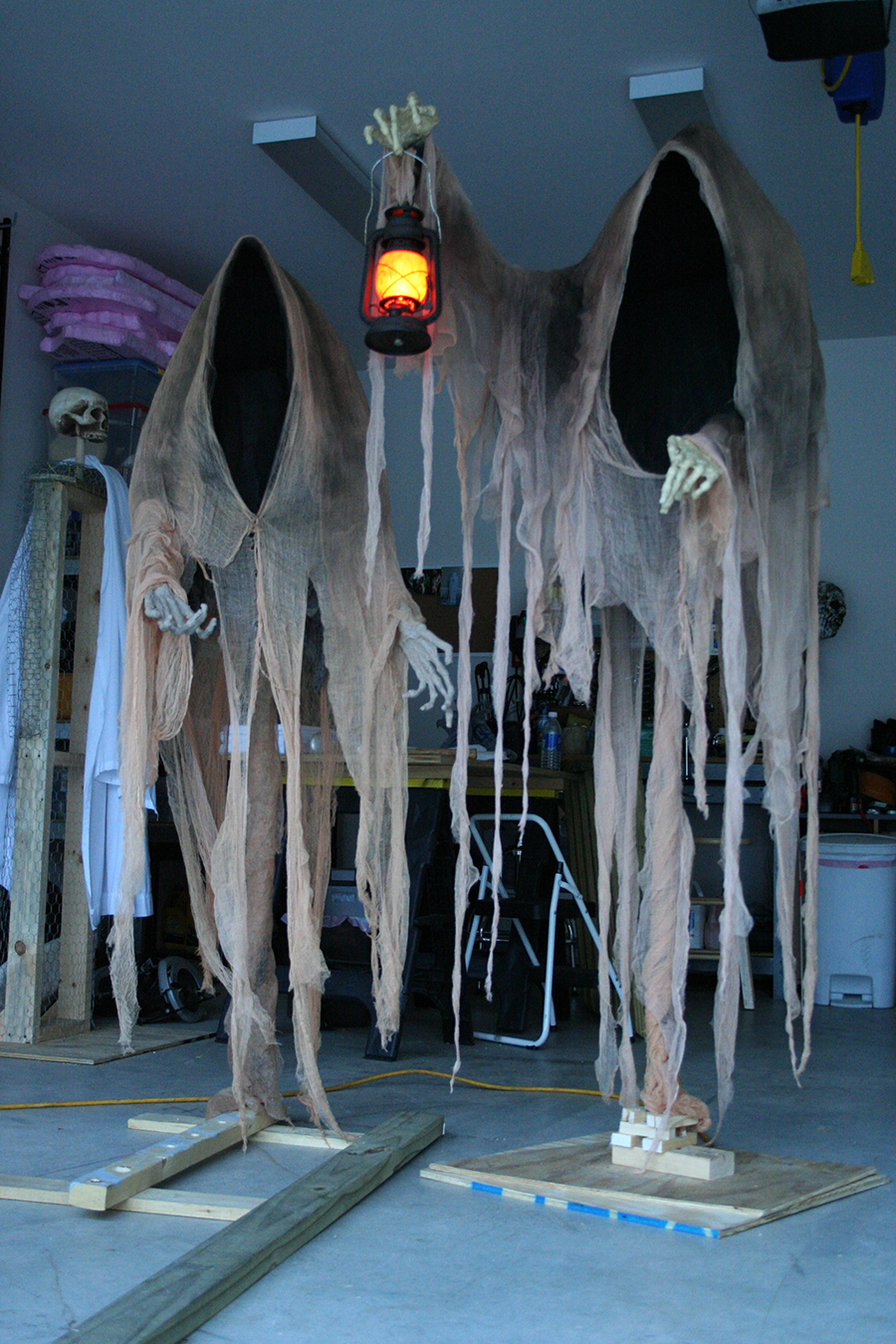 Source: The original source is not available anymore.
These cool Halloween decorations will take the scary element at your house to a whole new level.
Created from pieces of wood, a metal pole, some chicken wire, and a few other elements, this eerie creation will send a chill up your visitor's spines.
38. Cryptic Coffin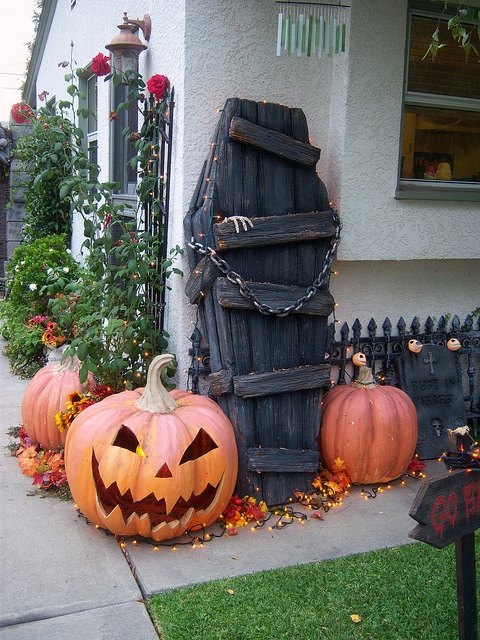 There is something unsettling about the sight of a coffin in outside decorations. The materials for this gruesome decoration include pallet boards, outdoor Halloween lights, a length of foam, and a rubber hand.
39. Sinister Witch and Ferocious Felines Outdoor Decoration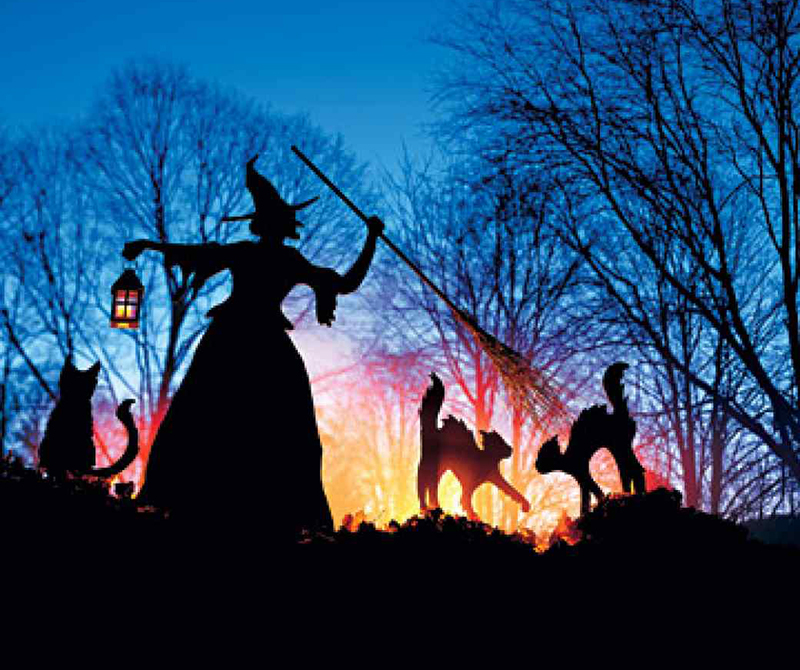 Create this ominous scene with a few materials you may have on hand in your garage or storage shed. Some simple wooden cut outs mounted on long metal poles and painted black will give your sunsets an added spooky beauty.
40. Ring Around The Ghosties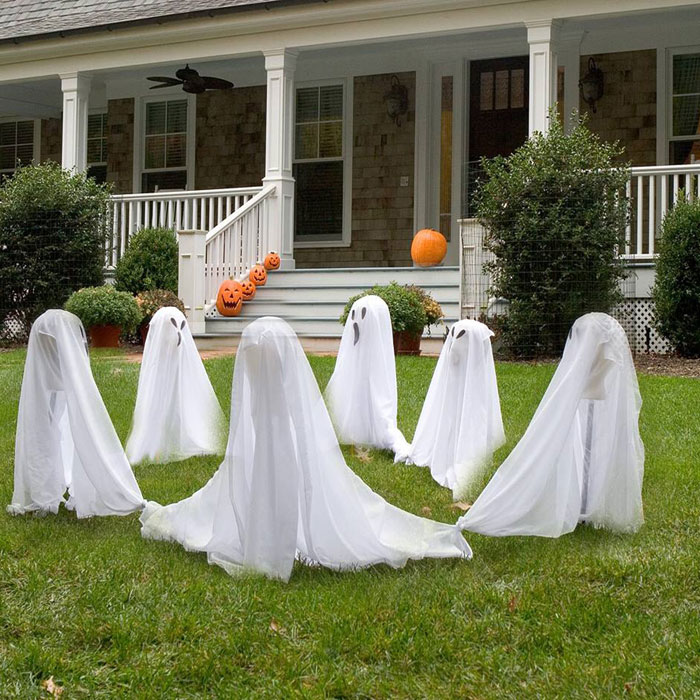 Source: The original source is not available anymore.
Bring some lightheartedness to your yard when you create this ring of ghosts to add to your Halloween decorations.
You can create these cute little playful ghosts from simple materials such as foam mannequin heads, old sheets, metal poles, and a marker.
41. The Walking Dead Beastly Barbies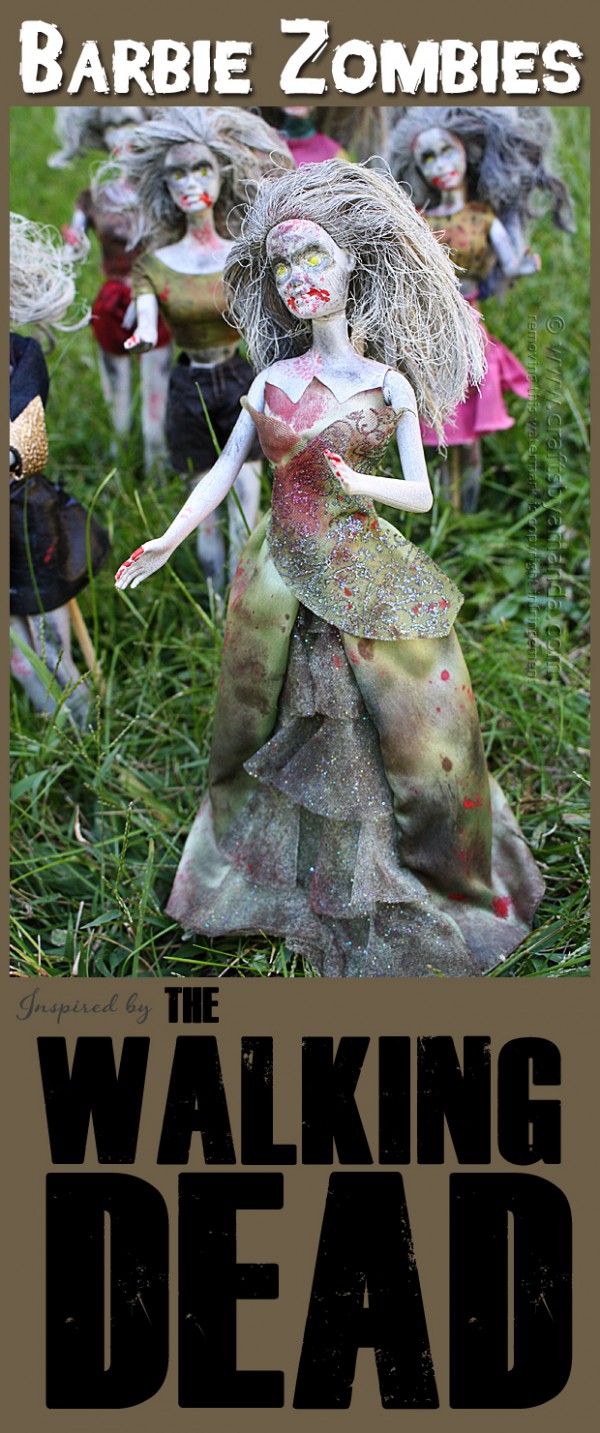 These are not the same dolls you are used to playing with when you were a child. This new and creepy version of Barbie is created by painting the dolls with an assortment of colors of paint.
Using a clothing dye, color the Barbies clothes a brown and muddy color.
42. Grim Warnings Outdoors Halloween Decoration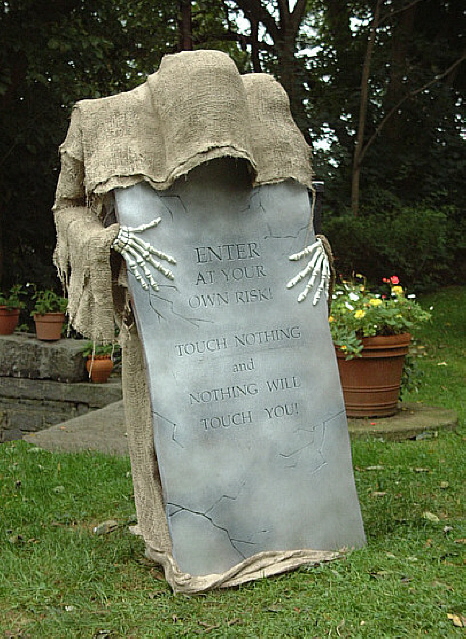 Place this ghoulish warning at the entry to your home to ward off timid visitors. You can create this creepy figure with some burlap, chicken wire, skeleton hands, and a convincing styrofoam "stone" warning.
43. Halloween Mummy Madness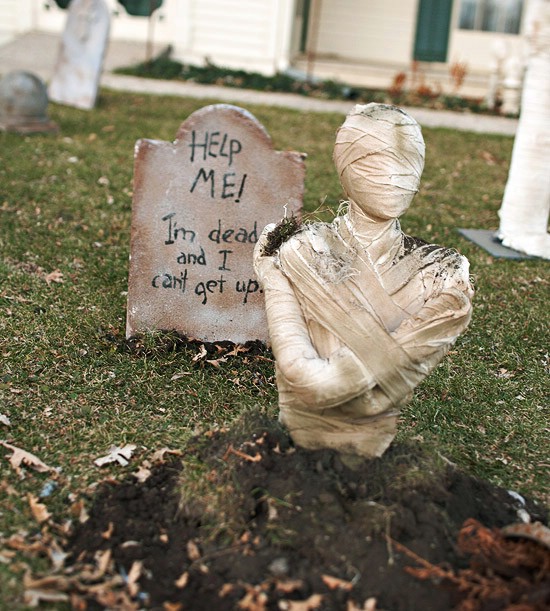 Fill your yard and landscape with these whimsical mummy figures. Easy to create from an assortment of wooden structure pieces, a base, polyester fiberfill, muslin, a dowel, a foam head, and spray paint.
44. Startled Stray Cat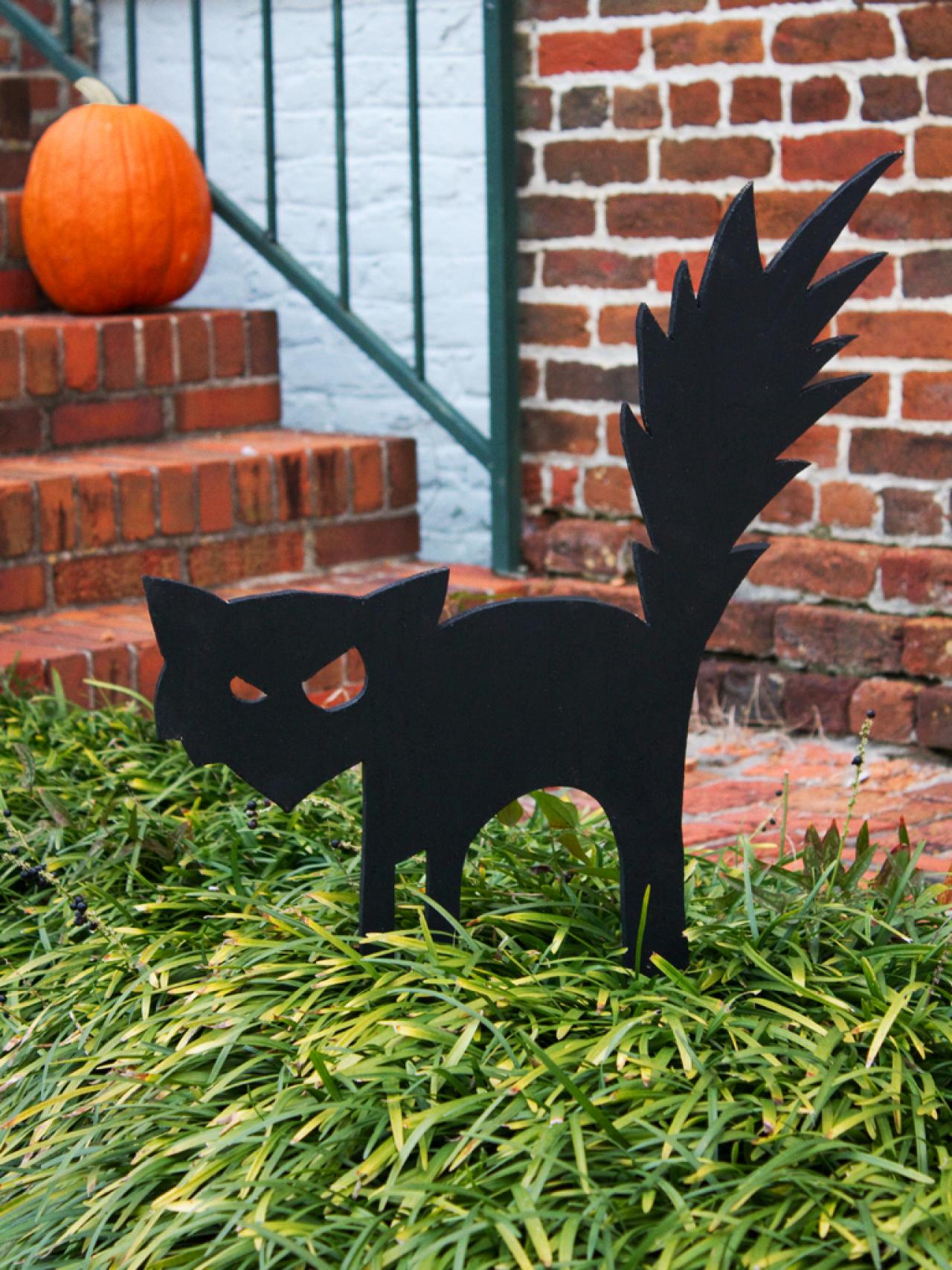 Add a little scare to your yard or walkway with one of these arched black cat spooky decorations.
Made from plywood, landscaping stakes, and paint, this Halloween decor is easy to create using a template or free-hand your own version.
45. Broom Company Sign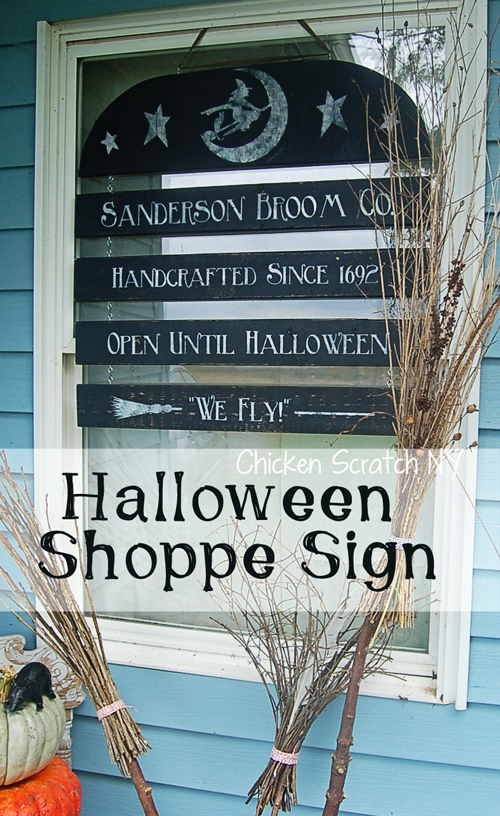 Advertise your skill in homemade decorations with this sign for your Halloween art. You can create this hanging sign with some lengths of wood, black spray paint, some lettering paint, and a few minor pieces of hardware.
46. Menacing Pumpkin Man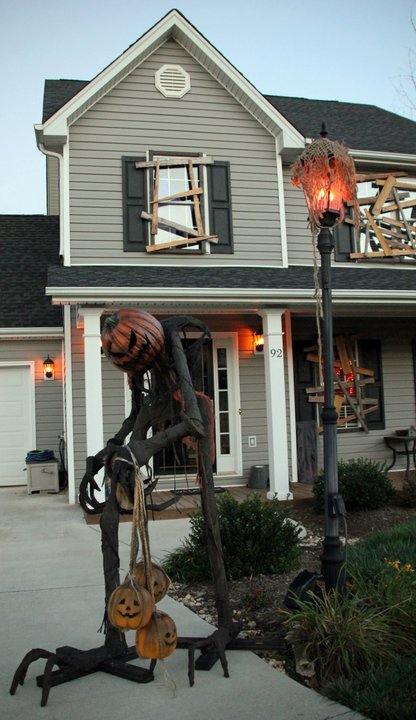 This outside Halloween decoration may cause some trick-or-treaters to be wary.
Constructed from simple materials such as a wooden frame, rope, and some foam pumpkin heads, this character is an eerie addition to your yard.
47. Creepy and Colorful Cemetery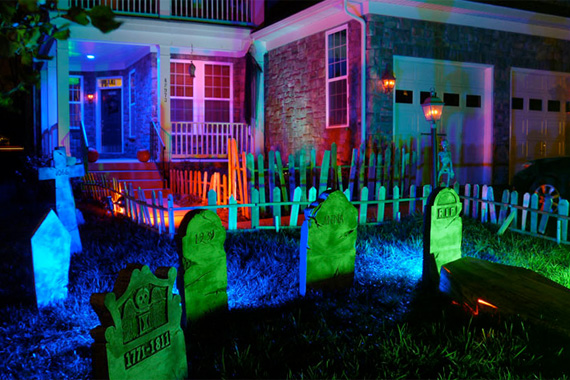 Who says Halloween has to be all about black and dreary? Fill your yard with these colorful outdoor decorations.
Create these headstones from blocks of foam or buy them pre-made from craft and Halloween stores.
48. Monster Mail Call Halloween Craft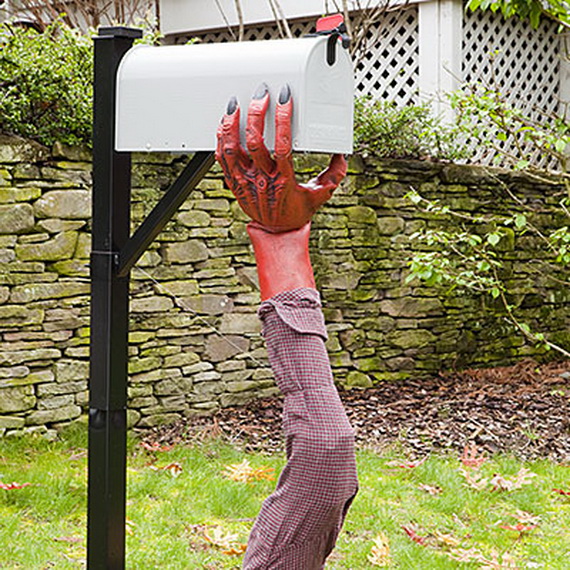 When it comes to checking the mail, no one does it better than the mail monster. This creepy-looking arm will extend your Halloween house decorations right to the street, ready to startle all who dare pass.
49. Shuddersome Spider Webs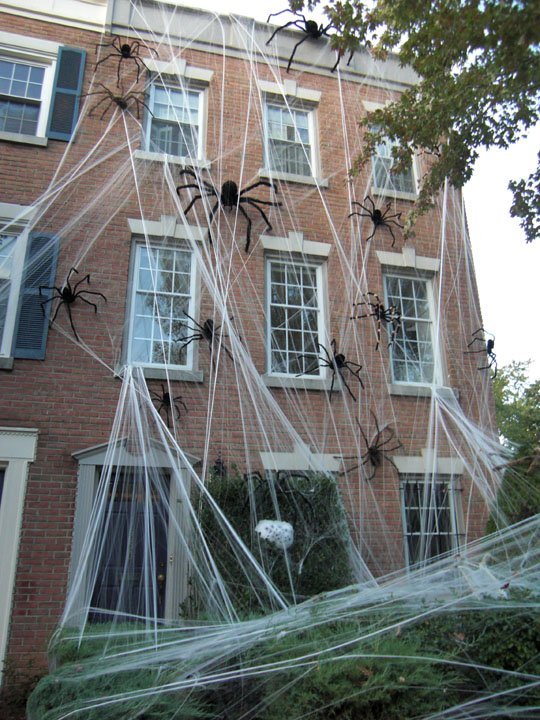 Source: The original source is not available anymore.
These outdoor decorations are an arachnophobia sufferers worst nightmare. With spiders large enough to eat the trick-or-treaters, visitors will beware of ringing the doorbell.
50. Gourdy Ghosts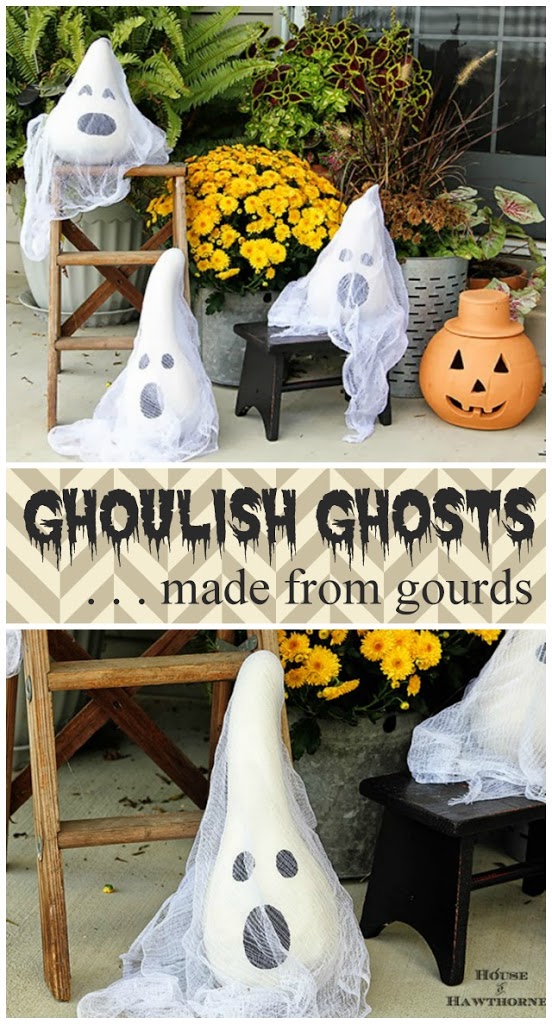 Add a touch of whimsy to your Halloween decorating with these adorable little ghosts created from gourds. To create these little decorative apparitions, spray paint some dried gourds with white paint.
Set these Halloween crafts on a shelf, as a centerpiece on a table, or in a window to create a spooky display.
51. Spine-chilling Pumpkin Scarecrow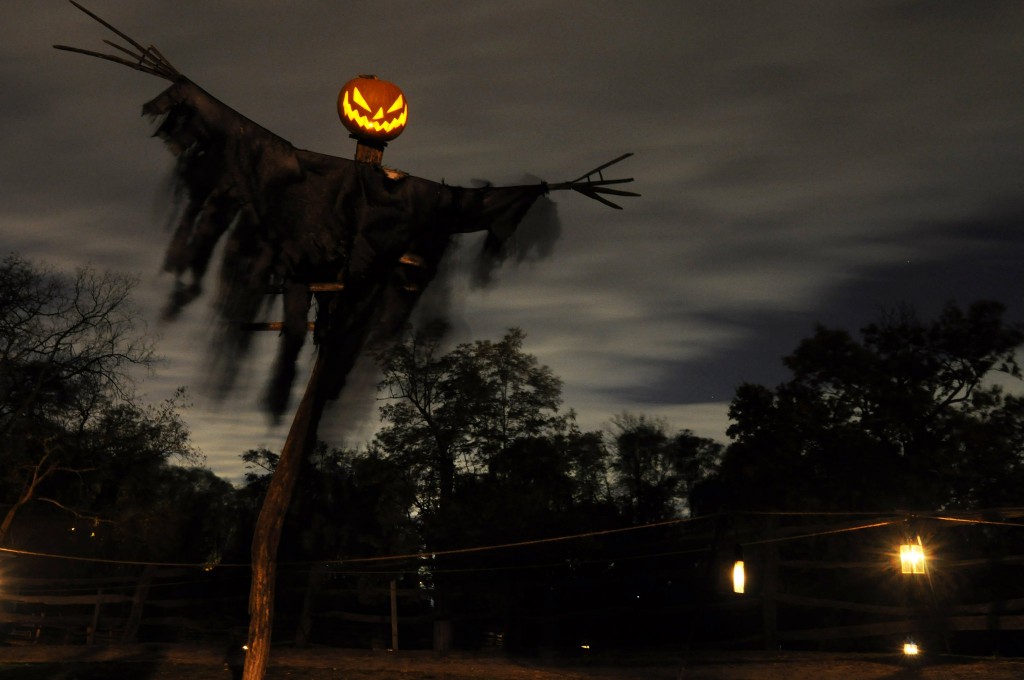 Source: The original source is not available anymore.
For an over-the-top dramatic effect, give life to this creature that towers high above the heads of your Halloween visitors.
This pumpkin scarecrow is the perfect example of how to create an eerie visual focal point in your outdoor Halloween decorating.
52. Wicked Pumpkin Scarecrow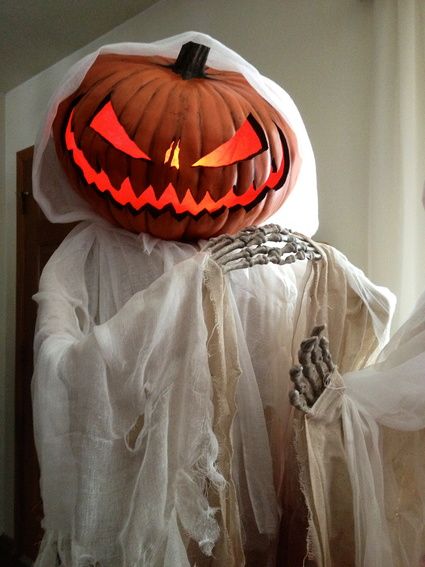 Adding this ominous character to your Halloween decorating is sure to get a reaction from your partygoers.
Created from cheesecloth, skeleton hands, and an angry pumpkin head, this spooky character is ready to liven up the party.
Place this holiday decoration near an entryway to greet your guests or on a porch or patio as an addition to your holiday spread.
53. Wheelbarrow of Bones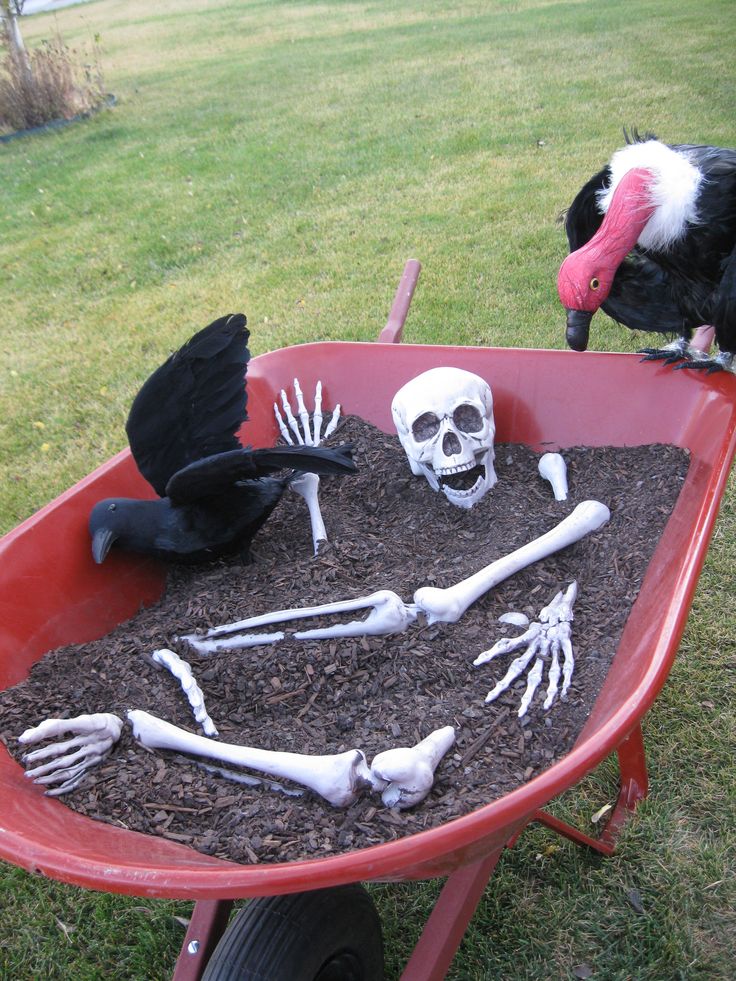 A wheelbarrow, some dirt, a few old skeleton bones, and a few carnivorous birds are all it takes to create this humorous display.
Not everyone has an extra vulture sitting around their house, so you may have to buy one from a local Halloween store.
54. Wicked Witches Brewing Post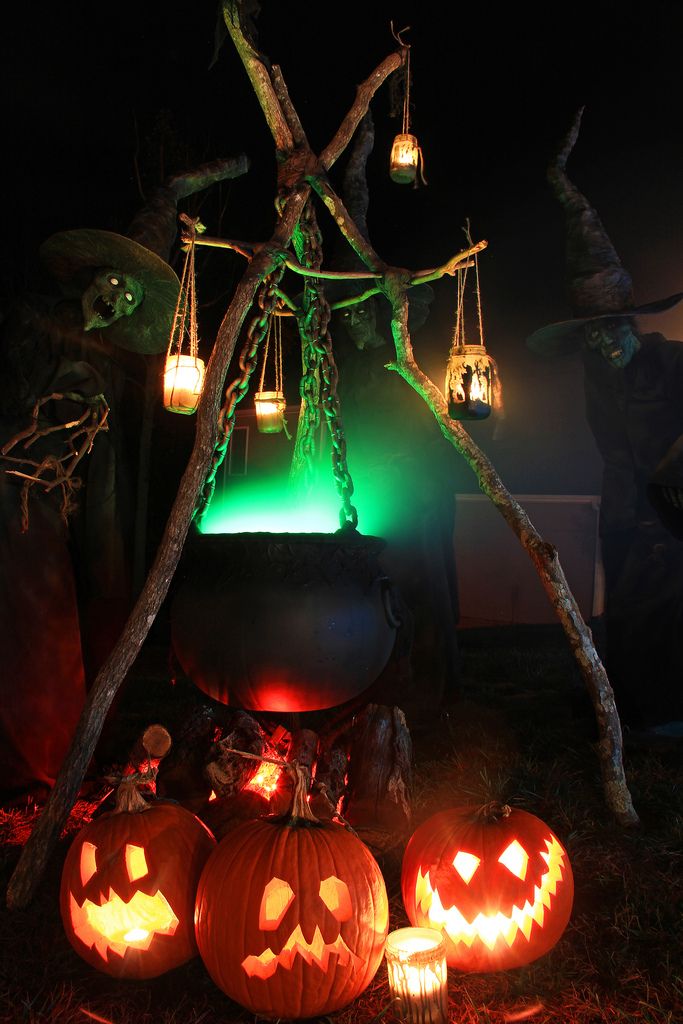 When it comes to elaborate and over-the-top decorating, this scene is one of the best. Create an eerie mist coming from the cauldron with some dry ice and a battery-powered light inside the pot.
Set this display up in a secluded part of your yard for an authentic brewing hideout.
55. Spying Skeleton Halloween Outdoor Decoration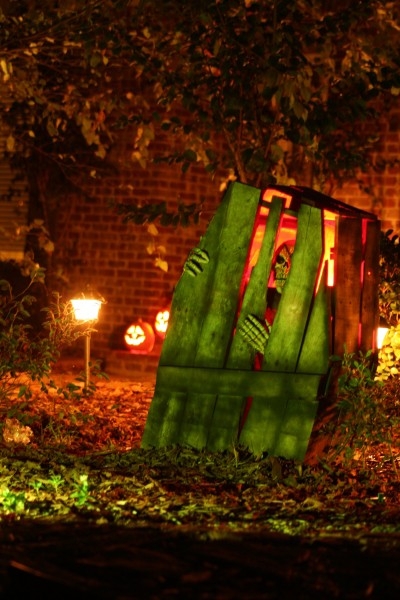 Source: The original source is not available anymore.
Trap your visitor's attention with this spooky-looking skeleton emerging from his broken coffin. Creative backlightingbroken-down adds a sense of spookiness to the broken down coffin. This addition to your Halloween decorating will add a scare factor to any landscape or graveyard setting.
56. Mega Mean Yard Spider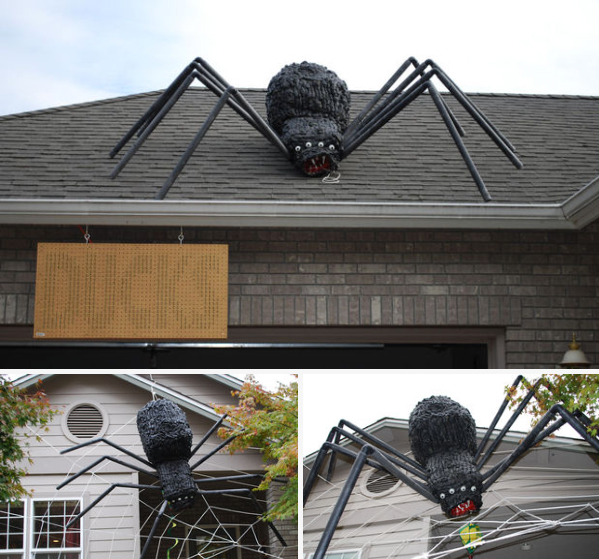 Guard your yard with one of these spider monstrosities. Created from PVC piping, cans of spray foam insulation, black spray paint, and the handyman's fix-it-all tool; duct tape.
57. Halloween in White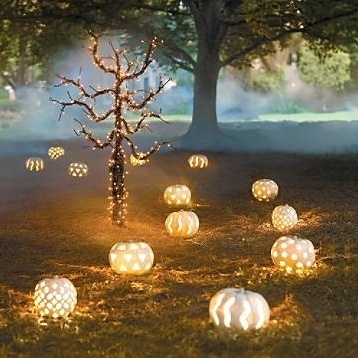 If you enjoy monochromatic scenes, this DIY Halloween project is for you. With an assortment of light-colored pumpkins and some imagination, you can create this outdoor path lighting.
58. Fine Pumpkin Dining Décor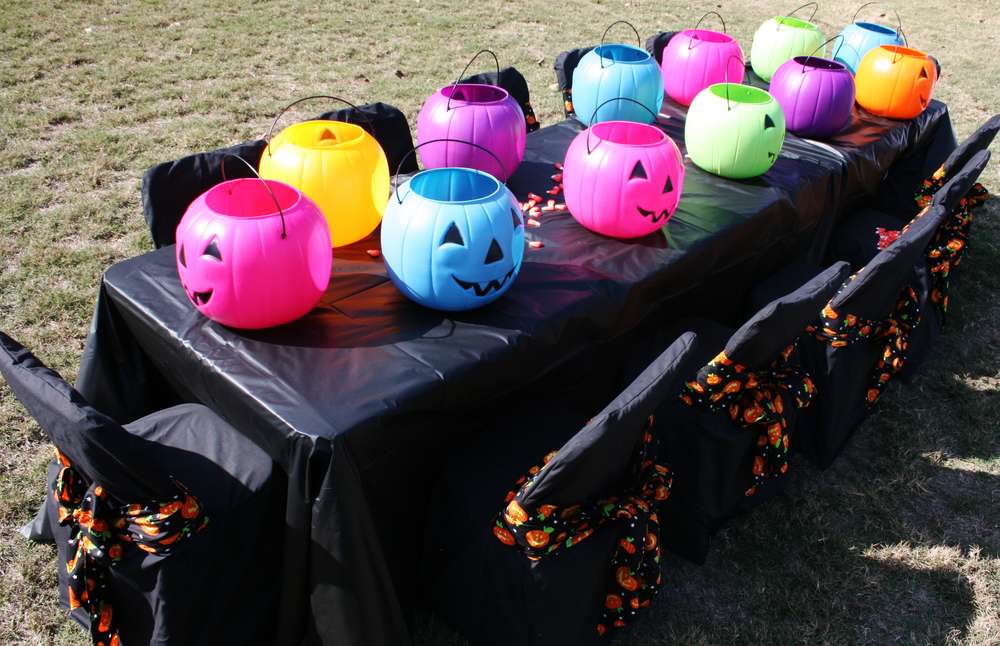 A Halloween dinner party is not complete without a ghoulish and original table setting. Use these colorful buckets as part of your creative decorating ideas.
59. Fairy Tree Hideaway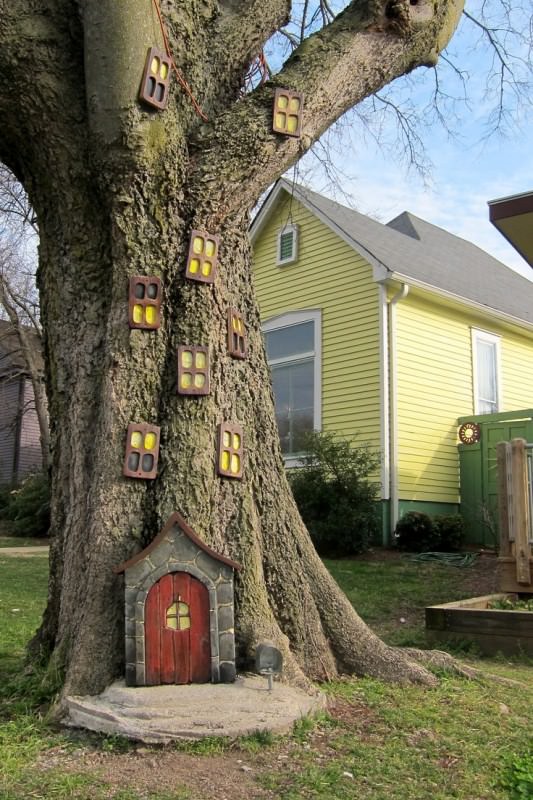 The weather is turning cold so why not invite the fairies to move into a tree in your yard? Make this realistic-looking fairy complex from the selection of fairy tree products available for sale.
60. Pretty Pumpkin Path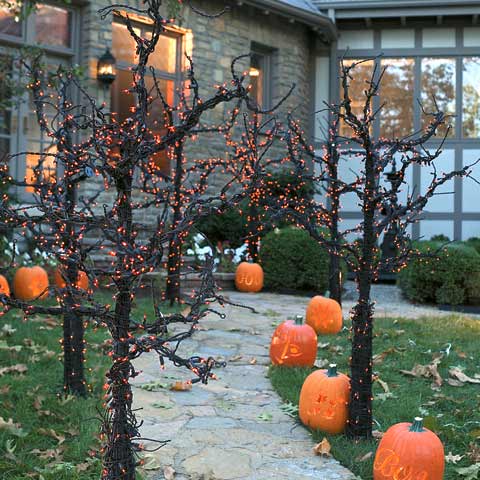 This classy pumpkin path is easy to create with some orange Halloween lights and tree branches. Decorate each "tree" with LED lights, making sure to reach all the branches and around the bases of the trees.
61. Glowing Ghost Decoration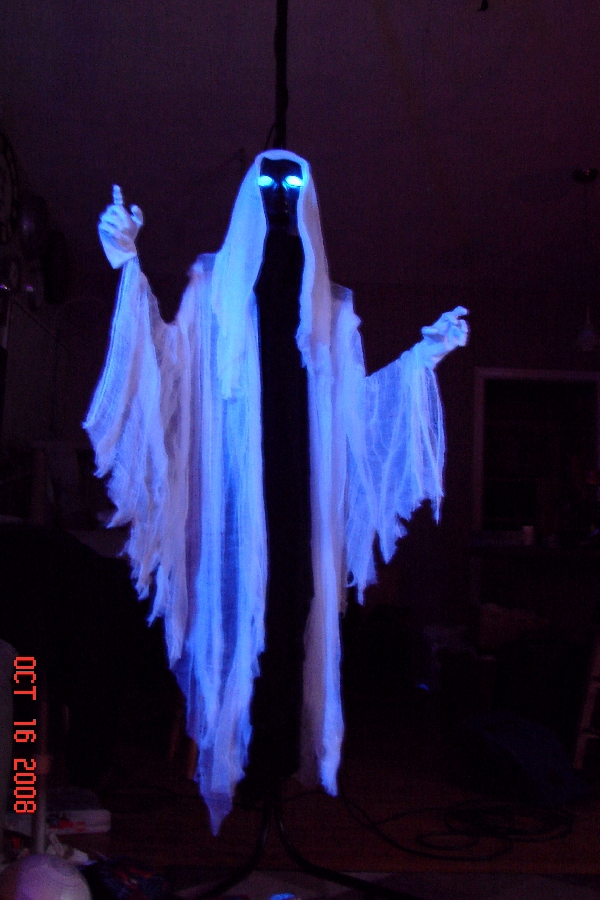 Add this sinister-looking ghoul to your outdoor decorating ideas. You can create one of these ghouls with some black material for the body, a foam head, LED lights, and cheesecloth draped over the body.
62. Comical Cemetery Plots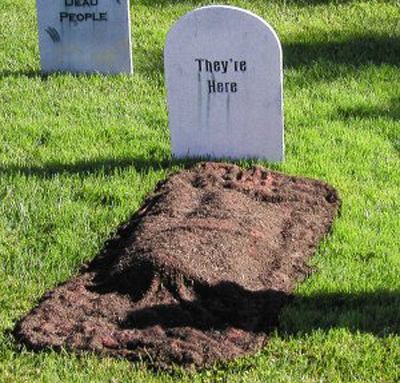 Add some fun to your Halloween decor with these comical grave sites. Use an old beach towel, some fabric dye, chicken wire, and fake skeleton limbs, and add some mulch or soil to top off this creative addition.
63. Menacing Ghost Mob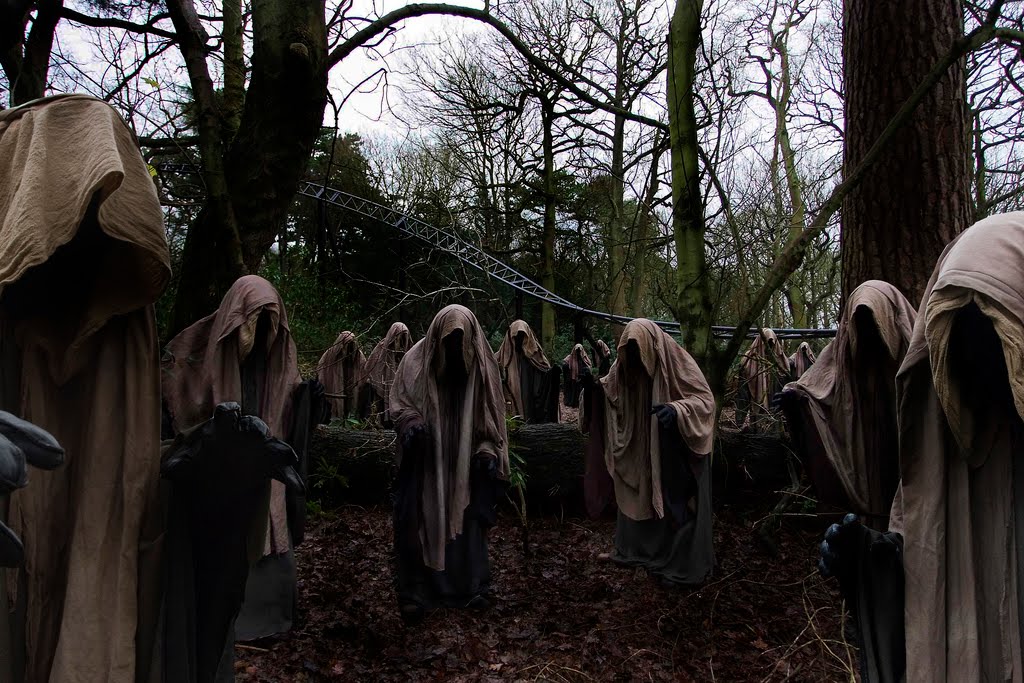 If having one ghostly figure in your Halloween decorations is just not enough, create a whole mob to scare the pants off of your visitors. These were originally costumes, but those can be used for an outdoor décor too.
64. For the Love of Hollywood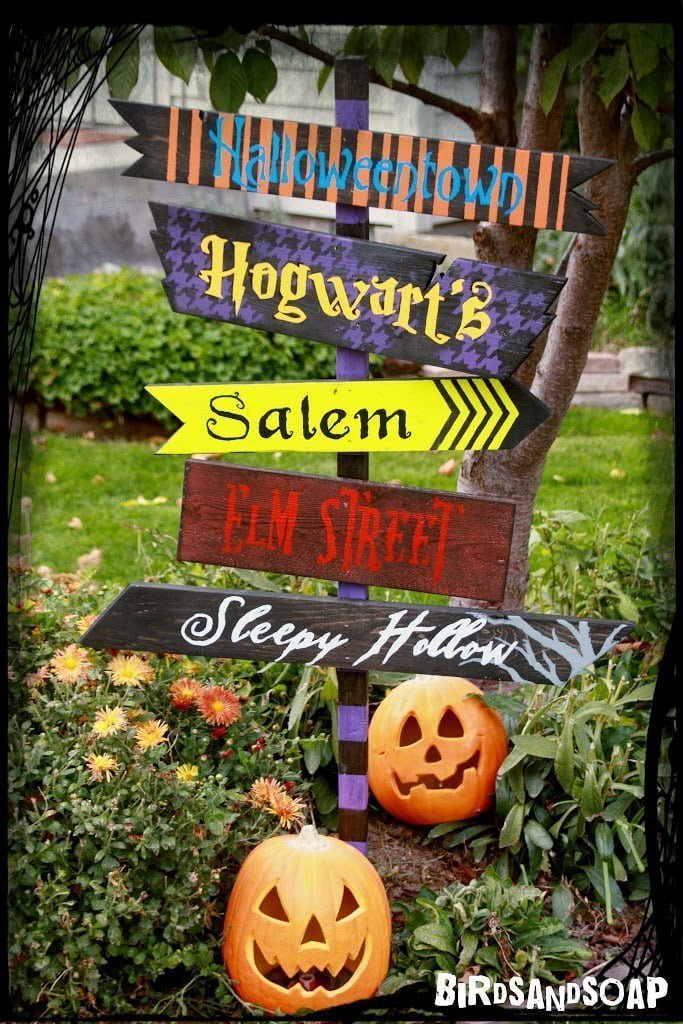 This cute signpost points the way to all your favorite spooky destinations. From Hogwarts to Elm Street, your neighbors will love the way the styles match the styles from the movies.
65. Wicked Warning Luminaries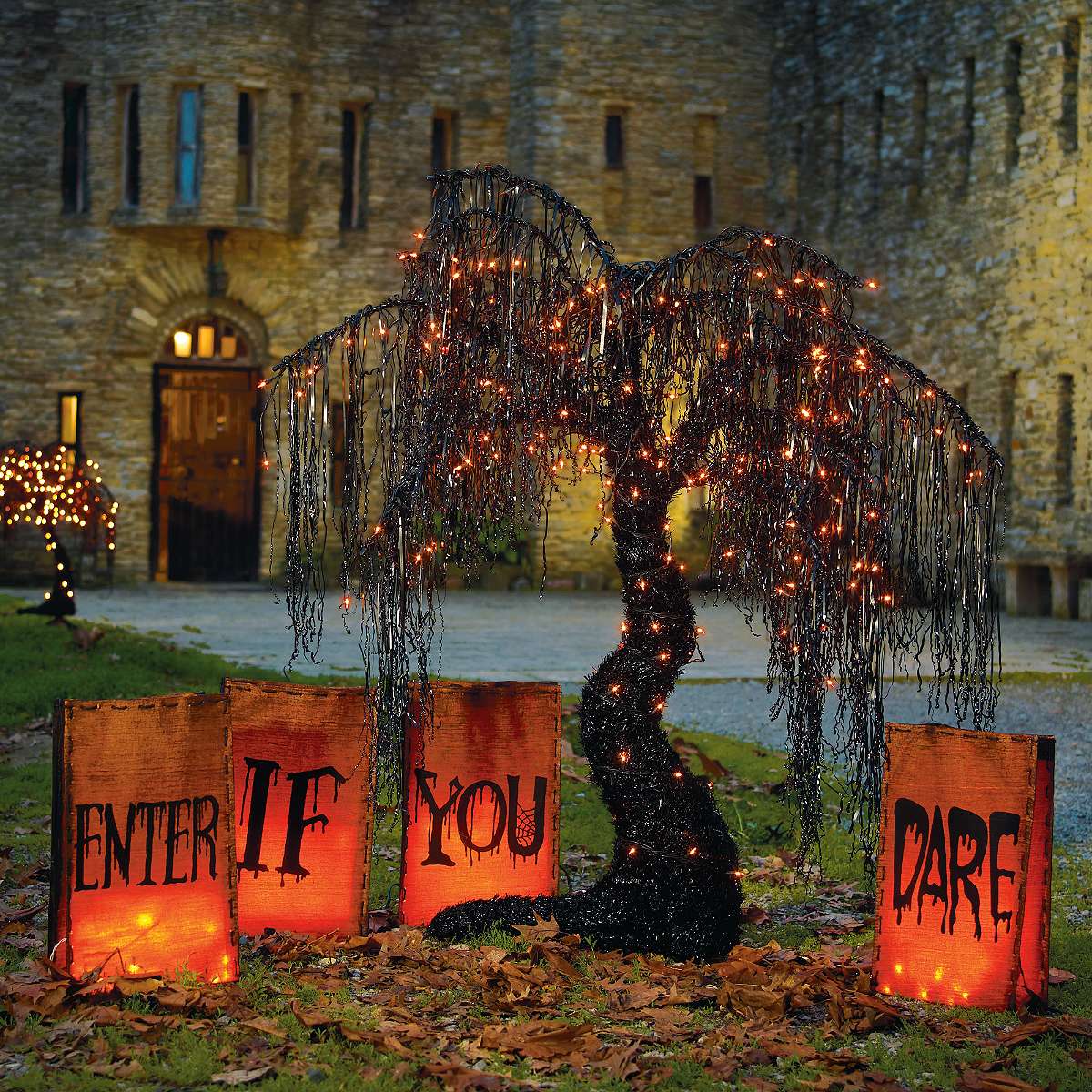 Beware, take care, and enter if you dare. That is the message you will send the trick-or-treaters at your house when you buy these lighted warning luminaries.
66. Cutesy Critters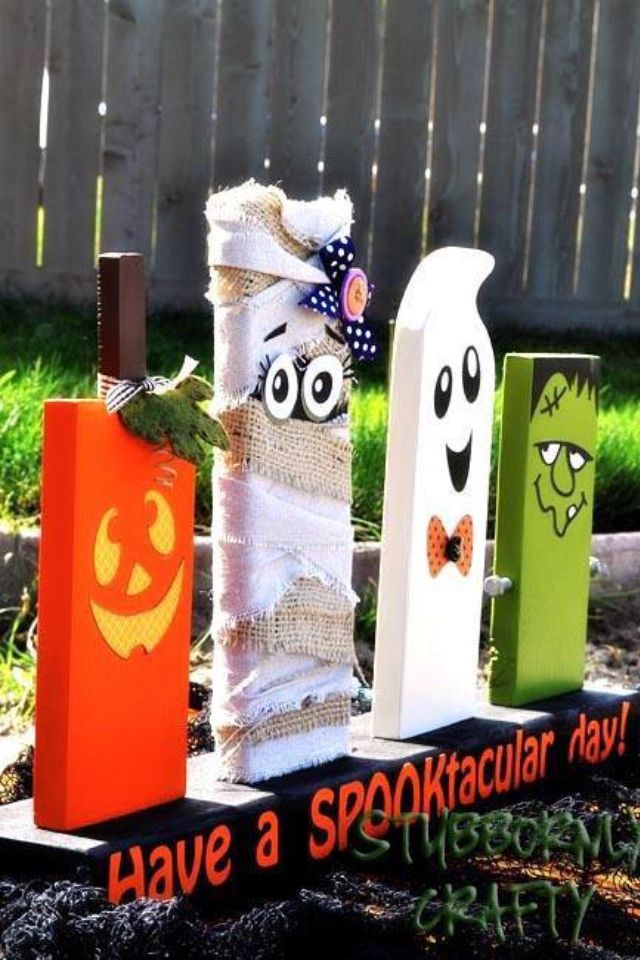 With a pumpkin, Frankenstein, a mummy, and a ghost, this project has all the traditional Halloween characters. However, their adorable smiling faces take the fright away!
This is the perfect look for a family who has small children who want to get into the spirit of things.
DIY Halloween Decorations for the Front Porch
67. Sitting Stair Ghoul Lit from Within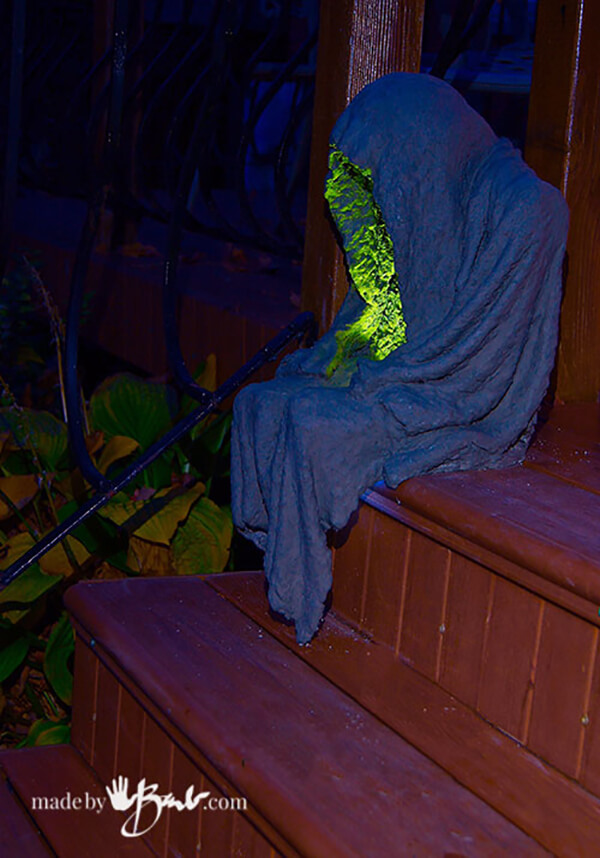 Some Halloween decorations are cute and festive, and some are genuinely creepy. This figure that sits on the steps definitely falls into the second category.
68. White String Banner with Orange Pennants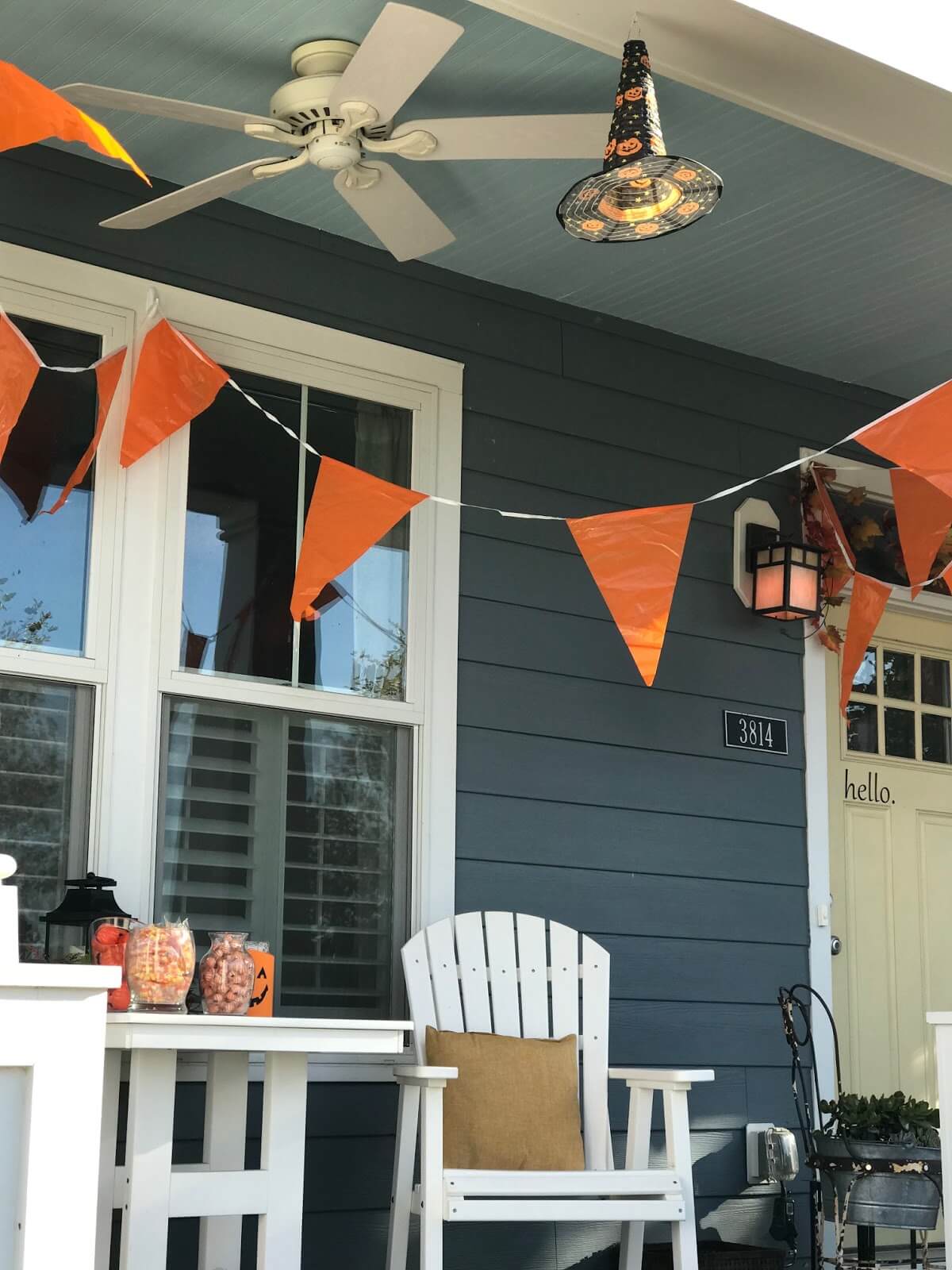 All that is needed to construct this piece is some string and either orange fabric, vinyl, or durable paper. The material used to make the pennants must be strong enough to withstand the elements if the banner is to be placed outside.
69. "When Witches go Riding" Painted Wooden Sign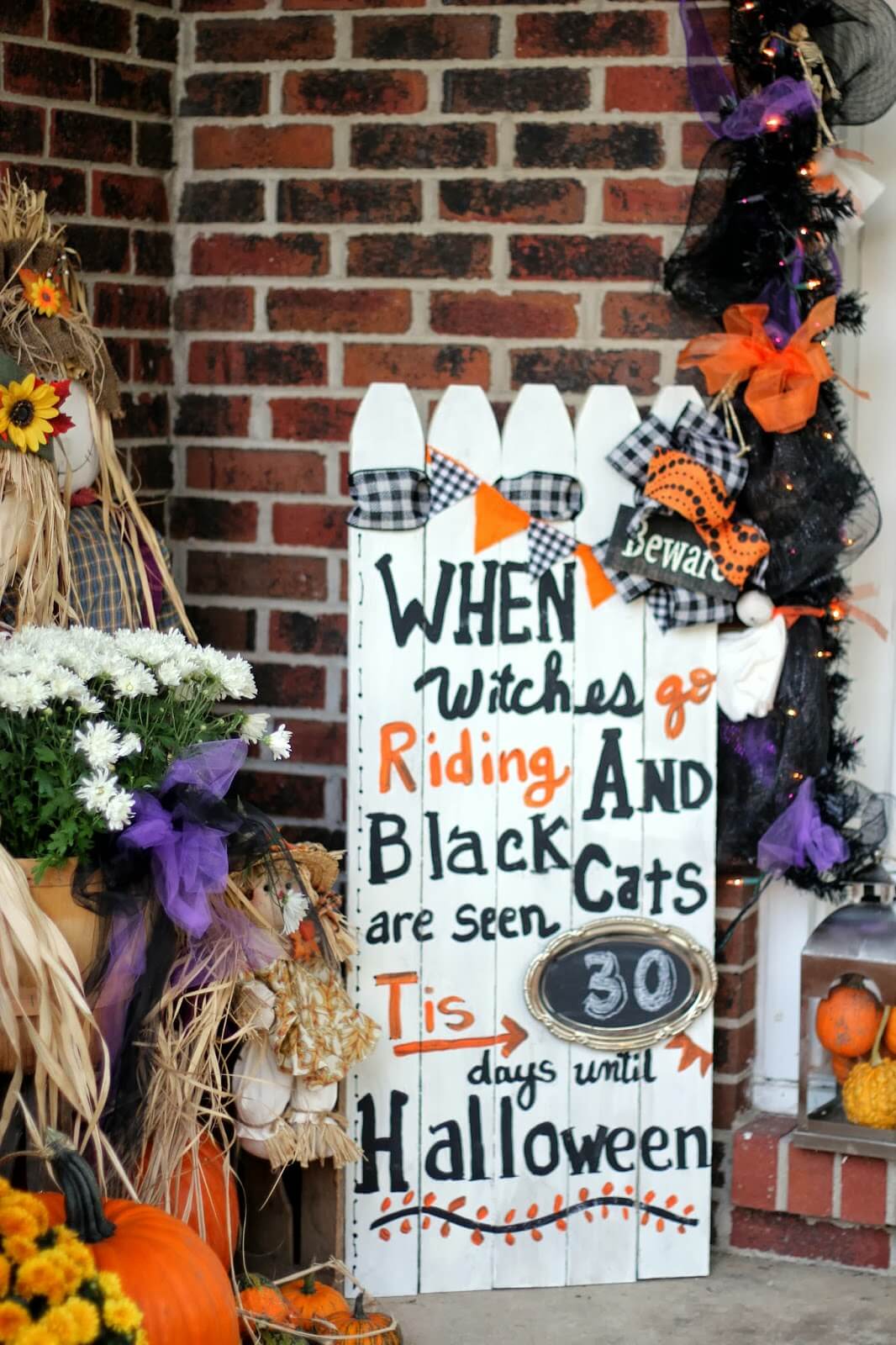 The wood piece for this idea is styled after a picket fence, perhaps reminiscent of a bygone era of classic spookiness. Other types of wood paneling can be used, such as heavily painted plywood.
70. Rustic Painted Wooden Pumpkin Family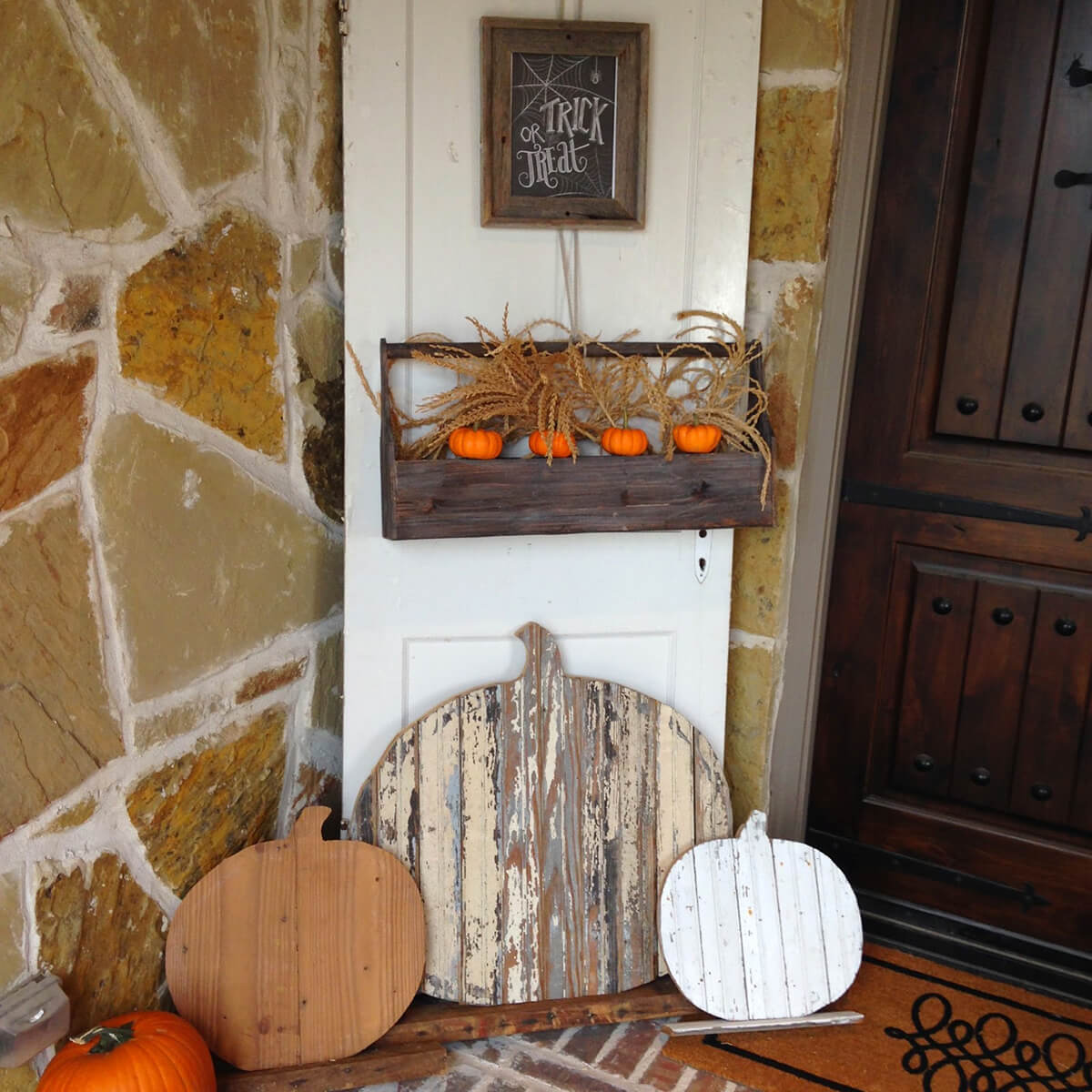 The largest of the three of these pumpkins is the roughest, with chipping paint in a mix of blue, white, black, and gray. An easy way to achieve this look from an unpainted piece is to paint it, then sand or scratch the paint off until the desired effect is achieved.
71. Multicolor Foam Jack O'Lantern Stacked Archway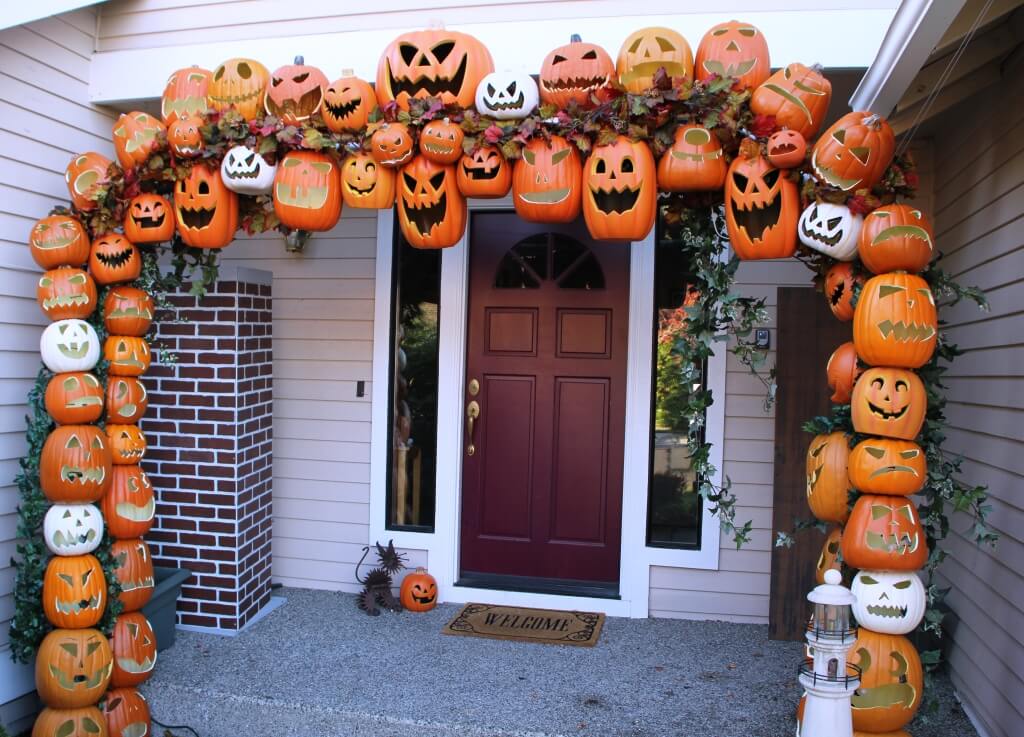 Over a dozen foam or plastic pumpkins are stacked in the shape of an arch. They are secured with glue, wire, and a fall-themed garland featuring autumnal leaves. While the Jack O'Lanterns in this display are all naturally occurring white or orange, the items can be painted or decorated.
72. Gray Wooden Stake Ghost Pals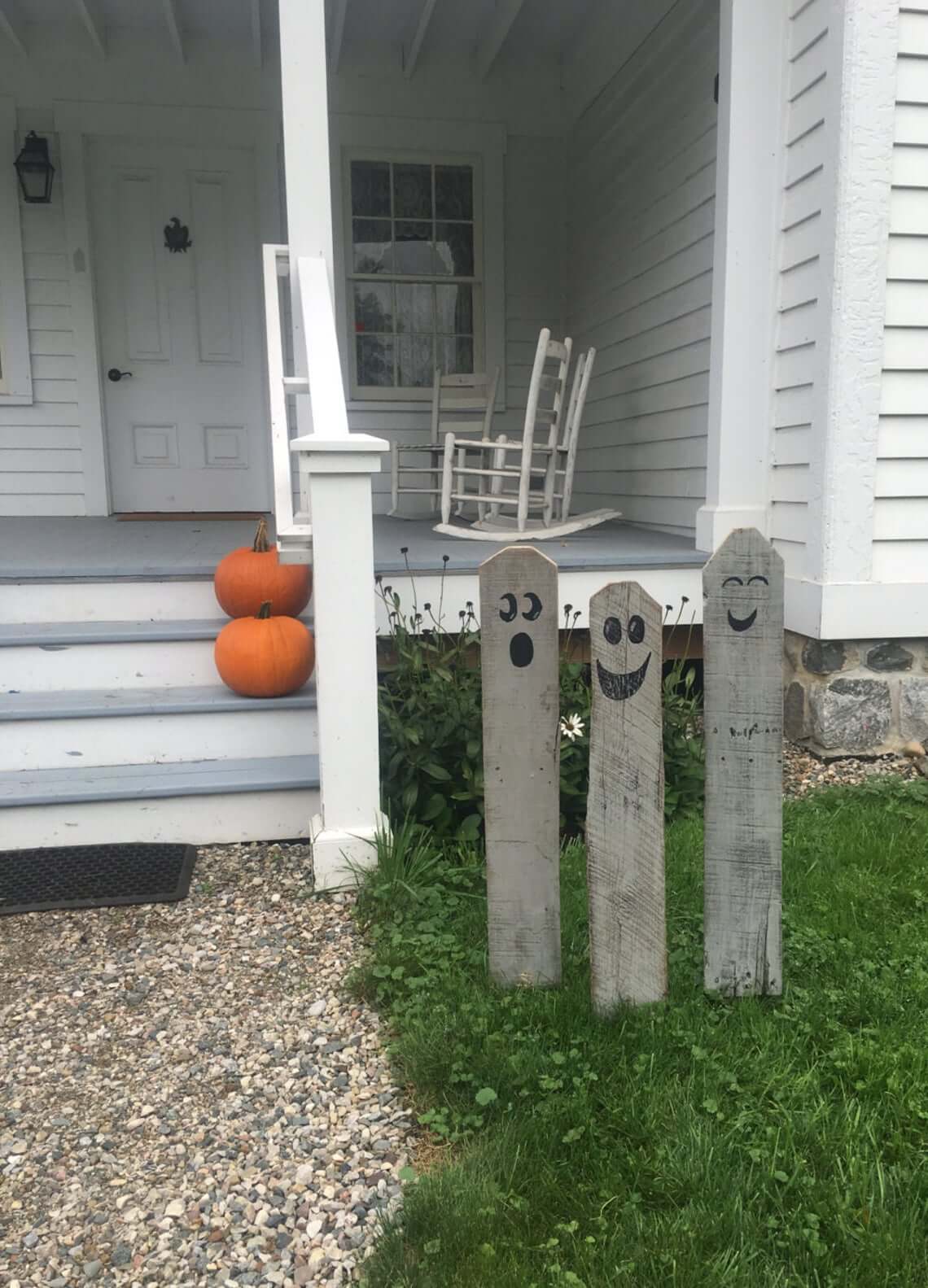 These friendly-looking fence post ghosts are less spooky and more welcoming. Perfect for a lighthearted Halloween decoration theme!
73. Bat Cloud Door Decor with Invisible Wire
This all-black swarm of petite and sleek bats is expertly arranged. Each piece is likely mounted on its own individual wire, but the bats could also be mapped out and then applied directly to the door and walls.
74. Purrrrrfect Pumpkins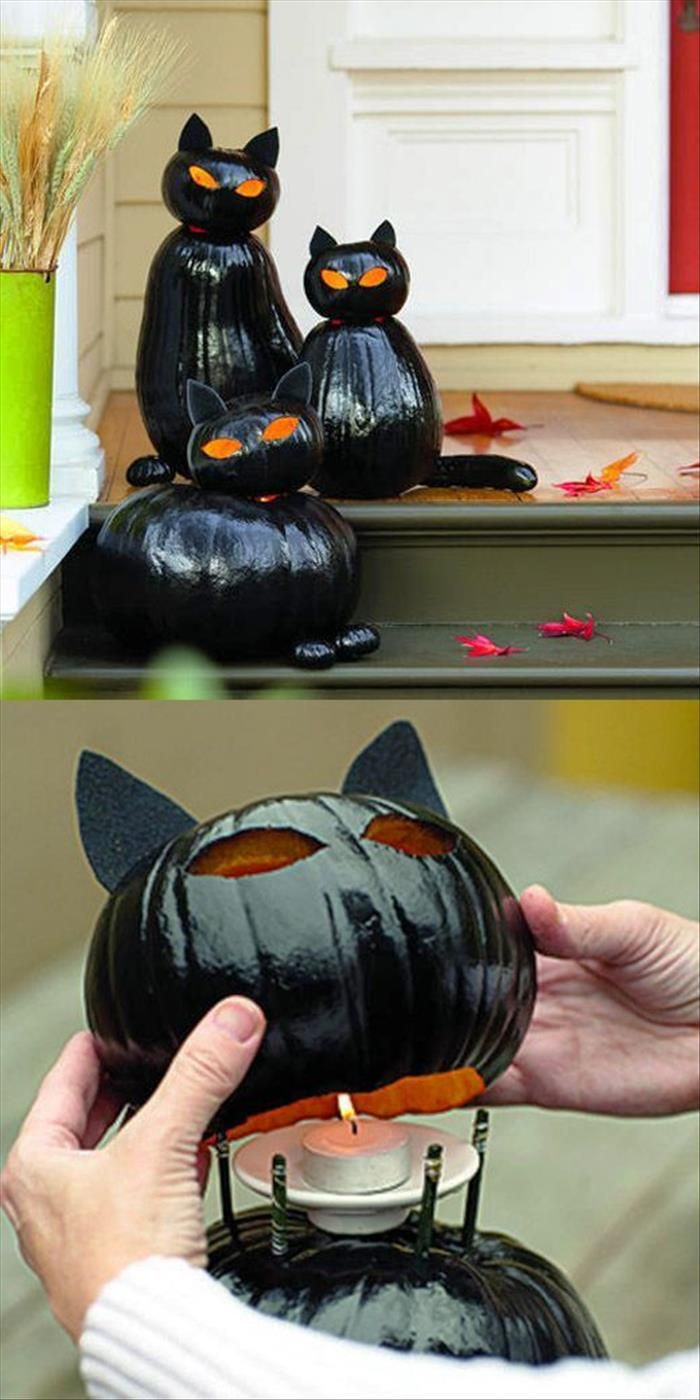 This is a sweet twist on the classic jack o' lantern. Use spray paint to make the pumpkins black, then stack a smaller pumpkin on top of a larger one to create a black cat.
The candle inside the headlights up the eyes, creating an eerie glow.
75. Sweet Sacks of Spiders Halloween Outdoor Décor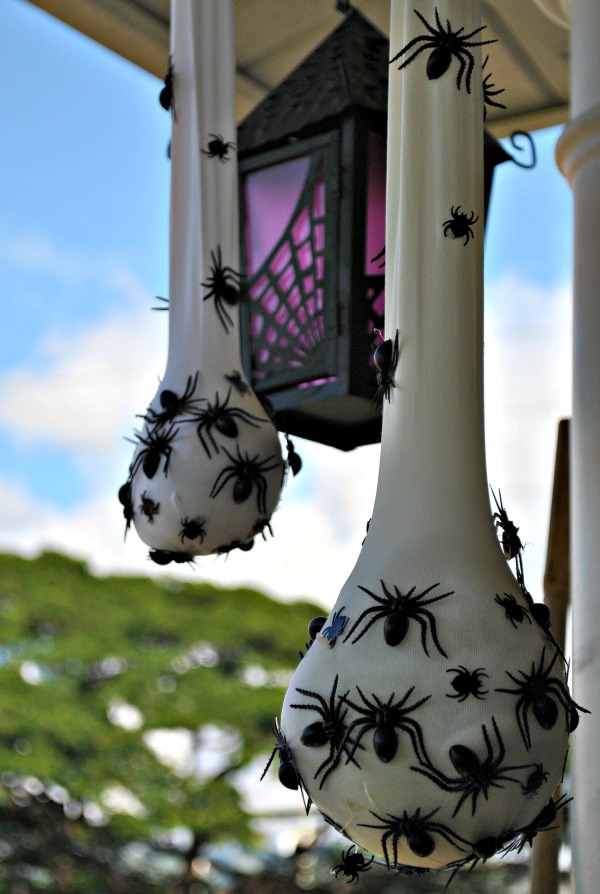 Source: The original source is not available anymore.
Hang these terrifying yard decorations from trees, porches, overhangs, or along fence lines to create a creepy crawly feel.
76. The Birds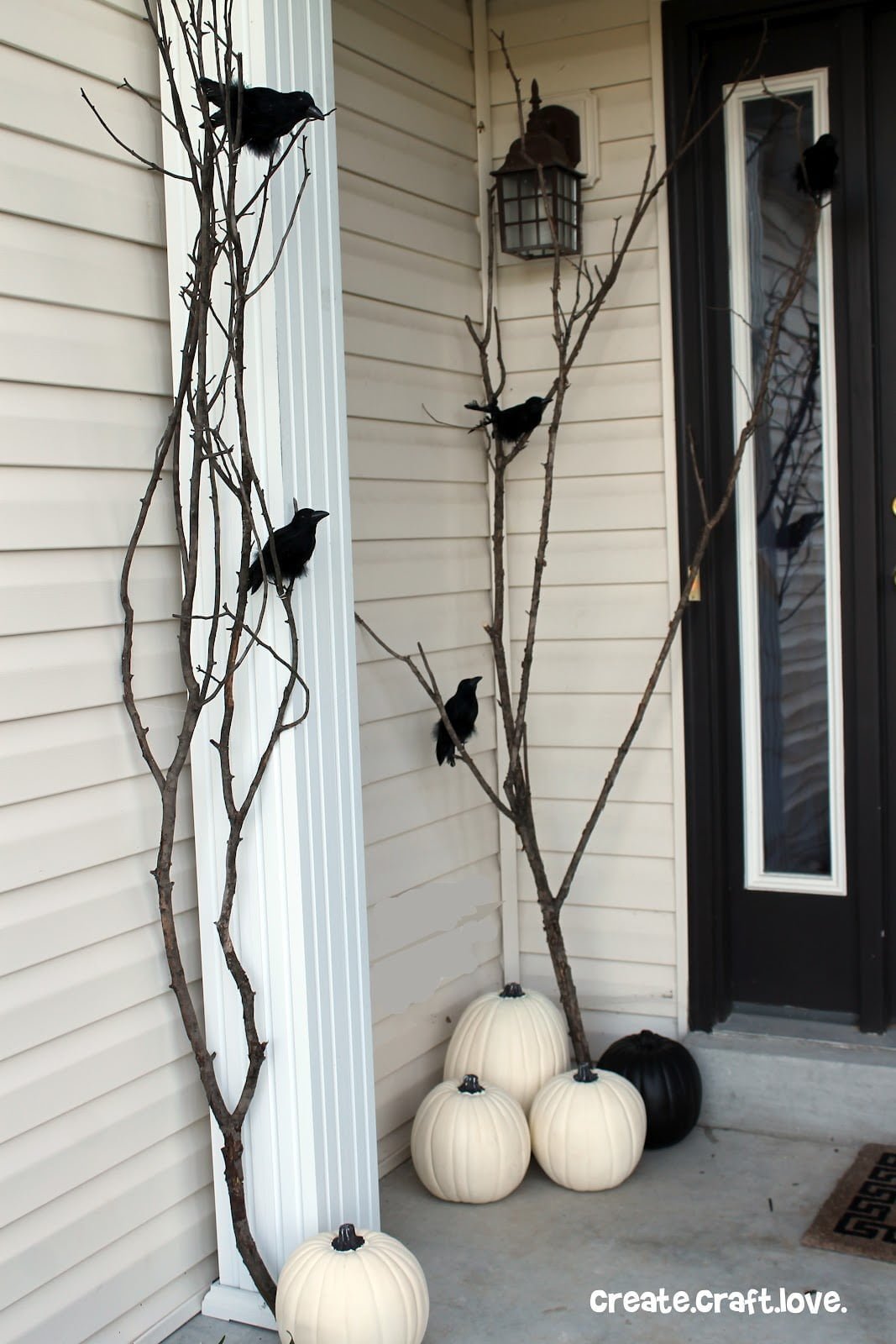 This simple design seems like it could be a good solution for those who want to decorate for Halloween without going overboard.
If you're familiar with Alfred Hitchcock's "The Birds," though, the scene looks a lot more sinister. Best of all, it's not hard to set up!
77. Tattered Tormenters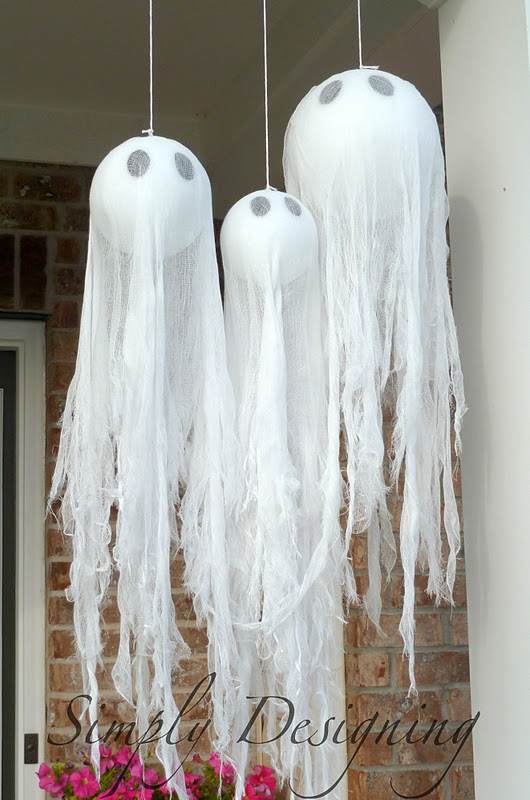 This example of DIY Halloween crafts is a simple and inexpensive way to scare the pants off of your Halloween visitors. Created from materials such as a styrofoam ball, a marker, hooks, and cheesecloth, this craft can be constructed in a matter of minutes.
78. Haunting Halloween Bag Luminary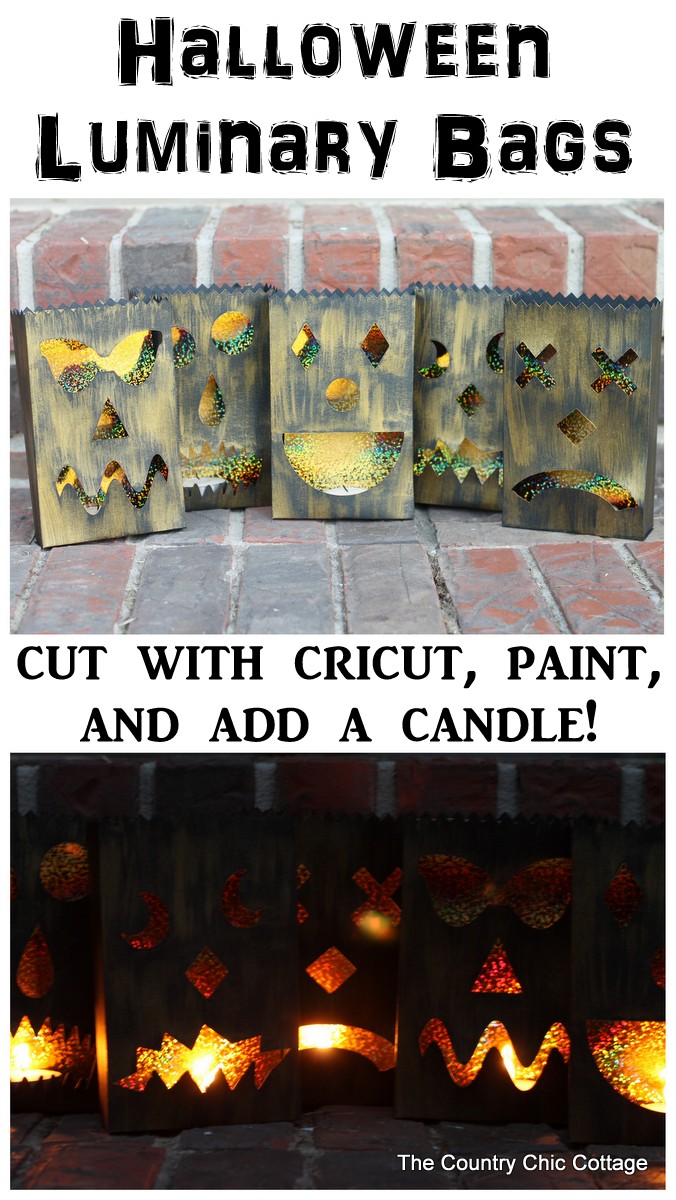 Get away from the same old pumpkin carvings to light up your walkways and entryways. For only a few dollars, you can create these original works of DIY outdoor decorations.
79. Gruesome Ghost Host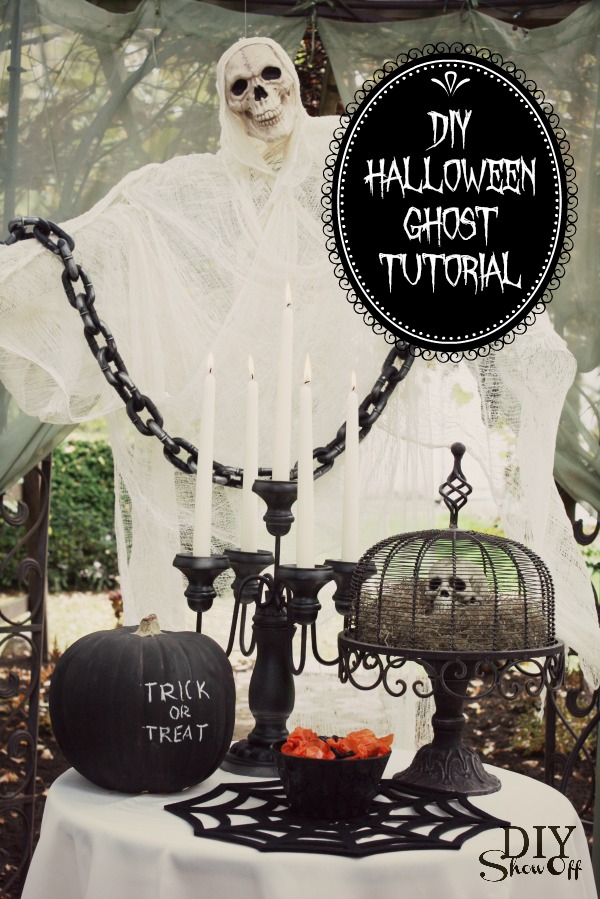 Welcome your guests to your Halloween party with this larger-than-life cheesecloth ghost. With some time and patience, your Halloween decor will be adorned with this eerie being.
80. Eerie Cemetery Entrance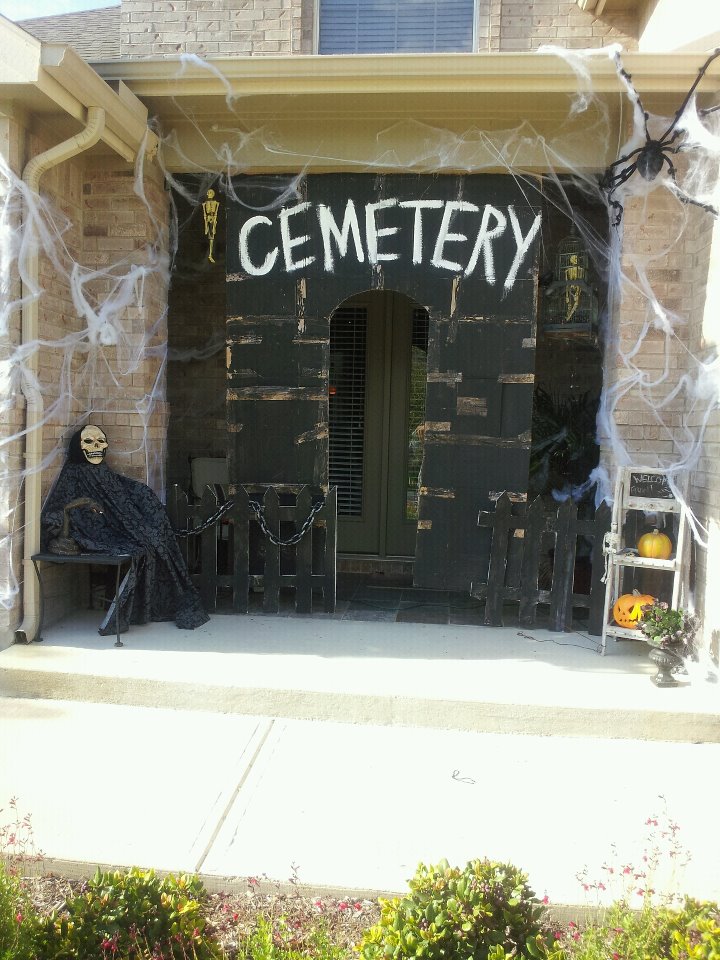 Transform your entryway to your home into a creepy cemetery entrance with this easy DIY crafty decorating idea. This fabulously freakish holiday decoration can be made for nearly no money at all.
81. Chilling Crow Silhouettes Decoration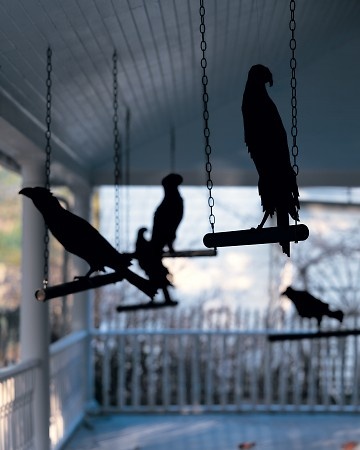 The crow is an excellent addition to your Halloween decoration ideas. Thanks to the scary role that this bird has played in many spooky movies, the image of the crow makes your outdoor decor that much more chilling.
82. Give Me a Hand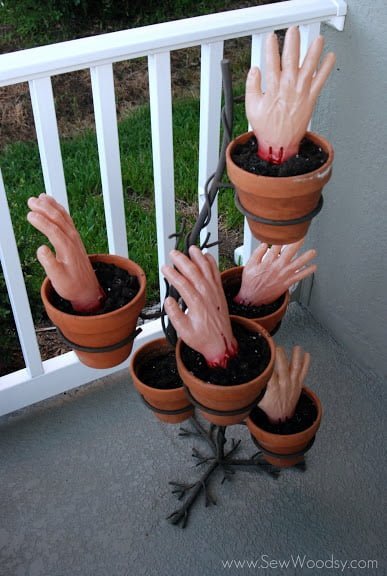 Now that your annual flowers have died, you can still make use of your pots and planters by putting some body parts into the pots.
This unique holder gives some height to the pots, but you can take this idea and use it in a variety of the planters you might have put away for storage.
83. Halloween Hodgepodge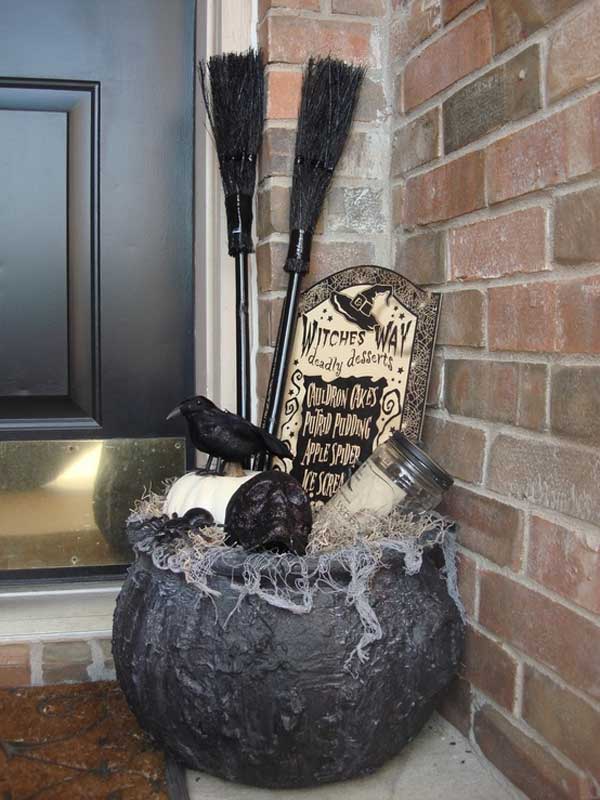 This design has everything you expect to find around Halloween time: a list of witch's recipes, a pumpkin, a crow, broomsticks, and a black spider. It's easy to make and it doesn't take up much space, so it's perfect for those who don't have a large porch.
Create Your Own Outdoor Decorations for Halloween
Decorating your home and yard for the Halloween season can be a costly endeavor. When it comes to creating eerie elements outside, it is not necessary to spend a king's ransom on new decorations. Creating your own Halloween crafts is not only cost-effective but family-friendly!