Millions of people spend thousands of dollars on Halloween decorations for their home and yard. For those who already partake in the addition of ghosts, black cats, jack-o-lanterns, witches, and other scary elements in their yards, the anticipation of Halloween lasts all through the year. Halloween yard decorating rivals the excitement felt at Christmas for many, including the candy seeking children.

October 31st is the perfect time for diy outdoor halloween decorating when the weather is cool, the colors of nature are changing, and the nights are long and dark. These are the perfect conditions for creating spooky, scary, or whimsical halloween yard decorations for your home and property. It is important to partake in Halloween yard and home decorating to add to the atmosphere and excitement of the holiday. The neighbors will gaze in awe at your unique holiday decor that you create from these spooky halloween decorating ideas.
1. Triple Boo-Bow Porch Pumpkin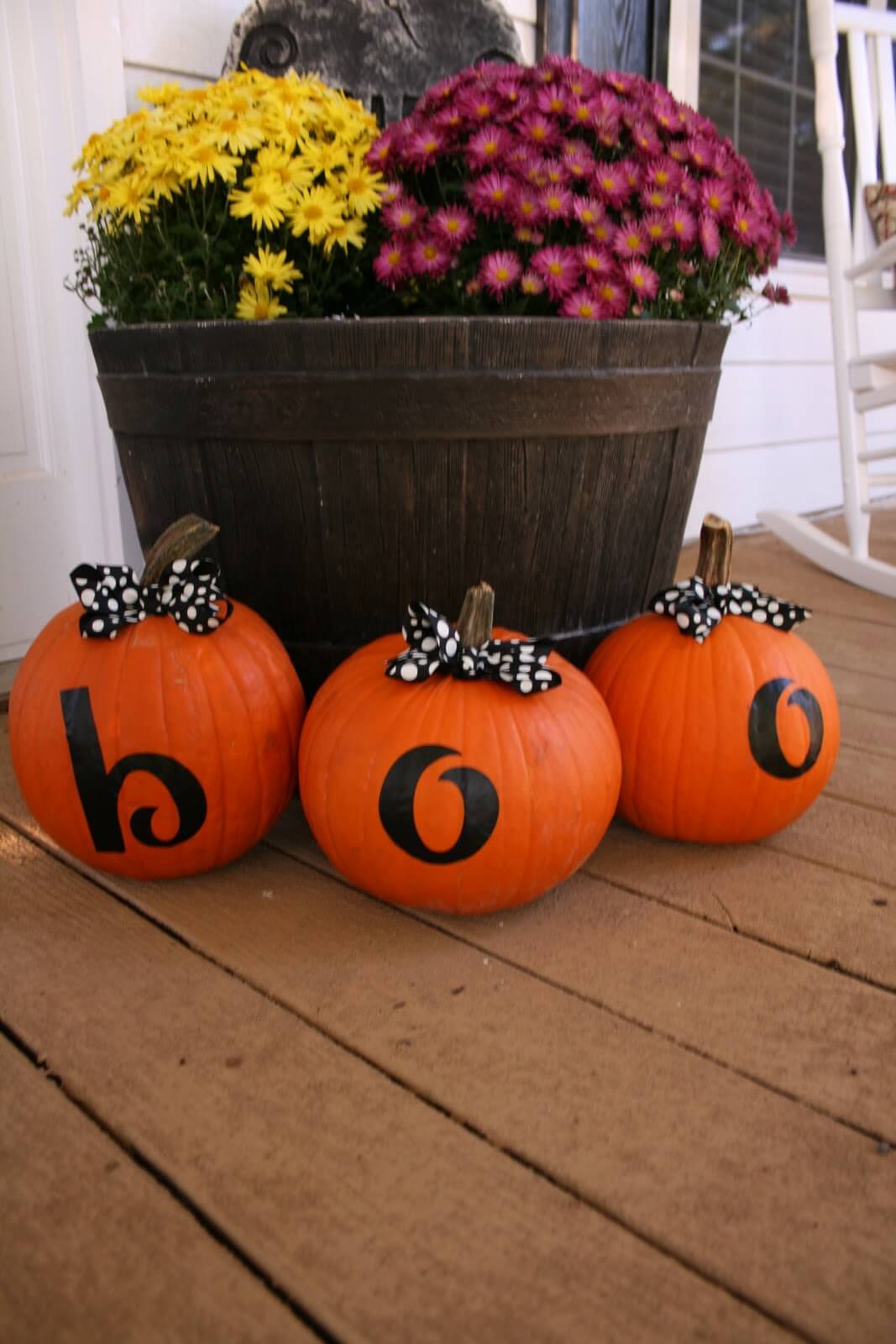 Three round orange pumpkins are arranged in a row, their smooth lines, and bumpy skin making them perfect examples of what to look for in a pumpkin. Tied on the scratchy green stems speckled with white are polka dot bows.
While you can easily use another color or print of ribbon besides black and white polka dots, it is hard to deny how well the fabric complements the stenciled black letters painted on the fronts of the pumpkins. While you can certainly paint the letters by hand, likely with acrylic paint or markers, this Halloween decor looks perfect for any home regardless of the methods used for lettering.
2. Painted Wooden Stake Pumpkin Patch Ghosts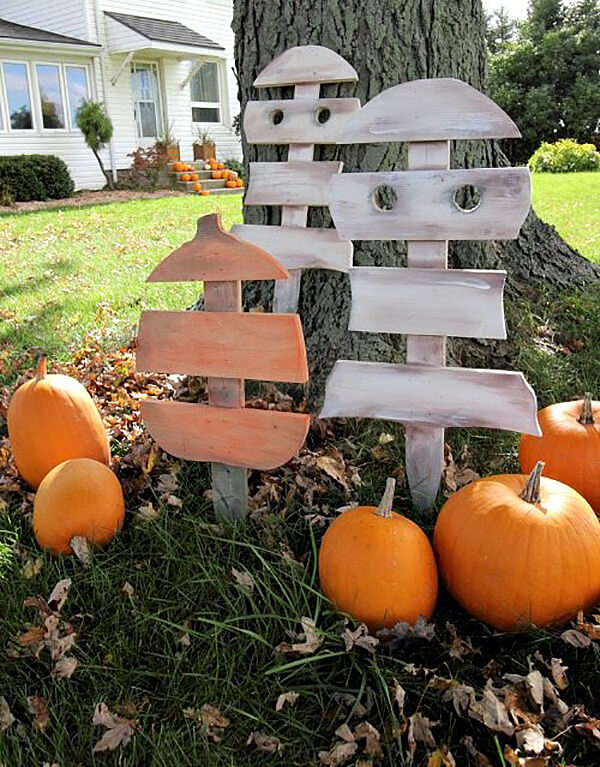 For both the ghosts haunting this pumpkin patch and for the pumpkins themselves, you have several options. Craft stores may carry wooden Halloween figures to put in your yard, you could cut and assemble the pieces yourself, or you could use a partially-constructed item such as a wooden pallet.
Once the figures take shape, a light paint job is all that is needed. What type of paint you use depends on the effect you want. For example, a bolder color may require a primer and paint specifically made for wood. If you prefer a subtler effect, craft or poster paint would be excellent choices.
3. White String Banner with Orange Pennants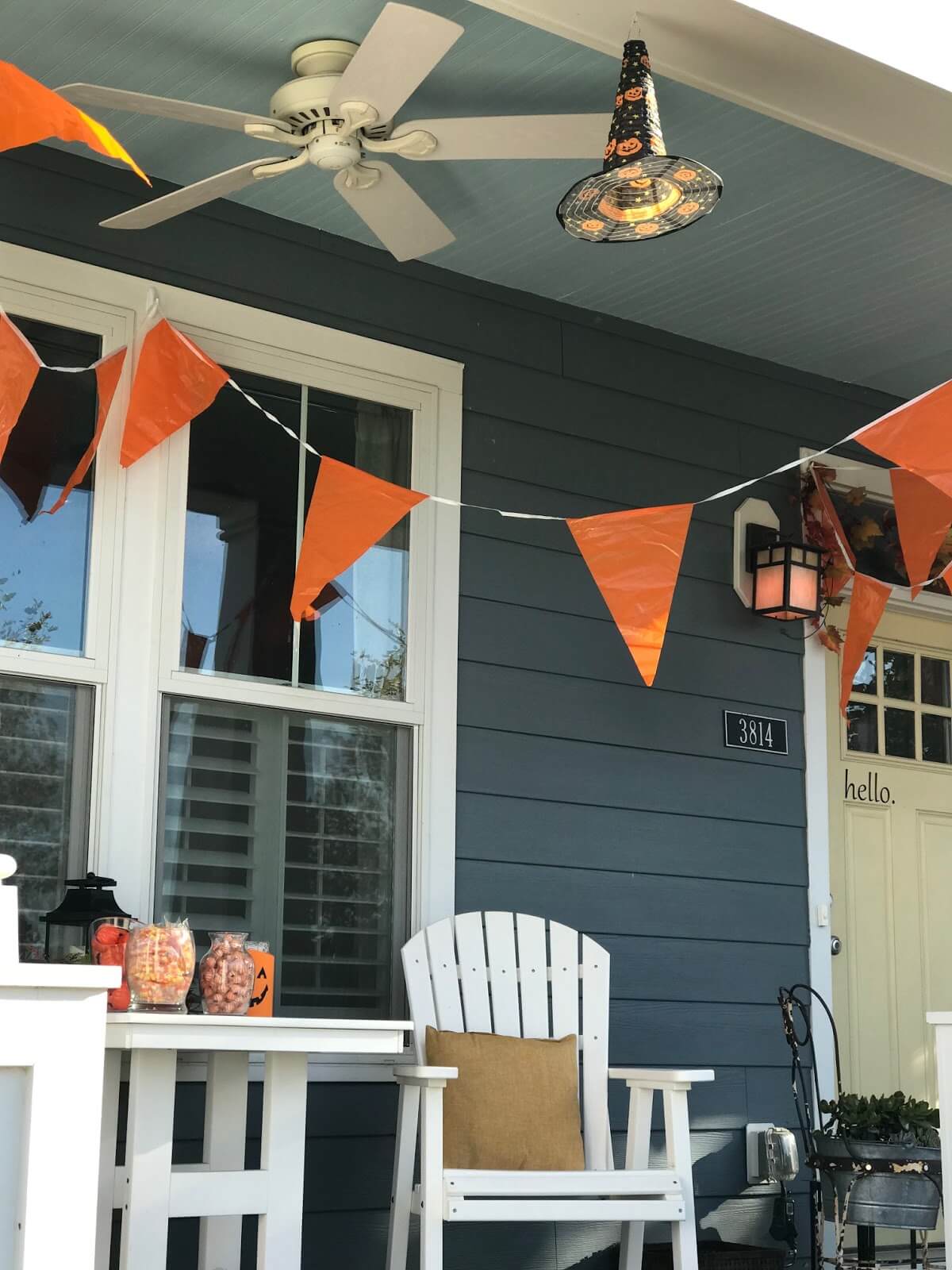 All that is needed to construct this piece is some string and either orange fabric, vinyl, or durable paper. The material used to make the pennants must be strong enough to withstand the elements if the banner is to be placed outside, and the string must be able to hold the weight of the pennants.
These pennants are a classic triangle "v" shape. While the string is visible at the top of some of them, it is clear they are tightly secured. Methods of securing the pennants to the string could include glue, sewing, tape, or even heat sealing if applicable to the materials.
While the pennants in this photo are all orange, some crafters may prefer to mix it up with black, purple, or other recognizable Halloween colors.
4. "When Witches go Riding" Painted Wooden Sign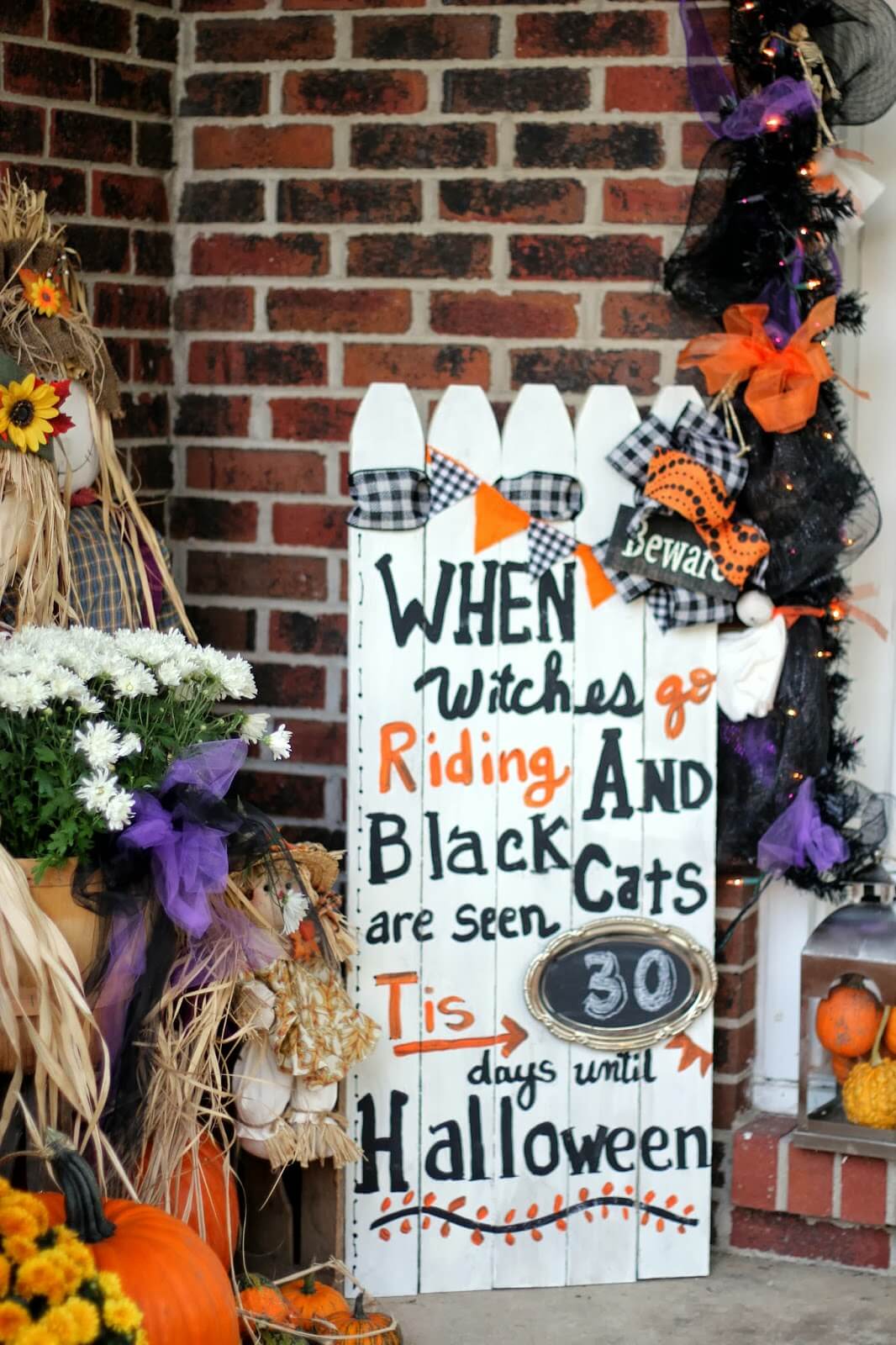 While a painted wooden sign could easily have any one of a multitude of Halloween sayings, this one features the phrase "When Witches go Riding and Black Cats are Seen, 'tis (blank) Days Until Halloween."
"Blank" is meant to be filled with the remaining days until Halloween. Different fonts and varied paint colors create a funky, loveable mess while ribbons and pennants hung around the top of the sign accent the painted letters.
The wood piece in this image is styled after a picket fence, perhaps reminiscent of a bygone era of classic spookiness. Other types of wood paneling can be used, such as heavily painted plywood.
5. Stacked White Jack O'Lantern Display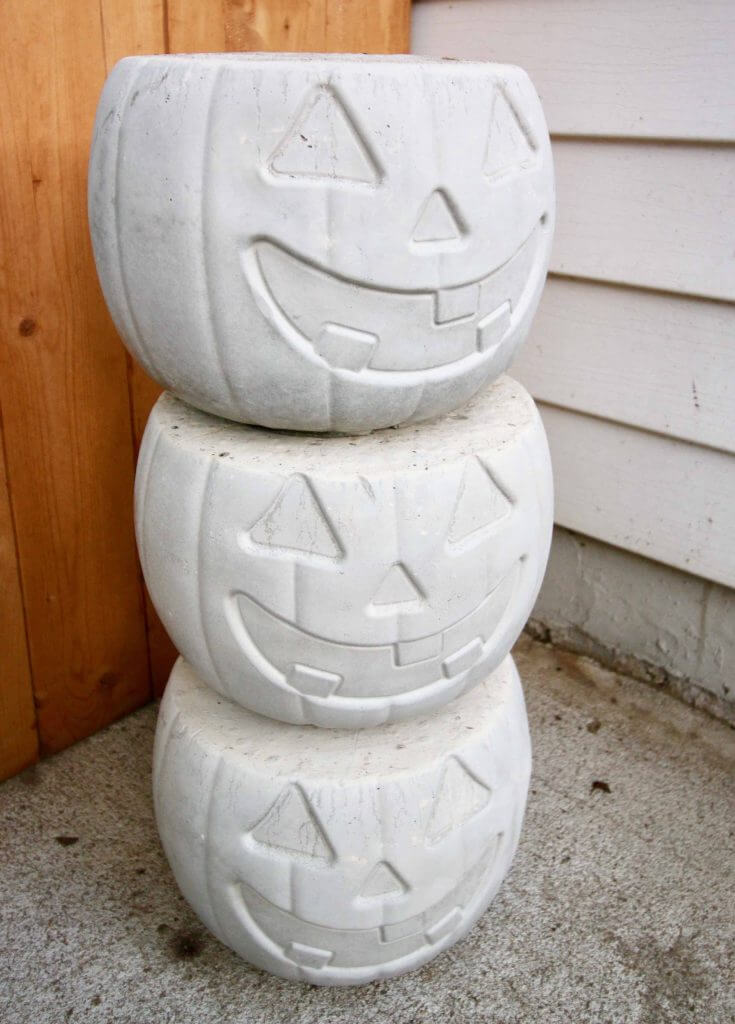 These Jack O'Lanterns fall into the "not an actual pumpkin" category. Made of round wooden blocks, the faces are etched into the solid surface rather than being carved into a hollowed-out pumpkin rind. They are painted completely white, which serves a simple minimalist look.
Even though the simple white paint job is attractive, these pumpkins could be further decorated with other colors of paint or even designs and appliques. What decorations are applied depends largely on whether the display is meant to be indoors or outdoors.
6. Jack Skellington Multicolor Garland and Wreath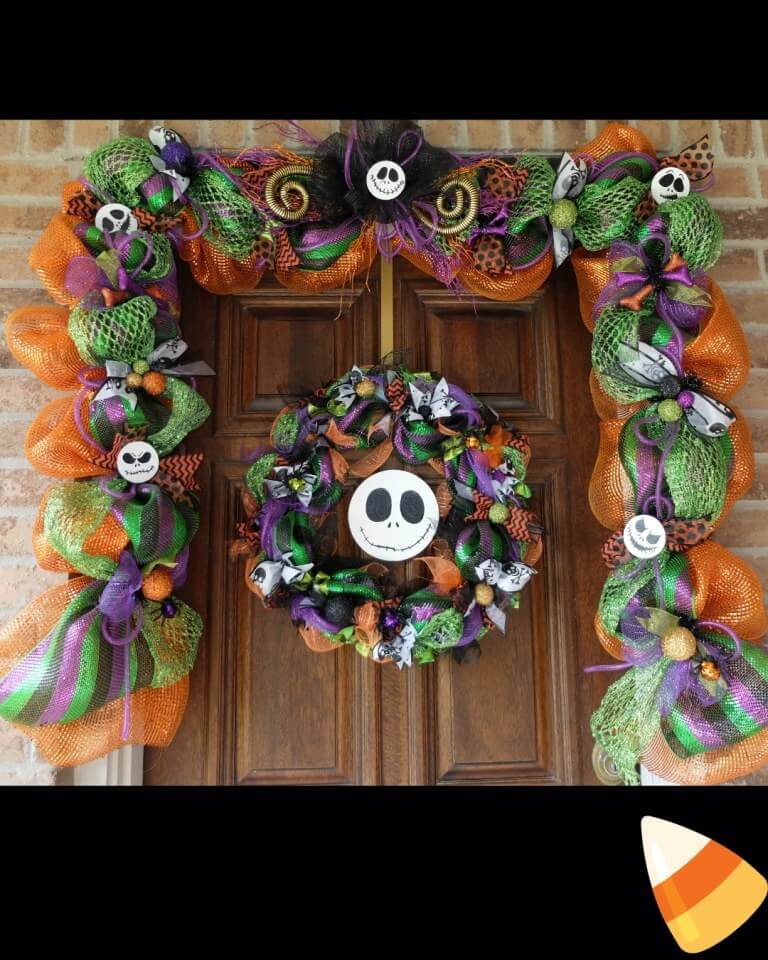 This set absolutely dispels the notion that certain decorations are only for certain holidays. Featuring the main character of the classic holiday movie "The Nightmare Before Christmas," orange, green, purple, and black tulle are strung together and scrunched for volume while baubles with Jack Skellington's face and the same color scheme are scattered throughout.
The wreath is more tightly woven together than the garland and encircles a larger portrait of Skellington. This set is perfect for a Tim Burton fan, a Halloween enthusiast, or anyone who wants to branch outside the norm with their spooky decor.
7. Stretch Lace Spider Pumpkin with Bow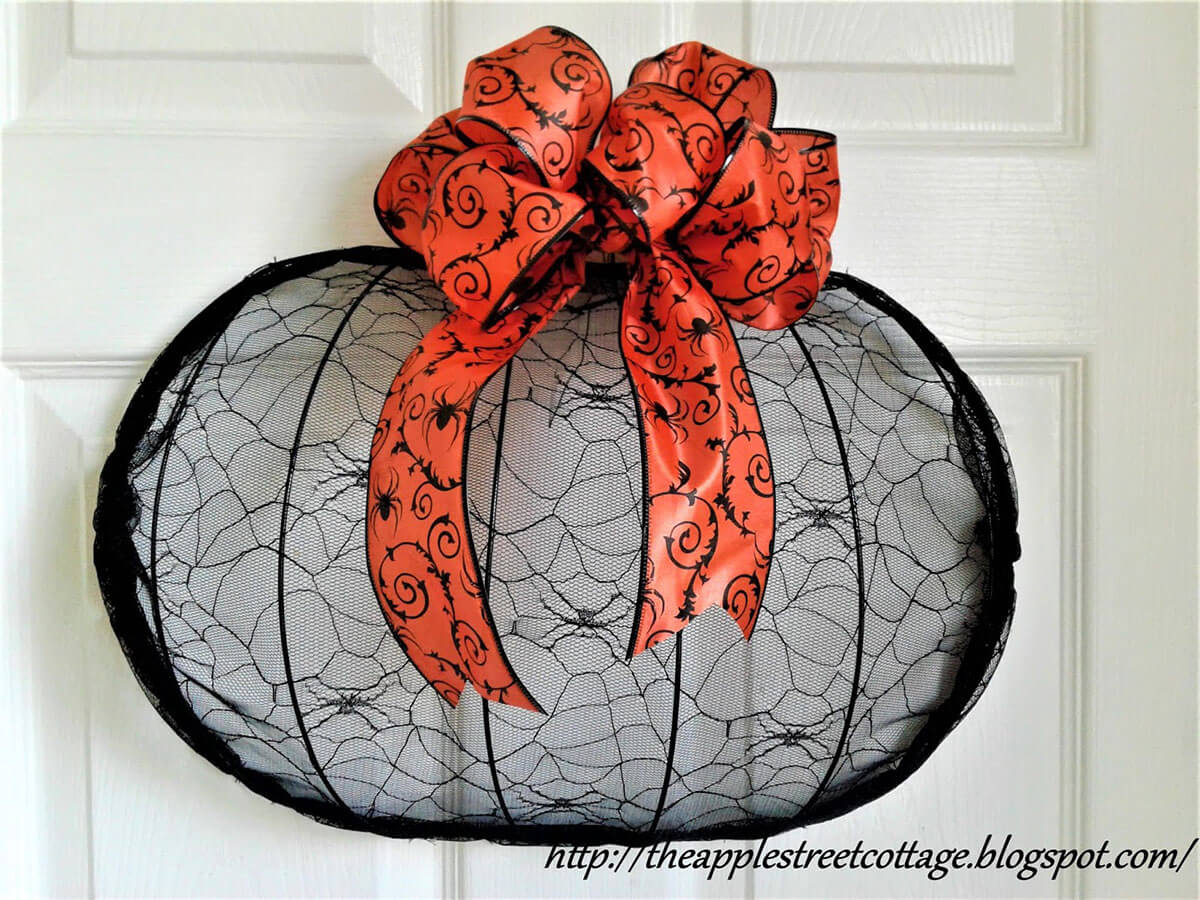 This door decoration evokes a wreath with its roundness and the delicately placed bow, but with some wire, ribbon, and basic craft supplies you can easily DIY your own version.
This particular piece uses lace with web design. The fabric features crisscrossing lines and interwoven spiders. It is stretched over a round wire base with intermittent curved middle wires, meant to simulate the lines on a pumpkin.
On top of the main structure is an orange and black ribbon tied into an elaborate bow. Spiky vines with swirling tendrils frame spiders that climb up and down the ribbon. For this piece, just make sure the lace is stretched tight for maximum Halloween fun!
8. Rustic Painted Wooden Pumpkin Family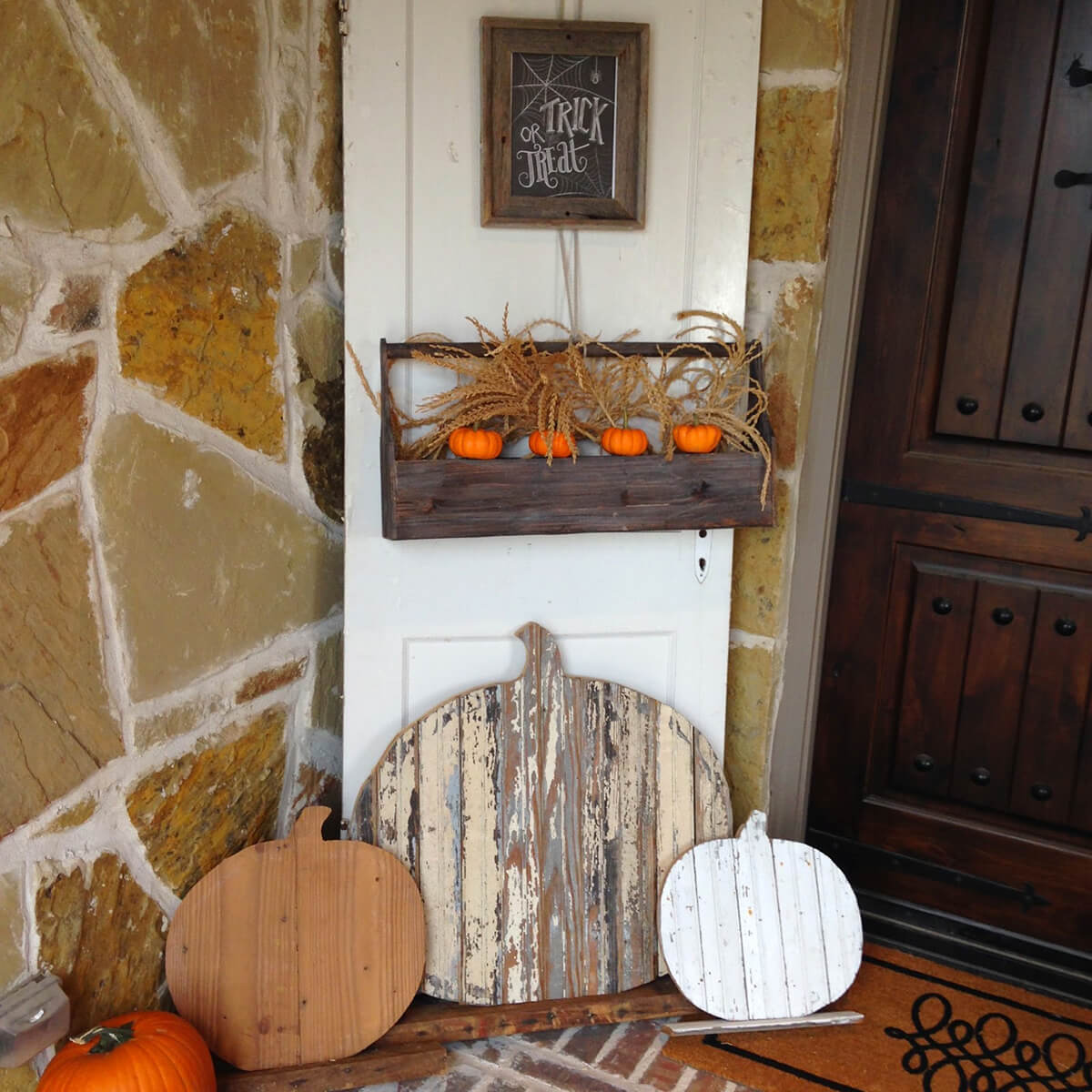 The largest of the three of these pumpkins is the roughest, with chipping paint in a mix of blue, white, black, and gray. An easy way to achieve this look from an unpainted piece is to paint it, then sand or scratch the paint off until the desired effect is achieved.
The smaller two pumpkins are white and brown, respectively, and while the paint is more evenly applied (a stain is also an option), they are chipped enough to complement the larger pumpkin without being too matchy-matchy.
9. Multicolor Foam Jack O'Lantern Stacked Archway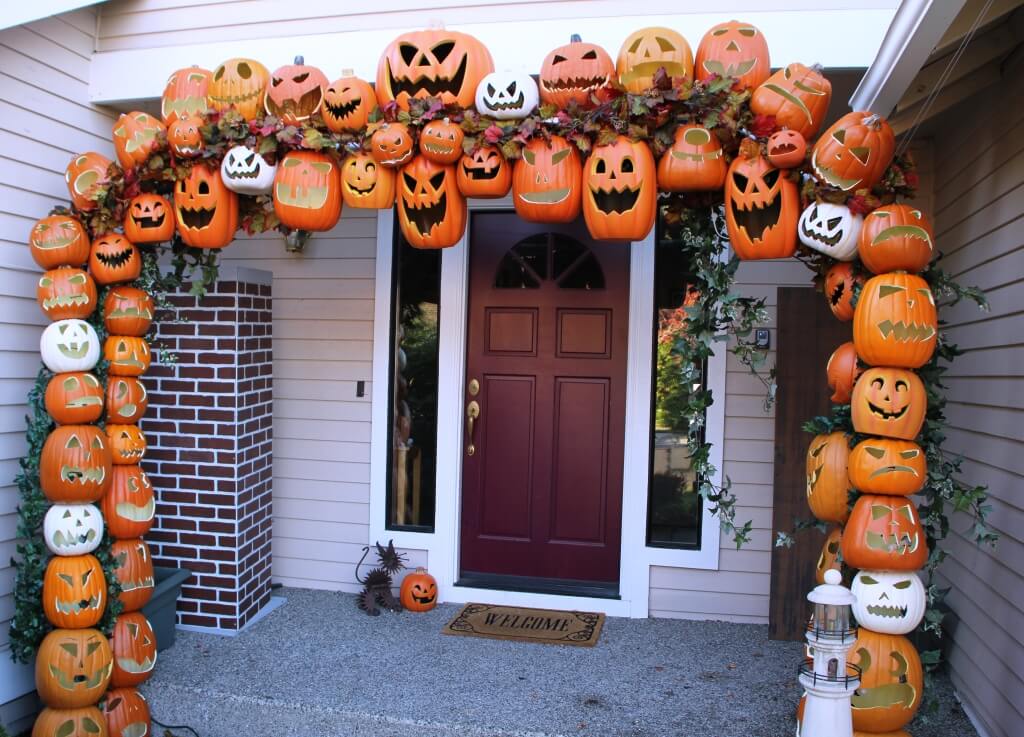 Over a dozen foam or plastic pumpkins are stacked in the shape of an arch and secured with glue, wire, and a fall-themed garland featuring autumnal leaves. While the Jack O'Lanterns in this display are all naturally occurring white or orange, the items can be painted or otherwise decorated to bring spooky holiday joy to each individual crafter!
It is important to take into account stability when constructing this arch, so basing it around a wire or otherwise stable already-constructed arch would be an excellent idea. Garden and hardware supply stores are good places to look at.
10. Coffee Can and Fabric Hanging Ghosts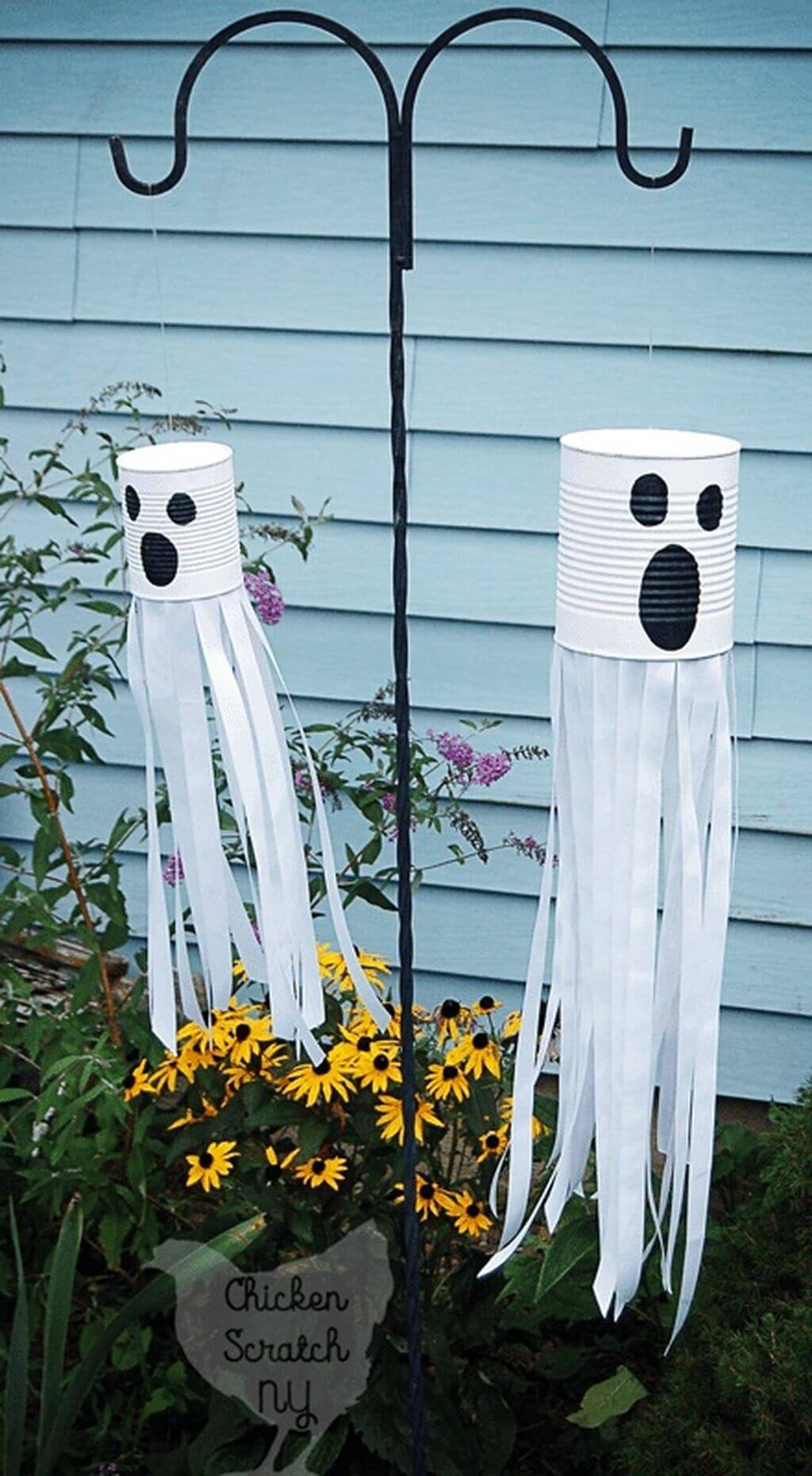 Sometimes Halloween decorations can be crafted from everyday household items that most people have lying around their house or recycling bin. These adorable hanging garden ghosts are simple and quick to construct. Metal coffee cans, black and white paint, and strips of white fabric are the main elements, along with brushes and the glue or tape to secure the fabric strips to the inside of the cans.
These ghosts are painted white. When the paint layer dries, the black paint of the mouth and eyes can be applied and the varied length fabric strips can be attached. Wire or fishing line are both excellent for hanging the ghosts with an "invisible" effect.
11. Jack O'Lantern Candle Holder Decorative Jars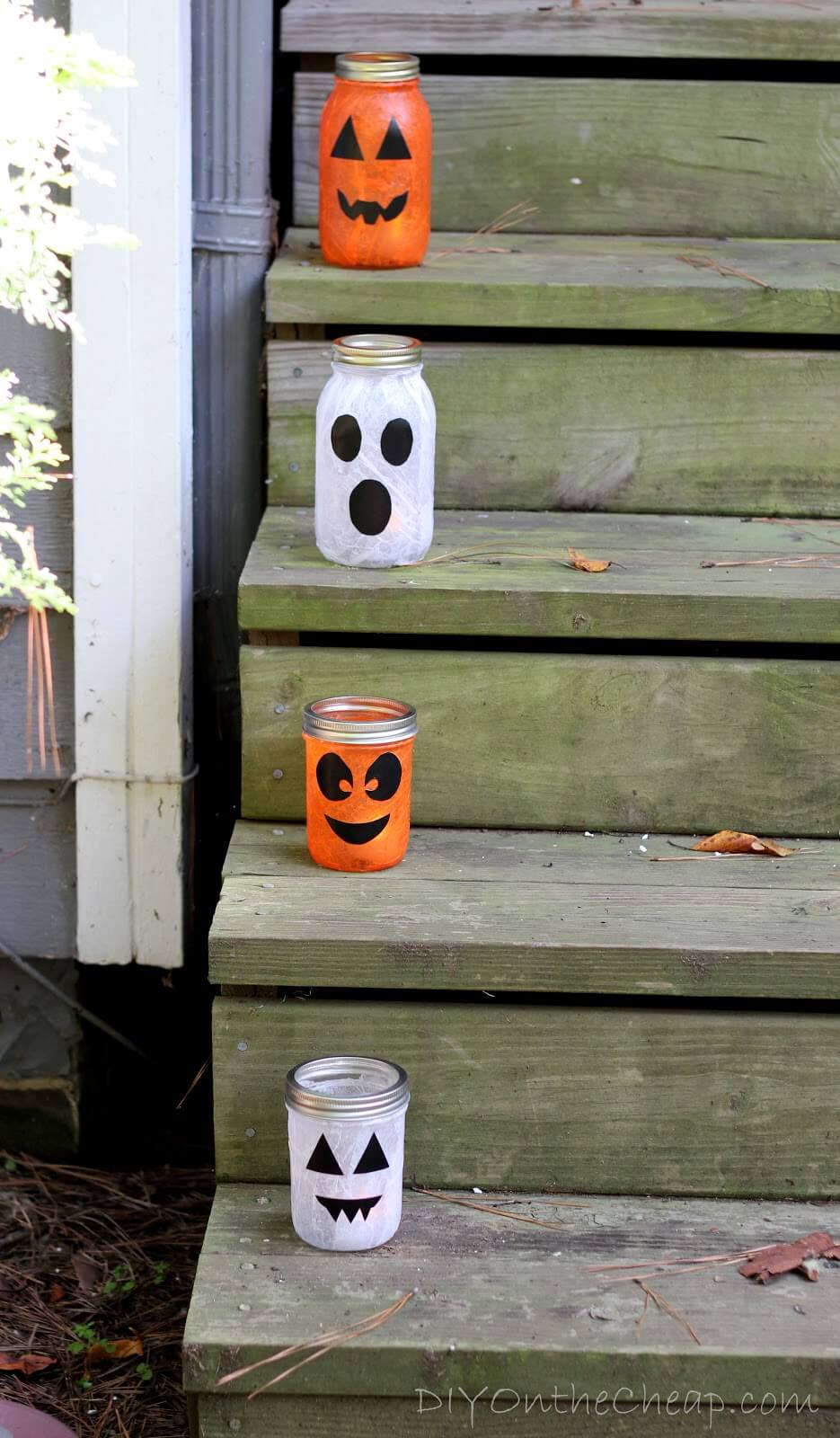 Whether or not your home has steps, these jars are a fun addition to Halloween decor with candles for the full "Jack O'Lantern" effect or without as simple figures.
First, start with any sort of glass jar, such as those used for canning and preserving. Glass is preferable to plastic or other materials in case real candles are added, as the heat from the flame could melt some materials.
Once you have the jars, use durable paint or even colored tape to create the designs. Jack O'Lanterns, ghosts, or even skulls are fun and spooky ideas. Depending on how many pieces are made, you could create an entire collection of spirited friends. This project allows for plenty of creativity, using orange paint, white paint, or any colors you choose!
12. Bone-Littered Graveyard with Crows and Skulls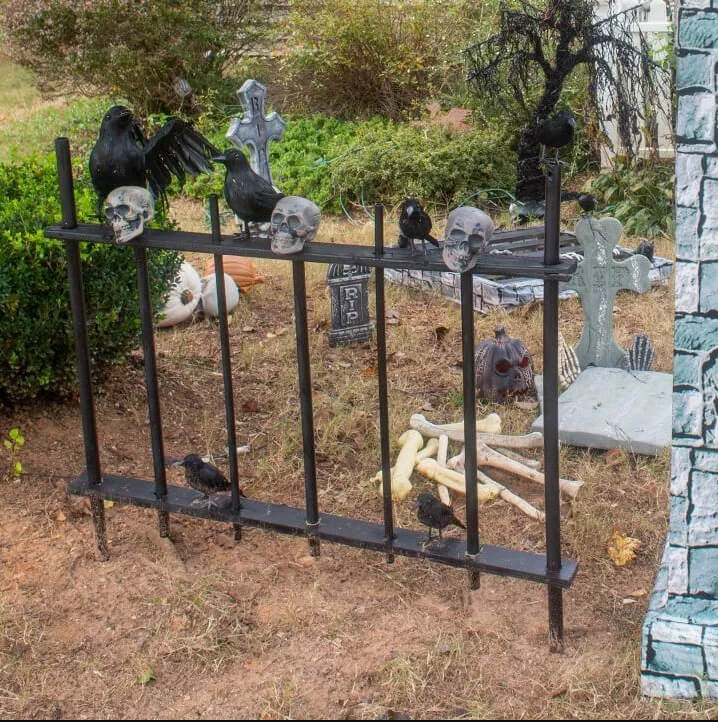 The display begins with a fence, either made of iron or styled to look like it is. Atop the fence is crumbling impaled skulls and studious crow figurines whose eyes follow the viewer. Behind the fence are gravestones and scattered bone piles. Hands reach up from under the ground and pumpkins dot the desolate area. Some Jack O'Lanterns are presented, and one of them has a "scary" face rather than the traditional features.
Other Jack O'Lanterns in this ghoulish garden have traditional features and complete the look begun by the crow-topped fence.
13. Giant Veiny Eyes for Bushes and Trees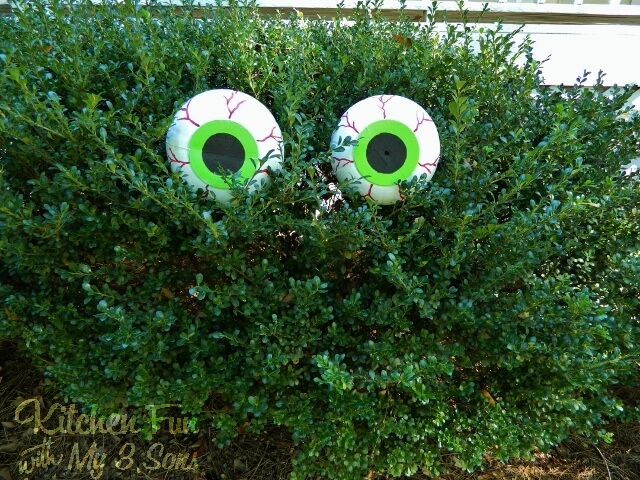 When you want to incorporate real vegetation into your Halloween decorating, these giant staring eyes are a wonderful addition.
Paper plates or balloons covered in papier-mache are the best base layers for this project. Here we see that the irises are green, which is brilliantly framed by the bush in which they are set. Any eye color is possible, and you can even experiment with different shapes and types!
The veins of these decorative eyeballs are enhanced by thick lines that create a sense of urgency and give the objects more of a lifelike appearance. Mounting of the eyes is best done with string or twine.
14. Sitting Stair Ghoul Lit from Within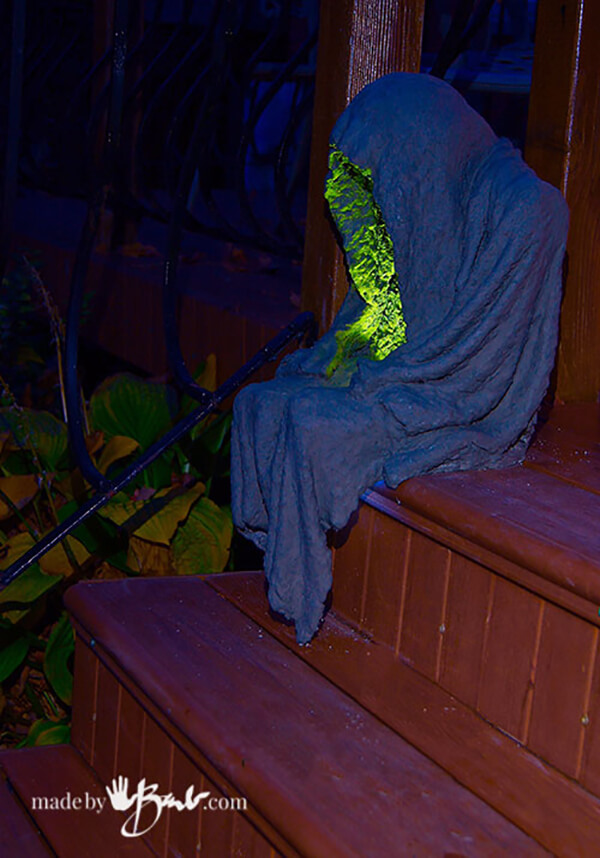 Some Halloween decorations are cute and festive, and some are genuinely creepy. This figure that sits silently on the steps definitely falls into the second category.
Some sort of framework forms the base for this figure, and that framework is vaguely human-shaped. The light emitted from underneath the dark blue shroud is green in color, creating an eerie and otherworldly glow. If the figurine is on a wire base or one made with another lightweight material, you may run the risk of it being destroyed by trick-or-treaters or other passers-by. Still, this piece is an excellent way to spook the neighbors and sure to be a hit with Halloween enthusiasts.
15. Skeleton Hand Erasable Chalkboard Wreath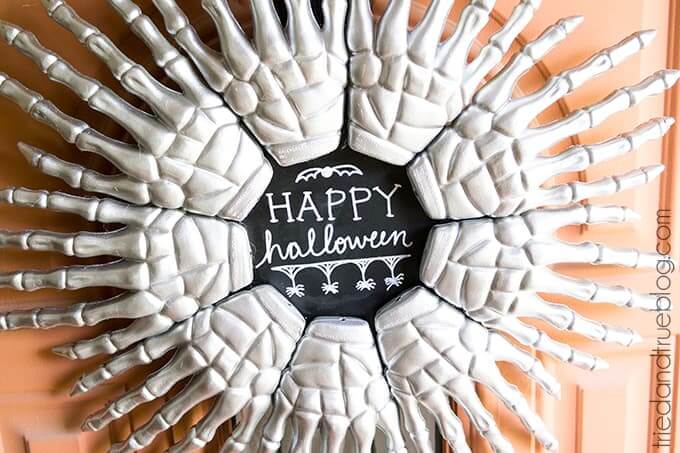 This wreath is made from several skeleton hands arranged in a circle around a small writable chalkboard. The hands are painted silver and the metallic paint pops against the simple wood grain of many doors and against the blackness of the chalkboard. When mounted, this wreath serves as both a piece of Halloween decor and a message board for homeowners, guests, and holiday visitors.
Something to note is that the fingers can catch on things when the wreath is stored, so it is a good idea to wrap it in something impermeable when not in use.
In this decor set, an orange and black striped pole is adorned with a raven that overlooks the directional signs, all of which have a Halloween theme. "Witch Rides," "Tricks," "Asylum," "Free Candy Next Door," "Dead End," and "Treats" are indicated in different directions. A long-snuffed and cobweb-covered lamp enhances the eeriness of this piece, especially when the sun goes down and the raven's eyes catch every speck of passing light.
16. Waist Height Lettered Halloween Sign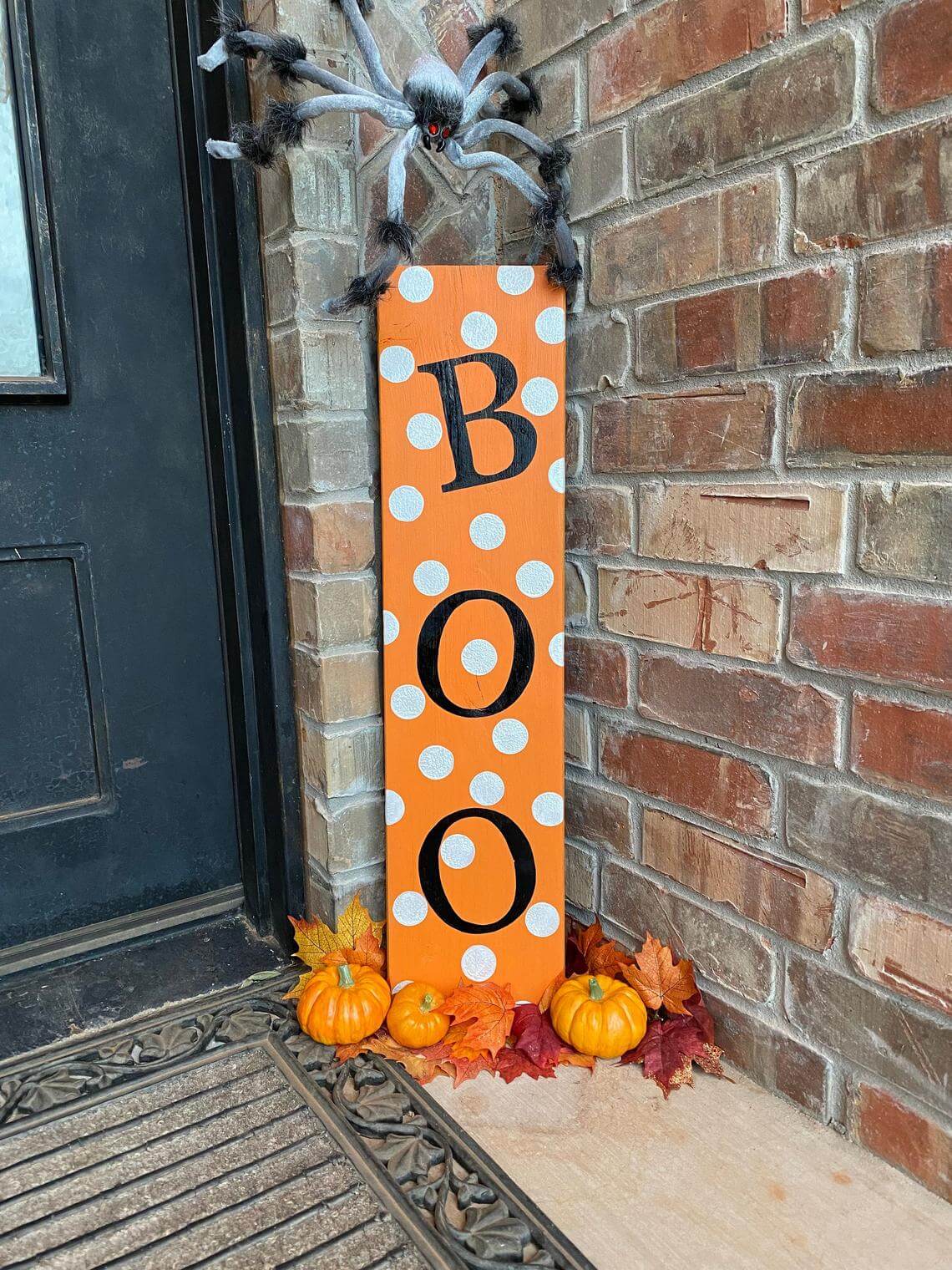 "Boo" greets this sign as the owner's door is approached. Sleek black stenciled letters sit atop an orange background adorned with white polka dots and surrounded by a bed of fall-colored leaves and uncarved miniature pumpkins.
The base layer of this design should be applied first. After that, the dots can be painted and after them, the letters spelling out "Boo" can be stenciled on. If you're especially brave or skilled, you can even try freehand lettering.
This piece serves as both a decoration and a greeting, much like a doormat.
17. Haunted Raven Directional Striped Sign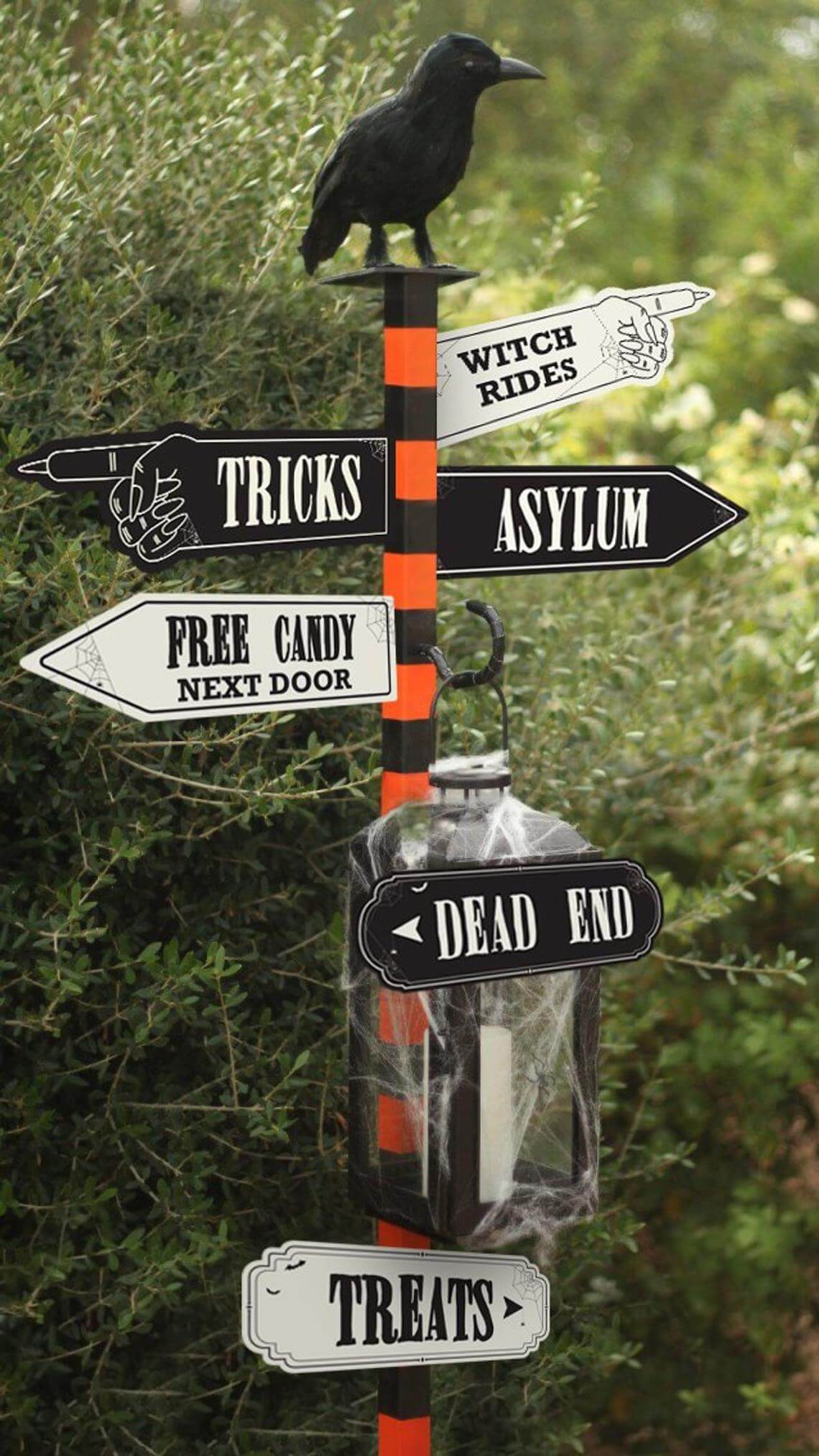 In this decor set, an orange and black striped pole is adorned with a raven that overlooks the directional signs, all of which have a Halloween theme. "Witch Rides," "Tricks," "Asylum," "Free Candy Next Door," "Dead End," and "Treats" are indicated in different directions. A long-snuffed and cobweb-covered lamp enhances the eeriness of this piece, especially when the sun goes down and the raven's eyes catch every speck of passing light.
When constructing this set or anything like it, plenty of adhesive or nails and a good paint sealing spray are essential investments.
18. Glowing Corpse Hands Reaching for Freedom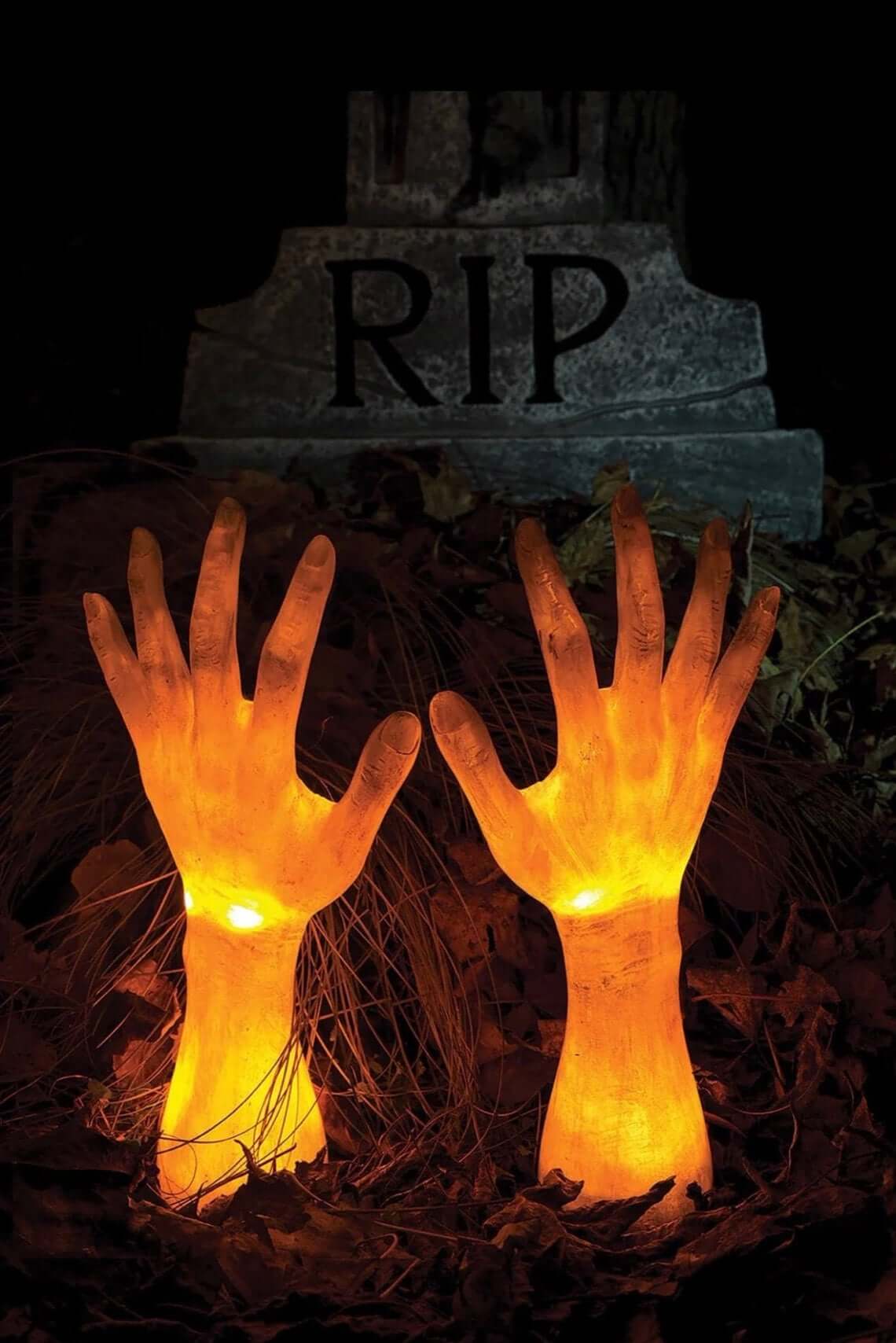 Many plastics or vinyl Halloween body parts are hollow, and these appear to fit the description. Once the bottom part (usually some kind of faux bloody stump) is removed, string lights or corded bulbs can be inserted into the hands to give them that glow from beyond the grave!
It may be tempting to insert motion lights into the hands to truly startle passers-by, but the motion sensor has to be put outside of the display in case the material is too thick to pick up movement. These ghoulish hands are best when they glow from the inside out, so glow-in-the-dark paint is also an option!
19. Gray Wooden Stake Ghost Pals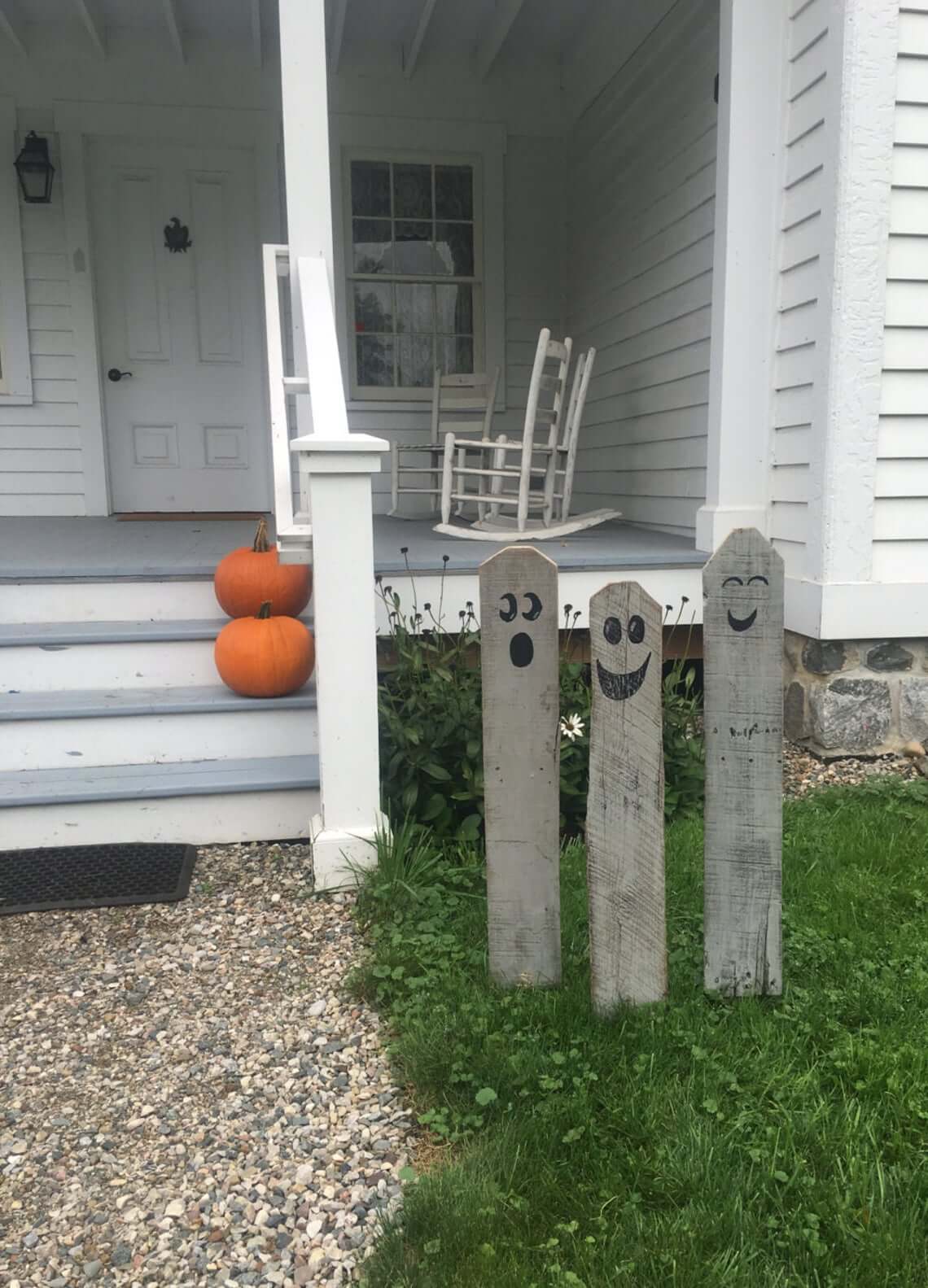 These friendly-looking fence post ghosts are less spooky and more welcoming, perfect for a lighthearted Halloween decoration theme!
The base for these haunt-happy buds is wooden, but the source is open to interpretation. Old fence posts, pieces of a wooden pallet, or even just wooden boards are excellent places to start. The faces drawn on these particular boards are a mixed bag, but it is clear to see that their creator had more of a friendly ghost theme in mind than a desire to evoke terror.
20. "Witches" Standup Spider Sign Set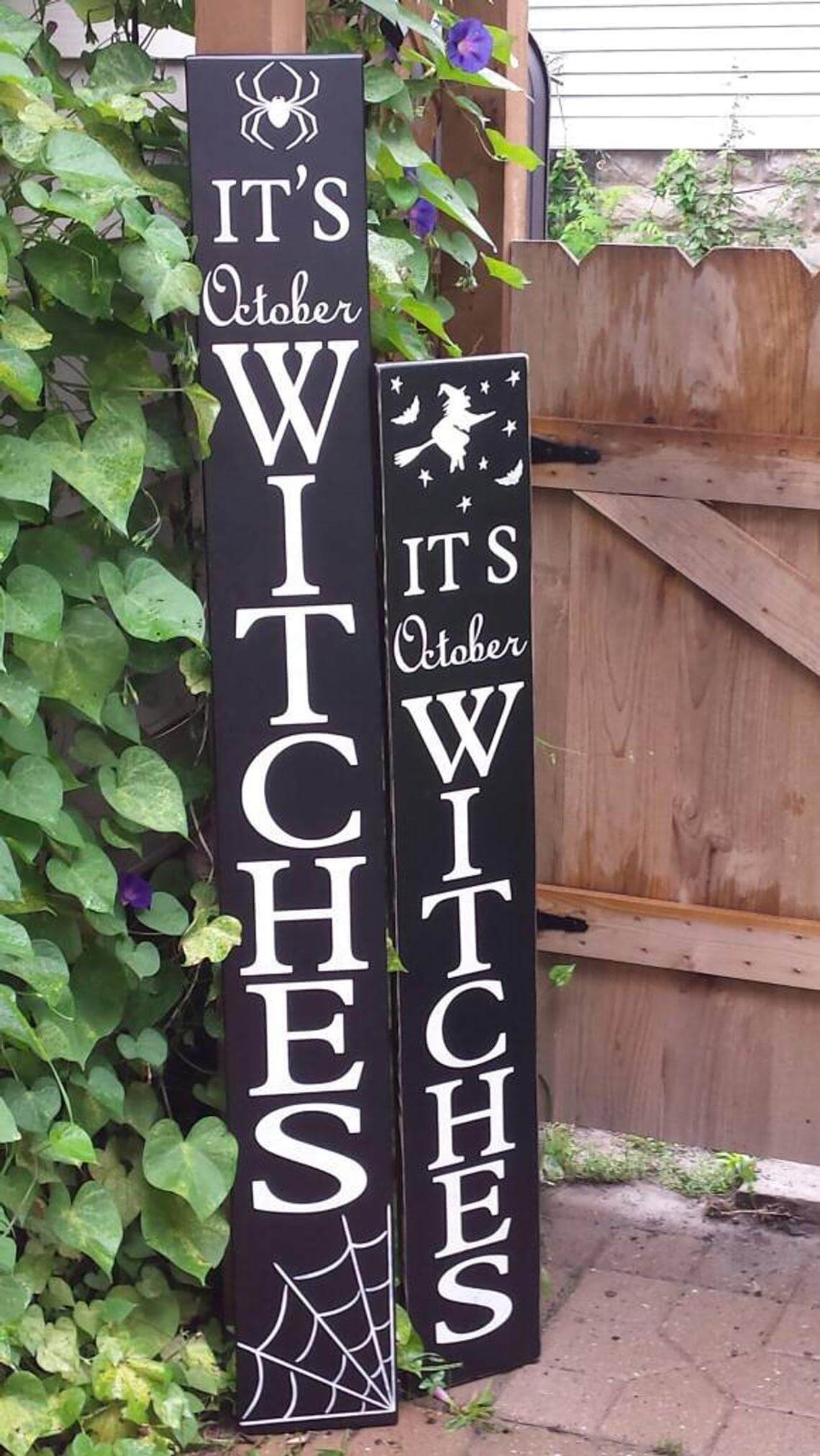 These matching signs are equal parts sassy and festive. Printed on boards painted black, the stark white lettering on each declares "It's October, Witches." This is of course a play on a phrase involving profanity, but the holiday twist adds wholesomeness.
Some things that set these vertical plaques apart are the additional designs and the different fonts used. Spiders and web grace the upper and lower borders of the larger plaque, while a witch riding her broom among bats and stars is printed atop the other.
21. Bat Cloud Door Decor with Invisible Wire
This all-black swarm of petite and sleek bats is expertly arranged. Each piece is likely mounted on its own individual wire, but the bats could also be mapped out and then applied individually directly to the door and walls they swarm against.
One of the wonderful things about this display is that it can easily be modified. More bats, fewer bats, a different swarm shape, or even different colors could make this already fun project absolutely delightful.
22. Ghoulish Glowing Glass Luminaries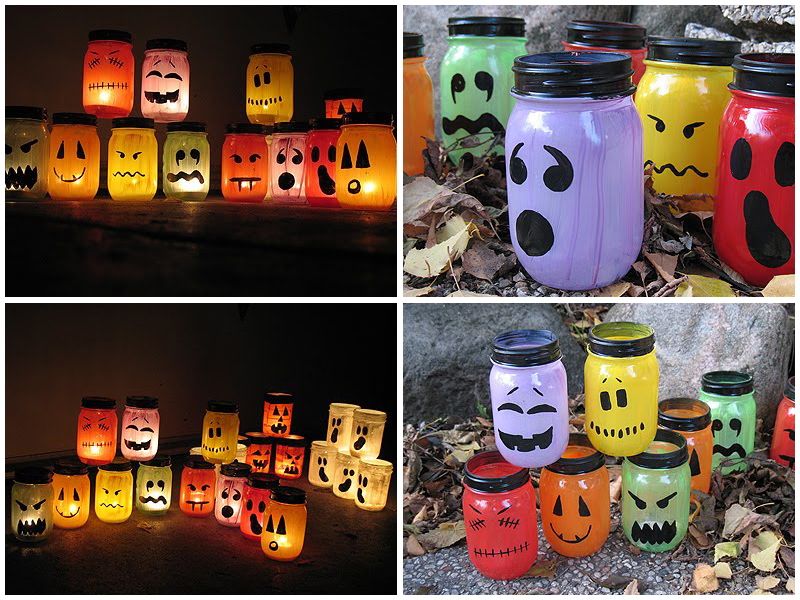 Light up any scary or spooky corner of your yard or home with an assortment of these glowing luminaries that you can construct for only a few dollars or from materials you may already have on hand. Create an assortment of these glowing ghouls from a few canning jars, some paint, and a candle. Arrange them along a dark path, a set of stairs, or light up a room in your home. These clever lanterns will deliver an ambient glow no matter where you decide to put these fun and easy diy halloween crafts.
23. Purrrrrfect Pumpkins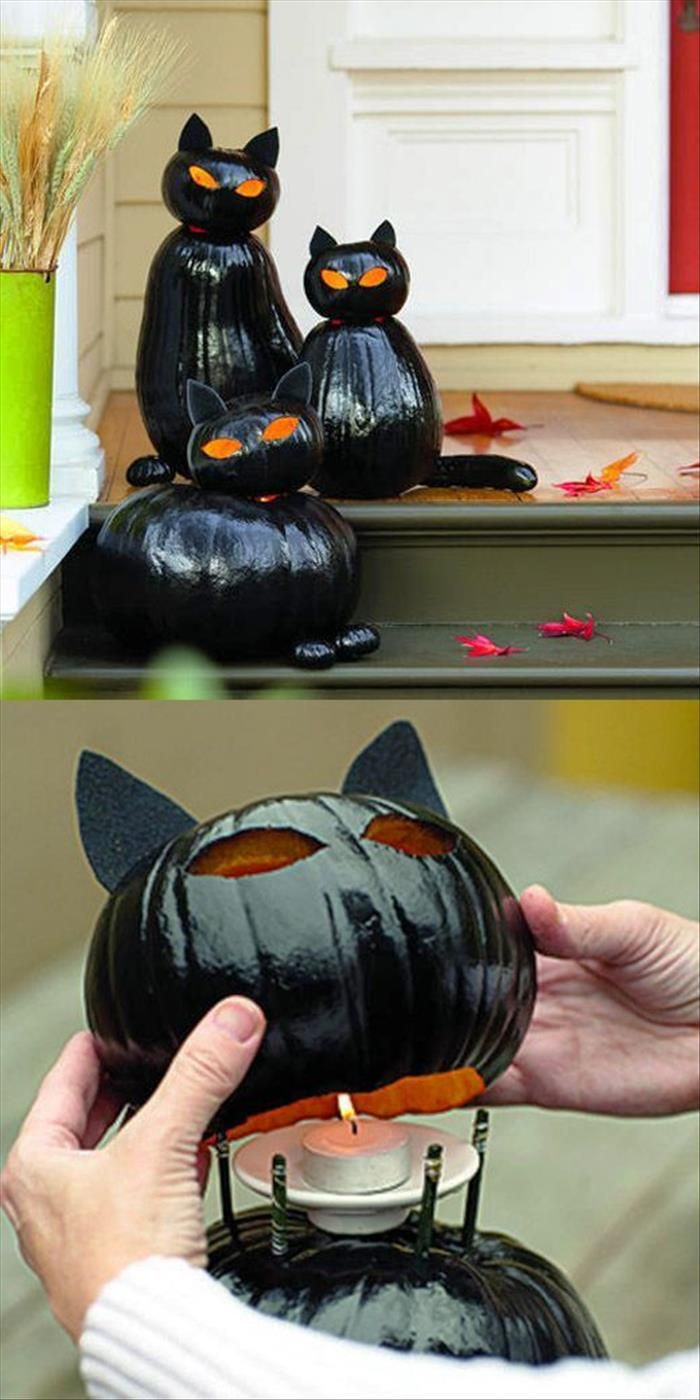 This is a sweet twist on the classic jack o' lantern. Use spray paint to make the pumpkins black, then stack a smaller pumpkin on top of a larger one to create a black cat. The candle inside the head lights up the eyes, creating an eerie glow. Get creative with your use of pumpkins. Your cats can be short and squat or long and lean. Use smaller pumpkins for feet and painted zucchinis for the tails. If you don't want to worry about the fire, try using flameless tea lights that mimic the look of real candles.
24. It's in the Bag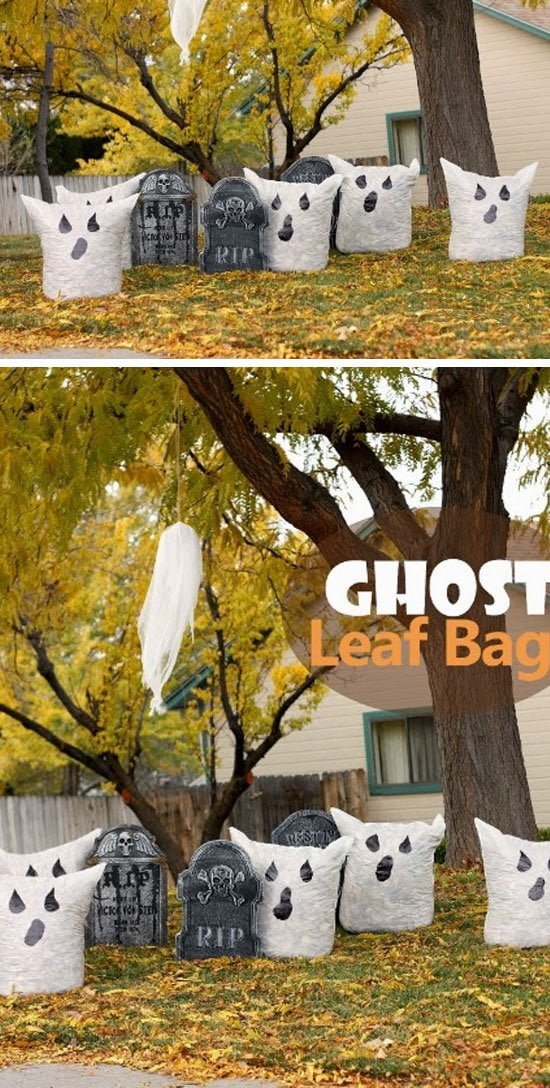 If you've got large trees on your property, you've undoubtedly spent a lot of time raking up the leaves. Rather than putting those leaves in the garbage or straight to the compost bin, have some fun with them. Fully stuffed bags can make some fun looking ghosts scattered throughout the yard. Instead of marking white bags with black eyes for ghosts, you could also fill black garbage bags with leaves and use yellow eyes to make black cats. This could be a great way to encourage your kids to help with the leaf raking. The more leaves they rake, the more ghosts you'll have for the yard.
25. The Witch's Pantry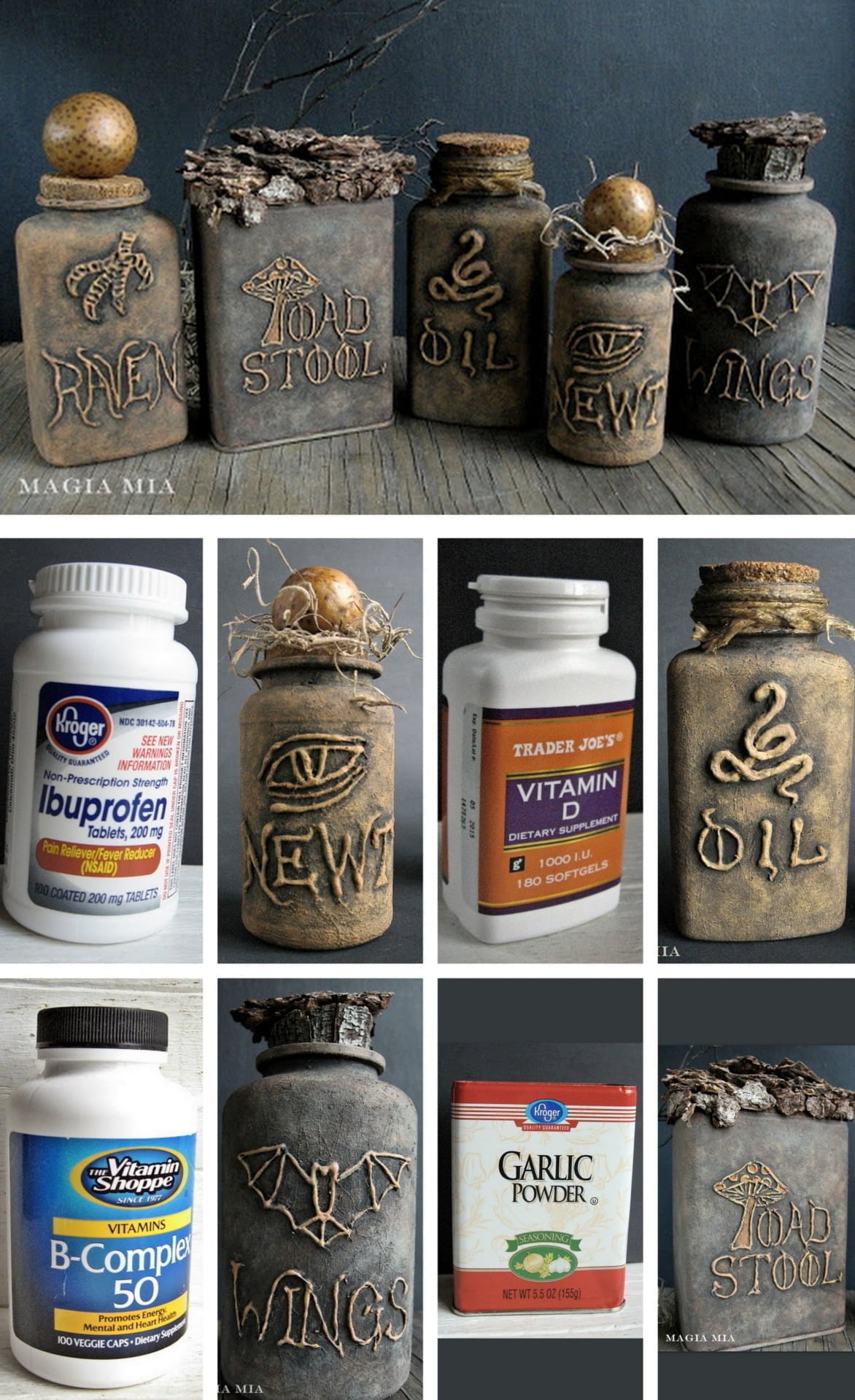 Create these awesome bottles to use as a decoration at your Halloween party. With a bit of creativity, empty pill and spice bottles are transformed into containers for the ingredients that any witch will need for her brews. While the bottles look great on their own, you could also fill them up with real ingredients – perhaps small twigs for raven claws and water beads for the eye of newt. This "potion making" can keep your kids occupied for quite a while.
26. Sweet Sacks of Spiders Halloween Décor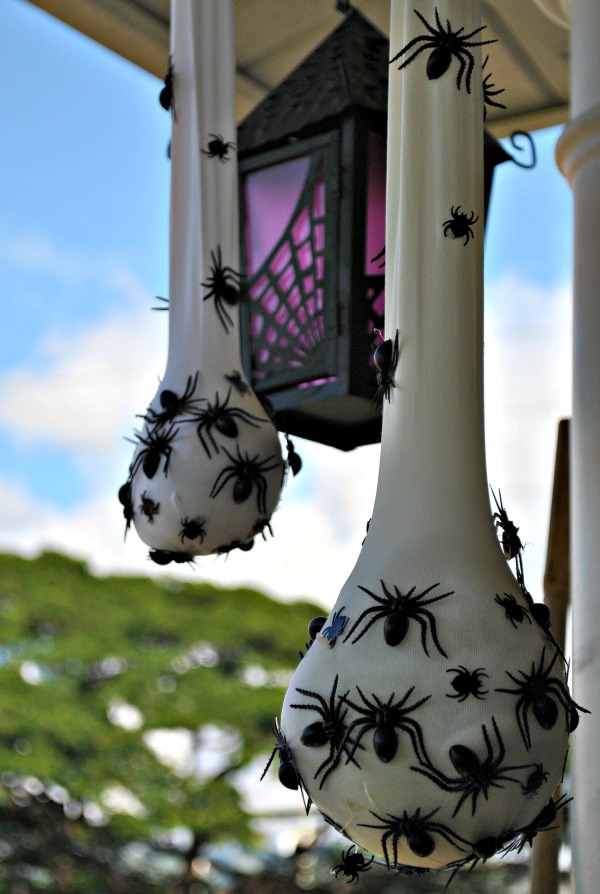 You will have no problem creeping out all of your Halloween visitors with these frightening hanging spider sacks. Who knew that the legs from a pair of white tights, some plastic spiders, and a baseball could create such an unsettling and fantastic visual impact? Hang these terrifying yard decorations from trees, porches, overhangs, or along fence lines to create a truly creepy crawly feel to your outdoor decorating. Add them to an illuminated piece of landscaping to creep out the night-time visitors who dare to enter your web of creepy, crawly, and disgusting diy decorations.
27. White Sheets Are So Last Year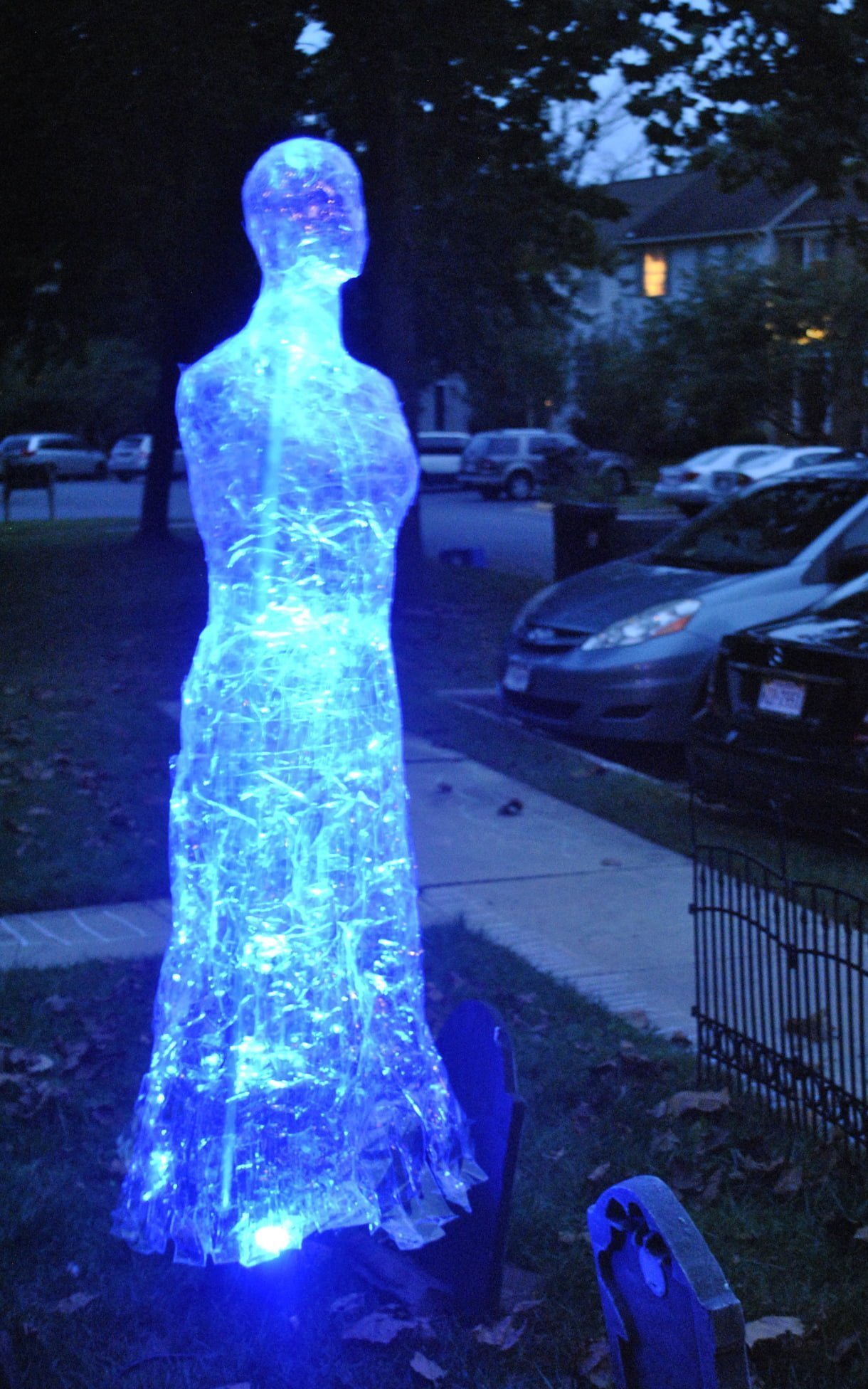 If you'd like something spooky but a little different from the traditional ghost made from a white sheet, check out how realistic this ghost looks. Made from clear packing tape, it's cheap and easy to make, though it does take a bit of time. When it's lit up by a light, though, the effect is stunning. This type of ghost will look great if you're creating a graveyard scene in your yard, and it could also be fun to have more than one. You might pose ghosts together as a pair of lovers or as a more sinister duo.
28. Sinister Black Pumpkins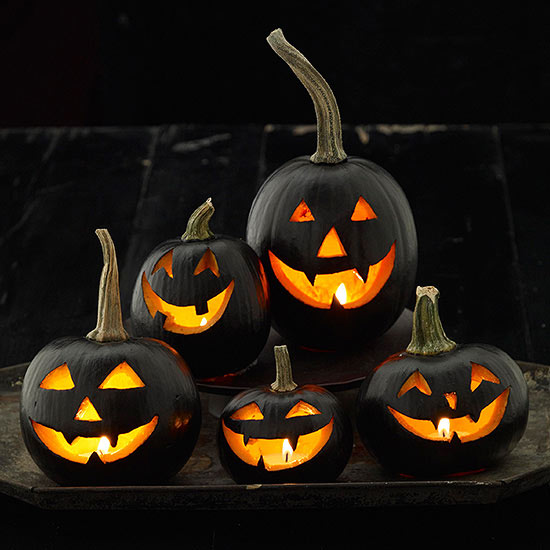 Create these ominous looking pumpkins with the help of some black spray or acrylic paint to add some additional spooky drama to your diy outdoor halloween decorations. Painters tape will keep the stems of your pumpkins their original shrunken look, while the black paint will lend the perfect background against the lighted inner flesh of your carved pumpkins. Use these pumpkins in your outdoor decorations where the area is the darkest to create a unique illusion from a distance of spooky floating pumpkin faces. Bring out the eerie in your yard with these easy diy creepy additions.
29. Haunting Hooded Ghouls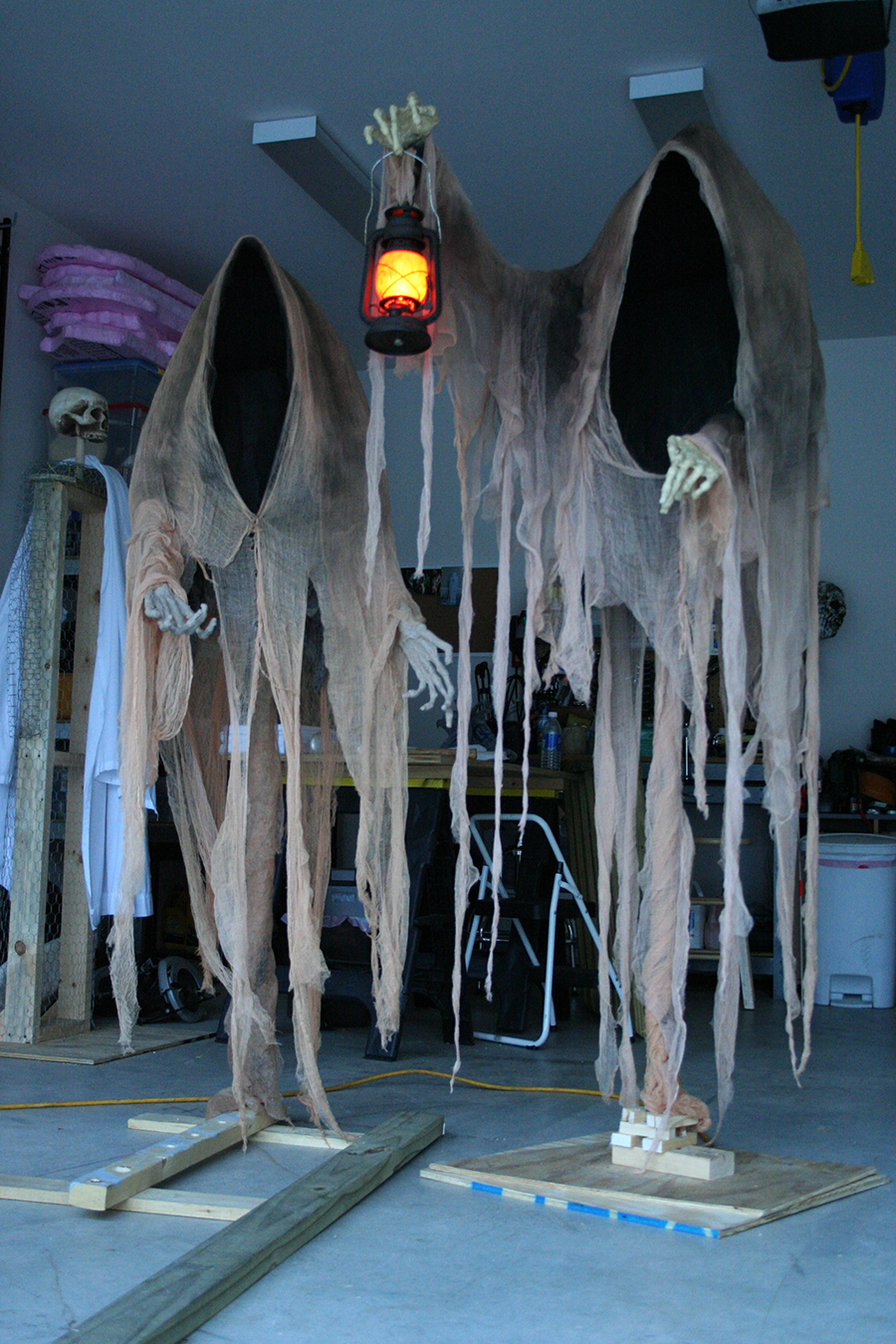 These cool Halloween decorations will take the scary element at your house to a whole new level. Created from pieces of wood, a metal pole, some chicken wire, and a few other elements, this eerie creation will send a chill up your visitor's spines. This larger than life grim form is great as a greeter at your front door for the Halloween trick-or-treaters or set it off to the side as a menacing onlooker. This ominous Halloween decoration may take a little more time and engineering to construct, but the results are worth the time.
30. Cryptic Coffin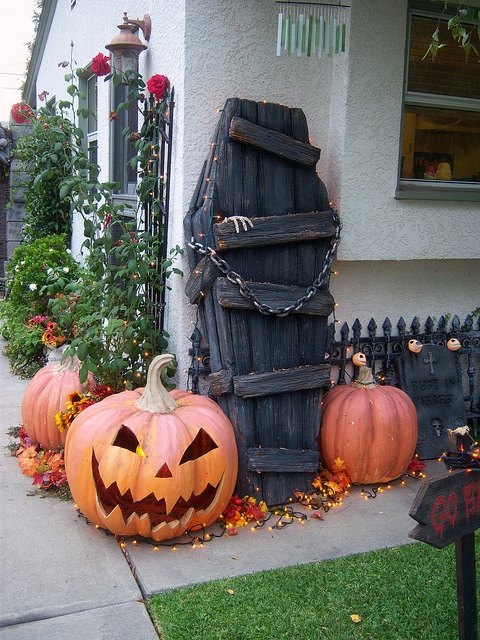 There is just something unsettling about the sight of a coffin in outside decorations. The materials for this awesomely gruesome decoration include pallet boards, orange outdoor Halloween lights, a length of foam or real chain, a rubber hand, and some black paint to create this haunting sight. Lean the coffin up against an outside building or lay it on the ground propped slightly and add some flood lighting for viewing by visitors at night. Wherever you choose to place this DIY Halloween décor, the scare factor will still make your hair stand on end.
31. The Birds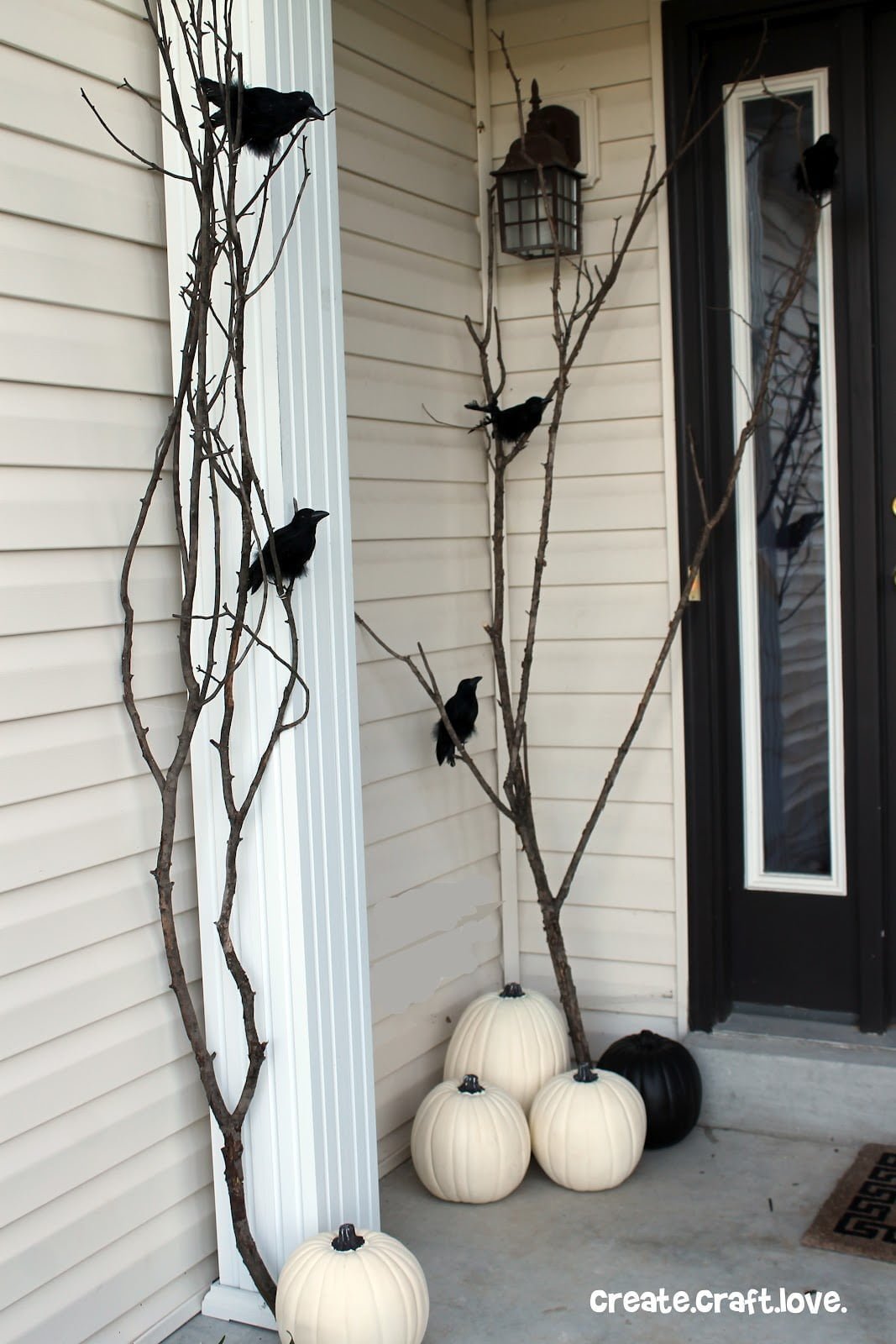 At first glance, this simple design seems like it could be a good solution for those who want to decorate for Halloween without really going overboard or scaring away all of the neighborhood kids. If you're familiar with Alfred Hitchcock's "The Birds," though, the scene looks a lot more sinister. Best of all, it's not hard to set up. Simply grab a few fallen branches from your yard and attach fake birds to the branches. Painting the pumpkins without carving them gives a distinctly classy look. For safety, though, consider tying the branches to the porch somehow. Otherwise, the sticks could easily catch on a child's costume and fall on them.
32. Sinister Witch and Ferocious Felines Outdoor Decoration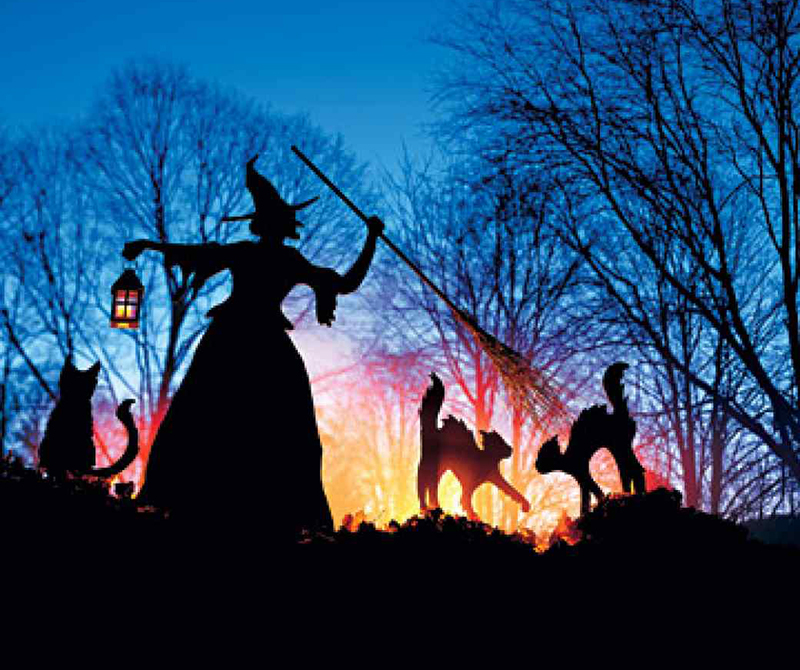 Create this ominous scene with a few materials you may have on hand in your garage or storage shed. Some simple wooden cut outs mounted on long metal poles and painted black will give your sunsets an added spooky beauty. Set these silhouettes on the West side of your property to capture the divine sights of the sunset from these outside decorations. Include some ambient backlighting to these outdoor decorations so you can continue to creep your guests out long after the sun has set with this impressive and spooky decorating idea.
33. Ring Around The Ghosties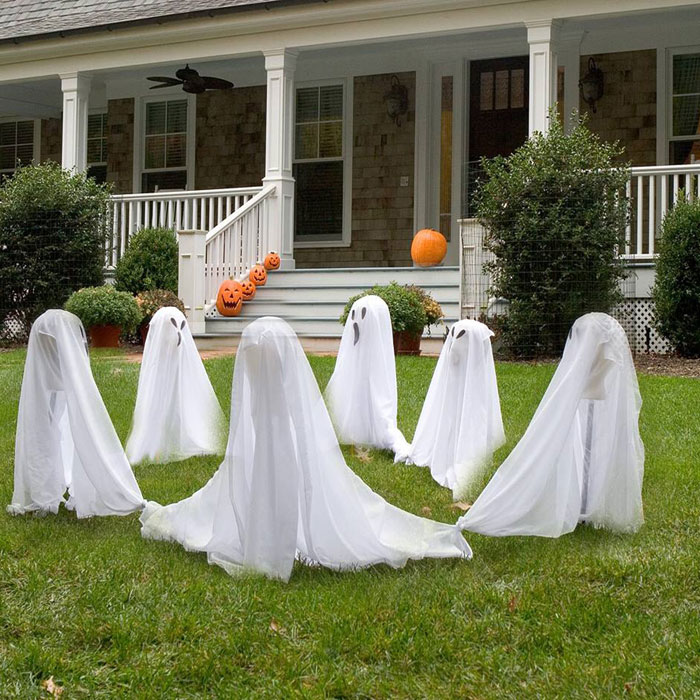 Bring some lightheartedness to your yard when you create this ring of ghosts to add to your halloween house decorations. You can create these cute little playful ghosts from simple materials such as foam mannequin heads, old sheets, metal poles, and a marker. It is as simple as creating a circle of ghosts with the covered poles and tie the edges of the sheets together to form the "holding hands." In no time at all you will create a group of friendly ghost children "playing" in your yard.
34. The Walking Dead Beastly Barbies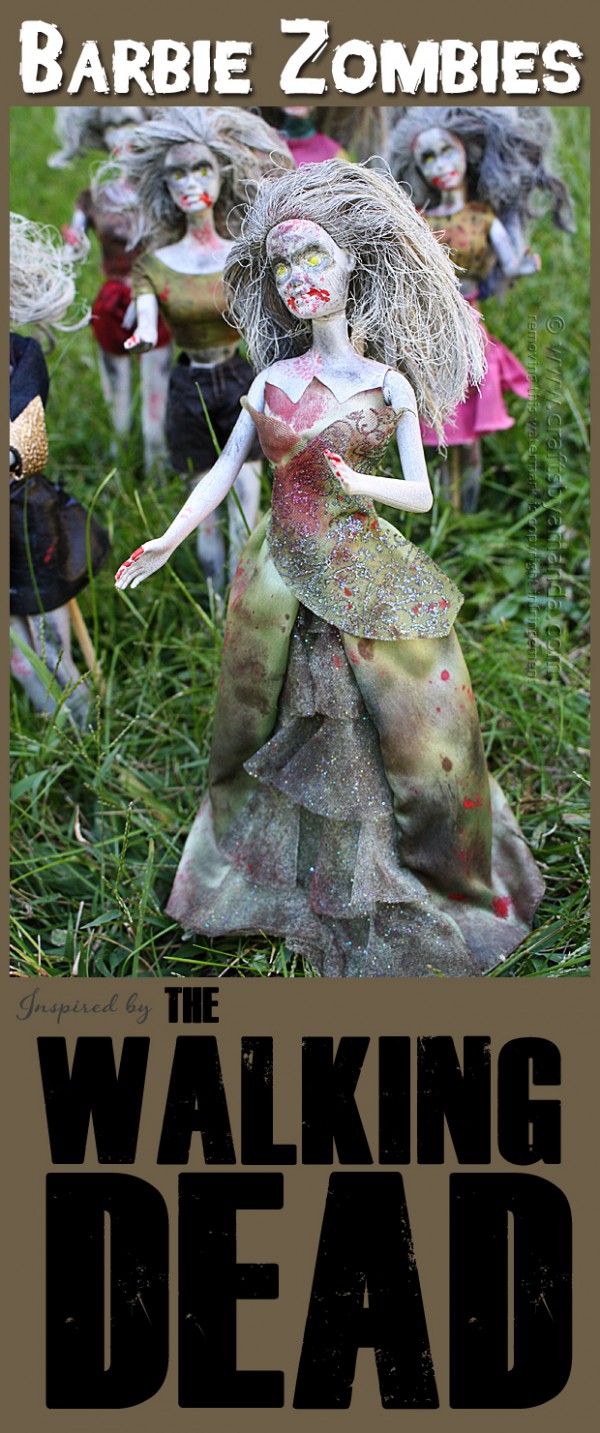 These are not the same dolls you are used to playing with when you were a child. This new and extremely creepy version of Barbie is created by painting the dolls with an assortment of colors of paint. Using a clothing dye, color the Barbies clothes a brown muddy color. Spray the dolls with white and gray spray paint to give them their "dead" look. Use paint pens and paint to give the Barbies their freshly fed bloody mouths and dark eyes. When dry, redress your zombie Barbies and arrange them in your outdoor Halloween decoration ideas.
35. Tower of Terrifying Pumpkins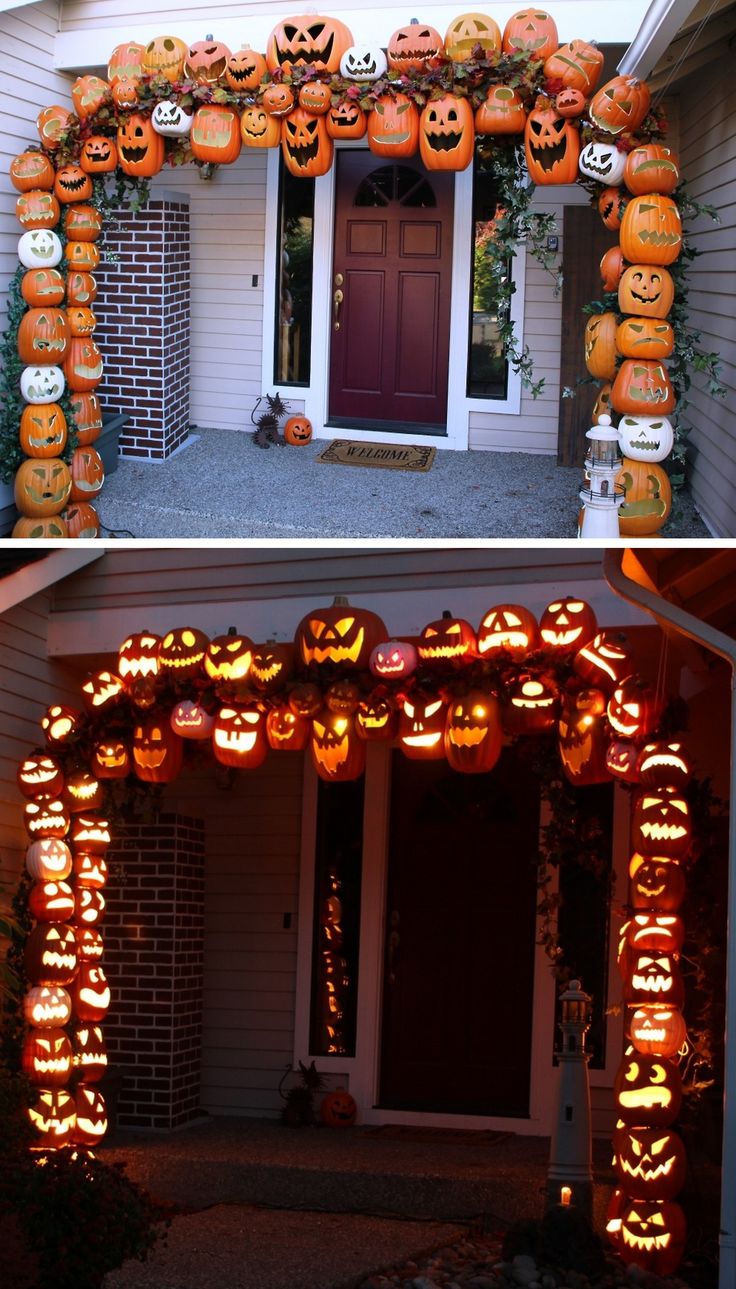 This is the perfect idea for those who aren't satisfied with carving a single pumpkin – completely frame the door with a wide variety of jack o' lanterns. There's a trick to this design idea, though. Using real pumpkins would undoubtedly be too heavy and precarious to safely create the arch. Instead, this homeowner used hallow foam pumpkins from the craft store to carve, then attached them to a frame. Since the foam pumpkins are much lighter, you can really pack them in. You'll also be able to save the decoration for next year.
38. Grim Warnings Outdoors Halloween Decoration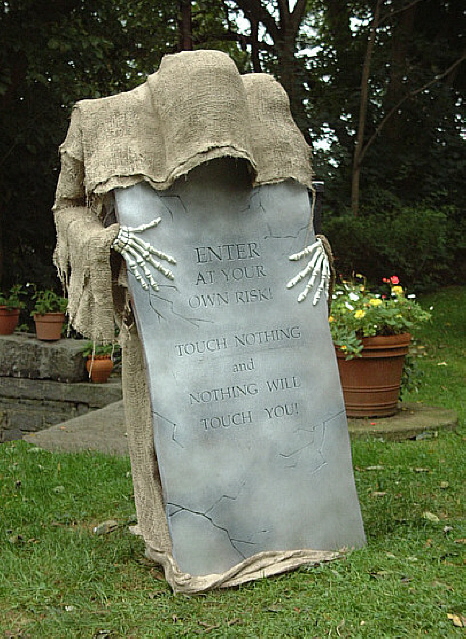 Place this ghoulish warning at the entry to your home to ward off timid visitors. You can create this creepy figure with some burlap, chicken wire, skeleton hands, and a convincing styrofoam "stone" warning. Creative painting and artful shading are the key to the success of this ghoulish and terrifying decoration. This cryptic figure will protect your property from tresspassers with his ominous warning. Trick-or-treaters and onlookers alike will marvel at the bold statement that this ghoul makes in a landscape. Night time up lighting will give this creature a whole new look after the sun has left the sky.
39. Halloween Mummy Madness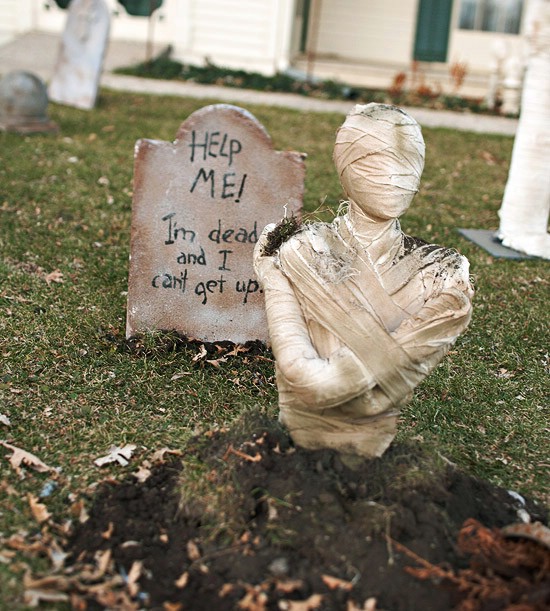 Fill your yard and landscape with these whimsical mummy figures. Easy to create from an assortment of wooden structure pieces, a base, polyester fiberfill, muslin, a dowel, a foam head, and spray paint. This mummified creature is created by constructing a body form from the wood, covering it in batting, and wrapping it in muslin. A few touches of grey, black, and green spray paint will give your fossilized form some color and interest. Create a number of these simple mummies to add interest to many different parts of your outdoor Halloween decorations and landscaping elements.
More DIY Halloween outdoor design ideas on the next page…