Cool breezes are bringing Halloween closer, and imaginative Halloween porch decorations will add excitement to your celebrations. You can have a lot of fun doing your bit to delight neighbors and trick-or-treaters as well as those scrutinizing the neighborhood to select their favorite decorations. During your busy lifestyle, you might think it takes a lot of time to construct a Halloween decoration and avoid it even though you wish you could create one. However, it is not a complicated process, and putting a simple decoration on your front porch will let your neighbors and trick-or-treaters know you want to participate in the Halloween fun. Whether you love using what you already have and are ready to look around your home for interesting items or you want to shop for fantastic offers in craft shops, you can create a unique front porch decoration. If you don't know where to start, here is a list of 50 suggestions to make your decorating easier this year.
Decorations Reserved for Ghosts, Witches and All Creepy Crawlies

1. Cute, Spooky and Pumpkin Plaid Halloween Porch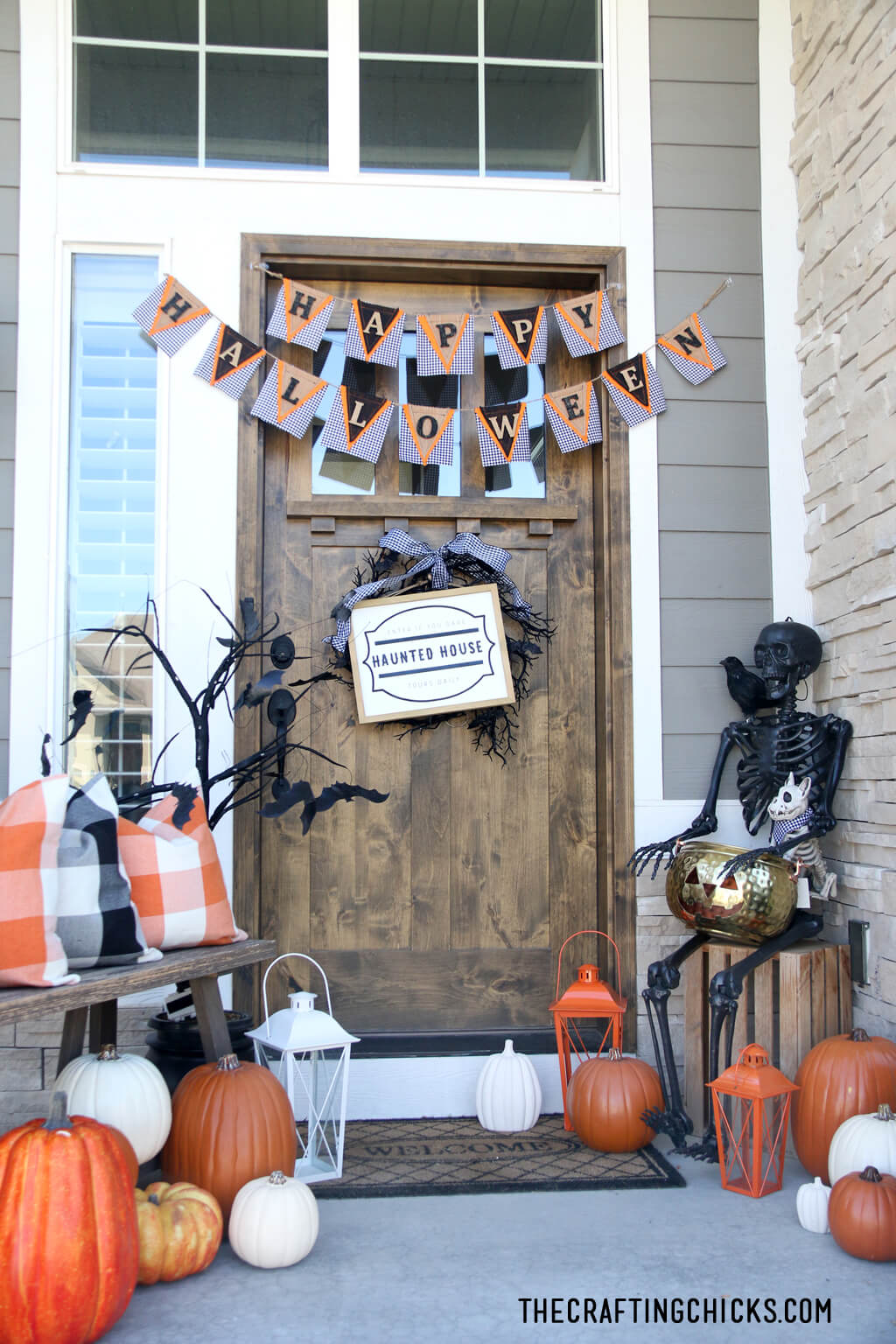 If you like pumpkins, Halloween colored plaid pillows, lanterns, and a spooky skeleton with Max the dog and a stoic crow perched on the skeleton's shoulder, you'll love this design. Not to mention the gold hammered jack-o'-lantern placed in the lap of our barebones friend. The layout is further highlighted with a Happy Halloween banner, black wreath, and tree branches along with a Haunted House sign attached to the wreath with plenty of bats to keep everyone on their scary toes.
2. Hocus Pocus, Movie Theme, Halloween Front Porch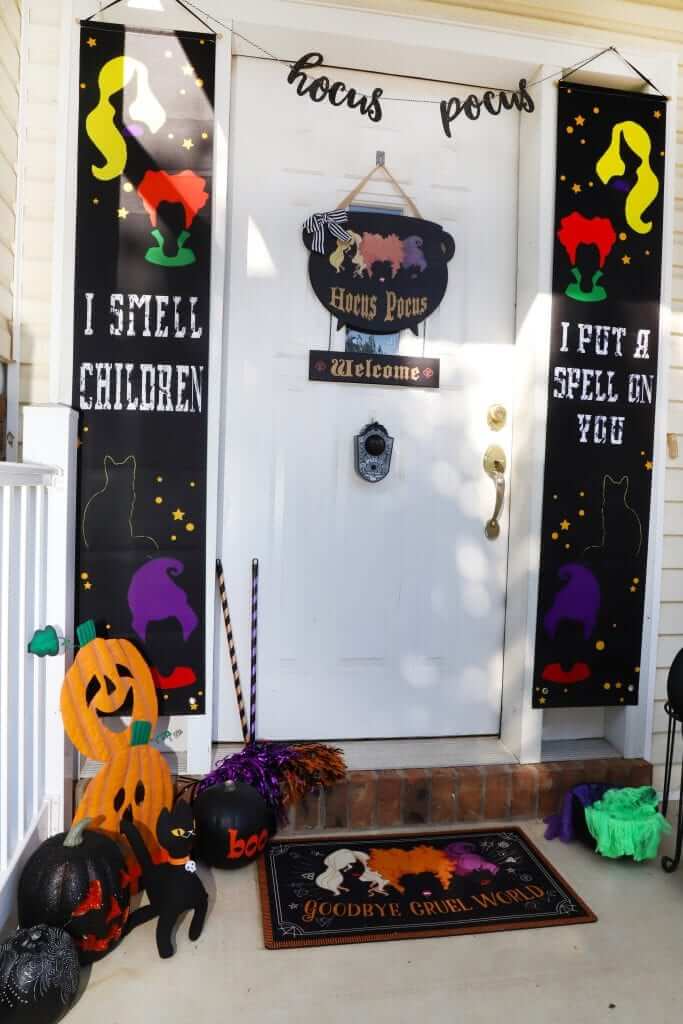 Hocus Pocus serves as the focal point of this Halloween front porch as do the Sanderson Sisters candy sign from the same popular flick. It's a cute and festive look without going overboard expense-wise. All the right touches are here in "I put a spell on you" and "I smell children" door side window banners along with added hocus pocus Halloween regalia. Every added item complements the hocus pocus theme. There are lots of smaller items like the spellbook, the hocus pocus door banner, the front door witches' cauldron, the pumpkin cutouts, spider webs and so much more that polishes off the total hocus pocus theme.
3. Pumpkin Patch Do-it-Yourself Sign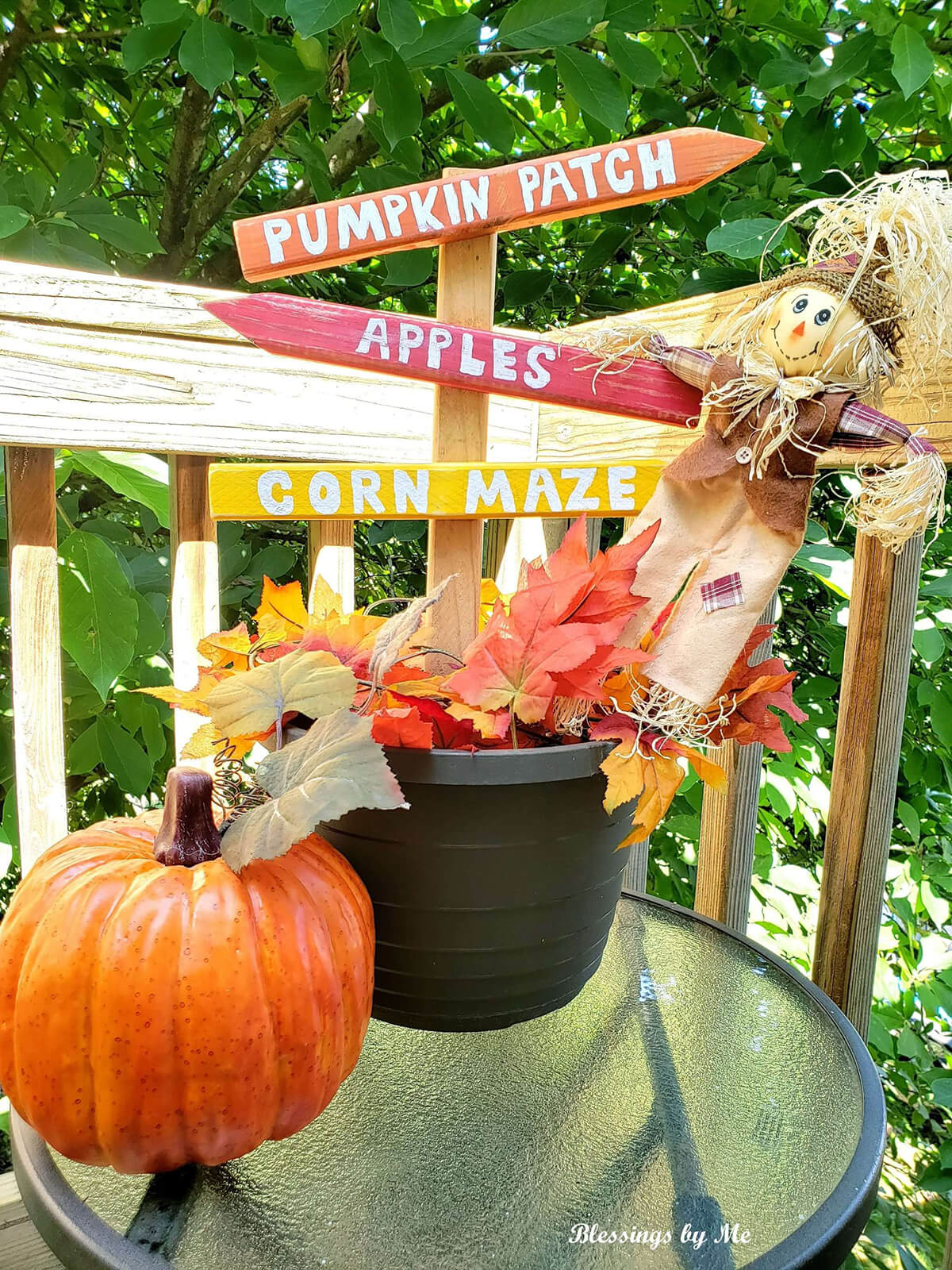 You can easily put together this cute and economical pumpkin patch sign with a few wood scraps, some acrylic paint, a pumpkin, real or otherwise, a flower pot container, autumn leaves, and a cute scarecrow. The pumpkin patch, apples, and corn maze signs are easy to make. Just shape the scraps like road signs, stencil on, or write the letters out, fill in the letters with white paint. The lettering can be sanded for an old fashioned effect. Attach the lettered signs to a stake with wood glue and allow it to dry. Put the stake in the flower pot container and tuck the leaves around the bottom of the sign. Add a cute dollar store scarecrow to complete this fast and easy pumpkin patch project.
4. Hanging Cauldron of Bats on Your Porch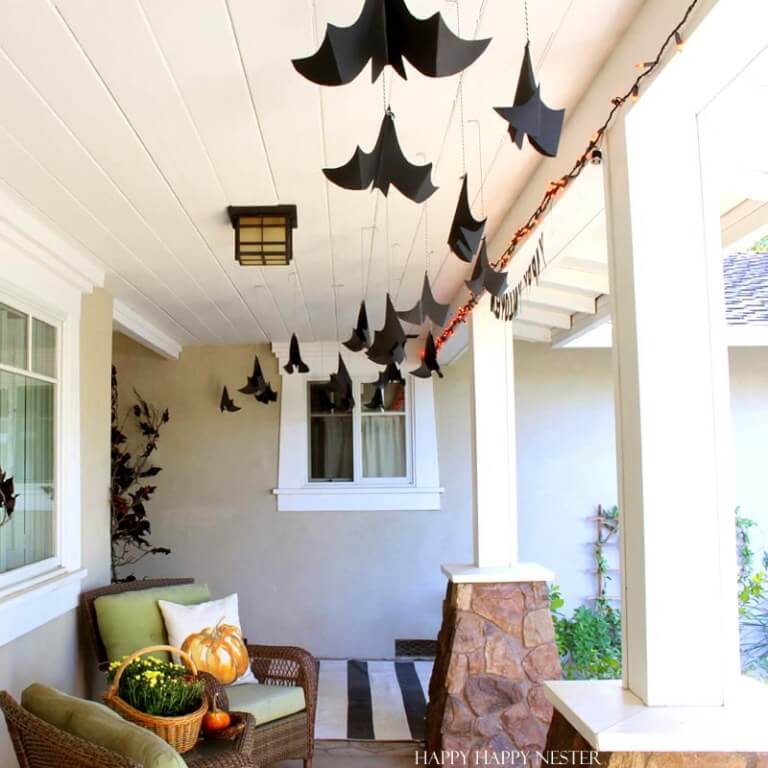 Who would have thought that strategically placing and hanging bat cutouts from your porch ceiling would add just the right Halloween look to your front entryway? A string of Halloween lights and a Happy Halloween banner complete and frame the porch in just the right way. It's an inexpensive solution and an easy and simple design. Simply make a bat template of your own or find one online. Get some black cardstock, cut out as many bats as you think you'll need, and hang them from your porch ceiling with black and white twine, packing tape, or smallish hooks. If the wind comes up, you'll have a flourish of flying bats on your porch.
5. Hugely Scary Halloween Porch Spider Web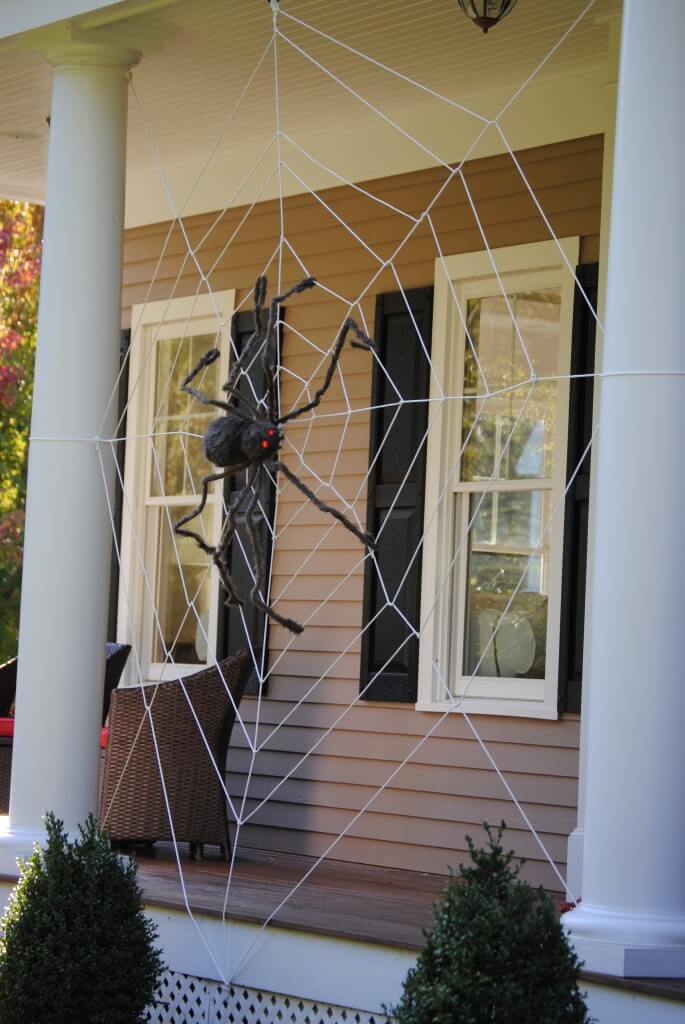 This eerie porch spider web almost covers the whole front porch. This one is made of clothesline but heavy-duty yarn will do. You might want to put on your thinking cap about spider webs and their horizontal and vertical connections and how to anchor one down before starting your project. Once you're into it, imagine your spider and how he is smack dab in the middle of your web. You can easily find all sorts of spiders online and other creatures for your spider to reach out and munch on, and if you have the time and are thinking creatively, you could make your ferocious spider.
6. Curtains Lead the Way to My Halloween Porch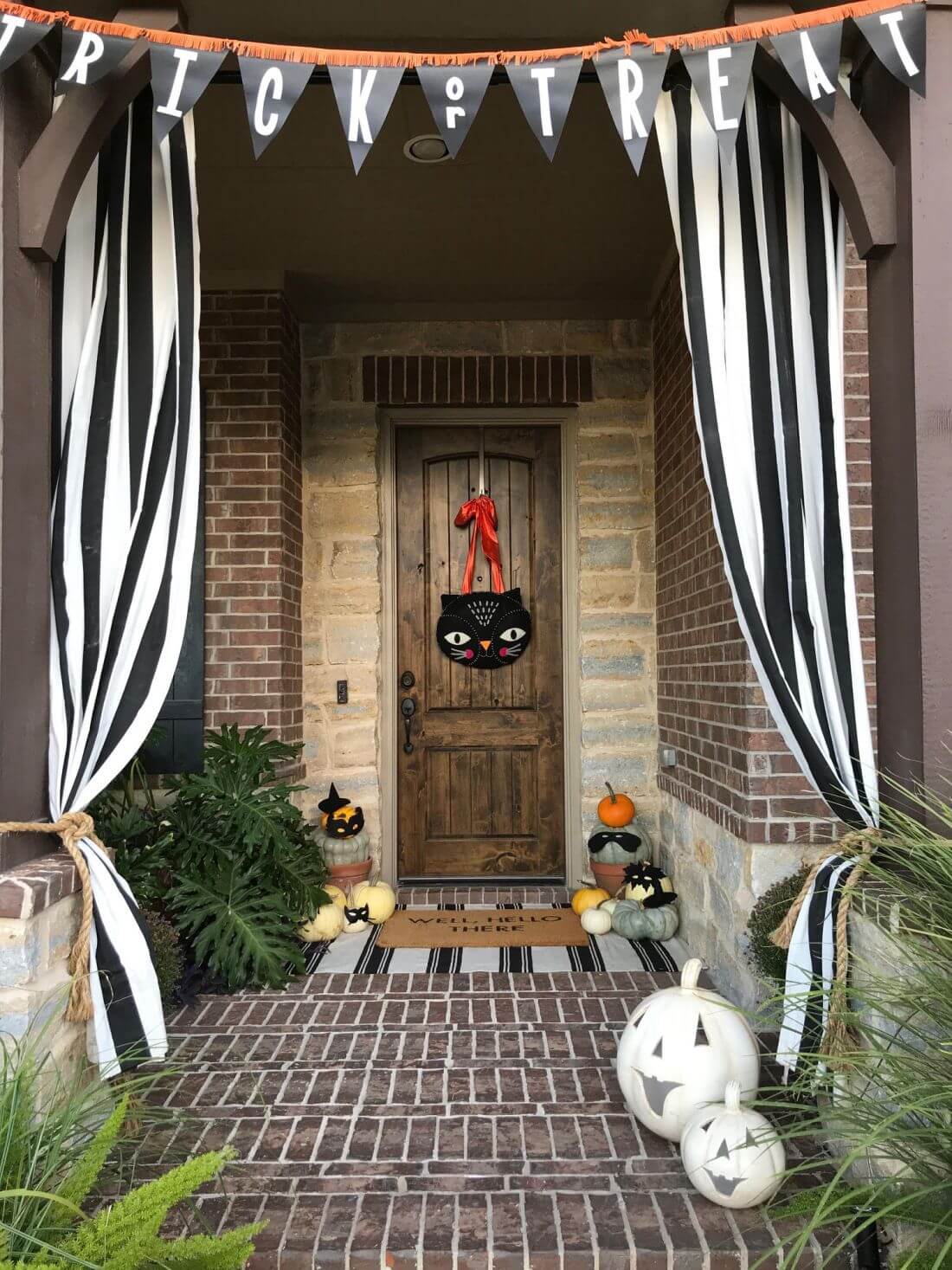 This soft and inviting Halloween porch is perfect for little trick-or-treaters. The fear factor is zero but the welcoming feeling is there with the pulled back black and white striped curtains and the trick-or-treat banner above the entryway waiting for the first group of children to enter. Happiness abounds in this design with both smiling and masked pumpkins and a large black cat hung on the front door ready to welcome the smallest looking for their first bite of candy.
7. Window Spider Web and Dangling Spider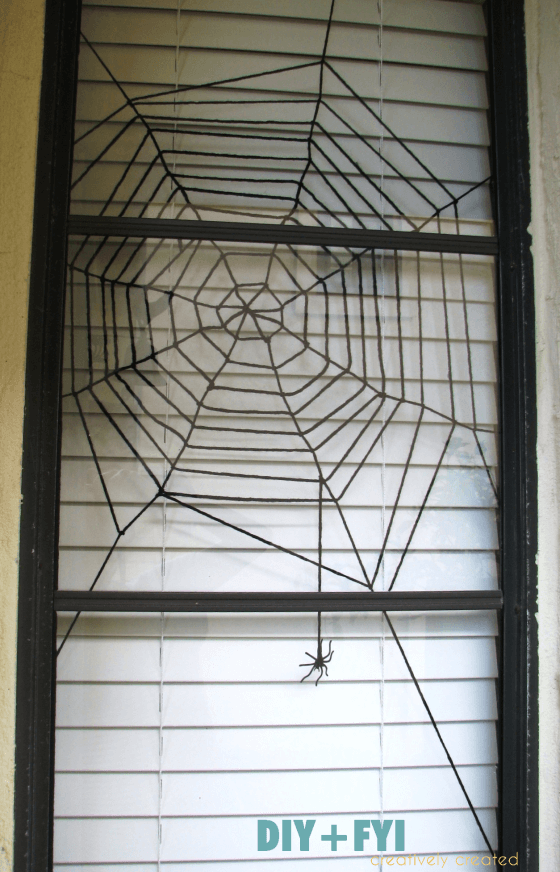 Every window needs a spider web and a dangling spider ready to climb up the web. This one is an easy and stark decorative solution for almost any white window and blinds on Halloween. Black yarn or even narrow black elastic can easily be strung in a spider web shape to duplicate the look. The small spider adds the right touch to the layout. He likes making the journey up the web in wait for his next critter meal.
8. You Can Never be Too Grateful Sign Post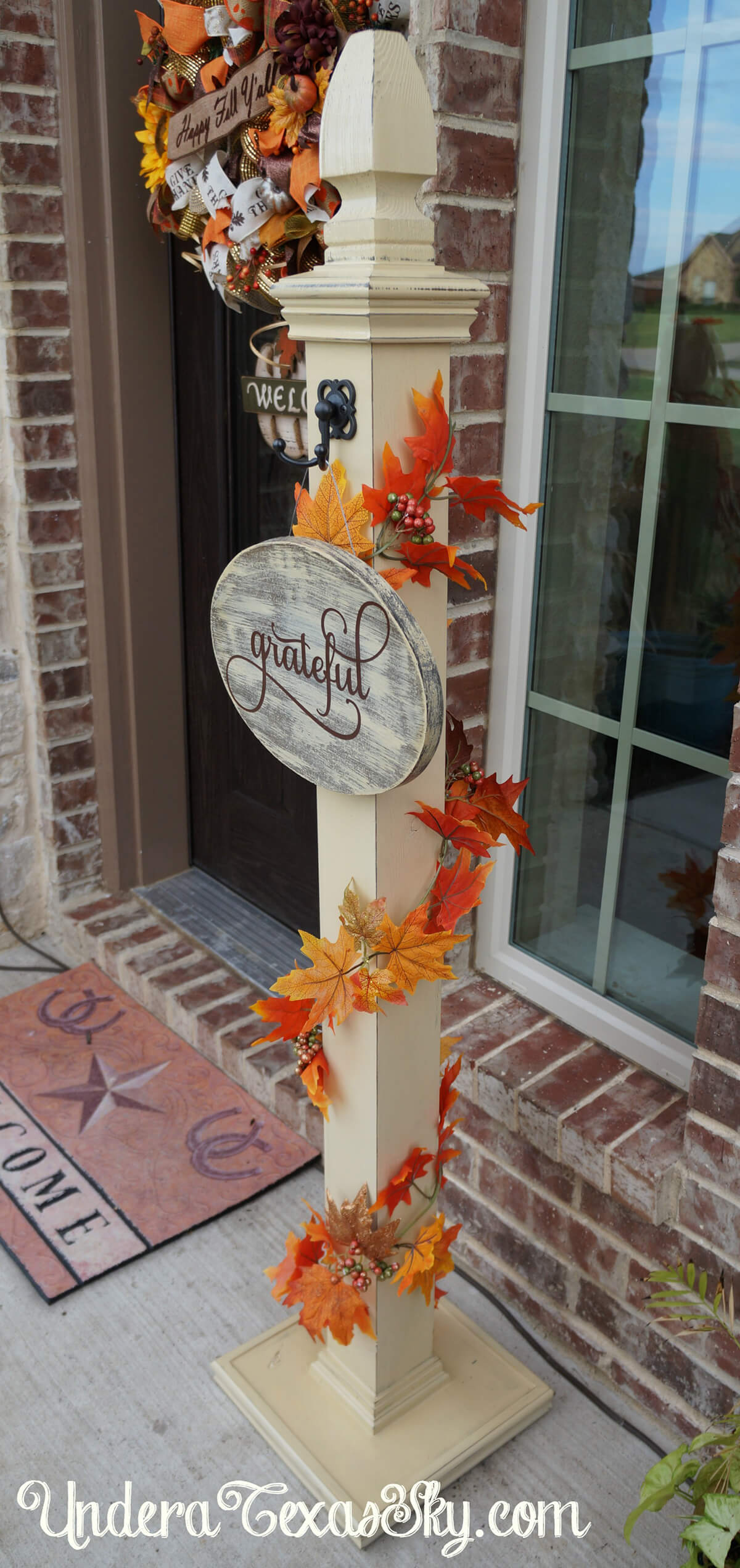 You can't get enough gratefulness from this lone signpost than what is presented here. The simple grateful sign and the wrapped autumn leaves and berries make this post a simple yet elegant statement piece for fall and the Thanksgiving holiday season. This one can be easily replicated. Just visit your local home store and craft store for the post materials, decorative leaves, and sign material. It makes a welcoming sight for friends and visitors.
9. Pumpkin Topiary Stack in an Urn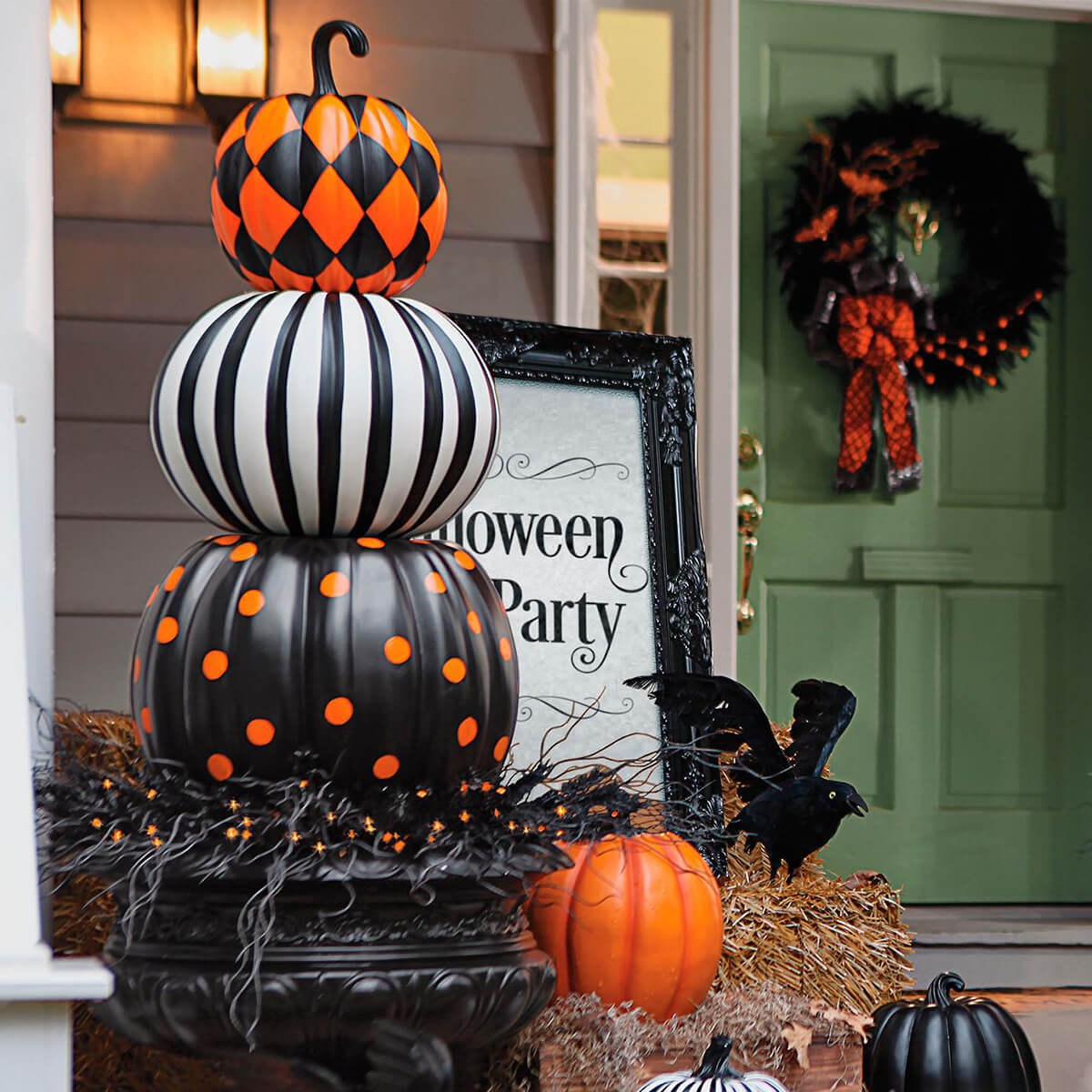 You can easily transform your front porch with this topiary stack of colorfully painted pumpkins nestled in a large black urn. The painting can be easily done on plain plastic pumpkins or real ones if you incline, Come up with your patterns or copy what's in use here. The harlequin look, stripes, and dots all add to the whimsical nature of the display. Added painted pumpkins, a black crow perched on a wooden box stuffed with hay, and a Halloween Party black frame all bring a look of Halloween fun to the display.
10. Halloween Swag/Wreath BOO Extravaganza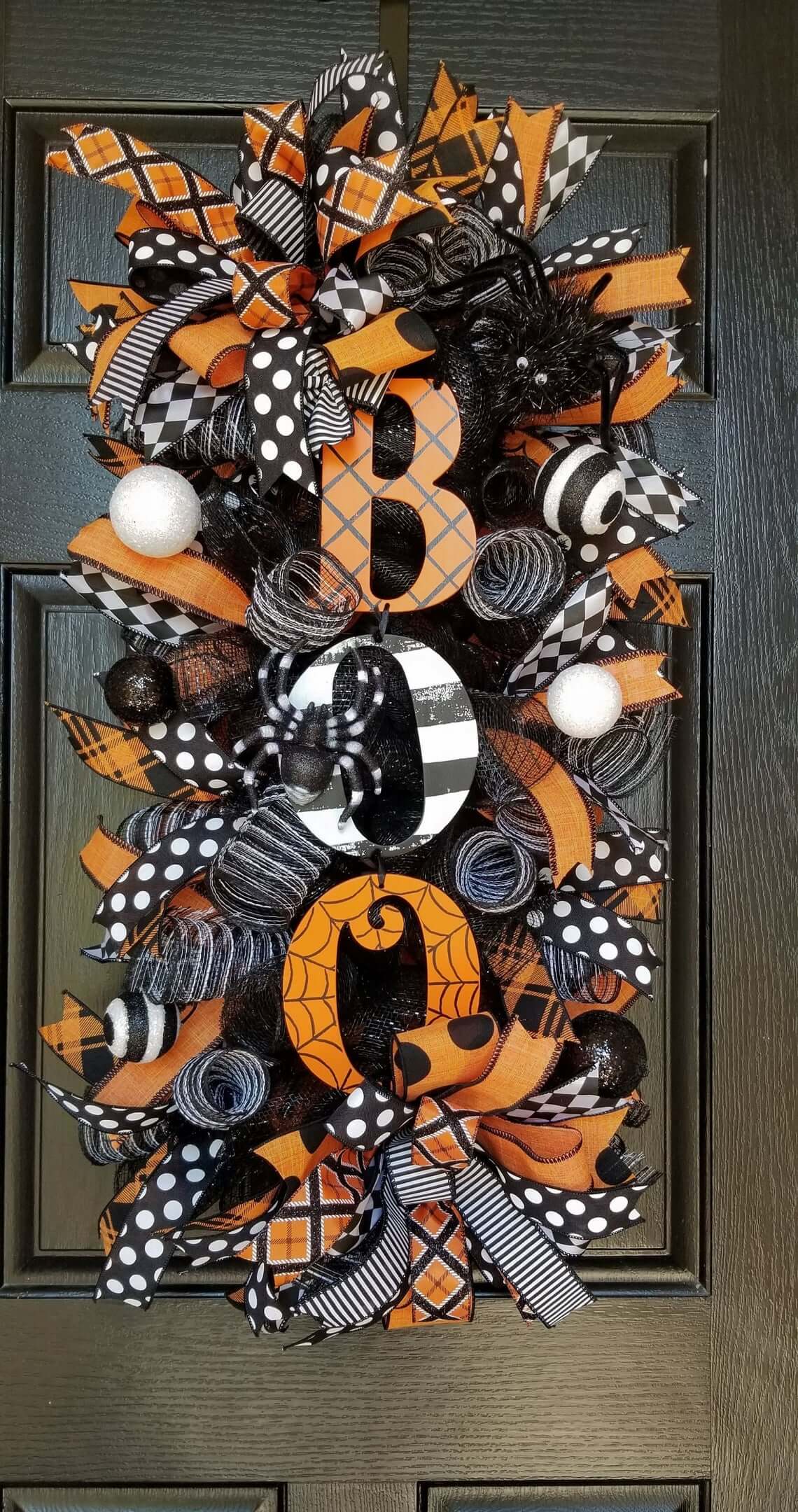 Mesh and various ribbons, glitter ball picks, a topper spider, and two large bows on top and bottom bring a festive, fun and full Halloween look to this sturdy and fabulous swag wreath. The painted letters B 0 0 are the frosting on the cake and make the swag even more fun to admire. Its large size makes it a double door delight and it's the perfect entryway welcoming decor to trick-or-treaters or Halloween party guests.
11. Halloween Yard Sign with 8 Scary Destinations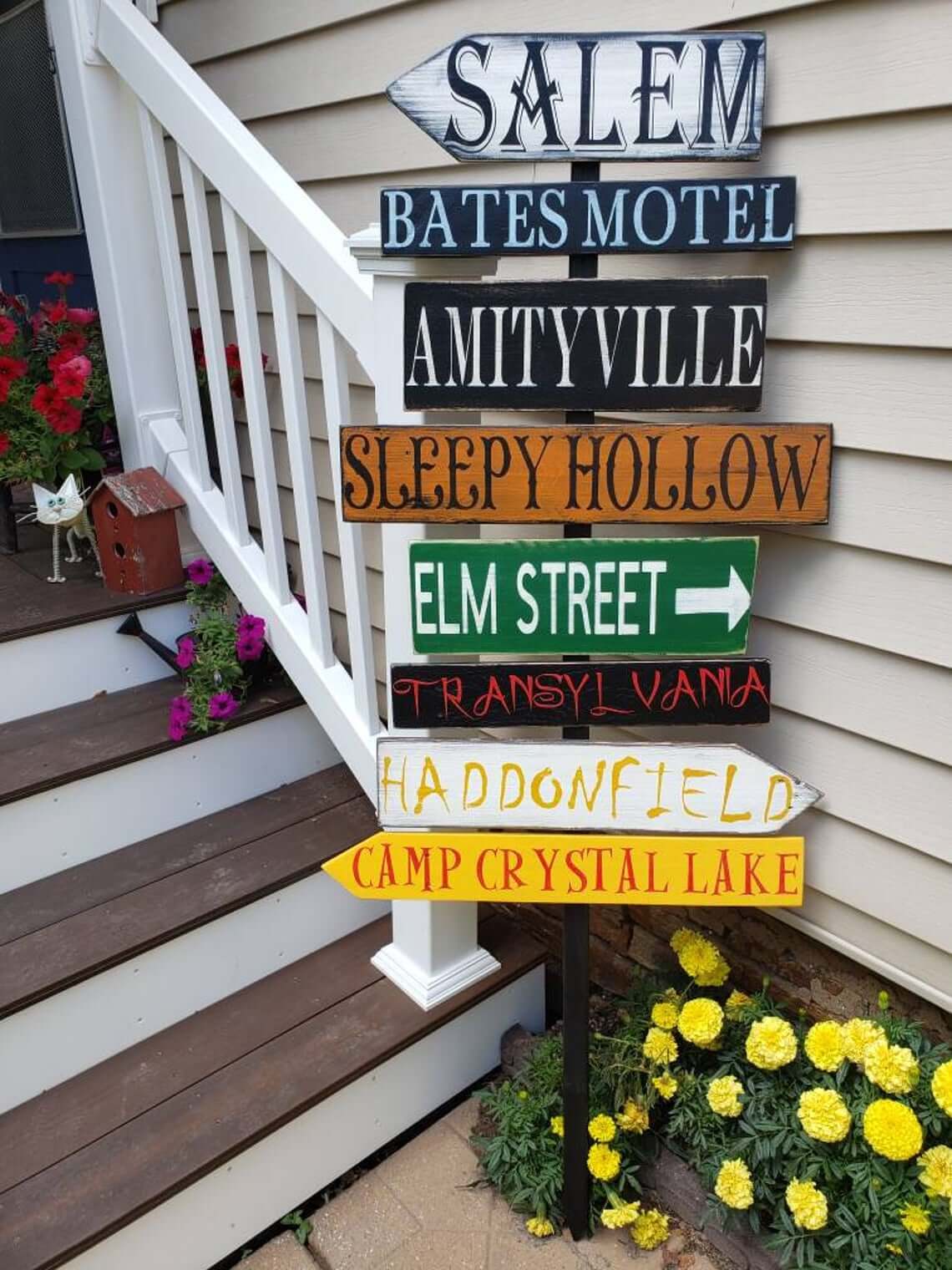 A rustic, distressed directional sign points you toward 8 scary destinations. You can hardly wait to put this sturdy handcrafted post made from pallet wood and cedarwood in your yard to celebrate Halloween in fashion. The five-foot wood post is ready to go as all the pieces have been prepared and preserved with a matte finish. You can even request different haunted cities and colors as well. It's ready to hang with attached keyhole hangers on the back of each sign. If you love classic horror movies from the '80s, you'll enjoy having this sign around like a Halloween conversation piece.
12. Bats, Bats and More Bats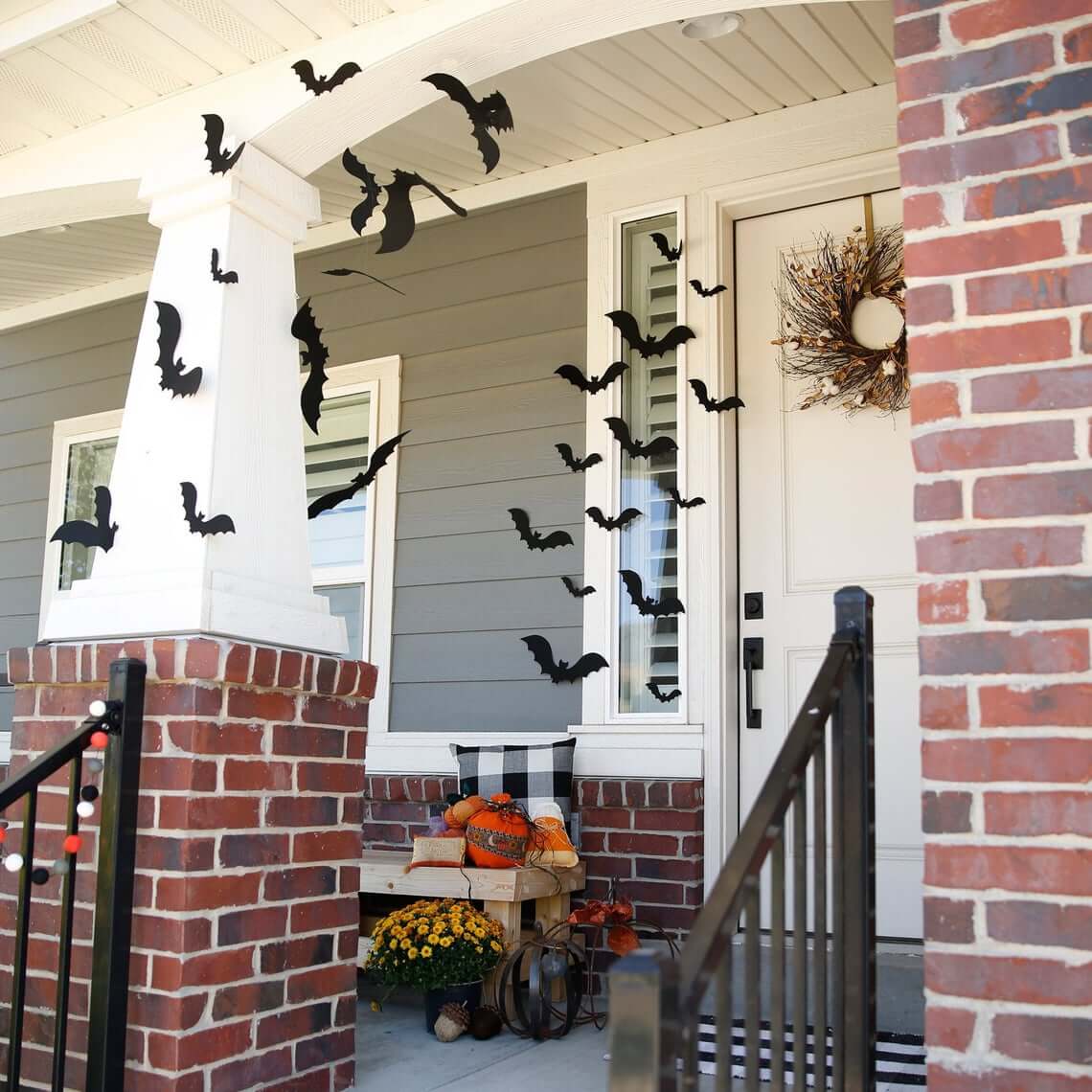 Handmade black bats made from high quality felt are sure to make the rounds for Halloween decor. These natural-looking and delightful Halloween decorative creatures come in sets of 12 that contain 3 at 15 inches, 3 at 12 inches, three at 9, and 3 at six inches. The set even comes with its adhesive for mounting these different sized bats on walls, clean wood, glass, and tile. You can also attach them with string, wire, thread, and yarn. As pictured, the front porch entry area and window are ablaze with bats. What a fun way to decorate inexpensively for Halloween.
13. The Mummy Returns Bearing Halloween Gifts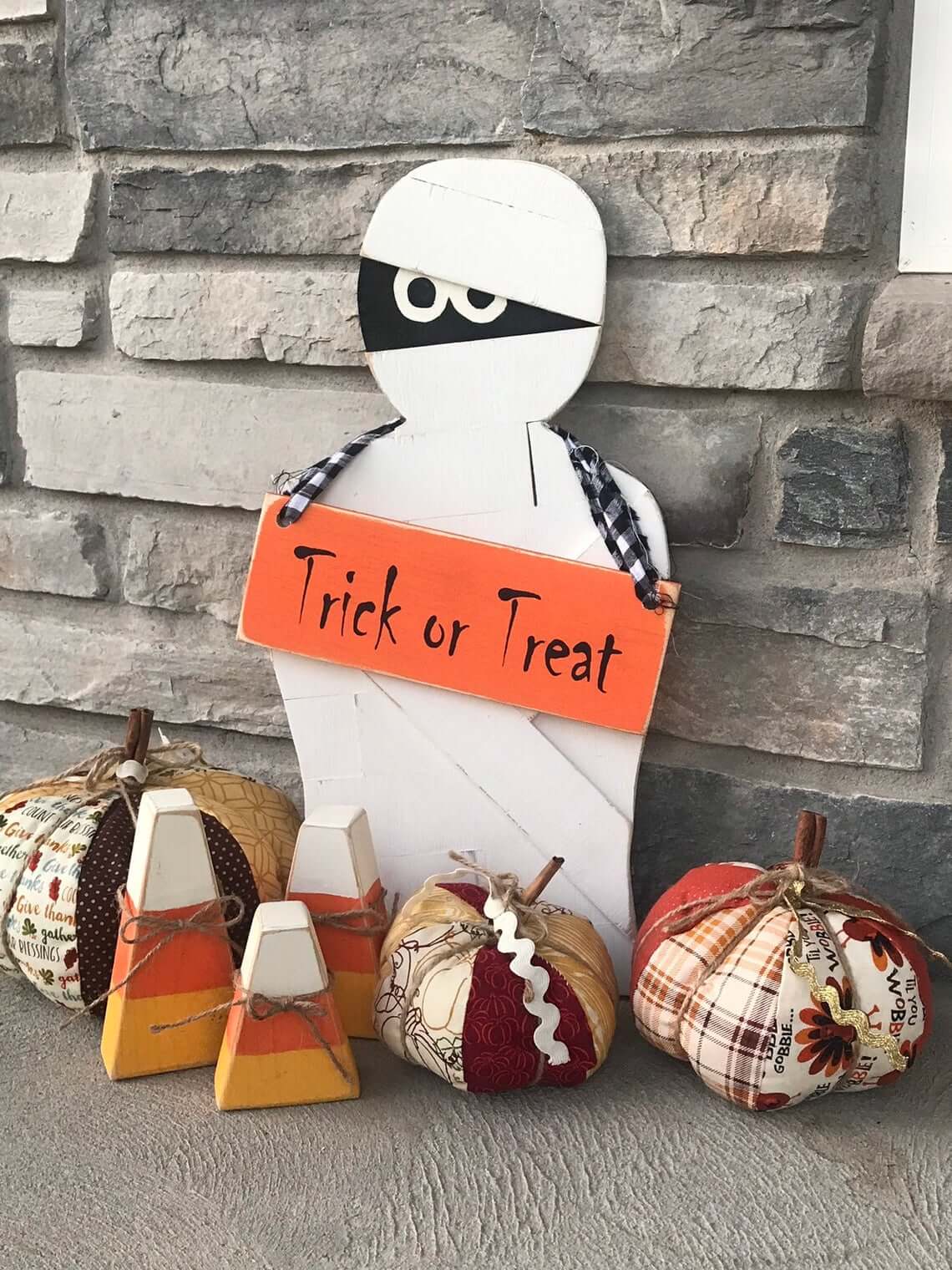 A wooden front porch mummy is so cute and not a bit scary. He comes bearing Halloween gifts in candy corn and other goodies. He even wears a trick-or-treat sign around his shoulders to welcome all candy seekers. It's a handmade design from start to finish with cutting, staining, designing, and painting. Every sign is guaranteed an original piece. The mummy loves Halloween and so will your porch for fast and easy Halloween decorating.
14. It's a Spooky Halloween Entryway Sign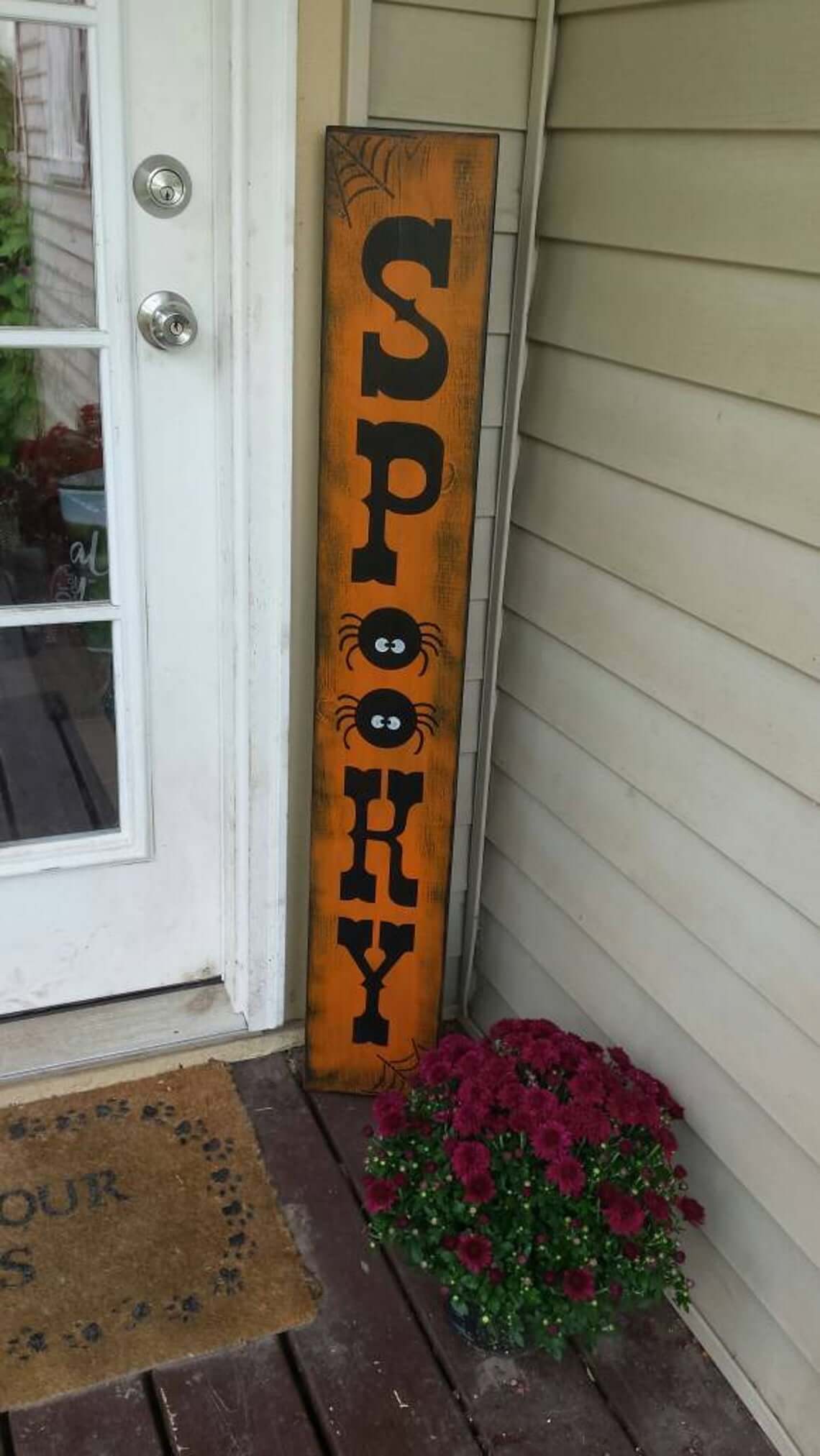 This spooky and rustic entryway sign is made just in time for Halloween. It's handcrafted and distressed from pine wood that has an acrylic finish. It's also extra large and measures 48 inches by 7 1/4 inches by 3/4 inches, so your trick or treaters will see it when they come trick or treating. The piece is highlighted with large stencil lettering, spider O's for eyes, and decorative cobwebs. It can be painted or stained and is finished with a coating to preserve and keep it ready for future Halloween celebrations. You'll want to note that the sign is either one-sided or can reverse for other sayings, such as Merry Christmas, Believe, Let it Snow, and Welcome.
15. Rustic Wooden Rectangular Jack O' Lantern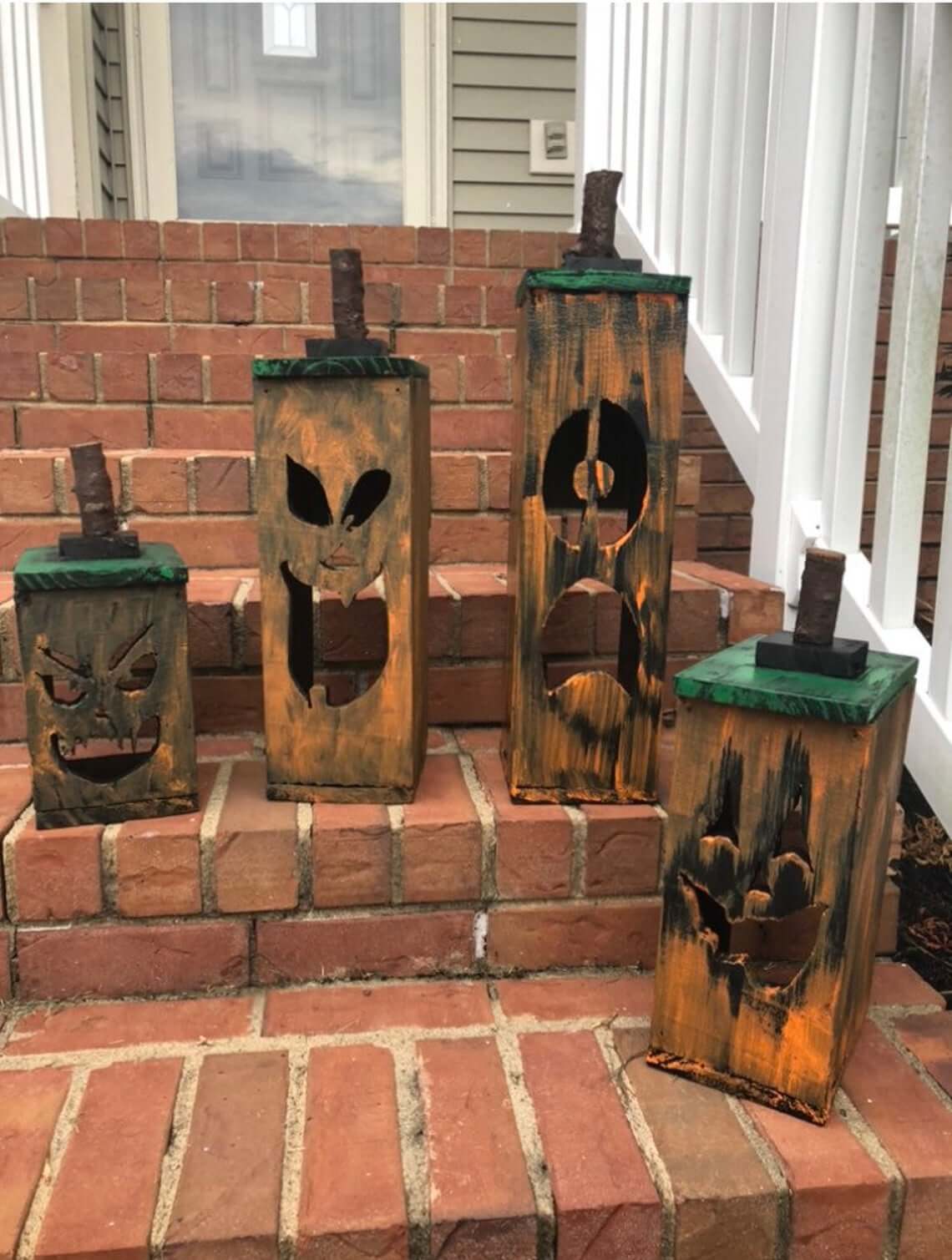 If you like your Jack-o'-lanterns in a rectangular shape and made to look rustic, primitive, old, and scary, you've found some perfect specimens. They're graduated in size and fashioned from wood that has the look of being carved and torched black for a full spooky effect. Their faces are evil looking and topped off with a veined tile-like piece that sets them apart from similar wooden jack-o'-lanterns. Any of these sinister-looking pieces would look perfect in front of a haunted house display.
16. Witches Feet Happy Halloween Decorative Cauldron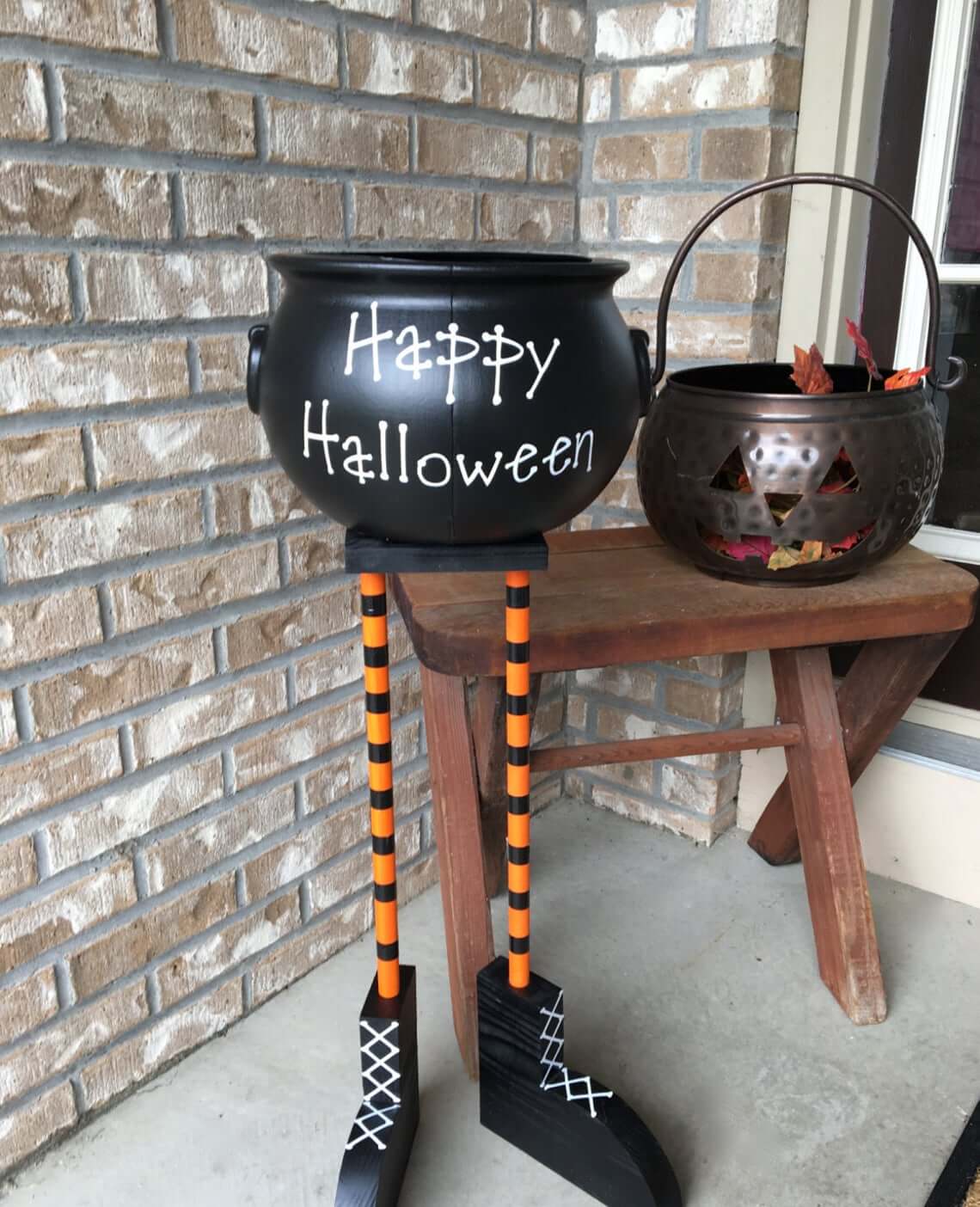 Who would have imagined a candy bowl that has witch's feet attached to it? You could use it both outside for candy giving to trick-or-treaters or for your own witch's brew for a Halloween party. Challenge yourself to get a witch's cauldron, label it with your favorite Halloween wording. Then make a platform stand and add some spindly legs and wooden platform shoes. Your party goers and trick or treaters will love what the cauldron holds.
17. Halloween Party Banner that Says Trick or Treat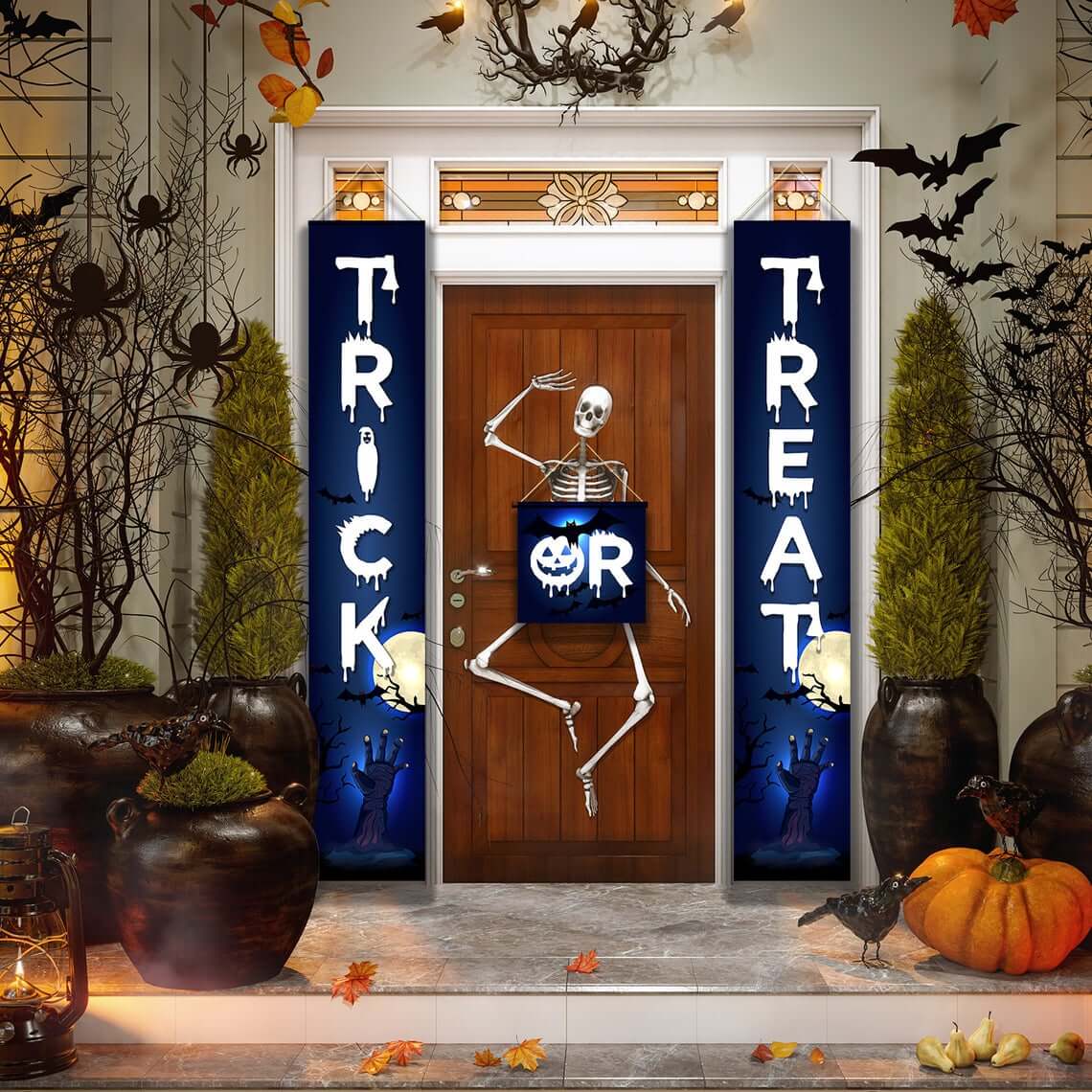 Your front door can be Halloween perfect with this ready-made Trick or Treat banner kit. You can use it as a party welcome on your door, in your yard, porch, or anywhere else in your home. Within the kit are two trick or treat banners along with a bouncy and happy skeleton ready to get the party started. The banners have decorative embellishments of dreaded hands, moons, bats, and owl and tree branches. The banners are ready for hanging and a rod and ribbon for easy anchoring, so it remains in place once it's on your door. Wherever you put this banner, it's great not only for decorative fun but as a Halloween photo backdrop.
18. October is Halloween Month Reminder Sign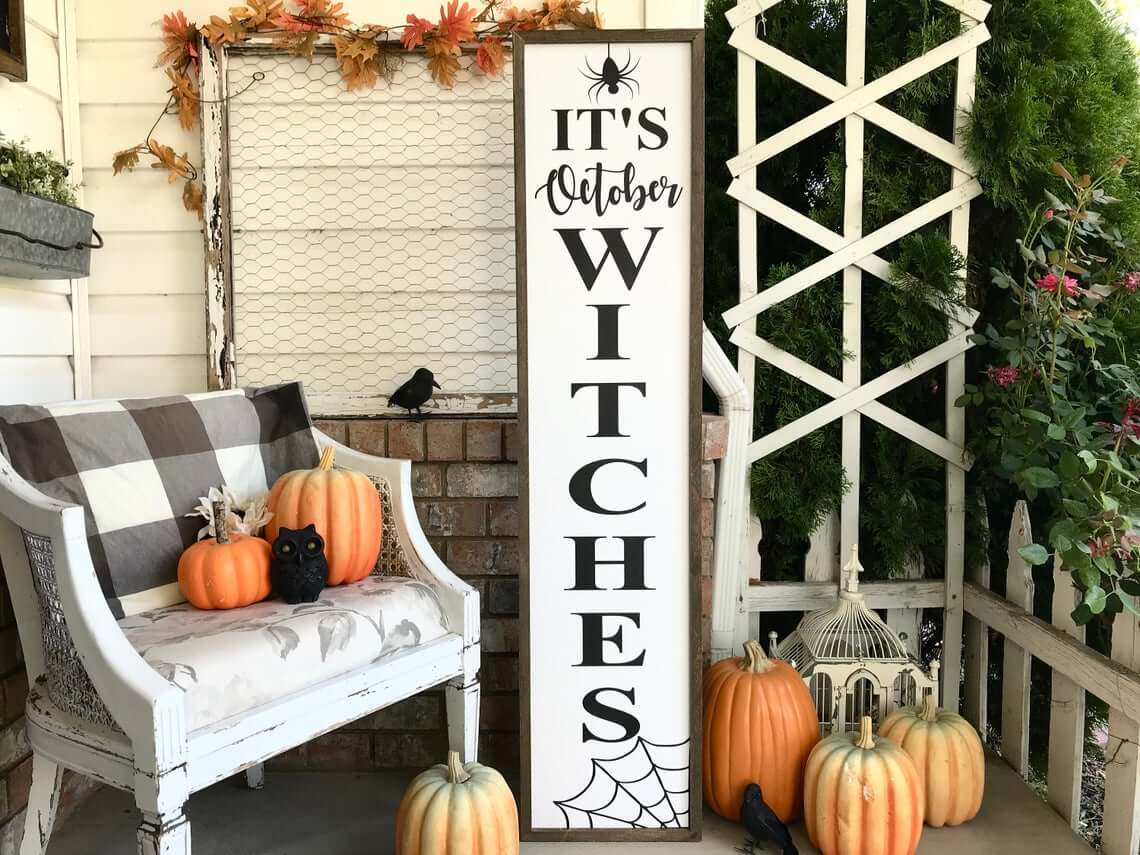 If you need a reminder that October is Halloween and witches are a brewing, look no further than this oversized sign. Add some pumpkins, fall leaves, a couple of black crows, and an owl and you have a ready-made Halloween porch. That's all you need to usher in October and Halloween. You can easily dress up your front entryway for Halloween with this large sign that measures 54 inches by 11.5 inches. The message is printed on wood with a wood frame and is coated for protection and future Halloween use.
19. The Creepy-Crawly Home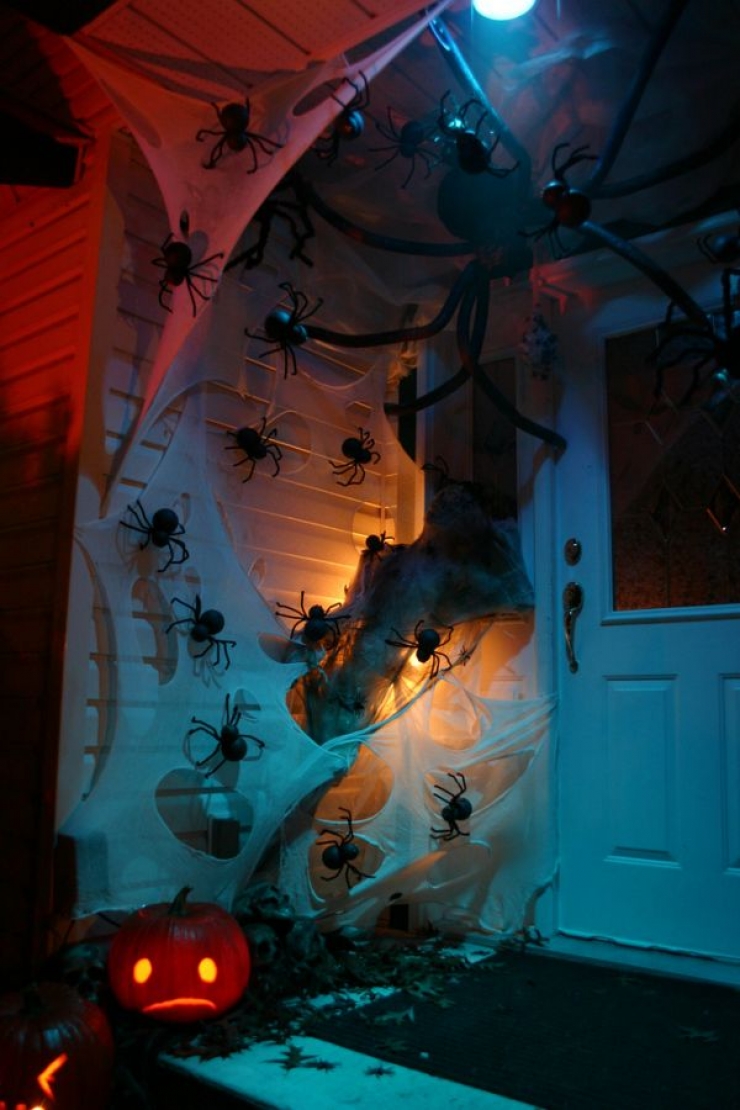 If you have kids at home or you are expecting a lot of kids to stop by, this spider web overflowing with poisonous toxic critters produces a lot of scary excitement. It is easy to build the spider web by tearing holes in white sheets and strategically placing black spiders on the web. You can get different types of black spiders online or at a craft shop. Reduce the lighting on your porch, or discover if you can cover your bulbs with transparent film wrap to increase the creepiness of the scene. Adding a pumpkin with a scary face enhances the effect.
20. The Wicked Witch Is Home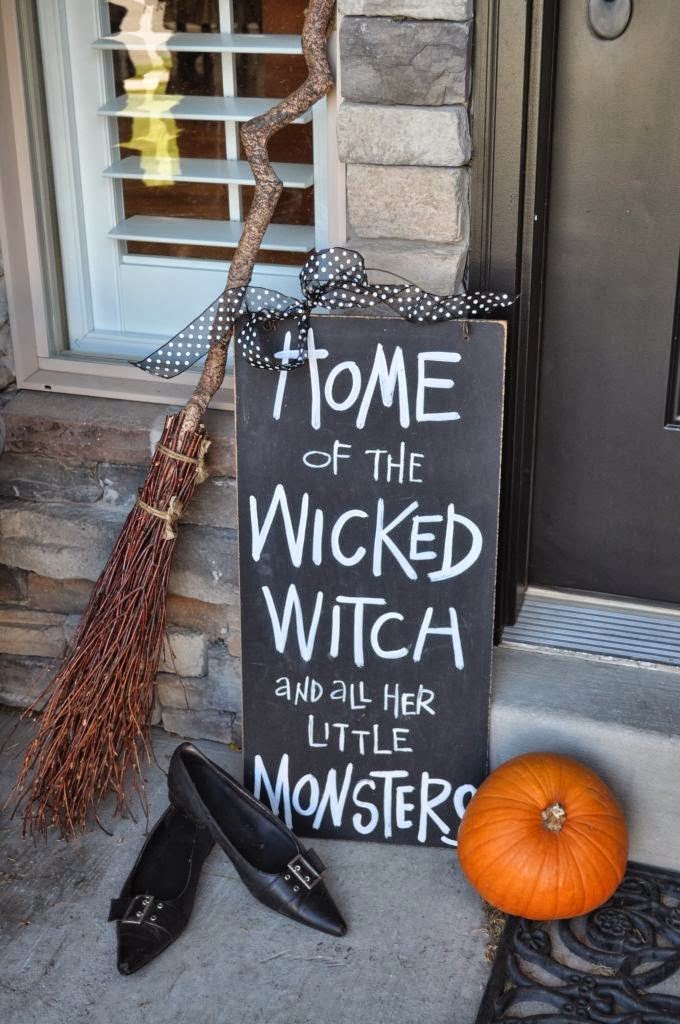 This is a simple Halloween porch decoration, but it makes a very clear statement. A creepy, vintage signboard is a classic yet scary feature. The black pointy shoes and broomstick are unmistakable symbols of witchcraft and spells. If you just have an evening to plan your porch decoration idea, this is a great option. You can change the sign to something that suits your taste such as "Little children are needed here!" Or even better, write a chilling poem for the occasion.
21. Uncomplicated Bat Decorations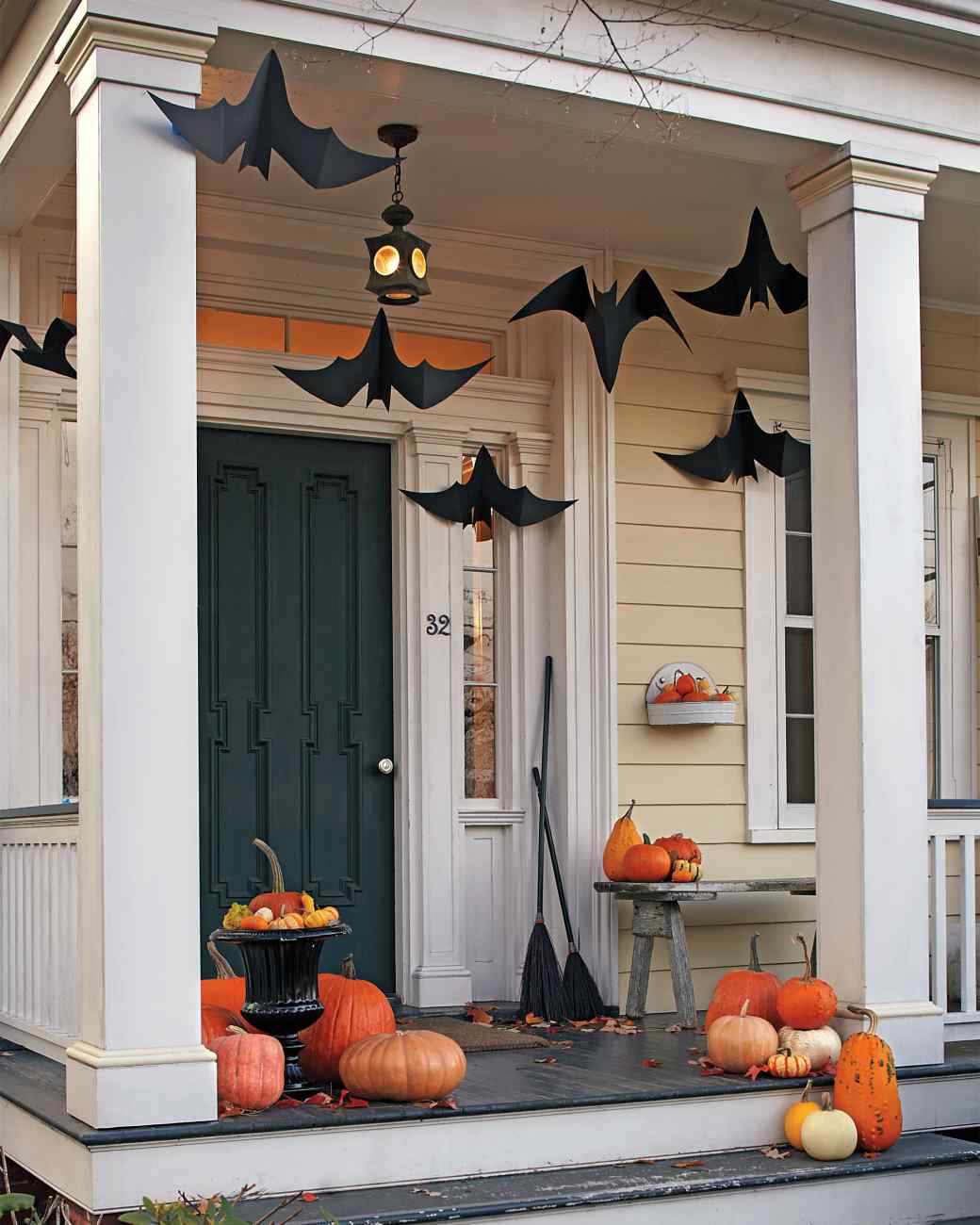 With a simple bat template, you can cut out these realistic looking bats. If your ceiling allows, place branches across and hang the bats from the branches to give an even more realistic night-time scary appearance. The two brooms in the corner let you know whose house it is, and the presence of bats could mean Count Dracula is visiting. Placing an array of pumpkins on your steps or porch in different sizes and colors adds to the Halloween theme.
22. Scary Eyes in Skulls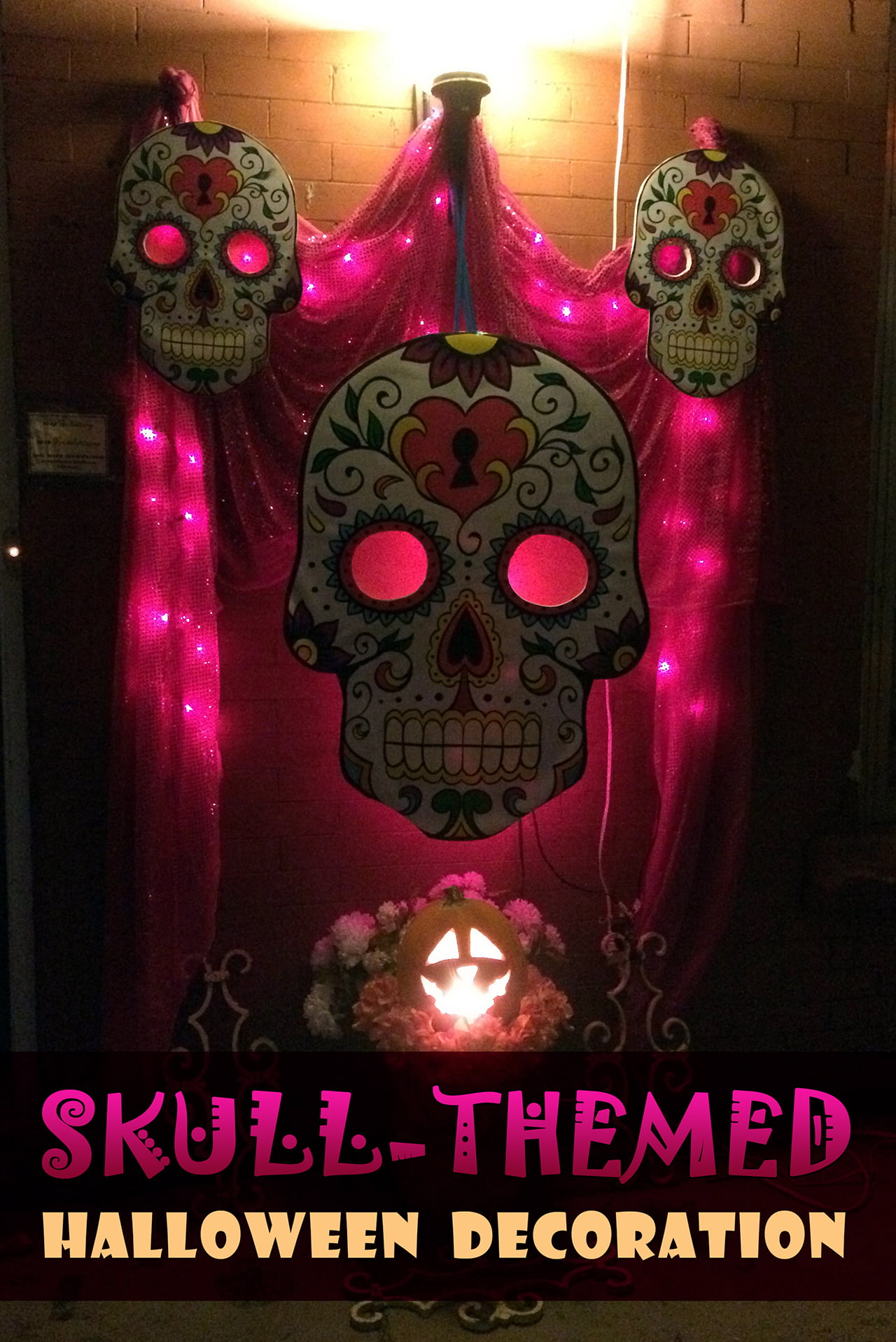 Draping some shiny cloth with sparkles and placing a light behind it produces an awesome effect. You can place any kind of shape on top by cutting out Halloween motifs of your choice out of cardboard. These skulls have a floral design painted on them and the eyes become the background color at night giving a blood curdling thrill. Complete the look with decorative pots filled with pumpkins. The best aspect of this design is that it looks good during the day and spooky at night.
23. A Simple Halloween Welcome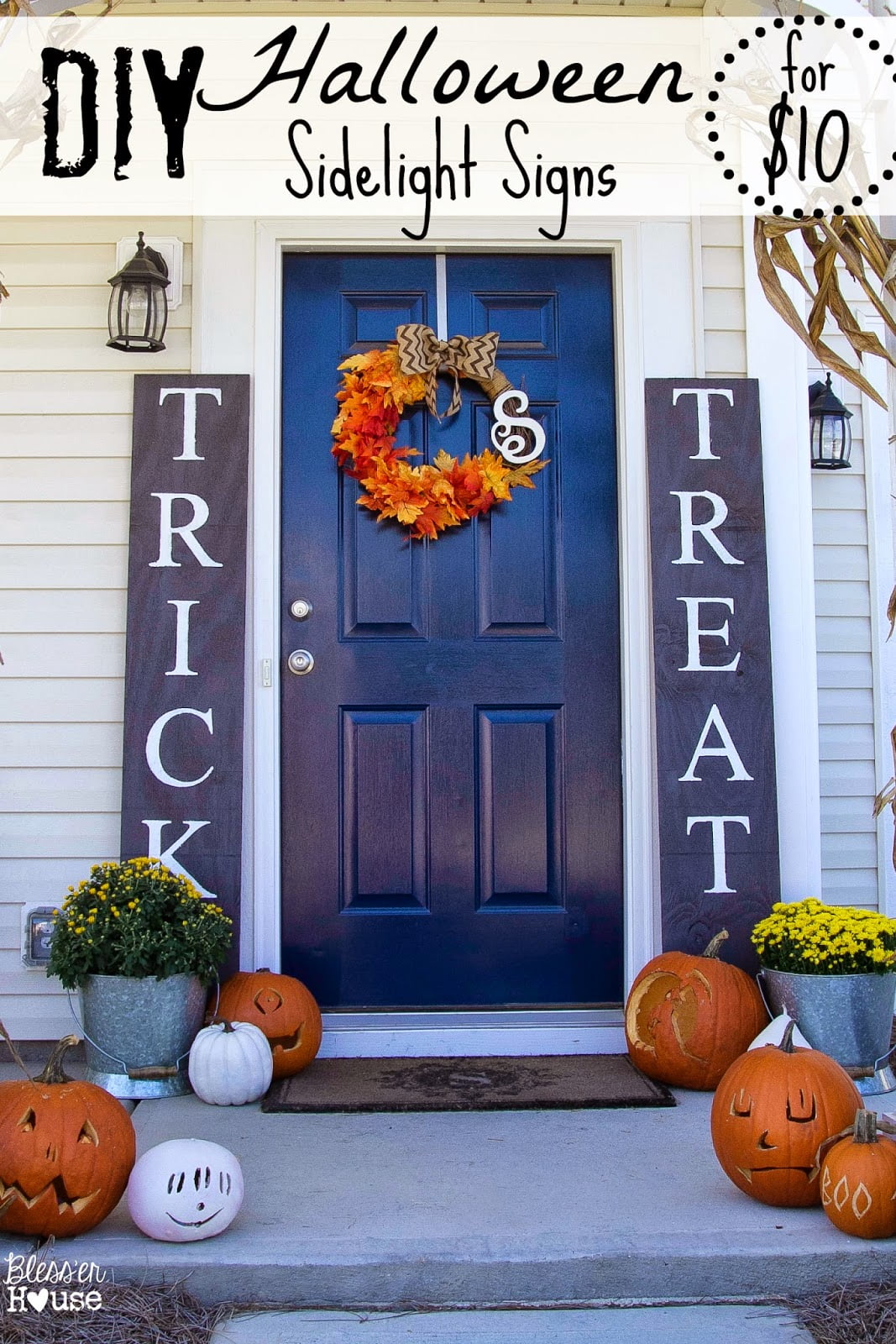 If Halloween is all about carving pumpkins for you, then buy a few pumpkins in various sizes and unleash your creative side. Whether you are looking for humor or thrills, show off your carving skills and create an attention-grabbing display of traditional Halloween fun. It is amazing what you can do with a piece of wood and some paint. In this design, the sign brings your attention right to the point. Add your own personality by designing and placing a sign by the door. A wreath of corn stalks provides the perfect frame for Halloween porch decorations.
24. Black Ravens and White Pumpkins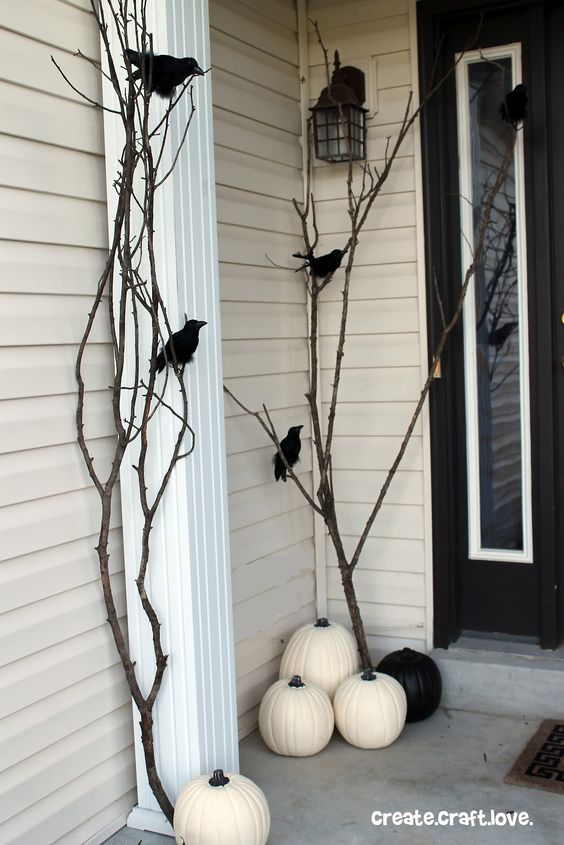 This is an unusual porch decoration idea, and it is almost beautiful when you see the outline of the black branches and the ravens perched on them against the white paint of the house. However, at the same time, you get the eerie feeling of ravens crying through the night sky. Branches from your yard work great for this and instead of carving pumpkins, just paint them black and white. Online stores and crafts shops carry ravens. You definitely still get a scare without the orange pumpkins with this DIY Halloween decoration.
25. Stacked Evil Pumpkins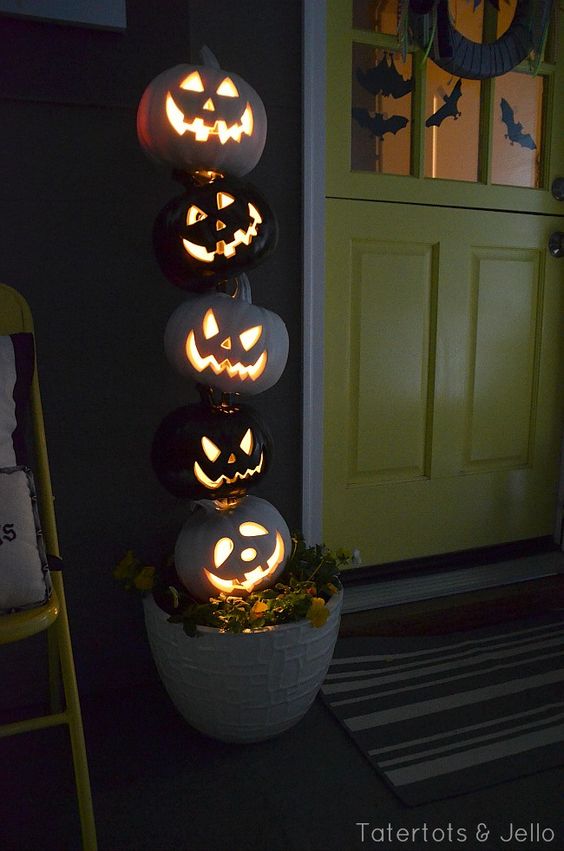 This is an attractive set up and always brings a wow on the face of the person who sees it, and that's because it is creative, funny and showcases Halloween design in a very traditional way. Here you see black and white pumpkins carved with laughing evil faces. By having a center post and making a hole in the top and bottom of each pumpkin, you can create a pumpkin topiary with any theme you want. You could wrap them in black yarn to look like they are covered in cobwebs and spiders or paint them white and light them up with clear lights to look like a crystal chandelier.
26. Skeletons on the Roof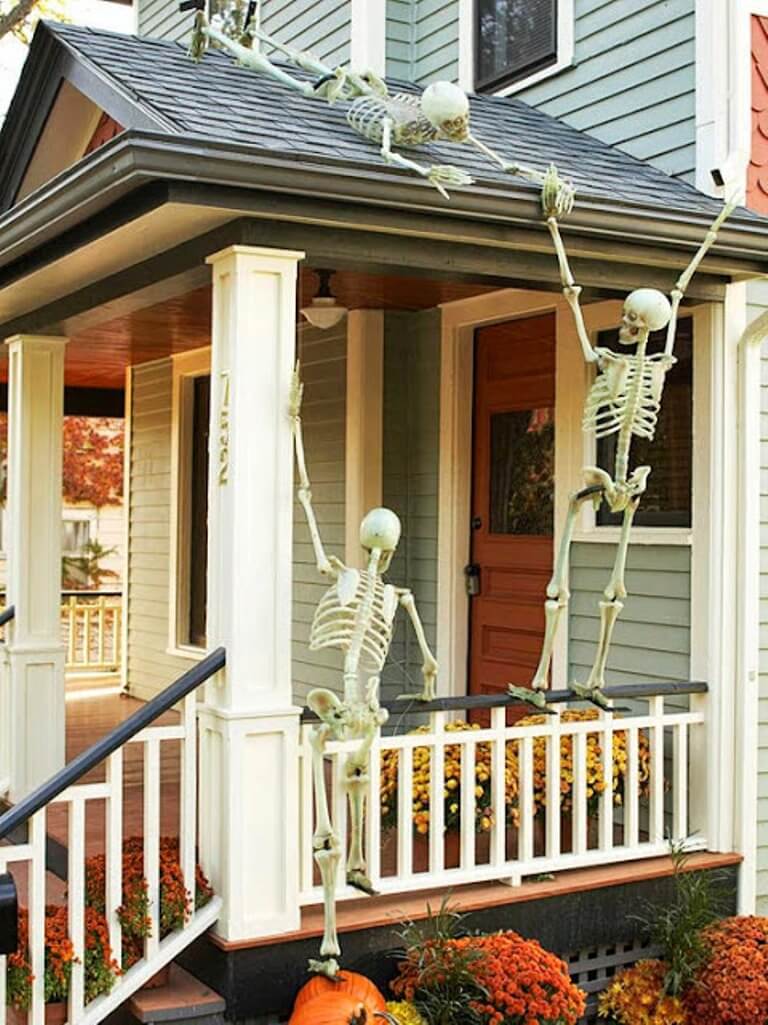 Needless to say, this is a popular design with kids and adults alike. These skeletons are climbing over pumpkins and onto your roof, and you don't know what they'll get into next. A fun aspect to this Halloween porch idea is that you can change it every day and think of different scary or funny things for the skeletons to do. Surprisingly, these skeletons don't cost too much online and because they are strong, you can use them again and again.
27. Witch in the Urn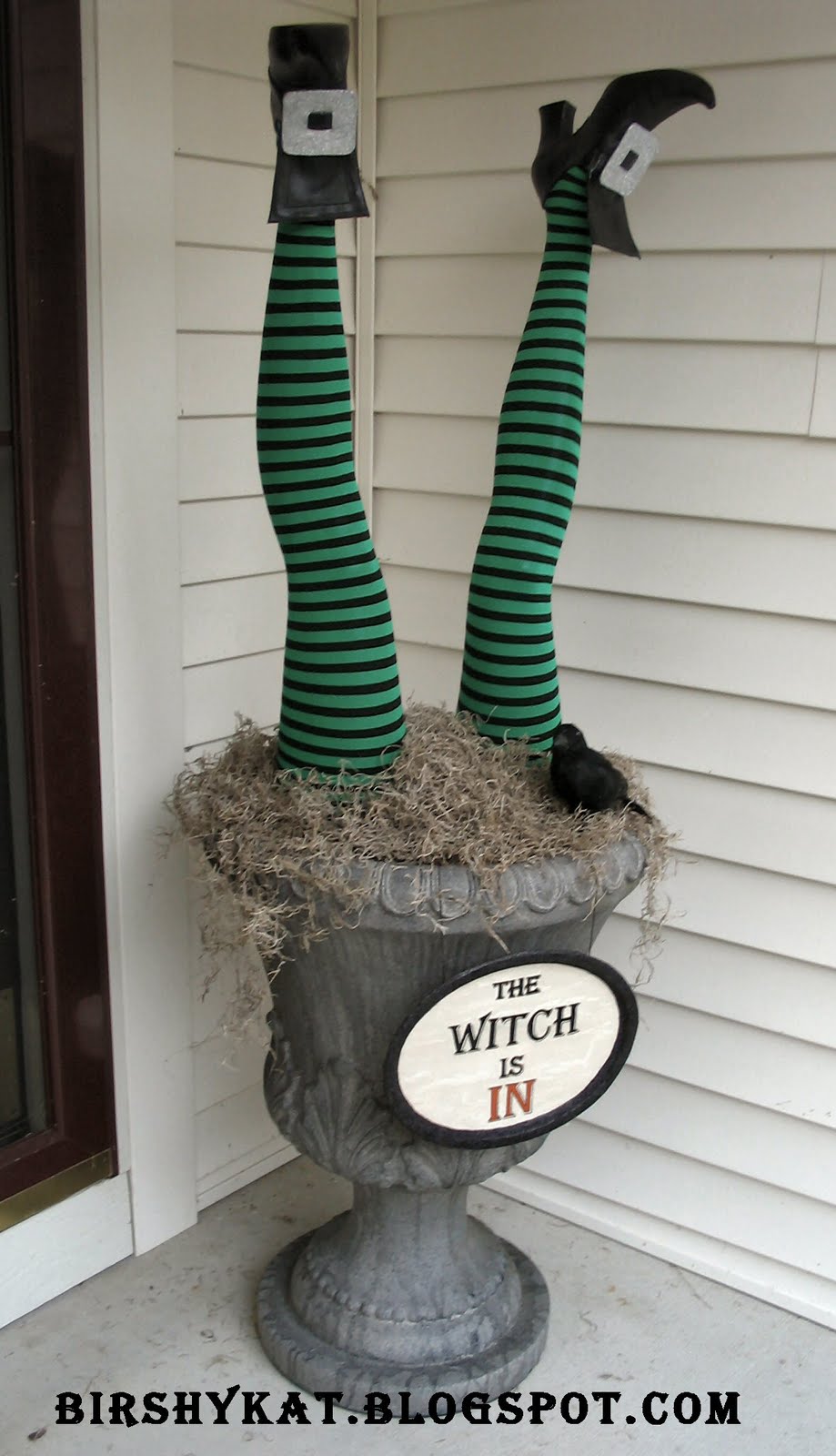 This is an incredibly clever idea. Some mannequin body parts with your imagination and you can see how the possibilities are endless if you wanted to change it in any way. Feet in a pair of shoes on legs covered in stripped tights glued to a board stuck in a plastic urn from Home Depot. The idea is simple, but the effect is truly awesome. In this picture, the urn is painted with a granite textured spray, but a silver plastic garden urn would do.
28. Fall Fun for the Family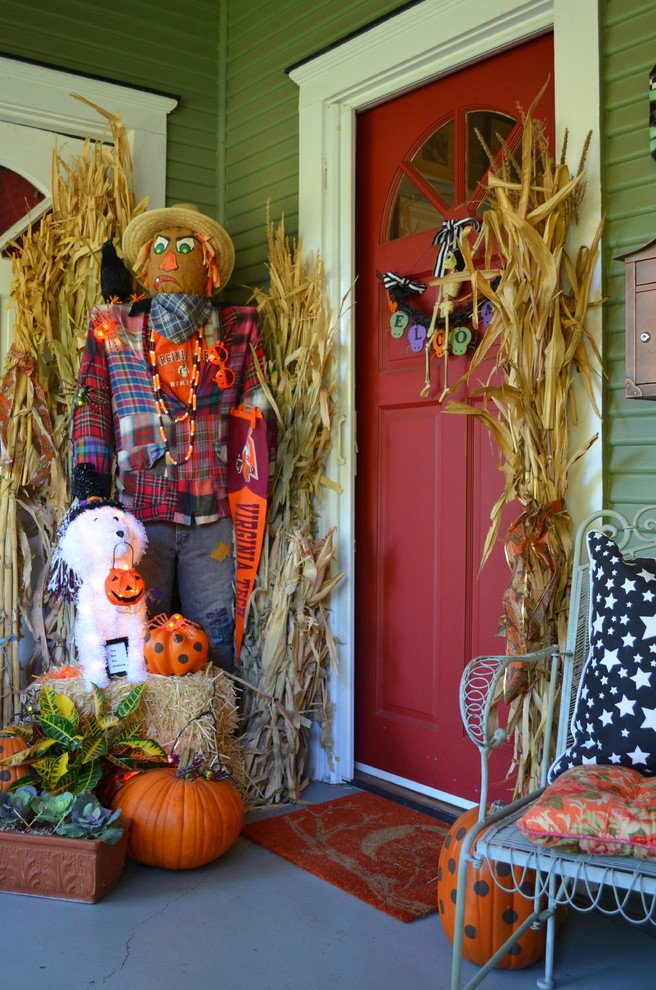 Every family member can get involved with this DIY Halloween decoration. Find dad's old colorful shirt and place a large coat hanger in it, and fill his old pants with crumpled newspaper to create a shape. Then a ball for a head with a painted face and a hat completes the look. It appears hard to do because the final result is so effective, but once you start giving structure to the pants and shirt, you'll see how uncomplicated it is. Your kids can have a lot of fun decorating it. Whether they want to cover the scarecrow with spiders or make him look like a beach bud, the process is just as fun as the final outcome.
29. Lights for Halloween Too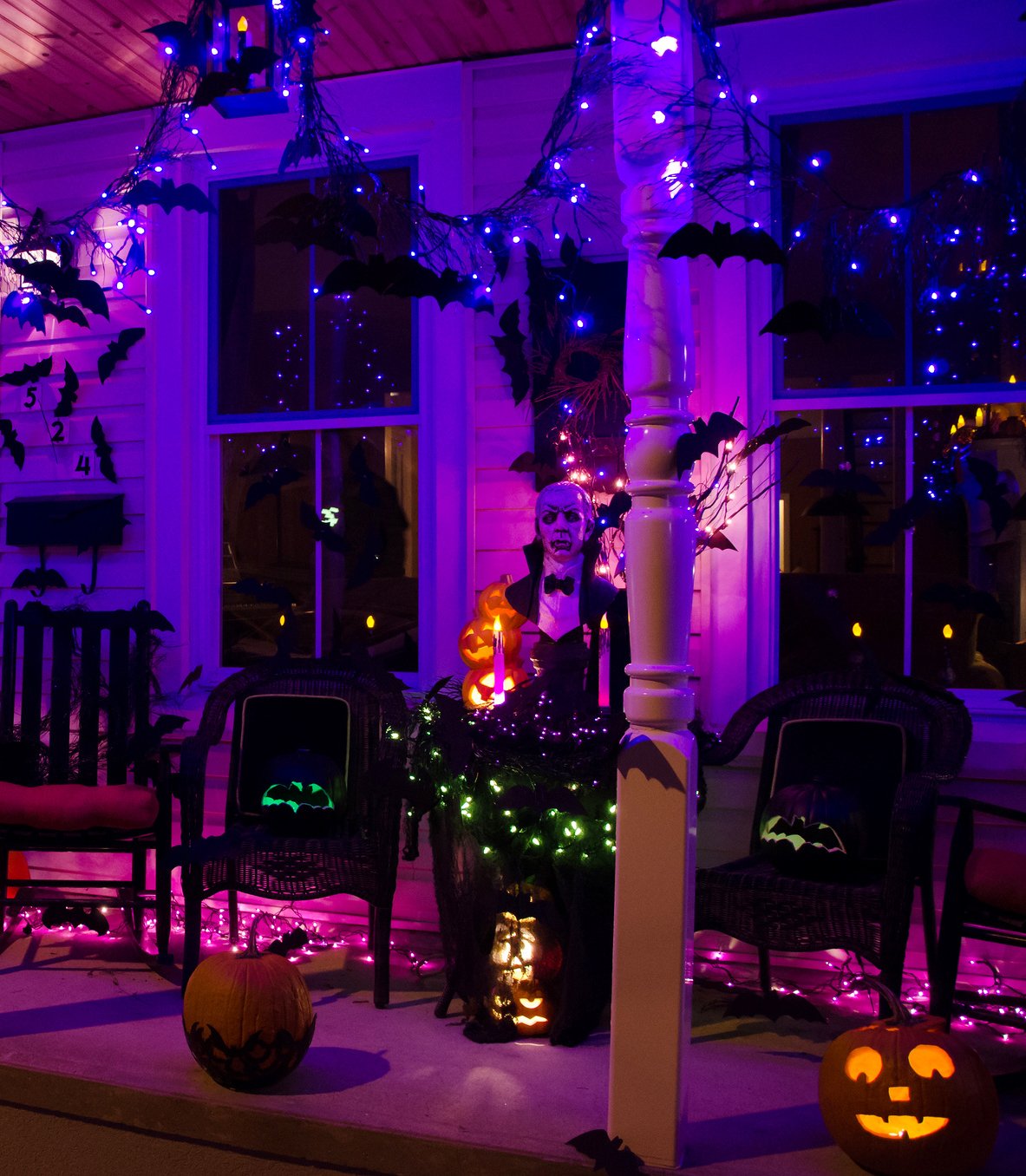 A seemingly complicated creation. However, drape some of your left over Christmas lights and place some eerie light on the floor as well as in the background, and you can make this magnificent display. Consider using transparent film wrap instead of buying new lights. All it needs now is a selection of bats, carved pumpkins and fearful looking people or creatures hanging around. You can buy Halloween characters dressed for the occasion or put a new face on the dolls and stuffed animals that you already own. You can do this by cutting out strange shaped eyes, ears, nose and mouth from colored paper.
30. A Simple Halloween Statement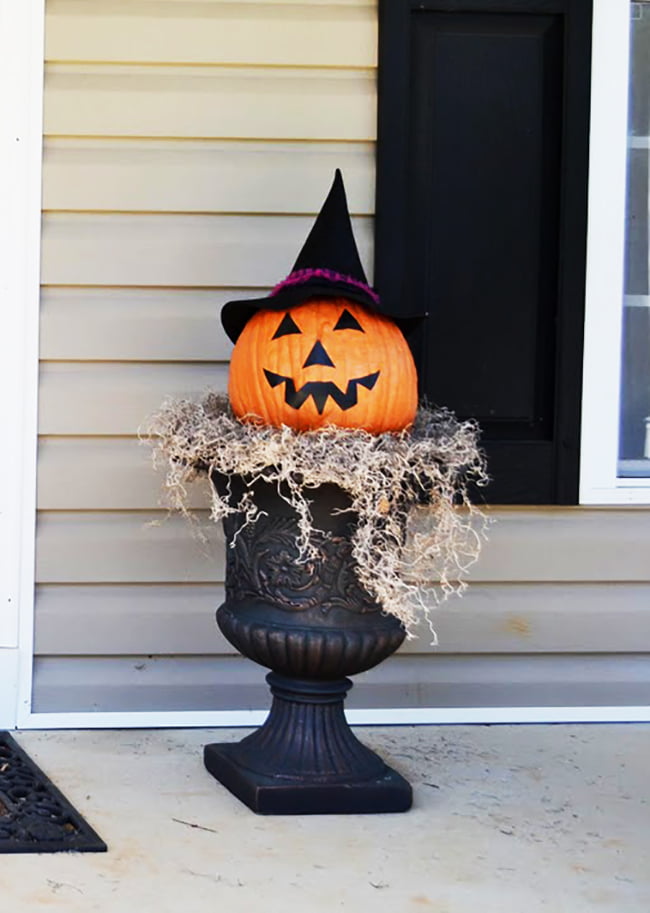 This is a good option for those who want to participate in the fun but don't have time for an elaborate set up. The plastic urn comes in handy again, and you can place a board across the top and put some straw for the base of a dressed up pumpkin. Place this on one side of your door and try another decoration on the other side, maybe the witch in the urn? If you want to keep it simple but also scary, you could turn the straw and pumpkin into a bones and skull display.
31. Cute Ghosts This Halloween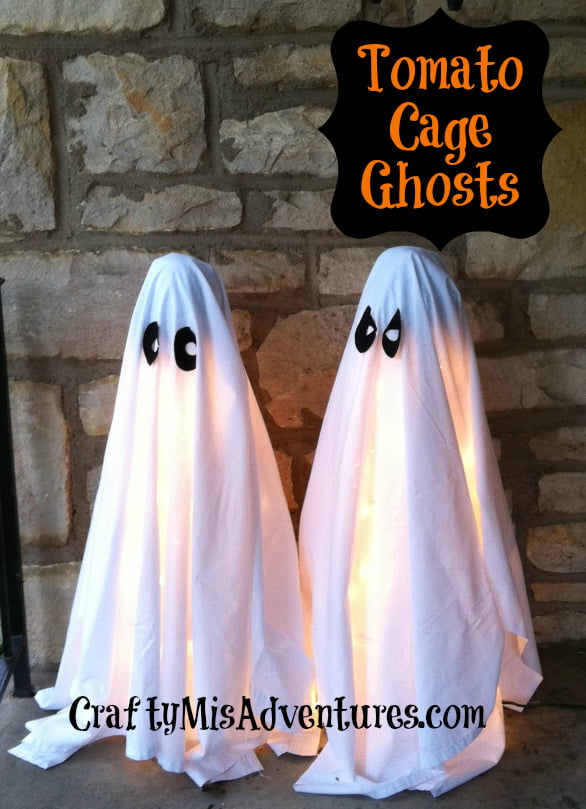 These ghosts aren't terrifying; in fact, they are kind of cute. Imagine how much fun you could have making these little guys and placing them in different places. They are a great Halloween porch decoration by themselves, but you can add them into other creations you are designing as well. These are made with a tomato cage, white sheets, black felt for eyes and white lights. You can stick a ball, or something round, on top so their heads aren't flat.
32. Spider and Bat Invasion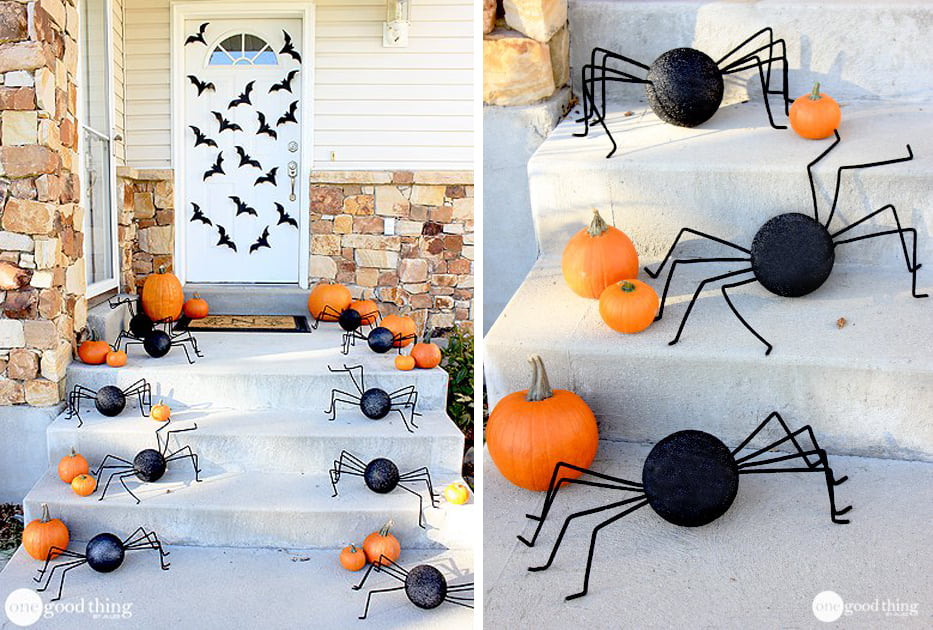 This is a very easy DIY Halloween decoration to do, and the result is a simple but fun Halloween presentation. You can make more spiders and bats and make it look like they are invading your entire home. Black poster board for bat cut outs, and Styrofoam balls, black paint and pipe cleaners for spiders is all it takes. Pumpkins in different sizes falling down the stairs complete the look of a Halloween critter invasion.
More Halloween porch design ideas on the next page…