53. Have a Boo-tiful Day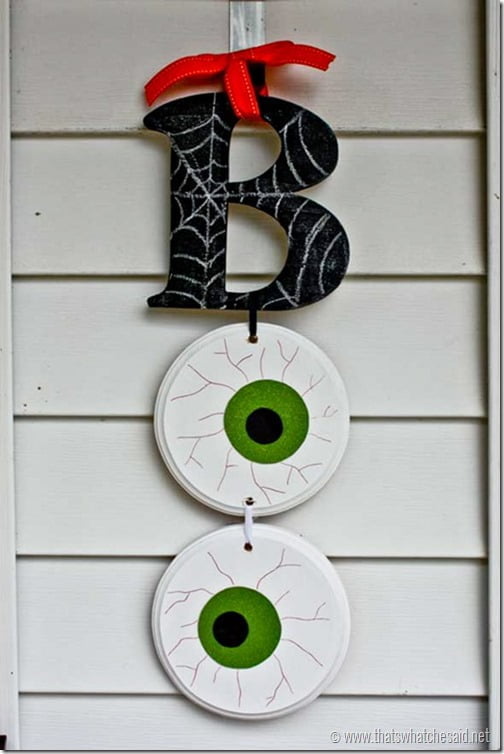 This delightful Halloween door decoration says it all – in a classy, fun way. Use your creativity to personalize this door hanger using chalkboard paint, colored scrapbooking paper, stencils, chalk or other supplies you have around the house. You can buy wood letters and circles at most crafting stores or online. Drill holes into the letter 'B' and into both circles. Connect each piece together using string or yarn so they stay securely in place, even when the wind blows. Tie a piece of ribbon or yarn to the top of the 'B' and attach to your door using a wreath hanger.
54. Here's Lookin' at You, Kid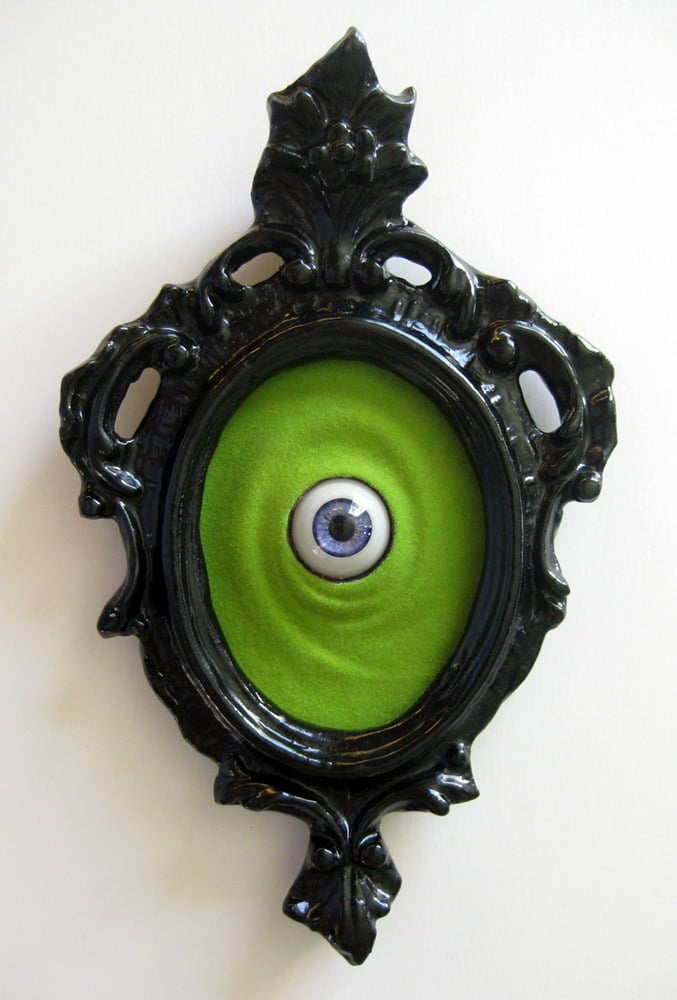 That piercing blue eye continues to stare at passersby even when they reach the end of your street. This unique door decoration is very creepy, to say the least. But if you're looking for something that will freak out your neighbors and friends, this eye is the decoration for you. Set in an antique frame, the eye floats in a bright green background you can make out of cloth. Create an eye that stares directly into the soul by cutting a tennis ball in half and painting it with craft paint. Place it right in the center of the frame for optimal creepiness.
55. A Bountiful Witch's Hat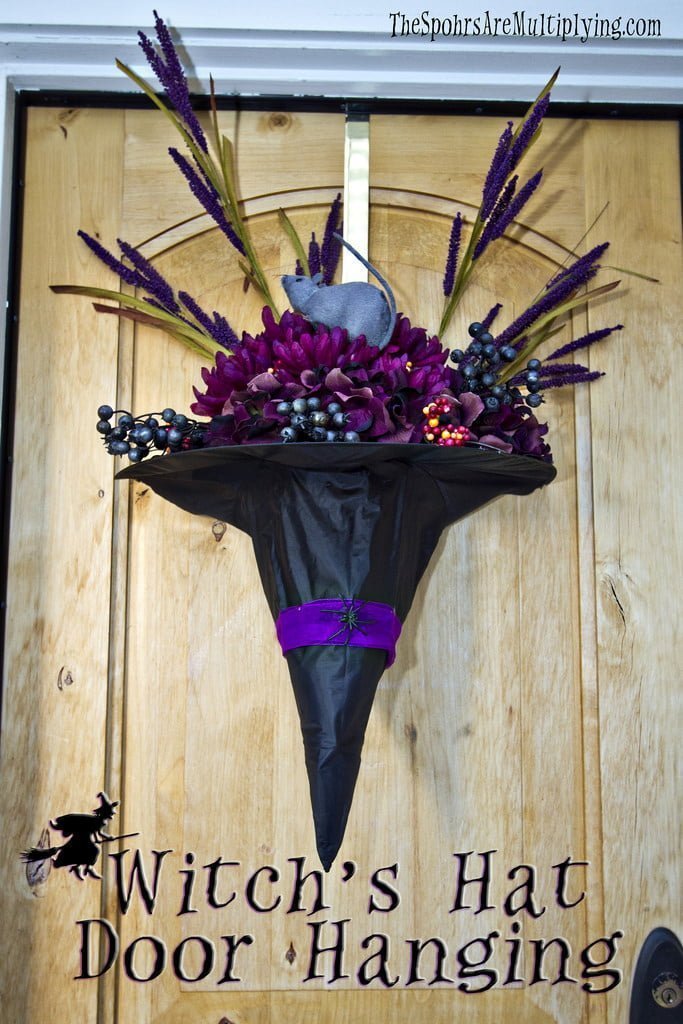 Fill this witch's hat with a variety of purple, red, orange, yellow and black artificial flowers to create a whimsical decoration with a hint of something sinister lurking just underneath the surface. The secret to creating a sturdy hat is to use a flat-back hanging basket as your base. Simply cut and mold a black witch's hat around the basket and you have the beginnings of a memorable Halloween decoration you'll want to hang year after year. Add a few plastic spiders or rats on top, or cover with wispy cotton spider webs to give this witch's hat a creepy touch.
56. Cute Halloween Spider Door Decoration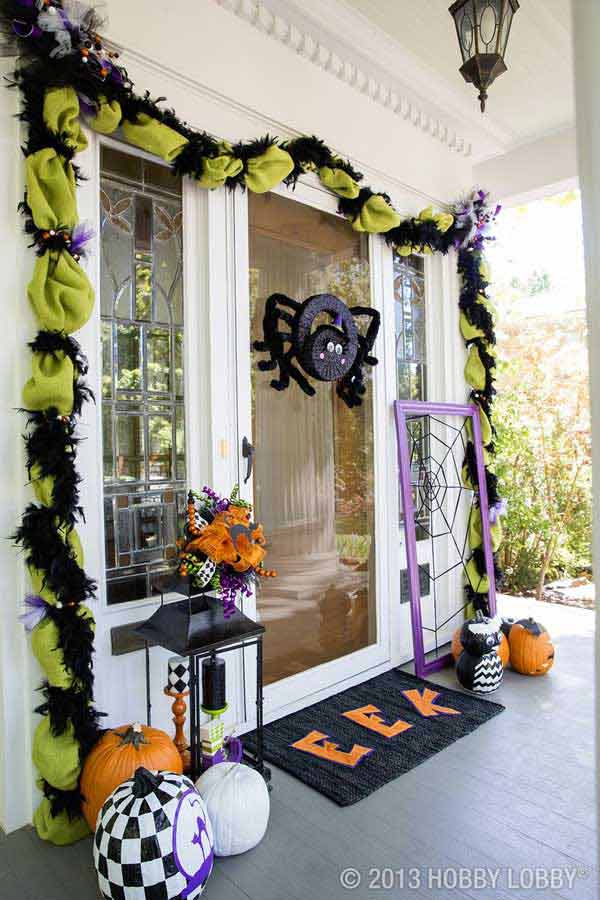 Halloween wreaths have never been so cute. A plain wreath decorated in black and sparkles create the body of the spider. Giant black pipe cleaners (chenille steams) are the legs. A smaller Styrofoam disk makes the head, which is then given eyes, dimples, and a witch's hat. Smaller chenille steams make the brim of the hat and the smile of the spider. Hang the spider on your storm door or front door, and coordinate the color of the hat with the rest of the decor around the front porch. If it's green, use purple, and vice versa, for a stunning contrast.
57. Elegant Pumpkin Trio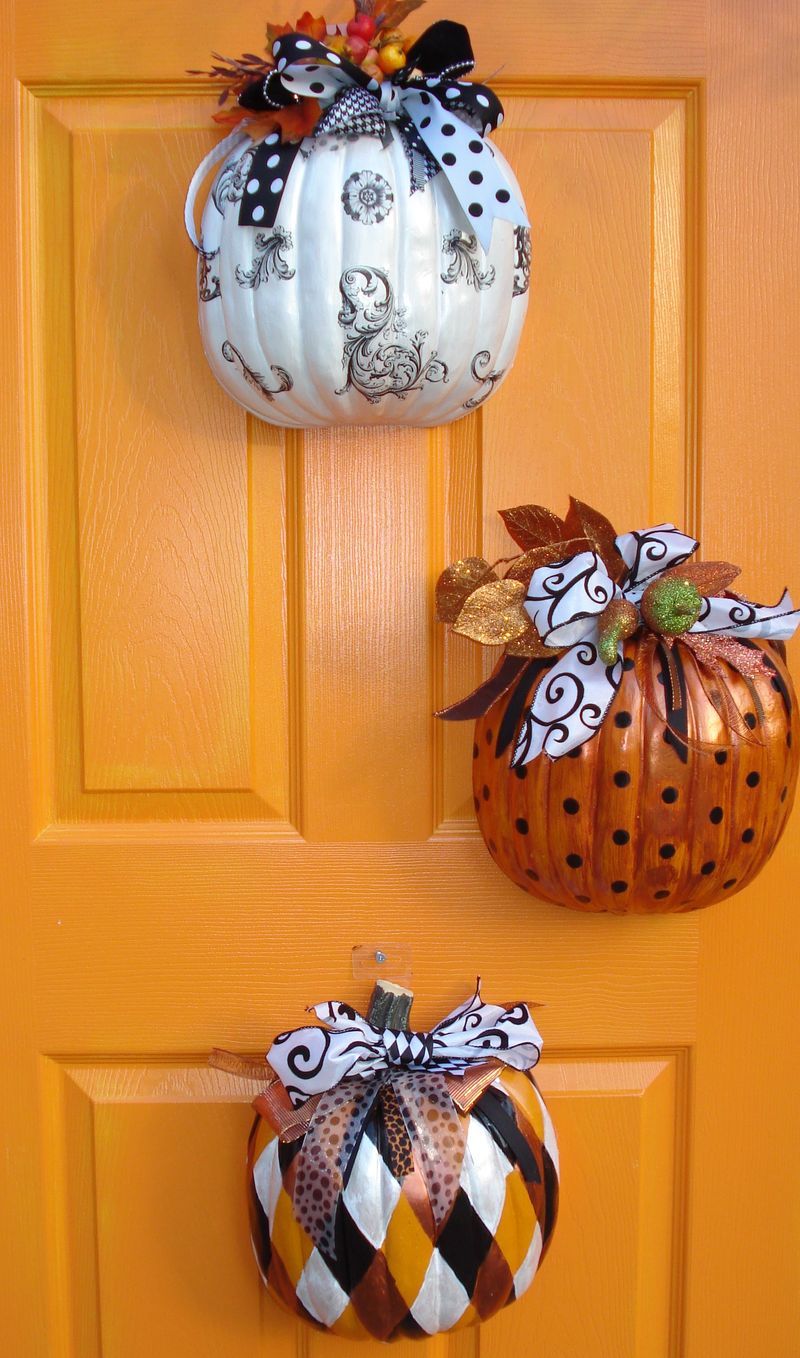 Surprise neighbors this year by decorating for Halloween in an elegant way, rather than in a scary way. Find three small pumpkins and paint a pretty design or pattern on each one. Use brightly colored ribbons, thumbtacks, or plastic spiders (if you want a touch of scary) to finish. To create an intricate design or pattern, use a stencil. If you don't want to hang these pumpkins on your door, simply place around the door, on your front walkway or on your front steps. Add a candle to one or more of the pumpkins to enhance the beauty of your designs.
58. Hungry Monster Halloween Door Decor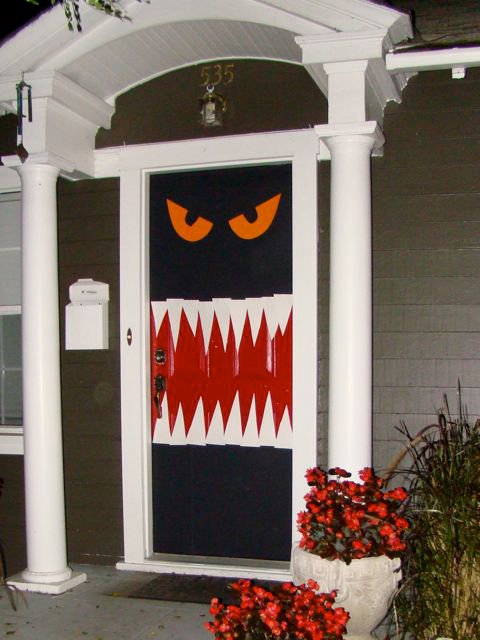 Black, orange, and white construction paper and a red door. This creates a recipe for a Halloween decor piece that will not be topped for a long time. A hungry monster resides on this door, and by covering the bottom half of the door with black construction paper – with white at the top for teeth – and the doing the same with the top, you can maximize the scare factor of these Halloween house decorations. Orange paper creates scary, spooky eyes. In a neighborhood with kids, this will be much better than any Halloween poster out there. The monster can attest to that.
59. Streamer Fun Halloween Door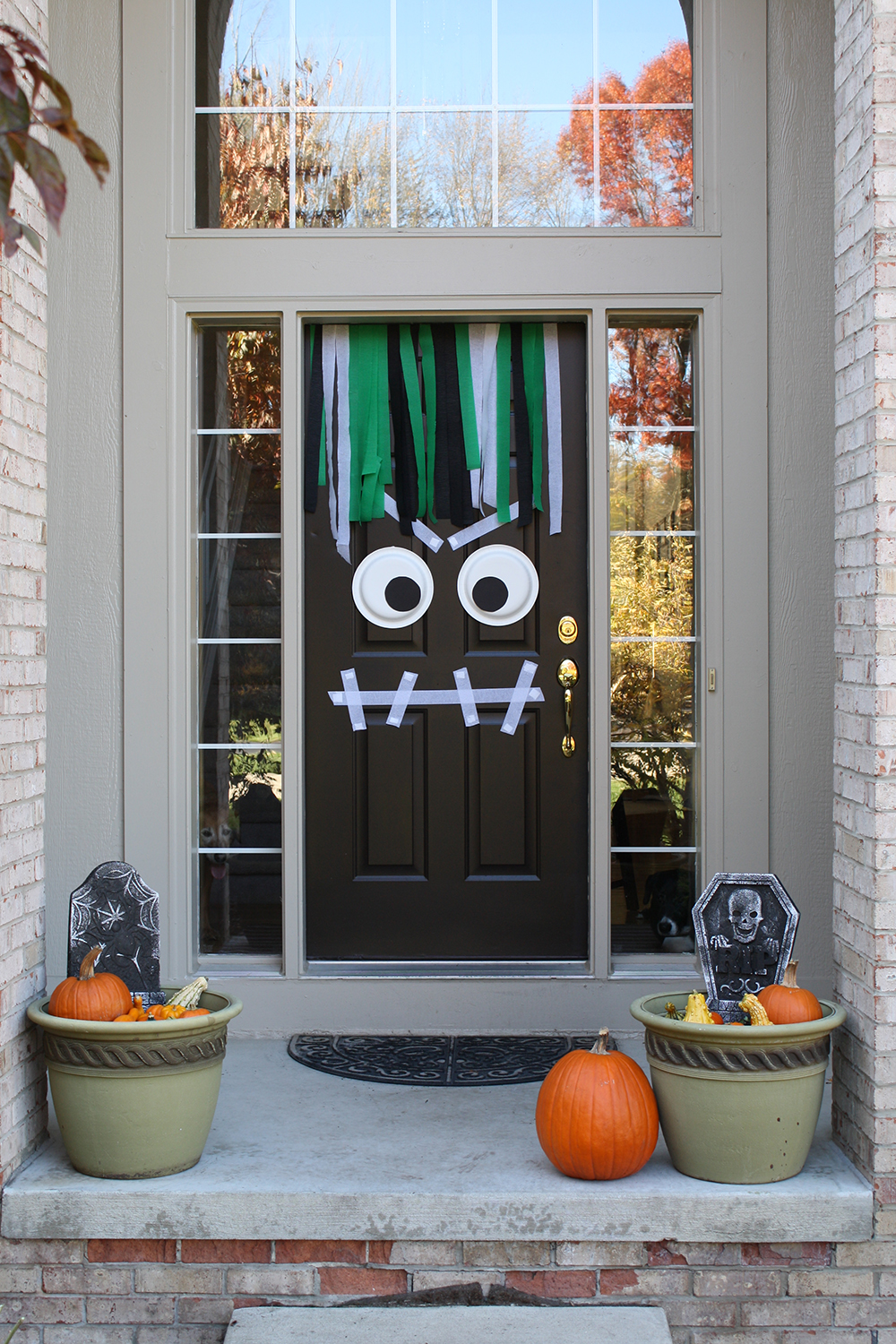 Streamers from parties are always difficult to use up afterwards. Homemade Halloween decorations can be made via these leftover streamers. With paper plates, black paper, and tape, the streamers become the hair for a monster. Plates become the eyes. The tape can be pretty much anything on the monster: a mouth, eyebrows, a nose, or even a mole! While streamers aren't usually considered outside Halloween decorations, this craft can make anyone think twice about that ideal. The monster can have any number of expressions and hair colors – depending upon the streamer color. If there are other decorations around, use them too!
60. The Up-Side-Down Witch
Give everyone (well, almost everyone) the giggles this Halloween with this charming front porch decoration. Make use of an old garden planter to provide a landing pad for this poor, misguided witch. Decorate a pair of mannequin legs using the colors of the season (black and orange, orange and white, black and purple) and then stick those legs up-side-down into the planter. Pack down with soil, old newspapers or cloths to secure the legs in place. Add decorative touches like moss, plastic critters, or cotton cobwebs. Place an old broom next to the planter for an extra laugh at this witch's expense.
61. The Day of the Dead Wreath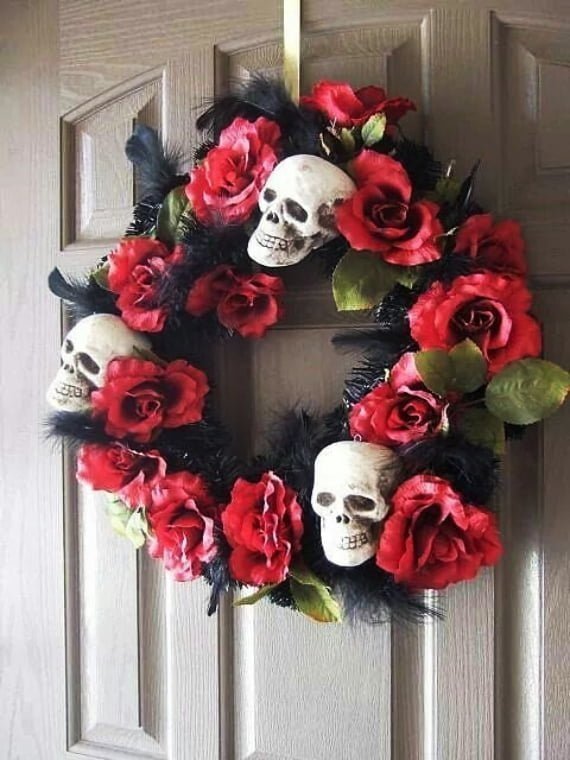 Celebrate the Day of the Dead with this skull-themed wreath. Dress up a plain black wreath with red and green artificial flowers and plastic skulls to show your respect for those who have passed on. This door decoration also makes for a charming Halloween decoration. Rather than portray a scary, creepy or spooky theme, you can use this wreath to quietly celebrate Halloween. This is especially useful if you have young children, or you don't have a lot of extra time to spend decorating your home. Hang this wreath using a wreath hanger to use year after year if you choose.
62. Woo's There?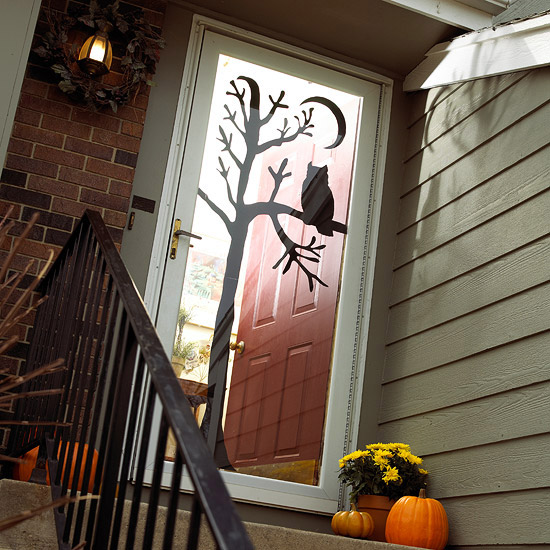 Creating something in silhouette can be difficult – which is why people may go for Halloween wreaths. However, the effect a silhouette can have on a storm door is incredible. A crescent moon and owl perched on a tree branch offers a chilling display. The tree can be barren or full of leaves, depending upon preference. The barren tree adds a unique touch to the silhouette that leaves take away – something that gives the picture a Halloween air. A window cling in black creates a great silhouette in a pinch. If there is more time on your hands, black construction paper works just as well.
63. A Low-Key Halloween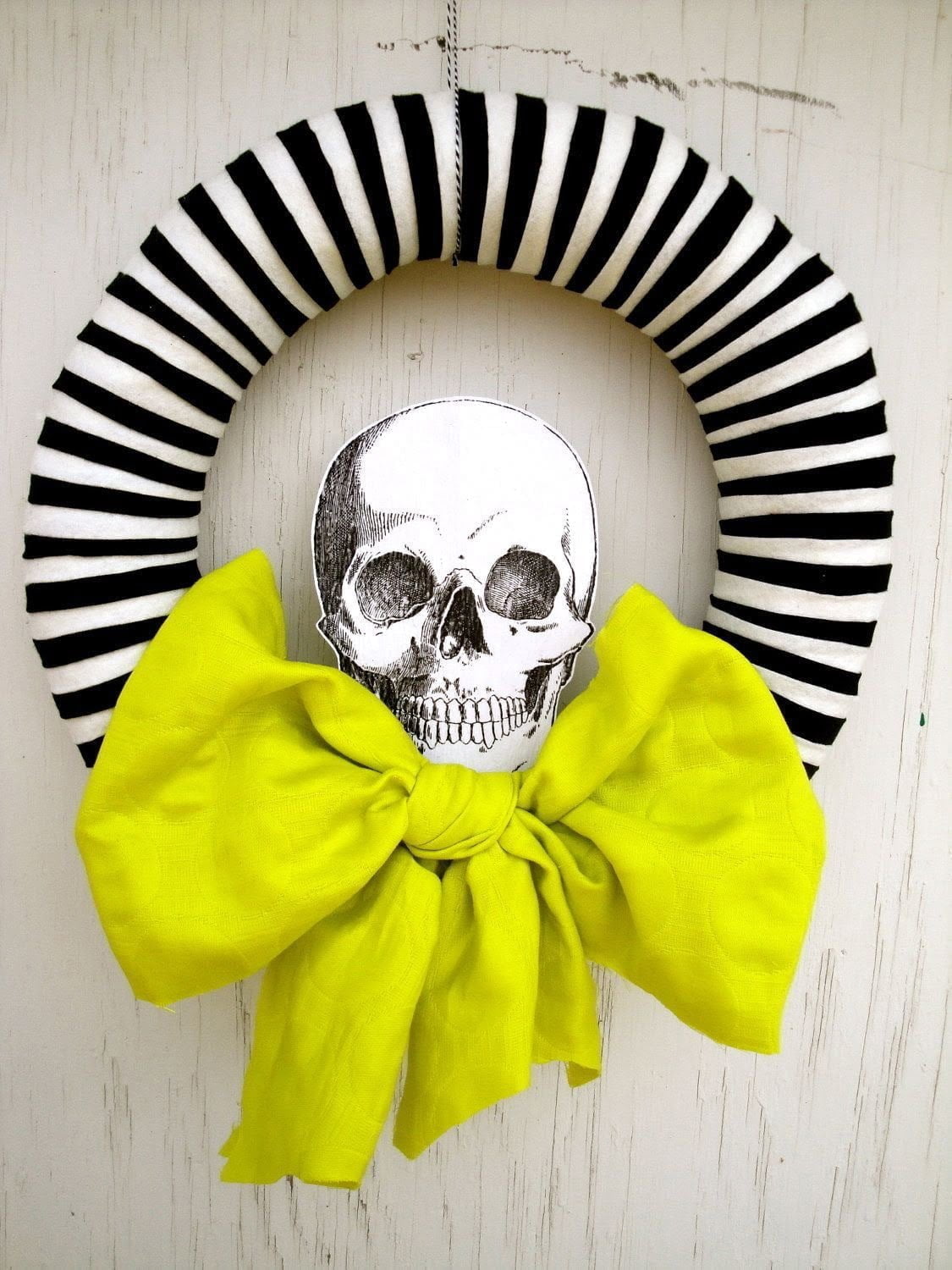 This tame Halloween decoration can also be used to celebrate the Day of the Dead – a day that honors loved ones who have passed away. The shiny skull surrounded by the black and white striped wreath and colorful bow is reminiscent of any Tim Burton movie. Whimsical, quirky and downright odd, with a quiet sophistication that is both confusing and haunting; this Halloween wreath is a tasteful choice if you live in a place with strict exterior decoration guidelines, or if you have young children who scare easily. Easily change up the striped pattern on the wreath to suit your tastes.
Show Off Your Creativity This Halloween
Over all, there are a lot of things that you can do to have DIY Halloween decorations for your house. Whether you create a wreath from burlap or a countdown poster, it's your house. The possibilities are endless. Candy wreaths, signs, and even stuffed pillows that look like candy are all ideas, as are the fifty crafts given here. There are not enough ways to create to suffice all the crafty people in the world, and there are so many ways to make it work. From a crafty person, this is a lot of ways to decorate. Bats, spiders, and witches galore offers everyone a way to show off what they like at Halloween. No matter who they are, how old they are, or even where they live. Eyeballs look. Fingers poke and touch. And Halloween is always a time for showing off how crafty someone can get – whether it is a homemade pillow, a spray painted Styrofoam ball, or a painted diaper box to rest something else on top of.