You've come to the right place to discover some of the best angel decor ideas for gifts, keepsakes, and new decorations. Featuring this heavenly being in your decor can add a nice and comforting touch to your space.
Spread Your Wings with these 27 Angel Decor Ideas

With chubby cheeks and soft smiles, these angel home decor ideas give a cool comfort like no other symbol. They provide a symbolic essence of heaven and hope for lost loved ones making them a top choice for gifting during bereavement.
Comfort your close friend who's recently lost a loved one with a statue of an angel. Offering peace, an angel statue is a wonderful way to warm the heart. Such a statue can be a single or pair of cherubs. And size depends on what your needs are. Some are dainty and small enough to rest on a windowsill, while others stand tall and proud as a focal point in an outdoor garden.
Another cool use of room decoration with angels is for the holiday celebrations at Christmas. White and red creations feature these angelic creatures from fabulous ornament options for your Christmas tree. Another cool way to show off these Christmas-themed angel ornaments is using them as pretty gift tags.
This angel art doesn't have to be limited to traditional decorating styles either. Add a contemporary twist for a modern design when you choose abstract creations and pieces that feature metal. A bold statement piece that may be as simple as a set of wings will look amazing on the large wall in your main living space.
No matter what motivates you to pursue charming room decoration with angels, this complete listing of 27 varieties will meet your needs.
1. Angel Wings Abstract Background Canvas Wall Art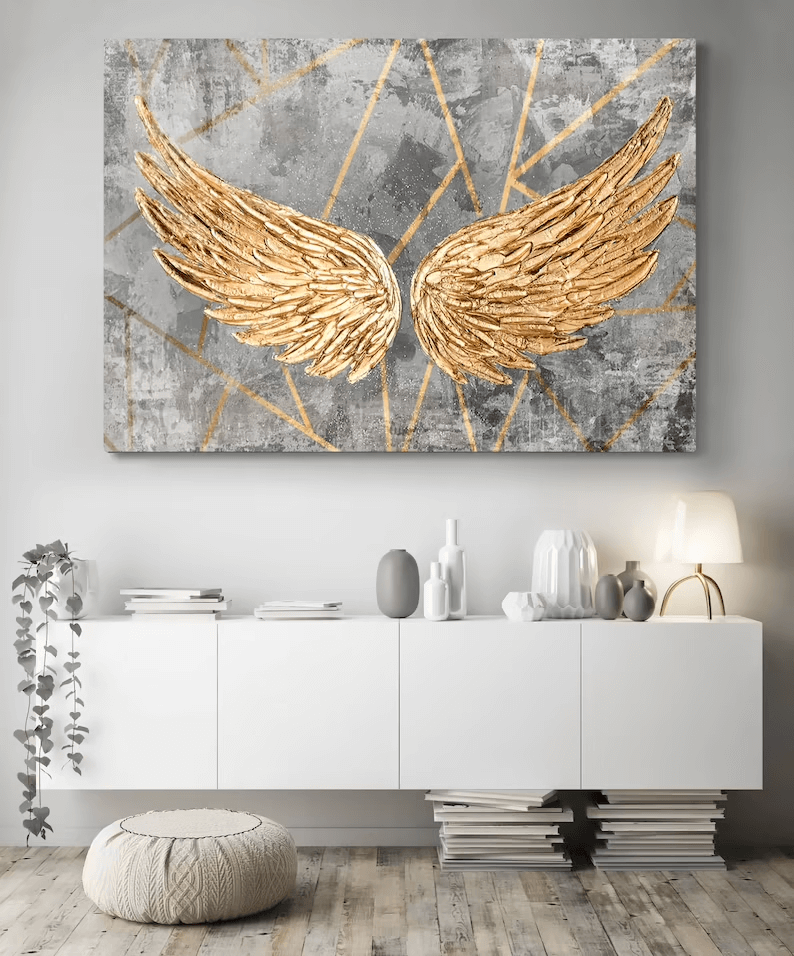 Spread your wings and fly as you decorate your home with this cool angel home decor. Using your choice of canvases to create the desired effect, this bold and beautiful statement wall art will look fabulous above your couch or king-sized bed. Featuring a gray abstract background, the pair of golden angel wings come to life in a gorgeous feature wall print. Such a neutral-colored artwork will work in almost any space no matter the design style. Including some white furniture pieces is a sure-fire way to make this focal point even more powerful.
2. Magnificent Macrame Angel Spreading Her Wings Decoration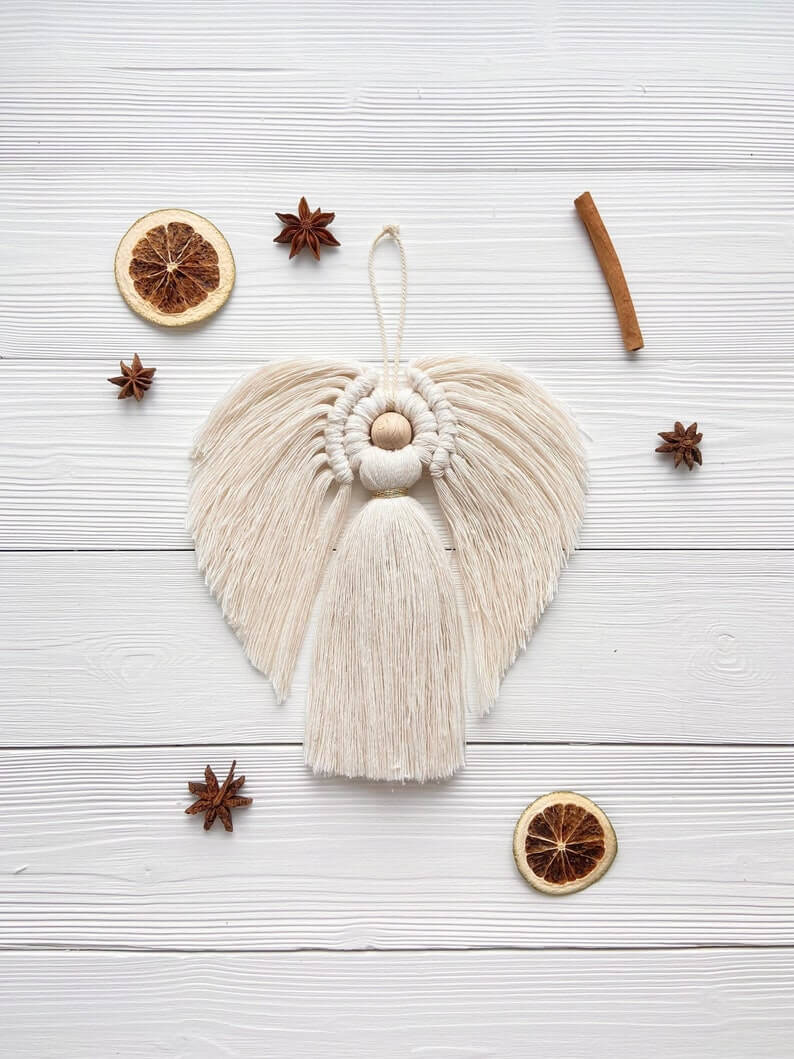 Any time of year, but especially at Christmas, this magnificent macrame angel makes a spectacular and one of the best angel decor ideas for your home. Use this as a decoration to add it to an existing gallery wall, year-round tree, or save it to include as your new Christmas tree topper. It would be a darling room decoration with angels for use in a newborn baby's nursery. Hang it on the wall, on the curtain rod, or on the doorknob. There are so many amazing ways to use this pretty angel in your home. For the avid macrame enthusiast, this is a unique gift choice as well.
3. Peaceful and Adorable Angel Cherub Candle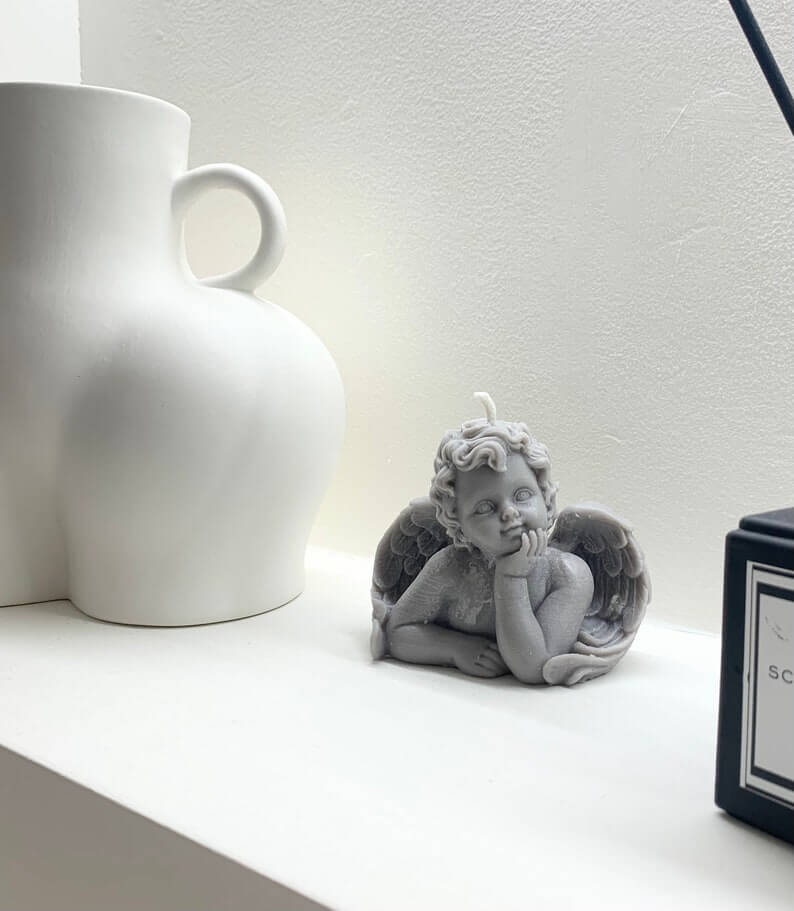 Add this sweet and charming cherub to your desk or windowsill to fill your personal space with some sweet scents. You'll feel nothing but love every time you glance at this delicate and dainty little angel. Just look at those chubby cheeks that are some of the cutest angel home decor creations. Perch one on the kitchen windowsill, on top of the dresser in the kid's room, or on the bathroom sink. This darling angelic candle is the perfect addition to any room.
4. Three Layers of Feathers Angel Wings Decoration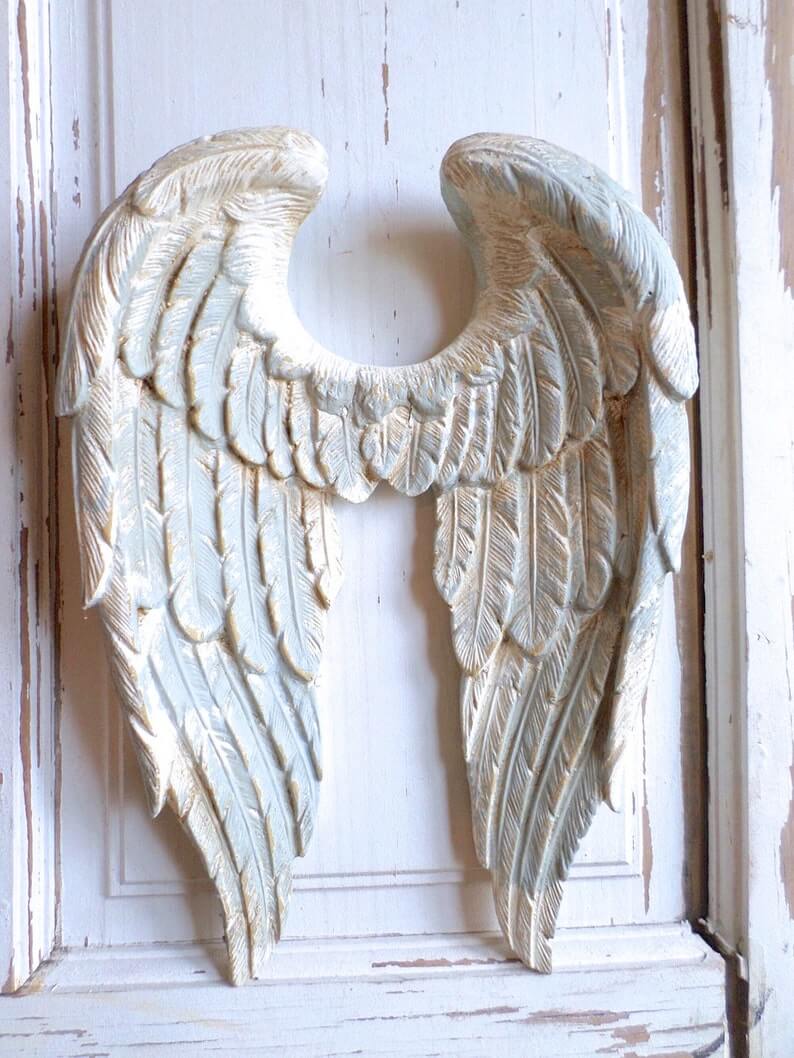 Check out this set of angel wings that feature intricate detailing of three tiers of feathers. What a wonderful spread this angelic decoration adds to your home. It would be simply beautiful as an addition to a shabby chic decor. The size makes it a great fit on an interior door. Attach it to an old, weathered wooden shutter for some unique home decorating ideas. Add a pair to accompany a gold leaf mirror. They would make a fabulous accent to any focal point on your wall space.
5. Snow Princess Beaded Crystal Angel Ornament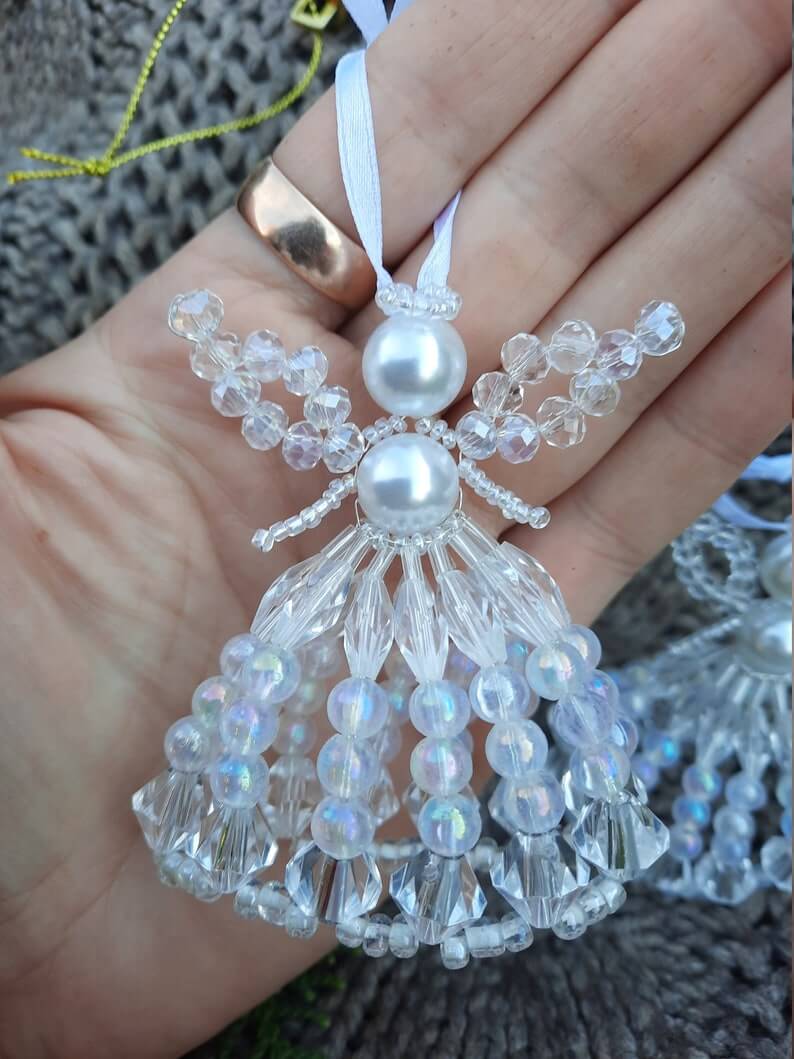 Put some sparkle on your tree with this beautiful beaded crystal angel ornament. Her graceful body and head are formed from two iridescent pearl pieces and she bestows a pair of wings along with her regal halo. To personalize this pretty creation, the beaded angel arms can hold a name or tag. Customizing this crystal ornament allows you to give a personal gift to a teacher, neighbor, or friend. With the clear beading and crystals, this would look nice hanging in a window where it can reflect the sun's rays like a prism. Whether you give it as a gift or hang it on your own tree, this angelic beauty is sure to sparkle.
6. Cream and Gold Angel Door Hanger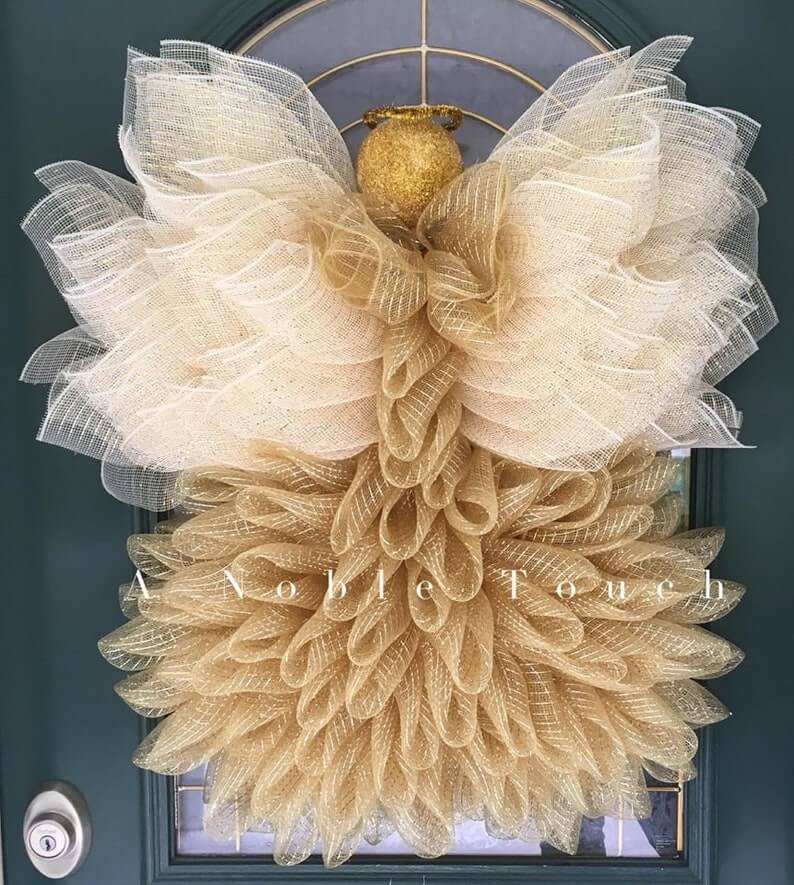 Forgo the traditional grapevine wreaths this year and add a majestic angel to your front door. Glistening from gilded wing to wing, this stunning cream and gold angel is a wonderful way to upgrade your porch appeal for the winter months. As beautiful as an angel is topping your tree, you'll find even more beauty in her headlining your curb appeal as the new decor for your door. With tulle wings and body, her glittering golden head is tied to the flecks of gold throughout the tulle. This is a great craft idea to include in your ladies passing party event at work, church, or home.
7. Abstract Artistic Angel Torso and Wings Decor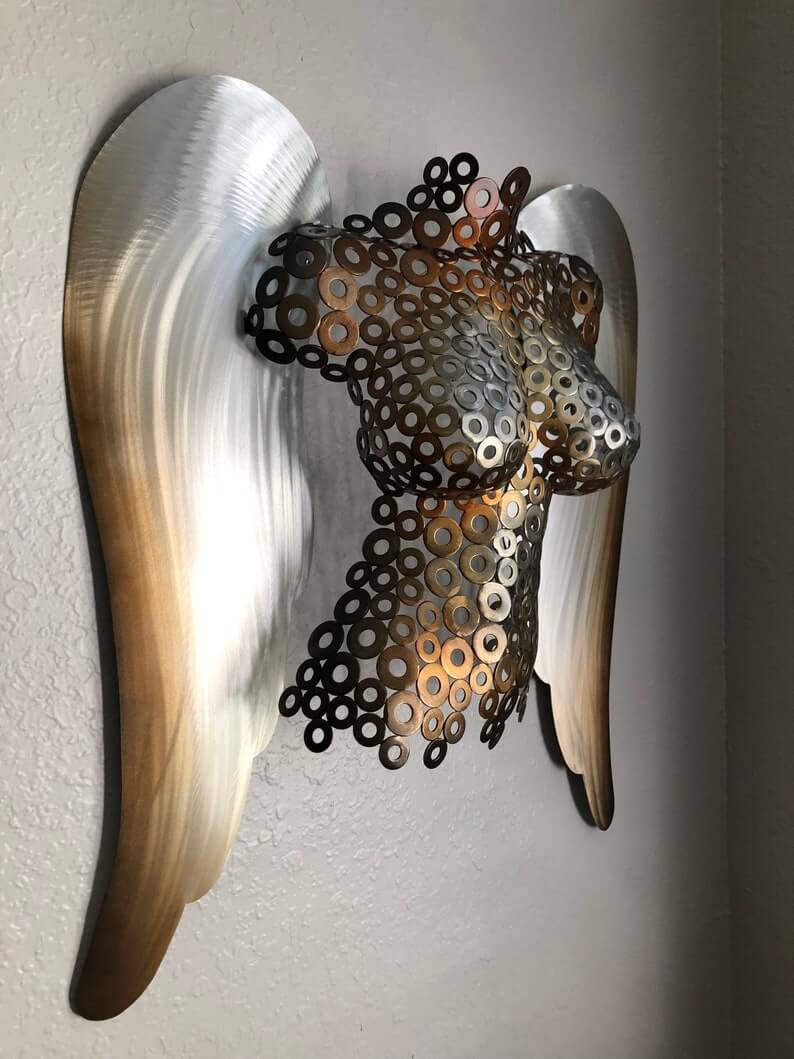 Here's a modern touch to bring the angelic creations up to date. Metal washers in a rich bronze tone emerge as the torso of this angelic creature. Smooth wings extend from each side and blend from sleek silver to glistening gold in color. This interesting piece of metal artwork is certain to be a conversation piece when you add it to your home. It's truly a unique work of art and deserves the attention it receives. Hang it in your bathroom, hallway, or anywhere in your home that could use a little more artistic flair.
8. Keepsake In Memory Angel Wings Ornament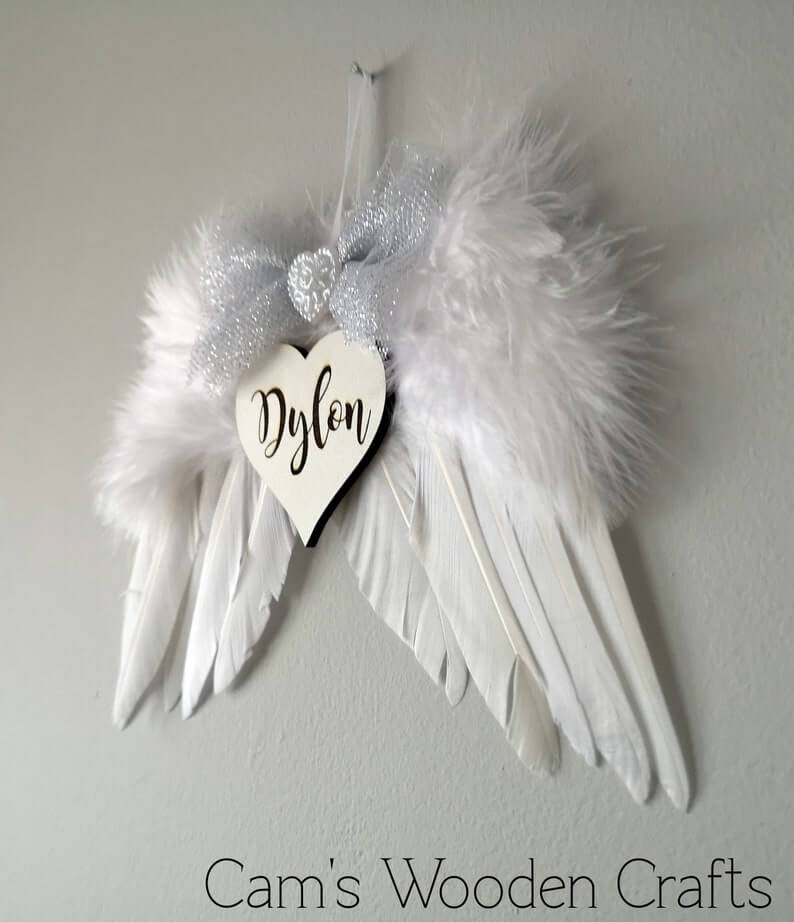 Keep those gone, but not forgotten, close to your heart with these angel wings ornaments. Choose from white or blush and customize them with the name of your choice on a wooden heart in the center. Time will heal, yet memories will always remain so keep them alive by preserving their name set between a pair of angel wings like this ornament. Hang it in your home year-round or save a special spot for it on your Christmas tree.
9. Angel with Violin Metal Wall Art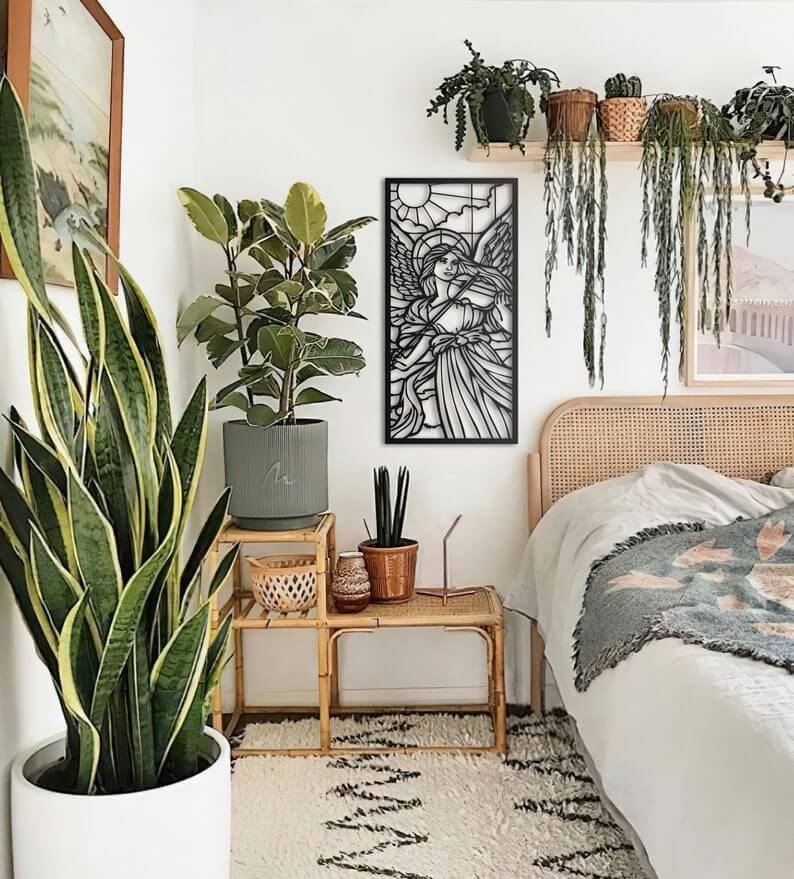 Make some music with this metal wall art creation. This lovely angel is seemingly floating under a beautiful sun where she is captured stringing her own violin for some heavenly music. Crafted from metal, this delicate being brings an industrial flair with the use of a hard medium to create its modern look. Hang it on an interior wall or place it on the porch so your garden angel can enjoy making music as she keeps watch over your loved ones and home.
10. Rustic Red Bow Burlap Angel Ornament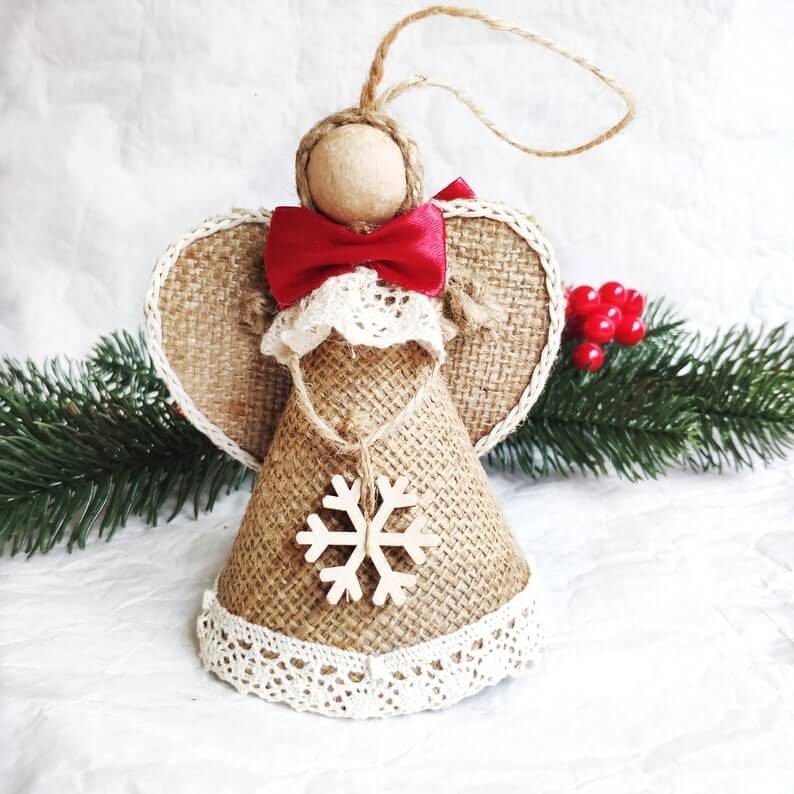 Add some country cuteness to your Christmas tree with this rustic red bow and burlap angel. The texture of the burlap with the rich red bow creates a perfect combination for this country loving ornament. Trimmed in lace at the neck and hem of her gown, this angelic decoration carefully holds a miniature snowflake to represent the ambassador of the winter season. Hang this lovely ornament on your tree or add them to packages for an extra gift for your family and friends to cherish.
11. Napping and Serene White Angel Statue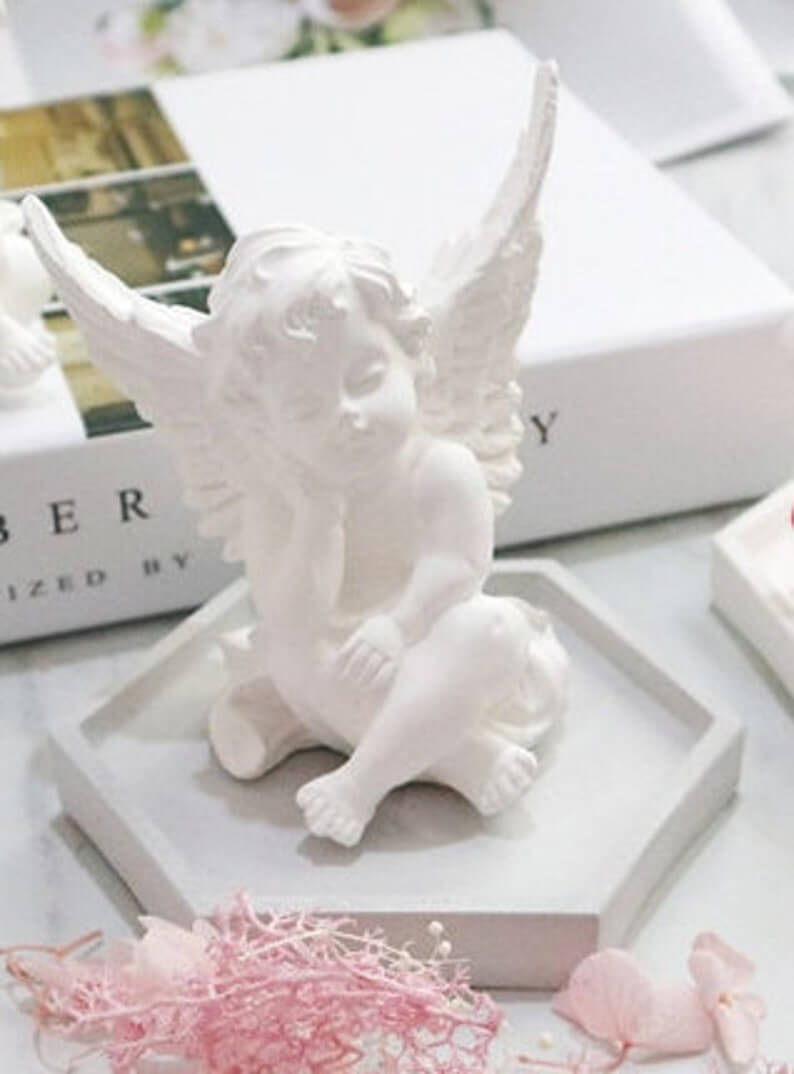 This miniature white angel is comfortably napping with his head cradled in his hand. Seemingly at peace, this angel statue offers a sense of serenity and calming comfort. Give this to anyone going through a struggle in life or someone who has recently lost a loved one. Set this statue on your desk or next to your bed to serve as a gentle reminder of comfort, healing, and love. The detailed hair tendrils and feathered wings add another element of beauty to the graceful smile on this angel's face.
12. Gold and White Acrylic Wings Custom Ornament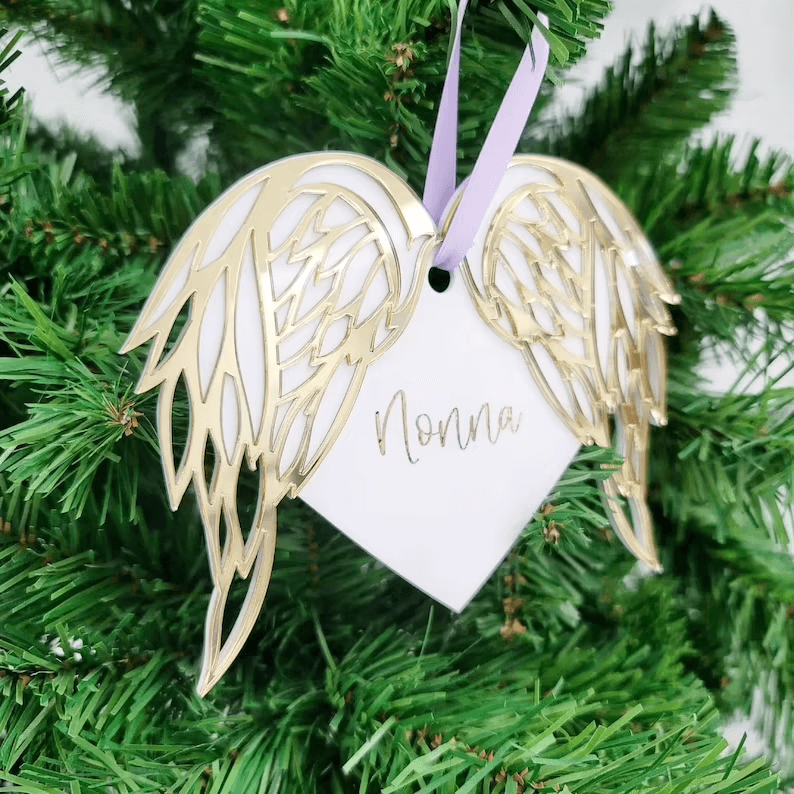 Give some angel wings to honor the memory of a special someone with this gold and white acrylic creation. The base is formed from a heart shape and the wings echo the golden glow of the personalized name. Hang one of these angel wings on your Christmas tree to pay respect to every family member that's been lost over the past year. Feel the love and comfort as the entire family comes together to enjoy their special time together and never forgets the ones who've gone on before them.
13. Geometric Laser Cut Sleeping Angel Wall Decor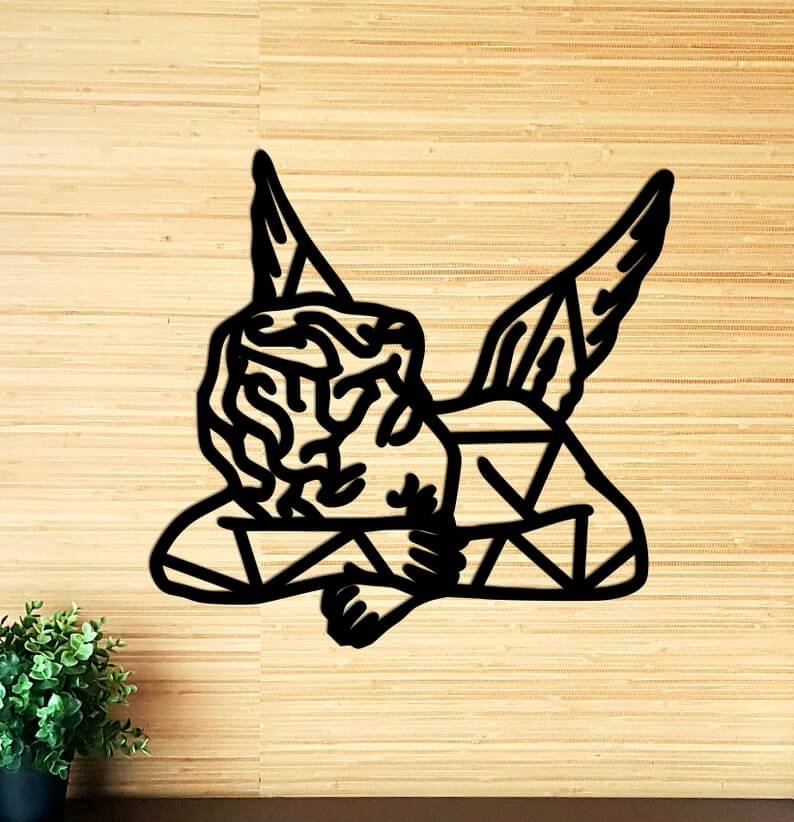 Sleek and modern lines form this geometric laser-cut sleeping angel that makes a fabulous wall art piece for your home. Resting in a soft and sweet slumber, this angelic guardian will comfort those who fill your home with his gentle spirit. The sharp geometric lines add so much modern feel to this angelic host. This makes a charming inclusion on your gallery wall or in a child's nursery. For outside use, place this in the garden to add some serene simplicity and gentle goodness to your backyard private garden.
14. Colorful Beaded Wreath with Angel Ornament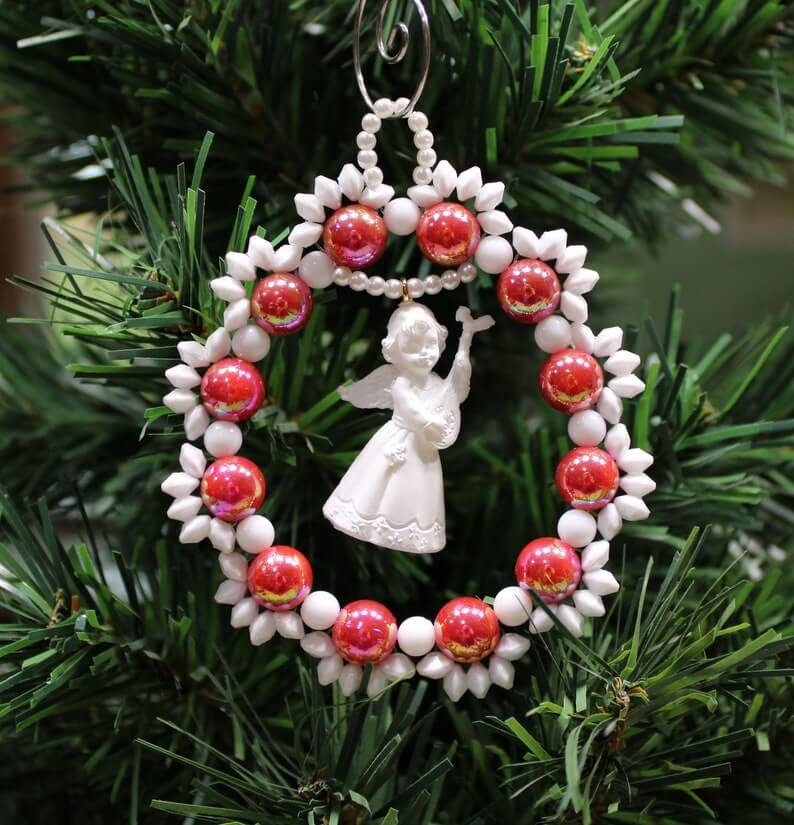 An angel ornament can be colorful and still remain elegant as depicted in this acrylic and resin wreath and angel ornament combination. Hanging in the center, this resin angel is suspended to seemingly float in the air. Around its being, an acrylic beaded wreath is the pop of color necessary for making this ornament one-of-a-kind. Feature one for every child in the family and customize it with matching acrylic beads that coordinate with their birth month stone. What grandparent wouldn't adore having such a collection on his/her Christmas tree or on a decorative tree that stays in the home all year long?
15. Harmonizing Selenite Healing Angel Wings Palm Stone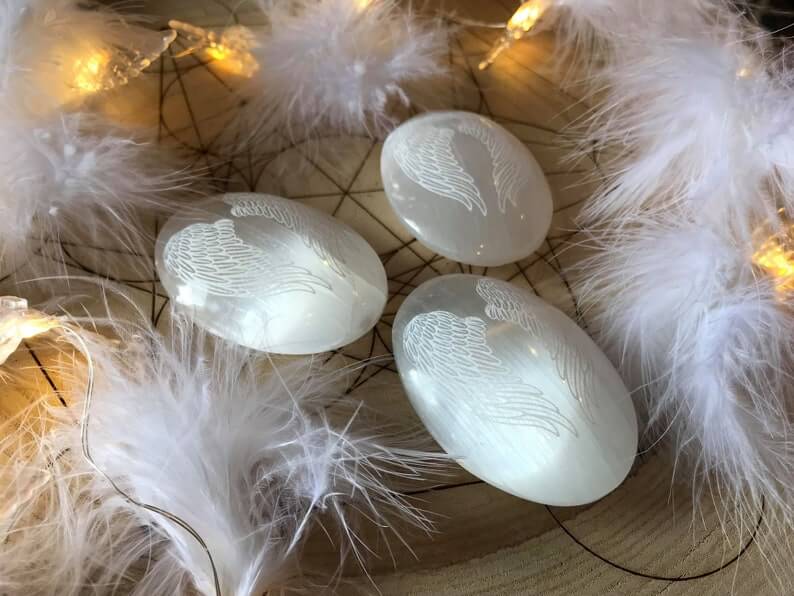 Destress and decompress by letting go of negative energy with this selenite palm stone creation. Featuring an engraving of angel wings, this smooth selenite stone possesses calming properties with the addition of a soothing angel wings engraving. Keep this in your purse to roll around in your hand whenever you need to calm anxieties of your own. It makes a good gift option for friends and family experiencing extra stress from the likes of school exams, work deadlines, or the overall stress of everyday life.
16. Nestled Angel Wings Heart Shaped Bowl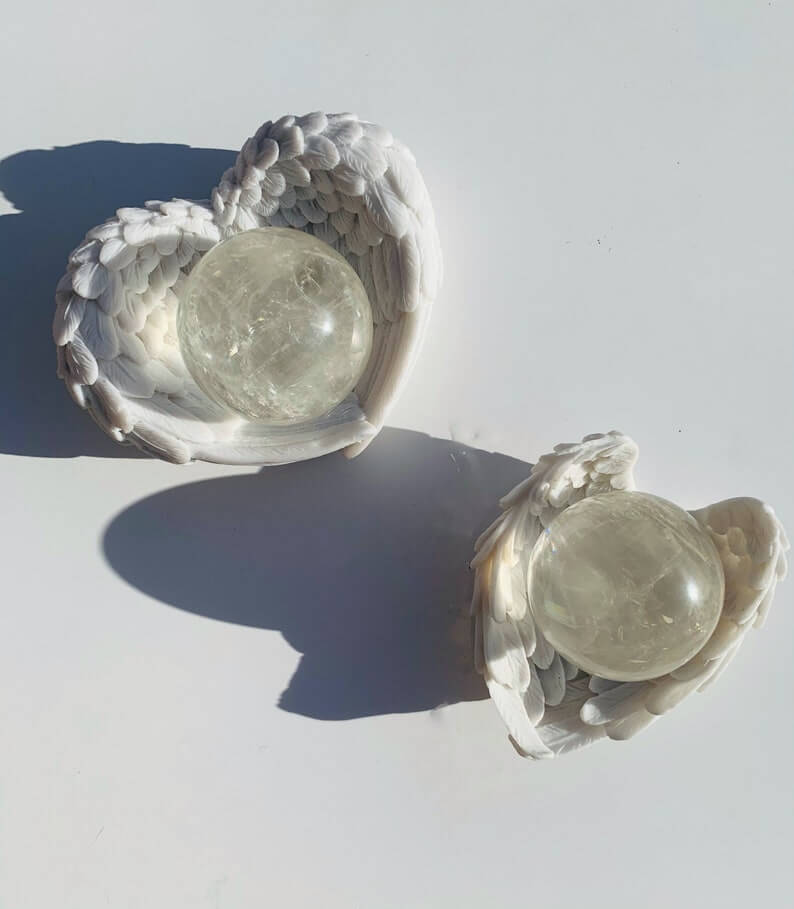 The possibilities are nearly endless for the uses of this heart-shaped angel wings bowl. From trinkets to crystals, this provides the perfect stand to hold your treasures in place. The two wings wrap perfectly into a heart shape and join together at the bottom forming this beautiful bowl. Set this amid a dainty fairy garden, use it as a soap rest in the kitchen or bathroom, or use it as a beautiful decorative candy dish in the living room. It is the right size for holding your favorite jewelry as you take it off each night before bed.
17. Love Hope Peace Angel Trio Wall Art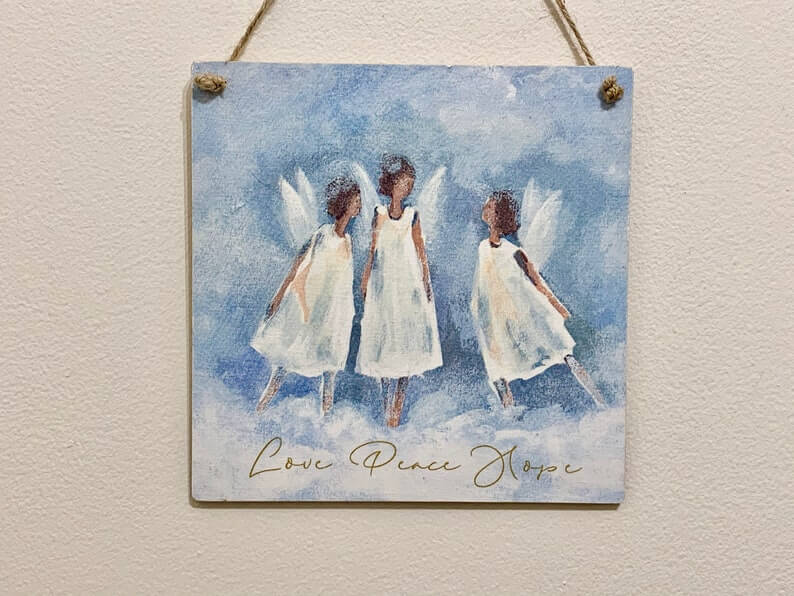 Hang this lovely trio of angelic beauties in your home as a reminder to focus on love, hope, and peace. Decoupaged onto a piece of birch wood, this piece of art looks amazing and beautiful. With light and airy blue and white clouds in the background, these three angelic figures bring beauty and love into your home. This would make a wonderful way to celebrate friendship or sisterhood with two of your closest ladies. The gentle figures are reminiscent of three young girls and their bond that lasts a lifetime.
18. Concrete Angel with Bouquet Wall Hanging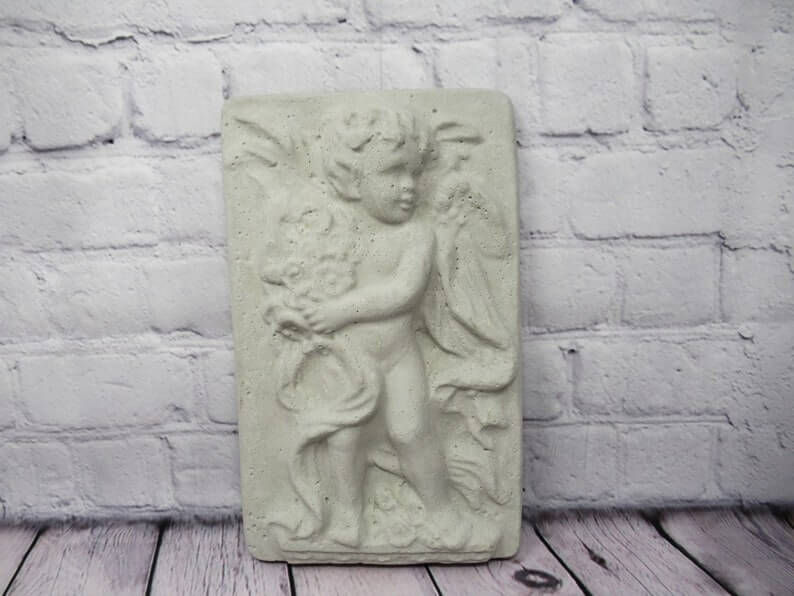 Welcome friends and family to your outdoor garden with this angelic figure holding a big bouquet of flowers. Cast in concrete, this durable hanging functions well in both interior and exterior spaces alike. Give this to a gardening guru friend or help warm up the space of a new homeowner. This would look lovely in a three-season room that's filled with lavish houseplants of traditional and/or tropical varieties. Bring some heavenly goodness into your home or garden with this sweet cherub concrete wall hanging.
19. Winter Woodland Christmas Angel and Deer Ornament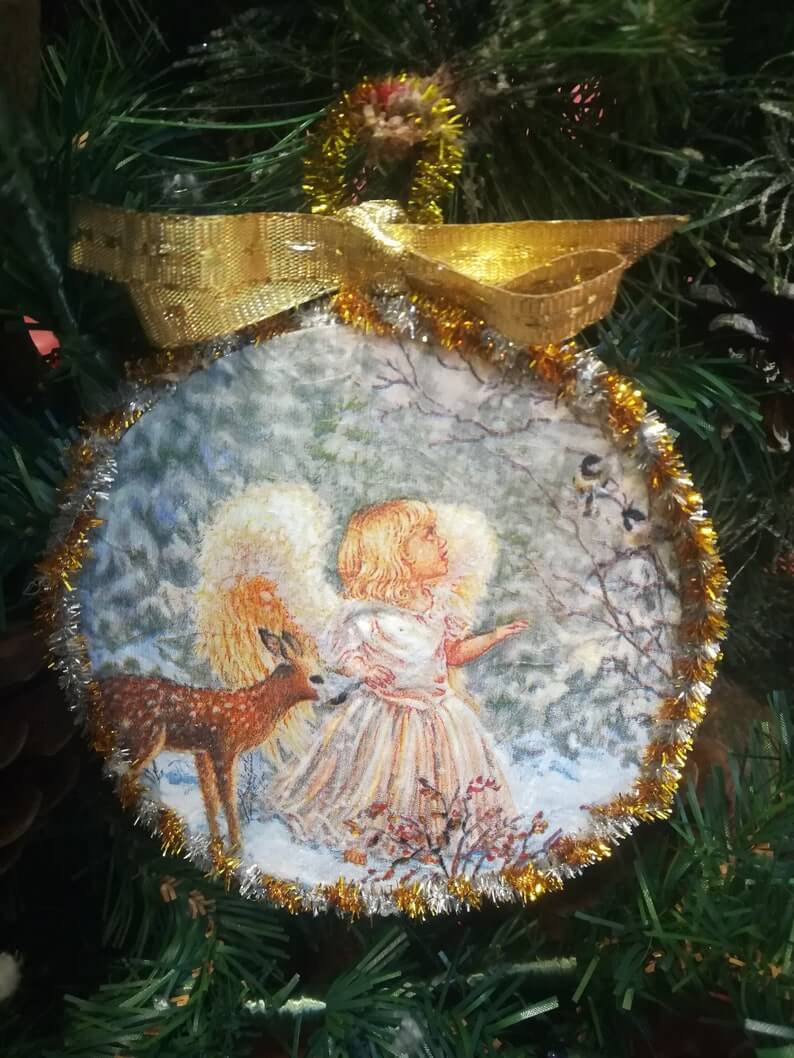 This beautiful winter woodland scene captivates this young angel child with a sweet deer in a perfect snow-covered display. Wrapped with gold ribbon, this Christmas ornament has a vintage appeal with its decoupage creation. The gold in the angel's wings is carried over on the pipe cleaner border and tied with a ribbon on the top. Add some nostalgia to your family Christmas tree with this special winter angel ornament. She would also be a splendid touch used as a name tag to complete the perfect present for a dear family member or friend.
20. With You Always Angel Wings Sympathy Plaque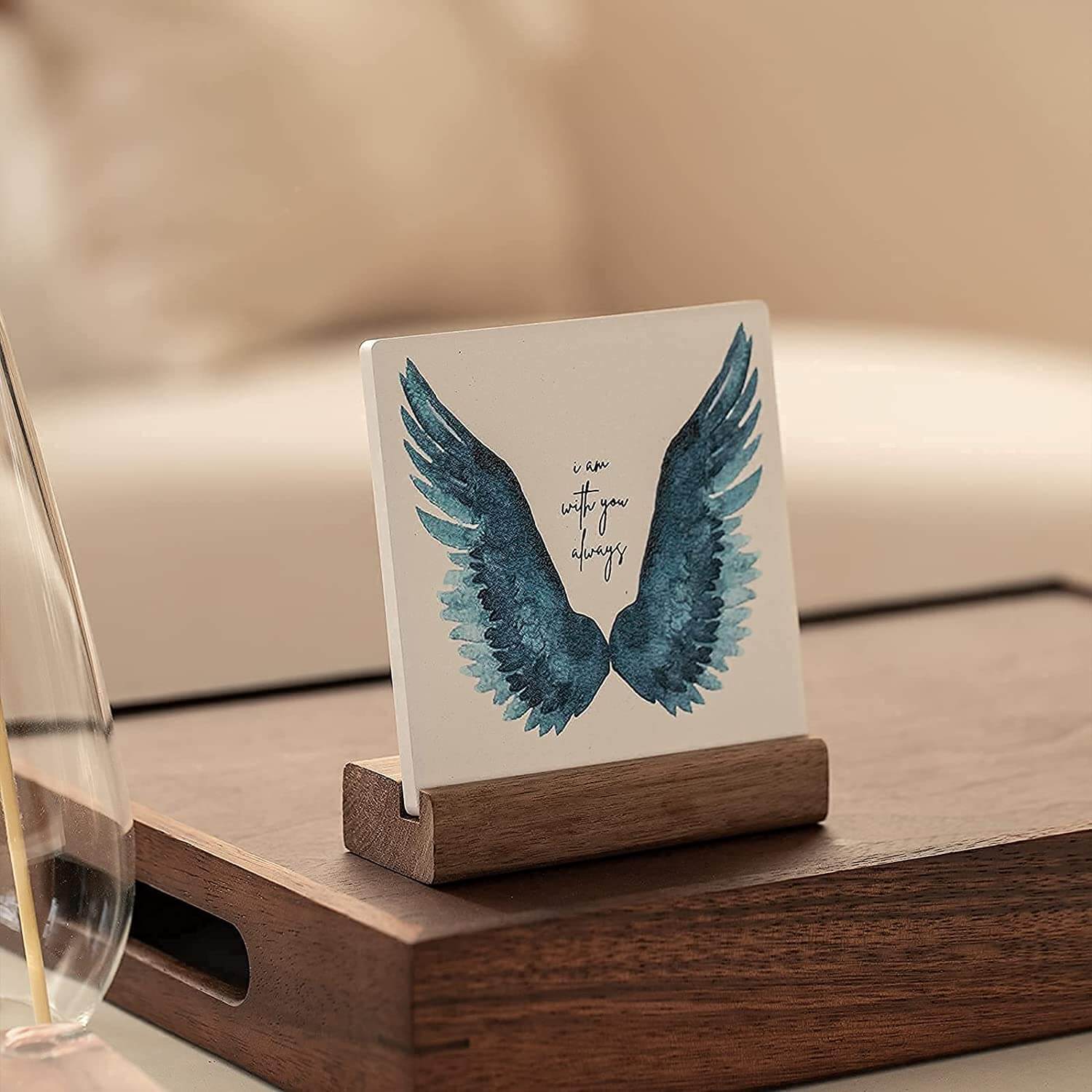 When words are far and few between, but you want to send a sentiment, consider giving a gift that helps them keep a connection with their lost loved one. In times of loss, finding the right way to express your sympathy can be difficult. This small and concise set of angel wings captures the hope of heaven quite nicely. The words "With You Always" are featured in the middle. This is a wonderful way to let someone know how much you care while helping them with their healing process.
21. Paintable Cherub Love Statue Decorations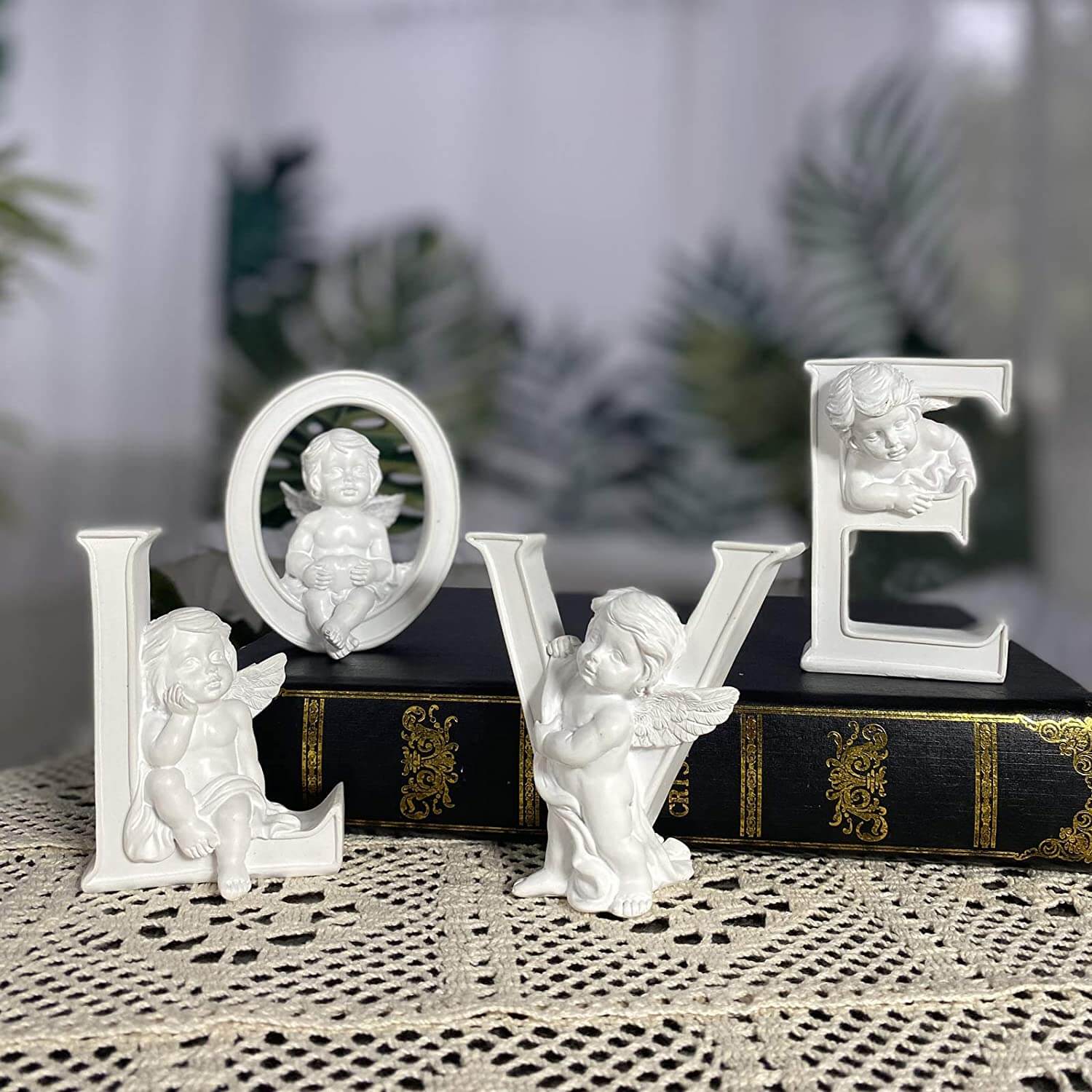 Spell out the most important word in your vocabulary with the help of some charming cherubs! These four angels hold onto a letter to spell out "love" making a lovely and sweet home decoration. With a clean white paintable surface, you can customize this creation. Leave the letters white and paint the cherubs or coat the letters in a bold red and leave the cherubs white. No matter how you choose to customize your love letter angels, you'll enjoy their comfort. Place them on the mantel or line them on the windowsill to spread the love around the room.
22. Wooden Watercolor Angels and Floral Wall Clock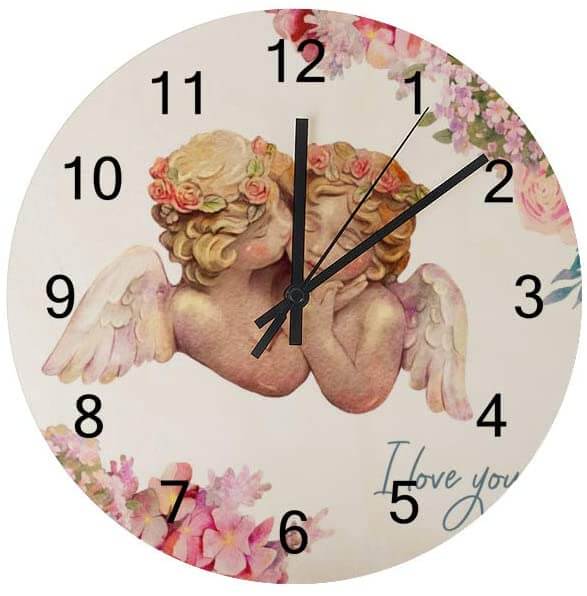 Filled with charm and love, this darling pair of angels are featured in the center of this wooden wall clock. Set on a white background, the angels and the gorgeous pink and red flowers certainly catch the eye! Add this to a room that could use a timepiece while also including a decorative touch. An angel decoration lets that special person know how much you care. This would be a nice gift to help celebrate Valentine's Day with someone you love.
23. Happy Angel Ceramic Trinket Box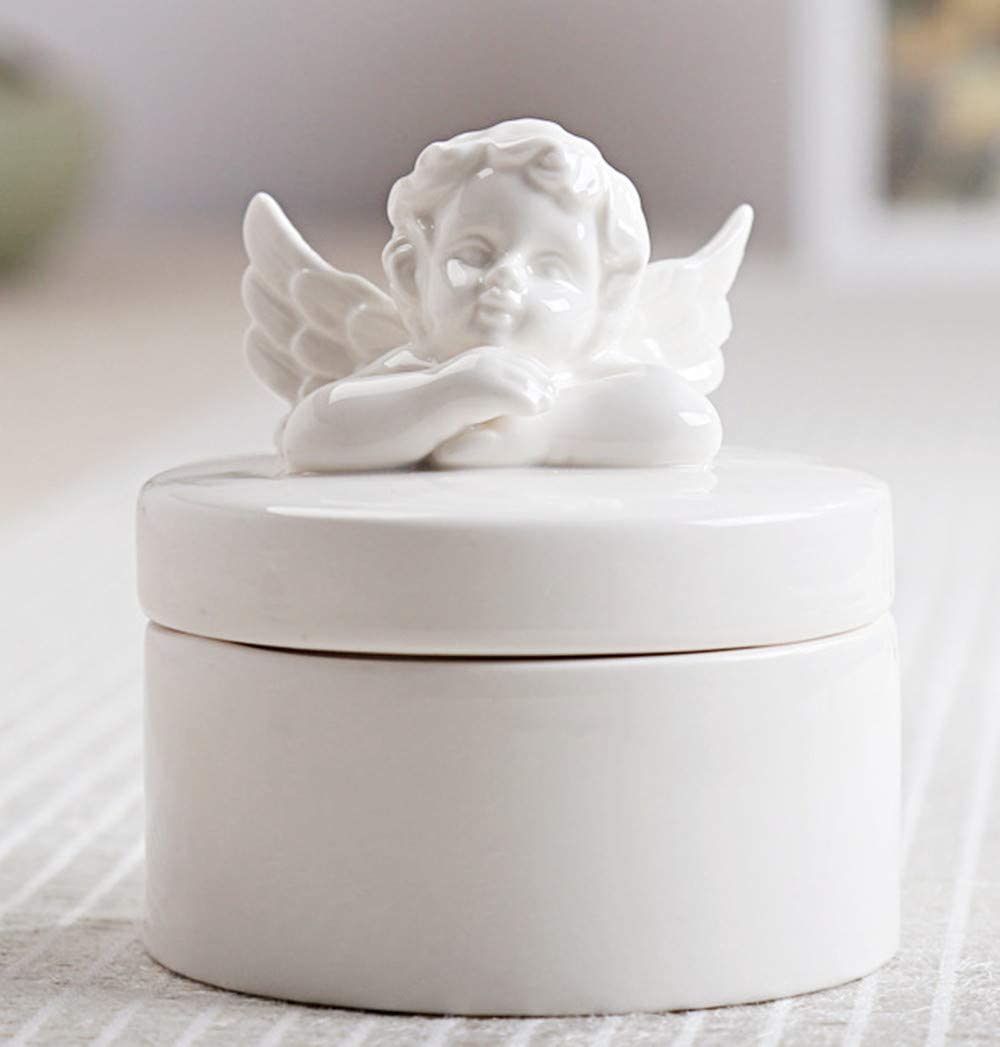 Don't let the small size fool you! This tiny trinket box is designed with lots of love and angelic charm. The plain white ceramic circular box features a chubby cherub resting on top of the lid. Inside, this box is the ideal size for collecting your everyday jewelry each night or holding some of your most prized and treasured smaller tokens of love. Keeping your earbuds tangle-free and in a handy place would be another purpose for perching this trinket box next to your bed. If you're giving the gift of jewelry, this would be a beautiful box for holding the gift that doubles as a gift itself!
24. Solar Light Garden Angel Sculpture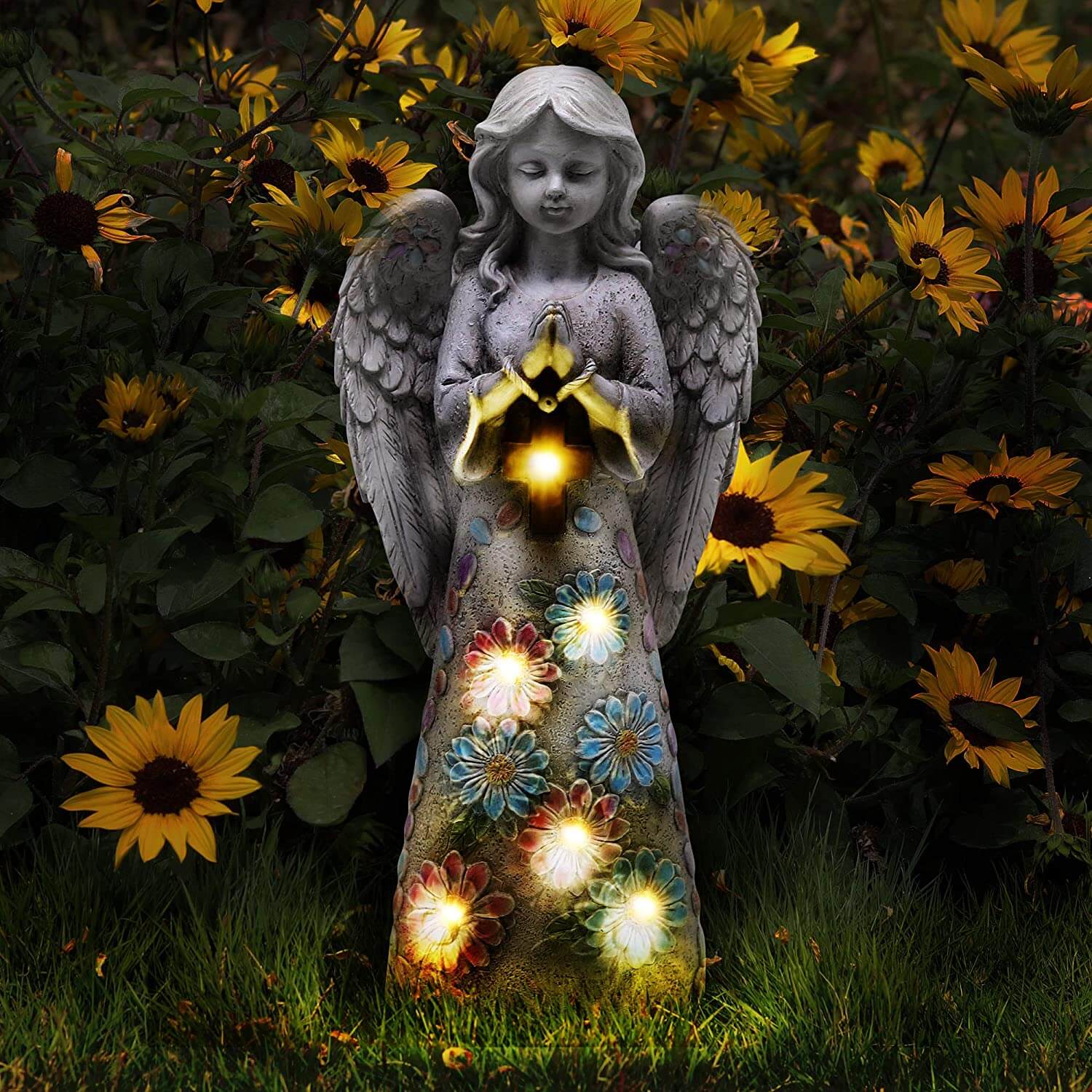 Let the keeper of your garden light up the night with this solar light angel sculpture. Her flowing gown features flowers that hold beautiful lights that come alive once it's dark outside. She also holds a cross that illuminates too. With her wings spread and her hands folded in prayer, she's just what you need to adorn a cemetery plot, fairy garden, or mourning friend's porch. For the avid angel collector, this would be a welcomed addition near the doorway to greet guests each time they stop by to visit.
25. Charming Cherub Miniature Figure Set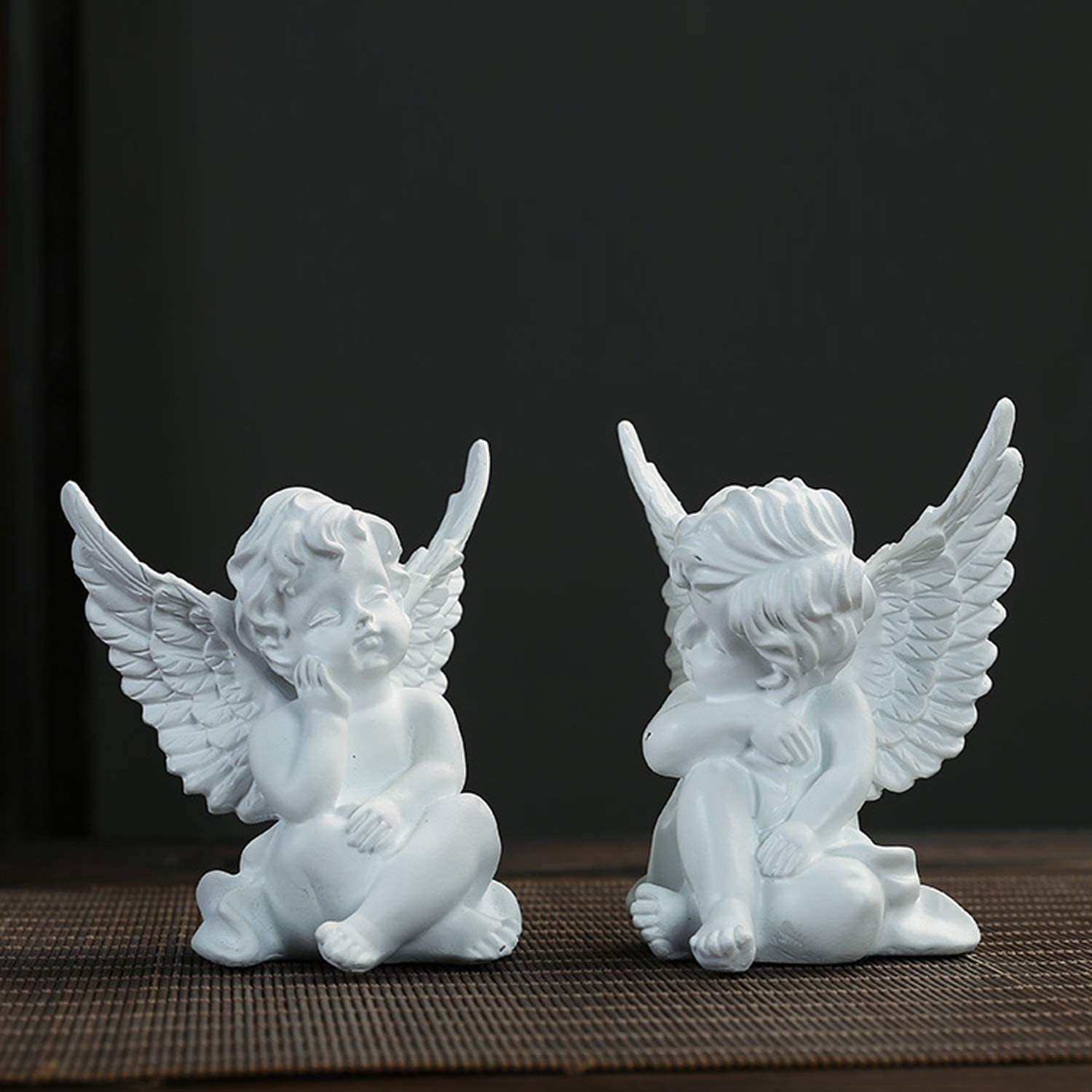 Poised for cuteness, this pair of charming cherubs are small enough to fit in nearly any indoor or outdoor space you choose. With their legs crossed and their chubby fingers softly posed, this adorable pair will tug at your heartstrings. Place them on the windowsill above your kitchen sink to add a soft and soothing atmosphere while you wash the dishes. They would be pretty accents in a tabletop garden scene or a small sculpted fairy garden. Honor a deceased child with the simplistic beauty and grace displayed by these lovely child angel figures.
26. Rust Finish Tall Garden Angel Statue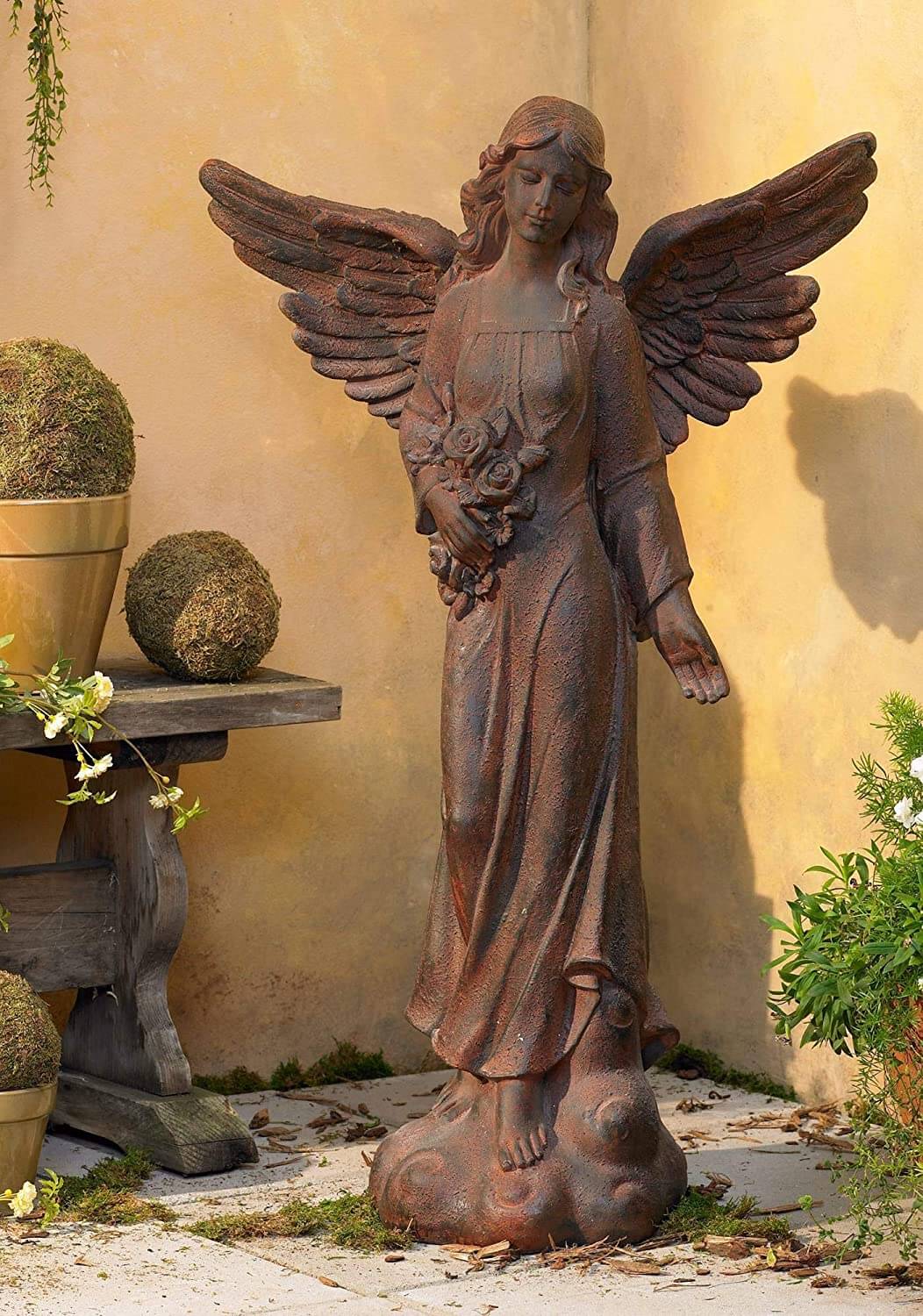 Spreading her wings as she keeps watch over your garden and home, this tall angel statue is finished with a rust-colored hue that will seamlessly blend right into your existing outdoor garden space. Such a natural colored finish reflects the natural outdoor setting to make this angel feel right at home. Place her in the corner of a flower bed or in the center of your main flower garden space. She holds a bounty of freshly cut flowers in one hand and your heart in the other. Allow her serene beauty and grace to enter your personal garden and fill your outdoor space with tranquility and love.
27. Pretty Pair of Cherubs Perched on Pillars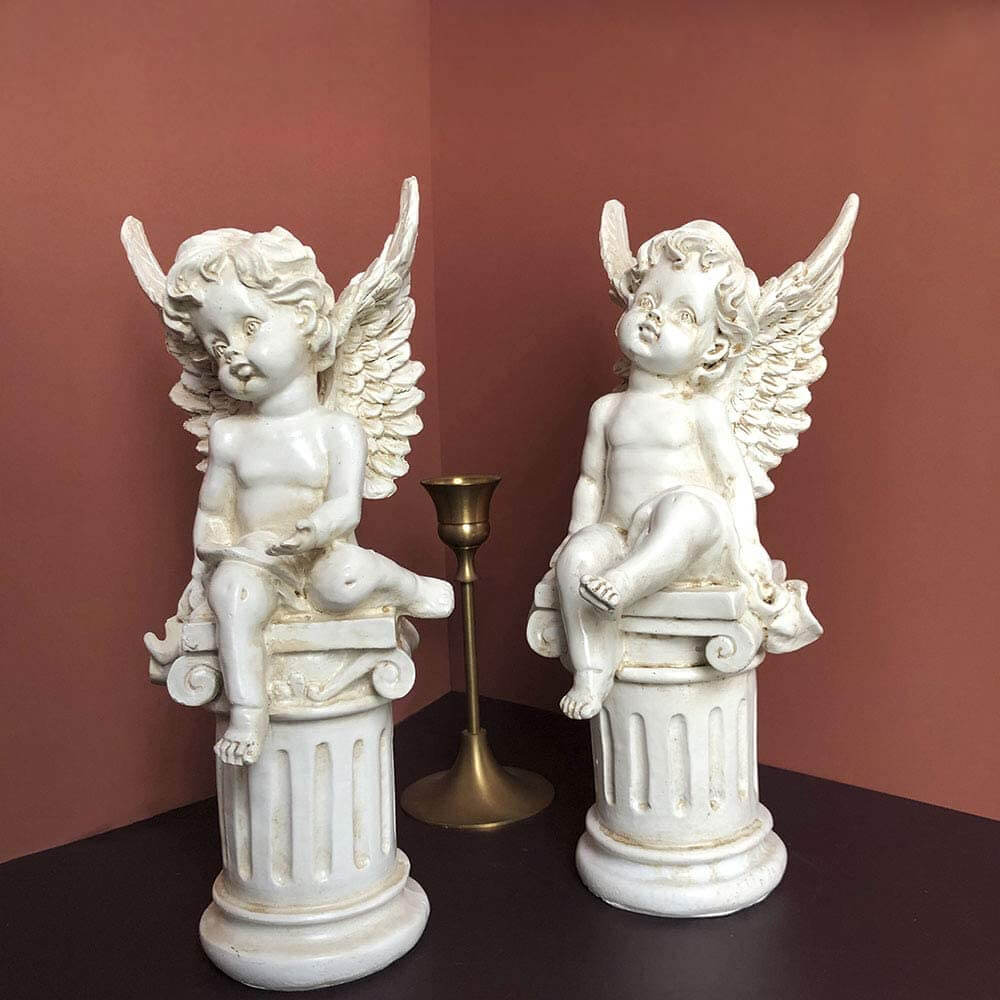 Inspire and help the healing process of those around you with this pretty pair of child angels. Each is perched upon a Roman pillar and relaxed with open eyes and hearts. You'll feel their love and peace as you place them in a prominent spot of your home for everyone to enjoy. Give them as a gift to someone who recently lost a loved one or anyone going through a difficult time and needing a peaceful reminder of God's love and comfort.
27 of the Most Charming Angel Decorations
When looking to add the best angel decor ideas look no further than this incredible hub for your best options. Perhaps you enjoy the gentle and soft beauty and grace that a pair of miniature cherub statues brings to your home. If so, perch a pair on your windowsill. They can be sitting with their head in their hands or perched upon a pillar. Or you might want to see them clinging to the word "love" for even more heartfelt sentiment.
They also make amazing gift ideas too! Help someone reconnect to God with this angelic entity filling their home or garden. For the outdoor type, you'll love the larger guardian angel statues that exude a natural beauty within your floral setting. Choose one that features solar lights to offer a pretty and peaceful ambiance after the sun goes down.
For a bold focal statement piece on your wall, consider the best angel decor ideas with an abstract spin. It infuses a feminine touch into an industrial space without appearing girly or youthful. Offering a mature silhouette, this large wall art creation would be gorgeous hanging behind the sofa or on the main wall of your entryway.
And who couldn't use a dainty trinket box for holding their prized possessions? You have several to choose from including a lidded ceramic box in white that features a cute cherub sitting on top. Or you could have a pair of opened wings forming a heart shape to be a decorative dish that makes it easy to keep your earrings in a place in which they won't be forgotten or lost.
Sometimes a simple painting of a lovely scene is all the angelic art you need. Whether it's a trio of young angels representing love, hope, and peace or it is a painted pair of wings, the artwork you choose will speak to your soul.
For extra calming comfort for a restless or depressed friend, consider giving the gift of a selenite stone full of healing properties and engraved with gentle wings. This is a great reminder to focus on the positive and let go of the negative energy that brings you down. Handy and convenient, this stone is easy to fit into your pocket or purse so it's within reach when you really need it.
From large wings to small tokens of relaxation, angel decor and gifts are amazing choices for so many people and situations. Pick your favorite to add to your own collection and grab a few to keep on hand for those gift needs that pop up every now and then.