A rustic decorating style combines many different elements into a new aesthetic. Rustic style has a lot in common with farmhouse style, but not everything overlaps. One important element of rustic wall design is the printed sign: choosing from universal sentiments like "Home," "Family," and "Farmhouse" makes large signs distinctive. For signs with smaller type, Bible verses and other inspirational sayings are common. Oversized clocks are also popular in rustic wall design.
33 Awesome Rustic Living Room Decor Ideas to Add Charm and Character to Your Walls
The color palette of these wall arrangements tends toward brown, white, gray, and green. This neutral aesthetic provides a calming backdrop for any home. Many of the arrangements are cluttered with many elements, including photo frames, letter initials, and flowers.
Reclaimed architectural elements like shutters, window frames, and ladders are popular in rustic style home decor. Many of the wooden elements have distressed or weathered paint. Wreaths made of dried or silk leaves bring a touch of green to the arrangements.
All of these wall arrangements will show your unique style and personality. Customize them with favorite sayings and your initial letter. Try our 33 rustic living room wall decor ideas and bring a touch of the country into your home, no matter where you live.
1. Wide Mirror, Sconces, and Basket with Wreath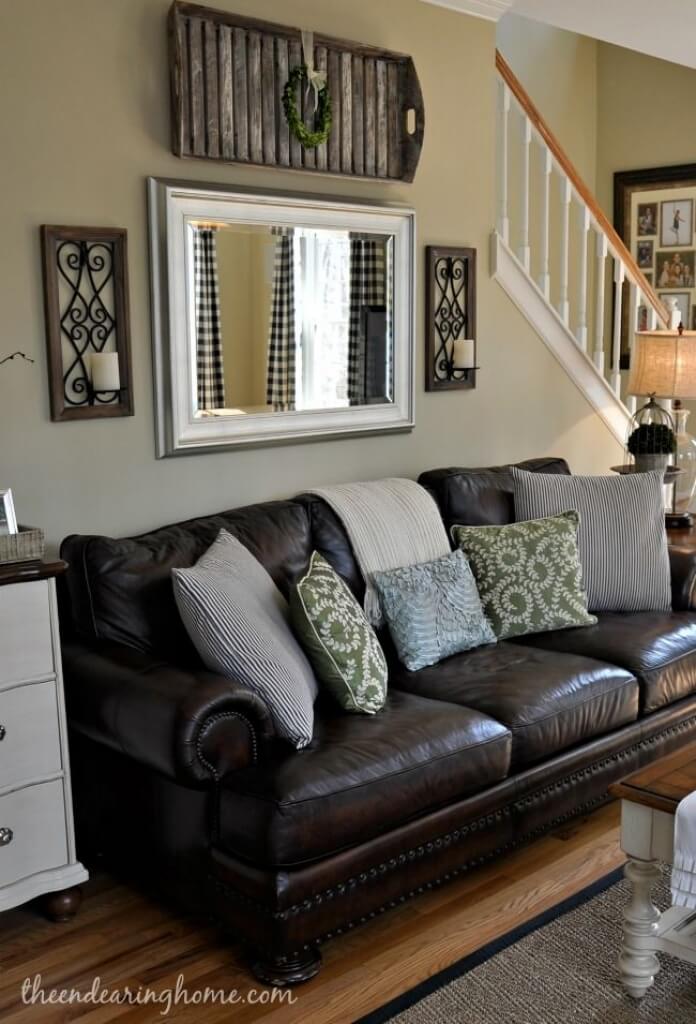 This charming living room wall decor includes a wide silver framed mirror. On either side of the mirror, wall sconces hold pillar candles. Above the mirror hangs a large wooden tray. The tray is accented with a small green wreath tied with a burlap hanger. This arrangement complements the rich leather couch.
2. Window Frame Mirror and Initial with Sign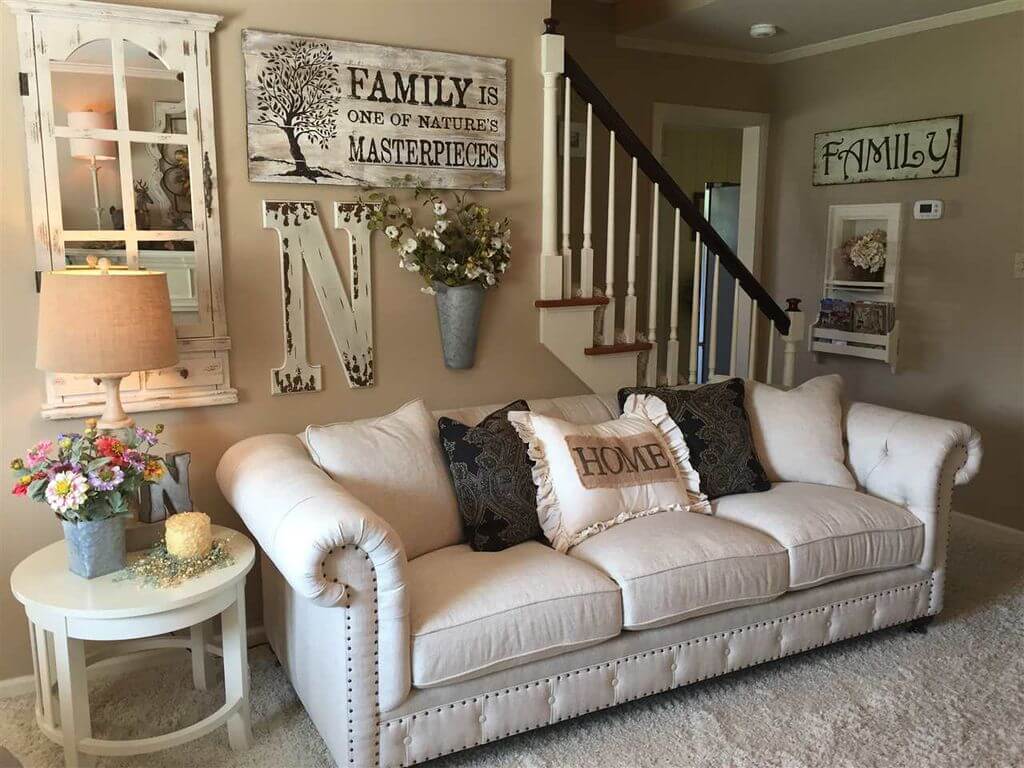 A rustic initial letter is the centerpiece of this wall design. A tall window framed mirror reflects the room. A galvanized wall vase holds understated fall blossoms. Over the letter and vase hangs a scripted sign. The entire arrangement is done in shades of cream and brown with a weathered look. This would look nice with farmhouse style.
3. Metal Shutters with Inspirational Sign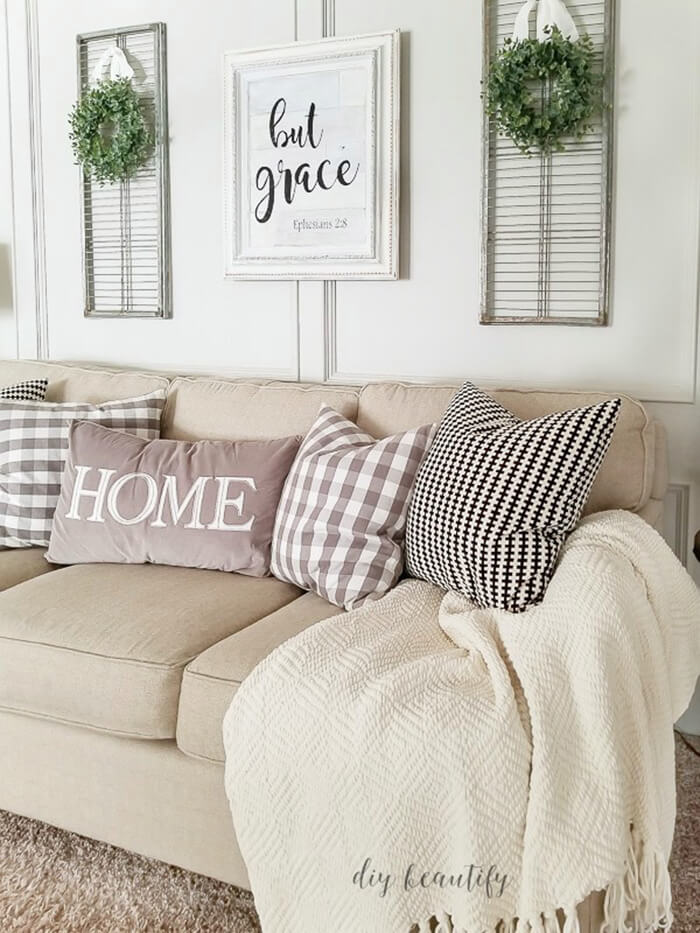 On this wall, a pair of galvanized metal shutters hang on either side of a scripted inspirational sign. The shutters are each accented with a small wreath made of greenery. This understated living room wall decor goes nicely with the beige couch and patterned pillows. This arrangement invites the viewer to stay and relax.
4. Wood Toned Clock, Frames, and Text Signs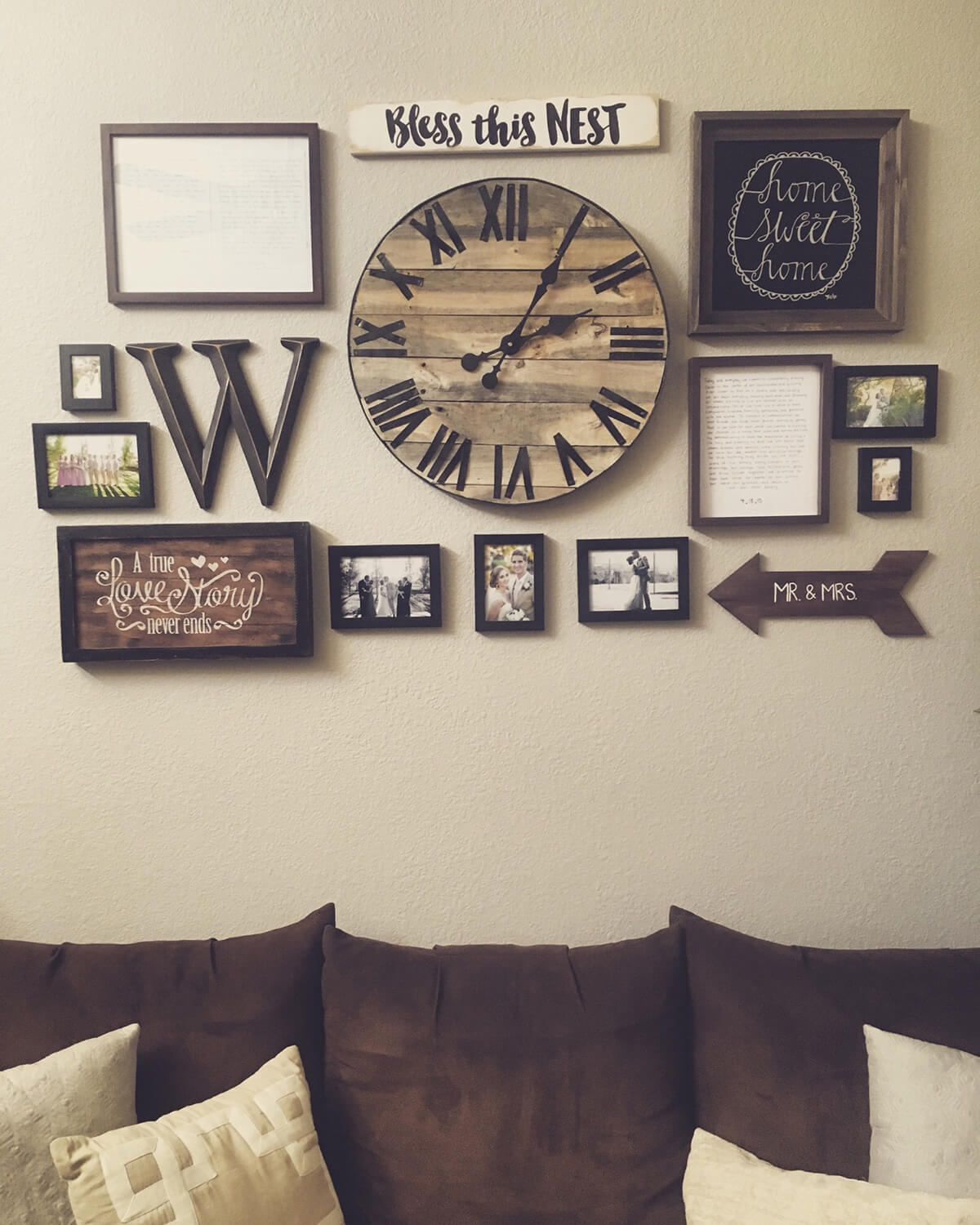 This wall arrangement is more crowded, with a combination of scripted signs and family photos. An oversized wooden clock is the centerpiece. The scripted signs have themes of love and home. An initial letter lets everyone know whose home this is. This arrangement is a little cluttered but arranged in a tight rectangle so it looks neat.
5. Lovely Myrtle Wreath with Initial Letter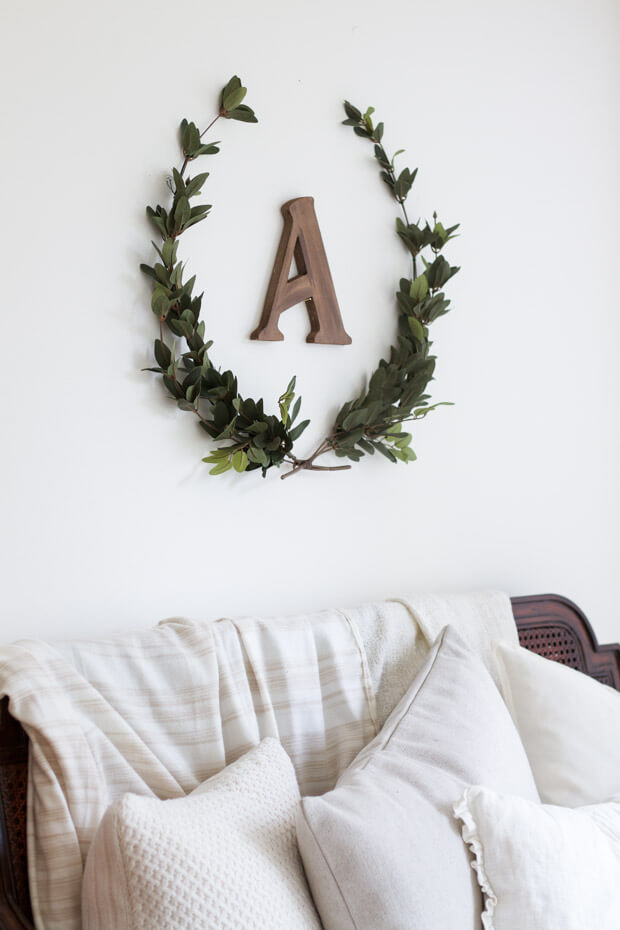 An understated example of living room wall decor, this arrangement is made up of only a wooden initial letter and a partial wreath of faux myrtle leaves. This wall arrangement would look great in a farmhouse style living room or bedroom. Try varying the size and shape of the initial letter for a different look.
6. Family Banner on Reclaimed Wood Shutters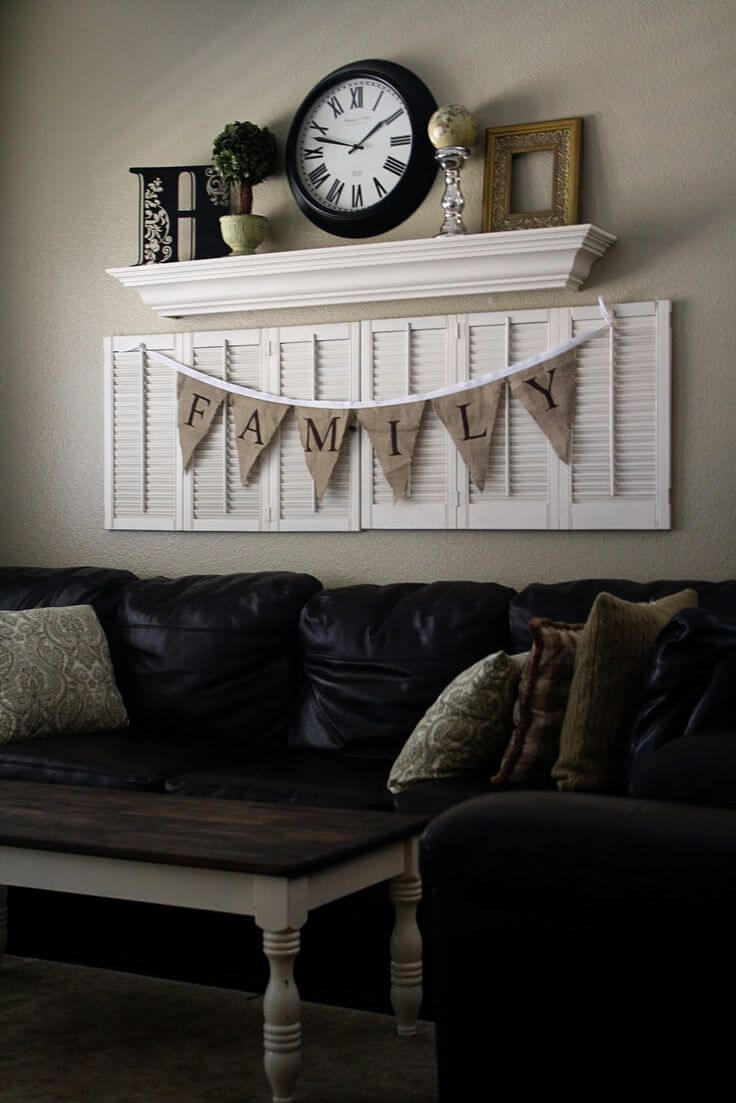 The centerpieces of this wall arrangement are the recycled white shutters. A "Family" banner in burlap hangs across the shutters for a festive look. Over the shutters stands a white wall shelf. An empty frame, a pedestal with a globe, a faux topiary tree, and an initial letter stand on the shelf. A black and white clock completes the wall.
7. Oversized Clock, Wall Vases, and "Stay" Sign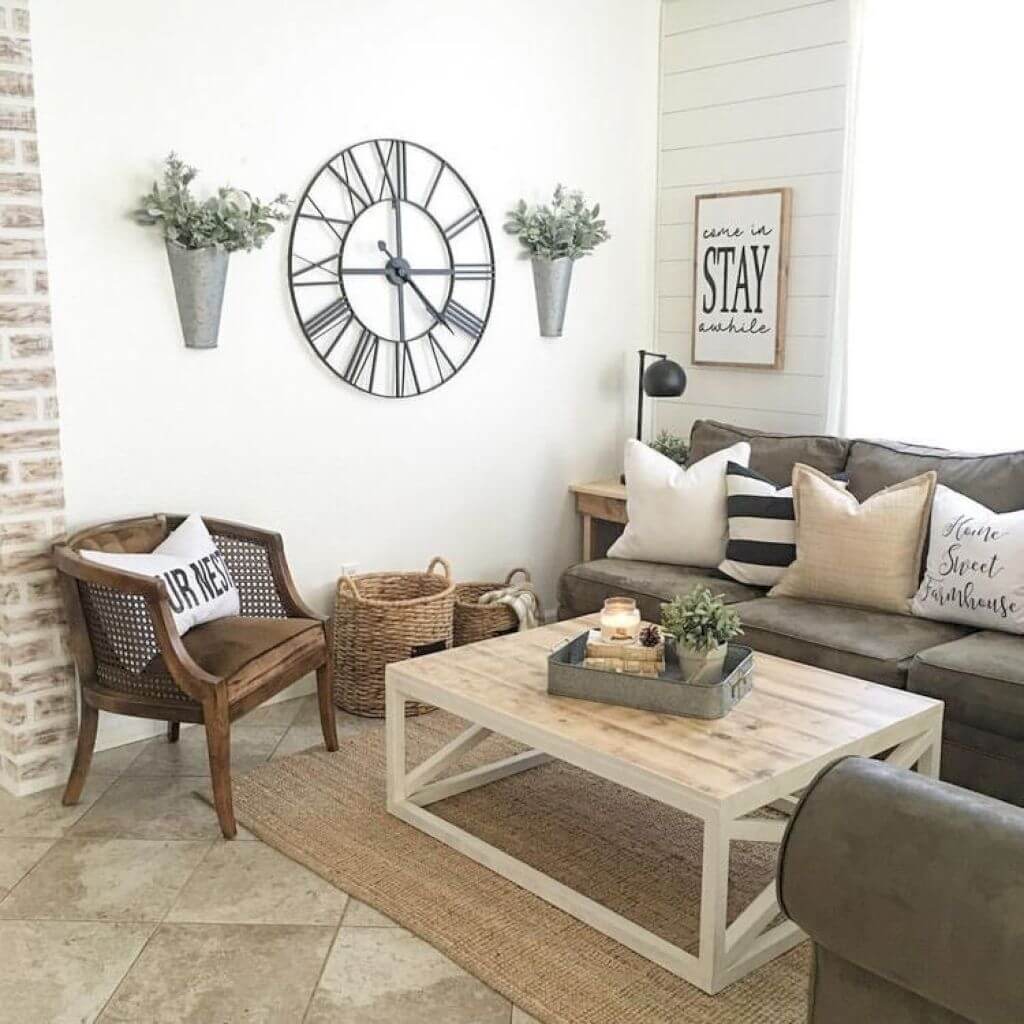 With galvanized wall vases and an oversized metal clock, this living room wall decor makes a bold statement. The vases are filled with muted flowers in silver tones to go with the galvanized material. A cute lettered sign hangs in the corner, inviting the visitor to come in and stay a while.
8. TV Area with Native American Photos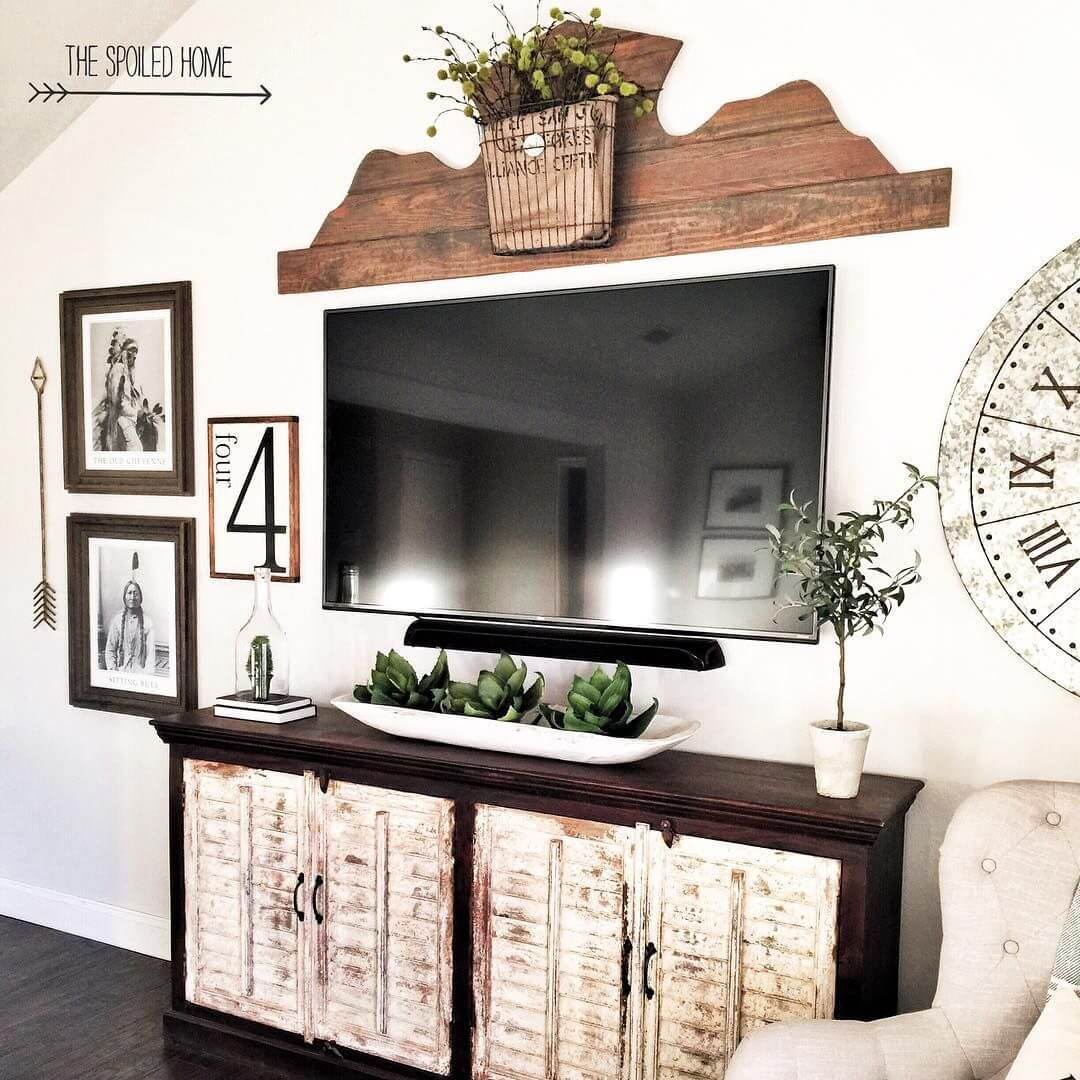 This arrangement turns a simple TV area into a showpiece of design. Over the TV, a cutout wooden shape hangs. This looks like a headboard. A burlap basket with dried greenery hangs in the center. The wall has an oversized clock with Roman numerals. To one side are hung Native American themed prints and a number print.
9. Simple Display of Tan Matted Photos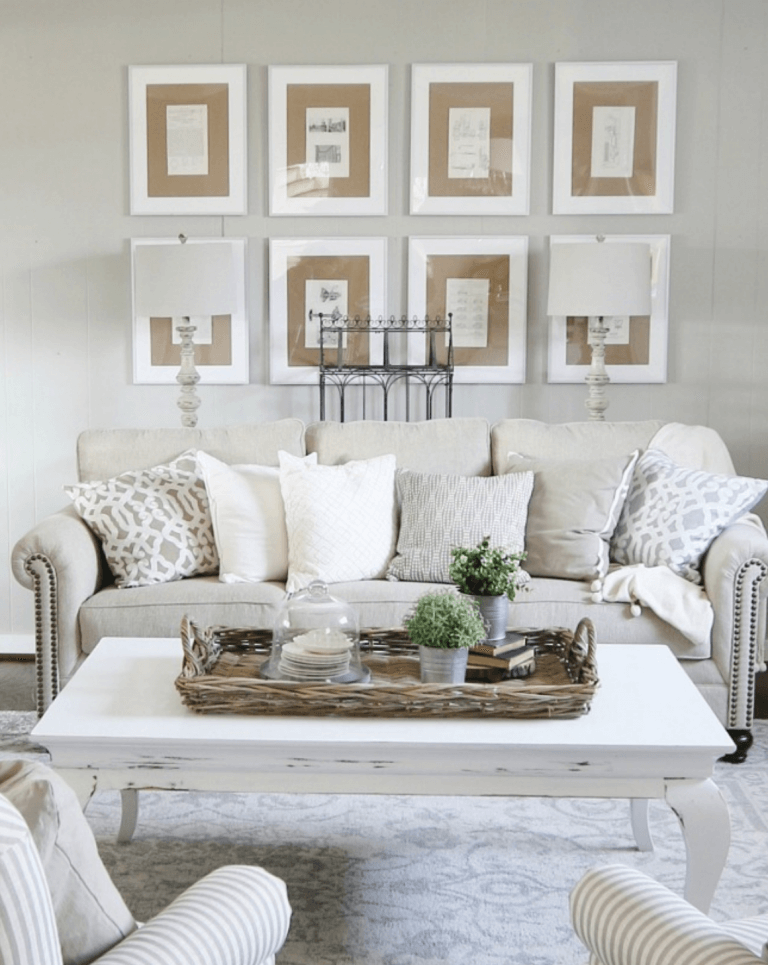 This living room wall decor makes a calming and understated balance to the beige and white upholstery. Many rustic wall arrangements are cluttered, but this one features only eight matted prints. The only touches of color in the room are the greenery pots on the coffee table.
10. Distressed Frames Hanging from Reclaimed Wood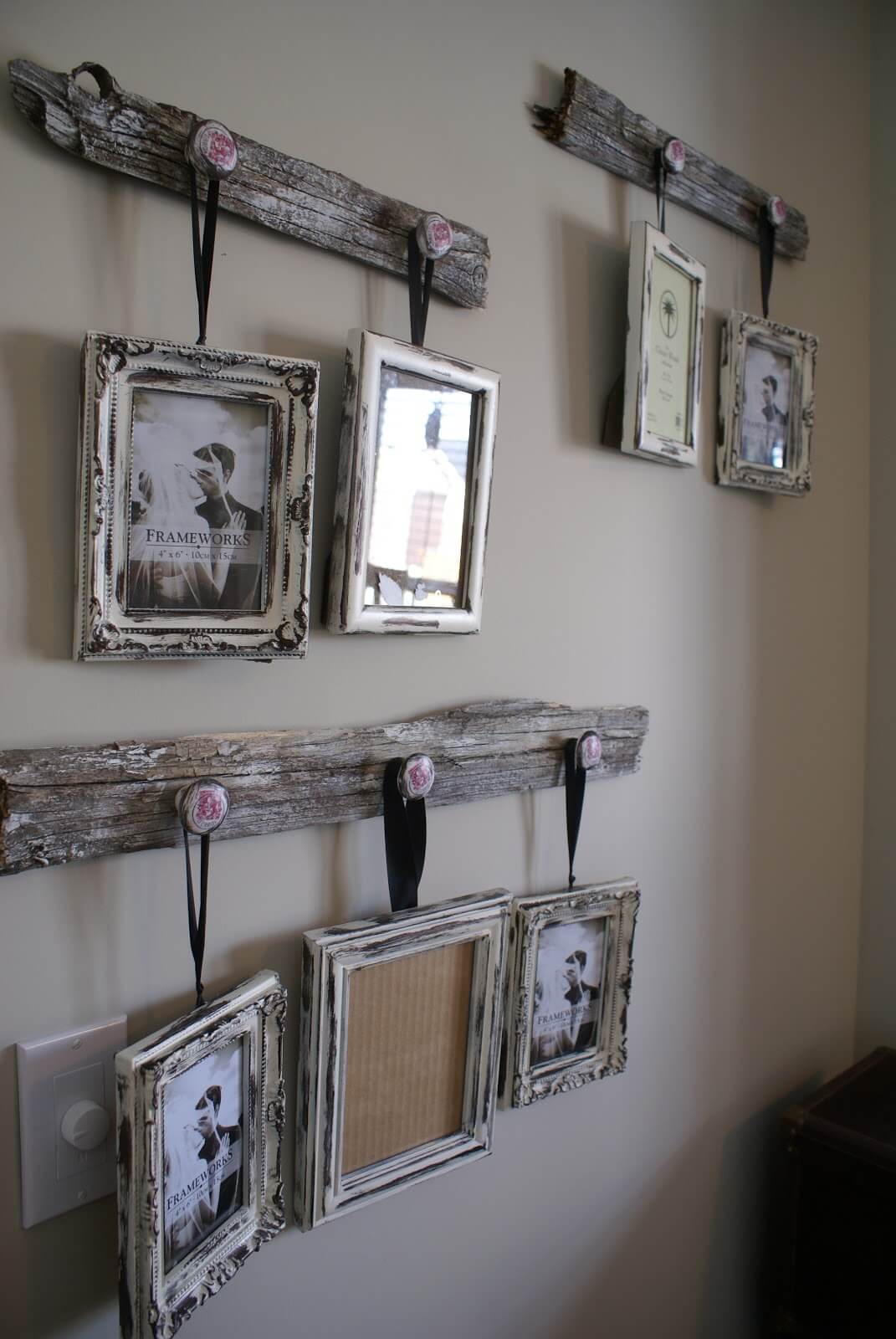 For a truly rustic look, try making reclaimed wood into wall hangers. Ornate drawer pulls accent the wooden hangers. From each drawer pull, a distressed frame is hung with black ribbon. Fill these frames with your own family photos for a complete look. It would look especially nice with black and white photos.
11. Scripted Sign Hung Over the TV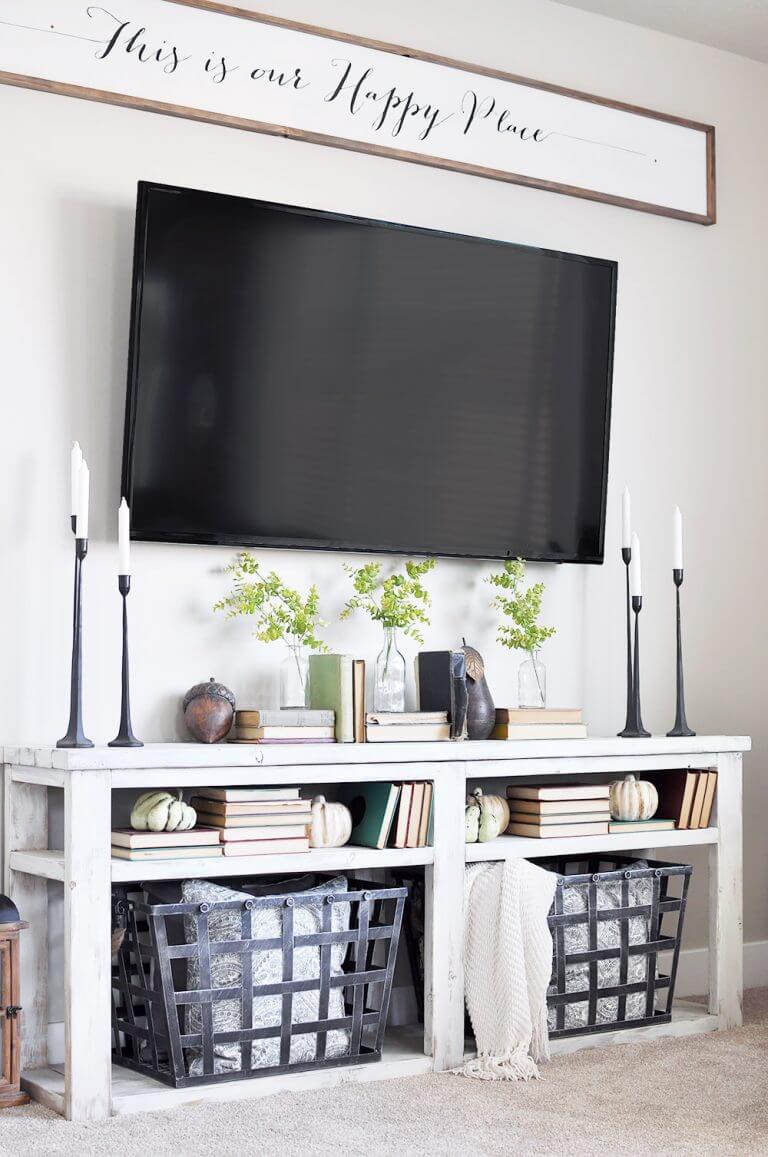 This living room wall decor invites the visitor to sit and take in their favorite TV show. A sign hung over the TV proclaims "This is our happy place." The scripted lettering is pretty and old-fashioned. The TV is set off by a console table with candles, books, and greenery. Handy baskets for throws and pillows sit under the table.
12. Corner Shelf Full of Family Photos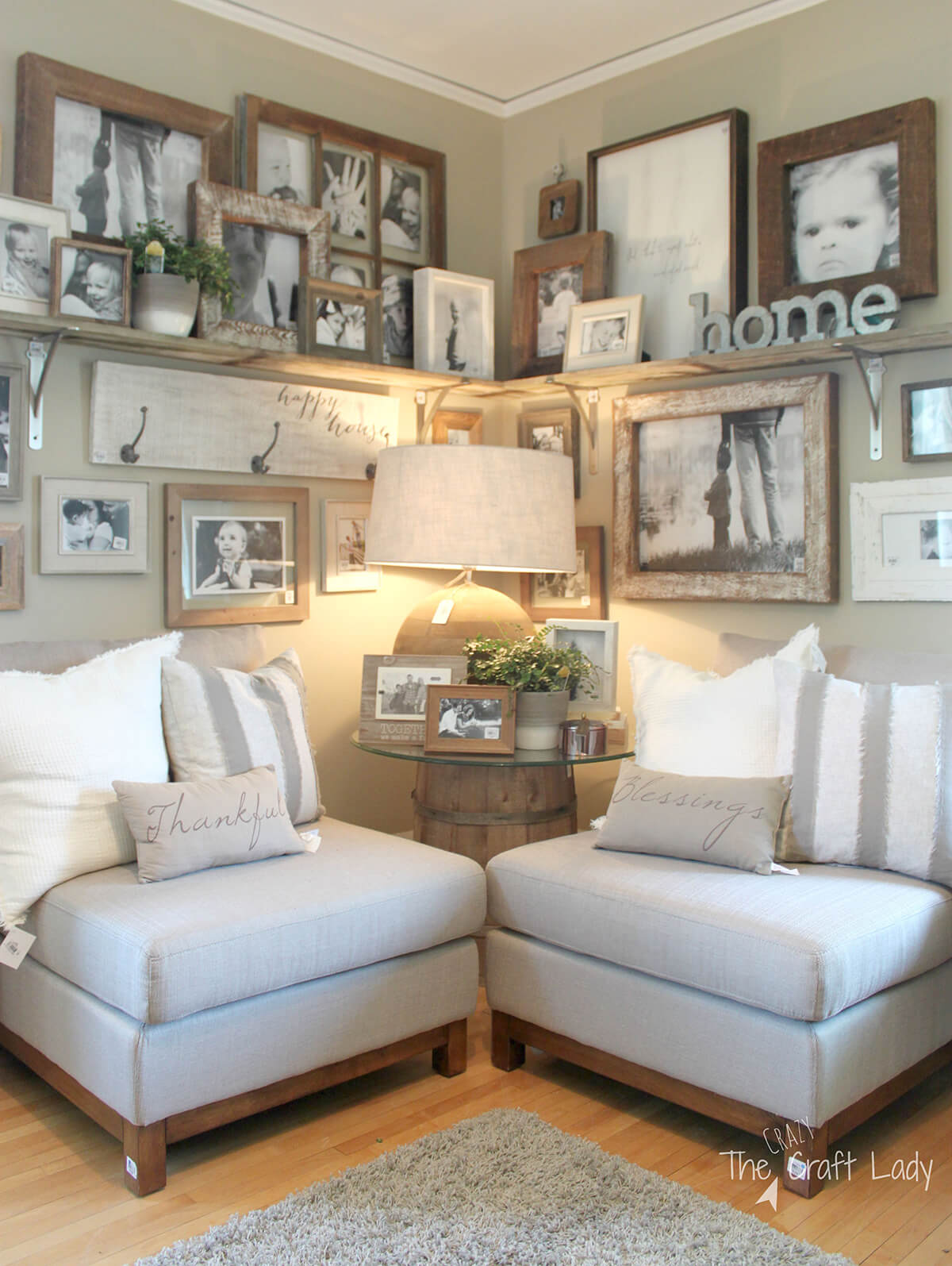 A corner shelf is hung over a living room seating arrangement, giving plenty of space for framed family photos and decorative items. There are many photos in layered arrangements, done in black and white for a sophisticated look. Many of the wooden frames are distressed and rustic.
13. Inspirational Sign with Ferns and Baskets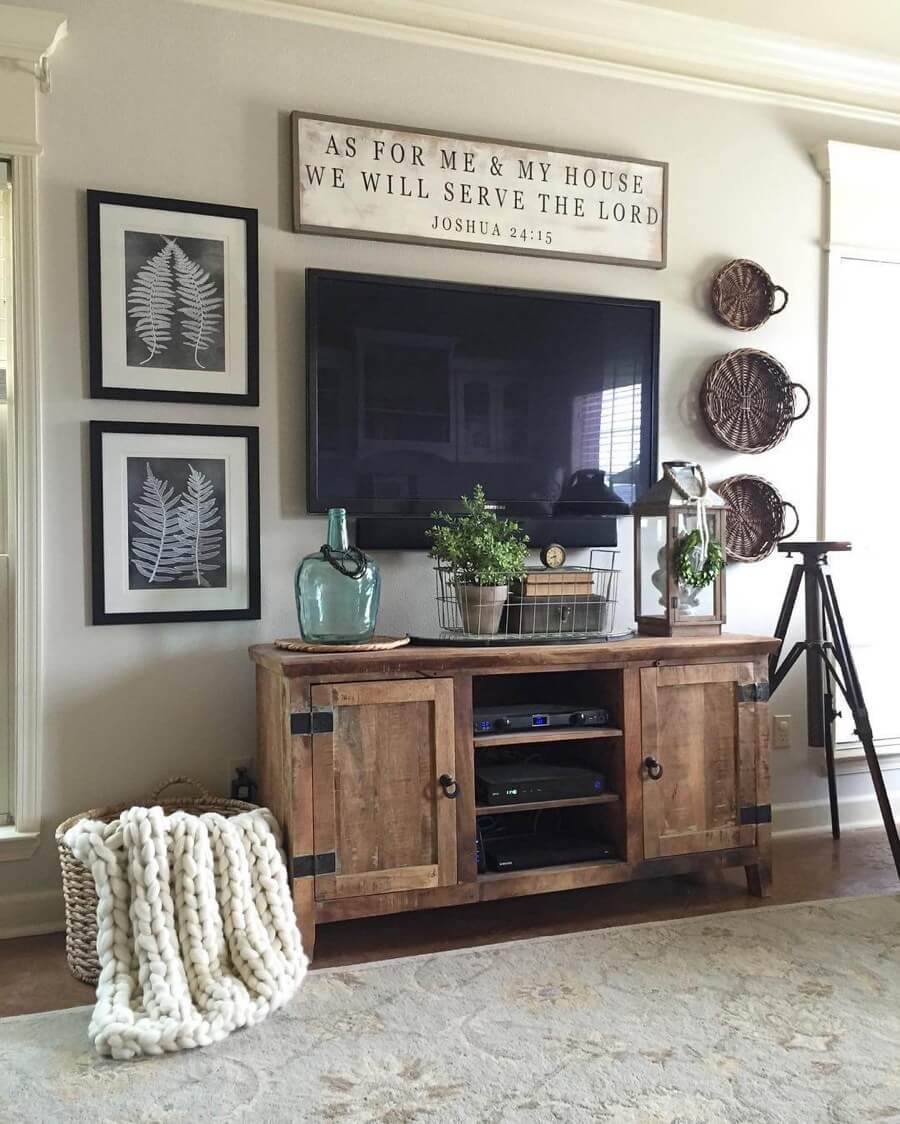 This entertainment center is a nice example of rustic living room wall decor. Over the TV hangs an inspirational sign with a Bible verse, inspiring contemplation. On one side of the TV, black and white prints of ferns hang for a botanical look. On the other side, there are graduated basket trays. The weathered wood of the entertainment center complements the baskets.
14. Thoughtful Sign in Typewriter Font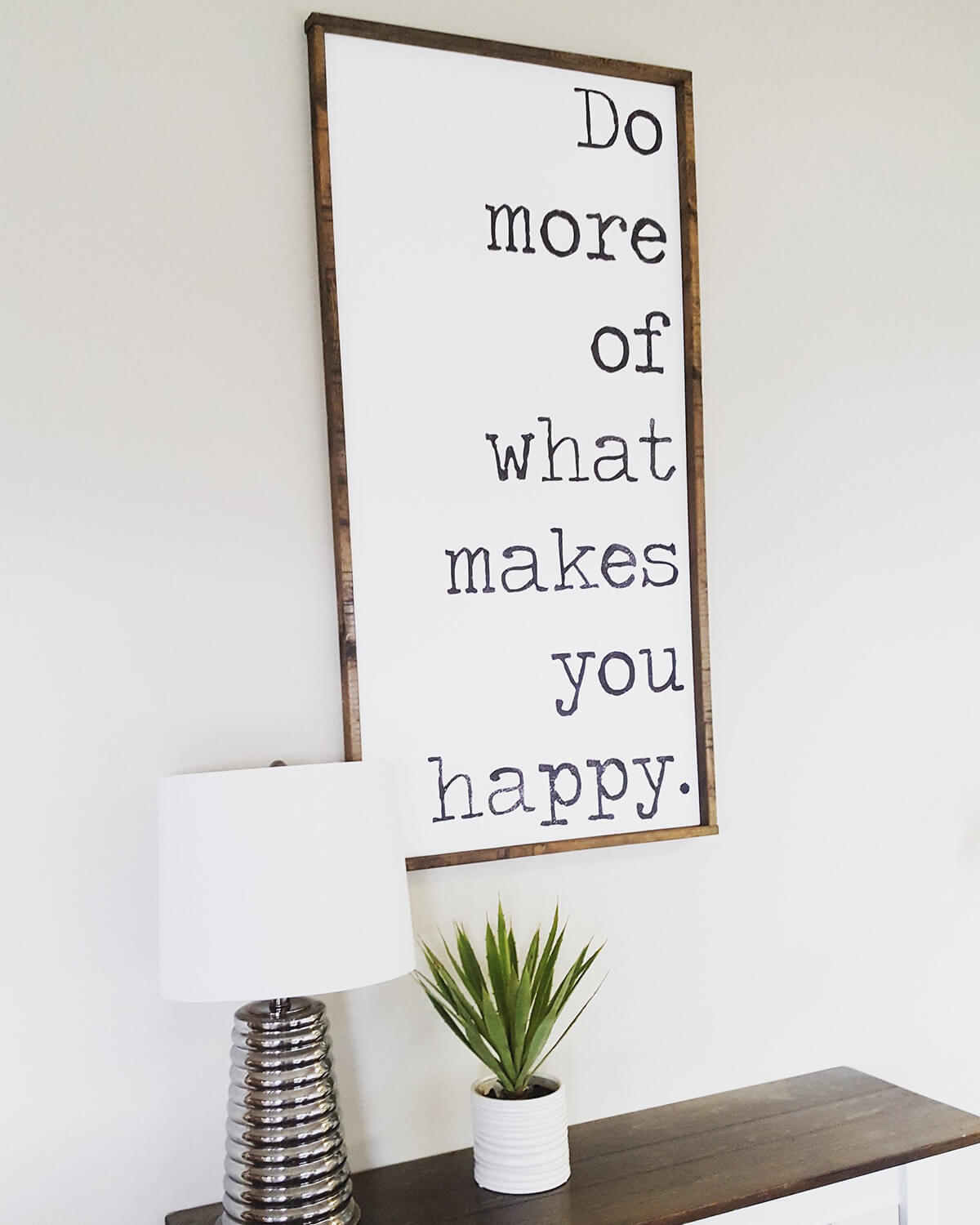 A simple and streamlined living room wall has a thoughtful sign in typewriter font. The sign reminds us to take the time to enjoy our lives. The shelf below the sign has a mirrored lamp and a small pot of greenery. This arrangement is a nice contrast to more cluttered designs.
15. Poem on the Wall with Old Ladder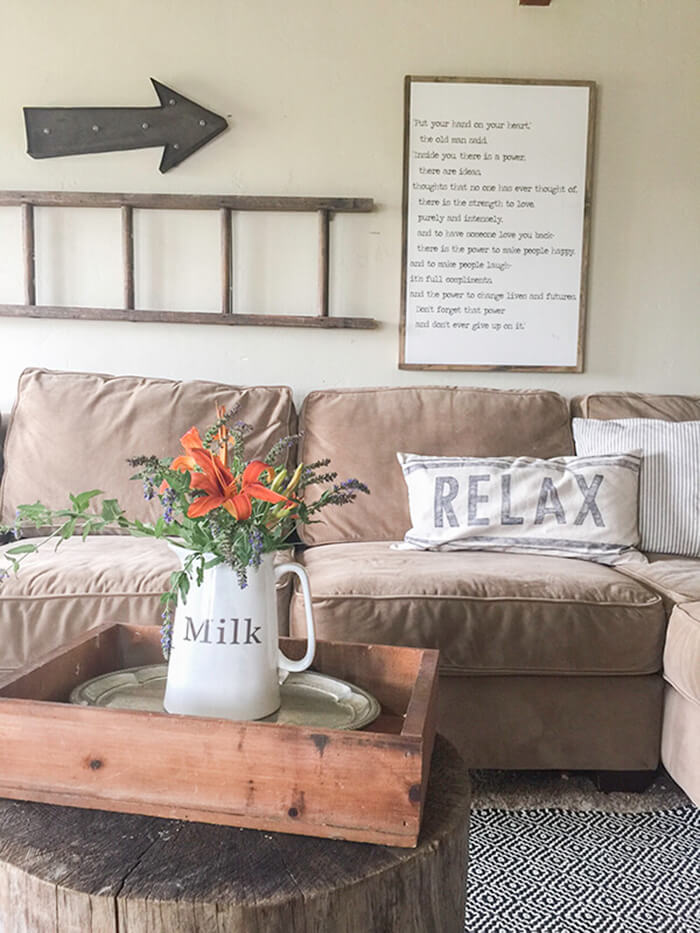 Old ladders are a popular feature of farmhouse and rustic decorating styles. This living room wall decor is a nice change from the usual. On top of the ladder, an arrow sign points at a large print with an inspirational poem. The poem inspires the viewer to take pride in their own personal power and not to let it go.
16. Old Shutters with Small Mismatched Mirrors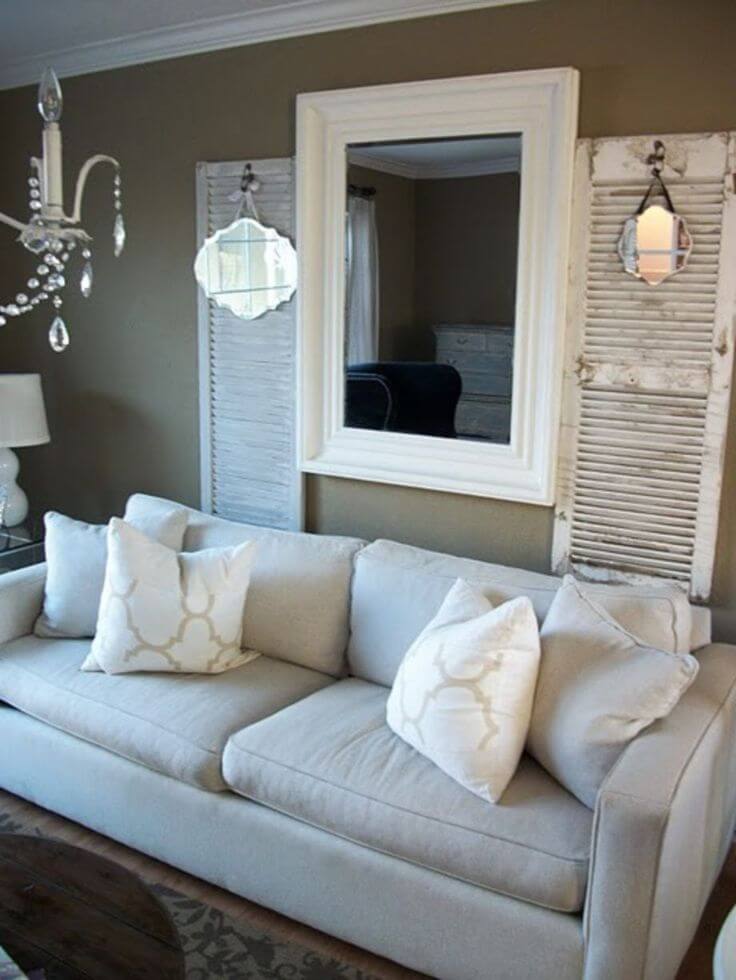 A large framed mirror is the centerpiece of this living room wall. On either side of the mirror hang two distressed white wooden shutters. From the shutters hang small, mismatched mirrors. The different mirrors give the room a sense of rustic charm. The beige and white design looks nice with the couch and cushions.
17. Decorated Plaque with a Small Wall Shelf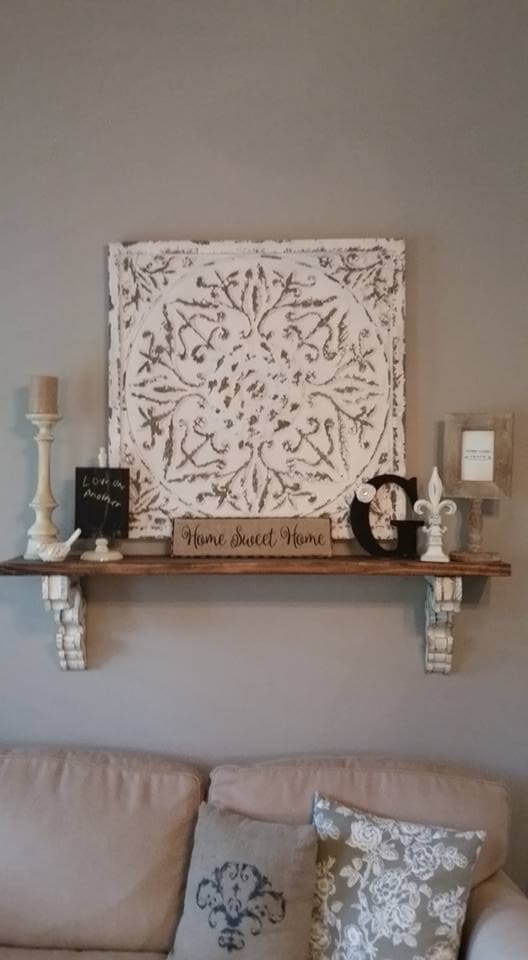 A sculpted panel with a floral theme hangs above a small wall shelf. The wall shelf holds a pedestal candle, a tiny bird, a chalkboard sign, a "home sweet home" sign, an initial letter, a fleur de lis decorative item, and a small wooden picture frame. This living room wall decor is done in shades of beige and white with black accents.
18. Coordinated Arrangement with Initial Letters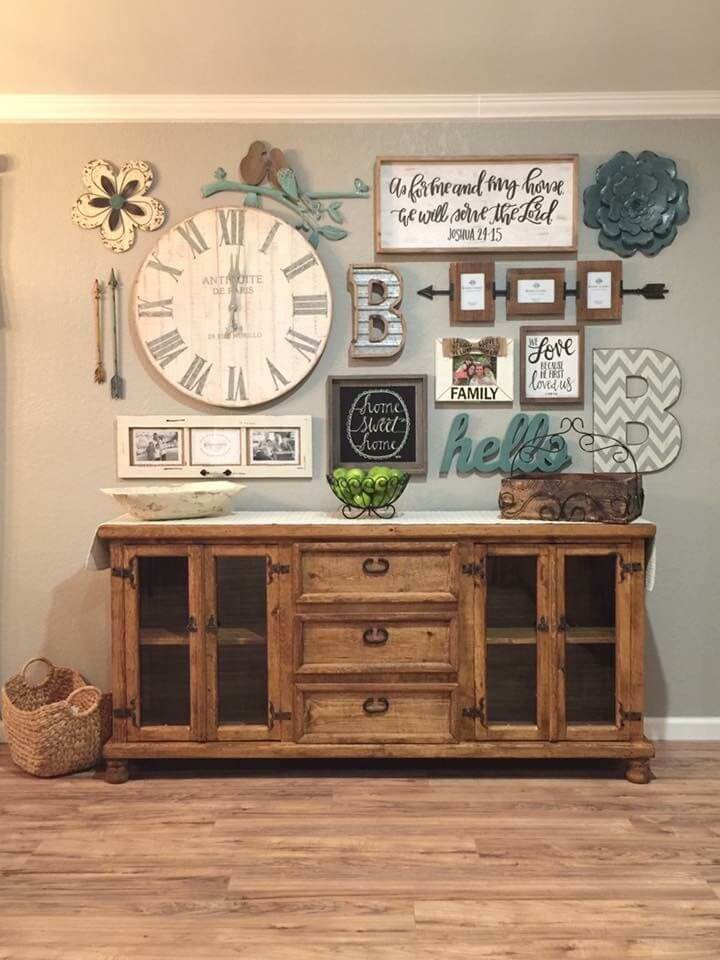 This arrangement combines a variety of design elements to make a unified whole. A popular feature in rustic home décor is an oversized clock. Two name initials hang on the wall, one made of galvanized metal and the other in gray and white zigzag stripes. An assortment of family photos and lettered signs complete the look.
19. Oversized Initial Letter on Canvas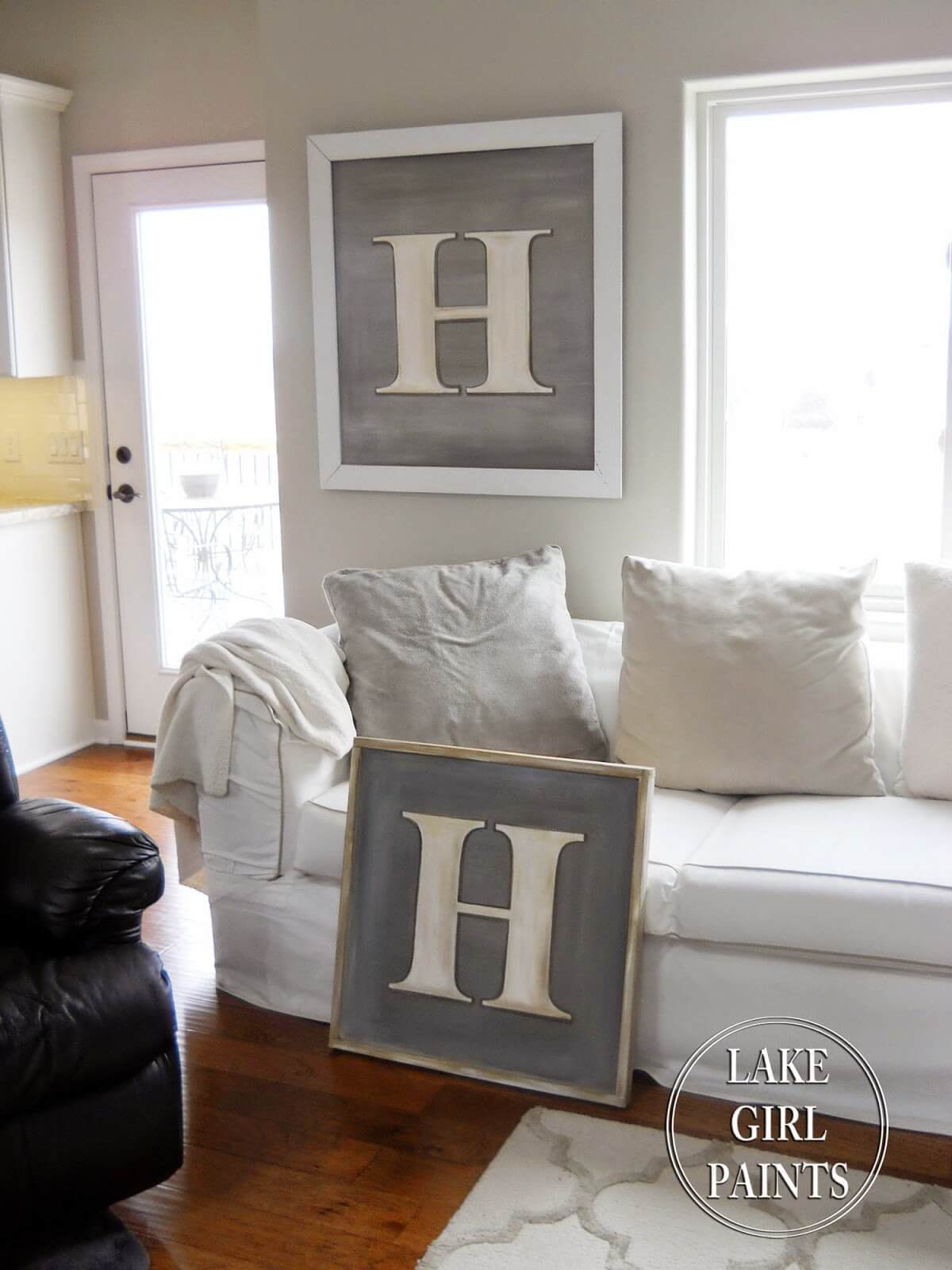 These bold initial letter prints hang on an otherwise unadorned wall. Their simplicity makes them a great fit for rustic living room wall decor, and they would also look great in a more modern styled home. The color palette of gray and white brings depth to the wall.
20. "Home" Sign on Distressed Wood Circle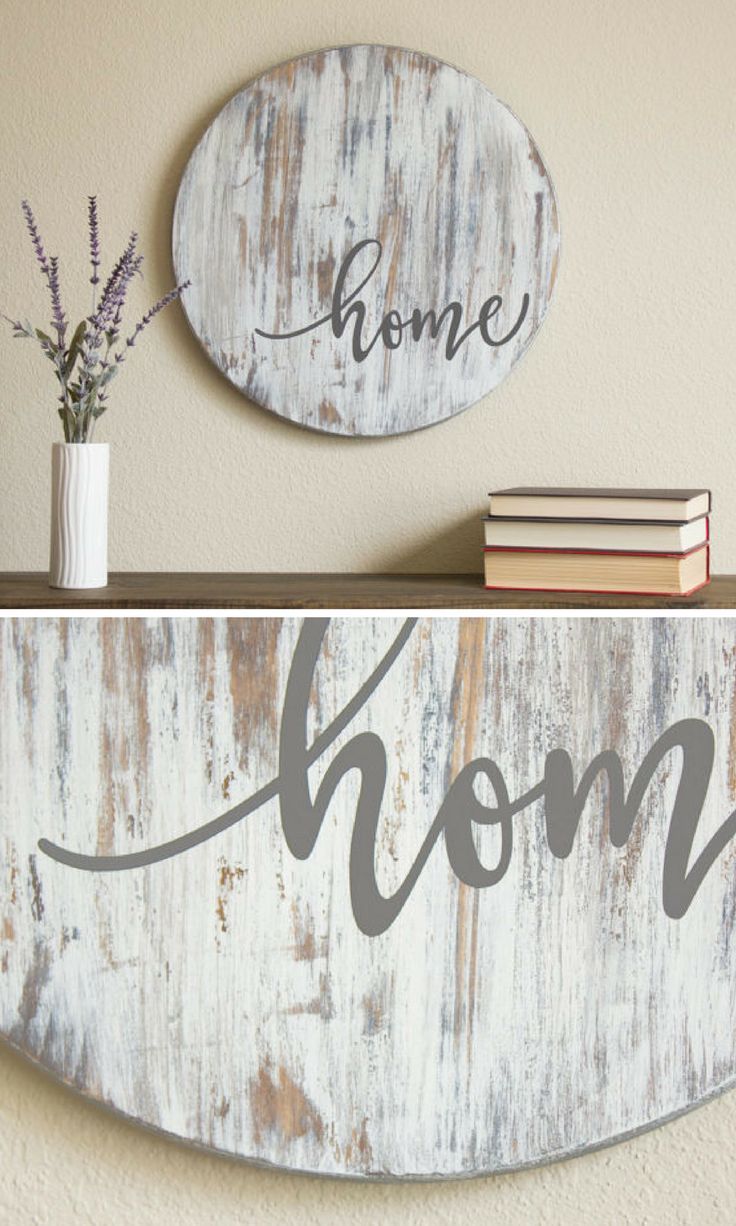 A distressed wood circle sign holds the scripted message of "home" in gray script. This sign is charming and elegant in its simplicity. The distressed painted finish makes it fit in with the rustic style. It would also look good in a farmhouse style home. This piece makes a refreshing contrast to some of the more elaborate wall designs.
21. Charming Rustic Living Room Wall Decor Ideas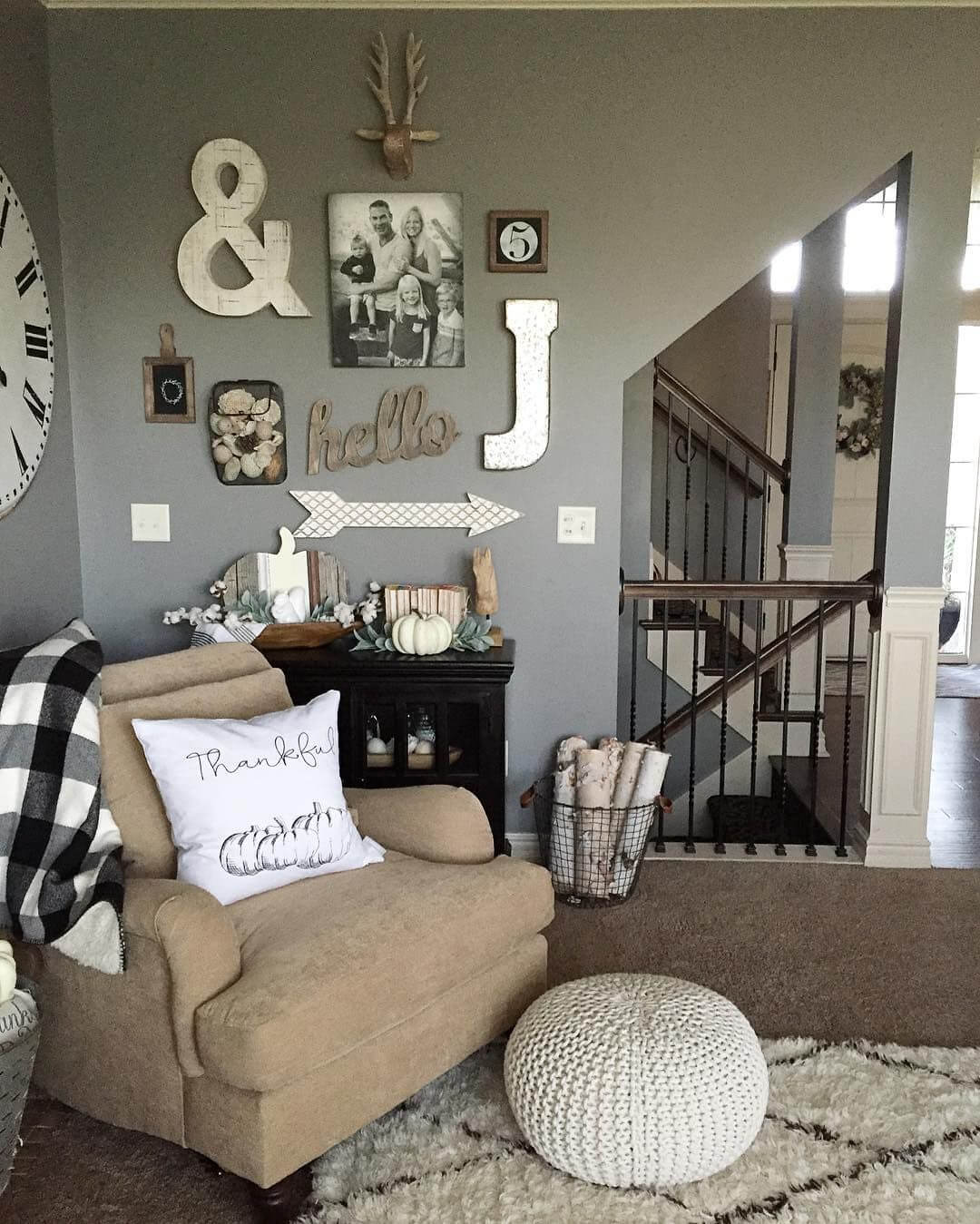 An oversized ampersand sign and initial letter enliven this wall arrangement. This living room wall decor combines a variety of elements from nautical and woodsy design. A wire basket of seashells hangs on the wall beside a "hello" sign. The black and white family photo is framed by the initial letter and topped off with a charming faux deer head.
22. Homey Simplicity in Rustic Wall Décor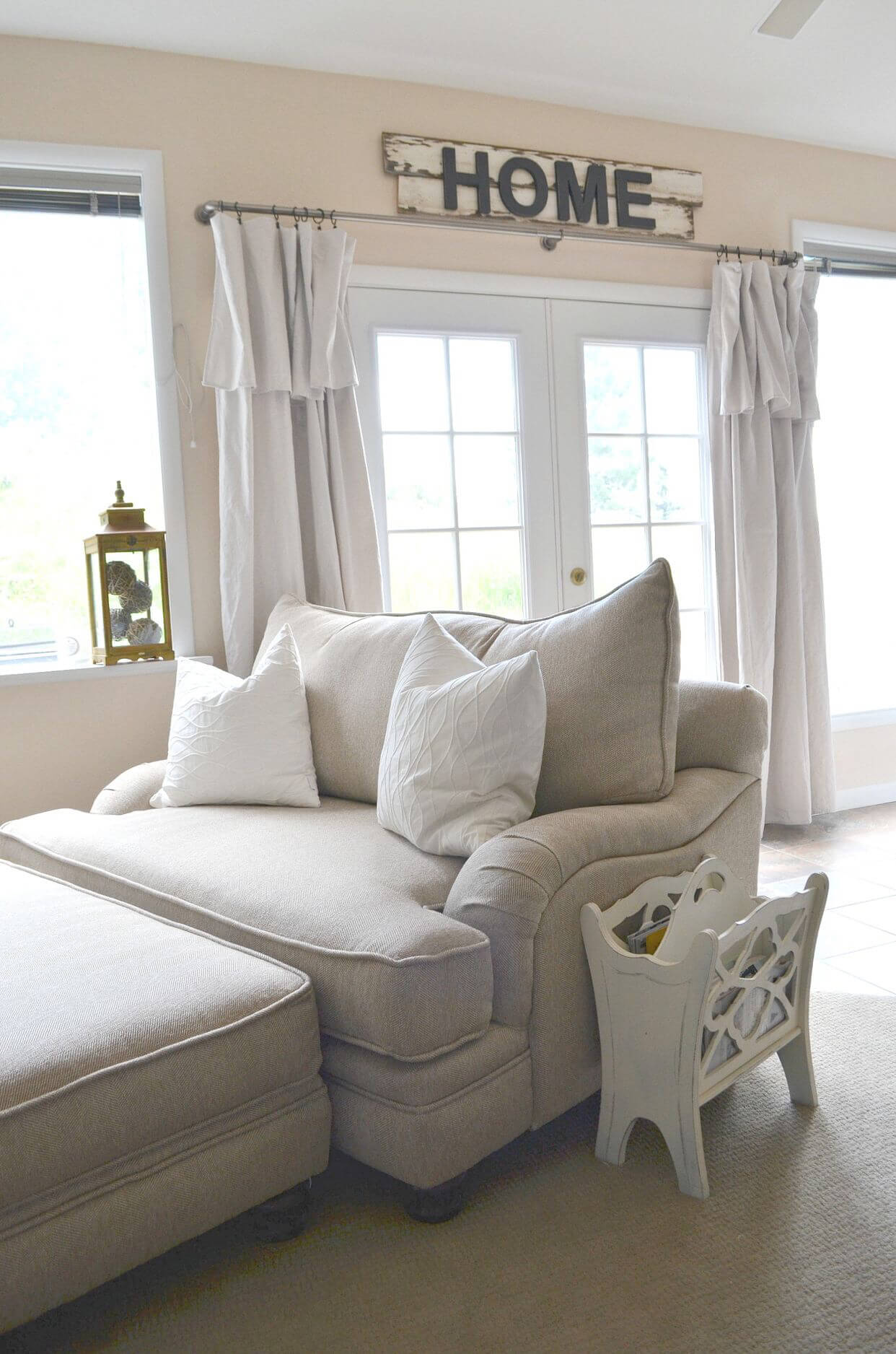 Rustic home décor can be elaborate or very simple. This arrangement takes simplicity to heart. Over a French door hangs a "Home" sign in distressed wood. The wood color blends beautifully with the eggshell walls. The clean lines of this sign fit in with the understated décor of the living room.
26. Chalkboard Family Schedule Grid on the Wall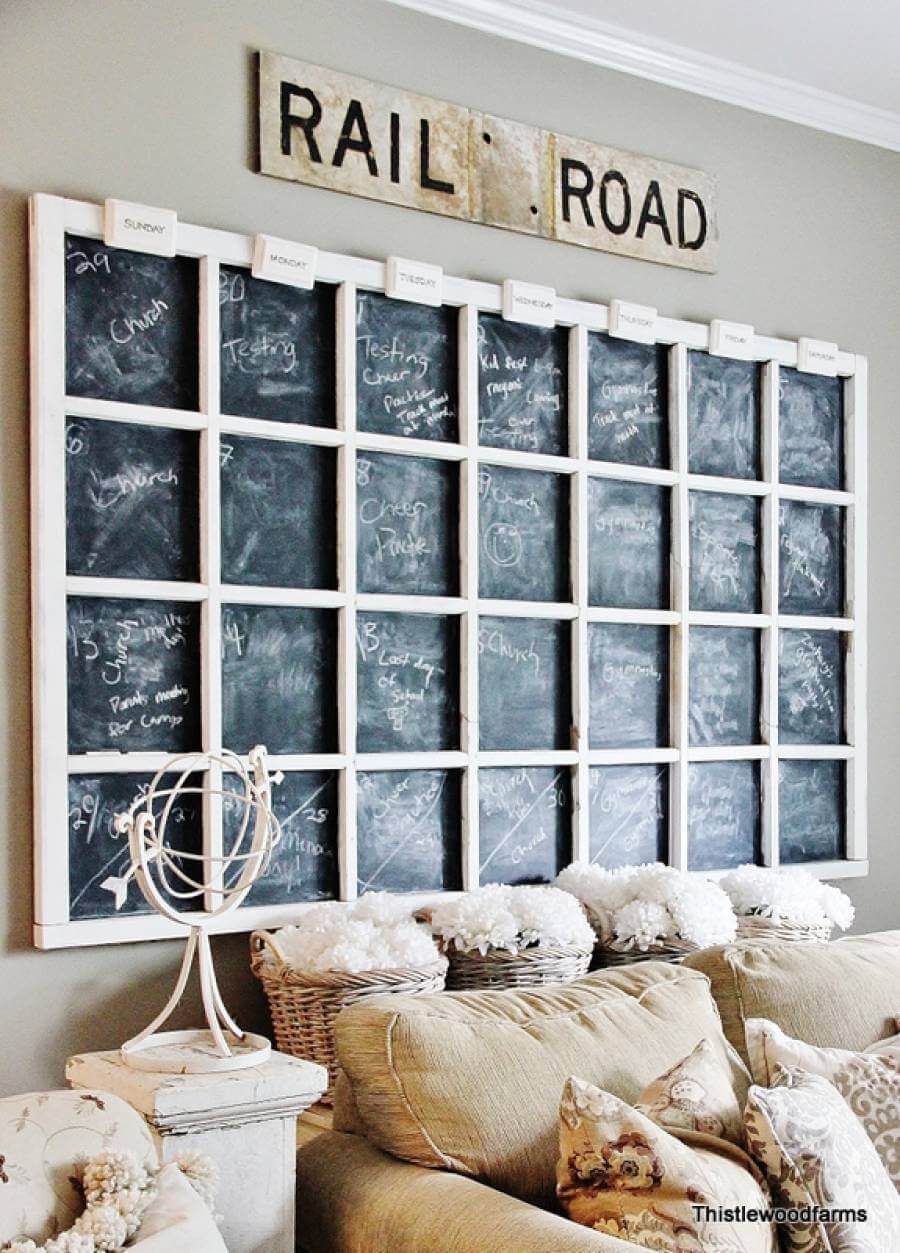 This ingenious idea combines many different aspects of rustic style. The grid on the wall is in the shape of a window frame. In the squares of the frame are chalkboard signs. The columns are labeled with days of the week to enable the family to fill in their various schedules. This is a cute idea that keeps a family organized.
27. Oversized Stenciled Signs Over the Sofa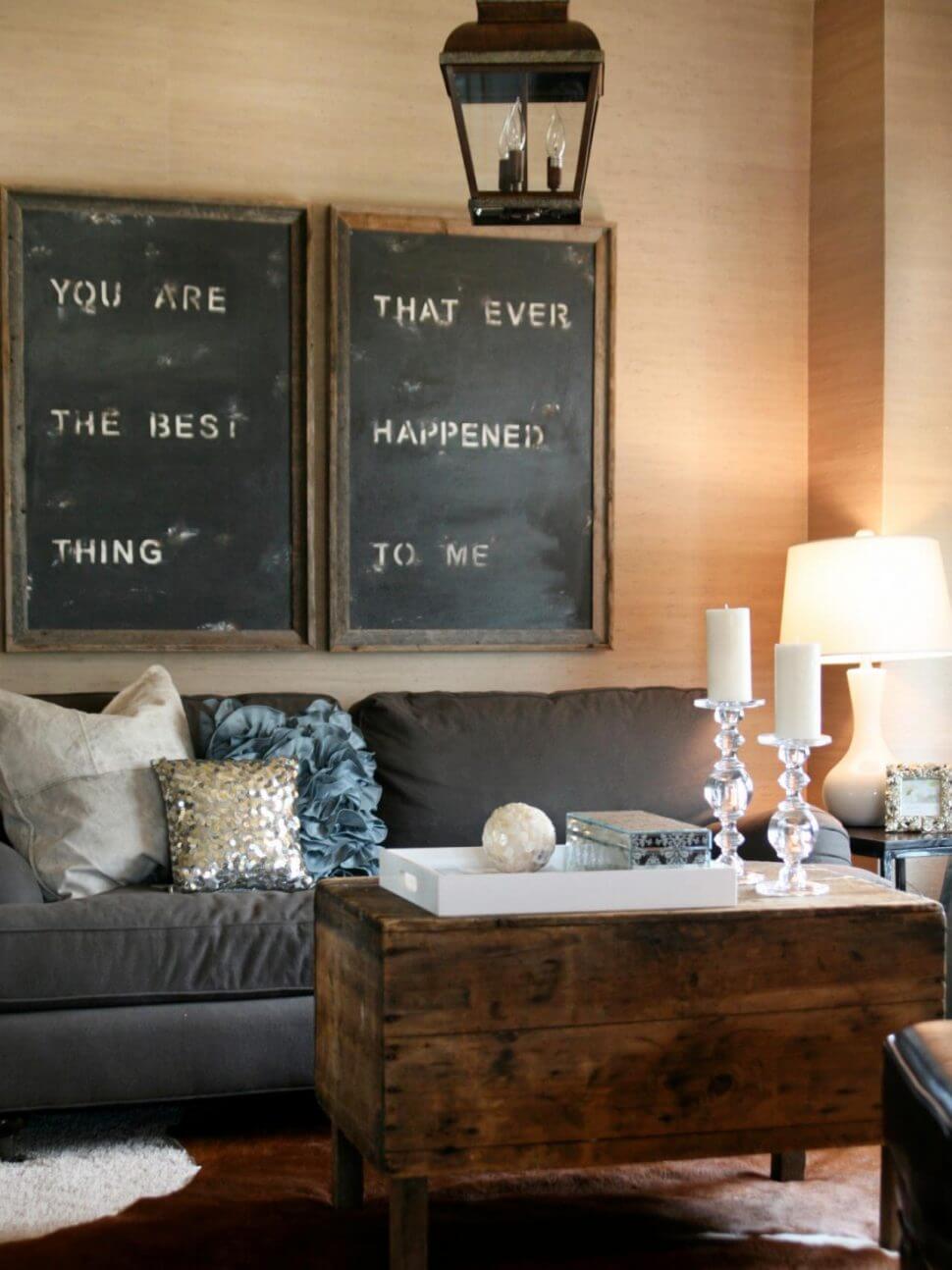 This wall features stenciled signs with a sentimental message. The frames are oversized for a dramatic look. The framed signs take precedence on the wall, with no other decorations hanging nearby. The chalkboard quality of the signs fits in with rustic living room wall decor, and it also fits in with this elegant living room.
28. Window Frame with Bay Leaf Wreath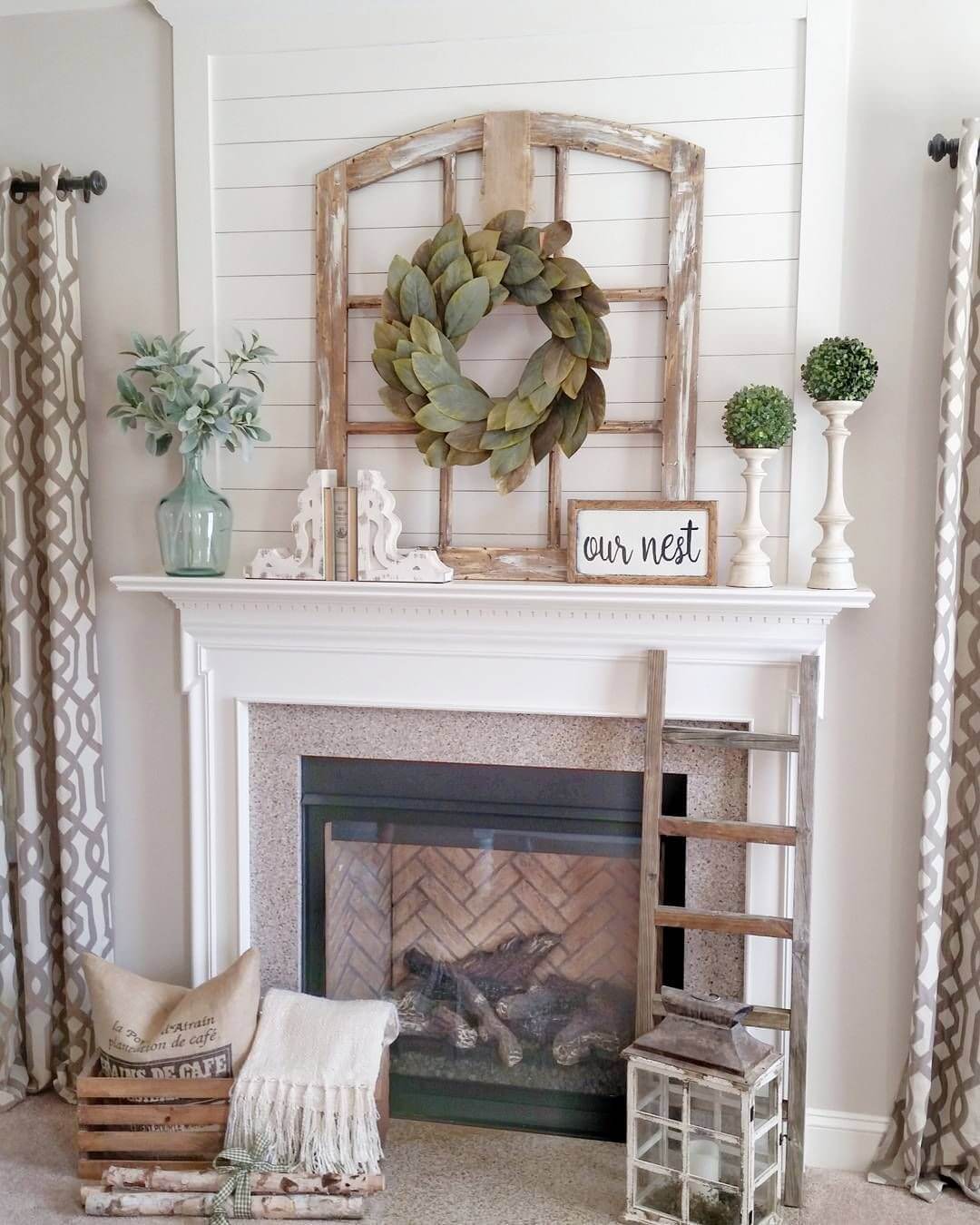 Old window frames are an extremely popular element of farmhouse and rustic style. This large window frame leans up against the back of a mantel. A muted bay leaf wreath hangs by a wide burlap ribbon. The mantel arrangement is simple and understated with a cute scripted "Our Nest" sign. Topiaries and greenery add natural touches.
29. Reclaimed Wood Shutters with Home Letters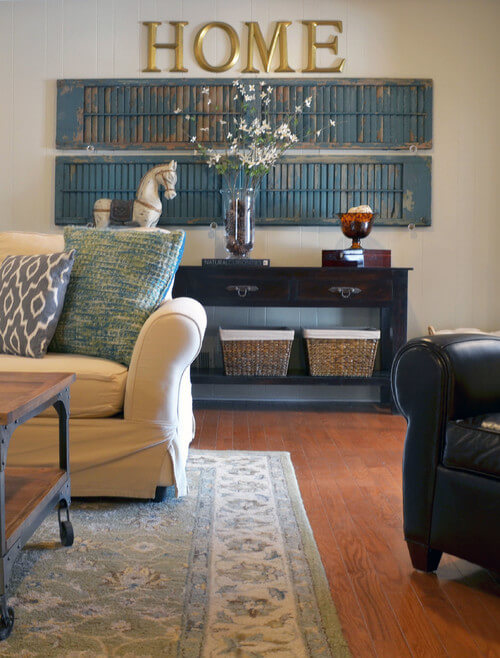 Reusing old architectural elements is a popular trend in living room wall decor. These tall shutters are painted in a distressed blue finish and hung sideways on the wall. Over the shutters, oversized gold letters spell out "Home." The console table under the shutters has a wild floral arrangement and a rocking horse.
30. Window Frame with Wreath and Key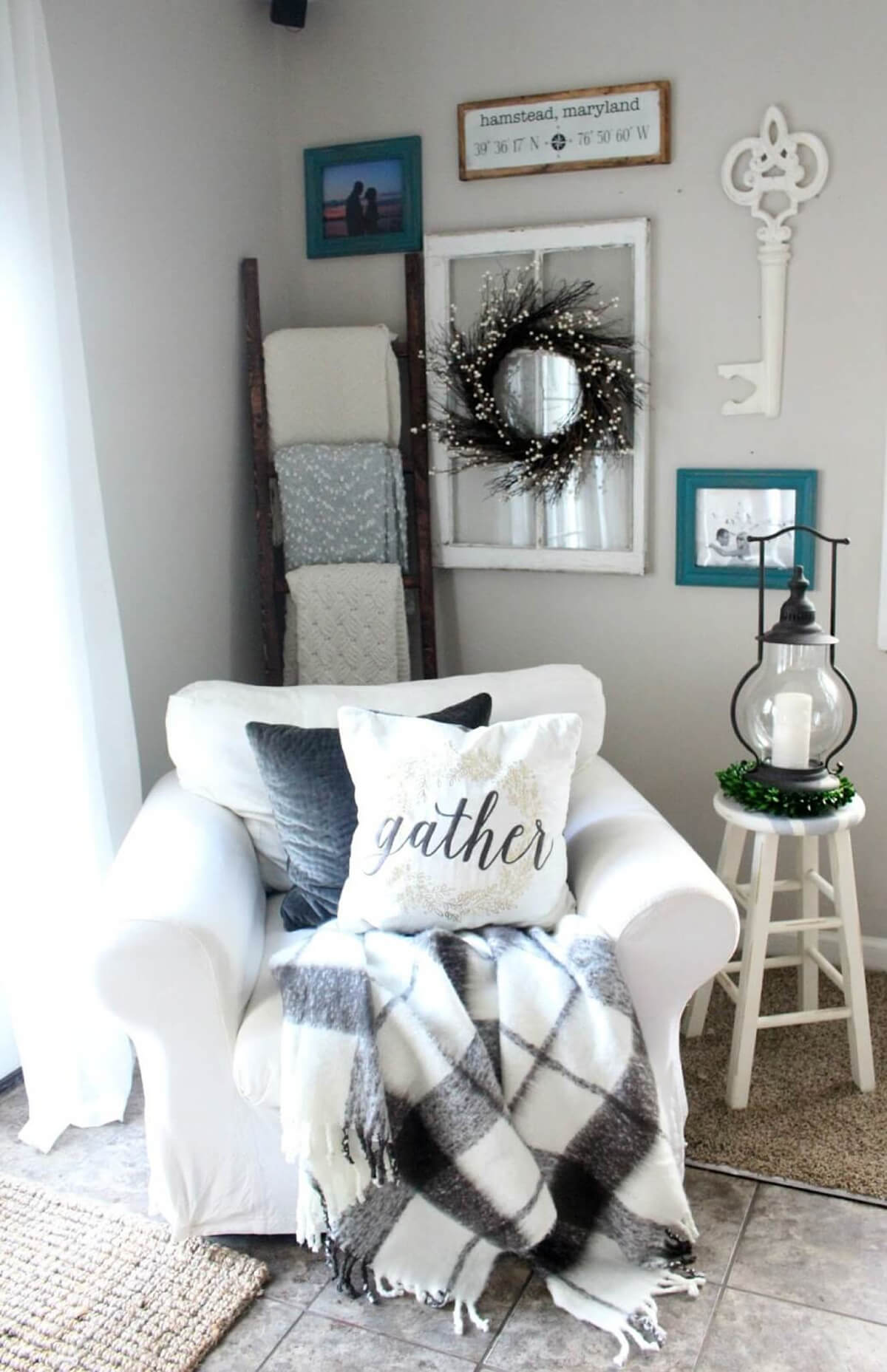 An old window with the glass in it is the centerpiece of this wall arrangement. A wild and rustic wreath hangs in the center of the window. A latitude and longitude sign adds a personalized touch to this living room wall decor. For a contrast in color, the picture frames are painted a dark turquoise green.
31. Glass Window Frame with Shutters and Wreaths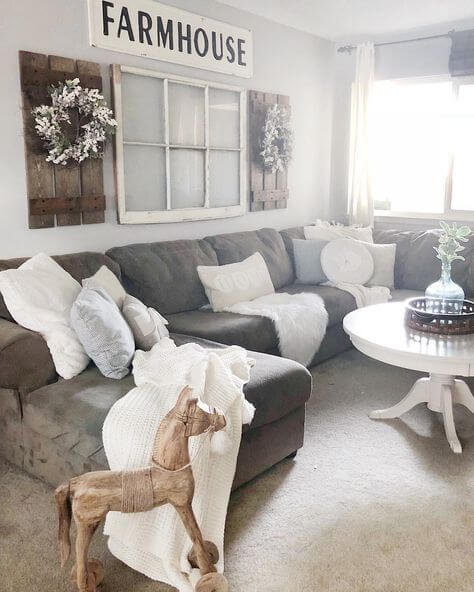 This is another great example of wall decor with an old window. The glass is left in this window frame as well. On either side of the window, weathered wood shutters are hung. Each shutter has a subtle gray and white wreath. A "Farmhouse" sign hangs over the window and shutter arrangement.
32. Pallet Inspired Wooden Hanging with Mirror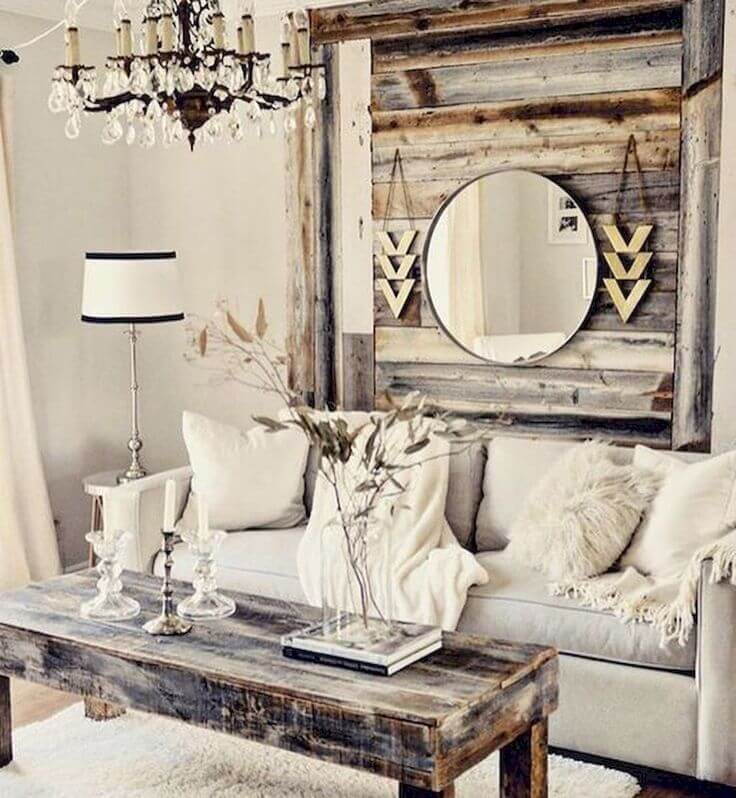 This pallet style wall hanging gives this corner of the house the feeling of a barn wall. In contrast to the weathered wood of the wall hanging and coffee table, a simple silver mirror and chevron décor hang in the middle. The sleek metal and glass give the living room a more modern aesthetic.
33. Large Clock with Windows and Wreaths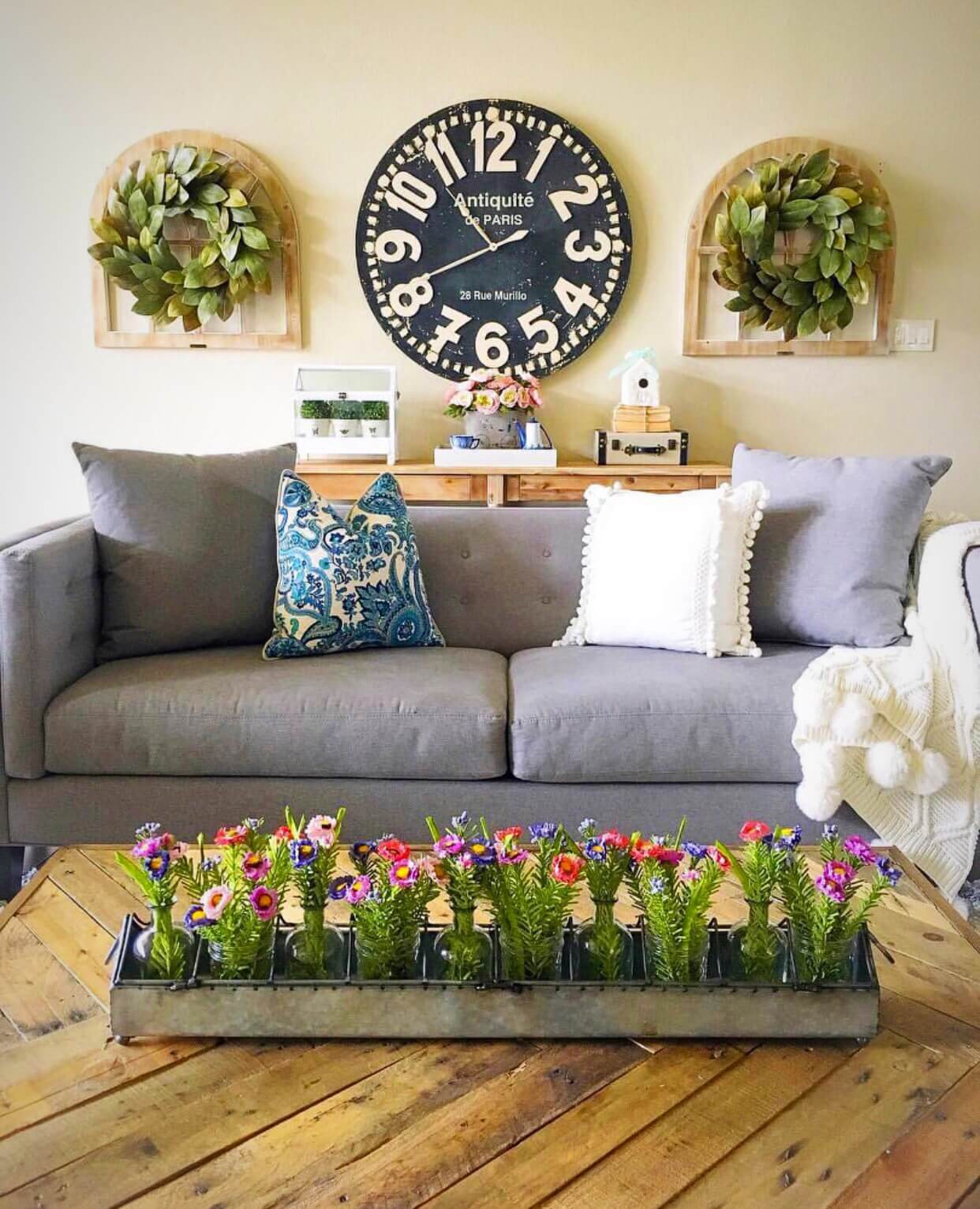 This colorful arrangement combines window frames with bay leaf wreaths. A large clock hangs in the middle of the wall. Cute garden themed decorations take center stage in the room, enlivening the décor. This living room arrangement is a nice example of how styles can mix and blend for a different effect.