A rustic decorating style combines many different elements into a new aesthetic. Rustic style has a lot in common with farmhouse style, but not everything overlaps. One important element of rustic wall design is the printed sign: choosing from universal sentiments like "Home," "Family," and "Farmhouse" makes large signs distinctive. For signs with smaller type, Bible verses and other inspirational sayings are common. Oversized clocks are also popular in rustic wall design.
45+ Awesome Rustic Living Room Decor Ideas to Add Charm and Character to Your Walls

The color palette of these wall arrangements tends toward brown, white, gray, and green. This neutral aesthetic provides a calming backdrop for any home. Many of the arrangements are cluttered with many elements, including photo frames, letter initials, and flowers.
Reclaimed architectural elements like shutters, window frames, and ladders are popular in rustic style home decor. Many of the wooden elements have distressed or weathered paint. Wreaths made of dried or silk leaves bring a touch of green to the arrangements.
All of these wall arrangements will show your unique style and personality. Customize them with favorite sayings and your initial letter. Try our 45+ rustic living room wall decor ideas and bring a touch of the country into your home, no matter where you live.
1. Multi-Grain Neutral Harvest Wreath Wall Art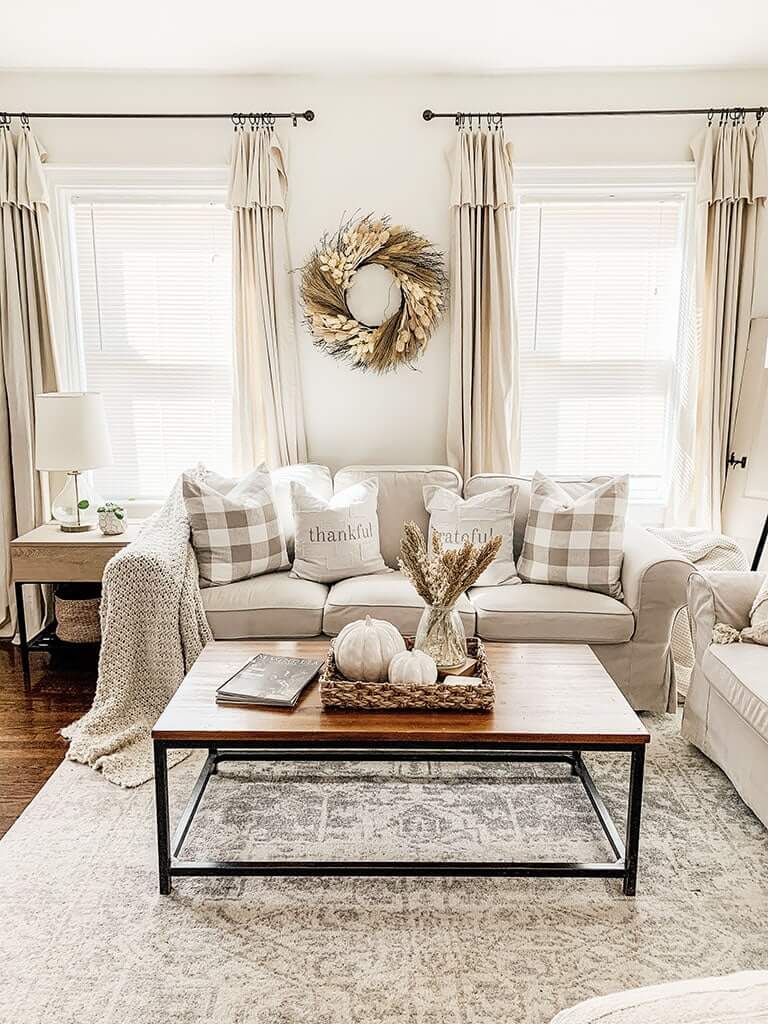 Add some whole grain goodness to your diet and interior design with this lovely rustic harvest wreath. Featuring a variety of grains, the multitude of textures and shades of neutral tones make this a perfect choice for a modern farmhouse design. It works on a wall or a door to help decorate your space.
2. Old French Country Decorative Large Mirror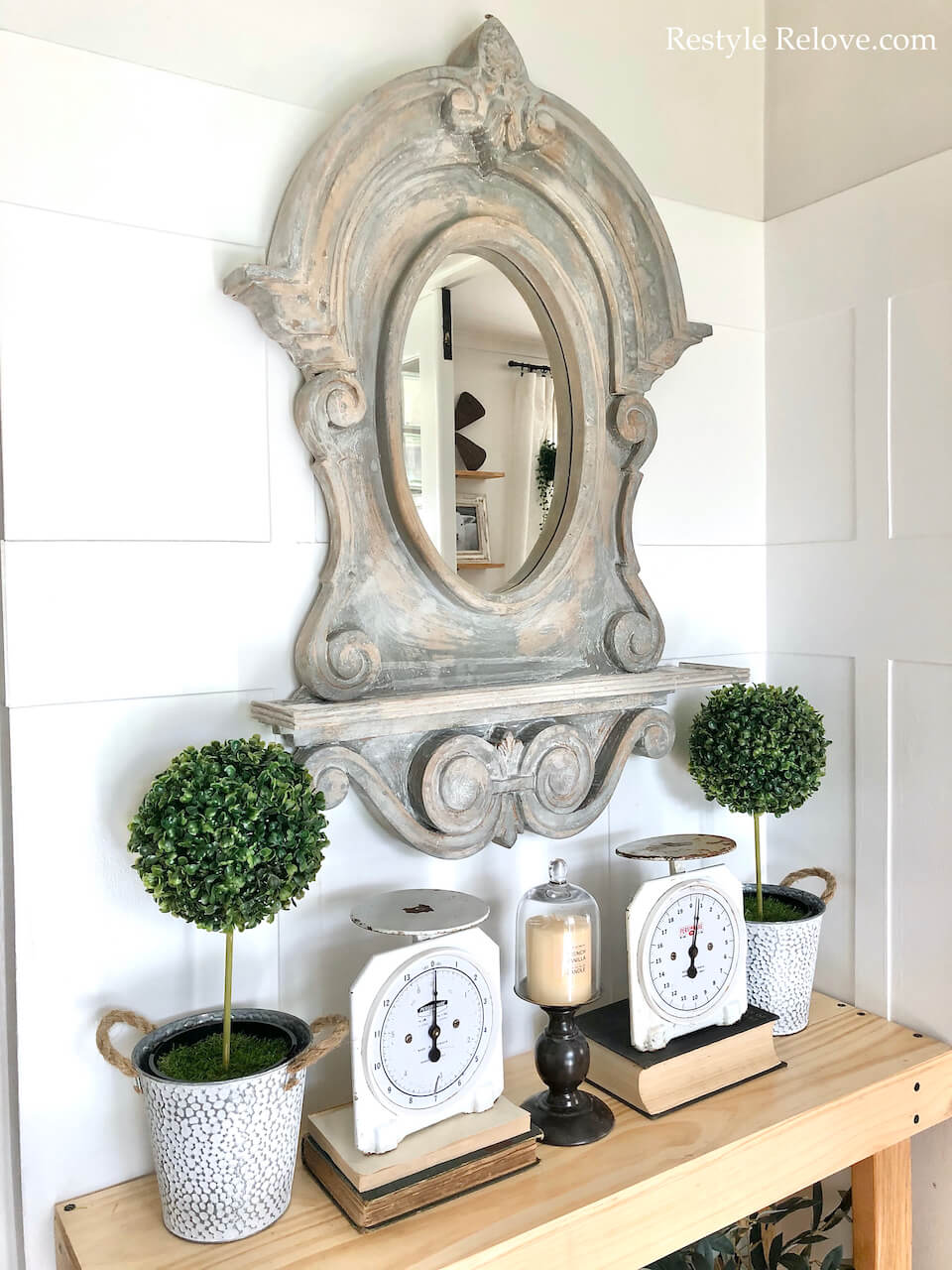 Combining styles is simple when you display a grand piece like this large mirror. Its decorative style is streamlined from classic French country, yet it works perfectly within a modern farmhouse design. Hang it in the dining room over the buffet or use it to finish off the side table in your entryway.
3. Old Feel, New Look Rustic Living Room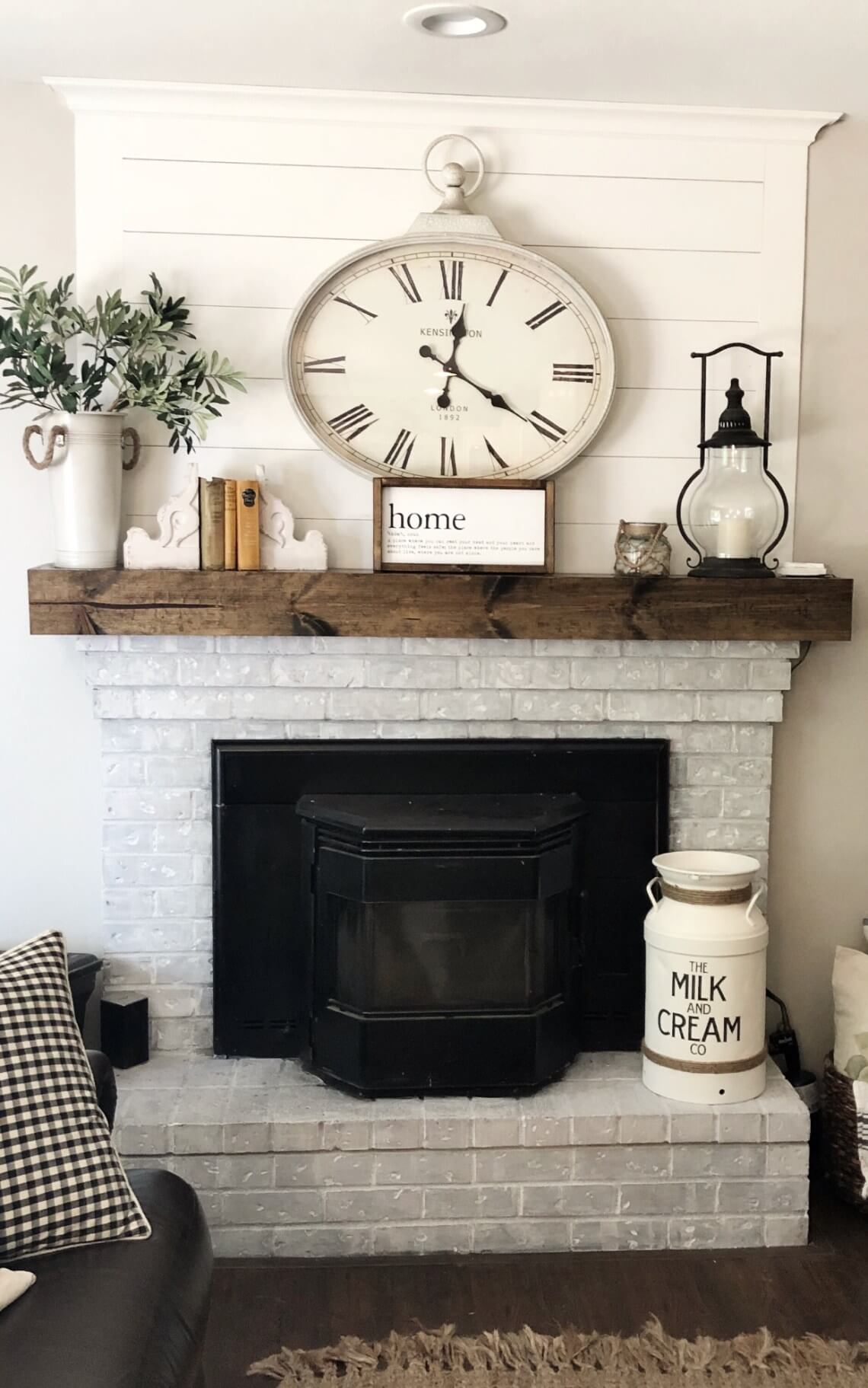 Blend the past with the present as you design a new living room with an old feel. Whitewashing your fireplace bricks is the first part, then you can decorate around it with milk cans and lanterns to give it a cozy and country charm. Feature a simple sign defining home in the middle of the hearth to tie your entire home-felt look together.
4. His Presence All Around You Wall Sign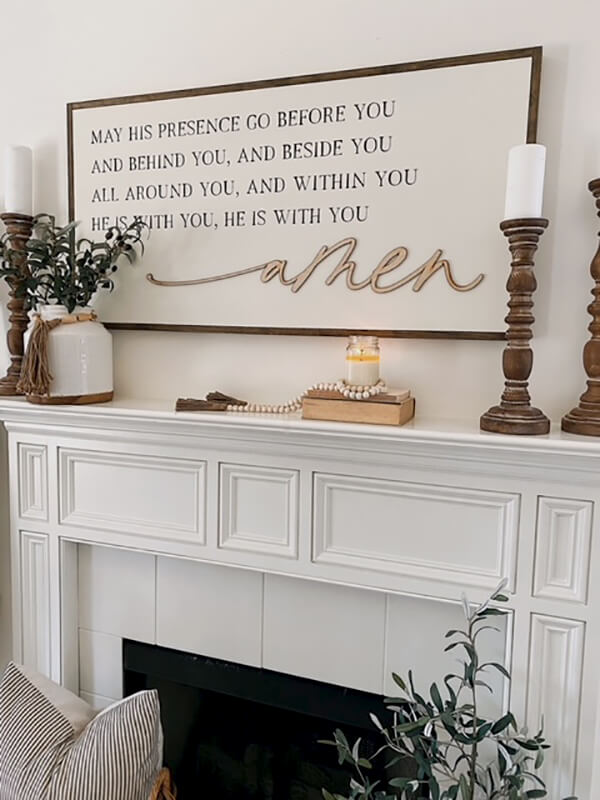 Share your faith in this gorgeous large wall print. The simple wooden trim is carried on with the scripted "amen" at the bottom of the sign. Using an easy-to-read font, the message is clear and makes a beautiful piece of living room wall art to dress up your family's fireplace mantel.
5. DIY Crafter's Corner with Storage and Mirror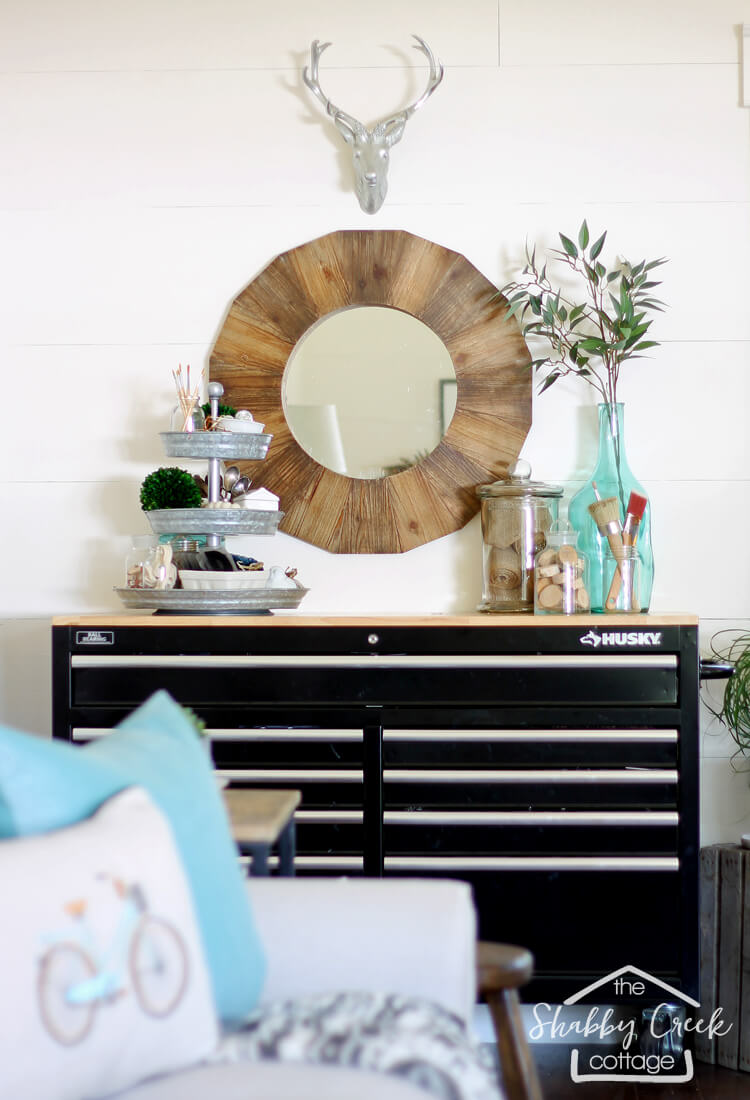 For crafters, a home office isn't important, but a crafting corner is essential! Create a space as unique as your creations with this tool cabinet-based look that has all the storage you'll need. The wood-edged mirror adds style to the wall above while the tabletop decorations double as caddies for corralling all of your ready-to-go supplies!
6. Vintage and Distressed Big Fleur-de-lis Decoration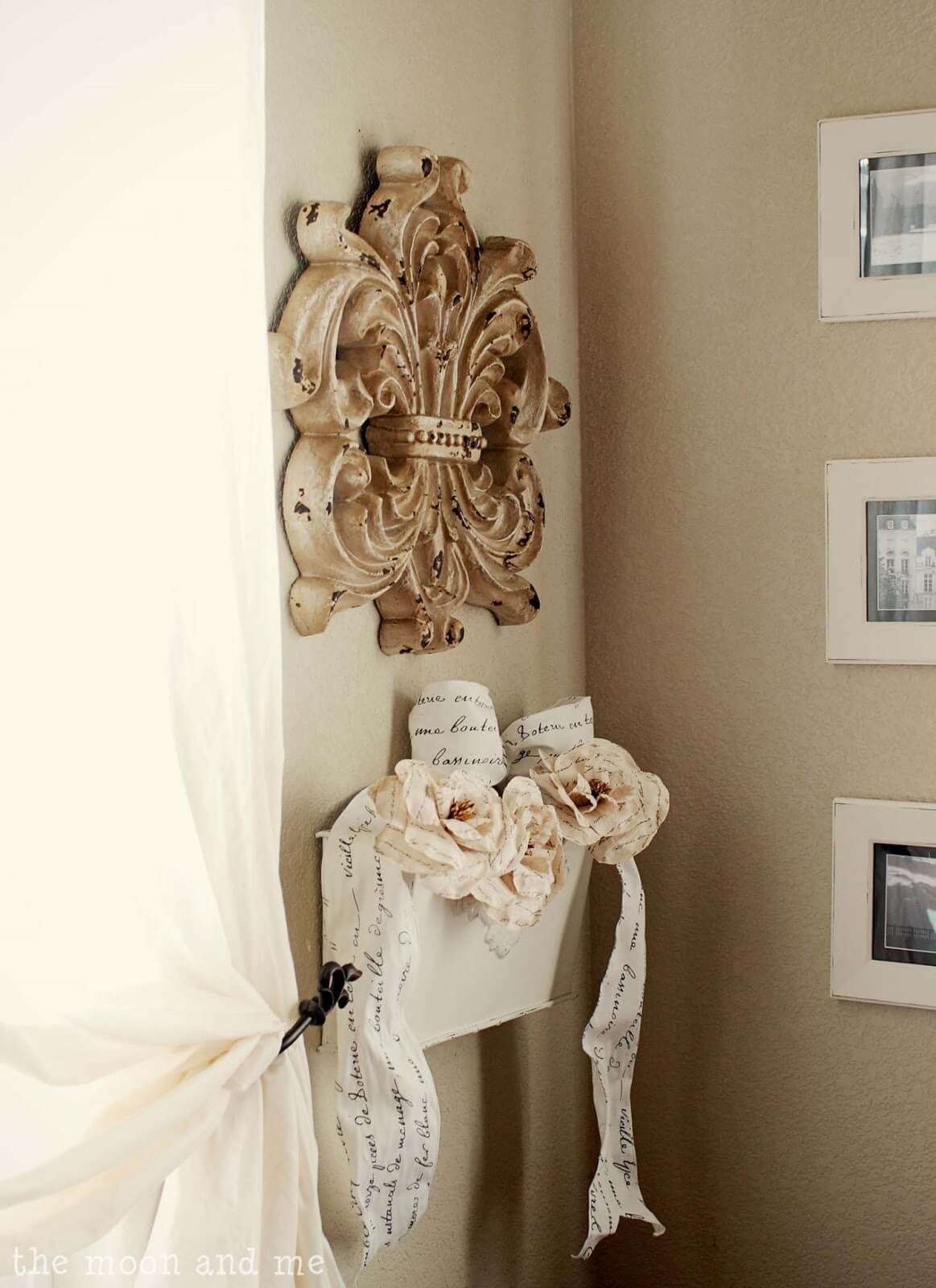 Paris is the city of love but it offers more than romance. Channel some of its elegance and grace into your home with the quintessential French interior design icon of the fleur-de-lis. Anywhere you choose to hang this vintage-looking piece will be the perfect place for it to call home.
7. A Little Bit of Everything Gallery Wall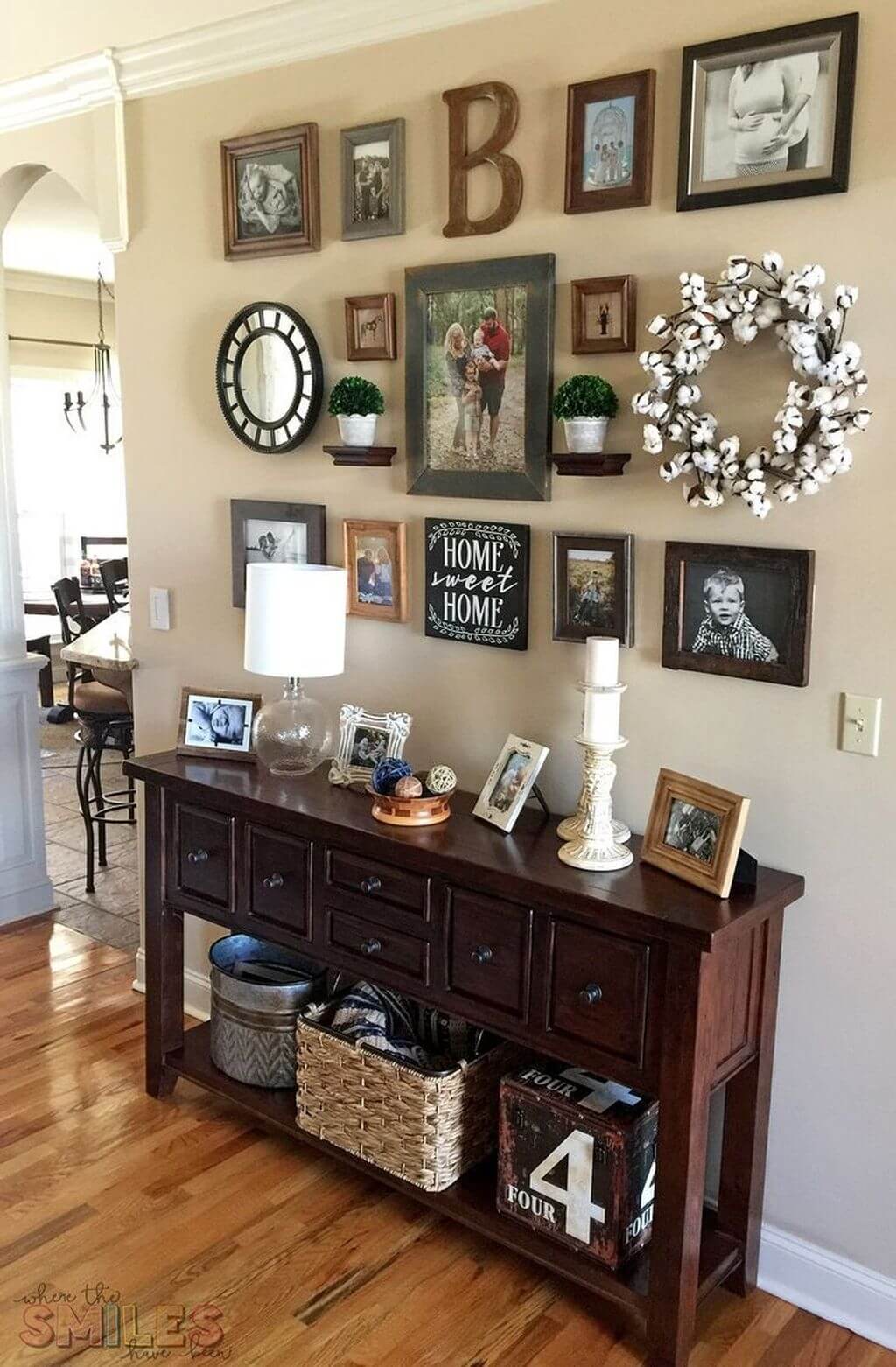 Too many choices and not enough wall space? If that's your dilemma, then consider creating a delightful gallery wall. Filled with different textures and pieces, a gallery wall tells a story of you and your family. Add a cotton wreath, a favorite mirror, and a lot of family photos to make the magic happen.
8. Old World Rustic Glass and Pottery Centerpieces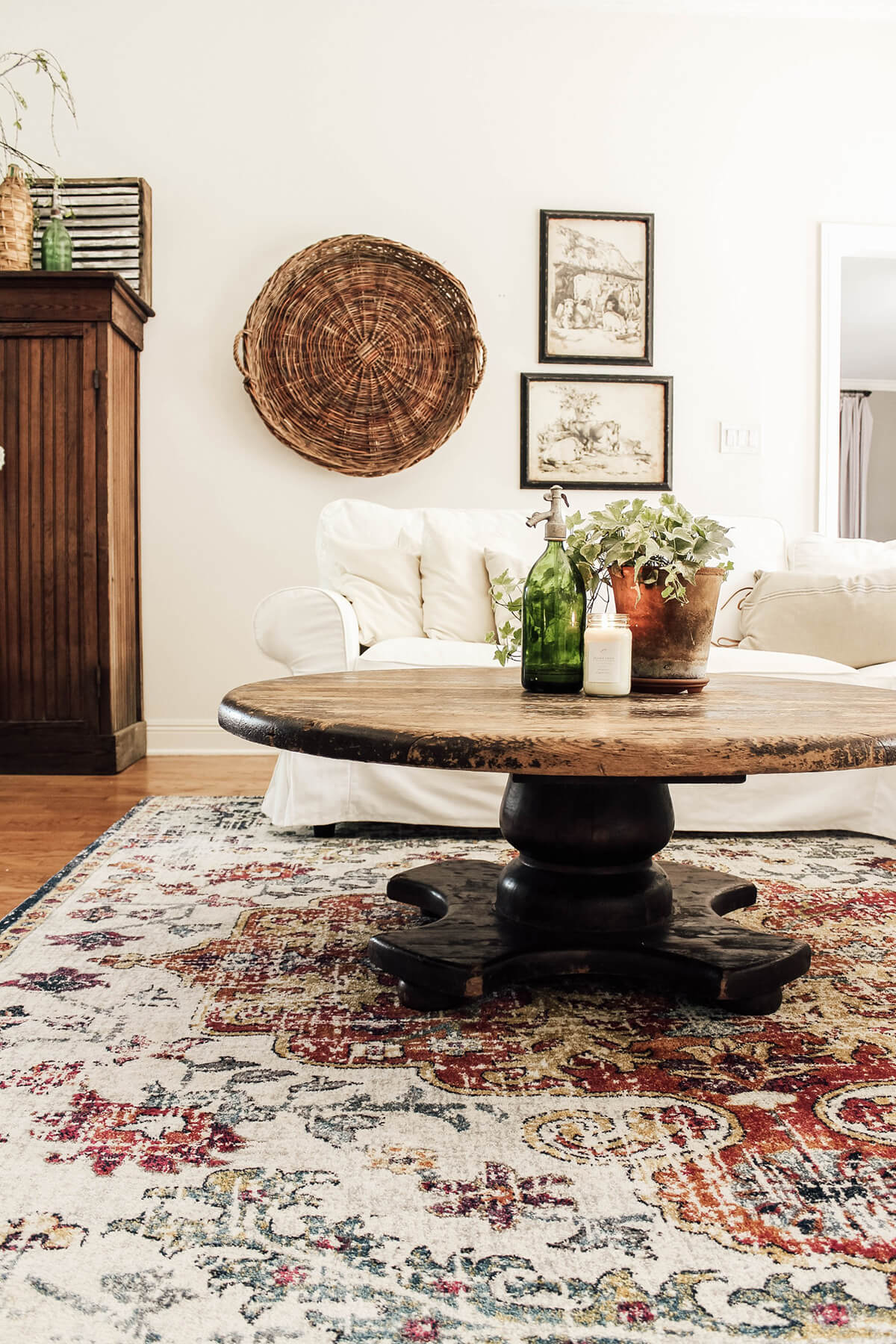 Infuse the rustic elegance of old-world style into your home with some interesting centerpiece choices. A repurposed glass bottle gets a new topper while an old potted plant enjoys the soft glow of a vanilla-scented candle. You'll create a nice and inviting mood for everyone in your home.
9. Warm and Cozy Happy Home Design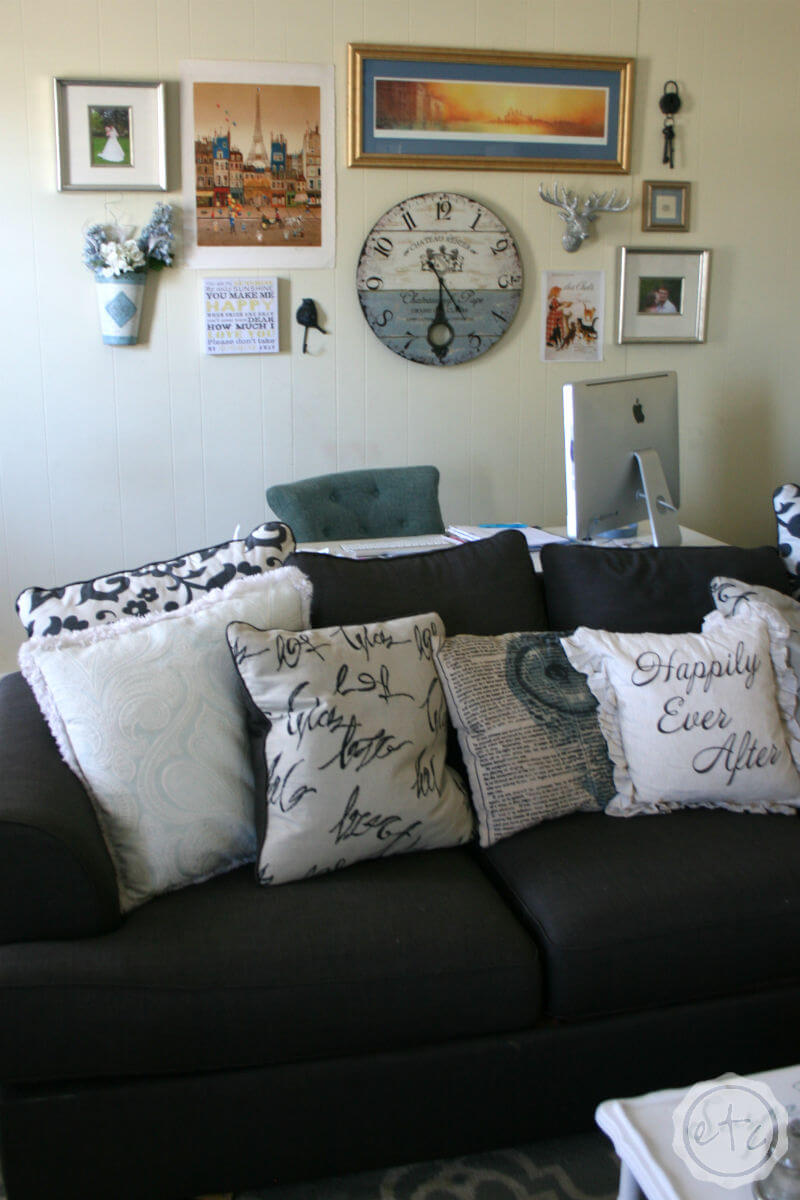 Create a look that feels like home by collecting some of your favorites to form a gallery wall. This featured wall will provide the ideal background for framing your comfy couch that's filled with decorative and fun throw pillows. Keep it casual and cozy with a simple color palette and fresh design.
10. Old World Rustic Charm Living Room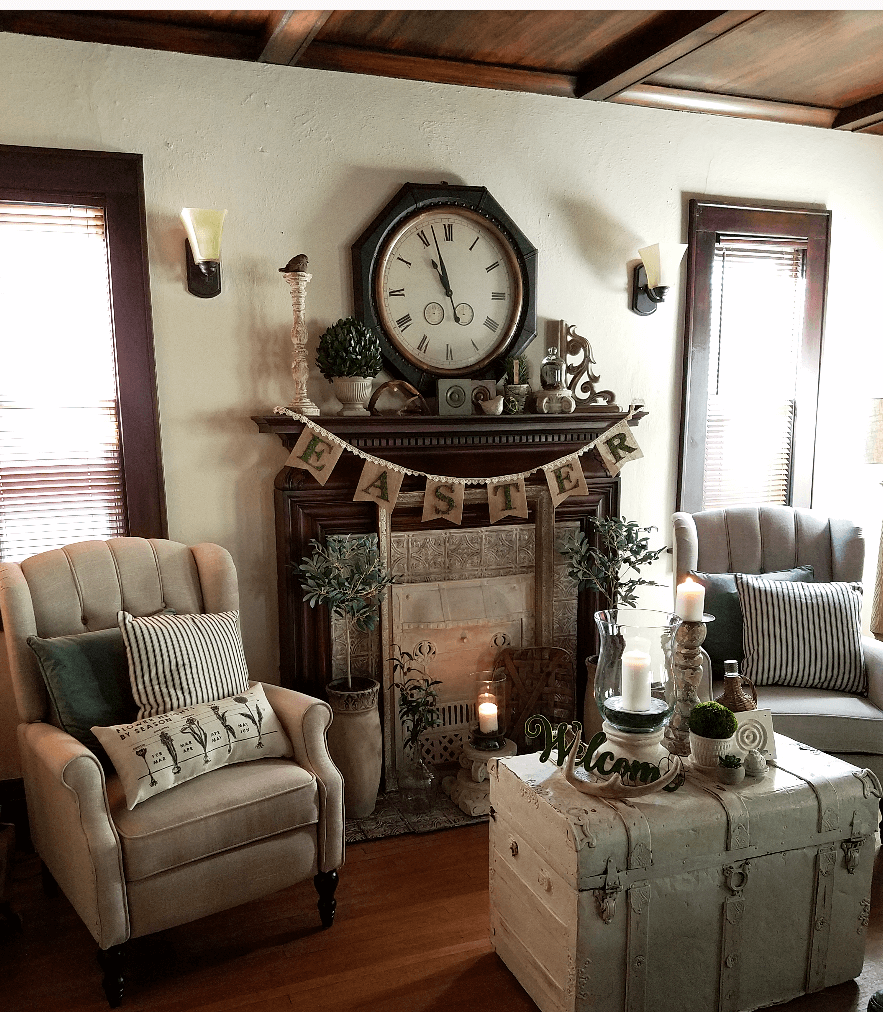 Set the tone of your home by incorporating a variety of old-world elements that offer the rustic charm you love! From an old painted trunk coffee table to distressed pottery pieces, your home will feel lived in and loved as it emanates from within this old-world beauty.
11. Charming and Rustic Hand-Painted Letter Sign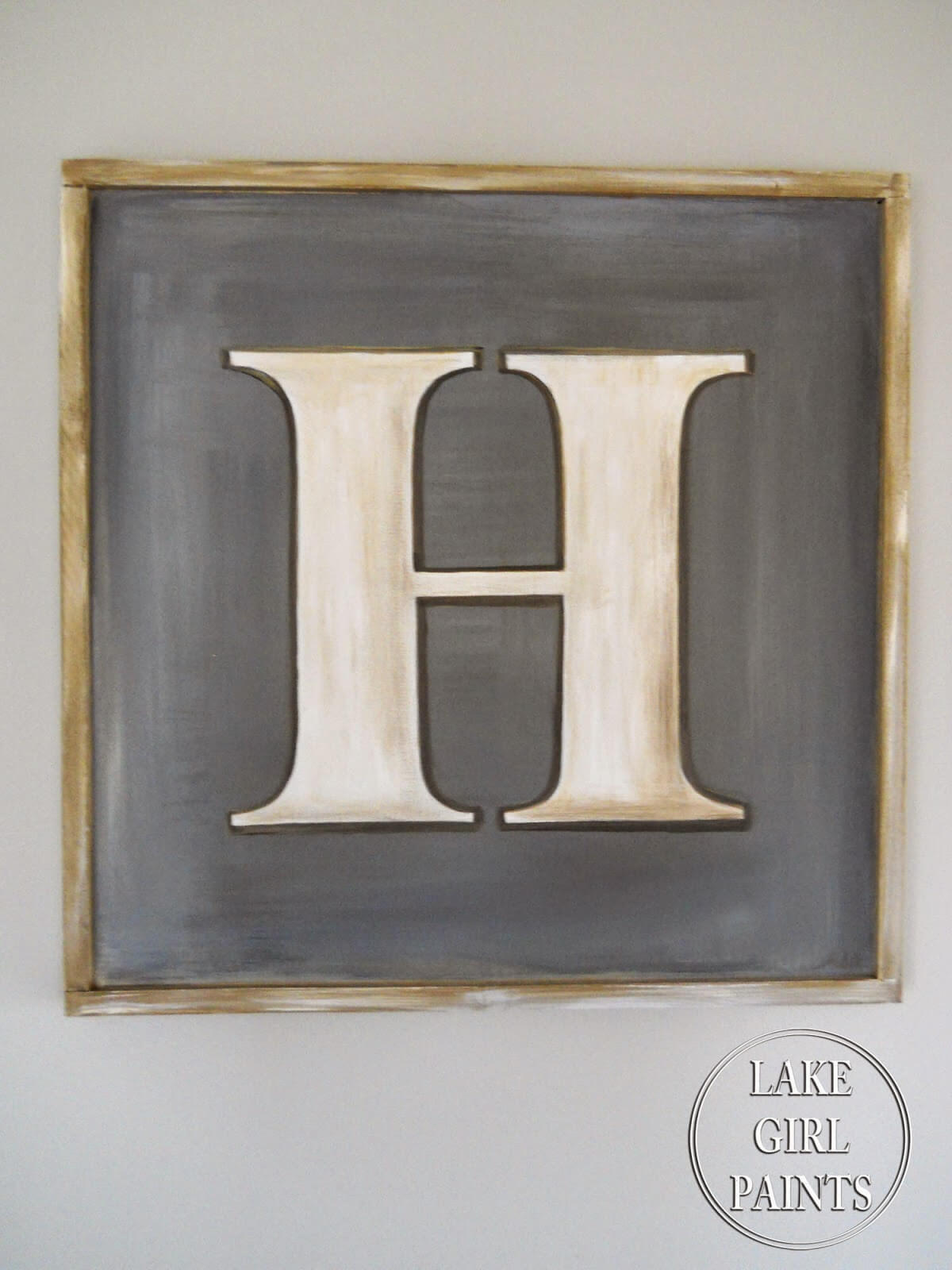 Everyone can always use a sign featuring the family initial, so why not incorporate this charming hand-painted version into your home? Its finish offers a soft warmth with a homemade feel that's the fine line between rustic and charming. Present it to a neighbor or a young couple as they make their house a home.
12. Old Wire Mattress Frame Picture Holder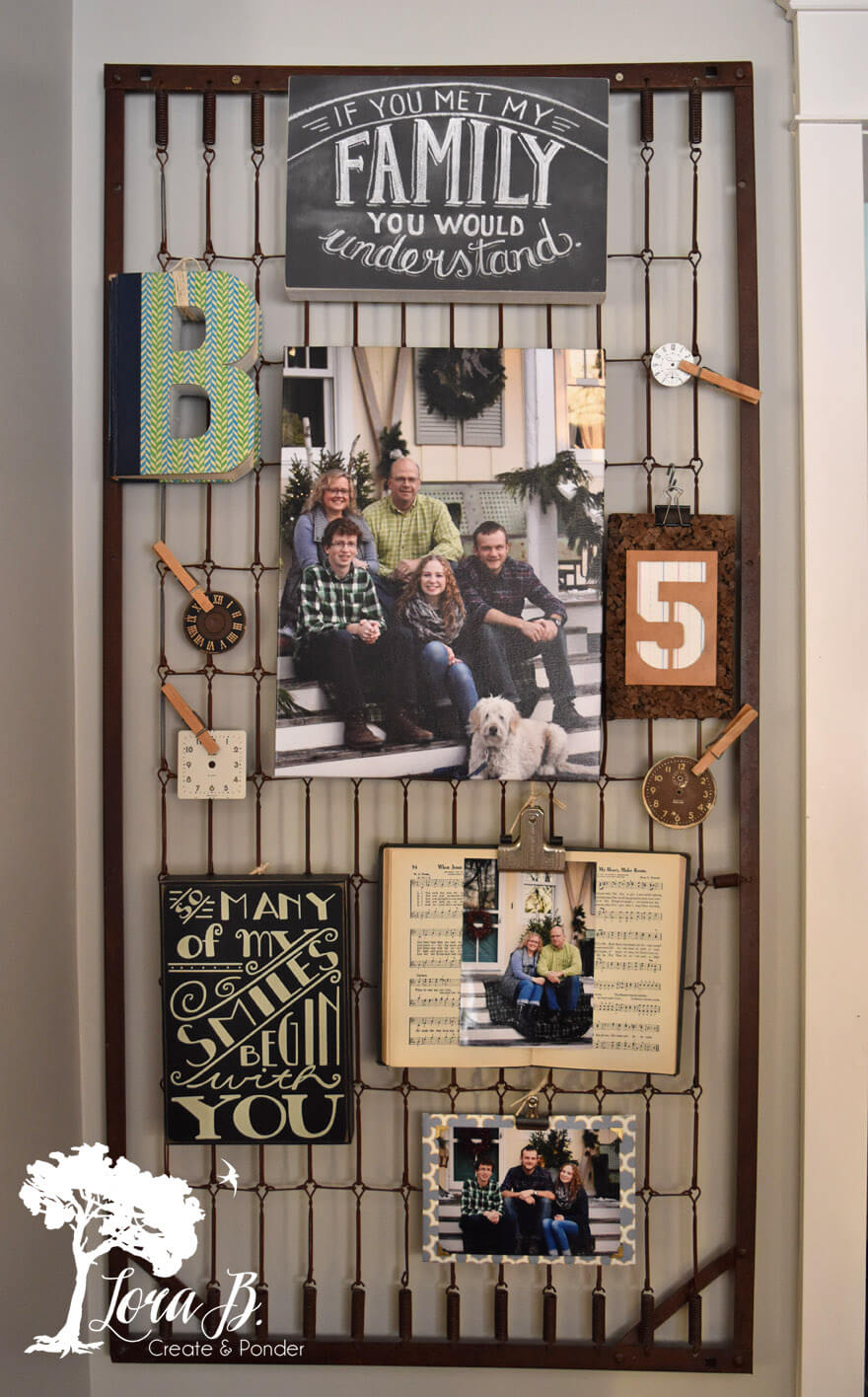 Think outside the box(springs) to create this completely original picture holder for your home. It can be used in a teen's room for all of his/her friend collages to fill or it can be a new look for a gallery wall in your living room. Use a few decorative pins to hold the photos and more permanent security for larger items like signs and other decorative pieces.
13. Three Dimensional Wooden Wall Art Piece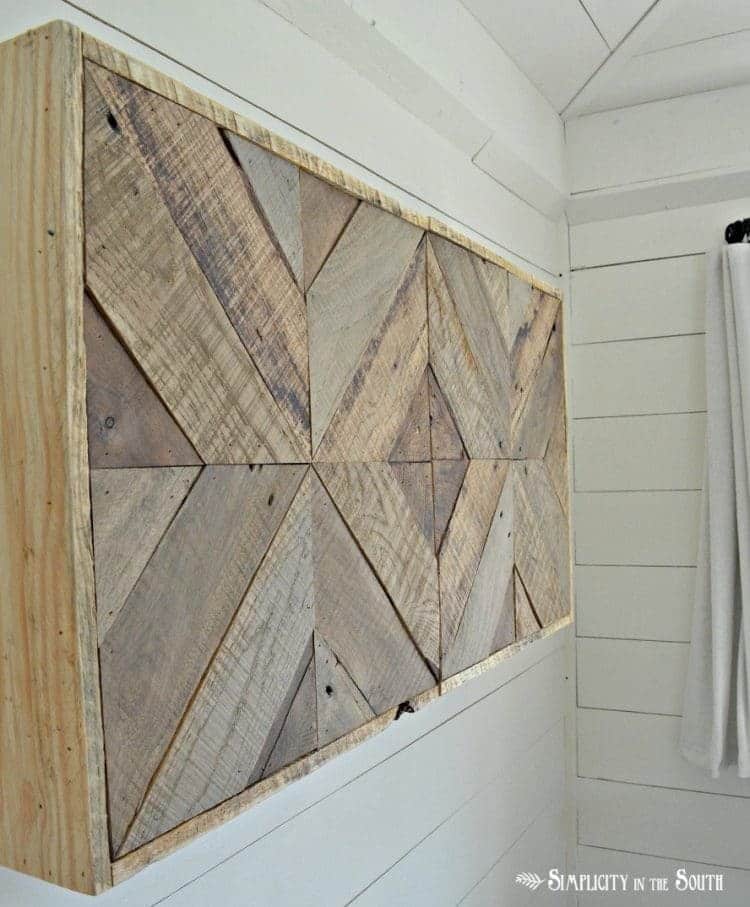 Extend your love of wood from the floor to your wall decor with this amazing and interesting 3-D wooden creation. This seemingly rectangular box has been bolted to the wall and shows a gorgeous x and diamond pattern in it. The rough and rustic grains add to the charm of this piece that's perfect for any larger wall space in your home.
14. Large White Mirrored Shelf on Shiplap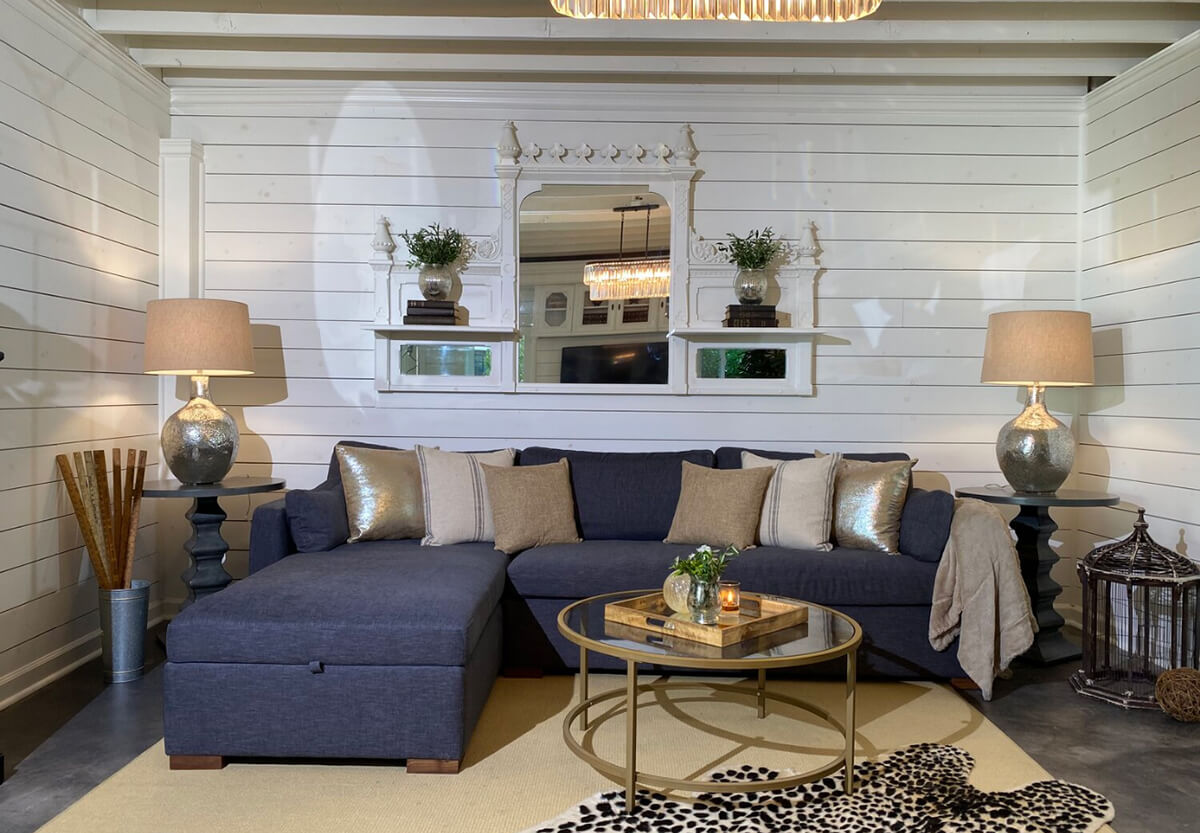 Create a monochromatic design on your wall space that looks like the work of a professional interior designer! With a white shiplap base, this oversized white shelf with mirrors becomes a head-turner as it makes the space appear and feel larger since the soft white walls are echoed through its color scheme.
15. Decorating with Geography Map and Signs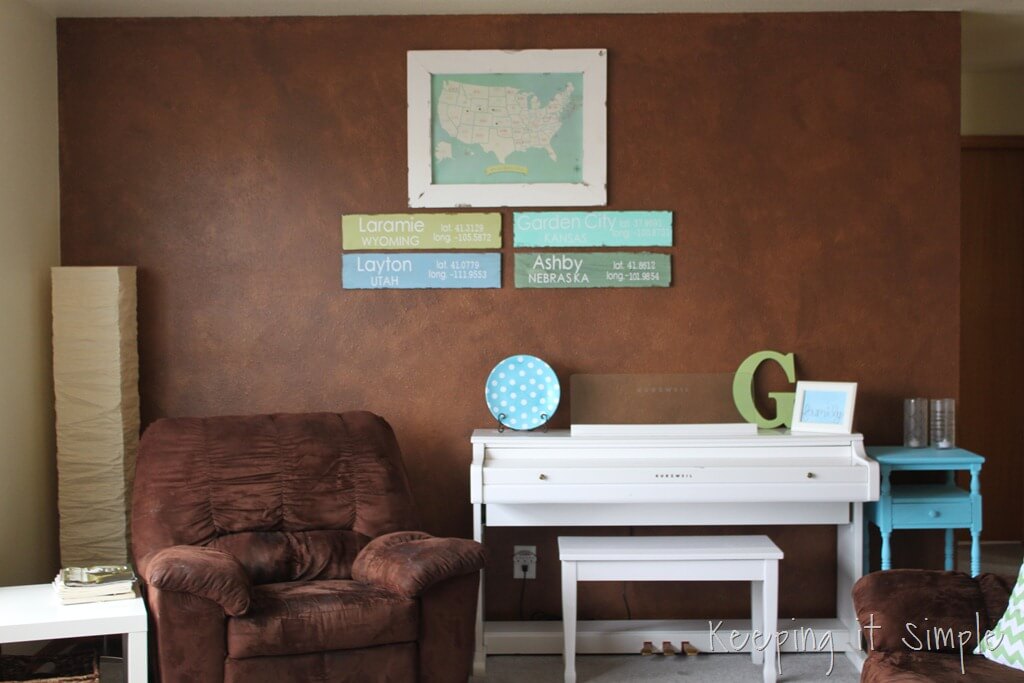 Show off your pride with a map of the great United States featuring a set of longitude and latitude coordinates below. Your favorite destinations will be the focus of your sofa sitting area. Extend the soft blue and green palette throughout the room with accent pieces like the small table and decorative plate shown.
16. Old Ladder Turned Home Decoration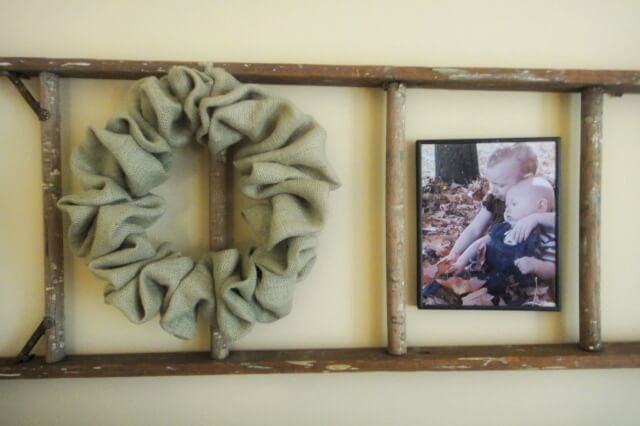 Don't throw away that old, paint-covered ladder. Instead, turn that trash into treasure as a re-imagined wall display. Attach it to your wall and let the creative juices flow as you insert a framed print or add a simple wreath into the blank space between the rungs to make an original look.
17. Using Paint to Frame Your Wall Art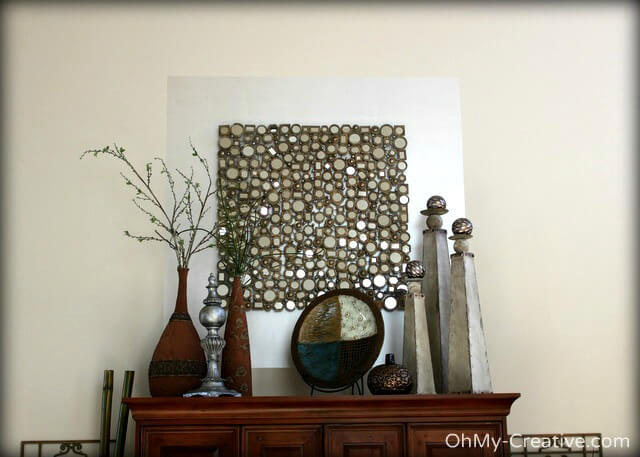 Here's a quick and clever way to make your wall art really get noticed. Choose your choice of paint color and brush on a large square that will be the new and improved border for your wall art. It's a cheap way to add depth and dimension to your existing design.
18. Rustic Farmhouse Country Home Decor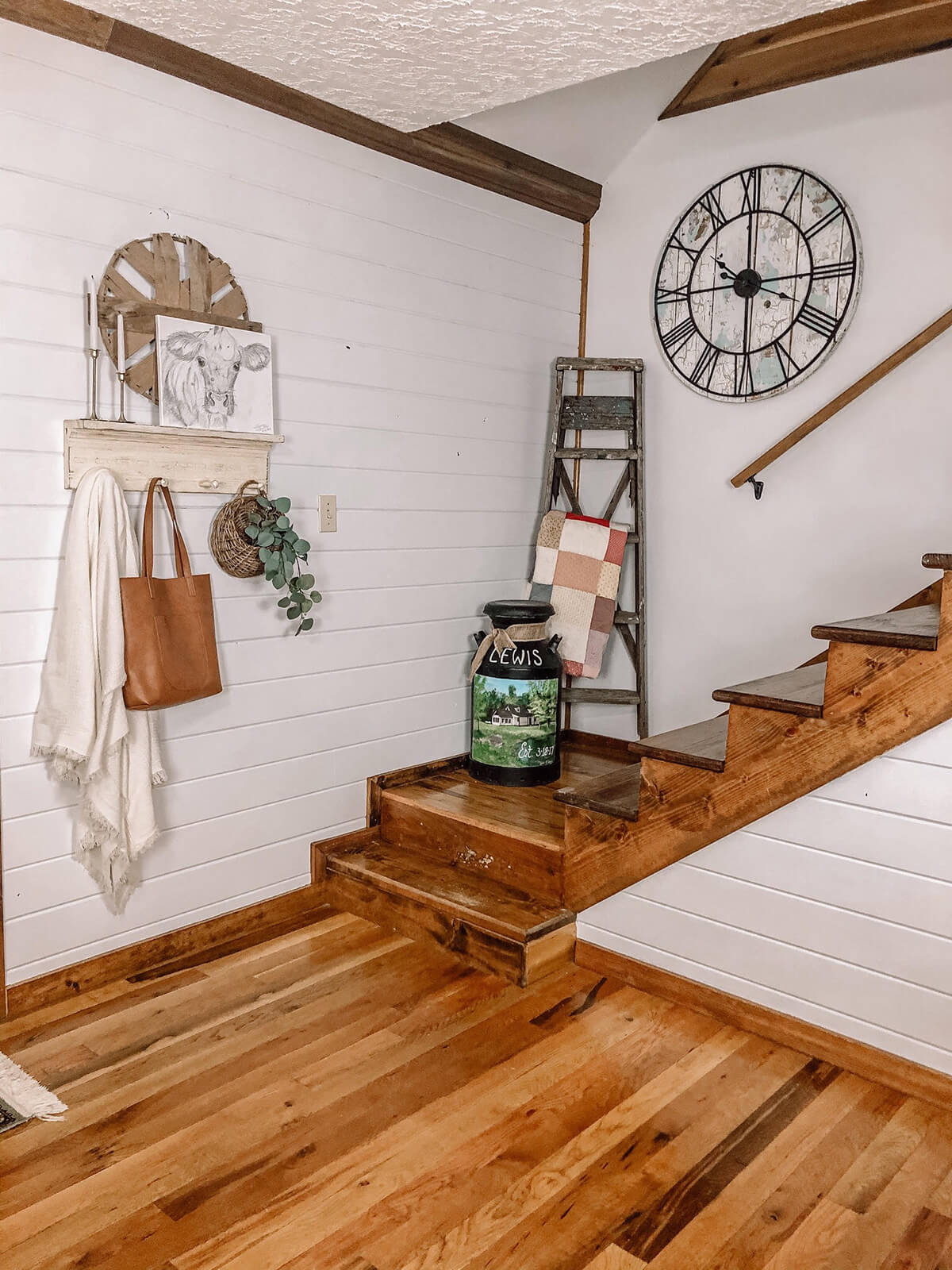 Bring the best of the farm into your interior design with an old ladder to show off an antique quilt and a milk can with a hand-painted home scene. A dedicated corner or stairway is a great space to hone in on your love of farm life. Include a farm animal photo and a large distressed finish clock to remind you that it's time to enjoy the simple things of life on the farm.
19. Love is Spoken Here Rustic Wall Art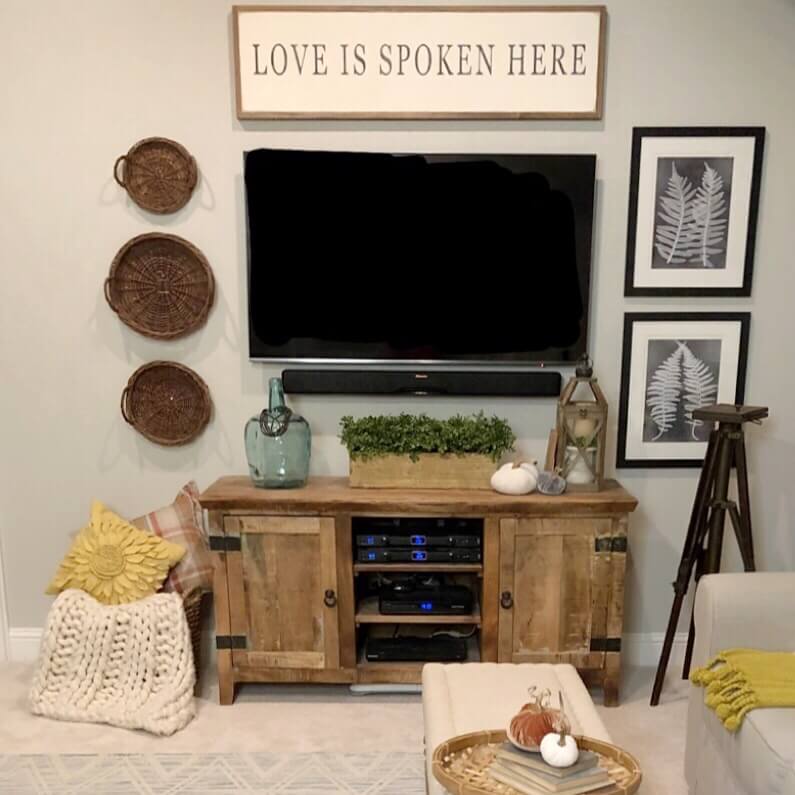 Tie the entire room together with a rustic feel by infusing lots of natural wooden elements throughout the space. From the rugged trim of a large wall art sign to the lantern adorning the entertainment console, the natural wood blends together and works well with other textural elements like woven baskets, simple boxed planters, and leafy fern frond pictures.
20. Beautiful Birch Trees Silhouette Statement Wall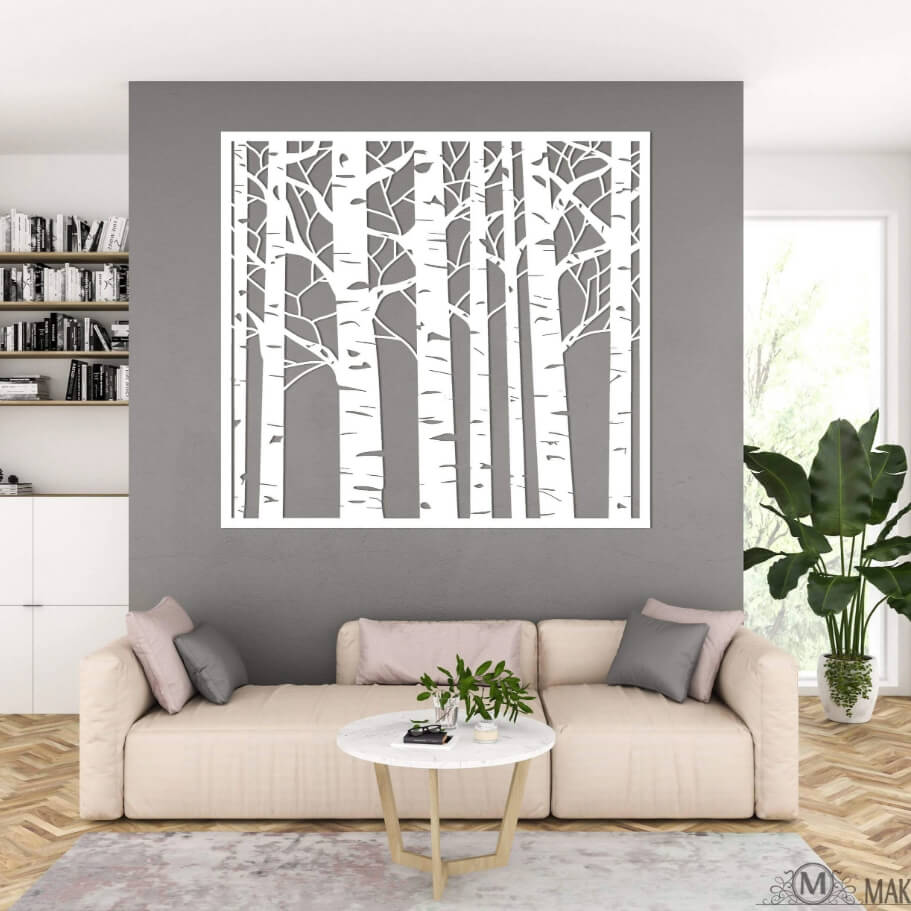 Bring some of the beauty of trees into your living room by making a bold statement on your main wall space. This white silhouette of a group of Birch trees shows off the character of their bark in a mess-free manner. Hang this large wall piece over your couch for a bold backdrop.
21. Love is Kind Corbel Framed Sign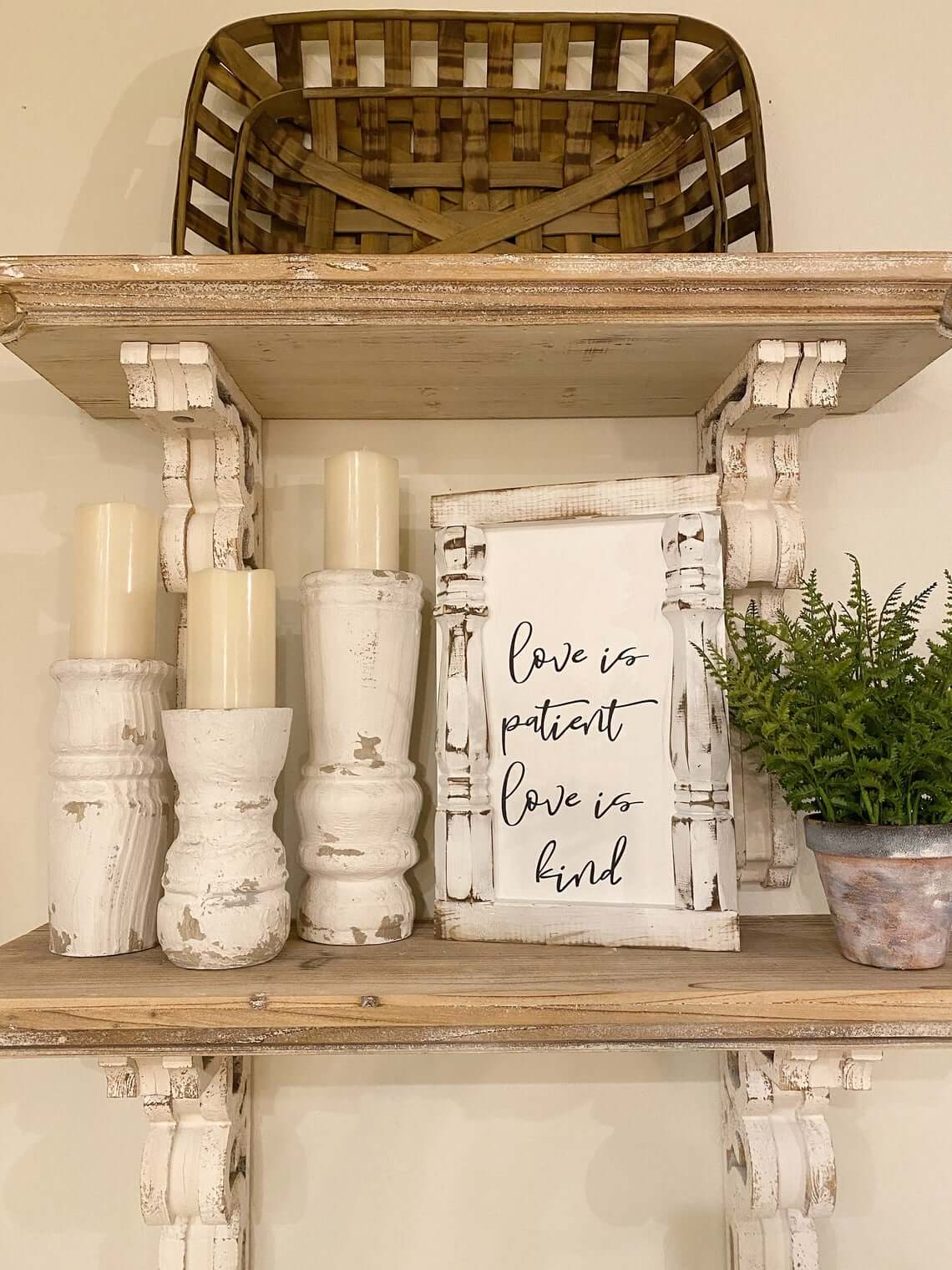 Capitalize on the simplicity of Biblical scriptures as you enjoy this lovely white vintage sign. The detail of the corbel frame gives so much life to this piece and makes it a perfect choice for a modern farmhouse design.
22. Decorative Wooden Tray Ledge Shelf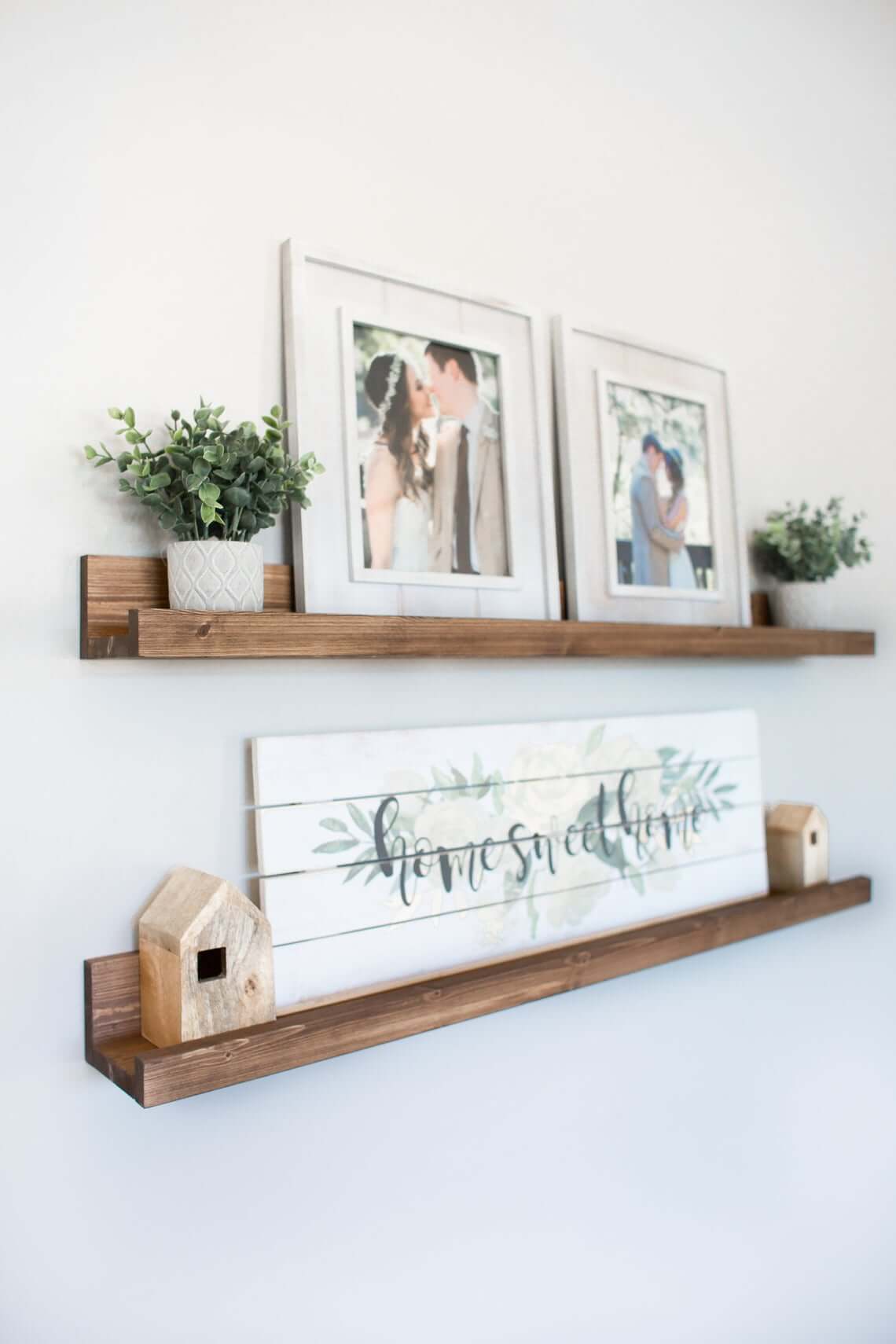 Add some rustic wooden charm to your home while displaying some of your favorite decorations with this pair of rustic wooden ledge shelves. Long and lean, these shelves can hold quite a lot for their narrow girth. Arrange them together on your wall for an update on your favorite interior decor.
23. Miniature Pallet with Cotton Spray Wall Decoration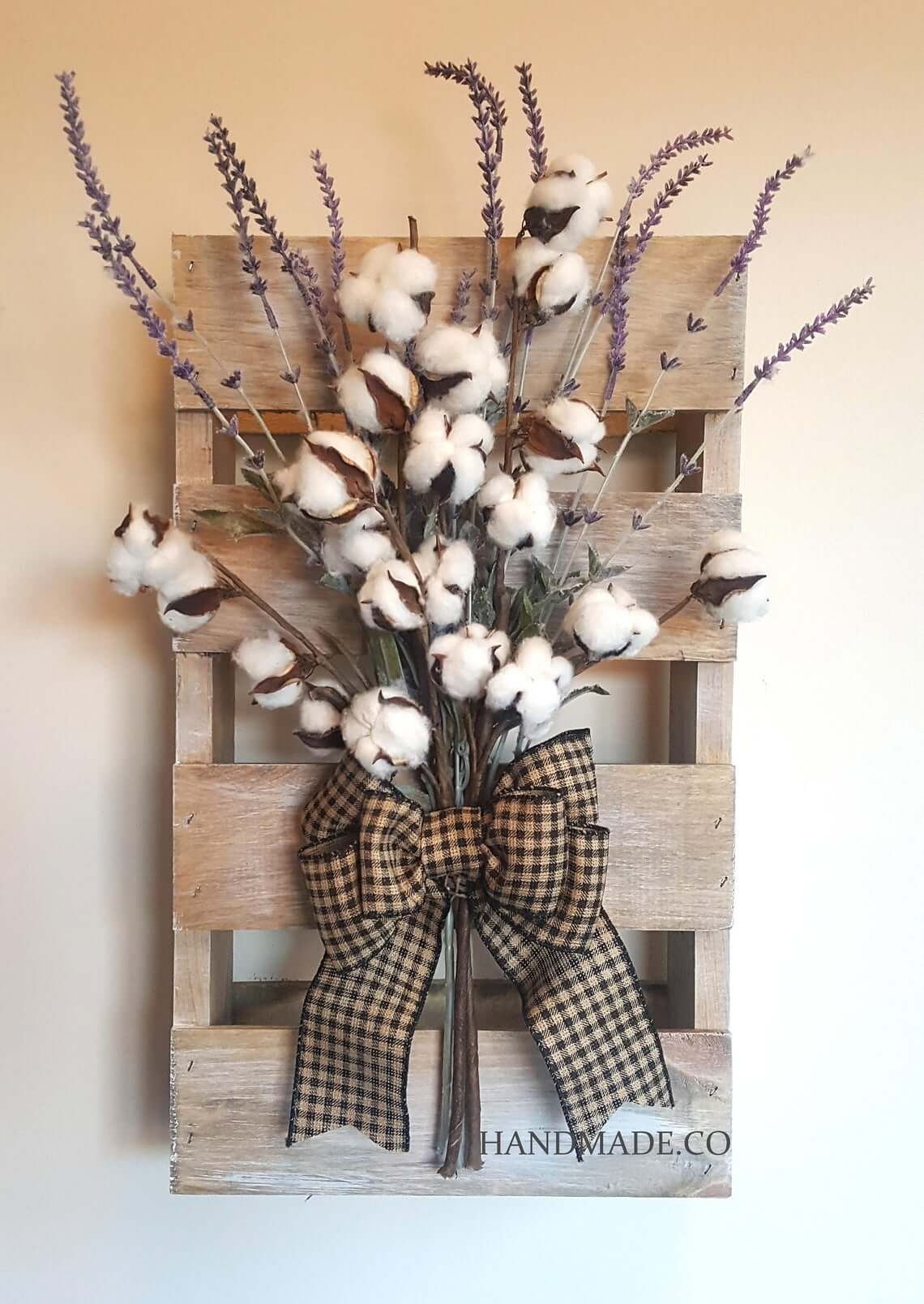 A pretty and rustic pallet is what you'll hang in your home with this southern-loving cotton floral arrangement. Using a pallet frame to serve as the foundation of this piece of wall art, it's grounded in rustic roots and has the soft charm of natural cotton blossoms.
24. Dynamic Geometric Wooden Picture Hangers for Wall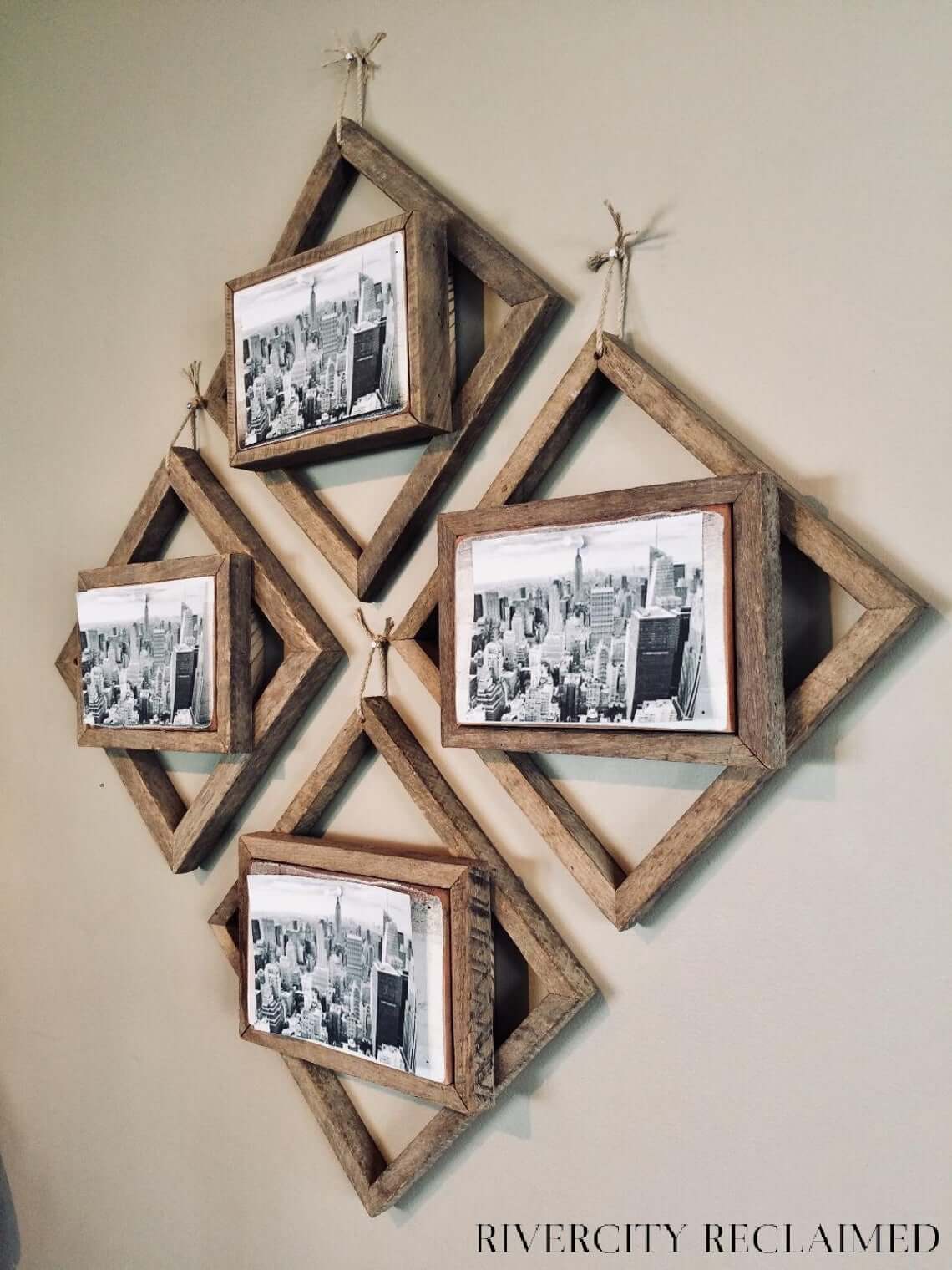 If you crave style but insist on simplicity, look no further than these geometrically designed picture hangers. Arranged in a set of four, you customize the design for your personal wall space. The large diamond square holds a smaller rectangular frame to form the base for inserting your cherished pictures.
25. Rustic and Simple Wooden Wall Sconce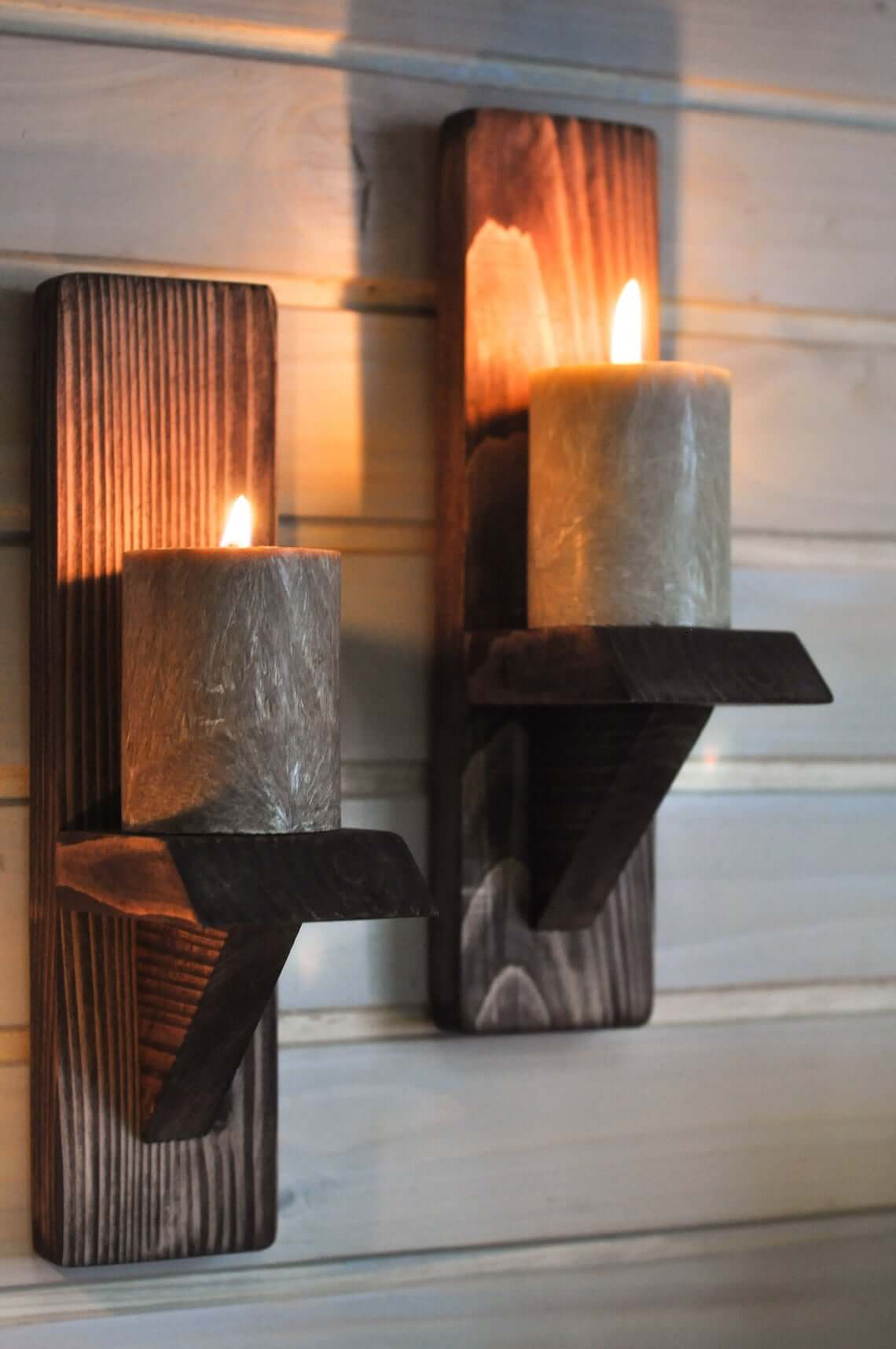 This set of wooden wall sconces feature simple construction and showcase the natural beauty in the grain of the wood. Giving your candle the perfect perch, this sconce sheds light on the livelihood of your rustic cottage or cozy cabin. Place them together or frame them on the outsides of a treasured picture to give a quick makeover to your existing wall decor.
26. Wooden Squares Decorative Wall Picture Displays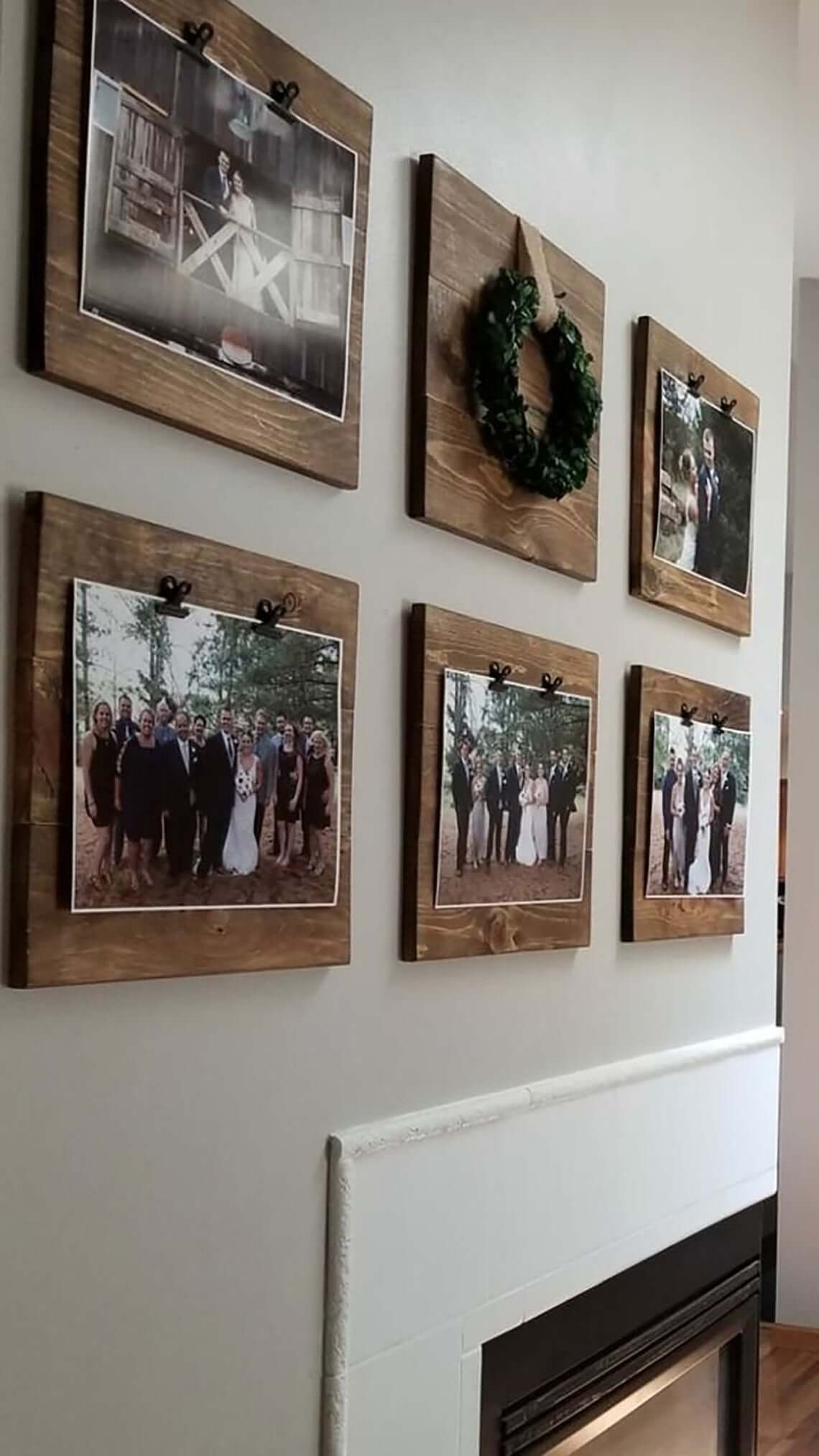 When you really want to show off a treasured picture, or two, do it in style with a background foundation that really trims it to stand out! These magnificent wooden squares are full of unique wood grains set off by a rich stain. On top, each picture takes centerstage by an easy squeeze to add them on. You'll love the look and ease of switching up your picture wall with these lovely wood blocks that are anything but square.
27. Unique Pre-Lit Tree Wooden Wall Art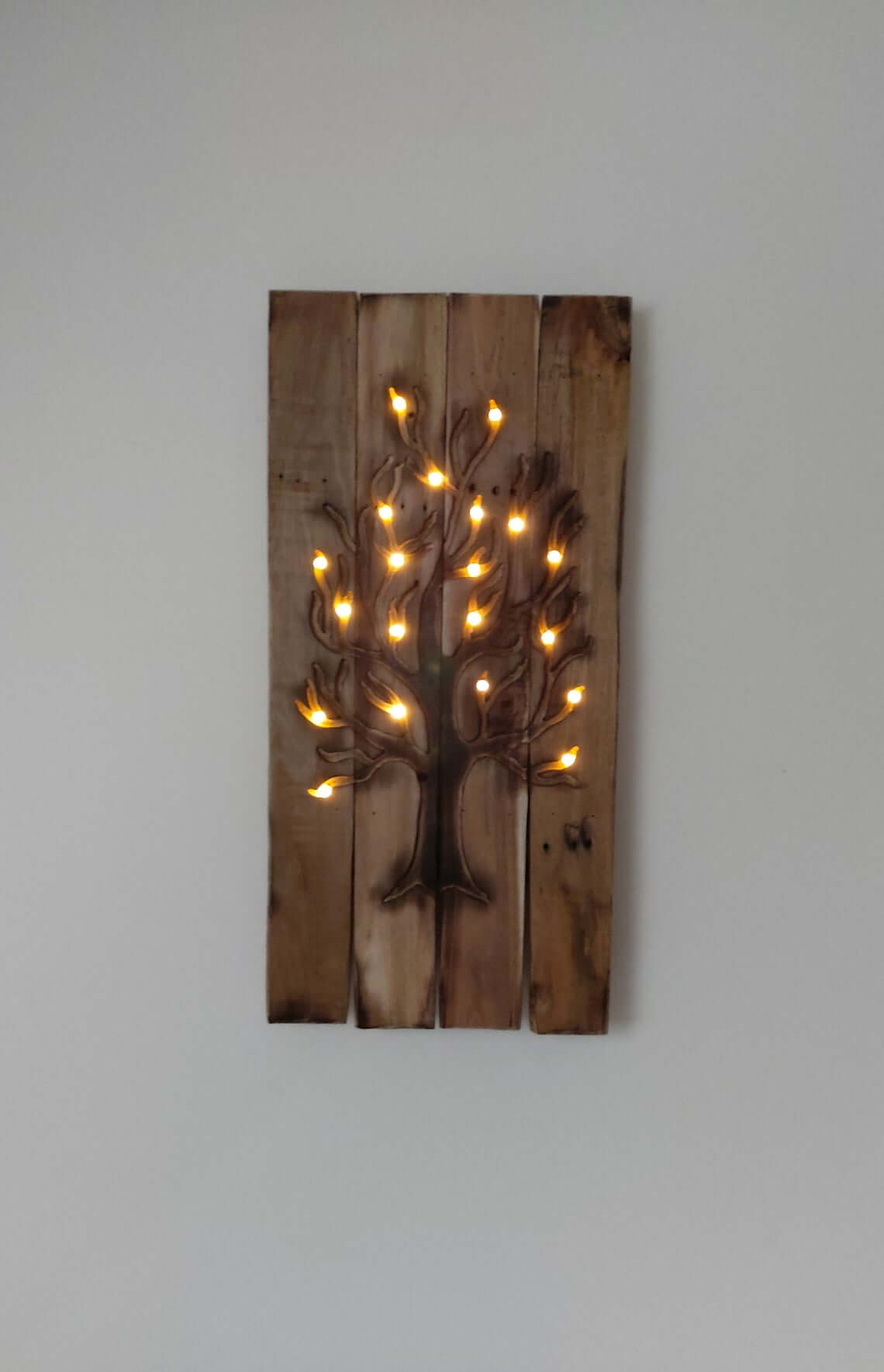 Add a decoration for your wall that doubles as a lighting fixture with this pre-lit tree sign. The etched tree in this wooden sign nearly appears to be catching fire at the end of its limbs. It's a simple DIY project with big gains as its soft glow adds a nice peaceful atmosphere to the interior of your home.
28. Wood and Glass Wall Decor and Shelf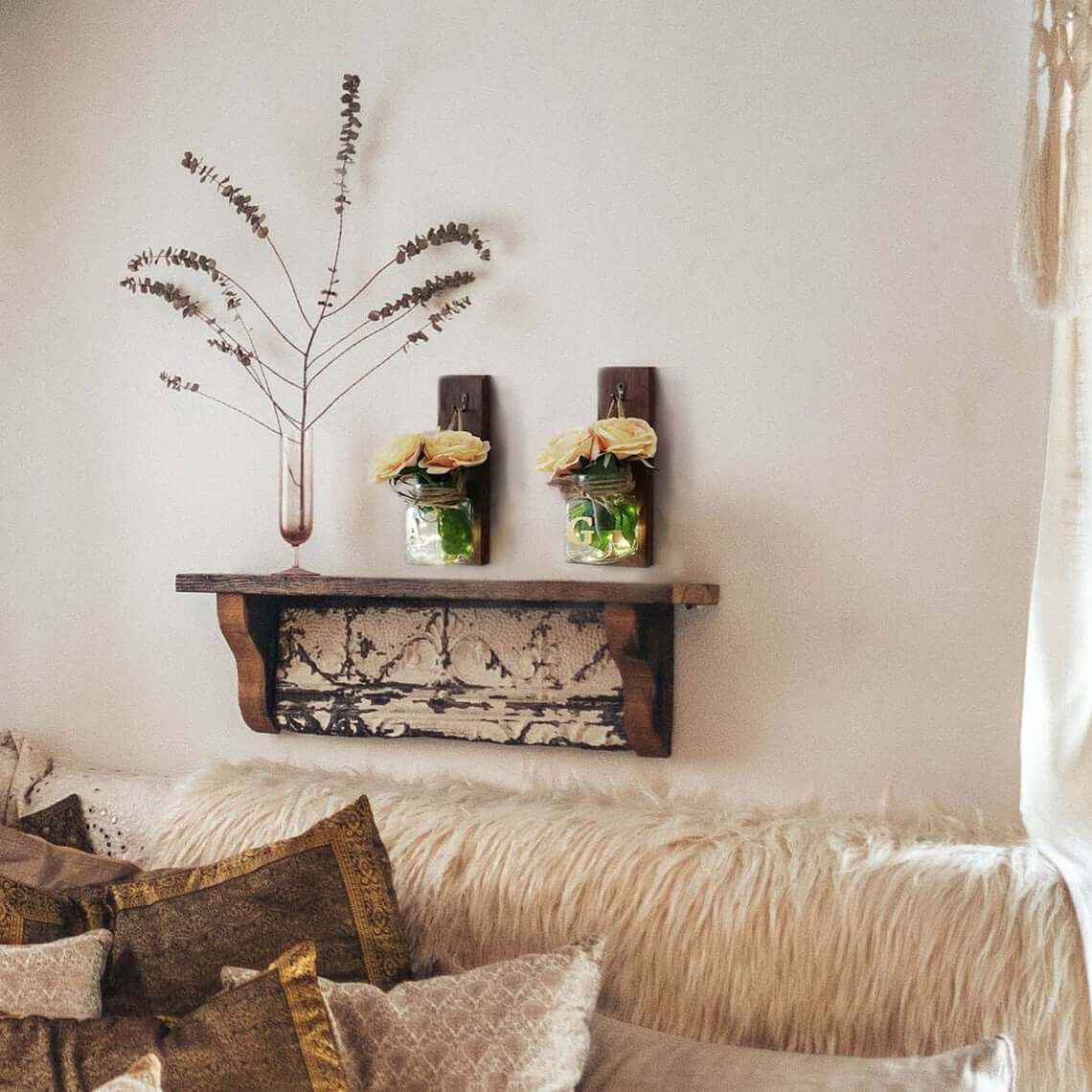 Mix up the textures to add to the appeal of your wooden wall art. This shelf shows off a vintage distressed metal piece that offers a splendid contrast to the wood's rugged facade. Above it, the two accent pieces include glass jars to give extra texture and infuse the interest you crave in the wall design.
29. Pulp Fiction Metal Trio Dancing Wall Art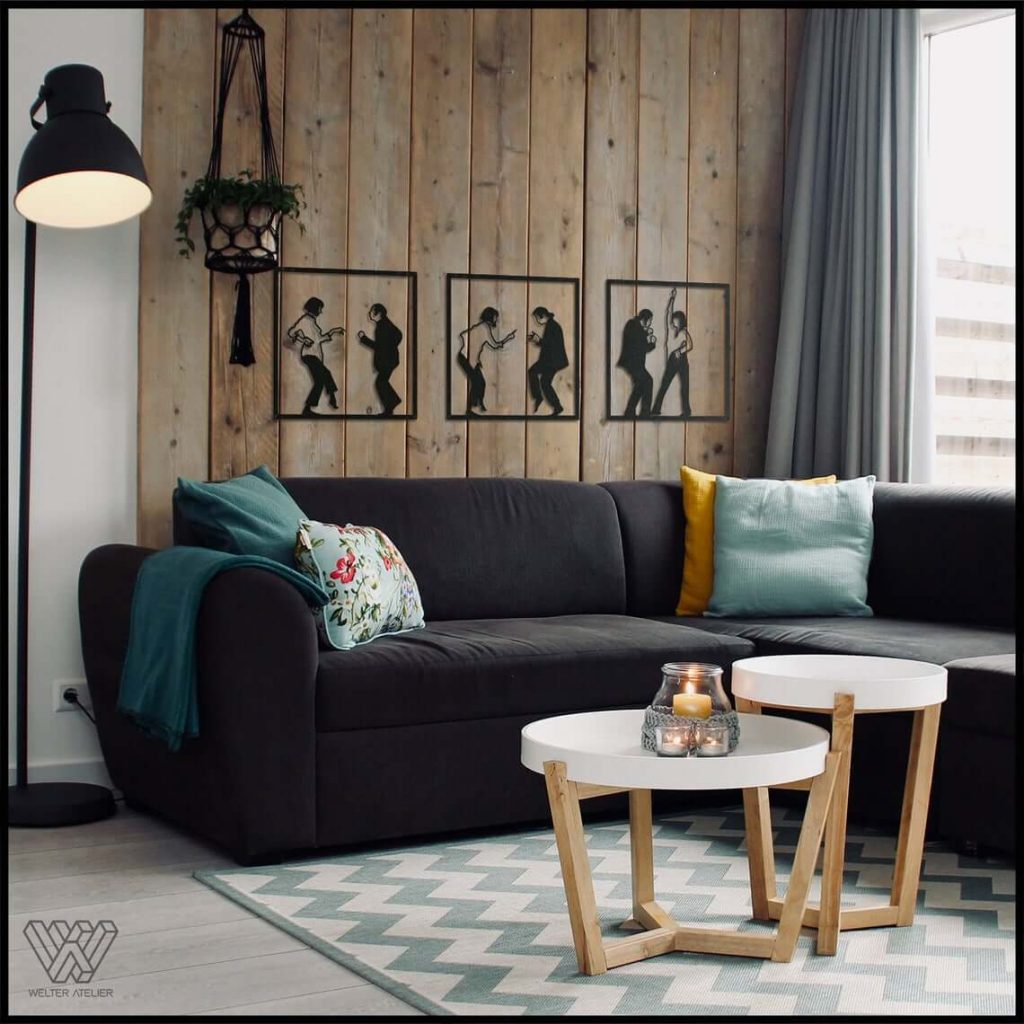 Feel the music come to life as this metal trio of wall art infuses movement and style into the room. You'll want to turn up the music and start dancing as you enjoy this 3-piece set of art above the main sitting area in your living room.
30. Custom Whiskey Barrel Strip Name Sign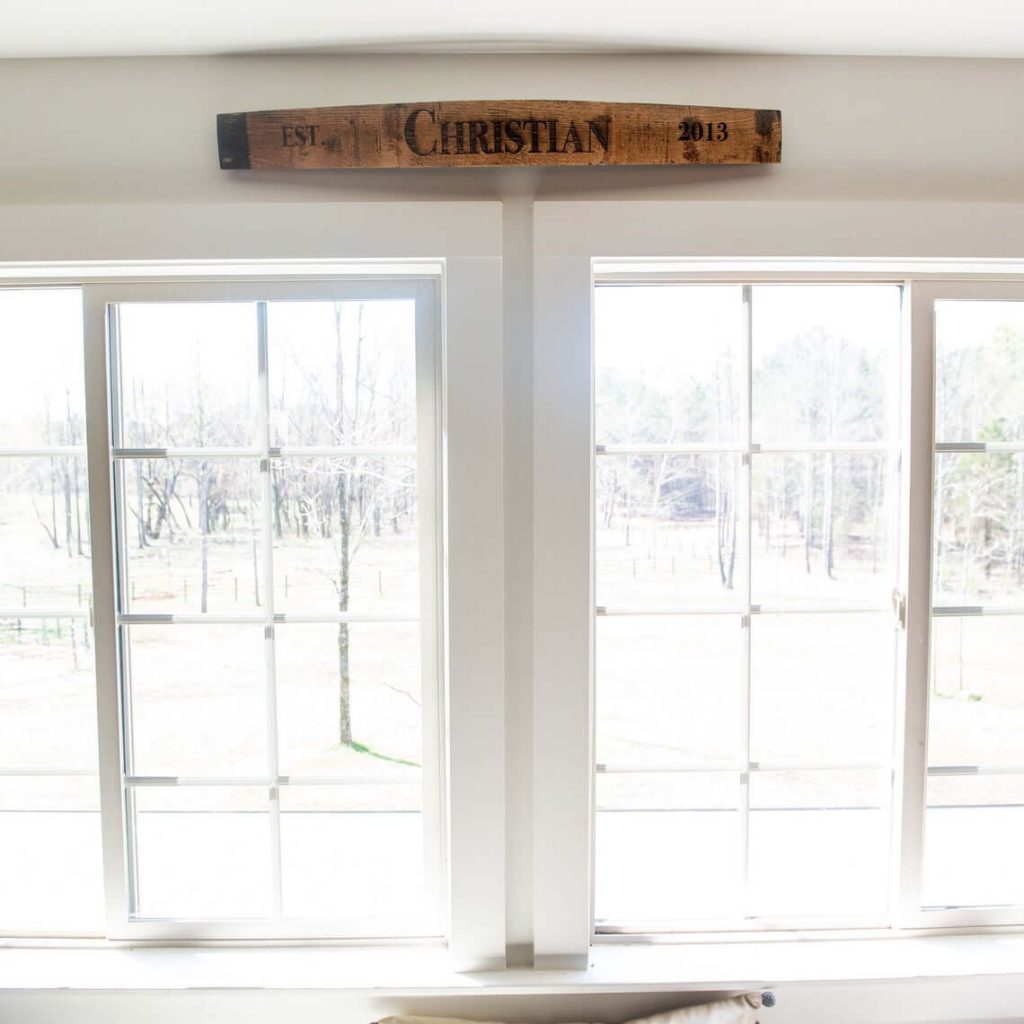 Give a unique and personal gift this wedding season with a custom strip from a wooden whiskey barrel. The name and year are proudly displayed on this sign that looks perfect above a large window or over an interior walkway. Your outdoor space would be another good place for it to call home as it could hang on the back porch or in your garage.
31. Wide Mirror, Sconces, and Basket with Wreath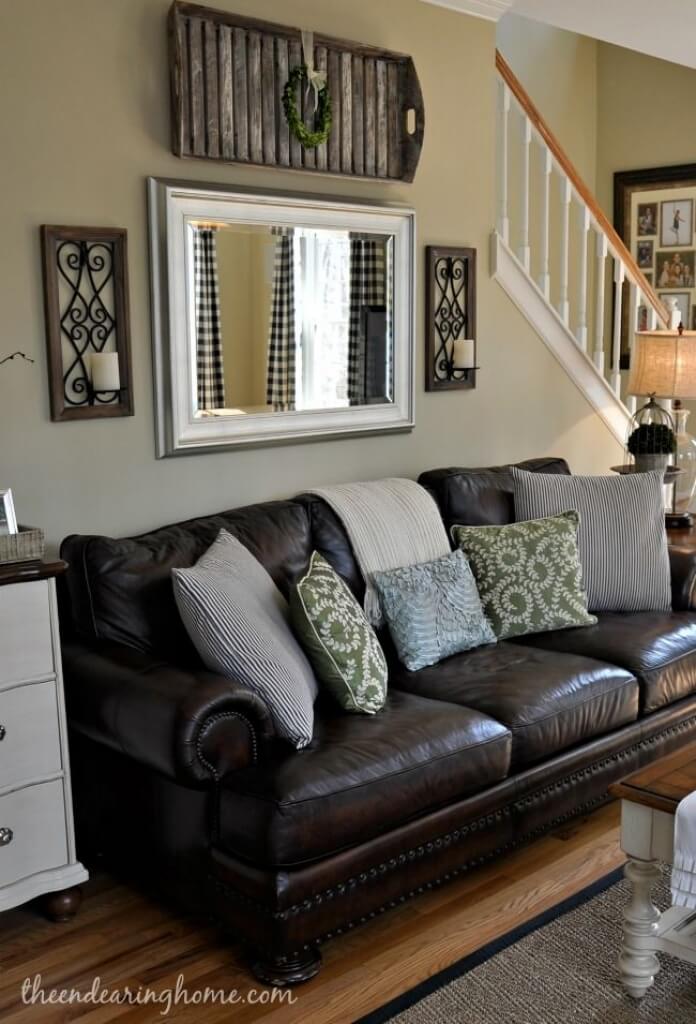 This charming living room wall decor includes a wide silver framed mirror. On either side of the mirror, wall sconces hold pillar candles. Above the mirror hangs a large wooden tray. The tray is accented with a small green wreath tied with a burlap hanger. This arrangement complements the rich leather couch.
32. Window Frame Mirror and Initial with Sign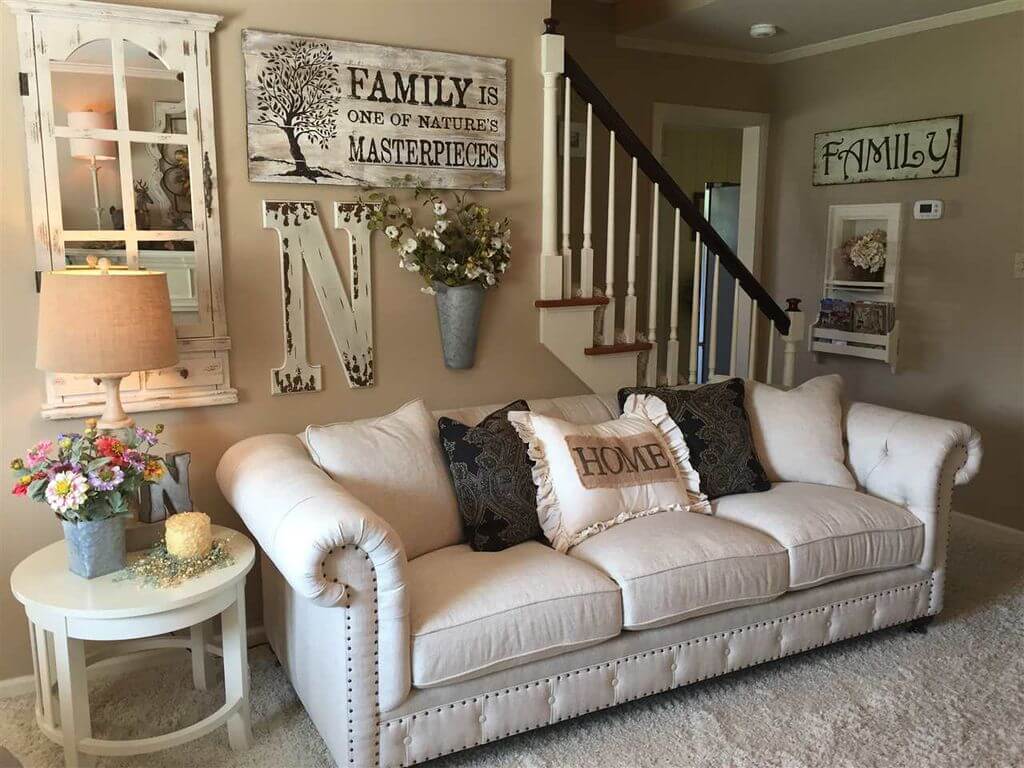 A rustic initial letter is the centerpiece of this wall design. A tall window framed mirror reflects the room. A galvanized wall vase holds understated fall blossoms. Over the letter and vase hangs a scripted sign. The entire arrangement is done in shades of cream and brown with a weathered look. This would look nice with farmhouse style.
33. Metal Shutters with Inspirational Sign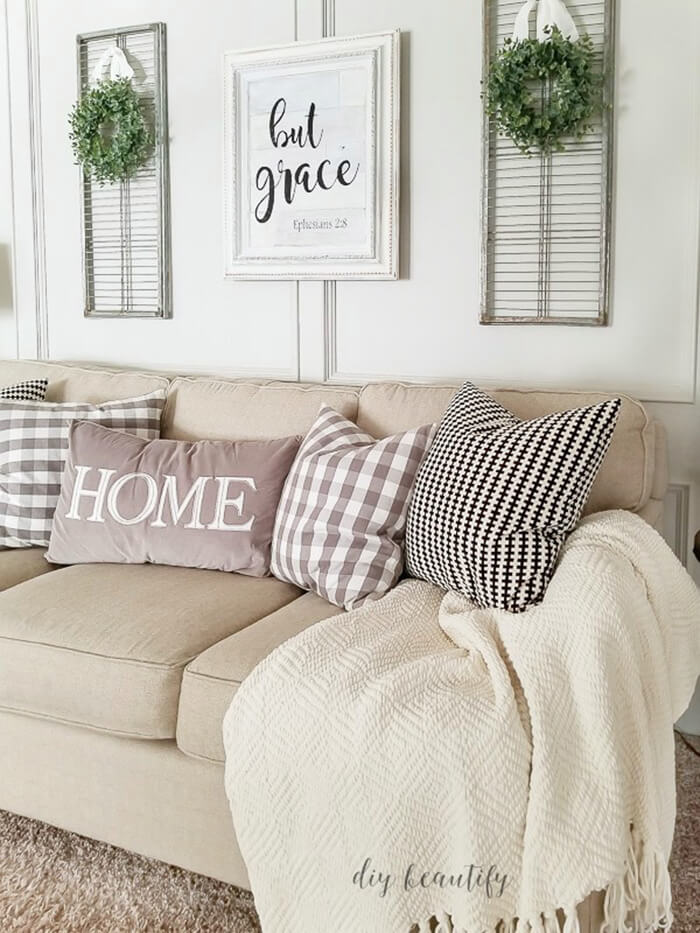 On this wall, a pair of galvanized metal shutters hang on either side of a scripted inspirational sign. The shutters are each accented with a small wreath made of greenery. This understated living room wall decor goes nicely with the beige couch and patterned pillows. This arrangement invites the viewer to stay and relax.
34. Wood Toned Clock, Frames, and Text Signs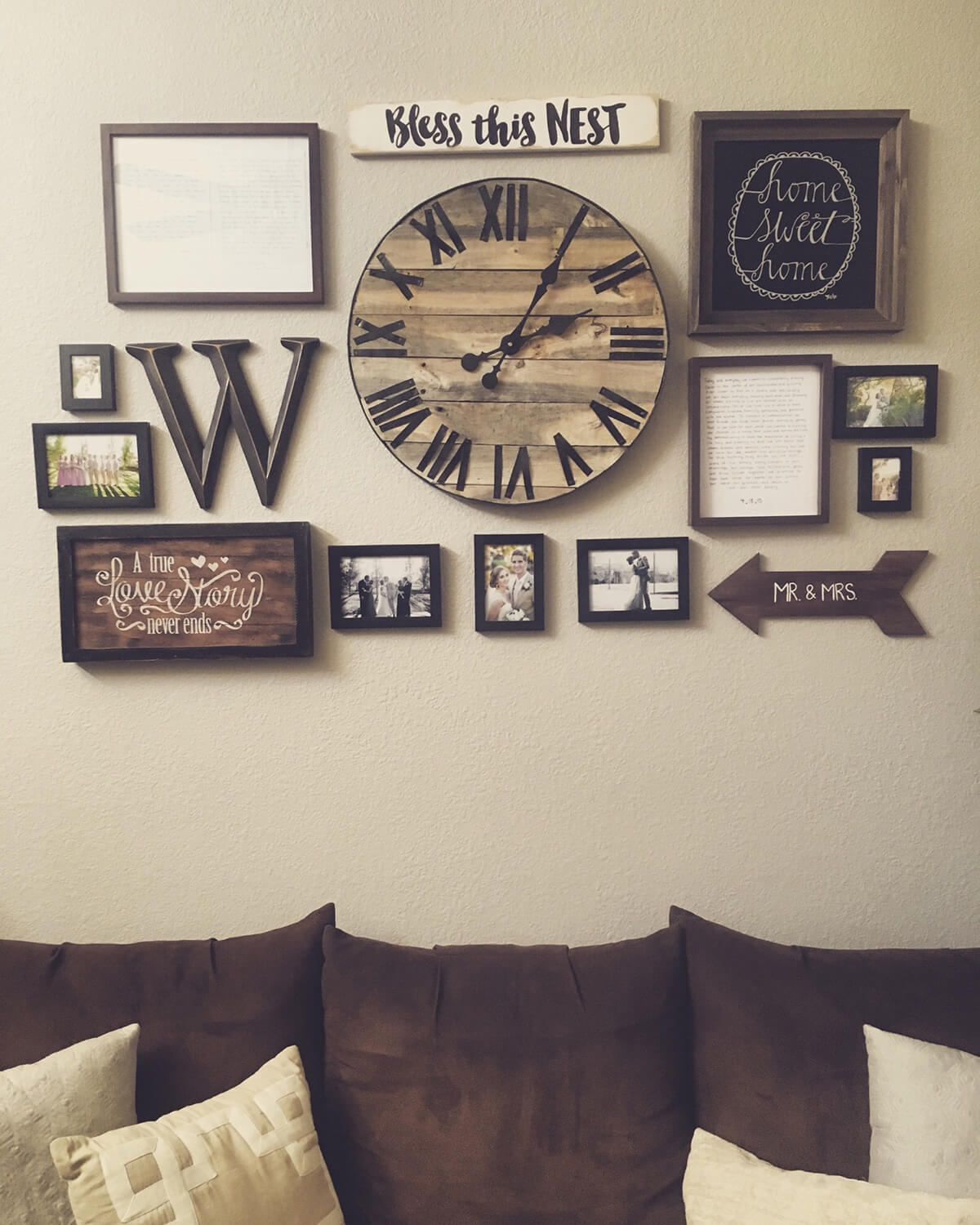 This wall arrangement is more crowded, with a combination of scripted signs and family photos. An oversized wooden clock is the centerpiece. The scripted signs have themes of love and home. An initial letter lets everyone know whose home this is. This arrangement is a little cluttered but arranged in a tight rectangle so it looks neat.
35. Lovely Myrtle Wreath with Initial Letter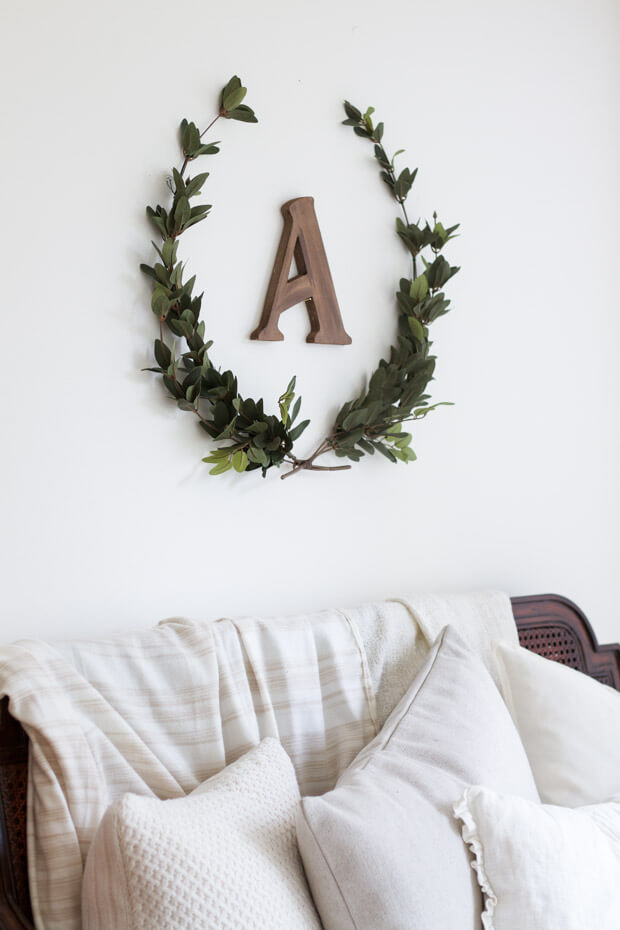 An understated example of living room wall decor, this arrangement is made up of only a wooden initial letter and a partial wreath of faux myrtle leaves. This wall arrangement would look great in a farmhouse style living room or bedroom. Try varying the size and shape of the initial letter for a different look.
36. Family Banner on Reclaimed Wood Shutters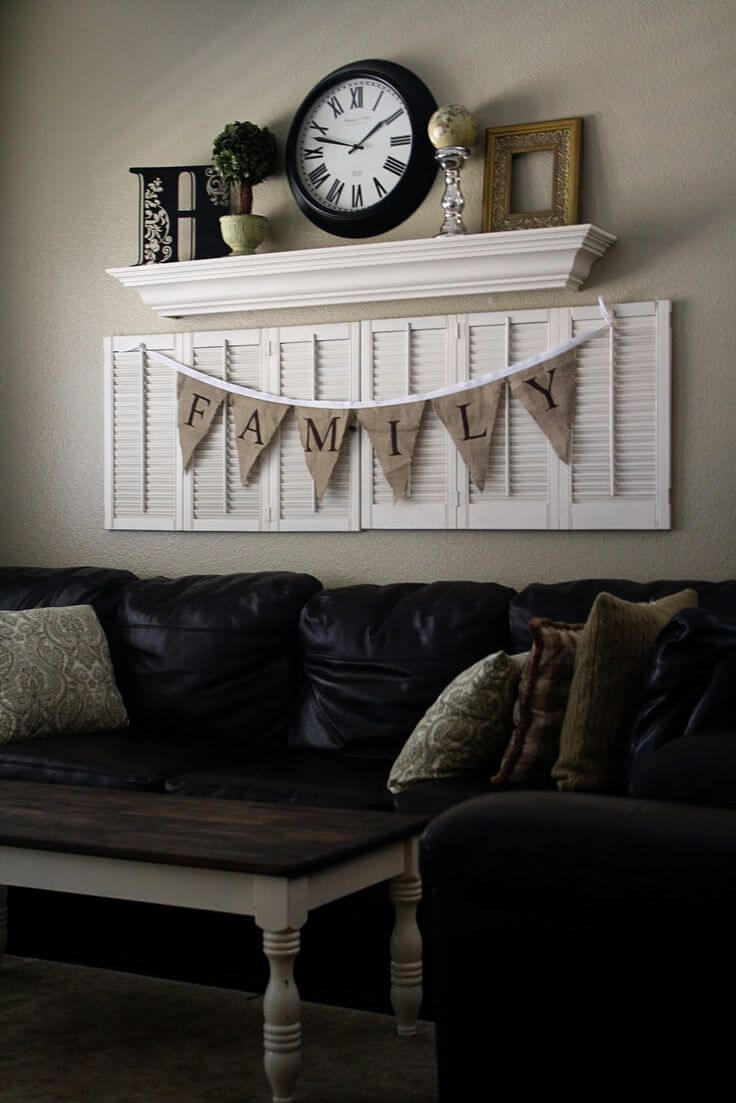 The centerpieces of this wall arrangement are the recycled white shutters. A "Family" banner in burlap hangs across the shutters for a festive look. Over the shutters stands a white wall shelf. An empty frame, a pedestal with a globe, a faux topiary tree, and an initial letter stand on the shelf. A black and white clock completes the wall.
37. Oversized Clock, Wall Vases, and "Stay" Sign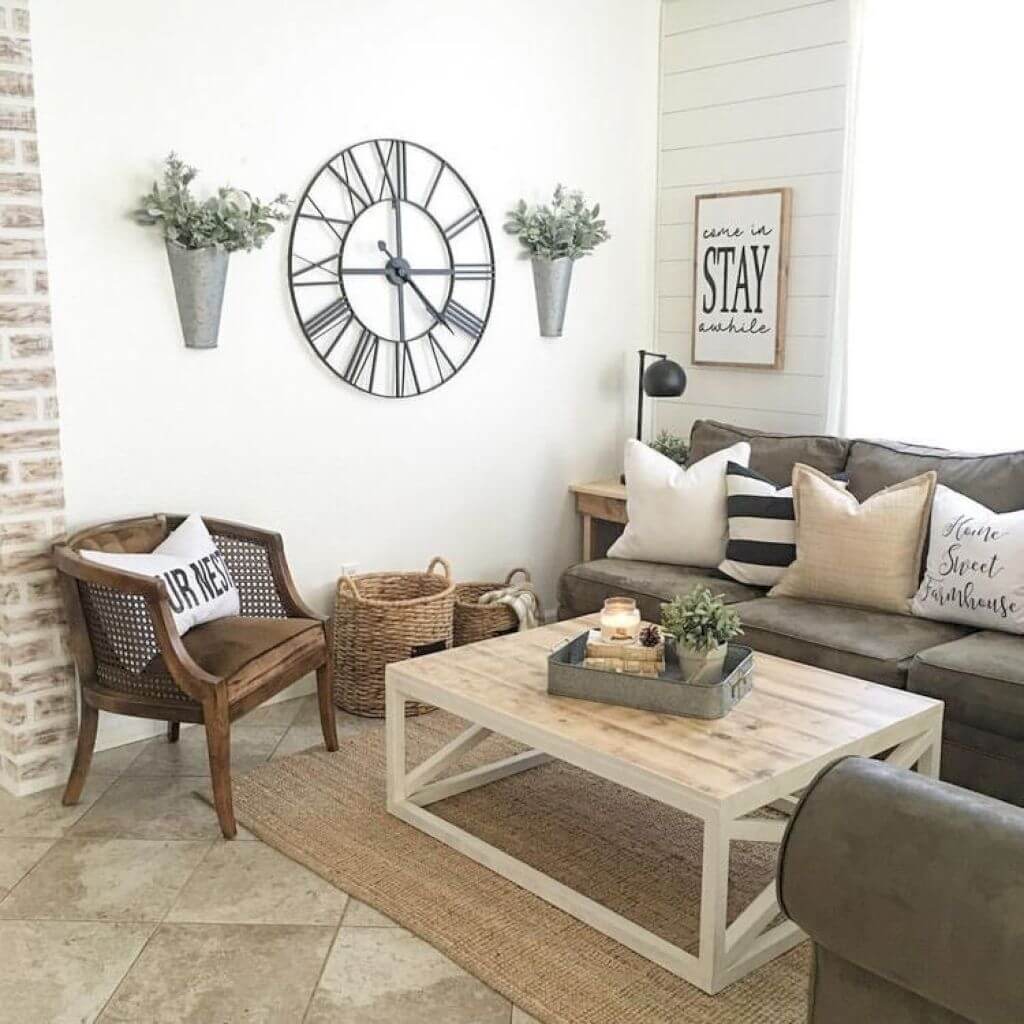 With galvanized wall vases and an oversized metal clock, this living room wall decor makes a bold statement. The vases are filled with muted flowers in silver tones to go with the galvanized material. A cute lettered sign hangs in the corner, inviting the visitor to come in and stay a while.
38. TV Area with Native American Photos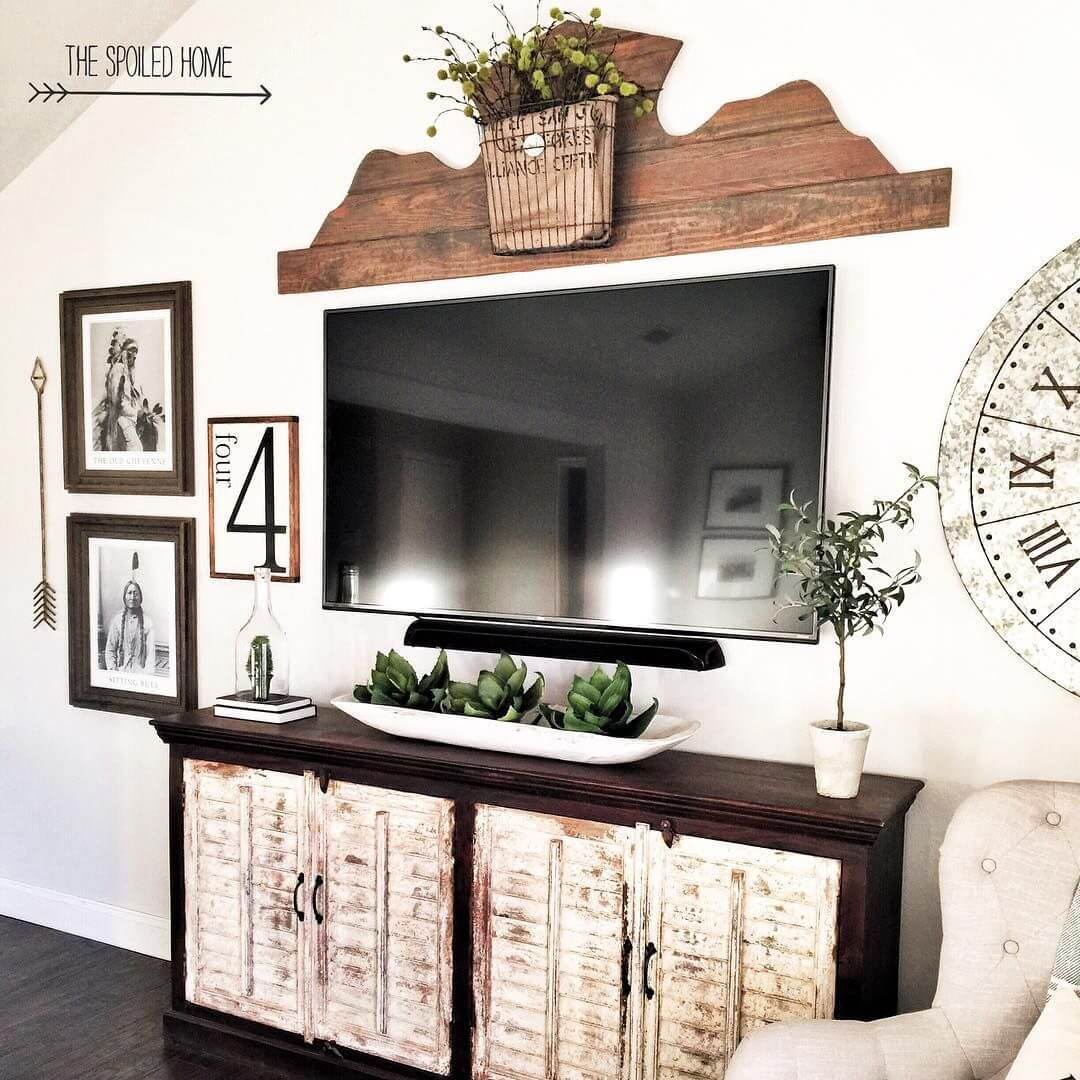 This arrangement turns a simple TV area into a showpiece of design. Over the TV, a cutout wooden shape hangs. This looks like a headboard. A burlap basket with dried greenery hangs in the center. The wall has an oversized clock with Roman numerals. To one side are hung Native American themed prints and a number print.
39. Simple Display of Tan Matted Photos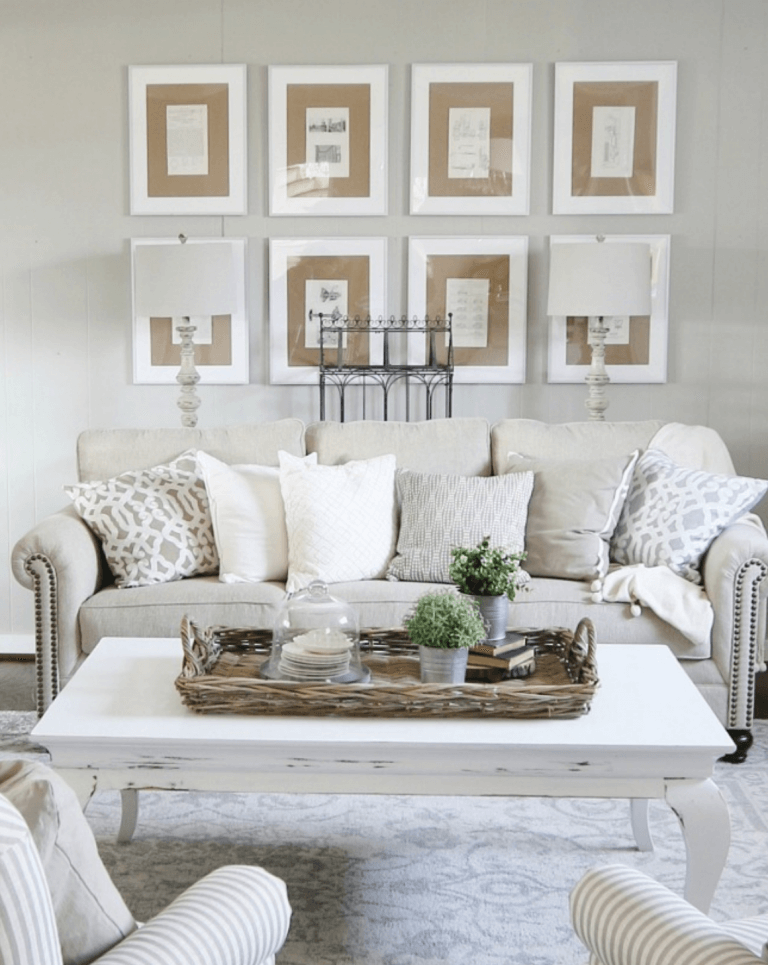 This living room wall decor makes a calming and understated balance to the beige and white upholstery. Many rustic wall arrangements are cluttered, but this one features only eight matted prints. The only touches of color in the room are the greenery pots on the coffee table.
40. Distressed Frames Hanging from Reclaimed Wood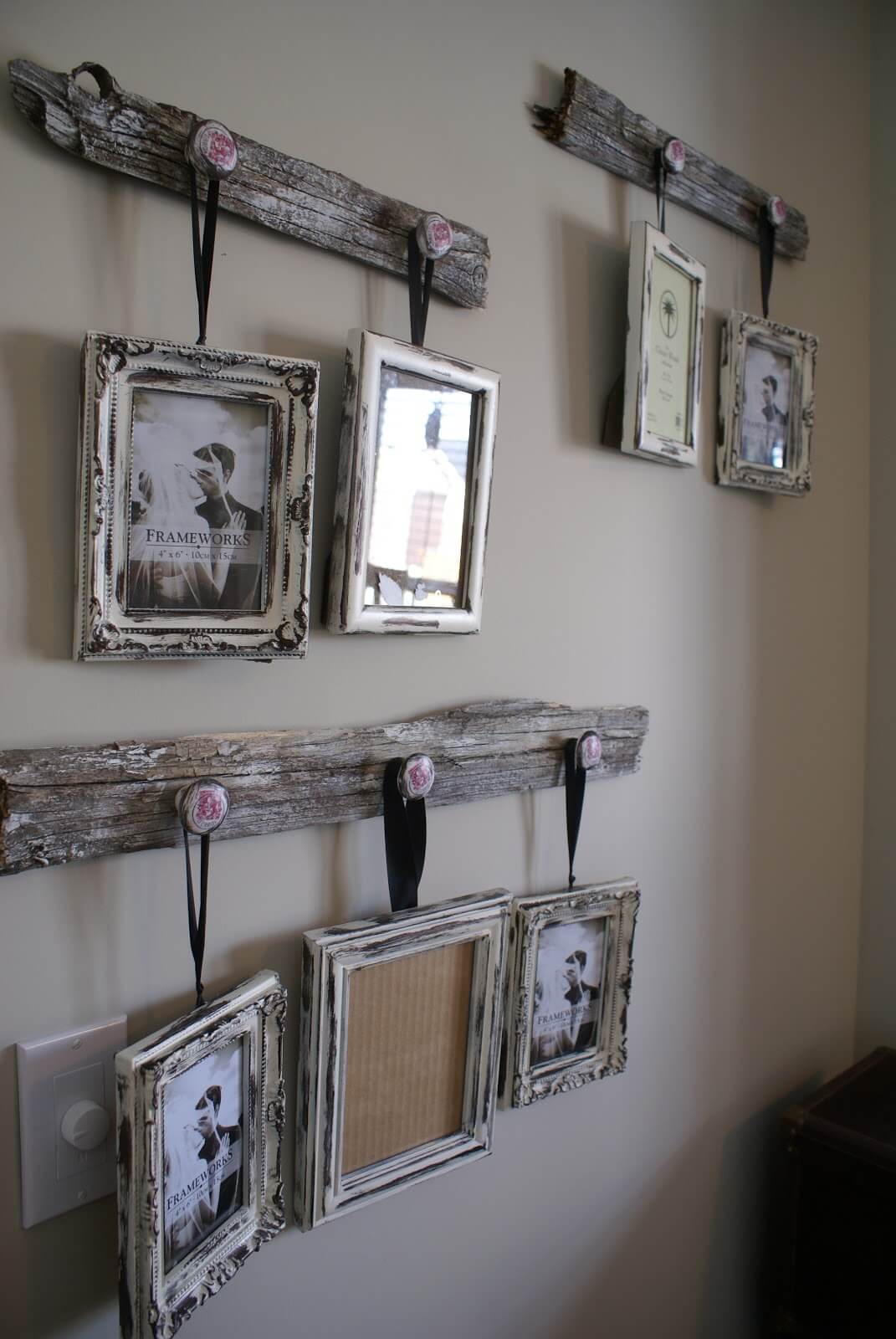 For a truly rustic look, try making reclaimed wood into wall hangers. Ornate drawer pulls accent the wooden hangers. From each drawer pull, a distressed frame is hung with black ribbon. Fill these frames with your own family photos for a complete look. It would look especially nice with black and white photos.
41. Scripted Sign Hung Over the TV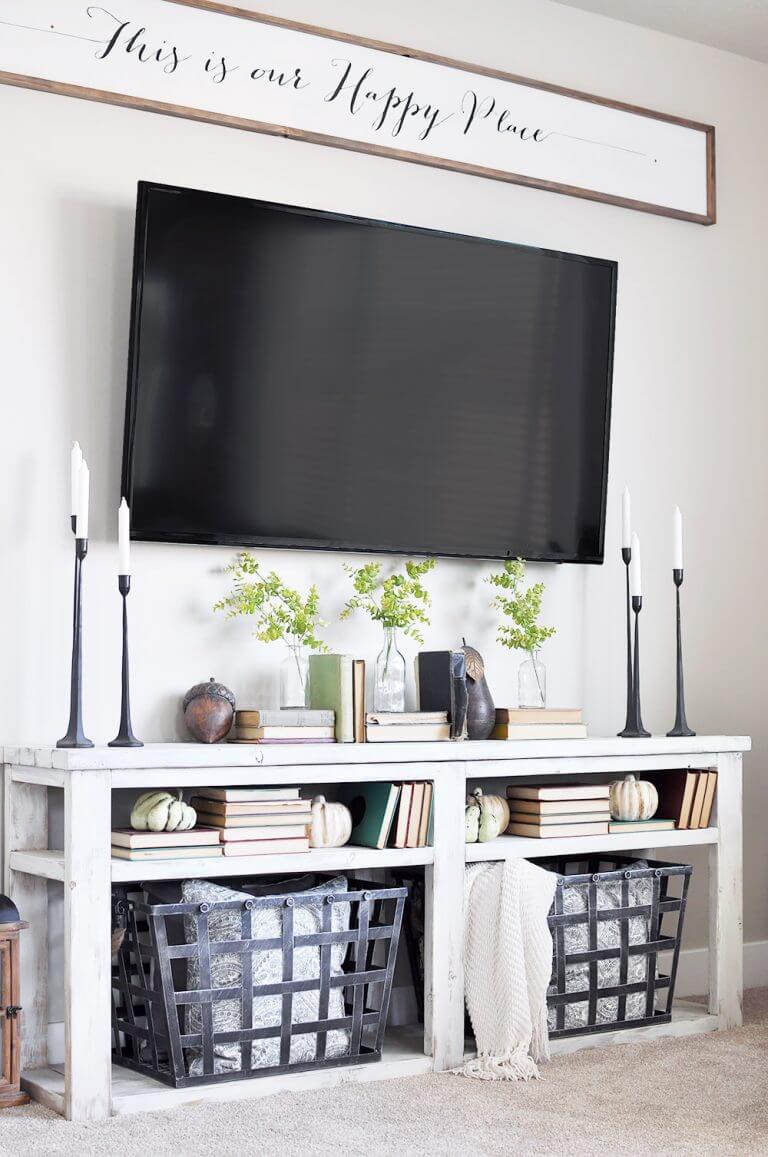 This living room wall decor invites the visitor to sit and take in their favorite TV show. A sign hung over the TV proclaims "This is our happy place." The scripted lettering is pretty and old-fashioned. The TV is set off by a console table with candles, books, and greenery. Handy baskets for throws and pillows sit under the table.
42. Corner Shelf Full of Family Photos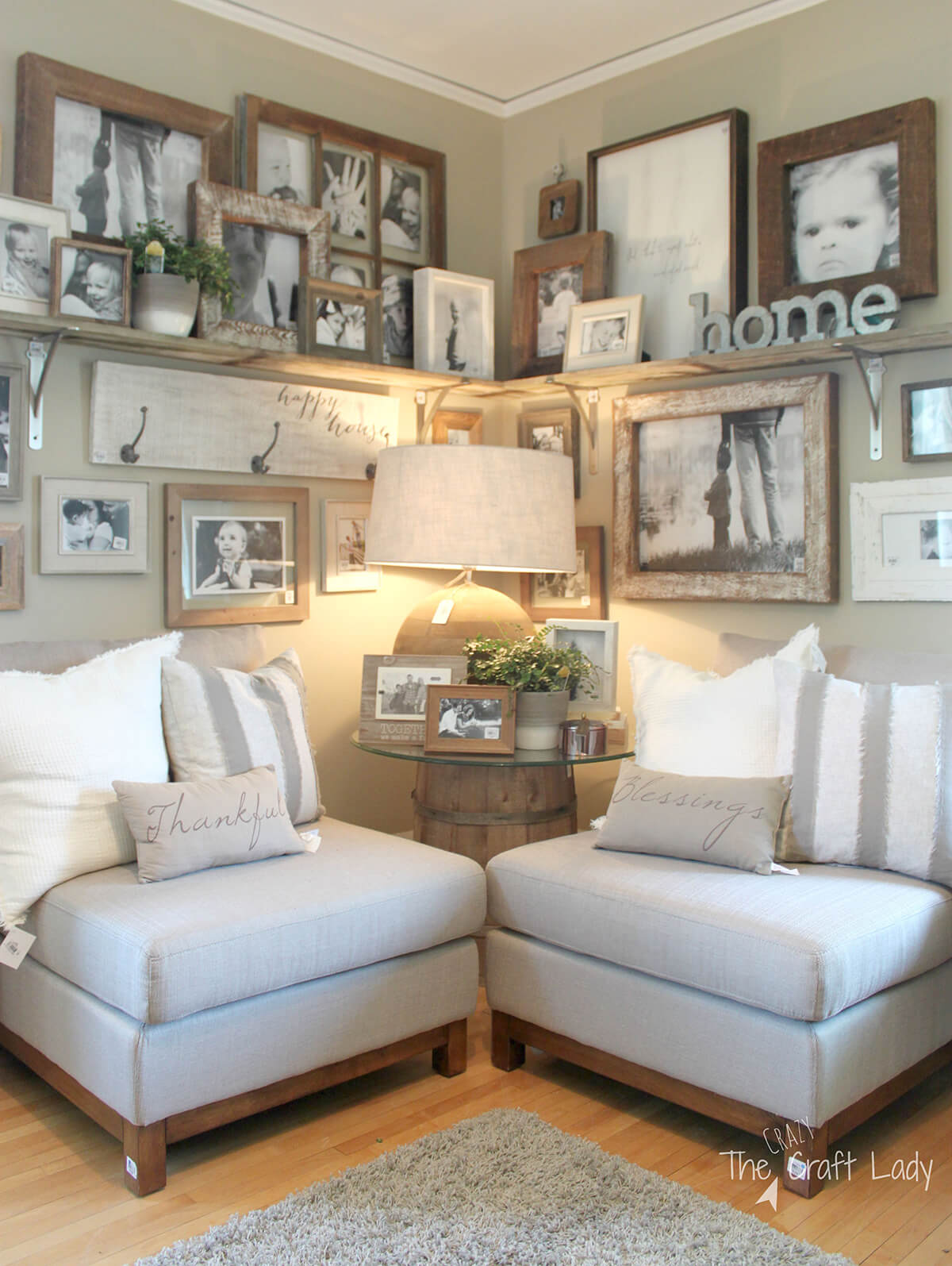 A corner shelf is hung over a living room seating arrangement, giving plenty of space for framed family photos and decorative items. There are many photos in layered arrangements, done in black and white for a sophisticated look. Many of the wooden frames are distressed and rustic.
43. Inspirational Sign with Ferns and Baskets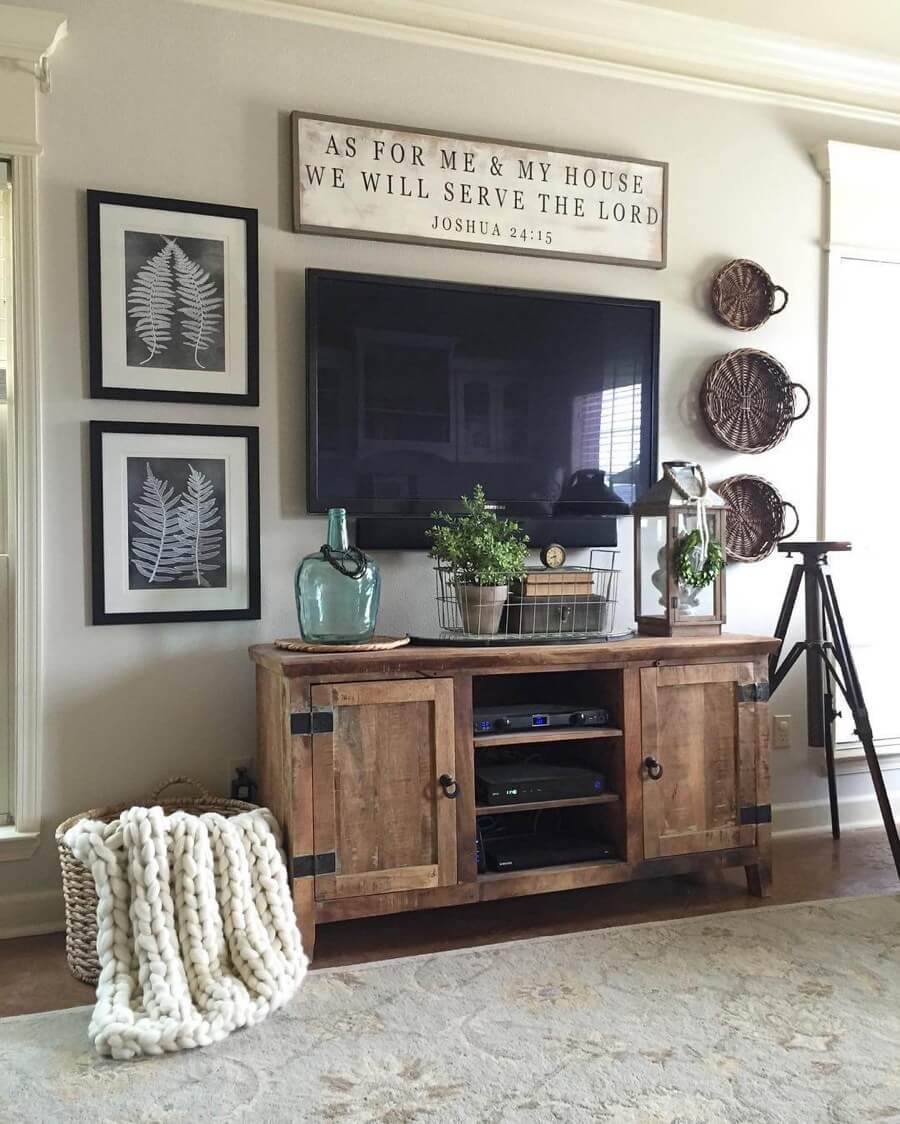 This entertainment center is a nice example of rustic living room wall decor. Over the TV hangs an inspirational sign with a Bible verse, inspiring contemplation. On one side of the TV, black and white prints of ferns hang for a botanical look. On the other side, there are graduated basket trays. The weathered wood of the entertainment center complements the baskets.
44. Thoughtful Sign in Typewriter Font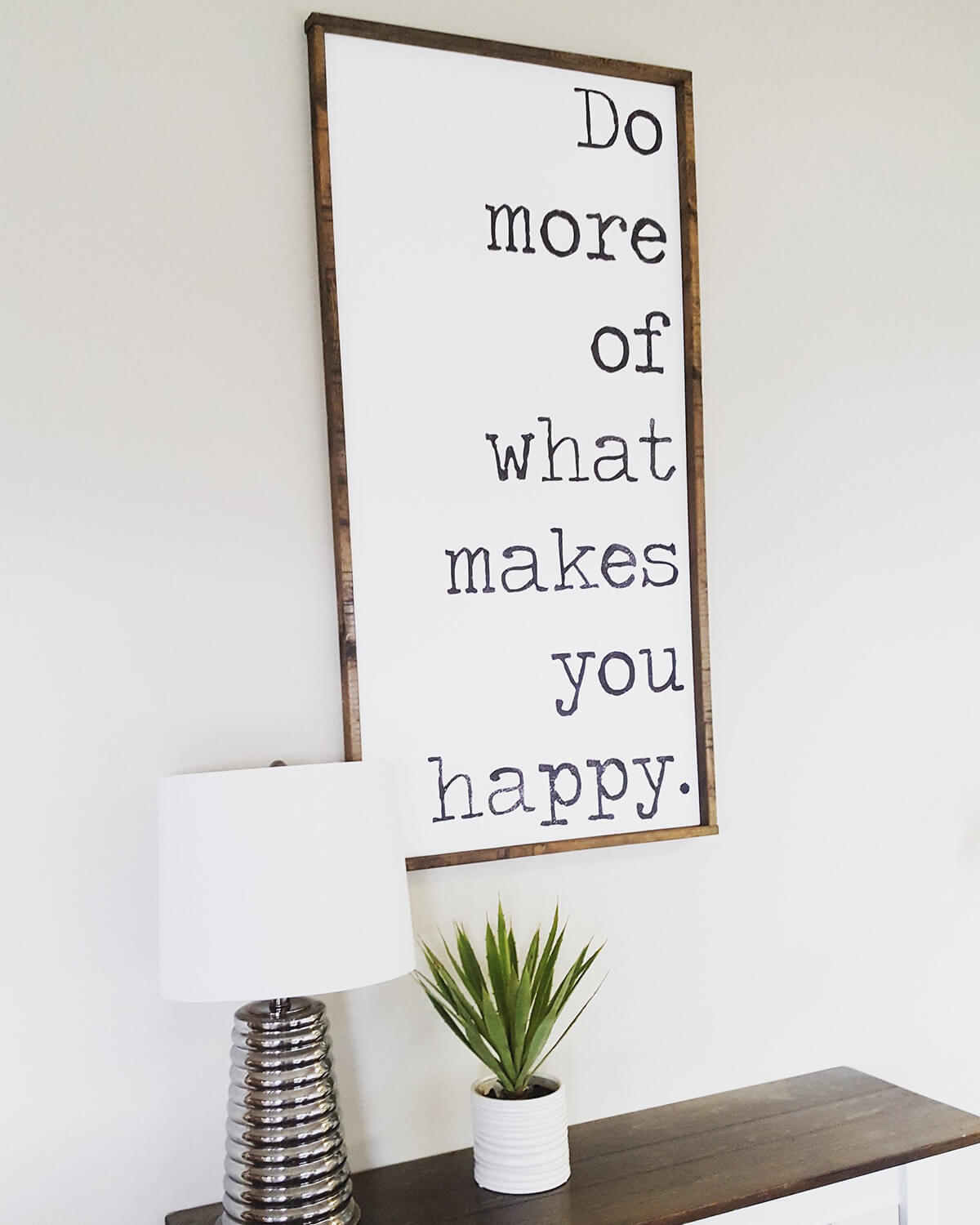 A simple and streamlined living room wall has a thoughtful sign in typewriter font. The sign reminds us to take the time to enjoy our lives. The shelf below the sign has a mirrored lamp and a small pot of greenery. This arrangement is a nice contrast to more cluttered designs.
45. Poem on the Wall with Old Ladder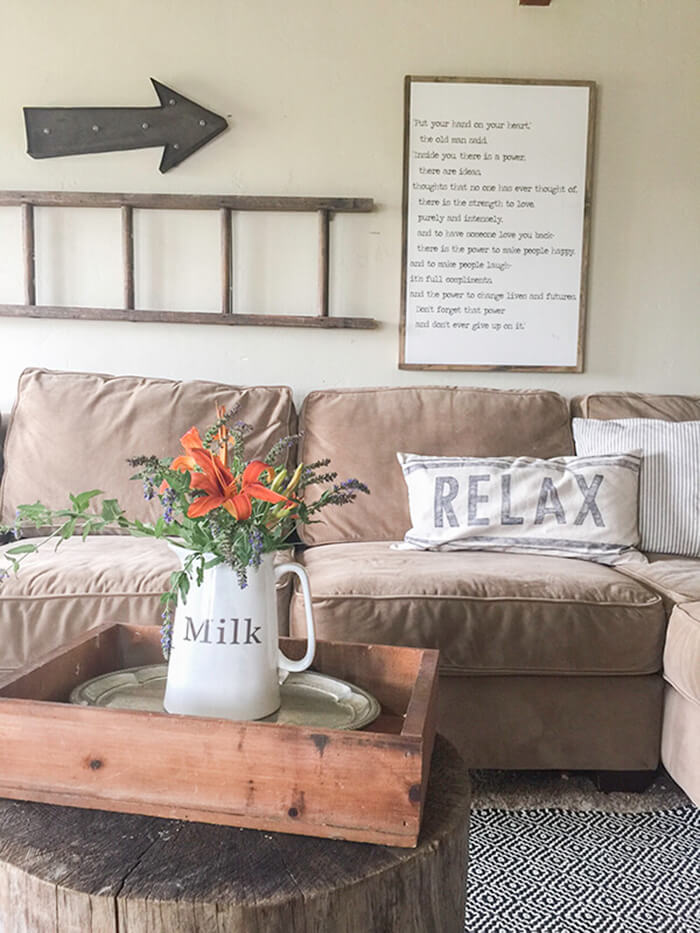 twelveonmain.com
Old ladders are a popular feature of farmhouse and rustic decorating styles. This living room wall decor is a nice change from the usual. On top of the ladder, an arrow sign points at a large print with an inspirational poem. The poem inspires the viewer to take pride in their own personal power and not to let it go.
46. Old Shutters with Small Mismatched Mirrors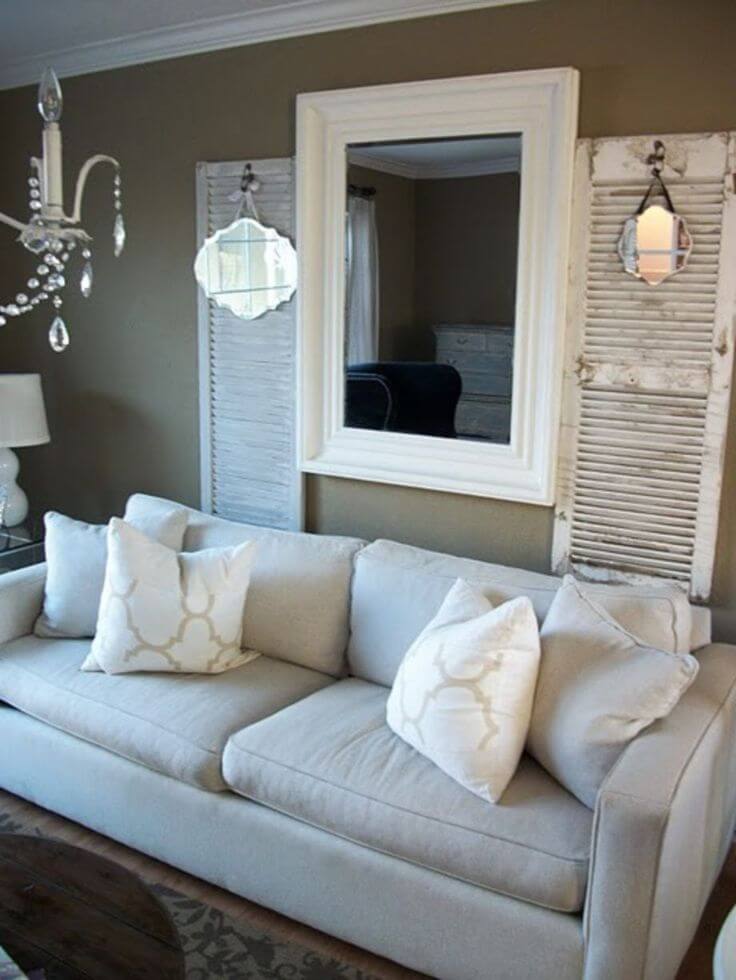 A large framed mirror is the centerpiece of this living room wall. On either side of the mirror hang two distressed white wooden shutters. From the shutters hang small, mismatched mirrors. The different mirrors give the room a sense of rustic charm. The beige and white design looks nice with the couch and cushions.
47. Decorated Plaque with a Small Wall Shelf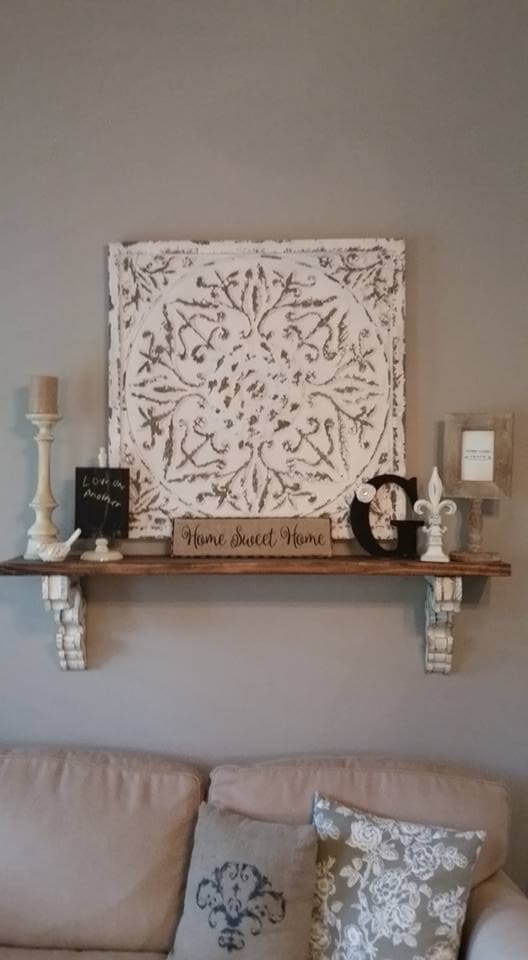 A sculpted panel with a floral theme hangs above a small wall shelf. The wall shelf holds a pedestal candle, a tiny bird, a chalkboard sign, a "home sweet home" sign, an initial letter, a fleur de lis decorative item, and a small wooden picture frame. This living room wall decor is done in shades of beige and white with black accents.
48. Coordinated Arrangement with Initial Letters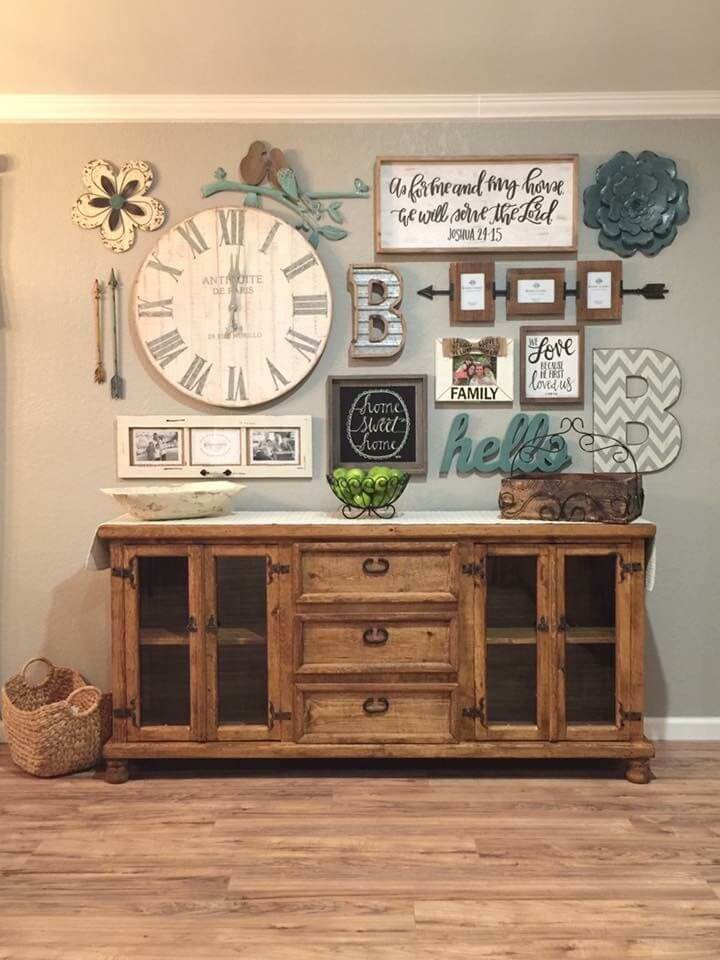 This arrangement combines a variety of design elements to make a unified whole. A popular feature in rustic home décor is an oversized clock. Two name initials hang on the wall, one made of galvanized metal and the other in gray and white zigzag stripes. An assortment of family photos and lettered signs complete the look.
49. Oversized Initial Letter on Canvas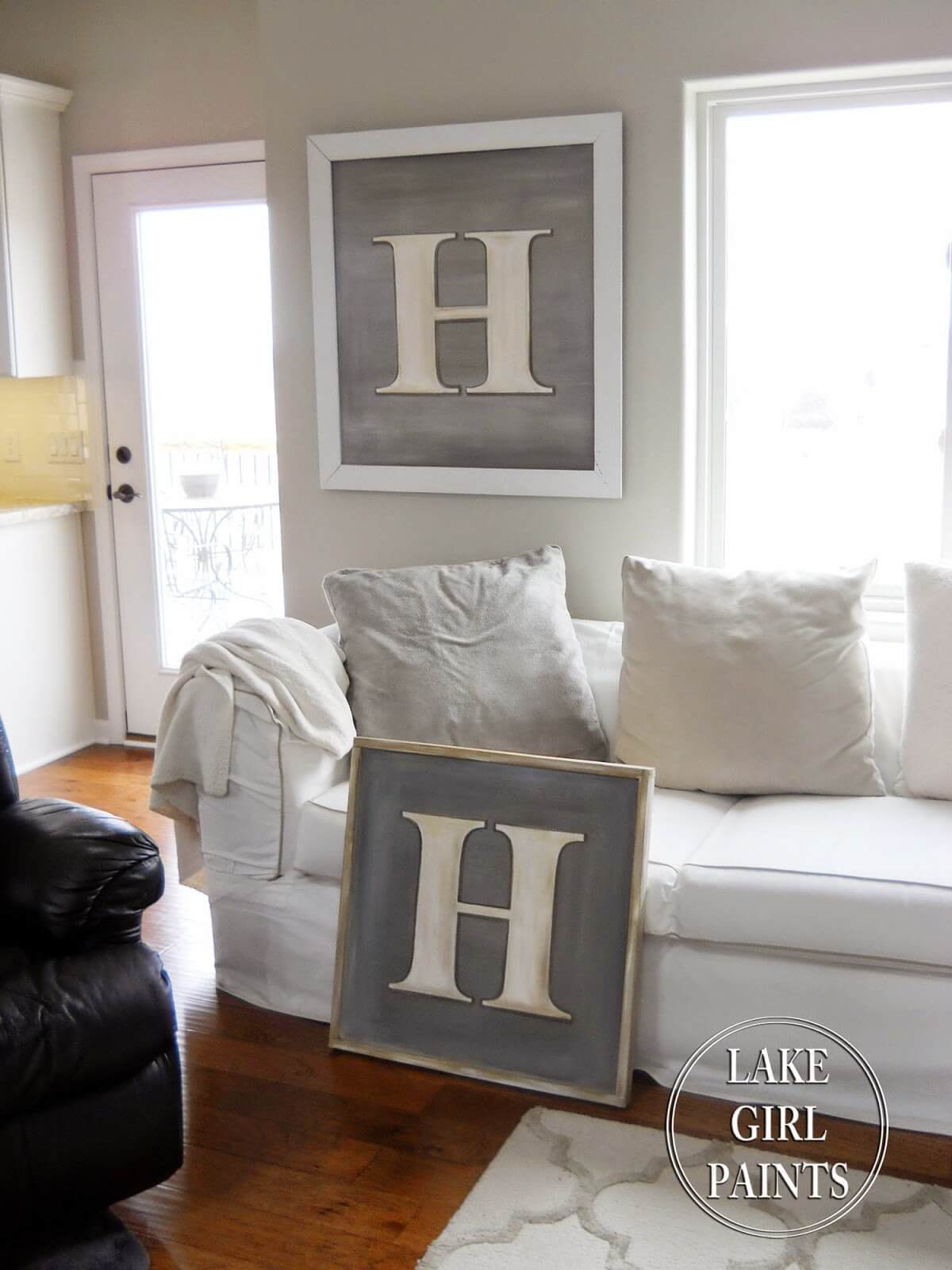 These bold initial letter prints hang on an otherwise unadorned wall. Their simplicity makes them a great fit for rustic living room wall decor, and they would also look great in a more modern styled home. The color palette of gray and white brings depth to the wall.
50. "Home" Sign on Distressed Wood Circle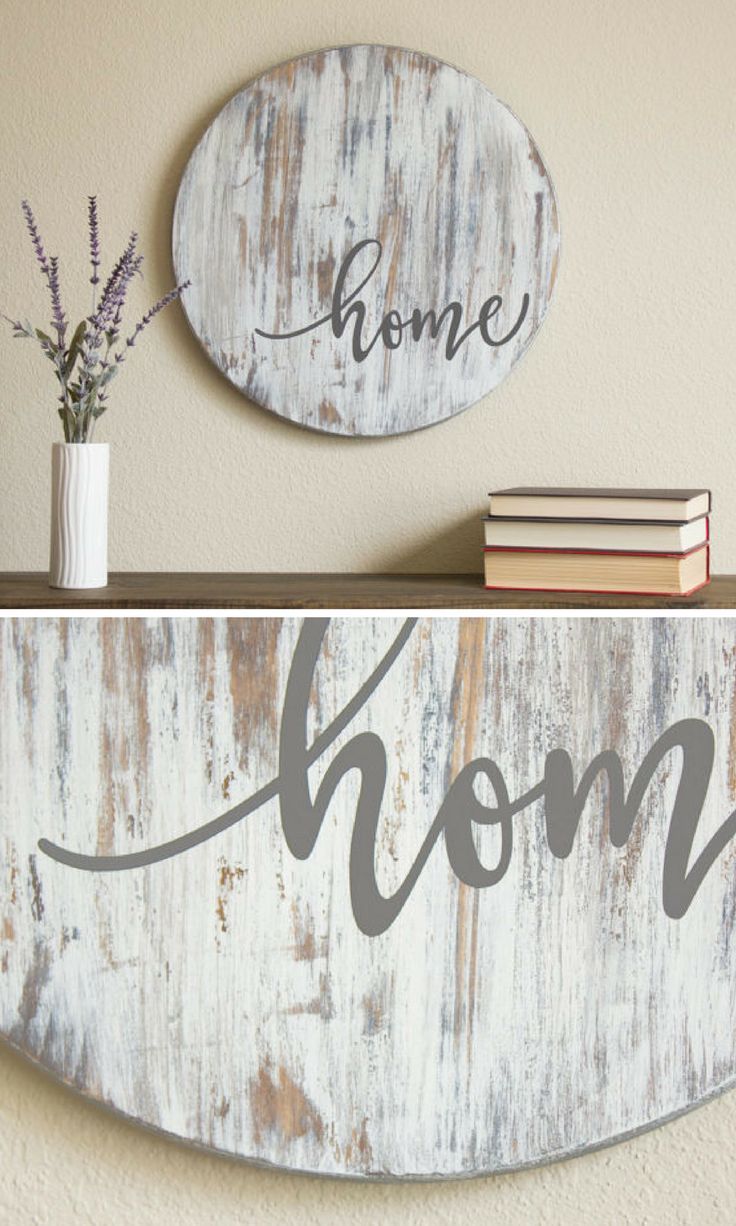 A distressed wood circle sign holds the scripted message of "home" in gray script. This sign is charming and elegant in its simplicity. The distressed painted finish makes it fit in with the rustic style. It would also look good in a farmhouse style home. This piece makes a refreshing contrast to some of the more elaborate wall designs.
51. Charming Rustic Living Room Wall Decor Ideas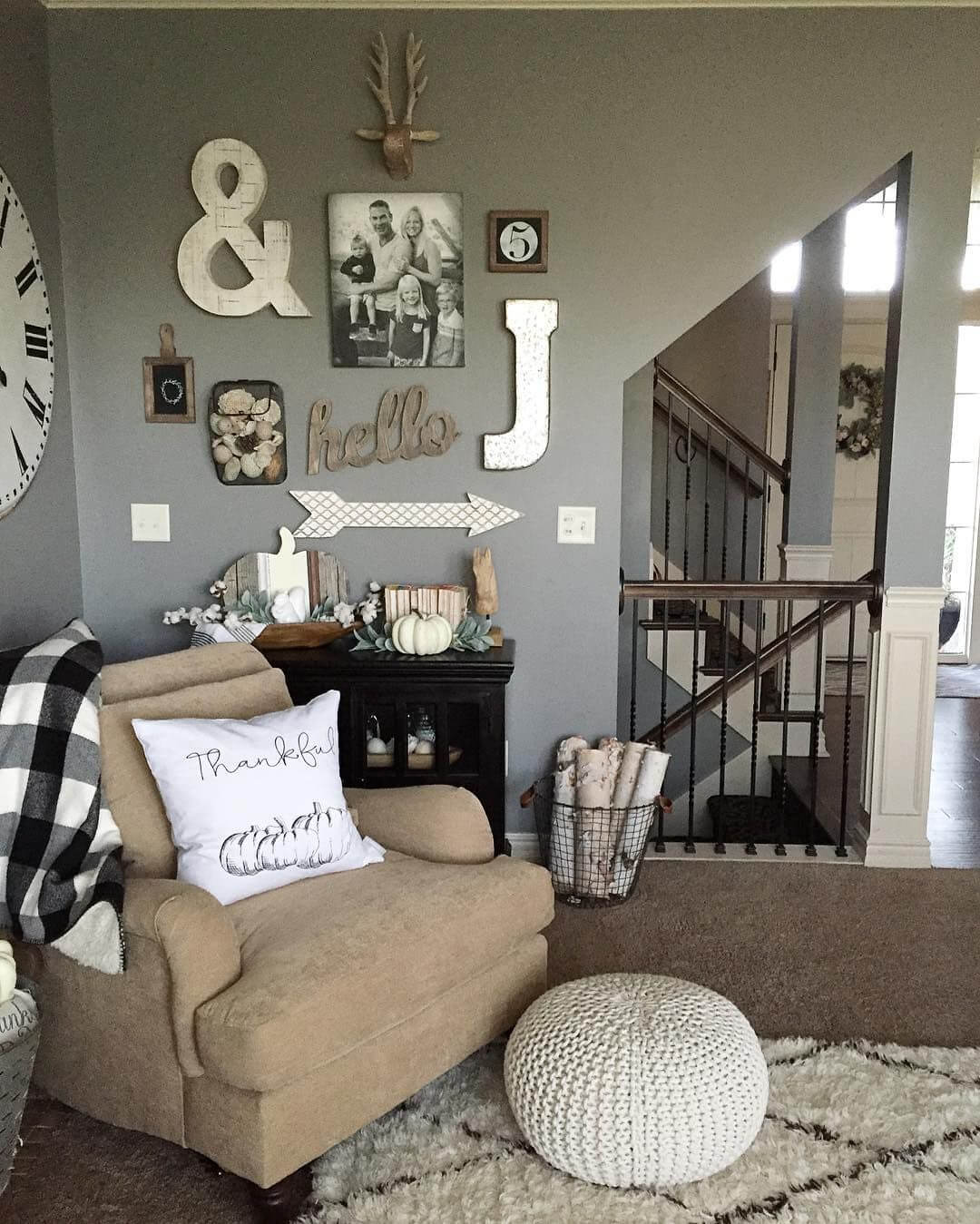 An oversized ampersand sign and initial letter enliven this wall arrangement. This living room wall decor combines a variety of elements from nautical and woodsy design. A wire basket of seashells hangs on the wall beside a "hello" sign. The black and white family photo is framed by the initial letter and topped off with a charming faux deer head.
52. Homey Simplicity in Rustic Wall Décor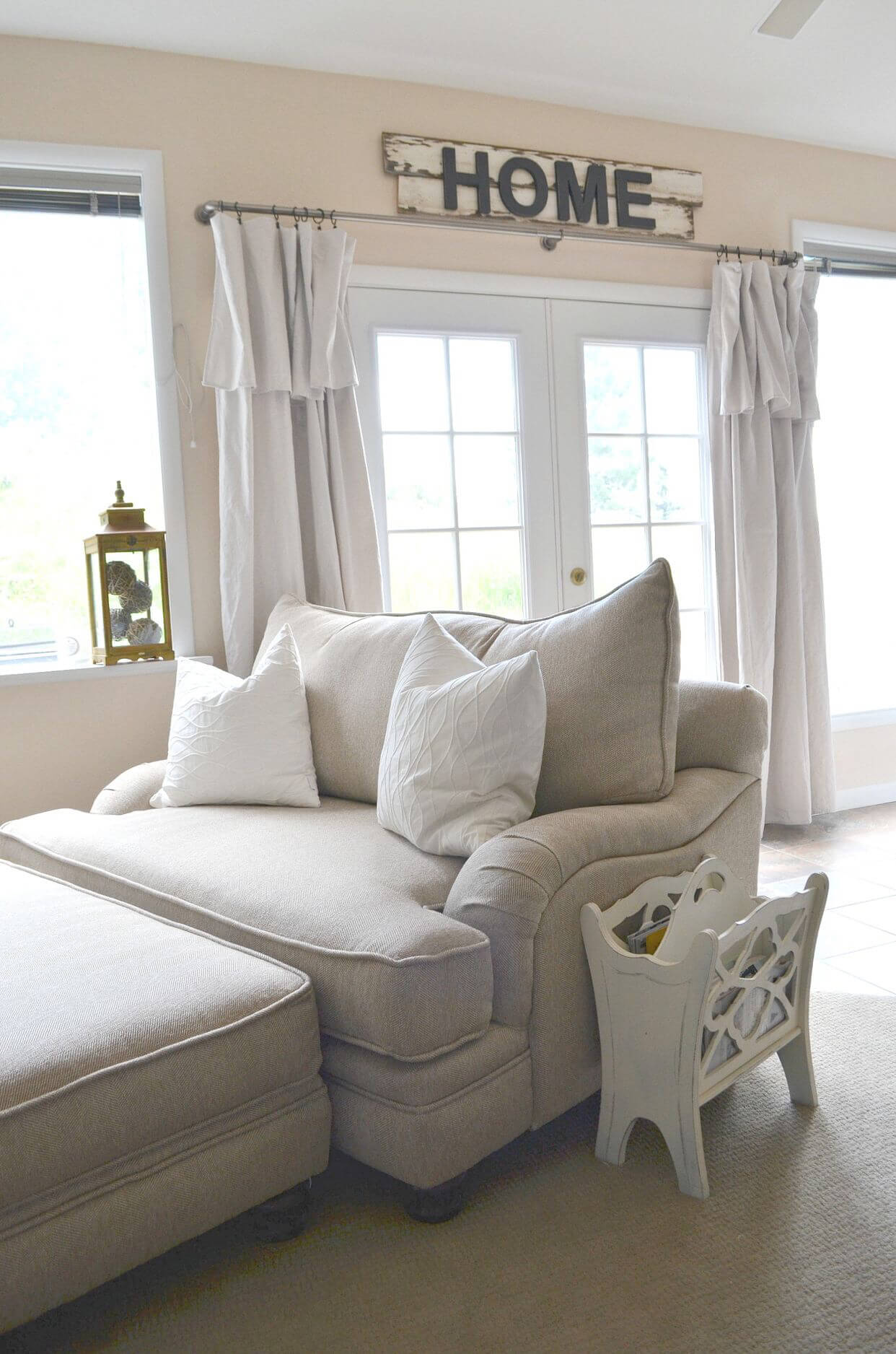 Rustic home décor can be elaborate or very simple. This arrangement takes simplicity to heart. Over a French door hangs a "Home" sign in distressed wood. The wood color blends beautifully with the eggshell walls. The clean lines of this sign fit in with the understated décor of the living room.
53. Chalkboard Family Schedule Grid on the Wall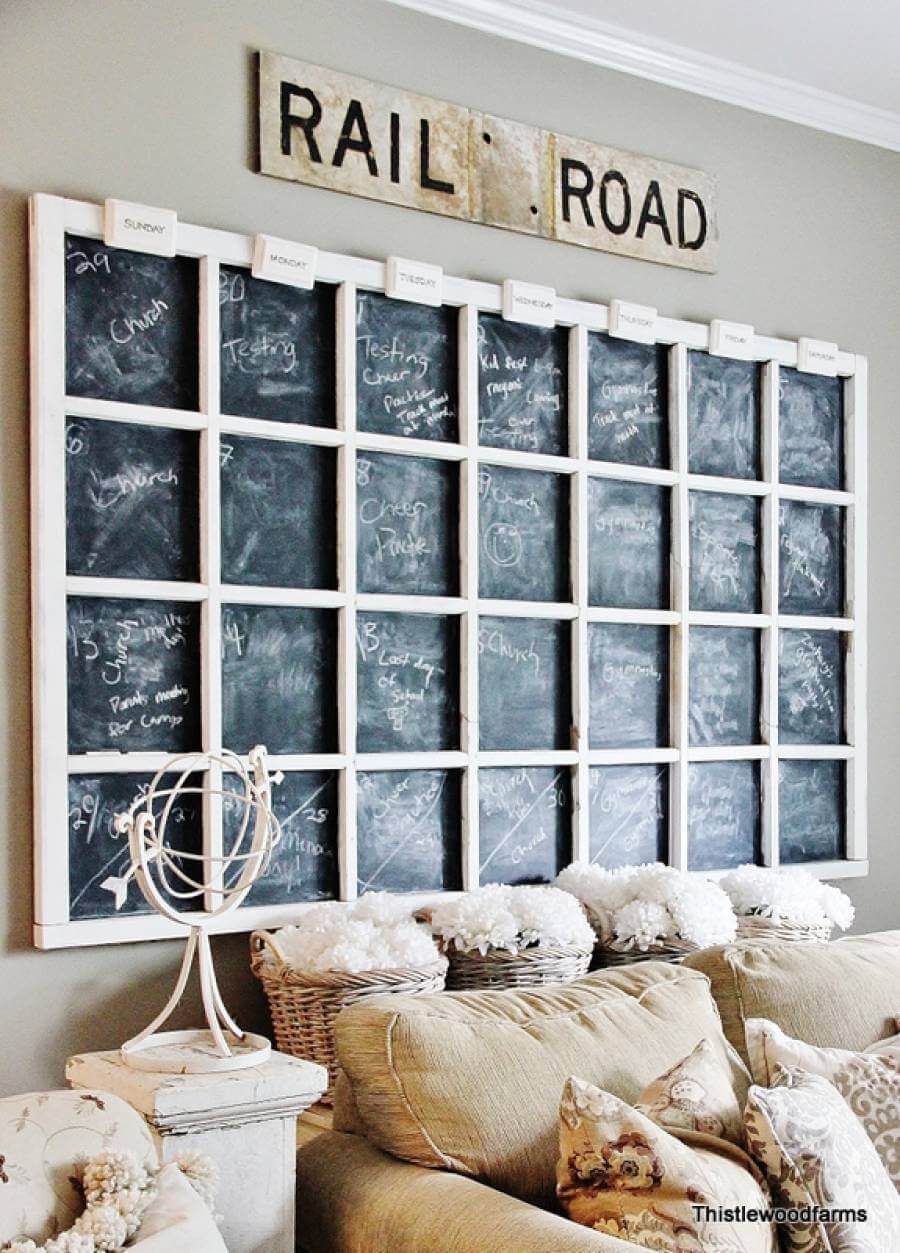 This ingenious idea combines many different aspects of rustic style. The grid on the wall is in the shape of a window frame. In the squares of the frame are chalkboard signs. The columns are labeled with days of the week to enable the family to fill in their various schedules. This is a cute idea that keeps a family organized.
54. Oversized Stenciled Signs Over the Sofa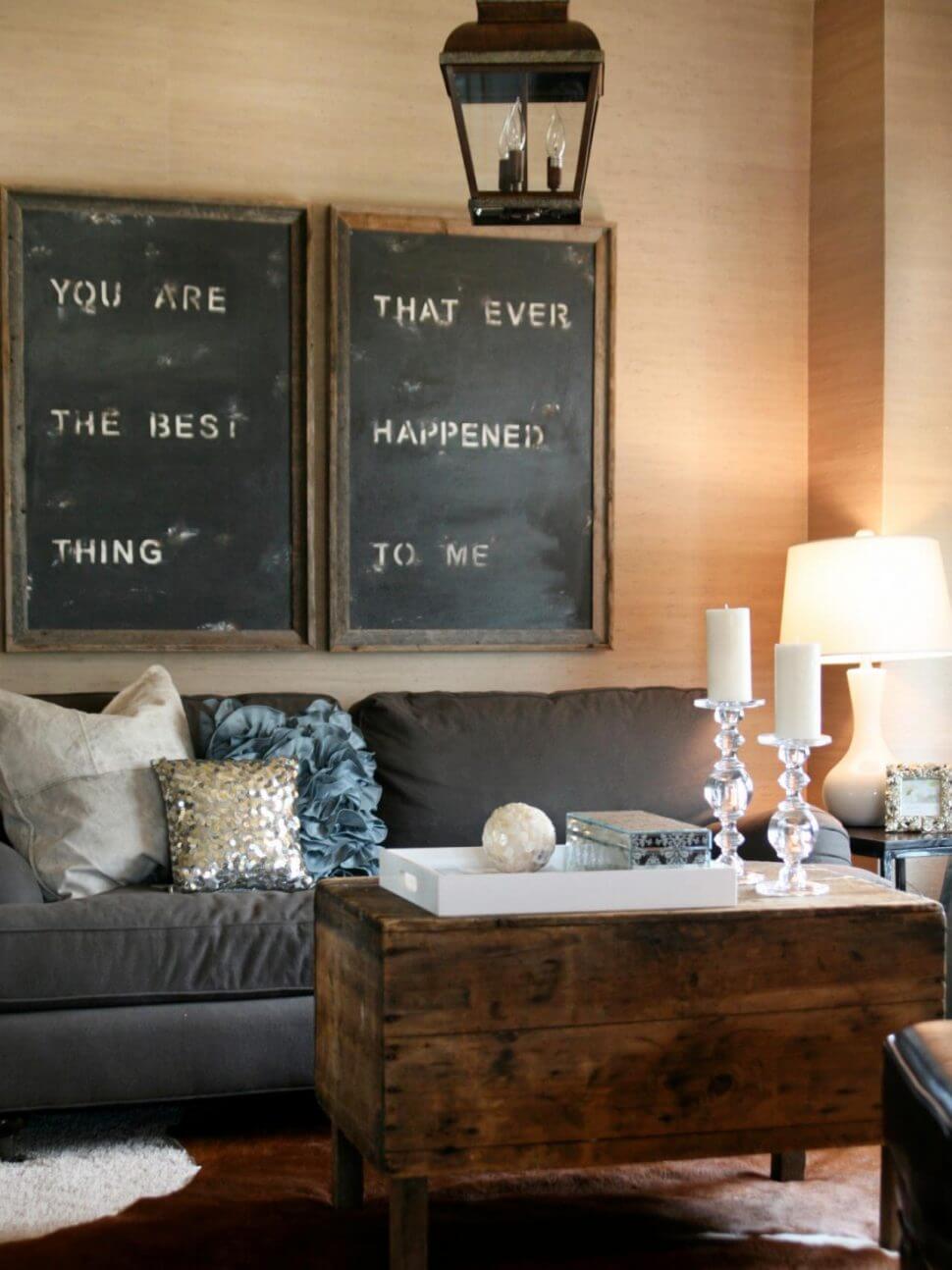 This wall features stenciled signs with a sentimental message. The frames are oversized for a dramatic look. The framed signs take precedence on the wall, with no other decorations hanging nearby. The chalkboard quality of the signs fits in with rustic living room wall decor, and it also fits in with this elegant living room.
55. Window Frame with Bay Leaf Wreath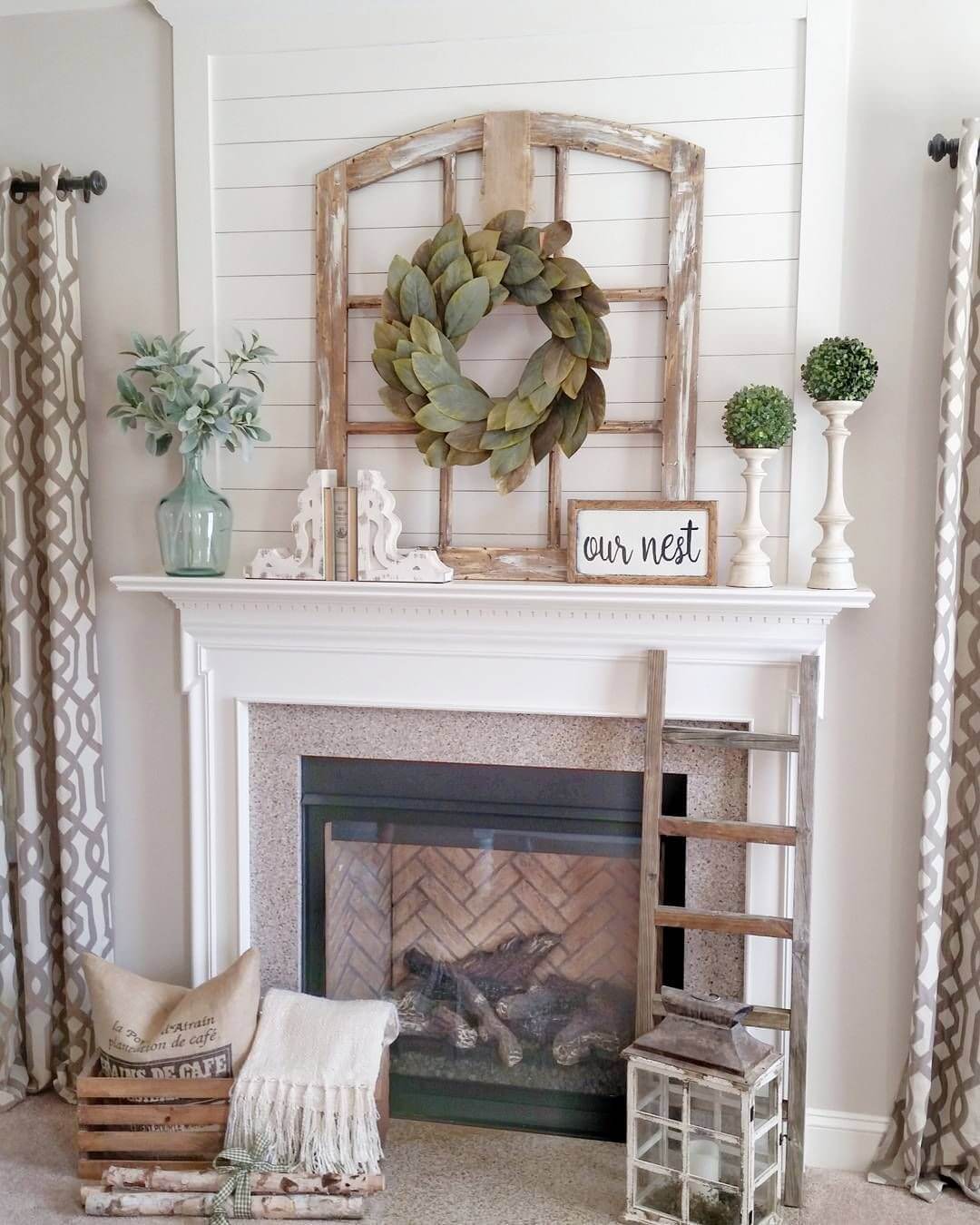 Old window frames are an extremely popular element of farmhouse and rustic style. This large window frame leans up against the back of a mantel. A muted bay leaf wreath hangs by a wide burlap ribbon. The mantel arrangement is simple and understated with a cute scripted "Our Nest" sign. Topiaries and greenery add natural touches.
56. Reclaimed Wood Shutters with Home Letters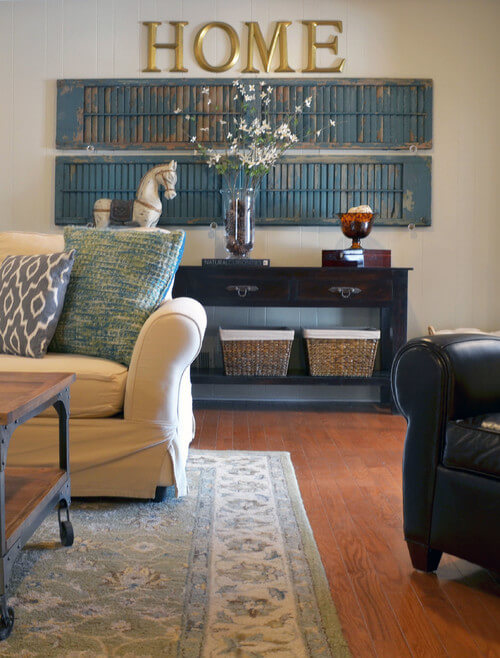 Reusing old architectural elements is a popular trend in living room wall decor. These tall shutters are painted in a distressed blue finish and hung sideways on the wall. Over the shutters, oversized gold letters spell out "Home." The console table under the shutters has a wild floral arrangement and a rocking horse.
57. Window Frame with Wreath and Key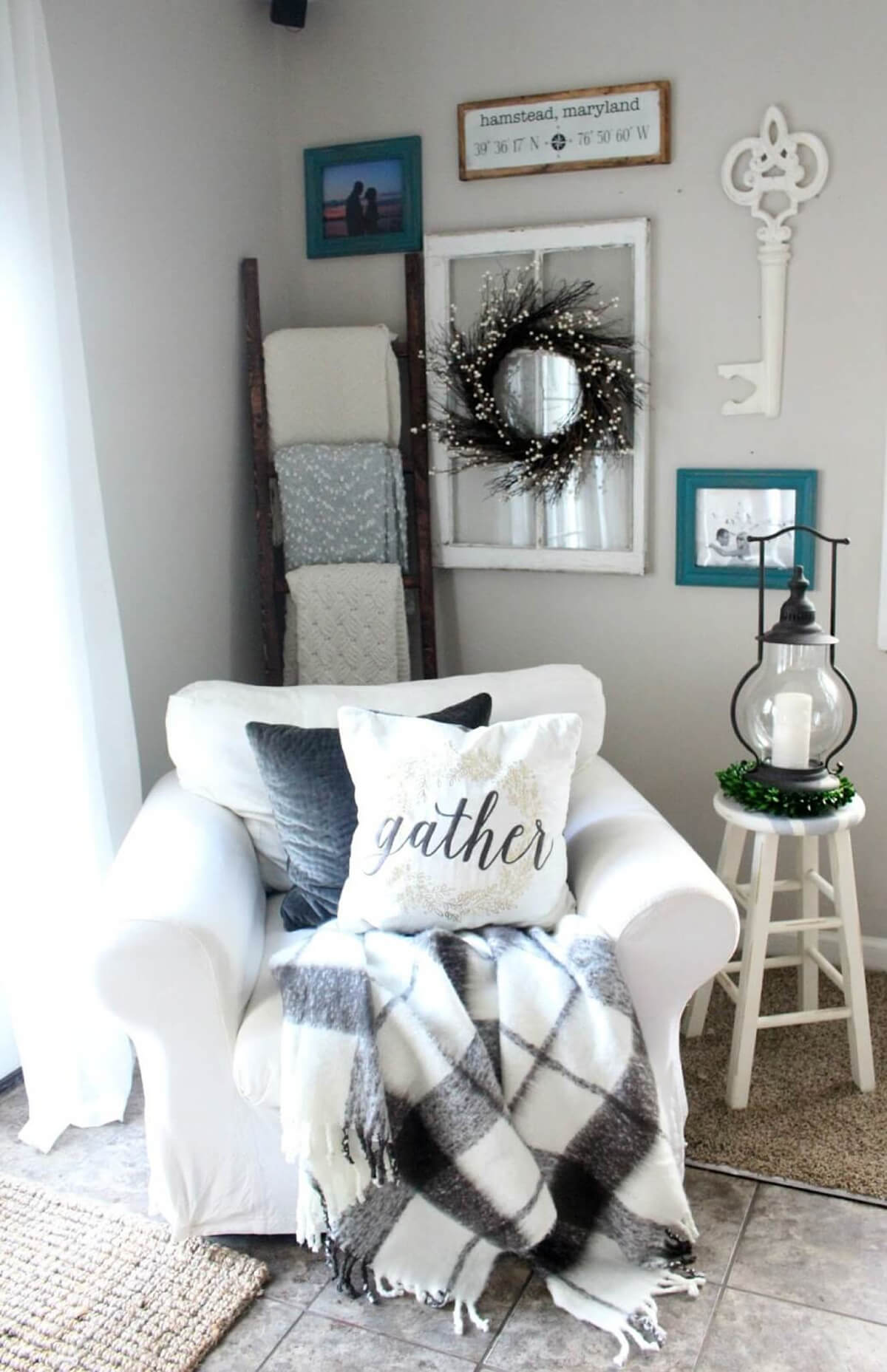 An old window with the glass in it is the centerpiece of this wall arrangement. A wild and rustic wreath hangs in the center of the window. A latitude and longitude sign adds a personalized touch to this living room wall decor. For a contrast in color, the picture frames are painted a dark turquoise green.
58. Glass Window Frame with Shutters and Wreaths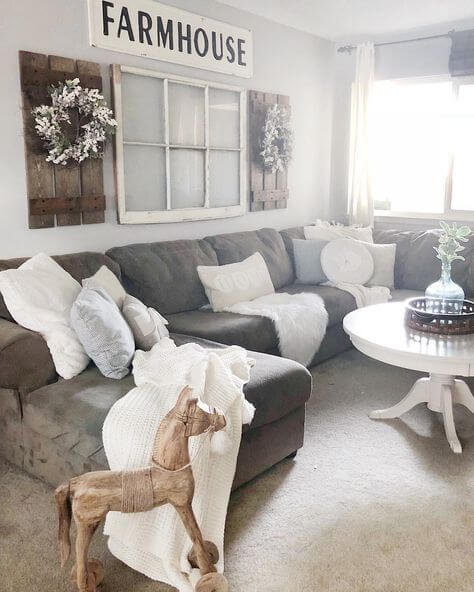 This is another great example of wall decor with an old window. The glass is left in this window frame as well. On either side of the window, weathered wood shutters are hung. Each shutter has a subtle gray and white wreath. A "Farmhouse" sign hangs over the window and shutter arrangement.
59. Pallet Inspired Wooden Hanging with Mirror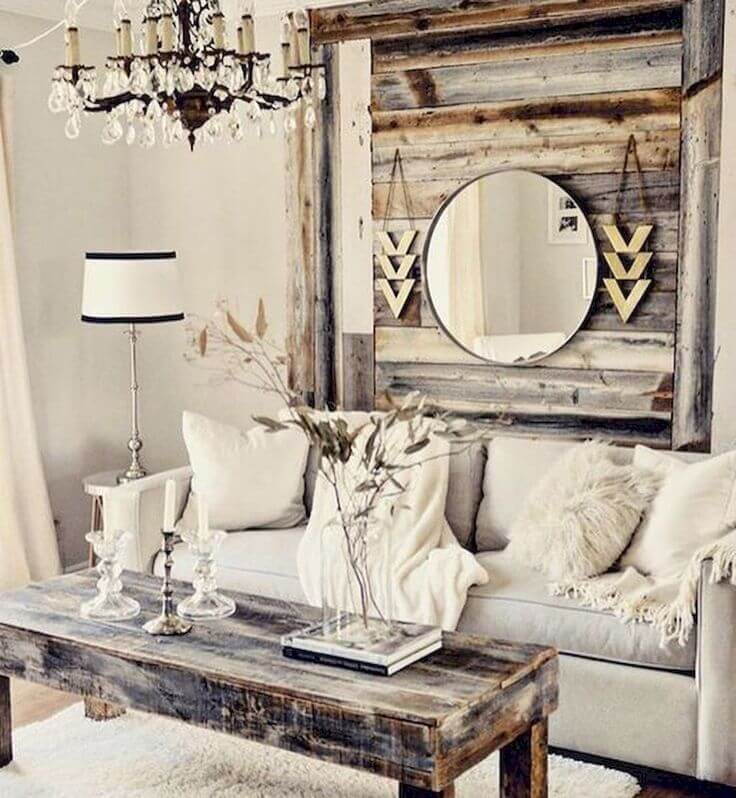 This pallet style wall hanging gives this corner of the house the feeling of a barn wall. In contrast to the weathered wood of the wall hanging and coffee table, a simple silver mirror and chevron décor hang in the middle. The sleek metal and glass give the living room a more modern aesthetic.
60. Large Clock with Windows and Wreaths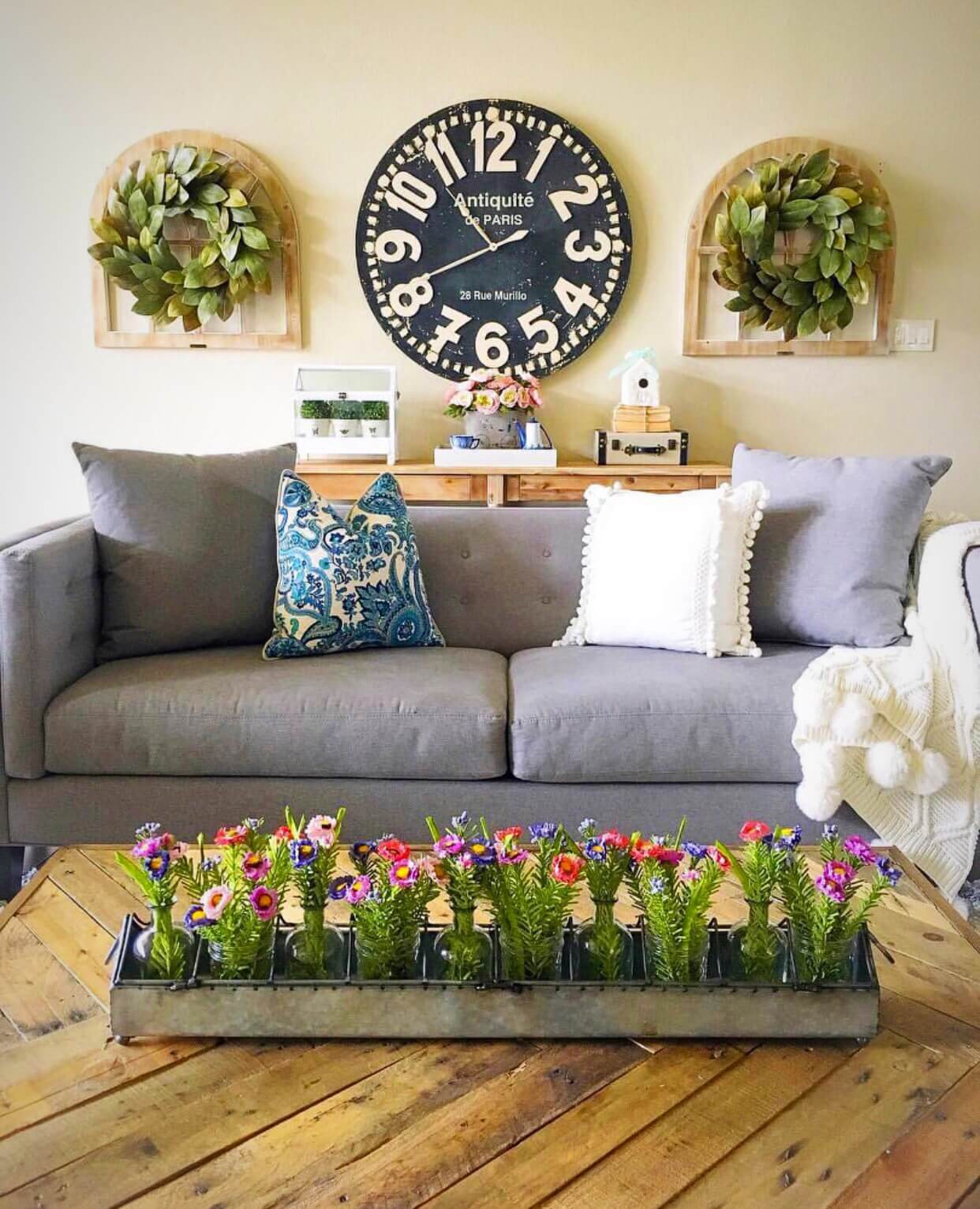 This colorful arrangement combines window frames with bay leaf wreaths. A large clock hangs in the middle of the wall. Cute garden themed decorations take center stage in the room, enlivening the décor. This living room arrangement is a nice example of how styles can mix and blend for a different effect.
Choose Rustic Wall Decor Ideas to Make Your Home Warm and Inviting