If you have a serious love of animals, then you know how exciting it can be to decorate your home with wildlife art, and we have come up with 24 best animal themed home decor ideas to give you some examples to work with. Focusing on animals for your decorating subject matter offers you a near endless supply of inspirations as you can find designs based off domesticated creatures and wildlife ones. For instance, you can use woodland creatures to contribute to a safari theme in your home.
24 Animal Themed Home Decor Ideas for an Adorable Home

When you search for animal-related design ideas, you can discover some incredible wall art from framed paints to cartoon-styled decals that go on and peel off with ease. There are also some great decor styles found on different household items like throw pillows, rugs, mats, and even footstools. You may even find some interesting, detailed statues that are constructed using your favorite animal and can go up anywhere in your home from resting on a coffee table or a side table along with your lamps.
Another wonderful bonus that comes with using animals as your theme of choice is that whatever items you find can work out in a variety of rooms in your home. You can create a specific modern environment in your living room if the rest of the space is contemporary. Alternatively, you can make more inviting and fun atmosphere in your child's room or even in a nursery where your growing baby can safely explore wildlife all around them.
Perhaps because there are numerous of routes you can travel down when it comes to decorating, the sheer quantity of options can easily become a bit overwhelming. It is this reason why we sought out to find 24 remarkable animal decoration ideas you can use for your home. With luck, all of these examples will help you grow and learn in your decorating journey, igniting your own imagination, so that your home may feel more personalized and complete.
1. Cool Iron Geometric Fox Head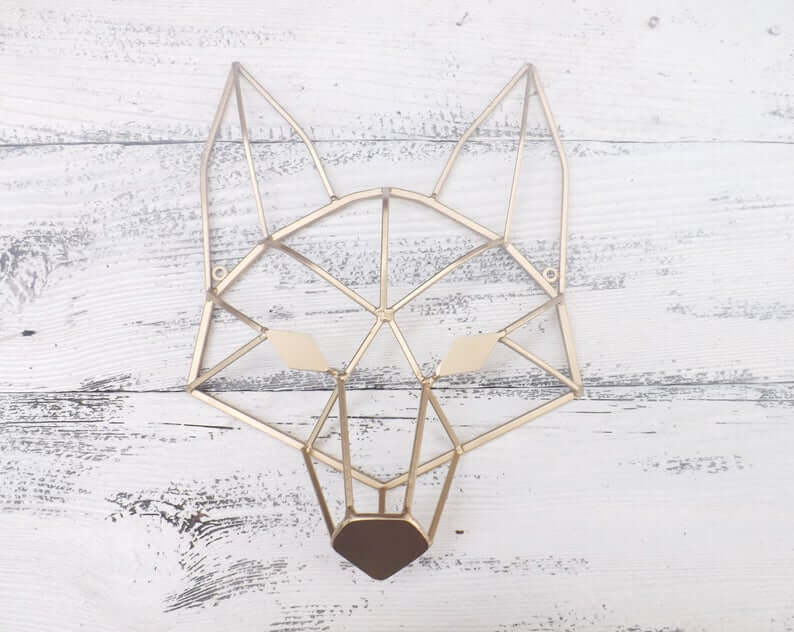 Foxes are well-known creatures used in home decorations, but if you don't want to go for the typical childlike, cartoon art styles, consider this modern approach instead. This wall art utilizes geometric shapes in order to outline the shape of a fox's head. You can choose to have it made in a solid color, or you can opt for a distressed appearance if your home decoration leans itself more toward a rustic style. Beyond that, this geometric fox head is available in over a dozen different colors. This way, the wall decor may blend with little effort into the rest of your room's layout.
2. Bold Tiger Wall Tapestry Art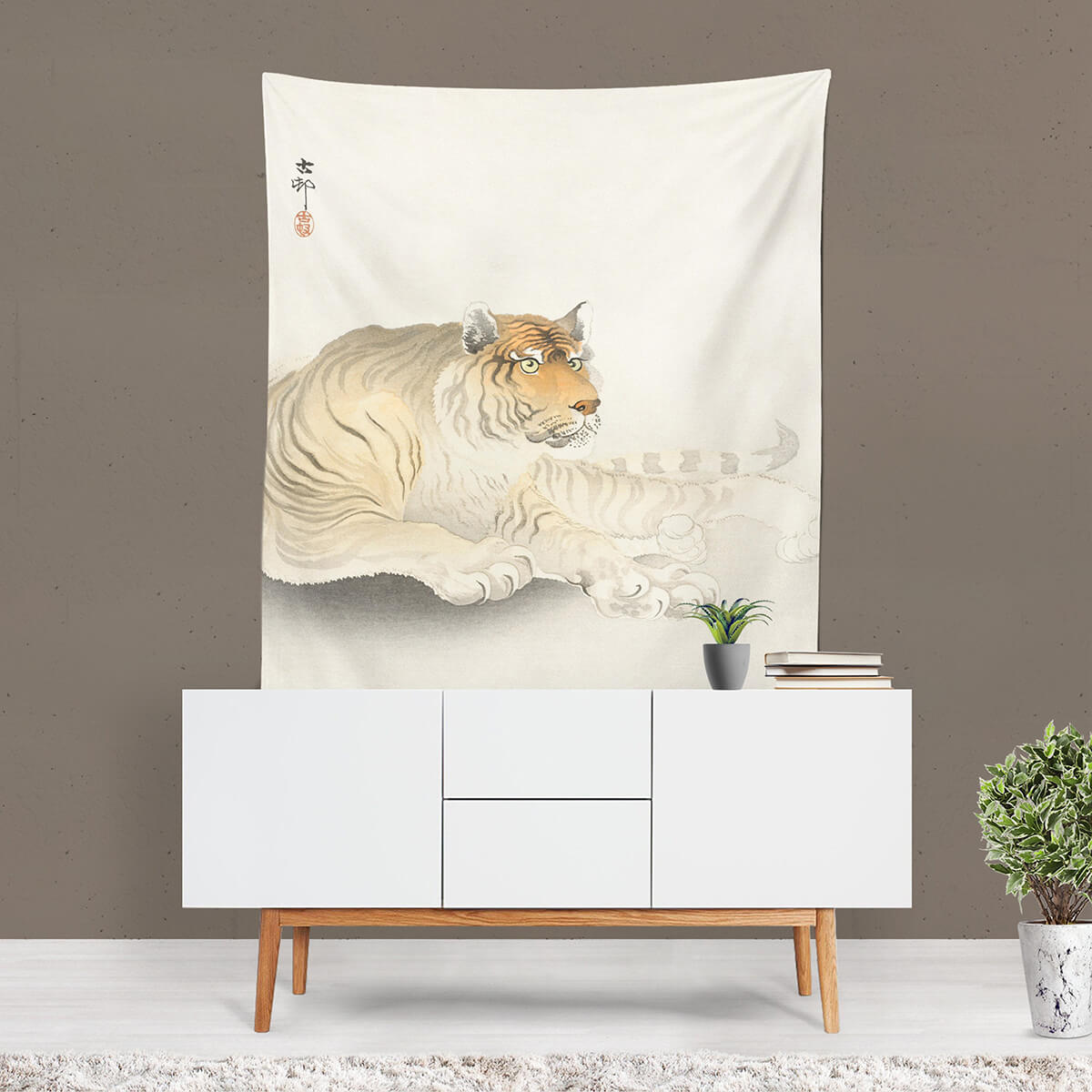 Have you ever considered checking out tapestry for your decorating purposes? Well, as far as animal decoration ideas go, this tiger-themed tapestry is a bold choice. It features the beautiful, classic Japanese art by the late and famous ukiyo-e artist known as Hiroshige. This artwork effortlessly manages to capture the fierceness of a tiger in a quiet, laidback manner. Such a style makes it appealing for use in various rooms from your bedroom or living room without overpowering the rest of your decor. This beautiful, soft polyester tapestry is made in a number of different sizes, and you can even get it with or without the grommets decoration.
3. Cute Elephant Safari Nursery Art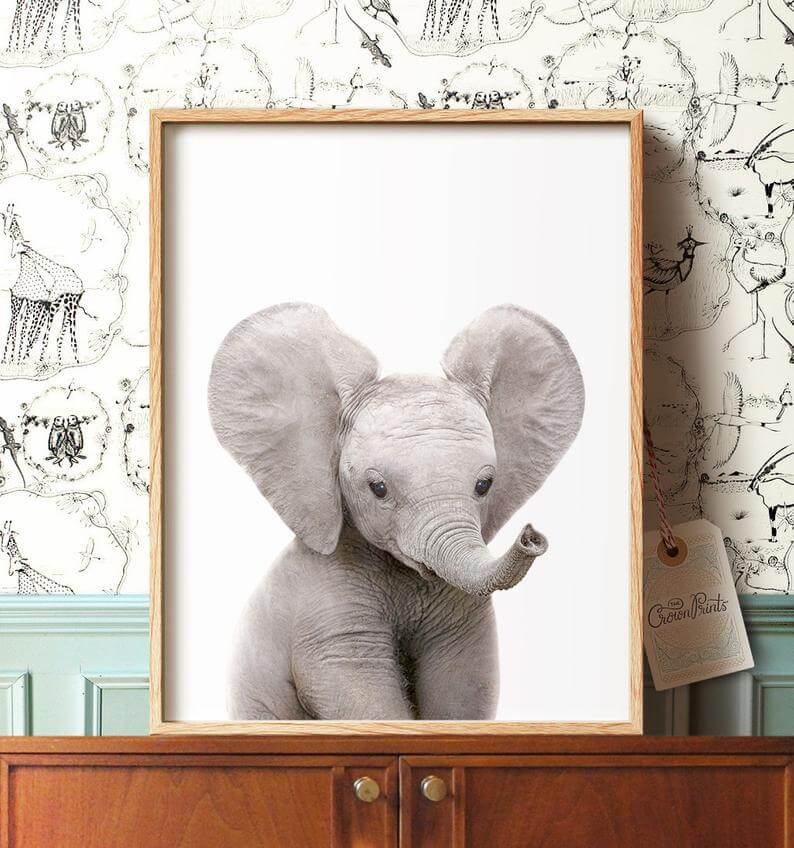 A safari theme is a popular choice for decorating a nursery, and with how adorable much of the art is, the reputation is of no surprise. In fact, it's among the best animal themed home decor ideas you can go for, and this super endearing baby elephant artwork shows why. This original illustration is beautifully drawn in the most simplistic manner to highlight just the baby animal in the photo. By doing so, you can hang it on the wall in your baby's nursery and allow it to stand out just enough that anyone (including your child's) eye is instantly drawn toward it. The simplicity makes it versatile too when it comes to choosing a frame for it as you can go with anything that fits.
4. Unique Personalized Bunny Rabbit Ornament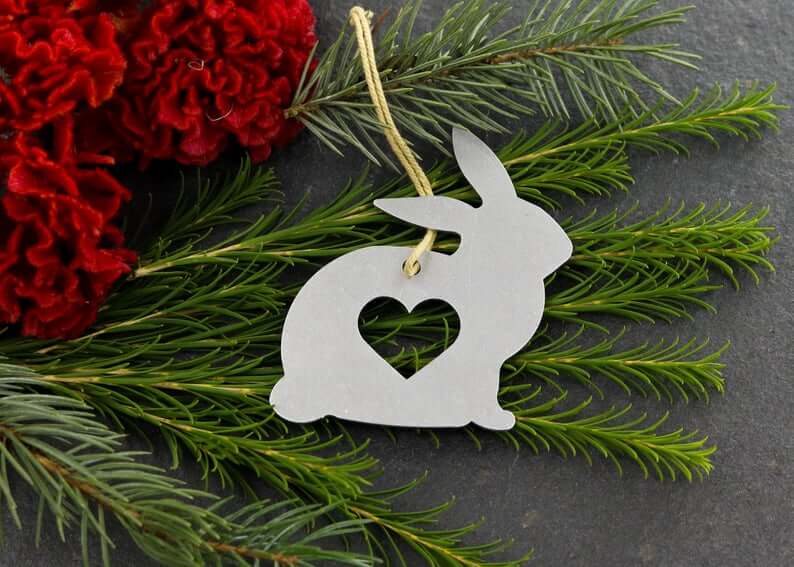 Need an awesome idea for a tree ornament that isn't simply circular? Take a look at this bunny rabbit ornament. The design may be straightforward what with it being simply the outline of a rabbit with a heart shape carved out in the middle, but the ways you can personalize it allow it to proudly standout. You can add anywhere from 8-12 characters on the ornament. For example, if you or someone you know has a pet rabbit, you can add a custom stamp of their name. It can work as the perfect gift for anyone who owns one of these sweet furry animals.
5. Genuine Sheepskin Animal Pal Stools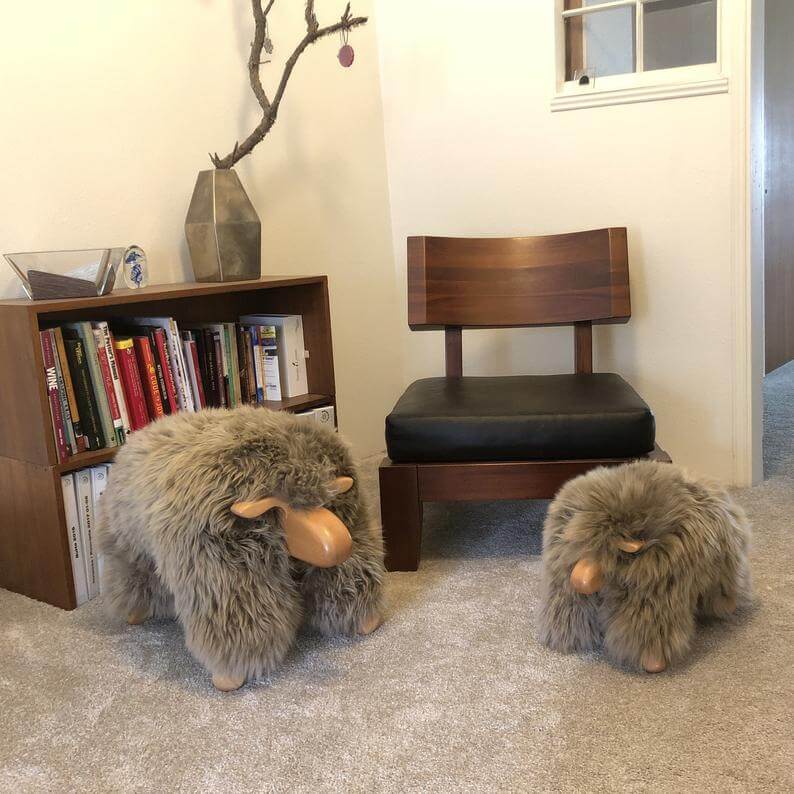 Take your home decoration skills to the next level by adding something truly distinctive to your living space. These interesting footstools can work just about anywhere in your home from a sitting room, to your bedroom, or even a child's bedroom. The notable design allows for such versatility. More so, you don't have to just use them as footstools. They can even be used as interesting, cozy chairs, especially if it is used to decorate a child's space. One of the most incredible things about these stools is the craftsmanship. They are made from solid hardwood with a clear or black finish, and they feature genuine sheepskin pelts.
6. Soaring Bird Metal Wall Art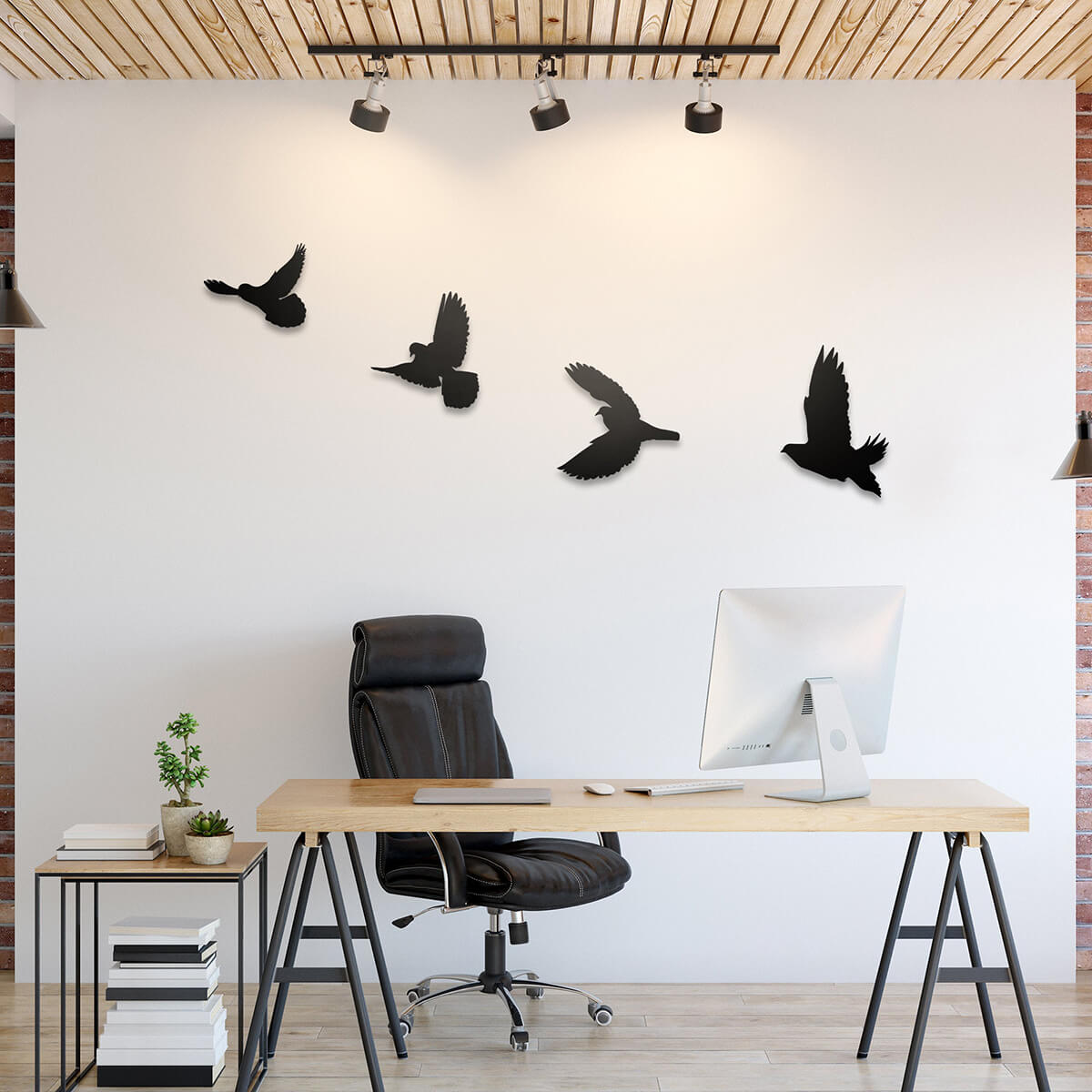 There's always that large, blank wall in your home that is in desperate need of something hanging on it to give it some life. These flying birds may be the answer to your problem. Available in a set of four or a set of eight, the birds are shown in various stages of flight. This design choice can create a sense of movement, which may help show off just how skillful of a budding interior designer you're becoming. With their all-black color, this cool metal art may work out best if used against a white or light background so that you can instantly capture anyone's attention.
7. Glittery Unicorn Head Wall Sculpture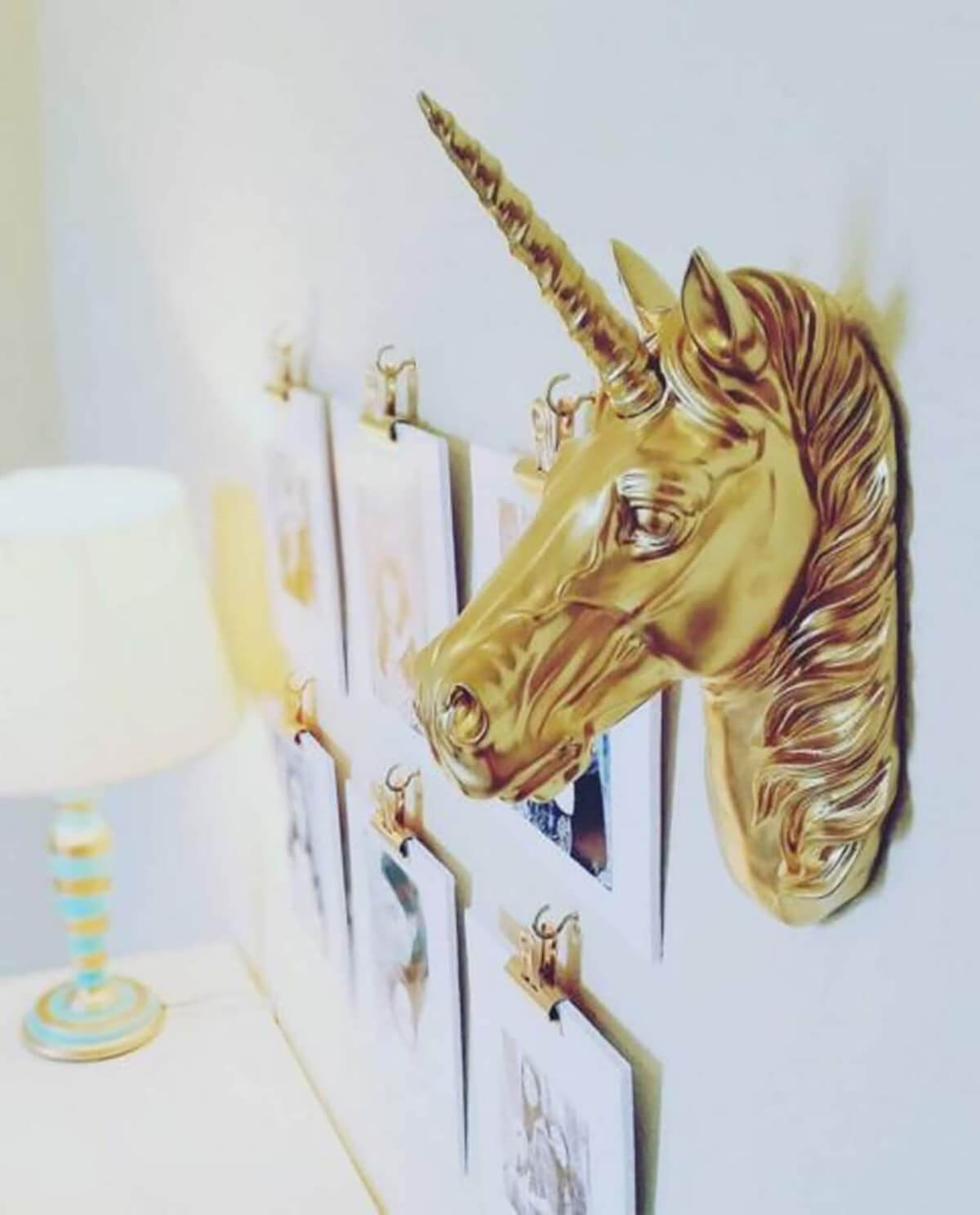 Out of all the animal decoration ideas to come up with, unicorns are a top choice for many people. If your child (or perhaps yourself) has an obsession with all things unicorns, consider gifting them this head sculpture of the mythical creature. Although it is originally all-white in design with a sparkly, silver horn, you can easily select to have it customized based on your color of choice. This way, you have more than enough room to personalize the sculpture to go along with whatever room you will hang it in. This straightforward style adds just the right balance of chic and lightheartedness to your home, more so thanks to the glittery horn that adds that magical touch a unicorn deserves to have.
8. Cute Grizzly Bear Plush Rug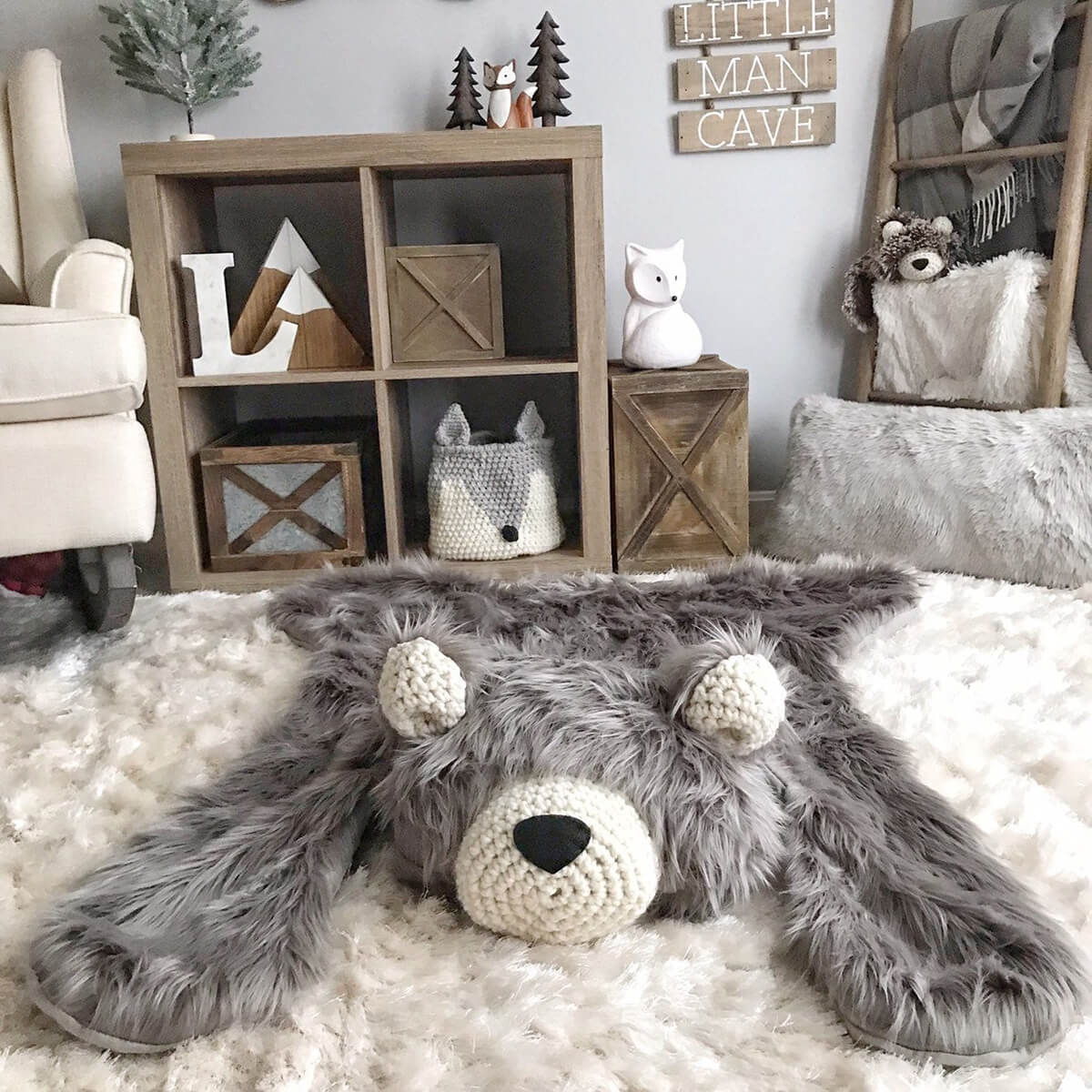 Grizzly bears don't always have to be intimidating, you know? Whether you are looking to decorate a nursery, an older child's room, or a playroom, this fluffy rug can fit right in without the scary factor that usually accompanies grizzly bears. It stands among the best animal themed home decor ideas for kids since they can lounge on it as well as play on it. Created using faux fur, this bear can come with a bow or without a bow depending on your personal tastes. It has a touch of fun thanks to the adorable design as well as how you can push back the fur to reveal its tiny eyes.
9. Vintage Brass Finish Rocking Horse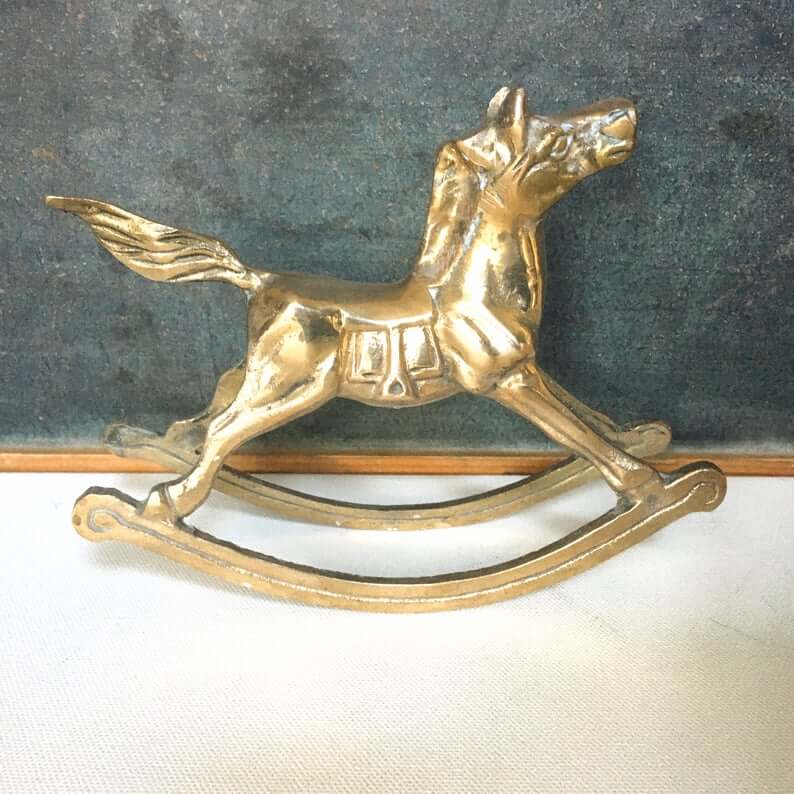 Sometimes, the best way to go about filling your home with animal-inspired decorations is opting for the more classic, yet everlasting choice, and a rocking horse fills that space perfectly. This brass figurine spins the traditional rocking horse on its head though. Even though no one can actually sit on this, the statue acts great as beautiful furnishing along holiday decorations or even inside a nursery. You can place it high on a shelf and even give it a little push as it is designed in a way that allows it to gently rock. There is an incredible amount of detail etched into this little horse, and you or your child will enjoy watching it sway back and forth.
10. Thrilling Elephant Panther Antique Figurine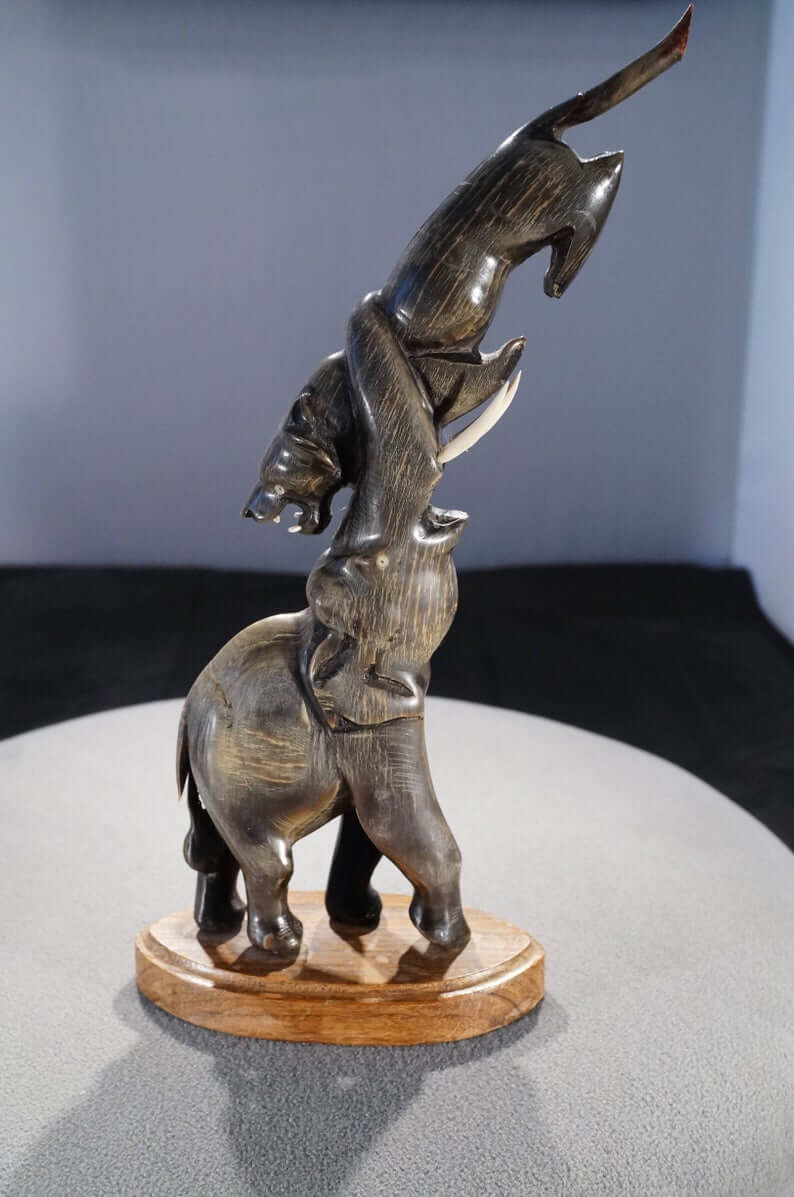 You can bring the best of both worlds to your home decorating abilities with this blended elephant and panther figurine statue. A cool thing about this statue is that it has multiple interpretations on what's actually going on. On one hand, you can view it at a certain angle and witness an epic battle between two very different, yet very powerful animals. On the other hand, you can also see an elephant that is just talented enough to perform the trick of balancing a panther on its head. It's what makes this statue such a great conversation starter when placed in your home. Also, it can add a subtle vintage touch to your style thanks to its weathered appearance and unique construction that features real bone and wood.
11. Woodland Theme Cartoon Animals Wall Decor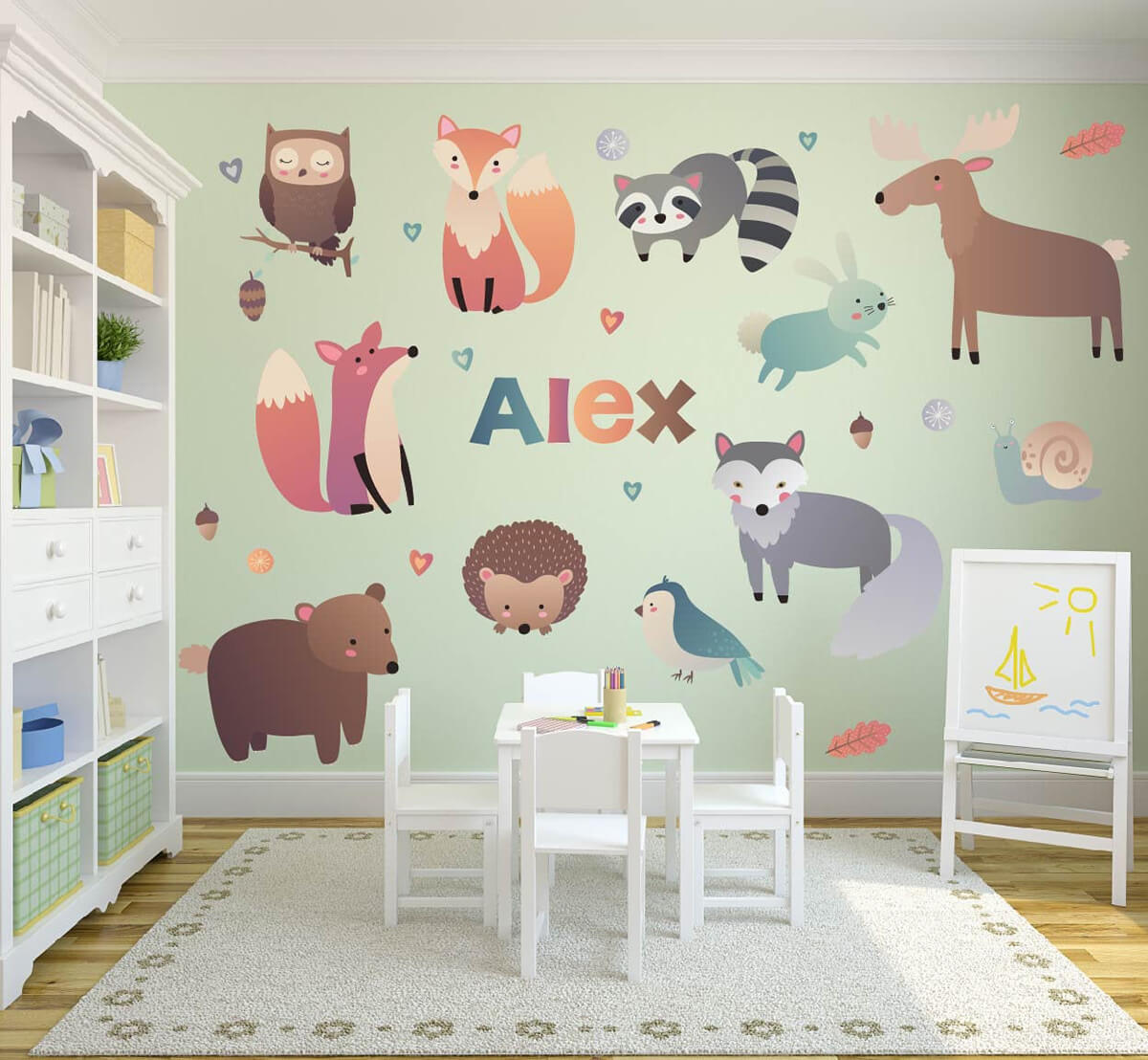 An awesome idea for a child's room or a nursery is by filling their wall with these delightful woodland creatures. This features numerous of different animals such as a bear, deer, owl, fox, raccoon, and more. All of them are drawn in a fun, brightly colored cartoon-like style that any child will fall in love with. What makes them enjoyable for parents is that they are simply wall decals that peel and stick. You can arrange them any way you like to cover one wall or to place animals throughout the entire room. Go the extra mile and add the child's name to completely personalize their room.
12. Pug Puppy Vinyl Wall Decal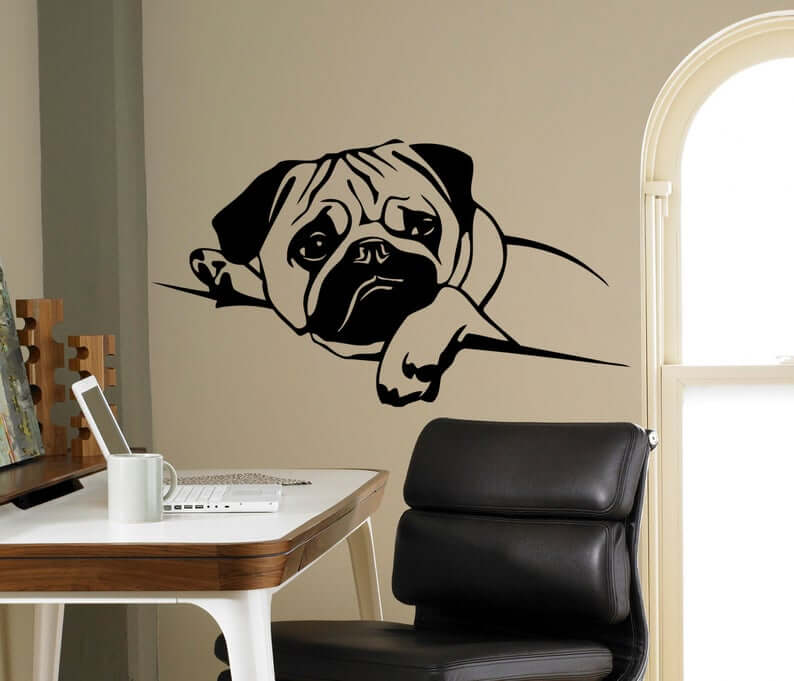 Are you a dog lover or, more specifically, a pug lover? Whether you know someone who just adores their pug pup, or you are that person, this great vinyl art that prominently features the dog breed is bound to have any lover of them swooning in excitement. This artwork is bold, unashamed, and in your face, much like the pug itself. It comes in three different sizes so that you can fit the art in a number of different places in your home. Even better is that you can select from more than 10 different colors, taking the customization aspect to a fun level.
13. Mini Elephant Ceramic Decor Planters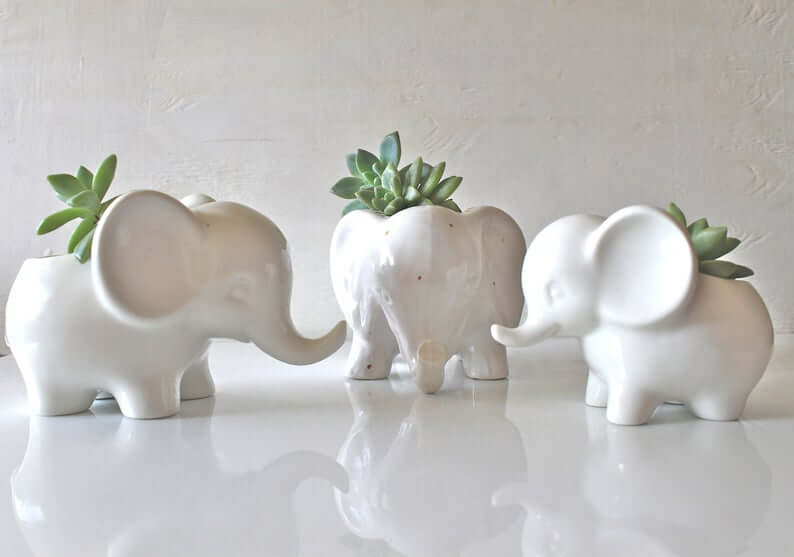 Don't you feel your succulents deserve to grow and thrive in a fun environment? Well, what's more enjoyable than mini elephants? These handmade planters are just the right size for smaller succulents, and they even feature a hole to drain out the water with ease, making them as useful as they are decorative. On the notion of decoration, even if you don't have any plants, you can use these mini planters as quality ceramic decor instead. They are simply cute to look at, so feel free to set them up on a coffee table or on a shelf to show how unique and fun your interior design style can be.
14. Halloween-Inspired Modern Cat Wall Art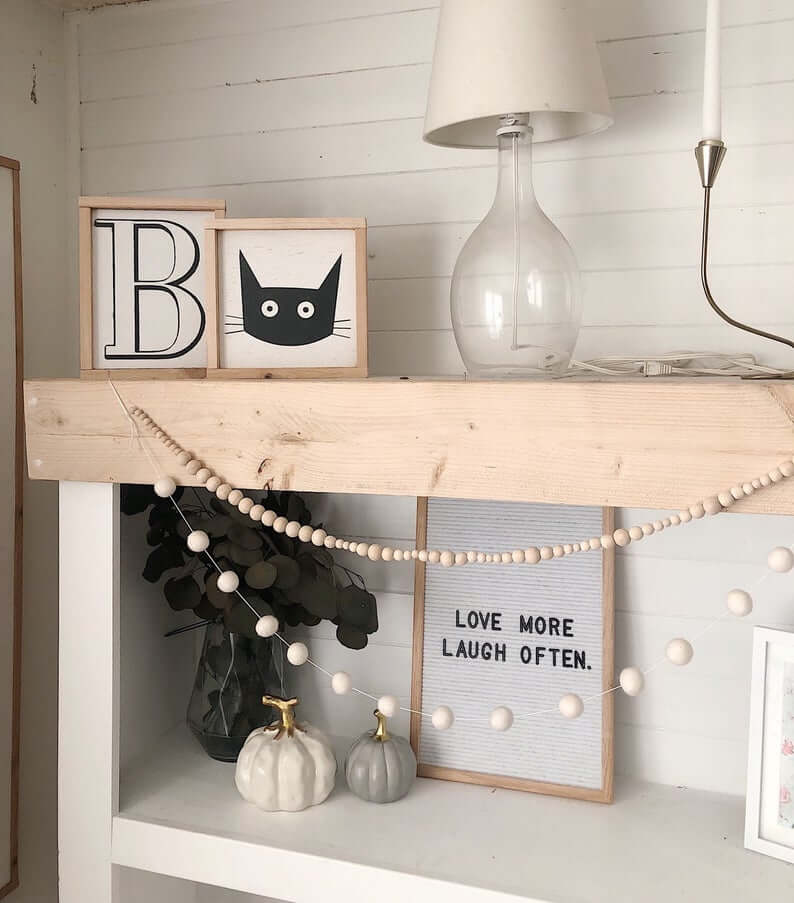 Maybe you're not the flashiest interior decorator, so don't hesitate to opt for something uncomplicated instead like this wacky cat art. The art consists of a cat head drawn in a cartoon style, its eyes wide and alert like any other cat, really. Place it in your bedroom, set it on an end table in a living room, or just place it on the wall in the hallway. No matter where it goes, its comical eyes will follow you everywhere. To personalize it, you can select a size as well as the background and font color. It's a style not only for the straightforward, modern decorator, but also for those looking to have a touch of goofy Halloween in their home all year round.
15. Fun Peeping Cats Hand-Woven Doormat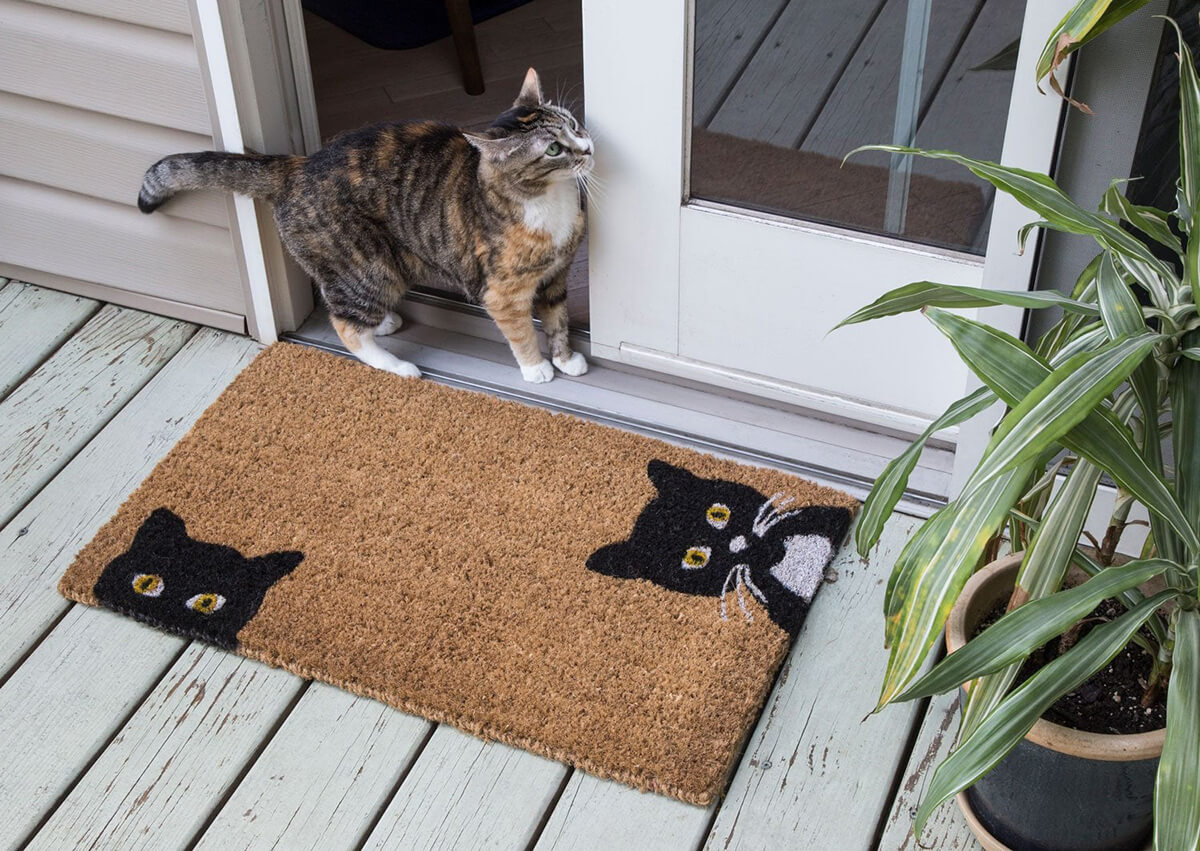 Perhaps a perfect gift for cat lovers is this peeping cats doormat. It features drawings of two black cats with each peeping up at you. Are they spying or simply curious? Much like with real cats, you may never know. Either way, they are certain to illicit a reaction to anyone who comes to visit you. In terms of functionality, the mat is hand-woven from 100% coir material, and the coconut fibers seem to do well at trapping dirt so that this doormat does its job well. Caring it by sweeping and vacuuming is recommended so that it'll last you a long time.
16. Contemporary Homemade Buck String Art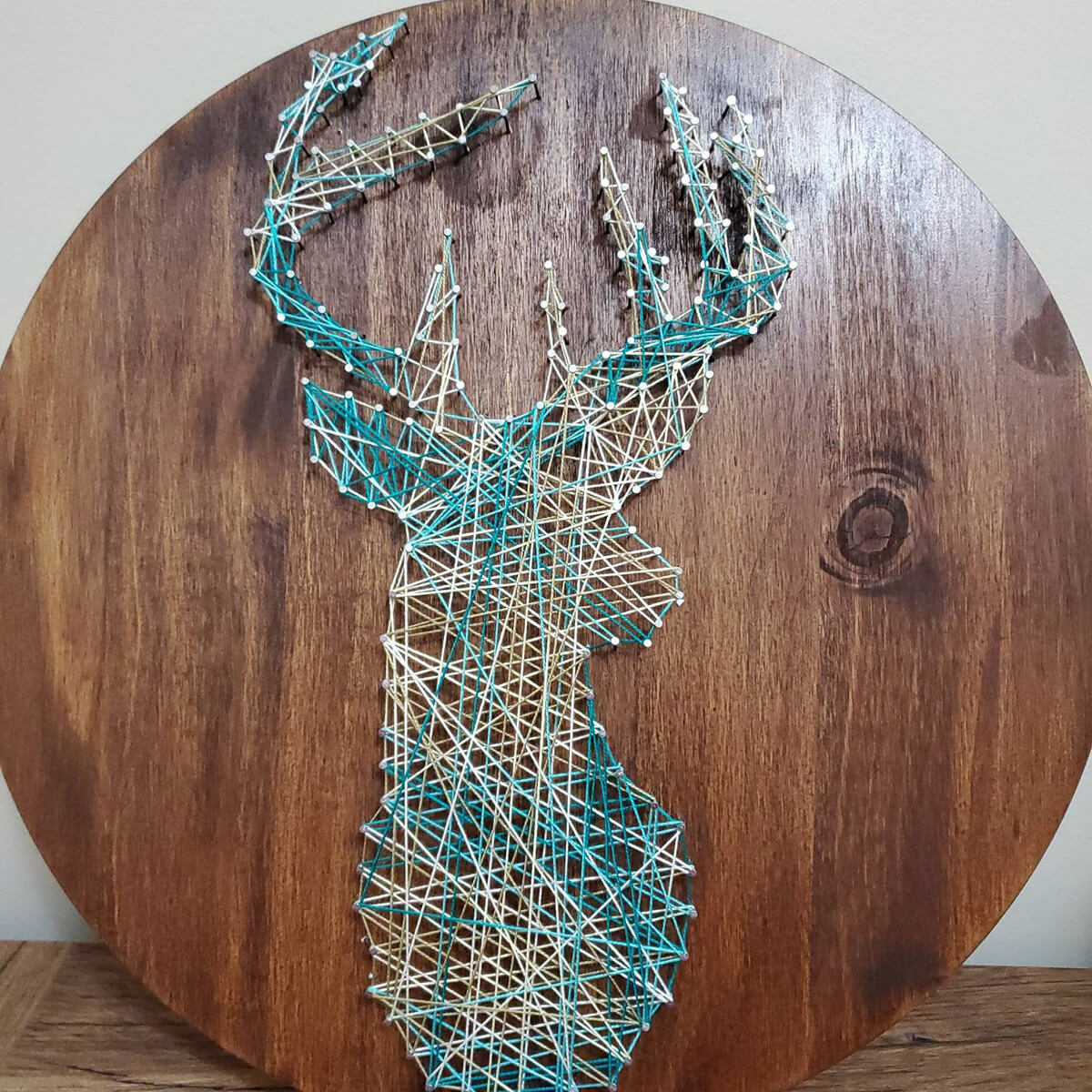 If you're on the hunt for the best animal themed home decor ideas that are a bit out of the box, take a journey into the world of string art. It's fun, it's cool, and it can bring a different sort of vibe to your decorating style. This string art in particular features the outline of a buck. There's wonderful emphasis on the buck's powerful and attention-grabbing antlers. Although it usually comes in bright colors of blues and whites, you may be able to customize the colors instead. It's a piece of art that can look good in an office or similar environment.
17. Brass Gazelle Vintage Bookend Figurines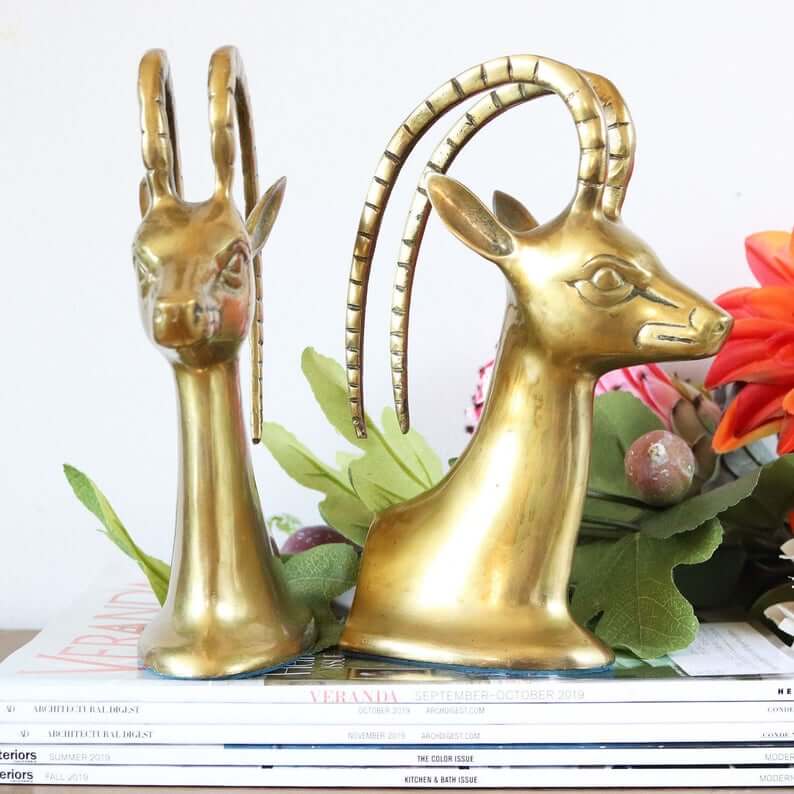 Bookends are another way that you can add functional decorations to your home. They can hold your books up, and do it in such a stylish way. These figurines feature detailed gazelles made in bright brass material. The use of brass provides the bookends with a vintage touch, which can be interesting if you're going for a more antiqued style. Of course, you don't have to use these to hold up your book. They can serve their decorative purpose just as well mixed in with other home decorations like on side tables with lamps. An incredible thing about these gazelles is that regardless of where they go, you can feel like your home is a bit more sophisticated.
18. Handmade Wooden Elk Decorative Art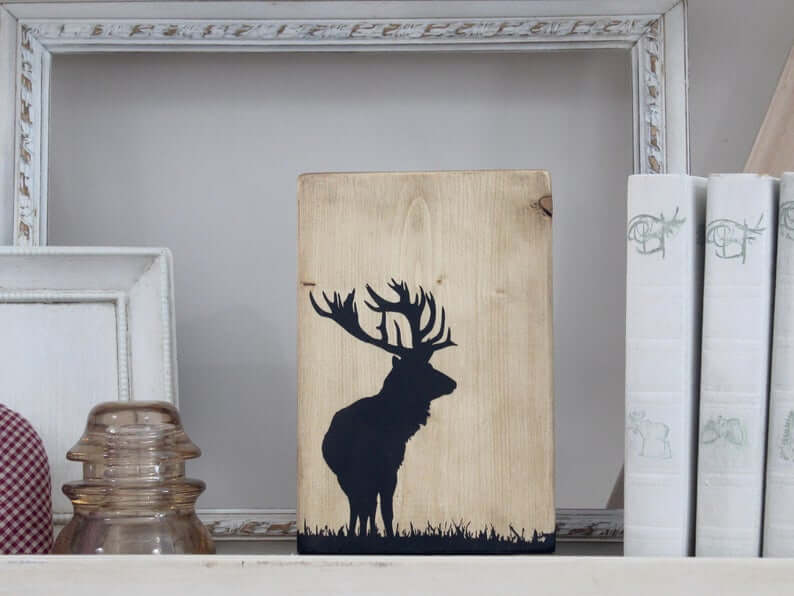 Whether for nature lovers, hunters, or people who are just fond of deer-themed artwork, this wooden artwork can make for the perfect gift. The wood has a nice rustic layout while remaining smooth enough to handle with no issues thanks to the sanding process and the beeswax finish applied to it. What is perhaps the most notable aspect of the wood is the elegant black silhouette print of an elk on the front, its massive antlers stealing the show away when you look at it. This can work well resting on a bookshelf as it can hanging up high and clear on your wall.
19. Vintage Fox Head Wall Mount Hook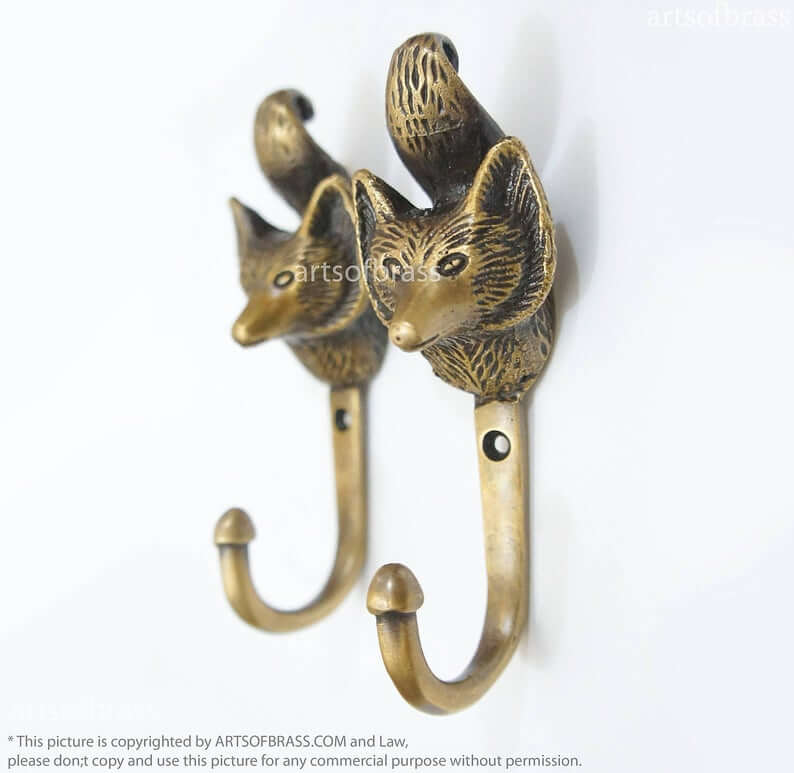 Antique and animal decoration ideas go hand-in-hand quite often. You can take a whimsical approach to that theme with this unique fox head wall mount hook. Made from solid brass, the fox head features a tremendous amount of detail work from the face to the tail that curls up behind it that adds an extra bit of flair to the hook. It's a piece of art to admire on your wall as much as it is something you can actually make good use of. The metal is solid and reliable enough to help you hang additional decor, or use it to hold hats, coats, and more.
20. Cute Safari Theme Nursery Mobile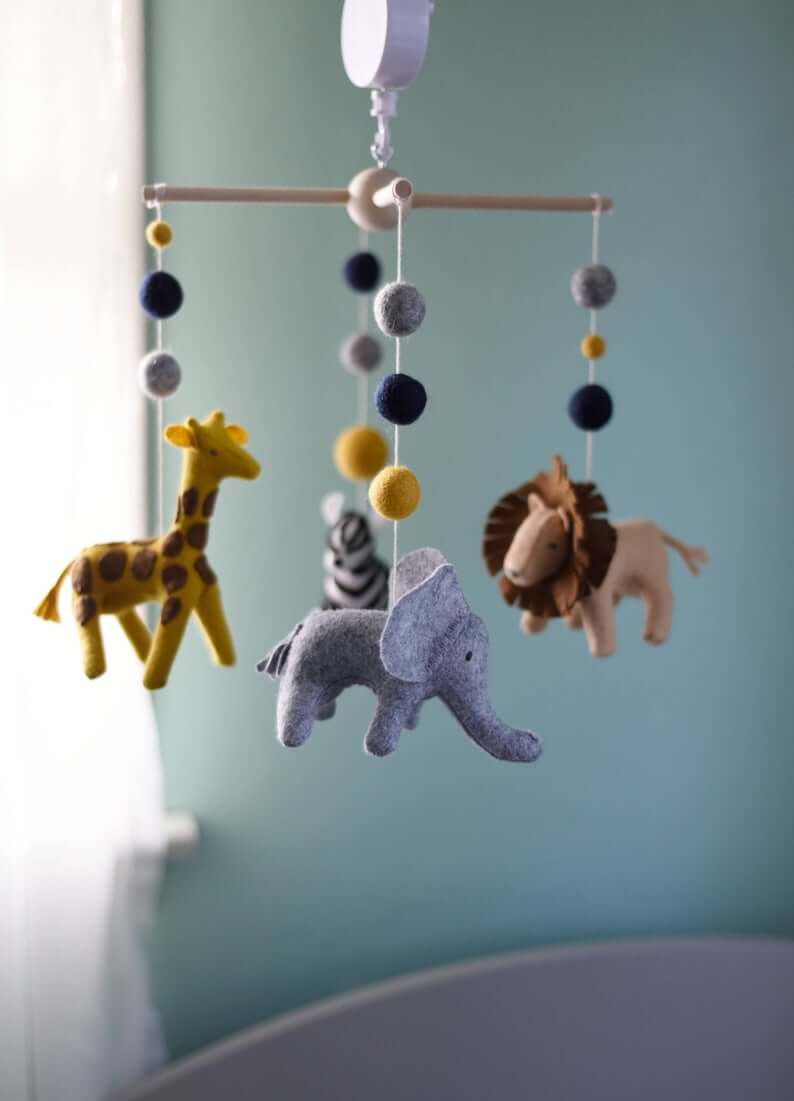 Timeless and always appealing, animals can look lovely when used to decorate a nursery. This mobile has it all. It features four different kinds of animals: a zebra, a lion, a giraffe, and an elephant. Such diversity can help get your little one off to a strong start about recognizing and understanding that various types of animals exist. Everything from the mobile is also brightly colored the way the animals should be, which can further capture a baby's focus and help their development. Other than that, it's just adorable to look at as the design is still more innocent and childlike than anything. It's even safe since there are no tiny parts, and everything else is securely stitched together.
21. Leo Lion Head Metal Wall Art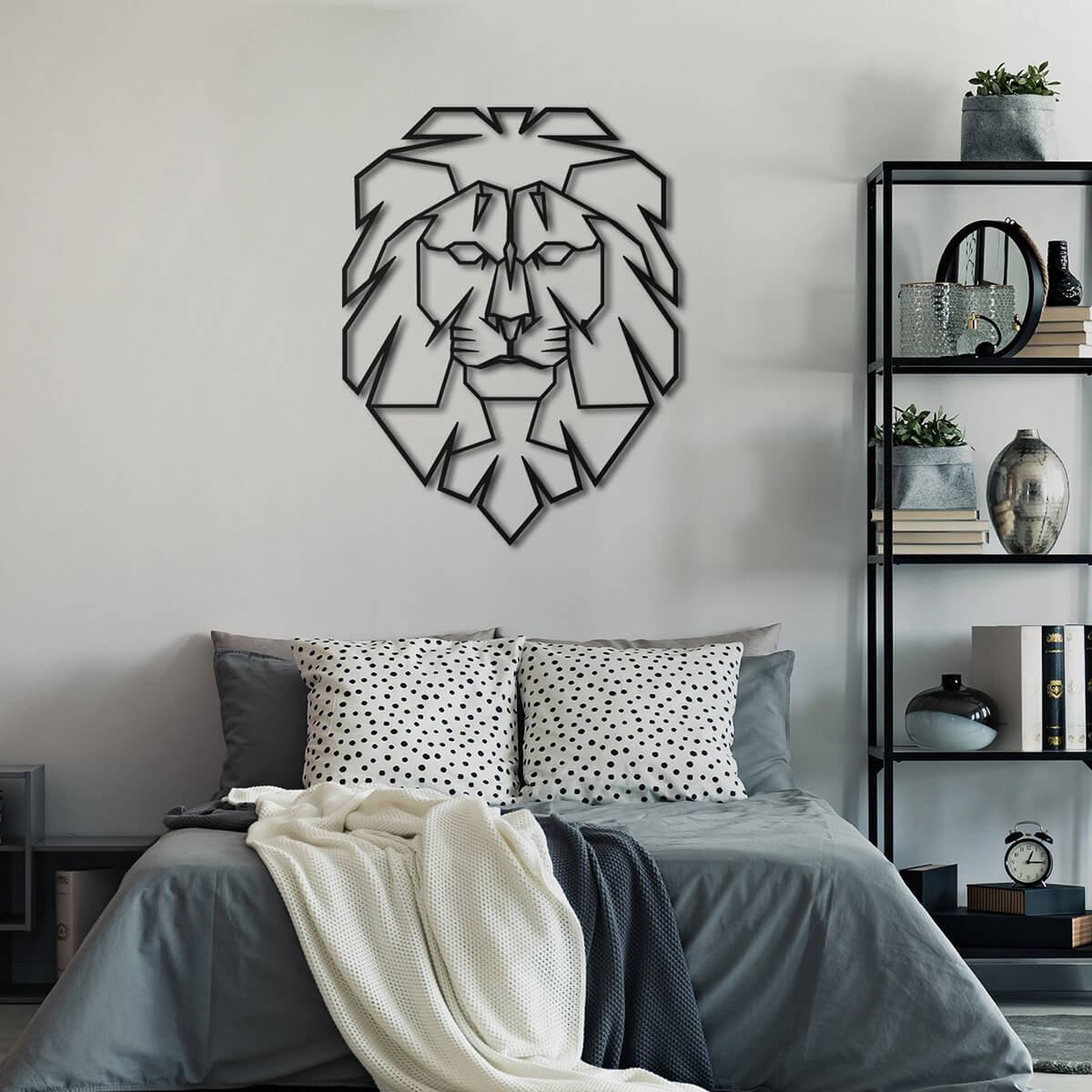 Some of the best animal themed home decor ideas emphasize a specific zodiac sign. For all the Leos out there, are you eager to show off some of that classic lion pride? Take a look at this metal lion head then. The delicate, intricate geometric patterns make out the shape of a lion head, addressing its bold face and fierce mane. It balances the scales of being simple and intense, offering a feeling of empowerment in a minimalistic design. What is also so nice about this metal wall art is that you can hang it wherever as it comes in a single black color. No matter where you put it, you'll let everyone know the heart of a lion beats inside of you.
22. Artsy Blue Moose Throw Pillow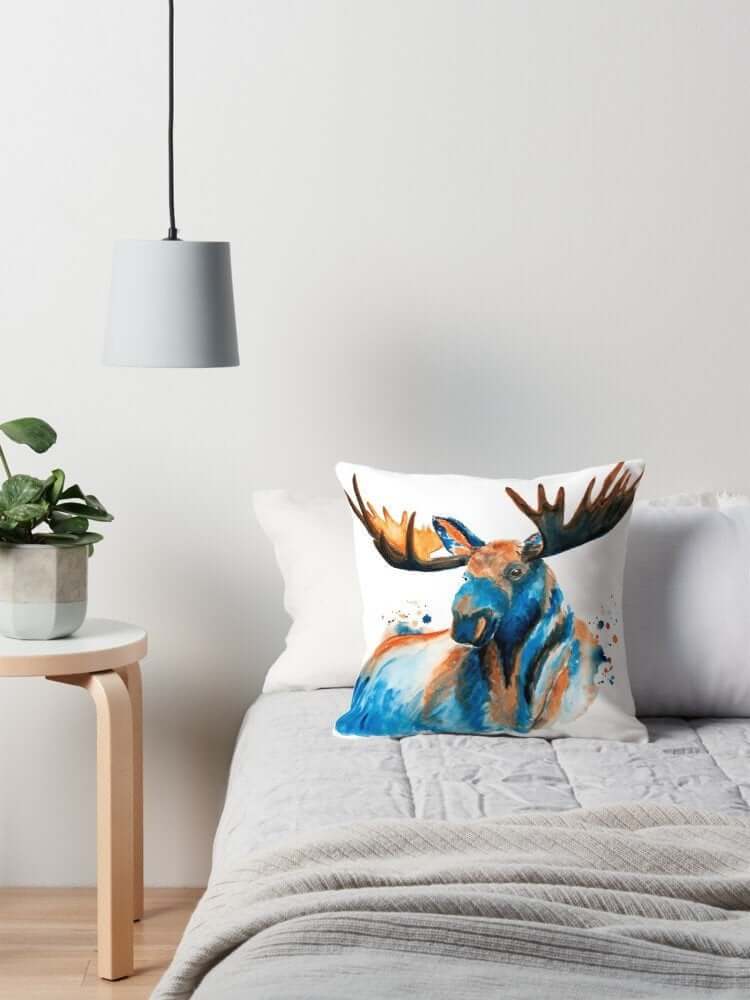 It's common to find animals like elk and moose featuring all black or otherwise dark art styles for decorating purposes, which is why this ink blue throw pillow is a breath of fresh air. This handmade illustration has a cool artsy design using watercolors as it takes some of the usual brown color of the moose and combines with bold streaks of blue to create a stylish, modern work of art against a bright white pillow. It is an easy way to add a good deal of gorgeous coloring to a couch, chair, or bedroom while sticking to a woodland animal style.
23. Unique Animal Scene Metal Wall Art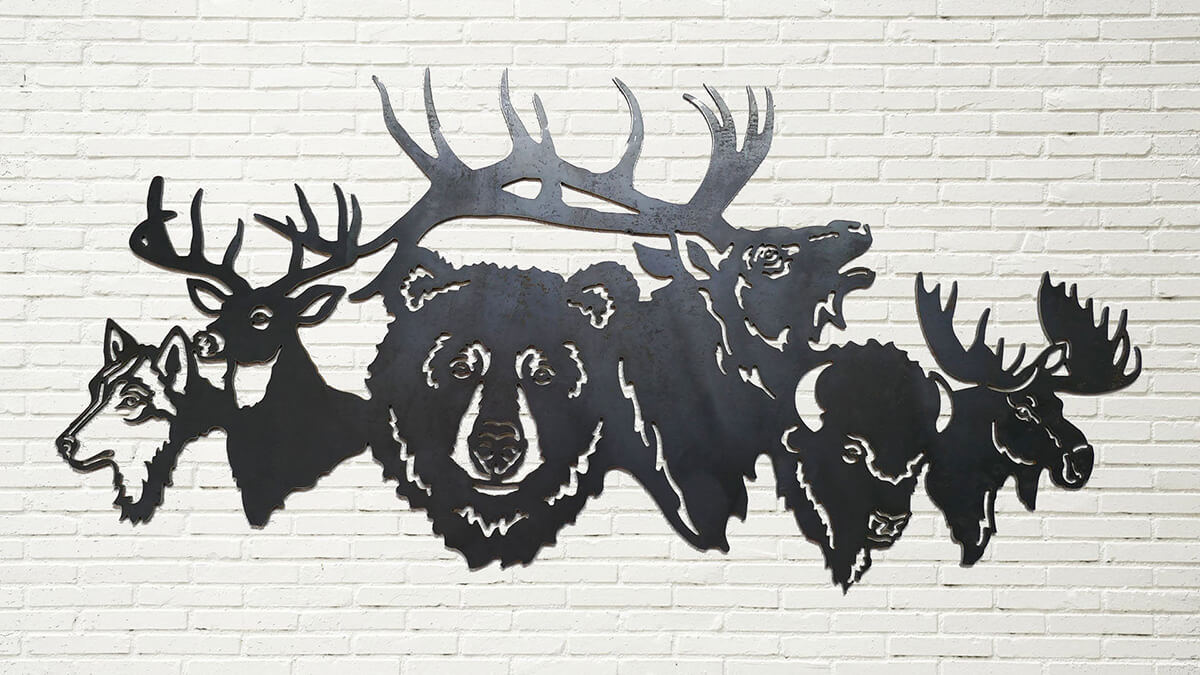 If you love animals so much, why stop your home decoration with just one of them when you can have six in a single piece of art? You don't find many animal-themed wall art with this much intensity and style. This features a wolf, buffalo, bear, deer, moose, and a buck. It's clear that a lot of effort and attention to detail was given to each individual animal as they are made as realistic as possible. Available in either black or silver, this metal wall art can help you make a powerful statement with your home's interior design.
24. Metal Cat Love Wall Sign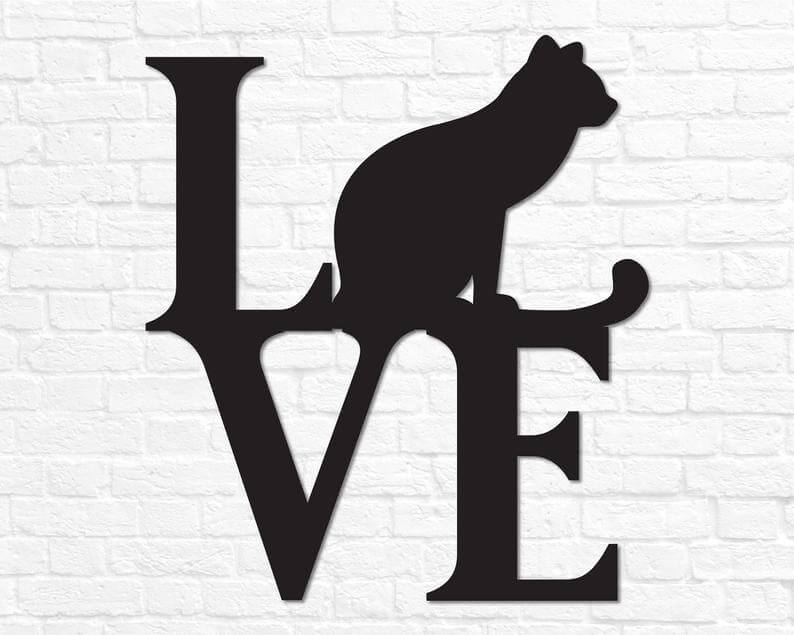 Nothing quite speaks to your love of cats than a sign that spells it out. Instead of spelling out the word "love", the "o" is replaced with the silhouette of a cat. It's a fun spin on the traditional sign that usually uses a heart symbol to replace the "o". This comes in a number of different sizes so you can choose one to fit in a variety of places in your home. It's even made with your choice of six different colors. With its weatherproof finish, this cute sign should last you a long time.
24 Creative Animal Themed Home Decor Ideas that any Animal Lover will Enjoy
Using animals as a focal point in your home decorations is a fun way to show off how much you love wildlife and nature. Some of the best animal themed home decor ideas focus on a variety of art styles from contemporary to classic and vintage. They come in a multitude of decorative choices such as wall art, throw pillows, rugs, and gorgeous ceramic decor art. This can help push your imagination further as there is no shortage of ideas and routes to take when decorating your home with artwork and designs of your favorite animals.
You can breakdown your decision making process down by focusing on who the decoration is for. Some styles are more rustic and geared toward people like hunters or guys eager to add some style to their man caves. Other ideas may look better in a child's room or nursery as they emphasis cartoon-like illustrations of animals to make them more palatable to younger individuals. Some simply work best for specific animal lovers like those of you who are fans of cats or dogs. Regardless of which road you travel down, our list of 24 of some of the best animal themed home decor ideas should give you a good place to start on the many ways you can spice up some of the rooms in your home with beautiful wildlife designs.