33. Sleek Patio Area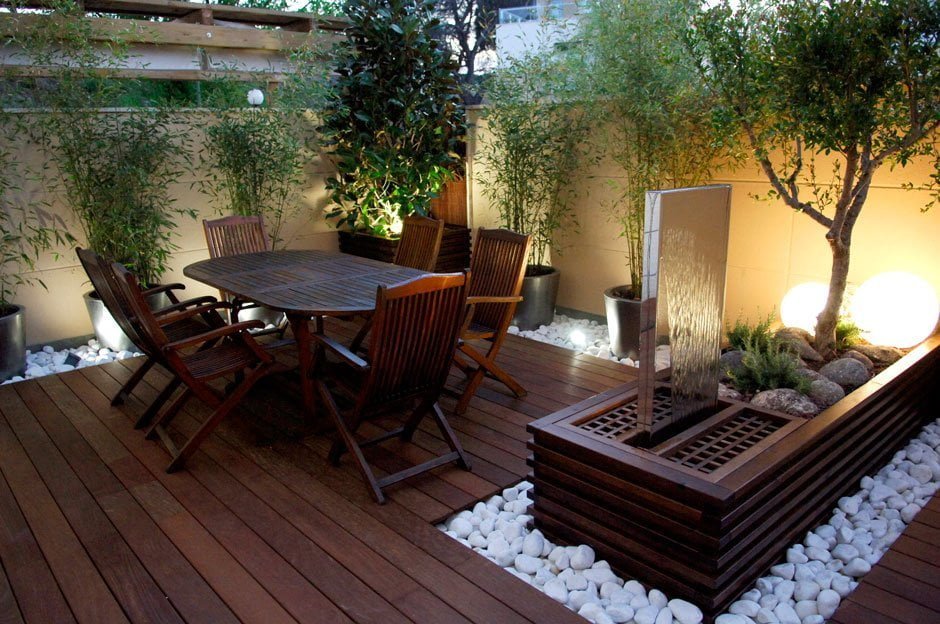 This look is perfect for someone who has a small backyard area and prefers backyard ideas that don't require a lot of yard work. The dark wood of the table and chairs matches the dark wood of the patio itself. Rather than using a natural looking waterfall, the homeowner has chosen to use a modern waterfall sculpture. Tall plants around the perimeter add to the feeling of privacy while providing a touch of nature. This landscape design would work well for those who can't use a lot of water maintaining a lush green space.
34. Rocky Gardens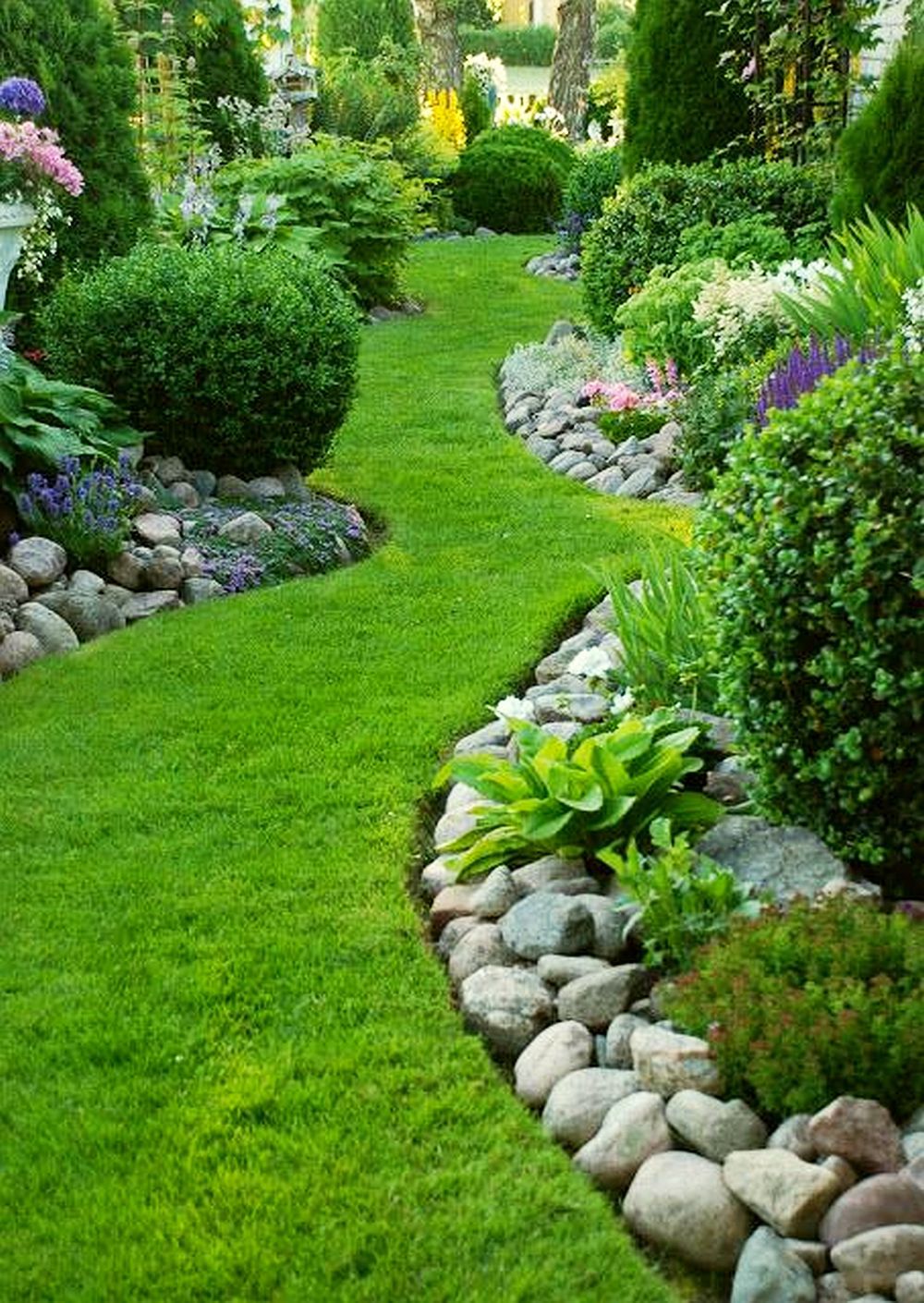 No matter what type of plants you have in your garden design, you know how important it is to keep weeds out of the area. Many people do this by laying down mulch, but that needs to be replaced every year. Instead, this idea uses relatively large rocks to block out any growth you don't want. It's a relatively unusual idea, but since the rocks are similar in size, it looks really put-together. The gray color of the rocks also helps provide a nice contrast to the green of the grass and other plants scattered throughout the yard.
35. Zen Garden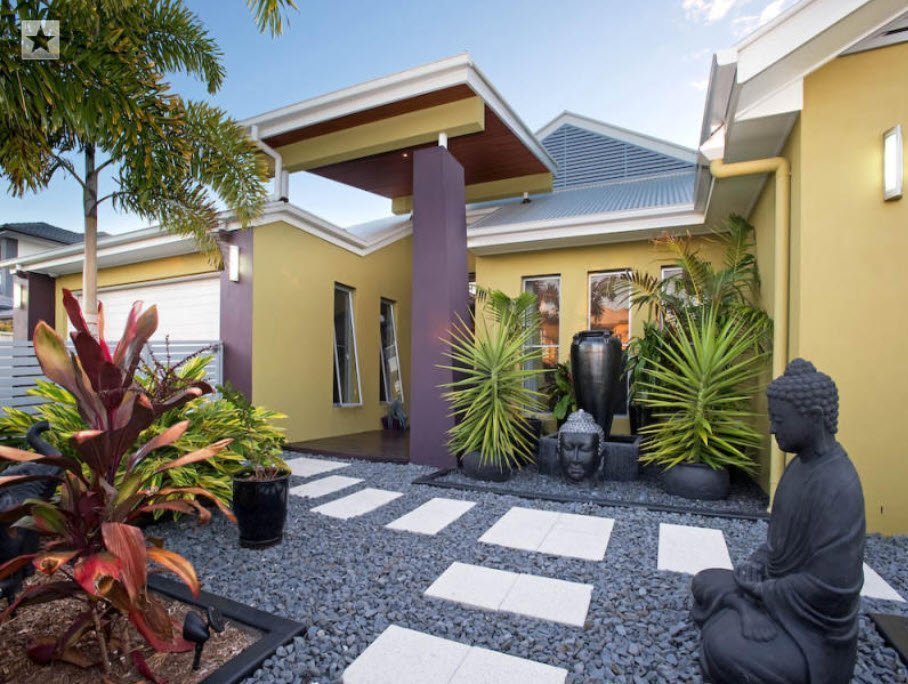 This is another backyard design that will work well for those who don't want to waste water keeping their backyard green. Large, flat patio stones make a pathway throughout the space, while smaller rocks fill in the gaps between the pathway. The large Buddha statues make it feel like a meditative space, and the tall potted plants make it feel a bit more natural. A design like this is a great, stylized alternative to the more typical look of a backyard garden.
36. Hills of Flowers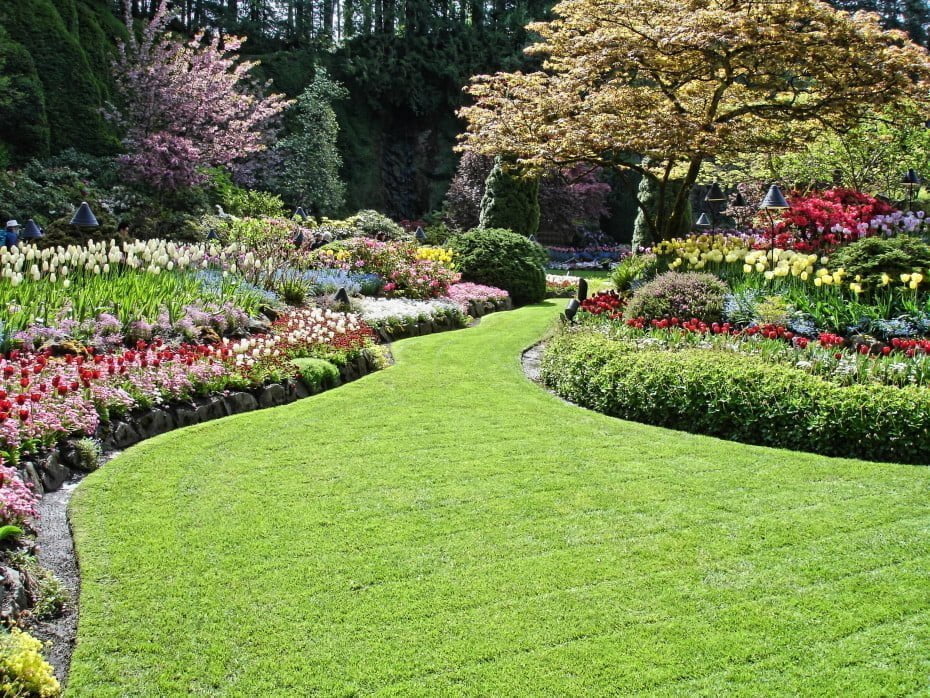 We've seen how nice it can look when the flowers and other landscaping plants you choose have different heights. This backyard landscaping idea works for those times when you don't particularly want to choose taller plants. Instead, you build up small hills of dirt and plant your favorite flowers in the hill to draw the eye upward. Working with perennial flowers like tulips can be tricky. They won't last the whole season, so you have to plan for what will be there after they die. With a well-planned garden, though, you'll have beautiful flowers throughout the spring and summer.
37. Simple Small DIY Space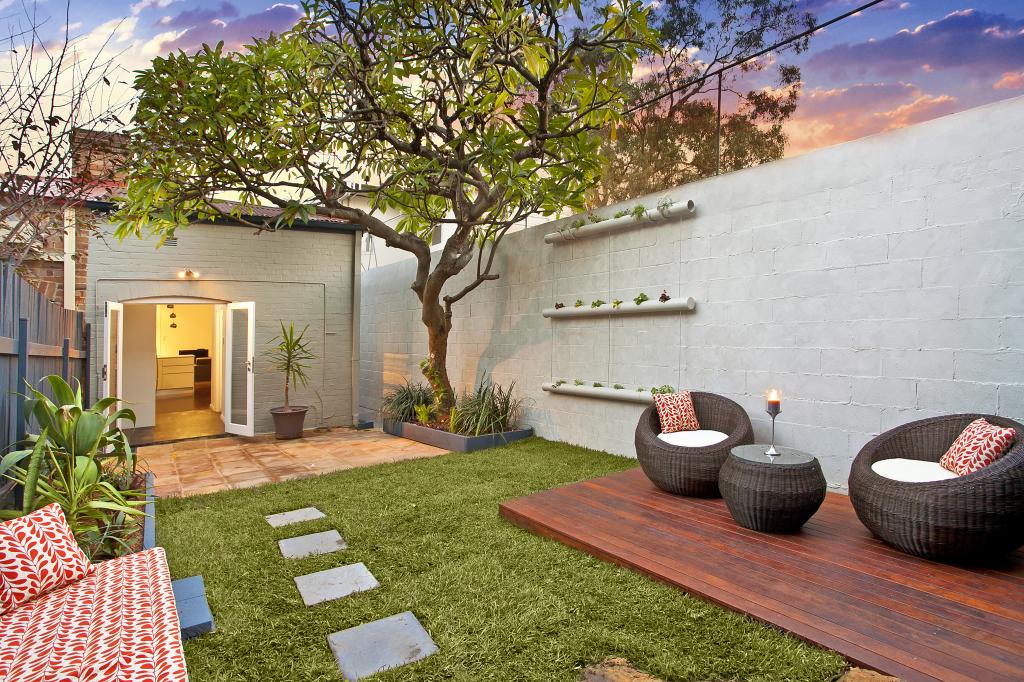 Many backyard garden ideas require a lot of time and money to keep them looking their best. If gardening isn't really your thing, you might wonder how you could have a backyard that looks put-together without putting a whole lot of work into it. If that sounds like you, check out this picture. A few small planter areas house some hard-to-kill plants. The floating deck is made from wooden strips that look more like the inside of a home than the typical deck, which gives a very unique look to this comfortable seating area. You'll love stepping out into this little backyard retreat.
38. Leveled Luxury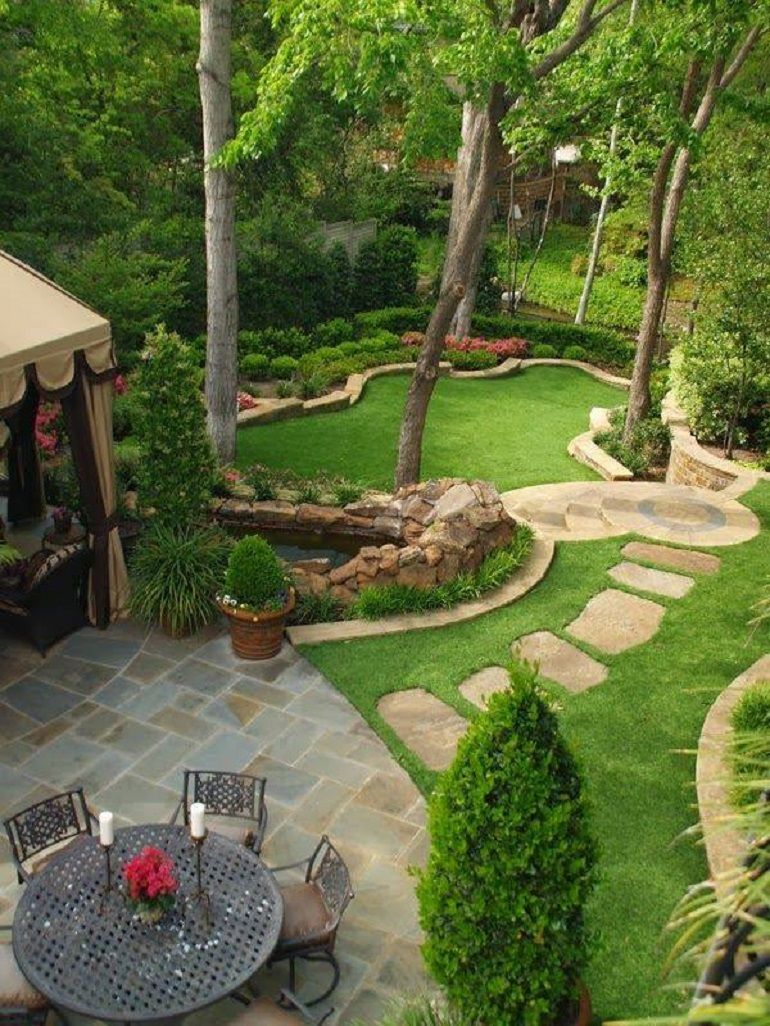 This homeowner uses a landscape design that takes advantage of the hilly backyard. At the top of the hill, near the house, there's two patio seating areas for eating or casual conversation. A stone path leads you down to the next level of the lawn, an open grassy area, surrounded by carefully chosen plants. This setup would be perfect for family gatherings. Kids can play in the yard down below while the adults chat on the patio. Also note the small pond by the patio, which adds even more interest. You might even attract a few frogs.
39. Low-Water Landscape Design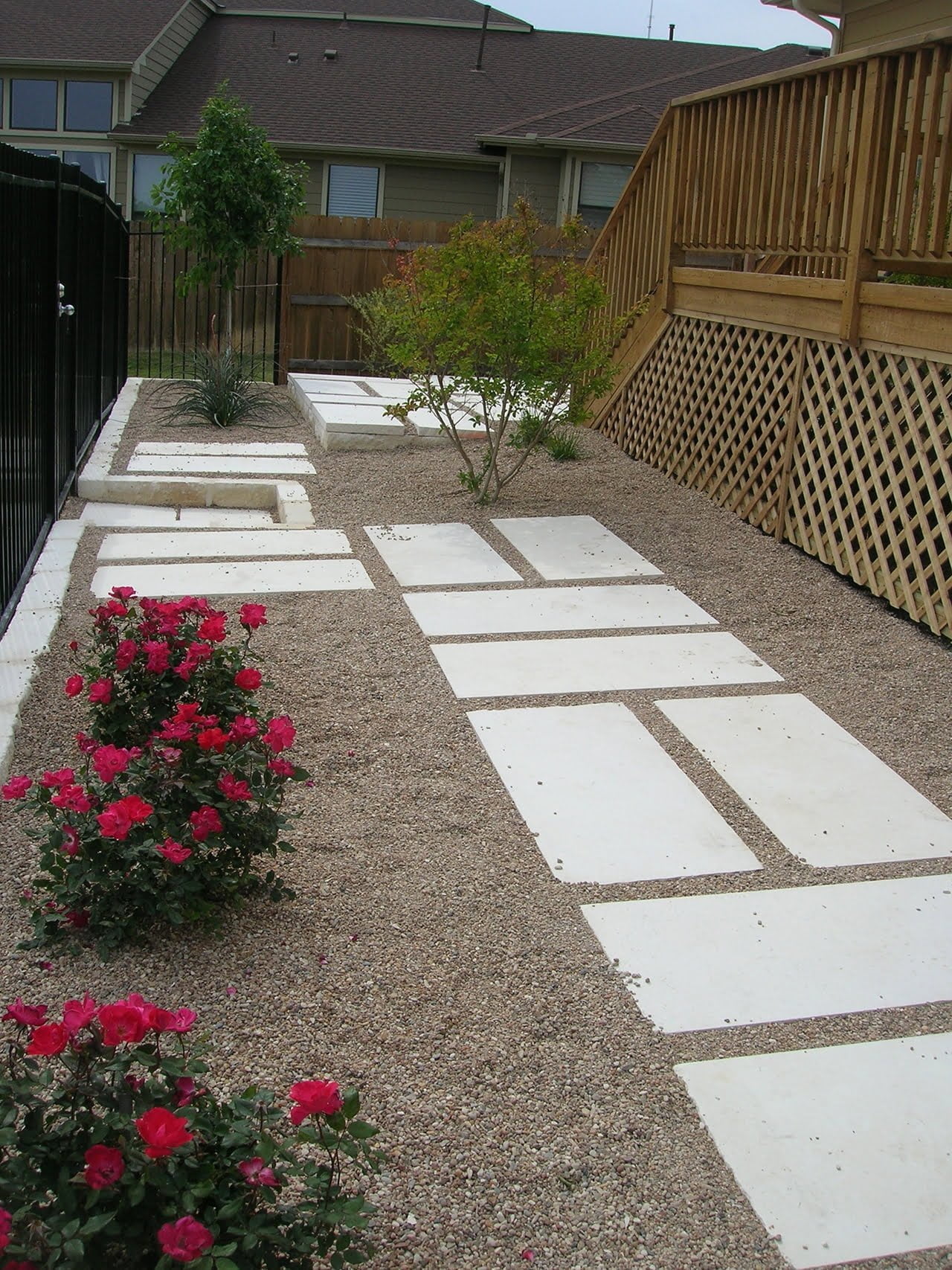 When you live in areas like Texas or Nevada, you know that you need backyard ideas that don't require a lot of water. For many, this means you have to turn to succulent plants rather than the gorgeous flower gardens more typical in the northeast – unless you copy this idea. This homeowner has planted two small rose bushes in the backyard. The rest of the yard is made of small pebbles, so you won't have to water that, but you can definitely spare a bit of water for a few plants like this.
40. Escape the Sun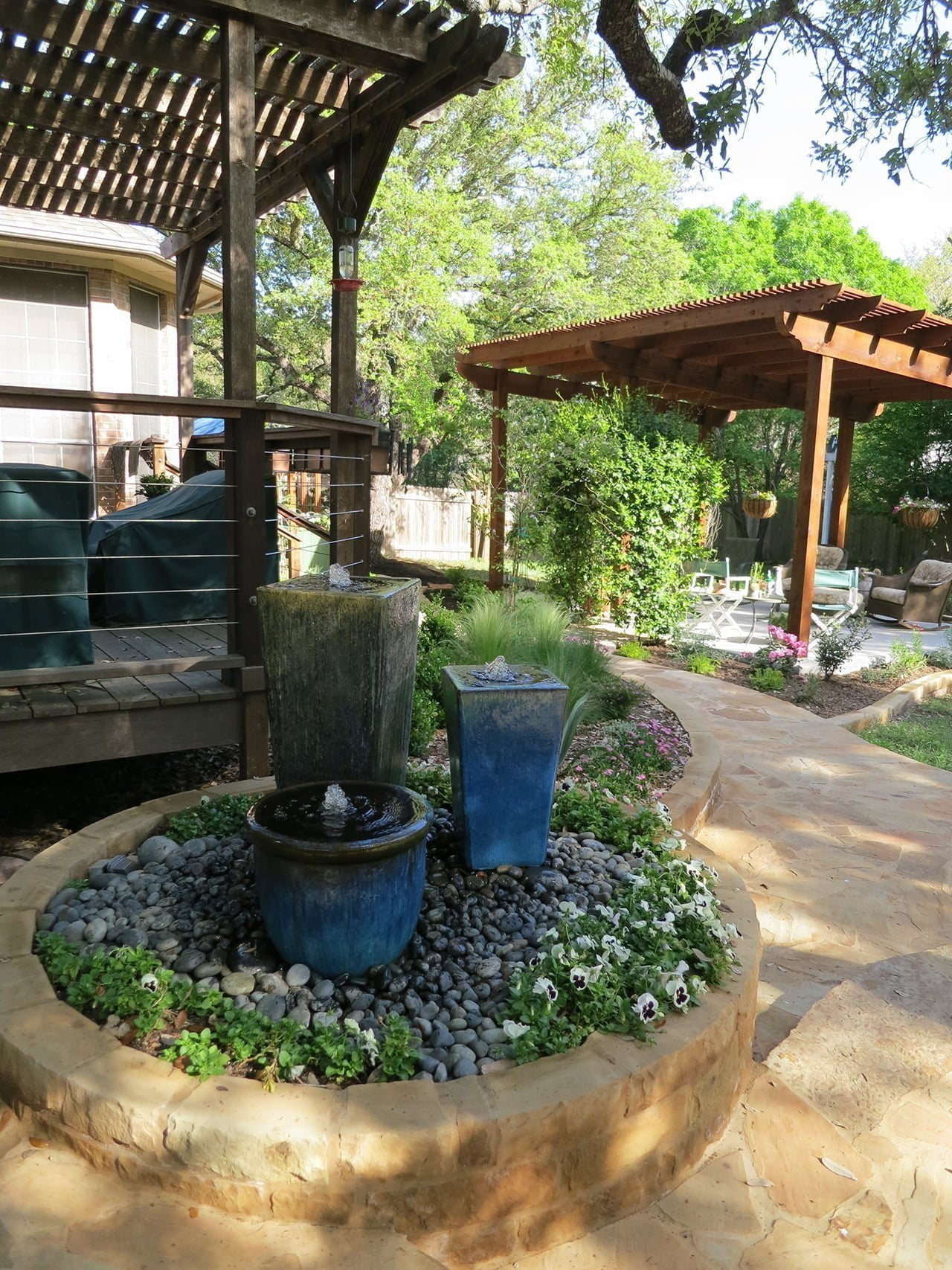 If you don't have a lot of trees in your backyard, you might need some garden ideas that incorporate a bit of shade. After all, few people want to sit out in the hot sun all day. Pergolas offer an excellent way to offer some shade without blocking too much. Don't be afraid to use more than one in your home design. This homeowner has one up on the patio and another in the backyard. They also have a nice trio of fountains that will create a comforting gurgling sound. Perhaps they'll also attract some thirsty birds looking for a drink.
41. Come Down to the Fire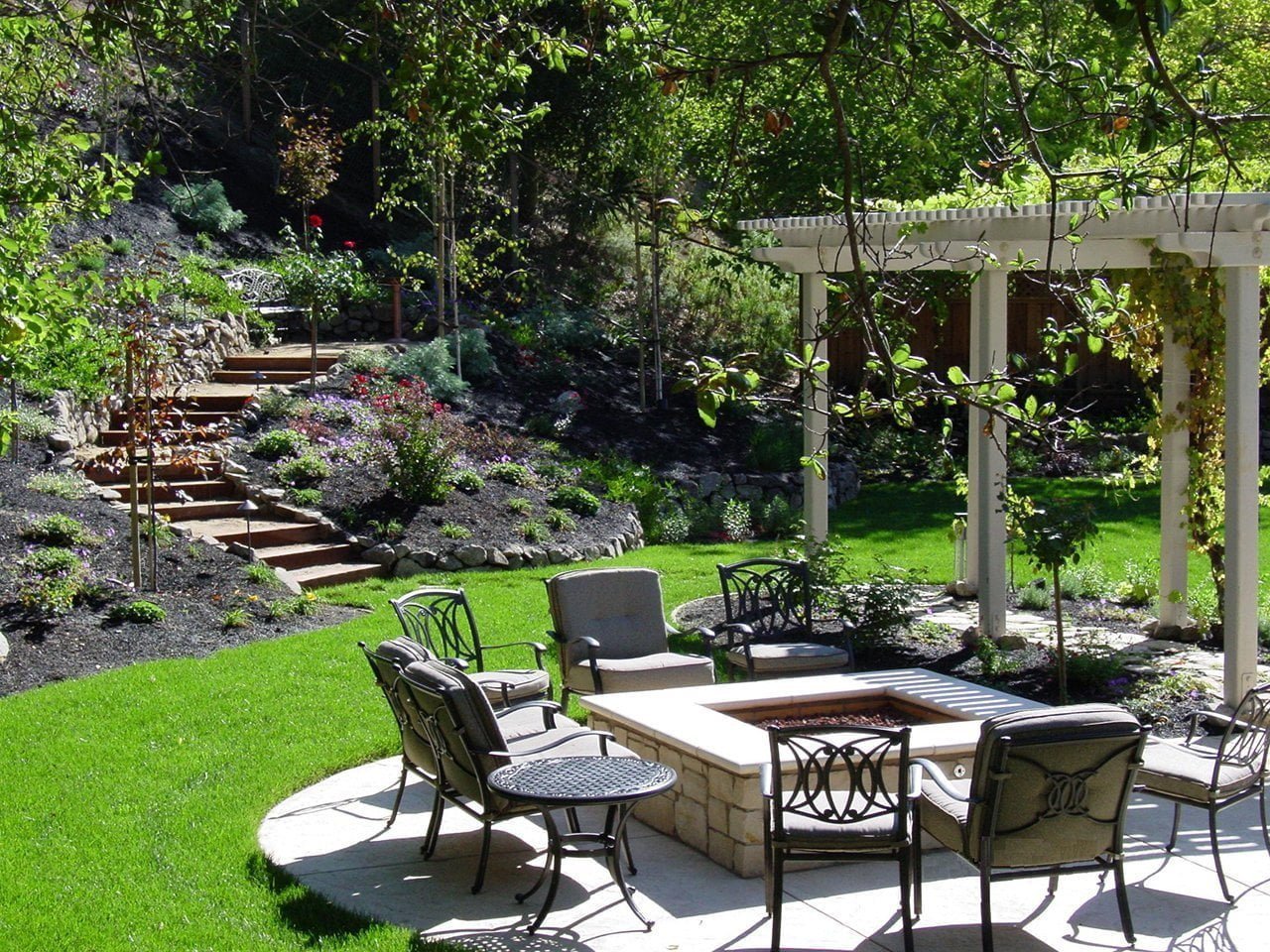 This homeowner also has a hilly backyard and solves the problem by creating stairs that lead down to the perfect backyard for hanging out. The large gas firepit will turn out with just a push of a button, and there's plenty of seating for everyone. In the background, you'll see open grass for playing croquet or ladder golf. A few small plants dot the hillside leading down to this area, and the hill has plenty of mulch to prevent the area from becoming overrun with unwanted growth.
More backyard landscaping designs on the next page…